New Age Islam News Bureau
13 Aug 2019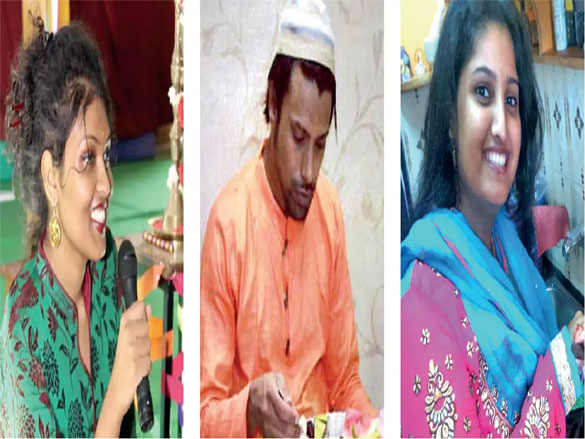 From left: Sophie Bint Dawud; Altab Hossain and Asma Khanum
------
• Celebrating a vegan Eid-ul-Adha with Mock Meat Biryani, Vegan Yoghurt Raita and Tofu 65
• India Seeks Good Relations with Pakistan And Ready For Restraint, Indian FM Says In Meeting With Chinese Counterpart
• Dalits among Muslims, Christians Should Not Be Denied Reservation, Says VCK Chief
• 'UNSC Not Waiting With Garland': Pakistan Foreign Minister Mehmood Qureshi Tells
Countrymen to Get Real On Kashmir
• The Muslim Wealth Tax Zakat Is the Best Blueprint for Making Western Societies Fairer
View
• 'It's Poor People's Eid': How Kabul Internally Displaced Persons Welcomed Muslim Festival
• 2.48 Mln Haj Pilgrims This Year, Up 4.6 Pct from 2018, As Rains Hit Mecca
Salaam Gateway
• US National Counterterrorism Centre's Former Director Nick Rasmussen Says Right-Wing Terrorism Is A Growing Threat
• Iranians on Holy Pilgrimage in Mecca Chant 'Death to America! Death to Israel!'
• Eid-el-Kabir: CAN Urges Muslims to Join Fight against Killings, Kidnapping
Compiled By New Age Islam News Bureau
---------
India
• Kashmir: Major Mosques Remain Closed For Eid As Indian Security Crackdown Continues
• Behind Zomato Beef-Pork Delivery Protest In Howrah: A Pay Cut And A Local BJP Leader
• Facebook Suspends Account of Scholar Tajammul Islam for Being Critical of the Government's Move on Kashmir
• Temples & Mosques Talk Wastes Time, Ex-Navy Chief Arun Prakash Warns on China
-----
Pakistan
• Army Chief: Pakistan Won't Give India Opportunity to 'Cover up Crimes in Kashmir'
-----
Europe
Georgian officials congratulate Muslim community on Eid al-Adha
Norway Shooting Suspect Filmed Mosque Attack with GoPro Camera - Reports
Teen, 17, admits possession of Christchurch mosque attack video
Christchurch Art Gallery to display mosque shootings tributes
Norway mosque suspect remanded to custody
------
South Asia
• Taliban Say Latest Talks End On US Withdrawal from Afghanistan
• Two soldiers and a girl killed in suspected Philippine Islamist attack
-----
Arab World
• Saudi Islamic minister meets New Zealand senior police officer
• Arab world condemns Israel for 'violating sanctity of Al-Aqsa'
------
North America
• Kamala Harris Marks Muslim Holiday: 'Finally Got My Pork Chop!'
• US Congressman Tom Suozzi issues public apology following outcry over Kashmir remarks
------
Mideast
• Iraq says Israeli role in Gulf flotilla unacceptable
• Iran warns Israel against aiding US mission in Strait of Hormuz
• Zarif: Iran Immune to US Economic Terrorism
• Iran Unveils Indigenized Tactical, Armoured Vehicles
• Huge blast at Shia militia arms depot rocks Iraq's capital
-----
Africa
• Islamic cleric, less privileged commend NTIC for distributing meat
• Enhance war on drugs, Muslim leaders tell government
• Nigerian Shia leader, wife depart for medical treatment in India
• Muslims Mark Fete and Preach Love In Kilifi County
Compiled by New Age Islam News Bureau
URL: https://www.newageislam.com/islamic-world-news/celebrating-vegan-eid-ul-adha/d/119460
------------
Celebrating a vegan Eid-ul-Adha with Mock Meat Biryani, Vegan Yoghurt Raita and Tofu 65
Aug 12, 2019
By Akhila Damodaran
A vegan Eid-ul-Adha or Bakri Eid may sound like an oxymoron but there's a small community of Muslims in Bengaluru who are observing the festival of sacrifice with mock meat and non-dairy products.
It's six years since Asma Khanum and her husband Ashraf Mohammed have been celebrating a vegan Bakr-Id.
Says Asma of her decision, "After watching a documentary on animal slaughter, my husband and I decided to govegan." Though their families don't support them, Asma and Ashraf continue to observe Eid with other vegan
friends. "We usually have a feast of raita made with vegan yoghurt, baigan ka bharta, tofu fry instead of chicken65 and vegetable biryani with tofu and dry fruits. We distribute food to the poor near Kidwai Hospital." Parents of Haris Ali, a 26-year-old entrepreneur, were not happy when their son turned vegan at the age of 19years. "I don't believe that God asked man to slaughter animals. I couldn't stand eating meat so I ran away to
Delhi. My parents convinced me to return and promised not to cook meat. But this didn't last long so I movedout. This year, I am planning to distribute about 15,000 vegan sweets among my community to give a positive message," says Haris.
Altab Hossain turned vegan when his friends shared videos of animal slaughter in abattoirs. Since 2014 it is a way of life for the man who has won the title of Vegan of the Year at the Sattvic Vegan Fest held in Udupi in 2017. " My father thought I had gone crazy and took me to a psychiatrist. The doctor told him I was fine. When my family refused to cook vegetarian food for me, I went on a hunger strike for 72 hours and they finally relented." He now aims to turn about 10 members of his family vegan by the end of the year. He claims he once
had to pay his brother Rs 40,000 to rescue an animal that his family had bought a night before Eid.
Sophie Bint Dawud says, "Yes, Bakr-Id celebrates the spirit of Ibrahim. The sacrifice was meant to be conducted once. God never asked us to sacrifice (something every year) and a celebration can happen without sacrificing an
animal." The 25-year-old transwoman says her parents are fine with her decision as long as she does not force them to give up non-veg food.
https://bangaloremirror.indiatimes.com/bangalore/others/with-mock-meat-biryani-vegan-yoghurt-raita-and-tofu-65/articleshow/70634153.cms
--------
India Seeks Good Relations with Pakistan And Ready For Restraint, Indian FM Says In Meeting With Chinese Counterpart
13 Aug, 2019
BEIJING – India wants to improve its relationship with Pakistan and is ready to show restraint, the new Indian minister for external affairs said during a visit to China on Monday.
Subrahmanyam Jaishankar is on a three-day trip to China, which has criticized India for revoking the special status and statehood of the part of Kashmir under its control.
"India hopes to improve its relationship with Pakistan and is ready to exercise restraint, protect peace and stability in the region," he was quoted as saying by the Chinese Foreign Ministry.
Pakistan downgraded its diplomatic ties with India last week in response to what its officials called racism on the part of India's ruling Hindu party. Both countries lay claims to entire Kashmir.
Chinese State Councilor and Foreign Minister Wang Yi Wang told his Indian counterpart about China's principled position on India's recent unilateral move on the Kashmir issue, saying that China hopes India will play a constructive role in regional peace and stability.
Jaishankar explained India's stance, assuring that India will also abide by the consensus reached with China on maintaining peace on the border and continue to work with Beijing to properly solve the border issue through consultations, the Xinhua reported.
https://timesofislamabad.com/13-Aug-2019/india-seeks-good-relations-with-pakistan-and-ready-for-restraint-indian-fm-says-in-meeting-with-chinese-counterpart?utm_source=push-notification&utm_medium=direct
--------
Dalits among Muslims, Christians should not be denied reservation, says VCK chief
AUGUST 11, 2019
VCK president and Chidambaram MP Thol. Thirumavalavan on Saturday supported the demand of Dalit Christians and Dalit Muslims that they be recognised as Scheduled Castes, which gives them the right to reservation.
Mr. Thirumavalavan said his party fully supported the fight of Dalit converts and their protest on August 10, observed as a 'Black Day'.
Noting that only those Dalits who converted to Buddhism and Sikhism were eligible for reservation while those who converted to Christianity and Islam had been excluded, the VCK chief said the Centre should not deny them their right to reservation any longer.
"Amendments were brought in to a Presidential Order in 1956 to include Dalits who became Sikhs. In 1990, amendments were made to include Dalits who converted to Buddhism. However, Dalits who have embraced Islam and Christianity haven't been included in the Scheduled Castes list," Mr. Thirumavalavan said.
He said the Centre had been denying Dalit converts their rights even after the Ranganath Mishra Commission recommended almost a decade ago that reservation should be extended to them.
"Denying the right to reservation to Dalit Christians and Dalit Muslims goes against Article 25 of the Constitution, which gives every Indian the freedom to practice any faith," he said.
https://www.thehindu.com/news/national/tamil-nadu/dalits-among-muslims-christians-should-not-be-denied-reservation-says-vck-chief/article28979479.ece
--------
'UNSC not waiting with garland': Pakistan Foreign Minister Mehmood Qureshi tells countrymen to get real on Kashmir
Aug 13, 2019
Pakistan Foreign Minister Shah Mehmood Qureshi has asked Pakistanis to not live in a "fool's paradise" by expecting United Nations Security Council to "wait with garlands" to support Islamabad's contentions regarding India's decision to abrogate Kashmir's special status.
"Giving vent to emotions is easy and raising objections is much easier. However it is difficult to understand the issue and move forward. They are not waiting for you with garlands in their hands. Any members out of the P-5 nations can be a hurdle... Do not live in the fool paradise," said Qureshi during a press conference aired on PTV on Sunday.
Qureshi's comment came a day after Russia becomes the first P-5 member to support India over the abrogation of Article 370. It said all action taken by India was under the constitutional framework.
Also read: 'Be honest, Kashmir was never yours,' Islamic scholar slams Pakistan
The United States and kept its response neutral and not taken sides.
However, China has expressed its concerns over the current developments in Jammu and Kashmir.
After his trip to China, last week, Qureshi said that Beijing will lend its support to Islamabad in UNSC over Kashmir.
India, on the other hand, has made it is clear that Jammu and Kashmir is an integral part of India and the issue is completely internal.
A rattled Pakistan has initiated a series of decisions, including downgrading bilateral relations with India and suspending bilateral trade, halting of Samjhauta and Thar Express trains from its side and banning of Indian movies from Pakistani cinemas.
(The story has been published from a wire feed without any modifications to the text, only the headline has been changed)
https://www.hindustantimes.com/world-news/unsc-not-waiting-with-garlands-pak-foreign-minister-on-kashmir-issue/story-OAKQAxHf08qJFW701z711O.html
--------
The Muslim wealth tax Zakat is the best blueprint for making Western societies fairer ǀ View
12/08/2019
By Adeem Younis
This week sees 1.8 billion Muslims celebrate the "Festival of Sacrifice," or Eid Al-Adha. But the idea of sacrificing one's hard earned money is a year-round activity for Muslims, who are the world's most giving faith community when it comes to charity and philanthropy. This is especially true of Muslim communities in the UK and North America.
Muslim charity is built on the concept of Zakat, a 2.5% standing wealth tax that is eerily similar to the wealth taxes being proposed by various US billionaires and 2020 Presidential hopefuls. Could Islamic philanthropy provide a blueprint to reform predatory capitalism and fix our painfully unequal societies?
A wealth tax like Zakat may seem unorthodox to the point of being unworkable, but it is already implemented in many Muslim-majority countries whose economies are not completely dissimilar to those in Europe and North America.
Muslims in the UK, for example, give £371 per person to charity per year on average - more than the Jewish community and more than double the average Christian. Although this peaks around key festivals and occasions like Eid and Ramadan, it is an ongoing trend that is hardwired into many Muslims' practice of the religion.
This has even led some to refer to members of the Muslim faith as the "fourth emergency service," due to the incredible range of activity of Muslim-led charities like Penny Appeal in response to natural disasters at home and abroad.
This charity has always been for both Muslims and non-Muslims: although some categories of Islamic charity are primarily for members of the Muslim community, others are specifically for wider society, regardless of the recipient's background.
Although charity has been at the heart of Islam since the faith's beginnings, it is only recently that many have woken up to the potential for this giving to create social change, especially since Muslim communities in the UK, Europe and North America have become increasingly wealthy and more socially aware. Whereas many first generation immigrants were simply in survival mode, their children and grandchildren are often professionals or accomplished business people with increasing disposable income that they choose to use for social good.
This is against a backdrop of rising inequality around the world and here at home in the UK. The use of food banks is at an all-time high, welfare systems are struggling and society is becoming more and more divided. These conditions are unacceptable anywhere, but especially so in one of the world's richest countries.
Perhaps the solution to this can be found in the tradition of Muslim charitable giving. As I have already mentioned, the Zakat wealth tax is a simple 2.5% payment on assets held for a year above a (relatively low) threshold.
'Zakat' comes from the Arabic word meaning "to purify," and it is this kind of charity that has the power to purify wealth from the painful and unjust inequality that it often creates.
A wealth tax like Zakat may seem unorthodox to the point of being unworkable, but it is already implemented in many Muslim-majority countries whose economies are not completely dissimilar to those in Europe and North America.
And support for a Zakat-like wealth tax that can match the scale of Muslim charitable giving in the broader society is building in the US. It's understandable that a new wave of leadership is looking to make drastic changes. Decades of policies against inequality by both left and right wing parties have essentially failed.
Centre-right parties instinctively believe that more pro-business incentives (i.e. lower taxes) will make society more equal, since those growing businesses generate tax revenue. However, the largest businesses, as well as high net worth individuals, often pay little or no tax through a combination of low tax jurisdictions, transfer pricing, and even trusts - all of which are usually legal and almost impossible to stop through legislation.
This makes left wing parties' solution of higher taxes not only ineffective but counterproductive: to generate more tax receipts when the richest are paying so little, they are forced to tax the poorest more and more. This vicious cycle has increased inequality for many years, and something needs to change, particularly when endemic inequality has created the conditions for economic fissures to spread into social and ideological divides which accommodate the rise of the Far Right.
Many business leaders and centre-left politicians have called for a wealth tax that is Zakat in spirit if not in substance. In June this year, 18 of the wealthiest Americans wrote to presidential hopefuls urging them to adopt this kind of policy. It seems Elizabeth Warren has heeded their call, incorporating a wealth tax into her Democratic nomination campaign.
Interestingly, income tax is considered an oppression in classical Islamic law. If the only tax we had to pay was 2.5% of whatever we own for a year, most, apart from the ultra-rich would find they'd pay a lot less tax.
It is unclear whether these policies will ever see the light of day. Until then, our societies will have to rely on charitable giving - led by Muslims, but supported by us all.
- Adeem Younis is chairman of Penny Appeal, a British-based Muslim charity working in 30 countries around the world, including the UK
_____
Are you a recognised expert in your field? At Euronews, we believe all views matter. Contact us at view@euronews.com to send pitches or submissions and be part of the conversation.
https://www.euronews.com/2019/08/12/the-muslim-wealth-tax-zakat-is-the-best-blueprint-for-making-western-societies-fairer-view?utm_source=feedburner&utm_medium=feed&utm_campaign=Feed%3a+euronews%2fen%2fnews+(euronews+-+news+-+en)
--------
'It's Poor People's Eid': How Kabul Internally Displaced Persons Welcomed Muslim Festival
by Agnieszka Pikulicka-Wilczewska
Kabul, Afghanistan - Small pieces of meat hang in the front area of Zia Gul's tiny mud house, drying in the scorching August sun. This is all that the 35-year-old mother of six, and a resident of Nasaji camp for internally displaced persons (IDPs) in eastern Kabul, can offer her family on Eid al-Adha.
This year, the residents of the camp have been all but forgotten by the better-off part of society. Zia Gul's children received small portions of meat from strangers on the streets, but the family decided to dry most of the food and keep it for winter.
Eid al-Adha, one of the most important Islamic festivals, is celebrated across the Muslim world to commemorate Ibrahim's readiness to sacrifice his son according to God's command. Before Ibrahim made the sacrifice, however, God sent him a lamb to kill instead.
During the Feast of Sacrifice, Muslims traditionally slaughter animals, such as goats, sheep and cows and divide the meat into three portions, keeping one to themselves and sharing the other two with their close relatives and those in need.
"This year, we're all wearing old clothes. We don't have new ones to wear. I'm not in my village and we don't have any money," says Zia Gul, whose family left their home in the Khogyani district three years ago after ISIL killed the woman's two-year-old son. "We don't celebrate Eid this year, we can't even afford to buy bread."
Zia Gul: 'This year we're all wearing old clothes. We don't have new ones to wear' [Agnieszka Pikulicka-Wilczewska/Al Jazeera]
Over the years, as a result of a long-running war, economic hardship and natural disasters, almost 2.6 million people in Afghanistan were forced to leave their homes and became internally displaced, according to data by the Internal Displacement Monitoring Centre.
Between January 1 and July 30 this year, more than 206,000 new people have faced displacement, the United Nations Office for the Coordination of Humanitarian Affairs says. Those forced to flee their homes most often find shelter in provisional camps spread across the country.
The Nasaji camp, home to almost 1,500 IDPs, looks different on sacrifice day. Local children put on their best clothes, some of them even jewellery, and joyfully roam around the camp's well, the only playground they know.
But for Inzar Gul Safi, who manages the community's affairs, the mood is different. The lunch in his home today was modest, as this year no one has shared food with his family and most of the camp's residents.
"In the past, sheep and goats slaughtered in Saudi Arabia for Eid were brought by the pilgrims to the Ministry of Refugees which used to distribute the meat in the camps. It used to be whole animals. It was sponsored by the government of Saudi Arabia, but two years ago they have stopped that," says Inzar, 52, who has lived in the camp for the past 12 years.
"It's poor people's Eid. The bread we are eating is four days old. Eid is for wealthy people who go for Hajj, not for us. We only eat whatever we have left or whatever people bring us."
The situation of the camp's residents has been steadily deteriorating. According to Inzar, for the past three years, they have received little support from the numerous NGOs working in the country. Last year, the Norwegian Refugee Council built several toilets in the camp, but it has not been enough for the residents' needs.
The government, caught in fighting against the Taliban, has also largely neglected the situation of IDPs despite earlier promises of support, camp residents say. They have no opportunity to educate their children or find sustainable employment and there are no clinics which accept patients from the camp for an affordable price. As a result, many die without receiving specialist help, including during childbirth.
"All IDPs we've spoken with remain angry with the government for lack of support. They especially blame [President] Ashraf Ghani who promised IDPs that if they were to vote for him, they would receive plots of land and support, none of which Ghani followed through with according to IDPs at Kabul's various camps," Mohammed Harun Arsalai, writer, activist and cofounder of Documenting Afghanistan project told Al Jazeera.
Inzar Gul Safi: 'I just want the government to take care of the families of the people who perished in war' [Agnieszka Pikulicka-Wilczewska/Al Jazeera]
"The IDPs and those who were forced to return from Pakistan have been abandoned by the government. Their only means of support is generally the NRC and charity from Kabul locals. The UNHCR (United Nations refugee agency) also provides support, like tents, but has failed miserably at IDP support efforts."
The ongoing peace negotiations between the United States and the Taliban, which might bring the end to the decades of fighting, do not fill Nasaji camp residents with hope either. Since most of them have lost everything, peace itself, without government support, is unlikely to improve their situation.
"Even if the peace comes, why would I go back to my village? I don't have the money to build a house, or buy land to grow crops. All we had in this world in the last 20 years we had lost. We sold our land and everything we had. So we can't go back to our village," Inzar says.
Meanwhile, many camps, most of which are located on state land, have experienced pressure not to expand further. In Nasaji, new buildings were once destroyed during the night by people connected to the government, according to residents.
"I just want the government to take care of the families of the people who perished in war, the disabled, and provide us with shelter. We need employment for the youth so that they do not join the Taliban. If we have jobs ourselves, we will not have to take any aid from America or NGOs," Inzar says.
"We are not receiving any aid right now, not even clothes for our children. Some of them don't even have shoes, they only have Allah. We hope that our situation will improve, but so far, it has only been getting worse."
https://www.aljazeera.com/news/2019/08/poor-peoples-eid-kabul-idps-welcomed-muslim-festival-190812185753373.html
--------
2.48 mln haj pilgrims this year, up 4.6 pct from 2018, as rains hit Mecca
Salaam Gateway
13 August, 2019
More than 2.48 million pilgrims performed the haj this year compared to 2.37 million in 2018, as rains lashed down in Mecca.
2,489,406 international and domestic pilgrims performed the haj this year, tweeted the ministry for hajj and umrah.
More males than females went on the pilgrimage this year, 1,385,234 versus 1,104,172. Male haj pilgrims have consistently outnumbered females.
The number of pilgrims from abroad reached 1,855,027, an increase of 5.48 per cent from last year.
1,157,919 international and domestic pilgrims came from non-Arab Asian countries, followed by 475,831 pilgrims from Arab countries outside the Gulf Cooperation Council (GCC) states, said the ministry of media on Tuesday citing data from the General Authority for Statistics.
190,764 pilgrims were from non-Arab African countries, followed by 67,932 from Europe, 33,705 from GCC countries and 27,690 from North and South America and Australia.
Pilgrims performed their haj rituals amid heavy rain in Mecca.
Saudi Arabia's General Authority of Meteorology and Environmental Protection said Arafat received a total of 31 millimeters of rain on Monday, with the Grand Mosque in Mecca receiving 26 mm and Mina 12 mm.
https://www.salaamgateway.com/en/story/2.48_mln_haj_pilgrims_this_year_up_4.6_pct_from_2018_as_rains_hit_mecca-SALAAM13082019110058/
--------
US National Counterterrorism Centre's Former Director Nick Rasmussen Says Right-Wing Terrorism Is A Growing Threat
By political reporter Stephanie Borys
The world has witnessed a number of right-wing extremist attacks this year, and a former director of America's National Counterterrorism Centre fears there will be more.
Nick Rasmussen, who served under both Barack Obama and current President Donald Trump, has warned that right-wing extremism is becoming more prevalent.
"It is certainly the experience we are having in the United States right now and there are signs that this is happening in other countries," he told AM.
"Individuals who share these views, whether they are tied to white supremacy or anti-Semitism or some other hate-based ideology, are finding each other across the globe."
Mr Rasmussen is visiting the Australian National University's National Security College to talk on a range of issues including terrorism, and said the threat of right-wing extremist attacks was just as high as the threat of an attack by Islamic extremists.
"I think there is a certain equality in the United States, at least in terms of case load," he said.
"Even though the horrific attacks tied to domestic terrorism have received more press attention in recent weeks, not too many weeks go by in the United States where there isn't an arrest of an individual for terrorism-related activity related to ISIS or Al Qaeda."
The Christchurch shooting has been described by New Zealand police as an attack by a "lone wolf" terrorist, but analysts say the motivations behind such attacks are not entirely ideologically isolated.
ASIO boss Duncan Lewis has previously confirmed that intelligence agencies are keeping an eye on right-wing extremism in Australia.
Asked about the threat during Senate Estimates in October last year, Mr Lewis said the problem was "coming off a very low base" but certainly re-emerging.
"I wouldn't say that it's a lot worse; they're probably a little bit better organised than they have been in the past, but we are monitoring this very, very closely," Mr Lewis said.
Mr Rasmussen said it was hard to judge the potential volume of right-wing terrorists in Australia, but pointed to what he described as a critical difference with the US.
"Australia has managed its gun control concerns much more effectively than the United States has, in my opinion," he said.
"Individuals who are so motivated in the United States don't have much difficulty in acquiring high-powered weapons of war and thus they can inflict horrible violence in a brief period of time."
What motivates far right extremism?
Following the El Paso and Ohio shootings, President Donald Trump declared that mental illness was a contributing factor to the attacks.
Mr Rasmussen said that may be true in some instances, but he has cautioned against using mental health as a "deflection".
"It is simply a denial of the fact that it is hateful rhetoric and hateful ideologies that underpin these attacks," he said.
"I wouldn't want to suggest that a better mental health system somehow solves this problem, that simply isn't the case."
Americans own nearly half of the world's guns, with about 120 firearms for every 100 US residents. The sheer number of firearms is only the start of the challenge, writes Lacey Wallace.
Mr Rasmussen pointed to political rhetoric in the US as also being unhelpful.
"It would be a good thing if the President and indeed all political actors in the United States would find ways to moderate their rhetoric and not contribute to the sense of social divide we have right now," he said.
"[But] in the end, I think, most of the solutions that hold some promise in terms of dealing with any form of extremism, most of those solutions end up being community-based rather than government-imposed."
https://www.abc.net.au/news/2019-08-13/national-counterterrorism-centre-warns-on-right-wing-terrorism/11407164
--------
Iranians on Holy Pilgrimage in Mecca Chant 'Death to America! Death to Israel!'
12 Aug 2019
Iranians who gathered in Islam's holy city of Mecca in Saudi Arabia over the weekend for the annual hajj pilgrimage called for Israel's destruction and chanted "Death to America."
Every year, millions of Muslims make the annual religious pilgrimage to Mecca, which began Friday.
At a "disavowal of polytheists" ceremony in Mecca, the reading of a message from Iran's Supreme Leader Ali Khamenei reportedly prompted a crowd of Iranian hajj pilgrims to chant, "Death to America! Death to Israel! … America is the enemy of Allah! Israel is the enemy of Allah [and] should be erased from the face of the Earth!"
The Middle East Media Research Institute (MEMRI) reported the chants at the ceremony held at Mecca's Mount Arafat, citing a translation of a segment of the ceremony aired by Iran's IRINN TV station on Saturday.
According to MEMRI's translation of the ceremony segment, an IRINN TV anchor declared, "The cries of 'Death to America!' and "Death to Israel!" reverberated at the 'disavowal of the polytheists' ceremony held at the plain of Arafat [in Mecca]."
"This is the cry of the Islamic nation against the child-killing Zionist regime and its supporter, the global arrogance. It is shouted from the plain of Arafat," a reporter from the Iranian TV station added, referring to the chants.
The annual five-day pilgrimage to Mecca is a once-in-a-lifetime requirement for all Muslims who are physically and financially capable of making the journey. It is considered one of the five pillars of Islam.
"We have come here by the order of the Leader in order to say 'Death to America!' and 'Death to Israel!' The pilgrimage is not just religious. It is both religious and political. I will sacrifice my life for the Leader," MEMRI quoted an unnamed Iranian young boy who attended the ceremony as saying.
"This is one of the foundations of our religion – expressing our allegiance, as well as our disavowal and aversion towards all our enemies. Ultimately, we must come here and shout our slogans in order to let the enemy know of our aversion towards it," a female attendee reportedly added.
During the ceremony, Ghorbanali Dorri-Nafajabadi, a member of Iran's powerful Expediency Council and the Assembly of Experts, demanded "obedience" to the Islamic Republic's supreme leader while urging Iranians to stand against "polytheism."
"All the supporters of the front of truth must stand united under the banner of monotheism, of unity, and of obedience to the Leader against the front of heresy, polytheism, hypocrisy, Zionism, arrogance, and reactionism," the Iranian official proclaimed. "This is the meaning of the disavowal ceremony."
Both Judaism, the main religion in Israel, and Christianity, the most prominent faith in the United States, are monotheistic.
This year's hajj pilgrimage to Mecca came amid heightened tensions between the United States and Iran that have brought both countries closer to a military conflict in recent months.
https://www.breitbart.com/middle-east/2019/08/12/iranians-holy-pilgrimage-mecca-chant-death-america-death-israel/
--------
Eid-el-Kabir: CAN urges Muslims to join fight against killings, kidnapping
SECURITY got the attention of the Christian Association of Nigeria (CAN), Dr. Supo Ayokunle and the Chief of Air Staff (CAS) Air Marshal Abubakar Sadique in their Sallah messages.
Rev Ayokunle urged Muslims, as they celebrate this year's El-ei-Kabir, to join in the battle against insecurity. Air Marshal Abubakar encouraged officers and men of the Nigerian Air Force (NAF) to brace to the evolving security challenges with modern techniques.
In a statement in Abuja by the association's National Director, Legal and Public Affairs, Kwamkur Vondip, the CAN president urged Muslims to always throw their weight behind the fight against the unending security challenges facing the country. Air Marshal
Dr. Ayokunle pleaded with Muslims to see the celebration of Eid-el-Kabir as a period for deeper reflection "on the challenges of Nigeria and the need to build confidence in one another by deliberate show of love for peace building."
Felicitating with the Muslims on the occasion, the CAN leader also admonished the Federal Government to urgently put an end to the security challenges bedeviling the nation.
The statement reads: "The President of the Christian Association of Nigeria, His Eminence Rev. Supo Samson Ayokunle, on behalf of the Christian Association of Nigeria(CAN) felicitates with the Sultan of Sokoto, the President of the Supreme Council for Islamic Affairs and Co- Chairman Nigeria Inter- Religious Council (NIREC) His Eminence Alhaji Saad Abubakar III and the entire Muslim Ummah in Nigeria as they celebrate Ed-el Kabir.
"We urge Muslims and indeed all Nigerians to be reminded that we have no any other nation to call ours beside Nigeria hence the need for all well-meaning Nigerians to be patriotic and support the fight against insurgency, kidnapping and all forms of insecurity and criminality bedeviling Nigeria.
"Government at all levels are urged to consider the responsibility given to them to govern the people as a divine calling and be more committed and practical in carrying out their mandate of securing the lives and property of the citizens.
"It is our hope and prayers that the challenges of our nation will very soon be a thing of the past as Nigerians renew their commitment to God at this trying moment.
"We call on the government to do everything to rightly curb criminality in the nation through more technologically based surveillance and prompt action against violence in any disguise. We wish all Muslims a peaceful and wonderful celebration."
Air Marshal Abubakar urged personnel and officers of the Air Force to evolve new ways of dealing with emerging security threats in the land.
He, however, said whatever measure being adopted should be done in accordance with the rules of engagement of the service.
Air Marshal Abubakar, who praised the personnel and officers of the service for their commitment and zeal as demonstrated over the past few years, said the sacrifices made by those who paid the supreme price for peace and unity of the country would not be in vain.
In a Sallah message, Air Marshal Abubakar urged the personnel and officers to redouble their efforts in dealing decisively with the enemies of the country.
He said: "It is with great pleasure, and gratitude to the Almighty, that I heartily wish all officers, airmen/airwomen and civilian members of staff of the Nigerian Air Force (NAF) a Happy Eid-El-Kabir! I pray that the joy of the season abides with you and your families.
"I wish to particularly thank commanders at all levels for their commitments and sacrifices. I urge you to continue to think outside the box whilst evolving innovative solutions in order to ensure high level of aircraft and equipment serviceability as well as robust logistics support capability for enhanced combat readiness to deal with the threats to our nation.
"It is gratifying to note that our gallant pilots as well as our Regiment and Special Forces personnel are adapting creditably to the ever changing nature of these threats and making good progress.
"We must also sustain and improve on the level of professionalism in the Service through robust, job-focused training; commitment to improving personnel welfare as well as result-oriented Research and Development (R&D), which have all had a positive impact on our operational effectiveness.
"Notwithstanding our modest gains, we must appreciate the enormity of the challenges ahead, as we strive to consolidate and work with sister Services and other stakeholders to rid our great nation of the threats to her security and development.
"Accordingly, as we go forward, I enjoin you all to redouble your efforts in dealing decisively with all enemies of the State, while remaining professional in the discharge of your duties. You must be courageous and, working in synergy with other security agencies, continue to take the battle to the armed bandits and terrorists, not minding their malicious propaganda."
https://thenationonlineng.net/eid-el-kabir-can-urges-muslims-to-join-fight-against-killings-kidnapping/
--------
India
Kashmir: Major mosques remain closed for Eid as Indian security crackdown continues
Aug 13, 2019
Eid prayers were reportedly banned at some major mosques in Indian-administered Kashmir on Monday, during an ongoing security crackdown in the region.
Frustration is growing in the Muslim-majority area, which is also claimed by Pakistan, over India's decision last week to curtail autonomy for the state of Jammu and Kashmir, including lifting a bar on non-residents buying property.
The Eid restrictions come after the Indian government cut off phone lines, communications and the internet in the area on 5 August.
India then proceeded to scrap a constitutional provision that had allowed Jammu and Kashmir to make its own laws.
The Modi administration also broke the state up into two territories which will now be federally administered.
Large gatherings have been banned across the disputed region.
Major mosques in the city of Srinagar remained closed for the Eid holiday, according to NDTV.
Smaller local mosques were open for prayers, according to the Indian government.
Hundreds of people shouting anti-India slogans spilled on to the streets following prayers in the neighbourhood of Soura, the site of a big demonstration on Friday, but authorities largely sealed off the area and kept the protest localised.
Kashmir's police force said in a tweet that Eid festival prayers "concluded peacefully in various parts of the [Kashmir] Valley. No untoward incident reported so far".
"We want freedom, we are neither a part of India, nor Pakistan," said Asifa, an 18-year-old woman who was among those protesting after prayers at the shrine of Jinab Sahib in Soura.
"Modi is lying to his people that the removal of special status of Kashmir is good for us," she said. "We will resist it till our last breath."
The Indian government claimed that restrictions had been relaxed for Eid.
But the clampdown on communications remained in place for an eighth day, with no regular internet, mobile phone or fixed-line links working.
Virtually no independent information has emerged from elsewhere in the region apart from Srinagar in the past week.
Residents said the silence in Srinagar was like nothing they had ever experienced before on the Eid festival.
Shops were shut, their shutters and walls carrying anti-India graffiti including, "Go India Go Back" and "We Want Freedom".
Support free-thinking journalism and subscribe to Independent Minds
"What are we celebrating? I can't call my relatives to wish them Eid, we can't go out to buy things. So, what kind of celebration is this?" asked Aneesa Shafi, an elderly woman entering a mosque in Srinagar's Barzulla area.
The decision not to lift the security restrictions followed a meeting of the state's chief secretary with district administrative and police officials on Sunday, a senior government official told Reuters.
"It was decided that the restrictions would be imposed on Eid to prevent gatherings that could turn violent," the official said.
More than 300 regional leaders and activists remain in various forms of detention across Kashmir.
https://www.independent.co.uk/news/world/asia/kashmir-india-pakistan-communications-article-370-a9055126.html
--------
Behind Zomato beef-pork delivery protest in Howrah: a pay cut and a local BJP leader
Written by Ravik Bhattacharya, Santanu Chowdhury
August 13, 2019
The Indian Express spoke to a number of delivery executives who said that the primary agenda of their protest, that began on August 5, was a dip in payment rates.
An agitation over the dip in payment rates to delivery executives of Zomato food app in West Bengal's Howrah a week ago took a religious turn on Sunday as the delivery executives protested against the delivery of food items containing pork and beef.
The Indian Express spoke to a number of delivery executives who said that the primary agenda of their protest, that began on August 5, was a dip in payment rates.
But their protest grabbed the national headlines on Sunday with their refusal to deliver pork and beef food items, citing religious sentiments.
Adding to the mix was the presence of a local BJP leader, Sanjay Kumar Shukla, the secretary of BJP's Uttar Howrah Mandal 2. On Sunday, when the delivery executives protested, Shukla was seen standing with them in front of mediapersons. On Monday, however, he was not seen posing with the protesting executives.
"I am not with the protesting employees as a BJP man," Shukla told The Indian Express on Monday. "We do not want to politicise the issue. But how can a Hindu deliver beef and a Muslim deliver pork?… This hurts a person's religious sentiments."
A minister in the Mamata Banerjee government waded into the controversy on Monday, backing the delivery executives. "The company must not force any person to go against their religion. I will look into the matter," State Tribal Development Minister Rajib Banerjee said.
However, many of the delivery executives said that their protest centred around the payment issue.
"Our boys also protested against the delivery of pork and beef then. But mainly it was a payment issue. But now suddenly the media has highlighted our agitation on the pork and beef issue," Sujit Kumar Gupta, who has been working with the food delivery app for the past two years, said.
"When I joined work two years ago, I was assured that I will earn a minimum of Rs 4,000 per week with or without orders. We got Rs 80 to Rs 100 for each delivery. We used to get incentives. Now, we get Rs 25 per delivery… Initially, one would earn Rs 30,000 to Rs 40,000 per month. Now, we hardly make Rs 15,000 despite working from 12 noon to midnight," said Gupta.
Mousin Akhter, who is spearheading the protest, told The Indian Express, "We have been complaining about the payment cuts and have been told to leave if it doesn't suit us. Then two weeks ago, our team leader held a meeting… He told us that the company is tying up with some restaurants which serve beef. The Hindu delivery executives were against this. Similarly Muslim executives were against delivering pork items. We told the team leader that this is not possible as this will hurt our religious sentiments."
The protesting executives are pinning their hopes on their meeting with Zomato officials, which they claimed, is scheduled to take place on August 16 at the company's Kolkata office.
Meanwhile, Zomato has not issued any fresh statment after the one it released on Sunday. "…Delivery partners are unequivocally made to understand the practical nature of the job as they choose to enter the workforce. All our partners understand this fully. There is a small group of partners in Howrah who have raised concerns and we are looking to resolve the issue as quickly as possible," the company had said on Sunday evening.
https://indianexpress.com/article/india/behind-zomato-beef-pork-delivery-protest-a-pay-cut-and-a-local-bjp-leader-5899826/
--------
Facebook Suspends Account of Scholar Tajammul Islam for Being Critical of the Government's Move On Kashmir
Aug 13, 2019
Hyderabad: After Twitter, Facebook has decided to play the role of government censor and has begun shutting down accounts of those who are disclosing information about what is happening in Kashmir, which is under a lockdown and communication blackout imposed by the central government.
Facebook has disabled the account of Tajammul Islam, a PhD scholar who had around 5,000 friends on his FB account. He has been critical of the government's move on Kashmir since the state's special status was abolished.
In a recent post, Tajammul said: "Kashmir has already lost thousands of crores due to the deadly curfew imposed by India and there are people around who say it is all about the development of Kashmir."
On Monday, he found his account was disabled. He created another account and wrote: "Dear friends, unfortunately my previous Facebook account with 5000 friends plus followers were disabled by Facebook. No reasons whatsoever were cited. I had well-meaning friends from everywhere. I have lost them all. My FB messenger is also gone. Years of memories I had preserved on Facebook and historic endless conversations with friends have all gone. I tried my best to retrieve my lost account but to no avail. I was probably perceived as a threat to the nation".
Tajammul flew to Hyderabad from Srinagar a day after Article 370 was revoked and thousands of troops were deployed in the Valley. He was scheduled to give his final PhD examination at the Urdu University here. Since then he has been cut off from all communication with his family.
On Bakrid, Tajammul left to go back to J&K, determined to meet his parents. His post before the account was disabled read, "I am going home today. Not certain whether I will make it to my home by the evening or not. This is the last message I am conveying to you, I will soon be sucked by the black hole called Kashmir. Id Mubarak to all of you. Life must go on."
Earlier, Twitter had suspended the handle @withkashmir_ that was getting attention.
https://www.deccanchronicle.com/nation/current-affairs/130819/facebook-suspends-account-of-scholar-Tajammul-islam.html
--------
Temples & Mosques Talk Wastes Time, Ex-Navy Chief Warns on China
China is moving ahead in areas like artificial intelligence and robotics and it would be a waste of time if India distracts itself by talking about temples and mosques, former Navy Chief Arun Prakash said on Sunday, 11 August.
However, he expressed hope that the abrogation provision of Article 370 and the change in the status of Jammu and Kashmir will bring peace and help foster integration and economic development in the region.
"For our whole existence as an independent nation, we have seen and suffered from these fissures - linguistic, religious, caste etc. These conflicts have continued throughout our independent existence," said Admiral Arun Prakash (Retd.) while delivering Prem Bhatia Memorial Lecture in Delhi.
"What we need to do is to try and tamp them rather than to exploit them...China is talking about artificial intelligence, robotics and machine learning and all that. If we are going to talk about temples and mosques and so on, then obviously we are going to waste time."
Arun Prakash, Former Navy Chief
'Issues of Divisive Nature Need to Be Minimised'
Prakash, who served as the chief of Naval staff from July 2004 to October 2006, said on Sunday, "It is in key interest of national security to ensure peace and tranquillity domestically before even looking outside."
"So to take away the half front, which the Army Chief mentions, we need to ensure domestic peace, harmony, etc. Therefore, the issues that are of a divisive nature need to be minimised rather than exploited," he added.
In June this year, Army Chief Bipin Rawat said that Indian armed forces are ready for a "two-and-a-half-front war". Rawat was referring to Pakistan and China as two fronts and internal security threats as the half front.
Prakash said on Sunday, "Our actual preparation should have been to ward off Chinese pressure. They don't have to fire a bullet. There are many other ways of pushing India. And if we prepare to counter China, then Pakistan would automatically be taken care of."
Talking about recent situation in Jammu and Kashmir, he said, "One hopes that the recent abrogation of Article 370 and the changes in the status of erstwhile J&K (Jammu and Kashmir) will bring peace and help foster integration and economic development."
fbtw
Earlier this week, the government revoked provisions of Article 370 of the Constitution, withdrawing special status to Jammu and Kashmir, and split the state into two Union Territories -- Jammu and Kashmir, and Ladakh.
"If we are to debunk Jinnah's two-nation theory and convince the Muslim majority Union Territory (UT) of J&K that they made the right choice in 1947, then we need to reflect seriously on some larger issues," he said.
"One, whether the pursuit of majoritarianism of any kind is a good idea for a multi-religious, multi-ethnic and multi-lingual country like India. Two, whether in generating insecurity amongst any section of our people will enhance India's security or undermine it.
(This story was auto-published from a syndicated feed. No part of the story has been edited by The Quint.)
Captain S. Prabhala IN (Retd)
9/8 Haudin Road
Bangalore 560042
India
Tel: 080 2559 9603, 4153 6655
https://www.thequint.com/pti/china-moving-ahead-talking-about-temples-mosques-will-waste-our-time-ex-navy-chief-arun-prakash
--------
Pakistan
Army Chief: Pakistan Won't Give India Opportunity to 'Cover up Crimes in Kashmir'
TEHRAN (FNA)- Pakistan's Chief of Army Staff General Qamar Javed Bajwa on Monday said that Islamabad had initiated multiple steps to redress the ongoing crisis in Kashmir after the government of India revoked the special status provided to the Indian-administered state of Jammu and Kashmir.
General Bajwa claimed that the Indian government is trying to shift the international community's focus away from the situation in India-administered Kashmir so "it can do anything" there, adding that Pakistan would speak out against the alleged crimes committed by Indian forces in the region, RIA Novosti reported.
"We must not give them any opportunity to cover up the crimes it is committing in Jammu and Kashmir," he noted.
On the occasion of the holy Muslim festival, General Bajwa also stated that the Pakistani Army would observe Eid in solidarity with the Muslims of Indian Kashmir.
"We stand with our brothers and sisters in Kashmir and no matter how much time and whatever effort it takes, we will prove equal to the challenge Pakistan Army is observing Eid solemnly in solidarity with Kashmiris", the Pakistani Army quoted him as saying in a statement posted on its website.
Meanwhile, on raising the Kashmir issue before the international community, Pakistan's Foreign Minister Shah Mehmood Qureshi on Radio Pakistan said that Prime Minister Imran Khan, in his wider outreach efforts, had contacted world leaders, including those of Turkey, Iran and Indonesia to apprise them of the ongoing crisis in the region.
The foreign minister also added that if there is any armed aggression from the Indian side amid the escalating tensions, the Pakistani forces would "reserve the rights" to defend themselves.
The situation in the state of Jammu and Kashmir has been tense since the Indian parliament scrapped a previously granted special status to the region, turning it into a union territory in addition to declaring Ladakh a separate one. The new system is likely to come into effect in October.
Ahead of the unprecedented move, the government pushed prohibitory orders in Kashmir and took all political leaders of regional parties into preventive custody.
India's move sparked a diplomatic row with Pakistan and in the response, Islamabad has expelled New Delhi's envoy to the country, as well as suspended trade, and communication links.
https://en.farsnews.com/newstext.aspx?nn=13980522000338
--------
Europe
Georgian officials congratulate Muslim community on Eid al-Adha
11 Aug 2019
Georgia's Muslim population is celebrating a major religious holiday today – Eid al-Adha, also known as Qurban Bayram.
Georgian Prime Minister Mamuka Bakhtadze sent good wishes to the country's Muslim citizens, saying "Georgia's wealth is in its diversity" and "over the course of centuries, our ancestors jointly built our homeland".
It is our obligation to pass these traditions on to our future generations. Qurban Bayram is a holiday dedicated to hope, love and support of those in need", PM Bakhtadze stated.
The Georgian State Minister for Reconciliation and Civil Equality Ketevan Tsikhelashvili also sent good wishes to the country's Muslim population on the holiday.
I would like to sincerely congratulate each of you on this wonderful day and wish you peace, welfare and prosperity in your families and in the country as a whole", Minister Tsikhelashvili said.
She further noted that the Georgian Government values the religious diversity in the country and welcomes the fact that people of different believes peacefully live together.
Spring is in the air: Novruz in Tbilisi
Muslims are one of the largest religious minority groups in Georgia, representing up to 10 percent of the Georgian population.
https://agenda.ge/en/news/2019/2149
--------
Norway Shooting Suspect Filmed Mosque Attack With GoPro Camera - Reports
13.08.2019
MURMANSK (Sputnik) - The man charged with opening fire in a Norwegian mosque in the suburbs of Oslo on Saturday and earlier murdering his stepsister, filmed his actions with a GoPro camera, local media reported, citing police.
"We have this video. It gives the police important evidence", Oslo district police attorney Paal-Fredrik Hjort Kraby said at a news conference on Monday, the NRK broadcaster reported.
At least one person was injured in the attack, while police affirmed that the suspect used a GoPro camera.
A man, later identified as Philip Manshaus, opened fire on the Al-Noor Islamic Centre in the municipality of Baerum near Oslo on Saturday evening.
The incident happened as Muslims across the world are preparing to celebrate Eid al-Adha, one of the most important holidays in Islam.
Oslo police specified that the man was acting alone. He was overpowered by mosque clergy who then called police.
Police later found a dead woman in his house. Local media reported that the victim was his stepsister.
Norwegian intelligence received tips as far back as last year about the shooter, according to Norwegian Police Security Service (PST) Chief Hans Sverre Sjovold. Sjovold said, however, that tips received by the intelligence services were unclear and unrelated to the planning of the attack.
https://sputniknews.com/europe/201908131076535818-norway-shooting-suspect-filmed-mosque-attack-with-gopro-camera---reports/
--------
Teen, 17, admits possession of Christchurch mosque attack video
13 Aug, 2019
A 17-year-old has pleaded guilty to possessing the video of the Christchurch mosque mass shootings, which saw 51 people shot dead.
The teenager, who was granted continued name suppression in the Thames District Court this afternoon, admitted one charge of possessing objectionable material, namely video of the mosque shootings.
The name of the teen's North Island school was also suppressed by Judge Glen Marshall.
The teen's lawyer, Amanda Bean, told the judge she would also be filing a S106 (discharge without conviction) application, which would be decided at sentencing, along with whether to permanently suppress the teenager's details.
He was remanded on further bail to reappear in Thames for sentencing on September 20.
https://www.nzherald.co.nz/crime/news/article.cfm?c_id=30&objectid=12258203
--------
Christchurch Art Gallery to display mosque shootings tributes
Aug 13 2019
Soft toys left as tributes were handed out at an Eid al-Fitr celebration at Pioneer Stadium, where nearly 2000 Muslims gathered to mark the end of Ramadan.
Hundreds of messages and mementoes left at Christchurch's spontaneous memorial wall after the March 15 mosque attacks will be displayed at the city's art gallery.
Called Tributes of Aroha, the display will be around the six-month anniversary of the terror attack, from the evening of September 13 until September 15.
Fifty-one people were massacred and scores of others were injured in the shootings at the Al Noor and Linwood mosques.
Rolleston Ave became home to a memorial wall of flowers and tributes to the victims of the Christchurch mosque shootings.
Rolleston Ave became home to a memorial wall of flowers and tributes to the victims of the Christchurch mosque shootings.
The suspect, who has pleaded not guilty to 51 charges of murder and 40 of attempted murder as well as engaging in a Terrorist Act, is due back in court on Thursday.
Tributes, including flowers, soft toys, cards and drawings, lined Rolleston Ave near the Botanic Gardens in the weeks after the attacks.
Some of the tributes left on the wall have been saved and will go on display in the Christchurch Art Gallery in September.
The Christchurch City Council, in partnership with the Canterbury Muslim Community Trust, the Botanic Gardens and art gallery staff, collected and documented the tributes.
Soft toys were cleaned and gifted to young Muslim children at an Eid al-Fitr celebration at Pioneer Stadium to mark the end of Ramadan. The flowers were to be turned into compost.
For the exhibition, the tributes will be displayed in the gallery foyer and upstairs balcony of the art gallery. There will be video, photographs and talks in the gallery auditorium.
Council principal community partnerships and planning adviser Claire Phillips said the display was an opportunity for people to reflect on what happened, its aftermath "and appreciate the spirit of solidarity and kindness that's behind [the tributes]".
"It's also a chance for some of the people who were injured in the attacks or visiting family members in hospital to see these tributes, perhaps for the first time."
Muslim Association of Canterbury women's co-ordinator Jumayah Jones hoped the display would help the community's healing process.
"We wanted to share the tributes, the cards and all the deep-felt words of aroha with the wider Muslim community and also others in Canterbury."
Members of the public can attend the opening event at 5.30pm September 13. After the exhibition, some of the items will to to the Canterbury Museum.
"A working group has been established to ensure they are treated respectfully," the council said.
https://www.stuff.co.nz/national/christchurch-shooting/114967403/christchurch-art-gallery-to-display-mosque-shootings-tributes
--------
Norway mosque suspect remanded to custody
Philip Manshaus (left) and his lawyer Unni Fries attend a court hearing in Oslo, Norway. Associated Press
A Norwegian man suspected of killing his stepsister and opening fire in a mosque near Oslo this weekend was remanded in custody on Monday, suspected of murder, and a "terrorist act" that police say he filmed himself.
The man, identified as 21-year old Philip Manshaus, appeared in the Oslo court with two black eyes and scrapes and bruises on his face, neck and hands, probably obtained when he was overpowered at the mosque.
Police say he has "extreme right views" and "xenophobic positions" and that he had filmed the mosque attack with a GoPro camera mounted on a helmet.
The Norway incident comes amid a rise in white supremacy attacks around the world.
Manshaus is formally suspected of murdering his 17-year-old stepsister, and of a "terrorist act" at the Al-Noor mosque on Saturday, allegations he has rejected.
In Norway, being formally named as a suspect is a step prior to indictment.
Manshaus entered the courtroom smiling to cameras, wearing dark clothes and his hair cut short. He asked to be released, his lawyer Unni Fries said after the hearing.
"He rejects the allegations and exercises his right to not explain himself," she said.
The court cited "reasonable grounds" to suspect Manshaus had committed the criminal acts and remanded him in custody for four weeks, as police had requested.
Police official Pal-Fredrik Hjort Kraby told a press conference that Manshaus had worn a helmet equipped with a camera during the attack "which was filming and has provided us with important evidence."
The court said he will be kept in "complete isolation" for the first two weeks.
Manshaus is accused of entering the mosque in the affluent Oslo suburb of Baerum armed with at least two weapons and opening fire before he was overpowered by a 65-year-old man who suffered minor injuries. Just three worshippers were in the mosque at the time.
Hours after the attack, the body of a young woman was found in a home in Baerum and police on Monday identified her as Johanne Zhangjia Ihle-Hansen, Manshaus' 17-year-old stepsister.
Local media said she was of Chinese origin and had been adopted by the companion of Manshaus' father.
https://www.gulftoday.ae/news/2019/08/12/norway-mosque-suspect-remanded-to-custody
--------
South Asia
Taliban say latest talks end on US withdrawal from Afghanistan
August 12, 2019
The latest round of talks between the Taliban and the United States on a deal to withdraw thousands of US troops from Afghanistan has ended and now both sides will consult with their leadership on the next steps, a Taliban spokesman said on Monday.
The eighth round of talks in the Gulf Arab nation of Qatar concluded after midnight and was "long and useful," Zabihullah Mujahid said in a statement.
He made no statements on the outcome of the talks.
Last week, another Taliban spokesman had said a deal was expected to follow this round as both sides seek an end to the nearly 18-year war, America's longest conflict.
An agreement if reached is expected to include Taliban guarantees that Afghanistan would not be a base for other extremist groups in the future. However, both the militant Islamic State (IS) group's affiliate and al-Qaida remain active in the country. The Taliban stage near-daily attacks across Afghanistan, mainly targeting Afghan forces and government officials but also killing many civilians.
The deal also could include a cease-fire and stipulate that the Taliban would negotiate with Afghan representatives, though the insurgent group has so far refused to negotiate with Kabul representatives, dismissing the Afghan government as a US puppet.
There was no immediate comment on Monday from US envoy Zalmay Khalilzad, who on Sunday tweeted: "I hope this is the last Eid where #Afghanistan is at war."
In Afghanistan, Sunday was the first day of the Muslim holiday of Eidul Azha, which unfolded without any major violence reported in Afghanistan.
Khalilzad later added: "Many scholars believe that the deeper meaning of Eid al-Hadha is to sacrifice one's ego. Leaders on all sides of the war in Afghanistan must take this to heart as we strive for peace."
Some in Afghanistan saw it as a response to President Ashraf Ghani, who on Sunday declared: "Our future cannot be decided outside, whether in the capital cities of our friends, nemeses or neighbours. The fate of Afghanistan will be decided here in this homeland. [...] We don't want anyone to intervene in our affairs."
While Ghani insists that the upcoming Sept 28 presidential election is crucial for giving Afghanistan's leader a powerful mandate to decide the country's future after years of war, Khalilzad is seeking a peace deal by Sept 1, weeks before the vote.
The Taliban control roughly half of Afghanistan and are at their strongest since the US-led invasion toppled their five-year government in 2001 after the group had harboured al-Qaida leader Osama bin Laden. More than 2,400 US service members have died in Afghanistan since then.
The US and Nato formally concluded their combat mission in Afghanistan in 2014. The some 20,000 American and allied troops that remain are carrying out airstrikes on the Taliban and IS militants, and are working to train and build the Afghan military.
https://www.dawn.com/news/1499313/taliban-say-latest-talks-end-on-us-withdrawal-from-afghanistan
--------
Two soldiers and a girl killed in suspected Philippine Islamist attack
MANILA (DPA) - Two soldiers and a two-year-old girl were killed in an attack by suspected Islamist militants in the southern Philippines as the country marked the feast of Eid al-Adha, the military said Tuesday.
The soldiers were travelling on a motorcycle along a busy road in Talipao town in Sulu province, 1,000 kilometres south of Manila, on Monday when suspected members of the Abu Sayyaf terrorist group opened fire at them.
The troopers were killed in the ambush, while two girls - a two-year-old and an 11-year-old - were wounded, said Major General Corleto Vinluan Jr, commander of a provincial anti-terrorism task force.
The two-year-old died while being treated in hospital, while the 11-year-old was still in critical condition, he added.
"We deeply condemn this very deceitful act of the Abu Sayyaf, who do not in any way represent the Islamic way of living," said Lieutenant General Cirilito Sobejana, a regional military commander.
"We would like to extend our sympathy to the bereaved families of the victims of by Sayyaf's inhumane act," he added. "Rest assured all sorts of assistance will be provided as our simple way of commisseration."
Abu Sayyaf is the most violent Muslim group in the Philippines. It is believed to be allied with the Islamic State terrorist network and has been blamed for some of the worst terrorist attacks in the country as well as high-profile kidnappings.
https://www.straitstimes.com/asia/se-asia/two-soldiers-and-a-girl-killed-in-suspected-philippine-islamist-attack
--------
Arab World
Saudi Islamic minister meets New Zealand senior police officer
Hassan previously said in a video that she was "breathless" when she saw the Kaaba
MINA: Saudi Arabia's Minister of Islamic Affairs, Call and Guidance Sheikh Dr. Abdullatif Al-Asheikh met a senior New Zealand police officer who gave an emotional speech following the devastating shootings at two Christchurch mosques, the Saudi Press Agency reported.
Dozens of Muslims were killed in March when an Australian white supremacist opened fire at two inner city mosques.
Superintendent of the Auckland Police Department, Naila Hassan, gave a speech at a vigil the day after the massacre. She reassured the crowd that the police were supporting the Muslim community and everyone affected by the tragedy.
Hassan was in Saudi Arabia as part of the Custodian of the Two Holy Mosques' Guests Program for Hajj and Umrah, along with families of victims and people injured in the shootings.
The minister welcomed Hassan in Mina, saying that all the pilgrims being hosted on the program were under the care of King Salman and the crown prince. He said the king and crown prince paid close attention to the program and to the comfort of the hosted pilgrims.
Al-Asheikh commended the crown prince's efforts in disseminating moderation and spreading a global message of peace and love.
Hassan expressed her thanks to the king, the crown prince and the Ministry of Islamic Affairs for the services provided since the pilgrims left New Zealand.
Hassan previously said in a video that she was "breathless" when she saw the Kaaba.
Earlier, Al-Asheikh said that hosting the Christchurch pilgrims was part of Saudi efforts to "confront and defeat terrorism" in all its forms.
http://www.arabnews.com/node/1539306/saudi-arabia
--------
Arab world condemns Israel for 'violating sanctity of Al-Aqsa'
2019-08-12
Israeli police clash with Muslim worshippers at Al-Aqsa Mosque in Jerusalem, Sunday | Photo: AP/Mahmoud Illean
Iran's Foreign Minister Mohammad Javad Zarif responded Sunday to the eruption of Temple Mount clashes between Israel Police and Muslim worshippers, saying Israel committed a "crime" and called on Muslims to "end this tyranny."
Zarif wrote on Twitter, "The crime shown in this photo was but one perpetrated on Al-Aqsa this morning – on our holy day. The same terrorists are hoping to impose #HumiliationoftheCentury on Palestinians," he added.
Zarif concluded by saying that "we Muslims have power to end this tyranny, but only if we unite."
Other voices in the Muslim and Arabic world joined the condemnation of Israel following the violent clashes in Jerusalem, including Saudi Arabia whose chilly ties with Israel have warmed in recent years.
A Saudi Foreign Ministry source condemned "Israeli occupation forces' storming of Al-Aqsa Mosque and attacking worshippers on the first day of Eid al-Adha," The Times of Israel reported, citing the Saudi Press Agency.
"The source expressed the kingdom's rejection of the continuation of Israeli violations against the Palestinian people, calling on the international community to protect the Palestinian people from various Israeli aggressive practices that provoke the feelings of Muslims and violate the rights of the Palestinian brethren," it said.
Jordan's Foreign Minister Ayman Safadi also slammed Israel's decision to allow Jews to visit the Temple Mount on Tisha B'Av. "We condemn Israel's violations at Al-Aqsa Mosque," he said in a statement.
"The actions of the authorities of the occupation will only add fuel to the conflict and make it volatile. We call the international community to take responsibility and pressurize Israel to cease from its violations," the statement concluded.
Safadi's statement came hours after Muslims attempted to prevent Jews from visiting the site on Tisha B'Av, chanting nationalist slogans and rioting on the Temple Mount. According to the Red Crescent, 61 rioters were injured in the events. Four police officers sustained light to moderate injuries, according to the Israel Police.
Jordan's Foreign Ministry spokesman Sufyan Qudah blasted the "continuation of barefaced Israeli violations against Al-Aqsa Mosque, the last of which was Israeli forces' aggression against worshippers and members of the Jerusalem [Islamic] Waqf's administrative staff in the noble sanctuary."
He said, "The kingdom completely rejects these absurd practices and irresponsible provocations on the first day of blessed Eid al-Adha and holds the Israeli government responsible for all their ramifications."
According to Qudah, Amman had sent a letter protesting "continued Israeli violations" and calling on Israel to "respect the sanctity of the mosque and the feelings of the worshippers" to Jerusalem.
The Hashemite kingdom serves as the custodian of the site, a role that Israel recognized in its 1994 peace treaty with Jordan.
Qatar also joined in the call for intervention against "Israeli aggression."
Palestinian Authority President Mahmoud Abbas' spokesman Nabil Abu Rudeineh also condemned Israel in a statement, according to The Times of Israel.
"We hold the Israeli government responsible for storming Al-Aqsa Mosque and acting aggressively against worshippers, a major provocation against Muslims' feelings that is inflaming the situation and increasing tension."
Abu Rudeineh said Abbas was in touch with "all relevant parties to stop the dangerous Israeli escalation at the expense of our people and its holy sites," according to the official PA's official Wafa site.
He said the Palestinians "warn the Israeli government against allowing settlers to carry out these crimes."
Palestinian Islamic Jihad also criticized Israel and incited violence against the Jewish State. "Israel is trying to gain full control over Al-Aqsa Mosque and therefore will bear the consequences" of its actions, the organization said.
"The continuation of the crimes of the occupier in Jerusalem, [the] Gaza [Strip] and other parts of Palestine necessitates a firm national stance and escalation of the conflict," the Islamic Jihad warned.
prior to the clashes on the Temple Mount, the Jordanian Waqf organization entrusted with overseeing the holy site for Muslims and Jews in Jerusalem, urged Muslims to attend Al-Aqsa Mosque en masse during the Jewish holiday of Tisha B'Av, which this year coincides with the beginning of the Muslim holiday of Eid al-Adha.
The Jewish holiday marks the saddest day in Judaism in commemoration of the destruction of the First and Second Temples that were situated on the site of the Temple Mount, of which the Western Wall is the only remnant.
Eid al-Adha, which translates as the "Festival of the Sacrifice," honors the story of Abraham's willingness to sacrifice his son and is considered the holiest of Islamic holidays celebrated worldwide. It marks the end of the annual hajj pilgrimage to Mecca.
https://www.israelhayom.com/2019/08/12/arab-world-condemns-israel-for-violating-sanctity-of-al-aqsa/
--------
North America
Kamala Harris marks Muslim holiday: 'Finally got my pork chop!'
by Ellie Bufkin
August 12, 2019
Democratic presidential candidate Kamala Harris made the required campaign pilgrimage to the Iowa State Fair this weekend and chowed down on a treat made famous by many contenders before her.
In addition to enjoying her day at the fair on Saturday, Harris made sure to wish Muslims around the world well on one of the holiest days of the Islamic calendar. "Eid Mubarak to everyone celebrating #EidAlAdha across the country and around the world," she said in a tweet.
Eid al-Adha, or the "festival of sacrifice," is widely celebrated by Muslims across the world and is just one of two official holidays. Pork is strictly forbidden for practicing Muslims.
"Finally got my pork chop!" Harris, 54, exclaimed on Twitter after having taken a bite of the juicy meat for the traditional photo op. The pork chop was photographed in 2015 in the hands and cheeks of presidential hopefuls Hillary Clinton, Donald Trump, and Jeb Bush. But in an unfortunate juxtaposition, shortly after proclaiming her love of pig's flesh, Harris sent out another tweet proclaiming the Muslim feast, which falls at the end of the religion's annual pilgrimage to Mecca. Pork is not eaten by Muslims because they regard it as impure.
Harris was born in California to a Hindu mother and a Baptist father. She attended both church and temple, though it is unclear whether she normally ate pork, a meat not typically consumed by Hindus. The name "Kamala" was given to Harris by her mother, Shyamala, as a tribute to Hindu mythology and commemorates the Hindu goddess of wealth and good fortune.
The California senator has not publicly commented on her private religious practices but argued for limitations to religious liberty in 2014, saying that the "free exercise of religion" should remain within the boundaries of "religious institutions."
The Iowa State Fair is famous for being a campaign stop for presidential hopefuls and for outrageous foods like fried snickers, fried butter, pork chops, and corn dogs that are often served on a stick. Photos of candidates enjoying the fair are considered important moments of their campaigns that can show the aspiring politicians' ability to connect with the public. The photos can also serve as a moment of embarrassment for candidates, and food choice is said to be carefully considered.
2020 candidates stayed away from the pork altogether over the Eid al-Adha weekend, including Cory Booker, an avowed vegan. He opted for a fried peanut butter and jelly sandwich.
"Oh my God," Harris said of the hefty pork chop on Saturday in Iowa. "I really ... like it's so good."
https://www.washingtonexaminer.com/news/kamala-harris-marks-muslim-holiday-finally-got-my-pork-chop
--------
US Congressman Tom Suozzi issues public apology following outcry over Kashmir remarks
Aug 13, 2019
WASHINGTON: Congressman Tom Suozzi, whose provocative remarks on Jammu and Kashmir last week instigated an outcry among the Indian-American community in the United States, issued a public apology on Monday, saying "it was a mistake not to consult with some of my Indian-American friends and supporters" before writing the letter.
In a detailed letter addressed to secretary of state Mike Pompeo on August 9, Suozzi voiced his concerns focusing on the fact that "Kashmir was a potential flash-point for conflict between India and Pakistan."
"The point made to me repeatedly was that there could be no attention paid to the problems in Kashmir on the eastern border with India until the western border was sufficiently addressed," he said in the letter.
The Congressman added he was concerned over the fact that Prime Minister Narendra Modi's "recent action in Kashmir had contributed to tensions that were now higher than ever."
"Prime Minister Imran Khan's recent visit to the US demonstrates that our countries are now working together to counter terrorism and other security-related issues along Pakistan's border with Afghanistan. The Indian government's recent actions in the territories of Jammu and Kashmir demand that we also focus on this area as well," he said.
"These new restrictions on the autonomy of the state and the rights of Kashmiris could also embolden extremists and terrorists to act," Suozzi further stated in the letter.
However, realising that he could have framed his concerns in a different way had he consulted the Indian-American community, the Congressman issued a public apology on Monday.
"I am sorry. If I had met with them (people belonging to the Indian-American community in the US) before sending the letter, I would have framed my concerns differently," he said in the new statement.
"Throughout my career in public service, I have been an ardent supporter of India, their sovereignty, and have always stood with them in their fight against terrorism. The US-India relationship will be one of our most important over the next 50 years and beyond. I have spent my time in Congress promoting and elevating this relationship and will continue to do so," Suozzi said.
The Congressman, in his letter to Pompeo, had also pointed out human rights violations in Jammu and Kashmir saying that the "Indian government's actions risk provoking mass social unrest, as the people of Kashmir have long sought greater autonomy, freedoms, and the opportunity for self-determination."
"These new restrictions on the autonomy of the state and the rights of Kashmiris could also embolden extremists and terrorists to act," he wrote.
However, Suozzi, on Monday in his apology statement stressed, "India, the world's largest democracy, remains critical for regional security and peace. The current situation in Kashmir presents some very serious challenges. The United States should seek to be helpful in securing safety and peace for all people."
"Moving forward, I will make sure to solicit the input of all of my constituents who have a vested interest in Kashmir and work towards a peaceful region that roots out terrorism and corruption as well as respects human rights. It is my hope, that recent developments in the region will eventually lead to this," he added.
There has been heightened tension in Jammu and Kashmir in the wake of New Delhi's decision to scrap Article 370 that accorded special status the region and passage of a bill bifurcating them into two Union Territories, along with Ladakh, with effect from October 31.
https://timesofindia.indiatimes.com/india/congressman-tom-suozzi-issues-public-apology-following-outcry-over-kashmir-remarks/articleshowprint/70653280.cms
--------
Mideast
Iraq says Israeli role in Gulf flotilla unacceptable
Iraq has rejected any Israeli participation in a naval force to protect shipping in the Strait of Hormuz, at the heart of tensions with Iran.
Iraq "rejects any participation of forces of the Zionist entity in any military force to secure passage of ships in the Arabian Gulf", Foreign Minister Mohammed Ali al-Hakim wrote on social media on Monday.
"Together, the Gulf states can secure the passage of ships," he said.
He added that "Iraq will work to lower tensions in our region through calm negotiations", while "the presence of Western forces in the region would raise tensions".
Iran defends tactic at Strait of Hormuz as defensive strategy (2:32)
Tensions have escalated in past months, with drones downed and tankers mysteriously attacked in Gulf and nearby waters, where about 20 percent of the world's oil trade passes through.
Washington and its Arab allies in the Gulf have accused Iran of carrying out the tanker attacks, allegations that Tehran denies.
The United States has since sought to assemble an international coalition to guarantee freedom of navigation in the Gulf.
Israel has made no official announcement on the operation, although Israeli media have reported a possible role for it.
Tehran and Washington have been at loggerheads since President Donald Trump unilaterally withdrew the US from a nuclear accord between Iran and world powers in May 2018, reimposing biting sanctions.
If the coalition is formed, each country would provide a military escort for its commercial ships through the Gulf with the support of the US military, which would carry out aerial surveillance and command operations.
The United Kingdom has said it will take part, but other European countries have so far kept out, fearing it might harm efforts to reach a negotiated settlement with Iran.
Earlier, Germany refused to join the US-led naval mission saying everything should be done to avoid an escalation.
On Thursday, Iran's Defence Minister Amir Hatami said the formation of a US-led flotilla in the Gulf would "increase insecurity" and any Israeli involvement could have "disastrous consequences" for the region.
https://www.aljazeera.com/news/2019/08/iraq-israeli-role-gulf-flotilla-unacceptable-190813013844443.html
--------
Iran warns Israel against aiding US mission in Strait of Hormuz
9 Aug 2019
Iran has warned Israel against aiding a United States-led maritime mission in the Gulf, saying it reserved the right to confront such a "clear threat".
The comments on Friday by foreign ministry spokesman Abbas Mousavi came after Israeli media reported that Israel's Minister of Foreign Affairs Israel Katz had told colleagues in a closed-door meeting on Tuesday that the country was assisting the US-led coalition with intelligence and other unspecified aid.
Israeli officials have declined to confirm or deny the reports about Israel's involvement in the naval mission that the US has said is needed to "combat Iranian aggression" in the strategically important Strait of Hormuz.
In a statement, Mousavi said Iran would view any support offered by Israel as a "clear threat to its security, sovereignty, and territorial integrity, and a crisis-provoking and destabilising element" in the region.
"The Islamic Republic of Iran reserves the right to counter this threat and defend its territory within the framework of the country's deterrence and defensive policy, and will have no hesitation in translating it into action as part of its defensive policies," he added.
Strait of Hormuz at centre of tensions
Washington has been looking for allies for the naval coalition, but last week Germany ruled out participating in the mission, prompting a frustrated response from US officials.
Tensions have soared in recent months around the Strait of Hormuz, where about 20 percent of the world's oil passes through.
The friction is rooted in US President Donald Trump's decision in May last year to unilaterally withdraw Washington from a landmark nuclear deal signed in 2015 between world powers and Iran.
Since then, the US has reinstated sweeping sanctions against Tehran as part of a "maximum pressure" campaign and has also beefed up its military presence in the region.
The tensions escalated in May, when the US accused Iran of sabotaging tankers in the shipping route, allegations denied by Iran.
In June, Iran downed a US military surveillance drone in the Gulf with a surface-to-air missile. Iran says the drone was in its airspace, but Washington says it was in international skies. Trump said at the time he had been prepared to attack three Iranian targets in retaliation but called off the operation at the last minute because such a response would not have been "proportionate".
Iran's relations with the United Kingdom have also been strained since British authorities early last month seized an Iranian tanker off the coast of Gibraltar on suspicion it was shipping oil to Syria in breach of European Union sanctions. Tehran denied the allegation, accusing the UK of acting at the behest of the US and demanding the immediate release of the ship.
On July 19, Iran seized a British-flagged tanker in the Strait of Hormuz, claiming that it had collided with a fishing boat and violated international law.
Meanwhile, Mousavi on Thursday condemned an international military gathering hosted by Bahrain, and attended by the US and France, as a "hostile measures against Tehran" and urged its Gulf neighbour to "seek a constructive approach instead of inciting against Iran."
Bahrain's foreign minister responded by telling Iran to "stop issuing threats and committing any acts that may cause tensions."
https://www.aljazeera.com/news/2019/08/iran-warns-israel-aiding-mission-strait-hormuz-190809113216286.html
--------
Zarif: Iran Immune to US Economic Terrorism
TEHRAN (FNA)- Iranian Foreign Minister Mohammad Javad Zarif, in a meeting with Qatari Emir Sheikh Tamim bin Hamad Al Thani, said Washington's anti-Tehran economic terrorism has fruited nothing but insecurity in the region, underlining that his country is not challenged by the US sanctions.
"Economic terrorism [waged by the US] has no effect on the Iranian nation and it has only made the region more insecure," Zarif said in a meeting with Qatari Emir in the country's capital city of Doha on Monday.
The top Iranian diplomat also reaffirmed the Islamic Republic's policy to expand ties with all its neighbors and hailed Tehran-Doha relations as a "model" of political relations among countries in the region.
The Qatari monarch, for his part, pointed to the close and brotherly relations between Iran and Qatar, underlining the need for bilateral consultations and deliberations concerning regional and international issues as well as a concerted effort to resolve problems in the region.
Sheikh Tamim also expressed Doha's preparedness to maintain peace and stability in the region.
Zarif, who arrived in Qatar on an official trip on Sunday, left Doha on Monday.
Early in last month, Zarif said that Washington is no longer capable of paying the price to keep its status as the most powerful country in international relations, adding that the US economy is not as unrivaled as it was before and consequently incompetent to pay the price for American superiority.
Speaking on the sidelines of the National Day of Industry and Mining, Zarif told reporters that Europe is now after independence from the US in its economy because the US economy is no longer the unchallenged super economy of the world.
"The point that the US economy is not anymore the unrivaled economy in international relations will have dire consequences for the US in the long run," the Iranian diplomatic chief highlighted.
Touching upon the EU-proposed mechanism for bypassing anti-Iran sanctions of the US, known as the Instrument in Support of Trade Exchanges (INSTEX), Zarif said that the financial vehicle is not on a par with Europeans' commitments to Tehran, however, it indicates that the closest of the US allies are distancing themselves from Washington.
Late in May, Iranian Parliament Speaker Ali Larijani quoted Iran's Supreme Leader Ayatollah Seyed Ali Khamenei as saying that US utilitarianism is in decline as it creates 'international anomalies.
He added the creation of the ISIL terrorist group had roots in the US utilitarianism with the aim of destroying the Islamic nations.
Also, in March, Zarif also censured Washington's foreign policy and interventionist role in the Middle East, asserting, "Its recklessness just displays panic of an empire in decline."
Early in November, Top Military Aide to the Iranian Supreme Leader Major General Yahya Rahim Safavi asserted that the US' power is fading away and Washington is unable to win control over Iranians' economy and fate.
https://en.farsnews.com/newstext.aspx?nn=13980522000324
--------
Iran Unveils Indigenized Tactical, Armored Vehicles
TEHRAN (FNA)- The Iranian Armed Forces in a ceremony on Tuesday were equipped with new home-made tactical and armored vehicles.
The ceremony was held in the presence of Defense Minister Brigadier General Amir Hatami and Commander of the Iranian Army Ground Force Brigadier General Kiomars Heidari.
Tactical vehicle 'Aras 2' that was unveiled today enjoys high mobility to climb impassable areas and high speed as well as the capability to be equipped with heavy weapons.
Also, during the ceremony, an armored anti-mine and anti-ambush personnel carrier, named 'Ra'ad', was also unveiled.
Iran has made major achievements in manufacturing different weapons and military equipment.
Yassin and Balaban precision-guided munitions (PGM) and a new generation of Qaem electro-optical guided bomb were unveiled earlier this month in a ceremony in Tehran where General Hatami was present.
In the ceremony, Defense Ministry officials celebrated the advent of the National Day of Defense Industries with unveiling two new PGMs of Yassin and Balaban and a new member of the family of Qaem electro-optical guided bombs.
The minister lauded the advancements of his country in the field of defense equipment, and added that the new munitions are aimed at increasing Iran's defensive capabilities and strengthen its deterrence power.
He added that Balaban PGM enjoys very advanced features like folding wings to increase its operational range while it uses hybrid inertial navigation system (INS) / Global Positioning System (GPS) guidance.
https://en.farsnews.com/newstext.aspx?nn=13980522000287
--------
Huge blast at Shia militia arms depot rocks Iraq's capital
ERBIL (Kurdistan 24) – A powerful explosion at a weapon warehouse run by Shia militias rocked the Iraqi capital of Baghdad on Monday, killing one person and wounding 29 others, authorities have reported.
The arms depot belonging to the Hash al-Shaabi militia, also known as the Popular Mobilization Forces (PMF), was located inside a federal police base in Doura district, southern Baghdad.
Videos posted on Iraqi social media pages showed thick black smoke rising in the capital as people began to panic.
The warehouse stored short-range and Katyusha missiles, a security source told Reuters.
As the fire intensified, rockets were ignited and launched into the streets, striking several neighborhoods and wounding mostly children, said Qasim al-Attabi, a spokesman for the district's health directorate.
The injuries of many of the victims were light, and people were quickly discharged from the hospitals, Health Ministry spokesman, Saif Badr, said.
Local Iraqi authorities have launched an investigation into the incident.
The cause of the fire is likely to be due to rising temperatures in Baghdad and poor storing conditions for the weapons and ammunition in the warehouse, a security source told Kurdistan 24.
On Monday, the temperature in Baghdad was around 46 Celsius (115 F) around the time of the incident, in the afternoon.
Editing by Nadia Riva
https://www.kurdistan24.net/en/news/9a4a772e-dca5-4dfa-8e92-a9cd94ef58f3
--------
Islamic cleric, less privileged commend NTIC for distributing meat
13 August 2019
An Islamic cleric, Abdusemiu Alkilany and some less privileged persons in Isheri-Olofin Community, Ogun State have commended the Nigeria Tulip International College (NTIC) for distributing meat to different persons for the Sallah celebration.
Alkilany, who is Chief Imam and Chaplain, Islamic Education and Faith Initiative, Magodo, appreciated the college for being worthy and committed to their way of preaching peace and harmony.
He also applauded other Islamic or local education institutions that extended the same gestures and gave back to society, especially the needy.
Besides, an educationist with Chrisland Schools, Gabriel Ohore, commended NTIC for the gift, noting that it assisted the less privileged to have a memorable Sallah.
A resident of Isheri-Olofin, Mrs. Toma Adamu, expressed joy for being a beneficiary of the gesture and wished the school well in all its endeavours.
"This is my second year of benefiting from the meat distribution and it has been helping me to enjoy Sallah with my husband and children. I wish the school well and pray that God continues to assist them too," she said.
Principal of the College, Ercan Yilmaz, said NTIC slaughtered 90 cows for the charity programme at the Ogun State branch, while similar number were also slaughtered in other zones across the country.
Yilmaz said beneficiaries of the gesture, which cut across all faiths, comprised orphanages, prisons, staff of government establishments, mosques, churches and disabled people's homes.
https://guardian.ng/news/islamic-cleric-less-privileged-commend-ntic-for-distributing-meat/
--------
Enhance war on drugs, Muslim leaders tell government
EID UL ADHA: Mvita MP Abdulswamad Nassir and businessman-cum-politician Suleiman Shahbal at RG Ngala Primary School ground on Monday, August 12
Muslim leaders in Mombasa are skeptical about the renewed government efforts to rid the Coast of drugs and crime.
Interior CS Fred Matiang' i on Sunday promised results in the war on drugs saying Kenyans are tired of many threats and empty promises.
Shortly after his announcement, Kizingitini police boss Shadrack Mumo was arrested after allegedly releasing a drug trafficking suspect.
The suspect was let go with a huge consignment of narcotic drugs that had just been netted at the Mtangawanda jetty in Lamu East on Sunday at dawn.
On Monday, Muslim leaders led by businessman-cum-politician Suleiman Shahbal said the government must do more to show it is serious this time.
Shahbal said the government has created doubts about its willingness to fight drugs at the Coast owing to past experiences.
"This problem is much more serious than one OCS. The government has all along known who the drug dealers are. We want to see action. One OCS is a good start but not the solution," Shahbal said.
He spoke after the Eid-ul-Adha prayers at the RG Ngala Primary School grounds.
Mvita MP Abdulswamad Nassir said many people complain about the release of drug trafficking suspects immediately they are arrested.
"What hurts more is where one is arrested for not carrying a national ID card and will not be given bond or bail at the police station but a drug trafficking suspect will. It is not acceptable," he said.
Nassir said the government should immediately freeze the accounts of the suspects and block all their mobile money transaction facilities.
He attended the prayers at the RG Ngala Primary School ground.
The two, alongside Chief Kadhi Ahmed Muhdhar, said Mombasa's economy has been negatively affected by a crime whose roots are drug trafficking and abuse.
They said youth unemployment caused by insecurity and school dropouts have links to drugs.
It is getting worse by the day, Shahbal noted.
"The government has to be serious this time and deal with this drugs issue once and for all," said Shahbal.
Nassir said insecurity at the Coast has been a longstanding problem but it is only now that the government has woken up to realise how damaging it is.
He, however, said there are many youths who have been rehabilitated due to interventions by leaders.
He said the matter has social aspects to it and asked parents to do more to ensure the war is won this time around.
"The cause is always from home," he said.
Chief Kadhi Muhdhar said security starts with individuals.
https://www.the-star.co.ke/news/2019-08-13-enhance-war-on-drugs-muslim-leaders-tell-government/
--------
Nigerian Shia leader, wife depart for medical treatment in India
by Mercy Abang
Detained Nigerian Shia leader Ibrahim el-Zakzaky and his wife have flown out of the country to get medical treatment in India, according to supporters and lawyers.
Held since 2015, el-Zakzaky, the leader of the Islamic Movement of Nigeria (IMN), was last week granted bail by a court in Kaduna state in order to seek treatment abroad.
He and his wife departed on Monday from Abuja's international airport for New Delhi on an Emirates flight, according to Harun Magashi, a member of the pair's legal team.
"They boarded the plane at 5:50pm," he told Al Jazeera.
In recent weeks, IMN members had launched a series of demonstrations in the Nigerian capital to demand the release of their couple's from prison to receive medical treatment.
Several people were killed and more than 50 IMN members were arrested in clashes with police that also saw the killing of a journalist and a police officer, as well as the closure of the National Assembly building in Abuja.
"The health of Sheikh Zakzaky and his wife, Malama Zeenatudeen, is deteriorating. They are suffering from various health complications with gun injuries on their bodies since 2015," Mahdi Garba, a member of the Shia movement, told Al Jazeera.
El-Zakzaky and his wife had been held in a detention facility since December 2015, when security forces killed more than 300 of IMN members in a three-day operation in Zaria, according to human rights groups.
A court in 2016 said el-Zakzaky should be released but authorities refused and have since filed charges against him including homicide, unlawful assembly, disruption of public peace and other offences. He has pleaded not guilty to all charges.
Abdulhamid Bello, an IMN leader, told Al Jazeera on Tuesday afternoon that the movement's members were "overwhelmingly excited" about the trip to India.
"They're heading to New Delhi. Returning back to detention is a condition by the court but let us wait and see," Bello added.
After the Kaduna court last week ruled that the IMN leader be allowed to seek medical help, the Nigerian State Security Services immediately pledged to obey the ruling.
"Conformity with the order is in line with the Service's avowed commitment to the Rule of Law inherent in a democracy," spokesman Peter Afunanya said in a statement.
"Consequently, the service is liaising with relevant stakeholders to ensure compliance."
https://www.aljazeera.com/news/2019/08/nigerian-shia-leader-wife-depart-medical-treatment-india-190812182707568.html
-------
Muslims Mark Fete And Preach Love In Kilifi County
13th Aug 2019
Muslim faithful in Kilifi County yesterday expressed their joy following the Government's decision to declare Eid al Adha a national holiday.
Those interviewed by The Standard said gazetting the religious fete as a public holiday, the second after Eid Ul Fitr, showed that the State is serious on its plans to foster national cohesion.
Muhdhar Ahmed Badawy, an Islamic scholar, was one of those who hailed the Government's move on Eid al Adha.
He said there are some nations where Muslims are not recognised by their governments which is retrogressive in terms of national unity.
Addressing Muslim faithful at Masjid Al Noor mosque in Malindi, Mr Badawy said it was time Muslims reflected on the need to embrace unity and love as they intermingle with people from other faiths.
"I would like to send a message to all Muslims in Kenya and the whole world that Islam is a religion of love and peace,'' Badawy said.
Eid al-Adha, or festival of the sacrifice, is the second of two Islamic holidays celebrated worldwide each year.
It honours the willingness of Ibrahim to sacrifice his son as an act of obedience to God's command. The other festival is Eid Ul Fitr which marks the end of the holy month of Ramadhan.
Badawy called on Muslims to study the Islamic religion and understand its teachings. He said this will help put an end to the contemporary religious differences that pull back the Islamic faith.
The scholar said Eid al Adha is a special day for Muslims to offer alms and share their wealth with the poor regardless of their religious backgrounds.
"When Ibrahim was ordered by God to sacrifice his own son Isaac, he consulted his son and the son told him to do what God commands him to do,'' Badawy said.
Mahsen Shariff Albeity, who is in charge of the masjid Al Noor mosque, also thanked the Government for honouring Muslims with a public holiday.
He asked Muslim faithful to study Islam in a deeper and more open-minded manner, so as to avoid being misled by those who misinterpret the doctrine and end up preaching hate and conflict instead of love.
https://www.standardmedia.co.ke/article/2001337913/muslims-mark-fete-and-preach-love
--------
URL: https://www.newageislam.com/islamic-world-news/celebrating-vegan-eid-ul-adha/d/119460
New Age Islam, Islam Online, Islamic Website, African Muslim News, Arab World News, South Asia News, Indian Muslim News, World Muslim News, Women in Islam, Islamic Feminism, Arab Women, Women In Arab, Islamophobia in America, Muslim Women in West, Islam Women and Feminism