New Age Islam News Bureau
29 Jan 2014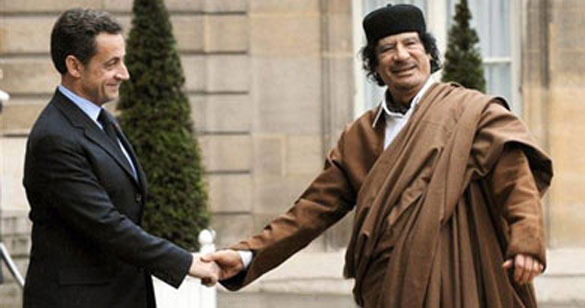 The Libyan dictator said in the interview that giving financial support to Sarkozy was part of his political strategy. (File photo: AFP)
-----------
Europe
• Caucasian Muslims Office Issues a Fatwa on Abuse of Islamic Sacred Concepts
• Gaddafi Funded 'Mentally Deficient' Sarkozy, Interview Claims
• Syria, spying, Iran in focus at global security meet
• Maajid Nawaz defends decision to tweet controversial cartoon
• Lavrov: Terrorism in Syria Posing Threat to All World
North America
• Ex-Navy Seal throws Qur'an, accuses Obama of 'treason'
• Edward Snowden nominated for Nobel Peace Prize
• Muslim group threatens Canada PM with libel suit
• Obama calls for limited strikes against al-Qaida
• Obama urges Guantanamo closure this year, shift from 'permanent war footing'
• Obama takes tough line against Iran sanctions to Congress
• Bush's national security adviser: US is mismanaging Egypt, Syria
South Asia
• Young Boys Sexually Abused In Pakistani Religious Schools (Madrasas)
• Cleric, students charged with the atheist blogger's murder in Bangladesh
• Relationship between Hamid Karzai and US grows ever more poisonous
Arab World
• Spanish Terrorist Flees Syria after Refusing Al-Qaeda Suicide Order
• Euro-Jihad Radicalised EU Citizens Raise Terror Spectre on Home Front
• Saudis, fighters and fugitives, raise profile in Syrian fighting
• Britain to take in hundreds of women and children from Syria
• Saudi Youths Brainwashed to Go Fight in Syria
• Syria Calls on US to Stop Arming Syria Militants
• Shoura: Nitaqat failed to yield desired results
Pakistan
• Jamiat-e-Ulema Islam, Haq Likens Operation against TTP to A 'Suicide Mission'
• Pakistan complains to US about primacy given to India
• Pakistan's Nawaz Sharif seeks Taliban talks despite attacks
• Attacks on law enforcers kill four, wound as many in Karachi
• Two killed, four injured in Orakzai coalmine blast
• Law draft ready to provide cover for Counter Terrorism Force
India
• Waqf assets can be used for development of community: PM
• Sonia Gandhi cautions against forces weakening secular ethos
• Religious leader Mufti Shakir Khan arrested for sexual assault
• India, Pakistan should do away with old thinking: Khurshid
• Pakistani hackers' defaced More than 2,000 Indian websites hacked
• No PM can revoke J&K's special status, Omar Abdullah says
• Indian embassy in Oman issues 59,000 visas
Africa
• CAR: UN Security Council approves EU force intervention
• Christians cautiously optimistic over Tunisia's new constitution
• Libya interior minister escapes assassination bid: Report
• Red Cross warns of dangers from fighting in Libya
• Lawyer demands 'truth' on Salafist death at U.S. embassy in Tunis
Southeast Asia
• Philippines says 37 rebels killed in offensive
• Endure the trials, but stand firm, Penang bishop tells Catholics
• Top cop breaks his silence on 'Allah' issue, warns troublemakers
Mideast
• Hamas says it would never accept two-state solution, won't give up 'one inch' of land
• Abbas sets 'reasonable' 3-year frame for Israel pullout
• France's Hollande praises Turkish youth's 'desire for democracy'
• Interim deal set Iran's nuclear drive back by just 6 weeks, Israeli PM Netanyahu says
Australia
• Australian jihad recruits fighting in Syria may bring their terror skills home
Compiled by New Age Islam News Bureau
URL: https://www.newageislam.com/islamic-world-news/new-age-islam-news-bureau/caucasian-muslims-office-issues-a-fatwa-on-abuse-of-islamic-sacred-concepts/d/35499
---------
Europe
Caucasian Muslims Office Issues a Fatwa on Abuse of Islamic Sacred Concepts
January 29, 2014
The Ghazi Council of the Caucasian Muslims Office has issued a fatwa taking into account the recent abuse of such sacred concepts of Islam as jihad and martyrdom, as well as the believers' concerns about the biased considerations that are sometimes voiced on this topic in society.
Martyrdom in Islam is the pinnacle of the struggle for faith, justice and for the sake of the Motherland, according to the fatwa.
"To give life and rise to the top of martyrdom for the sake of the Motherland is to gain great pride and honour," according to the fatwa. "Each of us is obliged to the martyrs of January 20 and Karabakh martyrs. Everyone's duty is to respect and mention the names of these people, citing them as an example to the younger generation. Azerbaijan and the people of Azerbaijan will always revere the memory of martyrs."
A martyr is a person killed in the fight against injustice and violence committed against family, land, religion or Motherland, according to the philosophy of martyrdom. The main condition for jihad and martyrdom in Islam is self-defence, according to the fatwa.
A disturbing point is that the actions of some compatriots who are involved in armed conflicts in several foreign countries for personal reasons and described as jihad, while their physical destruction is as martyrdom. Around 20 percent of Azerbaijani territory is occupied by Armenian extremists. The fact that in such a situation some citizens are involved in armed conflicts, clashes and religious groups against civilians in other countries supposedly for religious reasons, contradicts the essence of Islam, according to the fatwa.
The Gazi council condemns the participation of some citizens in any confrontation, or interference in the internal affairs of another country. The Caucasus Muslims Office always protested against radicalism, extremism, violence and terror anywhere in the world.
The actions of individuals that harm the interests of the country and people and contrary to the law on 'Freedom of religion' are also condemned. Taking into account the numerous appeals of Azerbaijani believers, the Gazi council urge for these individuals to be prosecuted.
The Gazi council made a decision for religious figures to inform the believers and especially the younger generation, about the positions reflected in the fatwa, as well as the true nature of jihad and martyrdom through their sermons.
Translated by NH
Edited by SM
Follow us on Twitter @TRENDNewsAgency
http://en.trend.az/news/society/2235120.html
---------
Gaddafi Funded 'Mentally Deficient' Sarkozy, Interview Claims
January 29, 2014
A French television programme is set to reveal a potentially damming audio recording in which the late Libyan leader Muammar Gaddafi claims he helped bankroll former French president Nicolas Sarkozy's 2007 presidential campaign.
In the recorded interview, which France 3 TV said it would broadcast on Wednesday; Gaddafi insults Sarkozy and says the decision to fund a French presidential election was part of his political strategy.
Asked whether he feels betrayed by France's president, Gaddafi reportedly answers: "Sarkozy is mentally deficient… It's thanks to me that he became president… We gave him the funds that allowed him to win."
The interview by French journalist Delphine Minoui took place on March 16, 2011, a few days after Paris officially recognised the Libyan opposition. France would go on to provide military support that was instrumental in toppling the Libyan autocrat.
Gaddafi says Sarkozy came to ask him for financial support when he was France's interior minister, but offers no details about the amount allegedly given or about financial transactions.
Sarkozy received Gaddafi at the Elysée Palace in December 2007, seven months after he was sworn in as France's president.
"For us, as Libyans, if the president of France wins elections thanks to our funds, it is a real advantage," Gaddafi tells his interviewer.
Claims that Libyan cash secretly funded Sarkozy's campaign have been made in the past, in particular by Gaddafi's son Saif al-Islam. Sarkozy, along with a few members of Libya's ousted regime, have denied the allegations.
(FRANCE 24 with AFP)
http://www.france24.com/en/20140128-france-sarkozy-gaddafi-campaign-funds-libya-television/
---------
Syria, spying, Iran in focus at global security meet
January 29, 2014
Global leaders from politics, defence and diplomacy meet in Germany from Friday to discuss conflict hotspots and looming threats, from Syria and Afghanistan to East Asia and Africa.
Some 20 heads of state and government, 50 foreign and defence ministers, 10 chiefs of world bodies as well as top military brass will gather for the Munich Security Conference (MSC).
A tight police cordon will secure the three-day event, where UN chief Ban Ki-moon, the US secretaries of state and defence and the Russian and Iranian foreign ministers are on the high-powered guest list.
The annual meetings, launched 50 years ago at the height of the Cold War, have typically focused on US and European -- notably NATO's -- efforts to tackle the world's trouble spots.
This year's meeting comes as transatlantic ties, already seen as waning as the United States looks more to the Asia-Pacific, have been dealt another blow by revelations of sweeping surveillance by Washington of its allies.
The scandal, including the alleged tapping of German Chancellor Angela Merkel's mobile phone, will overshadow talks that are meant to focus on common challenges, from conflicts in the Middle East and Iran's nuclear programme to the unrest in Ukraine and tensions between China and Japan.
"Many will have Mr (Edward) Snowden at the back of their minds," said the MSC organiser, German veteran diplomat Wolfgang Ischinger, referring to the fugitive US intelligence contractor.
US Secretary of State John Kerry and Defence Secretary Chuck Hagel will likely send the message that "Washington has understood that substantial repair work is needed" to heal the alliance, Ischinger said.
At a pre-MSC panel talk last week, the US ambassador to Berlin, John Emerson, gave a foretaste of their joint pitch when he said "fully rebuilding trust will take time and will require sincere efforts on both sides of the Atlantic".
"Good friends disagree, but they also work out their differences. We will get through this because we must."
The 50th MSC comes in a year of other key anniversaries -- 100 years since the start of World War I, 75 years since World War II broke out, and a quarter century since the fall of the Berlin Wall.
It also falls as NATO-led forces are set to end major combat operations in Afghanistan this year, with a future multinational military training and support mission still uncertain.
Wrapping up the costly Afghanistan engagement will, however, not leave NATO without a purpose, said its deputy chief Alexander Vershbow at the panel talk.
"Terrorism, cyber attacks, proliferation, instability beyond our borders -- those are reasons enough to keep NATO alive and kicking," he said.
"We need an alliance that is ready to deal with anything that the future might throw at us."
But he reiterated a common US criticism -- that "European allies must do more for their own and our shared defence" -- pointing to low military spending and the use of incompatible weapons systems.
He said many leaders on the continent had not yet understood "the critical need for Europe to be able to back up its soft power with hard power if it wants to play a meaningful international role".
Conference host Germany, often criticised for its post-WWII reluctance to send troops abroad, is expected to signal somewhat greater support for its key EU ally France in Africa missions such as Mali and the Central African Republic.
For some commentators, the annual talk-fest of the Western security community comes at a time when the old order has already all but broken down, as highlighted by its inability to broker an end to the protracted war in Syria.
The West is "in a period of strategic drift, with an increasingly isolationist superpower that seems to have lost the spirit to lead and a self-centred Europe unready to step up to the plate," wrote Clemens Wergin, foreign editor of Germany's Die Welt daily, in The New York Times.
"We can see in Syria what such a world might look like, with rogue states, regional wannabes and non-state actors filling the vacuum that America's absence has created."
http://english.ahram.org.eg/NewsContent/2/9/92924/World/International/Syria,-spying,-Iran-in-focus-at-global-security-me.aspx
---------
Maajid Nawaz defends decision to tweet controversial cartoon
January 29, 2014
A Muslim Liberal Democrat candidate has revealed he tweeted a cartoon of Muhammad and Jesus because of his desire to speak freely without fearing a charge of blasphemy, even though it prompted death threats and calls for him to stand down.
Maajid Nawaz, who is running to be an MP in Hampstead and Kilburn, said he tweeted the image and stated he did not feel it threatened him in order to defend his religion "against those who have hijacked it because they shout the loudest".
Writing in the Guardian, the politician said his intention was "not to speak for any Muslim but myself" but he hoped it would send a message that Muslims are able to see things they dislike and remain calm and pluralist.
"My intention was to carve out a space to be heard without constantly fearing the blasphemy charge, on pain of death," he wrote. "I did it for Salmaan Taseer, the governor of Punjab who was assassinated by his bodyguard for calling for a review of Pakistan's colonial-era blasphemy laws; for Malala Yusufzai, the schoolgirl shot in the head by the Taliban for wanting an education; and for Muhammad Asghar, a mentally ill British man sentenced to death for 'blasphemy' last week in Pakistan."
The row blew up after Nawaz took part in a BBC debate where two students were wearing t-shirts depicting a stick figures of stick figure of Jesus saying "Hi" to a stick figure called Mo, who replied: "How you doin'?"
The politician, who is founder of the Quilliam Foundation, an anti-extremist think-tank, tweeted what he believes is a "bland" image and stated that "as a Muslim, I did not feel threatened by it. My God is greater than that".
This sparked a petition to have him dismissed as a parliamentary candidate, including by Mohammed Shafiq, a Lib Dem activist, and a series of death threats.
Last week, Nick Clegg, the Lib Dem leader, intervened to say he strongly supported Nawaz's right to express his views and condemned death threats as "totally unacceptable".
Yesterday, Nawaz and Shafiq released a joint statement saying: "We now call on those on both sides of this argument to return to moderate debate, free of insult and threat and we do so because we believe this is in the interests of our party, of the wider Muslim community in Britain and of the principles of peace to which Islam is committed."
Shafiq, who is chief executive of the Ramadhan Foundation, later said on Twitter that he continues to think Nawaz's position as a parliamentary candidate is untenable and strongly objects to his tweeting of the cartoon.
http://www.theguardian.com/politics/2014/jan/28/maajid-nawaz-muslim-lib-dem-candidate-cartoon
---------
Lavrov: Terrorism in Syria Posing Threat to All World
January 29, 2014
TEHRAN (FNA)- Russian Foreign Minister Sergei Lavrov warned of the spread of terrorism in Syria, and stressed the importance of counterterrorism because it constitutes a threat to the whole world.
"Counterterrorism in Syria is one of the major tasks of the International Conference on Syria , Geneva2," Lavrov told the Lebanese Assafir Newspaper on Wednesday, reminding that Geneva1 Communiqué, issued on 30th of June, 2012, called on the government and the opposition to unite for expelling terrorists form Syria, SANA reported.
He pointed out that "increasing understanding of this issue was sensed by the Europeans through mutual talks about the situation in Syria."
Lavrov on Tuesday criticized the continuation of sending weapons to terrorists in Syria, commenting on information revealed by US and European officials that the US Congress has secretly ratified on sending weapons to the militant groups in Syria.
http://english.farsnews.com/newstext.aspx?nn=13921109001017
--------
North America
Ex-Navy Seal throws Qur'an, accuses Obama of 'treason'
World Bulletin / News Desk
January 29, 2014
Former US Navy Seal soldier Ben Smith has appeared in a video on YouTube in which he throws the Qur'an on the floor and accuses US President Barack Obama of being an Al-Qaeda affiliate.
Speaking at a Tea Party meeting, the far-right propagandist insisted that the US President Barack Obama and his administration were undercover Marxists who were funding Al-Qaeda, the Muslim Brotherhood and the Arab Spring to form an Islamic caliphate in the Middle-East.
He then threw the Qur'an on the ground, which was met with a round of applause from the audience.
Full report at:
http://www.worldbulletin.net/todays-news/127862/ex-navy-seal-throws-quran-accuses-obama-of-treason
---------
Edward Snowden nominated for Nobel Peace Prize
AFP | Jan 29, 2014
OSLO: A former Norwegian minister nominated fugitive US intelligence leaker Edward Snowden for the Nobel Peace Prize on last Thursday in a letter to the Norwegian Nobel Committee.
"He has contributed to revealing the extreme level of surveillance by nations against other nations and of citizens," former Socialist Left Party minister Baard Vegar Solhjell told AFP, explaining his move.
"Snowden contributed to people knowing about what has happened and spurring public debate" on trust in government, which he said was "a fundamental requirement for peace".
In a letter to the Norwegian Nobel Committee obtained by AFP, Solhjell and his party colleague Snorre Valen said that they do not necessarily condone or support all of Snowden's disclosures, but praised him for revealing the "nature and technological prowess of modern surveillance".
Full report at:
http://timesofindia.indiatimes.com/world/us/Edward-Snowden-nominated-for-Nobel-Peace-Prize/articleshow/29560259.cms
---------
Muslim group threatens Canada PM with libel suit
January 29, 2014
A Muslim organization said Tuesday it will sue Canadian Prime Minister Stephen Harper and his spokesman for libel unless they retract and apologize for a statement linking the group to Hamas.
Canada lists Hamas as a banned terrorist organization.
"To say that our organization has illegal affiliations is deeply offensive to us and to Canadians of all faiths and backgrounds and only serves to reinforce ugly stereotypes about Canadian Muslims," Ihsaan Gardee, executive director of the National Council of Canadian Muslims (NCCM), told a press conference.
Full report at:
http://english.alarabiya.net/en/News/world/2014/01/29/Muslim-group-threatens-Canada-PM-with-libel-suit.html
---------
Obama calls for limited strikes against al-Qaida
AP | Jan 29, 2014
WASHINGTON: President Barack Obama said the US must remain vigilant against al-Qaida as the terror network takes root across the Mideast and North Africa.
The president said during his State of the Union speech on Tuesday that America can no longer expect to be safe by pursuing overseas terror networks through war — or even through widespread airstrikes that have been a hallmark of the US fight against extremists.
He said extremism in places like Yemen, Somalia, Iraq and Mali will best be defeated with help from foreign allies and through targeted operations and limited use of unmanned drones.
Obama also called on Congress to lift restrictions on transferring al-Qaida and Taliban detainees held at the US military base at Guantanamo Bay, Cuba, and finally close the prison.
http://timesofindia.indiatimes.com/world/us/Obama-calls-for-limited-strikes-against-al-Qaida/articleshow/29538757.cms
-----------
Obama urges Guantanamo closure this year, shift from 'permanent war footing'
Reuters | Jan 29, 2014
WASHINGTON: President Barack Obama told Americans on Tuesday that 2014 should be the year to finally close the US prison at Guantanamo Bay as the United States winds down its military role in Afghanistan and shifts away from a "permanent war footing."
In his annual State of the Union address, Obama renewed his old vow - dating back to the start of his presidency five years ago - to shut the internationally condemned jail at the US Naval Base in Cuba, and he called on Congress for further action to help him do so.
"This needs to be the year Congress lifts the remaining restrictions on detainee transfers and we close the prison at Guantanamo Bay," Obama said. "Because we counter terrorism not just through intelligence and military action, but by remaining true to our constitutional ideals and setting an example for the rest of the world."
Full report at:
http://timesofindia.indiatimes.com/world/us/State-of-the-Union-address-Obama-urges-Guantanamo-closure-this-year-shift-from-permanent-war-footing/articleshow/29543903.cms
---------
Obama takes tough line against Iran sanctions to Congress
January 29, 2014
WASHINGTON, Jan 28 (Reuters) - President Barack Obama took his hard line against new sanctions over Iran's nuclear program directly to U.S. lawmakers on Tuesday by pledging in his annual State of the Union address to veto any legislation that threatens talks with Tehran.
Obama said an interim agreement seeking to curb Iran's nuclear program was already taking effect, and the ongoing diplomacy was important for U.S. safety.
"The sanctions that we put in place helped make this opportunity possible. But let me be clear: if this Congress sends me a new sanctions bill now that threatens to derail these talks, I will veto it," Obama said in his speech in the House of Representatives chamber.
Full report at:
http://www.trust.org/item/20140129034346-fs76o/?source=hpbreaking
---------
Bush's national security adviser: US is mismanaging Egypt, Syria
January 29, 2014
The US has mishandled the post-Arab awakening crisis in both Syria and Egypt, former US national security adviser Stephen Hadley said Tuesday.
Hadley, who served in the White House under former president George W. Bush, spoke in Tel Aviv at the Institute for National Security Studies annual international conference. He listed four struggles that have emerged since the Arab Spring in 2011: moderate Muslims versus Islamic extremists; secularists vs. theocrats; Sunnis vs. Shi'ites; and democrats vs. authoritative governments.
"How are we doing?" he asked about each one, beginning with the moderate Muslim vs. Islamist extremist struggle.
"Not well," he replied, "and the reason I think is largely our ineffective response to the crisis in Syria.
Full report at:
http://www.jpost.com/Middle-East/Bushs-national-security-adviser-US-is-mismanaging-Egypt-Syria-339684
---------
South Asia
Young Boys Sexually Abused In Pakistani Religious Schools (Madrasas)
Jan 29 2014
A suspected militant who was arrested by Afghan intelligence – National Directorate of Security (NDS) operatives in eastern Kapisa province of Afghanistan, has confessed that young boys are sexually abused in Pakistani religious schools (Madrasas).
The National Directorate of Security (NDS) following a statement said the suspected militant was arrested in cooperation with the local residents, while he was looking to plant an improvised explosive device (IED) in Kohistan district of Kapisa province.
The statement further added that the detained militant was recognized as Mayel Agha and was originally a resident of Kapisa province.
Full report at:
http://www.khaama.com/young-boys-abused-in-pakistani-religious-schools-madrasas-3367
---------
Cleric, students charged with the atheist blogger's murder in Bangladesh
January 29, 2014
DHAKA: Bangladesh police charged seven students of an elite university and a cleric over the murder of an allegedly atheist blogger who was critical of Islam and Islamic groups.
The students are accused of hacking to death Ahmed Rajib Haider, 35, near his home in Dhaka in February last year, days after he helped launch a campaign against Islamist leaders accused of war crimes.
Police also charged an imam from a Dhaka mosque with instigating the murder by allegedly preaching that it was legal to kill atheist bloggers who campaigned against Islam.
"They killed him for his blasphemous writings against Islam and the Prophet Muhammad (PBUH)," Dhaka police deputy commissioner Masud ur Rahman told AFP.
Full report at:
http://www.dawn.com/news/1083331/cleric-students-charged-with-bloggers-murder-in-bangladesh
---------
Relationship between Hamid Karzai and US grows ever more poisonous
January 29, 2014
Each time it seems that fraught ties between Washington and Kabul could not get worse, a new revelation proves the apparent nadir just another waypoint on the road to greater hostility.
The latest is a report that the Afghan president, Hamid Karzai, believes many insurgent-style attacks are masterminded by the US. The Washington Post quoted senior officials inside the presidential palace saying Karzai has kept a list of complex bombings across the country that he suspects were planned by Americans, although the officials also admit they have no firm evidence of a US role.
Topping his list of possible American plots is a recent suicide assault on a high-end restaurant in the Afghan capital, where three American citizens were among the 21 dead.
The idea that Washington is trying to violently undermine a government it has spent billions propping up, while carelessly taking the lives of its own citizens, provoked even the normally temperate US envoy to Kabul into a strong response.
Full report at:
http://www.theguardian.com/world/2014/jan/29/relationship-hamid-karzai-us-afghanistan
----------
Arab World
Spanish Terrorist Flees Syria after Refusing Al-Qaeda Suicide Order
January 29, 2014
TEHRAN (FNA)- A Spanish member of an Al-Qaeda-linked militant group fighting in Syria fled the Arab country after refusing to do suicide mission.
According to the Spanish newspaper El Pais, the 28-year-old Spanish national, identified as Abdelwahid Sadik Mohamed, was arrested at Malaga–Costa del Sol Airport on January 5 when he arrived in Spain from Syria, Al-Alam reported.
Mohamed, who is in jail awaiting trial for belonging to the Al-Qaeda-affiliated militant group, the terrorist Islamic State of Iraq and the Levant (ISIL), says he was "invited" by the group's leaders to undertake a suicide mission, but had told them he was not yet ready for the mission.
Full report at:
http://english.farsnews.com/newstext.aspx?nn=13921109000835
------------
Euro-Jihad Radicalized EU Citizens Raise Terror Spectre on Home Front
January 29, 2014
TEHRAN (FNA)- There are real fears that terrorists cutting their teeth in Syria could spread across the EU. Europeans make up a big chunk of the 50,000 foreign jihadists thought to be in the war-torn country. The biggest European contributor is France. As many as 700 of its nationals could be in Syria right now. Belgium and the UK are also in the top three. Some estimates say between 11,000 to 17,000 terrorists in Syria come from the western nations.
http://english.farsnews.com/player.aspx?nn=13921108001501
------------
Saudis, fighters and fugitives, raise profile in Syrian fighting
January 29, 2014
WASHINGTON — An Al Qaida operative wanted by Saudi Arabia has been killed in the war in Syria.
The U.S. monitoring group SITE has reported the death of Abdullah Suleiman Saleh Al Dhabah in an air strike by the Syrian Air Force.
SITE, citing Islamist messages, said Al Dhabah, also known as Abu Ali Al Qasimi, was killed in the northern city of Al Bab in mid-January 2014.
The death of Al Dhabah marked the participation of Saudi fighters in the war against the regime of Syrian President Bashar Assad.
Full report at:
http://www.worldtribune.com/2014/01/28/saudis-fighters-and-fugitives-raise-profile-in-syrian-fighting/
---------
Britain to take in hundreds of women and children from Syria
Reuters | Jan 29, 2014
LONDON: Britain will take in hundreds of the most vulnerable Syrian refugees, including rape and torture victims, deputy Prime Minister Nick Clegg said on Tuesday, announcing a softening of the government's stance.
Clegg said the government had been given United Nations backing to accept Syrian refugees on a case-by-case basis, but was stopping short of agreeing to take in a quota under a UN scheme to resettle 30,000 of the most vulnerable cases.
"Sadly we cannot provide safety for everyone who needs it, but we can reach out to some of those who need it most," Clegg said.
The three-year Syrian civil war that has killed more than 130,000 people has also pushed around 2.4 million out of Syria and into refugee camps in neighbouring states.
Full report at:
http://timesofindia.indiatimes.com/world/uk/Britain-to-take-in-hundreds-of-women-and-children-from-Syria/articleshow/29552290.cms
----------
Saudi Youths Brainwashed to Go Fight in Syria
January 29, 2014
TEHRAN (FNA)- Davoud Al-Sharian, famous host of the al-Thamina program on popular Saudi MBC channel, started using its show to criticize Saudi royals' support for the war in Syria, making it subject of a wave of attacks by government-sponsored media across the Kingdom.
In this week's show which was aired on Sunday night, Sharian invited some modern figures among the Saudi clerics who launched an open discussion criticizing some of the key religious figures that they said were behind the plots to send more Saudi youths to Syria, Al-Alam reported.
Full report at:
http://english.farsnews.com/newstext.aspx?nn=13921109000279
------------
Syria Calls on US to Stop Arming Syria Militants
January 29, 2014
TEHRAN (FNA)- Syrian Deputy Foreign Minister called on the United States and its allies to stop arming militants as the US congress secretly authorized sending more arms to the anti-government groups to continue their war.
"Everybody is aware that when the United States took its decision to stop providing weapons to the terrorist groups, that decision came after it was very clear that all the weapons given by the United States to the so-called moderate armed groups had gone to the extremist terrorist groups," Faisal Muqdad said on Tuesday, Al-Alam reported.
Reuters reported Tuesday that the US congress has secretly authorized sending arms to the militants in Syria, as the two sides of the Syrian conflict are trying to find a solution to end the war through the Geneva II peace conference underway in Switzerland.
Full report at:
http://english.farsnews.com/newstext.aspx?nn=13921109000676
------------
Shoura: Nitaqat failed to yield desired results
January 29, 2014
Shoura Council members have criticized the Labor Ministry's Nitaqat program, saying it has failed to achieve the desired results.
"Companies manipulate the system to give the impression that they have helped Saudis get employed," a member told the Shoura meeting.
Saeed Al-Asheikh said the achievements of the Human Resource Development Fund (HRDF) were less than expected.
"Unemployment rates rose to 12.5 percent in 2012 despite the huge amounts of money (SR12 billion) invested with the fund," he said.
Fahd bin Juma, another member, said the fund's support to companies has had little impact. "The employment program is focusing on major cities, while job opportunities remain scarce in small cities," he said. The HRDF is also facing a problem employing Saudis in small and medium-sized enterprises.
Full report at:
http://www.arabnews.com/news/517201
------------
Pakistan
Jamiat-e-Ulema Islam, Haq Likens Operation against TTP to A 'Suicide Mission'
January 29, 2014
ISLAMABAD: The head of his own faction of Jamiat-e-Ulema Islam, Maulana Sami ul Haq, said any military operation against the Tehreek-e-Taliban Pakistan (TTP) will be a suicide mission for Pakistan, only serving to exacerbate the problem of militancy in the country.
Speaking at a forum on 'Peace and Reconciliation in Afghanistan' organised by the Centre for Discussion and Solutions, he added that religious groups would never support action against the TTP. "If you wage a war against the Taliban, they will either go to the mountains or spread to the cities and you will find nothing but destruction," he said.
He claimed it is obvious that the United States is not in favour of dialogue, and hence, the prime minister seems hesitant to engage in dialogue even though he was given the mandate to establish contact with the militants. "When I contacted the TTP on the prime minister's wishes, they responded positively, but the government ran away," he said.
Full report at:
http://tribune.com.pk/story/664754/the-flip-side-jui-s-likens-operation-to-a-suicide-mission/
---------
Pakistan complains to US about primacy given to India
Chidanand Rajghatta,TNN | Jan 29, 2014
WASHINGTON: "You don't love us as much as you love India," was the whiny refrain Pakistan brought to the table in its resumed "strategic" dialogue with the United States, underscoring the failure of Obama administration's five-year effort to walk Islamabad away from its India obsession.
In his opening remarks at his meeting with US secretary of state John Kerry on Monday, Pakistan's National Security advisor Sartaj Aziz made addressing Islamabad's concerns about India, particularly the key role US is ceding to New Delhi in Afghanistan, a "pre-requisite" for advancing Pakistan's strategic relationship with the United States.
Full report at:
http://timesofindia.indiatimes.com/india/Pakistan-complains-to-US-about-primacy-given-to-India/articleshow/29528846.cms
---------
Pakistan's Nawaz Sharif seeks Taliban talks despite attacks
January 29, 2014
Pakistan's Prime Minister Nawaz Sharif has said he still wants to hold peace talks with the Taliban, despite a wave of deadly attacks in recent months.
Mr Sharif named a four-member team to pursue negotiations with the militants.
In a rare address to the National Assembly, he said "terrorism" must be defeated, either by talks or force, and he was giving peace a last chance.
Pakistan's Taliban vowed to step up attacks after a drone strike last year killed their leader Hakimullah Mehsud.
His successor, Mullah Fazlullah, has ruled out peace talks and promised revenge.
To many people in Pakistan the country's political leaders appear impotent in the face of the militant threat as the attacks have soared, correspondents say.
Full report at:
http://www.bbc.co.uk/news/world-asia-25943669
---------
Attacks on law enforcers kill four, wound as many in Karachi
2014-01-29
KARACHI: At least four people, including three Rangers personnel and a private security guard, were killed and six other security personnel wounded Wednesday in attacks targeting law enforcers in Karachi's Nazimabad area, DawnNews reported.
A Rangers' checkpost was targeted in an explosion in Nazimabad area of Karachi. Minutes later another blast took place near a police van in the same locality.
Rescue and emergency teams reached the sites of attack and shifted the victims to Abbasi Shaheed Hospital for treatment.
Later an explosion took place near Rangers Headquarters in North Nazimabad.
Heavy contingents of Rangers and police personnel also reached the blast sites and cordoned off the areas as a probe into the attacks went underway.
Full report at:
http://www.dawn.com/news/1083516/attacks-on-law-enforcers-kill-four-wound-as-many-in-karachi
---------
Two killed, four injured in Orakzai coalmine blast
2014-01-29
ORAKZAI AGENCY: At least two labourers were killed and four others were injured Wednesday when an explosion occurred in a coalmine in Orakzai Agency, DawnNews reported.
According to sources, the blast took place in a coalmine in the Doli area of Lower Tehsil. Subsequently, two people were killed on the spot whereas four others sustained injuries.
The wounded persons were shifted to District Headquarters Hospital where their condition was reported as critical.
Full report at:
http://www.dawn.com/news/1083524/two-killed-four-injured-in-orakzai-coalmine-blast
---------
Law draft ready to provide cover for Counter Terrorism Force
January 29, 2014
LAHORE: The government is set to introduce the Counter Terrorism Agency Bill to provide legal cover to the proposed Counter Terrorism Force (CTF).
The new law will allow for the establishment of a new Counter Terrorism Department that will be financially and administratively attached to the Home Department, an official close to the development told The Express Tribune.
He said a draft for the new law was ready. It was now up to the government to decide whether to promulgate an ordinance or bring it on the provincial Assembly floor for discussion after approval from the provincial cabinet, he said.
Full report at:
http://tribune.com.pk/story/664661/combating-terror-law-draft-ready-to-provide-cover-for-counter-terrorism-force/
----------
India
Waqf assets can be used for development of community: PM
January 29, 2014
Prime Minister Manmohan Singh on Wednesday said Waqf assets have the potential of generating considerable returns which could be used for socio-economic development of the community.
Launching the National Waqf Development Corporation Limited (NAWADCO) here, he said it will help facilitate and mobilise financial resources for starting schools, colleges and hospitals on Waqf properties in a transparent manner.
"Today we take another step forward in our efforts to promote the interests of minorities in our country," the Prime Minister said.
"Waqf assets have the potential of generating considerable returns which could be used for socio-economic development of the community," he said.
UPA chairperson Sonia Gandhi was also present at the inauguration of NAWADCO, a new central public sector enterprise under the Minority Affairs Ministry.
The Corporation is one of the several initiatives that the Minority Affairs Ministry has taken since its inception in 2006. Government has recently enacted the Waqf (Amendment) Act, 2013.
Full report at:
http://www.thehindu.com/news/national/waqf-assets-can-be-used-for-development-of-community-manmohan/article5629914.ece
---------
Sonia Gandhi cautions against forces weakening secular ethos
Press Trust of India | New Delhi | January 29, 2014
Cautioning people against forces weakening the country's secular ethos, UPA chairperson Sonia Gandhi on Tuesday said communal harmony should not be disturbed over small, local incidents which should be dealt with sternly without any bias.
She also expressed hope that the Communal Violence Bill would soon be tabled in Parliament, saying it is aimed at protecting social amity and the nation's secular legacy.
Apparently referring to the Muzaffarnagar riots, the Congress President said police should ensure that communal harmony is not disturbed over small, local incidents and they should be dealt with sternly without any bias.
"It is the government's responsibility to protect and encourage secular values and ensure that minorities get equal opportunities. It is necessary that minorities feel secure and have trust in law and order mechanism. We should be cautious of powers which weaken India's secularism," she said.
Full report at:
http://indianexpress.com/article/india/politics/sonia-gandhi-cautions-against-forces-weakening-secular-ethos/
---------
Religious leader Mufti Shakir Khan arrested for sexual assault
Asseem Shaikh,TNN | Jan 29, 2014
PUNE: Mufti (religious scholar) Shakir Khan who runs the Madrasa Bait ul Uloom in Kondhwa and faced serious allegations of sexual assault and unnatural sex was arrested by the Kondhwa police recently.
Khan was arrested after his anticipatory bail plea was rejected by the special judge Sadhana Shinde.
A victim had filed a complaint against Khan under sections 323, 376, 377, 493, 496 and 504 of the Indian Penal Code. The magistrate court at the Pune Cantonment had ordered the Kondhwa police station on January 3 to investigate the allegations against Khan.
His lawyer applied for interim bail to appeal for anticipatory bail in the Bombay high court which was also rejected.
Full report at:
http://timesofindia.indiatimes.com/city/pune/Religious-leader-arrested-for-sexual-assault/articleshow/29557008.cms
--------
India, Pakistan should do away with old thinking: Khurshid
January 29, 2014
India and Pakistan should do away with their old thinking and take new measures for solution of problems and lasting peace in the region, External Affairs Minister Salman Khurshid said on Wednesday.
In a meeting with a visiting Pakistani media delegation in New Delhi, Khurshid said Pakistan's Prime Minister Nawaz Sharif appeared to be sincere in improving relations with India. The visit by Shahbaz Sharif – chief Minister of Punjab state – to India has given a new turn to bilateral ties.
Full report at:
http://indianexpress.com/article/india/politics/india-pakistan-should-do-away-with-old-thinking-khurshid/
---------
Pakistani hackers' defaced More than 2,000 Indian websites hacked
January 29, 2014
Pakistani hackers defaced more than 2,000 Indian websites on Republic Day in what is being termed as a "major cyber attack."
The website of model-turned-actress Poonam Pandey, which was also among the hacked sites displayed messages like "Pakistan Zindabad," besides "your site security is compromised" and "Patch your site". A group identifying itself as "Team Madleets" claimed responsibility for the hacking.
Full report at:
http://www.thehindu.com/news/national/more-than-2000-indian-websites-hacked/article5627784.ece
---------
No PM can revoke J&K's special status, Omar Abdullah says
PTI | Jan 29, 2014
LONDON: Jammu and Kashmir chief minister Omar Abdullah has said no Prime Minister can revoke Article 370 of the Constitution granting special status to the state "without calling into question" its accession to India.
Dismissing a question on whether he was worried at the prospect of BJP's Narendra Modi becoming the Prime Minister, Omar said, "it does not matter whether he is the Prime Minister or the President or (holds) any other position.
"Constitutionally, he cannot revoke Article 370 without calling into question the accession of J&K to India. Now as Prime Minister of India, if he wants to rewrite accession to India, he is welcome to it. But I do not think any Prime Minister would be as foolhardy as that," he said.
Full report at:
http://timesofindia.indiatimes.com/india/No-PM-can-revoke-JKs-special-status-Omar-Abdullah-says/articleshow/29555063.cms
---------
Indian embassy in Oman issues 59,000 visas
IANS | Jan 28, 2014
DUBAI, The Indian embassy in Oman issued a record 59,000 visas to Omani nationals in 2013, signifying a robust flow of tourists from that Gulf nation to India, India's Ambassador to Oman J S Mukul has said.
"Medical tourism remained an attraction as India offers state-of-the-art medical facilities and excellent healthcare at a fraction of the cost elsewhere," the Times Of Oman quoted Mukul as saying while speaking at a function to mark India's 65th Republic Day at the embassy premises in Oman's capital Muscat Sunday.
Full report at:
http://timesofindia.indiatimes.com/india/Indian-embassy-in-Oman-issues-59000-visas/articleshow/29507756.cms
---------
Africa
CAR: UN Security Council approves EU force intervention
29 January 2014
The UN Security Council has unanimously authorised the deployment of a European Union force to the Central African Republic to bolster French and African troops who are trying to quell sectarian violence that the United Nations has warned could escalate into genocide.
A Security Council resolution also orders all member states to freeze all funds, financial assets and economic resources that are owned or controlled by individuals who violate the arms embargo, commit abuses from rape to child soldier recruitment, undermine peace and stability or obstruct the delivery of humanitarian assistance.
The French ambassador Gerard Araud said EU troops would be deployed to guard the airport in the capital, Bangui, where 100,000 people have taken refuge, mostly living on the tarmac. Araud said that would free up French troops to move beyond the airport and take up security operations in Bangui and beyond.
Full report at:
http://www.theguardian.com/world/2014/jan/29/central-african-republic-security-council-eu-force
---------
Christians cautiously optimistic over Tunisia's new constitution
January 29, 2014
Tunisia, the birthplace of the Arab Spring uprisings, voted last week to approve a new constitution that rejects Sharia law and includes some protection for Christians and other religious minorities.
Laying the foundation for a new democracy, it is one of the most progressive constitutions in the Arab world and includes protections for citizens' rights, protection from torture, the right to due process, and freedom of worship. The elected assembly took two years to write it.
Before the final vote, World Watch Monitor (WWM) reported that secularists and Christians welcomed the document, although some desired more clarity. French President Francois Hollande praised the democratic process that led to the constitution and hoped Tunisia's example "could inspire other countries," like Egypt.
Full report at:
http://www.worldmag.com/2014/01/christians_cautiously_optimistic_over_tunisia_s_new_constitution
---------
Libya interior minister escapes assassination bid: Report
AFP | Jan 29, 2014
TRIPOLI: Libya's interior minister escaped unscathed from an assassination attempt in Tripoli on Wednesday, the LANA news agency reported.
Seddik Abdelkarim, who is also deputy prime minister, was in his car when "unknown gunmen fired a barrage of bullets" at the vehicle, the agency said, adding that no one was killed or wounded in the attack.
Libya has grappled with widespread unrest since rebels overthrew and killed long-ruling dictator Moamer Kadhafi in a Nato-backed uprising in 2011.
http://timesofindia.indiatimes.com/world/middle-east/Libya-interior-minister-escapes-assassination-bid-Report/articleshow/29562289.cms
---------
Red Cross warns of dangers from fighting in Libya
January 29, 2014
Red Cross officials are urging combatants in several Libyan cities to protect the wounded and civilian populations safe from more fighting.
The International Committee of the Red Cross and the Libyan Red Crescent say they are concerned about continued fighting in the city of Sabha, areas such as Kufra and the outskirts of the capital Tripoli, where "scores of people have died or been injured since fighting broke out two weeks ago."
Full report at:
http://english.ahram.org.eg/NewsContent/2/8/92882/World/Region/Red-Cross-warns-of-dangers-from-fighting-in-Libya.aspx
----------
Lawyer demands 'truth' on Salafist death at U.S. embassy in Tunis
January 29, 2014
The lawyer representing 20 Salafists given suspended sentences over an attack on the U.S. embassy in Tunis demanded the "truth" Tuesday about the killing of four assailants, hinting that embassy staff were responsible.
Defense lawyer Monaem Turki branded as "political" the appeals trial of the 20 suspects, which comes after Washington sharply criticized the original sentences for being far too lenient.
The judge, after a brief hearing on Tuesday, adjourned the case until March 25.
Only three of the accused were present in court, an AFP journalist reported, with Turki saying the majority had not been summoned to the trial.
Full report at:
http://english.alarabiya.net/en/News/middle-east/2014/01/29/Lawyer-demands-truth-on-Salafist-death-at-U-S-embassy-in-Tunis.html
--------
Southeast Asia
Philippines says 37 rebels killed in offensive
2014-01-29
MANILA: At least 37 Islamic fighters have been killed in a two-day offensive against insurgents opposed to a new peace deal between the government and the main Muslim rebel group, military officials said Wednesday.
President Benigno Aquino III said the military launched the assault to protect villages after Bangsamoro Islamic Freedom Movement fighters staged attacks in southern Maguindanao province.
Troops were aiming "to seriously degrade their abilities to again act as spoilers," Aquino told reporters.
The rebels involved in the fighting have opposed peace talks between the government and the larger Moro Islamic Liberation Front, which were concluded over the weekend in Malaysia.
They said because the Malaysian-brokered talks would not lead to a separate homeland for minority Muslims in the south they would continue their armed uprising.
Full report at:
http://www.dawn.com/news/1083533/philippines-says-37-rebels-killed-in-offensive
---------
Endure the trials, but stand firm, Penang bishop tells Catholics
January 29, 2014
Penang Bishop Reverend Sebastian Francis urged people of all faiths and the church to stand firm and endure the trials which "have been our tradition".
While preaching forgiveness, Francis in his pastoral letter, however, expressed his disapproval for the firebombing of the Church of the Assumption in Lebuh Farquhar and the putting up of provocative banners outside five churches in Penang on Sunday.
The state Catholic Church leader, who was out of town when the incidents occurred, hoped that these two incidents will not be used as a diversion from the real issues currently affecting Malaysians.
Full report at:
http://www.themalaysianinsider.com/malaysia/article/endure-the-trials-but-stand-firm-penang-bishop-tells-catholics
---------
Top cop breaks his silence on 'Allah' issue, warns troublemakers
January 29, 2014
The nation's top cop today issued a stark warning that police will take action against any party or individual who threatened internal security and public order, especially over the "Allah" issue.
"The recent events in Penang where Molotov cocktails were hurled at the Church of the Assumption and hanging of provocative banners at churches in Penang are a cause for concern.
"Police are now tracking down those who were involved in these disgraceful acts as it threatens internal security and public order," said Inspector-General of Police Tan Sri Khalid Abu Bakar.
Full report at:
http://www.themalaysianinsider.com/malaysia/article/top-cop-breaks-his-silence-on-allah-issue-warns-troublemakers
---------
Mideast
Hamas says it would never accept two-state solution, won't give up 'one inch' of land
January 29, 2014
Hamas announced on Tuesday that it would never accept the two-state solution or give up "one inch of the land of Palestine."
Its announcement came in response to statements attributed to Palestinian Authority President Mahmoud Abbas to the effect that the Islamist movement had "authorized" him to agree to the establishment of a Palestinian state along the pre-1967 lines.
Hamas said it never gave Abbas or anyone else a mandate to agree to the two-state solution.
The Islamist group said that in 2006, all Palestinian factions agreed to the establishment of Palestinian state on the pre- 1967 lines and the return of Palestinian refugees to their homes inside Israel "without recognizing the Zionist entity or its legitimacy on the land of Palestine."
Full report at:
http://www.jpost.com/Middle-East/Hamas-says-it-would-never-accept-two-state-solution-wont-give-up-one-inch-of-land-339682
---------
Abbas sets 'reasonable' 3-year frame for Israel pullout
AFP | Jan 29, 2014
TEL AVIV: Palestinian president Mahmud Abbas has said an Israeli withdrawal from Palestinian territory should take place within a three-year period under any final Middle East peace deal.
His remarks came as an April deadline loomed for faltering US-backed peace talks, which have been in deadlock over the issue of future security arrangements and other core disputes.
Hawkish Israeli cabinet ministers meanwhile spoke out against making concessions to the Palestinians, highlighting seemingly irreconcilable differences that would need to be overcome for a lasting peace agreement.
Full report at:
http://timesofindia.indiatimes.com/world/middle-east/Abbas-sets-reasonable-3-year-frame-for-Israel-pullout/articleshow/29558999.cms
---------
France's Hollande praises Turkish youth's 'desire for democracy'
January 29, 2014
Turkey's young and dynamic population proved its desire for democracy in recent months, French President François Hollande said on Jan. 28 in a veiled reference to the Gezi Park protests, as he wrapped up a two-day visit to Turkey.
Reminding that Turkey has the youngest population in Europe and half of it is under 30, Hollande said: "Turkey's population is very young and dynamic. They proved their dynamism and desire for democracy in recent months. These young people have expectations, fears, worries and questions. How would they have a better life than their families? The solution is education," Hollande told the audience at Galatasaray University in Istanbul, underlining the concept of democratic maturity.
Full report at:
http://www.hurriyetdailynews.com/frances-hollande-praises-turkish-youths-desire-for-democracy.aspx?pageID=238&nID=61686&NewsCatID=351
-----------
Interim deal set Iran's nuclear drive back by just 6 weeks, Israeli PM Netanyahu says
Reuters | Jan 29, 2014
TEL AVIV: The international deal capping Iran's nuclear work set the programme back by just six weeks, Israeli Prime Minister Benjamin Netanyahu said on Tuesday, accusing Tehran of using the hiatus to hone technologies with bomb-making potential.
Iran this month began implementing the interim nuclear accord it clinched with world powers in Geneva in November, and which Netanyahu has condemned as a "historic mistake" for easing sanctions on Israel's arch-foe while letting it retain the infrastructure to make fissile materials.
Full report at:
http://timesofindia.indiatimes.com/world/middle-east/Interim-deal-set-Irans-nuclear-drive-back-by-just-6-weeks-Israeli-PM-Netanyahu-says/articleshow/29517743.cms
-----------
Australia
Australian jihad recruits fighting in Syria may bring their terror skills home
MATTHEW BENNS THE DAILY TELEGRAPH
January 29, 2014
UP to 120 Australians fighting in the Syrian civil war and learning deadly skills which could be used on their return are being funded by Muslim communities here collecting money for humanitarian aid.
Federal Attorney-General George Brandis also warned yesterday that some fighters could commit terrorist acts in Australia.
"These individuals not only potentially breach Australian laws and commit offences offshore, but upon their return to Australia pose a significant national security risk," he said.
Australians fighting in Syria would gain new skills "including the ability to conduct an attack on Australian soil," he told 200 policing experts from around the world at the Interpol Global Security and Counterterrorism Convention in Sydney.
Full report at:
http://www.theaustralian.com.au/news/australian-jihad-recruits-fighting-in-syria-may-bring-their-terror-skills-home/story-e6frg6n6-1226812455206
---------
URL: https://www.newageislam.com/islamic-world-news/new-age-islam-news-bureau/caucasian-muslims-office-issues-a-fatwa-on-abuse-of-islamic-sacred-concepts/d/35499