New Age Islam News Bureau
20 Oct 2017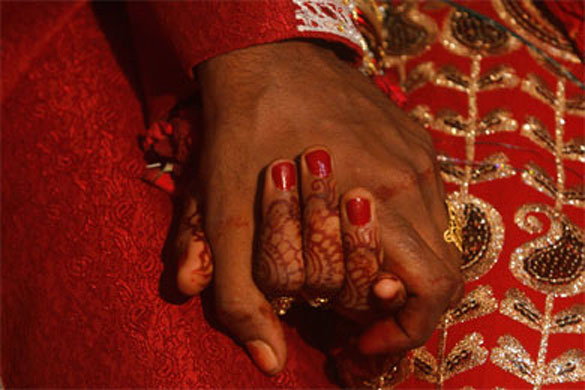 Love Jihad: Image for representation only.
------
• Captain (R) Safdar's Speech in Pakistan's Parliament Causes Uproar in UK Parliament
• Muslim-Run Messaging Centre Wages Cyber war On Islamic State
• Kerala HC Upholds Hindu-Muslim Marriage, Cautions against 'Sensationalising' Each Case as 'Love Jihad'
• 58 Afghan Soldiers Killed In Fresh Taliban Assaults
• Hardline Religious Jews Protest against Israeli Army Service
• CIA To Publish Documents Revealing Iran's Relations with Al-Qaeda
Pakistan
• Captain (R) Safdar's Speech in Pakistan's Parliament Causes Uproar in UK Parliament
• Campaigning For NA-4 Seat, JI Chief Extols Mumtaz Qadri's 'Heroism'
• The Chief of Jamaat-Ul-Ahrar, 9 Associates Confirmed Killed By US Drone Strike
• Qandeel Baloch Murder: Muslim Cleric Arrested In Connection With Killing Of 'Pakistan's Kim Kardashian'
• Organised terrorism greatest threat to Muslim countries: Raheel Sharif
• NAP implemented to eradicate terrorism: Abdul Qayyum
• Pakistan Arrests 6 Police Officers for Dragging Christian Boy Out of Class, Killing Him
--------
Arab World
• Muslim-Run Messaging Centre Wages Cyber war On Islamic State
• Muslim World League Chief Stresses Need to Differentiate Fatwas to Maintain Stability
• 3 FSA, ISIL Commanders Killed in Dara'a
• Syrian Army Advances in Purging Operations in Western Damascus
• 3 New Towns in Idlib Join Syria Peace Process
• Tens of Militants in Aleppo Surrender to Syrian Army
• ISIL Withdraws from Western Deir Ezzur after Agreement with Kurds
• Baghdad court issues arrest warrant for Iraqi Kurd VP
• Syrian forces recover Israeli, NATO-made arms from Daesh hideouts
--------
India
• Kerala HC Upholds Hindu-Muslim Marriage, Cautions against 'Sensationalising' Each Case as 'Love Jihad'
• Recruiter Linked To Jaipur Islamic State Module Nabbed In the Philippines
• India condemns Taliban attack in Kandahar army base, says states hosting terrorists must eliminate them
• Sushma Swaraj's Diwali gift: Visas to all Pakistanis with pending medical cases
--------
South Asia
• 58 Afghan Soldiers Killed In Fresh Taliban Assaults
• New Deadly Clashes Erupt Among Taliban and ISIS in Nangarhar
• We'll be here as long as it takes until you change your mind, Tillerson tells Taliban
• BD Lets Stranded Rohingya into Camps after Screening
• RAB arrests man claiming to be Imam Mahadi
• No options other than elimination or surrender left for terrorists: Ghani
• Durand Line fencing to prevent terror attacks in both countries, says Pak General
--------
Mideast
• Hardline Religious Jews Protest against Israeli Army Service
• 'No One' Can Force Hamas to Disarm or Recognize Israel
• US Says Palestinian Unity Govt Must Recognise Israel, Disarm Hamas
• Turkey Continues Sending Military Convoys to Idlib, Aleppo
• Hamas calls US comments on unity deal 'blatant interference'
• Turkey orders arrest of 110 people over Gulen links: media
• Iran urges regional alliance against US, Israeli plots
--------
North America
• CIA To Publish Documents Revealing Iran's Relations with Al-Qaeda
• Washington and Wall Street Supporting Global Terrorists: Analyst
• Tillerson blames 'Myanmar military' over Rohingya
• Hundreds protest against US Muslim travel ban
• Canadian Government Not Contesting New Face Cover Law
• Jewish group says Canada's Islamophobia measure inhibits free speech
• Alarming RCMP Guide Unfairly Targets Muslim Migrants
--------
Europe
• Morocco, a New Hub for Moderate Religious Training: The Star Columnist
• France Treads Fine Line Teaching Religion in Secular Schools
• Bulgaria Deputy PM Wants New Laws to Stifle Radical Islam
• France replaces emergency rule with restrictive counterterrorism bill
--------
Southeast Asia
• No Ultra-Conservative Islamic Organisations in Malaysia, Says Prof
• Malaysian Islamist militant killed, says Philippine President Duterte
• Indonesia Deradicalises 999 Terrorists
• International Al Azhar conference promotes moderate Islam, tolerance
--------
Africa
• 3 Nigerian Troopers Killed In Boko Haram Ambush in Restive Borno State
• Why Islamist attack demands a careful response from Mozambique
Compiled by New Age Islam News Bureau
URL: https://www.newageislam.com/islamic-world-news/captain-r-safdars-speech-pakistans/d/112959
--------
Captain (R) Safdar's Speech in Pakistan's Parliament Causes Uproar in UK Parliament
Oct 20, 2017
A Pakistani parliamentarian's speech has garnered international attention after he announced plans to table a resolution that will bar non-Muslims from holding public office and exclude them from the country's armed forces.
On 10th October 2017, MNA Captain (R) Safdar, a former Army Captain and son-in-law of the recently dismissed Prime Minister made a fiery speech against the Ahmadis. The Ahmadis are a persecuted Islamic sect which has been declared "non-Muslim" under the country's constitution. During his speech Safdar said:
Safdar also claimed that he will bring a resolution in the National Assembly (lower house of parliament) to put a ban on recruitment of Ahmadis in the armed forces.
He then criticised the renaming of a University's physics center after Pakistan's Nobel laureate Dr. Salam, whom he called an "Infidel" and "a controversial figure that has been termed an infidel in light of the Constitution".
The MNA added that "we will not like any such institution associated with him."
On October 19th, Jim Shannon, Member of UK Parliament took issue with Safdar's speech to the House of Commons and said:
On Tuesday, Muhammad Safdar made several discriminatory comments in the National Assembly of Pakistan against the Ahmadiyya Muslim community of Pakistan. He accused the faith group of being untrustworthy and a threat to Pakistan, arguing that it should be banned from the armed forces. Coming from the son-in-law of a former Prime Minister, such comments are dangerous and will surely fuel prejudice towards the already persecuted Ahmadiyya Muslim community. Will the Leader of the House agree to a statement on that pressing issue?
To which Andrea Leadsom, the leader of the House responded:
The hon. Gentleman raises a significant issue. I absolutely encourage him to raise it directly with the Foreign Office, which will no doubt have further information to share with him on the steps that the UK Government can take.
Meanwhile, British MP Margaret Ferrier urged Pakistan's permanent representative to the U.N. to abolish country's anti-Ahmadiyya laws.
https://www.rabwah.net/speech-pakistans-parliament-causes-uproar-uk-parliament/
--------
Muslim-Run Messaging Centre Wages Cyber war On Islamic State
October 19, 2017
ABU DHABI, United Arab Emirates — Inside a nondescript building here, moderate Muslims have been waging a bare-knuckle information war against the Islamic State for the past two years, establishing deep contacts with Facebook, Twitter and other social media companies to scrub Jihadi propaganda from the internet.
The little-known Sawab Center, which had its origins in Washington but has been run by the UAE government since 2015, also circulates its own intense — and, at times, violent — videos, made by Muslims to scare Muslims away from extremist content and to promote anti-terrorist sentiment online.
Sawab's social media pages have garnered more than 2 million followers across the Middle East, but the center's leaders say the headway they have made in identifying and quickly removing extremist propaganda from cyberspace will have a bigger impact in the long run.
"We don't talk about it publicly on our platforms, but we have back channels directly to Twitter and Facebook," Sawab's top UAE director told The Washington Times on condition of anonymity during a recent visit to the centre. "If we tell them we've identified an account that's spreading extremist content, they shut it down."
"We've gotten about 500,000 accounts across several social media platforms shut down," said another Sawab official, who also spoke anonymously. (The topic is considered so sensitive that officials will not make public the centre's exact location.) "Twitter is the most effective at this. Whatever account we tell them, they close it immediately. We've built strong trust with them."
Neither the UAE nor the U.S. government has spoken so openly in the past about the centre's collaboration with American social media giants to censor Islamic extremist postings.
Former President Barack Obama announced the Sawab Center's creation in July 2015 as a joint U.S.-UAE counter messaging centre, based in Abu Dhabi, to undermine Islamic State recruiting propaganda through "direct engagements" online.
At the time, the State Department faced sharp criticism over the failure of its efforts to counter extremist campaigns on social media — an effort seen as disorganized and too broadly focused to stanch the flow of young Muslim foreign fighters drawn to the Islamist State's so-called caliphate in Syria and Iraq.
Costly military campaigns have since reclaimed most Islamic State territory in those two nations. At the same time, the Sawab Centre has quietly matured into a central counter-Islamic State propaganda hub, producing anti-terrorism videos and targeting extremist postings on Arabic-language social media. Sawab, which means "the right spiritual path" in Arabic, has churned out more than 11,000 tweets that have triggered millions of subsequent social media engagements, including many that attract extremists bent on trying to discredit the centre.
"We know [Islamic State] members are following Sawab closely because they constantly try to post things on social media criticizing us," one center official told The Times. "This is a battlefield, and we're on the front line of an information war between the people who hate life — [Islamic State] and other extremists — and people who call for peace, development and moderation."
U.S. officials are deeply wary of discussing Sawab's operations. Apart from the 2015 announcement of its creation, there has been almost no mention of the center by the State Department, where officials declined to comment for this story.
Part of the reason may be that the department doesn't want the center's messaging to be viewed as American propaganda. But there is also a security concern, according to one U.S. official, who said the UAE government had asked Washington not to give interviews about the centre because of the threat of attacks against people who work there.
UAE officials, however, willingly obliged a Times reporter who sought access to Sawab in September, asserting that its existence is a point of pride. In another break with previous practice, President Trump toured a similar "combating extremism" center that recently launched in Saudi Arabia during a visit there in May, although his administration made few public statements on the matter.
Seeking a better way
The Sawab Center was created following the dissolution of a little-known U.S. interagency messaging operation known as the Center for Strategic Counterterrorism Communications (CSCC), which had originally been set up inside the State Department in 2011.
While the CSCC used Facebook and Twitter to disseminate anti-Islamic State messaging and videos, all of the content was clearly branded as having been created by the State Department.
Critics, who slammed the department for too openly engaging in propaganda, became particularly wary in May 2015 when one anti-extremism CSCC video, which had stolen and repurposed grisly footage from Islamic State's own propaganda materials, suddenly went viral and attracted nearly 1 million views on YouTube. Analysts questioned whether the move had backfired by giving new visibility to violent jihadi imagery in a video clearly identified as has having come from the State Department.
In Abu Dhabi Sawab appears to be operating free of such scrutiny. The center's videos are all clearly branded with the Sawab name and logo, but there's no explicit indication the content has been financed or driven by any government. Most of those working inside Sawab are under the age of 30, and their youthful energy pours out in the rawness of the center's content — some of which is so intense American diplomats may consider it too provocative to be associated with.
One video, which circulated in April after Islamic State bombs had killed 47 people at two Coptic Christian churches in Egypt, opens with dark music beneath grainy security camera footage taken in the moments before one of the bombings. The footage zooms in on a veiled woman and a child before a massive blast rips through the scene. It also shows Coptic men praying and carries the message: "Terrorism kills innocents, even during prayer."
But Sawab officials say they have their biggest impact on young Muslim social media users through disruption operations, exposing what they say is the religious illegitimacy of Islamic State propaganda. A core part of Sawab's work involves crafting social media posts that dispute the validity of Jihadi claims online as a reflection of the true Islamic faith.
"We try to expose them as the liars they are, especially when they cite religious texts as a justification for violence," said one of the centre's officials. "The majority of our followers are between 13 and 35 years old, and that's exactly the age that [Islamic State] is trying to recruit."
As of September, Sawab's half-million Twitter followers were spread across the world, with many in the Middle East and North Africa. Nearly three in 10 are following from inside Iraq, 14 percent from Yemen and 11 percent from Egypt.
The center is also "trying to serve as a global example of what governments can do to set up their own regionally focused messaging operations," said the official, who added that Sawab is "working closely" with officials in Egypt toward establishing a similar outfit there.
"Islam is a religion of peace, compassion and inclusion, and we have to give voice to the silent majority," the official said. "Most social media users are silent in their views. They may retweet things, but they don't say how they truly feel."
He added, "There are over a billion Muslims in the world, and we cannot allow them to be drowned out by hatred coming from a small number of brainwashed extremists."
https://www.washingtontimes.com/news/2017/oct/19/sawab-center-muslim-run-messaging-center-wages-cyb/
--------
Kerala HC Upholds Hindu-Muslim Marriage, Cautions against 'Sensationalising' Each Case as 'Love Jihad'
October 19, 2017
Kochi: The Kerala High Court on Thursday held that all inter-religious weddings cannot be viewed as 'love jihad' as it upheld a marriage between a Hindu woman and a Muslim man.
A division bench comprising justices V Chitambaresh and Sathish Ninan made the observations in its judgment on a habeas corpus petition.
A habeas corpus plea is filed to ensure a person under arrest is brought before a court which will determine whether the detention is legal.
"We are appalled to notice the recent trend in this state to sensationalise every case of inter-religious marriage as either 'love jihad' or 'ghar wapsi' even if there was platonic love between the spouses before," the court said.
The bench also cited the Supreme Court order in the Lata Singh v State of Uttar Pradesh case of 2004 to emphasise the need for encouraging inter-caste and inter-religious marriages.
"We caution that every case of inter-religious marriage shall not be portrayed on a religious canvass and create fissures in the communal harmony otherwise existing in the God's Own Country — Kerala," the bench said and upheld the marriage.
It said the present case was projected by the parents of the woman as 'love jihad' whereas the man, who was in love with her and married her later, termed it as 'ghar wapsi' (a bid to coerce her to come back).
The woman from Kannur had left her home on May 16 along with the Muslim youth. On a complaint from her parents, police had traced and detained them in Sonepat in Haryana a month later.
Initially, a lower court had allowed the woman to go with her parents, who then lodged her in a yoga centre at Tripunithura in Ernakulam district allegedly to make her give up the relationship with the Muslim man.
When the woman was produced before the high court on August 18, she had interacted with a single judge and expressed her desire to go back with parents.
Subsequently, when the petition came up for hearing four days later, the woman retracted her stand and told the division bench that she made the statement expressing her wish to go with her parents under pressure.
She alleged that she was tortured at the yoga centre. It was being run "to coerce the inmates to return to Hindu religion", she had charged.
During the litigation and counter-litigation by both sides, the woman and man had got married legally.
The division bench applauded the "extra-ordinary courage" shown by the girl to live up to her conviction and "decry the attempt of her parents to deflect the course of justice by misleading litigations".
It observed their marriage had now been registered too.
The court also observed that any centre for forcible conversion or re-conversion had to be busted by the police whether it was Hindu, Muslim or Christian lest it offends the Constitutional right.
Article 25 (1) of the Constitution guaranteed every citizen the right to freely profess, practice and propagate any religion which cannot be trampled upon by subversive forces or religious outfits, the court observed.
The judgment began with a quote from American poet Maya Angelou who famously said: "Love recognises no barriers. It jumps hurdles, leaps fences, penetrates walls to arrive at its destination full of hope."
Another division bench of the Kerala High Court had in May annulled the marriage of a 24-year-old woman with a Muslim man after allegedly forced to convert to Islam, terming it as an instance of 'love jihad'.
On an appeal by the husband, the Supreme Court had on August 16 ordered a probe by the National Investigation Agency into the case as the agency claimed it was not an isolated incident but a "pattern" that was emerging in Kerala.
http://www.news18.com/news/india/kerala-hc-upholds-hindu-muslim-marriage-cautions-against-sensationalising-each-case-as-love-jihad-1551423.html
--------
58 Afghan soldiers killed in fresh Taliban assaults
October 20, 2017
Kandahar - The Taliban have killed at least 58 Afghan security forces in a wave of attacks across the country, including an assault that wiped out an army camp in Kandahar early Thursday.
Spokesperson Dawlat Wazir said the attack on the army camp, which involved two suicide car bombs and set off hours of fighting, killed at least 43 soldiers. Nine other soldiers were wounded and six have gone missing, he said, adding that 10 attackers were killed. The Taliban claimed the attack in a media statement.
Elsewhere in Afghanistan, a Taliban ambush in the northern Balkh province killed six police, according to Shir Jan Durani, spokesperson for the provincial police chief. A Taliban attack on police posts in the western Farah province killed nine police, said police chief Abdul Marouf Foulad. He said 22 insurgents were killed in the ensuing gunbattle.
At least 43 Afghan soldiers were killed and nine wounded in a Taliban-claimed assault on a military base in southern Afghanistan which saw the insurgents blast their way into the compound with at least one explosives-laden Humvee - a tactic used in three separate attacks this week - the defence ministry said.
A security source in Kandahar put the toll at 50 dead and 20 wounded. But the real figure is likely to be higher because Afghan officials habitually understate the actual number of casualties.
The militants razed the base in the Chashmo area of Maiwand district in Kandahar province to the ground, according to the ministry. "Unfortunately there is nothing left inside the camp. They have burned down everything they found inside," defence ministry spokesman Dawlat Waziri said.
Just two soldiers were known to have survived unscathed, with six unaccounted for, the ministry said, underscoring the shocking casualties that Afghan security forces have faced in their struggle to beat back the insurgents. More than 10 militants were killed, it added.
US aircraft carried out an airstrike during a counter-terror operation in Maiwand on Thursday, a spokesman for US Forces in Kabul said, though he did not specify whether the target was insurgents at the base.
Provincial officials said two Humvees were used in the attack which was condemned by President Ashraf Ghani. They said the assault may have been carried out with the help of insiders.
The Taliban claimed the ambush in a message to journalists that said all 60 security personnel on the base were killed.
Separately Thursday, militants besieged a police headquarters in the southeastern province of Ghazni, attacking it for the second time this week.
Airstrikes were called in to support embattled police in the ongoing assault, which has killed two security forces so far, Ghazni provincial police chief Mohammad Zaman told AFP. The strikes were not immediately confirmed by US Forces.
Officials said the earlier assault on the headquarters, which took place on Tuesday, left 20 people dead and 46 wounded.
Thursday's attacks take the number of major assaults on security installations this week to four, with the total death toll climbing past 130, including soldiers, police and civilians.
The Taliban used a Humvee as a bomb to blast their way into their targets in three out of the four assaults this week.
The insurgents have been able to steal dozens of Humvees from security forces after taking over districts and raiding military bases across the country.
US President Donald Trump vowed earlier this year to stay the course in Afghanistan, America's longest war. But the Taliban said the recent assaults were a "clear message to the Americans and the Kabul government, that they cannot scare us with their new so-called strategy".
"We are fighting back and winning on every front, Inshallah (God willing)," spokesman Qari Yusuf Ahmadi told AFP.
Beleaguered Afghan security forces have faced soaring casualties in their attempts to hold back the insurgents since NATO combat forces pulled out of the country at the end of 2014.
Casualties leapt by 35 percent in 2016, with 6,800 soldiers and police killed, according to US watchdog SIGAR.
The insurgents have carried out more complex attacks against security forces in 2017, with SIGAR describing troop casualties in the early part of the year as "shockingly high".
The attacks included assaults on a military hospital in Kabul in March which may have killed up to 100 people, and on a base in Mazar-i-Sharif in April which left 144 people dead.
The assaults, along with high rates of desertion and corruption, have eroded morale. This week's attacks come near the end of the summer fighting season, when militants traditionally intensify their offensives across the country.
They began hours after US drone strikes in the tribal region along the border with Pakistan killed more than two dozen militants, according to sources and local officials.
Tuesday's attacks alone killed 80 people in total and wounded nearly 300 in the bloodiest day in the war-torn country in almost five months. The deadliest of Tuesday's assaults was on a police compound in the city of Gardez in Paktia province where Taliban militants disguised as police detonated three explosive-packed vehicles - including a truck and a Humvee - that cleared the way for 11 gunmen to enter.
At least 60 people were killed in the blasts and ensuing battle that lasted around five hours, health officials said, with more than 230 wounded.
Afghan forces now control 59.7 percent of the country, up from 57.2 percent the previous quarter, according to SIGAR's assessment earlier this year. But the Taliban and other insurgent groups have also seen their areas of control or influence increase slightly from about 10 percent to 11.1 percent.
http://nation.com.pk/national/20-Oct-2017/58-afghan-soldiers-killed-in-fresh-taliban-assaults
--------
Hardline religious Jews protest against Israeli army service
Oct 20, 2017
JERUSALEM - Several thousand ultra-Orthodox Jews blocked a major intersection in central Jerusalem on Thursday to protest against efforts to force them to enlist in the Israeli military like their secular compatriots.
A series of such protests in recent weeks has been spurred by occasional arrests of ultra-Orthodox young men accused of dodging military service. More than 100 have been detained over the recent demonstrations, including over 70 this week, police say. On Thursday, several thousand men and boys wearing traditional black suits and hats took to the streets of Jerusalem, at one point blocking a key intersection.
Others also reportedly blocked a main road northwest of Jerusalem earlier in the day. In Jerusalem, some sat in the middle of the street while others danced and sang. One sign said: "To military prison for the crime of Torah study."
"The state wants to silence all the Jews who want to study Torah," said one man, who looked to be in his 40s and gave his name only as Tzvi.
"Lately they have seen the (ultra-Orthodox) population growing, so they want us to serve in the army and be absorbed into the general population." Police appeared to be acting with restraint after accusations of excessive force at a recent protest.
Small groups of officers occasionally entered the protest to remove those who appeared to be stirring up the crowd, an AFP journalist reported.
"Police units mobilised in different areas of Jerusalem to respond to illegal demonstrations by right-wing ultra-religious demonstrators," police said in a statement. "Until now police have arrested 20 suspects for blocking roads and causing disturbances." Israeli law requires men to serve two years and eight months in the military on reaching the age of 18, while women must serve for two.
Ultra-Orthodox men are exempt from military service if they are engaged in religious study. Those who are not must still enlist with the military and can be arrested if they refuse.
In September, a decision by Israel's supreme court struck down the law exempting them.
However, the court suspended its ruling for one year to allow for preparations for a new arrangement, which also gives the government time to pass a new law.
The ruling raises the possibility that the ultra-Orthodox could be forced into service, a highly contentious proposition with political implications.
Ultra-Orthodox parties are a key part of Prime Minister Benjamin Netanyahu's governing coalition and have often acted as kingmakers in Israeli politics.
The ultra-Orthodox are against serving for a variety of reasons. Some do not recognise Israel, believing a Jewish state is not allowed before the coming of the Messiah.
Others argue that seminary study is just as important to Israel as military service, or that ultra-Orthodox soldiers would be confronted with salty language and other irreligious behaviour.
http://nation.com.pk/international/20-Oct-2017/hardline-religious-jews-protest-against-israeli-army-service
--------
CIA to publish documents revealing Iran's relations with al-Qaeda
20 October 2017
CIA Director Mike Pompeo said that the CIA will soon publish documents revealing Iran's work with al-Qaeda and other terrorist organizations.
Pompeo described the connection between Iran and al-Qaeda as an "open secret".
"It's an open secret and not classified information that there have been relationships, there are connections," Pompeo said during an event held by the Foundation for Defense of Democracies on Thursday in Washington DC. "There have been times the Iranians have worked alongside al-Qaeda."
Pompeo added that they have cut deals so as not to come after each other. He said that the intelligence community is still monitoring those ties, especially given the complexity of the situation in Syria.
The director also discussed Iran's interference in regional state affairs, sponsoring terrorism and causing unrest. He also spoke about Iran's ballistic missiles program and their nuclear efforts.
He confirmed that US President Donald Trump had given the security services greater potential to carry out their work. This comes days after the US president announced his policy towards Iran.
National Security Adviser H.R McMaster stressed that the strategy would use all means at its disposal to counter Iranian actions.
Washington now insists it wants a strong Iraq that does not fall into the hands of Iran and will dry the sources of funding for the Iranian Revolutionary Guards.
The US administration also issued an ultimatum to Iran to stop its use of armed militias in the region and said it would implement the strategy in cooperation with its partners in the Middle East.
https://english.alarabiya.net/en/News/world/2017/10/20/CIA-to-publish-documents-revealing-Iran-s-relations-with-al-Qaeda-.html
--------
Pakistan
Campaigning for NA-4 seat, JI chief extols Mumtaz Qadri's 'heroism'
Ali Akbar
October 19, 2017
Speaking at a Khatm-i-Nabuwwat Conference in Peshawar on Wednesday and campaigning for the NA-4 seat at the same time, the emir of the Jamaat-i-Islami (JI), Sirajul Haq, criticised his opponents in the upcoming NA-4 by-poll for not praying at Mumtaz Qadri's funeral as he did.
Qadri, a former commando of Punjab police's Elite Force, was sentenced to death by an Anti-Terrorism Court in October 2011 for assassinating former Punjab governor Salman Taseer in Islamabad's Kohsar Market.
Qadri said he had killed Taseer over the politician's opposition to Pakistan's blasphemy laws.
"As emir of the JI, I have taken it upon myself to ensure that his [Qadri's] four-year-old son gets an education," Haq said on Wednesday.
Also calling for immediate action against whoever attempted to modify or repeal Khatm-i-Nabuwwat (finality of prophethood) laws, Haq said even the scent of paradise was 'haram' — forbidden — on those who were unwilling to lay down their lives for the sanctity of the belief.
Accusing the government of 'attacking' the law in its haste to amend election laws to allow Nawaz Sharif to continue as chief of the PML-N, Haq demanded that the advisers and ministers responsible for violating the 'sanctity' of the belief should be thrown into jail and punished "for hurting the sentiments of Muslims."
"These people have ruled the land again and again without doing anything for the people. What do they want, to rule the heavens as well?" he railed.
"Till the thieves sitting in Islamabad are taken to task, our campaign will continue," he said. "We will wage war against the land, drug and corrupt mafias," he said.
"Our candidate will fight for the finality of prophethood and your rights," he promised.
https://www.dawn.com/news/1364834/campaigning-for-na-4-seat-ji-chief-extols-mumtaz-qadris-heroism
--------
The Chief of Jamaat-Ul-Ahrar, 9 Associates Confirmed Killed By US Drone Strike
October 19, 2017
The chief of Jamaat-ul-Ahrar (JuA), an offshoot of the Pakistani Taliban, has been killed in a US drone strike, a spokesman for the group confirmed to AFP on Thursday.
"Chief of our Jamaat-ul-Ahrar Umar Khalid Khorasani, who sustained serious injuries in a recent US drone strike in Afghanistan's Paktia province, succumbed to his injuries Wednesday evening," JuA spokesman Asad Mansoor told AFP by telephone from an undisclosed location.
"At least nine close associates of Khorasani were also killed in the strike," he added.
Mansoor said a high-level meeting of JuA's consultative council will be convened soon to appoint the outfit's new chief.
However, an important Taliban commander said on condition of anonymity that one of JuA's senior commanders, Asad Afridi, has already been appointed new JuA chief.
The recent unprecedented increase drone strikes in the Pak-Afghan border region appears to be reflective of a change in policy in Washington, with at least 70 strikes ─ both drone and ground ─ conducted in Afghanistan in the past three weeks, and over 30 people killed in strikes near the border in the last few days.
The strikes came days after Canadian hostage Joshua Boyle and his American wife and three children were freed in Pakistan after five years of captivity at the hands of the Haqqani network.
Analysts said Khorasani's death suggested resumption of intelligence sharing and coordination between Pakistan and the US.
"The resumption of drone strikes on anti-Pakistan elements following hard stance on Trump's Afghan policy signals moderation of positions by Islamabad and Washington," leading Pakistan security analyst Imtiaz Gul told AFP.
He said "it shows America's willingness to redress Pakistan's complaints about presence of militant safe havens on Afghan soil".
"Both countries now seem to be back to their business. "
Journalist turned militant
One of the founding members of the Tehreek-i-Taliban Pakistan (TTP), Khorasani (aka Abdul Wali) was a former journalist from Mohmand agency. Within organisational circles, he was known as a formidable military commander. He was also given additional charge of the Khyber agency chapter for a brief period where he orchestrated a bloody campaign against government-backed lashkars (militias).
Climbing up in the ranks to Mohmand agency chief, he was later ousted from the TTP for forming JuA.
Khorasani previously led a faction called Ahrarul Hind, which claimed several attacks during a ceasefire period between the government and Taliban in 2014, including one on an Islamabad court complex that killed 12 people.
Analysts believe Khorasani had strong links to Al Qaeda and its chief, Ayman Al-Zawahiri.
The Jamaat-ul-Ahrar
The JuA first came to prominence when it claimed responsibility for the 2014 Wagah attack. At least 61 people were killed in the attack and over 100 others were injured.
The terror group has claimed responsibility for a number of attacks in Pakistan in recent times, particularly those targeting military and law enforcement personnel, government buildings, politicians, minority groups and lawyers.
More recently, it was behind the suicide attack on police officials on Lahore's Mall Road earlier this year and a deadly double attack in Parachinar targeting the city's Shia community. Thirteen people were killed and 85 injured in the Lahore attack; more than 72 lost their lives in Parachinar.
On March 7, Jamaat-ul-Ahrar also claimed responsibility for an attack from across the Afghan border on three security posts at Gora Pari in the Mohmand tribal region. The attack claimed the lives of five soldiers, the military's media wing had reported.
A few days later on March 16, the terrorist group claimed another cross-border attack in the Landi Kotal area of Khyber Agency, which resulted in six suspected militants being killed. The gun battle lasted several hours in which two FC personnel lost their lives and four others suffered injuries.
A nationwide crackdown launched in February specifically targeted JuA, and many of its members have been killed or apprehended since the surge in violence this year.
Earlier this year, the army had also released the confessional statement of Liaquat Ali, infamously known as Ehsanullah Ehsan, a former spokesperson of the JuA and TTP.
The video brought forth some startling revelations, including the claim that the TTP and JuA have been coordinating with Indian and Afghan security agencies to move freely in Afghanistan and have been guided by the Research and Analysis Wing (RAW), India's apex spy agency, in infiltrating into Pakistan.
Ehsan, who seemed disgruntled by what he termed the self-serving agenda of senior leaders of the TTP and JuA, also said that these organisations have twisted Islam to suit their own ends and are actively looking to recruit young men and women through propaganda and false interpretations of Islam spread through social media.
Full report at:
https://www.dawn.com/news/1364849/umar-khalid-khorasani-9-associates-confirmed-killed-by-us-drone-strike
--------
Qandeel Baloch murder: Muslim cleric arrested in connection with killing of 'Pakistan's Kim Kardashian'
Oct 20, 2017
A Muslim cleric has been arrested in connection with the murder of the woman who has come to be known as Pakistan's Kim Kardashian.
Qandeel Baloch, 26, was allegedly strangled to death by her brother, Muhammad Waseem, in a suspected honour killing, after she posted racy pictures online.
Now a high-profile cleric, Mufti Abdul Qavi, has been arrested after his phone records showed he was in contact with Mr Waseem, following Mr Qavi himself being embroiled in a scandal involving Ms Baloch.
Mr Qavi was sacked from his position on a government committee after Ms Baloch released pictures with the cleric in his hotel room just weeks before her murder.
In the pictures she is seen wearing his hat while posing beside him. She accused the Muslim cleric of smoking cigarettes and drinking soft drinks with her during the month of Ramadan – when Muslims are supposed to be fasting.
She also accused him of "inappropriate behaviour" and called him a "blot on the name of Islam".
"I thought I would expose him as he is in reality. He is a different person alone and different when he has his followers around him," she told AFP.
The cleric has been accused of inciting her murder following the incident – something Mr Qavi has denied.
Miss Baloch was a polarising figure in Pakistan, a notoriously conservative country, and had tens of thousands of fans online.
Mr Qavi claimed their relationship stemmed from him trying to show her the "right path".
Full report at:
http://www.independent.co.uk/news/world/asia/qandeel-baloch-murder-latest-news-muslim-cleric-pakistan-mufti-abdul-qavi-killing-a8009451.html
--------
Organised terrorism greatest threat to Muslim countries: Raheel Sharif
Oct 20, 2017
DUBAI: Former Chief of Army Staff General (retd) Raheel Sharif has said that Muslim countries face tremendous challenges and organised terrorism is the biggest threat to their foundation.
He was speaking, as the head of the Islamic Military Counter-Terrorism Coalition based in Saudi Arabia, in the Middle East Military Alliances and Coalitions Conference (MEMAC) — part of the Bahrain International Defence Exhibition and Conference (BIDEC) 2017 held in Manama from October 16-18.
The ex-army chief said that it was a great honour for him to be a part of the coalition as the military commander.
He said that terrorist groups were following organised methods of operation and the mercenaries and soldiers of al-Qaeda and Daesh were paid in hundreds of dollars.
"Kinetic actions are not enough as the problems are regional and transnational and deeply rooted in the political and socio-economic sphere", the former army chief said to the present military officials and political leaders at the conference.
Referring to outfits such as al-Qaeda, Daesh, and Boko Haram, he said that terrorists were concentrated in the Middle East, South Asia, and Africa. He conceded that the ongoing conflicts had intertwined with one another in a way which made the security situation more complex than ever before in history.
Speaking about Pakistan's role in the war against terror, he said that the country had contributed more than its weight to regional security and global peace. He said that the terrorists' narrative and ideology had been completely discredited in Pakistan. Speaking about MEMAC's working, the army chief said that it was based on four mechanisms: countering terrorist ideologies, enhancing communication and spreading awareness, countering the financing of terrorism and drying its sources, and strengthening cooperation and sharing of intelligence between member states.
General Sharif's address at the MEMAC was his first public appearance as the head of the military coalition. He had served as Pakistan's chief of army staff from November 2013 to November 2016.
Full report at:
https://www.pakistantoday.com.pk/2017/10/19/organised-terrorism-greatest-threat-to-muslim-countries-raheel-sharif/
--------
NAP implemented to eradicate terrorism: Abdul Qayyum
Oct 20, 2017
ISLAMABAD: Pakistan Muslim League Nawaz (PML-N) Senator Lt General (r) Abdul Qayyum on Thursday said that the current government had reached a consensus to implement National Action Plan (NAP) in an attempt to get rid of terrorism from the country.
Speaking to a local media outlet, he said anti-state elements cannot digest the many successes Pakistan had achieved against terrorism.
He suggested that dialogue was the only way to achieve peace and resolution of problems in Afghanistan. Qayyum further said that about 934 check posts had been established to manage the border Pak-Afghan area, adding that the Afghan government should also develop a system to monitor the area on their side.
To a question about reforms, he said that credit goes to the PML-N government for developing a consensus on Federally Administered Tribal Areas (FATA) reforms, and added that the present government had also worked for electoral reforms, and completed the process of census in the country.
He lamented that Pakistan Peoples Party (PPP) government not make progress in FATA reforms, census and electoral reforms during its five-year tenure.
Full report at:
https://www.pakistantoday.com.pk/2017/10/19/nap-implemented-to-eradicate-terrorism-abdul-qayyum/
--------
Pakistan Arrests 6 Police Officers for Dragging Christian Boy Out of Class, Killing Him
19 Oct 20179
Pakistani authorities have detained six police officers on murder charges linked to the killing of a Christian boy who beat up a fellow Muslim classmate who allegedly "bullied" him "regularly," reports the British Pakistani Christian Association (BPCA), which tracks cases of Christian persecution in the Muslim-majority country.
After beating the young 14-year-old Christian to death with "fists, kicks, and rifle butts," the police officers disposed of the body "on the roadside and fled," the victim's father, Mushtaq Masih, told the persecution monitor group.
One of the teachers who witnessed the horrifyingly wicked incident at the Ideal Science Academy in Punjab accused the police officers of "terrorism."
BPCA notes:
Arslan Masih was killed after having been dragged out of a classroom by a band of Police intent on getting revenge on the young Christian, after he prevailed in a fight with one of the Muslim boys who had been bullying him at school. One of the police officers was also an uncle of the Muslim boy who Arslan beat in the fight and apparently found it unacceptable that Arslan had stood up to and bested his nephew. Detective Constable Sardar, could not bear the fact that a Christian touched a Muslim despite Arslan being forced to defend himself in the altercation that was initiated by the Muslim pupil.
It transpired that Arslan was being bullied regularly and had only got into the fight in an attempt to stop the daily torment he was receiving from the Muslim pupils who, his father Mushtaq Masih has informed us, were attempting to convert Arslan to Islam.
Although seven policemen "stormed" the academy on October 9th to drag the victim out, only six have been arrested and charged.
"Arslan was attending classes at the Ideal Science Academy [in Punjab] when … policemen kicked open the door and dragged him out of the classroom," the victim's father told BPCA.
"Sardar, alias Billu, a police constable, helped them to identify the boy. The band of police officers started beating Arslan with fists, kicks and rifle butts and Arslan was in visible pain and was screaming for the men to stop," Mushtaq Masih continued, adding that police officer "Rashid struck Arslan's head with a pistol which [caused the victim to] bleed. When they bundled him into the police van, Arslan collapsed and died. Later the police team threw Arslan's body on the roadside and fled."
According to Open Doors USA, which has been monitoring the oppression of Christians across the world for 25 years, the level of persecution against members of the Christian minority in Pakistan is "extreme."
Wilson Chowdhry, the BPCA chairman, declared:
Arslan is the fifth Christian to have died in police custody in Pakistan since the inception of the BPCA [in 2009]. What is most alarming about this account is that he did not commit a crime and was on his college premises at the time, where hundreds of eye witnesses observed his murder.
The displayed audacity of police officers in this attack reminds us how corrupt and unfit for its purpose the police force of Pakistan is, while underlining the brutal tactics of a force uninhibited by senior officers, governing bodies and a pseudo complaints commission.
Authorities in Pakistan often use the country's strict anti-blasphemy law, which carries a punishment of life in prison, or death, to target religious minorities, primarily Christians.
"This [murder] paints a very bleak future for minorities in Pakistan who face the most discrimination and persecution from statutory services," noted Chowdhry. "If anything, confidence in the Police from minorities in Pakistan has reached its lowest ebb." Nevertheless, BPCA reports that the family of the young Christian "may get some rare justice through the highly biased legal system of Pakistan, in which Christians are normally denied a fair trial."
Law enforcement officials have arrested six of their fellow police officers and charged them with "aggravated murder" and other offenses, including rioting while armed with a deadly weapon.
"Police have cooperated well with the family and the academy teacher Arslan Farhan Taj has registered an FIR [first information report] of terrorism against the culprits," pointed out Mehwish Bhatti, the lead BPCA officer in Pakistan.
The young Christian victim was a student at the Ideal Science Academy in the Jhabran Mandi village of the Sheikhupura district in Punjab, the most populous province in Muslim-majority Pakistan and the second largest by area.
Full report at:
http://www.breitbart.com/national-security/2017/10/19/pakistan-police-arrested-killing-christian-boy-dragging-classroom/
--------
Arab World
Muslim World League chief stresses need to differentiate fatwas to maintain stability
MOHAMMED AL-SULAMI
20 October 2017
JEDDAH: During the opening session of "The Role of Fatwa in Maintaining Social Stability" conference held in Cairo by Dar Al-Iftaa Al-Massriyyah, the secretary-general of the Muslim World League (MWL), Mohammed Al-Issa, called on muftis and religious men to consider the consequences of fatwas before issuing them, the differences between Islamic communities and immigrant minorities, and the difference between fatwas for individual and international issues.
Held under the auspices of President Abdel Fattah El-Sisi, more than 1,000 muftis and Islamic organization heads from around the world gathered for the conference.
Al-Issa stressed the need to differentiate between general and special fatwas, in accordance with each state's conditions.
He also called on taking into consideration the immigrant minorities' priorities when issuing fatwas to help apply them better, and thus maintain social stability by avoiding any misleading fatwas.
Later, Al-Issa commended the royal decree to establish the King Salman Complex for the Prophet's Tradition in Madinah, which will have a council comprising world-renowned scholars of the hadith.
He said: "The order came in response to a need to face the disgraceful jurisprudence of quoting out of context, and stop the attempted distribution of misrepresented texts which pose a danger due to the lack of scientific studies."
Al-Issa clarified that due to their lack of knowledge and intellectual misguidance, extremists tend to justify their mistakes and deviance with texts they claim support their erroneous view of Islamic law. The complex will help expose all such allegations and serve Islam and Muslims by protecting the sciences of Islamic law, he added.
http://www.arabnews.com/node/1180426/saudi-arabia
--------
3 FSA, ISIL Commanders Killed in Dara'a
Oct 19, 2017
News websites affiliated to the dissidents reported on Thursday that Farouq Qazal, the commander of Brigade 15 of Special Forces affiliated to Ferqat al-Qadesiyeh of the FSA, was killed when a bomb detonated in Dara'a al-Balad region in Dara'a city, adding that another militant was also wounded.
According to the websites, Qazal was defusing a bomb which was planted in front of the house of one of Ahrar al-Sham commanders named Abu Jamal Abu Nabovat when it was detonated.
Also, based on reports, infighting between the ISIL and FSA militants in Western Dara'a killed 10 ISIL militants, including two of its commanders namely Abu Mohammad Abedin and Abdollah al-Safouri.
A Lebanese media outlet reported last month that assassination of FSA commanders has significantly increased after intensified clashes between the FSA and the rival terrorist group of ISIL in the Southern province of Dara'a.
The Arabic-language al-Manar tv network reported that Naser Khalil Mahasenah, commander of the FSA-affiliated Jeish Ababil, was killed along with several of his aids in a booby-trapped attack on his cars on a road connecting the towns of Zamrin and al-Hareh to each other in Northwestern Dara'a.
The news network added that Sharif al-Kayed, another military commander of the FSA, was kidnapped on al-Karak al-Sharqi's road to al-Harak region in the Eastern countryside of Dara'a by unknown attackers.
Full report at:
http://en.farsnews.com/newstext.aspx?nn=13960727000750
--------
Syrian Army Advances in Purging Operations in Western Damascus
Oct 19, 2017
The army forces intensified military operations against al-Nusra Front near Beit Jin region and the adjacent farms in Southwestern Damascus, igniting fierce clashes with the terrorists.
Meantime, the Syrian army's air and artillery units pounded the terrorists' bases in the two regions.
A military source said that the Syrian army soldiers continued to advance after regaining control over Tal Bardaiyeh near Moqr al-Mayer, wining back new regions near the strategic hills of Darbal and al-Maqtoul from militants.
Last week, the Syrian army had also launched another offensive against the al-Nusra Front in Southwestern Damascus, and could impose control over a key region.
The army forces engaged in heavy clashes with al-Nusra terrorists in Jabal al-Sheikh and al-Zyat regions as well as al-Bardaiyeh hill in Southwestern Damascus, winning back control over the strategic hill.
They also fiercely clashed with the terrorists in al-Zahr al-Aswad front near Beit Jin farms in Western Damascus, killing several terrorists.
Full report at:
http://en.farsnews.com/newstext.aspx?nn=13960727000721
--------
3 New Towns in Idlib Join Syria Peace Process
Oct 19, 2017
The Russian center said in its latest statement that representatives of militants in the two towns of Kafarmous and Falifal in Idlib province, which are located in the de-escalation zone number one, have inked the peace agreement.
Also, the town of Tesnin in Homs province endorsed peace agreement with the Syrian government.
The Russian center had also announced in September that over 800 gunmen have joined the Syrian government forces in the Northwestern province of Idlib.
Full report at:
http://en.farsnews.com/newstext.aspx?nn=13960727000623
--------
Tens of Militants in Aleppo Surrender to Syrian Army
Oct 19, 2017
According to the Arabic-language service of the Russia-based RT news channel, 30 militants that laid down arms and applied for amnesty in Northeastern Aleppo were pardoned by the Damascus government on Thursday after mediation by the Russian forces at the Russian Reconciliation Center for Syria.
The report added that the Russian Reconciliation Center for Syria provided a safe passageway for the pardoned terrorists to enter Aleppo city at the demand of the Syrian government.
In a relevant development in Homs province on Wednesday, more than 100 militants that laid down arms and applied for amnesty in Northern Homs were pardoned by Damascus government.
Full report at:
http://en.farsnews.com/newstext.aspx?nn=13960727000652
--------
ISIL Withdraws from Western Deir Ezzur after Agreement with Kurds
Oct 19, 2017
The sources reported from Western Deir Ezzur that the ISIL terrorists retreated from the villages of Muhaymideh, Safireh and al-Hesan on the Western bank of the Euphrates river towards the villages in Eastern Deir Ezzur after an agreement with the SDF.
In a relevant development on Wednesday, the US and the SDF reached an agreement with the ISIL to transfer a number of terrorists to oilfields in Northeastern Deir Ezzur for a new round of combat against government troops in the region, a Syrian media outlet reported.
The Arabic-language al-Watan daily reported that a number of ISIL terrorists have been transferred to the al-Amu oilfield in Northeastern Deir Ezzur 12 km away from the town of al-Mayadeen to slow down the Syrian army advances after striking a deal with the US and the SDF.
In the meantime, al-Alam news website quoted sources as saying that the US has paved the way for the ISIL terrorists to leave the villages of al-Hosseiniyeh and al-Salehiyeh for the al-Amr oilfield.
Full report at:
http://en.farsnews.com/newstext.aspx?nn=13960727000403
--------
Baghdad court issues arrest warrant for Iraqi Kurd VP
19 October 2017
A Baghdad court on Thursday issued an arrest warrant for the vice president of Iraqi Kurdistan on charges of "provocation" against Iraq's armed forces, the judiciary said.
Kosrat Rasul had referred to the Iraqi army and federal police as "occupation forces" in a statement on Wednesday, the court said.
In the statement, Rasul, who is also vice president of the Patriotic Union of Kurdistan (PUK), one of the two main Kurdish parties, criticized his own group for not having resisted the entry of Iraqi federal forces into the disputed northern city of Kirkuk on Monday.
"The court considers these comments as provocation against the armed forces, under Article 226 of the penal code," an offence which can carry a jail term of up to seven years or a fine, said a judiciary spokesman.
Rasul, who is close to Iraqi Kurdish leader Massoud Barzani, entered Kirkuk with his Peshmerga fighters on Sunday but pulled out without a fight.
Barzani, who is head of the PUK's rival the Kurdistan Democratic Party, on Thursday denounced the warrant as a "political decision that clearly shows the reality of Baghdad's authoritarianism".
The judiciary in the Iraqi capital last week also ordered the arrest of three senior Kurdish officials responsible for organising a September 25 independence referendum in defiance of Baghdad.
Iraq's supreme court had ruled the vote unconstitutional and ordered it called off.
Full report at:
https://english.alarabiya.net/en/News/middle-east/2017/10/20/Baghdad-court-issues-arrest-warrant-for-Iraqi-Kurd-VP.html
--------
Syrian forces recover Israeli, NATO-made arms from Daesh hideouts
Oct 19, 2017
Syrian military forces have discovered a large cache of Israeli-made weapons in the strategic city of Mayadin in Dayr al-Zawr province, days after retaking the eastern city from Daesh terrorists.
The weapons included several types of heavy, medium and light firearms that beside Israel, came from some European countries as well as members of the NATO military alliance, Syria's state news agency SANA reported Thursday, citing a field commander.
The commander said they had also found mortars, artillery equipment, large quantities of anti-armor munitions and a NATO- made 155mm cannon with a range of up to 40km (about 25 miles).
This was not the first time that the Syrian government forces made such discoveries from terrorist hideouts across the country.
According to SANA, only a few days back they captured an Israeli cannon along with large amounts of weapons, ammunition and communication equipment from Takfiri terrorists in the area of Jib al-Jarrah in the eastern Homs countryside.
Syria has been gripped by foreign-backed militancy since March 2011. The Syrian government says the Israeli regime and its Western and regional allies are aiding Takfiri terrorist groups wreaking havoc in the country.
Israeli violations of Syria's sovereignty
Although Israel has sought to avoid direct involvement in the six-year conflict, it has acknowledged conducting frequent attacks against military targets in Syria, in what is considered by experts as an attempt to prop up terrorist groups among their many losses.
The latest of such attacks occurred on Thursday, when Israeli tanks fired shells into Syrian territories from the occupied Golan Heights.
The office of Israeli Prime Minister Benjamin Netanyahu confirmed the attack, calling it a response to a "projectile" that was allegedly fired from Syria earlier in the day and landed on "open ground" without causing any casualties.
The attack followed an Israeli aerial violation of Syria's airspace near the Lebanese border on Monday.
Syrian military forces responded to the intrusion by opening fire on the aircraft, hitting one and forcing them all to flee.
Full report at:
http://www.presstv.com/Detail/2017/10/19/539198/Syria-Israel-Daesh-ISIS-weapons-NATO-Mayadin
--------
India
Recruiter linked to Jaipur Islamic State module nabbed in the Philippines
20th October 2017
NEW DELHI: IN a blow to the transnational radicalisation-cum-recruitment agenda of the Islamic State (IS), the Manila police have arrested online propagandist Karen Aisha Hamidon whose name figured during the National Investigation Agency (NIA) probe into the terror outfit's Jaipur module. Hamidon is suspected to have recruited more than 20 Indians for the terror outfit, following which the NIA issued a Lookout Circular against her.Sources said Hamidon was arrested earlier this week after the Philippines police mounted surveillance on her online activities. She was under observation of counter-terror agencies there for the last six months.
The NIA is likely to approach the Philippines authorities to question her in connection with the Jaipur module of IS in which the agency has filed a chargesheet.The NIA case into the Jaipur module RC-05/2016/NIA/DLI was registered by the agency against Sirajuddin, a resident of Jaipur and native of Bengaluru. The interrogation of Sirajuddin by the agency revealed that he was radicalised by the Filipino woman through a WhatsApp group. Following the revelations by Sirajuddin, the NIA had reportedly sent a Letters Rogatory (judicial request) to the Philippines seeking details about her activities and links to the terror outfit.
Counter-terrorism expert Dr Rituraj Mate said, "The detention of Karen Aisha Hamidon is a big blow to the transnational radicalisation network of Islamic State."The NIA officials remained tightlipped over the developments, including whether a team was being sent to Manila.The Philippines-based jehadi motivator had emerged as a regional threat to peace. The former air hostess of a West Asia airline was suspected to be engaged in a major way in recruiting youth from the region, including India, for the IS.
Hamidon, the sources said, is a hardcore radical who comes from a background of mixed parentage — her late father being a Muslim and her mother a Christian. Hamidon had been actively taking part in the IS's online activities such as identification of individuals with potential to become IS members, radicalising individuals online and handing over such individuals to handlers based in IS-controlled areas in Syria.
Hamidon, born on September 26, 1981, embraced Christianity and was working as an air hostess in Emirates Airlines before taking up the radicalisation agenda of the terror outfit. During her stay in the United Arab Emirates (UAE), Hamidon was influenced by Islam and subsequently converted to adopt the Muslim faith more than a decade back.After converting to Islam, she associated herself with Mahad Al Islamic mosque in Zamboanga city of Mindanao province in the Philippines.
Hamidon has been actively participating in the IS propaganda and online activities, but since she has not been instrumental in any act of terror, she managed to evade the Philippines law. However, the Philippines authorities realised the threat following revelation of her transnational activities relating to radicalisation and put her under surveillance.
Besides radicalising and recruiting several youth for the IS in India, Hamidon has also been instrumental in motivating many individuals in other parts of Asia and the subcontinent for the Islamist outfit. Hamidon's recruitment drive covered Indonesia, Malaysia, India, Pakistan, Sri Lanka, Maldives and the UAE besides the Philippines.
According to inputs, Hamidon is closely associated with the IS leadership and has access to the Moro Islamic insurgents of the Philippines. She is suspected to be engaged in influencing young Muslim girls from Mindanao province to join the IS, the sources said. A source said cyber profiling of Hamidon's social networking accounts suggested she was in touch with over 20 youth from India, including from Jammu & Kashmir, Mumbai and the Konkan region, Sri Lanka and Maldives. The Kashmir connection of Hamidon is reflective of the IS's growing reach in the Valley with Kashmiri youth waving IS flags in the state on a regular basis.
She is suspected to have radicalised four youth from Jammu & Kashmir (three from Srinagar and one from Sopore) besides one Islamist from Daman and Diu who is engaged in money exchange, two from Hyderabad and one each from Kanpur and Kolkata.
http://www.newindianexpress.com/nation/2017/oct/20/recruiter-linked-to-jaipur-islamic-state-module-nabbed-in-the-philippines-1678293.html
--------
India condemns Taliban attack in Kandahar army base, says states hosting terrorists must eliminate them
October 19, 2017
The Ministry of External Affairs on Thursday condemned the attack at the Afghan National Army base in Kandahar province which killed at least 43 Afghan soldiers. The attack which took place on Thursday involved two suicide car bombs that set off hours of fighting. The Afghan Defence Ministry spokesperson, Dawlat Wazir, said nine other soldiers were wounded and six have gone missing. He also said that 10 attackers were killed.
"India strongly condemns the barbaric attack today at the Afghan National Army base in Kandahar province. The terror attacks demonstrate that safe havens and support systems continue to be available to the terrorists," the MEA said in a statement. The Taliban claimed the attack in a media statement. Without naming any nation, India said the countries harbouring terrorist sanctuaries must eliminate them. "States hosting terrorists and their sanctuaries must eliminate them immediately and without distinction," the statement read.
Full report at:
http://indianexpress.com/article/india/india-condemns-taliban-attack-in-kandahar-army-base-says-states-hosting-terrorists-must-eliminate-them-4898074/
--------
Sushma Swaraj's Diwali gift: Visas to all Pakistanis with pending medical cases
October 19, 2017
On the occasion of Diwali, External Affairs Minister Sushma Swaraj on Thursday announced that India will grant medical visas to all Pakistanis with deserving cases for treatment in the country. Taking to Twitter, Swaraj said, "On the auspicious occasion of Deepawali, India will grant medical Visa in all deserving cases pending today."
Swaraj's announcement comes days after she directed the Indian High Commission in Pakistan to issue visas for a string of patients, including a child suffering from eye cancer, a bone marrow transplant patient and to two others for liver transplant surgeries.
On Thursday, the foreign minister also responded to a tweet by a Pakistani national to visit her father in New Delhi who is undergoing a liver transplant. "Please contact Indian High Commission in Pakistan," she had said, "We will allow this."
Full report at:
http://indianexpress.com/article/india/sushma-swaraj-happy-diwali-gift-pakistan-medical-visa-4897660/
--------
South Asia
New deadly clashes erupt among Taliban and ISIS in Nangarhar
Oct 19 2017
New wave deadly clashes have erupted among the Taliban and ISIS militants in eastern Nangarhar province of Afghanistan.
According to the local government officials, both the Taliban and ISIS militants have suffered casualties during the latest clashes.
The officials further added that the new incident has taken place in the vicinity of Khogyani district of the province.
The provincial government media office in a statement confirmed the new clashes and said at least five militants were killed and three others were wounded during the clashes.
The statement further added that the clashes erupted in Dar and Sikanadara areas of Wazir Tangi area.
Two militants were killed from the ISIS side while three Taliban insurgents including one of their local leaders identified as Ismail who was also famous as Fawad were among those killed, the provincial government added.
The anti-government armed militant groups have not commented regarding the report so far.
This comes as at least nine militants were killed in a similar incident in Nangarhar province on Sunday.
The latest clashes take place despite the call by the Taliban group leader Mullah Hebatullah Akhundzada to reach to an agreement for ceasefire, citing similarity of Jihadic efforts among the two groups.
http://www.khaama.com/new-deadly-clashes-erupt-among-taliban-and-isis-in-nangarhar-03675
--------
We'll be here as long as it takes until you change your mind, Tillerson tells Taliban
Oct 19 2017
The United States Secretary of State Rex Tillerson in his stark message to the Taliban group has said that the United States will be in Afghanistan as long as it takes until they change their mind.
In his speech before the Center for Strategic and International Studies on Wednesday, Tillerson said "We'll be here as long as it takes until you change your mind."
The remarks by Tillerson came as efforts are underway to encourage the Taliban group to participate in peace talks and end the ongoing violence through reconciliation.
The meeting of the Quadrilateral Coordination Group consisting Afghanistan, Pakistan, China, and the United States also kicked in Muscat of Oman on Monday to help revive the Afghan peace talks.
However, the Taliban group has so far rejected to participate in any form of peace negotiations.
The latest remarks by Tillerson warning the Taliban regarding the persistent presence of the US in Afghanistan comes as the US President Donald Trump also vowed to continue the war against the terrorism as part of the new US strategy for Afghanistan and South Asia.
Full report at:
http://www.khaama.com/well-be-here-as-long-as-it-takes-until-you-change-your-mind-tillerson-tells-taliban-03674
--------
BD lets stranded Rohingya into camps after screening
Oct 20, 2017
COX'S BAZAR - Thousands of Rohingya Muslims stranded near Bangladesh's border this week after fleeing violence in Myanmar have finally been permitted to enter refugee camps after "strict screening", officials said Thursday.
The UN had expressed deep concern about the new wave of around 10,000 refugees, including children and elderly people who, dehydrated and hungry from the long journey, had been stopped from crossing the border into Bangladesh and left to squat in paddy fields.
It was not immediately clear why the new arrivals were being held in an area of no man's land, but the UN refugee agency (UNHCR) had said it was calling on the Bangladesh authorities "to urgently admit" the group.
Border Guard Bangladesh (BGB) spokesman Major Iqbal Ahmed told AFP on Thursday that the newcomers, who were blocked at Anjumanpara near the border town of Ukhiya, had been screened "very carefully" to stop "unwanted visitors".
"After strict checking, they are being taken to the extended Kutupalong camp where they will receive some basic goods and later will be shifted to another camp," said Ahmed.
Excluding the latest wave, the UN says some 582,000 Rohingya refugees had fled Myanmar for Bangladesh since late August, when militant attacks on Myanmar's security forces in Rakhine state sparked a major army crackdown.
But Bangladesh, which has been overwhelmed by the influx of people fleeing the violence, is wary of radicals getting into its refugee camps where there are now more than 800,000 Rohingya in all.
Many of the new arrivals were from Rakhine's Buthidaung district, which lies relatively far from the border with Bangladesh.
Some told an AFP correspondent they had trekked for days to reach the border as their villages remain under military surveillance and they had nothing to eat.
"We ran out of food," said Shamser Alam, 21, from Yin Ma Kyaung Taung village near Buthidaung town.
"There is no village market. There are too many restrictions. We don't have freedom. Not more than five people can pray together."
Sufia Khatun, a mother of four, said one of her sons was killed in a stampede after Buddhist militants attacked her village.
"We ran for our lives and I lost Jalal. Later I found he was killed in the stampede," she told AFP.
Sanjida Khatun, from Phone Nyo Lake village who tried to escape with her husband Mohammad Amin, three sons and a 15-day-old baby, said she was attacked by armed men while going to the border.
"They indiscriminately hacked my husband to death. I narrowly escaped with my sons," she said.
Myanmar has subjected the 1.1 million Rohingya community to decades of hostility and refused them citizenship even though many have lived there for generations.
Bangladesh has announced plans to build a refugee camp that could accommodate around 800,000 Rohingya in Kutupalong.
Full report at:
http://nation.com.pk/international/20-Oct-2017/bd-lets-stranded-rohingya-into-camps-after-screening
--------
RAB arrests man claiming to be Imam Mahadi
October 19, 2017
Rapid Action Battalion (RAB) on Wednesday arrested a man from Shahjahanpur, Dhaka, for alleged anti-state propaganda and extremism.
The arrested man, Mohammad Moin Uddin, 45, claimed that he was the Caliph Imam Mahadi.
RAB 11 Operation Officer Additional SP Shakil Ahmed confirmed the arrest saying: "On Wednesday afternoon, a team of RAB 11 conducted a drive in Shahjahanpur to arrest him. The RAB team found a large number of extremist and anti-state propaganda leaflets along with computers and printers that were used to make them."
Additional SP Shakil said Moin Uddin has been spreading propaganda for a long time. He claimed to be appointed by God as a special envoy, loyal servant of the Caliphate of Islam and says he is Imam Mahadi. He also claimed that he had prepared a Dhaka Charter much like the Medina Charter.
According to Moin, Bangla translations of the Holy Quran that are currently available are incorrect. He was writing his own translated version.
Moin had many followers who helped spread his anti-state propaganda material aimed at spreading extremism in Bangladesh. He used to anonymously send leaflets to people and organisations, which contained his anti-state extremist views of democracy, said Additional SP Shakil Ahmed.
Full report at:
http://www.dhakatribune.com/bangladesh/crime/2017/10/19/rab-arrests-alleged-anti-state-propagandist/
--------
No options other than elimination or surrender left for terrorists: Ghani
Oct 20 2017
President Mohammad Ashraf Ghani in reaction to the recent wave of deadly attacks has said that no option is left for the terrorist groups other their elimination or surrender.
The Office of the President, ARG Palace, quoted President Ghani in a statement as saying "The criminal groups linked to the outsiders, in the latest terrorist wave of attacks, targeted various parts of the country. After committing crimes and acts of savagery against humanity in Ghazni and Paktia, the terrorists once again martyred some Afghans and security personnel in Maiwand district of Kandahar."
The statement further added that the groups which have been involved in crimes, terror, and murders, are currently on the verge of destruction and elimination.
President Ghani says on the other hand the government of national unity and the Afghan people stand along the Afghan security forces and will use all their force to fight against the crimes of the terrorist groups.
He said the terror groups are being wiped out from the communities and are currently having no other option other than surrendering or being eliminated.
According to President Ghani, for this reason, the terrorist groups have once again opted not to refrain from any act of savagery.
He said the Afghan security forces continue to defend from the sovereignty and territorial integrity of the country with their blood and their bravery will be written in golden scripts in the history of the country.
Full report at:
http://www.khaama.com/no-options-other-than-elimination-or-surrender-left-for-terrorists-ghani-03678
--------
Durand Line fencing to prevent terror attacks in both countries, says Pak General
Oct 19 2017
A top Pakistani army General has said the fencing work along the Durand Line with Afghanistan will help prevent terror attacks in both the countries as the Afghanistan oppose any work along the line calling it an unresolved issue between the two countries.
Major General Nauman Zakaria, the commander for the South Waziristan tribal region has told reporters that no "terrorist" will be able to use Afghan or Pakistani soil to launch cross-border attacks after the fencing is completed.
"(The fence) is a paradigm change. It is an epoch shift in the border control management," he said, adding that "There will not be an inch of international border (in South Waziristan) which shall not remain under our observation."
Pakistan started work on fencing the line in June this year and reports suggest at least 43 kilometers of the line has been fenced so far, covering the areas which the Pakistani authorities are the most prone in terms of the movement of the militants.
However, the Afghan officials are saying that the main root of the violence lies with the sanctuaries and leadership councils of the terror groups, mainly the Haqqani terrorist network which has leadership councils based in Quetta, Peshawar, and other cities of the country.
Full report at:
http://www.khaama.com/durand-line-fencing-to-prevent-terror-attacks-in-both-countries-says-pak-general-03676
--------
Mideast
'No one' can force Hamas to disarm or recognize Israel
Oct 19, 2017
The head of Hamas says "no one" can force it to disarm or recognize Israel after the US demanded the resistance movement meet those conditions as part of an emerging Palestinian unity government.
"No one in the universe can disarm us. On the contrary, we will continue to have the power to protect our citizens," Yahya Sinwar said on Thursday. "No one has the ability to extract from us recognition of the occupation," he added.
His remarks came after US President Donald Trump's special representative for international negotiations, Jason Greenblatt, said any Palestinian government must recognize Israel and disarm Hamas.
Bassem Naim, a senior Hamas official, accused the Trump administration of "blatant interference in Palestinian affairs."
"It is the right of our people to choose its government according to their supreme strategic interests," he said.
Naim also said Greenblatt was bowing to pressure from Israeli Prime Minister Benjamin Netanyahu's right-wing regime.
Netanyahu's cabinet said in a statement on Tuesday that Tel Aviv would not engage in negotiations with a future Palestinian unity government that had the backing of Hamas.
Both Hamas and its Ramallah-based rival Fatah were quick to brush off Netanyahu's threats, with the Palestinian Authority saying such a hostile stance would not affect the nation's resolve to pursue its goals.
Fatah, led by Palestinian Authority chief Mahmoud Abbas, and Hamas have been at odds ever since the latter scored a landslide victory in parliamentary elections in 2006. Hamas governs the Gaza Strip while Fatah has set up offices in the West Bank.
Last week, however, Fatah and Hamas signed a provisional unity agreement in the Egyptian capital, Cairo, in which the latter agreed to dissolve its administrative committee in Gaza.
The ongoing negotiations are taking place within the framework of a 2011 agreement between the two sides, under which 3,000 Fatah security officers would join a Gaza police force over the course of a year.
Under that deal, Hamas' 25,000-strong armed wing, Ezzedine al-Qassam, which has defended Gaza against three deadly Israeli wars over the past decade, would maintain its position.
http://www.presstv.com/Detail/2017/10/19/539192/Palestine-Hamas-Israel-Cairo-Fatah-Trump
--------
US says Palestinian unity govt must recognise Israel, disarm Hamas
Oct 20, 2017
JERUSALEM - A top aide to US President Donald Trump said Thursday that an emerging Palestinian unity government must recognise Israel and disarm Hamas, Washington's first detailed response to a landmark reconciliation deal signed last week.
A Hamas official immediately rejected the comments as "blatant interference" in Palestinian affairs, but did not say directly whether the Islamist group planned to comply with any of the demands.
Trump's special representative for international negotiations Jason Greenblatt, who has repeatedly visited the region to seek ways to restart peace talks, laid out a series of conditions. "Any Palestinian government must unambiguously and explicitly commit to nonviolence, recognise the state of Israel, accept previous agreements and obligations between the parties - including to disarm terrorists - and commit to peaceful negotiations," Greenblatt said in a statement.
The US conditions were roughly in line with principles previously set out by the Quartet for Middle East peace - the United States, the European Union, Russia and the United Nations. "If Hamas is to play any role in a Palestinian government, it must accept these basic requirements," Greenblatt said.
Hamas leader says 'no one'
can force it to disarm
Hamas's leader in the Gaza Strip said Thursday "no one" can force it to disarm or recognise Israel.
"No one in the universe can disarm us. On the contrary, we will continue to have the power to protect our citizens," the Islamist movement's Gaza head Yahya Sinwar said. "No one has the ability to extract from us recognition of the occupation." Sinwar made the remarks during a speech to young people that was provided to AFP by Hamas.
The statement also echoed a response this week by the Israeli government, which vowed not to negotiate with a Palestinian unity government that includes Hamas unless the Islamist group agrees to a list of demands. They included recognising Israel and renouncing violence, but also returning the remains of two Israeli soldiers killed in Gaza, among other conditions.
Senior Hamas official Bassem Naim condemned Greenblatt's statement and accused the United States of adopting Israeli Prime Minister Benjamin Netanyahu's positions.
"This is blatant interference in Palestinian affairs because it is the right of our people to choose its government according to their supreme strategic interests," Naim told AFP.
"This statement comes under pressure from the extreme right-wing Netanyahu government and is in line with the Netanyahu statement from two days ago."
Palestinian president Mahmud Abbas's Fatah movement signed a reconciliation deal with Hamas in Cairo a week ago aimed at ending a bitter 10-year split.
The Abbas-led Palestine Liberation Organisation has recognised Israel, but Hamas has not and is blacklisted as a terrorist organisation by the United States and the European Union.
Israel and Hamas have fought three wars since 2008, and the Gaza Strip has been under an Israeli blockade for more than a decade.
Egypt has also kept its border with Gaza largely closed in recent years.
Hamas has run the Gaza Strip since seizing it in a near civil war in 2007 with Fatah, based in the occupied West Bank, following a dispute over elections won by the Islamist movement.
Under the Cairo deal, the Palestinian Authority, currently dominated by Fatah, is due to resume control of the Gaza Strip by December 1.
Talks are also expected on forming a unity government, with another meeting between the various Palestinian political factions scheduled for November 21.
Previous attempts at reconciliation have repeatedly failed, and many analysts are treating the latest bid with caution, waiting to see if it will change anything on the ground.
A major sticking point is expected to be Hamas's refusal to disarm its 25,000-strong armed wing.
Diplomats say it would be possible to form a unity government they could deal with that does not officially include Hamas.
A previous attempt at a unity government in 2014 was made up of technocrats deemed acceptable by the international community, but it fell apart.
Trump has said he is seeking to restart peace talks between Israel and the Palestinians, frozen since a US-led initiative collapsed in 2014.
However, his administration has offered no details of its plans and he has yet to commit to a two-state solution to the conflict - long the focus of international peace efforts.
Hamas has meanwhile faced increasing isolation and deteriorating humanitarian conditions in the Gaza Strip in recent months, including a severe electricity shortage.
Abbas has imposed a series of sanctions on the Gaza Strip to pressure the Islamist movement, including cutting electricity payments, which has worsened the power cuts.
Hamas has reached out to Cairo for help, hoping to have the Rafah border with Egypt opened.
In return, Cairo has pressed Hamas to move forward on reconciliation with Fatah.
Greenblatt said "all parties agree that it is essential that the Palestinian Authority be able to assume full, genuine and unhindered civil and security responsibilities in Gaza and that we work together to improve the humanitarian situation for Palestinians living there."
Full report at:
http://nation.com.pk/international/20-Oct-2017/us-says-palestinian-unity-govt-must-recognise-israel-disarm-hamas
--------
Turkey Continues Sending Military Convoys to Idlib, Aleppo
Oct 19, 2017
News websites affiliated to the terrorists reported that a military convoy of Turkey, consisting of several armored vehicles and trucks, are moving towards the village of Kah in Northern Idlib from Kafar Lousin region at the Syrian-Turkish borders.
Also, the Syrian Observatory for Human Rights reported that Turkey continues sending military convoys to the regions bordering the Kurdish forces-held areas in Aleppo, adding that several Turkish army convoys have moved towards the town of Dar al-Izza in Western Aleppo through Atmeh passageway in Northern Idlib.
Well-informed sources disclosed on Wednesday that the Turkish Army has asked Al-Nusra Front (Tahrir al-Sham Hay'at or the Levant Liberation Board) to hand over control of several strategic bases in Idlib province.
The sources said that Turkey has called on Al-Nusra to transfer control of Abu al-Dhohour airport to the Ankara forces after the army entered Idlib province and seized control over Taftnaz base on Tuesday.
Ankara has also called on Al-Nusra to deliver al-Doweileh air-defense base West of Idlib to the Turkish army.
The sources further said that talks between the Turkish army and Al-Nusra are underway because the bases are the most important positions of Fatah al-Sham Front with large depots of ammunition.
Turkey intends to use Abu al-Dhohour base and other airports for easier transfer of forces and military equipment.
Full report at:
http://en.farsnews.com/newstext.aspx?nn=13960727000528
--------
Hamas calls US comments on unity deal 'blatant interference'
19 October 2017
Islamist movement Hamas accused the United States of "blatant interference" in Palestinian affairs Thursday after US President Donald Trump's envoy demanded they disarm and recognise Israel in any unity government.
"This is blatant interference in Palestinian affairs because it is the right of our people to choose its government according to their supreme strategic interests," senior Hamas official Bassem Naim told AFP.
He accused Jason Greenblatt, Trump's special representative for international negotiations, of bowing to pressure from Israeli Prime Minister Benjamin Netanyahu's right-wing government.
"This statement comes under pressure from the extreme right-wing Netanyahu government and is in line with the Netanyahu statement from two days ago," Naim said.
Hamas and rival party Fatah have agreed a deal that should see the Islamists hand over control of Gaza to the internationally recognised Palestinian Authority by December 1, with talks also expected on forming a unity government.
Earlier Thursday, Greenblatt said in his first detailed response to the reconciliation agreement that any such government must commit to non-violence and "disarm terrorists," an apparent reference to Hamas.
Full report at:
https://english.alarabiya.net/en/News/middle-east/2017/10/19/Hamas-calls-US-comments-on-unity-deal-blatant-interference-.html
--------
Turkey orders arrest of 110 people over Gulen links: media
20 October 2017
ISTANBUL: Turkish authorities issued arrest warrants for 110 people from a seized company over alleged links to the US-based cleric who Ankara says orchestrated last year's attempted coup, Dogan news agency and other media said on Friday.
It said the police operation to seize the suspects, who were managers, partners and employees of the publishing group Kaynak Holding and related companies, was focused on Istanbul but spread across 24 provinces.
Kaynak Holding was seized by the state in 2015 over links to the movement of Islamic preacher Fethullah Gulen, who has lived in self-imposed exile in Pennsylvania since 1999. He has denied involvement in the July 2016 abortive putsch.
Hundreds of firms like Kaynak, many of them smaller provincial businesses, were seized by authorities in a post-coup crackdown and are now run by government-appointed administrators.
Under the crackdown, more than 50,000 people have been jailed pending trial over alleged links to Gulen, while 150,000 people have been sacked or suspended from jobs in the military, public and private sectors.
Full report at:
http://www.arabnews.com/node/1180551/middle-east
--------
Iran urges regional alliance against US, Israeli plots
Oct 19, 2017
Iran's first vice president says the Middle East is teeming with different kinds of tensions, part of which is the result of US and Israeli plots, calling on the regional states to close ranks and thwart them.
"We must uphold the idea of a strong region, because if our region is powerful, America and Israel will not be able to hatch plots in it," Es'haq Jahangiri said at a joint news conference with Turkish Prime Minister Binali Yildirim in Ankara on Thursday.
"If we, the regional states, are strong, other countries and powers cannot harm us and create a crisis and this is our strategy," Jahangiri said, adding, "Even though our short-term interests may be harmed, we will achieve our goals in the long run."
Jahangiri then said, "We are living in a region that has always been the scene of different clashes and in some cases has witnessed meddling by the countries outside the region."
Part of these tensions is the result of Israel's measures and conspiracies, he said, referring to a recent crisis in Iraq following a controversial secession vote held in the Iraqi Kurdistan Region.
The Iranian vice president noted, "The thought that the territorial integrity of a large country such as Iraq can be damaged is vain and the regional countries like Iran and Turkey always support Iraq's territorial integrity and the rule of the central government."
The plebiscite took place on September 25, sparking strong objection from Baghdad. Iraq's neighbors and the international community also voiced concerns about the repercussions of the vote, which was only backed by the Tel Aviv regime.
Earlier this week, the Iraqi army conducted an operation and managed to retake the control of the areas that had been held by Kurdish forces since 2014, when Daesh unleashed its campaign of death and destruction across the Iraqi territory.
Elsewhere in his remarks, Jahangiri said, "We believe that the crisis in Iraq can be solved through the cooperation of the three countries of Iran, Turkey and Iraq, and in the case of Syria, the Astana process is a confirmation of the joint cooperation between Ankara and Tehran."
The Astana discussions in Kazakhstan have brought representatives from the Syrian government and opposition groups to the negotiating table and led to the establishment of four de-escalation zones in Syria.
The Turkish prime minister, for his part, stressed that the trilateral cooperation among Iran, Turkey and Russia within the framework of the Astana peace talks on Syria should continue.
Full report at:
http://www.presstv.com/Detail/2017/10/19/539164/Iran-Turkey-Israel-Eshaq-Jahangiri
--------
North America
Washington and Wall Street Supporting Global Terrorists: Analyst
Oct 20, 2017
Washington and Wall Street are supporting global terrorists, not the countries which are targeted in US President Donald Trump's travel ban, an American journalist and political analyst says.
Abayomi Azikiwe, editor of the Pan-African News Wire, made the remarks in an interview with Press TV on Thursday, after a federal judge in the US state of Hawaii blocked Trump's latest version of travel ban, saying it "plainly discriminates based on nationality."
Derrick K. Watson, the judge of US Federal District Court in Honolulu, issued a nationwide order on Tuesday and blocked the third version of Trump's controversial travel ban, calling it discriminatory and in contravention to immigration law.
The new regulations, set last month, indefinitely banned entry to the US by most nationals of Syria, Libya, Iran, Yemen, Somalia, Chad and North Korea. The restriction also targeted certain Venezuelan government officials and their families.
"I think this is a good decision by the judge in the state of Hawaii. This travel ban is outrageous. It's targeting countries in Africa and the Middle East," Azikiwe said.
"These countries are not sources of terrorism. The terrorists are being supported by Washington and Wall Street. They were the ones who had harboured al-Qaeda in Afghanistan. They were the ones who unleashed al-Qaeda and ISIS in Libya, in Syria, in Iraq, and now in Yemen," he stated.
"So what needs to take place is an honest discussion on the origins of world-wide terrorism and the role of the United States, Britain and France in promoting these problems," the journalist noted.
"So I think this decision is a good start. Hopefully, they will not try to initiate another travel ban, which will cause more confusion," he concluded.
The Hawaii judge had previously blocked Trump's second travel ban from going into effect in March and the first executive order that limited travel from seven Muslim-majority countries was blocked by a federal judge in Seattle.
Trump has issued three travel bans since coming to office in January. His third ban was announced September 24 and takes effect October 18.
During the 2016 presidential race, Trump campaigned for "a total and complete shutdown" of Muslims entering the United States on the pretext of preventing terrorist attacks.
http://www.presstv.com/Detail/2017/10/20/539209/Washington-and-Wall-Street-are-supporting-global-terrorists
--------
Tillerson blames 'Myanmar military' over Rohingya
Oct 19, 2017
US Secretary of State Rex Tillerson has said Washington holds Myanmar's military leadership responsible for a harsh crackdown on the Rohingya Muslims but stopped short of saying whether Washington would take any action to address the issue.
"The world can't just stand idly by and be witness to the atrocities that are being reported in the area," Tillerson said at Washington's Center for Strategic and International Studies on Wednesday.
"We really hold the military leadership accountable for what's happening in the Rakhine area," he added, referring to the state in Myanmar where the Rohingya Muslims have been facing government-sanctioned violence since late last year.
"Someone, if these reports are true, is going to be held to account for that," Tillerson said, apparently referring to the widespread reports of killings, rapings, and other abuse against the Rohingya Muslims in Myanmar.
Apart from expressions of concern, the US has taken no action to pressure the government or the military in Myanmar to end the abuses.
Forty three US lawmakers recently called on the administration of President Donald Trump to re-impose US travel bans on Myanmar's military leaders and slap sanctions against those responsible for the crackdown. Their call, however, was not heeded.
Tillerson's Wednesday remarks may also be an attempt at diverting blame away from Myanmar's de facto leader, Aung San Suu Kyi, with whose government America has had close ties.
Suu Kyi, a Nobel Peace Prize winner, has taken almost no meaningful action to end the abuses against the Rohingya. While some reports have said she may not have an influence over the military leaders, she has taken a stance that most resembles theirs.
Tillerson's comments came a day after a report by Human Rights Watch (HRW) said that nearly 300 villages of the persecuted Rohingya Muslim minority had been burned in Myanmar since the start of the latest military offensive in Rakhine.
The Rohingya Muslims in Rakhine have been subjected to violence by soldiers and Buddhist mobs since October 2016. The violence has seen a sharp rise since late August.
Over the past weeks, there have been numerous reports of systematic violence against the Rakhine-based Muslims, including random shootings, rape, and arson attacks, in what is censured by the UN as an ethnic cleansing campaign against the minority group.
Rohingya Muslims, recognized by the UN as the world's most persecuted minority group, are denied Myanmarese citizenship as the country's leadership brands them illegal Bangladeshi immigrants.
According to the latest UN figures, some 582,000 Rohingya refugees have now fled Myanmar for Bangladesh since late August, while between 10,000 to 15,000 others have amassed near a crossing point, waiting to join the makeshift camps on the Bangladeshi border.
Myanmar has failed to protect Rohingya: UN
Separately on Wednesday, two UN special advisers said Myanmar's government had failed to meet its international obligations and protect Rohingya Muslims from the atrocities taking place in Rakhine.
Adama Dieng, the UN special adviser on the prevention of genocide, and Ivan Simonovic, the special adviser on the responsibility to protect, said in a joint statement that the international response to the crisis in Myanmar had been a failure.
"Despite warnings issued by us and by many other officials, the government of Myanmar has failed to meet its obligations under international law and primary responsibility to protect the Rohingya population from atrocity crimes," the statement said.
"The international community has equally failed its responsibilities in this regard," it added.
Full report at:
http://www.presstv.com/Detail/2017/10/19/539145/US-Tillerson-Myanmar-military-leadership-accountable-Rohingya-crisis
--------
Hundreds protest against US Muslim travel ban
19 October 2017
Hundreds gathered in front of the White House on Wednesday to protest President Donald Trump's newest travel ban affecting travelers from Muslim-majority countries.
Organized by the nation's largest Muslim civil rights and advocacy organization, Council on American-Islamic Relations (CAIR), the protest saw U.S. citizens from different backgrounds chant anti-Trump slogans and hold posters reading No Muslim Ban and Stop Profiling Muslims.
The protesters broke up without conflict after walking to the Trump International Tower from the White House.
The Trump administration laid out late last month new restrictions to replace Trump's previous travel ban, which was set to expire, adding two non-Muslim-majority countries to the list of designated nations while dropping Sudan.
The countries that face travel restrictions under Trump's new order are Chad, Iran, Libya, North Korea, Somalia, Venezuela and Yemen.
However, Trump's latest attempt to curtail immigration to the U.S. has been dealt a legal setback after a Hawaii judge ruled Tuesday that it suffered from the same legal deficiencies as his previous directives.
They were designated because they have either not met higher screening and information sharing requirements or presented what officials call sufficient risk factors.
"The entry restrictions in the proclamation apply to countries based on their inability or unwillingness to share critical information necessary to safely vet applications, as well as a threat assessment related to terrorism, instability, and other grave national security concerns," the White House said after U.S. District Judge Derrick Watson issued his ruling.
Full report at:
http://www.worldbulletin.net/america-canada/195143/hundreds-protest-against-us-muslim-travel-ban
--------
Canadian government not contesting new face cover law
By Barry Ellsworth
TRENTON, Ont.
Canadian Prime Minister Justin Trudeau said Thursday it is not the federal government's role to contest a new Quebec law that forbids public workers and those who wish to access public services from wearing a face covering.
"It's not up to the federal government to challenge this," Trudeau said during a visit to Quebec. "In Quebec and Canada, we are not necessarily used to seeing a woman with a veil. That makes us uncomfortable."
Bill 62 was enacted Wednesday by Quebec's National Assembly and it has received harsh criticism across Canada.
While not mentioning niqabs and burkas worn by Muslim women, critics say it targets Muslims.
A woman wearing either would not be able to ride a municipal bus or borrow a library book unless she removes the face covering.
Quebec Premier Philippe Couillard defended the law as necessary for communication, identification and security.
The National Council of Canadian Muslims (NCCM) issued a statement that condemned the law.
"By tabling this discriminatory legislation, the Quebec government is advancing a dangerous political agenda on the backs of minorities while pandering to bigoted populism instead of practicing principled government," NCCM Executive Director Ihsaan Gardee said on the group's website.
The number of hate crimes against Muslims in Canada has increased in recent years, including the deadly shooting of six Muslim men who were at prayer at a Quebec City mosque in January.
Statistics Canada reported in June that the number of police-reported hate crimes against Muslims tripled between 2012 and 2015 to 159 from 45, an increase of 253 percent.
The law is the so-called religious neutrality bill, separating the state and religion by not allowing those accessing public services or working for the province, including doctors and teachers, to wear religious symbols.
Full report at:
http://aa.com.tr/en/americas/canadian-government-not-contesting-new-face-cover-law/942727
--------
Jewish group says Canada's Islamophobia measure inhibits free speech
Oct 19, 2017
Jewish leaders in Canada are debating a measure meant to prevent intolerance aimed at Muslims and other minorities.
Earlier this month, the head of B'nai Brith Canada outlined his objections to M-103, a parliamentary motion passed earlier this year that "condemns Islamophobia and all forms of systemic racism and religious discrimination." The Standing Committee on Canadian Heritage held hearings on the measure this week.
Critics of the measure say it singles out Muslims for special treatment because it condemns only Islamophobia by name and does not explicitly mention other religious groups. Others have accused the motion of hampering free speech.
"Every Canadian Jew, along with every decent Canadian, recoils from the gruesome anti-Muslim crimes that we have seen in recent years, including the deadly January 2017 attack on a mosque in Quebec City," B'nai Brith CEO Michael Mostyn wrote in an op-ed in the Canadian daily the National Post. "Still, many members of our community remain wary of M-103 and its possible implications — and justifiably so."
Mostyn said in a statement that he would tell the Standing Committee on Canadian Heritage that by discouraging criticism of Islam, M-103 could make it harder to combat anti-Semitism.
Hate crimes on Muslims have more than doubled in the period between 2013 and 2016, according to Statistics Canada, a national agency. In 2015, the same agency found that in a trend that goes back at least nine years, Jews were the most targeted religious group for hate crimes.
Mostyn wrote that "many anti-Jewish incidents have been the handiwork of Canadian Muslims, sometimes even claiming to act or speak in the name of Islam. In the past 12 months, no fewer than four Canadian mosques — two in Montreal, and one each in Toronto and Vancouver — have been exposed as sites of vile anti-Jewish hatred."
He referred to a mosque in British Columbia whose website included a link to anti-Semitic content and a 2016 sermon at a Toronto mosque in which the speaker spoke of the "filth of the Jews."
Mostyn said that last month, Quebec prosecutors decided not to charge a Montreal imam, Sayed al-Ghitawi, who called on God to "destroy the accursed Jews," to "kill them one by one" and "not to leave any one of them alive."
"Imagine the outrage if a priest or pastor were caught on video making similar comments about Muslims at a Canadian church," he wrote.
"Unfortunately, M-103 risks exacerbating the already lackadaisical public attitude toward these anti-Semitic outrages."
Bernie Farber, former CEO of the Canadian Jewish Congress, expressed his support for the motion.
"As Canadian Jews we understand the need for memory," he wrote in an op-ed in the daily Star. "With the legacy of Jewish suffering, it has become an article of faith to commemorate persecution. What we're seeing here, sadly, is that when it comes to oppression of Canadian Muslims, there are too many attempts by too many Canadians to forget. M-103 is an attempt to resist this collective amnesia."
The Centre for Israel and Jewish Affairs, or CIJA, in testimony Wednesday before the House of Commons Standing Committee on Canadian Heritage urged lawmakers to adopt precise language.
"We also believe it is crucial to achieve a reasonable consensus on key terms, including Islamophobia," Shimon Koffler Fogel, CEO of CIJA, said in a statement. "One cannot effectively fight bigotry and hatred without precise definitions. We urge the committee to ensure that any definition provides maximal protection for Muslims from hate, without restricting legitimate discourse on political ideologies and activities."
On Wednesday, Quebec legislators passed a religious neutrality bill that requires citizens to uncover their faces while giving and receiving state services, including riding public buses. The bill does not specifically identify articles of clothing, but appears to be targeting the Muslim burka and niqab.
Mira Sucharov, associate professor of political science at Carleton University in Ottawa, described the measure as "a legislated expression of Islamophobia."
Full report at:
https://www.clevelandjewishnews.com/jta/jewish-group-says-canada-s-islamophobia-measure-inhibits-free-speech/article_8089e2ec-0c5f-58b0-a9cb-361d157b4873.html
--------
Alarming RCMP Guide Unfairly Targets Muslim Migrants
10/19/2017
In the event of Donald Trump's election as U.S. president, Canadians have seen some changes here at home. One of them happens to be an influx of immigrants from our neighbours down south.
Since the start of this year, more than 12,000 men, women and children have crossed into our country, entering at Roxham Road, near the town of Saint-Bernard-de-Lacolle, from the state of New York.
The RCMP have been monitoring this informal border crossing for quite some time. This is, of course, in the interests of national security.
However, it wasn't until recently that an RCMP interview guide was discovered. This guide had previously been kept secret from public view.
A spokesperson for the RCMP, Annie Delisle, told the Toronto Star that the guide was developed as an operational tool. She said that it was meant to help streamline the process of admitting migrants and to provide consistency to member's individual assessments.
After the information required on the guide was collected, members entered the answers into RCMP databases. This information was subsequently shared with other national security agencies, such as the Canada Border Services Agency. Remembers, this was all done in the interests of national security.
But I mean, really, aside from the shroud of mystery, the total police discretion, and the dissemination of highly private, personal information in the interests of the "greater social good," it doesn't sound that bad, does it?
Well, just hang on a minute. The content of the guide itself is actually what is most alarming.
The guide is tailored to deal with Muslim migrants specifically. The questions are premised upon Islamophobic diatribes that are outdated, politically incorrect and inconsistent with good government policy.
Among concerning questions like "what is your opinion about terrorist attacks?", the guide prompts RCMP officers to ask respondents about their religion, their prayer schedule and their opinions on women's clothing. For example, "how do you feel about women who do not wear the hijab?" and "how would you feel if your boss was a woman?"
Questions like these are sure to raise more than an eyebrow.
After all, if having backward, antiquated views on women in the workplace is a reason to wind up on a national security watch list, then I happen to know a whole number of people whose names should be added — and not a single one identifies as Muslim.
The problem here is not that we are screening migrants as they enter our country. The problem is that we are doing so in a racist, demeaning and ethnocentric manner that is contrary to our identity as Canadians.
In this country, our identity is hinged on our diversity. We welcome differences between our citizens and celebrate them as an integral part of our community. Our federal government and political leaders have expressed this sentiment over and over again. It is something that we take distinct pride in.
It is also a way that we have traditionally distinguished ourselves from our American neighbours. We are a mosaic, rather than a melting pot. This has become particularly important as the U.S. enters into a political dark age of travel bans and wall-building.
The news of this guide is also in stark contract to recent poll results, released last week, which indicate that the vast majority of Canadians would not support an American-style "me-first" approach to foreign policy.
The good news is that officials were quick to act once news of this inappropriate guide broke. It was immediately pulled from use.
But the next big question is how we move forward.
It goes without saying that better oversight is required in order to make sure that these types of things do not happen again in the future.
There are also concerns about what will be done with the information that has already been collected. It seems logical to assume that inappropriate information, collected through inappropriate means, should be properly and promptly destroyed. The timeline on whether this will happen, and how exactly it will unfold, however, has yet to be determined.
Full report at:
http://www.huffingtonpost.ca/sarah-e-leamon/alarming-rcmp-guide-unfairly-targets-muslim-migrants_a_23246516/
--------
Europe
Morocco, a new hub for moderate religious training: The Star columnist
Brian Martin
Oct 20, 2017
KUALA LUMPUR (THE STAR/ASIA NEWS NETWORK) - Very few places on earth offer you the chance to ski (on the slopes of the Atlas Mountains) and then trek through desert (the Western Sahara desert) in the same country on the same day!
Morocco, spanning the Mediterranean Sea and Atlantic Ocean, is just such a place. The kingdom has spectacular scenery, amazing food, and most importantly, welcoming locals. Tourism, currently the second-largest foreign exchange earner after the phosphate industry, is fast becoming the No. 1 revenue earner.
My visit to this North African country was an eye-opener in more ways than one. Coming from a Muslim-majority country like Malaysia, it was interesting to see a similar constitutional monarchy, with an elected parliament but with a 99 per cent Muslim population.
The King, Mohammed VI, claims direct descent from the Prophet Muhammad and is head of state in this country of 35 million people. He is also head of Islam and, in that capacity, was instrumental in reforming the country's religious affairs and leadership structure. This was a slow process, but came after the terrorist attack in Casablanca in 2003 which claimed 45 lives.
For the kingdom, the bombings and the individuals who perpetrated them - native Moroccans from the city's slums - were a wake-up call. They provided concrete proof that, contrary to conventional wisdom among the country's elites, the nation was not immune to the radicalism plaguing the rest of the Middle East and North Africa.
"His Majesty realised that Morocco could only move forward with a tolerant and moderate version of Islam. The first thing he did was create the 'Murshidat' or female imam," Merieme Addou, a filmmaker, told me.
These days female imams are common, but in 2006, the normally all-male Madrasahs graduated their first class of Murshidats and this initial batch of 50 trained women were assigned to mosques throughout Rabat to carry out their mission: answering religious questions, improving literacy programmes and providing practical guidance on the reformed family law that grants women equal rights in marriage, divorce and the ownership of property.
"Women Murshidats are empowered to do everything the male clergy does, except lead Friday prayers," said Merieme, who is also producer of Casablanca Calling, a documentary about the Murshidats. She added that the number of female imams has grown in the last 10 years.
Part of the sweeping political and social changes that Morocco has undergone in the past decade under the king's leadership, the empowering of female spiritual guides represents an effort to democratise and curb extremism by reaching out to women, who can be a moderating voice in their families, and to youth, who are then introduced to a tolerant and mainstream version of Islam at a young age.
But by far the most important step in institutionalising moderate Islam and countering violent extremism in Morocco has been the setting up of the Mohammed VI Institute for Imam Training in Rabat. Inaugurated in 2015, its objective was to train Moroccan, African and European preachers, becoming a hub for moderate religious training and exporting its brand of Islam to West Africa and Europe.
"The programme's curriculum, incorporating Sunni Muslim teaching, is designed with input from the students' countries of origin and provides a diverse education that includes humanities, languages, psychology and jurisprudence," said Abdellatif Harraida, a professor at the International University of Rabat.
The Moroccan plan shows promise: the institute has so far trained a total of 447 imams and it has just signed a memorandum of understanding with Russia to train its imams. The curriculum is a year long for Moroccan students, two years for sub-Saharan African students and three years long for French students.
The facility, and the ideas it promotes, lies at the centre of the complex counter-terrorism effort that Morocco has erected over the past decade and a half - one that has put the North African state on the frontlines of the intellectual struggle against radical Islam.
But what of preachers who have already been radicalised? While Morocco has been spared the large number of Islamic State recruits that bedevil its neighbouring countries, many are still worried about the estimated 1,600 Moroccans who have gone to fight for IS in Syria. Mohamed Salah Tamek, the director-general of the country's prisons administration, believes he has the answer.
"Our reconciliation programme is in its infancy, but is already bearing fruit. This prisoner de-radicalisation process includes religious supervision, inclusion in the general prison population and reintegration into society," he said.
Mohamed said the programme was of paramount importance because Morocco had about 900 prisoners sentenced for terrorism activities. "Look at what's happened in other countries where recruitment for IS has taken place in the prisons themselves. We have to ensure this does not happen in Morocco," he said.
As part of the programme, imams from the Mohammed VI Institute are seconded to the prisons to help with the reconciliation process. So far, 25 prisoners have benefited and have been released back into society.
As "commander of the faithful", King Mohammed VI has managed to secure Morocco as an oasis of calm compared to its other North African neighbours. And he has done this by rejecting extremist views and ensuring that only a moderate, tolerant form of Islam is practised and nurtured in the kingdom.
http://www.straitstimes.com/asia/se-asia/morocco-a-new-hub-for-moderate-religious-training-the-star-columnist
--------
France treads fine line teaching religion in secular schools
Oct 20, 2017
PARIS (AFP) - In a secular state bruised by a string of Islamist militant attacks, religious education is a sensitive subject. But in recent years, France has cautiously begun developing religious education in schools.
Except in the regions of Alsace and Moselle, which were part of Germany when France's secular school system was created in the 1880s, there is no religious instruction for the 10 million pupils in state schools.
But in the wake of attacks that have killed 241 people, claimed by radical Islamists, since January 2015, the state has begun to look again.
The national education minister has introduced the "secular teaching of religious facts".
Under the initiative, elements of religious studies have been included in geography, history, literature, arts and philosophy classes to "enhance understanding of our cultural heritage and the contemporary world". Many teachers have taken it on board, though some have felt underprepared to teach religion in a society where religious practice is generally in decline, said the president of the Observatory of Secularism, Jean-Louis Bianco.
"Some teachers say 'I need to know the Koran, the Bible, the Torah'. But they are told that is not the case. They do not need to engage in confrontations with students who defend their religion."
The state has taken the initiative of offering training to teachers, including with the launch of an online course. But finding time is a struggle for busy teachers.
Pointing to a further barrier, Philippe Gaudin, deputy director of the European Institute of Religious Studies, said: "If you have teachers who speak all day long to students sitting in a chair, there is no room for innovation." Teachers walk a fine line. In Indre, in central France, a primary school teacher was transferred after she was considered to have spent too long reading out Bible passages to pupils.
"Everything is a matter of balance," said Mr Bianco.
Children and teenagers are rarely hostile to religious teaching, according to a survey carried out by the research group Religions, Discrimination and Racism in School, based in Lyon.
"The teachers know when to defuse certain situations, for example when a student says 'you can't talk about Islam because you are not a Muslim'," said Sebastien Urbanski, a member of the group.
When confrontations do occur in the classroom, they are often not based on religious teaching, but events such as the Holocaust and the Israeli-Palestine conflict, said Bianco.
Teachers must field challenges from pupils of various faiths on religious questions.
For example, "some Christian circles contest the teachings of Darwin," Bianco said.
"It is quite an art to be able to teach students that what you hear in your house is not superior, it's just a different opinion. The teachers give the students what they need to form their own personal view," he added.
"It's that distinction between knowing and believing that is not easy."
As well as religious teaching, the French education system has also put an emphasis on moral and civic education in schools since extremist attacks in 2015, in a bid to promote republican values and respect for freedom of speech and opinion.
But with just half an hour dedicated to it each week, there is not enough time to make an impact, said Eric Favey, of the Teaching League, a secular education association.
Full report at:
http://www.straitstimes.com/world/europe/france-treads-fine-line-teaching-religion-in-secular-schools
--------
Bulgaria deputy PM wants new laws to stifle radical Islam
OCTOBER 19, 2017
SOFIA (Reuters) - Bulgaria should tighten rules on foreign financing for religious communities and restrict visits by foreign clerics to help counter the potential spread of radical Islam, deputy prime minister Krasimir Karakachanov said on Thursday.
Karakachanov is a co-leader of the nationalist United Patriots, a junior partner in the coalition government that is known for its tough rhetoric on migration and Bulgaria's Roma.
He said proposals to parliament to amend laws on religion and education as well as the criminal code would be submitted by the end of the year. Bulgaria's government banned the wearing of full face veils in public places last year.
Bulgaria has one of the biggest Muslim communities in Europe at about 12 percent of its 7.1 million population -- a legacy of almost 500 years of Ottoman Turkish rule that ended in the late 19th century.
Historic resistance to the Muslim Ottomans is a core element of national identity for the mainly Orthodox Christian majority and some nationalists have cast the recent arrival of Muslim migrants via Turkey as a threat to the nation's security.
"It turns out that problems we see in a number of European countries already exist in Bulgaria," Karakachanov said after a meeting to discuss how to prevent the spread of radical Islam in the country.
He said "extremely liberal" laws were allowing the spread of non-traditional Islam through the private provision of education and training.
"It is mostly the ... financing by private structures of religious communities that attempt to realize political influence in the country," Karakachanov said.
Many Islamist organizations in Europe are financed largely with foreign donations.
Karakachanov has previously complained that many imams preaching in Bulgaria come from abroad and do not speak Bulgarian, and has spoken of fostering native imams who are more deeply integrated into Bulgarian society.
Full report at:
https://www.reuters.com/article/us-mideast-crisis-iraq-kurds/kurdish-officials-say-thousands-flee-kirkuk-since-iraqi-army-takeover-idUSKBN1CO1RB
--------
France replaces emergency rule with restrictive counterterrorism bill
Oct 20, 2017
French Parliament on Wednesday adopted a controversial counterterror bill that grants permanent new powers to the authorities to conduct house searches, shut down places of worship and restrict freedom of movement. The new law, which will replace the state of emergency imposed after the 2015 Paris attacks, was approved by the Senate on its second reading despite warnings from campaigners that the move is a threat to civil liberties. The lower house of the National Assembly overwhelmingly approved the legislation last week.
Having sparked intense debate in parliament in recent weeks, the bill gives permanence to several emergency laws implemented after the Paris attacks which left 130 people dead.
In a major speech on security, President Emmanuel Macron said the compromise text reached by lawmakers would allow the authorities to combat terrorism "without abandoning our values and principles."
Addressing an audience of security force members, he urged them to "fully utilize" the powers granted to them under the new law, which allows the authorities to heavily curtail the movements of suspected militant sympathizers, shut down religious sites that promote radical ideology, and set up security perimeters around any event deemed vulnerable to terror attacks. Macron said that 13 terror plots had been foiled since the start of 2017.
The new law will also enable the authorities to carry out more on-the-spot identity checks in border areas as well as around train stations, ports and airports. Human rights' groups have voiced fears that such checks will be used by the police to target migrants and minorities, particularly Muslims.
Since 2012, France has progressively tightened its legal arsenal to tackle terror threats, passing around 10 different laws. Analysts from the U.N. High Commissioner warned last month that France's Muslim population could face discrimination and be disproportionally targeted under the new measures, with U.N. experts saying the proposed security measures would "incorporate into ordinary law several restrictions on civil liberties currently in place under France's state of emergency."
The state of emergency expires on Nov. 1 and has already been extended six times.
The Oct. 1 stabbing death of two women in the southern port of Marseille brought the total number of people killed in attacks claimed by or attributed to militants since January 2015 to 241. In a separate development, French police this week arrested several people over a suspected right-wing extremist plot targeting mosques and politicians, including a government spokesman.
Full report at:
https://www.dailysabah.com/europe/2017/10/20/france-replaces-emergency-rule-with-restrictive-counterterrorism-bill
--------
Southeast Asia
No ultra-conservative Islamic organisations in Malaysia, says prof
Sheith Khidhir Bin Abu Bakar
October 20, 2017
PETALING JAYA: A political science professor has disputed the notion that there are ultra-conservative Islamic groups in Malaysia.
Ahmad Fauzi Abdul Hamid of Universiti Sains Malaysia told FMT his research had revealed that the country did not have groups with beliefs and principles that could be described as ultra-conservative although it might be appropriate to attach the label to individuals belonging to some groups.
Fauzi has done extensive research and written on different Islamic groups and schools in Malaysia.
He was commenting on International Islamic University lecturer Maszlee Malik who suggested there are Islamic organisations with ultra conservative opinions, following the controversy over comments by preacher Zamihan Mat Zin, who leads the Ahli Sunnah Wal Jamaah Organisation (Aswaja).
Maszlee also told FMT that there were other ultra conservative groups in the country and that Aswaja was only one of them.
But Fauzi called for caution against over-reacting to what he said could be an isolated incident.
"People like Zamihan may take an extreme stance on some matters but may be moderate on other matters," he said.
"Take Perlis mufti, Mohd Asri Zainul Abidin, for example. He is largely seen as a moderate, but he once made some statements and wrote a poem that angered a large number of Malaysian Indians, including Hindraf."
Stressing that he was not defending Zamihan and that he personally disagreed with the preacher's stance on the Muslim-only laundrette issue, he questioned whether it was fair to label him an extremist based only on the evidence of a few videos of his speeches on YouTube.
"I think what he said about the Johor Sultan and his criticism of non-Muslims, especially the Chinese, was more of an outburst than anything else," he said.
"Is it fair to label someone an extremist based on that person's stance on one issue?
"We should not ban people from speaking or sharing their opinions because, for all we know, we may be able to learn from their stances on other matters."
Zamihan, an officer of the Malaysian Islamic Development Department, was lambasted by Sultan Ibrahim of Johor after he defended the owner of a Muslim-only laundrette in Muar.
The Sultan of Selangor has also indicated his displeasure and has ordered state religious authorities to withdraw Zamihan's credentials to preach.
Maszlee said Fauzi might not have been aware that Zamihan "and his like" had made numerous public statements showing their extremist tendencies.
"Fauzi may have missed a lot of Zamihan's lectures on YouTube," he said.
http://www.freemalaysiatoday.com/category/nation/2017/10/20/no-ultra-conservative-islamic-organisations-in-malaysia-says-prof/
--------
Malaysian Islamist militant killed, says Philippine President Duterte
October 20, 2017
MARAWI, Oct 20 ― Philippine President Rodrigo Duterte said yesterday that a Malaysian militant tipped to become the new leader of the Islamic State in Southeast Asia had been killed.
Mahmud Ahmad was described by the Philippine military as a "high value target" who had funded an attack by pro-IS militants on the southern city of Marawi in May and connected local insurgents with jihadists in the Middle East.
Duterte said Mahmud was the latest militant leader to have been killed in the nearly five-month battle in Marawi following the death of Isnilon Hapilon, the head of IS in Southeast Asia, and his ally Omarkhayam Maute on Monday.
"Now the other (one), the one they called 'Doc' ― there are three: Hapilon, Omar and the Doc ― he was taken this afternoon, and that completes the story," Duterte said at a business conference in Manila, drawing applause from the crowd.
Hours before Duterte spoke, military chief of staff General Eduardo Ano said the armed forces were "increasingly becoming confident" that Mahmud was among 13 militants killed in fighting on Wednesday night, citing accounts of freed hostages.
A DNA test would later be conducted on the body, military spokesman Major-General Restituto Padilla told AFP.
Pro-IS gunmen occupied parts of Marawi ― the main Islamic city in the predominantly Catholic Philippines ― on May 23, triggering intense fighting that has killed more than 1,000 people and reduced the city centre to rubble.
On Tuesday, Duterte declared Marawi "liberated from terrorists' influence" but the military said fighting was continuing against at least 20 remaining militants.
Following Hapilon's death, terrorism expert Ahmad Kumar Ramakrishna from Singapore's S. Rajaratnam School of International Studies said if Mahmud survived he would likely take over the leadership of IS-linked fighters in the southern Philippines.
"He was the one responsible for the direct linkage of Hapilon to the larger group of the Daesh. It was he who provided the funding necessary to bankroll the siege of Marawi," Padilla said on Tuesday, using another term for IS.
The Jakarta-based Institute for Policy Analysis of Conflict described Mahmud as a former university lecturer who sat on the "inner circle of the Marawi command structure".
Full report at:
http://www.themalaymailonline.com/malaysia/article/malaysian-islamist-militant-killed-says-philippine-president-duterte#eTJJpFpK0TjHgmik.97
--------
Indonesia Deradicalises 999 Terrorists
2017-10-19
About 1,000 former terrorists have participated in Indonesia's deradicalization programs during the past three years, a senior security official said Thursday at a forum marking President Joko Widodo's third year in power.
Of that number, 266 people participated in the programs while in prison and 733 did so outside of prison, Minister Wiranto said, citing data from the National Counterterrorism Agency (BNPT).
"We are using a soft approach that is more humane, more intelligent, namely that they are re-educated and rehabilitated, and finally reintegrated into society," he said.
Participants receive coaching and mentoring in civics, religion, life skills and small business development, he said. The government has been using this "soft approach" more frequently than a "hard approach," which often requires the use of violence, Wiranto said.
He also said 174 suspected terrorists had been tried and convicted during Jokowi's presidency, while 33 others were on trial. In addition, 69 terror suspects were undergoing investigation; 64 had been freed and 48 died during police raids.
Indonesia, home to the world's largest Muslim-majority population, has received praise from other nations for curtailing terrorism on its soil with a combination hard-soft approach that is being mimicked abroad, said Wiranto, chief of the coordinating ministry for political, legal and security affairs.
"Although the majority of Indonesians are Muslim and terrorism always uses the mask of Islam, the ratio is very small and the damage from terrorist attacks is even smaller," he said.
Relatively small
Ridlwan Habib, a terrorism analyst at the University of Indonesia, agreed that the "soft approach" has become more prevalent in the last three years.
"No more shootings like before, such as terrorist suspects being shot during prayer," he told BenarNews. More terror suspects have been arrested and the number of suspects gunned down while allegedly resisting arrest has declined, he said.
"The scale of attacks is also relatively small, not big like before," Ridlwan said.
But not all terrorists who participate in deradicalization programs in prison change their ideology, he cautioned, explaining that those people might still be recruiting others behind bars.
About 50 convicted and imprisoned terrorists have not been deradicalized, and they have resisted or declined BNPT programs, he said, making it necessary for security forces to remain vigilant for so-called lone wolf attacks, which are hard to predict.
They "should be trained in global terrorism trends, character evaluation and types of attacks," he said, because all that has changed considerably in recent years.
Jakarta has suffered from extremist attacks. In January 2016, four militants exploded bombs and opened fire inside a shopping mall less than two miles from the presidential palace. The Islamic State (IS) claimed responsibility for the attacks that killed eight people, including the suspects.
More than a year later, two suspected suicide bombers killed three police officers outside a bus terminal in East Jakarta. The attack occurred as officers were overseeing a parade ahead of Ramadan on May 24, one day after IS-linked militants seized the southern Philippine city of Marawi, where an undetermined number of Indonesians joined Filipino fighters in pitched battles against Philippine government forces.
Philippine military officials on Thursday said the Marawi fighting appears to be nearing an end, as they claimed to have killed three pro-IS leaders in fighting that has killed more than 1,000 people, including 824 militants, 162 soldiers and at least 47 civilians.
IS members resist government programs
Taufik Andrie, director of the Institute for International Peacebuilding in Jakarta, told BenarNews that while the deradicalization figure seems large, "there are former terrorism convicts who have not been touched by the program."
He cited individuals released from jail between 2005 and 2011, before the BNPT was formed.
Taufik said 266 convicts affiliated with extremist groups are behind bars. Many of them reject government intervention programs, he said.
"If the ultimate goal is a person's change of mindset from radical to moderate, the number of people who have reached that point is statistically small and limited," he said.
Still, the government's soft approach is quite good, he said.
"Humanitarian-based approaches and economic empowerment are beginning to look successful, although they have not reached all potential beneficiaries," he said.
And while suspects still die during arrest attempts, the number is decreasing, he said.
Full report at:
http://www.benarnews.org/english/news/indonesian/indonesia-militants-10192017171739.html
--------
International Al Azhar conference promotes moderate Islam, tolerance
October 19, 2017
Some 400 participants attending the International Conference of Al Azhar Alumni at the Islamic Center in Mataram, West Nusa Tenggara (NTB), have discussed topics ranging from tolerance and a moderate Islam to contemporary preaching in the technological era.
The three-day conference officially kicked off on Wednesday.
Participants came from 15 countries, including Australia, Egypt, India, Iraq, Japan, Jordan, Thailand and Yemen, members of the World Association for Al Azhar Graduates (WAAG) and the Al Azhar International Alumni Organization.
"Moderate Islam, which is taught by Al Azhar, also means developing tolerance toward differences in ideas," WAAG deputy chairman Syeikh Muhammad Abdul Fadil Al Qusi said in his speech.
Abdul said that Islam in NTB was an example to the rest of the world of a tolerant, moderate Islam.
NTB Governor M. Zainul Majdi said that the harmony and tolerance among different religions in the province was the reason why Lombok was chosen as the host for the conference.
He said that the picture of a tolerant Islam in NTB was also a reflection of Muslims across the archipelago and that Islam was about contribution, development, harmony and peace.
Full report at:
http://www.thejakartapost.com/news/2017/10/19/international-al-azhar-conference-promotes-moderate-islam-tolerance.html
--------
Africa
3 Nigerian troopers killed in Boko Haram ambush in restive Borno state
Oct 19, 2017
At least three soldiers have been killed after being caught in an ambush by Boko Haram militants in northeastern Nigeria.
Security and civilian sources said Thursday that the attack took place a day earlier near the town of Damboa in the restive Borno state.
A senior military officer said the convoy targeted in the attack was traveling between Damboa and Borno's capital of Maiduguri.
"We lost three soldiers in the ambush by Boko Haram terrorists," said the officer, who spoke on condition of anonymity, adding, "The terrorists in large number opened fire on the convoy of the commanding officer of 81 Battalion ... Five other troops were injured in the intense battle that broke out when soldiers engaged the attackers."
The officer said the Nigerian military swiftly sent reinforcements, forcing militants to retreat.
Others caught in the Wednesday ambush gave similar accounts about the attack.
"I was one of those trailing behind the military convoy when Boko Haram opened fire and soldiers responded with fire," Sani Mato, a commercial bus driver, said, adding, "The soldiers were able to repel the attack but lost three men. Five were also injured."
Boko Haram has been largely pushed back out of its main strongholds in northern Nigeria, according to the country's military and government. The group, however, is still active in their Sambisa Forest enclave in Borno and launches sporadic attacks on civilians and security forces there.
The Nigerian military launched renewed counter-insurgency offensives after the end of the rainy season in northeastern Nigeria in September. Those offensives have clearly caused attacks by Boko Haram to drop, but the government warns that the group can still attack civilians at "soft" targets, including mosques, markets and camps for displaced people.
Thousands have been killed and hundreds of thousands have been displaced as a result of eight years of the Boko Haram insurgency, which has also affected Nigeria's neighbors, including Niger, Cameroon and Chad.
http://www.presstv.com/Detail/2017/10/19/539157/Nigeria-Boko-Haram-attack
--------
Why Islamist attack demands a careful response from Mozambique
2017-10-19
Eric Morier-Genoud, Queen's University Belfast
In the early hours of 5 October 2017 a group of 30 men attacked three police stations in Mocimboa da Praia, a small town of 30,000 inhabitants in Northern Mozambique. They killed two policemen, stole arms and ammunition, and occupied the town.
They told local people they would not hurt them, that their fight was with the state and the police. They explained that they rejected state health and education and refused to pay taxes. The local population calls these men "Al-Shabaabs".
Mozambique's government's response was swift. It fought back with forces from other districts and special forces from the provincial capital. The battle lasted several hours and left 16 dead, including two policemen and a community leader.
The attack came as a shock to a country already grappling with major economic and political problems. The incident is the first confirmed Islamist armed attack in Mozambique.
Information is still sparse and confused. But for now, we can say with some degree of certainty that what happened on 5 October 2017 was not a Somali Al-Shabaab attack nor an externally driven international Jihadi plot. Nor was it a state conspiracy as some had suggested.
Rather, the attack appears to have been carried out by a group of local young Muslims who formed a sect in 2014 in Mocimboa da Praia which is known as "Al-Shabaab". The group controls two mosques in the town and have told their followers to stop sending their children to secular institutions such as state schools and hospitals. It wants Sharia law applied in their area.
The fact that this first Islamist attack was carried out by Mozambicans makes the event no less shocking, particularly in a country proud of its sound and relaxed inter-religious relations. Until we get more information on the group and what triggered it to attack the state, it's worth setting the incident within a historical context.
Islam in Mozambique
Islam has a very old presence in Mozambique, particularly on the coast and in the Northern parts of the country. Various Sultanates and Sheikdom existed before Portugal occupied the territory in the late 19th Century .
The Portuguese colonialists openly and officially favoured Catholicism, at a time repressing Islam and other religions. But Islam gained converts and nonetheless grew. By the time of independence in 1975 Muslims officially accounted for 13% of the population. The 1997 census gave the figure of 17.8%. Both figures are contested by Muslims who believe them to be higher.
After independence the Liberation Front of Mozambique (Frelimo) adopted Marxist-Leninism. It attacked all faiths, but Islam was particularly affected. It was a faith most state leaders didn't understand. This was evident in incidents such as President Samora Machel keeping his shoes when he walked into the main mosque in the country. Another example was the government insisting on pigsties being built in Muslim areas in the name of "development". Memories such as these are still raw and were raised yet again after the Mocimboa da Praia attack.
After Frelimo abandoned Marxism-Leninism and shifted to multiparty democracy, the party began courting all religions to gain electoral support. But tensions still arose from time to time. One involved the government taking steps to officially recognise Islamic holidays. This sparked a crisis in parliament in 1996 and the Frelimo governing party backtracked, adopting a more secular approach from then on.
The incident served to remind Muslims that they still felt marginalised.
Islam is overwhelmingly Sufi in Mozambique, with a majority of Muslims belonging to different Turuq (brotherhoods). Sufism represents the more mystical side of Islam - opposed by scripturalist Muslims, such as the Wahhabi, who accuse them of deviating from the Koran.
The return of African graduates from Saudi Arabia in the 1970s gave political clout to the reformist and scripturalist movements in Mozambique. They gained control of some mosques and, in collaboration with the Portuguese, expanded their presence.
Today the main national organisation is the reformist Islamic Council which was created after independence by Wahhabi elements and grew in the 1980s and 1990s in partnership with the authorities.
Splinter organisations appeared in the late 1990s and 2000s, particularly in Northern Mozambique. As reformism gained firmer ground in the north, tensions and conflict increased. Controversies emerged in relation to sufi practices, alcohol, education and dress code. There was, however, never any violence against the state.
Powder keg
Although no international terror group has been linked to Mocimba da Praia, the incident is very serious. Cabo Delgado is a Muslim-majority province where discoveries of giant oil and gas reserves have brought international conglomerates and their private security, making the area a potential powder-keg.
On top of this, the area is desperately poor. Northern areas of Mozambique have gained little from the economic boom of the 2000s. Mocimboa da Praia is a case in point: little development has been seen even as expectations exploded following the discovery of massive gas and oil reserves in the province. Billions of dollars have been invested in offshore drilling, with little benefit to local communities.
The government must devise a careful and well-thought response to this new Islamist threat. Downplaying the affair as "banditry" and dealing only with the sect when it's clear that there are broader religious and social dynamics at play risks seeing the problem reemerge elsewhere.
In turn, going for an all-out repression to eradicate the "Islamist threat" could radicalise other Muslims and root the problem deeper and more widely – think only of Boko Haram in West Africa in 2009.
Full report at:
http://www.news24.com/Africa/News/why-islamist-attack-demands-a-careful-response-from-mozambique-20171019
--------
URL: https://www.newageislam.com/islamic-world-news/captain-r-safdars-speech-pakistans/d/112959
New Age Islam, Islam Online, Islamic Website, African Muslim News, Arab World News, South Asia News, Indian Muslim News, World Muslim News, Women in Islam, Islamic Feminism, Arab Women, Women In Arab, Islamophobia in America, Muslim Women in West, Islam Women and Feminism