New Age Islam News Bureau
27 Apr 2018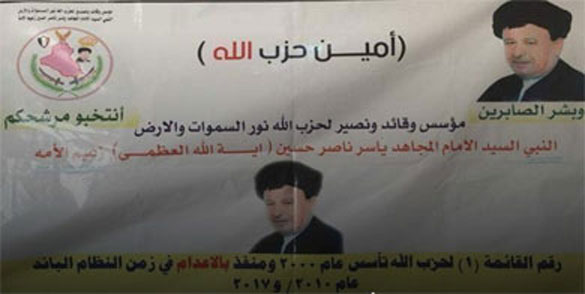 Yasser Nasser Hussein published campaign banners with his image along with expressions in which he claimed to be a prophet and a leader to the nation. (Supplied)
----
• Candidate in Upcoming Iraq Elections Claims 'To Be a Prophet'
• Crossing Divides: Hindus and Sikhs Help Build a Mosque in India
• Kenyans Are Celebrating Interfaith Solidarity by Painting Buildings Yellow
• Conservative Aceh Shows Limits of Saudi Investment in Indonesia
• French Muslim Community Blasts Anti-Semitism Letter as Attack on Islam
Arab World
• Candidate in Upcoming Iraq Elections Claims 'To Be a Prophet'
• Saudi Arabia Promoting Moderation, Peaceful Co-existence: Imam-e-Kaaba
• Christians should not be second-class citizens, cardinal tells Saudi Arabia
• Syrian Army Establishes Full Security over Eastern Damascus
• Kurds Continue Forced Recruitment in Northern Syria
• Syrian forces discover UK, German-made chemical weapons depot in Douma
• Turkish Army Launches Massive Attacks against Kurds in Hasaka
• US-led coalition admits 28 more civilian deaths
• 2 Terrorist Commanders Assassinated in Idlib
• Tens of Terrorists Killed in Syrian Army's Operations in Homs, Hama
--------
India
• Crossing Divides: Hindus and Sikhs Help Build a Mosque in India
• Bengaluru Man Posted "Love Jihad" Hit List on Facebook: Foreign Media
• Deoband Chief Accuses BJP of Flaring Up Communalism
• Ministry Of Home Affairs to Discuss Muslim Reservation Bill With Telangana Today
• Pakistan urges India to take steps for bilateral talks
• 'India and Saudi Arabia have very strong anti-terror cooperation'
• Masood Azhar aide among four militants killed in Tral encounter: Police
• China deploying fighters in Tibet, Pakistan backing attacks, says IAF chief
• Pakistani army violates ceasefire again, shells LoC in Rajouri district
--------
Africa
• Kenyans Are Celebrating Interfaith Solidarity by Painting Buildings Yellow
• Boko Haram: Troops Kill 62 Terrorists; Lose 24 Soldiers – Gen Irabor
• Strongman Haftar back in Libya after long absence
• Algerian Controversy over Salafism puts Government Control of Religion on the Spot
• VIDEO: Army strongman Haftar back in Libya after long absence
• Malawi Muslims Condemn DPP Regional Governor for Islamaphobia
• Boko Haram: Two top Commanders dump Shekau, Nur, surrender to troops in Borno
--------
Southeast Asia
• Conservative Aceh Shows Limits of Saudi Investment in Indonesia
• Sectarianism and Elections Are a Recipe for Disaster
• Khalid: PAS is 'dangerous' under young Ustads
• Indonesia's hard-line Muslims target presidential poll
--------
Europe
• French Muslim Community Blasts Anti-Semitism Letter as Attack on Islam
• Over 70 Countries Pledge To Combat Terror Financing
• Macron calls for global cooperation to cut off funds to extremists
• Iran media confirms arrest of British-Iranian scientist
• Russia rejects any prospect for changes, additions to Iran nuclear deal
--------
Mideast
• Over 10 Turkish Army Forces, Ankara-Backed Militants Killed in Afrin
• Hamas Embraces 'Non-Violence' — Opportunism Or Shift?
• Turkish opposition scrambles to unite against Erdogan
• Iran has recruited 80,000 Shiite fighters in Syria, says Israeli envoy
• Lieberman says Israel will hit Tehran if Iran attacks Tel Aviv
• UN envoy calls for action before new Israeli war engulfs Gaza
• HRW slams Israel's demolition of Palestinian schools in West Bank as 'war crime'
• Romania PM says moving embassy to Jerusalem al-Quds lacks support
• Two Palestinian youths shot by Israeli troops
--------
Pakistan
• Soldier Martyred, Three Terrorists Killed In Mohmand Agency
• Pakistani Court Bans Lawmaker in Latest Blow to Governing Party
• Militant commander 'Pistol Mullah' killed in Afghanistan drone attack
• Rs1.73bn approved to subsidise prices of essential items in Ramazan
• Decision on Fata should be taken by people: Fazl
--------
South Asia
• Taliban and Al-Qaeda Militants Suffer Heavy Casualties in Nangarhar
• Bangladesh Prepares Rohingya Camps for Cyclone Season
• EU extends Myanmar arms embargo, prepares individual sanctions
• Logar's deputy governor killed in Taliban ambush
• Pak-Afghan National Security Advisors hold talks on bilateral issues
--------
North America
• Saudi Ambassador to US: Hard To See A Path to A Trustworthy Dialogue with Iran
• US would 'probably regret' lack of holding force in Syria, says Mattis
• Three US senators move to block F-35 transfers to Turkey
Compiled by New Age Islam News Bureau
URL: https://www.newageislam.com/islamic-world-news/candidate-upcoming-iraq-elections-claims/d/115070
--------
Candidate in upcoming Iraq elections claims 'to be a prophet'
26 April 2018
Baghdad - In a peculiar case, a candidate for parliamentary elections in the province of Dhi Qar claimed to be a prophet in order to win in the upcoming vote.
According to local media, a person named Yasser Nasser Hussein published banners with his image along with expressions in which he claimed to be a prophet and a leader to the nation.
Sources added that the security forces arrested the defendant to investigate his allegations, while Yasser Nasser has refused to give any statement only with the presence of judges to conduct an official investigation.
The assistant director of the Electoral Office of the province of Dhi Qar Rafid al-Zaidi denied the fact that the Commission has been informed, and said that the Electoral Commission in Nasiriyah did not receive any official statement about the arrest or the electoral advertisements of the candidate.
Political analyst Hussein al-Hasnawi told Al Arabiya that the democratic political system in Iraq ensured the right of every citizen to run for the House of Representatives on the condition that he fulfills all the candidacy's requirements from the legal, administrative and judicial aspects.
Hasnawi added that the acceptance of the nomination by the commission does not mean that the candidate is immune from the penalties for the offenses he commits. There are also conditions that if not respected the candidate would be excluded.
Hasnawi said that some candidates adopt strange methods to win votes, which may be in violation to public behavior, and thus they lose the opportunity to participate and win the election.
Iraqi parliamentary elections are scheduled for May 12th. More than 6,000 people are running for a seat in the next parliament in its fourth session since regime change.
https://english.alarabiya.net/en/variety/2018/04/26/Candidate-in-upcoming-Iraq-elections-claims-to-be-a-prophet-.html
--------
Crossing Divides: Hindus and Sikhs help build a mosque in India
April 27, 2018
India's religious groups have so often clashed, with recent years marred by violence. But a remarkable gesture has helped foster a rare harmony in one village.
As mason Nazim "Raja" Khan toiled over the construction of a Shiva temple in a Punjab village, a thought nagged at him.
There he was, a Muslim, building a Hindu temple. Yet there was no mosque nearby where he could worship.
"We had no place where we could offer namaz (prayers)," says the 40-year-old. "It wasn't nice for our relatives when they visited."
It rankled, so he raised it with the 400-strong Muslim community in his village of Moom, in rural north India. But they were too poor to afford the land.
'Would you give us some land?'
Most Muslims in the area do unskilled jobs, such as casual construction work, while the community's 400 or so Hindus and some 4,000 Sikhs are relatively well-off.
Fast forward 18 months - with the temple nearing completion - and Raja took an unprecedented step.
Earlier this year, he approached the temple administrators and told them: "You Hindus will soon have your new temple. And you already have an older one. But we Muslims have no place to worship, nor money to buy land. Would you give us a small area of your land?"
A week later, he had an answer. The temple management had decided to hand over nearly 900 sq ft (83 sq m) of vacant land next to their temple.
"I was ecstatic," says Raja. "I just couldn't find the words to express my gratitude."
Purshottam Lal, an ayurvedic medicine practitioner who sits on the temple management panel, explains: "It was a very genuine demand. It was unfair that while we all share our joys and sorrows together, [the Muslims] didn't have a mosque."
Two months on, Raja and a few other masons and labourers are happily building a place where Muslims can worship.
The Sikh community is contributing funds for the mosque, which shares its wall with their gurdwara, making for a rare example of communal harmony between the three religions in a land where minorities often complain about victimisation.
Limitations
In recent times, human rights groups have criticised the rise of what they see as an ultra-right Hindu nationalist government. Many say it has created an atmosphere of fear and mistrust between Hindus and Muslims.
However, in Moom, it seems the three communities live in a congenial atmosphere. There's no history of tension between them and people of all communities freely visit any place of worship.
Most Hindus go to gurdwaras and some of them wear the turbans usually worn by Sikhs. They also visit homes of the other communities to attend their rituals and functions.
Gurdwara priest Giani Surjeet Singh says most functions - such as the Hindu holy recitation, geeta path - are held in the Sikh hall.
"People don't see this place just as a gurdwara but also that of a get-together point for their social functions," he adds.
Bharat Ram, a teacher who's active in temple affairs, says: "We're fortunate we haven't had political leaders who could polarise us or create the divide between communities.
"There is a brotherhood among people in this village that we have had since ancient times, and it meant we quickly decided to give land for the mosque."
The people of Pakistan and India would harbour no grudge with one another, were it not for politicians, he argues.
No one seems resentful of the donations of land or funds. Indeed, many Hindus and Sikhs believe the mosque won't just be for Muslims. "It's for all villagers," they say.
Yet, integration has its limitations. Ask them if they would like to see their sons and daughters marry into the other communities and the response is of shock.
"Look, brotherhood is one thing. Sikhs and Muslims are different religions," says Sikh panchayat (village council) member Chood Singh. "Such a thing can't be accepted in our village."
Bharat Sharma, a teacher and office bearer in the Hindu temple agrees: "This has neither happened in the past nor can it happen in the future."
This is a common opinion in India, where even marriage between different castes within the Hindu religion can provoke strong family opposition.
But compared with other parts of India, such as West Bengal where communal tensions are high, this village in Punjab appears like paradise.
"God is everywhere - be it a gurdwara, a mosque or a temple," says Mr Sharma.
http://www.bbc.com/news/world-asia-india-43588435?ocid=global_bbccom_email_26042018_top+news+stories+india
--------
Kenyans Are Celebrating Interfaith Solidarity By Painting Buildings Yellow
Apr 26, 2018
Kenya has a longstanding history of religious pluralism and tolerance, a reality that is changing as the country endures acts of terror at the hands of Al-Shabaab. While the group dominates headlines for the country, Kenya's tolerant nature is being undermined by stories of division, terrorism, and insecurity that could lead to a further divided society.
Interfaith solidarity has always been a part of Kenya. When Al-Shabaab militants stopped a bus last Christmas and demanded for the Christian passengers to step off, it was the Muslim passengers who refused and as a result the bus was eventually let go. It is this very same interfaith solidarity that the project Colour-in-Faith hopes to engender by painting mosques and churches across the country in a bright yellow.
Artist Yazmay Arboleda is painting houses of worship in Nairobi, Kenya an "optimistic yellow" as a symbol of peace and solidarity among all religions. "The idea is that these buildings are landmarks that celebrate pluralism and unity," Arboleda told Quartz. Volunteers, often a mix of Christian and Muslim residents, paint the buildings with donated paint.
According to the CIA factbook, 83% of Kenyans are Christian with 11% Muslim in addition to smaller Hindu and Buddhist communities. And while conflict between religious groups is rare, the risk of deepening divides among communities has grown due to the attacks by Al-Shabaab – making this initiative particularly important. This is especially true with the upcoming national elections where political observers fear clashes between the supporters of competing political parties as seen in the disputed 2007 presidential election that left 1,200 dead and 300,000 displaced.
"In Kenya, religion is a way to control society," says Arboleda, who is not religious but considers himself spiritual. "To ask questions and have a dialogue is incredibly powerful for these communities."
The project Color-in-Faith was developed in partnership with in-Commons, an organization dedicated to making the world a better place via making "good people common and common places good." As a collaborative effort volunteers of different religious communities paint the buildings creating a community of belonging and solidarity.
"We are using co-created art to bring hope, imagine new realities, facilitate communication and dialogue, and provide connection and catharsis." Alibhai said.
The impact of Colour-in-Faith is not limited to the communities involved in the art project but has also reached audiences via social media. The @Colourinfaith twitter account has opened interfaith dialogue and critical thought with the hashtag #yellowke. Thought provoking questions are asked such as: What is faith without religion? Can art shift culture? Where does your faith live? Kenyan youth have been given a platform to discuss relevant topics in their communities and raise awareness of ongoing issues.
Among the buildings that artist Arboleda will begin painting are two that were directly affected by the radicalization struggle in recent years: the Majengo Salvation Army Church, which has been attacked twice, and a mosque, Masjid Musa, once suspected of radicalized Muslims. This can potentially mark a significant change in the country's ongoing religious narrative.
Public art such as Colour-in-Faith benefits communities immensely. It fosters a sense of belonging and community while bringing to light prevailing issues. This initiative has reclaims the religious narrative in Kenya as being tolerant and accommodating. Together the involved communities generated a dialogue and change by coming together to do something unexpected.
http://mvslim.com/kenyans-are-celebrating-interfaith-solidarity-by-painting-buildings-yellow/
--------
Conservative Aceh Shows Limits of Saudi Investment in Indonesia
April 25, 2018
BANDA ACEH, INDONESIA—It could have been game, set and match for Saudi cultural expansion into Aceh, Indonesia's westernmost province, after it was wrecked by a 2004 tsunami that caused devastation across the region. Saudi Arabia immediately sent aid to the region which, in the face of such disaster, might have been unusually receptive to new ideas.
If so, Aceh would have fallen in step with the large swaths of Indonesia, such as Java and Lombok, that have eagerly absorbed the Saudi campaign to spread fundamentalist Salafi Islam across the Muslim world.
Thirteen years after the disaster, Aceh's landscape, capped by the dazzlingly rebuilt capital city of Banda Aceh, is dotted with Saudi donations: schools, orphanages, mosques. However, the religious climate is decidedly not Salafi. The province seems to have drawn a line in the sand to protect its own traditionalist—and quite conservative—Islamic culture against a puritanical Gulf ideology that seeks to return to the traditions of Koranic times.
The grass-roots resistance to Salafism in Aceh, which crested in 2015 with full-blown protests, shows how the effects of Saudi religious investment can vary significantly depending on local contexts.
Saudi Schools
After the tsunami, the Saudi Charity Campaign donated more than $45 million to Aceh, which included two orphanages, almost 500 houses, a hospital, and restoration of the Baiturrahman Mosque. In 2007, it also started a branch of LIPIA, the university whose flagship branch in Jakarta has been a tentpole of Saudi influence in the country.
Today, LIPIA Banda Aceh has about 190 students between the ages of 18 and 23 and focuses on Arabic language instruction. A much larger campus is being constructed outside the capital, near the Sultan Iskandar Muda airport; it will be, like the current iterations, free for all students.
"After LIPIA Banda Aceh, some students go on to study in Jakarta," said Syaikh Rasheed, a Saudi official who oversees the campus. "But if they are good, directly to Saudi Arabia," through one of the many scholarships the kingdom disburses in Indonesia.
But in a striking contrast, none of the boys who study at LIPIA Banda Aceh are dressed in the typically Salafi way, with cropped pants and "sunnah" beards, unlike nearly all the male students at LIPIA Jakarta.
Strong Anti-Salafi Sentiment
If the new LIPIA Aceh campus offers a full curriculum that includes theology, it may engender some tensions. Salafi-oriented schools have been the target of attacks for two decades, according to the Institute for Policy Analysis and Conflict. In 1998, one school was actually burned down in Pidie Jaya, southeast of Banda Aceh.
The Ma'had As Sunnah school in Lampeuneurut, Greater Aceh, which was started by a Saudi-educated Javanese teacher, was attacked by villagers in 2007. It is now quietly open and running, but its facilities are bare-bones, its mosque has been under partial construction for several years, and its faculty are extremely reticent to speak with outsiders.
Taufiq, a construction worker at the school, said that although he works there, he won't send his own 14-year-old son there because "you need religion and school, but the Salafi establishments only have the former." Instead, he sends his son to a nearby Turkish school.
Local Traditions
Aceh—which, in the 13th century, was the first place in Indonesia to receive Islam—has very strong local traditions that have engendered fierce attachment through years of separatist struggle against Dutch, Japanese and Indonesian rule, although it reluctantly bowed to the last one after the tsunami. Aceh is the only province allowed to have Sharia, which seems, in theory, compatible with Salafism. But traditionalist Acehnese preachers follow the medieval Shafi'i school of thought, not the eightheenth century Salafi ideology.
Acehnese culture prizes various things considered harmful bid'ah, or innovation, by Salafis: music, dance, celebrating the Prophet Muhammad's birthday. Even the infamous hardline group known as the Islamic Defenders Front (FPI) applies its thuggish tactics to support traditionalist preachers against Salafism.
It was FPI who helped lead the "occupation" of the Baiturrahman Mosque during Friday prayers in June 2015, forcing the prayer leader to follow traditionalist rites during the service, in response to a perception that the mosque had become dangerously "Wahhabi," a somewhat negative term for Saudi Arabian Salafism.
Tensions likely peaked in 2015 after several large parades in Banda Aceh. The re-election of Governor Irwandi Yusuf, a former separatist leader who also served as Aceh's first governor in 2005, will likely diffuse them further.
Irwandi told VOA he is "not anxious about Wahhabism, at all." Had Yusuf's opponent, Muzakir Manaf—whose campaign explicitly courted traditionalist preachers—won the election, the pitch of religious discourse would likely have risen. But as it stands, the reform-minded Yusuf is more concerned with economics, which means the religious center is likely to continue to hold in Aceh.
"The only thing investors think when they hear Aceh is Sharia,'" he said. "For merdeka [independence], we must have money."
This is not to say that Salafism has been somehow overcome in Aceh; it remains to be seen how influential the huge new university is, for instance. But the province nevertheless shows how the effects of Saudi religious investment are not universal.
http://www.pulitzercenter.org/reporting/conservative-aceh-shows-limits-saudi-investment-indonesia
--------
French Muslim community blasts anti-Semitism letter as attack on Islam
24 April 2018
A French manifesto calling for certain passages of the Koran to be removed on the grounds of rising anti-Semitism sparked anger Monday from Muslims who said their religion was being unfairly "put on trial".
The open letter published Sunday in the Parisien newspaper blamed "Islamist radicalisation" for what it said was "quiet ethnic purging" in the Paris region, with abuse forcing Jewish families to move out.
After a series of high-profile attacks on Jews, Muslim leaders contacted by AFP acknowledged that anti-Semitism was a problem in France.
But they charged that the nearly 300 signatories, who included ex-president Nicolas Sarkozy and former prime minister Manuel Valls, were blaming a whole religion for the actions of an extremist minority.
"The only thing we can agree on is that we must all unite against anti-Semitism," said Ahmet Ogras, head of the French Council of the Muslim Faith umbrella group.
Dalil Boubakeur, rector of the Grand Mosque of Paris, said the manifesto "subjected French Muslims and French Islam to an unbelievable and unfair
trial".
"It creates a clear risk of pitching religious communities against one another," he said in a statement.
The manifesto calls for verses of the Koran calling for the "murder and punishment of Jews, Christians and disbelievers" to be removed on the grounds that they are "obsolete".
But Tareq Oubrou, imam of the Grand Mosque of the southern city of the Bordeaux, pointed out that Islam was not the only religion whose ancient holy texts contain anachronistic passages.
"Any number of holy texts are violent, even the Gospel," Oubrou said, adding that the signatories, who also included celebrities like actor Gerard Depardieu, had misinterpreted the Koran.
The writer Pascal Bruckner, among those who signed the letter, told France Inter radio it had not been intended "to stigmatise but to spur on the goodwill of reformist Muslims".
The letter said that since 2006, "11 Jews have been assassinated -- and some tortured -- by radical Islamists because they were Jewish".
The latest attack rocked France last month when two perpetrators stabbed an 85-year-old Jewish woman 11 times before setting her body on fire, in a crime treated as anti-Semitic.
Officially, the number of anti-Semitic crimes fell in France in 2017 for a third year running, according to the interior ministry, down seven percent.
But Jews are the target of about a third of France's recorded hate crimes despite making up only about 0.7 percent of the population.
The half-a-million-plus Jewish community is the largest in Europe but has been hit by a wave of emigration to Israel in the past two decades, partly due to anti-Semitism in immigrant neighbourhoods.
https://www.thelocal.fr/20180424/french-muslim-community-blasts-anti-semitism-letter-as-attack-on-islam
--------
Arab World
Saudi Arabia Promoting Moderation, Peaceful Co-existence: Imam-e-Kaaba
Umer Jamshaid
26th April 2018
JEDDAH, (UrduPoint / Pakistan Point News - 26th Apr, 2018 ) :Imam-e-Kaaba Sheikh Abdul Rehman Al Sudais has said that Saudi Arabia is promoting moderation and peaceful co-existence because islam rejects all forms of terrorism, and media in Muslim countries have to play an important role in this regard.
"Saudi Arabia is projecting Islamic moderation and peaceful coexistence and rejects all forms of terrorism. We all have to work hard to defend Islam by all means and do not let those terrorists hijack Islam," he told a delegation of Pakistani media, headed by Managing Director Associated Press of pakistan (APP) Masood Malik, when it called on him at his office in Madina Munawwara.
Referring to the Islamic media, Imam-e-Kaaba - who is also General President of Haramain Sharifain - said that the journalists in the Muslim countries have a major responsibility to defend the real Islam, which totally rejects terrorism and advocates peace and tolerance.
He pointed out, "The government of the Custodian of the Two Holy Mosques will always keep on serving the pilgrimage and Umrah performers, since we consider it as our duty to serve the guests of Allah seeking rewards only from Allah".
During the meeting, Sheikh Abdul Rehman said Saudi Arabia is playing a key role in the unity of Muslim Ummah,safety and development of the holy places of Makkah and Madina. Expressing his sentiments about the Pakistani nation, he said in Urdu, "Pakistan Zindabad" showing strong feelings of love and affection towards Pakistani people.
" Pakistan and Saudi Arabia are strong allies," he said, asserting that both the countries are an asset for the Ummah. He said the real Islamic teachings are promotion of peace, brotherhood and moderation, which are negation of extremism and terrorism.
He said those who want to politicize the Hajj season will not be allowed to do so, as Hajj is the fifth pillar of Islam and has been designed only and only for "Ibada of Allah" (Prayers for Allah).
The Imam-e-Kaaba commended the role of Pakistani government to support the Muslim Ummah, saying "Pakistan is always on the frontline supporting the Ummah's issues," he said and added, Pakistan and Saudi Arabia have always stood by each other during difficult times.
He stressed that Muslims should project the real values of Islam; support the Muslim causes; defend the Haramain Sharifain and Masjid-e-Aqsa, in addition to combating terrorism and projecting Islamic moderation.
Saudi Arabia, he said, has the sovereign right to administer the Haramain Sharifain. The Custodian of the Two Holy Mosques King Salman always gives clear direction to serve the guests of Allah round the clock for seeking His blessings, he added.
Those who want to create 'Fitna' (rift) in the Islamic world will fail since the leaderships in both Pakistan and Saudi Arabia have the wisdom, courage and power to crush those creating rift, he said. He prayed to Allah Almighty to save the two countries and make their peoples prosper and live in peace.
https://www.urdupoint.com/en/pakistan/saudi-arabia-promoting-moderation-peaceful-328130.html
--------
Christians should not be second-class citizens, cardinal tells Saudi Arabia
April 26, 2018
Saudi Crown Prince Mohammed bin Salman has promised to promote interfaith dialogue as part of his domestic reforms in the deeply conservative kingdom
A senior Vatican official who last week made a historic visit to Saudi Arabia says he told authorities in the kingdom, where non-Muslim worship is banned, that Christians cannot be considered second-class citizens.
French cardinal Jean-Louis Tauran's trip, the first by such a senior Catholic figure, raised hopes of more openness in the kingdom, which is home to Islam's holiest sites but bans the practice of other faiths. It included a meeting with King Salman, his first with a Catholic official.
"I think all religions are faced with two dangers: terrorism and ignorance," Tauran, who is head of the Vatican's Council for Inter-religious Dialogue, told Vatican Radio.
"During my meetings, I insisted very much on this point, that Christians and non-Muslims are spoken of well in schools and that they are never considered second-class citizens," he said.
Tauran, 75, who signed a cooperation accord with Saudi authorities, said he sensed that they wanted "to show that even in Saudi Arabia there is the possibility of discussion, and therefore of changing the country's image."
Saudi Crown Prince Mohammed bin Salman has promised to promote interfaith dialogue as part of his domestic reforms in the deeply conservative kingdom.
The young prince has rocketed to the pinnacle of power, pushing a reform agenda called Vision 2030 aimed at weaning the country off oil and introducing social changes.
As part of his push for a more moderate Islam, the crown prince has loosened social restrictions, scaling back the role of religious police and permitting public concerts. The government also announced plans to allow women to drive this year.
"The new generation can really help 'change gears,' in a certain sense," Tauran said.
Tauran's visit followed a flurry of meetings between senior Saudi figures and representatives of other Christian denominations.
Last month in London, the Crown Prince met the Archbishop of Canterbury Justin Welby, who is spiritual head of the worldwide Anglican communion.
Lebanon's Christian Maronite Patriarch visited Saudi Arabia in November. Patriarch Beshara al-Rai heads the Maronite church, which has a presence in Lebanon, Syria and Cyprus and follows an Eastern rite of the Roman Catholic church.
Most Christians in Saudi Arabia are migrant workers and diplomats. Since churches are banned, they worship in private homes.
Full report at:
https://www.dhakatribune.com/world/middle-east/2018/04/26/christians-not-second-class-citizens-cardinal-tells-saudi-arabia/
--------
Syrian Army Establishes Full Security over Eastern Damascus
Apr 26, 2018
Field sources reported on Thursday that 1,000sq/km of Syrian territories were freed by the Syrian army after all terrorists left al-Rahibeh, Jairoud, al-Mansoureh, al-Nasseriyeh and al-Atneh regions in Eastern Qalamoun and al-Batra, al-Qalizeh and Jabal al-Qar heights in the nearby areas.
They added that now security prevails in the road linking Damascus to Syria's Badiyeh region, meaning that no danger threatens the road which links Tehran to Baghdad, Damascus and Beirut.
The sources said that the ground has been prepared for retaking control of Northern Syria, including Idlib, by the Syrian army after the recent achievements.
The Syrian army troops seized full control of the entire Eastern Qalamoun on Wednesday after a complete withdrawal of the terrorists from the region.
All the terrorists have left Al-Rahibeh, Jairoud and Al-Nasseriyeh as well as al-Atneh village in Eastern Qalamoun.
Meantime, along with the completion of terrorists' retreat from Eastern Qalamoun, government officials started processing the amnesty applications filed by another group of the militants.
Full report at:
http://en.farsnews.com/newstext.aspx?nn=13970206000497
--------
Kurds Continue Forced Recruitment in Northern Syria
Apr 26, 2018
Local sources in Manbij reported on Wednesday that the executive council affiliated to the Syrian Democratic Forces (SDF) has implemented plans to forcefully recruit forces from the young people in the town and its suburbs.
Based on the plan, if the young people in the region refrain from joining the SDF on their own will, they will be forcefully recruited and will be fined.
Meantime, reports from Raqqa city also said that the Kurdish forces have attacked the village of Zanar in Northern Raqqa to detain the defected members who had earlier been forcefully recruited.
Also, in Hasaka city, the SDF forces detained a number of civilians in al-Aziziyeh neighborhood.
Relevant reports from Northern Syria also said that the Ankara-backed Free Syrian Army (FSA) had started blackmailing civilians and looting their assets in Afrin region in Northwestern Aleppo amid reports on the Turkish Army's move in replacing locals in Afrin with Eastern Ghouta terrorists, the London-based pro-opposition Syrian Observatory for Human Rights (SOHR) reported.
The SOHR said on Monday that the FSA militants have started stealing and looting properties and assets of local people that are still in Afrin region, adding that the FSA also is seizing assets of people that have left the region after the start of Operation Olive Branch.
The SOHR further said that the FSA has also embarked on accusing young people and men of fake crimes to detain and torture them.
Its went on to say that the FSA later called for a hefty amount of money as ransom to free the detainees.
Full report at:
http://en.farsnews.com/newstext.aspx?nn=13970206000289
--------
Syrian forces discover UK, German-made chemical weapons depot in Douma
Apr 26, 2018
Syria's government forces have discovered a depot of German and UK-manufactured chemical weapons left by terrorists in the town of Douma, a Syrian official says.
"In the depot with chemical weapons left by terrorists in Douma, we have found chemicals from Germany, the United Kingdom, from the Porton-Down laboratory in Salisbury," Russia's Sputnik news agency cited Syria's Deputy Ambassador to the Organization for the Prohibition of Chemical Weapons (OPCW) Ghassan Obaid as saying after a briefing in The Hague on Thursday.
Obaid called on OPCW inspectors to visit the site and expressed hope that the inspection will ultimately prove the allegations against Damascus to be wrong.
Russian Foreign Ministry spokeswoman Maria Zakharova's had said earlier that containers with chlorine and smoke bombs made in the UK and Germany had been discovered in the territories freed from militants in Eastern Ghouta region in the suburb of the capital city of Damascus.
The Fact-Finding Mission from the OPCW, which has been deployed to Syria since April 14 to probe the Douma incident, visited a second site in the town on Wednesday and collected samples from the location. The new samples, together with other samples, will be taken to the OPCW laboratory in The Netherlands for further examination.
Also at the Thursday press conference in The Hague, the OPCW representatives of Syria and Russia presented witnesses who were used in staged videos of the recent suspected chemical attack in the Syrian town of Douma.
Russia's Permanent Representative to the OPCW Alexander Shulgin described the recent suspected chemical weapons attack in Douma as a "provocation" that Moscow had warned about in advance.
He said the only evidence for the alleged gas attack was a "sloppily staged" video shot by a pseudo-humanitarian organization in a bid to "touch hearts," adding that the same strategy had been used in previous false flag attacks in Syria.
Western states blamed the Syrian government for the suspected chemical weapons attack in the Damascus suburb town of Douma on April 7.
One week after the incident, the US, Britain and France launched a coordinated missile attack against sites and research facilities near Damascus and Homs with the purported goal of paralyzing the Syrian government's capability to produce chemicals.
Shulgin said the representatives of the three countries that launched the Syria strikes were absent at Thursday's briefing because they were afraid to look into the eyes of the witnesses of the Douma incident.
Syria has rejected the accusations of possessing chemicals. It surrendered its chemical stockpile in 2013 to a mission led by the OPCW and the UN.
During the conference at The Hague, Syria's deputy representative to the OPCW said the witnesses revealed "the false of allegations and lies of Western countries about the allegations of chemical use in Douma city."
Obaid also noted that all the chemical allegations against the Syrian government were leveled by Western countries to "distort" the Syrian army's image that is conducting a counter-terrorism operation.
He further said that Syria had sent more than 100 letters to the OPCW on terrorist groups' plan to use chemical weapons in order to blame the Syrian army.
Reinforced Western military presence
Meanwhile, the West has reinforced its forces in a US-led coalition which has been launching attacks on Syria since 2014 without the Syrian government's approval or a UN mandate.
The coalition, which claims that it seek to root out Daesh, still continues its operations despite the collapse of the terror group late last year.
On Thursday, US Defense Secretary Jim Mattis told the Senate Armed Services Committee in Washington that French special operations forces have been deployed in Syria over the past two weeks to boost the US-led campaign against Daesh.
In response to a question about whether the US was planning to withdraw its forces from Syria, Mattis said, "we are not withdrawing" right now.
"You will see a reenergized effort," he said.
"You will see increased operations on the Iraqi side of the border, and the French just reinforced us in Syria with special forces here in the last two weeks. This is an ongoing fight right now," Mattis added.
The US defense secretary said he wanted to see more "regional support" for US-led coalition, noting "that we would probably regret it" if the US does not keep its forces in Syria for a long term.
Last month, US President Donald Trump claimed that his country would withdraw from Syria "very soon."
However, top US Defense and State Department officials reacted by adopting a totally different stance, arguing that the US should not leave anytime soon as the "mission is not over." Also, reports emerged later showing that Trump's advisors had apparently dissuaded him.
The US-led coalition runs a military base in the al-Tanf town in eastern Syria. Washington has described the area, which lies at the ultra-strategic intersection of the Syrian, Iraqi, and Jordanian borders, as its "red line."
On numerous occasions, the Russian military, which has been assisting the Syrian army in its anti-terrorism operations, has reported suspicious activities in and around the base in support of Takfiri terrorists.
Late last year, Chief of the General Staff of the Russian Armed Forces Valery Gerasimov said satellite and other surveillance data indicated that terrorist squads were stationed in the Tanf base, and "effectively training there."
Full report at:
http://107.189.40.42/Detail/2018/04/26/559809/Syria-chemical-weapons-Germany-Britain
--------
Turkish Army Launches Massive Attacks against Kurds in Hasaka
Apr 26, 2018
Field sources in Hasaka reported that the Turkish army pounded the Kurds' positions in Mayseloun district Northeast of Qamishli in Northern Hasaka and near the borders with Turkey with heavy artillery fire on Wednesday night, killing and wounding several of them.
Meantime, a huge blast occurred in one of the Kurds' arms and ammunition cache in Qamishli near the borders with Turkey.
The Kurdish forces were immediately on alert and declared curfew in the region after the blast.
The Kurdish militias had last week boosted their defense capabilities in their positions along the border of Syria's Hasaka province and Turkey as war is raving between Ankara's army and the Kurds.
The Kurdish fighters reinvigorated their strongholds near the town of Tal Halaf West of the town of Ra'as al-Ein in Northern Hasaka at the border with Turkey.
The Kurdish militias have dug long tunnels along the border as well as long trenches around the border passageway and near the silos of the town of Ra'as al-Ein.
The Kurdish militants have also recently received a number prefabricated cement rooms made by the US-led coalition forces that they plan to place in a region between the town of Ra'as al-Ein in Hasaka and the town of Tal Abyadh in Northern Raqqa near the border with Turkey.
Military analysts believe that the move by the Kurdish militias is in line with the US plan to create Kurdish border guards in Syria.
Full report at:
http://en.farsnews.com/newstext.aspx?nn=13970206000706
--------
US-led coalition admits 28 more civilian deaths
April 27, 2018
WASHINGTON - The US-led coalition fighting the Islamic State group in Syria and Iraq acknowledged Thursday the deaths of another 28 civilians, increasing the overall toll of non-fighters killed to at least 883.
The coalition said in a statement that it had completed a review in March of 49 reports of potential civilian casualties from air and artillery strikes, of which all but three were deemed not credible.
These three incidents occurred in Iraq and Syria last year.
On May 25, near Al-Mayadin in Syria's eastern province of Deir Ezzor, 15 people were killed during an air strike on an IS "media center and headquarters."
"The investigation assessed that although all feasible precautions were taken and the decision to strike complied with the law of armed conflict, unintended civilian casualties unfortunately occurred," officials said in a statement.
An April 27, 2017 strike on an IS headquarters in the Syrian city of Raqa saw 11 civilians killed, and a May 16 strike saw two people killed.
Investigators were still looking at another 476 reports from the campaign.
The coalition conducted a total of 29,254 strikes between August 2014 and the end of March 2018 in Iraq and Syria.
Monitoring group Airwars says the number of civilian deaths acknowledged by the US-led coalition is well below the true toll of the bombing campaign, estimating that at least 6,259 civilians have been killed.
The US-led operations to fight IS in Iraq and Syria have largely wound down, with the jihadists ousted from more than 98 percent of the territory they once held.
Full report at:
https://nation.com.pk/27-Apr-2018/us-led-coalition-admits-28-more-civilian-deaths
--------
2 Terrorist Commanders Assassinated in Idlib
Apr 26, 2018
A commander of Jeish al-Ahrar terrorist group, named Abu Salim Banash, was shot dead near the town of Banash in Northeastern Idlib after unknown raiders fired at him.
Also, reports said that a commander of Tahrir al-Sham Hay'at (the Levant Liberation Board or the al-Nusra Front) named Abu al-Ward Kafr Batikh was killed along with one of his comrades by unknown assailants North of Ma'arat al-No'eman in Idlib.
Meantime, unknown raiders' gunfire killed 3 foreign members of Tahrir al-Sham's Turkistani party near the town of Armanaz in Northwestern Idlib.
The developments came after Tahrir al-Sham, Syria's Tahrir Front and Soqour al-Sham terrorist groups had on Wednesday agreed to stop infighting in Aleppo and Idlib provinces.
Soqour al-Sham had threatened last week to kill Chief Commander of Tahrir al-Sham Hayat Abu Mohammad al-Joulani after the son of Soqour al-Sham's commander was killed in infighting in Northern Syria.
Soqour al-Sham that fought against Tahrir al-Sham along with Syria's Tahrir Front in Jabal al-Zawiyeh region in Idlib province threatened to killed al-Joulani.
Soqour al-Sham's decision came after Ahmad al-Sheikh, the son of Soqour al-Sham's commander, was killed in clashes with Tahrir al-Sham Hay'at in Jabal al-Zawiyeh.
Full report at:
http://en.farsnews.com/newstext.aspx?nn=13970206000786
--------
Tens of Terrorists Killed in Syrian Army's Operations in Homs, Hama
Apr 26, 2018
The army troops engaged in clashes with the terrorists in regions near Jabal al-Kan and areas near the village of al-Hamarat in Northeastern Homs.
Meantime, the army's artillery and missile units targeted militants' positions in areas of clashes, inflicting heavy casualties on them.
Also, the Syrian air force bombarded the militants' moves and positions near the towns of al-Rastan, al-Za'afaraneh, Deirful and Salim and the village of al-Hamarat in North and Northeast of Homs.
The Syrian fighter jets also attacked the terrorists' bases West of the town of Salamiyeh in Southwestern Hama.
Field sources also reported that during the operations tens of terrorists, including two of their ringleaders named Abolzayyen al-Hamawi and Osama Qaisoun non de guerre Abu Seyed, were killed and their military equipment were destroyed.
In a relevant development on Wednesday, the Syrian army reinforced its military positions in a strategic region near al-Zareh Thermal Power Plant in Southern Hama after repelling the terrorists' recent attacks on the region.
The government troops have recently strengthened their military positions near al-Zareh power plant, a security source said.
The Syrian army deployed a large number of its troops near Jirjisa North of al-Rastan Lake towards al-Rastan town while reinforcing its defense lines with a large number of tanks and other military equipment, the source added.
He noted that since the terrorists' attack on the strategic al-Zareh power plant was fended off, the Syrian army has been closing off all ways of penetration by the terrorist groups in Southern Hama.
Full report at:
http://en.farsnews.com/newstext.aspx?nn=13970206000848
--------
India
Bengaluru Man Posted "Love Jihad" Hit List on Facebook: Foreign Media
April 27, 2018
KOLKATA, INDIA: The 21-year-old Hindu college student was having a quiet breakfast with her mother when her phone pinged with a terrifying message. Her name was on a hit list.
She and her Muslim boyfriend had been targeted publicly on Facebook along with about 100 interfaith couples - each of them Muslim men and their Hindu girlfriends. She immediately called her boyfriend to warn him.
The Facebook post included instructions: "This is a list of girls who have become victims of love jihad. We urge all Hindu lions to find and hunt down all the men mentioned here." At least two followers heeded the call.
The phrase "love jihad" is meant to inflame dark fears that Muslim men who woo Hindu women might be trying to convert them to Islam - a prejudice that the Hindu right has tried to stoke for nearly a decade. But use of the term has spread on social media with the rise of the Hindu nationalist party of Prime Minister Narendra Modi, at a time when religious hatred is growing on Facebook in India, its largest market.
Facebook is facing rampant criticism that hate speech spread on the platform has fueled ethnic and religious violence in Asia, in places such as Myanmar and Sri Lanka.
During his appearances before Congress April 10-11, Facebook chief executive Mark Zuckerberg said the company was "working" on a way to remove hate speech within 24 hours of its appearance and adding dozens of new Myanmar-language content monitors.
"It's clear now we didn't do enough" to prevent the platform from being "used for harm," Zuckerberg said in his statement.
But the company has said little about its prevention efforts in India, its largest market of more than 240 million users.
The list of Hindu-Muslim couples was posted by Satish Mylavarapu, a mild-looking sales and marketing manager in Bangalore who propagates militant Hinduism to thousands of followers in Facebook groups and elsewhere.
"It's a matter of Muslims taking over our blood and taking over our wombs - the wombs that would give Hindu children," he said.
Highly motivated Hindu extremist "volunteers" across India assembled the list by meticulously plotting the locations of mosques and girls schools and colleges around the country and combing young women's profiles for photos or posts that would link them with Muslim men.
"You cannot defend such a sick love," Mylavarapu said. "This too is a kind of terrorism."
- - -
The young couple's romance began in the online space that would be its unraveling. They met in 2016 through a student Facebook group for the Communist Party, which is active in some parts of India. He was immediately enchanted by her blue eyes - contact lenses - and her earrings - silver circles with a likeness of Che Guevara that she made herself.
Their relationship soon blossomed in real life, and they met in Kolkata's tea stalls or along its lovers' riverbank promenade, Prinsep Ghat, holding hands and even kissing.
"We don't believe in religion. We believe in humanity," said Ramiz, a 26-year-old English honors student, sitting in a coffee shop with his girlfriend at his side. "So there is no question of conversion." Because of the threat, Ramiz asked to be identified by only his first name and his girlfriend by her family nickname, Lisa.
Yet tension was unavoidable in a deeply traditional society riven by caste and religion. His parents, a clerk and a social worker, grudgingly accepted their relationship, although they made it clear they prefer a Muslim daughter-in-law; Lisa's mother lent her support only if Ramiz gets a good job.
Meanwhile, conservative Hindu groups supporting Modi's powerful Bharatiya Janata Party began pushing into areas in India's east and south traditionally dominated by other languages and regional parties, including the couple's home state of West Bengal.
In recent days, West Bengal has been roiled by riots between Hindus and Muslims that followed sword-waving devotees marching in honor of Lord Ram - a Hindu deity who is not normally worshiped in the region. At least four people died.
The couple, upset over the perceived threat that the Facebook hit list posed to India's secular ideals, filed a complaint with the Kolkata police's cyber division in February, saying they had been subjected to death threats.
"This has never happened in West Bengal," Ramiz said. "Bengal is very beautiful - our society, our culture. This is the place of poets. We don't believe in this kind of thing."
Facebook took down Mylavarapu's threat page a few days after his Jan. 28 post caused an uproar on social media, but took longer to track and remove hundreds of duplicate versions posted by others.
Civil society groups have charged that Facebook has not acted quickly enough in such instances to curb the hate speech that inflamed tensions throughout Asia, including Muslim-Buddhist riots in Sri Lanka and Myanmar's exodus of more than 850,000 Rohingya Muslims into Bangladesh. Facebook was dubbed the "beast" in that crisis by a United Nations monitor.
In India, a March study by the Observer Research Foundation, a think tank based in New Delhi, showed that religion is increasingly used as a basis of hate speech on Facebook, a jump of 19 to 30 percent between 2016 and 2017.
"I don't think Facebook has a clue how to monitor hate speech," said Maya Mirchandani, a senior fellow who co-wrote the study. She said that more proactive text monitoring systems are not in place, including among its rapidly growing non-English speaking audiences.
"Maintaining a safe community for people to connect and share on Facebook is absolutely critical to us," a Facebook spokesman said in a statement. "We have policies that prohibit hate speech and credible threats of harm, and we will remove this content when we're made aware of it."
- - -
About two weeks after they filed the police report, Ramiz said he was coming home in the evening when two men grabbed him, roughed him up and tore his shirt collar. "Why did you report us?" they hissed, he said. And, "why are you dating a Hindu girl?"
Ironically, the couple have been dealing with relationship problems in the new year; Lisa, who works part time at an event management company, wanted Ramiz to get a job, saying he was spending too much time smoking and talking politics with his friends.
"She wants somebody perfect, perfect, and I am not," he said.
"We're still very good friends," Lisa said. "I'm not sure if we're in a relationship at the moment."
This was the type of tension that Mylavarapu had hoped to provoke when he posted the list of names. He has been using Facebook to promote an extremist Hindu agenda since 2012, according to the Indian data and fact-checking website Boom Live.
Before Mylavarapu was banned from Facebook "indefinitely" in February, he was the administrator of at least two Facebook pages, including "Extreme Hinduism - The Only Way of Survival" (11,000 members), and a member of "Rearming Hinduism" (156,000 members), the Boom analysis showed. He remains active on Twitter.
He said in one post his favorite boots are made of "pure sunni skin," a reference to the Sunni branch of Islam. In another, he urged Hindus to keep swords in their homes for protection and practice killing goats and chickens to get used to the sight of blood.
He warns of "love jihad," which until recently had been generally thought of as fearmongering and given little credence by police and courts.
But the idea that Muslims may be actively working to convert Hindus figured prominently in the recent debate over the case of a woman in the southern state of Kerala who converted to Islam and married a Muslim over the objections of her family.
On March 8, India's Supreme Court upheld the woman's right to choose her faith and partner. But India's National Investigation Agency, which investigates and prosecutes terrorism, is continuing its investigation into the case, saying it has seen an "organized effort" by Muslim activists linked to the Islamic State to convert Hindus, a spokesman said.
Mylavarapu is associated with a fringe Hindu group called Akhil Bharatiya Hindu Mahasabha, whose members revere the assassin of Mohandas "Mahatma" Gandhi, whom they blame for the bloody 1947 partition that created the nations of India and Pakistan.
"He's a staunch Hindu and he's functioning because of our support," said the group's state president, N. Subramanya Raju. "If there is any threat from a jihadi, we will protect his life."
Mylavarapu said volunteers are continuing their online research into Hindu-Muslim couples - and will hold on to the data they find until the next good opportunity. He said many of those on the original list have already split up.
Mylavarapu said he relishes the demise of these relationships.
"We succeeded," he said in a tweet. "Their deceptive love could not withstand the pressure we created."
https://www.ndtv.com/india-news/bengaluru-man-posted-love-jihad-hit-list-on-facebook-foreign-media-1843688
--------
Deoband Chief Accuses BJP of Flaring Up Communalism
Siraj Qureshi
April 26, 2018
In a meeting held in Firozabad town of Agra, where thousands of Muslims had gathered to hear Maulana Arshad Madni of the Jamiat-e-Ulema-e-Hind and chairman of Darul Uloom Deoband, the Muslim leader attacked the Bharatiya Janata Party (BJP), accusing the right-wing party of creating communal tensions in the country.
Madni said that the 2019 elections were not mere elections, but an opportunity for the Muslims to determine their fate. He said that the current government of the country is dividing people on the basis of religion and caste.
Madni had arrived to attend the 'kaumi ekta' conference held in Firozabad.
Talking to IndiaToday.in, Madni said communal politics will not work in 2019 and the BJP will fail in its motives to propagate sectarian violence in the country.
He added that even though the Jamiat-e-Ulma-e-Hind was not a political party and did not have any political motives, it would not just stand by the side and watch the BJP destroy the secular fabric of the country.
UP Sarvdaleey Muslim Action Committee District President Syed Irfan Salim too said that the BJP is desperate to see PM Modi regain power in the 2019 elections and to gain the requisite number of seats, the party could resort to plunging this country in communal violence.
Chairman of Bhartiya Muslim Vikas Parishad Sami Aghai, however, believed otherwise.
Sami who was also present at the conference, told India Today that the huge number of Bahujan Samaj Party leaders and supporters present in the conference was a clear indicator that this was not a conference aimed at strategizing for Muslim welfare. In fact, he said, this conference looked more like a political meeting.
Aghai said that the conference should have only discussed bringing peace and harmony back in the country, but it was more of a political circus where political leaders were shouting anti-establishment slogans.
Full report at:
https://www.indiatoday.in/india/story/deoband-chief-accuses-bjp-of-flaring-up-communalism-1220727-2018-04-26
--------
Ministry of Home Affairs to discuss Muslim reservation bill with Telangana today
27th April 2018
HYDERABAD: The Ministry of Home Affairs (MHA) is holding a crucial meeting on Friday with the State government officials on providing reservation to Muslims in employment and education under BC Category.The State Legislative Assembly adopted a Bill providing 12 per cent reservations to Muslims and also increasing the total BC reservation percentage and sent the same for the approval of the Union government.The State government's Bill is pending with the Union Home Ministry, which sought some clarifications on the Bill. According to sources, the MHA raised two queries on Muslim reservations. The State government officials prepared the answers to questions. Chief Minister K Chandrasekhar Rao reportedly approved the replies on Thursday.When the MHA invited the State government for the meeting, Chief Secretary SK Joshi called up BC Welfare secretary Burra Venkatesham, who was in Delhi, and asked him to attend the meeting on Friday. State Reorganisation (SR) department principal secretary K Ramakrishan Rao too will attend the meeting as the MHA is likely to discuss the issues mentioned in AP Reorganisation Act, 2014, which are pending for implementation.MHA SOUGHT CLARIFICATION ON ASSEMBLY SEATS: The Ministry of Home Affairs (MHA) recently wanted AP and Telangana to give clarification with regard to the discrepancies found in the AP Reorganisation Act (Removal and Difficulties) Order, 2015. The MHA sought clarification on some of the villages in Rampachodavaram (ST), Polavaram (ST), Pinapaka (ST), Aswaraopeta (ST) and Bhadrachalam (ST) segments. There is a confusion in which Assembly segment the villages will be included after the bifurcation of AP.For example, Bhadrachalam mandal is a part of Bhadrachalam (ST) Assembly segment. But, after bifurcation of the said mandal, there is no mention in the MHA Order, 2015 as to in which Assembly segment the remaining part of Bhadrachalam mandal has to be kept in. In Burgampahad mandal of Pinapaka Assembly segment, the MHA Order, 2015, did not say anything about six villages in which Assembly segment they had to be kept. The Election Commission of India sought these clarifications from MHA for the proposed increase of Assembly seats in AP and TS. The MHA in turn wanted both AP and TS to clarify the matter. The officials are working on it now.The MHA meeting will be chaired by Additional Secretary to review the State Bills of South Zone at 2 pm. The two Telangana Bills to be discussed are
Full report at:
http://www.newindianexpress.com/states/telangana/2018/apr/27/ministry-of-home-affairs-to-discuss-muslim-reservation-bill-with-telangana-today-1806986.html
--------
Pakistan urges India to take steps for bilateral talks
Apr 26, 2018
ISLAMABAD: Pakistan today asked India to take steps to resume bilateral talks instead of issuing "provocative" statements.
Foreign Office spokesman Mohammad Faisal made the remarks in response to a query about Home Minister Rajnath Singh's statement that India will not open fire first, but if Pakistan does so, it would unleash a volley of fire.
"India should walk the talk and refrain from provocative statements. Our armed forces practice restraint but have the capacity and are ever vigilant to give a befitting response to any threat to the motherland," Faisal said.
He claimed that India was violating the ceasefire agreement and 23 civilians were killed so far in 2018 and more than 100 others injured in over 1,000 ceasefire violations.
To a question, he said that "there is no confirmation of any hand-shake or a formal meeting" between Prime Ministers of Pakistan and India during the recently concluded CHOGM meet in London.
He also confirmed that Pakistani troops will be part of military exercises under the Shanghai Cooperation Organisation ambit along with other members including India.
To a question, Faisal said that US Deputy Assistant Secretary of State for South and Central Asian Affairs, Alice Wells, was in Islamabad earlier this week for talks and Pakistan briefed her about the situation in Kashmir as well as there was discussion about Afghanistan.
Full report at:
https://timesofindia.indiatimes.com/india/pakistan-urges-india-to-take-steps-for-bilateral-talks/articleshow/63930458.cms
--------
'India and Saudi Arabia have very strong anti-terror cooperation'
K R Rajeev
Apr 26, 2018
KOZHIKODE: Saudi Arabian ambassador to India Dr Saud bin Mohammed Al Sati said that the kingdom has a very strong cooperation with India on countering terrorism, extremism and against terror financing.
Speaking at an interactive meeting with academics during his visit to Calicut University on Wednesday, Al Sati said that the Middle East region was going through a turbulent period and facing lot of challenges including terrorism.
"Saudi Arabia is doing all its best internally, regionally and internationally and actually we are leading the campaign against terrorism, terror financing and extremism and their supporters. We have a very strong cooperation with India on countering terrorism," he said.
The ambassador said that India and Saudi Arabia have become strong partners and strategic allies sharing a wide range of interests ranging from trade and commerce to security cooperation, and energy ties.
"Today Saudi Arabia is the fourth largest trading partner with India and our energy cooperation with India has now entered a new phase with Saudi Aramco signing an agreement with three Indian oil companies to set up a $44 billion refinery in the West Coast of India with a capacity to process 1.2 million barrels of oil a day," he said.
Al Sati said that Saudi Arabia will take steps to increase the number of Haj and Umrah pilgrims as part of the country's Vision 2030.
The ambassador said that Saudi Arabia appreciates the contributions made by the three million Indian expats working in their country.
"They are highly regarded because of their hard working and law abiding nature and many of them are from Kerala," Al Sati said.
Full report at:
https://timesofindia.indiatimes.com/india/india-and-saudi-arabia-have-very-strong-anti-terror-cooperation/articleshow/63928600.cms
--------
Masood Azhar aide among four militants killed in Tral encounter: Police
by Bashaarat Masood
April 27, 2018
Two days after four militants were killed in Tral, in Pulwama district of South Kashmir, the Jammu and Kashmir Police on Thursday identified one of them as Mufti Yasir, the 'operational commander' of the Jaish-e-Muhammad (JeM). Police sources said Yasir was the personal security officer of JeM's Pakistan-based chief Masood Azhar.
"Operational commander of JeM Mufti Yasir was among those killed in joint operation in upper reaches of Tral," tweeted J&K's Director General of Police (DGP) S P Vaid, along with a photograph which showed an armed Yasir with Masood Azhar.
"This is a big elimination," Inspector General of Police (IGP), Kashmir, S P Pani told The Indian Express. "He was definitely a very big commander. He was an important person (in JeM)," he said.
ADS BY BUZZEFF TV
Four militants, a soldier and a policeman were killed in an encounter in Laam forest of Tral on Tuesday. While two of the militants were identified as locals, police had said the other two were foreigners "whose identity was being ascertained".
Yasir is the fifth top JeM commander to be killed since June last year. Yasir had replaced Mufti Waqas, a top JeM commander who was killed in a brief encounter in Letpora village in South Kashmir in March this year. Noor Trali, Masood Azhar's nephew Talha Rashid and Mehmood Bhai were among the other top militants killed. Waqas and Trali were reported to be behind some of the major attacks in the Valley.
In its latest edition, JeM's mouthpiece Al Qalam has said that 37 of its militants were killed in Kashmir since June last year.
"We have mitigated some serious attacks by our sustained operations against Jaish," IGP Pani said. "They had engineered a spike in violence… we have come down on them. There has been no let-up. The sustained campaign against Jaish has not accentuated violence. Otherwise, they would have really escalated the violence," he said.
Police sources said JeM has set up its base in Pulwama district. "They have presence in parts of Anantnag and Budgam as well," said a police officer.
J&K Police sees the resurgence of JeM in the Valley as a tactical shift by Pakistan to divert international pressure and give "breathing space" to Lashkar-e-Toiba (LeT) and Hizbul Mujahideen, who suffered heavy losses last year.
Full report at:
http://indianexpress.com/article/india/masood-azhar-aide-among-four-militants-killed-in-tral-encounter-jammu-kashmir-police-5153500/
--------
China deploying fighters in Tibet, Pakistan backing attacks, says IAF chief
Apr 27, 2018
Indian Air Force chief BS Dhanoa on Thursday drew attention to a "significant increase" in deployment of Chinese fighter jets in Tibet and warned against Pakistan backing more terror attacks on Indian military bases, in a frank assessment of the People's Liberation Army Air Force's "capabilities" and the Pakistan "scenario and strategy."
Air Chief Marshal Dhanoa also disapproved of the concept of theatre commands saying it would require creation of more assets, at a time the utility of such integrated commands is being discussed by the government.
"The deployment of Sukhoi-27 and J-10 fleets (in Tibet) for continuous operations during winter months affords them a credible year round capability," Dhanoa said during a talk on the Role of IAF in the Changing Security Environment.
He said the "inherent operational disadvantages" that PLAAF faced in Tibet included altitude, low temperatures and lack of basic infrastructure to protect aircraft on ground.
Well-known think tank Vivekananda International foundation organised the talk.
Dhanoa said PLAAF's modernisation plans would ensure that half of its fleet consists of advanced multi-role combat aircraft at a time the IAF is struggling with a shortage of warplanes. Compared to an optimum strength of 42-plus units required to fight a two-front war, the count of the IAF's fighter squadrons has shrunk to 31.
Describing PLAAF as the world's fastest growing air force that ranked second in terms of combat airpower, the air chief said China had a credible mix of multirole fighters and strike aircraft, and "adequate reserves to replenish" after attrition.
"There's a misconception that the IAF doesn't need 42 squadrons. That would have been true if our adversaries continued to operate 2nd and 3rd generation fighters. If they go for 4th generation jets, you also need modern fighters. You are not fighting against vacuum," Dhanoa said.
He said China had developed a modern air force that relied on quality rather than quantity, under an aggressive aerospace capability enhancement plan. The air chief stressed that multi-layered air defence systems allowed China to fight a ground campaign without the need for a decisive aerial victory.
"We need to plan as per an adversary's capabilities, for intentions may change overnight," he said.
On Pakistan, Dhanoa said it would keep the "Kashmir pot boiling" and back attacks on Indian military bases as was seen during strikes in Pathankot, Uri, Nagrota and Jammu. "Such attacks may have unintended consequences and lead to escalation," he said.
The air chief said Pakistan army did not want peace as then its generals would not be able "to send their children to Ivy League universities and settle in London."
On theatre commands, the air chief said Indian fighter jets could get airborne from Pune and engage targets across the northern frontiers with the help of air-to-air refuelling.
"Compartmentalising will require more assets. We believe in one country, one theatre," he said, pointing out the pitfalls of cherry picking concepts of western war fighting.
Full report at:
https://www.hindustantimes.com/india-news/china-deploying-fighters-in-tibet-pakistan-backing-attacks-says-iaf-chief/story-Rlt1c3XH5c7SupGgfeY0OI.html
--------
Pakistani army violates ceasefire again, shells LoC in Rajouri district
Apr 26, 2018
Pakistani army on Thursday violated ceasefire by targeting forward posts and villages along the Line of Control (LoC) in Rajouri district of Jammu and Kashmir with mortar shells and gunfire.
"Pakistan Army initiated unprovoked and indiscriminate firing of small arms, automatics and mortars from 0830 hours today (Thursday) in Sunderbani sector along LoC," an Army officer said.
The Indian Army is retaliating strongly and effectively, he said adding the firing stopped at 1100 hours.
Full report at:
https://www.hindustantimes.com/india-news/pakistani-army-violates-ceasefire-again-shells-loc-in-rajouri-district/story-XeSGuLtUwxd3mFo0VOnVkM.html
--------
Africa
Boko Haram: Troops Kill 62 Terrorists; Lose 24 Soldiers – Gen Irabor
April 26, 2018
By Maina Maina
The Force Commander, Multinational Joint Task Force (MNJTF), Major General Lucky Irabor, yesterday briefed the media and strategic partners in N'Djamena, Chad, and gave update on the ongoing offensive operations in the Lake Chad Basin.
Speaking at the occasion, Major General Irabor observed that Boko Haram terrorism, like other similar conflicts create complex emergencies which attract humanitarian, military and other interventions.
According to him, for such interventions to succeed, it is imperative for responsible actors to share and disseminate information.
This he noted was the rationale for MNJTF's effort in providing information about its activities on a regular basis.
The Force Commander also said that the Mandate of the MNJTF among other responsibilities, empowers it to, "create a safe and secure environment in the areas affected by the activities of Boko Haram terrorism and other terrorist groups, in order to significantly reduce violence and other abuses, including sexual and gender based violence, in full compliance with international law".
He observed that the ongoing operation is in the spirit of the mandate.
Speaking on operation ANMI FAKAT, Major General Irabor said, the operation is to consolidate on the gains of Operation RUWAN KADA which was conducted between January and June 2017.
General Irabor also informed the gathering that the current operation which was flagged off on 5 April, 2018 was already yielding substantial operational dividends.
The Force Commander listed human and equipment casualties inflicted on Boko Haram terrorists by the Multinational Force.
According to him, 59 were killed in action, 5 terrorists captured, 3 suicide bombers killed, 3 vehicles and Improvised Explosive Devices destroyed, 1 each of 81 and 82mm mortars and bombs captured, one 122mm artillery gun and its prime mover captured, 6 gun trucks destroyed.
Also, Several motorcycles were destroyed and fuel dump, food stores and communication platform were also destroyed in Gashigar, Arege, Metele and cleared of terrorists.
The Force Commander said, that his forces recorded 22 Killed in action, 75 wounded, a scorpion tank and truck damaged.
Major General Irabor explained that the high casualty rate of his troops was due to indirect fire and Vehicle Borne Improvised Explosive Device attack by terrorists.
He assured that steps have been taken to forestall a reoccurrence.
General Irabor also hinted that already 50% of injured troops have been treated and discharged.
He assured the audience and people in the Lake Chad Basin Commission countries of the determination of the MNJTF in conjunction with national forces to deal decisively with Boko Haram terrorism, as Operation ANMI FAKAT continues.
http://dailypost.ng/2018/04/26/boko-haram-troops-kill-62-terrorists-lose-24-soldiers-gen-irabor/
--------
Strongman Haftar back in Libya after long absence
April 26, 2018
BENGHAZI: Libyan military strongman Khalifa Haftar returned Thursday to the eastern city of Benghazi after a long absence for treatment in a Paris hospital, an AFP correspondent reported.
The 75-year-old, smiling and dressed in a black suit, greeted generals from his self-styled army after descending from a plane, in his first public appearance for weeks.
http://www.arabnews.com/node/1292196/middle-east
--------
Algerian Controversy over Salafism puts Government Control of Religion on the Spot
26 APR 2018
A controversy in Algeria over the growing popularity of Saudi-inspired Salafi scholars spotlights the risk governments run in a region in which they strive to control religion in a bid to counter militant strands of Islam, often by touting apolitical, ultra-conservative trends. These efforts are proving difficult to contain within the limits of the government's agenda.
The controversy over Saudi support of Salafi scholars highlights how state control, frequently exercised through degrees of micro-management of weekly Friday prayer sermons, and/or putting clerics on the government payroll as well as supervision of mosques and school textbooks, often backfires. For one, the credibility of government-sponsored Islamic scholars is undermined as they become increasingly viewed as functionaries and parrots of regimes.
It also thrusts into the limelight the slippery slope on which governments play politics with conservative and ultra-conservative religion for opportunistic reasons or as in the case of Turkey in a bid to establish state-controlled Turkish Islam as a global force.
Ultra-conservatism's increasing attractiveness is magnified by the inability of governments to comprehensively police alternative expressions of religion on the Internet and social media as well as halt the popping up of unlicensed mosques and informal study groups.
As a result, Saudi-inspired ultra-conservative as well as militant strands of Islam emerge as the only alternative release valve, particularly in countries that restrict freedom of expression, the media and religion and have failed in their delivery of public goods and services.
"Whatever the state does to control the religious realm, it cannot oblige or guarantee that people will rely on official bodies and individuals for their religious guidance. In fact, Algerian youths in particular are disillusioned and have lost confidence in their religious institutions. As such, they may be attracted to other religious voices, especially those offering 'grab and go' solutions to complex issues or a Manichean view of the world," said Algeria scholar Dalia Ghanem-Yazbeck.
The controversy in Algeria further raises questions about definitions of Saudi Crown Prince Mohammed bin Salman's declared effort to return the kingdom to what he termed 'moderate Islam' given that Saudi Arabia played a key role in globally promoting Sunni Muslim ultra-conservatism for almost half a century.
In Saudi Arabia, the jury is still out on Prince Mohammed's approach to moderation. In an ultra-conservative country in which religious leaders were not only popular, but government employees who shared power with the ruling Al Saud family, Prince Mohammed has whipped the religious establishment into subservience and kowtowing to his reforms with little indication that they have had a true change of heart.
Algeria has long seen Saudi-inspired quietist strands of Salafism that preach unreserved obedience to a Muslim ruler as a way of countering expressions of popular discontent and more militant strands of Islam.
"The onset of the 2011 Arab uprisings only increased the utility of quietist Salafists to the state. All the main quietist figures issued calls for Algerians to resist the wave of political contestation rocking the Arab world…This drove a wedge between rulers and ruled, exacerbating social divisions, which would inevitably lead to a rise in insecurity and worsening corruption," said international relations scholar Anouar Boukhars.
A recent study showed that many Algerians were turning on social media to Saudi and Egyptian rather than Algerian religious scholars.
Some Saudi scholars like Sheikh Mohamed al-Arefe, a controversial ultra-conservative, known for his misogynist and anti-Shiite tirades, who ranks among the top 100 global and top 10 Arab social media personalities with 21.6 million followers on Twitter and 24.3 million on Facebook boast a larger following in Algeria than in the kingdom itself.
The study concluded that Mr. Al-Arefe had two million Algerian followers as opposed to 1.3 million Saudis.
Algerian media reports, echoing secular concerns, detailed earlier this year Saudi propagation of a quietist, apolitical yet supremacist and anti-pluralistic form of Islam in the North African country. The media published a letter by a prominent Saudi scholar that appointed three ultra-conservative Algerian clerics as representatives of Salafism.
"While Saudi Arabia tries to promote the image of a country that is ridding itself of its fanatics, it sends to other countries the most radical of its doctrines," asserted independent Algerian newspaper El Watan.
El Watan and other media reproduced a letter written by Saudi Sheikh Hadi Ben Ali Al-Madkhali, a scion of Sheikh Rabia Al-Madkhali, the intellectual father of what French Islam scholar Stephane Lacroix terms a loyalist strand of Salafism that projects the kingdom as the ideal place for those who seek a pure Islam that has not been compromised by non-Muslim cultural practices and secularism.
The letter appoints three prominent Algerian scholars, including Mohamed Ali Ferkous, widely viewed as the spiritual guide of Algerian Madkhalists, as Salafism's representatives in Algeria.
"Madkhalism…(is) perhaps Saudi Arabia's own Trojan Horse," quipped North Africa scholar George Joffe. "State-approved imams in Algeria now find themselves under considerable pressure, in mosques that have been targeted, to adapt their teachings and doctrines to Salafi precept, even if this challenges the authority of the ministry of religious affairs," Mr. Joffe added.
The mixed results of the Algerian government's effort to control and use religion are being replicated across the Muslim world.
Pakistan, a country in which ultra-conservatism and militancy has over decades been woven into the fabric of the state and society and that is struggling with political violence against the state as well as minorities, serves as an example of the risks involved in playing politics with religion and state support for non-pluralistic, intolerant and supremacist interpretations of Islam.
Attempting to rollback the fallout of such policies is proving to be a gargantuan task. The Pakistani government earlier this year launched a pilot project in Islamabad to regulate Friday prayer sermons. The problem is that it controls a mere 86 of the city's 1,003 mosques.
Some critics warn that Turkish President Recep Tayyip Erdogan may be taking his country down a road like that of Pakistan. They compare the Turkish leader to former Pakistani ruler General Zia ul-Haq who in the 1980s accelerated Islamization of Pakistani society.
Former Pakistani ambassador to the United States and director of South and Central Asia for the Washington-based Hudson Institute, Husain Haqqani, asserted that Mr. Erdogan was adopting the "Pakistani formula of mixing hard-line nationalism with religiosity" and pouring money into Islamic schools.
"Erdogan has taken the Pakistani formula of mixing hard-line nationalism with religiosity. Zia imposed Islamic laws by decree, amended the constitution, marginalized secular scholars and leaders, and created institutions for Islamization that have outlasted him. Erdogan is trying to do the same in Turkey," Mr. Haqqani told journalist and columnist Eli Lake.
Mr. Lake argued that Turkey, despite having tacitly supported the Islamic State at one point during the Syrian civil war, Turkey had not yet "sunk" to Pakistan's level of cooperation with Islamic militants in its dispute with India and manoeuvring in Afghanistan.
However, suggesting that Turkey risked becoming another Pakistan, Mr. Lake quoted former US ambassador to Turkey Eric Edelman as saying: "Turkey is not Pakistan yet, but if it continues the trajectory that Erdogan has put it on, there is a prospect it could become like Pakistan."
At the other extreme, Chinese authorities in the north-western province of Xinjiang, home to China's Uyghur Muslim minority, were several months ago shutting down some 100 illegal, underground religious seminaries a month despite creating in the region the world's most repressive surveillance state, according to a Chinese communist party official.
The crackdown involves the banning of religious practices and the teaching of the Uyghur language in schools and the detention of thousands in political re-education camps.
The controversy in Algeria, Mr. Erdogan's embrace of Islam, Pakistan's struggle to come to grips with the fallout of ultra-conservatism, China's efforts to crackdown on religion, anti-government and anti-clergy protests in Iran earlier this year, and examples of societies elsewhere in Asia turning towards intolerance and conservatism as governments employ or repress religion for opportunistic political purposes, suggest that political leaders have learnt little, if anything.
Yet, the lesson is that government control and/or playing with religion seldom produces sustainable results. The lesson is also that repression, including restricting freedoms of expression, media and religion, aggravates problems and benefits ultra-conservatives and militants.
Full report at:
https://intpolicydigest.org/2018/04/26/algerian-controversy-over-salafism-puts-government-control-of-religion-on-the-spot/
--------
VIDEO: Army strongman Haftar back in Libya after long absence
26 April 2018
Libyan military strongman Khalifa Haftar returned Thursday to the eastern city of Benghazi after a long absence, including for treatment in a Paris hospital.
The 75-year-old, smiling and dressed in a black suit, greeted generals from his self-styled army after descending from a plane, in his first public appearance for weeks.
According to a source who was close to Benina International Airport, Haftar moved with a convoy amid security threats upon arrival at the military base of the army headquarters in the city of Marj.
He is expected to speak to the Libyan people in the coming hours.
https://english.alarabiya.net/en/News/north-africa/2018/04/26/VIDEO-Army-strongman-Haftar-back-in-Libya-after-long-absence.html
--------
Malawi Muslims Condemn DPP Regional Governor for Islamaphobia
26 APRIL 2018
By Zawadi Chilunga
Concerned Muslims have asked the governing Democratic Progressive Party (DPP) to discipline Julius Paipi, the regional governor for the eastern region for what he said at a political rally in Mangochi urging people not to vote for Muslim candidates.
The Muslim remark angered Mangochi district campaign director for the party Wellington Mangulenje who has since resigned from his position in protest and withdrawn membership from the DPP.
Addressing a news conference on Wednesday , Sheikh Yahaya Hanif described Paipi's remarks as offensive and provocative. And Malawi Muslim Community in the United Kingdom have also condemned the remarks.
"As Muslims, we have very good working relationship with the current President and his party. President Peter Mutharika has supported our various activities such as Ijtima which took place last year. So, for somebody to bring divisions between us and our President is very unfortunate and unacceptable," Hanif told reporters.
The Sheik said DPP should distance itself from Paipi's anti-Muslim remarks.
And Sheikh Yunus Makunganya said Paipi should apologise and the DPP leadership should also say sorry.
"Our religion teaches us to forgive if somebody apologises," said Makunganya.
Sheikh Nordin Yasin rejected claims by Paipi that Islam is a religion of violence, saying it teaches peace and asked Muslims to remain calm.
In a statement made available to Nyasa Times, Rhodrick Junaid Kalumpha, Secretary General, Malawi Muslim Community UK, condemned the " egregious and callous remarks" by Paipi.
Kalumpha said what the DPP Regional governor alleged against Muslims in Malawi is " disgusting annotations" which have no place in modern day society, let alone modern day Malawi.
"As bonafide citizens of Malawi, Malawian Muslims have the right to seek any political office through any party of their choice under the democratic processes instituted by the Malawi Constitution. Conversely, every Malawian has got the freedom and right to choose any anyone to represent them regardless of their religious inclination. These freedoms of choice are enshrined in the supreme constitution of the land," said Kalumpha n the statement.
"Perhaps Mr Paipi needs to be reminded that Malawi is a secular state, as such, politics of religion has no place in such a state. Mr Paipi also needs to be schooled on the fact that many families in Malawi, especially in his region which he claims to govern under the ruling DPP, are of mixed religious heritage. Indeed it is not uncommon to find that numerous families have both Muslim and Christian members. Throughout the Eastern region, we find churches and mosques built side by side, a testament to the fact that members of both of these great religions live in peaceful harmony. And indeed many of us have been both to the mosque and to the church at one point in time, and we have friends from both religious denominations," the statement added.
The Muslims are calling on political leaders in the run up to the General Election next year to desist from such dangerous remarks and to focus on issue-based politics that will lift the living standards of many of our people.
Kalumpha said the DPP leadership should not only discipline Paipi from but also to apologise for the careless remarks.
"Malawi belongs to all of us, Christians, Muslims, animists and other religious denominations. It is in this vein that we applaud the action of Mr Wellington Mangulenje, the Mangochi DPP Campaign Director, who upon hearing Mr Paipi's despicable remarks, resigned from his position immediately. We hope the DPP top leadership will address this matter with the seriousness it deserves. The Eastern Region will be watching," concluded the statement.
Full report at:
http://allafrica.com/stories/201804260709.html
--------
Boko Haram: Two top Commanders dump Shekau, Nur, surrender to troops in Borno
April 26, 2018
By Maina Maina
Two high profile Boko Haram Commanders from Ibrahim Shekau and Mammam Nur camps have surrendered to troops of the Operation LAFIYA DOLE in Borno State.
Kyari Goni, who was a commamder in the Shekau camp surrendered with sixteen others, while Ibrahim Dale and sixteen others from the Nur-led faction also surrendered to the troops.
Accordingly, both commanders said other members of the dreaded groups were ready to lay their arms depending on the outcome of what happens to their members who surrendered.
The Theatre Commander Operation LAFIYA DOLE, Major General Rogers Nicholas. who recieved the ex-terrorists on behalf of the Nigerian Army, thanked thanked commanders and their members for the bold steps they took in surrendering, promising that they will be catered for adequately.
General Rogers further called on other members of the insurgents groups to come out from their hideouts so as to reunite with their families and to start a new life.
He added that various surrendering camps have been opened in different Military locations in the Theatre to receive them en mass.
Full report at:
http://dailypost.ng/2018/04/26/boko-haram-two-top-commanders-dump-shekau-nur-surrender-troops-borno/
--------
Southeast Asia
Sectarianism and elections are a recipe for disaster
April 27, 2018
Indonesia goes to the polls on June 27, the second phase of local elections that follow the first such round that took place in 2015.
This year, there will be elections in 171 areas, according to the Indonesian Election Commission.
At least two questions are at the forefront of public discussion. First, will there be violence? And second, will religion dominate campaigns?
These questions are quite pertinent in light of the Jakarta governor election last year.
That poll was written off as one of the "worst" in Indonesian history, full of religious provocation, social hatred, and hate-filled propaganda.
Moreover it moved "hand in hand" with massive inter-socio-politico group intimidation and violence.
The seeds of violence
The first question relates to last year's governor poll and quite simply Indonesia should not discount an increase in violent behavior during these upcoming elections.
The seeds of violence are closely linked to transitional democracy in Indonesia.
Indonesia's political pathway in the two decades since the fall of Suharto's regime in 1998 has been influenced significantly by a wave of uncertainties.
Indonesia believes democracy is the main vehicle for promoting and achieving social, political and economic progress.
As such, supporting civil liberties, freedom of the press and a multi-party system are key facets in this political belief.
However, Indonesia has to face the fact that political competition, from presidential elections down to local polls, is being pursued in ways contrary to this stated political belief and democratic optimism.
Elections at many levels have not been staged in a way that would strengthen democracy in Indonesia. The influence of corruption and sectarianism are two key factors.
Violence could well emerge in the local elections. The seeds of which were probably sown in the 2014 presidential election. The animosity between the victor, Joko Widodo, and his rival, Prabowo Subianto, has since filtered down and spread among their supporters. As such the 2014 election has also become a symptom of frightening social and political divisions affecting Indonesia today and which could boil over, even at local level throughout Indonesia.
These divisions are also being exacerbated by the fact that many elections have and are being held in a relatively short period stoking the animosity. They started with a presidential election in 2014, two sets of local polls split by a Jakarta city run off and back to a presidential poll in 2019.
Ethnopolitics
The first question collides with the second, which is the possibility of religion dominating campaigns in the upcoming elections.
Theoretically, democracy has an objection to "religious intervention" in political affairs. The liberal democratic view is a demarcation between religion and state.
In Indonesia, the relationship between religion and politics has become a critical issue for the debate on democracy.
Today, resistance to political efforts to limit the role of religion in the political realm is becoming part of the phenomenon of what has been called "the religious political movement."
A number of researchers and scholars link the trend to the emergence of "Islam politics."
In theory, it refers to the ethnopolitics movement. Due to the rise of ethnopolitics — politics as it relates to different ethnic groups — throughout Indonesia, the elections are at risk of being dominated by the majority against minorities.
Some vulnerable groups such as religious minorities will simply find themselves as the targets and victims of the movement.
It is generally accepted that the ethnopolitics movement and circumstance could be a potential springboard for the majority group in determining, claiming, and controlling socio-political processes and spaces.
The using of what is known as ethnic, religion, race, and inter-groups (collectively known as SARA) discrimination becomes a strong justification and foundation for violent religious-based actions in Indonesia's elections.
This poses a major threat to Indonesia's status as a democratic, pluralistic and multicultural society.
It is important to note that demographic disruption is the main problem of super-diversity. One serious aspect of this tendency is social intolerance.
A few months after the Jakarta governor election, Barrack Obama, in a July 2017 trip to Indonesia, reminded the government to build (rebuild) tolerance in "diverse Indonesia".
"I don't believe the future favors strongmen. I believe the future favors those who promote tolerance … who are open to differences and learn from everyone," he said.
This trend will cause a critical situation in the elections if ethnopolitics is allowed to dominate increasingly.
Political Incivility
A third key issue, mostly influenced by the other two, is called "political incivility." This is a lack of good manners and attitudes by people engaged in politics.
In Indonesia's context, violence and the religious politics movement are intertwined with the presence of such actors.
As a consequence, intolerance within society has been triggered by this incivility. Intolerance explains the pattern of discriminatory relationships in society, which has not only been manifested in verbal disagreements over different groups and political choices among social and religious groups but has also been expressed through violence.
Indonesia will struggle to stage an orderly and dignified electoral contest when both political and social actors have no political will to demonstrate an insightful and constructive contribution to the process.
It is difficult to accept the fact that these sort of actors appear to be the only ones providing a political education among voters mainly at the grassroots level.
Democratic networks seem to disappear from the election process.
Violence and religious-based campaigns are more likely to dominate elections where there is a severe lack political awareness among the public awareness and where effective political participation has never been a major concern of the main political and social actors.
https://www.ucanews.com/news/sectarianism-and-elections-are-a-recipe-for-disaster/82120
--------
Khalid: PAS is 'dangerous' under young ustads
Sheith Khidhir Bin Abu Bakar
April 27, 2018
PETALING JAYA: Young "ustads" have "hijacked" PAS and swung the Islamic party towards a more restrictive brand of Islam, according to Khalid Samad of Parti Amanah Negara.
In their hands, "PAS is dangerous", he told FMT because "they believe only they are Islamic and everyone else is wrong and an enemy of Islam".
He said the young religious teachers were among those who had returned from studies in the Middle East and had, since 2010, played a more prominent role in PAS.
Khalid is a former member of PAS, on whose ticket he was elected MP for Shah Alam in 2008 and 2013. He was among a breakaway group that founded Amanah in September 2015.
He had been asked to comment on an online posting last Friday by Ahmad Dusuki Abdul Rani, the PAS candidate for the Kota Anggerik state seat in Selangor.
A campaign poster of Dusuki under the slogan "Kota Anggerik" was accompanied with the caption: "In the grave, if we are asked what religion we profess to, can we say 'Islam' if we fought Islam while we were on Earth? If we only took Islam as part of the whole of our lives?"
Online commenters criticised the posting, saying that the image gave the impression that those who failed to vote for PAS on May 9 could not truly be called Muslims.
Khalid acknowledged that PAS was once as hardline as many claim it now to be. At that time, before the mid-1980s, it was because of political competition between PAS and Umno.
The party had swung towards a more moderate stance under the late Ustaz Fadzil Noor, which was when Khalid joined PAS.
But the new group of religious teachers had emerged in recent times to "hijack" the party, he said.
"Prior to the mid-1980s, there was this same tendency (of taking a hard line) and the rift between PAS and Umno was very pronounced. Umno was very committed to secularism then and would make many extreme statements about Islamic teachings and Islamic law. This, unfortunately, led to the 'kafir-mengkafir' culture which marked much of PAS' politics."
However, Khalid said, PAS moved away from this after the so called "Young Turks" rose in 1983, to begin a new trend under the late Tuan Guru Yusof Rawa and Fadzil Noor.
A guiding principle then was the Arabic phrase 'duat laa khuda', of not passing judgment on others. "Although we claimed to champion Islamic politics, we did not accuse the others of being anti-Islam or deviant."
He said the new group of young religious teachers were among those who returned from studies in the Middle East.
"They found it much easier to rise up in PAS by claiming they were Islamic while others weren't. This led to the change in leadership in PAS and its increasing isolation from the other opposition parties."
However, he had doubts whether postings such as that by Ahmad Dusuki would sway Muslim voters in Shah Alam. "Obviously, some will fall for this but I believe the majority of Shah Alam Muslims are not extreme in their understanding of Islam and will reject such views."
Khalid said the Malays in Shah Alam, which he represented for two terms, were different from kampung Malays that he met in past campaigns in Kelantan, Perlis and Johor.
"Generally the Malays here are better educated and better informed, although they maintain some kampung ways. Many retired civil servants live in Shah Alam and they are a far cry from the Malays in the kampung."
Full report at:
http://www.freemalaysiatoday.com/category/nation/2018/04/27/khalid-pas-is-dangerous-under-young-ustads/
--------
Indonesia's hard-line Muslims target presidential poll
April 25, 2018
Ahmad Fauzi was among hundreds of thousands of Muslims who decided to join a series of rallies calling for the imprisonment of Jakarta's Christian governor Basuki "Ahok" Tjahaja Purnama on blasphemy charges.
The effort was ultimately successful: Ahok lost his bid for re-election and was jailed for two years.
Now Fauzi is waiting to see what will happen in the lead-up to next year's presidential election as hard-line supporters of various candidates aim to make sure their voices are heard.
"In principle I support candidates who are willing to practice Islamic law and fight against those who are against Islam," said the 24-year-old, who lives in Tangerang, about 40 kilometers south of Jakarta.
He is a member of the Islamic Defenders Front (FPI). This posits the "enemy" as incumbent President Jokowo Widodo, who will certainly run again and remains far ahead in a number of opinion polls.
"He is a Muslim but he is Ahok's ally and supports the criminalization of the ulemas," he said, referring to Muslim scholars like Habib Rizieq Shihab.
Habib, a patron of the FPI, is one of many ulemas the government has targeted. He is now living as a fugitive in Saudi Arabia.
Hard-line Muslim groups have taken heart from their success in raising religious sentiment to help secure victory in the last Jakarta gubernatorial election.
Now they take this as a reference point as they make moves to win seats for their favored candidates, analysts say.
Such a strategy is likely to be deployed again for the presidential election, especially by Widodo's rivals.
One of these is Prabowo Subianto, a retired general who struck alliances with Muslim groups ahead of the Jakarta election to notch a win for Muslim candidate Anies Rasyid Baswedan.
New political landscape
Yet just how much influence these hard-line groups will wield in the next election remains to be seen after they suffered from internal disputes leading some to splinter off.
In its report "After Ahok: The Islamist Agenda in Indonesia," released on April 12, the Institute for Policy Analysis of Conflict (IPAC) states that their success in helping to defeat Ahok has given them something of a reputation.
"[It] has left many politicians convinced that they need conservative Muslim support to win elections, and it has convinced many Islamists that they can achieve their social and political goals by working through Indonesia's democratic system."
However, the report argues it will be difficult to repeat that success in a presidential election because the leaders of these groups are not united. Moreover Rizieq , a charismatic figure known as a galvanizing force, has now departed, leaving big shoes to fill.
It was easier for them to take down Ahok because he was a non-Muslim and his actions could be portrayed as an assault on Islam, the report added.
Other respected Islamic scholars across Jakarta told voters they were duty-bound to vote for the Muslim candidate.
"It will be harder to use the same tactics against Jokowi in 2019," the report stated.
"The president is Muslim. He is popular. He has the support of Nahdlatul Ulama [a traditionalist Sunni Muslim movement] and he has brought the MUI [Indonesia Muslim Council] to his side," it added.
FPI buoyed by self-belief
Despite such doubts, FPI spokesman Slamet Maarif countered recently that "we can do anything." He promised the group would continue its struggle to pass its agenda of having Islamic law applied across a unified Indonesian republic.
"Nothing is impossible. Did you see what happened in the Jakarta election? Ahok initially took the lead in opinion polls but we successfully overturned that," he said.
"Now there is a real possibility the different Muslim groups could unite," he added.
"We share a common mission and believe the same steps should be carried out, so we are just waiting for the right moment."
He said the FPI had not been daunted by the loss of their charismatic figurehead. Even though Rizieq is stuck in Saudi Arabia, "that does not mean we are weak," he said.
"He is still our leader and we follow his direction in supporting the parties that are against Ahok."
Many Muslim leaders still attack Widodo during their sermons at mosques and the #2009GantiPresiden movement, which calls to have him removed next year, continues to gain strength.
In one sermon delivered in Jakarta on April 13, Amien Rais, an Islamic scholar who claimed to be Rizieq's representative, launched into a tirade against Widodo and said he was anti-Islam.
"How happy we are that next year, our president will be replaced," he said, calling on Muslims to not shy away from a fight and "have no fear."
Those listening at the mosque also declared their loyalty to both Rizied and Rais.
Meanwhile, the former chairman of Muhammadiyah, the second-largest Islamic organization in the country, labeled the political party which opposes Widodo as hizbullah (the party of God).
Decline of democracy
Boni Hargens, a political analyst, said the attacks that played on religious sentiment were being recycled because it was hard to find another legitimate reason to attack Widodo.
The president has made improvements in education and health care, not to mention winning the support of Muslim clerics.
However, the fact that these groups are able to operate in this way highlights the decline of democracy in Indonesia, he said.
"Democracy does allow anyone to delegitimize opponents. If they challenge them it must be done in a legitimate way, not based on unfounded accusations," he said.
Full report at:
https://www.ucanews.com/news/indonesias-hard-line-muslims-target-presidential-poll/82104
--------
Europe
Over 70 countries pledge to combat terror financing
April 27, 2018
PARIS: More than 70 countries committed on Thursday to bolster efforts in the fight against terrorism financing associated with the militant Islamic State group and Al Qaeda.
Participants at an international conference in Paris agreed to "fully criminalise" terror financing through effective and proportionate sanctions "even in the absence of a link to a specific terrorist act." The two-day event was convened by French President Emmanuel Macron to coordinate efforts to reduce the terror threat in the long-term.
US Treasury Secretary Steven Mnuchin, IMF chief Christine Lagarde, Saudi Foreign Minister Adel Al-Jubeir and Qatari Foreign Minister Sheikh Mohammed bin Abdulrahman Al Thani were all present.
Macron, who has returned to France from a state visit to the United States, is expected to close the conference later with a call for the necessity for multilateral action.
Daniel Lewis, executive secretary of the intergovernmental Financial Action Task Force, said he is hoping that words will be put into action.
"When we have information for example the UN list of individuals and entities financing terrorism we need to make sure measures like asset freezing are implemented fully and quickly," Lewis said.
Participants called for better information-sharing between intelligence services, law enforcement, financial businesses and the technology industry. They also agreed to improve the traceability of funds going to non-governmental organisations and charity associations.
Participants included countries that have accused each other of funding terrorism, notably in the Persian Gulf.
France has pushed for international coordination and more transparency in financial transactions. But it has recognised how sensitive the issue is, and saw the conference as a first step for coordinated action.
The French organisers noted that IS military defeats on the ground have not prevented the group from pursuing its terrorist activities, along with Al Qaeda especially in unstable regions of Afghanistan, Malaysia, the Philippines, Yemen, Egypt and sub-Saharan Africa.
Terror groups don't only rely on the cash economy they're using increasingly hard-to-track tools like prepaid cards, online wallets and crowdfunding operations.
The IS group has also invested in businesses and real estate to ensure its financing. IS revenues alone were estimated at $2.5 billion between 2014 and 2016, according to the French president's office.
Though most of the attacks in Western countries do not cost a lot of money, a French official said terror groups "behave like big organisations" in that it "costs a lot to recruit, train, equip people and spread propaganda." The official was speaking anonymously under the presidency's customary practice.
The French counter-terrorism prosecutor Francois Molins told FranceInfo radio that IS uses micro-financing techniques to collect a great number of small amounts of money.
Work with the financial intelligence unit helped identify 416 people in France who have donated money to the IS group over the last two years, he said.
Money, he said, went to "320 collectors mostly based in Turkey and Lebanon from whom jihadis in Iraq and Syria could receive funds." Funding to extremist groups in the Middle East once flowed freely across the region's informal money-transfer shops and in donations made in mosques when travelling clerics issued special appeals during sermons.
https://www.dawn.com/news/1404127/over-70-countries-pledge-to-combat-terror-financing
--------
Macron calls for global cooperation to cut off funds to extremists
April 27, 2018
PARIS - French President Emmanuel Macron on Thursday called for more cooperation to deny jihadist movements the financing they need to carry out attacks, as dozens of ministers met to discuss how to cut off funds for extremists.
France's top anti-terror prosecutor, Francois Molins, had revealed earlier that the country's security services had identified 416 French donors to the Islamic State (IS) group and had also detected 320 fundraisers mainly based in Turkey and Libya who transferred the money to the jihadists.
Macron warned that the jihadists "use all contemporary forms of financing" in an address at the closing of a two-day conference on combating the funding of terror groups at the Organization for Economic Cooperation and Development (OECD), which brought together around 80 ministers and 500 experts.
"We have to cut off terrorism at its roots: it feeds on human trafficking, drugs and weapons. There's always an underlying economy," said Macron, urging global "transparency and mobilisation." "We have to cross to a new stage in the fight against Daech (Arabic acronym for IS) and Al-Qaeda."
Macron praised the "No money for terror conference" for committing to improving such measures as sharing intelligence, fighting against anonymous financial transactions and identifying sources of funding.
Attacks on Western targets have become increasingly low-cost since the 9/11 atrocities in the United States in 2001, particularly in recent years when IS followers have often used only vehicles or automatic weapons to kill people.
But Molins estimated that attacks in France in January 2015 targeting the Charlie Hebdo magazine and a Jewish supermarket would have cost 25,000 euros ($30,000). More deadly assaults by teams of IS jihadists in Paris in November of that year, including against the Bataclan concert hall, would have cost an estimated 80,000 euros, he said.
A French presidential official briefing journalists ahead of the terror funding conference this week said that IS income was estimated at about one billion dollars (820 million euros) a year between 2014-2016.
Most of this was from local taxation, oil revenues and looting, with far smaller amounts flowing in from overseas donors.
French officials are concerned that the money has been transferred out of Syria and Iraq and could be used to rebuild the organisation.
Full report at:
https://nation.com.pk/27-Apr-2018/macron-calls-for-global-cooperation-to-cut-off-funds-to-extremists
--------
Iran media confirms arrest of British-Iranian scientist
26 April 2018
Iranian media confirmed on Thursday that Abbas Edalat, a British-Iranian scientist and peace campaigner, has been arrested for his alleged role in an "infiltration network".
"Recently, members of an infiltration network affiliated to Britain have been arrested," an unnamed source told the Fars news agency, which is considered close to the powerful Revolutionary Guards.
The report named Edalat a professor of computer science and mathematics at Imperial College in London.
Britain said earlier it was "urgently seeking information" from Iran following reports of the academic's arrest.
Edalat was detained on April 15, according to the New York-based Centre for Human Rights in Iran (CHRI).
He founded the Campaign Against Sanctions and Military Intervention in Iran, which describes itself as "an independent campaign organization with the purpose of opposing sanctions, foreign state interference and military intervention in Iran".
CHRI said Edalat was arrested by the Revolutionary Guards and that he had refused to post bail on Wednesday, arguing that he was innocent and should be released unconditionally.
The group said Edalat's home in Tehran had been raided and his computer was confiscated, as well as CDs and notebooks.
"We are urgently seeking information from the Iranian authorities following reports of the arrest of a British-Iranian dual national," a Foreign Office spokeswoman said.
CHRI said 30 dual nationals have been arrested in Iran, primarily on spying charges, since the 2015 nuclear deal with world powers.
The most high-profile British case is that of Nazanin Zaghari-Ratcliffe, a Thomson Reuters Foundation employee who was arrested two years ago and is serving a five-year sentence for alleged sedition.
Another Imperial College scientist, Kaveh Madani, was forced to leave Iran and quit his job as deputy head of the government's environment agency earlier this month following pressure from hardliners.
Full report at:
https://english.alarabiya.net/en/News/world/2018/04/26/Iran-media-confirms-arrest-of-British-Iranian-scientist.html
--------
Russia rejects any prospect for changes, additions to Iran nuclear deal
Apr 26, 2018
Russia says it sees no room for amendments or additions to the 2015 nuclear deal between Iran and six world countries as a deadline looms for the US to announce whether or not it will keep its side of the bargain.
Maria Zakharova, the spokeswoman for the Russian Foreign Ministry, voiced concerns on Thursday over the remarks recently made by the US and French presidents, Donald Trump and Emanuel Macron respectively, on the Iran deal.
"We are seriously concerned by all of this - I am referring to comments made by the presidents of the United States and France about the Joint Comprehensive Plan of Action (JCPOA) on the Iran nuclear program. Russia has repeatedly said that there is no possibility for some kind of revote for this document, changing or enlarging it," she said.
Macron paid a visit to Washington this week amid European efforts to dissuade Trump from killing the accord reached in 2015 between Tehran and the P5+1 group of countries, including the US, France, Britain, Russia and China plus Germany.
The US president has called the JCPOA the "worst deal ever" and threatened to pull Washington out of the accord, which has the firm support of the entire global community.
The accord lifted Iran's nuclear-related sanctions in exchange for Tehran limiting certain aspects of its nuclear program.
In January, Trump ramped up pressure on the European parties to the deal to fix what he claimed to be the "flaws" in the accord by May 12 or he would no more extend the sanctions relief for Iran; a US obligation under the JCPOA.
Despite the European Union's repeated calls for the preservation of the Iran deal as it is, Macron hinted during a joint presser with Trump on Tuesday that there might be room for "a new deal" alongside the existing one, which would address Iran's missile defense program and regional role.
Those comments drew criticism from the EU, prompting the bloc's foreign policy chief, Federica Mogherini, to reaffirm once again that the existing deal was working and thus should be saved.
The German Foreign Ministry was quick to back Mogherini, affirming that the Iran nuclear deal was Berlin's top priority. "The nuclear agreement was negotiated with seven countries and the EU, and can't be renegotiated," it said.
UK Foreign Secretary Boris Johnson also expressed hope that the accord could be saved.
Furthermore, Russian officials lined up to defend the deal, with the Kremlin's spokesman, Dmitry Peskov, saying there was no alternative to the JCPOA, which has been endorsed by UN Security Council Resolution 2231.
Macron later tried to sound more in tune with the EU in an address to US Congress on Wednesday, appealing to the country's leaders to preserve the Iran deal and remain part of the global community.
The French leader, however, said later in the day that Trump would most likely pull the US out of the nuclear accord, disappointing many in the EU who had pinned hope on him to stop the US from killing the deal.
Russia, Iran, Turkey foreign ministers to meet on JCPOA
Elsewhere in her remarks, Zakharova announced an unscheduled meeting of the foreign ministers of Russia, Iran and Turkey in Moscow on April 28, saying the three states – which are cooperating in a peace process on Syria – will exchange views on "including the worsening situation around the implementation of the JCPOA," among other issues.
Iran has repeatedly made it clear that the nuclear accord is not up for renegotiation, warning that Tehran would also withdraw from the accord if Washington does so.
Full report at:
http://107.189.40.42/Detail/2018/04/26/559781/Russian-Iran-Nuclear-Deal
--------
Mideast
Over 10 Turkish Army Forces, Ankara-Backed Militants Killed in Afrin
Apr 26, 2018
The Kurdish-led People's Protection Units (YPG) in Afrin announced in a statement on Thursday that the Kurds have killed 12 Turkish forces and wounded several others in Afrin on April 17 to 22.
The statement explained that two Turkish army forces were killed by the Kurdish snipers in Afrin and Jandaris.
Also, one of the Turkish army points in the Central part of the town of Afrin was targeted by the Kurdish militias, leading to the death of 3 militants backed by Turkey and injury of 6 others.
Meantime, a vehicle carrying Ankara-backed militants was attacked by the Kurds in Shiyeh region in Western Afrin, killing one of them and wounding 4 others.
According to the statement, a number of other Turkish army forces and militants were also killed and wounded in Afrin and Jandaris regions.
Also, Turkish sources reported that the country's gendarme forces have gained control of several Kurdish hideouts in the town of Rajou and the nearby villages during cleansing operations in the region.
The Turkish Army General Staff announced in a statement last Saturday that a sum of 4,254 Kurdish fighters had been killed or held captive in the operation in Afrin region that started on January 20.
The statement said that the total number of PKK casualties and war prisoners has risen to 4,254 in Operation Olive Branch by the Turkish troops and Ankara-backed militants in Afrin region in Northwestern Aleppo.
In the same statement, the General Staff also said air operations had been conducted against the PKK between April 14 and 20 in Turkey's Eastern provinces of Tunceli, Diyarbakir and Sirnak, as well as Northern Iraq, killing 37 gunmen.
http://en.farsnews.com/newstext.aspx?nn=13970206000418
--------
Hamas embraces 'non-violence' — opportunism or shift?
April 27, 2018
GAZA CITY: In a sit-in tent camp near the Gaza border with Israel, a lecturer answered questions from activists grappling with the concept of non-violent protest.
They asked what's allowed, listing different actions. Throwing stones and holding rallies is permitted, he said. Throwing firebombs is a "maybe" and using knives a definite "no."
Such workshops — held amid weekly mass marches on the border for the past month — are the latest sign of the Hamas militant group's search for new tactics for breaking the debilitating blockade of Gaza. Israel and Egypt closed the borders after Hamas overran Gaza in 2007, and Israel blockades the sea and controls the skies, making it increasingly difficult for the group to govern.
The border protests were the idea of grassroots activists several months ago, and the project, envisioned as non-violent, was quickly embraced by Hamas. The militant group has led the organization and been careful to contain the protests by keeping its armed men far away and out of sight.
Hamas has been supportive, said workshop lecturer Issam Hammad, a self-described independent who runs a medical supplies company. "They encourage young people to take part."
Any degree of non-violence would be a striking departure for Hamas, which over the years has attacked Israelis with suicide bombings, shootings and rockets. For more than a decade the group has tightly controlled Gaza, quashing dissent.
The large-scale protests are the only card the group has left, three high-ranking Hamas officials said, speaking on condition of anonymity because they were discussing internal strategy. They said Hamas rules out other options — either disarming or fighting another cross-border war with Israel. The last one, in 2014, devastated Gaza, a coastal territory with 2 million people squeezed into 365 square kilometers.
Bassem Naim, another senior Hamas official, believes the new method has refocused world attention on Gaza's misery. The territory suffers from grueling power cuts and a two-thirds unemployment rate among young men.
"The momentum of the marches is going strong and will continue," he said. "People can no longer endure the siege and will not stop until the siege is stopped."
Each Friday, thousands of people have gathered in five tent camps near the border, while smaller groups throw stones and burn tires closer to the border fence.
Since protests began in late March, 40 Palestinians were killed and more than 5,511 wounded by Israeli soldiers firing across the border. Rights groups say open-fire regulations are unlawful because they permit troops to use potentially lethal force against unarmed protesters.
The EU urged Israel to stop using deadly force against unarmed protesters, and a senior UN envoy to the region called Israel's deadly shooting of a 14-year-old Gaza boy last week "outrageous."
Hamas has kept the pressure on Israel by at least telegraphing an embrace of nonviolence. For example, top leader Ismail Haniyeh recently spoke against the backdrop of posters of icons such as Nelson Mandela and Martin Luther King Jr.
The senior Hamas officials said the movement has learned from mistakes, such as confronting Israel's powerful military with crude rocket fire. They said Hamas is offering Israel an open-ended truce in exchange for lifting the blockade.
Hamas says it wants to keep its weapons for defensive purposes — a claim undercut by the group's tunnel program. Hamas had built tunnels from Gaza into Israel in recent years, for attacks, before Israel began destroying them.
But Israel and Hamas' main Palestinian rival, West Bank-based President Mahmoud Abbas, are skeptical because of the group's refusal to disarm.
Hamas "is changing its tactics, but it's not changing its nature and strategies," said Palestinian analyst Abdel Majed Sweilem.
Abbas has told Egyptian mediators that he will only return to Gaza if Hamas hands over all powers, including control over weapons. Hamas drove out Abbas' forces a year after it won 2006 Palestinian parliamentary elections.
Organizers say that in addition to compelling an end to the blockade, the marches are meant to press for the "right of return" of refugees and their descendants to what is now Israel.
Hundreds of thousands of Palestinians fled or were driven from their homes in the 1948 war over Israel's creation, and march organizers see May 15, the anniversary of Israel's founding, as a key target day.
Full report at:
http://www.arabnews.com/node/1292316/middle-east
--------
Turkish opposition scrambles to unite against Erdogan
April 27, 2018
ANKARA: Turkey's usually divided opposition parties are trying to unite to maximise their chances of defeating President Recep Tayyip Erdogan after his surprise decision to hold early elections.
Erdogan last week rocked the world of Turkish politics when he said there would be parliamentary and presidential polls on June 24, 2018, more than a year before the expected date of November 3, 2019.
For the opposition, which was initially stumped by the announcement, these elections are a last chance to stop what they describe as Erdogan's authoritarianism.
Following an intense referendum campaign in April 2017, Turks approved by a narrow margin changing Turkey's parliamentary system into an executive presidency giving the head of state expanded powers.
The government insists the changes will ensure political stability, but opponents say it will lead to one-man rule.
Less than a week after the early polls announcement, opposition parties began intense talks to figure out a strategy to stop Erdogan.
In a surprise move of solidarity, the main opposition Republican People's Party (CHP) helped the newest right-wing Iyi ("Good") Party at the weekend, boosting its numbers to form a parliamentary group and thereby allowed to run in the polls.
"What we have done is a contribution to democracy, not just the Good Party," CHP chief Kemal Kilicdaroglu said after the two parties' met again on Wednesday.
With the opposition targeting Erdogan, rumours are rife over who could run against him.
There has been fevered speculation that former president and co-founder of the ruling Justice and Development Party (AKP) Abdullah Gul might become a unity candidate — though he has made no public comment on the rumours.
'Only right-wing challenge'
Already in the presidential race is former interior minister and nationalist Meral Aksener who leads the Good Party.
"Aksener is the only right-wing challenge to Erdogan… She has the ability to take a lot of his voters away," Soner Cagaptay, director of the Turkish Research Program at the The Washington Institute for Near East Policy, said.
"She's a nationalist, she's a conservative, a practising Muslim," Cagaptay said.
According to Berk Esen, assistant professor at the department of international relations at Bilkent University in Ankara, Aksener has begun to appeal to traditional Kurdish groups as well as nationalist CHP voters.
But Cagaptay added that her biggest challenge would be trying to convince Kurdish nationalists that she can be their president as well.
Aksener has held two meetings with CHP chief Kilicdaroglu as well as with the conservative Saadet "Felicity" Party leader Temel Karamollaoglu.
Erdogan on Tuesday dismissed the opposition talks as an attempt to form "an anti-Erdogan alliance with behind-the-scenes bargaining".
'Well-founded' Gul rumours
Esen said Gul rumours were "well-founded" as the Saadet Party has been "pushing" for his candidacy, adding that there was also some support from the CHP leadership.
However, CHP officials have privately speculated about how popular Gul would be among their supporters because of his unwavering support for Erdogan in previous years.
"Both the leftist and nationalist factions of the CHP are heavily opposed to Gul," Esen said, adding: "As for my personal view, I do not think that Gul can energise the opposition voters given his complacent attitude while he was president."
Some prominent CHP members have clearly come out against Gul.
"Enough… We're sick to death of this. The whole purpose is to create a debate inside the party and lower our morale. There has been no Gul on CHP's agenda, now there isn't and there won't be," CHP parliamentary group chairman Ozgür Ozel said on Wednesday. --------
There is also scepticism over whether Gul will run since he has never before dared to challenge Erdogan.
Kurds left out
While the Gul rumours persist, one party appears to have been left out of opposition talks: the pro-Kurdish Peoples' Democratic Party (HDP).
When Erdogan was first elected as president in August 2014, then HDP co-chief Selahattin Demirtas ran against him winning nearly 10 percent of the vote.
But in November 2016, the charismatic Demirtas was imprisoned over alleged links to Kurdish militants, which he denies.
The HDP says his detention is due to his strong opposition to the new system.
Despite the difficulties, co-chair Sezai Temelli told the Hurriyet daily this week that Demirtas was among its potential candidates.
Full report at:
http://www.freemalaysiatoday.com/category/world/2018/04/27/turkish-opposition-scrambles-to-unite-against-erdogan/
--------
Iran has recruited 80,000 Shiite fighters in Syria, says Israeli envoy
26 April 2018
Israel's envoy to the United Nations said on Thursday that Iran had recruited at least 80,000 Shiite fighters which it was training at a base just over five miles from Damascus.
Holding up a map, Israeli Ambassador to the United Nations Danny Danon told the Security Council that Iran had set up a training base just over five miles from Damascus.
"What you can see here is Iran's central induction and recruitment centre in Syria. There are over 80,000 Shia militants in Syria under Iranian control. It is at this base, just over five miles from Damascus, where they are trained to commit acts of terror in Syria and across the region," Danon said.
https://english.alarabiya.net/en/News/middle-east/2018/04/26/Iran-has-recruited-80-000-Shiite-fighters-in-Syria-says-Israeli-envoy.html
--------
Lieberman says Israel will hit Tehran if Iran attacks Tel Aviv
26 April 2018
Israel would retaliate against any Iranian attack on Tel Aviv by striking Tehran, Israel's defense minister said in remarks published on Thursday, as the arch-foes faced off over Syria.
The comments by Avigdor Lieberman were an unusually explicit Israeli threat to take military action within Iranian territory, and followed a surge of unprecedented confrontations between the countries' forces in civil war-torn Syria.
"Israel doesn't want war ... but if Iran attacks Tel Aviv, we will hit Tehran," Avigdor Lieberman told the Arabic-language, Saudi-owned news website Elaph, which is based in London.
Coastal Tel Aviv is Israel's commercial capital, where its military is headquartered. Iran, which does not recognize Israel's right to exist, often threatens strikes on Tel Aviv.
An Israeli-Iranian showdown has loomed since Feb. 10, when Israel said an armed drone sent from a Syrian base penetrated its air space. Israel blew up the drone and carried out a raid on Syrian air defenses in which one of its F-16 jets was downed.
On April 9, an air strike killed seven Iranian Revolutionary Guards Corps members at the Syrian base. Tehran blamed Israel and vowed unspecified retaliation, drawing Israeli counter-threats to broaden attacks on Iranian military assets in Syria.
The Israelis say their strikes aim to prevent Iran's garrison in Syria from entrenching itself deeper in support of President Bashar al-Assad and linking with Hezbollah in Lebanon to form a broad front against them.
Full report at:
https://english.alarabiya.net/en/News/middle-east/2018/04/26/Lieberman-says-Israel-will-hit-Tehran-if-Iran-attacks-Tel-Aviv-.html
--------
UN envoy calls for action before new Israeli war engulfs Gaza
Apr 27, 2018
The United Nations' top envoy to the Middle East has called on the international community to help prevent another war in the Gaza Strip, as Israeli military forces continue to brutally crack down on peaceful anti-occupation rallies near the border.
Nikolay Mladenov, the world body's Special Coordinator for the Middle East Peace Process, told the UN Security Council on Thursday that Gaza had turned into "a powder keg" and that the world "must do everything possible to prevent another war" between Israel and the Palestinians.
Such a military confrontation, he said, might go on to include other countries in the region.
Protests along the Gaza border since March 30 have led to clashes with Israeli forces, who have killed at least 38 Palestinians and injured hundreds of others.
The rally, dubbed the "Great March of Return," will last until May 15, which coincides with the 70th anniversary of Nakba Day (Day of Catastrophe) on which Israel was created.
Israel has already launched several wars on the besieged Palestinian coastal sliver, the last of which began in early July 2014. The military aggression, which ended on August 26, 2014, killed nearly 2,200 Palestinians. Over 11,100 others were also wounded in the war.
Mladenov warned that the new escalation had further dimmed the prospects for a solution to the Israeli-Palestinian conflict, "emboldening extremists and deepening polarization and mistrust on all sides."
Referring to the growing number of regional conflicts rooted in extremism, the UN envoy said, "The Israeli-Palestinian conflict remains a perpetual source of oxygen for militants and radicals across the Middle East."
Mladenov said there was no military solution to the conflicts across the Middle East, adding that de-escalation was critical "in this highly charged and dangerous environment."
He urged everyone in the region "to step back from the brink."
Every year on Nakba Day, Palestinians all over the world hold demonstrations to mark the anniversary of the forcible eviction of hundreds of thousands from their homeland by Israel on May 14, 1948.
More than 760,000 Palestinians were forced out of their homes on that day. Today, the number is estimated to have surpassed five million, including their descendants.
Israel has so far denied the Palestinians the right to return to their homeland, ignoring numerous UN resolutions and international laws.
Full report at:
http://107.189.40.42/Detail/2018/04/27/559825/UN-Mladnov-Palestine-Gaza-rallies-Israel
--------
HRW slams Israel's demolition of Palestinian schools in West Bank as 'war crime'
Apr 26, 2018
Human Rights Watch (HRW) has denounced the demolition of Palestinian schools by orders of Israeli authorities in the occupied West Bank, saying the move is part of a discriminatory planning system which amounts to a war crime.
"Israel has repeatedly denied Palestinians permits to build schools in the West Bank and demolished schools built without permits, making it more difficult or impossible for thousands of children to get an education," the US-based rights organization said in a detailed statement on Wednesday.
It added that at least 44 Palestinian schools were at the risk of being fully or partially demolished as the Israeli authorities said they had been built "illegally."
HRW also said Israeli military authorities, since 2010, had razed or seized Palestinian school buildings or property in the occupied territory at least 16 times, 12 of which occurred since 2016, adding that they had repeatedly targeted some schools.
"Israeli authorities have been getting away for years with demolishing primary schools and preschools in Palestinian communities," said Bill Van Esveld, senior children's rights researcher at HRW, adding, "The Israeli military's refusal to issue building permits and then knocking down schools without permits is discriminatory and violates children's right to education."
The statement further said that the demolitions were consistent with other measures the Tel Aviv regime had adopted to make "communities unviable," including home demolitions and refusal to zone communities or give them access to utilities like water and electricity.
The so-called Area C, which constitutes about 61 percent of the entire West Bank, is directly controlled by the Coordinator of Government Activities in the Territories (COGAT).
The so-called COGAT is a unit in the Israeli military that engages in coordinating civilian issues between the Israeli regime, the Israeli military, international organizations, diplomats and the Palestinian Authority.
The COGAT demands permits for new building projects, but the majority of planning requests are firmly rejected, leaving international donors and Palestinians alike with no choice but to construct new buildings anyway.
"Israeli officials should be on notice that razing dozens of Palestinian schools not only can block children from getting an education, but may be an international crime," Van Esveld further said, adding, "As part of their efforts to support Palestinian schools, other countries should demand that those destroying schools should be held to account."
According to the Fourth Geneva Convention and the Rome Statute of the International Criminal Court, widespread and unlawful destruction of property is prohibited and regarded as a war crime.
In August last year, Israeli authorities destroyed or inflicted heavy damage on at least three educational facilities for Palestinian children in the Area C in the course of two weeks.
About 600,000 Israelis live in over 230 settlements built illegally since the 1967 occupation of the Palestinian territories.
The continued expansion of Israeli settlements is one of the major obstacles to the establishment of peace in the Middle East.
In recent months, Tel Aviv has stepped up its settlement construction activities in the occupied Palestinian lands in a blatant violation of international law and in defiance of United Nations Security Council Resolution 2334.
Full report at:
http://107.189.40.42/Detail/2018/04/26/559798/Palestine-Israel-HRW-schools-West-Bank-demolition
--------
Romania PM says moving embassy to Jerusalem al-Quds lacks support
Apr 26, 2018
Romanian Prime Minister Viorica Dancila has dismayed Israeli officials by saying that her administration is unable to move the country's embassy in the occupied Palestinian territories from Tel Aviv to Jerusalem al-Quds, noting many in Romania are opposed to the potential move.
"This is our wish, but unfortunately we do not have support from all parties as we would like," Dancila said Thursday in a meeting with Israeli President Reuven Rivlin during a visit to the occupied Palestinian territories.
The Romanian premier said a real relocation of her country's embassy to Jerusalem al-Quds would not be actually possible and her administration was simply trying to create a "platform for discussions" on the issue.
Senior authorities in the eastern European country have been locked in a dispute over the transfer of Romania's embassy in recent days.
Romanian President Klaus Iohannis has protested a decision by Liviu Dragnea, who leads the ruling Social Democratic Party (PSD), to move the embassy from Tel Aviv to Jerusalem al-Quds.
Iohannis, from Romania's center-right, has frequently clashed with the left-wing PSD. He said after the embassy move announcement earlier this week that he had not been informed about the decision, insisting that any relocation of the Romanian embassy would be possible after a broad agreement between the Palestinians and the Israelis on the status of Jerusalem al-Quds.
Israel has been controlling the eastern part of Jerusalem al-Quds since it occupied the area in the Six-Day War in 1967 and later annexed it in a move never recognized by the international community.
Palestinians want the eastern part of the city as the capital of a future independent Palestinian state.
The decision by Romania's PSD to relocate the embassy comes after US President Donald Trump declared in December 2017 that his administration recognized Jerusalem al-Quds as Israel's capital.
Full report at:
http://107.189.40.42/Detail/2018/04/26/559797/Romania-Israel-Palestine-embassy-relocation
--------
Two Palestinian youths shot by Israeli troops
April 26, 2018
GAZA: Two Palestinian youths were shot on Wednesday night by Israeli troops in the town of Halhoul, north of the West Bank city of Hebron, according to Palestinian news agency WAFA.
WAFA quoted security sources as saying that Israeli forces opened fire on a Palestinian vehicle at the entrance to the town of Halhoul, and that two youths were injured as a result.
Ahmed 'Issa' Abd Al-Halim Zamara was shot in the back four times and Muhannad Khalid Shahda Al-Douda's hand was shot at. They were both taken to hospital and received treatment.
WAFA also reported that five Palestinians from the West Bank were arrested on Thursday morning.
http://www.arabnews.com/node/1292161/middle-east
--------
Pakistan
Soldier martyred, three terrorists killed in Mohmand Agency
April 27, 2018
RAWALPINDI: A soldier of Pakistan Army embraced martyrdom after terrorists opened fire at the Pakistani border post in Mohmand Agency on Thursday.
A statement issued by Inter-Services Public Relations (ISPR) said that terrorists from across the border targeted a border post in Mohmand Agency martyring a Pakistani soldier.
The Pakistani troops effectively responded to the cross-border attack and killed three terrorists during an exchange of fire, the statement said.
https://www.pakistantoday.com.pk/2018/04/26/soldier-martyred-three-terrorists-killed-in-mohmand-agency/
--------
Pakistani Court Bans Lawmaker in Latest Blow to Governing Party
April 26, 2018
ISLAMABAD, Pakistan — A Pakistani court on Thursday disqualified the country's foreign minister from Parliament for concealing foreign assets, a setback to the governing party just months before the country heads to general elections.
The official, Khawaja Muhammad Asif, who also received a lifetime ban from holding public office, is a close ally and confidant of the ousted Prime Minister Nawaz Sharif, of the Pakistan Muslim League-Nawaz party. Its main rival is the Pakistan Tehreek-e-Insaf party, which is led by Imran Khan, a former cricketer.
The Muslim League has suffered a series of recent blows, including Mr. Sharif's own dismissal from office last year and corruption inquiries into several of Mr. Sharif's close aides. Mr. Sharif has accused the judiciary of bias, saying that while the courts have actively pursued cases against his loyalists, they have been lenient toward his political rivals.
The charges against Mr. Asif originated with a political rival from Mr. Asif's home constituency in a district in eastern Pakistan. The rival, Usman Dar, filed a petition alleging that Mr. Asif possessed a work permit for the United Arab Emirates and had not disclosed it in election nomination papers. Under Pakistani law, a candidate has to disclose all foreign and local assets to be able to run for Parliament.
Justice Athar Minallah, who led a three-member panel of the Islamabad High Court, said in his decision that Mr. Asif was ineligible to hold public office because he had not fully disclosed his employment and salary with a firm in the Middle East. The court also relied on a controversial article of the Constitution requiring lawmakers to be "honest and righteous."
Mr. Asif, a veteran politician who strongly favors civilian supremacy over the military's traditional dominance in the country, promised an appeal to the Supreme Court. But political observers said it was unlikely to succeed.
The Supreme Court ousted Mr. Sharif in a controversial decision last year after a corruption investigation involving him and his two sons and daughter. The inquiry was initiated after disclosures made in the Panama Papers pointed to expensive residential properties in London owned by the Sharif family.
Mr. Sharif and his children deny any wrongdoing.
In recent months, the judiciary, spearheaded by the chief justice Mian Saqib Nisar, has also taken an increasingly assertive role, which Mr. Sharif and his allies say is politically motivated. The elections are on July 15.
Mr. Sharif has also accused the country's powerful military and judiciary of working together to have him ousted. Both the military and the judiciary deny the allegations. Mr. Sharif had tried unsuccessfully to impose civilian supremacy in areas long run by the powerful military, including foreign and defense policies.
Mr. Dar, the petitioner against Mr. Asif, belongs to Mr. Khan's political party.
Full report at:
https://www.nytimes.com/2018/04/26/world/asia/pakistan-foreign-minister-ousted.html
--------
Militant Commander 'Pistol Mullah' Killed In Afghanistan Drone Attack
BY SHAMIM SHAHID
April 27, 2018
PESHAWAR: Hazrat Ali, the notorious militant commander from Khyber Agency, commonly known as 'Pistol Mullah' (Tumanchay Mullah) was killed in a US drone attack in the Khogyani district of border Nangarhar province of Afghanistan.
News of Pistol Mullah's death reached his village and relatives at the Landi Kotal Khyber Agency late Tuesday night. However, he was killed in the drone attack on Monday.
Hazrat Ali was the chief commander of Abdullah Ezzam Brigade, an affiliated militant wing of the banned Tehreek-e-Taliban Pakistan (TTP). This group was engaged in deadly terrorist attacks on NATO supplies throughout Khyber Agency from Peshawar till Torkham. A large number of drivers and their assistants were also killed in the attack.
Besides targeting NATO supplies, Abdullah Ezzam Brigade had claimed responsibilities for deadly attacks against anti-polio volunteers and their security guards in Jamrud Tehsil of Khyber Agency. Abdullah Ezzam Brigade was also involved in a number of kidnapping acts, including former ambassador-designate of Afghanistan to Pakistan Abdul Khaliq Farahi, Iranian diplomat, former Pakistan ambassador to Afghanistan Tariq Aziz Ud Din and others.
Tribesmen in Landi Kotal informed that there is no information regarding the burial of Pistol Mullah as most of his family members went underground.
One of Hazrat Ali's brothers, who after launching of military actions Khyber One in 2014, was also killed in a similar US-led allied troops action across the border in Afghanistan.
Full report at:
https://www.pakistantoday.com.pk/2018/04/26/militant-commander-pistol-mulla-killed-in-drone-attack-near-afghanistan/
--------
Rs1.73bn approved to subsidise prices of essential items in Ramazan
April 27, 2018
ISLAMABAD: The Economic Coordination Committee (ECC) of the Cabinet has allowed raising of Rs100 billion in commercial loans to bail out the ailing power sector and approved a Ramazan Package worth Rs1.73bn to provide essential items to people at subsidised rates.
A meeting of the ECC presided over by Prime Minister Shahid Khaqan Abbasi on Thursday also allowed seven-month extension in financial closing date for the Lahore-Matiari Transmission Line Project.
The ECC approved the Ramazan Relief Package 2018 for 19 daily-use items provided by the Utility Stores Corporation, including flour, sugar, cooking oil, ghee, grams, dates, rice, squashes, milk and tea.
The government would provide a subsidy of Rs1.733bn under the package. The prime minister directed that under the initiative items of daily use be provided to the poor at prices lower than market rates.
The ECC approved a proposal of the power division for raising Rs100bn through commercial banks as a fresh financing facility to be arranged through the Power Holding Private Ltd. The loan amount would be utilised for funding the liabilities of the power distribution companies towards the Central Power Purchasing Agency and the sectoral entities — power producers and fuel suppliers.
Last month, the government raised Rs80bn for the power sector for payments to electricity producers and fuel suppliers, of which Rs53bn reached the power producers and fuel suppliers while the remaining Rs27bn was adjusted against interest payments.
The ECC approved extension in the financial closing date of 660KV HVDC Matiari-Lahore Transmission Line by seven months, that is up to Dec 1, without doubling the amount of performance guarantee. The decision has been taken to align the project with the completion of upcoming coal-fired power projects being developed at Thar and near Karachi as well as the 1,100MW K-2 nuclear project in Karachi.
The meeting approved revision of cess rates of tobacco for the year 2017-18. The ECC also allowed the Pakistan Agricultural Services and Storages Corporation to export 0.5 million tons of surplus wheat at a rebate of $155 per ton through sea route.
Ecnec meeting
PM Abbasi also presided over a meeting of the Executive Committee of the National Economic Council (Ecnec) at the PM Office and approved three development projects having a total outlay of Rs331bn.
The projects include the Mohmand Dam Hydropower Project, which will be developed at a cost of Rs309.5bn and which has been made part of the next year's development programme. The dam will be a multi-purpose project, which besides producing 800MW of electricity, will have a storage capacity of 1,594 million cubic metres of water that may be used for irrigation, flood mitigation and supply of drinking water to Peshawar and the Federally Administered Tribal Areas.
Ecnec also approved construction of infrastructure and allied works for metro bus services from the Peshawar Morr in federal capital to the new Islamabad airport (25.6km) at a cost of Rs16.42bn. The project will provide affordable and convenient transport to passengers using the new airport.
Full report at:
https://www.dawn.com/news/1404116/rs173bn-approved-to-subsidise-prices-of-essential-items-in-ramazan
--------
Decision on Fata should be taken by people: Fazl
April 27, 2018
KOHAT: Chief of his own faction of the Jamiat Ulema-i-Islam (JUI-F) Maulana Fazlur Rehman said on Thursday that the decision about the future of Fata (Federally Administered Tribal Areas) should be taken by its people.
Speaking at a convention of clerics here, he said the tribal people had never accepted slavery and they were able to take a right decision about the future of Fata.
The JUI-F chief said that Pakistan's economic and defence policies should not be made under duress of the United States' leaders. The US, he added, was against Pakistan's increasing relationship with China.
The Maulana severely criticised the policies of Pakistan Tehreek-i-Insaf (PTI) and the performance of the party-led government in Khyber Pakhtunkhwa. He accused the PTI leadership of promoting western culture in Pakistan.
https://www.dawn.com/news/1404140/decision-on-fata-should-be-taken-by-people-fazl
--------
South Asia
Taliban and Al-Qaeda militants suffer heavy casualties in Nangarhar
Apr 26 2018
The anti-government armed militants including a member of the Al-Qaeda terrorist network and some other foreign insurgents suffered heavy casualties during separate operations and clashes in Nangarhar province.
The provincial government media office in a statement said the Afghan intelligence Special Forces conducted a night operation on a compound of the militants in Shirzad district on Wednesday night, leaving at least six militants dead, including a member of the Al-Qaeda terrorist network.
The statement further added that another militant was wounded and four others including two Taliban militant were arrested and two motorcycles along with some weapons and ammunition were destroyed.
In the meantime, separate clashes broke out in Lalpur and Ghani Khel districts late on Wednesday night which left at least 11 local and foreign insurgents dead or wounded.
According to the local officials, at least four militants were killed and five others were wounded during the clash in Ghani Khel district.
At least two foreign insurgents identified as Jahanzeeb and Daud Shah were killed during the clash in Lalpur district, the officials added.
https://www.khaama.com/taliban-and-al-qaeda-militants-suffer-heavy-casualties-in-nangarhar-04992/
--------
Bangladesh Prepares Rohingya Camps for Cyclone Season
By MUKTADIR RASHID
26 April 2018
DHAKA, Bangladesh – The Bangladesh government in cooperation with local and international humanitarian agencies is taking steps to prepare the community of Rohingya refugees camped on the outskirts of Cox's Bazar for the coming monsoon season.
Officials are also seeking to allay concerns among the refugees about a plan to move many of the Rohingya to an island in the Bay of Bengal, insisting that relocation to the site would be done on a voluntary basis.
Meanwhile, aid group Médecins Sans Frontières has warned that the refugees' current shelter provisions were insufficient for extreme weather conditions and said it was bracing for "mass-casualty scenarios."
Bangladesh disaster-management officials said they had already taken the necessary measures to cope with heavy rains and flash floods. Their main concern now is the damage that a cyclone would inflict upon the makeshift structures housing densely populated Rohingya camps in areas in Ukhiya and Tekhnaf sub-districts of Cox's Bazar.
UN agencies have also initiated a number of special safety measures ahead of the rainy season.
A government survey found that 133,000 Rohingya people are at critical risk – the highest level – in the event of floods, cyclones and landslides.
Bangladesh, the UN High Commissioner for Refugees and their partners are taking urgent steps to better protect nearly 80,000 people deemed at greatest risk of flooding in the area, and 23,000 threatened by landslides.
The UNHCR and other groups currently provide 80,000 families in the camp with bamboo poles and tarpaulins to construct flimsy shelters. However, the tarpaulins covering many shanties already require repairs, said Sirajul Mostafa, the chairman of a camp management committee at Kutupalang.
Habibul Kabir Chowdhury, head of the Bangladesh Disaster Management and Relief Ministry's Rohingya unit, said he was more worried about cyclones than landslides and flash floods. "Our major concern is cyclones, although we have identified a number of facilities including schools for use as shelters in an emergency," he said.
Kabir told The Irrawaddy that the government's cyclone-warning system could provide five days' notice ahead of a cyclone making landfall.
The Bangladesh Red Crescent Society has prepared an emergency contingency plan for the upcoming monsoon season. Some 300 volunteers have been trained in first aid, and search-and-rescue.
In June 2017, heavy monsoon rains triggered a series of landslides and floods in Rangamati, Chittagong and Bandarban, three hilly districts near Cox's Bazar, the town currently hosting hundreds of thousands of Rohingya refugees. The slides and floods killed over 150 people.
According to ReliefWeb, which monitors global crises and disasters, Cox's Bazar has been hit by cyclones every year for the past three years: Cyclone Mora in May 2017, Cyclone Roanu in May 2016, and Cyclone Komen in July 2015.
In Bangladesh, the pre-monsoon hot season, which brings some rain, usually lasts from March through May. The main monsoon season lasts from June through October, and often sees flooding.
Cyclones generally strike Bangladesh in March through July and September through December, with the greatest number of storms in May and October.
UNICEF, meanwhile, is providing GPS-enabled bracelets to around 250,000 Rohingya children so their families can trace them should they become separated during emergencies.
UNICEF Bangladesh spokesperson AM Sakil Faizullah told The Irrawaddy the agency aims to provide the bracelets to all children up to the age of 12.
"With the bracelet, anyone can be easily traced in any circumstances," Sakil said. He hoped they would start distribution by May.
UNICEF officials said that 5,000 Rohingya children had already been separated from parents and relatives during the violence that forced them to leave Rakhine State. Many of these children were now roaming Cox's Bazar in search of their loved ones.
From September to November 2017, the Bangladesh Social Services Department registered 36,373 Rohingya children who had been separated from at least one parent during the exodus. Some 7,771 had lost both parents.
Over 688,000 Rohingya have entered Bangladesh since Aug. 25, 2017, in what the UN describes as the world's fastest-developing refugee emergency.
The field officer for Médecins Sans Frontières' Bangladesh Mission, Mostafa Mohammad Sazzad Hossain, said, "The approaching monsoon rains and other natural hazards may lead to deaths in the camps, with hundreds of thousands of Rohingya and members of the host community at risk of disease outbreaks and aid disruptions. Current shelters and structures are unable to withstand extreme weather conditions such as heavy flooding or cyclones, and do not sufficiently meet the protection needs of the most vulnerable refugees. MSF is preparing for mass-casualty scenarios.
"MSF expects to see cases of injured people and likely fatalities resulting from heavy winds and landslides. Due to the poor infrastructure in the camp, access to our health posts and clinics will be even more difficult for patients, as well as healthcare staff. Access to safe drinking water is a priority and MSF is rehabilitating latrines and water distribution networks, as well as setting up bucket chlorination points."
'No forced relocations'
According to Agence France-Presse, authorities in Dhaka earlier said about 100,000 refugees from the persecuted Muslim minority would be shifted to an island in the Bay of Bengal where the Bangladesh Navy is building housing that can withstand cyclones.
A number of Rohingya community members told The Irrawaddy they are afraid of being shifted to the island, however.
"Yes, we know the fear of being shifted to Bhasanchar persists among the community… but, none will be taken there forcibly," said Habibul Kabir, the Rohingya unit chief.
Kabir said officials would visit Bhasanchar along with representatives of humanitarian agencies in the first half of May to get a clear picture of the proposed relocation process.
Rohingya community leader Sirajul Mostafa said he had not officially been told about the relocations to Bhasanchar, but he had heard rumors.
Full report at:
https://www.irrawaddy.com/news/bangladesh-prepares-rohingya-camps-cyclone-season.html
--------
EU extends Myanmar arms embargo, prepares individual sanctions
April 26, 2018
These personal sanctions could include travel bans and asset freezes
The European Union on Thursday extended its arms embargo against Myanmar, following human rights violations in the country, and was preparing sanctions against individual army officials.
The embargo includes arms, other equipment that could be used for repression, the provision of military training and products used to monitor communications, the Council of the European Union said.
The Council added it had agreed on a framework for personal sanctions against officials of the Myanmar Armed Forces and the border guard police, should human rights violations in the country continue.
These personal sanctions could include travel bans and asset freezes, the Council said.
The EU accuses Myanmar of "serious and systemic" human rights violations in a military operation in the country's northwest last year that sent nearly 700,000 Rohingya Muslims fleeing to neighbouring Bangladesh.
The move follows similar measures by the United States and Canada.
Two Reuters journalists were jailed while reporting the army crackdown on the Rohingya and remain in prison in Yangon, where they face up to 14 years in jail for violating Myanmar's Official Secrets Act.
Full report at:
https://www.dhakatribune.com/world/south-asia/2018/04/26/eu-extends-myanmar-arms-embargo-prepares-individual-sanctions/
--------
Logar's deputy governor killed in Taliban ambush
Apr 26 2018
The deputy provincial governor of the central Logar province Qamaruddin Shakib was killed in Taliban's ambush in the vicinity of Logar province.
According to the local officials, Mr. Shakib was ambushed in the vicinity of Mohammad Agha district as he was travelling to Kabul.
The officials further added that a number of other officials including the spokesman of the provincial governor of the province were also wounded.
An Afghan lawmaker representing Logar in the Lower House Akbar Stanikzai confirmed the attack on deputy governor of Logar.
Stanikzai further added that the deputy governor was on his way to Kabul when he was ambushed a number of Taliban insurgents in the vicinity of Mohammad Agha district.
In the meantime, the security sources are saying that four security guards of the deputy governor were also wounded in the attack.
The anti-government armed militant groups including Taliban insurgents have not commented regarding the report so far.
Full report at:
https://www.khaama.com/logars-deputy-governor-killed-in-taliban-ambush-04994/
--------
Pak-Afghan National Security Advisors hold talks on bilateral issues
Apr 26 2018
The Afghan National Security Advisor Mohammad Hanif Atmar met with his Pakistani counterpart on the sidelines of the 9th International Meeting of High Representatives for Security Issues in the Russian city of Sochi.
The Office of the National Security Advisor in a statement said Mr. Atmar and his Pakistani counterpart Gen. Nasir Janjua held talks regarding the bilateral issues, specifically the bilateral agreement consisting seven principles reached during Prime Minister Shahid Khaqan Abbasi's visit to Kabul.
Atmar told his counterpart that an action plan should be made in order to take practical steps regarding the implementation of the agreement.
He said the environment of trust on government level can only be achieved when practical steps are taken regarding the agreed principles.
In his turn, Gen. Janjua welcomed the proposal for the formation of an action plan and assured his Afghan counterpart that practical steps will be taken in this regard.
Prime Minister Abbasi arrived in Kabul together with a delegation of senior civilian and military officials to meet with the Afghan officials.
Full report at:
https://www.khaama.com/pak-afghan-national-security-advisors-hold-talks-on-bilateral-issues-04991/
--------
North America
Saudi ambassador to US: Hard to see a path to a trustworthy dialogue with Iran
27 April 2018
The Saudi ambassador to the United States, Prince Khalid bin Salman, responded to Iran's continuing denial, through its foreign minister Javad Zarif, of its involvement in supplying the Houthi militias with missiles.
He emphasized that the denial is another occasion to proof that the dialogue and building confidence with the Iranian regime, is very difficult.
He said in a tweet "this is a constant with the Iranian regime; when faced with evidence of their destabilizing and illegal activities they react with denials and accusations of fabrication. It's hard for us to see a path to a trustworthy dialogue with such behavior."
Prince Khalid was commenting on Iranian Foreign Minister Mohammad Javad Zarif interview, in which he claimed that the recovered missile fragments presented by the US as a proof against his country, was "little more than cheese puffs."
Zarif, in an Associated Press interview, said that one such logo was from the Standard Institute of Iran, which he said regulates consumer goods - not weapons.
The United States stood by its claims, pointing out that the evidence Haley presented went far beyond a single logo.
"The evidence in the Iranian Materiel Display is not fabricated," said Defense Department spokeswoman Laura Seal. She said the U.S. had shown the evidence to 65 countries, allowing the world to "assess the evidence for themselves."
Some of the fragments Haley presented mplicate Iran's military industry more directly, including some with the logos of Shahid Bakeri Industrial Group and Shaheed Hemat Industries Group, Iranian defense entities under U.S. sanctions. Others had what Haley called "Iranian missile fingerprints," such as short-range ballistic missiles that lacked large stabilizer fins - a feature she said only Iran's Qiam missiles have.
Haley's office responded to Zarif's comments by calling the evidence of illegal Iranian weapons shipments "overwhelming and beyond dispute."
"The fact that the Iranian regime insists on lying about that only highlights its lack of trustworthiness on every international agreement it is party to," the U.S. Mission to the U.N. said.
Prince Khalid's comments came after Saudi Arabia's UN envoy Abdullah al-Muallami, on Thursday, called on the UN Security Council "to take a firm stand on Iran's aggressive practices."
"Iran continues to support the armed militias in Yemen and Syria," he said in a speech to the Security Council in New York on the situation in the Middle East.
"Iran is exerting its flagrant interference in the Arab countries, spreading and financing terrorism, and is the first supporter of Hezbollah, which controls Lebanon and carries out terrorist operations in Syria," he said.
"Tehran supports the Houthi militias with weapons and missiles that target Saudi Arabia," he said, referring to expert reports that the missiles that hit Saudi Arabia were made by Iran.
https://english.alarabiya.net/en/News/world/2018/04/27/Saudi-ambassador-to-US-Hard-to-see-a-path-to-a-trustworthy-dialogue-with-Iran.html
--------
US would 'probably regret' lack of holding force in Syria, says Mattis
27 April 2018
US Defense Secretary Jim Mattis said on Thursday the United States would "probably regret" not keeping a holding force in Syria to ensure that ISIS militants did not re-emerge, the latest sign that a total US withdrawal was unlikely.
US President Donald Trump on Tuesday said he wants to withdraw American troops from Syria relatively soon but also appeared to temper that position by voicing a desire to leave a "strong and lasting footprint."
A footprint, in military-speak, usually refers to a US troop presence.
Mattis did not offer any clear indication of how long US troops would remain in Syria or hint at future troop levels, stressing the ongoing mission to train local forces to combat ISIS.
"We have to create local forces that can keep the pressure on any attempt by ISIS to try to (re-emerge)," Mattis told a Senate Armed Services Committee hearing, using an acronym for ISIS.
When asked whether it would be risky to have local holding partners without US forces, Mattis said: "I am confident that we would probably regret it."
Longer term US effort
The Pentagon and State Department have held that a longer term US effort will be needed to ensure a lasting defeat of ISIS. The group seized large swathes of Syria and Iraq but has gradually lost its territory since the United States and its allies started a military offensive in 2014.
Some of the harshest critics of a potential withdrawal from Syria come from Trump's own Republican party, which blasted President Barack Obama when he withdrew US from Iraq in 2011. Iraqi forces began to unravel and eventually collapsed in the face of ISIS's advance into the country in 2014.
"We learned that the Iraqi forces weren't capable of providing security inside the country and that gave the enemy an opportunity to resurge, that is where really ISIS had the space to grow," US Marine General Joseph Dunford, the chairman of the Joint Chiefs of Staff, told the hearing.
US airstrikes, troops and US-backed Syrian militias have dealt heavy blows to ISIS in Syria but the group still holds pockets of territory and is widely expected to revert to guerrilla tactics if the last remnants of its once self-styled "caliphate" are captured.
Mattis said he expected a "re-energized" effort against ISIS militants in eastern Syria in the coming days.
Full report at:
https://english.alarabiya.net/en/News/middle-east/2018/04/27/US-would-probably-regret-lack-of-holding-force-in-Syria-says-Mattis.html
--------
Three US senators move to block F-35 transfers to Turkey
Apr 26, 2018
Three US senators have introduced a resolution aimed at blocking the transfer of Lockheed Martin's F-35 Joint Strike Fighter to Turkey, which is a NATO ally of the United States.
The bill against the transfer of the high-tech, radar-evading American aircraft was introduced by Republicans James Lankford and Thom Tillis, and Democrat Jeanne Shaheen on Thursday.
The three senators issued a joint statement in which they raised fears that Turkish President Tayyip Erdogan had embarked on a "path of reckless governance and disregard for the rule of law."
"Turkey's strategic decisions regrettably fall more and more out of line with, and at times in contrast to, US interests. These factors make the transfer of sensitive F-35 technology and cutting-edge capabilities to Erdogan's regime increasingly risky," Lankford said in the statement.
The measure comes at a time of deteriorating relations between the United States and Turkey over American backing for Kurdish fighters in north Syria.
Turkey started operation Olive Branch in Syria in late January with an alleged aim of pushing back Kurdish militants, known as the YPG, from the city of Afrin and surrounding areas. The Turkish military finally captured Afrin's central neighborhood after more than two months of fighting, which inflicted relatively heavy losses on its ranks.
The United States and its European allies, who support the Kurds, have criticized the operation. Turkey, however, has vowed to press ahead with attacks on positions of the YPG, which it sees as an arm of the outlawed militants of the Kurdistan Workers' Party (PKK) at home, until the entire territories west of the Euphrates River and Turkey's border in the south are secured.
On Tuesday, Erdogan rejected calls for to stop the controversial military operation in Syria, saying the fight would continue as part of Ankara's broader crackdown on Kurdish militants.
"We will continue to do what is necessary for our nation's tranquility. We will also do what is necessary in the northern part of Syria," said Erdogan while addressing members of his ruling AK party in Ankara.
Full report at:
http://107.189.40.42/Detail/2018/04/26/559816/Three-US-senators-move-to-block-F35-transfers-to-Turkey
--------
URL: https://www.newageislam.com/islamic-world-news/candidate-upcoming-iraq-elections-claims/d/115070
New Age Islam, Islam Online, Islamic Website, African Muslim News, Arab World News, South Asia News, Indian Muslim News, World Muslim News, Women in Islam, Islamic Feminism, Arab Women, Women In Arab, Islamophobia in America, Muslim Women in West, Islam Women and Feminism