New Age Islam News Bureau
25 Sept 2019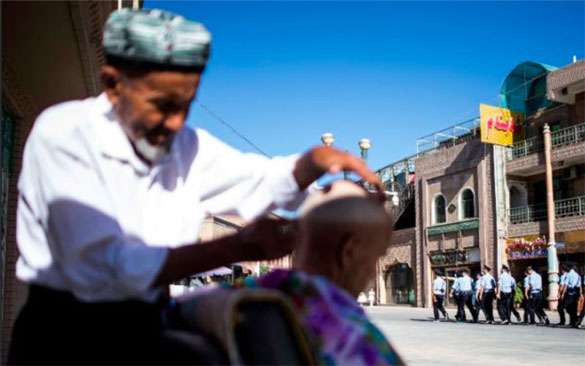 The US invites countries to end China's repression on Uighurs. (AFP pic)
-----
• US Leads Condemnation of China for 'Horrific' Repression of Muslims
• 'FBI': Muslim Agent Blames FBI Procedure for Radicalizing Muslim Youths
• France Welcomes the Saudis, Condemns Critics of Islam
• A New Twist in Ayodhya Title Dispute: Muslim Parties Accept Ram Chabutra as Birthplace of Lord Ram
• The Dialogue between Christianity and Islam "Should Not Eliminate Differences, But Start from Them: Fr Rapacioli, Missionary in Bangladesh
• Turkey Is Now A Haven For Terrorists And An Enabler Of Terrorism
• Netanyahu, Gantz In Unity Talks; May Rotate As Israel PM
• Amanah Leader Doubts PAS-Umno's Race, Religion Appeal Will Resonate In Malaysia
Pakistan
• Campaign Launched To Ascertain Exact Number of Hindus in Pakistan
• Trump Asked Me to Mediate With Iran: Imran Khan
• 19 killed, over 300 injured in PoK after earthquake jolts north Pakistan
• Pakistan, S Arabia enjoying best relations: Saudi envoy
• Treason case against Musharraf to be heard daily
• Time for 'puppet' Imran Khan to go, Bilawal Bhutto tells Pakistan Army
--------
North America
• US Leads Condemnation of China for 'Horrific' Repression of Muslims
• 'FBI': Muslim Agent Blames FBI Procedure for Radicalizing Muslim Youths
• Muslim Americans Testify On Effects of Trump's Travel Ban
• American Jews and American Muslims Have a Common Antagonist
• US jazz singer 'blessed' to be Muslim
• U.S. Joins 19 Nations, Including Saudi Arabia And Russia: 'There Is No International Right To An Abortion'
• Trump is right to counter Iran's terror — combat vets have seen its effects
• Democrats launch formal Trump impeachment inquiry
• 35 US lawmakers urge their govt to reduce tensions in South Asia
• US Official Meets in Lebanon over Anti-Hezbollah Sanctions
--------
Europe
• France Welcomes the Saudis, Condemns Critics of Islam
• Far-Right Hoaxers behind Islam Posters
• EU Parliament holds event on Islamophobia
• Saudi Arabia accuses Australia of racism in extraordinary UN broadside
• Johnson to Urge Iran to Release Nazanin Zaghari-Ratcliffe
• UNC denies claims of 'pro-Islam' bias in Mideast studies program
• Britain, France, Germany blame Iran for Saudi attack
• Merkel to meet separately at UN with Trump, Rouhani: German official
• Iranian, French presidents discuss de-escalation of Mideast tensions in New York
• Iran slams European call for new nuke deal
• France, Germany, UK blame Iran for Aramco attack
--------
India
• A New Twist in Ayodhya Title Dispute: Muslim Parties Accept Ram Chabutra as Birthplace of Lord Ram
• Members of All India Muslim Forum Meet Mahant Janmejay, Back Ram Temple Construction in Ayodhya
• Kartarpur Corridor: Punjab govt seeks Rs 39 crore one-time grant from Centre for security, infrastructure
• No Problem Talking To Pakistan but 'Terroristan': S Jaishankar
• Jaish Readying Special Squad to Target PM Modi, NSA Ajit Doval: Intel
• India counters Pakistan's bid to raise Kashmir at Eurasian Speakers' meet
• Terror group hid in S. India after Burdwan blast: NIA
• Agencies on alert after arrest of men linked to Al Qaeda
• Pak terror groups use Chinese drones to airdrop 80 kg weapons in Punjab for J&K
• Terrorists should not be given funds, arms: PM Modi
• China 'misread' India's decision to repeal Article 370 in Jammu and Kashmir: Jaishankar
• Burdwan blast case: NIA makes fresh seizures at JMB hideout
--------
South Asia
• The Dialogue between Christianity and Islam "Should Not Eliminate Differences, But Start from Them: Fr Rapacioli, Missionary in Bangladesh
• NIA Seizes IED Materials from Jamat-ul-Mujahideen Bangladesh In Bengaluru
• Over 160 Taliban Militants Killed, Wounded In 3 Northern Provinces, Claims Shaheen Corps
• Bangladesh PM to place four-point proposal at UN to solve Rohingya crisis
• Airstrikes kill 39 Taliban militants in 4 provinces
• Stoltenberg stresses NATO's 'Unchanged Focus' to make Afghan forces stronger
• Taliban threats, poll closures raise fears for credibility of Afghan elections
• Dozens of civilians killed in Afghan forces' anti-Taliban attack
• 9 militants killed in southern Afghanistan's airstrikes
• Turkey requests land from Bangladesh for Rohingya camps
• Special Forces kill, detain 11 Taliban and ISIS militants; destroy caches of weapons
--------
Mideast
• Turkey Is Now A Haven For Terrorists And An Enabler Of Terrorism
• Netanyahu, Gantz In Unity Talks; May Rotate As Israel PM
• 'Israel uses influence in US, West to get away with crimes against Palestinians'
• Nuclear power should either be allowed for everyone or banned completely: Turkey's Erdogan
• Saudi airstrikes hit Yemen's southwest, kill 16
• Erdogan calls for dialogue to end Kashmir dispute
• Rouhani: Macron's Mediation Efforts Futile If US Sanctions Stay in Place
• Several injured after bomb explodes in southern Turkey: State media
• Israel detains Palestinian minister of Jerusalem affairs
--------
Southeast Asia
• Amanah Leader Doubts PAS-Umno's Race, Religion Appeal Will Resonate In Malaysia
• Explainer - It's Not Only About Sex: Indonesia's Divisive Criminal Bill
• Countering the visible and potent threat of Islamic State in Malaysia
• Dr M Slams UN, Myanmar Govt over Rohingya Crisis
• Police Seize Islamic State Flag, Weapons at Terror Suspect's Home in Bekasi
--------
Africa
• Jordan's King: We are committed to Saudi Arabia's defense
• Somalia: Ethiopian Authorities Say Al-Shabaab, Islamic State Planning Attacks On Hotels
• Nigerian military accuses aid group of aiding Boko Haram
--------
Arab World
• Iraqi court sentences 6 IS militants to death over 2013 car bomb attack
• 2 security members killed, IS hideouts destroyed in Iraq
• Kurdish Militias' Role in Attacking Hashd al-Sha'abi Exposed
• Egypt's al-Sisi: 'The Arab Peace Initiative is still on the table'
• Six Muslim Brotherhood members killed in firefight in Egypt: Ministry
• Saudi Council of Ministers calls on int'l community to limit Iran's aggression
• Saudi Arabia blocking approval of UN oceans report
• OIC chief meets with Norwegian PM, UN official to discuss fight against extremism
• El-Sisi calls on US to take Sudan off terror-sponsor list
Compiled by New Age Islam News Bureau
URL: https://www.newageislam.com/islamic-world-news/campaign-launched-ascertain-exact-number/d/119833
--------
Campaign launched to ascertain exact number of Hindus in Pakistan
Sep 24, 2019
LAHORE: A campaign has been launched to collect details of Hindu families in Pakistan to ascertain the exact number of members in the minority community.
The All Pakistan Hindu Panchayat (APHP) has launched the campaign.
"Please collect the data of Hindus living in your city and send it to the APHP. APHP is working to gather all Hindus on one platform. Also mention an active person, president or Mukhi's name of that city, so that in case of any emergency APHP can contact them," read a post on the Facebook page of APHS.
Talking to mediapersons, APHP General Secretary Ravi Dawani said it had launched the drive to collect data of Hindu families in Pakistan and for the purpose it has written to all Panchayats and notables.
"The prime purpose of this exercise is to identify exact number of Hindus in Pakistan and give this data to the federal government so that any future scheme for Hindus could be introduced keeping this number in mind. Also, we can talk about the representation of the Hindu community in the state assemblies," Dawani said.
There are reports that some Hindu families in Pakistan are hiding their identities because of 'safety concerns' and they have named themselves as non-Hindus.
The Pakistan Hindu Panchayat is the leading socio-political representative organisation of the Hindu community in Pakistan.
Hindus in Pakistan approximately make up 2 per cent of the total population, which is around 3 million people.
The Hindu minority has seats reserved in the National Assembly and can also vote for their local candidates.
Hindus are mainly concentrated in Sindh province where they form nearly 8 per cent of the population. PTI MZ
https://timesofindia.indiatimes.com/world/pakistan/campaign-launched-to-ascertain-exact-number-of-hindus-in-pakistan/articleshow/71282671.cms
--------
US leads condemnation of China for 'horrific' repression of Muslims
September 25, 2019
NEW YORK: The United States led more than 30 countries on Tuesday in condemning what it called China's "horrific campaign of repression" against Muslims in the western region of Xinjiang at an event on the sidelines of the annual UN General Assembly that was denounced by China.
In highlighting abuses against ethnic Uighurs and other Muslims in China, Deputy Secretary of State John Sullivan said the United Nations and its member states had "a singular responsibility to speak up when survivor after survivor recounts the horrors of state repression."
Sullivan said it was incumbent on UN member states to ensure the world body was able to closely monitor human rights abuses by China and added that it must seek "immediate, unhindered, and unmonitored" access to Xinjiang for the UN High Commissioner for Human Rights (UNHCR).
Sullivan said Tuesday's event was co-sponsored by Canada, Germany, the Netherlands and Britain, and was joined by more than 30 UN states, representatives of the European Union (EU) and more than 20 nongovernmental organisations, as well as Uighur victims. "We invite others to join the international effort to demand and compel an immediate end to China's horrific campaign of repression," he said.
"History will judge the international community for how we respond to this attack on human rights and fundamental freedoms."
Paola Pampaloni, deputy managing director for Asia of the European External Action Service, said the EU was "alarmed" by the situation and also urged "meaningful" access to Xinjiang.
"We are concerned about … information about mistreatment and torture," she said. "China is always inviting us to the camps under their conditions, we are in negotiations right now for terms and conditions for free access."
On Monday US President Donald Trump called for an end to religious persecution at another event on the sidelines of the UN gathering.
He reiterated his comments in a speech to the General Assembly gathering of world leaders on Tuesday.
"Americans will never .. tire in our effort to promote freedom of worship and religion. We want and support religious liberty for all," he said.
Trump, who has been cautious about upsetting China on human rights issues while making a major trade deal with Beijing a major priority, said religious freedom was under growing threat around the world but fell short of specifically mentioning the Uighur situation.
"Volume is coming up at a pace that we hope that the Beijing government recognises not only US but the global concern about this situation," David Stilwell, US Assistant Secretary, Bureau of East Asian and Pacific Affairs told reporters at a briefing.
"We will see how that plays out and how Beijing reacts and take it from there."
A representative for the Chinese delegation to the UN General Assembly accused Washington of violating the UN Charter by criticising China.
The United Nations says at least 1 million ethnic Uighurs and other Muslims have been detained in what China describes as "vocational training centres" to stamp out extremism and give people new skills.
Sullivan said the United States had received "credible reports of deaths, forced labor, torture, and other cruel, inhumane, or degrading treatment" in the camps.
He said there were also many reports that the Chinese government forces detainees to renounce their ethnic identities as well as their culture and religion.
Though US officials have ramped up criticism of China's measures in Xinjiang, it has refrained from responding with sanctions, amid on-again, off-again talks to resolve a bitter, costly trade war.
At the same time, it has criticised other countries, including some Muslim states, for not doing enough or for backing China's approach in Xinjiang.
Rishat Abbas, the brother of Uighur physician Gulshan Abbas, who was abducted from her home in Urumchi in September 2018, told Tuesday's event that "millions of Uighurs are becoming collateral damage to international trade policies, enabling China to continue to threaten our freedoms around the world, enable it to continue its police state."
UN human rights chief Michelle Bachelet has repeatedly pushed China to grant the United Nations access to investigate reports of disappearances and arbitrary detentions, particularly of Muslims in Xinjiang.
China's envoy in Geneva said in June that he hoped Bachelet would visit China, including Xinjiang.
Bachelet's office said in June that it was discussing "full access" with China.
https://www.freemalaysiatoday.com/category/world/2019/09/25/us-leads-condemnation-of-china-for-horrific-repression-of-muslims/
--------
France Welcomes the Saudis, Condemns Critics of Islam
by Giulio Meotti
September 24, 2019
The French Institute of Muslim Civilization opened in Lyon on September 19, in the presence of the French Minister of the Interior, Christophe Castaner. He welcomed the project for an "open Islam" dedicated to the "fight against prejudice". The building, of five stories and 2,700 square meters, which now adjoins the Grand Mosque, will offer courses in Muslim civilization and languages, along with symposia, conferences and debates. The project is co-funded by the World Islamic League, the diplomatic and religious arm of Saudi Arabia, which has "ties" with the Federation of French Muslims.
A few years ago, in 2016, the president of the Auvergne-Rhône-Alpes region, Laurent Wauquiez, sparked a heated debate by refusing to finance the project; he said he feared interference by Islamist countries. He was right.
This month, Mohammed Al-Issa, general secretary of the World Islamic League, was in Lyon at the inauguration of the institute. "As everyone knows, the World Islamic League is a Saudi organization based in Mecca", wrote the scholar Razika Adnani in the weekly Marianne.
"The principles of Wahhabism and its consequences on the world and especially the Muslim world are not a secret. It is therefore difficult to admit that the Wahhabis have suddenly become people who advocate a language of peace and solidarity, denouncing Islamic terrorism and obscurantism. If the World Islamic League denounces terrorism, how does one explain that men and women are beheaded publicly in Saudi Arabia? Why are human beings being bullied because they have different opinions about Islam and society than Wahhabis?"
The daily newspaper Le Figaro reveals even more:
"Mohammed Al-Issa, who heads the World Islamic League, is credited for more than 500 executions when he was Minister of Justice of Saudi Arabia from 2009 to 2015, and countless orders of torture including the conviction of the famous Raif Badawi with 1,000 lashes".
Raif Badawi has just launched a hunger strike over mistreatment by the Saudi prison officials. "As part of their cruel crackdown, they've just confiscated his books & crucial medication", tweeted former Canadian Justice Minister Irwin Cotler, who serves also as head of the Montreal-based Raoul Wallenberg Centre for Human Rights. How can France, the country of "liberty, equality, fraternity", welcome the former Saudi minister who was in charge of Badawi's torture and imprisonment -- a minister of "justice" who forbids any practice other than Sunni Wahhabi Islam on Saudi soil, who condemns apostates to death and inflicts sessions of public flagellation on dissidents such as Badawi?
It seems that French authorities never learn from their mistakes. Right after the massacre at the weekly Charlie Hebdo, then-French President François Hollande invited the Saudis to join the march of solidarity in Paris. When the Saudis returned home, they started flogging Badawi. The Saudis play it smart: they are both "the arsonists and the firefighters". The day before the inauguration of the institute in Lyon, the Saudis were in Paris to attend the "International Conference for Peace and Solidarity", where they were greeted by placards from Badawi's wife and friends. French president Emmanuel Macron first accepted then declined an invitation to join the Saudis at their conference in Paris.
Last April, Macron declared that "political Islam wants to secede from our republic" -- but giving the keys of French Islam to the Saudis is the best way to accelerate that secession.
Among the French Muslims, political Islam is rapidly increasing. Instead of embracing the West where they were born, the youngest generations are rejecting it. This revelation is the result of a sensational cover story by Jerome Fourquet in the weekly Le Point:
"The percentage of people participating in Friday prayers at a mosque has more than doubled, from 16% in 1989, to 38% today. It is spectacular. We note a drop in the percentage of people drinking alcohol, from 35% in 1989 to 21% today. Only 41% believe that Islam must conform to secularism, compared to 37% who believe that, on the contrary, it is secularism that must adapt to Islam. Among those interviewed, 27% agreed with the idea that 'sharia should prevail over the laws of the Republic'".
In their mission to Islamize Europe, the Saudis know no borders. The eminent French scholar of Islam, Gilles Kepel, wrote:
"The [World Islamic League] played a pioneering role in supporting Islamic associations, mosques, and investment plans for the future. In addition, the Saudi ministry for religious affairs printed and distributed among the world's mosques millions of Korans free of charge, along with Wahhabite doctrinal texts, from the African plains to the rice paddies of Indonesia and the Muslim immigrant high-rise housing projects of European cities. For the first time in fourteen centuries, the same books (as well as cassettes) could be found from one end of the Umma [Islamic community] to the other... hewed to the same doctrinal line and [which] excluded other currents of thought that had formerly been part of a more pluralistic Islam."
A few weeks ago, the Saudis showed up in Chechnya to open "Europe's largest mosque". The ceremony was also attended by the World Islamic League's chief Mohammed Al-Issa, who came from Italy, where he had attended the Meeting of Rimini, a Catholic festival held every year. It is a historic ideological mission all over Europe, where the Saudis already control many large mosques, from Nice to Lyon, and from Rome to Brussels, where the Grand Mosque was recently handed back to the government over concerns that it was promoting extremism. An investigation by The New York Times noted:
"There is a broad consensus that the Saudi ideological juggernaut has disrupted local Islamic traditions in dozens of countries — the result of lavish spending on religious outreach for half a century, estimated in the tens of billions of dollars."
Shamefully, the day after the Saudis were in Lyon along with France's highest officials for the ceremony, in Paris, French judges condemned the journalist Éric Zemmour -- who is under heavy police protection for his criticism of Islam -- for "religious hate." Zemmour, apparently, was found "guilty" by a French court of saying that Muslims should be given "the choice between Islam and France" and that "in innumerable French suburbs there is a struggle to Islamize territory." Freedom of expression and the freedom to criticism of Islam are under threat in France. Recently, Philippe Val, the former editor of the magazine Charlie Hebdo, declared: "It is certain that no one today would publish the cartoons of Muhammad."
In France, mega-mosques have opened with the blessing of the Minister of Interior; leading journalists have been condemned in court for daring to speak the truth about Islam, and there has been mass self-censorship regarding "insensitive" cartoons. What else could the Saudis could dream up to ask of their French friends?
https://www.gatestoneinstitute.org/14907/france-saudis-critics
--------
A New Twist in Ayodhya Title Dispute: Muslim Parties Accept Ram Chabutra as Birthplace of Lord Ram
September 24, 2019
New Delhi: In a new twist in Ayodhya title dispute being heard in the Supreme Court, the Muslim parties on Tuesday accepted Ram Chabutra as the birthplace of Lord Ram and could not provide a satisfactory answer on the absence of any reference to Babri Masjid in the "Ain-i-Akbari", a 16th century document recording the administration of the Mughal Empire under Emperor Akbar.
A five-judge Constitution bench headed by Chief Justice Ranjan Gogoi is conducting the hearing on the vexed dispute.
Senior advocate Zafaryab Jilani, representing the Sunni Waqf Board, began his arguments by contending that two leading Hindu religious texts - 'Valmiki Ramayana' and 'Ramcharitmanas' - do not specifically provide proof of spot of the birth of Lord Ram.
At this, Justice D.Y. Chandrachud said: "Accepting this would mean Hindus cannot believe that Ram was born anywhere in Ayodhya at all."
Jilani reiterated that there is no mention of the specific spot. "There was a temple, which was called Janmasthan temple located to the north of the disputed structure," he told the bench.
As Justice S.A. Bobde asked: "Do you accept Ayodhya as birthplace of Lord Ram, and do you also accept that Ram Chhabutra (which came into existence after 1855) is the birthplace of Lord Ram?", he replied: "We accept it because, three other courts said it. Thereafter, we did not disturb it. Ram Chabutra was in their (Hindus) possession."
Jilani, however, insisted that spot under the central dome is not the birthplace of Lord Ram.
Earlier, senior advocate Rajeev Dhavan in his response to submissions made by the Nirmohi Akhara, a party in the lawsuit, said statements of witnesses and Gazetteers quoted by the Akhara implied that Hindus were worshipping at Ram Chabutra in the outer courtyard.
However, on Tuesday, Jilani said his case is that Hindus never worshipped the space, where the Babri Masjid was, as the birthplace of Lord Ram. "But they worshipped the Ram Chabutra as the birthplace. It is hardly 50 to 80 feet from the mosque," he submitted.
Later during the hearing, Justice Bobde posed three possibilities to the Muslim parties: Emperor Babar demolished the temple and built a mosque; Babar built the mosque at a place where there was a temple; and Babar built mosque on a land which was vacant, but there was probably something below.
Mentioning the 'Ain-i-Akbari' which he said was known for showing everything in its minutest detail, Justice Bobde asked: "Then why did it not mention the Babri Masjid?"
As Jilani replied that only important facts were mentioned in it, Justice Bobde quipped: "A mosque built on the instructions of an emperor is not important?"
Elaborating his view on the historical document, Justice Bobde said: "All mosques built should have been mentioned in 'Ain-i-Akbari', or the alternate, the mosque was not there." Babri Masjid was purportedly built in 1528.
Justice Ashok Bhushan, citing the Skanda Purana, told Jilani that one of their witnesses has referred to this historical text, which apparently mentions about the coordinates leading to the birthplace of Lord Ram at the disputed site. "We are referring to the composition of the Skanda Purana in the 6th century and its publication in the 1800s," he said. Muslims parties have doubted the evidentiary value attached to Skanda Purana by Hindu parties.
Earlier, during the hearing, Justice Bobde queried on the location of Dashrata's palace, where Lord Ram was born, and cited its importance in context with the Archaeological Survey of India report. He also cited a cross-examination of a witness identifying Lord Ram's birthplace. 200 paces west of Sita Koop, a water well.
Justice Bhushan added: "Hindu belief in Lord Ram did not begin in 1950."
Muslim parties on Tuesday argued there is no evidence that any place below the central dome of the Babri Masjid was used for worship of Lord Ram before 1950. The arguments will continue on Wednesday.
The Allahabad High Court in its 2010 judgement equally partitioned the 2.77 acre disputed area among three parties -- Ram Lalla, Nirmohi Akhara and the Sunni Waqf Board. However, none of the parties was satisfied with the verdict and moved the Supreme Court.
https://gulfnews.com/world/asia/india/india-muslim-parties-accept-ram-chabutra-as-birthplace-of-lord-ram-1.1569339915935
--------
The Dialogue between Christianity and Islam "Should Not Eliminate Differences, But Start from Them: Fr Rapacioli, Missionary in Bangladesh
09/24/2019
Dhaka (AsiaNews) – The dialogue between Christianity and Islam "should not eliminate differences, but start from them. By being faithful to one's tradition, we can stimulate one another. What is more, differences notwithstanding, we cannot use faith to destroy and hate the other," said Fr Francesco Rapacioli, a PIME[i] missionary in Bangladesh.
On Saturday, an interfaith and ecumenical meeting was held in Dhaka, which Fr Rapacioli organised, bringing together young Christians and Muslims "in equal numbers". The topic of the event was "building fraternal relations, whilst admitting differences, among young people who are used to living together".
The starting point was the 'Document on Human Brotherhood' released last February after the meeting in Abu Dhabi between Pope Francis and the Grand Imam of Al-Azhar Ahmed el-Tayeb, which was inspired by a meeting 800 years ago between Saint Francis of Assisi and the Sultan of Egypt Al-Malik Al-Kamel. For Fr Rapacioli." This is a document that cannot fail to provoke both communities".
Another point "was offered by the letter of 138 Muslim scholars to Christian leaders and to the then Pope Benedict XVI, in 2007."
Saturday's meeting was held at Notre Dame University Bangladesh, the country's first and only Catholic university, "which trains the intelligentsia, hence shapes future orientations".
The event was sponsored by the Shalom Movement, to which Fr Rapacioli belongs, together with the Episcopal Commission for Christian Unity and Interreligious Dialogue, Dhaka University (a public institution), the Major Seminary, two Protestant theological schools, houses of spiritual training and (PIME) Brother Lucio Beninati's association to 'Serve street children'.
In all, "we were 120: around 110 university students (18-24 years) and 10 organisers," said Fr Rapacioli. Sr Annamaria Panza, provincial councillor of the Missionaries of the Immaculate (a congregation associated with PIME) and a member of the Shalom Movement, said that the participants met in eight mixed groups.
"Interesting ideas emerged" from their exchange, the nun noted, like "the importance of knowing and respecting other religions, starting in elementary school, as well as fostering interfaith friendships and meetings that offer the opportunity to get to know each other."
Young people "admit that religion has been exploited politically for terrorist purposes," Fr Rapacioli explained. "For this reason, they believe that it may be even more useful to pray for people whose faith is different from their own". Similarly, they stressed the role of "education, which serves to eliminate prejudices, helping street children, which is a powerful tool to help others because we give ourselves freely for the benefit of the marginalised."
"There is a fundamental misunderstanding when dialogue is discussed," noted the PIME missionary." Some argue that we are all the same. For me, this is not the case: Christianity and Islam are different, starting from their belief, rituals and ethics. For example, for Muslims, Jesus is just a prophet; for us instead he is the Son of God. For Islam and Judaism, our profession of faith is a blasphemy, as is our fundamental dogma which is the incarnation of God and the Trinity in one."
The main point "is to seek some convergence between us, because the true encounter does not happen regardless of differences but starting with them. We must not deny our cultural, ethnic and religious identity. Otherwise we risk having a kind of watering down with which nobody really identifies."
"We are different and we must be able to express our differences. The great challenge of dialogue, which is also opportunity, is for our differences not to constitute an objection to living together. Where instead one seeks to minimise, water down, or relativise differences, there is no real service to an encounter between people."
The encounter between different religious experiences "that do not deny themselves can help understanding and real peaceful coexistence".
Events like the one just held, "are an investment without immediate returns," said Fr Rapacioli, "insofar that we will not be able to see the fruits of it on the short tun. Yet, we shall continue to sow." (A.C.F.)
http://asianews.it/news-en/Fr-Rapacioli:-the-dialogue-with-Islam-does-not-mean-eliminating-differences-48088.html
--------
Turkey Is Now A Haven For Terrorists And An Enabler Of Terrorism
By Jonathan Schanzer and Aykan Erdemir
September 23, 2019
On Monday, four children of an American and his Israeli wife killed by the Palestinian terrorist group Hamas in 2015 filed suit against Turkey's Kuveyt Turk Bank in a New York court. They charge that the bank helps Hamas finance its terrorist attacks, allegations the firm is almost certain to deny.
The lawsuit against this Shariah-compliant bank, which counts the Turkish government as a shareholder, comes two weeks after the US Treasury sanctioned 11 Turkey-linked entities and individuals for supporting Hamas and other jihadist outfits. The evidence keeps mounting: Turkey has become a haven for regional baddies.
Under President Recep Tayyip Erdogan, Turkey has become a permissive jurisdiction for rogue regimes and their illicit bankers. Between 2012 and 2015, Tehran relied on Turkish banks and a dual Iranian-Turkish gold trader to circumvent US sanctions at the height of Washington's efforts to thwart the Islamic Republic's nuclear ambitions. It was the biggest sanctions-evasions scheme in recent history.
Similarly, Venezula's Maduro regime has been using Turkish-based companies in a money-laundering network involving the sale of Venezuelan gold. The US government sanctioned that network in July.
Reports suggest that a Treasury-sanctioned money man for the ­Assad regime in Syria owns an extensive network of companies in Turkey, thus enabling Syria to circumvent US sanctions.
Turkey has also proved a forgiving host to terrorists. In April, Treasury sanctioned six individuals and a Turkish money exchange for their role in bankrolling Islamic State. The action underscored how Islamic State terrorists continued to operate from Turkish territory well into 2018.
Turkish law enforcement is known to turn a blind eye to jihadists, while the country's courts treat them leniently, often releasing them pending trial or granting them parole — in stark contrast to harsh treatment meted out to secular and pro-democracy dissidents.
After their ouster from Egypt in 2013, the Egyptian Muslim Brotherhood established new institutions in Turkey. In addition to Islamist propaganda, the movement's television stations have broadcast death threats against Egyptian officials and foreign nationals in Egypt. Ironically, the Turkish government defends the Muslim Brotherhood's "freedom of expression" even as Erdogan has silenced Turkey's domestic opposition.
Turkey stalks and prosecutes dissident groups with zeal, branding them terrorists, while allowing actual terrorists from Hamas to operate freely on Turkish soil. Saleh Arouri, the Hamas military commander responsible for the 2014 kidnapping and killing of three teens in the West Bank, spearheaded that operation from Turkish soil. The US Treasury designated Arouri as a terrorist in September 2015 and subsequently issued a "Rewards for Justice" bounty for information leading to his arrest or capture.
But Arouri is just one of many Hamas operatives who have operated in Turkey. In 2011, 10 Hamas operatives Israel released as part of a prisoner exchange arrived in Turkey, and many remain active there. Imad al-Alami, Hamas' long-serving envoy to Iran and a US-designated terrorist since 2003, received medical treatment in Turkey in 2014 and continued his work there while he convalesced.
The New York lawsuit against the Kuveyt Turk Bank has the potential to check Turkey's impunity. In 2016, the nonprofit St. Francis of Assisi filed a complaint in California against Kuveyt Turk Bank and its parent company, Kuwait Finance House, for allegedly processing donations to Islamic State. A federal judge dismissed the case because it couldn't be proved that a US person had been harmed.
By contrast, Monday's complaint against Kuveyt Turk has plaintiffs with ties to the United States. The plaintiffs also argue that the bank is subject to jurisdiction in New York for using its correspondent bank accounts in the Empire State to facilitate US-dollar-denominated transfers for Hamas' benefit.
It's already clear that Erdogan's Turkey has become a permissive jurisdiction for illicit and terror finance. But this new case on behalf of an American victim of terrorism and members of his family could finally begin to hold the regime in Turkey responsible.
https://nypost.com/2019/09/23/turkey-is-now-a-haven-for-terrorists-and-an-enabler-of-terrorism/
--------
Netanyahu, Gantz in unity talks; may rotate as Israel PM
24 September 2019
Prime Minister Benjamin Netanyahu and his rival Benny Gantz launched negotiations on Monday over a proposed Israeli unity government and a key politician said the focus was on who would lead it first under a rotation deal.
After failing to secure a clear victory in the second election in six months, Netanyahu, Israel's longest-serving premier, seems to reckon he can stay in power only by sharing it.
Going solo, neither he nor ex-general Gantz have enough support from respective allies for a majority in the 120-member parliament.
Gantz, head of the centrist Blue and White Party, has been publicly resistant to the idea of allying with Netanyahu's right-wing Likud, citing looming corruption charges against the incumbent.
President Reuven Rivlin, tasked with picking a candidate best-placed to try to form the next governing coalition, has spoken in favor of unity and, on Monday, summoned Netanyahu and Gantz for closed-door talks.
Gantz met earlier with Avigdor Lieberman, a political free agent and likely kingmaker thanks to his eight seats in parliament.
"Happily, the two big parties have internalized the pressing necessity of setting up a unity government with a rotating premiership," Lieberman said on Facebook.
Concluding their meeting at Rivlin's Jerusalem office, Netanyahu and Gantz issued a joint statement saying they had "discussed moving forward with unity'. It did not elaborate.
"The entire argument right now is over the question of who will serve first as prime minister, and who second," said Lieberman.
Such a rotation has a precedent in the 1984-88 unity government of left-leaning Shimon Peres and right-winger Yitzhak Shamir, who took turns as prime minister.
If a power-sharing deal is forged, it could be imperative for Netanyahu to serve as prime minister first should he seek to avoid prosecution.
Immunity
Next month, Israel's attorney-general will hold a pre-trial hearing on his announced intention to indict the Israeli leader on fraud and bribery charges in three corruption cases. Netanyahu, who denies any wrongdoing, can argue against an indictment at the hearing.
As prime minister, Netanyahu would be under no legal obligation to resign if formal charges are filed. But any other cabinet post might not offer him that protection.
The candidates' negotiating teams would confer on Tuesday ahead of another possible Rivlin-hosted meeting of Netanyahu and Gantz on Wednesday, the statement said.
Likud won 31 parliament seats to Blue and White's 33 in Tuesday's election, near-complete results show.
On paper, Netanyahu has a slim lead over Gantz in building a parliamentary bloc, with pledges of support from 55 members of a right-wing grouping to 54 for Gantz from left-leaning and Arab parties. Both are short of a 61-seat majority.
Netanyahu's slight edge might move Rivlin to ask him to try to build a narrow coalition if a unity government proves impossible. A nominee gets 28 days to do so, with a possible 14-day extension, before Rivlin can turn to someone else.
Gantz had appeared to have 57 backers but three of the Arab Joint List's 13 members on Monday withdrew support they had pledged to him a day earlier.
Lieberman, of the far-right Yisrael Beitenu party, wants an alliance with Likud and Blue and White. But he has refused to commit to either Netanyahu or Gantz, citing his own policy differences with Likud's Jewish ultra-Orthodox allies and Blue and White's Arab backers.
Netanyahu and Gantz appear close on many important issues, such as relations with the United States, the regional struggle against Iran and the Palestinian conflict.
Gantz, however, has called for a 'liberal' administration, political shorthand for one that does not include Netanyahu's ultra-Orthodox partners. After the election, Netanyahu swiftly signed a new alliance with them.
Any unity deal would likely also force Gantz to address the issue of parliamentary immunity from prosecution that Netanyahu's supporters have pledged to seek.
https://english.alarabiya.net/en/News/middle-east/2019/09/24/Netanyahu-Gantz-in-unity-talks-may-rotate-as-Israel-PM.html
--------
Amanah leader doubts PAS-Umno's race, religion appeal will resonate in Malaysia
17 September 2019
BY R. LOHESWAR
PUTRAJAYA, Sept 17 — PAS and Umno's ethnoreligious focus on Malay-Muslims is unlikely to gain traction in Malaysia that has grown more progressive, Amanah's Datuk Seri Dzulkelfy Ahmad claimed today.
Commenting on the alliance between the two largest Malay-Muslim parties that was formalised on Saturday, he said it was PAS and Umno's prerogative to choose their platform for survival.
"But to form a political coalition that is based on race and religion that is mono-ethnic, mono-religious, is something that New Malaysia and a mixed demography like us may struggle to familiarise with," said Dzulkelfy when met at Putrajaya during the 1st World Patient Safety Day.
"If they then decide to take to more right-wing extremism, which I'm not saying they will, it will be difficult for Malaysia Baharu to accept this type of political construct."
Dzulkefly, who is the health minister, also questioned what the two new allies have to offer the country beyond their intention to "unify" the Malay-Muslims, contrasting this to the nation building that the ruling Pakatan Harapan (PH) was working towards. Despite his misgivings, Dzulkefly still said it was vital for the country to have a strong Opposition to keep the government in check.
On Saturday, PAS and Umno signed a joint charter for their political cooperation that contained a "national agenda" accommodating the other races but was primarily concerned about Malay-Muslim interests.
The collaboration was formed with the express purpose of defeating PH in the next general election.
The two Opposition parties are working to build support among Malay-Muslims whose majority support did not end up with PH during last year's general election.
Dzulkely warned the two parties today to be responsible in their pursuit of Malay-Muslim support.
"Don't drag the nation down this alley of racial and religious bigotry," he said.
https://www.malaymail.com/news/malaysia/2019/09/17/amanah-leader-doubts-pas-umnos-race-religion-appeal-will-resonate-in-malays/1791315
--------
Pakistan
Trump asked me to mediate with Iran: Imran Khan
Sep 25, 2019
UNITED NATIONS: Pakistani Prime Minister Imran Khan said on Tuesday Donald Trump had asked him to mediate with Iran to defuse tensions, though the US president later suggested it was Khan who approached him and nothing was final.
Khan met Trump and Iranian President Hassan Rouhani on the sidelines of this week's United Nations General Assembly, before which he visited Crown Prince Mohammed bin Salman in Saudi Arabia, whom he said had made the same request.
"Trump asked me that if we could de-escalate the situation and maybe come up with another deal," Khan told reporters at the gathering of world leaders in New York.
"Yes, we did convey this, and yes, we're trying our best," he said.
"I immediately spoke to President Rouhani yesterday after the meeting with President Trump. I can't say anything right now more than this, except that we're trying and mediating," he added.
In Saudi Arabia, which was hit earlier this month by attacks on its oil infrastructure blamed on Iran, the crown prince "also asked me to talk to the Iranian president", Khan said.
Speculation has been rife about a possible face-to-face between Trump and Rouhani on the sidelines of the general assembly, with France's Emmanuel Macron trying to broker what would be a historic meeting.
At a separate briefing to reporters where Trump spoke on Iran, he said: "They would like to negotiate. It certainly makes sense but we haven't agreed to that yet."
Asked about Macron's involvement, he responded: "He's also talking to us, a number of people are. So is Prime Minister Khan of Pakistan. A lot of people, Chancellor Merkel just now and she's very much involved, we have a lot of people involved. A lot of people would like to get us to the table."
But pressed on whether he had asked Khan to get involved, Trump said: "Well, he'd like to do that and we have a very good relationship and there's a chance that that could happen.
"But no, I haven't spoken -- he actually asked me, he thought it would be a good idea to meet and we're here, we're in New York together and we have the time to do it, although we've done a lot of bilats in the last two days."
Pakistan traditionally has strong relations with Saudi Arabia but also maintains ties with Iran, with Islamabad representing Tehran's consular interests in the United States in the absence of diplomatic relations.
The leaders of France, Germany and Japan were all also meeting Rouhani and Trump at the UN in hopes of reviving diplomacy
https://timesofindia.indiatimes.com/world/pakistan/trump-asked-me-to-mediate-with-iran-imran-khan/articleshow/71286274.cms
--------
19 killed, over 300 injured in PoK after earthquake jolts north Pakistan
Sep 24, 2019
ISLAMABAD: At least 19 people were killed and more than 300 others injured in Pakistan-occupied Kashmir on Tuesday after a 5.8-magnitude quake jolted several cities in the northern parts of the country including capital Islamabad.
According to US Geological Survey, the epicentre of quake was near New Mirpur in Pakistan-occupied Kashmir.
Deputy Inspector General (DIG) of police in Mirpur, Sardar Gulfaraz Khan, told the media that at least 19 people were killed and over 300 injured in Mirpur and surrounding areas due to the powerful quake.
Pakistan Meteorological Department's earthquake centre said the 5.8-magnitude earthquake was located near the mountainous city of Jehlum in Punjab province. Its depth was at 10 kilometres. However, Minister for Science Fawad Chaudhry said that the intensity of the quake was 7.1.
Some houses collapsed in Mirpur following the earthquake, Deputy Commissioner Raja Qaiser said. Parts of a mosque also collapsed in the area, which is severely affected by the quake. Emergency has been declared in hospitals across PoK.
TV channels showed the footage of heavily damaged roads in Mirpur, with many vehicles overturned. Several cars fell into the deep cracks on the roads.
The quake was powerful and created panic as people ran out of building, eyewitnesses said.
Pakistan Army chief General Qamar Javed Bajwa directed "immediate rescue operation in aid of civil administration" for victims of earthquake in PoK. Army troops with aviation and medical support teams have been dispatched, the media wing of the army tweeted.
Lt. Gen. Muhammad Afzal, chairman of the National Disaster Management Authority, said that most of the damage was done in Mirpur and Jhelum. "We are assessing the damage to life and property," he said.
Several cities including Peshawar, Rawalpindi, Lahore, Skardu, Kohat, Charsadda, Kasur, Faisalabad, Gujrat, Sialkot, Abbottabad, Mansehra, Chitral, Malakand, Multan, Shangla, Okara, Nowshera, Attock and Jhang felt the tremor.
Full report at:
https://timesofindia.indiatimes.com/world/pakistan/19-killed-over-300-injured-in-pok-after-earthquake-jolts-north-pakistan/articleshow/71280281.cms
--------
Pakistan, S Arabia enjoying best relations: Saudi envoy
Muhammad Saleh Zaafir
September 25, 2019
ISLAMABAD: Saudi Ambassador for Pakistan Nawaf Saeed Al-Maliki has maintained that Pakistan and Saudi Arabia are enjoying best of the mutual ties for the collective good of their people and the region.
The fraternal relations of the two brotherly counties are bound to go stronger further as the people and leadership of the two sides is keen to enhance the relations to new heights. The ambassador was addressing the mammoth reception hosted by him to commemorate 89th National Day of Saudi Arabia arranged in a local hotel Tuesday evening where Chairman Senate Muhammad Sadiq Sanjrani was the chief guest, while leader of the Mutahidda Majlis-e-Amal (MMA) Maulana Fazlur Rehman was focus of attention of the guests who attends diplomatic receptions very rare.
Ambassador Nawaf Al-Maliki said that the historic ties of Pakistan with Saudi Kingdom have been working well for the wellbeing of the people of the two countries. The two countries have always helped each other in hours of trial without any consideration. The guests especially the diplomats were frightened from the earthquake that shook the whole area in the late afternoon on Tuesday. They were discussing the impact and intensity of the quake. Some guests were of the view that since the epicenter of the earthquake so close to the federal capital, the quake jolts would become regular phenomenon in the region. Maulana Fazlur Rehman who is leaving for Karachi today (Wednesday) for three days while talking to a group of newsmen said that he has no plan to defer his Azadi March as the people are anxiously waiting for it so that they could throw the puppet government away in the dustbin. He revealed that workers of every political party are prepared to take part in the march irrespective of the decision of their leadership. He said some people within the ruling party have also shown their willingness to take part in 'Azadi March.'
Fazlur Rehman was confident of success of his planned agitation and said that only a miracle can save this government from disgraced ouster. "The selectors are also repenting about their selection," Fazlur Rehman added.
Chairman Pakistan Muslim League (PML-N) Raja Muhammad Zafarul Haq, Secretary General PML-N and former federal minister Professor Ahsan Iqbal, Mayor Islamabad Ansar Aziz Sheikh, Member National Assembly (MNA) Zahid Akram Durrani, DG ISPR Major General Asif Ghafoor, Maulana Tahir Ashrafi, Federal Minister Sheikh Rashid Ahmad, SAPM Dr Firdous Ashiq Awan, Jamaat-e-Islami leaders Liaquat Baloch, Maulana Abdul Rashid Turabi, religious scholar Maulana Hanif Jallundhary, former interior minister Dr Waseem, Senator Talha Mahmood, Aziz Bulani, former chairman Joint Chiefs of Staff Committee (CJCSC) retired General Ehsanul Haq were among the distinguished guests of the evening.
Full report at:
https://www.thenews.com.pk/print/531816-pakistan-s-arabia-enjoying-best-relations-saudi-envoy
--------
Treason case against Musharraf to be heard daily
25 SEPTEMBER 2019
Islamabad, Sep 25 (IANS) A special court has decided to hear a high treason case against former Pakistan President Pervez Musharraf on a daily basis in an effort to conclude the trial pending since December 2013.
The special court comprising Justices Nazar Akbar and Shahid Karim resumed proceedings in the treason trial on Tuesday, Dawn news reported.
Advocate Raza Bashir, the defence counsel appointed by the Law Ministry on the directive of the special court, filed an application seeking his meeting with Musharraf for getting instructions from him to argue the case.
The court however, expressed displeasure over the filing of the application and said that the absconding accused had already been summoned for recording his statement.
The court adjourned the hearing until October 8.
On June 12, the court had rejected Musharraf''s plea for adjournment of hearing on medical grounds and decided to conclude the trial even in his absence.
The then ruling Pakistan Muslim League-Nawaz government had registered the treason case against Musharraf in 2013 over the former President''s imposition of extra-constitutional emergency in November 2007, which led to house confinement of several superior court judges and sacking of over 100 judges.
Musharraf left for Dubai in 2016 to "seek medical treatment" and has not returned since.
Full report at:
https://www.outlookindia.com/newsscroll/treason-case-against-musharraf-to-be-heard-daily/1626564
--------
Time for 'puppet' Imran Khan to go, Bilawal Bhutto tells Pakistan Army
24th September 2019
LAHORE: Pakistan's Opposition leader Bilawal Bhutto-Zardari on Tuesday warned the country's powerful military establishment to send its 'selected' Prime Minister Imran Khan 'home' by January or face massive protests.
Bilawal, 31, said the government can arrest political workers, censor the media but can't hide its incompetence of "epic proportions" that has wreaked havoc on the country's economy, foreign policy and the federation.
"Time for puppets to go. Either selectors and allies act now or by the new year, the people will kick all puppets out," Bilawal said in a tweet.
He said the Pakistan Peoples Party will never compromise the democratic, human, and economic rights of the people.
Bilawal in March also had called Khan a puppet.
Talking to reporters early in the day, Bilawal said, "Those who brought this highly incompetent prime minister, better remove him by January next, otherwise the PPP workers will gather in huge numbers in Rawalpindi where the founder of PPP and former prime minister Zulfiqar Ali Bhutto was hanged, former premier Benzir Bhutto was assassinated and the PPP's incumbent leadership (including former president Asif Ali Zardari) was imprisoned," he said.
The general headquarters of the Pakistan army is in Rawalpindi.
Meanwhile, the PPP has asked the Jamiat Ulema-i-Islam-Fazl (JUI-F) to convene a multi-party conference to discuss the possibility of launching a full-fledged, anti-government protest campaign under the joint opposition platform.
Another mainstream opposition party, Pakistan Muslim League-N (PML-N) has decided in principle to join the "Azadi March" of JUI-F.
The date of the protest has not been finalised.
A PML-N leader, who did not wish to be named, said in a recent meeting in jail former prime minister Nawaz Sharif told the PML-N president and his younger brother Shahbaz Sharif to get the entire party behind the protest and also contact the PPP in this regard.
Sharif, 69, has been serving a seven-year prison term at the Kot Lakhpat Jail in Lahore since December 24, 2018 when the accountability court convicted him in the Al-Azizia Steel Mills graft case.
Full report at:
http://www.newindianexpress.com/world/2019/sep/24/time-for-puppet-imran-khan-to-go-bilawal-bhutto-tells-pakistan-army-2038549.html
--------
North America
'FBI': Muslim Agent Blames FBI Procedure for Radicalizing Muslim Youths
By Karen Townsend
September 24, 2019
It took a really convoluted story to give an opportunity for a Muslim FBI agent to accuse another Muslim agent of radicalizing young Muslim men to become terrorists, but somehow the Season Two premiere of CBS's FBI managed to do it.
In the September 24 epsidoe "Little Egypt," what began as a bombing at a Syrian restaurant in Queens and first assumed to be a hate crime by area white supremacists was quickly discovered by the FBI to be a false flag stunt by an angry Muslim man who had been attacked by three white punks and left in a coma.
For revenge, the Muslim man found and hired a willing patsy – a white 22-year-old man with ugly social media posts about Muslims – to bomb the restaurant. He wanted the bombing to bring attention to his case and get it re-opened. A woman was killed in the bombing so his actions landed him in jail, along with the white guy.
FBI agent Omar Zidan mets with the waiter from the restaurant, who alerted customers to evacuate the building. The waiter, Joseph Nassar (Jared Ward), turned out to be an undercover FBI agent. Joseph asked Omar to work with him on a case as he thinks he had two young Muslim men interested in being hired as bombers.
Omar agreed and, after meeting with them, he came away believing that the guys aren't as gung-ho about being terrorists that Joseph thought they were. Omar then accused him of radicalizing young Muslim men with his techniques. That's a plot twist, right:
Omar: What was that? I thought you said these kids were gung ho.
Joseph: I said they're open to participate, which means, from a legal perspective, they're predisposed.
Omar: Are you sure about that?
Joseph: The test is pretty straight-forward. Is it the defendant an unwary innocent or an unwary criminal who readily availed himself of the opportunity to perpetrate the crime? To me, they're terrorists.
Omar: Hey. If those kids are terrorists, it is because you radicalized them. You are pushing these kids too hard.
Joseph: You don't like the way I do business, you call the Director.
It turned out that Joseph was right as the two young men were willing participants in a bombing. They were hired by an Imam from a large mosque. Fortunately, the FBI was able to find the bomb in time before it went off in Central Park near a youth ballfield filled with players, parents, and other onlookers.
It was jarring to watch a show like this and hear the FBI being accused of radicalizing peaceful Muslims into terrorists, a conspiracy theory popular on the radical left. It's bad enough that the Omar character often falls into victim mode about being a Muslim in America. Instead of celebrating the fact that he is a West Point graduate and an Army Ranger, Omar dwelled on poor treatment he received after 9/11. Let's hope this isn't a preview of what is to come for the rest of the season.
https://www.newsbusters.org/blogs/culture/karen-townsend/2019/09/24/fbi-muslim-agent-blames-fbi-procedure-radicalizing-muslim
--------
Muslim Americans testify on effects of Trump's travel ban
by William Roberts
Sep 25, 2019
Washington, DC - Speaking before a United States congressional panel on Tuesday, Ismail Alghazali, a Yemeni American, described how President Donald Trump's travel ban has prevented his Yemeni wife and two small children from joining him in the US.
"I have never even met my daughter. I have never held her in my arms. I've only seen her through photos and videos," Alghazali, 26, told a joint hearing of House Judiciary and Oversight subcommittees.
Alghazali came to the US as a child in 2000 and makes a living from his job at a bodega in New York City. He said his wife should have been eligible for a waiver to the ban, but after what he said was a five-minute meeting with a consular officer, her visa was denied. Now, his young family is stuck in war-torn Yemen.
For the first time, Muslim Americans had an opportunity to testify before a congressional hearing in the US House of Representatives on the effects of Trump's travel ban, which targeted several Muslim-majority countries. The ban at present applies to people coming from Iran, Libya, Somalia, Syria, Yemen and North Korea, as well as to government officials from Venezuela.
Abdollah Dehzangi, an Iranian and legal permanent resident of the US, described waiting three years to get a visa for his Iranian wife. Dehzangi, who holds a doctorate degree, had moved to the US in 2015 to do research in bioinformatics at an American University.
He and his wife both left Iran in more than 10 years ago and had not returned, living instead in Malaysia.
"Our dreams were all shattered after the announcement of the Muslim ban," Dehzangi, age 36, said. His wife's visa was denied and she has been living since in Australia.
"Our hope was to move to the United States pursue our careers and build our families," he said. "I am being denied that love and future. Many more have similar stories, similar hardship, similar heartbreak and sadness."
'No Ban Act'
The Democrat-led House of Representatives is considering legislation that would reverse Trump's policy. The No Ban Act introduced by Representative Judy Chu in April has 170 co-sponsors. The bill would impose limits on the president's ability to restrict entry into the US of foreigners.
"Singling these people from countries, these residents who are primarily Muslims, as the basis for assessing threat is essentially irrational," said Representative Zoe Lofgren, Democrat chairman of the subcommittee.
"There are tremendous hardships that being inflicted on Americans and their families and it has nothing to do with national security," Lofgren said.
Trump administration officials appearing before the congressional panel sought to defend the policy in the face of evidence of the travel ban's continuing discriminatory effects on Muslim Americans and their families.
Under procedures of the ban, individuals from the listed countries cannot obtain visas to come to the US unless they can demonstrate hardship, their entry to the US would not pose a national security threat and their entry would be in the national interest of the US. Only five percent of visa applicants are granted waivers, according to US government data.
Elizabeth Neumann, assistant secretary of Homeland Security, said the restrictions are conditional and would remain in place until listed countries improve systems for identifying their nationals and tracking "terrorists". The procedures are international norms and the US is improving security worldwide through implementation, Neumann said.
"Because we have focused on this and said, 'No, we have to get this right', we are now enhancing standards across the world," Neumann said.
Administration officials said databases and processing procedures have been improved leading to a reduction in wait times and potentially more approvals of waivers. Homeland Security has conducted internal reviews of the programme every 180 days but has not provided those reports to Congress.
'Weakened our standing the world'
Farhana Khera, president of Muslim Advocates, a group that has challenged the travel ban in court, said there has been little improvement in the ability of people to travel to the US.
"From what we hear, that is just a drop in the bucket in terms of the number of people who have been waiting a very long time," Khera said.
"The Muslim ban has not made us safer. It has weakened our standing in the world. And runs contrary to our countries moral and philosophical foundation," said Representative Jerrold Nadler, the chairman of the House Judiciary Committee. "The United States has always been and must continue to be a place that welcomes and embraces people of all religions and nationalities."
Democratic Representative Veronica Escobar said with "all the anti-immigrant policies that have been rolled out in the last couple of years, it is hard to keep track of just how much erosion of our democratic values there has been."
The House bill, however, will likely face opposition in the Republican-led Senate.
During his presidential campaign, Trump had called for "a total and complete shutdown of Muslims entering the United States until our country's representatives can figure out what is going on."
Trump's original executive order, signed within days of his taking office in January 2017, was widely condemned and triggered chaos for travellers at US airports. More than 100 State Department officials signed an internal memo dissenting from the policy. The order was blocked by US federal courts as discriminatory on religious grounds.
Full report at:
https://www.aljazeera.com/news/2019/09/muslim-americans-testify-effects-trump-travel-ban-190924190010945.html
--------
American Jews and American Muslims Have a Common Antagonist
By James Ron and Howard Lavine
Sept. 24, 2019
President Trump seeks to drive a wedge between American Jews and the Democratic Party. He claims that the Republican Party is more concerned with protecting Jewish people at home and abroad. He also wants to stoke tensions between American Jews and American Muslims. He loves to attack the Democratic Congresswomen Ilhan Omar and Rashida Tlaib, among others, as anti-Semitic because of their positions on United States policy toward the Israeli-Palestinian conflict.
Our survey research, however, indicates that the biggest threat to the rights of the Jewish people comes from homegrown American nativists. These people dislike all manner of groups they view as foreign to this country and our research shows that they are even more vehemently opposed to Muslims than they are to Jews. American Jews and American Muslims thus have a common adversary who are to be found, for the most part, among Mr. Trump's most committed supporters.
Our claims are based on a poll we conducted in late 2018 with the help of YouGov, a survey research firm, that queried a 2,000-person, nationally representative sample of American adults.
We asked, "How important is it to you to protect the rights of the following groups of people living in the United States?" We then mentioned 22 different groups, including Jews and Muslims. We also asked, "how important do you think it is for the United States government to protect the rights of the following groups living outside of the U.S.?" This time we asked about 16 different groups, once again including Jews and Muslims.
What shapes the views of Americans on the importance of Jewish and Muslim rights at home and abroad? Mr. Trump suggests that party affiliation — being a Democrat or a Republican — matters most. But what do the numbers show?
To find out, we ran a statistical analysis predicting respondents' views on the importance of protecting Jewish rights as a function of being a Republican or a Democrat. We then added a number of other factors including age, financial worry, religious identity and education level.
The results are the precise opposite of Mr. Trump's implied prediction. The more strongly respondents identify with the Republican Party, the more negatively inclined they were toward the rights of Jews, both at home and abroad. Non-Jewish, strongly committed Republicans rated the importance of the rights of American Jews 12 percent lower than non-Jewish, strongly-committed Democrats. They also rated the importance of the rights of overseas Jews 16 percent lower.
Deeper statistical analysis suggests that the underlying orientation driving respondents' views on Jewish rights is nativism, defined here as a belief in prioritizing the rights and needs of white, Christian Americans. To measure nativist opinion, we combined responses to a number of questions about the perceived vulnerability of whites in America; resentment of policies aimed at helping African-Americans overcome legacies of discrimination; and views toward immigration and refugee policy. Responses to these questions, we found, cohered together statistically, indicating that they represented a deeper core belief.
In a separate statistical analysis, we compared the impact of party identification and nativism together on respondents' beliefs in the importance of Jewish rights. Once nativist sentiment was taken into consideration, simply identifying as a Republican made you no less likely than identifying as a Democrat to believe in the importance of Jewish rights. It was the degree of nativist sentiment that mattered most. The most ardent nativists were 27 percent less interested in protecting Jewish rights at home than the least nativist. Strong nativists were 37 percent less interested in protecting the rights of Jews living abroad.
These nativists also dislike Muslims, and their Islamophobia is far stronger than their anti-Semitism. Strong nativists were 76 percent more skeptical of the need to protect the rights of American Muslims than non-nativists and 85 percent more skeptical of the rights of Muslims living abroad.
Just how many nativists are there in America, and where do they cluster, politically speaking? Our calculations suggest that just over 20 percent of the adult population in the United States is made up of strong nativists — that's roughly 40 million people. Seven percent of them identify as Democrats, 50 percent identify as Republicans and 34 percent identify as independents. Sixty-four percent of the strong nativists in our sample said that they had voted for Mr. Trump in the Republican Party's 2016 presidential primaries. Seventy-seven percent of the strong nativists in our sample reported that they voted for Mr. Trump in the 2016 general election, compared with 3 percent for Hillary Clinton.
Our analysis offers some stark facts about anti-Semitism and Islamophobia in the United States. First, there is indeed a group in this country that is skeptical of Jewish rights, and it numbers in the tens of millions. Contrary to Mr. Trump's warning, however, these people are barely found among those who identify with the Democratic Party. They cluster most heavily among adherents of the Republican Party and the president himself.
Second, despite understandable tensions between American Jews and American Muslims over Middle East policy, both communities face the same domestic detractors. American nativists dislike them both and believe that Jewish and Muslim rights are relatively unimportant.
Full report at:
https://www.nytimes.com/2019/09/24/opinion/anti-semitism-republicans.html
--------
US jazz singer 'blessed' to be Muslim
September 24, 2019
A U.S. jazz singer Muslim convert who has worked with global stars including Michael Jackson and Whitney Houston said she was very blessed to meet Islam.
"Islam is an education. Education of the truth. I am very blessed to become a Muslim," Della Miles told Anadolu Agency after a concert in the Manavgat district of the Mediterranean city of Antalya in southern Turkey.
Saying she decided to live in Turkey since she loves Turkish people and culture, Miles expressed her happiness to live in the Dalyan district of the southwest province of Mugla saying: "Dalyan is a wonder of nature."
Miles performs in TV programs and projects in the country, and has also planned duets with Turkish singers.
She added that she would perform in the Bodrum district of Mugla.
Highlighting the importance of working with professional singers such as Michael Jackson and Whitney Houston, Miles said she was highly influenced by Houston.
"Whitney Houston was a great singer and gave everything to the stage. I learned a lot from her," she added.
Referring to her conversation with Turkey's President Recep Tayyip Erdogan, Miles said this meeting was pleasing.
He behaved like we were close friends and showed his amity, she added.
The youngest of six children, Miles was born into a musical family. Her mother sang and directed music in church while her father was a jazz enthusiast and owner of a music venue.
Also a songwriter, Miles took to the stage with German actor and musician Marius Muller-Westernhagen. In 2012, she took a leading role in the American opera Lulu and later portrayed the wife of former U.S. President Barack Obama in Hope - The Obama Musical Story.
Full report at:
https://www.yenisafak.com/en/world/us-jazz-singer-blessed-to-be-muslim-3501297
--------
U.S. joins 19 nations, including Saudi Arabia and Russia: 'There is no international right to an abortion'
By Ariana Eunjung Cha
September 24, 2019
The Trump administration declared there's no "international right to abortion" at a United Nations meeting in New York this week, calling on other countries to join a coalition pushing the elimination of what it calls "ambiguous" terms and expressions, such as sexual and reproductive health, from U.N. documents.
"We remain gravely concerned that aggressive efforts to reinterpret international instruments to create a new international right to abortion and to promote international policies that weaken the family have advanced through some United Nations forums," Health and Human Services Secretary Alex Azar and Secretary of State Mike Pompeo said in a letter circulated in advance of the gathering.
Earlier this year, HHS officials began meeting with representatives from other countries, urging them to join a new international coalition that would focus on the value of the family, and which would not condone harmful sexual risks for young people, or promote abortion as a means of family planning.
Other countries, civil society and women's rights groups have expressed alarm at the efforts, and accused the United States of aligning with countries like Saudi Arabia and Sudan with poor human rights records and, also, of putting unfair pressure on poor countries that depend on U.S. aid.
Numerous country representatives tweeted their objections to U.S. statement under the hashtag #SRHR — sexual and reproductive health and rights — the very language the United States has sought to erase from U.N. documents.
Sweden's Minister for International Development Cooperation tweeted that the action was "unbelievable news," and that "women's rights must be protected at all times."
https://t.co/VMKhP5ndph
Unbelievable news. #SRHR and womens rights must be protected at all times. It has been and will continue to be a priority for Sweden.
— Peter Eriksson (@MinisterPeterE) September 19, 2019
The Netherlands' Sigrid Kaag, minister of foreign trade, spoke out in a competing joint statement issued on behalf of 58 countries. While she did not use the word abortion, she repeatedly stressed the need to uphold the full range of sexual and reproductive rights.
And Françoise Girard, president of the International Women's Health Coalition, said that "sexual and reproductive rights are human rights, and are enshrined in UN agreements for almost 25 years now."
"The Trump administration's position is extreme and its repeated attempts to strip women, girls, and gender- diverse people of their rights at the United Nations have failed," Girard said.
Antiabortion groups, meanwhile, praised the statement as a sign of the administration's "strong pro-life leadership on the world stage."
"From day one, President Trump has worked to restore respect for life as a foundational American value, not only in our domestic policies, but in our international relations as well," SBA List President Marjorie Dannenfelser said in a statement.
Azar unveiled the results of that work on Monday, announcing 19 states representing 1.3 billion people had agreed to work with the United States on these issues.
Below is the full text of the United States' joint statement:
We are pleased to speak on behalf of the United States of America, Bahrain, Belarus, Brazil, Democratic Republic of the Congo, Egypt, Guatemala, Haiti, Hungary, Iraq, Libya, Mali, Nigeria, Poland, Russia, Saudi Arabia, Sudan, United Arab Emirates, and Yemen.
We believe that health of women, men, children and adolescents supports and improves the overall health of our families and communities, and that the family is the foundational institution of society and thus should be supported and strengthened.
We commend the United Nations and the Member States on the significant work done on the Universal Health Coverage Political Declaration, and for the high priority placed on expanding access to health care.
We therefore urge Member States to join us in focusing on the important work of expanding health and opportunities for all people, and especially those in situations of risk and/or vulnerability.
To make the most meaningful progress without delay or dissension, we respectfully call upon Member States to join us in concentrating on topics that unite rather than divide on the critical issues surrounding access to health care.
We do not support references to ambiguous terms and expressions, such as sexual and reproductive health and rights in U.N. documents, because they can undermine the critical role of the family and promote practices, like abortion, in circumstances that do not enjoy international consensus and which can be misinterpreted by U.N. agencies.
Such terms do not adequately take into account the key role of the family in health and education, nor the sovereign right of nations to implement health policies according to their national context. There is no international right to an abortion and these terms should not be used to promote pro-abortion policies and measures.
Further, we only support sex education that appreciates the protective role of the family in this education and does not condone harmful sexual risks for young people.
We therefore request that the U.N., including U.N. agencies, focus on concrete efforts that enjoy broad consensus among member states. To that end, only documents that have been adopted by all Member States should be cited in U.N. resolutions.
To this end, we also understand the important role the Sustainable Development Goals play in assisting countries realize their own path to universal health coverage, in accordance with national policies and legislation.
We strongly support the highest attainable health outcomes for women, men, children, and adolescents holistically and throughout their lives.
We support equal access to health care, which includes, but is not limited to reproductive concerns, maternal health, voluntary and informed family planning, HIV, elimination of violence against women and girls, and empowerment to reach the highest standard of health.
We support programs to improve the health, life, dignity, and well-being of women, men, children, and families, and we will continue to be their stalwart defender.
Let us focus on concrete issues and challenges to accelerate access to health for all.
To this end, international solidarity has a key role to play, in order to the build broad consensus by member states."
The Netherlands joint statement is below:
Mr. President,
It is my pleasure to deliver this statement on behalf of the governments and peoples of Albania, Antigua and Barbuda, Argentina, Armenia, Australia, Austria, Belgium, Bolivia, Bosnia and Herzegovina, Bulgaria, Cap Verde, Chile, Colombia, Costa Rica, Croatia, Cyprus, Czech Republic, Denmark, Dominican Republic, El Salvador, Estonia, Fiji, Finland, France, Germany, Greece, Guinea, Iceland, Ireland, Italy, Latvia, Lebanon, Liberia, Liechtenstein, Lithuania, Luxembourg, Malta, Mexico,
Montenegro, Nepal, New Zealand, North Macedonia, Norway, Panama, Peru, Portugal, Romania, Serbia, Slovenia, South Africa, Spain, Sweden, Switzerland, Togo, Tunisia, United Kingdom and Uruguay, as well as my own country, The Kingdom of the Netherlands.
Mr. President, I would like to join previous speakers in congratulating you on your election and wishing you a successful tenure. We wish to express our appreciation and give thanks to Ambassador Imnadze of Georgia and Ambassador Srivihok of Thailand, for steering the negotiations on the Political Declaration on Universal Health Coverage (UHC) to success. We thank Director-General Tedros Adhanom Ghebreyesus of WHO for his support and look forward to his continued leadership in advancing UHC. We also acknowledge the outstanding contributions of civil society to this process.
Mr. President, today, the adoption of the Political Declaration and this historic High-Level Meeting on Universal Health Coverage constitute a defining moment for the benefit and the well-being of millions of people around the world. UHC is fundamental for achieving all sustainable development goals. We believe that the implementation of this Political Declaration will be a major contribution to a world i which every person's right to health is protected. As we celebrate this milestone, I would like to addressthe importance of sexual and reproductive health and rights to realize UHC and achieve the SDGs, in four points:
First, we strongly believe that SRHR is an integral part of Universal Health Coverage and the SDGs. For UHC to be genuinely universal, it must embrace all health services, including sexual and reproductive health and rights (SRHR). Sexual and reproductive health services in UHC programs need to be of good quality, available, accessible and acceptable to all women and girls across the life course, free of stigma, discrimination, coercion and violence. Many examples of national UHC schemes encompassing SRHR, around the world, have demonstrated the significant difference such programs can make in preventing risks, reducing harm, and ultimately saving lives.
Second, investing in SRHR has proven to be affordable, cost-effective, and cost saving. Such investments significantly contribute to reducing financial risk, decrease the burden on health systems, and hence foster economic development, poverty reduction and sustainable development. Around sixty-two percent of sexual and reproductive health services are financed out-of-pocket by patients, with alarming implications for equitable access to these preventable and life-saving services. With a limited investment of nine US dollars per person, per year, these essential services can be available to all.
Third, gender-related barriers to accessing UHC must be addressed, including by direct involvement of women, adolescents and marginalized groups in policy and program design. Gender inequalities are a barrier to the realization of the right to health and universal and equitable access to quality health services. They are also a barrier to achieving the SDG targets of reducing maternal mortality, ensuring universal access to SRHR, addressing gender-based violence as well as harmful practices.
Full report at:
https://www.washingtonpost.com/health/2019/09/24/us-joins-nations-including-saudi-arabia-russia-there-is-no-international-right-an-abortion/
--------
Trump is right to counter Iran's terror — combat vets have seen its effects
Sep 23, 2019
From Lebanon to Iraq, and from Argentina to the high seas, the mullahs of Iran long have spread and sponsored terror in an attempt to exert their will on the rest of the world. They're at it again in Saudi Arabia, propping up Houthi Shiite rebels and reportedly sponsoring attacks on that nation's oil infrastructure. As Iran's leaders feel the squeeze of the Trump administration's decision to reinforce economic sanctions, they predictably are acting out to try to extort a better outcome for themselves.
Along with other veterans of the wars in Iraq and Afghanistan, I've seen firsthand the effects of Iran's state-sponsored terror. In 2008 and 2009, I led a counter-improvised explosive device (IED) team in Afghanistan and we found an explosively formed penetrator (EFP), a type of IED that was most certainly of Iranian origin. During the Iraq and Afghanistan wars, the U.S. Department of Defense estimates that at least 608 (and likely more) Americans were killed by Iranian EFPs and other Iranian methods.
The EFP is one of the few devices that has the capacity to consistently pierce the armor of American mine-resistant vehicles and to kill those inside; hence, the reason that Iran seeded the battlefields of Iraq and Afghanistan with these devices. The Iranian government sought to kill as many American service members as possible. This is the true nature and desire of those who lead the Iranian government, and there is no sign of this changing anytime soon.
Despite this record of terror and murder, President Obama's 2015 Iran nuclear deal gave the Iranian government access to over $100 billion in assets that had been frozen following the 1979 Iranian revolution and previous episodes of Iranian terrorism. Since the agreement went into effect, estimates show about $1.7 billion of those assets have been used to fund terrorism through Hezbollah and other Iranian proxies.
Recently, that same Iran deal money likely has been used to fund the rebels who launched the attacks on Saudi Arabia. Put simply, the assets released by the Obama administration have been converted into blood money.
The nuclear deal also allowed the Iranian government to continue to enrich uranium, albeit with various restrictions placed on the type and volume of uranium. The deal also pushed off Iran's ability to produce weapons-grade plutonium for years. The Obama administration pitched these potential delays as a win. But, if you have children — or simply hope to live at least another decade or two — these are hardly comforting numbers, given Iran's acknowledged status as the world's leading terror state.
Before turning over such a massive stock of funding to terrorists, one would have hoped that at least President Barack Obama would have examined why Iran needs nuclear power at all. Iran is estimated to have about 18 percent of the world's natural gas reserves, the second most of any country in the world, next to Russia. And natural gas is the cleanest, cheapest way to provide critical baseload power to a country's electrical grid.
The truth is that Iran doesn't need nuclear plants to power its electrical grid. Instead, Iran is fighting for its ability to continue to enrich uranium and produce plutonium because it wants to construct nuclear weapons to further perpetrate terror.
Today, Iran is lashing out in Saudi Arabia and in the Strait of Hormuz because the mullahs know that the glide path to power created by the Obama administration has been dismantled by the Trump administration's decision to pull out of the Iran deal in 2018. Since the U.S. reinstated sanctions, the Iranian gross domestic product shrunk by 3.9 percent in 2018 — and is projected by the International Monetary Fund to shrink by 6 percent more in 2019. Meanwhile, the Iranian rial has lost 60 percent of its value versus the dollar.
The same tired group of "foreign policy experts" who cheered the creation of an Iran nuclear deal that handed cash, time and continued nuclear capability to a proven terror state now are pointing fingers at the Trump administration and blaming them for Iran's bad behavior. This is patently absurd. In the Obama administration and its allies, Iran knew it had patsies. Today, as their economy folds, the terrorists who run the Iranian government know they are running out of time.
Terrorists don't change their stripes, and should not be given time and resources to sponsor greater terror. This statement is not a call to war; it is a recognition that putting Iran on the path to becoming a nuclear power within the next 10 to 15 years was not a good deal for the American people.
President Trump is right to ratchet up the economic and diplomatic pressure on the Iranian government, to reduce their capability to fund terror, to disrupt their ability to develop nuclear weapons, and to shorten their political lifespan. The Iranian regime no doubt will continue to lash out as the pressure intensifies, but they will do so without the nuclear weapons that they desire.
Full report at:
https://thehill.com/opinion/national-security/462435-trump-is-right-to-counter-irans-terror-combat-vets-have-seen-its
--------
Democrats launch formal Trump impeachment inquiry
September 25, 2019
Top US Democrat Nancy Pelosi on Tuesday announced the opening of a formal impeachment inquiry into President Donald Trump, saying he betrayed his oath of office by seeking help from a foreign power to hurt his Democratic rival Joe Biden.
The dramatic move — the first step in a complex process that stands little chance of driving Trump from office — pushed US politics into a perilous new chapter just 14 months before new elections for control of the White House and Congress.
Following the bombshell developments from Trump Tower in New York — after addressing the UN General Assembly — the president denounced the inquiry as "Witch Hunt garbage" — while also claiming it would help his re-election chances in 2020.
"The actions of the Trump presidency revealed the dishonourable facts of the president's betrayal of his oath of office, betrayal of our national security, and betrayal of the integrity of our elections," Pelosi told a highly anticipated news conference in the US capital.
"Therefore, today I'm announcing the House of Representatives moving forward with an official impeachment inquiry."
Pelosi, the speaker of the House of Representatives, and other Democratic Party leaders had resisted taking the step for months, preferring to focus on the coming election fight.
But a combination of the newest allegations that Trump offered Ukraine aid in return for help to damage Democratic White House frontrunner Biden, and a groundswell of support for impeachment among the party's rank and file, appeared to tip the balance.
"The president must be held accountable. No one is above the law," she said.
'Presidential Harassment!'
The ramped-up push for impeachment was fueled by a scandal over Trump's reported attempt to pressure the incoming president of Ukraine, Volodymyr Zelensky, to open a corruption investigation into Biden, and Biden's son Hunter, who had done business in the Eastern European country.
Triggering the confrontation was an as yet secret whistleblower complaint reportedly centered on Trump's phone call July 25 with Zelensky.
Seeking to head off the looming impeachment threat, Trump announced on Tuesday he would release the transcript of the call.
"You will see it was a very friendly and totally appropriate call. No pressure and, unlike Joe Biden and his son, NO quid pro quo!" he tweeted.
Live news channels played Pelosi's speech on TV over the lobby bar at Trump Tower, where the president retreated Tuesday afternoon after an intense day of UN diplomacy.
"PRESIDENTIAL HARASSMENT" he lashed out on Twitter afterwards.
"Such an important day at the United Nations, so much work and so much success, and the Democrats purposely had to ruin and demean it with more breaking news Witch Hunt garbage," he wrote.
Trump has admitted discussing Biden with Zelensky, but denies he tied hundreds of millions of dollars in aid to Kiev to it investigating the former US vice president.
On Tuesday the US leader said he had frozen aid to Ukraine, but only to force European allies to increase their own support for Zelensky's government.
Biden backs impeachment
Trump's decision to release the transcript was too little to appease Democrats, who are demanding the White House release to Congress the complaint from the intelligence community whistleblower, believed to contain additional evidence of wrongdoing.
Lawyers representing the whistleblower said in a statement on Tuesday that there had been a "decision to release the whistleblower complaint," but did not provide further details.
Democrats also want more documents and testimony on other investigations into Trump, on allegations he obstructed justice, illegally profiteered from his position as US leader, colluded with Russia and other alleged abuses.
Setting up more Washington drama, senior Democrat Adam Schiff said the still-unidentified whistleblower, believed to work for one of the US government's myriad intelligence bodies, could soon testify to the House Intelligence Committee, which he leads.
The New York Times reported Tuesday that intelligence and White House officials were working on a deal for the whistleblower to meet with congressional investigators.
Having held off for weeks, Biden himself declared Tuesday his support for an impeachment investigation.
"If he continues to obstruct Congress and flaunt the law, Donald Trump leaves Congress in my view no choice but to initiate impeachment," Biden told a news conference.
"That would be a tragedy, but a tragedy of his own making."
Perilous process
Launching an impeachment probe is a politically perilous move, coming just as both parties begin to gear up for next year's elections.
Now that a formal inquiry has been made, a committee would normally be assigned the task of gathering evidence to support the case against the president.
If the evidence is firm enough, the committee will draft articles of impeachment — formal charges against the president — for the entire House to vote on. They can pass with a simple majority.
Full report at:
https://www.dawn.com/news/1507269/democrats-launch-formal-trump-impeachment-inquiry
--------
35 US lawmakers urge their govt to reduce tensions in South Asia
September 25, 2019
NEW YORK: Any US assistance to encourage bilateral discussions between India and Pakistan would help preserve global order and would serve to enhance the safety of Americans, says a letter signed by 35 US lawmakers.
The letter, addressed to Kelly Craft, the US ambassador to the United Nations, also conveys concerns of the US Congress on India's decision to annex occupied Kashmir, noting that it could lead to a clash between South Asia's two nuclear powers, India and Pakistan.
The letter asks the ambassador to let Congress know what actions the US mission to the United Nations and the Trump administration have taken so far to reduce tensions between India and Pakistan over Kashmir.
"We write out of concern with the recent activity in the Kashmir region, amid increasing tensions between the nations of India and Pakistan — both of whom have nuclear capabilities. Maintaining peace and stability in this region is a matter of global security," the lawmakers wrote.
"As you know, last month the Indian government announced it would revise the legal status of the Jammu and Kashmir state. Historically, the Indian constitution has granted special autonomous status to the state. In late July and early August, India moved 45,000 troops into the Kashmir region. Upon removing the special status on Aug 5, residents' freedom of movement and communications were suspended in the area. We are encouraged by recent reports that the restrictions have begun to be uplifted.
"As the United Nations begins its 74th session of the General Assembly, we encourage you to use the full weight of the US Mission to the United Nations to encourage India and Pakistan to bilaterally mitigate tensions. Any assistance that the United States can offer to defuse tensions in the region and encourage bilateral discussions between the two countries is of the utmost importance to assuring the safety of Americans and preserving global order.
Full report at:
https://www.dawn.com/news/1507207/35-us-lawmakers-urge-their-govt-to-reduce-tensions-in-south-asia
--------
US Official Meets in Lebanon Over Anti-Hezbollah Sanctions
September 24, 2019
BEIRUT - A senior United States Treasury official was visiting Beirut on Monday, where he's explaining the motives behind recent U.S. sanctions targeting Lebanon's Iranian-backed Hezbollah group, Lebanon's central bank governor said.
Treasury Department Assistant Secretary Marshall Billingslea met with the prime minister and the speaker of parliament, as well as officials from the Association of Banks in Lebanon and the central bank governor.
Hezbollah holds three cabinet seats, and along with its allies has more power than ever in the parliament and government. It is also among the most effective armed groups in the region, extending Iran's influence to Israel's doorstep. Domestically, the group's power exceeds that of the Lebanese armed forces.
Lebanon's Central Bank chief Riad Salameh played down reports in local media that the U.S. will impose further sanctions on the country's dollar-strapped banking system. He said Billingslea "is not coming here to squeeze Lebanon.''
A U.S. embassy statement said Billingslea "will encourage Lebanon to take the necessary steps to maintain distance from Hezbollah and other malign actors attempting to destabilize Lebanon and its institutions.''
Last month, the Treasury's Office of Foreign Assets Control sanctioned Jammal Trust Bank and added it to its list of global terrorist organizations. The bank denied U.S. charges about "knowingly facilitating banking activities'' for Hezbollah militants.
The bank last week was forced to request self-liquidation and the move was accepted by the central bank governor.
The U.S. has been imposing sanctions on Hezbollah for years, as Washington considers the group a terrorist organization. Such steps have increased in recent months as the Trump administration is using ``maximum pressure'' against Iran, Hezbollah's main backer.
In July, the Treasury Department targeted a Hezbollah security official and two members of Lebanon's parliament, saying they are suspected of using their positions to further the aims of the militant group and "bolster Iran's malign activities." It was the first time Washington targeted Hezbollah legislators.
Full report at:
https://www.voanews.com/middle-east/us-official-meets-lebanon-over-anti-hezbollah-sanctions
--------
Europe
Far-right hoaxers behind Islam posters
September 25 2019
Far-right members of an anonymous online message board are behind a series of inflammatory posters that appeared in Limerick city, an analysis has found.
Posters stating "Islam is RIGHT about women" were placed above street signs in a number of cities around the world over the past week as part of a hoax campaign.
Elisa O'Donovan, a Social Democrats councillor, said that she took down five of the posters in Limerick city centre on Sunday and handed them in at a garda station. She said that the posters were clearly intended to "incite hate" towards "either women or Muslims".
An analysis by Storyful, the social media intelligence agency, found that the posters originated on 4chan, the anonymous online message board. The online community is known…
https://www.thetimes.co.uk/article/far-right-hoaxers-behind-islam-posters-g7cnkw0b2
--------
EU Parliament holds event on Islamophobia
Yusuf Hatip
24.09.2019
BRUSSELS
The EU Parliament held an event on Tuesday to discuss Islamophobia.
Tomasso Chiamparino, the EU Commission Coordinator On Combating Anti-Muslim Hatred, said hatred and discrimination had become commonplace in the discourse of some politicians and that this could not be ignored.
Chiamparino said that despite discrimination against people with headscarves or beards, combating Islamophobia was not a priority in many countries.
Underlining that the voice of victims of Islamophobia were not being heard, he added that if countries failed on this issue, the EU project would be unsuccessful.
EU Parliament lawmaker Magid Magid, said the far right started to gather supporters across Europe, and that these people not only threatened human rights but also security.
"Let's not give one more inch to Islamophobia. Let's push back against hijab bans and halal bans," Magid said.
Speaking to Anadolu Agency after the event, former lawmaker of the Brussels Capital Region Parliament Mahinur Ozdemir said Islamophobia intensely affected women.
Ozdemir said women became subjects of Islamophobia at a rate of 76% in Belgium and 84% in France.
"Hate speech has started to turn into attacks," she stressed.
Full report at:
https://www.aa.com.tr/en/europe/eu-parliament-holds-event-on-islamophobia/1592930
--------
Saudi Arabia accuses Australia of racism in extraordinary UN broadside
Ben Doherty
25 Sep 2019
Saudi Arabia has accused the Australian government of racism and of supporting anti-Islamic terrorists like the alleged Christchurch shooter, in an extraordinary dispute that has erupted at the United Nations.
Earlier this week, Australia led a coalition of countries condemning Saudi Arabia over a raft of human rights abuses, including arbitrary detention, torture, enforced disappearances and the murder of Jamal Khashoggi.
Australia's ambassador to the UN, Sally Mansfield, delivered a statement on behalf of 24 nations to the United Nations Human Rights Council in Geneva, excoriating the Saudi kingdom for systematic violence and human rights abuses, particularly against those who oppose the ruling regime.
The Australian mission to the UN was a key drafter and organiser of the statement. Other backers of the statement included the UK, Canada, Germany and New Zealand.
"We remain deeply concerned at the human rights situation in Saudi Arabia," Mansfield said. "Civil society actors in Saudi Arabia still face persecution and intimidation. Human rights defenders, women's rights activists, journalists and dissidents remain in detention, or under threat. We are concerned at reports of torture, arbitrary detention, enforced disappearances, unfair trials, and harassment of individuals engaged in promoting and defending human rights, their families and colleagues."
Saudi Arabia itself is a member of the 47-member UN Human Rights Council, though the country's ambassador was not in the room to hear the speech, having left to host his country's national day reception.
But a day later the Saudi ambassador, Abdulaziz Alwasil, launched an extraordinary broadside, targeting Australia.
He said minorities, migrants and Muslims face "horrific violations of human rights … racist and extremist policies".
"Unfortunately, these have become popular and even accepted by some western parliaments, they are even sponsored by certain governments.
"We see in some countries, radicalism against Muslims, we see xenophobia, racism. And some governments sympathise with them, like Australia. Here we refer to the massacre perpetrated by Brenton Tarrant – an Australian – which was based on hate speech."
Alwasil condemned Australia's speech as ill-informed.
"We have listened with great surprise to the statement of Australia on behalf of a group of states. In it, there are many mistakes and misleading information against my country. The Kingdom continues its reform policies in accordance with its values and Islamic teachings, especially with regards to the rights of women."
The coalition of mainly western countries said Saudi Arabia needed to demonstrate genuine accountability for the murder of Washington Post columnist Jamal Khashoggi inside the Saudi consulate in Istanbul last October.
Saudi officials at first denied responsibility for Khashoggi's death, but eventually admitted he had been killed inside the consulate. A report published in June by the UN special rapporteur on extrajudicial executions said there was credible evidence warranting further investigation of high-level Saudi officials, including Crown Prince Mohammed bin Salman. The report also said that the circumstances "point to a possible act of torture."
"It is important that truth be established and accountability be achieved ... for Mr Khashoggi's loved ones … we call for an end to impunity for torture and extrajudicial killings," the statement read by the Australian ambassador said.
Edwina MacDonald, the legal director at the Human Rights Law Centre, said Australian leadership to build international pressure on Saudi Arabia was welcomed.
"We applaud the Australian government for taking a principled stand and speaking up about extremely concerning human rights violations that another member of the council has been committing with impunity," MacDonald said.
"Public condemnation like this from Australia and other countries will increase the pressure on Saudi Arabia … if you have a seat on the UN Human Rights Council, then you have an obligation to use it."
The UN feud complicates Australia's relationship with the Saudi kingdom. Australia sells weapons to Saudi Arabia, and Australia is a part of the US-led mission patrolling the Strait of Hormuz, a mission aimed at curbing Saudi antagonist Iran's actions in the Gulf.
Full report at:
https://www.theguardian.com/australia-news/2019/sep/25/saudi-arabia-accuses-australia-of-racism-in-extraordinary-un-broadside
--------
Johnson to urge Iran to release Nazanin Zaghari-Ratcliffe
24 September 2019
Boris Johnson is to call for the release of jailed British-Iranian national Nazanin Zaghari-Ratcliffe when he meets Iran's president later.
The prime minister will meet Hassan Rouhani at a UN summit in New York, hours after blaming Iran for attacks on Saudi Arabian oil facilities.
It comes amid calls for him to take a tougher line with Tehran over its detention of dual nationals.
Mrs Zahgari-Ratcliffe has been detained in Iran since April 2016.
The 40-year-old was jailed for five years in 2016 after being convicted of spying, which she denies.
On his flight to New York on Sunday, Mr Johnson told reporters: "I will not only be discussing Iran's actions in the region, but also the need to release not just Nazanin but others who in our view are being illegally and unfairly held in Tehran."
Former foreign secretary Jeremy Hunt suggested Mr Johnson should form a new coalition of allies at the UN to call out Iran for its "diplomatic hostage taking".
And Mrs Zaghari-Ratcliffe's husband, Richard Ratcliffe, said the prime minister must tell his Iranian counterpart "enough is enough" and secure his wife's release.
"I don't mind how he does that, but this has gone on long enough," he said.
"Nazanin is at the end of her tether. We have to be clear with Iran that it's not OK to conduct hostage diplomacy."
Mr Hunt is supporting Mr Ratcliffe's move to launch a new campaign group made up of other families of different nationalities with loved ones held in Tehran.
He told BBC Radio 4's Today programme it should be a priority to ensure the price of taking hostages is "too high" for Iran.
"Iran is one of the few countries in the world that seeks to settle disputes by taking hostages," he said.
He said it is thought other countries' citizens have been taken hostage in Iran and only by working together can countries find a solution.
"When Europe and the US go separate ways on Iran it doesn't work," he said.
Campaign group
Mr Ratcliffe said efforts by Mr Johnson to get his wife released could make amends for comments he made as foreign secretary in 2017, when he said Mrs Zaghari-Ratcliffe was in Iran teaching journalism.
Mrs Zaghari-Ratcliffe's family has always insisted she was on holiday in Iran when she was arrested - and the UK government later clarified it had "no doubt" this was the case.
A number of people with dual Iranian and foreign nationality have been detained in Iran in recent years.
In August, a spokesman for Iran's judiciary said a British-Iranian dual national, Anousheh Ashouri, had been sentenced to 10 years in prison by a court in Tehran after being convicted of spying for Israel.
Weeks later, two British-Australian women and an Australian man were detained in Iran.
British-Australian Kylie Moore-Gilbert, a Middle East politics specialist at Melbourne University, is being held on charges that remain unclear, according to the Australian government.
Australians Mark Firkin and Jolie King, who also holds a UK passport - are also being detained in Iran.
Earlier this year, the UK foreign office warned all dual nationals against travelling to Iran because of the risk of arbitrary detention.
Tensions between the UK and Iran have worsened in recent months following a row over the seizure of oil tankers in the Gulf.
The meeting between Mr Johnson and Mr Rouhani comes after the UK, France and Germany agreed on Monday that Iran was responsible for the attack on Saudi oil facilities last weekend.
Saudi Arabia has also accused Iran of carrying out the 14 September attacks, in which 18 drones and seven cruise missiles hit an oil field and processing facility.
However, Iran has denied responsibility, accusing the UK, France and Germany of "parroting absurd US claims".
BBC diplomatic correspondent James Landale said slowly and cautiously, some diplomatic pressure was being applied on Iran.
Full report at:
https://www.bbc.com/news/uk-49805972
--------
UNC denies claims of 'pro-Islam' bias in Mideast studies program
2019-09-24
The University of North Carolina is disputing the Trump administration's accusations of bias in a Middle East studies program that the school operates with Duke University.
In a letter sent to the department Friday and obtained by The Associated Press through a records request on Monday, UNC's research chief defends the Duke-UNC Consortium for Middle East Studies, saying it has been a leader in Middle Eastern language studies for years.
UNC, which houses the consortium, was responding to an Aug. 29 letter from the department. Threatening to cut federal grant money, the department said the program focused too much on cultural offerings and not on language or national security and that it also placed too much emphasis on "the positive aspects of Islam" and not other religions.
Terry Magnuson, the school's vice chancellor for research, said UNC and Duke were the first universities in the Southeast to teach Middle Eastern languages on a regular basis. He said that UNC started offering Arabic classes in 1959 and that it now has the nation's highest enrollment in the Urdu language and the eighth highest in both Arabic and Turkish.
He rebuffed the argument that the consortium fails to provide adequate instruction on national security and economic issues, saying it hosts dozens of programs a year on the topics, sometimes featuring former national security officials from the Trump, Obama, and Bush administrations.
Magnuson also contested the Trump administration's claim that certain cultural programs, including one on Iranian art and film, should not be supported with taxpayer money. He said such programs help improve language acquisition and attract new students to the consortium's courses.
Education Secretary Betsy DeVos had ordered an investigation into the program in June following complaints of anti-Israel bias at a conference hosted by the consortium. Critics said it featured a rapper who performed an anti-Semitic song.
The department's investigation did not directly take a stance on any anti-Semitism but instead evaluated if the consortium was meeting rules tied to a federal grant for language programs. It said the consortium was falling short of the grant's goals and had until Sept. 22 to revise its proposal.
Among its findings, the department said the program failed to provide a "balance of perspectives" on religion. It argues that the consortium promoted the "positive aspects" of Islam but not Christianity, Judaism or other religions. It also said the consortium focused too much on Islam and failed to teach about discrimination faced by Christians, Jews and other religious minorities in the Middle East.
Magnuson countered that the consortium has hosted events on the persecution of Armenian Christians and other religious minorities. He said a positive appreciation for Christianity, Judaism, and other religions "suffuses" all the programs in question, noting that the consortium has hosted events including a visit to a Jewish center to explore Jewish traditions and presentations on Christianity in Lebanon.
Academic freedom advocates say the department's letter amounted to ideological harassment, but UNC makes no such argument in its letter. Magnuson said the school "deeply values its partnership" with the department and "has always been strongly committed to complying" with the grant program.
Full report at:
https://www.israelhayom.com/2019/09/24/unc-denies-claims-of-pro-islam-bias-in-mideast-studies-program/
--------
Britain, France, Germany blame Iran for Saudi attack
24 September 2019
France, Britain and Germany said on Monday it is clear Iran was responsible for an attack on Saudi oil facilities on September 14 and called on Tehran to agree to negotiations on its nuclear and missile programs as well as regional security issues.
"The time has come for Iran to accept a long term negotiation framework for its nuclear program, as well as regional security issues, which include its missile programs," the three governments said in a joint statement.
French President Emmanuel Macron, British Prime Minister Boris Johnson and German Chancellor Angela Merkel met during the annual United Nations gathering of world leaders to coordinate their strategy on Iran as the European parties seek to save a 2015 nuclear deal and defuse tensions between Washington and Tehran.
"It is clear to us that Iran bears responsibility for this attack. There is no other plausible explanation," a statement by the three leaders said.
With Johnson laying the blame on Iran earlier in the day, it was the first time Paris and Berlin had done so.
The three countries said they remained committed to the 2015 Iran nuclear deal, but demanded that Tehran return to full compliance after reneging on some of its commitments.
Full report at:
https://english.alarabiya.net/en/News/middle-east/2019/09/24/Leaders-of-France-Germany-Britain-say-Iran-behind-Saudi-attack.html
--------
Merkel to meet separately at UN with Trump, Rouhani: German official
24 September 2019
German Chancellor Angela Merkel will on Tuesday hold separate talks with US President Donald Trump and Iranian President Hassan Rouhani on the sidelines of the United Nations General Assembly, a government spokesman said.
Merkel "will today hold bilateral meetings on the sidelines of the General Assembly - one with President Trump and the other with President Rouhani," the spokesman said.
https://english.alarabiya.net/en/News/world/2019/09/24/Merkel-to-meet-separately-at-UN-with-Trump-Rouhani-German-official.html
--------
Iranian, French presidents discuss de-escalation of Mideast tensions in New York
Sep 24, 2019
President Hassan Rouhani of Iran and his French counterpart Emmanuel Macron have held talks in New York on ways to ease regional tensions and save the 2015 Iran nuclear deal.
During the Monday meeting held at Rouhani's place of residence, the two presidents conferred on de-escalation of ongoing tensions in the Middle East, according to IRNA.
They further exchanged views on ways to save the nuclear deal, officially known the Joint Comprehensive Plan of Action (JCPOA) and bilateral relations between Tehran and Paris, head of the media office of Iran's mission to the UN said.
Alireza Miryousefi
@miryousefi
Meeting between President Rohani and President Macron just ended. Two sides discussed ways to save the #IranDeal, bilateral relations, and President Rouhani's new initiative for the region: "HOPE".
View image on Twitter
99
6:44 AM - Sep 24, 2019
Twitter Ads info and privacy
66 people are talking about this
Macron and Rouhani also conferred on the latter's new initiative for peace in the region, named Hormuz Peace Endeavor (HOPE), which is to be unveiled at his Wednesday address to the UN General Assembly.
Before leaving Tehran for New York earlier in the day, Rouhani said his Peace Initiative is designed to include all countries of the region and aims to expand cooperation beyond regional security.
Foreign Minister Mohammad Javad Zarif also revealed that regional powers including Iran, Iraq, Saudi Arabia, Bahrain, the United Arab Emirates, Qatar, Oman, Kuwait and Yemen could join the broad regional coalition to ensure security in the Persian Gulf.
Speaking to reporters at a working breakfast with journalists on the eve of the UN General Assembly, Zarif said the coalition concept would act under the auspices of the United Nations.
The Monday meeting between Rouhani and Macron came shortly after the French president's brief meeting with US President Donald Trump.
Macron is set to meet Trump once again following the meeting with Rouhani, media reports said.
The French president was the one who expressed hope in late August that a long-anticipated meeting between the presidents of Iran and the United States would take place "in the next few weeks."
"We have created the conditions for this meeting, and so for an agreement. I am still very cautious, you have to show humility, but I think it's something which puts a stop to the escalation and which will allow us to reach the objectives which we are pursuing," he said at the time, in a joint press conference with Trump, which came after Macron's talks with Zarif in Biarritz.
Full report at:
https://www.presstv.com/Detail/2019/09/24/606969/Iran-France-macron-rouhani-meeting-tension-newyork
--------
Iran slams European call for new nuke deal
Mohamed Sabry Emam Muhammed
24.09.2019
Iranian Foreign Minister Mohammad Javad Zarif has criticized the European signatories to the 2015 nuclear deal for failure to honor their commitments.
On Monday, France, Germany and Britain have called on Tehran to accept negotiations on its nuclear program as well as issues related to regional security.
"E3's paralysis in fulfilling their obligations w/o US permission has been clear since May 2018," Zarif wrote in Twitter on Tuesday.
"Solution to this deficiency: mustering will to forge independent path—not parroting absurd US claims & requests INCONSISTENT with JCPOA."
"No new deal before compliance w/ current one," Zarif said.
Tensions between Iran and U.S. have worsened since U.S. President Donald Trump withdrew last year from the nuclear deal, also known as JCPOA, before reimposing sanctions against Tehran's oil and banking sectors.
Full report at:
https://www.aa.com.tr/en/europe/iran-slams-european-call-for-new-nuke-deal/1592180
--------
France, Germany, UK blame Iran for Aramco attack
Gozde Bayar, Burak Bir
24.09.2019
France, Germany and the U.K. on Monday blamed Iran for an attack earlier this month on Saudi oil facilities.
"It is clear to us that Iran bears responsibility for this attack. There is no other plausible explanation. We support the ongoing investigations for full details," the three governments said in a joint statement.
They also condemned the Sept. 14 attack, in which armed drones and missiles were reportedly used against sites run by state-owned oil company Saudi Aramco and reaffirmed their solidarity with Saudi Arabia and its people.
"These attacks may have been against Saudi Arabia, but they concern all countries and increase the risk of a major conflict...The attacks also highlight the necessity of de-escalation in the region through sustained diplomatic efforts and engagement with all parties," they added.
The statement also stressed that Iran should accept negotiations over its nuclear program and regional security issues.
"Conscious of the importance of collective efforts to guarantee regional stability and security, we reiterate our conviction that the time has come for Iran to accept negotiation on a long-term framework for its nuclear program as well as on issues related to regional security, including its missile program and other means of delivery."
They also urged Iran to refrain from further "provocation and escalation."
Drones hit two Aramco units in the north of Saudi Arabia in the attack, which was claimed by Yemen's Houthi rebels.
Since 2015, the Saudi-led coalition has been fighting the Iran-backed Houthis in Yemen. Thousands of Yemenis were killed and the country was pushed to the brink of famine.
Full report at:
https://www.aa.com.tr/en/europe/france-germany-uk-blame-iran-for-aramco-attack/1592007
--------
India
Members Of All India Muslim Forum Meet Mahant Janmejay, Back Ram Temple Construction In Ayodhya
Sep 25 2019
The members of the All India Muslim Forum (AIMF) on Tuesday (24 September) met Mahant Janmejay, the president of the Ram Janmabhoomi Mandir Nirman Nyas, at his ashram in Janaki Ghat in the temple town.
Presenting their version before the Mahant, AIMF member Aftab Ahmad said the solution should be found in an atmosphere of goodwill. "Lord Ram is venerable across the world," he said.
"Not only the AIMF but most Muslims want Lord Ram's temple in Ayodhya. We must guard against those vested interests who want disharmony between the two communities," Ahmad said.
Former Uttar Pradesh minister Mueed Ahmad said even if the Supreme Court delivers its verdict in favour of the mosque in Ayodhya, they would like Lord Ram's temple to be constructed.
Ram Janmabhoomi's chief priest Acharya Satyendradas, Nirmohi Akhara's Mahant Dinendra Das and Akhara's spokesperson Ranjeetlal Verma welcomed the AIMF's stance.
In the four-point suggestions, the AIMF has talked about leaving the disputed site. It has also talked about granting 10-acre land to the Muslims at a suitable place, keeping the status quo of religious sites in Ayodhya and implementation of the 1991 Places of Worship Act.
https://swarajyamag.com/insta/members-of-all-india-muslim-forum-meet-mahant-janmejay-back-ram-temple-construction-in-ayodhya
--------
Kartarpur Corridor: Punjab govt seeks Rs 39 crore one-time grant from Centre for security, infrastructure
by Navjeevan Gopal
September 25, 2019
THE PUNJAB government has asked for Rs 39.02 crore as a one-time grant from the Centre to establish 'robust security and policing infrastructure' at Dera Baba Nanak for the Kartarpur Corridor Project.
Out of Rs 39.02 crore, Rs 18 crore was sought for setting up of facilitation centres, Rs 16.34 crore for security, Rs 2.88 crore for healthcare services and Rs 1.8 crore for fire safety equipment.
In its response, which was received by the office of the Punjab chief secretary earlier this month, the Union Ministry of Home Affairs requested that the concerned state government authorities be directed to explore the possibility using existing/operational government-run Suvidha Kendras and other centres including police-run centres to facilitate the pilgrims intending to visit Kartarpur Sahib. The communique by the Secretary (border management) noted that concerned divisions of the Home Ministry had been directed to "examine the requirements of security, fire safety equipment and healthcare services under the relevant schemes/funds".
A dedicated portal for pilgrimage to Kartarpur Sahib is likely to be operational by mid-October, when people will be able to apply for the pilgrimage.
A representative of the Punjab government had — at a meeting of the empowered committee held earlier this month to review the project's progress — informed that concerned authorities in the state will sensitise the public to use the Suvidha Kendras/facilitation centres.
Full report at:
https://indianexpress.com/article/india/kartarpur-corridor-project-punjab-govt-seeks-rs-39-crore-one-time-grant-from-centre-for-security-infrastructure-6026034/
--------
No problem talking to Pakistan but 'Terroristan': S Jaishankar
Sep 25, 2019
NEW YORK: India has no problem talking to Pakistan but it has a problem talking to "Terroristan", external affairs minister S Jaishankar said here, asserting that Islamabad has created an entire industry of terrorism to deal with the Kashmir issue.
Jaishankar, addressing a New York audience at cultural organization Asia Society Tuesday, said when India decided to revoke Article 370 and bifurcate the state of Jammu and Kashmir into two union territories of Jammu and Kashmir and Ladakh, it drew a reaction from Pakistan and China.
Pakistan downgraded diplomatic relations with India and also expelled Indian high commissioner after New Delhi revoked the special status given to Jammu and Kashmir on Aug 5.
China had voiced "serious concern" over the situation in Kashmir, saying "the parties concerned should exercise restraint and act with caution, especially to avoid actions that unilaterally change the status quo and exacerbate tension."
Jaishankar emphasized that India has no problem talking to Pakistan. "But we have a problem talking to Terroristan. And they have to be one and not be the other," he said.
Jaishankar underlined that revoking Article 370 has no implications for India's external boundaries.
"We are sort of reformatting this within our existing boundaries. It obviously drew a reaction from Pakistan, it drew a reaction from China. These are two very different reactions. I think, for Pakistan, it was a country which has really created an entire industry of terrorism to deal with the Kashmir issue. In my view, it's actually bigger than Kashmir, I think they have created it for India," Jaishankar said.
He added that in the aftermath of India's decision to scrap Jammu and Kashmir's special status, Pakistan now sees its "investment" of 70 years undercut if this policy succeeds.
"So theirs is today a reaction of anger, of frustration in many ways, because you have built an entire industry over a long period of time," he said.
When asked that Pakistan has said a lot and what does he think it would do, Jaishankar said this is not a Kashmir issue but a bigger issue than that and Pakistan has to accept that the "model which they have built for themselves, no longer works. That you cannot, in this day and age, conduct policy using terrorism as a legitimate instrument of statecraft. I think that's at the heart of the issue."
Jaishankar recalled that over the years in Jammu and Kashmir, the lack of development, lack of opportunity, "actually created a sense of alienation, alienation to separatism, separatism used for terrorism."
When asked what does Pakistan need to do as a precondition for Kashmir talks, Jaishankar said, "I think we are getting this wrong. First of all Pakistan has to do something for its own good and if it does that, it would enable a normal neighbourly relationship with India."
He added that it is not like India and Pakistan agree on everything else and the two countries have wonderful relationships and there is a Kashmir issue.
"We had an attack on Mumbai city. The last time I checked, Mumbai city was not a part of Kashmir. So if Pakistani terrorists can attack states and regions which are far removed from Kashmir, we have got to recognize that there is a bigger problem out there," the minister said.
The problem is really the "mindset," he said adding that every time there is a change of government in Pakistan, "somebody says its new and nothing to do with the earlier guys" and blames the previous government.
Second, they say, "it has nothing to do with us as a country, it's all the Americans. The Americans taught us the bad habits by doing the Afghan jihad. We were good people till you came along," he said, taking a strong jibe at Pakistan.
"There is a fundamental issue there which they need to understand and we need to encourage them to do - that is to move away from terrorism," he said, adding that at one level it's a huge issue and another level it's a very obvious issue.
"These are not activities which are subterranean. These are activities in broad day light. They know where the camps are, anybody knows where the camps are, just google them. You'll find them," he said.
Jaishankar emphasized that the provision in the Indian Constitution which gave Kashmir a different status was a temporary provision. "Now, here's the funny thing. We rarely read that in the international press."
"We agree on what the word temporary means, it means something comes to an end. After 70 years, it came to an end. And 70 years is a decent definition of the word temporary," he said.
He said when the Narendra Modi government was voted back into power, it took a long hard look at what its options are about Article 370 in Jammu and Kashmir.
"And the options were either we do more of the same knowing it doesn't work, or we do something different. So I think the choice was ok, we will do something different. And that something different, by the way, has no implications for the external boundaries of India," he said.
On China, he said Beijing misread what was happening in Jammu and Kashmir after the revocation of Article 370.
Full report at:
https://timesofindia.indiatimes.com/india/no-problem-talking-to-pakistan-but-terroristan-s-jaishankar/articleshow/71287775.cms
--------
Jaish readying special squad to target PM Modi, NSA Ajit Doval: Intel
Sep 25, 2019
NEW DELHI: Jaish-e-Muhammed is readying a squad to target PM Narendra Modi and NSA Ajit Doval in retaliation to the defanging of Article 370 in J&K, sources in the intelligence establishment said. A major in Pakistan's notorious spy agency, ISI, is collaborating with the JeM brass for the "sensational attack", they added.
An input in this regard was conveyed by a foreign intelligence agency which intercepted communication between Pakistan-based JeM operative Shamsher Wani and his handler in the form of a handwritten note, an officer said. The input, accessed by TOI, spoke about plans for a big terror attack in September.
Accordingly, an alert has been issued to police in 30 "vulnerable" cities including Jammu, Amritsar, Pathankot, Jaipur, Gandhinagar, Kanpur and Lucknow.
Following the threats, security agencies have carried out a review of Doval's security detail. A Z-plus protectee, Doval faces an unprecedented level of threat given his role in anti-terror operations, including the surgical strike inside Pakistan-controlled territory after the terror attack on an Army camp in Uri and the IAF's bombing of one of the Jaish's main terror camps in Balakot.
Jaish, which has been seething with anger because of elimination of its key operatives in J&K by Indian security forces, has vowed to avenge the losses and the humiliation it suffered in Balakot when the IAF's jets bombarded the terror centre. The abrogation of special status for J&K on August 5 has whetted its resolve for, to quote senior intelligence sources, a "dramatic retaliation" by targeting high-value Indians.
Full report at:
https://timesofindia.indiatimes.com/india/jaish-readying-special-squad-to-target-pm-modi-nsa-ajit-doval-intel/articleshow/71284976.cms
--------
India counters Pakistan's bid to raise Kashmir at Eurasian Speakers' meet
Sep 24, 2019
NEW DELHI: Rajya Sabha deputy chairman Harivansh on Tuesday strongly countered Pakistan's attempt to raise the Kashmir issue at an international Speakers' meet and said the neighbouring country is a "known exporter of terrorists and epicentre of terrorism".
Addressing the Eurasian Speakers' meet in Kazakhstan, Harivansh said Pakistan was trying to hijack the meeting agenda by raising the issue and charged it with illegally occupying a part of Jammu and Kashmir and "finishing the identity and self-respect of locals".
Terming Pakistan's remarks as "very irresponsible", he said, "We feel that they have tried to hijack this meeting and raise issues which are not only totally unrelated to the subject matter of this forum but are absolutely internal matter of ours".
"Ironically, Pakistan has no authority - moral or otherwise, to dwell on Jammu and Kashmir which is an integral part of India. I did not want to say this but since my Pakistani counterpart has been insistent, I will have to make this point, the entire world knows that it is Pakistan that has illegally occupied our part of Jammu & Kashmir and they have finished the identity and self-respect of local people there," he said at the conference.
Harivansh in his speech forcefully countered the statements made by the Pakistani counterpart about Kashmir and said terrorism is an international concern and biggest threat to humanity.
The Rajya Sabha deputy chairman said state sponsored terrorism and cross-border terrorism have today become a threat not only to India but to the entire humanity.
"What is most ironic is that this issue is being raised by a country which is a known exporter of terrorists and is the epicenter of terrorism for entire world," he said at the 4th Meeting of Speakers of the Eurasian Countries' Parliaments at Nur-Sultan, Kazakhstan.
Pakistan has been raising the Kashmir issue at international forums including at the South Asian Speakers' Summit in the Maldives and a UNICEF event in Sri Lanka recently. India has strongly scuttled such bids.
Harivansh said the theme of this meeting - 'Greater Eurasia: Dialogue, Trust, Partnership' is very topical and appropriate, given the critical importance of Eurasia in the emerging global economy and geopolitics.
"Our role and contributions as Presiding Officers and the Parliamentarians will be of great significance in this endeavour," he said.
He said, "India attaches a great deal of importance to our relations with the countries of Eurasian region. We have a long historical, cultural, economic, trade and civilizational linkages with the countries of this region. We have always endeavoured to promote and develop this cooperation and engagement. India is keen to put in place a Trade Arrangement with the Eurasian Economic Union."
He said India is actively engaged bilaterally and multilaterally to promote connectivity in this region through various mechanisms such as International North South Transport Corridor (INSTC), Ashgabat Agreement, United Nations 'Transports Internationaux Routiers' (TIR) Convention, etc.
"Let me share India's vision for a more secure and prosperous Eurasian space as well as its concerns. Globalization is under stress due to new and emerging geo-political and geo-economic faultlines. India supports a rule-based order in the region, as in the rest of the world.
"But we confront unavoidable challenges such as terrorism, conflicts, trans-national crimes and maritime threats. There are also issues of climate change, sustainable development, energy security, gender equality and connectivity. These must be urgently addressed for our common good," he said.
Noting that sustainable development remains at the centre of all our initiatives and programmes, the Rajya Sabha deputy speaker said climate change poses significant development challenges, especially for developing countries need resources and technical assistance to achieve sustainable development.
India, he said, has long tradition of preserving Mother Earth for future generations. "Sustainable development remains at the centre of all our initiatives and programmes," Harivansh said.
"Our development actions are guided by the philosophy 'Sabka Saath, Sabka Vikas, Sabka Vishwas' which means inclusive growth. Our Prime Minister Narendra Modi ji's nationwide multi-sectoral initiative 'Beti Bachao, Beti Padhao- Save the Girl Child, Educate Her' has been conceived to tackle the issue of child sex ratio and education of girls. Awareness raising and advocacy and mindset change are pivotal elements of the campaign," he said.
Full report at:
https://timesofindia.indiatimes.com/india/india-counters-pakistans-bid-to-raise-kashmir-at-eurasian-speakers-meet/articleshow/71282492.cms
--------
Terror group hid in S. India after Burdwan blast: NIA
24 SEPTEMBER 2019
New Delhi, Sep 24 (IANS) The National Investigation Agency on Tuesday said a group of Jamaat-ul-Mujahideen Bangladesh (JMB) terrorists had taken shelter at various hideouts in South India to further the activities of the terror group after the 2014 Burdwan blast.
The anti-terror agency said the disclosure came during questioning of JMB terrorist Jahidul Islam alias Kausar, who is in NIA custody since September 19.
Two people were killed on October 2, 2014 in the busy Khagragarh locality of West Bengal''s Burdwan district when an improvised explosive device that they were allegedly making went off.
A special NIA court last month convicted 19 people, including four Bangladeshi citizens, in the case and all the accused confessed to their crimes before the court.
"Jahidul Islam said after Burdhwan blast in 2014, he and his associates took shelter at various hideouts in South India to escape from the clutches of law and to further the activities of Jamaat-ul-Mujahideen Bangladesh (JMB) in India," said an NIA statement.
The terrorist pointed out various hideouts at Atibele, Kadugodi, K.R. Puram, Chikkbanavara and Shikaripalya, Electronic City in Bengaluru, said the agency.
At the instance of the JMB terrorist, the NIA claimed it has seized several incriminating articles from the electronic city that were meant to be used for preparing Improvised Explosive Devices (IEDs) and grenades.
The seized IED materials include two cuboid-shaped batteries wrapped with plastic tape and electrical wire, one capacitor, three switches, one micro lithium cell, one plastic transparent box containing black colour chemical wrapped in a white paper, hand gloves, identity cards, rent agreement of one of the hideouts, said the NIA.
The NIA said it also seized some handwritten letters in Bengali language, one digital camera and silver articles looted during dacoities committed in Bengaluru in 2018.
Islam, the NIA said, also pointed out the places in Krishnagiri hill in Tamil Nadu''s Krishnagiri district (near Karnataka-Tamilnadu border) where he along with his JMB associates namely Habibur, Arif (Bangladesh), Fahim alias Fahad had test-fired three rocket shells prepared by them using a crude device during June-October 2017 and the place where they had concealed the remnants of the third test-fired rocket shell.
From this place, NIA said it seized remnants of explosive materials such as eight batteries of 1.5 volt each, a hollow cylindrical carton used for launching the rocket shell and pieces of electrical wire. A case was registered by Bengaluru Police on July 8 this year after it seized five improvised hand grenades, three fabricated grenades caps, three IED circuits, one timer device, two rocket bends, one jacket, one 9 mm pistol with live rounds, one air gun, suspected explosive powders and other incriminating materials from a house in Chikkabanavara village in Bengaluru rented by JMB members.
The NIA said that the recovery was made at the instance of Habibur Rahman, a JMB operative.
Full report at:
https://www.outlookindia.com/newsscroll/terror-group-hid-in-s-india-after-burdwan-blast-nia/1626400
--------
Agencies on alert after arrest of men linked to Al Qaeda
Neeraj Chauhan
Sep 25, 2019
The two Bangladesh nationals caught by the Border Security Force two months ago as they tried to sneak over the border into the state of Mizoram are members of Ansar al-Islam, an Al-Qaeda affiliated group known for carrying out violent attacks on Bangladeshi civil society figures and writers it deems enemies of Islam, two officials familiar with the matter said on condition of anonymity.
This is the first time the presence of Ansar al-Islam is being registered in India and it has set alarm bells ringing in intelligence agencies.
Last week, following up on this, the National Investigation Agency (NIA) registered a case to probe if there was a larger conspiracy to carry out attacks in the country.
The group, also known as the Ansarullah Bangla Team (ABT) in Bangladesh, is behind a series of murders there since 2013, including of writers, publishers, members of religious minorities, social activists, lesbian, gay, bisexual, and transgender.(LGBT) advocates and foreign aid workers.
An NIA official who spoke on condition of anonymity, said that Mahmud Hassan, a resident of Narsingdi Sadar in Bangladesh, and Mohammad Sayad Hussan, a native of Magura in Bangladesh, were caught by BSF on July 27 while they were crossing the border into Mamit district of Mizoram.
"They were carrying fake Indian Aadhar cards which were prepared in Bangladesh which means there was a plan to stay here for longer. Ansar al-Islam is a dangerous organization in Bangladesh and has perpetrated several attacks in past few years. It was banned by the Bangladesh government in 2017. We are investigating if they were planning to form a base here and create some disturbance in northeastern states," said the official.
The central agency registered a case on September 17 and is in the process of taking custody of Hussan and Hassan to question them on the group's plans.
Indian intelligence agencies don't want to take the risk of the Ansar al-Islam setting up a base in the country even as it faces a crackdown in Bangladesh.
"It has happened in the past. Jamaat-ul-Mujahideen (JMB), a group affiliated with ISIS set up training centres and a base in West Bengal in 2013-14. The NIA launched a crackdown on JMB in which over 50 of its members were nabbed and the outfit wasn't allowed to spread its wings," said the second official, who also requested anonymity.
The Iraq chapter of Ansar al-Islam, earlier known as Jund al-Islam, was formed by Osama Bin Laden in 2001 in Afghanistan with an estimated $300,000 to $ 600,000 in seed money, according to the United Nations Security Council sanctions committee listing. Its members received training and logistical assistance from the Al-Qaeda.
"Ansar al-Islam also cooperated closely with senior Al Qaeda operative Ahmad Fadil Nazal al-Khalayleh (deceased), also known as Abu Musab al-Zarqawi, whose network established a poisons and explosives training center in northeastern Iraq controlled by Ansar al-Islam. Zarqawi's lieutenants helped run this camp, which has taught operatives how to produce ricin and other poisons. Ansar al-Islam has conducted attacks in northeastern Iraq. This organization has been located and primarily active in northern Iraq, but also maintained a presence in western and central Iraq," states the UNSC document.
Full report at:
https://www.hindustantimes.com/india-news/agencies-on-alert-after-arrest-of-men-linked-to-al-qaeda/story-9MAUarLVfA8HiqzoZmL3uM.html
--------
Pak terror groups use Chinese drones to airdrop 80 kg weapons in Punjab for J&K
Shishir Gupta
Sep 25, 2019
At least eight drone sorties, carrying a total of 80 kg of weapons (arms and ammunition), were sent across the border into Punjab by Pakistan-based Khalistani terror groups between September 9 and 16, officials in security agencies and the Punjab Police have confirmed on condition of anonymity.
The entire consignment, using the Khalistan Zindabad Force (KZF) network, was supported by Pakistan's spy agency Inter Services Intelligence and orchestrated through Germany and Lahore; the ultimate aim — to fuel terror attacks in Jammu & Kashmir.
The details of these drops have emerged following investigations that led to and following the September 22 weapons seizure at Tarn Taran district; the eight payloads were dropped in Amritsar and Tarn Taran.
Five people have so far been arrested by Punjab Police in connection with the drone drops, with one 22-year-old Subhdeep held on Tuesday. Investigators said he was from Amritsar district and was radicalised by the prime accused in the case, Mann Singh, and another accused, Akashdeep, in Amritsar jail. The other four people, suspected to belong to a terror module, were arrested from the outskirts of village Chohla Sahib in Tarn Taran on Sunday. They were using a white Maruti Swift with a Punjab registration number.
The investigation involved multiple agencies – the Punjab Police, central security agencies, the Border Security Force, the Indian Air Force – and prima facie found that multiple Chinese commercial drones with 10 kg payloads have been used in the weapons drop operations across the border. The drones, the investigation reveals, may have been launched from locations 2 km inside Pakistan and made to travel the distance of five kilometres at a height of 2,000 feet, and then dropped off the weapons after descending to 1200 ft. The payload was slung from the platform using Chinese mountaineering ropes.
With drone activity also being seen in Punjab's Ferozepur district, the IAF and BSF have been asked by the Punjab police to intercept these unmanned aerial vehicles through low-level radars and destroy them. Officials fear that they could also be used to carry and drop off bombs.
The interrogation of those arrested has revealed that KZF's Germany-based operative Gurmeet Singh Bagga in coordination with his Pakistan-based chief Ranjeet Singh aka Neeta have made deliveries of at least four weapons, grenades, electronics, and fake currency through drones. The deliveries were made on the intervening nights of September 6/7, 9/10 and the last one on 15/16. The last drone crashed at Rajoke Village, Khalra police station, in Tarn Taran, near a border drain which is 2km from the fencing on the international border with Pakistan. The entire operation came to light after the discovery of the burnt drone, whose eight Chinese batteries were stripped off by the accused on instructions from across the border. " It has also been revealed that such deliveries took place on four different dates, mostly between 9.30 pm and 10.30 pm with the drone making two sorties within an hour," said a senior Punjab Police official. As many as five AK-47 rifles, which weigh about four kilograms with magazine, four Chinese pistols , nine HE grenades, Rs 10 lakh fake currency, 1000 rounds of ammunition and two electronic receivers were recovered by the police from the accused.
Full report at:
https://www.hindustantimes.com/india-news/at-least-8-drone-sorties-target-j-k-as-pak-based-groups-airdrop-weapons/story-ZmOg4O32XMuNzE23KtsAFO.html
--------
Terrorists should not be given funds, arms: PM Modi
Yashwant Raj
Sep 25, 2019
Prime Minister Narendra Modi has called for ending the politicisation of mechanisms created for combating terror, such as UN listings and the Financial Action Task Force (FATF), and stressed the need to accord the same level of urgency to fighting terrorism as to climate change.
Modi told a leaders' dialogue on responses to terror and violent extremism on the margins of the UN General Assembly on Monday that terrorists shouldn't be allowed to get funds and arms, according to secretary (west) A Gitesh Sarma of the external affairs ministry.
In an apparent reference to recent actions by China and Pakistan, Modi also said the world community needs "to avoid the politicisation of mechanisms like UN listings and FATF" that need to be enforced, Sarma told reporters.
A terror attack anywhere in the world "should be considered terrorism – not good or bad terrorism" and "not more or less", Modi told the meeting. There should be "qualitative upgradation" in ongoing cooperation and intelligence-sharing through bilateral and regional frameworks, he added.
China and Pakistan worked together to prevent the UN Security Council from listing Pakistan-based Jaish-e-Mohammed chief Masood Azhar as a global terrorist for years until earlier this year, when they were steamrolled by the US, France and the UK in the aftermath of the February 14 Pulwama attack.
Pakistan has sought to tarnish the audit of its systems to prevent money laundering and terror funding by the Financial Action Task Force (FATF) with the prospect of being blacklisted, a punitive measure that can impede its international borrowing capability. The Paris-based watchdog, currently headed by China, is expected to decide on the blacklisting in October.
According to Sarma, Modi also told the meeting that democratic values, diversity and inclusive development are the most important weapons against ideologies that promote terrorism and extremism. Modi called for global solidarity and readiness against terrorism just as the world has shown unity on challenges such as climate change.
The meeting took stock of the Christchurch Call to Action to eliminate terrorists and violent extremist content online.India has backed the call.
Counter-terrorism also figured in many of the bilateral meetings Modi and external affairs minister S Jaishankar had with counterparts on Monday, officials said. The situation in Kashmir came up at some meetings in the context of counterterrorism but the focus was on bilateral issues.
Modi held bilateral meetings with several world leaders, including German Chancellor Angela Merkel, Italian Prime Minister Giuseppe Conte, Namibian President Hage Geingob, Maldives President Ibrahim Solih, Qatar's emir Sheikh Tamim bin Hamad al Thani, Niger President Mahamadou Issoufou and UNICEF executive director Henrietta Fore.
He also met Bhutan Prime Minister Lotay Tshering and Netherlands Prime Minister Mark Rutte. Briefing reporters about these engagements, external affairs ministry spokesperson Raveesh Kumar said the situation in Jammu and Kashmir came up in some meetings.
"You are aware that on the situation in Jammu and Kashmir, we have engaged with several countries at different levels. But you know, given the nature of the meetings…the focus was on bilateral issues," Kumar said.
The emir of Qatar expressed his gratitude to the Indian diaspora for its role in supporting his country's economy. The two sides discussed counterterrorism cooperation against the backdrop of the situation in the region, Kumar said.
India has granted $35 million for building the Mahatma Gandhi International Convention Center in Niger, which is nearing completion. The Niger president raised the issue of cooperation in agriculture and solar energy.
With Italy, the focus was on defence, economic cooperation and expanding bilateral investments. During the meeting with Maldives President Solih, there was a discussion on cooperation in cricket and climate change. "There is a proposal for training Maldivian cricketers in India and the training is going to start in October," Kumar said.
Full report at:
https://www.hindustantimes.com/india-news/terrorists-should-not-be-given-funds-arms-pm-modi/story-5em2rlKEd69DxiTtLXPLUN.html
--------
China 'misread' India's decision to repeal Article 370 in Jammu and Kashmir: Jaishankar
Sep 25, 2019
External affairs minister S Jaishankar on Wednesday said that China had "misread" India's decision to nullify Article 370 that gave special status to Jammu and Kashmir. The government had divided the state to two union territories—J&K and Ladakh.
China had said that the decision to make Ladakh a union territory was "unacceptable". India had rejected the criticism and said Ladakh was an "internal matter".
In New York for the UN summit, Jaishankar said he had explained to Beijing that nothing has changed between the two countries. "I think the Chinese misread what was happening there. I went a few days after the legislation to China and explained to them that as far as they were concerned, nothing had changed. India's boundary had not changed, the Line of Actual Control had not changed," Jaishankar was quoted as saying by ANI.
Also read | Imran Khan 'disappointed' Kashmir campaign not working
China had come out in support of Pakistan on Article 370 and even made a reference to Jammu and Kashmir in a joint statement with Islamabad. New Delhi firmly rejected the statement and said the two neighbours should stop work on the China Pakistan Economic Corridor that passes through Pakistan-occupied Kashmir.
Jaishankar reiterated that the Article 370 move has no implications for India's external boundaries. "Pakistan is a country which has really created an entire industry of terrorism to deal with the Kashmir issue. In my view, it's actually bigger than Kashmir, I think they have created it for India," he said.
On possible talks with Islamabad, he said that India is open to talks with Pakistan but not "terroristan". He said Pakistan has created a whole industry of terror.
Full report at:
https://www.hindustantimes.com/india-news/china-misread-india-s-decision-to-repeal-article-370-in-jammu-and-kashmir-jaishankar/story-D1TEuN7Mq4gPXFTsMGOOiJ.html
--------
Burdwan blast case: NIA makes fresh seizures at JMB hideout
September 25, 2019
A top member of the Jamaat-ul-Mujahideen Bangladesh, who was involved in the 2014 Burdwan blast case in West Bengal and arrested in the Ramanagara district of Karnataka in August 2018, has led the NIA to materials used for making IEDs at a house used as a hideout near the Electronic City in Bengaluru, the NIA said in a statement on Tuesday.
Jahidul Islam alias Kausar alias Muneer Sheikh alias Shujanmiya, 38, is described as a "senior leader of the JMB" in a chargesheet filed by the NIA in the Burdwan blast case on March 27, 2015.
"Two cuboid shaped batteries wrapped with plastic tape and electrical wire, one capacitor, three switches, one micro lithium cell, a plastic transparent box containing black colour chemical wrapped in a white paper, hand gloves, identity cards, rent agreement of one of the hideouts and handwritten letters in Bengali language" were found, the NIA said. "A digital camera and silver articles looted during dacoities in Bengaluru in 2018 have also been seized by NIA on the basis of information provided by Jahidul Islam," the agency said.
Kausar also pointed out places along the Karnataka-Tamil Nadu border where he along with his associate Habibur Rehman (28) and two others "test-fired three rocket shells prepared using a crude device during June-October 2017" and a spot where they hid the remnants, the NIA said.
Full report at:
https://indianexpress.com/article/india/burdwan-blast-case-nia-makes-fresh-seizures-at-jmb-hideout-6025972/
--------
South Asia
NIA seizes IED materials from Jamat-ul-Mujahideen Bangladesh in Bengaluru
24th September 2019
BENGALURU: The National Investigation Agency said on Tuesday that it has recovered Improvised Explosive Device materials from the Bengaluru module of Jamat-ul-Mujahideen Bangladesh (JMB) which was busted this year.
The items were seized based on the information provided by Jahidul Islam, one of the terror operatives held by the investigation agency, an NIA release said.
These operatives, who carried out the Burdwan blast in 2014, had fled to Bengaluru to escape arrest and carry out the activities of JMB in India, it said.
In Bengaluru, they stayed in Atibele, Kadugodi, KR Puram, Chikka Banavara, Shikaripalya and Electronic City.
The NIA said it found several articles from their Electronic City hideout in Bengaluru, which were meant to be used for preparation of Improvised Explosive Devices (IED) and grenades.
The items seized included two cuboid shaped batteries wrapped with plastic tape and electrical wire, one capacitor, three switches, one micro lithium cell, a plastic transparent box containing black colour chemical wrapped in a white paper, hand gloves, identity cards, rent agreement of one of the hideouts and handwritten letters in Bengali language.
A digital camera and silver articles looted during dacoities in Bengaluru in 2018 have also been seized by NIA on the basis of information provided by Jahidul Islam, the release said.
The JMB operatives who had holed up in and around Bengaluru had test-fired rocket shells prepared by them using a crude device between June and October, 2017 on a hill in Krishnagiri district of Tamil Nadu bordering Karnataka.
Jahidul Islam, who is in NIA custody from September 19, told interrogators that he along with his accomplices Habibur, Arif (Bangladesh) and Fahim alias Fahad had test fired three rocket shells prepared by them using a crude device and later concealed the remnants of the third test fired rocket shell, the release said.
From this place, NIA seized remnants of explosive materials such as eight batteries of 1.5 volt each, a hollow cylindrical carton used for launching the rocket shell and pieces of electrical wire, according to the release.
From their Chikkabanavara hideout under Soladevanahalli police station limits in the city, the investigation agency had found five improvised hand grenades, three fabricated grenades caps, three IED circuits, one timer device, two rocket bends, one body of jacket, one 9 mm pistol with live rounds, one air gun, suspected explosive powders and other materials on July 8.
After the module was busted in Karnataka, a case was registered at the Soladevananhalli police station in the city.
The NIA took over this case and re-registered a case under various sections of the Indian Penal Code and Prevention of Unlawful Activities Act at the NIA police station in New Delhi.
Two persons were killed and another was injured in a bomb explosion at a house in the Khagragarh locality of Burdwan in West Bengal on October 2, 2014.
The JMB was banned by the Bangladesh government in 2005, while India banned it this year in May.
http://www.newindianexpress.com/cities/bengaluru/2019/sep/24/nia-seizes-ied-materials-from-jamat-ul-mujahideen-bangladesh-in-bengaluru-2038544.html
--------
Over 160 Taliban militants killed, wounded in 3 northern provinces, claims Shaheen Corps
25 Sep 2019
A series of airstrikes in three northern provinces killed or wounded more than 160 Taliban militants, the Afghan military in the North said.
The 209th Shaheen Corps said in a statement the security forces carried out the airstrikes in Sar-e Pul, Jawzjan and Faryab provinces on Tuesday night.
The statement further added the airstrikes killed at least 113 Taliban militants including many of their local commanders and wounded at least 50 others.
Furthermore, the 209th Shaheen Corps said the airstrikes also destroyed 50 motorcycles, weapons and other military kits in possession of the militants.
Full report at:
https://www.khaama.com/over-160-taliban-militants-killed-wounded-in-3-northern-provinces-claims-shaheen-corps-04120/
--------
Bangladesh PM to place four-point proposal at UN to solve Rohingya crisis
September 25th, 2019
In the past, she had offered a five-point proposal to the United Nations during the 72nd UN General Assembly
Putting emphasis on a long-term solution to the protracted Rohingya crisis, Prime Minister Sheikh Hasina has said she is going to place a four-point proposal at the ongoing United Nations General Assembly (UNGA) to this end.
"Let me reiterate the following points which I shall be presenting to the (current) 74th UNGA Session," she said.
The proposals, she said, are:
1. Myanmar must express clear political will manifested by concrete actions for sustainable return and reintegration of Rohingyas to Myanmar.
2. Myanmar must build trust among the Rohingyas by discarding discriminatory laws and practices and allowing "go and see" visit to the Northern Rakhine by the Rohingya representatives.
3. Myanmar must guarantee security and safety of the Rohingyas, among others, by deploying civilian monitors from international community in the Rakhine state.
4. International community must ensure that the root causes of Rohingya problem are addressed and atrocity crimes committed against the Rohingyas are accounted for. OIC initiative to take the issue to ICJ is indeed a significant step towards that direction.
The prime minister made the announcement while addressing a "High-level Event on the Situation of Rohingya Minority in Myanmar" at the UN headquarters in New York on Tuesday afternoon local time.
The Permanent Mission of Bangladesh to the UN and the OIC Secretariat organized the event.
Sheikh Hasina mentioned that in the past, she had offered a five-point proposal to the United Nations during the 72nd UN General Assembly.
"The proposal included full implementation of recommendations of the Kofi Annan Commission, and establishment of a "civilian monitored safe zone" in the Rakhine State," she said.
The prime minister reiterated that the Rohingya crisis is a political one deeply-rooted in Myanmar and thus, its solution has to be found inside Myanmar.
"I reiterate, the root of the Rohingya problem lies in Myanmar and the solution has to be found in Myanmar," she said.
Malaysian Prime Minister Dr Mahathir Mohammad, OIC Secretary General Dr Yousef bin Ahmed Al-Othaimeen and Saudi Foreign Minister Dr Ibrahim bin Abdulaziz Al-Assaf also spoke at the event.
Besides, ministers and representatives of different countries including the USA, the UK, Canada, Germany, Belgium, European Union, Sweden, the Netherlands, Turkey, Sweden, Singapore, Kuwait, Serbia, the Philippines and Gambia also joined the event.
Also Read- Resolving Rohingya crisis: PM likely to place new proposals at UNGA
The prime minister said while humanitarian assistance and other supports to the Rohingyas address their immediate needs, it is important to achieve a long-term solution in Myanmar to the protracted Rohingya crisis.
"They must be able to return to their homes where they lived for centuries," she said.
The prime minister said: "It is regrettable that we are passing yet another year without any solution to the Rohingya crisis. The plight of the Rohingyas – persecuted in the Northern Rakhine state of Myanmar – is continuing unabated."
According to the UN reports, she said, Rohingyas have been victims of atrocity crimes.
Sheikh Hasina said the issue of accountability for human rights violations against the Rohingyas would be another crucial factor to ensure sustainable, safe and voluntary return.
"Bangladesh is following the ongoing proceedings of the International Criminal Court … we believe that OIC can also play a major role in fulfilling the need to ensure accountability through the Ad-Hoc Ministerial Group on Accountability," she said.
Sheikh Hasina said Bangladesh appreciates the adoption of the Joint Communiqué of the 14th Islamic Summit Conference of OIC held in Makkah Al-Mukarramah, on 31 May 2019.
"It urged the adhoc Ministerial Committee led by the Gambia to take immediate measures to launch the case at the International Court of Justice on behalf of the OIC. We believe it is time to act upon the decision expressed in the OIC Summit Joint Communiqué," she said.
Sheikh Hasina said Bangladesh has been hosting 1.1 million forcibly deported Myanmar Nationals. "We have opened our borders for these people in the spirit of humanitarianism, which is a pervading moral fiber of Islam," she said.
The prime minister said Bangladesh will continue to do everything possible to ensure the basic needs of the Rohingyas pending their return to their homeland.
"We have allocated over 6800 acres of forest land for sheltering them incurring huge ecological hazard and environmental destruction," she said.
Sheikh Hasina said Bangladesh has extended all kinds of humanitarian assistance including shelter, food, health, water and sanitation to the Rohingyas.
She went on saying: "A considerable number of public sector employees were deployed to coordinate management and law and order in the camps."
She said new and additional physical infrastructures including roads and power supply arrangements had to be built on an ongoing basis. "As many as 219 medical facilities were set up over time, out of which fifty are being operated by the government," she said.
Sheikh Hasina said in terms of financial assistance, as of now, around $120 million has been released from the government's exchequer for direct assistance to the Rohingya.
"Among additional measures, by instance, our Ministry of Social Welfare took charge of the 39,841 Rohingya orphans registered so far … I also sanctioned more than $2.5 million from my special relief fund in support of the host community," she said.
Full report at:
https://www.dhakatribune.com/bangladesh/rohingya-crisis/2019/09/25/pm-to-place-four-point-proposal-at-un-to-solve-rohingya-crisis
--------
Airstrikes kill 39 Taliban militants in 4 provinces
25 Sep 2019
The security forces conducted a series of airstrikes in four provinces in the past 24 hours killing at least 39 Taliban militants.
The military officials said Wednesday airstrikes in Sar-e Pul district of northern Sar-e Pul province killed at least 20 Taliban militants.
The officials further added that an airstrike in Qaram Qol district of Faryab killed 12 Taliban militants.
Furthermore, airstrikes killed 6 Taliban militants in Andar and Qarah Bagh districts of Ghazni province, the officials added.
Full report at:
https://www.khaama.com/airstrikes-kill-39-taliban-militants-in-4-provinces-04118/
--------
Stoltenberg stresses NATO's 'Unchanged Focus' to make Afghan forces stronger
24 Sep 2019
The NATO Secretary General Jens Stoltenberg stressed NATO's unchanged focus to make the Afghan forces stronger.
He emphasized on NATO's focus during his meeting meet with the U.S. envoy for Afghan peace Zalmay Khalilzad in the margins of the UN General Assembly.
According to a statement released by NATO "They discussed the security situation in Afghanistan and NATO's support for the peace talks."
The statement further added that the Secretary General welcomed Ambassador Khalilzad's regular briefings to the North Atlantic Council.
Full report at:
https://www.khaama.com/stoltenberg-stresses-natos-unchanged-focus-to-make-afghan-forces-stronger-04116/
--------
Taliban threats, poll closures raise fears for credibility of Afghan elections
By Pamela Constable
September 23, 2019
KABUL — With the tense Afghan presidential election only days away amid threats of Taliban violence, a wave of criticism has erupted over government efforts to protect voters from harm, with complaints that some polling centers are being left open in dangerous areas and that others are being closed for political reasons or will be vulnerable to fraud.
The independent election commission announced last month that about 2,000 of 7,366 potential polling centers nationwide — most of them schools — would be closed because security forces could not guarantee their safety. Last week, officials announced that 431 more centers would be closed for the same reason.
Government opponents, however, charge that some of the new closures — which will bring the number of shuttered centers to about 31 percent of the total — are the result of political manipulation to favor President Ashraf Ghani, who is running for reelection, rather than bona fide security concerns.
Saturday's election, which comes just weeks after the collapse of U.S.-Taliban peace talks, will essentially be a rematch between Ghani and his major challenger, Abdullah Abdullah, who is now the government's chief executive, although 15 other candidates are officially running.
Supporters of Abdullah and others charge that some centers are belatedly being closed to benefit Ghani. They point out that most are in northern provinces that are considered relatively safe or are more likely to vote for Abdullah, based on past ethnic and political loyalties.
"This has been planned carefully. They have made certain areas insecure so they can stuff ballot boxes," said Mohammed Nateqi, an adviser to Abdullah. In 2014, Abdullah also ran against Ghani in a bitter, inconclusive contest that ended with the Obama administration persuading the two men to form a power-sharing pact.
Abdullah has charged that Ghani, who seeks to win a second five-year term and spearhead domestic peace talks with the Taliban, is using official powers and funds to buy support and possibly rig the polls. Last month, 13 previous election officials were sent to prison for graft, and public mistrust of the newly staffed election apparatus remains high.
Ghani and his aides have brushed off charges of trying to fix the election, and most observers expect him to win outright with more than half the ballots. But the polling center complaints have acquired sudden importance because Ghani and his government, closely allied with Washington and heavily dependent on U.S. support, have come under unexpectedly sharp criticism from the Trump administration.
This development is widely seen here as giving a last-minute boost to Abdullah's chances. He has abruptly stepped up his campaign schedule after a slow start. With both a close vote and low turnout predicted, the closures could make a significant difference.
American preference, either explicit or inferred, is considered a key factor in Afghan elections. The United States has spent more than $800 billion helping to rebuild Afghanistan since 2001 and has sent more than 100,000 troops to defend it. Ghani was long viewed in Washington as a high-minded technocrat and a modernizing force for the struggling country.
But Secretary of State Mike Pompeo, in a sharply worded statement Thursday, said the administration would cut $100 million in funding for an Afghan energy project because of government corruption and mismanagement. He also criticized two of Ghani's high-priority programs to monitor public spending and contracting, saying they had not been "transparent" or accountable.
"We expect the Afghan government to demonstrate a clear commitment to fight corruption, to serve the Afghan people and to maintain their trust," he said. "Afghan leaders who fail to meet this standard should be held accountable."
Pompeo also said the U.S. administration has "called repeatedly" for the Afghan government and electoral institutions to prepare a "credible and transparent presidential election. . . . We hold all candidates accountable to the code of conduct they signed."
Some analysts said these ­comments reflect U.S. officials' pique at Ghani's anger and foot-dragging after being sidelined from the U.S.-Taliban talks, not just concern over corruption or election fraud. There has been no sign that Washington would view Abdullah as a preferable choice, although the polished former foreign minister is a familiar figure to U.S. officials.
Nevertheless, the timing and tone of the criticism have come as a shock here and intensified domestic concerns that Ghani may resort to desperate measures to win. The poll closures, which election officials say are meant to protect voters from violence, are now seen by some as denying them the right to vote.
"The government has engaged in a lot of wrongdoing, including about the polling stations," said Ahmad Wali Massood, a presidential candidate. "In places that are secure, they are closing the stations because they know Dr. Ghani will not get votes, and in some insecure places where he has support, they are leaving them open. The whole thing is upside down."
Officials have said they plan to deploy more than 70,000 security personnel to protect the open polls, but they never publicly released the locations of the 2,000 centers that were initially closed. Most were assumed to be in rural areas under Taliban threat or control, largely in the south and southeast.
In interviews earlier this month, officials from several ­Taliban-plagued provinces described a mixed picture of voting conditions. In the southeastern province of Ghazni, which has faced longtime Taliban threats, officials said some districts would be safe for voters; some were too dangerous to open any polling centers; and in others that were relatively secure, centers had been closed for political reasons.
"The Taliban can wage terror here. Our main city is under siege, and they control about half of the districts. People will be scared," said Arif Rahmani, a member of parliament from Ghazni. But he also said that in some peaceful districts dominated by ethnic minority Hazaras, "the government knows Ghani will not get the votes, so they have deliberately closed polling stations."
A spokesman for the Ministry of Defense, Fawad Aman, said the security and closure plans were still changing day by day. In Ghazni, he said, some districts had recently been recaptured by security forces, but because they had been in Taliban hands during voter registration, no polls could open.
When the government announced the 431 new closures, it listed them by province. To widespread public surprise, some with the most shuttered locations were in relatively safe or pro-Abdullah areas. Balkh, a northern province with few Taliban problems that strongly backed Abdullah in 2014, had the highest number, with 89 centers to be closed. Ghowr, a remote central province, was second with 66 closures.
Yousuf Rasheed, director of the Free and Fair Election Forum of Afghanistan, said that fear of insurgent attacks remains the greatest concern for voters but that the difficulty of recruiting poll-watchers and transporting election materials "will create opportunities for fraud and make it hard to challenge the validity of ballots." This time, he said, "the stakes are higher, but the scrutiny will be lower."
In Farah, a far western province that has been besieged by Taliban attacks, officials said the insurgents now control more areas than they did a year ago, when only a fraction of 600,000 registered voters cast ballots for members of parliament. Many polling stations will likely be shut, including 11 whose closures were announced last week.
Full report at:
https://www.washingtonpost.com/world/asia_pacific/taliban-threats-poll-closures-raise-fears-for-credibility-of-afghan-elections/2019/09/23/c819b7c8-d8b6-11e9-a1a5-162b8a9c9ca2_story.html
--------
Dozens of civilians killed in Afghan forces' anti-Taliban attack
23 Sept 2019
At least 40 civilians at a wedding party have been killed during a raid conducted by Afghan special forces on a Taliban hideout, officials said.
Abdul Majed Akhand, deputy provincial councilman, said the majority of the dead were women and children attending the wedding ceremony in Musa Qala district on Sunday night.
"Some 40 people were killed and 18 others were wounded and were brought to the hospital," he told AFP news agency. "All the victims were civilians".
On Monday, Omar Zwak, the provincial governor's spokesman, told Al Jazeera that at least 14 fighters, including six foreigners, were also killed, adding that authorities were investigating reports on civilian casualties.
"We know there have been civilian deaths in this raid but we don't have a number yet," he said. "However, we are investigating to find out more."
Zwak added the civilians killed were part of the wedding procession that came under fire during the operation targeting a house used by the Taliban.
"We have conflicting reports of just how many civilians were involved, but what does seem to be certain is that a number of women and children were among the casualties," said Al Jazeera's Rob McBride, reporting from Kabul.
Meanwhile, Afghanistan's defence ministry said in a statement that as a result of the operations in Musa Qala district, 22 foreign members of the Taliban were killed and 14 arrested. The arrested "terrorists" include five Pakistani nationals and one Bangladeshi, it said.
"The foreign terrorist group was actively engaged in organising terrorist attacks," said the statement which adde3d that a large warehouse of the "terrorists'" supplies and equipment was also destroyed.
'Civilians caught in the middle'
The deadly raid came days after the US confirmed carrying out a drone attack on September 19 that killed at least 30 farmers in eastern Afghanistan's Nangarhar province. At least 40 others were wounded in the attack in Wazir Tangi area of Khogyani district.
US forces said that attack was targeting the fighters of the Islamic State of Iraq and the Levant (ISIL or ISIS) group.
Afghanistan's security forces have been heavily criticised for inflicting civilian casualties during night-time raids.
Afghan and allied international forces, including NATO, have killed more civilians in the first three months of this year than the Taliban and fighters from other armed groups, a UN report said in April.
At least 305 civilians have been killed by pro-government forces between January and March, some 52 percent of all deaths in that period, according to findings from the UN Assistance Mission in Afghanistan (UNAMA).
In one of the most condemned incidents earlier this month, four brothers were killed in a raid conducted by the CIA-trained and funded 02 Unit of Afghanistan's spy agency, the National Directorate of Security (NDS).
"In the run-up to the elections [this month], the coalition has claimed a number of successful attacks at what they see as legitimate targets, Taliban fighters, but the danger is that in all of this increased activity - also on the Taliban side - civilians are caught in the middle," said Al Jazeera's McBride.
The United States and the Taliban began peace talks last October in Qatar, with the aim of ending the almost 18-year-old war in Afghanistan.
But in a surprise move, US President Donald Trump announced last month after the ninth round of talks that he had cancelled the negotiations without a deal.
A week after the talks were cancelled, Trump said in a tweet that the Taliban have "never been hit harder".
"After Trump cancelling the peace deal with the Taliban, there has been an increase in drone attacks and ground operations, that is causing an increase in civilian casualties," Faizullah Zaland, a political analyst based in Kabul, told Al Jazeera.
"It will deepen mistrust among people in the Afghan government and will deepen the current crisis,"
Full report at:
https://www.aljazeera.com/news/2019/09/civilians-killed-afghan-forces-anti-taliban-operation-190923081202690.html
--------
9 militants killed in southern Afghanistan's airstrikes
Sep 25, 2019
QALAT, Afghanistan, Sept. 24 (Xinhua) -- Nine Taliban militants were killed in airstrikes in Afghanistan's southern Zabul province Monday, a local source said Tuesday.
"Nine Taliban militants were killed after NATO-led coalition forces' war planes struck their positions in Omkai, a locality on the outskirts of provincial capital Qalat city and Seyourri village of Shinkay district on Monday," Essa Mohammad from Afghan army Corps 205 Attal told Xinhua.
The strikes were conducted afte specific intelligence reports were received and no civilian was hurt in the strikes, the source added.
Afghan security forces have beefed up operations against Taliban militants recently as the country is preparing to hold the presidential election on Sept. 28.
Full report at:
http://www.xinhuanet.com/english/2019-09/24/c_138417848.htm
--------
Turkey requests land from Bangladesh for Rohingya camps
Servet Günerigök
25.09.2019
Turkey's Foreign Minister on Tuesday asked Bangladeshi Prime Minister Sheikh Hasina to allocate land for building camps for Rohingya refugees.
Mevlut Cavusoglu was speaking at a meeting on Rohingya on the margins of the 74th session of the UN General Assembly in New York.
The minister said the Rohingya crisis is one of the gravest tragedies in the world and Turkey highly commends the role assumed by Bangladesh in tackling the huge number of Rohingya refugees.
"We request Bangladesh to allocate land as we did for Syrian refugees in Turkey, which are the best camps in the world," said Cavusoglu.
More than 750,000 Rohingya refugees, mostly women and children, have fled Myanmar and crossed into Bangladesh after Myanmar forces launched a crackdown on the minority Muslim community in August 2017.
The Rohingya are described by the UN as the world's most persecuted people. The Muslim minority has faced heightened fears of attack since dozens were killed in communal violence in 2012.
"We believe that the international community also should do more to share the burden of Bangladesh in decreasing the problem of Rohingya refugee camps," said Cavusoglu.
The minister also said that since the outset of the crisis, Turkey has prioritized the issue in international agenda and helped the refugees with humanitarian aid both in Bangladesh and Myanmar.
Full report at:
https://www.aa.com.tr/en/74th-un-general-assembly-2019/turkey-requests-land-from-bangladesh-for-rohingya-camps/1593356
--------
Special Forces kill, detain 11 Taliban and ISIS militants; destroy caches of weapons
24 Sep 2019
The Afghan Special Forces killed or detained 11 Taliban and ISIS militants during the operations in Wardak, Balkh and Nangarhar province.
The military officials said Tuesday the Special Forces killed 5 Taliban militants during a raid in Nerkh district of Wardak.
The officials further added that the Special Forces also arrested 5 Taliban militants and destroyed a cache of weapons during the same operation.
Furthermore, the Special Forces destroyed a cache of weapons during a raid in Chimtal district of Balkh.
Full report at:
https://www.khaama.com/special-forces-kill-detain-11-taliban-and-isis-militants-destroy-caches-of-weapons-04114/
--------
Mideast
'Israel uses influence in US, West to get away with crimes against Palestinians'
Sep 24, 2019
A political analyst says the Tel Aviv regime uses the enormous influence it wields within the United States and certain other Western countries to "get away with" the crimes it perpetrates against Palestinians.
Jim W. Dean, the managing editor of Veterans Today from Atlanta, told Press TV's The Debate program that the US does not benefit from its unwavering support for Israel.
"It basically makes the US a cosponsor of Israeli terrorism against its own citizens, including its neighbors," the commentator said.
He slammed the Tel Aviv regime for trampling on the legitimate rights of Palestinians, saying that "millions of Palestinians have been relegated ethnically to a lower class."
Dean said certain Western countries are complicit in Israel's crimes against Palestinians.
"Israel is able to get away with this not only by the political influence in the US but Britain and European countries and their intelligence agencies are also involved in this," Dean added.
The political analyst described AIPAC as "a prime example of someone that I would want to have for my intelligence operation."
He said that the American authorities are trying to criminalize any political speech or disagreement over Israel.
In the US, "You can disagree about anybody or any country on any issue except for Israel," the commentator said.
"The Americans twisted the hate crime laws ..to say that any criticism of Israel can only be motivated by hate and therefore, anybody that criticizes would be exposed to old hate crime legislation," he said.
'Israel-US alliance stems from shared Mideast views'
In turn, Founder of American Institute for Foreign Policy, Michael Lane, who was also taking part in the debate, highlighted the influence of AIPAC as the largest pro-Israeli lobby within the US's political system.
"There is no doubt that the AIPAC is a very influential organization. They have been around for a while. They are good at what they do. They are skilled. They are influential and they have the ear of a lot of people, policy-makers in government both in Capital Hill and in the administration," said Lane.
He described the relationship between Washington and the Tel Aviv regime as "historical" and said Israel was "a military and economic ally of the United States."
The political commentator further said that the main reason behind the US's financial and military support for Israel is that the Tel Aviv regime and Washington share common views in the Middle East region.
"Israel, at times, was very isolated and, in current times, has a number of friends in the area. Basically, our policy is developed and our friendship and our alliances are developed in concern with allies that have in mind the same vision for the region that the United States has. And that's the primary reason why the United States and Israel get along so well."
He admitted to the hostile policy pursued by the US towards other countries in the region, including Iran and Syria, and said "those are the countries that have a different view" regarding the developments in the region. "That's why the relationships tend to become more adversarial than alliance-type relationships."
Since taking office in 2017, US President Donald Trump has been showering Israel with political gifts, including recognizing Jerusalem al-Quds as its "capital" and moving the US embassy from Tel Aviv to the occupied city as well as cutting aid to the Palestinians and closing the Palestine Liberation Organization's office in Washington.
Trump has also signed a decree recognizing Israeli "sovereignty" over Syria's occupied Golan Heights.
Emboldened by the US president's all-out support, the Tel Aviv regime has in recent months stepped up its settlement construction activities in the occupied lands in defiance of United Nations Security Council Resolution 2334.
https://www.presstv.com/Detail/2019/09/24/606988/proIsrael-lobby-US-politics
--------
Nuclear power should either be allowed for everyone or banned completely: Turkey's Erdogan
Sep 24, 2019
Turkish President Recep Tayyip Erdogan has criticized double standards regarding atomic activities of the United Nations members, saying nuclear power should either be free for all states or banned completely.
Speaking at the 74th session of the UN General Assembly in New York on Tuesday, Erdogan drew attention to "inequality" between states, which have nuclear power and those which do not undermine global balances.
"The position of nuclear power should either be forbidden for all or permissible for everyone," he pointed out in his address.
Back on September 5, Erdogan said nuclear-armed states cannot forbid Ankara from acquiring nuclear weapons, amid a row with the US over Ankara's purchase of Russian military hardware.
"Some countries have missiles with nuclear warheads, not one or two. But (they tell us) we can't have them. This, I cannot accept," he said in a speech in Turkey's central province of Sivas at the time.
He said back then that Israel was using its nuclear arms to threaten others.
"We have Israel nearby, as almost neighbors. They scare (other nations) by possessing these. No one can touch them," he said then.
Israel is known to be the only possessor of nuclear weapons in the Middle East, but its policy is to neither confirm nor deny that it has atomic bombs.
The Tel Aviv regime is estimated to have 200 to 400 nuclear warheads in its arsenal. It has so far refused to join the Treaty on the Non-Proliferation of Nuclear Weapons (NPT) in defiance of international outcry.
Turkey, on the other hand, is a signatory to the Treaty on the NPT and the Comprehensive Test Ban Treaty (CTBT), which are aimed at eliminating nuclear weapons.
Erdogan urges dialog on Kashmir
Elsewhere in his UN address, Erdogan touched on the issue of Kashmir, calling for dialogue for the solution of row between Pakistan and India on the Himalayan region.
He criticized international community for failing to pay attention to the Kashmir conflict, emphasizing that stability and prosperity of South Asia cannot be separated from the issue.
"In order for the Kashmiri people to look at a safe future together with their Pakistani and Indian neighbors, it is imperative to solve the problem through dialogue and on the basis of justice and equity, but not through collision," the Turkish president highlighted.
Kashmir has been in a crippling lockdown since New Delhi announced it was removing the region's special status, which granted it autonomy, on August 5.
Since then, India has flooded the region with military forces, drawing widespread criticism. A recent government data showed that authorities in Indian-controlled Kashmir had detained about 4,000 people in the crackdown over the past weeks.
Kashmir is generally considered a disputed territory. It has been split between India and Pakistan since their partition in 1947. The countries have fought three wars over the territory.
Full report at:
https://www.presstv.com/Detail/2019/09/24/607039/Nuclear-power-should-either-be-allowed-for-everyone-or-banned-for-all-Turkeys-Erdogan
--------
Saudi airstrikes hit Yemen's southwest, kill 16
Sep 24, 2019
Latest Saudi airstrikes have killed at least 16 people, 11 of them women and children, in southwestern Yemen.
Yemen's al-Masirah TV reported that the aerial bombardment targeted a residential building in the province of Dhale on Tuesday.
Al-Masirah said other people were still trapped under the rubble.
One paramedic was also injured at the site.
Saudi jets on Monday bombed a mosque in the western province of Amran, killing seven people, including children and women, who had taken refuge in the mosque to escape Saudi attacks.
The intensified air raids come despite an offer by Yemen's Houthi Ansarullah movement for a ceasefire.
A Houthi official on Friday said the movement would stop targeting Saudi territory if Riyadh ended its strikes.
Saudi Arabia and a number of its allies launched a war on Yemen in March 2015, with the goal of bringing a former regime back to power.
The US-based Armed Conflict Location and Event Data Project (ACLED), a nonprofit conflict-research organization, estimates that the war has claimed more than 91,000 over the past four and a half years.
Full report at:
https://www.presstv.com/Detail/2019/09/24/606986/Yemen-Saudi-Arabia-airstrikes
--------
Erdogan calls for dialogue to end Kashmir dispute
Amel Ghani
September 24, 2019
Turkish President Recep Tayyip Erdogan on Tuesday called for a solution through dialogue for the Kashmir dispute between Pakistan and India.
In his address at the UN General Assembly session in New York, Erdogan criticised the international community for failing to pay attention to the Kashmir conflict, which, he said, awaits solution for 72 years.
The president said the stability and prosperity of South Asia cannot be separated from the Kashmir issue.
"In order for the Kashmiri people to look at a safe future together with their Pakistani and Indian neighbors, it is imperative to solve the problem through dialogue and on the basis of justice and equity, but not through collision," said Erdogan.
"Despite the resolutions adopted, [India-occupied] Kahsmir is still besieged and eight million people are stuck in Kashmir," he said.
"The invasions, conflicts and terrorist activities for almost four decades in Afghanistan have led to instability in the region," he said while talking about the region.
The India-occupied region has been facing a clampdown since August 5, when the Indian government nixed Article 370 of the Indian constitution, which conferred a special status on it.
Hundreds of people, mostly political leaders, have been detained or arrested by authorities since the Indian government made the move.
India and Pakistan hold Kashmir in parts and claim it in full.
Following Erdogan's remarks, Prime Minister Imran Khan thanked him for raising the issue of occupied Kashmir at the UNGA and for calling for a solution to the long-standing dispute.
Full report at:
https://www.dawn.com/news/1507113/erdogan-calls-for-dialogue-to-end-kashmir-dispute
--------
Rouhani: Macron's Mediation Efforts Futile If US Sanctions Stay in Place
Sep 24, 2019
"The French President's efforts will only be effective if sanctions imposed by [US President Donald] Trump against Iran are lifted, and it is only at that time that the negotiations within the Group 5+1 will be possible," Rouhani said in a meeting with a number of American media directors and senior figures at the United Nations Headquarters in New York.
Macron has been running mediation efforts to defuse tensions between Iran and the US, fearing that full collapse of the nuclear deal could set the Middle East ablaze, but the US president has discredited his efforts on various occassions, saying that he does not believe in third party mediation.
The French leader has met Iranian Foreign Minister Mohammad Javad Zarif two times in recent months, including ahead of the G-7 summit in August. Zarif also spent about five hours in Biarritz, France, on the sidelines of the G-7 summit, but did not meet with US President Donald Trump or any member of the US delegation. Macron has several times held phone conversations with Rouhani in recent months to discuss the fate of the 2015 landmark agreement.
But once Macron presented a plan for an easing of sanctions on Iran's crude supply, the Trump administration reiterated its opposition, stressing that it continues the maximum pressure campaign unabted.
The French president was the one who expressed hope in late August that a long-anticipated meeting between the presidents of Iran and the United States would take place "in the next few weeks", but Tehran has firmly stressed that the Islamic Republic will not negotiate with the US at any level as long as it does not return to the nuclear deal.
Iran and the five permanent members of the United Nations Security Council – the United States, France, Britain, Russia and China – plus Germany signed the nuclear agreement in July 2015 and started implementing it in January 2016. Under the Joint Comprehensive Plan of Action (JCPOA), Iran undertook to put limits on its nuclear program in exchange for the removal of nuclear-related sanctions. However, Trump pulled his country out of the international nuclear deal in May 2018 and stepped up sanctions on the Islamic Republic.
Full report at:
https://en.farsnews.com/newstext.aspx?nn=13980702001139
--------
Several injured after bomb explodes in southern Turkey: State media
25 September 2019
A bomb attack hit a bus carrying police in the southern Turkish province of Adana on Wednesday morning and some people were wounded, security sources said.
The blast in Adana was either an "improvised explosive device or a different type of bomb," the governor, Mahmut Demirtas, told Anadolu news agency.
One of those hurt was a police officer, he said, but the casualties did not suffer serious injuries.
The other four injured were passers-by, Demirtas added.
"The injured are in a really good condition. Citizens went to the hospital as a precaution. There are no issues for our police," Demirtas said after police and ambulance services rushed to the scene.
Images in Turkish media showed the damaged bus underneath a footbridge in Yuregir district.
The Adana governor did not speculate on who carried out the bombing.
Turkey was hit by a series of terror attacks in 2015 and 2016 which killed hundreds of people and were blamed on the Islamic State extremist group and Kurdish militants.
CNN Turk broadcast video of a badly damaged bus surrounded by debris and other damaged vehicles under a pedestrian overpass in the area of Yuregir in Adana.
Full report at:
https://english.alarabiya.net/en/News/middle-east/2019/09/25/Bomb-attack-launched-on-police-bus-in-southern-Turkey-Ihlas-news-agency.html
--------
Israel detains Palestinian minister of Jerusalem affairs
25 September 2019
Israeli police detained the Palestinian Authority's minister of Jerusalem affairs, Fadi al-Hadami on Wednesday, an Al Arabiya correspondent reported.
In June, Israeli police had detained, then released al-Hadami from custody after questioning him over claims he organized activities in the city in violation of Israeli rules, his lawyer said.
The June arrest was reportedly due to activities that included accompanying Chile's president during a visit to Jerusalem's flashpoint Al-Aqsa mosque complex.
Full report at:
https://english.alarabiya.net/en/News/middle-east/2019/09/25/Israel-detains-Palestinian-minister-of-Jerusalem-affairs.html
--------
Southeast Asia
Explainer - It's not only about sex: Indonesia's divisive criminal bill
SEPTEMBER 24, 2019
JAKARTA (Reuters) - Tens of thousands of people have protested across Indonesia this week over a proposed new criminal code that would outlaw sex outside marriage, among other things, and which has now been put on hold by President Joko Widodo in the face of public pressure.
WHAT DOES THE BILL SAY?
It includes a maximum one-year prison term for a couple who has extra-marital sex and a maximum six-month prison term for unmarried couples who live together. A prosecution can only proceed if a village chief files a complaint, and parents or children of the accused do not object.
Although it does not explicitly outlaw homosexuality, some fear the criminalization of extra-marital sex and new obscenity laws could form a legal basis for persecuting gay people.
While the proposed ban on extra-marital sex has grabbed headlines abroad, the bill covers 628 articles in total and opposition in the country of 260 million people is based on a much wider set of concerns than sex.
The bill also penalises people who criticize the president's honour; teachers of Marxist-Leninist ideology; and women who have abortions in the absence of a medical emergency or rape.
It gives local governments the right to introduce so-called "living laws" not covered in the penal code, including sharia-inspired regulations such as the mandatory wearing of the hijab, or Islamic scarf.
WHY IS IT BEING INTRODUCED?
Indonesia currently uses a version of the criminal code drawn up by Dutch colonists. It took effect in 1918. There has been discussion on changing it since independence in the 1940s.
Widodo first brought it to parliament in 2015. Initial attempts to revise it collapsed, but it gained traction after this year's general election with the terms of current MPs due to expire this month.
A parliamentary vote had been expected this week, but Widodo put it on hold for further discussion in the face of public pressure and after headlines abroad on the possible ban on extra-marital sex sent a scare through the tourist industry.
WHO OPPOSES THE BILL?
It is not entirely clear-cut, in that some people support some aspects of the bill but oppose others.
Rights groups say that it is an affront to basic human rights. Many opponents of the bill say that it deepens conservative Islamic influence in the world's most populous Muslim-majority country, which nonetheless has substantial Christian, Hindu and Buddhist minorities. Opponents also argue that it reverses liberal reforms enacted after democracy was restored in 1998, when strongman leader Suharto stepped down.
Critics say some articles were rushed and that implementation is unclear.
WHO SUPPORTS IT?
The bill has the support of some Islamic groups in a country where conservatism has been on the rise. One group, Nahdlatul Ulama, said the revisions reflect "the character and the personality of the Indonesian people and the nation".
Several religious-based parties have endorsed the more conservative elements of the bill, seen as likely to appeal to their constituents.
Some conservative groups want to seize on the momentum to promote stricter interpretations of Islam in the legal system. One advocate last week said she wanted the bill strengthened to specifically outlaw all expressions of homosexuality.
WHAT WOULD IT MEAN FOR THE ECONOMY?
The ban on extra-marital sex is a big concern for the tourist industry. Australia already warned visitors to Bali of the risk they could face from extra-marital or gay sex should the law be passed.
However, officials have pointed out that prosecutions of foreigners under the bill - even as it stands - are unlikely. There has to be not only proof that extra-marital sex happened, but also a complaint from a family member.
WHAT HAPPENS NEXT?
Parliament had been due to vote on the bill on Tuesday and a vote could still take place before the end of the month.
However, Widodo has said the bill should be delayed until the new parliament is in place and in order to get more input on "what the people want". That means it could delayed for a long period or even indefinitely.
https://uk.reuters.com/article/uk-indonesia-politics-rights-bill-explai/explainer-its-not-only-about-sex-indonesias-divisive-criminal-bill-idUKKBN1W91DE
--------
Countering the visible and potent threat of Islamic State in Malaysia
By AMALINA ABDUL NASIR
24 SEPTEMBER, 2019
The fall of the Islamic State's (IS') last stronghold in Baghouz, Syria, in March 2019 marked the end of its so-called territorial caliphate. A total of 41,000 fighters were believed to have travelled to Iraq and Syria to join IS, including 800 from South-east Asia.
Of these, 102 were Malaysians, some of whom have returned home and been dealt with by the authorities. Despite IS' military defeat and territorial losses, it remains a potent threat, including in Malaysia.
For one thing, IS is ramping up its activities in cyberspace to ensure continued recruitment of volunteers for terrorist operations.
In April 2019, IS released a video featuring its leader, Abu Bakar Baghdadi, after five years of staying below the radar. In a bid to raise the deteriorating morale of IS fighters, supporters and sympathisers, Baghdadi urged them to drain their enemies' resources and continue jihad until the day of judgement.
He underscored that the will to wage the war is more important than winning it. Hence, it is critical for IS supporters to seek revenge and the most effective way is through armed violence. IS supporters in Malaysia are using this narrative to exploit local issues and grievances, adding a new dimension to the country's threat landscape.
Due to the new extremist narratives propagated by IS online, Malaysia's threat landscape has subtly transformed. A key development is the efforts of pro-IS cells in Malaysia to exploit local issues like racial and religious tensions to launch attacks.
Given the complexities of the country's ethnic and religio-political landscape, Malaysia's social fabric is becoming increasingly vulnerable and susceptible to racial and religious tensions.
Malaysian pro-IS supporters continue to rigorously spread its narrative and recruit members online. In May, a 42-year-old contractor was arrested before his planned departure to Syria. He pledged allegiance to IS twice on Facebook and believed that Muslims who support and uphold democratic elections are infidels and thus permitted to be killed.
IS "capitalises on the perception that Islam is under threat in Malaysia". In this context, the determination of IS' supporters in Malaysia has proven to be effective as on May 13, Malaysian authorities nabbed a pro-IS cell.
The cell comprised a Malaysian, two Rohingya Muslims and an Indonesian. It had planned a wave of large-scale terror attacks and assassinations to "avenge" the death of fireman Muhammad Adib Mohd Kassim.
This plot was the first of its kind in which local grievances were exploited to inspire local and foreign militants to launch attacks in the country. The cell was planning to mount attacks on Christian, Hindu and Buddhist places of worship and entertainment venues at Klang Valley in Selangor state.
The cell had also planned to kill high-profile personalities who they believed had insulted Islam or not shown sufficient support for the faith.
Following the above-mentioned arrests, the Malaysian police are still searching for three more members of the cell, two Malaysians and one Indonesian, who remain at large. The involvement of foreigners, especially from South-east Asia, in local issues signals greater collaboration between local and foreign militants.
The trend of joint terrorist plots by local and foreign militants is likely continue in Malaysia, aided possibly by returning regional fighters looking to persist with their jihad.
BOMB-MAKING CAPABILITIES
Malaysian militants have improved their operational tactics and strategies as well.
The recently arrested Malaysian militants have shown the ability to deploy chemicals in the process of constructing explosives. For instance, Malaysian authorities arrested two local militants, Muhammad Syazani Mahzan and Muhammad Nuurul Aiman Azizan, with bomb-making skills on May 24 who conducted tests on their home-made explosives.
They used Triacetone Triperoxide (TATP) when putting together an explosive before testing it near their homes. As a highly impactful explosive, TATP has been commonly used by terrorists in Thailand and Indonesia. The most recent example of the use of TATP in the region was the coordinated Surabaya church bombings in Indonesia, in May 2018.
Both militants were reported to have undergone bomb-making training by Indonesian IS-linked militant group, Jemaat Ansharul Daulah, in Yogyakarta in 2018.
Malaysian radicals will likely persist with engaging in militancy on their home soil. IS' territorial defeat has not however whittled their desire to travel to Syria as seen by the ongoing attempts to physically join the terrorist group.
This illustrates the continuing traction of IS ideology, which transcends territorial losses. While the threat of returning fighters seems critical and immediate, local authorities must continue to maintain a close watch over homegrown terrorists who continue to be influenced by IS jihadist ideology.
MALAYSIA'S RESPONSE TO RETURNING FIGHTERS
In July 2018, Malaysia issued a conditional return offer to around 102 Malaysians who had left the country to join IS in Syria. This offer involved compliance with security checks, investigations, psychological examinations and counselling sessions with religious clerics to evaluate their level of radicalisation and psychological make-up.
Under the offer, all returnees will be interrogated but not all will be detained, subject to the outcome of investigations. After preliminary investigations, those who did not participate in militant activities or criminal offences will undergo a one-month government-run rehabilitation programme before they are re-integrated into society. Those found involved in criminal offences or militant activities will face court trials.
The process differs for women and children as these groups are largely assessed to have had no decision-making powers over their migration to Syria. Hence, their situation will be assessed on a case-to-case basis before the government decides on a suitable de-radicalisation process.
Hitherto, 11 Malaysian nationals have returned from Syria. Eight, all men, have been charged in court while the other three included one woman and two minor children. The woman has completed the rehabilitation programme and returned to her village where she is being closely monitored.
The Malaysian authorities are currently working with the Syrian authorities to bring back a group of 39 Malaysians detained in Syria, who have expressed their desire to return home.
Around 65 Malaysians still remain in Syria, including 17 children, who are scattered across three locations in Syria. As efforts continue to bring some of them home, others have chosen to remain in Syria or fight elsewhere instead of returning to Malaysia.
Those Malaysians who aspire to join IS but are unable to travel to Syria are now looking into going to Mindanao where militant groups have links to IS.
This is likely for two reasons. First, local Malaysian militants have strong ties with the Philippines' Abu Sayyaf Group (ASG), an IS-linked faction based in Basilan, with some having direct connections to its leader, Furuji Indama.
Members of ASG have recruited Malaysians to join the group. Furthermore, in 2017, the siege of Marawi by IS-affiliated militant groups alone witnessed the participation of about 30 Malaysian fighters who travelled to the conflict area.
Second, the close proximity between East Malaysia and the southern Philippines provides a convenient opportunity for returning Malaysian militants to continue their 'jihad' in the region. Sabah's porous borders have been exploited numerous times by militants to travel between the two countries.
WHAT CAN PUTRAJAYA DO?
There are several key concerns that require greater policy attention in dealing with the current threat landscape in Malaysia.
First, Malaysian authorities should periodically review the efficacy of their one-month rehabilitation policy. For battle-hardened returnees, a one-month de-radicalisation programme is unlikely to be sufficient in reality.
A more extensive and rigorous de-radicalisation policy initiative would be needed to ensure the returnees' successful and effective rehabilitation and reintegration into society. In this regard, it is also useful to draw lessons from other countries that have similar policies which have been effective.
Second, the government should consider calibrating their rehabilitation strategies according to the different profiles of returnees.
For instance, returning children who have been exposed to daily violence in Syria would require a customised de-radicalisation programme. This customised intervention is critical to address issues like post-traumatic stress disorder and disengagement from violence which could impede their psychological and attitudinal development, critical to their long-term reintegration into society.
Full report at:
https://www.todayonline.com/commentary/islamic-state-wants-stay-relevant-and-visible-malaysia-how-can-terror-threat-be-overcome
--------
Dr M slams UN, Myanmar govt over Rohingya crisis
By Lokman Mansor
September 25, 2019
NEW YORK: The United Nations and Myanmar government came under fire on Tuesday for their inaction in resolving the Rohingya crisis which has displaced more than a million people in the country.
The UN's silence on the crisis is deafening, Prime Minister Tun Dr Mahathir Mohamad said, adding that the 75-year-old organisation has not fulfilled its purpose of preventing such man-made atrocities.
"Without Security Council's action, others must do their part to resolve the crisis and bring the perpetrators to justice," he said at a high-level side event "Rohingya Crisis - A Way Forward" at the United Nations headquarters on Tuesday. Also present was Bangladesh Prime Minister Sheikh Hasina Wazed.
Myanmar's military has been accused of murdering thousands of Rohingya in western Rakhine state since 2017, which has resulted in the mass exodus of these Muslim minorities to neighbouring countries, and led to the world's largest refugee camp at Cox Bazar in Bangladesh.
Dr Mahathir said what happened in the Rakhine State is genocide.
"What took place were mass killings, systematic rape and other gross violations of human rights," he said.
He commended the Organisation of Islamic Conference's (OIC) effort to bring the matter to the International Court of Justice, and hopes that other countries would support OIC to ensure the perpetrators do not get away with the heinous crimes they have committed.
"Malaysia, on our part, has also tried to do all it can. Apart from rendering humanitarian assistance, Malaysia is operating a field hospital in Cox's Bazar. We are also hosting close to 100,000 registered Rohingya refugees," he added.
Dr Mahathir said the longer the refugees stay in the Myanmar camps, the more desperate their situation becomes. Some become vulnerable to other forms of exploitation, including human trafficking and sex slavery.
He said the Myanmar authorities have also denied access to some UN officials and humanitarian aid workers.
"If Myanmar has nothing to hide, why bar others from seeing the situation in Rakhine? Let these officials and aid workers visit, inspect and assist those living in the camps."
Dr Mahathir said if Myanmar is serious in alleviating the crisis, repatriation should be the main priority. Two attempts have been made to repatriate some of the refugees. Both have failed.
"Reasons for this are obvious. No one would return if they do not feel that their safety is guaranteed. On this, Malaysia will continue to insist that repatriation be done in a safe, voluntary and dignified manner.
"This can only be done by granting full citizenship to the Rohingyas. However, the Myanmar authorities have manipulated the Rohingya issue to incite fear, hatred and violence. Thus, merely considering the idea of granting citizenship is unacceptable," he said.
Dr Mahathir said none of the atrocities committed in 2017 have been accounted for. Even those convicted for the Inn Dinn mass killings, for example, were released after serving barely one year of their 10-year sentence.
"The conviction was an attempt to deceive us into thinking that they are holding perpetrators accountable," he added.
Dr Mahathir said Malaysia will continue to help the Rohingyas within its means and capacity.
Full report at:
https://www.nst.com.my/news/nation/2019/09/524353/dr-m-slams-un-myanmar-govt-over-rohingya-crisis
--------
Police Seize Islamic State Flag, Weapons at Terror Suspect's Home in Bekasi
BY BAYU MARHAENJATI
SEPTEMBER 24, 2019
Jakarta. Members of Detachment 88, the National Police's elite counterterrorism squad, have found an Islamic State flag and weapons at a rented house occupied by a terror suspect who was arrested in coordinated raids in Bekasi, West Java, on Monday.
The suspect, who is one of nine people arrested in dawn raids in separate locations in Bekasi and Jakarta, has been identified as Fahri Pahlawan, alias Abu Zee Ghuroba.
"The evidence we recovered from Abu Zee Ghuroba's rented home includes a large ISIS flag," Jakarta Police spokesman Senior Comr. Argo Yuwono told reporters on Tuesday, using another acronym for the terror network.
Police also found two bows and arrows, five punching bags, a knife, a book containing "radical content," three cellphones and several documents, Argo said.
Police searched the house on Jalan Trias in Tridaya Sakti village, Bekasi, witnessed by local neighborhood leaders, he said.
Abu Zee is a suspected leader, or amir, of Jamaah Ansharut Daulah, a shadowy terror group believed to have links with Islamic State. According to Argo, the suspect recruited members for the group in Bekasi and taught them self-defense at a Bekasi housing complex every Sunday afternoon.
He also acted as a religious leader, who solemnized marriages among the group's members, the police spokesman said.
"Abu Zee solemnized the marriages of Asep Roni and Sutiyah, Syarial Alamsyah and Fitria Adriana, Devi Rusli Warni and Putri, and Parjo and Ummu Farida at his rented house. He led paramilitary training on Mount Salak in Bogor district, and planned attacks at police posts," Argo said.
Police also seized half a kilogram of high explosives from another suspect's home in Cilincing, North Jakarta, in Monday's raids.
Full report at:
https://jakartaglobe.id/context/police-seize-islamic-state-flag-weapons-at-terror-suspects-home-in-bekasi
--------
Africa
Jordan's King: We are committed to Saudi Arabia's defense
24 September 2019
Jordan's King Abdullah II said on Monday that his country is committed to the defense of Saudi Arabia, amid heightened escalation in the region.
In an exclusive interview with MSNBC, King Abdullah said, when asked about the escalating conflict in the Arabian Gulf and the stalemate of Middle East Peace between Israel and the Palestinians: "We have had our issues and challenges with Iran, and again for us the attacks on Saudi Arabia is of tremendous importance to Jordan. We have an outstanding relationship with the Saudis and we are committed to their defense."
The Jordanian King who is in New York to attend the UN General Assembly, told MSNBC veteran journalist Andrea Mitchel that in the past six months "if not more" many countries, including Jordan, "have been trying to caution escalation and calm things down."
"Obviously, the attack on Aramco has upped the ante and this is a very important week in New York, where all of us are trying to figure out how to step away from the brink of war," said Jordan's King.
As to the Israeli-Palestinian conflict, King Abdullah said "If the policy is to annex the West Bank, then that is going to have a major impact on the Israeli-Jordanian relationship and also in the Egyptian-Israeli relationship because we are the two only Arab countries that have peace with Israel."
The Jordan News Agency (Petra) will be publishing the full interview on Tuesday.
https://english.alarabiya.net/en/News/middle-east/2019/09/24/Jordan-s-king-We-are-committed-to-Saudi-Arabia-s-defense.html
--------
Somalia: Ethiopian Authorities Say Al-Shabaab, Islamic State Planning Attacks On Hotels
24 SEPTEMBER 2019
Ethiopian officials have confirmed that Islamist militant members of the Somali group al Shabaab and Islamic State were planning to carry out attacks in the country on various targets including hotels.
The National Intelligence Security Services (NISS) issued a statement on Saturday saying it had arrested an unspecified number of militants, some of whom were carrying out intelligence work including photographing potential targets.
"The group was ... preparing to attack hotels, religious festivities gathering places and public areas in Addis Ababa," NISS said in the statement read out on state-affiliated broadcaster Fana.
Ethiopian intelligence coordinated with neighbouring Djibouti to detain the suspects including their leader, Muhammed Abdulahi, NISS said.
Those detained, NISS said, were arrested in the capital Addis Ababa, Oromia and Ethiopia's Somali region.
ISIS members arrested
An Ethiopian army official says members of the Islamic State extremist group have been detained in the East African country.
Berhanu Jula, deputy chief of Ethiopia's military, told the state-owned Ethiopian News Agency on Wednesday that there is evidence the extremist group "has recruited, trained and armed some Ethiopians."
He did not say how many were arrested and how.
He said other members of the group still at large are being hunted down and warned that the Islamic State group had tried many times in the past to set up base in Ethiopia.
Prime Minister Abiy Ahmed has recently warned about attempts by the Somalia-based al-Shabab extremists to make inroads into Ethiopia.
Ethiopia's army has a heavy presence in border areas with Somalia, where al-Shabab mounts regular bomb attacks.
Full report at:
https://allafrica.com/stories/201909240424.html
--------
Nigerian military accuses aid group of aiding Boko Haram
SEP 24, 2019
Nigeria's army has shut down offices of the international aid organization Action Against Hunger, accusing it of providing food and drugs to the Boko Haram extremist group.
The army issued a persona non grata action on Thursday against the organization after shutting offices in Maiduguri and Damaturu.
Action Against Hunger calls the allegations false, saying assistance to millions of people in Nigeria's troubled northeast is in jeopardy. It calls on authorities to allow the organization to continue its work.
This isn't the first time Nigeria's military has targeted an aid organization.
In December it asked the United Nations children's agency to leave and accused it of training spies for Boko Haram. The ban was rescinded after public outcry.
Full report at:
https://www.chicagotribune.com/sns-bc-af--nigeria-aid-organization-20190920-story.html
--------
Arab World
Iraqi court sentences 6 IS militants to death over 2013 car bomb attack
by Mohammed Ebraheem
Sep 23, 2019
Baghdad (IraqiNews.com) – An Iraqi court has sentenced six Islamic State terrorists to death by hanging for their involvement in a deadly car bomb attack near the country's Justice Ministry in 2013, leaving scores of people dead and wounded.
According to a statement by the Iraqi Supreme Judicial Council on Monday, the convicts confessed to carrying out the massacre, using three booby-trapped vehicles.
The verdict was issued by the Karkh criminal court in Baghdad, added the statement.
In March 2013, two car bombs exploded in the Alawi district, one of them near the Justice Ministry building, before a suicide car bomber blew himself up near an Interior Ministry office.
A suicide bomber then walked into the Justice Ministry and militants attacked the building, clashing with Iraqi security forces, who eventually regained control.
Among the dead were at least 7 policemen and 15 civilians, police and medics said. Three militants were also killed. At least 50 people were wounded.
https://www.iraqinews.com/iraq-war/iraqi-court-sentences-6-is-militants-to-death-over-2013-car-bomb-attack/
--------
2 security members killed, IS hideouts destroyed in Iraq
2019-09-24
BAGHDAD, Sept. 23 (Xinhua) -- A total of two Iraqi security members were killed on Monday in separate incidents in Iraq's eastern province of Diyala, while Iraqi forces destroyed hideouts and vehicles of Islamic State (IS) militants in the western province of Anbar.
In Diyala, an explosive expert from the Iraqi police was killed while he was trying to defuse a roadside bomb in an area located near al-Abbara area in northeast of the provincial capital Baquba, some 65 km northeast of Baghdad, Alaa al-Tamimi from the provincial police command told Xinhua.
Another roadside bomb explosion killed a paramilitary Hashd Shaabi member in the village of al-Aseywid, about 45 km northeast of Baquba, al-Tamimi said, adding that the bomb was apparently planted by the extremist IS militants.
The security forces, acting on intelligence tip-off, also launched search operations in different areas across Diyala and destroyed an IS hideout as well as seized two caches of weapons and ammunition, in addition to destroying an IS medical center containing various medical supplies, al-Tamimi said.
In Anbar, an army force from al-Jazira Operations Command launched an anti-IS operation in areas in north of Haditha Lake, some 160 km west of the provincial capital Ramadi, destroying two IS vehicles and seizing arms and ammunition, said Qassim al-Mohammedi, commander of al-Jazira Operations Command, told Xinhua.
The security situation in Iraq was dramatically improved after Iraqi security forces fully defeated the extremist IS militants across the country late in 2017.
Full report at:
http://www.xinhuanet.com/english/2019-09/24/c_138416037.htm
--------
Kurdish Militias' Role in Attacking Hashd al-Sha'abi Exposed
Sep 24, 2019
The pro-Qatar Arabic-language al-Arabi al-Jadid, quoted informed sources at the headquarters of Iraq's National Security and some sources in Hashd al-Sha'abi as saying that the results of investigations into the attacks on six centers and arms depots of Hashd al-Sha'abi in Diyala, Salahuddin, Baghdad and al-Anbar of Iraq show that some of these attacks have taken place from Syria's soil.
It noted that the attacks had taken place from areas under control of the Syrian Democratic Forces (SDF).
In relevant remarks earlier in September, a senior Iraqi legislator revealed that Washington is pressuring Baghdad to prevent releasing an investigation into the recent attacks against Hashd al-Sha'abi positions, noting that the government will likely cancel Iraq's security pact with the US.
Karim al-Aliwi, a member of the parliament's Security and Defense Commission, told the Arabic-language al-Ma'aloumeh news website that investigations have shown that the Israeli drones have attacked Hashd al-Sha'abi positions in several Iraqi provinces but the US is exerting pressure on the government not to release the results.
He said that the Iraqi government is now very much likely to annul the country's security pact with Washington to replace it with Russian assistance to protect its airspace.
Late in August, Iraq's Hashd al-Sha'abi forces in a statement announced that Israeli drones backed by the US aircraft pounded their positions near the border with Syria.
The Hashd al-Sha'abi in a statement reported that two Israeli drones struck its military positions in Akashat-Alqaem Road in al-Anbar province 15 kilometers from the border with Syria.
The statement noted that the attack had taken place with the aerial support of the US and monitoring of a huge surveillance balloon near the site of the attack, and said that the attack took place with the start of the Phase 4 of Eradeh al-Nasr (the Will of Victory) military operation jointly conducted by the Iraqi Army, Police Force and Hashd al-Sha'abi against the ISIL remnants in the Western part of the country.
It noted that a Hashd al-Sha'abi member was killed and another was wounded in the Israeli drone attacks.
Full report at:
https://en.farsnews.com/newstext.aspx?nn=13980702000701
--------
Egypt's al-Sisi: 'The Arab Peace Initiative is still on the table'
24 September 2019
Egypt's President Abdel-Fattah al-Sisi urged the international community to act towards the establishment of a Palestinian state and said the Arab Peace Initiative was "still on the table," during his address to the UN general assembly on Tuesday.
Al-Sisi called the plight of the Palestinian people "the longest standing crisis in the Middle East" and said it will continue until the establishment of an independent Palestinian state with its capital in East Jerusalem.
He added that until the establishment of a Palestinian state, there will continue to be a "depletion of the resources of the peoples of the Middle East."
Al-Sisi said that the Arab Peace Initiative, a proposal for the end to the Israel-Palestine conflict endorsed by the Arab League in 2002, is "still on the table."
"There remains an opportunity to launch a new face in the Middle East. However we need bold decisions that restore the rights to the Palestinians, that pave the way for a major change in the reality of this region," said Al-Sisi.
Egypt's leader also reiterated his country's condemnation for the attacks on Saudi Arabian oil installations on September 14.
Full report at:
https://english.alarabiya.net/en/News/middle-east/2019/09/24/Egypt-s-El-Sisi-The-Arab-Peace-Initiative-is-still-on-the-table-.html
--------
Six Muslim Brotherhood members killed in firefight in Egypt: Ministry
24 September 2019
Six members of the Muslim Brotherhood were killed in a firefight with police forces during a raid in Egypt's 6th of October city, according to the Ministry of Interior.
In a brief statement, the ministry said police exchanged fire with the "terrorist" group in 6 October City, on the southwestern edge of the capital, accusing it of "planning a series of terror operations."
The clash comes six days after police said they had killed nine suspected members of a militant group with links to the outlawed Muslim Brotherhood in two separate Cairo shootouts. The militants were members of the Revolution Brigade, a breakaway faction of the Muslim Brotherhood group that has targeted security forces in militant attacks, and were killed in the northeastern district of Obour, and the southern May 15th City.
Earlier this month 11 senior Muslim Brotherhood figures were sentenced to life in prison on charges of spying for Hamas, the Brotherhood's Palestinian militant wing, a judicial source said.
They included the Brotherhood's supreme guide Mohamed Badie and his deputy Khairat al-Shater who were both handed life sentences - 25 years in Egypt.
The Muslim Broterhood has been designated as a terrorist organization by countries including Egypt, Saudi Arabia, and Russia.
Full report at:
https://english.alarabiya.net/en/News/middle-east/2019/09/24/Six-Muslim-Brotherhood-members-killed-in-firefight-in-Egypt-Ministry.html
--------
Saudi Council of Ministers calls on int'l community to limit Iran's aggression
24 September 2019
Saudi Arabia's Council of Ministers renews its call to the international community "to put a limit to Iran's aggressive behavior," the Saudi Press Agency reported on Tuesday.
The council stressed that the destructive attack that targeted oil installations in Abqaiq and Khurais with Iranian-made weapons is considered "a threat to regional peace and security, and an unjustified aggression."
SPA quoted King Salman as saying at the cabinet meeting that the attack represented a "dangerous escalation."
https://english.alarabiya.net/en/News/gulf/2019/09/24/Saudi-Council-of-Ministers-calls-on-int-l-community-to-limit-Iran-s-aggression.html
--------
Saudi Arabia blocking approval of UN oceans report
Sep 24, 2019
Oil giant Saudi Arabia is blocking the adoption of a major UN report on oceans and climate change by challenging an earlier UN assessment highlighting the need to slash carbon emissions caused by burning fossil fuels, multiple sources told AFP.
Already deep into overtime, a meeting of the 195-nation Intergovernmental Panel on Climate Change (IPCC) in Monaco remained deadlocked early Tuesday, with delegates tweeting pictures of the rising Sun.
A 30-page executive summary is scheduled for release on Wednesday morning.
"It has been 24 hours and there has been absolutely no compromise from the Saudis," said a participant.
"They are undermining the science underlying this report, and it is despicable."
At issue is what might have been a routine reference to an October 2018 IPCC report on the feasibility of capping global warming at 1.5 degrees Celsius.
That assessment detailed the stark consequences for humanity of piercing that threshold, and the need for deep cuts in the use of fossil fuels.
Saudi Arabia is the world's largest oil exporter, and has raised similar objections to other IPCC reports.
"It really seems like Saudi Arabia only came to this meeting to block any language on 1.5C," a participant in the Monaco meeting told AFP.
Two other sources taking part in the five-day talks confirmed the stand-off, noting that Norway, Britain, France, Canada, Chile the European Union were resisting Saudi proposals to drop any reference to the 1.5 C report, or include a reference to its alleged "shortcomings."
Global warming and pollution caused by humanity's carbon-heavy footprint are ravaging Earth's oceans and icy regions in ways that could unleash misery on a global scale, the IPCC report is set to conclude.
Observed and projected impacts include vanishing glaciers, and expanding marine heatwaves, irreversible sea level rise that could eventually displace hundreds of millions of people, according to a draft seen by AFP.
Under the IPCC's consensus rules, all countries must sign off on the language of a 30-page Summary for Policymakers, designed to provide leaders with objective, science-based information.
Full report at:
https://www.presstv.com/Detail/2019/09/24/606993/Saudi-Arabia-UN-climate-change-ocean-energy
--------
OIC chief meets with Norwegian PM, UN official to discuss fight against extremism
September 24, 2019
The secretary-general of the Organization of Islamic Cooperation (OIC), Dr. Yousef Al-Othaimeen on Tuesday met Norwegian Prime Minister Erna Solberg on the sidelines of the 74th session of the UN General Assembly in New York.
They discussed issues of mutual interest particularly cooperation in the fight against extremism and terrorism.
They also discussed political developments in the Middle East particularly in Palestine and Yemen.
The OIC chief also met UN High Representative for the Alliance of Civilizations Miguel Angel Moratinos. They reviewed ways to enhance the partnership between the two organizations for the implementation of different projects especially in the field of women and youth empowerment and to confront extremism and Islamophobia.
Full report at:
https://www.arabnews.com/node/1559376/saudi-arabia
--------
El-Sisi calls on US to take Sudan off terror-sponsor list
September 24, 2019
NEW YORK: Egyptian President Abdel Fattah El-Sisi used his speech at the UN General Assembly to amplify a call to get neighboring Sudan off the US' list of countries deemed sponsors of terrorism.
El-Sisi told world leaders Tuesday that taking Sudan off the list would help the country tackle economic problems and reclaim what he called "the place it deserves among the international family."
Sudan has been on the US list since 1993. Khartoum says getting off it is crucial to rebuilding the country after years of sanctions.
The US administration began a process to take Sudan off the list. The procedure was put on hold when mass protests erupted in December against former ruler Omar Al-Bashir. The military ousted him in April. Sudan's new Prime Minister Abdalla Hamdok recently said he'd discussed the issue with the Trump administration.
El-Sisi also said that a concerted effort was needed to stop militias taking control of Libya.
On Monday, US President Donald Trump voiced support to the Egyptian president, saying that El-Sisi "has done (in Egypt) some things that are absolutely amazing in a short period of time."
"When he took over not so long ago, it was in turmoil. And it's not in turmoil now," Trump said in a press conference along with El-Sisi after their meeting. "Egypt has a great leader. He's highly respected. He's brought order. Before he was here, there was very little order. There was chaos. And so I'm not worried about that at all."
El-Sisi, who has been waging a harsh crackdown on militants, blamed "political Islam" for the protests and the turmoil in the Mideast. He stopped short of naming the Muslim Brotherhood directly.
"I want you to rest assured that, especially in Egypt, the public opinion and the people themselves are rejecting this kind of political Islam in Egypt," he said.
"They have demonstrated their rejection before, and they reject those to have control on the country for only one year." Egypt is fighting an insurgency led by a local affiliate of Daesh in the Sinai Peninsula as well as smaller militant groups allegedly belonging to the Brotherhood.
Meanwhile, Egyptian security forces killed six suspected members of the Muslim Brotherhood in a shootout in Cairo, the Interior Ministry said Tuesday.
The six were killed in a firefight when police raided their hideout in the Cairo suburb of Sixth of October, the ministry said in a brief statement.
Full report at:
https://www.arabnews.com/node/1559266/middle-east
--------
URL: https://www.newageislam.com/islamic-world-news/campaign-launched-ascertain-exact-number/d/119833
New Age Islam, Islam Online, Islamic Website, African Muslim News, Arab World News, South Asia News, Indian Muslim News, World Muslim News, Women in Islam, Islamic Feminism, Arab Women, Women In Arab, Islamophobia in America, Muslim Women in West, Islam Women and Feminism