New Age Islam News Bureau
26 Aug 2017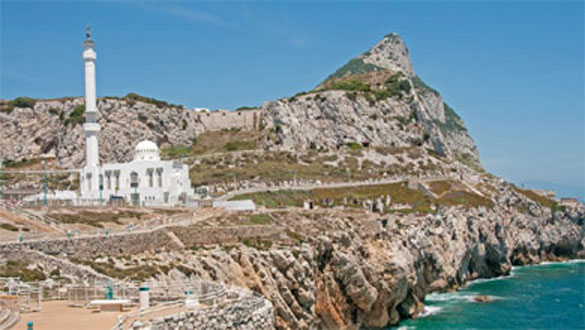 The Ibrahim-al-Ibrahim Mosque in Gibraltar is pictured here, on May 11, 2015. The Muslim invasion of Spain began at Gibraltar in 711 A.D., less than 80 years after the death of the Prophet Muhammad.
----
• Called 'Deviant', Muslim Scholar Says Was Just Challenging Orthodox View on Quran
• ISIS Says It Wants To Rebuild the Muslim Caliphate in Spain
• Deadly Kabul Mosque Attack, Over 50 Dead, Wounded
• Pakistani Govt Paid Blood Money for Davis Release: Foreign Minister
Southeast Asia
• Called 'Deviant', Muslim Scholar Says Was Just Challenging Orthodox View on Quran
• Malaysia and Indonesia Should Pile Pressure on Myanmar Over Ongoing Rohingya Massacre, Says MAPIM
• Malaysian P.M. Woos Islamic Heartland, Mixing Religion and Politics to Survive
• Tourism Ministry To Promote Halal Destinations In China
--------
Europe
• ISIS Says It Wants To Rebuild the Muslim Caliphate In Spain
• After Anti-Muslim Attack, Brazilians Shower Victim with Love
• Man shot dead in Brussels after attacking soldiers
• Russian forces destroy 2 chemical arms bases in Syria: Official
• Shout 'Allah u Akbar' and you will be shot: Venice mayor
• Muslim Refugee Terror Attacks Surge in Europe
--------
South Asia
• Deadly Kabul Mosque Attack, Over 50 Dead, Wounded
• Violence in Rakhine State: Deadly Attacks in Myanmar Kill 89
• Pope Francis Very Likely To Visit Myanmar and Bangladesh before End of Year
• ISIS claims responsibility behind Kabul mosque attack that left scores dead, wounded
• Hundreds gather in support of Momand and against Noor in Kabul
--------
Pakistan
• Pakistani Govt Paid Blood Money for Davis Release: Foreign Minister
• It's Time To Wave Goodbye To US Aid: Shahbaz
• Blame game won't help end terrorism: Pakistan
• Media can play role in bringing Pakistan, Afghanistan closer: minister
• Terrorists' common enemy of Pakistan, Afghanistan: COAS
--------
Arab World
• Saudi Cleric Condemns Inter-Muslim Conflict Ahead Of Pilgrimage
• ISIS Counterattack Kills 34 Syria Regime Forces in Raqqa
• Iraqi Forces Advance against Daesh Terrorists in Tal Afar
• Iraq Military Discovers Mass Graves of 500 Daesh Victims Near Mosul
• Some 9,000 Al-Nusra Terrorists Attempting to Capture Syria's Idlib Province
• More ISIL Terrorists Surrender to Syrian Army at Border with Lebanon
• Syrian Army Storms ISIL's Positions in Southern Raqqa to Retake Lost Lands
• Syrian Army Hits Terrorists' Defence Lines Hard in Eastern Damascus
• Syrian Army, Popular Allies Repel ISIL's Attack in Southern Deir Ezzur
• ISIL Fails to Prevail over Syrian Army Positions in Southern Homs
--------
Mideast
• Gulen's Message on New Defamation Efforts by Erdogan Regime
• Children among 14 Dead In New Raid on Yemen
• Nuclear inspectors should have access to Iran military bases, US's Haley
• US Black Hawk helicopter crashes off Yemen coast during training
• Iran rejects Bahrain's new claim of meddling as 'baseless, ridiculous'
• Turkey opposition chief hosts 'justice congress' in challenge to Erdogan
--------
India
• Terrorists Attack District Police Lines in Pulwama, Three Security Personnel Martyred
--------
Africa
• Suspected Boko Haram Terrorists Kill 11, Kidnap 8 in Cameroon Village
• Sudan Deploys More Forces to Yemen to Help Saudi-Led War
• British foreign secretary visits Libyan strongman, backs ceasefire
• Nigerian Muslim group retracts threat to Christians
• Nigerian bishops demand cash for extremist damage
• Uganda: Courts Accused of Targeting Muslims
--------
North America
• US Muslims a Security Issue after 9/11, Professor Says
• Manitoba Muslims counter hateful video with outreach
• US fighter pilots in Afghanistan prepare for more air strikes
• Ten civilians killed in US-backed raid in Somalia: Official
Compiled by New Age Islam News Bureau
URL: https://www.newageislam.com/islamic-world-news/called-deviant-muslim-scholar-says/d/112345
--------
Called 'Deviant', Muslim Scholar Says Was Just Challenging Orthodox View on Quran
BY BOO SU-LYN
August 26, 2017
KUALA LUMPUR, Aug 26 — Muslim theologian Mun'im Sirry said today he was merely challenging the mainstream belief that the Quran had emerged in a pagan and polytheist environment, claiming the Arabic civilisation may have been more advanced than thought.
Amid controversy over his remarks on the origin of the holy book in Mesopotamia, the assistant professor of theology from the University of Notre Dame said he was referring to the late scholar John Wansbrough of the School of Oriental and African Studies in London.
"I myself expressed that I don't agree with Wansbrough, saying that in my view, Mecca and Medina was not as isolated as many people usually assume," Mun'im told Malay Mail Online.
"My view is that the Quran presents a different picture about its audience than it is presented in the Muslim sources. I would argue that Mecca and Medina were more advanced and less isolated than is commonly assumed," he added.
Mun'im said the text of the Quran seemed to assume that its readers were familiar with Biblical narratives and even theology polemics between the monotheist Jews and Christians.
In comparison, Wansbrough had argued that the Quran might have emerged in Mesopotamia instead where such theological debates took place in the sixth or seventh century.
Muslims believe that God delivered the Quran over a period of time through the Angel Gabriel orally to the Prophet Muhammad in his birth place in Mecca, and later in Medina after he migrated.
Mun'im stressed that he believed the Quran did indeed originate from Mecca despite the monotheistic themes in the Muslim holy book, as he believed that the birthplace of Islam in the western Arabian city of Mecca was not as primitive and pagan as originally believed.
Muslim group Islamic Renaissance Front (IRF) had invited Mun'im, an academic and expert on Quran, on a series of event last week.
This included a symposium on moderation in Quran co-organised with pro-moderation group G25, where Perlis mufti Datuk Mohd Asri Zainul Abidin had delivered a keynote speech.
However, Jakim director-general Tan Sri Othman Mustapha had accused IRF and G25 yesterday of trying to bring in liberal and deviant ideas into the country, highlighting Mun'im's purported remarks on the origins of the Quran.
Mun'im said he did not think that the origins of the Quran were such a controversial topic.
"I have published a book on this in Indonesian language, the Indonesian response has been constructive. They may disagree with my views but they express their differences intellectually," he said.
http://www.themalaymailonline.com/malaysia/article/called-deviant-muslim-scholar-says-was-just-challenging-orthodox-view-on-qu#8OZ8DSS8yDkRQo7P.97
--------
ISIS says it wants to rebuild the Muslim caliphate in Spain
August 25, 2017
A week after the deadly attack in Barcelona, ISIS released a new propaganda video, saying it wants to restore al-Andalus to the Muslim world. Al-Andalus was the word for Muslim-ruled areas of Spain and Portugal in the Middle Ages.
The video mixes excerpts from news reports with music and statements from ISIS fighters speaking in Arabic and — for the first time — in Spanish.
One Spanish speaker in combat fatigues is saying, "With God's permission, al-Andalus will once again be the land of the caliphate."
The Muslim invasion of Spain began at Gibraltar in 711 A.D., less than 80 years after the death of the Prophet Muhammad. In the preceding decades, Muslim armies had swept across North Africa, overthrowing or subduing Christian and pagan kingdoms and territories in their path.
Spain was no different, and Muslim emirs soon established control of what's now Portugal and most of Spain, except for a few mountainous districts of the far north. Muslim armies then invaded France until famously checked at Poitiers in 732 A.D.
Generalizations are difficult, but once a territory had submitted to Muslim rule, its people were more or less allowed to continue to practice their faith. Non-Muslims were obliged to pay additional taxes and were treated as second-class citizens and often denied civil rights. Conversion was encouraged but not forced. Wholesale massacres and forced displacement were not widespread after the conquest.
This relative toleration allowed Christianity to survive and also encouraged significant immigration of Jewish people from elsewhere in the Mediterranean.
Local politics were often more important than faith, and Christian lords could serve Muslim emirs when their interests coincided, and vice versa.
Córdoba in southern Spain became the capital of its own state, initially an emirate, and then its own caliphate ruled by a family dynasty known as the Umayyads. The city thrived and became a locus of art, literature, architecture, science and culture, while the rest of Europe was struggling through what is popularly known as the Dark Ages. Much of the science and literature of ancient Rome was preserved thanks to the efforts of scholars in Córdoba, Seville and Granada.
For many Muslims, this era represents a golden age for Islam, with similar strides in civilization taking place in Baghdad, Damascus and Cairo at the same time.
It's this golden age that ISIS is trying to re-create, says Rukmini Callimachi of The New York Times. "So, they often harken back to the old words that were used by the early Muslims for these territories."
"It goes to this idea," she adds, "that they are bringing back an old Islamic era, a golden age, and that they are going to restore the dignity of Muslims — at least in their eyes."
For the Iberian Peninsula, that Muslim golden age was challenged by Christian kingdoms in the north aggressively seeking to gain ground, and then by internal differences. The Umayyad dynasty collapsed in 1031, and power eventually devolved to local emirs ruling smaller successor states.
This was the era of the crusades, and these smaller Muslim states were less able to contain their Christian rivals to the north.
Córdoba fell to the Christians in 1236, and by 1249 only the emirate of Granada remained.
Granada itself finally fell in 1492, the same year Christopher Columbus sailed to America for the first time. The 700-year struggle to fight Muslim rule is known in Spain as La Reconquista — "The Reconquest" — and is still commemorated in re-enactments and ceremonies, especially in the south.
Spanish promises of tolerance did not last long, and persecution of non-Catholics began the so-called Spanish Inquisition. That's chiefly remembered in Europe and the West for the persecution of Jews, but Muslims were just as vulnerable.
Persecution took place at different times in different places, but in the early 1600s, the Spanish authorities implemented a policy of absolute intolerance. Arabic was banned. All Moriscos were ordered to be deported. Their property was sequestered.
Hundreds of thousands were expelled. But many remained, and many others returned. Oddly, slaves were not forced to convert.
Anyone found to be practicing a faith other than Catholic Christianity after that date faced the risk of torture, imprisonment and death. The last mass prosecution for "crypto-Muslim" practices was in 1727, although by that time sentences were not too severe.
These persecutions along with more recent ones around the world feature in ISIS and jihadi propaganda.
"They play that up so they can have a narrative of victimhood, which draws people to their cause," says Callimachi.
The ISIS video threatening Spain has been met by a host of derisive memes and cartoons in Spanish social media.
https://www.pri.org/stories/2017-08-25/isis-says-it-wants-rebuild-muslim-caliphate-spain
--------
Deadly Kabul Mosque Attack, Over 50 Dead, Wounded
Aug 25 2017
Over fifty people including women, children, and security personnel were killed or wounded in a coordinated attack on a mosque in Kabul city this afternoon.
The incident took place after a group of insurgents launched an attack on Imam Zaman mosque.
The Ministry of Interior spokesman Najib Danish confirmed the incident and said over 50 people were killed or wounded in the attack.
Danish further added that at least ten civilians including women and children, a personnel of the Afghan police special forces, and two personnel of the public order police forces were among those killed.
He said at least thirty civilians, 7 personnel of the special forces of the police forces, and a personal of the public order police forces were among those wounded.
According to Danish, the security forces managed to evacuate at least 107 people from the site of the incident.
No group including the Taliban or ISIS militants has so far claimed responsibility behind the incident.
http://www.khaama.com/latest-on-deadly-kabul-mosque-attack-over-50-dead-wounded-03347
--------
Pakistani Govt Paid Blood Money for Davis Release: Foreign Minister
Iftikhar A. Khan
August 26, 2017
ISLAMABAD: Foreign Minister Khawaja Asif on Friday disclosed that the federal government had paid the blood money to the heirs of three people killed by United States Central Intelligence Agency contractor Raymond Davis in Lahore in 2011.
"But God knows from which account the amount had been paid," he said while responding to a calling-attention notice in the Senate about revelations made by Davis in his book The Contractor.
Declaring that he would support an investigation into the release of the man if asked by parliament, Mr Asif said the probe, if it was to take place, should be conducted by parliament.
He termed the episode shameful and embarrassing for the nation and asserted the supremacy of parliament. Each institution should be answerable to parliament, he said.
The minister asked the chair to decide if an inquiry was to be conducted by parliament to ascertain as to who had compromised the dignity and honour of the country and if some individuals or institutions had received some benefits in return for releasing the killer of three youths.
Without naming anybody, he said there appeared to be a clear individual interest in honouring commitments made outside Pakistan or to strengthen his position. He opined that not institutions, but individuals appeared to have played a role in freeing Davis.
"The sensitive revelations made by Raymond Davis raise questions about the state institutions, the military, the courts and the government and of course the then president of Pakistan," Senator Hafiz Hamdullah said.
He said that the spy who got off scot-free after shooting dead two men and crushing another under his vehicle had revealed in his book how the then US vice president John Kerry, president Asif Ali Zardari, ambassador to the US Hussain Haqqani, Inter-Services Intelligence chief Lt Gen Ahmad Shuja Pasha and a court had played a role in his release.
The senator pointed out that those exposed in the book had not come up with a clarification on what role they had exactly played in the saga.
He also quoted Davis's claim that the search for Al Qaeda chief Osama bin Laden would not have been possible without his release.
The Election Bill 2017, already passed by the National Assembly, was also introduced in the Senate. The chair referred it to the relevant standing committee of the house with the directive to present its report on the first day of next session.
National security proposals
Senate Chairman Raza Rabbani informed the members that a sub-committee tasked to finalise the recommendations on national security had prepared the draft, which would be discussed in a meeting of the Committee of the Whole House on Monday. The sub-committee had been formed after the recent threatening remarks of US President Donald Trump came under discussion.
Members were asked to give their proposals to improve the recommendations prepared by the committee, before their adoption by the house.
The Pakistan Tehreek-i-Insaf also raised the matter of propaganda unleashed by former ambassador Haqqani. The issue was raised by Senator Mohsin Aziz on a point of order, but the chairman observed that the man did not deserve to be discussed in the upper house of parliament.
He said that after coming to know that he had been discussed in the Senate, Mr Haqqani would use it to please his bosses in Washington.
He pointed out that the Pakistan Peoples Party had disowned Mr Haqqani a long time ago.
In a written reply to a question about the non-Nato ally status given to Pakistan by the US, the foreign minister said that in March 2004, former secretary of state Colin Powell said during a visit to Pakistan that he had brought a message from the American people and president George Bush that his country wished to have long-term bilateral relations and to cement the bonds of friendship. Appreciating the role of Pakistan in combating terrorism, controlling extremists and making efforts towards nuclear non-proliferation, he declared that the US had given Pakistan the status of a non-Nato ally. He elaborated that the US considered Pakistan an important and major ally outside the North Atlantic Treaty Organisation, which would lead to greater military cooperation between the two countries. Mr Powell stated that the US government had made a notification to the Congress that would designate Pakistan as a major non-Nato ally. In June 2004, the US administration received the endorsement of the Congress, which completed the legal procedure required to declare Pakistan a non-Nato ally.
Asked if there was any plan to revisit the terms and conditions, he said there were no conditions attached to the designation. It was a reflection of the desire of both countries to strengthen cooperation and maintain long-term closer and friendly relations, he said.
https://www.dawn.com/news/1354027/govt-paid-blood-money-for-davis-release-asif
--------
Southeast Asia
Malaysia and Indonesia Should Pile Pressure On Myanmar Over Ongoing Rohingya Massacre, Says MAPIM
26 August 2017
PETALING JAYA: Malaysia and Indonesia should pile pressure on Myanmar to stop the ongoing massacre that has left dozens of Rohingya civilians dead, urged an Islamic NGO.
According to reports, at least 77 Rohingya Muslims and 12 members of security forces were killed in the Rakhine state after a rebel group launched pre-dawn raids on police posts and tried to break into an army base on Friday.
Malaysian Consultative Council of Islam Organisations (Mapim) said as the closest Muslim nations in Asean, Malaysia and Indonesia have significant roles in doing so.
"Indonesia has been in contact with Myanmar and seems to have a positive engagement with the government. The President should initiate immediately a call for cease fire and negotiation for peace.
"Malaysia was a member of the UN Security Council. Its role has been significant. Malaysia should call for an emergency seating to urge an immediate response from the UN Security Council.
"Malaysia should step in and initiate moves at the diplomatic level to stop the killings," urged Mapim president Mohd Azmi Abdul Hamid in a statement, Saturday.
Mapim said that the Asean Human Rights Declaration should be invoked to call for an emergency seating of the Asean Foreign Ministers.
"We also call for Myanmar to comply to the unanimously adopted November 2012 declaration to commit to the protection of human rights for all the people in the Asean member states," he said.
Apart from that, Mapim said Najib should also relook at the Resolutions of the OIC Extraordinary Meeting on Rohingya January 2017 in Kuala Lumpur.
Mapim also called for UN Security Council to deploy peace troops immediately to Myanmar to halt the massacre.
"The brutal oppression by thousands of Myanmar troops in the Maungdaw district and vicinity villages will see unimaginable bloodshed. This is worse than the four month military operation in October 2016 - March 2017," said Mohd Azmi.
Considered to be stateless and often subjected to arbitrary violence and forced labour in Myanmar, the Rohingya are considered by the United Nations as one of the most persecuted minorities in the world.
As of June this year, there are 59,100 Rohingya refugees registered with the UNHCR in Malaysia, although unofficial estimates put the number much higher than that.
http://www.thestar.com.my/news/nation/2017/08/26/mapim-urges-malaysia-indonesia-pressure-myanmar-rohingya-massacre/
--------
Malaysian P.M. Woos Islamic Heartland, Mixing Religion and Politics To Survive
26 August, 2017
In Malaysia's Islamic heartland, a door to Hollywood has opened. For the first time in more than 20 years, the city of Kuala Terengganu has a cinema, showing blockbusters like Baywatch and Wonder Woman. But the darkened hall is dotted with infrared cameras to monitor theatre-going couples.
"Are you looking at the screen, or are you doing a bad thing?" said Samiun Salleh, general manager of the Terengganu State Economic Development Corporation, a partner in the cinema.
The effort to mollify local clerics is a political one in the conservative Islamic northeastern state governed by Prime Minister Najib Razak's coalition. With a federal election due within 12 months, Najib's United Malays National Organisation (Umno) is seeking to burnish its credentials with Muslim voters.
To do so, Umno has formed an unlikely arrangement with its long-term nemesis, the hardline opposition Pan-Malyasian Islamic Party (PAS). At the Centre of the thaw – they call it informal cooperation – is a rapprochement between Najib and PAS chief Hadi Awang.
The move is simple maths for Najib: more than 60 per cent of Malaysians are Muslim, and 50 per cent are ethnic Malays, many of them in rural areas. He needs their votes for Umno to extend its 60 years in power, and closer ties with PAS may help. For Hadi, it gives him the ear of the prime minister and a better shot at influencing government policy.
"The issues of race, ethnicity, the Malay language and especially Islam are close to the heart of the Malays," said Mohamed Mustafa Ishak, a professor of politics and international studies at Universiti Utara Malaysia. "By working together to uphold Islam, either through the implementation of sharia law or strengthening the position of Islam within the administration, this serves both parties well."
Najib's efforts have widened an existing rift between PAS and other parties in the opposition alliance, some of whom objected to PAS's push for sharia law for Muslims. PAS has now formally abandoned the opposition, raising the risk multiple candidates compete against Umno in each seat.
PAS and Umno have had a long and at times rancorous rivalry dating back to the late 1970s, driven largely by personality politics. But Hadi has appeared side by side with Najib at several public events in the past year.
Najib has allowed Hadi to introduce legislation to broaden the power of Islamic courts nationally. The bill would increase maximum jail terms and lashes with a cane for religious infringements.
"PAS is flexible," according to Hadi's son, Muhammad Khalil, 40, who is national director of the PAS youth wing.
"We are willing to work with any quarters or parties," he said last month at the party's headquarters in Kuala Lumpur. "What matters is that it benefits Islam and that it benefits Malay Muslims.
"We put Islam as the foundation, and Malays must be the foundation for the country's ruling political system."
A replica of Jerusalem's Dome of the Rock Islamic shrine at the Islamic Heritage Park in Kuala Terengganu. Photo: Bloomberg
Terengganu is PAS's spiritual home. It's where Hadi Awang hails from. PAS has three of the state's eight federal seats, while Umno has four.
Before oil and gas discoveries off Peninsular Malaysia's east coast in the early 1970s, it was one of the country's poorest states. But there's been rapid industrialisation and development over the past 30 years, and the state has a burgeoning tourism industry.
PAS has aligned with Umno before: it joined the broader Barisan Nasional coalition in 1972 but was expelled five years later. In 1981, Hadi Awang was interpreted as saying Muslims who supported Umno were infidels, a remark his son said was taken out of context.
Now, Najib and PAS leaders are jointly advocating for the ethnic-minority Islamic Rohingya in Myanmar. At the Umno general assembly in December, Najib warned Islam would be threatened if the opposition won power. In April, he wrote a blog post detailing the steps he'd taken to protect Muslims' welfare.
Yet while the approach may deliver Najib votes, it also brings risks in a country with large Chinese and Indian minorities and a history of ethnic violence, including before Malaysia's split with Singapore in 1965. Chinese and Indian voters are bastions of opposition support.
Prioritising Islamic voters would "be extremely harmful" to Malaysia's harmony, said Oh Ei Sun, principal adviser to Malaysia's Pacific Research Centre.
"It would also inadvertently nurture a hot bed for misguided religious extremists and fundamentalists to spread their twisted versions of intoxicating ideologies," he said.
The weakening of Islamic State in the Middle East has led to warnings that fighters may return to Southeast Asia, raising the risk of greater home-grown radicalism or the re-energising of localised extremist groups.
Umno's Kuala Terengganu division chief Sabri Alwi said he was not concerned about the PAS cooperation.
"We are Muslim, PAS is also Muslim, we can stand together," Sabri said before an event to give cash hand-outs to lower-income earners during Hari Raya, the holiday marking the end of the Islamic month of fasting.
But architect Kamarul Bahrin, 62, who designed Kuala Terengganu's football stadium and the state museum, claimed otherwise. A PAS member since the early 1980s until recently, and a lawmaker since 2013, Kamarul said the party had moved in recent years to weed out more moderate members.
"In PAS today, all they want are yes men," Kamarul said in an interview at his offices in the city. Kamarul was part of a group that broke away from PAS to form a party known as Amanah – or "trust" – in September 2015. Amanah has joined the opposition alliance.
"This election is crucial, it's make or break," said Kamarul. If Umno and PAS continue to mix religion with politics "we will end up as two Malaysias".
It's a careful dance, according to Kuala Terengganu's PAS chief, Wan Sukairi Wan Abdullah. "PAS equals Hamas," he said, referring to the Palestinian fundamentalist organisation. "And Umno equals Donald Trump. The two don't mix."
"The friendliness is a new strategy born out of mature politics. We are working together for the sake of the people and Islam. That is important."
Full report at:
http://www.scmp.com/news/asia/southeast-asia/article/2108402/malaysian-prime-minister-najib-razak-woos-islamic-heartland
--------
Tourism Ministry to promote halal destinations in China
August 26, 2017
Tourism ministry is set to hold a Sales Mission event in three cities in China namely Xi'an, Yinchuan and Beijing from September 4 to 7.
The ministry invites 9 sellers from Indonesia and 60 buyers from each city in China to help promote halal tourist destinations in Indonesia.
Beijing, the capital city of China has a sizeable Muslim population and so does Yinchuan the capital city of Ningxia Hui which has 34 percent Muslim residents out of a total of 6.32 million.
Islam was said to enter Xi'an around the 7th century through merchants from Saudi Arabia and Persia. Xi'an Grand Mosque was built in the city in year 742.
Moreover, the relationship between China and Indonesian Muslims goes as far back as the 15th century.
Halal tourism is currently growing in Indonesia with plenty of destinations being set up along with supporting facilities. One of the popular destinations is Lombok that has become the nation's backbone for halal tourism.
Lombok won two awards at the World Halal Travel Awards in 2015 for World's Best Halal destination and World's Best Halal Honeymoon destination categories.
Other than Lombok, there are also West Sumatra and Aceh, which were also crowned as winners at the World Halal Travel Awards 2016. West Sumatra brought home two awards for World's Best Halal Culinary and World's Best Halal Destination, while Aceh earned the title of World's Best Halal Cultural Destination.
"This is what we're offering in these sales missions, there are also the other three destinations that will be highlighted in this event namely Bali, Jakarta and Batam. This event is supported by the Indonesian Embassy in Beijing and Garuda Indonesia," said tourism ministry's deputy minister for Overseas Promotion, I Gde Pitana.
According to the data from the tourism ministry, throughout the years of 2013 to 2016, there had been a significant increase of 15.5 percent for halal tourism. Meanwhile, the number of Chinese tourists coming to Indonesia keeps increasing, in 2016 the number went up 27 percent to 1,452,971 people.
"In 2017, the government's target number for Chinese tourists is 2,057,000 people. The Sales Mission is one of the programs that can help the tourism ministry in achieving its target," Pitana added.
Out of the overall 2017 target of 15 million overseas tourists, the government is targeting that 20 percent of them are for halal tourism, this number is still small compared to the number of tourists for halal tourism in Thailand that has reached six million people and then followed by Malaysia with five million and Singapore with four million.
Full report at:
http://www.thejakartapost.com/travel/2017/08/26/tourism-ministry-to-promote-halal-destinations-in-china.html
--------
Europe
After anti-Muslim attack, Brazilians shower victim with love
Aug 25, 2017
When video went viral of a racist attack on a Muslim street food vendor in Rio de Janeiro, Brazilians wondered gloomily: had their country also been swept up in a global wave of xenophobia?
The answer -- a flood of love transforming the humble vendor into a folk hero and, on Thursday, the recipient of a city award -- was a heartwarming no.
But the truth may be a little more complicated.
It all began August 3 when Mohamed Ali Abdelmoatty Kenawy, 33, was manning the cart from which he sells Arab-style meat pies and hummus in the thronging center of Copacabana.
Suddenly a thick-set, bald man carrying two sticks appeared, screaming at Kenawy, who came to Brazil three years ago and has since become universally known as "the Syrian refugee."
"Get out of my country!" yelled the assailant. "I'm a Brazilian and my country is being invaded by these miserable human bombs who kill children!"
Thin, with neat dark hair and glasses, Kenawy did not attempt to fight back, merely picking up food that had been spilled when his cart came under attack.
The incident might have got even uglier, except that among the growing number of bystanders was 19-year-old Beatriz Bastos de Souza, who intervened, and then began filming on her mobile phone.
"The man started to kick the cart and then started to kick and punch Mohamed," she said Thursday. "There were three or four of them, not just one, and I went into the middle saying, 'Please stop.'"
Deeply depressed, Kenawy avoided work for the next two days. "That man didn't break my cart," he told AFP. "He broke my happiness."
Bastos de Souza, however, left determined to do something.
After Kenawy refused her pleas for him to file a police complaint, she showed officers her video of the fracas.
"They said, 'Delete it, nothing will come of it,'" she explained.
So Bastos de Souza, who works in a travel agency, sent the video to Brazil's biggest news organization, Globo.
They also didn't respond. But the video made it to a smaller news outfit and all of a sudden, "my video was everywhere," she said.
The effect was extraordinary.
Soon Kenawy was doing a sit-down interview on Globo. Thousands of people organized on Facebook to buy his pies and Rio Mayor Marcelo Crivella personally handed him a hard-to-get vendors' license.
On Thursday, the city legislature voted to make Kenawy an honorary citizen of Rio.
"I knew Brazilians were kind, but after this, wow," Kenawy said in amazement. "I can't express my feelings."
- 'Different Brazils' -
Kenawy has now become a byword in the Brazilian media for tolerance -- the Syrian war survivor who, when confronted with violence, declined to strike back.
"He displayed the desire for peace and prosperity that is shared by all those seeking refuge in Brazil," said city lawmaker Wanderson Nogueira, who sponsored the municipal honor for Kenawy.
Barely five minutes go by at Kenawy's Copacabana corner without passersby or drivers shouting out "Congratulations, Mohamed!" or stopping to pose for a photo.
But for starters, Kenawy is not a refugee from Syria.
Although his family has Syrian roots, he is an Egyptian citizen and moved in search of a better economic future when his restaurant had to close.
In Brazil, he didn't even apply for asylum, instead obtaining a permanent residency card after marrying a local woman with whom he now has a three-month-old son.
"I wasn't in a war," he said.
What he is, is an archetypal poor, hard-working, ambitious immigrant.
In Rio, he started selling pies from a tiny table, then the cart.
Now he dreams of a food truck.
The anti-Muslim assault may not necessarily have been exactly what it appeared to be either.
Although brutal and racist in nature, the motive may have been more to do with a turf struggle between street vendors, according to local media.
Bastos de Souza said Kenawy had upset a smalltime "mafia."
And one of the many people milling around Kenawy's cart said it was unfair that the newcomer had taken a corner previously held by locals.
"The Brazilians get thrown out, is that fair?" asked the man, who did not want to be identified.
But whatever the details, the Egyptian's fairy tale story has delighted Brazilians.
Buffeted by recession, bloody crime and corruption, they're glad to be reminded of their better angels.
"I think what happened was a portrait of the different Brazils -- the welcoming Brazil and the prejudiced Brazil," said singer Juli Mariano, 50, who demonstrated support by buying a pie Thursday.
"And I think the welcoming version won."
http://www.hindustantimes.com/world-news/after-anti-muslim-attack-brazilians-shower-victim-with-love/story-9IxEuSaGRHF4kqaLHrfPNI.html
--------
Man shot dead in Brussels after attacking soldiers
25 August 2017
A man shot on Friday after attacking two soldiers with a knife in Brussels has died, Belgium's federal prosecutors said, adding they were treating the event as an attempted terrorist murder.
A spokeswoman for federal prosecutors said the man had shouted "Allahu Akbar" (Arabic for "God is Great") twice during the attack.
The man was critically wounded but was still alive and in hospital, they said earlier. The soldiers were lightly wounded in the attack, one in the face and the other in the hand.
"With the identity that we currently have, it is a 30-year-old man who is not known for terrorist activities," a spokeswoman for the prosecution service said.
In addition to regular police, Brussels streets are being patrolled by soldiers due to a heightened security threat level in the wake of militant attacks in Paris and the Belgian capital in 2015 and 2016.
Full report at:
https://english.alarabiya.net/en/News/world/2017/08/25/Man-shot-in-Brussels-after-attacking-soldiers-.html
--------
Russian forces destroy 2 chemical arms bases in Syria: Official
Aug 25, 2017
The head of the Russian military's branch for protection from chemical weapons says his forces have managed to dismantle two chemical weapons facilities in the formerly militant-held areas in war-torn Syria.
Major General Igor Kirillov said on Friday that Moscow will provide the data to the Organization for the Prohibition of Chemical Weapons (OPCW), without elaborating on the exact location of the facilities that were destroyed this month.
The two bases were the last out of the 27 chemical weapons sites in Syria, Russian media reported.
The Syrian government turned over its entire chemical stockpile under a deal negotiated by Russia and the US back in 2013.
The OPCW oversaw the operations to remove the chemical arsenal from Syria and destroy it.
Friday's development raises doubts about the West claims that the Syrian army is in possession of chemical weapons.
On April 4, an alleged gas attack hit the town of Khan Shaykhun in Syria's Idlib Province, killing more than 80 people.
The Western countries rushed to hold Damascus responsible for the incident, with the US launching a missile attack against Shayrat Airbase in Syria's Homs Province on April 7.
Washington claimed that the air field targeted in the missile raid was the origin of the April 4 purported chemical attack.
Syria rejected the accusations, saying that militants, not pro-Damascus forces, were using chemical arms.
9K Daesh, 15K Nusra terrorists in Syria
Also on Friday, the head of the Russian General Staff's Main Department estimated that over 9,000 Daesh terrorists and more than 15,000 militants of the al-Nusra Front group, recently renaming itself Fateh al-Sham, were operating in Syria.
Lieutenant General Igor Korobov said that the Daesh elements mainly active in Syria's central and eastern parts.
He further noted that the Nusra Front terrorists were operating in the provinces of Idlib, Homs, Quneitra and Daraa as well as the suburb of the Eastern Ghouta region.
Over the past few months, Daesh has retreated from much of the territory under its control amid sweeping gains made by Syrian army soldiers and allied fighters against the terror outfit.
Full report at:
http://www.presstv.ir/Detail/2017/08/25/532922/Russia-Syria
--------
Shout 'Allah u Akbar' and you will be shot: Venice mayor
Aug 25, 2017
The right-wing mayor of the Italian city of Venice has said anybody who shouts "Allahu Akbar" in the city's famous St Mark's Square will be shot.
Luigi Brugnaro said at a press conference in northeast Italy that he ordered police to shoot to kill what he called suspected terrorists.
The controversial mayor said Venice was safer than the Spanish Catalan city of Barcelona where 13 people were killed earlier this month in a car-ramming attack.
The mayor's warning came as the European countries have faced a string of terrorist attacks recently.
"I have never been politically correct, I am incorrect. I would shoot, we would shoot," the right-wing official said at another conference in defending his order to police.
"Allahu Akbar" is a commonly used Arabic expression among all Muslims which means "God is the greatest."
Brugnaro's controversial order in Venice, known as Italy's floating city, has been likened to the Israeli regime's shoot-to-kill policy against the Palestinians.
Full report at:
http://www.presstv.ir/Detail/2017/08/25/532863/EU-Italy-Spain-Terrorism-Brugnaro
--------
Muslim Refugee Terror Attacks Surge in Europe
By Shayne Heffernan
August 25, 2017
A knife-wielding man has been shot dead in the center of Brussels after authorities said he attacked a group of soldiers.
The prosecutor's office confirmed the soldiers shot and killed the man in the Belgian capital. The incident is being treated as a terrorist attack.
The man shouted "Allahu Akbar" ("God is great" in Arabic) twice while carrying out the attack, according to the federal prosecutor's office spokeswoman, Esther Natus.
"We do consider it a terror attack," AP quoted Natus as saying, adding that the suspect had been neutralized.
"With the identity that we currently have, it is a 30-year-old man who is not known for terrorist activities," Natus stated earlier.
The incident took place about 20:15 local time (18:15 GMT). Belgian prosecutors said that the attacker is alive but in critical condition.
The soldiers were lightly wounded in the attack. One was cut in the face, while the other suffered an injury to the hand.
Belgium's anti-terrorism Crisis Center tweeted that the situation was under control.
The attacker was known to police for his earlier involvement in "minor offenses," according to Flemish broadcaster VRT.
According to RTBF, the attacker was a Somalian Refugee.
Large numbers of police officers were deployed to the scene, which was cordoned off. The mayor of Brussels and the federal prosecutor also arrived at the scene.
The Belgian Prime Minister, Charles Michel, expressed "all our support to our soldiers" in a Twitter post. "Our security services stay vigilant and we monitor the situation closely," he said.
In London
A man has been arrested on suspicion of grievous bodily harm and assault on police on the Mall near Buckingham Palace, the Metropolitan Police reported.
"A man in his mid-twenties has been arrested by police after they spotted a weapon inside his car. The quick and brave actions of both officers meant that the suspect was detained very quickly," Detective Superintendent Guy Collings said in a statement.
While the officers were trying to arrest him, they suffered minor injuries to their arms and were treated at the scene by the London Ambulance Service.
The statement added that no other people were affected by the attack, which took place at 20:35 local time. The arrested man is yet to be questioned by detectives, and "it is too early in this investigation to speculate any further," the statement added.
No others persons have been reported injured following the attack.
Queen Elizabeth was not in residence in the palace when the attack outside the palace happened.
The Telegraph is reporting that the palace was "on lockdown" following the attack, while the police have said it is too early to state whether the incident was terror-related.
Full report at:
http://www.livetradingnews.com/muslim-refugee-terror-attacks-surge-europe-52968.html
--------
South Asia
Violence in Rakhine State: Deadly attacks in Myanmar kill 89
August 26, 2017
At least 89 people were killed as Rohingya militants besieged border posts in northern Rakhine State of Myanmar yesterday, triggering a fresh exodus of refugees towards Bangladesh.
The office of de-facto leader Aung San Suu Kyi said 12 security officials had been killed alongside 77 militants -- the highest declared single-day toll since fighting broke out last year.
The fighting -- still going on in some areas -- marked a major escalation in a simmering conflict in the northwestern state since last October, when similar attacks prompted a big military sweep beset by allegations of serious human rights abuses.
The offensive encompassed Maungdaw, Buthidaung and Rathedaung townships -- a much wider area compared with October. According to military sources, it involved around 1,000 insurgents.
The Arakan Rohingya Salvation Army (ARSA), a group previously known as Harakah al-Yaqin, which instigated the October attacks, claimed responsibility for the early morning offensive, and warned of more.
The treatment of approximately 1.1 million Rohingyas has emerged as majority Buddhist Myanmar's most contentious human rights issue as it makes a transition from decades of harsh military rule. It now appears to have spawned a potent insurgency which has grown in size, observers say.
They worry that the attacks -- much larger and better organised than those in October -- will spark an even more aggressive army response and trigger communal clashes between Muslims and Buddhist ethnic Rakhines.
"In the early morning at 1:00am, the extremist Bengali insurgents started their attack on the police post ... with the man-made bombs and small weapons," said the army in a statement, using the state's description for Rohingya militants.
The militants also used sticks and swords and destroyed bridges with explosives, the army said.
The UN condemned the militant attacks and called for all parties to refrain from violence.
The Rohingyas are denied citizenship and are seen by many in Myanmar as illegal immigrants from Bangladesh, despite claiming roots in the region that go back centuries, with communities marginalised and occasionally subjected to communal violence.
Yesterday's violence pushed new waves of Rohingya to flee towards Bangladesh. But border guards there said they would not be allowed to cross, reports AFP.
http://www.thedailystar.net/frontpage/violence-rakhine-state-deadly-attacks-myanmar-kill-71-1454146
--------
Pope Francis Very Likely To Visit Myanmar And Bangladesh Before End Of Year
25 August 2017
The Vatican and Myanmar established full diplomatic relations in May when its de facto leader, Aung San Suu Kyi, met with Francis
Pope Francis is very likely to visit Myanmar and Bangladesh before the end of the year, a Vatican source has told Reuters news agency.
The trip, which would be the first time any pope has visited Myanmar, is due to be officially announced in the next few weeks, added the source, who spoke to Reuters on the condition of anonymity.
The Vatican has so far officially said only that a trip to both countries is "under study".
A Vatican team is currently visiting both countries where it is thought they are looking into practical details before reporting back to the pope.
The Vatican officials arrived in Myanmar's capital Naypyidaw on 22 August, joining church officials from the Catholic Bishops Conference of Myanmar to coordinate logistics and discuss security issues with the concerned authorities, UCAN news reports.
A day earlier, Cardinal Charles Maung Bo of Yangon lead a delegation of bishops to meet with the Myanmar's military chief Min Aung Hlaing to discuss the planned Papal visit.
UCAN news reports that the bishops refused to confirm the trip, telling the news agency only that the Holy See and the government are still in discussions and to wait for an official announcement.
The news agency previously reported senior clergy sources saying that Pope Francis will arrive in Myanmar in late November for four nights. It is expected that he will first visit Naypyidaw where he will meet President Htin Kyaw and the country's de-facto leader Aung San Suu Kyi.
In Bangladesh, he is expected to make a three-day visit, where it is probable he will make courtesy visits to President Abdul Hamid and Prime Minister Sheikh Hasina.
Myanmar is currently facing international scrutiny over atrocities against its Rohingya community. In February, Pope Francis issued a strong defence of the right of Burma's Rohingya Muslims to 'live their faith', and criticised the country's government for an alleged campaign of persecution.
The Vatican and Myanmar established full diplomatic relations in May when its de facto civilian leader, Aung San Suu Kyi, met with Francis in Rome. Following the meeting, the Holy See announced it will establish an embassy in Myanmar, a diplomatic coup for Pope Francis as he attempts to extend the Church's 'soft power' political influence in Asia.
There are about 700,000 Roman Catholics in Myanmar according to Cardinal Bo, out of a population of about 51.4 million, the majority of whom are Buddhist.
Full report at:
http://www.thetablet.co.uk/news/7673/0/pope-francis-very-likely-to-visit-myanmar-and-bangladesh-before-end-of-year-
--------
ISIS claims responsibility behind Kabul mosque attack that left scores dead, wounded
Aug 25 2017
The Islamic State of Iraq and Syria (ISIS) terrorist group's offshoot in Afghanistan, ISIS Khorasan, claimed responsibility behind the deadly attack on a mosque in Kabul city.
The group in a statement published in Arabic language claimed that the attack on the mosque in Khair Khana area of the city was carried out by the fighters of the terror group.
This comes as the Taliban group had earlier rejected role in the attack.
A spokesman for the Taliban Zabiullah Mujahid in a statement said such attacks are an attempt to spark tensions among the people.
The Ministry of Interior spokesman Najib Danish confirmed the incident and said over 50 people were killed or wounded in the attack.
Danish further added that at least ten civilians including women and children, a personnel of the Afghan police special forces, and two personnel of the public order police forces were among those killed.
He said at least thirty civilians, 7 personnel of the special forces of the police forces, and a personal of the public order police forces were among those wounded.
According to Danish, the security forces managed to evacuate at least 107 people from the site of the incident.
Full report at:
http://www.khaama.com/isis-claims-responsibility-behind-kabul-mosque-attack-that-left-scores-dead-wounded-03348
--------
Hundreds gather in support of Momand and against Noor in Kabul
Aug 25 2017
A large gathering was organized in Kabul on Thursday in support of the Balkh provincial council member Asif Momand who was allegedly tortured by the provincial governor Ata Mohammad Noor's personnel.
The gathering was attended by several representatives of the district councils and elders as well as hundreds of supporters of Momand.
The participants of the gathering called upon the government to thoroughly investigate the alleged torture of Momand by the Balkh governor.
They also urged the government to take immediate steps for the removal of Balkh officials involved in cruel acts.
Momand was arrested nearly ten days ago in Balkh international airport days after he had accused Ata Mohammad Noor of being involved in massive corruption and there are reports that he was held into the custody by forces belonging to Balkh governor.
However, the provincial governor's spokesman had earlier said the Momand was arrested on the orders of the Attorney General's office, a claim which was later rejected by the officials of the Attorney General Office.
Full report at:
http://www.khaama.com/hundreds-gather-in-support-of-momand-and-against-noor-in-kabul-03346
--------
Pakistan
It's time to wave goodbye to US aid: Shahbaz
August 26, 2017
LAHORE: Chief Minister Shahbaz Sharif has called for waving goodbye to the US aid in the wake of "exaggerated statements being made about the so-called financial help both at local and international levels."
"The exaggerated comments being made in the national and international discourse regarding the US aid to Pakistan are tantamount to rubbing salt into the wounds of Pakistanis suffering terrorism, poverty and backwardness," the chief minister said in a statement issued here on Friday.
He said it's time Islamabad closed the chapter of the US aid by politely saying "thank you" [for the help]. "That's the only way the nation can avert such jibes," he said.
His statement comes in the wake of US President Donald Trump's allegation that Pakistan received billions of dollars in aid but did not act against "terrorist havens" in the country.
"It is time for Pakistan to politely and gratefully close the chapter on the US assistance so that the bilateral relationship can be freed from the shadow of repeated contemptuous taunts," said the chief minister who claimed that Pakistanis had rendered enough sacrifices for achieving the shared objectives of terror-free and peaceful world.
"Pakistani people craved the opportunity to be treated fairly and honorably and remain committed to contributing to the world peace and prosperity," he said.
"Pakistan has never shied away from advancing our shared objectives as a member of international comity. However, the job of providing for and leading the people of Pakistan out of different challenges falls on Pakistani leaders. Other countries can help Pakistan by having a fair appraisal of regional and global affairs and trying to understand Pakistan's legitimate concerns."
Over the years many countries including the United States had helped the country improve health, education and other service delivery areas for Pakistanis and this vital support continued to be welcomed, he acknowledged. But, he said in the same breath, that no country should see its generosity as a justification to make unfair accusations and demands of the Pakistani people.
Meanwhile, Difa-i-Pakistan Council, Majlis Wahdatul Muslimeen and Tanzeem Ittehad-i-Ummat Pakistan took out protest rallies and held demonstrations against Trump's threatening statement across the country. In Lahore, they held protest demonstrations outside the US consulate, staged a sit-in and demanded that Islamabad sever diplomatic ties with Washington and suspend Nato supplies.
They also demanded that the foreign minister cancel his proposed US visit, and that India-Afghan transit trade must be closed.
https://www.dawn.com/news/1353972/its-time-to-wave-goodbye-to-us-aid-shahbaz
--------
Blame game won't help end terrorism: Pakistan
26-Aug-17
ISLAMABAD: Chief of Army Staff General Qamar Javed Bajwa said on Friday that there were no safe havens for terrorists in Pakistan, stating that the country's military had conducted decisive operations against militants of all hue and colour.
Speaking to a nine-member delegation of Afghan media, the army chief said that terrorists are the common enemy of all against which a trust-based coordinated response is required rather than blame game, according to a statement issued by the Inter-Services Public Relations (ISPR)
General Bajwa said that Pakistan Army had conducted operations against militants and terrorists without any discrimination.
"There are no safe havens for terrorists in Pakistan nor is Pakistani soil being used for terrorist activities inside Afghanistan," he told the visiting delegation.
General Bajwa said that efficient and proper border management between Pakistan and Afghanistan was the need of the hour. He emphasized the need for an effective management system along Pak-Afghan border for which Pakistan has taken effective measures on its side including fencing and establishment of new border forts and posts.
He said that Afghanistan was a brotherly Islamic country and also Pakistan's neighbor, adding that media can play a vital role in mitigating the negativity created by inimical forces.
Full report at:
http://dailytimes.com.pk/pakistan/26-Aug-17/blame-game-wont-help-end-terrorism-pakistan
--------
Media can play role in bringing Pakistan, Afghanistan closer: minister
26-Aug-17
ISLAMABAD: Media has a critical role in bringing the people and governments of Afghanistan and Pakistan closer to ensure success of the efforts for peace and the Afghan media in particular must contribute to this effect.
This was stated by Marriyum Aurangzeb, the minister of State for Information, Broadcasting and National Heritage while talking to a delegation of Afghan media.
She said that Pakistan attached great importance to its ties with Afghanistan as both the countries shared common history, culture and religion.
Marriyum Aurgangzeb emphasised that both the countries owed it to the posterity to ensure stability in the region so that the people inhabiting the region could live in peace and harmony.
"Pakistan is committed to a broad-based and mutually beneficial relationship with Afghanistan. It is ready to do all that it can to restore peace in Afghanistan because peaceful and stable Afghanistan was in the interest of Pakistan," she said.
"Pakistan is pursuing a policy of peaceful neighbourhood so that the nations in the region can achieve their common goals of eliminating poverty and ushering in an era of progress and prosperity for their citizens. Pakistan and Afghanistan had suffered heavily in men and material due to the burgeoning terrorism and religious extremism which are common enemies of both the countries," she said.
She urged the media to deny space to voices that triggered misunderstandings between the people of Afghanistan and Pakistan and rise to the occasion by playing its role to spread the message of peace and love as embodied in our rich cultural heritage.
The Afghan media delegation thanked the minister for the warm welcome they received on their arrival in the ministry and expressed their resolve to help promote good relations between both the countries.
The minister said that the government of Pakistan would take all necessary measures to facilitate a meaningful interaction between the media of both countries so that greater understanding could be evolved through informed opinion.
Separately, the minister addressed a four-day International Exhibition on Islamic Calligraphy. "Fine arts, literature, natrional heritage and culture are the best mediums to project positive image of Pakistan at the global level," she said.
She said that learning the art of Islamic calligraphy was an auspicious attainment as besides being an art, it also exhibited love and reverence for the Almighty and watching the master pieces of Islamic calligraphy had a soul-stirring impact.
The exhibition has been organised by the National History and Literary Heritage Division in collaboration with Research Center for Islamic History, Arts and Culture (IRCICA).
The minister said that the purpose of holding the exhibition was to introduce Pakistani culture at the global level. Marriyum told the audience that Pakistan was going to organise an international film festival next month where films from all over the world would be screened and the event was purported to convey it to the world that Pakistan was an embodiment of peace and love.
The minister informed the audience that the government was in the process of promulgating the first-ever film and broadcasting production policy in the country to revive and encourage the film industry to play its due role in refurbishing the image of the country among the comity of nations.
Full report at:
http://dailytimes.com.pk/pakistan/26-Aug-17/media-can-play-role-in-bringing-pakistan-afghanistan-closer-minister
--------
Terrorists' common enemy of Pakistan, Afghanistan: COAS
August 26, 2017
ISLAMABAD - Chief of Army Staff (COAS) General Qamar Javed Bajwa has emphasised the need for effective border management along Pak-Afghan border. He said that Pakistan has taken effective measures on its side of the border, including fencing and establishment of new border forts/posts.
According to ISPR, the COAS stated this during his interaction with a nine-member Afghan media delegation which visited the GHQ Rawalpindi on Friday.
The army chief said that Afghanistan is a brotherly neighbouring country and terrorists are our common enemies against which a trust-based coordinated response is required rather than blame game and media can play a vital role in mitigating the negativity created by inimical forces.
The COAS reiterated that Pakistan has undertaken operations against terrorists of all hue and colour and there are no safe havens inside Pakistan which are used against Afghanistan.
Full report at:
http://nation.com.pk/national/26-Aug-2017/terrorists-common-enemy-of-pakistan-afghanistan-coas
--------
Arab World
Saudi cleric condemns inter-Muslim conflict ahead of pilgrimage
AUGUST 25, 2017
MECCA (Reuters) - The imam of Mecca's Grand Mosque denounced those who "cause conflict among Muslims" in his last Friday sermon before the annual haj pilgrimage, as rifts widen among Gulf neighbors and wars rage across the Middle East.
Saudi Arabia, which hosts and supervises the haj, has with other Arab governments imposed sanctions on Qatar and cut all transport links with the country in recent months, accusing it of supporting Iran and backing Islamist terrorism - charges Doha denies.
Relations between Shi'ite Muslim-led Iran and predominately Sunni Saudi Arabia are at their worst in years, with each accusing the other of subverting regional security and supporting opposite sides in conflicts in Syria, Iraq and Yemen.
"Anyone who causes conflict and discord among Muslims ignores the blessing of harmony, imitates those who lived in ignorance (before Islam), harms his people and cheats his nation," Sheikh Saleh Mohammed al-Taleb told the hundreds of thousands of pilgrims who have flocked to Mecca from around the world to perform the haj next week.
Taleb did not directly refer to the political and military divisions in the Arab world that have killed hundreds of thousands of people and displaced millions more in recent years.
Nearly 90,000 Iranians are expected to attend, after Tehran boycotted Mecca last year following a crush at the pilgrimage in 2015 in which hundreds of people died, many of them Iranians.
Saudi officials say over 400 Qatari pilgrims have also arrived through the land border in recent days, but Qatar has accused Saudi Arabia of deliberately making it hard for them. Saudi Arabia says Qatar is seeking to politicize the ritual for diplomatic gains.
The dispute has defied mediation attempts by the United States and Kuwait.
Worshippers on Friday filled the mosque's haram sanctuary, the holiest place in Islam, and spilled into nearby streets, malls, hotel lobbies and garages, listening to the sermon through loudspeakers.
An elderly Tunisian pilgrim named Bakari Abdel Jalil attended in a white shirt and cap while other worshippers donned customary white robes. He said he hoped regional tensions would not affect the haj.
https://www.reuters.com/article/us-indonesia-security-idUSKCN1B51FW
--------
ISIS counterattack kills 34 Syria regime forces in Raqqa
25 August 2017
At least 34 Syrian soldiers and allied fighters have been killed in an ISIS counterattack in the east of Raqqa province, rolling back regime gains, a monitor said Friday.
The Syrian Observatory for Human Rights said the militant group had recaptured large swathes of territory from government forces in the fighting on Thursday.
Syria's army is seeking to advance through Raqqa province to reach neighboring Deir Ezzor, where militants have besieged government forces and civilians in the provincial capital since 2015.
Earlier this month, government troops and allied fighters arrived at the outskirts of Madan, the last IS-held town in the eastern Raqqa province countryside before Deir Ezzor.
The counterattack
But in Thursday's counterattack, ISIS "made major progress and... expanded the area under its control along the southern bank of the Euphrates," the Observatory said.
"ISIS has managed to push regime forces back 30 kilometers from the western outskirts of Madan," Observatory director Rami Abdel Rahman said.
Full report at:
https://english.alarabiya.net/en/News/middle-east/2017/08/25/ISIS-counterattack-kills-34-Syria-regime-forces-in-Raqqa.html
--------
Iraqi forces advance against Daesh terrorists in Tal Afar
Aug 25, 2017
Iraqi forces have managed to wrest control over several neighborhoods in their operation to liberate the northern city of Tal Afar from the grip of Daesh Takfiri terrorists.
In a statement released on Friday, the Iraqi Joint Operations Command said that the government forces had broken through Daesh's lines inside Tal Afar and reached the old city center as well as the district around the city's Ottoman-era citadel.
Iraqi elite units had also retaken the Tal Afar neighborhoods of Nida' and Taliaa, the statement added.
Meanwhile, Arabic-language al-Forat news agency reported that the Iraqi troops had even recaptured the Daesh media center during the Tal Afar battle.
Additionally on Friday, the Iraqi forces uncovered two mass graves containing the bodies of 500 people, who were executed by Daesh. The victims were believed to have been held at Badush prison, situated near the city of Mosul.
On Thursday, the Iraqi military said it had retaken five more villages on the eastern and southern outskirts of Tal Afar.
Iraq's Federal Police Chief Lieutenant General Shaker Jawdat wished that the Iraqi forces would score a victory in the battlefield.
"Victory, glory and well-being to our heroic forces of the Federal Police, the Hashd al-Sha'abi, and the supporting airforce. Thank god for the safety of your fighters, and thank god for victory, thank god for our accurate firing. Shame and death to your enemies, god willing," he said.
Colonel Ali Jaberi, Iraqi army field commander, said that the Iraqi soldiers had seized Daesh weapons and vowed that they would destroy the tunnels dug by the terrorist group.
"We have captured some explosives in the tunnels used by Daesh, the 120-type missiles as well as mines," Jaberi said.
Tal Afar is one of the last remaining Daesh strongholds in Iraq. The United Nations estimates that some 30,000 people remain trapped inside the city.
Daesh unleashed a campaign of death and destruction in Iraq in 2014, seizing Mosul and declaring it as its so-called "capital" in the Middle Eastern country.
Iraqi army soldiers and allied fighters have been leading a major operation to rid the country of the Takfiri elements. The Iraqi forces fully liberated Mosul last month.
Full report at:
http://www.presstv.ir/Detail/2017/08/25/532898/Iraq-Tal-Afar-Daesh
--------
Iraq military discovers mass graves of 500 Daesh victims near Mosul
Aug 25, 2017
Iraqi military investigators say they have discovered mass graves of 500 people in the vicinity of a Daesh prison near the northern city of Mosul.
In a Friday statement, the Media Cell Security Investigation team said one grave near the Badoush Prison contained the bodies of 470 inmates killed by Daesh Takfiris, while a second grave contained the bodies of 30 other victims.
According to a security official who spoke on condition of anonymity, the majority of the victims were presumably Shias or from other minority groups in the city.
In March, Human Rights Watch (HRW) reported that the Daesh terrorist group had executed possibly hundreds of detainees in Mosul and buried them in a mass grave that could be the largest one discovered in the country so far.
Witnesses told the New York-based rights organization that the victims, including several members of Iraqi security forces, were executed between June 2014 and May or June 2015, with their bodies dumped in a sinkhole at a site in western Mosul.
Terrorists had also laid landmines and booby-traps in the mass grave in an attempt to "maximize harm to Iraqis," according to Lama Fakih, the HRW deputy Middle East director.
Iraqi forces took control of the site in mid-February 2017. The rights group visited the site on March 7 but was unable to inspect the grave due to the landmines.
Full report at:
http://www.presstv.ir/Detail/2017/08/25/532939/Iraq-mass-grave-Mosul
--------
Some 9,000 Al-Nusra Terrorists Attempting to Capture Syria's Idlib Province
Aug 25, 2017
"The total number of Al-Nusra Front militants in Northwestern Idlib stands at 9,000 people. Currently, terrorists are trying to take control over the entire territory by intensifying combat actions against other opposition groups," Korobov said at the Army-2017 forum, Sputnik reported.
Korobov noted that currently Al-Nusra is the second most powerful terrorist group in Syria. It includes more than 15,000 militants, most of whom are Syrians.
It was earlier reported that Nusra Front forces were actively regrouping in Northern Syria, trying to take over control of main border crossings with Turkey.
Full report at:
http://en.farsnews.com/newstext.aspx?nn=13960603300574
--------
More ISIL Terrorists Surrender to Syrian Army at Border with Lebanon
Aug 25, 2017
The sources said that the ISIL terrorists surrendered to the army men and Hezbollah fighters after the pro-government forces surrounded a terrorist platoon in the Western Qalamoun region.
The sources added that the militants will face prosecution in accordance with military law.
In the meantime, the Syrian pro-government forces captured the Ra'as al-Shahout crossing and all neighboring hilltops after clashing with a group of ISIL terrorists.
Relevant reports said on Thursday that the army and Hezbollah forces, supported by artillery and missile fire, continued clashes against ISIL in the Southern parts of Western Qalamoun, seizing control of Wadi al-Maqareh Kabir and Wadi al-Maqareh Saqir heights as well as the Ra's al-Shahout passageway from the heights overlooking Syria's town of Qarah to the heights overlooking the town of Arsal in Lebanon.
They also managed to capture al-Mahabes, Ako and al-Bahasat hills and imposed control over the al-Mal and Shobat al-Rad crossings near Faliteh al-Jarajeer region.
Full report at:
http://en.farsnews.com/newstext.aspx?nn=13960603300353
--------
Syrian Army Storms ISIL's Positions in Southern Raqqa to Retake Lost Lands
Aug 25, 2017
The army, led by the Nabhan Group of the Tiger Forces, attacked the ISIL's positions, killing scores of terrorists to avenge their losses on Thursday, the English-language AMN reported.
The army soldiers have now recovered 80 percent of the territory they lost to the ISIL, including the village of Abu Ghannam in the Southern part of Raqqa province.
http://en.farsnews.com/newstext.aspx?nn=13960603300880
--------
Syrian Army Hits Terrorists' Defense Lines Hard in Eastern Damascus
Aug 25, 2017
The missile units of the army's 42nd Brigade of the 4th Mechanized Division repeatedly struck the terrorists' positions, inflicting heavy damage on the latter's defense lines in Jobar and Ein Terma region.
The 42nd Brigade fired more than 20 surface-to-surface missiles towards Jobar and Ein Terma, scoring several direct hits on the terrorists.
The Syrian Army has made it clear to Faylaq al-Rahman that they don't adhere to any ceasefire that includes the Al-Qaeda-affiliated Al-Nusra Front (Tahrir al-Sham Hay'at or the Levant Liberation Board) militant group and as long as they remain entrenched with this radical faction, the government will attack the area.
Relevant reports said earlier last week that the Syrian soldiers heavily pounded the terrorists' positions and bases in Jobar regions, specially in the Southern regions between Jobar and Zmelka, with artillery and missile fire.
The army troops could regain control of several new buildings in Tayebeh region in Jobar district after killing a number of Faylaq al-Rahman and al-Nusra Front terrorists.
They also retook control of a number of buildings in the Northern parts of Sonbol gas station in the Western parts of Ein Terma district.
Full report at:
http://en.farsnews.com/newstext.aspx?nn=13960603300838
--------
Syrian Army, Popular Allies Repel ISIL's Attack in Southern Deir Ezzur
Aug 25, 2017
The army and popular fighter warded off ISIL's heavy attack on pro-government forces' positions in al-Wa'er dam region Northeast of al-Zquf military facility in Badiyeh (desert), killing tens of terrorists and forcing the remaining pockets of them to retreat.
The pro-government units seized six military vehicles and a large volume of arms and ammunition of ISIL.
Reports said on Saturday that the Russian Air Force targeted a number of ISIL positions in the Eastern city of Deir Ezzur and its outskirts, destroying a large depot of arms and ammunition in the city's districts.
The warplanes bombed heavily ISIL's positions in Civil Defense region North of al-Mufti Grand Mosque in Deir Ezzur city, destroying a large weapons and munitions depot of the terrorists.
The fighter jets, later, targeted ISIL's defense lines in Jonayd division base, Tal (hill) Aloush, Tal Milad in the Southwestern outskirts of Deir Ezzur city.
Full report at:
http://en.farsnews.com/newstext.aspx?nn=13960603300338
--------
ISIL Fails to Prevail over Syrian Army Positions in Southern Homs
Aug 25, 2017
The ISIL militants launched a massive offensive along the Iraqi border, targeting the Syrian Army's primary defense lines in the desert regions of the Homs province that ended in complete disaster as the soldiers heavily repelled the attack.
ISIL began the offensive by attacking the army posts near the border, resulting in a series of fierce clashes that lasted for several hours.
The army men, backed up by the popular forces, managed to beat back the terrorists, killing and wounding scores of militants across the vast desert terrain.
The Syrian pro-government forces inflicted heavy damage on the terrorists' military hardware, destroying a large number of armored vehicles used in the attack.
The army and their allies have reinforced the area in preparation for another large scale attack by the terrorists.
The Syrian army units engaged in fierce clashes with Al-Nusra Front (Tahrir al-Sham Hay'at or the Levant Liberation Board) terrorists who had attacked several military points near the village of Jabourin in Northwestern Homs on Thursday, repelling the offensive and leaving a number of militants dead and wounded.
Also, the Syrian army's artillery units targeted the terrorists' positions in the village of al-Mashrou in Northwestern Homs, smashing a number of their bases and military equipment and killing several militants.
Full report at:
http://en.farsnews.com/newstext.aspx?nn=13960603300445
--------
Mideast
Gulen's Message on New Defamation Efforts by Erdogan Regime
Aug 26, 2017
Fethullah Gulen - Having failed to convince the world of his baseless allegations against innocent Hizmet participants, Turkish President Recep Tayyip Erdogan and his government launched a new, nefarious defamation campaign.
Despite the ongoing crackdown on civil society, his government's latest strategy, bolstered by a strictly controlled Turkish press, is to spread vicious, false rumours alleging violence to come by members of the peaceful Hizmet movement. This is not a new strategy, dictatorships throughout history have always used such tactics to smear the groups that they have targeted as scapegoats.
Their initial efforts started back in 2013 when the government called a corruption probe into public officials a "judicial coup." Erdogan's administration has completely subjugated the Turkish judiciary since then and turned it into a political instrument of the ruling party. Thousands of members of the security and judiciary were purged and arrested. Last year, the government took advantage of the deplorable July 15 coup attempt to further silence its critics and consolidate more power in Erdogan's hands. After blaming Hizmet sympathizers for being behind the incident - without any investigation - Erdogan jailed tens of thousands of civilians including journalists, academics, and members of the judiciary. According to official records, the imprisoned include 17,000 women and more than 600 children who continue to live in prison with their mothers.
News reports from whistleblowers show that the administration has made plans for a series of assassinations, which the Turkish government will falsely blame on Hizmet sympathizers. They have proven once again that they are willing to use any means necessary, no matter how illegal and immoral, to present themselves as the victims and their critics as criminals. Unfortunately, due to Erdogan's total control over the security forces, the judiciary and the appeal courts, it is impossible to hope for an independent investigation or a fair trial in today's Turkey.
This is just another deplorable effort by the Turkish government to smear a community consisting of individuals who have spent their whole lives promoting peace through education and interfaith dialogue. This movement has proved itself as a leader in dialogue, mutual respect and peace throughout the past 50 years in Turkey and around the world. Since the 1990s, when the movement began growing globally, it has gained recognition by various countries around the world that have been observing closely.
Prior to the public corruption probe of 2013, Erdogan and the leaders of his party could not find enough words to praise the efforts of Hizmet sympathizers. His defamation efforts since 2014 are fooling no one and only demonstrate the extent to which he is willing to go to scapegoat this peaceful movement for his personal political ambitions.
For the record, I want to reiterate that engaging in any form of violence is against the core ideals of this movement. I have condemned all forms of violence countless times and would firmly stand against any form of violence in the future. The volunteers of this movement have once again proven through their dignified demeanour that they are devoted to peace-building despite the injustice and persecution directed against them.
I also condemn President Erdogan's reckless and immoral efforts to defame this peaceful movement that has dedicated itself to universal humanitarian values. I trust in the wisdom and fairness of world leaders to recognize this defamation campaign for what it is.– Hizmet News
http://nation.com.pk/international/26-Aug-2017/gulen-s-message-on-new-defamation-efforts-by-erdogan-regime
--------
Children among 14 dead in new raid on Yemen
Aug 26, 2017
SANAA - Children were among at least 14 people killed in an air strike that toppled residential blocks in Yemen's capital Sanaa on Friday, witnesses and medics said.
The attack was the latest in a wave of deadly raids on residential areas of Yemen blamed on a Saudi-led Arab military coalition, drawing strong international condemnation. The United Nations has accused the Arab coalition of killing 42 civilians in the week to Thursday, including many children.
Friday's air raid destroyed two buildings in the southern district of Faj Attan, leaving people buried under debris, said an AFP photographer on the scene. The images he took showed severely damaged buildings, piles of smashed concrete blocks and splintered beams of wood. Medics at the site said at least 14 people including six children and two women had died in the strike at 3:15 am (0015 GMT). Al-Massira television channel run by the Shiite Huthi rebels who control the capital said those killed were all civilians, and blamed the Saudi-led coalition for the strike.
Mohammed Ahmad, who lived in one of the buildings, said he was among those who had taken nine bodies to a hospital. "We extracted them one by one from under the rubble," he said. "Some of them were children from a single family." "When the rocket hit, one of the buildings was immediately destroyed which caused the building next door to collapse too. Some residents got out, but others were trapped." Some of them died and others were wounded, he told AFP.
Diggers were still working at the site hours after the raid as medics and residents searched for the missing. Survivors sat on the rubble and helped move the wounded to ambulances. A man wearing a bloodied white gown walked among the torn and burnt pieces of clothing and bits of wooden furnishings.
The coalition entered Yemen's war in 2015 in support of the government against the Iran-backed rebels, who seized Sanaa the previous year after forming a fragile alliance with troops loyal to former president Ali Abdullah Saleh. The World Health Organization estimates nearly 8,400 civilians have been killed and 47,800 wounded since the Saudi-led alliance intervened.
Friday's raid came two days after at least 35 people died in a series of strikes on Sanaa and a nearby hotel that rebels have also blamed on the coalition.
Coalition spokesman Colonel Turki al-Malki told AFP that those killed in Wednesday's air strike were "armed militants", adding that the strike was aimed at "a high-value target". On Friday's strike, he said: "I will review the information."
Human rights groups have repeatedly criticised the coalition, which controls Yemen's airspace, over the civilian death toll from the bombing campaign.
Northern and southern Yemen have both come under aerial attack in recent months, and the coalition has come under massive pressure from international organisations including the United Nations over the raids. The United Nations has said the coalition was likely responsible for a July attack on the southwestern Taez province that killed 20 people, including children.
"In the week from August 17 to August 24, 58 civilians have been killed, including 42 by the Saudi-led coalition," UN human rights office spokeswoman Liz Throssell told reporters in Geneva on Friday.
"In all these cases, in which civilians were killed and injured, witnesses said that there had been no warnings that an attack was imminent," her agency said.
Yemen also faces a deadly cholera outbreak that has claimed nearly 2,000 lives and affected more than half a million people since late April.
Full report at:
http://nation.com.pk/international/26-Aug-2017/children-among-14-dead-in-new-raid-on-yemen
--------
Nuclear inspectors should have access to Iran military bases, US's Haley
25 August 2017
US Ambassador to the United Nations Nikki Haley voiced concern on Friday that nuclear inspectors were not granted access to Iranian military bases, and she urged the International Atomic Energy Agency to use all its authorities to ensure Tehran's compliance with the 2015 nuclear deal.
ANALYSIS: Iran's quest for nuclear weapons and regional domination
"I have good confidence in the IAEA, but they are dealing with a country that has a clear history of lying and pursuing covert nuclear programs," Haley told a news conference after returning from a trip to Vienna, where the IAEA is based.
Full report at:
https://english.alarabiya.net/en/News/middle-east/2017/08/25/Nuclear-inspectors-should-have-access-to-Iran-military-bases-US-s-Haley.html
--------
US Black Hawk helicopter crashes off Yemen coast during training
26 August 2017
A US Black Hawk helicopter crashed off the coast of Yemen on Friday during training, with a search underway for one US service member, the US military said.
US Central Command said in a statement that five other service members aboard the aircraft had been rescued and the crash took place about 20 miles off the southern coast of Yemen at 7 p.m. local time on Friday.
Central Command said an investigation would be initiated.
https://english.alarabiya.net/en/News/gulf/2017/08/26/US-military-helicopter-crashes-off-Yemen-coast.html
--------
Iran rejects Bahrain's new claim of meddling as 'baseless, ridiculous'
Aug 25, 2017
Tehran has dismissed Bahrain's fresh claim of Iranian interference in the kingdom's internal affairs, calling on the Manama regime to stop "playing a blame game" against the Islamic Republic.
Iranian Foreign Ministry spokesman Bahram Qassemi was responding on Friday to Manama's new claim a day earlier that it had arrested seven "suspected members of a terror cell backed by Iran."
This is not the first time the regime comes up with such accusatory statements.
Qassemi denounced the latest allegation as "baseless and ridiculous," saying, "The Islamic Republic has never been a promoter of violence and destabilizing actions in neighboring countries, including Bahrain."
Manama's fabricated allegation coincides with revelations by human rights groups about the regime's widespread use of torture against political prisoners in its jails, Qassemi said.
He advised Bahraini rulers against resorting to "suppression and torture" in dealing with dissidents, urging the regime to return to dialog and peaceful methods to end the political unrest in the kingdom.
The Iranian official also called on Manama to stop its attempts at misleading peaceful public protests in a crackdown backed by foreign forces and failed security tactics.
Since 2011, the Shia-majority grassroots have been holding peaceful rallies against the government's longtime discrimination against them.
Full report at:
http://www.presstv.ir/Detail/2017/08/25/532884/Iran-Bahrain-Qassemi
--------
Turkey opposition chief hosts 'justice congress' in challenge to Erdogan
26 August 2017
ÇANAKKALE, Turkey: Turkey's main opposition leader on Saturday begins hosting a four day "justice congress" in a bid to keep up the momentum from the success of a month-long foot march protesting against alleged injustices under President Recep Tayyip Erdogan.
Kemal Kilicdaroglu, head of the secular Republican People's Party (CHP), is holding the congress at an open-air site in the northwestern province of Canakkale, with sessions each day focusing on different rights violations in Turkey.
With politics heating up in Turkey even two years before the next elections, Erdogan will on Saturday host a mass rally at the opposite end of the country marking the anniversary of the 1071 Battle of Malazgirt where pre-Ottoman tribes defeated the Byzantines.
The pick of the region for the CHP congress is also significant as it was the site of the World War I Battle of Gallipoli where the Ottoman army successfully repelled Allied forces.
The CHP was founded in 1923 by Mustafa Kemal Ataturk, who was a Turkish commander in the Gallipoli campaign where the heroism of Turkish troops is said to have helped lay the foundation of the modern republic.
Kilicdaroglu earlier this summer walked 450 kilometers (280 miles) from Istanbul to Ankara to protest against the sentencing of one of his MPs, Enis Berberoglu, to 25 years in jail for leaking classified information to an opposition newspaper.
Under the simple slogan "justice," the march culminated last month in a huge rally in Istanbul that attracted hundreds of thousands, the biggest event staged by Erdogan's critics in years.
More than 50,000 people have been arrested under Turkey's state of emergency, imposed after last year's failed coup, and almost three times that number have lost their jobs, including teachers, judges, soldiers and police officers.
The foot march angered Erdogan, although police were praised for ensuring its security rather than impeding its progress.
"The justice march has gone far beyond the ordinary," Kilicdaroglu told the NTV broadcaster late on Wednesday.
"The march received bigger public support than even I expected because this country has a thirst for justice," he said.
Erdogan has darkly hinted that the CHP leader could find himself under investigation, even if other Turkish officials have emphasised that nothing is in the pipeline.
"Don't be surprised if Kilicdaroglu's links to the case of the individual in jail (Berberoglu) are revealed," the Turkish leader said.
Erdogan won an April referendum boosting his powers but Turkey is already in the throes of what appears to be a long election campaign, heading to November 2019 parliamentary and presidential elections.
The Turkish president, who is already signalling he will stand for another term, has urged the ruling Justice and Development Party (AKP) to get in better shape for the election fight.
In a sign of the rancour between the two men, a photo depicting the CHP leader wearing a white undershirt while dining in a trailer during the justice march drew a sharp response from Erdogan.
"Someone has made a so-called justice march, sitting from time to time in a trailer, having dinner wearing a vest ... that's an insult to my citizens," Erdogan said.
The mildly-spoken Kilicdaroglu is sometimes compared by supporters to the Indian independence leader Mahatma Gandhi, and Erdogan took particular offense at a newspaper headline describing him as "citizen Kemal."
Full report at:
http://www.arabnews.com/node/1150846/middle-east
--------
India
Terrorists attack district police lines in Pulwama, three security personnel martyred
Aug 26, 2017
NEW DELHI: Three security personnel were martyred after terrorists attacked the District Police Lines in Jammu and Kashmir's Pulwama district early on Saturday morning, news agency ANI reported.
The terrorists opened fire on DPL Pulwama at around 4:30am, resulting in injuries to three CRPF jawans and one policeman. It was later reported that the policeman and two jawans had succumbed to their wounds.
A gunbattle ensued as security forces opened retaliatory fire on the terrorists. The cross firing was still ongoing as per latest reports.
At least two-three terrorists are believed to be holed up inside the police lines.
A police official said extra forces have been rushed to the area.
http://timesofindia.indiatimes.com/india/terrorists-attack-district-police-line-in-pulwama-4-security-personnel-injured/articleshow/60229094.cms
--------
Africa
Suspected Boko Haram terrorists kill 11, kidnap 8 in Cameroon village
Aug 25, 2017
At least 11 people have been killed and eight more kidnapped by suspected Boko Haram terrorists in an overnight attack on a village in northern Cameroon near the Nigerian border.
The assailants burned down more than 30 houses in Gakara village, just outside the town of Kolofata, which has been a frequent target of self-detonated bombings by the Nigeria-based terrorist group.
"The attack happened around midnight. The Boko Haram assailants arrived. They set 32 houses on fire... killed, pillaged, and traumatized the population," said a district official on Friday as quoted in a Reuters report, adding that he wished to remain anonymous since he was not authorized to speak.
He added that many people in the targeted village had fled the area for a camp near Kolofata, which houses thousands of people displaced by the Boko Haram campaign.
An army colonel put the death toll at 11, but the district official said 15 people had been killed, according to the report, which further cited the mayor of Kolofata as confirming the attack but noting that he had no knowledge about the casualty figure.
A child bomber recently killed four members of a local self-defense group in the border village of Amchide in northern Cameroon, an area often targeted by Boko Haram.
The United Nations children's fund (UNICEF) released a statement on August 22, expressing "extreme" concern about the "appalling" rise in the use of children as "human bombs" by the notorious terror group.
According to the statement, 83 children, "most often under 15 years old," have been "used as human bombs" in northern Nigeria since January 2017.
Referring to such tactics as "an atrocity," it added that out of the 83 children, 55 had been girls, 27 boys and "one was a baby strapped to a girl."
Attacks by Boko Haram, which is affiliated to the Takfiri Daesh terrorist group, have so far killed more than 20,000 people and displaced 2.7 million during the group's eight-year insurgency to establish their rule in the Lake Chad region.
At least 170 people have been killed since June 1 this year, according to UN figures.
http://www.presstv.ir/Detail/2017/08/25/532925/Cameroon-Boko-Haram-Nigeria-border-Gakara-village-Kolofata-terror-attack
--------
Sudan deploys more forces to Yemen to help Saudi-led war
Aug 26, 2017
A new group of Sudanese troops has reportedly been deployed to southern Yemen to assist a Saudi-led coalition waging war on the impoverished country.
Russia's Sputnik news agency said on Friday that the Sudanese soldiers had been disembarked from a cargo plane in Yemen's Aden Province.
Local sources said the forces had been transported in military vehicles from the Aden airport to a special camp for Sudanese soldiers in the Khor Maksar district of the Yemeni province.
Sudan has deployed around 1,000 troops to Yemen to help prop up the Saudi-led coalition.
In May, Sudanese Defense Minister Awad Bin Auf assured the coalition that Khartoum would be prepared to contribute more soldiers upon request.
Sudan has confirmed the death of 21 of its troops since the start of the war in March 2015.
Saudi Arabia and its allies invaded Yemen to reinstall a former Riyadh-friendly regime. The military invasion does not have a United Nations mandate.
The Houthi Ansarullah movement, allied army forces, and tribal fighters have been defending the nation against Saudi-led aggression.
The Saudi-led war, which has been accompanied by a naval and aerial blockade on Yemen, has so far killed over 12,000 people in the impoverished state, left 70 percent of the country's 27 million population in desperate need of humanitarian aid, and caused the worst cholera outbreak in the world there.
Full report at:
http://www.presstv.ir/Detail/2017/08/26/532964/Sudan-more-soldiers-Yemen-Aden
--------
British foreign secretary visits Libyan strongman, backs ceasefire
25 August 2017
TUNIS: British Foreign Secretary Boris Johnson met Khalifa Haftar, Libyan commander, during a visit to Benghazi on Thursday and urged him to stick to a ceasefire announced in Paris last month and to back UN-led efforts to end Libya's conflict.
Johnson's visit is the latest show of growing Western recognition of Haftar, who has long been supported by Egypt and the UAE for his anti-terror stance.
Haftar is the dominant figure in eastern Libya and since early last year has spurned the UN-backed Government of National Accord (GNA) in the capital, Tripoli, while making military gains on the ground.
The GNA, hampered by infighting and its failure to win endorsement from eastern-based factions, has largely failed to extend its authority or end the turmoil that developed after a NATO-backed uprising toppled Libyan leader Muammar Qaddafi in 2011.
Since 2014 Libya has had rival governments in Tripoli and the east. It has become the main departure point for migrants catching boats to Europe and it has seen Daesh establish and then lose a regional stronghold in the coastal city of Sirte.
International efforts to broker a political deal have resulted in two meetings between Haftar and GNA Prime Minister Fayez Seraj, one in Abu Dhabi in May and the other in Paris in July.
At the Paris meeting the two men shook hands on a ceasefire and elections next year, though Haftar quickly played down the commitments.
Johnson met Haftar during a visit to the eastern city of Benghazi, where Haftar declared victory in early July after a three-year military campaign against Islamists and other rivals.
He said he had encouraged Haftar to back new UN envoy Ghassan Salame's efforts to find a political settlement for Libya by revising the 2015 deal that created GNA.
"Field Marshall Haftar has a role to play in the political process," Johnson said in a statement.
"I urged him to adhere to the commitments he made during recent meetings in Paris, to respect a ceasefire, and to work with Mr. Salame in order to amend the Libyan Political Agreement."
Haftar, who fell out with Qaddafi in the 1980s and lived for two decades in the US, remains a divisive figure in Libya. His forces have replaced civilian mayors in many eastern cities and talked of "liberating" Tripoli. Critics have said they fear a return to military rule.
On Wednesday, Johnson made his second trip to Tripoli to meet Seraj. He also traveled to Misrata, a port city and major military power that has led opposition to Haftar.
"I have encouraged all sides to resolve their differences by dialogue, not conflict, and to respect international human rights law," Johnson said.
Since the meeting in Paris, Haftar's Libyan National Army has threatened to advance into the eastern city of Derna, and tightened a blockade around the city.
Full report at:
http://www.arabnews.com/node/1150606/middle-east
--------
Nigerian Muslim group retracts threat to Christians
2017-08-25
Abuja - A radical Muslim group has bowed to political pressure and backed off from a ultimatum to the mainly Christian Igbo minority that they quit northern Nigeria or face reprisals.
The Arewa Youths had given all Igbos living in the north until October 1 to leave.
The threat, issued in June, worsened the simmering ethnic and religious tensions across Nigeria, Africa's most-populous nation, and provoked widespread condemnation.
Late on Thursday, the Arewa Youths issued a statement stepping back from their ultimatum.
"Mindful of the concerns generated by the clause... that advised the Biafran Igbo to relocate... we immediately opened channels for dialogue and interaction," the group said.
"Admittedly, we came under intense pressure from genuinely concerned national, political, traditional, religious and cultural leaders.
"As a consequence of these vigorous engagements... we are today pleased to announce the immediate suspension of the relocation clause."
Since the so-called "quit notice" was issued on June 8, the federal government in Abuja had repeatedly called for calm.
Then on Monday, President Muhammadu Buhari addressed the issue in a televised speech following a long absence from the country for health reasons.
"Nigeria's unity is settled and not negotiable. We shall not allow irresponsible elements to start trouble and when things get bad they run away," he said.
The Arewa Youths' ultimatum was itself in response to a bid by the Indigenous People of Biafra (IPOB) - a mainly Igbo group in the south - to secede from Nigeria.
"We will not accept a system that is designed to alienate and subdue the people of the north," the northern Muslim group said in response, calling for a referendum of Igbo people to settle the Biafra issue.
Rising communalism and anti-Igbo sentiment has been blamed on the IPOB's bid to declare independence.
Their initiative has been stoked by memories of 1967 when their predecessors declared an independent republic of Biafra in the southeast.
That declaration led to a brutal 30-month civil war and more than one million deaths, most of them Igbos, from starvation and disease.
Nigeria is roughly evenly split between the Muslim-majority north and the largely Christian south, but the country is made up of more than 250 ethnic groups.
Full report at:
http://www.news24.com/Africa/News/nigerian-muslim-group-retracts-threat-to-christians-20170825
--------
Nigerian bishops demand cash for extremist damage
Fri 25 Aug 2017
By Eno Adeogun
Bishops in north-west Nigeria are demanding compensation from the government for churches destroyed by Islamic militants.
Speaking during a plenary session, Bishop Mathew Ndagaso, spokesman for the Catholic bishops of Kaduna Ecclesiastical province, said: "In the past six years, insurgents have attacked churches and other Christian places in the north, but the federal government is yet to compensate the victims.
"We want to inform you that the Catholic Church has not received any support from the federal government for the churches affected."
The bishop told attendees of the two-day Catholic bishops of Kaduna Ecclesiastical province plenary session in Minna, Niger State, that terrorist attacks on places of Christian worship within Kaduna state began in 2011, when St Theresa Catholic Church in Madalla was attacked by members of Boko Haram.
According to local reports, Bishop Ndagaso claimed his own house had been destroyed and "no one has even sympathised" with them.
He urged the federal government to help fund the rebuilding of destroyed churches so the church could, in turn, assist with the development needs of the nation.
A 2016 report, produced by the charity Open Doors and the Christian Association of Nigeria (CAN), showed a 62 per cent increase on attacks on Christians in northern Nigeria.
Nigeria's militant Islamist group Boko Haram - which has caused havoc in Africa's most populous country through a wave of bombings, assassinations and abductions - is fighting to overthrow the government and create an Islamic state.
Over the past seven years, the Islamist terror group have killed up to 15,000 people - including many Christians.
Boko Haram, which has pledged allegiance to the so-called Islamic State, regards the Nigerian state as being run by non-believers, regardless of whether the president is Muslim or not - and it has extended its military campaign by targeting neighbouring states.
While Boko Haram is suffering military defeats in the country, Christian communities in north and central Nigeria continue to face widespread violence from Fulani militants.
Bishop Joseph Bagobiri of the Diocese of Kafanchan told international Catholic charity Aid to the Church in Need (ACN), last February that in the last three months of 2016, Fulani herdsmen burnt 53 villages, murdered 808 people, destroyed 1,422 houses and 16 churches.
Bishop Bagobiri also accused the government of not doing enough to stop the violence.
Full report at:
https://www.premier.org.uk/News/World/Nigerian-bishops-demand-cash-for-extremist-damage
--------
Uganda: Courts Accused of Targeting Muslims
25 AUGUST 2017
A Ugandan court this week jailed four members of a Muslim sect for life on terrorism charges, a judgment denounced by some as the latest in a series of anti-Muslim rulings.
On Tuesday Kampala's High Court sentenced Sheikh Yunus Kamoga and three members of his Tabliq sect to life in prison, while two others were given 30 years each.
But a day earlier the same court had acquitted Kamoga and 13 others of the murder and attempted murder of leaders of two rival Muslim factions -- on the same evidence.
The apparently contradictory verdicts have left some observers suspicious.
"I find the decision very unusual because the main case was about the murders and the terrorism was arising from the murders, so if they were not guilty of the murders then they should be not guilty of the terrorism," said human rights lawyer Ladislaus Rwakafuzi.
In his three-and-a-half-hour judgement Justice Muhanguzi said that while the men were not proven to have killed anyone, they had used threatening leaflets and loudhailers to intimidate rivals.
Those threats amounted to terrorism against the entire community, he ruled.
"Court finds that death threats were delivered by word of mouth and on loudspeakers, hence it was indiscriminate," Muhanguzi said.
Defence lawyer Fred Muwema thought he had an explanation for what he saw as the judgement's inconsistencies.
"I do not have direct evidence... but there is always political pressure and interference in a country like this," he said. "I think the state was interested in the Tabliq community.
"Court cannot accept something and deny it at the same time," Muwema continued. "That's a contradiction and a miscarriage of justice."
But Solomon Muyita, the spokesman for Uganda's judiciary, said if lawyers had evidence that judges had been politically influenced they should bring it to court.
- The usual suspects -
Uganda has taken a hardline against suspected Islamists since the deadly suicide bombings in 2010 carried out by the Al-Qaeda-aligned Shabaab militants in their first attack outside of Somalia.
But some say that Muslims are being scapegoated.
They argue that this week's terrorism conviction is just the latest in a series of questionable cases where Muslims have been blamed for the murders of officials and Islamic clerics.
The cases include the murders of nine Muslim clerics since 2012; of Joan Kagezi, a prosecutor working on the 2010 Kampala bombings case, in March 2015; of an army officer in November 2016 who had defected from a Ugandan-led Islamist rebel group in eastern Democratic Republic of Congo; and of a prominent policeman in March.
In each case the victims were shot dead by motorbike-riding assassins, and in each case Muslim suspects were rounded up.
For Rwakafuzi, the evidence for Muslim involvement in the high-profile killings is flimsy at best.
"The Muslims are being profiled," he said.
"We have very poor, underfunded investigation mechanisms. It's an easy way out to show to the public that you´re doing something about these killings."
Muslims were being targeted, he said, because "it is easier to believe" thanks to widespread fears of Islamic terrorism, in Uganda and elsewhere.
A spokesman for the Tabliq sect, Siraje Nsambu, said the terrorism and murder charges against Kamoga and the others were trumped up. He denounced the ruling against them as "purely political".
But government spokesman Ofwono Opondo dismissed allegations that Muslims were unfairly targeted.
"Uganda has a very long standing record of having no political, religious or racial persecution," he said.
"There is no reason whatsoever why the government of Ugandan should target those Muslim cliques."
Nonetheless, this week's ruling and its harsh sentences has further embittered a community that already feels marginalised by the government and victimised by authorities.
Full report at:
http://allafrica.com/stories/201708250430.html
--------
North America
US Muslims a security issue after 9/11, professor says
By Fatma Bulbul
Aug 26, 2017
Muslims in America became a "security concern" after the 9/11 terror attacks, according to a professor at a prestigious U.S. university.
"The primary existence of the Muslims in the United States and the Muslim community in the United States is as a security concern," Jonathan Brown, an associate professor at Washington's Georgetown University, told a conference in Istanbul on Tuesday evening.
"You are not a citizen, you are not a person, you are not a religious being, you are not a man or a woman or a son or a daughter," he said. "You are... a security problem waiting to happen."
Brown's comments were delivered at a conference titled Islamic Movements in the U.S.: from 9/11 to the Trump Era.
The Sept. 9, 2001 attacks in New York, Washington and Pennsylvania killed nearly 3,000 people after al-Qaeda terrorists hijacked four airliners.
Brown said the attacks had led to the targeting of Muslims and Islamic organizations by the government.
"One of the first thing the United States government started to do was to basically start shutting down Muslim organizations and Muslim charities," Brown, director of the Prince Alwaleed Bin Talal Center for Muslim-Christian Understanding, said.
The administration of President George W. Bush particularly targeted the finances of groups and charities, he added.
Opportunity
"They want to start controlling any transfer of money from Muslims in the United States to any Muslim organization abroad and they want to basically cut American Muslims off from the global Muslim community financially."
However, under the presidency of Donald Trump, Muslims have come to the fore in organizing against far-right and white supremacist groups.
The anti-Trump movement gave a "tremendous opportunity" for Muslims to find their place in American society, Brown said.
On the day Trump took office, Linda Sarsour, a hijab-wearing Palestinian woman, was one of the main organizers of a massive march for women against Trump, who had been dogged by allegations of misogyny during the campaign.
The march turned into the largest one-day protest in American history, drawing around 500,000 people to the streets of Washington.
"The reason is everybody who doesn't like Donald Trump supported the thing Donald Trump hates the most, which is a Muslim woman who wears hijab," Brown said.
Since Trump was elected last November, documented cases of Islamophobia and a broader anti-minority and anti-immigrant sentiment have been on the rise.
The intensity and frequency of hate attacks in the last nine months have been even worse than in the post-9/11 environment, according to the Southern Poverty Law Center, which tracks hate groups in the U.S.
The fight against "radical Islamic extremism" has been a cornerstone of a campaign run by Trump, who has pledged to bar Muslims from entering the U.S. and implement policies to profile American Muslims, the group added.
http://aa.com.tr/en/americas/us-muslims-a-security-issue-after-9-11-professor-says/893728
--------
Manitoba Muslims counter hateful video with outreach
Aug 25, 2017
Manitoba Muslims say they're appalled by a video showing a self-proclaimed Nazi hurling insults at a visiting Muslim schoolteacher near Seven Sisters Falls — but they're not giving up on educating people about their faith.
Abdi Salam Adi was attending a community outreach barbecue at Winnipeg Central Mosque Friday and told CBC when he saw the video, his first reaction was fear.
"You basically realize that somebody who hates people is intruding on you, through your race or religion, and it's not good."
In an exchange captured on video, a man who described himself as a Nazi told Calgary teacher Kaniz Fatima to take her "head towel off" because it "supports Muslims." He also told her to "go back to your country."
The exchange happened near Seven Sisters Falls in southeastern Manitoba in early July. Fatima stood up to the man, as did witness Alysha Goertzen, while it was being filmed by Fatima's husband. The man spit obscenities at Fatima as she defended herself from the onslaught.
Adi said he personally has not experienced intolerance while living in Canada, but said he knows others who have been harassed.
"I don't know why they are doing that … Muslims are nice people. They are very welcome people, they respect people, they don't harm people."
People are confusing Muslims with religious extremists, Adi added. "Those are not Muslims."
Reading about the incident brought back memories of the aftermath of the Sept. 11, 2001, attacks in the U.S., said Raes Ahmed, who also attended Friday's outreach event.
"It brings back all that from Sept. 11 and everything. I grew up in Toronto where it's very diverse, but there have been attacks, physical attacks on women who have been [wearing] a hijab, who have been pulled out. There were doors [on] which people had written, 'Go back home.' So it brings back all of this stuff."
Despite that, he said he looks at some of the hateful rhetoric happening now in the United States and counts his blessings.
"We are very privileged in our country, to not have — although we have pockets of extremism on both sides — to not have those extreme pockets rise up so high."
Anti-racism protest draws hundreds to U.S. Embassy
He said the best way to combat extremism is to speak up. "I think we have to understand and appreciate this privilege and keep up this culture, where we're not letting it come to that extent.
"It's a test for us, as a Muslim Canadian, how we keep the positivity, the love, and the compassion of Mohammed and Jesus and Moses, because it's all the same."
Woman could press charges: Human rights lawyer
David Matas said he wouldn't call what the man in the video said to Kaniz Fatima hate speech, but would call it harassment.
"I think in deciding whether something is hate speech, you have to look at both content and context," said Matas, a human rights lawyer.
"I think in terms of content it would be, but in terms of context I'm not so sure, because it wasn't publicly broadcast and it wasn't directed to somebody the speaker was trying to incite. It was a harassment or slur against a victim. And that sort of context probably wouldn't qualify it as hate speech."
Add anti-racism lessons to curriculum: Muslim leader
He also said the incident raises some legal questions.
"The law doesn't say you can't utter hate speech, the law says you can't incite to hatred. In order to incite to hatred, you have to be inciting somebody. There wasn't anybody he obviously was inciting except the victim, who presumably was immune to the incitement."
Despite that, Matas said the victim may have some recourse if she wants to press charges against the man for uttering threats.
"Saying you're a Nazi suggests that you're prepared to use violence in an act of racism, because the Nazis were murderous racists. And she … felt scared by what happened, and I think understandably so."
He said he was impressed by Fatima's reaction.
"She did stand up, she said what needed to be said at the time … and I think certainly what she did was commendable."
Matas said he's not surprised things like this are happening in Canada.
"I would agree that we're getting more of this more recently than we used to before, and to some extent I attribute this to the Trump presidency. It's just become more respectable to speak out in public like this," he said.
But he also said it's not necessarily anything new.
Full report at:
http://www.cbc.ca/news/canada/manitoba/manitoba-muslim-video-reaction-1.4262702
--------
US fighter pilots in Afghanistan prepare for more air strikes
Aug 26, 2017
For the fighter pilots at the largest US military base in Afghanistan, President Donald Trump's new strategy for the war should mean escalating an already surging air campaign, and possibly including an unrestrained offensive against the Taliban.
The number of US air strikes in Afghanistan has already dramatically spiked since Trump took office in January; from 1,074 in all of last year to 2,244 as of August 20 this year.
After a months-long review of his Afghanistan policy, Trump committed the United States last week to an open-ended conflict in the country and promised a stepped-up campaign against the Taliban insurgents.
Few details have emerged, but the pilots in Bagram are preparing for the possibility they'll be taking the fight to the Taliban in a way they haven't since the US-led "combat mission" in Afghanistan was called off at the end of 2014.
Among their targets since then have been Islamic State militants, who are also active in the country.
"Between the two groups, the Taliban are definitely smarter," F-16 pilot Major Daniel Lindsey told Reuters. "The Taliban are much harder to kill."
While Islamic State has launched a series of deadly attacks around the country, it has nowhere near the influence, reach and community ties that the Taliban have.
It's those factors that pilots say make the Taliban a more challenging target, and one that has outlasted years of heavy bombardment.
"The Taliban are often embedded in the community, but nobody likes the Islamic State, so they are often separate," Lindsey said.
New parameters
In many ways, Trump's policy is less a new plan than the continuation of a slow slide back into combat for American troops, although officials are quick to say their mission will remain focused on training and advising Afghan forces.
On Thursday, the commander of US troops in Afghanistan, General John Nicholson, confirmed that his forces would increase air support for Afghan troops.
"We know the enemy fears air power," he told reporters in Kabul.
White House officials have said that rolling back territorial gains by the Taliban will be one of the key objectives of the new strategy.
For a time after former president Barack Obama declared America's combat mission over in Afghanistan at the end of 2014, US forces were restricted from attacking the Taliban in most circumstances except self-defence.
As the group expanded its hold in Afghanistan, however, Obama began to loosen some of those rules and Trump has gone further in sending US troops back into battle with their old adversaries.
Asked about the recent effects of US air strikes, Taliban spokesman Zabihullah Mujahid said the group's fighters had become used to dodging American bombs.
"In 2010, 2011 and 2012 the US air strikes were successful and we lost many Mujahideen," he told Reuters. "But now we have enough experience to avoid casualties during their strikes by hiding in mountain holes and other places."
Still, forcing the Taliban to hide and preventing them from massing fighters has in some cases been credited with helping Afghan security forces hold on to some cities and blunt Taliban offensives.
Expanding strikes
Trump also announced that he would "lift restrictions and expand authorities in the field," but it remains unclear exactly what that would entail.
A US military spokesman in Kabul, Captain William Salvin, said US forces are still limited to conducting air strikes in three broad circumstances: self-defence, counter-terrorism strikes against specific groups, and helping Afghan troops achieve "strategic effects".
He declined to say whether those parameters might change.
The US military does not publicise its rules of engagement, but Lindsey said compared to when he was a fighter pilot at the height of the troop surge in Iraq in 2007, the so-called "ROE" in Afghanistan were less restrictive.
"Some guys can complain about it, but most I know don't seem to have any problem finding Islamic State or Taliban to kill," he said. "If you use the rules smartly, you'll get the bad guys."
The surge in air strikes has led the US Air Force units at Bagram to increase their maintenance and intelligence efforts, said F-16 pilot Maj. Abraham Lehman.
Officials say ramping up the number of strikes further would require the deployment of more support staff as well as additional specialised troops on the ground to coordinate the strikes.
Full report at:
http://nation.com.pk/international/25-Aug-2017/us-fighter-pilots-in-afghanistan-prepare-for-more-air-strikes
--------
Ten civilians killed in US-backed raid in Somalia: Official
Aug 25, 2017
Ten civilians have been killed in a US-backed raid on a farm in southern Somalia, according to the deputy governor of Lower Shabelle region.
The raid on Barire village early Friday led to the deaths of three children aged 8 to 10 and a woman among others, Ali Nur Mohamed told reporters in the capital, Mogadishu.
"These local farmers were attacked by foreign troops while looking after their crops," Mohamed said. "The troops could have arrested them because they were unarmed but instead shot them one by one mercilessly."
Somalia's information ministry, which initially said members of al-Qaeda-linked extremist group al-Shabab were among the dead, confirmed there were "civilian casualties" too.
The US Africa Command issued a statement Friday, confirming it had supported an operation against al-Shabab militants.
"We are aware of the civilian casualty allegations near Barire, Somalia. We take any allegations of civilian casualties seriously, and per standard, we are conducting an assessment into the situation to determine the facts on the ground," said the statement.
This is a clear indication of growing US military involvement in the Horn of Africa nation after President Donald Trump ordered that operations against the extremist group be expanded, approving more aggressive airstrikes in the country.
Somalia has been the scene of deadly clashes between government forces and al-Shabab militants since 2006.
The Takfiri militant group was forced out of the capital by African Union troops in 2011 but still controls parts of the countryside and carries out attacks against government, military and civilian targets seemingly at will in Mogadishu and regional towns.
Full report at:
http://www.presstv.ir/Detail/2017/08/25/532937/US-Somali-US-military-alQaidalinked-extremist-group-alShabab
--------
URL: https://www.newageislam.com/islamic-world-news/called-deviant-muslim-scholar-says/d/112345
New Age Islam, Islam Online, Islamic Website, African Muslim News, Arab World News, South Asia News, Indian Muslim News, World Muslim News, Women in Islam, Islamic Feminism, Arab Women, Women In Arab, Islamophobia in America, Muslim Women in West, Islam Women and Feminism