New Age Islam News Bureau
5 March 2012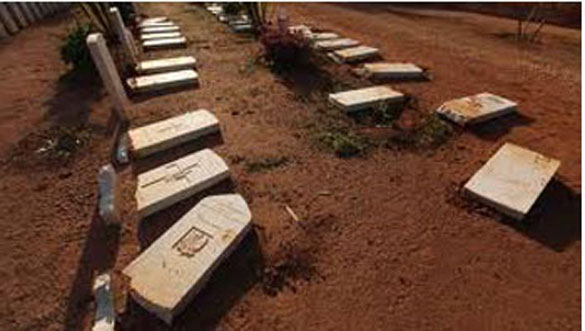 • Bangladesh: 4 Shibir men held with jihadi books
• Australian state toughens law for Muslim veils
• 18 years Jail term for Indonesia militant
• Libyan militia says UK journalists are 'spies'
• Indian-Americans hold demonstrations against Modi
• Baghdad demands Kurds hand over VP for trial
• Pakistan Taliban removes deputy head Maulvi Faqir Mohammad
• 106 dead in Yemen fighting
• After Homs, Syria seen facing Bosnia-style war
• Osama Bin Laden was not buried at sea
• Only 48 persons missing in Balochistan: Malik
• Pakistan should turn a new leaf in its ties with India: Imran Khan
• Pakistan successfully test fires Hatf II ballistic missile: ISPR
• 24th Ladies Jashn-e-Eid Milad-un-Nabi held in Karachi, Pak
• Afghan camps for Baloch militants shut: Pak Minister
• 35 Yemeni soldiers killed in clashes with al Qaeda
• Iraq attacks in Haditha 'kill 27 policemen'
• Shooting spree in Iraq kills '21 policemen'
• 26/11: Rana dubs Headley as 'unrepentant terrorist'
• In Egypt, Indian Foreign Minister makes first contact with Brotherhood
• Suspended IPS officer says, "Ten years on, no justice for Gujarat carnage victims
• Afghan army chief warns against another NATO blunder
• Hindu girl abduction, 'forced' conversion spark protest in Pak
• Malaysian P M says, he appreciates Malaysians' lively political debate
• Terrorist leader held from Islamabad
• Syrian army shells rebels, Red Cross aids refugees
• Some aid reaches Homs as Syrians flee to border
• Senior US senator calls for arming Syria rebels
• Boko Haram is anti-Islam -MSSN
• Muslim Rights Concern warns against Boko Haram's incursion in South West
• Pak: Nawaz, Shujaat ask each other to apologise for supporting dictators
• People affiliated with PPP will never surrender: Gilani
• Arms recovered, seven held in Gilgit
• Pak CJ urged to help recover 'kidnapped' Hindu girl
• Greater GCC integration to play key role in economic arena
• Gulf union won't affect any state's sovereignty: Riyadh
• Saudia looking for Indian pilots
• Saudi Shoura OKs cyber crime convention
• Saudi Ports signs SR500m contracts
• Hindu protesters disrupt bin Laden movie in India
Complied by New Age Islam News Bureau
Photo: Armed Libyans desecrate British, Italian graves
URL: https://newageislam.com/islamic-world-news/british,-italian-war-graves-desecrated/d/6790
--------
British, Italian War Graves Desecrated in Libya
By CHRISTIAN LOWE AND ALI SHUAIB
Mar 4, 2012
TRIPOLI: Libya's leadership has apologized after armed men smashed the graves of British and Italian soldiers killed during World War II, in an act of vandalism that bore the hallmarks of extremists.
Amateur video footage of the attack, posted on social networking site Facebook, showed men casually kicking over headstones in a war cemetery and using sledge hammers to smash a metal and stone cross.
One man can be heard saying: "This is a grave of a Christian" as he uprooted a headstone from the ground. Another voice says of those buried in the cemetery: "These are dogs."
The attack happened in the eastern city of Benghazi, near where British and Commonwealth troops fought heavy battles against German and Italian forces during the 1939-45 war.
The National Transitional Council (NTC), Libya's interim leadership since last year's uprising forced out Muammar Qaddafi, said it would pursue those responsible.
"The NTC apologizes for the incident with the foreign graves, especially the British and Italian graves," the council said in a statement. "This action is not in keeping with Islam."
"The NTC will confront this matter and, in line with Libyan law, will pursue those people who committed this act. This action does not reflect Libyan public opinion because Islam calls for respect for other religions."
Hardliners
The NTC has close ties with Western countries after a NATO bombing campaign helped it to oust Qaddafi, and most ordinary Libyans feel no animosity toward the West.
However, a minority of hard-line Islamists, who are opposed to any non-Muslim presence and in some cases have formed into heavily-armed militias, have gained ground since Qaddafi's 42-year rule ended last August. The government in Tripoli has struggled to assert its authority over these groups.
British Foreign Office minister Jeremy Browne said: "It was an absolutely appalling story and people will be shocked by the photos."
But he told Sky News television: "I wouldn't want people to think that this is somehow a demonstration of ingratitude by the government of Libya, that is not the case."
More than 200 headstones in the Commonwealth War Graves Commission Cemetery in Benghazi were damaged as was the Cross of Remembrance, the British Foreign Office said in a statement.
About a quarter of the headstones in the Benghazi Military Cemetery were also attacked on Feb. 24 and 26.
Benghazi residents who spoke to Reuters on Sunday expressed disgust at the attack.
"No one can deny that Britain, France, Germany and all the world sided with us in our suffering," during last year's conflict, said one man, Muftah Abu Azzah.
Another resident, Imad Mohammed, said: "This World War II cemetery was attacked by extremists and this is wrong ... Those dead people do not have any guilt."
The footage posted on Facebook showed about two dozen men in a cemetery in daylight. Several carried Kalashnikov automatic rifles and were wearing the mismatched camouflage uniforms commonly seen on militia members.
In an unhurried and systematic way, they kicked over neatly-arranged rows of headstones. "We will start with this and then carry on," says one voice on the recording.
Another group had placed a ladder against the large stone and metal cross overlooking the cemetery and was smashing it with hammers. Several onlookers milled around the cemetery but no one was seen on the footage trying to intervene.
At one point, a voice on the recording says: "Come and see the inscription on this ... There is Hebrew writing on it."
In a statement on its website, the Commonwealth War Graves Commission said it would restore the graves "to a standard befitting the sacrifice of those commemorated at Benghazi."
It said, though, that it would need to be sure it was safe to carry out the repairs, and in the meantime temporary markers would be erected over the graves.
The popular British newspaper the Mail on Sunday said in an editorial: "All this would have been serious and sad enough if it had happened anywhere in the world. But it took place in Benghazi, headquarters of the Libyan revolution, which was helped to victory by British arms and British courage."
http://arabnews.com/middleeast/article583221.ece
--------
Bangladesh: 4 Shibir men held with jihadi books
Our Correspondent, Lalmonirhat
Monday, March 5, 2012
Four Shibir men were arrested while trying to hold a secret meeting at a local student hostel near Court Toli Islami Adorsha Madrasa at Patgram upazila town on Saturday night.
Police also seized 103 jihadi books from their possession.
The arrestees are HSC student of Patgram Adorsha Degree College Mithu Rana, 18, son of Shariful Islam of Chanderbari village, his classmate Alamgir Kabir, 18, son of Hasmat Ali of same village, SSC examinee of Sree Rampur High School Abdur Rakib, 16, son of Sirajul Islam of Jhalongi village under Patgram upazila and class seven student of Patgram Islami Adorsha Madrasa Moslem Uddin, haling from Sundargonj upazila in Gaibandha district.
OC of Patgram PS Farid Uddin said, following a tip-off, a team of Patgram police raided Manik Student Hostel near Islami Adorsha Madrasa and arrested the four Shibir men along with the jihadi books.
A case has been filed against the arrestees with Patgram PS, police said.
http://www.thedailystar.net/newDesign/news-details.php?nid=225029
--------
Australian state toughens law for Muslim veils
Agencies Posted online: Mon Mar 05 2012
Melbourne : A top legal body of Australia, Law Institute of Victoria, has asked for new laws in the state for women wearing burqas making it mandatory to show their face
when asked to witness their signature.
President of Law Institute of Victoria, Michael Holcroft has said there were several occasions where Justices of Peace (JPs) and lawyers needed to certify a person's identity by seeing their face.
"I can understand the practical issues why identification is important, and I think as long as we remain culturally and religiously sensitive then there's probably some support for it," Holcroft said.
He said its implementation should be accompanied by an education campaign so that people were culturally aware.
"I would like to see some best practice put out there so people don't intentionally cause offence," he said.
Responding on this, Islamic Council of Victoria spokesman Nazeem Hussain said existing laws empowering police to demand anyone to remove a facial covering were sufficient.
"What is clear, is that Muslims in Australia have no problem with the underlying principle to identify for the purpose of ensuring security, public safety and complying with the law," he said.
The demand was made as New South Wales Government announced its tough stance to "burqa-proof" identity checks to minimise the risk of fraud.
According to 'Herald Sun' report today, in a controversial Carnita Matthews case, a Muslim, who had her conviction overturned for knowingly making a false statement because the prosecution could not prove that she had signed the statement, highlighted the need for the change.
The 23-year-old Justice of the Peace witnessed the signature of a woman wearing burqa at Minto Mosque assumed it was Matthews but hadn't asked her to show her face.
The JP or lawyer will have to certify in writing on the documents they have seen the person's face or risk a $220 fine for lying.
http://www.indianexpress.com/story-print/920248/
----------
18 years Jail term for Indonesia militant
5 March 2012
Pepi Fernando sent a series of parcel bombs to moderate Muslim officials in Indonesia
An Indonesian court has sentenced an Islamist militant to 18 years in jail for a parcel-bombing campaign targeting moderate Muslim leaders and police.
Pepi Fernando was found guilty of violating anti-terrorism laws by the West Jakarta District Court.
Several people were injured in the attacks.
The court heard that the group founded by Fernando was also allegedly plotting the assassination of Indonesia's president.
Only one of the parcel bombs went off, the AFP news agency reported, but that bomb injured three policemen.
The defendant "knowingly used force or threat of violence to invoke an atmosphere of widespread terror or cause mass casualties" the judge was quoted by AFP as saying.
Indonesia has been battling militancy since the 2002 attack that targeted foreigners in Paddy's Bar and the Sari Club in the resort of Kuta on the island of Bali. Those killed were from 21 countries, including 88 Australians, 38 Indonesians and 28 Britons.
Last week Indonesia's highest court upheld a 15-year jail term for radical cleric Abu Bakar Ba'asyir. He was jailed in June for backing an Islamist militant training camp.
And the trial of Umar Patek, who was extradited from Pakistan and who prosecutors accuse of involvement with the Bali bombings, is ongoing.
http://www.bbc.co.uk/news/world-asia-17258407
--------
Libyan militia says UK journalists are 'spies'
BBC Online
Monday, March 5, 2012
Two British journalists detained in Libya are suspected of spying, the militia that is holding them says.
Faraj al-Swehli, commander of a Misrata brigade, said the men had entered Libya illegally and were carrying "incriminating evidence".
He said the activities of reporter Nicholas Davies, 37, and cameraman Gareth Montgomery-Johnson, 36, from Carmarthen, were being investigated.
The men had been working for Iran's English-language TV station Press TV.
Rights groups have called for their release.
The BBC's Gabriel Gatehouse in Tripoli says that at a hastily convened press conference in the capital, reporters were shown video footage of what was purported to be the two journalists test-firing weapons.
Members of the militia also produced a field dressing that they said they had found in the journalists' possession.
It was of a type, they said, used by the Israeli military.
Swehli told reporters that he believed the two men were spies and that he and his men were conducting their own investigation into the matter.
"After we have finished the investigation we are going to transfer them to the state authorities to pursue the legal process against them," he said, according to Reuters.
Swehli said the two men were being well treated.
Davies, who works under the name Nick Jones, and Montgomery-Johnson were detained on 21 February, apparently while filming late at night on the streets of Tripoli.
The initial accusation against them was that their immigration documents were not in order.
The Libyan Prime Minister's office and the interior ministry told the BBC that they knew nothing of the allegations of spying.
All efforts by the interim government and the British embassy to persuade the militia to release the journalists into official custody have so far met with refusal.
http://www.thedailystar.net/newDesign/latest_news.php?nid=36239
--------
Indian-Americans hold demonstrations against Modi
PTI | Mar 4, 2012
NEW YORK: Marking the 10th anniversary of the Gujarat riots, a coalition of over 40 Indian-American bodies held a demonstration and a candle-light vigil here, shouting slogans against Chief Minister Narendra Modi for his alleged complicity in the communal violence and demanding justice for the victims.
Over 100 people from the Indian-American community came together under the banner of 'Coalition Against Genocide' (CAG) for the demonstration yesterday.
Gathered near a statute of Mahatma Gandhi in Manhattan, the coalition pressed its demand for compensation for the victims and to bring the perpetrators of the riots to justice.
Women and children held placards and shouted slogans against Modi and his government.
Vice President of the Indian American Muslim Council Eastern Region, Mohammad Yusuf Gaddani, said the coalition chose to hold the demonstration in front of Gandhi's statue as "we have to decide whether we want Gandhi's India or Modi's India."
The coalition claimed that even after 10 years of the Gujarat riots, justice had been denied to the victims and their families and the state government too had shown no remorse for the killings of innocent civilians.
"Those who have lost their lives cannot be brought back but we should bring closure to the victims and their families by putting those responsible for the killings behind bars," Gaddani told PTI.
Swati Shah, a member of the South Asia Solidarity Initiative, said it was the responsibility of the Indian and South Asian diaspora to maintain the correct information in public sphere about what had happened in Gujarat.
"We are concerned that Modi wants to raise his profile as a potential candidate for Prime Minister...," she said.
The 40 organisations had earlier come together in 2005 under the CAG banner and campaigned against Modi's visit to the US. The coalition had sought denial of a visa to Modi and revocation of his diplomatic visa.
Gaddani said similar vigils would be held in California, Washington, Chicago, Boston and Florida by local chapters of the Indian American Muslim Council.
He said the people needed to come together and ensure that what happened in Gujarat 10 years ago was not repeated in any part of India again.
The demonstration was held just days after a Congressional resolution was introduced in the US House of Representatives on the occasion of the 10th anniversary of Gujarat communal riots.
The resolution shared the opinion of the US Department of State that the Gujarat government had not adequately pursued justice for the victims of the 2002 violence and urged the state government to restore religious freedom.
http://timesofindia.indiatimes.com/nri/us-canada-news/Indian-Americans-hold-demonstrations-against-Modi/articleshow/12133828.cms
--------
Baghdad demands Kurds hand over VP for trial
Published: Mar 4, 2012
BAGHDAD: Iraq's government said yesterday it had demanded the autonomous Kurdish region hand over Vice President Tareq Al-Hashemi for trial on charges of running death squads, a case that caused a political crisis when US troops withdrew last year.
Iraq issued an arrest warrant for Hashemi, one of the top politicians from the Sunni minority, in December on the eve of the withdrawal of the last US troops.
That triggered a political crisis - with Hashemi's Sunni-backed bloc announcing a boycott of parliament and the Shiite-led cabinet - and raised fears of a renewal of the sectarian violence that killed tens of thousands of people in 2006-07.
The crisis has abated somewhat in recent weeks, with most members of Hashemi's Iraqiya bloc agreeing to lift the boycott.
But the vice president remains holed up in the northern Kurdish zone, refusing to return to Baghdad where he says he would not receive a fair trial.
Hashemi says the charges are political and has asked that the case be heard in Kirkuk, a town divided mainly between Sunni Arabs and Kurds.
The government says the case is purely criminal, the prosecution is independent and it cannot intervene. A Baghdad judiciary panel rejected moving the case to Kirkuk and set a trial for May in Baghdad.
"Upon request from the judiciary panel, and after setting a date for the trial, the Interior Ministry has demanded the Kurdistan regional government's Interior Ministry carry out an arrest warrant against accused Tareq Al-Hashemi and hand him over to the judicial authorities," Iraq's Interior Ministry said in a statement.
It said the Iraqi Interior Ministry had received "confirmed information" that Hashemi intended to flee the country.
The leadership of Iraq's Kurdish minority, which has frequently acted as a mediator in quarrels between Sunni and Shiite Arabs, has become embroiled in the dispute by playing host to Hashemi in the northern zone it controls.
Kurdish Deputy Interior Minister Jalal Kareem told Reuters the regional government had not received a request from the central government that it arrest Hashemi and hand him over.
"When we receive the request we will refer it to the region's council of ministers, as we have a special status and separate legal and administrative entity," he said in the Kurdish regional capital Arbil.
"We will carry out whatever the (Kurdish) council of ministers decides in response to the Interior Ministry's request."
http://arabnews.com/middleeast/article583135.ece
--------
Pakistan Taliban removes deputy head Maulvi Faqir Mohammad
5 March 2012
Maulvi Faqir Mohammad led the Taliban in the Bajaur district
The head of the Pakistani Taliban has removed his deputy commander, the militant group confirmed to the BBC, in a sign of a growing power struggle.
Hakimullah Mehsud demoted Maulvi Faqir Mohammad, who was the second-highest ranking Taliban leader, at a Taliban council of leaders on Sunday.
No reason was given but correspondents say the move is the latest sign of a rift within the group.
Maulvi Faqir Mohammad has not yet been replaced by another militant commander.
A Taliban spokesman told BBC Urdu that he had been removed with immediate effect but that the Taliban leadership was considering appointing him to some other position within the group.
The BBC's M Ilyas Khan in Islamabad says the decision is the latest sign of a growing rift within the Pakistani Taliban - known as Tehrik-e-Taliban Pakistan (TTP) - that began when its former leader, Baitullah Mehsud, was killed in August 2009.
At that time, Maulvi Faqir Mohammad was one of the contenders for the top post, but had to settle for the position of deputy head because the TTP wanted to keep its leadership within the Waziristan tribal area, their major stronghold.
'Minor' differences
Since then, he has had an uneasy relationship with the central command of the TTP, our correspondent says.
And last year some elements of the TTP accused him of having contacts with the Pakistani government, which he denied. He has previously admitted to the BBC that he had "minor" differences with Taliban leadership.
Maulvi Faqir Mohammad led the Taliban in the Bajaur district, in the extreme north of the tribal areas and at some distance from Waziristan.
The volatile Bajaur region is believed to have been home to al-Qaeda leaders such as Ayman al-Zawahiri, and militants loyal to the non-Taliban commander Gulbuddin Hekmatyar, our correspondent adds.
http://www.bbc.co.uk/news/world-asia-17256129
--------
106 dead in Yemen fighting
AP
SANAA, YEMEN, March 5, 2012 Al-Qaida militants have overrun an army base in southern Yemen, capturing heavy weapons and turning them on soldiers in intense clashes that left 61 dead, a military official says.
The Sunday battle near the town of Zinjibar in the southern province of Abyan killed 36 government troops and 25 of the militants, he said. A medical official confirmed the death toll. Scores were wounded from both sides, they said, speaking on condition of anonymity as they were not authorized to talk to the media.
The official said the fighting was taking place west of Abyan's provincial capital of Zinjibar. Militants seized control of the town in May, taking advantage of political turmoil linked to the uprising against then-President Ali Abdullah Saleh.
Saleh stepped down last month in a U.S.—backed power transfer deal that Washington hoped would allow Yemen's new leaders to move against al—Qaida. But the fighting highlights the difficulties faced by his successor Abed Rabbo Mansour Hadi in combatting the militant movement and restoring state authority in the lawless south.
The military officials said the militants were able to seize armoured vehicles, artillery pieces, assault rifles and rockets from the stores of an army base they attacked. Some of the heavy weapons were later used against the troops, causing most of the casualties.
A Defence Ministry statement confirmed that the clashes had occurred, saying the fighting began when militants detonated "booby trapped vehicles" at an army base in the region of Koud near Zinjibar. The wording of the statement suggested that the base had been occupied by the militants before army forces regrouped and took it back.
It said there were casualties on both sides but gave no figures.
Saleh during his more than 30 years in power tolerated radical Islamic groups as part of a delicate balancing act that kept at bay threats to his authority in the fractured nation.
There has been a surge in attacks blamed on al—Qaida after Hadi's inauguration.
Sunday's fighting followed the dismissal last week by Hadi's government of the military commander of the southern region, to which Abyan belongs, along with other security officials from the province.
http://www.thehindu.com/news/international/article2962799.ece
--------
After Homs, Syria seen facing Bosnia-style war
By SAMIA NAKHOUL | REUTERS
Published: Mar 4, 2012 23:58 Updated: Mar 4, 2012 23:58
BEIRUT: Few close observers of the Syrian conflict believe the uprising that began nearly a year ago is anything like over, and nor do they believe that President Bashar Assad can use the siege of Homs as a springboard to regain full control of the country.
Syrian troops entered the ruins of Baba Amro, the rebel enclave in Homs that succumbed to month of artillery and tank bombardment, amid loyalist claims that Assad had broken the back of a Western-sponsored terror campaign against his government.
Yet some experts believe the authorities' brutality will lead to a drawn-out Bosnia-style war as well as the further militarization of a conflict that began as a civil uprising inspired by revolutions in Tunisia and Egypt.
"The Syrian regime has won one battle in a war it is not guaranteed to win," said Nabil Boumonsef, a columnist at Beirut's an-Nahar newspaper. "It took the Syrian forces one month of siege to enable them to enter Baba Amro district - this is not a sweeping military victory."
"The opposition will continue. They will not rest or forgive or turn back," Boumonsef said.
Rebels to seek heavy weapons
It was always clear that superior loyalist forces could overcome the lightly armed Free Syrian Army, made up of army defectors and rebels who have taken up arms. Human rights groups and activists say that between 700 and 1,000 civilians may have perished in Baba Amro, the worst single toll of the conflict.
"You would expect the regime after several weeks of heavy pounding to retake a small neighborhood like Baba Amro," said Peter Harling, Syria specialist at the International Crisis Group. "This is not a turning point in the revolution; it is one more development. The rebels will try for heavier arms, and to obtain help from abroad."
The regime's unremitting use of force against Baba Amro - "flattening the neighborhood on its inhabitants" in the words of Sarah Leah Whitson, Middle East Director at Human Rights Watch - is unlikely to end the uprising but will likely further radicalize Syrian society.
"I don't think the demonstration effect of wreaking the kind of havoc that they have in Baba Amro is necessarily going to kill off the uprising," said Salman Shaikh at the Brookings Doha center.
"The uprisings will be in hundreds of locations in the upcoming days. This is not just a fight with the Muslim Brotherhood or any one constituency, this is now a fight with the people of Syria."
While the Assad narrative is that government forces are acting to protect local communities against armed gangs and Islamist terrorists, they are in fact inflicting collective punishments on areas that have supported the uprising.
"Take Baba Amro," says Harling of the ICG: "What has the regime done for the civilians there? They made no serious effort to protect the people. They punished them collectively and this will further radicalize the people."
Neither side is likely to change strategy. The government will use military might to force the opposition into submission and the Free Syrian Army, so far relying on smuggled weapons, will seek foreign sources of heavy weapons, funds and fighters.
One tactic the rebels might use is suicide bomb attacks against government symbols similar to those carried out by Al-Qaeda in Iraq.
There are reports that Arab Islamist fighters joined rebels in Baba Amro and other strongholds and that more could arrive.
Like father like son
The Assads, for their part — in particular Maher Assad, Bashar's younger brother and military enforcer - are seen as capable of committing another Homs or even a Hama, where forces loyal to Assad's father Hafez and his brother Rifa'at, killed up to 20,000 people to crush an Islamist uprising in 1982.
"The son and the brother have done what the father and the uncle did in Hama. They are following a similar playbook. What demonstrative effect does this have on the protesters themselves? I don't think they are going to be cowed," Shaikh said.
"If people are treated this way, more and more will take up arms," he said.
But despite the militarization of the conflict and the erosion of state authority, Assad retains the loyalty of the military, political and security establishment, and is unlikely to be overthrown in the short term.
"The conflict is transitioning into a civil war. Both the regime and the opposition have sufficient forces to sustain armed confrontation. Opposition groups are likely to grow stronger as Gulf states, primarily Qatar and Saudi Arabia, provide more arms and logistical support," Shaikh said.
Defections from the army are likely to increase but there are no signs of a split in the military leadership, and the opposition remains divided and dysfunctional.
Long battle
The Syrian National Council, the main opposition body, has not been able to provide strong leadership, devise a strategy to bring down the Assads, or set up a transitional administration for a post-Assad era.
Russian support - blocking condemnation at the UN Security Council and keeping arms flowing to Damascus - continues to signal to regime elites that Assad is still viable, decreasing the likelihood of splits, Ayham Kamel of Eurasia said.
But the number of loyal units Assad can depend on is limited to the 4th armored division and the republican guard, solidly Alawite and commanded by Maher Assad. The rest of the army is commanded by Alawites and loyalists but the rank and file is Sunni and the growing number of defections shows that the authorities cannot rely on them against Sunni opposition.
A political solution is seen as out of the question. Assad's reforms so far have been criticized as superficial, inadequate and too late.
With Russia and China vetoing any Security Council resolution on Syria, the conflict could turn out to be protracted and grisly, like Bosnia, eventually sucking in the international community.
"I feel that we are going down a route where this conflict is going to take a hell of a long time. That will draw in the international community a lot more. That sounds to me a bit like Bosnia, which took a number of years to play out," Shaikh said.
The conflict has already reignited historical animosity between Sunnis and Shiites, from which the Alawites derive, and is raising fears that Sunni Islamists will seize power, as they are in Tunisia, Egypt and Libya, eventually tipping the balance against Assad and his regional allies in Iran and Lebanon's Shiite Hezbollah movement.
"There is no Syria after Assad," said a Lebanese Shiite leader with strong ties to Damascus. "There is an established regime and an established leader, what is the alternative to Assad? We are heading to the unknown and the opposition is dysfunctional."
http://arabnews.com/middleeast/article583222.ece
--------
Osama Bin Laden was not buried at sea
WASHINGTON: Al-Qaeda Chief Osama Bin Laden, who was killed on the morning of May 02 last year in US Special Forces operation in Abbottabad, was not buried at sea but his body was shifted to the military mortuary in Dover.
According to leaked secret files of Statfor, a US security agency, Osama was not buried at sea in an Islamic ceremony but his body was shifted to the military mortuary in Dover, DE, on a CIA plane.
Than it was shifted to the medical institute of US armed forces in Maryland for examination and report.
http://www.thenews.com.pk/article-38257-Osama-was-not-buried-at-sea---
--------
Only 48 persons missing in Balochistan: Malik
Monday, March 05, 2012
* Says activities of exiled Baloch leaders being monitored
* Confirms sending letter to Interpol for Musharraf's arrest
Staff Report
ISLAMABAD: Interior Minister Rehman Malik said on Sunday that only 48 persons were missing from Balochistan and the figure of 6,000 such people was "highly" exaggerated one.
During his visit to the National Press Club, he appealed to the media to avoid filing stories on Balochistan that were based on propaganda.
The minister said the government was closely monitoring anti-state activities of the Baloch leaders living abroad. He said he would welcome exiled Baloch leaders and assured them that they would not be arrested as criminal cases against them had been be withdrawn. However, he added, relevant information about political cases against Baloch leaderes was being gathered. He said that only those leaders would be welcomed who showed honour for the national flag.
"If these people want their rights as Pakistani nationals, they will get them definitely," he said, and blamed Barahamdagh Bugti for worsening the Balochistan issue while he was staying inside Afghanistan. The minister claimed that Bugti had imparted training to about 5,000 people in Afghanistan. Malik said the government had revoked 130 cases in the wake of Aghaz-e-Haqooq-e- Balochistan package. He said some powers were worsening the state of affairs in Balochistan by sensationalising problems of the province.
He said the Interior Ministry had written a letter to Interpol for the arrest of former president Gen (r) Pervez Musharraf in the murder case of former prime minister Benazir Bhutto. Malik said that neither any US diplomat nor an American citizen was allowed to enter Pakistan without permission. Likewise, no foreigner could move while carrying weapons in the country, he added. About the defeat of the PPP's Aslam Gill in Senate elections, the minister said the party was investigating the causes behind this upset in Punjab.
Malik congratulated the newly elected body of the press club. "Being one of the power pillars of the democratic system, issues of the media community would be resolved on a priority basis," he said.
"The media is playing its important role in strengthening democracy in the country. Positive relations between the media and political parties are necessary to keep the democratic process of the country intact," Malik said. He assured journalists of resolving their problems concerning security and salaries, etc. He said he would also talk to the owners of media groups for timely payment of salaries to journalists.
The minister also announced a Rs 300,000 donation for the press club from his own pocket.
http://www.dailytimes.com.pk/default.asp?page=2012\03\05\story_5-3-2012_pg7_3
--------
Pakistan should turn a new leaf in its ties with India: Imran Khan
By JEDDAH: TAREK MISHKHES
Published: Mar 4, 2012
As long as Americans do not withdraw from Afghanistan there will be no peace in the region, Pakistani cricketing legend and leader of Tehreek-i-Insaf Imran Khan told Arab News in an exclusive interview.
He predicted America would withdraw from Afghanistan eventually, but added US forces should make a clean and orderly withdrawal with consideration for neighboring countries.
"If they withdraw suddenly without making such arrangements they will then leave Afghanistan in a big mess. And there will be a civil war even worse than the one that took place after the Soviets withdrew in the 1980's," he said.
Speaking to Arab News in Jeddah, Khan said Pakistan should turn a new leaf in its relationship with India.
"This cold war is costing both the countries enormously. We should resolve our issues politically with dialogue. And if we decide that this is a political issue not a military one, then India, Pakistan and Kashmiris should sit together and solve the problem taking into account the wishes of Kashmiris," he said.
"It should be a relationship based on trust, and both countries will benefit from peace."
He said Pakistanis have always had a close relationship with Saudis and one that will always remain strong.
On the political scene in Pakistan and possible alliances with other parties, the former cricketer-turned politician rejected the idea. "We will not have an alliance with any other party because of what they have done in the past and are still doing now, and they will not change their system of governance," he said.
He said many ex-ministers and other famous politicians are joining his party and despite that fact they worked with the two main parties in Pakistan, all of them are financially clean.
"In the recent Senate election the Peoples Party and Pakistani Muslim League (N) (PML) made a deal and seats were sold. This Senate has lost its credibility," Khan said.
Khan said the situation in Pakistan is similar to the Arab Spring where youths rallied for change. "We have an Arab Spring with a plus point. Our youths are under one leadership. In Pakistan it started even before the Arab Spring when lawyers and civil society stood behind the chief justice during (Pervez) Musharraf's era. At that time it did not have a leadership and it was hijacked by PML. But now this movement is under Tehreek-i-Insaf, and this is reflected in the biggest gatherings and biggest rallies in Lahore and Karachi in Pakistan's history," he added.
Khan laughed off allegations by his opponents that the army is backing him and said this a lame accusation, because the army can only give funds, but it cannot encourage people to attend mass rallies that attract up to a quarter of a million. They could not do it during Musharraf's time when only 35,000 attended his last rally in Islamabad in May 2007, he added.
Khan said the case moved by Air Marshal Asghar Khan against the army and ISI funding politicians has started and the country will know whom they funded.
If it is proven the ISI has given his party one Pakistani rupee, Khan said he would quit politics for good.
Speaking on his vision for the relationship with the US, he said: "We want a sovereign Pakistan, not a client of America. America brokered the NRO deal with Musharraf to bring Benazir (Bhutto) back to Pakistan and I truly believe that this was the biggest crime against the people of Pakistan."
Tehreek-i-Insaf will have a sovereign government and will not take aid from America. "We want friendly relationship like the one the US has with India," he added.
He said his country is facing a big problem involving tax evasion by the rich. "All the big politicians have their money outside Pakistan. I am the only politician who made his money outside Pakistan and took it back to my country and declared it in my name. I have nothing outside," he said.
He added the ruling elites have not declared their assets and are not paying any taxes and that is why the country cannot fight corruption domestically. According to Transparency International this has cost Pakistan 8.5 trillion rupee in four years, while the country's annual expenditure is 3 trillion rupees.
The two big parties that have governed the country for many years have not made any law against corruption although they passed three constitutional amendments. "And as we have seen, when their interests are the same they unite," he said, adding they are afraid of any anti-corruption law.
Khan said that the war on terror is not Pakistan's war, adding that it has cost Pakistan more than $50 billion in four years and left 40,000 dead. "We also lost our security as suicide bombers played havoc with the lives of Pakistanis."
http://arabnews.com/world/article583143.ece
---------
Pakistan successfully test fires Hatf II ballistic missile: ISPR
05 March, 2012
ISLAMABAD: Pakistan has successfully test fired ballistic missile Hatf II, our sources reported Monday.
According to a statement issued by Inter Services Public relations (ISPR), Pakistan had successfully test fired a short-range surface-to-surface ballistic missile capable of carrying atomic warheads.
The Hatf II (Abdali) has a range of 180 kilometres (113 miles) and carries nuclear as well as conventional warheads with "high accuracy", the military said in a statement.
"It provides an operational level capability to Pakistan's strategic forces, additional to the strategic and tactical level capability which Pakistan already possesses," the statement said.
http://paktribune.com/news/Pakistan-successfully-test-fires-Hatf-II-ballistic-missile-ISPR-248021.html
--------
24th Ladies Jashn-e-Eid Milad-un-Nabi held in Karachi, Pak
Monday, March 05, 2012
KARACHI: The 24th Ladies Jashn-e-Eid Mielad-un-Nabi was organised by Pak Anjuman-e-Islam Women Association recently. Sara Moin started the ceremony with the recitation of Quran, while Uzama Zaidi, Tabinda Lari and Fehmida Patel recited naats. Addressing the ceremony, association's chief Razia Sultana Ghanchi said Prophet Muhammad (PBUH) introduced behavioural aspects in politics and regarded Allah as the real possessor of power. The ultimate objective of Holy Prophet Muhammad (PBUH) is to ensure the rule of Almighty Allah, she added. The participants presented Salaam at the conclusion of the ceremony. staff report
http://www.dailytimes.com.pk/default.asp?page=2012\03\05\story_5-3-2012_pg12_9
--------
Afghan camps for Baloch militants shut: Pak Minister
Kalbe Ali
ISLAMABAD: Interior Minister Rehman Malik said on Sunday that Afghanistan had closed the training camps of Baloch separatists in that country, adding that this was done at the intervention of Afghan President Hamid Karzai who had admitted recently that some of the troubles in Balochistan were originating from his country.
"After we approached the honourable President of Afghanistan with facts and figures he was kind enough to look into the matter by promising to stop infiltration of miscreants from his side of the border," the interior minister told newsmen during a visit to the National Press Club.
During his recent visit to Islamabad President Karzai was informed about infiltration of militants into Balochistan. Mr Malik said "President Karzai had promised to stop the infiltration from Kandahar into Balochistan". And now Kabul has formally given an assurance that infiltration of militants into the border town of Chaman will be stopped.
The minister said: "There was a training camp of 5,000 people in Kandahar but it has been dismantled now and its operators have moved out of the area."
He said the Afghan government had promised that insurgents would not be allowed to operate in Pakistan from Afghanistan. "We are monitoring the situation and those playing in the hands of foreign forces to destabilise the country will not be spared."
At the same time, he said, the government was creating an environment conducive for talks with disgruntled Baloch leaders.
Mr Malik said that 135 cases had been registered against Baloch nationalists, but a number of cases were withdrawn when the Aghaz-i-Haqooq-i-Balochistan Package was launched and the process to quash the remaining cases was under way.
He said the interior ministry had written a letter to the Balochistan chief secretary to withdraw the cases.
"The relevant letters must have been dispatched to the commissioners for withdrawal of politically-motivated cases," he said. "However, the cases filed by private citizens and families of a deceased will have to be settled in court."
The minister said all disgruntled Baloch leaders would be welcome in Pakistan and he himself would receive them at the airport.
Mr Malik said that although the phenomenon of missing persons was a serious issue, it had been blown out of proportion.
He offered an in-camera briefing on the matter to a group of media persons.
"However, speaking on record I want to tell everybody that 6,000 persons had gone missing initially but now the Chief Minister's office has estimated that around 800 were missing after some progress has been made on the issue. The Balochistan Liberation Army claims that 900 persons are missing and the list compiled at the Supreme Court indicates that 400 persons are missing.
The minister said two judicial commissions had been established, one said that 48 persons were missing while the other was still to complete the inquiry.
VISA TO US CITIZENS: The minister said Pakistan would not extend visas to American citizens without solid reasons.
"No American citizen will be allowed to enter Pakistan without valid documents. They will get entry only after receiving permission from the ministry of interior and Foreign Office.
Anybody with an expired visa is not allowed to enter the country."
He said the interior ministry had been keeping a check on private security firms since 2008. "Their NoCs are being verified for better security and a strict code for their uniforms is being enforced."
Mr Malik said strict monitoring of private security agencies was needed because many robberies and other criminal acts had reportedly been committed by their personnel.
http://www.dawn.com/2012/03/05/karzai-acted-against-separatists-malik-afghan-camps-for-baloch-militants-shut.html
--------
35 Yemeni soldiers killed in clashes with al Qaeda
Monday, March 05, 2012
* 12 Qaeda terrorists also killed in firefight
ADEN: At least 35 Yemeni soldiers were killed in the south of the country on Sunday in clashes with terrorists linked to al Qaeda, medics said. Medics at a military hospital in the southern port city of Aden, said dozens were also wounded and the number of casualties was likely to rise as a result of the conflict. The clashes broke out after twin suicide bombings targeted military posts in Zinjibar earlier on Sunday.
"The hospital had received the bodies of six soldiers," said a medic at Bashib hospital in the southern city of Aden, after military officials said an al Qaeda bid to overrun an army post in Kud, in Abyan province, sparked a firefight. A local official in Kud told AFP that al Qaeda gunmen had taken away the bodies of three other soldiers they had killed. Another local official in Jaar, a nearby extremist stronghold, said 12 al Qaeda terrorists died in the firefight. 30 soldiers, 10 of them wounded, were captured, he added.
An army official said the terrorists also seized heavy weapons before pulling back to Zinjibar, accusing some army leaders who had served under former president Ali Abdullah Saleh of "collaborating" with al Qaeda.
It was the latest in a spate of attacks against security forces since President Abdrabuh Mansur Hadi took over from Saleh and was sworn in on February 25 under a Gulf - brokered transition accord. On Friday, Hadi named General Salem Ali Qatan to head the 31st Armoured Brigade in southern Yemen, the post had been held for decades by General Mahdi Maqola, known for his close ties to Saleh and accused of corruption.
Zinjibar has fallen mostly under the control of al Qaeda terrorists, since May at a time that protests were raging across the country against Saleh's 33-year rule. Residents and local officials said a vehicle containing explosives blew up at a military position held by coastal guards at the western entrance of Zinjibar, capital of the Abyan province.
Another vehicle was detonated at an artillery position at the southern entrance of Zinjibar, killing and wounding an unknown number of people. On the day Hadi was sworn in, vowing to carry on Saleh's fight against the network, an al Qaeda suicide bomber blew up his vehicle outside a presidential palace in the southeastern province of Hadramawt, killing 26 soldiers. Late on Saturday, hours after a similar suicide attack killed a Republican Guard soldier in southwest Yemen, suspected al Qaeda gunmen shot dead a police officer Colonel Shaef al-Nahmi, also in Hadramawt, a security official told AFP.
Months of weakened central government control have been exploited by a regional wing of al Qaeda, which has expanded its foothold in the south of the country near oil shipping routes through the Red Sea.
Saleh had declared himself a US ally in its "war on terror" but some of his opponents accused him of exaggerating the al Qaeda threat in a bid to win Western support to cling to power.
"This is a clear escalation in al Qaeda operations in southern Yemen, which comes barely a week after the new president took office," said Radwan Mohammed, an analyst based in Aden. The attacks were part of a campaign "to create confusion for the new president," A Yemeni government official said. Wary of al Qaeda entrenchment in Yemen and seeking to promote stability, the United States and Saudi Arabia have backed a Gulf-brokered plan under which Saleh handed power to Hadi. agencies.
http://www.dailytimes.com.pk/default.asp?page=2012\03\05\story_5-3-2012_pg7_1
--------
Iraq attacks in Haditha 'kill 27 policemen'
5 March 2012
Dozens of gunmen launched a pre-dawn raid on police targets in the western Iraqi city of Haditha, killing at least 27 police officers, police say.
The attacks began at 02:00 (23:00 GMT Sunday) with the kidnapping of two senior officers from their homes. They were later found shot dead.
The gunmen, some wearing military uniforms, then moved through the city, shooting police at checkpoints.
Al-Qaeda has been blamed for the attacks.
According to the Associated Press news agency, an al-Qaeda flag was raised at one of the checkpoints that was hit.
This is the first major incident of violence in Haditha since a suicide bomber targeted a bank in the city in March 2011, killing nine people.
Gunmen's convoy
The gunmen entered the homes of a colonel and a captain in the interior ministry security force, kidnapping them both. The attackers claimed they had warrants for their arrests, Mohammed Fathi, a spokesman for the provincial governor, told AP.
The two commanders were later found shot dead in the street not far from their homes, Haditha police said.
Mr Fathi told AP the gunmen had false arrest warrants for 15 police officials in the city.
The gang, driving interior ministry vehicles and wearing uniforms of the ministry's special forces, then moved through the city in a convoy, which one local lieutenant said was 13 vehicles strong.
The attackers opened fire on the checkpoints they came to. Three of the assailants were also killed in the raids, which are said to have lasted half an hour.
"Al-Qaeda is responsible for this," Maj Tareq Sayeh Hardan, a police spokesman in Haditha, said, adding that al-Qaeda literature had been found in one of the attackers' vehicles.
Haditha lies in the Sunni Arab Anbar province, which became an al-Qaeda stronghold after the US-led invasion of Iraq in 2003.
Violence in the province dwindled after tribal leaders allied themselves with US forces in 2006.
However, attacks have risen across Iraq since US troops withdrew in December.
Last month, at least 55 people were killed and hundreds injured in a day of violence targeting mainly Shia areas across the country.
The violence in Haditha comes ahead of an Arab League summit, due to be held in Baghdad at the end of March.
http://www.bbc.co.uk/news/world-middle-east-17255047
--------
Shooting spree in Iraq kills '21 policemen'
Monday, March 5, 2012
BBC Online
Gunmen have killed at least 21 policemen in pre-dawn attacks on checkpoints in the western Iraqi city of Haditha, officials say.
The attackers, some of them wearing army uniforms, also kidnapped two senior officers from their homes.
Anbar province, where Haditha is situated, was once a stronghold for Sunni militants following the 2003 invasion of Iraq.
Violence dwindled after tribal leaders allied themselves with US-led forces.
http://www.thedailystar.net/newDesign/latest_news.php?nid=36249
--------
26/11: Rana dubs Headley as 'unrepentant terrorist'
Agencies Posted online: Mon Mar 05 2012
Chicago : Pakistani-Canadian Tahawwur Rana has told a US court that his friend David Headley, convicted in 26/11 Mumbai attack, was an "unrepentant terrorist" and he had knowledge of latter's "link" with Lashkar-e-Toiba (LeT).
In his latest submission before a Chicago court, Rana, however, has challenged the Government's assertion that he does not require a fresh trail.
Last year, a grand jury in Chicago had found Rana guilty of providing material support to support LeT and plotting attack on a Danish newspaper along with Headley.
Though he was acquitted on charges of being involved in the 26/11 attacks, an Indian has asked the National Investigating Agency to produce him before it on March 13 to question him on his alleged role in the Mumbai massacre by Pakistan-based LeT terrorists in November 2008 that claimed 166 lives, including six Americans.
"Headley is an unrepentant terrorist who has repeatedly lied to those close to him, to law enforcement, to the government and to the jury," alleged Rana's attorney Patrick Blegen in a submission before the US court on Friday.
Blegen argues that 51-year-old Rana's knowledge of "links" between Pakistani-American Headley and LeT, a designated terrorist outfit, is not enough evidence to prove him guilty and this there is the need of a fresh trial.
However, federal prosecutors have, argued, in their submissions, that the court should proceed with the motion to sentence him on these two counts ¿ providing material support to LeT and plotting attack on a Danish newspaper.
This could result him a maximum of 30 years in prison.
"The evidence presented at trial showed that defendant and Headley performed nearly identical roles with respect to the India and Denmark plots. Headley was tasked by Lashkar with performing surveillance of terrorist targets in both India and Denmark," federal prosecutors said.
http://www.indianexpress.com/story-print/920247/
--------
In Egypt, Indian Foreign Minister makes first contact with Brotherhood
Press Trust of India Posted online: Mon Mar 05 2012
Cairo : External Affairs Minister S M Krishna on Sunday met the Egyptian leadership and established first contacts with the Muslim Brotherhood that is set to dominate the post-Mubarak political landscape of the country.
On a three-day visit to Egypt, the first by a senior Indian leader after last year's revolution, Krishna met the head of current military-led government, Field Marshal Mohamed Hussein Tantawi, Prime Minister Kamal Al Ganzhoury as well as his counterpart Mohamed Kamel Amr.
Krishna thanked Tantawi for the "extraordinary cooperation" extended by Egypt in evacuating more than 3,000 Indians from eastern Libya last year, and the protection extended to major Indian investment projects during the unrest.
However, the most significant meeting was with Mohamed Morsy, the leader of the Muslim Brotherhood's political arm, the Freedom and Justice Party, which has emerged as the largest political party after the first election to the post-Mubarak Egyptian parliament.
With the Brotherhood appearing set to dominate the political landscape of Egypt, Krishna's meeting with its political wing's leader can be seen as part of efforts to achieve a smooth transition in ties with the new dispensation in the country.
http://www.indianexpress.com/story-print/920201/
--------
Suspended IPS officer says, "Ten years on, no justice for Gujarat carnage victims
VIJETHA S. N.
The Hindu
200 victims of the 2002 massacre participate in convention
"It has been 10 years but I do not see any justice for these people. It is a matter of shame for the Gujarat police and the administration. The State is rushing towards fascism and any form of dissent is being crushed…the people in Gujarat have built a wall of silence where nobody speaks because they are too scared of the consequences," suspended IPS officer Sanjiv Bhatt told a convention held here on Sunday to mark the 10 anniversary of the Gujarat riots.
The convention, "10 Years of Resistance," saw the participation of 200 victims of the 2002 carnage along with political leaders, social activists, academics and other people who sympathised with their plight.
Lest we forget, a comprehensive book on the riots by P.G.J. Nampoothiri and Gagan Sethi was released along with And miles to go, an account of what the carnage, 10 years on, means to five Muslim Gujarati working women, followed by a panel discussion. The writers had an uphill task as they wrote the books based only on memories as they had no access to any records or notes.
Mr. Sanjiv Bhatt, who testified against Gujarat Chief Minister Narendra Modi, said: "The development of the State after Mr. Modi took over is talked about," pointing out that Germany was the most industrialised and developed under Hitler. "But nobody talks about the development when they talk about Nazi Germany now. Ravana's Lanka was made of gold but nobody talks about the gold in his kingdom when they talk about Ravana," he argued.
He said justice was an uphill task especially when there was a tyrant who ruled over the people.
Congress general secretary Digvijay Singh said he was concerned about the infiltration of the RSS into the judiciary, civil services and likened their ideology to Nazi Germany. "Gujarat was a laboratory for their ideology and they were successful. Karnataka is next. In fact they would have been a success there too if the corruption issue had not thrown them in the limelight. When I first started talking about the Sangh outfits having bomb training, everybody called me a mad man but they have accepted that now. They have filed some defamation cases against me. I will give answers in court, not to those useless people," he said.
Many speakers spoke about their experiences and their fears for Gujarat after all these years. "When there is a death or some other tragedy in the family, there is no cure for the hurt that follows. But, the incident in Gujarat is more than just the hurt, there was a certain politics that was involved that is dangerous as it is slowly overtaking the nation. It has invaded the judiciary, bureaucracy, the army and police," said CPI (M) leader Brinda Karat.
Film-maker Mahesh Bhatt said people had to get rid of their apathy if communal hatred and violence was ever to be stopped. "We should get rid of the attitude that even if the neighbours are dead, our shops should be safe," he reasoned.
http://www.thehindu.com/news/national/article2961104.ece
--------
Afghan army chief warns against another NATO blunder
Monday, March 05, 2012
* General Karimi says desecration of holy Quran advanced Taliban's cause
* Repeat of incident would be catastrophe
KABUL: The burning of the holy Quran at a NATO base in Afghanistan advanced the Taliban's cause and any repeat of similar "negligence" by Western forces would be disastrous, the Afghan army chief of staff has warned.
The destruction of the holy Quran, which the United States described as unintentional, triggered widespread protests and fatal attacks on US troops by Afghan security forces and heavily strained ties between Kabul and Washington.
"The enemy (Taliban) will enlarge it and make use of it in such a way to instigate everybody," General Sher Mohammad Karimi told Reuters in an interview.
"They took advantage of this incident. They will take advantage."
Karimi, sitting in his office at the heavily guarded Ministry of Defence, lamented NATO's failure to grasp the sensitivities regarding Afghanistan's culture and religion during the United States' longest war, now in its 11th year.
The Afghan general said the United States was not expected to hand over the men to Afghanistan. But he called for a trial and insisted that American military leaders ensure that similar incidents never take place again.
"God forbid if this mistake is repeated there will be a lot of trouble next time."
The Quran burning set back the Western campaign to win the hearts and minds of Afghans in order to weaken Taliban and force it to negotiate an end to the war. Instead, Taliban urged Afghans to kill Westerners.
Violence spread across the country despite an apology from US President Barack Obama - from street demonstrations to Afghan security forces turning their weapons on US soldiers. reuters
http://www.dailytimes.com.pk/default.asp?page=2012\03\05\story_5-3-2012_pg1_4
--------
Hindu girl abduction, 'forced' conversion spark protest in Pak
Agencies Posted online: Fri Mar 02 2012
Lahore : A 19-year-old Hindu girl's abduction and her "forced" conversion to Islam in Pakistan's southern Sindh province triggered a protest by members of various minority communities in front of the Lahore Press Club.
Dozens of members of minority communities joined the protest yesterday to demand action by authorities in the case of Rinkle Kumari, who they alleged was kidnapped by the son of a Parliamentarian from Ghotki district of Sindh.
A large number of relatives of the girl, who belongs to Mirpur Mathelo in Ghotki district, too joined the protest.
They claimed they were getting threats from the kidnappers and influential Muslims of the area.
Rinkle's relatives said they had taken refuge in a gurdwara in Lahore after these threats.
The protesters shouted slogans against the kidnappers and urged the PPP government in Sindh to trace Rinkle, who they said had given a statement in court that she was unwilling to convert to Islam and wanted to live with her parents.
Rinkle's relatives alleged Abdul Haq alias Mian Mitthu, a member of the National Assembly or lower house of Parliament, was backing the kidnappers. They further claimed that Haq had pressurised the local magistrate to give a ruling in favour of the abductors and ignore the written testimony of Rinkle.
The girl's father, Nand Lal, is a teacher at the Government Primary School at Yorlund in Ghotki district.
He told the Daily Times that Mian Aslam, the son of the local Parliamentarian, and his friend Naveed Shah kidnapped his daughter from his house last Friday.
Rinkle had passed the matriculation examination and arrangements had been made for her marriage, he said.
Initially, the police station in Mirpur Mathelo refused to register a case against the kidnappers though an FIR was lodged following a protest by Rinkle's relatives.
Rinkle and one of the alleged kidnappers, Naveed Shah, were produced later before Magistrate Hassan Ali Kalwar.
Rinkle denied that she wanted to convert to Islam and said she wanted to live with her parents but the judge sent her to a women's home and Shah was handed over to police on a one-day remand, Nand Lal said.
Mirpur Mathelo police, which is under "influence" of the Parliamentarian, presented Rinkle before a magistrate on Monday, Nand Lal said. "The magistrate immediately handed over the girl to Haq's men, without asking the parents to appear before the court," he added.
He said a large number of armed men were standing outside the court to bar Rinkle's family from entering the room.
Nand Lal said Haq and his "political and criminal allies" were forcing him to accept the magistrate's decision and had threatened to kill him and his family if he tried to protest.
Nand Lal said these threats had forced him to flee Sindh. "I could not hold a protest there, that is why I am raising my voice here," he said.
http://www.indianexpress.com/story-print/919250/
--------
Malaysian P M says, he appreciates Malaysians' lively political debate
5 March 2012
KUALA LUMPUR: Prime Minister Datuk Seri Najib Tun Razak said he would be happy to argue politics with any reasonable man or woman.
"As a politician in a democratic state, having some people say bad things about me is inevitable. If I can't handle this, then I made the wrong career choice," he said in an entry on his blog on Monday.
"That much I accept. I am happy to argue politics with any reasonable man or woman and appreciate Malaysians' lively political debate.
"However, I do think there is a point where democratic debate ends and is replaced by nothing more than abuse, lies and misrepresentation and those who are serious about our great country's future should try not to cross it," he said.
Najib said that conspiracy theories belonged "in Jason Bourne movies, not in rational political debate. Yet it seems some in our country cannot resist their allure because they absolve their promoters of responsibility for their own failures."
The Prime Minister said that for those who could not win arguments or "get their way", it was easier to complain about a fixed system rather than find a better argument or admit to being mistaken.
Najib said it worried him that many who said they want to lead Malaysia were unable to restrain themselves when engaged in debate.
"For them no story, no claim or outrageous theory, no matter how baseless or fact-free, is off-limits, even if it does massive damage to the country's reputation abroad and our domestic stability," he said.
He said that he could not stress enough the vital importance of that stability for all Malaysians, regardless of background and heritage, adding that it was one of the country's greatest selling points internationally.
"But as diversity is our great strength, it could just as easily turn into a fatal weakness if political leaders opt for provocation over responsibility," he said.
Najib added that several issues had been brought up by opponents of 1Malaysia, and that he would address them at length in his next blog entry. - Bernama
http://thestar.com.my/news/story.asp?file=/2012/3/5/nation/20120305152753&sec=nation
--------
Terrorist leader held from Islamabad
Monday, March 05, 2012
ISLAMABAD: A local leader of the Tehreek-e-Taliban Pakistan (TTP) was held on Sunday, involved in attacks on security forces, officials said. According to police, Abdul Zareen alias Shah Gee, was captured by security troops from Bara Koh, a suburb area of the capital, on a tip-off. The terrorist leader was said to be involved in carrying out attacks against Pakistan Army troops and Frontier Constabulary forces in Bajaur Agency. online
http://www.dailytimes.com.pk/default.asp?page=2012\03\05\story_5-3-2012_pg7_8
--------
Syrian army shells rebels, Red Cross aids refugees
Monday, March 05, 2012
* Three civilians killed as artillery gunners pound rebel-held city of Rastan
* China calls for talks, opposes foreign interference
DAMASCUS: Syrian artillery gunners pounded the mainly rebel-held city of Rastan on Sunday, monitors said, as the Red Cross began delivering aid to refugees from the battered Baba Amr district of nearby Homs.
The aid distribution came as relief agencies waited for a third straight day for the go-ahead to enter Baba Amr, where hundreds of people are reported to have been killed and even more wounded in an almost month-long shelling blitz.
China, which along with Russia has twice vetoed UN Security Council resolutions condemning Damascus, urged government and rebels to end the violence and start talks, but reiterated its opposition to foreign military intervention.
"We oppose anyone interfering in Syria's internal affairs under the pretext of 'humanitarian' issues', said a Foreign Ministry statement carried by Xinhua news agency.
Russian Foreign Minister Sergei Lavrov will join Arab counterparts at a meeting in Cairo this month to discuss the Syrian crisis, the Arab League said on Sunday, a move that could indicate Moscow is shifting its stance on the issue.
"Since dawn, the positions of deserters in the north of Rastan have been subject to intensive shelling," the Britain-based observatory head, Rami Abdel Rahman, told AFP.
The rebel fighters on February 5 declared Rastan to be 'liberated' from Syrian President Bashar al-Assad's control, but since Homs was overrun by regime forces on Thursday, the deserters have been bracing for an onslaught on Rastan and on Qusayr, also near Homs.
Rastan is a strategic city as, like Homs, it falls on the main road linking Damascus with northern Syria. The observatory had on Friday reported 12 civilians, including five children, killed when a rocket slammed into a crowd of protesters in Rastan.
AFP was not immediately able to verify the observatory's reports due to restrictions on foreign journalists in Syria.
The rebels fled the Baba Amr section of Homs on Thursday in the face of a ground assault by regime forces following a shelling blitz since early February that the US-based Human Rights Watch (HRW) said had killed some 700 people.
The Syrian authorities has been condemned by the international community for barring Red Cross convoys from entering Baba Amr to evacuate the wounded and deliver relief supplies.
The International Committee of the Red Cross (ICRC) said it delivered relief supplies on Sunday to refugees from Baba Amr in a nearby village of central Syria.
"We have started to distribute humanitarian aid in Abel village, three kilometres from Baba Amr," ICRC spokesman Saleh Dabbakeh told AFP.
"Many refugees from Baba Amr are in Abel," he said, adding they were being supplied with food products and blankets.
Dabbakeh said a similar operation would take place in Inshaat, another district of Homs, while the ICRC and the Syrian Arab Red Crescent Society awaited the go-ahead from authorities to enter Baba Amr itself. afp
http://www.dailytimes.com.pk/default.asp?page=2012\03\05\story_5-3-2012_pg7_2
--------
Some aid reaches Homs as Syrians flee to border
By REUTERS
Published: Mar 4, 2012
BEIRUT: The Red Cross delivered emergency aid to areas around the battered Baba Amro district of the Syrian city of Homs yesterday, but was blocked for a third day from entering the former rebel bastion amid reports of bloody reprisals by state forces.
Activists reported shelling and other violence across Syria, sending one of the biggest surges of refugees across the border into Lebanon in a single day since a revolt against President Bashar Assad began a year ago.
Concerns mounted for civilians stranded in Baba Amro in freezing weather with little food, fuel or medicine after weeks in a state of siege and under near-constant shelling by Syrian forces intent on crushing the uprising.
"We have the green light, we hope to enter, we hope today is the day," said the International Committee of the Red Cross' Damascus-based spokesman Saleh Dabbakeh. "We are very concerned about the people in Baba Amro."
The ICRC said it had been prevented from entering Baba Amro by Syrian forces despite receiving government permission, a move activists said was to hide "massacres" by the Syrian army.
UN Secretary-General Ban Ki-moon said on Friday he had received "grisly reports" that troops were executing and torturing people in Homs after insurgents abandoned their positions.
Aid workers began delivering supplies to areas near Baba Amro where people had fled, the ICRC said.
"It is a positive step. But we want to enter Baba Amro today," ICRC spokesman Hicham Hassan said in Geneva.
The United Nations' refugee agency said up to 2,000 Syrians had fled the fighting for neighboring Lebanon.
"We had similar numbers in April 2011, but the flow of new arrivals had stabilized since then," United Nations refugee agency spokeswoman Dana Sleiman said.
Refugees told Reuters of army shelling and gunfire on border towns. One woman said she and her family had fled the village of Jusiyah, near Qusair, some 12 km from the border.
The outside world has proved powerless to halt the killing in Syria, where repression of initially peaceful pro-democracy protests sparked an insurrection by army deserters and others.
Syrian state TV showed the gory corpses of anti-Assad fighters killed in clashes in the suburbs of the city of Hama, as well as an array of captured weapons.
In a sign of mounting chaos, one activist reported that the Syrian army had raided a girls school in Daraya, near Damascus, beating students for holding an anti-Assad protest and threatening to open fire on similar demonstrations in future.
In a house in the Douma suburb of Damascus, the activist said by Skype that the Syrian Army had killed two defectors and seven other people who had been harboring them. Other activists reported government raids in Hama in which one young man was shot dead, and heavy shelling in the town of Rastan, north of Homs, where rebels have been hiding.
"Residents told me that shelling started early this morning shortly after helicopters and spotter planes were seen above the town," said Rami Abdelrahman, head of the Britain-based Syrian Observatory for Human Rights.
Clashes between Free Syrian Army defectors and Syrian troops were reported in Jebel Al-Zawiya in Syria's north, and activists said government forces had used tear gas to end an anti-Assad protest of around 1,000 people in the northern city of Aleppo. Abdelrahamn also reported an attack on a Syrian Army weapons depot by rebels near Homs on Saturday, killing and wounding up to 50 Syrian troops.
The UN says Syrian security forces have killed more than 7,500 civilians since the revolt against the Assad family's four-decade rule began in March last year.
Lebanon deployed more troops to its northern border in response to the violence in Syrian towns nearby, a Reuters witness said, part of a conflict that risks dragging in regional powers with rival sectarian interests.
In the Lebanese capital, Beirut, hundreds of soldiers and scores of military trucks and jeeps blocked off the city center during protests for and against Assad.
Former Syrian ally Turkey said Assad was guilty of "war crimes" while China said it was "deeply worrying that the situation in Syria remains grave."
China, which along with Russia has twice vetoed UN Security Council resolutions condemning Damascus, urged government and rebels to end the violence and start talks, but reiterated its opposition to foreign military intervention.
"We oppose anyone interfering in Syria's internal affairs under the pretext of 'humanitarian' issues," said a Foreign Ministry statement.
Russian Foreign Minister Sergei Lavrov will join Arab counterparts at a meeting in Cairo this month to discuss the Syrian crisis, the Arab League said on Sunday, a move that could indicate Moscow is shifting its stance on the issue.
http://arabnews.com/middleeast/article583133.ece
--------
Senior US senator calls for arming Syria rebels
By REUTERS
Published: Mar 4, 2012
WASHINGTON: A senior Republican US senator on Sunday called for arming Syria's rebels through the Arab League and suggested the imposition of "no drive" and "no fly" zones against Syrian military forces targeting the opposition.
Senator Lindsey Graham, an influential Republican voice on international policy, also said he was joining with Democratic Senator Richard Blumenthal to push a Senate resolution calling on the United Nations to declare Syrian President Bashar Assad a war criminal.
Both senators are members of the Senate Armed Services Committee.
"We need more international pressure," Graham told the program "Fox News Sunday." "We need to help the rebels militarily, economically, and let Assad know that he is an international outlaw and be held accountable."
"I think the Arab League would be a good vehicle to provide military assistance to the opposition forces and we should consider that. We should consider (a) 'no drive, no fly' zone, too, pretty quickly," Graham added.
Such zones in the past have been used to limit the movements of air and ground forces in a given country.
US officials have stressed they do not want to play a military role in Syria. In an 11-month crackdown on protests against Assad's rule, Syrian troops and tanks have attacked opposition strongholds, killing thousands of people.
Graham suggested that the international community should use a similar approach to support Syria's opposition as was used by NATO in buttressing the rebels who eventually toppled Libyan leader Muammar Qaddafi last year.
"I think the Libyan model could serve us well," Graham said, although he did not lay out specifics for a US role.
President Barack Obama, facing re-election in November, has steered away from deeper involvement in Syria. Western powers are opposed to military intervention and struggle to step up support to the Syrian opposition because of concerns over sectarian divisions.
Blumenthal, speaking on the same program, also pointed to last year's Libya intervention as how to deal with Syria.
Referring to the US Congress, Blumenthal said, "There is very strong support for the kinds of initiatives that we saw in Libya. And Libya is a model for how we can aid rebels."
"But let me emphasize ... no American troops — none. No American troops on the ground, in direct aid, that will bolster that opposition," Blumenthal added.
At a gathering of foreign ministers from more than 50 countries in Tunis on Feb. 24, US Secretary of State Hillary Clinton warned Assad and his backers inside Syria and abroad that they will be held to account for the crackdown on opponents and a humanitarian catastrophe in his country.
There also has been little international appetite for military intervention in Syria.
Blumenthal said Clinton was doing a very good job of bringing together the world community, including the Arab League, in support of aid to Syria's opposition.
"That aid can be technical assistance, communications equipments, humanitarian aid, financial support, and, if possible, arms that would go indirectly. There are means to do it. But it should be under the auspices of the international community, as Secretary Clinton is endeavoring to do," Blumenthal said.
http://arabnews.com/world/article583204.ece
--------
Boko Haram is anti-Islam -MSSN
Friday, 02 March 2012
The activities of Boko Haram have been described as anti-Islam because they are opposed to the tenets of Islam such as peaceful co-existence, respect for the rights of others and opposition to suicide.
Addressing the 2012 Muslim Students' Society of Nigeria (MSSN) Day of the Alimoso Senior Grammar School, Alimoso, Lagos State, a member of the Egbeda Usral Area Council Unit of the society, Brother Ismail Toba, declared that Islam is a peaceful religion which eschews deliberate attack on defenceless people as being practised by the members of the sect.
He said Islam did not advocate all out war except in cases where Muslims were attacked, saying that the religion forbids cutting down of economic trees, killing women, old people and infants during wars.
He also declared that Islam as a religion recognises the right of adherent of other religions to practice their faiths, citing Suratul Kafir in the Quran as example
He, therefore, charged Muslims to use the beauty of the religion to attract practitioners of other faiths to Islam.
Speaking, the Principal of the school, Mrs Eunice Olatunji, praised the society for its peaceful conduct.
She implored them to be dedicated to their studies.
http://tribune.com.ng/index.php/islamic-news/36908-boko-haram-is-anti-islam-mssn
--------
Muslim Rights Concern warns against Boko Haram's incursion in South West
Friday, 02 March 2012
The Muslim Rights Concern (MURIC) has warned against the spread of Boko Haram's activities to the South West.
MURIC's director, Dr Is-haq Akintola, in a statement in Lagos, noted that the region was peaceful and there was religious tolerance because of the inter-marriages between the Muslims and the Christians.
However, he said that the situation was delicate as there were misgivings here and there.
He explained that there was cut-throat competition among religionists, saying that there were religious skirmishes in some places in the region.
According to him, the most recent was the hijab saga in Iwo, Osun State, where Muslim students and parents demonstrated over the alleged unjust treatment meted out to Muslim female pupils in public schools.
Akintola said that governments in the region should seek to sustain the peaceful atmosphere by looking at the grievances of the Muslims.
He listed some of the issues in contention to include the refusal to allow Muslim female pupils to use hijab in public schools, disallowing female Muslim bankers and nurses from using same, failure to crate an enabling environment for Muslim pupils to learn their religion (IRK), the need to stop the current practice of forcing Muslim children to study Bible and the refusal of some state governments in the region to allow Muslims to use the civil Sharia in matters affecting their personal lives.
http://tribune.com.ng/index.php/islamic-news/36907-muric-warns-against-boko-harams-incursion-in-swest
--------
Pak: Nawaz, Shujaat ask each other to apologise for supporting dictators
Zulqernain Tahir
LAHORE: PML-N president Nawaz Sharif has said his party is ready to shake hands with the Chaudhrys of Gujrat if they apologise to the nation for having supported dictatorship and pledge never to do it again.
"We will welcome the Chaudhry brothers (Shujaat Hussain and Pervaiz Elahi) if they promise not to support dictatorship in future, besides apologising to the nation (for supporting Gen Musharraf)," Mr Sharif said while responding to a question at a press conference at his Raiwind residence where PML-Q's former MNA Marvi Memon joined the PML-N.
"Even today some politicians are pursuing the politics of the establishment," he said in an obvious reference to people who have joined Imran Khan's Pakistan Tehrik-i-Insaaf.
The PML-N also asked the Chaudhry brothers to part ways with the PPP government and pave the way for a 'new coalition' to replace Prime Minister Yousuf Raza Gilani.
"Apart from Nawaz Sharif's offer, if the PML-Q quits the PPP-led coalition government we can form a new coalition to replace the existing set-up. And the new prime minister will certainly write a letter to the Swiss authorities to reopen cases against President Asif Ali Zardari," PML-N Senator Pervaiz Rashid said.
Talking to Dawn, Mr Rashid said that besides tendering 'apology' the politicians who had supported dictatorships in the past would also have to pledge that they would never do it again.
To a question about PML-Functional leader Makhdoom Ahmad Mehmood's efforts to bridge the divide between the Sharifs and the Chaudhrys in view of the changing political scenario, Mr Rashid said: "Mr Mehmood's efforts will only bear fruit if they (Chaudhrys) accept our offer."
Responding to the PML-N's demand, PML-Q chief Chaudhry Shujaat Hussain hit back at Mr Sharif and said he himself should apologise to the nation for the 'sin' he had committed 25 years ago by inviting a dictator (Gen Ziaul Haq) to the Punjab Assembly to address legislators. "Nawaz Sharif should better first seek apology (from the nation) then demand the same from us," he said, adding that the PML-Q could not join hands with the PML-N 'only for the sake of power'.
But Chaudhry Shujaat added: "There is neither any point of no return nor a last word in politics."
MPA Moonis Elahi, son of former chief minister Pervaiz Elahi, told Dawn that the PML-N leadership had in fact ditched the PML after striking a 'deal' (exile to Saudi Arabia) with Gen Musharraf. The PML-Q, he said, had been asked to quit the PPP government as a condition for an alliance with the PML-N. "But unless the Sharifs apologise for having betrayed the PML and promise that they will not do it again there is no point in starting parleys to explore the possibility of PML's merger," Moonis Elahi said.
http://www.dawn.com/2012/03/05/nawaz-shujaat-ask-each-other-to-apologise-for-supporting-dictators.html
--------
People affiliated with PPP will never surrender: Gilani
LAHORE: The Prime Minister of Pakistan, Yousuf Raza Gilani on Sunday said that the People's Party did not come into the government with anyone's help and nor will it pack up on anyone's demand. He said that those hoping for the downfall of this government will not achieve anything, DawnNews reported.
Gilani was talking to the media in Muzaffargarh, where he stated that PPP was the name of a movement that had given immense sacrifices. He said that the people affiliated with the Pakistan Peoples Party will never sell-out nor surrender.
While inaugurating the Benazir Basti town, Gilani said that he felt immense happiness at this occasion because this area had been devastated by the floods and now once again people can be rehabilitated.
Speaking on the Seraiki province issue, the prime minister said that the Seraiki people do not want an administrative unit and giving them their own province was of highest priority.
Gilani said Mian Nawaz Sharif had recently given a statement in which he proposed new administrative units in the country.
"But we reject this offer," he added.
He said Saraiki people are sober, kind-hearted and have a sweet language but it does not mean they do not know what they want.
"They do not compromise on principles. They hold their ground like I do whenever any problem arises," he added.
He said separate province was the demand of the people of the South Punjab, a backward area, which lacks progress and there is a sense of deprivation.
http://www.dawn.com/2012/03/04/people-affiliated-with-ppp-will-never-surrender-gilani.html
--------
Arms recovered, seven held in Gilgit
GILGIT, March 4: Punjab Rangers and Gilgit-Baltistan Scouts on Sunday recovered live rockets, light machine guns and other arms from two separate points of the city and arrested seven suspects. Separately, a scouts man and two civilians were injured in a firing incident, senior administration officials said.
"GB Scouts raided a suspected house in Yadgar Mohallah and took into custody eight live rockets while in Amphary Punjab Rangers recovered two light machine guns, four SMGs, 3 pistols and 900 bullets," informed Home Secretary Sajid Chohan at a press briefing in GB Scouts headquarters.
He said three people were arrested from the Yadgar Mohallah and four from Amphary, who were being interrogated.
Mr Chohan pledged strict action against the anti-state elements and sought cooperation of the public to combat such forces.
He appreciated media and said it helped counter various negative rumours and said now onward for the sake of clarity briefings for media would be held on regular basis.
On the other hand, two civilians and a scouts man, who got injured in firing in Basin were shifted to hospital. The firing incident led to closure of markets in the city.
http://www.dawn.com/2012/03/05/arms-recovered-seven-held-in-gilgit.html
--------
Pak CJ urged to help recover 'kidnapped' Hindu girl
KARACHI, March 4: An alliance of minority parties on Sunday appealed to Chief Justice of Pakistan Iftikhar Mohammad Chaudhry to take a suo motu notice of the kidnapping of a Hindu girl and order her immediate return to her parents to restore the waning sense of security in the minorities.
Speaking at a protest demonstration staged outside the Karachi Press Club, Pakistan Minority Leaders Alliance representatives said they would launch a protest movement and stage a sit-in on March 10 if the authorities failed to recover the girl, Rinkle Kumari.
According to an uncle of the girl, Raj Kumar, she was kidnapped from her house in Mirpur Mathelo over a week ago and forced to marry Naveed Shah and change her religion. He alleged that the case was heard by a civil judge in Ghotki, but he did not allow her relatives to enter the courtroom while giving a verdict in favour of the 'kidnapper', Mr Shah.
Speaking on the occasion, Jeay Sindh Mahaz chief Riaz Chandio expressed solidarity with the minority community members and demanded arrest of and punishment to culprits involved in her kidnapping.
He said those belonging to religious minority groups, including Hindus, Christians and Sikhs, were sons of the soil. They should not feel threatened by such acts, as all Sindhis were one and that they were equal citizens and had equal rights, he said.
He said it was unfortunate that the girl was given in police custody instead of being sent to Darul Aman.
Mr Chandio announced that if "the daughter of Sindh" was not rescued and returned and culprits were not arrested soon and punished according to law, a province-wide sit-it would be staged on Saturday.
Manohar Lal, Muttahida Qaumi Movement lawmaker in the national assembly, condemned the kidnapping and forced conversion of a young girl. He urged the president to take notice of the incident.
He said Islam guaranteed protection to minorities, but such people were giving a bad name to the religion. With such incidents, a sense of insecurity was growing in the community, he said. Earlier their sons were kidnapped for ransom, but now their daughters were being kidnapped and forcibly converted, he remarked.
Jeay Sindh Taraqi Pasand Party leader Gulzar Soomro said that forced conversions were a conspiracy against Islam, which preaches love and peace and opposes use of force. He said the culprits were agents of the establishment that wanted to divide the Sindhis.
"Our patience should not be mistaken as our weakness," he warned, seeking her immediate recovery.
A Pakistan Tehreek-i-Insaf leader and former lawmaker, Michael Javed, said the Quaid-i-Azam had said that the minorities would be equal citizens in Pakistan, but over the years the Quaid's message was being forgotten.
Amar Lal, a community leader, said he and the girl's uncle had met US consulate general staff a few days back and political counsellor Junaid J. Muneer had assured him that the issue would be taken up with the authorities concerned. He said he had also received a call from a former political counsellor of the US embassy in Islamabad, L.K. Robinson, who was currently in Washington. He told him that he would take up the issue with human rights organisations there.
Mahesh Singh, Mangla Sharma, Ramesh Kumar, Vijay Kumar and others also spoke.
Raj Kumar, the girl's uncle, earlier informed the gathering that on Feb 24, a few armed men barged into her home in Mirpur Mathelo and kidnapped her at gunpoint.
He said a case was filed in a Ghotki court where he said she gave a statement about the threats she had received to convert and marry Naveed Shah or she and her entire family would be killed. He quoted her as saying in the court that she wanted to return and live with her parents.
He also alleged that the judge, in the presence of gunmen in the court, sent her to police custody rather than to her parents' home or to a shelter home. The next hearing was scheduled to be held at 11am on Feb 27, but the case was heard at 8.15am and the girl's family was not allowed to enter the courtroom, he said, adding that the judge then gave a verdict in favour of Mr Shah.
Mr Kumar urged the chief justice to take a suo motu notice of the issue and order her safe return to her parents.
Earlier, the participants in the demonstration chanted slogans such as 'we want justice' and 'Rinkle be rescued'.
http://www.dawn.com/2012/03/05/cj-urged-to-help-recover-kidnapped-hindu-girl.html
--------
Greater GCC integration to play key role in economic arena
By ROBERTA FEDELE | ARAB NEWS STAFF
Published: Mar 5, 2012
JEDDAH: "Gulf Cooperation Council (GCC) Consolidation: Analyzing the economics of greater GCC integration" was the theme accompanying yesterday's afternoon session of the 2012 Jeddah Economic Forum (JEF).
Chief Economist of Dubai International Financial Centre Authority Nasser Saidi, chairman of Zamil Group Holding Company Abdulrahman Al-Zamil and Chairman of the Gulf Research Center Abdulaziz Sager tried to analyze and give their opinion on the necessary steps to achieve further integration between GCC countries and play a more effective role within the political and economical international arena.
The build up of transport links and infrastructures, financial markets integration, monetary union along with the foundation of a central bank and finally the prospect of a political union were identified as the main ingredients necessary to win the challenge of acquiring more voice in international affairs.
Saidi made relevant considerations regarding the need for GCC countries to give birth to a GCC central bank with various branches in the region, diversify their economies investing in research, renewable energies and nanotechnologies and adapt to the new direction of the world's economy. He also highlighted the Gulf's important role within the wider context of the region's fast changing political scenario.
"The Gulf has the necessary stability and capital resources to bring stability and integration among all Arab countries that are undergoing significant political changes and become a central actor within the international arena. A lighter and more effective bureaucracy, intra-trade and transport system development, vision and leadership are however essential to reach the goal," explained Saidi.
"First of all we should reconsider our foreign trade and link our currencies to Eastern countries and particularly China that are the new protagonists of the world's economy and give us less political restraints in comparison to the US. Diversifying our energy sources and investing in solar energy and research is also an imperative. A report from Saudi Aramco says that by 2035 Saudi Arabia risks to have no more oil to export," he added.
According to Saidi, incentives to the private sector are also essential to generate labor force that can contribute to the diversification of the economy much more than employments in governmental institutions.
Saidi's final suggestion on how to better invest in health, infrastructure, transport and education - key elements to build up concrete links and cooperation policies between the GCC countries - is the foundation of a Reconstruction and Development Bank, an institution that already exists in other regions including Asia, Europe and America.
Al-Zamil focused his intervention on two key issues: The Saudization of the Kingdom's labor force and the ongoing opportunities made possible by the present and future availability of natural energy resources in the country.
As concerns the first point, Al-Zamil stated that Saudi Arabia and in general GCC countries (he quoted specifically UAE and Kuwait) are excessively relying on foreign workers. Particularly when it comes to low-qualified labor force the Kingdom should not depend almost solely upon workers coming from abroad, as it is the case today.
Moreover, women are particularly under-represented in the work force, depriving the economic system of a fundamental asset for its competitiveness and growth potential.
As regards the issue of the future development of the main economic sectors in the Kingdom, Al-Zamil, in countertrend with most opinions, did not push for the diversification of Saudi Arabia's productive base away from over-dependence on the oil and gas sector. On the contrary, he stated, the future of Saudi Arabia will continue to be energy, and notably petrochemicals, because of its comparative advantage in this sector.
Sager's position is that the success of the Gulf Cooperation Council experience is beyond doubt, however there is still room for improvement in may areas.
The obstacles to further integration can be overcome easing bureaucratic barriers, strengthening economic and political coordination, and moving toward economic and monetary integration.
On these issues, answering a survey on "which area will the GCC mostly benefit from coordinating further," the audience showed a preference for "joint investment and infrastructure ventures" (74 percent), followed by the "single currency and central bank" (16 percent) and at last "GCC wide visas and residence permits" (10 percent).
Another question to the audience - "which regional block the GCC countries should follow?" - showed a clear preference for the EU (43 percent), followed by ASEAN - (Association of Southeast Asian Nations - (33 percent), APEC - Asia-Pacific Economic Cooperation and NAFTA - North American Free Trade Agreement (11 percent).
http://arabnews.com/economy/article583146.ece
--------
Gulf union won't affect any state's sovereignty: Riyadh
By ARAB NEWS
Published: Mar 5, 2012
RIYADH: Foreign Minister Prince Saud Al-Faisal yesterday highlighted the importance of transforming the six-member Gulf Cooperation Council into a powerful union and pointed out that the move would not affect the sovereignty of any member country.
Addressing a meeting of GCC foreign ministers here, Prince Saud said Custodian of the Two Holy Mosques King Abdullah proposed the GCC union project during the last summit considering its significance in order to confront growing challenges.
"The union will not affect the sovereignty of any member country... and will not be used as a medium to interfere in their internal affairs. It aims at formulating effective bodies enjoying flexibility and speed and the ability to execute policies and programs," he said.
He said the new union would strengthen GCC cooperation in political, security, military and economic affairs. He stressed the need to remove all obstacles that stand in the way of greater GCC integration.
Prince Saud noted the important role played by GCC countries in dealing with new developments in the Arab world. He said a new government came to power in Sanaa as a result of the GCC initiative.
He urged Arab countries to avoid plunging into internal conflicts. "We should understand the hopes and aspirations of people to live with honor and freedom and keep away from applying oppressive policies," he added.
http://arabnews.com/saudiarabia/article583199.ece
--------
Saudia looking for Indian pilots
By JEDDAH: ARAB NEWS
Published: Mar 5, 2012
Saudi Arabian Airlines Company (Saudia) placed an ad in a leading Indian newspaper looking for pilots to employ, Assistant Director General of the airlines Abdullah bin Mushabab Al-Ajhar said.
"We are looking for 120 pilots from India and other Asian countries to employ with monthly salaries ranging between SR30,000 and SR37,000 in addition to a number of fringe benefits, including accommodation," he told local newspapers yesterday.
Al-Ajhar said the captains would be piloting various types of aircraft including Airbus 320, Boeing 777, Embraer aircraft and cargo planes.
An experience of less than 20 years would be requested as well as flying hours ranging between 2,000 and 3,000. "We are only looking for captains, not assistant captains. Applicants should not be less than 30 years of age and not more than 53," he explained. The age of retirement would be 63.
Interviews will be held in Mumbai during the period of March 6-9.
Meanwhile, Saudia has increased the frequency of its flights from Jeddah and Riyadh to Madinah. It will operate 116 flights weekly between Jeddah and Madinah and 98 flights between Riyadh and Madinah.
The move is part of the fourth restructuring program for domestic flights after the airline received a number of new Airbus and Boeing aircraft to strengthen its domestic and international fleet.
"Saudia began restructuring of its flights between Madinah, Riyadh and Jeddah last Thursday by offering more seats to accommodate the increasing number of passengers," said Al-Ajhar.
As per the new plan, Saudi Arabian Airlines will operate seven flights daily between Riyadh and Madinah, offering 13,872 seats against 10,533 seats before, with an increase of 3,339 seats weekly.
The national carrier's first flight from Madinah to Riyadh will take off at 8.45 a.m. to continue its departures every three hours until 11.45 p.m. The seventh flight will be at 4.15 a.m. The first flight from Riyadh to Madinah will start at 6.30 a.m. and the last flight will be at 2 a.m.
Al-Ajhar said there would be eight flights daily from Madinah to Jeddah. The first two flights would take off at 8.10 a.m. and 11.10 a.m. while the remaining flights of the day will be after every two hours from 4.10 p.m. There will be nine flights on Tuesdays and Thursdays including one at 2.10 pm.
From Jeddah to Madinah there will be two daily flights at 6.30 and 9.30 a.m, followed by flights after every two hours from 2.30 p.m. On Tuesdays and Thursdays, there will be a flight at 12.30 p.m.
http://arabnews.com/saudiarabia/article583154.ece
--------
Saudi Shoura OKs cyber crime convention
RIYADH: MD RASOOLDEEN, ARAB NEWS STAFF
Mar 5, 2012
The Shoura Council approved the Arab Convention to combat information technology crimes and the Arab Convention for the anti-money laundering and financing of terrorism.
At its tenth regular session held yesterday under the chairmanship of Abdullah Al-Asheikh, the council also approved a draft memorandum of understanding (MoU) between the Ministry of Health and the Ministry of Health and Social Affairs of Sweden.
Shoura Council Secretary-General Muhammed Al-Ghamdi said the conventions are part of the Arab League's efforts to fight cyber crimes and prevent money laundering and terror financing in Arab countries. These efforts would contribute to peace and stability in the region.
The secretary-general said the council's committee on Security Affairs submitted the proposal and it was passed unanimously at the session.
Al-Ghamdi said the Ministry of Health would cooperate with its Swedish counterpart to form a technical committee and implement the areas of cooperation stipulated in the MoU. These include research, training of manpower, exchange of expertise and the improvement of health services in the two countries.
The annual report of the Saudi Commission for Tourism and Antiquities (SCTA) was tabled during the session.
A six-member delegation from the Shoura Council headed by Al-Asheikh will leave for Kuwait to take part in the 18th conference of the Arab Inter-Parliamentary Union (AIPU), which will begin today.
Speakers of parliaments from 18 Arab countries will participate. The agenda of the conference includes elections of a chairman and a vice chairman. The participating delegates will discuss the chairman's report on the union's activities and the progress made by the AIPU executive committee since the last conference. They will review the secretary-general's report on the current state of affairs of the union.
The conference will also review a study of the Arab Labor Organization (ALO) on job seekers in the Arab World and the role of parliamentarians in their efforts to solve the unemployment problem.
http://arabnews.com/saudiarabia/article583148.ece
--------
Saudi Ports signs SR500m contracts
By ARAB NEWS
Published: Mar 5, 2012
JEDDAH: Abdul Aziz Al-Tuwaijri, president of Saudi Ports Authority, on Sunday signed a number of contracts for the development and maintenance of ports at a cost of SR500 million. The signing ceremony was attended by Transport Minister Jabara Al-Seraisry.
Among these contracts, three are for King Abdul Aziz Port in Dammam where two wharfs will be established to handle bulk goods at a cost of SR170 million. The contract was won by Huta Hegerfeld Saudia, an official SPA statement said.
An SR53 million contract has been signed with Al-Balagha Trading Group to rent King Fahd Shipyard at the port for 10 years. "This contract will help King Abdul Aziz Port to attract more shipping lines," the SPA said. The third contract worth SR94 million is to carry out cleaning and maintenance of the port for three years.
Two contracts were signed for King Fahd Industrial Port in Yanbu where a new wharf will be constructed at a cost of SR129 million for Yasref refining company to export petroleum products. China Harbor Engineering Co. won the contract.
The second contract worth SR33 million to build a 109-meter high marine tower was received by Advanced Contracting. The tower, which is designed to house administrative offices and operation room will improve the level of marine safety at the port.
The Jazan Port received an SR60 million contract to develop its electricity power network and the project will be carried out by Ibn Omaira Establishment.
Two wharfs will be constructed at Dhuba Port at a cost of SR24 million by Marine Service Projects Co. An asphalting and lighting project will be implemented at the port by Saudi Al-Tarees for Trade, Industry and Contracting at a cost of SR19 million.
Speaking to reporters after the signing ceremony, Al-Seraisry thanked Custodian of the Two Holy Mosques King Abdullah for his support for the development of seaports. He disclosed plans to link the Kingdom's seaports with a railway system.
In his statement, Al-Tuwaijri said a number of projects worth SR4 billion are being implemented at seaports in various parts of the Kingdom. "In addition, new projects valued at SR1 billion approved by the current budget will be implemented shortly."
http://arabnews.com/economy/article583191.ece
--------
Hindu protesters disrupt bin Laden movie in India
NEW DELHI: Right-wing Hindu activists on Friday disrupted shooting for Oscar-winner Kathryn Bigelow's movie on the hunt for Osama bin Laden, protesting at the use of Indian locations to portray Pakistan.
Members of the hardline Vishwa Hindu Parishad (VHP) stormed the set in Chandigarh -- the northern Indian city famously designed by Swiss-French architect Le Corbusier -- where Bigelow's crew had been shooting for four days.
The location was a Chandigarh market, which the production company had transformed with shopboard signs in Urdu, autorickshaws with Lahore number plates and burqa-clad extras.
"They removed signs that had been put up in Urdu and also pushed and abused the camera crew. They raised slogans against Pakistan and forcibly removed some Pakistani flags," a local police officer told AFP by telephone.
"We don't want Pakistani flags on Indian soil and we don't agree that Indian markets should look like Pakistan," said Punjab VHP secretary Ramkrishna Srivastava.
Under the working title "Zero Dark Thirty," Bigelow's latest film recounts the hunt for bin Laden, which ended when US special forces raided his hideout in the Pakistani garrison town of Abbottabad last May, killing the Al-Qaeda leader.
With filming in Pakistan not an option, there has been intense media speculation about what locations might be chosen by Bigelow, who won the 2010 Oscar for Best Director for "The Hurt Locker".
Indian newspaper reports had suggested she might look to recreate the recently demolished three-storey bin Laden hideout in the desert state of Rajasthan.
The Indian line production company involved in the film, said the shooting in Chandigarh was simply aimed at collecting "establishing" shots with a Pakistani feel.
"No real sets have been built at all. The actual recreation of Abbottabad will not even be in India. It's being done in Jordan," said a member of the company who declined to be identified.
He said talks had been held with the Hindu protestors to try to defuse the situation.
"We explained that there's nothing here against Hinduism, nothing against Pakistan. It's just a movie," he said.
"Nothing has been shut down. We are still filming and will continue to do so," he added.
Local VHP leader Vijay Bhardwaj said the crew had agreed to stop using Pakistani flags on the set.
The film is scheduled to be released at the end of 2012. (AFP)
http://www.thenews.com.pk/article-37949-India:-Hindu-protesters-disrupt-OBL-film
URL: https://newageislam.com/islamic-world-news/british,-italian-war-graves-desecrated/d/6790