New Age Islam News Bureau
11 June 2022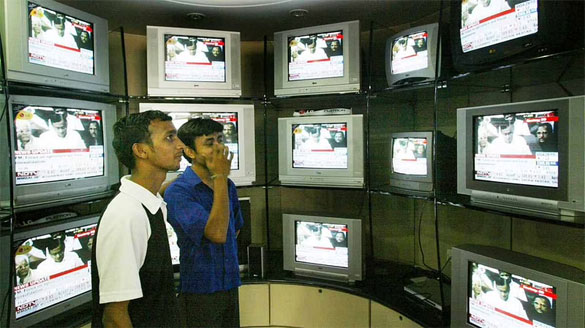 People watch TV at a store in New Delhi | Representational image | Amit Bhargava| Bloomberg
----
• 70 Percent of British Muslims Report Anti-Muslim Behaviour in Workplace: Savanta ComRes Report
• Pakistan's Impending Deal with Tehreek-e-Taliban Makes Lawmakers Furious
• Protests in Bangladesh over Anti-Islamic Comments in India Urge Muslim-Majority Nations to Cut Off Diplomatic Ties and Boycott Its Products
• Push Islamic Economics as Global Recovery Solution at G20: Indonesian VP
India
• 'If Prophet Muhammad Was Alive Today, He Would Have Been Shocked To See the Madness of the 'Muslim Fanatics' Around The World ': Taslima Nasreen
• 'Hate Politics Can't Go On': Muslim Bodies in Punjab Protest against Nupur Sharma's Remarks
• Violence over Prophet Remark: Two Dead in Ranchi
• Muslims Hold Protests outside Mosques in Several Parts of India
• Shops close in Kashmir as Muslim traders protest Indian ruling party
• Prophet remarks row: Clashes break out in Bengal, Gujarat as Muslim community demands action against Nupur Sharma
• Prophet remarks row: Muslims protest across Maharashtra to demand action against Nupur Sharma, Naveen Jindal
• Lucknow clerics urge Muslims to stay away from protests
• Man Walking On Foot to Mecca Gets Rousing Reception in Mangaluru
• Jama Masjid Shahi Imam distances self from protest over Prophet row, seeks action against violators
• India goes with Pakistan & Libya, abstains from vote on IAEA resolution slamming Iran
--------
Europe
• Mosque Security Funding: Crumbs That Don't Stop Islamophobia
• Over 800 mosques attacked in Germany since 2014: Rights group
• Paris prosecutor requests life sentence for main suspect in 2015 terror attacks
• Israeli settler group's attempts to seize Jerusalem Christian properties must stop: EU
• Sweden hopes for progress on NATO bid with constructive approach on Türkiye's concerns
--------
Pakistan
• Imran Khan criticises Pak-American visiting Israel reveals his 'double standards'
• Pakistan Urges UN Not to Be Silent On BJP Officials' Offensive Remarks about Holy Prophet
• Pakistan's ex-military dictator General Pervez Musharraf critical; recovery not possible, says family
--------
South Asia
• Afghan Taliban unlawfully detaining, torturing civilians, says Human Rights Watch
• Rights watchdog condemns the Taliban for violently beating Afghan journalist
• QATAR Vows Continued Political, Economic Cooperation with Afghanistan
• Taliban assure India to act on Pakistan-based terror groups in Afghanistan: Report
• Taliban want army training in India
• Taliban rejects report on human rights violations in Afghanistan
--------
Southeast Asia
• Deputy Minister (Religious Affairs): Muslims Must Unite Over Insults against Prophet Muhammad (SAW) in India
• Respect Muslim rights on Bon Odori issue
• Kelantan religious authorities deny barring Perlis mufti
• Activists laud 'first step' to totally abolishing death penalty
• Penang Mufti says former chief secretary to govt Mohd Sidek's hefty 1MDB perk 'haram', should be returned
--------
Arab World
• Tombstones in Northern Syria Document Terror Group YPG/PKK's Use of Child Soldiers
• Lebanese civilians 'suffer harm' from flights by Israeli spy planes and drones
• MP: Call for safe zone in northern Syria is Erdogan's brainchild, rooted in colonial projects
• Iran denounces Israeli strike on Damascus airport, reaffirms support for Syria
• Report: Israel deploys radar systems in UAE, Bahrain to counter 'threats' from Iran
• Lebanon says to resume passport appointments after pause
--------
Mideast
• Eight Iran Convicts Face 'Imminent' Finger Amputation: Rights Group
• AEOI Chief: Iran Starts Injecting Gas into Advanced Centrifuges
• Senior Cleric Calls IAEA's Politicized Resolution As Failed Attempt to Pressure Iran in Vienna Talks
• Venezuela, Iran to sign 20-year cooperation plan including weekly flight route
• Int'l Congress in Iraq Discusses Seerah Of Ayatollah Hakim
--------
Africa
• Tunisia's Dismissals of Judges 'Blow To Judicial Independence': NGOs
• Suspected Islamist insurgents kill 25 in Nigeria's northeast
• 11 gendarmerie officers killed in Burkina Faso terrorist attack
• Lake Chad Task Force Extends Operation to Flush Out Islamist Militants
• EU warns Algeria against any 'discriminatory treatment' of Spain
--------
North America
• Rights Groups Say Biden's Visit Will Fuel Saudi Regime's Human Rights Abuses
• Prosecuting Mississauga Mosque Attack as Terrorism An Unusual 'Test Case,' Experts Say
• Senior US diplomat heading to West Bank, Israel this weekend: State Department
• Call for action on Islamophobia as Canada Muslims remember Afzaal family killing
Compiled by New Age Islam News Bureau
URL: https://newageislam.com/islamic-world-news/boycott-tv-debates-aimplb/d/127227
--------
Boycott TV Debates That Insult 'Islam': All India Muslim Personal Law Board Appeals to Community Leaders and Intellectuals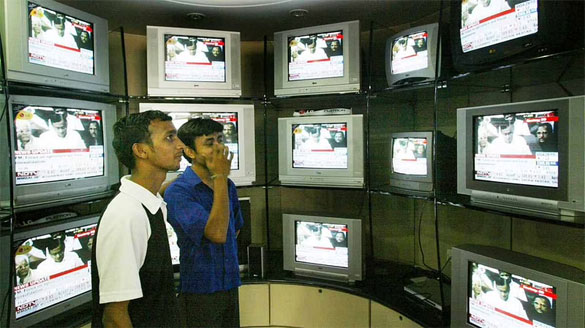 People watch TV at a store in New Delhi | Representational image | Amit Bhargava| Bloomberg
----
Jun 11, 2022
LUCKNOW: All India Muslim Personal Law Board (AIMPLB) on Friday issued an appeal to community leaders and intellectuals to stay away from the debates of TV channels which aim to ridicule and make mockery of Islam and Muslims.
AIMPLB general secretary Maulana Khalid Saifullah Rahmani in a statement said that Board's president Maulana Rabe Hasani, along with vice-president Maulana Sayyed Jalaluddin Umri, Maulana Kaka Sayed Ahmed Umri, Maulana Sayed Shah Faqruddin Ashraf, Maulana Sayed Arshad Madni and Maulana Sayed Ali Muhammed Naqvi has issued a joint appeal to all Muslim leaders and intellectuals not to participate in debates and discussions of such channnels.
"These individuals should realise that they are not serving the community in any manner. On the contrary, they become a party to the attempts to bring disrepute to Islam and its followers," Rahmani said quoting the joint appeal.
He said for some channels, the agenda behind organizing debates is not to reach a constructive consensus or look for solutions but to make fun of Muslims and Islam. "Such channels include a Muslim face in their panel of guests who they invite only to send across a message that they are impartial in their discussion. Our leaders and intellectuals do not realise this and fall prey to the trap," the appeal said. Rehmani said if Muslims will stay away from such debates, it will limit the scope of others making fun of Muslims and Islam.
Source: Times Of India
Please click the following URL to read the text of the original story:
https://timesofindia.indiatimes.com/city/lucknow/boycott-tv-debates-that-insult-islam-all-india-muslim-personal-law-board/articleshow/92139220.cms
--------
70 Percent of British Muslims Report Anti-Muslim Behaviour in Workplace: Savanta ComRes Report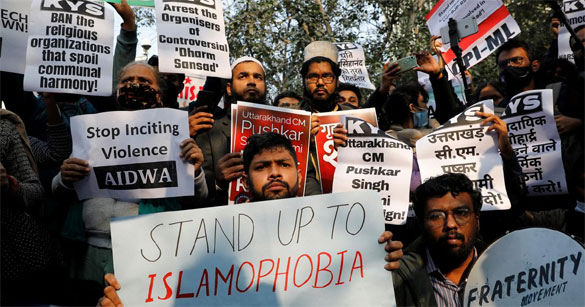 Representative Image
----
08 June 2022
Seven out of 10 Muslims in the UK say they have experienced some form of anti-Islamic treatment in their workplace, a recent poll shows.
According to a poll conducted by the Savanta ComRes, anti-Islamic behaviour in Europe and in the UK has increased in recent years.
The survey found that 69 percent of Muslims currently employed in the UK experienced some sort of Islamophobic behaviour during work-related engagements.
Forty-four percent of British Muslims said they faced anti-Muslim behaviour during interactions with customers, clients, and other people in the workplace, 42 percent experienced it during work-related social events, and 40 percent when they were seeking promotions.
The poll was conducted among 1,503 British Muslims from April 22 to May 10. The results of this survey show that Black English Muslims have experienced the highest level of discrimination than other Muslims.
While discriminatory treatment of all Muslims in the UK is reported at 37 percent, the figure stands at 58 percent among Black Muslims.
The British Muslim community has felt the brunt of the cost of living crisis in the country as well, with 54 percent of respondents saying that providing for their households has become a major challenge compared to five years ago.
A recent report on Islamophobia in the UK showed that British Muslims are among the groups facing the most discrimination in the country.
An analysis by the University of Birmingham showed that 25.9 percent of the British people, the majority of whom are conservative and elitist, have discriminatory views against Muslims in the country.
Source: Press TV
Please click the following URL to read the text of the original story:
https://www.presstv.ir/Detail/2022/06/08/683533/Islamophobia-UK-Muslims-anti-Islam-workplace-
--------
Pakistan's Impending Deal with Tehreek-e-Taliban Makes Lawmakers Furious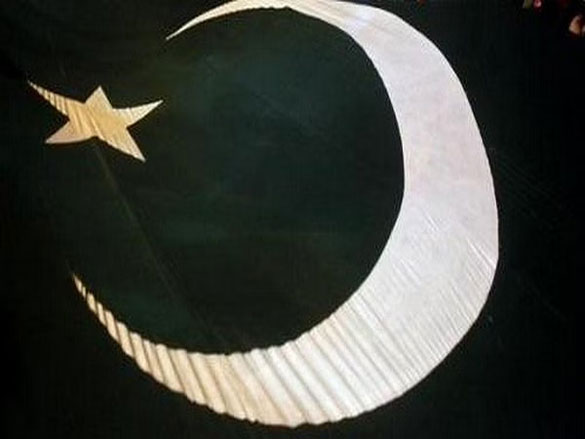 Representative image
-----
11 June, 2022
Islamabad [Pakistan], June 11 (ANI): Pakistan's ongoing negotiations with the terrorist group Tehreek-e-Taliban Pakistan is making young lawmakers in the country furious as Islamabad has already agreed to release hundreds of detained and convicted TTP members and withdraw court cases against them, local media reported.
Under the negotiation, a large portion of thousands of Pakistani troops stationed in the erstwhile Federally Administered Tribal Areas (FATA) — where the TTP first emerged as an umbrella organization of small Taliban factions in 2007 — will be withdrawn.
However, the two sides have yet to agree on retracting democratic reforms and the merger of FATA into Khyber Pakhtunkhwa and whether thousands of TTP terrorists can return with their arms and keep their organization intact.
Talking to Gandhara, a news portal, lawyer Fazal Khan said he Feel furious following Pakistan's ongoing peace negotiations TTP as his eldest son, eighth-grader Sahibzada Omar Khan, was killed in the TTP's most horrific attack.
On December 16, 2014, a group of TTP terrorists stormed the Army Public School in Peshawar, the capital of Khyber Pakhtunkhwa Province, he added, saying they massacred Sahibzada and 131 other students.
Khan is not alone in questioning the mostly opaque talks, which senior Pakistani officials say are aimed at ending the TTP's 14-year insurgency. A deal between Islamabad and the TTP now appears to be in sight after the group declared an indefinite cease-fire this month following months of parleys brokered by the Afghan Taliban, Gandhara reported.
Moreover, Islamabad has also agreed to implement Islamic Shari'a law in Khyber Pakhtunkhwa's Malakand region lately.
After the Taliban seized power in August, the TTP launched an offensive regime targeting Pakistani troops in the tribal areas. A recent UN report said some 4,000 of its members might be sheltering there.
Islamabad also won respite from TTP attacks as Pakistani officials pushed to reconcile the group through talks, which resulted in a month-long cease-fire in November last year.
"They will only gain strength and will be able to run their militant campaign more effectively," Mohsin Dawar, a young lawmaker who represents North Waziristan in the Pakistani parliament, said of the possible fallout from a peace deal.
"If the TTP foot soldiers won't benefit from the impending deal, they are likely to switch over to Bahadur's group or move on to join Daesh," he said, referring to Islamic State-Khorasan (IS-K) by its Arabic acronym. "These talks will have far-reaching and very dangerous results because violence will continue."
"If the government goes ahead with this agreement, we will hasten our resistance," he said.
A 57-member jirga of notable tribal leaders negotiating with the Tehreek-e-Taliban Pakistan (TTP) has returned to Pakistan without any major breakthrough over the group's demand for the reversal of FATA's merger with Khyber Pakhtunkhwa
The jirga consists of tribal elders, politicians, and parliamentarians who met with senior TTP leaders at Kabul's Inter-Continental Hotel for two days and held threadbare discussions over demands, including the most contentious issue of the Federally Administered Tribal Areas (FATA)'s merger. (ANI)
Source: The Print
Please click the following URL to read the text of the original story:
https://theprint.in/world/pakistans-impending-deal-with-tehreek-e-taliban-makes-lawmakers-furious/992220/
--------
Protests in Bangladesh over Anti-Islamic Comments in India Urge Muslim-Majority Nations to Cut Off Diplomatic Ties and Boycott Its Products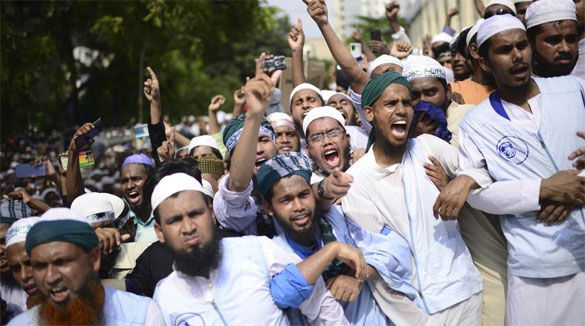 Muslims shout slogans against Nupur Sharma, a spokesperson of India's governing Hindu nationalist party as they react to the derogatory references to Islam and the Prophet Muhammad made by her, during a protest outside a mosque in Dhaka, Bangladesh, Friday, June 10, 2022. Thousands of people marched in Bangladesh's capital on Friday to urge Muslim-majority nations to cut off diplomatic ties with India and boycott its products unless it punishes two governing party officials for comments deemed derogatory to Islam's Prophet Muhammad. (AP Photo/Mahmud Hossain Opu)
----
10 June 2022
Thousands of people have taken to the streets in Bangladesh's capital to protest offensive comments by two Indian figures against Prophet Muhammad (Peace be upon him), urging Muslim-majority nations to cut off diplomatic ties with India and boycott its products.
The protesters marched after Friday prayers through streets near the main Baitul Mukarram Mosque in downtown Dhaka in protest against the offensive comments.
They also criticized the country's government for not publicly criticizing the comments made by two officials in Indian Prime Minister Narendra Modi's governing Bharatiya Janata Party (BJP).
"The global Muslim community has been united. We ask the whole world to boycott Indian products," said Moulana Imtiaz Alam, leader of Islami Andolan Bangladesh, The Associated Press reported.
In remarks on a TV news debate, BJP's spokesperson Nupur Sharma made inflammatory comments against the Prophet of Islam, which led to widespread condemnation in the country and throughout the Muslim world.
The reactions prompted the BJP to suspend Sharma from the party while distancing itself from her offensive remarks.
The party also expelled Naveen Kumar Jindal, who heads its Delhi media, from the party, after he allegedly posted a tweet about the Prophet but later deleted it. The BJP said Jindal's views on social media undermine communal harmony and are in violation of the party's fundamental beliefs.
On Thursday, Bangladesh's biggest non-political Muslim platform, Hefazat-e-Islam, also held a big rally in Dhaka in protest against the comments.
The leaders of the Islamic organization called on the senior officials of Bangladesh to condemn the comments in an official message to the Indian authorities and ask them to apologize to the Islamic community for the behavior.
As protests erupted throughout the Muslim world, India's Foreign Ministry spokesman Arindam Bagchi said that the views of some members of Indian parties did not in any way reflect the views of the Indian government on Muslims.
Pakistan, Qatar, Kuwait, and some Islamic organizations and groups like the Organization of Islamic Cooperation (OIC) and Yemen's Ansarullah movement have strongly condemned the offensive remarks.
Last week, Iran also reacted to the desecration of Islamic values and summoned the Indian ambassador to convey the Iranian government and people's strong protest.
Source: Press TV
Please click the following URL to read the text of the original story:
https://www.presstv.ir/Detail/2022/06/10/683660/Protests-erupt-Bangladesh-over-anti-Islamic-comments-India
--------
Push Islamic Economics as Global Recovery Solution at G20: Indonesian VP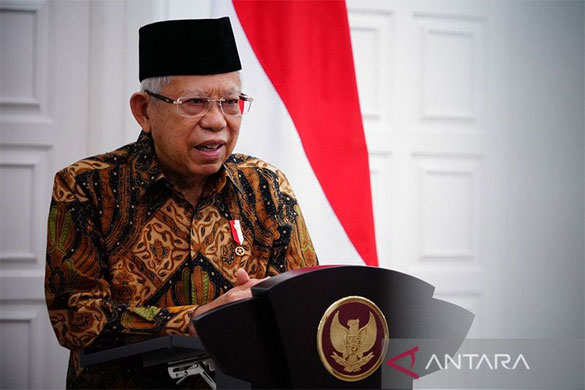 Photo: Antara News
----
June 11, 2022
Jakarta (ANTARA) - Indonesian Vice President Ma'ruf Amin has said that the 2022 G20 forum in Indonesia could be used to present Islamic economics as a solution for supporting global economic recovery.
"The G20 can be used to offer the Islamic economy as a solution for an inclusive and sustainable global economic recovery," he suggested at the 2022 Halalbihalal and National Working Gathering of the Association of Islamic Economists (IAEI) here on Friday, which was accessed online from here.
He said the G20 can also further strengthen the synergy between Islamic economists to realize national and global economic recovery, and also achieve Indonesia's goal of becoming the world's leading halal production center.
Global economic recovery is still overshadowed by several risks on account of a number of extraordinary events, ranging from the climate crisis to wars that are disrupting the world's food and energy supplies and triggering record-high inflation rates in many countries, he noted.
However, Vice President Amin said that the Indonesian G20 Presidency could be used as a momentum for global economic recovery.
"Indonesia needs to collaborate with G20 member countries so that the global community can get long-term benefits in three priority sectors, including strengthening global health architecture, digital transformation, and energy transition," he added.
The Vice President emphasized that progress in the three priority sectors can only be realized if all elements of the Indonesian nation work together and encourage the growth of innovation.
"We must be able to create innovations and new ideas to facilitate global economic recovery," he said.
He also emphasized that all countries must work hard to help each other so that no country is left behind. This is, he said, in accordance with Islamic values, where when one recovers, then all recover.
As the country with the largest Muslim population, Indonesia must show that the Islamic economy is a solution for a just global economic recovery, which can be felt by all levels of society, he added.
Source: Antara News
Please click the following URL to read the text of the original story:
https://en.antaranews.com/news/233673/push-islamic-economics-as-global-recovery-solution-at-g20-vp
--------
India
'If Prophet Muhammad Was Alive Today, He Would Have Been Shocked To See The Madness Of The 'Muslim Fanatics' Around The World ': Taslima Nasreen
Jun 11, 2022
Bangladeshi author Taslima Nasreen waded into the ongoing controversy over remarks made by former BJP spokesperson Nupur Sharma as she said if Prophet Muhammad was alive today, he would have been shocked to see the madness of the 'Muslim fanatics' around the world. The statement came as protests erupted in several states on Saturday forcing authorities to suspend internet services in some parts. "No one is above criticism, no human, no saint, no messiah, no prophet, no god. Critical scrutiny is necessary to make the world a better place," the Muslim author who prefers to call herself an atheist said. Day of protests: From Delhi to Ranchi, stir over Prophet remarks rocks India
In wake of the protests following Friday prayers, all internet services were suspended in Ranchi in Jharkhand and in Howrah in West Bengal. In Uttar Pradesh, people pelted stones at police personnel in Prayagraj and Saharanpur while Delhi witnessed a massive congregation of protesters outside Jama Masjid. Internet services were snapped in Bhaderwah and Kishtwar towns and Srinagar city as a precautionary measure. Mobile Internet was also suspended in parts of Kashmir.
The Union home ministry asked the police heads of all states and the Union territories to be prepared and alert after sporadic incidents of violence were reported.
Source: Hindustan Times
Please click the following URL to read the full text of the original story:
https://www.hindustantimes.com/india-news/if-prophet-muhammad-was-taslima-nasreen-amid-row-over-controversial-remark-101654914505715.html
--------
'Hate politics can't go on': Muslim bodies in Punjab protest against Nupur Sharma's remarks
June 10, 2022
Protests were held by Muslim organisations across Punjab after Friday prayers on a call by the Shahi Imam of Jama Masjid, Ludhiana, over the controversial remarks of BJP leaders Nupur Sharma and Naveen Kumar Jindal against Prophet Mohammad.
Speaking about the protests, Shahi Imam Maulana Mohammad Usman Rehmani Ludhianvi said, "Hate politics cannot run for long in the country."
"In the recent past, the above-mentioned BJP leaders passed derogatory remarks about Prophet Mohammad and we need to raise our voice against this. Hence, Muslims gathered after Jumma Namaz outside Jama Masjid, Ludhiana, and other cities of Punjab to burn effigies of Nupur and Naveen," the Shahi Imam, who is the president of Majlis-Ahrar Islam Hind which organised the protest, added. Muslim organisations also submitted a memorandum addressed to President of India Ram Nath Kovind through Ludhiana additional deputy commissioner (general) Rahul Chaba.
In addition to this, another protest was also organised in Muslim-dominated Malerkotla where members of the minority community did a protest march from Sirhindi gate till the office of the DC in Malerkotla where they submitted a memorandum, addressed to the President of India, to the deputy commissioner.
Source: Indian Express
Please click the following URL to read the full text of the original story:
https://indianexpress.com/article/cities/ludhiana/muslim-bodies-punjab-protest-nupur-sharma-remarks-7963204/
--------
Violence over Prophet remark: Two dead in Ranchi
11.06.22
Two people died and 10 others were injured in a violence in Ranchi that was triggered by derogatory remarks by suspended BJP spokespersons Nupur Sharma against Prophet Muhammad, reports ndtv.com..
Officials at the Rajendra Institute of Medical Sciences informed that the two succumbed to their injuries at the hospital. Ten others were under treatment..
Prohibitory orders were imposed in parts of Ranchi after some policemen and others were injured here on Friday while trying to control a mob near a temple, an official said.
The incident occurred after protests erupted with hundreds of people demanding the arrest of suspended BJP spokesperson Nupur Sharma for her controversial remarks on Prophet Mohammad.
Police fired in the air besides resorted to lathi-charge to control the mob which spilled out on the road after Friday prayers in a mosque located close by.
The protestors shouted slogans and pelted the police with stones.
Prohibitory orders under Section 144 CrPC, (prohibiting gathering of five or more people) has been imposed in an around the affected area, the official said.
Ranchi Deputy Commissioner, Chhavi Ranjan told PTI "The prohibitory order is applicable on 500 metres of both sides of the main road from Albert Ekka Chowk to Sujata Chowk near overbridge.
Source: Telegraph India
Please click the following URL to read the full text of the original story:
https://www.telegraphindia.com/jharkhand/violence-over-prophet-remark-two-dead-in-ranchi/cid/1869415
--------
Muslims Hold Protests outside Mosques in Several Parts of India
11.06.22
Muslims held mostly peaceful protests outside mosques after Friday prayers in several parts of India, calling for quick prosecution of the now-suspended BJP spokespersons Nupur Sharma and Navin Jindal who have made derogatory remarks about Prophet Mohammed.
Clashes between protesters and police were seen in a few places such as Ranchi, Allahabad and Bhaderwah town of Jammu.
A small group held placards and chanted slogans outside Jama Masjid in Delhi, with neighbourhood residents joining in. The police persuaded the crowd of about 300 to disperse — after continuous TV coverage of alleged communal tension in the area —and said action would be taken against those protesting without permission.
Ahmed Bukhari, the Shahi Imam of the mosque, told reporters: "I don't know who these protesters were. They do not have our permission, nor has anything been discussed. We discourage people from doing politics on this issue."
Varanasi — home to the Gyanvapi mosque, the subject of a controversy that triggered Sharma's remarks — remained peaceful. The mosque management had appealed to people to offer Friday prayers at any mosque near their home and ignore rumours. As a result, only about 20 people offered prayers at the Gyanvapi.
Protests were reported from many places in Uttar Pradesh, Rajasthan, Maharashtra, Telangana and Jammu and Kashmir. Central forces were deployed in several places although most of the demonstrations were peaceful.
Curfew was imposed in a part of Ranchi after police-protester clashes during an attempt to shut shops.
Friday's protests outside the Jama Masjid in Delhi come after Yati Narasinghanand — an Uttar Pradesh monk known to deliver hate speeches — announced he would visit the mosque to engage the faithful in an open debate on Islamic scriptures.
The Ghaziabad district administration has served Narasinghanand with a notice to desist from incitement, and Delhi police have booked him.
Protests took place in Delhi's Jamia Nagar locality as well.
The Popular Front of India hit out at the parallel hate-speech cases the Delhi police have registered — against Sharma, Jindal and Narasinghanand as well as against Muslim politicians, activists and social media users.
"While the present issue is all about BJP national leaders insulting the Prophet of Islam, rather than addressing the real issue, these FIRs are basically equating the actions of the hate speakers with that of those who demand action against it," the statement said.
"Rather than controlling the hate speakers, the intention behind the FIRs is to hush up the issue and prevent people from speaking against it."
An outfit called the Hindu Sena has called for a march in East Delhi on Saturday in support of Sharma.
The All India Muslim Personal Law Board has appealed to "Islamic scholars and intellectuals to not participate in those television debates whose sole intention is to make a mockery and insult Islam and Muslims".
Sharma's comments had come during a TV debate on the Gyanvapi mosque.
Allahabad clashes
Uttar Pradesh witnessed police-protester clashes in Allahabad, Moradabad, Firozabad and Saharanpur.
Allahabad Zone additional director-general (ADG) of police Prem Prakash blamed the violence in Atala locality on "members of the masjid, Samajwadi Party, All India Majlis-e-Ittehadul Muslimeen (AIMIM) and Left parties".
"They used children as a shield and threw stones and crude bombs at the police," said Prakash, who later led a police flag march with a rifle in hand.
The police have taken into custody about a dozen people in Allahabad and about 100 across Uttar Pradesh — including 21 from Deoband in Saharanpur, 12 from Moradabad and 20 from Firozabad — on rioting or incitement charges. Videos purportedly show police firing in the air in Allahabad.
Uttar Pradesh director-general of police D.S. Chauhan said a Rapid Action Force jawan was injured in the Allahabad violence. "Mild force was used to maintain peace at some places," he said.
Kanpur, Bareilly, Aligarh, Jhansi and Lalitpur too witnessed protests.
Jammu tensions
In Jammu's Muslim-majority Chenab Valley, protesters defied a curfew and clashed with the forces, a day after controversial social media posts and inflammatory speeches had caused tensions to flare.
Protests also broke out in Srinagar's Batmaloo locality, and Friday prayers were not allowed at the city's main Jamia Masjid.
Authorities had clamped curfew on parts of the Chenab Valley on Thursday night after large crowds from two communities held demonstrations in different areas.
"It all began with a (social media) post. There were counter-posts and statements which hurt a particular community," Jammu ADG Mukesh Singh told reporters. "The situation is under control now."
Residents said protests had broken out in Bhaderwah town in the Chenab Valley after an anti-Islam post on social media.
A local cleric later publicly threatened to behead Sharma and a Jammu-based journalist, who had purportedly supported her, if the government failed to act against them.
A police officer said a case had been registered in Bhaderwah on the charges of insulting religious beliefs and criminal intimidation.
Officials said Internet services were snapped in Bhaderwah and Kishtwar towns as a precaution. Mobile Internet services too were suspended in parts of Kashmir.
The situation in Jammu and Kashmir has been tense since Wednesday after a BJP politician and two other Right-wing leaders supported Sharma's comments, prompting the police to lodge an FIR.
Union minister Jitendra Singh, whose constituency of Udhampur includes the Chenab Valley, appealed for peace in Bhaderwah.
Source: Telegraph India
Please click the following URL to read the full text of the original story:
https://www.telegraphindia.com/india/muslims-hold-protests-outside-mosques-in-several-parts-of-india/cid/1869389
--------
Shops close in Kashmir as Muslim traders protest Indian ruling party
10 June, 2022
Scores of Muslim traders and transporters in Srinagar staged a protest and raised slogans against Indian ruling party officials on Friday following comments from the officials deemed derogatory to Islam's Prophet Mohammed.
In Indian-controlled Kashmir, authorities locked down two towns on Friday and snapped internet on mobile phones in the disputed region's main city, fearing anger against the insulting remarks to Islam could morph into larger, anti-India protests.
Shops and business in Srinagar spontaneously shut.
Authorities also did not allow Friday congregational prayers in the main mosque of Srinagar and in the remote, mountainous towns of Bhaderwah and Kishtwar.
Protesters criticized the Indian government for not publicly condemning comments deemed derogatory to Islam's Prophet Mohammed made last week by officials in Indian Prime Minister Narendra Modi's governing Bharatiya Janata Party.
One official has been suspended and the other expelled after the BJP denounced insults of religious figures, but protesters in India and neighboring Muslim countries said the actions were not enough.
Source: Al Arabiya
Please click the following URL to read the full text of the original story:
https://english.alarabiya.net/News/world/2022/06/10/Shops-close-in-Kashmir-as-Muslim-traders-protest-Indian-ruling-party
--------
Prophet remarks row: Clashes break out in Bengal, Gujarat as Muslim community demands action against Nupur Sharma
10th June 2022
KOLKATA: Hundreds of protesters on Friday blocked roads in different parts of Howrah district of West Bengal over controversial remarks made by two now-suspended BJP leaders against Prophet Mohammad, police said.
The agitators clashed with police personnel at Dhulagarh, Panchla and Uluberia when they tried to lift the blockade on National Highway-6, a police officer said.
The two saffron party leaders should be immediately arrested for their remarks that have hurt religious sentiments,one of the protesters said.
Police had to baton-charge to disperse the crowd at Dhulagarh and Panchla, where the demonstrators pelted stones in retaliation, causing damage to nearby cars, the officer said.
The protesters also blocked railway tracks between Fuleswar and Chengail stations in the Howrah-Kharagpur section from 1.22 pm, a South Eastern Railway official said.
Bengal Imams Association president Md Yahia said it had called for protests inside mosques across the state, demanding the arrest of the two BJP leaders, but said the administration is free to take action against people who are blocking roads and inconveniencing the public.
Demanding immediate arrest of suspended BJP leader Nupur Sharma over her alleged objectionable remarks on Prophet Mohammad, members of the Muslim community held protests in some areas of Gujarat's Ahmedabad and Vadodara on Friday.
Shops and markets in Muslim-dominated Dariyapur and Karanj areas here remained shut as part of the protest.
Source: New Indian Express
Please click the following URL to read the full text of the original story:
https://www.newindianexpress.com/nation/2022/jun/10/prophet-remarks-row-clashes-break-out-in-bengal-gujarat-as-muslim-community-demands-action-against-2464079.html
--------
Prophet remarks row: Muslims protest across Maharashtra to demand action against Nupur Sharma, Naveen Jindal
10th June 2022
MUMBAI: Members of the Muslim community staged protests in several cities of Maharashtra on Friday demanding action against suspended BJP spokesperson Nupur Sharma and her former party colleague Naveen Jindal for their alleged objectionable remarks against Prophet Mohammad.
No untoward incident was reported from anywhere during the protests, police said.
The protests were staged by various organizations following the Friday prayers after 3 pm, a police official said.
In Panvel city in neighbouring Navi Mumbai, at least 3,000 protesters including around 1,000 women took out a protest march, seeking the arrest of Sharma and Jindal.
A delegation submitted a memorandum to Panvel tehsildar and the protest was over peacefully by 4 pm, said a local police official.
A protest was also held at Shivaji Chowk in Vashi, where a delegation submitted their demands to the Vashi Police Station, he said.
Similar protest gatherings or marches were also held in Thane, Aurangabad, Solapur, Nandurbar, Parbhani, Beed, Latur, Bhandara, Chandrapur and Pune districts.
Everywhere, protestors shouted slogans and demanded registration of FIRs and arrest of Sharma and Jindal, police said.
Heavy police security was deployed at all protest venues but there was no untoward incident anywhere, officials said.
State home minister Dilip Walse-Patil said the protests passed off peacefully as police handled the situation well.
Nobody should offend other people's faith, he said.
The BJP suspended Nupur Sharma following her remarks about Prophet during a TV debate, while Jindal was expelled from the party when he tweeted similar remarks.
Source: New Indian Express
Please click the following URL to read the full text of the original story:
https://www.newindianexpress.com/nation/2022/jun/10/prophet-remarks-row-muslims-protest-across-maharashtra-to-demand-action-against-nupur-sharma-navee-2464060.html
--------
Lucknow clerics urge Muslims to stay away from protests
Jun 11, 2022
LUCKNOW: City clerics extended an appeal to Muslims to stay away from demonstrations and protests and not pay heed to rumours. The appeal was made when the namazis congregated at mosques to offer Friday prayers.
"We appeal our Muslim brethren to stay away from controversies and not take part in any protest," said Maulana Khalid Rasheed Farangi Mahali, Imam Eidgah. However, despite an appeal, a few namazis reportedly raised slogans in protest after offering namaaz at Tile Wali Masjid in the state capital.
"A few people began sloganeering after offering namaaz but the Masjid committee swiftly reacted and pacified the protestors," said Maulana Wasif Hasan, co-Mutwalli, Tile Wali Masjid.
Shia clerics too made an appeal to their congregations to not take part in protests or demonstrations.
On Thursday, a delegation from the Islamic Centre of India, Lucknow met additional chief secretary, home, Awanish Awasthi, demanding strict action against former BJP spokesperson Nupur Sharma for committing blasphemy. Besides, the delegation also demanded constitution of a law to keep a check on the recurrence of such incidents.
Source: Hindustan Times
Please click the following URL to read the full text of the original story:
https://www.hindustantimes.com/cities/lucknow-news/lucknow-clerics-urge-muslims-to-stay-away-from-protests-101654887160923.html
--------
Man walking on foot to Mecca gets rousing reception in Mangaluru
Jun 10, 2022
MANGALURU: A young man from Athavanad near Valanchery in Malappuram district of Kerala, who is on an 8,640kms journey on foot to perform Haj, was given a rousing welcome by the Muslim community here during his entry into the coastal city.
Shihab Chottur, 30, who had set out from his native place on June 2, entered Mangaluru city late on Thursday and stayed at the Juma Masjid in Pumpwell before resuming his journey on Friday. Shihab, who runs a supermarket in Kerala, aims to walk all the way to Saudi Arabia via India, Pakistan, Iran, Iraq and Kuwait.
A large crowd received Shihab at the border in Talapady. Shihab was making preparations for the past eight months to perform Haj by crossing six nations, without travelling in vehicles. Union minister of state for External Affairs V Muraleedharan and several others helped Shihab to make his dream a reality. He will be walking through Karnataka, Maharashtra, Madhya Pradesh, Rajasthan, Haryana, Punjab and will enter Pakistan via Wagah border.
Shihab said, "My goal is to walk 8,640 kms in 280 days. Hence, I have been walking an average of 25kms a day. My aim is to perform Haj in 2023. Haj pilgrimage is one of the pillars of Islam that everyone from the community would like to perform at least once in a lifetime. My family members, friends and others have extended cooperation for my journey."
He has been carrying a 10kg backpack containing a bedsheet, t-shirts and trousers and an umbrella in his hand. He takes shelter in masjids on the way.
Source: Times Of India
Please click the following URL to read the full text of the original story:
https://timesofindia.indiatimes.com/city/mangaluru/man-walking-on-foot-to-mecca-gets-rousing-reception-in-mangaluru/articleshow/92133191.cms
--------
Jama Masjid Shahi Imam distances self from protest over Prophet row, seeks action against violators
10.06.22
After a protest erupted outside Jama Masjid after the Friday prayers against the controversial remarks on Prophet Mohammad, Shahi Imam Syed Ahmed Bukhari distanced himself from the demonstration saying "nobody knows who the protesters are" and demanded action against them.
A large crowd gathered on the steps of the popular mosque carrying placards and shouting slogans demanding the arrest of suspended BJP spokesperson Nupur Sharma for her controversial remarks a few days ago.
"After namaz, around 40-50 people staged a protest shouting slogans of different kinds and showing posters. There was no announcement for a protest from Jama Masjid. Nobody knows who those people were because thousands had gathered for the Friday prayers," Bukhari told PTI.
The cleric said several people had contacted him seeking clarity about protests and shutting of shops in the area to condemn the remarks against the Prophet.
" but I advised them to desist from such action and maintain peace. Delhi Police can probe who the protesters were because there was no permission for the demonstration," he said.
According to senior police officials, the protest was held peacefully on the stairs near Gate Number 1 of the mosque, and it lasted for around 15 to 20 minutes. The protesters were dispersed later.
The row over the remarks against Prophet Mohammad escalated on Sunday with countries such as Saudi Arabia, Kuwait, Qatar and Iran marking their protests, prompting the BJP to take action against its functionaries and assert that it respects all religions.
As the row intensified domestically and abroad, the BJP on Sunday suspended Nupur Sharma and expelled Naveen Jindal, both of whom were the party's spokespersons.
Source: Telegraph India
Please click the following URL to read the full text of the original story:
https://www.telegraphindia.com/india/jama-masjid-shahi-imam-distances-self-from-protest-over-prophet-row-seeks-action-against-violators/cid/1869324
--------
India goes with Pakistan & Libya, abstains from vote on IAEA resolution slamming Iran
Jun 11, 2022
NEW DELHI: India joined Pakistan and Libya in abstaining from voting on a resolution at the International Atomic Energy Agency (IAEA) that slammed Iran for its lack of cooperation with the global community on the nuclear issue. Thirty countries voted in favour of the resolution, that was drafted by the US, UK, France and Germany. Russia and China voted against it.
"Yesterday, we joined the overwhelming majority of the IAEA board of governors in expressing support for the IAEA's essential mission of safeguarding nuclear material to prevent nuclear proliferation. Iran must cooperate with the IAEA and provide technically credible information in response to the IAEA's questions, which is the only way to remove these safeguards issues from the board's agenda," said the US in a statement.
The voting took place while Iran's foreign minister was in India for a meeting with his counterpart, S Jaishankar. India's abstaining from voting is another example of its differences with the US on major international issues.
According to the US, the resolution is at the heart of the IAEA's mandate and Iran's core obligations under the Nuclear Non-Proliferation Treaty, and not about the 2015 Joint Comprehensive Plan of Action (JCPOA).
"The US remains committed to a mutual return to full implementation of the JCPOA. We are prepared to conclude a deal on the basis of the understandings we negotiated with our European allies in Vienna over many months. Such a deal has been available since March, but we can only conclude negotiations and implement it if Iran drops its additional demands that are extraneous to the JCPOA," it said.
Source: Times Of India
Please click the following URL to read the full text of the original story:
https://timesofindia.indiatimes.com/india/india-goes-with-pakistan-libya-abstains-from-vote-on-iaea-resolution-slamming-iran/articleshow/92136461.cms
--------
Europe
Mosque security funding: Crumbs that don't stop Islamophobia
Afroze Fatima Zaidi
10 Jun, 2022
As Muslims in the UK continue to face Islamophobia, the government's response is to offer £24.5m in funding to securitise mosques. Where even to begin with how woefully inadequate this approach is in addressing the cause of Islamophobia and tackling the issue at its root?
While we know that Islamophobia exists, it may surprise some to know the extent to which it has pervaded society. In the UK, a survey recently revealed that an alarming 70% of Muslims have experienced Islamophobia in the workplace. We face Islamophobia when we go to work, when we're out in public, when we leave our mosques, in universities, schools and hospitals, and in the form of racial profiling from police.
But Islamophobia goes beyond discrimination, hate crime or any expression of animosity towards Muslims. These are only manifestations of a phenomenon that has its tentacles deeply embedded in the psyche of people not just in the UK or even the West, but in many parts of the world.
So by offering security funding to mosques, the government is attempting to address only one facet of an exponentially larger issue. What's worse, and what makes this gesture even more hypocritical, is the role the state has actively played, and continues to pay, in entrenching Islamophobia within British society.
When announcing this funding for mosques, securities minister Damian Hinds said, "[i]t is a fundamental right to be able to practise your faith in your community". As ever, the British government is full of contradictions. On the one hand, it'll talk about rights and freedoms as though they were equally available to everyone. On the other, it'll actively demonise, marginalise and expel people from minority groups to further its own agenda.
It's hard to overstate the cognitive dissonance it must take for a Tory minister to proclaim that Muslims have a fundamental right to practise their faith, while school governors and teaching staff in the Trojan Horse scandal got blacklisted for trying to instil in and facilitate for Muslim students the very same principle.
Those involved faced repeated accusations of ominous 'Islamisation' plots and pointed questions about their potential 'Salafi' leanings. The situation for Muslim students has since become so toxic that even nursery-age children aren't safe from Prevent's tyrannical reach. And subscribing to certain Muslim schools of thought, or signs of increased religiosity, continue to be criminalised.
Much has already been said about the havoc Prevent has wreaked on Muslim communities. But the foundational principles which feed the criminalisation of Muslims extend well beyond one single policy. The War on Terror, and the associated demonisation of 'radical'/'extremist' Islam, feed and sustain a global Islamophobia machine – one that states and institutions continue to not only prop up but also profit from.
During his premiership, David Cameron's comments and policy focus on "Islamic extremism" contributed to the creation of an 'environment of hate' which persists to this day. More recently, Cameron went as far as to accuse campaigners speaking out against Prevent of "enabling terrorism". And despite loud and persistent objections from Muslims to the way Prevent targets them, the Shawcross Review has doubled down on encouraging a hardline approach against 'Islamist extremism'.
It is therefore utterly tone deaf for the British state to now talk about Islamophobic hate crime and freedom of religion without acknowledging its own role in how we got here.
Hinds went on to say in his statement, "[t]his new round of funding will cover the costs of security measures for places of worship to deter and prevent hate-crime attacks on vulnerable communities, making our streets safer." There's no acknowledgement here of how Islamophobic hate crime rose astronomically as a direct result of comments from Hinds' boss and the current Prime Minister, Boris Johnson.
Moreover, the idea that we need greater securitisation in order to ensure safety is in itself a neoliberal fallacy. It's also the very same ideology that is responsible for Prevent. Meanwhile what the Tories never seem to acknowledge is that one of the key factors leading to rising crime in general, and making our streets less safe, is poverty.
The Tories have inflicted upon working class communities over a decade of austerity combined with disaster capitalism. As inflation rises, energy prices aren't being regulated in any real sense and wages remain stagnant. In reality, the cost of living crisis is little more than class war.
And to top it off, the government's culture war narrative and scapegoating of immigrants is so effective that despite its failings, immigrant communities bear the brunt of the frustration from white working class people.
It's the colonial divide and rule tactic that remains as effective as ever. Hate crime, then, is the inevitable result. So before funding mosque security, maybe stop fuelling the hatred in the first place.
Perhaps it's not surprising that this is what the government has chosen to do in order to ostensibly tackle Islamophobia. Reducing the complex, structural nature of anti-Muslim racism to hate crime absolves the state of any accountability for its own role. It's important, however, that Muslims are paying attention.
Where our communities remain chronically neglected as we face cuts and underfunding, it's essential to recognise these crumbs for exactly what they are. The government wants to be seen as tackling Islamophobia on the surface while simultaneously entrenching and sustaining it behind closed doors. We need to call it out for what it is: at best inadequate, and at worst a distraction tactic to minimise the impact of the state's own Islamophobia.
Source: The New Arab
Please click the following URL to read the full text of the original story:
https://english.alaraby.co.uk/opinion/mosque-security-funding-crumbs-dont-stop-islamophobia
--------
Over 800 mosques attacked in Germany since 2014: Rights group
10.06.2022
BERLIN
More than 800 mosques in Germany have been the targets of threats and attacks since 2014, but in most of the cases, crimes were not properly investigated, according to Brandeilig, an initiative of rights group FAIR International.
The group, which has founded Germany's first reporting center for attacks on mosques, recorded nearly 840 incidents of attacks, vandalism and threats between 2014 and 2022.
A detailed analysis of the crimes in 2018 revealed that perpetrators remained unidentified in most of the attacks, fueling further attacks against Muslim worship sites by neo-Nazis or left-wing extremists.
"In general, the clearance rate for mosque attacks can be considered very low," the group said in a recent report.
Among the 120 attacks recorded against mosques in 2018, only in nine cases perpetrators could be identified.
"This rate is a cause for concern," Brandeilig's experts stressed, pointing out that in at least 20 cases, which included arson attacks, suspects intended to cause death or great bodily harm.
"In general, the police officers arrived on the scene very quickly and immediately started the investigation. Nevertheless, almost none of the incidents could be solved until today," the experts said.
Left-wing extremists and followers of the YPG/PKK terror group were behind several attacks targeting mosques, while majority of them were committed by right-wing extremists or neo-Nazi groups, according to the report.
Source: Anadolu Agency
Please click the following URL to read the full text of the original story:
https://www.aa.com.tr/en/europe/over-800-mosques-attacked-in-germany-since-2014-rights-group/2610525
--------
Paris prosecutor requests life sentence for main suspect in 2015 terror attacks
Cindi Cook
11.06.2022
PARIS
The office of the Paris prosecutor requested a life sentence without the possibility of parole Friday for Salah Abdeslam, the main suspect in the trial of the November 2015 terror attacks that killed 130 people.
The National Anti-Terrorism Office (PNAT) requested the sentence after deliberations that lasted nine months and it came six and a half years after Nov. 13 night during which a series of unexpected attacks unfolded throughout the city, starting with suicide bombers at the Stade de France, shootings at various cafes around Paris and a mass shooting at the Bataclan nightclub where 90 people were killed.
The carnage was finally brought to an end in a police shootout.
"The crime is of such gravity that the sanction can only be in line with this gravity," said
the trial's chief lawyer, Camille Hennetier, as she requested the sentence along with an "incompressible security period" for Abdeslam, who is the only perpetrator to have survived the attack.
He was arrested in Belgium after five months on the run.
Hennetier requested a life sentence for accomplice Mohamed Abrini -- who is said to have driven Abdeslam to Paris -- along with a security period of 22 years.
Life sentences are rarely carried out to their completion in France as most prisoners who receive the penalty are released in 20 to 25 years. Life sentences have been handed down just four times in France since being initiated in 1994.
Two life sentences were given to two high-ranking members of the Daesh/ISIS terror group thought to have been killed in Syria or Iraq.
Sixteen other defendants stood trial and were handed sentences from five to 16 years. Fourteen of the accused men are in court, with all but one of the six absent men thought to be dead.
The trial has taken place in a newly-built, high-security complex installed inside the Palais de Justice, France's main courthouse in Paris.
An additional 12 overflow rooms were built to handle journalist, victims and their lawyers.
Source: Anadolu Agency
Please click the following URL to read the full text of the original story:
https://www.aa.com.tr/en/europe/paris-prosecutor-requests-life-sentence-for-main-suspect-in-2015-terror-attacks/2611000
--------
Israeli settler group's attempts to seize Jerusalem Christian properties must stop: EU
By Abdelraouf Arna'out
10.06.2022
The European Union missions in Jerusalem and Ramallah on Friday voiced concern over an Israeli group's takeover of Greek Orthodox properties in the occupied East Jerusalem's Old City.
"Attempts by settlers to take over Christian property in the Old City of Jerusalem must be halted as they jeopardize the heritage and traditions of the Christian community," the representative office of the European Union in Palestinian territories said in a statement.
Earlier, the Israeli Supreme Court rejected an appeal by the Greek Orthodox Patriarchate against the takeover of Christian properties by settler organization Ateret Cohanim.
Such a ruling by the Israeli court poses "a threat to the peaceful coexistence of all three monotheistic religions in Jerusalem, as well as to the established religious equilibrium," the statement added.
The EU called for maintaining the city's "status quo" by preserving and respecting its character.
Source: Anadolu Agency
Please click the following URL to read the full text of the original story:
https://www.aa.com.tr/en/europe/israeli-settler-groups-attempts-to-seize-jerusalem-christian-properties-must-stop-eu/2610828
--------
Sweden hopes for progress on NATO bid with constructive approach on Türkiye's concerns
Atila Altuntas
10.06.2022
STOCKHOLM
Sweden aims to proceed in a constructive manner on the concerns that Türkiye has raised against Stockholm's bid to join NATO, country's foreign minister said on Friday.
Presenting a document on Swedish foreign policy to lawmakers, Ann Linde stressed that her country would contribute to Turkish security in line with the alliance solidarity.
Linde said Sweden would maintain a constructive attitude to address the concerns of Ankara, which has repeatedly said it would not permit the ascension process while terror affiliates move freely within the Scandinavian country.
Condemning terrorism, she noted that the country's new terror law would go into effect as of July 1 and that her country could alter the conditions stipulated for arms exports for sake of its NATO bid.
Linde takes flak over deal with pro-PKK/YPG lawmaker
In criticism of Linde, Mikael Oscarsson, a lawmaker of the Christian Democratic Party, pointed to a reported deal between the Swedish Social Democratic Party and Amineh Kakabaveh, an independent member of parliament who supports the PKK terror group and its Syrian offshoot YPG.
Oscarsson asked how it could be possible to keep negotiations going with Türkiye while a deal with Kakabaveh had already been struck, calling the lawmaker a "political savage."
Linde, for her part, took issue with Oscarsson's language, saying it was derogatory and underlining that talks with Ankara was ongoing to find mutual ground.
Sweden is under pressure from Türkiye to end its support for the PKK/YPG terror group if it wants to join NATO, with Ankara saying the bloc is a security alliance and that any potential members must take a clear stance against terrorism.
Source: Anadolu Agency
Please click the following URL to read the full text of the original story:
https://www.aa.com.tr/en/europe/sweden-hopes-for-progress-on-nato-bid-with-constructive-approach-on-turkiyes-concerns/2610737
--------
Pakistan
Imran Khan criticises Pak-American visiting Israel reveals his 'double standards'
11 June, 2022
Islamabad [Pakistan], June 11 (ANI): Pakistan's former prime minister Imran Khan has criticised the Pakistani American's visit to Israel in a desperate reaction as he linked the visit to the alleged American conspiracy to throw out his government.
Leader of the Pakistan-American interfaith, which visited Israel, Naila Ali however, replied to ousted prime minister Imran Khan's criticism of the Israel visit by saying: "stop using Muslim women peacemakers to yield your lost power", as she asked Imran to stop maligning women, reported Islam Khabar.
A delegation of 15 Pakistani Americans visited Israel recently and shook Pakistan where the people are taught from their childhood that Israel is the No.1 enemy of Islam, Islam Khabar reported.
In fact, Pakistan, which claims it to be the citadel of Islam, does not have diplomatic relations with Israel and does not allow its citizens to visit Israel or play games with it. That is the reason why there is so much hue and cry over the Israel visit of Pakistani Americans.
Many educated adults are unsure of Pakistan's Israeli policy. Even the country's military dictators Gen Ziaul Haq (1977-88) and Gen Pervez Musharraf (1999-2007) had soft corners for Israel but were afraid of those who could launch a campaign against them if they signalled recognition of Israel, Islam Khabar reported.
Moreover, the 2020 accord which the United Arab Emirates (UAE) and Bahrain signed with Israel was named Abraham Accord to emphasise the commonality of the fatherhood of Jews and Muslims.
Another interesting aspect of the Israelis' presence in Pakistan was the jamaat-i-Islami, the Chief of which called Gen Zia his nephew, was in the Zia government at that time. The party did not raise its eyebrows at the Israeli presence for fear of being thrown out of the government. But outside the government, it made Israel bash its Islamic duty, Islam Khabar stated.
Former Prime Minister Imran Khan has married a Jew wife and received millions of Pounds from his Jew father-in-law to build up his party and fight elections and has also been called a Jewish agent in Pakistan by Jamiat-ul-Ulema-i-Islam, Islam Khabar reported.
Moreover, he has not been able to rebut Jamiat's charge but on the contrary, he has taken an anti-Jew stand by criticising Pakistani Americans' visit to Israel and their meeting with its President Isaac Herzog.
This is one of Imran's desperate reactions to Pakistani Americans' visit to Israel.
Source: The Print
Please click the following URL to read the full text of the original story:
https://theprint.in/world/imran-khan-criticises-pak-american-visiting-israel-reveals-his-double-standards/992200/
--------
Pakistan urges UN not to be silent on BJP officials' offensive remarks about Holy Prophet
Anwar Iqbal Published
June 11, 2022
UNITED NATIONS: Pakistan has urged the UN General Assembly not to be silent on the offensive remarks made by BJP officials in India last week, warning that silence on such issues could be mistaken for complicity.
Foreign Minister Bilawal Bhutto-Zardari called UN General Assembly President Abdulla Shahid on Friday and apprised him of the derogatory remarks made by two senior officials of India's ruling party BJP against the Holy Prophet (peace be upon him).
Noting that such willful and deliberate provocation had deeply hurt the sentiments of billions of Muslims around the world, the foreign minister urged the UNGA president to "take cognizance of this abhorrent development amidst growing hate speech and rising Islamophobia in India," said a statement issued in New York.
Source: Dawn
Please click the following URL to read the full text of the original story:
https://www.dawn.com/news/1694191/pakistan-urges-un-not-to-be-silent
--------
Pakistan's ex-military dictator General Pervez Musharraf critical; recovery not possible, says family
Jun 10, 2022
LAHORE/DUBAI: Pakistan's former military dictator General Pervez Musharraf is critical and on a ventilator support at a hospital in the UAE, his close aide and former information minister Fawad Chaudhry said on Friday.
Gen. Musharraf, 78, ruled Pakistan from 1999 to 2008.
"Musharraf is critical as he is on a ventilator," Chaudhry told PTI.
Message from Family:He is not on the ventilator. Has been hospitalized for the last 3 weeks due to a complication… https://t.co/topjH6OvM7
— Pervez Musharraf (@P_Musharraf) 1654864321000
Chaudhry, who was the information minister in the Imran Khan government, was once a media spokesperson for Musharraf.
He said that he spoke to Musharraf's son who confirmed his illness.
"I have just spoken to Gen Musharraf's son Bilal in Dubai who confirmed that he (Musharraf) is on ventilator," Chaudhry said.
Reacting to reports, Ifzaal Siddique, the President of the All Pakistan Muslim League (APML) Overseas -- founded by Musharraf -- said that the former president is little bit ill but fully alert.
"General Pervez Musharraf is at home (a little) bit ill though, but fully alert as usual, please don't listen to fake news. Just pray for his good health, Ameen," Siddique said.
Musharraf has been declared a fugitive in former prime minister Benazir Bhutto murder case and Red Mosque cleric killing case.
The former president, living in Dubai since 2016, was facing the treason case for suspending the Constitution in 2007.
Source: Times Of India
Please click the following URL to read the full text of the original story:
https://timesofindia.indiatimes.com/world/pakistan/pakistans-ex-military-dictator-general-pervez-musharraf-critical-in-uae-ex-minister/articleshow/92128975.cms
--------
South Asia
Afghan Taliban unlawfully detaining, torturing civilians, says Human Rights Watch
10th June 2022
ISLAMABAD: Taliban security forces in northern Afghanistan have unlawfully detained and tortured residents accused of association with an opposition armed group, New York-based Human Rights Watch said in a statement Friday.
Since mid-May 2022, fighting has escalated in Panjshir province as National Resistance Front (NRF) forces have attacked Taliban units and checkpoints, HRW said.
The Taliban have responded by deploying to the province thousands of fighters, who have carried out search operations targeting communities they allege are supporting the NRF, the group added.
"Taliban forces have committed summary executions and enforced disappearances of captured fighters and other detainees, which are war crimes," also in other provinces, it said.
In a mountainous valley north of Kabul, the last remnants of Afghanistan's shattered security forces have vowed to resist the Taliban in a remote region that has defied conquerors before.
Nestled in the towering Hindu Kush, the Panjshir Valley has a single narrow entrance. Local fighters held off the Soviets there in the 1980s, and the Taliban a decade later under the leadership of Ahmad Shah Massoud, a guerrilla fighter who attained near-mythic status before he was killed in a suicide bombing.
His 33-year-old foreign-educated son, Ahmad Massoud, and several top officials from the ousted Western-backed government have vowed to resist the Taliban.
Source: New Indian Express
Please click the following URL to read the full text of the original story:
https://www.newindianexpress.com/world/2022/jun/10/afghan-taliban-unlawfully-detaining-torturing-civilians-sayshuman-rights-watch-2464085.html
--------
Rights watchdog condemns the Taliban for violently beating Afghan journalist
June 10, 2022
LONDON: The Committee to Protect Journalists condemned the Taliban on Thursday for violently beating an Afghan journalist and charging three others over corruption reporting, urging them to file an immediate probe.
"Taliban leaders must take action to prevent their members from attacking journalists like Reza Shahir, and must immediately drop the spurious charges against three journalists in Faryab province over an old corruption case," said Steven Butler, CPJ's Asia program coordinator.
"The detentions, beatings, and harassment of media workers has continued to rise in Afghanistan under the Taliban, which indicates a worrisome trend for press freedom."
Last Friday, Afghan journalist Reza Shahir was stopped by Taliban forces while he was on his way to his home in Kabul, searched him, and proceeded to punch him in the head and beat him on the shoulder with an AK-47.
Shahir was stripped of his mobile phone and left unconscious on the street.
Previously a reporter for the local broadcaster Rahe Farda TV, Shahir was also beaten and detained by Taliban forces last April, but has since worked as a freelancer to avoid such violent incidents.
According to Shahir, Taliban fighters beat him after they searched his mobile phone and found screenshots of media reports about his April detention and beating.
He said the Taliban accused him of being a spy and working for foreign governments.
Separately, three Afghan journalists have been charged with as yet unspecified criminal offences after being questioned and detained numerous times throughout last month.
Source: Arab News
Please click the following URL to read the full text of the original story:
https://www.arabnews.com/node/2100806/media
--------
QATAR Vows Continued Political, Economic Cooperation with Afghanistan
By Arif Ahmadi
11 Jun 2022
Kabul, Afghanistan – In a formal trip to Kabul this week, the Qatari National Security Advisor (NSA) Mohammed bin Ahmed al-Misnad and his accompanying delegation pledged its government's continued cooperation in political and economic affairs of Afghanistan.
Qatari delegation met with Abdul Ghani Baradar, First Deputy Prime Minister; Sirajuddin Haqqani, Acting Minister of Interior; Amir Khan Muttaqi, Acting Minister of Foreign Affairs; and Mullah Khairullah Khairkhah, Acting Minister of Information and Culture during a formal visit in Kabul.
"Now that security has been restored in Afghanistan, employment for the people has been created, it is time to show the world the actual picture of Afghanistan," said Baradar, as TOLOnews quoted.
Welcoming the supportive gesture by Qatari government, the First Deputy PM further said that all commercial and investment facilities have been provided in Afghanistan, paving the way for regional and international allies, including Qatar, to invest in infrastructure projects in the country.
Meanwhile, a number of local economists believe Qatar's investment in economic sectors may help alleviate poverty and boost government income, saying such opportunity could as well increase employment rates in the country.
"Afghanistan can be saved from poverty and millions of jobs can be created if mines are extracted optimally and legally, have the proper legal framework, and the interests of the Afghan people are properly considered." said Azarakhsh Hafezi, an economist.
"Investing in Afghanistan's water and mining sectors is a good and golden opportunity for both international and domestic companies, and such investments may create a lot of jobs." said Hamidullah Yalani, another economist, according to local media.
While foreign investments in Afghanistan seem promising, alleviating financial struggles since the takeover last August, the economic committee ordered concerning ministries to revise the Mining Law at the Economic Commission meeting.
Mohammad Karim Azimi, Executive Director of Afghanistan Chamber of Industries and Mines (CIM) said the recommended changes in mining law could potentially benefit the country, attracting regional and international investment opportunities.
"The involvement of foreign investors, particularly Qatari investments, in the country's mines, is important, provided that the new rules give more benefits and place a greater emphasis on domestic investments."
This marks the first official visit to Afghanistan by the high-ranking Qatari delegation since the United Arab Emirates (UAE) took over the ground operations and aviation security contract at Kabul Airport, including three other local air facilities, according to the local media.
Source: Khaama Press
Please click the following URL to read the full text of the original story:
https://www.khaama.com/qatar-vows-continued-political-economic-cooperation-with-afghanistan/
--------
Taliban assure India to act on Pakistan-based terror groups in Afghanistan: Report
Jun 10, 2022
The Taliban's top leadership assured India during a bilateral meeting in Kabul last week that it would not allow terrorism against third countries from its soil and that it would act against terrorists from Pakistan-based groups based on specific intelligence, Indian media organisation the Hindustan Times reported.
According to the report, a visiting team led by senior diplomat JP Singh met with Taliban government officials in Kabul, including Defense Minister Mullah Yaqoob and Interior Minister Sirajuddin Haqqani, in addition to Foreign Minister Amir Khan Muttaqi. Singh is the MEA's joint secretary for PAI (Pakistan, Afghanistan, and Iran).
The meeting came after National Security Advisor Ajit Doval requested fellow NSAs from Russia, China, Iran, and Central Asian Republics to improve Afghanistan's capability to combat terrorism and terrorists who constitute a threat to regional peace and security during a Regional Security Summit in Dushanbe.
According to a report by Deccan Chronicle, during the conference, New Delhi is said to have told the Taliban that Pakistan-linked terror groups such as the Lashkar-e-Tayyaba and Jaish-e-Mohammed should not utilise Afghan soil for terrorism against India. The delegation will also meet with representatives from international organisations involved in the delivery of Indian humanitarian aid, which has so far included 20,000 metric tonnes (MT) of wheat, as well as vaccines, medications, and winter clothes. Outside of Kabul, the delegation will visit "other sites where Indian programmes and projects are being implemented."
The Taliban administration is not officially recognised by India.
According to the HT report, Taliban officials committed to taking action against Pakistan-based terrorist groups such as Jaish-e-Mohammed, Lashkar-e-Toiba, and Hizbul Mujahideen. The Taliban also vowed to take action against Al Qaeda in the Sub-continent (AQIS) terrorists if specific information was provided.
Source: WIO News
Please click the following URL to read the full text of the original story:
https://www.wionews.com/south-asia/taliban-assure-india-to-act-on-pakistan-based-terror-groups-in-afghanistan-report-486820
--------
Taliban want army training in India
11th June 2022
By Yeshi Seli
NEW DELHI: India's gesture of sending an official team to Kabul last week has prompted the ruling Taliban Defence Minister Mullah Yaqub to seek training of its army personnel in India. Mullah Yaqub said strengthening of diplomatic ties with India was the first step for which a beginning has been made by the visit of Indian officials. It is learnt that Yaqub has also been asking India to reopen its embassy in Kabul.
Yaqub's comment has not yet elicited any Indian response as New Delhi does not recognise the Taliban as the elected representative of the Afghan people. "It is a long shot as of now to consider this (Mullah Yaqub's offer), but things seem to be settling on the ground between New Delhi and Kabul. The recent trip by Indian officials is proof that India is willing to take the next step. We will have to wait and see how things take shape,'' said an expert on India-Afghanistan relations.
Source: New Indian Express
Please click the following URL to read the full text of the original story:
https://www.newindianexpress.com/nation/2022/jun/11/taliban-want-army-training-in-india-2464223.html
--------
Taliban rejects report on human rights violations in Afghanistan
Jun 11 2022
Kabul, Jun 11 (IANS): The Taliban-led government in Afghanistan has rejected a recent report by the Human Rights Watch (HRW) which expressed concerns over the violations of human rights, especially those of women and girls, in the war-torn nation.
In a statement on Friday, spokesman of the Taliban's Islamic Emirate of Afghanistan (IEA) government Zabihullah Mujahid said that citizens were currently being provided with better human rights than any other period in the country, reports TOLO News.
"The Islamic Emirate asks the UN and human rights advocate agencies not to listen to the propaganda... They must consider and accept the truth in the country. Human rights are respected in comparison to the past 20 years in Afghanistan," he said, adding that the HRW report was "incorrect and baseless".
Mujahid's remarks came a day after the HRW released its report which also called for an end to an exemption on travel bans of the IEA.
"Human Rights Watch has issued a new statement today calling for some specific action by the Security Council of the UN in response to the rising level of abuses by the Taliban against women and girls in Afghanistan," Heather Barr, Associate Director of the Women's Rights Division at the HRW, was quoted as saying in the report.
"In June, the travel ban exemptions that are currently in place for fourteen members of the Taliban leadership will expire, at that point we are asking the Security Council, not only to end those exemptions but also to consider whether there might be a need for a travel ban against additional individuals."
Travel bans on some IEA leaders were first imposed in 1999 as part of the UN response to violent activities in Afghanistan and it was partially suspended three years ago to allow 14 members of incumbent Taliban government to attend peace talks, reports TOLO News.
Source: Daiji World
Please click the following URL to read the full text of the original story:
https://www.daijiworld.com/news/newsDisplay?newsID=967672
--------
Southeast Asia
Deputy Minister (Religious Affairs): Muslims Must Unite Over Insults against Prophet Muhammad (SAW) in India
10 Jun 2022
KOTA BARU, June 10 — The government has urged Muslims in the country to unite against two politicians from India who insulted Prophet Muhammad SAW.
Deputy Minister in the Prime Minister's Department (Religious Affairs) Datuk Ahmad Marzuk Shaary said the insults were considered an act of extremism and unacceptable.
He said Muslims must rise and act in solidarity as a show of strength and togetherness to ensure no one repeats such acts in the future.
"The Prophet did not teach Muslims to insult other religions fearing how non-Muslims would react and insult Islam. That is why if there are people who try to insult the Prophet, we consider that an act of extremism.
"In fact, we should learn from this incident that Muslims must rise and be united, only then will they realise that they cannot simply insult Islam and the Prophet and at the same time be cautious when they see Muslims unite because if we are divided, they can do as they please," he said at a press conference after officiating the 'Lambaian Kaabah' programme at the Dewan Nik Abdullah Arshad at the Kompleks Purnama in Pengkalan Chepa here.
Media outlets had earlier reported that Malaysia along with Indonesia, Qatar, Kuwait, Iran, Saudi Arabia and other Islamic countries condemned the statements of politicians from India that insulted Islam recently.
Elaborating further, Ahmad Marzuk, who is also the Pengkalan Chepas MP, denied allegations that he did not act firmly regarding insults against the Prophet Muhammad SAW.
He said the allegations were untrue and in fact, the Religious Affairs Minister had earlier issued a statement about the matter and stressed that they strongly condemned the insults against Prophet Muhammad SAW.
"I also issued two statements condemning the actions and Alhamdulillah we can see the sensitivity of Muslims towards the Prophet is still high based on the response to the statements issued.
Source: Malay Mail
Please click the following URL to read the full text of the original story:
https://www.malaymail.com/news/malaysia/2022/06/10/deputy-minister-muslims-must-unite-over-insults-against-prophet-muhammad/11729
--------
Respect Muslim rights on Bon Odori issue
June 10, 2022
Malaysia is truly unique. We are a nation of different races and faiths living together, making us one of the world's most diverse societies.
Respect has been instrumental in safeguarding this harmony even as other societies implode with violence and prejudice. Malaysians live harmoniously, barring a few incidents, because we are a tolerant country where people have the right to worship what they believe and observe their respective festivals and traditions with no interference from other races or folks of other faiths.
Indeed, respect in Islam is at the core of its belief: Muslims are commanded to respect their parents, elders, colleagues, neighbours – even animals and the environment. Respecting the beliefs and values of others has allowed Muslims to safeguard and honour the rights of others.
The problem now is that many Muslims feel that our values and beliefs are being challenged. We are provoked by interference from non-Muslims.
Take the Bon Odori tempest. Why are non-Muslims commenting on guidance from a Muslim minister and scholar that is specifically for Muslims?
We've never interfered. Therefore, we ask for the same courtesy.
How would you feel if we asked a Hindu to help the Muslims in the slaughter of cattle during the festival of Aidiladha in the name of harmony? But, Muslims have never done that and asked others to abandon their beliefs or forced our beliefs on non-Muslims.
You may say Bon Odori is just a cultural festival with no religious connotations. But here's what my Japanese friend has said: "Bon Odori began as a memorial service for the spirits of the ancestors. It has now evolved into a festival featuring a choreographed dance that emphasises the movement of the feet, where stepping on the ground is a ritual to send out the ancestors to find their way home."
Islam is clear on what is permissible or otherwise. Supplications for the dead are fine, but ritualistic dances are a no-no.
Muslims are guided by divine laws: the commands of Allah and the examples of Prophet Muhammad (peace be upon him). It's not about opinions, or what I say, or what this or that scholar says.
Muslims don't look to the Middle East just because it's the birthplace of Islam. Muslims don't follow the Arabs just because Prophet Muhammad (peace be upon him) is one of them.
Although the Middle East is now inviting Western ideals to be seen by the world as being liberal, inclusive and pragmatic (hello, BTS concert!), these are not Islam's values. Everything a Muslim does needs to be guided by the Quran and evidence exemplified by the Prophet (peace be upon him).
But what about harmony, you ask? Islam encourages us to embrace other people's traditions and cultures as long as they do not go against Islam.
See Surah Al Kafirun 109, verse 6, meaning: "we worship not what you worship, nor do you worship what we worship". Thus, Muslims in authority, such as Jakim and the religious affairs minister, Idris Ahmad, have the responsibility to advise fellow Muslims on the guidelines of how to live in accordance with Allah's and the Prophet's commands.
Again, the guidelines are for Muslims. Whether or not they are followed is up to each individual Muslim. People of other faiths are free to observe the festival and do as they please.
But my liberal Muslim friend says Bon Odori is fine! Just like many people, Muslims in general always conflate religion and what is considered culture and tradition.
Opinions will always be there. But for Muslims who only want to please God – without needing approval in the court of public opinion – we know what we need to do.
Muslims as followers are not perfect, but Islam is a perfect religion from the Almighty Creator. The Quran says: "Today I have perfected your religion for you" (Al-Maidah, verse 3).
For anyone to say anything about Islam, they should be learned and guided by the Quran and the Prophet's (peace be upon him) examples and have knowledge about the religion.
Source: Free Malaysia Today
Please click the following URL to read the full text of the original story:
https://www.freemalaysiatoday.com/category/opinion/2022/06/10/respect-muslim-rights-on-bon-odori-issue/
--------
Kelantan religious authorities deny barring Perlis mufti
Nora Mahpar
June 8, 2022
PETALING JAYA: Kelantan's religious authorities have denied barring Perlis mufti Asri Zainul Abidin from holding ceramahs in the state, though he is still required to request permission from them.
This follows Asri's claim that he was not allowed to speak in a programme in Taman Aulia, Kota Bharu, for not having the necessary "credentials".
The director of Kelantan's Islamic affairs department, Che Rahim Jusoh, said discussions were held with the organisers of the programme and that the matter had been resolved.
"There are no problems between the state government and the organisers. There are no restrictions. One can (hold ceramahs) but they must apply to do so, the same way they have to in other states.
"They don't have to have credentials, but if they do, then it's better. If they don't, they can request for temporary permission, it's not a problem," he told FMT.
Asri was supposed to appear on a forum with Kolej Universiti Islam Perlis rector Rozaimi Ramle and Kelantan PAS leader Johari Mat.
However, the programme, organised by businessman Wan Ariff Wan Hamzah, was understood to have been cancelled after orders from the state religious department as Asri and Rozaimi did not possess the required credentials.
A letter said to have been issued by the department had also gone viral, warning that action would be taken if the forum went ahead, with the organisers liable to a RM5,000 fine or a maximum jail sentence of three years, or both.
While the forum was cancelled, it was changed to a casual get-together, which was later interrupted by a group of youths who chanted "tolak Wahabi" (reject Wahhabism).
Previously, Asri had not been allowed to hold ceramahs in Selangor and Terengganu as he also did not possess the credentials required by the states' religious departments.
Wahhabism, sometimes used interchangeably with Salafism, has its origins in the teachings of 17th century scholar Muhammad ibn Abd Wahhab, who sought to end practices deemed "un-Islamic" and led a campaign for a return to a more austere version of Islam.
Wahhabi ideas inspired restrictions in Saudi Arabia, such as the ban on women driving and the rule that women travellers are to be accompanied by male family members, although these have eased in recent times.
Source: Free Malaysia Today
Please click the following URL to read the full text of the original story:
https://www.freemalaysiatoday.com/category/nation/2022/06/08/kelantan-religious-authorities-deny-barring-perlis-mufti/
--------
Activists laud 'first step' to totally abolishing death penalty
Nicholas Chung
June 10, 2022
PETALING JAYA: Human rights activists have lauded the government's decision to abolish the mandatory death penalty, saying this is the first step towards totally doing away with the death sentence in Malaysia.
Lawyers for Liberty (LFL) adviser N Surendran said Prime Minister Ismail Sabri Yaakob's government deserved praise for this long-awaited decision, adding that this was "the right thing to do".
"However, the government must not stop there. The current moratorium on executions must continue until a full abolition of the death penalty is achieved.
"The death penalty is cruel, irreversible and has no effect in preventing serious crime. Our society must not stop until capital punishment is thrown into the rubbish heap of history," he told FMT.
Anti-Death Penalty Asia Network (Adpan) executive coordinator Dobby Chew also welcomed Putrajaya's announcement on the matter, saying it was about time that the mandatory death sentence be abolished.
Chew said that judges must have the discretion to sentence offenders based on the facts of each case so as to ensure that justice was served.
"The mandatory death penalty has been a source of injustice in our criminal justice system," he told FMT, adding that the move to abolish it was long overdue.
Singaporean human rights lawyer M Ravi applauded Putrajaya's move and hoped the republic would soon follow in Malaysia's footsteps.
"It's so heartening that Malaysia has taken this enlightened path after years of campaigning," said Ravi, who briefly represented Nagaenthran K Dharmalingam, who was executed in Singapore in April.
Rights group Suara Rakyat Malaysia (Suaram) said this decision gave judges the discretion to mete out an alternative sentence rather than the death penalty.
It agreed with Surendran and Chew that Putrajaya should go on to abolish the death penalty as a whole, but said today's announcement was a "significant step forward".
Earlier today, law minister Wan Junaidi Tuanku Jaafar said Putrajaya had agreed to abolish the mandatory death penalty, giving judges discretion in sentencing.
The Cabinet had also agreed for a further study to be carried out on the proposed substitute sentences for 11 offences carrying the mandatory death penalty, one of which is under Section 39B of the Dangerous Drugs Act 1952.
Source: Free Malaysia Today
Please click the following URL to read the full text of the original story:
https://www.freemalaysiatoday.com/category/nation/2022/06/10/activists-laud-first-step-to-totally-abolishing-death-penalty/
--------
Penang Mufti says former chief secretary to govt Mohd Sidek's hefty 1MDB perk 'haram', should be returned
By Syed Jaymal Zahiid
11 Jun 2022
KUALA LUMPUR, June 11 — Penang Mufti Datuk Seri Wan Salim Wan Mohd Noor suggested yesterday that the hefty allowance given to former chief secretary to the government Tan Sri Mohd Sidek Hassan as 1Malaysia Development Berhad (1MDB) board member was "haram".
Wan Salim was quoted by Sinar Harian as saying that Islam forbids a worker from taking a wage that does not commensurate the labour put into the specified work, a comment following Mohd Sidek's testimony that he was paid up to RM30,000 monthly to sit in the fund's advisory board.
"The Prophet had asserted that whoever is hired to perform a task is paid a certain wage. Whatever excess taken from that is deemed to be haram," Wan Salim said.
Under Islamic law, the degree of sin is higher if the wage was taken from public funds, the Penang mufti added.
He then advised Mohd Sidek to return the money.
"If it can't be returned to the government as an alternative it can be channelled into any programmes that benefit the public, such as helping the poor or through the court," he was quoted as saying.
The former chief secretary told the High Court as a witness in Datuk Seri Mohd Najib Razak's corruption trial that he had never attended a single board meeting despite receiving a premium emolument.
Mohd Sidek testified that he was a board member from July 1, 2010 to June 23, 2012,. His contract was later extended to June 2015 but with the allowance reduced to RM10,000 a month.
He claimed Najib had put him on the Finance Ministry-owned 1MDB because the former prime minister felt his salary was too low, with the role initially providing an additional income of RM30,000 per month.
Meanwhile legal group ProGuam said Mohd Sidek is morally obligated to return the allowances.
Source: Malay Mail
Please click the following URL to read the full text of the original story:
https://www.malaymail.com/news/malaysia/2022/06/11/penang-mufti-says-former-chief-secretary-to-govt-mohd-sideks-hefty-1mdb-perk-haram-should-be-returned/11757
--------
Arab World
Tombstones in northern Syria document terror group YPG/PKK's use of child soldiers
Ömer Koparan, Mehmet Burak Karacaoğlu, Ethem Emre Özcan
10.06.2022
AYN AL-ARAB / AZAZ, Syria
Tombstones in northern Syria, close to the Turkish border, provide grim evidence of the fate of underage boys and girls forcibly recruited by the YPG, the Syrian offshoot of the terror group PKK.
According to footage obtained by Anadolu Agency, the tombstones of several YPG/PKK members at a cemetery in the city of Ayn al-Arab (Kobani) show that they died at age 14 to 17. The slain YPG/PKK members were born in the late 1990s and died in the mid-2010s.
The use of children as armed combatants, by terrorist groups or otherwise, is expressly forbidden under international humanitarian law and is defined as a war crime by the International Criminal Court.
The YPG/PKK's use of child soldiers was highlighted by the US State Department's 2020 Trafficking in Persons Report.
The report underlined that the YPG/PKK continued to forcibly recruit boys and girls as young as 12 from refugee camps located in northwestern Syria.
This week, locals in Aleppo, Syria – near northern areas controlled by YPG/PKK terrorists – said two brothers, just 9 and 10 years old, had just been kidnapped by the terrorist group.
Moreover, a January 2020 UN human rights office (OHCHR) report said its findings suggest the YPG/PKK is using children as fighters in Syria.
In July 2019, Virginia Gamba, the UN secretary-general's special representative for children and armed conflict, signed an action plan with the SDF – the label the YPG/PKK terror group uses in Syria – to end and prevent the recruitment and use of minors under 18, but the terror group has violated the plan.
Source: Anadolu Agency
Please click the following URL to read the full text of the original story:
https://www.aa.com.tr/en/middle-east/tombstones-in-northern-syria-document-terror-group-ypg-pkk-s-use-of-child-soldiers/2610506
--------
Lebanese civilians 'suffer harm' from flights by Israeli spy planes and drones
June 10, 2022
BEIRUT: There have been 22,111 Israeli violations of Lebanon's airspace since 2007, according to a database that wants to show the effects of "systematic and prolonged exposure to the roar of these military planes in the airspace, and their impact on the physical and psychological life of those who have had to withstand constant air pressure" from above.
Airpressure.info compiled the database to make all Israeli air violations visible.
Lawrence Abu Hamdan, a 37-year-old Jordanian who lived in Beirut for years, is behind the information. He said he wanted to shed light on "an accumulated event, one extended crime" that had taken place over the past 15 years.
"It is an atmosphere of violence that takes its toll over time. That is why it might be ignored, although it shouldn't be ignored any longer."
Lebanon and Israel are still in a state of war despite the Israeli withdrawal from the south of the country in 2000. The last Israeli attack witnessed by Lebanon was in the summer of 2006 which lasted a month.
Hamdan is also a contemporary artist who specializes in the political effects of listening, using various kinds of audio to explore its effects on human rights and law.
Airpressure.info said that 8,231 fighter aircraft and 13,102 drones had violated Lebanese airspace since 2007.
It said: "These acts of aggression in Lebanese airspace are not short overflights, but last for four hours and 35 minutes on average. The total duration of these violations amounts to 3,098 days. This is equal to eight years and a half of continued occupation of Lebanon by jet planes and drones."
These violations meant that life in Lebanon was under random group surveillance, it added.
"These are an unprecedented violation of people's privacy by a foreign state. Through these airspace violations, people's phone calls and text messages are being monitored and their homes and movements are being randomly filmed."
Journalist Samer Wehbe, who is from the southern city of Nabatieh, told Arab News that Lebanese people living in the south had become used to the sound of the Israeli aircraft every day.
"They find it odd when these aircraft do not violate the airspace for one or two days. Apart from watching the movements of the Lebanese, the Israeli spy planes, roaring all day and night, cause disturbance, anxiety, and stress. Even children complain about the sounds."
The website relied on the findings of 17 articles published in popular international journals detailing "the severe physiological effects of airplane noise."
These articles showed that "hypertension, circulatory effects, sleep disorder, and psychosocial pain" were usually associated with long-term exposure to this type of noise pollution.
The website recorded 30 times where around eight to 12 aircraft breached Lebanese airspace at the same time, "regularly violating the sound barrier above civilian areas, causing a sonic boom known to smash windows."
It was possible that all residents would hear these aircraft while they flew north over the mountains and south to the coast as Lebanon was just 88 km at its widest point, it said.
It noted that Israel used advanced military aircraft and modern surveillance aircraft.
Wehbe said: "Adults who have lived through Israel's wars and invasions of Lebanon suffer from anxiety more than others. During my fieldwork, I have often seen women having panic attacks because they expect to be raided after hearing the roar of flying aircraft, especially since this roar lasts hours and becomes disturbing as minutes and hours pass."
In a survey of Lebanon's complaints against Israeli air violations, the website said 243 letters were uploaded to the UN Digital Library from 2006 to 2021. "They are addressed to the Security Council and contain all radar information, including time, duration, type, and route for each violation of the aircraft."
The Lebanese Defense Ministry, the UN Security Council, and UNIFIL forces usually monitor and record such violations. But the website said this information was stored in a "partial and uncoordinated manner" by these three institutions.
It published a map of the airspace violations above Lebanon's regions and showed the routes followed by the aircraft in the form of overlapping circles that covered most of the country.
The flights are concentrated in the south, where they appear to follow set routes. But Beirut is also a frequent destination, as are areas north of the capital and closer to the Syrian border.
Source: Arab News
Please click the following URL to read the full text of the original story:
https://www.arabnews.com/node/2100976/middle-east
--------
MP: Call for safe zone in northern Syria is Erdogan's brainchild, rooted in colonial projects
11 June 2022
A Syrian legislator has dismissed Turkish President Recep Tayyip Erdogan's call for the establishment of a so-called safe zone in the occupied northern part of the war-ravaged country, stating that the proposal is rooted in his colonial projects.
"Erdogan's plan aimed at creation of a 30-kilometer (18.6-mile) deep in northern Syria is emphatically rejected. His dream of the Ottoman empire rebirth will never come true," Ammar al-Assad said in an exclusive interview with the Arabic service of Russia's Sputnik news agency on Friday.
"We are already familiar with the hostile views of the Turkish regime towards its neighbors, its colonial approaches, as well as its support for terrorism, sabotage and blackmail to achieve political goals," Assad added.
The Syrian lawmaker noted, "He is now pushing to establish a so-called safe zone 30 kilometers deep south of the border with Syria. There is no such thing in international principles or agreements. There are also other inventions like the so-called Free Syrian Army (FSA) and Hayat Tahrir al-Sham (HTS) Takfiri terrorist groups, which he created and financed himself."
"Such hostile statements are in support of terrorists, and give them a free hand to occupy a neighboring country and to displace local residents with the intention of demographic change," Assad commented.
He went on to say that "the so-called safe zone will not be established at all. All traces of the Turkish occupation will be obliterated as the Syrian army and the Damascus government is unified in the face of plots seeking to destroy the fabric of our society."
"We also have Russia and Iran as allies as well as freedom-loving people of the world on our side, who condemn the plan and will not allow these terrorist and colonial projects to be carried out," Assad noted.
Earlier this month, Russia's Foreign Ministry urged Turkey against launching another incursion into northern Syria under the pretext of fighting off anti-Ankara "terrorists."
"We hope that Ankara will refrain from actions that could lead to a dangerous deterioration of the already difficult situation in Syria," spokeswoman Maria Zakharova said in a statement on June 2.
"Such a move, in the absence of the agreement of the legitimate government of the Syrian Arab Republic, would be a direct violation of Syria's sovereignty and territorial integrity" and would "cause a further escalation of tensions in Syria," she added.
"We understand Turkey's concerns about threats to national security emanating from the border regions" with Syria, she said, adding the concerns, however, could also be alleviated if the Syrian military were to be deployed to the areas.
Her remarks came a day after Erdogan warned that the country was to take yet "another step" to "clean up" the northern Syrian cities of Tal Rifat and Manbij.
Turkey has been conducting several incursions against Syria's northern parts since 2016 to fight back against Kurdish militants known as the People's Protection Units (YPG).
Source: Press TV
Please click the following URL to read the full text of the original story:
https://www.presstv.ir/Detail/2022/06/11/683689/MP--Call-for-safe-zone-in-northern-Syria-is-Erdogan%E2%80%99s-brainchild,-rooted-in-his-colonial-projects
--------
Iran denounces Israeli strike on Damascus airport, reaffirms support for Syria
10 June 2022
Iran has strongly condemned the Israeli regime's renewed aggression against Syria after Friday's attack targeting the Damascus airport, reaffirming its unflinching support for the Arab country.
Foreign minister Hossein Amir-Abdollahian made the remarks during a telephone conversation with his Syrian counterpart Faisal al-Mekdad on Friday, hours after an Israeli airstrike targeted the vicinity of the Damascus International Airport in the Syrian capital.
The Islamic Republic has always stood by the Syrian government and people and would continue to do so in the future, the Iranian top diplomat, who is presently visiting India, asserted.
He said the Israeli regime's relentless attacks on Syria's infrastructure were not only in violation of the country's sovereignty and territorial integrity, but also constituted a contravention of all international laws and humanitarian norms and principles.
Amir-Abdollahian deemed the silence of the international community and regional organizations in the face of the Israeli aggression as "pathetic and reprehensible."
The Syrian official, for his part, expressed his country's gratitude to the Islamic Republic and said the Syrian nation would sustain its resistance against the Zionist regime's occupation and aggression.
Syria and the Israeli regime are technically at war due to the latter's 1967-present occupation of Syria's Golan Heights.
The regime maintains a significant military presence in the occupied territory, which it uses as one of the launchpads for attacks on Syrian soil.
The regime's attacks on Syria have grown significantly in scale and frequency after 2011 when Syria found itself in the grip of foreign-backed terrorism.
Referring to the Friday airstrike, Mekdad said the Israeli regime resorts to such desperate attacks to disturb the calm and stability in the region so that it can deflect attention from its domestic crisis.
He further said the attacks were meant to reinforce the remnants of Takfiri terrorist outfits, such as Daesh and al-Nusra Front, adding that the aggression would lead to nowhere.
Such incursions, the Syrian official concluded, would only strengthen the Syrian government and people's resolve to confront occupation and terrorism.
'Flights suspended at Damascus airport'
In the wake of the Israeli attack targeting the airport in Damascus on Friday, Syria's al-Watan newspaper reported that the country suspended all flights at the airport.
According to the daily, the attack partly damaged the runway at the airport.
The official Syrian Arab News Agency (SANA) also reported the halt in the airport's operations but said the issue was due to a "technical" malfunction.
Earlier on Friday, for the second time this week, Syrian air defenses intercepted missiles launched by the Israeli military at targets south of the capital Damascus, bringing down most of them.
SANA, citing a military source, said Israeli warplanes fired several missiles from the direction of the occupied Golan Heights at some targets south of Damascus at around 4:20 a.m. local time (0120 GMT) Friday, but Syrian air defenses brought down most of them.
Syria had last month urged the United Nations to issue a "clear" condemnation of the regime's relentless airstrikes on the Arab country.
Source: Press TV
Please click the following URL to read the full text of the original story:
https://www.presstv.ir/Detail/2022/06/10/683683/Iran-Syria-Israel-attack-airport
--------
Report: Israel deploys radar systems in UAE, Bahrain to counter 'threats' from Iran
10 June 2022
Tel Aviv regime has deployed radar systems in some West Asian countries as part of joint cooperation with the region's Arab states to counter what the Israeli media claims to be "missile threats" from Iran.
"Israel has deployed radar systems in several countries in the Middle East, including the UAE and Bahrain," Channel 12 said on Thursday, claiming the measure was in line with joint cooperation in confronting "Iranian missile threats" and creating an early warning system.
The media also said the US administration was seeking to establish a security alliance consisting of Israel and a number of Persian Gulf countries, including those that do not have diplomatic relations with Israel.
"It is a defense-security cooperation agreement between Israel and several Arab countries against threats from Iran," the Channel 12 news said. "Under the emerging agreement, the United States will work on cooperation between Israel and six Persian Gulf states, in addition to Egypt, Jordan and Iraq. It is a joint proposal between The Democratic and Republican parties and will be tabled on Thursday in the House of Representatives."
According to the Israeli channel, members of US Congress had already put forward a bill requiring that the US Department of Defense integrate the air defense systems of Israel and some Arab countries.
The Wall Street Journal has reported that the Republican and Democratic parties have submitted the bill to Congress, recommending that the Pentagon work with Israel and the Arab countries to incorporate air defense capabilities to "counter the threats from Iran." The bill was the latest attempt inside the Beltway to improve military cooperation between Israel and West Asia after normalization of ties between the occupying regime and some Arab countries.
"Israel will cooperate and coordinate on military and security measures with many countries without diplomatic relations, whose laws have recently banned measures that promote normalization and relations with Israel," the Journal said.
The Israeli media report came on the same day Israeli Prime Minister Naftali Bennett visited the United Arab Emirates, his second official trip to the Persian Gulf country since the two sides formally normalized in 2020 under the so-called Abraham Accords brokered by then US President Donald Trump.
Source: Press TV
Please click the following URL to read the full text of the original story:
https://www.presstv.ir/Detail/2022/06/10/683680/Israel-Channel-12-news-radar-systems-West-Asia
--------
Lebanon says to resume passport appointments after pause
10 June, 2022
Lebanon said Friday it will resume appointments to issue and renew passports next week after suspending such bookings in late April due to supply shortages that sparked nationwide alarm.
Grappling with its worst-ever financial crisis, Lebanon has seen passport renewal requests surge tenfold since 2020 amid a massive population exodus that is only worsening as politicians fail to chart a path towards recovery.
"The General Directorate of General Security announces that the (passport) platform will be relaunched as of Monday, June 13," the top security agency said in a statement.
General Security had announced on April 28 that it had stopped taking appointments to issue and renew passports because of a shortage of travel documents, in part due to the government failing to pay a company tasked with printing new ones.
On Friday, General Security said that it had been informed that the company had been paid the amount outstanding.
Source: Al Arabiya
Please click the following URL to read the full text of the original story:
https://english.alarabiya.net/News/middle-east/2022/06/10/Lebanon-says-to-resume-passport-appointments-after-pause
--------
Mideast
Eight Iran convicts face 'imminent' finger amputation: Rights group
10 June, 2022
Eight Iranian men convicted of theft and held outside Tehran are in imminent risk of having their fingers cut off, an NGO warned on Friday, decrying the punishment as "inhuman."
The men are being held in the Greater Tehran prison waiting for their fingers on one hand to be amputated, the Abdorrahman Boroumand Center for Human Rights in Iran (ABC) said in a statement.
Three of them had been transferred from Orumiyeh prison in northwestern Iran specifically for the amputation.
It added they had been told that their punishment would be implemented once a guillotine-like device for the purpose was operational in Evin prison in Tehran.
On June 8, all eight were summoned for transfer to Evin for the amputation which was postponed for unknown reasons.
In a joint statement with the Kurdistan Human Rights Network (KHRN), the ABC said it was concerned by "credible reports" that the device had now been installed in a clinic in Evin and had already been used for at least one amputation in recent days.
"Carrying out such a cruel and inhuman punishment violates the minimum standards of humanity and decency," said ABC executive director Roya Boroumand.
"The international community can and should react urgently to stop the implementation of these amputations," she added.
Finger amputations are permitted in the Islamic republic under sharia law, but have been rarely carried out until now.
The ABC said it had collected reports on at least 356 sentences of amputation issued since the Islamic revolution in 1979, but added the real number is believed to be much higher.
If the sentences are carried out, the men will have four fingers of their right hand cut off, according to Iran's penal code.
The concern over their pending punishment comes as rights groups also raise alarm over surging numbers of executions in Iran at a time of protests over price rises.
Source: Al Arabiya
Please click the following URL to read the full text of the original story:
https://english.alarabiya.net/News/middle-east/2022/06/10/Eight-Iran-convicts-face-imminent-finger-amputation-Rights-group
--------
AEOI Chief: Iran Starts Injecting Gas into Advanced Centrifuges
2022-June-10
Eslami made the remarks in an interview with Iran's National TV on Thursday night.
"In the last 20 years, all the methods, behaviors, psychological operations, sanctions, and resolutions that they have exercised and imposed have been in line with the policy of stopping the Islamic Republic of Iran," Eslami said while referring to the anti-Iran resolution that was passed at the IAEA Board of Governors on Wednesday.
"It is regrettable that an international institution has been exploited by an illegitimate regime and its reputation has been destroyed," he added.
He added that Iran's goodwill in the JCPOA was never admitted, stressing, "We don't look for adventurous operations. We have officially announced what our nuclear program is according to the IAEA charter, the IAEA has a duty to assist countries in developing their nuclear programs."
"The IAEA is held hostage by the Israeli regime," Eslami pointed out.
Regarding the Thursday AEOI move in disconnecting the IAEA's surveillance cameras that were installed beyond the Safeguards Agreement, he said, "We kept the cameras in place in accordance with the JCPOA to show our goodwill, but now that false and unacceptable accusations have been made against Tehran, the recent decision was made."
He also pointed out that Iran's peaceful nuclear activities continue in an environment in a technical, excellent environment under the influence of the agency's rules.
The IAEA approved a resolution, proposed by the US, Germany, France and Britain, against Iran late Wednesday with 30 votes in favor, two against and three abstentions.
The Iranian foreign ministry denounced the "non-constructive approach" of the IAEA, saying the Islamic Republic "has taken practical quid pro quo steps which include installation of advanced centrifuges and deactivation of cameras operating outside the Safeguards Agreement".
"The adoption of this resolution, which is based on the hasty and unbalanced report of the Director General of the IAEA and on false and fabricated information of the Zionist regime, will only weaken the process of cooperation and interaction of the Islamic Republic of Iran with the IAEA," it said.
The statement said the IAEA appeared to have resurrected issues which had been settled between the two sides seven years ago, despite the Islamic Republic having "always cooperated constructively" with the agency in recent years.
Iran, it said, had showed its good faith in cooperation with the IAEA by providing accurate technical information as confirmed by their joint statement issued in March when IAEA Director General Rafael Grossi visited Tehran.
"Likewise, the Agency was expected to take an independent, impartial and professional approach, taking constructive and realistic steps to normalize safeguards issues that according to the Agency own admission did not bear proliferation concerns," the statement said.
"It seems some have forgotten that all past issues were closed once and for all on December 15, 2015 by the Board of Governors," it added.
Source: Fars News Agency
Please click the following URL to read the full text of the original story:
https://www.farsnews.ir/en/news/14010320000277/AEOI-Chief-Iran-Sars-Injecing-Gas-in-Advanced-Cenrifges
--------
Senior Cleric Calls IAEA's Politicized Resolution As Failed Attempt to Pressure Iran in Vienna Talks
2022-June-10
Addressing a congregation of people at Tehran's Imam Khomeini Grand Mosalla (congregational prayers site), Ayatolallah Khatami said, "The Wednesday anti-Iran resolution at the IAEA Board of Governors was aimed at making the Islamic Republic to give concession in the negotiations."
Ayatollah Khatami said that the Islamic Republic will not give in to the Western countries' pressures and will remain loyal to the ideals of its revolution set out by Late Imam Khomeini.
The senior Iranian cleric also criticized the visit of the IAEA director general Rafael Grossi to Israel, saying, "The anti-Iran resolution drafted by the Western countries in fact came after the visit, pointing out that the visit was to coordinate the attempts to approve the resolution."
The IAEA approved a resolution, proposed by the US, Germany, France and Britain, against Iran late Wednesday with 30 votes in favor, two against and three abstentions.
The Iranian foreign ministry denounced the "non-constructive approach" of the IAEA, saying the Islamic Republic "has taken practical quid pro quo steps which include installation of advanced centrifuges and deactivation of cameras operating outside the Safeguards Agreement".
"The adoption of this resolution, which is based on the hasty and unbalanced report of the Director General of the IAEA and on false and fabricated information of the Zionist regime, will only weaken the process of cooperation and interaction of the Islamic Republic of Iran with the IAEA," it said.
The statement said the IAEA appeared to have resurrected issues which had been settled between the two sides seven years ago, despite the Islamic Republic having "always cooperated constructively" with the agency in recent years.
Iran, it said, had showed its good faith in cooperation with the IAEA by providing accurate technical information as confirmed by their joint statement issued in March when IAEA Director General Rafael Grossi visited Tehran.
"Likewise, the Agency was expected to take an independent, impartial and professional approach, taking constructive and realistic steps to normalize safeguards issues that according to the Agency own admission did not bear proliferation concerns," the statement said.
"It seems some have forgotten that all past issues were closed once and for all on December 15, 2015 by the Board of Governors," it added.
Source: Fars News Agency
Please click the following URL to read the full text of the original story:
https://www.farsnews.ir/en/news/14010320000367/Senir-Cleric-Calls-IAEA's-Pliicized-Reslin-As-Failed-Aemp-Pressre
--------
Venezuela, Iran to sign 20-year cooperation plan including weekly flight route
10 June, 2022
Venezuelan President Nicolas Maduro announced on Friday that a 20-year cooperation plan with Iran will be signed, as he arrived in Tehran for a two-day official visit.
In an interview with the Iranian television station Hispantv, Maduro announced the opening of a weekly flight route from Caracas to Tehran and said Venezuelan coffee could be sold to Iran, alongside the plan to sign an agreement on Saturday in different areas of cooperation.
Details on the cooperation plan were not provided.
Hispantv also said Maduro will meet with Iran's president, Ebrahim Raisi, during the two-day visit.
Iran and Venezuela, both sanctioned by the United States, since 2020 have expanded cooperation, particularly for energy projects and oil swaps, helping the Caribbean nation ease the effect of Washington's measures.
In May, Iran's state-owned National Iranian Oil Engineering and Construction Co signed a contract worth about 110 million euros to repair Venezuela's smaller 146,000 barrel-per-day refinery.
The agreement was sealed after recent negotiations attended by Iranian Oil Minister Javad Owji, who was in Venezuela early last month and met with Maduro.
Maduro arrived in Tehran on Friday as part of an official trip that earlier this week included Turkey and Algeria.
Source: Al Arabiya
Please click the following URL to read the full text of the original story:
https://english.alarabiya.net/News/world/2022/06/10/Venezuela-Iran-to-sign-20-year-cooperation-plan-including-weekly-flight-route
--------
Int'l congress in Iraq discusses seerah of Ayatollah Hakim
June 11, 2022
An international congress is underway in the holy city of Najaf in Iraq to commemorate and review the Seerah of late Iraqi source of emulation Ayatollah Sayyid Muhammad Saeed al-Hakim.
The scholarly event got underway at the conference hall of the Alawi Complex in the holy mausoleum of Imam Ali (AS) on Thursday, Al-Forat News reported.
More than 1,000 scholars and figures from Iraq and a number of other countries are taking part in the congress, which has been organized by the Astan (custodianship) of Imam Hussein (AS) holy shrine.
Sheikh Abdul Mahdi al-Karbalayi, the custodian of Imam Hussein (AS) holy shrine, in an address said it is a duty to preserve the legacy of great scholars and that is why the Astan has organized the congress.
He said late Ayatollah Hakim was a brilliant page in the book of Najaf Islamic Seminary who spent his life on serving Islam.
Ayatollah Hakim played a great role in elevating the scientific level of the seminary's scholars and strengthen the bond between the seminary and the sources of emulation, he added.
Next, a message was read out by Sheikh Ali Rabiee, in which senior cleric Ayatollah Muhammad Is'haq Fayyaz called for documenting the Seerah and achievements of Ayatollah Hakim.
Ayatollah Bashir Najafi, another senior scholar also sent a message to the event, which was read out on the first day.
He described Ayatollah Hakim as a pioneer in many important fields in the Islamic seminary and one who spent his life in serving Islam and the motherland.
Ayatollah Sayyid Muhammad Saeed al-Hakim was a Shia source of emulation (marja) and one of the Big Four Grand Ayatollahs of the Najaf Seminary.
Born to a family of clerics in Najaf in 1354 Hijri (1936), he was a grandson to late Grand Ayatollah Muhsen al-Hakim. His father was Mohammad Ali al-Hakim, one of the most respected clerics in Najaf.
Source: ABNA24
Please click the following URL to read the full text of the original story:
https://en.abna24.com/news//int%e2%80%99l-congress-in-iraq-discusses-seerah-of-ayatollah-hakim_1265710.html
--------
Africa
Tunisia's dismissals of judges 'blow to judicial independence': NGOs
Merve Aydogan
10.06.2022
Ten international human rights groups criticized the dismissal of more than 55 judges on June 1 by Tunisian President Kais Saied, describing the move a "deep blow to judicial independence."
The president's moves are an assault on the rule of law. He should immediately revoke the decree and reinstate judges he fired under its provisions," said a joint statement by the human rights organizations that included among others Human Rights Watch, the International Federation for Human Rights, Lawyers Without Borders, World Organization Against Torture and Amnesty International.
Emphasizing that the "independence of the judiciary is a crucial element of the right to a fair trial," the joint statement noted that "states have an obligation to take specific measures to guarantee the independence of the judiciary and protect judges from any form of political influence."
On June 1, the Tunisian president sacked 57 judges, accusing them of corruption and protecting terrorists.

Among those sacked was Youssef Bouzaker, the former head of the Supreme Judicial Council whose members the Tunisian president replaced this year.
Another prominent judge on the list was Bachir Akremi, whom Saied's supporters accuse of being too close to the Ennahda Party.

In response to dismissals, Tunisian judges started a week-long strike on Monday to pressure Saied to reverse his decision.
The sacking of judges by the Tunisian president has drawn widespread condemnations from political parties across the North African nation as well as from the US.
Tunisia has been in the throes of a deep political crisis since July 25, 2021, when Saied dismissed the government, suspended parliament, and assumed executive authority, in a move decried by opponents as a "coup."
Source: Anadolu Agency
Please click the following URL to read the full text of the original story:
https://www.aa.com.tr/en/middle-east/tunisias-dismissals-of-judges-blow-to-judicial-independence-ngos/2610967
--------
Suspected Islamist insurgents kill 25 in Nigeria's northeast
June 10, 2022
MAIDUGURI, Nigeria, June 10 (Reuters) - Suspected Islamist fighters killed 25 people on Thursday in a village in Nigeria's northeastern Borno state, two residents and a military source said on Friday.
An insurgency by Boko Haram and Islamic State West Africa Province in Nigeria's northeast and southern Chad has killed thousands of people and displaced millions more in over a decade, humanitarian groups say.
The residents said gunmen arrived on motorbikes in Boboshe Mukdala village of Dikwa local government area of Borno, where they shot at people who were searching for scrap metal in a nearby forest.
"We recovered 25 bodies of the victims and we took those who sustained bullet wounds to (the) general hospital in Dikwa town," said a military source who declined to be named because he is not authorised to speak to the media.
Source: Reuters
Please click the following URL to read the full text of the original story:
https://www.reuters.com/world/africa/suspected-islamist-insurgents-kill-25-nigerias-northeast-2022-06-10/?rpc=401&
--------
11 gendarmerie officers killed in Burkina Faso terrorist attack
James Tasamba
10.06.2022
KIGALI, Rwanda
At least 11 gendarmerie officers were killed in an attack on a security post in the Sahel region of Burkina Faso, the army said on Friday.
"A particularly large number of attackers" targeted the Seytenga Territorial Gendarmerie Brigade in the province of Seno on Thursday night, according to a military statement.
Several terrorists were also neutralized by the security personnel, the army said.
Earlier on Thursday, five soldiers and a civilian were killed in two separate attacks in Burkina Faso, a country battling an insurgency that has spread from neighboring Mali over the past decade.
The first attack on an army post in the western Kossi province also left around a dozen people injured.
Source: Anadolu Agency
Please click the following URL to read the full text of the original story:
https://www.aa.com.tr/en/africa/11-gendarmerie-officers-killed-in-burkina-faso-terrorist-attack/2610709
--------
Lake Chad Task Force Extends Operation to Flush Out Islamist Militants
June 10, 2022
Moki Edwin Kindzeka
YAOUNDE, CAMEROON —
The militaries of Cameroon, Chad, Niger and Nigeria have hailed the success of a joint security operation they say has freed 4,500 civilians and killed more than 800 militants since late March.
The Multinational Joint Task Force agreed to extend Operation Lake Sanity during a meeting Thursday in the Cameroonian town of Mora, on the border with Chad and Nigeria. The task force commander, Nigerian Major General Abdul Kalifa Ibrahim, declared Operation Lake Sanity a success.
Ibrahim said 3,000 troops from the participating nations launched the operation in late March to clear the Lake Chad basin of Islamist insurgents.
Speaking on Cameroon's state broadcaster, CRTV, he said the task force had destroyed scores of houses and vehicles used by Boko Haram militants.
"We have cleared a lot of settlements" that Boko Haram had used before, including on islands in Lake Chad, "and so far over 800 of the Boko Haram criminals have been neutralized or killed in Operation Lake Sanity," Ibrahim said.
Ibrahim said the task force had freed 4,500 people held captive by the insurgents, who killed five task force troops and wounded 20. He said the joint forces also had seized large quantities of ammunition and weapons, but he did not elaborate.
At Thursday's meeting, the four militaries agreed to extend the operation for two more months.
Ibrahim said insurgents were hiding in communities around the Lake Chad basin, which stretches across the task force nations.
Plea for cooperation
"The population has been very good," he said. "We are there to protect them. They should continue to cooperate with us; if they have information, they should pass it to us. When they see people who are strange in their neighborhoods, they should report to the nearest security official."
Midjiyawa Bakari, governor of Cameroon's Far North region, which borders Chad and Nigeria, said through a messaging application from the capital, Maroua, that during the operation they have been urging villagers to help them flush out the militants.
Bakari said he had personally embarked on an awareness-raising campaign in border towns and villages. He said he had spoken with clerics, chiefs, and community leaders and elites who feared payback from Boko Haram. Bakari said he'd told them to immediately distance themselves from terrorist groups, who are responsible for disorder and conflict in their areas.
Nigerian Islamists Boko Haram began launching attacks at home in 2009 before spreading to Cameroon, Chad, and Niger. The Multinational Joint Task Force of the Lake Chad Basin Commission was created in 2014 to fight the militants and has about 11,000 troops and rescue workers.
Source: VOA News
Please click the following URL to read the full text of the original story:
https://www.voanews.com/a/lake-chad-task-force-extends-operation-to-flush-out-islamist-militants/6612382.html
--------
EU warns Algeria against any 'discriminatory treatment' of Spain
10 June, 2022
The European Union on Friday warned Algeria against any "discriminatory treatment" of Spain after it suspended a cooperation pact in a row over disputed Western Sahara.
"The decision taken by Algeria to suspend the treaty of friendship and good neighborly relations signed with Spain in 2002 is of utmost concern," the EU's foreign policy chief Josep Borrell said in a statement.
"We are assessing the implications of the Algerian actions, including the instruction given to the financial institutions to stop transactions between the two countries."
Borrell warned that the move "would lead to a discriminatory treatment of an EU member state" and said Brussels was reaching out to Algeria to clarify the situation.
"We trust that, in the name of our strong and long-term partnership, a swift solution will be found to fully re-establish commercial and investment relations," the statement said.
"The EU is ready to stand up against any type of coercive measures applied against an EU member state. However, the EU continues to favor dialogue first to solve controversies."
Algeria on Wednesday suspended its 2002 friendship treaty with Spain and its banking association then urged members to restrict business ties.
The moves came after Madrid in March reversed its decades-long stance of neutrality on the Western Sahara conflict, saying it would back Morocco's autonomy plan for the disputed region as it sought to end a lingering diplomatic spat.
Spain's move, widely seen as a victory for Morocco, infuriated its regional rival Algeria, which has long backed the Polisario Front, Western Sahara's independence movement, and which also supplies vast quantities of natural gas to Spain.
Spanish Foreign Minister Jose Manuel Albares vowed that Spain would "defends its interests."
"It is obvious that the EU has the tools and instruments to deal with any situation," he said.
Source: Al Arabiya
Please click the following URL to read the full text of the original story:
https://english.alarabiya.net/News/north-africa/2022/06/10/EU-warns-Algeria-against-any-discriminatory-treatment-of-Spain
--------
North America
Rights groups say Biden's visit will fuel Saudi regime's human rights abuses
10 June 2022
US President Joe Biden's upcoming visit to Saudi Arabia, a country he once vowed to make a "pariah", has again laid bare the duplicity of Washington's foreign policy and human rights rhetoric.
The visit, which has now been postponed until July, has already stirred up a hornet's nest, with human rights campaigners across the world urging Biden to call off the trip.
In an open letter on Thursday, a coalition of rights groups called on the US president not to go ahead with the trip in the absence of human rights commitments by Riyadh, warning it could encourage "further violations."
"Efforts to repair the US relationship with the government of Saudi Arabia without a genuine commitment to prioritize human rights are not only a betrayal of your campaign promises but will likely embolden the crown prince to commit further violations of international human rights and humanitarian law," reads the letter by 13 NGOs.
"We urge your administration to secure genuine progress on human rights before acting in a manner that would bolster the status of the crown prince and his government."
The letter has been signed by groups including Gulf Centre for Human Rights, Freedom House, The James W. Foley Legacy Foundation, and Project on Middle East Democracy, among others.
Biden earlier this month confirmed he was planning a trip to Riyadh — a long-time US ally in the Arab world – in a startling volte-face that many have linked to Washington's energy needs in the wake of the war in Ukraine and sanctions on Russia's energy sector.
Pertinently, Biden had vowed to make Saudi Arabia a pariah state during his campaign for the presidency in late 2020, in contrast to his Republican rival Donald Trump's appeasement of Saudis.
Saudi regime's crimes
The oil-rich country's leadership faces accusations of rampant human rights abuses, especially against religious minorities.
The country's de-facto ruler, crown prince Mohammad Bin Salman, also stands accused of ordering the brutal killing of dissident journalist Jamal Khashoggi at the kingdom's Istanbul consulate in 2018.
"On the campaign trail, you promised that your administration would seek to make Saudi Arabia "the pariah that they are" and indicated that "they have to be held accountable," the letter states.
"Indeed, a congressionally mandated report from the Office of the Director of National Intelligence that was declassified by your administration in 2021 pointed to responsibility at the highest levels of the Saudi government, including Mohammed bin Salman, for the brutal murder of Washington Post columnist Jamal Khashoggi. Yet there has been no progress toward accountability for his murder, nor for any of the other abuses carried out by the Saudi government.
The letter further accuses the Saudi regime of continuing to "arbitrarily imprison, torture, and execute numerous individuals in violation of the internationally protected rights to a fair trial and due process".
It refers to the cases of human rights defender Mohamed al-Rabea arbitrarily detained since 2018, humanitarian aid worker Abdelrahman al-Sadhan sentenced to 20 years in prison and a 20-year travel ban for his tweets, prominent scholar Salman Alodah sentenced to solitary confinement for nearly 5 years, and physician Dr. Lina al-Sharif imprisoned since May 2021 for promoting human rights online.
Last week, social activists had condemned Biden's planned visit to Riyadh, calling it a blatant insult to human values amid Riyadh's war in Yemen.
Abdullah Alaoudh, a Saudi academic who is also the son of jailed Islamic scholar Salman al-Awda, said he and other Saudi activists felt "betrayed" by Biden.
"President Biden came into office promising accountability for the crown prince's reign of terror. But with one fell swoop, Biden is gambling all hope of justice for MBS's countless victims like my father," Alaoudh was quoted as saying by Middle East Eye.
Ukraine war and Biden's U-turn
Biden's U-turn on Saudi Arabia comes in the wake of a worsening crisis in the global energy market and soaring oil prices, fueled by the war in Ukraine.
The war, now into its fourth month, has led to the biggest disruption in energy supplies in decades, forcing Biden to re-calibrate his position on Saudi Arabia, according to observers.
However, Goldman Sachs' head of energy analysis Damien Courvalin has already quashed hopes for a quick-fix solution to the world's oil problem.
In an interview last week, he said the market was in a structural deficit that has been years in the making, and while some additional Saudi barrels could prevent a further spike in the immediate term, they are not a panacea to the problem.
The chairman of the US House intelligence committee, Adam Schiff, was quoted as saying last weekend that if he were Biden, he wouldn't go to Saudi Arabia.
"I wouldn't go. I wouldn't shake his hand. This is someone who butchered an American resident, cut him up into pieces and in the most terrible and premeditated way," he said.
White House Press Secretary Karine Jean-Pierre, however, defended the trip, saying it would be in the context of "significant deliverables" for the American people in the Middle East.
"If he [the President] determines that it's in the interest of the United States to engage with a foreign leader and that such an engagement can deliver results, then he'll do so," Karine said.
Source: Press TV
Please click the following URL to read the full text of the original story:
https://www.presstv.ir/Detail/2022/06/10/683644/Joe-Biden-Mohammad-bin-Salman-rights-groups-Saudi-Arabia--
--------
Prosecuting Mississauga mosque attack as terrorism an unusual 'test case,' experts say
By Jason Miller
June 10, 2022
The decision to prosecute a recent attack on a Mississauga mosque as a terrorism offence is an unusual step that may be difficult to prove in court, terrorism experts say.
Proving that 24-year-old Mohammad Moiz Omar committed a terror offence when he allegedly attacked worshippers at the Dar Al-Tawheed Islamic Centre earlier this year will require prosecutors to argue a complex and "rarely used" clause in the Criminal Code. That clause, which has been in place since 2001, "essentially requires proof of a political or religious motive and attempts to intimidate a population," said Kent Roach, a University of Toronto law professor and policing expert.
That standard is difficult to prove beyond a reasonable doubt, he said.
Omar, 24, was arrested on March 19 after police say he entered the mosque and unleashed bear spray at worshippers during the Fajr, or dawn prayer, while allegedly wielding a hatchet.
Congregants were able to restrain the attacker before his arrest; some worshippers received minor injuries due to the bear spray.
On Wednesday, police announced that the Deputy Director of Public Prosecution Service of Canada and the Ministry of the Attorney General had consented to treat the case as a terrorism offence under Section 83 of the Criminal Code.
The terrorism designation can apply when prosecutors believe a violent crime was committed for a political, religious or ideological cause, with the intention of intimidating some segment of the public or forcing action from a government or other organization.
The terrorism designation is not a separate charge, but it does mean an offence can carry a possible sentence of life in prison — a maximum far higher than what Omar would otherwise face if convicted on his initial charges, which ranged from assault with a weapon and administering a noxious substance to uttering threats and mischief to religious property.
Barbara Perry, the director of the Centre on Hate, Bias and Extremism at Ontario Tech University, said the prosecution decision strikes her as "odd," a "sort of test case, almost."
At first glance, the slate of offences laid against Omar "don't seem to warrant this response" because there were no deaths and no reports of this being repeated behaviour, she said.
"It's a very unusual decision, and I suspect that there is plenty that we're not hearing about in terms of a longer history," she said.
Police initially described the mosque attack as "hate-motivated," but have not released any information about what specific motivations they believe applied.
On Wednesday, police also did not explain what evidence led to the decision to pursue the terror designation.
The fact the attack seems "relatively low on the scale — relatively — to some of the offences we've seen in the past" may suggest that police have a broader objective of using this move as a deterrent to others.
She added: "There has been a lot of dissatisfaction within the Muslim community about the response to right-wing extremism and attacks against the Muslim community,"
Jessica Davis, the principal consultant at Insight Threat Intelligence and a former Canadian Security Intelligence Service analyst said a decision to consider the Mississauga incident in the broader bucket of terrorism speaks to the challenges police face in understanding, investigating and prosecuting these types of cases.
"It seems to me that, through the course of their investigation, they found something that suggests an ideological motive and are then making the case that this should be considered of a kind, as a terrorism charge, but without actually laying the terrorism charge," Davis said. "This is where it's sort of confusing and a bit of head scratch."
Soon after the attack, the Dar Al-Tawheed Islamic Centre launched a fundraising effort for repairs and increased security.
In 2020, the terror designation was applied to a 17-year-old accused of murder in the stabbing death of a 24-year-old woman at a North York massage parlour.
Source: The Star
Please click the following URL to read the full text of the original story:
https://www.thestar.com/news/gta/2022/06/10/prosecuting-mississauga-mosque-attack-as-terrorism-an-unusual-test-case-experts-say.html
--------
Senior US diplomat heading to West Bank, Israel this weekend: State Department
10 June, 2022
The newly confirmed top US diplomat for the Middle East will head to Palestine and Israel this weekend, the State Department announced on Friday.
Assistant Secretary of State for Near Eastern Affairs Barbara Leaf will travel to Israel and the West Bank June 11-14 to consult with Israeli and Palestinian partners on a range of priorities, according to a statement.
Leaf will voice US support for a two-state solution and deepening bilateral US cooperation with Palestine and Israel.
She will also discuss "deterring Iran's aggressive regional activities, and support for Israel's integration into the broader Middle East region," the State Department said. While on her visit, Leaf will meet with officials as well as members of Palestinian and Israeli civil society.
Source: Al Arabiya
Please click the following URL to read the full text of the original story:
https://english.alarabiya.net/News/middle-east/2022/06/10/Senior-US-diplomat-heading-to-Palestine-Israel-this-weekend-State-Department
--------
Call for action on Islamophobia as Canada Muslims remember Afzaal family killing
08 June 2022
Muslim community leaders in Canada have renewed demands from the government to deal with Islamophobia a year after four members of a Muslim family were killed in a terrorist hate attack.
They met with Canadian Prime Minister Justin Trudeau and lawmakers in the capital, Ottawa, on Monday to call for meaningful measures to address persisting Islamophobia and hate crimes in the British Commonwealth nation.
The demand came a year since four members of the Afzaal family were killed in London, Ontario in a heinous terrorist attack. It also came a day after thousands of local residents took to the streets for a protest rally.
The incident occurred last June, when 20-year-old Nathaniel Veltman deliberately slammed his pick-up truck into Salman Afzaal, 46, his wife Madiha, 44, his 74-year-old mother Talat, their 15-year-old daughter Yumna and their 9-year-old son Faez as they waited to cross the road. Only Faez survived the brutal attack.
Veltman is facing four counts of first-degree murder, one count of attempted murder and terrorism charges. His trial is set to begin in September 2023, according to local press reports.
The Toronto police chief confirmed at the time that the victims were "targeted because of their Islamic faith."
On Sunday, Trudeau attended the London march. "This afternoon in London, thousands of people showed up to honour the Afzaal family; to be there for Fayez, who survived; and to march against Islamophobia," he tweeted.
"In memory of #OurLondonFamily, we must keep working together and using every tool we have to combat this hatred," Trudeau added.
Later Monday, he tweeted a photo of a meeting with delegates from the National Council of Canadian Muslims (NCCM).
Last year's terror attack placed the Muslim community in Canada in a state of fear, grief and anxiety, renewing the same sorrow many held in the aftermath of a deadly 2017 assault on a Quebec mosque that left six worshipers dead, and a fatal stabbing at another mosque in Toronto in 2020.
In 2020, researchers found the number of hate groups operating in the country had tripled in recent years.
'Islamophobia envoy'
Responding to demands from Muslim community leaders, the Canadian government is said to have begun taking applications for an envoy for combating Islamophobia, a role that would reach out to communities and advise the prime minister and the government on the best ways to fight hate crimes against Muslims in Canada.
"It is impacting Muslim Canadians from across the country," said Canada's Minister for Diversity and Inclusion Ahmed Hussen.
"The application process is open for anyone interested to fulfill the role," he said. "They will issue recommendations and they will work tirelessly to promote work to combat Islamophobia."
Fatema Abdalla of the NCCM said while the announcement is a step in the right direction, more needs to be done to ensure better protection of Muslim communities.
"It's about time that we see action," she said in an interview with the local CityNews radio station.
The NCCM is further calling for more measures to tackle online hate, a national public education campaign on Islamophobia, as well as changes to the criminal code.
Last year, the group presented a list of 61 recommendations to counter Islamophobia in the country, including the discontinuation of "Countering Violent Extremism" programs that have been found to target Muslim communities.
Source: Press TV
Please click the following URL to read the full text of the original story:
https://www.presstv.ir/Detail/2022/06/08/683527/Canada-Muslim-renew-demand-to-rid-Islamophobia-on-terror-attack-anniversary
--------
URL: https://newageislam.com/islamic-world-news/boycott-tv-debates-aimplb/d/127227
New Age Islam Islam Online, Islamic Website, African Muslim News, Arab World News, South Asia News, Indian Muslim News, World Muslim News, Women in Islam, Islamic Feminism, Arab Women, Women In Arab, Islamophobia in America, Muslim Women in West, Islam Women and Feminism