New Age Islam News Bureau
19 Apr 2013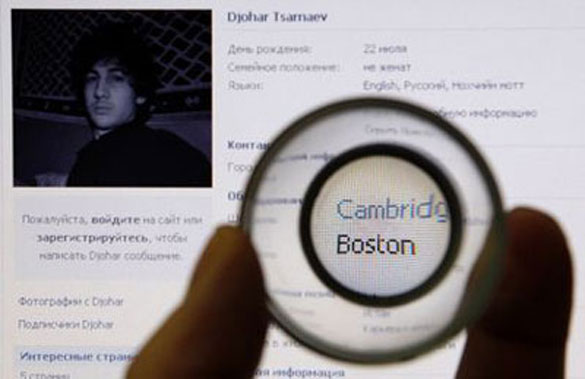 Photo: A photograph of Djohar Tsarnaev, who is believed to be Dzhokhar Tsarnaev, a suspect in the Boston Marathon bombing REUTERS/Alexander Demianchuk
---------
Arab World
• Saudi Arabia Opens Luxury Rehab Centre for Qaeda Militants
• Iraqi official says Baghdad bombing kills 27, wounds 50
• Iraq violence: Mortar attack on mosque 'kills seven'
• Leaked video shows Assad forces torturing Alawite officers
• Iraqi challenged over torture allegations against British troops
• Al-Sweady Inquiry: Iraq teenager was hanged, says uncle
• Syria's Assad Warns Jordan as Southern Border Seethes
• Syrian Official Shot Dead in Damascus
• U.S. Arms Deal with Israel and 2 Arab Nations Is Near
• Jordanian Islamists reject U.S. troop deployment
• Bahrain clashes continue ahead of F1 Grand Prix
Africa
• Tunisian Salafists Storm Female Student Hostel to Stop Dancing
• Moroccan teenager denies involvement in Boston blasts
• Nine killed by al-Qaeda-linked Somalia militant group in Kenya
• South Sudan clashes: Army 'attacked Lorema hospital'
• African Islamists Free French Captives
Southeast Asia
• "Real Men Don't Rape": Men in Jakarta out to end violence against women
• Friday sermon warns Malaysian Muslims against gutter politics
• Sabah incursion: Datu charged with waging war, being member of terrorist group
• Economic Growth Is Key to Peace in Aceh
Mideast Asia
• Gaza Schoolchildren Receive Military Training from Hamas
• Israel's espionage agency Mossad launches online recruitment campaign
• Using Social Media, Yemeni Pushes Back Against US Drone Strike Narrative
• Palestinian Authority calls for prosecution of Abu Jihad's killers
• Iranian army able to destroy Israel 'alone'
India
• Blast killed 17 innocent people, I'm the 18th, weeping Himayat Baig tells court
• CPM demands Narendra Modi's trial in light of SIT report
• Corporate houses pledge to train 17,000 Jammu & Kashmir youth
• Explosive ties Bengaluru blast to Bhatkal kin
• Katju appeals to President for respite for Mumbai blast convicts
North America
• Grief and dread for Boston Muslims
• Hunt on for surviving Boston bomber, both 'suspects from Chechnya'
• FBI releases photos of two Boston bomb suspects
• Can't ignore Pakistan's cooperation over few things: Kerry
• Gunman shoots police officer at Massachusetts Institute of Technology: Report
• Marathon bombings Suspect died of multiple wounds: doctor
• MIT suspect tied to Boston marathon bomb: Police
• NYT Blind to Terrorism in Israel
• US takes no position on Musharraf: US Embassy
South Asia
• Taliban attack kills 13 Afghan police: officials
• Hefazat defames Islam: Scholars
• 200-year-old Hindu temple torched in Madaripur
• SC finishes listening to Jamaat-e-Islami leader Mollah verdict
• Afghanis working for foreign troops face Taliban threat, uncertain future
• Bangladeshi man beaten in 'revenge attack' over Boston Marathon bombings
• Buddhist monk uses racism and rumours to spread hatred in Burma
• Maldives Speaker Shahid confirms switch to opposition MDP
• Afghanistan says Taliban held over suicide bomb plot
Pakistan
• SC orders CDA to demolish Musharraf's farmhouse
• Pak Taliban group in India to avenge Kasab's execution: Intel
• Police question Musharraf, his farmhouse declared 'sub-jail'
• Pakistani journalist Saleem Safi confesses to contribution in Afghan Jihad
• Musharraf reaping what he had sown, says Nawaz Sharif
• Anti-terrorism court established in Islamabad
• If Musharraf had been poor, he would be behind bars: Nawaz
• Hina Rabbani Khar steps down in favour of her father
• Security beefed up at CM Najam Sethi's residence, office
• SC orders Lal Masjid report to be made public
• 'Supremacy of law basic responsibility of judiciary'
• Election delay to have dangerous repercussions: Former P M
Europe
• U.N. says children tortured, raped in Syrian catastrophe
• France, Britain claim Syria used chemical weapons
• Germany ready to keep up to 800 troops in Afghanistan
• Norway parliament evacuated after a small blast
• London exhibition to showcase Muslims who saved Jews during Holocaust
• Russia's Caucasus: Breeding ground for terror
Compiled by New Age Islam News Bureau
URL: https://newageislam.com/islamic-world-news/new-age-islam-news-bureau/boston-suspect-s-webpage-hails-islam,-chechen-independence/d/11217
--------------
Boston suspect's webpage hails Islam, Chechen independence
Reuters | Apr 19, 2013
BOSTON: Boston bombing suspect Dzhokhar Tsarnaev posted links to Islamic websites and others calling for Chechen independence on what appears to be his page on a Russian language social networking site.
Abusive comments in Russian and English were flooding onto Tsarnaev's page on VK, a Russian-language social media site, on Friday after he was identified as a suspect in the bombing of the Boston marathon.
Police launched a massive manhunt for Tsarnaev, 19, after killing his older brother Tamerlan Tsarnaev in a shootout overnight.
On the site, the younger Tsarnaev identifies himself as a 2011 graduate of Cambridge Rindge and Latin School, a public school in Cambridge, Massachusetts.
It says he went to primary school in Makhachkala, capital of Dagestan, a province in Russia that borders Chechnya, and lists his languages as English, Russian and Chechen.
His "World view" is listed as "Islam" and his "Personal priority" is "career and money".
He has posted links to videos of fighters in the Syrian civil war and to Islamic web pages with titles like "Salamworld, my religion is Islam" and "There is no God but Allah, let that ring out in our hearts".
He also has links to pages calling for independence for Chechnya, a region of Russia that lost its bid for secession after two wars in the 1990s.
The page also reveals a sense of humour, around his identity as a member of a minority from southern Russia's restive Caucasus, which includes Chechnya, Dagestan, Ingushetia and other predominately Muslim regions that have seen two decades of unrest since the fall of the Soviet Union.
A video labelled "tormenting my brother" shows a man resembling his dead brother Tamerlan laughing and imitating the accents of different Caucasian ethnic groups.
He has posted his own joke: "A car goes by with a Chechen, a Dagestani and an Ingush inside. Question: who is driving?"
The answer: the police. Elsewhere on the Internet, a photo essay entitled "Will box for passport" shows the older brother Tamerlan Tsarnaev practicing boxing at a gym. The captions identify him as a Chechen heavyweight boxer, in the United States for five years.
"I don't have a single American friend," one caption quotes him as saying. "I don't understand them."
http://timesofindia.indiatimes.com/world/us/Boston-suspects-webpage-hails-Islam-Chechen-independence/articleshow/19635892.cms
----------
Arab World
Saudi Arabia Opens Luxury Rehab Centre for Qaeda Militants
Assaad Abboud | April 19, 2013
Riyadh. Saudi Arabia is hoping to wean jailed Al Qaeda militants off religious extremism with counselling, spa treatments and plenty of exercise at a luxury rehabilitation centre in Riyadh.
In between sessions with counsellors and talks on religion, prisoners will be able to relax in the centre's facilities which include an Olympic-size indoor swimming pool, a sauna, a gym and a television hall.
The new complex is the work of the Prince Mohammed bin Nayef Centre for Counselling and Care, a body set up seven years ago to rehabilitate extremists jailed during a Saudi crackdown on the local branch of Al Qaeda.
"Just under 3,000 [Islamist prisoners] will have to go through one of these centres before they can be released," interior ministry spokesman General Mansur al-Turki told AFP during a tour of the new centre.
Another centre has already opened in the western port city of Jeddah, and three more are planned for the north, east and south of the desert kingdom.
The new facility in Riyadh, however, is the first to offer inmates a taste of luxury as an incentive to moderate their beliefs.
The centres bear the name of the current interior minister, who spearheaded the government's crackdown on Al-Qaeda following deadly attacks by the group between 2003 and 2006 in which more than 150 Saudis and foreigners were killed.
Al-Qaeda jihadists, many of them trained in Afghanistan, had targeted Saudi Arabia for allowing US troops to set up bases in the kingdom during the Gulf War and to stay on afterwards, until they eventually withdrew in 2003.
During the crackdown, many militants fled from Saudi into Yemen's lawless southern and south-eastern regions where the network formed Al-Qaeda in the Arabian Peninsula in January 2009 — classified by the United States as the jihadists' deadliest branch.
Prince Mohammed himself survived a suicide attack by a jihadist in August 2009 when a bomber managed to infiltrate the prince's security. The prince suffered only superficial injuries.
The Riyadh centre spreads over an area equivalent to around 10 football pitches and is designed to accommodate 228 prisoners from the "deviant group," the term used by Saudi authorities to refer to Al-Qaeda.
Each of the 12 buildings at the flagship facility will host 19 prisoners, who will have access to special suites where they can spend time with visiting family members.
Good behaviour could earn them a two-day break with their wives.
During the day, the prisoners will attend seminars on religious affairs, aimed at steering them away from thoughts of jihad.
"In order to fight terrorism, we must give them an intellectual and psychological balance... through dialogue and persuasion," said the director of the rehabilitation centres, Said al-Bishi.
He said a total of 2,336 Al Qaeda prisoners have now been through Saudi rehabilitation schemes.
"The percentage of those who rejoin the deviant minority does not exceed 10 percent," Bishi said, a proportion he described as "encouraging".
AFP tried to speak to several former Al Qaeda prisoners who had been released after going through rehabilitation but they declined to be interviewed about their experiences.
Not everyone is convinced, however. There have been some high-profile returns to the ranks of the jihad, such as Saeed al-Shehri, who became deputy leader of Al Qaeda in the Arabian Peninsula after supposedly being rehabilitated.
Liberals are particularly critical of the religious content of the program which they say draws on an ultra-conservative version of Islam not so different from Al Qaeda's own.
"We cannot know if the program will succeed in eradicating terrorism and extremism," social scientist Khaled al-Dakheel told AFP.
"To treat the problem at its root, one should challenge jihadist thought with an enlightened philosophy, not just with other Salafist ideas that are only slightly less extreme," he said.
"There must be pluralism and an acknowledgement of the rights of others to be different."
Agence France-Presse
http://www.thejakartaglobe.com/international/saudi-arabia-opens-luxury-rehab-center-for-qaeda-militants/586828
--------------
Iraqi official says Baghdad bombing kills 27, wounds 50
19 April 2013
A late-night bombing at a coffee shop in west Baghdad killed at least 22 people on Thursday, according to AP.
This is the latest spike in violence and comes just days ahead of Iraq's first elections since U.S. forces withdrew from the country.
The 10:00 pm (1900 GMT) blast struck in the mostly-Sunni Amriyah neighbourhood and also wounded 35 people, security and medical officials told reporters.
Among the dead were at least three children, according to AFP.
An estimated 13.5 million Iraqis are eligible to vote for more than 8,000 candidates standing in Saturday's provincial elections, with 378 seats being contested.
Iraqi forces are solely responsible for polling day security, the first time they have been in charge without support from American or other international forces during elections since dictator Saddam Hussein was toppled in 2003.
U.S. forces eventually withdrew from Iraq in December 2011.
http://english.alarabiya.net/en/News/middle-east/2013/04/19/Iraqi-official-says-Baghdad-coffee-shop-bombing-kills-15-wounds-32-.html
--------------
Iraq violence: Mortar attack on mosque 'kills seven'
April 19, 2013
At least seven people have been killed in a mortar attack on a Sunni mosque in northern Iraq, police say.
Dozens more were hurt in the strike as worshippers were leaving the building in Khales after Friday prayers.
It comes a day after at least 27 people were killed in a bomb attack on a cafe in the Iraqi capital Baghdad.
There has been an escalation in violence across the country ahead of provincial elections, the first since 2010, due to be held on Saturday.
The attack on the mosque left part of the building destroyed, the Associated Press news agency reported.
There has been a spate of attacks in Iraq this week in the run up to the polls, despite heightened security.
On Thursday, a suicide bomber blew himself up in the cafe in west Baghdad, police said. No group has said it carried out the attack.
On Monday, a series of co-ordinated car bomb attacks across the country claimed at least 31 lives and injured more than 200 people.
Fourteen candidates who were standing in the elections have been assassinated, an two of Iraq's 18 provinces will not participate in the polls because of the level of insecurity there.
Tensions are high between Iraq's Sunni and Shia, amid claims by the Sunni Muslim communities that they are being marginalised by Prime Minister Nouri al-Maliki's Shia-led government.
Sunni Islamist militants linked to al-Qaeda have attempted to destabilise the government by stepping up attacks, mainly on Shia but also Sunni targets this year.
Although violence has decreased in Iraq since the peak of the insurgency in 2006 and 2007, bombings are still common.
http://www.bbc.co.uk/news/world-middle-east-22215631
----------
Leaked video shows Assad forces torturing Alawite officers
18 April 2013
A leaked video posted online shows Syrian government forces beating and torturing supposed Alawite officers, who have allegedly been accused of smuggling weapons to the Syrian opposition.
The video clip uploaded by activists shows a reporter from the official Syrian TV channel present during the Syrian regime forces interrogation. Officers can be heard asking men, who have been placed in large metal containers, questions about their alleged involvement while slapping them repeatedly.
Full report at:
http://english.alarabiya.net/en/News/middle-east/2013/04/18/A-leaked-video-shows-Assad-forces-torturing-Alawite-officers.html
--------------
Iraqi challenged over torture allegations against British troops
18 April 2013
An Iraqi man who says his nephew was tortured and executed by British troops was told at a public inquiry in London on Thursday he had "convinced himself" of those accusations.
Khudur Al-Swaiedi told the inquiry, which is investigating alleged crimes by British soldiers after a battle in southern Iraq in 2004, that he had seen the evidence with his own eyes.
Swaiedi, 48, is considered an important witness because he has for years led efforts to have the allegations investigated.
Full report at:
http://english.alarabiya.net/en/News/middle-east/2013/04/18/Iraqi-challenged-over-torture-allegations-against-British-troops.html
--------------
Al-Sweady Inquiry: Iraq teenager was hanged, says uncle
April 19, 2013
A teenager killed in Iraq was tortured and hanged by British troops, his uncle has told an official investigation.
Khuder Al-Sweady told the inquiry 19-year-old Hamid's body had a boot-shaped bruise on the forehead, a broken arm, bullet wounds and signs of hanging.
The Al-Sweady inquiry named after Hamid is examining claims that detainees were mistreated and killed in 2004 after the so-called Battle of Danny Boy.
Full report at:
http://www.bbc.co.uk/news/uk-22205348
----------
Syria's Assad Warns Jordan as Southern Border Seethes
April 19, 2013
AMMAN (Reuters) - Bashar al-Assad's first public warning to Jordan over its role in channeling Islamist Sunni Muslim rebels to southern Syria, close to Damascus, points to a president increasingly rattled by the threat of a push against his stronghold in the capital.
Assad told Jordan this week it would be playing with fire by supporting the rebels, saying the Western-backed kingdom was just as vulnerable as his country to al Qaeda militants gaining ground in Syria's two-year conflict.
His comments came after weeks of fighting in southern Syria, where rebels have seized military bases, made advances close to the Jordanian border and the Israeli-occupied Golan Heights, and cut two main roads to Damascus.
Full report at:
http://www.nytimes.com/reuters/2013/04/19/world/middleeast/19reuters-syria-crisis-
-----------
Syrian Official Shot Dead in Damascus
April 19, 2013
BEIRUT (AP) — Gunmen killed a government official in a Damascus restaurant, Syrian state media and activists reported Friday as regime troops and rebels fought fierce battles near the Lebanese border.
The Britain-based Syrian Observatory for Human Rights said the official, Ali Ballan, was gunned down late Thursday in Mazzeh, a western neighborhood of the Syrian capital.
Ballan was head of public relations at the Ministry of Social Affairs and a member of Syria's relief agency, the Observatory said.
Full report at:
http://www.nytimes.com/aponline/2013/04/19/world/middleeast/ap-ml-
-----------
U.S. Arms Deal With Israel and 2 Arab Nations Is Near
By THOM SHANKER
April 19, 2013
WASHINGTON — The Defense Department is expected to finalize a $10 billion arms deal with Israel, Saudi Arabia and the United Arab Emirates next week that will provide missiles, warplanes and troop transports to help them counter any future threat from Iran.
A weeklong visit to the region by Defense Secretary Chuck Hagel will culminate a year of secret negotiations on a deal that Congressional officials said will be second only to the $29.5 billion sale of F-15 aircraft to Saudi Arabia announced in 2010. But the delicate balancing act that was necessary in weighing the differing interests of each nation made it among the most complex ever negotiated.
Full report at:
http://www.nytimes.com/2013/04/19/world/middleeast/us-selling-arms-to-israel-saudi-
-----------
Jordanian Islamists reject U.S. troop deployment
19 April 2013
Jordan's Islamist opposition on Friday denounced the presence of US troops in the kingdom due to deteriorating security in neighboring Syria, urging a rethink of the deployment.
"The government must review its decision to authorize the deployment of foreign troops on Jordanian soil," the Islamic Action Front, political arm of the powerful Muslim Brotherhood, said in a statement.
U.S. Defense Secretary Chuck Hagel revealed on Wednesday that some 150 U.S. military specialists have been deployed in Jordan since last year and that he had ordered a U.S. Army headquarters team to bolster the mission, bringing the total American presence to more than 200 troops.
"These personnel will continue to work alongside Jordanian Armed Forces to improve readiness and prepare for a number of scenarios," said Hagel.
http://english.alarabiya.net/en/News/middle-east/2013/04/19/Jordanian-Islamists-reject-U-S-troop-deployment-.html
-----------
Bahrain clashes continue ahead of F1 Grand Prix
April 19, 2013
Heavy clashes between anti-government protesters and security forces continued into the night in Bahrain, ahead of Sunday's F1 Grand Prix.
Demonstrators blocked roads with burning tyres, and police fired tear gas and stun grenades, as violence over the past week intensified.
A Friday rally called by the main opposition party al-Wefaq has drawn thousands of protesters.
The peaceful march has blocked a major motorway in the capital Manama.
Some of the crowd carried banners with the slogan: "Don't race on our blood."
Activists have demanded that F1 bosses cancel the race due to Bahrain's poor human rights record.
Full report at:
http://www.bbc.co.uk/news/world-middle-east-22212896
----------
Africa
Tunisian Salafists Storm Female Student Hostel to Stop Dancing
By Tarek Amara
Thu Apr 18, 2013
(Reuters) - Hard-line Islamists threw stones and bottles at young women in a student hostel in Tunis to stop them staging a performance of dance and music, witnesses said on Thursday, in another blow to secular freedoms in the country that spawned the Arab Spring.
Since secular dictator Zine al-Abidine Ben Ali fell two years ago in the first of multiple revolts across the Arab world, moderate Islamists have won election and radical Muslims have targeted symbols of a hitherto mainly secular society.
Female university students housed at the Bardo district hostel in the capital were just starting a weekly show of dance and music on Wednesday evening when dozens of hard-line Salafists broke into the premises after scaling its walls, witnesses said.
Full report at:
http://www.reuters.com/article/2013/04/18/us-tunisia-islamists-idUSBRE93H0RR20130418
----------
Moroccan teenager denies involvement in Boston blasts
19 April 2013
A Moroccan teenager said late Thursday that he is scared for his life after his photo was released by The Federal Bureau of Investigation (FBI) as one of the two suspects involved in the Boston's bombings.
The Associated Press reported one of the two suspects, 17-year-old high school track runner Salah Eddin Barhoum, was very disappointed to see his photo as a suspect circulating Facebook, which led him to visit the police early Thursday to clear his name.
Barhoum said he was at the marathon with his friend Yassine Zaime, who was portrayed as the second suspect, hoping to run a portion of the Boston Marathon behind the official field, but ended up at the wrong address, where the finishing line was and decided to stay and watch the end of the race.
Full report at:
http://english.alarabiya.net/en/News/world/2013/04/19/FBI-identifies-2-suspects-involved-in-Boston-bombings-.html
--------------
Nine killed by al-Qaeda-linked Somalia militant group in Kenya
April 19, 2013
A police chief says that a masked gunman believed to be a member of an al-Qaeda-linked Somalia militant group stormed a hotel in a Kenyan city near the border with Somalia and opened fire with an assault rifle, killing nine people.
Vitalis Okumu said on Friday that the Thursday night attack could have been in retaliation for military activity carried out by African Union forces, which Kenya is a part of, against al-Shabab militants in Somalia.
Garissa lies near the border with Somalia and has suffered a string of attacks over the last 18 months by gunmen believed to be associated with al-Shabab.
http://www.thehindu.com/news/international/world/nine-killed-by-gunman-in-kenya/article4633598.ece
--------------
South Sudan clashes: Army 'attacked Lorema hospital'
April 19, 2013
Five health workers have been killed when South Sudan soldiers attacked a hospital in revenge for the deaths of eight members of the security forces, the local MP has told the BBC.
David Mayo said the fighting was still going on and urged the army to be withdrawn.
Local community leaders confirm that the hospital in the village of Lorema, Eastern Equatoria state, was attacked.
Full report at:
http://www.bbc.co.uk/news/world-africa-22215561
----------
African Islamists Free French Captives
April 19, 2013
Seven members of a French family kidnapped by gunmen in northern Cameroon in February have been freed.
Cameroon's Communications Minister Issa Tchiroma Bakary told the BBC the Moulin-Fournier family, including four children, were in good condition.
In a video published on YouTube, militants from the Nigerian group Boko Haram had claimed to be holding them.
The French president said France had not paid a ransom to free the family who are now in the capital, Yaounde.
Full report at:
http://www.bbc.co.uk/news/world-africa-22213125
----------
Southeast Asia
"Real Men Don't Rape": Men in Jakarta out to end violence against women
The Jakarta Post, Jakarta | National | Fri, April 19 2013
On a recent sunny Sunday at the Hotel Indonesia traffic circle in Jakarta, five men in miniskirts displayed posters condemning violence against women.
One of the posters read, "Real Men Don't Rape", while another said, "Let's unite to fight against rape".
Syaldi Sahude, one of three national coordinators for The New Men's Alliance (ALLB) said the alliance was created to raise awareness among men about the need to end violence against women.
"We also want men to be more concerned about gender equality, because discrimination leads to violence," Syaldi said. ALLB was established in response to the increasing violence against women in Indonesia. The Commission on Violence against Women (Komnas Perempuan) recorded 4,335 rapes in Indonesia in 2011, of which 2,937 cases happened in public spaces.
Full report at:
http://www.thejakartapost.com/news/2013/04/19/men-out-end-violence-against-women.html
--------------
Friday sermon warns Malaysian Muslims against gutter politics
BY ZURAIRI AR
APRIL 19, 2013
KUALA LUMPUR, April 19 — Muslims were warned against gutter politics in the Friday sermon today, including spreading slander, creating fake documents and news on the Internet as they campaign for Election 2013.
The Malaysian Islamic Development Department (JAKIM) sermon, titled "Bahaya Lidah (Dangers of the Tongue)", comes as a number of sex videos and photos allegedly starring political leaders emerged on mostly Umno websites and blogs in the run-up to the polls, the latest targeting PAS secretary-general Datuk Mustafa Ali (picture).
Full report at:
http://www.themalaysianinsider.com/malaysia/article/friday-sermon-warns-malaysian-muslims-against-gutter-politics/
--------------
Sabah incursion: Datu Amirbahar charged with waging war, being member of terrorist group
April 19 2013
KUALA LUMPUR, April 19 — Datu Amirbahar Hushin Kiram, the brother of Jamalul Kiram, the self-proclaimed Sultan of Sulu, was charged in the Lahad Datu Magistrate's Court today with waging war against the Yang di-Pertuan Agong and being a member of a terrorist group.
The court sat in a special session at the Lahad Datu district police headquarters.
Datu Amirbahar, who is said to be the defence minister of the Sulu sultanate, faces the death sentence if convicted under section 121 of the Penal Code for waging war against the Yang di-Pertuan Agong while the terrorist charge under section 130KA of the same code carries life imprisonment and liability of whipping.
Full report at:
http://www.themalaysianinsider.com/malaysia/article/sabah-incursion-datu-amirbahar-charged-with-waging-war-being-member-of-terrorist-group/
--------------
Economic Growth Is Key to Peace in Aceh
April 19, 2013
After many long years of civil strife, Aceh is finally experiencing prolonged peace. While there have been scattered incidents of violence, by and large the province has remained calm since the 2005 peace accord.
Peace has provided an economic dividend. Despite having a higher poverty rate than the national average, the province's gross domestic product rose 5.2 percent last year.
In a new report, Amnesty International has called for the national government to follow through on promises of seeking the truth, implementing justice and offering reparations for Acehnese who suffered human rights abuses during the long military campaign in the province.
Full report at:
http://www.thejakartaglobe.com/opinion/economic-growth-is-key-to-peace-in-aceh/586694
--------------
Mideast Asia
Gaza Schoolchildren Receive Military Training from Hamas
By: Hazem Balousha
April 19 2013
Inside the courtyard of the Gamal Abdel Nasser School in the Shajaiyah neighbourhood east of Gaza City, students carrying Kalashnikov assault rifles and dressed in military fatigues take their positions for a demonstration — an attack on an Israeli military site represented by a makeshift watchtower flying the Israeli flag. A YouTube video shows a segment of the demonstration in which one of the boys hits the tower inside the school with an artillery shell to cheers of encouragement and cries of "Allahu Akbar."
The demonstration is part of a military training program for students that the Hamas Ministry of Education has been running since the beginning of the school year in Gaza. The program is a project to train 5,000 students, aged 15–17 from 65 schools, under the supervision of national security officers from the Ministry of Interior and the Izz al-Din al-Qassam Brigades, the military wing of Hamas.
Full report at:
http://www.al-monitor.com/pulse/originals/2013/04/hamas-children-military-training.html#ixzz2Qu8QPfEY
--------------
Israel's espionage agency Mossad launches online recruitment campaign
PTI | Apr 19, 2013
JERUSALEM: Israel's espionage agency Mossad has launched an online recruitment campaign appealing for creative people who love challenges to apply for an "interesting, out of the ordinary and dynamic job".
The new campaign, under the slogan "with enemies like this - friends are needed," directs people to the Mossad's website and to the long list of professions the agency desires to enlist.
The site notes, "If you have courage, wisdom and ingenuity, you can influence and actualise a national and personal mission. If you have the ability to move, fascinate and motivate people, you may be made of the quality material we are looking for".
Full report at:
http://timesofindia.indiatimes.com/world/middle-east/Israels-espionage-agency-Mossad-launches-online-recruitment-campaign/articleshow/19631781.cms
--------------
Using Social Media, Yemeni Pushes Back Against US Drone Strike Narrative
Media uncritically report on missile strike, but closer look reveals possible darker aspects of US 'Dirty Wars'
Jon Queally, staff writer
April 19 2013
Following reports of two US drone bombings in Yemen on Wednesday, a deeper look at the situation in the country reveals just how little critical reporting is done in the aftermath of such airstrikes in a country that few Western readers well understand.
While prominent news outlets reported that "unnamed officials" speaking "on the condition of anonymity" claim the bombings killed "suspected Al Qaeda operatives," more critical observers of the developments—and the press treatment they received—used the episode to make deeper comments about the role of the US drone program abroad.
Full report at:
http://www.commondreams.org/headline/2013/04/18-5
--------------
Palestinian Authority calls for prosecution of Abu Jihad's killers
17 April 2013
The Palestinian Authority has called for the killers of Khalil Al-Wazir to be brought to justice. Known by his nom de guerre Abu Jihad, Al-Wazir was assassinated 25 years ago in Tunisia by Israeli security forces.
The Ministry of Information in Ramallah pointed out that political crime is not subject to any statute of limitations in international law. The prosecution of his killers would be the best way to honour his memory, said a spokesman. Abu Jihad's murder was, claims the ministry, clear evidence of Israel's use of terrorism to pursue its political goals, even though resistance to its occupation of Palestinian is deemed to be legitimate by international laws and conventions.
Full report at:
http://www.middleeastmonitor.com/news/middle-east/5764-palestinian-authority-calls-for-prosecution-of-abu-jihads-killers
--------------
Iranian army able to destroy Israel 'alone'
April 18, 2013
TEHRAN — Iran's army "alone" is able to destroy Israel, army commander General Ataollah Salehi said Thursday, responding to boasts by the Jewish state that its military that could attack its arch foe on its own.
"Our message to this illegitimate regime (Israel) is the same, we do not need to utilize all of Iran's military forces," Salehi said on the sidelines of the Islamic republic's annual Army Day. "The army ... alone is able to destroy Israel."
His comments come after Israeli Chief of Staff Lt. Gen. Benny Gantz Tuesday said the Jewish state's military was capable of attacking Iran on its own without foreign support.
Full report at:
http://www.saudigazette.com.sa/index.cfm?method=home.regcon&contentid=20130419162003
----------
India
Blast killed 17 innocent people, I'm the 18th, weeping Himayat Baig tells court
Apr 19 2013
Pune: Himayat Baig broke down in court as he told the judge that he had nothing to do with the bombing, and that the judgment had punished an innocent man. Soon after he was given the death sentence, Baig fainted while being escorted to the custody room.
"Judge sahab, mera iss case se kucch lena dena nahi hai," Baig, who the Maharashtra ATS says is the Lashkar commander in the state, told Additional Sessions Judge N P Dhote after the judge gave him time to have his say before announcing the punishment.
"I come from a poor family... I wanted to do something for my community, which is backward in every way. I had come to Pune on January 31, 2010 for a rally seeking reservations for Muslims. I was not on the run (as the ATS says). We knew that a lot of innocent youths had been arrested. I was afraid that the same would happen to me, hence I stayed at home..."
At this point, the judge told him to briefly present his argument on the quantum of punishment. Baig then started to read from a four-page handwritten note in Marathi.
Full report at:
http://www.indianexpress.com/news/blast-killed-17-innocent-people-im-the-18th-weeping-himayat-baig-tells-court/1104697/
--------------
CPM demands Narendra Modi's trial in light of SIT report
TNN | Apr 19, 2013
NEW DELHI: Reiterating its earlier demand, the CPM has said Gujarat CM Narendra Modi must be tried in the light of the recent exposure of evidence that the state government was receiving a continuous stream of intelligence reports after the Godhra train tragedy but did not take them into account.
In its editorial CPM weekly People's Democracy said the evidence was submitted to the Special Investigation Team (SIT) three and a half months before it submitted its final report. "Now, new petitions have been filed before the judiciary claiming that the SIT decided to cover up the crimes and has gone out of its way to misguide the court, giving a clean chit to the accused and closing the case. The judiciary must take cognizance of this fact that the records show how the state administration deliberately ignored warnings from the state intelligence and virtually masterminded the communal carnage. Under these circumstances, by any standards of morality, the Gujarat chief minister must resign forthwith," the editorial said.
Full report at:
http://timesofindia.indiatimes.com/india/CPM-demands-Narendra-Modis-trial-in-light-of-SIT-report/articleshow/19625124.cms
---------
Corporate houses pledge to train 17,000 Jammu & Kashmir youth
Bharti Jain, TNN | Apr 18, 2013
NEW DELHI: Corporate houses have once again ambitiously committed to train around 17,000 educated youth from Jammu & Kashmir over the next five years under "Udaan", a government-industry skill development initiative, which, ironically, has seen no more than 185 youth complete their training in its first year.
Union home minister Sushilkumar Shinde on Thursday announced that the Udaan project appraisal committee had, at its last meeting on March 15, approved the proposals of IYogi for training 5,742 graduates, Accenture (3,300), 24x7 Inc (6,000) and Ligare Voyages Limited to train 2,000 youth over a period of five years. "Eleven corporate houses are visiting J&K for selection of candidates from April 19 to May 4," said Shinde, while identifying these companies as IYogi, Rooman Technologies, Religare, Tata Consultancy Services (TCS), 24X7 Inc, Accenture, Infosys, Bajaj Alliance, Learning Links, Canara Bank and ONGC.
Full report at:
http://timesofindia.indiatimes.com/india/Corporate-houses-pledge-to-train-17000-Jammu-Kashmir-youth/articleshow/19618644.cms
--------------
Explosive ties Bengaluru blast to Bhatkal kin
April 19, 2013
Raja Gel-90 — the substance used to cause Wednesday's blast in Bengaluru — has provided a vital key in the investigation. And the needle of suspicion points towards the Indian Mujahideen and the Bhatkal brothers.
Exactly three years ago, Raja Gel-90 –brand name for an ammonium nitrate-based gel – was used to cause the blast at the city's Chinnaswamy stadium, said an officer with the Internal Security Division. It was also used to cause blasts in Ahmedabad, Delhi and Varanasi.
Full report at:
http://www.hindustantimes.com/India-news/bangalore/Explosive-ties-Bengaluru-blast-to-Bhatkal-kin/Article1-1046729.aspx
--------------
Katju appeals to President for respite for Mumbai blast convicts
April 18, 2013
Press Council of India chairperson Justice Markandey Katju has made a plea to the President seeking respite for convicted actor Sanjay Dutt and four others.
Katju said he had sent appeals for pardon for Issaq Mohammed Hajwane, Sharif Abdul Gafoor Parker, Zaibunnisa Kazi, Devender Pal Singh Bhullar and Sanjay Dutt.
Katju asked the President that till the decision of his appeals are decided, the President should grant respite, reprieve or suspension of the sentence of these five persons.
He said that as per the constitution the President had the powers to do so.
http://www.hindustantimes.com/India-news/newdelhi/Katju-appeals-to-President-for-respite-for-Mumbai-blast-convicts/Article1-1046602.aspx
--------------
North America
Grief and dread for Boston Muslims
By Yvonne Abraham
APRIL 18, 2013
Like so many others this week, local imams have been praying since Monday's bombings.
They've been praying for the victims. They've been praying that the ­fanatic who did this is caught quickly and brought to justice.
And they've been praying for something more: Whoever it is, please don't let him be a Muslim.
"What will happen to us if they arrest someone and that someone turns out to be a Muslim?" Imam Talal Eid, a chaplain at Brandeis University, said Wednesday.
He recalls the backlash that followed the attacks of Sept. 11, 2001. He remembers being afraid to send his children to school for a few days afterward, and the way some began to view all Muslims with suspicion, even hostility. A few fringe-dwellers even spoke of internment camps like those that held Japanese-Americans during the Second World War.
The country has changed since 2001, Eid said. People know more about American Muslims now, are less afraid of them, less likely to make the many pay for the sins of the unhinged few. But we have a long way to go.
"I am still worried," he said. "We are still labelled. Muslims may be out of the red zone, but we are still in the yellow zone, not the green zone."
If the terrorist turns out to be a disaffected survivalist, a white supremacist, or some other flavour of domestic extremist, he will stand in a courtroom alone, with only infamy for company. If he is a Muslim, thousands will be called upon to answer, by ­association and stereotype, for his actions.
Leaders in the community will then go right into what Ibrahim Rahim, imam at the Yusuf Mosque in Brighton, calls "apologist mode."
The attack fills him with immense grief, said Rahim, who leads a largely Arab-American congregation of several hundred. Born in New York, he has lived in Boston since he was 12, and he feels this attack as viscerally as any native. But all week, his grief has been bound with dread.
"As you process it, you think, 'Oh boy, this looks like something from overseas, that might be affiliated to Islam, and here we go with that again,'?" he said.
Preparing for that possibility, Rahim has been strategizing for days with another imam, William Suhaib Webb at the 1,000-member Islamic Society of Boston Cultural Centre in Roxbury.
"We have to figure out a narrative," ­Rahim said. "We're talking about a unity service on Friday if it turns out to be what we hope it isn't." He and other imams will make it clear that anyone who takes a life has no right to call himself a Muslim, that whatever brand of Islam extremists may practice, it has nothing to do with the faith lived out by their congregations.
"We do so much interfaith work, we apologize so often for many of the things that do not reflect Islam," he said.
Still, both imams know, all the work they have put into building bridges to the wider community will be threatened.
But the past few days have made Yusufi Vali, executive director of the Islamic Society of Boston, more optimistic that those bridges are strong enough to withstand an onslaught.
"I'm proud to be a Bostonian," he said. "The way our community has bonded together has been an amazing feeling inside this tragedy."
As he spoke, three Boston police cruisers and one state trooper sat outside the mosque, just in case. Since Monday, he has heard from officials at two local temples ­offering support: "It may be hard being a Muslim in Boston this week," one e-mail read. "If there is anything we can do, from one congregation to another, please let me know." A long-time Mission Hill resident, worried about a possible backlash, offered to gather neighbours who could escort Muslim women to the grocery store.
"This is what Boston is about, right?" ­Vali said.
Yes, that is what we are, or try to be.
But please, let's not put it to the test. Again.
Yvonne Abraham is a Globe columnist. She can be reached at abraham@globe.com.
http://www.bostonglobe.com/metro/2013/04/17/grief-mixed-with-dread-for-boston-imams/oWL6Uvh9aq3gWIrcqb86mM/story.html
--------------
Hunt on for surviving Boston bomber, both 'suspects from Chechnya'
April 19, 2013
Two suspects in the Boston Marathon bombing killed a university police officer, injured a transit officer in a firefight and threw explosive devices at police during their getaway attempt in a long night of violence that left one of them dead and another still at large on Friday, authorities said
as the manhunt intensified for a young man described as a dangerous terrorist.
The suspects were identified to The Associated Press as coming from the Russian region near Chechnya, which has been plagued by an Islamic insurgency stemming from separatist wars. A law enforcement intelligence bulletin obtained by the AP identified the surviving bomb suspect as Dzhokhar A. Tsarnaev, a 19-year-old who had been living in Cambridge, Massachusetts.
Two law enforcement officials told the AP that Tsarnaev and the other suspect, who was not immediately identified, had been living legally in the U.S. for at least one year.
In Boston, still on edge over the attack on the marathon, and its western suburbs, authorities suspended mass transit and urged people to stay indoors as they searched for the remaining suspect, a man seen wearing a white baseball cap on surveillance footage from Monday's deadly bombing at the marathon finish line.
"We believe this man to be a terrorist," said Boston Police Commissioner Ed Davis. "We believe this to be a man who's come here to kill people."
Authorities urged residents in Watertown, Newton, Arlington, Waltham, Belmont, Cambridge and the Allston-Brighton neighborhoods of Boston to stay indoors. At least a quarter of a million people live in those suburbs. All mass transit was shut down, and businesses were asked not to open on Friday. People waiting at bus and subway stops were told to go home.
All modes of public transportation were shut down, including buses, subways, trolleys, commuter rail and boats, said Joe Pesaturo, spokesman for the Massachusetts Bay Transportation Authority.
Full report at:
http://www.hindustantimes.com/world-news/Americas/Hunt-on-for-surviving-Boston-bomber-both-suspects-from-Chechnya/Article1-1046916.aspx
--------------
FBI releases photos of two Boston bomb suspects
Reuters | Apr 19, 2013
BOSTON: Investigators released pictures of two suspects in the Boston Marathon bombing on Thursday, seeking the public's help in identifying two backpack-toting men photographed on the crowded sidewalk on Monday before bombs exploded near the finish line.
The blasts that killed three people and wounded 176 began a week of security scares that rattled the United States and evoked memories of the September 11, 2001 hijacked plane attacks.
"Somebody out there knows these individuals as friends, neighbors, co-workers or family members of the suspects," Richard DesLauriers, the US Federal Bureau of Investigation's special agent in charge in Boston, told a news conference.
"Though it may be difficult, the nation is counting on those with information to come forward and provide it to us," he said.
Full report at:
http://timesofindia.indiatimes.com/world/us/FBI-releases-photos-of-two-Boston-bomb-suspects/articleshow/19625047.cms
--------------
Can't ignore Pakistan's cooperation over few things: Kerry
PTI | Apr 19, 2013
WASHINGTON: Expressing concern over the imprisonment of the Pakistani doctor who helped CIA trace Osama bin Laden, US secretary of state John Kerry said it is wrong and angers all, but US-Pak relationship can't be determined by few things.
"Dr Afridi's in jail, he shouldn't be, et cetera. We have said that. We will fight that. And it's wrong, and it angers all of us. But I don't think you can chuck the whole relationship over one or two or three things here and there because of the overall interest that we have," Kerry said.
The secretary of state said this during his testimony before the Senate Armed Services Committee on Thursday.
Full report at:
http://timesofindia.indiatimes.com/india/Cant-ignore-Pakistans-cooperation-over-few-things-Kerry/articleshow/19626165.cms
--------------
Gunman shoots police officer at Massachusetts Institute of Technology: Report
AFP | Apr 19, 2013
BOSTON, USA: A gunman shot and seriously wounded a Massachusetts Institute of Technology (MIT) police officer in an eruption of gunfire at the prestigious university late Thursday, Boston television stations reported.
The university said the situation was "extremely dangerous" and warned students in an emergency alert on its website to stay indoors. It said one building on campus had been surrounded by police.
The police officer suffered "life threatening" injuries, according to several local channels which quoted state police.
Full report at:
http://timesofindia.indiatimes.com/world/us/Gunman-shoots-police-officer-at-Massachusetts-Institute-of-Technology-Report/articleshow/19628125.cms
--------------
Marathon bombings Suspect died of multiple wounds: doctor
April 19, 2013
The man died of multiple wounds, including injuries from a blast and gunshots, a doctor at the hospital where he was brought after a gunfight with police told reporters
Doctors at a Boston hospital where a suspect in the marathon bombings was taken and later died, are saying they treated a man with a possible blast injury and multiple gunshot wounds. Doctors and officials at Beth Israel Deaconess Medical Center wouldn't say if the patient they treated, who came in with police, was the suspect in the black hat from marathon surveillance footage.
Full report at:
http://www.thehindu.com/news/international/world/suspect-died-of-multiple-wounds-doctor/article4633541.ece
--------------
MIT suspect tied to Boston marathon bomb: Police
AP | Apr 19, 2013
WATERTOWN, Massachusetts: Authorities say one of two suspects in the Boston Marathon bombing is dead and a massive manhunt is underway for another.
Residents of the Boston suburb of Watertown have been advised to keep their doors locked and not let anyone in.
The Middlesex district attorney says the two men are suspected of killing an MIT police officer at the college late Thursday, then stealing a car at gunpoint and later releasing its driver unharmed. Hours earlier, police had released photos of the bombing suspects and asked for the public's help finding them.
Full report at:
http://timesofindia.indiatimes.com/world/us/MIT-suspect-tied-to-Boston-marathon-bomb-Police/articleshow/19631588.cms
--------------
NYT Blind to Terrorism in Israel
Leo Rennert
April 18, 2013
Remember Newtown! Remember Boston! But when the target is Israel, the New York Times sees no terrorism, hears no terrorism, reports no terrorism.
On April 17, a terrorist group -- the Iranian-backed Mujahadeen Shura Council -- fires two rockets at the Red Sea resort city of Eilat in southern Israel in a deliberate attempt to kill and injure civilian residents and visitors. Fortunately, there were no casualties. But this doesn't in any way cleanse a deliberate terrorist attack intended to sow havoc and bloodshed amidst thousands of civilians.
What happened in Eilat fits to a "T" the definition of terrorism -- a deliberate attempt to harm or kill civilians in pursuit of a political or ideological agenda. The Mujahadeen attackers made no bones about their terrorist identity -- claiming credit for firing rockets in support of Palestinian prisoners.
Full report at:
http://www.americanthinker.com/blog/2013/04/nyt_blind_to_terrorism.html
------------
US takes no position on Musharraf: US Embassy
IANS | Apr 19, 2013
ISLAMABAD: The US embassy here Friday said it has not taken any position on former Pakistani president PervezMusharraf, who was arrested Friday.
Musharraf, who took over power in a coup in 1999, had allowed the US military to use some Pakistani air bases for military operations against the Taliban in Afghanistan, Xinhua reported.
The former president recently admitted that he had also struck a secret deal with the US over some drone strikes in the country's militant-infested tribal region.
The US embassy Friday issued a statement to clarify its position on Musharraf's arrest.
The spokesperson of the embassy said the US takes no position on the return of Musharraf to Pakistan or the legal proceedings against him.
"This is an issue to be resolved solely in accordance with Pakistan's Constitution and laws," an embassy statement said.
It said the US reaffirms that it is backing democracy in Pakistan, and does not support any particular political party or individual candidate.
http://timesofindia.indiatimes.com/world/pakistan/US-takes-no-position-on-Musharraf-Embassy/articleshow/19634396.cms
--------------
South Asia
Taliban attack kills 13 Afghan police: officials
April 19, 2013
GHAZNI, Afghanistan: Taliban insurgents killed 13 local policemen while they were sleeping on Friday, in an attack on their checkpoint in southeast Afghanistan, officials said.
The policemen were shot dead in the Andar district of Ghazni province, said district governor Mohammad Qasim Desiwal.
"They were asleep when their checkpoint came under attack by the Taliban and were killed by AK-47 fire," Desiwal told AFP.
Provincial governor Mosa Khan Akbarzada confirmed the death toll and said a delegation had been sent to the district to investigate.
The victims were members of the 18,000-strong Afghan Local Police, a village-level force formed in 2010 to provide security in areas where the better-trained national police and army are scarce.
Afghan troops and police are increasingly on the front line against the insurgents, and suffering heavier casualties, as Nato combat troops prepare to withdraw by the end of next year.
Full report at:
http://dawn.com/2013/04/19/taliban-attack-kills-13-afghan-police-officials/
----------
Hefajat defames Islam: Scholars
April 19 2013
Hefajat-e Islam by its "extremist ideology and practices" is defaming Islam and Prophet Muhammad (pbuh) as well as instigating atheism, said Islamic scholars of Chittagong at a press conference in the port city yesterday.
Ahle Sunnat Wal Jamaat held the press conference at its Chittagong city office ahead of its pre-announced grand rally to be held in the city's Laldighi tomorrow.
"We are not a political organisation and we neither favour nor oppose any political party," said SUM Abdus Samad of Ahle Sunnat Wal Jamaat.
Full report at:
http://www.thedailystar.net/beta2/news/hefajat-defames-islam-scholars/
--------------
200-year-old Hindu temple torched in Madaripur
April 19 2013
Miscreants set ablaze a 200-year-old Hindu temple in Rajoir upazila of Madaripur early on Friday.
Unidentified miscreants torched the Kali Mandir at Mahendradi village anytime after the midnight, said Mofazzel Hossain, officer-in-charge of Rajoir Police Station.
The temple had been burnt to ashes before the villagers reached the spot, said Uttam Banerjee, president of the temple managing committee.
Police are investigating the incident, reports our Madaripur correspondent quoting the OC.
Md Nasirul Islam, additional superintendent of police in Madaripur, said law enforcers are trying to arrest the culprits behind the incident.
http://www.thedailystar.net/beta2/news/hindu-temple-torched-in-madaripur/
--------------
SC finishes listening to Jamaat-e-Islami leader Mollah verdict
April 19 2013
Additional Attorney General MK Rahman yesterday finished reading to the Supreme Court the war crimes verdict against Jamaat-e-Islami leader Abdul Quader Mollah as the court was hearing a government appeal seeking the death penalty for the convict.
The International Crimes Tribunal-2 jailed Mollah for life on February 5 after he was found guilty of committing crimes against humanity during the Liberation War in 1971.
Full report at:
http://www.thedailystar.net/beta2/news/sc-finishes-hearing-mollah-verdict/
--------------
Afghanis working for foreign troops face Taliban threat, uncertain future
18 April 2013
Translators working for Western forces in Afghanistan are facing uncertain times, according to Now Lebanon on Thursday.
Shamsuddin Noori, who has been working as a translator for the German Foreign Service over the past four years, shared the lives of German soldiers, laughed with them and came under fire with them.
In October, the German military will leave Noori's area, Kunduz. By the end of 2014 most foreign troops will withdraw from the rest of the country.
Full report at:
http://english.alabiya.net/en/perspective/profiles/2013/04/18/Afghanis-working-for-foreign-troops-face-Taliban-threat-uncertain-future.html
--------------
Bangladeshi man beaten at Applebee's in 'revenge attack' over Boston Marathon bombings
Abdullah Faruque, 30, claims he was nearly beaten unconscious by a group of Hispanic males at a Bronx, New York Applebee's
He says he didn't know anything about the Boston bombings because he had 'a busy day'
18 April 2013
A Bangladeshi man has claimed he was beaten at a New York City Applebee's in retaliation for the Boston Marathon bombings - because of the color of his skin.
Abdullah Faruque, 30, says that he was heading out of the restaurant to smoke a cigarette when he noticed a group of Hispanic men who had been at the bar followed him out.
They then confronted him.
Full report at:
http://www.dailymail.co.uk/news/article-2311153/Abdullah-Faruque-Bangledeshi-man-beaten-revenge-attack-Boston-Marathon-bombings.html#ixzz2Qt1ZqHSR
--------------
Buddhist monk uses racism and rumours to spread hatred in Burma
Thousands watch YouTube videos of 45-year-old 'Burmese Bin Laden' who preaches against country's Muslim minority
Kate Hodal in Bangkok
18 April 2013
His name is Wirathu, he calls himself the "Burmese Bin Laden" and he is a Buddhist monk who is stoking religious hatred across Burma.
The saffron-robed 45-year-old regularly shares his hate-filled rants through DVD and social media, in which he warns against Muslims who "target innocent young Burmese girls and rape them", and "indulge in cronyism".
Full report at:
http://www.guardian.co.uk/world/2013/apr/18/buddhist-monk-spreads-hatred-burma
--------------
Maldives Speaker Shahid confirms switch to opposition MDP
By Neil Merrett | April 18th, 2013
Parliamentary Speaker Abdulla Shahid has today joined the opposition Maldivian Democratic Party (MDP) – days after resigning from the government-aligned Dhivehi Rayyithunge Party (DRP).
Following ongoing media speculation over the last week that the speaker was considering defecting to the MDP, Shahid today confirmed via his Twitter account that he had changed his political allegiance over concerns about the direction of the country's democratic transition.
Shahid did not elaborate further when asked by Minivan News today if he believed his decision to switch parties would potentially lead to government-aligned MPs reconsidering their support for his speaker role.
Full report at:
http://minivannews.com/politics/speaker-shahid-confirms-switch-to-opposition-mdp-56495
---------
Afghanistan says Taliban held over suicide bomb plot
April 19, 2013
KABUL: Afghan authorities said on Friday they have arrested five Taliban insurgents who were planning suicide attacks on civilians in the capital Kabul and another city later this month.
Police arrested the four men and one woman in the eastern city of Jalalabad on Thursday and seized four suicide bomb vests and C-4 explosives along with other weapons, the interior ministry said.
Full report at:
http://dawn.com/2013/04/19/afghanistan-says-taliban-held-over-suicide-bomb-plot/
--------
Pakistan
SC orders CDA to demolish Musharraf's farmhouse
By Hasnaat Malik
April 19, 2013
ISLAMABAD: Soon after the dismissal of Pervez Musharraf's plea for bail, the Supreme Court on Thursday directed the Capital Development Authority (CDA) to demolish illegal constructions in the former president's farmhouse.
Hearing a case against agriculture farmhouses built in violation, a three-member Supreme Court bench, headed by Chief Justice Iftikhar Muhammad Chaudhry, ordered the civic body to restore 504 farmhouses to the status, as envisaged in the original lease deal, within three weeks. In view of this SC order, Musharraf's five-acre palatial farmhouse in Chak Shahzad will also be demolished. His farmhouse – having five huge bedrooms, several lobbies and a swimming pool – is estimated to be worth more than Rs 300 million. According to the details, former prime minister Shaukat Aziz, former Senate chairman Muhammad Mian Soomro, PML-Q chief Chaudhry Shujaat Hussain, Senator Wasim Sajjad, former senator Dr Shahzad Waseem, Makhdoom Amin Fahim, Raja Nadir Pervez and several retired army officers, journalists and lawyers had also converted their agro-farmlands into palatial abodes in the capital. A bench lamented in its order that facts were not being disclosed in the court regarding the status of buildings raised on agro-farmhouses.
Full report at:
http://www.dailytimes.com.pk/default.asp?page=2013\04\19\story_19-4-2013_pg1_4
----------
Pak Taliban group in India to avenge Kasab's execution: Intel
Mateen Hafeez, TNN | Apr 19, 2013
MUMBAI: Intelligence agencies had warned of possible terror strikes by Pakistan-based Lashkar-e-Taiba (LeT), al-Qaida and its allies in India weeks before the blast outside the BJP office in Bangalore on Tuesday.
The intelligence alert — based on a tip-off —said the two groups were planning joint operations to avenge the execution of Ajmal Kasab and made the alarming claim that fighters of the Jundullah faction of the Tehreek-e-Taliban Pakistan (TTP) were in Amritsar and Hyderabad for the strikes.
Jundullah is a militant outfit based in Pakistan that claims to fight for the rights of Sunni Muslims in Iran. Its founder Abdul-Malek Rigi was captured and executed in Iran in 2010. The outfit is believed to have between 700 and 2,000 fighters and is said to be responsible for killing 154 Iranian citizens and injuring 320 since 2003.
Full report at:
http://timesofindia.indiatimes.com/india/Pak-Taliban-group-in-India-to-avenge-Kasabs-execution-Intel/articleshow/19624172.cms
--------------
Police question Musharraf, his farmhouse declared 'sub-jail'
PTI | Apr 19, 2013
ISLAMABAD: A police team on Friday visited former President Pervez Musharraf's farmhouse, declared a "sub-jail" by authorities, and questioned him about the detention of more than 60 judges during the emergency of 2007.
The five-member police team led by SP Sardar Sadaqat Ali Khan visited Musharraf's farmhouse at Chak Shahzad on the outskirts of Islamabad at 11am.
The team recorded Musharraf's statement and his response to charges levelled against him in the case that led to his arrest.
Full report at:
http://timesofindia.indiatimes.com/world/pakistan/Police-question-Musharraf-his-farmhouse-declared-sub-jail/articleshow/19632242.cms
--------------
Pakistani journalist Saleem Safi confesses to contribution in Afghan Jihad
April 19 2013
Peshawar: Senior Pakistani journalist Saleem Safi has confessed that he participated in Afghan Jihad after completing his matriculation examination.
Talking to Waseem Badami at ARY news show "11th hour", Safi said that when he completed his matriculation examination he joined afghan Jihad during former dictator Zia-ul-Haq's era.
"At that time I was unaware that establishment was supporting the afghan jihad in the same as today the children don't know" he added.
Full report at:
http://www.thenewstribe.com/2013/04/18/geos-saleem-safi-confesses-to-contribution-in-afghan-jihad/
--------------
Musharraf reaping what he had sown, says Nawaz Sharif
PTI | Apr 19, 2013
LAHORE: Pakistan's former premier Nawaz Sharif has described the action taken by the judiciary against Pervez Musharraf as a "reversal of fortunes", saying the former military ruler must be taken to task for subverting the country's Constitution.
"Musharraf is reaping what he had sown," Sharif said. "I have no personal enmity with Musharraf but he must be taken to task for violating the Constitution of Pakistan," the PML(N) chief said.
Full report at:
Musharraf had come to power in 1999 by ousting the PML(N) government led by Nawaz Sharif in a bloodless coup.
--------------
Anti-terrorism court established in Islamabad
April 19, 2013
ISLAMABAD: Pakistan's Federal Ministry of Law and Justice issued a notification on Friday for the establishment of an anti-terrorism court (ATC) in the capital city, Islamabad, DawnNews reported.
According to the notification, sessions judge Kausar Abbas Zaidi has been given the charge of the ATC.
Sources said that the anti-terrorism court was established for hearing the judges' detention case pertaining to the illegal confinement of 62 judges by former president General (retd) Pervez Musharraf after he declared a state of emergency in the country in 2007.
http://dawn.com/2013/04/19/anti-terrorism-court-established-in-islamabad/
----------
If Musharraf had been poor, he would be behind bars: Nawaz
April 19, 2013
QUETTA: There is a huge disparity in the implementation of laws on poor and the ruling elite in Pakistan, said Pakistan Muslim League Nawaz chief Nawaz Sharif while expressing his views regarding the recent Musharraf saga on Friday.
The PML-N chief was addressing the media during his visit to Balochistan. Nawaz had gone to give his condolences to president of the PML-N Balochistan chapter Sardar Sanaullah Zehri who recently lost his son, brother and nephew in an attack on their convoy on their way back from an election campaign.
Full report at:
http://tribune.com.pk/story/537723/if-musharraf-wouldve-been-poor-he-wouldve-been-behind-bars-nawaz/
----------
Hina Rabbani Khar steps down in favour of her father
April 19, 2013
LAHORE / MULTAN: Hina Rabbani Khar, a former foreign minister, stepped down in favour of her father Noor Rabbani Khar contesting from NA-177 on PPP ticket against Jamshed Dasti, an independent candidate and former MNA.
Hina Khar withdrew her nomination papers on Thursday for the seat. She told reporters that she wants to leave politics now because she had stepped in only to replace her father who was not eligible due to the graduation condition applied in the 2002 elections.
"However, the condition has been lifted and Noor Rabbani Khar, my father is contesting from NA-177," she said.
Full report at:
http://tribune.com.pk/story/537638/nomination-withdrawn-hina-rabbani-khar-steps-down-in-favour-of-her-father/
----------
Security beefed up at CM Najam Sethi's residence, office
April 19, 2013
LAHORE: The Punjab government has stepped up security arrangements for caretaker chief minister and his family after they received death threats, The Express Tribune has learnt.
Chief Minister Najam Sethi and his family shifted to an official residence in GOR-1 last week. For security purposes, the CM's office was also shifted to 8 Club Road, GOR-1.
A senior police official said security at CM's residence and his office had been beefed up to avoid any untoward incident.
Full report at:
http://tribune.com.pk/story/537463/death-threats-security-beefed-up-at-cms-residence-office/
----------
SC orders Lal Masjid report to be made public
April 19, 2013
ISLAMABAD: The Supreme Court on Thursday ordered that the Lal Masjid report be made public, rejecting Lal Masjid Commission's plea to keep the report secret.
A three-member bench of the apex court headed by Chief Justice Iftikhar Muhammad Chaudhry and comprising Justice Gulzar Ahmed and Justice Sheikh Azmat Saeed heard suo moto case of Lal Masjid.
On December 4, 2012, a three-member bench of the apex court headed by Chief Justice Iftikhar Muhammad Chaudhry had constituted a one-member judicial commission to probe the Lal Masjid Operation, launched in 2007 by former military ruler Pervez Musharraf against the mosque for challenging the writ of the state.
Full report at:
http://www.dailytimes.com.pk/default.asp?page=2013\04\19\story_19-4-2013_pg7_4
----------
'Supremacy of law basic responsibility of judiciary'
April 19, 2013
ISLAMABAD: Chief Justice of Pakistan Iftikhar Muhammad Chaudhry has said that it is the duty of the judiciary to ensure the supremacy of the constitution and the rule of law in the country.
He was speaking to a full-court meeting, which was held at the Supreme Court under the chairmanship of the CJP on Thursday.
The chief justice said that the purpose of the meeting was to review the performance of the Supreme Court in terms of dispensation of justice and disposal of cases for redressing the grievances of the litigants.
Full report at:
http://www.dailytimes.com.pk/default.asp?page=2013\04\19\story_19-4-2013_pg7_15
----------
Election delay to have dangerous repercussions: Former P M
April 19, 2013
ISLAMABAD: Former prime minister Yousaf Raza Gilani on Thursday said that any delay in the elections would have dangerous repercussions for the country.
Speaking at a press conference, accompanied by former prime minister and his successor Raja Pervez Ashraf, Gilani said that elections should be held as per their schedule at all costs and warned that even a single day's delay in elections would be disastrous for the country. Gilani defended the five-year rule of the PPPP and wondered why only the PPPP is being criticised when all the political forces of the country shared the government in Centre and provinces in the last democratic setup.
Full report at:
http://www.dailytimes.com.pk/default.asp?page=2013\04\19\story_19-4-2013_pg7_14
----------
Europe
U.N. says children tortured, raped in Syrian catastrophe
19 April 2013
Syrian families have been burned in their homes, people bombed waiting for bread, children tortured, raped and murdered and cities reduced to rubble in Syria's two-year-old war that has sparked a humanitarian catastrophe, the United Nations said on Thursday.
A quarter of Syria's 22 million people are displaced within the country and 1.3 million have fled to other states in the Middle East and North Africa, U.N. aid chief Valerie Amos and U.N. High Commissioner for Refugees Antonio Guterres told the U.N. Security Council.
It was a rare public briefing of the Security Council on the conflict in Syria, which was called for by Australia, and Amos pleaded for the 15 council members to "take the action necessary to end this brutal conflict."
Full report at:
http://english.alarabiya.net/en/News/middle-east/2013/04/19/U-N-says-children-tortured-raped-in-Syrian-catastrophe.html
--------------
France, Britain claim Syria used chemical weapons
AP | Apr 19, 2013
UNITED NATIONS: Britain and France have told the secretary-general they have reliable evidence that the Syrian government used chemical weapons near Aleppo, in Homs and possibly in Damascus, UN diplomats and officials say.
The British and French ambassadors told Ban Ki-moon in a letter on March 25 that soil samples and interviews with witnesses and opposition figures backed their belief that the government used chemical shells that had caused injuries and deaths, the diplomats and officials said.
They spoke on condition of anonymity because the letter has not been made public.
Syria asked Secretary-General Ban Ki-moon on March 21 to investigate an alleged chemical weapons attack by rebels two days earlier on Khan al-Assal village in northern Aleppo province. The rebels blamed regime forces for the attack.
Full report at:
http://timesofindia.indiatimes.com/world/middle-east/France-Britain-claim-Syria-used-chemical-weapons/articleshow/19625390.cms
--------------
Germany ready to keep up to 800 troops in Afghanistan
18 April 2013
Germany on Thursday offered to keep 600-800 troops in Afghanistan for two years from 2015, after the end of NATO combat operations there, to help train and advise the national army in its battle against the Taliban.
The offer comes with several conditions, including a formal request from the Afghan government, because "we want to be welcome" and a UN Security Council resolution, said Defense Minister Thomas de Maiziere.
It would also require a reasonable security situation and matching commitments by NATO allies in other parts of the country, he said, adding that he had informed major German parties of the plan that would require parliamentary approval.
Full report at:
http://english.alarabiya.net/en/News/middle-east/2013/04/18/Germany-ready-to-keep-up-to-800-troops-in-afghanistan-.html
--------------
Norway parliament evacuated after a small blast
AFP | Apr 18, 2013
OSLO: Norway's parliament was today briefly evacuated after a minor explosion in an electrical room, but no one was hurt, officials said.
Police confirmed that a short circuit had occurred in an electrical system which caused a plume of smoke and a power outage at the building in central Oslo.
"The parliament building was evacuated because of an explosive short circuit in a technical room," parliament said on its Twitter account. "No injuries were reported."
Power was restored after a few minutes, and the building was reopened shortly afterwards, it said.
Full report at:
http://timesofindia.indiatimes.com/world/europe/Norway-parliament-evacuated-after-a-small-blast/articleshow/19618634.cms
----------
Russia's Caucasus: Breeding ground for terror
AP | Apr 19, 2013
MOSCOW: Militants from Chechnya and other restive regions in Russia's volatile North Caucasus have targeted Moscow and other areas with bombings and hostage-takings, but the allegations of involvement in the Boston Marathon explosions would mark the first time they had conducted a terror attack in the West.
The conflict in Chechnya began in 1994 as a separatist war, but quickly morphed into an Islamic insurgency whose adepts vow to carve out an independent Islamic state in the Caucasus.
Full report at:
http://timesofindia.indiatimes.com/world/rest-of-world/Russias-Caucasus-Breeding-ground-for-terror/articleshow/19634752.cms
----------
London exhibition to showcase Muslims who saved Jews during Holocaust
19 April 2013
A new exhibition to be held in central London will showcase pictures of Muslims who saved Jews during the Holocaust, the BBC has reported.
The Righteous Muslim Exhibition, to be launched at the Board of Deputies of British Jews in Bloomsbury, "hopes to inspire new research into instances of collaboration between the Muslim and Jewish communities," the BBC reported.
The exhibition will showcase photographs of 70 Muslims who sheltered Jews during World War II, and will be "displayed alongside stories detailing their acts of heroism."
Yad Vashem, Israel's official memorial to victims of the Holocaust, honors around 25,000 "righteous persons" who "risked their lives" to protect Jews under Nazi Germany.
The 70 Muslims have reportedly been added to the list.
Full report at:
http://english.alarabiya.net/en/perspective/features/2013/04/19/London-exhibition-to-showcase-Muslims-who-saved-Jews-during-Holocaust.html
----------
URL: https://newageislam.com/islamic-world-news/new-age-islam-news-bureau/boston-suspect-s-webpage-hails-islam,-chechen-independence/d/11217