New Age Islam News Bureau
29 May 2015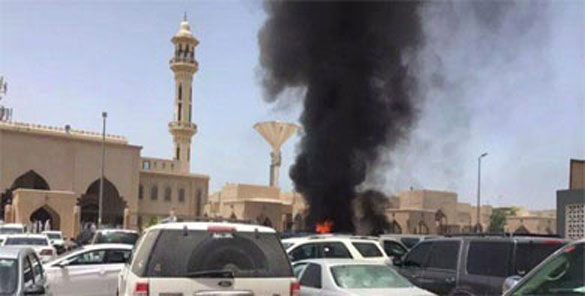 Blast near Shia Mosque in Saudi Arabia, Four Killed
----------
Arab World
• Blast near Shia Mosque in Saudi Arabia, Four Killed
• Car bombs targeting two five-star Baghdad hotels kill at least 10
• ISIL Executes Nine of Own Members in Iraq's Mosul
• Syria: Kurdish Fighters Win Back 220 Villages, Towns from ISIL in Hasaka
• Qaeda-led rebels take Idlib's last Syria regime bastion
• IS 'blind judge' shows up in Ramadi as Iraqi forces advance slowly
Pakistan
• Integrate Religion in Current Curriculum, Urges CII Chief
• 100,000 Pakistanis Lose Nationality for Being 'Suspect Aliens'
• Two security personnel killed in North Waziristan
• Two 'militants' killed in Karachi
• Balochistan unrest: Operation launched against targeted killings
• Pakistan's Nuclear Program Safe from Terrorists
India
• Flatmates Told To Pack Up For Supporting Muslim Woman
• Haryana: Homes torched, 150 Muslims seek shelter at a Haryana police station
• Pigeon with 'Pakistani Markings' Sparks Alert at the India-Pakistan Border
• 'I got my life back despite the attack, what I won't get back is my wife': Professor T J Joseph
• Sabarmati Jail Convict Wants to Convert to Islam, Alleges Torture
• With no passport, visa, Rlys team seeks to cross Atari to meet Pak counterparts
• Hurriyat to oppose 'Israel-type settlements' in Kashmir
Mideast
• Saudi-Led Coalition Strikes, Fighting Kill 40 Rebels in Yemen
• Fighters battle Houthis in Yemen's Aden
• Ansarullah: Turkey, Saudi Arabia Coordinating Plans to Send ISIL Terrorists to Yemen
• Yemen: Embalmed in Blood and Dust
South Asia
• Suu Kyi Sidesteps Rohingya Migrant Crisis for Political Pragmatism
• No Obstacle for Nasheed's Involvement in Talks, Says MDP
• In Myanmar, attacking the Rohingya is good politics
• Civilians Biggest Losers on Afghan War's New Northern Front
• Unknown gunmen kill former Jihadi leader Maulwi Maqbool in Kabul
• Baghlan operations end with the death of 79 militants
• Human Trafficking Crisis: Bangladesh's indigenous people also in the same boat
North America
• Prophet Cartoon Won't Appear on Washington's Public Transport
• Nearly 60 Per Cent of Americans Back Drone Strikes Overseas: Pew Survey
• US defence aid to Israel to rise over Iran deal fears: Sources
• US training of Syria rebel fighters expands to Turkey: Source
• 40 Years On, Still Defending My Conversion to Islam: NBA Legend
• Frank Islam and Debbie Driesman Foundation releases first instalment of $2 million commitment to AMU
Europe
• Spain Charges Boko Haram Militant Chief with Crimes against Humanity
• French Far-Right Leader in Egypt for Surprise Talks with Al-Azhar
• Commander of elite Tajik police force defects to ISIS
• U.N.: 85,000 flee Ramadi since is capture
• EU extends Syria sanctions, adds senior official
Africa
• Moroccan Entrepreneur to Launch New App for American Mosques
• SA Muslim bodies unite against IS
• Muhammadu Buhari sworn in as new President of Nigeria
• Leading al-Shabab figure dies in Somalia
Southeast Asia
• Malaysia Calls Indonesia, Thai and Myanmar Leaders for Summit on Migrants
• Jakarta gets $50m from Doha to host Rohingyas
• Muslim charged with blasphemy a 'lying deviant', Perak mufti claims
Compiled by New Age Islam News Bureau
URL: https://www.newageislam.com/islamic-world-news/new-age-islam-news-bureau/blast-near-shia-mosque-in-saudi-arabia,-four-killed/d/103234
----------
Arab World
Blast near Shia mosque in Saudi Arabia, four killed
29 May, 2015
DAMMAM: A car blast during Friday prayers outside a Shia mosque in Saudi Arabia's Dammam city killed four people, including its driver, in an attack that was "foiled" by the authorities, the Saudi interior ministry said.
A witness, identified only as Ahmed, told Reuters he was with his family near the mosque when "a quick explosion" happened. He did not know the cause of the blast.
He said acquaintances at the mosque told him a man was killed along with a bomber when he tried to prevent him from reaching it.
Another witness said a passer-by was also killed in the blast.
Photos posted by journalists on Twitter showed thick black clouds of smoke and a fire blazing at the purported scene of the blast.
The Saudi Press Agency reported that a bomber tried to enter a mosque in Dammam and detonated his bomb in the parking lot after being stopped by security guards.
It added that guards approached the car as it was parking and that the driver detonated the bomb. It was unclear if the bomber was among the four killed.
Reuters earlier reported that a car exploded near a Shia mosque in Dammam on Friday, killing two people, a witness said.
PM Nawaz condemns attack
Prime Minister Nawaz Sharif strongly condemned the suicide blast in Dammam.
He deplored the loss of lives and prayed for the early recovery of injured, extended condolences to the government of Saudi Arabia.
Last Friday, a suicide bomber detonated a bomb at a mosque in Shia-majority Qatif during Friday weekly prayers killing 21 people and wounding several others. The self-styled Islamic State (IS) group said in an online statement that it had carried out the deadly suicide bomb attack last week.
http://www.dawn.com/news/1184968/blast-near-shia-mosque-in-saudi-arabia-two-killed
----------
Car bombs targeting two five-star Baghdad hotels kill at least 10
29 May, 2015
BAGHDAD: Car bombs exploded in the parking lots of two heavily fortified five-star hotels in central Baghdad late on Thursday, killing at least 10 people, police and medical sources said.
A further 30 people were wounded in the blasts, which took place around seven minutes apart.
The first bomb targeted the Babylon hotel, where government officials often hold meetings and news conferences, and the second hit the Meridian.
Iraqi authorities had lifted a decade-old night-time curfew in Baghdad earlier this year, seeking to restore a sense of normality to the capital as security forces battle Islamic State militants who have overrun large parts of the country.
But raising the curfew has seen a spike in the rate of bombings in Baghdad.
Insurgents seized the city of Ramadi, west of Baghdad, on May 17 in the most significant military setback to the government since a US- led coalition launched a campaign of airstrikes against Islamic State last August.
http://tribune.com.pk/story/894153/car-bombs-targeting-two-five-star-baghdad-hotels-kill-at-least-10/
----------
ISIL Executes Nine of Own Members in Iraq's Mosul
29 May, 2015
The ISIL terrorist group killed at least nine of its own members in the Northern city of Mosul, a Kurdish media official disclosed.
"The ISIL executed nine of its gunmen after booby-trapping them inside a house in the district of Hamdania in Eastern Mosul, because they had escaped form the battlefronts," Head of media department of the Iraqi Kurdistan Democratic Party in Mosul Saeed Mimousini said.
The ISIL Takfiri terrorists currently control shrinking swathes of Syria and Iraq. They have threatened all communities, including Shiites, Sunnis, Kurds, Christians, Ezadi Kurds and others, as they continue their atrocities in Iraq.
Senior Iraqi officials have blamed Saudi Arabia, Qatar, and some Persian Gulf Arab states for the growing terrorism in their country.
The ISIL has links with Saudi intelligence and is believed to be indirectly supported by the Israeli regime.
http://english.farsnews.com/newstext.aspx?nn=13940307000439
----------
Syria: Kurdish Fighters Win Back 220 Villages, Towns from ISIL in Hasaka
29 May, 2015
Kurdish People's Protection Units (YPG) in Syria's Kurdistan region seized back over 220 villages and towns from the ISIL militants in Hasaka province.
The YPG forces purged ISIL terrorists from the town of al-Mabroukeh in Hasaka on Thursday bringing the total number of captured villages and towns to 221 in the Northeastern province.
Mabroukeh is only 20 kilometers from the town of Ras al-Ain and the Kurdish fighters announced that over 50 ISIL terrorists were killed in the 15-day-long military operations in the Hasaka province.
Earlier this week, the Syrian army seized back control over a vast area of territory with tens of villages as a result of massive operation against ISIL militants in Hasaka province.
"The army units regained full control over 100 villages stretching on a vast area of land in Hasaka after clashes with ISIL terrorists," Syrian military sources announced.
"The villages were located in Tal Tamr region and near Abdel Aziz Mountain to the Southwest of Hasaka city," a Kurdish military source told FNA.
http://english.farsnews.com/newstext.aspx?nn=13940307000694
----------
Qaeda-led rebels take Idlib's last Syria regime bastion
29 May, 2015
BEIRUT: A rebel coalition led by the Syrian affiliate of al Qaeda stormed and seized the last regime-held city in Idlib province Thursday, as Iraq exhumed the remains of 470 victims.
The Syrian Observatory for Human Rights said al Nusra Front and its allies in the Army of Conquest — Jaish al-Fatah in Arabic — captured Ariha after fierce clashes with regime forces including their Hezbollah allies, who were seen withdrawing.
The rebel sweep saw their fighters quickly enter outer districts of Ariha, the Observatory chief Rami Abdel Rahman told AFP.
"Jaish al-Fatah has taken full control of the city of Ariha after a lightning offensive that ended with a heavy pullout of regime forces and their allies Hezbollah from the western side of the city," he said.
The coalition confirmed the takeover of Ariha on Twitter, saying it seized the city in just six hours.
Full report at:
http://tribune.com.pk/story/894096/qaeda-led-rebels-take-idlibs-last-syria-regime-bastion/
----------
IS 'blind judge' shows up in Ramadi as Iraqi forces advance slowly
29 May, 2015
BAGHDAD: A senior Islamic State figure known as "the blind judge" has made an appearance in the Iraqi city of Ramadi, asserting the militant group's dominion over it as security forces and Shiite militias prepare a counter-attack.
Residents of Ramadi said a blind man with one hand and his head shrouded had delivered a speech in the Anbar provincial capital's main mosque after evening prayers on Wednesday. They did not know who he was but recognized him to be a senior figure because he was flanked by a large number of guards and said his accent indicated he was Iraqi.
Iraqi security expert Hisham Al-Hashimi, who closely tracks the hard-line insurgents, identified the man as Ali Attiya Al-Jubouri, also known as Abu Asim, or "the blind judge of the Islamic State."
Full report at:
http://www.arabnews.com/middle-east/news/753586
---------
Pakistan
Integrate Religion in Current Curriculum, Urges CII Chief
29 May, 2015
ISLAMABAD: The chairman of the Council of Islamic Ideology (CII) Maulana Muhammad Khan Sherani has called for introducing a uniform system of education throughout the country, integrating religious teachings with the contemporary, mainstream education.
"The syllabus for primary education in government institutions should follow four core principles: religious practices, intellectual awareness, social and ethical grooming," he told a news conference while presenting recommendations for a draft of syllabus for primary education on Thursday.
Sherani said the curriculum should be moulded according to cultural and social values. He called for inculcating love for religion and the country in addition to life skills and values in the students.
The CII chairman proposed including accounts from the Holy Quran and key incidents that took place during the struggle for independence of the Muslims in the Indian Sub-continent into the curriculum.
He also stressed the need to inculcate the rights of people and humanity and character building as well as the ethical aspect of the life of Prophet Muhammad (PBUH).
Sherani also said that the access to education for common people should be made easier. "Moreover, teachers should focus on the psychological needs of students and encourage modesty in their educational practices."
http://tribune.com.pk/story/894036/integrate-religion-in-current-curriculum-urges-cii-chief/
----------
100,000 Pakistanis lose nationality for being 'suspect aliens'
29 May, 2015
LAHORE: About 100,000 Pakistanis have lost their 'nationality' as the National Database and Registration Authority (Nadra) has either blocked their computerised national identity cards (CNICs) or refused to renew them because their status was "suspect (alien)".
The Nadra has intensified its exercise to identify 'aliens' among the CNIC holders.
"The Nadra has meticulously been scrutinising the 'suspect CNICs' and so far around 100,000 such CNICs have been blocked. The holders of the blocked CNICs are not Pakistanis, most of them being Afghans," Nadra spokesman Faik Ali Chachar told Dawn.
"As the Nadra has a 'foolproof' system, it is blocking dubious CNICs," he said.
However, neither Mr Chachar nor Nadra Chairman Usman Mobin could explain as to how did the 'non-Pakistanis' manage to get the CNICs in the first place.
Full report at:
http://www.dawn.com/news/1184905/100000-pakistanis-lose-nationality-for-being-suspect-aliens
----------
Two security personnel killed in North Waziristan
29 May, 2015
PESHAWAR: Two security personnel were killed and one injured Friday in North Waziristan's Ghulam Khan area when militants opened fire at a security forces' vehicle.
According to security sources, militants targeted a security forces' vehicle which was patrolling the area as per routine. Two security men were killed whereas one sustained injuries.
The casualties were shifted to Miramshah hospital after the incident.
The semi-autonomous tribal areas on the Afghan border have for years been a hideout for militants of all stripes, including Al Qaeda and the Pakistani Taliban as well as foreign fighters such as Uzbeks and Uighurs.
Pakistan began a long-awaited push to clear insurgent bases from North Waziristan last June after a bloody Taliban attack on Karachi airport finally sank faltering peace talks.
http://www.dawn.com/news/1184961/two-security-personnel-killed-in-north-waziristan
----------
Two 'militants' killed in Karachi
29 May, 2015
KARACHI: Two suspected militants were killed in a shootout with police in Manghopir area late on Thursday night, officials said.
They said the area police raided a hideout in Mianwali Colony of Manghopir on reports about the presence of some militants. The raid turned into an exchange of gunfire. "The men in the hideout attacked personnel of our team when they were busy taking positions following a tip-off about the presence of militants in the area," said Ghulam Hussain Korai, the SHO of Manghopir police station.
"The shootout s left two militants dead. We recovered two pistols, a rifle and two hand-grenades. The bodies are being shifted to the Abbassi Shaheed Hospital for medico-legal formalities."
The identities of the deceased suspects were not determined yet, he said, but added that police had 'enough reasons' to believe that they were associated with a banned militant group and were said to be living in the area for a few weeks.
http://www.dawn.com/news/1184898/two-militants-killed
----------
Balochistan unrest: Operation launched against targeted killings
29 May, 2015
QUETTA: Balochistan Home Minister Mir Sarfraz Bugti announced that security forces have launched an intelligence-based operation in Quetta and its surrounding areas.
Speaking at a news conference late Wednesday night, he said that the operation was carried out without discrimination. Balochistan Inspector General G Amlish Khan and Home Secretary Akbar Hussain Durrani were also present. Earlier, a high level meeting of the provincial security set-up reviewed the spate of targeted killings of Hazara community people in Quetta. Bugti said that police, Levies and Frontier Corps will jointly conduct action against terrorists. He said that terrorists used weapons with silencers in the attack on the Hazara people.
"The conspiracy to pit people against each other in the name of language, sect and religion will be foiled with the help of the people," he said. He did not agree with a remark that there was no writ of the government and said: "Quetta is under the writ of government and that will be maintained at all cost."
Bugti said that operation would continue without any discrimination.
http://tribune.com.pk/story/894083/balochistan-unrest-operation-launched-against-targeted-killings/
----------
Pakistan's Nuclear Program Safe from Terrorists
29 May, 2015
Islamabad rebuked claims in a US Congress report that Pakistan's nuclear program is in danger of falling into the hands of terrorists, sources in the Foreign Office of Pakistan announced on Thursday.
"The parts about Pakistan's nuclear program and danger of it falling in the hands of terrorists are again based on mollified intentions," the sources told Sputnik.
The sources said that the country meets all international requirements for the security of its nuclear program.
"Pakistan has a robust and effective nuclear control regime in place. The effectiveness of the nuclear security system is recognized by the international community," the sources said.
The US Congress report on Pakistan published on May 14 stated that the security of Pakistan's nuclear arsenal, materials, and technologies continues to be a top-tier US concern.
Earlier in May an article published in an Islamic State propaganda magazine Dabiq said the militants wanted to buy a nuclear weapon in Pakistan and then smuggle it into the United States.
Pakistan is known to be in possession of nuclear weapons. The country, along with India and Israel, is not a signatory to the Treaty on the Non-Proliferation of Nuclear Weapons.
http://english.farsnews.com/newstext.aspx?nn=13940307000663
------------
India
Flatmates told to pack up for supporting Muslim woman
TNN | May 29, 2015
MUMBAI: While media professional Misbah Quadri (25) hit the headlines earlier this week after she accused a broker of forcing her out of a flat as she was Muslim, her two flat-mates have paid the price for standing by her.
While Quadri eventually left the flat in a Wadala housing society, her flat-mates were allegedly thrown out for sharing the flat with a Muslim. "It has been very hard for us. We did not anticipate the repercussions of standing by Misbah. Not only were we told to leave the flat but the deposit we paid while renting the house has not been returned. But it's good that her story is out in the public domain," one of her flat-mates said. She had no regrets standing by Quadri.
Though Quadri did not know the girls with whom she was set to rent a flat, she credited them for supporting her when the broker allegedly threatened to throw her belongings out of the flat if she did not leave.
Full report at:
http://timesofindia.indiatimes.com/india/Flatmates-told-to-pack-up-for-supporting-Muslim-woman/articleshow/47464122.cms
---------
Ballabhgarh Communal Tension: Homes torched, 150 Muslims seek shelter at a Haryana police station
29 May, 2015
It's almost midnight but sleep doesn't come easy to 150 Muslims at the Ballabhgarh City police station. Their homes burnt, their neighbours now foes, they have nowhere to go. The police station is the only shelter for these residents of Atali, a village in Ballabhgarh roiled by communal violence.
The violence in Atali began Monday evening, the flashpoint of a five-year dispute over the construction of a mosque. Adjacent to a temple, the mosque was torched and the Muslims of the village fled. They have since been camping at the police station.
One tent, four desert coolers, one carpet and two porta cabins — that's the sum total of the facilities made available to them.
Full report at:
http://indianexpress.com/article/india/india-others/ballabhgarh-communal-tension-homes-torched-150-muslims-seek-shelter-at-a-haryana-police-station/99/#sthash.jJ8XGhX5.dpuf
----------
Pigeon with 'Pakistani markings' sparks alert at the India-Pakistan border
May 29, 2015
When it comes to the India-Pakistan border, even an avian is not above suspicion.
Security agencies are in a flutter over a pigeon with "Pakistani markings" that was "caught" on the border in Pathankot district of Punjab on Wednesday.
The "suspect", now in police custody, was nabbed by villagers in the Bamial sector of Pathankot district, which is just a few kilometres away from the Pakistan border. Accoring to reports, it was injured after villagers tore off one of its wings.
The bird has "Shakargarh" and "Narowal" written on its body in English, along with some numbers and words in Urdu. Shakargarh tehsil is a sub-divison of Narowal district in Pakistan's Punjab province close to the border. "We are investigating the matter and have alerted the Intelligence Bureau (IB) and the Border Security Force (BSF)," said SSP, Pathankot, R K Kaushal. The district police have left nothing to chance, even getting the bird scanned to check if there was something hidden inside it. "But we did not find anything in the scan," said the SSP. He added that there was something written on the pigeon in Urdu and that efforts were being made to get that read. "It may be harmless but we cannot take any chances," he added. BSF DIG R S Kataria, based at the BSF Punjab Frontier headquarters in Jalandhar, said the pigeon was "inspected" by senior officials including the commanding officer of the BSF battalion based in the area. "Nothing suspicious has been found as yet but we are not taking any chances," said Kataria. He said the bird could have been used to send across a message or a SIM card to a contact across the border. He said that recently, another pigeon was found on the Indo-Pak border in another state with something tagged on its body. This is not the first time that a pigeon has flown across the border and got caught. Five years back, in May 2010, another pigeon with Pakistani markings was "apprehended" near the border in Amritsar sector. It was then alleged that it was a "spy pigeon". The bird was later handed over to wildlife authorities after being "cleared" in investigations.
http://indianexpress.com/article/india/india-others/feathered-suspect-pakistan-pigeon-sparks-alert-at-border/#sthash.VuyyhZv7.dpuf
----------
'I got my life back despite the attack. What I won't get back is my wife'
29 May, 2015
Salomi is often on Professor T J Joseph's mind these days. It's been over a year since his wife killed herself, broken and depressed. Would the conviction of 13 of his assaulters for chopping his hand been the salve she needed, Joseph wonders.
A lot has changed since the day Salomi came back from a routine consultation with a psychiatrist and, minutes later, was found hanging from a towel rod in the bathroom. A week later, the Catholic Diocese of Kothamangalam in Ernakulam district in Kerala relented to allow Joseph to join duty before his retirement, something the two of them had been fighting for; their children Amy and Mithun have graduated; and on May 8, came the judgment convicting the 13.
What hurts Joseph the most is that Salomi lost hope after ensuring he kept up his through the darkest times. After he was attacked in July 2010 — for allegedly insulting the Prophet in a question paper — and left bedridden for several months, relearning how to do basic things with one hand, Salomi nursed him. "She also shouldered the responsibility of running the home."
Full report at:
http://indianexpress.com/article/india/india-others/i-got-my-life-back-despite-the-attack-what-i-wont-get-back-is-my-wife/2/#sthash.j9WZYWSe.dpuf
----------
Sabarmati Jail Convict Wants to Convert to Islam, Alleges Torture
May 29, 2015
A convict serving life sentence in sensational Pradeep 'Don' murder case of Ahmedabad wrote a letter to the Prisons Department of Gujarat Police seeking permission to convert to Islam.
The convict, Jignesh Soni, wrote this letter after he was shifted to a barrack that had Muslim inmates in the Sabarmati Central Jail. He claimed that the prisons department is torturing Hindu inmates by lodging them together with Muslims.
Jignesh who is lodged in Bada Chakkar (section of the prison for convicts) of Sabarmati Central Jail since the last six years, is the key accused in the murder case and he was arrested in 2009.
Full report at:
http://indianexpress.com/article/india/india-others/sabarmati-jail-convict-wants-to-convert-to-islam-alleges-torture-prisons-dept-issues-inquiry/99/#sthash.3zu9fyMQ.dpuf
----------
With no passport, visa, Rlys team seeks to cross Attari to meet Pak counterparts
29 May, 2015
High drama was witnessed at Attari Joint Check Post Thursday after a delegation of the Indian Railways led by Divisional Railway Manager Ferozepur Anuj Prakash reached the JCP and insisted to cross over to Wagah to hold a high-level meeting with their Pakistani counterparts. The delegation had come without visas and passports.
Customs officials led by Assistant Commissioner at Attari Integrated Check Post (ICP)Amanjit Singh swung into action after the 12-member delegation, escorted by the Border Security Force (BSF), reached the JCP in the morning. The BSF mans the JCP.
The delegation insisted that they be allowed to cross over to Wagah where their counterparts were waiting for the meeting.
Full report at:
http://indianexpress.com/article/india/india-others/with-no-passport-visa-rlys-team-seeks-to-cross-attari-to-meet-pak-counterparts/#sthash.ZTImT46W.dpuf
----------
Hurriyat to oppose 'Israel-type settlements' in Kashmir
29 May, 2015
SRINAGAR: Separatist outfit Hurriyat Conference, led by Syed Ali Shah Geelani, on Thursday claimed that Jammu & Kashmir government had earmarked land for rehabilitating migrant Kashmiri pandits in the valley and said it would oppose any such attempt to create "Israel-type settlements".
Hurriyat has always welcomed the return of Kashmiri Hindus and not a single Kashmiri Muslim was against their rehabilitation, a Hurriyat spokesman said here.
"But, the Indian policy makers want to implement Israel-type plan which has been tried in Palestine. We will not allow it to happen," he said.
He said, "Our reliable sources in the revenue department informed that the chief minister has completed the basic formalities for providing land and that his recent tour of south Kashmir was part of that plan."
Full report at:
http://timesofindia.indiatimes.com/india/Hurriyat-to-oppose-Israel-type-settlements-in-Kashmir/articleshow/47460913.cms
----------
Mideast
Saudi-led coalition strikes, fighting kill 40 rebels in Yemen
29 May, 2015
ADEN: Saudi-led coalition strikes against Iran-backed Shia rebels in Yemen's second city Aden and ground clashes killed at least 40 Huthis and their allies, the city's deputy governor said.
Residents reported non-stop air raids on rebel positions across the city amid heavy fighting.
The coalition air campaign against the rebels and allied forces loyal to former leader Ali Abdullah Saleh began on March 26 in an effort to restore UN-backed President Abedrabbo Mansour Hadi to power.
"Coalition forces carried out qualitative and successful operations against the rebels after coordination between the coalition leadership and the Popular Resistance Council leadership" on the ground in Aden, says the southern city's deputy governor Naef al-Bakri.
Anti-rebel forces — pro-government fighters, Sunni tribes, and southern separatists — are referred to as Popular Resistance Committees.
Full report at:
http://tribune.com.pk/story/894077/saudi-led-coalition-strikes-fighting-kill-40-rebels-in-yemen/
----------
Fighters battle Houthis in Yemen's Aden
29 May 2015
Heavy fighting erupted in southern Yemen near Aden airport on Friday when forces loyal to Yemeni President Abd-Rabbu Mansour Hadi attacked Houthi militias in a push to drive Houthis from the district, residents and fighters said.
Saudi-led forces also made four air strikes on a military base near the airport, a source in the southern militia told Reuters.
A Saudi-led coalition began air strikes in Yemen on March 26 in a campaign to restore Yemeni President Abd-Rabbu Mansour Hadi to power. He fled in March, after Iranian-backed Houthi militia seized the capital Sanaa in September and then thrust into central and south Yemen.
Aden is Yemen's commercial hub. Its airport has been closed since fighting began but its port provides sporadic access for desperately needed humanitarian aid to enter the country.
Houthis and forces loyal to former president Ali Abdullah Saleh are concentrated around Aden's districts of Khor Maksar, Crater and Moalla.
Full report at:
https://english.alarabiya.net/en/News/middle-east/2015/05/29/Fighters-battle-Houthis-in-Yemen-s-southern-city-of-Aden.html
----------
Ansarullah: Turkey, Saudi Arabia Coordinating Plans to Send ISIL Terrorists to Yemen
29 May, 2015
A senior intelligence official of Ansarullah revolutionary movement disclosed on Thursday that Ankara and Riyadh have come into terms over plans to dispatch Takfiri terrorists to Yemen.
"Saudi Arabia has made the needed coordination with Turkey to dispatch terrorists and their commanders to Yemen to take part in the attacks against Ansarullah fighters and Yemeni soldiers," Hamid Hossein al-Hamdani told FNA on Thursday.
He noted that a captured ISIL terrorist named Abu Omar has confessed that ISIL commanders have had meetings in Al-Reqqa in Syria and Hatay in South Turkey on different occasions to implement the Saudi plan for the dispatch of the terrorists to Yemen.
Hamdani said that Saudi Arabia dispatches the terrorists to its military bases in the border city of Najran.
Early in April, a source disclosed that Saudi Arabia has released large numbers of Al-Qaeda prisoners from its jails and sent them to the Yemeni border province of Hazar al-Mout to fight against the army and popular forces of the neighboring country.
Full report at:
http://english.farsnews.com/newstext.aspx?nn=13940307000970
----------
Yemen: Embalmed in Blood and Dust
29 May, 2015
Satellite news channels continue to show demolished buildings in Yemen where emergency workers are extracting bodies from under them, mostly women and children, embalmed in blood and dust.
This is while Western news anchors personify their countries' moral blindness by being careful to avoid referring to these deliberate massacres as an escalation by the House of Saud and their American-Israeli masters.
The massacres are being crafted as punishment for those living among Ansarullah, for those who are related to Ansarullah, and for those who believe the resistance is their best hope of preventing another Saudi occupation.
Full report at:
http://english.farsnews.com/newstext.aspx?nn=13940307001117
----------
South Asia
Suu Kyi sidesteps Rohingya migrant crisis for political pragmatism
29 May, 2015
Aung San Suu Kyi was once an unassailable champion of Myanmar's powerless. But the opposition leader's refusal to speak up for a persecuted Muslim minority at the heart of a migrant crisis has cast doubt over her moral force – and even earned a gentle rebuke from fellow Nobel laureate the Dalai Lama.
Images of hungry migrants from Myanmar and Bangladesh hauled from vessels to Southeast Asian shores after months at sea have spurred calls for immediate humanitarian action to be matched by moves to address the root causes of the crisis.
Regional nations are gathering in Bangkok today to discuss both issues.
Attention has swung to one of the key departure points for the migrants, strife-torn Rakhine state in western Myanmar, where tens of thousands of stateless Rohingya Muslims live in dire displacement camps desperate to leave.
But as Myanmar's government wavers between offering some assistance to stricken migrants and denying any responsibility for their exodus, international rights groups looking for a moral beacon have found little support from Suu Kyi.
Full report at:
http://www.themalaysianinsider.com/world/article/suu-kyi-sidesteps-rohingya-migrant-crisis-for-political-pragmatism#sthash.pRQSIttL.dpuf
----------
No obstacle for Nasheed's involvement in talks, says MDP
29 May, 2015
The Maldivian Democratic Party (MDP) insists that there is no obstacle for former President Mohamed Nasheed to represent the main opposition party in official talks with the government.
The government had rejected Nasheed as the party's representative on the grounds that the opposition leader is serving a 13-year jail sentence.
In a letter to President Abdulla Yameen, the MDP said that Nasheed was not sentenced to be "locked up in jail in isolation, unable to meet anyone."
The government had facilitated meetings with meetings with Nasheed for representatives from the UN and the Commonwealth after his conviction in March, the party noted.
The MDP said that it is essential for all political parties, including the ruling Progressive Party of Maldives (PPM), to sit down together for the talks.
President Yameen had called for separate talks with the three allied opposition parties – the MDP, the Jumhooree Party (JP) and the Adhaalath Party (AP) – to resolve the ongoing political crisis triggered by the arrest and imprisonment of Nasheed and ex-defence minister Mohamed Nazim.
Full report at:
http://minivannews.com/politics/no-obstacle-for-nasheeds-involvement-in-talks-says-mdp-98888#sthash.V36RPu5B.dpuf
----------
In Myanmar, attacking the Rohingya is good politics
29 May, 2015
YANGON — Hundreds of protesters, including a small group of crimson-robed Buddhist monks, gathered on a dusty soccer field Wednesday afternoon and began marching through the traffic-clogged streets of Myanmar's former capital. But while other recent demonstrations here have ended in arrests or violence, the local authorities made things easy for this group. A cluster of police officers sat in plastic chairs sipping tea in a nearby tea shop, barely watching.
That's because the marchers weren't protesting education policies or military land grabs; they were targeting the hugely unpopular Rohingya. The stateless minority Muslims are concentrated in western Rakhine state, viewed as illegal immigrants from Bangladesh and denied basic health and education services by the quasi-civilian government that took over from the military junta in 2011. The plight of the Rohingya has made global headlines in recent months as thousands have taken to the seas in rickety boats, creating a regional migrant crisis. Myanmar officials maintain that the root cause of the boat crisis is not their government's treatment of the Rohingya, but rather the corrupt traffickers in the region who have lured them onto boats with promises of jobs abroad.
Full report at:
http://america.aljazeera.com/articles/2015/5/29/in-myanmar-attacking-the-rohingya-is-good-politics.html
----------
Civilians biggest losers on Afghan war's new northern front
29 May, 2015
KUNDUZ: When the Taliban descended a month ago on Dam Shakh, a hamlet on the wheat-growing plains of northern Afghanistan's Kunduz province, nobody was prepared.
"They turned up suddenly and took us completely by surprise," said resident Ghulam Sakhi of the night of April 24 when hundreds of Taliban militants launched a coordinated attack.
"It was horrific. People just started running away as fast as they could and for those who stayed, we were on our own for 10 days. The government just couldn't cope."
Military and intelligence authorities were equally surprised. Armed men took over homes and used residents as human shields.
Army reinforcements didn't arrive for days and then lacked supplies ─ ammunition, food, fuel ─ because of poor logistics, Governor Mohammad Omer Safi said.
Full report at:
http://www.dawn.com/news/1184965/civilians-biggest-losers-on-afghan-wars-new-northern-front
----------
Unknown gunmen kill former Jihadi leader Maulwi Maqbool in Kabul
May 29 2015
Unknown gunmen have killed a former Jihadi leader Maulwi Sayed Maqbook in capital Kabul.
Maulwi Sayed Maqbool was on his way home after offering prayers at the mosque when he came under indiscriminate fire from a white Toyota Corolla vehicle in Alikhil area of Deh Sabz District last night.
The attackers managed to flee before police arrived at the site.
Maulwi Sayed Maqbool was a Jihadi leader during the war against soviet invasion of Afghanistan.
No group has yet claimed responsibility for the assassination but security agencies have began an investigation into what it looks like a target killing.
http://www.khaama.com/unknown-gunmen-kill-former-jihadi-leader-maulwi-maqbool-in-kabul-3392
----------
Baghlan operations ends with the death of 79 militants
May 29 2015,
The offensive by the Afghan security forces against the anti-government armed militants in northern Baghlan province concluded with the death of at least 79 militants.
According to security officials in northern Afghanistan, the operations were conducted in Baghlan-e-Markazi and Dahan-e-Ghori districts.
A commander of the 209 Shaheen Corps in northern Afghanistan, Gen. Ghulam Farooq Ahmadi, said 143 villages were cleared from militants during the operations which were launched a month ago.
He said at least 79 militants were killed, 92 were wounded and 25 others were arrested during the operations.
Gen. Ahmadi also added that the operations were jointly conducted by the Afghan police and army forces and at least three Afghan soldiers lost their lives and 9 others were wounded.
Baghlan is among the relatively volatile provinces in northern Afghanistan where anti-government armed militants are actively operating in a number of its remote districts and often carry out insurgency activities.
http://www.khaama.com/baghlan-operations-ends-with-the-death-of-79-militants-1140
----------
Human Trafficking Crisis: Bangladesh's indigenous people also in the same boat
29 May, 2015
Far from the depths of the Andaman Sea and the jungles of South-east Asia, a Bangladeshi man weeps for his dead relatives.
The story of his two brothers and uncle – all now dead – gives life to the bones being discovered in Thailand and Malaysia, unearthing the perils of human trafficking and laying bare how modern-day slavers bleed their victims dry.
His story and those of others show how Bangladesh's indigenous communities have been affected by the boatpeople crisis.
Mongkhain Chakma's eyes are wet from grief and bitterness as he sits down to speak to this reporter near what used to be his family home.
The homestead in Amtoli village, Hoyaikkong Union in Teknaf, Cox's Bazar, was sold a few months ago to pay the ransom demanded for his two elder brothers who were held captive by traffickers in Thailand.
Full report at:
http://www.dhakatribune.com/bangladesh/2015/may/29/bangladeshs-indigenous-people-also-same-boat#sthash.MV4pfLnP.dpuf
---------
North America
Prophet CartoonWon't Appear on Washington's Public Transport
29 May 2015
The winning entry from a Prophet Mohammed cartoon contest will not be allowed on ads on Washington's public transportation system, officials said Thursday, angering competition organizers.
The cartoon was part of a contest that came under attack in Texas last month, when two suspected Islamist gunmen opened fire on event participants with assault rifles, before a traffic policeman shot them dead.
The competition was staged in Texas by an anti-Muslim group, founded by Pamela Geller, who railed against the decision to ban the ads in the U.S. capital, calling it an attack on free of speech.
"This is an end run around the First Amendment," Gellar said on her website.
Geller had submitted an ad featuring the winning entry to the Washington Metropolitan Area Transit Authority (WMATA) for review, but on Thursday the agency suspended "all issue-oriented" ads until the end of the year, The Washington Post reported.
Full report at:
https://english.alarabiya.net/en/media/advertising-and-pr/2015/05/29/Prophet-cartoon-won-t-appear-on-Washington-s-public-transport.html
----------
Nearly 60 per cent of Americans back drone strikes overseas: Pew survey
29 May, 2015
NEW YORK: Nearly 60 per cent of Americans approve of drone strikes that target extremists in Pakistan, Somalia and Yemen despite concerns that they endanger innocent civilians, a new poll found Thursday.
The Pew Research Center said its national survey showed that 58 per cent approve of US drone strikes against extremists in those countries and that 35 per cent disapprove.
Support for drone strikes crosses party lines, although Republicans, at 74 per cent, are more likely than Democrats, at 52 per cent, to favor the use of drones to target extremists, the poll found.
Read: Drones: choosing between droning on and understanding
Just under half of respondents, 48 per cent, said they were very concerned that drone strikes endanger the lives of innocent civilians, while 32 per cent said they were somewhat concerned.
Full report at:
http://www.dawn.com/news/1184954/nearly-60-per-cent-of-americans-back-drone-strikes-overseas-pew-survey
----------
US defence aid to Israel to rise over Iran deal fears: Sources
29 May, 2015
US defence aid to Israel is likely to increase after 2017, sources on both sides said on May 28, seeing a possible link to Washington's efforts to assuage its ally's fears over nuclear diplomacy with Iran.
A current package worth $3 billion a year expires in 2017. A US official, speaking to Reuters on condition of anonymity, said negotiators were close to a new deal that would bring annual payouts to $3.6 billion to $3.7 billion on average.
An Israeli official, who also declined to be named, put the expected aid at between $3.5 billion and $4 billion.
"They (the United States) are trying to douse the fires after our flare-up about the Iran deal," the official added, referring to curbs being negotiated on Tehran's disputed nuclear programme, which Israel has condemned as insufficient.
Full report at:
http://www.hurriyetdailynews.com/us-defence-aid-to-israel-to-rise-over-iran-deal-fears--sources.aspx?pageID=238&nID=83142&NewsCatID=352
----------
US training of Syria rebel fighters expands to Turkey: Source
29 May, 2015
The US military has started training Syrian opposition fighters in Turkey to combat the Islamic State of Iraq and the Levant (ISIL), an expected expansion of a program that first launched in Jordan weeks ago, a US official told Reuters on May 28.
The official, who spoke on condition of anonymity, did not offer details on the size of the first group of recruits undergoing training in Turkey or the specific start date.
The Pentagon declined to comment.
President Barack Obama's administration says the program aims only to target ISIL forces, not troops loyal to Syrian President Bashar al-Assad. But critics, including in the US Congress, say that theoretical limitation is unlikely to withstand the realities of Syria's messy civil war.
The war in Syria has killed more than 220,000 people and left a third of the population homeless.
The United States hopes the long-awaited program will train just over 5,000 Syrian fighters a year, giving the US military partners on the ground to combat Islamic State.
So far, the US role in Syria has been largely limited to air strikes, although American special operations forces killed a senior ISIL leader in a raid there this month.
All of the US military training of Syrian opposition fighters is taking place outside of the country. Beyond Jordan and Turkey, Saudi Arabia and Qatar have also offered to host training sites.
http://www.hurriyetdailynews.com/us-training-of-syria-rebel-fighters-expands-to-turkey-source.aspx?pageID=238&nID=83113&NewsCatID=510
----------
40 Years On, Still Defending My Conversion to Islam: NBA Legend
29 May, 2015
In a touching article, Kareem Abdul-Jabbar - NBA legend and one of the most interesting figures in the history of American athletics who was formerly known as Lew Alcindor, wrote he never wavered or regretted his decision to convert to Islam, but he had to defend it again and again every now and then.
"For most people, converting from one religion to another is a private matter requiring intense scrutiny of one's conscience. But when you're famous, it becomes a public spectacle for one and all to debate. And when you convert to an unfamiliar or unpopular religion, it invites criticism of one's intelligence, patriotism and sanity. I should know. Even though I became a Muslim more than 40 years ago, I'm still defending that choice", he wrote in a recent article posted on Al Jazeera America.
Full report at:
http://www.ummid.com/news/2015/April/29.04.2015/kareem-abdul-jabbar-on-conversion-to-islam.html#sthash.ibj2g96s.dpuf
----------
Frank Islam and Debbie Driesman Foundation releases first instalment of $2 million commitment to AMU
29 May, 2015
WASHINGTON, DC: The Washington area-based Frank Islam and Debbie Driesman Foundation has donated $222,000 to Aligarh Muslim University in India, as part of its $2 million commitment for the construction of a new management complex at the 140-year-old institution. The $2 million donation was first announced in January by its founder and prominent Indian American entrepreneur and philanthropist Frank Islam, an alumnus of AMU, during a visit to the university. A news release posted on the AMU website said the university has already earmarked three acres of land for the Frank Islam and Debbie Driesman Department of Management and Faculty of Management Studies and Research, which is estimated to cost $3 million.
Full report at:
http://www.americanbazaaronline.com/2015/05/28/frank-islam-and-debbie-driesman-foundation-releases-first-installment-of-2-million-commitment-to-amu/
---------
Europe
Spain charges Boko Haram militant chief with crimes against humanity
29 May, 2015
Spain's state prosecutor charged the leader of Nigerian Islamist militant group Boko Haram, Abubakar Shekau, with terrorism and crimes against humanity over a 2013 attack on a Nigerian town in which a Spanish nun was assaulted, court papers said.
Spain has pioneered the use of universal jurisdiction, the concept that crimes against humanity can be prosecuted across borders, in instances such as when a Spanish judge issued an arrest warrant for Chile's Augusto Pinochet in London in 1998.
The Boko Haram case arises from a militant attack on the eastern Nigerian town of Ganye on March 22, 2013 in which at least 25 people were killed.
Court papers issued on Thursday said militants assaulted the nun, Maria Jesus Mayor, in Ganye before she was able to escape into hiding and was later rescued by Nigerian security services.
The court documents gave no details of the alleged incident involving the nun. The judge has asked for a study of Boko Haram from Interpol and will obtain a declaration from Mayor about the incident, according to the court papers.
Full report at:
https://english.alarabiya.net/en/News/world/2015/05/28/Spain-charges-Boko-Haram-militant-chief-with-crimes-against-humanity-.html
----------
French far-right leader in Egypt for surprise talks with Al-Azhar
29 May 2015
French far-right leader Marine Le Pen held talks in Egypt with Al-Azhar that broached the top Sunni Muslim body's "serious concerns" over her party's stance on Islam, it said.
National Front president Le Pen met late Thursday with Ahmed al-Tayeb, grand imam of Al-Azhar, at its Cairo headquarters during which he questioned her organisation's "hostile opinions towards Islam and Muslims", an Al-Azhar statement said.
Tayeb added that the National Front's "opinions must be reviewed and corrected".
The National Front, which had a strong showing in local elections in March, has campaigned on politically explosive issues of immigration and the integration of Islam into French society after the Paris Islamist attacks.
Full report at:
https://english.alarabiya.net/en/News/middle-east/2015/05/29/France-s-Le-Pen-in-Egypt-for-surprise-talks-with-Muslim-body-.html
----------
Commander of elite Tajik police force defects to ISIS
29 May, 2015
The U.S.-trained commander of Tajikistan's elite police force has defected to Islamic State of Iraq and Syria (ISIS), he said in a YouTube video, and his former unit will issue a statement condemning him, media said on Thursday.
Colonel Gulmurod Khalimov commanded the Central Asian nation's special-purpose police known as OMON, used against criminals and militants. He disappeared in late April, prompting a search by Tajik police.
He reappeared Wednesday, vowing to bring jihad to Russia and the Unites States as he brandished a cartridge belt and sniper rifle, in a professionally made, 10-minute video clip posted in social networks.
"Listen, you dogs, the president and ministers, if only you knew how many boys, our brothers are here, waiting and yearning to return to Tajikistan to re-establish sharia law there," he said, addressing Tajik President Imomali Rakhmon.
Full report at:
https://english.alarabiya.net/en/News/asia/2015/05/28/Commander-of-elite-Tajik-police-force-defects-to-ISIS.html
----------
U.N.: 85,000 flee Ramadi since is capture
29 May 2015
Around 85,000 people have fled Ramadi since the Islamic State of Iraq and Syria (ISIS) captured the Iraqi provincial capital two weeks ago, the UN said Friday, warning that Iraqi authorities were blocking many of the displaced from reaching safety.
The ISIS militants seized the Iraqi city, the capital of Iraq's largest province Anbar, on May 17, marking their most significant victory since mid-2014.
William Spindler, spokesman for the UN refugee agency, said around 85,000 people had fled the violence in Ramadi since mid-May, and more than 180,000 had been displaced from the city and surrounding area since early April.
A week ago, the UN said 55,000 people had fled Ramadi since May 15.
Spindler told reporters in Geneva that restrictions placed on people fleeing the fighting by Iraqi authorities were forcing many to remain in conflict areas.
"Many people are still on the move," he said, adding that UNHCR and other aid organisations were struggling to locate them.
Full report at:
https://english.alarabiya.net/en/News/2015/05/29/85-000-flee-Ramadi-since-is-capture-UN-.html
----------
EU extends Syria sanctions, adds senior official
29 May 2015
The European Union added a high-ranking Syrian military official to its sanctions list on Thursday as it extended measures against supporters of President Bashar al-Assad for another year.
The EU began imposing asset freezes and travel bans on Assad and his supporters in 2011 to protest a government crackdown on Assad's opponents. With Syria's civil war now in its fifth year, the sanctions list has grown to more than 200 people and 70 organizations.
EU governments decided to extend the sanctions another year and add one person to the list - a high-ranking military official the EU accused of being "responsible for repression and violence against the civilian population in Damascus and Damascus countryside."
The name of the official, who will be subject to an asset freeze and ban on traveling to the EU, will not be made public until details of the sanctions are published in the EU's Official Journal on Friday.
Other EU sanctions on Syria include restrictions on exporting equipment that might be used for internal repression and a ban on importing oil from Syria.
https://english.alarabiya.net/en/News/middle-east/2015/05/29/EU-extends-Syria-sanctions-adds-senior-official-.html
----------
Africa
Moroccan Entrepreneur to Launch New App for American Mosques
29 May, 2015
FAIR LAWN, NJ- Moroccan entrepreneur and co-founder of Mercytech, Yassine El Karyani, is set to launch a new app for American mosques.
Mercytech unveiled Islamically.com, a new web app that will boost the online presence of American mosques. Islamically.com features profiles for mosques and their imams, an event promotion platform, and a video translation service to subtitle Muslim khutbas (sermons) from Arabic to English. In addition, Islamically.com includes a fatwa engine to facilitate religious opinion requests coming from Muslims or non-Muslims living in America and route them strictly to imams that live in America.
"We no longer need to import Islamic knowledge from imams who are unfamiliar with the American lifestyle. American imams are better equipped to be the main source of Islamic knowledge for American Muslims, and Islamically.com facilitates this," Yassine Elkaryani, Mercytech's co-founder and managing partner, told Morocco World News.
Full report at:
http://www.moroccoworldnews.com/2015/05/159587/moroccan-entrepreneur-to-launch-new-app-for-american-mosques/
----------
SA Muslim bodies unite against IS
29 May, 2015
Cape Town - Ten Muslim organisations and various scholars have expressed concern over the growing sympathy for terrorist organisation Islamic State (IS) among Muslims in South Africa.
The organisations and scholars from across the country met recently and claim there are reports of more South Africans that have left for Syria since the news broke last month of a 16-year-old Cape Town girl who was stopped en-route to Syria.
The teen was taken off a flight from Cape Town to OR Tambo International Airport after authorities suspected she was to join the organisation in Syria.
A meeting by the Muslim bodies decided that imams in mosques across the country will on Friday deliver a united sermon, or khutbah, about IS, which will encourage Muslims to be cautious of the group's recruitment efforts in the country.
The sermon says that South African Muslims "have too much to be grateful for and for which to celebrate the praises of God".
Full report at:
http://www.iol.co.za/news/south-africa/western-cape/sa-muslim-bodies-unite-against-is-1.1865010#.VWhHyVOffqM
----------
Muhammadu Buhari sworn in as new President of Nigeria
May 29, 2015
Muhammadu Buhari was sworn in as the new Nigerian preseident.
Nigerians celebrated their newly reinforced democracy Friday, dancing and singing songs and praises as Buhari was sworn in, the first candidate to beat the sitting president, Goodluck Jonathan, at the polls.
As Buhari finished taking the oath of office, the crowd at Eagle Square in Nigeria's capital roared its approval. -
"Change has come to Nigeria!" the announcer had declared, echoing the election slogan as Buhari arrived for the
http://indianexpress.com/article/world/middle-east-africa/muhammadu-buhari-sworn-in-as-new-president-of-nigeria/#sthash.gQJdOZXy.dpuf
----------
Leading al-Shabab figure dies in Somalia
29 May, 2015
A leading figure in the Somali-based al-Qaeda-affiliated Shabab movement has died in Somalia, the Islamic militant group said Thursday.
In a death announcement and obituary carried by jihadist media, the Shabab said Sheikh Hassan Abdulahi Turki, known as Hassan Turki, died on Wednesday evening in the Middle Juba region south of the capital Mogadishu. Turki was in his 70s and suffered from poor health.
"Sheikh Hassan Abdulahi Turki died last night in Hargeysa Yarey township. We pray to God to give him his mercy and accept his long-term good deeds," Shabab spokesman Ali Mohamud Rage said in an audio message.
Rage said Turki "was one of Somalia's greatest scholars" who had met "Al-Qaeda leaders, led by Osama bin Laden, twice in Afghanistan and another time in Sudan" and had fought against U.S. soldiers in Mogadishu in 1993, the year 18 U.S. soldiers were killed in the so-called Black Hawk Down incident during an ill-fated intervention.
Full report at:
https://english.alarabiya.net/en/News/africa/2015/05/28/Leading-Shabab-figure-dies-in-Somalia-.html
----------
Southeast Asia
Malaysia Calls Indonesia, Thai and Myanmar Leaders for Summit on Migrants
29 May, 2015
Bangkok. Malaysia has invited the leaders of Indonesia, Thailand and Myanmar for an emergency summit on the "boat people" crisis in Southeast Asia, a Malaysian foreign ministry said on Friday.
"Malaysia is prepared to host," said the official, who did not want to be identified. Asked when the summit was likely to be held, the official said: "It will take time to put together, and we don't know yet."
The official was attending a one-day inter-governmental meeting in Bangkok on the migrant crisis.
More than 3,000 migrants from Bangladesh and Myanmar have landed in Indonesia and Malaysia since Thailand launched a crackdown on human trafficking gangs this month. About 2,600 are believed to be still adrift in boats, relief agencies have said.
Full report at:
http://thejakartaglobe.beritasatu.com/news/malaysia-calls-indonesia-thai-myanmar-leaders-summit-migrants/
----------
Jakarta gets $50m from Doha to host Rohingyas
29 May, 2015
DOHA: Qatar pledged $50 million on Thursday to help Indonesia shelter Muslim Rohingya migrants from Myanmar, the official QNA news agency reported.
Indonesia, Malaysia and Thailand have all prevented vessels overloaded with starving migrants from Bangladesh and from Myanmar's ethnic Rohingya minority from landing on their shores.
Indonesia and Malaysia later responded to world pressure, saying they would no longer turn away migrant boats, offering to take in boat people provided they could be resettled or repatriated within a year.
But Thailand began a crackdown on smuggling following the discovery of mass graves there, which appears to have thrown regional human-trafficking routes into chaos. The aid pledge was announced by Qatar's Emir Sheikh Tamim as he met visiting Indonesian Foreign Minister Retno Marsudi in Doha, who briefed him on "efforts by Indonesia and Malaysia in confronting the problem of refugees" from Myanmar and Bangladesh, QNA said.
Full report at:
http://www.arabnews.com/middle-east/news/753596
----------
Muslim charged with blasphemy a 'lying deviant', Perak mufti claims
29 May, 2015
KUALA LUMPUR, May 29 — The Perak Muslim man who was charged with allegedly deriding hadith is an "outright liar" who taught "deviant" teachings, the state's mufti Tan Sri Harussani Zakaria claimed today.
He alleged that Wan Sulaiman Wan Ismail, 53, had lied to his students that he was a very respected religious scholar who had given classes to all of the country's muftis.
"He is giving classes without sanction. He is an outright liar who has come up with so many excuses.
"He once claimed that all the muftis are his students," the Perak mufti told Malay Mail Online when asked to comment on the case.
In addition, Harussani accused Wan Sulaiman of claiming that the "shahadah", or the Islamic declaration of faith, must mention the latter's name for it to be genuine.
"He also said the shahadah must come from him," the mufti added.
The shahadah is recited to reaffirm a Muslim's belief and it is also recited to induct a convert into the faith.
Full report at:
http://www.themalaymailonline.com/malaysia/article/muslim-charged-with-blasphemy-a-lying-deviant-perak-mufti-claims#sthash.tMwdZPmn.dpuf
----------
URL: https://www.newageislam.com/islamic-world-news/new-age-islam-news-bureau/blast-near-shia-mosque-in-saudi-arabia,-four-killed/d/103234