• U.S. does not condone, support Haftar actions in Libya
• Memo Approving Targeted Killing of U.S. Citizen to Be Released
• 'Homo Islamicus' needed to cure problems in modern economy, business leader says
• MI5 and Scotland Yard 'ignored warnings against former imam by ex-informant at London Mosque'
• Mashudur Choudhury becomes first British person convicted for terror offences in Syria
Attackers have crashed two cars into shoppers at a market in the Xinjiang capital, Urumqi, and thrown explosives, killing 31 people, Chinese reports say.
One of the vehicles exploded in the attack, which happened on Thursday morning. More than 90 people were hurt, state-run Xinhua news agency said.
The Ministry of Public Security called it a "violent terrorist incident".
There are periodic outbreaks of violence in Xinjiang, which is home to the Muslim Uighur minority group.
Last month a bomb attack at a station in Urumqi killed three people and injured dozens more. China blamed the attack on Uighur separatists.
Information about incidents in the region, where ethnic tensions between Uighurs and Han Chinese continue, is tightly controlled.
'Multiple explosions'
Pictures on weibo - China's equivalent of Twitter - taken by eyewitnesses appeared to show that Thursday's attack happened at one end of a busy market street lined with stalls selling vegetables.
"Witnesses said two cross-country vehicles driving from north to south ploughed into people in the market at 07:50. Explosives were thrown out of the vehicles," the Xinhua report said.
One photo showed flames engulfing a junction and others showed at least three fire engines mobilised to put out the fire.
Local media said eyewitnesses heard multiple explosions. The injured were taken to several hospitals, Xinhua said.
Xinjiang lies in China's far west, bordering Central Asia. About 45% of its residents are Uighurs, who are Turkic Muslims.
The region has in recent decades seen large-scale inwards migration from Han Chinese.
China says it is pouring money into the region to improve livelihoods, but some Uighurs say their traditions - including religious freedom - are being crushed by tight Chinese control.
Tensions between the two communities erupted into violence in 2009 with riots in Urumqi that left some 200 people dead.
There have also been a series of violent incidents that Beijing has blamed on Uighur separatists - including an attack last year in Tiananmen Square.
Five people were killed when a car ploughed into pedestrians and then burst into flames. The three people who died in the car were Uighurs, Chinese authorities said.
In March, 29 people were killed in a mass knife attack at Kunming station that was also blamed on Uighur extremists.
The attack at Urumqi station came just after Chinese President Xi Jinping had visited the region.
This incident comes days after Chinese courts jailed 39 people as part of what the authorities called an operation to curb the spread of audio and video materials inciting terrorism.
Those jailed included a 25-year old who had incited hatred in comments made in chat rooms and a father who had preached extremism to his son, the Xinjiang Supreme Court said.
http://www.bbc.com/news/world-asia-china-27502652
------
Pakistan
North Waziristan Strikes 'Kill 60 Militants', Throwing Peace Talks into Doubt
May 21, 2014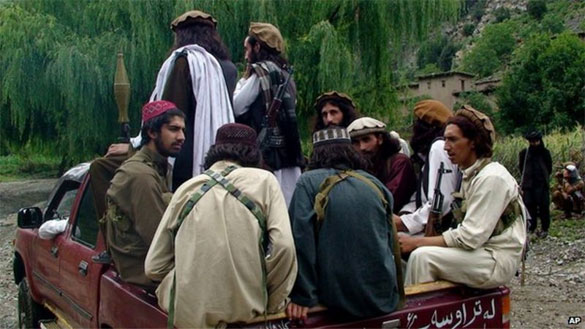 Both North and South Waziristan, along with other tribal districts, are strongholds for Taliban militants
-------------
Pakistan says it has killed 60 militants in North Waziristan in the deadliest air strikes in months, throwing peace talks into doubt.
A military statement said the dead included "important commanders" and foreigners, but did not specify who.
Local residents in the Mir Ali area described hearing huge explosions after helicopters and jets flew overhead in the early hours.
North Waziristan is a stronghold of Taliban and al Qaeda-linked militants.
It is one of seven lawless tribal agencies, but the army have pushed the militants out of their bases in most of the other ones.
The government has been pursuing peace talks with the Pakistani Taliban, but the country's powerful military remains hesitant about the move.
'Huge explosions'
Senior military officials said Wednesday's air strikes were launched after they had "confirmed intelligence information about hideouts of the militants and their top commanders".
Although they did not name the targeted commanders, officials said the strikes were aimed at those involved in recent attacks against Pakistani armed forces and Pakistani soldiers.
At least nine soldiers were killed and several critically wounded by a roadside bomb in the region earlier this month.
It is not possible to confirm the details of Wednesday's attacks because independent media are unable to access North Waziristan.
But local residents reported dozens of homes being flattened.
"It was around 3am in the morning when I heard huge explosions," tribesman Naseeb Gul told Reuters news agency by telephone.
"I saw four helicopters flying over the area and hitting some villages."
There have been similar air strikes since the beginning of the year, but this operation appears to have been the largest in a while, reports the BBC's Kim Ghattas from Islamabad.
She says it will further complicate efforts by the government to pursue peace talks with the Pakistani Taliban.
The process stalled after one round of negotiations in February, and a 40-day ceasefire between the two sides came to an end in mid-April.
Tens of thousands of Pakistanis have been killed since the Pakistani Taliban began their insurgency against the state in 2007.
http://www.bbc.com/news/world-asia-27498280
----------
Jamiat Ulema-e-Islam -F Blames 'ISI within ISI' For Kidnappings, Killings
May 21, 2014
ISLAMABAD: The Jamiat Ulema-i-Islam – Fazl (JUI-F) alleged that there is an "Inter-Services Intelligence (ISI) within the ISI" which is involved in kidnapping and killings of innocent people across Pakistan.
Commenting on a motion in the Senate regarding ongoing political situation in the country, JUI-F Senator Hafiz Hamdullah said the ISI was behind the incidents of missing persons and mass graves in Balochistan.
Former military ruler Gen (Retd) Pervez Musharraf had said that there were some people within the ISI ranks who were not under the control of its chief while former chief justice Iftikhar Muhammad Chaudhry also said in his verdicts that the ISI was involved in the cases of missing persons, the JUI-F senator said.
"It was not decide since the independence (of Pakistan) that who will rule the country … either it will be the Parliament or those institutions whose employees get pays from the taxes of the nation," he said.
Hamdullah said it was an alarming situation that the violators of Constitution were being considered as faithful and those who introduced the Constitution of 1973 were being considered as traitor in the country.
He also criticised the leadership of Pakistan Tehreek-i-Insaf (PTI) which was protesting against the alleged rigging in the May 11 elections.
"Imran Khan is dangling between the Parliament and the establishment," he added.
The JUI-F senator said that the survival of Pakistan was only in prevalence of justice and supremacy of Parliament, adding that the JUI-F will only support democracy in the country.
He said the government should come forward to deal with the ongoing tussle between different media houses while the government should also introduce code of conduct for the media organisations by taking all stakeholders on board.
Later, Pakistan Muslim League-Nawaz (PML-N) Senator Chaudhary Jafar Iqbal said the PTI was trying to create confusion regarding the government through its rigging allegations.
"Pakistan could get weaken economically if anyone tries to destabilise the country politically," he added.
Later, Pakistan People's Party (PPP) Senator Farhatullah Babar said the government should implement the decision of the Prime Minister Nawaz Sharif and the Supreme Court regarding appointment of director general military lands and cantonment areas.
Commenting on a calling attention notice, the PPP senator said it was a cadre post while a non-cadre officer was heading the department instead.
During the question hour in the upper house, Advisor to the Prime Minister on Foreign Affairs and National Security Sartaj Aziz, in a written reply, said that 53 countries deported 91,164 Pakistanis since January 2012.
It was said that Greece, Iran, Malaysia, Oman, Saudia Arabia, UAE, Turkey and UK were among those countries which deported thousands of Pakistani nationals due to illegal entry and overstay.
http://www.dawn.com/news/1107531/jui-f-blames-isi-within-isi-for-kidnappings-killings
----------
Six, Including Teacher, Gunned Down In Turbat
May 21, 2014
QUETTA: Six people, including a government school teacher, were gunned down on Wednesday at a house in Balochistan province's Turbat region.
The six were killed when unidentified gunmen entered the residence of a school teacher locally known as Master Hameed and opened fire.
Hameed, his two brothers-in-law and three other relatives were killed in the shooting following which the gunmen fled the scene.
The incident occurred in the early hours of Wednesday in the Dasht area of Turbat district.
A joint investigation into the attack is being conducted by the Levies forces and eyewitnesses have been asked to come forward.
Wednesday's incident comes in the wake of threatening letters sent to private schools by a shadowy militant organisation, Tanzeem ul Islami ul Furqan in the nearby region of Panjgur. The letters have threatened to target schools providing what they called was "Western" education, especially to girls. A number of schools were shut down in the month of May for several days in the aftermath of the threats.
The newly surfaced militant organisation had threatened to target private educational institutions, especially the English learning centres imparting co-education in Panjgur.
http://www.dawn.com/news/1107707/six-including-teacher-gunned-down-in-turbat
----------
Govt to hit back against terror attacks; won't go for airstrikes
May 21, 2014
ISLAMABAD: The government, on Tuesday, decided to respond with full force if the Taliban commit an act of terrorism. However, Prime Minister Nawaz Sharif has refused to approve air strikes in the tribal areas.
Heading a top-level meeting to discuss matters pertaining to national security and regional issues, Prime Minister Nawaz Sharif said that national security was of paramount importance for the country and Pakistan wanted to improve relations with all neighbouring countries, especially India. Issues like dialogue with the Taliban and Pakistan's relations with Afghanistan, India and Iran were discussed during the meeting, which was attended by Adviser to PM on National Security and Foreign Affairs Sartaj Aziz, Interior Minister Chaudhry Nisar Ali Khan, Chief of Army Staff General Raheel Sharif, Chief of General Staff Lt Gen Ishfaq Nadeem Ahmed and Director General Military Operations Major Gen Amir Riaz.
Defence Minister Khawaja Asif and Information Minister Pervaiz Rasheed were not present in the important meeting. Reviewing the dialogue with the Taliban in the wake of the militant organisation's refusal to extend the ceasefire, the meeting decided that the process of talks should continue, but vowed a full-force response if the Taliban resorted to terrorist attacks. However, PM Nawaz Sharif refused to approve air strikes in the tribal areas even when the army's top brass tried to convince him that air strikes were inevitable to wipe out militant sanctuaries in the North Waziristan Agency.
Prime Minister Nawaz, who looked rather oblivious to the gravity of the situation, kept repeating the political rhetoric that he wanted to give peace the maximum chance to tackle the issue of militancy. Sources in the Prime Minister's House revealed that COAS General Raheel Sharif briefed the meeting regarding his talks with the NATO and ISAF commanders, and Afghan leadership in Kabul on Monday. A meeting was held at the Afghan Ministry of Defence in Kabul on Monday which was attended by COAS General Raheel Sharif, Afghan Chief of General Staff General Sher Muhammad Karimi and ISAF Commander General Joseph Dunford.
Sources added that the meeting was to review the security situation along the Pak-Afghan border and to ponder over the future strategy after the possible withdrawal of NATO forces from Afghanistan. The commanders also discussed the delegation of security responsibility to the Afghan National Security Forces in the wake of US/ISAF drawdown. The DG ISI briefed the meeting on the security situation in the country, while Interior Minister Chaudhry Nisar gave a briefing focused on Balochistan, Karachi and the dialogue with the Taliban.
http://www.dailytimes.com.pk/islamabad/21-May-2014/govt-to-hit-back-against-terror-attacks-won-t-go-for-airstrikes
----------
No peace at gun point: Sami ul Haq
May 21, 2014
PESHAWAR- Chief peace negotiator of Taliban, Maulana Sami ul Haq has said that peace cannot be achieved at gun point.
Addressing a meeting, he appealed to Taliban to support efforts for restoring peace, adding that efforts were underway to meet their legal demands. Maulana Sami ul Haq further said government seemed non-serious in peace process, and now the ball of peace talks was in the government's court.
http://www.nation.com.pk/national/21-May-2014/no-peace-at-gun-point-sami-ul-haq
----------
South Asia
Militant Islamist Group Says Deadly Xinjiang Bomb Attack 'Good News'
May 21, 2014
A militant Islamist group accused by Beijing of separatism has praised a deadly knife and bomb attack at a key railway station in northwestern China's Xinjiang region, warning the Chinese government of more attacks to come.
Without claiming responsibility, the Turkistan Islamic Party (TIP) congratulated the perpetrators of the April 30 attack at the Xinjiang capital Urumqi's South Railway Station as President Xi Jinping wrapped up a visit to the restive region.
Abdulheq Damolla, the TIP head, said in a video posted on May 11, that the attack which left three people dead and 79 injured was "good news" and "would fill the suppressed hearts of believers with joy, and fill the apostates and infidels' hearts with fear."
He said that the attack was carried out by "our mujahideen brothers" but did not identify any group.
Full report at:
http://www.rfa.org/english/news/uyghur/attack-05152014171933.html
------------
34 Taliban militants killed, 20 others injured in Afghan operations
May 21 2014
At least 34 Taliban militants were killed following military operations in the past 24 hours, interior ministry said Wednesday.
The operations were conducted jointly by Afghan national police (ANP) forces in cooperation with the Afghan national army (ANA) forces and Afghan intelligence – National Directorate of Security (NDS) operatives.
Interior ministry following a statement said at least 20 Taliban militants were also injured and 2 others were arrested during the operations.
The statement further added that Afghan national security forces confiscated various types of weapons, ammunition and explosives following the opeations which were conducted in Nangarhar, Baghlan, Zabul, Logar, Ghazni, Paktia, Herat, Kapisa, Badghis and Helmadn provinces.
Full report at:
http://www.khaama.com/34-taliban-militants-killed-20-others-injured-in-afghan-operations-8127
----------
Taliban attacks across Afghanistan kill 13 people
BY RAHIM FAIEZ
Associated Press
KABUL, AFGHANISTAN — Taliban fighters launched attacks in several Afghan provinces on Wednesday, targeting the country's security forces and civilians, and killing at least 10 policemen and three civilians, officials said.
In northeastern Badakhshan province, a large group of insurgents attacked several police checkpoints simultaneously, forcing the police to retreat and triggering gunbattles that were still raging in the early afternoon. Six policemen were killed there.
In eastern Laghman province, insurgents wearing head-to-toe burqas — the traditional women's covering that encompasses the female body — launched an attack on a district base belonging to the local police, killing four policemen.
Full report at:
http://www.newsobserver.com/2014/05/21/3876338/taliban-attack-in-afghanistan.html#storylink=cpy
----------
Insurgents behead 16 Afghan police in past 24 hours: officials
May 21, 2014
KABUL: Insurgents have killed 16 policemen in Afghanistan in the space of one day and beheaded eight of them, officials said Wednesday, as security forces prepare to guard a second-round election.
Villagers in the southern province of Zabul Tuesday found the decapitated bodies of eight local policemen who were seized two weeks ago, deputy provincial governor Mohammad Jan Rassoulyar told AFP.
The policemen were snatched by militants after an attack on their convoy.
"Their bodies were discovered in Nawbahar district and we have sent elders to bring them to Qalat (the provincial capital)," he said, adding they were beheaded on Tuesday and found soon afterwards.
Full report at:
http://www.dawn.com/news/1107724/insurgents-behead-16-afghan-police-in-past-24-hours-officials
----------
Repatriated workers from Iraq demand compensations
May 21, 2014
Twenty workers, who returned home empty-handed after a year of confinement at a labour camp in a desert in Iraq, yesterday demanded that the expatriates' welfare ministry arrange compensations for them from responsible recruiting agencies.
The victims at a press conference in Dhaka Reporters' Unity also threatened to go for tougher movements in June if the ministry fails to fulfill their demand.
A total of 27 Bangladeshi workers went to Iraq between February and March last year through four Bangladeshi recruiting agencies -- Morning Sun Enterprise, Meghna Trade International, Idea International and East Bengal Overseas.
Each of them had paid about Tk 4 lakh for construction jobs with a monthly salary of $350.
But the recruiting agents failed to arrange their jobs as the Iraqi employer could not start his construction project and kept them at the camp in Najaf, restricting their movement for 11 months, said Ilias Hossain, a victim.
Full report at:
http://www.thedailystar.net/city/repatriated-workers-from-iraq-demand-compensations-25008
----------
War Crimes Trial of Mobarak: Defence claims charges not proved
May 21, 2014
The defence yesterday claimed that the prosecution had failed to prove the war crimes charges against local Brahmanbaria Awami League leader Mobarak Hossain, as the case was "fabricated with untrue documents and testimonies".
Defence counsel Mizanul Islam said this while placing arguments in the war crimes case against Mobarak at the three-member International Crimes Tribunal-1.
The prosecution argued on Sunday and Monday and sought the capital punishment for the 64-year-old accused facing five charges over five incidents of murder, abduction, confinement, torture and loot.
Full report at:
http://www.thedailystar.net/city/defence-claims-charges-not-proved-25009
----------
China jails 39 in restive Xinjiang: Report
AFP | May 21, 2014
BEIJING: Courts in China's ethnically-divided Xinjiang region, home to mainly Muslim Uighurs, have jailed 39 people for offences including spreading "terrorist videos", state media said on Wednesday as Beijing tightens security after several deadly attacks.
The 39 were given prison sentences of up to 15 years, the state run China News Service (CNS) said, adding that several had "organized, led and participated" in terrorist organizations.
In the past year Xinjiang has seen an increase in violent clashes which Beijing blames on organized terrorist groups seeking independence for the region.
Critics say the security threat in Xinjiang is exaggerated by Beijing to justify hard-line measures, and instead point to economic inequality and cultural and religious repression of Uighurs as causes of unrest.
Full report at:
http://timesofindia.indiatimes.com/world/china/China-jails-39-in-restive-Xinjiang-Report/articleshow/35423645.cms
------------
Africa
Two Boko Haram attacks near Nigeria's Chibok kill 30
May 21, 2014
KANO (Nigeria): Two attacks by Boko Haram gunmen killed 30 people near Chibok, the northeast Nigerian town where the Islamists kidnapped more than 200 schoolgirls last month, witnesses said on Wednesday.
The first attack on Monday afternoon killed 10 in the village of Shawa, some seven kilometres (4.3 miles) from Chibok, a number of residents told AFP on condition of anonymity.
Gunmen then stormed the nearby village of Alagarno late Tuesday and stole food, razed homes and fired on fleeing civilians.
"It was a sudden attack," said resident Haruna Bitrus, in an account supported by other locals.
"They began shooting and set fire to our homes. We had to flee to the bush. They killed 20 of our people," he added.
Full report at:
http://timesofindia.indiatimes.com/world/rest-of-world/Two-Boko-Haram-attacks-near-Nigerias-Chibok-kill-30/articleshow/35435333.cms
---------
2 Bomb Blasts in Nigeria Kill At Least 118
AP | May 21, 2014
JOS, Nigeria: Two car bombs exploded at a bustling bus terminal and market in Nigeria's central city of Jos on Tuesday, killing at least 118 people, wounding dozens and leaving bloodied bodies amid the flaming debris.
There was no immediate claim of responsibility for the twin car bombs. But they bore the hallmarks of Boko Haram, the Islamic extremist group that abducted nearly 300 schoolgirls last month and has repeatedly targeted bus stations and other locations where large numbers of people gather in its campaign to impose Islamic law on Nigeria.
The second blast came half an hour after the first, killing some of the rescue workers who had rushed to the scene, which was obscured by billows of black smoke.
"It's horrifying, terrible," said Mark Lipdo of the Stefanos Foundation, a Christian charity based in Jos, who described the sickening smell of burning human flesh.
Full report at:
http://timesofindia.indiatimes.com/world/rest-of-world/2-bomb-blasts-in-Nigeria-kill-at-least-118/articleshow/35407053.cms
----------
Boko Haram fighter: Girls to be held until prisoners are released
May 21, 2014
ABUJA, Nigeria -- The search continues in Nigeria for more than 200 schoolgirls who were kidnapped more than a month ago by Boko Haram, an Islamic terrorist group. A member of the group spoke with CBS News in a rare interview.
He calls himself Saleh Abubakar and told us he's been a member of Boko Haram for seven years. He'd been reluctant to talk to CBS News; Boko Haram has been declared a terrorist group in Nigeria.
"We go to their school and attack some of soldiers and policemen," he said.
But when asked why his group decided to target schoolgirls, Abubakar abruptly ended the interview, asking for a safer, indoor location.
He told CBS News he'd seen the girls three weeks ago, and they were being well cared for.
"Some of them will complain of headache; we have medicine," he said, when asked if any of the girls were sick. "We have everything in the place where we keep them."
Full report at:
http://www.cbsnews.com/news/boko-haram-fighter-girls-to-be-held-until-prisoners-are-released/
----------
Gunfire, explosions reported near two military camps in Libyan capital
May 21, 2014
Explosions and heavy fighting with anti-aircraft guns could be heard near two military camps in Libya's capital Tripoli early Wednesday, witnesses said, two days after gunmen had stormed parliament in the worst violence in months.
Residents reported several loud explosions near the al-Yarmouk barracks in the Salaheddin district but the cause was unclear. Gunfire and explosions later appeared to die down.
There was also heavy fighting near an army camp in the eastern Tajoura suburb. "We're hearing really loud explosions and gunshots near the camp but we don't know is shooting," a Tajoura resident said.
Full report at:
http://english.ahram.org.eg/NewsContent/2/8/101852/World/Region/Gunfire,-explosions-reported-near-two-military-cam.aspx
----------
Ekiti Muslims protest, want flag flown at half mast
May 21, 2014
Hundreds of Muslims in Ekiti State took to the streets of Ado Ekiti, the Ekiti State capital, on Tuesday, to press for the release of abducted students of Government Secondary School, Chibok by members of the Boko Haram sect.
The peaceful procession saw various Islamic organisations and secondary school girls in the state march through the Ekiti State capital in an event coordinated by the president of the Nigerian Supreme Council for Islamic Affairs (NSCIA), Ekiti State chapter, Alhaji Yakubu Sanni.
The protesters gathered at the Fajuyi roundabout, with placards with inscriptions such as "For Allah's sake, release our girls," "What offence have these girls committed?" They also moved through Okesa and Okeyinmi and finally converged at the Central Mosque, Ado-Ekiti, where a special prayer was held for the abducted girls.
Full report at:
http://tribune.com.ng/component/k2/item/5752-ekiti-muslims-protest-want-flag-flown-at-half-mast
----------
Nigeria's neglected Israeli drones won't help find girls
May 21, 2014
JERUSALEM/LAGOS (Reuters) - Nigeria bought Israeli surveillance drones years ago that might have been used to hunt for more than 200 girls held by Islamist rebels, but poor maintenance has left them grounded, two official sources and the aircraft's manufacturer said.
"To the best of our knowledge, these systems aren't operational," Tsur Dvir, marketing officer for Aeronautics Defense Systems, a firm based south of Tel Aviv that supplied Nigeria with Aerostar unmanned aerial vehicles, said on Tuesday.
A Nigerian government source and a former military attache to Nigeria both confirmed the information, although they said details were sketchy owing to the secretive nature of Israeli-Nigerian military cooperation.
Full report at:
http://www.reuters.com/article/2014/05/20/israel-nigeria-idUSL6N0O64GM20140520
---------
Algeria backlash as Libya unrest shifts Africa migrant route
May 21, 2014
BOUFARIK, Algeria – Mohammed is openly disdainful towards the hundreds of African migrants now entering Algeria in a bid to reach Europe as worsening violence makes transit through neighboring Libya ever more perilous.
Algeria has long prided itself on its African identity but the mounting influx of migrants from south of the Sahara has sparked a racist backlash, even in sections of the media, that has shocked traditionalists.
"They bring diseases with them, they don't even wash," Mohammed says, speaking in Boufarik, one of a string of northern Algerian towns that now host tent cities hosting hundreds of sub-Saharan migrants.
Boufarik lies just 35 kilometers (20 miles) from the Mediterranean coast in the rich farmland of the Mitidja region, south of Algiers. It has become a favored stopping off point for migrants who have endured the arduous journey across the Sahara before they brave the perilous sea voyage to Europe as armed conflict between rival militias rocks Libyan cities that used to be the preferred route. Those who make it this far are the lucky ones. Many lose their lives in the desert.
Full report at:
http://www.saudigazette.com.sa/index.cfm?method=home.regcon&contentid=20140521205858
----------
Tunisia's Ennahda slams 'military coup' in Libya
May 21, 2014
Tunisia's powerful Islamist Ennahda party on Tuesday denounced a military campaign by a rogue general in the neighboring Libya as an "attempted coup" against the elected Islamist-dominated government.
"Ennahda movement strongly condemns the attempted coup and all use of weapons to express a political view or position," Rashid al-Ghannouchi, the leader of Ennahda movement, said in a statement published on the movement's website.
Ghannouchi warned that the "alarming spread of arms" could lead to civil war in Libya, urging the rival parties to engage in "national dialogue without exclusion."
A renegade Libyan general has launched a military campaign against Islamist militants in the eastern city of Benghazi since last week.
Full report at:
http://english.alarabiya.net/en/News/middle-east/2014/05/20/Tunisia-s-Ennahda-slams-military-coup-in-Libya.html
----------
Libya jihadists vow to defend Benghazi bastion
May 21, 2014
Libyan jihadist group Ansar al-Sharia, blacklisted as a terrorist organisation by Washington, vowed Tuesday to defend its stronghold in second city Benghazi against an expanding alliance of opposing forces.
The group charged that a deadly assault in the eastern city on Friday which mainly targeted its forces was "a war against... Islam orchestrated by the United States and its Arab allies."
Forces loyal to former rebel commander Khalifa Haftar pulled out of Benghazi after the attack which left at least 79 people dead.
But he has vowed to re-enter Benghazi to cleanse it of "terrorists" and on Monday won the support of special forces in the city which stayed out of last week's fighting but have suffered mounting losses to suspected jihadist attacks in recent weeks.
"A confrontation is now inevitable to defend our city and our land," Ansar al-Sharia said in its statement.
Full report at:
http://english.ahram.org.eg/NewsContent/2/8/101838/World/Region/Libya-jihadists-vow-to-defend-Benghazi-bastion.aspx
----------
Southeast Asia
Young and in love in Indonesia? Beware, the Sharia police are watching
May 21, 2014
It's almost sunset in Banda Aceh and the locals rush towards Ulee Lheue beach before the barrier goes down. The authorities close access to this popular spot after 6pm, to prevent promiscuity between unmarried couples.
Many families, couples, and groups of friends have arrived early, and enjoy a drink or corn on the cob at one of the food stalls lining the seaside. On the pier by the port, several couples brave the law by sitting closely together, sometimes holding hands. Luckily for them, the Sharia police don't seem to be coming this evening. Islamic Sharia law was adopted in 2001, a "gift" from Jakarta to quell separatist ambitions in this very religious part of Indonesia. A series of bylaws passed since impose Islamic dress code and forbid gambling, alcohol consumption and "seclusion" between unmarried couples.
Full report at:
http://www.independent.co.uk/news/world/asia/young-and-in-love-in-indonesia-beware-the-sharia-police-are-watching-9405776.html
--------
Arrests Reveal militant organization Jemaah Islamiyah's Return
May 21, 2014
Jakarta. A string of arrests on terror suspects in Java has revealed a resurrection of the Southeast Asian militant organization Jemaah Islamiyah in the country, a police source said Wednesday.
"The new JI [Jemaah Islamiyah] cell is very neat and organized; they have a management, soldiers and an Amir [leader]. We estimate them to have at least 3,000 soldiers and we think the Amir is a returning old player," said a source within the National Police anti-terror squad, Densus 88, who spoke under conditions of anonymity to the Jakarta Globe.
The source added that some of the terror suspects nabbed by police last week were old fugitives who were allegedly involved in the 2004 Poso bombing in Central Sulawesi.
The explosion in Tentena market was carried out by two cells working under Eko Budi Wardoyo, an Islamic cleric who was motivated by revenge against Poso's Christian community for their role in the region's three-year sectarian conflict. Eko was arrested and tried in 2010 before receiving a 10-year jail sentence.
Full report at:
http://www.thejakartaglobe.com/news/arrests-reveal-jemaah-islamiyahs-return/
----------
Indonesian Election Presents US With Modi-Style Visa Headache
May 21, 2014
The emergence of Prabowo Subianto as a serious contender in Indonesia's election this week means the United States faces the awkward possibility of having to welcome another Asian leader it had denied entry to because of alleged links to mass killings.
The situation has arisen days after Washington found itself having to change course and promise a visa to Indian Prime Minister-Elect Narendra Modi after his landslide election win. Modi was barred from the United States in 2005.
The possibility of another Washington U-turn became apparent after Indonesia's second-largest party on Monday suddenly switched its support to Prabowo from frontrunner Joko Widodo, nominated by the Indonesia Democratic Party of Struggle PDI-P, ahead of July 9 presidential polls.
Full report at:
http://www.thejakartaglobe.com/news/indonesian-election-presents-us-modi-style-visa-headache/
----------
We need more Dyanas in Malaysian politics, says Marina
May 21, 2014
the criticism surrounding Dyana Sofya Mohd Daud, social activist Datin Paduka Marina Mahathir has praised the DAP candidate for the Teluk Intan by-election for sticking to her guns, and questioned the Barisan Nasional on its lack of young, female candidates.
"I don't care what party she is from. She is young, female and we don't see that around... well, give me the BN equivalent of that.
"Have you got any of that? Or someone? I support young women," she told The Malaysian Insider today.
The daughter of former prime minister Tun Dr Mahathir said the rising number of outstanding Malay women politicians were mostly from the opposition, with the most prominent being PKR's Lembah Pantai MP Nurul Izzah Anwar.
Full report at:
http://www.themalaysianinsider.com/malaysia/article/we-need-more-dyanas-in-malaysian-politics-says-marina
-----------
Arab World
Number of American Militants Fighting in Syria Above 100
May 21, 2014
American militants fighting in the extremist-marked insurgency in Syria are above a hundred, western intelligence digits showed.
Western intelligence services have been warning that European and American militants have been flocking to Syria to fight. But they've been reluctant to say how many Americans have joined the extremist forces there, until now, Al-Alam reported.
The latest US intelligence estimates say that more than 100 Americans have joined the war in Syria to fight alongside extremist terrorists there, the Dailybeast wrote in a new report.
Senior American intelligence officials told the paper that they believe between six and 12 Americans who have gone to Syria have now returned to America.
Washington has been an open supporter of the insurgency in Syria and has been giving extensive political and military support to the armed group to topple the Syrian government.
"We know where some are," one senior US intelligence official told The Daily Beast. "The concern is the scale of the problem we are dealing with."
Full report at:
http://en.alalam.ir/news/1595747
----------
Egypt's Mubarak sentenced to three years in jail for graft
AFP | May 21, 2014
CAIRO: An Egyptian court sentenced deposed president Hosni Mubarak onWednesday to three years' prison on corruption charges, in one of two trials following the 2011 uprising that ended his rule.
His sons Alaa and Gamal each received four-year jail terms.
http://timesofindia.indiatimes.com/world/middle-east/Egypts-Mubarak-sentenced-to-three-years-in-jail-for-graft/articleshow/35428706.cms
----------
State might collapse if El-Sisi doesn't become president: Nour Party head
May 21, 2014
As the Egyptian state hammers away with its clampdown on the Muslim Brotherhood, another key Islamist player is betting on its stark choice of a former army chief who toppled its sometime ally to be the next head of state.
The Salafist Nour Party, part of Egypt's second-largest Islamist faction, remains undaunted that it will face a similar fate as the once-ruling Brotherhood, most of whose leaders are now in jail. Instead of the Brotherhood's defiant stance, the Nour Party has decided to throw its weight behind the retired field marshal Abdel-Fattah El-Sisi – with an eye on the executive, namely parliament seats, to help serve the party's religious dogma.
Younis Makhyoun, head of the Nour Party, said in an interview with Ahram Online that their "strategic" backing of El-Sisi is meant to side with the people and dodge a "collapse of the state."
Full report at:
http://english.ahram.org.eg/NewsContent/1/64/101831/Egypt/Politics-/State-might-collapse-if-ElSisi-doesnt-become-presi.aspx
----------
Shoura okays law for public fund openings
May 21, 2014
RIYADH – The Shoura Council on Tuesday approved the draft law for employments concerning with public funds.
There are 15 articles in the law which specify the rights and duties of those who are carrying out jobs related with public funds.
Article six of the law stipulates that the employees shall be given an annual remuneration equal to their basic salary of two months.
There is also another provision in the law under which the concerned government agencies have to take inventory of the assets of public funds every three month, and warehouse inventory every year in accordance with the concerned rules and regulations.
http://www.saudigazette.com.sa/index.cfm?method=home.regcon&contentid=20140521205917
----------
ISIL Commander Killed in Deir Ezzur
May 21, 2014
Fierce clashes between Al-Qaeda-linked militants continued in Deir Ezzur in Eastern Syria on Tuesday and Wednesday, resulting in the death of large numbers of militants from both sides, including a notorious commander.
Abu Omar Checheni, commander of the Islamic State of Iraq and the Levant (ISIL), was among tens of militants killed in Deir Ezzur clashes between ISIL and the Al-Nusra Front.
Also in the past 24 hours, the Syrian military sources said the ISIL has managed to defeat rival groups and come in control of Al-Bariha and Al-Salehiyeh towns in Deir Ezzur, adding that the clashes were part of the infighting going on between the ISIL and a coalition of the Free Syrian Army (FSA), Al-Nusra Front and Islamic Front.
Full report at:
http://english.farsnews.com/newstext.aspx?nn=13930231000409
----------
Beirut seeks Saudi help to tackle refugee crisis
May 21, 2014
Lebanese Prime Minister Tammam Salam sought Saudi Arabia's help on Tuesday to deal with the influx of Syrian refugees into his country during his meeting with Crown Prince Salman, deputy premier and minister of defense.
"We have discussed crises faced by the Lebanese government, including the influx of Syrian refugees and the impact of the ongoing Syrian war on domestic issues," he told reporters. "We need regional support to help us endure these huge factors."
Salam commended the Kingdom's support for Lebanon. "Saudi Arabia is a big supporter of Lebanon's stability and can play a vital role in ensuring security ahead of the upcoming elections."
Full report at:
http://www.arabnews.com/news/574326
----------
El-Sissi secures 92% of Egyptian votes in KSA
May 21, 2014
A total of 92 percent of Egyptian expatriates in the Kingdom voted for former army chief Abdel Fattah El-Sissi in the overseas polling of the country's presidential elections.
Hamdeen Sabahi, El-Sissi's only rival, secured 7 percent of the vote in the May 15 to 19 elections. Sabahi's extensive campaigning had targeted Egyptian expatriates in Gulf countries but failed to impress voters.
The counting of the votes ended late on Monday, with Egyptian officials releasing the results on Tuesday. The Kingdom has the largest Egyptian expatriate community in the Middle East.
According to Egyptian officials, 70,267 Egyptians voted for El-Sissi and 5,213 for Sabahi. Mustafa Abdul Jawad from the Egyptian Embassy told Arab News that 76,609 votes were cast, with 1,129 declared invalid.
Full report at:
http://www.arabnews.com/news/573966
----------
Egypt turns to army in war on unemployment
May 21, 2014
CAIRO – Since toppling the Muslim Brotherhood from power last year, the Egyptian army has turned its substantial economic firepower on another perceived threat to the country's stability: unemployment.
Putting to use a manufacturing portfolio that stretches from pasta and refrigerators to tablet computers, the military announced to great fanfare in April that it was offering vocational training to jobseekers in a new joint venture with the civilian government.
It was part of a push to tackle joblessness, and evidence of a more prominent role for the army's economic muscle, with its former chief, Abdel Fattah El-Sisi, the runaway favorite to become president in May 26-7 elections.
Egypt's unemployment crisis could make or break his presidency. The 2011 uprising against Hosni Mubarak was largely fueled by anger at the grim prospects facing young Egyptians unable to find work, afford their own home and get married.
Full report at:
http://www.saudigazette.com.sa/index.cfm?method=home.regcon&contentid=20140521205820
-----------
India
'They asked me to choose: Godhra, Pandya or Akshardham'
May 21, 2014
Five of the six men who were freed by the court in the Akshardham temple terror attack case in Gujarat, in New Delhi on Tuesday. Tashi Tobgyal
Gujarat Police gave him the "choice" of being implicated in the Godhra train burning, Haren Pandya murder and Akshardham terror, one of the men acquitted by the Supreme Court in the temple attack case alleged on Tuesday.
Mohammed Saleem was eventually sentenced to life under POTA for involvement in the Akshardham case.
On May 16, the day Prime Minister designate Narendra Modi won his historic mandate, the Supreme Court set Saleem and five others free, pulling up the Gujarat Police for framing innocent people, and blaming the then home minister — Modi — for "non-application of mind". Four of the six men had already spent over 10 years in jail.
"I had been working in Saudi Arabia for 13 years, when they picked me up alleging there was a problem with my passport. They beat me brutally — I still have scars on my back, and I suffered a fracture in my foot. They asked me which case I wanted to be charged under — Akshardham, Haren Pandya or Godhra. I did not know what to say," Saleem told a press conference addressed by five of the six men in Delhi.
Saleem's daughter was born four months after his arrest. He picked her up in his arms for the first time only after his release — the child is 10 years old now.
The world of Abdul Qaiyum Muftisaab Mohammed Bhai alias Mufti Abdul Qaiyum has changed completely in the 11 years that he spent in jail. His father is dead, and his family no longer lives in their old home. His acquittal by the Supreme Court, Qaiyum said, was "mere release from prison; justice had been buried at every moment in these 11 years".
to help us personalise your reading experience.
Qaiyum said the main charge against him was that two letters recovered from the two fidayeen killed in the terror attack had been written by him. He was framed, Qaiyum alleged.
"For three days and nights, they made me copy a letter that they had given me. They (the police) would bring an expert each day to check whether I had copied it well. They would ask me to copy the turns and twists of the Urdu letters so that they looked exactly the same as in the letter. I was very afraid, and did what they told me to do," he said. "Then they claimed in court that I had written the letters."
Qaiyum said that in jail, he met the police officers who had framed him, and asked them why they had done so. "I met G L Singhal. Though they (police officers) were kept separately, we sometimes bumped into each other. I told him (Singhal): 'Please tell me why did you do this to me.' His young son had committed suicide, and that had made him feel what grief was. He had no answer."
Arshad Madani, president of the Jamiat Ulama-i-Hind which organised the press conference, said, "I am willing to talk things over with anybody to ensure such things do not happen, but I fear that there is a real chance that this will actually happen more often."
He said the Jamiat would approach the Supreme Court to seek punishment for the officers who had framed the men. "Supreme Court and judiciary is our last hope. The government and the media have been biased, and an atmosphere has been created in which every Muslim is seen as a terrorist," Madani said.
Full report at:
http://indianexpress.com/article/india/gujarat/they-asked-me-to-choose-godhra-pandya-or-akshardham/2/
-----
Pre-1971 Bangladeshi settlers are Indians and can vote: Meghalaya HC
PTI | May 21, 2014
SHILLONG: In a historic judgment, the Meghalaya high court has said that Bangladesh nationals who have settled in this northeastern state before March 24, 1971 should be treated as Indians and they be enrolled in the voters list.
The judgment was based on a petition by over 40 refugees who were originally from Bangladesh, who were denied enrolment in the electoral roll by the district administration citing their citizenship as doubtful.
These refugees hailing from Amjong village near the Assam-Meghalaya border in Meghalaya's Ri-Bhoi district moved the high court after their citizenship certificates were seized by the deputy commissioner.
Full report at:
http://timesofindia.indiatimes.com/india/Pre-1971-Bangladeshi-settlers-are-Indians-and-can-vote-Meghalaya-HC/articleshow/35429134.cms
----------
Nawaz Sharif, other heads of state invited for Modi's swearing-in ceremony
AFP | May 21, 2014
NEW DELHI: Prime minister-elect Narendra Modi has invited Pakistan's Prime Minister Nawaz Sharif as well as other South Asian leaders to his swearing-in ceremony next Monday, a spokeswoman for his party told AFP.
Nirmala Sitharaman, from the Bharatiya Janata Party (BJP), said all heads of government from the South Asian Association for Regional Cooperation (Saarc) "have been given invitations to be present at Modi's swearing in."
Modi is to take the oath as Prime Minister on May 26; ten days after a landslide win for the BJP which secured the first majority by a single party in 30 years.
A senior official from the foreign ministry confirmed that it was examining a proposal to welcome foreign heads of governments, but said that invites had not yet been sent.
"We have not sent any invite yet. There is a proposal but we can't share the details yet," the official told AFP.
Full report at:
http://timesofindia.indiatimes.com/home/lok-sabha-elections-2014/news/Nawaz-Sharif-other-heads-of-state-invited-for-Modis-swearing-in-cerermony/articleshow/35425836.cms
----------
North America
U.S. does not condone, support Haftar actions in Libya
May 21, 2014
The U.S. State Department said on Tuesday it does not support, condone or assist in recent actions by forces loyal to renegade Libyan general Khalifa Haftar, including the attack on Libya's parliament.
"We have not had contact with him recently. We do not condone or support the actions on the ground, nor have we assisted with these actions," department spokeswoman Jen Psaki told reporters at her daily briefing. "We are continuing to call on all parties to refrain from violence and to seek resolution through peaceful means."
Gunmen shelled Libya's General National Congress on Sunday in an attack claimed by forces loyal to renegade General Khalifa Haftar, who said it was part of a campaign to purge the North African country of Islamists.
Full report at:
http://english.alarabiya.net/en/perspective/analysis/2014/05/20/U-S-does-not-condone-support-Haftar-actions-in-Libya.html
----------
Egyptian teenage scientist plans to seek asylum in United States
May 21, 2014
An Egyptian teenager who traveled to the United States to take part in a prestigious science fair has decided to seek asylum, saying he fears returning home after being accused of taking part in anti-government protests in Cairo, his US lawyer said on Tuesday.
Abdullah Assem, who has invented eyeglasses for quadriplegics to operate computers and communicate with others, flew to Los Angeles on May 12 to present his creation at the Intel International Science and Engineering Fair, lawyer Farida Chehata said.
Three days later, the gifted 17-year-old contacted officials with the Los Angeles office of the Council on American-Islamic Relations and expressed concern about returning to Egypt, according to Chehata, who is a staff attorney with the council.
Full report at:
http://english.ahram.org.eg/NewsContent/1/64/101854/Egypt/Politics-/-Egyptian-teenage-scientist-plans-to-seek-asylum-i.aspx
----------
Memo Approving Targeted Killing of U.S. Citizen to Be Released
May 21, 2014
WASHINGTON — Facing the potential defeat of an appeals court nominee, the Obama administration decided Tuesday to publicly release much of a classified memo written by the nominee that signed off on the targeted killing an American accused of being a terrorist.
The solicitor general, Donald B. Verrilli Jr., made the call to release the secret memo — and not appeal a court order requiring its disclosure under the Freedom of Information Act — and informed Attorney General Eric H. Holder Jr. of his decision this week, according to two administration officials.
The White House was informed Tuesday. But the memo will not be released right away because officials said they needed time to redact it and to prepare an appeal asking the court not to reveal classified sections of a federal appeals court ruling last month requiring that most of the memo be made public.
Full report at:
http://www.nytimes.com/2014/05/21/us/politics/memo-approving-targeted-killing-of-us-citizen-to-be-released.html?partner=rss&emc=rss
----------
Obama writes to Manmohan, praises role in fostering Indo-US ties
May 21, 2014
After a farewell phone call to Manmohan Singh shortly after he demitted office, US President Barack Obama also wrote to the former Prime Minister appreciating his role in strengthening the Indo—US strategic relationship.
On May 17, Obama made a farewell phone call to Singh barely hours after the latter demitted office and described him as one of the few public leaders whom he "admired" and that he would "miss" working with him on a "day—to—day basis".
In his subsequent letter, Obama appreciated Manmohan Singh "for his efforts that lifted millions out of poverty and positioned India for its transformation into a global leader".
Obama said he wanted to "respond to your thoughtful letter and put in writing my deep appreciation for your remarkable two terms in office".
Full report at:
http://www.thehindu.com/news/national/obama-writes-to-manmohan-praises-role-in-fostering-indous-ties/article6033453.ece
---------
NYU apologizes to any workers mistreated on its Abu Dhabi campus
Ariel Kaminer,NYT News Service | May 21, 2014
New York University issued an apology on Monday to any workers on its newly completed Abu Dhabi campus who were "not treated in line with the standards we set," after The New York Times reported widespread abuses among a labor force that numbered about 6,000 at its peak.
The article described workers being arrested, beaten and deported to their home countries after striking over pay. Recruitment fees, of approximately a year's wages, were all but required, and laborers had to work overtime, sometimes seven days a week, to earn the base pay they were promised. Not one of the dozens of workers interviewed had his own passport. Some were living in filthy, crowded apartments.
Full report at:
http://timesofindia.indiatimes.com/world/us/NYU-apologizes-to-any-workers-mistreated-on-its-Abu-Dhabi-campus/articleshow/35407886.cms
-----------
Mideast
'Homo Islamicus' needed to cure problems in modern economy, business leader says
May 21, 2014
The top representative of Turkey's conservative businessmen has suggested the business world should reawaken principles of an Islam-oriented economic actor, homo Islamicus, to bring justice and mercy to the "crooked" economic system.
Speaking at a meeting on Islamic Finance in Turkey, Nail Olpak, head of Independent Industrialists and Businessmen's Association (MÜSİAD), argued turning to justice and mercy, principles that are perceived as the core of Islam, could cure the "current global financial system's divergence from the aim of creating sources needed to raise the welfare of societies."
"One of the triggers of the global financial crisis, maybe the most important one, is the human being's ambition of winning at any cost. This ambition doesn't regard any ethical, legal or conscientious rules," he said addressing participants at a meeting in Istanbul.
The total wealth of world's richest 85 people is equivalent to the wealth of half of world's poorest population, he said, blaming the homo economicus perception for the world's current structure.
Full report at:
http://www.hurriyetdailynews.com/homo-islamicus-needed-to-cure-problems-in-modern-economy-business-leader-says.aspx?pageID=238&nID=66736&NewsCatID=344
----------
'Mideast more than bullets, bombs and oil price'
May 21, 2014
DUBAI – Social media is not a threat to the traditional media, but offers great opportunity for media outlets to gather information, a top international expert said.
John Danisjewski, Vice-President and Senior Managing Editor for International News at the Associated Press, said, his organization uses social media feeds to gather news, however, after adequately filtering them.
"We do not see social media as a threat, rather as a great opportunity for our journalists to track news faster. However, there are dangers associated with them, if not verified. One has to exercise caution in checking the facts and the contents as these are fed by individuals that need careful verification."
Danisjewski, who sits on the board of the Pulitzer Prize committee, ruled out expanding it to cover the international media, however, was open to the idea of a collaboration with the Arab Journalism Award that is to take place on Wednesday – in future, when asked.
Full report at:
http://www.saudigazette.com.sa/index.cfm?method=home.regcon&contentid=20140521205922
----------
Thousands rally for south Yemen independence
21 May 2014
Thousands of separatists rallied in Yemen's main southern city Aden Wednesday demanding renewed independence for the region on the 20th anniversary of a secession bid that was crushed by northern troops.
The demonstrators waved the flag of the formerly independent south and pictures of exiled separatist leader Ali Salem al-Baid as they commemorated the short-lived Democratic Republic of Yemen that was crushed in the 1994 civil war.
"We swear to God Sanaa will not govern us," the protesters chanted. "Twenty years of oppression and resistance."
Full report at:
http://english.alarabiya.net/en/News/middle-east/2014/05/21/Thousands-rally-for-south-Yemen-independence-.html
----------
Hamas leader says rift with PLO to end soon, fight against Israel to continue
Reuters | May 21, 2014
DOHA: Hamas leader Khaled Meshaal said the Islamist group was close to mending rifts with rival President Mahmoud Abbas's Palestine Liberation Organization, but vowed resistance against Israel will continue.
Speaking at a gathering in Doha to mark "Nakba", the annual commemoration of what Palestinians term the catastrophe of their displacement when Israel was founded, Meshaal said Hamas has made sacrifices for the reconciliation to take place.
"We have turned the page on this division... Hamas has already made sacrifices and this was necessary to be closer with our brothers, but with the invader we will not make any compromises," he said.
Full report at:
http://timesofindia.indiatimes.com/world/middle-east/Hamas-leader-says-rift-with-PLO-to-end-soon-fight-against-Israel-to-continue/articleshow/35408469.cms
----------
Dismantle West Bank security barrier to achieve peace with Palestinians
May 21, 2014
In 'Wall Street Journal' op-ed, Economy Minister proposes two-pronged "Stability Plan," which includes Israeli annexation of Area C.
In response to the Fatah-Hamas unity deal that was being finalized this week in Doha, Economy Minister Naftali Bennett reiterated his own plan to bring peace to the region, with a more detailed explanation, in a Wall Street Journal op-ed published Wednesday.
Bennett's proposed "Stability Plan" called for Palestinian sovereignty in Areas A and B of the West Bank, saying "Israel should not interfere in day-to-day governance."
In order to achieve this, he wrote: "Israel must allow Palestinians complete freedom of movement" meaning "Israel should dismantle the security barrier" separating the West Bank from Israel proper.
Full report at:
http://www.jpost.com/Diplomacy-and-Politics/Bennett-Dismantle-West-Bank-security-barrier-to-achieve-peace-with-Palestinians-352899
----------
Hamas made concessions to Fatah, won't compromise on Israel
May 21, 2014
DOHA - Hamas leader Khaled Mashaal said on Tuesday the Islamist group was close to mending rifts with rival President Mahmoud Abbas's Palestine Liberation Organization, but vowed resistance against Israel will continue.
Speaking at a gathering in Doha to mark "Nakba", the annual commemoration of what Palestinians term the catastrophe of their displacement when Israel was founded, Mashaal said Hamas has made sacrifices for the reconciliation to take place.
"We have turned the page on this division... Hamas has already made sacrifices and this was necessary to be closer with our brothers, but with the invader we will not make any compromises," he said.
Full report at:
http://www.jpost.com/Middle-East/Meshaal-on-unity-Hamas-made-concessions-to-Fatah-wont-compromise-on-Israel-352895
----------
Europe
French nuclear giants offer internships to Saudis
May 21, 2014
RIYADH — Two French global leaders in nuclear energy are offering internship programs in France and Germany for students from King Saud University, King Faisal University and King Fahd University for Petroleum and Minerals.
The initiative, run by King Abdullah City for Atomic and Renewable Energy (KA-CARE) in cooperation with the companies AREVA and EDF, aims to develop local expertise in nuclear energy in the Kingdom.
These internships will provide students with real work experience in nuclear facilities and engineering centers in Europe.
By introducing the students to the European nuclear experience, they are getting to interact with the best in the industry with a focus on quality, safety and performance.
Full report at:
http://www.saudigazette.com.sa/index.cfm?method=home.regcon&contentid=20140521205891
----------
Pope says Middle East trip will be 'purely religious'
21 May 2014
Pope Francis on Wednesday said his upcoming trip to the Middle East would be "purely religious" and aimed mainly at improving relations with other branches of Christianity and praying for peace in the region.
"It will be a purely religious trip," the Argentine pope told some 50,000 pilgrims at a general audience in St Peter's Square ahead of three-day trip to Israel, Jordan and the Palestinian Territories starting on Saturday.
Francis said the main reasons for the trip -- billed a "pilgrimage of prayer" by the Vatican -- were to meet with the Orthodox Patriarch of Constantinople Bartholomew I and "to pray for peace in that land which has suffered so much".
Full report at:
http://english.alarabiya.net/en/News/middle-east/2014/05/21/Pope-says-Middle-East-trip-will-be-purely-religious-.html
----------
Moscow to Veto Any Int'l Resolution to Referring Syria to ICC
May 21, 2014
Russian Deputy Foreign Minister Gennady Gatilov said Russia will veto any draft international resolution which intends to refer the Syrian file to the International Criminal Court (ICC).
In a statement on Tuesday, Gatilov said a draft to this end was submitted to the UN Security Council, adding "Such draft is unacceptable. We will veto it if it comes to a vote".
He said the draft is fruitless and aims at reaching a decision under Chapter 7 as to pressurize the Syrian government afterwards.
On appointing a new UN envoy to Syria, he said no such decision was made yet, adding that Moscow hopes a new envoy will be assigned apace.
http://english.farsnews.com/newstext.aspx?nn=13930230001412
----------
UK convicts first man over Syria-related terrorism offence
May 21, 2014
A 31-year-old man on Tuesday became the first man in Britain to be convicted of a Syria-related terrorism offence, following a two-week trial.
Mashudur Choudhury, a father of two, was found guilty at Kingston Crown Court in south-west London of engaging in conduct in preparation of terrorist acts.
During the trial, the court heard that Choudhury had travelled to Syria in October with four other men with the intention of joining a terrorist training camp. He was arrested on his return at London's Gatwick Airport later that month.
Full report at:
http://www.thehindu.com/news/international/world/uk-convicts-first-man-over-syriarelated-terrorism-offence/article6029863.ece
----------
UN seeks $1.26 bn to prevent mass starvation in South Sudan
May 21, 2014
The international community turns its gaze this week to conflict-torn South Sudan, where the UN says $1.26 billion is needed to avoid a major humanitarian crisis threatening millions of people.
Donors meet on Tuesday in Oslo to reach out to some four million people -- one third of the country's population -- facing starvation in the African state, where rebel groups have been fighting government forces since mid-December.
"It's astonishing how much damage has been done: cities destroyed, lives shattered, empty markets, traders are now gone, kids left alone," said UN humanitarian coordinator in South Sudan Toby Lanzer.
Full report at:
http://www.thedailystar.net/un-seeks-1-26-bn-to-prevent-mass-starvation-in-south-sudan-24986
------------
MI5 and Scotland Yard 'ignored warnings against former imam by ex-informant at London Mosque'
May 21, 2014
Scotland Yard and MI5 failed to act after they were allegedly warned by an informant, two years before the September 11 attacks in New York, that former imam Abu Hamza had turned Finsbury Park mosque into an "al-Qa'ida guesthouse", it has been claimed.
Reda Hassaine claims that between 1999 and 2000 he was hired by MI5 to spy inside the north London mosque, but says the security agencies repeatedly ignored his warnings that Abu Hamza posed a threat, he told The Telegraph.
Mr Hassaine's interview came after Hamza was convicted in a Manhattan court of assisting terrorist groups like al-Qa-ida, offering vindication to US government prosecutors and possible solace to victims of terrorist attacks.
In 1999, the Algerian allegedly warned MI5 that the mosque was used by Hamza, who had given himself the name Sheihk, as "an al-Qa'ida guesthouse in London" to radicalise young Muslims.
Full report at:
http://www.independent.co.uk/news/uk/home-news/abu-hamza-mi5-and-scotland-yard-ignored-warnings-against-former-imam-by-exinformant-at-london-mosque-9404366.html
-----------
Mashudur Choudhury becomes first British person convicted for terror offences in Syria
May 21, 2014
A man who travelled to Syria to join a terrorist training camp has become the first person in the UK to be convicted of terror offences in relation to the conflict.
Mashudur Choudhury, 31, travelled to the Middle Eastern country in October and was arrested at Gatwick Airport when he returned later that month.
He was found guilty of engaging in conduct in preparation for terrorist acts on Tuesday after a 12-day trial at Kingston Crown Court in London.
The court heard that Choudhury, of Stubbington Avenue, Portsmouth, travelled to Syria with four other people from his area but was the only one to come back.
Speaking for the prosecution, Alison Morgan told the jury: "The evidence clearly shows that this defendant planned for and then travelled to Syria with the intention of attending a training camp.
Full report at:
http://www.independent.co.uk/news/uk/crime/mashudur-choudhury-becomes-first-british-person-convicted-for-terror-offences-in-syria-9403931.html
-----------
Nigeria's Boko Haram crisis: UK spy plane breaks down
May 21, 2014
A UK spy plane sent to help search for more than 200 girls abducted by militant Islamists in Nigeria has developed a technical fault.
It has been forced to land in Senegal for repairs, the Ministry of Defence (MoD) said.
The plane left the UK on Sunday, joining an international effort to secure the release of the girls.
The Boko Haram group captured the girls from their boarding school in Chibok town, north-east Nigeria, in April.
Full report at:
http://www.bbc.com/news/world-africa-27487957
----------
URL: https://www.newageislam.com/islamic-world-news/new-age-islam-news-bureau/blast-killed-31-people,-around-90-injured-in-xinjiang,-home-to-the-muslim-uighur/d/87128
New Age Islam, Islam Online, Islamic Website, African Muslim News, Arab World News, South Asia News, Indian Muslim News, World Muslim News, Women in Islam, Islamic Feminism, Arab Women, Women In Arab, Islamophobia in America, Muslim Women in West, Islam Women and Feminism