New Age Islam News Bureau
12 January 2022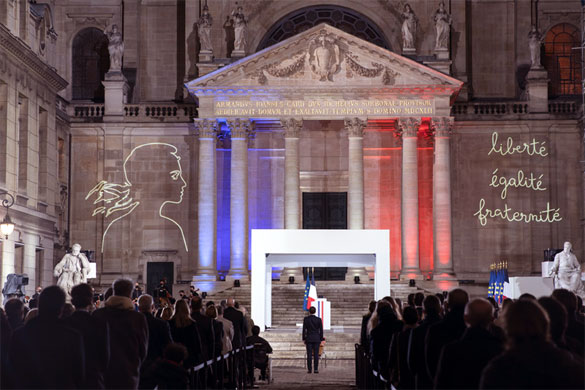 French president Emmanuel Macron at a memorial ceremony for Samuel Paty in 2020 (Photo: Ghislain Mariette / Présidence de la République)
-----
• Egypt's Dar al-Iftaa: Sharia Forbids All Domestic Abuse, Implores Men To Treat Wives Well
• Supreme Court Issues Notice On A PIL Seeking Probe Into The Alleged Hate Speech At Haridwar and Delhi
• TikTok Trend 'Unboxing By Husband' Among Newlywed Muslim Couples Receives Backlash From The Public
• CAIR Report Shows Nearly $106M Funnelled To Islamophobic Groups In US
Europe
• Extremist' Called For 'Jihad By Sword' In Speech At Brighton Mosque, Court Hears
• 'Members of radical Islamist groups were among attackers in Kazakhstan'
• UK says it is 'not returning' any asylum seekers to Syria
• 'Largest ever': UN launches $4.4B humanitarian aid appeal for Afghanistan
--------
Arab World
• Saudi Mosque Imam Acquitted Of Sexual Harassment Charges Against His Domestic Maid
• Hezbollah To Mark Execution Of Prominent Saudi Shia Cleric Sheikh Nimr Al-Nimr
• YPG/PKK terrorists detain over 50 protesters in Syria
• Iraq says arrests 62 Syrian 'infiltrators'
• France says UAE to join French-Saudi fund to support Lebanon
• Saudi Arabia rare hail storm leaves sand dunes covered in snow in Medina
• UN demands access to Yemeni port that coalition says is being militarized by Houthis
--------
India
• Field 'At Least 20' Muslim Candidates In UP, BJP's Minority Morcha Urges Central Leadership
• 'Lower'-Caste Muslims in UP Forge New Solidarities Ahead of Assembly Elections
--------
Southeast Asia
• How Agriculture Led Indonesia's Defence Minister To Talk Normalization With Israel
• Indonesian politician hit with hate speech charge
• China asks US to unfreeze Afghanistan's nearly $10 billion
• 5-year-old dead, 6 wounded in Philippines bus bombing
• 25 Bangladeshi recruitment agencies to send workers to Malaysia
--------
North America
• US State Senator Faces Backlash Over Anti-Muslim Argument For Ending Mask Mandates
• Hoda Muthana Denied SCOTUS Appeal, Cannot Return to U.S. After Joining Islamic State
• US Supreme Court denies appeal of regretful ISIS bride
• Afghans in US demand Biden administration lift restrictions on assets
• 20 years on, Guantanamo remains 'black mark' of US war on terror
• US to send $308 million in humanitarian aid to Afghanistan
• UN pleads $5 billion for Afghanistan's humanitarian crisis
--------
Pakistan
• Educationists And Activists In Pakistan Hail Supreme Court's Questioning Extra Marks For Memorizing Quran
• IS-K militants on the run after evading police raid
• Pakistan economic condition better than India: Imran Khan
• Pak PM Imran Khan says his govt's relationship with military 'exceptional'
• Pakistani's research leads to first pig-to-human heart transplant
• COAS for mission-oriented training to ensure combat readiness in face of emerging threats, challenges
• Pakistan seeks meaningful collaboration with EU nations: Qureshi
--------
Mideast
• Hamas: Israel's Violations of Al-Aqsa Mosque Will Have Dire Consequences
• Israel's library Middle East, Islamic collection draws online attention
• Iran Calls for End to War, Siege of Yemen
• Baktash Abtin's death part of Iran 'systematic killing' of jailed dissidents: Inmates
• Elderly Palestinian man killed by Israeli soldiers
• Palestinians rally in support of prisoners held by Israel
--------
South Asia
• Afghan Resistance Front Proposes Transitional Govt To Taliban In Tehran Talks
• Taliban warned of repercussions if choppers, planes were not returned by Tajikistan, Uzbekistan
• Prominent Taliban Critic Released After Arrest, Says Daughter
--------
Africa
• Ogun Obaship Law: Traditionalists Threaten Court Action, Says Muslims, Christians Can't Bury Obas
• Sudan's medics shaken by attacks on hospitals treating anti-coup protesters
• Political parties banned from Tunisia state TV: Press syndicate
• Nigerian president hails reappointment of former minister as UN deputy secretary-general
• Bomb blast kills at least 2 security personnel in Somalia
Compiled by New Age Islam News Bureau
URL: https://www.newageislam.com/islamic-world-news/blasphemy-jihad-macron-european-muslims/d/126140
--------
Blasphemy And Jihad: Macron Launches EU Debate; Further Alienating European Muslims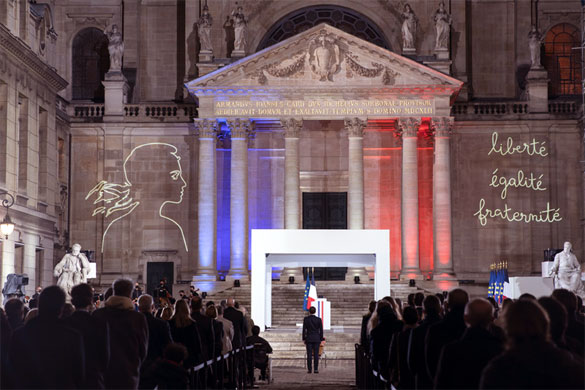 French president Emmanuel Macron at a memorial ceremony for Samuel Paty in 2020 (Photo: Ghislain Mariette / Présidence de la République)
-----
By Andrew Rettman
11 January, 2022
France has launched an EU debate on the "extremely sensitive" issue of blasphemy and jihadist violence, in a move that risks further alienating European Muslims.
"Recent episodes have shown the extremely sensitive nature of the notion of blasphemy, which rallies and mobilises all streams of the radical Islamist scene," the French EU presidency said in a recent memo to member states.
"This evolution of the threat seems tangible in several European countries," it added.
"Indeed, since early 2020, France, the United Kingdom, and Germany have faced a series of attacks whose execution seems to correspond to this phenomenon," it said.
"Such is the case for the last seven attacks perpetrated in France - particularly the series of four attacks in the fall of 2020, including the beheading of teacher Samuel Paty," France said.
The French memo, entitled Independent jihadist threat and seen by EUobserver, was circulated on 5 January.
It discussed trends since the fall of Islamic State [Isis], a jihadist regime in Iraq and Syria.
The "new type of threat" concerned individuals who had "shaken off the influence of terrorist organisations [such as Isis], both operationally and ideologically," France warned.
"This type of attack ... is perpetrated by isolated actors who have a tenuous or inexistent link to the radical movement and who were previously unknown to intelligence services", it said.
Some attackers suffered from "psychological instability or even mental disorders," it added.
"These terrorists use basic modi operandi, essentially with bladed or blunt weapons, which can however have a major symbolic impact when the attacks result in spectacular actions - such as beheadings - and target specific groups or people ... [including] individuals singled out as 'blasphemers'," France also said.
"Do the member states share the above stated view?", France asked.
The answers are to be discussed by EU home affairs ministers on 3 March.
And the talks are aimed at agreeing new EU recommendations on the "fight against terrorism" on 10 June.
But the discussions fall in the middle of French elections, due in April, in which president Emmanuel Macron will be competing for votes from three rightwing challengers - Valérie Pécresse and the far-right Marine Le Pen and Eric Zemmour.
The pre-election climate has already become toxic for French Muslims, with Macron himself and his hardline interior minister Gérald Darmanin pursuing what one NGO group, the European Network Against Racism, has called an "Islamophobic witch-hunt".
And for some commentators, such as the Brussels-based Shada Islam, Macron's decision to now discuss blasphemy and jihadism at the EU-level risks making matters worse.
"This is the kind of dangerous scare-mongering about Islam and European Muslims that the EU has to push back against," she told EUobserver.
Witch-hunt?
Macron has in the past linked jihadist crimes to the rise of Salafism, a hardline Islamic ideology, in France's suburban ghettoes, called "banlieues".
And he has tried to stamp it out on the advice of Gilles Kepel, a Sorbonne-educated academic and former advisor.
But for other scholars of the subject, such as Olivier Roy from the European University Institute in Italy, the French leader has been misinformed.
Roy said it was the so-called Barlevi school of Islam, which originated in Pakistan, that teaches the kind of thinking which led to Paty's murder.
"The Salafis, on the contrary, reject any special devotion for the Prophet and do not stress the blasphemy dimension," Roy told this website.
"Macron's position seems to be that one should defend the right to blasphemy," Roy added.
But if Macron's version of defending "laïcité" [secularism] gains traction in European politics, it could alienate Muslims of any creed.
"Many young Muslims consider blasphemy against the Prophet as a way [for people] to express sheer Islamophobia and hatred for Muslims in general," Roy said.
And in any case, France's EU memo on the "new type of threat" posed by "isolated actors" got its facts wrong, according to Jessica White, an expert on terrorism at Rusi, a London-based think-tank.
The threat was "not new" and the attackers were "not often isolated", even if they did not act in the name of Isis, she said.
"Blasphemy has been a fiercely-held and defended issue since the beginning of religion and is certainly not specific to Islam ... in France, it isn't new either," she noted.
"Most of the individuals who act are connected in online communities ... where they find resolve and encouragement for violence," White said.
Islamophobia
Meanwhile, the discussion on blasphemy is not the only French EU presidency project on the hot-button issues of identity and hate.
France also circulated draft EU recommendations On combating racism and antisemitism at a meeting in the EU Council on Monday (10 January).
The draft urged member states to "criminalise all forms of discrimination based on actual or alleged ethnic origin or religious beliefs".
It urged them to adopt a far-reaching definition of antisemitism "in particular for law-enforcement agencies as part of their efforts to detect and prosecute antisemitic crime".
The new EU recommendations are to be agreed by justice ministers on 4 March.
But if Islamophobia posed a problem alongside other forms of hatred in France or in Europe, then it was not even mentioned in the draft French text.
The draft text noted only that the EU had created a 'Coordinator on combating anti-Muslim hatred', but it also did not mention that this post has stood vacant since last July.
And for Roy, the blind-spot on Islamophobia arose from unanswered questions in French and European thinking on Islam.
"There is a consensus in Europe against hate speech, the problem is who is protected by such laws: if there is a consensus on race, gender, and ethnicity, what about religion?," he said.
"To be a Muslim is not necessarily belonging to a race, an ethnic group, or a culture," he noted.
"Is Islamophobia a generic term for targeting anybody with a Muslim background ... or is Islamophobia just criticism of a religion, in which case it is more acceptable under the terms of freedom of expression?," he added.
"Clearly the French position is that antisemitism is racism, while Islamophobia is just the rejection of a religion, and hence not defamatory against a race or an ethnic group," Roy said.
Source: Euobserver
Please click the following URL to read the text of the original story:
https://euobserver.com/democracy/154054
--------
Egypt's Dar al-Iftaa: Sharia Forbids All Domestic Abuse, Implores Men To Treat Wives Well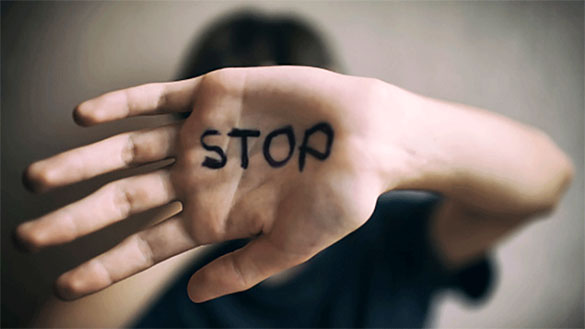 Representative Image
-----
January 11, 2022
Egypt's Dar al-Iftaa stressed on Tuesday that the Islamic Sharia has enjoined the husband and wife to treat each other kindly, and the Prophet Mohamed made the standard of goodness in husbands based on their treatment to their wives.
The Prophet said: "The best of you is the one who is best to his wife, and I am the best of you to my wives."
Therefore, the approach of the Prophet, as told by his own wife Aisha, is: "God's Messenger (Prophet Mohamed) never beat anyone with his hand, neither a woman nor a servant."
Commenting on the spread of domestic violence footage across social media, Dar al-Iftaa said that some have misinterpreted this verse – 'As to those women on whose part ye fear disloyalty and ill-conduct, admonish them, refuse to share their beds, beat them- as justification for abuse.
Explained that this understanding contradicts the Prophet's own ways. It added that the verse is not intended to harm or insult the wife, and this is consistent with what was authentically narrated about the Prophet who forbade beating women by saying: "Do not beat God's handmaidens."
Dar Al-Iftaa said that no man is more knowledgeable about the purposes and provisions than the Prophet himself, and stressed that the rules of Islamic Sharia law oppose any physical and psychological harm against wives, as marital life must be based on love and mercy.
Source: Egypt Independent
Please click the following URL to read the text of the original story:
https://www.egyptindependent.com/dar-al-iftaa-says-sharia-forbids-all-domestic-abuse-implores-men-to-treat-wives-well/
--------
Supreme Court Issues Notice On A PIL Seeking Probe Into The Alleged Hate Speech At Haridwar and Delhi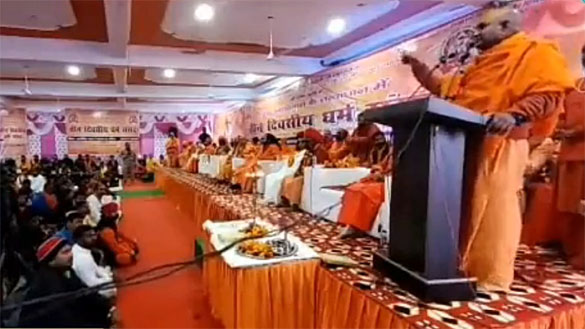 Dharam Sansad/Photo: Financial Express
----
By: Express News Service | New Delhi |
January 12, 2022
The Supreme Court Wednesday issued notice on a PIL seeking probe into the alleged hate speech by participants at two separate events in Haridwar and Delhi on December 17 and 21, 2021.
A bench headed by Chief Justice N V Ramana issued the notice on the plea by Delhi resident Qurban Ali and Senior Advocate Anjana Prakash.
Senior Advocate Kapil Sibal appearing for the petitioners sought an early listing of the matter saying another dharam sansad has been scheduled for January 23.
But the bench pointed out that some related matters already seemed to be pending before other benches and it will have to look into this first before listing the matter. It said it will only restrict itself to issuing the notice for the present.
"We will issue notice. List after 10 days. We will see if it's connected to any other matters. If not we will hear it separately," the bench, comprising Justices Surya Kant and Hima Kohli, said.
The court also allowed the petitioners to make representation to local authorities regarding their concerns about similar events scheduled in other places, 'which according to petitioners is contrary to settled law as well as other judgements of the court".
The plea specifically referred to hate speeches delivered at an event in Haridwar organised by Yati Narsinghanand and another in Delhi by 'Hindu Yuva Vahini'. Speakers allegedly called for the "genocide of members" of a community, the PIL stated.
The plea stated "the aforementioned hate speeches consisted of open calls for genocide of Muslims in order to achieve ethnic cleansing. It is pertinent to note that the said speeches are not mere hate speeches but amount to an open call for murder of an entire community. The said speeches thus, pose a grave threat not just to the unity and integrity of our country but also endanger the lives of millions of Muslim citizens".
It said that "no effective steps have been taken by the Police authorities" in the matter and added that though police have registered two FIRs against 10 people who took part in the Haridwar Dharam Sansad, only Sections 153A, 295A and 298 of the IPC have been made.
Appearing for the petitioners, Senior Advocate Kapil Sibal, urged the bench to read the transcript of the inflammatory speeches made in Haridwar, Live Law reported. He demanded that the case be heard next on January 17, adding that such events are also being organised in other parts of the country
The plea said "it is also relevant to note that no action whatsoever has been taken by the Delhi Police in relation with the event held in Delhi despite the fact that open calls for genocide, that are available on the internet, were made therein".
It contended that the "recent speeches are a part of a series of similar speeches that we have come across in the past" and added that the "not only the inaction of the Police allows delivery of hate speeches with impunity but also shows that the Police authorities are in fact hand in glove with the perpetrators of communal hate".
"That the contents of the speech feed into an already prevailing discourse which seeks to reimagine the Indian Republic as exclusivist, and that which has no space for other cultures, traditions and practices. Such a discourse is in itself violative of constitutional guarantees provided to minority cultures and religions in India', it said adding that "the impact of such repeated speeches shows a rise in structural…and physical violence".
Source: Indian Express
Please click the following URL to read the text of the original story:
https://indianexpress.com/article/india/haridwar-hate-speech-supreme-court-7719067/
--------
TikTok Trend 'Unboxing By Husband' Among Newlywed Muslim Couples Receives Backlash From The Public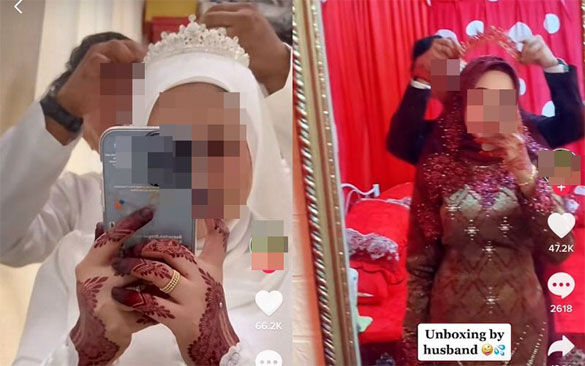 A groom removing head accessories from his bride's tudung to commemorate their nuptials. — TikTok screencaps-.
------
11 Jan 2022
BY MELANIE CHALIL
PETALING JAYA, Jan 11 ― The latest TikTok trend among newlywed Muslim couples is receiving backlash from the public.
'Unboxing by husband' or 'unboxing pengantin' which translates to 'unboxing bride' is an actual thing that involves newlyweds, especially Muslim women in hijab.
The trend sees wedding couples standing in front of the mirror in their bridal wear with the groom removing the bride's head accessories from her tudung ― all on camera for social media.
It is understood that many take part in the trend to commemorate a happy occasion whilst announcing to viewers that they are legally husband and wife.
But not everyone agrees with brides being 'unboxed' by their husbands on grounds that it was against Islamic principles.
"Don't you feel ashamed recording such videos? A wife's Aurat needs to be looked after by her husband," one comment read.
"Young newlyweds these days are so easily influenced by inappropriate things for the sake of trends but in actual fact, it embarrasses yourself and your family," another comment said.
The Perak Islamic Religious Department advised Muslims to stay away from the trend, saying it was compulsory for husbands to protect their wives' honour.
"The act of 'unboxing' is not part of Islamic teaching because it is the beginning of sin and invites slander," it said in a Facebook post today.
The post was shared by the Malaysian Islamic Development Department.
Muslim preacher Pencetus Ummah (PU) Syed also slammed the trend, describing it as "heresy".
PU Syed subscribed to the view that a wife is her husband's belonging and it was haram for husbands to expose their wives' aurat or intimate parts.
"Our wife is our property, we cannot share their beauty and charm with others, everything belongs to us as a husband.
"We can be young and try new things, but we must obey God's law and never do such things.
"Don't take part in nonsense because it doesn't bring any benefits," the preacher whose real name is Syed Mohd Bakri Al-Yahya told mStar yesterday.
In a social media context, unboxing typically involves a person, usually an influencer, filming the process of opening a box or original packaging to reveal a consumer product.
Source: Malay Mail
Please click the following URL to read the text of the original story:
https://www.malaymail.com/news/life/2022/01/11/unboxing-by-husband-trend-among-muslim-newlyweds-on-tiktok-condemned-by-pub/2034364
--------
CAIR Report Shows Nearly $106M Funnelled To Islamophobic Groups In US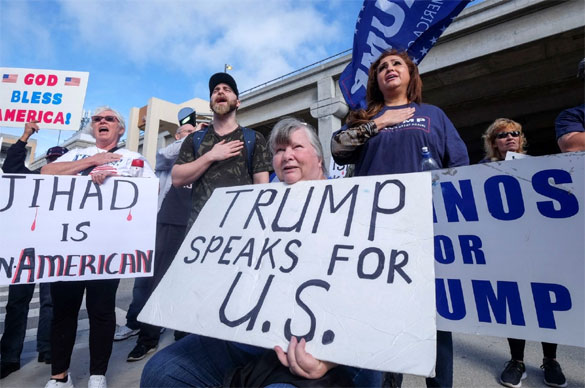 A group of Former U.S. President Donald Trump supporters display Islamophobic messages at a gathering (Reuters File Photo)
-----
Servet Gunerigok
11.01.2022
WASHINGTON
The US' largest Muslim civil rights and advocacy organization released a report Tuesday that revealed nearly $106 million that was provided to Islamophobic groups between 2017-2019.
The "Islamophobia in the Mainstream" report by the Council on American-Islamic Relations (CAIR) lists 35 charitable institutions and foundations that funneled $105,865,763 to 26 anti-Muslim groups.
Christian Advocates Serving Evangelism Inc., Fidelity Charitable Gift Fund, Schwab Charitable Fund, Marcus Foundation, the Adelson Family Foundation and the Jewish Communal Fund were among the top six funders of the US Islamophobia network, according to the report.
The Islamophobic groups are accused of spreading false information about Muslim communities in the US and beyond through social media, the press, public hearings and other avenues.
"The American Center for Law and Justice (ACLJ) received a combined total of over $60 million from the Christian Advocates Serving Evangelism Inc between 2017- 2019.
"The law firm has a history of supporting anti-Muslim policies like the Muslim Ban. In 2017 the ACLJ filed a supporting court brief in defense of the Muslim Ban," said the report.
CAIR's National Research and Advocacy Coordinator Huzaifa Shahbaz said in a statement that "it is no secret that the Islamophobia Network remains hyper-active and well-funded.
"Despite a slight decline in foundations that funneled money to anti-Muslim groups, millions of dollars still flow to organizations that spread misinformation and perpetuate dangerous stereotypes about Muslims and Islam."
Shahbaz also called on the philanthropic community to establish clear policies to prevent funds from going to hate groups and implement educational initiatives for staff and board members to help them understand the extent of anti-Muslim bigotry.
Source: Anadolu Agency
Please click the following URL to read the text of the original story:
https://www.aa.com.tr/en/americas/cair-report-shows-nearly-106m-funneled-to-islamophobic-groups-in-us/2471382
--------
Europe
Extremist' Called For 'Jihad By Sword' In Speech At Brighton Mosque, Court Hears
Lizzie Dearden
11 January, 2022
An alleged Islamist extremist told the congregation of a Brighton mosque it was "compulsory" for them to "undertake violent jihad," a court has heard.
Abubaker Deghayes, 53, denies encouraging terrorism with a speech delivered on 1 November 2020.
The first day of his trial at London's Old Bailey heard he had attended evening prayers at Brighton Mosque and then "stood at the front of the congregation and gave a speech".
CCTV footage played to the court showed Mr Deghayes making what the prosecution described as a "stabbing motion" after talking about jihad, Israel, the British government and Prevent counter-extremism programme.
Prosecutor Ben Lloyd told jurors that Mr Deghayes said "jihad by fighting by the sword was compulsory until the day of resurrection".
"He was encouraging violence in the name of Islam," he added. "Through the defendant's words and gestures he was encouraging people to undertake violent jihad.
"The speech demonstrates him to be an Islamic extremist - he is someone I suggest who believes in the use of violence in the cause of Islam."
Mr Lloyd said Mr Deghayes had not given the speech "naively", and was "at the very least being reckless as to whether people would be encouraged by what they heard".
Jurors were played footage of the speech, which lasted for around 20 minutes, and given a transcript including translations of parts where Mr Deghayes spoke in Arabic.
In one part he talked about the "kuffar", meaning disbelievers, saying: "Allah is more powerful than you! You, idiots! You kuffar idiots, Allah is more powerful than you! The non-believer [inaudible] is an idiot, he's stupid."
Mr Lloyd accused Mr Deghayes of setting up an "us and them approach" between Muslims and non-Muslims, and using the word kuffar as a derogatory term.
In another part of the speech, the defendant said Muslims were obliged to "emigrate" abroad if they are "in a land where we can't practice our religion".
Mr Deghayes later addressed jihad, telling the congregation: "Jihad is compulsory upon you, you, you and you until the day of resurrection, whatever the British government thinks, whatever Prevent thinks, whatever Israel thinks; send to the sea. They can go and drink from the sea [inaudible] Allah curse their fathers, OK?"
The defendant continued: "Jihad, jihad, jihad! Jihad is compulsory. Jihad by fighting by sword,this jihad is compulsory upon you, not jihad is the word of mouth."
Mr Lloyd said the words made clear that the defendant was referring to violent jihad, rather than other forms of religious struggle.
Source: Independent UK
Please click the following URL to read the full text of the original story:
https://www.independent.co.uk/news/uk/crime/abubaker-deghayes-terror-trial-brighton-mosque-b1990861.html?7ED98F26-D21D-EB45-A317-02C65B640FF0_kav_cup_C6FA3ED5_6D17_47D1_B6E2_F4B02CC905E0_
--------
'Members of radical Islamist groups were among attackers in Kazakhstan'
Jeyhun Aliyev
11.01.2022
People experienced in "getting involved in hotspots" on the side of "radical Islamist groups" were among the attackers during recent riots in Kazakhstan, the Kazakh envoy to Turkiye said on Tuesday.
"Kazakhstan was subjected to armed aggression by well-coordinated terrorist groups trained abroad," Kazakh Ambassador Abzal Saparbekuly told reporters in the capital Ankara.
"Terrorist groups emerged by activating so-called sleeper cells. Unfortunately, the law enforcement agencies of Kazakhstan were not prepared for such large and coordinated attacks in several regions at once," Saparbekuly said, adding that at this stage the authorities do not wish to name any terror organization behind the protests.
He said 16 Kazakh soldiers who confronted the "terrorists" were "martyred," two of whom were beheaded, and 1,300 security forces personnel got wounded.
As many as 164 people were killed in four main provinces, while at least 8,000 have so far been detained, he added.
Although the telecommunication and internet was down, the "terrorists" had walkie-talkies for communication and coordination, Saparbekuly said.
He explained that the recent tensions were not peaceful demonstrations, and cannot be termed an uprising such as Arab spring or the newly coined "Turkic spring."
"Although, initially, the rallies in western Kazakhstan were peaceful and socio-economic in nature, participants in the later demonstrations did not put forward any economic or even political demands. They had no intention of negotiating with the authorities, but aimed to overthrow the constitutional order by force," the envoy said.
Kazakhstan had been rocked by days of deadly protests sparked by a fuel price hike.
Demonstrations that started in the oil-rich Mangystau region on Jan. 2 spread rapidly to other parts of the country, including the commercial hub and former capital Almaty, where thousands took to the streets.
Source: Anadolu Agency
Please click the following URL to read the full text of the original story:
https://www.aa.com.tr/en/world/members-of-radical-islamist-groups-were-among-attackers-in-kazakhstan/2471195
--------
UK says it is 'not returning' any asylum seekers to Syria
Ahmet Gurhan Kartal
11.01.2022
LONDON
Britain on Tuesday said it is "not returning" any people to Syria in line with the UN judgment that the latter "remains unsafe."
The statement from Home Office came after reports by The Guardian on Sunday that a Syrian asylum seeker was asked to go back to his country.
The daily said, based on a refusal letter from the Home Office, that the 25-year-old man was told that he could return to the country he fled during the war because it is safe to do so.
The Syrian asylum seeker fled "forcible conscription" into the Syrian regime's army in 2017, saying he would have been forced to kill other Syrians if returned.
He also said he could be targeted as a draft evader, arrested, and even killed in Syria.
The Guardian said it saw a refusal letter from Home Office last month.
"I am not satisfied to a reasonable degree of likelihood that you have a well-founded fear of persecution," the letter was quoted as saying.
Home Office's official Twitter account on Tuesday said: "In the current circumstances we are not returning people to Syria."
"The UK Government agrees with the UN judgement that Syria remains unsafe for them."
The asylum seeker had told the British paper that he "escaped from Syria in 2017 and I am looking for safety."
Source: Anadolu Agency
Please click the following URL to read the full text of the original story:
https://www.aa.com.tr/en/europe/uk-says-it-is-not-returning-any-asylum-seekers-to-syria/2471434
--------
'Largest ever': UN launches $4.4B humanitarian aid appeal for Afghanistan
Peter Kenny
11.01.2022
GENEVA
The UN and its partners launched on Tuesday a $4.4 billion funding appeal to avert a humanitarian catastrophe in Afghanistan in 2022.
"This is the largest ever appeal for a single country for humanitarian assistance," UN Humanitarian Affairs and Emergency Relief chief Martin Griffiths told reporters in Geneva.
"This is a stop-gap, an absolutely essential stop-gap measure that we are putting in front of the international community today. Without this being funded, there won't be a future; we need this to be done; otherwise, there will be outflow, there will be suffering."
The UN said 22 million people inside Afghanistan and a further 5.7 million displaced Afghans in five neighboring countries need vital relief this year.
Aid agencies describe Afghanistan's plight as one of the world's most rapidly growing humanitarian crises. According to the UN humanitarian coordination office OCHA, half the population now faces acute hunger, over nine million people have been displaced and millions of children are out of school.
Meanwhile, UN High Commissioner for Refugees Filippo Grandi called for $623 million to support refugees and host communities in the neighboring countries.
"There is a regional dimension to this crisis, represented by the Afghan refugees but also Afghans with many other 'stay' arrangements in neighboring countries," he said.
He insisted that there is a need "to stabilize the situation inside Afghanistan, including that of displaced people ... and to prevent a larger refugee crisis, a larger crisis of external displacement."
Griffiths asked the international community not to "shut the door on the people of Afghanistan."
"Humanitarian partners are on the ground, and they are delivering, despite the challenges. Help us scale up and stave off widespread hunger, disease, malnutrition, and ultimately death by supporting the humanitarian plans we are launching today," he said.
Source: Anadolu Agency
Please click the following URL to read the full text of the original story:
https://www.aa.com.tr/en/europe/largest-ever-un-launches-44b-humanitarian-aid-appeal-for-afghanistan/2470923
--------
Arab World
Saudi Mosque Imam Acquitted Of Sexual Harassment Charges Against His Domestic Maid
January 12, 2022
MAKKAH — A court in the Makkah region issued a ruling acquitting a mosque imam of charges of sexually harassing his domestic maid.
The court rejected the case on the ground that the plaintiff failed to prove the charges with substantial evidence. The Court of Appeal finally upheld the ruling and gave its final approval, according to the verdict, a copy of which is seen by Okaz/Saudi Gazette.
The Public Prosecution referred the case to the court after carrying out investigation into the complaint of harassment filed against the mosque imam, who is a Saudi citizen.
In a historic verdict, a Saudi court recently sentenced a man convicted of sexual harassment to naming and shaming in public, in addition to a prison term and a fine.
The Criminal Court in Madinah sentenced Yasser Muslim Al-Arawi to eight months in prison and a fine amounting to SR5,000 for harassing a woman using obscene remarks.
This was the first verdict issued by a Saudi court to name and shame a culprit in a sexual harassment case after the Council of Ministers approved a law that called for publicly revealing the identity of individuals found guilty of sexual harassment.
In January 2021, the Council of Ministers added a new paragraph to Article 6 of the Kingdom's Anti-Harassment Law, stating that the judgment in sexual harassment case shall be summarized in local newspapers at the expense of the convicted person.
Lawyer Saleh Al-Ghamdi, a former member of the Public Prosecution, said that the Anti-Harassment Law, which was approved in May 2018, consists of seven articles, and its Article 6 was amended with adding paragraph 3 according to a royal decree issued in January 2021.
The amendment read as follows: "It is permissible to include the sentence issued determining the penalties referred to in this article and to publish its summary at the expense of the convicted person in one or more local newspapers, or in any other appropriate means, according to the gravity of the crime and its impact on society, and this will be after issuance of the final verdict in the case."
He noted that the text of Paragraph 1 of Article 6 stipulates that whoever commits a crime of harassment shall be punished with imprisonment for a period not exceeding two years and a fine not exceeding SR100,000 or one of these two penalties. The penalty will be applicable to male and female convicts.
Source: Saudi Gazette
Please click the following URL to read the full text of the original story:
https://saudigazette.com.sa/article/615749/SAUDI-ARABIA/Saudi-mosque-imam-acquitted-of-sexual-harassment-charges?
--------
Hezbollah to mark execution of prominent Saudi Shia cleric Sheikh Nimr al-Nimr
11 January, 2022
Members of Hezbollah will on Wednesday mark six years since the execution of prominent Shia cleric Sheikh Al-Nimr, according to reports, amid heightened tensions between Saudi Arabia and Lebanon.
The event will mark six years since Riyadh's execution of Al-Nimr, a popular figure among Saudi Shia Muslims whose execution sparked angry protests in neighbouring Iran.
The Hezbollah event - dubbed "the Opposition Meeting in the Arabian Peninsula" - will be held in the Mujtaba area of Beirut's southern suburbs.
It appears to be in response to the launch of the so-called "National Council to Confront the Iranian Occupation", which was recently formed by around 200 signatories with its head office led by former Lebanese MP and minister Ahmed Fatfat, according to Al-Modon.
Saudi Arabia executed Al-Nimr, a renowned Shia cleric who often criticised the ruling family, on 2 January 2016, on "terrorism" charges.
He was executed due to his support of the mass anti-government protests that took place in the Eastern province of Qatif, where a Shia majority have long complained of marginalisation.
Wednesday's event will take place amid tensions between Saudi Arabia and Lebanon, where the Hezbollah leader Hassan Nasrallah accused the Gulf country of "terrorism" and "spreading ISIS ideology" in a recent speech.
Lebanese Prime Minister Najib Mikati said Nasrallah's comments did "not serve the national interest" or "represent the country's official stance".
Lebanon and Saudi Arabia have been experiencing a series of diplomatic rifts since late October 2021.
The Saudi government withdrew its ambassador to Lebanon following remarks by Lebanon's then Minister of Information, George Kordahi, who criticised the Gulf country's involvement in the Yemeni civil war.
Saudi Arabia, along with other GCC countries, also banned Lebanese imports, dealing a blow to Lebanon's struggling economy.
Source: The New Arab
Please click the following URL to read the full text of the original story:
https://english.alaraby.co.uk/news/hezbollah-mark-saudi-shia-cleric-execution-anniversary
--------
YPG/PKK terrorists detain over 50 protesters in Syria
Esref Musa and Ethem Emre Ozcan
11.01.2022
TAL ABYAD, Syria
The terrorist organization YPG/PKK has detained in Syria's northeastern province of Raqqa over 50 civilians who were protesting against the rising cost of living, according to information retrieved Tuesday from local sources.
Last Friday, the terrorists carried out an armed raid on the village of As-Suwayda, where the protests were taking place.
The terrorists blocked the entrance and exit of the village and opened fired on villagers.
They detained seven civilians who participated in the protests on Jan. 8, the sources added.
On Monday, the terrorists detained 45 civilians who wanted to protest against the rising cost of living and corruption in the town of Al-Tabqah, west of Raqqa.
The detainees were taken to an unknown place.
Although the terrorist group holds over 70% of the country's energy resources, the queues for sugar, fuel and bread keep growing as the residents are crushed by poverty.
Source: Anadolu Agency
Please click the following URL to read the full text of the original story:
https://www.aa.com.tr/en/middle-east/ypg-pkk-terrorists-detain-over-50-protesters-in-syria/2471043
--------
Iraq says arrests 62 Syrian 'infiltrators'
Ibrahim Saleh
11.01.2022
BAGHDAD
Iraq said Tuesday it had arrested dozens of Syrians after crossing into the country from its next-door neighbor.
In a statement, the Defense Ministry said 62 Syrians were arrested in a joint operation by the Iraqi border guards and the Kurdish Peshmerga forces.
The statement, however, did not provide further details.
Iraq shares 1,000-kilometer borders with Syria, where the Daesh/ISIS and PKK terror groups having active presence.
Last week, Syrian authorities handed over 50 Iraqi members of the Daesh/ISIS terrorist group to Iraq.
Thousands of Daesh/ISIS members fled to neighboring Syria after the defeat of the terror group in Iraq in 2017.
Source: Anadolu Agency
Please click the following URL to read the full text of the original story:
https://www.aa.com.tr/en/middle-east/iraq-says-arrests-62-syrian-infiltrators-/2471037
--------
France says UAE to join French-Saudi fund to support Lebanon
12 January ,2022
France's foreign minister said on Tuesday the United Arab Emirates would join a Saudi-French fund that aimed to provide support to the Lebanese people.
Riyadh and Paris agreed in early December to establish a common humanitarian mechanism to alleviate the suffering of the Lebanese as a first step to Saudi re-engaging with Lebanon after a diplomatic row between Beirut and the Gulf states.
For the latest headlines, follow our Google News channel online or via the app.
"The visit by President (Emmanuel) Macron enabled the Gulf (Arab countries) to renew ties, which saw (the creation of) a joint Franco-Saudi fund to support the Lebanese, which will be helped tomorrow or the day after with a contribution from the United Arab Emirates," Jean-Yves Le Drian told a parliamentary hearing.
Le Drian gave no details on how the fund would work or how much was being pledged.
France has led international efforts to resolve the political and economic crisis in Lebanon.
But despite staking a lot of political capital on the issue for more than a year, President Emmanuel Macron has failed so far to push the country's squabbling politicians to carry out economic reforms that would unlock vital foreign aid.
Le Drian bemoaned the ongoing political blockages surrounding an investigation into the 2020 Beirut port explosion that have prevented the government from meeting, saying this was an "unacceptable obstruction" for political objectives.
The powerful Iran-backed Hezbollah and its ally the Amal movement have refused to allow the Cabinet to meet since Oct. 12, demanding the removal of a judge investigating the devastating 2020 explosion in Beirut port. Prime Minister Najib Mikati has said the executive branch has no say in the matter.
Source: Al Arabiya
Please click the following URL to read the full text of the original story:
https://english.alarabiya.net/News/middle-east/2022/01/12/France-says-UAE-to-join-French-Saudi-fund-to-support-Lebanon
--------
Saudi Arabia rare hail storm leaves sand dunes covered in snow in Medina
12 January ,2022
A rare hail storm left sand dunes covered in snow outside Badr city in Saudi Arabia on Tuesday.
Drone footage shows the unusual white landscape in Medina province, with locals gathering to enjoy the scenes and cars driving on a nearby motorway.
Other videos shared on social media showed a double rainbow that appeared in the sky after the storm.
Earlier this year, snow covered Saudi Arabia's northwestern city of Tabuk.
Images shared by state news agency SPA showed cars covered in snow and people wearing heavy clothing as they enjoyed the rare sight of snow in the Kingdom.
Source: Al Arabiya
Please click the following URL to read the full text of the original story:
https://english.alarabiya.net/News/gulf/2022/01/12/Saudi-Arabia-rare-hail-storm-leaves-sand-dunes-covered-in-snow-in-Medina-
--------
UN demands access to Yemeni port that coalition says is being militarized by Houthis
12 January ,2022
The UN mission in Yemen's port of Hodeida, which is held by the Iran-backed Houthi militia, expressed "great concern" on Tuesday over claims it was being militarized by the group, and demanded access for an inspection.
The United Nations Mission to Support the Hodeida Agreement (UNMHA) stated the port was vital for the impoverished country that has been ravaged by a seven-year war.
The Arab Coalition fighting alongside government forces accused the Houthis of militarizing the Red Sea ports and threatened to attack them, after the Houthis seized a United Arab Emirates-flagged ship last week.
"UNMHA reminds the parties that Hodeida ports are a crucial lifeline for millions of Yemeni people," it wrote in a statement.
The coalition says the seized vessel, the Rwabee, was carrying medical supplies.
The hijacking on January 3 raised fears that the conflict could spill over into the Red Sea, a vital route for Gulf oil and cargo shipments.
"UNMHA has requested as part of its mandate to undertake an inspection," the statement said, adding that protecting the ports was "in the interest of the Yemeni people."
The internationally-recognized Yemeni government announced on Tuesday that its forces had taken over the Shabwa province after intense fighting with the Houthis.
The Arab Coalition announced on Monday that it had carried out 11 strikes against Houthi targets in Marib over 24 hours.
Source: Al Arabiya
Please click the following URL to read the full text of the original story:
https://english.alarabiya.net/News/gulf/2022/01/12/UN-demands-access-to-Yemeni-port-that-coalition-says-is-being-militarized-by-Houthis
--------
India
Field 'at least 20' Muslim candidates in UP, BJP's Minority Morcha urges central leadership
NEELAM PANDEY
11 January, 2022
New Delhi: With the Bharatiya Janata Party (BJP) all set to finalise its tickets for the assembly elections in five states, the party's minority unit has urged the central leadership to consider fielding Muslim candidates in Uttar Pradesh.
In the 2017 assembly elections in UP, the party didn't field a single Muslim candidate. This time, the BJP Minority Morcha has called for at least 20 candidates, said its chief Jamal Siddiqui.
"There are a number of seats that have a sizeable Muslim population and there are many which we had lost by a small margin too. Take, for example, Sambhal, Moradabad, Meerut, which have a big number of Muslim voters," Siddiqui told ThePrint.
"In West Bengal too, the party had fielded Muslim candidates and we are also suggesting names for UP this time. We want more representation from the Muslim community and this will help them move forward in society," he said.
According to Siddiqui, the Minority Morcha has identified 100 seats that have 30 per cent minority population, 140 seats with 20 per cent minority vote and 40 seats with 60-70 per cent. "Most of these seats are in western Uttar Pradesh, Awadh and Braj regions," he added.
According to sources, the party is concerned about facing issues in western UP even as the controversial farm laws have been repealed.
Muslims comprise around 19 per cent of the total population in Uttar Pradesh, and the BJP has already chalked out a plan to focus on areas dominated by the community where it lost by narrow margins in 2017.
Field candidates from 'right seat'
Siddiqui said the West Bengal experience shows that if more Muslim candidates are fielded from the "right seat", they can emerge victorious.
"Though (our Muslim candidates) did not win a seat (in Bengal), in two seats, we gave tough competition. In Assam too, we had fielded candidates from the minority community," he said.
The Minority Morcha has already set a target to get at least 5,000 new workers from these communities in each assembly constituency. "Under this, 100 people have been given the responsibility in each assembly constituency to create contact with at least 50-100 persons," said a BJP leader who didn't wish to be named.
Siddiqui said there are a number of Muslim-majority seats where the BJP lost in 2017 by slender margins.
"For instance, in Saharanpur Nagar, we lost to the Samajwadi Party by 4,000 votes. In Dholana, which comes under the Ghaziabad district, the margin was also very slim. There are many such examples," he said.
There is no definitive data available on whether the Muslim community votes for the BJP.
However, Studies in Indian Politics, a statistical report on the election results in all states conducted between 2017 and 2018, said "an analysis of the results (Uttar Pradesh) by proportion of Muslim population in constituencies shows that BJP was ahead both in terms of votes and seats in both low and high Muslim-dominated constituencies".
Source: The Print
Please click the following URL to read the full text of the original story:
https://theprint.in/politics/field-at-least-20-muslim-candidates-in-up-bjps-minority-morcha-urges-central-leadership/800476/
--------
'Lower'-Caste Muslims in UP Forge New Solidarities Ahead of Assembly Elections
Shireen Azam
Jan 12, 2022
Varanasi: "Humne Akbar Ka Taj Mahal Kab Maanga, Hum Pyaase Hai Hame Ganga Ka Paani De Do (When did we ask for Akbar's Taj Mahal. We are thirsty, give us water from the Ganga," sang Dr Liyaqat Ali, general secretary of the Dalit Muslim Halalkhore Kalyan Parishad. Ali was standing on a stage at Shastri Ghat, Varanasi on January 2 under the banner of the 'Pasmanda Adhikar Sammelan (Pasmanda Rights Convention)'. Pictures of M.K. Gandhi, B.R. Ambedkar and Abdul Qayyum Ansari formed the backdrop.
The event on January 2 was a coming together of over 15 'lower'-caste Muslim associations to demand rights for this group. On January 9, representatives of several of these groups travelled across three districts of eastern UP, including to create awareness about their issues and to form new solidarities. Pasmanda – which means "left behind" in Persian – is increasingly a term used by Muslim associations in UP and Bihar, among other parts of India. The term distinguishes themselves as Muslim communities historically and socially oppressed by factors of caste, which is often thought to affect Hindus alone.
The convention banded together concerns of a variety of communities – from the Dalit caste of Halalkhores (sweepers), Nats (dancers) and Dhobis (washermen) to the backward castes of weavers (Bunkars/Ansaris), Qureishis (butchers), Nanpuzs (nan makers), Mansooris (cotton-carders), Idrisis (tailors), Manihars, Shahs (Fakirs), Salmani (barbers) and Rayeens (vegetable grocers), to name a few.
The underlying theme was the need for "Ittehad (unity)" among these oppressed groups. A univocal demand was the inclusion of Dalit Muslims in the Scheduled Caste category, both to bring them both under reservations, and offer protection under the atrocity act. "Just like there are Bhangis in Hindus, there are Halalkhores in Muslims, we do the same work," Ali reiterated. The difference is that while Hindu Dalits are recognised under the SC category, Muslim Dalits (as well as Christian Dalits) are not. A presidential order in 1950 had added a paragraph to Article 341, restricting SC status to only Hindus (Buddhists and Sikhs were added to it later).
Multiple high-level national commission reports, including the Sachar Commission (2006) and the Ranganathan Commission (2005), have recommended the inclusion of Dalit Muslims into the SC category. A study by Satish Deshpande and Geetika Bapna, commissioned by the National Commission of Minorities in April 2007, observed that "in most social contexts, Dalit Muslims and Dalit Christians are Dalits first and Muslims and Christians only second". It had found Dalit Muslims to be "unquestionably the worst off among all Dalits" in both rural and urban areas. A 7,000-household study in Uttar, Pradesh published in 2017 in the Economic and Political Weekly, showed that untouchability is widely experienced by Dalit Muslims, including at the hands of Muslim backward castes and 'upper' castes.
Currently Muslim Dalit castes like the Halalkhores, Nats and Dhobis are recognised only under the Other Backward Classes category, which includes castes like Yadavs, Kurmis and Ansaris – with very different socio-economic and educational indicators – making it very difficult to compete. "Twenty-seven percent reservation for (Muslim) Dalits and (all) OBCs together is too little. There is no such livelihood for Dalit Muslim castes that they can ahead and learn. There is no political representation, no means." Ali, who is a co-editor at Gyanshakti Times, said that the Halalkhore Parishad has been going on since the 1990s, but the fact that so many OBCs came together under the platform to raise the demand for SC status for them was significant.
Apart from inclusion of Dalit Muslims and Christian in the SC category, the demand of inclusion of an Halalkhore representative in the National Commission for Safai Karamcharis was made. "Our people live in the worst of conditions. They live in huts and do menial jobs. We need an Ambedkar. Bismillah Khan could have been our Ambedkar, but that couldn't be."
Speakers thought that inclusion of Dalit Muslims under the SC/ST Act could offer them protection under atrocities as well. "The people who die in lynchings are Dalits, they are Nats, Halalkhores. If Dalit Muslims get SC status, the issue of mob lynchings can be curtailed," said Yusuf Ansari, advocate and national president of the All India Pasmanda Adhikar Manch. "People tend to hide these identities and pretend we are Khans and Pathans. Come, let us come together and proudly say that we are Halalkhores or Nats."
The event was also attended by the Father Anand Mathew, who spoke of the rising hatred in the country and the increasing violence against Muslims and Christians. He reiterated the urgency for SC status to Dalit Christians and Muslims.
Occupational castes
Apart from Dalit Muslims, the convention raised issues of castes who fall in the occupational caste category, and are struggling because of government apathy or suppression.
"Lower castes of Muslims are overlooked by the government and upper castes both," said Idris Ansari, president of the Bunkar Manch (weavers' association). The last three years have been volatile for weavers in Uttar Pradesh, especially Varanasi. In December 2019, the Adityanath-led BJP government passed an order ending the flat electricity rates that weavers had been entitled to, and enforcing unit-based consumption instead.
This was unsustainable for power-loom weavers. A protest by several association of weavers ensued in September 2020, and the government had to put a stay on the rates. However, just last month, a new order asked for weavers to pay arrears for the balance. "We are afraid that a new-BJP government will slash flat-electricity rates." Concerns of the Qureshi caste because of UP's slaughter ban and non-renewal of licenses were also addressed.
Solidarities and issues
What brings together interests of these castes? "It's the same lathi which is caning weavers also, Nats also, Qureshi also, and Nanpuz also. So why should we fight separately, let's fight together," said Amaan Akhtar, who was the organiser of the event under the Pasmanda Adhikar Manch, and is also associated with the Congress Minority Cell in UP. "Our fight is not about Hindu vs Muslim. It's a fight of social justice. Constitution gives equal rights in the name of religion. Article 341 says only Hindus can be included in SCs. My question is Why? When there are sweepers among Muslims, Mochis, Dhobi who wash clothes, the name is same, work is same, then why are you creating differences. Why are they being denied rights."
Akhtar said that Pasmanda castes are being hit from both sides. "On one side, their rights are being denied because they are Muslims. They are politically marginalised, but also they have to face contempt because of their castes, from Muslims as well. They do not get respect. Traditional occupations are also dying because of non-recognition. Aligarh's lock industry, Benares saree weaving – they are all occupations of occupational castes. If the communities are not recognised, they will wither. They need subsidies and support."
"Pasmanda has now become an important word," said Ali Anwar, an ex MP from Patna. Anwar was one of the chief guests at the event, along with Supreme Court advocates Arun Manjhi and Deepak Singh. "People like Owaisi and the RSS are suddenly trying to talk about Pasmanda. We are meeting so that our people don't come under the sway of either of them."
Also read: UP Polls: In Quest for Winnability, Will Akhilesh Yadav and SP Sideline Social Justice?
Anwar, who formed the Pasmanda Muslim Mahaz in 1998, argued that the mainstream Muslim leadership does not address issues of lower caste-Muslims. He said the Pasmanda movement is now faced with a sword on its chest: "Secular parties have used Muslims as vote-banks and not addressed our concerns. They are opportunistic. But at least one can fight the secular parties. We know we have to fight them and keep demanding our rights. But there is no fighting the BJP, which runs on fascism and will kill democracy and the constitution."
Solidarities and "ittehad" are not that easy to come by, however. Akhtar mentioned that when he went to approach one particular Dalit Muslim community to participate in the convention, they got upset at being called by their caste name. "They want to be called Khan."
Source: The Wire
Please click the following URL to read the full text of the original story:
https://thewire.in/caste/lower-caste-muslims-in-up-forge-new-solidarities-ahead-of-assembly-elections
--------
Southeast Asia
How Agriculture Led Indonesia's Defence Minister To Talk Normalization With Israel
JANUARY 11, 2022
Agricultural cooperation has played a big role in a recent warming of ties between Israel and Indonesia, with Indonesian Defense Minister Prabowo Subianto leading the charge from Jakarta.
A recent series of meetings, statements and reports in the last few months of 2021 indicate that Israel and Indonesia, the world's most populous Muslim state, have grown closer.
The two countries do not have formal diplomatic relations, but they cooperate in trade and tourism, and the Foreign Ministry maintains a Facebook page in Indonesian.
In the 1970s and '80s, Indonesia bought arms from Israel, and Indonesian soldiers have trained in the Jewish state. In 1993, then-prime minister Yitzhak Rabin met then-Indonesian president Suharto in Jakarta. In 2016, then-deputy foreign minister Tzipi Hotovely – now ambassador to the UK – said Israel was in constant contact with the Oceania multi-island nation and hoped to establish official ties.
Jakarta was in talks with the Trump administration in December 2020 to normalize ties with Jerusalem, and the US International Development Finance Corporation offered to double its investment in Indonesia, but to no avail.
Subianto met with National Security Adviser Eyal Hulata at a conference in Manama last November, and he was seen speaking with Israel's chargé d'affaires in Bahrain, Itay Tagner, at the same event. After the photo was published, Subianto issued a statement, saying it was not prohibited for him to speak to Israeli officials when it is in the national interest.
Most recently, a senior diplomatic official confirmed that US Secretary of State Antony Blinken had brought the topic up with his counterpart in Jakarta last month, and Jerusalem was informed in advance.
"It's a long process," the official said. "There's one meeting and then another and unmarked planes and all of the cinematic things that go with that – and then, one day, it happens."
Some of those secret meetings came from an unexpected source: agricultural cooperation.
Last October, Subianto announced he planned to run for president of Indonesia in 2024. Like many other leaders of Arab and Muslim states eyeing relations with Israel, Subianto views Jerusalem as a stop on the way to better relations with Washington, a source with knowledge of the matter said.
But the presidential hopeful was already cooperating with Jerusalem during the preceding months on agriculture and food security.
SHMUEL FRIEDMAN, an agriculture consultant, entrepreneur and senior adviser to former agriculture minister Yair Shamir, has been working on an agriculture R&D center in Indonesia.
One of the partners on that project – and others involving Israeli agricultural know-how – is Subianto.
"Food security for a nation is no less important than security itself, and [Subianto] totally agrees with me on that," Friedman said this week. "That's what we know [how] to bring. At the end of the day, we bring results and see satisfied farmers, so it doesn't matter where it comes from."
Friedman said he was aware of normalization talks between Jerusalem and Jakarta, but is not involved on the political side.
"I believe that ties between countries need to start there, with food security," he said. "Not with weapons – with food."
One of Friedman's business associates is Joey Allaham, a Damascus-born, New York-based businessman, perhaps best known for establishing the high-end kosher restaurant Prime Grill. He lobbied for the government of Qatar in the American Jewish community in 2017-2018, bringing leading community figures to Doha and attaining Qatari donations for pro-Israel organizations.
But Allaham also does business in Indonesia and throughout the Middle East and tries to connect Israelis to new markets. He has helped facilitate the cooperation between Friedman and Subianto.
In October 2020, Allaham and Indonesian Minister for Maritime Affairs and Investment Luhut Binsar Pandjaitan donated 15,000 units of Taffix, the Israeli-made anti-COVID-19 nasal spray, to Indonesian health workers and military personnel.
Allaham began working on taking Israel-Indonesia ties from trade and agriculture to diplomacy in early 2021.
Through a business contact who is a former senior IDF intelligence officer, he orchestrated a meeting between Subianto's personal assistant Sudaryono B. Eng and an Israeli intelligence agent in Budapest last May.
From there, Israel and Indonesia moved to higher-level contacts, including a meeting in Paris.
Source: Jerusalem Post
Please click the following URL to read the full text of the original story:
https://www.jpost.com/international/article-692184
--------
Indonesian politician hit with hate speech charge
Katharina Reny
January 11, 2022
A Protestant politician in Indonesia is facing a prison term after being charged with hate speech for allegedly making offensive social media comments on religious, ethnic and racial issues.
Ferdinand Hutahaean, a Democrat Party politician who failed to win a national assembly seat in parliamentary elections in 2019, was arrested on Jan. 10 following an outcry over a comment on Twitter in which he allegedly taunted Muslims by calling their God "weak."
"Poor you, your God is evidently weak [and] must be defended. My God is amazing, [he] is everything. He is my defender, and my God does not need to be defended," the tweet said.
Hutahaean was arrested after two individuals filed police reports against him on Jan. 5 accusing him of insulting Islam.
Police spokesman Ahmad Ramadhan said Hutahaean had been charged under the Electronic Information and Transactions (ITE) law which bans online hate speech and which carries a 10-year prison term.
Ramadhan said Hutahaean will be detained for 20 days for further investigation.
Islamic groups including the Ansor Youth Movement (GP Ansor), the youth wing of the country's largest Islamic group Nahdlatul Ulama, welcomed the charges.
Luqman Hakim, its chairman, said Hutahaean's arrest was appropriate as the comments "had the potential to sow divisions in society."
In a video later posted on Twitter, Hutahaean apologized for the tweet, saying it was "an imaginary dialogue between my heart and mind" and had nothing to do with a certain group or religion.
The tweet was the latest in a series of social media posts that have sparked uproar in Indonesia.
In December last year, Joseph Suryadi, a 39-year-old Christian, was charged with blasphemy for allegedly insulting Islam by comparing the Prophet Muhammad with an alleged child rapist in a social media post.
Source: UCA News
Please click the following URL to read the full text of the original story:
https://www.ucanews.com/news/indonesian-politician-hit-with-hate-speech-charge/95673
--------
China asks US to unfreeze Afghanistan's nearly $10 billion
11 Jan 2022
As Afghanistan is still going through its toughest humanitarian and economic situation of the past two decades and with over half of the population on the brink of starvation, China has reiterated that the US must release Afghanistan's over $9.5 billion now frozen in its banks.
Spokesperson of China's Foreign Ministry Wang Wenbin said that the US should unfreeze the assets of Afghanistan's Central Bank as the country is the only blameworthy of Afghanistan's ongoing situation.
Wang Wenbin also asked for unilateral sanctions of the US on Afghanistan to be lifted.
"US is a country that started Afghanistan's crisis and the country should not get rid of the situation indifferently. The unilateral sanctions are further deteriorating Afghanistan's economic situation and the lives of people. We ask the US to understand its mistakes, understand international responsibilities, release the assets and lift unilateral sanctions." Said the spokesman.
Source: Khaama Press
Please click the following URL to read the full text of the original story:
https://www.khaama.com/china-asks-us-to-unfreeze-afghanistans-nearly-10-billion-3464574575/
--------
5-year-old dead, 6 wounded in Philippines bus bombing
January 11, 2022
COTABATO: A child was killed and six others wounded after a bomb exploded on a public bus in the insurgency-plagued southern Philippines today, authorities said, but no group has claimed responsibility.
Police said the explosion happened as the bus was travelling along a highway near Cotabato City on Mindanao island, a haven for multiple armed groups ranging from communist insurgents to Islamist militants.
The bomb was "inside the bus, at the end part … where there were a lot of people sitting," said Chief Master Sergeant Randy Hampac, police spokesman in Aleosan town.
A five-year-old boy died, while six others were wounded in the blast that shattered the back windows, Hampac said.
The wounded included a five-month-old baby and a three-year-old child.
A police report said one of the victims saw a male passenger leave "baggage" on the bus when he disembarked, and it later exploded.
"It was the first time for this to happen in our town," Hampac said.
"There were incidents of bombing of cell towers in previous years but this incident of an explosion in a bus, it's the first time."
Regional military spokesman Lieutenant Colonel John Baldomar said no group had admitted carrying out the "presumed attack".
Militant attacks on buses, Catholic churches and public markets have been a feature of decades-long unrest in the region.
Manila signed a peace pact with the nation's largest rebel group, the Moro Islamic Liberation Front, in 2014, ending their deadly armed rebellion.
But smaller bands of Muslim fighters opposed to the peace deal remain, including militants professing allegiance to the Islamic State (IS) group. Communist rebels also operate in the region.
Source: Free Malaysia Today
Please click the following URL to read the full text of the original story:
https://www.freemalaysiatoday.com/category/world/2022/01/11/5-year-old-dead-6-wounded-in-philippines-bus-bombing/?__cf_chl_jschl_tk__=mRydgY0wMpW9jf331ekvc_FT25pQAaA_qIRMrNfhT.4-1641978299-0-gaNycGzNC9E
--------
25 Bangladeshi recruitment agencies to send workers to Malaysia
Jan 10, 2022
A total of 25 Bangladeshi recruitment agencies and 250 sub-agencies are expected to be involved in the recruitment of migrant workers for Malaysia, reports news portal Malaysiakini citing sources.
Sources familiar with the bilateral negotiations leading up to a new agreement signed by both governments confirmed the matter to Malaysiakini.
Malaysiakini took a look at a document with a chart that outlined the proposed recruitment and repatriation process of Bangladeshi workers.
According to the document, various stages of the recruitment process – from application by employers to arrival – is set to be completed through Foreign Workers Centralised Management System (FWCMS).
It also stated that a Malaysian employer can directly liaise with the chosen Bangladeshi recruitment agent or appoint a Malaysian agent to facilitate the recruitment process.
On December 19, Bangladeshi Expatriates' Welfare Minister Imran Ahmed and Malaysia's Human Resource Minister M Saravanan signed a new five-year labour recruitment agreement that lifted a freeze imposed since September 1, 2018.
Saravanan, however, did not disclose specific terms of the MOU, including recruitment costs and whether there has been a limit set on the number of Bangladesh recruitment agencies permitted to send workers to Malaysia, said the Malaysiakini report.
In Malaysia, migrant rights group Tenaganita were among those who had urged the government to disclose the MOU terms, raising concerns over the possible revival of an alleged "syndicate" which had in the past been attributed to high recruitment costs and other labour abuses.
Source: The Daily Star
Please click the following URL to read the full text of the original story:
https://www.thedailystar.net/nrb/migration/news/25-bangladeshi-recruitment-agencies-send-workers-malaysia-2936346
--------
North America
US state senator faces backlash over anti-Muslim argument for ending mask mandates
11 January 2022
A Virginia state senator is facing a wave of backlash from American Muslim and Jewish groups after she criticised the Muslim face veil when making an argument against mask mandates.
Amanda Chase, who has been a member of the Virginia Senate since 2016, has faced several accusations by Democrats of downplaying the coronavirus pandemic since the Biden administration introduced mask mandates last year.
In a Facebook post on her personal page, Chase attempted to draw parallels between masks and the niqab – a veil worn by some Muslim women which, in addition to an accompanying headscarf, covers the lower half of the face.
In her post, Chase claimed that the Muslim face-covering was an attempt by men to strip women of independence and "break their will and individuality".
She alleged that "2300 years ago, long before Islam, Arabs discovered that forcing people to cover their nose and mouths, broke their will and individuality, and depersonalized them. It made them submissive. That's why they imposed on every woman the mandatory use of a fabric over her face".
"Modern psychology explains it: without (a) face we don't exist as independent beings," she wrote. "The child looks in the mirror between the ages of two and three and is discovered as an independent being," she further claimed.
She also said that wearing masks was the first step in deleting individuality and "he who does not know his history is condemned to repeat it".
"I'm introducing legislation this week to stop the COVID-19 mandates to include mandatory masking. Educate. Not mandate. It's time to save face," she added.
Chase's remarks elicited condemnation from various faith and human rights groups, with the Virginia Center for Inclusive Communities saying her post was "not only factually incorrect, but it irresponsibly marginalizes our Muslim neighbors".
"Whether criticism of a mask mandate is used to diminish the Holocaust or to insult and demean the Muslim faith and tradition - a line is crossed into hate and bigotry that must be called out and confronted," said the Jewish Community Federation of Richmond.
Ghazala Hashmi, Virginia's first Muslim state senator, told Middle East Eye that Chase's comments demonstrated "bigotry, fearmongering, and Islamophobia".
"They also reflect an astounding lack of knowledge of history, culture, and Islam. I am heartened by the collective response of our interfaith communities in Virginia," she said. "I join these groups in calling upon Chase to apologize for her offensive comments and to sit down with our Muslim and other interfaith leaders."
"They have made a gracious offer to help her broaden her understanding, and I hope that she will make the effort to seek better knowledge and information."
Source: Middle East Eye
Please click the following URL to read the full text of the original story:
https://www.middleeasteye.net/news/us-virginia-state-senator-makes-anti-muslim-argument-ending-mask-mandate
--------
Hoda Muthana Denied SCOTUS Appeal, Cannot Return to U.S. After Joining Islamic State
BY LORA KORPAR
1/11/22
The United States Supreme Court rejected the appeal of Hoda Muthana, a woman who left the country to join the Islamic State in 2014 and has been trying to return since 2019.
The justices refused to consider the appeal, not making any comments on why they declined it.
Muthana was born in New Jersey to a Yemeni diplomat father and raised in Alabama. Vox reported that in 2014, then-University of Alabama, Birmingham student Muthana told her parents she was going on a school trip to Atlanta.
Instead, she left the school and used her refunded tuition money to book a flight to Turkey, eventually making her way to Syria to join the terrorist group. According to People, she married and had a son with a jihadist who was killed.
On social media, Muthana celebrated the burning of her U.S. passport and made posts with statements like "Spill all (the Americans') blood."
However, as the Islamic State began to crumble in Syria, Muthana expressed regret in her decision. She tried to get herself and her toddler son back to the U.S., but in 2019, a federal judge ruled that she was never a citizen of the U.S.
According to Vox, the judge determined Muthana's father, Ahmed Ali Muthana, still had diplomatic status until February 1995. Because Muthana was born in 1994, the judge decided that made her a citizen of Yemen despite her being born in the U.S., as children of active diplomats are not entitled to birthright citizenship the way other U.S. children are.
Her family's lawyers tried to appeal the decision, arguing her father turned in his diplomatic identity card months before Muthana was born.
People reported that in Spanish filmmaker Alba Sotorra Clua's documentary "The Return: Life After ISIS," Clua visited the Roj refugee camp in Syria, where Muthana had been living and caring for her son since surrendering in 2019.
In the documentary, Muthana said she was "brainwashed" into joining the Islamic State, adding that what she went through in the group was "this horrible way of life that I really regret for the rest of my life and that I wish I could just erase."
The U.S. Supreme Court decided not to hear the appeal of a woman who left the U.S. to join the Islamic State and tried to come back. Above, a view of the Supreme Court on Capitol Hill on January 7, 2022, in Washington, DC. Photo by Anna Moneymaker/Getty Images
Her current whereabouts aren't clear. Family attorney Christina Jump of the Constitutional Law Center for Muslims in America did not immediately return an email seeking comment Tuesday.
Source: News Week
Please click the following URL to read the full text of the original story:
https://www.newsweek.com/hoda-muthana-denied-scotus-appeal-cannot-return-us-after-joining-islamic-state-1668186?piano_t=1
--------
US Supreme Court denies appeal of regretful ISIS bride
11 January ,2022
The US Supreme Court has refused to hear the appeal of a woman who left home in Alabama to join ISIS, but then decided she wanted to return to the United States.
The justices declined without comment on Monday to consider the appeal of Hoda Muthana, who was born in New Jersey in October 1994 to a diplomat from Yemen and grew up in Alabama near Birmingham.
For the latest headlines, follow our Google News channel online or via the app.
Muthana left the US to join ISIS terrorist organization in 2014, apparently after becoming radicalized online.
While she was overseas the government determined she was not a US citizen and revoked her passport, citing her father's status as a diplomat at the time of her birth. Her family sued to enable her return to the United States.
A federal judge ruled in 2019 that the US government correctly determined Muthana wasn't a US citizen despite her birth in the country. Children of diplomats aren't entitled to birthright citizenship. The family's lawyers appealed, arguing that her father's status as a diplomat assigned to the UN had ended before her birth, making her automatically a citizen.
Muthana surrendered to US-backed Syrian Democratic Forces as ISIS fighters were losing the last of their self-declared caliphate in Iraq and Syria and going to refugee camps.
Muthana said she regretted her decision to join the group and wanted to return to the US with her toddler child, the son of a man she met while living with the group. The man later died.
Source: Al Arabiya
Please click the following URL to read the full text of the original story:
https://english.alarabiya.net/News/world/2022/01/11/US-Supreme-Court-denies-appeal-of-regretful-ISIS-bride
--------
Afghans in US demand Biden administration lift restrictions on assets
Kasim Ileri and Servet Gunerigok
11.01.2022
WASHINGTON
Afghans in the US have demanded that the Biden administration lift restrictions on the Afghan banking sector and release financial assets belonging to the Afghan people.
The humanitarian situation is worsening in Afghanistan after the US withdrew troops from the conflict-hit country and the Taliban took control of the government by seizing Kabul on Aug. 15.
The US froze $9 billion in financial assets belonging to the Afghan central bank after the Taliban takeover and it said assets the government has in the US will not be available to the Taliban.
"Now, Afghanistan is in dire need. I hope they (Biden administration) release the assets of Afghanistan," said Bakhtar Aminzai, a former member of the Meshrano Jirga, the upper house in the Afghanistan parliament.
Aminzai made the remarks Monday to Anadolu Agency on the sidelines of a one-day humanitarian conference for Afghanistan in Washington DC.
He said the effect of frozen assets directly goes to "innocent Afghan people" who he said are suffering from the worsening situation in the country.
"I think America, American people and government will soon release the assets of Afghans and encourage charity organizations for helping Afghanistan," added Aminzai.
Abdul Subhan Misbah, chairman at Agency Coordinating Body for Afghan Relief and Development (ACBAR), said 75% of Afghans currently live below the poverty line.
ACBAR is an organizer of the conference along with the Zakat Foundation of America -- a Chicago-based NGO that helps the needy in Africa, Asia and the Middle East.
He also cited UN reports that said around 1 million children in Afghanistan could die from hunger.
"There is a crisis ongoing and this is all because of the sudden collapse of the government and failure of our leaders in the past as well as the international community," said Misbah.
He said the US put restrictions on the banking system and no aid organization is allowed to send money to Afghanistan for humanitarian assistance.
"The US is silent and we want them at least to solve the problem of sending money for humanitarian purposes," he said.
Mishab also urged the US and Taliban to resolve the conflict in Afghanistan as soon as possible, saying time is running out and the situation there becomes more urgent.
Halil Demir, the executive director of the Zakat Foundation, told Anadolu Agency that the world wants to help Afghanistan but the financial ways are closed and the US refusal to recognize the Taliban government prevents humanitarian aid from reaching Afghanistan.
"The banks are not ready for the help we want to give. This is the biggest problem right now. The lack of financial access to (banking) services is the problem of all of us," said Demir.
The US announced Tuesday more than $308 million in humanitarian assistance for the people of Afghanistan.
Source: Anadolu Agency
Please click the following URL to read the full text of the original story:
https://www.aa.com.tr/en/americas/afghans-in-us-demand-biden-administration-lift-restrictions-on-assets/2471267
--------
20 years on, Guantanamo remains 'black mark' of US war on terror
Kasım İleri
11.01.2022
WASHINGTON
Although the US "global war on terror" which began after the deadly 2001 terrorist attacks was to a large extent concluded following the American army's withdrawal last year from Afghanistan, the dark side of this 20-year policy, its Guantanamo prison, remains open.
The prison was established 20 years ago today in Guantanamo Bay, which the US leased from Cuba for the navy in 1903.
The US took a step that will be recorded as a "black mark" in the history of international law after the attacks on the World Trade Center in New York and the Pentagon on Sept. 11, 2001.
Then-President George W. Bush established interrogation cells and prisons outside the jurisdiction of the judiciary so that those captured by US intelligence, mostly in the Middle East and Africa, for allegedly being involved with terrorism, under the name of "war on terror," would not benefit from the judicial rights under US law.
Road to Guantanamo
While al-Qaeda claimed responsibility for the 9/11 attacks in the US, the country invaded Afghanistan on Oct. 7, 2001 on the grounds that it was used as a base by the terrorist group.
People arrested by the US Army as terrorist suspects in many countries, especially Afghanistan, were transferred to interrogation centers at American bases outside the US and secret prisons established by the CIA to be interrogated through torture.
The Bush administration announced on Jan. 11, 2002 that they had established a prison to hold terrorist suspects at the US Naval Base in Guantanamo Bay, Cuba.
However, although Guantanamo is known as the only prison where terrorist suspects are held, the existence of torture prisons in many countries, especially Thailand, remained secret until 2006.
Nearly 800 people tortured in Guantanamo
Within one year after its establishment, 680 suspects were brought to Guantanamo prison, where those arrested in Afghanistan, Iraq, and other regional countries were subjected to various forms of torture.
According to the US Defense Department, to date, 797 suspects have been held at Guantanamo.
Images of daily life in Guantanamo, called "the worst prison in the world," have been shared with the public in only a very limited fashion.
The status of the suspects, dressed in orange jumpsuits and sometimes black hoods, has been at the center of the Guantanamo-related controversy.
The international community, especially human rights groups, points to how the Bush administration opened Guantanamo to comfortably carry out torture, which is considered a crime in the US, and to prevent the prisoners from benefiting from the protections of US law.
In addition, the Bush administration's definition of detainees here as "enemy combatants" paved the way for their trial in widely criticized military courts.
Obama failed to keep his word
Announcing in 2007 that he would run for president, Barack Obama made the closure of Guantanamo one of his key campaign planks.
During his two-term presidency, from 2009 to 2017, Obama constantly emphasized that he wanted to close Guantanamo.
In a decree he signed a few days after taking office Obama ordered the prison closed within one year, but was unable to fulfill this order.
In February 2016, the last year of his presidency, Obama finally announced a plan for the closure of Guantanamo before the cameras at the White House, saying that he planned to send some of the remaining detainees to their own countries or to third countries that accept them.
But at a press conference at the White House in the last months of his term, Obama admitted that he was unable to close Guantanamo, claiming that congressional opposition stood in his way.
When Obama took office, there were 245 detainees in Guantanamo, and during his term he completed the trial of 204, extradited some to their own countries, and put some under the control of a third country, leaving the prison with a small fraction of its Bush-era population.
'Taliban 5' released during Obama era
The most talked-about Guantanamo issue in recent years was the 2014 exchange of US Sgt. Bowe Bergdahl, who was captured by the Taliban after leaving his unit in Afghanistan, for five high-ranking Taliban members.
The Taliban members, also known as the "Taliban Five," took critical positions in the Taliban interim government established in Kabul after the US completed its withdrawal from Afghanistan on Aug. 31, 2021.
Only 1 person released during Trump era
Donald Trump promised that if he won the presidency in 2016, he would not close down Guantanamo but instead would, in his own words, "load it up with some bad dudes."
On Feb. 18, 2018, about a year after he took office, Trump announced that he had signed a new presidential decree to keep the prison open.
While no new detainees were brought to the prison during the Trump era, after Trump's announcement, the Pentagon announced on May 2, 2018, that they had extradited a Saudi citizen named Ahmed Mohammed Ahmed Haza al-Darbi to Riyadh and that Darbi would remain in a prison in Saudi Arabia until 2027.
Darbi became the only detainee released from Guantanamo during the Trump era.
Will Biden shut it down?
Current US President Joe Biden stressed both during his vice presidency under Obama and during the 2020 presidential race that Guantanamo should be closed.
Since taking office last year, Biden has so far only released one Guantanamo detainee.
The Pentagon announced on July 19, 2021, that they extradited the last Moroccan citizen, 56-year-old Abdul Latif Nasir, from Guantanamo to his home country.
With the first release under Biden, the number of detainees in Guantanamo fell to just 39, but there are still questions about Biden's ability to close down this notorious prison.
According to Pentagon spokesperson John Kirby, two of the remaining 39 detainees have been sentenced, while military court processes for 10 others continue.
While 13 other detainees are eligible for extradition, 14 are subject to periodic review.
After the completion of the military court process, the detainees are then evaluated as to whether they are suitable for extradition.
It turned out that 85% of those released or extradited under Obama were not related to terrorism in any way, but it still took years for 197 detainees to be released from Guantanamo.
Source: Anadolu Agency
Please click the following URL to read the full text of the original story:
https://www.aa.com.tr/en/americas/20-years-on-guantanamo-remains-black-mark-of-us-war-on-terror/2471345
--------
US to send $308 million in humanitarian aid to Afghanistan
12 Jan 2022
The United States has announced that they will send to Afghanistan $308 million and one million doses of "Covax" vaccines as part of their humanitarian aids to the country.
Spokesperson of the US National Security Council Emily Horne said that the money is part of $782 million announced by the US government in October 2021 for the Afghan people.
Horne said that the US is now the biggest donor for Afghanistan.
The $308 million is supposed to be given to the Afghan people through the United States Agency of International Development (USAID).
"The amount of money will be used to provide shelter, water, and health facilities that are urgent needs due to the spread of COVID-19, drought, and winter season." Said Horne.
The spokesperson added that the US is continuing to support Afghan people through all means possible.
The aid is announced at a time when the US still has Afghanistan's nearly $10 billion frozen in its banks.
Source: Khaama Press
Please click the following URL to read the full text of the original story:
https://www.khaama.com/us-to-send-308-million-in-humanitarian-aid-to-afghanistan-3463473/
--------
UN pleads $5 billion for Afghanistan's humanitarian crisis
12 Jan 2022
The United Nations and other humanitarian agencies made their request for addressing the humanitarian needs of Afghanistan in 2022 that amounts to $5 billion.
The UN has said that the money will be spent to address the urgent needs of 22 million Afghans inside Afghanistan and 6 million Afghan refugees in five regional countries.
The request by the UN and humanitarian agencies was made on Tuesday, January 11, 2022.
UN Secretary-General for Humanitarian Affairs and Emergency Relief Coordinator Martin Griffiths said that the stop-gap is absolutely essential that is put to the International Community and that the future looks bleak in terms of mass immigration and suffering of the Afghan people if they do not get the money.
Among the $5 billion, $4.4 billion will be used in the areas of food and medicines, prevention of malnutrition, providing potable water, hygiene, urgent shelter, education, and agriculture.
Meanwhile, $623 million is asked by UNHCR to be given to 40 humanitarian agencies to address the needs of Afghan refugees in other countries.
Source: Khaama Press
Please click the following URL to read the full text of the original story:
https://www.khaama.com/un-pleads-5-billion-for-afghanistans-humanitarian-crisis-463634/
--------
Pakistan
Educationists And Activists In Pakistan Hail Supreme Court's Questioning Extra Marks For Memorizing Quran
Kamran Chaudhry
January 11, 2022
Educationists and activists in Pakistan have hailed the nation's apex court for questioning a student's plea seeking extra marks for memorizing the Quran while seeking admission to a medical course.
"Why should a Hafiz-e-Quran [a person who memorizes the Quran] be given extra marks for university admissions?" asked Justice Qazi Faez Isa while hearing a petition filed by a student after being denied admission to the Bolan University of Medical and Health Sciences in Quetta.
"We believe that memorizing the Quran is sacred. And it is a plus point when someone wants to become the imam of a mosque or a religious lecturer. But how can a Hafiz-e-Quran be a better doctor?" he added.
The Supreme Court on Jan. 10 also issued notices to the Pakistan Medical Commission and others to submit replies to a query as to why additional marks should be given for memorizing the Quran while admitting someone to medical colleges and universities.
The government of Pakistan during the regime of General Zia-ul-Huq in 1987 had passed a law that Hafiz-e-Quran candidates would be graced with 20 extra marks at every level after matriculation.
The student petitioner cited the law to plead before the court that if given 20 additional marks for memorizing the Quran, he could be easily enrolled for a medical course.
Church leaders as well as representatives of other minority communities, who have often complained about this discriminatory practice, welcomed the apex court judge's remarks as "a key step to empowering religious minorities in Pakistan."
They have over the years pointed out how non-Muslim students lose out to their majority counterparts when seeking admissions to professional courses or jobs with the Public Service Commission due to the provision for granting 20 extra marks for memorizing the Quran.
The Catholic bshops' National Commission for Justice and Peace (NCJP) has been lobbying against the policy for more than a decade. In 2006, it even filed a case when a Christian student was denied admission to a medical college despite achieving the required marks.
"The officials of the health department didn't even appear for the court hearings. The student was later accommodated in a dental college," Ata-ur-Rehman Saman, coordinator of the NCJP, told UCA News.
Sabir Michael, a Catholic professor at the University of Karachi, welcomed the verdict. "It's a good step. We always demanded fair play," he said.
"We don't object to extra marks if minority candidates are awarded an equal advantage. The verdict sends a clear message. Article 25 of the constitution guarantees equal citizenship," he told UCA News while regretting that many generations had lost the opportunity as authorities kept violating the constitution.
Source: UCA News
Please click the following URL to read the full text of the original story:
https://www.ucanews.com/news/pakistan-court-questions-extra-marks-for-reciting-quran/95679
--------
IS-K militants on the run after evading police raid
January 11, 2022
QUETTA: A band of suspected Islamic State militants is on the run after escaping a police raid that killed six other members of the group, officials said late Monday.
Counter-terrorism police said in a statement they had stormed a hideout in Quetta on Saturday and killed six militants, but "around four to five managed to escape."
Among the dead was Asghar Sumalani, a junior commander in the regional chapter of Islamic State-Khorasan (IS-K). He had an Rs2 million ($11,400) bounty on his head.
"Teams are now raiding different areas to arrest those who escaped," a senior police official speaking on condition of anonymity told AFP.
The group has claimed responsibility for numerous attacks, including the slaying of 11 miners from the ethnic Hazara minority early last year.
Some of the miners were beheaded after being kidnapped from a remote coal mine in the mountainous Machh town, 60 kilometres southeast of Quetta.
IS-K has deep roots in several provinces in eastern Afghanistan along the porous border with Pakistan.
Source: Pakistan Today
Please click the following URL to read the full text of the original story:
https://www.pakistantoday.com.pk/2022/01/11/is-k-militants-on-the-run-after-evading-police-raid/
--------
Pakistan economic condition better than India: Imran Khan
Omer Farooq Khan
Jan 12, 2022
ISLAMABAD: Faced with the challenge of getting a controversial legislation passed to meet the International Monetary Fund's requirements ahead of a bailout package of $1 billion, Pakistan PM Imran Khan said on Tuesday that the country's economic condition, under his government, was still better than many countries of the region, particularly India.
"Pakistan is still one of the cheapest countries compared to (many countries of) the world… they (opposition) call us incompetent, but the fact is that our government has saved the nation from all crises," Khan said while addressing the inaugural ceremony of the International Chambers Summit 2022 arranged by the Rawalpindi Chamber of Commerce and Industry (RCCI) in Islamabad. He said that oil prices in the country are still lower than other countries.
His claims coincided with a fiery debate over a finance bill that the incumbent government has introduced in the parliament. The bill is one of the requirements Pakistan has to meet under the programme agreed with the IMF in July 2019. If passed, the legislation will pave the way for the disbursement of a $1-billion tranche. The controversial finance bill included complete autonomy of the State Bank of Pakistan (SBP).
As the matter was taken up for debate in the National Assembly, leader of the opposition and PML-N president Shehbaz Sharif questioned how it was possible for the country to be an atomic power on one hand and be holding a begging bowl on the other.
Assailing the government, the PML-N president said that the ruling Pakistan Tehreek-e-Insaf (PTI) had drowned the country's economy and was also endangering its security.
Source: Times of India
Please click the following URL to read the full text of the original story:
https://timesofindia.indiatimes.com/world/pakistan/pakistan-economic-condition-better-than-india-imran-khan/articleshow/88840980.cms
--------
Pak PM Imran Khan says his govt's relationship with military 'exceptional'
Jan 11, 2022
ISLAMABAD: Pakistan prime minister Imran Khan has reiterated that his government's relationship with the country's powerful military was "exceptional" and the opposition's narrative regarding a rift between the two was "dead and buried", a media report said on Tuesday.
In an apparent response to his detractors, Khan told a meeting of the ruling Pakistan Tehreek-i-Insaf (PTI) party spokespersons on Monday that "civil-military relations are unprecedented these days", Dawn newspaper reported.
Khan said that the relationship between his government and the military was "exceptional" and the opposition's narrative regarding a rift between them was "dead and buried", the paper said.
He had shared similar views during a meeting with a journalist last week, according to the paper.
When asked - in the context of rumours of a possible deal between the Pakistan Muslim League-Nawaz (PML-N) and military to send his government packing - whether he felt threatened from any quarters, Khan said he personally was not under any kind of pressure.
He said that he enjoyed the support of government allies and expressed the confidence that his government would complete its mandated five years.
The powerful army, which has ruled Pakistan for more than half of its 70 plus years of existence, has hitherto wielded considerable power in the matters of security and foreign policy.
A close aide to Khan told the paper after attending the meeting that he praised the military for swiftly rushing to the aid of those stranded in Murree and carrying out a rescue operation in the calamity-hit hill station.
Pakistan's popular hill station Murree was declared a calamity-hit area on Saturday after at least 23 people, including nine children, froze to death in their stranded vehicles due to unprecedented snowfall and rush of tourists to the picturesque town in Punjab province.
Khan said the number of tourists in the country had increased while the infrastructure was the same as it was several decades ago, stressing the need for improving facilities and constructing new hotels in tourist spots.
Source: Times of India
Please click the following URL to read the full text of the original story:
https://timesofindia.indiatimes.com/world/pakistan/pak-pm-imran-khan-says-his-govts-relationship-with-military-exceptional/articleshow/88840151.cms
--------
Pakistani's research leads to first pig-to-human heart transplant
Anwar Iqbal
January 12, 2022
WASHINGTON: Dow graduate Dr Mohammad Mohiuddin's groundbreaking research led to the first pig-to-human heart transplant in history and the heart is now beating normally in the body of a 57-year-old recipient, David Bennet Sr.
Doctors at the University of Maryland School of Medicine (UMSM) said Mr Bennet had a life-threatening heart disease but did not specify his illness.
"We are all very excited to see this pig heart beating in this human. This pig heart has performed very well so far. Even beyond our expectations, since we have not seen any signs of rejection," said Dr Mohiuddin in an interview released by the UMSM.
Doctors and surgeons at the UMSM told The New York Times (NYT) that the eight-hour operation took place in Baltimore on Friday, and the patient, a Maryland resident, was doing well on Monday.
"It creates the pulse, it creates the pressure, it is his heart," said Dr Bartley Griffith, the director of the cardiac transplant programme at the medical centre, who performed the operation.
"It's working and it looks normal. We are thrilled, but we don't know what tomorrow will bring us. This has never been done before," he told the NYT.
"It is the first successful transplant of a pig's heart into a human being," the newspaper noted. "The breakthrough may one day lead to new supplies of animal organs for transplant into human patients."
Dr Mohiuddin is the director of the university's xeno­transplant programme. Taking a tissue or organ from a donor of a species and planting it in the body of another species is called xenotransplant or xenografting.
"We have modified ten genes in this pig heart, knocking out four genes. Three of those responsible for producing antibodies that cause rejection," he explained. "And one gene was knocked out to control the growth of pig and its organs."
Dr Mohiuddin said that hundreds of thousands of people across the globe needed organs and "unfortunately, like this patient, may not qualify for a transplant".
So, "if xenografts become readily available, and are allowed to be put-in in these patients, all of them could receive hearts or any other organs from these modified pigs. And we would be able to save their lives".
Declaring the process "a game changer", Dr Mohiuddin said that if this transplant worked, "we will now have all these organs readily available. And I hope it will work".
Source: Dawn
Please click the following URL to read the full text of the original story:
https://www.dawn.com/news/1668979/pakistanis-research-leads-to-first-pig-to-human-heart-transplant
--------
COAS for mission-oriented training to ensure combat readiness in face of emerging threats, challenges
January 11, 2022
RAWALPINDI: Chief of Army Staff (COAS) General Qamar Javed Bajwa Tuesday emphasised continued mission-oriented training to ensure combat readiness in the face of emerging threats and challenges.
The COAS expressed these views while presiding over the 246th Corps Commanders' Conference held here at the GHQ. The Forum took comprehensive review of the security situation with particular focus on Border Management and Internal Security.
The participants were apprised on the progress and achievements of Operation Radd-ul-Fassad in detail. The COAS appreciated the efforts of formations involved in relief operations to mitigate challenges of people affected due to snow storm in Murree and heavy rainfalls in Balochistan.
Source: Pakistan Today
Please click the following URL to read the full text of the original story:
https://www.pakistantoday.com.pk/2022/01/11/coas-for-mission-oriented-training-to-ensure-combat-readiness-in-face-of-emerging-threats-challenges/
--------
Pakistan seeks meaningful collaboration with EU nations: Qureshi
January 11, 2022
MADRID/ISLAMABAD: Pakistan desired a meaningful partnership with Spain and other members of the European Union, Foreign Minister Shah Mahmood Qureshi said.
According to a Radio Pakistan report, Qureshi arrived in the Spanish capital late Monday on a two-day visit at the invitation of his counterpart José Manuel Albares.
The minister was received by Pakistan's ambassador in Madrid Shujaat Rathore and officials from the host Ministry of Foreign Affairs (MoFA) on his arrival.
"The Pakistani government, under its policy of economic diplomacy, is working on attracting the world's attention towards the country's rising market of 200 million population and the investment and trade opportunities in here," the foreign minister said while speaking at a banquet he hosted at Pakistan House in honour of various think tanks.
Pakistan regards Spain as an important nation in both bilateral and European Union contexts, he said, adding there are numerous opportunities for both countries to bolster bilateral trade and economic cooperation.
Qureshi reiterated Pakistan's "utmost" efforts for maintaining peace in Afghanistan and the region.
"A peaceful Afghanistan would promote regional linkages which would help in achieving our economic targets," he said.
Besides meeting with Albares, Qureshi will hold meetings with other ministers and members of the Spanish Parliament.
In 2021, Pakistan and Spain celebrated the 70th anniversary of the establishment of diplomatic relations.
Source: Pakistan Today
Please click the following URL to read the full text of the original story:
https://www.pakistantoday.com.pk/2022/01/11/pakistan-seeks-meaningful-collaboration-with-eu-nations-qureshi/
--------
Mideast
Hamas: Israel's Violations of Al-Aqsa Mosque Will Have Dire Consequences
2022-January-11
In a statement released on Sunday, Hamas Spokesman Mohamed Hamada denounced Israel's attempts to obstruct maintenance and restoration work at the Mosque's premises, calling on Al-Quds people to further frequent the Mosque under these circumstances.
Hamas also censured Israel's aggression against Islamic Awqaf officials and employees of the Islamic Awqaf in the holy city.
It is a regular thing for Israeli legislators and settlers to provocatively intrude into the Al-Aqsa Mosque compound, infuriating the Palestinians. Such mass settler break-ins almost always take place at the behest of Tel Aviv-backed temple groups and under the auspices of the Israeli police in Al-Quds.
In October 2021, an Israeli court upheld a ban on Jewish prayers at the Al-Aqsa Mosque compound, after an earlier decision by a lower court stirred outrage among various Palestinians and across the Muslim world.
In May the same year, frequent acts of violence against Palestinian worshipers at Al-Aqsa Mosque led to an 11-day war between Palestinian resistance groups in the besieged Gaza Strip and the Israeli regime, during which the regime killed at least 260 Palestinians, including 66 children.
Palestinians want the occupied West Bank as part of their future independent state and view Al-Quds' Eastern sector as the capital of their future sovereign state.
Demolition of mosques by Israelis is also commonplace across the Palestinian land. The United Nations has reported a 21-percent increase in the number of Palestinian structures that were confiscated or destroyed last year.
Source: Fars News Agency
Please click the following URL to read the full text of the original story:
https://www.farsnews.ir/en/news/14001021000583/Hamas-Israel%E2%80%99s-Vilains-f-Al-Asa-Mse-Will-Have-Dire-Cnseences
--------
Israel's library Middle East, Islamic collection draws online attention
11/01/2022
JERUSALEM-
Israel's national library says the number of visitors to its Arabic website more than doubled last year, driven by a growing collection of digitised materials and an aggressive outreach campaign to the Arab world.
Around 650,000 users, predominantly from the Palestinian territories, Egypt, Saudi Arabia, Jordan and Algeria, visited the National Library of Israel's English and Arabic sites in 2021, said library spokesman Zack Rothbart.
One of the most heavily-trafficked resources on the Arabic website is a newspaper archive with more than 200,000 pages of Arabic publications from Ottoman and British Mandate Palestine, said Raquel Ukeles, head of the library's collections.
"We have been working on outreach to the Arab world, into the Arabic-speaking public here in Israel for over a decade and we have slowly built up a rich set of resources on our websites," she said. They include the digital newspaper archives, manuscripts, posters, electronic books and music, she said. They are open access, allowing scholars and curious web browsers to visit.
The Jerusalem library is home to an extensive collection of Islamic and Arabic texts, including thousands of rare books and manuscripts in Arabic, Persian and Turkish ranging from the 9th to the 20th centuries.
"We're in the midst of a project to digitise our entire collection, to scan all of our Arabic, Persian and Turkish manuscripts," said Samuel Thrope, curator of the library's Islam and Middle East Collection. "Ninety-five percent of it has already been completed."
Source: The Arab Weekly
Please click the following URL to read the full text of the original story:
https://thearabweekly.com/israels-library-middle-east-islamic-collection-draws-online-attention
--------
Iran Calls for End to War, Siege of Yemen
2022-January-12
During the meeting in Muscat, Amir Abdollahian described the participation of Yemenis as the solution for Yemeni problems, saying that Yemeni-Yemeni talks can determine the political future of the country.
The Iranian foreign minister expressed deep regret over the prolongation of the imposed war against the oppressed Yemeni nation and stressed the need for ending the siege of Yemen and ending the war in that country.
"The only way to solve the problems with which the Yemeni people are entangled is the diplomatic way and Yemeni-Yemeni negotiations can draw the future Yemen and its political developments," Amir Abdollahian added.
Abdul Salam, for his part, appreciated Iran's support for the Yemeni nation elaborated on the latest developments at the warfronts in Yemen.
Saudi Arabia, backed by the US and regional allies, launched the devastating war on Yemen in March 2015, with the goal of bringing the government of former Yemeni president Abd Rabbuh Mansur Hadi back to power and crushing the popular Ansarullah resistance movement.
Yemeni armed forces and allied Popular Committees have, however, gone from strength to strength against the Saudi-led invaders, and left Riyadh and its allies bogged down in the country.
Source: Fars News Agency
Please click the following URL to read the full text of the original story:
https://www.farsnews.ir/en/news/14001021000904/Iran-Calls-fr-End-War-Siege-f-Yemen
--------
Baktash Abtin's death part of Iran 'systematic killing' of jailed dissidents: Inmates
11 January ,2022
The death of dissident Iranian poet and filmmaker Baktash Abtin is part of the Iranian regime's "systematic killing" of imprisoned dissidents, a group of political prisoners in Iran said on Monday.
Abtin, a prominent poet and author, died in a hospital in Tehran, the Iranian Writers Association said on Saturday.
For the latest headlines, follow our Google News channel online or via the app.
Abtin, who was serving a six-year prison sentence, was earlier put into an induced coma. The 48-year-old had contracted COVID-19 twice in prison.
Blaming the Iranian judiciary and prison authorities for Abtin's death, a group of political prisoners in Iran, in a statement published Monday, described his death as a continuation of the "chain murders" – a series of murders of Iranian dissidents and intellectuals critical of the Iranian regime in Iran and abroad in the 1980s and 1990s.
The statement also described Abtin's death as the "systematic killing of political prisoners" by Iran.
"Baktash, like the rest of those imprisoned by the Islamic Republic, was on the one hand sentenced to a gradual death due to the deplorable health conditions of prison, and on the other hand sentenced to a certain death after the emergence of the coronavirus," the statement said.
Abtin was sentenced to six years in prison and transferred to Tehran's Evin Prison in September 2020. The charges against him included his membership in the Iranian Writers Association and visiting the graves of victims of the chain murders.
Along with fellow Iranian Writers Association board members Keyvan Bajan and Reza Khandan Mahabadi, Abtin had been given the PEN/Barbey Freedom to Write award by writers' rights group PEN America in September 2021.
Abtin's death 'aided and abbeted' by the regime
Abtin's death was "utterly preventable," PEN America's Chief Executive Officer Suzanne Nossel said on Saturday, adding that his death was "aided and abetted" by Iranian authorities.
Source: Al Arabiya
Please click the following URL to read the full text of the original story:
https://english.alarabiya.net/News/middle-east/2022/01/11/Baktash-Abtin-s-death-part-of-Iran-systematic-killing-of-jailed-dissidents-Inmates
--------
Elderly Palestinian man killed by Israeli soldiers
Qais Abu Samra
12.01.2022
RAMALLAH, Palestine
An elderly Palestinian was killed on Wednesday, north of Ramallah after being assaulted by Israeli soldiers.
Fuad Fattoum, the head of the municipal council in the village of Jaljulia, told Anadolu Agency that the elderly Omar Abdel-Majid Asaad, 80 years, from the village, died after being held and assaulted by the Israeli army.
He said an Israeli force stormed the village and detained the elderly man after beating and handcuffing him.
Source: Anadolu Agency
Please click the following URL to read the full text of the original story:
https://www.aa.com.tr/en/middle-east/elderly-palestinian-man-killed-by-israeli-soldiers/2471695
--------
Palestinians rally in support of prisoners held by Israel
Awad al-Rujoub
11.01.2022
RAMALLAH, Palestine
Palestinians organized several rallies in the occupied West Bank on Tuesday in a show of solidarity with Palestinian prisoners in Israel.
One of the main protests was held outside the office of the International Committee of the Red Cross in the central city of Al-Bireh.
Participants have called on international human rights groups to intervene to free Nasser Abu Hamid, a Palestinian prisoner battling cancer in detention.
Israel "is practicing slow killing" of Palestinian prisoners through "medical negligence", Qadura Fares, the head of the Palestinian Prisoner Society (PPS), a local NGO advocating for prisoners' rights, told participants.
Speaking to Anadolu Agency, the coordinator of the national and Islamic forces in Ramallah, Issam Abu Bakr, called for "the broadest popular and official solidarity campaign with the sick prisoners."
On Sunday, the PPS said that 49-year-old Abu Hamid is experiencing a "serious deterioration" in his health condition.
In detention since 2002, Abu Hamid, who hails from Al-Amari camp in Ramallah, was sentenced to life by Israel on charges of resisting the occupation and participating in the establishment of the Al-Aqsa Martyrs Brigades, blacklisted by Israel.
Source: Anadolu Agency
Please click the following URL to read the full text of the original story:
https://www.aa.com.tr/en/middle-east/palestinians-rally-in-support-of-prisoners-held-by-israel/2471117
--------
South Asia
Afghan Resistance Front proposes transitional govt to Taliban in Tehran talks
Jan 12, 2022
KABUL: Afghanistan Resistance Front proposed the transitional government to the Taliban when the two sides met in Tehran on the sidelines of a meeting where the Kabul delegation held negotiations with the Iranian government.
The Islamic Emirate delegates visited Iran on Saturday and returned to Kabul on Monday.
The RF member, speaking on condition of anonymity, said on Tuesday that the Islamic Emirate team in return suggested that the Resistance Front leaders should return to Afghanistan--and the meeting ended with no tangible results, according to Tolo News.
Acting Foreign Minister Amir Khan Muttaqi, who was leading the Islamic Emirate delegation in Iran, said they had good discussions with the Resistance Front's team.
"You can also come if you have any complaints. We will sit and talk about it," he said.
Four officials from the Islamic Emirate and five members of the Resistance Front participated in the negotiating teams.
Acting Foreign Minister Amir Khan Muttaqi, acting Economic Minister Din Mohammad Hanif, acting Industries and Commerce Minister Nooruddin Azizi, acting Deputy Minister for Borders and Tribal Affairs Haji Gul Mohammad were representing the Islamic Emirate in the negotiations.
Ismail Khan, Mawlawi Habibullah Hesam, Abdul Hafiz Mansoor, a member of the Resistance Front, Hesamuddin Shams, the former governor of Badghis, and Abdul Zahir Faiz Zada, the former governor of Ghor were members of the Resistance Front's negotiating team. Ismail Khan was leading this team, according to Tolo News.
It is not known whether the Islamic Emirate and the Resistance Front pledged to continue such meetings in the future, according to Tolo News.
Source: Times of India
Please click the following URL to read the full text of the original story:
https://timesofindia.indiatimes.com/world/south-asia/afghan-resistance-front-proposes-transitional-govt-to-taliban-in-tehran-talks/articleshow/88845537.cms
--------
Taliban warned of repercussions if choppers, planes were not returned by Tajikistan, Uzbekistan
12 Jan 2022
Acting Minister of Defense of the Islamic Emirate of Afghanistan Mullah Muhammad Yaqoob Mujahid asked Tajikistan and Uzbekistan to bring back Afghanistan's planes and choppers lest they will react forcefully.
Speaking at a gathering of Afghan pilots and personnel of the Afghan Air Force, Mujahid said that the planes and choppers that are flown out to the neighboring countries by Afghan pilots after August 15 are the possession of Afghanistan thus they should be returned.
"We may relatively be weaker than those of our neighbor country but we are not cowardly and will take into account every single spare part of our planes and helicopters. I ask them respectfully to return our planes and helicopters and do not question our patience any further." Said the Defense Minister.
Son of the founder of Taliban Mullah Muhammad Omar Mujahid thanked all engineers, staff, and pilots of the Afghanistan Air Force for not leaving their country and having reactivated the Force and asked the Afghan pilots who have left Afghanistan to return to the country.
Mullah Muhammad Yaqoob further said that they are working for having an independent Air Force that is reliable to no foreign aid and will be used to protect people and the borders of Afghanistan.
Source: Khaama Press
Please click the following URL to read the full text of the original story:
https://www.khaama.com/taliban-warned-of-repercussions-if-choppers-planes-were-not-returned-by-tajikistan-uzbekistan-987987/
--------
Prominent Taliban Critic Released After Arrest, Says Daughter
January 11, 2022
Kabul: A prominent Afghan university professor arrested by Taliban authorities after criticising them on television was released on Tuesday, his daughter said.
Professor Faizullah Jalal was detained in Kabul on Saturday and taken to an unknown location by Taliban forces, who came back to power in August.
Since their takeover, the hardline Islamists have cracked down on dissent, forcefully dispersing women's rights protests and briefly detaining several Afghan journalists.
"After more than four days of detention on baseless charges, I confirm that Professor Jalal is now finally released," tweeted his daughter Hasina Jalal, a fellow at Georgetown University in Washington, after launching a social media campaign calling for his release.
Government spokesman Zabihullah Mujahid had tweeted that Jalal had made statements on social media in which he was "trying to instigate people against the system".
"He has been arrested so that others don't make similar senseless comments... that harm the dignity of others," he added.
Jalal's family said the tweets shared by Mujahid were from a fake Twitter account they had tried to get shut down.
"The Taliban are just using these posts as an excuse to silence a strong voice within the country," Hasina told news agency AFP after the arrest.
Clips of Jalal's television appearances attacking the Taliban's forceful rule and the worsening economic situation had previously gone viral on social media, sparking concern he risked Taliban retribution.
In one live talk show, he called Taliban spokesman Mohammad Naeem -- who was also participating -- a "calf", a grave insult in Afghanistan.
Source: ND TV
Please click the following URL to read the full text of the original story:
https://www.ndtv.com/world-news/prominent-taliban-critic-professor-faizullah-jalal-released-after-arrest-says-daughter-2702405
--------
Africa
Ogun Obaship law: Traditionalists threaten court action, says Muslims, Christians can't bury Obas
January 11, 2022
By Ishola Oludare
Traditionalists in Ogun State have vowed to challenge the controversial chiefs law in court, saying Obas must be buried by traditional worshippers.
DAILY POST reports that Governor Dapo Abiodun had on Monday signed the 'Obas, Chiefs, Council of Obas and Traditional Council law of Ogun State, Bill 2021' into law at the residence of the Awujale of Ijebuland, Oba Sikiru Adetona.
The law, which was kicked against by traditional worshippers, has stopped the imposition of rituals during the installation and burial of a monarch.
It empowers the family of a deceased Oba to decide how he would be buried in accordance with his faith.
As gathered, the new law also allows a newly elected Oba to choose whether or not he would go through the usual seclusion rites, known as Ipebi in Yoruba land.
Promoters of the new law believe say it would curb fetish practices in the process of installing and burying traditional rulers in the state.
However, the Oluwo of Iperu and Vice Chairman of Osugbo Remo Parapo, Ifasola Opeodu, has threatened to challenge the law before a competent court, saying "a dead man has no right under the law."
Opeodu maintained that nobody is forced to become an Oba, stressing that "on no account should either Christians or Muslims bury an Oba."
His words: "We are going to call a meeting, we are challenging the implementation in court. We are going to ask the court to restrict them from implementing the law and the court will decide.
"The first ground is that a dead man has no right under the law. Anybody that is dead has lost all the rights that he has.
"The right of Obas that they are claiming that we are violating is not right because a dead man has no right again under the law.
"Secondly, what we are saying is that Obaship institution will is optional, we are not forcing anybody to come there, we are not saying they should not bury Obas, but what we are opposing, if you follow, our argument is that how can they now say Christians and Muslims should come and be burying Obas, traditional heads? If there is anything that they don't want during their burials, they should say, but traditionalists must be the ones to bury Obas, not Christians.
Source: Daily Post
Please click the following URL to read the full text of the original story:
https://dailypost.ng/2022/01/11/ogun-obaship-law-traditionalists-threaten-court-action-says-muslims-christians-cant-bury-obas/
--------
Sudan's medics shaken by attacks on hospitals treating anti-coup protesters
11 January ,2022
On the afternoon of December 30, security forces banged on the windows of Khartoum Teaching Hospital, then fired tear gas into an emergency room packed with protesters injured in a nearby demonstration.
"We were around the corner trying to hide, it came right past our heads," said a nurse who asked to withhold her name for fear of retribution. "We couldn't breathe and had to rush out."
Attacks on medical facilities seen during an uprising in Sudan three years ago have re-emerged during rallies against an October coup, deepening anger among the protest movement and further straining a chronically under-resourced health system.
The coup ended an agreement between the military and major political parties to share power following a 2019 uprising that toppled Omar al-Bashir after three decades of autocratic rule.
Continuing violence against demonstrations could complicate efforts to resolve a standoff between military leaders and a large protest movement that wants civilian rule.
Hundreds of protesters have been injured since the coup, mainly from live gunshot and tear gas canisters, and at least 63 have died, according to the Central Committee of Sudanese Doctors (CCSD), a medics' union aligned with protesters.
Military leaders justify their coup as saving Sudan from chaos and have said they will protect the right to peaceful protest. In a statement on Saturday, the Khartoum State security committee expressed regret at the "violations" of hospital grounds and committed to providing high-ranking officers inside facilities to monitor any breaches.
'Immoral, inhumane'
Assaults on medical facilities have centered on hospitals which lie along main protest routes and routinely treat injured protesters.
Near Khartoum Teaching Hospital, security forces have repeatedly tried to disperse protesters and chase them down side streets as they march towards the presidential palace, about 1.2 km (0.75 miles) away.
Khartoum Teaching Hospital has been attacked with tear gas three times, said its director Dr. Elfatih Abdallah.
"This is immoral, inhumane, and not acceptable at all," he said, pointing at a circular dent in the wall caused by a tear gas canister.
Patients and their friends and relatives have also been assaulted and arrested inside the hospital, and security forces have chased protesters into wards, said deputy hospital director Emad Mamoun.
Asked for comment, a police official, who requested not to be named, said: "We do not assault any doctors and doctors are well-respected by us, as we consider them colleagues. We do not assault citizens, as our role is to protect them."
Medics say it is not always clear which part of Sudan's security apparatus is responsible. They say that even when security forces do not enter the hospital, tear gas is often fired nearby, making it difficult to work.
CCSD has accused security forces of besieging hospitals and blocking the entrance and exit of ambulances during protests.
On Sunday, medics marched in lab coats to submit a report to the office of the UN High Commissioner for Human Rights documenting more than 20 alleged incidents of security forces impeding medical care across the country since the coup.
The attacks caused the caretaker health minister to submit his resignation, though colleagues later persuaded him to stay.
Source: Al Arabiya
Please click the following URL to read the full text of the original story:
https://english.alarabiya.net/features/2022/01/11/Sudan-s-medics-shaken-by-attacks-on-hospitals-treating-anti-coup-protesters
--------
Political parties banned from Tunisia state TV: Press syndicate
11 January ,2022
Tunisian state television has barred all political parties from entering its buildings or taking part in talk shows in a serious setback for press freedoms, the country's press syndicate said on Tuesday.
Mehdi Jlassi, the syndicate head, told Reuters the apparent ban had been in force since President Kais Saied seized most powers in July in moves that his foes have branded a coup.
He said it was the first time such a ban had been in place since the 2011 revolution that ended the autocratic rule of President Zine El Abidine Ben Ali and introduced democracy.
Government and state television officials were not immediately available for comment.
Jlassi said: "Since July 25, there has been a political decision to prevent all parties from entering television..., which is a very dangerous and unprecedented matter that seriously threatens freedom of the press and perpetuates individual power."
In July, Saied dismissed the government and suspended parliament, saying these were necessary steps to stop the state collapsing after years of political party feuding and policymaking paralysis.
He has started preparing a new constitution that he says he will offer to a referendum in June.
Since Saied's intervention, the state television channel al-Wataniya has featured no political guests, On Monday he criticized local media, saying they "lie, lie like news bulletins."
Only state media representatives were invited by the presidency to a press conference with the Algerian president last month.
Source: Al Arabiya
Please click the following URL to read the full text of the original story:
https://english.alarabiya.net/News/north-africa/2022/01/11/Political-parties-banned-from-Tunisia-state-TV-Press-syndicate
--------
Nigerian president hails reappointment of former minister as UN deputy secretary-general
Olarewaju Kola
11.01.2022
LAGOS, Nigeria
Nigerian President Muhammed Buhari hailed the reappointment Tuesday of a female former minister from the country as UN deputy secretary-general.
"(Amina) Mohammed's dedication to duty has always been exceptional. The UN Deputy Secretary-General remains an inspiration to many women in Nigeria, Africa and the global community," said Buhari.
He commended UN Secretary-General Antonio Guterres for the confidence placed on the former minister and reiterated the support of Nigeria for the UN chief and the UN community.
Source: Anadolu Agency
Please click the following URL to read the full text of the original story:
https://www.aa.com.tr/en/africa/nigerian-president-hails-reappointment-of-former-minister-as-un-deputy-secretary-general/2471414
--------
Bomb blast kills at least 2 security personnel in Somalia
Mohammed Dhaysane
11.01.2022
MOGADISHU, Somalia
At least two Somali military personnel were killed and several others wounded when a bomb blast targeted military vehicles carrying security personnel in the country's south.
The security convoy was hit by remotely controlled explosive devices while traveling between the town of Jowhar and the small town of Qalimow in the Middle Shabelle region, according to officials who spoke to Anadolu Agency over the phone.
"A military vehicle was destroyed by a landmine explosion, and several soldiers were wounded and taken to a hospital in Mogadishu for treatment," an official said.
Jowhar, a major town located 90 kilometers (55 miles) from the nation's capital Mogadishu, is the administrative capital of Hirshabelle State.
Separately, at least three soldiers were killed and four wounded when the al-Qaeda-affiliated terrorist group al-Shabaab attacked a Somali National Army base in the vicinity of Qalimow in the Middle Shabelle region.
Officials in the region have confirmed the attack and causalities on the Somali military side.
Source: Anadolu Agency
Please click the following URL to read the full text of the original story:
https://www.aa.com.tr/en/africa/bomb-blast-kills-at-least-2-security-personnel-in-somalia/2471282
--------
URL: https://www.newageislam.com/islamic-world-news/blasphemy-jihad-macron-european-muslims/d/126140
New Age Islam, Islam Online, Islamic Website, African Muslim News, Arab World News, South Asia News, Indian Muslim News, World Muslim News, Women in Islam, Islamic Feminism, Arab Women, Women In Arab, Islamophobia in America, Muslim Women in West, Islam Women and Feminism