New Age Islam News Bureau
30 Nov 2013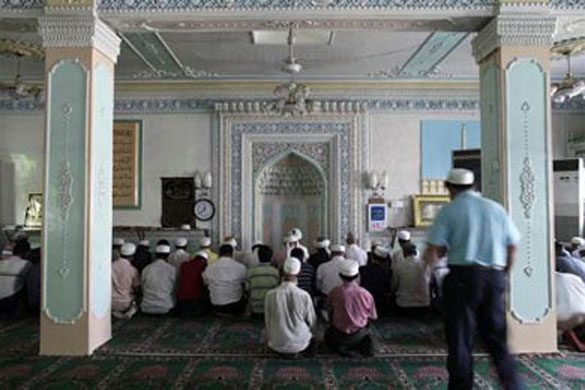 Ethnic Uighurs pray inside a mosque in Urumqi in China's Xinjiang Autonomous Region July 9, 2009. CREDIT: REUTERS/ NIR ELIAS
-----------
Arab World
• Black, Black Friday in Iraq: 50+ People Dead In Cross-Country Attacks and Kidnappings
• Criminalise slandering of Prophet: Scholars at World Conference
• Car bomb near bus stop outside Baghdad kills four
• Two dead in sectarian clashes in Lebanon's Tripoli
• Egypt's deputy PM says he was critical of protest law, revision is still possible
• Damascus in grips of fear as mortar bombs rain down
• Qatar hosts workshop series on Public Policy in Islam
Africa
• Nigeria says it killed more than 50 Islamist insurgents in airstrike
• Angola defends putting bar at Islamic groups
• Nigerian Boko Haram militants use child soldiers, abduct women - HRW
• Tuareg separatist group in Mali 'ends ceasefire'
Southeast Asia
• Jihad Calls For Eradication of Shiah That Permits Sodomy, Muslims Told
• Najib: Malaysia will continue to focus on human capital development
• Myanmar nationals protest oppression of Muslims
• Islam must be on Umno's agenda – Bernama
Pakistan
• Salmaan Taseer gets top US peace prize
• 'Militants' ideology new form of dictatorship': Zardari
• Peaceful, stable Afghanistan is in Pakistan's interest: Sharif
• Jamaat e Islami slams govt's amnesty package for investors
• Starting from scratch: UN keen to rebuild Balochistan
Europe
• Sharia law advances in France, Halal in the prisons
• Chechens build new mosque in Arab village
• Britons protest over Israel plan to remove 70,000 Palestinian Bedouins
• German President visits Islamic Theology Centre
North America
• US exempts India, China from Iranian sanctions
• Bangladeshis find career in New York City's traffic
• US commander in Afghanistan apologises for Helmand drone strike
• Two Guantanamo prisoners refuse release to Algeria
India
• Pakistan's beer to add fizz to Indian market
• Will continue to support India-Pak dialogue: Omar Abdullah
South Asia
• Chinese paper says Islamists seek to ban TV, singing
• Russian helicopter attacked in Afghanistan
• China offers Maldives US$8.2 million in grant aid: President's Office
• 2 Bangladesh Jamaat-e-Islami men held in capital
• Opposition enforces fresh 72-hour blockade across Bangladesh
Mideast
• Dismantling nuclear facilities 'red line' for Iran: President Rouhani
• UN's Ban to Israel: Stop building settlements in W. Bank, e. Jerusalem
• Palestinian side willing to carry on peace talks
• Ancient mosque reopens to worship in Istanbul
• Islamic scholar Gülen 'speechless' on gov't action plan against his movement
Compiled by New Age Islam News Bureau
URL: https://www.newageislam.com/islamic-world-news/new-age-islam-news-bureau/black,-black-friday-in-iraq--50--people-dead-in-cross-country-attacks-and-kidnappings/d/34667
----------
Arab World
Black, black Friday in Iraq: 50+ people dead in cross-country attacks and kidnappings
Nov 30 2013
At least 51 people were killed in Iraq on Friday as the country continues to slip into sectarian violence while the year's death toll, already in the thousands, continues to spiral upwards.
Follow RT's timeline of Iraq violence in 2013.
The majority of the victims came from a series of kidnappings in Baghdad and nearby towns, which saw people taken from their homes and executed, with their corpses later abandoned, authorities told AFP.
Police discovered the bodies of 18 males in the early morning, including two tribal chiefs, four policemen and an army major, dumped in farmland near the Sunni Arab town of Tarmiyah, just north of the capital.
Another similar incident took place in Salaheddin province where seven men, who were employed as maintenance workers at a local football pitch, were found dead with their throats cut.
Three more female corpses were discovered in the capital -- the women were apparently tortured before being shot in the head.
Also on Friday, separate attacks in and around Baghdad and Sunni Arab towns of Mosul, Baquba and Kirkuk killed another 23 people, officials said.
Among the incidents was a bombing of a football pitch in the west of the capital that left five dead, and a gun attack against a brothel in Baghdad's east that left six people dead.
Friday's killings cap a week in which more than 200 people were killed throughout parts of the country.
Violence in Iraq has seen a drastic increase since April, when the Shiite-led authorities stormed a Sunni protest camp in the north of the country, which resulted in multiple casualties.
The Iraqi government has recently stepped up its efforts to tackle Al-Qaeda in the country, but it does not seem to be enough as terrorist attacks continue on a daily basis.
This year has already seen over 7,000 Iraqis killed, according to the Iraq Body Count project, making 2013 the bloodiest period since 2006-07, when tens of thousands perished in sectarian violence.
http://rt.com/news/iraq-violence-kidnappings-friday-499/
----------
Criminalise slandering of Prophet: Scholars at World Conference
Nov 30 2013
MADINAH – The World Conference on Prophet Muhammad (peace be upon him) urged the Islamic governments to make endeavors to enact an international law to criminalize slandering of the Prophet and all other prophets.
Wrapping up a two-day session, the conference called for framing an international charter to safeguard the reverence of the prophets. While stressing the need for adopting a wise, judicious and restrained approach based on dialogue in confronting blasphemy, the scholars slammed the tendency of some Muslims to resort to violence in handling such situations.
Several renowned scholars and thinkers from around the world attended the conference, organized by the Islamic University of Madinah as part of the year-long celebration of Madinah as the capital of Islamic culture for the year 2013. On behalf of Crown Prince Salman Bin Abdul Aziz, Deputy Premier and Minister of Defense, Madinah Emir Prince Faisal Bin Salman inaugurated the conference on Tuesday evening. The inaugural session was also attended by Grand Mufti Sheikh Abdul Aziz Al-Asheikh, Sheikh Abdurahman Al-Sudais, head of the Presidency for the Affairs of the Two Holy Mosques, Minister of Culture and Information Dr. Abdulaziz Khoja, and the Islamic University President Abdulrahman Al-Sanad.
Delivering a lecture on the topic, "The rights of the Prophet on his Ummah," the Grand Mufti said: "The most important among these rights include respecting his Tradition (Hadith), disseminating it and putting into practice in life, and defending him against envious people who try to inflicting damage to the Tradition and personality of the Prophet."
Meanwhile, Prince Faisal launched several projects worth a total of SR3 billion at the university. These included opening of the Qur'an and Hadith faculties' buildings, central library, hostels for students, and accommodation for the academic staff, besides laying corner stone for a sports complex, convention center, buildings for administration, deanships, and engineering and computer science faculties.
http://www.saudigazette.com.sa/index.cfm?method=home.regcon&contentid=20131128188036
----------
Car bomb near bus stop outside Baghdad kills four
November 30, 2013
BAGHDAD: Iraqi authorities say a car bomb has killed four people near a bus stop in a town just south of Baghdad.
Police officials say the blast happened Saturday morning as commuters waited for a ride in Mahmoudiya, 30 kilometers (20 miles) south of the capital. They say seven were wounded.
Medics in a nearby hospital confirmed the casualty figures. All officials spoke on condition of anonymity because they were not authorized to talk to the media.
Violence has spiked in Iraq over the last seven months. Saturday's attack brings the total death toll so far this month to 485, according to an Associated Press count. Many attacks may go unreported.
http://www.dailystar.com.lb/News/Middle-East/2013/Nov-30/239468-car-bomb-near-bus-stop-outside-baghdad-kills-four.ashx#ixzz2mBZEkQiC
-----------
Two dead in sectarian clashes in Lebanon's Tripoli
Nov 30 2013
Two people were killed and at least 10 others wounded on Saturday in sectarian clashes between residents of the northern Lebanese city of Tripoli, a security source told AFP.
Clashes regularly erupt between Alawite residents of the Jabal Mohsen neighbourhood, who support their co-religionist Syrian President Bashar al-Assad, and Sunnis from the Bab al-Tebbaneh district, who back the Sunni-led Syrian rebels.
The security source identified the two killed as 15-year-old named Omar al-Haswani and a man in his thirties called Jihad Merab, both Sunnis from Bab al-Tebbaneh.
He said that seven residents had been injured in the clashes.
The Lebanese army said in a statement that troops were on the ground, responding to sources of fire, and that two soldiers had been injured.
The statement added that another man from Jabal Mohsen had been injured earlier in the day by gunfire in different Sunni neighbourhood of the city.
Tensions have been running high in Tripoli since Thursday, when residents of Jabal Mohsen began flying Syrian flags to demonstrate their support for the Assad regime.
In response, residents of neighbouring Bab el-Tebbaneh raised the Syrian flag favoured by rebels seeking the ouster of the Assad regime.
The same day, gunmen shot and wounded four Alawite workers in the city, prompting condemnation and demonstrations by Alawite residents of Tripoli.
Tripoli's population is 80 percent Sunni and 11 percent Alawite -- an offshoot of Shiite Islam -- and violence between the two populations has gone on for decades.
But the tensions have been aggravated by the conflict in Syria, and the city was struck by a deadly double car bombing in August that killed 45 people.
http://english.ahram.org.eg/NewsContent/2/8/87870/World/Region/Two-dead-in-sectarian-clashes-in-Lebanons-Tripoli.aspx
----------
Egypt's deputy PM says he was critical of protest law, revision is still possible
Nov 30 2013
Egypt's Deputy Prime Minister Ziad Bahaa El-Din says he hopes a consensus could be reached over the recently-issued controversial protest law,
In interview with the London-based Al-Sharq Al-Awsat newspaper published Saturday, Bahaa El-Din pointed out that the law was criticised by several international bodies, including the European Union. However he hopes for "means for consensus between the government and political forces opposing the law."
"I personally was not satisfied from the beginning, and I still hold reservations against this law, the way it was discussed, passed and the timing," added Bahaa El-Din.
The protest law issued last Sunday by Interim President Adly Mansour was slammed by numerous political groups as "repressive."
Full report at:
http://english.ahram.org.eg/NewsContent/1/64/87850/Egypt/Politics-/Egypts-deputy-PM-says-he-was-critical-of-protest-l.aspx
----------
Damascus in grips of fear as mortar bombs rain down
November 30, 2013
DAMASCUS: They fall randomly, often during rush hour, smashing into schools, businesses, churches and homes in the Syrian capital and leaving a trail of death and terror in their wake.
As President Bashar Assad's forces press ahead with a crushing offensive, rebels are increasingly hitting back by sending volleys of mortar bombs crashing into central Damascus, hoping eventually to loosen the president's firm hold on the capital.
Dozens of bombs have struck the historic city center and surrounding areas in the past two weeks launched from rebel-held neighborhoods on the outskirts. Mortar bombs, many homemade, are known to be imprecise so it's not possible to determine whether the rebels fire them randomly or at specific targets.
Full report at:
http://www.dailystar.com.lb/News/Middle-East/2013/Nov-30/239422-damascus-in-grips-of-fear-as-mortar-bombs-rain-down.ashx#ixzz2mBZA21FI
-----------
Qatar hosts workshop series on Public Policy in Islam
Nov 30, 2013
Doha: A series of workshops examining Public Policy in Islam called, "Thinking like a Policy Analyst," has been launched by Qatar Faculty of Islamic Studies (QFIS) in conjunction with Hamad Bin Khalifa University (HBKU).
The workshops, which begun in November and will run until January 14, 2014, are organised by the Public Policy in Islam Master Programme and are aimed at executive employees working for the public and private sectors in Qatar.
They take place every Tuesday evening at the faculty's premises with a different module presented each week by experienced practitioners.
Full report at:
http://gulfnews.com/news/gulf/qatar/qatar-hosts-workshop-series-on-public-policy-in-islam-1.1261521
--------------
Africa
Nigeria says it killed more than 50 Islamist insurgents in airstrike
Nov 30, 2013
MAIDUGURI, Nigeria: Nigeria's military said on Friday that it may have killed more than 50 Islamist insurgents in an airstrike on one of their main bases in the northeast of the country.
The latest strikes on Thursday targeted Boko Haram sect hideouts in the Gwoza hills, near the border with Cameroon.
In May, the military stepped up an offensive against the Islamist group, which is fighting to establish an Islamic state in Nigeria, Africa's most populous country split roughly evenly between Christians and Muslims. President Jonathan declared a state of emergency and ordered in extra troops.
"We had intelligence that Boko Haram were still hiding somewhere around the Bita bush. Some villagers alerted us," Colonel Muhammad Dole, spokesman for Nigerian forces in the northeast, told Reuters.
Full report at:
http://www.dailystar.com.lb/News/International/2013/Nov-29/239379-nigeria-says-kills-more-than-50-islamist-insurgents-in-airstrike.ashx#ixzz2mBaSkyEZ
-----------
Angola defends putting bar at Islamic groups
November 30, 2013
LUANDA: Angola admitted on Friday it had refused registration to a number of Islamic religious groups and closed illegal mosques because they did not comply with national laws, but it denied any persecution of Muslims.
The Angolan government has faced a storm of criticism after international media reported it had 'banned Islam.
The outcry followed an announcement by the Ministry of Justice earlier this month listing 194 'religious confessions' whose requests for registration it rejected, among them the Islamic Community of Angola (COIA).
A COIA leader, David Ja, told Reuters the authorities had closed dozens of mosques and even demolished some across Angola's 18 provinces.
http://tribune.com.pk/story/639161/angola-defends-putting-bar-at-islamic-groups/
----------
Nigerian Boko Haram militants use child soldiers, abduct women - HRW
Nov 30 2013
The Nigerian Islamist group Boko Haram has used children as young as 12 as fighters and abducted and raped women, while the government has failed to account for hundreds of detained men and boys, Human Rights Watch said. Boko Haram, which is fighting to impose Islamic law in Africa's top oil producer, has killed hundreds of people in recent attacks, New York-based Human Rights Watch said today in an e-mailed statement.
"For a group that claims to be religious, Boko Haram's tactics are the most profane acts we can imagine," Daniel Bekele, Africa director at Human Rights Watch, said in the statement. "The killing and mutilation of ordinary Nigerians, the abduction and rape of women and girls, and the use of children for fighting are horrifying human rights violations."
Full report at:
http://voiceofrussia.com/news/2013_11_29/Nigerian-Boko-Haram-militants-use-child-soldiers-abduct-women-HRW-6401/
----------
Tuareg separatist group in Mali 'ends ceasefire'
Nov 30 2013
An ethnic Tuareg separatist group in Mali has said it is ending a ceasefire agreed with the government in June.
It comes a day after clashes between Malian troops and Tuareg protesters who prevented a visit by Prime Minister Oumar Tatam Ly to the town of Kidal.
A National Movement for the Liberation of Azawad (MNLA) leader said: "What happened is a declaration of war."
June's ceasefire followed more than 18 months of fighting that prompted an intervention by French troops.
The rebels have in the past threatened to pull out of the peace deal, accusing the government in Bamako of failing to fulfil its promises.
Full report at:
http://www.bbc.co.uk/news/world-africa-25161049
----------
Southeast Asia
Jihad calls for eradication of Shiah that permits sodomy, Muslims told
BY ZURAIRI AR
NOVEMBER 29, 2013
KUALA LUMPUR, Nov 29 — Malaysia's Sunni Muslims were today told that the Shiah school of Islam permitted sodomy and were called to stop its teachings from spreading as part of their "jihad", the Arabic word for "holy struggle".
In its weekly Friday sermon, Malaysia's foremost Islamic authority issued a reminder that the world's second-largest school of Islam had no historical links in the Southeast Asian country.
The Malaysian Islamic Development Department (JAKIM) warned its faithful here that departing from Sunni teachings would cause disunity and fighting among Muslims, which would destroy the bonds of the ummah and end in adherents being conquered by the "enemies of Islam".
"Remember that any efforts towards halting these teachings is in a sense included in the 'jihad' because it counts as defending the sanctity of the religious teachings inherited from our Prophet Muhammad," JAKIM said in its sermon, which is issued to mosques nationwide.
"Meanwhile, any efforts to breathe life to slander by spreading the Syiah teachings is among the practices which are not only misguided, but also misguiding."
Shiah is often spelled as Syiah in Malaysia; its followers have been grouped with lesbians, gays, bisexuals and transgenders (LGBT) whom JAKIM has previously branded religious deviants and a threat to orthodox Islam here.
The sermon noted that Malaysian Muslims were able to enjoy peace and prosperity all this while due to the strict adherence to Sunni teaching.
In its sermon, JAKIM described local Shiah adherents to be largely followers of the Twelver school of thought, which it claimed to be the largest branch of the sect, making up some 85 per cent of members.
JAKIM also listed 10 beliefs local Shiah adherents held, which it said included sodomy and praying for the destruction of detractors.
The federal Islamic body and state religious authorities have been redoubling their efforts to flush out Shiah followers, a minority here.
Putrajaya has also refused to recognise the rights of Shiah followers in the recent United Nations human rights peer review, the Universal Periodic Review (UPR), citing respect for local norms and beliefs.
The federal government had even set up a special laboratory to tackle and prevent Shiah teachings from spreading and roped in the Education Ministry, the Home Ministry, which oversees the police force, in addition to JAKIM and the Islamic religious departments of the 13 different states.
In Malaysia, each state Ruler has full authority over Islamic religious matters, except in Penang, Malacca, Sabah, Sarawak and the three Federal Territories, which are held under the purview of the country's King.
After Sunni, Shiah has around 10-20 per cent of Muslims worldwide identifying themselves as adherents, mostly in Iran, Iraq, Azerbaijan and Bahrain.
Malaysia only recognises the Sunni school of Islam as the official practice, with other denominations deemed deviant sects.
http://www.themalaymailonline.com/malaysia/article/jihad-calls-for-eradication-of-shiah-that-permits-sodomy-muslims-told#sthash.pgxYqCiN.7KJhudiA.dpuf
-------
Najib: Malaysia will continue to focus on human capital development
Nov 30 2013
JAKARTA, Nov 30 — Datuk Seri Najib Razak said the government will continue to focus on human capital development to make Malaysia a developed country.
The Prime Minister said the people were Malaysia's greatest asset and that huge investments in human capital development can guarantee a better future for Malaysia.
"I believe in equal access to education, we must create opportunities as wide as possible but we cannot ensure equal outcomes as this depends on our own efforts.
"If we work hard, we will get better results than others (who don't work as hard)," he said at a dinner with Malaysian students in Indonesia at the multi-purpose hall of the Malaysian Embassy in Jakarta in Kuningan, South Jakarta here last night.
Full report at:
http://www.themalaymailonline.com/malaysia/article/najib-malaysia-will-continue-to-focus-on-human-capital-development#sthash.lOcxO6uZ.dpuf
----------
Myanmar nationals protest oppression of Muslims
NOVEMBER 30, 2013
KUALA LUMPUR, Nov 30 — More than 200 Myanmar nationals marched to the Myanmar Embassy here yesterday to send a memorandum of protest against the oppression of Muslims in the country.
President of the Malaysian Consultative Council of Islamic Organisations (MAPIM) Mohd Azmi Abdul Hamid said the memorandum urged the Myanmar government to act against Buddhist extremists who oppressed Muslims.
"The Myanmar government must act against the Buddhist extremists," he told reporters after putting the memorandum in the embassy mailbox after the representatives refused to come out.
Full report at:
http://www.themalaymailonline.com/malaysia/article/more-than-200-myanmar-nationals-protest-oppression-of-muslims#sthash.tlfurJnS.dpuf
----------
Islam must be on Umno's agenda – Bernama
Nov 30 2013
While Umno is taking the initiative to boost its membership and fight for the Malays, the party must also play a more active role on religious issues.
Expressing ire, several Muslim non-government bodies demanded the reaffirming of Islam's position in the Constitution be one of the core motions at the 2013 Umno general assembly from December 2 to 7.
Malaysian Ulama Association secretary-general Dr Mohd Roslan Mohd Noor said, as a major party which had ruled the nation for 56 years, Umno should focus on this aspect to ensure Islam's position was not open to ridicule.
Full report at:
http://www.themalaysianinsider.com/malaysia/article/islam-must-be-on-umnos-agenda-bernama
---------
Pakistan
Salmaan Taseer gets top US peace prize
November 30, 2013
LAHORE: Former Punjab governor Salmaan Taseer has been honoured with the Martin Luther King Junior Peace Award for his efforts in promoting human rights, peace and humanity. On behalf of the late governor, the award was received by family members at a ceremony on Friday.
Salmaan Taseer is the first non-American to receive the Martin Luther King Jr Award. Since 1979, the annual award honours those who make a significant contribution to the furtherance of Martin Luther King's non-violent approach to eradicate racial, economic, and social injustice.
Full report at:
http://tribune.com.pk/story/639086/salmaan-taseer-gets-top-us-peace-prize/
----------
'Militants' ideology new form of dictatorship': Zardari
2013-11-30
ISLAMABAD, Nov 29: Militants trying to impose their ideology through militancy was a new form of dictatorship, said former president Asif Ali Zardari in a message issued on Friday on the 46th founding day of the PPP falling on Nov 30.
The dictatorship rears its ugly head from time to time in different forms and appears in different manifestations, he said.
PPP is proud to have born amid the struggle against dictatorship and since then is continuously fighting against both military and civil dictatorships, he said while reiterating to follow the founding principles and framework for the emancipation of people which was the basis when the party was founded by Zulfikar Ali Bhutto.
Full report at:
http://www.dawn.com/news/1059575/militants-ideology-new-form-of-dictatorship
----------
Peaceful, stable Afghanistan is in Pakistan's interest: Sharif
2013-11-30
KABUL: Prime Minister Nawaz Sharif reiterated on Saturday that achieving peace and stability in Afghanistan is in Pakistan's interests.
The Pakistani prime minister was speaking at a joint press conference alongside Afghan president Hamid Karzai during his one-day visit as part of efforts to revive Afghanistan's peace process before Nato troops withdraw next year.
The one-day visit is the premier's first since he took office in May and comes as Karzai is locked in a public dispute with Washington over a crucial security deal covering the role of US soldiers who remain in Afghanistan after 2014.
Full report at:
http://www.dawn.com/news/1059590/peaceful-stable-afghanistan-is-in-pakistans-interest-sharif
----------
Jamaat e Islami slams govt's amnesty package for investors
November 30, 2013
LAHORE - Jamaat e Islami chief Syed Munawar Hasan has condemned Prime Minister Nawaz Sharif's amnesty package for the investors and termed it a shameful attempt to promote corruption and plunder of the public money.
In a statement issued here on Friday, he said that the corrupt elements coming into power filled their coffers with unlawful money but whenever there was a threat to their ill gotten wealth, a President or a Prime Minister would come forward to provide legal cover to their black money.
Full report at:
http://www.nation.com.pk/pakistan-news-newspaper-daily-english-online/lahore/30-Nov-2013/ji-slams-govt-s-amnesty-package-for-investors
---------
Starting from scratch: UN keen to rebuild Balochistan
November 30, 2013
QUETTA: With nearly 400 dead and thousands left homeless after a devastating earthquake in late September, winter in the Awaran district of Balochistan is going to be chillier than the expected low temperatures.
To assist the government in its rehabilitation drive for the 200,000 poverty-stricken people of Awaran, the United Nations (UN) pledges to provide its expertise in rehabilitation.
"The people who suffered in the earthquake are poor and vulnerable," said UN Pakistan Resident Coordinator Timo Pakkala, in an exclusive interview to The Express Tribune. He acknowledged the government's response to the tragedy, but emphasised that despite challenges, the UN has been involved from the first day.
Full report at:
http://tribune.com.pk/story/639119/starting-from-scratch-un-keen-to-rebuild-balochistan/
----------
Europe
Sharia law advances in France, Halal in the prisons
Nov 30 2013
Just a quick one in case you missed it. Islamic law is now being implemented in French prisons. France has a Muslim population of 10-15 percent. By 2050 this is projected to grow to between 30-40 percent of the entire population.
Let's just allow a major French media outlet, France 24, to tell the story:
"A French court has ordered Saint-Quentin-Fallavier prison, near Grenoble in south-eastern France, to begin making Halal meals available to Muslim inmates; it emerged Wednesday, citing detainees' right to "free exercise of religion".
It goes on:
Full report at:
http://www.thecommentator.com/article/4407/sharia_law_advances_in_france_halal_in_the_prisons
----------
Chechens build new mosque in Arab village
World Bulletin / News Desk
Nov 30 2013
Muslims from Chechnya have helped fund the building of a new mosque in an Arab village in Israel.
The mosque was named after Chechnya's former leader Akhmad Kadyrov, who was assassinated in 2004, in the village of Abu Ghosh.
Abu Ghosh residents say their forbears were Chechens who came five centuries ago to then Ottoman-ruled Palestine.
"We were raised to accept and welcome everyone, no matter what their race or religion," said Salim Jabr, the former Abu Ghosh mayor and chief fund-raiser for the $10 million mosque.
The building has four minarets - a number typical of mosques in the Caucasus but otherwise unseen in Israel or the Palestinian territories, where one or two is the norm.
Full report at:
http://www.worldbulletin.net/?aType=haber&ArticleID=123906
----------
Britons protest over Israel plan to remove 70,000 Palestinian Bedouins
Nov 30 2013
More than 50 public figures in Britain, including high-profile artists, musicians and writers, have put their names to a letter opposing an Israeli plan to forcibly remove up to 70,000 Palestinian Bedouins from their historic desert land – an act condemned by critics as ethnic cleansing.
The letter, published in the Guardian, is part of a day of protest on Saturday in Israel, Palestine and two dozen other countries over an Israeli parliamentary bill that is expected to get final approval by the end of this year.
The eviction and destruction of about 35 "unrecognised" villages in the Negev desert will, the letter says, "mean the forced displacement of Palestinians from their homes and land, and systematic discrimination and separation".
Full report at:
http://www.theguardian.com/world/2013/nov/29/britons-protest-israel-plan-remove-palestinian-bedouin
----------
German President visits Islamic Theology Center
Nov 30 2013
German President Joachim Gauck referring to Muslims living in Germany said that the German land is their common land.
"Over two thousand sanctuaries and mosques have been built in different cities of the country," he said.
Joachim Gauck said Islamic Theology departments in German universities are an important element of the country's recent history during his visit to Munster University's Islamic Theology Center.
Full report at:
http://www.worldbulletin.net/?aType=haber&ArticleID=123931
----------
North America
US exempts India, China from Iranian sanctions
PTI | Nov 30, 2013
WASHINGTON: US on Friday exempted some countries, including India and China, from the tough Iranian sanctions act as they continue to reduce their dependence on Iranian oil.
"I am pleased to announce that, based on additional significant reductions in the volume of their purchases of Iranian crude oil, China, India, the Republic of Korea, Turkey, and Taiwan have again qualified for an exception to sanctions...(under) the National Defence Authorisation Act (NDAA) for Fiscal Year 2012," secretary of state John Kerry said in a statement.
Full report at:
http://timesofindia.indiatimes.com/india/US-exempts-India-China-from-Iranian-sanctions/articleshow/26597191.cms
----------
Bangladeshis find career in New York City's traffic
NYT News Service | Nov 30, 2013
Above a Korean fried chicken restaurant in Queens, Showkat Khan worked the room of mostly Bangladeshi men, speaking Bengali with a few English phrases mixed in, his enthusiastic message of opportunity broadcast through a crackling amp. At one point, he held aloft a copy of New York City's Civil Service newspaper, The Chief. "You are here to make money in this country, and to get a better life," Khan said.
There was more than one way toward that American dream, he acknowledged, outlining a few options. But one path seemed to stand above the others, if only because Khan had already paved the way: He is a traffic enforcement agent. Khan is part of an influx of Bangladeshi immigrants who earn a living by writing parking notices for the city, a curious and growing presence navigating the choking traffic and bumper-to-bumper sea of parked cars. Full report at:
http://timesofindia.indiatimes.com/world/us/Bangladeshis-find-career-in-New-York-Citys-traffic/articleshow/26609349.cms
----------
US commander in Afghanistan apologises for Helmand drone strike
Nov 30 2013
The United States has moved to end the tense standoff with Afghan president Hamid Karzai over his refusal to sign a security pact between the two countries by formally apologising for a US drone strike in Helmand province that killed a toddler and injured two women.
The apology was delivered in a phone call to Karzai late on Thursday by marine General Joseph Dunford, the top US and Nato commander in Afghanistan. A spokesman for Dunford told Associated Press that the commander had spoken directly to Karzai and "expressed deep regrets for the incident and any civilian casualties" that had arisen from the airstrike earlier on Thursday.
Full report at:
http://www.theguardian.com/world/2013/nov/29/us-broken-promises-afghanistan-airstrike-deaths
----------
Two Guantanamo prisoners refuse release to Algeria
Nov 30 2013
Two Algerian detainees at Guantanamo Bay are fighting efforts by US President Barack Obama's administration to transfer them to their homeland, fearing abuse, a lawyer said Friday.
Attorney Robert Kirsch said he had pressed the Pentagon and State Department, along with the Algerian Embassy in Washington, to avoid the men's "imminent" repatriation set to take place as early as this weekend.
Without confirming when and where a detainee transfer may take place, a Pentagon spokesman said: "We carefully ensure that every transfer we carry out is consistent with the US government's humane treatment policy and standards."
Full report at:
http://english.ahram.org.eg/NewsContent/2/8/87848/World/Region/Two-Guantanamo-prisoners-refuse-release-to-Algeria.aspx
----------
India
Pakistan's beer to add fizz to Indian market
Nov 30 2013
AMRITSAR: Pakistan's known liquor company Murree Brewery has given a franchise to a Bangalore-based entrepreneur to bottle and sell its Murree brand beer in the Indian market. CEO of Murree Brewery, Isphanyar Bhandara, told TOI on Friday, "It was not permissible to export beer to India through Wagah-Attari border so we decided to offer our company's franchise to an entrepreneur in Bangalore to brew, bottle and market Murree beer in India. This will also strengthen trading ties between India and Pakistan. The product will hit the market soon."
Full report at:
http://timesofindia.indiatimes.com/business/india-business/Pakistans-beer-to-add-fizz-to-Indian-market/articleshow/26599958.cms
----------
Will continue to support India-Pak dialogue: Omar Abdullah
PTI | Nov 30, 2013
SRINAGAR: Jammu and Kashmir chief minister Omar Abdullah said on Saturday that he will continue to support dialogue between India and Pakistan for resolution of outstanding issues between the two countries.
"We have always been supporting dialogue and will always do that," Omar told reporters on the sidelines of a function here.
Responding to a question, Omar said the decision about holding dialogue with Pakistan was taken at the highest level in the country.
Full report at:
http://timesofindia.indiatimes.com/india/Will-continue-to-support-India-Pak-dialogue-Omar-Abdullah/articleshow/26632566.cms
----------
South Asia
Chinese paper says Islamists seek to ban TV, singing
2013-11-3
BEIJING: Islamists in China's far western region of Xinjiang are seeking to ban television, singing and other forms of entertainment, a newspaper said on Friday, adding that "religious extremism" was a disaster facing the area.
China has stepped up its rhetoric against what it says is a threat the country faces from Islamist militants since an incident last month in which a vehicle ploughed into tourists on the edge of Beijing's Tiananmen Square, killing the three peoplein the car and two bystanders.
China called the crash an attack carried out by people plotting holy war, and has reacted angrily to suggestions that it was because of frustration and anger over government repression of the region's Muslims.
In a front-page piece in the official Xinjiang Daily, Yusufujiang Maimaiti, the head of the region's employment bureau, said "forces" were furthering their "evil aims" by seeking to foist extremist beliefs on the region's Muslims.
Full report at:
http://www.dawn.com/news/1059587/chinese-paper-says-islamists-seek-to-ban-tv-singing
----------
Russian helicopter attacked in Afghanistan
Nov 30 2013
A Russian helicopter flying missions for the UN came under fire in Afghanistan, a Moscow source familiar with the situation told Interfax on Friday.
The crew and passengers onboard the helicopter were not injured during the attack. "The helicopter came under fire as it flew from the capital of Kabul to the city of Gardez on November 27.
Full report at:
http://voiceofrussia.com/2013_11_29/Russian-helicopter-attacked-in-Afghanistan-3691/
----------
China offers Maldives US$8.2 million in grant aid: President's Office
By JJ Robinson | November 30th, 2013
The President's Office (PO) has announced China will give the Maldives 50 million yuan (US$8.2 million) in grant aid "for the implementation of developmental projects and the advancement of public services."
The announcement was made following a meeting between Foreign Minister Dunya Maumoon and President Abdulla Yameen with the Chinese Ambassador to the Maldives, Yu Hongyao.
The grant aid comes at a time the Maldives is facing dire economic circumstances, with the government unable to afford its huge recurrent expenditure on a bloated civil service and failing to pay millions of dollars owed to state-owned companies for services such as oil and electricity.
Full report at:
http://minivannews.com/politics/china-offers-maldives-us8-2-million-in-grant-aid-presidents-office-72501
----------
2 Bangladesh Jamaat-e-Islami men held in capital
Nov 30 2013
Police picked up two activists of Jamaat-e-Islami while blockaders blasted two crude bombs in the capital today, on the first day of the opposition combine-sponsored 72-hour countrywide blockade.
The two activists of Jamaat, the key ally of main opposition BNP, were detained from in front of Al Helal Hospital at Shaympara in Kafrul area around 7:30am, said Kazi Wazed Ali, officer-in-charge of Kafrul Police Station.
They were held when some opposition men were trying to bring out a procession in the area, the OC said.
The blockade supporters also exploded two handmade bombs at Gabtoli but none was reported hurt.
Full report at:
http://www.thedailystar.net/beta2/news/2-jamaat-men-held-2-bomb-blasted-in-capital/
----------
Opposition enforces fresh 72-hour blockade across Bangladesh
PTI | Nov 30, 2013
DHAKA: Bangladesh's main opposition BNP and its right wing allies on Saturday began to enforce another 72-hour nationwide blockade demanding postponement of upcoming general elections, a day after ending a deadly protest campaign.
"The countrywide 72-hour road, rail and waterways blockade will start from 6:00am tomorrow and last until Monday 6 am," BNP joint secretary general and spokesman Ruhul Kabir Rizvi told media men at the party office last night.
The fresh blockade was called demanding cancellation of the election schedule setting January 5, 2014 for voting and to mount pressure on the Awami League government to release their detained leaders and activists.
Full report at:
http://timesofindia.indiatimes.com/world/south-asia/Opposition-enforces-fresh-72-hour-blockade-across-Bangladesh/articleshow/26628966.cms
----------
Mideast
Dismantling nuclear facilities 'red line' for Iran: President Rouhani
Nov 30 2013
Iran will not dismantle its nuclear facilities, President Hassan Rouhani said in an interview with The Financial Times published Nov. 29 after a historic deal between Tehran and world powers.
Asked by the newspaper whether dismantling Iran's atomic facilities was a "red line" for the Islamic republic, Rouhani replied: "100 percent".
Israel has bitterly opposed the deal struck in Geneva last weekend, saying that any pact with Tehran must have the sole purpose of dismantling Iran's nuclear capability.
Pending negotiations for a broader agreement, the deal struck in Geneva early Nov. 24 calls for a six-month's freeze of Iran's nuclear programme in exchange for limited sanctions relief.
Full report at:
http://www.hurriyetdailynews.com/dismantling-nuclear-facilities-red-line-for-iran-president-rouhani.aspx?pageID=238&nID=58783&NewsCatID=352
----------
UN's Ban to Israel: Stop building settlements in W. Bank, e. Jerusalem
Nov 30 2013
UN Secretary General Ban Ki-moon in a message on the International Day of Solidarity with the Palestinian People called on Israel to stop building in the settlements saying that the surge in Israeli building was a "cause of grave concern."
"Announcements of thousands of new housing units cannot be reconciled with the goal of a two-state solution and risk the collapse of negotiations," AFP quoted him as saying.
Ban called for an end to all new settlements in the West Bank and east Jerusalem but he also condemned rocket attacks from Gaza into Israel and the building of tunnels from the coastal strip into Israel by militants, according to the report.
Full report at:
http://www.jpost.com/Middle-East/UNs-Ban-to-Israel-Stop-building-settlements-in-W-Bank-e-Jerusalem-333523
----------
Palestinian side willing to carry on peace talks
World Bulletin / News Desk
Nov 30 2013
The chief Palestinian negotiator in Palestinain-Israeli peace talks, Saeb Erekat said they, as the Palestinian side, would like to continue peace talks and he believes the peace can be reached in five months.
Erekat at a reception held on the occasion of the first anniversary of Palestine's gaining 'observer' status at the United Nations asked guest ambassadors to assist the peace talks.
Hosting the ambassadors in Agusto Victoria hospital, once the headquarters of Ottoman 4th Army and general Cemal Pasha in Olive Mountain, Erekat told them 27 Palestinians were killed, 159 Palestinian homes were demolished and 5,400 new Jewish settlements were given a green light during the past 120 days since the start of the peace talks.
Full report at:
http://www.worldbulletin.net/?aType=haber&ArticleID=124009
----------
Ancient mosque reopens to worship in Istanbul
World Bulletin / News Desk
Nov 30 2013
A 470-year mosque of Piri Mehmet Pasha discovered on Byzantine cisterns in Istanbul was opened on Friday to worship with recitation of Quran and Janissary band show.
"We're right now witnessing the history. Thanks to this mosque, people in Istanbul will now perform their prayers along with a great view," Fatih Mayor Mustafa Demir said at the opening of the mosque.
During the restoration of the Zeyrek cisterns, the ruins of the Piri Mehmet Pasha mosque were discovered in 2007. The project works lasted for 5 years because of legal procedures. After 5 years, the historical mosque in Zeyrek, in the Fatih district of Istanbul, was was rebuilt and finished in 2012. It was opened to worship after one year.
Full report at:
http://www.worldbulletin.net/?aType=haber&ArticleID=123973
----------
Islamic scholar Gülen 'speechless' on gov't action plan against his movement
Nov 30 2013
Islamic Scholar Fethullah Gülen has described himself as "speechless" and expressed his dismay about a National Security Council (MGK) decision in 2004 signed by the government and recommending an action plan against his movement. The document released this week by daily Taraf had further heated up tensions between the Gülen movement and the government over the closure of test prep schools.
Gülen said that if the government had not undertaken steps to change the status of the test prep schools, a move strongly decried by his Hizmet [Service] movement and its media outlets, he would have used the "benefit of the doubt" and considered the document as something "circumstantial."
Full report at:
http://www.hurriyetdailynews.com/islamic-scholar-gulen-speechless-on-govt-action-plan-against-his-movement.aspx?pageID=238&nID=58787&NewsCatID=338
----------
URL: https://www.newageislam.com/islamic-world-news/new-age-islam-news-bureau/black,-black-friday-in-iraq--50--people-dead-in-cross-country-attacks-and-kidnappings/d/34667