New Age Islam News Bureau
23 Jun 2019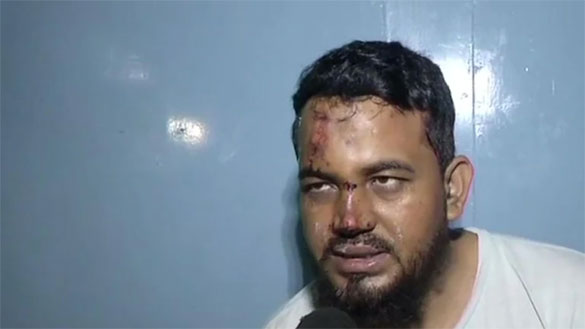 Momin suffered injuries on his head, face and hands | Photo from ANI
--------
•
BJP Rejects US Report on Religious Freedom, Attack on Minorities In India
• Now, Cleric Hit By Car After Refusing To Chant 'Jai Shree Ram'
• Will Not Let Nawaz Sharif Become 'Morsi' Of Pakistan: Maryam Nawaz
• US Voices Concern over Pakistan's Blasphemy Laws, China's Abuse Of Religious Freedom
• Fear In Sri Lanka As Monk Calls For Stoning Of Muslims
• Malaysia Calls for "Justice" And Citizenship for Rohingya Muslims
• Iran Lawmakers Chant 'Death To America' As US Called 'Terrorist'
• Saudi Human Rights Commission Slams 'Biased' UN Report On Khashoggi Case
India
• BJP Rejects US Report on Religious Freedom, Attack on Minorities In India
• Now, Cleric Hit By Car After Refusing To Chant 'Jai Shree Ram'
• US has long itched for war with Iran; India should prevent confrontation between its two allies to stave off ultimate damage
• Assam: After Video Shows Muslims Forced To Say 'Jai Shri Ram', Key Accused Held
• J&K: 4 terrorists killed in Shopian
• Pakistan sets conditions for Kartarpur corridor, opposes all Indian proposals: Officials
• Jammu and Kashmir: Four militants killed in encounter with security forces in Shopian
• JeM militant killed in encounter near Line of Control
--------
Pakistan
• Will Not Let Nawaz Sharif Become 'Morsi' Of Pakistan: Maryam Nawaz
• Pakistan wants UN to crackdown on anti-Islamic speech
• Pakistan on cusp of achieving peace, stability: COAS
• President Alvi confers Nishan-e-Pakistan on Emir of Qatar
• Four held for setting ablaze watchman cabin of Ahmadi worship place
• Pakistan at cusp of achieving sustainable peace and stability, says COAS
• Pakistan supports an Afghanistan that is at peace with itself, says Qureshi
• MoU signed on money laundering, terror financing
• Pakistan supports Afghanistan that is at peace with itself: FM
• Afghan leaders begin peace summit in Pakistan
--------
North America
• US Voices Concern over Pakistan's Blasphemy Laws, China's Abuse Of Religious Freedom
• US forces prepare to evacuate contractors from Iraqi base
• White House's Kushner Unveils Economic Portion Of Middle East Peace Plan
• Trump eyes more Iran sanctions, says military action still on the table
• Trump Says Will Be Iran's 'Best Friend,' Thanks For Not Downing US Plane
• US-Iran: Donald Trump launches cyber attack on military computer systems
--------
South Asia
• Fear In Sri Lanka As Monk Calls For Stoning Of Muslims
• Afghan Forces Conducted 14 Offensive, 75 Special Ops, 12 Airstrikes In Past 24 Hours: MoD
• Rohingya among 2 killed in Teknaf 'gunfight'
• Heavy clashes underway between Taliban, ISIS militants in two districts of Kunar
• 7 Taliban militants killed, explosives and IED components destroyed in Helmand, Uruzgan
• U.S. drone targets a group of 8 ISIS militants in East of Afghanistan
• Next round of U.S.-Taliban peace talks to begin on 29th of June: Khalilzad
• ISIS intelligence chief among 7 killed in Kunar operation: Afghan Intelligence
• US troops 'saved' Daesh terrorists, leaders from Taliban siege in east Afghanistan
• Afghan leaders begin peace summit in Pakistan
--------
Southeast Asia
• Malaysia Calls for "Justice" And Citizenship for Rohingya Muslims
• 'Don't Poke Wasp Nest': PAS Women Chief Warns Pakatan over Islamic Education
• PAS delegate claims nightmare Malaysia for Muslims as 'second Singapore' with DAP in govt
• Yoursay: M'sia applying double standard with Zakir Naik
• PAS Ulama chief decrees 'wajib' to collaborate with others, bring Pakatan govt down
• Indonesia to vet public servants to identify Islamists
• Malaysian PM blames US for rising tensions in Persian Gulf
--------
Mideast
• Iran Lawmakers Chant 'Death To America' As US Called 'Terrorist'
• Turkey Reacts To Appointment Of Muslim Religious Leaders In Northern Greece By State
• Istanbul votes in mayoral re-run, in test for Turkish democracy, Erdogan
• Iran warns US attack will imperil its interests across Mideast
• Iran Strongly Condemns Terrorist Attack at Baghdad Mosque
• UN to appeal for $1.2 billion to help five million Palestinians
• Coalition jets destroy two Houthi drones in Yemeni air space
• Abbas rejects Trump's Palestine deal as 'humiliating blackmail'
• Yemeni forces, allies shoot down Saudi-led reconnaissance drone in Hajjah
• AKP Seeks To Win Over Kurds And Alienated Supporters In Istanbul
--------
Arab World
• Saudi Human Rights Commission Slams 'Biased' UN Report On Khashoggi Case
• Tribal Leaders Firmly Call for Expulsion of Foreign Occupying Forces from Syria
• Yemeni Forces Take Military Base in Saudi Arabia
• Iraq, US deny planned evacuation of contractors from Iraqi base
• Four workers killed in a terrorist attack near Egypt's el-Arish Airport
• Syrian air defences target terrorists' combat drone in Hama
• Muslim World League chief meets with Austrian, Spanish diplomats
--------
Africa
• Ethiopia Proposes Civilian-Majority Ruling Body for Sudan, Say Protest Leaders
• Three al Shabaab fighters killed in Kenya after attack on police
• Nigeria confirms 42 Boko Haram fighters killed in multilateral operation
• Ethiopian army chief, regional president killed in unrest: PM Abiy
• Libya intercepts nearly 200 Europe-bound migrants at sea
• Sudan's transitional council deputy thanks Saudi Arabia, UAE for assistance
• 30,000 Sudanese forces fighting in Yemen: Official
--------
Europe
• Parents of ISIS fighter in Britain convicted
• Germany's Merkel says Iran issue will be discussed at G20
• Norwegian of Turkish origin held over links to PKK
• Turkey slams Greece for violating Lausanne Peace Treaty
Compiled by New Age Islam News Bureau
URL: https://www.newageislam.com/islamic-world-news/bjp-rejects-report-religious-freedom/d/118962
--------
BJP Rejects US Report on Religious Freedom, Attack on Minorities In India
Jun 23, 2019
NEW DELHI: India on Sunday rejected a US religious freedom report, saying it sees no locus standi for a foreign government to pronounce on the state of its citizens' constitutionally protected rights.
In its annual 2018 International Religious Freedom Report, the State Department alleged on Friday that mob attacks by violent extremist Hindu groups against minority communities, particularly Muslims, continued in India in 2018, amid rumours that victims had traded or killed cows for beef.
Responding to media queries on the report, ministry of external affairs spokesperson Raveesh Kumar said: "India is proud of its secular credentials, its status as the largest democracy and a pluralistic society with a longstanding commitment to tolerance and inclusion."
The Indian Constitution guarantees fundamental rights to all its citizens, including its minority communities, he said.
It is widely acknowledged that India is a vibrant democracy where the Constitution provides protection of religious freedom, and where democratic governance and rule of law further promote and protect fundamental rights, Kumar asserted.
"We see no locus standi for a foreign entity/government to pronounce on the state of our citizens' constitutionally protected rights," he said.
Mandated by the Congress, the state department in its voluminous report gives its assessment of the status of religious freedom in almost all the countries and territories of the world.
Releasing the report at the Foggy Bottom headquarters of the state department, secretary of state Mike Pompeo last week said the report was like a report card which tracks countries to see how well they have respected this fundamental human right.
https://timesofindia.indiatimes.com/india/no-locus-standi-india-on-us-religious-freedom-report/articleshow/69912136.cms
--------
Now, Cleric Hit By Car After Refusing To Chant 'Jai Shree Ram'
Jun 22, 2019
NEW DELHI: A 40-year-old cleric was allegedly attacked by three-car borne people after he refused to say — Jai Shree Ram.
According to reports published in a leading news agency, the incident took place Delhi's Rohini Sector 20 on Thursday evening when the victim identified as Maulana Mohammad Momin was taking a stroll near the mosque cum madrasa.
The Maulana in his formal complaint to the police on Friday said that at around 6.45 pm, a white car stopped on the road and its three occupants called him. The car had 'Jai Shee Ram' written on its windscreen.
Three men in their mid-thirties asked about the Maulana's well being to which he replied, "By the grace of Allah, I am good. They objected to it and asked him to read some religious lines but he avoided and refused to chant Jai Shree Ram.
"I started walking back to my masjid, but I was hit by a vehicle. The impact was such that it flung me in the air. As I fell on the ground, I lost consciousness," he said.
A passersby called the police who later rushed him to the Sanjay Gandhi Hospital in Sultanpuri. The Maulana suffered injuries on his head, face and hands.
Police have registered a case of accident and examining the CCTV footages to gather information about the three accused.
"We have registered an FIR of accident. However, Mohammad Momin has claimed that three boys who were in a white car had asked him to say some religious word, when he refused, they hit him. Now we are verifying this allegation. CCTV footage will be examined,"said SD Mishra, DCP, Rohini told ANI.
https://www.siasat.com/news/now-cleric-hit-car-after-refusing-chant-jai-shree-ram-1522124/
--------
Will not let Nawaz Sharif become 'Morsi' of Pakistan: Maryam Nawaz
Jun 22, 2019
ISLAMABAD: Claiming that there was a serious threat to the life of jailed former Pakistan prime minister Nawaz Sharif due to lack of medical care, his daughter Maryam Nawaz on Saturday said that her Pakistan Muslim League (N) party will not let him become the "Morsi" of Pakistan.
Former Egyptian president Mohamed Morsi, who took over the realm in country's first free elections in 2012 and was ousted a year later by the military, died on Monday after fainting during a session in court.
However, a group of British lawmakers and lawyers, who published a report in March 2018 into how Morsi was being treated in custody, concluded that the former president, who had a history of ill-health including diabetes, liver and kidney disease, was not receiving adequate medical care.
"We are not Egypt and we will not allow Nawaz Sharif to become Morsi," Maryam, vice president of PML (N), said.
She said that Sharif, 69, was seriously ill and needed immediate medical care which was not being given to him in jail.
Alleging that there was a serious threat to Sharif's life, Maryam said that her father was suffering from complicated ailments and needed focused treatment, including surgeries, and the treatment might go for a year.
She said that the treatment is complicated and doctors in Pakistan are reluctant to treat the high-profile patient.
Maryam also claimed that her family was not informed about Nawaz's third heart attack that he suffered in Adiala Jail last year, The Express Tribune reported.
The three-time prime minister had in April sought the Supreme Court's permission to go abroad for medical treatment.
However, the permission was not granted.
He was given a six-week interim bail by the top court on March 26 to undergo medical treatment. He had filed a petition on April 27 for permanent bail as he was suffering from acute anxiety and depression that may lead to "sudden death".
https://timesofindia.indiatimes.com/world/pakistan/will-not-let-nawaz-sharif-become-morsi-of-pakistan-maryam-nawaz/articleshow/69907176.cms
--------
US voices concern over Pakistan's blasphemy laws, China's abuse of religious freedom
Jun 22, 2019
WASHINGTON: The United States on Friday urged Pakistan to do more to stop the abuse of blasphemy laws and strongly criticized China's persecution of minorities in its annual report on international religious freedom.
Speaking at the release of the report on the International Religious Freedom of the State Department for the year 2018, secretary of state Mike Pompeo noted how the Pakistan's Supreme Court acquitted Asia Bibi, a Catholic, of blasphemy, sparing her the death penalty after she spent nearly a decade in prison.
He estimated that more than 40 others were still serving life sentences or facing execution for blasphemy in Pakistan.
"We continue to call for their release and encourage the government to appoint an envoy to address religious freedom concerns," Pompeo said.
Blasphemy is an incendiary issue in Muslim-majority Pakistan, where mere allegations of insulting Islam have sparked lynchings, although activists say many cases stem from personal disagreements.
Bibi, a Catholic, was convicted of blasphemy in 2010 and sent to death row. Despite public protests against her, Bibi was acquitted on appeal last year and in May was able to leave for Canada.
Pompeo also strongly criticized US adversaries China and Iran, pointing to Beijing's detention of some one million Muslims, mostly from the Uighur ethnic minority group, and its "intense persecution" of Tibetan Buddhists, Christians and the Falungong spiritual movement.
The State Department added a special section on what US officials said are the "staggering scope of religious freedom abuses in Xinjiang" to this year's report on China.
"In China, the government's intense persecution of many faiths - Falun Gong practitioners, Christians, and Tibetan Buddhists among them - is the norm," Pompeo said.
While President Donald Trump's administration has often hesitated to criticize ally Saudi Arabia, the report spoke of widespread abuses in the kingdom which promotes the puritanical Wahabi school of Sunni Islam.
Quoting non-governmental groups, the report said Saudi Arabia has detained more than 1,000 minority Shias since 2011, mostly for non-violence offenses such as participating in or promoting protests on social media.
Sam Brownback, the ambassador-at-large for international religious freedom, acknowledged disappointment since the rise of Crown Prince Mohammed bin Salman.
"I think there was a lot of hope at first in the change of leadership that things would open up substantially. We need to see actions take place in a positive direction," he told reporters.
"They continue to be one of the worst actors in the world on religious persecution," Brownback said.
In April, which was after the timeframe of the 2018 report, Saudi Arabia conducted a mass execution of 37 people, most of them Shiites.
Rights groups said one of the Saudi Shias was crucified after being beheaded, while the UN rights chief said at least three of those executed were minors when charged.
https://timesofindia.indiatimes.com/world/pakistan/us-voices-concern-over-pakistans-blasphemy-laws-chinas-abuse-of-religious-freedom/articleshow/69902184.cms
--------
Fear in Sri Lanka as monk calls for stoning of Muslims
Jun 23, 2019
Muslims in Sri Lanka say they fear new attacks after a top Buddhist monk called for violence against members of the religious minority, claiming a Muslim doctor had sterilised thousands of Buddhist women.
Activists, politicians and members of the Muslim minority said Warakagoda Sri Gnanarathana Thero's speech last week was likely to fan communal tensions, weeks after Buddhist mobs attacked scores of Muslim homes and businesses.
The riots were an apparent response to deadly bombings on churches and hotels on Easter Sunday that killed more than 250 people and were claimed by the Islamic State of Iraq and Levant (ISIL, or ISIS) group. Sri Lankan authorities blamed the attacks on two small Muslim groups.
With the country still reeling from the bombings and subsequent riots, Gnanarathana repeated unsubstantiated accusations that a Muslim doctor in the central Kurunegala district had covertly sterilised 4,000 Buddhist women.
"Some female devotees said [people like the doctor] should be stoned to death. I do not say that. But that's what should be done," he said in a speech broadcast on national television.
The monk, who heads the Asgiriya Chapter, one the largest and oldest Buddhist chapters in Sri Lanka, went on to call for a boycott of Muslim-owned restaurants, reinforcing a long-standing and unsubstantiated rumour that Muslim restaurants served their Buddhist customers food spiked with sterilisation medication.
"Don't eat from those [Muslim] shops. Those who ate from these shops will not have children in future," he told worshippers at a temple in the central district of Kandy, where that same rumour had unleashed days of anti-Muslim riots last year.
On Saturday, Gnanarathana defended his comments, saying: "The remarks I made are only in line with what the majority are thinking."
Buddhists make up more than 70 percent of Sri Lanka's 21 million population, while Muslims account for 10 percent.
'We are afraid'
Activists described the comments as hate speech and called on President Maithripala Sirisena to take action, while members of the Muslim community said they feared the monk's comments could lead to new violence against them.
"Somebody of this calibre talking about false accusations and spitting venom like this is highly problematic because at least the younger generation of Buddhist youth is going to take this seriously ... he's inciting violence," said Shreen Abdul Saroor, a human rights activist.
"He's declaring a systematic embargo on Muslim businesses. This is a systematic way of segregating and socially ostracizing the Muslim communities," added the campaigner.
In Sri Lanka's capital, Colombo, a Muslim journalist who spoke on the condition of anonymity said he was shocked by Gnanarathana's speech.
"We can't even imagine what could happen to us," he said. "We're afraid the speech will lead to more attacks on Muslims and their properties."
In Kandy, a Muslim businessman said: "Our friends and families are going to work expecting something bad would happen to them."
Referring to the mob attacks in Sri Lanka's northwest in May, he added: "We witnessed how less-prominent monks led several mob attacks in recent years, the latest being last month. So we expect similar attacks could be carried out when a highly respected monk gives such a statement."
Shammas Ghouse, a 29-year-old Muslim law student, echoed the same sentiment.
"If this was coming from the monks representing Sinhala Buddhist extremist organisations like Bodu Bala Sena, we ... would've brushed it aside thinking it's a minority of Sinhalese Buddhists who subscribe to such sentiments. But this is coming from a chief prelate of a major Buddhist faction," Ghouse said.
He added that the entire Muslim community was being "continuously cornered for something done by a handful of extremists".
Others lambasted Sirisena and Prime Minister Ranil Wickremesinghe for failing to take action.
'Deafening silence'
Farzana Haniffa, a visiting fellow at the University of Cambridge, said Gnanarathana's speech is "just one event in a series of incidents" following the April 21 Easter Sunday attacks that "speak to the normalising of hate sentiment against Muslims".
"Most troubling of all is the deafening silence of our president and prime minister in the face of such statements," she added.
One possible avenue for action, activists said, was the International Covenant on Civil and Political Rights (ICCPR) Act, a domestic law based on a UN treaty, which prohibits incitement to "discrimination, hostility or violence".
MA Sumanthiran, leader of the Tamil National Alliance, said the monk's speech "could be an offence to incitement to violence" and that he was "watching to see how the government and the law enforcement authorities will act".
"It is unfortunate that a time like this when people are being arrested under the ICCPR Act for saying things that's that are not even one percent as hateful or harmful as this, [Gnanarathana Thero] is getting away with it because of this position he holds," Sumanthiran said, referring to the recent arrest of a Muslim woman on charges of violating the law by wearing a dress authorities said resembled sacred Buddhist symbols.
The lack of action against Gnanrathana reflects "the Sinhala Buddhist hegemonic majoritarianism that prevails in the country," he added.
Gnanrathana's office and a spokesman for the president declined to comment.
https://www.aljazeera.com/news/2019/06/fear-sri-lanka-monk-calls-stoning-muslims-190621152817814.html
--------
Malaysia calls for "justice" and citizenship for Rohingya Muslims
June 22, 2019
Malaysia on Saturday said the perpetrators of violence against Myanmar's Rohingya minority must "be brought to justice", in sharp comments delivered at a normally tame regional summit.
Myanmar does not recognise the Rohingya as citizens, instead officially labelling them "Bengalis", short-hand for illegal immigrants from neighbouring Bangladesh.
A military crackdown in 2017 drove more than 740,000 Rohingya into Bangladesh, carrying accounts of rape, mass killings and the razing of villages.
UN investigators have called for Myanmar's top generals to be tried for genocide.
But Myanmar's army and de facto leader Aung San Suu Kyi have defended the action as necessary to flush out Rohingya militants from Rakhine state.
In talks Saturday with Southeast Asian counterparts, Malaysia's Foreign Minister Saifuddin Bin Abdullah called for the "perpetrators of the Rohingya issue to be brought to justice", his ministry said in Tweet.
He also said repatriation of the minority from the fetid, overcrowded refugee camps of Bangladesh "must include the citizenship of the Rohingya."
Malaysia, a Muslim country which hosts a large Rohingya refugee population, is one of the few members of the Association of Southeast Asian Nations (ASEAN) to speak up for the minority.
The 10-member bloc normally abides by a principle of non-interference in each other's internal affairs.
ASEAN was heavily criticised by rights groups after a report it commissioned lauded Myanmar's work on the repatriation issue.
Rakhine state, the western region home to the Rohingya, remains cut by violence.
Only a handful of the Muslim minority have returned under a discredited repatriation deal.
Myanmar has not offered citizenship to the mass of Rohingya in Bangladesh's camps should they return, while the minority also want safety guarantees and restitution of seized lands and torched villages before agreeing to go back.
https://www.business-standard.com/article/pti-stories/malaysia-calls-for-justice-and-citizenship-for-rohingya-muslims-119062200434_1.html
--------
Iran lawmakers chant 'Death to America' as US called 'terrorist'
June 23, 2019
DUBAI: Iranian lawmakers chanted "Death to America" during a parliament session on Sunday after a speaker accused the United States of being the "real world terrorist," amid escalating tension with Washington following the downing of an unmanned US drone. US President Donald Trump said on Friday he aborted a military strike to retaliate for the drone incident because it could have killed 150 people, and signaled he was open to talks with Tehran.
Iran said on Saturday it would respond firmly to any threat against it.
"America is the real terrorist in the world by spreading chaos in countries, giving advanced weapons to terrorist groups, causing insecurity, and still it says 'Come, let's negotiate'," the parliament's deputy speaker, Masoud Pezeshkian, said at the start of a session broadcast live on state radio.
"Death to America," chanted many lawmakers.
The chants, often repeated since the 1979 Islamic revolution which toppled the US-backed Shah, came weeks after Trump said in a US television interview: "They (Iranians) haven't screamed 'death to America' lately."
http://www.arabnews.com/node/1514851/middle-east
--------
Saudi Human Rights Commission slams 'biased' UN report on Khashoggi case
June 22, 2019
RIYADH: The Saudi Human Rights Commission (HRC) has slammed a report by UN Special Rapporteur Agnes Callamard suggesting that the US-based Saudi journalist Jamal Khashoggi was the victim of a premeditated extrajudicial execution, for which the Kingdom is responsible.
The HRC stressed the report was biased and stemmed from prejudice, which neither reflects reality nor complies with the code of conduct for the work of UN special rapporteurs.
In a press statement, the HRC suggested Callamard's assertions had breached UN principles of impartiality, objectivity and professionalism. The report, it added, constituted interference in the Kingdom's internal affairs, contained clear contradictions regarding the evidence of the case, and ignored the directive issued by King Salman to conduct a comprehensive and transparent investigation into the incident.
So far, 11 people have been charged in connection with the death of Khashoggi. Trial proceedings are being followed publicly, and in the presence of all parties involved in the case, including the family of Khashoggi and their legal representatives, as well as representatives of the HRC and the diplomatic missions of a number of countries, including Turkey.
The HRC also stressed that judicial action taken in this regard fully complies with the relevant regulations of the Kingdom, as well as with international human rights standards, particularly over guarantees to a fair trial. The statement concluded by calling on the UN and others to respect the Kingdom's judicial process, and not to politicize the case.
http://www.arabnews.com/node/1514676/saudi-arabia
--------
India
US has long itched for war with Iran; India should prevent confrontation between its two allies to stave off ultimate damage
Aakar Patel
Jun 23, 2019
The United States of America declared war on Iran this week and then pulled back, possible in the modern era when machines can be told to return mid-flight. President Donald Trump wanted to retaliate as Iran had shot down a US military drone that was near its border, but said he had called off the attack after being told that 150 Iranis would die in the strike.
Trump has been itching for a war with Iran, as have been some of the more deranged members of his administration in the US, such as National Security Adviser John Bolton. The price of oil shot up by 10 percent this week because of America's belligerence, bringing suffering to India and nations like it that are dependent on oil imports.
The question is, why does the US want to fight Iran? The answer is neither easy to locate nor to understand.
In civilisational terms, Iran is the oldest enemy of the West. Some 2,400 years ago, the Irani army, led first by Darius and then Xerxes, invaded Greece and destroyed Athens, according to the Greeks themselves. The Irani army included a large number of Indian mercenaries, described in the history written by Herodotus. Throughout ancient history, the Greeks referred to the Irani emperor as the Great King ('megas') because of his influence over their lives. The Macedonian conqueror of Egypt, Iran, Afghanistan and Punjab was called Alexander the Great not because of his military achievements but because he took the title of 'Great' from Darius III the Great.
After the death of Alexander at the age of 33, his generals divided and ruled his empire. The largest part, from Punjab to Turkey, which included Iran, went to Seleucus Nikator ('Nikator' means victor and is the same term used by sports brand Nike). Iranis took back their country under the Parthian ruler Arsaces. All these people were Zoroastrian, meaning of the same faith, as our Indian Parsis.
The Parthians fought against the second great western power of history, Rome, for three centuries. The next group of Irani conquerors were the Sasanians, who ruled Iran till the Arabs conquered it in the 7th Century. Iran became Shia under the Safavids around 400 years ago, though the most famous Shia ruler for Indians, Nadir Shah, who destroyed the Mughal empire, was Sunni.
In the modern era, the US has actively meddled in Irani politics. In 1953, Iran's elected prime minister Mohammed Mossadegh was overthrown by a coup believed to have been orchestrated by the American Central Intelligence Agency because he nationalised the oil industry. America also actively fuelled the Iran-Iraq war, backing Iraqi leader Saddam Hussain, whom it would later sour on.
In 1979, during Jimmy Carter's presidency, Irani revolutionaries took over the American embassy in Tehran and held embassy staff hostage for weeks. It was following this that the US has not had formal relation with Iran. The Irani population in America is serviced through the Pakistan embassy.
Iran was able to come to an agreement with the Obama administration on its nuclear programme. There was hope that these two great nations would finally be friends. However, under the eccentric leadership of Trump, this hope has collapsed.
Readers will know that Iran's national religion is Shia Islam. Shiism is quietist by nature. Their belief is that the 12th Imam, Muhammad al Mahdi, who was born in 869 AD, is not dead. He has gone into occultation, which means he has been concealed by god and will return at some point. While they await his return, Shias will largely remain disengaged with the external world and concentrate on their own affairs conducted by their clergy. This is what I mean by quietist.
It may interest readers to know that none of the Pakistani and Kashmiri groups that have been fighting India or its military have been Shia. The Jaish-e-Mohammed, Lashkar-e-Taiba, Hizbul Mujahideen, Harkatul Mujahideen, al Umar, al Qaeda, Islamic State, etc, are all Sunni groups. What is referred to as 'jihadi terrorism' has no component of Shiism.
However, Iran has been a supporter of Palestinian groups, including Sunni groups, that have resisted Israel. This is the primary reason why the US is anti-Iran. Iranis have no conflict with the US, no border with the country, and there is no reason for America to hate it except for the fact that Israel insists that the US be tough on Iran because it speaks for the liberation of Palestine from occupation.
India's Shias are divided into further groups, but the largest one is the Twelver Shia. Their imams are in Iraq and Iran in cities like Qum and Karbala.
India has a civilisational relationship with Iran. Arabs don't understand Urdu, but their vocabulary is familiar to Iranis. Iran has remained a friend of India's even under the anti-Muslim rule of the current dispensation.
Globally, India is a believed to be a second-rate power, but we should do what we can to ensure that our two friends do not get into a confrontation that is meaningless and ultimately damaging to everyone, including us.
https://www.firstpost.com/world/us-has-long-itched-for-war-with-iran-india-should-prevent-confrontation-between-its-two-allies-to-stave-off-ultimate-damage-6866201.html
--------
Assam: After video shows Muslims forced to say 'Jai Shri Ram', key accused held
by Abhishek Saha
June 23, 2019
Police have arrested the primary accused in a case pertaining to a group of Muslim youths allegedly being forced to chant 'Jai Sri Ram' in Assam's Barpeta district earlier this week. Barpeta SP Robin Kumar told The Sunday Express, "Debojit Deka has been arrested. He was booked under Sections 295A, 120B, 153A, and 325." These IPC sections deal with offences of outraging religious feelings, criminal conspiracy, promoting enmity and causing grievous hurt.
A Guwahati resident, Deka had posted a video of the assault on the youths with the comment that "Ram Sainiks of Barpeta district" have taught a lesson to some people "saying Pakistan Zindabad", police said. "He had uploaded the video. It is under investigation whether Deka was present in the mob that attacked the group," Kumar said. Police are on the lookout for the other accused.
In the video — uploaded on Tuesday night — a group of Muslim youths in an auto-rickshaw are stopped and forced to shout 'Jai Shri Ram', 'Bharat Mata ki Jai'.
Speaking to The Sunday Express, Ashraful Islam (19), one of the eight persons in the auto, said the incident occurred around 9 pm on Tuesday. "We took an auto from Jonia to go to the railway station in Barpeta Road. We were on our way to Nepal to get jobs as welders. On the way, we were stopped by a group of 15-20 men, who asked us our names. They realised all eight of us were Muslim, and started shouting that we have to say 'Jai Sri Ram'," he said.
"When you watch the video, you will realise that one of us said we cannot say 'Jai Shri Ram', and they threatened us. They forced us to say it. What was edited out of the video is that they asked us to say 'Pakistan Zindabad', which we refused. I was wearing a cap with 'India' written on it, and I told them 'I love my India'. They threatened us to say 'Pakistan Zindabad' and hit us and asked us to say 'Pakistan Murdabad'. My left eye was injured."
As the video started doing the rounds on local social media, the All Assam Minority Students' Union (AAMSU) and North-East Minorities Students' Union (NEMSU) registered police complaints. Congress MP from Barpeta constituency Abdul Khaleque also asked police to take action.
Deka describes himself as the founder of an organisation called Ram Sena, Assam, on Facebook. Barpeta Additional SP P K Kakati told The Sunday Express that he would not be able to comment on the organisation immediately without enquiries.
Deka's Facebook timeline is lined with posts supporting Hindu nationalism and Hindutva. On Friday, he wrote about police contacting him and said he was a "Sanatani Hindu soldier" and not a thief or robber or rapist.
Full report at:
https://indianexpress.com/article/north-east-india/assam/after-video-shows-muslims-forced-to-say-jai-shri-ram-key-accused-held-5795175/
--------
J&K: 4 terrorists killed in Shopian
Jun 23, 2019
SHOPIAN: Four terrorists have been killed in the ongoing encounter between terrorists and security forces in Daramdora area of Keegam in Shopian district.
Arms and ammunition have been recovered by the forces.
Identities and affiliations of killed terrorists are being ascertained.
Further details are awaited.
https://timesofindia.indiatimes.com/india/jk-4-terrorists-killed-in-shopian/articleshow/69911445.cms
--------
Pakistan sets conditions for Kartarpur corridor, opposes all Indian proposals: Officials
Jun 22, 2019
NEW DELHI: Pakistan has set a host of terms and conditions for the operationalisation of the Kartarpur corridor and opposed India's proposals to make it open throughout the year to facilitate travel to one of the holiest pilgrimage sites of the Sikhs, officials said Saturday.
Islamabad has either put conditions or opposed all proposals moved by New Delhi and said that only 700 pilgrimages can have 'darshan' of the Gurdwara Darbar Sahib, Kartarpur, the final resting place of Guru Nanak Dev.
Pakistan said pilgrims would be allowed to visit Kartarpur only under a special permit regime and on charging a fee against India's proposal for visa-free and no-fee travel, a government official said.
India has proposed that besides Indian nationals, Overseas Indian Card (OIC) holders should be allowed to go for the pilgrimage. But Pakistan said that only Indian citizens would be allowed.
India suggested that the corridor should be allowed for use seven days a week and 365 days in a year but Pakistan said it would be allowed only on "visiting days".
New Delhi said 5,000 visitors should be allowed every day but Islamabad said not more than 700 pilgrims would be allowed, the official said.
Pakistan has not responded to India's proposal to allow 10,000 visitors on special days. India said individual or people in groups should be allowed but Pakistan said only groups of at least 15 people would be allowed.
Pakistan did not agree to India's proposal to construct a bridge over the Ravi river and also did not respond to India's proposal to allow travelers to visit Kartarpur Sahib on foot.
Despite Pakistan's "non-cooperation", construction work on the Kartarpur Sahib corridor was going on in full swing and on schedule for completing the project well before November 12, 2019, the 550th birth anniversary of Guru Nanak Dev, another official said.
The work on the passenger terminal building (PTB) is going on at a brisk pace and in parallel with work on the four-lane highway connecting the zero point and the state-of-the-art PTB from the existing highway.
The four-lane highway is 4.20 km-long and connects the existing Gurdaspur-Amritsar NH 354 highway with the zero point.
This project is being executed by the National Highway Authority of India at a cost of Rs 120 crore.
A total of 53 acres have been acquired for this purpose and over 45 per cent work has been completed till date.
The whole highway project would be completed by September 30, 2019, the official said.
The other component of the Kartarpur Sahib corridor is the construction of a state-of-the-art passenger terminal building with all modern public amenities.
The PTB has been designed to handle 5,000 pilgrims per day and an additional 10,000 on special occasions.
The PTB project is being executed by the Land Ports Authority of India (LPAI) through M/s Shapoorji Palonji & Co at a cost of Rs 177.50 crore.
A total of 50 acres have been acquired for the this purpose.
Currently, the foundation work is going on. The superstructure will be quickly erected using pre-fabricated construction elements.
The pre-fab components are being prepared in parallel and the complete PTB facility will be ready by October 31, 2019.
It may be recalled that a decision was taken by the government on November 22, 2018, to celebrate 550th birth anniversary of Guru Nanak Dev in 2019 throughout the country and worldwide, in a grand and befitting manner.
Guru Nanak Dev is deeply revered by devotees and his message of humanity, peace and brotherhood of eternal value are regarded by all and the celebrations will help propagate his message.
Full report at:
https://timesofindia.indiatimes.com/india/pakistan-sets-conditions-for-kartarpur-corridor-opposes-all-indian-proposals-officials/articleshow/69905892.cms
--------
Jammu and Kashmir: Four militants killed in encounter with security forces in Shopian
June 23, 2019
Four militants have been killed in an ongoing encounter with security forces in Shopian district of South Kashmir in the early hours of Sunday. The forces also recovered arms and ammunition from the site.
Based on intelligence inputs about the presence of militants, the joint security forces launched a cordon and search operation in Panzar area of Shopian.
The militants fired at the forces when they were conducting the search, a police official said. A gunbattle ensued between the forces and militants thereafter, the official added.
Full report at:
https://indianexpress.com/article/india/jammu-and-kashmir-shopian-encounter-5795362/
--------
JeM militant killed in encounter near Line of Control
Jun 22, 2019
A militant was killed in north Kashmir's Boniyar area, near the Line of Control, in an encounter on Saturday, Army officials said.
An Army spokesman confirmed the incident, saying that the militant was killed at Bujthala in Boniyar Uri, and weapons were found in his possession. "The operation is still in progress," he said. Police said the militant was affiliated with Pakistan-based terror outfit Jaish-e-Mohammed (JeM).
Full report at:
https://www.hindustantimes.com/india-news/jem-militant-killed-in-encounter-near-line-of-control/story-C4C4yFJBnWe1XXmhCyeeDK.html
--------
Pakistan
Pakistan wants UN to crackdown on anti-Islamic speech
June 22, 2019
John Rossomando
Pakistan wants the United Nations' help cracking down on what it considers Islamophobia and hate speech around the globe.
Islamophobia "is today the most prevalent expression of racism and hatred against 'the other'," Pakistan's U.N. Ambassador Maleeha Lodhi said Wednesday during a Security Council meeting on a hate speech proposal.
Pakistani Prime Minister Imran Khan has been a staunch defender of his country's blasphemy laws. Last year, he defended laws mandating death for those who offend the Prophet Muhammad by "imputation, insinuation or innuendo."
Earlier this month, Khan urged the Organization of Islamic Cooperation (OIC) to play a role safeguarding the religious sentiments of Muslims.
"It was up to us to explain to the western people the amount of pain they cause us when they ridicule or mock our Holy Prophet," Khan said at the OIC's 14th Islamic Summit in Mecca. "I would like to say from this platform that in the forums like the United Nations and the forums like the European Union, we must explain to them that they cannot hurt the sentiments of 1.3 billion people under the garb of freedom of expression."
Terrorism is about political struggle, not religion, he argued, and equating Islam with terrorism does a disservice to the world's Muslims and fuels massacres such as the March attack at a mosque in Christchurch, New Zealand.
The OIC unsuccessfully sought the U.N.'s support for a global Islamophobia ban in 2014. The OIC's 57 members represent the U.N.'s largest voting bloc.
"As new channels for hate speech are reaching wider audiences than ever at lightning speed, we all – the United Nations, governments, technology companies, educational institutions – need to step up our response," said U.N. Secretary General Antonio Gutierrez at Wednesday's Security Council session. "While digital technology has provided new areas in which hate speech can thrive, it can also help to monitor activity, target our response and build support for counter-narratives."
He announced plans for a conference on the role of education in addressing hate speech. Gutierrez didn't discuss what would happen after that, but it could lead to a U.N. proposal regulating hate speech and Islamophobia worldwide.
Lodhi endorsed the secretary general's desire to tackle the issue of hate speech even though what the U.N. would actually do remains undefined.
"We are fully committed to support the UN's strategy on hate speech. This is a moment for all of us to come together to reverse the tide of hate and bigotry that threatens to undermine social solidarity and peaceful co-existence," Lodhi said.
The United States opposes any idea of the kind, invoking the U.S. Constitution and saying "speech restrictions do not work. Instead, they constrain democratic engagement, diminish respect for human dignity, and stifle change and social advancement."
Among other things, the strategy calls on U.N. entities to "engage private sector actors, including social media companies, on steps they can take to support UN principles and action to address and counter hate speech, encouraging partnerships between government, industry and civil society."
Thus far, Twitter has shown a willingness to voluntarily enforce Pakistan's Islamic blasphemy rules even if the U.S. government doesn't abide by any potential hate speech treaty that could stem from the planned conference. This raises the possibility that it and other social media companies might voluntarily follow suggestions from U.N. bureaucrats to the detriment of free speech.
Pakistan has tried to compel social media platforms to impose its blasphemy laws internationally. Twitter's legal department sent American writers Michelle Malkin and FrontPageMag.com's Jamie Glazov notices that their posts violated Pakistani law.
Censoring free thought and expression is a problem when countries like Pakistan, Iran and Saudi Arabia do it to their own people. But it is even worse to allow them to impose their will beyond their borders. Social media platforms should stand by the principles of liberty that have allowed them to thrive. Yielding to Islamist censorship is disappointing and dangerous.
https://www.weeklyblitz.net/news/pakistan-wants-un-to-crackdown-on-anti-islamic-speech/
--------
Pakistan on cusp of achieving peace, stability: COAS
JUNE 23, 2019
Chief of Army Staff (COAS) General Qamar Javed Bajwa on Saturday said Pakistan is on the cusp of achieving sustainable, irreversible and enduring peace and stability. Speaking during a talk titled 'Pakistan's Regional Security Perspective' at the International Institute of Strategic Studies in London, the army chief said peace and stability can be complemented through meaningful international partnership, support and a will to take on regional challenges. "Improved security offers foreign investment in Pakistan, a pivot to regional connectivity," he said. However, the COAS added, the future of enduring peace and stability in South Asia hinges on the ability to resolve issues and long-pending disputes within the region.
https://dailytimes.com.pk/416884/pakistan-on-cusp-of-achieving-peace-stability-coas/
--------
President Alvi confers Nishan-e-Pakistan on Emir of Qatar
June 23, 2019
President Arif Alvi on Sunday conferred Pakistan's highest civil award — Nishan-e-Pakistan — on Emir of Qatar Sheikh Tamim bin Hamad Al Thani during a ceremony held at the President House in Islamabad.
Sheikh Al Thani is on his second visit to Pakistan since ascending to power in 2013. Earlier, he visited Pakistan in March 2015.
Prime Minister Imran Khan personally received the Qatari emir at Nur Khan Airbase on Saturday. The Qatari emir is accompanied by a delegation comprising key ministers and senior officials of his country.
Explore: Qatar Emir welcomed by Prime Minister Imran on two-day visit to Pakistan
A formal reception ceremony was held at Prime Minister House, where a contingent representing the army, navy and air force presented a guard of honour to the visiting leader. The Qatari emir also planted a sapling at the PM House. A JF-17 squadron of the Pakistan Air Force presented a fly-past.
Sheikh Al Thani and Prime Minister Imran held a one-on-one meeting before holding the delegation-level talks.
The two sides signed three memoranda of understanding (MoUs) on trade and investment and cooperation on financial intelligence and tourism.
The MoUs related to the establishment of the Pakistan and Qatar Joint Working Group on Trade and Investment, cooperation in the field of tourism and business events and cooperation in the exchange of financial intelligence related to money laundering — associated offences and terrorism financing. The last MoU was signed between Qatar's Fina­ncial Information Unit and Pakis­tan's Financial Monitoring Unit.
Both sides also agreed to take steps to significantly expand collaboration in the agriculture and food sectors; enhance cooperation in the energy sector including the LNG and LPG fields and exploration and production of oil and gas; promote Qatar's investments in energy, tourism and hospitality industries; expand cooperation in the fields of aviation, maritime affairs, higher education, and defence and defence production. It was decided that ministers concerned would hold follow-up talks on these areas to give concrete shape to the proposals agreed upon between the two leaders.
Later, the prime minister hosted a banquet dinner in honour of the Qatari emir and his entourage.
Full report at:
https://www.dawn.com/news/1489946/president-alvi-confers-nishan-e-pakistan-on-emir-of-qatar
--------
Four held for setting ablaze watchman cabin of Ahmadi worship place
June 23, 2019
TAXILA: Police have arrested four people for torching a watchman's cabin located outside a worship place of Ahmadis in Wah Cantt, it emerged on Saturday.
According to police, those arrested were teenagers who were returning home after playing in a cricket ground last week when they spotted a watchman's cabin outside the worship place of the Ahmadi community, near sector 14 in the jurisdiction of Wah Cantonment police station. The youths set fire to the metal-wooden cabin and escaped from the scene.
Police have registered a case under Section 436 of the Pakistan Penal Code (offence of committing mischief by fire or any explosive substance, intending to cause, or knowing it to be likely that he will thereby cause, the destruction of any building which is ordinarily used as a place of worship or as a human dwelling) on the complaint of the caretaker of the worship place, Riaz Ahmed Qureshi.
Full report at:
https://www.dawn.com/news/1489884/four-held-for-setting-ablaze-watchman-cabin-of-ahmadi-worship-place
--------
Pakistan at cusp of achieving sustainable peace and stability, says COAS
Jun 23, 2019
RAWALPINDI: Chief of Army Staff (COAS) General Qamar Javed Bajwa has said that Pakistan is getting closer to attain sustainable peace and stability.
According to a statement issued by Inter-Services Public Relations (ISPR) Director General (DG) Maj Gen Asif Ghafoor, the army chief was addressing a seminar on "Pakistan's Regional Security Perspective" at the International Institute for Strategic Studies (IISS), in London.
Gen Bajwa told the participants that is possible through two-way international relations and supporting each other in the regional challenges.
He also said that Pakistan's has improved its security to a great extent which now offers foreign investors a peaceful environment to indulge in economic activities.
He also expressed his concerns regarding the long pending disputes in the region and said that without resolving them it would be hard to embark on the journey of progress and prosperity.
Full report at:
https://www.pakistantoday.com.pk/2019/06/22/pakistan-at-cusp-of-achieving-sustainable-peace-and-stability-says-coas/
--------
Pakistan supports an Afghanistan that is at peace with itself, says Qureshi
Jun 23, 2019
BHURBAN: Foreign Minister Shah Mahmood Qureshi on Saturday said that Pakistan is resolute towards finding a peaceful solution to the Afghan conflict as "Pakistan supports an Afghanistan that is at peace with itself".
The comments were made while addressing the inaugural session of a conference on Afghan peace titled Lahore Process held at Bhurban.
The Lahore Process has been set up to discuss different aspects of the Afghan peace process, which include bringing peace and stability to Afghanistan through connectivity, trade, economy and health.
The moot will discuss the issue of repatriation of Afghan refugees who have been living in Pakistan for the last four decades and delegates are expected to give proposals on the future course of action for Afghanistan.
"Pakistan's perspective on Afghanistan is clear, we support an Afghanistan that is at peace with itself, and at peace with its neighbours," Qureshi said in his welcome speech.
"We respect the sovereignty and territorial integrity of our neighbour and remain firmly committed to a peaceful, stable, united, democratic and prosperous Afghanistan. We are determined to build our bilateral relationship on the principles of non-interference, mutual respect and common interest."
Speaking on how Pakistan has been affected by the conflict, Qureshi said: "The decades-long conflict has brought great suffering to the people of Afghanistan and Pakistan. After the Afghan nation, no one has suffered more than the people of Pakistan due to this persistent instability and conflict.
"Pakistan's security continues to be deeply influenced by the security situation in Afghanistan. Advancing the cause of peace and stability in Afghanistan is, therefore, in Pakistan's own national interest.
"Let this be absolutely clear: No one in Pakistan subscribes to any notion of so-called 'strategic depth' in Afghanistan. We must not let anyone resurrect this dead horse to advance their propagandistic aims or seek to sow the seeds of misunderstanding between us and our Afghan brethren. We wish to see a friendly Afghanistan, governed by an elected leadership, representative of the aspirations of all Afghans.
Speaking about the previously prevailing mistrust between the two countries, the foreign minister said: "For far too long, the vicious circle of mistrust, often fed into by our common enemies, has affected our relationship. The blame-game has not helped either of us. It is indispensable to move away from this negative paradigm.
"It is incumbent upon the leadership of the two countries to take practical steps to build mutual trust and confidence. We must not allow our respective territories to be used by anyone to the detriment of our interests.
"We must also remain vigilant of the other forces that wish to create misunderstandings and divisions between us. We must not allow them to harm our brotherly relations. We both have the same objective of long-term peace and prosperity in Afghanistan and the region. If there is, at times, variance in approaches, it must not be construed as difference in objectives."
Discussing Pakistan's commitment to the Afghan peace process, Qureshi said: "While others believed in a military solution to the conflict in Afghanistan, we always thought that a politically negotiated settlement was the only way forward. It is gratifying to note that others have also reached the same conclusion now.
"Pakistan has whole-heartedly facilitated the Afghan peace process in good faith and as a shared responsibility and will continue playing its due role. Our support has been crucial in overcoming the political stalemate that looked impossible to break just a year ago.
"Prime Minister Imran Khan has for long been personally committed to peace and reconciliation in Afghanistan.My first visit after assuming office again in August 2018 was to Kabul. I have since visited Kabul three times. I also visited other regional countries including China, Russia, Iran, Turkey, Qatar, Saudi Arabia, Oman and the UAE in an effort to build regional consensus on the ongoing peace process."
'We believe the ultimate arbiters of future of Afghanistan are the Afghans themselves'
Reiterating the fact that it is only the Afghans that can effectively lead the peace process in their own country Qureshi said: "While efforts of all stakeholders are important, we do believe that the ultimate arbiters of the future of Afghanistan are only the Afghans themselves. We appreciate the progress achieved by Afghanistan over the past 18 years despite enormous challenges.
"It is critically important to preserve those gains and in fact, build on these achievements. Strengthening of democratic institutions in Afghanistan and progress on human rights, particularly women empowerment, are praise-worthy.
"Pakistan will continue to deepen its engagement with all sections of the Afghan society and their representatives in further cementing these achievements, as per expectations of the people of Afghanistan. In addition to playing our role in the peace process, Pakistan also remains committed to the Afghan reconstruction and development efforts, post-settlement.
"We stand ready to help Afghanistan through trade, investment, connectivity and capacity-building of the Afghan people. We are committed to enhancing people-to-people contacts and cultural exchanges. We also wish to work with Afghanistan, and the world community, to help create conditions that enable dignified, safe and voluntary return of Afghan refugees to Afghanistan."
Speaking of the renewed push for peace and stability in Afghanistan, the foreign minister said: "The renewed push for peace has created a new opportunity and every effort must be made to seize it. We cannot afford to miss this rare opportunity.
"Let me conclude by reiterating Pakistan's unshakable resolve to support peace, stability and long-term prosperity of Afghanistan and appreciating your respective contributions toward that end.
"It is the leadership of the country that can steer it out of conflict and put it on the path of stability and prosperity. This is a test of the wisdom and sagacity of everyone involved.
"The people of Afghanistan are looking towards their leaders including all those present here, with the hope for a better future, a future that they so earnestly deserve."
Heads of all Afghan political parties and the political advisory to the Afghan president are participating in the conference.
In all, fifty seven delegates are attending the moot including Gulbuddin Hekmatyar, senators and members of Afghan parliament.
The conference is being held before Afghan President Ashraf Ghani's visit to Pakistan, which is expected to take place on next Thursday.
Full report at:
https://www.pakistantoday.com.pk/2019/06/22/afghan-peace-conference-lahore-process-starts-in-bhurban/
--------
MoU signed on money laundering, terror financing
JUNE 23, 2019
Qatari Emir Sheikh Tamim bin Hamad Al Thani arrived in Islamabad on Saturday on a two-day official visit to Pakistan. He is accompanied by a high-powered delegation comprising key ministers and senior officials.
Al Thani was received by Prime Minister Imran Khan on his arrival at Nur Khan Airbase, where he was given a 21-gun salute. This was followed by a formal welcoming ceremony at the Prime Minister's House, where the visiting dignitary was given a tri-services guard of honour. He also witnessed fly-past of JF-17 Thunder. The visiting dignitary also planted a tree at the Prime Minister's House.
Prime Minister Imran Khan and Sheikh Tamim bin Hamad Al Thani held one-on-one meeting, followed by delegation-level talks. The talks were marked by exceptional warmth and cordiality. All aspects of bilateral relations came under review. The two leaders reaffirmed the closeness of Pakistan-Qatar fraternal ties and reiterated the resolve to forge a robust political and economic partnership.
Among other things, it was agreed to take steps to significantly increase bilateral trade; expand collaboration in the agriculture and food sectors; enhance cooperation in the energy sector including in the LNG and LPG fields and exploration and production of oil and gas; promote Qatar's investments in energy, tourism and hospitality industries; increase the number of Pakistani workers employed in Qatar; expand cooperation in the fields of aviation, maritime affairs, higher education, and defence and defence production. It was decided that the respective ministers would hold further follow-up talks on the areas to give concrete shape to the proposals agreed between the leaders.
The two sides also exchanged views on the regional situation and efforts to facilitate the Afghan peace process.
During the talks, the prime minister was accompanied by Foreign Minister Shah Mehmood Qureshi, Energy Minister Omar Ayub, Aviation Minister Ghulam Sarwar Khan, Maritime Affairs Minister Ali Zaidi, Special Assistant to the PM on Information Dr Firdous Ashiq Awan, SAPM on Overseas Pakistani Zulfiqar Bukhari, Finance Advisor Abdul Hafeez Sheikh and Commerce Advisor Abdul Razzak Dawood.
Following the official talks, Pakistan and Qatar signed the following MoUs:
* Memorandum of Understanding on the Establishment of Pakistan and Qatar Joint Working Group (JWG) on Trade and Investment;
* Memorandum of Understanding for Cooperation in the fields of Tourism and Business Events between Government of State of Qatar and Government of Islamic Republic of Pakistan; and
* Memorandum of Understanding on Cooperation in the field of Exchange of Financial Intelligence related to Money Laundering, Associated Predicate Offences and Terrorism Financing between Financial Information Unit of State of Qatar and the Financial Monitoring Unit, in the Government of Pakistan.
Prime Minister Imran Khan hosted a banquet dinner in honour of the Qatari emir and his entourage. In a special gesture, Al Thani presented the Qatar National football team jersey to Prime Minister Imran Khan and received a cricket bat signed by him.
The distinguished guest will have a meeting with the President Arif Alvi on Sunday (today). The visit will further cement the close brotherly relations between Pakistan and Qatar and give a significant boost to bilateral cooperation in diverse fields.
Earlier, upon his arrival at the Nur Khan airbase, Amir of Qatar was warmly received by Prime Minister Imran Khan. Foreign Minister Shah Mahmood Qureshi, Special Assistant to PM Syed Zulfikar Abbas Bukhari and other high officials were also present there to welcome the foreign dignitary. Children clad in traditional attire presented bouquet to the visiting dignitary.
Later, the PM himself drove Amir of Qatar to the Prime Minister House where an official welcome ceremony was held.
National anthems of the two countries were played and a smartly turned out contingent of the armed forces of Pakistan presented a guard of honour. Amir of Qatar Sheikh Tamim bin Hamad Al Thani reviewed the guard of honour.
The prime minister introduced him to the federal cabinet members and also welcomed the delegation accompanying the Amir of Qatar.
Full report at:
https://dailytimes.com.pk/416898/mou-signed-on-money-laundering-terror-financing/
--------
Pakistan supports Afghanistan that is at peace with itself: FM
June 23, 2019
ISLAMABAD, Pakistan: A 57-member Afghan delegation arrived in Pakistan to attend a two-day peace conference in the hill station of Bhurban, Murree on Saturday.
The meeting, titled the "Lahore Process," is being led by Pakistani Foreign Minister Shah Mehmood Qureshi.
For years, Pakistan has been accused of seeing Afghanistan in terms of "strategic depth," meaning that in the event of war with India, Pakistani forces could withdraw over its western border into Afghanistan to regroup and fight back from there.
"Let this be absolutely clear: No one in Pakistan subscribes to any notion of so-called 'strategic depth' in Afghanistan," Qureshi said in the opening address.
"We support an Afghanistan that is at peace with itself and with its neighbors," he added, reiterating his government's determination to help its neighbor find a negotiable solution to a war against Taliban insurgents that is in its 17th year.
The peace conference in Bhurban is an initiative of the Lahore Center for Peace and Research (LCPR) co-organized and moderated by the South Asian Strategic Stability Institute. Delegates representing 18 political parties and groups, including Pakistani government officials and experts, are participating.
Discussions on viable paths to peace and stability in Afghanistan, trade, the economy, health, women's empowerment, reconstruction, development, and regional connectivity are on the agenda.
"We must not allow other forces to create differences between us," Qureshi said, in a veiled reference to India.
Qureshi stressed Pakistan's role in providing refuge to millions of Afghan refugees, and said "no one" had suffered more than Pakistan post 9/11.
Representatives of the Afghan Taliban, the principal stakeholders in the Afghan war, and Afghan officials from President Ashraf Ghani's government, did not attend the Bhurban meeting, but the Afghan President is expected to visit Islamabad on June 27 at the invitation of Prime Minister Imran Khan.
When asked how the peace process would reach its conclusion without the participation of the Taliban, Pakistani and Afghan delegates told Arab News that discussions were just a preliminary step.
"It is the first step to share ideas to support the efforts and try to evolve," Shamshad Ahmed Khan, LCPR chairman and a former diplomat, said.
Responding to a question from Arab News, Qureshi said: "The time to move forward has come and the fact that 57 delegates have traveled all the way to Bhurban is an acknowledgement of a new beginning and of a new process."
"There are a number of processes going on at a time. One cannot replace the other, but one can complement the other," Qureshi added, highlighting the many peace talks that have taken place this year, Including in Doha and Moscow.
Full report at:
http://www.arabnews.com/node/1514776/world
--------
Afghan leaders begin peace summit in Pakistan
June 22, 2019
ISLAMABAD: Dozens of Afghan political leaders are holding a peace conference in neighboring Pakistan to pave the way for further Afghan-to-Afghan dialogue.
The three-day conference comes ahead of President Ashraf Ghani's visit to Pakistan next week.
Ghani, his political opponents and a broad swath of civil society have been meeting in recent days with the United States' special envoy to Afghanistan, Zalmay Khalilzad, who is continuing to press for talks between the Afghan government, the opposition and the Taliban.
There are no representatives of the Taliban at Saturday's meeting near the Pakistani capital, Islamabad.
Full report at:
http://www.arabnews.com/node/1514581/world
--------
North America
US forces prepare to evacuate contractors from Iraqi base
22 June 2019
US forces are preparing to evacuate hundreds of staff working for Lockheed Martin Corp and Sallyport Global from an Iraqi military base where they work as contractors, three Iraqi military sources said on Friday.
Nearly 400 contractors from the two firms were getting ready to leave Balad military base, which hosts US forces some 80 km (50 miles) north of Baghdad, over "potential security threats." Their departure was imminent, the sources said.
The sources did not give any details about the security threats.
The sprawling Balad base was hit by three mortar shells last week. No one claimed responsibility for the attack.
The US military informed Iraqi officials that they would begin evacuating about half of the 800 employees who work for both companies at Balad, said a military official with knowledge of the base's daily operations.
The official said the evacuation would take about 10 days.
Two other military sources said the evacuation would take place in two stages and would be carried out by military aircraft.
"Americans informed us that they will only keep limited, necessary staff who work closely on the maintenance of Iraqi F-16 war planes." Lockheed Martin began delivering the first F-16s to Iraq in 2014.
The sources said the evacuation could start at any moment.
Two other Iraqi bases hosting US forces have been hit by rockets in the past week in unclaimed attacks.
On Wednesday, a rocket attack hit near a site used by US energy company Exxon Mobil near the southern city of Basra.
Local officials blamed Iran-backed militias for the Basra incident. Iran has not commented on the Iraq incidents but has strongly rejected accusations by Washington that it was behind several attacks on oil tankers in the Gulf in recent weeks.
The uptick in violence comes amid rising regional tension between the United States and Iran.
Washington has ramped up sanctions pressure on Tehran since last year and several violent incidents in the Gulf have been blamed on the rising tension.
President Donald Trump on Friday said he had called off a US strike on Iran at the last minute.
In Iraq, Iran backs several militias which have positions close to US military installations.
Those militias have not publicly commented on the recent incidents.
The ISIS is also trying to stage a comeback in Iraq and has mostly used hit-and-run insurgency tactics against Iraqi forces in recent months.
https://english.alarabiya.net/en/News/middle-east/2019/06/22/US-forces-prepare-to-evacuate-contractors-from-Iraqi-base-.html
--------
White House's Kushner unveils economic portion of Middle East peace plan
22 June 2019
The Trump administration's $50 billion Middle East economic plan calls for the creation of a global investment fund to lift the Palestinian and neighboring Arab state economies, and construction of a $5 billion transportation corridor to connect the West Bank and Gaza, according to US officials and documents reviewed by Reuters.
The "peace to prosperity" plan, set to be presented by President Donald Trump's son-in-law Jared Kushner at an international conference in Bahrain next week, includes 179 infrastructure and business projects, according to the documents.
The approach toward reviving the moribund Israeli-Palestinian peace process was criticized by the Palestinians on Saturday.
The economic revival plan would take place only if a political solution to the region's long-running problems is reached.
More than half of the $50 billion would be spent in the economically troubled Palestinian territories over 10 years while the rest would be split between Egypt, Lebanon and Jordan. Some of the projects would be in Egypt's Sinai Peninsula, where investments could benefit Palestinians living in adjacent Gaza, a crowded and impoverished coastal enclave.
The plan also proposes nearly a billion dollars to build up the Palestinians' tourism sector, a seemingly impractical notion for now given the frequent flare-ups between Israeli forces and militants from Hamas-ruled Gaza, and the tenuous security in the occupied West Bank.
The Trump administration hopes that other countries, principally wealthy Gulf States, and private investors, would foot much of the bill, Kushner told Reuters.
The unveiling of the economic blueprint follows two years of deliberations and delays in rolling out a broader peace plan between Israelis and Palestinians.
The Palestinians, who are boycotting the event, have refused to talk to the Trump administration since it recognized Jerusalem as the Israeli capital in late 2017.
Veteran Palestinian negotiator Hanan Ashrawi dismissed the proposals on Saturday, saying: "These are all intentions, these are all abstract promises" and said only a political solution would solve the conflict.
Kushner made clear in two interviews with Reuters that he sees his detailed formula as a game-changer, despite the view of many Middle East experts that he has little chance of success where decades of US-backed peace efforts have failed.
"I laugh when they attack this as the 'Deal of the Century'," Kushner said of Palestinian leaders who have dismissed his plan as an attempt to buy off their aspirations for statehood. "This is going to be the 'Opportunity of the Century' if they have the courage to pursue it."
Kushner said some Palestinian business executives have confirmed their participation in the conference, but he declined to identify them.
The overwhelming majority of the Palestinian business community will not attend, businessmen in the West Bank city of Ramallah told Reuters.
Several Gulf Arab states, including Saudi Arabia, will also participate in the June 25-26 US-led gathering in Bahrain's capital, Manama, for Kushner's rollout of the first phase of the Trump peace plan. Their presence, some US officials say privately, appears intended in part to curry favor with Trump as he takes a hard line against Iran, those countries' regional arch-foe.
The White House said it decided against inviting the Israeli government because the Palestinian Authority would not be there, making do instead with a small Israeli business delegation.
Political disputes remain
There are strong doubts whether potential donor governments would be willing to open their checkbooks anytime soon, as long as the thorny political disputes at the heart of the decades-old Palestinian conflict remain unresolved.
The 38-year-old Kushner - who like his father-in-law came to government steeped in the world of New York real estate deal-making - seems to be treating peacemaking in some ways like a business transaction, analysts and former US officials say.
Palestinian officials reject the overall US-led peace effort as heavily tilted in favor of Israel and likely to deny them a fully sovereign state of their own.
Kushner's attempt to decide economic priorities first while initially sidestepping politics ignores the realities of the conflict, say many experts.
"This is completely out of sequence because the Israeli-Palestinian issue is primarily driven by historical
wounds and overlapping claims to land and sacred space," said Aaron David Miller, a former Middle East negotiator for Republican and Democratic administrations.
Kushner acknowledges that "you can't push the economic plan forward without resolving the political issues as well."
The administration, he said, will "address that at a later time," referring to the second stage of the peace plan's rollout now expected no earlier than November.
Kushner says his approach is aimed at laying out economic incentives to show the Palestinians the potential for a prosperous future if they return to the table to negotiate a peace deal.
White House officials have played down expectations for Manama, which will put Kushner just across the Gulf from Iran at a time of surging tensions between Tehran and Washington.
Kushner, for instance, is calling it a "workshop" instead of a conference, and a "vision" instead of an actual plan. He stressed that governments would not be expected to make financial pledges on the spot.
"It is a small victory that they are all showing up to listen and partake. In the old days, the Palestinian leaders would have spoken and nobody would have disobeyed," he said.
Travel corridor
Kushner's proposed new investment fund for the Palestinians and neighboring states would be administered by a "multilateral development bank."
Global financial lenders including the International Monetary Fund and World Bank plan to be present at the meeting.
A signature project would be to construct a travel corridor for Palestinian use that would cross Israel to link the West Bank and Gaza. It could include a highway and possibly a rail line.
The narrowest distance between the territories, whose populations have long been divided by Israeli travel restrictions, is about 40 km (25 miles).
Kushner insists that if executed the plan would create a million jobs in the West Bank and Gaza, reduce Palestinian poverty by half and double the Palestinians' GDP.
But most foreign investors will likely stay clear for the moment, not only because of security and corruption concerns but also because of the drag on the Palestinian economy from Israel's West Bank occupation that obstructs the flow of people, goods and services, experts say.
Kushner sees his economic approach as resembling the Marshall Plan, which Washington introduced in 1948 to rebuild Western Europe from the devastation of World War II. Unlike the US-funded Marshall Plan, however, the latest initiative would put much of the financial burden on other countries.
Trump would "consider making a big investment in it" if there is a good governance mechanism, Kushner said. But he was non-committal about how much the president, who has often proved himself averse to foreign aid, might contribute.
Economic programs have been tried before in the long line of US-led peace efforts, only to fail for lack of political progress. Kushner's approach, however, may be the most detailed so far, presented in two pamphlets of 40 and 96 pages each that are filled with financial tables and economic projections.
In Manama, the yet-to-released political part of the plan will not be up for discussion, Kushner said.
The economic documents offer no development projects in predominantly Arab east Jerusalem, which Palestinians want as the capital of their future state.
What Kushner hopes, however, is that the Saudis and other Gulf delegates will like what they hear enough to urge Palestinian President Mahmoud Abbas to consider the plan.
The message Kushner wants them to take to Ramallah: "We'd like to see you go to the table and negotiate and try to make a deal to better the lives of the Palestinian people."
Palestinian officials fear that, even with all the high-priced promises, Kushner's economic formula is just a prelude to a political plan that would jettison the two-state solution, the long-time cornerstone of US and international peace efforts.
Egyptian and Jordanian delegations to attend Bahrain conference
An Egyptian delegation headed by a deputy finance minister will attend the conference in Bahrain, the state news agency MENA quoted the foreign ministry spokesman as saying on Saturday.
Jordan also announced on Saturday that it will send its deputy finance minister to attend Bahrain conference.
In a statement carried by the state news agency, the foreign ministry said it will deliver a message at the conference that convenes on Tuesday that no economic solutions can replace a political solution to end Israel's occupation of the West Bank and the setting up of a Palestinian state.
Full report at:
https://english.alarabiya.net/en/features/2019/06/22/White-House-s-Kushner-unveils-economic-portion-of-Middle-East-peace-plan.html
--------
Trump eyes more Iran sanctions, says military action still on the table
22 June 2019
US President Donald Trump said on Saturday he will impose additional sanctions against Iran in an effort to prevent Tehran from obtaining nuclear weapons, adding that military action was still a possibility.
"We are putting additional sanctions on Iran," Trump said.
"In some cases we are going slowly, but in other cases we are moving rapidly."
Trump spoke to reporters as he prepared to depart Washington for the presidential retreat Camp David, where he said he would be deliberating on Iran.
Trump made his comments after recently calling off military actions against Iran to retaliate for the downing of a US military drone.
On Saturday, Iran warned the United States that any aggression against the Islamic republic would have serious consequences for US interests in the region.
Full report at:
https://english.alarabiya.net/en/News/world/2019/06/22/Trump-eyes-more-Iran-sanctions-military-action-still-on-table.html
--------
Trump says will be Iran's 'best friend,' thanks for not downing US plane
Jun 23, 2019
US President Donald Trump has said that he would be Iran's "best friend" and that the Islamic republic could be a "wealthy" country if it stopped pursuing nuclear weapons. Iran's leadership has repeatedly expressed their firm opposition to the development and use of nuclear weapons.
"They're not going to have a nuclear weapon. We're not going to have Iran have a nuclear weapon," Trump told reporters outside the White House on Saturday.
"When they agree to that, they're going to have a wealthy country. They're going to be so happy, and I'm going to be their best friend. I hope that happens," he added.
Commenting on Trump's statement, American political analyst and activist Myles Hoenig said, "It is hard to get rid of something (nuclear weapons) you never had to begin with."
"We are definitely seeing in the Trump White House a stark division between those who promote war and those who look for a more peaceful approach," he said.
"It is ironic that Trump is seen as the peacemaker, as he welcomes and even encourages hate speech here at home and directed at others outside the US (immigrants, for example)," he told Press TV.
"But one also has to question his reasoning abilities as all allies support the Iran nuclear agreement and he has pulled the US out of it for contradictory arguments. Is he unable to comprehend the reality of Iran abiding by the agreement or is he, like all presidents before him being pulled to war by more powerful forces?" he asked.
Trump thanks Iran for not shooting down US plane
Trump then praised Iran for not shooting down a manned plane with 38 people on board when it decided to shoot down an unmanned American surveillance drone on Thursday.
Trump made the comments a day after Iran announced that its forces refrained from shooting down the manned plane that was accompanying the American spy drone which was shot down in the Persian Gulf after intruding into the Iranian airspace.
"There was a plane with 38 people yesterday, did you see that? I think that's a big story. They had it in their sights and they didn't shoot it down. I think they were very wise not to do that. And we appreciate that they didn't do that. I think that was a very wise decision," Trump told reporters.
Iran's Islamic Revolution Guards Corps (IRGC) announced on Thursday that its air defense force had shot down an intruding American spy drone in the country's southern coastal province of Hormozgan.
The IRGC said in a statement that the US-made Global Hawk surveillance drone was brought down by its Air Force near the Kouh-e Mobarak region, which sits in the central district of Jask County, after the aircraft violated Iranian airspace.
The IRGC Aerospace Force on Friday released the first photos of the wreckage of the downed US spy drone.
It displayed parts of the doomed drone, refuting earlier claims by the US that the drone was flying over international waters, and had not violated the Iranian airspace.
"Along with the US drone, there was also an American P-8 plane with 35 people on board," Amir Ali Hajizadeh, the commander of the Aerospace Division of the IRGC told reporters on Friday.
"This plane also entered our airspace and we could have targeted it, but we did not because our purpose behind shooting down the American drone was to give a warning to terrorist American forces," Hajizadeh added.
Trump seeks more sanctions against Iran
After praising Iran's restraint, Trump, however, threatened the country with imposing additional sanctions and taking military action to prevent Tehran from obtaining what he called nuclear weapons.
"We are putting additional sanctions on Iran," Trump said. "In some cases we are going slowly, but in other cases we are moving rapidly."
In a meeting with Japanese Prime Minister Shinzo Abe last week in Tehran, Leader of the Islamic Revolution Ayatollah Seyyed Ali Khamenei said, "I have issued a fatwa (religious decree) prohibiting the production of nuclear weapons, but you need to know that if we were after building nuclear arms, the United States could not do anything about it."
The Leader emphasized that Washington is in no position to decide which country can be in possession of nuclear arms while it is, itself, stockpiling several thousands of nuclear warheads.
'Iran should remain strong against Trump'
American political analyst Dennis Etler told Press TV on Friday that Iran should remain firm and resolute against Trump.
"Trump's decision to hold off a military strike against Iran is in keeping with his pattern of bluff and bluster. So long as Iran remains strong and resolute Trump will back off. He has his pit-bulls, Bolton and Pompeo on a short leash," he stated.
Full report at:
https://www.presstv.com/Detail/2019/06/22/599164/Trump-says-he-will-be-Irans-best-friend
--------
US-Iran: Donald Trump launches cyber attack on military computer systems
Charles Capel
June 23, 2019
The United States launched a cyber attack on Iranian military computer systems on Thursday, according to US media reports.
The attack, which targeted computers controlling rocket and missiles launchers, was launched in response to the downing of a US surveillance drone in the Strait of Hormuz on Thursday.
It marks the first known offensive operation by the United States against Iran since US President Donald Trump withdrew from a nuclear deal in May 2018.
The attacks against the Islamic Revolutionary Guard Corps were reported first by Yahoo News and The Washington Post on Saturday and later confirmed by the Associated Press. Both organisations cited anonymous sources. One US official told The National they could not confirm the cyber attack took place.
The reported action by the US Cyber Command was a demonstration of the US's more offensive cyber capabilities under the Trump Administration.
They also represent a world where conflict is increasingly taking place on the digital plane, with real-world outcomes.
Iran stepped up its offensive actions against the United States in recent weeks, AP said, citing cyber security companies CrowdStrike and FireEye.
Iranian hackers reportedly sent waves of spear-phishing emails to US government agencies and sensitive sectors such as finance, oil and gas companies.
US President Donald Trump said on Friday that the United States was "cocked & loaded" for strikes against Iranian targets, but did not consider the estimated 150 people killed to be a proportionate response to the downing of the drone.
Mr Trump said that military action is still an option to reporters on Saturday, but insisted that he is acting with "common sense".
"Everybody was saying I'm a warmonger. And now they say I'm a dove. And I think I'm neither, if you want to know the truth," Mr Trump said. "I'm a man with common sense. And that's what we need in this country, is common sense. But I didn't like the idea of them knowingly shooting down an unmanned drone and then we kill 150 people."
He also said the United States will place additional sanctions on Iran on Monday, adding to three rounds of sanctions placed on the country since withdrawing from the nuclear deal.
Brian Hook, the US special representative to Iran said he expected "push back" against the latest round of sanctions, but did not specify how that would take place.
"They are going to push back and it is important that the international community does not let Iran get away with the status quo of an acceptable level of violence," Mr Hook told The National.
Iran fired a surface-to-air missile at the $120 million Global Hawk drone in the Strait of Hormuz, in what Tehran said was their territorial waters, but the Pentagon insists it took place in international airspace and was an "unprovoked attack".
The weekend of retaliation against Iran comes after months of escalation in which Iran has been accused of attacking at least six oil tankers in the Gulf of Oman and using a proxy militia in Yemen to launch attacks on Saudi airports and oil institutions.
Renewed tensions started with Mr Trump's decision to withdraw from the Joint Comprehensive Plan of Action in 2018 which was signed by the permanent five members of the UN Security Council, Germany, the EU and Iran. The deal removed sanctions against Iran in exchange for curtailing its nuclear ambitions. The US says Iran has continued to develop missile technology, something the deal warns against, and funded militias across the Middle East.
Full report at:
https://www.thenational.ae/world/us-iran-donald-trump-launches-cyber-attack-on-military-computer-systems-1.877798
--------
South Asia
Afghan forces conducted 14 Offensive, 75 Special Ops, 12 airstrikes in past 24 hours: MoD
22 Jun 2019
The Afghan armed forces conducted 14 Offensive operations, 75 Special Operations and 12 airstrikes against the militant groups.
The Ministry of Defense (MoD) in a statement said Saturday that the operations were conducted in past 24 hours.
The security forces conducted the operations in Faryab, Kapisa, Uruzgan, Zabul, Farah, Nimroz, Takhar, Helmand, Paktika, Badakhshan, Balkh, Sar-e-Pul, Ghazni and Logar provinces.
The security forces killed at least 60 militants including two foreign nationals during the same operations.
The Ministry of Defense also added that the security forces wounded several militants during the operations.
The security forces also and destroyed the compounds, weapons and ammunition belonging to militants.
The anti-government armed elements have not commented in this regard so far.
https://www.khaama.com/afghan-forces-conducted-14-offensive-75-special-ops-12-airstrikes-in-past-24-hours-mod-03696/
--------
Rohingya among 2 killed in Teknaf 'gunfight'
June 23rd, 2019
Two people, including a Rohingya, have been killed in a "gunfight" with police in Teknaf upazila Cox's Bazar.
The incident occurred at Katabunia of Sabrang union around 4am on Sunday.
The deceased are Md Rubel Hossain, 28, son of Rashid Ahmed of Teknaf; and Omar Faruk, 33, son of Habibulla, a Rohingya refugee of staying at Kutupalong Camp. Both of them were accused in cases filed over human trafficking.
Pardip Kumar Das, officer-in-charge (OC) of Teknaf police station, said: "We conducted a drive to arrest members of a human trafficking group.
"The human traffickers opened fire as soon as our team reached the spot. Rubel and Faruk got shot during the gunfight and were sent to Teknaf Health Complex."
Later, they were shifted to Cox's Bazar Sadar Hospital, where duty doctor declared them dead.
The bodies will be handed over to their families after autopsy, the OC said.
Three policemen-- Sub Inspector Nurul Islam, Md Shamim Reza and Md Mohiuddin-- were also injured in the incident and received primary treatment at the hospital.
Full report at:
https://www.dhakatribune.com/bangladesh/nation/2019/06/23/rohingya-among-2-killed-in-teknaf-gunfight
--------
Heavy clashes underway between Taliban, ISIS militants in two districts of Kunar
22 Jun 2019
Heavy clashes are underway between Taliban militants and ISIS terrorists in Kunar province.
A senior government official in Kunar said the clashes are underway in remote areas of Chapa Dara and Manogi districts.
The official did not disclose further informatoin regarding the ongoing clashes and possible casualties inflicted on Taliban and ISIS militants.
Meanwhile, the official confirmed that the Afghan Special Forces killed 5 ISIS commanders during an operation in Nurgal district of Kunar.
The military officials had earlier said the Special Forces have killed 4 ISIS militants during the operation.
In the meantime, the official said the Special Forces also arrested 14 ISIS militants and confiscated some weapons and ammunition during the operation.
The anti-government armed militants including Taliban and ISIS sympathizers have not commented in this regard so far.
The security situation in some districts of Kunar province has deteriorated during the recent years.
Taliban militants are active in some districts of the province and often conduct terrorist related activities.
Meanwhile, the Afghan forces routinely conduct counter-terrorism operations against the anti-government armed groups in this province.
Full report at:
https://www.khaama.com/heavy-clashes-underway-between-taliban-isis-militants-in-two-districts-of-kunar-03695/
--------
7 Taliban militants killed, explosives and IED components destroyed in Helmand, Uruzgan
22 Jun 2019
The security forces killed 7 Taliban militants during the operations in Helmand and Uruzgan provinces.
The informed military sources said Saturday that the Afghan Special Forces killed 2 Taliban militants during an operation in Helmand province.
The Special Forces conducted the operation in Nahr-e-Saraj district of Helmand.
The Special Forces also wounded another militant and arrested 3 others during the operations.
Meanwhile, the Special Forces destroyed 75 pounds of homemade explosives, 4 pressure plates and other IED components during the same operation.
Full report at:
https://www.khaama.com/7-taliban-militants-killed-explosives-and-ied-components-destroyed-in-helmand-uruzgan-03692/
--------
U.S. drone targets a group of 8 ISIS militants in East of Afghanistan
23 Jun 2019
A U.S. drone strike killed two militants of the Islamic State of Iraq and Syria (ISIS) terrorist group in Nangarhar province.
The 201st Silab Corps in a statement said the U.S. forces conducted the airstrike on Sunday morning.
The statement further added that the airstrike targeted a group of at least eight ISIS militants in Zawi area of Khogyani district.
Full report at:
https://www.khaama.com/u-s-drone-targets-a-group-of-8-isis-militants-in-east-of-afghanistan-03701/
--------
Next round of U.S.-Taliban peace talks to begin on 29th of June: Khalilzad
23 Jun 2019
The next round of bilateral peace talks between U.S. and Taliban representatives will kick off from 29th of June.
The U.S. Special Representative for Afghanistan Reconciliation said Sunday that the 7th phase of negotiations will begin on 29th of June.
Furthermore, Khalilzad said "Based on my recent visits to Afghanistan and Qatar, I believe all sides want rapid progress."
The American and Taliban representatives have held six rounds of talks regarding peace process in Qatari capital of Doha.
The sixth round of talks between U.S. and Taliban representatives concluded earlier last month.
Ambassador Khalilzad said the sixth round of talks made steady but slow progress on the aspects of the framework for end the war in Afghanistan.
Full report at:
https://www.khaama.com/next-round-of-u-s-taliban-peace-talks-to-begin-on-29th-of-june-khalilzad-03700/
--------
ISIS intelligence chief among 7 killed in Kunar operation: Afghan Intelligence
23 Jun 2019
The Afghan Intelligence, National Directorate of Security (NDS) put the ISIS militants' death toll in Kunar operations at seven.
The National Directorate of Security (NDS) in a statement said Sunday the Special Forces of the Afghan intelligence targeted a gathering of ISIS militants in Nurgal district.
The statement further added that the NDS Special Forces killed 7 ISIS militants including the shadow intelligence chief of the group.
NDS also added that the militants had gathered in the Command and Control Center of the group in Nurgal district.
According to NDS, the militants were planning to execute attacks against the government and security institutions.
The NDS Special Forces also arrested 14 suspected ISIS militants and destroyed a compound of the group along with a weapons and ammunition depot and a vehicle.
Full report at:
https://www.khaama.com/isis-intelligence-chief-among-7-killed-in-kunar-operation-afghan-intelligence-03699/
--------
US troops 'saved' Daesh terrorists, leaders from Taliban siege in east Afghanistan
Jun 22, 2019
US troops in Afghanistan have rushed to help members of the Daesh group following a Taliban operation to purge the terrorists from the country's east, according to Taliban militants.
The Taliban militant group said in a statement on Friday that US soldiers "saved" Daesh members as well as their local leaders by helicopters from a siege they had been trapped in the eastern Afghan province of Kunar.
"The US troops saved them from the siege by helicopters," the statement said, adding that the Taliban had been launching an anti-Daesh operation for one week in Kunar and had surrounded the terrorist outfit's important individuals.
A large number of Daesh terrorists were rescued by choppers while fleeing a battlefield with Taliban last year in the northern province of Jawzjan.
The Economic Times estimated in a recent report that around 10,000 members of the Takfiri terrorist group were present in Afghanistan and the number was growing on Washington's watch.
In recent years, Daesh has established a foothold in eastern and northern Afghanistan. The terrorist group has mostly been populating Nangarhar, from where it has carried out high-profile brutal attacks at major population centers across the country.
Last February, three months after the group's defeat was announced in Iraq and Syria, the Associated Press reported that the US military was pulling its forces from a base in Iraq and shifting them to Afghanistan.
The report flew in the face of US President Donald Trump's campaign promises to end Washington's Afghanistan intervention.
The US and its allies invaded Afghanistan and toppled a ruling Taliban regime some 17 years ago. That ongoing war has failed to bring stability to the country despite the presence of thousands of foreign forces.
Today, around 14,000 US troops remain in Afghanistan, half of them assigned to what Washington insists are counter-terrorism missions.
Full report at:
https://www.presstv.com/Detail/2019/06/22/599128/US-troops-Afghanistan-Kunar-Daesh-Taliban-operation
--------
Afghan leaders begin peace summit in Pakistan
22 June 2019
Dozens of Afghan political leaders are holding a peace conference in neighboring Pakistan to pave the way for further Afghan-to-Afghan dialogue.
The three-day conference comes ahead of President Ashraf Ghani's visit to Pakistan next week.
Ghani, his political opponents and a broad swath of civil society have been meeting in recent days with the United States' special envoy to Afghanistan, Zalmay Khalilzad, who is continuing to press for talks between the Afghan government, the opposition and the Taliban.
There are no representatives of the Taliban at Saturday's meeting near the Pakistani capital, Islamabad.
Full report at:
https://english.alarabiya.net/en/News/world/2019/06/22/Afghan-leaders-begin-peace-summit-in-Pakistan.html
--------
Southeast Asia
'Don't poke wasp nest': PAS Women chief warns Pakatan over Islamic education
23 June 2019
BY DANIAL DZULKIFLY
KUANTAN, June 23 — PAS Central Committee member Dr Halimah Ali Abdullah warned Pakatan Harapan today not to meddle in Islamic affairs, in a veiled jab at DAP.
Speaking during the winding-up speech for PAS' 65th Muktamar or annual congress here, Halimah warned that any attempt by non-Muslims to meddle in Islamic education was akin to "poking a wasp nest".
"Right now the most pressing issue is that PH and the DAP are trying to poke a wasp nest. They try to meddle in the affairs of Islamic education,'' she said.
"They have to accept that the majority ethnic group here are Muslims and they want the Islamic education system to be prioritised and even be part of the mainstream education system one day,'' she said.
Although she did not name her, Halimah was referring to Deputy Education Minister Teo Nie Ching, who earlier this week shared her ministry's invite for public feedback on how to improve the Islamic syllabus on her Facebook page.
Halimah also said that some in DAP wanted to lodge a police report over a remark made by her wing vice-chief Salamiah Md Nor, who called for the "end of vernacular schools".
Yesterday, Salamiah reiterated calls for the abolition of Mandarin-medium schools in Malaysia, but this time proposing Arabic as the language of instruction.
She also said she does not want to see Mandarin taking position as the country's second language.
However, Halimah also praised those who had fought for the vernacular school system, stating that they had pushed for the betterment of the system to the extent that even Muslims families are sending their children to such schools.
"If you see in our Constitution, there is no mention of vernacular schools. But personally, I congratulate those who have fought for the vernacular school system.
"This is because they have worked hard, was able to synergise efforts to raise the vernacular schools' systems up to a point that even Muslims families end up sending their kids to vernacular schools,'' she said.
Halimiah said such achievements cannot be denied and hoped for Muslim communities to fight for the betterment of Islamic education.
https://www.malaymail.com/news/malaysia/2019/06/23/dont-poke-wasps-nest-pas-women-chief-warns-pakatan-over-islamic-education/1764728
--------
PAS delegate claims nightmare Malaysia for Muslims as 'second Singapore' with DAP in govt
22 June 2019
KUANTAN, June 22 — Malaysia is in danger of becoming a "second Singapore" where the rights of Malays and other Bumiputera will be ignored, a PAS delegate from Selangor claimed at his party's 65th annual congress here today.
Holding the DAP as a bogey, Roslan Shahir Mohd Shahir urged his fellow Muslims to rise and defend their rights, claiming the party that is now a component of the ruling Pakatan Harapan (PH) coalition is in fact a local-based entity of Singapore's leading People's Action Party (PAP).
"Indeed many voted for Pakatan Harapan, unaware of DAP's insidious influence on the other parties, especially during the last general election.
"Yet many were seemingly unaware that it is essentially a reincarnation of late Singaporean Prime Minister Lee Kuan Yew's party PAP.
"If we falter in our vigilance and become complacent, the dignity of the Malays as well as the nation's will be jeopardised, thereby hastening the day when we become a second Singapore," he said while debating PAS president Datuk Seri Abdul Hadi Awang's policy speech at the party's 65th annual congress here.
Roslan urged Malaysia's Malays to unite against this threat, saying they have a duty to lead the rest of the country's citizens.
As Malaysia's two largest Malay-Muslim political parties, he said PAS and Umno must partner each other as the best solution to counter the PH coalition head-on.
"The Malay Muslim ummah have placed their hopes on our co-operation, awaiting to see what the next move will be. Let us not waste these hopes.
"As seen in the Semenyih by-election, Malay voters unhesitatingly gave their open support when they saw PAS and Umno alongside each other, for this is what they have been waiting for," Roslan said.
He reiterated his belief that PAS grassroots will not hesitate to cast off their decades of programmed hostility towards Umno if the leadership asked.
Full report at:
https://sg.news.yahoo.com/pas-delegate-claims-nightmare-malaysia-084535098.html
--------
Yoursay: M'sia applying double standard with Zakir Naik
Jun 23, 2019
'Send the preacher home and allow him to clear his name in India.'
Evin K: Several warrants of arrest have been issued for Indian preacher Zakir Naik's arrest.
A warrant of arrest means exactly that, it is to facilitate an arrest formally and legally. The arrest warrant was issued due to Zakir's failure to attend his court hearings.
Malaysia cannot expect a country like India to forgo the rule of law and set aside the warrant of arrest for one man simply because he refuses to attend his own hearing. That will set a dangerous precedent. Imagine if that happened in Malaysia – if no one bothers attending their court hearings anymore?
Zakir is evidently a very wealthy man. He has the means to hire the best lawyers. At most, he will be arrested for a night before the court allows him bail. It's simply a matter of filing for bail. Surely his lawyers will know how to file for bail.
Not only most Muslims in India, but most Muslims all around the world will be watching the Zakir trial closely, should it happen.
Regardless of how we feel about this, we cannot allow Malaysia to disregard the rule of law of another country when we ourselves put so much of emphasis on the rule of law here.
We want murder convict Sirul Azhar Umar back, and we are upset that Australia isn't honouring the extradition request. India is also upset with Malaysia for not sending Zakir back.
We want fugitive businessperson Low Taek Jho back, but we appear to not know of his whereabouts. India knows exactly where Zakir is, so do we, and India has requested that he be sent home, formally or informally.
Several red notice requests have been sent to the Interpol for Zakir's arrest. Send the preacher home and allow him to clear his name in India.
Zakir can always return to Malaysia, with his head held high, cleared of all charges, once that's been sorted out.
Just Wondering: Indeed, why should the Indian Supreme Court give Zakir any guarantees?
You go before the Supreme Court and plead your case, not the other way around. You are only a permanent resident here and a citizen of India. Go back and face the court of your motherland.
Roger 5201: So Sirul will return to Malaysia if the court promises in writing not to impose any death sentence on him, and the police not arrest him but gives him 24/7 protection.
All these prejudicial conditions make a mockery of the rule of law, and monkeys of our judiciary.
Anonymous_4031c: I didn't know one can dictate terms to be tried. The law treats everyone equally.
Malaysia is making a big mistake in applying double standards in the rule of law. We have no good reasons to keep someone like Zakir as a worthy person to the country.
Norman Fernandez: Zakir should know that in India, unlike Malaysia, you can apply to the courts for what is known as 'anticipatory bail', which, if granted, will prevent remand upon arrest.
Vijay47: Dear Zakir, I have carefully studied your "Conditions for Repatriation" and unlike the nasty people here in Malaysiakini, I find your gentle, humble requests (not demands), most reasonable.
No one can find fault with you as you have addressed your plea to an Indian forum, the Supreme Court.
It is not as though you wrote to US President Donald Trump, the United Nations, or Queen Elizabeth II especially since the British Raj ended on Aug 15, 1947, when Jawaharlal Nehru led India to its tryst with destiny as the world slept.
The guarantee that you be not arrested or jailed is not all that impossible to proffer since it only requires the Indian Constitution to be amended – an achievement well within the means of the BJP, even though it is generally considered a Hindu party.
On that score, I am sure that Indian Prime Minister Narendra Modi and Home Minister Amit Shah will welcome your explanation whether this protection from arrest applies to you only or to all Muslim accused, assorted criminals, and members of the Dawood Ibrahim gang.
By the by, as they say in Karol Bagh, I note that you stated "until I am convicted." A small prophetic Freudian slip perhaps? The correct wording should have been "unless I am convicted". But who's counting!
Leaving all that aside, I admire you're not making additional requests like asking that Jammu and Kashmir be declared provinces of Pakistan before you, like Douglas MacArthur, "will return".
For my part, I would pray that you also ask for your disciple, Muhammad Zamri Vinoth Kalimuthu, to be allowed to accompany you – that would be the icing on the alu gobi. Jai Hind (Long live India).
Anonymous_f9ff4347: Dear Prime Minister Dr Mahathir Mohamad, please send him back to India. You have saved Malaysia and done great work. Don't let Zakir spoil your great work.
He should go back and stand trial, just like former prime minister Najib Abdul Razak has to stand trial here. And Low too.
Tenfold: Zakir won't be sent back. He is a bosom buddy of Mahathir.
If you thought and hoped for the 14th general election to bring about a New Malaysia, think again. Mahathir won't change.
He is still the same corrupted mind that authored the Malay Dilemma and late Tunku Abdul Rahman (bless his soul) predicted that Mahathir will be the cause of chaos in Malaysia.
Gerard Lourdesamy: Since Zakir has asked not to be arrested and jailed until his trial, the Indian government should place him under preventive detention for his own safety. That would not amount to an arrest and jail.
If Mahathir refuses to extradite Zakir even after the Indian warrant of arrest is issued on July 31 by the Special Court and the Interpol red notice is obtained, I would advise New Delhi to give Low permanent resident status in India and refuse to extradite him to Malaysia.
Low can enjoy the high life in Mumbai with India's rich and famous.
After that, just stop importing palm oil from Malaysia, impose a 100 percent tariff on our exports to India, and lastly, terminate all the huge infrastructure projects awarded to Malaysian companies including GLCs in India.
Full report at:
https://www.malaysiakini.com/news/480790
--------
PAS Ulama chief decrees 'wajib' to collaborate with others, bring Pakatan govt down
23 June 2019
BY JERRY CHOONG
KUANTAN, June 23 — It is "wajib" or obligatory for PAS members to collaborate with others to take the Pakatan Harapan (PH) administration down, the Islamist party's new Ulama wing chief Nik Muhd Zawawi Salleh has ruled today.
The Islamic scholar also said that nobody in PAS can dispute the fact that Malaysia is multi-ethnic and governing the country requires cooperation with other parties including former rivals Umno.
"God willing, we accept this fact. And we must also acknowledge the fact that there is no political strategy where any single party can rule individually. It must co-operate with others," he said in his closing speech during the final day of PAS' Muktamar or annual congress.
"And in the fight of PAS against Pakatan Harapan, it is 'wajib'. To bring down the current government, it is 'wajib'.
"In this issue, we cannot be at odds. We move forward, don't look back," he added.
He also told members that any judgment on tahaluf and ta'awun siyasi — Arabic terms referring to political consensus and cooperation — with former rivals Umno should come from top to bottom, to ensure a clear target for the party.
He stressed that as an Islamic movement, PAS must co-operate with other political parties.
"I do not wish to be calculative with these parties, for if I do then who will we work with? Surely we cannot work with Parti Amanah, or DAP?
"We still have other friends, and I am thankful that they represent all the races in Malaysia," Zawawi said, adding it meant PAS will have an easier time approaching all communities and make them understand the party's struggle.
He was especially appreciative of MIC, saying the Indian-based party was the first to approach PAS, even before Umno.
"They wanted to be with us, and we as an Islamic movement will accept anyone in with open arms.
Full report at:
https://www.malaymail.com/news/malaysia/2019/06/23/pas-ulama-chief-decrees-wajib-to-collaborate-with-others-bring-pakatan-govt/1764759
--------
Indonesia to vet public servants to identify Islamists
JUN 22, 2019
JAKARTA - Indonesia plans to tighten vetting of senior public servants amid fears that hard-line Islamist ideology has permeated high levels of government, according to documents reviewed by Reuters and a senior official involved in the plan.
Indonesia is officially secular, but there has been a rise in politicians demanding a larger role for Islam in the world's biggest Muslim-majority country, with some groups calling for an Islamic state.
The rise in conservatism was a major test for President Joko Widodo in the April election, with some Islamist groups accusing him of being anti-Islam and throwing their support behind political rivals, including challenger Prabowo Subianto.
Widodo was re-elected for a second term but voting patterns revealed deepening divisions between areas known for a moderate following of Islam and conservative Muslim regions that backed Prabowo.
The senior government official, who is part of a team formulating the new vetting policy, said Widodo intends it to be a part of his legacy of ensuring Indonesia remains a model for moderate Islam.
The official said the president strongly believed that radical Islam threatened the state apparatus as well as the future of democracy. The vetting plan was a big priority for him, said the official, who declined to be identified.
"He wants that before the next election in 2024, hard-line and radical elements be weeded out to aim for a healthier democracy," said the official.
Widodo's office did not respond to requests for comment.
According to the documents reviewed by Reuters, the government wants to introduce stricter background checks and a new psychological test to gauge candidates' political leanings — especially for those seeking promotions to the top two rungs of the bureaucracy.
The official said the plan will be rolled out by the end of the year at 10 of the country's biggest ministries by budget and several state-owned enterprises.
Ministries to be targeted as priorities include Finance, Defence, Health, Education, Religious Affairs, and Public Works. Priority enterprises include state energy company Pertamina, flag carrier Garuda Indonesia, the biggest state bank BRI, state miners Antam and Timah, and two state media companies.
Civil servants would not be sacked but the new policy could be used to keep those with hard-line leanings from rising through the ranks, the official said.
One of the factors driving the new policy is a 2017 survey done by independent Jakarta-based pollster Alvara Research Center that found one in five civil servants and 10 percent of state enterprise workers did not agree with the secular state ideology Pancasila, and instead favored an Islamic theocratic state.
"What we're seeing is not sudden but the result of seeds that were planted years ago through small movements that at the time were not considered a threat to the state. For over 10 years, these ideas have been tolerated, accepted, and perhaps even used by elements of the state," one government document said. The government official who spoke to Reuters is part of a team of 12 officials and experts that will work with the National Agency to Promote Pancasila and with civil society organizations to formulate new metrics to strengthen existing recruitment tests.
Pancasila includes upholding national unity, social justice and democracy alongside belief in God, and enshrines religious diversity in an officially secular system of government.
The official said the government is expecting a backlash both from within the state bureaucracy and from rights activists who could liken the moves to the authoritarian era of former President Suharto, when loyalty to the state ideology was mandatory and equated with loyalty to the regime.
"We are aware the Pancasila was used in the past as a tool to consolidate power, but we believe it is an umbrella that protects all Indonesians and is a tool to unify against the virus of radicalism," Benny Susetyo, an official at the national Pancasila agency, said in an interview.
A representative for the Islamic Defenders Front (FPI), an Islamist group that calls for Shariah law to be imposed in Indonesia, said the planned vetting procedures would "amount to discrimination against Islam."
"This government is affected by the disease of secularism and is trying to separate politics and religion, which is very dangerous," said Novel Bamukmin of the FPI's Jakarta chapter.
Full report at:
https://www.japantimes.co.jp/news/2019/06/22/asia-pacific/politics-diplomacy-asia-pacific/indonesia-vet-public-servants-identify-islamists/#.XQ8vVz8zZ1s
--------
Malaysian PM blames US for rising tensions in Persian Gulf
Jun 22, 2019
Malaysian Prime Minister Mahathir Mohamad has slammed the United States for its continued provocations against Iran, which he says might prompt a real conflict in the Middle East.
Mahathir said in a Saturday interview that Washington's decision more than a year ago to pull out of a landmark nuclear agreement with Tehran and its recent actions in the Persian Gulf had raised the chances for a large-scale war in the region.
"I think as far as I can see, it is America, which is making all the provocation," Mahathir told CNBC , adding, "First, they withdrew from the (nuclear) treaty, and now they're sending warships to the (Persian) Gulf, and doing things that will provoke Iran."
The Malaysian premier made the remarks while attending a summit of the Association of Southeast Asian Nations in Bangkok, Thailand.
The remarks came after reports emerged that US President Donald Trump had cancelled a series of military operations against Iran early on Friday hours after Iran downed an American unmanned aircraft which was flying above its southern territorial waters.
Officials in Tehran have condemned a series of sanctions imposed on the country since Washington withdrew from the 2015 nuclear agreement.
They have indicated that going to war with the US over the issue would not be a default option although warning that they would not hesitate to defend the country's sovereignty when facing a US aggression.
Mahathir said that if a war erupts between Iran and the United States, the repercussions will be devastating and energy prices will go up exponentially.
"If they go to war, it will not be Iran against America. It will be a world war," he said, adding that other countries "will have to come in and put a stop to it."
The 93-year-old Malaysian PM said US sanctions against Iran had negatively affected his own country while criticizing Washington's bullying tactics to force sovereign nations to comply with its regime of embargoes.
"Actually the sanction is against Malaysia also ... because we can't trade with a good trading partner that Iran provides for us," he said.
"This kind of play of applying sanctions and forcing other countries to comply with the big power's decision is totally undemocratic ... This is bullying," Mahathir added.
Full report at:
https://www.presstv.com/Detail/2019/06/22/599149/Iran-US-tensions-Malaysia-Mahathir-comments
--------
Mideast
Turkey reacts to appointment of Muslim religious leaders in northern Greece by state
22.06.2019
The Turkish Foreign Ministry on Saturday issued a statement expressing objections to a recent Greek presidential decree stating that the religious leaders of the Muslim minority in northern Greece will be appointed by the state instead of being elected.
The decree, the ministry said in a lengthy statement on its website on Saturday, is an "aggravation" of Greek "violations" of Muslim minority rights in the country's north and "disregards the rights of the Turkish minority in Greece guaranteed by the Lausanne Peace Treaty also on the basis of reciprocity."
The decree, the statement said, "is clearly aiming at destroying the institutional autonomy of the Muftis by transforming them into an ordinary government department."
Turkey's Foreign Ministry accuses the Greek government of failing to consult with representatives of the minority and adds that it "expects" Athens to "turn away from its mistake of imposing illegally appointed Muftis."
"We invite international and regional organizations as well as the EU institutions to monitor the situation of human rights in Greece to carry out impartial investigations about Greece's legal actions that contradict the European values and universal human rights," the statement added.
http://www.ekathimerini.com/241817/article/ekathimerini/news/turkey-reacts-to-appointment-of-muslim-religious-leaders-in-northern-greece-by-state
--------
Istanbul votes in mayoral re-run, in test for Turkish democracy, Erdogan
Jun 23, 2019
ISTANBUL: Millions of Istanbul residents began voting on Sunday in a rerun of a mayoral election that has become a referendum on President Tayyip Erdogan's policies and a test of Turkey's ailing democracy.
In the initial March 31 vote, the opposition Republican People's Party (CHP) candidate secured a narrow victory over Erdogan's AK Party (AKP) in
Turkey's largest city, a rare electoral defeat for the president amid mounting economic woes.
But after weeks of AKP appeals, Turkey's High Election Board in May annulled the vote citing irregularities. The opposition called the decision a "coup" against democracy, which has raised the stakes for round two.
Polling stations across Istanbul opened at 8am, with 10.56 million people registered to vote in a city which makes up nearly a fifth of Turkey's 82 million population. Voting ends at 5pm Results will be announced in the evening.
Erdogan has repeated his line that "whoever wins Istanbul wins Turkey." A second loss in the city, where in the 1990s he served as mayor, would be embarrassing for Erdogan and could weaken what until recently seemed to be his iron grip on power.
Turkey's economy is in recession and the United States, its Nato ally, has threatened sanctions if Erdogan goes ahead with plans to install Russian missile defences.
A second AKP loss could also shed further light into what CHP mayoral candidate Ekrem Imamoglu said was the misspending of billions of lira at the Istanbul municipality, which has a budget of around $4 billion.
"If Imamoglu wins again, there's going to be a chain of serious changes in Turkish politics," journalist and writer Murat Yetkin said.
"It will be interpreted as the beginning of a decline for AKP and for Erdogan as well," he said, noting that the president himself had called the local elections "a matter of survival".
Another Imamoglu win could eventually trigger a national election earlier than 2023 as scheduled, a cabinet reshuffle, and even a potential adjustment in foreign policy, Yetkin added.
To narrow the roughly 13,000-vote gap in March, the AKP re-calibrated its message recently to court Kurdish voters, who make up about 15% of voters in the city of 15 million.
The campaign received a twist when jailed Kurdish militant leader Abdullah Ocalan urged the pro-Kurdish Peoples' Democratic
Party (HDP) to stay neutral in the vote. The HDP, which backs Imamoglu, accused Erdogan of trying to divide Kurds.
DEMOCRACY AT STAKE
Having campaigned hard ahead of the March vote, a strategy that many within AKP believe has backfired, Erdogan initially kept a low-profile this month. But last week he returned to his combative campaigning and targeted Imamoglu directly, including threatening him with legal action, raising questions over whether the AKP would accept a second defeat.
Polls have shown Imamoglu, a former district mayor, retaining a lead over his AKP rival, former prime minister Binali Yildirim.
Some polls put him up to 9 percentage points ahead, with his more inclusive message resonating with some voters.
Yusuf Mert, who works at a textile shop in the working class Esenyurt district, complained about a lack of business and rising unemployment. He said he was unconvinced by what he saw as Yildirim's new focus on policies.
"We have seen it all and we've heard it all in the past 20 years. What else is there to do? Imamoglu won and they denied him his mandate," Mert said.
The decision to re-run the vote drew international criticism and accusations from Turkey's opposition of an erosion in the rule of law. Residents in several districts took to the streets banging pots and pans in protest.
Some voters told Reuters that an AKP victory on Sunday could lead to bigger protests.
The uncertainty over the fate of Istanbul, Turkey's business hub, and potential delays in broader economic reforms, have kept financial markets on edge. Turkey's lira currency tumbled after the decision to annul the March vote and is down nearly 10% this year in part on election jitters.
Howard Eissenstat, nonresident senior fellow at think-tank POMED, said the AKP's legitimacy had rested on its purported respect for elections expressing the will of the people.
Full report at:
https://timesofindia.indiatimes.com/world/europe/istanbul-votes-in-mayoral-re-run-in-test-for-turkish-democracy-erdogan/articleshow/69911594.cms
--------
Iran warns US attack will imperil its interests across Mideast
June 23, 2019
TEHRAN: Tehran warned Washington on Saturday that any attack would see US interests across the Middle East go up in flames after President Donald Trump said he called off a strike at the 11th hour.
The aborted military action was to have been in response to Iran's downing of a US reconnaissance drone, which has seen tensions between the two countries soar after a series of attacks on commercial vessels the US has blamed on Iran.
"Firing one bullet towards Iran will set fire to the interests of America and its allies" in the region, armed forces general staff spokesman Brig Gen Abolfazl Shekarchi told the Tasnim news agency.
"If the enemy— especially America and its allies in the region — make the military mistake of shooting the powder keg on which America's interests lie, the region will be set on fire," Shekarchi warned.
Following his comments, Iran said it had executed a man convicted of spying for the US.
"The execution sentence was carried out for Jalal Haji Zavar, a contractor for the defence ministry's aerospace organisation who spied for the CIA and the American government," semi-official ISNA news agency reported, quoting the Iranian military.
More than a year after Trump unilaterally pulled out of a 2015 multilateral nuclear accord with Tehran, the US president said on Saturday that Iran's prospects would improve if it renounced nuclear weapons.
"When they agree to that, they're going to have a wealthy country. They're going to be so happy, and I'm going to be their best friend. I hope that happens," he told reporters outside the White House.
Iran has denied seeking a nuclear weapon and says its programme is for civilian purposes.
`Trampling' world law
After the downing on Thursday of the Global Hawk surveillance aircraft, Trump tweeted the United States had been "cocked & loaded" to strike Iran but he had pulled back at the last minute as it would not have been a "proportionate" response.
The US president subsequently said he did not want war with Iran, but if it came to pass, there would be "obliteration like you've never seen before", according to excerpts of an NBC interview conducted on Friday morning.
Tehran insists that the drone violated its airspace — something Washington denies — but it was prepared to accept on Friday that it might have done so by accident.
The aircraft could have entered Iran's airspace over a mistake by "a general or some operators," the commander of the Revolutionary Guards' aerospace arm, Brig Gen Amir Ali Hajizadeh told state news agency IRNA on Saturday.
"Nonetheless, this was an act of trampling international aviation laws by a spy aircraft," he added.
The Pentagon released a map of the drone's flight path indicating it avoided Iranian waters, but Iranian Foreign Minister Mohammad Javad Zarif on Saturday published maps showing the aircraft inside its territory when it was downed.
"There can be no doubt about where the vessel was when it was brought down," he wrote on Twitter, providing coordinates.
The foreign ministry said it had summoned the charge d'affaires of the United Arab Emirates, from where the US drone launched, to protest against its decision to "put its installations at the disposal of foreign forces for aggression" against Iran.
Britain said its Minister of State for the Middle East Andrew Murrison would travel on Sunday to Tehran for talks.
The US Federal Aviation Administration has barred American civilian aircraft from the area "until further notice," and major non-US airlines including British Airways, KLM, Lufthansa, Qantas, Emirates and Etihad said they too were altering flight paths to avoid the sensitive Strait of Hormuz.
The downing of the US drone came with Iran already accused by Washington of carrying out attacks on tankers in the congested shipping lanes out of the Gulf, charges Tehran denies.
Full report at:
https://www.dawn.com/news/1489877/iran-warns-us-attack-will-imperil-its-interests-across-mideast
--------
Iran Strongly Condemns Terrorist Attack at Baghdad Mosque
Jun 22, 2019
Foreign Ministry Spokesman Seyed Abbas Mousavi deplored the terrorist attack at a mosque in Western Baghdad which killed and wounded tens of Iraqi citizens.
He also voiced sympathy with the Iraqi government and nation, specially the family members of the victims.
A suicide bomb blast at a Shiite mosque in Western Baghdad killed at least 10 people and wounded 30 others on Friday, Iraqi security officers said.
The explosion hit Imam Mahdi al Muntadhar Mosque in Baladiyat, near the massive and densely populated district of Sadr City.
"At least one attacker wearing a belt of explosives tried to enter the building but was stopped by the guards, and detonated himself outside," said one officer.
There are conflicting reports on the death toll, as some sources say seven people were killed in the attack.
Full report at:
https://en.farsnews.com/newstext.aspx?nn=13980401000557
--------
UN to appeal for $1.2 billion to help five million Palestinians
22 June 2019
The head of the UN agency for Palestinian refugees said Friday he hopes donors will be as generous this year as they were last year after the United States cut all funding for the $1.2 billion program meant to help some five million Palestinians.
Pierre Krahenbuhl said at a news conference that 42 countries and institutions increased their funding to the UN Relief and Works Agency last year. He called that "unprecedented," adding that it was also "very remarkable" that every single pledge in 2018 was honored.
He praised the strong mobilization of funds from Europe, the Gulf countries, Asia, the Americas and beyond, adding that "we're very inspired by that result."
Krahenbuhl said the agency is pursuing the same appeal for $1.2 billion this year and hopes donors will pledge that amount at a conference Tuesday at UN headquarters.
UNRWA was established after the war surrounding Israel's establishment in 1948 to aid the 700,000 Palestinians who fled or were forced from their homes.
Today, it provides education to 500,000 Palestinian students, health care at 144 centers that handle 8.5 million patient visits a year, and social services to some 5 million Palestinians in the West Bank and Gaza Strip as well as Jordan, Syria and Lebanon. The agency is also a major employer in the Palestinian areas.
Krahenbuhl said UNRWA has covered its expenses for the first five months of 2019 "in a fairly stable way ... and that is positive."
But, he said, "in June, we started entering deficit figures."
At Tuesday's pledging conference, Krahenbuhl said, "If every single donor would preserve and maintain their level of contribution reached in 2018, we would be able to cover the financial needs of UNRWA."
He said he will be appealing for immediate funds to avoid any break in services.
The big question, Krahenbuhl said, is whether there will be enough money for schools to open in late August and early September.
The US government contributed $360 million to UNRWA in 2017, but the Trump administration cut that to just $60 million last year and to nothing this year.
In announcing the total cutoff in funding, the Trump administration called UNRWA an "irredeemably flawed operation." It said the US was no longer willing to pay for a "very disproportionate share" of UNRWA's costs and criticized what it called the agency's "fundamental business model and fiscal practices" and its "endlessly and exponentially expanding community of entitled beneficiaries."
The UNRWA pledging conference is taking place on the same day that the architects of the long-awaited US plan for Israeli-Palestinian peace - Trump's son-in-law Jared Kushner and the president's special envoy for international negotiations Jason Greenblatt - are rolling out their economic plan for the Palestinians at a workshop in Bahrain. The Palestinians are boycotting.
Krahenbuhl told reporters that "contrary to what you might expect, I do not see any elements of tension between a conference and workshop that is being organized in Bahrain and our own focus."
"Our focus is a very immediate one," he said, stressing that UNRWA has to ensure education, health care and food for one million Palestinians in Gaza and other services "not in two years, but today and tomorrow."
Krahenbuhl said UNRWA is focused on delivering on its mandate immediately while the Bahrain discussions "have value" but are not immediate.
Full report at:
https://english.alarabiya.net/en/News/middle-east/2019/06/22/UN-to-appeal-for-1-2-billion-to-help-five-million-Palestinians.html
--------
Coalition jets destroy two Houthi drones in Yemeni air space
22 June 2019
The fighter jets of the Arab Coalition backing the legitimate government in Yemen on Saturday intercepted and destroyed two drones in the Yemeni air space.
The Coalition said the drones were launched by the Iranian-backed Houthi militia from the Sanaa Governorate.
The Arab Coalition spokesperson Colonel Turki al-Maliki said: "We affirm the right of the Coalition to take appropriate deterrent measures in accordance with international law."
https://english.alarabiya.net/en/News/gulf/2019/06/22/Coalition-air-force-destroys-in-Yemeni-airspace-two-Houthi-drones-.html
--------
Abbas rejects Trump's Palestine deal as 'humiliating blackmail'
Jun 23, 2019
Palestinian President Mahmoud Abbas once again rejects as "a humiliating blackmail" US President Donald Trump's upcoming deal on the Israeli-Palestinian conflict hours after Washington released details about the economic aspect of the highly-controversial plan.
Speaking to officials of his Fatah party in Ramallah on Saturday, Abbas said "there can be no economic solution before there's a political solution."
He slammed the plan as a "humiliating blackmail" and said the deal "cannot pass because it ends the Palestinian cause."
The White House on Saturday unveiled the economic plan, which would inject $50 billion into struggling economies in the Middle East over the next ten years.
Under the document, dubbed "Peace to Prosperity," over half of the funds ($28 billion) would go toward the West Bank and the Gaza Strip and the remaining to Jordan, Lebanon and Egypt, which have absorbed Palestinian refugees.
It also includes a $5 billion "transportation network" to connect the West Bank and Gaza.
The economic portion of the US plan was released just three days before a US-led workshop in Manama, Bahrain, where the initiative is set to be discussed.
Elsewhere in his comments, Abbas stressed that the Palestinians would not attend the Bahrain conference.
"We are not going to attend this workshop, the reason is that the economic situation should not be discussed before a political situation, so long as there is no political situation, we do not deal with any economic situation," he said.
All Palestinian factions have already boycotted the Bahrain event, arguing that Washington was offering financial rewards for Palestinians to accept the Israeli occupation.
Separately on Saturday, Abbas spokesman Nabil Abu Rdeineh denounced both the Bahrain meeting and Trump's "peace" plan, called the "deal of the century."
"The American administration is committing daily mistakes against the Palestinian people. Without Palestinian approval, there is no value to any meeting, and without a political horizon, no one will deal with any effort. This conference was born dead just like the deal of the century," he said.
Additionally, Arab Israeli lawmaker Ayman Odeh slammed Trump's proposal, stressing that the only solution to the conflict is ending the Israeli occupation and establishing an independent Palestinian state.
"Somebody has to explain to Trump that not everything can be bought for money, certainly not the just national aspirations of the Palestinian people," he tweeted.
Full report at:
https://www.presstv.com/Detail/2019/06/23/599190/Palestine-Israel-Mahmoud-Abbas
--------
Yemeni forces, allies shoot down Saudi-led reconnaissance drone in Hajjah
Jun 22, 2019
Yemeni army forces, supported by allied fighters from Popular Committees, have intercepted and targeted an unmanned aerial vehicle belonging to the Saudi-led military coalition as it was flying in the skies over the country's northwestern province of Hajjah.
An unnamed Yemen military source told Yemen's Arabic-language al-Masirah television network that Yemeni air defense forces and their allies shot down the drone as it was on a reconnaissance mission over al-Mazraq area in the Harad district of the province, located approximately 130 kilometers northwest of the capital Sana'a, on Saturday.
The development came only a day after Yemeni army forces and Popular Committees fighters shot down a spy drone of the Saudi-led military coalition in the skies over Yemen's strategic western coastal province of Hudaydah.
The unmanned aerial vehicle was struck with a surface-to-air missile over al-Fazah area in the al-Tuhayta district.
On June 19, the spokesman for Yemeni Armed Forces, Brigadier General Yahya Saree said, said Yemeni army forces, backed by allied fighters from Popular Committees, had launched a string of airstrikes against unmanned aerial vehicles and military targets at Jizan Airport, using a squadron of domestically-manufactured Qasef-2K (Striker-2K) combat drones.
Saree further noted that the attacks led to the suspension of flights at the airport.
"We have sophisticated military hardware that US-built and other air defense systems deployed in Saudi Arabia cannot intercept. Our ballistic missiles, rockets and drone can hit any target all across Saudi Arabia. Our strikes will not be limited to Asir, Najran and Jizan. The Saudi enemy must know that we will d expand the scope of deterrence in case the military aggression continues," the top Yemeni military official pointed out.
Also on Saturday, Yemeni forces and their allies struck the positions of Saudi-sponsored militiamen loyal to Yemen's former president, Abd Rabbuh Mansur Hadi, in Yemen's central province of al-Bayda as well as the southwestern province of Ta'izz.
A Yemeni military source, speaking on condition of anonymity, said scores of Saudi mercenaries were killed and injured in the offensives.
Saudi Arabia and a number of its regional allies launched a devastating campaign against Yemen in March 2015, with the goal of bringing the government of former Yemeni president Abd Rabbuh Mansur Hadi back to power and crushing the Houthi Ansarullah movement.
The US-based Armed Conflict Location and Event Data Project (ACLED), a nonprofit conflict-research organization, estimates that the Saudi-led war has claimed the lives of over 60,000 Yemenis since January 2016.
Full report at:
https://www.presstv.com/Detail/2019/06/22/599140/Yemen-Saudi-drone-Hajjah
--------
AKP seeks to win over Kurds and alienated supporters in Istanbul
Andrew Wilks
June 22, 2019
Turkey's ruling party raised the tempo of its campaigning in the final days before Sunday's re-run of the Istanbul mayoral election, seeking to prevent a repeat of its shock loss in the first vote.
Opinion polls indicate that Ekrem Imamoglu of the opposition Republican People's Party (CHP) will win again, with one survey putting him nine percentage points ahead of Binali Yildirim of the ruling Justice and Development Party (AKP), and he is also widely considered to have won a televised debate against his main rival last Sunday.
But with only a narrow margin separating Mr Imamoglu and Mr Yildirim in the March 31 election, both sides have been manoeuvring to pick up vital votes in the past week.
The AKP has been targeting the Kurdish vote, which was seen as instrumental to the opposition's victory. Turkey's main pro-Kurdish party did not field candidates in the major cities in the west of the country during the nationwide local election in March, and called for its supporters to back the opposition.
Mr Yidirim visited Diyarbakir, the largest city in the Kurdish-majority south-east, during the Eid holiday earlier this month. Authorities allowed lawyers and family members to visit Abdullah Ocalan, the imprisoned leader of the Kurdistan Workers' Party, for the first time in years. Ocalan, who founded the Kurdish separatist group, issued a call this week for Kurds to remain "neutral" in the election.
"CHP success in the last election was because of the Kurds," said student Ferhad Aydogan, 23, whose family is originally from the south-eastern city of Sirnak. "Many Kurds like Imamoglu because he's not like the old CHP, but some think he has not recognised the part we played in helping him beat the AKP."
At the same time President Recep Tayyip Erdogan's trademark fiery rhetoric, which took a back seat in the early part of Mr Yildirim's campaign, has made a return even though his aggressive speeches seemed to alienate many AKP voters in the earlier election. This week he accused Mr Imamoglu of lying and supporting the group said to be behind a 2016 coup attempt.
Pinar Bulbul, 37, said she had not voted in the March poll despite previously supporting the AKP. "I think all the talk of the local elections being so important for the country's survival was not correct," she said, referring to Mr Erdogan's portrayal of the race.
Full report at:
https://www.thenational.ae/world/europe/akp-seeks-to-win-over-kurds-and-alienated-supporters-in-istanbul-1.877719
--------
Arab World
Tribal Leaders Firmly Call for Expulsion of Foreign Occupying Forces From Syria
Jun 22, 2019
The Syrian tribesmen and elite issued a statement after their meeting in Aleppo, and voiced their support for the Syrian Army in fighting terrorism and confronting foreign threats aimed at disintegrating Syria.
The Syrian tribesmen also underlined the need for maintaining Syria's territorial integrity, and said that all US and Turkish occupying forces ought to leave the Northern and Northeastern territories of Syria because they have illegally entered Syria.
The Syrian tribes also pointed to the need for the presence of the Syrian Army in all Eastern provinces of Syria and reconstruction of those regions, and voiced preparedness of the residents of al-Jazeereh region and Aleppo to defend their home country.
In a relevant development on Wednesday, media reports said that the Syrian tribes in Deir Ezzur province have stood against a Saudi-US plot to support the Kurds to decompose Eastern Euphrates from Syria.
The Arabic-language al-Ahd news website quoted the leader of al-Moshahedah in al-Jazeerah region in Eastern Euphrates Sheikh Heidar al-Hamadi as saying that all Syrian tribes, except a little number of them, have opposed the recent meeting by Saudi Minister for Persian Gulf Affairs Thamer al-Sabhan to Kurdish-occupied regions to study plots to separate Eastern Syria from the country's territory.
He underlined al-Sabhan's attempts to coax the tribes in Eastern Syria into implementation of separatist plots, and said most of them want Damascus to retake control of the region.
Meantime, the Arabic-language al-Watan newspaper reported that a Swedish delegation, including the country's representative for Syria affairs, the Swedish foreign ministry official for Syria affairs and the official for the agency on international aid, have entered the Kurdish-occupied regions in Eastern Syria and held meetings with a number of commanders in line with the western states' accelerated attempts to interfere in Syria's internal affairs and assist the Syrian Democratic Forces (SDF) in their separatist dreams.
Mohammad al-Akam, a senior Syrian legislator, said that a tripartite coalition has been formed among Saudi Arabia, the Kurdish forces and Israel under the US supervision which pursues pressures on Damascus after gaining victory over terrorist groups, by separating the Northeastern parts of the country.
Head of the politburo of Turkey-backed Lawa al-Mo'etasam-Free Syrian Army terrorists Mostafa Sejari wrote on his twitter page on Monday that Riyadh had stopped financial support for the terrorist groups in Northern Syria in line with a fresh scheme to help Kurds cut off Eastern Syria from the mainland after a Saudi-US delegation met in Deir Ezzur.
He added that Saudi Arabia had decided to cut financial support for the regions occupied by the terrorist groups in Northern Syria.
He added that the measure was adopted after Riyadh started support for the separatist Kurdish groups in Northeastern Syria following a visit by Thamer al-Sabhan to Kurdish-occupied regions.
Sejari underlined that Saudi Arabia wants to pressure Turkey, warning, "All of us will be harmed by this measure."
https://en.farsnews.com/newstext.aspx?nn=13980401000537
--------
Yemeni Forces Take Military Base in Saudi Arabia
Jun 22, 2019
The Nasrallah Resistance Movement announced last night that its Popular Forces in a joint military operation with the Yemeni Army seized control over a military base of the Saudi-led coalition against the poor country in Saudi Arabia's Southwestern province of Jizan.
In another development on Friday, the forces of the Saudi-Emirati coalition who intended to cross the border into Yemen through the Saudi province of Najran were ambushed and repelled. The ambush inflicted heavy casualties on Saudi-Emirati forces with scores of deaths and injuries.
Arabic-language al-Masirah television network reported that the Saudi-Emirati forces were supported by the coalition's jet fighters but Yemeni artillery units and snipers overpowered the aggressors.
Saudi Arabia has been striking Yemen since March 2015 to restore power to fugitive president Mansour Hadi, a close ally of Riyadh. The Saudi-led aggression has so far killed more than 20,000 Yemenis, including hundreds of women and children. Despite Riyadh's claims that it is bombing the positions of the Ansarullah fighters, Saudi bombers are flattening residential areas and civilian infrastructures.
Yemen is the world's largest humanitarian crisis with more than 22 million people in need and is seeing a spike in needs, fueled by ongoing conflict, a collapsing economy and diminished social services and livelihoods. The blockade on Yemen has smothered humanitarian deliveries of food and medicine to the import-dependent state.
The UN has repeatedly criticized the Saudi-UAE-led military coalition's bombing campaign and placed it on a blacklist of child rights violators last year.
Full report at:
https://en.farsnews.com/newstext.aspx?nn=13980401000899
--------
Iraq, US deny planned evacuation of contractors from Iraqi base
23 June 2019
Iraqi and US military spokesmen denied on Saturday that US forces were preparing to evacuate hundreds of staff of Lockheed Martin Corp and Sallyport Global from an Iraqi military base where they work as contractors.
Four separate military sources, who spoke to Reuters on condition of anonymity, said on Friday the contractors from the two firms had been preparing to leave Balad military base, which hosts US forces some 80 km (50 miles) north of Baghdad, over "potential security threats", without saying what those threats might be.
One of the military sources and a fifth security source later said the evacuation had been called off early on Saturday after US and Iraqi military personnel assured the companies that safety measures would be stepped up around the base.
Three mortar shells landed on Balad last week, the first of several unclaimed attacks in recent days targeting bases in Iraq hosting US forces and a site used by a US energy firm.
Iraqi and US military spokesmen denied there were any plans for an evacuation in the first place, which the sources disclosed at a time of rising regional tensions between the United States and Iraq's eastern neighbour Iran.
"There are no plans at this time to evacuate any personnel from Balad ... Should there be increased threats to our people, the US Air Force will put measures in place to provide the protections required", Air Force Colonel Kevin Walker said in a statement.
Secretary of State Mike Pompeo said in a statement: "The United States is not evacuating personnel from Balad Air Base."
Iraq's military spokesman said Iraq "protects the safety of our fighters and American advisers and trainers".
A security source familiar with one of the company's operations said its management informed staff supervisors early on Saturday that the evacuation plan for both companies, which was being prepared until Friday, had been halted.
The companies had received assurances from US military personnel at the base that they would step up security at Balad as well as around the base, including aerial surveillance, to ensure the safety of their contractors, the source said.
One of the military sources at Balad said Iraqi commanders had also assured US military officials they would ensure the safety of foreign staff at the base in case of future attacks.
Rocket attacks
US forces would be allowed to help secure the outside perimeter of the base, a task normally only assigned to Iraqi forces, as part of efforts to step up safety measures for contractors, the source said.
The US coalition in Iraq declined to comment on the additional security measures.
A spokeswoman for Lockheed in the Middle East said: "We are not evacuating Lockheed Martin employees right now from Balad Air Base." She did not say whether any other evacuation was being prepared.
Lockheed and Sallyport did not immediately respond to requests for further comment later on Saturday.
The mortar attack on Balad last week caused no casualties, the military said. No one has claimed responsibility for the attack.
That incident was followed by attacks on two other military installations hosting US forces, near Baghdad and in the northern city of Mosul.
US energy giant ExxonMobil evacuated at least 21 foreign staff from a site near the southern city of Basra on Wednesday after a rocket also hit that facility, an Iraqi security source said.
One of the military sources, an official with knowledge of Balad base's daily operations said on Friday that the US military informed Iraqi officials they would begin evacuating about half of the 800 employees who work for both companies.
The sources said the evacuation could start at any moment.
"Americans informed us that they will only keep limited, necessary staff who work closely on the maintenance of Iraqi F-16 war planes," one of the Iraqi sources said.
Full report at:
https://english.alarabiya.net/en/News/middle-east/2019/06/23/Iraq-US-deny-planned-evacuation-of-contractors-from-Iraqi-base.html
--------
Four workers killed in a terrorist attack near Egypt's el-Arish Airport
22 June 2019
Four civilian workers were killed in a terrorist attack near el-Arish International Airport in Egypt's North Sinai province, an Al Arabiya correspondent reports.
The Associated Press reported quoting Egyptian officials that militants have attacked construction workers in the restive northern Sinai Peninsula, killing at least four civilian workers.
The officials say Saturday's attack took place in the Mediterranean city of el-Arish as workers were building a fence around the city's airport. They say the militants wounded five other workers and burned two vehicles.
The officials spoke on condition of anonymity because they were not authorized to brief the media.
No group immediately claimed responsibility for the attack, which bore hallmarks of an affiliate of the ISIS.
Full report at:
https://english.alarabiya.net/en/News/middle-east/2019/06/22/Four-killed-in-a-terrorist-attack-near-Egypt-s-El-Arish-Airport-.html
--------
Syrian air defences target terrorists' combat drone in Hama
Jun 22, 2019
Syrian air defense systems have intercepted and shot down an unmanned aerial vehicles launched by members of the Jabhat Fateh al-Sham Takfiri terrorist group, formerly known as al-Nusra Front, in the country's western-central province of Hama.
Syria's official news agency SANA reported on Saturday that Syrian army reconnaissance teams were able to detect the aircraft as it was approaching Hama Military Airport, located some 200 kilometers north of the capital Damascus.
The report added that the drone was armed with rockets containing high explosives, and equipped with a Global Positioning System (GPS) tracker.
The Arabic service of Russia's Sputnik news agency, citing an unnamed Syrian military source, reported late on June 4 that Syrian army units had detected a number of aircraft as they were approaching a helipad of a government military site in Jubb Ramlah village, located about 189 kilometers (118 mi) north of Damascus.
The report added that Syrian forces then used anti-aircraft defense systems and targeted the drones as they were flying in the sky. There were no reports of any casualties.
Syrian state TV reported on May 22 that army forces had shot down a drone loaded with bombs near Hama's airport.
The television network added that the drone had been launched by members of the Jabhat Fateh al-Sham Takfiri terrorist group, formerly known as al-Nusra Front, without providing any further details.
Also on Saturday, Syrian government forces struck the strongholds of foreign-sponsored Takfiri militants positioned in the de-escalation zone of the troubled northwestern province of Idlib.
SANA reported that Syrian troops fired a barrage of artillery rounds and missiles at Jabhat Fateh al-Sham Takfiris' fortifications in al-Naqeer village, which lies in the Maarrat al-Nu'man district of Idlib province, leaving scores of the extremists killed and injured in the process.
The militants were apparently heading towards Hobait town on board several sport utility vehicles with roof-mounted machine guns.
Elsewhere in Hama province, Syrian army artillery units targeted Jabhat Fateh al-Sham and Jaysh al-Izza (the Army of Glory) terrorists on the outskirts of Jubbayn village in Mahardah district. Many terrorists were killed and their vehicles destroyed as a result.
Full report at:
https://www.presstv.com/Detail/2019/06/22/599169/Syrian-air-defenses-target-terrorists-combat-drone-in-Hama
--------
Muslim World League chief meets with Austrian, Spanish diplomats
June 22, 2019
RIYADH: Muslim World League (MWL) Secretary-General Dr. Mohammed bin Abdul Karim Al-Issa received the Austrian Ambassador to Saudi Arabia Georg Postinger in his office in Riyadh.
The importance of benefiting from common human values to promote the values of harmony between nations and peoples and understand the nature of cultural diversity was discussed at the meeting.
The Austrian ambassador praised the efforts of the MWL in establishing the values of tolerance and harmony between followers of religions and cultures and called on the MWL to continue its contributions in raising awareness of the dangers of extremism and hate speech.
Earlier, Al-Issa met the Spanish government's envoy to the Middle East, Eva Martinez, accompanied by Ambassador of Spain to the Kingdom Alvaro Iranzo.
The meeting discussed constructive dialogue and bridging different cultures and ethnicities according to the concepts of awareness, which represent common human values.
Full report at:
http://www.arabnews.com/node/1514681/saudi-arabia
--------
Africa
Ethiopia proposes civilian-majority ruling body for Sudan, say protest leaders
22 June 2019
Sudanese protest leaders said Saturday that an Ethiopian envoy mediating with the ruling generals has proposed forming a civilian-majority governing body for a political transition in Sudan.
Citing a compromise blueprint for the transition which they saw, two protest leaders told AFP it suggests the creation of a 15-member body led by civilians.
Tension between the protest leaders and generals, who seized power after ousting President Omar al-Bashir in April, has been high since a deadly crackdown on a protest camp in Khartoum killed dozens earlier this month.
The crackdown carried out by men in military uniforms came after talks between the two sides failed to reach an agreement on the composition of the new ruling body and who should lead it - a civilian or soldier.
Days after the crackdown, Ethiopian Prime Minister Abiy Ahmed tried to mediate between the two sides.
His envoy on Saturday Mahmoud Dreir was to discuss the compromise blueprint for a political transition with protest leaders.
One of them, Amjad Farid, said the document "asserts the previous agreements, as well as a proposal to form the sovereign council of eight civilians and seven military."
He said of the eight civilians, seven would be from the umbrella protest movement the Alliance for Freedom and Change.
Another protest leader Madani Abbas Madani also confirmed that compromise calls for a civilian-majority governing body.
In previous talks, protest leaders and the generals had agreed on a three-year transition period and to form a 300-member parliament, with two-third lawmakers from the protest movement.
Ethiopia stepped up its efforts to resolve the political crisis in Sudan since the deadly June 3 dispersal of a long-running protest camp outside army headquarters in Khartoum.
At least 128 people have been killed in the crackdown, the majority of them on that day, doctors linked to the protest movement say.
The health ministry put the June 3 death toll at 61 nationwide.
The generals deny they ordered the army HQ protest broken up, insisting they authorized only a limited operation to clear drug dealers from around the camp.
It expressed "regret" over the "excesses" that happened on June 3.
https://english.alarabiya.net/en/News/middle-east/2019/06/22/-Ethiopia-proposes-civilian-majority-ruling-body-for-Sudan-say-protest-leaders-.html
--------
Three al Shabaab fighters killed in Kenya after attack on police
JUNE 22, 2019
NAIROBI (Reuters) - Security forces in Kenya killed three suspected militants from Somalia's Islamist group al Shabaab after they attacked a police outpost in Garissa county near the border, police said on Saturday.
The incident happened on Friday night after the militants raided a camp used by a border patrol police unit, according to a statement. No security personnel were injured in the operation, it added.
"Our officers effectively engaged them and with quick reinforcement from special forces, the attackers were repulsed," police said. "The enemy suffered three fatalities during the incident."
Al Shabaab frequently stages attacks in Kenya to put pressure on Nairobi to withdraw its soldiers from Somalia.
Some of the group's most deadly strikes in Kenya include an 2015 attack on a university in which 148 people, mostly students, died, while a 2013 assault on the Westgate shopping mall in the capital Nairobi killed 67 people.
Al Shabaab is fighting to topple Somalia's Western-backed central government so it can install its own government based on its strict interpretation of the Islamic sharia law.
Full report at:
https://www.reuters.com/article/us-kenya-security/three-al-shabaab-fighters-killed-in-kenya-after-attack-on-police-idUSKCN1TN0KK
--------
Nigeria confirms 42 Boko Haram fighters killed in multilateral operation
2019-06-23
ABUJA, June 22 (Xinhua) -- Nigerian defense authorities on Saturday confirmed at least 42 Boko Haram fighters had been killed in a clearance operation against the terror group along the Lake Chad fringes.
The operation on Friday was carried out by the Multinational Joint Task Force in a combined land and sea offensives on the enclaves of Boko Haram, said Timothy Antigha, a Nigerian military spokesman who also doubles as a spokesperson for the multinational force.
The operation was conducted in Doron Naira, an island in Lake Chad, and Nigerian border areas including Cross Kauwa and Baga in Nigeria's northeastern state of Borno, Antigha said.
The multinational force comprises troops from Nigeria, Chad, Cameroon, Niger, and Benin.
One soldier was killed in the confrontation with the Boko Haram fighters, and 10 other soldiers were wounded, the military official said.
Two gun trucks and three motorcycles were destroyed by the multinational troops, while two light machine guns and two AK-47 rifles were recovered from the terrorists, according to Antigha.
The operation, he said, would be further intensified through raids, ambushes and fighting patrols to clear terrorists from their last stronghold in the Lake Chad Basin.
Last December, Nigerian President Muhammadu Buhari and his colleagues of the Lake Chad Basin Commission renewed their commitment to ending the Boko Haram insurgency, declaring "a fight to finish."
Boko Haram has been trying since 2009 to establish an Islamist state in northeastern Nigeria, extending its attacks to countries in the Lake Chad Basin.
Full report at:
http://www.xinhuanet.com/english/2019-06/23/c_138165275.htm
--------
Ethiopian army chief, regional president killed in unrest: PM Abiy
23 June 2019
Ethiopia's army chief of staff was shot while trying to thwart an attempted coup on Saturday in a federal state north of the capital Addis Ababa, Prime Minister Abiy Ahmed said.
The head of Ethiopia's Amhara state and his advisor were also killed during a coup attempt in their state, state media reported on Sunday.
Ambachew Mekonnen and his advisor were attacked in their offices on Saturday, state media reported, without saying who was responsible.
Speaking on state television late on Saturday, Abiy said General Seare Mekonnen was one of several casualties. But his press secretary, Billene Seyoum, told Reuters later that it was unclear whether General Seare had been killed or wounded.
"He was shot by people who are close to him," Abiy said.
The prime minister said the general had been trying to prevent plotters carrying out a coup in Amhara state, one of Ethiopia's nine federal states.
Since coming to power last year, Abiy has tried to spearhead political reforms, to open up the once isolated, security-obsessed country of 100 million people on the Horn of Africa.
Abiy has released political prisoners, removed bans on political parties and prosecuted officials accused of gross human rights abuses, but his government is battling mounting violence.
Ethnic bloodshed - long held in check by the state's iron grip - has flared up in many areas, including Amhara, where the regional government was led by Ambachew Mekonnen.
According to Abiy, regional government officials were in a meeting when a coup attempt occurred.
"There are a few people who were killed while others were injured," Abiy said.
An Ethiopian army general was behind a coup attempt in the state of Amahara, state television reported on Sunday.
State media named him as General Asamnew Tsige, who was Amhara's head of security.
Amhara is one of nine regional states in Ethiopia.
A regional television broadcaster affiliated with the Tigray People's Liberation Front (TPLF), a member of Abiy's coalition, reported Seare had been killed, alongside another senior military official, Gize Abera.
The US Embassy said on Saturday that it was aware of reports of gunfire in Addis Ababa, though Reuters could not confirm those reports.
"Chief of Mission personnel are advised to shelter in place," the Embassy said on its website.
Early on Sunday, Brigadier General Tefera Mamo, the head of special forces in Amhara, told state television that "most of the people who attempted the coup have been arrested, although there are a few still at large."
Residents in Amhara's capital Bahir Dar said late on Saturday there was gunfire in some neighborhoods and some roads had been closed off.
Full report at:
https://english.alarabiya.net/en/News/world/2019/06/23/Ethiopia-s-army-chief-of-staff-has-been-shot-top-aide-says.html
--------
Libya intercepts nearly 200 Europe-bound migrants at sea
22 June 2019
Libya's coast guard says it has intercepted Europe-bound vessels carrying nearly 200 migrants, including women, off the country's Mediterranean coast.
Spokesman Ayoub Gassim said on Saturday that five rubber boats carrying 199 migrants were intercepted over the past several days near the capital, Tripoli.
He says the coast guard intercepted 39 migrants on Wednesday in two boats, another boat with 17 migrants on Thursday and two more with 143 migrants on Friday.
All were Africans, except eight from Bangladesh.
They were given humanitarian and medical aid, then taken to refugee camps in Tripoli.
Libya became a major conduit for African migrants and refugees fleeing to Europe after the 2011 NATO-backed uprising that ousted and killed longtime ruler Moammar Gadhafi.
Full report at:
https://english.alarabiya.net/en/News/north-africa/2019/06/22/Libya-intercepts-nearly-200-Europe-bound-migrants-at-sea.html
--------
Sudan's transitional council deputy thanks Saudi Arabia, UAE for assistance
June 22, 2019
LONDON: Saudi Arabia, the UAE and Egypt have provided Sudan with assistance without interfering in its affairs, the deputy head of the transitional military council in Sudan Mohamed Hamdan Dagalo said on Saturday.
Dagalo also thanked Saudi Arabia and the UAE for their support.
He also said that infrastructure and services in Sudan are now the priorities for the military council.
He added that the Sudanese Rapid Support Forces (RSF) are fighting terrorism and illegal immigration.
Earlier on Saturday, Sudan's protest leaders said they are meeting with an Ethiopian envoy over proposals to resume negotiations with the ruling military council.
The leaders say they've received Ethiopia's initiative for the transition from military to civilian rule, and would declare their position during Saturday's meeting with Ethiopian diplomat Mahmoud Dirir.
The protesters are represented by a coalition of political groups, the Forces for the Declaration of Freedom and Change.
Transition talks collapsed over the military's crackdown against a protest sit-in earlier this month that killed dozens.
The protesters are calling for an international probe into the crackdown, as well as for restoring all previous deals they'd made with the military council before resuming talks.
Full report at:
http://www.arabnews.com/node/1514626/middle-east
--------
30,000 Sudanese forces fighting in Yemen: Official
Mohammed Amin
22.06.2019
As many as 30,000 Sudanese soldiers are fighting alongside the Saudi-led coalition in Yemen, said deputy head of Sudan's ruling military council.
In a public address in Abri on the outskirts of capital Khartoum, Mohamed Hamdan, deputy chairman of Transitional Military Council (TMC), said the Sudanese forces are the biggest among the coalition led by Saudi Arabia and the UAE in Yemen.
"Our ties with Saudi Arabia and the UAE are very strong. For example, we have 30,000 fighters fighting alongside the Arab coalition," said Hamdan, who also leads the paramilitary Rapid Support Forces in Sudan.
"Some parties want to sabotage our good ties with Saudi Arabia and the UAE and this is unacceptable," he said, referring to opposition.
Yemen fell into civil war in 2014 when Iran-backed Houthi rebels overran much of the country, including capital Sanaa.
In 2015, Saudi Arabia and its Arab allies launched a massive air campaign aimed at rolling back Houthi gains in the impoverished country.
Full report at:
https://www.aa.com.tr/en/africa/30-000-sudanese-forces-fighting-in-yemen-official/1512989
--------
Europe
Parents of ISIS fighter in Britain convicted
June 22, 2019
Robert Spencer
"Jurors heard that in July 2015 Jack spoke about wanting to decapitate a former school friend on social media. Linus Doubtfire posted a picture on Facebook as he completed his Commando Artillery Course in the British Army. Jack then posted: 'I would love to perform a martyrdom operation in this scene.'"
Jack Letts somehow got the idea that his new religion required him to commit treason and mass murder. His parents apparently didn't care. But of course, authorities the world over also ignore the recurring phenomenon of converts to Islam turning to jihad violence.
"'Jihadi Jack' parents guilty of funding terrorism," BBC, June 21, 2019:
The parents of a Muslim convert dubbed "Jihadi Jack" have been found guilty of funding terrorism.
John Letts, 58, and Sally Lane, 57, from Oxford, sent their son £223 in September 2015 while he was in Syria despite concerns he had joined Islamic State….
In March 2015, police warned the couple they risked prosecution if they sent their son money.
Then in September, Lane transferred money to an account in Lebanon after Jack Letts insisted it had "nothing to do with jihad"….
She added Letts and Lane were repeatedly told by "numerous police officers" not to send any money.
Jurors heard that in July 2015 Jack spoke about wanting to decapitate a former school friend on social media.
Linus Doubtfire posted a picture on Facebook as he completed his Commando Artillery Course in the British Army.
Jack then posted: "I would love to perform a martyrdom operation in this scene".
Input by Blitz:
While parents of Jihadi Jack have been convicted in Britain, a notorious criminal and ISIS-funder Md. Shahid Uddin Khan and his family are still living in the United Kingdom despite international media's coverage on their illegal activities including fraud, forgery, money laundering, dealing in arms and funding Islamic State and other militancy groups. The Khans also are business associates of notorious terrorist Dawood Ibrahim's D-Company, which is involved in transnational trafficking in drugs and weapons.
In 2009, Md. Shahid Uddin Khan, his wife Farjana Anjum along with their three daughters, Shehtaz Munasi Khan, Parisa Pinaz Khan and Zuman Fiza Khan had entered the United Kingdom by buying 'Golden Visa' under Visa Tier 1. They have laundered millions of dollars and the entire amount of their investment in Britain was dirty money.
On January 17, 2019, the Counter Terrorism and Transnational Crime unit of Bangladesh Police raided the residence of Khans in Dhaka and recovered huge volume of explosives, illegal weapons, counterfeit currency and jihadist materials. Subsequently, several cases were lodged against them. On May 25, 2019, British newspaper the Sunday Times had published an investigative report on the activities of this family. This influential newspaper had also exposed the secret connection between the Khans and British Tory Party MP Stephen Hammond.
https://www.weeklyblitz.net/news/parents-of-isis-fighter-in-britain-convicted/
--------
Germany's Merkel says Iran issue will be discussed at G20
22 June 2019
The Iran issue will be discussed at next week's meeting of leaders of the Group of 20 leading economies in Japan, at least at a bilateral level, German Chancellor Angela Merkel said on Saturday.
Speaking at an annual gathering of Protestant churches, Merkel also said that the international community must seek a political solution on Iran. This comes after US President Donald Trump said he had aborted a military strike to retaliate against Tehran's downing of a US drone.
Full report at:
https://english.alarabiya.net/en/News/middle-east/2019/06/22/Germany-s-Merkel-urges-political-solution-in-Iran-crisis.html
--------
Norwegian of Turkish origin held over links to PKK
Abdullah Celik
22.06.2019
Turkish security forces have detained a Norwegian citizen of Turkish origin in eastern Bingol province for his alleged links to the PKK terrorist group in Norway, according to local provincial governorate on Saturday.
In a joint operation carried out by the provincial police department and National Intelligence Organization (MIT), Roger Carlsen -- a former Turkish citizen -- who is believed to be responsible for the PKK's structure in Norway, was apprehended in Solhan district.
A large number of PKK's organizational documents were also seized during the search.
Following procedures at the police station, the suspect was remanded in custody by a criminal court of peace.
Known as Ahmet A. while holding a Turkish citizenship, it was learned that the suspect had come to visit his relatives in the district a while ago.
Full report at:
https://www.aa.com.tr/en/europe/norwegian-of-turkish-origin-held-over-links-to-pkk/1512806
--------
Turkey slams Greece for violating Lausanne Peace Treaty
Ali Murat Alhas
22.06.2019
Turkey on Friday decried a decision by Greece that local religious leaders, known as muftis, among the Turkish minority living in the Western Thrace would henceforth be appointed by the state instead of being elected by the local people.
"Greece violates the Lausanne Peace Treaty by not recognizing the muftis selected by the Turkish minority," Foreign Ministry Spokesman Hami Aksoy said.
Aksoy, said the move violated the minority's religious rights.
Underlining that this decree would eliminate the autonomy of the Mufti establishment in the country, he urged Greece to have intimate and comprehensive communication with the Turkish minority to resolve this problem in line with the Lausanne Treaty.
He said Greece must recognize the muftis elected by the minority and reverse its policy of imposing illegally appointed ones.
Aksoy also underlined that it was "worrying" that such intrusive and negative acts took place in an EU member state.
In Greece, the muftis of the Turkish minority in Western Trace are appointed by the government; however, the Turkish minority rejects this policy and demands the muftis be locally-elected by them.
Today, about 150,000 ethnic Turkish people reside in Western Thrace with their status set by the Lausanne Peace Treaty of 1923 and their rights guaranteed by several bilateral and multilateral agreements.
Full report at:
https://www.aa.com.tr/en/europe/turkey-slams-greece-for-violating-lausanne-peace-treaty/1512458
--------
URL: https://www.newageislam.com/islamic-world-news/bjp-rejects-report-religious-freedom/d/118962
New Age Islam, Islam Online, Islamic Website, African Muslim News, Arab World News, South Asia News, Indian Muslim News, World Muslim News, Women in Islam, Islamic Feminism, Arab Women, Women In Arab, Islamophobia in America, Muslim Women in West, Islam Women and Feminism