New Age Islam News Bureau
14 September 2022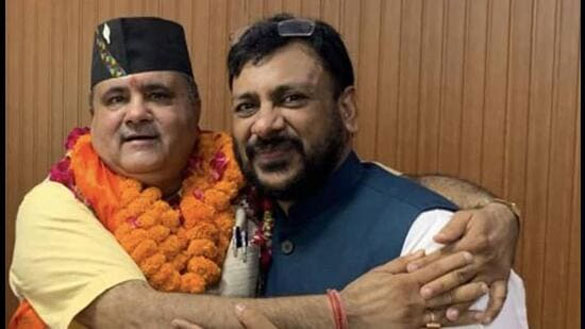 Shadab Shams (right) with BJP state unit chief Mahendra Bhatt. (HT PHOTO)
----
• Court to Hear Suit Seeking Ban on Muslims in Gyanvapi, Handing the Complex to Hindus and Permitting Daily Worship of Lord Aadi Visheshwar
• To Exit FATF Grey List, Pakistan Asks Taliban To Hunt For Jem Chief Masood Azhar In Afghanistan
• Abraham Accords: Experts Hail Two Years of Growing Ties between UAE, Israel, Bahrain
• Citizenship-Stripping Has Made British Muslims 'Second Class Citizens': Institute Of Race Relations
India
• Hindus Need Gyanvapi: How Holy Varanasi Temples Were Desecrated By Muslims In The Name Of the Mosque
• "Muslims welcome at Garbas, if Quran permits them to pursue idol worship," says MP Usha Thakur
• 'Madrasas targeted by sectarian forces', Jamiat Ulama-e-Hind objects to UP govt's survey
• Caste in Islam, Christianity: Why SC Is Pushing Centre To Decide On Reservations For Dalit Muslims, Christians
--------
South Asia
• Restrictions Will Cause Distance Between Kabul, World: Islamic Emirate
• Islamic Emirate Yet to Be Invited to SCO Meeting in Uzbekistan
• Taliban Says 40 Rebel Force Members Killed in Northern Panjshir
--------
Arab World
• Iraq: Sadr calls for armed militias not to be included in security during Shia pilgrimage
• Syrian govt. troops block US military convoy in Hasakah, force it to turn back
• President of Kazakhstan, Grand Imam of Al-Azhar review cooperation in promoting true image of Islam
• Pro-Iran faction in Iraq sticks to its pick for premier
• Syrians have right to return home but conditions not yet met: EU
• A visit to the Barking Lot in Al-Khobar, Saudi Arabia's first cafe dedicated to dogs
--------
Europe
• God Does Not Back War, Pope Tells Religious Conference
• Taliban Failed to Uphold any Promises Made: EU Special Envoy at UNHRC
• Taliban reject UN report, say no women fired from government jobs
• CENTCOM urges nations to bring Daesh relatives home from Syria
• Western Powers Seek Unity Against Iran At IAEA But No Resolution: Sources
--------
Southeast Asia
• China Promoting Taliban 2.0 for Better Business Deals in Afghanistan
• Zahid raised racial issues, damaged my reputation, says Dr M
• China's Xi vows to 'defend common security' with Kazakhstan
--------
Mideast
• Hamas Says 'Comprehensive Resistance' Sole Way To Realize Palestinian Rights, Urges PA To Scrap Oslo Accords
• Iranian President: Israeli Presence in Region Threat to All Nations
• Families of Iranian Terror Victims Protest at Albania for Sheltering Terrorists
• Iran Thanks Tunisia for Opposing Israeli Regime's Observer Status in African Union
• Two Palestinian gunmen and Israeli army officer killed in West Bank clash
• Iran schools call for Israel's 'eradication,' consider US 'satanic enemy': Study
--------
North America
• 93 Years Added To Life Sentence for 2014 'Jihad-Inspired' Murders Including Two Gay Men Killer Met On Capitol Hill
• US says it expects Pakistan to take 'sustained action' against all terrorist groups
• UN chief calls for de-escalation between Azerbaijan and Armenia amid renewed fighting
• New book reveals Trump's fear of Iran's revenge for Gen. Soleimani assassination
--------
Pakistan
• Police Produce 'Missing' Person before IHC; Hearing Under Way
• No plans for Shehbaz-Modi meeting on sidelines of SCO summit
• Imran grilled for 'U-turn' on army chief appointment
• PTI moves SC against 'phase wise' acceptance of resignations
• Three soldiers martyred in exchange of fire with terrorists across Pak-Afghan border: ISPR
• Hindu temple opens door to 200 Muslim flood victims in Balochistan
--------
Africa
• No Going Back On Rejection of Muslim-Muslim Ticket – Northern Christians
• Twin airstrikes kill 10 people in Ethiopia's Tigray region: Hospital official
• More than half a million children face malnutrition in Somalia: UN agency
Compiled by New Age Islam News Bureau
URL: https://newageislam.com/islamic-world-news/shadab-shams-haridwar-muslim-shrine-piran-kaliyara/d/127946
--------
BJP Leader Shadab Shams Calls Haridwar Muslim Shrine, Piran Kaliyara, 'Den Of Prostitution, Human Trafficking, and Drugs', Provokes Outrage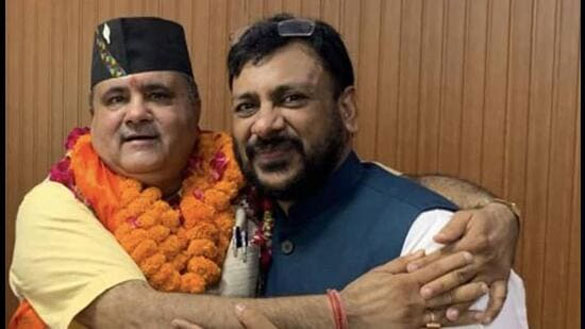 Shadab Shams (right) with BJP state unit chief Mahendra Bhatt. (HT PHOTO)
----
Sep 13, 2022
Ruling Bhartiya Janata Party (BJP) leader Shadab Shams has called Haridwar's revered Muslim shrine Piran Kaliyara a "den of prostitution, human trafficking, and drugs" and promised to "cleanse" it of "wrong people" under Prime Minister Narendra Modi's Clean India campaign with a broom and bulldozer, provoking outrage.
"Piran Kaliyar is an international centre for pilgrims, where people come to seek blessings irrespective of religion and caste. People who do not have children go and beg there after doctors and medical science fail. We have seen miracles happening when people are blessed with children. It is unfortunate that such a sacred place has been tainted," he said on Monday.
Shams, who has been named as the new head of the Uttarakhand Waqf Board that is responsible for managing Muslim religious sites, quoted police officers and local intelligence unit saying the shrine has become a den of "human trafficking, drugs, and prostitution". "So many such cases have come to light and it has now become intolerable. We have decided that under Modi's cleanliness campaign, we will cleanse the place of the wrong people. From top to bottom, we will clean the place with a broom and bulldozer."
The earthmover or bulldozer has become a symbol of extra-judiciary crackdown through the demolition of properties in BJP ruled states against those considered criminals, rioters, and anti-social elements.
Shams said they will run a campaign with assistance from the public and that "wrong people" would not be allowed in Devbhoomi (land of God). "This is [Pushkar Singh] Dhami's government. At any cost, these corrupt people and those who indulge in prostitution, and human trafficking will not be tolerated. It is ruining generations."
Congress leader Garima Dasauni hit out at the BJP over Shams's comments. "It appears BJP leaders are power-drunk and have lost their minds. We are proud of the fact that Uttarakhand is known as devbhoomi, which is home to religious sites like Nanakmatta and Piran Kaliyar where people in large numbers come and seek blessings." She added the comments will hurt religious centres and affect the state's tourism.
Dasauni said there even if there is some truth to Shams's claims, then whose failure it is as the BJP has been in power for over five years. She added Shams has sought to polarise voters ahead of panchayat elections and that he was doing so at the behest of BJP's leadership.
Muhammad Nizamuddin, a Congress leader and former lawmaker from Haridwar, said targeting a particular religion has become a trend in the Modi era. "Piran Kaliyar is located 15 km from Senior Superintendent of Police's office...security arrangements remain in place there as...religious events happen on a regular basis. If the atmosphere of Piran Kaliyar is spoiled, then it is the same everywhere in Uttarakhand."
BJP leader Manveer Singh Chauhan said Piran Kaliyar is a big area and Shams's statement was the context of complaints he received about illegal practices in hotels and other places. He added it needs "cleanliness" as it is the responsibility of their government to do it.
Police chief Ashok Kumar said they were aware of "the law-and-order situation" in Piran Kaliyar. "...as and when any such case comes to our knowledge, police take strict action."
Shams did not respond to calls despite repeated attempts.
Piran Kaliyar is the final resting place of the 13th-century saint Alauddin Ali Ahmed on the outskirts of Roorkee. Millions of devotees from India and abroad visit the shrine around 15 km from Haridwar.
Source: Hindustan Times
Please click the following URL to read the text of the original story:
https://www.hindustantimes.com/india-news/bjp-leader-calls-haridwar-muslim-shrine-den-of-prostitution-provokes-outrage-101663054411094.html
--------
Court To Hear Suit Seeking Ban on Muslims in Gyanvapi, Handing the Complex to Hindus and Permitting Daily Worship of Lord Aadi Visheshwar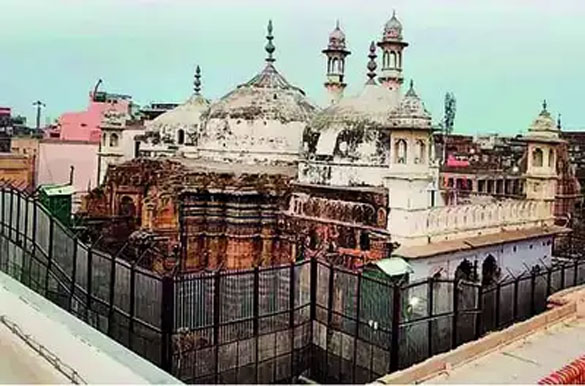 Photo: The Times of India
----
Sep 14, 2022
VARANASI: A fast-track court will hear from October 6 the maintainability of a suit seeking a ban on the entry of Muslims in Gyanvapi mosque, handing the complex to Hindus and permitting daily worship of Lord Aadi Visheshwar there.
The suit was filed by Vishwa Vedic Sanatan Sangh (VVVS) in May, with the organisation's chief Jitendra Singh Visen making his wife Kiran Singh the plaintiff.
Anjuman Intejamia Masajid, the mosque management committee, had to begin arguments challenging the maintainability of the petition before the civil judge, senior division (fast-track court), Mahendra Kumar Pandey, said VVSS lawyer Shivam Gaur on Tuesday. "But two AIM lawyers informed the court that arguments could not be started from Tuesday as their senior was unwell. The court gave time to AIM, but made it clear the hearing would begin from October 6 and continue daily," Gaur said.
VVSS is backing Rakhi Singh, one of the five plaintiffs seeking the right to unrestricted daily worship of goddess Shringar Gauri and other deities on the Gyanvapi mosque premises. The Varanasi district court allowed Monday maintainability of the women's petition that was questioned by AIM.
Source: Times Of India
Please click the following URL to read the text of the original story:
https://timesofindia.indiatimes.com/india/court-to-hear-suit-seeking-ban-on-muslims-in-gyanvapi/articleshow/94185979.cms
--------
To Exit FATF Grey List, Pakistan Asks Taliban to Hunt for JeM Chief Masood Azhar in Afghanistan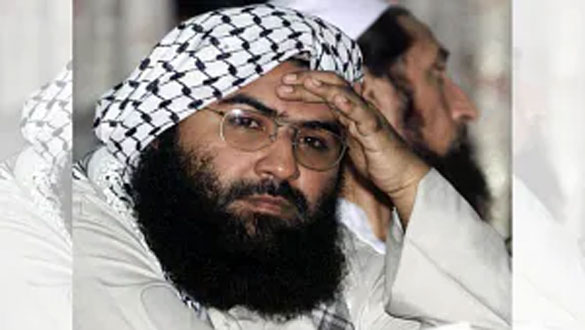 File picture of Jaish-e-Mohammed (JeM) chief Masood Azhar | ANI Photo
-----
Praveen Swami
14 September, 2022
New Delhi: A letter seeking the arrest of Jaish-e-Mohammed (JeM) chief Masood Azhar Alvi, sent by Pakistan to the Taliban-ruled Islamic Emirate of Afghanistan, was despatched by Islamabad just days ahead of an inspection by monitors from the multinational Financial Action Task Force (FATF), Indian government sources told ThePrint.
An earlier letter seeking Azhar's arrest was sent to the Islamic Emirate in January, the sources said.
"We have written a one-page letter to the Afghan Foreign Ministry asking them to locate, report and arrest Masood Azhar, as we believe that he is hiding somewhere in Afghanistan," an official had told Geo News on Tuesday. The Taliban has denied knowledge of Azhar's whereabouts.
FATF monitors had made a five-day visit to Pakistan beginning on 28 August, to verify on-ground actions the country is required to take before it can exist a grey-list of countries where terrorist groups remain able to access financing.
Following Pakistan's January letter, ThePrint had revealed that the Jaish-e-Muhammad had continued to hold public events to mark the killing of jihadists in Kashmir. Fighters of the JeM — in video obtained by ThePrint showed — fired shots in the air at a function near Rawlakote, and shouted pro-jihad slogans.
The event was attended by the JeM head for Pakistan-occupied Kashmir (PoK), Muhammad Ilyas.
Islamabad's request to the Taliban was issued after an anti-terrorism court in the city of Gujaranwala had issued an arrest warrant for Azhar – a UN-designated global terrorist – on charges of raising funds for a terrorist group. The Pakistan government also incarcerated key leaders of the Lashkar-e-Taiba (LeT) it had earlier claimed to be unable to locate, notably 26/11 perpetrator Sajid Mir.
Evidence has long existed of ties between the Jaish-e-Mohammed and the Taliban. In May, United Nations sanctions monitors reported that the JeM "maintains eight training camps in Nangarhar, three of which are directly under Taliban control."
Last year, the United Nations had recorded that the Lashkar-e-Taiba and Jaish-e-Mohammed "were stated to have approximately 800 and 200 armed fighters, respectively, co-located with Taliban forces in Mohmand Darah, Dur Baba and Sherzad Districts of Nangarhar Province."
Following the 2016 Jaish-e-Mohammed attack on the Indian Air Force base in Pathankot, the law minister of the Pakistani province of Punjab, Rana Sanaullah, had announced that Azhar had been taken into "protective custody".
The Jaish chief has since issued several articles and speeches, but is not known to have made public appearances. Indian intelligence officials believe Azhar—who suffers from long-standing cardiac and renal health issues—has since remained at homes in Rawalpindi and Bahwalpur, under the protection of the Inter-Services Intelligence Directorate.
Leadership of the Jaish-e-Mohammed's empire of seminaries and military training camps has, intelligence sources told ThePrint, largely fallen to Azhar's brother, Abdul Rauf Rasheed Alvi. Rauf was sanctioned by the United States Treasury Department in 2010 for his role in "deadly attacks against innocent civilians in Pakistan, Afghanistan and India."
Following the 2019 suicide-bomb attack in Pulwama, Pakistan had announced that it was taking over administration of the Jama-e-Masjid Subhanallah in Bahawalpur, the headquarters of Jaish-e-Mohammed. The seminary, with space for over 12,000 students, was built on land revealed to be owned by Rauf.
Later, however, Bahawalpur Deputy Commissioner Shahzaib Saeed told a group of visiting journalists it was just "routine seminary having no link with the Jaish-e-Mohammed".
Fawwad Chaudhury, former information minister for Punjab province, weighed in, too, proclaiming "India is doing propaganda that it is the Jaish-e-Mohammed's headquarters."
The seminary, a Bahawalpur resident told ThePrint, continues to be in operation, with armed guards protecting access to the complex. The Masjid Usman-o-Ali, the JeM's other major facility in Bahawalpur, also remains open.
Source: The Print
Please click the following URL to read the text of the original story:
https://theprint.in/world/to-exit-fatf-grey-list-pakistan-asks-taliban-to-hunt-for-jem-chief-masood-azhar-in-afghanistan/1127723/
--------
Abraham Accords: Experts hail two years of growing ties between UAE, Israel, Bahrain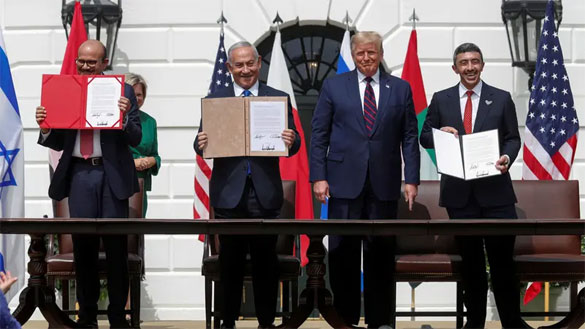 Bahrain's Foreign Minister Abdullatif Al Zayani, Israel's Prime Minister Benjamin Netanyahu and United Arab Emirates (UAE) Foreign Minister Abdullah bin Zayed display their copies of signed agreements while U.S. President Donald Trump looks on as they participate in the signing ceremony of the Abraham Accords, normalizing relations between Israel and some of its Middle East neighbors, in a strategic realignment of Middle Eastern countries against Iran, on the South Lawn of the White House in Washington, U.S., September 15, 2020. (Reuters)
-----
14 September, 2022
Ambassadors and business leaders across Israel, Bahrain and the United Arab Emirates have hailed another record year of business deals, trade deals and closer ties between the Middle Eastern nations as the second anniversary of the historic Abraham Accords is marked.
Speaking to Al Arabiya English, experts said the nations are continuing to benefit from the normalization agreement as the two-year milestone is marked on Thursday.
Fleur Hassan-Nahoum, Deputy Mayor of Jerusalem and co-founder of the UAE-Israel Business Council, said over the past two years the UAE has become one of the fastest-growing trade partners for Israel with new deals spanning sectors including aviation, energy, technology, and health, among others.
She predicts trade deals will double in the 12 months ahead.
"One highlight is the Free Trade Agreement that was signed and paves the way to creating opportunities in key industries, including energy, financial services, distribution, construction, hospitality, and others," she said. "We predict that in year three of this relationship, we will see trade more than double from $1.2 billion to $3 billion, excluding services."
Hassan-Nahoum also said there's been an exciting "domino effect" where other countries like Egypt and Jordan are benefiting from increased trade with Israel.
"We are blessed to be living in a new era in our region which creates stability and opportunity," she told Al Arabiya English.
On August 13, 2020, the UAE and Israel announced that they would be establishing relations. This was followed by Bahrain and Israel on September 11, 2020.
Days later, on September 15, the three countries signed the Abraham Accords Declaration which stated their recognition of "the importance of maintaining and strengthening peace in the Middle East and around the world based on mutual understanding and coexistence, as well as respect for human dignity and freedom, including religious freedom."
Sudan and Morocco have also since signed the peace agreement.
Houda Nonoo, former Ambassador of Bahrain to the US, said the accords have been monumental for the region.
"As citizens of this region, we must celebrate the milestones between our nation," he said. "Through our support of them, coupled with the guiding light that our leaders and their diplomatic emissaries provide, we are able to watch as this relationship reaches its true potential. If this past year is any indication, the relationship between Bahrain and Israel is strong and will continue to flourish."
"There is a Chinese proverb that says, 'one generation plants the trees; another gets the shade,' our generation signed the Accords to create a better future for our children and generations to come," he told Al Arabiya English.
Avi Hasson, CEO of Start-Up Nation Central, a non-profit organization that promotes Israeli innovation around the world, said the Abraham Accords have "unleashed great opportunity and potential for our region."
He added: "We have shifted the dialogue from defense and security to innovation and collaboration."
"As we look back over the last two years, innovation and technology have played a central role in the business exchange," Hasson told Al Arabiya English.
According to the CEO, trade and investment between Israel and the countries that signed the Abraham Accords will double in 2023 with innovation and technology playing a significant part.
"Also, more Israeli companies will open offices in the Accords countries and will hire and train local tech talent, addressing the human capital challenge while also contributing to the development of the innovation ecosystem in these countries," Hasson added.
Avi Melamed, a former Israeli intelligence official and a senior official on Arab affairs, said: "I do not foresee the remaining GCC countries – Saudi Arabia, Oman, Qatar, and Kuwait – officially joining the full framework of the Abraham Accords in the near future, though there is business being conducted between Israel and many of these countries."
He believes relations between the Abraham Accord countries "will continue and deepen in the coming years with an emphasis on the following sectors: intelligence, anti-missiles and rocket technologies, cyber as well as advanced technologies that help solve and mitigate environmental and climate challenges."
Source: Al Arabiya
Please click the following URL to read the text of the original story:
https://english.alarabiya.net/News/gulf/2022/09/14/Abraham-Accords-Experts-hail-two-years-of-growing-ties-between-UAE-Israel-Bahrain
--------
Citizenship-Stripping Has Made British Muslims 'Second Class Citizens': Institute Of Race Relations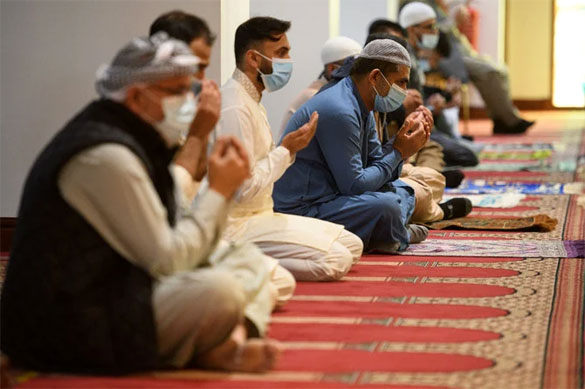 At least 217 citizens were deprived of citizenship since 2003, with numbers ramping up significantly following the collapse of Daesh. (FILE/AFP)
-----
13 September 2022
Citizenship-stripping powers introduced since 2002 have enshrined a "second-class citizenship" in the UK, mainly affecting British Muslims, says a new report from the Institute of Race Relations.
Written in the wake of the Nationality and Borders Act, Citizenship: from right to privilege shows how outrage against the controversial Section 10 of the Act, which allows citizenship to be removed without notice, heightened public awareness of the powers, and provoked a groundswell of opposition amongst campaigners, MPs and Lords.
The report explains how both Labour and Conservative governments have given ministers successively wider powers to remove citizenship from those with access to another citizenship – who are mainly ethnic minorities – and how the targets are almost exclusively British Muslims of south Asian heritage.
The power to remove citizenship increased heavily following its use against Muslim preacher Abu Hamza in 2003. Before this, no removal of citizenship had been authorised for 30 years, but since then there have been at least 217 removals of citizenship, with 104 removals in 2017 following the collapse of ISIS in Syria.
The Home Office is not required to show objectively reasonable grounds to remove a person's citizenship, nor does the person need to have been convicted of any offence, with many deprived despite having no criminal convictions.
The government claims that only those whose actions pose grave threats to national security, or who have committed abhorrent crimes, will lose their citizenship.
But the report's author, IRR vice-chair Frances Webber believes the powers affect far more people, effectively creating a second-class of largely minority ethnic Britons whose citizenship is disposable and contingent.
She said: "Changes to citizenship law which have created these classes of citizenship were brought in to target British Muslims of south Asian and Middle Eastern heritage. Such divisions act as a constant reminder to minority ethnic citizens that they must watch their step, and reinforce racist messages about 'undeserving' racialised groups unworthy of being British."
The report argues that the ambiguous, undefined criteria for deprivation increases the likelihood of arbitrary and discriminatory decisions, and warns of the risk of abuse of the powers for political purposes.
This warning comes after the disclosure that Shamima Begum, whose citizenship was removed by then Home Secretary Sajid Javid in 2018, had been trafficked into Syria by a spy working for Canada.
"The recent revelation of how Begum was trafficked, and the collusion of the British authorities in the cover-up, suggests that risk is a reality," said Webber. "It raises the question: was Begum's citizenship removed to divert attention from Western agencies' prioritisation of intelligence gathering over safeguarding vulnerable trafficked girls?"
Webber added that the legislation is also a threat to racialised communities' right to dissent or criticise the government, with Muslims turned into a "suspect community." She said the increased use of the powers, alongside other provisions affecting Muslim communities, including the controversial Prevent duty, has coincided with the government's shift away from racial and religious equality protections, which new prime minister Liz Truss has described as "favouritism."
"The 'deportation logic' on which the deprivation powers are based – get rid of them, regardless of family ties, or how long they have lived here – is the logic that deprived the Windrush generation of their livelihoods, their homes, in some cases their freedom and their country," Webber said.
Source: 5pillarsuk
Please click the following URL to read the text of the original story:
https://5pillarsuk.com/2022/09/13/citizenship-stripping-has-made-british-muslims-second-class-citizens/
--------
India
Hindus need Gyanvapi: How holy Varanasi temples were desecrated by Muslims in the name of the mosque
Siddhartha Rai
September 14, 2022
New Delhi: Varanasi or Benaras has from time-immemorial been the Mecca of the Indian sub-continent, the keeper of the Hindu identity and a repository of Hindu culture. It has also been central to the reckoning of Hindu politics as also pivotal to any attempt to reckon with the Indian civilisation and its greatness.
Often maligned in Western as well as Left-liberal historiography as the locus of Hindu civilization and society's 'dark underbelly'— Brahmanical hegemony to Sati and thagi —Varanasi has endured not just the onslaughts of historical constructions, but is also the locus of modern history's first tryst with Hindu-Muslim communitarian strife along faultlines that still contested.
In essence, Varanasi forms the bridge of continuity of problematic and competitive Hindu-Muslim relations in pre-colonial medieval Muslim times in India through the British Raj to the present day.
Therefore, Varanasi is the essence of India; the history of Varanasi is also the history of India.
And, the Gyanvapi mosque is at the heart of the history of Varanasi.
The history of Gyanvapi mosque, in turn, is also the history of Hindu humiliation ever since Aurangzeb ordered it built over the remains of the Vishwanath temple as a symbol of indignity of Hindus—portions of the ancient walls were left exposed at places to rub-in Muslim domination.
On the historical timeline, Gyanvapi complex was the site of modern India's first Hindu-Muslim riots, back in 1809-10.
To be exact, the Lat Bhairav or Bhairav's Pillar was the target of ire during the riots. It was not just desecrated in the most foul manner, but broken and reduced to a stump by a Muslim mob.
The Kapal Mochan ground that stands between Gyanvapi mosque and the Kashi Vishwanath temple had several Hindu and Muslim sacred structures, including Lat Bhairav and the temple of Vishweshwar.
The Hindu-Muslim riots in 1809 was sparked when a Hindu attempted to replace the makeshift mud temple of Lord Hanuman on the contested ground between the idgah and Lat Bhairav with a permanent stone structure he had vowed to if he recovered from illness. A huge Muslim crowd on 20 October, 1809, gathered during their Friday prayers, and desecrated the Lat. According to several historical accounts, the Muslim mob overturned Lord Hanuman's pedestal, uprooted the adjacent 'tulsi' tree, and beat the pillar with shoes.
Cows were slaughtered at these places held holy by Hindus. According to some accounts, a cow was slaughtered at one of the holiest ghats of Varanasi, the Gau Ghat. Historical accounts from that time also record that an attack was mounted on the Vishweshwar temple, but was foiled by Hindus. A cow was also reportedly slaughtered by this crowd at the Lat Bhairav and its blood sprinkled all around the sacred grounds.
Outraged by this sacrilege, the Hindu community reacted, but only the next day. A thousand-strong mob of Hindus, say historical records from back then, marched towards the Lat which lay in ruins. Then this mob attacked the Gyanvapi mosque and, as per accounts, set it on fire.
There was huge loss of life. In the annals of Hindu-Muslim riots in India, Banaras riots are compared to none other than the 1931 Kanpur riots. Order was restored only when the army was called in, though outbreaks continued till quite late after the issue had subsided.
Meanwhile, despite all the historical constructions of secularism in the intervening 200 years since the Banaras riots of 1809, the Hindu-Muslim faultlines remain as such. Perhaps, the illusory castles that Left-liberal historians tried to erect in the air upon a dishonest portrayal of Indian reality has confounded the problem more than ever.
Source: Firstpost
Please click the following URL to read the full text of the original story:
https://www.firstpost.com/opinion-news-expert-views-news-analysis-firstpost-viewpoint/hindus-need-gyanvapi-how-holy-varanasi-temples-were-desecrated-by-muslims-in-the-name-of-the-mosque-11249341.html
--------
"Muslims welcome at Garbas, if Quran permits them to pursue idol worship," says MP Usha Thakur
13th September 2022
BHOPAL: Just five days after she stated that entry in Garba Pandals will be allowed only to those possessing authentic ID proofs to prevent such venues from becoming a medium of 'Love Jihad,' Madhya Pradesh's culture and tourism minister Usha Thakur has now said, "Muslims will be welcomed at Garbas if their sacred scripture Quran permits them to pursue idol worship."
"Muslims are most welcome to Garbas, provided they have faith in idol worship and their holy scripture Quran permits them to pursue idol worship. They aren't being invited to Garbas, but if they are so high in faith for the Garbas, then they should have faith in idol worship, which should be allowed by their sacred scripture Quran as well. Also, Muslim men, who've faith in pursuing idol worship will only be welcomed at Garba venues, if they come along with their female family members," Thakur told journalists in Bhopal on Tuesday.
She reiterated that no one will be allowed at any Garba venues across the state without authentic identity proof. "We're writing to all district collectors, requesting them to ensure that entry at Garbas during the coming Navratri celebrations is only allowed to those, who carry authentic ID proofs. This will stop those who hide their actual identity from entering the Garbas."
Just five days back, Thakur had said in Gwalior, "Whoever comes to the Garbas should possess authentic identity proofs, without proper ID proofs, entry will not be allowed in Garba Pandals."
"Garbas in the past had turned into a big medium of Love Jihad activities, but now all concerned stakeholders have become very alert about it. Just to ensure that no one enters the Garba venues, hiding real identity, no one should be allowed entry into the Garba pandals without proper ID proofs," she had added.
While asking the Garba organisers to ensure strict implementation of 'No Entry without ID proof at Garbas,' the minister had said, "This is a salaah (advice) as well as naseehat (instruction)."
Importantly, in 2013, while she was the BJP MLA from Indore-III seat of Indore district, Thakur, ahead of Navratri celebrations had demanded a ban on entry of non-Hindus, particularly Muslims at the Garba venues, for preventing Muslim men from seducing Hindu girls and women. She had then demanded making Aadhar and other ID proofs mandatory for entering the Garba venues to prevent Muslim men from entering the Garba venues, by posing themselves as Hindus.
In 2017, an umbrella group of Hindu festival organisers in Bhopal, the Hindu Utsav Samiti too had demanded from the district administration in the state capital to make possession of Aadhar documents necessary as ID proof for entry into the Garba pandals to prevent the entry of non-Hindus (particularly Muslims) at those venues.
Source: New Indian Express
Please click the following URL to read the full text of the original story:
https://www.newindianexpress.com/nation/2022/sep/13/muslims-welcome-at-garbas-if-quran-permits-them-to-pursue-idol-worship-says-mp-usha-thakur-2497880.html
--------
'Madrasas targeted by sectarian forces', Jamiat Ulama-e-Hind objects to UP govt's survey
13th September 2022
New Delhi: A Muslim organisation has objected to Uttar Pradesh government's move to surveying madarsas. Maulana Arshad Madani, president Jamiat Ulama-e-Hind, clarified that his objection is to the sectarian mentality in the current situation, not to the order to survey Madrasas.
Madani said: "The way sectarian forces have created an atmosphere of hatred throughout the country in the last few years, and the role is being played by the government in this regard, the Muslim is forced to believe that every policy is coming forward to destroy their existence."
Madani said that madrassas are being targeted by sectarian forces and their intentions have to be understood. He also said that they have always tried to allow religious institutions to run on the basis of the rights given in the Constitution, but "sectarians are involved in a conspiracy to destroy them."
Madani spoke further that, madrasas in Assam are being bulldozed for being centres of terrorism and offices of Al-Qaeda, spreading unrest.
Source: Siasat Daily
Please click the following URL to read the full text of the original story:
https://www.siasat.com/madrasas-targeted-by-sectarian-forces-jamiat-ulama-e-hind-objects-to-up-govts-survey-2411978/
--------
Caste In Islam, Christianity: Why SC Is Pushing Centre To Decide On Reservations For Dalit Muslims, Christians
13 SEP 2022
Amid growing calls for affirmative action by certain section, the Supreme Court last month gave the Centre three weeks to decide whether reservation benefits enjoyed by Scheduled Castes can be extended to Dalit members of Christianity and Islam.
As of now, only Hindus, Buddhists and Sikhs can avail the scheduled castes status under the Constitution (Scheduled Castes) Order, 1950. However, a bench of Justices Sanjay Kishan Kaul, AS Oka and Vikram Nath said that the "day has come when we have to take a call on this."
The observation came during the hearing of a petition file by an NGO Centre for Public Interest Litigation (CPIL) which had flagged the issue for consideration by the court in 2004. In the 18 years that have passed since, the Centre has failed to file any response in the matter.
Reservation for Dalit Christians and Muslims
Appearing for CPIL, advocate Prashant Bhushan said that the issues revolves around the question of whether the 1950 Constitution (Scheduled Castes) Order discriminated against Dalit Muslims and Christians.
The matter has been raised time and again by several religious as well rights organisations from both Muslim and Christian communities.
The matter was in news In 2007 when a panel headed by former SC judge, Justice Ranganath Misra to deliberate on the issue recommended that the 1050 Order was discriminatory. The NDA government at the Centre rejected the panel's report.
Yet again, in 2008, a study by the National Commission for Minorities recommended granting reservations among religions other than Hindu, Buddhist or Sikh. This report was also rejected by the Cenrre.
Castes in Christian community have existed in India for years. The Malabar Syrian Christians, for instance, to which Booker winning author Arundhati Roy belongs, are considered one of the highest castes in Indian Christian community. According to reports, the centre's primary concern regarding granting reservation rights is the fear that Dalit Christians, who have wider access to education and other benefits, may get the upper hand in placements.
The matter raises also raises a familiar debate within Islam, many of whose proponents have long claimed that there is no caste system in Islam - a claim that has been contested by members of Pasmanda Muslim communities of South Asia.
Islam and Caste
Syedism, which perpetuates a system of inequality, is found across South Asian Muslim communities. The concept of 'Zat' and "Biradari' also exists in certain countries like Pakistan.
In 1960, Ghaus Ansari had named four distinct categories to broadly summarise division of Muslims in India: The Ashrafs who claim descent from foreign origin - these include the Sayyids, the Abbasids, the Mughals and are at the top of the social hierarchy. Then come upper caste converts such as Butts, Rajput Muslims or Jat Muslims. Members of other Indian tribes that have converted to Islam formed another run which included communities like the Darzis, Dhobis, Faqirs, Julahas, Kumhars and others. The last run of the social ladder inlcluded the converts from lower castes that were considered "untouchable", such as Bhangis.
Today, upper caste Hindus who converted to Islam are broadly considered be Ashraf. The neologism Pasmandas (meaning those who were left behind) is used to refer to Ajlaf and Arzal Muslims, considered lower in the social heirarchy by the Ashrafs, who have historically dominated the social, political and economic sphere. Ajlafs' statuses are defined by them being descendants of converts to Islam and are also defined by their pesha (profession). Marriages between Ashrafs and Pasmandas are still looked down upon in several places.
In the Bengal region (including both Bangladesh and West Bengal, a 2009 paper titled "Caste-based Discrimination in South Asia: A Study of Bangladesh" by Iftekhar Uddin Chowdhury noted that there were as many as 35 Muslim castes in Bengal. Largely, the Muslim society in West Bengal has been divided into three hierarchical categories: Sharif/Ashraf at the top, followed by the Atraf (low-born), and with the Arzal or Ajlaf at the bottom. Lower castes historically are not allowed to enter mosques or be buried in the public burial ground.
In the paper titled Dalits and Tribes of India, J Cyril Kanmony noted that that Medieval Ashraf scholars had mentioned that Muslims of Afghan, Iranian, Arab, and Central Asian origin were superior while local converts were inferior.
Anis Ansari retired as the Additional Chief Secretary of Uttar Pradesh and the chairman of UP Congress's Ex-Officer's Organisation has been a vocal advocate for the Pasmanda Muslim community's rights. In a previous interview with Outlook, Ansari had noted that "Muslims also have a graded inequality" and that "the Ashrafs have severely damaged the backward Muslims".
Source: Outlook India
Please click the following URL to read the full text of the original story:
https://www.outlookindia.com/national/caste-in-islam-christianity-why-sc-is-pushing-centre-to-decide-on-reservations-for-dalit-muslims-christians-news-223149
--------
South Asia
Restrictions Will Cause Distance Between Kabul, World: Islamic Emirate
September 14, 2022
The Islamic Emirate's Political Office in Qatar said that the imposition of restrictions and pressure have not had any result over the past 20 years and will only create distance between Kabul and the international community.
The head of the office, Suhail Shaheen, called on the UN Security Council to pursue negotiations and diplomacy regarding Afghanistan.
"There should be no restriction on traveling nor should these restrictions be used as pressure, because it has not had any result before and will not have any result now," he told TOLOnews.
This comes as the UNSC has yet to decide whether to extend or end the travel ban exemption for 13 members of the Islamic Emirate.
"The sanctions and the blacklists, they are all problematic. It causes further distance, which should be closed instead. It is important to end the issue of sanctions and blacklists," said Bilal Karimi, deputy spokesman for the Islamic Emirate.
Meanwhile, analysts said they believe that imposed restrictions on travel for Islamic Emirate members will sideline Afghanistan.
"If the travel ban exemption of the Taliban officials is not extended, I believe that the political and economic situation will deteriorate," said Ahmad Khan Andar, a political analyst.
To recognize the government of the Islamic Emirate, the international community has put the formation of an inclusive government, upholding of human rights and women's rights, and the prevention of the use of Afghan soil against other countries by terrorists, as conditions.
Source: Tolo News
Please click the following URL to read the full text of the original story:
https://tolonews.com/afghanistan-179832
--------
Islamic Emirate Yet to Be Invited to SCO Meeting in Uzbekistan
September 14, 2022
The Islamic Emirate said its delegation has yet to be invited to participate in the Shanghai Cooperation Organization meeting due to be held on September 15- 16 in Samarkand of Uzbekistan.
"The Islamic Emirate has always had good relations with the members of the SCO. We hope this summit has good results so there will be progress via negotiations and diplomatic cooperation regarding the issues within the Islamic Emirate," said Bilal Karimi, deputy spokesman for the Islamic Emirate.
Uzbekistan President Shavkat Mirziyoyev said that Afghanistan is an integral part of the larger "SCO space."
"The Afghan people need good neighbors and their support now more than ever. It is our moral obligation to extend a helping hand, to offer them effective ways of overcoming the years-long crisis by promoting socio-economic growth of the country, its integration into regional and global development processes," he said.
15 countries will attend, including China, India, Kazakhstan, Kyrgyzstan, Pakistan, Russia, Tajikistan, and Uzbekistan, along with observer nations Afghanistan, Belarus, Iran, and Mongolia.
The SCO summit is expected to discuss the economic, political and security situation of Afghanistan.
"The government should adjust itself with the region and beyond that with the international community in order to be recognized, so it can be present at such a gathering," said Torek Farhadi, a political analyst.
"Afghanistan maybe is on the agenda of the discussion and the member countries will share their concerns and proposals. The security issue will be more in focus there," said Janat Fahim Chakari, political analyst.
Source: Tolo News
Please click the following URL to read the full text of the original story:
https://tolonews.com/afghanistan-179833
--------
Taliban Says 40 Rebel Force Members Killed in Northern Panjshir
13 September, 2022
Kabul: The Taliban said on September 13 that they had killed 40 rebel force members, including four commanders, in the northern Afghan province of Panjshir.
The Taliban proclaimed victory over the province in September 2021, weeks after they took over the capital Kabul as foreign forces withdrew.
Resistance groups have since said they have been carrying out operations in the area and clashing with Taliban fighters.
The Taliban has in the past denied widespread fighting, saying they have established control of the entire country.
"Due to a clearance operation against rebels in Rekha, Dara and Afshar (areas) of Panjshir province, 40 have been killed including four commanders and 100 more have been arrested," Taliban spokesman Zabihullah Mujahid said in a Tweet on Tuesday.
The National Resistance Front, a group opposing the Taliban which has in the past claimed activity in the area, did not immediately respond to a request for comment.
Source: The Wire
Please click the following URL to read the full text of the original story:
https://thewire.in/south-asia/taliban-says-40-rebel-force-members-killed-in-northern-panjshir
--------
Arab World
Iraq: Sadr calls for armed militias not to be included in security during Shia pilgrimage
September 12, 2022
Prominent Iraqi leader Moqtada Al-Sadr yesterday called to keep the Popular Mobilisation Forces and the Peace Brigades, the military wing of his Sadrist movement, away from any security work during the Shia religious observance of Arbaeen.
The Arbaeen, a holy day for Shia Muslims which begins on Friday evening and lasts until Saturday evening, commemorates the 40th day after the Day of Ashura, the anniversary of the martyrdom of Imam Hussein Ibn Ali, the grandson of the Prophet Muhammad (peace be upon him).
Al-Sadr has instructed his followers to march towards Karbala to participate in commemorating the holy day, he also told them to respect the religious value of the event, instructing them that no faction, party, military, or sect raise its banners.
"Do not raise pictures at all, neither for martyrs nor anyone else, for all of them, may God Almighty be pleased with them, are in heaven with Imam Hussein," Al-Sadr said.
Source: Middle East Monitor
Please click the following URL to read the full text of the original story:
https://www.middleeastmonitor.com/20220912-iraq-sadr-calls-for-armed-militias-not-to-be-included-in-security-during-shia-pilgrimage/
--------
Syrian govt. troops block US military convoy in Hasakah, force it to turn back
14 September 2022
Amid smoldering public resentment over the deployment of American occupation forces in northeastern Syria, government troops have blocked a US military convoy as it was attempting to pass through a community in the energy-rich province of Hasakah.
According to a report published by Syria's official news agency SANA, Syrian army troops, deployed at a security checkpoint in the Munsif district, intercepted the convoy of four armored vehicles and a pickup truck on Tuesday.
The American troops were subsequently forced to turn around and go back in the direction they came from. There were no reports of clashes or injuries.
Back on July 21, residents of Tal Aswad village on the outskirts of Qamishli city in Hasakah province blocked a US convoy from advancing in the region and forced it to retreat.
SANA cited local sources as saying that the convoy was made up of four military vehicles that tried to rumble through a checkpoint, but was forced to return to where it had come from.
The US military has for long stationed its forces and equipment in northeastern Syria, with the Pentagon claiming that the deployment is aimed at preventing the oilfields in the area from falling into the hands of Daesh terrorists.
Damascus, however, maintains the deployment is meant to plunder the country's natural resources. Former US president Donald Trump admitted on several occasions that American forces were in the Arab country for its oil wealth.
On August 30, a Chinese foreign ministry spokesman denounced the illegal presence of US military forces in Syria, saying Washington's continued looting of the war-torn country's energy and mineral resources has only exacerbated the suffering of the Syrian people.
Source: Press TV
Please click the following URL to read the full text of the original story:
https://www.presstv.ir/Detail/2022/09/14/689181/Syrian-govt--troops-block-US-military-convoy-in-Hasakah,-force-it-to-turn-back
--------
President of Kazakhstan, Grand Imam of Al-Azhar review cooperation in promoting true image of Islam
13-09-2022
NUR-SULTAN, 13th September, 2022 (WAM) -- President of Kazakhstan Kassym-Jomart Tokayev met with His Eminence Dr. Ahmed Al-Tayeb, the Grand Imam of Al-Azhar and Chairman of the Muslim Council of Elders, at the Presidential Palace here today to review the prospects of promoting cooperation.
Tokayev addressed the importance of religious education during the meeting wherein he said that Kazakhstan considers Al Azhar University a "beacon, spreading the light of the values of our common religion – Islam."
"It is critical that the university's scientists that promote the concepts of tolerance and endurance, patience and kindness, participate in the discussion of the world and traditional religious leaders," he added.
He hailed the conditions for Kazakh students at Al-Azhar University, regarded as the heart of Islamic education for its role in combating religious extremism.
For his part, the Grand Imam expressed his delight at participating in the 7th Congress of Leaders of World and Traditional Religions, appreciating the efforts made by Kazakhstan, through this global religious summit, to consolidate a culture of coexistence and dialogue.
Source: WAM
Please click the following URL to read the full text of the original story:
https://www.wam.ae/en/details/1395303083106
--------
Pro-Iran faction in Iraq sticks to its pick for premier
13 September, 2022
The main coalition of pro-Iran parties in Iraq said Monday it would keep its candidate for the post of prime minister, despite a backlash from its main Shia rival.
The country is at a political impasse, with the two main Shia groups clashing since October 2021 elections over who will be the next premier and how to appoint him.
The group headed by Iraqi Shia cleric Muqtada al-Sadr wants parliament dissolved and early elections, but the Coordination Framework alliance of pro-Tehran factions wants a government to be put in place first.
On Monday, the Coordination Framework said it had reached an "understanding" with other political factions on how to proceed.
In a press release published by the INA state news agency, the Coordination Framework reiterated "its total commitment to its candidate presented for the post of Prime Minister, Mohammed Shia al-Sudani".
The group's nomination of Sudani as premier had previously angered al-Sadr, whose supporters stormed parliament in late July, demanding fresh elections. They then staged a weeks-long sit-in outside the legislature.
On Monday, the Coordination Framework claimed to have reached "understandings with the national forces".
It said it would "continue dialogue with all the parties ... to form a government endowed with full powers".
The Coordination Framework also welcomed a declaration by Sunni-backed parliament speaker Mohammed al-Halbussi and the Democratic Party of Kurdistan (KDP).
On Sunday these two factions had reiterated their support for "early elections", but preceded by "the formation of a government".
Iraq's latest crisis culminated at the end of August with al-Sadr supporters clashing with the army and the Iran-backed factions.
More than 30 al-Sadr supporters were killed and hundreds wounded in nearly 24 hours of violence that ended when he called on his supporters to pull out and announced he was retiring from politics.
Source: Al Arabiya
Please click the following URL to read the full text of the original story:
https://english.alarabiya.net/News/middle-east/2022/09/13/Pro-Iran-faction-in-Iraq-sticks-to-its-pick-for-premier-
--------
Syrians have right to return home but conditions not yet met: EU
Beyza Binnur Donmez
13.09.2022
The EU said Tuesday that it supports the rights of Syrians to return to their homeland but acknowledged that conditions for that have not been met.
"What is required first is to create conditions for safe, voluntary and dignified return of refugees and the internally displaced, in accordance with international law and the principle of non-refoulement," said the EU mission in Syria on Twitter.
The mission noted that the head of the EU delegation to Syria, Dan Stoenescu, met UN High Commissioner for refugees Filippo Grandi in Damascus.
"The EU will support UN-facilitated returns in a timely manner, when and as soon as conditions become available, it added.
Syria has been mired in a vicious civil war since early 2011 when the Assad regime cracked down on pro-democracy protests with unexpected ferocity.
Source: Anadolu Agency
Please click the following URL to read the full text of the original story:
https://www.aa.com.tr/en/middle-east/syrians-have-right-to-return-home-but-conditions-not-yet-met-eu/2684364
--------
A visit to the Barking Lot in Al-Khobar, Saudi Arabia's first cafe dedicated to dogs
JASMINE BAGER
September 13, 2022
ALKHOBAR: Blal Antika overcame his big fear of dogs when he began working at the Kingdom's first cafe dedicated to canines, the Barking Lot, eight months ago.
Today, Antika is like a protective big cousin, standing stoically at the entrance of the building with its clear glass exterior, mindfully scanning the area, while energetically high-fiving people he recognizes.
He is the first friendly but firm face that greets you and the last one you see before leaving.
A jack of all trades, he does a little bit of everything. While sipping on his favorite iced white mocha from the cafe, he lifts the gate to let people and their best friends in and out.
He is now part of the whole Barking Lot visitor experience, but even he was surprised to be in this position.
"Growing up in Jeddah, I never thought I'd be surrounded by dogs. I've always had a sense of adventure so when I got an offer to work at the dog cafe in Alkhobar, I was curious. Even though I always had a fear of dogs, I thought to try it anyway. Now, I miss them whenever I am not around them," Antika told Arab News.
The unique cafe has 14 in-house dogs while others visit regularly.
The Alkhobar branch has been in operation for over two years. With plenty of snacks for both humans and dogs, the cafe caters to those who want their animals to play in a safe and controlled environment or chat with other people, to exchange tips and show off their furry friends' new tricks.
Humans can sit in chairs in the back, placed along the clear glass walls overlooking the city, where passersby occasionally peer in curiously.
Occasionally, some dogs will urinate from excitement but a staff member quickly comes to mop and sanitize the spot. You can hear bursts of barking, as dogs enter and exit, but this doesn't last long.
The cafe also has a grooming station where they can get their nails clipped and showered.
Ameerah, who was raised in Dhahran, returned last year after living in Canada, armed with a degree and her first dog, Lilly.
The 20-kilogram highly energetic combination golden retriever and poodle is a golden doodle.
"When I first got Lilly, she was only seven weeks. I was very excited because this is the first time I got a pet, and that was a dream of mine from childhood. When I first got her, it was abroad so everything was open. You know, people there understand what it means to own a pet and raise it. It's like their child in the house but here it's different," she told Arab News.
In Saudi Arabia, dogs have traditionally been excluded from living in homes. They were kept on farms or used for security purposes. But over the last decade, there has been a shift in the culture.
On the night of our visit, you could hear giddy children calling out to Lilly. One young girl asked if she could feed Lilly a treat but Ameerah gently declined and explained that this would give the canine indigestion. The little girl happily petted Lilly instead. It's not hard to see why Lilly is a local favorite.
Lilly sweetly interacts with other larger dogs and socializes in the controlled environment. Her mother enjoys these visits and appreciates how the Barking Lot cafe is helping to broaden the understanding of what it means to include a woman's best friend to the cultural mix.
Lilly helped Ameerah cope with being away from home during the pandemic and is now helping her hometown accept dogs as legitimate members of the family.
The cafe also helps both of them beat the sweltering Saudi heat.
"The weather, of course, is a shock for me and her and when I came to the cafe, you know, everything is enclosed. It has AC so I'd rather bring her here than taking her to play in the park. We're either at home or at the cafe," she said.
Source: Arab News
Please click the following URL to read the full text of the original story:
https://www.arabnews.com/node/2161901/saudi-arabia
--------
Europe
God does not back war, pope tells religious conference
September 14, 2022
NUR-SULTAN: Pope Francis said today that God does not guide religions towards war, an implicit criticism of Russian Orthodox Patriarch Kirill, who backs the invasion of Ukraine and has boycotted a conference of faith leaders.
On his second day in Kazakhstan, Francis addressed the Seventh Congress of Leaders of World and Traditional Religions, a meeting that brings together Christians, Jews, Muslims, Buddhists, Hindus, and other faiths.
The congress is marked by Kirill's conspicuous absence. He was to have attended but later pulled out.
The Russian Orthodox Church sent a delegation.
"God is peace. He guides us always in the way of peace, never that of war," Francis said, speaking at a huge round table in the Independence Palace, a huge modern structure made of steel and glass in the capital of the former Soviet republic.
"Let us commit ourselves, then, even more to insisting on the need for resolving conflicts not by the inconclusive means of power, with arms and threats, but by the only means blessed by heaven and worthy of man: encounter, dialogue and patient negotiations," he said.
The pope, who earlier this year said Kirill could not be Russian president Vladimir Putin's "altar boy," told the conference: The sacred must never be a prop for power, nor power a prop for the sacred!"
Kirill has given enthusiastic backing to Russia's invasion of Ukraine, which the patriarch views as a bulwark against a West he calls decadent.
His stance has caused a rift with the Vatican and unleashed an internal rebellion that has led to the severing of ties by some local Orthodox Churches with the Russian Orthodox Church.
Francis also said that while violence in God's name was never justified, the "viruses" of hate and terrorism would not be eradicated without first wiping out injustice and poverty.
He said religious freedom was essential for peaceful coexistence in any society and no creed had a right to coerce others to convert.
"It is time to realize that fundamentalism defiles and corrupts every creed," he said. "Let us free ourselves of those reductive and destructive notions that offend the name of God by harshness, extremism and forms of fundamentalism, and profane it through hatred, fanaticism, and terrorism, disfiguring the image of man as well."
But merely condemning extremism was not enough.
"As long as inequality and injustice continue to proliferate, there will be no end to viruses even worse than Covid: the viruses of hatred, violence and terrorism," he said.
Francis, who wrote a major document in 2015 on the need to protect the environment, said religious leaders had to be in the front line in bringing attention to the dangers of climate change and extreme weather, particularly its effects on society's poor and vulnerable.
Source: Free Malaysia Today
Please click the following URL to read the full text of the original story:
https://www.freemalaysiatoday.com/category/world/2022/09/14/god-does-not-back-war-pope-says-in-apparent-criticism-of-russian-patriarch/
--------
Taliban Failed to Uphold any Promises Made: EU Special Envoy at UNHRC
By Arif Ahmadi
13 Sep 2022
KABUL, Afghanistan – At the 51st session of the UN Human Rights Council (HRC 51) in Geneva Monday, the Special Envoy of the European Union for Afghanistan Tomas Niklasson said the Taliban have failed to uphold any promises made, recalling Afghanistan is a party to the Rome Statute.
The remarks came at a time global leaders – including international community – have raised concern over increasing number of violation against human rights and girls education under the Taliban leadership in Afghanistan.
"The EU remains deeply alarmed by the increase of human rights violations and abuses and international humanitarian law violations in Afghanistan," said the European Union in a statement. "Accountability must be ensured and, in this regard, we recall that Afghanistan is a party to the Rome Statute."
While the school for grade six girls and above remained close since the beginning of the school year in March, the EU reiterates its commitment to equal opportunity for Afghan women and girls in all spheres of life.
"The situation of women and girls' rights continues to deteriorate," the statement reads. "The EU reiterates its unwavering commitment to the full, equal and meaningful participation of all women and girls in all spheres of life in Afghanistan, as well as to their protection from all forms of violence."
Furthermore, the statement exclaimed that persons belonging to ethnic and religious minorities and groups, LGBTI persons, human rights defenders, journalists and other media workers suffer killings, arbitrary detentions, enforced disappearances, physical abuse and torture are unacceptable.
"The shrinking space for civil society and restrictions on human rights and fundamental freedoms remain a primary concern," the statement added.
The EU has defined five benchmarks as principles for engaging with the Taliban.. So far, the Taliban have failed to uphold any promises made. The EU call on the Taliban to enable the full implementation of the human rights mandate of the UNAMA.
The 51st Regular Session of the Human Rights Council (HRC51) is taking place in Geneva and online from 12 September to 7 October 2022.
Meanwhile, the so-called Islamic Emirate rule has repeatedly defied the international community, saying its leadership has "fulfilled all the promises it made with the United States in the Doha Agreement."
"The Islamic Emirate does not allow anyone to use the territory of Afghanistan against the United States and its allies," said Spokesman of Islamic Emirate of Afghanistan Zabihullah Mujahid in a thread. "In addition, IEA is also committed to providing all the Shariah rights of its citizens."
Reflecting on the overall security of the country, the spokesman said a "peaceful atmosphere" has been created in the country, where women and men could rightfully take part on Afghanistan's development.
"In Afghanistan, a normal life and peaceful atmosphere has been created for women and men, and the rights of all minorities are maintained," he said. "Moreover, the system and way of life in Afghanistan are issues related to Afghans."
Source: Khaama Press
Please click the following URL to read the full text of the original story:
https://www.khaama.com/taliban-failed-to-uphold-any-promises-made-tomas-niklasson-at-hrc-51/
--------
Taliban reject UN report, say no women fired from government jobs
Sep 13, 2022
KABUL: Taliban authorities on Tuesday condemned UN accusations that they are violating the rights of women to work in Afghanistan, insisting thousands are employed in the country's public sector.
But Sharafuddin Sharaf, chief of staff at the ministry of labour and social affairs, told AFP that many women were being paid despite not attending work, as offices were not set up for proper segregation of the sexes.
"Working together in one office is not possible in our Islamic system," he said, a day after a United Nations rights expert said there had been a "staggering regression" in women's rights since the Taliban's return to power in August.
He could offer no figure on the number of women working but insisted "not a single female employee has been fired" from the civil service.
However, there have been several protests by women over losing their jobs and demanding the right to work -- some of which have been put down forcefully by the Taliban.
Sharaf said some women only went to work "once in a week to their relevant offices to sign their attendance, and their salaries are paid at their homes".
This takes place in offices where "gender-based segregation is yet to be done," he said, adding that women were at work in the health, education and interior ministries where they are needed.
Sharaf said it was up to the all-male leadership of the Taliban to decide when women "can come to the rest of the offices where they are not coming currently".
His comments come after a UN rights expert said women's freedoms had significantly deteriorated since the Taliban returned.
"There's no country in the world where women and girls have so rapidly been deprived of their fundamental human rights purely because of gender," Richard Bennett, the special rapporteur on the rights situation in Afghanistan said in Geneva.
Government spokesman Zabihullah Mujahid said Bennett's report was biased.
"There is no threat to the lives of women in Afghanistan now, or nobody dishonours Afghan women," he said in a statement late on Monday, adding that they are still being enrolled in public and private universities.
Still, most secondary schools for girls have been ordered to shut across the country, meaning this generation of women university students could be the last.
Several Taliban officials say the ban is only temporary, but they have also wheeled out a litany of excuses for the closure -- from a lack of funds to time needed to remodel the syllabus along Islamic lines.
On Monday, the education minister was quoted by local media as saying it was a cultural issue, as many rural people did not want their daughters to attend school.
Since the Taliban seized power, they have imposed harsh restrictions on girls and women to comply with their austere vision of Islam -- effectively squeezing them out of public life.
They swiftly shut down the ministry of women's affairs and replaced it with the ministry for the promotion of virtue and prevention of vice.
Source: Times Of India
Please click the following URL to read the full text of the original story:
https://timesofindia.indiatimes.com/world/middle-east/taliban-reject-un-report-say-no-women-fired-from-government-jobs/articleshow/94179614.cms
--------
CENTCOM urges nations to bring Daesh relatives home from Syria
September 13, 2022
AMMAN/BEIRUT: The head of the US armed forces' Central Command has urged countries from around the world to repatriate their nationals from a northeast Syrian camp housing jihadists' wives and children.
Al-Hol camp holds around 56,000 people — mostly Syrians and Iraqis, but also around 10,000 who consist largely of wives and children of Daesh fighters originating from further afield.
Many were taken to the camp during the defeat of the jihadist group's self-declared caliphate by US-backed Syrian Kurdish forces in 2019.
"I encourage all of the countries that have citizens there to repatriate, rehabilitate and reintegrate" camp residents, CENTCOM's Gen. Michael Kurilla told reporters in Jordan's capital Amman.
Syria's Kurds — who run a semi-autonomous administration in northeast Syria — have repeatedly begged countries to repatriate their citizens.
But such calls, despite being echoed by the UN, have largely fallen on deaf ears, due to fears returnees might pose a security threat back home and trigger a domestic backlash.
Daesh seized around a third of Iraq and swaths of war-torn Syria in 2014, recruiting foreign jihadists from around the world, before it was gradually ground down by US-backed forces on both sides of the border.
The foreigners at Al-Hol are detained in a secure area away from other camp residents, since many of them are still highly radicalized, posing problems for Kurdish guards and other camp residents.
"I think we have to look at this with empathy ... because there is no military solution to this," Kurilla said.
"The only solution is to repatriate, rehabilitate and reintegrate" camp residents.
About 50 percent of Al-Hol's inhabitants believe Daesh's "vile ideology," Kurilla said, while the other 50 percent "are those who have no other place to live and would like to ... go back to their native country."
The camp has grown increasingly volatile this year, with at least 26 people murdered up to late August, according to the UN.
Around 700 Daesh-linked Iraqis are being repatriated per month from Al-Hol, said Kurilla. It will take "about four years" to repatriate the Iraqi residents alone at that rate, he noted.
"We will have to accelerate that to a much faster" rate, he said, adding that the US was working with Iraqi authorities toward that end.
But repatriations to other countries have been even slower.
In late July, the Kurdish administration handed Tajikistan 146 women and children related to Daesh fighters, in the first such repatriation to the ex-Soviet state.
France in early July repatriated 35 children and 16 mothers from camps in northeast Syria, according to the Foreign Ministry, taking the total number of children returned to Paris to 161.
Kurdish-led forces last month launched a security operation to flush out fighters hiding out in Al-Hol following a resurgence of attacks. Dozens of suspected Daesh operatives have been detained and major networks dismantled since the start of operations, the US-led anti-Daesh coalition said last week.
Separately, the UN representative in Syria said a cholera outbreak in several regions of the country presents "a serious threat to people in Syria and the region."
He called for an urgent response to contain its spread.
The outbreak is believed to be linked to irrigation of crops using contaminated water and people drinking unsafe water from the Euphrates River which bisects Syria from the north to the east, UN Resident and Humanitarian Coordinator Imran Riza said in a statement.
The widespread destruction of national water infrastructure after more than a decade of war means much of the Syrian population is reliant on unsafe water sources.
Richard Brennan, Regional Emergency Director of the World Health Organization Eastern Mediterranean Region, said the agency had recorded eight deaths from the disease since Aug. 25: Six in Aleppo in the north and two in Deir Ezzor in the east.
"This is the first confirmed cholera outbreak in recent years ... the geographic spread gives cause for concern and so we have to move fast," he said.
The outbreak is centered in the northern Aleppo region, where more than 70 percent of a total 936 suspected cases have been recorded, and Deir Ezzor where more than 20 percent were registered.
A smaller number of suspected cases have been recorded in Raqqa, Al-Hasaka, Hama and Lattakia.
The number of confirmed cholera cases is 20 in Aleppo, four in Lattakia and two in Damascus.
Prior to the recent cholera outbreak, the water crisis had caused an increase in diseases such as diarrhea, malnutrition and skin conditions in the region, according to the WHO.
Brennan said the WHO was appealing to donors to increase funding as the organization was already dealing with a number of cholera outbreaks in the region, including in Pakistan where floods have exacerbated a pre-existing outbreak.
Source: Arab News
Please click the following URL to read the full text of the original story:
https://www.arabnews.com/node/2161991/world
--------
Western powers seek unity against Iran at IAEA but no resolution: Sources
13 September, 2022
Western powers are lobbying other states on the UN nuclear watchdog's board to jointly pressure Iran to give the agency the answers it has long sought on uranium traces found at three undeclared sites, diplomats said on Tuesday.
At its last quarterly meeting in June the International Atomic Energy Agency's 35-nation Board of Governors passed a resolution expressing "profound concern" that the traces remain unexplained due to insufficient cooperation by Iran, and calling on Tehran to engage with the watchdog "without delay".
The Vienna-based IAEA says there has been no progress and no engagement by Iran since then.
Rather than pass a new resolution at this week's board meeting, the four countries behind June's resolution - the US, Britain, France and Germany - have prepared a joint statement reaffirming support for that text, hoping that many other countries will also sign onto it.
"We call upon Iran to act immediately to fulfil its legal obligations and, without delay, take up the (IAEA) Director General's offer of further engagement to clarify and resolve all outstanding safeguards issues," the text seen by Reuters says, referring to the years-long IAEA investigation.
A resolution passed by the Board of Governors carries the weight of a formal decision by the IAEA's top policy-making body that meets more than once a year. Countries banding together to issue a statement without submitting and passing a resolution are merely expressing an opinion.
The issue of the unexplained uranium particles has become an obstacle in wider talks to revive Iran's 2015 nuclear deal with world powers since Tehran is now seeking a closure of the IAEA's investigation as part of those negotiations, Western powers say.
This has jeopardised the talks to revive the now badly eroded deal that restricted Iran's nuclear activities in exchange for relief from Western sanctions, the three European powers said on Saturday, venting their frustration.
A French diplomatic source said Paris and its partners were consulting to see how to respond to the current deadlock and prepare the next IAEA board meeting in November.
"Today there are no active negotiations," the diplomat said, adding that Western powers had still not given up on finding a diplomatic solution.
Source: Al Arabiya
Please click the following URL to read the full text of the original story:
https://english.alarabiya.net/News/middle-east/2022/09/13/Western-powers-seek-unity-against-Iran-at-IAEA-but-no-resolution-Sources
--------
Southeast Asia
China promoting Taliban 2.0 for better business deals in Afghanistan
September 13, 2022
China is currently engaged in pampering the Taliban, which finds itself in a state of diplomatic isolation. Its focus is on business with hopes of a better deal.
It is towards this end that China is walking the extra mile to offer a helping hand to the Taliban regime firstly in the matter of travel ban exemptions, and secondly, in grappling with its economic and humanitarian crisis, reported Al Arabiya Post. China's recent efforts to promote and support the Taliban 2.0 regime indicate that it is getting ready to recognize the government currently in place in Afghanistan.
On the one hand, it is building a case for international recognition of the Taliban and for the continuance of the waiver of the travel ban on Taliban leaders.
On the other hand, it is engaged in what is much more than business and cultural diplomacy to broaden its footprint in Afghanistan.
The state-run Communist Party of China (CPC) media has, in recent months, run a concerted campaign to show how the Taliban 2.0 have fairly handled the security situation and taken steps to improve the economy in Afghanistan, reported Al Arabiya Post.
These media report also highlight the contribution of China and its companies in bringing prosperity to the country. Business activity combined with cultural diplomacy suggests that China is getting ready to recognise Taliban 2.0.
At the forefront of this "Taliban is good" campaign is the CPC mouthpiece, Global Times (GT), which under editor in Chief Hu Xijin launched the "wolf warrior" communication strategy.
GT spread the 'word' that people across Afghanistan are saying that the security situation has improved and, violence had declined since the Taliban seized power. It, however, conceded that "tribal culture" still holds great sway in the Taliban's governing style while hastening to add that their administrative capabilities are "comparatively more advanced."
Moreover, some media reports indicate that some progress has been made on Chinese investments and reconstruction projects. Chinese businessmen like Yu Minghui, who have stayed put after the US-led NATO's withdrawal, have reaped benefits. He has four steel processing lines, reported Al Arabiya Post.
The China Town, a 10- storey building is the hub of Chinese business activity. An industrial estate is coming up in Kabul suburbs as the first Sino-Afghan joint venture at a cost of USD 216 million.
Also, there is talk of extending the China-Pakistan Economic Corridor into Afghanistan and beyond. China has exempted 98 per cent of its Afghan buys from import duties. China Metallurgical Group will soon start exploration and extraction at the Aynak copper mine. It is the biggest copper mining project in the country. As of now, China's economic footprint is steadily expanding across Afghanistan, reported Al Arabiya Post.
To ensure that it is business as usual in Kabul, China has chosen to keep quiet on the rights of ordinary women and distanced itself from the campaign of global human rights activists against the raw deal Afghan women and school-going girls have been getting.
China is also pushing its cultural diplomacy befitting its position as the third largest trading partner of Afghanistan after Pakistan and Iran. It has deputed scholars to help protect Afghanistan's cultural heritage.
Source: The Statesman
Please click the following URL to read the full text of the original story:
https://www.thestatesman.com/world/china-promoting-taliban-2-0-for-better-business-deals-in-afghanistan-1503110610.html
--------
Zahid raised racial issues, damaged my reputation, says Dr M
September 13, 2022
KUALA LUMPUR: Former prime minister Dr Mahathir Mohamad has claimed that Umno president Ahmad Zahid Hamidi had deliberately raised racial issues and damaged his reputation as an influential political figure in the eyes of the world.
In his Sept 8 reply to Zahid's statement of defence, Mahathir also said his ancestry did not make him less Malay or non-Malay.
"This was brought up by the defendant (Zahid) only after I was no longer with Umno, which clearly shows the defendant's motives and bad intentions," Mahathir said.
Mahathir filed a lawsuit against Zahid on July 20 for allegedly issuing defamatory statements regarding the "Kutty" issue.
The Langkawi MP also claimed that the former deputy prime minister had malice in mind when he slandered him by calling him "Mahathir son of Iskandar Kutty" without making any inquiry into his background or ancestry.
Mahathir claimed that the defendant had also failed to take appropriate and reasonable measures to obtain an explanation from him before making the slanderous statement.
In his statement of claim, Mahathir said Zahid had issued a defamatory statement against him during an Umno divisional meeting in Kelana Jaya on July 30, 2017, and that the statement was reproduced on Astro Awani's YouTube channel and several online news portals which could be accessed by internet users without any restrictions.
He claimed the slanderous statement, with the alleged original name of "Mahathir son of Iskandar Kutty", meant he was not born as a Malay or a Muslim and that he had only claimed to be a Malay when he became prime minister to gain political and personal advantage. He said it also belittled Malaysians of Indian Muslim descent.
Meanwhile, Zahid, in his statement of defence filed on Aug 17, denied that the statement made on July 30, 2017 was malicious and done to slander and harm the reputation of the plaintiff in the public eye.
The Umno president claimed that the name "Mahathir son of Iskandar Kutty" referred to an individual based on the information in an old copy of an identity card. He also said he had no control over any video publication regarding his statement.
Source: Free Malaysia Today
Please click the following URL to read the full text of the original story:
https://www.freemalaysiatoday.com/category/nation/2022/09/13/zahid-raised-racial-issues-damaged-my-reputation-says-dr-m/
--------
China's Xi vows to 'defend common security' with Kazakhstan
September 13, 2022
BEIJING: China's president Xi Jinping today vowed to "defend common security" with Kazakhstan, state media reported, as he prepares to travel to Central Asia this week.
Xi's state visits to Kazakhstan and Uzbekistan from Wednesday to Friday will be his first trip abroad since the early days of the coronavirus pandemic.
He will attend a leaders' summit of the Shanghai Cooperation Organisation (SCO) in the Uzbek city of Samarkand, a stop on the ancient Silk Road.
The SCO is made up of China, Russia, India, Pakistan and four Central Asian countries – Kazakhstan, Kyrgyzstan, Uzbekistan and Tajikistan.
"China is willing to work with Kazakhstan to deepen cooperation in law enforcement, security and defence," Xi wrote in an article for Kazakh media that was republished by Chinese state broadcaster CCTV.
He added that Beijing also wanted to work with Kazakhstan to combat drug trafficking and transnational organised crime as well as what China calls the "three evils".
China's government has previously used the term "three evils" – defined as terrorism, separatism and religious extremism – to refer to its crackdown in its far western region of Xinjiang, which borders Kazakhstan.
Beijing stands accused of detaining over one million Uyghurs and other Muslim minorities in Xinjiang – including some Kazakhs – under a years-long security campaign that the US and some lawmakers in other Western countries have labelled a "genocide".
China vociferously denies the allegations, saying its actions are aimed at combating terrorism and juicing development.
In a separate article for Uzbek media, Xi pledged to "strengthen security cooperation and resolve risks and challenges" and said Uzbekistan had a "unique role to play in resolving the Afghanistan issue", CCTV reported.
Source: Free Malaysia Today
Please click the following URL to read the full text of the original story:
https://www.freemalaysiatoday.com/category/world/2022/09/13/chinas-xi-vows-to-defend-common-security-with-kazakhstan/
--------
Mideast
Hamas says 'comprehensive resistance' sole way to realize Palestinian rights, urges PA to scrap Oslo Accords
13 September 2022
The Gaza-based Hamas resistance movement has called on the Palestinian Authority (PA) to revoke the so-called Oslo Peace Accords and end any kind of cooperation with the occupying Israeli regime, stressing that "comprehensive resistance" is the only way to realize the rights of the Palestinian people.
Hamas made the call in a Tuesday statement on the 29th anniversary of the inking the so-called peace agreements in 1993, which marked the first time the Israeli regime and the Palestine Liberation Organization (PLO) recognized each other.
The resistance movement said the disgraceful accords have jeopardized the Palestinian cause, brought about further restrictions for the Palestinians, and failed to stop Israel's colonial projects and Judaization schemes across the occupied territories.
"Twenty-nine years have passed since the signing of the Oslo Accords, which have put the Palestinians, at home and in the diaspora, and their cause in a predicament and brought about more restrictions and pain for them. Thus, the Palestinian cause has been going through difficult stages while the Israeli occupation's colonial project on our land was flourishing with more colonial settlement expansion and Judaization schemes in Jerusalem [al-Quds] and the Al-Aqsa Mosque," the statement said.
"Moreover, the Oslo Accords have also deepened the tragedy of our people by forcefully displacing them and targeting our Palestinian freedom fighters and activists," it added.
Hamas also censured the West Bank-headquartered PA for adopting "policies in the path of political compromise and security coordination" with Israel, which failed to meet the Palestinian people's aspirations to enjoy their legitimate rights.
"The Palestinians' steadfastness, resilience, sacrifices, and unity behind the comprehensive resistance across the occupied West Bank and 1948 occupied territories, their defense of Jerusalem [al-Quds], and the detainees' fights against the Israeli occupation all affirm that resistance in all its forms is the most appropriate way to liberation, return, and self-determination," the statement said.
"The PA's Security coordination with the Zionist enemy and the attacks targeting the Palestinian people and activists who defend their lands and sanctities in the face of the settlement and Judaization schemes, are crimes against national norms and values," it added.
Hamas warned the Palestinian Authority against compromising with the Israeli regime, saying, "We call on the Palestinian Authority to cancel the Oslo Accords, disengage from its security and economic subordination, and withdraw recognition of this Zionist entity."
The resistance movement also called on the entire Palestinian factions to reform the Palestine Liberation Organization and agree on a unified strategy of comprehensive resistance to confront the Israeli occupation and achieve the aspirations of Palestinian people.
"We renew our absolute rejection of whatsoever agreements that do not recognize the legitimate rights of our people, foremost among which is their struggle and resistance to defend themselves, their land and their holy sites, and their right to liberation and return," Hamas underlined.
The Oslo Accords were signed in the White House at that time but named after Norway's capital city, where the secret back-channel dialog took place.
In recent weeks, Israel has ramped up attacks on Palestinian towns and cities throughout the occupied territories. As a result of these attacks, dozens of Palestinians have lost their lives and many others have been arrested.
More than 7,000 Palestinians are reportedly held in Israeli jails. Hundreds have been incarcerated under the practice of administrative detention, which allows holding Palestinian inmates in Israeli prisons without trial or charge. Some Palestinian prisoners have even been held in administrative detention for up to eleven years.
Source: Press TV
Please click the following URL to read the full text of the original story:
https://www.presstv.ir/Detail/2022/09/13/689139/Hamas-comprehensive-resistance-Palestinian-Authority-Israeli-regime-colonial-projects-Judaization-schemes-
--------
Iranian President: Israeli Presence in Region Threat to All Nations
2022-September-13
In a phone conversation with Armenian Prime Minister Nikol Pashinian on Tuesday, President Rayeesi described Israeli presence as a threat to the entire region, including its hosts.
The Iranian president expressed concerns about the escalation of tensions in the region and noted, "The Caucasus region is going through special conditions and unfortunately, peace has not returned to this region yet."
He pointed that Iran attaches great importance to the Caucasus region's security and stability.
"The signatories of the tripartite ceasefire statement should adhere to its provisions and refrain from any action to create tension in the region," the Iranian president said.
"The historical borders between Iran and Armenia are considered the basis of prosperity, convergence and security of the region and Tehran is determined to continue cooperation in all fields for the benefit of the prosperity and stability of the region," Rayeesi added.
"Iran is following the developments in the Caucasus region closely," the president countinued, and emphasized that the region cannot bear another war.
Pashinian, for his part, provided the Iranian president a report on the recent developments in the Caucasus region and said, "The Islamic Republic of Iran has always played a constructive and influential role in resolving tensions and crises in the region".
The prime minister also expressed satisfaction with the expanding relations between Tehran and Yerevan, adding that Armenia seeks to deepen relations with the Islamic Republic of Iran in all fields.
Tehran describes Israel as the root cause of the region's instability and insecurity, but also stresses Israel's US-supported barbarity will not change the inevitable fate of the Tel Aviv regime.
Iranian officials have repeatedly underlined the necessity for the settlement of the crises and problems in the region through collective cooperation among the regional states, and underscored that the presence of foreigners is harmful.
Iran has also urged the neighboring countries to be extremely vigilant about any US-Israeli plan that clearly aims to disturb the stability and order of the region.
President Rayeesi Reiterates Iran's Opposition to Geopolitical Changes in Regionhttps://t.co/g2oowzlzIt pic.twitter.com/E6zcPZqecw
— Fars News Agency (@EnglishFars) August 11, 2022
Armenia and Azerbaijan have reported new border clashes that left an unknown number of troops dead. The fighting, which broke out early on Tuesday, marks the latest flare-up between the arch foes, who fought a war in 2020 over the contested Nagorno-Karabakh region. Each side blamed the other for the fighting.
The neighbours have fought two wars over the Nagorno-Karabakh region, the Armenian-populated enclave in Azerbaijan.
Conflict first broke out in the late 1980s, when both sides were under Soviet rule and Armenian forces captured swathes of territory near Nagorno-Karabakh — long recognised internationally as Azerbaijan's territory, but with a large Armenian population. About 30,000 people died in the ensuing conflict.
Azerbaijan regained those territories in the 2020 fighting, which ended with a Russian-brokered truce and thousands of residents returning to homes from which they had fled. More than 6,500 people lost their lives in the six-week war.
Source: Fars News Agency
Please click the following URL to read the full text of the original story:
https://www.farsnews.ir/en/news/14010622000646/Iranian-Presiden-Israeli-Presence-in-Regin-Threa-All-Nains
--------
Families of Iranian Terror Victims Protest at Albania for Sheltering Terrorists
2022-September-13
The letter, addressing the Albanian nation, referred to what it called a secret deal between the United States and Albania almost ten years ago when the latter accepted to receive the MKO members in return for $20 million.
The letter added that Albania accepted to host more than 2,000 members of the terror group after they were expelled from Iraq and at a time when other countries, including the United States itself, refused to do so.
The letter also criticized Albania for violating its commitment to not allow the MKO to take anti-Iran measures while on Albanian soil, saying that the country has unfortunately turned into a hub for interference by the terror group and countries hostile to Iran.
The letter slammed Albanian officials, from parliamentarians to other politicians, including the president, for their constant meetings with the head of the MKO, noting that the meetings show that Tirana has put itself among the enemies of Iran without having a clear understanding of the capability of an Iranian response.
The letter then named more than a dozen occasions when Albanian and American officials visited the MKO camp in Tirana, saying that all these visits prove that why the Iranian people are of the belief that the Albanian government is knowingly taking steps in a hostile path against their country and is cooperating on planning and implementing acts of sabotage against Iran.
Simultaneously with these meetings, cyberattacks were increased against Iran and the MKO escalated its sabotage acts and terror activities against different Iranian centers and locations, the letter added.
It also referred to Albania's recent decision to cut diplomatic ties with Iran, saying that the move was taken under the influence of certain countries, as well as the MKO terror group.
The letter noted that the Albanian government is rapidly turning the country into a center creating crises for security in Europe, the Balkans and Iran, adding that the Albanian authorities seem to have forgotten that they are backing a terror group that has taken responsibility for killing more than 12,000 Iranian people and officials.
The letter rejected claims by the Albanian authorities that their country is hosting "the Iranian opposition" members, calling the claim an attempt to deceive the public opinion to justify the hosting of a terrorist group.
The Albanians are hospitable, but hosting a terrorist organization is not hospitability, the letter said, adding that it is a deception to accept a group which had been refused in other parts of the world due to security threats and legal consequences it posed.
The letter at the end called on the Albanian people to be aware of the threats and repercussions caused by the presence of the MKO terror group in their country, stating that all terrorists should be contained and brought to justice in order that sustainable peace and security are established in the world.
Iran calls terrorism and extremism as result of the inefficiency of the current international situation, and stresses it wants a world free from violence and extremism. Iranian officials say Tehran has lost more people than any other country in the fight against terrorism. Iran has been the target of terrorist attacks in the past few decades and thousands of its citizens have been martyred by the terrorist groups.
After the Islamic Revolution in 1979, the MKO terrorist group began its enmity against Iran by killing thousands of Iranians and terrorist activities. Several members of the terrorist group and its leaders are living in European countries now, freely conducting terrorist activities.
The MKO terrorist group has martyred 17,161 Iranian citizens and officials, including late president Mohammad Ali Rajayee, former Prime Minister Mohammad Javad Bahonar, late Head of Supreme Judicial Council Ayatollah Mohammad Beheshti, late Deputy Chief of the Iranian Armed Forces General Staff Ali Sayyad Shirazi, and 27 legislators, as well as four nuclear scientists, some on itself and some others through collusion with Israeli Mossad and other notorious spy agencies like CIA.
The MKO terrorist group has publicly specified targets as martyred Lieutenant General Qassem Soleimani, who commanded the Quds Force of the Islamic Revolution Guards Corps (IRGC), and Iranian President Seyed Ebrahim Rayeesi.
The terrorist organization said it would "welcome" their assassination, adding that it desired for the ranking officials to "join" Asadollah Lajevardi, Tehran's former chief prosecutor, and Ali Sayyad-Shirazi, a former commander of the Iranian Army's Ground Forces during Iraq's 1980-88 war against Iran, who have both been assassinated by the terror outfit.
The MKO is currently based in Albania, where it enjoys freedom of activity after being delisted by the European Union and the United States in 2009 and 2012, respectively.
Source: Fars News Agency
Please click the following URL to read the full text of the original story:
https://www.farsnews.ir/en/news/14010622000200/Families-f-Iranian-Terrr-Vicims-Pres-a-Albania-fr-Shelering-Terrriss
--------
Iran Thanks Tunisia for Opposing Israeli Regime's Observer Status in African Union
2022-September-13
Amir Abdollahian made the remarks in a meeting with outgoing Tunisian Ambassador to Iran Samir Al Mansar.
The Iranian foreign minister thanked the Tunisian government and nation for their positive and constructive stances in line with supporting Palestinians and opposing the Tel Aviv regime's membership as an observer member in the African Union.
Amir Abdollahian, meantime, hailed Iran-Tunisia relations by saying that there are no limits for broadening cooperation between the two countries.
Referring to the current developments in Tunisia, the Iranian foreign minister expressed confidence that with the Tunisian officials' wisdom and with the unity of the Tunisian government and nation, Tunisia will prosper in all fields.
In a relevant development last month, Iran blasted the international community for keeping mum on Israeli aggressions against Palestinian people, and urged the Western countries to support the Palestinian nation's rights instead of denying realities about the Zionist regime's crimes.
"In line with what has been stipulated in many official documents… and countless reports by human rights institutions, the Zionist regime is an apartheid regime, which is culpable for genocide, war crimes, and crimes against humanity," Foreign Ministry Spokesman Nasser Kana'ani wrote on his Twitter.
He advised the Western governments to stop denying "objective facts" regarding the Israeli regime's apartheid character and instead start backing the Palestinian nation's human rights.
Numerous human rights organizations have condemned the Israeli regime for its practicing apartheid by systematically oppressing the Palestinians via military occupation and racist laws.
Leading human rights groups, including Human Rights Watch and Amnesty International, have equated Israeli policies against Palestinians to apartheid.
Iran has repeatedly stressed the international community should force Israel to account for human rights violations and crimes against Palestinians. Tehran stated that Washington-supported barbarity will not change the inevitable fate of the Tel Aviv regime.
Israel unleashed a wave of air raids on the Gaza Strip during the last week. Forty-nine Palestinians, including 17 children and two Islamic Jihad commanders, were martyred in the Israeli bombardment of the Gaza Strip. Hundreds of Palestinians were also wounded.
United Nations Human Rights Chief Michelle Bachelet has sounded the alarm about the high number of Palestinians, including children, killed and injured by Israel in 2022.
Almost 40 Palestinian children have been killed so far this year in the occupied territories and in many incidents, Israeli forces appear to use lethal force in a manner that violates international human rights law, Bachelet said.
The toll of civilian casualties in the Israeli attack on Gaza "was heavy", the UN rights chief added.
Iran's Deputy FM: Pedicide Shows Israeli Dread of New Palestinian Generationhttps://t.co/B8IyuPp2gk pic.twitter.com/8VnS12iXcV
— Fars News Agency (@EnglishFars) August 14, 2022
Iran describes Israel as the root cause of instability in the region, but says the regime's US-supported barbarity will not change the inevitable fate of the Tel Aviv regime.
Iranian President Seyed Ebrahim Rayeesi strongly condemned the new crime committed by Tel Aviv in the Gaza Strip, and noted the Israeli regime is on a fast-track towards decline because of the resistance of the Palestinian people in the besieged enclave.
"Through its crime last night, the Zionist regime once more showed its occupationist and aggressive nature to the world," President Rayeesi stated on Saturday.
Source: Fars News Agency
Please click the following URL to read the full text of the original story:
https://www.farsnews.ir/en/news/14010622000661/Iran-Thanks-Tnisia-fr-Oppsing-Israeli-Regime's-Observer-Sas-in-African
--------
Two Palestinian gunmen and Israeli army officer killed in West Bank clash
14 September, 2022
Israeli troops shot dead two Palestinian gunmen on Wednesday in a clash near the boundary with the occupied West Bank in which an army officer was also killed, a military spokesman said.
The West Bank, among territories where Palestinians seek statehood, has seen a surge of violence in recent months as Israel has intensified raids following a spate of lethal Palestinian street attacks in its cities.
Before dawn on Wednesday, the military spokesman said, troops intercepted two men spotted approaching an Israeli barrier along the West Bank boundary near Jenin, a Palestinian town that has seen near-nightly friction between the sides.
The men opened fire, killing an army officer, and were shot dead by the other troops, the military said.
The Jenin Brigade, a coalition of armed Palestinian factions, claimed the two dead gunmen as its members and confirmed they had killed an Israeli army officer.
US-sponsored Palestinian statehood talks with Israel stalled in 2014. Since then, the Palestinian Authority (PA), created under interim peace accords to wield limited self-government in the West Bank, has seen its domestic credibility wane.
Source: Al Arabiya
Please click the following URL to read the full text of the original story:
https://english.alarabiya.net/News/middle-east/2022/09/14/Two-Palestinian-gunmen-and-Israeli-army-officer-killed-in-West-Bank-clash
--------
Iran schools call for Israel's 'eradication,' consider US 'satanic enemy': Study
13 September, 2022
Iran's education system calls for the "eradication" of Israel, considers the US a "satanic enemy," and depicts foreigners as "irredeemable," according to a recent study of Iranian textbooks and school curricula.
The study by the Institute for Monitoring Peace and Cultural Tolerance in School Education (IMPACT-se), published last month, found that the Iranian curricula call for a "total war against Israel until it is completely eradicated."
"The existence of Israel blocks Iranian efforts to hegemonize the region. Israel's destruction is presented both as an ideal, and as a realistic goal. The destruction of Israel is portrayed as a step toward the salvation of the world," according to the report, which analysed over 100 textbooks from the 2021-2022 academic year.
Iranian textbooks described the US as "Satanic, an enemy of the Prophets, and the Quran," the report found.
Students are taught to distrust "foreigners" and the curriculum is "rife with anti-'foreigner' rhetoric," according to the report.
"There is a through-thread in Iranian textbooks that instils in students a sense of paranoia when it comes to "foreigners" … The curriculum is rife with anti-"foreigner" rhetoric. Students are assigned an exercise in which they must strategize ways to counter the foreigner's plans to overthrow Islam."
Iran's 1979 Islamic Revolution is "taught as a model for all countries," and "Arab governments are portrayed as illegitimate," the report said.
One textbook – "History of Contemporary Iran," Grade 11 – included praise for the Muslim Brotherhood and its founder Hassan al-Banna, the report found.
The textbook described al-Banna as one of the top "theorists of the new era and the current wave of Islamic Awakening," along with Iran's former Supreme Leader Ruhollah Khomeini.
Al-Banna "rejected Western civilization and acted within the framework of Islamic principles and reviving the Quran and the Sunnah. The Muslim Brotherhood is undoubtedly the most original intellectual movement in the Islamic Awakening of the Sunnis in the current era," page 251 of the textbook reads.
The report also found that a "core racial nationalistic-Iranian identity is fostered within the curriculum."
"Iranians are portrayed as having Aryan roots. Nazi atrocities are often downplayed, while their achievements are praised," the report said.
The Holocaust was ignored, according to the report.
"The Iranian curriculum does not include teaching in any language other than Persian, regardless of the fact that around half of the populations' mother-tongue is not Persian," the report said.
Source: Al Arabiya
Please click the following URL to read the full text of the original story:
https://english.alarabiya.net/News/middle-east/2022/09/13/Iran-schools-call-for-Israel-s-eradication-consider-US-satanic-enemy-Study
--------

North America
93 years added to life sentence for 2014 'jihad-inspired' murders including two gay men killer met on Capitol Hill
September 13, 2022
Ali Brown will serve for his 2014 killings including two men he met on Capitol Hill he lured with a dating app and murdered because they were gay.
Brown, already facing life in prison for shooting a man to death in New Jersey in the weeks after the slayings here, was sentenced Friday in King County court to 93 years for the killing of a man in Skyway and the murder of the two men he met on a night out on Capitol Hill.
Prosecutors say Brown was "jihad-inspired" when he murdered 23-year-old Dwone Anderson-Young and and 27-year-old Ahmed Said in the June 1st, 2014 slayings.
The two were shot to death early on a Sunday morning after a late spring night on Capitol Hill. Their bodies were found in the area of 29th and King near the home Anderson-Young shared with his mother.
Earlier that year, 30-year-old Leroy Henderson was walking home from a Skyway store when he was shot at least six times in the back by Brown according to prosecutors.
The violence continued that June. According to police, a friend told detectives Said and Anderson-Young were meeting up with a third man that night after partying at R Place but that he had a "bad feeling" about the stranger. The friend told police that at closing time, he, Said and Anderson-Young left the club to meet the man. The friend described the person as seeming "out of place." Said offered to give the friend who talked to police a ride home but he said he declined the ride because he was "creeped out" by the man.
Another friend who met the group at R Place earlier in the night told police Said spent much of the evening on his phone and that he believed Said was using an app "like Grindr or Jack'd" — "apps on which gay men meet up with other gay men," the police report noted. This friend told police he also saw the stranger with Said and Anderson-Young that night as they left R Place. That friend identified the suspect Brown out of a police photo montage and was "100 -percent certain" he was the same person he saw with the victims outside the club.
Detectives were also able to retrieve video surveillance from a nearby business showing Brown, Said, and Anderson-Young together. Police said shell casings at the murder scene matched a 9 MM Smith and Wesson semiautomatic pistol purchased by the mother of Brown's children that she said had gone missing. The two men had been shot execution style, according to police.
According to media reports at the time, Brown had also been tangled up in an FBI investigation into possible terrorist activity a decade prior to the murders.
Prosecutors and police say Brown admitted killing his victims he met on Capitol Hill that night because they were gay and because of his extreme religious beliefs.
Source: Capitol Hill Seattle
Please click the following URL to read the full text of the original story:
https://www.capitolhillseattle.com/2022/09/93-years-added-to-life-sentence-for-2014-jihad-inspired-murders-including-two-gay-men-killer-met-on-capitol-hill/
--------
US says it expects Pakistan to take 'sustained action' against all terrorist groups
September 14, 2022
US State Department spokesperson Ned Price said on Wednesday that Washington expected Islamabad to take "sustained action" against all terrorist groups and that a recently proposed $450 million military sale package for the maintenance of Pakistan's F-16 fleet would help serve this purpose.
"Pakistan's F-16 programme, it's an important part of the broader US-Pakistan bilateral relationship, and this proposed sale will sustain Pakistan's capability to meet current and future counterterrorism threats by maintaining the F-16 fleet," Price said during a press briefing on Tuesday.
"This is a fleet that allows Pakistan to support counterterrorism operations, and we expect Pakistan will take sustained action against all terrorist groups," he added.
Price made these remarks when asked to share some details about the proposed package, about which the US government has already notified Congress.
Reiterating that the Congress had been notified of the proposed sale, Price said: "Pakistan is an important partner in a number of regards, an important counterterrorism partner.
"And as part of our longstanding policy, we provide life cycle maintenance and sustainment packages for US-origin platforms."
On Wednesday last week, an official statement by the US Defence Secu­rity Cooperation Agency delivered the required certification of this possible sale to Congress.
The agency clarified that "the proposed sale does not include any new capabilities, weapons, or munitions".
The follow-on support for Pakistan's F-16 fleet would include participation in F-16 Aircraft Structural Integrity Programme, Electronic Combat International Security Assistance Programme, International Engine Management Programme, Engine Component Improvement Programme, and other technical coordination groups.
The support would also include aircraft and engine hardware and software modifications and support; aircraft and engine spare repair/return parts; accessories and support equipment; classified and unclassified software and software support; publications, manuals, and technical documentation; precision measurement, calibration, lab equipment, and technical support services; studies and surveys; and other related elements of aircraft maintenance and programme support.
'US remains concerned by significant restrictions on media outlets'
During Tuesday's briefing, Price was also asked to comment on media freedom in Pakistan, particularly with regard to restrictions on ARY News in recent days and the arrest of the channel's head of news, Ammad Yousuf.
Price responded by saying: "We continue to be concerned by significant restrictions on media outlets and civil society in Pakistan.
"I know that your outlet, ARY, has not been immune to this constricted space. We routinely raise our concerns about press freedom to all stakeholders around the world, including to our partners and our counterparts in Pakistan," he said.
Price added that the US was concerned that media and content restrictions, as well as a lack of accountability for attacks against journalists, undermined the exercise of freedom of expression, peaceful assembly and association.
"A free press and informed citizenry, we believe, are key to democratic societies around the world, key to our democratic future. That applies equally to Pakistan as it does to other countries around the world".
Flood relief assistance
When asked about assistance for flood relief, Price said the US was "deeply saddened" by the devastation and loss of life caused by "historic floods" in Pakistan.
"We stand with the people of Pakistan at this difficult time," Price assured, as he went on to share the details of support provided by the US so far.
He said as of September 12, a total of nine US Central Command (Centcom) flights delivered more than half of the 630 metric tons of relief supplies from the United States Agency for International Development's (USAID) Dubai warehouse.
In total, Centcom would airlift more than 41,000 kitchen sets, 1,500 rolls of plastic sheeting, tens of thousands of plastic tarps, 8,700 shelter fixing kits — all in support of USAID's flood relief, he added.
Price further said that in this fiscal year alone, "we've provided more than $53 million in humanitarian assistance, including urgently needed support for food, nutrition, multipurpose cash, safe drinking water, nutrition, sanitation and hygiene, as well as shelter assistance" to Pakistan.
Source: Dawn
Please click the following URL to read the full text of the original story:
https://www.dawn.com/news/1710062/us-says-it-expects-pakistan-to-take-sustained-action-against-all-terrorist-groups
--------
UN chief calls for de-escalation between Azerbaijan and Armenia amid renewed fighting
Betul Yuruk
13.09.2022
UNITED NATIONS
United Nations chief Antonio Guterres on Tuesday called on Azerbaijan and Armenia to de-escalate tensions amid recent fighting which claimed lives on both sides.
"The Secretary-General is deeply concerned about reports of renewed fighting along the Armenian-Azerbaijani border," his spokesman Stephane Dujarric said on Tuesday.
Guterres urged both sides to take immediate steps to deescalate tensions, exercise maximum restraint, and resolve any outstanding issues through dialogue and within existing formats, Dujarric said.
Azerbaijan has accused Armenia of "large-scale provocations" in recent days, saying saboteurs planted mines and Armenian forces carried out "intensive" firing on Azerbaijani positions.
These actions by Armenian forces led to the confrontation, the Azerbaijani Defense Ministry said, adding that there were casualties on both sides, including 50 Azerbaijani soldiers.
Relations between the former Soviet republics of Armenia and Azerbaijan have been tense since 1991 when the Armenian military occupied Nagorno-Karabakh, also known as Upper Karabakh, a territory internationally recognized as part of Azerbaijan.
Source: Anadolu Agency
Please click the following URL to read the full text of the original story:
https://www.aa.com.tr/en/americas/un-chief-calls-for-de-escalation-between-azerbaijan-and-armenia-amid-renewed-fighting/2684325
--------
New book reveals Trump's fear of Iran's revenge for Gen. Soleimani assassination
14 September 2022
Former US president Donald Trump told his friends before the end of his tenure that he was afraid Iran would try to kill him in revenge for the assassination of Iran's top anti-terror commander, Lieutenant General Qassem Soleimani, a new book reveals.
General Soleimani was targeted in a US drone strike directly ordered by Trump near the Baghdad International Airport on January 3, 2020. The attack also killed the deputy chief of Iraq's Popular Mobilization Units (PMU) Abu Mahdi al-Muhandis among others.
Five days later, Iran, which had vowed to avenge Soleimani's assassination, launched a barrage of missiles at the US-run Ain al-Assad airbase in Iraq's western province of Anbar, as well as another airbase in Erbil.
The Islamic Republic also said the attack, dubbed Operation Martyr Soleimani, was a "first slap" and that its retaliation was not over.
According to a new book by Peter Baker and Susan Glasser, Trump told several of his Florida friends in December 2020 that he was afraid Iran would try to assassinate him, The Guardian reported.
"At a cocktail party, Trump told several of his Florida friends he was afraid Iran would try to assassinate him, so he had to go back to Washington where he would be safer," said the book, titled The Divider: Trump in the White House 2017-2021, scheduled to be published next week.
Trump duly returned to Washington, where he swiftly "turned up the heat on Mike Pence," his vice-president who he was pressuring to overturn the results of the election, Baker and Glasser write.
The two authors also said Trump and his advisers considered new strikes against Iran but backed off because the end of Trump's time in power was too near.
Top Iranian officials have identified a long list of culprits behind the terrorist attack that killed General Soleimani, saying all of the perpetrators, in particular Trump who tops the list, will have to pay the price for their heinous act.
Marking the second anniversary of Soleimani's martyrdom, Iranian President Ebrahim Raeisi said on January 3 that Trump and his secretary of state Mike Pompeo must stand trial for the "horrible crime."
Source: Press TV
Please click the following URL to read the full text of the original story:
https://www.presstv.ir/Detail/2022/09/14/689184/Trump-feared-assassination-Iran-avenge-Gen-Soleimani-martyrdom
--------
Pakistan
Police produce 'missing' person before IHC; hearing under way
Tahir Naseer
September 14, 2022
The Islamabad police on Wednesday recovered Haseeb Hamza, a 27-year-old farmer who had reportedly gone "missing" in August, and presented him before the Islamabad High Court (IHC).
The development comes a day after IHC Chief Justice Athar Minallah, while hearing a petition for Hamza's recovery, instructed the police to present him before the court by 10am today.
"If that doesn't happen, then we will call each and every [officer] and take action against them," he had said, adding that the Military Intelligence (MI), Inter-Services Intelligence (ISI), Intelligence Bureau (IB) all would be made to appear before the court to give an explanation for the "state's failure".
An hour before the IHC deadline was set to expire today, Islamabad Inspector-General of Police (IGP) Dr Akbar Nasir Khan appeared in the court along with Hamza.
Justice Minallah is currently hearing the case.
The case
In the petition, a copy of which is available with Dawn.com, petitioner Zulfiqar Ali said his 27-year-old son Hamza was a farmer and had been working in Layyah.
The federation of Pakistan through the defence ministry secretary, the MI director general and the interior ministry have been named the respondents in the case.
On the midnight of August 22 and 23, around 20 persons — 15 of whom were in black uniform — raided the petitioner's house without any search warrant, the plea said.
During the search, they apprehended the petitioner's son, and seized several items, including five laptops, six cellphones and some documents.
"The circumstances suggest that the detenu is a victim of state-enforced disappearance. The petitioner ran from pillar to post for the search of his son, however, no information [was] received from any corner of state organs," the petition said.
Source: Dawn
Please click the following URL to read the full text of the original story:
https://www.dawn.com/news/1710066/police-produce-missing-person-before-ihc-hearing-under-way
--------
No plans for Shehbaz-Modi meeting on sidelines of SCO summit
Iftikhar A. Khan
September 14, 2022
ISLAMABAD: Prime Mini­ster Muhammad Shehbaz Sharif has no plans to meet his Indian counterpart Narendra Modi on the sidelines of the Shanghai Cooperation Organi­sation (SCO) being held in Samarkand, Uzbekistan on September 15 and 16.
"No meeting is envisaged with the Indian prime mini­ster," Foreign Office spokesman Asim Iftikhar told Dawn.
An official, when contacted, said though a brief courtesy meeting between the two was possible, they would not be holding talks saying none of the two sides have sought a meeting. The foreign office in a statement, however, confirmed that Prime Minister Sharif would attend the 22nd annual Meeting of the Council of Heads of State (CHS) of SCO.
"Besides attending the summit, the prime minister will hold bilateral meetings with other participating leaders on the sidelines of the CHS," it said.
The premier will be participating in the CHS meeting on the invitation of President of Uzbekistan Shavkat Mirziy­oyev, who would chair it. The leaders of SCO members and observer states as well as the heads of SCO organisations and other special guests would attend the meeting.
The CHS is the highest forum of the SCO, which considers and defines strategy, prospects and priorities of the organisation. At the forthcoming CHS, the SCO leaders will deliberate on important global and regional issues, including climate change, food security energy security, and sustainable supply chains. They would also approve agreements and documents that would chart the future direction of cooperation among SCO member states.
Source: Dawn
Please click the following URL to read the full text of the original story:
https://www.dawn.com/news/1710019/no-plans-for-shehbaz-modi-meeting
--------
Imran grilled for 'U-turn' on army chief appointment
Ikram Junaidi | Zulqernain Tahir
September 14, 2022
ISLAMABAD/LAHORE: As he came under intense scrutiny for making the appointment of the new army chief controversial after a 'U-turn' on his earlier stances, former prime minister Imran Khan on Tuesday said he had not sought an extension for Chief of Army Staff General Qamar Javed Bajwa, as he only proposed the deferment of the appointment till the general elections.
Mr Khan, in his interview with Kamran Khan on Dunya News, did not explicitly ask for an extension for the serving army chief, but a number of media outlets reported that the proposal floated by the former premier would translate into an extension in the army chief's tenure.
"I have not thought about this issue in detail," Mr Khan had told the anchorperson when he asked him about the extension to the incumbent COAS.
"I never talked about the extension of the army chief's tenure; I just proposed deferment of the appointment of the army chief till the new elections," Mr Khan was quoted as saying.
The PTI also issued an official statement which claimed that Mr Khan had said that both parties in power, i.e. PPP and PML-N, had a history of appointing their "favourites" and that was the reason he opposed the appointment of the new army chief by the current government.
Imran under fire
The clarification came after Mr Khan received flak from leaders of the PML-N and PPP, who took exception to his remarks about the army chief's appointment and dubbed them as Mr Khan's another 'U-turn' in an attempt to come back to power.
Defence Minister Khawaja Asif tweeted that Mr Khan was so "desperate" to return to power that he was linking the appointment of the new chief with fresh elections. "The incumbent government will take a decision on the appointment of a new army chief keeping in view the Constitution and the tradition of the institution. We will not link national decisions with political interests," Mr Asif said.
Talking to DawnNews, Mr Asif said the selection of the new army chief was the prerogative of Prime Minister Shehbaz Sharif and the government's allies would be taken into confidence. "Consultations will be made with the institution as well, as it would forward the names of recommended officers for the new chief. So far no consultation has been started in this regard," he added.
PML-N leader Pervaiz Rashid also took Mr Khan to the task over his remarks about the appointment of the new chief. "Now neutrals, traitors and Mir Jaffar have become the apple of his (Imran) eyes and Americans his favourites," Mr Rashid said.
'Another U-turn'
PPP leader and former senator Farhatullah Babar, in a series of tweets, lashed out at the PTI chief and said the "anti-establishment posture" of Mr Khan turned out to be mere eyewash.
"There were many, even outside PTI, who hoped that the anti-establishment posture of @ImranKhanPTI was real … Latest U-turn dashed all hopes; real, vague or vain," Mr Babar said.
"Recently @ImranKhanPTI publicly said that giving extension to the chief in 2019 was his great blunder. Now he's demanding an extension for the same chief. Why? Did he get a whiff of who @CMShehbaz has in mind as next chief?… Imran wanting the chief's selection [to be] deferred until after polls means [Imran] pleading for [army chief's] extension. Is it a change of heart or what?" he said in his tweet while opposing the extension.
The ex-senator wondered whether a change in the former prime minister's stance meant Mr Khan was ready "to patch up" with the powers-that-be.
Calling the PTI chief out for his multiple 'U-turns', the PPP leader said first Mr Khan said that the COAS appointment was not his issue. "Then he said the senior most general should be made chief. Then, [Nawaz] Sharif and [Asif] Zardari shouldn't appoint a chief. Now he's pleading with Sharif and Zardari to give extension to Bajwa until after polls," the PPP leader claimed.
Ex-senator Afrasiab Khattak tweeted: "The extreme politicisation of the COAS appointment epitomises the distortions/deviations brought in [the] governance system by usurpers/putschists to the detriment of the state system, including the military."
'Practical formula'
Meanwhile, PTI leaders came to the defence of their party chief. PTI stalwart Fawad Chaudhry termed Mr Khan's proposal to withhold the appointment till elections a "practical formula" to restore democracy and save the political future of the country. "The current status quo of the establishment should be maintained to call fresh elections," Mr Chaudhry demanded.
Source: Dawn
Please click the following URL to read the full text of the original story:
https://www.dawn.com/news/1710033/imran-grilled-for-u-turn-on-army-chief-appointment
--------
PTI moves SC against 'phase wise' acceptance of resignations
September 14, 2022
ISLAMABAD: The legal wrangling which began after National Assembly Speaker Raja Pervaiz Ash­raf acce­pted the resignations of 11 PTI members in July took a new turn on Tuesday as the party approached the Supr­eme Court against the high court's decision.
The party moved a petition challenging the Sept 6 order of the Islamabad High Court (IHC) to dismiss the PTI's plea against the phase-wise acceptance of their lawmakers' resignations.
All PTI lawmakers had resigned en masse on April 11, two days after former pri­me minister Imran Khan was ousted from the top office.
In the latest petition, mo­­ved through counsel Faisal Fareed, the party has requ­ested the apex court to set aside the high court's order.
The speaker, the ECP, the federation through cabinet secretary and all 123 lawmakers have been named as respondents in the petition.
The petition argued that after the change of the government allegedly orchestrated as a consequence of foreign conspiracy and intervention, the PTI's leadership took a policy decision to protest against it.
"To seek a fresh mandate from the people, the party decided to get all its elected members resigned en-bloc from the National Assembly."
The decision was made in the parliamentary party meeting on April 11, chaired by PTI Chairman Imran Khan, it added.
The petition pleaded that Mr Ashraf has no authority to 'sit over' the accepted resignations.
Source: Dawn
Please click the following URL to read the full text of the original story:
https://www.dawn.com/news/1710021/pti-moves-sc-against-phase-wise-acceptance-of-resignations
--------
Three soldiers martyred in exchange of fire with terrorists across Pak-Afghan border: ISPR
September 13, 2022
RAWALPINDI: Three Pakistan Army soldiers were martyred in an exchange of fire with terrorists across the Pakistan-Afghanistan border in Khyber Pakhtunkhwa's Kurram district on Tuesday, the military's media affairs wing said in a statement.
According to the Inter-Services Public Relations (ISPR), terrorists inside Afghanistan opened fire on Pakistani troops in the general area of Kharlachi. Pakistan Army troops responded in a "befitting manner", it said.
During the exchange of fire, three soldiers identified as 32-year-old Naik Muhammad Rehman, 34-year-old Naik Maweez Khan, and 27-year-old Sepoy Irfan Ullah, having fought gallantly, embraced martyrdom, the ISPR statement said.
"As per credible intelligence reports, due to fire of own troops, terrorists suffered heavy casualties."
The military's media wing said it strongly condemned the "use of Afghan soil by terrorists for activities against Pakistan", adding that it expected the Afghan government not to "allow the conduct of such activities in the future".
Source: Pakistan Today
Please click the following URL to read the full text of the original story:
https://www.pakistantoday.com.pk/2022/09/13/three-soldiers-martyred-in-exchange-of-fire-with-terrorists-across-pak-afghan-border-ispr/
--------
Hindu temple opens door to 200 Muslim flood victims in Balochistan
Sep 12 2022
A Hindu temple in a small village in Balochistan set an example of interfaith harmony by opening its doors to at least 200 flood victims, most of them Muslims, according to a report by Daily Dawn.
Recent floods in Pakistan have displaced and devasted millions. The catastrophe has claimed over 1,300 lives. However, the Baba Madhodas Mandir in Jalal Khan village in the Kachhi district was affected relatively less as it is located on high ground, hence serving as a sanctuary for flood-affected people.
Locals reported that Baba Madhodas was a Hindu saint who was loved by Muslims and Hindus alike before the partition in 1947.
Iltaf Buzdar, a frequent visitor to the village, said his parents shared stories of the saint with him. They said that Baba looked at people "through the prism of humanity" and not their caste or creed.
The Hindu temple is often visited by Hindu worshippers from all over Balochistan.
While most people of the Hindu community have left the village to look for jobs and other opportunities, a few families have stayed behind to take care of the temple.
The current in charge, Rattan Kumar, 55, said that the temple had more than 100 rooms to accommodate pilgrims who came from all over Balochistan and Sindh every year.
Kumar's son reported that a few rooms had been damaged by floodwater but the structure was mostly safe.
Not only were humans given refuge but people's livestock including goats and sheep were also accommodated, the report said.
Those who were displaced after their homes were washed away in the flood said that initially they were cut off from the rest of the district and were being provided food items via helicopters. However, once they entered the temple, the Hindu community helped them.
Source: Geo TV
Please click the following URL to read the full text of the original story:
https://www.geo.tv/latest/439734-inter-faith-harmony-hindu-temple-opens-door-to-200-muslim-flood-victims
--------
Africa
No Going Back On Rejection of Muslim-Muslim Ticket – Northern Christians
September 14, 2022
By Amos Tauna
Chairmen of the Christian Association of Nigeria (CAN) in the 19 Northern States and the FCT, Abuja, on Tuesday, reiterated their rejection of the same faith ticket of the All Progressives Congress (APC) in the 2023 elections.
They declared that they would not change their stand against the Muslim-Muslim presidential ticket.
The chairmen made their position known during a meeting convened by Yakubu Dogara, the former Speaker, House of Representatives and Babachir Lawal, the former Secretary to the Government of the Federation, in Abuja.
The former Speaker, who disclosed this on his Twitter handle, explained that the meeting with the Christian leaders from the North and the FCT was to decide 2023.
Dogara stated that the fight for justice continues, adding that they held a Consultative Meeting with Christian Leaders From the 19 Northern States and the FCT on the pan-Nigerian platform to adopt in 2023.
Rev. John Joseph Hayab, the Chairman of CAN in Kaduna State, also confirmed the meeting to DAILY POST, saying it was well attended in person by all the CAN chairmen from the North, except Katsina State.
He explained, "We are saying there is no going back on our stance against the Muslim-Muslim ticket of the APC."
Hayab stated that they would consult with leading Christian politicians across party before deciding on the next line of action.
He added that they would also wait for signals from their (CAN) national body, stressing that they would point them to the way to go, "but the Muslim-Muslim ticket is out of the equation."
He added that what they had expected from the APC was to explain themselves to them rather than hiring impostors to impersonate genuine Christian leaders.
DAILY POST reports that the APC presidential candidate, Bola Ahmed Tinubu settled for the same faith ticket despite stiff opposition from Christians.
Source: Daily Post Nigeria
Please click the following URL to read the full text of the original story:
https://dailypost.ng/2022/09/14/2023-no-going-back-on-rejection-of-muslim-muslim-ticket-northern-christians/
--------
Twin airstrikes kill 10 people in Ethiopia's Tigray region: Hospital official
14 September, 2022
Ten people were killed Wednesday in a second day of airstrikes on Ethiopia's Tigray, a hospital official said, in attacks that came shortly after authorities in the war-torn region expressed readiness for a ceasefire.
Kibrom Gebreselassie, a senior official at Ayder Referral Hospital, the biggest in Tigray, told AFP that the "death toll (was) raised to ten," after two drone attacks on a residential neighborhood in the regional capital Mekele.
The attack struck a residential neighborhood in the regional capital Mekele, "killing and wounding innocent civilians," tweeted Getachew Reda, spokesman for the Tigray People's Liberation Front (TPLF), which has been fighting Ethiopia's government for nearly two years.
AFP was not able to independently verify the claims. Access to northern Ethiopia is severely restricted and Tigray has been under a communications blackout for over a year.
The reported attack followed a drone strike on Tuesday on Mekele University, which the TPLF said caused injuries and property damage.
Prime Minister Abiy Ahmed's government has not commented on this week's reported bombings.
Tigray has been hit by several airstrikes since fighting resumed in late August between government forces and their allies and TPLF rebels in northern Ethiopia.
The return to combat shattered a March truce and dashed hopes of peacefully resolving the war, which has killed untold numbers of civilians and triggered a humanitarian crisis in northern Ethiopia.
Both sides have accused the other of firing first, and fighting has spread from around southern Tigray to other fronts farther north and west, while also drawing in Eritrean troops who backed Ethiopian forces in the early phase of the war.
On Sunday, the TPLF said it was ready for a ceasefire and would accept a peace process led by the African Union, removing an obstacle to negotiations with Abiy's government.
The international community has urged the warring sides to seize the moment for peace.
Addis Ababa is still yet to officially comment on the overture by Tigrayan authorities, which dominated national politics for nearly three decades until Abiy came to power in 2018.
Abiy's government has declared the TPLF a terrorist group, and considers its claim to authority in Tigray illegitimate.
Untold numbers of civilians have been killed since the war erupted in Africa's second most populous country, and grave rights violations by all sides against civilians have been documented.
Source: Al Arabiya
Please click the following URL to read the full text of the original story:
https://english.alarabiya.net/News/world/2022/09/14/Ethiopia-s-Tigray-region-hit-by-fresh-air-strike-Rebels-hospital
--------
More than half a million children face malnutrition in Somalia: UN agency
Hassan Isilow
13.09.2022
More than half a million young children are expected to suffer severe acute malnutrition in Somalia, the UN Children's Fund (UNICEF) said on Tuesday, as the country faces a looming famine.
"Today we are faced with 513,000 children at risk of death. it's a number, a pending nightmare, we have not seen this century," UNICEF said in a statement.
Somalia is witnessing one of the worst droughts in the country's recent history that has already claimed several lives and displaced over 1 million people.
Last week, UN humanitarian chief Martin Griffiths announced that famine was knocking on the door in Somalia.
Addressing a news conference in the capital Mogadishu, Griffiths said 213,000 people are living in "famine-like conditions" in the Horn of Africa country.
Last week, UNICEF announced that 730 children have died in nutrition centers across Somalia this year.
"As we heard last week, children are already dying. Our partners report that some stabilization centers are full, and thus critically ill children are having to receive treatment on the floor," UNICEF said on Tuesday.
Source: Anadolu Agency
Please click the following URL to read the full text of the original story:
https://www.aa.com.tr/en/africa/more-than-half-a-million-children-face-malnutrition-in-somalia-un-agency/2684149
--------
URL: https://newageislam.com/islamic-world-news/shadab-shams-haridwar-muslim-shrine-piran-kaliyara/d/127946
New Age Islam, Islam Online, Islamic Website, African Muslim News, Arab World News, South Asia News, Indian Muslim News, World Muslim News, Women in Islam, Islamic Feminism, Arab Women, Women In Arab, Islamophobia in America, Muslim Women in West, Islam Women and Feminism