New Age Islam News Bureau
15 Jul 2020
• Saudi Rights Chief Highlights Media's Role in Promoting and Protecting Human Rights
• Turkey Will Inform UNESCO About Hagia Sophia Changes, Says FM
• After More Than 30 Years of Islamist Rule, Sudan Scraps Apostasy Law and Alcohol Ban for Non-Muslims
• Prevent Counterterrorism Strategy Reinforces Stereotypes and Leads Muslim Students to Self-Censor as per a Report
• Coronavirus: Trump Abandons International Students Ban After Backlash At Home, Abroad
------
Pakistan
• Billboard CampaignAgainst Hate and Discrimination Trends Interfaith Harmony in Pakistan
• Second Covid Wave Inevitable in Pakistan If Precautions Ignored on Eid ul Azha
• Three Pakistan soldiers killed in terror attack
• FIA Files Report on Rawalpindi-Based Cleric Mirza IftikharuddinIn Contempt Case
• Court moved for ban on TikTok
--------
Arab World
• Saudi Rights Chief Highlights Media's Role in Promoting and Protecting Human Rights
• US Sends More Military Equipment to Northeastern Syria
• Lebanon looks to China in hopes to secure investments, bring relief
• Syrian militants detonate bomb near Russian-Turkish patrol in northern Syria
• Lebanese man accused of financing Hezbollah freed from US: Sources
• Russia says joint patrol with Turkey struck by bomb in Syria
--------
Mideast
• Turkey Will Inform UNESCO About Hagia Sophia Changes, Says FM
• 'Do Not Execute': Twitter Hashtag Against Iran Executing Protestors Trends Worldwide
• Iran's Judiciary Spokesman: Death Penalty for Mossad, CIA Spy Unchangeable
• Iran offers unconditional support to Hamas, Islamic Jihad
• Yemeni Official Threatens S. Arabia with More Missile Attacks
• Iran executes two over 2010 bomb attack at military parade
• Turkey court jails three suspects for life over 2016 attack: Reports
• Zarif: Iran will keep trying to send Yemen relief aid despite Saudi siege
--------
Africa
• After More Than 30 Years of Islamist Rule, Sudan Scraps Apostasy Law and Alcohol Ban for Non-Muslims
• Tunisia's President Saied Rejects Islamist Ennahda's Call for Government Change
• UAE working for 'immediate ceasefire' in Libya: Foreign Affairs Minister Gargash
• Somalia's military chief unhurt, civilian killed in suicide car bomb
• Nigeria Scheme Snubs Ex-Boko Haram Women
• War Crimes Trial Begins Against Malian Jihadist
--------
Europe
• Prevent Counterterrorism Strategy Reinforces Stereotypes and Leads Muslim Students to Self-Censor as per a Report
• Germany arrests two Syrians linked to al-Qaeda
• Spanish police detain two Algerians in anti-terrorism operation in Barcelona
• EU preparing possible sanctions on Turkey
• Muslim Brotherhood's danger dawns on France
--------
North America
• Coronavirus: Trump Abandons International Students Ban After Backlash At Home, Abroad
• The U.S. must respond forcefully to Russia and the Taliban. Here's how.
--------
India
• Maharashtra CM says Muslim Leaders to Keep Festivities for Bakri Eid Low Key
• Resentment in Hindus On Arrests from Riot-Hit Areas in Northeast Delhi, Take Care: Special CP to Probe Teams
--------
South Asia
• US Closes Five Bases inAfghanistan As Part OfTaliban Peace Deal
• Archbishop recovered from Covid-19, dies after stroke in Bangladesh
• Khalilzad reacts to Taliban car bomb attack in Samangan province
• NATO Secretary General reacts to increased violence led by Taliban
• Afghan forces kill, wound at least 68 Taliban militants in the North: Shahen Corps
--------
Southeast Asia
• Malaysia PM Muhyiddin Wins Vote to Oust Speaker, Proves Majority in Parliament
• Pakistani, Indonesian Muslim Groups Hail Turkey's Hagia Sophia Move
• KhairySays BN To Hold 'Internal Discussions' On Improving Its Parliamentary Debate Etiquette
Compiled by New Age Islam News Bureau
URL: https://www.newageislam.com/islamic-world-news/billboard-campaignagainst-hate-discrimination-trends/d/122377
--------
Billboard Campaign Against Hate and Discrimination Trends Interfaith Harmony in Pakistan
Kamran Chaudhry
July 15, 2020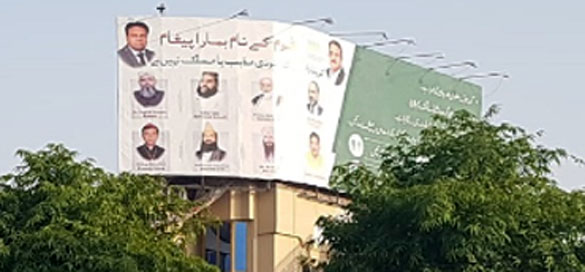 A billboard featuring Archbishop Sebastian Shaw (bottom left) on Jail Road in Lahore. (Photo: Kamran Chaudhry)
----
As the coronavirus rages in the Islamic Republic of Pakistan, new trends of interfaith harmony have emerged in its Punjab province.
These include a bold billboard campaign against hate and discrimination. High-profile billboards along busy roads in five cities including Lahore, the Punjab capital, feature religious leaders with the headline, "Our message to the nation: coronavirus has no religion or sect!"
Archbishop Sebastian Shaw of Lahore is among the leaders being advertised.
"Let us unite against this worldwide epidemic. Instead of blaming each other, follow guidelines of the government and World Health Organization to save yourself and other people," says the prelate in a public service message.
Similar messages are being broadcast on TV, radio, cable television networks and social media as 253,604 Covid-19 cases were reported to World Health Organization (WHO) with 5,320 deaths as of July 14.
Youth Development Foundation (YDF), a Catholic-led group for students, is collaborating with the Ministry of Human Rights, Minority Affairs and Interfaith Harmony Government of Punjab for the campaign launched last month.
The pilgrims
In April, WHO reported that 46 percent of Pakistanis who have tested positive for the Covid-19 have a travel history to Iran. Pakistan and Iran share a 900-kilometer border, which is frequently used for trade and by pilgrims belonging to the Hazara community who travel to Iran for religious pilgrimages, often crossing the border town of Taftan in southwestern Balochistan province.
The ethnic group, which is predominantly Shia Muslim, has been targeted for more than a decade, with many shootings and bomb attacks claimed by armed sectarian groups such as Lashkar-e-Jhangvi.
Balochistan National Party-Mengal chief minister Sardar Akhtar Mengal claimed that around 95 percent cases of Covid-19 in the country are due to mismanagement at Taftan border. "Pakistani pilgrims were allowed to cross the border into their homeland from Iran without testing for coronavirus," he told media. Several clerics were reported using the term "Shia virus."
Television channels and social media slammed the provincial government for its poor handling of the people quarantined at the Taftan camp.
Video clips shared on social media show people crammed inside tents erected in a dirty courtyard and sleeping on floors and in corridors.
The Balochistan chief minister dismissed criticism over the alleged lack of facilities at the Taftan quarantine facility.
In March, authorities placed Raiwind city under quarantine after more than 200 Tablighi Jamaat preachers were tested positive in Punjab province alone.
More than 100,000 people, including 5,000 foreigners, attended the three-day annual gathering of the Tablighi Jamaat – an Islamic missionary movement – despite calls by the government for the event to be canceled before lockdown was implemented. Thousands of Jamaat members were later quarantined in different provinces and held responsible for spreading the contagion in Pakistan.
According to Shahid Rehmat, executive director of YDF, 20 billboards and 2,000 poll banners have been posted under the media campaign titled "Bringing Communities Together" that will continue till Aug. 14, the country's Independence Day.
"The continual blame game can fuel hate speech and further disharmony in society. Anybody can transmit the virus. We hope to replicate the campaign in other parts of the country. Banners of Catholic bishops in restaurants and along roads is a rare show in our society," he told UCA News.
"Students of diverse faith from different educational institutes are now being urged to share short video messages. The clips are being shared on campaign page of Punjab government."
Hate crimes
Meanwhile, human rights groups continued protesting against persecution of religious minorities.
In May, Islamic missionary group Dawat-e-Islami reported conversion of non-Muslims while distributing rations at the Faizan-e-Madina head office amid the coronavirus lockdown in Karachi.
Charity group SaylaniWelfari has already faced accusations that Christian and Hindu families are being excluded from its door-to-door food distributions.
More than 100 Christian families from Punjab's Kasur district were reportedly excluded from food aid distributed by a village committee comprising Muslims. In another incident, Christians were denied food in a village near Lahore.
Earlier this month, the Ahmadi community accused local administration and villagers of Chak (village) 79 in Sheikupura district of desecrating Ahmadi graves. Ahmadiyya spokesperson Saleemuddin tweeted the photos of damaged tombstones.
"How long the state apparatus will act as enabler in the hands of extremists? How long our dead will be persecuted in their graves? How long the state & others will turn a blind eye to this?" he tweeted on July 1.
In the federal capital Islamabad, a temple under construction has been attacked and vandalized four times since the news of its construction was made public last month.
Khurram Shahzad, deputy secretary to the chief minister of Punjab, said he welcomed the anti-hate campaign of YDF.
"This has been a difficult time for humanity as discrimination, hate and stigmatization accompany the spread of Covid-19 worldwide and particularly in Pakistan. I greatly appreciate the campaign that is effective in influencing the common public," he stated in a July 10 letter.
"Messaging of leading political and religious leaders is an important work which is needed to keep its impact sustainable over time."
Earlier this year, YDF and the provincial ministry launched the "Harmonious, Tolerant and Safe Punjab" campaign amid increasing religious persecution in the province.
The project involves the formulation of an Inter-Faith Harmony Policy on promoting diversity and harmony in Punjab, where Christians are the largest non-Muslim minority making up 2.6 percent of the province's population of 110 million.
https://www.ucanews.com/news/billboard-campaign-fights-discrimination-in-punjab/88780
--------
Saudi rights chief highlights media's role in promoting and protecting human rights
July 15, 2020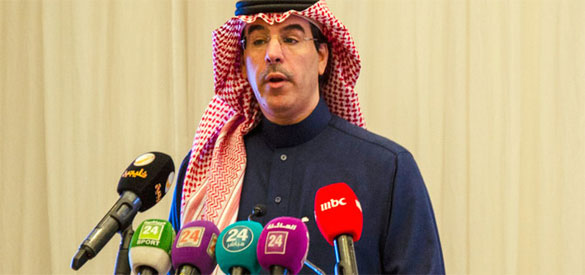 President of Saudi Human Rights Commission notes progress made in the Kingdom as he launches training course for journalists
-----
JEDDAH: Awwad Al-Awwad, the president of the Saudi Human Rights Commission (HRC) highlighted the role the media plays in protecting and promoting people's rights.
Speaking on Tuesday at the launch of a new training program for Saudi journalists and media specialists, he also noted the progress made by the Kingdom in terms of human rights which, he said, was the result of the "pioneering reforms implemented by Crown Prince Mohammed bin Salman."
Al-Awwad said that a number of initiatives have been launched and actions taken that have helped to boost the country's international ranking in human-rights reports, including one on human trafficking published by the US State Department.
"In addition, a World Bank report titled 'Women, Business and the Law 2020' ranked the Kingdom first out of 190 countries in terms of progress and reforms in the field of the empowerment of women and the preservation of their rights," he added.
The new training course, titled Human Rights-Based Approach in Journalism, was developed by the HRC in cooperation with the UN's Office of the High Commissioner for Human Rights (OHCHR).
"We value what the Saudi media is doing to protect and promote human rights," Al-Awwad said. "We are looking forward to further media capacity-building in this field, which falls within the HRC's objectives to build national capabilities in all human rights-related fields.
"The media is an important and effective partner in the spread of the human-rights culture and we count on it to showcase content that promotes societal awareness. We look forward to having a more effective partnership with the media, in all its various forms, to promote human rights and this culture together."
Nathalie Fustier, the UN's resident coordinator, said initiatives such as the training course help to promote strong partnerships with the media based on mutual trust and communication.
"This contributes to improving knowledge of human rights and the capacity to help accelerate the achievement of the (UN's) Sustainable Development Goals by 2030," she added. "The UN is committed to strengthening journalistic capabilities and professionalism. This program is one of the results of the cooperation between HRC and OHCHR, within the framework of the Human Rights Technical Cooperation Program in the Kingdom, which seeks to build the capacities needed to protect and promote human rights in the country and boost the Kingdom's participation in international human-rights mechanisms."
Roueida El-Hage, the OHCHR's regional representative for the Middle East and North Africa region, said the media has a pivotal role to play in all countries and societies.
"Its impact has multiplied in recent years due to the development of means of communication," she said. "This requires us to focus on the relation between the media and the human-rights culture, as interdependence is essential to achieve sustainable societal development."
The participants in the first session of the training program discussed international human rights law, the workings of the UN, human rights concepts and terms, the legal regulation of the media and the current state of human rights in the Kingdom.
https://www.arabnews.com/node/1704841/saudi-arabia
--------
Turkey Will Inform UNESCO About Hagia Sophia Changes, Says FM
13 July 2020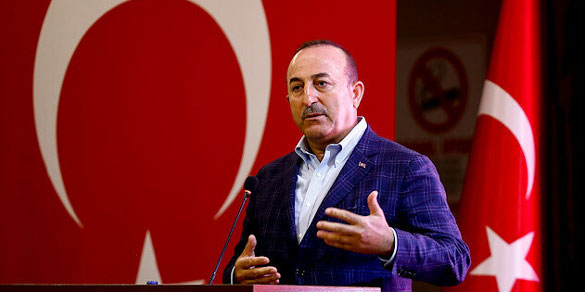 Foreign Minister Mevlüt Çavuşoğlu? Photograph: Mustafa Çiftçi
------
Turkey will inform the United Nation's cultural body UNESCO about changes to Istanbul's ancient Hagia Sophia after Ankara converted the museum back into a mosque, Foreign Minister Mevlut Cavusoglu said on Monday.
On Friday, a Turkish court ruled that the building's conversion to a museum in 1934 was unlawful and President Tayyip Erdogan, declaring it a mosque, said the first prayers would be held there within two weeks.
UNESCO said on Friday it would review the status of the monument as a World Heritage Site following Erdogan's enouncement.
Cavusoglu said Ankara was surprised by UNESCO's reaction and would let it know of further steps that will be taken regarding Hagia Sophia, which was a Byzantine church for nine centuries before the Ottomans converted it to a mosque.
Turkey is sensitive about protecting its historical character, he said. "We have to protect our ancestors' heritage. The function can be this way or that way -- it does not matter," Cavusoglu told state broadcaster TRT Haber.
For all the latest headlines follow our Google News channel online or via the app
Asked about criticism and expressions of concern from Greece, Pope Francis and others, Cavusoglu said the decision to turn Hagia Sophia into a mosque was lawful.
"We respect everyone's view even if we don't agree with it but we strongly reject comments made in a way that infringes on Turkey's sovereign rights," he said.
Greece condemned the decision on Friday, saying it would have repercussions not only on relations between the two countries, but on Turkey's ties with the European Union. Pope Francis said on Sunday he was hurt by the decision.
https://english.alarabiya.net/en/News/world/2020/07/14/Turkey-will-inform-UNESCO-about-Hagia-Sophia-changes-says-Cavusogl.html
--------
After More Than 30 Years of Islamist Rule, Sudan Scraps Apostasy Law And Alcohol Ban For Non-Muslims
July 13, 2020
Women's groups have been campaigning for an easing of various Sudanese laws
-----
After more than 30 years of Islamist rule, Sudan has outlined wide-reaching reforms including allowing non-Muslims to drink alcohol, and scrapping the apostasy law and public flogging. Also Read - Wait, WHAT?! South Sudan Diplomat Embarrassingly Urinates During Live Zoom Discussion Panel, Twitter Left in Splits
"We [will] drop all the laws violating the human rights in Sudan," Justice Minister NasredeenAbdulbari said, the BBC reported. Also Read - Sudanese PM Abdalla Hamdok Survives Assassination Attempt in Khartoum, Taken to Safe Place
A raft of new laws were passed last week but this is the first public explanation of their contents.
Sudan has also banned female genital mutilation (FGM).
Under the new laws, women no longer need permission from a male relative to travel with their children.
The reforms come after long-time ruler Omar al-Bashir was ousted last year following massive street protests.
The current government is an uneasy mixture of those groups which ousted Bashir and his former allies in the military, who ultimately staged a coup against him.
Non-Muslims are now allowed to consume alcohol in private, however the ban on Muslim drinking remains, Abdulbari told state TV.
Non-Muslims could still be punished if they are caught drinking with Muslims, the Sudan Tribune reports him as saying.
He explained that the government was trying to safeguard the rights of the country's non-Muslims, who make up an estimated 3 per cent of the population.
They are now allowed to drink, import and sell alcohol.
"We are keen to demolish any kind of discrimination that was enacted by the old regime and to move toward equality of citizenship and a democratic transformation," he said.
The laws were initially approved in April but the BBC's Mohamed Osman in Khartoum says they have only now taken effect.
Until now, anyone convicted of renouncing Islam, or apostasy, could face the death penalty.
The best known case was of Meriam Yehya Ibrahim Ishag, a pregnant woman who was sentenced to be hanged after she married a Christian man in 2014.
She managed to flee the country but the apostasy law – targeting those deemed to have abandoned Islam – has remained on the statute books until now.
The declaration that someone was an apostate was "a threat to the security and safety of society," Abdulbari said.
Under Bashir, the morality police would often carry out public flogging for various misdemeanours but Mr Abdulbari said this punishment had now been abolished.
The latest changes come after a restrictive public order law that controlled how women acted and dressed in public was repealed in November.
The imposition of strict Islamist laws in the 1980s was a key factor in the long-running civil war which eventually led to independence for South Sudan, where the majority of people are Christian or follow traditional religions.
https://www.india.com/news/world/after-more-than-30-years-of-islamist-rule-sudan-scraps-apostasy-law-and-alcohol-ban-for-non-muslims-4083945/
--------
Prevent Counterterrorism Strategy Reinforces Stereotypes and Leads Muslim Students to Self-Censor as per a Report
By Rayhan Uddin
14 July 2020
A new study has revealed that the UK government's Prevent counterterrorism strategy has reinforced negative stereotypes about Islam and Muslims and caused students to self-censor their views on campus.
According to a study published on Monday by SOAS University of London along with the universities of Lancaster, Durham and Coventry, students who supported Prevent were almost three times more likely to see Islam as intolerant towards non-Muslims than those who believed Prevent was damaging university life.
The study also found that students who saw radicalisation as a problem on campus were four times more likely to believe that Muslims had not made a valuable contribution to British life.
Forty-three percent of the 2,000 students surveyed thought that Islam was a religion that discriminated against women.
"It appears that Prevent has become strongly associated with the presumed dangers of radical Islam and with a perception that Muslims are dogmatic, intolerant and prone to violence," Mathew Guest, one of the report's authors, wrote in an op-ed for Open Democracy.
The research found that students and staff at universities self-censored themselves during discussions on Islam to avoid becoming the object of suspicion. Only a quarter of respondents said they felt entirely free to express their views on Islam within a university context.
"Our research suggests that universities could do much more to tackle the roots of Islamophobia and ensure that they are not complicit in maintaining racism," Guest said. "As centres of critical thinking, universities have the capacity and the moral obligation to take a lead in addressing our latest 'acceptable' prejudice."
An accompanying animated video revealed comments shared by students interviewed as part of the study.
"All the things that society tends to put on Muslims manifest itself on campus. I originally thought it was down to a lack of diversity, but I came to this university and people say the same things, just more eloquently," one Muslim woman said. "People think I've been forced to wear [hijab] or I don't have an understanding or I need to be liberated by someone else."
Another Muslim respondent spoke of fears of studying their religion.
"I wanted to take out some books on Islam just to explore my religion but I decided against it in case I get in trouble. I got my friend who is white to take them out for me instead. It just felt safer that way," the student said.
In 2018, students at the University of Reading were warned to take care while reading a leftwing essay about the ethics of revolution to avoid falling foul of Prevent. Students were told not to access the paper on a personal device and to read it in a secure setting.
In response to the report, a government spokesperson said: "The government is committed to strengthening academic freedom and free speech in universities so that they are places where debate thrives.
"Universities are required by law to uphold freedom of speech, allowing academics, students and visiting speakers to challenge ideas and discuss controversial subjects. The Prevent duty explicitly requires this."
https://www.middleeasteye.net/news/prevent-uk-counterterrorism-censorship-muslim-students-soas-report
--------
Coronavirus: Trump abandons international students ban after backlash at home, abroad
14 July 2020
US President Donald Trump's administration Tuesday backtracked on a decision to ban international students, including those from the GCC, who only took online classes after outrage from universities and foreign governments, as the coronavirus pandemic forced universities to close campuses and suspend classroom attendance.
In a court hearing that lasted less than four minutes, a US district judge said the government decided to halt the order that would see non-immigrant students who plan on attending schools in the fall that operate entirely online removed from the US.
Harvard and Massachusetts Institute of Technology (MIT) were the first two schools to publicly condemn the move and sue the US government.
The decision was announced on July 6 by the US Immigrations and Customs Enforcement (ICE).
Universities then quickly scrambled to adjust their policies and what defines "in-person" instruction.
The coronavirus pandemic has forced several universities to cancel all in-person classes for the fall semester, which has drawn the ire of US President Donald Trump.
For all the latest headlines, follow our Google News channel online or via the app.
There are close to 1 million international students in the US, according to the Institute of International Education.
In its original statement, ICE said that visas would not be issued to students who are enrolled in schools or programs that are entirely online.
"Nor will US Customs and Border Protection permit these students to enter the United States," the statement said.
Meanwhile, students already in the US would be asked to leave or transfer to a school with in-person instruction "to remain in lawful status" or risk being deported.
Over, but not over
Despite the judge's announcement on Tuesday, a senior Department of Homeland Security (DHS) official said the Trump administration still intended to issue a regulation in the coming weeks addressing whether foreign students can remain in the country if their classes move online.
The DHS official, who spoke on condition of anonymity, said the details of any future regulation on this issue remain under discussion.
In particular, DHS officials are still deciding whether to treat students already in the US differently than students seeking to enter the country for the first time, according to the official.
'Hardship and confusion'
After the ban announcement, many universities voiced their opposition to the new rule and intended to head to federal courts to appeal.
Georgetown University President John DeGioia said that the move was a "reckless action" and that it created "new and unnecessary barriers for international students."
DeGioia admitted that the university was going to the federal courts and working on "a number of fronts to limit, and if possible prevent, the negative impact of this rule" on their international students.
Following Tuesday's announcement, DeGioia welcomed the about-face. "Our international students are integral members of our University community, and we will continue to advocate on their behalf whenever necessary," he said in an emailed statement to Al Arabiya English.
Like several other schools, Harvard and MIT, prior to the initial decision, determined the health risks too high to hold in-person classes for the all semester.
For more coronavirus news, visit our dedicated page.
The University of Miami in Florida was among 170 institutions of higher learning to support Harvard and MIT's lawsuit.
"This new guidance from US Immigration and Customs Enforcement is creating hardship and confusion among international students who are already navigating difficult decisions during the ongoing coronavirus pandemic," a statement from the University of Miami said before Tuesday's announcement.
The University of Virginia said it was "deeply concerned" about the ban that would have restricted international students from pursuing online studies in the US.
The president and provost both noted international students as an "essential part of our identity as a University and integral members of our community."
UVA has around 3,000 international students enrolled every year, comprising about 10 to 15 percent of its overall enrollment.
Brian Coy, UVA's Spokesperson, told Al Arabiya English that UVA had supported 19 US state attorneys general in a lawsuit to stop the federal rule. UVA "provided materials to support the complaint filed in that matter, which has been mooted by rescission of the policy. UVA academic leaders were also in the process of working with our international students to keep them in compliance with this now-rescinded rule," Coy said.
Arab and Gulf students
Saudi Arabia is the fourth-largest source of international students after China, India and South Korea, according to the Department of Homeland Security. As of January 2020, there were 368,800 Chinese students, while Indian and South Korean students registered were 194,556 and 59,421. There are close to 40,000 Saudi students currently studying in the US.
For comparison, Canada and Brazil each have just under 30,000 students in the US.
"Saudi students have been attending US colleges and universities, which are among the best in the world, for decades. That will continue to be the case going forward," a spokesperson from the Saudi Embassy in Washington told Al Arabiya English.
In January, there were 8,090 Kuwaiti students in the US; 3,739 Egyptian; 2,718 Omani; 1,843 Emirati; 1,599 Lebanese.
At Virginia Commonwealth University, Saudi and Kuwaiti students make up two of the top four groups of the 1,170 international students from 101 countries. China and India are the top two.
"Today's decision came with plenty of joy and relief. Most of our students were under tremendous pressure due to last week's sudden and strange guidelines," Mohammed AlRashidi, Kuwait's Cultural Counselor and Director in the US, told Al Arabiya English.
Tuition at VCU for a non-resident of Virginia is $36,048, and another $11,035 for room and board.
Over 130 members of Congress criticized the move to bar foreign students, citing a 2018 US Chamber of Commerce report, which said international students contribute $45 billion to the US economy.
Asked if foreign states had filed complaints, appeals or requests for clarification on the recent decision, an ICE spokesperson told Al Arabiya English: "I can't provide comment due to the pending litigation."
https://english.alarabiya.net/en/News/world/2020/07/14/US-universities-scramble-to-adjust-classroom-policies-for-international-students.html
--------
Pakistan
Second Covid Wave Inevitable In Pakistan If Precautions Ignored on Eid ul Azha
Jul 15 2020
LAHORE: Warning against a potential second wave of Covid-19 if people abandoned precautions during EidulAzha and Muharram, Primary and Secondary Healthcare Secretary Muhammad Usman on Tuesday beseeched people "to be very very careful, otherwise things can quickly spin out of hand".
Addressing a press conference a day after the National Command Operation Centre set the template for animal markets and sale/purchase of animals during the pandemic, the secretary dilated upon the details about Punjab: "The situation is now relatively under control, but any mistake can reverse it quickly, as happened following EidulFitr."
Flanked by Dr Mahmood Shaukat, chairman of the Corona Expert Advisory Group, who later took over the press conference as the secretary left, and members of the Technical Working Group, Mr Usman pleaded: "Covid positivity has dropped to six per cent against 31pc in June. The number of critical patients has declined and recovery rate has improved to 60pc. The number of tests dropped not because of capacity issues, but due to fewer requirements. All these signs show that the situation is under control."
Health secy claims virus positivity rate down but can get out of hand
"However, fears are growing that these signs could denigrate if people throw caution to the wind during EidulAzha and Muharram, as happened after EidulFitr when the numbers skyrocketed within days. Apart from these two religious events, hospital outpatient departments are being reopened, which could cause a rush to these facilities. This is why the government is trying to lay extra stress on coronavirus protocols, which essentially remain the same – masks, social distancing, frequent washing of hands and avoiding travel," he told the media.
Talking about the apparently dwindling number of tests, Dr Shaukat said that it was because there was no need for utilising the entire testing capacity of 12,000. "Since the core number of patients has gone down, so has contact tracing and their testing. In the beginning, we were testing 10 contacts of each positive patient. Both numbers have gone down. Secondly, discharge protocol has changed; it used to be two consecutive negative tests, which is down to one. The asymptomatic patients can end the isolation in 10 days and symptomatic ones in three days if symptoms don't deteriorate. Third, anti-bodies tests have increased manifold, which gives the government a fairly good idea about the prevalence of the virus. So, instead of more expensive PCR, which becomes even more expensive when taken in the background of its yield (only 60pc), reliance on anti-bodies has increased to get a full picture of the disease. All these factors have decreased the requirement for tests instead of the government shirking its responsibility as being propagated by some quarters," he explained.
However, he pointed out a hitherto neglected or less noted area: post-Covid-19 assessment of patients. There have been reports that mental stress is taking a heavy toll on some of the patients. "They used to be kept in complete isolation for 10 days, which took a heavy toll. This stress is then compounded by subsequent economic and financial pressures. Both these situations are triggering neurological troubles among patients. These are in addition to heart, lungs and diabetic issues among most of the patients."
To a question about the assessment of patients who were administered Actemra injections, the secretary said that about 300 patients were given the injection in private sector and around 260 in public sector. The data is collected and is under scrutiny now. The final analysis would take another 10 days and results shared with people, he added.
https://www.dawn.com/news/1568999/second-covid-wave-inevitable-if-precautions-ignored-on-eid
--------
Three Pakistan soldiers killed in terror attack
Jul 14, 2020
ISLAMABAD: At least three Pakistani soldiers were killed and eight others injured on Tuesday in a terrorist attack in the restive Balochistan province, the Army said.
Troops of the paramilitary Frontier Corps were patrolling when they came under fire from terrorists near Gichak valley in Kahan area of Panjgur district, it said.
Three soldiers were killed, while eight others, including an officer, sustained injuries, the Army said, adding five of them were in critical condition.
The injured troops were taken to Combined Military Hospital located in the provincial capital Quetta.
Baloch nationalists involved in low level insurgency often carry out such attacks.
Seven soldiers were killed in May in two separate terror attacks in the province.
https://timesofindia.indiatimes.com/world/pakistan/three-pakistan-soldiers-killed-in-terror-attack/articleshow/76966897.cms
--------
FIA Files Report On Rawalpindi-Based Cleric Mirza Iftikharuddin In Contempt Case
Nasir Iqbal
Jul 15 2020
ISLAMABAD: A fresh report of the Federal Investigation Agency (FIA) shed light on the life and history of Rawalpindi-based cleric Mirza Iftikharuddin who is facing contempt charges for his derogatory and scandalous speech against the judiciary.
According to the interim report submitted to the Supreme Court, Mirza Iftikhar received religious education in Iran. He did his BSc in 1972 from ChinabNaqar and ran Iqra School and College from 2010 to 2018, in addition to property business.
The Supreme Court had on July 2 indicted the cleric for his derogatory and scandalous speech which went viral on social media. The court had indicted him under Section 5 of the Contempt of the Court Ordinance 2003 after rejecting his unconditional apology he tendered for uttering the objectionable remarks in a private meeting.
The Iqra Welfare Organisation has been established by raising funds at home and abroad and it has a hostel for orphans, the FIA report said, adding that the cleric had travelled to Saudi Arabia, Iraq, Iran and Syria for Umrah, Ziarat and educational purposes, besides having telephonic contacts with students, friends and relatives in Iran, Australia, the United States, England and Canada.
Due to uploading of intimidating contents on his social media (YouTube channel and Facebook pages) following the murder of General Sulemani of Iran, Facebook authorities had blocked all his live coverage. When live streaming of his Facebook account "Akbar Jani" was also blocked for a limited time, he created different accounts like Maarfat-i-Elahi and DeenShahnas.
According to the report, 698 videos have been uploaded on social media. All videos are under scrutiny and forensic analysis will be made as and when any of them is found to be in violation of any law of Pakistan, it says.
The travel history of the cleric showed that he had been to Iran, Iraq, Syria, Kuwait and Saudi Arabia, but travel trends were not unusual. The subscriber's detail of mobile num­bers' association with social media accounts on which the objectionable video was uploaded has been obtained along with CDRs. The analysis of CDR showed the cleric's communication on NTC, PTCL and mobile phone numbers, besides internation­al calls to Iran, Saudi Arabia, South Korea, Malaysia, China, Zambia and England.
The FIA said the revenue authorities had been requested to provide the record of im­m­ovable properties of the cleric, and a reply was awaited. The Rawalpindi deputy commissioner has also been requested to provide information and record of the Iqra Welfare Organisation — a trust run by the cleric.
Similarly, the record of Iqra Public School and College has been obtained from the Federal Board of Intermediate and Secondary Education, Islamabad. The college record showed that a total of 532 students had passed matriculation and intermediate between 2010 and 2018.
The Federal Board of Revenue chairman has been requested to provide tax returns and wealth statements of the cleric. Moreover, after obtaining permission from the competent court of ATA, all banks have been requested to provide details of accounts of the cleric.
https://www.dawn.com/news/1569100/fia-files-report-on-cleric-in-contempt-case
--------
Court moved for ban on TikTok
Jul 15 2020
LAHORE: A civil miscellaneous application has been filed in the Lahore High Court demanding an immediate ban on a famous mobile phone video application, TikTok.
Advocate Nadeem Sarwar moved the application on behalf of a citizen who is a petitioner in a main petition pending with the court.
The lawyer contended that hearing of the main petition against the TikTok had not been fixed so far and the matter was of great importance. He said more than 10 deaths had been reported in the country in incidents relating to the users of the application.
Moreover, he said, the video-sharing application had become a source of spreading pornography for the sake of fame and ratings on social media.
He referred to a recent incident wherein a girl had been gang-raped by a group of friends whom she acquainted on the TikTok.
He argued that the video application was a great mischief of modern times. He pointed out that the same application had already been banned in Bangladesh and Malaysia for its pornography and inappropriate content and its use for mocking people.
https://www.dawn.com/news/1568996/court-moved-for-ban-on-tiktok
--------
Arab World
US Sends More Military Equipment to Northeastern Syria
Jul 14, 2020
The equipment was sent to Geweran region whose government buildings had earlier been occupied by the Syrian Democratic Forces (SDF), the Arabic-language website of SANA news agency reported on Tuesday.
It added that a major part of the military equipment dispatched to Hasaka are radar and electronic warfare systems.
Also, the region that hosts an ISIL-only prison has been the scene of increasing flights by the US helicopters.
Earlier this month, the US military sent a new convoy of trucks loaded with military hardware and logistical gears to Syria's Northeastern province of Hasaka as Washington seeks to control and loot crude resources in the war-torn country.
Syria's official news agency SANA, citing unnamed local sources in al-Ya'rubiyah town, reported that a convoy of 30 vehicles, including trucks and armored personnel carriers, rumbled through the Waleed border crossing, located in the al-Rutba district of Iraq's Western province of Anbar, into Syrian territories on Thursday.
The sources added that the convoy drove by Tel Hamees town and headed toward the provincial capital city of Hasaka.
According to SANA, the US forces have also built an airstrip in Geweranneighborhood of Hasaka province to allow their military aircraft to land and take off. They have also occupied a large number of state buildings in the area with the help of Kurdish-led members of the so-called Syrian Democratic Forces (SDF).
This came after the US military dispatched a convoy of dozens of tankers to the small Syrian city of al-Malikiyah in Hasakah province.
The vehicles headed toward the Iraqi territory after being loaded with crude oil, according to SANA.
https://en.farsnews.ir/newstext.aspx?nn=13990424000988
--------
Lebanon looks to China in hopes to secure investments, bring relief
15 July 2020
Facing a worsening economic crisis and with little chance of Western or oil-rich Arab countries providing assistance without substantial reforms, Lebanon's cash-strapped government is looking east, hoping to secure investments from China that could bring relief.
For all the latest headlines follow our Google News channel online or via the app
But help from Beijing risks alienating the United States, which has suggested such a move could come at the cost of Lebanese-US ties.
A tiny nation of 5 million on a strategic Mediterranean crossroads between Asia and Europe, Lebanon has long been a site where rivalries between Iran and Saudi Arabia have played out. Now, it's becoming a focus of escalating tensions between China and the West.
In recent months, the Lebanese pound has lost around 80 percent of its value against the dollar, prices have soared uncontrollably, and much of its middle class has been plunged into poverty. Talks with the International Monetary Fund for a bailout have faltered, and international donors have refused to unlock $11 billion pledged in 2018, pending major economic reforms and anti-corruption measures.
Left with few choices, Prime Minister Hassan Diab's government — supported by the Iran-backed Hezbollah and its allies — is seeking help from China, an approach that the Shia militant group strongly supports.
He is walking a tightrope.
"Our move toward China is very serious but we are not turning our back to the West," a ministerial official told The Associated Press, speaking on condition of anonymity because he is not authorized to talk to the media. "We are passing through extraordinary circumstances and we welcome whoever is going to assist us."
He said China has offered to help end Lebanon's decades-long electrical power crisis through its state companies, an offer the government is considering.
In addition, Beijing has offered to build power stations, a tunnel that cuts through the mountains to shorten the trip between Beirut and the eastern Bekaa Valley, and a railway along Lebanon's coast, according to the official and an economist.
The US, which has historic relations with Lebanon and is a strong backer of its army, said such a move could come at the expense of Beirut's relations with Washington.
The China overtures come at a time when Hezbollah and its allies are increasingly portraying the crisis in Lebanon, which stems from decades of corruption and mismanagement, as one fomented by the US administration. They accuse the US of imposing an informal "financial siege" on Lebanon, partly to put pressure on Hezbollah which Washington and its Gulf Arab allies consider a terrorist organization.
"We know well that there is a big decision to besiege the country. They are preventing any assistance to Lebanon," Diab told a July 2 government meeting, according to his office.
Diab said, without naming any country, that "they are preventing transfers to the country and blocking credit lines to import fuel, diesel, medicine and flour to cut the electricity, starve the Lebanese and make them die without medicine."
"Trying to blame Lebanon's economic crisis on US sanctions is misguided and false," US State Department spokeswoman Morgan Ortagus said in response to the accusations.
Earlier this month, Diab received China's ambassador to Lebanon, Wang Kejian, after which Lebanon's industry minister was asked to follow up on possibilities of cooperation. Kejian declined to comment.
Hezbollah has advocated for a bigger role for China and other allies in Lebanon. The group had opposed an IMF program to get Lebanon out of its crisis, fearing it would come with political conditions. But it begrudgingly accepted that Lebanon engage in the negotiations as long as the IMF didn't dictate policy.
Seventeen rounds of talks between the government and the IMF since mid-May have failed to make any progress.
A person familiar with the discussions said it was not an "either-or" choice between China and the IMF, adding that the talks with the IMF are about covering the immediate fiscal deficit, injecting dollars and developing a framework for structural reform, while the discussions with Beijing are about infrastructure projects. The person spoke on condition of anonymity in order to describe the negotiations.
Lebanon defaulted on its sovereign debt in March, and economist Hasan Moukalled said most Western companies will be reluctant to invest there as long as the country does not reach a deal with the IMF. This is what makes Chinese companies different, he said.
Moukalled, who visited China several times in 2018 and 2019, said the projects that China has offered to work on are worth $12.5 billion.
The investments can be mutually beneficial. China can gain from close relations with Lebanon, with the country serving as a launch pad for the reconstruction of neighboring Syria, another Beijing ally.
Lebanon's northern port of Tripoli has been expanded in recent years and could be a terminal in China's trillion-dollar "Silk Road" project that's carving a trade route from east Asia to Europe.
Iran has also offered to sell Lebanon oil for Lebanese pounds, but officials in Beirut have been concerned about deals with Tehran because of Western sanctions. The government is in talks with Iraq's government, which is offering to give fuel to Lebanon in return for agricultural products.
"We understand Lebanon is in desperate need for an infusion of cash. They need investors," US Ambassador to Lebanon Dorothy Shea told Al Hadath. After Lebanon's default in March, "investors are not lining up at the door."
Some people have talked about Lebanon turning east "as if that's the answer to all of Lebanon's economic woes," she said, warning that Chinese investments might come "at the expense of the country's prosperity, stability or fiscal viability, or, of course, on the long-standing relations with the United States."
Russian Ambassador Alexander Zasypkin told the daily al-Joumhouria that Russia, China, Syria, Iran and Iraq can help Lebanon. He added that when the West refused, "the alternative to look east became more persistent."
During a visit to Lebanon last week, Gen. Kenneth McKenzie, head of the US Central Command, was asked about Lebanon and other regional countries looking to China for resources and financing.
"You get what you pay for. That's all I have to say," McKenzie said.
https://english.alarabiya.net/en/News/middle-east/2020/07/15/Lebanon-looks-to-China-in-hopes-to-secure-investments-bring-relief-.html
--------
Syrian militants detonate bomb near Russian-Turkish patrol in northern Syria
14 July 2020
A roadside bomb planted by Syrian militants detonated near a joint Russian-Turkish patrol in northern Syria on Tuesday morning, injuring three Russian soldiers, the Russian Defense Ministry said.
Russia called off the patrol following the blast near the town of Ariha in Idlib province, which damaged one Russian and one Turkish armored personnel carrier, the Russian ministry said.
The Russian statement said an unspecified number of Turkish troops were also hurt. Two sources said there were no Turkish casualties in the attack.
Turkey's defense ministry later said two vehicles were partially damaged as a result of a car bomb and that no one was killed.
Russian jets that flew at high altitude conducted a series of bombing raids on several opposition held areas in retaliation for the attack, according to residents and a network of plane spotters who document sightings of jet fighters.
Civil defense groups said five civilians were injured in the strikes.
Hundreds of civilians fled, fearing a wider resumption of the Russian-led air strikes that had displaced over a million people before the ceasefire, witnesses said.
For all the latest headlines follow our Google News channel online or via the app
Russia was evacuating its equipment from the area and moving its troops to the Hmeimim air base where some of them would receive treatment, the Russian statement said.
Turkey and Russia, which back opposing sides in Syria's war, agreed in March on a ceasefire and joint patrols following weeks of clashes that took them to the brink of direct confrontation.
Ankara backs rebels fighting against President Bashar al-Assad, and Moscow supports Damascus. The patrols take place in a "de-escalation zone" intended to serve as a buffer between government forces and opposition fighters in the last major area still held by the rebels after nine years of civil war.
An unconfirmed social media video of the attack circulated by Russia's RIA news agency showed a powerful explosion right by a convoy of passing armored vehicles.
https://english.alarabiya.net/en/News/middle-east/2020/07/14/Syrian-militants-detonate-bomb-near-Russian-Turkish-patrol-in-northern-Syria.html
--------
Lebanese man accused of financing Hezbollah freed from US: Sources
14 July 2020
A Lebanese man accused of financing Hezbollah was freed from jail in the United States last month as a result of indirect contacts between Tehran and Washington that are expected to yield more releases, three senior Middle East officials said.
KassimTajideen was released on June 11, according to the US Federal Bureau of Prisons, and arrived in Lebanon last week. Two of the sources said his release was part of the same track that last year yielded the release of Nizar Zakka, a Lebanese businessman with US permanent residency, from Iran, and Sam Goodwin, a US citizen, from Syria.
Tajideen was released due to health concerns and reports that the release was part of a backroom deal were false, a Department of State spokesperson said.
Tajideen's lawyer, ChibliMallat, also denied that the release had anything to do with the release of other prisoners. "It was a purely judicial operation," he said.
Tajideen, 65, pleaded guilty in 2018 to charges associated with violating US sanctions imposed on him and was sentenced to five years in prison and fined $50 million.
In 2009, the United States designated Tajideen as an important financial supporter of Hezbollah, a heavily armed, Iran-backed Lebanese Shi'ite group that is classified as a terrorist group by Washington. He was extradited to the United States after being arrested in Morocco in 2017.
Tajideen has always denied supporting Hezbollah and disputed his designation as a terrorist financier, said Mallat.
A judge ordered Tajideen's release on May 27 pending a 14-day quarantine on the basis of a motion submitted by his lawyers arguing that he should be freed due to the risks of COVID-19 in jail, Mallat said. He was being held in Maryland.
The reasons for his release are under seal in the United States.
The US government had opposed the release but would abide by the court's decision, said the State Department spokesperson.
The sources – a senior official in the Middle East, a senior Lebanese official and a regional diplomat – said the release was the result of "indirect understandings" between Tehran and
Washington.
"The release of Tajideen comes within a long path of exchange operations that will happen later on a wide level. There are still those who will be released by the two sides. This operation will continue," the Middle Eastern official said.
The regional diplomat also described Tajideen's release as a prelude to further possible deals involving around 20 people.
"All parties involved are testing each other as there is zero trust," he said.
Major General Abbas Ibrahim, the head of Lebanon's General Security agency, is acting as the main mediator in the process, two of the sources said. General Security declined to comment.
The senior Lebanese official said the process had been going on in complete secrecy and had started with the handing over of Goodwin and other foreigners held by Syria, whose government is allied to Iran and Hezbollah.
https://english.alarabiya.net/en/News/middle-east/2020/07/14/Lebanese-man-accused-of-financing-Hezbollah-freed-from-US-Sources.html
--------
Russia says joint patrol with Turkey struck by bomb in Syria
JULY 14, 2020
MOSCOW (Reuters) - A roadside bomb planted by Syrian militants detonated near a joint Russian-Turkish patrol in northern Syria on Tuesday morning, injuring three Russian soldiers, the Russian Defence Ministry said.
Russia called off the patrol following the blast near the town of Ariha in Idlib province, which damaged one Russian and one Turkish armoured personnel carrier, the Russian ministry said.
The Russian statement said an unspecified number of Turkish troops were also hurt. Two sources said there were no Turkish casualties in the attack.
Turkey's defence ministry later said two vehicles were partially damaged as a result of a car bomb and that no one was killed.
Russian jets that flew at high altitude conducted a series of bombing raids on several opposition held areas in retaliation for the attack, according to residents and a network of plane spotters who document sightings of jet fighters.
Civil defence groups said five civilians were injured in the strikes.
Hundreds of civilians fled, fearing a wider resumption of the Russian-led air strikes that had displaced over a million people before the ceasefire, witnesses said.
Russia was evacuating its equipment from the area and moving its troops to the Hmeimim air base where some of them would receive treatment, the Russian statement said.
Turkey and Russia, which back opposing sides in Syria's war, agreed in March on a ceasefire and joint patrols following weeks of clashes that took them to the brink of direct confrontation.
Ankara backs rebels fighting against President Bashar al-Assad, and Moscow supports Damascus. The patrols take place in a "de-escalation zone" intended to serve as a buffer between government forces and opposition fighters in the last major area still held by the rebels after nine years of civil war.
An unconfirmed social media video of the attack circulated by Russia's RIA news agency showed a powerful explosion right by a convoy of passing armoured vehicles.
https://www.reuters.com/article/us-syria-security-russia/russia-says-joint-patrol-with-turkey-hit-by-bomb-attack-in-syria-idUSKCN24F0XB?utm_source=iterable&utm_medium=email&utm_campaign=1358214_
--------
Mideast
'Do not execute': Twitter hashtag against Iran executing protestors trends worldwide
15 July 2020
Iranians launched on Tuesday a hashtag on Twitter that ended up trending worldwide with over two million tweets against the decision of Iran's highest judicial authority to uphold the death sentences of three young Iranians who took part in the November 2019 protests.
The Persian-language hashtag which translates to "do not execute" has had over two million tweets as of late Tuesday.
For all the latest headlines follow our Google News channel online or via the app.
The hashtag was launched in support of Amirhossein Moradi, Saeed Tamjidi and Mohammad Rajabi – three protesters who were arrested and sentenced to death following Iran's anti-government protests last November.
Protests broke out across Iran in November 2019 after the government introduced gasoline rationing and price hikes. Thousands were arrested and about 1,500 Iranians were killed by security forces, according to a Reuters report.
The Supreme Court of Iran has upheld the three protesters' death sentences, judiciary spokesman Gholamhossein Esmaili confirmed on Tuesday, saying they were "among the main rioters," the semi-official ISNA news agency reported.
Iranian rights group HRANA had previously reported that interrogators forced the three protesters to confess to crimes they did not commit through torture.
An interrogator stood on Moradi's chest during an interrogation session causing injury to his ribs, HRANA quoted a source close to Moradi's family as saying.
"You cannot prevent the occurrence of another November 2019 through executions," tweeted Mohammad Agha-Soltan using the hashtag. Agha-Soltan's sister, Neda, became the symbol of Iran's 2009 protests after she was shot dead by security forces.
At the same time, cybersecurity NGO Netblocks reported a "significant disruption" to multiple networks in Iran, which some activists speculate is an attempt by the authorities to disrupt the Twitter campaign.
During the November 2019 protests, Iran almost completely shut off access to the internet across the country for days.
Twitter is banned in Iran, but many Iranians access the social media platform using virtual private networks (VPN).
https://english.alarabiya.net/en/News/middle-east/2020/07/15/-Do-not-execute-Twitter-hashtag-against-Iran-executing-protestors-trends-worldwide.html
--------
Iran's Judiciary Spokesman: Death Penalty for Mossad, CIA Spy Unchangeable
Jul 14, 2020
"The case is in the process of execution and is one of the final and imperative rulings," Esmayeeli told reporters in a press conference in Tehran on Tuesday.
He added that a similar death sentence has also been carried out for another spy, namely Reza Asgari, who was an employee of the defense ministry and had ties with the CIA and sold some pieces of information in relation to the missile industries.
Asked about the latest situation of the case related to three young convicts who were tried and sentenced to death last March and were charged for armed struggle, illegal exit from the country, rioting and sabotage, Esmayeeli said that they were among the main culprits behind the November unrests and were arrested on the scene of an armed robbery from a woman.
"They had recorded the sabotage acts that they had done and sent the footage to certain news agencies outside the country and these video files have been discovered from their cell phones after detention," he said and ensured of their fair trials.
esmayeeli said the convicts have "confessed to their crimes at the court while they were represented in their defense by 4 lawyers".
Esmayeeli had last month announced that an Iranian national who had been spying for the Mossad and CIA was sentenced to death.
"Recently, Seyed Mahmoud Mousavi Majd who was linked both to the Mossad and CIA and spied in the security field and on Armed Forces in exchange for dollar payments was arrested," Esmayeeli told reporters.
"This person was sentenced to death," he said, adding that he will be executed soon so that his masters see the faith of betrayers.
He said Mousavi Majd had disclosed itinerary of the routes taken by the martyred Commander of the Islamic Revolution Guards Corps (IRGC) Qods Force, Lieutenant General Qassem Soleimani.
Yet, a later Judiciary statement reminded that Majd had played no role in the US terror attack on Martyred General Soleimani, implying that his spying pertained to the time before Gen. Soleimani's martyrdom.
Esmayeeli said that despite the strenuous attempts by the US and Israel to spy on Iran, the Iranian security and intelligence forces foil their plots by preventing the espionage activities.
Also, in February, an Iranian court had also issued death penalty for a person who has spied for the CIA in the country.
"Amir Rahimpour who spied for the CIA and received huge amounts of money and attempted to provide the US intelligence service with a part of Iran's nuclear information was tried and had been sentenced to death and the supreme court has also recently endorsed his sentence and he will be punished soon," Esmayeeli told reporters in a press conference in Tehran at the time.
He added that two others who also collected intelligence for the US under the disguise of a charity have also stood on trial and were sentenced to 10 years of prison for espionage operations and 5 more years for acting against security.
Last year, Iran issued rulings for two persons who spied for the US and Saudi Arabia in the country.
"Rulings have been issued for two spies of the US and Saudi (intelligence) agencies," Esmayeeli told reporters in a press conference in Tehran in May 2019.
https://en.farsnews.ir/newstext.aspx?nn=13990424000727
--------
Iran offers unconditional support to Hamas, Islamic Jihad
Jul 13, 2020
GAZA CITY, Gaza Strip — Since Hamas and Islamic Jihad remained on the sidelines in the Syrian civil war and left their respective offices in Damascus in 2012, Iran, a staunch ally of the Syrian regime, suspended its financial support to both movements, cutting off their largest sources of funding.
The return of these relations, however, seems to be in the offing, especially with the recent events in the region. On May 28, Israeli Prime Minister Benjamin Netanyahu announced that his government intends to annex 30% of the West Bank.
Head of the Hamas political bureau Ismail Haniyeh said July 6 that he had received a message from Iran's Supreme Leader Ayatollah Ali Khamenei, confirming that his country will continue to provide support to the Palestinians.
"Iran will spare no effort to support the Palestinian people to restore their right and hold off the evil schemes of the Zionist entity," the message read.
The message comes after Iranian Shura Council Speaker Mohammad Bagher Ghalibaf made two phone calls to Haniyeh and Islamic Jihad Secretary-General Ziyad al-Nakhalah July 1, to discuss mechanisms and ways to thwart Israel's annexation plan.
Ghalibaf expressed his country's support for the Palestinian people in the face of the US Middle East peace plan, known locally as "the deal of the century."
Hamas has made great efforts in the past months in a bid to restore Iranian support. Hamas condemned the assassination of Qasem Soleimani, the commander of Iran's Islamic Revolutionary Guard Corps, by a US strike in Baghdad Jan. 3. Haniyeh also traveled to Tehran to participate in Soleimani's funeral.
Mahmoud al-Zahar, a member of Hamas political bureau, had said during an interview with Al-Nahda News July 9, 2019, that Hamas had been making great efforts in a bid to restore relations with the Syrian government backed by the Iranian regime.
A prominent Hamas leader who spoke to Al-Monitor on condition of anonymity said, "Iran decided to provide the Palestinian resistance with the greatest possible support to confront Israel's annexation plan of the West Bank. This support will be greater than ever, with no restrictions and in any way the Palestinian resistance wishes."
Although Iran announced that it would continue to support the Palestinian resistance, a major challenge stands in the way, which is the Palestinian Authority and Israel's policy to dry up Hamas sources of funding, taking strict measures to prevent money from outside the Palestinian territories from reaching the Islamic movement through local banks.
"Hamas has its own ways to get the money. Banks are no longer part of its scheme to do so," the Hamas source said.
A Reuters report published on April 26, 2019, said that Hamas is increasingly using sophisticated methods to raise money using Bitcoins, which highlights the difficulties facing the authorities to track cryptocurrencies financing groups that some classify as terrorists.
"It is not important here for the public to know how the support will reach the resistance, but what is important is where and how such support would be used on the ground to thwart the Israeli annexation plan," the source explained.
He added, "The Iranian support will mainly be directed to the West Bank that is at risk now with the Israeli annexation plan. Support will also focus on mobilizing the Palestinian people to confront this scheme."
On July 2, Secretary-General of Fatah's Central Committee Jibril Rajoub and Hamas leader Salah al-Arouri, who is based in Beirut, held a rare joint video conference to discuss a joint plan of action to counter the Israeli annexation plan.
"We must realize that the battlefield now is the West Bank and our people in Gaza are ready by all means to [counter the plan]. Abu Obaida [spokesman for Hamas' military wing, Izz ad-Din al-Qassam Brigades] said that the annexation is a 'declaration of war,'" Arouri said during the conference call.
Islamic Jihad leader Khodr Habib told Al-Monitor, "Iran's support is of paramount importance for the Palestinian resistance and willl significantly contribute to escalate the resistance against the Israeli occupation in the coming period."
He stressed that there is ongoing communication between his movement's leadership and Iranian officials to discuss mechanisms to translate what has been agreed upon in recent contacts with Iran on the ground.
He added, "The resistance factions have been holding regular meetings to develop practical measures to address the Israeli plan. All our efforts in the coming stage will be focusing on resisting and thwarting the [annexation] plan and we will certainly succeed in that."
Talal Okal, political analyst and writer for the Ramallah-based newspaper Al-Ayyam, told Al-Monitor, "Iran's recent stance to provide the greatest possible support to Hamas and Islamic Jihad in the framework of confronting the Israeli annexation plan, is the culmination of great efforts made by the leadership of the two movements to restore their relations with Iran."
He said that Hamas felt it had made a historic mistake by detaching itself from Iran over the Syrian conflict, and by looking for alternative sources of funding, such as Qatari support.
Okal explained that Hamas found out that Qatar's support is conditioned by maintaining calm with Israel, which is in direct conflict with the movement's principles and goals aimed at perpetuating the conflict with Israel. Hamas was forced to maintain calm with Israel at the moment in order to receive more funds from Qatar, especially since it has been grappling with a major financial crisis since Egypt established a buffer zone along the borders with the Gaza Strip in 2014 to destroy the border tunnels, he added.
"Hamas realized that it is in imperative need of the Iranian support more than any other source of funding, as Iran would provide it without any conditions or prerequisites," Okal concluded.
Hassan Abdo, a writer and political analyst close to Islamic Jihad, told Al-Monitor, "The recent contacts between Hamas and Islamic Jihad with Iran — and Khamenei's message — are proof that all differences between the two parties would remain on hold now as they are insignificant in light of the Israeli annexation scheme."
He added, "Many other Arab countries turned their back on the Palestinians and contributed in intensifying their blockade, making way for the US deal of the century and the annexation plan, which is part of it. Iran's position was exactly the opposite."
https://www.al-monitor.com/pulse/originals/2020/07/palestinian-hamas-iran-financial-support-israel-annexation.html?utm_source=iterable&utm_medium=email&utm_campaign=1358214_
--------
Yemeni Official Threatens S. Arabia with More Missile Attacks
Jul 14, 2020
"Hey Salman! You deserve death. Missiles will come to you while they cannot be tracked," Abdul-Salam wrote on his twitter page on Tuesday.
"They always and every moment bring you breaking news that the (Yemeni) missiles are fired from their bases like a volcano," he added.
Abdul-Salam expressed confidence that God will help the Yemenis defeat the Saudi government and its leader.
Yemeni forces targeted Saudi Arabia's strategic military sites, including military bases, and an oil facility, by a squadron of domestically-manufactured combat drones and ballistic missiles.
Spokesman for Yemeni Armed Forces Brigadier General Yahya Saree said on Monday that "Tadaween military camp in Marib was targeted during a meeting of Saudi military commanders with mercenaries, killing and injuring dozens of them."
"Other military sites were targeted in Abha, Jizan, and Najran airports," he added.
General Saree also said that a giant oil facility in the industrial zone in Jizan was accurately targeted.
He added that the military operation executed with undisclosed highly accurate ballistic missiles, and a large number of drones
"Our determination in the legitimate defense of Yemen until freedom and independence are achieved," General Saree stressed.
According to previous reports on Sunday, four ballistic Yemeni missiles and seven drones laden with explosives hit designated targets in the city of Khamis Mushait in the Southwestern province of Asir and Abha, the capital city of Asir.
The reports added that King Khalid Airbase in Khamis Mushait and the Abha International Airport were targeted during the retaliatory assault.
The Saudi-led coalition, however, claimed on Monday it had intercepted and destroyed the rockets and drones. The coalition did not report any casualties.
The attack came after Saudi fighter jets pounded the Washhah district in Hajjah on Sunday, leaving ten civilians dead and two others injured.
https://en.farsnews.ir/newstext.aspx?nn=13990424000896
--------
Iran executes two over 2010 bomb attack at military parade
14 July 2020
Iran on Tuesday executed two people convicted of involvement in a 2010 bomb attack at a military parade that killed a dozen people, the Islamic republic's judiciary said.
"The death penalty was carried out today for the two main perpetrators of the (2010) bombing in the city of Mahabad," said a statement by the judiciary authority of West Azerbaijan province.
It said the two were "the agents of terrorist groups linked to foreign intelligence services," according to the judiciary's Mizan Online website.
For all the latest headlines follow our Google News channel online or via the app.
It did not reveal the identity of the convicts nor the alleged countries involved.
Twelve people were killed and 81 injured by the bomb that exploded in Mahabad, on Iran's northwestern borders with Iraq and Turkey, in September 2010.
Most of the victims in the Kurdish-majority city were women and children attending a military parade.
Iranian officials blamed the attack on "counter-revolutionary elements" in the region which regularly witnesses armed clashes between Iranian forces and Kurdish militant groups.
Days after the attack, Iran said 30 "terrorists" including some "American mercenaries" involved in the attack were killed in an operation by the Revolutionary Guards in Iraq.
Iran's intelligence ministry said in 2014 that three linked to the attack were arrested, adding that they had confessed to being part of the Kurdish nationalist group Komala.
The group has conducted a long-running insurgency in Iran's Kurdistan from bases located across the border in Iraq.
Iran has accused the United States of supporting the groups, most notably Komala and Kurdistan Free Life Party (PJAK).
https://english.alarabiya.net/en/News/middle-east/2020/07/14/Iran-executes-two-over-2010-bomb-attack-at-military-parade.html
--------
Turkey court jails three suspects for life over 2016 attack: Reports
14 July 2020
A Turkish court on Monday handed down life sentences to three suspects over a 2016 terror attack claimed by Kurdish rebels that left 12 people dead, the official Anadolu news agency reported.
Six of the victims in the bombing of a police bus in the heart of Istanbul were police officers and the other six were civilians.
The court in Istanbul found defendants Eyup Sever and Murat Bal guilty of "violating the constitution" and "premeditated murder," handing both aggravated life terms, Anadolu reported. It also sentenced them each to 893 years in prison.
For all the latest headlines follow our Google News channel online or via the app.
The court sentenced a third defendant, GulsahBahadir, to life for "premeditated murder" and separately sentenced her to 893 years in prison, according to the news agency.
Militant Kurdish group the Kurdistan Freedom Falcons (TAK) – seen as a splinter group of the Kurdistan Workers Party (PKK) – claimed responsibility for the Istanbul attack.
The PKK, which has waged an insurgency against the Turkish state since 1984, is blacklisted as a terror group by Ankara and its Western allies.
The Istanbul court ordered the release of four other suspects under judicial control.
https://english.alarabiya.net/en/News/middle-east/2020/07/14/Turkey-court-jails-three-suspects-for-life-over-2016-attack-Reports-.html
--------
Zarif: Iran will keep trying to send Yemen relief aid despite Saudi siege
14 July 2020
Despite the ongoing restrictions and setbacks, Iran will keep up its efforts to transfer humanitarian aid to Yemen, Foreign Minister Mohammad Javad Zarif says, denouncing continuation of the Saudi-led war and siege against the impoverished country as "unacceptable."
Zarif made the remarks on Tuesday during a video-call with Hisham Sharaf Abdullah, his counterpart from the Yemeni National Salvation Government.
Yemen's popular Houthi Ansarullah movement formed the government together with its allies in 2016 to undertake administration of the country's internal affairs.
The allies were forced to come together after Yemen's former Riyadh-allied government fled the country amid a political deadlock, refusing to stay behind and negotiate power.
The new government was also tasked with dealing with a relentless war of aggression and simultaneous siege that Saudi Arabia and some other countries brought against Yemen with the United States' support to try and reinstate the Riyadh-allied former officials.
The invasion has killed tens of thousands of Yemenis and pushed the country close to the brink of all-out famine.
"Despite [existing] restrictions and obstructions, the Islamic Republic of Iran will continue taking the necessary measures to transfer humanitarian aid [to Yemen] to [help it] confront the coronavirus' spread," Zarif said.
"Continuation of the invasion and oppressive blockade of Yemen by the [Saudi-led] coalition, and impounding of the ships that carry foodstuffs and fuel to the country amid the coronavirus' epidemic is unacceptable," he added.
The Iranian top diplomat reasserted the Islamic Republic's stance of considering the political solution to be the only way out of Yemen's crisis, saying Tehran has been cooperating constructively with the concerned Yemeni and international parties with the aim of restoring peace in the violence-stricken country.
In the same context, Zarif said the only way to return stability to the country was to ensure respect for Yemen's territorial integrity as well as unity and broad-based political dialog among various Yemeni parties groups towards formation of an inclusive government "because Yemen belongs to all Yemeni groups."
The Yemeni official, for his part, expressed gratitude towards the Islamic Republic for its political and humanitarian support for the country amid the invasion and blockade.
He also provided Zarif with a report on the latest political and field developments concerning Yemen and an outlook of the crisis.
GCC's Iran claims
Also on Tuesday, Foreign Ministry Spokesman Abbas Mousavi addressed earlier claims by Nayef Falah Mubarak Al Hajraf, secretary-general of the [Persian] Gulf Cooperation Council (GCC), who had tried to implicate the Islamic Republic in the Houthis' retaliations against Saudi Arabia.
Pointing to a Monday counterstrike by the Houthis, Al Hajraf had claimed that Tehran "supplies arms and ammunition" to the movement. The official had also pledged full support on the part of the GCC for Saudi Arabia, disregarding Riyadh's incessant bloodshed of the Yemenis.
Mousavi advised the Council to try to stop the Saudi-led coalition's attacks on Yemeni women and children instead of playing the blame game and coming up with "baseless" claims about others.
The spokesman further denounced Riyadh and the former Yemeni government for its "duplicitous" attitude towards an initiative led by the United Nations that is aimed at ending the war. He said the coalition claims to be observing a ceasefire in Yemen, while keeping up its "wanton bombings" and still trying to resolve the crisis through military means.
https://www.presstv.com/Detail/2020/07/14/629612/Iran-Yemen-humanitarian-aid-Zarif
--------
Africa
Tunisia's President Saied rejects Islamist Ennahda's call for government change
13 July 2020
Tunisia's Islamist-inspired Ennahdha party, the largest in parliament, called Monday for consultations to appoint a new prime minister, a move opposed by President Kais Saied.
Prime Minister Elyes Fakhfakh was sworn in in February after winning a confidence vote in parliament following four months of post-election deadlock amid tensions with Ennahdha.
Fakhfakh is under investigation over alleged failure to hand over control of shares he owns in private companies that have won public contracts.
For all the latest headlines follow our Google News channel online or via the app.
Ennahdha consultative council asked party leader Rached Ghannouchi "to carry out consultations... on a change of government," council president Abdelkarim Harouni said.
"The economic and social situation is very serious and can only be overcome by a government whose head is not suspected of any conflict of interest," he told a news conference.
"Ennahdha does not allow any suspicion of corruption to prevail in the government," Harouni said.
Relations between Ennahdha and Fakhfakh have been strained ever since the October legislative elections.
President Saied rejected Ennahdha's call for consultations to go ahead.
"There will be no consultations so long as the prime minister remains in power," his office said in a statement after a meeting with the premier.
In a related development, the head of Tunisia's Free Destourian Party (Free Constitutional Party) bloc AbirMoussi said on Monday that Ennahdha's leader Rached Ghannouchi, cannot topple the government through a no confidence vote.
Tunisia's already fragile economy has been battered by the coronavirus pandemic.
Fakhfakh said last month that the economy would shrink by some six percent this year as "all state enterprises are in bankruptcy."
https://english.alarabiya.net/en/News/north-africa/2020/07/13/Tunisia-s-President-Saied-rejects-Islamist-Ennahda-s-call-for-government-change.html
--------
UAE working for 'immediate ceasefire' in Libya: Foreign Affairs Minister Gargash
13 July 2020
The United Arab Emirates continues to "work for an immediate ceasefire and return to a political process" in Libya, Minister of State for Foreign Affairs Anwar Gargash said on Monday.
"The UAE, alongside its partners, wants to see a return to oil production in Libya as soon as possible, with safeguards in place to prevent the proceeds fueling further conflict. We continue to work for an immediate ceasefire and return to a political process," the minister wrote on his official Twitter page.
For all the latest headlines follow our Google News channel online or via the app.
His statement comes as the Turkish Foreign Minister Mevlut Cavusoglu rejected a ceasefire in Libya on Monday.
Agreeing to a ceasefire would be dependent on the withdrawal of the Libyan National Army (LNA) led by commander Khalifa Haftar, Cavusoglu had said.
Libya has been mired in conflict since the fall of Muammar Gaddafi in 2011, but since 2019, fighting between the Libyan National Army (LNA) led by Khalifa Haftar and the GNA has escalated as foreign involvement has intensified.
https://english.alarabiya.net/en/News/north-africa/2020/07/13/UAE-working-for-immediate-ceasefire-in-Libya-Gargash.html
--------
Somalia's military chief unhurt, civilian killed in suicide car bomb
13 July 2020
The head of Somalia's military escaped unhurt and one civilian was killed on Monday when a suicide attacker drove a bomb-laden car into a convoy in the capital Mogadishu, according to a military spokesman and an ambulance service.
The al Qaeda-linked al-Shabaab group said it was behind the attack.
General Yusuf Rage was driving in the convoy near the military hospital in Mogadishu's Hodan district when the blast struck, Colonel Abdiqani Ali, the military spokesman said.
For all the latest headlines follow our Google News channel online or via the app.
"The commander's guards opened fire on the suicide car bomb as it speedily tried to swerve into the convoy. The bomber was shot dead and his car bomb exploded. The commander and his guards escaped unhurt," he said.
Mogadishu's Aamin Ambulance service said it had collected the body of one civilian.
Al Shabab's military operations spokesman Abdiasis Abu Musab said in a statement: "We conducted a martyrdom operation in Mogadishu. The target was a military convoy escorting senior apostate commanders."
Since 2008, the extremist militant group has been fighting to overthrow the central government and establish its rule based on its own harsh interpretation of Islam's Sharia law.
https://english.alarabiya.net/en/News/world/2020/07/13/Somalia-s-military-chief-unhurt-civilian-killed-in-sui.html
--------
Nigeria Scheme Snubs Ex-Boko Haram Women
13 JULY 2020
By Emeka Okonkwo
Abuja, Nigeria — Nigeria's programme to rehabilitate repentant members of the Boko Haram has come under criticism for shunning women that quit the terror group.
The criticism comes as the West African country has rehabilitated about 900 ex-insurgents under the Operation Safe Corridor (OSC).
It is the biggest project by Nigeria to address the terrorism that has left thousands dead and millions displaced northeast of the country.
Nextier Security, Peace and Development (SPD) however said the programme appeared male-focused and repentant women were merely released back to their communities.
"Processes for females with links to Boko Haram are not clear," the Abuja-based think-tank stated.
According to the experts, the government's programme overlooks the fact that some women were involved as perpetrators.
Nextier SPD said the chances of survival for women with links to Boko Haram would be worse even as they were reportedly released into communities without adequate psychosocial support and empowerment.
In some cases, these women are snubbed by the community.
There is concern therefore that with no means of livelihood or support, the chances of the women returning to Boko Haram remain high.
"The amnesty programme must be accompanied by an approach that specifically caters for the needs of women in the programme," Nextier SPD recommended.
The Boko Haram has killed more than 30 000 civilians since its rebellion in 2009.
It seeks to create an Islamic state northeast of Nigeria.
More than 2 million people have been displaced. An estimated 8 million people in the region are food-insecure.
https://allafrica.com/stories/202007130289.html?utm_source=iterable&utm_medium=email&utm_campaign=1358214_
--------
War Crimes Trial Begins Against Malian Jihadist
By Lisa Bryant
July 14, 2020
PARIS - The ex-chief of Timbuktu's Islamic police went on trial Tuesday in The Hague for a number of alleged war crimes and crimes against humanities charges including rape, sexual slavery and destroying irreplaceable shrines in the ancient Malian city.
Wearing a flowing blue gown and white headdress — and a face mask pushed below his nose — Al Hassan Ag Abdoul Aziz Ag Mohamed Ag Mahmoud replied "yes" to whether he understood each of the 13 charges against him. But on each count, he refused to plead either innocent or guilty.
International Criminal Court prosecutors accuse Al Hassan of rape, torture and sexual slavery, among other atrocities allegedly committed between 2012 and 2013, as Timbuktu's police chief after jihadists occupied the city.
Prosecutor Fatou Bensouda described as unimaginable the crimes committed by jihadists in the city. Under Al Hassan, she said, the Islamic police belittled, humiliated and persecuted residents on religious grounds.
Prosecutors argue Al Hassan abused, whipped and tortured Timbuktu residents who violated strict religious laws. He allegedly forced young women and girls to marry jihadist fighters, which the prosecution claims led to rape and sexual enslavement. And he is accused of participating in lashings of men and women — and of playing a role in the destruction of local shrines.
Al Hassan's defense argues he is not mentally fit to stand trial.
How can somebody who is experiencing such post-traumatic stress that they are dissociating in a way they avoid memories, properly assist council to analyze the evidence—that to date it still hasn't had the opportunity to even investigate — in order to prepare an adequate defense?"
ICC judges ordered Al Hassan to be medically examined, but ruled the opening would not be delayed.
Al Hassan is the second Islamist to face trial at the ICC over the destruction of Timbuktu's religious and historical buildings. In 2016, Ahmad al-Faqi al-Mahdi pled guilty to attacks on the UNESCO World Heritage site. He was sentenced to nine years in prison.
https://www.voanews.com/africa/war-crimes-trial-begins-against-malian-jihadist
--------
Europe
Germany arrests two Syrians linked to al-Qaeda
13 July 2020
Two Syrians have been arrested in Germany on suspicion of helping to carry out an execution by a terrorist group linked to al-Qaeda, prosecutors said Monday.
Named only as Khedr A.K. and Sami A.S., the men are accused of having "jointly killed a person protected under international humanitarian law," prosecutors said.
The men were arrested and their apartments searched in Naumburg, near Leipzig, and in the western city of Essen.
For all the latest headlines follow our Google News channel online or via the app.
Khedr A.K. joined the GhurabaaMuhassan group in Syria, part of the Jabhat al-Nusra terrorist organization, some time before July 2012, prosecutors said.
At that time, Jabhat al-Nusra was al-Qaeda's sister organization in Syria.
On July 10, 2012, Khedr A.K. was involved in the execution of a lieutenant colonel with the Syrian army who had been captured by the group, they said.
He is accused of guarding the prisoner, who was bound by his hands and subjected to severe mistreatment, as he was transferred to his place of execution in Syria.
Sami A.S. filmed the subsequent shooting of the victim and commented on the video "in a glorifying manner" for propaganda purposes, prosecutors said.
Khedr A.K. is suspected of membership in Jabhat al-Nusra and Sami A.S. of having been a supporter of the group.
Both men appeared before the Federal Court of Justice (BGH) on Monday and are now in custody.
The first court case worldwide over state-sponsored torture by Syrian President Bashar al-Assad's regime opened in April in Germany after the suspects were brought to the notice of the authorities by their victims.
In June, a Syrian doctor living in Germany was arrested on suspicion of crimes against humanity in his country of origin.
https://english.alarabiya.net/en/News/middle-east/2020/07/13/Germany-arrests-two-Syrians-linked-to-al-Qaeda.html
--------
Spanish police detain two Algerians in anti-terrorism operation in Barcelona
14 July 2020
Two Algerian men were detained in an anti-terrorism raid in Spain's second largest city Barcelona on Tuesday morning, police said.
The two Algerians were part of a cell, under investigation since 2017, which was planning an attack with explosives in Barcelona, the regional Catalan police said in a statement, adding that the cell had now been fully disbanded.
"The investigation has allowed us to identify the areas in which the terrorist cell had planned to act, as well as determine that the group had already begun to gain capacity on how to make explosive devices and how to obtain the war weapons they needed to carry out their attack," police said.
For all the latest headlines follow our Google News channel online or via the app.
The activities of extremist groups remain a top priority for police in Spain after militants used a van to hit pedestrians in Barcelona's Las Ramblas boulevard in August 2017 and carried out a follow-up attack in another municipality, killing 16 people in total.
In May, police arrested a Moroccan man in Barcelona with suspected links to ISIS who they believed was planning a militant attack.
A total of 16 suspected extremist fighters have been arrested in Spain from the start of the year until July 5th, according to data from the interior ministry.
https://english.alarabiya.net/en/News/world/2020/07/14/Spanish-police-detain-two-Algerians-in-anti-terrorism-operation-in-Barcelona.html
--------
EU preparing possible sanctions on Turkey
14 July 2020
Jerome Hughes
EU foreign affairs ministers agree to draw up possible sanctions on Turkey if Ankara fails to change its policies.
For the first time since the COVID-19 pandemic hit Europe, EU foreign ministers gathered in Brussels for face-to-face talks. They had plenty of criticism for leaders in China and Venezuela but most of their indignation was reserved for President Recep Tayyip Erdogan of Turkey. The ministers agreed to draw up possible sanctions against Ankara.
Brussels is irritated with Turkey over its efforts to find gas in disputed Mediterranean waters. This is annoying EU members Cyprus and Greece in particular.
Furthermore, the bloc is unhappy with Turkey's involvement in Libya and Syria, not to mention recent, alleged, aggressive Turkish behavior toward a French navy vessel in the Mediterranean. Both Turkey and France are members of NATO.
Most recently, the EU is taking a tough stance over Turkey's decision to change the status of Hagia Sophia in Istanbul from a museum to a mosque. On all these issues, Erdogan insists he is protecting Turkey's interests and the EU should mind its own business. As relations with the EU worsen, experts suggest Turkey should be seeking to reinforce partnerships closer to home.
Not long ago, Turkey was edging closer to EU membership. Experts say the bloc has a lot to lose by antagonizing Ankara too much. They point out that if Turkey allows refugees to freely enter the EU, the political consequences for the 27-country bloc would be enormous.
https://www.presstv.com/Detail/2020/07/14/629575/EU-Turkey-sanctions
--------
Muslim Brotherhood's danger dawns on France
July 14, 2020
Lawmakers in France last week recommended that there should be a preaching ban on clerics affiliated to the Muslim Brotherhood, as one of 44 propositions used in order to counter extremist Islamist radicalization in the European country.
"I believe that the most important thing is to control those who convey a hate speech, from outside or within the country, such as separatists, racists, anti-Semites. This speech is contrary to the values of the French Republic," French Senator Nathalie Goulet told Arab News.
"The fight against Islamization accepts no tolerance in fighting against the enemies of the Republic and particularly the Muslim Brotherhood movement," she added.
The report's 44 propositions relate to economic, education, social and cultural issues, according to French daily Le Figaro. It uncovers a truth long hidden in France and one that has been warned against by several countries in the Arab world.
"It is the nature of Islam to dominate, not to be dominated, to impose its law on all nations, and to extend its power to the entire planet."
Those words were among the many ominous points outlined on a document titled "The Project" that was discovered by Swiss authorities as they raided prominent Muslim Brotherhood member and terror financier Youssef Nada's apartment in November 2001.
While they may have been brushed off among everyday Europeans as those of a radical madman, carrying no significant weight, they ring true for many who believe in the Muslim Brotherhood's extremist ideology.
Key Dates
1928
1
The Muslim Brotherhood is founded by Hassan Al-Banna in Ismailia, Egypt.
December 1948
2
Muslim Brotherhood member Abdel Meguid Ahmed Hassan assassinates Egypt's Prime Minister Mahmud Al-Nokrashy.
1954
3
Members of the Muslim Brotherhood attempt to assassinate Egyptian President Gamal Abdel Nasser, who then raids the group and arrests several of its members, including the group's ideologue Sayyid Qutb.
1966
4
Egypt executes Sayyid Qutb, whose extremist ideology inspired the birth of terrorist organization Al-Qaeda.
June 1979
5
The Muslim Brotherhood in Syria launches an attack during the Islamic uprising, killing 83 cadets at the Aleppo Artillery School.
Timeline Image June 1979
November 1981
6
The Muslim Brotherhood in Syria carries out a spate of car-bomb attacks against military and government officials in Damascus, causing the deaths of hundreds of people.
Timeline Image November 1981
1987
7
The Muslim Brotherhood sets up Hamas as one of its military wings in Palestine.
1997
8
The US State Department designates Hamas as a Foreign Terrorist Organization (FTO) under the Immigration and Nationality Act.
2001
9
The US Treasury Department designates the Muslim Brotherhood-founded Holy Land Foundation for Relief and Development and Al-Taqwa Bank as a "Specially Designated Global Terrorist" group after supplying Hamas and Al-Qaeda with logistical and financial support.
2011
10
The Muslim Brotherhood's Tunisian political party, Ennahdha, led by Rachid Al-Ghannouchi, comes first in assembly elections with more than 37 percent of the vote.
2012
11
Swiss banks UBS and Credit Suisse cancel Muslim Brotherhood-linked, UK-based NGO Islamic Relief's accounts due to fears they are being used to finance terrorism.
2012
12
The Muslim Brotherhood's Mohamed Morsi wins the Egyptian presidential elections to take office as the country's president after the ousting of Hosni Mubarak.
August 2013
13
Members of the Muslim Brotherhood are accused of looting and setting fire to over 42 Egyptian churches and police stations.
Timeline Image August 2013
2013
14
Morsi is ousted from his position as president following nationwide protests and is arrested by the military, which later raids the Muslim Brotherhood's camps and arrests loyalists; the country officially designates the group a terrorist organization.
Timeline Image 2013
2014
15
Muslim Brotherhood Supreme Guide Mohammed Badie and 628 other members are sentenced to death for violence and killing policemen in Egypt.
June 29, 2015
16
Cairo's Criminal Court charges 67 members of the Muslim Brotherhood with the assassination of Egyptian Public Prosecutor Hisham Barakat.
2015
17
UK Prime Minister's Office says membership of the Muslim Brotherhood is "a possible indicator of extremism."
2016
18
UK's HSBC cancels Islamic Relief's accounts amid concerns that its monetary aid is financing terrorism.
2017
19
Saudi Arabia, the UAE, Bahrain and Egypt sever ties with Qatar following its continued support for and harboring of extremists and terrorists, including members of the Muslim Brotherhood and its spiritual guide Yusuf Al-Qaradawi.
July 22, 2017
20
A Cairo court sentences 28 people to death over Hisham Barakat's killing, and hands 15 others 25-year jail sentences.
2017
21
France expels the Muslim Brotherhood founder's grandson Hani Ramadan for his anti-Semitic and extremist rhetoric which "posed a serious threat to public order," according to the interior ministry.
2018
22
The French government freezes Hani Ramadan's assets as part of the fight against the financing of terrorism.
2018
23
The Muslim Brotherhood is sued internationally by the head of the Egyptian Union of Human Rights Organizations, Naguib Ghobrael, and other international unions for setting fire to over 42 churches in 2013.
2019
24
German officials accuse Islamic Relief of "significant personal ties" to the Muslim Brotherhood and start a review of official funding of Brotherhood-related groups.
While the group's views and ties to terrorism are well-known in the Arab region, the Brotherhood took advantage of its unknown and low-lying presence in Europe. Hundreds of exiled members sought safe haven there during the 1950s and 1960s following Egyptian President Gamal Abdel Nasser's nation-wide purge of the group's loyalists after their failed attempts to assassinate him.
"An extremely adaptive movement, the Brotherhood has understood that its goals for the Arab world — establishing Islamic regimes which they would lead — is not a realistic aspiration in Europe, at least for the time being," Dr. Lorenzo Vidino, director of the Program on Extremism at George Washington University, told Arab News.
The group's slogan definitively sums up what its fundamental worldwide goal is: "Islam is the solution, the Qur'an is our constitution, Allah is our objective. The Prophet is our leader. Jihad is our way. Dying in the way of Allah is our highest hope."
This, as the group's notorious spiritual guide Sayyid Qutb described, can only happen through the ultimate jihad — a religiously justified expedition to rid the world of the tyrannical, the ignorant and the falsely worshipped.
According to the 9/11 commission report published in 2004: "No middle ground exists in what Qutb conceived as a struggle between God and Satan. All Muslims — as he defined them — therefore must take up arms in this fight. Any Muslim who rejects his ideas is just one more nonbeliever worthy of destruction."
This extremist ideology went on to inspire terrorist organizations such as Al-Qaeda, with its current leader Ayman Al-Zawahiri being an ardent follower and student of Qutb.
In order for it to achieve its ultimate takeover, Vidino said, the group has three main goals within Europe: To spread its political and religious world views to European Muslim communities, to be designated as official or de facto representatives of Muslim communities in each European country, and to influence European public opinion and policymaking on all issues in an Islamist-friendly direction.
"They seek to do so through an incessant dawa (religious call) which is facilitated by the fact that they can rely on ample resources (and, consequently, a network of mosques, educational activities, publications), more than any competing Islamic trend," said Vidino, who is also author of the book "The New Muslim Brotherhood in the West."
He continued: "The Brotherhood aims at being entrusted by European governments with administering all aspects of Muslim life in each country. This position would also allow them to be the de facto official Muslim voice in public debates and in the media, overshadowing competing forces."
And one needn't go far in order to prove that this is their ulterior motive. Exiled Egyptian cleric Yusuf Al-Qaradawi, the Muslim Brotherhood's ideologue profiled by Arab News in its "Preachers of Hate" series, openly stated on a Qatar TV talk show in 2007: "Islam will conquer Europe without resorting to the sword or fighting.
"Europe is miserable with materialism, with the philosophy of promiscuity, and with the immoral considerations that rule the world — considerations of self-interest and self-indulgence," he said, adding: "It is high time (Europe) woke up and found a way out from this, and it will not find a lifesaver or a lifeboat other than Islam."
Founded by Egyptian schoolteacher Hassan Al-Banna in Ismailia in 1928 as a movement to oust British colonial rule and create an Islamic state dictated by Sharia Law, the Muslim Brotherhood has since shifted from attempting to achieve its goal through violence and terrorist attacks throughout Egypt and the Arab world to masking its intentions through democratic and lawful means.
Saudi Arabia, the UAE, Bahrain, Egypt and Russia have slapped the group with terrorist designations, and while US President Donald Trump mulled doing the same, neither the US nor any of European countries have done so — although the EU and US have labeled its Palestinian military wing, Hamas, a terrorist group.
Europe, and most notably France and Germany, have harbored large Muslim communities throughout the years. While most members of these communities might have no ill intentions towards their host nations, dangerous and radical ideology bubbles under the surface, especially among younger people.
"Violent radicalization arises out of the particular challenges faced by an increasingly Westernized generation of young Muslims in Europe, who attempt to carve out an identity for themselves," wrote Anja Dalgaard-Nielsen, director of the Institute for Strategy at the Royal Danish Defence College, in a paper titled "Violent Radicalization in Europe: What We Know and What We Do Not Know."
She added: "The overall conditions of modernity and life in Western democracies — individualization and value relativism — prompt a search for identity, meaning, and community for a number of individuals."
The answers these young people look for, as Vidino pointed out, are found in the mosques and youth clubs the Muslim Brotherhood set up through the years since its members arrived in Europe.
"Since (the 1950s) and up to now, members of the Brotherhood have been able to obtain asylum and citizenship, set up mosques and institutions, disseminate their propaganda, collect funds, recruit new members, and even be seen as moderate partners of European establishments, their institutions often being seen as moderate interlocutors," he said.
These institutions are many and wide-spread across the UK, France, Germany and other European countries.
The Dublin-based European Council for Fatwa and Research is one of them. Founded in 1997 by Al-Qaradawi, the council has stirred great controversy since then. Its most recent scandal came after it developed the Euro Fatwa app that has been dubbed "a tool for radicalization" by German authorities.
According to local media, the app's introduction included statements from Al-Qaradawi saying: "Muslims became a disgrace to Islam and have acted similarly to the Jews who decreed it was correct to steal."
Another is the Federation of Islamic Organizations in France, founded by the Brotherhood in 1989, that acts as an umbrella organization to most Muslim organizations across Europe. Falling under it is the Islamic Community in Germany that was formerly headed by the Brotherhood founder's son-in-law Said Ramadan. It is considered the central organization for Muslim Brotherhood followers in the country by the German Domestic Intelligence Agency.
"If we want to limit the influence of this tendency of Islam, incompatible with our republican rules, we must take more concrete measures," Senator Goulet said, adding that "we must also be very vigilant towards foreign funding of French associations."
This freedom to operate under the guise of promoting Islam within the confines of the law in Europe poses a challenge to many agencies and policy makers in the continent who are aware of the dangers the group's soft power poses in the long term, especially within Muslim youth communities.
"Some countries, or at least some agencies and policymakers within some countries, do see the Brotherhood as problematic, and some actions have been taken against the group," Vidino said. These measures include shutting down its entities, stripping members of visas and seizing its funds.
"The security services of Germany, for example, have repeatedly stated that the threat posed by 'legalistic Islamists' (Islamist groups that operate within the boundaries of the law) is much greater in the long term than that of jihadism."
"In this spirit, the report targets the Muslim brotherhood and its leader Sheikh Qaradawi," Senator Goulet said. "I cannot say it enough: It is up to religions to adapt to the Republic and not the other way around."
https://www.arabnews.com/node/1704676/world
--------
North America
The U.S. must respond forcefully to Russia and the Taliban. Here's how.
July 14, 2020
John W. Nicholson, a retired Army general, commanded U.S. and NATO-led international forces in Afghanistan from March 2016 to September 2018. He was the longest-serving commander of NATO forces in Afghanistan.
In late 2017, when I was commander of NATO and U.S. forces in Afghanistan, an Afghan governor whom I knew well and trusted came to my headquarters in Kabul. He brought a small cache of weapons that he said had been provided to the Taliban by Russian operatives coming across the northern border from Tajikistan.
This marked a significant change from the pre-2014 days of cooperation with the Russians, when they facilitated our logistics through Central Asia. Unfortunately, support to the Taliban fit into what U.S. intelligence showed was a pattern of increasing Russian malign activity, which included cooperation with the Taliban and disinformation tactics aimed at undermining U.S. and NATO legitimacy, jeopardizing prospects for peace and endangering our troops.
Russia provided small arms, ammunition and money with the intention of sustaining the Taliban in the fight and gaining influence ahead of the anticipated withdrawal of U.S. and NATO troops. While this assistance did not significantly alter the tactical balance on the battlefield, it helped the Taliban inflict more casualties on Afghan security forces and increased the danger to their U.S. and coalition advisers.
I concluded at the time that the Russian assistance was calibrated. For instance, they refused to provide the Taliban with antiaircraft missiles. However, we recognized the potential for escalation and expanded efforts to monitor the Russian-Taliban collaboration and the growth of Russian activity in Central Asia.
These provocations continued throughout my tour as commander, which ended in September 2018. Still, I was somewhat surprised to read articles describing Russian involvement in paying bounties to the Taliban for killing Americans and our coalition partners because of the strategic risk it entails for Russia to be directly involved in targeting our troops.
If true, this would constitute both a reckless miscalculation and a major mistake by the Russians and the Taliban. History shows that such mistakes and miscalculations often lead to war. And, of course, the consequences of a conflict between Russia and the United States, both nuclear superpowers, could be catastrophic for the planet.
If U.S. intelligence agencies determine that Russia put bounties on American and coalition lives, we must respond forcefully, publicly and in ways that will drive home to the Russians and the Taliban that there is a price to pay for these actions.
Our response should be clear, unequivocal and coordinated with our NATO allies and other coalition partners in Afghanistan. Without such direct, unambiguous communication, there could be further dangerous Russian miscalculations.
First, the highest levels of the U.S. government and NATO should condemn these actions in language strong enough that the Russians understand that they are unacceptable and undermine any chance of improving relations and cooperating on areas of mutual interest.
Second, the United States should suspend the proposed withdrawal of U.S. forces from Germany. These reductions play into Russian desires to undermine, weaken and divide NATO. If withdrawals are carried out despite these reported bounties, Russia will view this as a sign of American weakness in the face of Russian threats. Moscow will undoubtedly be tempted to test our resolve in other ways.
Third, the United States should pause further troop withdrawals from Afghanistan until the Taliban meet the conditions stipulated in the peace agreement. We have delivered on our part of the accord by drawing down U.S. force levels to 8,600 troops ahead of schedule. The Taliban must deliver on its promises, including severing ties with al-Qaeda, beginning peace negotiations with the Afghan government and sustaining a reduction in violence.
Our long war in Afghanistan will have an enduring end only if agreement is reached at the peace table. The current peace process rests on a foundation of hard-fought gains by Afghan security forces, with the support of the United States and our coalition partners. In recent months, each time progress is made at the table, it is met with increased violence on the ground by the Taliban, who are supported by Russia.
Russia's alliance with the Taliban, while calibrated in the past, is designed to undermine the success of the U.S.-led peace process and to erode the will of the United States, NATO and the Afghan people. Our leaders have a moral responsibility to protect our service members who are fighting for an enduring peace in Afghanistan, to honor the sacrifices of the brave Americans, coalition partners and Afghans who came before them, and to reduce the potential for further miscalculations and mistakes that could lead to war.
https://www.washingtonpost.com/opinions/the-us-must-respond-forcefully-to-russia-and-the-taliban-heres-how/2020/07/13/df13ed6c-c529-11ea-b037-f9711f89ee46_story.html?utm_source=iterable&utm_medium=email&utm_campaign=1358214_
--------
India
Maharashtra CM says Muslim Leaders to Keep Festivities For Bakri Eid Low Key
Jul 15, 2020
MUMBAI: Chief minister Uddhav Thackeray on Tuesday asked Muslim leaders to organise low-key Bakri Eid celebrations without flouting social-distancing norms during a meeting to discuss arrangements for the festival. Bakri Eid falls on August 1.
The meeting, held via videoconferencing, was also attended by deputy chief minister AjitPawar, home minister Anil Deshmukh, additional chief secretary (home) Sitaram Kunte, director general of police Subodh Jaiswal and Mumbai police commissioner Parambir Singh.
The bureaucrats were of the opinion that animal sacrifice should be avoided in the wake of the Covid-19 pandemic, but Thackeray said that for the last four months, people of all faiths have avoided traditional festivities, and suggested that Bakri Eid celebrations too should be observed in the same spirit.
Muslim leaders had expressed concern and said that this year, they had already had muted Ramzan Eid celebrations, and hence sought permission to celebrate Bakri Eid in the timehonoured tradition by carrying out a sacrifice. "We are ready to offer prayers at home, but cannot skip the sacrifice. The government should find a way out to set up mandis (markets) all over the city and allow sacrifice of animals in compliance with social distancing and other lockdown norms," said Arif Nasim Khan, a former Congress minister.
NCP minister Nawab Malik, Congress MLAs Amin Patel and Zeeshan Siddiqui, Samajwadi Party leader Abu Asim Azmi, and SP MLA Rais Shaikh had met the city's guardian minister Aslam Shaikh on Monday to discuss and plan how to organise the festival without violating social-distancing norms.
https://timesofindia.indiatimes.com/city/mumbai/keep-festivities-for-bakri-eid-low-key-maharashtra-cm-uddhav-thackeray-to-muslim-netas/articleshow/76971473.cms
--------
Resentment In Hindus On Arrests From Riot-Hit Areas In Northeast Delhi, Take Care: Special CP To Probe Teams
by Mahender Singh Manral
July 15, 2020
The arrests of "some Hindu youth" from riot-hit areas in Northeast Delhi has led to a "degree of resentment among the Hindu community" and "due care and precaution" must be taken while making arrests, the Special Commissioner of Police (Crime) has written in an order to senior officers heading probe teams and asked them to "suitably" guide the Investigating Officers.
The order comes amid the ongoing investigation, arrests and prosecution by the Delhi Police in a slew of riot cases.
Dated July 8, the order, signed by Special CP (Crime & Economic Offences Wing) Praveer Ranjan, cites an "intelligence input" about the riot-related arrests of "some Hindu youth from Chand Bagh and Khajuri Khas areas of Northeast Delhi".
The order says that "community representatives are alleging that these arrests are made without any evidence and are even insinuating that such arrests are being made for some personal reasons."
The order goes on to name two Muslim men and states: "In the same area, resentment among Hindu community is also reported for alleged police inaction" against the two, "who are alleged to have been involved in mobilising members of Muslim community during Delhi riots and anti-CAA protests".
"Due care and precaution be taken while arresting any person. All evidences including direct and technical evidences be properly analysed and that all the arrests are backed by sufficient evidence be ensured. No arbitrary arrest should be made in any case and all evidences must be discussed with Special PPs (public prosecutors) assigned for each case," it states, adding: "Supervisory officers ACPs/DCPs — SIT & Additional CP/Crime (Headquarters) may guide the IOs (investigating officers) suitably."
There are three SITs, or Special Investigation Teams, currently probing riots cases.
The Indian Express reached out to Special CP Ranjan as well as Delhi Police PRO M S Randhawa seeking comments.
The newspaper sent a message to Ranjan asking him about the allegations made by "community representatives," and whether his order put a question mark on the nature of the probe. No response was received.
In a tweet on April 20, the Delhi Police had written: "While investigating Jamia and NE riot cases, Delhi Police has done its job sincerely and impartially. All arrests have been made based on scientific and forensic evidence."
https://indianexpress.com/article/cities/delhi/hindu-resentment-north-east-delhi-riots-special-cp-6506063/
--------
South Asia
US closes five bases in Afghanistan as part of Taliban peace deal
Jul 14, 2020
ISLAMABAD: The United States has shut five bases in Afghanistan in compliance with Washington's peace agreement with the Taliban, Zalmay Khalilzad, the US special representative for Afghanistan reconciliation, said on Tuesday.
The closed US bases are in Helmand, Uruzgan, Paktika and Laghman provinces.
"We have reached Day 135, a key milestone in implementation of the US-Taliban agreement. The US has worked hard to carry out the 1st phase of its commitments under the agreement, including to reduce forces & depart five bases. NATO troops have come down in proportional numbers (sic)," Khalilzad posted on Twitter. "As we look to the next phase of implementation under the agreement, our approach will remain conditions-based. We will press for completion of prisoner releases, reduction of violence, complete delivery on CT (counter-terrorism) commitments and start of and progress in intra-Afghan negotiations (sic)," he said.
According to media reports, US troops in Afghanistan have been reduced to 8,600, while Nato has currently around 12,000 troops under the Resolute Support (RS) mission.
A spokesperson for American troops in Afghanistan said the US continues its counter-terror fight against groups like "ISIS (Daesh)" and Al-Qaeda while also providing training, funding and supplies to Afghan National Defence and Security Forces (ANDSF) through the NATO RS mission.
Some important parts of the US-Taliban deal, such as reduction in violence and intra-Afghan negotiations, have not been implemented since the signing of the Doha accord.
The Afghan government has blamed the Taliban for not implementing their commitments, saying that movement by the group should be scrutinised after the peace deal.
The prisoner exchange between the Afghan government and the Taliban is another complicated process that has delayed intra-Afghan negotiations. According to the agreement, the prisoner-swap process should have happened within 10 days of the peace deal.
"Their (Taliban's) key responsibility was a significant reduction in violence and an 'unofficial' ceasefire. Another responsibility of theirs was to cut their ties with all terrorist groups, but you saw in recent reports by the UN and US that this has not happened so far," presidential spokesman SediqSediqqi said. "A big role in the peace process is on the Taliban's shoulders," he added.
https://timesofindia.indiatimes.com/world/south-asia/us-closes-five-bases-in-afghanistan-as-part-of-taliban-peace-deal/articleshow/76967188.cms
--------
Archbishop recovered from Covid-19, dies after stroke in Bangladesh
July 13, 2020
A leading Bangladeshi Catholic archbishop has died just weeks after apparently recovering from the deadly Covid-19.
Holy Cross Archbishop Moses Montu Costa of southeastern Chittagong Archdiocese, died in a hospital in the Bangladesh capital Dhaka on July 13 after suffering a series of strokes. He was 70.
Archbishop Costa became the most senior Catholic clergyman in the country to die during the coronavirus pandemic.
Archbishop Costa was the secretary-general of the Catholic Bishops' Conference of Bangladesh (CBCB). He also headed the bishops' Commission for Health Care. Previously, he served as chairman of CBCB Commission for Seminary and Commission for Youth.
Holy Cross Cardinal Patrick D'Rozario of Dhaka Archdiocese and president of the CBCB announced the prelate's death in a statement and called on everyone to pray for his departed soul.
Archbishop Costa was admitted to hospital on June 13 in critical condition and tested positive for Covid-19 the next day. His condition improved significantly and he tested negative for the virus on June 22. However, he remained in hospital for further treatment.
He suffered multiple strokes on July 9, according to doctors.
He will be buried in Chittagong on July 14, Chittagong Archdiocese officials said.
An irreparable loss
Archbishop Costa's death is an irreparable loss, said ManikWillver D'Costa, pastoral coordinator of Chittagong Archdiocese
"Besides his extraordinary efforts in laying a strong socio-economic foundation for the Church and revolutionizing the systematic re-organization of Church apparatus, he emphasized a spiritual awakening and missionary zeal for clergy, religious and laity," he told UCA News.
"He believed that without becoming a local missionary and helping self-growth and thriving, the Church has no future. He was a great visionary and there will be no one like him," he added.
"During his time at Youth Commission as well as in dioceses, he forged personal relationship with youth and many others and people loved him because of his simplicity and cordial manner," the pastoral coordinator said.
Apart from typical youth formation, Archbishop Costa was "dynamic" in promoting the idea that Catholic youth formation was not all about teaching, but "a journey and growing up with Jesus Christ," he added.
The Bangladesh Catholic Student Movement, a Church-affiliated youth group called the late archbishop "a pioneer of the Bangladesh Church and guiding light for youth leadership," in a statement.
Archbishop Costa's death has sent shockwaves among Bangladeshi Catholics at home and abroad. Hundreds posted tributes on social media.
Maulana Amjad Hossain, a Muslim cleric from Chittagong, described the archbishop's death as the "loss of a great friend" who promoted interfaith harmony.
"Archbishop Moses was a true friend…. He was a man of dialogue who prioritized interfaith harmony. His life and idealism are great inspirations for us all," Hossain, a Shia Muslim, told UCA News.
An illustrious life
Born on Nov. 17, 1950, the youngest of 10 children, Moses Montu Costa entered the Little Flower Minor Seminary of Bandura in Dhaka district in 1963.
He joined Holy Cross Congregation, the largest religious order in Bangladesh in 1971 and professed his first and final vows in the Holy Cross in 1978 and 1981 respectively.
Archbishop Michael Rozario of Dhaka ordained him a Holy Cross priest Feb. 5, 1981.
After stints as an assistant pastor in two parishes in 1981-1984, he went on to obtain licentiate degrees in theology and spirituality at St. Thomas Aquinas University in 1986 and in psychology and counseling at Pontifical Gregorian University in 1989, both in Rome.
Back home, Father Moses later taught psychology and pastoral theology at the National Major Seminary in Dhaka, and became director of the Holy Cross Seminary and Holy Cross Scholasticate. He also became rector of the National Major Seminary and a member of the Holy Cross Congregation General Council.
On July 20, 1996 Pope John Paul II appointed Father Costa as the 6th bishop of Dinajpur Diocese, where he served until 2011.
Bishop Costa was appointed the 5th bishop of Chittagong in 2011 and became an archbishop when Pope Francis elevated Chittagong to an archdiocese in 2017.
Recognizing his efforts for social and economic empowerment of marginalized communities in northern Bangladesh, Christ the King Seminary in New York conferred on him an honorary doctorate in 2005. He also received the "Mother Teresa Memorial Award" in 2016.
https://www.ucanews.com/news/archbishop-recovered-from-covid-19-dies-after-stroke-in-bangladesh/88757
--------
Khalilzad reacts to Taliban car bomb attack in Samangan province
14 Jul 2020
The U.S. envoy for Afghan peace Zalmay Khalilzad reacted to a car bomb attack in northern Samangan province which the Taliban group claimed responsibility for.
"We condemn today's attack. The use of major explosives to detonate a vehicle in a provincial capital is unacceptable and will strengthen those who oppose peace and plays into the hands of spoilers. All sides must reduce violence," Khalilzad said in a statement posted on Twitter.
Zabiullah Mujahid, a spokesperson for the Taliban group issued a statement on Twitter on Monday claiming that the group carried out the attack.
Mujahid went on to claim that the attack killed 47 personnel of the Afghan intelligence forces and wounded at least 72 others.
Meanwhile, the local authorities claim that the gun battle followed by a car bomb explosion in Aibak city of Samangan claimed the lives of at least 10 people.
The officials also added that the attack left at least 50 others wounded.
https://www.khaama.com/khalilzad-reacts-to-taliban-car-bomb-attack-in-samangan-province-08958/
--------
NATO Secretary General reacts to increased violence led by Taliban
15 Jul 2020
The NATO Secretary General Jens Stoltenberg reacted to increased violence led by Taliban during the recent weeks, warning that the the violence led by Taliban attacks undermines confidence in the peace process.
"The level of violence in #Afghanistan, driven by Taliban attacks, undermines confidence in the peace process. We call on all sides to rapidly start intra-Afghan talks. #NATO Allies will continue to consult on our military presence to support peace process," Stoltenberg said in a Twitter post.
Meanwhile, the alliance issued a statement, emphasizing that "An Afghan-owned and led peace process aimed at finding a political resolution that ends decades of conflict is the only way to deliver sustainable peace to the Afghan people and to ensure Afghanistan's long-term security and stability. NATO and its partners are committed to contributing to an environment conducive to this outcome. We call on all sides to rapidly resolve the remaining issues still precluding the start of inclusive intra-Afghan negotiations."
The statement further added "The current level of violence – driven especially by Taliban attacks against Afghan National Defense and Security Forces, remains unacceptably high, causing instability and undermining confidence in the peace process. During the 2018 and 2020 Eid al-Fitr ceasefires and the period of reduced violence leading up to the signing of the U.S.-Taliban agreement and the issuance of the U.S.-Afghanistan Joint Declaration, all sides demonstrated the political will and capacity to stop the fighting. Given the impact of COVID-19, we echo the call of the United Nations for the Taliban to agree to a humanitarian ceasefire that applies to all sides. Both sides must also urgently resolve issues related to prisoner releases."
"The military presence of the Alliance and its partners in the Resolute Support Mission in Afghanistan is conditions-based. We will continue to consult and, if conditions allow, to adjust our military presence to support the peace process, initiated by the U.S.-Taliban agreement and the U.S.-Afghanistan Joint Declaration. We urge the Government of the Islamic Republic of Afghanistan and the Taliban to fulfill their commitments, including entering into intra-Afghan negotiations and ensuring terrorists never again find safe haven on Afghan soil. Recent heinous attacks targeting civilians, including women, children, civil society members, religious figures, and health care workers throughout Afghanistan underscore the urgency of fulfilling these critical commitments," the statement added.
NATO also added "NATO reaffirms its longstanding commitment to Afghanistan, the Afghan people, and the Afghan security forces through the Resolute Support Mission. We expect intra-Afghan negotiations to lead to an enduring and comprehensive peace agreement that puts an end to violence, safeguards the human rights of all Afghans, including women and children, upholds the rule of law, and ensures that Afghanistan never again serves as a safe haven for terrorists."
https://www.khaama.com/nato-secretary-general-reacts-to-increased-violence-led-by-taliban-08962/
--------
Afghan forces kill, wound at least 68 Taliban militants in the North: Shahen Corps
14 Jul 2020
The Afghan National Defense and Security Forces (ANDSF) personnel killed or wounded at least 68 Taliban militants in northern parts of the country in the past 24 hours.
The 209th Shaheen Corps in a statement said the Afghan forces killed at least 32 Taliban militants by laying ambushes and directly engaging the Taliban militants in Balkh, Faryab and Samagan provinces.
The statement further added that the security forces also wounded at least 36 Taliban militants during the same clashes.
The security forces also destroyed large amounts of weapons, munitions and several vehicles during the operations, the 209th Shaheen Corps added in its statement.
The Taliban group has not commented regarding the incidents so far.
https://www.khaama.com/afghan-forces-kill-wound-at-least-68-taliban-militants-in-the-north-shahen-corps-08960/
--------
Southeast Asia
Malaysia PM Muhyiddin wins vote to oust Speaker, proves majority in Parliament
JUL 13, 2020
KUALA LUMPUR - Malaysia's Prime Minister Muhyiddin Yassin finally ended months of uncertainty over his parliamentary majority on Monday (July 13) by successfully removing Speaker Ariff Yusof after a heated debate in which the government won by a slim majority of two.
It was a rare event where nearly the entire 222-strong House was present to vote on the motion.
PartiPribumi Bersatu Malaysia president Muhyiddin has faced doubts over his majority since being sworn in on March 1, when his predecessor Tun Dr Mahathir Mohamad claimed to still lead a 115-strong bloc following a week-long political imbroglio.
Tan Sri Muhyiddin's Perikatan Nasional (PN) pact managed to unseat Tan Sri Ariff by a vote of 111 to 109, with minister Maximus Ongkili absent while Deputy Speaker Rashid Hasnon, who is a government MP, did not cast a ballot as he was presiding over the vote.
Following the decision to remove Tan Sri Ariff, Deputy Speaker Nga Kor Ming announced his resignation.
Datuk Azhar Harun, the new Speaker nominated by the government took his oath and was appointed, amidst protests from the Pakatan Harapan-led (PH) opposition that lawmakers had not voted on his appointment.
De facto law minister Takiyuddin Hassan said the opposition had not nominated anyone else for the post while Deputy Speaker Rashid Hasnon ruled that the period for nomination had lapsed.
Mr Nga's post was filled, also without a vote, by Datuk Seri Azalina Othman Said, an MP from Umno, the largest party in PN.
"If there is only one nomination, there is no need for voting. The candidate can be installed as speaker," newly-appointed Speaker Azhar told a news conference when asked about the legitimacy of his position.
Mr Muhyiddin has avoided testing his command of Parliament for over four months, but the need to get his legislative agenda - including RM45 billion (S$14.7 billion) in stimulus spending due to the coronavirus pandemic - on the road has necessitated the ongoing 25-day parliamentary session.
"Do not commit this mistake that will sully the sanctity of Parliament. The excuse that there is a new candidate is unreasonable. We can consider it, if there is a solid rationale why a Speaker who has conducted his duties well must be dropped," said Opposition Leader Anwar Ibrahim when debating the motion earlier on Monday.
Dr Mahathir also said he opposed "the motion if it is a (legal) motion, as I have not read in the Constitution or Standing Orders of Parliament that the Prime Minister can change the Speaker simply because there is another candidate".
"I, too, have another candidate for prime minister," he said to laughter. "What wrong has the Speaker done? The only wrong is that there is another candidate. The government wants a Speaker that is under their thumb, but that is not the role of the Speaker."
But PN's Baling MP Azeez Rahim shot back and accused the former premier of also swapping the heads of judiciary, police and anti-graft body when he was in power "despite no wrong being done (by the incumbent)".
Datuk Takiyuddin explained that the move was according to legal provisions that "the Speaker can be elected... if at any time the House resolves" and that there was no need to notify MPs that the chair was vacant.
Other government MPs also repeatedly pointed out how Dr Mahathir picked private lawyers as attorney-general and anti-corruption chief instead of from the ranks of the government's legal and civil services while leading the PH administration that was in power from May 2018 to February this year.
"Changing the Speaker is to ensure proceedings are in line with the government's direction," said Kinabatangan MP Bung Moktar.
This was the first parliamentary vote held since PH was toppled in February when Mr Muhyiddin defected along with about 40 other MPs to form government with then opposition parties such as Umno, Parti Islam SeMalaysia and GabunganParti Sarawak, which rules the eastern state.
https://www.straitstimes.com/asia/se-asia/malaysia-pm-muhyiddin-wins-vote-to-oust-speaker-proves-majority
--------
Pakistani, Indonesian Muslim Groups Hail Turkey's Hagia Sophia Move
15.07.2020
Political parties and religious groups in two largest Muslim nations, Pakistan and Indonesia, appreciated Turkey's decision to turn Hagia Sophia back into a mosque.
In a letter addressed to the Turkey's President, chief of Pakistan's Jamaat-e-Islami party Siraj ul Haq said the news of opening Hagia Sophia for Muslim prayers after 86 years "warmed hearts of Muslims all around the world and particularly in Pakistan."
"Accept our heartiest greetings over the major decision which has reversed the injustice committed decades back," Haq said in his letter to Recep Tayyip Erdogan.
After centuries of service as a church under the Byzantine Empire, Hagia Sophia was converted into a mosque by Ottoman Sultan Mehmed II following his conquest of Istanbul in 1453.
In 1935, Hagia Sophia was converted into a museum.
"The Hagia Sophia is amanat [depositation] of Fatih Sultan Mehmet and who better than President Erdogan can take care of such a huge responsibility," Haq added.
Recalling the Indian top court's verdict last year on the historical Babri mosque, Haq said that at a time when Muslim-majority Turkey is taking the lead in preserving heritage of Muslims and non-Muslims alike, in India, a neighbor of Pakistan, "the Hindu nationalist government has once again attacked centuries-old Babri Masjid and demolished it to construct a Hindu temple."
Babri Masjid was constructed by Zahir-uddin Babur, an ethnic Turk and his Mungal empire ruled over South Asia for nearly 300 years.
"Likewise, Hindu fascists are eyeing thousands of other mosques in India which are under threat. They have already begun demographic change in Indian-occupied Kashmir which is a Muslim-majority region," he added.
- Decision welcomed by Indonesian Muslim groups
On Friday, a top Turkish court annulled a 1934 Cabinet decree, which had turned Istanbul's Hagia Sophia from a mosque into a museum.
This verdict by the country's Council of State paved the way for its use again as a mosque after 85 years.
It ruled that the architectural gem had been owned by a foundation established by Mehmed II, and presented to the community as a mosque -- a status that cannot be legally changed.
"Legal decisions through open and impartial litigation must be respected," said RobikinEmhas, head of Executive Council of Nahdlatul Ulama, Indonesia's largest Muslim organization, told Anadolu Agency.
Responding to diverse reactions from the international community, Emhas said every decision of a judicial institution in any country would not satisfy all parties, but "this move must be respected."
Muhammadiyah, the country's oldest Muslim organization, also welcomed Turkey's decision on Hagia Sophia.
Wahid Ridwan, the body's secretary for international relations and cooperation, said the reopening of Hagia Shopia as a mosque is the full right of Turkish government and people.
"The change in status was carried out in a legal and bureaucratic process as a democratic country, so it does not need to be contested internationally since it had gone through a very accountable process," he told Anadolu Agency.
Ridwan said this step portrayed tolerance and development of world civilization in the harmony of religions.
"The pressure will not change the stance of government and people of Turkey. The West must understand that their view of Islam is very narrow," he said.
He added that criticism over the decision is unnecessary as Turkey will open the complex to visitors of all religions.
Meanwhile, SurahmanHidayat, a member of parliament from the Prosperous Justice Party, said the decision was Turkey's sovereign rights and it needs to be respected.
"Everyone must respect the Turkish legal system and authority, its internal sovereignty and long history of the nation," he told Anadolu Agency.
He highlighted that the historical building was presented to the community as a mosque by Fatih Sultan Mehmed II.
He added that changing the status of Hagia Sophia to a mosque means it will be open every day for visitors and everyone can enter the complex.
Ahmad Baidowi, a deputy from the United Development Party, said the return of Hagia Sophia as a mosque is Turkey's sovereignty.
"Turkey has its own authority as a country," Baidowi told Anadolu Agency.
He said that Indonesia, as a country that adheres to free and active foreign policy, fully respects Turkey's decision.
"It was ruled by the court and it was changed from a museum, not from other religion's house of worship, so it is not a big problem," he added.
Turkish President Recep Tayyip Erdogan said the historical complex will be ready for worship for Friday prayers on July 24.
*Writing by RhanyChairunissaRufinaldo from Anadolu Agency's Indonesian language services in Jakarta
https://www.aa.com.tr/en/asia-pacific/pakistani-indonesian-muslim-groups-hail-turkeys-hagia-sophia-move/1910920
--------
Khairy says BN to hold 'internal discussions' on improving its parliamentary debate etiquette
14 Jul 2020
BY JULIA CHAN
KUALA LUMPUR, July 14 — After a chaotic parliamentary session yesterday marred by purported sexist and racist remarks, Barisan Nasional (BN) leader Khairy Jamaluddin said the coalition will work on improving the manner by which it approaches debates in the Dewan Rakyat.
The science, technology and innovation minister said that a spirited debate is expected in the House, but lawmakers must know when to draw the line between what is appropriate and what is considered discrimination.
"We have to work on our debate culture in Parliament," he tweeted in Malay today.
"Parliamentary debate has always been robust, but we must distinguish between witty and acerbic repartee with racist/sexist/ageist statements. BN will be having internal discussions on how we can do better," said the Rembau MP.
His comments came after Baling MP Datuk Seri Abdul Azeez Abdul Rahim made remarks seen as sexist and racist yesterday in apparent reference to Batu Kawan MP KasthuriraaniPatto.
Azeez, himself of Indian Muslim descent, reportedly said that he could not see her because "gelapsangat" (very dark) and went on to suggest that Kasthuriraani powder her face.
The remark caused Jelutong MP RSN Rayer to stand up and demand that Azeez offer a retraction, before the exchange devolved into a shouting match.
Newly-minted Parliament speaker Datuk Seri AzharAzizan Harun then instructed Abdul Azeez to apologise and retract his remarks, which he eventually did after claiming he was commenting on the Dewan Rakyat's dim lightning and not the rival MP when he said "gelap".
Azhar, failing to quell the chaos, later resorted to adjourning the sitting.
https://www.malaymail.com/news/malaysia/2020/07/14/khairy-says-bn-to-hold-internal-discussions-on-improving-its-parliamentary/1884391
--------
URL: https://www.newageislam.com/islamic-world-news/billboard-campaignagainst-hate-discrimination-trends/d/122377
New Age Islam, Islam Online, Islamic Website, African Muslim News, Arab World News, South Asia News, Indian Muslim News, World Muslim News, Women in Islam, Islamic Feminism, Arab Women, Women In Arab, Islamophobia in America, Muslim Women in West, Islam Women and Feminism