New Age Islam News Bureau
20 May 2015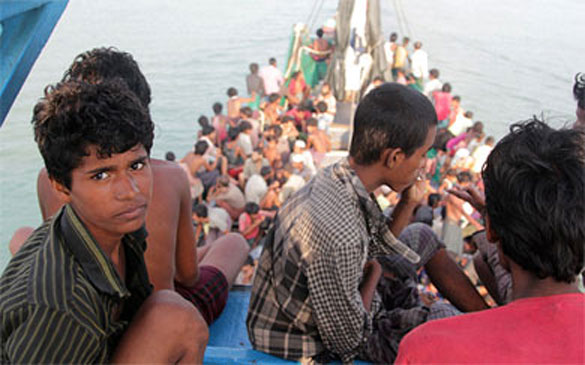 Rohingya migrants sit in a boat as they're towed closer to land by fishermen off the coast near the city of Geulumpang in Indonesia's East Aceh district
-----------
India
• Bihar's Muslims Donate Land for World's Largest Hindu Temple
• Impending Nuclear Deal with West Makes Iran Talk Tough With India
• Will ask Centre to grant passport to Geelani: Mehbooba
• NIA files chargesheet against Kalyan youth who joined IS
• India willing to manage Afghan air traffic control
Arab World
• Saudi Arabia Releasing Al-Qaeda Prisoners for Yemen Mission
• Syrian Army Kills over 115 ISIL Terrorists in Homs
• U.S.-led strikes in Syria kill 170 ISIS militants in 48 hours
• 7 ISIL Terrorists Killed, Injured in Anbar's Al-Karmah
• ISIS militants brutally beat own fighters for smoking cigarettes
• Iraqi forces thwart ISIS attack near Ramadi
• Iraqi FM: Support for ISIL to Backfire on Saudi Arabia, Turkey
• Over 60,000 Shiite Volunteers Ready to Defend Baghdad against ISIL
Europe
• Armenia Creates Muslim Muftiate, Names Imam Trained in Iran to Head It
• Police Officer in Germany Forces Muslim To Eat Rotten Pork, Shares Video on WhatsApp
• UK Students Hold Racist, Anti-Muslim Views
• European nations synchronise laws on Islamist 'foreign fighters'
• Dublin Religious Leaders Object to 'LGBT Week' At School
• Russia Condemns Terrorists' Mortar Attack on Embassy in Syria
• European Jews Fear for Safety a Year after Belgium Museum Attack
Africa
• Jihadist Group Calls On Muslims to Save Burmese Migrants from 'Savage Buddhists'
• Suicide Attack Kills 8 in Nigeria, Breaks Calm
• Moroccan pilot to be treated as Saudi martyr; Houthi arms depot hit
• IS letter warns against deception
• How al-Shabaab is dividing communities in northern Kenya
Pakistan
• Pakistani Imam Jailed For Five Years for Anti-Shia Sermons
• 13 Suspected Militants Killed In North Waziristan Blitz: ISPR
• Safoora attack evidence points to religious extremists: police
• DSP gunned down in TTP-claimed attack in Peshawar
• Geo-tagging of 14,000 seminaries complete: IG
South Asia
• Four Soldier Martyred, 44 Rebels Killed In Military Operations
• Insurgents Kill 12 Afghan Policemen in Uruzgan: Official
• 2 War Criminals Get Life until Death
• Karzai shows deep concerns about Pak-Afghan intelligence agreement
• Myanmar to address crisis of Muslims fleeing to Southeast Asian nation
North America
• Catholic Archbishop Teaches the Quran to Christians, Muslims Alike
• Police Arrest 10 Attempting To Leave Canada to Join Islamic State
• Obama eyes sped up training, weapons for Iraqi tribes after Ramadi rout
• Man Plots to Attack Muslims, Burn down Mosques
• Islamic State rakes in $1 million per day in extortion, taxation: Report
• Former Congressional Candidate Admits Plotting an Attack to Destroy Muslim Enclave in Islamberg
Mideast
• 9 More Civilians Killed in Ongoing Saudi Air Raids
• Sources: S. Arabia Hires Israeli Experts to Supervise War against Yemen
• Israel PM halts ban on Palestinians using settler buses
• Turkish military ship joins efforts to reach Rohingya Muslims
• Iran's imperialism being curbed, says Prince Turki
• Khamenei rules out nuclear inspections of military sites
• Palestinian driver rams 2 Israeli police, shot dead
Southeast Asia
• Malaysia and Indonesia Say They Will Take in Migrants at Sea, Temporarily
• Philippines Says Prepared To Help Sea-Stranded Rohingya People
• Brothers among 6 suspected militants charged with attack bid on Putrajaya, KL
• Anwar wanted national reconciliation, not unity government, wife says
Compiled by New Age Islam News Bureau
URL: https://www.newageislam.com/islamic-world-news/new-age-islam-news-bureau/bihar-s-muslims-donate-land-for-world-s-largest-hindu-temple/d/103059
-----------
India
Bihar's Muslims Donate Land for World's Largest Hindu Temple
20 May 2015
PATNA: Muslims in Bihar, in a stellar demonstration of communal harmony, have donated land to help build the world's largest Hindu temple which will have the capacity to seat a staggering 20,000 people.
"Muslims have not only donated land, they have also provided land at a nominal rate for construction of the world's largest Hindu temple. Without help of Muslims, it would have been difficult realise this dream project," Acharya Kishore Kunal, secretary of the Patna-based cash-rich Mahavir Mandir Trust that is undertaking the ambitious project, told IANS.
Kunal, a former Indian Police Service officer said that Muslims have come forward to ensure that the temple comes up soon. The construction of the temple will commence in June at Janki Nagar near Kesaria in East Champaran district, about 150 km from here. It will cost over Rs.500 Crore.
"It is usual for Hindus to donate land for temple, but it is unusual for Muslims to donate land for the construction of temple," he said and added that Muslims should be lauded for joining hands with Hindus to donate land for a pious cause.
Kunal said that more than three dozen Muslim families have their land in the middle of the proposed location of the temple and some Muslims families have land along the main road that connects to the project site.
"Some Muslims donated lands and others helped and supported us to purchase their land for the temple. If Muslims had not come forward, the temple project was sure to have got delayed..."
He said that Mahavir Mandir Trust has obtained 200 acres of land. "Hindus and Muslims have donated about 50 acres of land and the remaining has been purchased."
Earlier, some Muslims had helped build a Hindu temple dedicated to Goddess Durga in Gaya district, another temple was dedicated to God Shiva in Begusarai district and in Sitamarhi district.
Mumbai-based Valecha Construction Company will construct the temple, which will be 2,500 feet long, 1,296 feet wide and 379 feet high.
"The temple will be earthquake proof (since it) is near the Nepal border," Kunal said.
Gurgaon based Radheyshyam Sharma, director of Ingenious Studio Pvt Ltd, will look after the architectural aspects.
He said the Virat Ramayan Mandir will be taller than the world famous 12th century Angkor Wat temple complex in Cambodia, which is 215 feet high. The complex will comprise 18 temples with high spires and its Shiv temple would have the largest Shivling in the world, another distinction.
He said the temple would have a seating capacity of 20,000 people in the hall facing the main temple having the idols of Ram, Sita, Luv and Kush. According to him, no temple in the world has such a huge seating capacity.
He said the temple was to be named "Virat Angkor Wat Ram Mandir", but later its name was changed following objections by people in Cambodia.
Angkor Wat was built during king Suryavarman's rule and is today a Unesco World Heritage site.
http://timesofindia.indiatimes.com/india/Bihars-Muslims-donate-land-for-worlds-largest-Hindu-temple/articleshow/47346145.cms
-----------
Impending nuclear deal with West makes Iran talk tough with India
20 May 2015
The special status enjoyed by India, as one of only a handful of countries willing to do business with Iran, is a thing of past now.
Iranian trade negotiators have become more assertive with Indian counterparts as hopes rise of international sanctions on Tehran easing later this year, sources said, and Indian companies fear they may lose business as more countries bid for projects.
The push back from the Iranians came as a surprise to India, which has enjoyed special dispensation from Tehran as one of only a handful of countries willing to do business with it while it faced Western economic sanctions.
Under a tentative framework agreement reached between six major powers and Tehran in April 2015, Iran agreed to limit its nuclear activity in return for sanctions relief. A final deal could be reached by June 30.
That prospect appears to have emboldened Iran, said sources familiar with trade negotiations with India, including in its handling of a sizeable deal to import railway tracks.
The $233 million contract, signed in October 2014, was for India's State Trading Corporation (STC) to facilitate exports of rail tracks from SAIL and Jindal Steel and Power to Iran's railways.
But Iran told Indian negotiators that it had offers from other countries, including Turkey, to supply the equipment at a cheaper cost, the sources said.
Last month, New Delhi sent Commerce Secretary Rajeev Kher to persuade Tehran to adhere to the original terms, but he came back "empty handed", according to one of the sources.
"They are no longer the same Iranians that came to us last year for signing the deal," the source said. "They were polite this time, but had an upper hand in the negotiations."
India has cut the value of the deal by about 7 per cent to $217 million, the sources said. They added that they worry the Iranians may seek further cuts, and could split the order with other countries.
STC chairman Rahim Khaleel declined to comment. Mr. Kher, Iran Rail, SAIL and Jindal Steel did not respond to requests for comment.
It was not immediately clear whether other countries that trade with Iran have seen a similar hardening in Tehran's stance. Oil refinery sources in Japan said they had not seen any change yet.
'Wait your turn'
Iran said it wanted to renegotiate the rail contract, because the euro had declined against the dollar and steel and iron ore prices had fallen significantly since the deal was first struck in 2014.
Indian negotiators said price and currency risks were incorporated into the original agreement, but they had to give in, the sources said.
It was a large order for the Indians and the spectre of competition from other suppliers loomed large, they added.
"Earlier they were standing in line to offer us deals," one source said. Now, they ask the Indians to "wait in line and wait your turn".
The supply contract is expected to kick off within six months, and, under the renewed terms, India will supply 250,000 tonnes of rails to Iran over 18 months through STC.
The shift in Iran's stance has also been visible in the vital energy sector.
The National Iranian Oil Company has told Indian refiners, for example, that it would withdraw some of the discounts and free shipping it had been offering them on crude sales to maintain its oil output, oil industry sources said.
The sources added that the state oil firm anticipated ramping up exports once the nuclear deal was finalised, after which there would be many more buyers for its crude.
In 2013, the then Iranian Oil Minister Rostam Qasemi visited India to offer development rights for a gas field on a production sharing basis, after getting special permission from parliament on a deal that would normally contravene Iranian law.
India did not sign the deal for the Farzad B gas field, as international sanctions barred investment in Iran's hydrocarbon sector, an Iranian diplomat said.
Now, Tehran has withdrawn the offer, according to Iranian media. Iran plans to auction the field instead, one report said.
http://www.thehindu.com/news/national/impending-nuclear-deal-with-west-makes-iran-talk-tough-with-india/article7226324.ece
------------
Will ask Centre to grant passport to Geelani: Mehbooba
20 May 2015
"This issue has to be dealt with from humanitarian point of view and we will pursue the matter with the Union Home Ministry," PDP president Mehbooba Mufti said.
Ignoring its ally, Bharatiya Janata Party's objections, the People's Democratic Party on Wednesday said it will ask the Centre to grant passport to separatist Syed Ali Shah Geelani on "humanitarian" grounds even as National Conference leader Omar Abdullah questioned why it was being made an issue when he has been given passport earlier also.
"This issue has to be dealt with from humanitarian point of view and we will pursue the matter with the Union Home Ministry," PDP president Mehbooba Mufti said.
Hardline Hurriyat faction leader Geelani had applied for a passport to visit his ailing daughter in Saudi Arabia.
Several mainstream leaders have called for issuing passport to the separatist leader.
Reacting to the PDP president's statement on the issue, Mr. Abdullah wondered if it was "fixed match" between the ruling allies in which Ms. Mehbooba was trying to appear as a "crusader".
"What's the big deal? Geelani declined to avail a passport in 2011 so why is Mehbooba suddenly trying to appear as some sort of crusader," Mr Abdullah said on Twitter.
The BJP, the coalition partner of PDP in the State government, has said Mr. Geelani must apologise for his "anti-national activities" and acknowledge that he is an Indian if he wants an Indian passport.
Mr. Abdullah questioned BJP's objections on the passport issue. .
"I completely fail to understand why BJP would object to Geelani calling himself an Indian unless this is a PDP-BJP fixed match," he wrote on the micro-blogging site.
Apparently referring to the requirement of declaring nationality as Indian in the application form, the former chief minister said, "If he could get a passport in 2011, there is no reason he can't get one in 2015. He's happy to travel on an Indian passport & citizenship."
The PDP on Wednesday said Mr. Geelani was issued passport in 2007, 2008 and 2011.
"We will tell (Union) Home Ministry that Geelani must be given passport along with his wife and son so that he could visit his ailing daughter in Saudi Arabia. His daughter must not be deprived of seeing her father," Ms. Mehbooba said.
She said other separatist leaders including Muhammad Yasin Malik, Shabir Shah and Mirwaiz Umar Farooq already have passports and they have been visiting foreign countries from time to time, including Pakistan.
Communist Party of India (Marxist) state secretary Mohammad Yousuf Tarigami has also called for issuing the passport to Mr. Geelani.
http://www.thehindu.com/news/national/geelani-passport-mehbooba-wants-centres-nod/article7226994.ece
-----------
NIA files chargesheet against Kalyan youth who joined IS
20 May 2015
The National Investigation Agency (NIA) has filed a chargesheet against Areeb Majeed, one of the four youngsters from Kalyan in Thane district who joined the Islamic State war in Syria last year before fleeing back to India.
The chargesheet was filed under the Unlawful Activities Prevention Act (UAPA).
Majeed, a civil engineering student who went missing along with four friends in May 2014, was first reported to be killed during a fight, and then returned to India via Istanbul. He had given a graphic account of the civil war in Syria to the security agency.
The NIA investigations had indicated the involvement of a Afghan national behind the indoctrination of Majeed and others and their joining the Islamic State war.
More details of he chargesheet awaited.
http://www.thehindu.com/news/national/nia-files-chargesheet-against-kalyan-youth-who-joined-is/article7227010.ece
-----------
India willing to manage Afghan air traffic control
Saurabh Sinha,TNN | May 20, 2015
NEW DELHI: India has expressed willingness to manage Afghanistan's air traffic control (ATC) as the US-led international military coalition — that have been running the war-ravaged country's airspace since 2001 — are going to stop doing the job from June 30, 2015.
"We have submitted an expression of interest (EOI) for the job. Afghanistan is tendering out the work of managing its airspace and will give the contract to someone with a proven ability and track record. India is one of the biggest air space managers of commercial air travel in southeast Asia," said a senior aviation official.
India is awaiting details of what the job entails as that would be known once the tenders are made public. A final decision on whether Airports Authority of India (AAI) pursues its EOI to the logical conclusion. "We are waiting for the tender document to get all details," said the official.
Full report at:
http://timesofindia.indiatimes.com/india/India-willing-to-manage-Afghan-air-traffic-control/articleshow/47349695.cms
-----------
Arab World
Saudi Arabia Releasing Al-Qaeda Prisoners for Yemen Mission
20 May 2015
Saudi Arabia has released large numbers of Al-Qaeda prisoners and sent them to combat missions against the Yemeni army and Ansarullah forces, a Saudi activist disclosed on Tuesday.
"I have recently received a document showing that two Al-Qaeda prisoners have been released by the Saudi regime to take part in the Yemeni war," Bin Jamal, a Saudi political activist, wrote on his Tweeter account.
He also said two Al-Qaeda terrorists have fled from the custody of Saudi security forces as their convoy was taking them to Yemen to take part in the war against Ansarullah.
In April, media reports said that Saudi Arabia has relocated a part of its army of Takfiri terrorists from Eastern Ghouta in Damascus countryside to Yemen aboard a ship.
"The Jeish al-Islam terrorists landed in the port city of Al-Mokala, provincial capital of Hadramout province, and joined the Al-Qaeda terrorists in that province," Arabic-language Lebanese newspaper Al-Akhbar reported.
Full report at:
http://english.farsnews.com/newstext.aspx?nn=13940229000417
-----------
Syrian Army Kills over 115 ISIL Terrorists in Homs
20 May 2015
More than 115 terrorists, including three high-profile commanders, were killed in fierce clashes between the Syrian army and the ISIL Takfiri group in the Western province of Homs.
The army troops made huge gains in their fight against the ISIL in al-Sukhna and Palmyra regions in Homs, claiming the lives of more than 115 terrorists.
Elsewhere in Homs, the Syrian troops struck a heavy blow at the ISIL terrorists in Rajm al-Qassr, Habra al-garbia, Um Sahrij, and Khatmalo regions.
The ISIL Takfiri terrorists currently control shrinking swathes of Syria and Iraq. They have threatened all communities, including Shiites, Sunnis, Kurds, Christians, Ezadi Kurds and others, as they continue their atrocities in Iraq.
Senior Iraqi officials have blamed Saudi Arabia, Qatar, and some Persian Gulf Arab states for the growing terrorism in their country.
The ISIL has links with Saudi intelligence and is believed to be indirectly supported by the Israeli regime.
http://english.farsnews.com/newstext.aspx?nn=13940229001025
-----------
U.S.-led strikes in Syria kill 170 ISIS militants in 48 hours
20 May 2015
Air strikes by a U.S.-led coalition against the Islamic State of Iraq and Syria (ISIS) group in north-eastern Syria have killed around 170 militants in the past 48 hours, a monitoring group said.
"The jihadists were killed in the past 48 hours in the province of Hasakeh, nearly all of them in very intense air strikes by the international coalition which is helping Kurdish forces in the area," said the Syrian Observatory for Human Rights.
In its latest update on the coalition's operations, the U.S. military said in a statement that the alliance's warplanes carried out seven strikes near Hasakeh.
They struck four ISIS tactical units, destroying seven vehicles, three fighting positions, two armoured vehicles and a shipping container.
"In northern Syria, Daesh [ISIS] continues to cede military capacity, fighters and terrain," US Brigadier General Thomas Weidley said, using the Arabic acronym for ISIS.
"The coalition remains committed to targeting Daesh across Iraq and Syria," he was quoted as saying in the statement.
http://english.alarabiya.net/en/News/middle-east/2015/05/20/U-S-led-strikes-in-Syria-kill-170-is-militants-in-48-hours-monitor-.html
-----------
7 ISIL Terrorists Killed, Injured in Anbar's Al-Karmah
20 May 2015
Some 7 terrorists of the Islamic State of Iraq and the Levant (ISIL) group were killed and injured in al-Karmah city in Anbar province.
Security forces conducted military operations to liberate the rest of al-Karmah city and its surrounding areas from the control of ISIL, Baghdad operations command said, adding that the forces inflicted heavy losses on the terrorists as part of the operation "Fajr al-Karmah".
5 terrorists were killed and 2 others injured during the operations, the statement said, adding that 9 ISIL positions were also destroyed, and 15 IEDs and 12 booby-trapped houses were defused.
The ISIL Takfiri terrorists currently control shrinking swathes of Syria and Iraq. They have threatened all communities, including Shiites, Sunnis, Kurds, Christians, Ezadi Kurds and others, as they continue their atrocities in Iraq.
Senior Iraqi officials have blamed Saudi Arabia, Qatar, and some Persian Gulf Arab states for the growing terrorism in their country.
The ISIL has links with Saudi intelligence and is believed to be indirectly supported by the Israeli regime
http://english.farsnews.com/newstext.aspx?nn=13940230000743
-----------
ISIS militants brutally beat own fighters for smoking cigarettes
May 20 2015
A new video has emerged from territories under the control of Islamic State of Iraq and Syria (ISIS) terrorist group which purportedly shows the brutal beating of the group's fighters for smoking cigarettes.
The video was reportedly released by the terror showing the men lined up and sitting against a wall as a masked militant walk up and down them.
The men vainly try to defend themselves from the blows raining down as the masked militant stomps on them.
Full report at:
http://www.khaama.com/isis-militants-brutally-beat-own-fighters-for-smoking-cigarettes-9435
-----------
Iraqi forces thwart ISIS attack near Ramadi
20 May 2015
Iraqi forces said they fought off an overnight attack by the Islamic State of Iraq and Syria (ISIS) militants near the city of Ramadi, which the insurgents overran at the weekend in the most significant setback for the government in a year.
ISIS is seeking to consolidate its gains in the vast desert province of Anbar, of which Ramadi is capital, where only isolated pockets of territory remain under government control. The ISIS advance has exposed the failings of Iraq's army and the limitations of U.S. airstrikes.
Government forces backed by Shi'ite militias have meanwhile been building up at a base near Ramadi in preparation for a counterattack to retake the city, where ISIS forces have tanks and artillery abandoned by fleeing Iraqi forces.
Full report at:
http://english.alarabiya.net/en/News/middle-east/2015/05/20/Iraqi-forces-thwart-ISIS-attack-near-Ramadi.html
-----------
Iraqi FM: Support for ISIL to Backfire on Saudi Arabia, Turkey
20 May 2015
Iraqi Foreign Minister Ibrahim al-Jafari lashed out at Saudi Arabia and Turkey for supporting Takfiri terrorist groups in Iraq, and said Riyadh and Ankara's support for the ISIL will backfire soon.
Speaking in a meeting with Iranian Defence Minister Brigadier General Hossein Dehqan
In Baghdad on Tuesday, The Iraqi foreign minister said the ISIL Takfiri terrorist group, which operates in his country and Syria, will pose "very dangerous" threats to regional countries.
The danger that today threatens Iraq and Syria will challenge Turkey and Saudi Arabia as well as other regional countries, Jafari said, stressing that all nations are "duty-bound" to combat the ISIL terror.
Full report at:
http://english.farsnews.com/newstext.aspx?nn=13940230000258
-----------
Over 60,000 Shiite Volunteers Ready to Defend Baghdad against ISIL
20 May 2015
The Security Committee of Baghdad Provincial Council underlined the Iraqi army and the Shiite volunteer forces' readiness to defend the Capital against any possible ISIL attack.
"Experts believe sending Shiite fighters into Ramadi puts Baghdad at major risk, but it is not true because up to 60,000 fighters of Hashd al-Shaabi (Shiite Popular Forces) are inside Baghdad now," the Committee said in a Tuesday statement.
According to the committee only five percent of Shiite forces have been sent to Ramadi, a city in Central Iraq captured by the ISIL on Sunday.
Full report at:
http://english.farsnews.com/newstext.aspx?nn=13940230000503
----------
Europe
Armenia Creates Muslim Muftiate, Names Imam Trained in Iran to Head It
20 May 2015
YEREVAN (The Interpreter)—In a step that might seem absurd given the composition of Armenia's population but that appears likely to send shockwaves through the Caucasus and perhaps further, the Assembly of Muslims of Armenia has created the position of mufti for the republic and named Arsen Safarian, a graduate of an Iranian seminary in Qum, to head it.
There are three reasons for thinking that this move may have far more consequences than a first glance might suggest. First, the Assembly of Muslims of Armenia explicitly views the new muftiate — an Islamic administrative territorial entity — as the supervisory body for Muslims not only in Armenia but in Karabakh, a further challenge to the restoration of Azerbaijani control there.
Second, this move challenges the Baku-based Muslim Spiritual Directorate (MSD) of the Caucasus led by Allakhshukyur Pashazade, who claims to supervise Shiites across the former Soviet space, given that Armenian Muslims say the Soviet-era holdover's religious training is "doubtful."
Full report at:
http://asbarez.com/blog/archives/136206
-----------
Police Officer In Germany Forces Muslim To Eat Rotten Pork, Shares Video On WhatsApp
20 May 2015
German prosecutors are investigating a police officer who allegedly abused two refugees, strangling an Afghan man and forcing a Moroccan to eat rotten pork off the floor.
The police officer has been accused of bragging about the brutal assaults in text messages and photos he sent via instant messaging service WhatsApp to his colleagues in the western city of Hanover.
Human rights group Pro Asyl condemned the alleged incidents, first reported by public broadcaster NDR, for their "appalling level of racism and inhumanity" and demanded a probe into how many "accomplices in police uniform" knew of the violence.
Prosecutors are investigating the officer, who has been suspended, on charges of physical assault and illegal weapons possession and have searched his home and work place.
In the first alleged case, in March last year, the officer had bragged in a text message about beating, strangling and sticking his fingers up the nose of a 29-year-old Afghan man whose feet were cuffed after he was detained for not carrying ID papers.
Full report at:
http://tribune.com.pk/story/888990/police-officer-in-germany-forces-muslim-to-eat-rotten-pork-shares-video-on-whatsapp/
-----------
UK Students Hold Racist, Anti-Muslim Views
20 May 2015
CAIRO – Reflecting a worrying level of anti-Muslim rhetoric in the UK, a new study has found that almost a third of school pupils believe 'Muslims are taking over our country', amid unprecedented level of negative attitudes towards Muslims and immigrants.
"This survey shows that this is fuelled by a totally distorted view of the number of immigrants and Muslims living in the UK," Ged Grabby, chief executive of charity Show Racism the Red Card (SRTRC), told The Guardian.
The SRTRC surveyed almost 6,000 children aged 10 to 16 across England to find that negative attitudes towards migrants and Muslims were widespread among school pupils.
Based on questionnaires sent to more than 60 schools across the UK between 2012 and 2014, the data revealed that 60 percent of children questioned believed "asylum seekers and immigrants are stealing our jobs".
Full report at:
http://www.onislam.net/english/news/europe/486311-uk-students-hold-racist-anti-muslim-views.html
-----------
European nations synchronise laws on Islamist 'foreign fighters'
May 20 2015
Ministers from 47 European nations agreed for the first time May 19 to harmonise their laws to stop so-called foreign fighters travelling to Iraq and Syria to join jihadist groups.
The agreement by the Council of Europe, a pan-European rights group which includes the EU but also takes in countries such as Russia and Turkey, will make cross-border tracking and prosecutions easier.
Under the agreement signed by foreign ministers, countries must criminalise acts such as "participating in an association or group for the purpose of terrorism", "receiving training for terrorism" and "travelling abroad for the purpose of terrorism".
They also agreed to set up a round-the-clock information sharing network on relevant suspects.
Full report at:
http://www.hurriyetdailynews.com/european-nations-synchronise-laws-on-islamist-foreign-fighters-.aspx?pageID=238&nID=82678&NewsCatID=351
-----------
Dublin Religious Leaders Object to 'LGBT Week' At School
20 May 2015
A group of religious leaders in Dublin has formally complained to education chiefs about the staging of an 'LGBT week' at a secondary school in the run-up to the Marriage Equality referendum.
Representatives of Christian and Muslim communities penned a joint letter to the Dublin and Dun Laoghaire Education and Training Board which highlights a number of concerns about events held at the Colaiste Pobal Setanta in West Dublin last month.
As part of the LGBT week, students were invited to take part in a number of workshops and attend a flag- raising ceremony attended by Health Minister and local TD Leo Varadkar.
However, a number of parents are understood to have complained that their children were asked to engage in activities which they did not feel comfortable doing, including the wearing of LGBT ribbons.
Full report at:
http://www.independent.ie/irish-news/referendum/religious-leaders-object-to-lgbt-week-at-school-31237633.html
-------------
Russia Condemns Terrorists' Mortar Attack on Embassy in Syria
20 May 2015
Russian Foreign Ministry Spokesman Alexander Lukashevich strongly condemned the mortar attack on the country's embassy in Damascus, stating that Moscow considers the attack on its diplomatic mission an act of terror.
"We treat the Tuesday incident as terrorist act against the Russian Embassy. We strongly condemn its perpetrators, organizers and instigators. We reaffirm our solidarity with the Syrian authorities in their efforts to combat the terrorist threats in Syria," Lukashevich said.
Moscow urged the international community "to give due response to the terrorist attack against the Russian diplomatic mission" and demanded "an immediate cessation of such acts" from all parties with influence on the extremists in Syria.
Syrian authorities were quick to respond, promising to boost security and ensure the Russian Embassy's safety.
http://english.farsnews.com/newstext.aspx?nn=13940230000575
-----------
European Jews Fear for Safety a Year after Belgium Museum Attack
20 May 2015
A year after a Muslim gunman murdered four people at the Jewish Museum in Brussels, Jews across Europe increasingly fear for their safety and warn they are on the frontline of an Islamist war against democracy itself.
Since the attack in the Belgian capital on May 24, 2014, Jews have been slain in jihadist attacks in Paris and Copenhagen. Jews were also murdered in a similar attack in the French city of Toulouse in 2012.
"The threat of jihadist attacks in Europe is not limited to the Jewish community," European Jewish Congress chief Moshe Kantor told AFP.
Full report at:
http://www.israelnationalnews.com/News/News.aspx/195635#.VVxlqbmqqko
-----------
Africa
Jihadist group calls on Muslims to save Burmese migrants from 'savage Buddhists'
May 20 2015
Al-Shabaab jihadists have called on southeast Asia's Muslims to come to the aid of Burmese migrants persecuted "at the hands of the savage Buddhists".
In a rare statement on an issue outside of the Horn of Africa region, the al-Qaeda-affiliated Somali jihadist group told Muslims in Bangladesh, Malaysia, Indonesia and Thailand to "take the pivotal role in alleviating the suffering of the Muslims in Myanmar".
"At the hands of the savage Buddhists, thousands of Muslims, including many women and children, have fled their homes and are desperately trying to reach the shores of safety, their only crime being their adherence to Islam," the Islamist group said.
"Take matters into your own hands, help your Muslim brothers and know that this is a religious obligation upon you for which you will be held fully accountable in front of Allah on the day of judgement".
Full report at:
http://www.telegraph.co.uk/news/worldnews/asia/burmamyanmar/11617560/Jihadist-group-calls-on-Muslims-to-save-Burmese-migrants-from-savage-Buddhists.html
------------
Suicide attack kills 8 in Nigeria, breaks calm
May 20 2015
KANO: Eight people were killed on Tuesday when a suicide bomber blew himself up outside a livestock market in northeast Nigeria, as Boko Haram violence escalated further after a period of relative calm.
The suicide bombing targeted a livestock market in a village in Adamawa state, where Islamist gunmen also shot dead three people and kidnapped seven women at the weekend.
Nigeria's military declared Adamawa "cleared" in March as part of a four-nation fightback against the militants launched the previous month.
But the fresh violence underscored the persisting threat posed by Boko Haram, who are expected to step up hit-and-run attacks on civilians after being flushed out of their stronghold across northeast Nigeria.
Full report at:
http://www.dawn.com/news/1183064/suicide-attack-kills-8-in-nigeria-breaks-calm
-----------
Moroccan pilot to be treated as Saudi martyr; Houthi arms depot hit
May 20 2015
JEDDAH: Saudi-led airstrikes hit Sanaa on Tuesday, targeting arms depots belonging to Houthis and militias allied to deposed President Ali Abdullah Saleh.
The strikes also targeted the palace of the former leader's son, Ahmad Ali Saleh, Al Arabiya News reported.
The strikes are the first to hit the capital after a five-day cease-fire ended late on Sunday, although military operations resumed earlier on Monday in northern Saada province and in the southern city of Aden.
Full report at:
http://www.arabnews.com/featured/news/749386
------------
IS letter warns against deception
May 20 2015
Cape Town - A letter allegedly penned by Islamic State (IS) militants has challenged South Africans who have condemned the organisation's actions to visit "the state" themselves.
In an apparent response to widespread criticism of the militant group in South Africa, the writers - said to be South Africans living in Syria according to CII Broadcasting - have accused local Muslim figures of being misled by so-called Western media.
It's a challenge aimed at a country which has on all accounts been outspoken in its opposition to IS's ideologies. South Africa's Muslim Judicial Council (MJC) has frequently and fiercely condemned its actions, distancing the Islamic faith from IS.
The MJC has been joined by a chorus of voices, including well-known local imams from across the country.
Full report at:
http://www.iol.co.za/news/crime-courts/is-letter-warns-against-deception-1.1860758#.VVxrg7mqqko]
------------
How al-Shabaab is dividing communities in northern Kenya
May 20 2015
Al-Shabaab militants killed 148 non-Muslim students in the northern Kenyan town of Garissa last month. Jamal Osman finds that a growing number of Christian residents are now fleeing the community.
Students came under attack early in the morning as they slept. Four al-Shabaab gunmen stormed the university compound, separated Muslims from non-Muslims and shot dead 148 people in cold blood,
Al-Shabaab, the al-Qaeda branch in east Africa, was unapologetic about targetting students. Sheikh Ali Dhere, the group's spokesman, told Channel 4 News: "They were Christians who would be future military generals, police commanders, administrators and members of parliament."
Full report at:
http://www.mareeg.com/how-al-shabaab-is-dividing-communities-in-northern-kenya/
------------
Pakistan
Pakistani imam jailed for five years for anti-Shia sermons
May 20 2015
LAHORE: A court in Pakistan has jailed an Imam or prayer leader for five years for inciting hate against a rival sect, officials said Wednesday.
Maulana Abubakar a prayer leader was arrested in February in Kasur district, Punjab, some 50 kilometres south of Lahore, for making a speech against the rival minority Shia sect, a prosecutor told AFP.
"The judge of an anti-terrorism court on Tuesday sentenced the Imam to serve five years in prison for [giving a] hate speech," the prosecutor said on condition of anonymity.
"The Imam was found guilty of inciting hatred against Shia [people] and raised slogans during his sermon that Shias were infidels," he said.
The official said that under Pakistan's National Action Plan against terrorism, authorities have arrested many prayer leaders and courts have sent them to prison over hate speech charges.
The official said he could not give the number of convictions as data was still being compiled about the cases.
Full report at:
http://tribune.com.pk/story/889374/pakistani-imam-jailed-for-five-years-for-hate-speech/
-----------
13 suspected militants killed in North Waziristan blitz: ISPR
May 20 2015
ISLAMABAD: At least 13 suspected militants were killed on Wednesday during airstrikes conducted by military fighter jets in the Dattakhel area of North Waziristan Tribal Agency, according to a statement issued by the Inter-Services Public Relations (ISPR).
The statement added that five hideouts of the militants were also destroyed in the blitz.
The Pakistan Army launched Zarb-i-Azb, a comprehensive operation in 2014, against foreign and local terrorists who were hiding in sanctuaries in the North Waziristan tribal region, a week after the brazen insurgent attack on the country's busiest airport in Karachi.
The tribal region, which borders with Afghanistan, has been used as a base by militants over the years. According to the ISPR, troops have been deployed along its border with neighbouring agencies to block any movement of terrorists in and out of the region.
North Waziristan is one of the seven regions in Pakistan's Federally Administered Tribal Areas (Fata) governed by tribal laws which is situated along the Pak-Afghan border and is rife with Taliban militant activity.
http://www.dawn.com/news/1183129/13-suspected-militants-killed-in-north-waziristan-blitz-ispr
-----------
Safoora attack evidence points to religious extremists: police
May 20 2015
KARACHI: As police on Tuesday disclosed the arrest of four militants, including the mastermind of the Safoora Goth carnage, evidence emerged that religious extremists rather than India's premier intelligence agency were responsible for one of the worst sectarian attacks in the recent history of Karachi.
"Police's Counter-Terrorism Department has arrested four militants, including the mastermind identified as Tahir, for their involvement in the killing of 45 members of the Shia Ismaili community last week," said Additional Inspector General of Police, Karachi, Ghulam Qadir Thebo.
Full report at:
http://www.dawn.com/news/1183024/safoora-attack-evidence-points-to-religious-extremists-police
-----------
DSP gunned down in TTP-claimed attack in Peshawar
May 20 2015
PESHAWAR: Bahadur Khan, the Deputy Superintendent of Police (DSP) belonging to the counter-terrorism department (CTD) of Peshawar police, was gunned down by armed men in Gulbahar area of Peshawar on Wednesday morning.
Muhammad Khorasani, spokesperson for the outlawed Tehreek-i-Taliban Pakistan (TTP), claimed that the militant organisation was behind the killing.
Peshawar SSP (operations) Dr Mian Saeed said that DSP Bahadur Khan was on his way to drop his daughter off to school when motorcycle-riding gunmen opened fire on him as the police officer's vehicle neared Anam Sanam chowk in Peshawar's Gulbahar area.
Full report at:
http://www.dawn.com/news/1183121/dsp-gunned-down-in-ttp-claimed-attack-in-peshawar
-----------
Geo-tagging of 14,000 seminaries complete: IG
May 20 2015
LAHORE: Inspector General of Punjab police Mushtaq Ahmad Sukhera has said the task of geo-tagging of all 14,000 seminaries in the province has been completed.
At a meeting held here on Tuesday at the Central Police Office (CPO), Mr Sukhera said the implementation of National Action Plan would continue and no pressure would be accepted in this regard.
The meeting was informed that as many as 799 cases had been registered against illegal Afghan refugees for violation of Foreign Act so far, whereas 1,535 suspects had been arrested.
It was told that for violation of the Punjab Prohibition of Expressing Matters on Wall (Amendment) Ordinance, 1995, some 761 cases had been registered and 713 violators had been arrested, whereas 230 others had been slapped Rs25,000 to Rs100,000 fine.
During Combing Operations conducted in Punjab, 29,686 localities were searched, 487,184 persons questioned and 3356 cases registered, whereas for violation of Foreign Act, Illegal Arms and Counter of Narcotics Substansive Act (CNSA), as many as 2,555 FIRs had been lodged against violators, it was told.
http://www.dawn.com/news/1183059/geo-tagging-of-14000-seminaries-complete-ig
----------
South Asia
Four soldier martyred, 44 rebels killed in military operations
May 20 2015
Four soldiers have embraced martyrdom while 44 militants were killed during separate military operations across the country in past 24 hours, Ministry of Defense announced on Wednesday.
General Zahir Azimi, spokesman for the ministry tweeted this morning about the martyrdom of four Afghan National Army soldiers due to landmine explosion and insurgent fire in past 24 hours but he has not written the exact location of the incidents.
He states in another tweet that 44 militants were killed and 74 others wounded during military operations in the same period of time.
Azimi says 21 Improvised Explosive Devices (IEDs) were also discovered and defused by the military during these operations.
After taking full responsibility of the security from NATO forces at the beginning of this year, Afghan forces began large-scale operations against insurgents.
Insurgents have suffered heavy casualties and some areas held by them for years have been taken back by Army during these operations.
http://www.khaama.com/four-soldier-martyred-44-rebels-killed-in-military-operations-3385
-----------
Insurgents kill 12 Afghan policemen in Uruzgan: official
May 20, 2015
KABUL: At least a dozen Afghan police officers were killed in a series of insurgent attacks on checkpoints in the country's southern Uruzgan province, an official said.
Nematullah Khan Roshan, deputy district chief for the Charcheno district in Uruzgan, said Wednesday that Taliban insurgents attacked three separate police checkpoints Monday night.
Roshan added that pitched battles are still ongoing in the area and that government reinforcements have been deployed.
The current confrontation is so intense, Roshan said, that the corpses of both police officers and insurgents killed in the battle have been laying in open ground with no way to safely recover the bodies.
Full report at:
http://www.dawn.com/news/1183134/insurgents-kill-12-afghan-policemen-in-uruzgan-official
-----------
2 war criminals get life until death
May 20 2015
A tribunal in Dhaka today sentenced Mahidur Rahman and Afsar Hossain to life until death for their involvement in killing 24 people in Shibganj upazila of Chapainawabganj during the Liberation War in 1971.
They were jailed for five years as the two, accompanied by armed Razakars, launched a systematic attack on Kabirajtola and Eradot Biswasertola on October 13, 1971 and looted and burned down houses of the villages.
International Crimes Tribunal-2 led by its Chairman Obaidul Hassan delivered the verdict as it found them guilty in two of three charges against them.
Full report at:
http://www.thedailystar.net/country/war-crimes-verdict-mahidur-afsar-tribunal-84556
-----------
Karzai shows deep concerns about Pak-Afghan intelligence agreement
May 20 2015
The former Afghan President Hamid Karzai has said he is deeply concerned with the signing of Memorandum of Understanding between the Afghan Intelligence and Pakistan's Military Intelligence – Inter Services Intelligence (ISI).
The office of the former president issued a statement calling on unity government leaders to immediately cancel the agreement.
The statement further added that the former President has also called on the leaders of the unity government to prevent signing such agreements which are against the national interests of the country.
Full report at:
http://www.khaama.com/karzai-shows-deep-concerns-about-pak-afghan-intelligence-agreement-9437
-----------
Myanmar to address crisis of Muslims fleeing to Southeast Asian nation
20 May 2015
Myanmar is likely to attend a regional meeting next week on addressing the crisis involving thousands of minority Muslims fleeing the Southeast Asian nation by boat.
The Myanmar government was initially reluctant to send a representative to the May 29 meeting in neighbouring Thailand. Last week, Maj. Zaw Htay, director of the office of Myanmar's president, says his government will not accept that it is the source of the problem.
Thailand's Deputy Foreign Minister Don Pramudwinai confirmed Wednesday that Myanmar has accepted the invitation.
Full report at:
http://www.thehindu.com/news/international/myanmar-to-address-crisis-of-muslims-fleeing-to-southeast-asian-nation/article7227075.ece
-----------
North America
Catholic archbishop teaches the Quran to Christians, Muslims alike
BY DENNIS SADOWSKI
Catholic News Service
May 20 2015
UNIVERSITY HEIGHTS, Ohio (CNS) — There's a book that Archbishop Michael L. Fitzgerald believes can inspire Christians to appreciate the God of all creation.
And it's not just the Bible.
Archbishop Fitzgerald, who retired at the end of 2012 as the papal nuncio to Egypt, said the Quran, with all of its names for God, can help Christians deepen their faith and inspire them to see God in new ways.
Since retiring, the England-born archbishop has been leading retreats on the names of God in Islam and contrasting the same or similar names for God found in the Old Testament and the New Testament.
Archbishop Fitzgerald, who is fluent in Arabic, spent the past eight months finalizing a book on the subject while serving as the Walter and Mary Tuohy chair of interreligious studies and guest instructor at Jesuit-run John Carroll University in suburban Cleveland. He taught a course on the Quran during spring semester, giving Christian and Muslim students the chance to reflect on the teachings of Islam.
He said his aim is to broaden understanding among people of different faiths, much as it was when he taught at the Pontifical Institute for Arabic and Islamic Studies in Rome, his time as a missionary priest in Sudan, his 19 years as secretary and then President of the Pontifical Council for Interreligious Dialogue and as nuncio during Egypt's Arab Spring.
The archbishop's work is rooted in "Nostra Aetate" ("In Our Time"), the Second Vatican Council's declaration on relations with non-Christian religions promulgated by Blessed Paul VI in 1965.
Understanding and accepting people of other faith traditions and their religions "is what we are supposed to be as church," Archbishop Fitzgerald told Catholic News Service May 15 in an interview on the John Carroll campus as he was ending his time at the university.
"'Nostra Aetate,' in a sense, gives you an impression that dialogue is always bilateral. So it's Christians and Muslims. Christians and Buddhists. Christians and Hindus," he explained.
"This is what we are supposed to be as church. I think you come back to 'Lumen Gentium' (Vatican II's Dogmatic Constitution on the Church), the church is the nature of a sacrament. It is a sign of what God is doing. And God doesn't only work in the Catholic Church. God works through the Spirit in other religions as well, and we must be open to that.
"That means we must relate to people. We are not meant to be a club. We are meant to be engaging in relations."
Zeki Saritoprak, director of the university's Islamic studies program, has known Archbishop Fitzgerald for more than a decade. He said having the archbishop on campus for eight months has boosted an understanding across religious traditions.
"He would make connections with the biblical sources so non-Muslim students would find their Quranic understanding can resonate with their own teaching," Saritoprak said.
For Archbishop Fitzgerald, 77, much of his 54 years as a priest has been spent engaging in interreligious relations. His most high profile work occurred from 1987 to 2006 with the pontifical council, first as secretary for 15 years and then as president for nearly four years.
He landed at the council because of his knowledge of Islam and his teaching background and experience living, studying and ministering in Tunisia, Uganda and Sudan. However, he said, his life path has been different than he first imagined when he went off to school with the Missionaries of Africa — the White Fathers — at age 12 in 1949. He originally thought he would eventually serve where members of the order had traditionally served: West Africa, East Africa or in sub-Saharan countries. Along the way, Arab North Africa piqued his interested and eventually he was sent to Tunisia to study theology for four years.
Full report at:
http://catholicphilly.com/2015/05/news/national-news/catholic-archbishop-teaches-the-quran-to-christians-muslims-alike/
--------------
Police arrest 10 attempting to leave Canada to join Islamic State
May 20 2015
MONTREAL, May 20 — Canadian police arrested 10 young people as they allegedly tried to leave the country to join the Islamic State group, the Royal Canadian Mounted Police said yesterday.
The federal police arrested the group, all residents of the Montreal area, last weekend at the city's international airport and their passports have been withdrawn.
Charges have not been filed and the families and relatives of the 10 are being interviewed, police said.
Full report at:
http://www.themalaymailonline.com/world/article/police-arrest-10-attempting-to-leave-canada-to-join-is#sthash.sjIy9lKu.dpuf
-----------
Obama eyes sped up training, weapons for Iraqi tribes after Ramadi rout
May 20 2015
US President Barack Obama weighed faster training and arms supplies for Iraqi tribes Tuesday, while eying a rapid counteroffensive to retake Ramadi from the Isis group.
"We are looking at how best to support local ground forces in Anbar" province, National Security Council spokesman Alistair Baskey told AFP, "including accelerating the training and equipping of local tribes and supporting an Iraqi-led operation to retake Ramadi."
Ramadi – a city in Iraq's Sunni heartland just 90 minutes' drive away from the capital Baghdad – was overrun by jihadists on Sunday.
The audacious military victory was a major blow in the battle against the Isis group, calling into question Obama's strategy in Iraq and the authority of his ally, Prime Minister Haider al-Abadi.
Full report at:
http://www.themalaysianinsider.com/world/article/obama-eyes-sped-up-training-weapons-for-iraqi-tribes-after-ramadi-rout#sthash.JNT3n2RN.dpuf
-----------
Man Plots to Attack Muslims, Burn Down Mosques
May 20 2015
An ex-Congressional candidate from Tennessee faces up to five years in prison for plotting to burn down an upstate New York mosque and use an assault rifle against anyone who tried to stop him, according to court documents.
Robert Doggart, who made a failed bid for Congress in 2014 as an independent with highly conservative views, pleaded guilty on April 29 to interstate communication of threats, according to a plea agreement filed in U.S. District Court in Knoxville, Tennessee.
No date has been set for sentencing, a spokeswoman for the U.S. Attorney's Office in Knoxville said on Tuesday. Doggart was released on $30,000 bail.
At one point in March, according to the documents, Doggart told a telephone contact that "if there's a gun fight, well there's a gun fight. And I do want to come home 'cause I love my family and I want to see my kids again. But I also understand that if it's necessary to die then that's a good way."
Full report at:
http://www.charismanews.com/us/49715-man-plots-to-attack-muslims-burn-down-mosques
-----------
Islamic State rakes in $1 million per day in extortion, taxation: Report
PTI | May 20, 2015
NEW YORK: The Islamic State rakes in over $1 million per day in extortion and taxation and the dreaded terror group has enough assets to cover its expenses despite falling oil prices, according to a media report.
The group minimizes costs by looting military equipment, appropriating land and infrastructure and paying relatively low salaries, a report in the New York Times said citing analysts at the RAND Corporation, a nonprofit organization that researches public policy.
According to the analysis, the terror group collected over $1.2 billion in 2014. The breakdown states that the Islamic State raked in $600 million from extortion and taxation, $500 million from robbing state-owned Iraq banks and only $100 million from oil infrastructure.
The group also limits its vulnerability by shifting operations, transitioning between expanding its territory and fuelling terrorist activity, the report said.
Full report at:
http://timesofindia.indiatimes.com/world/middle-east/Islamic-State-rakes-in-1-million-per-day-in-extortion-taxation-Report/articleshow/47355674.cms
-----------
Former Congressional Candidate Admits Plotting an Attack to Destroy Muslim Enclave in Islamberg
20 May 2015
A former right-wing Congressional candidate from Tennessee has admitted to plotting a horrific massacre to destroy the Muslim enclave of Islamberg in Upstate New York.
Robert Doggart, 63, from a town outside Chattanooga, believed that the residents of the 100-strong Islamic community were training to carry out a massive terrorist attack on US soil.
The FBI says Doggart was planning to firebomb and burn down the mosque, school and other buildings in the town and to use an assault rifle, pistol and even a machete to killed anyone who resisted him, according to an investigation that began early this year.
Doggart ran for Tennessee's Fourth Congressional district seat in 2014 as a conservative independent. He preached 'the protection of the American people, land, and our form of government by the professional military establishment' and received about six percent of the vote, according to the Chattanooga Times Free Press.
He faces five years in prison and was released on $30,000 bail after pleading guilty to a single count of interstate communication of threats.
Full report at:
http://www.dailymail.co.uk/news/article-3088273/Former-Congressional-candidate-admits-plotting-firebombing-school-massacre-attack-destroy-Muslim-enclave-Islamberg-New-York.html#ixzz3aftNBNOl
------------
Mideast
9 More Civilians Killed in Ongoing Saudi Air Raids
20 May 2015
Saudi warplanes bombed several areas across Yemen, and claimed the lives of 9 more civilians in Ibb province.
At least 9 people were killed and 3 others sustained injuries in a Saudi air strike in Ibb on Tuesday.
Saudi fighter jets also pounded the al-Seifi and Beit al-Ahmer areas in the Sanhan Directorate, located South of the capital, Sana'a.
Reports also said that Saudi warplanes targeted areas in the province of Sa'ada.
Riyadh also launched several airstrikes on the Yemeni military bases in the city of Taiz.
There was no immediate report on possible casualties following the strikes in Sanhan, Taiz and Sa'ada.
Also on Tuesday, Saudi Arabia conducted 4 air strikes on Zinjibar district in Abyan province.
Saudi Arabia launched its bombing campaign against Yemen on March 26 in an attempt to restore power to fugitive President Mansour Hadi, a staunch ally of Riyadh.
Hadi stepped down in January and refused to reconsider the decision despite calls by Ansarullah revolutionaries of the Houthi movement.
Despite Riyadh's claims that it is bombing the positions of the Ansarullah fighters, Saudi warplanes are flattening residential areas and civilian infrastructures.
According to FNA tallies, the Saudi attacks have so far claimed the lives of at least 3,824 civilians, mostly women and children.
http://english.farsnews.com/newstext.aspx?nn=13940230000283
-----------
Sources: S. Arabia Hires Israeli Experts to Supervise War against Yemen
20 May 2015
The Saudi defence ministry has hired a number of Israeli military experts to supervise and advise the coalition troops in the war against Yemen, sources close to the Saudi monarchy revealed on Tuesday.
"The Zionist experts supervise the Saudi-led coalition's operations against Yemen directly in addition to intelligence and military coordination between the two sides," the sources told FNA on Tuesday.
They also disclosed that another delegation from Israel has travelled to Saudi Arabia in the past few days to supervise construction of a defence ministry site.
Full report at:
http://english.farsnews.com/newstext.aspx?nn=13940229000496
-----------
Israel PM halts ban on Palestinians using settler buses
May 20 2015
JERUSALEM: Israeli Prime Minister Benjamin Netanyahu on Wednesday ordered the suspension of a controversial measure banning Palestinians from riding the same buses as Jewish settlers when returning from Israel to the West Bank.
The announcement came several hours after a three-month pilot project which was approved by Defence Minister Moshe Yaalon went into action.
The ban was immediately attacked by rights groups and the opposition, who denounced it as an "unprecedented" move that heaped unnecessary humiliation on the Palestinians and would ultimately damage Israel.
Full report at:
http://tribune.com.pk/story/889392/palestinians-banned-from-riding-same-buses-as-israelis-official/
-----------
Turkish military ship joins efforts to reach Rohingya Muslims
May 20 2015
The Turkish navy is carrying out efforts to reach Rohingya Muslims stranded in boats off the coast of Thailand and Malaysia, Prime Minister Ahmet Davutoğlu said.
Addressing a group of young people at Çankaya Palace May 19, Davutoğlu said that Turkey was doing its best to reach Rohingya Muslims at sea with the International Organization for Migration (IOM), with the help of a ship from the Turkish Armed Forces already sailing in the region.
Some 7,000 to 8,000 Rohingya and Bangladeshi migrants are currently thought to be in the Malacca Straits, unable to disembark because of crackdowns on trafficking networks in Full report at:
http://www.hurriyetdailynews.com/turkish-military-ship-joins-efforts-to-reach-rohingya-muslims.aspx?pageID=238&nID=82639&NewsCatID=510
-----------
Iran's imperialism being curbed, says Prince Turki
May 20 2015
RIYADH: Iran will not be allowed to continue its interference in Arab affairs, said Prince Turki Al-Faisal, the former Saudi ambassador to the US and UK.
In his keynote address, which was read out by Prince Faisal bin Saud bin Abdul Mohsin, director of cultural affairs and public relations at King Faisal Center for Research and Islamic Studies, at the 40th Anniversary celebrations of Arab News in Riyadh on Monday, Prince Turki said: "As we are dealing with Yemen, Iran's imperial ambitions will be checked in Lebanon, Syria and Iraq."
Prince Turki exhorted Arab and Muslim nations to become proactive and self reliant. "Our nations and peoples are experiencing a period of chaotic and harmful interventions and changes," he said. "We, as Arab and Muslim nations, must become more self-reliant to secure our borders, pursue our interests. For God helps those who help themselves."
Full report at:
http://www.arabnews.com/featured/news/749396
-----------
Khamenei rules out nuclear inspections of military sites
20 May 2015
Iran's Supreme Leader Ayatollah Ali Khamenei said on Wednesday Tehran would not accept "unreasonable demands" by world powers during negotiations over its disputed nuclear program, and ruled out letting inspectors interview its atomic scientists.
The comments, reported on state TV, were the latest in a series of forthright statements on inspections in the countdown to a June 30 deadline to resolve a decade-old standoff over
Iran's nuclear work.
Full report at:
http://english.alarabiya.net/en/News/middle-east/2015/05/20/Khamenei-rules-out-nuclear-inspections-of-military-sites.html
-----------
Palestinian driver rams 2 Israeli police, shot dead
20 May 2015
Two Israeli policemen were injured in annexed east Jerusalem Wednesday when they were hit by a car driven by a Palestinian, who was then shot dead, police said.
It was the latest in a string of lone-wolf attacks by Palestinians using their cars to ram pedestrians or police, in a trend which began in Jerusalem in October but has also spread to the West Bank.
The incident took place in A-Tur on the Mount of Olives, with police spokeswoman Luba Samri saying the driver had veered off the road and struck two border policemen.
"Another border policeman opened fire at the terrorist and neutralized him," she said, confirming that the driver had died.
Full report at:
http://english.alarabiya.net/en/News/middle-east/2015/05/20/Palestinian-driver-rams-2-Israeli-police-shot-dead.html
-----------
Southeast Asia
Malaysia and Indonesia Say They Will Take in Migrants at Sea, Temporarily
May 20 2015
Kuala Lumpur. Malaysia and Indonesia said on Wednesday they would offer temporary shelter to 7,000 "boatpeople" adrift at sea in rickety boats, but made clear they would take no more.
More than 3,000 migrants have landed in Malaysia and Indonesia, which together with Thailand have opted for a "not-in-my-backyard" policy and pushed away boats that approach their borders.
The migrants are Rohingya Muslims from Myanmar and Bangladeshis — men, women and children who fled persecution and poverty at home, and now face sickness and starvation at sea.
"What we have clearly stated is that we will take in only those people in the high sea," Malaysian Foreign Minister Anifah Aman said. "But under no circumstances would we be expected to take each one of them if there is an influx of others."
Full report at:
http://thejakartaglobe.beritasatu.com/news/malaysia-indonesia-say-will-take-migrants-sea-temporarily/
-----------
Philippines says prepared to help sea-stranded Rohingya people
May 20 2015
MANILA: The Philippines said Tuesday it was ready to help Rohingya and Bangladeshi boatpeople, as its Southeast Asian neighbours faced outrage for turning them away.
The Philippines is obliged to help the migrants, many of whom are fleeing persecution, because it is party to the 1951 United Nations convention on refugees, Justice Secretary Leila de Lima and foreign department spokesman Charles Jose both said.
"We have the commitment and the obligation to extend humanitarian assistance to these asylum seekers," Jose told ANC television, without giving details.
De Lima stressed that "saving lives" was paramount.
"I think humanitarian consideration should transcend any other consideration. First thing is the humanitarian concern, saving lives," de Lima said after meeting with the country representative of the United Nations High Commissioner for Refugees.
Nearly 3,000 migrants have swum to shore or been rescued off Indonesia, Malaysia and Thailand over the past week, with thousands more believed to be drifting on boats without food or water.
Full report at:
http://www.dawn.com/news/1182965/philippines-says-prepared-to-help-sea-stranded-rohingya-people
-----------
Brothers among 6 suspected militants charged with attack bid on Putrajaya, KL
May 20 2015
Two brothers from Negeri Sembilan were among six men charged at the Kajang Magistrate Court today with possession of bomb making materials and attempting to attack entertainment outlets and strategic locations in Kuala Lumpur and Putrajaya.
Fertiliser shop owners Mohd Nurkamal Azmi, 30, and his brother Mohd Anwar, 32, and four others – petty traders Abdullah Apandi, 17, and Izwan Shameer Suzaimi, 25, storekeeper Mohd Hafifi Tarmizi, 25, and tyre shop worker Muhammad Luqman Hakim Abdul Aziz, 22, were brought to court at 2.30pm today.
All six were charged under Section 120B of the Penal Code and Section 30G(a) of the Penal Code for terrorism activities.
Full report at:
http://www.themalaysianinsider.com/malaysia/article/brothers-among-6-suspected-militants-charged-with-attack-bid-on-putrajaya-k#sthash.dd4vpgOe.dpuf
------------
Anwar wanted national reconciliation, not unity government, wife says
May 20 2015
KUALA LUMPUR, May 20 — Datuk Seri Anwar Ibrahim never supported the idea of forming a unity government with Umno, his wife and Opposition Leader Datuk Seri Dr Wan Azizah Wan Ismail said today.
She said the PKR de facto leader had wanted to work out a national reconciliation plan with Barisan Nasional (BN) for the well-being of the country.
"Not a unity government, but national reconciliation plan as announced by Datuk Seri Najib Razak in the past.
"But this did not work out, he (Najib) went back on his word," Dr Wan Azizah told a news conference here.
This morning, PKR issued a strong denial refuting PAS president Datuk Seri Abdul Hadi Awang's claim that Anwar had been keen on the idea of forming a unity government with Umno.
The Pakatan Rakyat (PR) lynchpin party also said it has no intention to get dragged into PAS' internal issues.
Full report at:
http://www.themalaymailonline.com/malaysia/article/anwar-wanted-national-reconciliation-not-unity-government-wife-says#sthash.DRKudniV.dpuf
-----------
URL: https://www.newageislam.com/islamic-world-news/new-age-islam-news-bureau/bihar-s-muslims-donate-land-for-world-s-largest-hindu-temple/d/103059