New Age Islam News Bureau
12 Jan 2014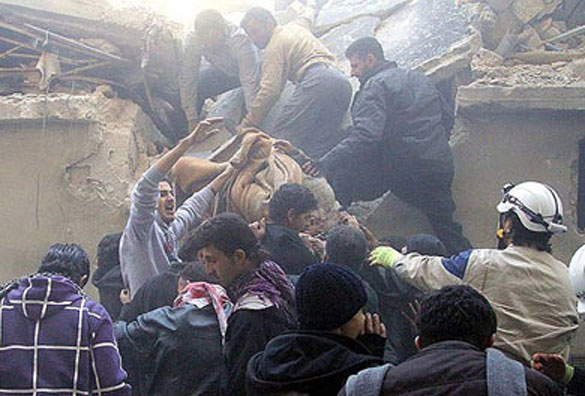 Photo: Syrian regime kills 95, activists say
------------
India
• Bihar Muslim Clerics Not To Offer Funeral Prayers for Drunkards
• Performing Nikah According To Shariah and Resorting To Court for Divorce Is Surprising
• Archaeological Survey of India team to visit Kabul for Buddha's bowl
• Rajasthan cops visit Jama Masjid for lessons in harmony
Arab World
• Saudi Men with Multiple Wives Get House Grant Priority
• Syrian Army Kills 40 Militants in Hama Countryside
• Syrian regime kills 95, activists say
• Car bombings kill 13 civilians in Baghdad
• Egypt: ultraconservative Salafis gamble on charter
• At least 700 killed in Syria rebel-jihadist battle: NGO
• New online portal to promote Jeddah heritage
Europe
• European Terrorists in Syria Returning Home
• Blinded British imam ready to forgive attackers
• UN atomic watchdog mulls upping presence in Iran to monitor nuclear deal
• UN concerns mount over besieged Syrians
• Syria peace hopes at Paris crossroads
• Iraq 'torture' dossier implicating British soldiers goes to ICC - media
North America
• Source: CIA to Further Arm, Train Militants in Syria
• Barack Obama says Ariel Sharon dedicated his life to Israel
• Obama's grand plan for Mideast shrinks
• Kerry, 10 other top envoys raise pressure on Syria
South Asia
• Afghan high peace council unaware of secret talks with Taliban
• No possibility of GMR return in airport project: Maldives President
• 2 Jamaatis held in Jessore rape case
• Jamaat-Shibir a name of political predator in Shibganj
• Suicide attack in capital Kabul injures 6 policemen
• 84 cases of violence against media freedom recorded in Afghanistan
Mideast
• Rise in Arab Palestinians who want to be in Palestinian state
• Sharon will go down as one of the most prominent leaders, courageous commanders
• Abbas reaffirms refusal to recognize Israel as a Jewish state
Pakistan
• Chaudhry Aslam's killing: Case registered against TTP chief
• The Maulana Sami ul Haq's failed Nuskha
• Our rulers let my mother down: Shahryar Khan
• 'Foreign education more harmful than drone attacks'
• At least five policemen killed in attack on PML-N's Amir Muqam
• PTI leader among five gunned down near Kasur toll plaza
• Bilawal vows to unite country against TTP
Southeast Asia
• Aceh Reports Fewer Abuse Cases by Islamic Police in 2013
• Despite raid, Christian group to continue distributing Malay and Iban language bibles
• Check law first, Karpal asks Penang government over decree banning 'Islamic words'
Africa
• Tunisian Politician: S. Arabia Biggest Supporter of Terrorism in Region
• Fight against terror groups keeps Uganda military occupied
• Libyan minister Hassan al-Droui shot dead
• Libya's oil crisis exacerbated by push for autonomy
• US, regional mediators meet rebel leader in South Sudan: Rebels
• Ex-Central African Republic leader seeks exile in Benin
Compiled by New Age Islam News Bureau
URL: https://www.newageislam.com/islamic-world-news/new-age-islam-news-bureau/bihar-muslim-clerics-not-to-offer-funeral-prayers-for-drunkards/d/35245
-----------
India
Bihar Muslim clerics not to offer funeral prayers for drunkards
PTI | Jan 12, 2014
PATNA: Muslim clerics in a Bihar district have decided not to lead or offer namaz-e-janaza (funeral prayers) of drunkards.
This decision was taken at a meeting Saturday evening by a group of Imams of Bihar's Nalanda district. They earlier said they won't conduct marriage ceremony of those who give or take dowry.
"It is a historic decision not to offer funeral prayers of the drunkards who die. We hope that it will send a strong massage among Muslims not to consume liquor," Hafiz Maulana Mahtab Alam Makhdumi said.
Makhdumi, who presided over the meeting of the Anjuman Faizane Mustafa Committee at Biharsharief, district headquarters of Nalanda, about 100 km from here, said that liquor is prohibited in Islam.
He said it was decided to first socially boycott those drinking liquor in public places.
"We have urged people that drunkards should be socially boycotted but even after that if they fail to end their habit, we will not lead their funeral prayers," he said.
Makhdumi told IANS over telephone that after much deliberations they took a final decision to end increasing trend of drinking among Muslims.
"It is a tough decision as there is no other method left to warn the drunkards," he said.
The Muslim community has welcomed this move.
"It will help discourage consuming of liquors and sereve as a warning for drunkards," said Nayiar Fatmi, a Muslim activist in Patna.
Makhdumi said that after this decision is successfully implemented in Nalanda, they would request Imams of other districts across Bihar to start similar campaigns.
Last week, alarmed over the trend of dowry among Muslims, clerics in Nalanda said they won't conduct marriage ceremony of those who give or take dowry.
"We have decided not to conduct nikah (marriage) for those who take and give dowry in the district," Qazi Maulana Mansur Alam, who heads Muslim organisation Imarat-e-Sharia of Biharsharief in Nalanda, had said.
http://timesofindia.indiatimes.com/india/Bihar-clerics-not-to-offer-funeral-prayers-for-drunkards/articleshow/28703061.cms
-----------
Performing Nikah According To Shariah and Resorting To Court for Divorce Is Surprising
12 January 2014
Hyderabad, January 12: Case of Talaq and Khula are on the rise in India especially in our state. The unfortunate aspect is the husband and wife instead of resolving the problems according to Shariah resort to non-Islamic courts. To prevent this from happening, a centre on par with Darul Quaza needs to be set up in state Waqf Board. These views were expressed by Special Secretary State Minority Welfare Department Mr. Omer Jaleel IAS. He was addressing a special meeting organised by Sada-e-Haq Sharia Council Hyderabad at Madina Education centre.
The meeting was attended by a large number of women who were compelled to seek Khula after suffering husbands' atrocities. Mr. Omer Jaleel in his thought provoking address stressed the need for setting up a institutions in the Waqf board through which disputes between husband and wife could be resolved. He suggested including women in the proposed counselling centre so as to ensure women's representation. This way Muslims can be saved from making rounds of the courts.
He expressed surprise over the fact that at the time of nikah principles of shariah are taken into account; on the other hand when it comes to giving divorce or taking khula due to disputes between husband and wife they resort to non-shariah ways. He asserted that differences should also be resolved through Islamic way.
He stated that a legal cell would also be formed for legal aid to women who are facing atrocities of husbands.
http://www.siasat.com/english/news/performing-nikah-according-shariah-resorting-court-divorce-surprising
-----------
Archaeological Survey of India team to visit Kabul for Buddha's bowl
Krishnendu Bandyopadhyay,TNN | Jan 12, 2014
KOLKATA: Two experts from Archaeological Survey of India (ASI) are being sent to Kabul to examine a begging bowl said to be used by Lord Buddha, and initiate the process of bringing it back to India.
In August last year, RJD MP Raghuvansh Prasad Singh demanded in Lok Sabha that the bowl be returned to Vaishali (which also happens to be his constituency). On Saturday, Singh presided over an emergency meeting with ASI director general Praven Srivastava, ADG B R Mani, director-antiquities R S Fonia and director-east Phani Kanta Mishra where it was decided to send a team to Kabul to "physically verify it" as part of the initiative to bring it back to the country.
Mishra and G S Khwaja, director-Arabic and Persian Epigraphy, Nagpur, have been nominated for the job, ASI sources said from Delhi.
ASI conducted an exhaustive research on the bowl in the last six months after junior external affairs minister Preneet Kaur, in her reply to Singh, said that the Indian embassy in Kabul has inquired and found the item to be Lord Buddha's bowl. ASI was then asked to provide information about its origin.
ASI documents and a report of ASI's first director general Sir Alexander Cunningham say the giant 350-400kg stone artefact was Lord Buddha's bowl or Bhikshapatra that he donated to the people of Vaishali before leaving for Kushinagar (Uttar Pradesh) for Parinirvana. In the 2nd Century, Kanishka the Great took the bowl from Vaishali to his capital Purushpura (modern-day Peshwar) and then to Gandhara (now Kandahar). In the 20th century, the massive bowl was taken to Kabul Museum, where it rests today.
Chinese Buddhist pilgrims between the 3rd and 9th centuries — including Fa Hien and Hiuen Tsang — saw it and recorded it in their travelogues, say ASI sources. "Sir Alexander Cunningham, in his Volume-16 report, recorded the archeological details with a lithography (lithographed at the Surveyor General's office, Calcutta, July 1883) of the bowl," said Mishra, who is due to visit Kabul.
Buddhist relics in Afghanistan have been a cause of concern for India and the world after the destruction of the Bamiyan Buddhas by the Taliban regime in 2001. The Taliban had ordered all Buddhist artifacts in Kabul museum destroyed but Buddha's bowl remained undamaged, thanks to the Quranic verses inscribed on its outer surface.
The 'bowl' is by no means small. The solid stone hemisphere, made of greenish-grey granite, is about 5.7 feet in diameter and its rim is 18cm thick on average. It's thicker in the middle and at the base. It has no cracks or abrasions, except for a palm-size area that has flaked away near the rim. The base is a delicately chiseled lotus, attesting to its Buddhist past. And inscribed in beautiful large calligraphic script along the rim of the bowl are six rows of verses from the Quran, reflecting its Islamic continuum and its status through the ages as an object of special religious interest. Traces of similar calligraphic script are visible on the inside of the bowl as well. At 350-400kg, the bowl is far too heavy to lift, ASI documents say.
How did Quranic verses come on this Buddhist relic? ASI research has revealed that during the Islamic period it was taken from one palace or mosque to another until at an unknown date it ended up in Sultan Ways Baba's shrine on the outskirts of Kandahar. Several British officers reported seeing it there in the 19th Century and one of them tried to translate the inscription. In the late 1980s, during Afghanistan's civil war, President Najibullah had the bowl taken to Kabul's National Museum.
http://timesofindia.indiatimes.com/india/Archaeological-Survey-of-India-team-to-visit-Kabul-for-Buddhas-bowl/articleshow/28693858.cms
-----------
Rajasthan cops visit Jama Masjid for lessons in harmony
Nitesh Kumar Sharma,TNN | Jan 12, 2014
JAIPUR: The Rajasthan Police Academy (RPA) has introduced a special course to familiarize officers with various religious with the help of visits to mosques and churches.
At least 150 police officers till the rank of additional superintendents have visited Delhi's Jama Masjid in the past few months to see how prayers are offered and how one behaves in a religious place as part of the course. The officers, mostly Hindus, were briefed about the prayers.
Senior officers feel the course would help cops act properly during minor communal tensions which often snowball into major clashes.
RPA director B L Soni said officers were being called for special training sessions in rotation. "The objective is to teach them how to be sensitive when they face situations of communal tension. The first step towards this is to become closely familiar with various religions," said Soni
Soni visited Bharatpur recently to study circumstances leading up to communal violence in Gopalgarh, which has prompted this special course. "Regular visits to religious places will help.''
He said important religious leaders are being invited to brief police officers about various aspects related to their religions.
http://timesofindia.indiatimes.com/india/Rajasthan-cops-visit-Jama-Masjid-for-lessons-in-harmony/articleshow/28692844.cms
-----------
Arab World
Saudi Men with Multiple Wives Get House Grant Priority
12 January 2014
TAIF — The laws and regulations for government housing give preference to citizens who have more than one wife, Al-Eqtisadiah daily reported.
Applicants for government housing can now note in their application that they have more than one wife, for which they are granted more points, which increases their chances of obtaining a housing grant.
A source in the Real Estate Development Fund said all people who applied more than two years ago will be transferred to the new programs the Ministry of Housing has enacted. Citizens who have applied to the fund and have a legal deed to their land will be given the choice to remain with the fund or transfer their application to the Ministry of Housing.
The Ministry of Housing's regulations allow couples who have one or more children to apply for housing if their male children are unmarried and younger than 25 or if they have unmarried girls.
In addition, two or more siblings whose parents have died can also apply for housing, provided that the male brother is unmarried and less than 25 years old.
http://www.saudigazette.com.sa/index.cfm?method=home.regcon&contentid=20140112192245
-----------
Syrian Army Kills 40 Militants in Hama Countryside
Jan 12, 2014
TEHRAN (FNA)- Units of the Syrian armed forces killed 40 militants and injured dozens of others in the Eastern countryside of Hama, a military source said on Sunday.
The army units also destroyed 4 cars equipped with heavy machineguns for the militants, SANA reported.
A citizen killed, others injured due to rocket shell in Homs
A citizen was killed, 2 others were injured due to rocket shell fired by militants on al-Zahra neighborhood in Homs, a military source said.
http://english.farsnews.com/newstext.aspx?nn=13921022000890
------------
Syrian regime kills 95, activists say
World Bulletin/News Desk
Jan 12, 2014
At least 95 people, including 12 children and 6 women, were killed in attacks staged by the Syrian regime with heavy weaponry in several cities across the country on Saturday, opposition activists said.
Syrian regime forces killed 49 in Homs, 13 in the suburbs of capital Damascus, eight each in Hama and Idlib, seven each in Aleppo and Daraa, and three in Deir-ez Zor in air and land offensives across the country, according to a statement by the Syrian Network of Human Rights (SNHR), a London-based group which tracks civilian and dissident casualties.
SNHR noted that Syrian army helicopters dropped nine "barrel bombs" on Darayya suburbs of Damascus, resulting in deaths and casualties and demolishing homes, with reports of heavy smoke rising from the region.
Full report at:
http://www.worldbulletin.net/?aType=haber&ArticleID=126762
------------
Car bombings kill 13 civilians in Baghdad
12 January 2014
Two separate car bomb explosions targeted Sunday morning commuters in Baghdad, killing at least 13 civilians, officials said, amid an ongoing standoff between Iraqi forces and al-Qaida-linked militants west of the Iraqi capital.
The blasts came a day after a senior American official wrapped up a three-day visit to Iraq to meet with top political leaders to discuss the security crisis in the vast Sunni-dominated western province of Anbar.
The deadliest blast occurred at a bustling bus station in central Baghdad when an explosives-laden car exploded outside the station in the Allawi area, killing at least nine people and wounding 16, a police officer said. Thousands of people use the bus station every day or pass through the area. Last Thursday, a suicide bomber blew himself up among a group of security force recruits nearby, killing nearly two dozen men.
Full report at:
http://www.thehindu.com/news/international/car-bombings-kill-13-civilians-in-baghdad/article5570046.ece
-----------
Egypt: ultraconservative Salafis gamble on charter
Jan 12, 2014
ASSOCIATED PRESS
EL-SAF, Egypt (AP) — Police cars crammed the courtyard of a youth center in this rural town outside Cairo, where an ultraconservative Islamist party was holding a conference on the draft national constitution. The new charter, written mainly by liberals and backed by the military, would ban political parties based on religion, give women equal rights and protect the status of minority Christians.
But the police were not out to harass the Al-Nour Salafi party, as they have the Muslim Brotherhood, which is organizing a boycott of this week's referendum on the new constitution.
Bearded men in long, traditional robes shook hands warmly with police officers who also filled the hall to secure a lecture entitled "Know Your Constitution." And what these Islamists know about their constitution is that they will support it — even if some may privately dislike it.
The conference, held to rally support for the charter, highlights a striking alliance that has emerged since the military toppled Islamist President Mohammed Morsi and his democratically elected government last summer. Both the military-backed authorities and the Al-Nour party appear to be benefiting from it, despite the awkwardness.
Full report at:
http://www.northjersey.com/news/international/239759301_Egypt__ultraconservative_Salafis_gamble_on_charter.html?c=y&page=3#sthash.QGjN71pU.dpuf
------------
At least 700 killed in Syria rebel-jihadist battle: NGO
12 January 2014
Fierce fighting between jihadists and rival rebel groups in Syria in the past nine days has killed at least 700 and led to the disappearance of hundreds more, an NGO said Sunday.
"From January 3 to 11, the fighting killed 697 people, among them 351 rebel fighters, 246 members of the (jihadist) Islamic State of Iraq and the Levant and 100 civilians," said the Syrian Observatory for Human Rights, adding that dozens more deaths have yet to be documented.
http://english.ahram.org.eg/NewsContent/2/8/91403/World/Region/At-least--killed-in-Syria-rebeljihadist-battle-NGO.aspx
--------
New online portal to promote Jeddah heritage
12 January 2014
The organizing committee of Jeddah Historic Festival, which includes Saudi Commission for Tourism and Antiquities (SCTA) and Jeddah Chamber of Commerce and Industry (JCCI), launched a website recently to promote the heritage sites of the city.
The site (www.historicjeddah.com) is created with the cooperation of Android and Apple's social networks, with the aim of providing latest information about the festival in an interactive manner.
The festival, which is held under the patronage of Makkah Gov. Prince Mishaal bin Abdullah, will kick off in Jeddah's Al Balad district on Jan. 16.
46 traditional, cultural and educational activities as well as comedy plays and folk dance shows will also be organized at the event. The 10-day festival will highlight the Hijazi culture of the region in a dynamic and entertaining way.
Full report at:
http://www.arabnews.com/news/507771
-----------
Europe
European Terrorists in Syria Returning Home
Jan 12, 2014
TEHRAN (FNA)- Disappointed at their ringleaders' promises of more money and victory over the Syrian army, the European nationals who had come to Syria to fight against President Bashar al-Assad's government are now returning to their homelands.
"Last month 15 Kosovans, 22 Albanians and 19 Bosnians returned to their countries," sources inside the militant groups told FNA on Sunday.
The sources said that the Jamaat al-Islamiya group in Kosovo has called on its fighters to stop fighting in Syria and return home, adding that the nationals of other countries have also left Syria and are now wandering in the Southern provinces of Turkey without a visa or even passport.
According to the sources, the state of despair among the foreign militants has deepened after the Syrian army's growing advances in different parts of the country formerly controlled by the armed rebels coupled with the severe differences among the Salafi and Wahhabi terrorist groups fighting in Syria.
Full report at:
http://english.farsnews.com/newstext.aspx?nn=13921022000877
------------
Blinded British imam ready to forgive attackers
World Bulletin / News Desk
Jan 12, 2014
Hafiz Salik, a 60-year-old British imam who was blinded after falling victim to an Islamophobic attack in the city of Hull said that he is willing to forgive his attackers if they come forward.
The imam was attacked in front of his wife and daughter after his car was stopped by two men and a woman on November 30. After two operations, Salik received 15 stitches to his eye.
Speaking on the incident, Salik, who was well-known for his inter-community peace-work, said "I have always said we should talk to these people who rebel and do things like this and try to make them good citizens. I do have sympathy. I think they do not understand me and my work, because if they did, they wouldn't have done this."
Despite CCTV footage of the attack being released, no one has been arrested in connection with the crime.
http://www.worldbulletin.net/?aType=haber&ArticleID=126646
-----------
UN atomic watchdog mulls upping presence in Iran to monitor nuclear deal
12 January 2014
VIENNA - The UN atomic watchdog is considering increasing its presence in Iran to better handle a bigger workload in verifying Tehran is implementing a landmark deal with world powers to curb its nuclear program, diplomats said.
Faced with an expanded role as a result of the Nov. 24 accord, the International Atomic Energy Agency is likely to need more inspectors in Iran and is also examining whether to set up a small, temporary office there, they said.
While IAEA inspectors frequently travel to Iran to make sure there is no diversion of nuclear material for military purposes, they do not now have any such operational base.
It was unclear whether the UN agency had already raised the matter with Iran, which would need to approve it.
Full report at:
http://www.jpost.com/Iranian-Threat/News/UN-watchdog-eyes-increased-Iran-presence-to-verify-nuclear-dealUN-atomic-watchdog-mulls-upping-presence-in-Iran-to-monitor-nuclear-deal-337883
-----------
UN concerns mount over besieged Syrians
12 January 2014
The UN humanitarian affairs chief has expressed deep concern for communities cut off in Syria by months of fighting between government and rebel forces.
Valerie Amos told the BBC she had heard accounts of near starvation, including in the capital, Damascus.
Baroness Amos, who is in Syria, said she had spoken to the government about trying to get humanitarian access.
She said the situation in the country was getting worse by the day and she had heard horrific tales of suffering.
The situation on the ground keeps shifting, but a confidential UN document leaked to the BBC in late December said more than a quarter of a million Syrians are stuck in "besieged or hard to access areas".
Full report at:
http://www.bbc.co.uk/news/world-middle-east-25702389
-----------
Syria peace hopes at Paris crossroads
12 January 2014
U.S. Secretary of State John Kerry headed Jan. 11 for Paris to hold talks about the Syrian war, hoping to press the fractured opposition to participate in upcoming peace talks.
The Jan. 12 meeting of the "Friends of Syria" grouping at the French foreign affairs ministry will include ministers from 11 countries that support the so-called Geneva 2 peace process as well as the president of Syria's main opposition National Coalition, Ahmed Jarba.
Those countries - the United States, Britain, France, Germany, Italy, Turkey, Saudi Arabia, United Arab Emirates, Qatar, Egypte and Jordan - will increase pressure on Jarba to persuade the opposition to join the U.N.-led talks, which are set to open in the Swiss town of Montreux on January 22.
Full report at:
http://www.hurriyetdailynews.com/syria-peace-hopes-at-paris-crossroads.aspx?pageID=238&nID=60889&NewsCatID=359
-----------
Iraq 'torture' dossier implicating British soldiers goes to ICC - media
12 January 2014
German human rights organisation and a British law firm have presented a dossier to the ICC containing accusations of more than 1,000 cases of beatings, electrocution, mock executions, sexual assault and other forms of torture by British soldiers against Iraqi civilians and 200 cases of unlawful killings, including many in custody. The International Criminal Court has been asked to investigate these allegations, Western media report.
A German NGO and a British law firm said on Friday that they would ask the prosecutor of the International Criminal Court (ICC) in The Hague to investigate possible war crimes committed by British soldiers in Iraq between 2003 and 2008. The European Centre for Constitutional Human Rights, based in Berlin and the Public Interest Lawyers (PIL) firm, based in Birmingham, central England, said in a statement that they had jointly filed a complaint with the ICC.
Full report at:
http://voiceofrussia.com/news/2014_01_12/Dossier-on-torture-by-British-soldiers-in-Iraq-goes-to-ICC-media-8293/
----------
North America
Source: CIA to Further Arm, Train Militants in Syria
Jan 12, 2014
TEHRAN (FNA)- The US Central Intelligence Agency (CIA) is administering a secret program to further arm the militants in Syria, sources disclosed.
The CIA has a secret program for supporting and training the terrorists in Syria, the New York Times unveiled.
Under the administration's division of labor, the State Department is in charge of supplying nonlethal aid, while the CIA runs a covert program to arm and train the Syrian militants, the newspaper said.
The US officials insisted that no aid would be directly supplied to the Islamic Front, an umbrella for half a dozen rebel groups who favor the creation of an orthodox Islamic state in Syria. Aid would continue to be funneled exclusively through the Supreme Military Council, the military wing of moderate, secular Syrian opposition.
Full report at:
http://english.farsnews.com/newstext.aspx?nn=13921022000452
------------
Barack Obama says Ariel Sharon dedicated his life to Israel
AP | Jan 12, 2014
WASHINGTON: President Barack Obama on Saturday remembered former Israeli Prime Minister Ariel Sharon's "commitment to his country," and Vice-President Joe Biden will lead the US delegation for the memorial service.
The Israeli soldier-turned-politician-turned statesman died on Saturday, eight years after a stroke put him in a coma. He was 85.
"We join with the Israeli people in honoring his commitment to his country," Obama said in a written statement. Obama also used the occasion to reaffirm "our unshakeable commitment to Israel's security."
Full report at:
http://timesofindia.indiatimes.com/world/us/Barack-Obama-says-Ariel-Sharon-dedicated-his-life-to-Israel/articleshow/28697043.cms
-----------
Obama's grand plan for Mideast shrinks
12 January 2014
Five years after pledging to remake the US relationship with the broader Middle East and improve America's image in the Muslim world, the Obama administration's regional strategy appears to have come unhinged.
President Barack Obama has been confronted by fast-moving and ominous developments from Afghanistan to Tunisia, amid a bitter public power struggle between Iran and Saudi Arabia, and has adjusted his first term's grand plan to restore Washington's standing and influence.
Now, it's a smaller vision that seems to rely on ad hoc responses aimed at merely keeping the United States relevant in an increasingly volatile and hostile atmosphere.
His administration has been forced to deal with three years of civil war in Syria. A Western-backed opposition is struggling to topple an autocratic government and repel Islamic fighters who also are destabilizing neighboring Lebanon and Iraq, where al-Qaida has resurged less than three years after Obama withdrew US forces.
Full report at:
http://english.ahram.org.eg/NewsContent/2/9/91365/World/International/Analysis-Obamas-grand-plan-for-Mideast-shrinks.aspx
-----------
Kerry, 10 other top envoys raise pressure on Syria
12 January 2014
U.S. Secretary of State John Kerry and top envoys from 10 other countries are raising the pressure on Syria's main opposition group to attend peace talks that would bring it face-to-face with the Syrian government.
The two-day meeting begins Sunday in Paris, just a week before the scheduled talks in Geneva.
The Western-backed Syrian National Coalition is nearing collapse, hampered by infighting, international pressure and disagreement over whether to negotiate with Syria's President, Bashar Assad.
Full report at:
http://www.thehindu.com/news/international/world/kerry-10-other-top-envoys-raise-pressure-on-syria/article5570112.ece
-----------
South Asia
Afghan high peace council unaware of secret talks with Taliban
12 January 2014
The Afghan high peace council officials said Sunday that they are unaware of any secret peace talks between the Taliban group representatives and Afghan government.
Mawlavi Shahzada Shahid, spokesman for the Afghan high peace council said the council is unaware of secret meetings between two Afghan ministers and Taliban group representatives in United Arab Emirates.
Mr. Shahid further added that the Afghan high peace council welcomes the positive step towards the Afghan peace process, if such a meeting has taken place.
This comes as a Taliban group representative told Associated Press that the two sides met secretly in UAE, however no progress were made regarding a peace deal.
The official further added, the meeting took place between two Afghan ministers and Taliban delegates, as Pakistan has been releasing dozens of Taliban prisoners in an effort to revive peace talks.
Full report at:
http://www.khaama.com/afghan-high-peace-council-unaware-of-secret-talks-with-taliban-3286
-----------
No possibility of GMR return in airport project: Maldives President
12 January 2014
Newly-elected Maldivian President Abdulla Yameen has already talked about an out-of-court settlement in the matter.
Maldives has ruled out any possibility of return of Indian infrastructure giant GMR in the $500 million-plus Male airport project but said it was welcome to participate in other ventures in the island nation.
Asserting that Maldives has nothing against GMR, newly-elected Maldivian President Abdulla Yameen said his administration was committed to resolve the dispute with the Indian firm amicably. The President has already talked about an out-of-court settlement in the matter.
"I am not saying we are saying no to GMR. What I am saying is total management of the airport is far too important for Maldivian Government (to hand over). We have nothing against GMR or any Indian company. It is just that the international airport is far too important for us, commercially and also from security point of view," Mr. Yameen told PTI in a recent interview here.
Full report at:
http://www.thehindu.com/business/Industry/no-possibility-of-gmr-return-in-airport-project-maldives-president/article5569999.ece
-----------
2 Jamaatis held in Jessore rape case
12 January 2014
Police yesterday apprehended two Jamaat activists in connection with the gang-rape of two Hindu women in Rishipara of Hazrail village under Monirampur upazila in the district on Tuesday.
The victims and locals told journalists that a group of miscreants numbering about 7, raped two housewives in the village storming the houses equipped with arms at night.
Assistant Superintendent of Police Reshma Sharmin stold Dhaka Tribune that about 7 armed miscreants committed the heinous crime.
Full report at:
http://www.dhakatribune.com/crime/2014/jan/12/2-jamaatis-held-jessore-rape-case#sthash.1oyTqQz5.dpuf
-----------
Jamaat-Shibir a name of political predator in Shibganj
12 January 2014
It was almost 12pm last Thursday. Sub-Inspector Bani kept nodding off in his room at Shibganj Police Station but as this correspondent stepped in he woke up with a start.
When this correspondent identified himself as a newspaper reporter he mumbled an apology saying that overnight work made him feel dizzy.
When asked why he had to work round the clock he said a couple of months ago the area was quite peaceful but suddenly it turned restive with Jamaat-Shibir men unleashing a reign of terror.
Full report at:
http://www.dhakatribune.com/crime/2014/jan/12/jamaat-shibir-name-political-predator-shibganj#sthash.jp8vJ5MS.dpuf
-----------
Suicide attack in capital Kabul injures 6 policemen
12 January 2014
A blast rocked capital Kabul on Sunday afternoon. According to reports, the blast took place in 9th district of Kabul city after a suicide bomber detonated his explosives.
Preliminary reports suggest at least six police officers who were patrolling in the area were injured following the explosion.
Kabul police officials confirmed that the attack was carried out by a suicide bomber who targeted a police vehicle in Qabil Bai area of Kabul city.
No group including the Taliban militants has so far claimed responsibility behind the incident.
http://www.khaama.com/explosion-reported-in-capital-kabul-3288
-----------
84 cases of violence against media freedom recorded in Afghanistan
12 January 2014
The Afghanistan Journalists Center (AFJC) announced its annual report regarding violence against media freedom in Afghanistan, and said 84 cases of violence were registered during 2013 across the war-torn country.
AFJC following in its report said the cases include murder, injuries, physical and verbal abuse, death threats and closure of media outlets from January to December 2013.
The report further added that government officials and security forces, Taliban and illegal armed groups were among the perpetrators of media violations.
"These attacks violate the journalists' right to life, undermine the public's right to know and create an environment of self-censorship, especially in insecure southern and eastern provinces," AFJC said in its report, while expressing erious concerns about the safety of media representatives ahead of April presidential vote and the international troops pullout.
Full report at:
http://www.khaama.com/84-cases-of-violence-against-media-freedom-recorded-in-afghanistan-3283
-----------
Mideast
Rise in Arab Palestinians who want to be in Palestinian state
12 January 2014
RAMALLAH – A new poll found that unprecedented number of Arab Palestinians inside Israel would prefer to be part of Palestine rather than Israel. The poll, conducted by the Israeli daily Haaretz, found that nearly a third of Arabs, 31 percent, would prefer that their towns, villages and communities be part of the future state of Palestine once it is established.
The poll found that among youths, the percentage was even higher, with 36 percent of respondents aged 18 to 24 saying they would prefer to be under Palestinian sovereignty. According to the poll, found that while the majority of Arabs were opposed to land swaps and population transfers within the framework of a peace agreement between Israel and the Palestinians, one-third would not object to the possibility.
Full report at:
http://www.saudigazette.com.sa/index.cfm?method=home.regcon&contentid=20140112192212
-----------
Sharon will go down as one of Israel's most prominent leaders, courageous commanders
12 January 2014
Prime Minister Binyamin Netanyahu, who over the years had sharp disagreement with Ariel Sharon, especially over disengagement from the Gaza trip, said Sunday he will forever be remembered as one of the country's mot prominent leaders and daring commanders.
Sharon died on Saturday after laying in a coma for eight years after suffering a stroke.
"I think he that he represents the fighting generation of Jews who arose with the renewal of our independence," Netanyahu said at the opening of Sunday's weekly cabinet meeting. "He was connected to the land, he knew it was necessary to defend the land, and he knew above all that our independence is our ability to defend ourselves by ourselves."
Full report at:
http://www.jpost.com/National-News/Netanyahu-Sharon-will-go-down-as-one-of-Israels-most-prominent-leaders-courageous-commanders-337890
-----------
Abbas reaffirms refusal to recognize Israel as a Jewish state
12 January 2014
Palestinian Authority President Mahmoud Abbas on Saturday reaffirmed his refusal to recognize Israel as a Jewish state.
He also stressed that the Palestinians would not accept any solution that did not include east Jerusalem as the capital of a Palestinian state.
"We don't love death, but we welcome martyrdom if it happens," Abbas declared. "We will march to Jerusalem in the millions, as free people and heroes."
Referring to Israeli demands to recognize Israel as a Jewish state, Abbas said, "This is a story that we have heard only in the last two years. We won't recognize and accept the Jewishness of Israel. We have many excuses and reasons that prevent us from doing so."
Abbas was speaking during a meeting in his office with dozens of east Jerusalem residents.
Israel's problem is that the Palestinians know more than the Israelis about history and geography, he said. "We talk about what we know," he said.
Full report at:
http://www.jpost.com/Diplomacy-and-Politics/Abbas-reaffirms-refusal-to-recognize-Israel-as-a-Jewish-state-337854
----------
Pakistan
Chaudhry Aslam's killing: Case registered against TTP chief
12 January 2014
KARACHI: Police in Karachi have nominated Tehrik-i-Taliban (TTP) chief Mullah Fazlullah in the FIR for the bombing that killed senior police officer SP CID Chaudhry Aslam Khan and his two guards earlier this week.
The FIR was registered at the PIB Colony police station nominating both the TTP chief and spokesman Shahidullah Shahid for the alleged killing.
The banned militant organisation had accepted responsibility for killing the senior police officer, touted by some as "the bravest anti-terror cop" in the country.
Police authorities investigating the Thursday bomb attack concluded that a suicide bomber had rammed his explosives-laden pickup into the slain police officer's bulletproof SUV when his motorcade was passing through the Lyari Expressway.
Full report at:
http://www.dawn.com/news/1079829/chaudhry-aslams-killing-case-registered-against-ttp-chief
-----------
The Maulana Sami ul Haq's failed Nuskha
12 January 2014
HE walks haltingly with his son and disciples in tow, pausing occasionally to catch a breath to resume the conversation. At 77, the tall, turbaned Maulana Sami ul Haq's gait may have been hampered by knee-joint pain, but give him an opportunity to seize the limelight and he would pounce on it like a tiger.
Publicly, he calls the Taliban "my own children" but privately the 'Father of the Taliban' makes an effort to draw a distinction between the Afghan Taliban and the Pakistani variety.
"I don't know who they are," he told Dawn in an interview, while referring to the Pakistani militants.
Full report at:
http://www.dawn.com/news/1079929/the-maulanas-failed-nuskha
-----------
'Foreign education more harmful than drone attacks'
January 12, 2014
ABBOTTABAD: Khyber-Pakhtunkhwa (K-P) finance minister on Saturday maintained some educational institutions are involved in imparting foreign education with the sole aim of promoting anti-Islamic and anti-Pakistan culture to their students.
Sirajul Haq was speaking to participants at the Parents Day ceremony of a private school. Though the Jamaat-e-Islami lawmaker did not name any institution, he accused private schools and colleges of training children to sing, dance and elope with girls.
Haq said as illiteracy is one of the key issues of K-P, the government is encouraging opening of private educational institutions in rural areas that adhere to Islamic culture. He claimed anti-Pakistan forces have the country on their "hit-list" and are "hell-bent on destroying the country's faith, religion, honour and culture through the education system."
http://tribune.com.pk/story/657900/accusations-foreign-education-more-harmful-than-drone-attacks/
-----------
At least five policemen killed in attack on PML-N's Amir Muqam
2014-01-12
SWAT: A bomb attack on the convoy of a ruling party politician in northwest Pakistan killed five policemen and wounded four others on Sunday, officials said.
The incident took place in the Martoong area of Swat valley, which the Taliban controlled from 2007-2009, as the convoy of Amir Muqam, an adviser to Prime Minister Nawaz Sharif, passed through.
"At least five policemen were killed and four others were wounded," senior police official Abdullah Khan told AFP, while some media reports have accounted six deaths in the incident.
The dead and wounded were travelling in the security car that was leading the convoy, he said, adding that police were investigating the precise circumstances of the blast.
Another senior police official, Gulzar Khan, confirmed the attack, which was later condemned in a statement by the prime minister's office.
Full report at:
http://www.dawn.com/news/1080043/at-least-five-policemen-killed-in-attack-on-pml-ns-amir-muqam
-----------
PTI leader among five gunned down near Kasur toll plaza
12 January 2014
LAHORE: A local politician belonging to Pakistan Tehrik-i-Insaf (PTI), Maqsood Ahmed Bhatti along with his three personal guards and a passerby, was gunned down by unidentified miscreants near Kasur toll plaza on the boundary of Lahore and Kasur in Punjab on Saturday evening, DawnNews reported.
Initial police reports suggest that Bhatti was murdered for personal enmity. However, details would only be revealed after the probe, they said.
According to DPO Kasur, unknown gunmen opened fire on the PTI leader's car, who was traveling with his three personal guards, near Kasur Liliani toll plaza. All four were killed on the spot, he added.
Full report at:
http://www.dawn.com/news/1079832/pti-leader-among-five-gunned-down-near-kasur-toll-plaza
-----------
Bilawal vows to unite country against TTP
January 12, 2014
ISLAMABAD : PPP Patron-in-Chief Bilawal Bhutto Zardari said Taliban killed many politicians including his mother, adding he would unite the country against the TTP. On Twitter, Bilawal said "We need to get united against the terrorist mindset. TTP assassinated my mother. According to their own rules I can kill their mothers. I'm going to do better. I'll unite the country vs TTP," Bilawal said.
http://www.nation.com.pk/islamabad/12-Jan-2014/bilawal-vows-to-unite-country-against-ttp
------------
Southeast Asia
Aceh Reports Fewer Abuse Cases by Islamic Police in 2013
12 January 2014
Banda Aceh. A rights group on Sunday reported a significant drop in the number of abuse-of-power cases in 2013 involving religious police officers enforcing shariah-inspired bylaws in Aceh.
The Aceh office of the Commission for Missing Persons and Victims of Violence (Kontras) said there were only five cases involving members of Aceh's shariah police last year, compared with 50 cases in 2012 and 47 cases in 2011.
"Members of the Wilayatul Hisbah (Wi-Ha), or shariah police, engaged in raids to apprehend violators of Islamic shariah, but those [raids] didn't trigger as many cases of violence as in the previous years," Destika Gilang Lestari, the coordinator of Kontras Aceh, said on Sunday.
"This is probably because of an improvement on the side of [Wi-Ha] members in performing their duties safeguarding Islamic shariah bylaws in Aceh."
Aceh is the only province in Indonesia adopting some shariah-inspired bylaws, which are principally concerned with acts such as gambling, consumption of alcohol and extra- or non-marital relationships.
Full report at:
http://www.thejakartaglobe.com/news/aceh-reports-fewer-abuse-cases-by-islamic-police-in-2013/
-----------
Despite raid, Christian group to continue distributing Malay and Iban language bibles
12 January 2014
Despite a raid that grabbed world headlines, The Bible Society of Malaysia (BSM) will continue importing and distributing the Malay-language Alkitab and Iban-language Bup Kudus that contains the word Allah.
BSM president Lee Min Choon (pic) said the Selangor Islamic Affairs Department (Jais) had not said that they could not continue importing and distributing the bibles in Malay and Iban, despite seizing 320 copies the previous week.
"At our meeting with Jais officers on Friday, they merely asked questions about where the Alkitab was obtained from, who it was distributed to and how it was disposed," Lee told The Malaysian Insider.
Full report at:
http://www.themalaysianinsider.com/malaysia/article/despite-raid-christian-group-to-continue-distributing-malay-and-iban-langua
-----------
Check law first, Karpal asks Penang government over decree banning 'Islamic words'
JANUARY 12, 2014
The DAP has asked the Penang government to seek legal advice on the ruling that non-Muslims in the state cannot use 40 "Islamic words", including Allah.
Party chairman Karpal Singh (pic) said this follows an announcement by the Penang Mufti's office that non-Muslims could be charged if they violated a decree.
"It will certainly be in order for the Penang state government to seek legal advice on the prohibition announced by the Penang Mufti before any non-Muslim is charged for an offence for use of the words," Karpal said in a statement today.
The ban on the words are provided under sub section 48 (3) and (4) of the Penang Islamic Religious Administration Enactment 2004 as exclusive to Muslims.
The decree was enforced on April 29, 2004, when Penang was under Barisan Nasional rule.
The Yang diPertuan Agong is the head of the Islamic religion in Penang.
Full report at:
http://www.themalaysianinsider.com/malaysia/article/check-law-first-karpal-asks-penang-government-over-decree-banning-muslim-wo
-----------
Africa
Tunisian Politician: S. Arabia Biggest Supporter of Terrorism in Region
Jan 12, 2014
TEHRAN (FNA)- A senior Tunisian politician blasted Saudi Arabia's collaboration with the US and the Zionist regime in implementing their plots in the region, and described Riyadh as the main supporter of terrorist groups active in the regional states.
"Saudi Arabia is the main supporter of the terrorist groups in the region and the Saudi politicians and officials have many times acknowledged that," Secretary-General of Tunisia's al-Qad al-Moqawem Party Omar al-Shahed told FNA on Sunday.
"At present, Saudi Arabia and Qatar are behind the support for the terrorist groups in the region and they pursue common goals in this regard and seek to implement the US and the Zionist regime's plots in the region," he added.
Full report at:
http://english.farsnews.com/newstext.aspx?nn=13921022000404
------------
Fight against terror groups keeps Uganda military occupied
12 January 2014
Ugandan army units serving in Somalia as part of the African Union (AU) force (AMISOM) partly attribute their rapid success in pushing out entrenched Islamist fighters in Mogadishu to the previous battles against rebels in the Northern and Western regions.
Uganda's military operation inside Somalia launched at the time as the first operation against global terrorists following a 16-yearlong military and political power vacuum in Mogadishu, attracted the 2010 Kampala terror attack, which killed at least 80 people watching the World Cup, staged in South Africa.
Uganda reacted by increasing troops to Somalia and later succeeded to clinch a UN Security Council slot, which it effectively used to boost its lobbying for a multinational force to fight intruding rebels.
Full report at:
http://www.afriquejet.com/news/217-uganda-security-fight-against-terror-groups-keeps-uganda-military-occupied.html
-----------
Libyan minister Hassan al-Droui shot dead
12 January 2014
A senior government official was killed in the coastal city of Sirte, Libya's official news agency LANA reported on Sunday.
Gunmen shot Hassan al-Droui, the Deputy Industry Minister, in an overnight attack in his hometown, east of the capital, Tripoli, the agency said, citing a security official.
He died before reaching the city's hospital. There was no claim of responsibility Al-Droui was a member of the National Transitional Council, the body that ruled Libya for 10 months after dictator Muammar Qadhafi was toppled in October 2011.
The council handed over power to an elected assembly in August 2012.
Libya's new leaders have been struggling to assert their authority and restore security in the North African country.
http://www.thehindu.com/news/international/world/libyan-minister-hassan-aldroui-shot-dead/article5570147.ece
-----------
Libya's oil crisis exacerbated by push for autonomy
AFP | Jan 12, 2014
TRIPOLI: Libya is suffering a profound economic and political crisis, running out of cash because autonomy-seekers are blocking key oil exports, while a movement is afoot in congress to unseat the fragile government.
The oil-rich North African country has been shaken by political instability ever since long-time dictator Muammar Gaddafi unseated and killed in late 2011.
The government has failed to bring stability and security, with Libya's many tribes flexing their muscles and militias who fought to overthrow Gaddafi refusing to give up their arms, instead carving out fiefdoms of their own.
The latest crisis erupted in July, when security guards at key oil terminals shut them down, accusing the authorities of corruption and demanding a more equitable distribution of oil revenues.
Full report at:
http://timesofindia.indiatimes.com/world/middle-east/Libyas-oil-crisis-exacerbated-by-push-for-autonomy/articleshow/28699606.cms
-----------
US, regional mediators meet rebel leader in South Sudan: Rebels
AFP | Jan 12, 2014
ADDIS ABABA: US and regional mediators in the South Sudan conflict met Riek Machar on Saturday, who heads the rebel forces that have been fighting government troops for the past month, the rebel delegation said.
"The American special envoy to South Sudan and Sudan, Donald Booth together with [regional] mediators travelled to an undisclosed location in South Sudan to meet Dr Riek Machar," said a statement, received on Sunday and signed by Machar's former press officer Miyong G Kuon.
http://timesofindia.indiatimes.com/world/rest-of-world/US-regional-mediators-meet-rebel-leader-in-South-Sudan-Rebels/articleshow/28702495.cms
-----------
Ex-Central African Republic leader seeks exile in Benin
AP | Jan 11, 2014
COTONOU (Benin): Officials say the man who ruled Central African Republic as the country disintegrated into near-anarchy is now seeking exile in Benin.
Michel Djotodia, a rebel leader from the country's north, seized power of Central African Republic in March with the help of thousands of armed fighters.
On Friday, he agreed to step aside along with his prime minister following growing international pressure to resign.
Full report at:
http://timesofindia.indiatimes.com/world/rest-of-world/Ex-Central-African-Republic-leader-seeks-exile-in-Benin/articleshow/28691122.cms
----------
URL: https://www.newageislam.com/islamic-world-news/new-age-islam-news-bureau/bihar-muslim-clerics-not-to-offer-funeral-prayers-for-drunkards/d/35245