New Age Islam News Bureau
21 Jul 2020
• Afghan Cleric Saved Minor Sikh Girl 'Abducted' By A Muslim Boy
• UK Police Consider Dropping 'Islamist', 'Jihadi' Terms When Describing Terror Attacks
• Engineers Survey 200-Year-Old Old Masjid Mubarak Begum Which Was Damaged in Rain in Delhi
• Indonesia Vows to End Practice of Bride Kidnapping
• Egypt Denies Destroying Ancient Islamic Cemeteries to Build Bridge
• Omar Al-Bashir Faces Trial Over 89 Coup In Sudan
---------
North America
• Biden, At Muslim Voters Summit, says 'I Wish We Taught More in Our Schools About the Islamic Faith'
• US Elections: Joe Biden Vows to Include Muslim-Americans In His Administration
• US sanctions 11 Chinese firms over Uighur rights abuses
• In Canadian law, 'terrorism' seems to be the hardest word – and it's going to get harder
• Muslim-American leaders endorse Biden for president
-------
South Asia
• Afghan Cleric Saved Minor Sikh Girl 'Abducted' By A Muslim Boy
• Taliban Led Violence Absolutely Unacceptable: NATO SCR in Afghanistan
• Rohingya Refugees in India Battling Starvation Amid COVID-19 Pandemic
• 72 Taliban militants killed as violence rages in Afghanistan
• Taliban truck bomb kills eight Afghan troops in Wardak province
• Russia bounties story in US media aimed at spoiling peace deal: Taliban
• US, Taliban Urge Afghan Leaders to Complete Prisoner Swap
--------
Europe
• UK Police Consider Dropping 'Islamist', 'Jihadi' Terms When Describing Terror Attacks
• Russian Muslims Happy with Hagia Sophia Status Change
• Russia's Chechnya ruler sanctioned by US for human rights violations
• Austria to launch Muslim profiling scheme
--------
India
• Engineers Survey 200-Year-Old Old Masjid Mubarak Begum Which Was Damaged in Rain in Delhi
• To Harass Hindu-Muslim Couples, Right-wing Activists Are Now Using Their Marriage Documents
• Lashkar's terror-funding module busted in Jammu, one arrested with Rs 1.5L cash
• Murli Manohar Joshi, LK Advani to appear via video in Babri Masjid demolition case
--------
Southeast Asia
• Indonesia Vows to End Practice of Bride Kidnapping
• Indonesian court sentences Jemaah Islamiah leader to 7 years' jail for inciting terrorism
• Indonesia jails leaders of Al-Qaeda-linked extremist group
--------
Arab World
• Egypt Denies Destroying Ancient Islamic Cemeteries to Build Bridge
• US Sanctions on Syria Leave Hezbollah More Isolated in Lebanon
• US says 'dubious' elections in Syria excluded a quarter of the population
• Yemen's prime minister accuses Qatar of supporting Houthis
• Israeli air strikes hit regime and Iran-backed militias in Syria
• Five dead, 85 wounded in car bomb attack in Syria's Azaz: Turkish state media
• Monitor: Car Blast Kills 7 Near Syria-Turkey Border Post
• SDF Launches 2nd Phase of 'Deterring Terrorism' Campaign
• World praises UAE on successful launch of Mars Hope probe
--------
Africa
• Omar Al-Bashir Faces Trial Over 89 Coup In Sudan
• Reports shed light on mercenaries, terrorists sent by Turkey to Libya
• Gunmen kill 18 wedding guests in northern Nigeria
• Egypt's parliament approves possible troop deployment to Libya
• Boko Haram Terrorists Attack Chibok, Kill Three Farmers
--------
Mideast
• Yemeni PM Accuses Qatar Of Backing Houthis, Spreading Chaos In Yemen
• Turkish police detain 27 people over links to Islamic State
• Israel Approves Cellphone Tracking Of COVID-19 Carriers For Rest Of Year
• Iran-linked hackers mistakenly leak videos of their operations in action: Report
• Ukraine president says those responsible for downed plane would be held accountable
• Outsiders seeking to sell arms in Middle East: Iran's mission in Kuwait
• Tehran, Baghdad will jointly sue US for assassinating Gen. Soleimani: Iraq
• Houthis intensify clampdown on opponents
--------
Pakistan
• IHC To Hear Pleas Against SAPMs' Appointment
• Caritas Pakistan launches Covid-19 awareness campaign
• At least 1 dead, 7 injured in explosion in Balochistan'sTurbat
• Justice Isa's wife seeks review of apex court order
• Treasury side opposes bill for increasing high court benches
• Qureshi defends dual nationalities of SAPMs
URL: https://www.newageislam.com/islamic-world-news/biden-muslim-voters-summit-says/d/122430
--------
Biden, at Muslim voters summit, says 'I wish we taught more in our schools about the Islamic faith'
21 July 2020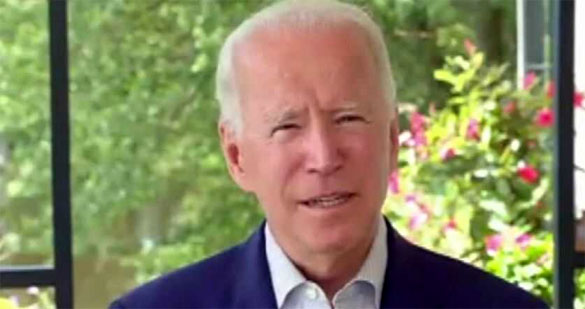 Joe Biden speaks at the Emgage Action's Million Muslim Voters Summit.
-----
Presumptive Democratic nominee Joe Biden spoke to a summit of Muslim voters Monday, telling them he wished U.S. schools taught more about Islam.
"I wish we taught more in our schools about the Islamic faith. I wish we talked about all the great confessional faiths. It's one of the great confessional faiths," Biden said Monday at the "Million Muslim Votes" summit hosted by Emgage Action.
Emgage Action, the country's largest Muslim American PAC, endorsed Biden in April after endorsing Bernie Sanders during the Democratic primary.
Biden told the voters he would end President Trump's travel ban affecting Muslim-majority countries on day one of his presidency and blamed the White House's current occupant for "an unconscionable rise in Islamophobia."
Biden also said he "won't write love letters to dictators," and would work to "meet the moral demands of the humanitarian crisis in Syria, Yemen, and Gaza." He said he would champion the rights of Palestinians and Israelis to have a state of their own, among other priorities.
A number of Muslim American officials, including Rep. Ilhan Omar, D-Minn., Minnesota Attorney General Keith Ellison, Rep. Andre Carson, D-Ind., signed a letter organized by Emgage Action endorsing Biden on Monday.
"Our number one goal is to remove Donald Trump from office and to replace him with someone who can begin to heal our nation," the letter said. "A Biden administration will move the nation forward on many of the issues we care about," it said, citing racial justice, affordable healthcare, climate change and immigration.
Hillary Clinton, the 2016 Democratic nominee, did not attend any Emgage events in 2016 and former President Barack Obama was "cautious" to do so, The Washington Post notes.
https://www.foxnews.com/politics/biden-muslim-voters-summit-taught-schools-islamic-faith
--------
Afghan Cleric Saved Minor Sikh Girl 'Abducted' By A Muslim Boy
Jul 20, 2020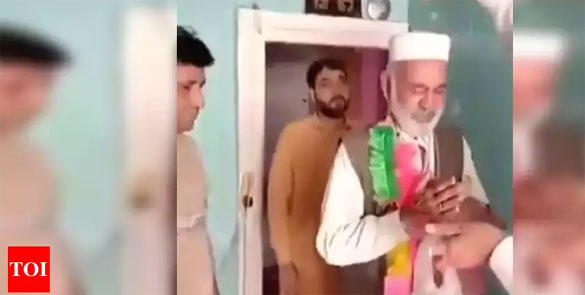 A minor Afghan Sikh girl safely returned home on Monday after the maulvi of a mosque refused to solemnize her marriage
-----
AMRITSAR: A minor Afghan Sikh girl safely returned home on Monday after the maulvi of a mosque refused to solemnize her marriage with a Muslim boy after finding out that she was a minor and informed the police about the same.
The president of Afghan Sikh Hindu Welfare Society, Khajinder Singh told TOI that the Muslim boy had allegedly lured the girl to accompany him to his village.
According to sources in Kabul, Salmeet Kaur, 13, lived with her visually impaired mother and a younger brother in Gurudwara Baba Sri Chand, Shoor Bazar, and was handed over to her family by the police.
Salmeet Kaur had lost her father and uncle in a terrorist attack on Kabul's Gurdwara Har Rai Sahib on April 25 in which 25 Sikh men, women and children had died.
"In a recent decision, India has decided to facilitate the return of Afghan Hindu and Sikh community members facing security threats in Afghanistan to India", a spokesperson of the external affairs ministry said.
Meanwhile a video of Nidan Singh, a Sehajdhari Sikh, who was released on July 18, is being circulated on social media wherein he is being welcomed by his friends and family members. Nidan Singh Sachdeva was kidnapped from Gurdwara Talha Sahib in Chamkani district of Paktia province of Afghanistan on June 22.
https://timesofindia.indiatimes.com/india/afghan-cleric-saved-minor-sikh-girl-abducted-by-a-muslim-boy/articleshow/77070211.cms
--------
UK police consider dropping 'Islamist', 'jihadi' terms when describing terror attacks
July 20, 2020
Assistant Commissioner Neil Basu acknowledged the issue at an event last month
DANIEL LEAL-OLIVAS/AFP/GETTY
------
LONDON: Police in the UK are considering replacing terms such as "Islamist terrorism" to describe acts of terror with phrases such as "adherents of Osama bin Laden's ideology," The Times reported on Monday.
If implemented, officers would stop using phrases such as "jihadi" when describing attacks by those claiming Islam as a motive for terror because their usage was not helpful for community relations.
The head of counter-terrorism policing in the UK, Neil Basu, discussed the use of language to describe acts of terror during an online forum in June with attack survivors, relatives of victims and experts.
During the event it was pointed out that right-wing extremists such as Anders Breivik, who killed 77 people in an attack in Norway in 2011, had often cited protecting Christianity as part of the motive for their actions, but were not described as "Christianist" or "crusaderist" by the police or the media.
A change in the use of language was requested by the National Association of Muslim Police, which said the use of words such as "Islamist" fostered negative connotations of the UK's Muslim community and could lead to a rise in discrimination and Islamophobia.
Representatives from the organization, which numbers 3,000 members, argued that "jihad" should not be used because it means "struggle" or "effort" in Arabic and can refer to being a devout Muslim and carrying out good deeds.
Other alternatives to currently used phrases included "terrorists abusing religious motivations" or the Arabic word "irhabi," which is not connected to religion but often used in the Middle East to describe terrorism.
The national coordinator of the UK's de-radicalization program Prevent, Nik Adams, said counter terrorism officers had said, after receiving advice from Muslim officers, they were "concerned" that terminology currently in use could lead to "stigmatizing of innocent Muslims in the UK."
However, Adams told The Times that any change in language used was not certain to be implemented, adding: "We have no plans to change the terminology we use at present but welcomed the debate and contributions."
https://www.arabnews.com/node/1707436/world
--------
Engineers Survey 200-Year-Old Old Masjid Mubarak Begum Which Was Damaged in Rain in Delhi
VatsalaShrangi
Jul 21, 2020
A team of engineers on Monday surveyed the 200-year-old Masjid Mubarak Begum in Old Delhi's Hauz Qazi chowk, whose central dome was reduced to rubble due to heavy rain a day ago.
Technicians and engineers of the Delhi Waqf Board, which maintains the mosque, said the loss is "irreparable" in terms of its heritage. Entry to the prayer hall beneath the dome has been restricted. Prayers were offered in the courtyard on Monday.
"It is tough to reach the roof, which has become vulnerable, and collect the rubble. The rubble has not been cleared as we are waiting for it to be inspected by experts, whom we are trying to get in touch with. We will preserve the malba (rubble) for research and see if it could be used for restoration," Mehfooz Mohammad, section officer, Delhi Waqf Board, said.
Mohammad said it was not just the lightening and rainfall that led to the damage, but the dome and the roof had started developing cracks over the past few years.
"For the past few years, cracks were observed here, which could possibly be because of construction carried out discreetly by shopkeepers on the ground floor and also because of digging work for construction of a Delhi Metro station. During the digging work, many old structures, including houses, had developed cracks," said Mohammad.
The official said the board has contacted the Archaeological Survey of India's Delhi chapter to seek its expertise and help in restoration. "We plan to write to ASI-Delhi formally tomorrow to help us. We do not have any experts or architects within the board as such and would like to appeal to conservation agencies if they would like to come forward to help us with the task," he said.
Officials from ASI, Delhi said the mosque does not come under their purview.
According to historian Rana Safvi, the double-storeyed mosque was built in 1822 and is one of the many mosques built by women in that era.
Heritage activist and author Sohail Hashmi said the mosque has historical and architectural importance. "The 1958 Act under the provisions of which the ASI functions needs to be amended to bring all such structures of immense historical importance under its purview. The mosque requires the attention of experts, who could lead its restoration," said Hashmi.
Hashmi said historically it is important as it was built by a courtesan at that time. Mubarak Begum was a courtesan married to David Ochterlony, the first British resident in Delhi in the Mughal court.
The mosque was mentioned in the list of 3,000 heritage structures that existed in Delhi, which was prepared in 1920 by historian Maulana Zafar Hasan for the then British-ruled ASI to study.
"She was the senior-most of the 13 wives of the British resident. She was sharp and ambitious and Ochterlony would often seek her advice in various matters," he said.
The design of the mosque is similar to those from the times of Shah Jahan. "The design would typically have three domes, of which the central dome is larger than two others. The structure needs to be preserved well to retain its heritage value," Hashmi said.
Abu Sufiyan, a local who runs a group named 'PuraniDilliWalokiBaatein', which conducts heritage walks and cultural programmes in the area, said, "The mosque was not being maintained properly for years. It had been developing cracks from long before but it wasn't looked into even once. I have got many messages from random people asking to contribute money for repair. We will help as much as we can to restore it," said Sufiyan.
https://www.hindustantimes.com/cities/engineers-survey-200-year-old-old-delhi-mosque-which-was-damaged-in-rain/story-m2WLTUKV2kMdqeOpaJeHWK.html
--------
Indonesia vows to end practice of bride kidnapping
By Liza Tambunan
July 21, 2020
Indonesian officials are vowing to end the controversial custom of bride kidnapping on the remote island of Sumba, after videos of women being abducted sparked a national debate about the practice.
Citra* thought it was just a work meeting. Two men, claiming to be local officials, said they wanted to go over budgets for a project she was running at a local aid agency.
The then 28-year-old was slightly nervous about going alone but keen to distinguish herself at work, so she pushed such concerns aside.
An hour in, the men suggested the meeting continue at a different location and invited her to ride in their car. Insisting on taking her own motorbike she went to slide her key into the ignition, when suddenly another group of men grabbed her.
"I was kicking and screaming, as they pushed me into the car. I was helpless. Inside two people held me down," she says. "I knew what was happening."
She was being captured in order to be wed.
Bride kidnapping, or kawintangkap, is a controversial practice in Sumba with disputed origins which sees women taken by force by family members or friends of men who want to marry them.
Despite long-standing calls for it to be banned by women's rights groups, it continues to be carried out in certain parts of Sumba, a remote Indonesian island east of Bali.
But after two bride kidnappings were captured on video and widely shared on social media, the central government is now calling for it to end.
'It felt like I was dying'
Inside the car, Citra managed to message her boyfriend and parents before arriving at a traditional house, with its high peaked roof and solid wooden pillars. The family who kidnapped her, she then realised, were distant relatives from her father's side.
"There were lots of people waiting there. They sounded a gong as I arrived and started doing rituals."
An ancient animist religion, known as Marapu, is widely practised in Sumba alongside Christianity and Islam. To keep the world in balance, spirits are appeased by ceremonies and sacrifices.
"In Sumba, people believe that when water touches your forehead you cannot leave the house," Citra said. "I was very aware of what was happening, so when they tried to do that I turned at the last minute so that the water didn't touch my forehead."
Her captors told her repeatedly that they were acting out of love for her and tried to woo her into accepting the marriage.
"I cried until my throat was dry. I threw myself on the ground. I kept jabbing the motorbike key that I was holding into my stomach until it bruised. I hit my head against the large wooden pillars. I wanted them to understand I didn't want this. I hoped they would feel sorry for me."
For the next six days she was kept, effectively a prisoner in their house, sleeping in the living room.
"I cried all night, and I didn't sleep. It felt like I was dying."
Citra refused to eat or drink anything the family offered her believing it would put her under a spell: "If we take their food, we would say yes to the marriage."
Her sister smuggled food and water to her while her family, with the support of women's rights groups, negotiated her release with village elders and the family of the potential groom.
No position to negotiate
Women's rights group Peruati has documented seven such bride kidnappings in the last four years, and believe many more have taken place in remote areas of the island.
Just three women, including Citra, ended up being freed. In the two most recent cases that were captured on video in June, one woman stayed in the marriage.
"They stayed because they didn't have a choice," says activist AprissaTaranau, the local head of Peruati. "Kawin tangkap can sometimes be a form of arranged marriage and women are not in a position to negotiate."
She says those that do manage to leave are often stigmatised by their community.
"They're labelled as a disgrace and people say they will not be able to get married now or have children. So women stay because of a fear of that," she says.
That is what Citra was told.
"Thank God I am now married to my boyfriend and we have a one-year old child," she says with a smile, three years on from her ordeal.
Promises to outlaw the practice
Local historian and elder Frans WoraHebiargues the practice is not part of Sumba's rich cultural traditions and says it is used by people wanting to force women to marry them without consequences.
A lack of firm action by custodial leaders and the authorities means the practice continues, he says.
"There are no laws against it, only sometimes there is social reprimand against those who practice it but there is no legal or cultural deterrent."
Following a national outcry, regional leaders in Sumba signed a joint declaration rejecting the practice early this month.
Women's Empowerment Minister Bintang Puspayoga flew to the island from the capital, Jakarta, to attend.
Speaking to the media after the event she said: "We have heard from custodial leaders and religious leaders, that the practice of capture and wed that went viral is not truly part of Sumba's traditions."
She promised that the declaration was the beginning of a wider government effort to end the practice that she described as violence against women.
Rights groups have welcomed the move but described it as "a first step in a long journey".
Citra says she is grateful that the government is now paying attention to the practice and hopes, as a result, no one will have to go through what she did.
"For some this may be a tradition from our ancestors. But it's an out of date custom that must stop because it's very damaging to women."
https://www.bbc.com/news/world-asia-53418099
--------
Egypt denies destroying ancient Islamic cemeteries to build bridge
July 21, 2020
CAIRO: The Egyptian government on Monday denied claims circulating on social media that ancient Islamic cemeteries and artifacts were being destroyed to make way for a bridge-building project.
Antiquities dating back five centuries in Cairo's City of the Dead were among treasured items online posters said had been wrecked.
However, in a statement, head of the Islamic, Coptic and Judaic Antiquities Sector, Osama Talaat, said that the rumors were "completely untrue" and images of tombs that had appeared on social networking sites were not historic registered monuments.
He added that although the pictured tombs were from more recent times, the secretary-general of Egypt's Supreme Council of Antiquities had still ordered the formation of a scientific technical committee to examine the tombstones and look into the possibility of displaying some of them in museums.
An online campaign, launched on Facebook, has been critical of the scheme to build a bridge through the Mamluk Desert Cemetery.
Activist and journalist Khaled Abdel-Hadi said that the Mamluk tombs were part of Egypt's world-famous Islamic architecture and destroying them would be to erase key aspects of the country's history.
Archaeologist Hisham Auf pointed out that the cemeteries being demolished to make way for the bridge were in an archaeological site registered since 2009 and as such it was against the law to damage them.
He said the cemeteries dated back to the 1920s and contained the bodies of pashas, former Egyptian prime ministers, and members of the Egyptian intelligentsia who fought during the Egyptian Revolution of 1919 against British occupation.
This, he noted, "made the area a part of modern history as well as ancient history. The region as a whole went through changes, all of which were against the law as this tampered with Egyptian history and Egypt's international pledge to UNESCO.
"It is true that during the construction of the Salah Salem Road during the time of (Egyptian) President Gamal Abdel Nasser parts of graves were removed, but this does not legitimize what is happening now and does not mean anything in the debate about the graves."
Auf added: "We were informed only 10 days ago of the decision to demolish. It was an official report and was conducted by the person responsible for my mother's family tombs in El-Ghafir, in which its two-room reception and large vacant space will be destroyed.
"As the tombs are on a side street, the cemeteries themselves are still safe. I don't know if we have to move the remains of the dead. The state did not provide us with alternate graves."
He said some people had been able to arrange for remains to be moved but others were struggling. "My great grandfather had bought a second cemetery in the same area, but he donated it. This second cemetery will most likely end up being destroyed and no one will move any of the bones located there."
He said that to date there had been no offer of compensation.
"This is not a process of moving the graves. This is the demolition of the graves, which is untenable behavior. I am disgusted by the attempts to defend this sad day in the history of Cairo," Auf added.
https://www.arabnews.com/node/1707656/middle-east
--------
Omar al-Bashir faces trial over 89 coup in Sudan
20 July 2020
Sudan's former President Omar al-Bashir faces trial over a military coup against a democratically elected government that brought him to power more than three decades ago.
He will be in the dock with ten military personnel and six civilians, including his former Vice Presidents Ali Osman Taha and Bakri Hassan Saleh, as well as former ministers and governors at 0800 GMT on Tuesday.
Sudan's post-Bashir transitional government had launched a series of reforms to soothe public anger.
MoazHadra, one of the lawyers who led the push to bring the case to court, said Bashir and Saleh "have totally refused to cooperate with the commission of enquiry, but they will be present at the court."
The accused, he added, are charged over crimes that carry the death penalty for attempting to "destroy" the constitutional order.
"This is the first time someone who launches a coup will be brought to justice" in Sudan, he said.
Sudan has seen three coups since 1956.
"This trial will be a warning to anyone who tries to destroy the constitutional system."
Hadra defended the trial as a means of safeguarding "Sudanese democracy." He hoped the legal proceedings will eventually end "the era of putsches in Sudan."
Hashem al-Gali, a defense lawyer, argues that Bashir's overthrow of the government of Prime Minister Sadek al-Mahdi took place so long ago that it was beyond the statute of limitations and should therefore no longer be dealt with by a court.
Bashir, 76, who is already behind bars for corruption, could face the death penalty if convicted over his 1989 coup.
Sudan has pledged to hand him over to the International Criminal Court (ICC) to face trial on war crimes and genocide charges related to the 2003 Darfur conflict, which left 300,000 people dead and millions displaced.
https://www.presstv.com/Detail/2020/07/20/630046/Omar-Bashir-trial-Sudan
--------
North America
US elections: Joe Biden vows to include Muslim-Americans in his administration
20 July 2020
US presidential candidate Joe Biden vowed Monday to include Muslim-Americans in his administration if he wins the November elections.
"You [Muslim Americans] deserve to have a president that will work with you in these efforts— not scapegoat you...If I have the honor of being elected president of the US, we will work together to...see better, with our hearts, with our hands, with our votes," Biden said during a webinar with Muslim-American voters.
For all the latest headlines follow our Google News channel online or via the app.
The former vice president added that he would end the travel ban seen as targeting Muslim-majority countries. "If President, I will end the Muslim ban on Day 1. Day 1," he said, referring to the 2017 ban issued by the Trump administration.
The original travel ban barred nearly all immigrants and travelers from seven countries with majority Muslim populations. The policy was revised amid court challenges, but the US Supreme Court ultimately upheld it in June 2018.
Trump has made cracking down on immigration a focus of his 2020 re-election campaign. His travel ban policy is popular with Republican supporters.
Biden, during the "Million Muslim Votes Summit" webinar, said that "Muslim Americans were the first to feel Donald Trump's assault."
Biden said he wished "we were taught more in our schools about the Islamic faith."
https://english.alarabiya.net/en/News/world/2020/07/20/Joe-Biden-vows-to-include-Muslim-Americans-in-his-administration.html
--------
US sanctions 11 Chinese firms over Uighur rights abuses
BeyzaBinnurDonmez
20.07.2020
US Commerce Department on Monday restricted 11 Chinese entities' access to US technologies over their involvement in human rights abuses against Uighur minority in Xinjiang, northwest China.
The department said in a statement that this action "will result in these companies facing new restrictions on access to U.S.-origin items, including commodities and technology."
It accused the companies of implicating in "human rights violations and abuses in the implementation of the People's Republic of China's (PRC) campaign of repression, mass arbitrary detention, forced labor, involuntary collection of biometric data, and genetic analyses targeted at Muslim minority groups from the Xinjiang Uyghur Autonomous Region (XUAR)."
Commerce Secretary Wilbur Ross said the step was taken to ensure that American goods are not used by the "repressive" Beijing regime.
"Beijing actively promotes the reprehensible practice of forced labor and abusive DNA collection and analysis schemes to repress its citizens," Ross said. "This action will ensure that our goods and technologies are not used in the Chinese Communist Party's despicable offensive against defenseless Muslim minority populations.
The restrictions hit ChangjiEsquel Textile Co. Ltd., Hefei Bitland Information Technology Co. Ltd., Hefei Meiling Co. Ltd., HetianHaolin Hair Accessories Co. Ltd., HetianTaida Apparel Co., Ltd., KTK Group, Nanjing Synergy Textiles Co. Ltd., Nanchang O-Film Tech and Tanyuan Technology Co. Ltd., over forced labor.
Xinjiang Silk Road BGI and Beijing Liuhe BGI were also sanctioned over conducting genetic analyses.
Xinjiang region is home to around 10 million Uighurs. The Turkic Muslim group, which makes up around 45% of Xinjiang's population, has long accused China's authorities of cultural, religious and economic discrimination.
Up to 1 million people, or about 7% of the Muslim population in Xinjiang, have been incarcerated in an expanding network of "political re-education" camps, according to US officials and UN experts.
https://www.aa.com.tr/en/americas/us-sanctions-11-chinese-firms-over-uighur-rights-abuses/1916833
--------
In Canadian law, 'terrorism' seems to be the hardest word – and it's going to get harder
21 July 2020
On July 2, Corey Hurren allegedly rammed his truck into the gates of Rideau Hall and, with a loaded firearm, advanced on the grounds where both Prime Minister Justin Trudeau and Governor General Julie Payette reside with their families.
The RCMP swiftly intercepted Mr. Hurren. He reportedly threatened the Prime Minister but never raised his weapon in the two hours between leaving his vehicle and his arrest. In his truck, the RCMP says it discovered additional firearms and a two-page note apologizing for the undefined actions he was about to take. The force's specialized counterterrorism unit, the Integrated National Security Enforcement Team, continues to investigate, while further reporting paints a picture of a man with grievances and an interest in online anti-government conspiracy theories.
And yet he has only been charged with numerous firearms offences and uttering threats – and not, to the shock of some, with terrorism.
In Canada, terrorist activity is specifically defined in the Criminal Code, and for Mr. Hurren to face such charges, the RCMP and federal prosecutors must believe that there is enough evidence to convince a judge or jury beyond a reasonable doubt of three things. First, that Mr. Hurren intended to endanger someone else's life; second, that his actions meant to compel Mr. Trudeau to do or not do something; and third, that he was driven to take those actions, in whole or in part, for a political or ideological reason.
This definition creates a high bar, and rightfully so. The stigma and consequences that stem from a terrorism conviction are far broader than a mere prison sentence.
No less important, the "I know it when I see it" approach to defining terrorism is dangerous. U.S. President Donald Trump's description of Antifa and anti-racism protesters as "terrorists" highlights how the powerful can sweepingly deploy this label to discredit and criminalize their critics.
However, Canadian authorities are historically much quicker to "know and see" terrorism when an individual's motivations resemble those of al-Qaeda or the Islamic State. There is a reason for this: Parliament added terrorism offences and the corresponding law enforcement powers to the Criminal Code in direct response to the attacks on Sept. 11, 2001. Later amendments responded to the 2014 attacks on Parliament Hill and in Saint-Jean-sur-Richelieu, Que., and to the foreign fighter phenomenon. This history is why terrorism offences align neatly with the behaviours and tactics employed by adherents of violent jihadist extremism; indeed, 56 of the 58 people charged with terrorism offences in Canada since 2001 have been linked to Islamic-inspired extremism.
In one sense, this statistic is troubling. In recent years, deadly incidents – such as the Toronto van attack that killed 10 and the Quebec City mosque shooting that left six dead – did not lead to terrorism charges, even though the accused met the definition so clearly that even the Canadian Security Intelligence Service (CSIS) refers to the events as such. However, this also reflects Canadians' instinct to generally resolve political grievances through democratic or peaceful means rather than through violence. As a result, acts of civil disobedience, when they occur, are rarely life-threatening. But the alleged actions of Mr. Hurren may signal a dangerous shift in Canada's political and national-security landscape.
Indeed, the economic and political responses to the pandemic have further fuelled conspiracy-theory groups such as QAnon, which prey on people's legitimate grievances and fears. As Canadians face increasing personal strain, these theories threaten to corrupt people's perception of reality and drive them to violent action.
This emerging threat presents a host of challenges for Canada's security agencies. To start, they must decide whether violence motivated by QAnon-type conspiracy theories is terrorism. CSIS can only investigate terrorism, and many preventative criminal and administrative tools are only available if terrorist activity is involved. If these resources can be deployed, it will take time and resources to retool them to fit this new threat. Perhaps the most difficult challenge will be how agencies would identify who poses an actual threat; holding conspiratorial views or government grievances isn't a crime, nor is it clearly associated with any particular demographic or region within Canada.
Reducing the threat, whatever we label it, will ultimately demand engagement with the broader population: challenging the fears and narratives at the root of these conspiracy theories, and providing education on how to identify a person who might be radicalizing toward violence. It may seem easy to dismiss such Canadians as nut jobs on the political fringe. But the grievances are real – and marginalizing them will only further cement the institutional distrust that's at the heart of the problem.
https://www.theglobeandmail.com/opinion/article-in-canadian-law-terrorism-seems-to-be-the-hardest-word-and-its/?utm_source=iterable&utm_medium=email&utm_campaign=1372364_
--------
Muslim-American leaders endorse Biden for president
Michael Gabriel Hernandez
21.07.2020
WASHINGTON
A group of prominent Muslim-American leaders endorsed Monday presumptive Democratic nominee Joe Biden as he prepares to challenge President Donald Trump in November's nationwide election.
Those who are lending their support including Reps. Ilhan Omar and Andre Carson, as well as Minnesota Attorney General Keith Ellison, according to the Associated Press, which obtained a copy of a letter they authored announcing their support.
All of those who signed the letter are Democrats. Omar was previously a prominent supporter of Sen. Bernie Sanders' progressive campaign, but signaled last week that she would be supporting Biden.
"Our number one goal is to remove Donald Trump from office and to replace him with someone who can begin to heal our nation," the letter said, according to the AP. "A Biden administration will move the nation forward on many of the issues we care about," it said, citing racial justice, affordable health care, climate change and immigration.
The missive is part of a campaign being launched by Emgage Action, a Muslim-American advocacy group seeking to increase voter turnout ahead of the Nov. 3 polls. It did not immediately respond to a request for a copy of the letter sent by Anadolu Agency.
Addressing Emgage Action's Million Muslim Votes virtual summit, Biden cast the upcoming election as "the most important in modern American history."
"Muslim communities were the first to feel Donald Trump's assault on black and brown communities in this country with his vile Muslim ban. That fight was the opening barrage in what has been nearly four years of constant pressure and insults," he said.
"What message does this send to the rest of the world? We have led the world not just by the example of our power, but by the power of our example. And he's making a mockery of what we stand for," added Biden.
The former vice president is continuing to lead Trump is successive nationwide polls, with some indicating he could have a double-digit lead with less than four months remaining until ballots are cast.
If Trump is unseated in November he will be the first single-term president since George H.W. Bush lost to Bill Clinton in 1992.
https://www.aa.com.tr/en/americas/muslim-american-leaders-endorse-biden-for-president/1916911
--------
South Asia
Taliban led violence absolutely unacceptable: NATO SCR in Afghanistan
21 Jul 2020
The NATO Senion Civilian Representative in Afghanistan Ambassador Stefano Pontecorvo described the Taliban-led violence as unacceptable as efforts are underway to find a negotiated political settlement to the war in the country.
"I would say that now the main obstacle to peace now is the unacceptable level of violence from the part of Taliban. This has been mentioned by everybody who takes an interesting Afghanistan and beyond," Ambassador Pontecorvo told Khaama Press.
He also added "Taliban's level of violence are absolutely unacceptable, they are not creating the conditions for getting the Peace table. Taliban have to demonstrate that they are serious about peace, I mean fighting and talking is not an option also because you have a lot of Casualties, the ANDSF which are showing their worth they are getting better and better by the day and already very very good."
"They have the wants that have driven the Taliban to the negotiating table as they have demonstrated that there is no possibility for the Taliban to win this war. And the violence has to go down. Its confidence-building measures, which there are no conditions to get to the peace" Ambassador Pontecorvo added.
"But as the situation, creating a situation, which will make us to look to the Taliban and make the Afghan government look to the Taliban as more crosswordly progress and then there is the part of the tragic Casualties on both sides, both of the Taliban side, on the ANDSF side and the civilians who are in it," he said, adding that "But as I say when there are levels of violence unfortunately civilians die and that is not simple."
This comes as Washington and Taliban signed a peace deal late in February this year in a bid to end the 19-year war in the country, mainly focusing on the launch of intra-Afghan peace talks.
However, the Taliban group has increased attacks across the country during the recent weeks and months, launching major attacks against the security forces which also inflicted heavy casualties on ordinary civilians, according to Afghan officials.
https://www.khaama.com/taliban-led-violence-absolutely-unacceptable-nato-scr-in-afghanistan-08971/
--------
Rohingya Refugees In India Battling Starvation Amid COVID-19 Pandemic
20 July 2020
Munawar Zaman
In India almost all the Rohingya refugees living in various parts of the country camps have been left to fight the COVID-19 pandemic on their own. The lockdown has mounted their miseries with many facing starvation due to lack of work and government apathy.
https://www.presstv.com/Detail/2020/07/20/630057/Rohingya-refugees-in-India-battling-starvation-amid-COVID-19-pandemic
--------
72 Taliban militants killed as violence rages in Afghanistan
JUL 17, 2020
As violence surges across Afghanistan, Afghan security forces on Friday said at least 72 Taliban militants, including four top commanders, have been killed in operations in three provinces.
In a statement, the Afghan National Army said 32 more insurgents were also injured in ground and air offensives in northern Balkh, Faryab and Sar-i-Pul provinces over the past 24 hours.
Earlier this week, at least 36 security personnel were killed and over 60 others wounded in northern parts of the country amid a rise in Taliban-claimed attacks.
On Sunday, the Taliban rejected growing calls for a cease-fire by the Afghan government and international community, saying they are yet to find "an alternative" to the ongoing insurgency.
In a series of tweets, the group's spokesperson Zabiullah Mujahid said the implementation of the Doha agreement with the U.S. and the start of intra-Afghan negotiations were necessary for an end to the violence.
Days prior to that, Afghan President Ashraf Ghani warned the peace process could face "serious challenges" if the Taliban continued their attacks.
According to the latest figures by the Afghanistan Independent Human Rights Commission, 1,213 civilians have been killed and 1,744 injured in 880 security incidents in the first six months of 2020.
The figures mean that around 16 civilians have been killed or injured every day in Afghanistan this year.
https://www.dailysabah.com/world/asia-pacific/72-taliban-militants-killed-as-violence-rages-in-afghanistan?utm_source=iterable&utm_medium=email&utm_campaign=1372364_
--------
Taliban truck bomb kills eight Afghan troops in Wardak province
20 July 2020
At least eight soldiers have been killed after a bomber detonated an explosives-packed truck close to an Afghan military convoy in Sayed Abad district of Wardak province near the capital Kabul, the defense ministry says.
The bomb attack, which took place on Monday, also wounded nine soldiers.
The Taliban militant group claimed responsibility for the assault, saying the assailant had targeted a convoy of Afghan commandos in the troubled region.
In recent months, the Taliban have carried out near-daily attacks against Afghan forces across various parts of the country.
Last week, nearly a dozen Afghan security personnel were killed in clashes with the Taliban militants following a car bombing at a government compound in the northern province of Samangan. Local officials said the bomb attack was carried out in the provincial capital Aybak close to an office of the National Security Directorate (NDS), the country's main intelligence agency.
Official data shows that Taliban bombings and other assaults have increased 70 percent since the militant group signed a deal with the United States in February.
Under the agreement, the US will withdraw its forces from Afghanistan, and the Taliban will refrain from attacking international occupying forces.
The militants have made no pledge to avoid attacking Afghan forces and civilians.
The Taliban militants refused to recognize the Afghan government until they reached the deal with the United States on February 29.
The Afghan government was a party neither to the negotiations nor to the deal, but it has been acting in accordance with its terms, including by agreeing to free Taliban prisoners. The militants have not stopped attacking government targets and civilians.
https://www.presstv.com/Detail/2020/07/20/630053/Taliban-Afghanistan-Kabul-Wardak-Sayed-Abad-Samangan-
--------
Russia bounties story in US media aimed at spoiling peace deal: Taliban
20 July 2020
A Taliban official has dismissed as fake a recent report in the US media that accused Russia of paying the militant group to kill American troops in Afghanistan, saying the report was a byproduct of US political infighting and aimed at spoiling a Taliban-Washington peace deal.
In a report last month, the New York Times, citing an unnamed source, claimed that a top-secret unit within the Russian military intelligence, or the GRU, had allegedly offered monetary rewards to Taliban-linked militants to kill US troopers in the country last year.
Russia dismissed the report as a bunch of "lies."
In an interview with Russia's RT news channel released on Sunday, Taliban spokesperson and US-Taliban negotiator Suhail Shaheen said the story "has to do with internal politics" in the US.
"This Russian bounties, it is not true," he said. "We are not fighting for anyone for money."
He did not deny that the Taliban attack US troops in Afghanistan, but said that the group do so based on "ideology."
A peace deal was signed between the Taliban and the US in late February, in the Qatari capital, Doha, for a phased US troop withdrawal from Afghanistan.
Taliban reshuffle team of negotiators
Meanwhile, the leader of the Taliban militant group is reported to have reshuffled his team of negotiators ahead of long-awaited peace talks with the Afghan government, sources with the group said Saturday.
Mullah Haibatullah Akhundzada, added four close aides to the group and removed three to four earlier members of the team, AFP reported.
According to the sources, the newly-appointed negotiators are all members of the militant group's leadership council, which should help the team make quicker decisions.
US, Taliban urge Kabul to complete prisoner swap
On Sunday, acting US ambassador to Afghanistan, Ross Wilson, called on President Ashraf Ghani and his coalition partner, Abdullah Abdullah to complete the exchange of prisoners and launch talks with the Taliban without delay.
"The Afghan people have made clear their impatience," he said in a series of tweets. "Start intra-Afghan negotiations now so that discussions on a permanent and comprehensive ceasefire can begin."
The peace negotiations hinge on the prisoner swap, in which Kabul pledged to free about 5,000 Taliban prisoners in return for around 1,000 Afghan security forces held by the militants.
Afghan authorities have so far released about 4,400 Taliban prisoners, according to officials. The Taliban accused Kabul on Sunday of "creating hurdle" in the way of negotiations by refusing to release the remaining prisoners.
Kabul has refused to release around 600 prisoners, whom it says are "too dangerous."
The intra-Afghan talks have repeatedly been delayed as the Taliban continue their attacks across the nation. The peace talks, which were abandoned by the Taliban back in April, were initially supposed to have started in March in Doha.
US Special Representative on Afghanistan Zalmay Khalilzad, said last week that "large numbers" of Afghans continue to die without a reason.
"Violence has been high, especially in recent days and weeks," he said.
US cuts down troops, closes 5 bases in Afghanistan
Last week, the Pentagon announced that it had closed five military bases in Afghanistan as part of the agreement reached with the Taliban.
"US forces in Afghanistan remain in the mid-8,000s and five bases formerly occupied by US forces have been transferred to our Afghan partners," said Pentagon chief spokesman Jonathan Hoffman.
The bases were in Helmand, Uruzgan, Paktika and Laghman provinces.
https://www.presstv.com/Detail/2020/07/20/630011/Afghanistan-Taliban-Russia-bounty-fake-peace-deal-
--------
US, Taliban Urge Afghan Leaders to Complete Prisoner Swap
By Ayaz Gul
July 19, 2020
ISLAMABAD - The United States is calling on leaders in Afghanistan to conclude an ongoing prisoner swap and launch a peace dialogue with the Taliban insurgency without delay.
In a series of tweets Sunday, acting U.S. ambassador to Kabul Ross Wilson also stressed the need for Afghan President Ashraf Ghani and his political rival-turned-coalition partner, Abdullah Abdullah, to implement a power-sharing deal which the two signed in May.
"We urge this country's leaders promptly to establish the new government, create the High Council for National Reconciliation, complete the exchange of prisoners, and move to the opening of intra-Afghan negotiations," said the American charge d'affairs.
Under his power-sharing deal with Ghani, Abdullah has been appointed as the head of the High Council for National Reconciliation, which is tasked to lead a team of Afghan negotiators in still-unscheduled talks with the Taliban.
The proposed negotiations, however, hinge on the prisoner swap, in which Kabul is required to free 5,000 Taliban prisoners in return for around 1,000 Afghan security force captives held by the insurgent group.
Afghan officials have said that about 4,400 prisoners have been freed. But the government has refused to release the last batch of around 600 inmates, describing them as "too dangerous" and insisting some foreign governments also want them to remain in jails.
"The Afghan people have made clear their impatience. Start intra-Afghan negotiations now so that discussions on a permanent and comprehensive ceasefire can begin," said the ambassador, underscoring Washington's apparent frustration at Kabul's refusal to move forward with more prisoner releases.
The prisoner exchange was agreed to in a landmark deal signed by Washington and the Taliban in February to end the nearly 19-year-old Afghan war, America's longest.
The Taliban says it has already released 845 Afghan security force captives from its custody and is working to free the remainder. However, insurgent officials have ruled out participation in peace talks until all 5,000 Taliban prisoners are set free.
On Sunday, the Taliban criticized Kabul for "creating hurdles" in the way of intra-Afghan talks by not releasing the remaining prisoners. The insurgent group's statement dismissed as "lame excuses" the claim by Afghan officials that foreign governments opposed the prisoner releases. It noted that the U.S.-Taliban agreement has been endorsed not only by the United Nations but also by a number of countries.
The completion of the prisoner exchange process was "one of the most fundamental issues" of the Afghan peace process, the Taliban said.
"If the Kabul administration officials truly seek intra-Afghan negotiations then they must execute their responsibilities related to completion of the prisoner exchange process," the group said.
Under its deal with the Taliban, the Trump administration has committed to withdraw all American and allied troops from Afghanistan by July 2021.
In return, the insurgents have pledged to prevent al-Qaida and other terrorist groups from using Afghan soil for international attacks, and promised to seek reconciliation with other Afghan groups through a dialogue process.
The Taliban also pledged in its deal with the U.S. to cease all attacks on international forces in the country. But insurgent battlefield raids against Afghan security forces have spiked in recent weeks, killing scores of government personnel and civilians.
The May 17 power-sharing deal gave Abdullah the right to appoint half of the cabinet. But the political situation in Kabul remains tense.
The Ghani-Abdullah deal grew out of last September's fraud-marred presidential election, which both leaders claimed to have won. The two formed parallel governments in March before reaching the deal, mainly under pressure from the United States and other international partners of Afghanistan.
https://www.voanews.com/south-central-asia/us-taliban-urge-afghan-leaders-complete-prisoner-swap?utm_source=iterable&utm_medium=email&utm_campaign=1372364_
--------
Europe
Russian Muslims happy with Hagia Sophia status change
Elena Teslova
20.07.2020
MOSCOW
Restoring Hagia Sophia's status as a place of worship is a great joy for the believers of the three monotheistic religions -- Muslims, Christians, and Jews -- first deputy head of the Spiritual Board of Russian Muslims said on Monday.
Hagia Sophia will once again become a place where the name of God will be honored and praised, DamirMuhetdinov told Anadolu Agency.
"We welcome the fact that there is one more place of worship in which the name of God is commemorated on Earth. We see this as another historic victory for monotheism," Muhetdinov said.
From the very beginning of the discussion over Hagia Sophia's status, the Spiritual Board of Russian Muslims assumed a position of non-interference in the matter of a sovereign state, while stressing the importance of preserving inter-religious peace and the monument itself, designated as a UNESCO World Heritage site, he said.
"Being an object of culture of world significance, in our opinion, Hagia Sophia should be accessible to people of all faiths and religious views," he said.
Muhetdinov expressed confidence that the Turkish people and their political leadership will find "the right ways" to preserve this object and not violate the rights of other religious groups and confessions.
"With the example of the Sultan Ahmed Mosque, we know that anyone, regardless of their religion, can come to this place -- to pray or see its beauty and get acquainted with the Muslim prayer. Therefore, the proposals voiced to date to preserve the historical appearance of Hagia Sophia as an architectural monument are correct and will serve to preserve peace, harmony, and understanding between different peoples and cultures," he said.
Cooperation with Turkey's Religious Affairs Directorate 'constructive', 'brotherly'
Turning to relations with Turkey's Religious Affairs Directorate, Muhetdinov said their exchanges have been "constructive" and "brotherly" for decades.
"The Turkish side took part in such important projects as, for example, the construction of the Cathedral Mosque in Moscow. The decoration of the mosque was largely a gift from the Turkish side and his Excellency Recep Tayyip Erdogan as a sign of respect and fraternal solidarity with the Muslims of Russia," he said.
These days, a large project translating the encyclopedia of Hadith from Turkish into Russian consisting of seven volumes is being completed, and Russian and Turkish scientists have been working on its publication in Russian for the last five years, Muhetdinov added.
https://www.aa.com.tr/en/europe/russian-muslims-happy-with-hagia-sophia-status-change/1916427
--------
Russia's Chechnya ruler sanctioned by US for human rights violations
20 July 2020
The United States on Monday slapped the regional strongman leader of Russia's republic of Chechnya with sanctions over human rights violations.
Ramzan Kadyrov, 43, has run Chechnya like his personal fiefdom, relying on his security forces to quash dissent. International human rights groups have accused Kadyrov and his lieutenants of abductions, torture and killings of their opponents.
For all the latest headlines follow our Google News channel online or via the app.
In a statement announcing the sanctions, US Secretary of State Mike Pompeo pointed at "extensive credible information that Kadyrov is responsible for numerous gross violations of human rights dating back over a decade, including torture and extrajudicial killings."
Pompeo said the restrictions would apply to Kadyrov's wife and two daughters and he encouraged US allies to take similar measures.
The Kremlin has relied on Kadyrov to stabilize Chechnya after two separatist wars, providing generous federal subsidies and dismissing international criticism of his rule.
The Kremlin also has stood by Kadyrov amid Russian opposition claims of his involvement in the 2015 killing of prominent Kremlin critic Boris Nemtsov, which the Chechen leader has rejected. An officer in Chechnya's security forces was convicted of shooting Nemtsov on a bridge adjacent to the Kremlin and received a 20-year prison term.
https://english.alarabiya.net/en/News/world/2020/07/20/Russian-Chechnya-.html
--------
Austria to launch Muslim profiling scheme
AskinKiyagan
20.07.2020
The center-right People's Party (OVP) and Green Party government in Austria is preparing to institute a controversial surveillance program on Muslims in the country in a supposed bid to fight against so-called "political Islam."
In the initiative announced by the government in January, various groups continued to push back against the continued pursuit of anti-Muslim and foreign policies that had begun under the previous far-right government.
The OVP announced that a planned documentation center would be established for "combating anti-Semitism, racism and religion-motivated extremism" and would only carry out suspicionless surveillance on elements of "political Islam." The announcement drew much criticism from academics, rights groups and coalition partner Green Party lawmakers.
With these centers, the government, which plans to observe all Muslim associations, mosques and cultural activities, will decide which institutions to cooperate with.
The first and only documentation center was established in Austria in 1963 to combat Nazism and conduct research on Neo-nazi formations.
The move has been denounced by various circles, which said it placed Nazism and Islam on the same scale.
Speaking to Anadolu Agency, political scientist from Georgetown University, Farid Hafez said Austrian Prime Minister Sebastian Kurz was known to cite supposedly academic research in a bid to bolster his political goals. Hafez said the center would conduct "scientific" studies to serve his government.
Warning that the government intentionally avoided sufficiently grounding its concept of "political Islam" to make it a more useful tool against Muslims, he noted that previous mosque closures and headscarf bans had also been associated with political Islam.
With this logic, any institution, person or religious activity could be associated with political Islam and subjected to various restrictions and obstacles, added Hafez.
He pointed out that Lorenzo Vidino, one of the experts leading the documentation center, defined supposed "political Islamists" as non-violent groups, acting under the law but in a way that was harmful to society.
The fact that Muslims have any independent or self-managed institution or organization in their field is considered dangerous by Sebastian Kurz and his team, said Hafez, adding that the government wanted Muslims to be dependent on elements controlled by the state and should not create anything new themselves.
Social Austria of the Future (SOZ) party chairman HakanGordu also said the documentation center would attack Islamic values and be led by purely biased experts, adding that it was established to serve activities that would lay the groundwork for Kurz's political goals.
Gordu said the government could easily label a person or institution with "political Islam".
"A person who is interested in politics and defends the rights of Muslims can be considered as a manifestation of political Islam in their eyes. It is a very dangerous situation to be used to silence and suppress these people."
https://www.aa.com.tr/en/europe/austria-to-launch-muslim-profiling-scheme-/1916489
--------
India
To Harass Hindu-Muslim Couples, Right-wing Activists Are Now Using Their Marriage Documents
Shiba Kurian
Jul 21, 2020
Aswathy* and Rahman* got married on July 15 under the Special Marriage Act, 1954, in Kerala. They were in the thick of starting their lives together, when Aswathy's friend called to inform her about a disturbing message he received on a WhatsApp group.
The forwarded message had 13 images. These images were the Notices of Intended Marriage of Aswathy, Rahman and 12 other interfaith couples, who got married or whose marriages were yet to be registered under the Special Marriage Act. Aswathy realised that it was the same notice that the couple had signed at a Registrar's office in Kerala, and which, as a procedure, was put up on the notice boards of the registration offices in their respective native places, for 30 days starting June 9. These notices, which solemnise marriages per section 5 of the Special Marriage Act, contain the name, address, age, occupation, photos and signatures of the bride and groom — essentially, the personal details of two private citizens.
All the images had one factor in common: the bride is Hindu and the groom is Muslim, and thereby, their relationship is branded as 'love jihad'.
Aswathy and Rahman were shocked as the WhatsApp forward also contained a message: "These are love jihadis. We are the next scapegoats of these people. If you know these people, you should help them."
Many couples initially suspected that the staff from registrar offices, who may be biased against certain religious communities, might have leaked the notices to certain groups. But one groom pointed out that these scanned documents are available on a public domain, on the website of the Kerala government's Registration Department, and anyone can download them.
This calls for urgent attention on two pertinent issues: the constitutionality of making personal information available online; and the scourge of stoking communal hatred using the reprehensible tag, 'love jihad.'
Vile messages on social media
Apart from the WhatsApp group, Aswathy-Rahman's marriage notice was posted on Facebook, along with 11 other notices. With its spiteful posts, the Facebook page, named 'Kavipada' (saffron army), is evidently dedicated to targeting the Muslim community. Their recent post on marriage notices roughly read: "Sacrificial lamb this month (July) ready to be sacrificed in the name of love jihad, after deceiving their parents. Save them if you can."
A few months ago, a Facebook user by the name Ranjith Kaattumundakkal attached 120 marriage applications in one post, announcing that these are cases of 'love jihad' that took place in September, October and November 2019.
"A man named Jayakrishnan Menon on Facebook had uploaded close to 100 marriage applications of interfaith couples on his feed and tagged it as 'Love Jihad back in Kerala'. Soon, scores of others (like Ranjith) started sharing those pictures with hateful comments and statuses about how women like me are the Hindus who are ruining their religion, falling for jihadis, how we will eventually become terrorists," says Athira, who got married to Shameem under the Special Marriage Act in December 2019.
Their marriage notice, too, was posted on social media a few days after it was put on the notice board. "Not for a moment did these people think about our feelings, security, choices, our pictures and personal details, our privacy… Nothing mattered to them," says Athira.
When many affected couples flagged these accounts and reported the posts for harassment and bullying, the same people started WhatsApp groups, asking social media users to join the group.
Incidentally, using marriage notices to bully couples has been a tactic used by right wing groups and individuals for the last few years.
"Our notice seems to be only the latest," says Aswathy. "The message that came with images also said that 'these two couples (Aswathy-Rahman and another couple) are the latest examples (of 'love jihad') this month.' So I am guessing these groups are collecting such notices every month."
Violation of right to privacy
As per the Special Marriage Act, the notice of intended marriage is put up on the notice boards of the registration offices in their respective hometowns or place of residence, for one month. Within the period of 30 days, any person can express objection to the union of the couple. For example, a third person can object because the groom or bride is already married. After one month, the marriage is formalised by the marriage officer.
It takes only a few clicks on the Kerala Registration website's page to find couples who have registered their marriages under the Special Marriage Act across Kerala. The website currently shows documents of special marriages dating from April 2020. These notices are automatically removed once the marriage is solemnised, or they expire if the marriage is not solemnised within three months, as the law states.
An official from the Registration Department tells TNM that apart from notice boards, they also started uploading these notices on the website in early 2019 when there were minor amendments in the Act (although unrelated to the online system). "The Act does not specify that these notices should be put online, although it says, 'public at large'," he says.
However, the official adds that a few months ago, a loophole in the existing system was brought to their attention. "When the notices were published, it showed full details, which technically included demographic data, of the two individuals. Many groups had exploited this lacuna, especially to target interfaith couples. We plugged this flaw immediately. We are putting only notices signed by the two parties, which is within the framework of the law," the official said.
Though the official claims it is within the legal framework to put these documents online, the harassment caused due to it seems to have gone unaddressed.
Moreover, any personal data published without explicit consent is a violation, points out Srinivas Kodali, an independent researcher working on data, governance and the internet. "Every department wants to go digital without understanding the consequences of implementing these measures, especially in the absence of safeguards of privacy legislation. We need rules and laws in place before such measures are implemented."
On August 24, 2017, the Supreme Court identified an individual's right to privacy as a fundamental right under the Indian Constitution. This also means protecting a person's personal information from public scrutiny.
A retired employee of the Department of Registration tells TNM that there were certain provisions under the Special Marriage Act that allow an individual to approach a registration office and collect data on interfaith marriages. There is a fee for searching such data on the site, which was earlier accessible only to the registration office staff.
"There was misuse even then," he says. "Hindu and Muslim groups would approach us, asking for religion-based marriage data. While the Hindu groups wanted the data to prove the practice of 'love jihad', Muslim groups sought data to counter this. We used to turn them away because the religion of the couples is never sought under this Act and hence we never classified data accordingly. These groups, nevertheless, used to persistently go to each district and attempt to collect data. Some officers relented," says the retired staffer, adding that even the police sought the data for their reports.
Anivar Aravind, a Bengaluru-based software engineer who runs a non-profit initiative that deals with people's rights and software freedom using technology, policy and law, concurs.
"The listings on the website have much more possibility for misuse than the listing in an office notice board. This is a data governance failure while building systems handling citizen data, and it needs a fix," he says.
"Personal data and its governance need significant changes for current times, while migrating to digital from paper. Its misuse possibilities are rampant as we can see in this case, and create a greater level of harm," says Anivar, who has also played a leadership role in a free software collective, Swathanthra Malayalam Computing (SMC).
Of course, one can argue that the marriage notice under the Special Marriage Act is a public document, and is required to be published on notice boards for people to raise objections and to duly solemnise the marriage.
However, the Act and the rules only provide for the notice to be exhibited in a conspicuous place in the office of the marriage officer; it cannot be extended to the internet, points out advocate Prasanth Sugathan, who is also the legal director of Software Freedom Law Centre, which works towards protecting freedom in the digital space.
"Publishing the photographs along with the address of the prospective bride and groom on the website is definitely problematic. Any individual in any part of the world can view and access these details. The fact that these notices are used by right-wing organisations to further their agenda should be an eye-opener to the government to stop this practice," he says.
In this case, experts point out that the affected parties can approach the courts of law and press for damages against the sub-registrar and the department concerned.
Meanwhile, the Registration Department tells TNM that they are considering doing away with the existing system by invoking certain laws, such as the IT Act, in the wake of misuse of public data.
A coordinated effort to harass interfaith couples
Notwithstanding that these notices are on the government platform or notice boards, these could not have surfaced on social media platforms without the coordinated effort by certain religious fanatics, who pulled up marriage applications of Hindu brides-Muslim grooms across Kerala.
On poring over some of the comments of Facebook, Athira realised that some even made plans to visit their houses — because the notices lay bare the addresses — to "educate" their parents about how Hindu girls are allegedly converted to Islam and recruited for ISIS activities.
"We are adults. I don't want anybody to save me from anything, or create any problems for my parents. They are spreading hate speech. It is devastating. We are newly married but this has been on the back of our minds," says Aswathy.
Athira says that her mother even received a WhatsApp message from her neighbour. "It has a PDF document of all the 150 applications and a clarion call to stop 'love jihad'. This was forwarded to her by our neighbour who is a teacher, who, in turn, got it from a student. Fortunately, my mother didn't panic but instead asked me to file a police complaint," she says.
It is important to note that no term called 'love jihad' is defined in current Indian laws. During the Parliamentary session in the Lok Sabha in February 2020, Minister of State for Home Affairs G Kishan Reddy pointed this out and had even acknowledged that no case of 'love jihad' has been reported by any of the central agencies.
"Article 25 of the Constitution provides the freedom to profess, practice and propagate religion subject to public order, morality and health. Various courts have upheld this view, including the Kerala High Court," he said in his reply at the session.
Despite this, there seems to be no end to the torture meted out to interfaith couples, with this noxious trend serving as the latest example.
Basheer's* marriage is yet to be solemnised. In early July, his relatives and friends, including those from Canada, alerted him when his marriage notice started doing the rounds of social media. At first, he ignored it. When the post started going viral, he informed the cybercrime department, but received no help.
Last week, his fiancée's mother confronted their neighbour when the latter left an offensive comment against the post. This led to an altercation when another neighbour stepped in and allegedly threatened to beat up Basheer if he ever came to the neighbourhood.
"My fiancée is anxious that this could flare up communal tension. I cannot even meet her at this point because of this threat," he says.
Both Athira-Shameem and Aswathy-Rahman are planning to file complaints with the police and pursue the matter legally. Basheer hopes to file a police complaint once he allays the fears of his fiancée and their families.
But all through this, these couples reiterate and demand one thing: "This has to end".
https://thewire.in/communalism/hindu-muslim-couples-love-jihad-rightwing-marriage-notice
--------
Lashkar's terror-funding module busted in Jammu, one arrested with Rs 1.5L cash
Jul 20, 2020
JAMMU: A joint team of Army and J&K Police on Monday busted a terror-funding module of Pakistan-based terrorist organisation Lashkar-e-Taiba (LeT), which was tasked to activate its cadres in Jammu region, and arrested a LeT operative with Rs 1.5 lakh hawala money concealed in a tiffin box.
"Intelligence inputs revealed that LeT had activated a module of its members for carrying out terror activities in J&K, particularly in Jammu region, and in furtherance to this, a delivery of funds was to take place in Jammu. On this information, the joint team apprehended one Mubashir Bhat, a resident of Sazan in Doda, who is part of the same module," IGP (Jammu zone) Mukesh Singh said. The Lashkar affiliate had been ordered by his handlers from across the border to visit Jammu and collect a consignment of hawala money for use by terrorists and their supporters.
"During a search of his belongings, a packet containing Rs 1.5 lakh was recovered, which was concealed in a tiffin box. Initial questioning revealed that the money was sent from Pakistan by one Haroon, a self-styled commander of LeT, to be delivered to terrorists through their overground workers in Doda," a police officer said.
The IGP added that a case was registered against Mubashir Bhat in Peer Mitha police station and an investigation was underway to unearth further linkages.
https://timesofindia.indiatimes.com/india/lashkars-terror-funding-module-busted-in-jammu-one-arrested-with-rs-1-5l-cash/articleshow/77073559.cms
--------
Murli Manohar Joshi, LK Advani to appear via video in Babri Masjid demolition case
Jul 21, 2020
The special Central Bureau of Investigation (CBI) court on Monday issued dates for appearance of senior Bharatiya Janata Party (BJP) leaders LK Advani, Murli Manohar Joshi and Shiv Sena leader Satish Pradhan in court through video conferencing to record their statements in the Babri Masjid demolition case.
There are 32 accused in the case.
Surendra Kumar Yadav, CBI Judge (Ayodhya case), ordered Pradhan, Joshi and Advani to record their statements through video conferencing on July 22, 23 and 24 respectively.
The court also ordered video links to make available for online hearing to the lawyers of all three accused.
"The CBI court has issued dates for online appearance of BJP leaders LK Advani, Murli Manohar Joshi and Satish Pradhan in court via video link," said lawyer KK Mishra, who is representing BJP leaders in court.
"In case they are not able to appear on dates fixed by the court due to some reason then new dates will be issued," added Mishra. The court is conducting day-to-day hearings to complete the trial by August 31 as directed by the Supreme Court.
https://www.hindustantimes.com/india-news/joshi-advani-to-appear-via-video/story-W4StKrjQVghq4gr2LaInsO.html
--------
Southeast Asia
Indonesian court sentences Jemaah Islamiah leader to 7 years' jail for inciting terrorism
July 21, 2020
JAKARTA — The top leader of Southeast Asian terror group Jemaah Islamiah (JI) was sentenced to seven years' jail on Monday (July 20) by an Indonesian court for inciting others to commit an act of terrorism.
Para Wijayanto, 56, was named as the emir of JI in 2009.
Prosecutors said he was instrumental in recruiting, training and raising funds for Indonesian militants who went to Syria between 2012 and 2018 to fight alongside those opposed to the regime of President Bashar al-Assad.
He and his wife were arrested on the outskirts of Jakarta in July 2019.
"The defendant purposely incited others to commit terrorism," presiding judge Alex Adam Faisal said at a hearing room at East Jakarta district court. Wijayanto was not in court for the verdict and followed proceedings through video conference from a lock-up at the Jakarta police station.
The judge, who described Wijayanto as being educated, knowledgeable and having good communication skills, stressed that JI was banned by the Indonesian government.
The JI network, which is affiliated to terror group Al-Qaeda, was behind the most deadly terror attack in the country – the Bali bombings in 2002 which killed more than 200 people, many of whom were foreigners.
Prosecutors said Wijayanto, who is also known as Abu Faiz, sent two fellow militants, Patria and Askary, to Syria in 2012 to establish contact with the Free Syrian Army and Jabhat al-Nusra, a terror organisation fighting government forces in the Syrian civil war. Both militants were tasked with evaluating and mapping out possible routes for other Indonesian militants to travel to Syria. It is not known how many Indonesian militants were eventually sent to the war-torn country.
The objective, said prosecutors, was for those militants to eventually return to Indonesia and use their battle experience to establish an Islamic state at home.
"The defendant… had wished to proclaim an Islamic state based on syariah law in a region where the people accept Islam as the national principle… and to expand the territory worldwide… and to free any country under control of infidels," the indictment read. "With such a plan, JI would some day want to create chaos in Indonesia that would in turn induce fear and insecurity among the general public."
Police believe the JI has been reconstituted and are calling it "Neo-JI" as it goes about recruiting members to achieve its aim of setting up a caliphate in Indonesia, former police spokesman DediPrasetyo said in 2019.
Security agencies say the original JI was decimated in Indonesia following a series of operations, but counter-terrorism experts have warned that young militants are continuing to be recruited and the terror network may have expanded in the country to a 2,000-strong force. The "Neo-JI" term was coined by the police to describe this new threat.
Under Wijayanto's leadership, JI was active in courting local clerics and was setting up Islamic boarding schools. It was also running businesses to raise funds while providing entrepreneurship training for members.
https://newsinfo.inquirer.net/1309831/indonesian-court-sentences-jemaah-islamiah-leader-to-7-years-jail-for-inciting-terrorism
--------
Indonesia jails leaders of Al-Qaeda-linked extremist group
July 20, 2020
Indonesia on Monday jailed two top leaders of Jemaah Islamiyah (JI) -- an Al-Qaeda-linked extremist group behind the 2002 Bali bombings -- on terror charges linked to sending militants to fight in Syria.
JI leader Para Wijayanto and deputy Budi Trikaryanto were handed seven and six-and-a-half year sentences, respectively, at a Jakarta court hearing done by videoconference due to coronavirus concerns.
"The defendants prepared cadres to go to Syria as well as supported them financially while on the mission," presiding judge Alex Adam Faisal told the East Jakarta District Court.
The court said Wijayanto, 56, who took over JI's top job in 2009, recruited Indonesians to fight and train with groups, including an Al-Qaeda linked organization, opposed to Syrian leader Bashar al-Assad between 2012 and 2018.
The case against Wijayanto and Trikaryanto also included charges of belonging to a banned organization.
Indonesia outlawed JI in 2008, making it illegal to belong to the group, and cracked down on its network as the world's biggest Muslim majority nation grappled with a string of extremist attacks.
JI has been overshadowed in recent years by militant groups loyal to Islamic State.
But the organization was once synonymous with terrorism in Indonesia and has begun to rebuild its membership, according to security experts.
The 2002 bombings in a popular Bali entertainment district, which killed over 200 people, remains Indonesia's deadliest terrorist attack.
Most victims were foreign holidaymakers from more than 20 countries but Australia suffered the biggest loss, with 88 dead.
In subsequent years, JI carried out a string of deadly attacks, including a 2003 car bombing at the JW Marriott hotel in Jakarta that killed a dozen and a deadly suicide car bomb the following year outside the Australian embassy.
Monday's ruling comes weeks after a married couple with links to Islamic State were jailed over a failed assassination bid to kill Indonesia's former chief security minister Wiranto last year.
The Southeast Asian nation's last major militant attack was in 2018 when a family of suicide bombers attacked several churches in its second-biggest city Surabaya, killing a dozen.
https://www.thejakartapost.com/news/2020/07/20/indonesia-jails-leaders-of-al-qaeda-linked-extremist-group-.html
--------
Arab World
US Sanctions on Syria Leave Hezbollah More Isolated in Lebanon
By Nisan Ahmado
July 19, 2020
WASHINGTON - New U.S. sanctions targeting the Syrian government appear to also undermine Hezbollah in Lebanon. Experts say the measures are alienating Hezbollah from its political allies in Lebanon and weakening its usage of state institutions to assist the Syrian regime.
The sanctions, introduced on June 17 and known as the Caesar Syria Civilian Protection Act, have been described by the group's leader Hassan Nasrallah as an "economic war" that aims at "starving both Syria and Lebanon." He has called on the Lebanese government to ignore them.
While the sanctions may not be devastating for Hezbollah, they could deter other parties in Lebanon's governing coalition from following the Iran-sponsored group's wish to improve ties to Bashar al-Assad's administration, according to HaninGhaddar, a senior fellow at the Washington Institute.
"Hezbollah has been calling the Lebanese government to normalize Lebanon's relations with the Assad regime," Ghaddar told VOA. But, he said, none of Hezbollah's allies "wants to challenge Caesar Act, especially when there are negotiations going on with the international community to salvage the country from its devastating economic crisis."
Hezbollah has been classified by the U.S. as a terrorist organization since 1997. The group is sanctioned under the 2014 Hezbollah International Financing Prevention Act, which prevents entities associated with Hezbollah from gaining access to international financial and logistics networks and blocks its ability to fund global terrorist activities. The U.S. Treasury earlier this year announced further sanctions, blacklisting 15 Hezbollah-affiliated entities in Lebanon.
Political control
Lokman Slim, a Beirut-based analyst, told VOA that Hezbollah has been working for years to strengthen its infiltration of the Lebanese state and army by weaving a network of alliances across the Lebanese multi-sectarian spectrum.
The group's control over the political scene in Lebanon reached its peak in 2016, when it successfully backed Michel Aoun, a Maronite Christian and head of the Free Patriotic Movement party, to become president.
However, the group's allies are now starting to distance themselves from Hezbollah to guarantee their political survival, said Slim.
"When Hezbollah's main ally (Shia) speaker Nabih Berri champions the defense of the banking sector, and when voices from within the Free Patriotic Movement, the party of President General Michel Aoun, start calling into question the feasibility of blindly following Hezbollah, and when Patriarch Rahi, the highest Christian authority in Lebanon, calls on the U.N. to help Lebanon assert its neutrality, we can't say that Hezbollah is in its glory days," he said.
Hezbollah's transactions
In addition to financial support from Iran, Hezbollah has been using smuggling routes across Lebanon's border with Syrian, while at the same time exploiting Lebanese state institutions to collect revenue.
Experts say the Caesar Act might not curb Hezbollah's underground activities, but it will disrupt the group's ability to use those state institutions to support the Syrian government.
"Hezbollah is forcing the Lebanese government, through the Lebanese central bank, to import, at a subsidized price, quantities of some basic goods, mainly fuel, wheat, and medical supplies, which exceed Lebanon's needs. Portions of the excess goods are forwarded to Syria via its traditional smuggling routes," said Slim.
Hezbollah observers say that despite its threats, the group may not be ready to increase tensions with the U.S., especially when its main backer Iran is facing its own harsh sanctions.
"Hezbollah is tied by the current financial situation in Lebanon, and they know that any escalation when it comes to the U.S. will be dangerous," Ghaddar of the Washington Institute said. She said the priority for Hezbollah and Iran now is to wait and try to survive the upcoming few months until the U.S. elections.
US aid
While trying to curb Hezbollah, the United States has been providing military assistance to the Lebanese Armed Forces (LAF) since 2006, including arms, training and advisory support.
The U.S. CENTCOM commander Gen. Frank McKenzie, earlier this month visited Beirut, where he stressed the need for continued U.S. cooperation with the Lebanese army to preserve the country's stability and sovereignty. The visit came just after the army announced it had shut down three routes used to smuggle stolen vehicles and other goods into Syria.
The United States has been the biggest donor to Lebanon, providing $1.8 billion in humanitarian funds, since the start of the Syrian refugee crisis. Last year alone, the U.S. government contributed $750 million to Lebanon.
Meanwhile, Lebanese officials have frequently said they welcome any improvement in relations with the U.S., especially as they struggle to rescue their economy.
Impact on economy
Lebanon is facing its worst economic crisis since the end of its 15-year civil war in 1990 and Lebanese officials say they fear the U.S. sanctions on Syria could exacerbate the crisis.
Last month, during an international conference on humanitarian assistance for Syria held in Brussels, Lebanese Prime Minister Hassan Diab appealed for international donors to help his country escape the negative consequences of the sanctions.
Officials in Washington say the Caesar Act does not target Lebanon's legitimate economic activities and will have no impact on the Lebanese people.
However, "If the Lebanese government or Lebanese businesses were to enter into transactions with the Assad regime to purchase Assad regime fuel, then that's a very risky transaction, and that would expose them to sanctions," warned U.S. Deputy Assistant Secretary Joel Rayburn on June 17.
https://www.voanews.com/extremism-watch/us-sanctions-syria-leave-hezbollah-more-isolated-lebanon?utm_source=iterable&utm_medium=email&utm_campaign=1372364_
--------
US says 'dubious' elections in Syria excluded a quarter of the population
20 July 2020
Syria's parliamentary elections held over the weekend have been described as "dubious" and nearly a quarter of Syria's population was not permitted to vote, a senior US official said Monday.
"Yesterday, the Assad regime held so-called Parliamentary Elections in Syria. Bashar Al Assad is seeking to present this dubious election as a success against alleged Western plotting, but in reality it is simply another in a long line of Assad's stage-managed, unfree votes in which the Syrian people have no real choice," State Department Spokesperson Morgan Ortagus said.
For all the latest headlines follow our Google News channel online or via the app.
On Sunday, parliamentary elections saw people vote across government territory at more than 7,000 polling stations, including for the first time in former opposition bastions that the army has recaptured over the last two years.
Assad's opponents denounced the vote as a farce, nearly a decade into a war that has killed hundreds of thousands of people and made millions refugees.
Ortagus said that Syria had not seen any free and fair elections since "Assad's Baath party came to power, and this year was no exception," citing "credible reports of polling staff handing out ballots already filled in with Baath party candidates."
Read more: Coronavirus forces Syria to postpone election for second time
The US official also said that there were reports of citizens being pressured to vote and that voter privacy was not guaranteed.
"In addition, Syrians residing outside the country – comprising nearly one quarter of Syria's pre-revolution population – were not permitted to vote. This disenfranchised population includes the more than 5 million refugees driven out of the country by the regime's relentless war against its own citizens."
Ortagus said the elections were another attempt by the Assad regime to "confer false legitimacy on itself."
https://english.alarabiya.net/en/News/world/2020/07/21/US-says-dubious-elections-in-Syria-excluded-a-quarter-of-the-population.html
--------
Yemen's prime minister accuses Qatar of supporting Houthis
July 21, 2020
DUBAI: Prime Minister Maeen Abdul Malik Saeed accused Qatar of working to spread chaos in Yemen by supporting the Houthi militia, the Middle East News agency reported on Tuesday.
The prime minister claimed that "Doha supported the Houthi militia with money, arms, media, and relations, and worked to destabilize Yemen."
Saeed, who is currently visiting Egypt, said that Qatar's support of the Houthis became clear when after the Gulf countries boycotted Doha.
Qatar's policy is to weaken the internationally recognized government, prevent efforts to restore the state, Saeed said.
On June 5, 2017, Saudi Arabia, Egypt, the UAE and Bahrain cut diplomatic ties with Qatar, closing borders and airspace, and imposing an economic blockade that still remains in place. Qatar's alignment with Iran was of special concern to states wary of Tehran's ambitions in the Gulf.
https://www.arabnews.com/node/1707826/middle-east
--------
Israeli air strikes hit regime and Iran-backed militias in Syria
20 July 2020
Syrian air defenses intercepted Israeli missiles over the capital Monday, state media reported, during an attack which a war monitor said hit several positions of regime forces and Iran-backed militias.
"Air defenses intercepted Israeli missiles" over Damascus's skies, the official SANA news agency said.
For all the latest headlines follow our Google News channel online or via the app.
AFP correspondents in Damascus said they heard several loud blasts.
A military spokesman in Israel told AFP that its army "does not comment on foreign reports."
According to the Britain-based Syrian Observatory for Human Rights, the Israeli attack hit several targets.
"At least six Israeli missiles hit several positions belonging to regime forces and pro-Iran militias south of Damascus," Observatory head Rami Abdul Rahman told AFP.
"Air defenses did not intercept a single target," he said, adding it was unknown if there were casualties and the extent of damage remained unclear.
Israel has launched hundreds of strikes in Syria since the start of its civil war in 2011.
It has targeted government troops, allied Iranian forces and fighters from the Lebanese Shiite militant group Hezbollah, saying its goal is to end Tehran's military presence in Syria.
It rarely confirms details of its operations in Syria but says Iran's presence in support of the regime is a threat and that Israel will keep up strikes.
The nine-year-old conflict in Syria has killed more than 380,000 people and displaced more than half of the country's pre-war population.
https://english.alarabiya.net/en/News/world/2020/07/21/Israeli-air-strikes-hit-regime-and-Iran-backed-militias-in-Syria.html
--------
Five dead, 85 wounded in car bomb attack in Syria's Azaz: Turkish state media
JULY 19, 2020
ISTANBUL (Reuters) - A car bomb attack in northwestern Syria's Azaz region killed five people and wounded 85 others, a local hospital in Syria and Turkish state media said on Sunday.
The incident took place in the village of Siccu, across the border from Turkey's southern province of Kilis, Turkey's Anadolu agency said.
It said 15 of the wounded had been taken to a hospital on the Turkish side of the border and that some were in critical condition.
Azaz has been under the control of rebels backed by Turkey since Ankara's first incursion into Syria in 2016, in an operation that aimed to drive away Islamic State militants and the Syrian Kurdish YPG militia from its border with Syria.
Ankara regards the U.S.-backed YPG as a terrorist organisation. The operation ended in 2017.
Syria held a parliamentary election across government territory on Sunday. The country is struggling against a collapsing economy and new U.S. sanctions after President Bashar al-Assad clawed back control of most of the country.
https://www.reuters.com/article/us-syria-security-azaz/five-dead-85-wounded-in-car-bomb-attack-in-syrias-azaz-turkish-state-media-idUSKCN24K0P2?utm_source=iterable&utm_medium=email&utm_campaign=1372364_
--------
Monitor: Car Blast Kills 7 Near Syria-Turkey Border Post
July 19, 2020
BEIRUT - At least seven people were killed and scores wounded on Sunday when a car bomb exploded in northern Syria near a Turkish border crossing, a war monitor said.
"A car bomb exploded at a roundabout leading to the entrance of the Bab al-Salam border post," Syrian Observatory for Human Rights chief Rami Abdel Rahman told AFP.
"Seven people were killed, including five civilians, and more than 60 wounded, including women and children."
The area in northern Aleppo province, controlled by the Turkish army and allied Syrian forces, regularly sees deadly attacks and targeted killings.
The Observatory blamed the Islamic State group for Sunday's attack, saying it was possibly in retaliation for a surge in operations by Turkish and Turkish-backed forces against IS cells in the region.
The Bab al-Salam crossing was a key entry point for cross-border humanitarian aid into northern Syria, but it was closed earlier this month after Russian pressure at the United Nations Security Council.
The Turkish official news agency Anadolu reported that a car bomb in the Azaz area, near Bab al-Salam, had killed five people and wounded 85. It accused the Kurdish YPG militia of being responsible.
In April, at least 46 people including Turkish-backed rebel fighters were killed when a fuel truck bomb went off in Afrin, a city controlled by Ankara's proxies.
The Syrian conflict has killed more than 380,000 people since 2011 and forced more than half of the country's pre-war population from their homes.
https://www.voanews.com/middle-east/monitor-car-blast-kills-7-near-syria-turkey-border-post?utm_source=iterable&utm_medium=email&utm_campaign=1372364_
--------
SDF Launches 2nd Phase of 'Deterring Terrorism' Campaign
18 July, 2020
The Syrian Democratic Forces (SDF) announced launching the second phase of its ''Deterring Terrorism" campaign to track down and pursue ISIS cells in northeastern Syria, along the Euphrates River basin and areas on the Iraqi border.
The SDF Media Center issued a statement saying that the operation has kicked off in cooperation with the international coalition, adding that it targets several cities along the northern Euphrates River Basin in Deir Ezzor.
The statement explained that the campaign involved the Special Anti-Terrorism Units (YAT), in coordination with the international coalition and air support forces, reiterating that it will continue until the goal set by the General Command is achieved.
The spokeswoman of Deir Ezzor Military Council, Lilwa al-Abdullah, announced that the campaign was launched at the request of the tribes' notables in the region, after meeting with the Commander of the SDF, Mazloum Abdi, stressing that it aims to establish security and stability in the region.
Recently, ISIS terrorist attacks increased against civilians, posing a direct threat to their lives.
Meanwhile, the commander of US Central Command (CENTCOM), General Kenneth McKenzie, said that the threat of ISIS attacks is increasing in Syrian areas under the Russian and regime control.
"The conditions that led to the rise of ISIS still obtain out there in the west, that's unfortunate, and I am worried about that," he added.
In an interview with Voice of America (VOA), McKenzie explained that there's always going to be some form of insurgency with these factors in this area.
"We want to establish local systems that will be able to handle (the insurgency) so they won't need us to do it, except with very, little support," he noted.
Last week, McKenzie met with Abdi in Syria during his visit to the eastern Euphrates River Valley and informed him that they remain partners.
"We have tasks that remain to be accomplished against ISIS up and down the Euphrates River Valley. … We also talked about SDF management of the IDP (internally displaced persons) and the prison population that's there."
McKenzie said that CENTCOM is not directly involved in the issue but highlighted some concerns.
"We're concerned from a security perspective and we're concerned from a humanitarian perspective."
https://english.aawsat.com/home/article/2396721/sdf-launches-2nd-phase-deterring-terrorism-campaign?utm_source=iterable&utm_medium=email&utm_campaign=1372364_
--------
World praises UAE on successful launch of Mars Hope probe
July 20, 2020
DUBAI: The UAE has received global praise for the "historic" launch of its Mars space probe.
The Hope probe blasted off early Monday from the Tanegashima Space Center in Japan, making the Emirates the first Arab and Islamic country to attempt planetary exploration.
President Sheikh Khalifa bin Zayed led the celebrations, saying the Emirates Mars Mission "constitutes a national and Arab achievement and an advanced Emirati push in the process of building global knowledge in space."
He said the Hope probe idea was developed within the UAE's "national and research institutions and was designed and manufactured with the effective participation of a young national elite of bright minds — highly qualified and trained and sincere young Emiratis."
The mission is a joint project between the Mohammed bin Rashid Space Center and the UAE Space Agency, with the help of contributors and experts from leading universities.
The UAE will be the ninth country to explore the Red Planet, joining an exclusive club of nations.
Prior to the launch, the United Nations said the UAE's mission is a "contribution to the entire world" and the Emirates is becoming "a main player in the space arena."
"The UAE is always looking forward to the future; it is our wonderful partner," said Simonetta Di Pippo, Director of the United Nations Office for Outer Space Affairs (UNOOSA).
The Arab League secretary-general said the launch is a "unique event and a milestone in UAE and Arab achievements as it embodies a message of hope, ambition and motivation for all the peoples of the region to overcome challenges."
"This achievement is an Emirati-Arab contribution to shaping and making a promising future for humanity, and a message to future generations that nothing is impossible." Ahmed AboulGheit said.
NASA congratulated the UAE on the successful launch, describing the mission as a "culmination of tremendous hard work and dedication."
"This mission is aptly named since it's a symbol of inspiration for the UAE, the region, and the world," NASA Administrator Jim Bridenstine said.
"We are in awe of the speed and commitment the UAE, through both the Mohammed bin Rashid Space Center and the UAE Space Agency, has demonstrated in developing its first interplanetary spacecraft."
The UAE plans to share all its data with the world, not just academics and scientists and the research findings will be updated regularly and made publicly available.
GCC Secretary General Nayef Al-Hajjraf also praised the UAE's scientific achievements, expressing his pleasure at witnessing such a "unique event."
He said "the Hope Probe comes to fulfill the hopes of millions of future generations."
The probe will travel almost 500 million kilometers and is set to reach the orbit of Mars in February 2021, which would coincide with the 50th anniversary of the UAE's establishment.
The data from the mission will be publicly available.
The mission is also the first of three international missions to Mars this year, including NASA's Mars Perseverance Rover, China's Tianwen-1, which will launch next month, and ExoMars, a collaboration between the European Space Agency and the Russian space agency Roscosmos.
https://www.arabnews.com/node/1707536/middle-east
--------
Africa
Reports shed light on mercenaries, terrorists sent by Turkey to Libya
18/07/2020
WASHINGTON / TUNIS--In a development that is bound to cause alarm in Tunisia and other North African nations, Turkey is reported to have dispatched to Libya during the last few months thousands of Islamic extremists, including 2,500 Tunisian ISIS members.
The ISIS extremists were sent to back other militants and mercenaries dispatched by Ankara to fight on the side of the Libyan Government of National Accord (GNA).
According to the Syrian Observatory for Human Rights (SOHR), "Turkish intelligence have transferred Jihadist groups and Islamic State (ISIS) members of different foreign nationalities, from Syria to Libya in the past few months." These, according to SOHR, included "over 2,500 Tunisian ISIS members" out of thousands of other ISIS-affiliated Tunisians operating in Syria.
If confirmed, the transfer of Tunisian extremists from the remote Syrian battlefield to neighbouring Libya is bound to spark serious concerns in Tunis. The small North African country has suffered major terrorist attacks in 2015 perpetrated by Tunisian ISIS-affiliated extremists after they spent time in Libya. Since the attacks, which caused the death of scores of civilians and foreign tourists, Tunisia has built a 200-km sand barrier and electronic fence on its border with Libya.
SOHR said Friday the most recent batch of jihadist fighters was sent to Libya "a few days ago".
According to the watch group, "the number of recruits who arrived in Libya rose to 16,100 Syrian mercenaries, including 340 children under the age of 18."
A new report published Thursday by the Pentagon said Turkey has sent between 3,500 and 3,800 Syrian mercenaries to back the Libyan Government of National Accord (GNA) over the first three months of the year.
The report, published by the US Defense Department's inspector general, does not detail the nature of mercenary contingents dispatched by Turkey after the end of March even though Ankara has intensified its intervention in Libya since then.
During the last few weeks, the US military seemed to green-light the Turkish military intervention in Libya over growing concerns about Russia's influence in the North African country, where hundreds of Russian mercenaries were said to be stationed. The White House has however distanced itself earlier this week with Ankara over Turkish naval moves in the Mediterranean denounced as "aggressive" by France.
The quarterly report on counter-terrorism operations in Africa by the Pentagon's internal watchdog, published Thursday, says Turkey paid and offered citizenship to thousands of mercenaries fighting alongside militias aligned with the GNA, headed by Prime Minister Fayez Sarraj, against troops of the Libyan National Army (LNA) led by Field Marshal Khalifa Haftar.
Despite widespread indications of many of the fighters' extremist links, the report says the US military found no evidence to suggest the mercenaries were affiliated with the Islamic State (ISIS) or al-Qaida terrorist groups. The US report says the fighters were "very likely" motivated by generous financial packages offered by Ankara.
Later reports by regional sources, including the SOHR watch-group, did however document the presence of Islamic extremists among the fighters sent by Turkey.
The report covers only the first quarter of the year, until the end of March — two months before a string of Turkish-backed advances by the GNA-allied forces in the capital's suburbs, the stronghold at Tarhuna and a key western airbase.
Haftar's setbacks trained the spotlight on Turkey's deepening role in the Libyan war.
The latest report says the Turkish deployments likely increased ahead of the GNA advances in late May. It cites the US Africa Command as saying that 300 Turkish-supported Syrian rebels landed in Libya in early April. Turkey also deployed an "unknown number" of Turkish soldiers during the first months of the year, the inspector general adds.
To the consternation of regional rivals and NATO allies like France, Turkey is staking its hopes for greater leverage in the eastern Mediterranean on the Islamist-controlled government in Tripoli. Ankara's open military intervention stands in contrast to covert support from foreign backers on the other side of the conflict.
The Pentagon inspector general had reported in its last quarterly review that Russia brought in hundreds of mercenaries to back Haftar's months-long siege of Tripoli. A private Kremlin-linked military company known as the Wagner Group first introduced skilled snipers and armed drones last fall, inflicting "significant casualties" on GNA-allied forces.
SOHR puts the number of Turkish-backed Syrian mercenaries who were killed in the Libyan war at about 470, including 33 minors and a number of group commanders.
https://thearabweekly.com/reports-shed-light-mercenaries-terrorists-sent-turkey-libya?utm_source=iterable&utm_medium=email&utm_campaign=1372364_
--------
Gunmen kill 18 wedding guests in northern Nigeria
July 21, 2020
KANO: Gunmen have killed 18 guests at a wedding in northern Nigeria's Kaduna state, local officials said Monday, in the latest violence in the region.
The gunmen on motorcycles stormed Kukum-Daji village in Kaura district late Sunday and opened fire on the guests, they said.
"The gunmen killed 18 people at the wedding party and injured 30 others, most of them young men," BegeKatukaAyuba, the administrative head of the district told AFP.
"Fifteen died on the spot while three more died at the hospital," he said.
It was not immediately clear who was behind the attack but the area has been a hotbed of deadly violence between Muslim Fulani herders and ethnic Christian farmers.
The state police spokesman confirmed the attack without giving a toll.
"There have been reports of loss of lives in the attack but we don't have a definite casualty figure yet," Mohammed Jalinge told AFP.
The mainly-Christian Southern Kaduna area has been wracked by a long-standing dispute between farmers and herders over grazing and water rights.
There has been an upsurge in tit-for-tat killings between the two groups in recent times, prompting the state authorities to initiate an unsuccessful truce.
https://www.freemalaysiatoday.com/category/world/2020/07/21/gunmen-kill-18-wedding-guests-in-northern-nigeria/
--------
Egypt's parliament approves possible troop deployment to Libya
20 July 2020
Egypt's parliament has authorized on Monday the deployment of troops outside the country after the president threatened military action against Turkish-backed forces in Libya.
"The House of Representatives unanimously approved deploying members of the Egyptian armed forces on combat missions outside the country's borders, to protect Egyptian national security… against criminal armed militias and foreign terrorist elements," the parliament said in a statement after its closed session.
For all the latest headlines follow our Google News channel online or via the app.
President Abdel Fattah al-Sisi had said on June 20 that his country has a legitimate right to intervene in Libya and ordered the army to be prepared to carry out missions if necessary.
Libya has plunged into chaos since the 2011 toppling of dictator Moammar Gaddafi.
Clashes between the two main warring parties in the North African country, the Libyan National Army (LNA), commanded by Khalifa Haftar and the Government of National Accord (GNA), led by Fayez al-Serraj, have intensified recently.
Many foreign powers have backed different sides of the conflict with varying degrees of support, with the most prominent countries being Turkey backing the GNA and Egypt backing the LNA.
The Egyptian parliament's greenlight for troop deployment overseas could potentially put Turkey and Egypt into direct confrontation in Libya.
Last week, Sisi hosted dozens of tribal leaders loyal to Haftar in Cairo, where he repeated that Egypt will "not stand idly by in the face of moves that pose a direct threat to security."
Libya's east-based parliament, the sole elected body in the oil-rich country, also urged Sisi to send troops.
Earlier on Monday, Sisi spoke with US President Donald Trump and emphasized that Egypt aims to "prevent further deterioration of security in Libya," according to a statement from the Egyptian presidential spokesman. It said the two leaders agreed on maintaining a cease-fire and avoiding a military escalation in Libya.
https://english.alarabiya.net/en/News/north-africa/2020/07/20/Egypt-s-parliament-approves-troop-deployment-to-Libya.html
--------
Boko Haram Terrorists Attack Chibok, Kill Three Farmers
JUL 18, 2020
Suspected Boko haram terrorists on Saturday attacked Boftari, Kuburmbula ward of Chibok Local Government Area of Borno State, killing three farmers.
Sources said the insurgents, who were all armed with assault rifles, came on motorbikes at about 3pm and started shooting sporadically in area where the villagers were farming.
They said the insurgents have been coming in the past two weeks to loot without any resistance but were shocked they came shooting on Saturday.
About 10 other farmers were also said to have sustained injuries from the gunshots.
The source said most villagers were now scared of going to the farm.
http://saharareporters.com/2020/07/18/breaking-boko-haram-terrorists-attack-chibok-kill-three-farmers?utm_source=iterable&utm_medium=email&utm_campaign=1372364_
--------
Mideast
Yemeni PM accuses Qatar of backing Houthis, spreading chaos in Yemen
21 July 2020
Yemeni Prime Minister MaeenAbdulmalik Saeed accused Qatar of backing the Iran-backed Houthi militia and spreading chaos in Yemen, in a speech delivered during his visit to Egypt on Tuesday, the Egyptian Middle East News Agency (MENA) reported.
"From an early stage, Doha has supported the Houthi militia with funds, weapons, media, and networks and worked to destabilize Yemen," the prime minister said, according to MENA.
For all the latest headlines follow our Google News channel online or via the app.
Since the beginning of the Qatar boycott – when Saudi Arabia, the United Arab Emirates, Egypt, and Bahrain cut diplomatic ties with Doha over its ties to extremism – Qatari foreign policy has become more clear, Saeed said.
Qatar has made its support for the Houthi militia public and has worked to weaken the Yemeni government by thwarting efforts to restore the country, MENA cited him as saying.
Doha has also launched and financed several campaigns in some governorates as part of its plans to sabotage peace efforts, he added.
https://english.alarabiya.net/en/News/gulf/2020/07/21/Yemeni-PM-accuses-Qatar-of-backing-Houthis-spreading-chaos-in-Yemen.html
--------
Turkish police detain 27 people over links to Islamic State
JULY 19, 2020
ISTANBUL (Reuters) - Turkish police said on Sunday they had detained 27 people with links to the Islamic State militant group whom they suspect were preparing for an attack.
Police said they had learned that the people had been ordered to carry out an attack in retaliation for social media posts that insulted Prophet Muhammad. The operation targeted addresses in 15 districts of Istanbul, police said.
Islamic State has conducted numerous attacks across Turkey, including on a nightclub in Istanbul on Jan. 1, 2017 in which 39 people were killed, and a bombing in the city's historic heart that killed 12 in 2016.
https://www.reuters.com/article/us-turkey-security-islamic-state/turkish-police-detain-27-people-over-links-to-islamic-state-idUSKCN24K0AU?utm_source=iterable&utm_medium=email&utm_campaign=1372364_
--------
Israel approves cellphone tracking of COVID-19 carriers for rest of year
21 July 2020
Israel's parliament voted on Monday to allow the country's domestic intelligence agency to track the cellphones of coronavirus carriers for the rest of the year amid a resurgence in new cases.
The Shin Bet's surveillance technology has been used on and off to track carriers since March, and the Knesset in a late- night decision approved the measure through Jan. 20, 2021, the Knesset news agency reported.
Visit our dedicated coronavirus site here for all the latest updates.
The security agency tracks location data of confirmed carriers for 14 days before they were diagnosed. That data is used to identify anyone with whom they came into contact, which proponents say is crucial to infection chains.
The surveillance has drawn challenges from privacy watchdog groups, and the Supreme Court cited worries over dangers to individual liberty in demanding Prime Minister Benjamin Netanyahu's government regulate the surveillance through legislation.
The new law includes additional oversight, requiring the government to renew its request every three weeks, and it can be used only when new daily cases exceed 200. Those ordered into isolation can appeal if they believe the data was inaccurate.
The Knesset also instructed the Health Ministry to roll out an upgraded cell phone app that can be downloaded by the public to help track infection.
Israel reopened schools and many businesses in May, lifting restrictions that had flattened the infection curve after a partial lockdown imposed in March.
But a second-wave surge has many public health experts saying the government moved too quickly while neglecting to take the necessary epidemiological steps to control the pandemic once the economy reopened.
Israel, with a population of 9 million, reported about 1,500 new infections on Monday. In total it has reported 415 deaths from the virus.
https://english.alarabiya.net/en/coronavirus/2020/07/21/Coronavirus-Israel-approves-cellphone-tracking-of-COVID-19-carriers-for-rest-of-year.html
--------
Iran-linked hackers mistakenly leak videos of their operations in action: Report
20 July 2020
IBM has obtained hours of footage of Iran-linked hackers in action, videos that are believed to have been unintentionally leaked by the hackers themselves.
IBM's X-Force security team acquired about five hours of video footage of hacking operations by APT35, a hacking group linked to the Iranian government, the Wired reported.
Individuals targeted by the hackers included US State Department staff, an unnamed Iranian-American philanthropist, and US and Greek military personnel, IBM found.
The footage, which was directly recorded from the screens of APT35 hackers, show how the group steals data from email accounts as well as who it is targeting, according to the report.
The hackers recorded their operations and uploaded the video to an unprotected server online, the report said.
The IBM researchers got a hold of the footage due to "a misconfiguration of security settings on a virtual private cloud server they'd observed in previous APT35 activity," the report said, adding that the files were uploaded to the exposed server over a few days in May, just as IBM was monitoring the machine.
The APT35 hackers recorded their operations to demonstrate to junior team members how to handle hacked accounts, according to the report. The videos show the hackers how to download the contents of compromised Gmail and Yahoo Mail accounts.
In one of the videos seen by the Wired, the hackers logged into a compromised Gmail account, linked it to the email software Zimbra, and used Zimbra to download the compromised account's entire inbox to the hacker's machine, the report said.
Next, the hacker deleted a Gmail alert received by the victim that said their account permissions have been changed. The hacker then downloaded the victim's contacts and photos from their Google account, according to the report.
The speed at which the hackers were able to exfiltrate the compromised accounts' information suggests that "they are likely carrying out this sort of personal data theft on a mass scale," the Wired cited Allison Wikoff, a senior analyst at IBM X-Force whose team discovered the videos, as saying.
In another video, the APT35 hackers exfiltrated data from a member of the US Navy and a two-decade veteran of the Greek Navy. The Iran-linked hackers apparently stole photos, emails, tax records, and other personal information from the two, the report said.
The leaked videos may force the Iranian hackers to change some of their tactics, Emily Crose, a researcher for the security firm Dragos, was cited as saying in the report.
https://english.alarabiya.net/en/News/middle-east/2020/07/20/Iran-linked-hackers-mistakenly-leak-videos-of-their-operations-in-action-Report.html
--------
Ukraine president says those responsible for downed plane would be held accountable
20 July 2020
Ukrainian President Volodymyr Zelenskiy on Monday said he welcomed Iran's decision to hand over the black boxes from the crash of a Ukrainian airliner to France, saying those responsible would be held accountable.
For all the latest headlines follow our Google News channel online or via the app.
Iran's Revolutionary Guards shot down the Ukraine International Airlines flight with a ground-to-air missile on Jan. 8 shortly after the plane took off from Tehran. Iran later called it a "disastrous mistake" by forces who were on high alert during a confrontation with the United States.
Zelenskiy added that Ukrainian experts would take part in decoding the black boxes, alongside experts from France, the United States and Canada.
https://english.alarabiya.net/en/News/middle-east/2020/07/20/Ukraine-president-says-those-responsible-for-downed-plane-in-Iran-would-be-held-accou.html
--------
Outsiders seeking to sell arms in Middle East: Iran's mission in Kuwait
21 July 2020
Iran's Embassy in Kuwait has hit back at the US envoy to the Arab country over her criticism of Tehran's regional role, saying the outsiders do not care about the Middle East's stability and are only there to sell their arms.
Tehran's mission in Kuwait City highlighted the significance of maintaining security in the region, saying this can solely be ensured through cooperation among the region's countries.
"No country is more sympathetic towards regional security and stability than the region's own countries," it said in a tweet.
Drawing attention to Washington's interventionist policies in the region, the Embassy said, "Those who have come from thousands of kilometers away are here to sell weapons and make money."
The tweet came in response to recent remarks by US Ambassador to Kuwait Alina Romanowski, who reportedly described Iran's role in the region as evil.
The Iranian mission further blasted Americans for assassinating Iran's top anti-terror commander Lieutenant General Qassem Soleimani and Abu Mahdi al-Muhandis, the second-in-command of Iraq's Popular Mobilization Units (PMU).
It is in fact those who killed popular anti-terrorism military commanders in the region who are playing an evil role in the region, the tweet said. "The children of this region will never forget such evil role."
On January 3, the US assassinated General Soleimani, commander of the Quds Force of Iran's Islamic Revolution Guards Corps, al-Muhandis, and a group of their companions in Baghdad. The operation was ordered by US President Donald Trump.
Both commanders enjoyed deep reverence among Muslim nations over their endeavors in eliminating the US-sponsored Daesh terrorist group in the region, particularly in Iraq and Syria.
The Iranian mission in Kuwait also slammed Washington for violating UN Security Council Resolution 2231 by leaving a 2015 multilateral nuclear deal between Tehran and world states, describing the move as an instance of "unilateralism and evil role in the world."
"The evil role means that for the first time in the history of the United Nations, a permanent Security Council member violates the resolution adopted by the Council and punishes the states that have complied with it," the Embassy said.
On May 8, 2018, Trump announced his decision to withdraw the country from the nuclear deal, which was endorsed by Resolution 2231.
Washington has pressuring other signatories to quit the deal and abide by the sanctions the US re-imposed on Iran after leaving the agreement.
https://www.presstv.com/Detail/2020/07/21/630073/-Iran-US-region-evil-role-
--------
Tehran, Baghdad will jointly sue US for assassinating Gen. Soleimani: Iraq
20 July 2020
Iraq says Baghdad and Tehran will jointly sue the US for assassinating top Iranian commander Lieutenant General Qassem Soleimani and deputy head of Iraq's Popular Mobilization Units, Abu Mahdi al-Muhandis.
In a statement on Monday, Iraq's Supreme Judicial Council said the country regards the US assassination of General Soleimani and Abu Mahdi al-Muhandis on its soil as a criminal act.
The Council said it has coordinated its legal procedure with the Iranian Judiciary and the two countries will file a joint lawsuit against the US.
"The investigation into the airport incident began from the first moment and the Iraqi judiciary dealt with that incident as a criminal act that took place on Iraqi land where some of the victims are Iraqis," the council said in a statement.
According to the statement, the investigation took place according to the Iraqi Code of Criminal Procedure starting with inspecting the scene and meeting with some of the plaintiffs, including the legal representative of the Iranian embassy.
"The Iraqi Ministry of Foreign Affairs and the Secretariat of the Council of Ministers had been informed of other details regarding the accident, and that the investigation procedures since the time of the accident continue in accordance with the Iraqi law," the statement added.
The Iraqi Judiciary's statement comes a day after Iranian Foreign Minister Mohamad Javad Zarif met with Iraqi officials, including the head of the Supreme Judicial Council, in Baghdad.
The statement was also released ahead of Iraqi Prime Minister Mustafa al-Kadhimi's Tuesday trip to Tehran, where he is to hold high-level talks with Iranian officials.
A US drone attack killed General Soleimani and al-Muhandis near Baghdad International Airport on January 3, prompting international condemnations.
https://www.presstv.com/Detail/2020/07/20/630063/iran-iraq-sue-us-general-soleimani
--------
Houthis intensify clampdown on opponents
July 21, 2020
AL-MUKALLA: The Iran-backed Houthis in Sanaa have stormed properties of Yasser Al-Awadhi, a tribal and political leader who led a military uprising against their rule in the central province of Al-Bayda.
The move comes amid an intensified crackdown on their opponents. They have sentenced dozens of army commanders, tribal leaders and legislators to death and confiscated properties in areas under their control.
Local media said that armed men entered Al-Awadhi's house and told its occupants to leave, then moved to his shops around the capital.
Al-Awadhi, a senior member of the General People's Congress and a leader of Al-Awadh tribe, last month led a large number of tribesmen against the Houthis after the Houthis refused to punish local fighters who had killed a woman.
The Houthis crushed the uprising, forcing Al-Awadhi and the tribesmen to move into government-controlled areas in Al-Bayda.
Yemen Today TV, a mouthpiece for, said the Houthis confiscated all the properties owned by Al-Awadhi and his siblings.
The Houthi official media said their security services were executing judiciary orders for confiscating properties of Yemeni political, military and tribal figures who opposed their rule and backed the internationally recognized government and the Arab coalition-led military operations in the country.
At the same time, the Houthi-controlled parliament in Sanaa has begun discussing stripping 12 MPs of their parliamentarian immunity ahead of putting them on trial for supporting the group's enemies.
On Monday, the EU Heads of Mission to Yemen called upon the Houthis to immediately release the four Yemeni journalists who were sentenced to death, urging warring factions in Yemen to stop the harassment of journalists.
"The EU Heads of Mission call on all parties to immediately release all detained journalists in Yemen, including Akram Al-Walidi, AbdelkhaleqAmran, Hareth Hamid and Tawfiq al-Mansouri who have been sentenced to death. The uncontrolled spread of Covid-19 makes their release all more urgent," the mission said in a statement.
In April, Houthi triggered local and international outrage after a court under their control in Sanaa sentenced the four journalists to death, accusing them of espionage.
Officer killed
A security officer and his bodyguard were killed on Monday when unidentified gunmen attacked their military vehicle in the southern province of Abyan, Abyan security forces said in a statement.
Captain Abdullah Ahmed Al-Hanshi, the commander of Special Security Forces in Al-Mahfad district, and his bodyguard Samed Abdullah Al-Hanshi were driving their armed vehicle in Al-Haq region in Abyan's Al-Mahfad when they came under heavy gunfire that killed them instantly.
The Yemeni government has many times accused local separatists of plotting attacks on its forces heading to neighboringShouqra.
In the western Hodeidah, fighting raged on Monday for the third consecutive day in different contested locations in the province as the rebels sought to capture new areas outside the city of Hodeidah. The pro-government Joint Forces said in a statement that 12 Houthis, including nine snipers, were killed in foiled attacks in Durihimi, Al-Jah, Al-Fazeh, Hayes and Attuhayta.
A peace agreement signed between the government and the Houthis in late 2018 has largely failed to halt hostilities as both sides continue to trade shelling.
Local rights groups say more than 500 civilians have been killed in Houthi fire and landmines in Hodeidah since December 2018.
https://www.arabnews.com/node/1707576/middle-east
--------
Pakistan
IHC to hear pleas against SAPMs' appointment
Malik Asad
21 Jul, 2020
ISLAMABAD: Justice Aamer Farooq of the Islamabad High Court (IHC) has clubbed two similar petitions challenging the appointment of special assistants to the prime minister (SAPMs) and decided to hear them in the second week of August.
During the hearing of one of the petitions on Monday, a member of the National Assembly belonging to the opposition Pakistan Muslim League-Nawaz (PML-N) objected to induction of people holding dual nationality into the federal cabinet in the capacity of SAPMs.
Barrister Mohsin Shahnawaz Ranjha, the counsel for petitioner Iradat Sharif Khan, another MNA of the PML-N, pointed out that the cabinet was being run by not only unelected people, but also by those who held dual nationality and were not the sole citizen of Pakistan.
In his petition, Iradat Sharif has challenged the appointment as chairman and other advisers to the prime minister — Abdul Hafeez Shaikh, Abdul Razak Dawood and Dr Ishrat Hussain — as members of the Cabinet Committee on Privati­sation (CCoP).
PML-N lawmaker raises objection over induction of dual nationals into cabinet
It may be mentioned that a notification placed on the website of the Cabinet Division shows that out of 19 non-elected cabinet members, four SAPMs hold dual nationalities, including SAPM on Petro­leum Nadeem Babar (US), SAPM on Overseas Pakistanis Syed Zulfiqar Abbas Bukhari (UK), SAPM on Power Division Shahzad Qasim (US) and SAPM on Digital Pakistan Tania S. Aidrus (Canada).
Among those holding residency of other countries are: SAPM on Political Affairs Shahbaz Gill (US), SAPM on National Security Moeed Yousuf (US), SAPM on Parliamentary Coordination Nadeem Afzal Gondal (Canada) and Ms Aidrus (Singapore).
According to Barrister Ranjha, it is a settled rule that the cabinet constitutes the prime minister and ministers who are the elected members of parliament.
In his petition, Iradat Sharif challenged the April 25 notification that nominated Adv­i­ser to the Prime Minister on Finance and Revenue Hafeez Shaikh, Minister for Com­munications Murad Saeed, former law minister Farogh Naseem, Minister for Plan­ning, Development and Special Initiatives Asad Umar, Minister for Privatisation Moha­m­madmian Soomro, Minister for Power Omar Ayub Khan, Adviser to the PM on Co­m­merce and Investment Abdul Razak Dawood and Adviser to the PM on Institu­tional Reforms and Austerity Dr Ishrat Hussain.
The petitioner challenged the induction of Hafeez Shaikh, Razak Dawood and Dr Ishrat into the CCoP.
Barrister Ranjha argued that Pakistan could only be governed by elected representatives and a person who was not a member of parliament could neither become a part of the cabinet nor its committees.
The petition said: "Unlike ministers, adv­i­­sers are not the part of the federal governm­ent, they do not take oath, they are not res­p­onsible to parliament in term of Article 91(6) of the Constitution, they are not subject to the qualification and disqualification provided under Articles 62 and 63 of the Constitution, before and after their appo­i­ntment advisers are not bound to submit their statements of assets and liabilities…and they are not subject to any kind of scrutiny."
https://www.dawn.com/news/1570272/ihc-to-hear-pleas-against-sapms-appointment
--------
Caritas Pakistan launches Covid-19 awareness campaign
Kamran Chaudhry
July 21, 2020
A church group in Pakistan has launched an awareness program to help fight the Covid-19 pandemic after a study found that most villagers in the country do not use any disinfectant.
Caritas Pakistan, the Catholic Church's social arm in the country, launched the program to make people aware of sanitization in the fight against the pandemic.
The program named "Together we can stop coronavirus" runs until Aug. 31 in all seven dioceses, Caritas officials said.
It focuses on developing material to educate and communicate on prevention activities, campaign through local radio stations and train field staff and volunteers in prevention methods.
It also plans awareness creation through loudspeakers in villages and creating and sharing video documentaries through social media
The effort began after a Caritas study revealed poor sanitation among villagers. Most people — 89 percent — do not use any disinfectant, according to a survey it conducted in 60 villages of 22 districts. The baseline survey included 197 households.
It showed that 71 percent use non-treated water and 76 percent are vulnerable to open sewerage systems. Almost half — 49 percent — do not use a mask while going out of their houses.
The state welfare department has distributed some relief material in these 60 villages. But there was no distribution of soaps, hand sanitizers, disinfectants or any other related sanitization material.
Caritas has already deployed field workers also to conduct door-to-door nutrition surveys amid coronavirus lockdown restrictions.
"Our objective is to assess food intake and nutritional deficiencies of poor families, mostly in women and children, since the government imposed lockdown three months ago," said Amjad Gulzar, executive director of Caritas Pakistan.
Gulzar told UCA News that the information will help us "in developing projects and response plan for restoration of their livelihood."
The survey that started in early July in all seven diocesan units in Pakistan will be based on interviews with 175 pregnant and lactating mothers living in urban slums and villages.
The stigma
Human rights groups say that Hindus and Christian minorities are not being given state food supplies in the Islamic country.
Charity group SaylaniWelfari has faced accusations that non-Muslim families are excluded from its door-to door-distributions. In April, more than 100 Christian families from Punjab's Kasur district were reportedly excluded from food aid distributed by a village committee comprising Muslims. In another incident, Christians were denied food on April 2 in a village near Lahore.
The same month, the National Commission for Justice and Peace (NCJP) and Minority Rights Group International launched an online Stigma Survey in Pakistan.
"The reports will be presented to decision makers in Pakistan to aid larger efforts to address the root causes of stigma," the NCJP said on its Facebook page.
The health crisis due to the pandemic further "threatens to increase stigma and discrimination against marginalized and underprivileged communities," it said.
Rising inflation has further increased challenges for middle-class non-Muslims in Pakistan.
According to the latest data on the Consumer Price Index, Pakistan's inflation rate soared to 8.6 percent year on year last month. The Institute of Development Economics estimates that a prolonged lockdown will mean short-term unemployment for as many as 20 million people.
Meanwhile, Federal Minister for Planning Asad Umar, who also heads the anti-coronavirus campaign, claimed a 28 percent reduction in the number of patients who require ventilators and oxygen cylinders.
However, health experts warned it is too early to declare victory against the virus that has already infected 265,083 people across Pakistan with 5,599 deaths.
Last month church workers shared Facebook posts claiming that Father Samran Anwar, the young parish priest of St. Joseph Catholic Church in Gujranwala, Punjab province, died of Covid-19. Lahore Archdiocese denied the news, claiming that the priest died of cancer.
https://www.ucanews.com/news/caritas-pakistan-launches-covid-19-awareness-campaign/88842
--------
At least 1 dead, 7 injured in explosion in Balochistan'sTurbat
Syed Ali Shah | Ghalib Nihad
21 Jul, 2020
At least one person was killed and seven others injured in an explosion in a bazaar in Turbat, Balochistan on Tuesday.
Police and rescue teams have reached the area. The injured have been shifted to District Headquarters Hospital, Turbat.
Officials said that miscreants planted an improvised explosive device (IED) in a motorcycle parked outside a shop in Turbat. A number of vehicles have reportedly been damaged.
Police sources said it was yet to be confirmed who was the target of the blast but all the injured were civilians.
Balochistan Chief Minister Jam Kamal Alyani condemned the attack, saying that "the agenda of anti-state elements will not be allowed to succeed".
https://www.dawn.com/news/1570315/at-least-1-dead-7-injured-in-explosion-in-turbat-balochistan
--------
Justice Isa's wife seeks review of apex court order
21 Jul, 2020
ISLAMABAD: Sarina Isa, the wife of Justice Qazi Faez Isa, on Monday filed a review petition before the Supreme Court seeking review of its June 19 majority order requiring verification by tax authorities of three offshore properties in her and children's name.
Along with the review petition, she also sought a stay saying that the Commissioner/Federal Board of Revenue were proceeding with indecent haste against her in complete disregard to the demise of her father and death threats to her husband. "They have not let the petitioner grieve about the loss in her life. They are not concerned about the death threats to her husband, and they are not waiting for the detailed reasons/judgement.
"They are single-mindedly pursuing the objective to deprive the petitioner of any legal remedy, including the constitutional right to file a review under Article 188," argued the review petition moved in person.
This is the fourth such review petition after the Pakistan Bar Council (PBC), Supreme Court Bar Association (SCBA), Sindh High Court Bar Association (SHCBA) moved the apex court seeking review of the paragraphs 3 to 11 in the majority judgement by seven judges.
The majority order through paragraphs 3 to 11 in the short order had quashed the reference but ordered the FBR chairman to furnish a report under his signatures to the Supreme Judicial Council (SJC) secretary containing details of the proceedings conducted by the FBR Inland Revenue Commissioner after seeking explanation from the wife and children of Justice Isa about the nature and source of the funds for the three properties in the United Kingdom.
On the receipt of the report, the SJC will determine to initiate any action/proceedings for the purposes of Article 209 of the Constitution, in its suo motu jurisdiction, the judgement had explained.
The review petition contended that the tax affairs of any private citizen were confidential. They neither impinge on the fundamental rights of other citizens nor were a matter of public importance, the petition said. The order, essentially, directed investigation of the tax liability of private citizens under the garb of public importance, the petition argued, adding this did not satisfy the requisite preconditions of breach of the fundamental rights and public importance that trigger Article 184(3) powers vested in the Supreme Court.
The review petition argued that the terms offshore assets and offshore evader were introduced for the first time by the Finance Act, 2019, published on June 30, 2019. The petitioner pleaded that she had declared the three offshore properties in her tax returns for the tax year 2018 and 2019, after the change of law requiring them to be so declared and has till date not received a single notice in respect of either tax year or in respect of her returns, let alone that she did not declare or under declared or provided inaccurate particulars, the petitioner contended.
The Supreme Court by issuing the June 19 order under Article 184(3) effectively created a class of persons and redefined the private and confidential affairs of individual citizens falling within such class as matters of 'public importance', the petition feared.
This class includes the spouses and children of judges, with their assets and liabilities being elevated to the status of public importance impinging on the fundamental rights of all citizens of Pakistan. The creation of such a class backed by a judicial order without any foundation in law may be seen to be invidious, the petition emphasised.
Within this class, the apex court's treatment is discriminatory, as under Article 194 of the Constitution all judges of the superior courts take the same oath, under the Third Schedule, according to the petition. All judges of the superior courts abide by the same Code of Conduct, and their violation of the same is dealt with by the same forum, the Supreme Judicial Council (SJC), under Article 209 of the Constitution.
However, the petition alleged, it was to the exclusion of all other members of this class, created by the SC under Article 184(3), that the petitioner and her children were being singled-out and targeted. She and her children are being made to explain their sources of income to the exclusion of the spouses and children of all presently 139 sitting chief justices and judges of the superior courts.
Only one individual judge of a class created by the Supreme Court was being dealt with in a manner completely different to the other members of the same class in a brazen violation of the right to equal protection and guarantee against discrimination under Article 25 of the Constitution, the petition alleged.
There was no basis to treat the petitioner any differently from the spouses of all other judges of the superior courts and the petitioner's children from the children of all other judges of the superior courts, Ms Isa contended.
In the event that the SC decided that accountability of judges mandated accountability of their spouses, their children, including their assets as well and that the spouses and children of judges must present themselves before the FBR to obtain a character certificate of good legal and moral conduct, the obligation to do so could not attach to the petitioner and her children alone, the petition emphasised.
If a new obligation had been created for the petitioner due to her being the spouse of a SC judge, such obligation must be applied and enforced strictly across-the-board in relation to all members of this new class of judges' spouses and children, according to the petition.
The petitioner said that before Imran Khan's government again stooped to making false allegations, she wanted to clarify that she did not receive a single rupee for her time, money and effort, did not avail of any travel and daily allowance and did not publicise what she did. She was also not seeking gratitude or to be acknowledged, the petition said, adding she had lived a fully occupied life in Karachi, working, raising children and running a household, so when she accompanied her husband to Balochistan she used the opportunity to make peoples' lives better.
She did not disclose to anyone what she did and probably would never have, but when there is no end to her persecution by the government, and people like Law Minister Farogh Naseem had the audacity to say that the petitioner should be grateful to receive benefits and would be entitled to get a pension when her husband died it was hypocrisy in the extreme, which needed to be addressed. What the petitioner did was nothing more than a wife of chief justice, governor, president, prime minister and those of the chiefs of the armed forces would do.
She alleged that she was being punished because she had not received a single benefit from her husband's position, since she and her children bought the properties from their own money and were being asked about them.
However, the petition said it was ironic that Mr Khan who sought and got a plot from the government was not asked about it, but his government raised finger at the petitioner and spread lies. The petitioner was then thrown to the FBR controlled by the Khan government, she regretted.
https://www.dawn.com/news/1570264/justice-isas-wife-seeks-review-of-apex-court-order
--------
Treasury side opposes bill for increasing high court benches
Iftikhar A. Khan
21 Jul, 2020
ISLAMABAD: In a move that surprised many, the government opposed in the Senate on Monday a constitutional amendment bill seeking to increase the number of high court benches across the country to provide inexpensive justice to the litigants.
The bill sought to be moved by PML-N Senator Javed Abbasi was opposed by Minister of State for Parliamentary Affairs Ali Mohammad Khan on the plea that the bill in its present form would disturb the concept of trichotomy of powers and amount to interference of parliament in the domain of the executive — a view rejected by the opposition.
After a heated debate, the bill was put to vote. Though 57 votes were cast in favour and 13 against it, the move failed as a constitutional amendment bill requires a two-thirds majority (at least 69 senators in the 104-member house) for its passage.
The opposition staged a walkout from the house in protest against the government's behaviour.
Opposition stages walkout from Senate in protest against government's attitude; landmark bill seeking to raise Balochistan PA seats from 65 to 80 passed
Earlier, Javed Abbasi, who heads the Senate Standing Committee on Law, said the bill passed by the committee with consensus would ease the lives of hundreds of thousands of litigants who had to travel from far-flung areas and bear the cost of hotel bills and incur additional expenditure on their counsel.
Ali Mohammad Khan, though hailing the spirit of the bill, insisted that there were technical problems and asked the chair to refer the matter to the committee again. He suggested the government and the opposition bring a consensus bill.
After the move for bill's passage fizzled out, Javed Abbasi said the ruling PTI stood exposed and it had become known to all that they were not interested in providing inexpensive justice to people. He said the bill had been defeated only because it had been brought by the opposition.
The Lahore High Court, besides its principal seat in the provincial capital, has benches in Rawalpindi, Multan and Bahawalpur, and the bill had sought four more benches in Punjab — one each in Sargodha, Gujranwala, Faisalabad and Dera Ghazi Khan.
The Sindh High Court, besides its principal seat in Karachi, has only one bench in Sukkur and the bill had sought additional benches in Hyderabad and Larkana.
The Peshawar High Court, besides its principal seat in the Khyber Pakhtunkhwa capital, has benches in Abbotabad, Mingora and Dera Ismael Khan and the bill had sought benches in Mohmand Agency and North Waziristan as well.
The Balochistan High Court, besides principal seat in Quetta, has benches in Sibi and Turbat and the bill had proposed new benches in Khuzdar and Loralai.
The opposition members were later persuaded to come to the house for voting on another bill.
The house passed a constitutional amendment bill seeking to raise the number of seats in the Balochistan Assembly from 65 to 80. In a rare demonstration of concord, all the 71 members present in the house voted in favour of the bill to get it passed unanimously.
The original bill titled "The Constitution (Amendment) Bill, 2019 (Amendment of Article 51 and 106)", tabled by around 20 senators from Balochistan, proposed to increase the number of seats for Balochistan in the national and provincial assemblies.
In view of the support for the bill across the party lines, it is set to comfortably sail through the National Assembly to become an act of parliament after the president's assent.
PPP parliamentary leader in the Senate Sherry Rehman said that Article 63 of the Constitution clearly stated that a member of the parliament stands disqualified if he acquires the citizenship of a foreign state. Some members have been disqualified for life from both the houses under this article. Then under what reason and morality, special assistants to the prime minister have taken oath of two countries, she wondered.
Senator Rehman said that discussion on the media in this connection had exposed the performance of the government politically and morally. She said Prime Minister Imran Khan had himself opposed dual nationality of lawmakers, adding that only Pakistanis should have a role in decision making. She said dual nationals couldn't be given jobs in sensitive organisations. She said the prime minister used to say that Pakistanis should run the affairs of the country.
Former Senate chairman and PPP stalwart Mian Raza Rabbani also criticised the government and said that when a person took the oath of allegiance to another country, he gave his loyalty to that country. He stressed that those duals nationals who were being allowed to sit in the cabinet to make import decisions were not eligible to become members of parliament.
https://www.dawn.com/news/1570265/treasury-side-opposes-bill-for-increasing-high-court-benches
--------
Qureshi defends dual nationalities of SAPMs
21 Jul, 2020
ISLAMABAD: Foreign Minister Shah Mahmood Qureshi has said that every government needs technical expertise and the inclusion of technocrats with their elected counterparts strikes "a healthy balance".
"One must admit that this practice [of declaring assets and nationality details of cabinet members] is an unprecedented one," said the foreign minister while speaking to a private media house on Monday.
Qureshi said that previous regime did not ensure an open government. He credited Prime Minister Imran Khan for the move and said that it would help in transparency and holding them accountable.
The foreign minister observed that the constitution made it clear that dual nationality holders cannot become members of the parliament. "They can neither become members of the Senate nor the National Assembly," he said, adding: "It is clear in the constitution. However, they are not prohibited from assuming any other office."
Responding to a question about the potential conflict of interest, Qureshi said that his party's policy was clear on the issue. "It is binding on everyone not to do anything that gives the perception that an individual used his office for personal gains or financial growth," he clarified.
In response to a question as to whether the law should be the same for elected and non-elected members on holding dual nationalities, the foreign minister said that both were needed in government "to strike a healthy balance".
"Elected members have [their own] value. They are representatives of the people but every elected government needs expertise," he said. "The constitution gives space to the prime minister to nominate four advisors who have technocratic expertise."
Qureshi said that past governments have used the same relaxation. "You have to have a balance," he said, adding that the prime minister had set an unprecedented example by asking his Cabinet members to declare their assets and whether they held dual nationalities or not.
In response to a question on whether the prime minister will ask cabinet members to let go of their foreign nationalities, Qureshi said that a cabinet meeting will be held on Tuesday where the prime minister will address the dual nationalities issue.
https://www.pakistantoday.com.pk/2020/07/20/qureshi-defends-dual-nationalities-of-sapms/
--------
URL: https://www.newageislam.com/islamic-world-news/biden-muslim-voters-summit-says/d/122430
New Age Islam, Islam Online, Islamic Website, African Muslim News, Arab World News, South Asia News, Indian Muslim News, World Muslim News, Women in Islam, Islamic Feminism, Arab Women, Women In Arab, Islamophobia in America, Muslim Women in West, Islam Women and Feminism