New Age Islam News Bureau
12 May 2020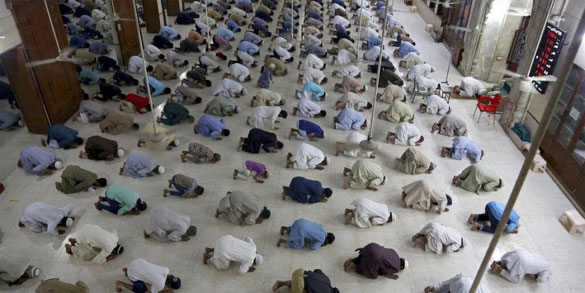 For representational purposes (File Photo | AP)
------------
• Bengal Imams' Association Urges Mosques to Handover Premises For COVID-19 Quarantine Centres
• Don't Shop for Eid, Help the Needy During Lockdown, Clerics Appeal to Muslims In Mumbai
• Mosques to Reopen Across Iran in Conformity with Social Distancing Measures
• Muslims To Stay Away from Shopping and Mass Gatherings Despite the Restrictions Being Relaxed in Sri Lanka: Muslim Clerics
• New Facebook Oversight Board Member 'Partial Toward the Muslim Brotherhood'
• COVID-19: Liberian Govt Orders Reopening of Churches, Mosques
• Indonesia To Carry Out Large-Scale Trials of Blood Plasma Therapy For COVID-19 Patients
• Coronavirus Cases Rise in UAE Amid Relaxed Restrictions
• France Urging EU Partners to Consider Firm Response to Any West Bank Annexation: Diplomats
• Over 90pc Mosques Violating SOPs: Report
-------
India
• Bengal Imams' Association Urges Mosques to Handover Premises For COVID-19 Quarantine Centres
• Don't Shop for Eid, Help the Needy During Lockdown, Clerics Appeal to Muslims In Mumbai
• For the First Time in Its 150-Year-Old History, No Procession for Imam Ali's Martyrdom This Year in Lucknow
• Lucknow: Fatwa to Offer Eid Prayers at Homes If Lockdown Extends, No Hugs
• Lucknow: Large-scale testing begins in Covid hotspot
• Day 49 of coronavirus lockdown: Ground report from Indian cities
------
Mideast
• Mosques to Reopen Across Iran in Conformity with Social Distancing Measures
• Non-Muslim Turkish Citizens Worry About Being Targeted Because Of Their Support ToFethullah Gülen
• Palestinian PM urges intl. recognition for Palestine in case of Israel annexation
• Israel's demolition policy sign of failure to stop resistance: Hamas
• Israel terrified of Hezbollah's capabilities, cannot escape balance of terror: Legislator
• Greece Slams Turkish Media Report Linking Patriarch to Islamic Preacher Gülen
• Turkish agency aids 500 families in BARMM during Ramadan
• 7 new concerts from Presidency during Ramadan and Eid al-Fitr
------
South Asia
• Muslims To Stay Away from Shopping and Mass Gatherings Despite the Restrictions Being Relaxed in Sri Lanka: Muslim Clerics
• Sri Lanka: Muslims Face Extra Threat as Coronavirus Stirs Hate
• 40 killed, wounded as suicide attack targets funeral in Nangarhar province of Afghanistan
• Standoff underway as militants attack a hospital in Kabul city
• 6 Afghan soldiers martyred, 5 wounded in Laghman clash: Silab Corps
• Wuhan to test entire population of 11m as uptick in cases prompts alarm at possible second wave
------
North America
• New Facebook Oversight Board Member 'Partial Toward the Muslim Brotherhood'
• Most Americans Say Trump's Policies Hurt Muslims: Survey
• Pompeo, Netanyahu 'two mobsters' plotting Palestine's eradication: Analyst
• CAIR-Minnesota Calls for Probe of Possible Bias Motive for Fire at Minneapolis Mosque
• American Author Alkhateeb Urges Followers Of PM Imran To Purchase Original Book On Islamic History
------
Africa
• COVID-19: Liberian Govt Orders Reopening of Churches, Mosques
• Governor Buni's N10m Ramadan Gift Tears Yobe Social Media Groups Apart
• Imams seek adherence to COVID-19 precautions
• Muslims in Mbale receive 3 tonnes of maize flour
------
Southeast Asia
• Indonesia To Carry Out Large-Scale Trials of Blood Plasma Therapy For COVID-19 Patients
• Malaysia's Axiata secures $800 mln in sustainability Islamic financing from three banks
• The 'herd immunity' route to fighting coronavirus is unethical and potentially dangerous
• Supportive rules key to Indonesia's green investment future: Experts
• Kedah PAS says 23 reps have lost confidence in Mukhriz
• Kedah's Pakatan govt falls after two PKR reps quit party
------
Arab world
• Coronavirus Cases Rise in UAE Amid Relaxed Restrictions
• The UAE's Sheikh Zayed Grand Mosque Centre launches remote cultural tours
• Syrian activist killed by Islamic State was working on British-backed comic
• 2 Arab American Businesswomen Sweeten Up A Rough Ramadan With Knafeh Shots
• Virus Crisis Highlights Potential Role of Islamic Finance In Reaching Sustainable Development Goals
• BCF delivers food aid to 500 families in Kirkuk during Ramadan
------
Europe
• France Urging EU Partners to Consider Firm Response to Any West Bank Annexation: Diplomats
• Is There A Plan to Convert Hagia Sophia Into A Mosque on The Day of The Fall ofConstantinople?
• 'It's a very different Ramadan': how coronavirus has upended ancient rituals
• Islamic Relief UK and Give a Gift assist vulnerable residents
• Preston councillor's Ramadan endeavour for the NHS
------
Pakistan
• Over 90pc Mosques Violating SOPs: Report
• Barbs fly in NA over fight against Covid-19
• SC restrains Pemra from taking action against Neo TV
• Shoppers in Rawalpindi flout SOPs after restrictions on businesses lifted
• 10,000 doctors to be selected for coronavirus-specific duties
• Capital admin struggling to enforce virus prevention SOPs
Compiled by New Age Islam News Bureau
URL; https://www.newageislam.com/islamic-world-news/bengal-imams-association-urges-mosques/d/121826
------
Bengal Imams' Association Urges Mosques to Handover Premises For COVID-19 Quarantine Centres
12th May 2020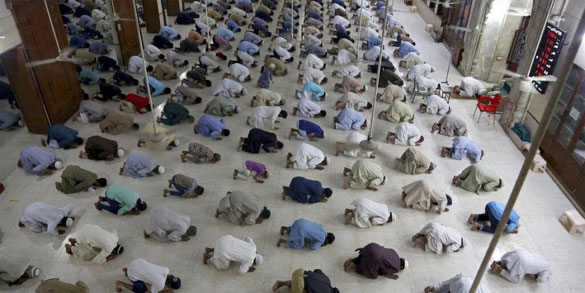 For representational purposes (File Photo | AP)
--------
KOLKATA: The Bengal Imams' Association has urged mosque and madrasa committees in the state to let out their premises for setting up of COVID-19 quarantine centres.
In a letter, its chairman Md Yahia urged over 2,600 mosque and madrasa committees to handover their premises to the government for setting up of quarantine centres in this hour of crisis.
"If we don't have the resources to help thousands, each of us can certainly help at least 50 fellow human beings. Let's follow the true spirit of Islam, let's serve humanity," he said on Monday.
The Bangali Bazar Masjid committee in the Garden Reach area in the city has approached the authorities with such a proposal, Kolkata Municipal Corporation sources said.
https://www.newindianexpress.com/nation/2020/may/12/bengal-imams-association-urges-mosques-to-handover-premises-for-covid-19-quarantine-centres-2142344.html
-----
Don't shop for Eid, help the needy during lockdown, clerics appeal to Muslims in Mumbai
May 11, 2020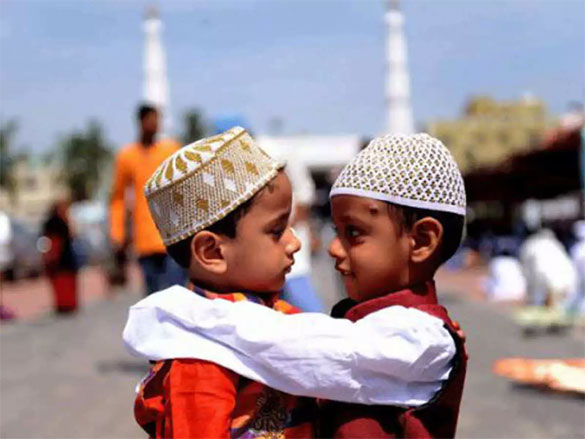 MUMBAI: A group of clerics and community leaders in the city have appealed to the Muslims to skip shopping for Eid and forego Eid festivities. Eid is on May 25 and many Muslim families have begun shopping online. The leaders have said that, instead of spending money to buy new clothes and on preparing Eid delicacies, the community should focus on helping the needy during the lockdown.
Maulana Mahmood Daryabdi, general secretary of All India Ulema Council, said in a video message that the community must not crowd the streets to buy for Eid festivities. "We are fighting a pandemic and the best way to avoid catching it is by staying at home. Don't celebrate and, instead, spend the money to buy essentials for poor relatives and neighbours," said Daryabadi.
Bandra-based activist Shadaab Patel said that many lower middle class families desperately need ration. "We have visited many families which need ration to survive. Eid will come again next year, but if ration is not provided to these families in time they will starve," said Patel. He added that self-respect stops many poor families from asking for help. "Our priority should be to reach out to such families," he said.
Saeed Noorie of Raza Academy has also called upon the community members to avoid shopping for Eid as many poor families cannot afford to buy new clothes. "It will be disheartening for the children of your poor neighbour if they don't have new clothes but your children wear new clothes on Eid day which comes at the end of Ramzan," said Noorie.
While Noorie maintained that there would be no Eid namaz if lockdown is extended as mosques are shut, Mufti JasimuddinQasmi, associated with Jogeshwar-based MarkazulMaarif Research Centre, said that Eid namaz can be held at home. On Eid day Muslims offer two units of congregational namaz at Eidgah or mosques before they sit down for feats.
https://timesofindia.indiatimes.com/city/mumbai/dont-shop-for-eid-help-the-needy-during-lockdown-clerics-appeal-to-muslims-in-mumbai/articleshowprint/75673999.cms
-----
Mosques to Reopen Across Iran in Conformity with Social Distancing Measures
May 11, 2020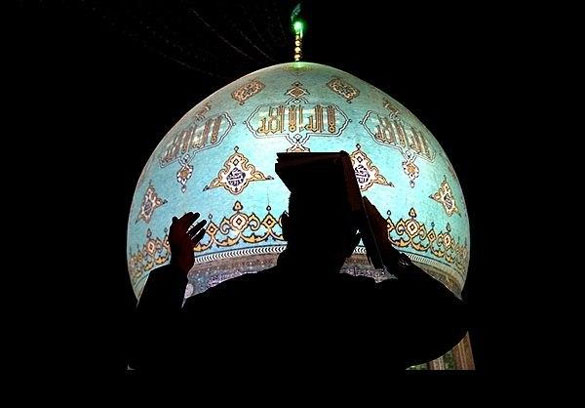 Iran's Health Ministry has announced details of protocols on the reopening of mosques across Iran ahead of the Qadr nights (Laylat al-Qadr) when people stay awake and pray from midnight till dawn.
-------
Iran's Health Ministry has announced details of protocols on the reopening of mosques across Iran ahead of the Qadr nights (Laylat al-Qadr) when people stay awake and pray from midnight till dawn.
"Qadr night rituals must be held with a limited capacity for worshippers and preferably in open spaces," said deputy health minister Alireza Raisi on Monday.
"Those taking part in Qadr night ceremonies must wear masks and gloves, take with them their own prayer mats and copies of the holy Quran," he added
The announcement came one day after Leader of Iran's Islamic Revolution Ayatollah Seyyed Ali Khamenei highlighted the importance of worshipping and attending prayer rituals in mosques for the Muslim nation of Iran. However, the Leader emphasized that it is up to the National Coronavirus Headquarters to make a decision in that regard.
In Islamic teachings, the Qadr night (Laylat al-Qadr) is the night when the holy Quran was first sent down from Heaven to the world and also the night when the first verses of the Quran were revealed to the prophet Muhammad.
According to many Muslim sources, it was one of three nights during the last ten days of the holy month of Ramadan, the ninth month of the Islamic calendar. Since that time, Muslims have regarded the last ten nights of Ramadan as being especially blessed.
Muslims believe that the Qadr night comes with blessings and mercy of God in abundance, sins are forgiven, supplications are accepted, and that the annual decree is revealed to the angels who carry it out according to God's plan. As it is not clear which of three odd-numbered nights in the last ten days of Ramadan is actually the Qadr night, Muslims keep vigil and say prayers on all of those three nights.
https://ifpnews.com/mosques-to-reopen-across-iran-in-conformity-with-social-distancing-measures
-----
Muslims To Stay Away from Shopping and Mass Gatherings Despite the Restrictions Being Relaxed in Sri Lanka: Muslim Clerics
11-05-2020
Chairman of the Shaikh Usman Waliyullah Shrine (Devatagaha Mosque) and Masjid ReyazSalley called on all Muslims to stay away from shopping and mass gatherings despite the restrictions being relaxed.
"We have to set an example to other communities who have sacrificed their festivals such as the Sinhala Tamil New Year and Easter Sunday. Hence, let us also sacrifice our Ramadhan festival and work unitedly with other races to eradicate the Covid 19 pandemic and let us all get together with our President Gotabaya Rajapaksa and celebrate all festivals together after we eradicate the pandemic. There will be blessings from Almighty and we also start a new era in our life. Presently we are been punished by the Almighty for having ego of different sorts for which the Almighty is not happy. Therefore, I appeal to my brothers and sisters to follow the law of the country and maintain social distancing. All mosques in the island will be kept closed even after the curfew is lifted," he said.
http://www.dailynews.lk/2020/05/11/local/218369/mosques-remain-closed
------
New Facebook Oversight Board Member 'Partial Toward the Muslim Brotherhood'
By Corinne Weaver
May 11, 2020
A member of the new Facebook Oversight Board has been found to be "partial toward the Muslim Brotherhood."
Tawakkol Karman, a Yemeni activist and a Nobel Peace Prize winner, stated in a 2013 TV interview with BBC Arabic, that she supported the Muslim Brotherhood. She was announced as a member of the Facebook Oversight Board on May 6, 2020. The Oversight Board will make rulings on what content will stay up or be taken down.
Pro-Israel voices have been censored on Facebook in the past. Yair Netenyahu, the son of Israeli Prime Minister Benjamin Netenyahu, was censored on Facebook for calling for retaliation against those implicated in the shooting of two Israeli soldiers in 2018. Hamas, the terrorist organization that engages in violent activities in Israel, is a branch of the Muslim Brotherhood.
Karman stated in 2013, "The Muslim Brotherhood and its supporters, who oppose the military rule, are engaged in a legendary struggle, which they are waging with their blood, their resolute steadfastness, and their belief that they will restore the revolution to its true path."
When an anchor asked if she was "politically and ideologically partial to them," Karman answered: "You can hear it from me: Yes, at this stage, I am partial toward the Muslim Brotherhood, toward the coalition that rejects the coup against legitimacy, and toward all the Egyptian youths who oppose the coup against democracy, and against the January (2011) revolution. I will not remain neutral in this battle. This is my battle."
The video was translated by The Middle East Media Research Institute (MEMRI), which monitors and translates TV and social media in the Arabic world. MEMRI is a nonprofit organization located in Washington D.C.
According to The Jerusalem Post, when Tawakkol Karman won the Nobel Peace Prize in 2011, the Muslim Brotherhood's official English website put out a congratulatory statement, claiming Karman as one of its members.
In 2019, President Donald Trump wanted to designate the Muslim Brotherhood as a terrorist organization. Even though The New York Times did not think the Muslim Brotherhood qualified as a terrorist organization, the group has previously been associated with two branches that are already designated as terrorist groups by the Department of State: Hasm and Liwa al-Thawra. Saudi Arabia, Russia, and Bahrain have already designated the Muslim Brotherhood as a terror group.
The Palestinian terrorist group Hamas, which carries out acts of terror on Israeli targets, was at one point a branch of the Muslim Brotherhood, according to Reuters. According to The Times, many members of the Muslim Brotherhood have quit the group and moved on to more violent groups such as Al-Qaeda.
The Heritage Foundation wrote: "[T]he Brotherhood has historically proven to be a hugely malignant force." The founder of the group, according to The Heritage Foundation, "believed that an Islamic caliphate had to be restored and an unpolluted version of Sharia law implemented if Islam was to be revived in the face of Western secularism."
https://www.newsbusters.org/blogs/techwatch/corinne-weaver/2020/05/11/new-facebook-oversight-board-member-partial-toward-muslim
-----
COVID-19: Liberian govt orders reopening of churches, mosques
May 11, 2020
By SeunOpejobi
The President of Liberia, George Weah, has ordered partial reopening of religious centres across the country, amid the COVID-19 outbreak.
Weah said while mosques will reopen as from May 15, churches will reopen for services as from May 17, Reuters reports.
He said religious centres would be allowed to reopen provided they obey social distancing directive.
In a statement he signed, the president, however, extended the lockdown in Monrovia, the country's capital.
He disclosed that the emergency measures announced in April would be extended for two weeks.
These include a ban on all movement between the country's 15 counties, the closure of non-essential businesses, and stay-at-home orders for Monrovia's roughly one million inhabitants.
The West African country has so far recorded 199 COVID-19 cases with 20 deaths, according to Liberian authorities.
https://dailypost.ng/2020/05/11/covid-19-liberian-govt-orders-reopening-of-churches-mosques/
-----
Indonesia to carry out large-scale trials of blood plasma therapy for COVID-19 patients
May 12, 2020
Indonesia is gearing up for a large-scale trial on convalescent plasma treatment for COVID-19 patients amid a global rally to find a cure for the fast-spreading novel coronavirus, President Joko "Jokowi" Widodo has said.
The blood plasma, extracted from recovered patients, would be donated to severely ill COVID-19 patients to give their immune systems a boost. Researchers have claimed the method effective in treating COVID-19 patients since the convalescent plasma from the novel coronavirus survivors produced antibodies that could combat the virus.
"I have seen significant progress in blood plasma treatment trials. The treatment would be clinically tested within a large scale in several hospitals," President Jokowi said in a virtual limited meeting on Monday.
President also added that trials on stem cells to endogenously treat COVID-19 patients with severe pneumonia would also be done alongside the blood plasma trials.
He also lauded the advancement in genome sequencing by Eijkman Institute for Molecular Biology's laboratory as part of the initial stage for vaccine development.
"I urge all sectors to fully support these research and innovation programs. Licensing should be done faster and integrated," he said.
A team of researchers from Eijkman Institute and Pharmaceutical holding company PT Bio Farma, alongside a number of international partners, has been working to develop convalescent plasma that contains antibodies at CiptoMangunkusumo Hospital.
Doctors have been using convalescent plasma transfusions to help patients fight diseases since the 1918 Spanish Flu and recently the procedures also worked on patients with SARS, Ebola, and H1N1.
The Jakarta administration also plans to provide hospitals with supplies of the plasma in the capital city, with the Indonesian Red Cross (PMI) in charge of distribution.
Researchers have urged COVID-19 survivors who are symptom free for 28 days to donate their blood plasma to help the those who are severely ill.
https://www.thejakartapost.com/news/2020/05/12/indonesia-to-carry-out-large-scale-trials-of-blood-plasma-therapy-for-covid-19-patients.html
-----
Coronavirus cases rise in UAE amid relaxed restrictions
11 May 2020
The UAE recorded 680 more cases of the novel coronavirus on Monday (May 11), a day after recording the country's highest rise since the outbreak started.
The spike in cases comes two weeks after the government relaxed restrictions on April 23, allowing malls, restaurants and cafes to reopen at limited capacity.
But despite taking early measures to combat the spread of the virus, Persian Gulf states have seen a spread among low-income migrant workers living in cramped quarters, prompting authorities to ramp up testing.
The number of coronavirus cases in the six Persian Gulf Arab states surpassed 100,000 on Monday (May 11) , with 557 deaths, according to a Reuters tally based on official figures.
https://www.presstv.com/Detail/2020/05/11/625135/Coronavirus-cases-rise-in-UAE-amid-relaxed-restrictions
-----
France urging EU partners to consider firm response to any West Bank annexation: Diplomats
12 May 2020
France has been pushing its European Union (EU) partners to consider threatening the Israeli regime with a firm response if Tel Aviv proceeds with a plot to annex parts of the occupied West Bank, diplomatic sources say.
Three EU diplomats told Reuters on Monday that France wants to raise the issue during a meeting of the bloc's foreign ministers on Friday.
Belgium, Ireland and Luxembourg also seek to put some sort of punitive economic measures against Israel on the event's agenda, they said.
The report came after Israeli Prime Minister Benjamin Netanyahu said cabinet discussions would start in July over extending Israeli "sovereignty" to the settlements built on occupied land and to the Jordan Valley in the West Bank, as was mooted under US President Donald Trump's Middle East scheme.
Palestinians have expressed outrage at Israel's plans to cement its hold further on land it seized in the 1967 war, territory they are seeking for a state.
"There is clearly a need to look at what annexation means in the context of international law and we do need to know our options," said one senior EU diplomat involved in discussions.
"We also need to say what exactly the consequences of annexation would be, ideally as a way to stop any such move," the diplomat added.
The ambassadors of 11 European countries warn Israel that its planned annexation of the West Bank is a "clear violation of international law."
EU foreign policy spokesperson Peter Stano said on Monday that the 27-member bloc would take action if Israel moved ahead with its illegal annexation of the West Bank.
"Annexation is not in line with international law. If it goes ahead, the EU will act accordingly," he told the European Commission's daily press briefing.
In terms of procedure, EU governments would need to ask the EU's External Action Service (EEAS) to draw up a list of options. All 27 EU nations would need to agree to any response, but Israel's closest allies such as Hungary and the Czech Republic could still block even preparatory work, according to Reuters.
EU foreign policy chief Josep Borrell has said the bloc does not recognize Israeli rule over Palestinian land, and that it will "continue to closely monitor the situation and its broader implications, and will act accordingly."
Separately, the UK also said it would not support Israel's annexation scheme, with Britain's minister of state for the Middle East and North Africa, telling the parliament that "our long-standing position is that we do not support the annexation of parts of the West Bank, and... doing so could make a sustainable two-state solution harder."
Meanwhile, Secretary-General of the Palestine Liberation Organization (PLO)'s Executive Committee Saeb Erekat said Ireland and Greece were also opposed to Israel's new land grab bid.
Erekat tweeted Monday that he had held in-depth talks with Ireland's Foreign Minister Simon Coveny as well as with Greek Foreign Minister Nikolaos Dendias.
During the talks, he said, the European diplomats called for an end to the Israeli occupation of Palestinian territories and the implementation of a so-called two-state solution based on the pre-1967 borders in line with international law.
presstv.com/Detail/2020/05/12/625158/France-EU-Israel-Annexation-West-Bank-
------
Over 90pc mosques violating SOPs: Report
MANSOOR ALI
May 12, 2020
ISLAMABAD-A latest survey conducted by the PATTAN, an organization working for the marginalised segments of society, found that nearly 90% of the surveyed mosques violated the 20-point agreement signed between the government and religious clerics.
According to the survey, besides regular mosque goers, the respondents of the survey were Imams and members of mosque committees and nearly 80% of the namazis said they offer three to five prayers including Taraveeh in congregation in a mosque. However, only 8% respondents of the survey said they didn't go to mosque at all.
The survey also found differences between the opinions of namazis and the Imams/masjid committee members regarding the implementation of the 20-point SOPs. For instance, the survey finds that one-third of namazis point fingers at Imams and masjid committees for not implementing the SOPs, while only 8% Imams blame themselves. Similarly, both groups hugely disagree about police responsibility in this regard. Only 8% Imams, but 48% namazis, blamed police for failure in non-implementation.
On the other hand, when a similar question was asked of the Imams, every Imam said that he tried his best. 39% said they encourage people to follow the SOPs, and 53% claimed they have banned wuzzu, children and elderly from the mosques, and that they exhort people to wear masks and keep a six feet distance.
The progress of the police in implementation of SOPs was also highlighted as 26% of the namazis said police were helping in implementing the SOPs and 50% of Imams said the same.
The most interesting finding of the survey appears to be the general attitude of respondents in these times of deadly pandemic. There is a widespread fatalistic attitude, as most (74%) of the namazis said that life and death are in God's hands and saying prayers in a mosque is preferred in Islam.
Regarding awareness about the 20-point agreement, 87% of Imams/committee members, and 80% of Namazis knew about it. Their main sources of information were TV channels and social media. However, 28% namazis also mentioned mosques as one of the sources of this information.
A pleasant surprise was that as many as 94% Imams and masjid committee members supported the 20- point agreement, while of the rest, 6% didn't support the agreement but endorsed the SOPs.
In total, 132 imams and masjid committee members and 345 namazis from 95 mosques participated in the survey, while 23 Imams refused to take part in the exercise. The survey was conducted in Islamabad, Rawalpindi, Faisalabad, Lahore, Jhang, Multan, Layyah, Muzaffargarh and Dera Ghazi Khan. Besides this, our survey team also observed 109 mosques during Taraveeh congregations in Islamabad, Karachi, MirpurKhas, Shikarpur, Kashmore, Hyderabad, Thatta and Badin.
As it has now been established that social distancing is the most effective measure to prevent the spread of Covid-19, and given that the clerics had agreed to implement the SOPs, it is imperative for the government to improve compliance of these safety measures.
This is extremely needed now and in the long term. The country cannot afford half-hearted measures as they will not give the desired results.
The media is urged to educate the public more aggressively and civil society must assist marginalised and poor communities as their vulnerabilities have deepened.
https://nation.com.pk/12-May-2020/over-90pc-mosques-violating-sops-report
-----
India
For the First Time In Its 150-Year-Old History, No Procession For Imam Ali's Martyrdom This Year in Lucknow
May 12, 2020
LUCKNOW: For the first time in its 150-year-old history, the iconic Hasan Mirza taboot, commemorating the martyrdom of Imam Ali (the first Shia Imam and fourth Islamic Caliph), will not be decorated for a three-day tribute-paying ritual starting 19th Ramzan, falling on May 13 this year.
Every year since the wee hours of 19th Ramzan until the morning of 21st Ramzan mourners used to throng the Old City's Rustam Nagar area to pay tributes to Imam Ali on his martyrdom.
However, this year no procession will be taken out and a notice declaring that the ritual has been postponed would be pasted at the imambara.
The family which has been responsible for the three-day mourning ritual since 1870 has prepared notices to be pasted outside the premises of 'Najaf' in Rustam Nagar on Tuesday, telling people not to gather since the taboot will not be readied for public participation.
Imam Ali was struck with a poisoned sword while offering morning prayers on the 19th of Ramzan and he attained martyrdom on the 21st day of the Islamic month.
"Juloos of any kind have been disallowed by the government due to novel coronavirus pandemic. Thus the 21st Ramzan procession has been postponed until next year," said S Zafar Husain, great grandson of Hasan Mirza, who had started the tradition in 1870 after witnessing it in Iraq.
"We will not even assemble the taboot because if we do so people will start coming to pay tributes and this in turn will break the lockdown," he added.
https://timesofindia.indiatimes.com/city/lucknow/no-procession-for-imam-alis-martyrdom-this-year/articleshowprint/75685142.cms
-----
Lucknow: Fatwa to offer Eid prayers at homes if lockdown extends, no hugs
May 11, 2020
LUCKNOW: Lucknow based DarulUloomFarangi Mahal issued a Fatwa on Monday making it mandatory for people to offer Eid namaz as well as AlvidaJumanamaz (last Friday of Ramzan) at their homes, if Lockdown 3.0 is extended beyond May 17 and mosques continue to be off limits. This year, there will also not be any Eid hugs or handshakes to mark the occasion except for with family members at home.
It was in this light, that DarulIfta (which can proclaim. Fatwa) received a few questions from a Lucknow resident seeking answers on Eid namaz, Eid clothes and other celebrations related to the festival which follows a month of fasting.
The Fatwa signed by four clerics--Maulana Khalid Rasheed Farangimahli, Maulana Nasrullah, Maulana Naeem-Ur-Rahman Siddiqui and Maulana Mohammad Mushtaq--stated among other things that buying new clothes for Eid is not mandatory and that if lockdown is extended Eid namaz should be prayed at home and not in mosques.
Questions asked included how to prepare for Eid, how and where to offer Eid namaz, how will the Khutba be recited, how can Eid be celebrated and how can people meet others to celebrate Eid day?
"DarulIfta has ordained under a Fatwa that Eid will be celebrated at homes with families and that both the AlvidaJumanamaz and the Eid namaz will also be offered at homes. If the lockdown if extended beyond May 17 and mosques continue to be off limits due to it, Eid expected to be on May 25 will be celebrated following all government protocols of lockdown," said Maulana Khalid Rasheed.
He further stated, as is mentioned in the Fatwa too, that buying Eid clothes is not mandatory and whatever best and clean clothes one already has at home, should be worn on the day.
"For Alvida and Eid namaz, the Imam and muezzin (person who gives out the azaan) of the mosque and only three other people, should perform the prayers in the mosque. This count should not exceed beyond five people following social distancing norms," said the cleric.
The Fatwa asks people to not go out of their homes to congratulate others on Eid but to call up friends and family to share the happiness of the festival. Maximum amount of charity has been asked to help those in need and to celebrate a simple Eid.
Shia cleric and senior vice president of the All India Muslim Personal Law Board Maulana Kalbe Sadiq had announced the dates of Ramzan and Eid in the month of Apr itself. The cleric has been basing these announcement on astronimical calculations of the moon's movements, for over 12 years now.
"Eid should be celebrated with utmost simplicity this year and people should stay safe at their homes and not go outside. The budget maintained for Eid should be cut down and the money be donated to poor who are suffering because of this pandemic," said Maulana Kalbe Sadiq.
https://timesofindia.indiatimes.com/city/lucknow/lucknow-fatwa-to-offer-eid-prayers-at-homes-if-lockdown-extends-no-hugs/articleshowprint/75677481.cms
------
Lucknow: Large-scale testing begins in Covid hotspot
May 12, 2020
LUCKNOW: A day after five persons were diagnosed with Covid-19 at Nazarbagh vegetable market in Kaiserbagh, health department on Monday launched a massive containment and testing drive in the locality, which is threatening to become the second big hotspot in the city after Sadar.
Swab samples of about 300 people, including 25 children and nearly 130 women, were taken and sent for testing. Total 15 people have so far tested positive from the locality, which was declared a hotspot on May 5. The highest number of 105 cases in the city have been reported from five localities declared hotspots in Sadar area. The infection was detected in Nazarbagh after a shopkeeper and two vegetable vendors were found positive earlier this month. They had come in contact with a vegetable vendor in Lalbagh who tested positive on April 28.
In charge of district infectious disease control unit Dr KP Tripathi said, "Like Sadar, Nazarbagh is densely populated and people live in clusters. Therefore, we decided to declare it a hotspot and collect swab samples of every person who had come in contact with the patients."
Meanwhile, a 69-year-old man from Sadar tested positive for novel coronavirus infection on Monday, taking the city's tally to 253. The patient had come to KGMU's fever clinic with breathing difficulty and flu-like symptoms on Sunday.
"Nine members of his family are also being tested," chief medical officer Dr Narendra Agarwal said.
Meanwhile, six patients were discharged on Monday.
https://timesofindia.indiatimes.com/city/lucknow/large-scale-testing-begins-in-covid-spot/articleshowprint/75685097.cms
-------
Day 49 of coronavirus lockdown: Ground report from Indian cities
May 12, 2020
NEW DELHI: India as of Tuesday reported 70,756 cases of coronavirus and 2,293 deaths caused by the pandemic in the country. An increase of 87 fatalities and 3,604 cases was reported in the last 24 hours since Monday 8 am, according to the Union health ministry. As per the ministry, 22,454 people have recovered.
Authorities started to prepare Secunderabad railway station as per government guidelines, following announcement of partial resumption of train services across the rail network.
Health workers have been asked to step up surveillance across Hyderabad, after Telangana reported the highest single-day record of 79 Covid-19 cases from Hyderabad city on Monday.
Nearly 200 medical students from Telangana and Andhra Pradesh who are among the 500 Indian students stuck in Kazakhstan have urged the Union government to operate special flights to bring them back home.
The fourth 'Vande Bharat Mission' flight to Hyderabad, from the UK, landed at the city's Rajiv Gandhi International Airport, in the wee hours of Tuesday, with 331 passengers on board.
13 deaths and 406 new Covid-19 positive cases were reported in Delhi in 24 hours till midnight yesterday, taking the total number of cases to 7,639 and deaths to 86: Delhi Health Department.
The weekly rate of Covid-19 cases has seen a spurt in Noida in the past two weeks, when more than 100 people have tested positive. Most of these cases have some connection with hospitals, and the patients are either healthcare professionals or other staff at hospitals.
Two students from Jamshedpur, who had returned from Kolkata, have tested positive for COVID-19, Jharkhand Health Secretary Nitin Madan Kulkarni said on Tuesday.
The West Bengal government has transferred Health Secretary Vivek Kumar to the Environment Department and named Narayan Swaroop Nigam as his replacement, officials said on Tuesday. Kumar's transfer comes days after a row over the state's Covid-19 data broke out.
The West Bengal Council of Higher Secondary Education has asked its affiliated schools to promote all class 11 students as their annual exams could not be completed.
An Assistant Sub-inspector of CISF deployed in Kolkata lost his life last night due to coronavirus infection: Central Industrial Security Force (CISF)
The Uttar Pradesh government sent 1,200 students, who were stranded in Kanpur due to a coronavirus lockdown, to their homes across the state in 40 buses after a proper medical check-up.
Uttar Pradesh CM Yogi Adityanath on Tuesday transferred Rs 225.39 crore to Mahatma Gandhi National Rural Employment Guarantee Act (MGNREGA) beneficiaries through direct bank transfer.
Out of the 1,019 samples tested on Monday for coronavirus, 10 have been found Covid-19 positive, King George's Medical University (KGMU), Lucknow said on Tuesday.
More than four lakh persons have arrived in UP through bus, train or other means in the past five days. Out of them, 1 lakh arrived on Monday itself.
A police station has been sealed in Panchrukhi area of Kangra district after the head constable tested Covid-19 positive on Tuesday morning.
Experts have developed a mobile app that can trace contacts of Covid-19 patient in a single click within seconds for Kangra which is the most populated district of Himachal Pradesh with 20 lakh residents. This application has been integrated with Arogya Setu app.
Three new Covid-19 positive cases reported in Kangra, Himachal Pradesh, taking the total number of cases in state to 62 including 21 active cases.
A migrant labourer was killed while another seriously injured after being hit by car on Ambala-Jagadhri highway near Ambala Cantonment on Tuesday morning.
A spike in the number of Covid-19 cases has prompted Punjab governor-cum-UT administrator V P Singh Badnore to seek help from PGI.
A Covid-19 patient dodged multiple check points to reach his home town in Pratapgarh district of Uttar Pradesh on a motorcycle after he was told to quarantine himself at his home in Sector 56 until his report arrived in a day.
A high power committee appointed for the emergency release on parole or bail of prison inmates, decided to release around 17,000 prisoners from jails across Maharashtra. This is nearly half the prisoner strength of 35,239 across jails in the state. The decision comes in the wake of rising number of inmates and staff testing positive at Mumbai's Arthur Road Jail. There were 185 fresh positive cases at Arthur road and other cases were coming positive at the women's prison in Byculla.
The NCP has demanded CM Uddhav Thackeray to give special quota in admissions in government medical colleges to the wards of doctors and nurses who die of Covid-19 while treating the disease patients.
In a major relieving news for the people of Kalyan-Dombivli who are worried about the increasing number of coronavirus patients, in the last 24 hours total 39 patients have got discharged from different hospitals. Total discharged patients now are 130 in city out of total 344.
Tamil Nadu's Covid-19 tally rose to 8,002 on Monday with 798 more people testing positive, 538 of them in Chennai, which continues to be the hotspot.
Guest workers from Sulurweer taken to Coimbatore railway station in a government bus and were made to sit inside without social distancing while they waited for their train.
After making air braking systems for automobiles, city-based Brakes India Ltd is into making another life-saving device -- a ventilator -- to help fight coronavirus, a senior company official said on Tuesday.
The situation at the Koyambedu wholesale market, which was shut after it emerged as a hotspot for Covid-19, could be repeated at the Thirumazhisai temporary facility where huge crowds gathered on Monday.
The National Aerospace Laboratories said it has developed a non-invasive BiPAP ventilator to treat Covid-19 patients, in 'record' 36 days. The ventilator named 'SwasthVayu' is the culmination of efforts of team of technocrats, medical practitioners and scientists at NAL.
People returning to Karnataka from other states will have to remain in institutional quarantine even if they are asymptomatic, according to Department of Health and Family Welfare Services, Government of Karnataka
A special train from Bengaluru, carrying around 1,200 passengers, arrived in Bengal's Bankura on Tuesday morning, official sources said.
The textile industry in Surat is facing tough times and is looking at huge losses due to the nationwide lockdown. JitubhaiVakharia, President, South Gujarat Textile Processors' Association said that an estimated loss of Rs. 1,000 crore may be incurred if the lockdown is extended.
A special flight from Manila carrying 139 Indian students stranded in Philippines due to the travel restrictions landed at the Ahmedabad airport on Tuesday morning, the Gujarat government said.
Figures released by an independent research agency, the Centre for Monitoring Indian Economy (CMIE), suggest that Gujarat's unemployment rate has jumped three times over the past month because of the lockdown.
https://timesofindia.indiatimes.com/india/day-49-of-coronavirus-lockdown-ground-report-from-indian-cities/articleshowprint/75692329.cms
------
Mideast
Non-Muslim Turkish Citizens Worry About Being Targeted Because Of Their Support To Fethullah Gülen
11 May 2020
Murat Yetkin
In statements they issued on May 9 and 10, representatives of non-Muslim communities in Turkey expressed their worries about potential racist attacks, asking the Turkish government to take the necessary measures to protect them. The common denominator between the statements that the Turkish Jewish Community, the Greek Orthodox Patriarchate and the Armenian Patriarchate was a specific content published by the Gerçek Hayat [Real Life] magazine.
Last week, the magazine had published a special 176-page supplement titled "100 years of FETÖ". This magazine supplement was alleging that Turkey's Jewish and Christian communities had raised and supported the now-outlawed organization of Fethullah Gülen – the U.S.-resident Islamist preacher indicted for the failed coup attempt of July 15, 2016. The non-Muslim communities said the publication defamed and targetted them.
There was no proof in the magazine the allegations. What the magazine highlighted was the semblance of "interfaith dialogue" between the communities and Gülen's organization, which Erdoğan's ruling Justice and Development Party (AKP) had also supported when they were still on good terms with Gülen. In summary, non-Muslim citizens were uncomfortable with being held guilty for supporting this outlawed group now called the "Gülenist Terror Organization" (FETÖ). Especially considering entire governments and politicians had been groveling to Gülen for years.
Reaction to this other than those of the non-Muslim community was meager. Among those who reacted were Mustafa Yeneroğlu and Mehmet EminErkmen from the DEVA Party. There was also the TDP (Turkey Democracy Platform), a civil group known for having explained the role of the Gülenist organization in the coup to the decision-makers in the West. In a statement the platform issued through their Twitter account, the TDP stated that they "strongly condemn the irresponsible slander that Gerçek Hayat magazine directed to the religious leaders of Jewish and Christian communities" and that "we know from our recent history what tragic outcomes such slander can have".
In his Twitter account, Dr.Hüseyin Hatemi, a prominent professor of law, openly referred to the incident in "recent history" that the DTP had indirectly mentioned. "My peers and I saw the disastrous consequences when mischief and ignorance unite, on September 6-7, of 1955″, he wrote. "Gerçek Hayat magazine's irresponsible slander against the religious leaders of the Christian and Jewish communities", he continued, "has made our citizens within these congregations deeply anxious".
So, let's go back to remember what happened on September 5-6, 1955. It was a time where the Cyprus issue between Turkey and Greece had aggravated again. Upon the news that Atatürk's birth house in Thessaloniki had been bombed, attacks were carried out, mainly in Istanbul, against the homes and workplaces of non-Muslim citizens. Of Greeks in particular. In these attacks that went on for two days, according to official data, 30 people were killed and 4212 houses, 1004 workplaces, 73 churches, 26 schools, 2 monasteries, and a synagogue were destroyed. It was later understood that the bomb attack in Thessaloniki was planned by the Turkish "deep state" structures with the purpose of provocation. It was also understood that the aggressive crowds didn't just happen to be in Istanbul's Beyoğlu district. They had been moved there on purpose. Following the September 6-7 attacks, non-Muslim citizens and especially Greek origin citizens, known as Roum (a term referring to their links with the Roman Empire) had accelerated their immigration abroad.
The remembrance of September 6-7 is striking. There were threats against synagogues in near past. Recent complaints about threatening inscriptions on certain churches' doors and even about an attempt to burn a church's door had already been reported to the police. The Patriarchate informed that a mentally unstable person was responsible for some of these actions. But as the saying goes, the devil looks after his own; knowing this doesn't reduce anxiety.
Because Gerçek Hayat magazine is not an edgy, unknown publication published by marginal types. It belongs to Ketebe Publishing, which is part of the Aybayraklar Media Group, which also published pro-government YeniŞafak [The New Dawn] daily. The licensee is Mustafa Aybayrak and the Editor in Chief is Burhan İstenci. The Gerçek Hayat magazine doesn't only target non-Muslim communities in Turkey; they also frequently publish anti-Atatürk content, since the founder of Turkish republic is not favored by most of Islamist for abolishing Khalifate and adopting secular rule. Historian Mustafa Armağan, who is a strong supporter of that Turkish-Islam conservatism is among the editorial advisors of the magazime, who is also among editors and writers of another magazine by the same Albayrak Media Group, "DerinTarih", the "Deep History".
Therefore, the people who made the "non-Muslims in Turkey had backed FETÖ" claim are not irrelevant people. Quite the contrary: they are on the payroll of a media group which is among the most favored by the AKP governments. The sources I spoke to during my investigation on this issue have said that the issue had been conveyed to President Tayyip Erdoğan.
Aybayraklar Holding doesn't only deal with the media. Notably, it's also known for the tenders it received from the Istanbul Metropolitan Municipality (IBB), especially when AKP still held the municipality. However, we understand that the group's business with the IBB was sustained even after the opposition Republican People's Party's (CHP) Ekremİmamoğlu became Istanbul Metropolitan Mayor, still continues. As Turkish citizens may remember, İmamoğlu had canceled the car rental tender that Aybayraklarlar Holding previously held because it was "wasteful". It is reported, however, that by lowering the number of vehicles, AdemAltunsoy, son-in-law of Albayraklar Holding Vice president Nuri Albayrak, had won the re-opened tender with his Platform Turizm firm.
https://yetkinreport.com/en/2020/05/11/non-muslim-turkish-citizens-worry-about-being-targetted/
-----
Palestinian PM urges intl. recognition for Palestine in case of Israel annexation
11 May 2020
Palestinian Prime Minister Mohammad Shatyyeh has called on the international community to recognize an independent Palestinian state if Israel goes on with its plan to annex larger parts of the occupied West Bank.
During a press conference ahead of a cabinet meeting on Monday, the Palestinian official said the Jordan Valley, which Israel plans to annex, makes up 28 percent of the whole West Bank.
"The Jordan Valley is considered a 'vegetable basket' for Palestine and our connecting point with Jordan and the world," Shatyyeh said, stressing that a strong position adopted by the Arab world and Europe "would be sufficient to rein in Israel."
"The Palestinian state's geography stands on this area, together with East Jerusalem (al-Quds), Gaza Strip and all Palestinian territories," he said, adding, "The Jordan Valley is our meeting point with Jordan, through which we go out to the world."
"Condemnation statements do not work with Israel, the response to annexation must be actual boycott and the recognition of the Palestinian state over 1967 borders, with East Jerusalem (al-Quds) as its capital, and honoring the right of return for Palestinian refugees," the Palestinian PM added.
In defiance of international outcry, President Donald Trump of the United States officially unveiled his much-condemned peace scheme for the Israeli-Palestinian conflict – the so-called deal of the century – in January at the White House with Israeli Prime Minister Benjamin Netanyahu on his side, while Palestinian representatives were not invited.
The American proposal meets Israel's demands while creating a Palestinian state with limited control over its own security and borders, enshrining the occupied Jerusalem al-Quds as "Israel's undivided capital" and allowing the regime to annex settlements in the West Bank and the Jordan Valley.
The proposal, which further denies the right of return for Palestinian refugees to their homeland, is also in total disregard of UN Security Council resolutions and is opposed by the vast majority of the international community.
Netanyahu, who is facing a number of criminal indictments, has repeatedly stressed that he would start plans for annexing more areas in the West Bank on July 1, in accordance with Trump's scheme, further infuriating Palestinians.
They also view the so-called peace scheme as Washington's seal of approval for Israel's long-desired annexation of territories it has been illegally occupying for decades.
Palestinian President Mahmoud Abbas has already said that Trump's deal "belongs to the dustbin of history."
https://www.presstv.com/Detail/2020/05/11/625128/Palestine-West-Bank-annexation
-------
Israel's demolition policy sign of failure to stop resistance: Hamas
11 May 2020
The resistance movement Hamas says Israel's persistence in demolishing Palestinian homes is manifestation of its failure to crush the Palestinian cause.
In a statement on Monday, the Palestinian resistance movement denounced the demolition policy as "clear reflection of the Israeli occupation's failure to deter the Palestinian resistance and its fighters and prevent them from carrying out attrition operations against its settlement project in the West Bank."
The statement came hours after Israeli forces, in a dawn raid, embarked on demolishing a house belonging to the family of Palestinian prisoner Qassam al-Barghouthi in the town of Kobar in the occupied West Bank.
According to a report by the Palestinian Information Center, following the demolition, crowds gathered at the site and protested against the Israeli regime.
They attacked the protesters with rubber bullets and a volley of tear gas and stun grenades, wounding at least one protester in his face, the report added.
Barghouthi was abducted by Israeli forces in September last year and since then has been exposed to harsh interrogation and physical torture, the report said, adding that he was accused of carrying out an alleged bombing operation at Ein Bubin spring near the Israeli settlement of Dolev in August 2019.
In the occupied West Bank, Israeli forces have demolished the home of a Palestinian man who was killed by the regime's forces eight years ago.
Hamas also paid tribute to the prisoner's family for their steadfastness against all punitive practices by Israel that have targeted them since the Ein Bubin operation in Ramallah.
The Gaza-based resistance movement also warned Tel Aviv that it would pay dearly for its crimes against Palestinian families and prisoners and martyrs.
https://www.presstv.com/Detail/2020/05/11/625120/Hamas-Israel-demolition-Kobar
-----
Israel terrified of Hezbollah's capabilities, cannot escape balance of terror: Legislator
11 May 2020
The head of the parliamentary bloc of the Lebanese Hezbollah resistance movement says the Tel Aviv regime is extremely afraid of the expanding capabilities of his group.
"Despite all unfolding developments, the Israeli enemy seems terrified of the growing capabilities of Hezbollah. It is fairly obvious that Israel will not be able to escape this equation of "balance of terror," Mohammad Raad said in an interview with the Beirut-based and pro-Hezbollah al-Nour radio station on Monday.
He added that the fundamental task of Hezbollah following the liberation of southern Lebanon from Israel's occupation in 2000 is to safeguard its values.
"The resilience of Hezbollah in the face of such intense pressures is itself a triumph. The challenge has swollen and taken a wide range of forms, targeting the resistance movement and exerting pressure on it through financial blockade in a bid to dry up resources needed to create enough force to confront potential risks posed by the enemy," Raad noted.
Speaking in an exclusive interview with Lebanon's Arabic-language al-Manar television network on April 13, Hezbollah Deputy Secretary General Sheikh NaimQassem said his movement is fully prepared for confrontation in case the Israeli regime opts to launch any act of aggression against the Arab country.
Hezbollah deputy chief says the Lebanese resistance movement is fully ready to respond to any act of aggression by the Israeli regime.
Last May, Hezbollah Secretary General Sayyed Hassan Nasrallah cautioned Israel against waging a war on Lebanon, stressing that "Israeli forces will be destroyed" in such a case.
"All in Israel know that any war on Lebanon needs to be decisive and swift. Hezbollah remains fairly capable and utterly determined irrespective of sanctions imposed on it. The Zionist regime [of Israel] fears launching a new war, even on the besieged Gaza Strip, let alone Lebanon. All Israeli battalions will be destroyed under the eyes of mainstream media and the entire world, if they dare enter Lebanon. We will not compromise on even one iota of the Lebanese soil," Nasrallah said at the time.
A top Hezbollah official says the Lebanese resistance movement will hit targets deep inside Israel in case of new military aggression on Lebanon.
Elsewhere in his remarks on Monday, Raad emphasized that Hezbollah is ready to cooperate with the incumbent Lebanese government even though "it consists of a large group of political factions and does not represent our political team."
He also warned about efforts made to undermine the new Lebanese government in a bid to deal a blow to Hezbollah, saying that if such efforts are aimed at dealing a blow to Hezbollah, "this is a total catastrophe."
https://www.presstv.com/Detail/2020/05/11/625116/Israel-afraid-of-Hezbollah%E2%80%99s-capabilities,-cannot-escape-balance-of-terror-Legislator
-----
Greece slams Turkish media report linking patriarch to Islamic preacher Gülen
May 12 2020
A Greek government spokesman denounced a report by a Turkish Islamist magazine that linked the Istanbul-based Ecumenical Patriarch Bartholomew to an outlawed religious movement, Kathimerini said.
In a report published last week, Gerçek Hayat magazine said members of minority communities and Greek Orthodox and Jewish religious leaders were supporters of the Gülen movement, widely blamed for carrying out the July 15, 2016 coup attempt in which some 248 people were killed.
The Ecumenical Patriarchate said in a statement on May 9 that the magazine was targeting members of the community and religious leaders with untrue allegations and expressed strong concern about the high risk of racist attacks and desecration.
The Turkish government accuses the Gülen movement, a former AKP ally, of masterminding the coup attempt, which killed 248 people and injured over 1,000, as part of a long-running scheme to overthrow Turkish President Recep Tayyip Erdoğan.
Over 100,000 alleged Gülen devotees were imprisoned or dismissed from their jobs under a two-year state of emergency declared shortly after the failed putsch.
https://ahvalnews.com/turkey-greece/greece-slams-turkish-media-report-linking-patriarch-islamic-preacher-gulen
-----
Turkish agency aids 500 families in BARMM during Ramadan
By Masiding Noor Yahya
May 12, 2020
MARAWI CITY: A Turkish humanitarian agency distributed food packages to 500 families in the Bangsamoro Autonomous Region in Muslim Mindanao (BARMM) in the holy month of Ramadan. In a statement, the Istanbul-based Humanitarian Relief Foundation said around 2,000 people benefited from the food packages in Bangsamoro's Kamimpilan region, where there is no road or transport and the region is only accessible by boas. Each Ramadan package contained cooking oil, dried fish, rice, coffee and canned food. Appreciating Turkey for its help, one of the persons who received a food package said, "It is very meaningful to send this help here, especially when the world is passing through a difficult time with the coronavirus disease." Originating in China last December, the virus has spread to at least 187 countries and regions. Europe and the United States are currently the worst-hit regions. Nearly 4.08 million cases had been reported worldwide, with the death toll exceeding 281,300 and more than 1.39 million recoveries, according to figures compiled by the US' Johns Hopkins University.
manilatimes.net/2020/05/12/news/regions/turkish-agency-aids-500-families-in-barmm-during-ramadan/724200/
------
7 new concerts from Presidency during Ramadan and Eid al-Fitr
MAY 11, 2020
The Turkish Presidency will continue the concert series "From 7 Hills to 7 Continents," launched from Istanbul on April 23, in different cities of the country during the month of Ramadan and over Ramadan Bayram, also known as Eid al-Fitr.
As humanity is struggling with the COVID-19 outbreak, the Turkish Presidency held the concert on National Sovereignty and Children's Day with the slogan "message of love and unity from Istanbul where the continents meet." The concert series, which heralds the beginning of a tradition, will continue with seven performances in Ramadan and Ramadan Bayram.
For these events, the presidency will take the Turkish nation on a journey through history with seven different concerts to be organized in seven different places that reflect the historical values of Turkey, and will also touch the hearts of citizens on these most special days of the year, with a rich concert program created from different genres of music.
FermanAkgül, ŞirinPancaroğlu& Bora Uymaz, Serkan Çağrı, Yusuf Güney, Murat Karahan, Kubat and Fettah Can will perform at the concerts to be held in Cappadocia, Aphrodisias, Patara, Ephesus, Hierapolis, Safranbolu and Istanbul's Mimar Sinan University.
The events will be broadcast on mainstream and social media. On May 19, ŞirinPancaroğlu and Bora Uymaz will perform the concert titled "Marifetnağme" at the Aphrodisias Ancient Theater. FermanAkgül with Ethnic Band will be the next guests of the series. Their concert "Folk Songs and Folk Rock Tunes" will take place in Cappadocia on May 20.
Serkan Çağrı will share the stage with Balkan Ensemble and ElifBuseDoğan on May 21 at the Ancient City of Patara. On May 22, Yusuf Güney will meet enthusiasts with his performance at the ancient city of Ephesus.
On May 23, Murat Karahan will perform with the Antalya State Opera and Ballet Orchestra at the ancient theater of Hierapolis. May 24 will be the day of folk songs. Kubat will perform "Essential Folk Songs" in Safranbolu. On May 25, Fettah Can will give an unforgettable concert at Mimar Sinan University. The last performance of the series will be Mazhar Alanson's concert at the Istanbul Archaeology Museum on May 26.
Turkey consistently tries to take all precautions against the coronavirus pandemic in every part of life, including this concert series. During the organizing process of the concerts, hygiene and safety measures are being strictly followed due to the outbreak. For example, all vehicles to transfer musicians are being professionally disinfected. On concert stages, artists will be placed in accordance with the rules of social distancing.
This is especially important for the Hierapolis concert, which will take place with a huge staff of 60 people. Extraordinary measures are being taken in a way Turkey considers the most exemplary in the world. Among these actions are COVID-19 tests for all orchestra members, available special medical kits for everyone in transportation vehicles and the disinfection of artists' chairs and music stands before installation and placement. In addition, all artists will be at least 1.5 meters away from others, per social distancing guidelines. An additional stage of 300 square meters is being installed at the ancient theater of Hierapolis, as it was previously inadequate.
https://www.dailysabah.com/arts/music/7-new-concerts-from-presidency-during-ramadan-and-eid-al-fitr
-----
South Asia
Sri Lanka: Muslims face extra threat as coronavirus stirs hate
by Shereena Qazi
22 hours ago
The grief-stricken family of Zubair Fathima Rinosa in Sri Lanka's capital Colombo is demanding justice and explanation after tests, released two days after her body had been cremated, showed that the 44-year-old Muslim woman did not die from COVID-19, the disease caused by the novel coronavirus.
Mohammed Sajid, one of Rinosa's four sons, said his mother was cremated on May 5 as part of Sri Lanka's controversial policy of mandatory cremation of all coronavirus victims in violation of traditional Islamic funeral practices.
However, two days later, Rinosa's test results showed she did not die of coronavirus. "On May 7, we learned through a media release that there had been an error in the initial testing of my mother for the virus. She did not die of COVID-19," he said.
Four of the nine who have died from the disease were Muslims. All of them were cremated, which goes against the Islamic tradition of burying the dead.
The Buddhist-majority South Asian island nation originally agreed on burials but amended the guidelines on April 11 making cremations of COVID-19 victims mandatory - a step Muslims say deprives them of their basic religious right.
"The family is grieving. Not only have they lost her, but they have also been deprived of the basic religious right of burial. They were also treated very badly by the authorities," Ali ZahirMoulana, former Sri Lanka Muslim Congress (SLMC) member of parliament, told Al Jazeera.
"We wish to reiterate that the Muslim community stand on this matter has always been that a Muslim deceased due to COVID-19 should have the option of being buried, in line with the WHO guidelines and as implemented in more than 180 countries, since it is an integral part of our faith and a religious obligation of the community towards the deceased," All Ceylon Jamiyyathul Ulama said in a statement.
Prominent Muslim activists and personalities have expressed their concerns against the ban on burials which they see as part of anti-Muslim rhetoric amid the pandemic.
President Gotabaya Rajapaksa's counsel, Ali Sabry, said the government's cremation order was in disregard to guidelines by the World Health Organization (WHO).
"If the decision-makers, having considered all facts and aspects and have reached a decision based on scientific, medical or logical concerns, I have no issues with it and people must comply with it," he told Al Jazeera.
Buddhist nationalists and section of media have blamed Muslims, who form nearly 10 percent of the population, for the spread of the virus that has, worldwide, killed more than 280,000 people and infected at least four million people.
Sabry said it was unfortunate to find racism rearing its ugly head every time Sri Lanka is faced with a crisis. "Unfortunately, during the last few weeks, there has been quite a lot of hate speech directed at Muslims," said Sabri, who was nominated to Parliament from the governing Sri Lanka PodujanaPeramuna (SLPP) party.
Hilmy Ahamed, vice president of the Muslim Council of Sri Lanka, told Al Jazeera "extremist Buddhist forces" are using their influence in the government "to punish the Muslim community".
"There is widespread belief that Muslims did not vote for the current government so [what is happening now to Muslims] is political revenge."
In a letter to the inspector general of police, organisations, including the Muslim Council of Sri Lanka and the Colombo District Mosques' Federation, said social media posts and audio recordings deemed hate speech were circulating, the Hindu newspaper reported last month.
The letter, dated April 12, said videos circulating on social media spread messages urging people to refrain from buying goods from Muslim-run businesses.
Muslims have faced increased attacks from Buddhist hardliners following the end of the civil war between Tamil separatists and government forces in 2009.
Businesses owned by the minority community have come under attack multiple times over the last 10 years. The island nation of 21 million withdrew the Muslim halal system of certifying foods in 2013 after campaigns by Buddhist nationalists.
Following the deadly attacks on Easter Sunday last April, relations between the majority Sinhala Buddhists and Muslims have deteriorated further.
Sajith Premadasa, who was the runner-up in the November presidential elections, also expressed his concerns at the "religious bias".
"Every human being has to be treated equal. If we cannot uphold such moral and ethical values that are essential to a humane society, we are a failed state due to racism, inherent ethnic and religious bias, and marginalisation," Premadasa posted on Twitter.
Rights groups such as Human Rights Watch (HRW) and Amnesty International and other international bodies have also spoken out against the "stigmatisation" of Muslims.
"[The government's position on mandatory cremation] has been criticised by four United Nations special rapporteurs as a violation of freedom of religion. The special rapporteurs noted that Sri Lankan Muslims have been stigmatised and targeted with hate speech during the coronavirus pandemic," Meenakshi Ganguly, South Asia director at HRW, said in a report released late last month.
"The threat that the coronavirus poses to all Sri Lankans provides the government with an opportunity to improve communal relations in the country," Ganguly said.
The Organisation of Islamic Cooperation (OIC), which is the second-largest inter-governmental organisation after the UN, expressed concerns over the reports of escalating hate speech in the country.
The OIC called on the authorities to "ensure the safety, security and rights of the Muslim community, as well as commitment to respect their religious practices and rituals".
Minorities and immigrants in several countries around the world, including Sri Lanka's neighbour India, have faced attacks and have been blamed for the spread of the virus.
On Friday, UN chief Antonio Guterres said the pandemic has unleashed "a tsunami of hate and xenophobia, scapegoating and scaremongering".
Sri Lankan authorities have denied accusations of discrimination against Muslims, maintaining that the cremation order applied to other religious groups as well, including minority Christians.
But two Catholics, OshalaLakmal Anil Herath and Ranmal Anthony Amerasinghe, challenged the cremation order in the Supreme Court in two separate petitions. Herath said the order was "arbitrary" and against the law.
Despite several attempts by Al Jazeera to get a comment from Sri Lanka's Presidential Office and Ministry of Health, no response had been received by the time of publication.
https://www.aljazeera.com/news/2020/05/sri-lanka-muslims-face-extra-threat-coronavirus-stirs-hate-200510183518512.html
------
40 killed, wounded as suicide attack targets funeral in Nangarhar province of Afghanistan
12 May 2020
A suicide attack killed or wounded at least 40 people in eastern Nangarhar province of Afghanistan, the provincial government said.
According to a statement released by Governor's Office of Nangarhar, a suicide bomber targeted the funeral ceremony of Sheikh Akram, a commander of the Afghan Local Police forces, who died of a heart attack last night.
The statement further added that the preliminary reports indicate the suicide attack killed or wounded at least 40 people.
This comes as a group of militants attacked a hospital in Kabul city earlier today, triggering a clash which still continues in the area.
https://www.khaama.com/40-killed-wounded-as-suicide-attack-targets-funeral-in-nangarhar-province-of-afghanistan-07808/
-----
Standoff underway as militants attack a hospital in Kabul city
12 May 2020
A standoff is underway after an unknown number of militants attacked a hospital in West of Kabul city.
The Ministry of Interior confirmed that the security forces have so far rescued at least 80 people trapped in the hospital, including many children.
The local residents and eyewitnesses said they heard the sounds of two explosions close to the hospital in Dasht-e Barchi area, in the 13th district of the city.
According to the eyewitnesses, the sounds of gunfire could still be heard from the site of the explosion.
https://www.khaama.com/standoff-underway-as-militants-attack-a-hospital-in-kabul-city-07806/
------
6 Afghan soldiers martyred, 5 wounded in Laghman clash: Silab Corps
11 May 2020
At least six Afghan soldiers lost their lives and five others sustained injuries during a clash in eastern Laghman province of Afghanistan.
The 201st Silab Corps in a statement said the Taliban militants attacked the security posts in Alisheng district of Laghman province late on Sunday night.
The statement further added that the Afghan forces responded to the attack in a bid to repel the attack.
However, the 201st Silab Corps said six Afghan soldiers embraced martyrdom and five others sustained injuries during the clash.
The Taliban group has not commented regarding the incident so far.
https://www.khaama.com/6-afghan-soldiers-martyred-5-wounded-in-laghman-clash-silab-corps-07805/
------
Wuhan to test entire population of 11m as uptick in cases prompts alarm at possible second wave
12 May 2020
The Chinese city of Wuhan, the epicentre of China's coronavirus outbreak, plans to conduct city-wide nucleic acid testing over a period of 10 days, according to an internal document seen by Reuters and two sources familiar with the situation.
Every district in the city has been told to submit a detailed testing plan by Tuesday for their respective area, the document showed.
The city of 11 million people reported its first cluster of new infections over the weekend, after a months-long lockdown was lifted on April 8.
These plans come as global alarm was sounded on Monday over a potential second wave of coronavirus infections after Germany reported that the reproduction rate of the pathogen had risen above 1.
https://www.telegraph.co.uk/news/2020/05/12/wuhan-test-entire-population-11m-uptick-cases-prompts-alarm/
------
North America
Most Americans say Trump's policies hurt Muslims: survey
Anwar Iqbal
May 12, 2020
WASHINGTON: Americans are about seven times more likely to say that the Trump administration has hurt Muslims as they are to say it has helped them, says a survey released on Monday.
The survey was conducted in February by the Washington based Pew Research Center and included "too few Muslims" as the researchers wanted to analyse their response separately.
Forty-eight per cent of those interviewed said the Trump administration had dealt with Muslims unfairly, compared to 7 per cent who said it had not. The majority also said that the Trump administration's policies had helped evangelicals.
The support for Muslims was the highest among Jews and the religiously unaffiliated – two groups that consistently identify as politically liberal and Democratic. Majorities in both groups — six-in-ten or more — said they believed the Trump administration had hurt Muslims.
The surveyors identified the religiously unaffiliated as atheists, agnostics and people who describe their beliefs as "nothing in particular."
Among all US adults, 7 per cent said the Trump administration had helped Muslims, 42 per cent said it did not make much difference and 48 per cent said it hurt them. Among Protestants 9 per cent said the administration helped them, 51 per cent said it made no difference and 37 per cent said it hurt them.
Among White Evangelical Protestants, 12 per cent said it hurt them, 58 per cent said it made no difference and 25 per cent said it hurt Muslims. Among White Protestants, 8 per cent said the Trump administration helped Muslims, 49 per cent said it made no difference and 40 per cent said it hurt them. Among Catholics, 8 per cent said it helped them, 47 per cent said it made no difference and 41 per cent said it hurt them.
Among Black Protestants, only 4 per cent said the administration helped Muslims, 39 per cent said it made no difference and 55 per cent said it hurt them. Among the Jews, 8 per cent said it helped them 28 per cent said it made no difference and 64 per cent said it hurt them. Among the Unaffiliated, 5 per cent said the administration helped Muslims, 32 per cent said it made no difference and 61 per cent said it hurt them.
More than four-in-ten US adults — 43 perc ent — said the Trump administration had helped evangelical Christians, though a similar share — 44 per cent — said the administration has had no effect on this group. Just 11 per cent of Americans said the Trump administration had hurt evangelical Christians.
Views on this question varied by respondents' religious affiliation. Among white evangelical Protestants themselves, most felt that the Trump administration has had a positive impact on their affairs. About six-in-ten — 59 per cent — said the administration had helped evangelicals, while only 7 per cent said it had hurt them. But 64 per cent Jewish respondents believed the Trump administration had helped evangelical Christians, but only 21 per cent black Protestants shared this view.
Opinions about the Trump administration's impact on Jews were more mixed. Among Jews themselves, 40 per cent said the administration had helped Jews, 36 per cent said it hurt them, and 23 per cent it had not made much difference.
https://www.dawn.com/news/1556518/most-americans-say-trumps-policies-hurt-muslims-survey
-----
Pompeo, Netanyahu 'two mobsters' plotting Palestine's eradication: Analyst
11 May 2020
US Secretary of State Mike Pompeo's visit to Israel to discuss the Zionist regime's planned annexation of the West Bank region with Israeli Prime Minister Benjamin Netanyahu is like the gathering of two "mobsters" plotting to eradicate Palestinians from their indigenous homeland, says an American political analyst.
Rodney Martin, a former congressional staffer based in Arizona, made the comment during a phone interview with Press TV on Monday, while commenting on an announcement by the US State Department that Pompeo will visit the occupied territories on Wednesday to discuss "regional security issues" linked to "Iran's malign influence" as well as the Israeli annexation of much of the West Bank.
David Schenker, the top US diplomat for the Middle East, reportedly said Pompeo's upcoming trip to the occupied Palestine was "at the invitation of the Israeli government," emphasizing that threats posed by Iran to Israel, the Middle East and beyond would be a prime topic of conversation.
US Secretary of State will visit Israel to discuss "regional security issues" linked to "Iran's malign influence" as well as the Zionist regime's planned annexation of Palestinian West Bank region.
"Secretary Pompeo's trip to Israel to talk about, in his words, Iran's malign influence is intellectually dishonest and morally bankrupt; the only malign influence is Israel's corrupt influence on the American political system and their stranglehold on the American political system," Martin told Press TV on Sunday.
"It has long been Israel's objective to quote disappear Palestinians from the map and that has been the stated words from Israeli Prime Ministers Ben Gurion and Menachem Begin and other such Israeli luminaries, including Moshe Dayan. So, all this is a dog and pony show by Pompeo to receive his marching orders, and to give the United States blessing to what Israel has already told the United States it's going to do and what Israel is telling the United States to do and its very strong lobbyists in Washington DC," he added.
"So, this trip is essentially a two criminals, much like two mobsters coming together to plot strategy to eradicate people from their indigenous territory and to use semantics and clever words to make it legal," Martin underlined.
Netanyahu's plan to permanently annex portions of occupied West Bank has been met with harsh criticism from nearly the entire international community, including Washington's European allies and client Arab dictatorships, with the prominent exception of the US.
An American political expert has said that Washington's unrelenting support for the Israeli policy of annexing Palestinian lands will culminate in a war in the Middle East.
On Saturday, a network of pro-Palestinian European groups called on the European Union to slap sanctions on the Israeli regime over its controversial proposal to annex much of the occupied West Bank, saying the move is part of the regime's ongoing ethnic cleansing, apartheid and colonization policies.
"It is refreshing that some Europeans are talking about sanctioning Israel. They should go a step further and sanction the United States as well and start severing economic relations with the United States and begin to separate themselves from the US dollar and begin to use an alternative currency when the US dollar ceases to be the reserve currency of the world, then the world can truly be independent from US economic terrorism" Martin told Press TV.
"Sooner or later Europe and the rest of the world have to realize that they can also be victims of economic terrorism that Iran and Russia and Venezuela, and other countries have fallen victim to. So if they're going to sanction, Israel, they should also include a separation from the United States, economic tyranny as well," he added.
"It's time that the Palestinians receive their own country, that they receive sovereignty, and that the occupation and the ethnic cleansing that has been perpetrated by Israel come to an end…It's time now to use Quds Day to push even harder in a show of unity to apply force in terms of political pressure to go to the next level," the American political analyst concluded.
Palestinians have warned that they will prosecute Israel at international courts if it goes on with the plan, with Palestinian President Mahmoud Abbas saying the Palestinian Authority's agreements with Israel and the United States will be "completely cancelled" if Israel annexes the occupied West Bank.
United Nations Secretary General Antonio Guterres has condemned Israel's controversial plan to annex much of the occupied West Bank, saying the move will shut the door on possible "peace negotiations" with the Palestinians.
Israel has become more brazen in its efforts to trample upon Palestinians' rights since the 2016 election of US President Donald Trump, who has unprecedentedly intensified Washington's support for the regime.
Palestinian leaders voice their strong opposition to the so-called 'peace' plan which Trump is preparing to unveil, emphasizing the need for popular resistance against the scheme.
Trump has recognized Jerusalem al-Quds as Israel's "capital," relocating the American Embassy from Tel Aviv to the holy occupied city, and announcing a scheme that allows the regime to annex the land on which it has been building the illegal settlements.
More than 600,000 Israelis live in over 230 settlements built since the 1967 Israeli occupation of the West Bank. All Israeli settlements are illegal under international law.
https://www.presstv.com/Detail/2020/05/11/625133/US-Mike-Pompeo-Israel-Benjamin-Netanyahu-mobsters-Palestinian-West-Bank
------
CAIR-Minnesota Calls for Probe of Possible Bias Motive for Fire at Minneapolis Mosque
May 11, 2020
Ibrahim Hooper
(MINNEAPOLIS, MN, 5/11/2020) – TheMinnesota chapter of the Council on American-Islamic Relations (CAIR-Minnesota) today called on law enforcement authorities to investigate a possible bias motive for a fire overnight at the Tawfiq Islamic Center in Minneapolis.
Just before midnight, the Minneapolis Fire Department responded to the fire that caused extensive damaged to the front entrance of the mosque, with additional water damage to other parts of the facility.
"Because of recent hate incidents nationwide and because the blaze occurred at a house of worship, we urge state and federal officials to use their full resources to investigate the cause of this fire to determine whether it was arson and if there was a possible bias motive," said Jaylani Hussein, executive director of CAIR-Minnesota. "Anyone who has information about this fire or saw anything suspicious at the time of the blaze should immediately contact law enforcement authorities."
He added: "We are concerned about widely-shared false social media stories about Minnesota mosques being opened during the COVID-19 pandemic."
Hussein noted that late last month, CAIR's Missouri chapter welcomed the arrest of a suspect in an arson attack on a Missouri mosque.
The Washington-based civil rights organization has reported an unprecedented spike in bigotry targeting American Muslims, immigrants and members of other minority groups since the election of Donald Trump as president.
CAIR recently launched an online information portal offering vital information on the growing COVID-19 pandemic and its impact on American Muslims and the entire society.
Every day (M-F), CAIR hosts a live 30-minute "Daily Dose: COVID Conversations with CAIR" at 3 p.m. (ET) on Facebook featuring spiritual leaders, health care professionals, counselors, experts, community advocates, and CAIR leaders from around the country.
CAIR is America's largest Muslim civil liberties and advocacy organization. Its mission is to enhance understanding of Islam, protect civil rights, promote justice, and empower American Muslims.
La misión de CAIR es proteger las libertadesciviles, mejorar la comprensión del Islam, promover la justicia, y empoderar a los musulmanesen los Estados Unidos.
https://www.cair.com/press_releases/cair-minnesota-calls-for-probe-of-possible-bias-motive-for-fire-at-minneapolis-mosque/
-----
American author Alkhateeb urges followers of PM Imran to purchase original book on Islamic history
May 12, 2020
CHICAGO: American author Firas Alkhateeb on Monday warned readers to beware of a fake version of his book, Lost Islamic History, that misrepresented historical facts and had been circulating on the internet. He urged readers to buy the original book instead of engaging in piracy.
In a message shared on social networking platform Twitter, the author said that the fake version of his book was entirely inaccurate and Islamophobic. He urged readers to purchase the original version from the publisher or e-commerce giant Amazon.
"PSA for people now interested in my book on @ImranKhanPTI 's recommendation: there is a free pdf claiming to be my book online that is entirely inaccurate & Islamophobic. This is NOT my book. If you want to read Lost Islamic History buy from the publisher or from Amazon, please," he wrote.
On May 1, the Focal Person on Digital Media to Prime Minister Imran Khan, Arsalan Khalid, had shared a free version of the book on his Twitter page, urging users to download the electronic book and read it as per the recommendations of the premier.
PM Imran had also on May 1 recommended that the youth read the famous book by Firas Alkhateeb in order to engage in insightful and enlightening reading during coronavirus lockdown. In a tweet, the premier said that the book elaborates on the rich history of Islamic civilisation.
"A great read for our youth during lockdown days. An excellent brief history of the driving force that made Islamic civilisation the greatest of its time and then the factors behind its decline," the premier wrote on the social networking platform.
Lost Islamic History by Firas Khateeb elucidates on how Islam and Muslims around the world cultivated peace, promoted universal values, and dialogue among civilisations. It aims to present historical facts that have been disregarded or downplayed by other scholars.
"Presenting 1,400 years of Islamic civilisation in a comprehensive, easy to follow manner is no small feat . . . the book is valuable not only for its insights into lesser-known aspects of Islamic history, but also as a general introduction to the subject," read a review of the book online.
https://www.thenews.com.pk/latest/657745-american-author-alkhateeb-urges-readers-to-purchase-original-book
-----
Africa
Governor Buni's N10m Ramadan Gift Tears Yobe Social Media Groups Apart
MAY 12, 2020
There is currently disarray among social media teams in Yobe State over the sharing of Governor Mai Mala Buni's N10m Ramadan gift.
Buni's social media group has particularly clashed with the All Progressives Congress social media team in the state over the issue because it views it with suspicion.
An insider confided in SaharaReporters that trouble started after Governor Buni gave initial N2m as Ramadan gift to the social media teams but the money fell into the hands of the Yobe APC Social Media Group that shared the money strictly among its members.
Yobe, a poor state has so many social media groups that consist of members, who are paid monthly allowance for personal upkeep and data.
Like in other states, these groups largely consist of jobless youths, state university lecturers and civil servants, who use the platform as an opportunity to earn some money that can complement their meagre salaries.
The job description of both social media groups is monitoring social media platforms and attacking critics of Yobe State Government on the Internet.
They also undertake series of government propaganda and attack media organisations and journalists that dare to ask probing questions on governance.
http://saharareporters.com/2020/05/12/governor-buni%E2%80%99s-n10m-ramadan-gift-tears-yobe-social-media-groups-apart
-----
Imams seek adherence to COVID-19 precautions
May 12, 2020
By Tajudeen Adebanjo
Some Imams in Lagos have cautioned Nigerians to adhere strictly to the Coronavirus precautions.
The Chief Imam of Ikeoluwa Mosque Ikate, Imam Ibrahim Adeyemi, advocated continuous education of Nigerians on the need to observe all the safety precautions against the virus.
"We are indeed grateful to the chairman for his gifts to us during this Ramadan time and we call on the government to continue to remember its citizens due to the lockdown," he said.
No fewer than 3,500 bags of food items were distributed to the clerics and faithful as well as residents to cushion the effect of the COVID-19 lockdown.
The foodstuff include tubers of yam, eggs, rice, beans, sugar, spaghetti, as the beneficiaries observed social distancing directive while collecting the palliatives.
"We preach to our members to strictly adhere to the words of the government just as it is said in the Holy Quran by the Prophet," he said.
Chairman of the Council, Dr Ahmed Apatira, said the gesture would ease the beneficiaries' sufferings during the Ramadan period.
https://thenationonlineng.net/imams-seek-adherence-to-covid-19-precautions/
-----
Muslims in Mbale receive 3 tonnes of maize flour
11th May 2020
By Henry Sekanjako
MBALE - The National Resistance Movement (NRM) Diaspora league in conjunction with Ugandan recording artist of Black-Market Records, Daddy Andre have donated 3 tonnes of maize flour to Muslims in Mbale.
The gesture is part of the campaign by the league to help those in need especially the Muslim community in different parts of the country, during the COVID-19 Pandemic lockdown.
"We appreciate the continued partnership with Black Market Records CEO, Cedrick Singleton through which we have been able to offer food relief to Ugandans in Luweero and now in Nakaloke Town Council in Mbale District," Abbey Walusimbi, the Chairperson NRM diaspora league said.
he donation was in response to the call by resident useveni to everyone who is still able to come out and offer any form of help ourtesy photo The donation was in response to the call by President Museveni to everyone who is still able to come out and offer any form of help. (Courtesy photo)
He explained the donation was in response to the call by President Museveni to everyone who is still able to come out and offer any form of help to those that are hard hit by the prevailing COVID-19 pandemic.
Walusimbi said, "It is always refreshing coming to the aid of those that are in need at such trying moments when many people have been affected by the lockdown measures which were put in place to fight the virus."
On his part Daddy Andre a local musician and producer noted that these are very trying moments that have left a number of people vulnerable and in dare need saying "These people need our support."
"By the grace of God, I and my management (Black Market Records) were able to stand with our brothers and sisters in Mbale. In these trying times which also happen to be the holy month of Ramadhan were our Muslim brothers and sisters are fasting, we were able to avail them with food to take them through this time," Andre said.
He added that "We have been in Nakaloke town council in Mbale which has marked the beginning of our Eastern region tour and very soon we shall be proceeding to Busia."
Andre thus appealed to other people to come out and stand with those who are in lack adding that blessed is the hand that gives than one that takes.
During the same event, Isaac Kigozi the Managing Director, East African Partners noted that this is the moment to stand with those who are in dare need.
"We do not only focus on investment but also on the wellbeing of our people, we shall continue to give and donate to those in need even after the lockdown, we believe that together we can help save lives that would have perished due to hanger," Kigozi said.
He added that the mission to save lives by providing food relief has just started but will continue. "We launched it in Luweero, now Mbale and will be stretching to Masaka, Gulu and later Kasese to help those affected by the heavy rains that have left many homeless," Kigozi said.
While receiving the relief on behalf of the Muslim community in Nakaloke Town Council, the Eastern Muslim Regional Khadi, Sheikh Ahmad HaamidWandega appreciated Daddy Andre and Hajji Walusimbi for being considerate to the Muslims in Nakaloke most of whom were finding it hard to break their fast because of the lockdown effects.
"On my behalf and on behalf of the Muslim community, I thank donors for the goodwill and spirit, our people in this country are starving, because of the lockdown, the religious people were not spared because all the religious centres were locked down and they are starving with nothing to feed on yet this is also a holy month of Ramadhan," Sheikh Wandega said.
The team will on Friday head to Masaka where they will offer food relief to Muslims in Masaka district. Vice President Edward Kiwanuka is expected to officiate at the donation ceremony.
https://www.newvision.co.ug/new_vision/news/1518687/muslims-mbale-receive-tonnes-maize-flour
------
Southeast Asia
Malaysia's Axiata secures $800 mln in sustainability Islamic financing from three banks
MAY 11, 2020
KUALA LUMPUR, May 11 (Reuters) - Malaysia's Axiata Group Bhd has secured a total of $800 million in syndicated multi-currency Islamic financing facilities for its sustainability-linked initiatives, the company said in a statement on Monday.
The financing arrangement was led by OCBC Al-Amin Bank Bhd while a unit of Oversea-Chinese Banking Corporation Limited, Maybank Islamic Bank Bhd and MUFG Bank (Malaysia) Bhd were also financiers.
Axiata said the financing mechanism is first of such in the world, and serves to enhance its liquidity position while benefiting from optimal financing cost.
"Axiata will benefit from lower financing costs should it continue to exceed the stringent criteria the company has set for itself under the said framework," the telecoms group said.
https://www.reuters.com/article/axiata-group-funding/malaysias-axiata-secures-800-mln-in-sustainability-islamic-financing-from-three-banks-idUSL4N2CT2J8?rpc=401&
------
The 'herd immunity' route to fighting coronavirus is unethical and potentially dangerous
ARINDAM BASU
May 12, 2020
As most of the world tries to suppress the coronavirus spread, some countries are going it alone - trying to manage the pandemic through so-called "herd immunity".
Herd immunity means letting a large number of people catch a disease, and hence develop immunity to it, to stop the virus spreading.
The Netherlands reportedly plans to use herd immunity to combat the coronavirus epidemic, just as Britain retreats from such plans after warnings it could lead to 250,000 deaths.
A "herd immunity" strategy has been criticized by the World Health Organisation, which said far greater action is required. Other health experts say the approach is experimental at best, and dangerous at worst.
Our bodies fight infectious diseases such as coronavirus through our immune systems. The body produces antibodies in response to intruder organisms to fight and remove them.
Once a person has developed immunity to a virus, they probably won't catch it again. The theory behind herd immunity is that once a lot of people develop immunity to a virus, it will eventually stop spreading to people who haven't yet caught it.
A rate with a value of 1 would mean that one person can pass it on to at least one other person. The higher this number, the more infections from that one case. So to end the spread, this number will need to drop below 1.
As infection spreads, the pool of susceptible people shrinks as more develop immunity. Herd immunity aims to lower the number of susceptible people to the point where the reproduction rate drops below 1 and the spread of infection stops.
In the case of measles, 95 percent of people need to be immune for infection to cease. For coronavirus, I calculate this figure is around 40%, based on a reproduction rate of 2.6. So, if about 60 percent of people are immune to the infection, this is sufficient herd immunity to stop coronavirus spreading.
(There have been a few reports of people becoming infected with coronavirus twice, but they haven't been substantiated in peer-reviewed research, so can be discounted for now.)
The best way to rapidly develop herd immunity is through vaccination. A vaccine delivers a small amount of a virus into the body, and the immune system learns how to fight it off without having to get sick. But we do not yet have a vaccine for coronavirus.
If vaccines are not available and the infection spreads, some people will develop a mild version of the disease and recover. But it is dangerous and unethical to rely on this method to combat the disease.
First, the intermediate and longer term consequences of coronavirus are not yet known. And second, while some people are not badly affected by the disease, under a herd immunity strategy they could still pass the virus to elderly people who are at high risk of dying from it.
One expert analysis found that creating herd immunity in the UK would require more than 47 million people to be infected. With a 2.3 percent fatality rate and a 19 percent rate of severe disease, this could result in more than a million people dying and a further eight million needing critical care.
Let's say Australia and New Zealand relied on herd immunity. Now let's assume, conservatively, that 10 percent of the population were infected – that's 500,000 New Zealanders and 2.5 million Australians. Over a short period, those numbers would disastrously overwhelm the nations' health systems.
The safest public health strategy is to prevent the onset of coronavirus at all costs. This would buy the health system time, "flattening the curve" so hospitals were not inundated with cases all at once.
This is why it's so important to control movement across our borders, impose self-isolation, restrict public gatherings, trace the contacts of existing cases and isolate those with the virus. Australia and New Zealand are both now essentially following these measures. It might also be wise to screen passengers in departure terminals for signs of the virus, and test where necessary.
Also critical is educating the public on safe hygiene and ensuring supply of disinfectants, hand sanitizers, safe food, soap, and water, as well as access to services when needed. Now is also the time to take extra care of our elderly.
With these measures in place, we give ourselves the best chance of putting the coronavirus genie back in the bottle sooner rather than later, and minimizing the number of deaths.
https://www.thejakartapost.com/life/2020/05/12/the-herd-immunity-route-to-fighting-coronavirus-is-unethical-and-potentially-dangerous.html
------
Supportive rules key to Indonesia's green investment future: Experts
A. Muh. Ibnu Aqil
May 12, 2020
Indonesia needs a regulatory framework that supports its mission to attract green investment, experts say, as awareness about sustainability grows among the general public.
Green investment, as the name implies, is a form of socially responsible investing where investments are made in companies that support or provide environmentally friendly products and practices.
As more people become aware of the importance of green investing, the government faces greater pressure to change the rules to support companies following the path toward sustainability, according to the Indonesian Biodiversity Foundation (KEHATI).
KEHATI executive director RikiFrindos said there needed to be more regulations that supported environmental protections if the nation was to build up its credibility as a destination for green investment.
Global trends have shifted toward green investment, Riki said, with Google searches for environmental, social and governance (ESG) topics in financing rising tenfold between 2014 to 2019.
This is supported by a 2017 Global Investor Study by the Schroders asset management company that found that 86 percent of millennials saw sustainable investing as more important now than five years prior. Also, 70 percent of millennials have increased their investments in sustainable funds.
KEHATI itself has introduced a Sustainable and Responsible Investment Equity Index (SRI-KEHATI) that benchmarks the sustainable practices of companies in the Indonesian stock market and picks the top 25 to be included in the index.
The index, the only one of its kinds in the nation, has shown promising yields, having generated returns of 173.66 percent between Dec. 30, 2009 to Dec. 30, 2019.
The Financial Services Authority (OJK) published the Roadmap for Sustainable Finance in Indonesia 2015-2019, which defines sustainable financing as efforts, including in financial services, to mitigate the impact of climate change, among other things.
The OJK also issued OJK Regulation (POJK) No. 60/POJK.04/2017 that lays out the standards for green bonds issuance, and POJK No. 51/POJK.03/2017 that requires corporations to prove their sustainability credentials every year to the authority.
The Finance Ministry also began issuing green sukuk in 2018 to fund environmentally friendly projects, raising US$3.25 billion over two issuance periods.
But some of the government's more recent regulatory plans threaten to undermine such efforts and could slow the momentum behind the growing green economy.
In particular, the mandatory requirement for companies to obtain an environmental impact analysis (Amdal) document to operate is targeted for removal, while most other oversight powers granted to regional administrations are to be centralized.
"If [the omnibus bill is solely] for the sake of investment and environmental protections will be loosened as a result. It could dampen the momentum we have for green investment growth," Riki said.
Separately, the chairman of the Sustainable Trade Initiative (IDH), FitrianArdiansyah, said that environmental protections were an important sign that a government was "serious about wanting responsible green investments".
While Indonesia is still considered a developing country that continues to rely on revenue for development, the government should nonetheless promote responsible investments that are conducive to conservation efforts, he said.
https://www.thejakartapost.com/news/2020/05/12/supportive-rules-key-to-indonesias-green-investment-future-experts.html
------
Kedah PAS says 23 reps have lost confidence in Mukhriz
12 May 2020
By IMRAN HILMI
ALOR SETAR: The Kedah state government seems to have crumbled after 23 assemblymen have indicated their loss of confidence in Kedah MentriBesar Datuk Seri Mukhriz Mahathir (pic).
Kedah PAS deputy commissioner 1 Muhamad Sanusi Md Nor said the 23 included 15 from PAS, two from Barisan Nasional, two from PKR who had quit the party earlier on Tuesday and four from PartiPribumi Bersatu Malaysia.
"Therefore now a new government will take shape under Perikatan Nasional," he said at a press conference held at the Kedah PAS complex in AlorSetar on Tuesday (May 12).
Muhamad Sanusi, who is also the Jeneri assemblyman, named the four Bersatu assemblymen - Guar Chempedak assemblyman Datuk Dr Ku Abdul Rahman Ku Ismail, Bukit Kayu Hitam assemblyman HalimatonShaadiah Saad, Kuah assemblyman Mohd Firdaus Ahmad and Ayer Hangat assemblyman JuhariBulat.
"The four, however, have not resigned from their party. This is the second time there has been a vote of no confidence on Mukhriz. "I sympathise with him as a political leader, that he has had to face it twice in his political career. I feel bad for him," he said.
https://www.thestar.com.my/news/nation/2020/05/12/kedah-pas-says-23-reps-have-lost-confidence-in-mukhriz
-----
Kedah's Pakatan govt falls after two PKR reps quit party
12 May 2020
By N. TRISHA
SUNGAI PETANI: Two PKR assemblymen aligned to former party deputy president Datuk Seri Azmin Ali have quit the party with immediate effect.
Azman Nasrudin (Lunas) and Dr Robert Ling KuiEe (Sidam) said they have lost confidence in the party and have chosen to quit.
They are inclined towards joining PartiPribumi Bersatu Malaysia, they told a press conference here Tuesday (May 12).
Azman said both he and Dr Ling took a lot of things into consideration before making the decision to leave PKR.
They also pledged their support for Prime Minister Tan Sri Muhyiddin Yassin, who is Bersatu president.
There are 36 state seats in Kedah, with PKR now holding five, Bersatu (six), PartiAmanah Negara (four) and DAP (two).
https://www.thestar.com.my/news/nation/2020/05/12/kedah039s-pakatan-govt-falls-after-two-pkr-reps-quit-party
-----
Arab world
The UAE's Sheikh Zayed Grand Mosque Centre launches remote cultural tours
May 12, 2020
DUBAI: In line with precautionary measures taken in the UAE to protect its society following the spread of the ongoing coronavirus pandemic, Sheikh Zayed Grand Mosque Centre (SZGMC) has launched virtual cultural tours, allowing visitors to explore the mosque digitally.
The leading global cultural destination annually receives over six million worshippers and visitors of various cultures from all across the globe. For them not to miss out on the touristic attraction, the centre's live tours, broadcasted from the mosque, will be available on Instagram for everyone to watch from all over the world.
Meanwhile, remote tours are available for government and private institutions, who just need to register to enjoy an exclusive tour around the world's largest mosque guided by a member of the SZGMC team.
Since the coronavirus outbreak, many regional establishments and cultural attractions have been forced to close their doors and move online instead, including the Louvre Abu Dhabi, Dubai's Al-Serkal Avenue and the Egyptian Tourism Ministry, which allows art lovers to virtually tour some of the country's famed museums and archaeological sites, such as the Menna Tomb, via the ministry's website and social media platforms.
https://www.arabnews.com/node/1673516/lifestyle
-----
Syrian activist killed by Islamic State was working on British-backed comic
12 May 2020
A prominent Syrian activist was editing a children's magazine that was being published as part of a covert British propaganda campaign when he was murdered by the Islamic State (IS) group in Turkey.
NajiJerf was the editor of al-Hentawi, a comic magazine that had been devised as part of a campaign run by a communications company under contract to the UK foreign office in London.
It was aimed at 9 to 15-year olds and had been devised as a "counter-recruitment magazine" in response to IS's own propaganda efforts, according to an internal review of what the British government termed its "strategic communications" (or "SC") in Syria seen by Middle East Eye.
Jerf was editor of al-Hentawi when he was shot dead in Gaziantep in southern Turkey in December 2015. A member of IS was subsequently jailed for life for the murder.
UK foreign office staff believe he accidentally geolocated himself while using his mobile telephone when buying food for his wife and two young daughters in a restaurant in the city.
Jerf, 38, was a prominent figure in opposition circles. He had trained a large number of citizen journalists in Syria and had been involved in the Raqqa is Being Silently Slaughtered campaign, in which activists worked undercover in IS-held territory to document the militant group's abusive rule.
Jerf was assassinated in the same month that IS killed two activists in the southern Turkish province of Urfa. Both were working for Raqqa is Being Silently Slaughtered.
"Jerf was one of the founders of citizen journalism in Syria. He produced works early in the revolution, and participated in countless projects," Sultan Jalabi, a journalist who worked with him for several months, told MEE.
Hasan Borhan, a former editor of a French-based Syrian news agency, added: "Jerf trained hundreds in citizen journalism, creating a complex network in the east of Syria monitoring [human rights] violations."
He went on to say: "The opposition is poor and cannot build integrated press institutions. All sectors of the revolution since its inception in 2011 are funded from abroad," adding that the "source of Jerf's funding does not change anything of his person or the importance of his works and their impact."
Jerf was aware that his wider work had put him in the sights of IS: he had been about to leave Turkey with his family, having been granted asylum in France after facing a series of death threats.
Jerf's brother Muhammad said his application for asylum in France was initially rejected, and subsequently approved through an appeal.
Although some citizen journalists working in Syria did not realise that their work was being sponsored through British government contracts, MEE understands that Jerf was aware he was working for a UK government project.
Amal Salamat, a Syrian journalist, said Jerf always thought carefully about ways to protect journalists and to seek the release of prisoners of conscience.
When Syrian intelligence arrested her husband, the journalist Jihad Mohamed, Salamat said she had received significant moral support from Jerf.
Salamat said: "Jerf published an article highlighting the arrest of my husband, in Hentah, a local newspaper he ran... Sources of financing certainly affect editorial policy, but Jerf's work has been neutral. Knowing the source of the funding does not alter the value of his work."
Al-Hentawi blended entertainment and science with a cartoon story about three American children with Syrian parents travelling to the country in the year 2035.
An extract from 'The Sons of al-Henta', published in edition four of Hentawi. Slide left for the original Arabic and right for the English translation (hentawi.com)
The comic sought to inspire its young readers by highlighting the success stories of role models such as athletes, entrepreneurs and leaders.
It also introduced its readers to terms and concepts such as equality, democracy and human rights, and had a general knowledge and games sections.
According to an internal review of the UK's propaganda programmes, carried out during 2016, the comic's content was "regularly reviewed by teachers to ensure it is appropriate for this age group and does not expose children to negative messaging"
As well as producing comics, magazines, news reports and social media, communications companies working for the UK's propaganda programme also produced animated films.
One, entitled Goal to Syria, is about a young footballer who scores the winning goal in the 2027 Asia Cup final, years after he had been dug out of the rubble of a bombed building.
The film went on to be shown in the short animation section of the Cannes film festival in 2016. The internal government review noted that Al Jazeera had hailed the film as a "symbolic, global recognition of the justice of the Syrian revolution".
It added: "Such exposure, unattributed to its funding source, contributes to the overall UK strategic communications objectives for Syria by successfully promoting the moderate opposition".
The review was scathing about the UK's propaganda initiatives as a whole, however, concluding that they were incoherent, poorly planned, probably contravened UK law and cost lives.
Earlier this year MEE disclosed that as part of its propaganda initiatives in Syria, the British government covertly established a network of citizen journalists across Syria during the early years of the country's civil war in an attempt to shape perceptions of the conflict.
Frequently, the individuals who were recruited were unaware that they were being directed from London. A number were killed during the conflict.
Initial blueprints for at least three of the five British propaganda programmes were drawn up by an anthropologist working in counter-terrorism for the UK foreign office in London.
It would not say how many Syrian activists were killed while working on UK propaganda operations, nor say whether the British government or its contractors are caring for any of their dependents.
Nor would it comment on the internal review's warning that there was a "major risk" that the propaganda operations contravened UK law.
https://www.middleeasteye.net/news/syria-activist-killed-islamic-state-british-propaganda-comic
-----
2 Arab American businesswomen sweeten up a rough Ramadan with knafeh shots
By GABRIEL SAN ROMÁN
MAY 11, 20207:10 PM
The Egyptian American businesswoman behind the Dirty Cookie had recently cinched a vendor deal to supply her celebrated shot-glass-shaped snacks to the Cosmopolitan in Las Vegas. With a corporate clientele including major movie studios and beachside resorts, as well as catering events like weddings, business boomed since deciding to close her Tustin storefront at the District in December 2018.
And then the coronavirus pandemic hit, ravaging small businesses, like dine-in restaurants and caterers, which rely heavily on social gatherings to survive.
By March 13, she had little choice but to furlough half a dozen workers at the Dirty Cookie's commercial kitchen and warehouse in Irvine.
Recalling a trip to Egypt as a young girl where she witnessed hunger and homelessness in the streets, Marei remembers her father's guidance to go beyond charity to help those in need. That's a major reason why she decided to take a chance with the Dirty Cookie five years ago while on maternity leave from Boeing, where she had a cushy job as a project manager.
Marei took a week off from her business after making that difficult decision. During that time, she called Fatmah Muhammad, the Palestinian American baker behind Knafeh Queens, a commercial kitchen in Rancho Cucamonga she established with her daughter Rheyanah Williams. The two met prior to the pandemic, both with mutual admiration for each other's craft.
With Ramadan on the horizon, the pair of Arab American Muslim businesswomen talked about banding together to create a special treat during the holy month.
"This is a really hard time for Muslims celebrating Ramadan," says Marei. "There's no social interaction, and most of Ramadan is about going over to people's homes for family dinners every day. That's the spirit of the month."
Shredded phyllo dough is mixed with melted butter and packed into a holder before being oven baked.(Kevin Chang / Staff Photographer)
The noodle dough dessert fastened by a melted cheese blend and drizzled with a simple syrup is usually served by square slices that lift off a tray in all their gooey glory. Muhammad, who's worked with her mother's recipe since she was 7, already offered knafeh in the nontraditional form of double-layer cakes, cupcakes and pies — the latter of which earned a blue-ribbon prize during a contest at the O.C. Fair two summers ago.
A few test runs in Marei's Irvine kitchen perfected the craft of folding knafeh into her patented Dirty Cookie molds. The "knafeh shot" readied for release on April 20.
Fatmah Muhammad of Knafeh Queens torches the marshmallow cream topping of the knafeh shots, a collaboration with the Dirty Cookie.(Kevin Chang / Staff Photographer)
The knafeh shot is a bit of a departure from Marei's usual chocolate chip, churro, red velvet flavored milk-in-cookie approach, as well. This time around, the center of the chocolate-encased shot isn't hallowed out. There are three filings to choose from — Nutella topped with strawberry slices, custard with pistachios and sweet cream ricotta — in lieu of a pouring in a milky beverage.
And even though times are tough, both businesses are offering a portion of the proceeds from sales of their collaborative confection to support Sahaba Initiative, an acclaimed San Bernardino nonprofit that offers sorely needed social services like food pantry access, support groups and mental health counseling.
Marei and Muhammad also used part of their sales for an online fundraiser to help purchase personal protective equipment for frontline healthcare workers.
"Ramadan is a month of giving for Muslims," says Muhammad. "My purpose was always to bridge communities together, uniting people through good food."
Marei's looking to shift the Dirty Cookie's sales online for the time being with cookie shot decorative kits soon to come. But with a "partner up and pivot" ethos, she's open to more collaborations with Knafeh Queens.
Fatmah Muhammad of Knafeh Queens adds melted butter to a bin with shredded phyllo dough as ShahiraMarei of the Dirty Cookie waits to help mix them.(Kevin Chang / Staff Photographer )
"It's been amazing experience for both of our businesses to see the beauty of two women — boss women — getting together," says Muhammad. "We hope to inspire many other female-owned businesses."
Whether working together or apart, both bakers know their desserts can help sweeten up otherwise difficult times, especially with fidgety children home from school. These days, Marei finds herself stocking up on sugary treats during grocery trips more so than before.
"For people's sanity right now, they want a piece of home, a piece of their childhood," says Muhammad. "I definitely think dessert is an essential."
https://www.latimes.com/socal/daily-pilot/entertainment/story/2020-05-11/two-arab-american-businesswomen-sweeten-up-a-rough-ramadan-with-knafeh-shots
------
Virus crisis highlights potential role of Islamic finance in reaching sustainable development goals
May 12 2020
Amid an ongoing severe global healthcare crisis caused by the relentless spread of Covid-19 across the world, some research institutions and scientific entities are wondering if and how the world will change after the virus has eventually subsided. In this particular case, a new report issued last week is shedding light on the anticipated fundamental changes of the corporate world in terms of economic and social sustainability — and what role Islamic finance plays in it with regards to the Sustainable Development Goals (SDG) formulated by the United Nations which have been called into existence in 2015 to make this world a better, cleaner and more livable place.
The report, entitled "Islamic Finance and the SDGs: Framing the Opportunity" and released as the first edition of the new "Thought Leadership Series" by the Islamic Finance Council UK (UKIFC) in partnership with Malaysia-based International Shariah Research Academy for Islamic Finance on May 5, is looking into the capabilities of the global Islamic finance sector to of contribute and actively engage in getting closer to reach the SDGs after the virus pandemic will have ended.
As a background, the UN has formulated the SDGs as a playbook to address and eventually overcome a wide range of global economic, social, governance and environmental challenges by 2030. The idea has been adopted by 193 countries, recognising that alleviating poverty, ending environmental damage and address other societal, political and corporate deficiencies in countries across the world would pave the way to the development and implementation of strategies that improve health and education, reduce inequality and spur economic growth, all while tackling climate change and preserving a natural environment.
"The pandemic has caused much suffering worldwide along with the financial and economic hardships that large parts of the world's population are experiencing," says Richard de Belder, UKIFC Advisory Board Member.
"However, it is also interesting to see that a debate has started that things cannot go back to how they were before the pandemic," he adds, suggesting the creation of nothing less than a new financial system based on ethical principles which would "serve society and protect the environment" as a positive way to deal with the disruption caused by the coronavirus pandemic.
"The UKIFC firmly believes that Shariah principles which underpin Islamic finance make the sector well positioned to lead in promoting the SDGs and to achieve global economic and social justice combined with sustainability," De Belder notes.
To accomplish its ambitious SGD goals, the UN has earmarked an annual $2.5tn financing gap for developing countries which is where the Islamic finance sector comes into play. It has also identified the opportunities for Islamic finance to engage with the SDGs after removing a variety of still existent barriers in Islamic jurisdictions such as a limited understanding of the SDGs, a perceived lack of relevance of the SDGs to their commercial agenda and a limited desire to consult with peers and participate in the SDG debate.
Once this is overcome, the Islamic finance industry, particularly the private sector including Islamic banks, fund companies and other financial institutions in Islamic countries, could play a key role in contributing to achieving the SGDs. As a start, Islamic finance could, in general, satisfy the increasing demand of global investors seeking ethical finance and impact investment opportunities by promoting its ethical investment features and offer a respective innovative portfolio. To that end, the SDGs could easily represent a platform for Islamic finance players to expand their ethical finance offerings, taking into account the important role of the Shariah concept of tayyib, which means "pure" and "with good intentions," as a route to provide wider solutions for investment with a societal and environmental impact.
Core criteria for such social impact investments — as also outlined by the Islamic Development Bank — are employment generation, affordable housing, affordable basic infrastructure, access to essential services including healthcare, welfare and education, as well as socioeconomic advancement and empowerment of underprivileged people. Likewise, environmental impact factors are the focus on renewable energy, energy efficiency, pollution prevention and control, environmentally sustainable management of natural living resources and land use, as well as sustainable water and wastewater management.
That said, the UKIFC acknowledges that Islamic finance institutions, by and large, are just at an early stage of engagement with the SDGs. Steps to be taken were therefore an improvement in understanding of how any given organization can effectively engage with the SDGs — which is, among other reasons, why the "Thought Leadership Series" has been initiated —, as well as the encouragement of Islamic finance institutions to embed SDGs into their business roadmaps and, most of all, identify the commercial opportunities that are associated with it.
gulf-times.com/story/662968/Virus-crisis-highlights-potential-role-of-Islamic-
-----
BCF delivers food aid to 500 families in Kirkuk during Ramadan
21 hours ago
Halgurd Sherwani
ERBIL (Kurdistan 24) – The Barzani Charity Foundation (BCF) on Monday announced the delivery of food aid to 500 families in need in Kirkuk province in coordination with the Korek Telecom company.
In mid-March, BCF announced it had established a hotline in every city in the Kurdistan Region to provide food baskets to low-income families amid curfews imposed across the region to curb the spread of COVID-19, which caused a huge economic burden.
"On the occasion of the Islamic month of Ramadan, the BCF has begun to distribute food baskets to 19 provinces in Iraq, and today, we began in Kirkuk," Asma Ameen, the head of BCF in Kirkuk, told Kurdistan 24.
Some families were not beneficiaries of the BCF hotline services, so "today, in Kirkuk, 500 food baskets are delivered to those families," Ameen added.
As of today, the BCF has 2,000 beneficiaries in Kirkuk as well as 1,000 families in Chamchamal, she revealed. "Hopefully, before Eid [al-Fitr], the remaining families who contacted [BCF] previously will be provided with the aid," the representative noted.
"Since the beginning of our mission in Kirkuk, we have never discriminated against any ethnicities," Ameen said, citing the foundation's continuous coordination with the United Nations Office for the Coordination of Humanitarian Affairs (OCHA) and the United Nations Assistance Mission for Iraq (UNAMI) in assisting and exchanging data related to families in need.
"The BCF has a special program for assisting orphans in Kirkuk, in which more than 740 orphans are registered," she said. "Today, we've also begun to pay their salaries, each of them gets paid $200."
The BCF is one of the most active humanitarian NGOs in Kurdistan that often provides a substantial amount of aid to internally displaced persons and refugees in Iraq, the Kurdistan Region, and northern Syria, as well as multiple programs to enrich the lives of displaced children.
The organization was founded in 2005 and, in its own words, "strives to honor the great legacy of Malla Mustafa Barzani, the leader of the Kurdish Liberation Movement and influencer of the contemporary Kurdish nation."
https://www.kurdistan24.net/en/news/390f4496-577c-4bb2-9a1a-b9e1550c1b6c
-----
Europe
Is There A Plan To Convert Hagia Sophia Into A Mosque On The Day Of The Fall Of Constantinople?
May 12, 20203
A post on the account of Turkey's Presidential Communications Director FahrettinAltun, about Hagia Sophia was the reason why the Turkish press today interpreted this post as a sign that Hagia Sophia was to become as a Muslim mosque.
On his Twitter account, FahrettinAltun posted a photo of Hagia Sophia – which has been converted from a Muslim mosque into a museum in 1935 – and the following phrase: "We missed it! But be patient. We'll make it happen together."
This phrase is displayed in today's Turkish press with articles on the history of Hagia Sophia and on the "impatience" of the Turkish people to see this historic monument becoming a mosque again. In fact, some speculate that May 29, the day of the Fall of Constantinople (and a day of victory for Muslim Turks) may be the day that Hagia Sophia will open as a mosque and place of prayer for Muslims.
Fahrenheit Altun's message caused great excitement, today's Press writes. Those who saw the post began to ask when the mosques would open for prayer or when Hagia Sophia would open for Muslim worship. The Hurriyet newspaper even published a lengthy article on the history of Hagia Sophia from its foundation to the present day.
The issue of the conversion of Hagia Sophia has often been on the agenda of the Turkish leadership, and especially of President Tayyip Erdogan. On March 24, 2019, shortly before the municipal elections in Constantinople, the Turkish President stated that the conversion of the Hagia Sophia Museum into a mosque for prayer is an anticipation of the entire Turkish nation and the Muslim world.
https://orthodoxtimes.com/is-there-a-plan-to-convert-hagia-sophia-into-a-mosque-on-the-day-of-the-fall-of-constantinople/
-----
'It's a very different Ramadan': how coronavirus has upended ancient rituals
12 May 2020
Gay Alcorn
Mufti ZeeyadRavat is an Islamic scholar, an authority on the day-to-day practice of Islam. His path to Australia was a circuitous one, from his birthplace in Johannesburg, South Africa, through India, Syria (where he studied Arabic), Brazil, Brisbane and Melbourne. In March last year, he travelled to New Zealand to lead a prayer service in Christchurch after 50 worshipers at a mosque were slaughtered.
Ravat, 39, is a bundle of energy, his arms waving to make a point, one leg tucked underneath him on a recliner in his home in Dandenong in south-east Melbourne. The everyday noise of family life (he is married with five children) break through from the next room as he explains how important Ramadan is, and how the coronavirus pandemic has upended its rituals.
Mufti ZeeyadRavat (right) leads a prayer at the Deans Avenue memorial near the Al Noor mosque in Christchurch on 19 March 2019. Photograph: Anadolu Agency/Getty Images
There are 1.8 billion Muslims in the world. More than 600,000 live in Australia, some born here, some arriving from countries as diverse as Indonesia, Turkey, Lebanon, Egypt, Indonesia, Pakistan and Somalia. There are different cultures, different traditions.
Like the followers of any religion, there are the devout and the less devout. Some people, says Ravat, pray five times a day. Others turn up for Friday prayers only. But Ramadan is special.
Ramadan is Islam's holiest month, a time for reflection and self-discipline, as well as fasting from dawn to dusk for 30 days. This year in Australia, it began on 23 April and ends on 23 May.
The idea of Ramadan hasn't changed, Ravat says. It's a time when acts of goodness – always an obligation – are especially rewarded. The practice of generosity, particularly to the poor and vulnerable, is intensified. Ravat's garage is full of boxes of groceries ready to be delivered to those struggling to buy food.
"We look forward to the month of Ramadan, because it's that time that whatever you couldn't do in the last 11 months, it's the one month that you can speed up things, you can get things going from the spiritual perspective."
The world is full of greed and power, he says, and "fasting is to realign our focus. We keep hungry for 30 days during the day. It's taming the ego, and ultimately, slowly, that ego breaks down and the spirituality takes over. It's about becoming peaceful."
There are no communal gatherings in mosques for "tarawih" prayers every night after the fast is broken. There are no large iftar dinners with family and friends.
Last year, Ravat spent Ramadan at the Pillars of Guidance Community Centre, which he helped found in Melbourne's south-east in 2016. Ravat is Sunni, of the Hanafi school, but says the centre's purpose is to welcome everyone. There's a strong social welfare program, youth classes, advice on traditions such as weddings, and a fine-dining restaurant.
During Ramadan, Muslims gathered at the centre after dusk to listen to Ravat recite a chapter of the Qur'an (the whole Qur'an is spoken over 30 days) and to teach a lesson afterwards.
As a boy in South Africa, Ravat memorised the Qur'an – a respected but uncommon practice among Muslims – and says that even if people can't understand Arabic, it has meaning.
The Gallipoli mosque in Auburn, Sydney, is among places of worship around the world that are closed to prevent the spread of coronavirus. Photograph: Brook Mitchell/Getty Images
"It's so melodious and beautiful that when you read it it actually soothes you and the meaning is so beautiful, because God is talking to you," he says.
This year, mosques and other places of religious worship are shut to prevent the spread of coronavirus. Families are expected to recite the tarawih prayers at home and iftars are only for households. Each evening, Ravat or his eldest son recite a chapter of the Qur'an to the family. The little ones, he says, get a little tired of the prayers and are not expected to fast every day.
"The challenge is that in normal Ramadans, you have a strong environment in the mosque, a community that creates that vibe of Ramadan," he says. "You go to the mosque, everyone is praying, and the imam is reading … and there's these huge iftars that are happening.
But "disaster is the mother of invention". A week before Ramadan, Ravat set up a makeshift studio in his living room, with a camera and lights. Each night he broadcasts a lesson live on social media. His 18-year-old son, a tech wizard, works the camera. Up to 12,000 people have tuned in.
Mufti ZeeyadRavat does a live Facebook lesson during Ramadan from his home in Dandenong. Up to 12,000 people have tuned in. Photograph: Gay Alcorn/The Guardian
Similar experiments are happening across the country. Dr Ibrahim Abu Muhammad, the Grand Mufti of Australia and New Zealand, has said that online tarawih prayers should not be held "because one of the conditions of the group prayers is that there is direct contact between the imam and the people". But online lessons and teachings are encouraged.
Every major religion has struggled to explain suffering in a spiritual context. Some believers have argued that natural disasters are a test of faith; others that they are a punishment of some kind, a notion that can seem cruel.
Jesuit priest James Martin wrote in the New York Times that it's the same question when a single child dies from cancer or a hurricane kills hundreds of people: why, if God is all powerful and all-loving, does he not prevent such suffering?
"In the end, the most honest answer to the question of why the Covid-19 virus is killing thousands of people, why infectious diseases ravage humanity and why there is suffering at all is: we don't know," he writes.
For Ravat, Allah is all-knowing, the creator of everything, which includes Covid-19. Mehmet Ozalp, associate professor in Islamic Studies at Charles Sturt University, wrote in the Conversation that while the emergence of the virus might not be in human control, its spread is. The prophet Muhammad sought medical treatment and encouraged his followers to do the same, saying that "God has not made a disease without appointing a remedy for it, with the exception of one disease – old age".
Ravat puts it this way: "God creates everything, whether it is a plague or whether it's good times, God creates it, but it's us with our actions that draws whichever one [out]."
He does see this time as some kind of cleansing, some kind of reckoning. "As human beings we are greedy, we cannot just be happy with what we have, we want to conquer this world, we want to dig every hole, we want to turn every mountain upside down, we want to pull every [piece of] coal out, we want to suppress the weaker."
https://www.theguardian.com/news/2020/may/12/its-a-very-different-ramadan-how-coronavirus-has-upended-ancient-rituals
------
Islamic Relief UK and Give a Gift assist vulnerable residents
12-05-2020
Islamic Relief has supported charity Give a Gift with £21,900 to help deliver food packs and vouchers to over 900 people .
Give a Gift, a Leeds based charity which helps disadvantaged people including asylum seekers, has already started safely distributing food packs door to door to some of the most vulnerable people in Harehills, Beeston, Armley, Burley Hyde park, Gipton, Seacroft and some parts of Bradford.
Prior to support from Give a Gift, one asylum seeking family in Leeds had not received any food packs for a month and when they did receive one, it had very little. With the mother 26 weeks pregnant, a health visitor referred them to Give a Gift who were then able to supply both the food required and other much needed items for the three children, all aged under seven.
The food packs contain essential items such oil, teabags, sugar, rice, flour, pasta, red lentils, tinned chickpeas, tinned tomatoes, meat and dates. The pack will feed a family of six for a week. Food vouchers are also being given to enable families to buy general goods from supermarkets to supplement their food packs.
Although some of the families are receiving food packs from other agencies, the parcels are generically packed and can contain non-halal items.
Rifhat Malik MBE, Project Manager at Give a Gift said:"The demand for help during the lockdown is unprecedented and we are doing everything we can to help some of the most vulnerable communities including asylum seekers. We are also trusted by the Muslim communities to ensure that we follow their dietary requirements of Halal food.
"With support from local supermarkets and partners such as the Barakah team and the Muslim Kitchen, the families feel reassured knowing they will receive a weekly food supply. The support of the community is also enabling us to support non-Muslim families at this vital time"
As the holy Islamic month of Ramadan continues, many of the Muslim volunteers at Give a Gift are fasting as they work non-stop to help others, making their days extremely challenging.
Tufail Hussain, Director of Islamic Relief UK said, "I've witnessed Give a Gift's efforts on the ground, supporting the most vulnerable refugee families; we are honoured to be supporting such a vital charity doing amazing work to help people in this extremely difficult time.
"The Give a Gift team are extremely dedicated and work long hours with huge demands to bring much needed relief to some of the most vulnerable communities. We are truly humbled by their efforts, especially as many will be fasting during the holy month of Ramadan."
Islamic Relief UK launched an emergency appeal last month to support the country's most vulnerable people during the coronavirus outbreak through local charity partners. It says it is committed to making £500,000 available to support these organisations.
https://www.asianimage.co.uk/news/18441467.islamic-relief-uk-give-gift-assist-vulnerable-residents/
-----
Preston councillor's Ramadan endeavour for the NHS
By Paul Faulkner
11th May 2020
Cllr Peter Moss will be taking part in the 18-hour abstinence from food and drink on Wednesday in an attempt to raise funds for NHS charities. It is part of a wider initiative launched by Lancashire's Saffron Group business network.
Cllr Moss says that he hopes his involvement will also act as "a small gesture of support" for those from the Muslim faith – including friends, colleagues and his own son-in-law – who are bound by the strict fasting observance for an entire month around this time of year.
Throughout Ramadan, Muslims are not permitted to eat or drink during daylight hours – meaning that they usually have to fast from around 3am until after 9pm.
"It's a very small sacrifice for me, compared to others – especially as I'm working from home at the moment and not having to go into the town hall. There are so many others from the Muslim community who will be out at work all day, many of them within the NHS," Cllr Moss said.
"I'm really proud of Cllr Moss for doing this – but my advice to him would certainly be to make sure he gets some water and something nutritious like porridge before he begins his fast," said Cllr Khan.
"I know what to expect every year when I fast, but it still takes a few days for your body to adapt, so it's important to have something to sustain you throughout the day."
Although Cllr Moss is approaching the fast from a standpoint of charity and solidarity – rather than devotion to the Muslim faith – Cllr Khan says that there are parallels between his reasons for taking part in the observance and the basis on which Muslims around the world do the same.
"Throughout the days of Ramadan, Muslims are encouraged to donate to charity and do good deeds – and Cllr Moss is doing both. He will be conducting himself just as Muslims do during their fasting – and so I think that there will be a real spiritual connection."
Although social distancing has scuppered Cllr Khan's initial intention to invite her colleague to break the fast with her family at the end of the day, Cllr Moss might want to check his doorstep for a home-cooked delivery after dark.
If you would like to donate, visit justgiving.com and search for "Saffron Group's I Will Fast for One Day".
https://www.lep.co.uk/news/politics/preston-councillors-ramadan-endeavour-nhs-2849695
------
Pakistan
Barbs fly in NA over fight against Covid-19
mir Wasim
May 12, 2020
ISLAMABAD: The Nat­ional Assembly debate on the Covid-19 situation on Monday exposed the existing disharmony and distrust between the Centre and Sindh province over handling of the pandemic as the opposition accused the federal government of leaving the provinces on their own in this "war" against coronavirus.
The National Assembly, which met after a gap of nearly two months with over 140 members in attendance, witnessed political attacks and counter attacks during over-three-hour-long proceedings.
The entire sitting was presided over by Deputy Speaker Qasim Suri in the absence of Speaker AsadQaiser who has quarantined himself after testing positive for the virus.
Prime Minister Imran Khan and Opposition Leader Shahbaz Sharif were among the other prominent absentees. Parlia­mentary leader of the Pakistan Muslim League-Nawaz (PML-N) Khawaja Asif told the house that Mr Sharif was a "cancer survivor" and doctors had advised him not to attend the sitting.
The NA Secretariat staff took extraordinary steps to ensure strict adherence to health guidelines and standard operating procedures (SOPs) for ensuring safety of the members and the staff. The members had been directed to wear masks and ensure social distancing though a number of members were seen without masks and holding group discussions, compelling the chair to reprimand them.
chairman Bilawal Bhutto-Zardari and PML-N's Khawaja Asif represented the opposition side after Foreign Minister Shah Mehmood Qureshi's opening speech. The opposition leaders alleged that the federal government had not been able to come up with a national strategy to deal with the Covid-19 situation, whereas FM Qureshi and two other ministers defended federal government actions and blamed the opposition parties for trying to achieve political mileage from the situation.
The opposition criticised every step of the federal government, starting from its handling of Zaireen from Iran to screening at airports, provision of medical equipment to doctors, facilities at quarantine centres, blocking the Sindh legislation for relief efforts and the decision to ease the lockdown at a time when the pandemic is reaching its peak.
However, all the three ministers highlighted the measures taken by the federal government so far to deal with the impact of the pandemic, terming them historic and unprecedented. They also defended the Centre's decision to ease the lockdown, claiming that they were taking all the decisions with consensus from the platform of the National Coordination Committee (NCC) and the National Command and Operation Centre (NCOC).
Mr Bhutto-Zardari questioned the absence of Prime Minister Imran Khan from the house and the PML-N's Khawaja Asif took the government to task for running the key affairs of the state including the health sector through unelected people.
In what appears to be a clear departure from the parliamentary traditions, the deputy speaker earlier gave the floor to Foreign Minister Shah Mehmood Qureshi to open up the debate.
When former prime minister Raja Pervez Ashraf and former deputy speaker Murtaza Javed Abbasi objected to another decision of the chair to give floor to federal Minister for Economic Affairs Hammad Azhar after the speech of PMLN's Khawaja Asif, Mr Suri reminded them of the House Business Advisory Committee decision whereby the opposition and the government had agreed on the mechanism to run the proceedings, saying that each party would be given time to speak in accordance with its numerical strength in the house.
Mr Bhutto-Zardari, in his hard-hitting but well-prepared speech, said the federal government was "undermining and sabotaging" Sindh's efforts to fight the pandemic. He said instead of acknowledging the province's efforts, the governor refused to sign the legislation meant for providing relief to the people of Sindh. He said his party had always been ready to offer cooperation to the federal government if PM Khan amended the batting order of his team by getting rid of those resorting to abusive language at a time when the country deserved unity the most.
The PPP chairman said: "The federal government should have stood with us shoulder to shoulder. We are in the midst of a war, and the prime minister expects us to fight the war on our own."
Accusing the Centre of not providing the protective gears and masks and other required equipment to medical fraternity in time, Mr Bhutto-Zardari said the Centre wanted the frontline soldiers to fight the war "without weapons". He said Sindh had to provide equipment to Multan's Nishtar Hospital from its resources.
The PPP chairman said the PTI government at the Centre was responsible for the spread of the virus across the country, as maintaining the borders and screening at airports were its responsibility. The federal government did not ensure proper management of Zaireen who entered Pakistan from Iran. He said it was neither the fault of Zaireen or the Tableeghi Jamaat members, nor of any province but of the federal government.
He also blasted the government for, what he called, distributing funds to the poor set aside for the Benazir Income Support Programme (BISP) under its Ehsaas programme.
The PPP chairman said the coronavirus crisis had exposed "the true faces" of the world leaders, including US President Donald Trump, British Prime Minister Boris Johnson and "unfortunately it has also revealed our own prime minister's ineptitude".
PML-N's Khawaja Asif accused the prime minister of giving contradictory statements and confusing the nation. Mr Asif alleged that the government was treating the pandemic as a "partisan issue".
"We are tired of it. He (PM) is not providing leadership. He's spreading confusion. We can't defeat this virus by fig leaves," he said. "When we had fewer deaths, the entire country was completely shut down. Now that we are seeing a dangerous spike in cases, they are easing lockdown restrictions," he said, adding that the only word to explain the national policy on Covid-19 was "confusion".
"Ours is not a western developed country where people can sit home and eat. We have to balance hunger and poverty with the virus," he said in response to Mr Asif's speech.
While opening the debate earlier, FM Qureshi said Pakistan's infection and death rate was different as compared to Europe and the US. "Our curve is slower and flatter as compared to theirs which is always exponential growth," he said, adding that no one could predict when the outbreak would peak.
"Therefore, we cannot afford to have a prolonged lockdown. We require a unified strategy to tackle this crisis," he said. He also claimed that Pakistan was "ahead of other South Asian countries" in terms of handling the coronavirus crisis.
Mr Qureshi said despite the fact that health was a devolved a subject, the Centre was assisting the provinces in the fight against Covid-19, claiming that Sindh had been provided medical equipment more than its due share according to its population.
Saying that he had spent a long and a prime time in the PPP, Mr Qureshi alleged that the PPP was no more a party of federation and it had converted itself into a regional party. He said no one could use Sindh card in this situation and only a "national card" would be valid to deal with it.
He said Pakistan could not afford to have a prolonged lockdown, but if the situation worsened the decision to ease restrictions could be reviewed.
The opposition members left the assembly hall when Mr Suri gave floor to Communications Minister Murad Saeed soon after Mr Bhutto-Zardari's speech.
Mr Saeed, in his usual style, targeted the opposition leadership accusing them of not paying any attention towards improving health facilities during their rules.
Responding to the opposition's criticism over lockdown issue, the minister said the opposition was making hue and cry whereas New York and other states were following Pakistan's policy of "smart lockdown".
https://www.dawn.com/news/1556480/barbs-fly-in-na-over-fight-against-covid-19
-----
SC restrains Pemra from taking action against Neo TV
May 12, 2020
Nasir Iqbal
ISLAMABAD: The Sup­re­­­me Court on Monday res­tr­a­ined the Pakistan Elec­tronic Media Regulatory Authority (Pemra) from taking any co­­ercive measures against Neo TV channel for a period of 15 days until the channel challenges the vires of the Pemra-Tele­vision Broadcast Station Opera­tions Regulations 2012.
A two-judge Supreme Cou­rt bench headed by Justice MushirAlam had taken up an appeal of Neo TV channel against the Islamabad High Court's rejection last month of its plea to change its category from entertainment to current affairs and news.
Barrister Syed Ali Zafar, representing the TV channel, argued that Pemra had given a licence to Neo TV under the Pemra Ordin­ance, 2002, but when the channel applied for change of programming-mix, the authority rejected its application on the grounds that under the Regulations 2012, there could be no change in category of the licence.
The counsel argued that the judgement of the high court as well as the decision of Pemra were illegal, unlawful and void ab initio.
Under the 2002 Ordinan­­ce, change in the category or the programming-mix was spe­­­­cifically allowed and cou­ld only be refused by Pemra on the ground of public interest, the counsel said, adding that this was an established law that rules and regulations could not override a law.
While banning the change of category in the licence, Pemra had acted beyond its jurisdiction, the counsel said. Consequently, the Regulations 2012 were void.
Barrister Zafar ar­­gued that even if any amendments were to be made in the licence, this could only be done through the rules which were to be approved by the federal government and not through any regulations.
In this case, the counsel argued, the regulations were passed by Pemra without ap­­proval of the federal government which, according to the latest judgement of the Sup­reme Court in the Musta­­fa Impex case, meant the prime minister and the cabinet.
Barrister Zafar said Pemra had simply relied on the judgement of the high court and the Regulations 2012 to close down the television station of Neo TV.
After hearing the counsel, the apex court issued directives to Pemra that no coercive measures would be taken by the authority agai­nst Neo TV for a period of 15 days to enable the channel to challenge the vires of the Re­­gulations of 2012 and raise other grounds and Pemra's action of closure of Neo TV in accordance with the law.
https://www.dawn.com/news/1556488/sc-restrains-pemra-from-taking-action-against-neo-tv
------
Shoppers in Rawalpindi flout SOPs after restrictions on businesses lifted
May 12, 2020
RAWALPINDI: Thousands of people flocked to Rawalpindi's markets on Monday, flouting social distancing and Covid-19 preventive measures, after the government allowed businesses to reopen on the 49th day of the partial lockdown. In the meantime, the number of Covid-19 cases has continued to rise.
Large shopping malls, dine-in restaurants, educational institutions, hotels, marquees and wedding halls and cinemas are still closed, and public processions, congregations of all kinds, organised sports events and concerts are still prohibited.
The metro bus service is also suspended, and a meeting will be held on the resumption of public transport with representatives of provincial and district-level transporters to prepare standard operating procedures (SOP) under which public transport may be allowed to run.
After Prime Minister Imran Khan warned that irresponsible behaviour would squander the freedoms that come from easing the lockdown, Information Minister Shibli Faraz also said on Monday that the lockdown on businesses will be reimposed if safety guidelines are not followed.
The Punjab government has issued a directive on the reopening of businesses including all retail outlets other than large shopping malls, subject to the implementation of SOPs and guidelines, for four days a week.
Hundreds of people, most of them ignoring government SOPs, gathered in markets without wearing masks - which have been deemed essential in public places as a way to prevent the spread of Covid-19 alongside social distancing in Punjab.
In the city and cantonment areas, shopkeepers set up kiosks and stalls selling clothing, fabric and accessories on pavements and roads, blocking traffic.
Another shopper who seemed unbothered by the SOPs or the spread of the coronavirus, said: "Eidul Fit is approaching and being parents we have to buy clothes and other items for our children."
In addition to the crowds in markets, Murree Road, Kashmir Road, Jhelum Road, Airport Road, Raja Bazar, Liaquat Bagh Road, Commercial Market and link roads were flooded with motorcycles and other vehicles.
Police have been stationed at pickets to reiterate to the public that precautions for Covid-19 must be observed as the virus is continuing to spread.
https://www.dawn.com/news/1556456/shoppers-in-rawalpindi-flout-sops-after-restrictions-on-businesses-lifted
------
10,000 doctors to be selected for coronavirus-specific duties
May 12, 2020
LAHORE: The second sitting of the Punjab Assembly was held here on Monday with panel of chairman Mian Muhammad Shafi in the chair.
Law Minister Muhammad Basharat Raja moved two bills in the house and both were passed with a majority vote. These were the Punjab Village Panchayats and Neighbourhood Councils (Amendment) Bill and the Code of Civil Procedure (Punjab Amendment) bill 2020.
Earlier during the Question Hour, Health Minister Dr Yasmin Rashid criticised the former PML-N government for what she said not promoting medical professionals in the health departments during its 10-year rule.
She asked the former health minister sitting in the house why no doctor was promoted from BPS-19 to BPS-20 during his party's 10-year rule.
Responding to a question, she said the Punjab Public Service Commission (PPSC) has so far interviewed 2,000 male and female doctors while 10,000 medics would be selected for duties during the coronavirus pandemic.
PTI lawmaker Ahmed Shah Khagha suggested during general discussion on the forthcoming budget and the Covid-19 pandemic that laws should be introduced for controlling lavish expenses on wedding ceremonies and also fixing business hours for commercial activities from Fajr to Maghrib prayers to save electricity and also improve social lives of traders.
MPA from Jhang Maulana Ameer Muavia Azam lamented that the government would repeatedly refer to the state of Madina but continues to act against its teachings.
He said the government could not table interest-free budget since it came into power and challenged it to present the next budget (2020-21) interest free as an evidence for its true liking for the state of Madina.
He also objected to the Rs12,000 relief fund for three months being given to the poor to mitigate the losses they faced during the lockdown and feared that it would turn the beneficiaries into beggars. He called for finding some other ways to help the affected people and making them stand on their feet instead of looking forward to the government for financial help.
dawn.com/news/1556441/10000-doctors-to-be-selected-for-coronavirus-specific-duties
-----
Capital admin struggling to enforce virus prevention SOPs
May 12, 2020
Munawer Azeem
ISLAMABAD: The capital administration is struggling to impose safety measures in markets after the government's announcement that lockdown restrictions are being lifted and the administration's own notification extending the lockdown have created confusion among the public.
Officials in the administration said that while the government decided to lift the lockdown, the administration extended it until May 31 with exemptions, keeping markazes and commercial centres in private and cooperative housing societies closed.
But all these markazes and commercial centres have reopened without the administration's permission in the last four days, and the administration is reluctant to take action against traders violating its orders because it may face protests in response.
There is confusion among traders after the government announced its decision to lift restrictions, the officials said. They said this was why markazes and commercial centres that are supposed to stay closed opened without any orders permitting them to do so.
The officials added that no safety measures are being implemented in markets, including social distancing. This is an ideal situation for the coronavirus to spread, as people have lost the element of fear, they added. They said people may comprehend the situation once it spirals out of control because of their casual attitude towards measures to prevent the spread of the coronavirus.
The officials said this situation has placed the administration in a dilemma, as it has to follow the government while also implementing SOPs to limit the spread of the coronavirus through people and traders. This, they said, was an impossible job that may lead to an unbearable situation in the coming days.
Senior officers have met with traders' union representations and standard operating procedures were agreed upon to address the matter, they said. These will be announced by tomorrow (Tuesday), and marakazes and commercial centres will be allowed to open accordingly.
Deputy Commissioner Mohammad Hamza Shafqaat told Dawn he met with traders and the Islamabad Chamber of Commerce to address their reservations, including permission to open markazes, markets and commercial centres.
The meeting discussed strategies and SOPs for traders under which business would be allowed to open in these areas while taking precautions to limit the spread of the coronavirus. These SOPs will make local traders' unions and the Corona Tiger Force responsible for implementing these measures, Mr Shafqaat said.
The SOPs will also allow the administration to seal entire markazes, markets or commercial and shopping centres if violations are observed there, he said. Only those areas will be allowed to open where unions take responsibility for implementing SOPs and checking violations along with the administration and police.
Mr Shafqaat said that the number of Covid-19 cases in Islamabad has crossed 600, which is alarming. The virus spreading further will make the situation unbearable.
He said traders associations and market unions have agreed to implement the SOPs and the Tiger Force will be used to inspect sites and help enforce social distancing measures. In case of violations, traders have agreed to strict action including sealing shops.
Under the SOPs, everyone must wear masks and use hand sanitiser, while shop employees' temperatures and symptoms must be checked and everyone must keep a six feet distance between each other.
Mr Shafqaat said another meeting was held with a delegation of Shia ulema regarding Youm-i-Ali on Ramazan 21. He said that there would be no public procession because of growing threat of the coronavirus, or any other gatherings or section 144 violations.
Majalis will be allowed according to the SOPs issued for Taraweeh prayers, he said, under which people must practice social distancing, wear masks and compounds must be disinfected to protect everyone in attendance.
https://www.dawn.com/news/1556458/capital-admin-struggling-to-enforce-virus-prevention-sops
-----
URL: https://www.newageislam.com/islamic-world-news/bengal-imams-association-urges-mosques/d/121826
New Age Islam, Islam Online, Islamic Website, African Muslim News, Arab World News, South Asia News, Indian Muslim News, World Muslim News, Women in Islam, Islamic Feminism, Arab Women, Women In Arab, Islamophobia in America, Muslim Women in West, Islam Women and Feminism