New Age Islam News Bureau
14 March 2019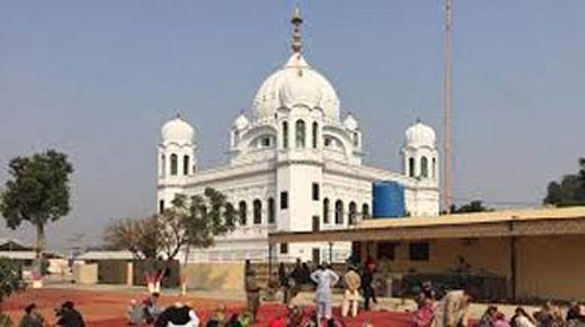 Pakistan, India agree to work faster to complete Kartarpur Corridor
-----
• Behind China's Move to Block Masood Azhar's Listing, A Strategic Reason
• India, Pakistan Hold Talks on Kartarpur Corridor
• Iran Rights Lawyer Sentenced to 38 Years in Prison and 148 Lashes, Husband Says
• YourSay: Mujahid Thumbs Nose at Non-Muslims By Wooing Zakir Naik
• Exiled Saudi Royal Forms Elaborate Opposition In Europe To Change Regime In Saudi Arabia
• US 'Rights' Report Avoids Linking MbS To Khashoggi Murder Despite CIA Report
• Trump Administration Compares Chinese Prisons For Muslim Minorities to 1930s Detention Camps
• UN Members Warn Of 'Other Actions' As China Blocks Bid To List Masood Azhar As Global Terrorist
• Pak Regrets India's Refusal to Issue Visas To Journalists for Kartarpur Meeting
India
• Behind China's Move to Block Masood Azhar's Listing, A Strategic Reason
• India, Pakistan Hold Talks on Kartarpur Corridor
• J-K interlocutor Dineshwar Sharma helping Afzal Guru's son to get passport
• If Imran Khan is such a statesman, give us Masood Azhar: Sushma Swaraj
• Terrorists gun down army deserter in Pulwama
• Didn't let BJP crack down on Jamaat-e-Islami, Hurriyat: Mehbooba Mufti
• Samjhauta blast case: Pakistan witness urges NIA not to oppose her application
--------
Mideast
• Iran Rights Lawyer Sentenced to 38 Years in Prison and 148 Lashes, Husband Says
• Sistani Tells Rouhani: Arms Must Be Limited To The Control Of The State
• Israel says notorious Hezbollah commander building terror unit in Golan Heights
• Erdogan lashes out at Netanyahu as tyrant, child murderer
• US report drops the word 'occupied' from reference to Palestinian territories
• White House opposes resolution to end US support for Yemen military campaign
--------
Southeast Asia
• YourSay: Mujahid Thumbs Nose at Non-Muslims By Wooing Zakir Naik
• Sisters In Islam To Use Gov't Grant To Help Islamic Family Law Reform Cause
• Malaysia's LGBT debate must not trigger violence, says US ambassador
--------
Arab World
• Exiled Saudi Royal Forms Elaborate Opposition In Europe To Change Regime In Saudi Arabia
• US 'Rights' Report Avoids Linking MbS To Khashoggi Murder Despite CIA Report
• US Relocates ISIL Convoy to Military Base in Raqqa
• Ankara-Backed Terrorists Resume Attacks on Kurds' Military Positions in Northern Syria
• Syrian Army Destroys Tahrir Al-Sham Command Center in Idlib
• Syrian Observatory: Russian air raids kill 13 civilians
--------
North America
• Trump Administration Compares Chinese Prisons For Muslim Minorities to 1930s Detention Camps
• Senate Approves Ending US Role in Yemen As Trump Threatens Veto
• US assures 'no change' in its policy on the status of Palestinian territories
• US, Taliban talks end for now with no Afghan peace deal
• US drops reference to 'Israeli-occupied' Golan Heights in rights report
• US report eschews bin Salman's role in Khashoggi murder
--------
Europe
• UN Members Warn Of 'Other Actions' As China Blocks Bid To List Masood Azhar As Global Terrorist
• Conservative Party Faces Growing Pressure To Tackle Islamophobia
• Australia Won't Risk Lives Returning Daesh Refugees From Syria
• Russian jets destroy terrorist weapons depot in Syria's Idlib
• EP's vote to halt accession process 'worthless': Turkey
• Romania 'strongly' backs Turkey's EU membership: Envoy
--------
Pakistan
• Pak Regrets India's Refusal to Issue Visas To Journalists for Kartarpur Meeting
• PM Khan expected to announce new visa policy for 170 countries
• Terrorists held in Mansehra were planning to target CPEC, police say
• Musharraf advocates strong Pakistan-Israel relations
--------
South Asia
• 31 Al-Qaeda Terrorists Including 9 Suicide Bombers Killed In Ghazni Airstrikes
• Bangladesh to move Rohingya to island next month: Minister
• Afghan armed forces repel Taliban attacks in Herat and Farah provinces
• Ghani seeks ownership of Afghan peace talks
--------
Africa
• In Lake Chad, Niger army kills 33 Boko Haram terrorists
• Sudanese vow to keep protesting as president digs in
• Landmine blasts kill 5, injure more than 40 in Somalia
• US airstrike in Somalia kills 2 al-Shabaab militants
Compiled by New Age Islam News Bureau
URL: https://www.newageislam.com/islamic-world-news/behind-chinas-move-block-masood/d/118025
--------
Behind China's Move To Block Masood Azhar's Listing, A Strategic Reason
Mar 14, 2019
A number of reasons, including the role Pakistan plays in China's ties with the Muslim world and a sense of alarm that listing Jaish-e-Mohammed (JeM) chief Masood Azhar will have spillover security problems in Xinjiang, could have played a role in Beijing blocking the move to list Azhar as a global terrorist in the UN Security Council (UNSC) on Thursday.
As it readies a defence to explain its move later today, Beijing is likely to cite India's failure to provide "updated materials" on Azhar as the reason for blocking the fresh move.
It is, however, clear that strategic reasons were a crucial factor in the decision.
Not the least would have been to ensure that Pakistan isn't isolated in the international community - "iron brother" Beijing stands by Islamabad through the thick of global pressure to act on the JeM and Azhar.
It is also evident that despite routine diplomatic talk about having a common front on terrorism, India and China stand apart on the issue - the post-Wuhan bilateral bonhomie can only gloss over the issue.
Earlier on Thursday, China blocked the latest international move to designate Azhar - whose group JeM claimed responsibility for the deadly Pulwama attack in February - as a global terrorist at the UNSC, allowing a major bilateral irritant with India to fester.
A statement issued by the external affairs ministry in New Delhi expressed "disappointment" at the UN's Islamic State and al-Qaeda Sanctions Committee being unable to come to a decision on the move to sanction Azhar "on account of a member placing the proposal on hold".
The statement did not name the Security Council member responsible for the outcome in view of the official protocols followed for the working of the Sanctions Committee, people familiar with developments confirmed that China was behind the "technical hold" on Azhar's listing.
"This has prevented action by the international community to designate the leader of JeM, a proscribed and active terrorist organisation which has claimed responsibility for the terrorist attack in Jammu and Kashmir on 14 February 2019," the statement said.
Despite the post-Wuhan upswing in Sino-India bilateral ties, what explains China's repeated blocking of the move to list Azhar as terrorist?
"Pakistan also suffers a lot from terrorists activities, to designate Azhar as a terrorist won't eradicate the origin of the problem and may cause more security spillovers in the region. Therefore, China is cautious to take the stand," Lu Yang, south Asia expert at Tsinghua University, said.
"In China's ties with the Muslim world, Pakistan is an important partner. China worries the general security situation in the region which would also affect China's west," Lu said, indicating the problems Beijing is facing in the Xinjiang Uyghur Autonomous Region (XUAR).
The way China deals with terror threats within its borders is also clearly different from what another country - like India - face.
"Xinjiang and Kashmir are different: Kashmir is a disputed area while Xinjiang is not, Xinjiang is a province of China. We negotiated with Pakistan and got cooperation from Pakistan (to keep Xinjiang safe)," said Liu Zongyi, general secretary of the Centre for China-South Asia Cooperation Studies at the Shanghai Institutes for International Studies.
"This issue had been a problem between China and India in the past years even before the Donglang (Doklam) standoff in 2017. This problem has heavily influenced our bilateral relations," Liu said
"But I think the reason is that the Indian government always connects one issue, like the Azhar issue, with the whole bilateral relations; they think if China cannot resolve this issue, it will affect the whole bilateral relations. And, the Indian side thinks they are special so China should accept their requirement," he added.
https://www.hindustantimes.com/world-news/behind-china-s-move-to-block-masood-azhar-s-listing-a-strategic-reason/story-HhUDsUFA8ayCYHR4nMG26O.html
--------
India, Pakistan Hold Talks On Kartarpur Corridor
MARCH 14, 2019
India and Pakistan on Thursday held a meeting at Attari in Amritsar to discuss the modalities and the draft agreement for facilitation of pilgrims to visit Gurudwara Kartarpur Sahib using the Kartarpur Corridor.
The Indian delegation was led by S.C.L. Das, Joint Secretary in the Ministry of Home Affairs. The Pakistan delegation was led by Mohammad Faisal, DG (SA & SAARC) of Pakistan Ministry of Foreign Affairs.
A joint statement issued after the first meeting said that both sides held detailed and constructive discussions on various aspects and provisions of the proposed agreement and agreed to work towards expeditiously making the Kartapur Sahib Corridor operational.
"Both sides also held expert level discussions between the technical experts on the alignment and other details of the proposed corridor," said the statement.
The statement added that it was agreed to hold the next meeting at Wagah on April 2, 2019. "This will be preceded by a meeting of the technical experts on March 19, 2019 at the proposed zero points to finalise the alignment," it said.
Kartarpur Sahib is located in Pakistan's Narowal district across the river Ravi, about four kilometres from the Dera Baba Nanak shrine.
The corridor will facilitate visa-free travel of Indian Sikh pilgrims to the Gurdwara Darbar Sahib in Kartarpur. Pakistan has committed to open the corridor in November this year on the occasion of the 550th birth anniversary of Guru Nanak.
(With inputs from PTI)
Source: https://www.thehindu.com/news/national/india-pakistan-meeting-on-kartarpur-corridor-begins/article26531012.ece
--------
Iran Rights Lawyer Sentenced to 38 Years in Prison and 148 Lashes, Husband Says
By Iliana Magra
March 13, 2019
Iran has faced international condemnation after one of the country's most prominent human rights lawyers, detained for eight months, said she had been sentenced to a total of 38 years in prison and 148 lashes, according to her husband.
Security agents arrested the lawyer, Nasrin Sotoudeh, at her home in June last year. The government offered no explanation, but at the time Ms. Sotoudeh was defending women who had been arrested after removing their hijabs, or head scarves, in public protests.
She received the European Union's most prestigious human rights award, the Sakharov Prize for Freedom of Thought, in 2012, while serving a previous prison sentence.
Ms. Sotoudeh, held at Evin Prison in Tehran, told her husband about the latest sentencing during a brief telephone conversation, the Center for Human Rights in Iran, a monitoring group, said in a statement on Monday.
The husband, Reza Khandan, described the sentences in a Facebook post on Monday, saying that she had received a five-year prison term in one case and a sentence of 33 years in another. She was also sentenced to 148 lashes, he said.
A report the same day from a state-funded news outlet, the Iranian Students' News Agency, quoted a hard-line judge, Mohammad Moghiseh, as saying that he had sentenced Ms. Sotoudeh to a total of seven years in prison and mentioning two charges, of taking part in an illegal assembly and collusion against the state.
According to the Center for Human Rights statement, however, the first case in which Ms. Sotoudeh had been sentenced appeared to relate to a 2015 trial conducted in her absence. Her husband told the center that she had faced at least seven charges in the second case, among them propaganda against the state, disturbing public peace and order, appearing in court without a head scarf, and encouraging corruption and prostitution.
"I don't know how many years she got for each of the charges because my conversation with Nasrin only lasted a few minutes and we didn't get to the details," the center quoted Mr. Khandan as saying. "I only know that the biggest sentence was 12 years," he said, for the charge of encouraging corruption and prostitution.
"This verdict shows that making statements in our country comes with such a high price that an attorney can be sentenced to 44 years for it," he told the center.
"I say 44 years because in 2010 she was sentenced to six years in prison for similar charges," he added. "This sentence is unjust, illogical and unusual."
During the most recent sentencing, Judge Moghiseh "applied the maximum statutory sentence" for each of her charges, and added an additional four years to her prison term, Amnesty International said in a news release on Monday.
Antonio Tajani, the president of the European Parliament, called the sentence "utterly outrageous" on Tuesday, and said on Twitter that the European Parliament stood with Ms. Sotoudeh.
Jeremy Hunt, Britain's foreign secretary, also condemned the decision on Twitter.
"Shocked to hear reports that dedicated Iranian women's rights campaigner and human rights lawyer Nasrin Sotoudeh has been sentenced to years in prison and 148 lashes," he wrote.
"Human rights should be defended, not prosecuted," he added.
Ms. Sotoudeh was not the only member of her family to be sentenced to prison this year.
Mr. Khandan, her husband, was sentenced to six years in January for illicitly posting updates about his wife's case on Facebook, but he has yet to be imprisoned on that charge, Hadi Ghaemi, the executive director of the Center for Human Rights in Iran, which is based in New York, told The New York Times last week.
https://www.nytimes.com/2019/03/13/world/middleeast/nasrin-sotoudeh-iran-lawyer-lashes.html
--------
Yoursay: Mujahid thumbs nose at non-Muslims by wooing Zakir Naik
Mar 14, 2019
Proarte: So there we have it, Minister in the Prime Minister's Department Mujahid Yusof Rawa finds Zakir Naik "inspirational" – the preacher who, just before the last general election, said that is was incumbent on Muslims to vote for a Muslim leader who is corrupt over a non-Muslim leader who is upright.
By posting that photo of the preacher on the run from India on his Facebook page, Mujahid has destroyed his credibility in one fell swoop.
Zakir should stop lying about his lectures not being insulting to non-Muslims, because if this is the case, why do non-Muslims who watch his videos despise him so much?
Mujahid must explain why he chooses to endorse and lovingly embrace a 'wanted man' who is such a divisive character in Malaysia.
If Mujahid is a minister worth his salt, he should have known that the Bangladesh government has banned Zakir from entering the country to preach because they considered him a security threat.
He is accused of "inspiring" two of the seven young Bangladeshis who committed one of the most evil and brutal mass killings in modern times in Dhaka in 2016. His Peace TV channel has also been banned in Bangladesh.
Why is the de facto Islamic affairs minister thumbing his nose at non-Muslims in Malaysia rubbing shoulders which such a notorious fugitive? What role can Mujahid now play in bringing communities together given his provocative actions?
Eric LCC: Just what's wrong with Pakatan Harapan? Are they intentionally antagonising non-Muslims just to please some people?
Zakir has a history of poking fun and ridiculing other religions when engaging with his audiences. Needless to say, it is useless to make a police report against him, as he is amply protected and adored here.
Albert Ponniah: It is very unfortunate that Mujahid has unnecessarily embarked on this offensive foray, knowing very well some Malaysians are hurt by Zakir's speeches belittling Hinduism, Buddhism and Christianity.
My feeling is that Mujahid has an ulterior motive. He likely realises he lost his anticipated Islamic dominant personality being the minister in charge, especially after the furore over the ratification of the International Convention on the Elimination of All Forms of Racial Discrimination (Icerd).
He is using whatever means to impress that he has a hardcore Islamic stand. It is people like him who will ostracise a section of Harapan supporters – the Malaysians who are very disenchanted with the fugitive Zakir contributing a divisive situation in the country.
This happens when individuals want to keep or recover popularity, putting self-interest before unity.
NotAnonymous: @Albert Ponniah, the "some Malaysians" you speak of are not a big number, percentage-wise. In four years, that "some" will be an even smaller percentage.
You should realise by now this situation is here to stay. If Mujahid didn't do this, the next government would. It's just a matter of time.
Mujahid must feel that he is going lose in the next election. He won by a whisker due to the split votes between Umno and PAS. So he has nothing to lose, nothing at all.
At least, he can do what he thinks is right. Regardless of what the "some" think.
David Dass: They revert to the old ways. The feelings of non-Muslims do not count. Harapan is just worried about pandering to the feelings of extremists.
Zakir runs down other religions. Not in honest debate but in front of people who are ignorant of other religions.
Bring converts to your faith by your example. Lead an exemplary life and cause others to be inspired by you. Ridiculing the beliefs of another as a way to win converts cannot be a good thing.
Ravinder: Mujahid is a very big disappointment, I thought he was more enlightened than this.
Has he heard Zakir's lectures on 'comparative religions?' So Mujahid fully agrees and supports what Zakir is saying about other religions being fake? Did Prophet Muhammad sanction the belittling of others' faiths in doing dakwah (preaching)?
Are we to understand that the Harapan government is all for the Islamist agenda of extremists? Zakir is sowing the seeds of enmity between Muslims and non-Muslims, and yet he is revered as a great man by the government.
Of course, he is not organising anti non-Muslim activities, but the poisoning of the minds is worse than that. He is intelligent and very subtle the way he is sowing the seeds of future discord between Muslims and non-Muslims.
It's really surprising that our ministers cannot read him properly for what he is.
Vijay47: Statistics, logic, and syllogism have never been my strong suits (not that I have strong suits elsewhere).
But meri dost (my friend) Zakir, Islamic scholar, master of comparative religion, font of philosophy, and general entertainer extraordinaire has been a source of much confusion, mystery, and frequent doses of amusement.
Let me reduce my bewilderment to a simple roadmap. The last time I counted, India had a population of 1,368,737,513. Slightly more if I include Zakir himself.
Of this number, 79.8 percent is made up of Hindus, 15 percent Muslims, 2.3 percent Christians and the rest of other faiths.
On the other hand, Malaysia has 29.7 million people, of which about 18.2 million are Muslim (61 percent). It is clear that going by Zakir's spiritual measure, 85 percent of India is destined to languish in hell when they finally say "Goodbye, cruel world."
That being the case, dear friend, why are you not in India, bringing salvation to close to 1.162 billion lost souls? Shouldn't your responsibilities as a devout Muslim preacher compel you to remain where, as the Bible says, the harvest is plentiful?
Why come to Malaysia with its potential catch a pitiful 11 million (39 percent)? I will hazard to guess that you had to flee from Dharavi, Borivali, Dadar, and Bandra because your religious antics there had made you a wanted man being a threat to your motherland.
Thus a somewhat extended stay in Delhi's Tihar jail was not quite appealing. So you come to Malaysia, spout a few holy quotations and the whole bunch of local morons are in awe of this outlaw-cum-divine messenger.
So much so that they grant you permanent residence status and two islands to boot. Heck, some are even inspired by you. Malaysia truly heaven!
Teh Tarik: Someone insults a religion in Sarawak and is sentenced to 10 years' jail. Another insults non-Muslims and is not only given permanent resident status in Malaysia, but is even embraced by a Harapan minister.
It looks like Harapan is even worse than BN when it comes to selective discrimination.
After this debacle, I hope Harapan loses Rantau. Non-Muslims should boycott the by-election to send a message to the disrespectful Harapan confidence tricksters, who in many ways are worse than the previous BN government.
Anon: There goes my vote in the 15th general election. Goodbye, Harapan. I will still cherish that fleeting, temporary euphoria in GE14.
Diabolocracy: One step forward, two steps back – this is the New Malaysia.
The above is a selection of comments posted by Malaysiakini subscribers. Only paying subscribers can post comments. Over the past one year, Malaysiakinians have posted over 100,000 comments. Join the Malaysiakini community and help set the news agenda. Subscribe now.
These comments are compiled to reflect the views of Malaysiakini subscribers on matters of public interest. Malaysiakini does not intend to represent these views as fact.
https://www.malaysiakini.com/news/467829
--------
Exiled Saudi royal forms elaborate opposition in Europe to change regime in Saudi Arabia
Mar 13, 2019
An exiled Saudi prince has formed a Europe-based opposition movement seeking to change the regime in Saudi Arabia and end human rights abuses in the repressive country.
Prince Khaled bin Farhan Al Saud, who fled to Germany in 2007 citing fears of arrest by the kingdom's authorities, has named the opposition group the Freedom Movement of Arabian Peninsula People, he told The Independent on Tuesday.
The movement primarily seeks to campaign for the realization of a "constitutional monarchy" in Saudi Arabia as well as elections to appoint a prime minister and cabinet. Such changes, Prince Farhan hopes, would replace the current absolute monarchical regime, which is run by an exclusive branch of the Saud family.
The measures are aimed at ending "endemic" rights violations and inequality in the kingdom and "ultimately" placing power in the hands of the people, the daily cited Prince Farhan as saying.
The movement will also be trying to protect those dissidents who flee Saudi Arabia, including by providing them with lawyers, specialist translators, and access to the media to help them seek asylum in Europe.
"We need a new system in Saudi Arabia like other democracies, where the people have the right to elect a government, to create a new Saudi Arabia," the 41-year-old Saudi prince said. "We have a vision for the judicial system, for human rights and accountability; but right now, we need to focus on the constitution and on activism to help Saudis in Europe."
Pointing to the plight of fugitive Saudi dissenters, Farhan said, "I felt this suffering myself. I want to help others who faced the same problems as me."
He was referring to the threats he received from Saudi authorities — right before he fled to Germany — of detainment due to his criticism of the ruling family, as well as repeated attempts by Saudi officials to lure him into the country's diplomatic missions abroad.
In October last year, Saudi authorities notoriously lured US-based Saudi critic Jamal Khashoggi into the Saudi consulate in Istanbul, Turkey, where they killed and dismembered him on an order from Saudi Crown Prince Mohammed bin Salman, according to the CIA.
"When you make calls against the government, you need help," Prince Farhan said, hinging at the dangers Saudi dissidents face.
Farhan hails from a group of royals who have fallen out with Mohammed.
The heir to the Saudi throne has been at the center of numerous controversies.
He launched a Saudi-led war against Yemen in 2015. The war has so far killed tens of thousands and turned the already-impoverished country into the scene of the world's biggest humanitarian disaster.
Recently, there have been increasing rumors that King Salman himself has developed a negative view of his son due to the many controversies that he has caused, according to The Guardian.
https://www.presstv.com/Detail/2019/03/13/590919/Saudi-royal-form-movement-regime-change-Europe-Germany-Crown-Prince-Mohammed-bin-Salman-Prince-Farhan
--------
US 'rights' report avoids linking MbS to Khashoggi murder despite CIA report
Mar 14, 2019
In its annual "human rights" report, the US administration attempts to whitewash the Saudi crown prince's role in the gruesome assassination of dissident Journalist Jamal Khashoggi despite a CIA report blaming Mohammed bin Salman for the crime.
In the section on Khashoggi's murder, the US State Department report released on Wednesday attributed the crime to "government agents," without mentioning the controversial prince.
This is while The Washington Post, for which Khashoggi was a columnist, reported last November that the CIA had concluded that the heir to the Saudi throne – also known as MbS -- ordered the assassination of the journalist, who was an outspoken critic of bin Salman.
In its account of Khashoggi's death, the State Department report acknowledged that he "was killed by government agents during a visit to the Saudi Arabian consulate in Istanbul, Turkey," in early October 2018.
"The government initially claimed he had left the consulate in good health but changed its story as facts came to light," the report added.
At a press conference unveiling the document, Ambassador Michael Kozak of the State Department's Bureau of Democracy, Human Rights, and Labor claimed that the report relies on facts rather than speculation on Khashoggi's murder case.
"There are two governments that have criminal jurisdiction over the case, the Turkish government and the Saudi government, and they're pushing towards a genuine, transparent, thorough, factual investigation," he said.
Both Istanbul and Riyadh have been conducting an investigation into the murder, but the joint inquiry has made little progress, with the Turkish authorities considering their Saudi counterparts uncooperative.
Ankara wants the suspects in the case to stand trial in Turkey, but Riyadh refuses to extradite them.
"We have not -- and not only in the report but I think in any other format -- tried to draw our own conclusions as to who was and who was not responsible," Kozak claimed. "Until we see that, trying to speculate about who might and might not have been involved is just not productive."
US Secretary of State Mike Pompeo explained in a preface to the report that a country's rights record would not be a determining factor in shaping Washington's diplomatic engagement with that state.
"The policy of this administration is to engage with other governments, regardless of their record, if doing so will further US interests," he said.
Khashoggi was killed and his body was dismembered by a Saudi hit squad after being lured into the consulate in Istanbul on October 2, 2018.
Turkey, which said it was in possession of audio evidence of Khashoggi's murder soon after he failed to exit the consulate, has indirectly suggested that bin Salman was behind the journalist's killing.
After weeks of outright denial, Riyadh eventually acknowledged the "premeditated" murder but has attempted to shift the blame to bin Salman's underlings and away from the prince himself.
Khashoggi's murder has sparked an outcry from American lawmakers, many of whom believe President Donald Trump is covering up the crime.
Trump said last November that the US supports the Saudi regime amid the Khashoggi scandal because any damage to bilateral ties could affect American interests in the Middle East.
https://www.presstv.com/Detail/2019/03/14/590995/State-Department-bin-Salman-Saudi--Jamal-Khashoggi
--------
Trump administration compares Chinese prisons for Muslim minorities to 1930s detention camps
Mar 13, 2019
The Trump administration is increasingly calling out China for its detention of Muslim ethnic minorities in the country's western region, even comparing those prisons to detention camps in 1930s Nazi Germany and the Soviet Union.
China is "in a league of its own when it comes to human rights violations," Secretary of State Mike Pompeo said on Wednesday as he introduced the department's annual human rights report.
The report, the first authored under Pompeo's tenure, details the human rights record of every country around the world, bringing together information from the United Nations, nonprofit advocacy groups, the media, and embassies and consulates.
While this year's report again calls out partners like Saudi Arabia, the administration has also received some criticism for appearing to pull some punches or diverging from President Donald Trump's praise for dictators and the grim reality on the ground in their countries.
In particular, Pompeo laid out in his preface the Trump administration's approach to human rights and foreign relations -- one that's been criticized for being more transactional or praised for being more pragmatic: "The policy of this Administration is to engage with other governments, regardless of their record, if doing so will further U.S. interests," he wrote, but added those interests "will only be served if governments respect human rights and fundamental freedom."
China
"You haven't seen things like this since the 1930s -- of rounding up, I mean, some estimations are in the millions of people, and putting them into camps, and trying to -- torturing them, abusing them, and trying to basically erase their culture and their religion," said Amb. Michael Kozak, the senior bureau official for Democracy, Human Rights and Labor. "It's just remarkably awful."
The detention camps target Uighurs, a majority-Muslim, Turkic-speaking ethnic group in western China, as well as ethnic Kazaks and other Muslim groups. In what the U.S., U.N., and others have described as a worsening crackdown, the Chinese government is increasingly using a new surveillance state, with tools like facial recognition technology, to detain people "at record levels" and "erase their religious and ethnic identities," according to Pompeo.
The Trump administration has yet to sanction any Chinese officials or entities over the camps, although Ambassador-at-Large for Religious Freedom Sam Brownback said Tuesday it was under active consideration.
Saudi Arabia
The report's chapter on Saudi Arabia highlights the killing of Washington Post columnist Jamal Khashoggi by "government agents" and criticizes the kingdom for changing "its story as facts came to light," not providing an "explanation of the direction and progress of the investigation," and creating an "environment of impunity."
But it makes no mention of any potential role by Crown Prince Mohammed bin Salman, who the CIA has reportedly assessed was involved in the murder plot -- a charge the Saudis deny and Trump has cast doubt on.
Kozak said the report didn't try "to draw our own conclusions over who was and who wasn't responsible. ... Trying to speculate about who might or might not have been involved is not productive." But he added that the Saudis do not have "a complete, by any means, investigation at this point, so we're sort of in the middle of that movie."
Like in year's past, the report also highlighted accusations against the kingdom of torture, executions, forced renditions and disappearances, arbitrary arrest, and restrictions on freedoms of movement, religion, and more.
North Korea
Trump continues to praise his "friend" Kim Jong Un and recently came under criticism for washing Kim's hands of American college student Otto Warmbier's death after his detention in North Korea. But the human rights report again calls out Kim oppressive regime for its insidious control of daily life in North Korea, through killings, forced disappearances, prison camps with 80,000-120,000 souls inside, torture, rape, forced abortions and infanticide, censorship, and severe restrictions of citizens' movements and other freedoms.
The report omits the word "egregious" when describing North Korea's human rights abuses, but Kozak said that was because of streamlining and use of a new template that made country comparisons easier.
Despite Trump's talks with Kim, Kozak said the U.S. hasn't "noticed any progress on human rights ... It's still one of the worst human rights situations in the world. It has not improved, and that's going to be part of our effort for some time to come."
Pompeo, who has been the administration point person on North Korea negotiations and says the U.S. raises it with North Korea, made no mention of the regime in his remarks.
Myanmar
While this year's report reiterates the details of a fact-finding investigation into Myanmar's military's attacks against the Rohingya in 2017, it again labels the violence "ethnic cleansing" instead of "genocide," as the U.N., the Holocaust Museum, Congress, and others have called it.
But it seems now the administration has ruled out following suit: "The usual reason you say something like that is you're trying to call attention to it. Our feeling is we've called plenty of attention," Kozak told ABC News, calling a designation a "messaging management tool."
A "genocide" designation does not have legal implications, but critics say it bolsters the pressure on Myanmar to stop this behavior, hold people accountable for it, and create the conditions for Rohingya refugees to return to their homes.
"The fact that he called legally defined crimes under international law a mere 'messaging management tools' is extremely troubling," said Francisco Bencosme, Asia-Pacific advocacy manager for Amnesty International, adding it undermines the department's fact-finding report: "All of those stories they heard, the people who had to relive their trauma — that was not for a messaging tool, it was for the U.S. to take a stand on what actually happened in Rakhine state."
Kozak defended the steps the administration has taken, including sanctions and visa revocations, and said they're focused now on reigning in the military and supporting the civilian government in its efforts to take greater control.
https://abcnews.go.com/Politics/trump-administration-compares-chinese-detention-camps-muslim-minorities/story?id=61657720
--------
UN members warn of 'other actions' as China blocks bid to list Masood Azhar as global terrorist
Mar 14, 2019
Yashwant Raj
Some permanent members of the UN Security Council plan to "pursue other actions" to counter China's continued opposition to designating Jaish-e-Mohammad founder Masood Azhar, a Security Council diplomat said Wednesday, stressing the case for listing the Pakistan-based terrorist was "undeniable".
The diplomat did not elaborate but other UN officials familiar with the rules and regulations of the listing of terrorists by the UN said the stalled designation proposal can be escalated to the Security Council itself now, which would be an unprecedented move and a "public" rebuke of China, which will be forced to "defend its defense of a well-known terrorist in full public view". Open UNSC proceedings are telecast live.
China "should not protect terrorists from Pakistan or any other country from being held accountable to the Council," the diplomat said on background to Hindustan Times. "If China continues to block this designation, responsible member states may be forced to pursue other actions at the Security Council. It shouldn't have to come to that."
The diplomat, who spoke presumably for all three Security Council members who moved the Azhar designation proposal, also criticized Pakistan for depending "on China to protect it from the listing of Pakistan-based terrorist groups and individuals", tying Islamabad, at the same time, to the terrorists it harbors and shelters from proscription.
There was anger and frustration all around with China preventing the designation of Azhar on Wednesday by putting a technical hold on the proposal moved jointly by three Security Council permanent members, France, the United States and the United Kingdom. India said it was "disappointed" by the failure of the designation of the head of the outfit which killed 40 CRPF personnel in a terrorist attack in Pulwama last month.
"This is the fourth time that China has placed a hold on this listing," the Security Council diplomat said pointedly. "China should not prevent the Committee from doing the job the Security Council has entrusted it to do. China's move to hold the listing is inconsistent with its own stated goals of combatting terrorism and furthering regional stability in South Asia.
The official did not expand on what other actions were being considered by the "responsible" members.
But other UN diplomats familiar with the functioning and rules of the 1267 sanctions committee of the UN Security Council, which lists and delists global terrorists, said the designation can be escalated to the highest level and be presented before the Security Council itself for an open discussion and vote that would force the opponents of Azhar's designation to publicly acknowledge their defense of terrorism.
India has been critical of the opaque process by which the sanctions committee lists terrorists. Its proceedings and decisions are confidential and members do not have to explain their vote.
But if the designation is put before the Security Council, speculated upon, China will be forced to take a stand publicly, "in full view" of those watching the live feed as it either defends its opposition to the designation of a man who is undeniably a terrorist or give up".
https://www.hindustantimes.com/world-news/un-members-warn-of-other-actions-as-china-blocks-bid-to-list-masood-azhar-as-global-terrorist/story-nnZUOuhWyKRasls9zZDoxL.html
--------
Pak regrets India's refusal to issue visas to journalists for Kartarpur meeting
Mar 13, 2019
ISLAMABAD: Pakistan on Wednesday expressed disappointment over India's decision to not issue visas to Pakistani journalists to cover the first meeting between the two countries on the Kartarpur Corridor.
The meeting will take place on the Indian side of the Attari-Wagah border on Thursday.
"Regrettable that India has not given visas to Pakistani journalists for the Kartarpur meeting tomorrow," Dr Mohammad Faisal, spokesperson of the Ministry of Foreign Affairs, tweeted.
Regrettable that #India has not given visas to #Pakistani journalists for the #kartarpur meeting tomorrow. Hope the… https://t.co/nhaVO7zzGr
— Dr Mohammad Faisal (@DrMFaisal) 1552459883000
It is not known how many journalists had applied for visas to cover the meeting.
"Hope the #PakKartarpurSpirit and meeting tomorrow will bring a change for the better for people of both countries," he added.
A Pakistani delegation will visit India on Thursday for the meeting, which would be followed by an Indian delegation's visit to Islamabad on March 28.
Faisal also pointed out that the groundbreaking ceremony of the Kartarpur Corridor in Pakistan last year was covered by over 30 Indian journalists.
"They also met Prime Minister Imran Khan and were hosted by foreign minister Shah Mehmood Qureshi for a dinner during their stay," he tweeted.
More than 30 Indian journalists covered the kartarpur ground breaking ceremony in Pakistan last year. They also met… https://t.co/V6wJql5bqd
— Dr Mohammad Faisal (@DrMFaisal) 1552459865000
India and Pakistan agreed to open up a special border crossing linking Gurdwara Darbar Sahib in Pakistan's Kartarpur - the final resting place of Sikh faith's founder Guru Nanak Dev - to Dera Baba Nanak shrine in India's Gurdaspur district.
The corridor will facilitate the visa-free travel of Indian Sikh pilgrims to Gurdwara Darbar Sahib in Kartarpur.
https://timesofindia.indiatimes.com/world/pakistan/pak-regrets-indias-refusal-to-issue-visas-to-journalists-for-kartarpur-meeting/articleshow/68396159.cms
--------
India
J-K interlocutor Dineshwar Sharma helping Afzal Guru's son to get passport
Mar 14, 2019
Harinder Baweja
The Indian government's special representative on Kashmir had a quiet meeting with Ghalib Guru, son of hanged Parliament attack convict Afzal Guru, a few months ago, HT learns.
Former Intelligence Bureau director Dineshwar Sharma, who was appointed the Centre's interlocutor in October 2017 to hold talks with all stakeholders in the state, is now helping Ghalib secure an Indian passport. "I will do anything that can bring happiness and satisfaction to any young person, including Afzal Guru's son,'' Sharma said, when asked about the help he is extending Ghalib, who applied for a passport in 2012 but has drawn a blank for the last seven years. He even approached the courts for help but has remained unsuccessful in getting a passport.
In a video released by Asian News International (ANI) last week, Ghalib appealed that he be given the travel document. "I have an Aadhaar card and I should also be issued a passport. I want to study abroad and have got a medical scholarship in Turkey but no one is telling me why I am not getting the passport," he said in the video.
Ghalib hit the headlines last year after he secured 88% marks in the school-leaving exam conducted by the Jammu and Kashmir Board of School Education. He had scored 95% in the Class 10 examination.
Many, including Mehbooba Mufti, chief of the Peoples Democratic Party (PDP) and former chief minister of Jammu and Kashmir, congratulated Ghalib for his academic success.
"Why should a child be victimised to pay a heavy price for his father's actions? His [Afzal Guru's] son is a brilliant student and has every right to live a normal life," Mufti tweeted.
Questions were raised by many over why he was being referred to as "someone's son" and not being treated as an equal citizen of the country.
Afzal Guru was hanged in 2013 for sheltering and aiding the heavily armed terrorists of the Jaish-e-Mohammed (JeM) who attacked Parliament on December 13, 2001. Soon after his hanging, the Jaish started an Afzal Guru squad. The bomber who exploded an explosives-laden car into a Central Reserve Police Force (CRPF) convoy that killed 40 troopers on February 14 this year was a member of the same terror group.
A government official said there has been a lot of pressure on Ghalib to join the ranks of such groups. "Home-grown militants and foreign mercenaries of the Pakistan-based terror organisations have been exerting pressure on Afzal Guru's son," the government official added on the condition of anonymity.
In interviews to the media, after he scored 88%, Ghalib said that the results were a stepping stone in his career and that he wanted to fulfil his father's dream of becoming a cardiologist. Ghalib revealed that Afzal Guru would encourage him to pursue medicine as a career whenever he visited Delhi's Tihar Jail, where the latter was lodged in a high-security barrack.
Ghalib is now preparing for the National Eligibility Cum Entrance Test (NEET), which qualifies a student for admission to medical or dental courses, but may not be able to pursue options abroad if he is not granted a passport.
The Centre's special representative on Kashmir pushed for several "goodwill gestures" since his appointment in October 2017. He recommended an amnesty scheme for stone-pelters in Kashmir Valley and the then chief minister, Mehbooba Mufti, signed off on his proposal, asking for cases against first-time offenders to be withdrawn. He was also the force behind the cessation of hostilities during the holy month of Ramzan in May last year.
"It is important to help the Valley's young people so that they do not become vulnerable to militancy," Sharma, the interlocutor, said.
https://www.hindustantimes.com/india-news/j-k-interlocutor-dineshwar-sharma-helping-afzal-guru-s-son-to-get-passport/story-jPoWrVgcDQzfXbBgRqa9FN.html
--------
If Imran Khan is such a statesman, give us Masood Azhar: Sushma Swaraj
Mar 14, 2019
External Affairs Minister Sushma Swaraj on Wednesday said India cannot have dialogue with Pakistan unless the neighbouring country acted against terror outfits on its soil, asserting that "talks and terror cannot go together". Talking on 'India's World: Modi Government's Foreign Policy', she stated that Pakistan needs to control the ISI and its army who are bent on destroying the bilateral relations time and again.
"We do not want talk on terror, we want action on it. Terror and talks cannot go together," she said.
Swaraj also questioned Pakistan's retaliation to the Indian air strikes in Balakot when, she said, India had specifically targeted the terror outfit Jaish-e-Mohammed (JeM).
"Why did the Pakistani military attack us on behalf of JeM? You not only keep JeM on your soil, but fund them and when the victim country retaliates, you attack it on the terror outfit's behalf. "If Imran Khan (Pakistan prime minister) is so generous and a statesman, he should give us Masood Azhar," she said.
The external affairs minister said India can have a good relationship with Pakistan, provided the neighbouring country "takes action against terror groups on its soil".
On her invitation to the Organisation of Islamic Cooperation (OIC) meeting, she said India avenged the humilation meted out to it 50 years ago by becoming the 'guest of honour' at the OIC meet this year. "In 1969, India was humiliated when it was not allowed to participate in the meeting even after reaching the venue after Pakistan protested against India's then foreign minister's participation. But now, 50 years later, it was India that was on the seat of the guest of honour, while Pakistan's seat was empty," she said.
Pakistan Foreign Minister Shah Mahmood Qureshi had expressed reservations about the invitation to Swaraj for the OIC meeting, and later decided to boycott the meeting of the 57-member Muslim grouping held earlier this month. Talking about the foreign policy of the current government, Swaraj said it was based upon the two principles of "national interest supreme" and "world is our family".
"People often ask us what we get by our frequent travel to countries. I want to tell them we do not travel to have fun, we travel to build our relationship with other countries and it is because of our ties with these countries that we were able to rescue 7,000 people from Yemen. The strength of our bilateral ties was also reflected in the International Court of Justice (ICJ) elections," she said.
Full report at:
https://www.hindustantimes.com/india-news/imran-khan-statesman-only-if-he-hands-over-masood-azhar-sushma-swaraj/story-PadzTOrHBV38ap3jJOel8I.html
--------
Terrorists gun down army deserter in Pulwama
Mar 13, 2019
JAMMU: Three masked terrorists shot an army deserter dead in front of his home at Pingleena village in Pulwama district of Jammu and Kashmir on Wednesday afternoon. The terrorists mistook him for an army regular, intelligence sources said.
Showkat Ahmad Naik, 25 -- an army recruit who had left his training after eight months and was declared a deserter – was rushed to a nearby hospital where he was declared brought dead, police said.
Army spokesperson Rajesh Kalia said Naik had enrolled with Territorial Army on January 15 last year. He went on leave on September 14 and didn't return. He was declared a deserter on September 17 last year. Kalia said Naik never took the oath as a soldier.
Soon after the murder, a joint team of army and special operations group (SOG) of J&K police launched a cordon-and-search operation in the area to nab the terrorists.
Full report at:
https://timesofindia.indiatimes.com/india/terrorists-gun-down-army-deserter-in-pulwama/articleshow/68399068.cms
--------
Didn't let BJP crack down on Jamaat-e-Islami, Hurriyat: Mehbooba Mufti
by Adil Akhzer
March 14, 2019
Former J&K chief minister and PDP president Mehbooba Mufti Wednesday said the BJP wanted to ban Jamaat-e-Islami and crack down on Hurriyat leaders when her party was in a coalition with the BJP in the state, but she didn't let them do it.
"BJP wanted to crack down on Jamaat-e-Islami, a crackdown on moulvis. I didn't let them do it. BJP wanted to carry out NIA raids on Mirwaiz Umar Farooq, Syed Ali Shah Geelani and others. But I didn't let them do it," Mehbooba said while addressing a workers' convention in north Kashmir's Bandipora.
The authorities recently banned the Jamaat-e-Islami in J&K and launched a crackdown against its leadership and activists. The NIA is now investigating a case related to alleged terror funding in Kashmir, carrying out a series of raids on separatists, including the Mirwaiz, head of the moderate Hurriyat faction.
Mehbooba also said the NIA came to Kashmir in 2009 during the tenure of the NC-Congress government. "I forced BJP to have ceasefire in Kashmir for at least one month but militants didn't respond positively and continued their activities…I wanted to have a dialogue with separatist leaders and even a parliamentary committee visited Kashmir in 2016 but they closed their doors. I got Dineshwar Sharma appointed as interlocutor who was given a cabinet rank to have a dialogue with the separatist leadership but they didn't talk. I tried everything during my tenure," she said.
Full report at:
https://indianexpress.com/article/india/didnt-let-bjp-crack-down-on-jamaat-e-islami-hurriyat-mehbooba-mufti-5625430/
--------
Samjhauta blast case: Pakistan witness urges NIA not to oppose her application
March 14, 2019
A day before the hearing in the 2007 Samjhauta blast case, the daughter of one of the victims has requested the NIA Director to not oppose the application in which she has requeted the special court to allow deposition of Pakistani witnesses in the case. The application was filed under Section 311 CrPC by Pakistan citizen Rahila Wakil before the Panchkula court on Monday.
The case is listed for hearing on Thursday and NIA's reply is expected to be filed to her application pending before the court. "She has mailed the request to the NIA Director on Wednesday," her counsel Momin Malik said on Wednesday.
The Special NIA Court at Panchkula was expected to give its verdict in the case on Monday, but the pronouncement was deferred after filing of Rahila Wakil's sudden application in the case. In the application, she claimed that no proper summons were sent to 13 Pakistani witnesses, adding they were ready to depose before the court.
Full report at:
https://indianexpress.com/article/india/samjhauta-blast-case-pakistan-witness-urges-nia-not-to-oppose-her-application-5625362/
--------
Mideast
Sistani tells Rouhani: Arms must be limited to the control of the state
13 March 2019
Grand Ayatollah Ali al-Sistani has issued a statement after meeting with Iranian President Hassan Rouhani, in which he said that Iraq hopes to "enhance relations with its neighbors on the basis of respecting the sovereignty of others" while stressing the need to keep arms under the control of the state.
The statement released on Wednesday said al-Sistani "expressed his welcome for any step to enhance Iraq's relations with its neighbors in accordance with the interests of the two parties and on the basis of respecting the sovereignty of states and non-interference in their internal affairs."
Al-Sistani famously called Iraqis to arms against ISIS in 2014, giving rise to the Hashd al-Shaabi (Popular Mobilization) paramilitary alliance, which includes Iran-backed Shiite groups.
Those forces have since been placed under the command of regular Iraqi forces and several former fighters are now members of the Iraqi parliament.
Iran and Iraq fought a devastating eight-year war in the 1980s but their relations shifted drastically with the American-led overthrow of Sunni Iraqi dictator Saddam Hussein in 2003.
The Iraqi Shiite cleric also stressed "the need for regional and international policies in this sensitive region to be balanced and moderate in order to avoid further tragedies and damage."
Al-Sistani, a spiritual leader to most of Iraq's Shiites and some in Iran, heads the religious establishment of Najaf, a Shiite holy city in Iraq.
In 2013, he refused to meet then-president of Iran, Mahmoud Ahmadinejad.
Rouhani is on his first trip to Iraq since becoming president in 2013.
https://english.alarabiya.net/en/News/middle-east/2019/03/13/Sistani-tells-Rouhani-Arms-must-be-limited-to-the-state-and-its-institutions.html
--------
Israel says notorious Hezbollah commander building terror unit in Golan Heights
13 March 2019
Israel's army said Wednesday it had uncovered a unit recently created by Hezbollah across the ceasefire line in the Syrian Golan Heights and led by a commander previously jailed over an attack on US forces.
With President Bashar al-Assad regaining control of southern Syria with the help of Russia and Hezbollah backer Iran, Israel is concerned that a front against it could be established there.
Hezbollah, based in neighboring Lebanon, has also been supporting Assad in the war.
Israel alleged the new unit, "masterminded" by Hezbollah, was being established "to eventually control teams of Syrian operatives who will launch attacks against Israel".
"We are not going to allow Hezbollah to establish a terror infrastructure on the Golan capable of striking Israeli civilians," said Lieutenant Colonel Jonathan Conricus, Israeli military spokesman.
"We hold the Syrian regime responsible for anything that happens inside Syria aimed at Israel."
The army said the unit was in the establishment and recruitment stage and was not yet operational.
It said it is led by Hezbollah commander Ali Musa Daqduq.
The accusations against Daqduq came as Israel seeks US recognition of its claim of sovereignty over parts of the Golan Heights, a strategic plateau on the Syrian frontier, which it captured in a 1967 war and deems a key security buffer.
Israel's acting foreign minister was quoted as saying such US recognition would be "an appropriate" response to what he said was increased Hezbollah activity on the Golan.
Iraqi detention
Daqduq was released from detention in 2012 in Iraq, where he had been accused by the United States of orchestrating a 2007 kidnapping that resulted in the killing of five US military personnel.
The United States had handed Daqduq over to Baghdad in 2011 after failing to secure a custody deal ahead of the US military's withdrawal from Iraq. Washington said it had received Baghdad's assurances Daqduq would be prosecuted, but he was later cleared by an Iraqi court and repatriated to Lebanon.
There was no immediate response to Israel's allegations on Wednesday from Hezbollah, Syria or the US and Russian embassies in Israel.
US diplomats have said they are in talks with Israel about its request to recognize its sovereignty on the Golan, a status that has yet to win any formal endorsement among world powers.
Israel's Mako news site quoted acting Foreign Minister Israel Katz of saying that such recognition by the United States would be "an appropriate and required response" to the allegations about Hezbollah's activity on the Syrian Golan.
"I hope that this will soon happen, during the prime minister's upcoming visit to Washington," Katz was quoted as saying. Prime Minister Benjamin Netanyahu is due to address the pro-Israel lobby group AIPAC in the US capital in late March.
In the past, Russia has spoken in favor of other foreign forces leaving Syria, though it plans to keep a garrison there.
Full report at:
https://english.alarabiya.net/en/News/middle-east/2019/03/13/Israel-says-uncovers-Hezbollah-unit-led-by-notorious-commander.html
--------
Erdogan lashes out at Netanyahu as tyrant, child murderer
Mar 13, 2019
Turkish President Recep Tayyip Erdogan has called Israeli premier Benjamin Netanyahu a "tyrant" who kills Palestinian children, as a heated war of words between the two officials continues.
"Hey Netanyahu, behave yourself. You are a tyrant, you are a tyrant who massacred seven-year-old Palestinian children," Erdogan told supporters in capital Ankara.
The remarks were a direct response to Netanyahu's attacks earlier in the day, who called the Turkish head of state a "dictator" and "a joke" who put journalists in jail.
The fiery exchanges began a day earlier, when Turkey denounced Netanyahu for his "blatant racism" against Arab Israelis after the rightist premier said the occupied Palestinian territories only belonged to the Jewish people and not all citizens.
"Turkey's dictator Erdogan attacks Israel's democracy while Turkish journalists and judges fill his prisons," Netanyahu wrote in an Instagram post. "What a joke!"
In his remarks on Wednesday, Erdogan pointed to Israel's ongoing violent crackdown on Palestinians in Jerusalem al-Quds, denouncing Israeli security forces for entering a "holy place."
"Do not provoke. Look, we have not oppressed any of the Jews in this country. We have not done anything you did to any synagogues here. Don't provoke us. We will not fall into this trap," he warned Netanyahu.
Ibrahim Kalin, Erdogan's spokesman, also reacted to Netanyahu's attacks, saying the Israeli PM was mad at Erdogan "for exposing him.
"The apartheid state he leads occupies Palestinian lands, kills women & children & imprisons Palestinians in their own land," he wrote. "Lies and pressure will not hide your crimes."
Meanwhile, Turkish Presidency Communications Director Fahrettin Altun also lashed out on Wednesday at remarks by Israel's prime minister targeting the Turkish leader.
"Insanity is doing the same thing over and over again and expecting different results," Altun said, referring to a well-known quote from renowned scientist Albert Einstein.
Omer Celik, the spokesman for Turkey's ruling Justice and Development (AK) Party, took a swipe at Netanyahu.
"I return the dictator statement to Mr Netanyahu, who is the most suitable politician in the world for this designation," Celik said.
Turkey ended a political rift with Israel in 2016, six years after Israeli commandos stormed a Gaza-bound aid ship and killed 10 Turkish activists.
Netanyahu's demonization of Israeli Arabs, who make up some 17.5 percent of Israel's population, is a bid by him to increase right-wing turnout in upcoming general elections in April.
The embattled premier has been desperately trying to cause a splash on the political scene inside and outside of Israel over the past months as a distraction tactic to avert attention from his ongoing corruption case in the court. After the elections, he will attend a hearing to defend himself against the allegations which have dogged his campaign.
Full report at:
https://www.presstv.com/Detail/2019/03/13/590969/Turkey-Erdogan-netanyahu-tyrant
--------
US report drops the word 'occupied' from reference to Palestinian territories
March 13, 2019
WASHINGTON: A US State Department report has dropped the words "occupation" or "occupied" before a section on the Palestinian territories of West Bank and Gaza.
The annual global human rights report also describes the Golan Heights as "Israeli-controlled" rather than "occupied," Reuters reported.
The three territories are considered occupied by Israel under international law.
Gaza, the West Bank, and the Golan heights were annexeded by Israel during the 1967.
Full report at:
http://www.arabnews.com/node/1466246/middle-east
--------
White House opposes resolution to end US support for Yemen military campaign
March 13, 2019
WASHINGTON: White House advisers recommended on Wednesday that President Donald Trump veto a resolution to end Washington's support for the military campaign in Yemen.
The White House statement of administration policy came as the US Senate prepared to vote on the matter.
The Senate's Republican majority leader, Mitch McConnell, denounced the war powers resolution on Wednesday as he opened the Senate, calling it "inappropriate and counterproductive."
Full report at:
http://www.arabnews.com/node/1466226/middle-east
--------
Southeast Asia
Sisters In Islam To Use Gov't Grant To Help Islamic Family Law Reform Cause
Mar 14, 2019
Sisters in Islam (SIS) is hoping to use part of its RM20,000 grant from the government to help formulate better Muslim family policies.
SIS finance and operations manager Sarinah Salleh said there are many cases where the second or third wives show up at a man's funeral and the first wife did not know anything about them.
"In such a situation, what are the wives supposed to do when it comes to splitting the inheritance?" she was reported as saying by The Malaysian Insight today.
That is why, Sarinah said, the reform of the syariah family law system is high on the agenda of SIS.
The Islamic Family Law 1984 has loopholes that need to be plugged as it has led to much suffering for Muslim women.
The law has been amended since 1994 to allow Muslim men to take a second wife without the approval and knowledge of the first wife.
The men usually have the new marriage secretly solemnised in Thailand before coming home to register it, under the syariah court system, by paying a minimal court fine.
"When Malaysia first introduced the Islamic Family Law in 1984, it was one of the best in the world. But we have regressed while other countries have progressed.
"Most other Muslim countries, from Morocco to Tunisia to Indonesia to Pakistan, require formal court approval for a man to practise polygamy. In some places you can only marry in court, otherwise the marriage is not recognised," Sarinah said.
The SIS legal aid office Telenisa, which has helped 8,400 Muslim women and men navigate the syariah court system, was recently granted RM20,000 by the government.
SIS communications officer Majidah Hashim (photo, above) said they will decide how to use the grant with officers from the Women, Family and Community Development Ministry.
"There are two aspects. We want the government to be involved so they know how each sen is spent and we want the government to see how Telenisa works, the types of women who approach us and the stories they tell," Majidah said.
One of their ideas is to have more Telenisa mobile clinics, which would send more teams of counsellors and volunteers to visit low-income communities to spread awareness on domestic violence, women's rights in marriages and to offer legal advice.
Another proposal is to employ more experts to sift through data to spot trends in Telenisa cases to help the ministry come up with better laws or amendments.
"We are very encouraged by this government's openness and how people like YB Hannah (Deputy Women, Family and Community Development Minister Hannah Yeoh) are interested in the stories of women. We hope that we, the government and the public, can benefit from the grant," Majidah said.
https://www.malaysiakini.com/news/467847
--------
Malaysia's LGBT debate must not trigger violence, says US ambassador
13 March 2019
By Ida Nadirah Ibrahim
KUALA LUMPUR, Mar 13 — The debate over lesbian, gay, bisexual and transgender rights (LGBT) should never lead to violence, United States Ambassador to Malaysia Kamala Shirin Lakhdhir said today.
Kamala said the US embassy remained supportive of the LGBT rights, after last Saturday's International Women's Day march that was attended by LGBT rights supporters.
"There have been a number of recent incidents in trans cases where there is violence.
"For Malaysia and the community, nobody wants that. There can be debates about law and everything else, but there should be no violence," she said.
Kamala said the fight for LGBT rights continued to be a global struggle, even in the US, but said safety and security of the LGBT community were still important.
"We have had a long history of supporting the LGBT community in Malaysia, the US and worldwide.
"This Is a struggle that goes and continues in many country, even in the US. But the safety and security of the LGBT community is very important," she said.
On Saturday, hundreds gathered in front of Sogo KL and marched to Sultan Abdul Samad building in conjunction with International Women's Day, demanding for equal rights.
The participants included members of Women's Aid Organisation and Sisters in Islam, activists, students and various people from all across Malaysia.
Full report at:
https://www.malaymail.com/news/malaysia/2019/03/13/malaysias-lgbt-debate-must-not-trigger-violence-says-us-ambassador/1732314
--------
Arab World
US Relocates ISIL Convoy to Military Base in Raqqa
Mar 13, 2019
"A US-led coalition military convoy helped a group of terrorists to be relocated to Northern Raqqa City from Ain Issa military base in Deir Ezzur," the pro-militant Smart News website quoted Asayesh Kurdish forces as saying.
It noted that the military convoy comprised of two trucks packed with the ISIL terrorists and 12 US military and armored vehicles, adding that there was no immediate report on the exact number of the ISIL terrorists relocated to Raqqa.
Meantime, the Syrian Democratic Forces also announced that some 1,500 to 2,000 ISIL terrorists have been moved out of Eastern Euphrates.
This is while the US-led coalition and their allied militants are preparing to declare end of the ISIL by helping out the ISIL terrorists from Deir Ezzur province.
In a relevant development on Tuesday, an Iraqi security expert warned that the US plans to help several thousands more ISIL terrorists move from Syria to Iraq.
"Washington plans to help 5,000 more ISIL terrorists get out of Syria and reach Iraq," Sabah al-Akili told the Arabic-language al-Maloumeh news website on Tuesday.
The Iraqi security expert described the US move as an attempt to create insecurity inside Iraq as the Iraqi parliament is determined to expel ISIL terrorists from Iraq.
"The US intends to gather up the ISIL terrorists in Iraq to release them later exactly as it did before," al-Akili said.
He pointed to the move by the Syrian Democratic Forces (SDF) to hand over the ISIL militants to Iraq with the US green light, and said that Iraq had agreed to receive the militants because they were Iraqi nationals, but French terrorists were also among them and this shows that the US plans start of a new round of chaos in Iraq.
In a relevant development in late February, the Syrian sources said that the US Army has transferred senior ISIL commanders to safe places in lieu of receiving over 50 tons of gold treasure from the terrorists.
According to the initial information obtained in Deir Ezzur, the US Army troops stationed in Al-Jazeera region of Eastern Euphrates agreed with the ISIL commanders to relocate them to safe places after receiving tens of tons of gold ingot that the terrorists had stolen from different parts of Syria and Iraq, the state-run SANA news agency reported.
The local sources, meantime, reported that the US Army took control of ISIL's 50 tons of gold treasure in Baqouz region in Southeastern Deir Ezzur after it had reached an agreement with the terrorists.
They pointed to the recent intensified movements by the US choppers concurrent with flights over several ISIL-controlled regions in Eastern Euphrates, and said that the US has conducted important heliborne operations in key areas where the ISIL commanders' hideouts are located and where the gold treasure was hidden.
In a relevant development earlier in February, a source close to Kurdish forces said that the US Army was taking ISIL's gold treasure that is estimated to weigh around 50 tons from Eastern Syria to America.
The Kurdish-language Bas News quoted a Kurdish source as saying that the Americans have transferred tens of tons of the gold ingots they have seized from the ISIL terrorists in Baghouz region in Southeastern Deir Ezzur to their own country and only kept a small portion of the treasure to be given to the Kurdish fighters.
The source who spoke on the condition of anonymity reiterated that about 50 tons of ISIL's gold has been sent to the US from the US military base in Kobani in Northeastern Aleppo.
The report comes as the US has been using the airport in Southern Kobani for transferring consignments and military equipment in recent years.
In a relevant development also last month, the US Army troops took out a sum of 40 tons of gold ingots belonging to the ISIL in heliborne operations after agreeing with the terrorist group and while Washington is preparing to announce the end of ISIL in Eastern Euphrates.
"The US troops in concordance with the ISIL terrorist group relocated big boxes packed with ISIL's gold treasure on several helicopters from al-Dashisheh region in Southern Hasaka," the SANA news agency quoted local sources in Eastern Deir Ezzur said.
The sources pointed to boxes containing 40 tons of gold ingots that the ISIL had hidden in the Eastern part of al-Shadadi city, and said that the ISIL had stolen the treasure of gold from the Iraqi city of Mosul and different parts of Syria.
The US troops reportedly took out a group of ISIL terrorist commanders from Eastern Syria in two heliborne operations in Hajin region of Eastern Deir Ezzur and al-Dashisheh in Southern Hasaka and they were directed to the place where the gold treasure was hidden.
In a relevant development earlier in February, a prominent Syrian military expert revealed that Washington plans to transfer the remnants of the ISIL terrorists from Eastern Euphrates to other regions through Turkey and Iraq.
The Arabic-language website of Sputnik quoted Brigadier General Mohammad Issa as saying that less than 600 ISIL militants are stationed in a 4-km/sq region in Eastern Euphrates who will be soon evacuated from the region to foreign territories.
He added that the operations to transfer these militants will be conducted similar to the operations earlier carried out to evacuate the ISIL terrorists from Raqqa, saying that the US forces will transfer them via Iraq or Turkey to some other Arab states for future operations.
Issa questioned the US forces' claims of fighting against the terrorist groups along with the SDF, stressing that the Syrian army will soon move to retake control over this region.
Media reports said last Sunday that the US army had agreed with the ISIL on the latter's exit from areas under Washington's control in Eastern Euphrates.
The US-led coalition troops and the SDF had reached an agreement with the ISIL terrorists on the militants' retreat from areas under the control of the US and its allied forces, the Arabic-language al-Mayadeen TV news channel reported.
It pointed to the preparations by the ISIL to move its terrorists out of Eastern Euphrates, and said that the ISIL terrorists might be transferred to al-Anbar desert of Badiya al-Tanf in Western Iraq.
The report comes as the SDF claimed that it had started the final battle for uprooting the remaining elements of the ISIL from Eastern Euphrates.
Also the Arabic-language service of RT quoted media activists as saying on Saturday that the US-led coalition forces have carried out heliborne operations in the Eastern Badiyeh of Deir Ezzur.
It added that two US Apache helicopters have landed in Falitah region of Eastern Badiyeh of Deir Ezzur, taking away 7 big boxes whose contents were not known.
http://en.farsnews.com/newstext.aspx?nn=13971222000624
--------
Ankara-Backed Terrorists Resume Attacks on Kurds' Military Positions in Northern Syria
Mar 13, 2019
The militants backed by the Turkish Army pounded the military positions of Kurdish Al-Bab Military Council in the village of al-Bouqaz to the East of Al-Bab city, the Kurdish-language Hawar News reported. The Ankara-backed militants pounded the Kurdish military positions from the village of Ouleshli in Northeastern Aleppo.
The Turkey-backed forces also hit the Kurds' positions in the town of al-Bavihij West of al-Arimeh in Eastern al-Bab which resulted in fierce clashes between the two sides.
This is while the Turkish Defense Ministry in a statement announced that preparations are still underway to launch major military operations against the Kurds in Eastern Euphrates in Northern Syria.
In a relevant development on Friday, several Turkey-backed militants were killed and injured and three of their bases were destroyed in the Kurdish military operations against them in Afrin region in Northwestern Aleppo.
"The Kurdish fighters launched fresh military operations against the Turkish Army and their allied militants in Baseleh town in Shirava region, killing a Turkish soldier and wounding two others as well as destroying their military vehicle," Hawar News reported.
It also noted that the Kurdish forces pounded the military positions of Ankara-backed Jbahat al-Shamia terrorist group in the village of Mariman in Shara region which resulted in the death and injury of six militants.
Meantime, field sources in Afrin also pointed to a bomb explosion in front of Sultan Murat terrorist group headquarters in the center of Afrin City which killed and injured a number of militants. They pointed to the Kurdish fighters as possible perpetrators of the bomb explosion in Afrin City.
In a relevant development last Thursday, a large number of civilians in al-Bab region in Northwestern Aleppo held protest rallies against the Turkish army and affiliated militants, calling for their withdrawal.
Hawar news reported that hundreds of residents of al-Bab, angry with the Ankara-backed militants' measures, including murder, execution and abduction of civilians and plundering their properties, poured to the streets, stressing the need for the Turkish army and militants to leave the region.
They also voiced protest at the activities of Turkish truck drivers in the region, saying that they don't let their Syrian counterparts work.
Relevant reports from Northwestern Aleppo said last month that the Turkish army and terrorists supported by Ankara continued forceful seizure of people's properties in, media sources said, adding that differences had increased among the militants in Turkish-occupied areas.
Hawar news quoted local sources in Afrin as saying that the Ankara-backed militants had cut nearly 1,050 fruit trees belonging to the civilians in the village of Qorneh Foqani in Bolboleh region.
They also added that the terrorists had cut the old trees near Meidanaki Lake in Shara region.
The sources said that the terrorists in Afrin region and other occupied areas in Northern Aleppo had also engaged in severe differences and several of them in Afrin, al-Bab and, specially Jarabulus, have defected their groups and joined other groups affiliated to the Turkish army.
Full report at:
http://en.farsnews.com/newstext.aspx?nn=13971222000864
--------
Syrian Army Destroys Tahrir Al-Sham Command Center in Idlib
Mar 13, 2019
The Damascus Army attacked the terrorists' military positions and movements in al-Habit and around Babilon town, destroying a meeting of militant commanders and killing all those present at the venue.
A military source also confirmed that the Syrian Army troops have destroyed a command center of Tahrir al-Sham together with several military vehicles in Harash Abedin town in Southeastern Idlib, inflicting heavy casualties on the terrorists.
In Northern Hama, the Syrian Army troops engaged in heavy clashes with terrorist groups who had concurrently attacked the Syrian Army's military positions near the town of Mahradeh and the al-Jadideh town in Northern Hama, inflicting heavy losses on the assailant terrorists after warding off their attack.
Meantime, the Syrian Army troops attacked the terrorists' military positions in Tal-e Shaviheneh, Kafar Hamreh and Haritan in response to their attacks on the civilian population in al-Zahra, al-Mokambo, al-Shahba al-Jadideh regions in Western Aleppo.
In a relevant development on Saturday, the Syrian Army pounded and destroyed the command headquarters and weapons depot of terrorists in Northern Hama and Southern Idlib.
"The Syrian Army troops engaged in fierce clashes with members of Ajnad al-Qafqaz and Haraseddin terrorist groups who had attacked the government forces' military positions in al-Sakria, al-Baraghiti and Tal Kolbeh West of Abu Zuhour town," a battlefield source said.
The source further said that the Syrian Army's missile and artillery units targeted many gatherings of the terrorists Southeast of Idlib and in the surrounding areas if Saraqib town, destroying their command center and their equipment as well as killing a large number of them.
The Syrian Army units also pounded the movements of the terrorist groups near al-Haviz village in Sahl al-Ghab Northwest of Hama, inflicting heavy losses and casualties on them after warding off their attack.
Meantime, the Syrian Army killed all members of a terrorist group who attempted to attack the government forces' positions in Northern Hama from the demilitarized zone.
The Damascus Army units engaged in heavy clashes with militants of Ansar al-Tawhid terrorist group who intended to attack the Syrian Army's military positions in Tale Shir Sahab from al-Sarmanieh Foro in Sahl al-Ghab in Northwestern Hama.
All the 18 Ansar al-Tawhid terrorists invading the government troops were killed in fierce clashes in Sahl al-Ghab region.
Meantime, the Syrian Army's missile and artillery units hit the terrorists' communication lines in Jisr al-Shoghour region in Western Idlib, inflicting heavy losses and casualties on them.
In Southern Idlib, the Syrian Army heavily pounded the movements and contact lines of Tahrir al-Sham al-Hay'at in Eastern al-Deir, Khan al-Sabal, Ma'arat Shomarin, Khan Sheikhoun and near Sakik village in Southeastern Idlib, killing and injuring a number of them.
The Syrian Army's missile units also pounded the gathering of Tahrir al-Sham terrorists in al-Tah town Southeast of Idlib, killing several terrorists and destroying their military vehicle.
Full report at:
http://en.farsnews.com/newstext.aspx?nn=13971222000548
--------
Syrian Observatory: Russian air raids kill 13 civilians
14 March 2019
Russian air strikes killed at least 13 civilians, including six children, Wednesday in Idlib province, in the first such raids since a September truce deal, a monitor said.
The Britain-based Syrian Observatory for Human Rights said around 60 people were also wounded in the air strikes that struck several areas in the northwestern province, which is Syria's last major rebel bastion.
"Over the past 24 hours Russian aircraft have carried out dozens of raids targeting several regions in Idlib province, including the city of Idlib and the town of Saraqeb," Observatory head Rami Abdel Rahman told AFP.
"These are the first Russian air strikes against the province" since an accord struck by Russian President Vladimir Putin and his Turkish counterpart Recep Tayyip Erdogan in September last year.
The truce deal was meant to stave off a planned offensive by the regime and its Russian backers that aid groups feared could spark the eight-year-old Syrian conflict's worst humanitarian crisis to date.
Under the deal, opposition backer Turkey would exert its influence over anti-regime groups in the Idlib region to have them pull back fighters and heavy weapons from a demilitarized zone.
Full report at:
https://english.alarabiya.net/en/News/middle-east/2019/03/14/Syrian-Observatory-Russian-air-raids-kill-13-civilians.html
--------
North America
Senate approves ending US role in Yemen as Trump threatens veto
Joyce Karam
March 14, 2019
The Senate approved on Wednesday a joint resolution to remove US forces from Yemen, except those fighting Al Qaeda, despite a threat of a veto from US President Donald Trump.
The resolution passed by 54 votes to 46 and called to "direct the removal of US Armed Forces from hostilities in the Republic of Yemen that have not been authorised by Congress".
Independent Senator Bernie Sanders, Republican Mike Lee and Democrat Chris Murphy led the fight to pass the resolution, in the first time Congress has tried to block a president on war.
Now it will go to the House of Representatives where it is also expected to pass.
The bill says hostilities include helping the Arab Coalition to choose air strike targets, sharing intelligence and aerial refuelling.
Washington ended refuelling missions in November. Saudi Arabia said that US assistance was no longer needed.
The bill also directs the President "to remove US Armed Forces from hostilities in or affecting the Republic of Yemen, except those engaged in operations directed at Al Qaeda or associated forces", within 30 days after the resolution's enactment.
The bill quotes existing laws to make the case for Congressional oversight in the war, including the War Powers Resolution from 1973, and the State Authorisation Acts of 1984 and 1985.
But the resolution will probably be struck down by Mr Trump's first veto since he took office.
The White House attacked the bill yesterday, saying that it "would harm bilateral relationships in the region" and "negatively affect our ability to prevent the spread of violent extremist organisations".
Congress would need more than two thirds of the votes to override a veto, which is not expected in this case.
The Trump administration also said it would "establish bad precedent for future legislation by defining 'hostilities' to include defence co-operation such as aerial refuelling for the purposes of this legislation".
Mr Sanders, who is running for the Democratic nomination for President in 2020, called the Yemen war "harmful to our national security and the security of the region".
Opponents of the resolution warned of the Iranian threat in Yemen and its growing support for the Houthis.
https://www.thenational.ae/world/the-americas/senate-approves-ending-us-role-in-yemen-as-trump-threatens-veto-1.836762
--------
US assures 'no change' in its policy on the status of Palestinian territories
13 March 2019
The US state department assured that there has been no change in the US's policy on the status of Palestinian territories, after a newly published report used different wording to describe Palestinian areas.
In its annual Human Rights Report released Wednesday, the US State Department changed its usual description of the West Bank and Gaza Strip, refraining from referring to them as "occupied" or "under occupation".
In another section of the report, the Golan Heights was also described differently, calling it "Israeli-controlled" rather than the usual "Israeli-occupied".
Full report at:
https://english.alarabiya.net/en/News/world/2019/03/13/US-assures-no-change-in-its-policy-on-the-status-of-Palestinian-territories.html
--------
US, Taliban talks end for now with no Afghan peace deal
13 March 2019
US and Taliban negotiators wrapped up their longest round of peace talks on Tuesday with progress made but no agreement on when foreign troops might withdraw, officials from both sides said.
The 16 days of talks, in which the United States also sought assurances that the Taliban would not allow militant groups to use Afghanistan to stage attacks, are expected to resume in late March.
The negotiations in Qatar included the Taliban's political chief Mullah Abdul Ghani Baradar and a US team led by special envoy Zalmay Khalilzad.
Khalilzad, an Afghan-born veteran US diplomat, said the sides made progress on discussions about counter-terrorism assurances and a troop withdrawal from Afghanistan.
"The conditions for peace have improved. It's clear all sides want to end the war. Despite ups and downs, we kept things on track and made real strides," Khalilzad said on Twitter.
The Taliban have held multiple rounds of peace talks with the American team led by Khalilzad but have so far refused to talk to the Afghan government.
"When the agreement in draft about a withdrawal timeline and effective counter-terrorism measures is finalised, the Taliban and other Afghans, including the government, will begin intra-Afghan negotiations on a political settlement and comprehensive ceasefire," Khalilzad said.
Some progress
Taliban spokesman Zabihullah Mujahid said the sides made progress on the issues of withdrawing foreign forces and preventing future attacks on other countries from Afghanistan.
But, in a statement, he stressed that no agreement was reached on a ceasefire or talks with the Afghan government.
A spokesman for Afghan President Ashraf Ghani tweeted that he hoped to see a long-term ceasefire agreement and the start of direct talks between the government and Taliban soon.
Khalilzad said he would return to Washington to brief US and international officials.
Talks ended on a day in which Taliban insurgents stepped up pressure on the battlefield, killing 20 Afghan soldiers and capturing another 20 in western Afghanistan. In another province, officials said an air strike killed both Taliban fighters and civilians.
About 14,000 US troops are based in Afghanistan as part of a US-led NATO mission to train, assist and advise Afghan forces. Some US forces carry out counter-terrorism operations.
The United States has been pushing the Taliban to agree to a ceasefire and to talk with Afghanistan's government, which the militant group considers a US puppet regime.
"The US officials were pressing the Taliban to declare a ceasefire, but our leaders were clear that a ceasefire can only be announced after the foreign force withdrawal announcement (is) made," said a senior Taliban commander privy to the talks.
Another Taliban source said on condition of anonymity there was frustration on some issues during the peace talks and that a senior member of the extremist group told US officials at one point that the Taliban are "not their servants" and need no US approval for any future decisions.
Washington intervened in Afghanistan in 2001 to help overthrow a Taliban government that had sheltered Osama bin Laden's al Qaeda group, responsible for the Sept. 11 attacks that killed nearly 3,000 people in the United States.
A US-led international force has fought since then against a Taliban insurgency. The foreign presence peaked in 2010 at more than 130,000 troops including 100,000 Americans, but was sharply cut back after 2014.
Full report at:
https://english.alarabiya.net/en/News/world/2019/03/13/US-Taliban-talks-end-for-now-with-no-Afghan-peace-deal.html
--------
US drops reference to 'Israeli-occupied' Golan Heights in rights report
Mar 13, 2019
The United States has dropped the word "occupied" in describing the Israeli-occupied Syrian Golan Heights paving the way for furtherance of the Israeli regime.
The State Department changed its usual description of the Golan Heights from "Israeli-occupied" to "Israeli-controlled" in an annual global human rights report released on Wednesday.
Israel has been lobbying the administration of US President Donald Trump to recognize Israeli sovereignty over the Golan Heights, which it effectively annexed in 1981.
Tel Aviv claims the Syrian Golan Heights, which Israeli forces captured in a 1967, is critical to its security.
However, the United Nations emphasizes Syria's sovereignty in the territory.
A separate section on the West Bank and Gaza Strip, areas that Israel captured along with the Golan Heights in 1967, also did not refer to those territories as being "occupied" or under "occupation."
Any change in US language and terminology in regard to the West Bank and Gaza Strip is a cause of concern to Muslims and reflects Washington's intentions about supporting the establishment of a Palestinian state envisaged by interim peace agreements in the 1990s.
Analysts believe, the Trump administration is turning its back on Palestinians and its international obligations towards the establishment of a Palestinian state, to further serve and defend Israel's interests.
In an interview with Press TV, American political analyst, Mark Glenn, said the neoconservatives in the Trump administration want a greater Israel and pursue furtherance of the Israeli empire.
Full report at:
https://www.presstv.com/Detail/2019/03/13/590962/US-Israel-Israelioccupied-Syrian-Golan-Heights
--------
US report eschews bin Salman's role in Khashoggi murder
Michael Hernandez
13.03.2019
WASHINGTON
The Trump administration on Wednesday continued to whitewash Saudi Crown Prince Mohammed bin Salman's role in the murder of Washington Post columnist Jamal Khashoggi.
In its annual human rights report, the State Department said Khashoggi was killed by 'government agents' but continued to shy away from naming Saudi Arabia's de factor ruler as being behind the grisly murder.
Khashoggi was killed shortly after he entered the Saudi consulate in Istanbul on Oct. 2. Saudi Arabia initially denied any knowledge of his whereabouts, claiming he left the diplomatic facility in good health the same day he went missing.
But following a rising number of contradictions in its narrative, Riyadh sought to blame the journalist's death on a botched rendition operation being carried out by rogue agents.
That explanation fell flat for many, including congressional leaders, who insist Khashoggi's high-profile murder could not have been carried out without bin Salman's blessing.
The CIA determined with high confidence in November that bin Salman ordered Khashoggi's killing.
Despite explicitly naming Khashoggi's murder as a rights abuse, the State Department did not draw any conclusions about who was responsible, instead pointing to actions the Kingdom has taken which have been criticized as efforts to assign blame on lower-ranking officials.
It did, however, say that the killing was one instance in which the Saudi "government or its agents engaged in arbitrary or unlawful killings".
On China, the report said Beijing has engaged in detaining between 800,000 to over 2 million Uighur Muslims, ethnic Kazakhs and other Muslims in detention camps that have been a source of international outcry.
The report said the camps in the country's northwestern Xinjiang region have been the site of "torture and other cruel, inhuman, or degrading treatment or punishment," despite laws that prohibit such abuses, pointing to "military-style discipline and pervasive political indoctrination of the detainees".
"Members of the minority Uighur ethnic group reported systematic torture and other degrading treatment by law enforcement officers and officials working within the penal system and the internment camps," it said.
"Survivors stated authorities subjected individuals in custody to electrocution, waterboarding, beatings, stress positions, injection of unknown substances and cold cells," it added.
Switching to Myanmar, the State Department continued to document widespread rights abuses against the country's Rohingya Muslim minority group, saying over 13,000 people fled to Bangladesh between January and September as the Myanmar government consistently prevented aid from reaching the devastated region.
It further noted that following the Myanmar military's military campaign in Rakhine state, authorities have bulldozed village remnants, demolished buildings and cleared plant life "to reshape some former Rohingya villages and replace former establishments with security bases and other structural developments".
Full report at:
https://www.aa.com.tr/en/americas/us-report-eschews-bin-salmans-role-in-khashoggi-murder/1417394
--------
Europe
Conservative Party faces growing pressure to tackle Islamophobia
Shafi Musaddique
March 13, 2019
The chairman of Britain's Conservative Party is facing accusations of inconsistency over his response to Islamophobia by lawmakers and party members.
Organisers of a Twitter account that collects screenshots of anti-Muslim hate speech by party members used the platform to claim that chairman Brandon Lewis was picking and choosing targets when he announced the suspension of Tory members.
"Brandon Lewis frequently confirms the suspension of specific members when it suits him," wrote @matesjacob on Twitter.
Separately two Conservative association chairs, Ajay Jagota and Gerard Leake, accused party chair Brandon Lewis and the CCHQ complaints department of failing to take action against a Tory councillor who is alleged to have made an anti-Muslim remark.
According to leaked emails obtained by Buzzfeed, the Prime Minister's office intervened in the handling of the complaints. On behalf of the Conservative leader, staff issued a private apology to Mr Jagota.
The Twitter account has highlighted anti-Muslim comments made 10 party members on social media. Comments made range from members saying that no Muslim would get their vote, to the UK having "succumbed to a Muslim invasion".
Another party member made comments on Facebook suggesting that she would back Boris Johnson as leader on the basis of religious prejudice.
"I'll be able to have a say if it does come to those two", said the party member on Facebook, in reference to a two-horse race between Boris Johnson and Sajid Javid.
Another member, who photographed himself with Boris Johnson in 2015, once wrote that he was "going through a few magazines the other day down at the local mosque … then the rifle jammed".
Anti-Muslim sentiment has also been seen at the top of the Conservative hierarchy.
In August 2018, former Mayor of London Boris Johnson was reported to the Equalities Commission after comparing Muslim women to masked bank robbers. Johnson has a history of Islamophobic comments; in a written piece for The Spectator in 2005, he wrote that "Islam is the problem".
"It will take a huge effort of courage and skill to win round the many thousands of British Muslims who are in a similar state of alienation, and to make them see that their faith must be compatible with British values and with loyalty to Britain," he wrote.
"That means disposing of the first taboo, and accepting that the problem is Islam. Islam is the problem."
Sayeeda Warsi, Britain's first Muslim woman cabinet minister, has in recent weeks said that the governing party had become "institutionally Islamophobic" and accused Prime Minister Theresa May of "burying her head in the sand". Fourteen Conservative Party members were suspended for Islamophobic Facebook posts after Warsi's comments gained traction.
A report by anti-fascist organisation Hope Not Hate found Conservative voters are more likely to have anti-Muslim views compared to voters from other British political parties.
A 2018 YouGov survey commissioned by the group asked voters if Islam was generally compatible with the British way of life. Just under half of the Conservative voters agreed it was a threat, compared to 22% of Labour voters.
"Conservative voters are not the only Britons to see Muslims as a distinct homogenous group, set apart from wider society. The effects of terror attacks and assimilationist rhetoric that distinguishes Muslims as a culturally-distinct outgroup have hardened hostile attitudes among those already predisposed to prejudice across Britain," added Hope Not Hate.
https://www.thenational.ae/world/europe/conservative-party-faces-growing-pressure-to-tackle-islamophobia-1.836556
--------
Australia won't risk lives returning Daesh refugees from Syria
March 14, 2019
CANBERRA, Australia: Australia's prime minister said on Thursday he won't put officials in danger by retrieving extremists from the Middle East after an Australian Daesh group widow asked to bring her children home from a Syrian refugee camp.
Prime Minister Scott Morrison's response came after the Australian Broadcasting Corp. interviewed the woman in one of the refugee camps in northern Syria where she has lived with her toddler son and malnourished 6-month-old daughter since they fled the Syrian village of Baghouz where the Daesh group has been making its last stand.
ABC said the 24-year-old woman refused to confirm her identity and wore a veil during the interview, but it identified her Thursday as Zehra Duman.
The woman said her daughter needs hospital treatment and she wanted to bring her back to Australia.
"Nobody really cares about us here, and I understand the anger that they have toward a lot of us here," the woman told ABC, referring to the Kurdish authorities' treatment of tens of thousands of her fellow Daesh supporters in the camps.
"But the kids don't need to suffer," she added.
Morrison said Australians who take their families to war zones to fight with the Daesh movement had to take responsibility for their actions.
"The great tragedy of those who went and joined up with terrorists — to support terrorist causes through Daesh and have taken their families into warzones where they're basically fighting against Australia — is they have placed their children in this horrendous position." Morrison told reporters.
"I'm not going to put any Australian at risk to try to extract people from those situations," he added.
Deakin University security expert Greg Barton said the government could no longer use the excuse of risk for failing to repatriate Australian extremists as Australia rightly did when the extremists were in territory controlled by Daesh fighters.
"Care would need to be taken bringing her back, but it's entirely do-able," Barton said. "We more than most countries can deal with this."
Western countries were reluctant to bring their nationals home from the Middle East since the Daesh caliphate collapsed because most countries struggled to gather evidence to prove them guilty of an offense, Barton said.
But Australia got around that burden of evidence in 2014 when a new law made simply being inside IDaesh-held territory in Syria and Iraq a crime punishable by 10 years in prison. The onus is on Australians who visit designated Islamic State-held areas to prove they had reasonable excuses.
No one has yet been prosecuted under the law.
Barton said Morrison wouldn't bring the family home before elections due in May because the prime minister thought that would be politically unpopular.
Morrison said any Australian citizen who returned from supporting Daesh fighters would "face the full force of Australian law."
Opposition leader Bill Shorten, whom opinion polls suggest will likely be prime minister after the May elections, said his party would work constructively with the government on repatriating Australian children from Syria without "political point-scoring."
"We'll work it through. Do you separate kids from their parents? Who's going to look after them?" Shorten said to reporters.
Duman said on social media she gave up her middle-class life in the Australian city of Melbourne where she was part of a Turkish-Australian family for the battlefields of Syria in late 2014.
She had followed Daesh soldier Mahmoud Abdullatif who had left Melbourne months earlier for the Raqqa, the Daesh movement's center in Syria.
The couple announced their wedding online in December 2014, with a photograph of her dowry that included an assault rifle.
Duman, who began calling herself Zehra Abdullatif or Umm Abdullatif, said her 23-year-old husband died five weeks after their wedding.
The former private school student became an avid online recruiter for the movement and urged other women to join her.
Full report at:
http://www.arabnews.com/node/1466516/world
--------
Russian jets destroy terrorist weapons depot in Syria's Idlib
Mar 13, 2019
Russian fighter jets have targeted a weapons depot in Syria's terrorist-held Idlib province, as part of the Syrian government's ongoing battle to retake the last bastion of foreign-backed militants in the country.
Russia's defense ministry announced on Wednesday that the warehouse belonged to the Hayat Tahrir al-Sham (HTS) terrorist group.
According to the statement carried by Russia's RIA news agency, the HTS had been using the building to store drones and other weapons in anticipation of a planned attack on the Russian air base at Hmeimim, in the western province of Latakia.
A ministry official told RIA that Moscow ordered the airstrike after receiving a tip about the delivery of a large number of drones to the depot.
After purging terrorists from most parts of the country thanks to support from Iran and Russia, Syria has been preparing for an offensive on Idlib to free the city.
It was reported in January that the Syrian army had dispatched military equipment, including artillery, armored vehicles and personnel carriers, to the outskirts of the western provinces of Hama and Idlib.
However, Damascus had to shelve those plans after Russia and Turkey brokered a cease-fire in September to prevent attacks on the city.
Russia said the Wednesday attack was coordinated with Turkey, which has been trying to avert a Syrian offensive against the city near its borders.
The truce agreement has come under strain recently as the HTS, an al-Qaeda affiliate, continues to grow by defeating rival groups. Syrian army bases and residential areas have come under stepped-up attacks by the group.
The so-called safe zones declared in Idlib have seen HTS terrorists attacking Turkish-backed militants from the so-called National Front for Liberation (NFL) in a bid to seize key roads in the province and gain ground in neighboring Hama.
Last week, Turkey launched joint military patrols with Russia in to maintain stability in the region and prevent the activities of radical groups.
Turkish President Recep Tayyip Erdoğan has been open to the idea of a joint attack.
Full report at:
https://www.presstv.com/Detail/2019/03/13/590974/Syria-Russia-idlib-attack-HTS
--------
EP's vote to halt accession process 'worthless': Turkey
Burcu Calik
13.03.2019
The European Parliament's vote to suspend Turkey's EU accession process is "worthless for us", Turkey's ruling Justice and Development (AK) Party spokesman said on Wednesday.
The European Parliament (EP) on Wednesday approved a report recommending the suspension of Turkey's European Union accession process.
"This disrespectful decision shows European Parliament's far-right ideological tendency," Omer Celik wrote on Twitter.
Celik said the EP was far away from making supportive decisions to democratic development and accused the EP of looking through "the narrow window of the far-right."
Recalling that the European Parliament failed to show solidarity with Turkey when the Turkish parliament was bombed during the coup attempt in July 15, 2016, Celik said the EP president visited Turkey months after the defeated coup.
"However, they see no harm in working with coup leaders. Everybody knows the racist [tendency] of the Commissioner for Enlargement and European Neighborhood Policy and that the rapporteur who prepared this report is close to terror supporters more than the democracy," Celik said.
- Turkish Foreign Ministry says EP vote 'meaningless'
Meanwhile, the Turkish Foreign Ministry also said in a statement that the EP's vote was "meaningless" and described it as "far from objectivity".
"European Parliament's stance against Turkey should be to promote ties, interaction and dialogue between Turkey and EU," the ministry said.
"Turkey expects the new EP Parliament, to be formed after the elections in May, will adopt a constructive approach to the Turkey-EU relations in the upcoming period, take qualified and objective decisions and boost Turkey's EU integration process," the ministry added.
Turkish Parliament's Foreign Affairs Committee head Volkan Bozkir also condemned the EP's decision, describing it as "groundless" and said the EP has showed its "bias and prejudice" against Turkey.
"EP again proved with this decision that they are far from constructive path. Turkey's negotiation and accession process is beneficial for both Turkey and the EU.
"Turkey's deep-rooted and multidimensional relations with the EU contributed and is still contributing to the EU in many aspects," Bozkir said.
Bozkir went on to say that the EP's vote against Turkey's EU accession process, which comes at a time when Turkey's efforts to normalize and revitalize these ties was at the highest level, was "double standard" and "inconsistency".
Reaction from presidential spokesman
Turkish presidential spokesman Ibrahim Kalin also slammed the EP's vote as "null and void" for Turkey.
"The decision voted by the European Parliament, which is non-binding, unilateral and away from the objectivity, is null and void for us," he said in a statement.
"The content of the European Parliament's 2018 Turkey report is an attempt to axe the process of increased joint efforts to gain a new momentum in Turkey-EU relations," Kalin said.
He also said far-right political movements in Europe disclosed the prejudiced attitude against Turkey with a report which contains "baseless claims" that do not reflect reality.
- Reaction from AK Party's vice chairman
The ruling AK Party's vice chairman "strongly condemns the approval of the 2018 Report on Turkey adopted by the General Assembly of the European Parliament (EP), which recommends the suspension of Turkey's EU accession negotiations."
Ak Party Vice Chairman Cevdet Yilmaz said the report failed to reflect the real picture regarding developments in Turkey.
"This is a clear indication of EP's biased and prejudiced attitude towards Turkey," Yilmaz said.
Yilmaz pointed to Turkey's sincere fight against terrorism and said it expects all its allies to stand in solidarity with Turkey against Daesh, PKK/PYD and FETO terror organizations.
He said Turkey appreciated the European Union for their consistent recognition of the PKK as a terror organization and underlined that the security measures taken by the Turkish government "is not only of concern to Turkey's national security, but also for the security and future of Europe."
"We would, therefore, once again like to take the opportunity to remind our European counterparts that the PKK / PYD / YPG and FETO terrorist organizations are a serious threat to the security and the public order of the EU countries," Yilmaz added.
Yilmaz called on the EP and the EU to fulfil their commitments and abandon their unrealistic, and prejudiced attitudes towards Turkey.
- 2018 EP Report on Turkey
On Wednesday, the European Parliament voted against Turkey's EU accession negotiations and called on the European countries to formally suspend the process.
A total of 370 members of the EP voted in favor of the decision to suspend Turkey's EU negotiations while 109 voted against and 143 abstained from voting.
The 2018 Commission Report on Turkey had been prepared by Rapporteur Kati Piri and voted in the European Parliament's Committee for Foreign Affairs in Feb. 21.
The non-binding advisory report drew reactions from Turkey.
The report, however, also praised Turkey's efforts in hosting refugees.
"Turkey hosts the largest refugee population in the world, with more than 3 million registered refugees from Syria, Iraq and Afghanistan," the report noted.
The report noted that visa liberalization is of great importance for Turkish citizens, particularly for students, academics, business representatives and people with family ties in EU Member States.
The report expressed its firm condemnation of the return to violence on the part of the PKK terrorist organization and recalled that the terrorist group has been on the EU list of terrorist organisations since 2002.
Turkey applied for EU membership in 1987 and accession talks began in 2005.
Full report at:
https://www.aa.com.tr/en/europe/ep-s-vote-to-halt-accession-process-worthless-turkey/1417300
--------
Romania 'strongly' backs Turkey's EU membership: Envoy
13.03.2019
Romania "openly and strongly" supports Turkey's accession process to the EU, Romanian Ambassador to Turkey Gabriel Sopanda said on Wednesday.
Speaking at a diplomacy and peace seminar at TOBB University of Economics and Technology in the capital Ankara, Sopanda noted that Turkish officials were invited several times to attend both formal and informal meetings in Bucharest since January.
"We supported the process with Turkey and specifically mention that on our papers," he said, adding: "We are saying this publicly and loudly from the beginning of our [term] presidency."
At the beginning of this year, Romania took over the term presidency of the Council of the European Union.
Turning to the scheduled vote in the European Parliament on Turkey's progress report, Sopanda said the vote follows the "political division" within Europe.
"It's not a vote that will be compulsory to be followed by the member states or the institutions," he added.
Later in the day, the European Parliament voted to formally suspend the accession negotiations with Turkey.
Sopanda stressed that there is no change in Romania's position regarding Turkey.
Full report at:
https://www.aa.com.tr/en/europe/romania-strongly-backs-turkeys-eu-membership-envoy/1417288
--------
Pakistan
PM Khan expected to announce new visa policy for 170 countries
March 14, 2019
Prime Minister Imran Khan is expected to announce a new visa policy for 170 countries in order to attract tourists and investors, Radio Pakistan reported on Thursday.
Information Minister Fawad Chaudhry told journalists during a press talk yesterday that the government, in the initial phase of its policy to relax visa policies, has decided to extend e-visa facility to citizens of five countries, including Turkey, China, Malaysia, United Kingdom, and United Arab Emirates. The facility will then be extended to citizens of 170 countries if the pilot project succeeds.
The passenger identification system, Chaudhry said, has already been installed at Karachi and Lahore airports and will be set up at other airports of the country.
Furthermore, the information minister said, business visas will be given to 90 countries, while 55 countries will be granted visa-on-arrival. In the initial stages, visa-on-arrival facility was only available to nationals of 24 countries.
The government has also chalked out a visa policy for foreign journalists, specifically those from western countries and it is hoped that the move will make it easier for Pakistani journalists to get visas of other countries as well. Chaudhry further said that the government will write to Indian authorities, urging them to grant visas to Pakistani journalists who wanted to cover the upcoming Indian elections.
https://www.dawn.com/news/1469592/pm-khan-expected-to-announce-new-visa-policy-for-170-countries
--------
Terrorists held in Mansehra were planning to target CPEC, police say
March 14, 2019
MANSEHRA: The police claimed that the five terrorists arrested in Mansehra district had planned to target the China-Pakistan Economic Corridor project.
'High-profile' terrorists Mohammad Talah and Tayyab Shah and their accomplices, including Ahmad Shah, Aizaz Shah and Salahuddin, were produced in a news conference here.
District police officer Zaibullah Khan said the terrorists were held in an operation jointly carried out by the police, security forces and counter-terrorism department in a village near Baffa area. He said the terrorists were wanted for attacking a US charity, World Vision.
He, however, said he couldn't share the details of the CPEC attack plans with the media due to their sensitive nature.
He said the terrorists killed eight staff members of INGO World Vision, including four women, in Dogai area in 2010.
"The terrorists belonging to the banned militant outfit, Tehreek-i-Taliban Pakistan, were also wanted for attacking the Pakistan Army's convoy in Shinkiari, targeting an imambargah in Palas area, assaulting police in different parts of the district, and committing targeted killings," he said.
Mr Zaibullah said the terrorists, who were expert at the making and blasting of indigenous explosive devices, had undergone a training session in Waziristan.
He said the arrested men also exploded CD shops and target killed a man in Mansehra and Torghar districts.
KILLED: A man and his son were killed over a petty issue in Safada area here on Tuesday night.
Family members of Mohammad Niaz and his neighbour Mohammad Saleem held heated exchanges over the throwing of stones at the latter's house.
Mohammad Niaz and his son Abdul Rehman indiscriminately fire bullets on Mohammad Saleem and his son Mohammad Rizwan, who suffered critical injuries.
The injured were shifted to the King Abdullah Teaching Hospital, where the doctors declared both of them dead.
Full report at:
https://www.dawn.com/news/1469495/terrorists-held-in-mansehra-were-planning-to-target-cpec-police-say
--------
Musharraf advocates strong Pakistan-Israel relations
13 March 2019
Pakistan should consider establishing ties with Israel, former Pakistani President Pervez Musharraf said recently, in the days following a standoff with India over the disputed territory of Kashmir.
This was not the first time Musharraf had made his views known on developing relations with Israel. He ruled Pakistan from 1999 to 2008 and was one of the country's most powerful heads of state.
Musharraf remained a strong critic of Israel until 2005. But it was during his rule that the first-ever direct Pakistan-Israel contact was made, with the help of the then-Turkish president Ahmet Necdet Sezer. Since then, Musharraf, who resigned in 2008, has advocated establishment of relations between Pakistan and Israel.
Musharraf, who claims to enjoy support from Pakistan's military establishment, as well as from members of Prime Minister Imran Khan's cabinet, has once again advised Pakistan to establish ties with Israel.
Addressing a press conference in Dubai last month, Musharraf said relations with Israel should be established to counter India, drawing an interesting parallel between Pakistani and Israeli strategic realities.
Musharraf also placed on record that, as head of state, he had initiated contacts with Israel. "The Israeli leadership was quick to respond to my offer within 24 hours. I assumed that Israel wanted to create better relations with Pakistan. They still want it," Musharraf said.
The former president initiated contact with Israel during the second half of 2004, even as anti-Israel sentiments were at an all-time high in Pakistan, a Muslim majority country of 208 million people. Musharraf's efforts bore fruit, when foreign ministers of Israel and Pakistan held their first meeting in Turkey in 2005.
Later, assisted by Jack Rosen, an American businessman and Chairman of the American Jewish Congress, and backed by then-president George W. Bush, Musharraf became the first Pakistani head of state to address the World Jewish Congress on September 18, 2005.
"Pakistan has no direct conflict with Israel, and we are not a threat to Israel's security. We believe Israel represents no threat to Pakistan's national security. But our people have deep sympathy for the Palestinian people, and their legitimate desire for a state," Musharraf said at that time.
In his speech before the World Jewish Congress, which only a few in Pakistan hailed, Musharraf had praised Israel's move to pull out of Gaza. "In response to [Ariel] Sharon's courageous decision to pull out from Gaza, Pakistan has decided to establish formal ties with the State of Israel," he said. However, Musharraf's plan to establish Pakistan-Israel ties never materialized, while his views on Israel continue to divide politicians in Pakistan.
Pakistani Prime Minister Imran Khan has not yet responded to Musharraf's suggestion that Pakistan should form relations with Israel. However, Shah Mahmood Qureshi, Pakistan's Foreign Minister, told Al Arabiya English that this is a possibility, but only if the Israel-Palestine conflict is resolved amicably.
"Pervez Musharraf is Pakistan's former president, so he is highly respected. But he isn't a part of our government. Not even our ally. So, his comments do not reflect the government and people of Pakistan," Qureshi said.
"What I can tell you is that Pakistan has had a pro-Palestinian stance for a long time. We cannot even think about establishing contacts with Israel until Palestine is internationally recognized as an independent state."
Ijaz-ul-Haq, former federal minister for religious affairs in Musharraf's government, categorically rejected any proposal to establish relations with Israel. "We can't even think of establishing relations with Israel," Ijaz-ul-Haq told Al Arabiya English. Ironically, Ijaz-ul-Haq's father, General Zia-ul-Haq, who served as President and Chief of Army Staff, reportedly allowed Pakistan's Inter-Services Intelligence agency (ISI) to establish links with Israel's Mossad in the early 1980s.
Intelligence offices were set up in embassies of both countries in Washington DC, where the Mossad and ISI, with help from the CIA, ran a decade-long anti-Soviet operation, codenamed Operation Cyclone.
Under this operation, Israel delivered Soviet made-weapons to Afghan rebels fighting the Soviet Union in Afghanistan, and also supplied weapons to the Pakistan Army.
According to WikiLeaks, ISI had secretly passed on intelligence to the Mossad that Israeli civilians might be targeted in a terrorist attack in India during September or November 2008. It was also reported that then-ISI chief Lieutenant-General Ahmad Shuja Pasha established direct contact with Israel's Mossad to pass on this information.
Islamabad-based analyst and Ph.D. scholar at Quaid-e-Azam University, Mustansar Abbas, believes Pakistan may need a long time to eventually establish relations with Israel. But it will have to do it slowly, since foreign policy cannot be static and has to evolve with time.
Full report at:
https://english.alarabiya.net/en/features/2019/03/13/Musharraf-lobbies-for-Pakistan-Israel-alliance.html
--------
South Asia
31 Al-Qaeda terrorists including 9 suicide bombers killed in Ghazni airstrikes
13 Mar 2019
At least 31 terrorists of Al-Qaeda Network were killed during the airstrikes in southeastern Ghazni province of Afghanistan.
The Ministry of Defense of Afghanistan in a statement said the airstrikes were carried out in the vicinity of Geru district of Ghazni, leaving at least 31 terrorists dead.
The statement further added that 9 suicide bombers were also among those killed in the airstrikes.
The airstrikes targeted a compound of Al-Qaeda Network in the Indian subcontinent which was led by Qari Arif, the Ministry of said, adding that the militants were targeted while they were attempting to transfer militants from the compound.
The Ministry of defense also added that several vehicles were also destroyed during the airstrikes.
https://www.khaama.com/31-al-qaeda-terrorists-including-9-suicide-bombers-killed-in-ghazni-airstrikes-03477/
--------
Bangladesh to move Rohingya to island next month: Minister
Mar 13, 2019
DHAKA: Bangladesh said Wednesday it would start relocating tens of thousands of Rohingya Muslims from overcrowded camps to a remote island vulnerable to extreme weather, despite the plan attracting considerable controversy.
Shelters and flood walls have been constructed on Bhashan Char, a muddy silt islet that only rose from the Bay of Bengal in 2006, in the hope of shifting 100,000 Rohingya refugees there.
Bangladesh has been talking about the island for years and the plan to relocate some of the nearly one million Rohingya refugees living along its border with Myanmar has stalled many times.
The proposal to uproot the refugees remains unpopular among the Rohingya community and critics have raised concerns about the island's ability to withstand violent storms during the monsoon.
But Mozammel Huq, the head of Bangladesh's cabinet committee on law and order and a senior government minister, said the relocation would proceed as planned.
"We plan to start the process next month, as construction at Bhashan Char is now complete," he told AFP.
Kamal Hossain, the government administrator of Cox's Bazar district where the vast Rohingya camps are located, told AFP they were "preparing a list of refugees who would voluntarily go to the island".
The island is one hour by boat from the nearest land and experts said it was too risky to house the refugees on the island as it is prone to flooding during storm surge.
Hundreds of thousands have died in Bangladesh from cyclones in the last 50 years, mostly in coastal areas.
Local officials have pointed to a newly-constructed three-metre (nine-feet) high embankment around the island they say will keep out tidal surges in the event of a cyclone.
But a top UN rights expert in January warned moving the refugees there could spark a "new crisis" for the persecuted Muslim minority.
Huq said the UN "should concentrate on the welfare of the Rohingya instead".
"It is up to Bangladesh to decide where we will keep the refugees," he said.
Aid groups have warned the refugees crammed into the world's largest refugee camp in Cox's Bazar are at risk of landslides, disease and floods.
The Rohingya fled Myanmar by droves in 2017 into Bangladesh, escaping a military-led crackdown the UN has said could amount to genocide.
An official from the International Criminal Court who visited the Rohingya camps this week said those responsible for their persecution would be held to account, despite Myanmar not being a signatory to the Hague-based court.
US ambassador Earl Miller met with Bangladesh government officials on Tuesday in Cox's Bazar to "learn more" about the island relocation.
Full report at:
https://timesofindia.indiatimes.com/world/south-asia/bangladesh-to-move-rohingya-to-island-next-month-minister/articleshow/68397207.cms
--------
Afghan armed forces repel Taliban attacks in Herat and Farah provinces
14 Mar 2019
The Afghan armed forces have repelled two Taliban attacks in western Herat and Farah provinces of Afghanistan, leaving more than 20 militants dead or wounded.
The 207th Zafar Corps in a statement said a clash took place between armed forces and Taliban in Highway#1 of Farah province which resulted into the killing of 5 Taliban militants while 6 others sustained injuries.
The statement further added that a local commander of the group identified as Mullah Helal was also among those killed.
In the meantime, the 207th Zafar Corps said a separate clash took place between armed forces and Taliban in Pashtun Zarghoon district that left at least 4 militants dead and 7 others wounded.
The 207th Zafar Corps also added that the clashes took place after Taliban militants attacked security outposts in the two provinces.
Full report at:
https://www.khaama.com/afghan-armed-forces-repel-taliban-attacks-in-herat-and-farah-provinces-03479/
--------
Ghani seeks ownership of Afghan peace talks
March 13, 2019
KABUL: President Ashraf Ghani said on Wednesday that Afghanistan's peace process must be led by his government, a day after US and Taliban representatives announced that they were closer to finalizing a deal following 16 days of intensive talks.
On Tuesday night, after the conclusion of the fifth and longest round of talks in Doha, Qatar, both the Taliban and US officials said that they had reached a consensus on the vital parts of the agreement, which pushes for a complete withdrawal of US troops from Afghanistan.
In return, the Taliban have agreed not to allow Afghanistan to be used as a base for militant activities against the US or any other country.
The US chief negotiator and its peace envoy for Afghanistan, Zalmay Khalilzad, flew back to Washington on Tuesday night to brief Secretary of State Mike Pompeo on the details of the meeting, even as the Taliban's representatives said that they wanted to consult with the group's leadership too. Both groups are expected to meet in Doha by the end of March.
"We want permanent peace … the ownership of the peace process belongs to people and the government," Ghani said.
The president is expected to summon a Loya Jirga, or grand gathering, in six weeks' time to "work on the framework, limits and goals of the peace."
Ghani, who is seeking re-election in July's presidential polls, said that the elections were imperative for peace and stability in the country. He urged Afghans to participate in the vote, which has already been delayed once.
Meanwhile, several officials from his administration hailed the progress of the peace talks.
Sibghat Ahmadi, a Foreign Ministry spokesman, said that the Afghan government welcomed the "recent progress made in negotiations between Dr. Khalilzad and Taliban representatives."
Meanwhile, Haroon Chakhansuri, Ghani's spokesperson, said in a statement that they "welcome US efforts in the Afghan peace process."
"We hope to witness a long-term comprehensive cease-fire with the Taliban, and hope that direct negotiations of the Islamic Republic of Afghanistan and the Taliban begin soon," he said.
The Doha dialogue follows sustained US military efforts for subduing the Taliban on the battlefield as part of US President Donald Trump's 2017 strategy.
However, despite an increased presence of US troops and an escalation of attacks by Afghan and US troops, the insurgents have continued to gain more ground.
Since assuming office, Trump has spoken on several occasions of his desire to ensure a complete pullout of US troops from Afghanistan — after nearly 17 years of the war — and appointed Khalilzad to initiate discussions with the Taliban for the process.
On Tuesday, Afghan-born Khalilzad tweeted about the progress of the peace talks after the latest round of talks.
"My time here was well spent. We made progress, and we had detailed discussions to reach an understanding on issues that are difficult and complicated," he said, without divulging any other details.
However, reports circulated on Wednesday that a truce and the Taliban's negotiations with Ghani's government were part of the Doha discussions.
The Taliban, for their part, have repeatedly insisted that they will not engage in direct talks with Kabul, suggesting that Ghani send his delegates instead.
The militants held their first direct and major discussions with non-state Afghan actors and major politicians — including Ghani's archrivals — a few months ago in Russia, infuriating Kabul.
"This round of talks saw extensive and detailed discussions taking place regarding two issues that were agreed upon during the January talks," Zabihullah Mujahid, a spokesman for the Taliban, said in a statement. "Those two issues were the withdrawal of all foreign forces from Afghanistan and preventing anyone from harming others from Afghan soil."
"Progress was achieved regarding both these issues. For now, both sides will deliberate over the achieved progress, share it with their respective leaderships."
Atiqullah Amarkhail, a retired general, said that the dialogue had created hope for success and a breakthrough in the next round of talks.
Full report at:
http://www.arabnews.com/node/1466296/world
--------
Africa
In Lake Chad, Niger army kills 33 Boko Haram terrorists
Mar 13, 2019
More than 30 Boko Haram Takfiri terrorists have been killed in an operation by Niger's army in the Lake Chad region.
"Offensive actions carried out on Tuesday inflicted heavy losses on the enemy," Niger's Defense Ministry said in a statement read on state television on Wednesday.
"Thirty-three terrorists (were) killed."
The ministry added that an "armored vehicle" was destroyed, while two other vehicles, two motorcycles, a 120-millimeter mortar, 10 AK-47 assault rifles, two 60mm shells and 3,736 rounds of all calibres were seized.
The offensive reportedly kicked off on March 9, a day after seven police and 38 militants were killed near Gueskerou in the southeastern region of Diffa, which borders Boko Haram's stronghold in northeastern Nigeria.
Some 27,000 people have been killed and about two million others displaced since the beginning of Boko Haram's acts of terror in Nigeria in 2009.
In 2015, the militants pledged allegiance to the Takfiri Daesh terrorist group.
Boko Haram has spread its attacks from northeastern Nigeria, its traditional stronghold, to the neighboring countries of Chad, Niger and Cameroon.
On February 16, the militants killed seven Nigerien soldiers in an attack on their post in the border village of Chetima Wangou.
Niger's army announced in January that it had killed nearly 290 militants from Boko Haram during an offensive near the country's southeast border with Nigeria.
https://www.presstv.com/Detail/2019/03/13/590944/Boko-Haram-terrorists-killed-Niger
--------
Sudanese vow to keep protesting as president digs in
March 14, 2019
CAIRO: Sudanese President Omar Al-Bashir has bound himself more tightly to the country's military and refuses to bow to the demands of street protesters who for over three months now have been calling for the longtime autocrat to step down.
The wily 74-year-old has remained in power through three decades of war and sanctions, the secession of Sudan's oil-rich south in 2011 and an international arrest warrant for genocide and war crimes linked to the Darfur conflict.
But since December he has faced the biggest protests of his long rule, with political parties and unions demanding his ouster and demonstrators chanting slogans from the 2011 Arab Spring.
Full report at:
http://www.arabnews.com/node/1466571/middle-east
--------
Landmine blasts kill 5, injure more than 40 in Somalia
Mohammed Dhaysane
13.03.2019
At least five people were killed and more than 40 others wounded on Wednesday when landmines went off at a busy livestock market in the Somalia's southwestern administrative region of Bay, an official said.
"Al-Shabaab terrorist group had targeted innocent civilians in Gof-gadud district's livestock market with 4 landmine explosions on Wednesday and 5 people were killed, more than 40 others wounded", said Nuradin Yusuf, spokesman for the Southwest State in Baidoa city, the capital of Bay region.
"Our administration has sent ambulances to the scene and the wounded people were being transported to hospitals in Baidoa for treatment," Yusuf told Anadolu Agency.
Gof-gadud Burey is a small livestock business district, located some 30 kilometers (18 miles) from Baidoa city.
Full report at:
https://www.aa.com.tr/en/africa/landmine-blasts-kill-5-injure-more-than-40-in-somalia/1417172
--------
US airstrike in Somalia kills 2 al-Shabaab militants
By Jerry Omondi
March 14, 2019
US forces conducted an airstrike on Tuesday in Somalia's Huley vicinity in the Lower Shabelle Region, killing two terrorists, the US Africa Command says.
Tuesday's airstrike was conducted in coordination with Somali forces, and was the second by the US forces this week, having launched another strike on Monday which killed 8 militants.
"Precision airstrikes like this remove al-Shabaab militants from the battlefield and support our partner's efforts to increase pressure on the terrorist network," said U.S. Air Force Brig. Gen. William West, U.S. AFRICOM deputy director of operations. "The Federal Government of Somalia continues to eliminate al-Shabaab leadership, disrupt its communication efforts, and obstruct the group's ability to terrorize the people of Somalia."
AFRICOM pledged to continue collaborating with Somali forces to disable the threat of terrorism posed by al-Shabaab.
The al-Qaeda affiliated group has waged an extremist war in Somalia for over a decade, killing tens of thousands and displacing millions others.
U.S. forces and African Union troops aim to rid the Horn of African country of the threat of terrorism.
The forced have made gains and forced the militants out of major towns, though they still manage to stage attacks especially using suicide bombers.
While the U.S. initially engaged the militants minimally, President Donald Trump granted broader authority to carry out strikes after coming into power.
Full report at:
https://africa.cgtn.com/2019/03/13/us-airstrike-in-somalia-kills-2-al-shabaab-militants/
--------
URL: https://www.newageislam.com/islamic-world-news/behind-chinas-move-block-masood/d/118025
New Age Islam, Islam Online, Islamic Website, African Muslim News, Arab World News, South Asia News, Indian Muslim News, World Muslim News, Women in Islam, Islamic Feminism, Arab Women, Women In Arab, Islamophobia in America, Muslim Women in West, Islam Women and Feminism