New Age Islam News Bureau
30 Jan 2018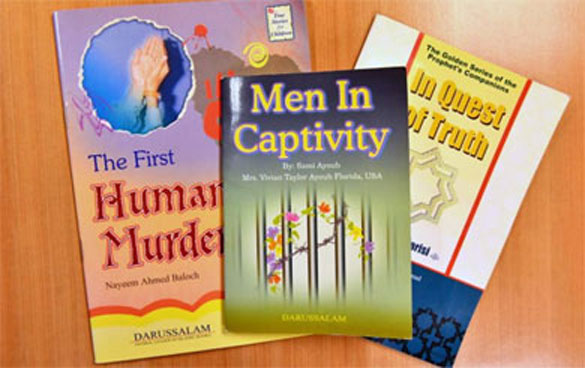 A prominent religious bookstore at Golden Landmark Mall is selling books for children that could be misunderstood by impressionable young readers and steer them towards violence and extremism, some Muslims say.ST PHOTO: DESMOND FOO
-----
• Bareilly DM Questions 'Trend' Of Entering Muslim Localities, Raising Anti-Pak Slogans
• Muslim Parents, Clerics Raise Concerns about Children's Books from Saudi Arabia Sold In Singapore
• Setback for Tablighi Jamaat's Plan to Build 'Mega Mosque' In London
• Taliban Must Choose Between Islam and Terrorism: Ghani
• Pakistan Army Supplying Military Equipment to LeT: Afghan Envoy
India
• Bareilly DM Questions 'Trend' Of Entering Muslim Localities, Raising Anti-Pak Slogans
• Feeling Left Out, Young Muslim Members in Congress Look for Greener Pastures
• Terror fund chargesheet: NIA names Pakistan mission official, highlights role
• Religion not the only norm for custody of child, says Supreme Court
• J-K police files chargesheet against LeT, 8 accused in Amarnath Yatra bus attack
--------
Southeast Asia
• Muslim Parents, Clerics Raise Concerns about Children's Books from Saudi Arabia Sold In Singapore
• Malaysia's Top Court Annuls Unilateral Conversions of Minors
• 13 Hotels Drop Tudung Ban after Drawing Putrajaya's Eye
• Mufti says court ruling against Islam's constitutional status
--------
Europe
• Setback for Tablighi Jamaat's Plan to Build 'Mega Mosque' In London
• Controversial Muslim Campaigner Vows to Fight Hidden Extremism in UK
• Germany Opened 1,000 Investigations into Radical Islamic Extremists in 2017
• Days after Colleague's Conversion, AfD Vows To Ban Islam across Europe
• Britain First deputy Jayda Fransen 'aggressive' to Muslim
• London Jerusalem conference reiterates Muslim spiritual attachment to the Holy City
--------
South Asia
• Taliban Must Choose Between Islam and Terrorism: Ghani
• Pakistan Army Supplied Military Equipment to LeT in Kashmir: Afghan Envoy to the US
• Islamic State Suicide Bombing At Kabul Military Academy Kills 11 Soldiers; 2 Attackers Killed, another Nabbed
• Myanmar: Muslim lawyer's murder still stirs controversy
• UN says 100,000 Rohingya in grave danger from monsoon rains
--------
Pakistan
• Pakistan Army Supplying Military Equipment to LeT: Afghan Envoy
• Terrorist Involved In Kabul Hotel Attack Was Trained In Balochistan: Afghan Ambassador
• Tehreek-i-Labbaik leader demands Nisar's arrest
• 6 of a family killed in Kurram Agency landmine blast
• Qatar Air Force head praises PAF role in war against terrorism
--------
Mideast
• Footage Shows Renewed Protests In Several Iranian Cities Overnight
• Top Turkish Cleric Calls On Muslims to Unite
• Speaker of Turkish National Assembly Declares 'Jihad' Against Kurds
• Iranian Sunni Cleric Faces Travel Restrictions: "It All Comes Down to Intolerance"
• Around 200 Houthi loyalists join legitimate forces in Yemen's Jawf
• UN employees in Gaza stage mass strike over US aid cut
• Turkey and Iran's past, present and future similarities in the Middle East
• Yemen: Revolutionary Forces Preempt Heavy Attack of Saudi-Backed Terrorists
• Iran FM: Trump fake evidence, bid to promote Iranophobia at UNSC
--------
North America
• Trump Says No To Talks with Taliban
• US Lifts Ban On Refugees from 11 Countries
• Many Muslim Refugees Will Face Additional Scrutiny under Trump Plan
• Mall of America slasher says Islamic State inspired attack
• Trump's interest in Afghanistan tied to heroin production: Analyst
• Pentagon restricts release of Afghanistan war data
--------
Arab World
• Fate of Bin Laden's Children Gleaned from the Abbottabad Files
• Arab Coalition: Humanitarian Efforts in Yemen Will Continue
• Two Israeli officers involved in Lebanon car bomb attack against Hamas official: Report
• Saudi-Iran relations: story behind a clash of regional leadership
• Non-Syrian Terrorists Plundering Large Factories in Southeastern Idlib
• Rival Terrorist Groups in Tough Battle in Northern Syria
• Bahrain court upholds jail term for prominent Shia cleric Sheikh Qassim
--------
Africa
• South Africa: Muslims Urged to Use As Little Water As Possible for Ablutions Before Prayer
• Jordan king urges global support for Palestinian rights in al-Quds
• African Union warns against rush to elections in Libya
• Al-Qaida's Mali branch releases Colombian captive video
Compiled by New Age Islam News Bureau
URL:https://www.newageislam.com/islamic-world-news/bareilly-dm-questions-trend-entering/d/114105
--------
Bareilly DM Questions 'Trend' Of Entering Muslim Localities, Raising Anti-Pak Slogans
Pankul Sharma
Jan 30, 2018
BAREILLY: In a stinging post on his Facebook page following the communal violence in UP's Kasganj, Bareilly district magistrate Raghvendra Vikram Singh has asked why it has become a "trend" for some to first "enter Muslim localities by force, raise anti-Pakistan slogans and then create ruckus".
Singh, who told TOI on Monday that he is hurt and angry at what is happening "in the name of nationalism", put up two posts on Facebook following the clashes in Kasganj that has left one dead, another seriously injured and dozens of houses, shops and vehicles gutted.
In one of the posts, the DM writes: Ajab Rivaz Ban Gaya Hai. Muslim Mohallo Me Jabrdasti Julus Le Jao Aur Pakistan Murdabad Ke Nare Lagao. Kyon Bhai, Ve Pakistani Hain Kya? Yehi Yahan Bareilly Mein Khailam Mein Hua Tha. Fir Patharav Hua, Mukadme Likhe Gaye... (A very strange trend has started of late. Take out processions by force through Muslim dominated localities and raise anti-Pakistan slogans. Why? Are these people Pakistani? The same thing had happened in Khailam village of Bareilly. Then stones were pelted, FIRs lodged)."
During the kanwar yatra last year in July, 15 ITBP jawans and two dozen kanwariyas were injured after the latter insisted on taking their procession through Khailam, an area with substantial Muslim population. Soon there were clashes between the two groups and close to 250 Muslims were booked after the incident.
In another post, Singh asked why slogans were never raised against China, "a bigger enemy". Cheen to Bada Dushman Hai, Tiranga Lekar Cheen Murdabad Kyon Nahin? (China is a bigger enemy to us. Why isn't the tricolour being waved and anti-China slogans shouted)?"
Maintaining that the social fabric of the country is being torn apart by fringe elements, Singh said, "Such fringe groups are coming up in every part of the state, taking the same ugly route to instigate people of the minority community by forcefully entering their locality in the name of nationalism. These people don't care about the fabric of our mixed culture and brotherhood."
The DM had on January 25 wondered what the "whole fuss" around 'Padmaavat' was about. "I belong to the same community as these people who are protesting against the film. What is this nonsensical argument that we will lose if the movie is released?"
https://timesofindia.indiatimes.com/city/bareilly/bareilly-dm-questions-trend-of-entering-muslim-localities-raising-anti-pak-slogans/articleshow/62700714.cms
--------
Muslim parents, clerics raise concerns about children's books from Saudi Arabia sold in Singapore
JAN 29, 2018
SINGAPORE - Some Muslims, including parents and clerics, have raised concerns about a few children's books being sold in Singapore, saying their content could be misunderstood by impressionable young readers and steer them towards violence and extremism.
The English-language books originate from Saudi Arabia, the birthplace of Islam, and may not be suitable in multiracial and multi-religious Singapore, they say.
One of the books titled Men In Captivity is the tale of a 13-year-old boy who convinces his mother to allow him to perform a "jihad" or holy war against Christians.
It contains some troubling passages including a quote by the boy who says: "The teacher told us that we may join the Muslim soldiers in jihad... Do not forget my mother that we have been under training, for more than a year, in the use of swords and horse-riding."
Muslim clerics cited unsettling content in other titles such as The First Human Murder which provides a detailed account of the killing of Abel by his brother, Cain, the Old Testament story that is also mentioned in the Quran.
Another title, In Quest of Truth, contains phrases that could be read to be disparaging of other faiths.
These English-language paperbacks can be bought for a few dollars each from a prominent religious bookstore at Golden Landmark Mall in Victoria Street.
"These books should be banned. I wouldn't want my son to think fighting is needed in any way in these days. He will think it's his duty to fight when it's totally not," said Nurshida Hussin, 34-year-old housewife and mother of two - a 10-year-old son and a six-year-old daughter.
She adds: "Kids are still kids so it's best to protect them from questionable material because they are easily influenced and impressionable."
Muslim cleric Zahid Zin, chief executive of the Muslim Youth Forum in Singapore, agreed that the books should be removed from shelves, saying they are "very dangerous" and may spread the wrong understanding of Islam not only to Muslims but also to non-Muslims.
"Children tend to refer to narrated events in the present time. So when you talk about jihad, they may not connect it to wars during the time of the prophets, but to the present which is not suitable in the current climate," he told The Straits Times.
Another cleric, Muhammad Mazdiuky Md Ishak, agreed that these kinds of books "should not be sold in Singapore and other countries, especially in our region".
Dr Mohamed Ali, an assistant professor at the S. Rajaratnam School of International Studies (RSIS), was concerned that Muslim miltant groups could make use of the narratives in such books.
He said: "Without proper guidance, young people can develop a sense of exclusivism and if left unchecked again, exclusivism could lead to extremism and extremism could lead to terrorism."
In Singapore, the publications industry is largely self-regulated. Book importers and retailers must ensure that publications distributed are not prohibited, obscene or objectionable under the Undesirable Publications Act or in breach of Content Guidelines for Imported Publications. The Infocomm Media Development Authority (IMDA) steps in when there is public feedback.
In response to queries from The Straits Times, IMDA said it would be reviewing the books in question even though it had not received any public feedback on them.
The MCI banned four books last October for content it said could "cause social distancing, distrust, hatred and even violence among people of different faiths and religious views". Nine publications by Singaporean extremist preacher Rasul Dahri were banned earlier in June.
Saudi Arabia's ultra-conservative Salafi-Wahhabi Islamic doctrines have been blamed for eroding traditional Islamic practices. Its textbooks have long been criticised for being intolerant and espousing violence. Human Rights Watch in September said that problematic texts remain despite promises by officials to revise them.
Crown Prince Mohammad bin Salman has vowed to return the country to moderate Islam. The Saudi Culture and Information Ministry has also said it will monitor interpretations of the Prophet Muhammad's teachings to prevent them being distorted and used to justify violence or terrorism.
http://www.straitstimes.com/singapore/education/parents-and-clerics-raise-concerns-about-childrens-books-from-saudi-arabia
--------
Setback for Tablighi Jamaat's plan to build 'mega mosque' in London
Sajid Iqbal
January 30, 2018
TABLIGHI Jamaat's (TJ) plan to build Europe's biggest mosque in East London suffered another blow when a high court judge last week threw out their petition seeking suspension of an injunction for the demolition of a smaller mosque located on the site.
The high court judge also disallowed the TJ plea for an appeal against the judgement reviving chances of the demolition of existing structures starting within weeks.
Only a restraining order from the European Court of Human Rights, where trustees had filed an application in the second week of this month, can save Masjid Ilyas and stop council bulldozers rolling into the 17-acre land which remained under a chemical factory for a century before trustees of UK Tablighi Jamaat bought it in 1995 for 1.6 million pounds.
In the absence of any restraining order from the European Court of Human Rights, the Newham Borough Council can start demolition of the mosque if it is not pulled down by the trustees within six months. The council can also initiate legal proceedings to get a CPO (Compulsory Purchase Order) if it faced resistance from the TJ trustees or their followers.
Judge Walden-Smith sitting on the bench as a judge of the High Court also ordered trustees of Tablighi Jamaat to pay London Borough of Newham £22,207 as costs within four weeks. The council can initiate enforcement proceedings for the recovery of cost if the trustees failed to pay the cost by Feb 23. Various local groups have announced plans to build pressure on the local authority for an early demolition of the existing mosque.
"Tablighi Jamaat has procrastinated and delayed, has ridden roughshod over planning regulations and regularly broken the law," Alan Craig, campaign director of Newham Concern, a local group campaigning against the construction of 9,500-capacity mosque, told Dawn.
"Their plans have been rejected by every level of authority from Newham Council to the High Court, their latest appeal has been thrown out of court," he said. "It is now time for Newham Council to send in the bulldozers and knock down the illegal temporary mosque on the site and liberate the land for a mixed use development that will benefit the whole community," he concluded. Another local group has announced holding a prayer meeting in front of the mosque next Saturday.
"Stop #Mega-Mosque. Prayer meeting Saturday 3rd February at Abbey Mills, West Ham, Newham London 10.30am — 12.30, Postcode E15 3ND. Tablighi Jamaat has just failed in latest legal to overturn Newham's Council's refusal so TJ are off to the European Court of Human Rights," Gracey Knoll, a member of the group tweeted after the announcement of the judgment on Friday.
There is unlikely to be any major disruption for the majority of TJ members as a group led by TJ's London emir has already shifted Thursday weekly Mashwara or consultative meeting to 800-capacity old London Markaz in Tower Hamlet area. The petition to suspend the demolition injunction for one year was filed on behalf of three trustees of Tablighi Jamaat.
During the latest hearing of the case on Jan 19, the court was told that there was currently a mosque with a capacity for 2,500 worshippers and a large parking area on the site. A large number of Tablighi Jamaat members from different parts of London gather at the mosque every Thursday night for listening to sermons of senior clerics and go out for their missionary work involving door-knocking in different areas, inviting ordinary Muslims to mosque for prayers. The counsel for the London Borough of Newham informed the court that it wanted to demolish the mosque, parking lot and other structures which it considers illegal after trustees appeal against Secretary of State's decision to disallow temporary planning permission was rejected by the Appeals Court in July 2017.
Moiz-ur-Rahman, a representative of the trustees, informed the court that they were in touch with a group of developers and could sign agreements with it in days if given an opportunity with extension in the current suspension order. He said the TJ was a different organisation where all the decisions are made through consensus and after consultations with elders. He said that the trustees wanted to move fast but things were not in their control.
Mr Rahman also informed the court that there would be considerable disturbance in the large number of people in the Muslim community as it catered to the large catchment area in and around Greater London Authority. He informed the court there was a possibility of return of protests previously organised by the Newham Community Alliance.
The judge, however, disregarded the hardship resulting from the enforcement saying that the current activity at the site was unlawful and it had to stop and the court wanted to hold the trustees to account for legally binding undertakings they had given during the court proceedings in the past.
The judge said that of the 12-month suspension period sought by the trustees, five months had also passed and there was very little progress on the part of trustees to find policy compliance partners to develop the 6.5 hector of land located in the "arch of opportunity" in East London in line with the development aspirations of London Borough of Newham.
https://www.dawn.com/news/1386043/setback-for-tablighi-jamaats-plan-to-build-mega-mosque-in-london
--------
Taliban Must Choose Between Islam and Terrorism: Ghani
Jan 30, 2018
In his first public appearance since the Intercontinental Hotel attack just over a week ago, President Ashraf Ghani came out in support of the country's security forces who are fighting insurgency on the battlefields and in the cities.
Ghani said at a joint press conference with visiting Indonesian President Joko Widodo that the Taliban was carrying out attacks in Afghanistan on the orders of their masters.
But in a show of support for security forces he said: "I salute the bravery of our security forces, especially the police who are our first line of defense against these cowardly suicide bombers. Reforms in our intelligence services and Ministry of Interior are our top priority now."
"Taliban must choose between Islam and terrorism, between humanity and barbarism," Ghani said a day after Afghans observed a day of national mourning following Saturday's deadly ambulance bombing that killed at least 103 people.
Ghani said if the Taliban really believes in Islam and humanity, then the group must separate itself from barbarism and puppets of religious manipulators and intelligence agencies.
"Those who consider themselves Muslims and Afghans must now separate themselves, in words and actions, from those barbaric puppets of religious manipulators and intelligence agencies," he said, adding that today Afghans are at a crossroads in the country's history and must take decisive and clear steps to bring lasting stability to the country.
"We can no longer wait for peace to come to us, we must win it through collective national resolve," he said.
Ghani also thanked Afghanistan's international partners who supported the country during difficult times and urged other nations to act against what he described as state sponsorship of terrorism.
"We appreciate the sympathies extended by our international partner nations. Thank you for standing with us. It is also an infliction point for our partners. Afghans expect our partners to condemn and take all possible action against state-sponsor of terrorism," Ghani said.
He went on to say that Islam is for all Muslims. Those who distinguish between Muslims, in their Fatwas, by arbitrary lines for their political gains and legitimize the massacre of Muslims are war criminals and must be sanctioned.
The president also briefly touched on the political developments in the country and asked Afghan political elites to come together and unite to defeat terrorism.
"Afghan political elite must rise above petty politics and unite to serve our people and defend our nation and country against state-sponsored, regional, and international terrorism.
In conclusion, Ghani said he will speak to the nation and present more details about the next steps once his Indonesian counterpart departs.
Ghani made the remarks at a joint press conference with Indonesian President Joko Widodo, who arrived in Kabul at about mid-day on Monday – just two hours after a deadly attack on a military academy in the capital was brought under control.
Widodo in turn said his government will establish an Islamic center in Afghanistan and continue to stand by the country. He also says Indonesia is ready to help Afghanistan with various projects.
Over the past few days, Taliban and Daesh militants have carried out a wide range of attacks across the country, including three assaults in Kabul that left almost two hundred people dead and hundreds more wounded.
https://www.tolonews.com/afghanistan/taliban-must-choose-between-islam-and-terrorism-ghani
--------
Pakistan Army supplying military equipment to LeT: Afghan envoy
Jan 30, 2018
Afghanistan's Envoy to the United States (US) Majeed Qarar said Monday that Pakistan Army has been supplying military equipment to Lashkar-e-Taiba (LeT) in Kashmir alongside arming Taliban fighters in Afghanistan.
The statement comes on the heels of a deadly attack on the Afghan Military Academy in Kabul earlier on Monday by a group of suicide bombers. At least five soldiers have been killed in the attack while 10 were injured.
Qarar said, "The goggles recovered from Taliban fighters who attacked Maiwand's Afghan National Army base were military grade goggles that were procured by the Pakistan Army from a British company. The same equipment has also been recovered from LeT fighters in Kashmir."
Qarar's allegations regarding Pakistan Army's involvement in supplying military equipment to LeT have given India an opportunity to once again target Pakistan for sponsoring international terrorism, a claim that had always been denied by the Pakistani establishment.
Though the US believes that Pakistan provides safe havens to terrorists, it had diverted most of its attention towards Afghanistan-based militants and not LeT. The US designated LeT chief Hafiz Saeed and the group a terrorist group after the 2008 Mumbai attack. Nevertheless, it did not press Pakistan on the issue.
https://www.pakistantoday.com.pk/2018/01/30/pakistan-army-supplying-military-equipment-to-let-afghan-envoy/
--------
India
Feeling Left Out, Young Muslim Members In Congress Look For Greener Pastures
Afshan Yasmeen
JANUARY 30, 2018
Many of them say the party is too 'crowded' for them to climb up the ladder
Bengaluru "After serving the party for close to two decades I had to leave the party as there is no hope of any recognition here," says Syed Arshadulla, who used to be with the Youth Congress, and quit recently.
This is not a one-off case; it is the sentiment of several young Congressmen from the minority community who feel the party is too "crowded" for them to climb up the ladder. What is making the climb really steep is that most veteran leaders are keen to promote their sons and daughters, resulting in the "minority quota" being already full even before they get a chance.
If the Youth Congress elections and the recent list of Congress office-bearers is anything to go by, sons and daughters of prominent and senior Congressmen seem to be getting good representation, leaving out those who do not have "godfathers". Coupled with this is the proposed migration of JD(S) minority leader B.Z. Zameer Ahmed Khan, which has further dampened the spirits of the community members in the Congress, since it adds to the already crowded slot.
The result of this resentment is an influx of young and promising Muslim members into the JD(S) from the Congress. "We have been sidelined and there is no hope that we will be recognised in future as the Muslim representation is full in the party. This is why I recently quit the party," said Mr. Arshadulla.
'Soaked in nepotism'
"The party's leadership, particularly the minority leadership, is so soaked in nepotism that it suffocates any leader with self-respect. It disgusts me when people of all ages fall at the feet of young boys just because he is a leader's son," said another member who wished not to be named.
Another such example is Nasir Hussain Ustad, former Kalaburagi Youth Congress president, who recently joined the JD(S). His concern is that he will be denied party ticket as rumours are doing the rounds that the former Minister Qamural Islam's wife will be accommodated. Mr. Hussain has served the party in various positions for more than 20 years.
Some of the present-day leaders are themselves sons and daughters of those who were in the party. Congressmen such as U.T. Khader (son of former MLA U.T. Fareed); Tanveer Sait (son of former Minister Aziz Sait); Rafeeq Ahmed (son-in-law of defeated Congress candidate from Tumkuru Shafi Ahmed); Syed Yasin (son-in-law of C.K. Jaffer Sharief); and Rahman Sharief (son of Jaffer Sharief) are suitable examples.
And, there are a whole lot of them in waiting, such as Ruman Baig (son of Roshan Baig), Mansoor Ali Khan (son of Rehman Khan), and Mohammed Haris (son of N.A. Haris). "It is quite evident that their fathers are promoting them when we see them occupying the dais at every party function," said another disgruntled Muslim Congressman.
However, Karnataka Pradesh Congress Committee (KPCC) working president Dinesh Gundu Rao said there was no reason for the Muslim community to feel left out. "The Congress has always accommodated all communities equally. Muslims have been given due political representation. Our Chief Minister has also addressed their development issues by allocating adequate amount in the budget," he said.
http://www.thehindu.com/news/national/karnataka/feeling-left-out-young-muslim-members-in-congress-look-for-greener-pastures/article22581222.ece
--------
Terror fund chargesheet: NIA names Pakistan mission official, highlights role
by Rahul Tripathi
January 30, 2018
The National Investigation Agency (NIA) chargesheet into stone pelting and terror financing in Jammu and Kashmir will include the role of a Pakistan High Commission official in funding separatists, and has estimated the flow of at least Rs 200 crore into the Valley to fuel protests and stone pelting, it is learnt. The NIA on January 19 had filed a 12,794-page chargesheet against 12 people including Jamaat-ud-Dawa (JuD) chief Hafiz Saeed, Hizbul Mujahideen (HM) chief Syed Salahuddin and top rung separatist leaders. The court is likely to take cognisance of the chargesheet on Tuesday.
Sources said the chargesheet has included evidence against the Pakistan High Commission. Ministry of Home Ministry (MHA) sources said that an officer of the rank of First Secretary has been identified. "The Pakistan High Commission official allegedly acted with Kashmiri businessman Zahoor Ahmed Watali to facilitate funds to top Hurriyat leadership," sources said. Watali was arrested by the NIA and is among the 12 chargesheeted. He is presently in judicial custody.
The NIA was tasked with investigating stone pelting and terror financing in Jammu and Kashmir, following the killing of HM commander Burhan Wani in 2016.
According to an MHA official, "Investigations have delved into secessionist activities in Jammu and Kashmir, the close nexus between Hurriyat and militant outfits such as LeT and HM and how Pakistan is using these militants groups and Hurriyat to create trouble in the valley. Evidence has also been collected from open sources and speeches of Hafiz Saeed, Salahuddin and Syed Ahmed Shah Geelani."
Investigators claimed a sum of nearly Rs 200 crore was pumped into the valley to fund stone pelting and protests in 2016-17.
In a statement on January 19, the NIA claimed the investigation brought out that the secessionist and separatist leaders belonging to the All Parties Hurriyat Conference have established a network throughout the Kashmir Valley who incite youth to attack all symbols of Indian sovereignty, especially Indian security forces deployed for the maintenance of law and order.
Full report at:
http://indianexpress.com/article/india/terror-fund-chargesheet-nia-names-pak-mission-official-highlights-role-5044311/
--------
Religion not the only norm for custody of child, says Supreme Court
Jan 29, 2018
Religion is only one of the several considerations in deciding the guardian of a child, the Supreme Court (SC) held on Monday refusing to intervene with the custodial rights granted to a maternal grandmother of a 9-year-old girl whose father is facing the death penalty for his wife's murder in Dubai.
A bench headed by Justice SA Bobde dismissed a paternal grandmother's plea for custody of a child born to her son and his Hindu wife, on the grounds that the child is a Muslim. While the mother was a Hindu at the time of marriage, she embraced Islam later.
The SC did not accept the grandmother's argument and upheld the Bombay high court decision which declared the maternal grandmother — a Hindu — the child's guardian.
Advocate Liz Mathew, who appeared for the maternal grandmother, told HT: "The SC endorsed the view taken by the HC that the child's welfare was of paramount interest. There are seven criteria under the law, which a court has to consider while appointing a guardian. Religion is just one of them."
In this case, the minor's mother and father got married on May 11, 2008 in Kerala.
After the marriage, the woman embraced Islam.The child was born in March 2009.
In 2013, the husband allegedly murdered his wife in Dubai. The woman's body was brought back to India and she was cremated at Nandvi, Raigad district, Maharashtra, according to Muslim customs.
Later, the maternal grandmother filed a case before a trial court to become the child's guardian.
She got a favourable order on May 5, 2014. But the paternal grandmother approached the HC and raised the plea of religion before it. She even accused the child's maternal uncle of sexually assaulting the child in Kerala when she went to stay there with her maternal grandmother.
The HC, on November 15, 2017, refused to set aside the trial court directive.
Before the top court, the paternal grandmother claimed the girl's mother had left the child with her before leaving to Dubai.
Full report at:
https://www.hindustantimes.com/india-news/religion-not-the-only-norm-for-custody-of-child-says-supreme-court/story-ZhZtNspE0mZ7mcnq5rBIkI.html
--------
J-K police files chargesheet against LeT, 8 accused in Amarnath Yatra bus attack
January 29, 2018
The Jammu and Kashmir police have filed a chargesheet against militant group Lashkar-e-Taiba (LeT) and eight others in the gruesome attack on Amarnath Yatra pilgrims in July last year. "Police files charge sheet of about 1500 pages against LeT, 8 accused in Amarnath Yatra bus attack. Further investigation going on," J&K police tweeted.
A total of nine yatris were killed and 19 people were injured in the attack on the bus in south Kashmir's Anantnag district on July 10.
Full report at:
http://indianexpress.com/article/india/j-k-police-files-chargesheet-against-let-8-accused-in-amarnath-yatra-bus-attack-5043613/
--------
Southeast Asia
Malaysia's top court annuls unilateral conversions of minors
Jan 29, 2018
KUALA LUMPUR: Malaysia's top court said in a landmark decision Monday both parents must consent to the religious conversion of a minor, ruling unanimously in favor of a Hindu woman whose ex-husband converted their three children to Islam without telling her.
The ruling ended a nine-year legal tussle for M.Indira Gandh, whose former husband became a Muslim and converted their three children in 2009. He also snatched their daughter, then 11 months old, from the family home.
She won custody of the three children and challenged their conversions in civil courts of Malaysia's dual-court system. A lower court annulled them, but the Court of Appeal overturned the ruling, saying civil courts had no jurisdiction over Islamic conversions. The ruling was appealed to the nation's highest court.
The five-member panel in the Federal Court found the children's conversions unlawful as they were done without Gandhi's consent.
"This is a landmark decision and a victory for all Malaysians," said M. Kulasegaran, Gandhi's lawyer.
He said the ruling clearly showed civil courts are the paramount courts and can hear matters related to Islamic affairs even if there is a contradictory Sharia court decision. There are many similar disputes involving the unilateral conversion of children to Islam and that the ruling meant that non-Muslims now can seek redress in the civil courts, he added.
Muslims, who are 60 percent of Malaysia's 31 million people, are governed by Islamic courts while non-Muslims go to civil courts to settle family, marriage and other personal disputes. But the law is vague on which court has authority over disputes between Muslims and non-Muslims, especially within a family.
Civil courts have generally avoided taking a position in such cases, allowing Sharia courts to lead. This has raised questions about freedom of religion guaranteed by the Constitution, and strained racial relations in this multiethnic country, which has enjoyed largely peaceful race relations for nearly five decades.
Critics accuse the ethnic Malay Muslim-dominated government of doing too little to resolve problems. The government has become increasingly reliant on support from Islamist and right-wing pressure groups as other constituencies flock to the opposition. Last year, the government withdrew a proposed law that sought to end unilateral conversions of children ahead of general elections due in the next few months.
An emotional Gandhi told local media that she was thankful for the decision and that there is "no more excuse" for police not to find her former husband, who has refused to comply with court rulings to hand her youngest daughter back to her. He has gone missing and police earlier said they couldn't act on the civil court's order.
"But my daughter is still missing. I want to see her. I really need to hold her. It has been nine years. When is she going to come back?" she said.
https://timesofindia.indiatimes.com/world/rest-of-world/malaysias-top-court-annuls-unilateral-conversions-of-minors/articleshow/62691824.cms
--------
13 hotels drop tudung ban after drawing Putrajaya's eye
January 30, 2018
KUALA LUMPUR, Jan 30 ― The 13 hotels identified by the Human Resource Ministry for barring Muslims employees from wearing their headscarves have retracted their ruling.
According to Utusan Malaysia, Union Network International-Malaysia Labour Centre president Mohammed Shafie BP Mammal said Labour Department director-general Datuk Mohd Jeffrey Joakim confirmed the matter in meeting at Putrajaya.
The report added that a meeting between the Hotel Association of Malaysia, other hotel trade unions and non-governmental organisations on the issue will be held next week.
"The 13 hotels that have been found to have Standard Operating Procedures with hijab restrictions on Muslim women have agreed to withdraw the ruling," Mohammed Shafie told Utusan Malaysia when contacted yesterday.
The ministry previously said it determined that the 13 hotels have the controversial policy.
The Malaysian Association of Hotels last year claimed the practice was consistent with global norms.
Full report at:
http://www.themalaymailonline.com/malaysia/article/13-hotels-drop-tudung-ban-after-drawing-putrajayas-eye#tI2Z6Jgqoh0rJpFA.97
--------
Mufti says court ruling against Islam's constitutional status
Khairil Ashraf
January 30, 2018
PETALING JAYA: Two muftis have criticised the landmark ruling by the Federal Court yesterday to set aside the unilateral conversion to Islam of M Indira Gandhi's three children, saying it was not in line with the status of Islam in the constitution.
Perak mufti Harussani Zakaria said the court should respect the constitution and the status of Islam as the religion of the federation.
"It should be like that. But this is as though the country has no religion," he told FMT, hours after the judgment was delivered yesterday.
The ruling put an end to a nine-year interfaith custody battle after Indira's ex-husband Muhammad Riduan Abdullah, who converted to Islam, also converted their three children without Indira's knowledge in 2009.
Riduan had then taken away their youngest daughter Prasana Diksa, then 11 months old.
Indira's eldest daughter Tevi Darsiny, now 21, was 12 at the time, while her son Karan Dinish, 20, was 11 when their religious status was changed from Hindu to Muslim.
The youngest daughter, Prasana, who turns 10 this year, is believed to be still with her father.
Yesterday's decision means the conversion certificates of the three children are null and void.
But Harussani said the decision was like "making Hindus of Muslims".
He said a child will be Muslim when just one of his parents professes the religion.
"If the wife is a Muslim and the husband is not, the child will follow the mother. If the mother is a non-Muslim and her husband a Muslim, the child will follow the father.
"This is under shariah law. No court can change this," he told FMT.
As such, Harussani said the three children should abide by the religion of the father, unless they had already reached puberty and could choose their own faith.
Pahang mufti Abdul Rahman Osman said he was worried about how the three children would be raised under the care of Indira, who is a Hindu.
"That is a matter of concern," he said.
But he added that an infant child still being nursed by a non-Muslim mother was an exception.
"Even then, from the point of view of religion, the child cannot practise the religion of the mother. The child has to be nurtured with Islamic teachings," he said.
He added that the ruling would impact other cases in the long term.
"From the perspective of Islamic law, when a person embraces Islam his children automatically enter the religion," he said.
Full report at:
http://www.freemalaysiatoday.com/category/nation/2018/01/30/mufti-says-court-ruling-against-islams-constitutional-status/
--------
Europe
Controversial Muslim campaigner vows to fight hidden extremism in UK
January 29, 2018
A prominent Muslim campaigner has vowed to investigate the hidden threats from extremism in modern Britain following her controversial appointment to a key government post established after a series of deadly terrorist attacks during 2017.
Sara Khan was named by the UK government to lead a new Commission for Countering Extremism, first proposed after a British-born and raised suicide bomber killed 22 people in Manchester in May last year. An inquiry has revealed missed opportunities to identify and potentially nullify the threat posed by the bomber, Salman Abedi, 22.
Response to her appointment has been divided, with dozens of Muslim groups and scholars opposing the move because of her backing for key sections of the government's controversial counter-terrorism agenda.
Ms Khan's three-year contract will include examining the scale and threat of extremism before laying out her plan to government to tackle it over the next two years. Her remit will include all forms of extremism including from far-right political groups as well as from Islamist extremists behind four of the five attacks in 2017 that killed 36 people.
"I want to hear from victims, whose voices are often missing from the debate," she said in a statement. "We know about the hateful marches and poisonous online videos. But what about the harm we can't see?"
Analysts said such "hidden harms" would include within the family unit from parents whose extreme views could lead their children into active support for ISIL.
Ms Khan was also likely to investigate concerns about home-schooling, a lightly regulated system outside of mainstream education that has been open to abuse, said Nikita Malik who heads the counter-radicalisation unit at the Henry Jackson Society thinktank.
Ms Khan was chosen for the job based on her work over the last decade as a founder and leader of Inspire, an organisation designed to tackle Islamist extremism and promote women's rights. She has been at the forefront of efforts to deflect girls and women from travelling to Syria to join ISIL and become a face of moderate Islam in Britain.
But her outspoken criticism of the "gate keepers" who have spoken on behalf of British Muslims for years has made her a target, according to Ms Malik.
The Muslim Council of Britain (MCB) and the Muslim Engagement and Development (MEND) were among 100 groups and scholars who signed a letter to the Home Secretary Amber Rudd objecting to her appointment. The signatories said they had "no confidence" in the appointment and were "concerned that Muslim communities will refuse to liaise with Ms Khan, thereby defeating the purpose of her appointment to the role," according to Sky News.
Both MCB and MEND had been criticised by Ms Khan during her work as an outspoken rights campaigner for the alleged toleration of extremism among their affiliates and personnel, according to the Policy Exchange thinktank in a blog.
The opposition to Ms Khan's appointment has focused on her support for part of the UK's counter-terrorism programme, known as Prevent, designed to stop the vulnerable being drawn into extremism but has been criticised by some groups as unjustified snooping and scapegoating of Muslim communities.
The former government minister, Sayeeda Warsi, who has led the opposition, has also said she would not be able to challenge those in power since some of her previous work had been government-funded.
But the idea that she is a "government stooge" was hard to reconcile with her opposition to earlier plans for counter-extremism legislation, said David Anderson QC, a former independent reviewer of terrorism legislation who backed her on Twitter.
https://www.thenational.ae/world/europe/controversial-muslim-campaigner-vows-to-fight-hidden-extremism-in-uk-1.700073
--------
Germany Opened 1,000 Investigations into Radical Islamic Extremists in 2017
29 Jan 2018
The number of trials involving terror-linked radical Islamic extremists is on the rise in Germany as the German federal prosecutor announced that his office opened 1,031 investigations into Islamic extremists in 2017.
The German federal prosecutor, based in the city of Karlsruhe, said of the over 1,000 preliminary investigations only two have been brought to trial so far. The prosecutor also noted that the suspects in the investigations were overwhelmingly men with only 24 of the suspects being female, Die Welt reports.
Last year, Attorney General Peter Frank announced that he would be looking more deeply into investigating Islamic extremists and their ties to terror. He specifically mentioned looking into extremist women who have become a larger part of the radical Islamic scene in recent months as many men have been put in prison.
The Agency for the Protection of the Constitution (BfV) in North Rhine-Westphalia warned late last year that women were playing a far more active role in radicalisation and were training a new generation of potential jihadis.
So far, only two women who returned from fighting for jihadist groups in the Middle East have been taken to trial. One, for the abduction of a child and the other for supporting terrorist groups.
According to the BfV, the number of violent Islamic extremists dramatically increased every year since the height of the migrant crisis. In October, the domestic spy agency said they had identified over 1,800 violent radicals, up 64 per cent from the year before.
President of the domestic spy agency Hans-Georg Maassen also warned that radical Islamic ideas were gaining traction with young people in schools across the country.
A survey released earlier this month claimed that 27 per cent of Muslim students in the region of Lower Saxony agreed with the statement, "The Islamic laws of Sharia, according to which, for example, adultery or homosexuality are severely punished, are much better than the German laws."
A smaller number agreed with the creation of an Islamic State in the Middle East, while others outright supported terrorism.
Full report at:
http://www.breitbart.com/london/2018/01/29/germany-opened-1000-investigations-radical-islamic-extremists-2017/
--------
Days after colleague's conversion, AfD vows to ban Islam across Europe
January 29, 2018
Berlin: A senior member of the anti-Islam, right-wing Alternative for Germany (AfD) vowed that once the party comes in power, they will ban Islam starting from the Bosporus in Istanbul - the exact point where the European continent begins.
"Once we come into power, we will enforce what is necessary for us to live our lives freely. We will issue the directive that after crossing the Bosporus, the three great: Mohammed, Muezzin, and minaret, are over, dear friends!", speaking to his AfD supporters on Saturday in Germany's Eisleben, Bjoern Hoecke said.
Hoecke also said Muslims were lovers of war.
"That's why we have to take Islam seriously as a threat," he said.
He further claimed, in his one-hour speech cheered by the crowd, that he was not an enemy of Islam and he was "actually tolerant;" however, Islam did not belong to Europe.
Hoecke did not elaborate on how the AfD would legally ban the religion in Germany and other European countries as leaders in German politics.
Hoecke's outrageous assertion came days after one of his senior colleagues Arthur Wagner converted to Islam and decided to quit AfD. Wagner was working with Muslim refugees and it was there his views of Islam changed.
Earlier in January 2017, Hoecke scandalized the European country when he attacked the monument commemorating the mass murder of Jews and said Germans should be more "positive" about their Nazi past.
"Germans are the only people in the world who plant a monument of shame in the heart of their capital," he told supporters in Dresden at the time.
In a country that has long struggled to deal with its collective guilt over the Nazi era and the Holocaust, the taboo-breaking new extremists have reawakened deep fears about rising xenophobia and race hate.
Berlin daily Tagesspiegel said, "The worst thing is that the more AfD officials say such things, the more quickly they become normal. The outrage wears off, and at some point, there will no longer be an outcry."
Full report at:
http://ummid.com/news/2018/January/29.01.2018/senior-afd-member-vows-to-ban-islam.html
--------
Britain First deputy Jayda Fransen 'aggressive' to Muslim
Jan 30, 2018
The deputy leader of Britain First was "aggressive" towards a Muslim man and called Muslims "bastards" and "rapists", a court has been told.
Jayda Fransen, 31, is accused of religiously-aggravated harassment alongside the leader of the far-right group, Paul Golding, 36.
The pair, both from Penge in south-east London, deny the charges.
Folkestone Magistrates' Court was shown online footage of Ms Fransen asking Faiz Rahmani: "Are you Muslim?".
Ms Fransen is charged with four counts of causing religiously-aggravated harassment, while Mr Golding faces three counts.
They were arrested in May last year as part of an investigation into the distribution of leaflets and online videos, which were posted during a trial at Canterbury Crown Court where three Muslim men and a teenager were convicted of rape and jailed.
Live: More news from across the South East
On the first day of their trial at Folkestone magistrates, video footage entitled "Muslim rapists 2" - which was uploaded to the Britain First website - was played.
It showed Mr Rahmani standing with his brother Tamin Rahmani, who was one of the defendants, and his barrister outside by the door to Canterbury Crown Court.
Ms Fransen was seen asking both men why they were there and "what are you in for?".
She also questioned them about Muslim men who were standing trial for "raping British kids", the court heard.
'Aggressive and loud'
In another video, Ms Fransen asked Mr Rahmani about the "Muslim grooming scandal" and asked him: "Do you know about Rotherham?" and if he understood the word "terrible".
Mr Rahmani told the court: "She was so aggressive, and so loud."
Kevin Smallcombe, defending, questioned why the allegations of being called "bastards" and "rapists" were not shown on the videos played in court.
Mr Rahmani said the video shown had part of the conversation missing and there was a longer version uploaded to YouTube.
'Angry'
Another witness, Jamshed Khesrow, told the court about an incident on 5 May last year when he was visiting 555 Pizza takeaway, which his friend owns in Ramsgate.
He said he heard Ms Fransen outside screaming and shouting: "Come out you paedophile. You're a rapist. Come outside, I want to talk to you."
He said: "I was so scared, I thought she was going to start fighting with me. She was very aggressive and angry."
Full report at:
http://www.bbc.com/news/uk-england-42861616
--------
London Jerusalem conference reiterates Muslim spiritual attachment to the Holy City
January 29, 2018
The Jerusalem conference which took place on Friday 27 January in London, organised by Friends of Al-Aqsa, sent out a resounding message that no Arab or Palestinian leader can negotiate the status of Jerusalem.
Held in the wake of Donald Trump's disastrous intervention on the status of Jerusalem, wholly rejected by the international community at the UN General Assembly, and a 3,000 strong petition which reiterated the centrality of Al-Aqsa to Muslims around the world; the conference was a means of reasserting Muslim attachment to the city and Al-Aqsa.
The conference was addressed by leading scholars including the head of Jamiat Ulama-I-Hind Maulana Mehmood Madani, the General-Secretary of Jamiatul Ulama South Africa Shaykh Ebrahim Bham, Shaykh Abu Bakr from Nigeria and Emeritus Grand Mufti of Bosnia Mustafa Ceric. Speakers from the UK included Salma Yakub, Ajmal Masroor and Shaykh Zahir Mahmood.
Chair of Friends of Al-Aqsa Ismail Patel said "the conference on the religious importance of Jerusalem has been arranged to send a message that Jerusalem carves a special place in the hearts and minds of Muslims and reinforcing that it is not something that can be undermined or negotiated away by any Arab or Palestinian leader."
Statements from the conference:
Mufti Ceric read an open letter to Israel. He reminded the Jewish community of the historical cooperation between Muslims and Jews including in Bosnia where Muslims protected Jews from the Nazis. He said he was saddened to see the aggression from Israel against Palestinians.
Shaykh Bham mentioned the reverence of all the prophets to Muslims and argued for a continuation of Palestinian custodianship of Jerusalem.
Shaykh Madani emphasised the spiritual importance of Jerusalem and requested individuals invest their talents in helping end the occupation.
Shaykh Abu Bakr from Nigeria reminded everyone how Jerusalem has become an international issue which has united the global community.
Full report at:
https://www.middleeastmonitor.com/20180129-london-jerusalem-conference-reiterates-muslim-spiritual-attachment-to-the-holy-city/
--------
South Asia
Pakistan Army supplied military equipment to LeT in Kashmir: Afghan envoy to the US
Jan 29, 2018
NEW DELHI: Pakistan Army has been supplying military equipment to Lashkar-e-Taiba in Kashmir and Taliban in Afghanistan, claimed Afghanistan envoy to the US Majeed Qarar, today.
The allegation was made following an attack on the Afghan Military Academy in Kabul by a group of suicide bombers earlier today. At least five soldiers were killed in the attack and 10 wounded.
"The night vision goggles found with Taliban attackers in Maiwand's ANA base were military grade goggles (not sold to the public) procured by Pakistan Army from a British company and supplied to Lashkar-e-Tayyeba in Kashmir and Taliban in Afghanistan. Lashkar-e-Tayyeba is an international terrorist organisation", Qarar tweeted.
Qarar's claims about the Pakistan army supplying Kashmir-focussed LeT bolster India's contention that terror in the state is being fomented by the Pakistani establishment.
While the US acknowledges that Pakistan harbours terrorists and gives them safe haven, its focus has for long been on Afghan-oriented terrorists and not the LeT, which is run by 26/11 Mumbai terror mastermind Hafiz Saeed. The US did designate Saeed and the LeT a terrorist and a terror group, respectively, after the 2008 Mumbai attack, but it didn't press Pakistan much on the issue.
However, after LeT founder Saeed was freed from house arrest in November by a Lahore high court order, the US has several times urged Pakistan to "do the right thing" and take action against him.
Earlier this month, the National Investigation Agency filed a chargesheet against Saeed, Hizbul Mujahideen head Syed Salahuddin and 10 others in the Jammu and Kashmir terror funding case alleging that they along with their Pakistani handlers, separatists, stone-pelters and terrorists are creating an atmosphere of terror and fear in Kashmir.
https://timesofindia.indiatimes.com/india/pakistan-army-supplied-military-equipment-to-let-in-kashmir-afghan-envoy-to-the-us/articleshow/62693182.cms
--------
Islamic State suicide bombing at Kabul military academy kills 11 soldiers; 2 attackers killed, another nabbed
Jan 30, 2018
Kabul: Islamic State militants attacked Afghan soldiers guarding a military academy in the capital on Monday, killing at least 11 troops and wounding 16.
The attack, which began before dawn and continued well past daybreak, was the latest in a wave of relentless violence in Kabul this month unleashed by the Taliban and the rival Islamic State group that has killed scores and left hundreds wounded.
President Donald Trump condemned the recent spate of violence, saying "innocent people are being killed left and right," including children.
After previously expressing support for Afghan efforts to reach a political settlement with the insurgent group, Trump said "there's no talking to the Taliban."
Afghan Defence Ministry spokesman Dawlat Waziri said a suicide bomber struck the military unit guarding the academy, setting off a gunbattle. Two of the attackers were killed in the gunbattle, two detonated their suicide vests and one was arrested by the troops, he said.
Waziri confirmed that 11 soldiers were killed. He said "the attack was against an army unit providing security forthe academy and not the academy itself."
The Islamic State affiliate in Afghanistan, which calls the country Khorasan Province, claimed the attack in a statement carried by its Aamaq news agency, saying its fighters targeted the academy.
The academy, known as Marshal Fahim National Defense University, is sometimes called "Sandhurst in the Sand" a reference to the British academy. Named after Mohammed Fahim, the country's late vice president and a military commander of the Northern Alliance that fought the Taliban, the academy was inaugurated in 2013 after British forces oversaw the development of its officers' school and its training program.
The academy was also the site where the highest-ranking US military officer to be killed in the wars in Afghanistan and Iraq lost his life, in August 2014.
Army Major General Harold J Greene, then deputy commander of the transition force in the country, was shot and killed by an Afghan soldier in a so-called "insider attack" that was later claimed by the Taliban.
The same academy was also attacked in October last year by a suicide bomber who killed 15 officers. The attacker was on foot and detonated his suicide vest as the on-duty officers were leaving the facility. That attack was also claimed by the Taliban.
President Ashraf Ghani denounced Monday's attack, saying the "Taliban must choose between Islam and terrorism."
Neighboring Pakistan also condemned Monday's attack,saying it "reiterates its strong condemnation of terrorism in all its forms and manifestations, especially the series of heinous attacks within the last week in Afghanistan."
Both the Taliban and Islamic State have stepped up attacks in recent weeks, in what analysts say is a campaign of violence intended to undermine the US-backed government.
On Saturday, a Taliban attacker drove an ambulance filled with explosives into the heart of the city, killing at least 103 people and wounding as many as 235.
The Taliban claimed the ambulance attack, as well as an attack a week earlier in which militants stormed a luxury hotel in Kabul, killing 22 people, including 14 foreigners, and setting off a 13-hour battle with security forces.
Masoom Stanekzai, the head of Afghanistan's intelligence service, said five suspects have been arrested for their involvement in the hotel attack. A sixth suspect had fled the
country, he said.
He also said that four people have been arrested in connection with Saturday's ambulance attack.
The recent attacks have underscored the weaknesses of Afghan security forces more than 16 years after the U.S.-led invasion toppled the Taliban.
They also raise questions about Trump's strategy for winning America's longest war, which was announced in August but has changed little on the ground. That strategy was based on ramping up military pressure on the Taliban to eventually force them into peace talks with the government.
But in a meeting with visiting ambassadors on Monday, Trump said "we don't want to talk with the Taliban."
The Taliban have been waging an insurgency since they were driven from power by US and Afghan forces after the Sept. 11 attacks. In recent years, they have seized districts across the country and carried out near-daily attacks, mainly targeting Afghan security forces and the US-backed government.
They say they are open to direct peace talks with the United States, something Washington has long rejected.
Full report at:
http://www.firstpost.com/world/islamic-state-suicide-bombing-at-kabul-military-academy-kills-11-soldiers-2-attackers-killed-another-nabbed-4326485.html
--------
Myanmar: Muslim lawyer's murder still stirs controversy
Jan. 29, 2017
A year ago, Ko Ni, a prominent Muslim lawyer and top legal adviser for the ruling National League for Democracy, was assassinated in Myanmar's former capital Yangon.
On Monday, lawyer groups, family members and taxi drivers marked the first anniversary of Ko Ni's assassination with calls for justice.
Ko Ni, 63, was shot in the head by a gunman at Yangon International Airport on Jan. 29 as he returned from a visit to Indonesia as part of a Myanmar delegation of Muslim leaders and government officials. A taxi driver, Nay Win, 48, was also shot dead outside the airport as he attempted to apprehend the gunman.
The suspected gunman, Kyi Lin, was arrested shortly after the shooting. He has reportedly confessed to having been hired by a group of three ex-military officers and a businessman to assassinate Ko Ni.
Police then proceeded to arrest three alleged co-conspirators Zeya Phyo, Aung Win Zaw and Aung Win Tun in February. However the suspected group leader Aung Win Khaing is still at large.
Their trial began 10 months ago, but, after nearly 50 hearings, there is still no verdict.
Yin Nwe Khaing, Ko Ni's eldest daughter, told Anadolu Agency that the only thing the family was wary of was losing sight of truth and justice.
- 'Who is really behind this'
"We can wait. It doesn't matter for us even if the trial process takes a decade," she said in a telephone interview on Monday.
''What we want to know is who is really behind this," she said, adding that she believed the four current suspects were not the only ones responsible for the assassination.
"It seems we cannot get the truth as long as Aung Win Khaing is still at large," said Yin Nwe Khaing.
In a joint statement on Sunday, the Myanmar Lawyers' Network, the Yangon Lawyer Association and Media Lawyers' Network called for the swift punishment of the accused murderers -- again, a verdict has yet to be pronounced.
Nay La, a lawyer for Ko Ni, told Anadolu Agency over the phone that authorities must put forward more efforts to bring Aung Win Khaing before a court.
"We believe there have been flaws in the police investigation of the case. Police testified Aung Win Khaing has not left the country yet. So why have they not identifed his location and arrested him?" he said.
"So the question for police is where he is hiding or who is protecting him," said the lawyer.
- 'Extreme patriotism' Military-appointed Home Affairs Minister Lt. Gen. Kyaw Swe had said the killing was motivated by "extreme patriotism", and was not part of a larger conspiracy involving the military or an ultra-nationalist group.
"This extreme patriotism led to assassinating him according to our findings," Kyaw Swe told a news conference last February.
Many note that the assassination coincides with Ko Ni's call on National League for Democracy lawmakers to accelerate works to amend the constitution, which still grants considerable power to the military.
The assassination came after Ko Ni had spoken about the possible constitution amendments in a public talk.
The Muslim lawyer in a predominantly Buddhist country is considered the one reponsible for helping create the State Counsellor position for Aung San Suu Kyi, who was barred from the presidency by a clause in the country's military-designed contitution.
The counsellor position allows Aung San Suu Kyi to, in effect, run the nation.
More than 650,000 refugees, mostly children and women, have fled Myanmar since Aug. 25, 2017, when Myanmar forces launched a crackdown on the minority Muslim community, according to the UN.
At least 9,000 Rohingya were killed in Rakhine state from Aug. 25 to Sept. 24, according to Doctors Without Borders.
In a report published on Dec. 12, 2017, the global humanitarian organization said the deaths of 71.7 percent or 6,700 Rohingya were caused by violence. They include 730 children below the age of 5.
Full report at:
http://aa.com.tr/en/asia-pacific/myanmar-muslim-lawyers-murder-still-stirs-controversy/1046006
--------
UN says 100,000 Rohingya in grave danger from monsoon rains
January 29, 2018
GENEVA: More than 100,000 Rohingya refugees huddled in squalid, muddy camps in Bangladesh will be in grave danger from landslides when the mid-year monsoon season begins, a UN humanitarian report said.
There are now more than 900,000 Rohingyas in the Cox's Bazar area of Bangladesh, after 688,000 fled violence in Myanmar that flared up in late August. Aid workers say the camps sheltering the new arrivals are completely inadequate.
"Landslide and flood risk hazard mapping reveal that at least 100,000 people are in grave danger from these risks and require relocation to new areas or within the neighborhoods that they live in," the UN report said.
"The lack of space remains the main challenge for the sector as sites are highly congested leading to extremely hard living conditions with no space for service provisions and facilities. In addition, congestion brings increased protections risks and favors disease outbreak such as the diphtheria outbreak currently escalating in most of the sites."
Although a rapid vaccination program appears to have staved off the risk of cholera, 4,865 have confirmed, probable or suspected diphtheria, and 35 have died.
The World Health Organization has vaccinated over 500,000 Rohingyas against diphtheria and on Saturday health workers began giving 350,000 children a second dose. The WHO also has 2,500 doses of anti-toxin, which is in short supply globally, to treat the deadly effects of the disease.
But a new health concern has arisen mumps. The UN report said there had been an increase in cases in the past few weeks, and Rohingya refugees and host communities had never been vaccinated against the highly contagious disease, which is rarely fatal but can cause complications such as meningitis.
Most of the Rohingya refugees almost 585,000 are in an overcrowded area called Kutupalong-Balukhali.
"A high percentage of the land is unsuitable for human settlement as risks of flooding and landslides are high and are further aggravated by the congestion and extensive terracing of the hills," the UN report said.
"The anticipated flooding and landslides in the upcoming monsoon season will make a bad situation much worse."
A recent engineering assessment said all roads in the camp would be inaccessible for trucks, and the World Food Programme is considering using porters to distribute food, minutes of a Jan. 24 meeting of aid agencies involved in logistics said.
The Bangladeshi government allocated 2,000 acres (809 hectares) for a new camp in Ukhia, prompting an influx of people before anything was ready.
Full report at:
https://nation.com.pk/29-Jan-2018/un-says-100-000-rohingya-in-grave-danger-from-monsoon-rains
--------
Pakistan
Terrorist involved in Kabul hotel attack was trained in Balochistan: Afghan ambassador
Jan 30, 2018
Afghanistan's Ambassador and Permanent Representative to the United Nations Mahmoud Saikal said Monday that Abdul Qahar, the father of one of the terrorists involved in last week's attack on Kabul Intercontinental Hotel, has admitted that his son was trained in Chaman area of Balochistan province in Pakistan.
This was revealed by Saikal in a tweet which also said that the attacker received training in Pakistan under the supervision of Pakistani intelligence agency Inter-Services Intelligence. The tweet also mentioned that Qahar was presently in the custody of Afghan authorities.
https://www.pakistantoday.com.pk/2018/01/30/terrorist-involved-in-kabul-hotel-attack-was-trained-in-balochistan-afghan-ambassador/
--------
Tehreek-i-Labbaik leader demands Nisar's arrest
Amjad Mahmood
January 30, 2018
ISLAMABAD/LAHORE: Dema­nding the arrest of former interior minister Chaudhary Nisar Ali Khan over the killings of Tehreek-i-Labbaik Ya Rasool Allah (TLYRA) supporters at Faizabad, Pir Afzal Qadri, their patron, deplored that the institution acting as a guarantor of peace with the government had been inactive on the issue.
Separately, lawmakers of the ruling Pakistan Muslim League-Nawaz (PML-N), who had resigned from public office at the behest of Sargodha-based Pir Hameeduddin Sialvi, following the controversy over a Khatm-i-Nubuwat clause in the Elections Act 2017, have begun withdrawing their resignations.
At a press conference held at the National Press Club on Monday, Pir Afzal Qadri said it had been a month since the TLYRA had signed an agreement with the government. He claimed that the government had not taken any steps to execute any of the terms they had agreed on.
Pir Qadri said that seven of their activists were travelling from Rawalpindi to Faizabad, where the TLYRA's protest was under way, when they were shot at allegedly from the former minister's house on orders of the incumbent interior minister.
Responding to questions from reporters, he explained: "In March 2016, a rally we had taken out from Liaquatabad, on the occasion of the chehlum of Mumtaz Qadri, faced baton charge and shelling by the police at the same spot...this time around, shots were fired from the house of Chaudhary Nisar, killing seven of our supporters."
Reporters have been told that an application was submitted in New Town police station over the incident.
"Neither was an FIR registered, nor was there any development over the incident, despite the fact that the government had promised to conduct an inquiry over the matter and assured us that the culprits would be punished," Pir Qadri added.
He deplored that the institution acting as a guarantor of the agreement had become inactive. "Our basic demand was to sack the law minister but when they launched the operation against our workers, the police failed to disengage them despite the use of strong force, fire power, massive shelling and baton charge," he said, adding, "But when police started to flee the scene and the administration refused to provide reinforcements the government asked the army to help attack us, and the army chief responded with the offer to talk the way out."
He added, "The Army became a guarantor to save the country from chaos and further bloodshed."
He said the TLYRA had given Rs500,000 to the families of each of the seven men who had died in the government operation.
"Looking at the indifferent attitude of the government it, it appears as if another protest is needed to press for release of the Raja Zafarul Haq report over the amendment in the oath for parliamentarians," he added.
Meanwhile, two MNAs and three MPAs from Sargodha division had submitted written resignations to their respective assemblies on Dec 10, 2017, to express solidarity with Pir Sialvi's Khatm-i-Nubuwat movement demanding the removal of Punjab Law Minister Rana Sanaullah.
They included MNAs Ghulam Bibi Bharwana from Jhang and Dr Nisar Jatt from Faisalabad, and MPAs Khawaja Nizamuddin Sialvi, Maulana Rehmatullah and Muhammad Khan Baloch.
Full report at:
https://www.dawn.com/news/1386095
--------
6 of a family killed in Kurram Agency landmine blast
Ali Akbar
January 30, 2018
Six members of a family were killed in a landmine blast in Kurram Agency on Tuesday, sources in the political administration told DawnNews.
The family was on its way to attend funeral prayers when the blast occurred in Upper Kurram's Basu area, sources added. One person was injured in the explosion, they said.
The injured and the bodies were shifted to District Headquarters Hospital in Parachinar shortly after the explosion occurred, sources said.
Full report at:
https://www.dawn.com/news/1386188/6-of-a-family-killed-in-kurram-agency-landmine-blast
--------
Qatar Air Force head praises PAF role in war against terrorism
JANUARY 30, 2018
ISLAMABAD: Qatar Emiri Air Force Commander Maj Gen Mubarak Mohammed Al-Kumait Al-Khayarinon Monday lauded the role of Pakistan Air Force (PAF) in fighting the war against terrorism.
He said this while speaking during his visit to the Air Headquarters, Islamabad.
Earlier upon his arrival at Air Headquarters, the distinguished guest was received by Air Chief Marshal Sohail Aman, the PAF chief of the air staff. A smartly turned out contingent of Pakistan Air Force presented the guard of honour.
Later, Maj Gen Mubarak Mohammed Al-Kumait Al-Khayarin called on the air chief at his office. Both the dignitaries remained together for some time and discussed matters of professional and mutual interest.
The Qatar Emiri Air Force commander appreciated the professionalism of PAF personnel and expressed his desire to learn from its experiences.
Full report at:
https://dailytimes.com.pk/191739/qatar-air-force-head-praises-paf-role-war-terrorism/
--------
Mideast
Footage shows renewed protests in several Iranian cities overnight
30 January 2018
Protests renewed in Iran overnight according to videos and footage which showed people protesting in Bandar Abbas in the south, Najafabad in Isfahan in center Iran, Kerman in the southeast and in Shiraz, the center of the Fars Province.
During their protest in Bandar Abbas, protestors were calling on more people to join them.
In Shiraz, protestors chanted "death to the dictator." This has become a major slogan during the recent protests against Iran's Supreme Guide Ali Khamenei.
In Najafabad, protestors chanted against the regime while in Kerman they called on security forces not to suppress their protests and to support their peaceful demonstrations.
https://english.alarabiya.net/en/News/middle-east/2018/01/30/Footage-showes-renewed-protests-in-several-Iranian-cities-overnight-.html
--------
Top Turkish cleric calls on Muslims to unite
January 29, 2018
The head of Turkish Religious Affairs Ali Erbaş said Monday the Palestine and Jerusalem issue could be solved through the united efforts of the Muslim world.
The event in Istanbul on "Jerusalem: The City Blessed by Revelation", organized by Turkish Religious Affairs, aims to draw attention to the importance of Jerusalem in the Islamic faith and to stress the solidarity with the oppressed Palestinian people.
Speaking at the event in Istanbul, Erbaş said: "It is now clear that those who occupy Palestine and Jerusalem and drag the world into war and chaos do not care and take no account of values as law, mercy, conscience, democracy and human rights. The only solution at this point is that the Ummah [community] comes together to prevent the persecution and occupation."
He underlined that Israel continued its oppression of the Palestinian people and occupation of their territories with the support of the U.S. and other global powers.
"An invader community, built as a handful of minorities in the center of Islamic geography, has become the biggest obstacle to peace in the Middle East -- with the support of a number of centers of power, especially the United States -- through reckless and spoiled attitudes that disregard international law, morality and the sanctity of other beliefs."
Erbaş blamed the scattered and weak position of the Islamic communities for the situation in Jerusalem.
"Islamic countries should abandon artificial contention and conflict among themselves," he argued.
"A strong and prosperous Islamic world will ensure the peace and confidence of all mankind as well as being the conscience and hope of a humanity seeking rights, law, justice and safety", he added.
"We know that the fighting of races and denominations […] is a deadly virus left by others in this geography."
Chairman of the Caucasian Muslims Office in Azerbaijan, Sheikh-ul-islam Allahshukur Pashazade vowed his support to the Palestinian cause and thanked Turkey for its support to Palestine and Jerusalem.
Full report at:
https://www.yenisafak.com/en/world/top-turkish-cleric-calls-on-muslims-to-unite-3033547
--------
Speaker of Turkish National Assembly Declares 'Jihad' Against Kurds
29 Jan 2018
Ismail Kahraman, Speaker for Turkey's National Assembly, described his country's military incursion against the Syrian Kurds as a "jihad" over the weekend. Meanwhile, the Turkish government's crackdown on criticism of the operation continued with over 300 new arrests.
"Look, we are now in Afrin. We are a big country. Without jihad, there can be no progress, one cannot stand on their feet," said Kahraman on Saturday, referring to the Kurdish-held city attacked by the Turks and their Syrian proxy forces.
Turkey Untold reports that Kahraman slipped in a little jab against the United States for criticizing the Syrian operation, asking, "What business do the American cowboys have here?"
According to Kurdistan24's account of his remarks, Kahraman was also "critical of the U.S. military presence in the Middle East and elsewhere globally."
Later on that same day, Turkish President Recep Tayyip Erdogan compared the Syrian Kurdish YPG militia and the separatist Kurdistan Workers' Party (PKK) of Turkey to the Islamic State (ISIS), claiming none of those organizations has true "religion, faith, or God."
Kurdistan24 reports that Turkey's Islamic religious establishment has become involved in the Afrin operation in a variety of ways, from imams praying for Turkish victory in their sermons to the Diyanet (Turkey's government ministry of religion) ordering clerics to read a portion of the Koran related to military conquest. A pro-Kurdish lawmaker condemned the latter action by insisting that the Diyanet was perverting the meaning of the Koranic verse in question.
Despite this use of warlike religious language by Erdogan and his supporters, Foreign Minister Mevlut Cavusoglu insisted on Monday that the Kurds and ISIS are the ones corrupting the message that Islam "means peace."
"Can we defend [ISIS] because we are Muslim and they are using the religion of Islam? On the contrary, [ISIS] has nothing to do with our religion Islam, which means peace," Cavusoglu said, in the course of criticizing Europeans who are standing up for the Kurds as Turkey invades.
"The single person who has been most effective in killing this ideology [of ISIS] is Erdogan. Because Muslims all over the world are waiting to hear what Erdogan says. Because Erdogan is the only leader expressing sentiments of the Islamic Ummah," Cavusoglu asserted.
He suggested anyone who shares the ideology of the Kurdistan Workers' Party (PKK) should "take up arms and go to the mountains" to fight alongside the "Marxist, Leninist, and atheist" PKK.
A new argument for the Turkish campaign made by Cavusoglu and other Turkish officials is that the Turkish invasion will liberate the Kurds of northern Syria from the YPG, which is dominating a captive population of Kurds who actually sympathize with Turkey. In fact, one Turkish minister claimed the Kurds of Afrin are "thanking Turkey for saving them from those without religion."
Rami Abdel Rahman of the London-based Syrian Observatory for Human Rights countered that "Turkey's only genuine enemy in Syria is the Kurds."
"Turkey allowed jihadi fighters to cross its border as early as 2011, as we have repeatedly reported," Rahman said in an interview with Deutsche Welle over the weekend. "Turkey supports anything that harms the Kurds. Over a year ago, Turkey withdrew its armed forces from eastern Aleppo, which then was surrounded by President al-Assad's troops to use them against the YPG and prevent Kurdish-controlled Afrin linking up with other Kurdish areas. By withdrawing its troops from Aleppo, Turkey effectively handed over the city to Damascus."
Rahman said, that contrary to their claims, the Turkish military is "making slow progress because of fierce Kurdish resistance." He also challenged some claims from the Kurdish side, including the foreigners who joined the YPG to fight ISIS, are moving into combat positions against the Turks, and that al-Qaeda forces have joined up with the Turks to fight Kurds.
Rahman mentioned some interesting but unconfirmed rumors about the Syrian government's position on the Turkey-Kurd battle, including the Assad regime allegedly permitting Kurdish reinforcements to move through territory held by the Syrian government, and that Russia is pushing the Kurds to hand Afrin back over to Syrian government control in order to halt the Turkish offensive. Supposedly the Kurdish refusal to surrender Afrin to Damascus prompted Russia to give Erdogan a green light for his cross-border offensive.
Rahman predicted that the Kurds will "fight to the end" because they "have no other choice."
Turkey confirmed on Monday that Leopard 2 tanks supplied by Germany have been deployed against the YPG in Syria. This has become a point of contention for Germany, which has decided to delay a decision about providing an upgrade requested by Turkey for its 354 Leopard 2 vehicles.
Full report at:
http://www.breitbart.com/national-security/2018/01/29/speaker-turkish-national-assembly-declares-jihad-kurds/
--------
Iranian Sunni Cleric Faces Travel Restrictions: "It All Comes Down to Intolerance"
JANUARY 29, 2018
Regardless of how much he attempts to cooperate with Iran's Muslim Shia government, the country's highest-ranking Muslim Sunni cleric, Molavi Abdolhamid Ismaeelzahi, continues to be subjected to travel restrictions.
"We know that if we don't ask for permission before we travel, the authorities will create problems for us," said Abdolhamid, the Friday prayer leader of Zahedan's Sunni community in Sistan and Baluchistan Province, in an interview with the Center for Human Rights in Iran (CHRI) on January 24, 2018.
He continued: "We understand the situation and the pressures that exist. So we have decided to coordinate our plans with the authorities. We wanted to go to Mashhad but they didn't allow it. We said thousands of people go to Mashhad every day. They said those people are different because if I go to Mashhad, the people will come to see me. Then we wanted to go to Kerman and we talked about it with the authorities but they didn't give us permission."
"I have my passport but I have been instructed to inform the authorities before traveling abroad," added Abdolhamid. "One time they allowed me to attend a conference. Since then I have informed them of several other conferences but they have not approved my requests."
In addition to leading Friday prayers in Zahedan, the well-known Sunni cleric heads the council of Sunni religious schools in Sistan and Baluchestan Province and is a member of the International Union of Muslim Scholars. A loyal supporter of the Islamic Republic, Abdolhamid is also an outspoken defender of the constitutionally guaranteed rights of Sunni Muslims in Iran.
Despite accounting for an estimated five to 10 percent of Iran's population, no Sunni has been appointed to a ministerial position in government since the establishment of the Islamic Republic in 1979.
Article 12 of Iran's Constitution specifies the rights afforded to the officially recognized Sunni branches of Islam: "…Other Islamic schools, including the Hanafi, Shafi'i, Maliki, Hanbali, and Zaydi are to be accorded full respect, and their followers are free to act in accordance with their own jurisprudence in performing their religious rites. These schools enjoy official status in matters pertaining to religious education, affairs of personal status (marriage, divorce, inheritance, and wills) and related litigation in courts of law."
According to Article 26: "The formation of parties, societies, political or professional associations, as well as religious societies, whether Islamic or pertaining to one of the recognized religious minorities, is permitted provided they do not violate the principles of independence, freedom, national unity, the criteria of Islam, or the basis of the Islamic republic. No one may be prevented from participating in the aforementioned groups, or be compelled to participate in them."
Abdolhamid told CHRI that discrimination against Sunnis in Iran continues to pervade his community's everyday lives.
"I think its just intolerance," he said. "We are citizens of this country and we have the right to exercise our rights. Iran is our homeland but they won't let us go to cities in our own country. I get invited by people in Sunni regions and they expect me to visit them but there are problems."
He added: "We are not the opposition. We have criticism, criticism along with solutions. We have always taken part in elections and actively participated and cooperated in other areas. We have always stressed unity between Shias and Sunnis. We strongly oppose tension and discord."
Re-elected on May 19, 2017, President Hassan Rouhani did not appoint Sunnis or women to ministerial positions in his government despite calls from clerics, activists and scholars for him to form a more inclusive cabinet.
"Our province is turbulent because of the long border [with Pakistan and Afghanistan] and the authorities acknowledge that peace is maintained by the efforts made by the Sunni religious leaders," said Abdolhamid. "So you would think the authorities would not have a problem with us, but they do. It all comes down to intolerance."
In September 2017, Supreme Leader Ali Khamenei forbade "discrimination and inequality" against Iranian minorities but Sunni rights activists have seen no improvements.
Full report at:
https://www.iranhumanrights.org/2018/01/iranian-sunni-cleric-faces-travel-restrictions-it-all-comes-down-to-intolerance/
--------
Around 200 Houthi loyalists join legitimate forces in Yemen's Jawf
29 January 2018
The Yemeni army said on Sunday that around 200 commanders and figures who are loyal to the Houthi militia joined legitimate forces in Jawf, north of the country, adding that more are joining them by the hour.
Brigadier General Ali Mohsen al-Hedi said coordination is underway with Jawf clerics, dignitaries and commanders who want to join legitimate forces and the national army.
He added that most commanders and dignitaries have not yet announced joining legitimacy due to security reasons.
A number of Jawf commanders and influential figures who are loyal to the Houthis announced their decision to join legitimate forces few days ago after the Yemeni army and the Saudi-led coalition advanced and liberated large parts of Jawf.
Full report at:
https://english.alarabiya.net/en/News/gulf/2018/01/29/Around-200-Houthi-loyalists-join-legitimate-forces-in-Yemen-s-Jawf.html
--------
UN employees in Gaza stage mass strike over US aid cut
Jan 29, 2018
Thousands of the United Nations employees have staged a mass strike in the besieged Gaza Strip over US plans to cut annual aid to a relief agency that renders aid to Palestinian refugees.
Some 13,000 employees went on a one-day strike on Monday, closing schools, clinics and food distribution centers in the Gaza Strip in protest at the US administration's decision earlier this month to cut its financial contribution to the United Nations' Relief and Welfare Agency (UNRWA), which runs 278 schools in the region attended by some 300,000 Palestinian students.
The employees also marched to the UN headquarters in Gaza City, waving Palestinian flags and brandishing banners that read "Dignity is priceless."
Appreciating the UN staff's action, UNRWA spokesman Abu Hasna said the agency, which has launched an international appeal for funds, had only enough money to operate for three months.
On January 16, the US State Department announced that Washington would hold back 65 million dollars to UNRWA - more than half its planned contribution this year - and demanded that the agency make unspecified reforms.
In a tweet on January 2, US President Donald Trump said Washington gave the Palestinians hundreds of millions of dollars a year, but got "no appreciation or respect."
UNRWA was established by the UN General Assembly in 1946, one year after the creation of the Israeli regime. More than half of the two million people in the Gaza Strip depend on support from UNRWA or other humanitarian organizations.
Speaking at the World Economic Forum in Davos last week, Trump also criticized the Palestinian leadership for what he called disrespecting Vice President Mike Pence during his visit to the region and suggested such behavior provided grounds for cutting aid.
The Monday strike comes as relations between the US and Palestine have been strained since December 2017 when Trump recognized Jerusalem al-Quds as Israel's capital and vowed to relocate the US embassy in Israel from Tel Aviv to the occupied city.
Full report at:
http://www.presstv.com/Detail/2018/01/29/550607/UN-employees-Gaza-Strip-UNRWA-US-aid
--------
Turkey and Iran's past, present and future similarities in the Middle East
Jan 30, 2018
The division and deterioration in Iran paves the way to destabilize Turkey and encourage Middle Eastern states that want to change regimes or governments for the sake of their own interests. That is why the same foreign powers that tried to further fuel this in Middle Eastern countries – most recently in Iran – attempt to judge Turkey in the international courts, declaring it an insecure country. Discrediting Turkish banks and suspending visa services are the same powers' efforts to drag Turkey into eco-political chaos and collapse.
Turkey and Iran resemble one another greatly in terms of their histories and recent developments. They are also very similar in that they both stand against the international community. There have been efforts to integrate both of them into the international system in the past decade. In particular, they tried to persuade Turkey to adopt the concept of moderate Islam invented by Richard Holbrooke at the edge of planning the Greater Middle East project in the aftermath of the U.S. invasions of Afghanistan and Iraq. According to Holbrooke, Islam is bound to be transformed in line with Western interests. That is why Turkey should adopt his vision of moderate Islam. However, Turkey naturally rejected behaving according to this ill-minded, irrational plan. Indeed, the term moderate Islam is used by Western powers to create hegemony with regard to Middle Eastern countries and Turkey.
In the period of time when Turkey had a mission to act on behalf of the West under the auspices of NATO, Iran had very strong ties with the West. Almost all oil resources were transported by means of Western oil companies.
Oppose and face pressure
Whenever Turkey began changing its Western-oriented foreign policy, the above-mentioned powers attempted to re-align it through coups and military interventions. In addition to domestic crises, they also tried to destabilize Turkey's foreign policies such as with the Georgia and Ukraine conflicts in 2005 and the Arab Spring. Turkey was attacked on July 15, 2016, by the Gülenist Terror Group (FETÖ) in a deadly coup attempt.
Coincidentally, Iran was fighting British, U.S. and Russian imperialisms during this time. Iran followed a foreign policy independent of the U.S. It was first denounced as a rogue state and then subjected to very ruthless international sanctions. Most recently, it saw destabilization during the Mashhad protests that spread to more than 40 cities similar to the Gezi Park protests in Turkey.
2017 was a challenging year
The last two years were very challenging for Turkey in terms of security and foreign policy. However, 2017 ended with Turkey reaching some substantial results at the most critical points, showing very prudent approaches in accordance with the newly establishing world order. The new foreign policy vision adopted by Ankara played a big role in it, leading to new gains because it was rational, realistic, factual not only discourse.
Confronting terrorists
Turkey's Operation Euphrates Shield against terrorist groups was certainly the primary parameter demonstrating that the country is able to overpower Daesh and the PKK-affiliated Democratic Union Party's (PYD) People's Protection Units (YPG). The operation also showed that Ankara is able to negotiate with Russia. With the counterterrorism offensive, Turkey blocked the YPG- terror corridor near its border with Syria. Moreover, it also prevented the plan to inactivate its role in neighboring countries in the Middle East and to change the pipeline of energy transportation.
In the diplomacy arena, the Astana talks were one of the most considerable steps taken by the strategic alliance of Turkey, Iran and Russia, as an alternative and complement to the Geneva talks with regard to diplomatic bargaining. In the Qatar crisis, Ankara again was on the stage with a balanced approach to prevent the crisis from increasing by not struggling with Saudi Arabia. Meanwhile, Kurdistan Regional Government (KRG) then President Masoud Barzani announced that Iraqi Kurdistan would go to the polls for an independence referendum.
This discriminatory and separatist policy was invalidated in cooperation with Iraq and Iran. Iraqi politics were rescued from being constrained by Barzani's narrow-minded vision. In the case of Jerusalem, Ankara achieved diplomatic success and mobilized the Islamic world against the U.S.'s insolence. The U.S. was isolated at the U.N. and Turkey gave a message to the rest of the world about the Palestinian-Israeli conflict. One of the most positive developments for Turkish diplomacy was in Africa. President Recep Tayyip Erdoğan's visit to African countries showed how important Turkey is for them.
How did it happen?
The answer is very simple. Turkey changed its out-of-date paradigm and adopted a more rational policy, engaging with the realities of the world's new age. With this new diplomacy, Ankara clarified its priorities and produced strong, coherent strategies.
During this period, Iran's foreign policy had many common motives with Turkey's, particularly in its seeking a strategic opening as a pivotal power and having an independent character.
In fact, the two countries' similarities are not something new. Having common features, the two societies include various ethnicities, religions, sects and languages and experienced the modernization process that compelled them to establish nation-states by interrupting their respective empires. Probably the most valuable commonality is that their governing elites were Turks. Iran was governed by Azeri rulers or dynasties for approximately 1,000 years. On the other hand, Turkish people borrowed almost all terminology about religious practices from the Persian language.
Full report at:
https://www.dailysabah.com/op-ed/2018/01/30/turkey-and-irans-past-present-and-future-similarities-in-the-middle-east
--------
Yemen: Revolutionary Forces Preempt Heavy Attack of Saudi-Backed Terrorists
Jan 29, 2018
According to the official media wing of the Ansarullah forces, their rocket battalion unleashed a flurry of anti-tank missiles on the Saudi and UAE-backed forces in the Yakhtoul area of Ta'iz, destroying at least three armored vehicles and killing several military personnel.
The Ansarullah forces stated that the Saudi-backed fighters were preparing to launch a massive offensive before they unleashed a barrage of missiles on their positions.
A senior Ansarullah official announced on Saturday that the movement would unveil a newly-developed missile in the near future to change the scene of the battle in favor of Yemen in the war against the Saudi aggressors.
"The missile will most likely change the military trend of the war," Abdolquds al-Shahari, a media official of Ansarullah, was quoted by the Russian Sputnik news agency as saying.
Elsewhere, he blasted the Saudi-led coalition which launched the devastating war against Yemen for destroying all the existing mechanisms for a negotiated settlement to the crisis.
Full report at:
http://en.farsnews.com/newstext.aspx?nn=13961109000610
--------
Iran FM: Trump fake evidence, bid to promote Iranophobia at UNSC
Jan 29, 2018
Iranian Foreign Minister Mohammad Javad Zarif says US President Donald Trump is resorting to "fake evidence" to spread Iranophobia.
"In the fake news department, Trump & Co. attempt to create an Iranphobic narrative at the UN Security Council -- through wining and dining and fake evidence provided by a warring neighbor," Zarif said in a post on his official Twitter account on Monday.
He added that such efforts would only seem acceptable to "the same desperate neighbor and its accomplices in war crimes," in what was a clear reference to Saudi Arabia's anti-Iran efforts.
Zarif's comments came after the US president addressed a lunch meeting with members of the United Nations Security Council, accusing Iran once again of destabilizing the Middle East and providing Yemen's Houthi Ansarullah fighters with ballistic missiles. On December 14, US Ambassador to the UN Nikki Haley presented what she claimed to be "undeniable" evidence, including the allegedly recovered pieces of a Yemeni missile, saying it proved that Iran was violating international law by giving missiles to the Houthi Ansarullah movement. The Houthis have been fighting back a Saudi-led aggression with allied Yemeni army troops and tribal fighters since March 2015.
A few days later, she said that the UN Security Council could strengthen the provisions in Resolution 2231, which was approved in July 2015 to endorse the multilateral nuclear deal with Iran, or adopt a new resolution banning Tehran from all activities related to ballistic missiles.
Earlier on Monday, a senior Iranian official rejected unfounded US accusations about the Islamic Republic providing Yemen's Houthi Ansarullah fighters with ballistic missiles, saying Washington would never achieve any success in its "puppetry" against Tehran.
"They [US officials] directly accuse Iran of meddling in Yemen while they are indirectly denying the bravery, resistance and self-sacrifice of the Yemeni nation," Ali Akbar Velayati, a senior advisor to Leader of the Islamic Revolution Ayatollah Seyyed Ali Khamenei on international affairs, said in an interview with the IRIB on Monday.
Full report at:
http://www.presstv.com/Detail/2018/01/29/550627/Zarif-trump-Twitter-Haley
--------
North America
Trump says no to talks with Taliban
Jan 30, 2018
WASHINGTON: United States President Donald Trump has ruled out quick talks with the Afghan Taliban following a wave of bloody large-scale attacks in the Afghan capital, Kabul.
Trump's decision comes in the wake of Monday's attack on a military academy in Kabul in which 11 soldiers were killed – the third major attack in a spate of violence over the past nine days.
Earlier in the day, the suicide attack on an Afghan army battalion killed at least 11 soldiers and wounded 16, according to the defence ministry spokesperson.
"I don't think we are prepared to talk right now," Trump said, throwing into question Washington's strategy of pushing the group towards the negotiating table.
"We don't want to talk with the Taliban," Trump said. "They are killing people left and right, innocent people."
However, he did not rule talks in the long run, saying, "There may be a time but it's going to be a long time."
On Monday, Kabul suffered its third major assault in recent days, as the Taliban and Islamic State escalate their offensives.
The militants have stepped up their attacks on beleaguered Afghan troops and police in recent months, sapping morale already hit by desertions and corruption.
Last Saturday, a Taliban suicide attacker driving an explosives-packed ambulance blew it up in a crowded area of the capital, killing at least 103 people — mainly civilians — and wounding 235 in one of the worst bombings in the city in recent years.
And on January 20, Taliban fighters stormed Kabul's landmark Intercontinental hotel and killed at least 25 people, the majority of them foreigners, in an assault lasting more than 12 hours.
In August, Trump concluded a months-long review of America's strategy to win the brutal war in Afghanistan, now entering its 17th year.
The strategy called for an increase in the tempo and intensity of strikes against the Taliban. The aim is to persuade some Taliban factions to enter talks with the government in Kabul.
This month's spate of bombings and Trump's comments indicate that end game may further away than the White House would like.
TALIBAN DELEGATION'S VISIT TO PAKISTAN:
According to a meeting of Taliban's Qatar delegation and Pakistan officials in Islamabad this month, the Taliban had agreed to come to the table to initiate talks with the US; however, they had refused to hold talks with the Afghan government.
The Taliban delegation, comprising five leaders, including Shababuddin Dilawar and Malawi Rasool, had come from Qatar to explore prospects of resuming talks, reported a foreign news agency.
Without disclosing much detail, the statement issued by the group said that "the group favours political settlement to end the ongoing violence in the country". The news agency, however, reported that the Taliban refused to hold talks with the Afghan government; they were willing to sit on the table with the US though.
Pakistan Foreign Minister Khawaja Asif had told Senate Standing Committee on Foreign Affairs on Wednesday [Jan 23] that he was not aware of any Taliban delegation visiting Pakistan.
On the other hand, diplomatic sources in Islamabad quoted by VOA said that they were "aware" of the arrival of Taliban officials.
PAK-US RELATIONS AFTER TRUMP'S AFGHAN STRATEGY:
There is a rise in attacks in Afghanistan after the US halted military aid to Pakistan and the relations between the countries turned sour following the Trump's Afghan strategy announced in August 2017, also affecting the intelligence cooperations.
The Trump admin has constantly accused Pakistan of harbouring terrorists as it urged the country to 'do more' in the war on terror. While Pakistan insists that there are no facilitators of terrorist groups on its soil, and reiterates stance on the US's repetitive demand for the country to 'do more'.
In addition to that, the Trump administration earlier this month announced the suspension of about $2 billion in security aid to Pakistan over accusations Islamabad is playing a double game in Afghanistan. However, Pakistan vehemently denies these accusations and alleged the US of disrespecting its vast sacrifices in fighting terrorism.
The suspension includes Coalition Support Funds (CSF) for Pakistan, which is provided by the Pentagon to help pay the costs of Pakistan's counterterror operations.
https://www.pakistantoday.com.pk/2018/01/30/trump-says-no-to-talks-with-taliban/
--------
US lifts ban on refugees from 11 countries
30 January 2018
The United States announced Monday it was lifting its ban on refugees from 11 "high-risk" countries, but said those seeking to enter the US would come under much tougher scrutiny than in the past.
Applicants from 11 countries, unnamed but understood to include 10 Muslim-majority nations plus North Korea, will face tougher "risk-based" assessments to be accepted.
"It's critically important that we know who is entering the United States," said Homeland Security Secretary Kirstjen Nielsen.
"These additional security measures will make it harder for bad actors to exploit our refugee program, and they will ensure we take a more risk-based approach to protecting the homeland."
The 11 countries, hit with a ban in October in the Trump administration's revised refugee policy, have not been identified officially.
But refugee groups say they comprise Egypt, Iran, Iraq, Libya, Mali, North Korea, Somalia, South Sudan, Sudan, Syria and Yemen.
Speaking anonymously, a senior administration official told journalists that the policy of enhanced security assessments for the 11 countries was not designed to target Muslims.
"Our admissions have nothing to do with religion," the official said, adding that there is "nothing especially novel" about tougher screening for countries deemed to have a higher level of risk.
Donald Trump has pursued a much tougher stance on immigrants and refugees from all countries since becoming president one year ago.
Full report at:
https://english.alarabiya.net/en/News/world/2018/01/30/US-lifts-ban-on-refugees-from-11-countries.html
--------
Many Muslim Refugees Will Face Additional Scrutiny Under Trump Plan
By MIRIAM JORDAN
JAN. 29, 2018
The Trump administration said on Monday that it is resuming the admission of refugees from 11 countries with additional screening that it said will increase security but which refugee groups say will make it harder for Muslims to find safe haven in the United States.
In late October, after a pause in admissions, the administration began accepting new refugees except for those from the 11 countries, citing the need for a 90-day security review. Officials did not name the countries, but they were widely reported to be Egypt, Iran, Iraq, Libya, Mali, North Korea, Somalia, South Sudan, Sudan, Syria and Yemen. Those countries have accounted for more than 40 percent of all refugee admissions in recent years.
Refugees from those countries will now be admitted again, but only after additional screening. "These additional security measures will make it harder for bad actors to exploit our refugee program, and they will ensure we take a more risk-based approach to protecting the homeland," the secretary of homeland security, Kirstjen Nielsen, said in a statement.
Officials from refugee resettlement agencies said that while they welcomed the resumption of admissions, the announcement reinforced their view that the administration was determined to quash arrivals from Muslim countries by making it harder for them to qualify for approval.
"This administration disproportionally targets Muslims," said Hans Van de Weerd, a senior official at the International Rescue Committee. "Today's announcement does not change this for the better."
The question of whether the administration's security measures unfairly single out Muslims is at the heart of the coming Supreme Court arguments over President Trump's latest travel ban. That ban limits most forms of immigration from some of the same countries, but it does not apply to refugees, who have been dealt with separately.
President Trump set a ceiling of 45,000 refugee admissions for the fiscal year, compared with the 85,000 set by President Barack Obama the year before amid an unabated refugee crisis worldwide, including civil war in Syria and conflict in other countries. Last year, hundreds of thousands of Muslims fled Myanmar to Bangladesh, where they are parked in camps.
The government is on pace to let in much fewer than 45,000 refugees. About 6,000 have been admitted since the fiscal year began on Oct. 1, and only 791 were Muslims, according to the International Rescue Committee. In the previous fiscal year, 14,496 Muslims were admitted.
But Muslims are not the only ones affected by the slowdown. Mark Hetfield, president of the HIAS resettlement agency, said the administration's approach has also excluded some Christians from the Middle East. And some refugees who were admitted in previous years have been unable to reunite with family members still stuck in refugee camps abroad.
The number of admissions could rise now that the government has reopened the door for people from the 11 countries, although officials noted that 45,000 refugees was a ceiling, not a target, and that there would be a "lag time" as agencies put the new security measures in place.
Officials said the new measures would involve more "in-depth" interviews and "deep-dive" background checks, but they declined to be more specific. "We won't give our playbook to our enemies," one administration official said on a conference call with reporters.
With existing security checks, it can take two years for a refugee to be approved for admission to the United States. The vetting includes several interviews of family members, often together and apart; background checks; fingerprinting; and iris scans.
Critics of the administration's new rules noted that no refugees have carried out a terrorist attack on American soil.
"By instituting a risk-based analysis to determine refugee admissions, the administration is essentially implementing a Muslim refugee ban without saying it, despite the number of security screenings already in place," said Kevin Appleby, senior director for international migration policy at the Center for Migration Studies.
But Ira Mehlman, the media director for the Federation for American Immigration Reform, a group that favors restricting immigration, said the administration was right to scrutinize refugees more closely.
"The obligation of the government is to ensure that people let in have been thoroughly vetted," he said, adding that most people are not endangered by waiting longer for processing.
Full report at:
https://www.nytimes.com/2018/01/29/us/muslim-refugees-trump.html?mtrref=www.google.co.in&gwh=556A0694BC6CBE5B01B6C80716BB300C&gwt=pay
--------
Mall of America slasher says Islamic State inspired attack
January 29, 2018
MINNEAPOLIS — A 20-year-old Minneapolis man accused of attacking two brothers at the Mall of American says he was inspired by the Islamic State group.
Mahad Abdirahman has pleaded guilty to two counts of first-degree assault for the November knife attack. His plea deal calls for 15½ years in prison. Sentencing is scheduled for Feb. 16.
The Star Tribune reports that Abdirahman said during his Thursday plea hearing that America "will never be safe" while it's "at war with Islam."
Investigators say he attacked 19-year-old Alexander Sanchez and 25-year-old John Sanchez while shopping. The brothers suffered serious injuries.
The charging documents don't provide a motive but suggest Abdiraham has had psychological issues. He was charged with stabbing two staffers with a pen last year at an in-patient psychiatric unit. He was acquitted due to mental illness.
https://www.washingtonpost.com/national/mall-of-america-slasher-says-islamic-state-inspired-attack/2018/01/29/d966158e-0523-11e8-aa61-f3391373867e_story.html?utm_term=.78dd7fd2223e
--------
Trump's interest in Afghanistan tied to heroin production: Analyst
Jan 29, 2018
The administration of US President Donald Trump is seeking to prolong the war in Afghanistan largely to restore the heroin industry and ultimately serve the interests of Israel and Saudi Arabia, not the American people, according to a US intelligence and security specialist.
"What's going on in Afghanistan very successfully under Trump and previous presidents is a production of heroin," said Gordon Duff, a combat veteran of the Vietnam War and senior editor at Veterans Today.
"It is running unabated and interest in Afghanistan is always tied to levels of heroin production. A settlement with the Taliban will bring an end to the narcotics production," Duff told Press TV on Monday.
Trump "is similarly being driven, serving Israel on one end, serving his private business deals with Saudi Arabia tied to hotels and other places," he added. "What's not being done is the business of the United States…that's not on Mr. Trump's agenda."
Trump has called for "decisive action" against the Taliban militant group by "all countries" in Afghanistan following yet another terror bombing in the country's capital Kabul that killed more than 100 people.
"I condemn the despicable car bombing attack in Kabul today that has left scores of innocent civilians dead and hundreds injured," Trump said in a statement released on Saturday. "This murderous attack renews our resolve and that of our Afghan partners."
"Now, all countries should take decisive action against the Taliban and the terrorist infrastructure that supports them," he emphasized.
Afghanistan has been plunged into a brutal war since the US-led military invasion of the terror-ravaged nation in October 2001 under the pretext of "war on terrorism" and with the pledge of uprooting the Taliban and bringing peace and stability to the country.
Seventeen years on, however, terrorism continues to persist throughout Afghanistan, leaving thousands of innocent people killed, injured and displaced.
Full report at:
http://www.presstv.com/Detail/2018/01/29/550618/US-Trump-heroin-Afghanistan
--------
Pentagon restricts release of Afghanistan war data
30 January 2018
WASHINGTON: The Pentagon has ordered an independent federal auditor to stop providing the public with key information about US war efforts in Afghanistan, accelerating a clampdown on data, such as the size of the Afghan military and police forces, that indicate how the 16-year-old stalemated war is going.
The crackdown on information comes just months after President Donald Trump announced a new Afghanistan strategy aimed at breaking a battlefield stalemate by accelerating Afghan-led operations against the Taliban and other insurgent groups in the country. Trump on Monday railed against the recent string of attacks in Afghanistan, and ruled out any US discussions with the Taliban as part of the effort to seek peace talks between the Afghan government and the insurgents.
The auditing agency, established by Congress and known as the Special Inspector General for Afghanistan Reconstruction, or SIGAR, revealed the new gag order in its latest three-month assessment of conditions in Afghanistan. The restrictions fly in the face of Pentagon assertions over the past year that it was striving to be more transparent about the US war campaigns across Iraq, Syria and Afghanistan.
Over the years, the SIGAR auditing effort has revealed many dubious practices by the US, including instances of contractor fraud. Since January 2016 it had published data on the number of governing districts controlled by Kabul, the number controlled by the Taliban, and the number that are contested.
John F. Sopko, head of the auditing organization, expressed disappointment that the Pentagon had forbidden release of the data on relative control of the governing districts.
"This development is troubling for a number of reasons, not least of which is that this is the first time SIGAR has been specifically instructed not to release information marked 'unclassified' to the American taxpayer," Sopko wrote.
"Aside from that, the number of districts controlled or influenced by the Afghan government had been one of the last remaining publicly available indicators for members of Congress — many of whose staff do not have access to the classified annexes to SIGAR reports_and for the American public of how the 16-year-long US effort to secure Afghanistan is faring," he added.
In response, the Pentagon said the US-led coalition of NATO and allied nations in Afghanistan made the decision to restrict the public release of the information.
The Defense Department told SIGAR this month that it doesn't "have the authority to overrule the classification determination made by NATO Resolute Support," said Lt. Col. Michael Andrews. He said that similar information was included in the department's December 2017 semi-annual report to Congress, and the Pentagon encouraged SIGAR to use that data.
The Defense Department report said the Afghan government has control or influence over 60 percent of the population, while insurgents had control or influence over approximately 10 percent of the population, with the remainder contested.
In November, Gen. John Nicholson described the Afghan government control during remarks to reporters at the Pentagon. He said it remained "roughly the same" as in 2016. "About 64 percent of the population is controlled by the government, about 24 percent live in contested areas, and the Taliban control the remaining 12 percent," he said. He did not reveal the number of districts held by each side.
Sopko wrote that historically, the number of districts controlled or influenced by the government has been falling since his office began reporting on it, while the number controlled or influenced by the insurgents has been rising — "a fact that should cause even more concern about its disappearance from public disclosure and discussion."
The war effort has sometimes faded from US public attention, even though the US has invested about $120 billion in reconstructing Afghanistan since 2002.
Full report at:
http://www.arabnews.com/node/1235861/world
--------
Arab World
Fate of bin Laden's children gleaned from the Abbottabad files
29 January 2018
The videos and various photographs found in the Abbottabad files clearly reveal that the wives and children of al-Qaeda leader Osama bin Laden endured a life of great hardship and trauma for over two decades.
It is clear from these photos and videos that the descendant of one of the most famous and wealthiest of households turned his children and grandchildren into fugitives, leaving them to seek shelter in deserts, mountains and caves, poorly clad and bereft of any clear identity.
The second generation of the bin Laden family does not speak the Arabic language, and has ended picking up different languages and dialects spoken in Pakistan and Afghanistan, mainly Pashto and Urdu. They also don the traditional clothes worn by Afghan children. Even Bin Laden's wives gave up wearing traditional black abayas of the Arabian Peninsula in favor of the Afghani Chadri and burqa.
Another noteworthy point about the videos is the difference they show in the looks and features of Bin Laden's grandchildren. Some of them have blonde hair and blue eyes, while others have inherited Arab Gulf features.
In-law with the Egyptian leaders of extremist groups
Osama bin Laden found a novel way to strengthen ties within his 'international' organization by forging matrimonial alliances with his colleagues particularly with leaders of Egyptian extremist groups. Thus, Osama's son Muhammad was married to the daughter of Abu Hafs al-Masri or 'Muhammad Atef'. Osama's other son Saad married the daughter of his father's friend in Sudan, while the third Hamza married the daughter of Abu Muhammad al-Masri or 'Muhammad al-Zayat. Othman married Safia the daughter of Saif al-Adl, to be his second wife.
Bin Laden's daughters married to men from the Gulf
As for the daughters of bin Laden, it seems that the leader of al-Qaeda followed Gulf customs and traditions, where the girls marry a Saudi or any other Gulf national. During his stay in Kandahar, Osama's daughter Fatima got married at the age of 12 to the Kuwaiti Suleiman Bughith in 1999. Meanwhile, his other daughter Khadija got married to Abdullah al-Halabi from Al Madina El Monawara, when she was only 11-years-old. The documents do not show if his daughters Mariam, Sumaya and Iman lived with the bin Laden family in Iran, before fleeing to the Saudi embassy, and whether they got married or not.
The documents show that his Bin Laden's Khalid was not able to get married after the September 11 incident. As Osama bin Laden asked his eldest daughter Khadija, who lived in Waziristan (died in 2009), to find a suitable bride for Khalid, she sent him pictures of a number of girls. Khalid had requested that his prospective wife should be "beautiful, with good manners and a virgin". In 2009, he chose the daughter of Bin Laden's close associate Abu Abd al-Rahman, but because of security reasons, Khalid had to live with his father in Abbottabad and could not get married until his eventual death in 2011.
This explains why there were pictures of a number of girls found in Bin Laden's documents, as well as other videos showing older women who are likely to be the wives of Bin Laden's companions.
The misery of women
The misery of the al-Qaeda fighters' wives is evident from the videos. They lived a tough life and were deprived of even the most basic necessities of life. However, they played an important role in providing the needs of Al-Qaeda leaders. Besides, they giving birth to their heirs, they had to prepare food and drink for the men without the modern amenities of electricity, refrigerators, or even water, in dilapidated houses crowded with children.
The children or the grandchildren suffered all kinds of hardships. Some of the lucky ones stayed with Bin Laden in his hiding place, while others were scattered to various parts of Waziristan and Iran. Some of them became orphans very early, while others could not sustain a life of hardships and succumbed to malaria and typhoid.
In the released videos, some of the children could be seen dancing on music tracks, playing with sticks and stones. They also watched cartoon movies like Captain Majid. Living in the hideouts, these children were deprived of school education.
The memoir of bin Laden's wife, son
Many interesting details are contained in a book co-written by Najwa Ghanem, the first wife of Osama bin Laden and her son Omar, titled He is Bin Laden (published in 2011). Many of the facts revealed in the book found their validation in the videos confiscated from Al-Qaeda leader's hideout.
In the memoir, Omar sought to convey what he could not have otherwise said to his father directly. However, he knew that his father might eventually read the book. In 1990, Osama bin Laden informed his large family — which consisted of four wives and 14 children — that they had to leave everything in Saudi Arabia forever and move to the Sudanese capital Khartoum, which was only their first stop before reaching the Tora Bora mountains and finally to Tehran.
Wives and children travel from Jeddah airport
The 18 family members of Bin Laden boarded a plane at the Jeddah airport, which included Najwa Ghanem, and Bin Laden's eight children, Abdullah (15), Abdul Rahman (13), Saad, also known as 'the Joker' (11), Omar (10), Othman (8), Mohammed (6), Fatima (4) and Eman (one year). In addition, the second wife Khadija Sharif, had her three children — Ali (7) Amer (2) and Aisha. Bin Laden's third wife Khairiya Saber also travelled with her only son Hamza (3), the eventual heir of al-Qaeda. Bin Laden's fourth wife Siham Saber came along with her three children Khadija (4), Khalid (3) and Mariam (one year).
During the five-year stay in the Riyadh neighborhood in Sudan, in a three floor building with 22 rooms, Bin Laden had more children. Siham Saber gave birth to her fourth son Amer, and her daughter Sumaya. Khadija gave birth to her first daughter Aisha. As for Najwa, she gave birth to her son Laden, who changed his name to "Bakr".
Bin Laden received a request from the Sudanese government to leave for any destination of his choosing. He chose to go to Jalalabad and then to Tora Bora mountains, where Mullah Nurullah dedicated one of its mountains for him, his family and the fighters. However, the stay in Sudan was a fork in the road for bin Laden's family, as they started to split after his wife, Khadija Al-Sharif, decided to return to Saudi Arabia with her three children Ali, Amer and Aisha. Shortly after that, Abdullah (15), the eldest son of Osama bin Laden, followed them.
Three caves for the wives and their 30 children
According to Omar, who decided to leave his father in 2000, Bin Laden's family members were shocked when they came to know that their Saudi nationality had been replaced with the Sudanese nationality, and that they would have to change their surname of bin Laden with that of 'Mohamed Awad Abboud'.
In the Tora Bora mountains, where bin Laden had allocated three separate caves to his three wives and their children, Najwa gave birth to her eleventh and last child 'Nour'. The fourth wife, Amal Al Sadeh then joined them from Yemen and gave birth to more children, whose numbers doubled after staying at the Abbottabad hideout.
As stated in a letter written by Khalid to one of his brothers in 2010, the other children of Bin Laden were Asia (then seven years and a half ), Aisha (who was a few months older to Asia), Ibrahim (six),Osama (a month younger), Zeinab(4 years 2 months), Seham , Al Hussein (2 years and half) and the youngest two children Safia and Abd Allah. Thus, most probably bin Laden had about 30 children.
In 2011, Bin Laden finally allowed his wife Najwa to travel to Syria, only with her eldest son Abdul Rahman, who suffered from autism, and her two young daughters, Ruqaya and Nour. Bin Laden prevented her from taking her daughter Iman and her other son although knew what would happen to his family, after the terror strikes at the World Trade Center towers.
Iman, 10, and Laden, 6, had been living in Iran for nine years before the Iranian regime allowed them to go to Syria and join their mother.
The wives returned to their families
On the other hand, the other three wives and 11 children at Abbottabad had to return to their families after being arrested by Pakistani authorities, ending the one-year prison term for illegally entering Pakistani territory.
As for bin Laden's daughter Khadija — the wife of Abdullah al-Halabi — she died in 2009 after giving birth to her fifth daughter Fatima in Waziristan. However, her sister Fatima, the wife of Suleiman Bughith, was lucky to leave Iran and return to her family with her children in 2013; along with her two sisters, Sumaya and Mariam.
As for the brothers Saad was eventually killed in a drone strike after he left Iran, while the fate of two others remains unknown. However, Hamza fell into the clutches of his father's old friends, thus becoming what Osama had once wished his children to be: "My children must be like the fingers of my right hand, and my thoughts should control your actions just as my mind controls the movement of my limbs".
In the end, the father and the leader of the most dangerous terrorist organization was killed, and the children were left in the hands of Egyptian authorities.
https://english.alarabiya.net/en/features/2018/01/29/Fate-of-bin-Laden-s-children-gleaned-from-the-Abbottabad-files.html
--------
Arab coalition: Humanitarian efforts in Yemen will continue
29 January 2018
The spokesperson of the Arab coalition forces, Col. Turki al-Maliki, said on Monday that the humanitarian support in Yemen will continue to reach everyone without distinction.
He pointed out that the coalition appealed to the political and social sides in Aden to exercise calm and cooperate with the government and focus on the fight against the militias.
Al-Maliki said during a conference in Riyadh that Al-Khadra port had been activated to provide aid to Yemen, and that maritime permits had been issued to secure aid supply through Hodeidah, noting that the coalition was cooperating with international organizations to deliver aid in Yemen.
A spokesman for the Arab coalition forces said that they brought back 27 children who were taken by force by the militias, pointing out that the coalition is also working to remove the mines planted by Iran and the Houthi militias.
Al-Maliki confirmed that the legitimate forces advanced in Al Baq'e and in the western part of Al-Bayda, adding that a booby-trapped boat was targeted while launching from the port of Hodeidah, which is still under the control of the coup forces.
The coalition seized as well weapons smuggled by the Houthi militias, including Sam rockets.
Full report at:
https://english.alarabiya.net/en/News/gulf/2018/01/29/Arab-coalition-spokesperson-Humanitarian-efforts-in-Yemen-will-continue.html
--------
Two Israeli officers involved in Lebanon car bomb attack against Hamas official: Report
Jan 29, 2018
A recent report has exposed that two Israeli agents were involved in the car bomb explosion in the southern Lebanese city of Sidon, which slightly wounded a member of the Palestinian Islamic resistance movement, Hamas, earlier this month.
According to a report published by Lebanon's Arabic-language al-Akhbar newspaper on Monday, the pair was aided by two locals in the assassination operation against Mohammed Hamdan on January 14. They left Lebanon using Georgian, Swedish and Iraqi passports.
The report added that Lebanese security officials have now managed to identify the two Israeli officers, obtain their photographs and copies of their identity documents, the date of their entry into and exit from Lebanon, their respective roles in the operation and the nationality they used to operate under disguise.
Lebanese intelligence officials, requesting anonymity, told al-Akhbar that one of the Israeli agents was a man holding a duel Swedish-Iraqi citizenship, while another was a Georgian woman working for the Israeli intelligence service, Mossad.
The officials went on to say that, Mossad kept Hamdan under surveillance for more than seven months.
About six months ago, Hamdan lived in the Sirub district of Sidon, located 40 kilometers (25 miles) south of the capital, Beirut, and a Lebanese national, identified as Muhammad H, lived in a nearby neighborhood.
Mossad then assigned its agent to closely monitor the high-ranking Hamas figure.
After that, Hamdan moved to al-Boustan al-Kabir area of Sidon, and the second Lebanese national, identified as 38-year-old Ahmad Baytiyah and strongly believed to be main suspect in the assassination bid, tracked him.
Baytiyah rented a warehouse near the house of the Hamas leader under the pretext of storing clothes.
The four assailants flew out of Lebanon to different destinations after the failed assassination operation. The two Lebanese nationals fled to Turkey.
Baytiyah was arrested by Turkish authorities and extradited to Lebanon at the request of Prime Minister Saad Hariri earlier this week, while the other managed to flee Turkey to Romania.
Hamdan suffered a leg injury in the car bomb explosion. He was taken to a local hospital for treatment.
The explosion destroyed the vehicle and caused damage to a nearby building, sending black smoke rising above the city.
Full report at:
http://www.presstv.com/Detail/2018/01/29/550574/Two-Israeli-officers-involved-in-Lebanon-car-bomb-attack-against-Hamas-official-Report
--------
Saudi-Iran relations: story behind a clash of regional leadership
By M SHAMSUR RABB KHAN
JANUARY 29, 2018
In the late 1960s, wrote Elaine Sciolino in The New York Times in 2001 ("A nation challenged: Ally's future; US pondering Saudis' vulnerability"), Reza Shah Pahlavi sent a series of letters to King Faisal of Saudi Arabia, urging, "Please, my brother, modernize. Open up your country. Make the schools mixed women and men. Let women wear miniskirts. Have discos. Be modern. Otherwise I cannot guarantee you will stay on your throne."
In response, King Faisal wrote: "Your Majesty, I appreciate your advice. May I remind you, you are not the Shah of France. You are not in the Élysée. You are in Iran. Your population is 90% Muslim. Please don't forget that."
In 2018, Mohammad bin Salman, the powerful Crown Prince of Saudi Arabia, unlike his uncle, has paid heed to the late Shah's advice to take the kingdom toward becoming a modern state. Unfortunately, Reza Shah's secular pro-Western regime was overthrown by the 1979 Islamic Revolution, embracing Iranian philosopher Jalal Al-e-Ahmad's ideas, as Sandra Mackey in her 1996 book The Iranians: Persia, Islam and the Soul of a Nation observed of Gharbzadegi, which means "Western-struck," "Westoxification," or "Occidentosis." For Jalal Al-e-Ahmad, Western culture was a plague or an intoxication to be eliminated.
In area, Saudi Arabia is bigger than Iran, but in population Iran is ahead of its rival by more than two and a half times. Gross domestic product per capita is US$24,847 and $14,403 for Saudi Arabia and Iran respectively, but in military expenditure, Saudi Arabia, with $80.8 billion, again far exceeds Iran, which spends only $25 billion annually.
While 8% of Iran's population is Sunni, Shiites make up 10% of Saudi Arabia's total population of 32.28 million. Yet the two leading powers in the Middle East have been engaged in proxy wars for decades. Saudi diplomat Turki bin Faisal bin Abdulaziz Al Saud, addressing the 22nd Annual Arab-US policymakers conference in Washington on October 22, 2013, voiced two concerns: Iran's nuclear program and that country's "meddling and destabilizing efforts in the countries with Shia majorities."
See-saw relationship
Reza Shah Pahlavi came to power after toppled the Qajar Dynasty in a successful coup d'état in 1921, and King Abdulaziz ibn Saud after conquering the Hejaz in 1925. The two monarchs were on good terms during that decade, which led to the signing of a Saudi-Iranian Friendship Treaty in 1929. But Saeed M Badeed in his 1993 book Saudi-Iranian Relations 1932-1982 observed that the relationship between the two big nations of the Middle East "waxed and waned over the next five decades over religious practices, especially during Hajj, and Iran's territorial ambitions."
In 1943, Saudi Arabia executed an Iranian pilgrim, Abu Taleb Yazidi, who allegedly threw his vomit on the Kaaba during the Hajj pilgrimage. Iran reacted sharply and broke diplomatic relations until 1946, when Ibn Saud took the initiative by writing a letter to Reza Shah urging the resumption of diplomatic ties. For the next nine years, the two countries walked on common grounds: Both were aligned toward the US and both had oil industries to develop.
Then the year 1953 saw both the death of Ibn Saud and the US-British coup to overthrow Iranian prime minister Mohammed Mossadeq, which forced the Shah to flee Iran. With the new king, Saud bin Abdulaziz Al Saud, there emerged a new era of Saudi-Iran relations. As Banafsheh Keynoush argues in his 2007 book Saudi Arabia and Iran: Friends or Foes?, "the Saudi-Iranian political relations began to evolve around three major issues: regional politics, oil, and international security."
Nixon doctrine and a new power balance
The British decision to withdraw its military forces from the Persian Gulf region by 1971 was replaced by a new Western presence when US president Richard Nixon entered the Middle East arena with his "twin pillars" policy for regional stability. But as Paul Iddoh argued in "Iran and Saudi Arabia: from twin pillars to cold peace?" in Rudaw on March 13, 2016, the US tilted in favor of Iran, making it a dominant military power.
Iran's ambition was visible in its territorial gains, which alarmed Saudi Arabia, with its repossession of three islands, the Greater and Lesser Tunbs and Abu Musa in November 1971, which was in direct conflict with the claims of the United Arab Emirates. 1979 Islamic Revolution
The Iranian Revolution of 1979 launched a radical Shiite Islamist agenda that was perceived as a challenge to Saudi Arabia. Tehran's policy of supporting proxy war in Yemen and Syria alarmed the Gulf states led by the kingdom.
The 1979 revolution established a regime dominated by Shiite clerics hostile to the West and to the Saudi monarchy. The Iran-Iraq War, in which Saudi Arabia and its smaller Gulf neighbors supported Iraq, put further strains on the relationship.
In the late 1990s, visits by Saudi Crown Prince Abdullah to Tehran and by Iranian president Mohammad Khatami and his predecessor Akbar Hashemi Rafsanjani to Riyadh helped eased relations. But it was not enough.
Ideological differences
Sunni Saudi Arabia and Shiite Iran are poles apart in Islamic ideology, which is central to the foreign policies of both countries. As the guardian of the two holy mosques, Saudi Arabia represents Sunni Islam, which Tehran rejects. In the 1920s, the Ikhwan, Ibn Saud's force, was hostile to Shia Islam, and Saudi cleric Abd al-Aziz bin Abdullah bin Baz issued a fatwa denouncing Shiites as apostates.
Under Ayatollah Ruhollah Khomeini, Iran's open intention to take over the two holy mosques from Saudi Arabia helped escalate enmity between the two. The 15-day Grand Mosque siege of 1979 by militants caused damage to the bilateral relationship, since Saudi Arabia perceived interference by Iran.
Current scenario
In Iran-Saudi proxy wars in Yemen and Syria, the Islamic State (ISIS) terror mechanism against Shiites in Syria and Iraq, the 2015 Hajj stampede and the Saudi decision to prevent Iranians from coming for pilgrimage, the execution of Shiite cleric Nimr Baqir al-Nimr in January 2016 and the attack on the Saudi Embassy in Tehran are the leading causes of strained Saudi-Iran relations at present.
While Iran blamed Saudi Arabia, Israel and the US for the June 2017 attack on the Iranian Parliament, the kingdom accused Iran of firing ballistic missiles over Riyadh International Airport last November.
Full report at:
http://www.atimes.com/saudi-iran-relations-clash-regional-leadership/
--------
Non-Syrian Terrorists Plundering Large Factories in Southeastern Idlib
Jan 29, 2018
The source in Damascus said that the non-Syrian members of Al-Nusra and al-Turkistani have looted a large sugar factory Southeast of the town of Jisr Al-Shughour in Southeastern Idlib in a "last case of these plundering raids".
The terrorists were pictured moving the factory's equipment towards an unknown location, most likely to the Turkish border, where they will eventually sell the stolen material.
Both terrorist groups were responsible for looting the Zayzon Power Plant in rural Idlib last year, and they were seen moving the materials from that site to the Turkish border.
Similar reports in December said that the Al-Nusra started looting a number of historical artifacts from one of the most important museums of the country in Idlib city.
The sources said that the Al-Nusra transferred secretly the entire historical artifacts and precious collections from an important museum in Idlib city to an unknown location without informing the museum's staff.
The sources said that a group of Al-Nusra terrorists from Hama province tried a week ago to enter the national museum but faced the guards, adding that the Al-Nusra group later called on opposition-affiliated Civil Department and took permission to enter the museum.
The council further dismissed the guards and appointed new guards for the museum, the sources added.
Full report at:
http://en.farsnews.com/newstext.aspx?nn=13961109001258
--------
Rival Terrorist Groups in Tough Battle in Northern Syria
Jan 29, 2018
The news websites disclosed that the Al-Nusra attacked a command center of Kata'eb Thowar al-Sham affiliated to Nouralddeen al-Zinki terrorist group near al-Mohandeseen region in Western Aleppo and captured a number of the militants.
The websites further said that Nouralddeen al-Zinki fighters later launched a counterattack and captured several Al-Nusra terrorists.
Relevant reports said on Saturday that the Syrian Army troops stormed the positions of the Al-Nusra Front in Southern Aleppo and captured one more strategic height in their push towards Eastern Idlib.
The army men captured Tal (hill) al-Waz West of the village of Tarfawi in Southern Aleppo after inflicting heavy defeat and casualties on the Al-Nusra.
Full report at:
http://en.farsnews.com/newstext.aspx?nn=13961109000748
--------
Bahrain court upholds jail term for prominent Shia cleric Sheikh Qassim
Jan 29, 2018
A court in Bahrain upholds a one-year jail term for prominent Shia cleric, Sheikh Isa Qassim, who has been stripped of his nationality by the Al Khalifah regime and confirms the decision to revoke the cleric's citizenship.
A legal source, speaking on condition of anonymity, said Bahrain's Supreme Court confirmed the same ruling for two of the 81-year-old cleric's aides, Sheikh Hussein Mahrus and Mirza al-Obaidli.
On May 21 last year, a Bahraini court convicted Sheikh Qassim of illegal collection of funds and money laundering, and sentenced him to one year in jail suspended for three years.
It also ordered him to pay $265,266 in fines. The court ruling sparked widespread demonstrations across the kingdom.
Bahraini authorities stripped the cleric of his citizenship on June 20, 2016. They later dissolved the Islamic Enlightenment Institution, founded by him, in addition to the opposition al-Risala Islamic Association.
Bahraini regime's harsh treatment of the Shia clerics comes despite the fact that Sheikh Qassim is reportedly suffering from high blood pressure, diabetes, and heart disease.
United Nations spokesman, Stephane Dujarric, demanded last November that the top Shia cleric be released, and asked for immediate medical attention for him.
Bahraini regime deports two Shia brothers to Iraq
Meanwhile, Bahraini officials have deported two Shia brothers to Iraq as the ruling Al Khalifah regime presses ahead with its heavy-handed crackdown and persecution of the members of the religious community in the country.
Human rights activists published the pictures of Ibrahim and Ismail Darwish in Iraq's holy city of Najaf hours after deportation from Iraq.
Bahraini monarch, King Hamad bin Isa Al Khalifah, stripped a number of citizens, including the two brothers, of their nationality back in November 2012.
Thousands of anti-regime protesters have held demonstrations in Bahrain on an almost daily basis ever since a popular uprising began in the country in mid-February 2011.
They are demanding that the Al Khalifah regime relinquish power and allow a just system representing all Bahrainis to be established.
Manama has gone to great lengths to clamp down on any sign of dissent. On March 14, 2011, troops from Saudi Arabia and the United Arab Emirates were deployed to assist Bahrain in its crackdown.
Scores of people have lost their lives and hundreds of others sustained injuries or got arrested as a result of the Al Khalifah regime's crackdown.
Full report at:
http://www.presstv.com/Detail/2018/01/29/550584/Bahrain-court-upholds-jail-term-for-prominent-Shia-cleric-Sheikh-Qassim
--------
Africa
South Africa: Muslims Urged to Use As Little Water As Possible for Ablutions Before Prayer
30 JANUARY 2018
Cape Town's Islamic community has been urged to save water by using as little as possible when performing mandatory ablutions before prayer.
The Muslim Judicial Council has encouraged Muslims to use a minimum amount of water for wudhu - a compulsory ablution performed before the five mandatory prayers - to assist in decreasing the city's water use.
"There are various circumstances that break the wudhu and therefore wudhu doesn't have to be performed for every prayer. In the most extreme circumstances, where water cannot be found anywhere within a certain radius, dry ablution can be made using a purified sand or dust," MJC spokesperson Mishka Daries said.
"Muslims have a responsibility toward the environment and the call for not wasting water comes from the time of Prophet Muhammad (peace be upon him).
"The Prophet Muhammad used about 775ml of water when performing wudhu. The Prophet Muhammad (PBUH) is also reported to have said that one must never waste water, even on the banks of a flowing river."
Notices had always been posted at mosques, encouraging people not to waste water, even prior to the current water crisis, Daries explained.
On Sunday, more than 3 000 people gathered at Spine Road High School in Mitchells Plain for Salaatul Istisqaa (a prayer for rain).
Another is planned for February 4 at the sports field opposite the mosque in Gatesville.
According to data released on Monday, dam levels for Cape Town are at 26.3% as at January 29, down from 26.6% at January 26.
When levels drop to 13.5%, the City of Cape Town will begin to shut down its reticulation system in residential areas.
According to its Day Zero contingency plans, residents will have to queue for water at about 180 communal water collection sites across the metropole.
http://allafrica.com/stories/201801300094.html
--------
Jordan king urges global support for Palestinian rights in al-Quds
Jan 30, 2018
Jordan's King Abdullah II has vowed to stand by the Palestinian cause, calling on the international community to defend the Palestinian nation's right to Jerusalem al-Quds amid US and Israeli attempts to change the ancient city's status quo.
Abdullah made the remarks in a meeting with Palestinian President Mahmoud Abbas in Amman on Monday.
Following the meeting, Jordan's royal court said that the king had "affirmed Jordan's continued efforts in all international forums to defend the Palestinian cause."
Abdullah had also urged the international community "to safeguard the rights of Palestinians, Arabs, Muslims and Christians in the city of Jerusalem [al-Quds]," which he said was "the key to achieving peace and stability in the region," Jordan's official Petra news agency reported.
Senior Palestinian official Saeb Erekat said the two sides had "agreed on organizing the upcoming Arab ministers' meeting and the Arab summit, as well as calling on the General Assembly and the Security Council to recognize the state of Palestine and to prohibit any other nations from moving their embassies to Jerusalem [al-Quds] or recognizing Jerusalem [al-Quds] as the capital of Israel."
The occupying regime of Israel lays claim to the whole Jerusalem al-Quds, but the international community views the ancient city's eastern sector as occupied land and Palestinians consider it as the capital of their future state.
In December last year, US President Donald Trump sparked global uproar by announcing a dramatic shift in Washington's policy on Jerusalem al-Quds.
He declared that the US was recognizing Jerusalem al-Quds as the "capital" of Israel and planning to relocate the American embassy from Tel Aviv to the city.
Jordan , the custodian of Muslim holy sites in Jerusalem al-Quds, rejected any attempt to change the status of Jerusalem or its holy sites.
During Monday's meeting, Abbas briefed King Abdullah on his attempts to resolve the challenges facing the Palestinian cause and Jerusalem al-Quds.
The Palestinian leader further appreciated Jordan's backing for the Palestinians and its protection of the holy places in Jerusalem al-Quds.
In another hostile move against the Palestinians, the Trump administration said earlier this month that it would withhold $65 million $65 million of a $125 million aid installment to the United Nations Relief and Works Agency for Palestine Refugees (UNRWA).
The cut placed the agency in the most severe funding crisis of its history and triggered condemnations.
Full report at:
http://www.presstv.com/Detail/2018/01/30/550649/Jordan-King-Abdullah-Jerusalem-Mahmoud-Abbas
--------
African Union warns against rush to elections in Libya
29 January 2018
ADDIS ABABA: Libya should not rush into holding elections as part of UN-led efforts to end years of conflict and division in the North African nation, a senior African Union official said on Monday.
The United Nations has said it wants to help Libya organize national elections by the end of this year as it seeks to break a deadlock between factions based in the east and west of the country.
UN officials including special representative Ghassan Salame have acknowledged complex political, security and legislative challenges to holding such a vote, but say they are encouraged by support for elections among Libyans.
Salame traveled to an African Union summit in the Ethiopian capital Addis Ababa to discuss with regional leaders how to pursue a common approach on Libya.
"We received (Salame), who agreed that this conflict is so complicated and difficult that none of the organizations can solve it by its own," Smail Chergui, commissioner of the African Union's (AU) Peace and Security Council, told journalists on the sidelines of the summit.
"So it is a renewed engagement that the two organizations (UN and AU) will work hand in hand to promote reconciliation and prepare the necessary conditions for elections," Chergui said.
"We (AU member countries) are saying that we should not rush for elections. We have to prepare solid ground for peaceful and credible elections so that the results will be respected by all the parties."
The UN is trying to revive a stalled peace plan for Libya that was signed in December 2015.
The last time the country held elections, in 2014, the results were disputed and a conflict that developed after a 2011 uprising deepened, resulting in rival governments being established in Tripoli and the east.
This comes as Libya's eastern-based parliament swore in a new central bank governor on Monday, though the head of a rival assembly in the capital, Tripoli, quickly rejected the move.
The leadership of the Central Bank of Libya (CBL) has been divided since 2014, when rival political factions established competing governments in Tripoli and the east of the country.
The eastern-based parliament, or House of Representatives (HOR), set up a parallel central bank in the eastern town of Bayda, voting to dismiss Tripoli governor Sadiq Al-Kabir.
After backing Kabir's former deputy Ali Salim Al-Hibri to run the bank in Bayda, in December the HOR elected Mohamed Shukri as the new governor.
As he was sworn in on Monday, Shukri spoke of reuniting the CBL and working to emulate the National Oil Corporation (NOC), which has overseen a sharp increase in production despite continuing political divisions.
"Today is the day of unifying the central bank which was divided and that has divided spending and monetary policy," Shukri told lawmakers. "We suffered from problems that you are aware of and we promise to work in the same context as the National Oil Corporation to achieve development and welfare for the Libyan people."
However, it remains unclear what role Shukri can play since Kabir has shown no sign of leaving his post and has continued to control oil revenues, the source of nearly all Libya's income, as well as most spending across the country.
Abdulrahman Swehli who heads Tripoli's State Council, a rival assembly to the HOR, called the vote "another jump in the air ... that will be doomed to failure." There was no immediate comment from the central bank in Tripoli.
Shukri's swearing-in comes as the Libyan dinar has made strong gains on the parallel market, rising to less than five dinars to the dollar in recent days from around nine dinars to the dollar at the end of 2017.
The partial recovery of the dinar may ease some political pressure on Kabir, who has faced growing calls to devalue the dinar from the official rate of 1.3 to the dollar, as the dinar slid in value over the past two years.
Full report at:
http://www.arabnews.com/node/1235756/middle-east
--------
Al-Qaida's Mali branch releases Colombian captive video
January 29, 2018
DAKAR, Senegal (AP) — An agency that monitors jihadi websites says al-Qaida's Mali branch has released a video of a Colombian missionary who has been held captive for nearly one year.
SITE Intelligence Group said the video released Monday by the Mali-based Islamic insurgency shows Gloria Cecilia Narvaez appealing to Pope Francis. The nun was seized near the border with Burkina Faso and has been held since last Feb. 7. She was also shown in another proof-of-life video in July with five others shortly before France's president visited Mali.
In Monday's video, Narvaez delivered an appeal to her family and her mission leader. A narrator from Nusrat al-Islam wal Muslimeen advised the family to contribute money to secure her release, alluding to other hostages who have been freed with contributions through independent charities.
Full report at:
https://wtop.com/africa/2018/01/al-qaidas-mali-branch-releases-colombian-captive-video/
--------
URL: https://www.newageislam.com/islamic-world-news/bareilly-dm-questions-trend-entering/d/114105
New Age Islam, Islam Online, Islamic Website, African Muslim News, Arab World News, South Asia News, Indian Muslim News, World Muslim News, Women in Islam, Islamic Feminism, Arab Women, Women In Arab, Islamophobia in America, Muslim Women in West, Islam Women and Feminism