New Age Islam News Bureau
11 Apr 2015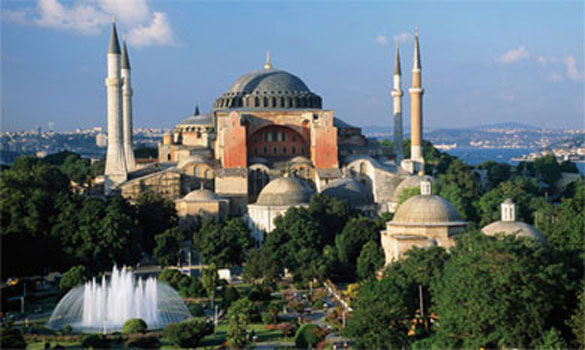 'Love of Prophet Hagia Sophia' exhibition opens to mark the birth of Prophet Muhammad
-----------
South Asia
• Bangladesh Set to Hang Top Islamist, Mohammad Kamaruzzaman
• Maldives Jails Ex-Defence Tholath Ibrahim Minister for 10 Years
• Condoms and Sex Pills Discovered From Kabul Shrine Room Where an Innocent Woman Was Lynched Over Alleged Quran Burning
• UNESCO chief: Bring Oyasiqur killers to trial
• Bangladesh PM says Iron fist to grip firmly until BNP-Jamaat's subversion vanishes
Arab World
• Operation Decisive Storm 'Protects Holy Land from Foes of Islam'
• UAE Warns Pakistan of 'Heavy Price for Ambiguous Stand' On Yemen
• 35 Dead As Syria Forces Repel Attack on Airport
• Kurdish Peshmarga Forces Kill 10 ISIL Terrorists in Iraq's Mosul
• Militants' Attack Kills Five Civilians in Aleppo
• Saudi Grand Mufti calls for compulsory military service
• Isis claims soldier's execution-style killing in Egypt
• Saudi scholar nails Houthi lies
• Egypt sentences Muslim Brotherhood leader, 13 others to death
• Syrian Army Inflicts Losses on Militants in Homs
• Saudi envoy: U.N. may vote soon on Yemen
• Charity's assets frozen over terror links, curbs in place
Africa
• 71 Chadian Soldiers Killed Fighting Boko Haram: Army
• After attack and backlash, Kenya faces battle to win over Muslims
• Somalia issues bounties for Al-Shabab leaders
Mideast
• Turkey: First Quran Recitation in Hagia Sophia in 85 Years
• Car bomb in central Yemen kills at least 7: Residents
• Palestinian Killed At Funeral As Zionists Redefine Barbarity
• Iran deal could stumble on sensitive nuclear monitoring
• At Least 180 Children Killed in Saudi-Led War on Yemen
• Turkish FM: Political Dialogue Only Solution to Yemen's Conflict
• Syrian refugee children stage play in Turkey
Pakistan
• Key Clerics Want Mosques, Seminaries to Preach Peace
• Militants Gun Down 20 Labourers in Balochistan
• Security official, 5 militants killed in attack on check post in North Waziristan
• FO blames India for Lakhvi's release
• Sindh makes mental assessment of blasphemy suspect mandatory
India
• Main Litigants Meet to Reach Ayodhya Case Settlement
• India asks Pakistan to appeal against Lakhvi's release
• PM Narendra Modi: No country should provide shelter to terrorists
• Bomb blast kills first Indian in Yemen crisis
Europe
• Police, MI5 Radicalize Youth: UK Muslims
• Russians Say Islamic State Infiltrating Domestic Groups
• Spanish Muslim minority lack of Islamic education
• Jihadism takes root in Spain's African outposts
North America
• U.S. Expands Intelligence Sharing With Saudi
• Twitter Suspends 10.000 ISIS-Linked Accounts in 24 Hours
• Kansas man planned to bomb military base, support Islamic State: DOJ
• Lindsey Graham: 'We are at war' and must kill Islamic extremists
• Jeb Bush to Obama: Focus on Islamic extremism, not law-abiding gun owners
• Racism in schools is pushing more black families to home school their children
Southeast Asia
• Indonesian Military to Play Role in Curbing Radicalism
• West Malaysia abandoning 1963 federation pact with Hudud push, Sabah lawmakers say
Compiled by New Age Islam News Bureau
URL: https://www.newageislam.com/islamic-world-news/new-age-islam-news-bureau/bangladesh-set-to-hang-top-islamist,-mohammad-kamaruzzaman/d/102413
---------
South Asia
Bangladesh Set To Hang Top Islamist, Mohammad Kamaruzzaman
11 April, 2015
Dhaka (AFP) - Bangladesh authorities are expected to hang a top Islamist leader Saturday for overseeing a massacre during the nation's 1971 independence war, after he refused to seek clemency from the country's president.
Mohammad Kamaruzzaman, the third most senior figure in the Jamaat-e-Islami party, could be executed on Saturday night, his lawyer said, after his hanging, originally scheduled for the morning, was postponed.
No official reason was given for the delay, but junior home minister Asaduzzaman Khan told reporters the 62-year-old was still set to be hanged in the capital's main jail on Saturday.
"The hanging of Kamaruzzaman... will take place today (Saturday)," Khan said in remarks published by the mass circulation Bengali daily Prothom Alo.
Jail authorities told Kamaruzzaman's family they could visit him in prison one final time on Saturday afternoon, his lawyer Shishir Manir told AFP.
"It's an indication that he may be executed tonight," Manir added.
Two magistrates had visited Kamaruzzaman in prison to find out whether he would seek clemency from President Abdul Hamid, but the pair made no comment following the visit.
Khan, however, said the authorities had decided Kamaruzzaman would not be granted any more time to seek mercy.
"No, he won't be given anymore time," the minister told reporters.
The move to execute him comes after the country's highest court rejected Kamaruzzaman's final legal appeal on Monday, upholding the original death sentence handed down to him by a controversial domestic war crimes court in May 2013.
Kamaruzzaman was convicted of abduction, torture and mass murder including a slaughter in a remote northern hamlet that has since become known as the "Village of Widows".
The conviction confirmed allegations that Kamaruzzaman was one of the chief organisers of a pro-Pakistan militia that killed thousands of people.
The conflict led to the creation of an independent Bangladesh from what was then East Pakistan.
If the execution is carried out, Kamaruzzaman would become the second Islamist so far hanged for war crimes, though several others have been handed death sentences.
The UN on Wednesday urged Bangladesh against carrying out the sentence, saying his trial did not meet "fair international" standards.
Prosecutors said Kamaruzzaman presided over the massacre of at least 120 unarmed farmers who were lined up and gunned down in the remote northern village of Sohagpur in the 1971 independence struggle against Pakistan.
The nine-month conflict, one of the bloodiest in world history, led to the creation of an independent Bangladesh from what was then East Pakistan.
Three women who lost their husbands testified against him in one of the most emotive of all the war crimes trials.
Jamaat, the nation's largest Islamist party, is an ally of the main opposition Bangladesh Nationalist Party (BNP), whose leader Khaleda Zia is trying to topple Prime Minister Sheikh Hasina's secular government.
Jamaat's members have been accused of being behind a number of deadly firebomb attacks since the start of the year, including on buses. The violence in the last three months left at least 120 people dead.
Jamaat and the BNP have previously charged that the war crimes trials are mainly aimed at silencing Hasina's opponents rather than delivering justice.
Hasina's government says the trials -- which lack any international oversight -- are needed to heal the wounds of the conflict.
https://au.news.yahoo.com/world/a/27057229/bangladesh-set-to-hang-top-islamist/
---------
Maldives Jails Ex-Defence Tholath Ibrahim Minister for 10 Years
April 11, 2015
A court in the Maldives has sentenced a former defense minister to 10 years in prison on charges of detaining a senior judge, the same case in which the former president has also been jailed in a trial widely criticized as politically motivated.
The sentencing of Tholath Ibrahim by the Criminal Court on Friday night came nearly a month after former President Mohamed Nasheed was sent to 13 years in prison for ordering the arrest and detention of Judge Abdulla Mohamed.
Ibrahim was Nasheed's defense minister at the time of the judge's arrest, which hurt Nasheed's popularity and led to his downfall.
The court said it has been proven that Ibrahim conspired with Nasheed to arrest the judge three years ago and helped detain him in an island used for military training.
Nasheed's trial and imprisonment has drawn widespread international criticism and cast doubt over the Maldives' transition to democracy, which began after Nasheed was elected in 2008, ending 30 years of autocratic rule of Maumoon Abdul Gayoom.
Nasheed resigned in 2012 after weeks of public protests over the judge's arrest and eventually lost support of the military and police. In elections the following year, he lost to Yameen Abdul Gayoom, a half brother of Maumoon Abdul Gayoom.
Opposition supporters said his case is politically motivated aimed at eliminating him as a potential candidate in the 2018 presidential election.
http://indianexpress.com/article/world/asia/maldives-jails-ex-defense-tholath-ibrahim-minister-for-10-years/
---------
Condoms and Sex Pills Discovered From Kabul Shrine Room Where an Innocent Woman Was Lynched Over Alleged Quran Burning
11 April, 2015
New details have emerged regarding the illegitimate activities in Shah Do Shamshera shrine under the shelter of the sacred place where an innocent woman was lynched over alleged Quran burning.
According to the latest investigation reports, police and members of the commission investigating the murder of Farkhunda, have discovered used condoms along with the packs of condoms and sexual enhancement tablets and capsules from one of the rooms of the shrine.
The Ministry of Hajj and Religious Affairs of Afghanistan closed the shrine following a tragic incident last month.
Thousands of people were visiting Shah Do Shamshera for prayers and the shrine was getting over crowded particularly on Wednesdays.
At least 48 people including the custodian and the servant of the shrine have been arrested by police after investigations revealed the accusations were false and no proof was found to prove the holy Quran was torched.
The 27-year-old Farkhunda was brutally beaten, murdered and her body was set on fire by angry mob after she was accused of burning Quran.
Farkhunda was brutally murdered after she spoke out against the superstitious practices she had witnessed with mullahs selling good-luck charms.
Her brutal murder also sparked several unprecedented protests in Kabul and other major cities of Afghanistan.
The accused individuals are expected to face trial next as the the attorney general office completed investigations into the incident.
https://www.khaama.com/condoms-and-pills-discovered-from-kabul-shrine-room-9992
---------
UNESCO chief: Bring Oyasiqur killers to trial
11 April, 2015
Denouncing the murder of blogger Oyasiqur Rahman, Director-General of UNESCO Irina Bokova has urged action to bring the killers to trial.
In a statement issued on Thursday, the chief of the UN Educational, Scientific and Cultural Organization, called to defend freedom of expression and public debate in Bangladesh.
"I condemn the killing of Oyasiqur Rahman Babu," the Director-General said. "It is important that the Bangladeshi authorities find and prosecute those responsible for this attack. Freedom of expression and free debate cannot thrive in a climate of fear and self-censorship," Bokova concluded.
The secular blogger was hacked to death in Tejgaon, Dhaka on March 30.
A travel agency executive, Oyasiqur's murder was premeditated. Three assailants swooped on Oyasiqur, 27, armed with machetes around 9am on Dipika Mosque Lane of Begunbari, close to Tejgaon Textile Engineering University, when he was going to office in Motijheel.
Zikrullah and Ariful, two madrasa students, were captured by two transgendered persons from the spot immediately after the incident.
Later, Oyasiqur's brother-in-law Monir Hossain Masud filed a case with Tejgaon industrial police station against four persons on the day.
Zikrullah and Ariful have been placed on remand twice.
During the first day hearing, Zikrullah told the court: "Although we had our involvement in Oyasiqur murder, we do not know anything about Avijit killing. But, We did not hack him. The person, who directly attacked the blogger[Oyasiqur] fled the scene immediately."
"Oyasiqur was killed for making defamatory remarks against Prophet Muhammad on Facebook."
During the second day hearing, both the suspects neither defended themselves nor appointed any lawyers to stand for them.
http://www.dhakatribune.com/bangladesh/2015/apr/11/unesco-chief-bring-oyasiqur-killers-trial#sthash.DptTetlx.dpuf
---------
Bangladesh PM says Iron fist to grip firmly until BNP-Jamaat's subversion vanishes
11 April, 2015
The government will continue to take the hard-line against the subversive activities of the BNP-Jamaat led 20-party alliance, warned Prime Minister Sheikh Hasina before going on to chair an Awami League Advisory Committee meeting at the Gonobhaban yesterday evening.
"Unless we can entirely uproot the evil deeds of BNP-Jamaat, we will not let loose. The treatment will remain firm, unforgiving. Everyone involved in directing, executing and funding these activities will all have to face the music,"the PM said regarding the uncompromising, tight treatment the administration is dishing out to its opposition.
The premier then set her sights on the Human Rights Watch, angry that they have yet to make noise condemning the BNP-Jamaat violence whilst calling for suspending the execution of war criminal Muhammed Kamaruzzaman pending an independent review of the verdict, and dealt a heavy hand: "This organisation published a controversial list of missing persons after the joint forces action that took care of the Hefazat-e-Islam sit-in. Later, several persons from the HRW list were found to be alive.
"It [HRW] should keep mum, as it has proven time and again that it is the most opportunist and self-serving organisation. The HRW has lost its voice. There is no ink in its activists' pens."
The PM was speaking to journalists ahead of her meeting that, she said, was supposed to discuss the upcoming financial budget. The finance minister, among others, was in attendance.
The meeting mainly discussed the impending city polls in Dhaka and Chittagong. The agenda included the upcoming budget, Kamarruzzaman's execution and the role of the HRW and the United Nations regarding the executions among other political issues, sources from the meeting told the Dhaka Tribune.
The meeting decided that the AL will try restricting BNP Chairperson Khaleda Zia from campaigning for BNP-supported candidates in the City Corporation elections; BNP-Jamaat supporters will not be allowed to incite any violence or anarchy during the city polls.
Speakers in the meeting argued that since BNP chief Khaleda is the proven masterminded and leader of the arsonists, it is only fair that she is not allowed to campaign for the mayoral elections.
Awami League General Secretary and LGRD and Cooperatives Minister Syed Ashraful Islam, Finance Minister Abul Maal Abdul Muhit, prime minister's advisors and other advisory committee members were present in the meeting.
Party sources said the issues may be discussed again in an Awami League Central Working Committee meeting on April 15.
http://www.dhakatribune.com/politics/2015/apr/11/pm-says-iron-fist-grip-firmly-until-bnp-jamaats-subversion-vanishes#sthash.SATRa28i.dpuf
---------
Arab World
Operation Decisive Storm 'Protects Holy Land from Foes of Islam': Imam Makkah's Grand Mosque
11 April, 2015
Operation Decisive Storm against the Houthi militia is an obligatory duty of those who defend the two holy mosques as Yemen is a land of Islamic faith and wisdom, said Imam and Khatib at Makkah's Grand Mosque Sheikh Saud Al-Shoraim on Friday.
"When the forces of the land of the two holy mosques launched Decisive Storm, their fury was rooted in wisdom, sagacity and patience," Sheikh Shoraim said in the weekly sermon.
"The discerning society does not differentiate between internal and external enemies. Defensive moves against enemies are of the most obligatory duties of the rulers and people. Envious people and hate mongers will only dispute the steps taken to ensure security. It is a blessing that a community is spared from a war and it calls for gratitude to Allah because it is a special mercy," Al-Shoraim said.
Full report at:
http://www.arabnews.com/featured/news/730951
---------
UAE warns Pakistan of 'heavy price for ambiguous stand' on Yemen
11 April, 2015
KARACHI: Pakistani lawmakers' call for the government to remain neutral on the escalating crisis in Yemen has evoked a strong response from the United Arab Emirates (UAE).
"The vague and contradictory stands of Pakistan and Turkey are an absolute proof that Arab security — from Libya to Yemen — is the responsibility of none but Arab countries," UAE's Minister of State for Foreign Affairs Dr Anwar Mohammed Gargash said.
Speaking to renowned Emirati newspaper Khaleej Times, Garhash warned Pakistan of having to pay a "heavy price" for taking on what he called an "ambiguous stand". He added that Pakistan should take a clear position "in favour of its strategic relations with the six-nation Arab Gulf cooperation Council".
"The Arabian Gulf is in a dangerous confrontation, its strategic security is on the edge, and the moment of truth distinguishes between the real ally and the ally of media and statements," Gargash tweeted moments after the Pakistani parliament passed the resolution insisting on neutrality in the Yemen conflict.
Full report at:
http://www.dawn.com/news/1175284/uae-warns-pakistan-of-heavy-price-for-ambiguous-stand-on-yemen
---------
35 dead as Syria forces repel attack on airport
11 April, 2015
Pro-government forces repelled an attack on a key Syrian airport during a fierce battle in which they lost 20 fighters but killed almost as many militants, a monitor said today.
"There was an attack on the outskirts of the Khalkhalah military airport in Sweida province yesterday," said Rami Abdel Rahman, the head of the Syrian Observatory for Human Rights.
The forces loyal to President Bashar al-Assad had been able to maintain control over the airport and its surrounding areas despite losing 20 fighters. At least 15 militants were killed.
Although the Observatory was awaiting confirmation on the identity of the attackers, Abdel Rahman said they were likely to have been jihadists from the Islamic State (Isis).
Khalkhalah airport lies along a major highway that links the regime-held provincial capital of Sweida to Damascus.
Full report at:
http://www.themalaysianinsider.com/world/article/35-dead-as-syria-forces-repel-attack-on-airport
---------
Kurdish Pishmarga Forces Kill 10 ISIL Terrorists in Iraq's Mosul
11 April, 2015
A source within the Pishmarga forces said that 10 ISIL terrorist were killed in clashes with the Kurdish Pishmarga forces in al-Khazr area, in Eastern Mosul, a military source said.
"The Kurdish Pishmarga forces repelled an attack by the ISIL group near the village of Tal-Aswad in the area of al-Khazr, located in the Eastern Mosul," the source further added.
"The clashes between the two sides resulted in killing of 10 elements of the ISIL group."
In late March, the Iraqi army, backed by Shiite and Sunni volunteer forces, made a final push against the ISIL terrorists in Tikrit, and managed to fully liberate the Northern city from the control of the Takfiri group.
The Iraqi army and volunteer forces managed to retake Salahuddin provincial government's headquarters from the Takfiri group.
http://english.farsnews.com/newstext.aspx?nn=13940121000430
---------
Militants' Attack Kills Five Civilians in Aleppo
11 April, 2015
The foreign-backed militants fired rocket shells on many neighborhoods in Aleppo city in Syria, and killed five civilians and injured many others on Saturday.
The militants fired a number of rocket shells on al-Suleiamnieh and al-Sayyed Ali neighborhoods, an informed source said.
Five civilians were killed and many others were injured in the attack, according to initial reports. Huge material damages were also reported.
http://english.farsnews.com/newstext.aspx?nn=13940122000847
---------
Saudi Grand Mufti calls for compulsory military service
11 April 2015
Saudi Arabia's Grand Mufti Sheikh Abdulaziz bin Abdullah al-Sheikh called Friday for the introduction of mandatory military service for young men to prepare them to defend the Kingdom at any time, Saudi-based news website Akhbaar24 reported.
"Compulsory military service for our youth is important and required to ensure that our strength is not unbeatable," the Grand Mufti, who is the highest religious figure in Saudi Arabia, said in Riyadh.
Full report at:
http://english.alarabiya.net/en/News/middle-east/2015/04/11/Saudi-Grand-Mufti-calls-for-compulsory-military-service.html
---------
Isis claims soldier's execution-style killing in Egypt
11 April, 2015
Egyptian jihadists who pledged allegiance to the Islamic State of Iraq and Syria (Isis) group have posted a video online appearing to show them shooting dead an Egyptian soldier and beheading another captive.
The video, uploaded overnight on social networks, shows an individual telling the camera that he is an Egyptian soldier who was captured in an ambush on an army outpost in North Sinai on April 2.
Attacks claimed by jihadists that day killed 15 soldiers and two civilians near the regional capital of El-Arish, the deadliest assault for months despite a massive army campaign against insurgents on the Sinai Peninsula.
Full report at:
http://www.themalaysianinsider.com/world/article/isis-claims-soldiers-execution-style-killing-in-egypt
---------
Saudi scholar nails Houthi lies
11 April, 2015
A well-known Saudi scholar and television host has slammed the Houthis for claiming that they are winning the war against the Saudi-led coalition in Yemen.
"They're lying. They've claimed that they have the upper hand in the fight against the Saudi-led coalition but this is not true," said Mohsin Shaikh Al-Hassan, an author and host of the program Jobs on Air.
His comments came in the wake of the Defense Ministry revealing on Thursday that the former Yemeni president, Ali Abdullah Saleh, and his followers have been claiming that they are winning the war. Brig. Gen. Ahmad Al-Assiri, consultant in the office of the defense minister, said this was a lie.
Full report at:
http://www.arabnews.com/saudi-arabia/news/730921
---------
Egypt sentences Muslim Brotherhood leader, 13 others to death
11 April 2015
An Egyptian court sentenced Mohamed Badie, the leader of the outlawed Muslim Brotherhood, and 13 other senior members of the group to death for inciting chaos and violence, a judge said in a televised session on Saturday.
The court also sentenced U.S-Egyptian citizen Mohamed Soltan to life in jail for supporting the group and transmitting false news. He is the son of Brotherhood preacher Salah Soltan, who was among those sentenced to death on Saturday.
The sentences can be appealed before Egypt's highest civilian court.
http://english.alarabiya.net/en/News/middle-east/2015/04/11/Egypt-sentences-Muslim-Brotherhood-leader-13-others-to-death.html
---------
Syrian Army Inflicts Losses on Militants in Homs
11 April, 2015
Syrian army continued its mop-up operations against the foreign-backed militants in many areas across Homs, inflicting heavy losses on them.
The Syrian armed forces killed a number of terrorists and injured others in Khirbet Beit al-Agha village in Homs province near the Lebanese border.
The operation in the village, which is located in Southwestern Hassia town, also resulted in destroying the terrorists' weapons and ammunition.
Great losses were also inflicted upon members of the ISIL terrorists during operations against their gatherings in al- Fasdeh and al-Kadeem villages and to the East of Jazal oil field in Northwestern Palmyra city.
Full report at:
http://english.farsnews.com/newstext.aspx?nn=13940121000192
---------
Saudi envoy: U.N. may vote soon on Yemen
11 April 2015
Saudi Arabia's U.N. ambassador Abdallah Al-Mouallimi said Friday a vote on a draft United Nations resolution regarding the conflict in Yemen is likely take place early next week, according to the Associated Press.
The debate of the resolution is taking place as fighting escalates between the Houthis and supporters of Yemen's beleaguered president, and airstrikes by a Saudi-led Sunni coalition, threaten to push Yemen, the Arab world's poorest country, into collapse.
"In principle, I think we are close to an agreement," Al-Mouallimi said. "I think it's a matter of wording, a matter of finding the right phrases."
Full report at:
http://english.alarabiya.net/en/News/middle-east/2015/04/11/Saudi-envoy-U-N-may-vote-soon-on-Yemen-.html
---------
Charity's assets frozen over terror links, curbs in place
11 April, 2015
The Interior Ministry has frozen all assets of Pakistani-based charity Al-Furqan as part of its efforts to fight terror funding. It has also banned Saudis from dealing with the organization.
The ministry said on Thursday that both the Kingdom and the United States are taking common actions against the financing of Al-Furqan, as well as prosecuting other organizations that hide behind charity work to finance terrorism.
The US Treasury announced last Tuesday that Washington and Riyadh are imposing sanctions on the Pakistani charity after discovering evidence of the organization providing financial support to terrorist organizations such as Al-Qaeda, Taleban and Lashkar-e-Taiba.
"The sanctions aim to halt operations and prevent the Peshawar-based charity from funding terrorist organizations," the US Treasury had said.
Full report at:
http://www.arabnews.com/saudi-arabia/news/730876
---------
Africa
71 Chadian soldiers killed fighting Boko Haram: Army
11 April, 2015
Seventy-one Chadian soldiers have been killed and 416 injured in two-and-a-half months' fighting Boko Haram, the Chadian army said.
Chad is taking part in a regional offensive against the Nigeria-based Islamist radicals along with troops from Nigeria, Niger and Cameroon.
Chad army chief General Brahim Seid told reporters in N'Djamena the "valiant soldiers" had died since February 3 in the "just and noble cause of bringing peace and security" to the region.
The countries neighbouring Nigeria, including Chad, sent troops to help crush Boko Haram after the Islamists began to threaten the region surrounding Lake Chad, where the borders of all four nations converge.
Nigeria's army has been criticised for failing to deal with Boko Haram fighters whose bid to set up a hardline Islamic state has killed more than 15,000 people since 2009 and put scores of thousands to flight, according to the UN.
The UN on Thursday launched an appeal for $174 million to give "life-saving aid" to the almost 200,000 Nigerians who have fled the country due to the group's brutal attacks.
http://english.ahram.org.eg/NewsContent/2/8/127368/World/Region/-Chadian-soldiers-killed-fighting-Boko-Haram-Army.aspx
---------
After attack and backlash, Kenya faces battle to win over Muslims
11 April, 2015
GARISSA/NAIROBI, Kenya (Reuters) - Days after Islamists killed 148 people at Garissa university, Kenya's president held out an olive branch to Muslims and urged them to join Nairobi in the struggle against militant Islam by informing on sympathisers.
But as Uhuru Kenyatta launches a battle for Muslim hearts and minds, his security forces must first reckon with the deep mistrust among ethnic-Somali Muslims in the country's northeast regions bordering Somalia.
Kenyatta also faces an uphill task in reforming the violent ways of troops on the ground. A day before he spoke, a soldier in Garissa was seen by a Reuters reporter lashing at a crowd of Muslim women with a long stick.
Full report at:
http://af.reuters.com/article/topNews/idAFKBN0N11IB20150410?sp=true
---------
Kenya Faces Battle to Win Over Muslims
11 April, 2015
NAIROBI— Days after Islamists killed 148 people at Garissa University College, Kenya's president held out an olive branch to Muslims and urged them to join Nairobi in the struggle against militant Islam by informing on sympathizers.
But as Uhuru Kenyatta launches a battle for Muslim hearts and minds, his security forces must first reckon with the deep mistrust among ethnic Somali Muslims in the country's northeast regions bordering Somalia.
Kenyatta also faces an uphill task in reforming the violent ways of troops on the ground. A day before the president spoke, a Reuters reporter saw a soldier in Garissa lashing at a crowd of Muslim women with a long stick.
"We live in fear," said Barey Bare, one of a dozen veiled Somali-Kenyan women targeted by the soldier. "The military are a threat and al-Shabab are a threat. We are in between."
Without the cooperation of local people like Bare, experts say, Kenya will struggle to glean vital, on-the-ground intelligence to stop crude but lethal assaults by Somalia's al-Shabab militants.
Full report at:
http://www.voanews.com/content/kenya-faces-battle-win-over-muslims/2714712.html
--------
Mideast
Turkey: First Quran recitation in Hagia Sophia in 85 years
World Bulletin / News Desk
11 April, 2015
The historic Istanbul museum, Hagia Sophia, witnessed its first Quran recitation under its roof after 85 years Saturday.
The Religious Affairs Directorate launched the exhibition "Love of Prophet Hagia Sophia," as part of commemorations of the birth of Islamic Prophet Muhammad.
Religious Affairs Chairman Mehmet Gormez, Undersecretary for Ministry of Culture and Tourism Ahmet Haluk and Istanbul Governor Vasip Sahin attended the opening ceremony, which saw Ali Tel, imam at modern Ahmet Hamdi Akseki Mosque in the capital Ankara, recite a passage from the Islamic holy scripture, Quran.
The historic basilica served as a cathedral for almost thousand years since 1453, when it was turned into a mosque with the conquest of Istanbul. It later was secularized and converted into a museum in 1935.
http://www.worldbulletin.net/headlines/157699/turkey-first-quran-recitation-in-hagia-sophia-in-85-years
---------
Car bomb in central Yemen kills at least 7: Residents
11 April, 2015
A car bomb detonated outside a security building used by Houthi militiamen in central Yemen on Friday, killing at least seven people and wounding dozens, residents and a local official said.
The city of Bayhan in Shabwa province has witnessed heavy fighting between the Iran-allied Houthi fighters and local militiamen who have been supported by days of Saudi-led air strikes.
http://english.ahram.org.eg/NewsContent/2/8/127372/World/Region/Car-bomb-in-central-Yemen-kills-at-least--Resident.aspx
----------
Palestinian killed at funeral as Zionists redefine barbarity
11 April, 2015
HEBRON: Israeli troops shot dead a Palestinian man in the West Bank on Friday when they opened fire during the funeral of a Palestinian recently released from Israeli jail, medics said.
Two other Palestinians were wounded when Israeli troops opened fire to quell protests that erupted in Hebron after the burial of the man, who had died shortly after leaving prison, the medics said.
The 30-year-old victim, Ziad Awad, was shot in the back, they said.
The Palestinian medics identified the man who was buried as a relative, Jaafar Awad, who fell ill before he was released from jail. Angry protests erupted during his funeral in the southern West Bank. Thousands of people marched in the funeral procession in the village of Beit Ummar, and some pelted troops deployed nearby with stones, witnesses said.
Israeli soldiers resorted to live rounds along with tear gas and rubber bullets, the witnesses added.
The head of a Palestinian Authority body in charge of prisoner affairs, Issa Qaraqe, issued a statement alleging Jaafar Awad had died of "medical negligence" by Israeli authorities.
http://www.arabnews.com/middle-east/news/730841
---------
Iran deal could stumble on sensitive nuclear monitoring
World Bulletin / News Desk
11 April, 2015
Beefing up international monitoring of Iran's nuclear work could become the biggest stumbling block to a final accord between Tehran and major powers, despite a preliminary deal reached last week.
As part of that deal, Iran and the powers agreed that United Nations inspectors would have "enhanced" access to remaining nuclear activity in Iran, where they already monitor key sites.
But details on exactly what kind of access the inspectors will have were left for the final stage of talks, posing a major challenge for negotiators on a complex and logistically challenging issue that is highly delicate for Iran's leaders.
Securing proper inspections is crucial for the United States and other Western powers to ensure a final deal, due by June 30, is effective and to persuade a skeptical U.S. Congress and Israel to accept the agreement. Iran says its nuclear program is peaceful, but it has never welcomed intrusive inspections and has in the past kept some nuclear sites secret.
Sharply differing interpretations have emerged on what was covered by last week's framework agreement - a sign of what diplomats and nuclear experts say will be tough talks ahead.
http://www.worldbulletin.net/headlines/157695/iran-deal-could-stumble-on-sensitive-nuclear-monitoring
---------
At Least 180 Children Killed in Saudi-Led War on Yemen
11 April, 2015
The incessant attacks on Yemeni soil by Saudi Arabia and its allies have led to the death of a large number of civilians, including 180 children, media reports said.
The Riyadh-led coalition's onslaughts on Yemen are underway as the country's hospitals are facing a desperate shortage of medical supplies, according to the report, the Islam Times reported.
In the meantime, the Red Cross has warned of a "catastrophic" situation as shelling in Yemen intensified.
Saudi Arabia has been striking Yemen for 16 days now to restore power to fugitive president Mansour Hadi, a close ally of Riyadh. The Saudi-led aggression has so far killed nearly 1000 Yemenis, including hundreds of women and children.
Full report at:
http://english.farsnews.com/newstext.aspx?nn=13940121000165
---------
Turkish FM: Political Dialogue Only Solution to Yemen's Conflict
11 April, 2015
Turkey will maintain contact with other countries in an effort to find a political solution and put an end to the deadly Saudi military aggression against Yemen, Turkish foreign minister said.
"There is a fire in Yemen and we have to put it out. How to resolve this issue is important," Turkey's Foreign Minister Mevlut Cavusoglu made the remarks during a joint press conference with his Sudanese counterpart in Ankara on Friday, Anadolu news agency reported.
He added that Turkey has been in close contact with regional and international powers to seek a solution in Yemen which includes all the country's parties, while not violating its territorial integrity.
Full report at:
http://english.farsnews.com/newstext.aspx?nn=13940122000682
---------
Syrian refugee children stage play in Turkey
11 April, 2015
Syrian refugee children in the southeastern Turkish province of Sanliurfa have staged a multilingual theatre play about the ongoing war in their country, Anadolu Agency reported on April 9.
The "Spring Event" of the Süleyman Sah El Velih Primary School, organized by local officials in a sports hall in the border town of Akçakale, featured the play including Arabic and Turkish sketches.
Students also staged traditional dances, recited poems and exhibited their paintings as part of the event.
Akçakale District Governor Eyüp Firat, who hosted the event, said such activities play a key role in helping refugee children to cope with the trauma of being forced to leave their native lands.
Turkish officials thanked teachers and students for the event and presented them with gifts after the performance, according to the report.
http://www.hurriyetdailynews.com/syrian-refugee-children-stage-play-in-turkey.aspx?pageID=238&nID=80897&NewsCatID=375
---------
Pakistan
Key Clerics Want Mosques, Seminaries to Preach Peace
11 April, 2015
ISLAMABAD: While key leaders of religious parties at a conference talked about peace and brotherhood among Muslims, lower-level clerics wanted to see their claims implemented in mosques and seminaries.
In the wake of the Yemen crisis, the Milli Yekjehti Council (MYC) held its first 'Ulema-i-Islam conference' in which most of the speakers talked about the international conspiracy to divide Muslims in the world.
However, the MYC leaders welcomed the resolution passed by the parliament not to send force to Yemen and said it was the duty of the government of Pakistan to seek a negotiated settlement to the crisis.
On the other hand, a large number of clerics mainly affiliated with seminaries decried the contradictory ground realities.
"We discuss all issues wrapped in flowery words at such forums but nothing is implemented on the streets and even in our own institutions," said Mufti Gulzar Ahmed Naeemi, the administrator of Jamia Naeemia, Lahore.
Full report at:
http://www.dawn.com/news/1175258/clerics-want-mosques-seminaries-to-preach-peace
---------
Militants gun down 20 labourers in Balochistan
11 April, 2015
QUETTA: Militants killed 20 labourers and injured three others in Turbat's Gogdan area on Saturday morning in Balochistan. The assailants sped away on their motorcycles after the attack.
Imran Qureshi, the District Police Officer (DPO) Turbat told DawnNews that militants opened fire indiscriminately at the labourers while they were sleeping. The injured labourers were rushed to District Headquarter Hospital for medical treatment.
There was no immediate claim of responsibility for the attack.
Qureshi speculated that the incident appeared to be an act of targeted killing. All the victims received multiple bullet injuries, he added. However, the district police chief pointed out that "it was a levies administered area".
He further said that no levies personnel were harmed as they did not resist.
Qureshi said the labourers belonged to Sindh and were employed for construction of a bridge in the area.
Full report at:
http://www.dawn.com/news/1175280/militants-gun-down-20-labourers-in-balochistan
---------
Security official, 5 militants killed in attack on check post in North Waziristan
11 April, 2015
NORTH WAZIRISTAN: At least five suspected militants were killed on Saturday when militants attacked a security check post in North Waziristan, Express News reported.
A security official was also killed as a result of the attack carried out in Dhatta Khel area.
Soon after the attack, the security forces conducted a search operation in the area to arrest the miscreants.
On April 10, at least 23 militants were killed in airstrikes carried out by security forces in Khyber Agency's strategic Tirah Valley.
The deceased were associated with the banned Lashkar-e-Islam headed by the notorious Mangal Bagh and Tehreek-e-Taliban (TTP).
Earlier, these proscribed outfits along with the TTP's Jamaatul Ahrar had declared an alliance against the government.
http://tribune.com.pk/story/868054/security-official-5-militants-killed-in-attack-on-check-post-in-north-waziristan/
--------
FO blames India for Lakhvi's release
11 April, 2015
ISLAMABAD / NEW DELHI: Responding to Indian criticism of the release of Mumbai attacks accused Zakiur Rehman Lakhvi, the Foreign Office has blamed India for the development.
"Inordinate delay in extending cooperation by India complicated the case and weakened the prosecution's case," FO Spokesperson Tasnim Aslam said on Friday.
Lakhvi, the alleged mastermind of the 2008 Mumbai terrorist attacks, walked out of detention on bail after the Lahore High Court set aside government's orders for keeping him confined.
Lakhvi, who was arrested in December 2008, had been originally granted bail in December, but the government kept him detained on temporary orders. He is among the seven accused being tried for involvement in the attacks by an anti-terrorism court in Rawalpindi.
The FO statement was issued after Indian High Commissioner T.C.A. Raghavan met Foreign Secretary Aizaz Chaudhry to protest Lakhvi's release.
Full report at:
http://www.dawn.com/news/1175247/fo-blames-india-for-lakhvis-release
---------
Sindh makes mental assessment of blasphemy suspect mandatory
11 April, 2015
KARACHI: The Sindh Assembly has made it mandatory through an amendment to the Sindh Mental Health Act, 2013 that a person who attempts to kill himself or is accused of blasphemy be examined by a psychiatrist and given treatment if found suffering from a mental disorder.
The legislation was part of five of the six government bills passed by the house on Friday when it reassembled after a two-day hiatus.
Sindh Parliamentary Affairs Minister Dr Sikandar Mandhro, who tabled all the bills, referring to the Sindh Mental Health (Amendment) Bill, 2015, said providing relief to a person who attempted to commit suicide or was accused of blasphemy was something that a court would decide. The bill merely made their assessment by a psychiatrist mandatory and courts could decide whether or not to reduce their sentence if the accused was found to be suffering from a mental disorder, the minister said.
Full report at:
http://www.dawn.com/news/1175196/sindh-makes-mental-assessment-of-blasphemy-suspect-mandatory
---------
India
Main litigants meet to reach Ayodhya case settlement
Arshad Afzal Khan & Pervez Iqbal Siddiqui, TNN | Apr 11, 2015
AYODHYA: In a fresh move to reach a negotiated settlement for the vexed Ayodhya issue, main litigants from the Hindu and Muslim sides met at Hanuman Garhi here on Friday to find a solution to the title suit which is pending before the Supreme Court.
There were four out of five litigants from the Hindu side and two out of six from the Muslim side at the meeting. The Hindu side was led by Swami Chakrapani, the chief of All India Hindu Mahasabha and the main litigant pleading the Ramjanmabhoomi claim in the Supreme Court. The Muslim side was led by the oldest litigant in the case, Mohammad Hashim Ansari.
Senior lawyer and convener of All India Babri Masjid Action Committee Zafaryab Jilani told TOI on phone from Aligarh that he had full faith in Ansari and the efforts made by him. "I am not aware about the details of the meeting but I am sure Hashim Ansari will do nothing that goes against the interest of the Muslims in the case," said Jilani, who is also the member of the executive committee of All India Muslim Personal Law Board.
http://timesofindia.indiatimes.com/india/Main-litigants-meet-to-reach-Ayodhya-case-settlement/articleshow/46884616.cms
---------
India asks Pakistan to appeal against Lakhvi's release
TNN | Apr 11, 2015
NEW DELHI: India on Saturday asked Pakistan to file a fresh appeal against the release of Mumbai attacks mastermind Zakiur Rehman Lakhvi.
"We gave evidence against Lakhvi to Pakistan. Pakistan didn't present it to the court and that is why Lakhvi had been released," MoS for home affairs Kiren Rijiju said.
"Pakistan should use all the evidence given by India against Lakhvi," Rijiju added.
India on Friday had registered its strong concerns with Pakistan on the release of Lakhvi and said that it was a "most negative development" for bilateral ties.
In Paris, French President Francois Hollande told visiting Prime Minister Narendra Modi that the release of Lakhvi on bail is "deeply shocking".
Full report at:
http://timesofindia.indiatimes.com/india/India-asks-Pakistan-to-appeal-against-Lakhvis-release/articleshow/46887619.cms
---------
PM Narendra Modi: No country should provide shelter to terrorists
PTI | Apr 11, 2015
PARIS: On a day Mumbai attack mastermind Zakiur Rehman Lakhvi was released, Prime Minister Narendra Modi gave a veiled message to Pakistan, saying no country should provide shelter to terrorists but should punish them.
"There is a need for global action to deal with terrorism. All nations should commit that they will not provide shelter to terrorists but punish them," Modi said at a joint press interaction with French President Francois Hollande after their talks here.
Hollande said he understands anger in India over the release of a person who is responsible for such a reprehensible act, a reference to Lakhvi who was behind the attack in Mumbai in November 2008 that claimed 166 lives.
Full report at:
http://timesofindia.indiatimes.com/india/PM-Narendra-Modi-No-country-should-provide-shelter-to-terrorists/articleshow/46885417.cms
---------
Bomb blast kills first Indian in Yemen crisis
11 April, 2015
The conflict in Yemen has claimed its first Indian casualty. Manjit Singh, a resident of Chhattisgarh, succumbed to injuries from a bomb blast in Aden, government sources said on Friday.
Singh was working on the merchant vessel Gulf Dove.
INS Tarkash, which evacuated about 450 people from Aden harbour on Friday, is carrying his body to Djibouti.
Government sources said the exact dates of his injury or death have not been confirmed so far.
India had on Thursday concluded its air evacuation operations from Yemen, rescuing another 630 of its citizens from Sanaa and taking the total number of Indians brought home from the war-ravaged country to over 4,640. India has also evacuated around 960 nationals from 41 countries.
http://indianexpress.com/article/india/india-others/bomb-blast-kills-first-indian-in-yemen-crisis/
--------
Europe
Police, MI5 Radicalize Youth: UK Muslims
11 April, 2015
CAIRO – A new survey by Sky News has revealed that 40% of British Muslims partly blame police and MI5 for radicalizing young people, amid surge in the number of youth who travel to join fight in the Middle East.
"For many, current counter-terrorism measures, particularly related to the Prevent strategy, actually lead to greater alienation as Muslims are seen through the lens of security, rather than tackling the scourge of terrorism itself," spokeswoman for the Muslim Council of Britain (MCB) told The Telegraph on Friday, April 10.
"The poll also highlights the missed opportunity our law enforcement authorities have in working more closely with British Muslim communities, especially in relation to counter-terrorism," she added.
Conducted by Sky News, the poll reflects growing alienation between British Muslims and the wider community.
While more than 75% of Muslims believe that Islam is compatible with British values, 14% of them disagreed, according to the survey that took views of 1,000 Muslims and 1,000 non-Muslims.
Full report at:
http://www.onislam.net/english/news/europe/484887-police-mi5-radicalize-youth-uk-muslims.html
---------
Russians say Islamic State infiltrating domestic groups
11 April, 2015
The jihadi terror group Islamic State has begun "embedding" with Russian domestic terror organizations, including a leading Chechen resistance group, a top Russian intelligence official said Friday.
Russian Federal Security Service Deputy Director Sergei Smirnov made the claim while speaking with reporters at a summit of the Shanghia Cooperation Organization, a regional security alliance, meeting in Tashkent, Uzbekistan.
If true, it would be the latest sign that Islamic State, also known as ISIS and ISIL, is expanding its reach to other Islam-based terror groups beyond its base in Syria and Iraq.
Islamic State operatives "are beginning to embed themselves in other terrorist organizations," Mr. Smirnov said, according to the Russian Interfax news service. "…Some field commanders of Imarat Kavkaz have vowed their allegiance to the Islamic State."
Full report at:
http://www.washingtontimes.com/news/2015/apr/10/russia-islamic-state-infiltrating-domestic-groups/#ixzz3WzTJSKpB
---------
Spanish Muslim minority lack of Islamic education
World Bulletin / News Desk
11 April, 2015
Ninety percent of Muslim students enrolled in Spanish schools have no access to Islamic religion classes, according to a report published by the Union of Islamic communities (UCIDE) in Spain on Monday.
According to the UCIDE demographics study of the Muslim population in Spain, only in Andalusia, Aragon, Basque Country, Canary Islands and the autonomous cities of Ceuta and Melilla offer basic Islamic education in elementary schools.
There are over 6,065 Muslim students in the Basque county, of which 5,032 are foreigners and the rest (1033) Spanish. However, there are two Islamic education teachers in total at the primary level, the report says.
Full report at:
http://www.worldbulletin.net/news/157480/spain-muslim-students-lack-access-to-islamic-education
---------
Jihadism takes root in Spain's African outposts
11 April, 2015
Kamal Mohamed's house is in Ceuta's most impoverished neighbourhood but its rooftop terrace has an extraordinary view: of two continents. Across the multicoloured shantytown buildings, the mosques and the TV aerials of the El Príncipe district is the border with Morocco, with the mountains of Africa visible beyond. And yet just a few miles to the north, across the sparkling Mediterranean, is mainland Spain.
Ceuta is a cultural and geographical oddity. It sits, like its sister city Melilla, on the north African coast, yet both are technically European, for they belong to Spain. About half of Ceuta's population of 80,000 is Muslim of Moroccan descent. But here in El Príncipe, the community is almost entirely Muslim and Mohamed says the Spanish state has forgotten about them.
Full report at:
http://www.irishtimes.com/news/world/europe/jihadism-takes-root-in-spain-s-african-outposts-1.2172259
----------
North America
U.S. expands intelligence sharing with Saudi
11 April 2015
The United States is expanding its intelligence-sharing with Saudi Arabia to provide more information about potential targets in the kingdom's air campaign against Houthi militias in Yemen, U.S. officials told Reuters news agency on Saturday.
The U.S. officials said the expanded assistance includes sensitive intelligence data that will allow the Saudis to better review the kingdom's targets.
"We have opened up the aperture a bit wider with what we are sharing with our Saudi partners," said one U.S. official.
"We are helping them get a better sense of the battlefield and the state of play with the Houthi forces. We are also helping identify 'no strike' areas they should avoid" to minimize any civilian casualties, the official said.
U.S. ally Saudi Arabia is concerned that the violence could spill over the border it shares with Yemen, and is also worried about the influence of Shiite Iran, which has denied Saudi allegations it has provided direct military support to the Houthis.
Full report at:
http://english.alarabiya.net/en/News/middle-east/2015/04/11/U-S-boosts-intelligence-with-Saudi-in-Yemen-fight-.html
---------
Twitter suspends 10.000 ISIS-linked accounts in 24 hours
11 April 2015
Social media giant Twitter has reportedly suspended more than 10.000 accounts linked to the Islamic State of Iraq and Syria (ISIS) in 24 hours.
The move was triggered by an increase in the amount of reports about ISIS accounts from other members of the site, the UK's Daily Mail reported Friday.
ISIS has used the social media site to recruit foreign fighters, spread propaganda, issue threats to Western governments.
On Thursday, a Twitter representative confirmed the suspension and said that the accounts were shut down "for tweeting violent threats."
The information cannot be independently verifies as Twitter data is not public.
In recent months, Twitter acknowledged suspending as many as 2,000 ISIS-linked accounts per week.
In March, Twitter released a statement saying it was working with law enforcement authorities after an online message urged ISIS followers to kill Twitter co-founder Jack Dorsey.
http://english.alarabiya.net/en/media/digital/2015/04/11/Twitter-suspends-10-000-ISIS-linked-accounts-in-24-hours-.html
---------
Kansas man planned to bomb military base, support Islamic State: DOJ
11 April, 2015
A 20-year-old Army recruit was arrested Friday for attempting to set off a car bomb near a Kansas military base and charged with trying to provide material support to the Islamic State.
John Booker Jr., 20, was arrested just as he was making final preparations to detonate a bomb that would have targeted fellow soldiers stationed at Fort Riley, a military base near Manhattan, Kansas, Department of Justice officials said.
Mr. Booker was charged with attempting to use a weapon of mass destruction, one count of attempting to damage property by means of an explosive, and one count of attempting to provide material support to the Islamic State, also known as ISIS or ISIL.
"As alleged in the complaint, John Booker attempted to attack U.S. military personnel on U.S. soil purportedly in the name of ISIL," said Assistant Attorney General Carlin in a statement. "Protecting American lives by identifying and bringing to justice those who wish to harm U.S. citizens remains the National Security Division's number one priority."
The FBI had been following Mr. Booker since March 2014 after he posted Facebook messages that read: "Getting ready to be killed in jihad is a HUGE adrenaline rush!! I am so nervous. NOT because I'm scared to die but I am eager to meet my lord."
Mr. Booker, who had enlisted in the Army a month prior, told the FBI when they questioned him about his Facebook postings that had enlisted "with the intent to commit an insider attack against American soldier," according to court documents.
Full report at:
http://www.washingtontimes.com/news/2015/apr/10/kansas-man-planned-bomb-military-base-support-isis/#ixzz3WzRce18s
---------
Lindsey Graham: 'We are at war' and must kill Islamic extremists
11 April, 2015
Sen. Lindsey Graham of South Carolina said Friday that the Obama administration has left the nation vulnerable to an attack, and urged those who turned out for the NRA's annual meeting to make sure that the next president takes the fight to Islamic militants.
Mr. Graham is flirting with a presidential bid and has established himself as one of the most vocal defense hawks on Capitol Hill.
"Ladies and gentleman, we are at war, this is not a time of peace," Mr. Graham said. "There are more terrorist organizations, with more capability, with more weapons, with more desire and more safe havens than at any time before 9-11, and it is a result of leading from behind."
Mr. Graham, an Air Force Reserve colonel, said he stands with Israel, and vowed to take care of the veterans — the "one percent" — that have fought in military conflicts overseas.
Speaking to the "enemies of this nation," Mr. Graham declared that the military is "not war weary" and is "coming after you."
"Ladies and gentleman, my goal is to keep the war over there so it never comes back here again," he said. "My goal is to make sure that we go after those bastards that are trying to kill us and everybody like us and make sure they feel the wrath of this country. That we dig them out and we kill them because there is no other substitute."
http://www.washingtontimes.com/news/2015/apr/10/lindsey-graham-we-are-at-war-and-must-kill-islamic/
---------
Jeb Bush to Obama: Focus on Islamic extremism, not law-abiding gun owners
11 April, 2015
NASHVILLE, Tennessee — Former Florida Gov. Jeb Bush called on the Obama administration to spend more time focusing on defending the nation against Islamic extremists and less time on curbing the constitutional rights of ordinary Americans.
Mr. Bush, speaking Friday at the annual National Rifle Association meeting, said that the best form of national defense is "a nation of free men and women exercising their Second amendment rights."
"I have a message for the Obama administration: Why don't you focus more on keeping weapons out of the hands of Islamic terrorist and less on keeping weapons out of the hands of law-abiding citizens?" Mr. Bush said.
Mr. Bush, who is laying the groundwork for a presidential run, is running at the front of the pack among the likely GOP White House contenders.
Like several of his potential Republican rivals, Mr. Bush used his address at the NRA-ILA "Leadership Forum" to make the case that he stands with the NRA and its allies on gun rights.
"I will match my record against anyone else when it comes to the support and defense of the Second Amendment," he said.
http://www.washingtontimes.com/news/2015/apr/10/bush-obama-focus-islamic-extremism-not-gun-owners/#ixzz3WzRos7DT
---------
Racism in schools is pushing more black families to homeschool their children
11 April, 2015
Homeschooling, common among white Americans, is showing an increase among African-Americans kids, as well. African Americans now make up about 10 percent of all homeschooled children in this fastest-growing form of education. However, the reasons for black kids to be homeschooled may not be the same as for white kids. My research shows that black parents homeschool their children due to white racism.
This may come as a surprise since, for many, we live in an age of alleged color blindness and post-racialism, characterized by the declining significance of race and racism. My research found strong evidence to suggest that racism is far from being a thing of the past. I found covert institutional racism and individual racism still persist and are largely responsible for the persistence of profound racial disparities and inequalities in many social realms. Schools, of course, are no exception, which helps one understand why racism is such a powerful drive for black homeschoolers.
Full report at:
http://www.washingtonpost.com/posteverything/wp/2015/04/10/racism-in-schools-is-pushing-more-black-families-to-homeschool-their-children/
---------
Southeast Asia
Indonesian Military to play role in curbing radicalism
11 April, 2015
The Indonesian Military (TNI) has struck a deal with the Religious Affairs Ministry for a joint campaign to strop radicalism, including the spread of the Islamic State (IS) movement in the country.
Under the agreement, the TNI may start its campaign during the 94th military community service program, also known as TNI Masuk Desa, which will kick off in May this year.
"This is standard for the TNI; it is very responsive to issues like these. The TNI has invited us to join its campaign, and we've agreed to be its partner. We want to spread information on Islamic teachings to Muslims in this country," Religious Affairs Minister Lukman Hakim Saifuddin told a press briefing on Thursday.
This year's community service program will involve 9,150 army personnel and will take place in 61 regencies and municipalities in the country. In the program, the army will work on infrastructure projects including the construction of bridges, roads and offices and the renovation of mosques and churches.
Full report at:
http://www.thejakartapost.com/news/2015/04/10/tni-play-role-curbing-radicalism.html#sthash.EcqyPyDy.dpuf
--------
West Malaysia abandoning 1963 federation pact with hudud push, Sabah lawmakers say
11 April, 2015
KOTA KINABALU, April 11 ? Peninsular Malaysia risks contravening the 1963 federation agreement and as a result will no longer be seen to be a part of Malaysia if hudud is implemented in Kelantan, Datuk Yong Teck Lee has claimed.
The Sabah opposition leader said that it will not even be a case of Sabah and Sarawak leaving the federation but more of west Malaysia separating itself from Malaysia if hudud is enforced in any state.
"Hudud law is so fundamentally against the concept of Malaysia. It will make Malaysia unrecognisable from the 1963 agreement, whereas Sabah and Sarawak remain more Malaysia than Malaya.
"So it would be Malaya leaving Malaysia and not Sabah and Sarawak leaving the Federation," the Sabah Progressive Party president told Malay Mail Online when contacted this week.
Earlier this week, former Inspector-General of Police Tan Sri Abdul Rahim Noor said the implementation of hudud may lead Sabah and Sarawak to conduct a referendum for independence as the states had never agreed to the hudud law before forming Malaysia.
Full report at:
http://www.themalaymailonline.com/malaysia/article/west-malaysia-abandoning-1963-federation-pact-with-hudud-push-sabah-lawmake#sthash.6QcNXQqF.dpuf
---------
URL: https://www.newageislam.com/islamic-world-news/new-age-islam-news-bureau/bangladesh-set-to-hang-top-islamist,-mohammad-kamaruzzaman/d/102413