New Age Islam News Bureau
9 December 2021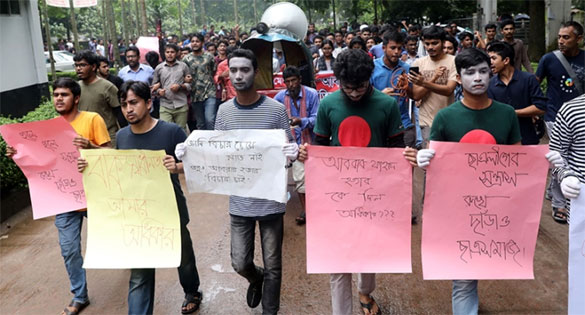 Students protest over the killing of BUET student Abrar Fahad [File: Mahmud Hossain Opu/Al Jazeera]
-----
• Sir, I Do Not Want to live as a Jihadi: Mentally Ill Muslim Man Alleges Assault for His Conversion Attempt
• 'Zero Tolerance' Towards Incidents Like Ghastly Lynching Of The Sri Lankan National, Says Pakistan Army
• Muslim Staff in US Congress Condemn Lauren Boebert's "Islamophobic and Racist Comments" And Seek Action against Islamophobia
• Uniforms of Malaysian Air Stewardesses 'Being Too Revealing' Raised In Parliament
South Asia
• Afghanistan's Humanitarian Crisis May Cause One Million Death in Winter: Crisis Group
• Taliban Deploy Dozens of Officials at Afghan Embassy, Consulates in Pakistan
• Indigenous Christians protest attempted eviction in Bangladesh
• Uzbekistan asks International community to release Afghanistan's assets
• Italy welcoming Afghan Refugees
--------
India
• Police Superintendent's Letter Putting Sikhs, Muslims at Par With Terrorists Stirs Controversy In MP
• Namaz Row: Civil Society and Activists Call To 'Protect Social Fabric'
• Friday Namaz Row: Muslims Demand Legal Action, Land for Mosques in Gurugram
• Waseem Rizvi's Family Says 'Not Concerned' With His Decision To Convert To Hinduism
• ED raids Kerala PFI offices, leaders' houses over money-laundering charges
--------
Pakistan
• Pakistan Frees Jailed Taliban Militants as Part Of Truce Deal
• EU hails Pakistan's progress on FATF action plans
• PM Imran unveils Naya Pakistan Card initiative
• Saad Rizvi sees TLP as 'kingmaker' in next general elections
• Pakistani Shia Cleric Announces Divorce and Heritage Will Be Settled as per Fiqah e Jafferia's Norms
• Pakistan reports first 'suspected' case of Omicron variant in woman from Karachi
--------
North America
• House to advance legislation to combat Islamophobia as pressure mounts to punish Boebert for anti-Muslim comments
• US envoy to return to Vienna over weekend for Iran nuclear talks
• US house votes to punish China over Uyghur treatment
--------
Southeast Asia
• Indonesian militant given life sentence in 2005 attack
• Converted Japanese Muslim Teaches His Students about Islam
• Malaysian court upholds ex-PM's graft conviction in 1MDB scandal
--------
Arab World
• UAE Fatwa Council, International Fatwa Authorities Discuss Cooperation
• Iraqi army seize explosives from resurgent Islamic State group
• As Iraqi and Syrian migrants leave Belarus, some are afraid to go home
• Qatar and Turkey extend currency swap deal
--------
Mideast
• Leader's Top Adviser: Resistance against Enemies to Continue in Syria
• Police in Southwestern Iran Dismantles Foreign-Backed Terrorist Group
• Iran Freezes Hundreds of Bank Accounts over Illegal Trade of Foreign Currencies
• US, Israel to discuss military drills for Iran scenario: US official
• Erdogan asks Turks to trust new economic model as lira weakens
--------
Africa
• South Sudan Violence Could Amount To 'War Crimes': Amnesty
• Libya's upper house proposes delaying December presidential elections
• French foreign minister arrives in Algeria in bid to 'relaunch relationship'
• South Sudan's peace deal under serious threat, warns UN
--------
Europe
• Will Friday Be A Day Off For Muslims In Russia?
• Exhibition on 'Iran, five thousand years of culture and art' opened in Berlin
• Greek court acquits Turkish minority's elected religious official
Compiled by New Age Islam News Bureau
URL: https://www.newageislam.com/islamic-world-news/bangladesh-lynching-20-death-sentences/d/125929
--------
In Bangladesh, 20 Ruling Party Youth Sentenced To Death, 5 To Life Imprisonment, For Lynching, Killing Over Anti-Government Facebook Post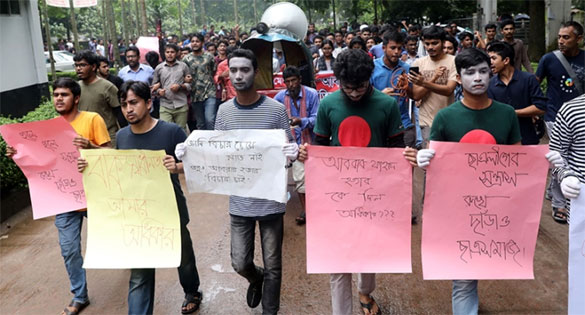 Students protest over the killing of BUET student Abrar Fahad [File: Mahmud Hossain Opu/Al Jazeera]
-----
By Faisal Mahmud
8 Dec 2021
Dhaka, Bangladesh – A court in Bangladesh has sentenced 20 university students to death and five more to life imprisonment for the killing of a fellow student who criticised the government on social media.
Abrar Fahad, a 21-year-old second year student of the country's prestigious Bangladesh University of Engineering and Technology (BUET) was beaten to death on October 7, 2019 by 25 BUET students who were members of Chhatra League, the student wing of the ruling Awami League party.
The killing sparked widespread student protests, as thousands took to the streets across the country to demand justice.
Announcing the sentences on Wednesday, Judge Abu Zafar Md Kamruzzaman of Dhaka Speedy Trial Tribunal-1 said: "The court has given them the highest punishment so that such a gruesome incident does not happen again.
"We feel that we should not hesitate to use the sword of justice with the utmost severity, to the full and to the end, if the gravity of offence so demands," the judge added.
Fahad's father Barkat Ullah told reporters outside the court premise that he was "happy" with the verdict.
"I am not going to get my son back but this verdict is at least some sort of consolation for our family," Ullah said, "I hope they [convicts] will be punished soon for what they did," he said.
One of the defence lawyers, Faruk Ahmed, told Al Jazeera that he would appeal against the sentences.
Harrowing murder
Hours before his killing, Fahad published a Facebook post that criticised the Sheikh Hasina-led government for making a water-sharing agreement with India.
Dhaka and New Delhi have for decades struggled to sign a deal on sharing river waters. A controversial agreement on sharing water from the Ganga River has long been seen in Bangladesh as favourable to India.
After Fahad's post went viral, he was summoned by Chhatra League activists at the university. Leaked security camera footage that was shared widely on social media showed him walking with some activists in a corridor of the dormitory. He was interrogated by the activists inside a room in the dormitory.
Court documents revealed harrowing accounts of how Fahad was clobbered with a cricket bat and skipping ropes for hours. Fahad's body was later dropped from the staircase of the dormitory before doctors pronounced him dead the next morning.
Police later arrested 21 people for their involvement in the killing and another suspect turned himself in. Three others named in the charge sheet remain at large.
Wider issues remain unaddressed
Some activists from the student wing of the Awami League have been accused of killing, violence and extortion in recent years.
Members allegedly violently suppressed a major anti-government student protest in 2018.
Law professor Asif Nazrul said Fahad's killing highlighted wider problems within Bangladeshi universities.
"We have to remember that all those handed death penalty and life imprisonment are meritorious students and were between 22-24 years. They were at their prime time of life," he said.
"We have to address how they had turned into monsters".
Nazrul said Chhatra League activists have come to feel a sense of entitlement on university campuses.
"The gruesome death of Abrar [Fahad] is a reminder of the level of lawlessness that years of overindulgence of Chhatra League by their parent body have resulted in," said Nazrul.
Mizanur Rahman, director of student welfare of BUET, told Al Jazeera that the verdict delivered a "strong message" to students at universities across Bangladesh who indulged themselves in student politics.
"The verdict shows you can't get away with wrongdoings even you are affiliated with the ruling party," said Rahman.
Source: Al Jazeera
Please click the following URL to read the text of the original story:
https://www.aljazeera.com/news/2021/12/8/bangladesh-sentences-20-students-to-death-for-2019-murder-case
--------
Sir, I Do Not Want to live as a Jihadi: Mentally Ill Muslim Man Alleges Assault for His Conversion Attempt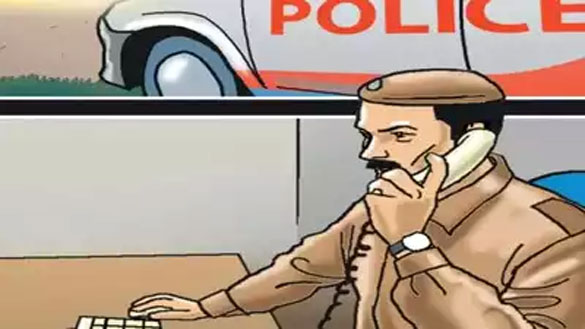 Representative image
-----
Dec 9, 2021
Kanpur: A man reached Colonelganj police station with a saffron scarf on his shoulder in Kanpur on Wednesday and alleged that he was assaulted brutally by members of his community when he expressed his desire to adopt Hinduism as his religion. A video of the man making the allegations went viral on social media, where Aslam could be heard telling the cops, "Sir, I do not want to live as a jihadi."
After listening to his words, the police were stunned, while some people also made a video of the man.
Though the police officers termed him as "mentally ill," the man maintained that he wanted to adopt Hinduism.
He also accused the people of his religion of assault, on which the police have started an investigation.
"On Tuesday, a man profusely bleeding from his head, reached the Colonelganj police station with saffron scarf on his shoulder and claimed that as he wanted to convert from Islam to Hinduism, but people of his religion were angry over this and had beaten him," police said.
He told cops that his name is Aslam. When asked why he wanted to become a Hindu, he replied that he did not want to live as a 'jihadi'. He also threatened that if he was stopped from converting, he will leave the locality and go somewhere else.
Additional commissioner of police (ACP) Colonelganj Tripurari Pandey said that NCR (non- cognizable report) has been registered on the complaint of the man.
"The mental condition of the man doesn't seem to be well, and at present the police are investigating the matter," the ACP added.
Source: Times of India
Please click the following URL to read the text of the original story:
https://timesofindia.indiatimes.com/city/kanpur/muslim-man-alleges-assault-for-his-conversion-attempt/articleshow/88173626.cms?pcode=other
--------
'Zero Tolerance' Towards Incidents Like Ghastly Lynching Of The Sri Lankan National, Says Pakistan Army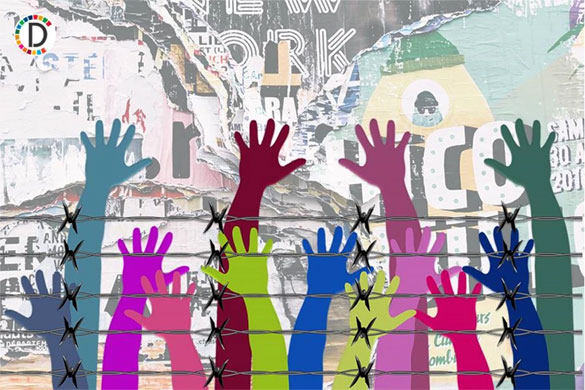 Country: Pakistan
----
Dec 8, 2021
ISLAMABAD: Pakistan's top military brass on Wednesday expressed "zero tolerance" towards incidents like the ghastly lynching of the Sri Lankan national at the hands of an irate mob in Sialkot last week, underlining the need to eradicate forms of terrorism and extremism from the country.
In a grisly incident, a top Sri Lankan executive of a garment factory named Priyantha Kumara Diyawadana, 49, was lynched and his body burnt by angry supporters of a hardline Islamist party which attacked the facility in Pakistan's Punjab province over blasphemy allegations.
The incident has sparked widespread condemnation from Sri Lankan and Pakistani leaders.
Pakistani authorities have booked over 800 people under terrorism charges while 13 prime suspects being among the 118 people arrested.
"Taking note of the heinous lynching incident in Sialkot, forum unequivocally affirmed zero tolerance for such elements so as to eradicate extremism and terrorism from the country," the Army statement said.
On Wednesday, Chief of Army Staff General Qamar Javed Bajwa presided over the 245th Corps Commanders' Conference held at the General Headquarters in Rawalpindi.
"The participants reviewed global, regional and domestic security milieu," a statement by the Pakistan army's media wing Inter-Services Press Relations said.
Referring to the brewing humanitarian crisis in Afghanistan, General Bajwa said continuous support and timely international humanitarian assistance is imperative for not only peace and prosperity of Afghanistan but also for stability of the region at large.
The COAS expressed satisfaction over security measures along the borders, emphasized on maintaining high vigil to guard against any threat, while adding that the objective evaluation of doctrine and training is necessary to evolve and meet emerging challenges in a technology-driven future battlefield.
The Corps Commanders' Conference is held every month to evaluate the internal and external security threats and review the preparedness to deal with them.
Source: Times of India
Please click the following URL to read the text of the original story:
https://timesofindia.indiatimes.com/world/pakistan/zero-tolerance-towards-incidents-like-sialkot-says-pakistan-army/articleshow/88170354.cms
--------
Muslim Staff in US Congress Condemn Lauren Boebert's "Islamophobic and Racist Comments" And Seek Action against Islamophobia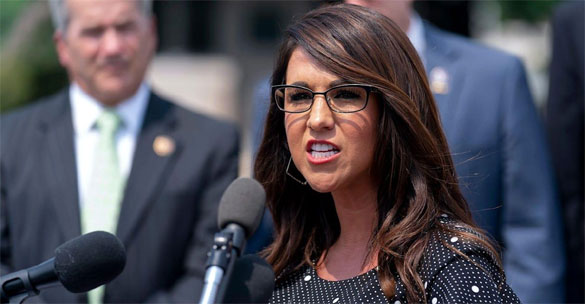 House Democrats seek to punish GOP Rep. Boebert
------
December 9, 2021
Scores of Muslim congressional staff members have condemned US Representative Lauren Boebert's "Islamophobic and racist comments" about Muslims and Congresswoman Ilhan Omar.
In an open letter to the US House of Representatives leadership on Wednesday, the group said a "heightened climate of Islamophobia" on Capitol Hill has created "a feeling of anxiety and fear," according to Al Jazeera website.
They added that "hateful rhetoric by public officials directly impacts us and puts our safety at risk, both at the workplace and in our everyday lives."
"Witnessing unchecked harassment of one of only three Muslim members of Congress – and the only visibly Muslim member – we feel that our workplace is neither safe nor welcome," reads the letter, which is signed by 62 Muslim staff members in the House of Representatives and the Senate and 378 allied staff.
Boebert in a statement last week apologized for her recent "Islamophobic and racist comments" after Omar and other Democrats called for an "appropriate action" against her for "anti-Muslim bigotry."
But after a few days, Boebert showed no sign of remorse, posting a video that described her call with Omar and doubled down on her rhetoric against Muslims.
"Make no mistake. I will continue to fearlessly put America first, never sympathizing with terrorists. Unfortunately, Ilhan can't say the same thing and our country is worse off for it," Boebert said.
During an event in her Colorado district last month, Boebert told the audience about an encounter with Omar in the Capitol — which Omar says never happened.
"I was getting into an elevator with one of my staffers," Boebert told the laughing crowd. "You know, we're leaving the Capitol and we're going back to my office and we get an elevator and I see a Capitol police officer running to the elevator. I see fret all over his face, and he's reaching, and the door's shutting, like I can't open it, like what's happening. I look to my left, and there she is. Ilhan Omar. And I said, 'Well, she doesn't have a backpack, we should be fine.'"
Congresswoman Omar has said Republicans do not have the ability to condemn Islamophobia and anti-Muslim rhetoric because they are "normalizing anti-Muslim bigotry," in the United States.
Omar, a Somali-born American Muslim, also blasted House Minority Leader Kevin McCarthy (R-Calif.) on Sunday for his reaction to Boebert's comments about Muslims, calling the GOP leader "a liar and a coward."
The incident and a subsequent video of Boebert making Islamophobic comments about Omar at an event in September caused outrage at Capitol Hill, with Democrats calling for Boebert to be reprimanded, and being stripped of her committee assignments. Republicans, however, have not shown willing to take those steps.
On Tuesday, Omar said, "We need accountability for Rep. Boebert's hateful, anti-Muslim remarks."
"This blatant Islamophobia should have no place in the halls of Congress," she added.
In their letter on Wednesday, the Muslim congressional staff members urged Congress to "categorically reject this incendiary rhetoric that endangers the physical, mental and emotional well-being of staff across both sides of the aisle".
"This type of harmful behavior normalizes hate against an entire religious community that has already faced decades of derogatory rhetoric, hate crimes, surveillance, distrust, discrimination, demonization and violence," the letter said.
On December 5, Omar said House Speaker Nancy Pelosi made a "promise to me that she will take care of this," adding, "I believe her."
"When I first got to Congress, I was worried that I wasn't going to be allowed to be sworn in because there was a ban on the hijab. She promised me that she would take care of it. She fulfilled that promise. She's made another promise to me that she will take care of this. And I believe her," Omar said.
"I think it's important for us to say, this kind of language, this kind of hate cannot be condoned by the House of Representatives," she added.
Source: ABNA24
Please click the following URL to read the text of the original story:
https://en.abna24.com/news//muslim-staff-in-us-congress-seek-action-against-islamophobia_1206691.html
--------
Uniforms Of Malaysian Air Stewardesses 'Being Too Revealing' Raised In Parliament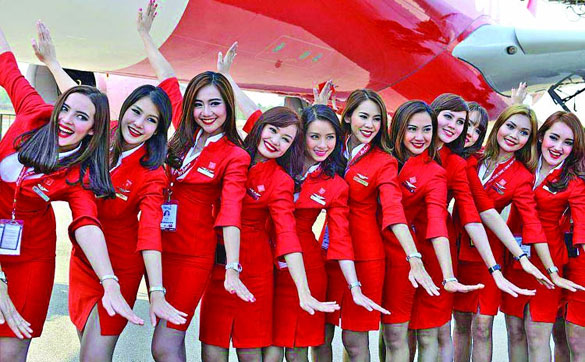 Malaysia's budget airlines have come under fire for their "sexy" cabin crew uniforms.
-----
08 Dec 2021
KUALA LUMPUR: The issue over uniforms of Malaysian air stewardesses being too revealing was raised in Dewan Rakyat on Wednesday (Dec 8).
The matter was brought up by Abdul Latiff Abdul Rahman (PN-Kuala Krai) who wanted to know what was the government's stand on the issue.
"I would like to raise the issue over the rights of Muslim air stewardesses who are required to wear uniforms that do not 'tutup aurat' (covering parts of the body that should not be exposed according to Islamic belief).
"There are some who cover up at home or while on land but are forced to wear uniforms that do not cover up due to their job and rice bowl," he said when taking part in debates on Budget 2022 in Dewan Rakyat.
He wanted to know if the Women, Family and Community Development Ministry would champion the cause of Muslim air stewardesses on this issue.
In response, Family and Community Development Minister Datuk Seri Rina Harun said that the issue of workers' welfare came under the Human Resources Ministry based on the provisions under the Employment Act.
"Also the issue of workers' uniforms is governed under the policy of the airline companies which does not require approval from the Cabinet," she said, adding that she would take note of the issue raised by Abdul Latiff.
Last week, Abdul Latiff raised the issue in Dewan Rakyat of female Muslim hotel workers who were forced to wear short skirts while working.
He said there had been complaints by female Muslim employees working in hotels that they were not allowed to wear the tudung and made to wear short skirts instead.
He also lamented that Muslim employees working at convenience stores are required to sell alcohol beverages to customers, which was against Islamic teachings.
Source: The Star
Please click the following URL to read the text of the original story:
https://www.thestar.com.my/news/nation/2021/12/08/uniforms-of-malaysian-air-stewardesses-being-too-revealing-raised-in-parliament
--------
South Asia
Afghanistan's humanitarian crisis may cause one million death in winter: Crisis Group
09 Dec 2021
Crisis Group has warned that the ongoing humanitarian crisis and winter season will cause one million death if not addressed and sanctions are not lifted from Afghanistan.
The Group has called on the International community to step forward and lift its sanctions to avert mass starvation as the country is facing deadly winter ahead.
In the meantime, the group has warned that the ongoing crisis and starvation will cause more deaths than the two decades of war in Afghanistan.
"The Afghan state is falling after the world responded to the Taliban's takeover by freezing assets, cutting aids and offering only limited sanctions relief for humanitarian purposes. Government employees lack salaries, basic services are not being delivered and the financial sector is paralyzed." Reads the latest report of Crisis Group.
The reports also criticized the international community to be the real culprit as they had made a dependent government to foreign aid and then imposed sanctions on the country after they withdrew from Afghanistan.
Source: Khaama Press
Please click the following URL to read the full text of the original story:
https://www.khaama.com/afghanistans-humanitarian-crisis-may-cause-one-million-death-in-winter-crisis-group-4634634/
--------
Taliban deploy dozens of officials at Afghan embassy, consulates in Pakistan
Dec 08, 2021
By Rezaul H Laskar
The Taliban have posted four senior officials and dozens of junior operatives at the Afghan embassy and consulates in Pakistan in recent weeks, reflecting Islamabad's close ties with the setup in Kabul.
One of the senior Taliban officials was deployed at Afghanistan's embassy in Islamabad and the others at consulates in Karachi, Peshawar and Quetta, people familiar with the matter said.
"This has happened even though there is no formal recognition of the Taliban's interim government in Kabul by any country, not even Pakistan. It is a de facto recognition of the Taliban administration," said one of the people cited above.
Dozens of junior Taliban operatives have been sent to the four missions to take over operations and to keep an eye on diplomats posted during the term of the former Ashraf Ghani government, which collapsed when the Taliban marched into Kabul on August 15.
An Afghan diplomat appointed by the Ghani government in Bangladesh switched over to the Taliban side and was also sent to Pakistan recently, the people said.
The Taliban have sought to play down the posting of officials to Pakistan, with spokesman Zabiullah Mujahid contending that they are not official envoys. The Taliban have said these officials were meant to help Afghan refugees living in Pakistan and to facilitate the travel of people who wish to visit Afghanistan.
Muhammad Shokaib, who has used the aliases Mosa Farhad and Qari Yousaf Ahmadi and served as a Taliban spokesman, is the de facto ambassador in Islamabad. The Taliban's acting foreign minister, Amir Khan Muttaqi, known to be close to the Pakistani establishment, issued official letters regarding the appointment of the officials in Pakistan.
The Afghan embassy in Islamabad had been without a head since July, when the Ghani government recalled ambassador Najibullah Alikhil and other staff to protest the kidnapping and assault of the envoy's daughter by unidentified men. She was abducted from a commercial district in the heart of Islamabad and held for several hours. Pakistan denied she was kidnapped, taking ties to a low at the time.
The Taliban have also been making efforts for several months to woo diplomats appointed by the Ghani government in key countries, including West Asian states and India, to work for the setup in Kabul but have been unable to make much headway. In some cases, Muttaqi himself has been involved in these efforts, the people said.
Some 70 Afghan missions around the world are still using Afghanistan's tricolour flag and issuing a limited number of visas, mainly for humanitarian workers. However, they are grappling with a funds crunch that has resulted in cutting down the number of local staff and some functions.
Diplomats appointed by the former government have also been enthused by the UN General Assembly's move on Monday to defer a decision on who will represent Afghanistan at the world body. This effectively allows the Ghani government's representative, Ghulam Mohammad Ishaqzai, to remain as the envoy.
Source: Hindustan Times
Please click the following URL to read the full text of the original story:
https://www.hindustantimes.com/world-news/taliban-deploy-dozens-of-officials-at-afghan-embassy-consulates-in-pakistan-101638974001434.html
--------
Indigenous Christians protest attempted eviction in Bangladesh
Stephan Uttom
December 07, 2021
Landless indigenous Christians have sought support and justice from the government following an attempted eviction and death threats allegedly from Muslims in northern Bangladesh.
A group of 30 Muslims with an influential leader attempted to evict some 23 indigenous families by force, wanted to plant trees on the disputed land and threatened to kill them on Dec. 3, claimed Simon Marandi, 28, an ethnic Santal youth.
The incident took place in Badhair village in the Tanore area of Rajshahi district.
The Muslims were armed with bamboo sticks and sharp weapons and warned villagers that their houses would be burned down if they didn't move out willingly, he said.
Durul Huda, the Muslim leader, and his brothers have allegedly been trying to occupy 12,500 square meters of khas (government-owned fallow land) land where the families have lived for months.
A video of the incident on Facebook showed Muslims and villagers embroiled in a heated altercation as the villagers resisted the eviction.
They threatened to kill us and burn our houses. We appeal to the government to save us from eviction
Simon Marandi, a Seventh-Day Adventist Christian, said 65 members of ethnic families have been living in extreme fear since the attack. A youth group has been guarding the village to resist a possible arson attack.
"Since we have no place to live, we have been living here for months building houses because it is khas land and we are landless people. But local influential Muslims are threatening us in various ways to evict us from here. They threatened to kill us and burn our houses. We appeal to the government to save us from eviction," Marandi told UCA News.
Villagers told UCA News that the ethnic people have been living on the government land for months but don't have any written permission or land document. Earlier they lived in other areas in Rajshahi but moved to the village more than two months ago as the number of their family members increased.
Durul Huda claimed the property as his own and denied allegations of an attack and death threats.
"When I went to plant trees on my land, they started arguing with us, but I did not threaten them in any way. I am the owner of this land in the ancestral lineage. They are forcibly living here," Huda told UCA News.
Police arrived in the village shortly after the incident and no lawsuit has been filed, said Rakibul Hasan, officer in charge of Tanore police station.
"We went to the spot as soon as we heard about the incident. Now the situation is normal. Since no case has been filed, we are keeping an eye on the village," he told UCA News.
However, he didn't confirm the status of the disputed land and whether it is khas land or private poverty as claimed by Huda.
Church officials from Rajshahi Diocese said they were not aware of the incident.
Father Patrick Gomes, a senior priest and convener of the Interfaith Dialogue Commission, said that if the incident is true, this is a case of injustice to indigenous people.
Land disputes and violence involving ethnic groups are common in Muslim-majority Bangladesh.
Source: UCA News
Please click the following URL to read the full text of the original story:
https://www.ucanews.com/news/indigenous-christians-protest-attempted-eviction-in-bangladesh/95253#
--------
Uzbekistan asks International community to release Afghanistan's assets
09 Dec 2021
Foreign Minister of Uzbekistan Abdulaziz Kamilov in his contribution at the Italy-Central Asia Second Ministerial Meeting in Tashkent on December 8 urged the world community to lift sanctions and unfreeze the assets of Afghanistan.
Neighboring Uzbekistan has now become another country in the region that asks for the release of over $9.5 billion preserves of Afghanistan now frozen in American banks.
Earlier, Pakistan, China, and Russia had urged the world to unfreeze Afghanistan's assets.
The Uzbek Foreign Minister asks the world to undertake actions to lift sanctions of Afghanistan, unfreeze its assets, and work for the restoration of its banking system as the country is going through the worst humanitarian situation.
"The people of Afghanistan are in a very difficult situation and the humanitarian situation of the country is nearing disaster. It is important to provide effective assistance to the people of Afghanistan." Said Kamilov.
Source: Khaama Press
Please click the following URL to read the full text of the original story:
https://www.khaama.com/uzbekistan-asks-international-community-to-release-afghanistans-assets-457457/
--------
Italy welcoming Afghan Refugees
08 Dec 2021
Italy's local media have reported that the country is welcoming Afghan refugees to the country who have been granted refugee status.
Along with other European countries, the US, and the UK, Italy is one of these countries where a large number of Afghans are finding ways to, seeking asylum.
Among others, Prato which is an industrialized province of Italy has been welcoming a large number of Afghan refugees.
The province has been welcoming Afghan asylum seekers since September this year and is estimated to welcome up to three thousand people.
As per the reports, specific reception paths have been set up where women with children will be welcomed in apartments to preserve their unity.
In the meantime, the University of Florence that is one of the prominent universities in Italy has allocated 26 scholarships for Afghan students to complete their education.
Source: Khaama Press
Please click the following URL to read the full text of the original story:
https://www.khaama.com/italy-welcoming-afghan-refugees-3464326346/
--------
India
Police superintendent's letter putting Sikhs, Muslims at par with terrorists stirs controversy in MP
09th December 2021
BHOPAL: A political controversy has erupted in BJP-ruled Madhya Pradesh over a district police superintendent's VIP visit related security letter, which equated the Sikh and Muslim community with terrorist groups like JKLF, LTTE, ULFA and SIMI.
The two-page order signed by Katni district police superintendent Sunil Kumar Jain, dated December 6 2021, pertained to security related arrangements for state's Governor Mangubhai C Patel's December 7 visit to Katni district.
It was the sixth point of the 23 point general instructions to the security apparatus that actually triggered the row.
The sixth point instructed to keep a strict eye on Sikhs, Muslims, JKLF, ULFA, SIMI and LTTE terrorists.
Tweeting a copy of the controversial order, senior Congress leader and party's state general secretary KK Mishra wrote, "Thanks to SP Katni, till now it was the BJP, which treated country's farmers and Muslims as terrorists. But you (SP Katni) and your police have officially termed Sikhs and Muslims as terrorists for the Governor's visit. Are you a police superintendent or BJP spokesperson? This government will definitely felicitate you with Padmashree."
State Congress spokesperson and Sikh community leader Narendra Saluja also objected to the letter, saying "it was sad that the patriotic Sikh community has been equated with terrorists in the letter. Action should be taken against SP Katni, failing which it would understood that it's also the belief of the Shivraj Singh Chouhan government and the BJP."
Source: New Indian Express
Please click the following URL to read the full text of the original story:
https://www.newindianexpress.com/nation/2021/dec/09/police-superintendents-letter-puttingsikhsmuslims-at-par-with-terrorists-stirs-controversy-in-mp-2393569.html
--------
Namaz Row: Civil Society And Activists Call To 'Protect Social Fabric'
Dec 9, 2021
New Delhi: Several members of the civil society, including social activists, a former MP and a Delhi University professor, urged people to protect the country's social fabric in the backdrop of weeks of protest in Gurgaon against Namaz being offered in public spaces. The protests, they said, were part of a larger plan to make minorities "invisible".
Addressing a press conference at the Constitution Club of India on Wednesday, Altaf Ahmed of the Gurgaon Muslim Council said Muslims were forced to pray in open spaces in the city due to the lack of mosques. "There are 5 lakh Muslims in Gurgaon and not enough masjids to accommodate them. So, we started offering prayers at designated sites (by the administration). These (number of sites) are being pruned again and again by the administration," he said.
This Monday, after a meeting with Gurgaon deputy commissioner Yash Garg and DCP (west) Deepak Saharan, outfits involved in official discussions on namaz sites had indicated that the number of public spaces where Friday prayers can be offered would be reduced to six, from 37 when the protests began. There has, however, been no formal announcement by the district administration.
The press conference was organised by former MP Mohammad Adeeb, who is also a resident of Gurgaon. Others present included former planning commission member Dr Syeda Hameed, DU professor Apoorvanand, former IIT professor VK Tripathi, social activists Shabnam Hashmi and Daya Singh, advocate Suroor Mander, and religious leader Mufti Saleem Qasmi.
"We are talking here about public land. Public land is maintained by taxpayers' money and both Hindu and Muslims are taxpayers. So, how come a certain section can dictate what should happen on that land?" Apoorvanand said.
Source: Times of India
Please click the following URL to read the full text of the original story:
https://timesofindia.indiatimes.com/city/gurgaon/namaz-row-call-to-protect-social-fabric/articleshow/88174204.cms
--------
Friday Namaz Row: Muslims Demand Legal Action, Land for Mosques in Gurugram
Dec 09, 2021
By Abhishek Behl
Members of the Muslim community on Wednesday alleged that the government authorities have failed to take action against miscreants who have been disrupting the Friday Namaz in the city, and added that they were being denied their constitutional right to practice their religion.
"We have submitted a report to 18 political parties in the hope that they will take up the issue in Parliament and other public fora. Communal slogans and provocative speeches are being made against Muslims, and the authorities are taking no action," said Mohammad Adeeb, former Rajya MP and a member of Gurgaon Muslim Council, at a press conference organised by the two groups at the Constitution Club in New Delhi.
The district administration said efforts were on resolve the sensitive issue, and the city police added that they were providing adequate security at all designated Namaz sites.
The presser was also attended by political and social activists such as Prof Apoorvanand and Dr Syeda Saiyidain Hameed.
Hindu right wing groups have been protesting against Friday Namaz in open public spaces in Gurugram since 2018. The same year, the administration designated 37 sites for Muslims to perform the Friday prayers. However, in November this year, the number of sites was cut down to 20 after members of the right-wing outfits continued to protest and disrupt prayers. The Muslims, however, have maintained that they were forced to use public spaces since there were not enough mosques in the city.
On Wednesday, members of the two Muslim groups who have been raising the issue with the administration also demanded action against members of the Hindu groups against whom the Gurugram police were given complaints on November 30 for alleged provocative communal speeches.
"The BJP backed by RSS is bent upon reducing the minorities to second-grade citizens and they plan to achieve this agenda through polarisation. The disruption in Namaz is being carried out by the same 20 to 30 people but they are not being taken into preventive custody," said Apoorvanand, a political commentator.
The Haryana BJP, however, rejected the charge, saying the state government and its bodies were taking action as per the law, and added that some people were trying to politicise the issue.
"The activities of some people show their intention to politicise this issue. They are creating a law and order situation and disharmony in the society at large," said Raman Malik, Haryana BJP spokesperson.
Mufti Saleem Qasmi, a Gurugram-based religious leader, said baseless allegations were being levelled by the right-wing groups such as by offering namaz at public spaces the Muslims were waging a land jihad, and that those performing prayers were Rohingya, Bangladeshis and not local residents. "There are only 13 mosques in the city, and several people don't get space to perform namaz. We have approached the authorities to allocate land for establishing religious sites, but nothing has happened," he said.
Altaf Ahmad of the Gurgaon Muslim Council said the authorities should provide safety at the designated namaz sites and end the harassment by Hindu groups. "The right to perform namaz (freedom to practice one's religion) is provided by the Constitution. The population of Muslims in the city is around five lakh, but there are only 13 small mosques. The government must provide us sites for building new mosques, and ensure safety at designated sites and stop this targeted harassment" Ahmad said.
Dr Syeda Hameed, a former member of Planning Commission, said, "Efforts must be made to stop communal polarisation and bring people together for peaceful coexistence."
The Gurugram police said they have been providing adequate security at all designated sites to ensure safety of the worshippers and maintenance of law and order. "Police personnel are deployed in adequate strength at all designated sites as per directions of the administration. No untoward incident has been allowed to happen till date, and in future too nobody will be allowed to disturb law and order in the city," Subash Boken, Gurugram police spokesperson, said.
Yash Garg, deputy commissioner, Gurugram, said all steps were being taken to resolve the "sensitive" issue. "Concerns of all stakeholders will be taken into consideration and the issue will be resolved. No one will be allowed to disturb the communal harmony and take law and order into their hands," he said.
Reacting to the claims about availability of land for mosques, Malik said development agencies hold regular auctions of land for religious sites, and everyone is free to participate in it. "The waqf board too has acres of land in Gurugram district, which may be used for establishing mosques. Details of these properties are available in the public domain," the BJP leader said.
Source: Hindustan Times
Please click the following URL to read the full text of the original story:
https://www.hindustantimes.com/cities/delhi-news/namaz-row-muslims-demand-legal-action-land-for-mosques-in-gurugram-101638989371174.html
--------
Waseem Rizvi's Family Says 'Not Concerned' With His Decision To Convert To Hinduism
Abhishek Mishra
December 8, 2021
The family of Waseem Rizvi, the former Uttar Pradesh Shia Waqf Board chairman who converted to Hinduism this week, has distanced from his decision to renounce Islam. The family said they were "not concerned" with his decision to convert to Hinduism.
Rizvi, who took a new name as Jitendra Narayan Singh Tyagi, converted to Hinduism under the guidance of Dasna Devi temple priest Yati Narsinghanand Saraswati in Ghaziabad on Monday.
Rizvi's brother Shanu told India Today TV, "Waseem is a common man for us, like any other person. He is nothing to our family and has no relation with us. We are not concerned with whatever decision Waseem has taken."
This is not the first time that Rizvi's family has distanced themselves from him. Earlier, when Rizvi had questioned some of the verses of the Quran, Shanu had said that he had no relation with the former Shia Waqf Board chief.
Shanu said that he lived in an ancestral house in Chowk, where Rizvi did not come or try to make contact with the rest of the family. "It has been more than seven months that I have spoken to him," Shanu said.
Shanu said Rizvi had no business with him, their sister and mother. He said, "Rizvi has been speaking against Islam, which is highly objectionable and none of his family members stands with him. Even his wife and children don't support him. No one is going to support him with this decision."
Source: India Today
Please click the following URL to read the full text of the original story:
https://www.indiatoday.in/india/story/former-uttar-pradesh-waqf-board-chief-waseem-rizvi-family-islam-hinduism-1885655-2021-12-08
--------
ED raids Kerala PFI offices, leaders' houses over money-laundering charges
Dec 09, 2021
The Enforcement Directorate (ED) on Wednesday raided several offices and houses of the Popular Front of India (PFI) leaders in different locations across Kerala in connection with an ongoing investigation into money laundering charges, officials said.
People close to the central agency said they received a tip-off that a huge amount was transferred from west Asian countries to the PFI leaders, allegedly being used to foment trouble in the country. Officials said they got clinching evidence in this regard during the raids. But the organization has stoutly denied these charges.
"It is a cheap harassment tactic carried out by the central agency at the behest Sangh Parivar outfits. Our struggle will continue to uphold human and minority rights. The BJP and Parivar outfits are using central agencies to stifle dissent," said PFI general secretary Anis Ahmed.
"The PFI has been co-operating well with all ED investigations, but nothing has been found so far. But it is still harassing our members with arbitrary raids. We condemn this," said PFI chairman O M A Salam.
The PFI said raids were conducted at four locations, Kannur, Muvattupuzha, Malappuram and Idukki, officials in the know of the development said. At some locations, angry workers raised slogans against the ED officials but dispersed after local police intervened.
The central probe agency has been investigating the PFI's alleged "financial links" on charges of fuelling the anti-Citizenship (Amendment) Act protests in the country, the Delhi riots that took place in February last year and a few other instances
The controversial outfit was in the news two weeks back in connection with the murder of Rashtriya Swayamsevak Sangh leader A Sanjith in Palakkad. Four workers of the Social Democratic Party of India, political wing of PFI, were arrested. He was waylaid and stabbed to death before his wife. Five are absconding.
Source: Hindustan Times
Please click the following URL to read the full text of the original story:
https://www.hindustantimes.com/india-news/ed-raids-kerala-pfi-offices-leaders-houses-over-money-laundering-charges-101638991223832.html
--------
Pakistan
Pakistan Frees Jailed Taliban Militants As Part Of Truce Deal
December 08, 2021
Pakistan has released 12 members of the Tehrik-e Taliban Pakistan (TTP) from custody, a source told RFE/RL on December 8, amid ongoing negotiations to reach a peace deal with the Islamist group fighting a guerrilla war in the northwestern tribal region bordering Afghanistan.
The government and the banned militant group, also known as the Pakistani Taliban, announced a monthlong cease-fire on November 8 as the two sides advanced talks for a possible agreement to end 14 years of conflict.
The release of 100 jailed TTP members was one of the group's preconditions for reaching a permanent cease-fire agreement.
A source in Pakistan's tribal region told RFE/RL that 12 inmates held in the Jandola area of South Waziristan had been transferred on December 7 to the neighboring Afghan province of Paktika, where they were handed over to the TTP.
The move came on the eve of the expected end of the monthlong truce.
Most of the freed militants were said to be from Pakistan's Bajaur tribal district.
The group did not include prominent TTP members, the source told RFE/RL, adding that more prisoners are expected to be released in the next few days.
Over the past 15 years, Pakistan has signed three peace deals with the Pakistani Taliban, but none of them have lasted beyond a few months.
Pakistan conducted a massive military operation against the TTP across the northwestern regions in June 2014, forcing the group's militants and leadership to take refuge across the border in Afghanistan.
However, the TTP has gradually staged a comeback in the mountainous, tribal regions since late 2019 and considerably increased the frequency of their attacks this year.
Sources told RFE/RL that the current talks were being held by senior Pakistani military officials and top TTP representatives, with the mediation of the Afghan Taliban.
The TTP is a separate militant group from the Afghan Taliban, which toppled the Western-backed government in Kabul in mid-August. But Pakistan's militant groups are often interlinked with those across the border in Afghanistan and the TTP follows the same hard-line Sunni Islam as its Afghan counterparts.
Source: Gandhara
Please click the following URL to read the full text of the original story:
https://gandhara.rferl.org/a/pakistan-taliban-militants-freed/31599975.html
--------
EU hails Pakistan's progress on FATF action plans
December 9, 2021
ISLAMABAD: The European Union (EU) has welcomed progress made by Pakistan to implement action plans of the Financial Action Task Force (FATF) and lauded adoption of the Protection of Journalists and Media Professionals Bill by parliament that later became an Act with the presidential approval.
A joint communique issued on Wednesday at the conclusion of sixth round of the EU-Pakistan Strategic Dialogue said the EU also welcomed ongoing efforts to implement the remaining FATF action plans.
The meeting was co-chaired by Foreign Minister Shah Mahmood Qureshi and High Representative for Foreign Affairs and Security Policy and Vice-President of the European Commission Josep Borrell in Brussels on Tuesday.
The two sides reviewed ongoing cooperation between Pakistan and the EU based on the Strategic Engagement Plan, said the joint communique shared by the Foreign Office here.
They agreed to further enhance EU-Pakistan mutual engagement, particularly on security and regional cooperation.
FM discusses Afghan situation with Nato chief
Both sides agreed to hold the first meeting of the new EU-Pakistan security dialogue with sub-groups on non-proliferation and disarmament and counter-terrorism in 2022.
Mr Borrell and Mr Qureshi reaffirmed the resolve to protect human rights and fundamental freedoms, focusing on freedom of religion and belief, interfaith harmony, religious tolerance and peaceful coexistence and rights of minorities.
Foreign Minister Qureshi raised concern at the rising trends of Islamophobic acts, xenophobia and religious intolerance in the world and the need for common resolve to counter them.
Both sides expressed strong political commitment towards the GSP+ and the implementation of 27 international conventions on human rights, labour rights and protection of environment and good governance that are linked to it.
Mr Borrell raised concern on misuse of the blasphemy law in Pakistan.
He hoped that the Anti-Torture Bill and other human rights-related legislation that were before the parliament would be adopted soon.
Mr Borrell informed the foreign minister about a coming follow-up visit of the EU Election Observation Mission to Pakistan.
He welcomed Pakistan's pronouncement, prior to the Glasgow conference, about its contribution to the common climate objectives.
The high representative and the foreign minister had an extensive exchange of views on the situation in Afghanistan. They agreed on the importance of maintaining sustained engagement with Afghanistan to promote stability and counter drug trade and threat of terrorism.
Both sides acknowledged Afghanistan's liquidity challenges strain the legitimate banking services. They agreed on the need for continuing urgent and unhindered humanitarian assistance and basic social services support to the Afghan people.
Both sides supported dialogue among the Afghan parties for achieving national reconciliation.
Mr Borrell thanked Pakistan for its support in evacuation of nationals of EU member countries and safe passage of people from Afghanistan.
Source: Dawn
Please click the following URL to read the full text of the original story:
https://www.dawn.com/news/1662714/eu-hails-pakistans-progress-on-fatf-action-plans
--------
PM Imran unveils Naya Pakistan Card initiative
Zulfiqar Ali
December 9, 2021
PESHAWAR: Prime Minister Imran Khan on Wednesday formally launched the Naya Pakistan Card initiative, bringing mega welfare programmes of the Pakistan Tehreek-i-Insaf (PTI) government covering health, education, food and agriculture sectors under one umbrella.
With the launch of Naya Pakistan Card, which covers Ehsaas Ration Programme based on a food subsidy package for low-income families, Kisan Card, Sehat Card and scholarships for students, beneficiaries of various initiatives can avail all services on the same card.
Addressing the ceremony held at the Governor House, Prime Minister Khan said that Kamyab Pakistan scheme was also in the pipeline under which two million eligible families would receive Rs400,000 interest-free loans for self-employment, free technical education to one member of each registered family, Rs2.7 million loan for house construction and free health insurance.
He said the proposed Kamyab Pakistan programme to be launched in the KP province would be extended to other provinces later.
Says a project promising interest-free loan for 2m eligible families is on the anvil
Besides, the government was awarding 6.3m scholarships to students to encourage them to pursue higher education as Rs47bn had been allocated in this regard, he said.
In order to ensure award of scholarships on merit, a special cell was being set up at the PM secretariat to collect students' data, he announced.
Mr Khan said that the PTI got two-thirds majority during the previous elections in Khyber Pakhtunkhwa due to development projects and reforms in different sectors. A UNDP report had also acknowledged reduction in poverty in KP during 2013-18 due to the provincial government initiatives, he added.
On the occasion, Prime Minister Khan also distributed cheques among prayer leaders of Jamia mosques under a KP government initiative, among less privileged women under Kifalat programme and scholarship among students under the Ehsaas education programme.
He said the Punjab government was replicating KP's model in the health sector and would launch health insurance programme from January 1 and the entire population of the province would be covered within next three months. The government of Balochistan, Azad Kashmir and Gilgit-Baltistan also intended to launch the mega programme, he added.
Appreciating the performance of National Command and Operation Centre on Covid-19, the PM said the country had effectively tackled the pandemic that severally affected supply chain across the world and caused increase in prices of petroleum, gas and food commodities. Food inflation was a global phenomenon, yet prices of essential commodities were lower than in rest of the world, he added.
In this situation, he said the historic Ehsaas food subsidy package worth Rs120bn would benefit over 20 million families, as 30pc discount would be given on purchase of ghee, flour and pulses to the families with less than Rs50,000 monthly income.
Source: Dawn
Please click the following URL to read the full text of the original story:
https://www.dawn.com/news/1662707/pm-imran-unveils-naya-pakistan-card-initiative
--------
Saad Rizvi sees TLP as 'kingmaker' in next general elections
December 8, 2021
Tehreek-i-Labbaik Pakistan (TLP) chief Saad Hussain Rizvi, who was recently released from jail after nearly seven months in detention, foresees his party as a "kingmaker" in the 2023 general elections, saying that its vote bank will likely get a massive boost in Punjab and Sindh, provided that the polls are held in a free and fair manner.
In an exclusive interview with Newsweek Pakistan, Rizvi said: "No opposition will be able to function and no party will be able to make government without the support of the TLP," as he went on to claim that his party's vote banks in Punjab and Sindh had experienced a massive boost since the last general elections.
"The TLP enjoys good support in both provinces and its vote bank has increased manifold compared to last elections," he told the magazine.
When asked about other political parties approaching him following his release and the chances of the TLP forming electoral alliances with them, Rizvi said they were ready to talk to all parties. However, he added, a final decision on the matter would be taken after taking into consideration ground realities ahead of the elections.
To another question about women joining his party, Rizvi said they were willing to giving as much as 50 per cent representation to women in the TLP.
"We will not only encourage women to join the party on reserved seats, we plan to bring them on general seats as well," he said.
Rizvi's comments come less than a month after his release from Lahore's Kot Lakhpat jail on November 18 in the aftermath of an agreement with the government. The agreement had come following days of protest by his party workers, who also clashed with police, and were marching towards the capital. The details of the agreement were not made public.
Police had arrested Rizvi on April 12 as a "pre-emptive measure", ahead of planned protests by the TLP as the party's April 20 deadline for the implementation of the its demands — including the expulsion the French ambassador, severing ties with France and boycotting French products over blasphemous sketches of Holy Prophet (Peace Be Upon Him) — neared. The next day, police had registered a first information report (FIR) against the TLP chief under sections of the Anti-Terrorism Act (ATA), 1997.
His name was later placed on the Fourth Schedule — a list of proscribed individuals who are suspected of terrorism or sectarianism under the ATA — on April 16.
Rizvi's arrest had led to three days of violent protests across the country, following which a ban was placed on the party under the anti-terror law. This episode of the protest had reached a climax when Lahore became a battleground as TLP workers and policemen clashed, with the former taking 11 policemen hostage, who were released when the government and the TLP began talks.
However, the protest was called off on April 20, following a second round of talks between the government and the TLP, with Interior Minister Sheikh Rashid announcing that the government would present a resolution on the expulsion of the French ambassador in the National Assembly (NA) on the day.
A session of the NA was then called the same day during which a resolution was tabled to discuss and decide on the expulsion of the French ambassador from Pakistan. But since then, the assembly has not taken up the matter again.
However, at that time, Prime Minister Imran Khan had made it clear that the government had no intention of lifting a ban on the TLP.
The TLP had then launched another round of protest in October, with scores of TLP workers taking to the streets in Lahore. They had later announced a "long march" towards Islamabad, which is when the situation turned violent as party workers clashed with law enforcers. Deaths of at least five policemen were reported in the riots.
Meanwhile, TLP protesters marching on the capital were stopped at Wazirabad, where they had camped until the then-proscribed group and the government had reached a deal, the details of which have not been revealed till now.
Negotiations between the TLP and government had started on October 30, with the members of the negotiating team from the government side claiming the next day that they had reached an "agreement".
However, sources had told Dawn at the time that the TLP was assured that the government would not pursue minor cases against the TLP leadership and workers, but the cases registered under the Anti-Terrorism Act would be decided by courts. It also assured the TLP leadership that it would unfreeze the accounts and assets of the proscribed outfit and take steps to lift the ban on it.
Source: Dawn
Please click the following URL to read the full text of the original story:
https://www.dawn.com/news/1662656/saad-rizvi-sees-tlp-as-kingmaker-in-next-general-elections
--------
Pakistani Shia cleric announces divorce and heritage will be settled as per Fiqah e Jafferia's norms
December 9, 2021
The Shia Community living in Pakistan has been waiting for 74 years to settle Divorce and Heritage issues of women according to their norms. Now, the Former Member of the Islamic Ideological Council and Chairman of Imam Khomeini Trust, Allama Syed Iftikhar Hussain Naqvi announced that the disputes of Shia women can be resolved according to Fiqah e Jafferia rather than Fiqah e Hanfi.
He added that after 9 years long legislative struggle, it is a big achievement. Now, the Shia community has obtained its right of personal law given in the Constitution of Pakistan on the above said 2 issues.
He revealed that the President of Pakistan has signed the amended bills on Section 4 and 7 of Muslims Family Laws in a joint meeting of the National Assembly and the Senate.
Allama Iftikhar Naqvi further said that following recent legislative development, the people of the Shia community will enjoy justice in the light of Fiqah e Jafferia in honorable courts on the above said two issues.
Source: ABNA24
Please click the following URL to read the full text of the original story:
https://en.abna24.com/news//pakistani-shia-cleric-announces-divorce-and-heritage-will-be-settled-as-per-fiqah-e-jafferias-norms_1206690.html
--------
Pakistan reports first 'suspected' case of Omicron variant in woman from Karachi
Imtiaz Ali
December 9, 2021
Pakistan reported its first "suspected" case of the new coronavirus variant Omicron in a woman in Karachi on Wednesday, Sindh Health Minister Dr Azra Fazal Pechuho said, adding that a genomic study was being carried out for confirmation.
In a video message, she said that the genomic study of the coronavirus patient's sample had not been conducted but "the way the virus is behaving, it seems like it is Omicron."
She further said the patient was 57 years old.
"Omicron is very transmissible but deaths or serious [conditions] have not been seen in recent reports coming from South Africa (where the variant was first detected). There is no cause for concern. We are conducting a genomic study which will take one or two weeks."
It would be confirmed whether the woman was infected with the Omicron variant once the study was completed, she added.
The minister's statement came hours after her spokesperson Mehar Khursheed confirmed the detection of the first Omicron case in a woman from Karachi. She said the infected woman was unvaccinated and had been admitted for treatment at Aga Khan University Hospital.
According to a letter written by the district health officer of Karachi's East district to the provincial director general of health, the Regional Disease Surveillance and Response Unit in the metropolis "reported the first case of new Covid-19 'Omicron' variant on December 8, 2021, at 7pm".
The letter, a copy of which is available with Dawn.com, stated that the woman, who was 65 years of age, was unvaccinated and did not have a travel history. She was discharged from the hospital on Wednesday and was isolating at home.
The rapid response team was "taken on board immediately" for tracing, testing, quarantining, vaccination and other preventive measures to control the infection's spread as per the guidelines of the National Command and Operation Centre, the letter stated.
The district's health team also "immediately" contacted the woman's family to take a detailed history and trace her contacts.
The deputy commissioner of the district was also requested to take the necessary action — micro smart lockdown — according to the letter.
'Inevitable' arrival
Last month, Federal Planning Minister Asad Umar and Special Assistant to the Prime Minister on Health Dr Faisal Sultan had sounded the alarm, saying that the arrival of the Omicron variant was inevitable and a matter of time.
"This [strain] has to spread in the whole world as we saw before that when a variant comes, the world is so interconnected that it is impossible to stop it," Umar had said, adding that vaccination was the most logical solution to curb the threat.
On November 30, the Sindh government issued new guidelines — applicable from December 1-15 — to curb Covid-19's transmission in wake of the threat posed by the new variant.
Covid-19 curbs in Sindh:
Indoor, outdoor gatherings allowed for vaccinated individuals. For Karachi, Sukkur and Sanghar the limit is 500 people for indoor events and 1,000 for outdoor. For the rest of the province it is 300 people for indoor and 1,000 for outdoor.
Indoor dining allowed for vaccinated people till 11:59pm. 70pc occupancy for Karachi, Sukkur, and Sanghar and 50pc for the rest of the province.
Outdoor dining is allowed for fully vaccinated citizens till 11:59pm.
Markets and businesses can function till 10pm while essential services can operate 24/7.
Shrines, indoor gyms and cinemas are open for fully vaccinated individuals.
100pc attendance at offices with routine timings.
Amusement parks and swimming pools will operate at 70pc occupancy in Karachi, Sukkur and Sanghar and 50pc for the rest of the province.
The Sindh chief secretary had also directed the district administration to exhibit its full commitment to enforcing non-pharmaceutical interventions and take strict action against violators.
The Sindh health department had also earlier decided to inoculate all residents with a booster shot of Pfizer keeping in view the increased risk of transmission and re-infection posed by the Omicron variant.
Travel ban
Pakistan had placed a complete ban on Nov 27 on travel from six south African countries — South Africa, Lesotho, Eswatini, Mozambique, Botswana and Namibia — and Hong Kong in the wake of the variant's discovery.
Source: Dawn
Please click the following URL to read the full text of the original story:
https://www.dawn.com/news/1662802/pakistan-reports-first-suspected-case-of-omicron-variant-in-woman-from-karachi
--------
North America
House to advance legislation to combat Islamophobia as pressure mounts to punish Boebert for anti-Muslim comments
December 8, 2021
(CNN)The House is planning to advance Democratic Rep. Ilhan Omar's legislation to create a special envoy to combat Islamophobia on Thursday, marking the first step members are taking since Republican Rep. Lauren Boebert's anti-Muslim comments calling Omar a terrorist.
The bill, led by Omar that CNN exclusively reported in July, is scheduled to get voted out of the House Committee on Foreign Affairs on Thursday, Omar's office told CNN, setting up a final floor vote that could come as soon as the end of the year. The bill would still need to pass the Senate before it could go to President Joe Biden's desk to be signed into law.
"As the United Nations said this year, anti-Muslim hatred has reached 'epidemic proportions' and every country must take action," Omar said in a statement to CNN.
"I am excited for the opportunity to bring forth legislation to address this crisis alongside Rep. Jan Schakowsky. I want to thank Chairman (Gregory) Meeks for taking this bill up in the House Foreign Affairs Committee," the Minnesota Democrat added. "And we look forward to it passing this bill and sending it to the President's desk."
Omar and House Speaker Nancy Pelosi spoke on the phone and at the Library of Congress on Wednesday and discussed Omar's bill, according to a source familiar with the exchanges.
Moving forward this legislation that addresses the rise in incidents of Islamophobia worldwide, which has been sitting in committee for months, comes as Pelosi has been facing increasing pressure from members within her own party to take aggressive action against Boebert.
Progressive Democratic Rep. Ayanna Pressley of Massachusetts is introducing a resolution, cosigned by other progressives, that would strip the Colorado Republican of her committee assignments.
Pelosi dodged when she was asked if she supported that resolution on Wednesday and repeated her call for GOP leadership to punish members of their conference.
"It's the responsibility of Republicans to discipline their members," the California Democrat said, a reference to how GOP House leadership has declined to take any action against Boebert since she her remarks have been widely circulated.
Omar has called on both Pelosi and House Minority Leader Kevin McCarthy to take decisive action against Boebert.
"I think it's important for us to say this kind of language, this kind of hate cannot be condoned by the House of Representatives, and we should punish and sanction Boebert by stripping her of her committees, by rebuking her language by doing everything that we can to send a clear and decisive message to the American public that if the Republicans are not going to be adults, and condemn this, that we are going to do that," Omar said on CNN's "State of the Union."
Source: CNN
Please click the following URL to read the full text of the original story:
https://edition.cnn.com/2021/12/08/politics/ilhan-omar-bill-islamophobia/index.html
--------
US envoy to return to Vienna over weekend for Iran nuclear talks
09 December ,2021
US Special Envoy for Iran Rob Malley plans to travel to Vienna over the weekend for fresh talks on reviving Iran's 2015 nuclear deal with major powers, US State Department spokesperson Ned Price said on Wednesday.
The talks seek to find a way for the US and Iran to resume compliance with the agreement, under which Iran restricted its nuclear program in return for relief from US, European Union and UN sanctions.
For the latest headlines, follow our Google News channel online or via the app.
Then-President Donald Trump pulled the US out of the deal in 2018 and reimposed US sanctions, prompting Iran to start violating the nuclear restrictions about a year later. Iran struck the original deal with six major powers: Britain, China, France, Germany, Russia and the US.
Enrique Mora, the senior European Union official chairing the talks, said on Twitter that they would resume on Thursday.
The talks have effectively been indirect negotiations between Iran and the US, with diplomats from other nations shuttling between them because Tehran has refused face-to-face meetings with US officials.
Source: Al Arabiya
Please click the following URL to read the full text of the original story:
https://english.alarabiya.net/News/world/2021/12/09/US-envoy-to-return-to-Vienna-over-weekend-for-Iran-nuclear-talks
--------
US house votes to punish China over Uyghur treatment
09 December ,2021
The US House of Representatives on Wednesday passed legislation restricting imports from China's Xinjiang region over its treatment of the Uyghur Muslim minority, as tensions continue to escalate between Washington and Beijing.
Members of the House voted 428-1 to pass the "Uyghur Forced Labor Prevention Act," which requires corporations to prove "with clear and convincing evidence" that any goods imported from the region were not made using forced labor.
"Right now, Beijing is orchestrating a brutal and accelerating campaign of repression against the Uyghur people and other Muslim minorities," Speaker Nancy Pelosi told lawmakers ahead of the vote.
"In Xinjiang, across China, millions are enduring outrageous human rights abuses: from mass surveillance and disciplinary policing; to mass torture including solitary confinement and forced sterilizations; intimidation of journalists and activists who is have dared to expose the truth."
She added: "And, the government of China's exploitation of forced labor reaches across the oceans to our shores and across the world."
The US Senate has previously approved a similar measure and the two will now need reconciling.
The bill will then need to be signed into law by President Joe Biden and it was unclear whether it had White House support.
The vote comes shortly after the White House announced a diplomatic boycott of the Beijing 2022 Winter Olympics over what it termed China's "genocide" of the Uyghur minority and other human rights abuses, a move that drew a harsh rebuke from Beijing.
Earlier this summer, the US government imposed similar restrictions on some Chinese imports, including solar panel materials, over Beijing's treatment of Uyghurs.
China called those restrictions "bandit-like."
In a separate 428-0 vote, the House also passed a resolution stating that the International Olympic Committee "failed to adhere to its own human rights commitments" amid doubts about the safety of Chinese tennis star Peng Shuai, who has accused a top Communist Party leader of sexual assault.
Campaigners say that at least one million Uyghurs and other Turkic-speaking, mostly Muslim minorities have been incarcerated in camps in China's northwestern region of Xinjiang.
Human rights groups and foreign governments have found evidence of what they say is mass detentions, forced labor, political indoctrination, torture and forced sterilization. Washington has described it as genocide.
Source: Al Arabiya
Please click the following URL to read the full text of the original story:
https://english.alarabiya.net/News/2021/12/09/US-house-votes-to-punish-China-over-Uyghur-treatment
--------
Southeast Asia
Indonesian militant given life sentence in 2005 attack
December 08, 2021
By Niniek Karmini
(Eds: Updating with additional details)
Jakarta, Dec 8 (AP) An Indonesian court sentenced an Islamic militant who eluded capture for 16 years to life in prison on Wednesday after finding him guilty of making bombs used in a 2005 market attack that killed 22 people.
Upik Lawanga, known as "professor," is a key member of the Jemaah Islamiyah militant network, which the US has designated a terrorist group.
It is widely blamed for attacks including the 2002 bombings on the Indonesian resort island of Bali that killed 202 people, mostly foreign tourists, as well as attacks in the Philippines.
The East Jakarta District Court found Lawanga, 43, guilty of involvement in the May 28, 2005, attack at Tentena market in Poso district which killed 22 people and injured 91 others, mostly Christians. Muslim-Christian conflicts in Poso in Central Sulawesi province killed at least 1,000 people from 1998 to 2002.
Lawanga was also accused of building bombs used in a 2004 passenger minibus attack that killed six people and a 2006 attack using a flashlight bomb that killed a Christian woman.
"What the defendant has done was a crime against humanity that left deep wounds, trauma and sorrow for the families of the victims," said Presiding Judge Sutikna, who goes by a single name.
Lawanga said he would appeal the decision.
He argued in court that he helped make the bombs but did not carry out the attacks, saying he did not know how they would be used.
He said he was only obeying orders from other senior members of the group to assemble bombs to avenge Christians for the massacre of Muslims at an Islamic boarding school during sectarian conflict in May 2000.
He said his motive was the deaths of relatives and friends in the Muslim-Christian conflict and the burning of mosques and his brother's house.
Other militants testified that Lawanga was nicknamed the "professor" because of his ability to build bombs and firearms. They described him as an important figure because of his expertise.
Lawanga said he joined Jemaah Islamiyah in Poso in 2002 and learned how to assemble bombs from Azahari bin Husin, a Malaysian bomb-making mastermind who was killed in a police raid in Indonesia in 2005.
Lawanga left Poso after the 2005 attacks and lived with his wife and children in Lampung as a duck farmer.
The trial began early September and was held remotely due to the coronavirus pandemic.
Lawanga, whose real name is Taufiq Bulaga, became one of the country's most wanted militants after being named as a suspect in the Tentena market attack.
He was arrested last year in the same southern town on Sumatra island where Zulkarnaen, believed to be the military leader of the Jemaah Islamiyah network, was arrested by counterterrorism police a week later.
Zulkarnaen had been on the police wanted list for 18 years.
Police, who learned of their hideout after interrogating several militants arrested earlier, found a bunker at Lawanga's house with handmade guns and explosive materials.
The two were tried separately at the same court.
An Indonesian court banned Jemaah Islamiyah in 2008, and a sustained crackdown by security forces with support from the US and Australia helped weaken the militant network.
Militant attacks on foreigners in Indonesia have largely been replaced in recent years by smaller, less deadly strikes targeting the government, mainly police and security forces, inspired by Islamic State group tactics abroad.
Source: The Week
Please click the following URL to read the full text of the original story:
https://www.theweek.in/wire-updates/international/2021/12/08/fgn38-indonesia-militant-ld-trial.html
--------
Converted Japanese Muslim teaches his students about Islam
Abdullah Dogan
08.12.2021
KONYA, Turkey
After converting to Islam over a decade ago and settling in Turkey, today a Japanese academic gives religious education in Istanbul to Muslim converts from his country.
Visiting Konya in central Turkey to take part in the International Conversion Congress, Kayyim Naoki Yamamoto told how he encountered the religion of Islam and converted.
Yamamoto, 32, said he was deeply affected by the moral and social teachings of Islam and converted 12 years ago. Then he came to Turkey in a bid to learn history, law, and Muslim rules, and studied Turkish, Arabic, and Persian as well as Quran and Islamic studies in Istanbul.
Yamamoto, who continued his studies at Istanbul's Marmara University, said the number of Muslims in Japan is growing every year.
"It's easy to become a Muslim in Japan but living as a Muslim is important," he said. "The information on Islam in Japan is really lacking. It's hard to live a Muslim identity."
"I got truly happy upon becoming a Muslim, and now have a project: I bring converted Japanese people to Turkey and teach them Islam and cultural studies," he explained. "They also learn Turkish, Arabic, and Persian. We're raising Muslim intellectuals and giving them an opportunity for an education."
Source: Anadolu Agency
Please click the following URL to read the full text of the original story:
https://www.aa.com.tr/en/culture/converted-japanese-muslim-teaches-his-students-about-islam/2442415
--------
Malaysian court upholds ex-PM's graft conviction in 1MDB scandal
09 December 2021
KUALA LUMPUR: The Malaysian Court of Appeal upheld on Wednesday former Prime Minister Najib Razak's 12-year jail sentence for his role in a multibillion-dollar corruption scandal at the 1Malaysia Development Berhad state investment fund.
Najib was sentenced by a high court in July 2020 and fined $50 million on charges of criminal breach of trust, money laundering and abuse of power relating to illegally receiving RM42 million ($10 million) from SRC International, a former subsidiary of the now-defunct 1MDB.
Investigators allege at least $4.5 billion was embezzled from 1MDB and laundered by Najib's associates. Najib has pleaded not guilty and consistently denied any wrongdoing, saying he had been misled by Malaysian fugitive financier Low Taek Jho. The scandal brought down Najib's government in 2018.
As the Court of Appeal upheld the 2020 verdict, lead judge Abdul Karim Abdul Jalil said the case was a "national embarrassment."
"This is not something that can be said to have been done in the national interest," he said while reading the decision. "There is no national interest here, just national embarrassment."
The court had agreed to the defense's request to stay the jail term pending a final appeal. Until then, Najib will remain out on bail.
The former prime minister and his legal counsel, Mohammed Shafee Abdullah, attended the court proceedings via a video call, as they had reportedly been in touch with contacts who tested positive for COVID-19.
In an online press conference afterward, Najib said he was "very disappointed" with the judgment.
"I would like to reiterate and say I didn't know, nor did I ask or …direct anyone for RM42 million to my account," he said.
Lead prosecutor V. Sithambaram told reporters that a decision in Najib's final appeal will be made by the federal court, the country's top court, within the next six to nine months, but the appeal court's verdict showed the conviction "according to law and facts."
The 68-year-old politician remains a key figure in the ruling United Malays National Organization party, which has led coalition governments since independence from Britain in 1957.
Toppled in 2018 over the 1MDB scandal, the party returned to power in August.
While the Court of Appeal verdict may not dent Najib's popularity, it deals a blow to his possible comeback to the country's top office in the next general election scheduled to take place by 2023.
"In terms of popularity, I don't think there will be any effect, as the supporters will support Najib regardless of his conviction," Dr. Oh Ei Sun, a senior fellow at the Singapore Institute of International Affairs, told Arab News.
Source: Arab News
Please click the following URL to read the full text of the original story:
https://www.arabnews.com/node/1983541/world
--------
Arab World
UAE Fatwa Council, international Fatwa authorities discuss cooperation
08-12-2021
ABU DHABI, 8th December, 2021 (WAM) -- The UAE Fatwa Council has organised a meeting between Fatwa authorities and organisations from around the world, on the sidelines of the eight meeting of the Forum for Promoting Peace in Muslim Communities, which concluded yesterday in the capital, Abu Dhabi.
In his welcome speech during the meeting, Sheikh Abdullah bin Bayyah, President of the Forum for Promoting Peace in Muslim Communities and Chairman of the UAE Fatwa Council, highlighted the importance of such meetings, thanks to their key role in promoting cooperation between Fatwa authorities around the world, and encouraging coordination in new jurisdictional matters.
Dr. Omar Habtoor Al Derei, Director-General of the UAE Fatwa Council, explained the role of the council, phases of its development, its organisational structure, along with its competencies and plans.
He also noted the council's previous achievements and highlighted its future vision, which is based on the UAE Government's vision for the upcoming 50 years.
Source: Emirates News Agency
Please click the following URL to read the full text of the original story:
http://wam.ae/en/details/1395303000895
--------
Iraqi army seize explosives from resurgent Islamic State group
08 December, 2021
A large quantity of weapons and explosives belonging to the Islamic State were seized by Iraqi security forces on Tuesday evening, as the group attempts to resurface in the country.
Hundreds of shells were found and confiscated in Al-Habbaniyah district in western Iraq's Anbar governorate, according to the military's Security Media Cell (SMC).
Military intelligence seized at least 200 Austrian-made artillery shells which were to be used by IS, the SMC said.
Military intelligence arrested six Syrian nationals who were ambushed as they attempted to infiltrate Iraqi territory, it added.
Iraqi security forces killed at least four IS militants in Anbar in a separate incident earlier on Tuesday.
Iraq has seen a spate of attacks in recent weeks, many of which have been claimed by IS. Despite losing territory in 2017, the group's cells remain active across the country.
In the north, several fighters from the Peshmerga - Iraqi Kurdistan's armed forces - have been killed over the past fortnight in attacks that have been blamed on IS.
Source: The New Arab
Please click the following URL to read the full text of the original story:
https://english.alaraby.co.uk/news/iraq-army-seize-explosives-islamic-state-group
--------
As Iraqi and Syrian migrants leave Belarus, some are afraid to go home
08 December ,2021
Exhausted after several failed attempts to enter Poland amid freezing temperatures, Saeed Jundi and his family of Iraqi Yazidis had just made it back to the Belarusian capital when he said security forces showed up at their rented apartment.
When he confirmed the family was from Iraq, he said they were taken to the airport and deported.
Jundi, his wife and their three children landed in Iraq's Kurdistan region on Nov. 28, two days after Belarusian President Alexander Lukashenko had told migrants at the border with Poland that they would not be forced to leave.
For the latest headlines, follow our Google News channel online or via the app.
The family was among hundreds of migrants from Iraq and elsewhere flown out of Belarus in recent weeks after failed attempts to enter the European Union - where they were seeking a better future.
Some of them say they had no choice, while others saw little alternative given how hard it was to cross into Poland and because of their treatment at the hands of border guards.
Since last month, Iraq's government has chartered evacuation flights for over 3,100 Iraqis in Belarus.
Hemn Amin, a 29-year-old Iraqi Kurd from the town Khurmal, was among them.
He said Belarusian border guards beat him and that he was pushed back and forth between the Belarusian and Polish border several times. He was then taken to a warehouse in Grodno region where hundreds of other migrants had gathered.
Amin and about 40 other Iraqis booked a plane ticket in order to be allowed to leave.
They boarded buses hoping to get off in Minsk, but were taken straight to the airport, he said.
"We waited in the airport for about five days, in an overcrowded hall guarded by the police," Amin said.
The Belarusian foreign ministry did not respond to a request for comment.
Fouad Hamad, Belarus' honorary consul in Iraqi Kurdistan from where many migrants started their journey, said beatings at the border were "a possibility", but not in cities.
He said migrants in cities would be detained and deported when their visas expired "according to the law" and that he received regular calls from Iraqis asking him to help relatives detained in Minsk for having overstayed their tourist visas.
Safeen Dizayee, head of the Kurdistan regional government's foreign relations in Erbil, told Reuters that none of those aboard the flights chartered by the government had said they were being deported against their will.
"If they overstayed their visas, naturally each country has their rules and regulations," Dizayee said. "Whatever measures Belarus takes, it is their jurisdiction."
He said authorities in Belarus and Poland should investigate allegations of abuse of migrants along the border.
Syrians stuck
Officials and migrants say hundreds of migrants remain stuck in Belarus, having spent thousands of dollars on a journey they had hoped would end in the EU. Among them are Syrians, some of whom do not want to return to their homeland.
"We are being contacted and receive reports about different cases, including of Syrians, some of whom would like to return and some still hope to be able to cross to Poland and some wishing to reunite with their families in the EU," UNHCR Senior Communications Officer, Natalia Prokopchuk, told Reuters.
On Wednesday, private Syrian airline Cham Wings chartered the first evacuation flight for Syrians wishing to return to Damascus, with about 97 passengers on board.
Speaking over the telephone from a small hostel in Minsk, a Syrian man from Halab who asked to not be named said he and 12 other Syrians travelling with him were barely leaving their rooms anymore, fearing deportation.
He said his tourist visa expired nearly two months ago and he had nowhere to go. He has been banned from re-entering Lebanon, where he lived for the last six years, and fears he will be punished if he flies back to Damascus because he has not carried out his military service.
Dozens of Syrian respondents told an online poll set up by migrants that they did not want to go back to Syria from Belarus for fear of retribution from the authorities.
The Syrian government did not immediately respond to a request for comment.
Source: Al Arabiya
Please click the following URL to read the full text of the original story:
https://english.alarabiya.net/News/middle-east/2021/12/08/As-Iraqi-and-Syrian-migrants-leave-Belarus-some-are-afraid-to-go-home
--------
Qatar and Turkey extend currency swap deal
08 December ,2021
Qatar and Turkey have announced they agreed to extend a currency swap deal between their central banks, as Ankara's lira has plunged in value fuelling an economic crisis.
According to a joint statement on Tuesday, the two sides "welcomed the signing of the agreement on the extension and amendment of the Turkish lira-Qatari riyal currency exchange arrangement" between their central banks.
For the latest headlines, follow our Google News channel online or via the app.
The announcement came during Turkish President Recep Tayyip Erdogan's visit to Doha, where he met with Qatari Emir Sheikh Tamim bin Hamad Al-Thani and discussed enhancing cooperation in various fields including the economy.
The agreement in 2018 was extended for the first time in May 2020, with the overall limit increased from $5 billion equivalent of Turkish lira and Qatari riyal to $15 billion.
Turkey's annual inflation rate surged last week above 20 percent – its highest in three years.
The nation of 84 million has seen the lira plummet and consumer prices soar, with the lira losing more than 45 percent of its value against the dollar since the start of the year.
Turkey's currency crisis is now more acute than one it experienced during a diplomatic standoff with then US president Donald Trump in 2018.
Source: Al Arabiya
Please click the following URL to read the full text of the original story:
https://english.alarabiya.net/business/economy/2021/12/08/Qatar-and-Turkey-extend-currency-swap-deal
--------
Mideast
Leader's Top Adviser: Resistance against Enemies to Continue in Syria
2021-December-8
"The path of resistance and confrontation with enemies in Syria continues and unity of the Resistance Front's member states in recent years has made it possible to take effective, successful and unprecedented measures against continued domination of foreigners in this very sensitive region coveted by the US and Britain in the past," Velayati said in a meeting with Syrian Foreign Minister Faisal Mekdad in Tehran on Tuesday.
He pointed out that the formation of the resistance front has resulted in "very useful" outcomes and brought hope to the Muslim world that aggressive powers would be defeated through resistance.
"The resistance front will undoubtedly achieve a final victory, God willing," Velayati added.
He further pointed to "strategic" relations between Tehran and Damascus and called on both sides to concentrate their efforts on the expansion of all-out ties.
The Syrian foreign minister, for his part, commended Iran's support for the Syrian people and government.
"Constant acts of aggression by the Zionist regime of Israel and its military presence in Syria, as well as US unlawful sanctions against Damascus, are in violation of Syria's territorial integrity and the root cause of insecurity and economic pressure in that country," Mekdad said.
The Syria foreign minister, however, emphasized that the Syrians have thwarted all enemies' plots by their full resistance.
Source: Fars News Agency
Please click the following URL to read the full text of the original story:
https://www.farsnews.ir/en/news/14000917000299/Leader's-Tp-Adviser-Resisance-agains-Enemies-Cnine-in-Syria
--------
Police in Southwestern Iran Dismantles Foreign-Backed Terrorist Group
2021-December-8
The Police announced in a statement that its forces managed to dismantle a terrorist team affiliated to foreign intelligence services.
The terrorist team had carried out anti-security operations, including armed attack against Mahshahr police patrol, the statement added, saying that the terrorist team was affiliated to and supported by foreign-based anti-revolutionary groups and foreign intelligence services.
The terrorist team had earlier martyred Second Lieutenant Zarqamparast in Mahshahr city and wounded another police officer, according to the statement.
Relevant reports also said last month that the Iranian Law Enforcement police forces disbanded a terrorist team in Khuzestan province, seizing a cache of weapons and ammunition.
The Law Enforcement police said in a statement said that the members of a terrorist team had attacked a patrol vehicle at a police station in Shadegan City in July.
Following the intelligence activities of the police forces of the Khuzestan province, all three members of the terrorist team were identified in Shadegan city and were arrested during a series of operations in their hideouts, it added.
Source: Fars News Agency
Please click the following URL to read the full text of the original story:
https://www.farsnews.ir/en/news/14000917000523/Plice-in-Shwesern-Iran-Dismanles-Freign-Backed-Terrris-Grp
--------
Iran Freezes Hundreds of Bank Accounts over Illegal Trade of Foreign Currencies
2021-December-8
The Iranian intelligence ministry said on Tuesday that it has identified and blocked more than 700 bank accounts that it believes have been used to launder massive proceeds obtained from illegal trading of foreign currencies.
The ministry announced in a statement that its anti-smuggling department had coordinated the freezing of the accounts with the Central Bank of Iran (CBI).
"The turnover of some of these accounts had amounted to 200 trillion rials (over $645 million) in the past nine months," said the statement.
It added that a list of account holders had been submitted to the Iranian judiciary for prosecution.
The intelligence ministry said it will continue to constantly monitor suspicious bank accounts held by people involved in forex trade
Its statement said that more bank account related to illicit forex trade will be blocked in the upcoming days.
The statement comes following a fresh surge in the price of foreign currencies in Iran which government authorities believe is purely due to speculative trading.
CBI officials have insisted the rise in prices in recent days have had nothing to do with the country's actual state of forex reserves.
Source: Fars News Agency
Please click the following URL to read the full text of the original story:
https://www.farsnews.ir/en/news/14000917000192/Iran-Freezes-Hndreds-f-Bank-Accns-ver-Illegal-Trade-f-Freign-Crrencies
--------
US, Israel to discuss military drills for Iran scenario: US official
09 December ,2021
US and Israeli defense chiefs are expected on Thursday to discuss possible military exercises that would prepare for a worst-case scenario to destroy Iran's nuclear facilities should diplomacy fail and if their nations' leaders request it, a senior US official told Reuters.
The scheduled US talks with visiting Israeli Defense Minister Benny Gantz follow an Oct. 25 briefing by Pentagon leaders to White House national security adviser Jake Sullivan on the full set of military options available to ensure that Iran would not be able to produce a nuclear weapon, the official said on Wednesday, speaking on condition of anonymity. Iran denies seeking nuclear weapons, saying it wants to master nuclear technology for peaceful purposes.
The US-Israeli preparations, which have not been previously reported, underscore Western concern about difficult nuclear talks with Iran that President Joe Biden had hoped would revive a 2015 nuclear deal abandoned by his predecessor Donald Trump.
For the latest headlines, follow our Google News channel online or via the app.
But US and European officials have voiced dismay after talks last week at sweeping demands by Iran's new, hardline government, heightening suspicions in the West that Iran is playing for time while advancing its nuclear program.
The US official declined to offer details on the potential military exercises.
"We're in this pickle because Iran's nuclear program is advancing to a point beyond which it has any conventional rationale," the official said, while still voicing hope for discussions.
The European Union official chairing the talks has said they will resume on Thursday, and the US special envoy for Iran plans to join them over the weekend.
The International Atomic Energy Agency (IAEA) said last week that Iran had started the process of enriching uranium to up to 20 percent purity with one cascade, or cluster, of 166 advanced IR-6 machines at its Fordow plant, which dug into a mountain, making harder to attack.
The 2015 agreement gave Iran sanctions relief but imposed strict limits on its uranium enrichment activities, extending the time it would need to produce enough fissile material for a nuclear weapon, if it chose to, to at least a year from around two to three months. Most nuclear experts say that period is now considerably shorter.
Underlining how badly eroded the deal is, that pact does not allow Iran to enrich uranium at Fordow at all, let alone with advanced centrifuges.
Compromised
With the deal's nuclear benefits now badly compromised, some Western officials say there is little time left before the foundation of the deal is damaged beyond repair.
Such drills by the United States and Israel could address calls by Dennis Ross, a former senior US official and Middle East expert, and others to openly signal to Tehran that the United States and Israel are still serious about preventing it from obtaining a nuclear weapon.
"Biden needs to disabuse Iran of the notion that Washington will not act militarily and will stop Israel from doing so," Ross wrote last month.
Ross even suggested the United States should perhaps signal a willingness to give the Israeli's the US military's bunker-busting Massive Ordnance Penetrator, a 30,000-pound bomb.
Asked about such remarks about deterrence, the senior US official said: "When President Biden says Iran will never get a nuclear weapon, I mean, he means it."
Source: Fars News Agency
Please click the following URL to read the full text of the original story:
https://english.alarabiya.net/News/world/2021/12/09/US-Israel-to-discuss-military-drills-for-Iran-scenario-US-official
--------
Erdogan asks Turks to trust new economic model as lira weakens
08 December ,2021
President Tayyip Erdogan said on Wednesday Turks should be patient and trust his government's new economic model, under which he has prioritized economic growth driven by low interest rates, as the lira fell 2 percent towards record lows.
The lira's slide has been driven by aggressive monetary easing which economists and opposition politicians say is reckless. Inflation jumped to a three-year high of 21.3 percent last month.
Speaking after a cabinet meeting, Erdogan said price increases in Turkey were being caused by greed and import prices, adding that he would not allow what he called the "major crime" of stockpiling in any institution.
"We are aiming for lasting prosperity, lasting stability. The prices we pay will be justified by the gains we make," he said.
The lira weakened as much as 2.6 percent to 13.8070 against the dollar before Erdogan spoke. It traded at 13.73 at 1651 GMT. It has lost 46 percent of its value to the US currency this year, touching an all-time low of 14.0 last week.
Despite its depleted reserves, the central bank intervened in markets twice last week over what it called unhealthy prices, keeping the lira below 14 to the dollar.
The central bank has cut its policy rate by 400 basis points since September, under pressure from Erdogan, and is expected to ease policy again this month.
Erdogan said financial market volatility will eventually stop and that price hikes stemming from rising energy costs will stabilize soon. He called on Turks owning foreign currency to take advantage of his new economic model's opportunities.
Earlier, Turkish media reported Erdogan repeating his commitment to low interest rates on a flight returning from Doha.
Source: Fars News Agency
Please click the following URL to read the full text of the original story:
https://english.alarabiya.net/business/economy/2021/12/08/Erdogan-asks-Turks-to-trust-new-economic-model-as-lira-weakens
--------


Africa
South Sudan violence could amount to 'war crimes': Amnesty
09 December ,2021
Fighting between armed groups aligned with government and opposition forces in South Sudan this year subjected civilians to "unimaginable violence" that could amount to war crimes, Amnesty International said Thursday.
The rights watchdog documented fighters on all sides indiscriminately murdering and mutilating civilians and razing entire villages during an upsurge in fighting between June and October in the Western Equatoria region.
For the latest headlines, follow our Google News channel online or via the app.
The clashes around Tambura county split along ethnic lines after politicians stirred local grievances and encouraged young people to take up arms, Amnesty said in a new report.
But the "death, destruction and division" that followed involved not just local combatants but fighters aligned to rival political factions in Juba, suggesting wider forces at play.
"The testimonies we have gathered speak of unimaginable violence, including civilians killed as they fled and bodies set on fire and mutilated," said Amnesty's regional director, Deprose Muchena.
"That the attacks not only involved local groups, but also fighters affiliated to government and opposition forces, indicates this is much more than inter-communal violence."
South Sudan attained independence in 2011 but plunged into a brutal civil war two years later that killed nearly 400,000 people and forced millions to flee.
A ceasefire was signed and a new coalition government formed in early 2020 between the political rivals, who promised to bring their forces under one banner and rebuild their shattered country.
But the process has stalled and distrust is deepening between President Salva Kiir and his deputy, former rebel leader Riek Machar.
Key provisions of the peace deal have not been honored, and fighters loyal to each man remain bitterly divided.
Amnesty said the violence in Western Equatoria could be traced to Machar being allocated the state under the power-sharing deal, and appointing a governor opposed by some in the community.
The bloodshed pitted two ethnic groups against one another, with dozens of civilians killed in tit-for-tat exchanges and tens of thousands forced to flee.
Source: Al Arabiya
Please click the following URL to read the full text of the original story:
https://english.alarabiya.net/News/middle-east/2021/12/09/South-Sudan-violence-could-amount-to-war-crimes-Amnesty
--------
Libya's upper house proposes delaying December presidential elections
09 December ,2021
Libya's upper house on Wednesday proposed delaying December presidential elections by two months, the latest dispute over the vote intended to help end 10 years of violence.
A United Nations-led political process targeting December 24 polls has been undermined by bitter divisions over the legal basis for elections and who should be allowed to run, with a string of controversial figures stepping forward.
For the latest headlines, follow our Google News channel online or via the app.
The High Council of State, which is equivalent to a senate, suggested the presidential vote could take place in February to avoid further threatening the country's political transition.
"Pushing forward with presidential elections without any formal constitutional or legal rules, amid tension, mistrust among (Libyan) actors and foreign interference, could destroy the entire political process," it said in a statement.
Omar Boshah, first deputy president of the Council, told journalists in Tripoli that if the vote goes ahead on December 24, "the results will not be accepted."
The Council, based in the western city of Tripoli, has been in disagreement over electoral laws with a rival body, the House of Representatives based in the eastern city of Tobruk.
In October the eastern-based body said the legislative ballot had been delayed from December 24 to January.
But the United Nations mission in Libya has urged leaders to stick to this month's date for both presidential and legislative ballots in order to boost their credibility.
The elections come after more than a year of relative peace in the North African country, following an October 2020 ceasefire between warring eastern and western camps.
However, analysts have warned that violence could easily flare again surrounding the vote.
The Council suggested parliamentary elections go ahead in February.
It said the newly elected house's first task would be to draft a revised constitution – the first since longtime ruler Muammar Gaddafi cancelled the last one in 1969.
Source: Al Arabiya
Please click the following URL to read the full text of the original story:
https://english.alarabiya.net/News/north-africa/2021/12/09/Libya-s-upper-house-proposes-delaying-December-presidential-elections
--------
French foreign minister arrives in Algeria in bid to 'relaunch relationship'
08 December ,2021
French Foreign Minister Jean-Yves Le Drian arrived in Algeria on Wednesday on his first visit since Algeria recalled its envoy to Paris in October, Algerian Ennahar TV reported.
The former French colony had recalled its envoy to Paris and closed its airspace to French military planes, citing comments attributed to President Emmanuel Macron that Algeria's rulers had rewritten the history of its colonization based on "a hatred of France."
Le Drian is making a "working visit, to evaluate and relaunch the relationship", a French foreign ministry source, who asked not to be named, told AFP, adding that Le Drian had already arrived in the country.
The source said that during the visit, which was only revealed at the last moment, Le Drian would hold talks with his counterpart Ramtane Lamamra but also, crucially, be received by Algerian President Abdelmadjid Tebboune.
Source: Al Arabiya
Please click the following URL to read the full text of the original story:
https://english.alarabiya.net/News/north-africa/2021/12/08/French-foreign-minister-arrives-in-Algeria-in-bid-to-relaunch-relationship-
--------
South Sudan's peace deal under serious threat, warns UN
Benjamin Takpiny
08.12.2021
JUBA, South Sudan
The UN on Wednesday warned that the South Sudan peace deal was under serious threat due to slow progress on its implementation.
Speaking to reporters in the capital Juba, Nicholas Haysom, the UN chief's special representative for South Sudan and head of the UN Mission in South Sudan (UNMISS), said: "I commend the progress made by the parties since the signing of the peace agreement, but the pace of implementation remains too slow."
Urging the parties to urgently finalize the critical tasks of the 2018 agreement, Haysom warned: "If this continues, there is a risk that the viability of the broader agreement will come under threat."
"Put simply, a 'business as usual' approach cannot continue. The parties must inject fresh urgency into the process and demonstrate a sustained, and collective political will to finalize critical areas of the agreement. This includes transitional security arrangements, legislation promoting financial and judicial reforms, and constitution-making so that elections can be held.
"This agreement must be implemented for South Sudanese. It has nothing to do with foreigners, and it is something that South Sudanese should be concerned about," he added.
He reaffirmed the mission's willingness to support all stakeholders in the process and help restore peace and stability in the country.
Martin Elia Lomoro, South Sudan's cabinet affairs minister, said the delay in implementation of key components of the 2018 revitalized peace deal, such as security arrangements, was largely due to insufficient funds.
"The government has contributed $81 million since the signing of the agreement. There are things that need money. When they say the agreement is going slow, it is because we are not able to get the money necessary to train our forces," Lomoro told Anadolu Agency.
Source: Anadolu Agency
Please click the following URL to read the full text of the original story:
https://www.aa.com.tr/en/africa/south-sudans-peace-deal-under-serious-threat-warns-un/2442364
--------
Europe
Will Friday be a day off for Muslims in Russia?
December 9, 2021
Muslims speak out for establishing a day off on Friday, but such decisions need to be discussed with the public, Mufti Albir Krganov, chairman of the Spiritual Assembly of Muslims of Russia (SAMR), told RIA Novosti.
"For representatives of three main religions - Christians, Muslims, Jews - holidays fall on Friday, Saturday and Sunday.
"For Jews it is Saturday, for Christians - Sunday is public holidays, and Friday for Muslims is a working day in Russia.
"We did not have a request to make Friday a day off, but from time to time in talks Muslims repeatedly expressed the opinion that, of course, it would be nice ... But such decisions should be discussed with the general public," Krganov said.
Source: ABNA24
Please click the following URL to read the full text of the original story:
https://en.abna24.com/news//will-friday-be-a-day-off-for-muslims-in-russia_1206686.html
--------
Exhibition on 'Iran, five thousand years of culture and art' opened in Berlin
December 9, 2021
The opening ceremony of the exhibition "Iran, Five Thousand Years of Culture and Art" was held at the Museum of Islamic Arts in Berlin, Germany.
The director of the Museum of Islamic Arts, the Cultural Attach of the Islamic Republic of Iran, director of Sarikhani Foundation and director of the exhibition, delivered speech during the opening ceremony of the exhibition.
The uniqueness of the works presented in the exhibition, its importance in terms of history and cultural art and the high level of value of the exhibition were among the most important topics that the speakers touched upon in their speech.
The works presented in the exhibition "Iran, Five Thousand Years of Culture and Art" are a combination of a collection of valuable and unique museum works from the Sarikhani Gallery in London, which has been transferred to Berlin, and a number of items from the Pergamon Museum in Berlin.
Holding an exhibition on Iranian culture and art at such a high and extensive level in Berlin is unprecedented and is a very big cultural event.
Source: ABNA24
Please click the following URL to read the full text of the original story:
https://en.abna24.com/news//exhibition-on-iran-five-thousand-years-of-culture-and-art-opened-in-berlin_1206680.html
--------
Greek court acquits Turkish minority's elected religious official
Ahmet Gencturk
08.12.2021
A Greek court on Wednesday found an elected mufti of the country's 150,000-strong Muslim Turkish minority not guilty of overstepping his authority by carrying out his duties as a religious official.
Ibrahim Serif, the elected mufti of Komotini (Gumulcine) in northeastern Greece, had been charged by Greek authorities in 2018 with usurping authority after he attended a circumcision ceremony in 2016 and was to stand trial in the northern city of Thessaloniki on Thursday.
Speaking to Anadolu Agency, Ercan Ahmet, Serif's lawyer, said that the prosecutor asked the court to acquit the mufti, saying there is insufficient evidence to convict.
Lawyers from the Istanbul, Turkey-based International Jurists Union and 2nd Istanbul Bar Association were also present in the court.
In a statement, they stressed that they are worried that the Turkish Muslim minority are not able to exercise the rights under various bilateral and international treaties, including the 1923 Treaty of Lausanne.
"Furthermore, Greek doesn't respect decisions of the European Court of Human Rights (ECHR) in favor of the Turkish Muslim minority," the statement said, adding that the European Parliament overlooks this illegal state of affairs.
Pointing to Turkey's constructive approach towards Greece, the statement called on Greek authorities to comply with the treaties and ECHR rulings, and the European Parliament to monitor minority-related developments in the country.
Greece's Western Thrace region – in the country's northeast, near the Turkish border – is home to a substantial, long-established Muslim Turkish minority numbering around 150,000.
The rights of the Turks of Western Thrace were guaranteed under the Treaty of Lausanne, a pact forged in the aftermath of World War I, but since then the situation has steadily deteriorated.
After a Greek junta came to power in 1967, the Turks of Western Thrace started to face harsher persecution and rights abuses by the Greek state, often in blatant violation of European court rulings.
The Turkish minority in Greece continues to face problems exercising its collective and civil rights and education rights, including Greek authorities banning the word "Turkish" in the names of organizations, shuttering Turkish schools, and trying to block the Turkish community from electing its own muftis.
Elected muftis in Greece
Serif was elected mufti of Komotini in 1990 by the local Muslim Turkish community.
Ahmet Mete, the current mufti of Xanthi (Iskece), and his predecessor Mehmet Emin Aga had been previously convicted by Greek courts for usurping authority.
In Greece's Western Thrace region, muftis have legal jurisdiction to decide on family and inheritance matters in the local Turkish Muslim community.
The issue of mufti elections has been a problem since 1991.
The election of muftis by Muslims in Greece was regulated in the 1913 Treaty of Athens with the Ottoman Empire and was later included in Greek law.
Source: Anadolu Agency
Please click the following URL to read the full text of the original story:
https://www.aa.com.tr/en/europe/greek-court-acquits-turkish-minority-s-elected-religious-official/2442292
--------
URL: https://www.newageislam.com/islamic-world-news/bangladesh-lynching-20-death-sentences/d/125929
New Age Islam, Islam Online, Islamic Website, African Muslim News, Arab World News, South Asia News, Indian Muslim News, World Muslim News, Women in Islam, Islamic Feminism, Arab Women, Women In Arab, Islamophobia in America, Muslim Women in West, Islam Women and Feminism