New Age Islam News Bureau
18 Sept 2013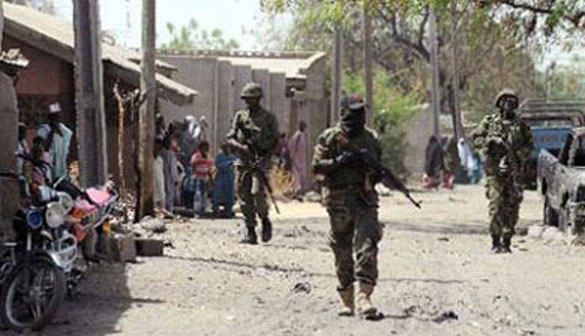 Nigerian troops patrolling in the streets of the remote northeast town of Baga, Borno State FILE, NATION MEDIA GROUP
----------
South Asia
• Bangladesh Qaumi Madrasas to Resist Regulation, Leading Islamist Leaders on Their Side
• Bangladesh: 'A ploy to remove pro-Pakistan politicians', says Pakistan's Jamaat-e-Islami
• Afghan firing kills five Pakistanis in border area
• Taliban gunmen kill Afghan provincial election chief
• One dead as Bangladesh Jamaat-e-Islami protest death penalty
• Election will be held at any cost: Hasina
• Maldives heading towards stability, democratic governance: former President Nasheed
• India a regional superpower, we must be mindful of that: Mohamed Nasheed
Arab World
• Baghdad Shiites Hit As Iraq Attacks Kill 34 People Today
• Egypt court confirms asset freeze against Islamist leaders
• Kuwait Funding Muslim Brotherhood Growth in Western Mosques
• Afghanistan, Pakistan, Iraq 'suitable for armed jihad': Zawahiri urges restraint
• More houses to be razed for Prophet's Mosque expansion
• Bahrain opposition to boycott national dialogue talks
• Brotherhood spokesman Gehad al-Haddad held in Egypt
• Jordan's king calls for China's role in Syria crisis
Africa
• Nigeria: 16 Soldiers Killed, Many Missing in Fresh Borno Attack
• Nigerian army claims raid kills 150 Islamists, Last Week
• Morocco arrests website editor for Qaeda video
• Libya wants UK help to halt Syria arms smuggling
• Libya to bear Haj cost of martyrs' family members
Europe
• France to Ban Beauty Contests for Under-16 Girls to Prevent "Hyper-Sexualisation" Of Children
• Islamic bloc wants a permanent seat at U.N. Security Council: report
• Uzbekistan Faces Civil War, Possible Disintegration, Tashkent Scholar Says
• Syria gives Russia 'new evidence' rebels behind chemical attack
• Ban Ki-moon promoting India-Pakistan meeting at UN
• Britain faces up to Muslim veil ban debate
• Poll: Americans, Europeans oppose Western military intervention in Syria
Southeast Asia
• Bali youth support Miss World, condemn radicalism
• Non-Muslim Athletes 'not bound to Muslim dress code' during ISG in Malaysia
• Shia followers are free to practice their faith: Minister
• Philippine Military Warns Muslim Rebels to Surrender
India
• Muslim leaders meet Prime Minister to discuss Muzaffarnagar communal riots
• 15 yrs after Poonch fake encounter, CBI files case
• Srinagar: Two Hizb militants killed in encounter
• 'No plan to deploy drone on Bangladesh border': BSF
• Top separatist leaders placed under house arrest in J&K
• Omar Abdullah urges students to learn about J-K's cultural heritage
• Pakistan has low expectations from New York talks
• Several Pakistanis, Nepalis helping Indian Mujahideen: NIA
Pakistan
• Karachi operation: three suspected terrorists killed, 29 suspects arrested
• Two Ahle Sunnat Wal Jamaat activists killed in police encounter
• Karachi violence: 'Operation not targeted, but selective'
• Pakistani Taliban announce more attacks on military
• Militant extortionists force out Landikotal tribesmen
• Pak Chief Justice blames 'porous' borders for troubles
• Security forces repulse attack on check post in North Waziristan
• Pak police recover body of killer of 26/11 prosecutor
• Pak police free MQM lawmaker accused of double murder
North America
• Russia 'swimming against tide' on chemical arms in Syria: US
• US cold to India's request for info on terror cases
• US ties India's Afghanistan role to Pak peace
• Next Step for Peace in Syria—Stop the "Lethal Aid"
• 'Unleashed and Unaccountable': FBI's Post-9/11 Abuse of Power
• Chomsky: "The Mafia Doctrine," or the Crucial Issue for the US in Syria Is Credibility
• US to seize New York skyscraper secretly owned by Iran
Mideast
• US should give up threatening language: Iran
• Turkey's main opposition leader stands against war with Syria
• Turkey 'fully transparent' regarding rules of engagement: US State Department
• Jerusalem police arrest Islamic Movement leaders for allegedly disturbing the peace
• Israeli general says Assad could survive in Syria for years
Compiled by New Age Islam News Bureau
URL: https://www.newageislam.com/islamic-world-news/new-age-islam-news-bureau/bangladesh-qaumi-madrasas-to-resist-regulation,-leading-islamist-leaders-on-their-side/d/13559
-----------
South Asia
Bangladesh Qaumi Madrasas to Resist Regulation, Leading Islamist Leaders on Their Side
Mushfique Wadud
September 18, 2013
At present it has 2.8 million students in the country
A platform of teachers and students of the Qaumi madrasas on Tuesday threatened tough movement if the government moved to regulate the education system in these madrasas.
The Qaumi madrasas, which run their own system of education, said their way of teaching would lose its "uniqueness" if it was merged with the mainstream government-regulated system.
"We are ready to sacrifice our blood if necessary but we will not tolerate any government intervention with the Qaumi madrasa education system," said Maulana Abdul Jabbar, convener of the Qaumi Madrasa Protection Council, in a press conference at the Dhaka Reporters' Unity on Tuesday.
Jabbar, who is also the general secretary of the Qaumi Madrasa Education Board, said: "We have learnt that the government is planning to form an authority to formulate a law in this regard. We call upon the government to retract the move. We will resist any such move."
On April 13, a government committee, led by Maulana Farid Uddin Masud, handed over its recommendations – titled "Qaumi Madrasa Education Policy" to the prime minister.
The recommendations included a six-tier education system for the Qaumi madrasas: primary, junior secondary, secondary, higher secondary, under graduate and graduate. The committee also recommended inclusion of Bangla, English, mathematics and social science, at least up to the higher secondary level, in the syllabus that the Qaumi madrasas follow.
The committee also endorsed the accommodation of a provision for women's education in the Qaumi madrasa system.
Jabbar alleged that the government had never discussed anything with the authorities of the Quaumi system before coining a policy. He claimed that on September 9, they had informed the prime minister about the matter.
He also said they had an authority of their own and did not need any other authority.
The government, or for that matter any other authority of Bangladesh, does not recognise the certificates that the Quaumi madrasas award the students. As a result, the graduates cannot get mainstream jobs in the country. They mainly work as Imams in the mosques.
Quaumi madras teachers said the textbooks are mostly written in Urdu which mainly teach religious conducts, rules, regulations and laws. The students are given elementary lessons on English, Bangla and mathematics.
Although there is no provision for girls to pursue higher studies in the Qawmi system, in some places, girls are allowed to attend the primary classes.
Mufti, a Qur'an expert, is the Qaumi equivalent of a mainstream graduate.
Hefazat-e-Islam Chief Shah Ahmed Shafi is the supreme leader of the Qaumi system. He is also the chairman of the Qaumi Madras Education Board which operates completely on its own terms.
The highest degree that the system offers is equivalent in stature with a PhD and Shafi is the supreme authority who awards it which, however, is not recognised in the mainstream arrangements.
According to the Qaumi Madrasa Education Board, at present it has 2.8 million students in the country. However, there is no definitive count of the number of such madrasas in Bangladesh.
It is also said the Qaumi education is funded mainly by the Middle Eastern countries, especially the Saudi Arabia. Qaumi education systems are also found in Pakistan and India.
During Tuesday's press conference, Maulana Abdul Jabbar claimed that the leading Islamist leaders were on their side. He also said the government claim that Shah Ahmed Shafi had actually given consent to the committee's recommendations, was not true.
The Awami League-led government in 2009 formed a commission, led by Shafi, which was tasked with proposing reforms in the Qaumi education system so that its graduates could be recognised. However, that commission never worked out in the end because Shafi resigned after attending only one meeting.
http://www.dhakatribune.com/law-amp-rights/2013/sep/18/qawmi-madrasas-resist-regulation
-----------
Bangladesh: 'A ploy to remove pro-Pakistan politicians', says Pakistan's Jamaat-e-Islami
September 18, 2013
Pakistan Jamaat-e-Islami chief terms Pakistan govt's recent statement regarding Bangladesh war crimes trial 'most unfortunate'
Chief of Pakistan's Jamaat-e-Islami (JIP) Syed Munawar Hasan has termed the verdict against Abdul Quader Molla a "ploy" of Sheikh Hasina's administration to "remove pro-Pakistan politicians from its path in order to avert a clear defeat in the next elections."
In a statement, posted on Pakistan Jamaat's website on Tuesday, Munawar Hasan condemned the verdict by the Bangladesh Supreme Court and said Hasina administration was "using the courts to remove its opponents."
He also said it was "most unfortunate" that the Pakistan government, instead of raising a voice against the "excesses" of the Sheikh Hasina administration against pro-Pakistan parties, called it an internal affair of Bangladesh, thus giving a licence to Bangladesh government to continue the "excesses."
The Appellate Division of the Bangladesh Supreme Court on Tuesday sentenced Bangladesh Jamaat's Assistant Secretary General Abdul Quader Molla to death overruling the judgement of the International Crimes Tribunal that had given him life sentence for war crimes committed during 1971 liberation war.
Pakistan Jamaat chief also criticised the people of the world for remaining silent regarding the "violation" of human rights in Bangladesh.
Munawar Hasan appealed to the Pakistan government to bring forth the Mujib-Bhutto agreement between the two countries.
He also urged the United Nations to "force" Bangladesh to honour the pact and rescind the "cruel and unjust" sentences announced to the Jamaat leaders in Bangladesh.
Munawar Hasan also said: "A former JI chief of Bangladesh Ghulam Azam, a 91 year old politician, had been given 90 years in jail by the court and the government had filed an appeal for its conversion into death sentence."
http://www.dhakatribune.com/politics/2013/sep/18/%E2%80%98-ploy-remove-pro-pakistan-politicians%E2%80%99
-----------
Afghan firing kills five Pakistanis in border area
2013-09-18
QUETTA: At least five Pakistani citizens were killed when Afghan border security personnel opened fire in an area close to the Pak-Afghan border in Balochistan, officials said.
At least three people were also injured in the incident in the wee hours of Wednesday which took place in the Pak-Afghan border area of Qamar Din Karez, around 350 kilometres from Zhob city, the state-run news agency quoted official sources as saying.
"The indiscriminate firing opened by Afghan security forces left five tribesmen of 'Loion' tribe living in Qamar Din Karez area of Zhob district located along Pak-Afghan border," official sources said, adding that the injured included a Levies Force personnel.
A district administration officer said that the cause behind the firing could not be ascertained, however claiming that the Afghan security forces personnel opened fire without any provocation.
No official statements regarding the incident have so far been issued from either the Pakistani or Afghan foreign ministries.
http://www.dawn.com/news/1043763/afghan-firing-kills-five-pakistanis-in-border-area
-----------
Taliban gunmen kill Afghan provincial election chief
AFP
2013-09-18
KUNDUZ: Taliban gunmen riding motorbikes gunned down a senior election official in northern Afghanistan on Wednesday, raising fears the presidential vote due in April may trigger a surge in violence.
Amanullah Aman, the head of the Independent Election Commission (IEC) in Kunduz province, was killed by two gunmen outside his home in Kunduz city as he left for work.
He was the first election official to be murdered since candidate nominations opened on Monday. All potential runners in the wide-open race to succeed President Hamid Karzai must declare themselves by October 6.
"Aman was shot dead in the morning in front of his house as he was leaving for his office," Kunduz provincial spokesman Enayatullah Khaliq told AFP. "Two men on motorcycles opened fire on his car and severely wounded him, he later died in the hospital."
Deputy police chief Ebadullah Talwar said that Aman was murdered after going grocery shopping and was not accompanied by any bodyguards. Talwar added that five arrests had already been made, but gave no further details.
The Taliban released a brief statement on their website claiming responsibility for the attack.
Last month Taliban leader Mullah Omar called the election a "waste of time", but has so far stopped short of threatening an increase in attacks targeting preparations for the vote on April 5.
"We'll boycott elections in April. We did not say we'll attack it, but the commanders on the ground will," one member of the Taliban, which dismiss Karzai as a US puppet, told AFP recently.
Kunduz, which borders Tajikistan, is in the more peaceful north of Afghanistan, but it is still a hotbed of insurgent activity.
The province is also a major route for drug trafficking and has a volatile mix of rival ethnic groups and armed militia.
A successful presidential election next year is widely seen as the key test of international military and aid efforts since the fall of the Taliban in 2001.
Karzai on Tuesday repeated his vow to help oversee a safe and credible vote, which will be Afghanistan's first democratic transfer of power.
"A good election this time will be good for my good reputation," he said.
"I will be involved until the candidates are registered... and I will only get involved again on polling day when I will cast my vote for my favourite candidate.
"I will remain neutral in all election deals, but will be providing security and will stop foreigners meddling in it."Karzai has said former warlord Abdul Rasul Sayyaf, 2009 runner-up Abdullah Abdullah and former finance minister Ashraf Ghani were possible candidates.
Attention has also recently focused on low-profile Foreign Minister Zalmai Rassoul as a strong technocrat candidate from within Karzai's camp.
The election coincides with the withdrawal of 87,000 Nato combat troops by the end of 2014 as Afghan soldiers and police take charge of security.
http://www.dawn.com/news/1043739/taliban-gunmen-kill-afghan-provincial-election-chief
-----------
One dead as Bangladesh Jamaat-e-Islami protest death penalty
September 18, 2013
Supporters of Bangladesh's Jamaat-e-Islami party clashed with police on Wednesday amid a nationwide strike called to protest a court ruling that the opposition party's assistant secretary-general Abdul Quader Mollah should be executed for war crimes.
One man was killed when he was hit by a stone thrown by opposition supporters outside the capital, police said.
Bangladesh's Supreme Court on Tuesday sentenced Mollah to death for committing crimes against humanity during the nation's 1971 independence war against Pakistan.
Full report at:
http://www.thehindu.com/news/international/south-asia/bangladesh-strike-protests-leave-1-dead/article5141004.ece
---------
Election will be held at any cost: Hasina
September 18, 2013
Prime Minister Sheikh Hasina on Tuesday said the next general election would be held at any cost, and the opposition leader would not be able to foil it.
"The next general election will be held at any cost, the BNP leader (Khaleda Zia) doesn't have the ability to foil it, and we won't allow her to do that," she said while addressing a mammoth public rally at MC Academy playground, says a UNB report from Sylhet.
Golapganj upazila unit of Awami League organised the rally with its president Iqbal Ahmed Chowdhury in the chair.
Full report at:
http://www.dhakatribune.com/politics/2013/sep/17/bnp-wants-rigged-polls-hasina
-----------
Maldives heading towards stability, democratic governance: former President Nasheed
By Minivan News | September 18th, 2013
The Maldives is heading towards peace, stability and consolidation of democracy after ten tumultuous years, former President Mohamed Nasheed said at a youth forum organised by the Junior Chambers International (JSI) chapter of Maldives and Dhiyouth at City Hall on Monday night (September 16).
"I don't really see much room for going wayward now. People might try to rig two or three elections. [They] might try to arrest some people. And there might even be three or four coup d'etats. But, overall, I don't see this curve slumping too much," the Maldivian Democratic Party (MDP) presidential candidate said in his keynote speech at the event, which was held to mark the International Day of Democracy.
Full report at:
http://minivannews.com/politics/maldives-heading-towards-stability-democratic-governance-former-president-nasheed-65770
-----------
India a regional superpower, we must be mindful of that: Mohamed Nasheed, Ex-President of Maldives
By Dipanjan Roy Chaudhury, ET Bureau | 18 Sep, 2013,
Maldives, whose strategic location in the Indian Ocean is eyed by world powers, is once again at the cross-roads. Nearly one and-a-half years after then President Mohamed Nasheed was ousted in what his supporters describe as a coup, the archipelago is all set to elect a new president to replace Mohammed Waheed Hassan. The first round of presidential polls was held on September 7 and there was no clear winner. Nasheed has emerged as the frontrunner, but missed necessary majority of 50%, as the votes were split among the other three contenders. His main rival, Abdulla Yameen, a half-brother of former President Maumoon Abdul Gayoom, came second.
Full report at:
http://economictimes.indiatimes.com/opinion/interviews/india-a-regional-superpower-we-must-be-mindful-of-that-mohamed-nasheed-ex-president-of-maldives/articleshow/22673201.cms
----------
Arab World
Baghdad Shiites Hit As Iraq Attacks Kill 34 People Today
September 18, 2013
A series of Baghdad car bombings mostly targeting Shiite neighbourhoods were the deadliest in a spate of attacks that killed 34 people in Iraq today, security and medical officials said.
The attacks were the latest in a surge of unrest that has left more than 4,200 people dead this year, the highest toll since 2008 when Iraq was emerging from a brutal sectarian war.
At least seven car bombs went off across Baghdad from around 5:00 pm (1400 GMT), when Iraqis are typically shopping or visiting cafes, killing 26 people, security and medical officials said.
Full report at:
http://www.hindustantimes.com/world-news/RestOfAsia/Baghdad-Shiites-hit-as-Iraq-attacks-kill-34/Article1-1123581.aspx
-----------
Egypt court confirms asset freeze against Islamist leaders
September 18, 2013
A Cairo court on Tuesday confirmed orders from the Prosecutor General freezing the assets of 14 Islamist leaders who have been referred to trial since the July 3 ouster of former President Mohamed Morsy.
The 14 include Muslim Brotherhood head Mohammed Badie, his deputy Khairat al-Shater and the head of the Brotherhood's Freedom and Justice Party, Saad al-Katatni.
Full report at:
http://www.thehindu.com/news/international/world/egypt-court-confirms-asset-freeze-against-islamist-leaders/article5138625.ece
-----------
Kuwait Funding Muslim Brotherhood Growth in Western Mosques
17 September 2013
By Abigail R. Esman
The completion of a new mosque in Amsterdam is doing more than opening the doors of worship to Dutch Muslims; it is opening new windows into unexpected avenues of terrorist financing and funding for the growth of radical Islam in the West.
For years, Western counterterrorism officials and pundits have expressed concern about the sponsorship of European and American mosques, Islamic schools, and other Muslim organizations by the Saudi government in efforts to expand its own extremist version of Islam, Wahhabism. Wahhabis adhere to strict, literal interpretations of the Quran and defend the use of violence against those who do not – Muslims and non-Muslims alike.
Full report at:
http://www.rightsidenews.com/2013091633202/life-and-science/culture-wars/kuwait-funding-muslim-brotherhood-growth-in-western-mosques.html
http://europenews.dk/en/node/71740
-----------
Afghanistan, Pakistan, Iraq 'suitable for armed jihad': Zawahri urges restraint in first 'guidelines for jihad'
Copyright Reuters, 2013
September 17, 2013
Al Qaeda leader Ayman al-Zawahri has issued his first specific guidelines for jihad, urging restraint in attacking other Muslim sects and non-Muslims and in starting conflicts in countries where jihadis might find a safe base to promote their ideas. The document, published by the SITE monitoring service, provides a rare look at al Qaeda's strategy 12 years after the September 11 attacks on the United States and the nature of its global ambitions from North Africa to the Caucasus to Kashmir.
Full report at:
http://www.brecorder.com/top-stories/0/1231702/
-----------
More houses to be razed for Prophet's Mosque expansion
September 18, 2013
MADINAH — A special government committee will start next week recording and evaluating the real estate units in Madinah which are within the project to expand the Prophet's Mosque and develop the under-developed districts, Al-Madinah newspaper reported Tuesday quoting sources at the Finance Ministry.
The sources said demolishing of the housing units to the east of the mosque which has already started, will be completed and will be extended to include the north and northeastern areas close to King Abdulaziz Library.
Full report at:
http://www.saudigazette.com.sa/index.cfm?method=home.regcon&contentid=20130918180769
-----------
Bahrain opposition to boycott national dialogue talks
18 September 2013
Bahrain's main Shia opposition groups are suspending their participation in talks with the government in protest at the arrest of a Wefaq party leader.
The detention of Khalil Marzook on terrorism charges on Monday showed the Sunni-led authorities' contempt for the political process, a statement said.
National dialogue talks begin in February in an effort to end the unrest that has plagued Bahrain since 2011.
Full report at:
http://www.bbc.co.uk/news/world-middle-east-24142724
---------
Brotherhood spokesman Gehad al-Haddad held in Egypt
18 September 2013
Egyptian police have arrested the Muslim Brotherhood's main English-language spokesman, state media report.
Gehad al-Haddad was reportedly found with at least one other Brotherhood official in a flat in Cairo.
Mr Haddad had served as chief of staff of the Brotherhood's deputy general guide, Khairat al-Shater, and often spoke to foreign media organisations.
There has been a crackdown on Islamist groups since the military ousted President Mohammed Morsi in July.
Full report at:
http://www.bbc.co.uk/news/world-middle-east-24132046
---------
Jordan's king calls for China's role in Syria crisis
AP | Sep 18, 2013
BEIJING: Jordan's King Abdullah called on China to play an active role in resolving the conflict in Syria, saying on Wednesday that Beijing should use its influence as a permanent member of the UN security council and as a "friend of Jordan and the Middle East.''
Abdullah made his appeal in his opening remarks at a meeting with Chinese President Xi Jinping during a state visit to China. He also praised relations between the two countries and emphasized a common commitment to promoting progress on global issues of concern.
Full report at:
http://timesofindia.indiatimes.com/world/middle-east/Jordans-king-calls-for-Chinas-role-in-Syria-crisis/articleshow/22694700.cms
---------
Africa
Nigeria: 16 Soldiers Killed, Many Missing in Fresh Borno Attack
BY KINGSLEY OMONOBI, 18 SEPTEMBER 2013
Army authorities disclosed, yesterday, that 15 soldiers and a lieutenant have been killed by Boko Haram terrorists along the Baga-Maiduguri Road in Borno State, while 150 sect members were killed by troops of the 7th Division during a fierce battle with the insurgents last weekend.
Defence sources, however, contradicted the casualty figure, saying at least 40 soldiers were killed and 65 others missing in a deadly ambush by the suspected members of Boko Haram.
Confirming the incident, Director of Army Public Relations, Brigadier General Ibrahim, stated that on September 12, 2013, troops from 81 Battalion under 7th Division of the Nigerian Army acting on intelligence report gathered that the insurgent had regrouped at Kafiya forest and were planning to launch an attack.
Full report at:
http://allafrica.com/stories/201309180076.html?viewall=1
-----------
Nigerian army claims raid kills 150 Islamists, Last Week
September 18, 2013
A military strike on a Boko Haram camp in Nigeria's restive northeast last week killed 150 Islamists and 16 soldiers, an army spokesman said Wednesday.
The army's claim of a major offensive against the Islamist insurgents on September 12 came after local media reported that Boko Haram had ambushed a group of soldiers in the same area, killing 40 and leaving dozens of others missing.
Military officials were not available to comment on the reported Boko Haram ambush, speaking only about the purported military strike.
Full report at:
http://news.yahoo.com/nigeria-army-raid-boko-haram-camp-kills-150-085626023.html
-----------
Morocco arrests website editor for Qaeda video
September 18, 2013
RABAT – Moroccan police on Tuesday arrested the editor of a popular news website for airing a video posted by Al-Qaeda in the Islamic Maghreb that incites "acts of terrorism" in the kingdom.
Lakome's director Ali Anouzla was arrested mid-morning, according to staff running the popular French and Arabic website, with police also seizing computer equipment from his office.
The arrest follows the publication by Lakome of "a video attributed to Al-Qaeda in the Islamic Maghreb (AQIM), containing a clear call and a direct incitement to commit acts of terrorism" in Morocco, the public prosecutor said in a statement.
Full report at:
http://www.saudigazette.com.sa/index.cfm?method=home.regcon&contentid=20130918180826
---------
Libya wants UK help to halt Syria arms smuggling
18 September 2013
Libya's prime minister has appealed for British help to remove weapons from the country amid fears of increased arms smuggling to Syria.
Ali Zeidan met British PM David Cameron earlier and said weapons left after the collapse of the Gaddafi regime in 2011 were an "international" problem.
On Monday the UN was told a "worrying" amount of weapons were leaving Libya.
Mr Cameron said the country faced "huge challenges" and Britain was determined to help.
At the meeting in Downing Street on Tuesday, Mr Zeidan said he wanted to co-operate with Britain, "especially in the field of removing weapons from Libya".
Full report at:
http://www.bbc.co.uk/news/uk-politics-24129896
-----------
Libya to bear Haj cost of martyrs' family members
September 18, 2013
TRIPOLI – The Libyan government has announced that it will fund the full costs of 2,070 pilgrims going on Haj to Makkah this year.
The majority of them, 1,620 pilgrims, will be members of the families of revolution martyrs – two members from each family of 810 martyrs. The additional 450 places are reserved for 150 people who lost limbs fighting in the revolution, plus two members of their families.
Full report at:
http://www.saudigazette.com.sa/index.cfm?method=home.regcon&contentid=20130918180837
-----------
Europe
France to Ban Beauty Contests for Under-16 Girls to Prevent "Hyper-Sexualisation" Of Children
2013-09-18
PARIS: The French senate has overwhelmingly approved a proposal to ban beauty contests for girls under 16 to prevent what a parliamentary report called the "hyper-sexualisation" of children.
The proposal was backed by 146 lawmakers and there was only one dissenting vote on Tuesday evening. It will now become law after being passed in the National Assembly.
The measure follows a parliamentary report "Against Hyper-Sexualisation: A New Fight For Equality" which called for a ban on child-size adult clothing, such as padded bras and high-heeled shoes and an end to beauty competitions for the under-16s.
Full report at:
http://dawn.com/news/1043751/france-moves-to-ban-beauty-contests-for-under-16-girls
-----------
Islamic bloc wants a permanent seat at U.N. Security Council: report
September 18, 2013
The Muslim world deserves a permanent seat on the U.N. Security Council, the Organization of Islamic Cooperation (OIC) suggested at the Russian Foreign Ministry's international relations institute this week.
OIC Secretary-General Ekmeleddin Ihsanoglu said the 57-member organization already made up the biggest voting bloc at the U.N., and it was time it acquired "a new position," CNS News reported today.
"During the first reconsideration of the reform in the U.N., I think there should be a seat for OIC in the Security Council," Mr. Ihsanoglu said. "If you look to the structure of the Security Council of today, you have the P5 [permanent five] and there are representatives of different civilizations, different cultures, political powers … but you won't find representative of more than 1.6 billion people of Muslim world."
Full report at:
http://www.washingtontimes.com/news/2013/sep/17/islamic-bloc-wants-permanent-seat-un-security-coun/
-----------
Uzbekistan Faces Civil War, Possible Disintegration, Tashkent Scholar Says
Paul Goble
September 18, 2013
Over the past six weeks, the independent FerganaNews.com portal has conducted an online discussion, sparked by an article of the leader of the "Birdamlik" opposition movement, Bahordir Chorniyev, on the possibility that Uzbekistan's President Islam Karimov and his regime could be overthrown by a "velvet revolution" (fergananews.com/articles/7849; fergananews.com/articles/7852; fergananews.com/articles/7854; fergananews.com/articles/7856).
Full report at:
The Jamestown Foundation
-----------
Syria gives Russia 'new evidence' rebels behind chemical attack
2013-09-18
MOSCOW: The Syrian regime has handed Russia new materials implicating rebels in a chemical attack outside Damascus on August 21, Russian Deputy Foreign Minister Sergei Ryabkov said Wednesday after talks in Damascus.
"The corresponding materials were handed to the Russian side. We were told that they were evidence that the rebels are implicated in the chemical attack,"Ryabkov was quoted as saying by Russian news agencies after talks with Syrian Foreign Minister Walid al-Muallem late Tuesday.
Full report at:
http://www.dawn.com/news/1043746/syria-gives-russia-new-evidence-rebels-behind-chem-attack
-----------
Ban Ki-moon promoting India-Pakistan meeting at UN
AP | Sep 18, 2013
UNITED NATIONS: Secretary-General Ban Ki-moon said he has been promoting a meeting between the prime ministers of Pakistan and India on the sidelines of the UN General Assembly's ministerial session which starts next week.
Ban told reporters on Tuesday that when he visited Pakistan last month he strongly recommended to Prime Minister Nawaz Sharif that he take advantage of the annual high-level meeting to meet his Indian counterpart, Manmohan Singh.
Full report at:
http://timesofindia.indiatimes.com/india/Ban-Ki-moon-promoting-India-Pakistan-meeting-at-UN/articleshow/22679353.cms
-----------
Britain faces up to Muslim veil ban debate
DANNY KEMP
2013-09-18
LONDON: Britain was dragged into a debate on Tuesday on Muslim women wearing full-face veils in public, with its biggest selling newspaper backing calls from politicians to join European countries that have banned its use.
The topic had stayed below the British political radar until the past week when a judge ruled that a Muslim woman will be allowed to go on wearing a veil but must take it off while giving evidence at her trial.
Full report at:
http://www.dawn.com/news/1043651/britain-faces-up-to-muslim-veil-ban-debate
-----------
Poll: Americans, Europeans oppose Western military intervention in Syria
By REUTERS
09/18/2013
BRUSSELS - A majority of Europeans and Americans strongly oppose their countries intervening militarily in Syria's 30-month-old civil war, according to a transatlantic poll published on Wednesday.
"Transatlantic Trends", an annual survey of public opinion in the United States and Europe, also found that China's image in both continents was deteriorating and most Europeans did not want to see Beijing take strong leadership in world affairs
The survey, by the German Marshall Fund of the United States, a US think tank that promotes cooperation between North America and Europe, and the Compagnia di San Paolo, an Italy-based private foundation, measured public opinion in 11 European Union countries, Turkey and the United States.
Full report at:
http://www.jpost.com/Middle-East/Poll-Americans-Europeans-oppose-Syria-intervention-326483
-----------
Southeast Asia
Bali youth support Miss World, condemn radicalism
BY NI KOMANG ERVIANI
2013-09-18
Local Hindu and Muslim youths voiced their support for the ongoing Miss World 2013 pageant in a rally held on Monday in front of Bali Police headquarters in Denpasar.
The youths, grouped under Bali Dwipa Youth Alliance, also condemned radicalism and declared their support for the local police in launching the necessary measures to protect the island from any threats.
The rally was an apparent response to the threat issued by hard-line Muslim organization Islam Defenders Front (FPI), which declared that thousands of its members in East Java and Lombok would march to Bali to stop the pageant.
Full report at:
http://www.thejakartapost.com/bali-daily/2013-09-18/bali-youth-support-miss-world-condemn-radicalism.html
-----------
Non-Muslim Athletes 'not bound to Muslim dress code' during ISG in Malaysia
September 18, 2013
Islam prescribes covering almost the whole body as its dress code, but when it comes to sporting events, like the upcoming Islamic Solidarity Games (ISG), the athletes, particularly those non-Muslims, do not have to abide by the Islamic dress code.
Even at the beach volleyball and swimming competition, the organizers say, they are allowed to compete in attire that is usually worn when international rules apply.
"ISG is not a sports event exclusively for Muslim athletes. This is an event for countries, not bogged down by religious faiths. Several participating countries have included in their contingent a number of non-Muslim athletes," Djoko Pramono, chairman of the central organizers of the Games," said recently.
Full report at:
http://www.thejakartapost.com/news/2013/09/18/athletes-not-bound-muslim-dress-code.html
-----------
Shia followers are free to practice their faith: Minister
Bagus BT Saragih
September 18 2013
The government has made another promise to the displaced Shia followers from Sampang in Madura, East Java — that they will be able to safely practice their faith once they return to their home villages.
Religious Affairs Minister Suryadharma Ali, who has been under fire for allegedly supporting the forced conversion of Shiites to Sunni Islam, guaranteed that the government would protect the Shiites' rights to perform religious activities according to their faith.
Suryadharma, however, said they would still have to undergo the so-called "enlightenment" program carried out by a government-sanctioned reconciliation team.
Full report at:
http://www.thejakartapost.com/news/2013/09/18/shia-followers-are-free-practice-their-faith-minister.html
-----------
Philippine Military Warns Muslim Rebels to Surrender
September 18, 2013
Zamboanga. Philippine soldiers pursued heavily armed Muslim rebels through the streets and homes of a major city Wednesday, warning they would be killed or captured unless they surrendered.
About 200 members of the Moro National Liberation Front sailed into the southern port city of Zamboanga on September 9 to stake an independence claim and derail peace talks aimed at ending a decades-long insurgency.
Full report at:
http://www.thejakartaglobe.com/international/philippine-military-warns-muslim-rebels-to-surrender/
-----------
India
Muslim leaders meet Prime Minister to discuss Muzaffarnagar communal riots
MOHAMMAD ALI
Sep 18, 2013
In a rare display of unity, 15 prominent Muslim leaders from different groups met Prime Minister Manmohan Singh to discuss Muzaffarnagar communal riots.
They expressed their anger with the UPA Government for not tackling the "errant" Uttar Pradesh Government over the violence, which has left around 35 dead and thousands homeless.
The leaders said they were devastated by the "complete failure" of both the U.P. and Central Governments in preventing the violence in Muzaffarnagar.
They said the riots were a "result of saffron designs at polarisation, just ahead of General Elections".
The meeting was initiated by Milli Gazette editor Zafrul Islam Khan and Jamiat ul Ulema Hind leader Mahmood Madani. The delegation told the Prime Minister that the community is the loser in the electoral battle between the UPA and the NDA.
Full report at:
http://www.thehindu.com/news/national/other-states/muslim-leaders-meet-prime-minister/article5141598.ece
----------
15 yrs after Poonch fake encounter, CBI files case
Sep 18 2013
Jammu: Fifteen years after the killing of 19 Muslims including women and children in Poonch, the Central Bureau of Investigation (CBI) registered a case against some police officials and army personnel posted there.
Confirming this, official sources told The Indian Express this has been done on the direction of the Jammu and Kashmir High Court. "The FIR has been registered in accordance with directions of the court,'' they added.
"We have sent all relevant records pertaining to the case to CBI's Jammu office," a senior police officer said.
This has been done following a written request from the CBI two day ago, he added. The army and police officials booked are in senior positions now, sources said. Even two Special Police Officers have been promoted.
Full report at:
http://www.indianexpress.com/news/15-yrs-after-poonch-fake-encounter-cbi-files-case/1170632/
-------
Srinagar: Two Hizb militants killed in encounter
Sep 18 2013
Srinagar : Two Hizb-ul-Mujahideen militants were killed in Ghoshbug village of Baramulla district Tuesday evening in an ongoing encounter between security forces and militants in Pattan in north Kashmir.
"Two local militants of HM were killed in the Goshbug gunfight which started at 7:30 and is still going on," an Army officer told The Indian Express.
Full report at:
http://www.indianexpress.com/story-print/1170658/
-----------
'No plan to deploy drone on border'
September 18, 2013
Director General of India's Border Security Forces (BSF) Subhash Joshi said they would not deploy unmanned aerial vehicles (UAV) along the Bangladesh border.
He said: "In fact, we do not have any plan to do it in the future."
He made the remarks while addressing a joint press conference after holding a six-day director general-level conference between BGB and BSF in city's BGB Headquarters on Wednesday.
Full report at:
http://www.dhakatribune.com/bangladesh/2013/sep/18/%E2%80%98no-plan-deploy-drone-border%E2%80%99
-----------
Top separatist leaders placed under house arrest in J&K
PTI | Sep 18, 2013
SRINAGAR: Authorities on Wednesday placed under house arrest top separatist leaders, including chairman of hardline Hurriyat Conference Syed Ali Shah Geelani, who had called for a march to UN Military Observers Group office here to lodge protest against killing of five youths in Shopian.
The other separatist leaders placed under house arrest included chairman of the moderate Hurriyat Mirwaiz Umar Farooq, JKLF chairman Mohammad Yasin Malik, Shabir Ahmad Shah, Mohammad Ashraf Sehrai and Nayeem Ahmad Khan, police sources said.
Full report at:
http://timesofindia.indiatimes.com/india/Top-separatist-leaders-placed-under-house-arrest-in-JK/articleshow/22692822.cms
----------
Omar Abdullah urges students to learn about J-K's cultural heritage
PTI Posted online: Wed Sep 18 2013, 17:34 hrs
Srinagar : A heritage exhibition began here today with Jammu and Kashmir Chief Minister Omar Abdullah asking students to learn about the state's rich civilisation and marvellous workmanship of its people through such events.
"The heritage, art and crafts are living celebrities telling ancient stories of a rich civilisation and marvellous workmanship of the people of this heavenly beautiful land...the students need to visit such exhibitions and enrich their knowledge of history, heritage, people, their status, lifestyle and workmanship of highest quality," Omar said after inaugurating the exhibition at Lal Mandi on the banks of river Jhelum here.
Full report at:
http://www.indianexpress.com/news/omar-abdullah-urges-students-to-learn-about-jk-s-cultural-heritage/1170850/
----------
Pakistan has low expectations from New York talks
September 18, 2013
Pakistan has lowered its expectations on the proposed talks between its Prime Minister and his Indian counterpart Manmohan Singh later this month in New York and it does not see any major breakthrough coming out of it.
Speaking informally to journalists on Tuesday on the sidelines of a meeting by Pugwash, adviser to the Prime Minister on National Security and Foreign Affairs Sartaj Aziz said the proposed talks slated for September 29 would be useful to revive the composite dialogue and fast track the issues of the working groups.
Full report at:
http://www.thehindu.com/news/international/south-asia/pakistan-has-low-expectations-from-new-york-talks/article5138968.ece
---------
Several Pakistanis, Nepalis helping Indian Mujahideen: NIA
TNN | Sep 18, 2013
NEW DELHI: Several nationals of Pakistan and Nepal are "involved in recruitment, financing, training and providing tactical support" to Indian Mujahideen (IM), some of whose members are hiding in the two countries apart from the Middle-East, NIA investigations have found. It has also come to light that Goa was an IM target.
The National Investigation Agency (NIA) which was granted further custody of IM operative Ahmed Siddibappa alias Yasin Bhatkal told a Delhi court on Tuesday, "One such associate has been identified and examined in the last seven days and a large number remain to be identified and located."
Full report at:
http://timesofindia.indiatimes.com/india/Several-Pakistanis-Nepalis-helping-Indian-Mujahideen-NIA/articleshow/22674300.cms
-----------
Pakistan
Karachi operation: three suspected terrorists killed, 29 suspects arrested
DAWN.COM
2013-09-18
KARACHI: Rangers and police personnel on Wednesday arrested 29 suspects and killed three alleged terrorists during targeted operation conducted in different parts of Karachi, DawnNews reported.
Police also claimed to have confiscated weapons from the arrested suspects.
Rangers personnel conducted targeted operations in Agra Taj Colony, Gulshan Iqbal, Mehran Town, Machar Colony, Quaid Abad, and Noor Mohammad Goth along with other areas.
Meanwhile, a suspected terrorist was killed during an operation conducted by CID police and Rangers in Manghopir area of Karachi.
Full report at:
http://www.dawn.com/news/1043745/karachi-operation-three-suspected-terrorists-killed-29-suspects-arrested
-------
Two Ahle Sunnat Wal Jamaat activists killed in police encounter
September 18, 2013
KARACHI: The Crime Investigation Department (CID) killed two supporters of Ahle Sunnat Wal Jamaat (ASWJ) in a supposed encounter on Tuesday.
Meanwhile, families of the deceased and parties accused law enforcers of extra-judicial killings.
The victim identified as Zeeshan aka Faizan Chotu, son of Mukhtar, was the chief of unit 188 of the ASWJ; whereas, Mustaqeem, son of Ibrahim, was a supporter of the religious outfit. However, he was reportedly associated with the Muttahida Qaumi Movement (MQM) as well. Both the friends lived in Gulbahar area of Nazimabad.
Full report at:
http://www.dailytimes.com.pk/default.asp?page=2013\09\18\story_18-9-2013_pg7_12
-----------
Karachi violence: 'Operation not targeted, but selective'
September 18, 2013
KARACHI: The targeted operation in Karachi began on September 5, and since then more than 300 suspects have been arrested. The Rangers are leading the operation which, they claim, is being conducted across the city – not just in the political strongholds of one party. Separately, the police have conducted 975 raids and arrested 1,232 criminals.
These numbers do not illustrate the efficacy or success of the targeted operation under way as the law-enforcement agencies have still not raided many of the 'no-go' areas, including Sohrab Goth and Manghopir. These areas are ungoverned territories where law-enforcers have no writ.
Full report at:
http://tribune.com.pk/story/605756/operation-not-targeted-but-selective/
-----------
Pakistani Taliban announce more attacks on military
September 18, 2013
PESHAWAR: The Pakistani Taliban on Tuesday insisted they are still at war with government troops because peace talks have yet to start and the military is still launching multiple offensives against them.
The announcement came two days after two senior military officers were killed by a Taliban bomb in Khyber Pakhtunkhwa, where the military is fighting al Qaeda and Taliban-led militants. "War is continuing, it was started by the government and they will have to stop it," Shahidullah Shahid, main spokesman for the Tehreek-e-Taliban Pakistan (TTP), told AFP on Tuesday from an undisclosed location. Prime Minister Nawaz Sharif, who took office after winning elections in May, has called for peace talks and last week won backing from main political parties.
Full report at:
http://www.dailytimes.com.pk/default.asp?page=2013\09\18\story_18-9-2013_pg1_4
-----------
Militant extortionists force out Landikotal tribesmen
September 17, 2013
LANDI KOTAL: Nothing scares Qari Alam Shinwari anymore. The worst has happened and there is nothing left to lose.
On December 17, 2008 Shinwari's brother Sur Gul was kidnapped by the banned Lashkar-e-Islam in Landikotal tehsil, Khyber Agency. "Militants kidnapped my brother not because he belonged to a rival group or was accused of a crime, but because he belonged to a sect that they considered unacceptable," Shinwari said in an interview at his two-room house on Kohat Road, Peshawar.
Full report at:
http://tribune.com.pk/story/605658/afraid-of-ones-own-shadow-militant-extortionists-force-out-landikotal-tribesmen/
-----------
Pak Chief Justice blames 'porous' borders for troubles
Sep 18 2013
Karachi : Pakistan's Chief Justice Iftikhar M Chaudhry has blamed the country's "porous" international borders for a grim law and order situation in the troubled Balochistan province.
"Our neighbouring countries have been working to fence their side of border, but we have left our porous borders open for the smuggling of weapons, which is main cause of the grim law and order situation in Balochistan, Khyber Pakhtunkhwa and Karachi," Chaudhry said Monday. Full report at:
http://www.indianexpress.com/news/pak-chief-justice-blames--porous--borders-for-troubles/1170558/
-----------
Security forces repulse attack on checkpost in North Waziristan
ZAHIR SHAH SHERAZI
2013-09-18
MIRAMSHAH: At least two militants were killed as security forces repulsed an attack on a checkpost in Dattakhel Tehsil of North Waziristan tribal region whereas one solider was also wounded in the attack that took place early on Wednesday.
An indefinite curfew was imposed on the Bannu-Miramshah Road following the incident.
"The militants had launched a huge attack on the Khar Qamar checkpost at night and after a gunbattle of about half an hour, the attack was repulsed during which two militants were killed," an Inter Public Service Relations (ISPR) officer confirmed.
Full report at:
http://www.dawn.com/news/1043738/security-forces-repulse-attack-on-checkpost-in-north-waziristan
-----------
Pak police recover body of killer of 26/11 prosecutor
PTI | Sep 18, 2013
ISLAMABAD: Pakistan police have recovered a corpse of a man from a house, and believes it belongs to the killer of Mumbai attack case public prosecutor, according to a media report.
The recent raid on the house of the relatives of Kashmiri separatist leader Asiya Andrabi was distantly linked to it, according to the report.
Police found the body yesterday from the same house where a car laden with explosives was recovered on August 31 and they believe it belongs to the killer of Chaudhry Zulfikar Ali, the FIA prosecutor in the Mumbai attack and the Benazir Bhutto murder cases, The Dawn daily reported.
Full report at:
http://timesofindia.indiatimes.com/world/pakistan/Pak-police-recover-body-of-killer-of-26/11-prosecutor/articleshow/22695499.cms
---------
Pak police free MQM lawmaker accused of double murder
PTI | Sep 18, 2013
KARACHI:Pakistani police on Wednesday released a former Mutthaida-e-Qaumi Movement lawmaker, whose arrest had led to growing tensions between the party and the Sindh government.
Nadeem Hashmi was released after the investigation team found no evidence against him in the alleged target killing of two policemen in Nazimabad. Hashmi had been booked and arrested under terrorism and murder charges.
Full report at:
http://timesofindia.indiatimes.com/world/pakistan/Pak-police-free-MQM-lawmaker-accused-of-double-murder/articleshow/22699073.cms
---------
North America
Russia 'swimming against tide' on chemical arms in Syria: US
AFP
2013-09-18
WASHINGTON: The United States said Tuesday that Russia is ignoring "the facts" in Syria when it doubts that the government, rather than rebels, was behind a chemical weapons attack.
Russian Foreign Minister Sergei Lavrov said Tuesday that Moscow believes the August 21 gassing was a "provocation."
The sparring comes even after the United States and Russia reached a sweeping weekend agreement designed to rid Syria of chemical weapons by mid 2014. That surprise deal headed off US military strikes that had seemed imminent just two weeks ago as a way to punish Damascus for the chemical attack and prevent another.
Full report at:
http://www.dawn.com/news/1043647/russia-swimming-against-tide-on-chemical-arms-in-syria-us
-----------
US cold to India's request for info on terror cases
September 18, 2013
The National Investigating Agency (NIA) has been spending hours trying to decode Indian Mujahideen leader Yasin Bhatkal's laptop.
They know he was using a Yahoo email id. They know also that Bhatkal chatted on Yahoo messenger and Nimbuzz and that he seldom left an electronic trail. What the NIA may never get, though, are the exact contents of the chat - wherein terror strikes were planned and modules recruited - because the servers are based not in India but in America.
Full report at:
http://www.hindustantimes.com/India-news/newdelhi/US-cold-to-India-s-request-for-info-on-terror-cases/Article1-1123530.aspx
----------
US ties India's Afghanistan role to Pak peace
Indrani Bagchi, TNN | Sep 18, 2013
NEW DELHI: The US' interest in India in the context of Afghanistan's future is narrow as NATO forces exit the war-torn nation and Washington tries to work out a future for it, Taliban and Pakistan in the country, there is only one way in which New Delhi can make itself useful. It should try and not get into a scrap with Pakistan.
James Dobbins, US' special envoy to Af-Pak, briefing journalists in Washington about America's current policy towards Afghanistan and Pakistan said, "on India and Pakistan relations, we would support any initiatives which led to an improvement in those relations. We think it's important for both countries, it's important for the stability of the broader region, it's important for the world. They're both nuclear-armed powers, and a conflict between them would be disastrous not just for them, but for everyone."
Full report at:
http://timesofindia.indiatimes.com/india/US-ties-Indias-Afghanistan-role-to-Pak-peace/articleshow/22677137.cms
-----------
Next Step for Peace in Syria—Stop the "Lethal Aid"
Norman Solomon
September 18, 2013
Now that public pressure has foiled U.S. plans to bomb Syria, the next urgent step is to build public pressure for stopping the deluge of weapons into that country.
op officials in Washington are happy that American "lethal aid" has begun to flow into Syria, and they act as though such arms shipments are unstoppable. In a similar way, just a few short weeks ago, they—and the conventional wisdom—insisted that U.S. missile strikes on Syria were imminent and inevitable.
Full report at:
http://www.commondreams.org/view/2013/09/17
-----------
'Unleashed and Unaccountable': FBI's Post-9/11 Abuse of Power
Sarah Lazare
September 18, 2013
The FBI has abused its ever-widening post-9/11 powers to target immigrants, minorities, and political dissidents through secret surveillance and infiltration programs that trample constitutional rights and run roughshod over principles of fairness and justice, the ACLU finds in a breaking report released Tuesday.
Entitled "Unleashed and Unaccountable: The FBI's Unchecked Abuse of Authority (pdf)," this comprehensive report traces the explosion in the FBI's surveillance authority and reach over the past 12 years and tracks systemic violations of First and Fourth Amendment protections. Full report at:
http://www.commondreams.org/headline/2013/09/17-7
-----------
Chomsky: "The Mafia Doctrine," or the Crucial Issue for the US in Syria Is Credibility
17 September 2013
By Johannes Hautaviita
On September 10, 2013, President Barack Obama postponed the nonbinding congressional vote on whether to authorize the use of military force against Syria. Obama acceded to the diplomatic efforts, outlined by Russia, to secure and destroy the chemical weapons arsenal of the Assad regime.
Against the backdrop of Obama's failure to mobilize the international community as well as international and US domestic public opinion behind a military assault on Syria, the Russian proposal, immediately accepted by Assad, provides the Obama administration with a way to avert strategic disaster.
Full report at:
http://truth-out.org/opinion/item/18900-chomsky-the-mafia-doctrine-or-the-crucial-issue-for-the-us-in-syria-is-credibility
--------
US to seize New York skyscraper secretly owned by Iran
AFP | Sep 18, 2013
NEW YORK CITY: The United States is set seize control of a midtown Manhattan skyscraper prosecutors claim is secretly owned by Iran, the justice department said on Tuesday, though the ruling is to be appealed.
The seizure and sale of the 36-story building, in the heart of New York City on Fifth Avenue, would be "the largest-ever terrorism-related forfeiture," the statement added.
A federal judge ruled in favor of the government's suit this week, saying the building's owners had violated Iran sanctions and money laundering laws.
Full report at:
http://timesofindia.indiatimes.com/world/us/US-to-seize-New-York-skyscraper-secretly-owned-by-Iran/articleshow/22703700.cms
----------
Mideast
US should give up threatening language: Iran
IANS
Tehran, September 18, 2013
Iran has asked the US to give up its threatening language while dealing with Tehran. Commenting on US President Barack Obama's remarks to keep military force alongside diplomacy on the table while dealing with Iran over its nuclear programme, Iranian foreign ministry spokeswoman Marzieh
Afkham said Tuesday that it was regretful that they were still using language of threat instead Full report at:
http://www.hindustantimes.com/world-news/RestOfAsia/US-should-give-up-threatening-language-Iran/Article1-1123646.aspx
-------
Turkey's main opposition leader stands against war with Syria
September 18, 2013
Main opposition Republican People's Party (CHP) leader Kemal Kılıçdaroğlu has again slammed the government's desire to engage in a military operation against Syria, calling for peace in the region.
"We neither want war in our country, nor with our neighbors. We want Muslims to stop killing Muslims," Kılıçdaroğlu said late on Sept. 17 in the northwestern province of Balıkesir, where he was attending a commemoration ceremony in the Bandırma district.
Full report at:
http://www.hurriyetdailynews.com/turkeys-main-opposition-leader-stands-against-war-with-syria.aspx?pageID=238&nID=54657&NewsCatID=338
-----------
Turkey 'fully transparent' regarding rules of engagement: US State Department
September 18, 2013
Turkey has been "fully transparent" about the rules of engagement in its military stance against Syria, the U.S. State Department said Sept. 17, a day after the Turkish army downed a Syrian helicopter violating its airspace.
U.S. State Department Spokesperson Jen Psaki said the United States had remained in close contact with Turkish officials after the incident.
"We note that the Turkish government has been fully transparent about the rules of engagement it is operating under since the Syrian government shot down a Turkish aircraft last year," Psaki told reporters referring to the Turkish F-4 Phantom warplane crashed into the Mediterranean on June 22, 2012, after being shot down by Syria.
Full report at:
http://www.hurriyetdailynews.com/turkey-fully-transparent-regarding-rules-of-engagement-us-state-department-.aspx?pageID=238&nID=54641&NewsCatID=359
-----------
Jerusalem police arrest Islamic Movement leaders for allegedly disturbing the peace
September 18, 2013
Two leaders of the Northern branch of the Islamic Movement were arrested by police on Wednesday for disturbing the peace, Israel Radio reported.
Jerusalem policemen were attacked this morning near the Temple Mount in the old city, by Palestinian stone throwers.
Three men were arrested as a result, including the two Islamic Movement leaders, while two policemen were injured after being hit by rocks.
Full report at:
http://www.jpost.com/National-News/Jerusalem-police-arrest-Islamic-Movement-leaders-for-allegedly-disturbing-the-peace-326455
-----------
Israeli general says Assad could survive in Syria for years
Reuters | Sep 18, 2013
JERUSALEM: Syrian President Bashar al-Assad could cling to power for years despite having lost overall control of his country, according to Israel's top commander on the frontier with Syria. Major General Yair Golan's remarks, published on Wednesday in the Yedioth Ahronoth newspaper, reflected debate in Israel over Assad's fate, 2-1/2 years into Syria's civil war, after a US-Russian agreement to force him to give up his chemical weapons.
Full report at:
http://timesofindia.indiatimes.com/world/middle-east/Israeli-general-says-Assad-could-survive-in-Syria-for-years/articleshow/22700657.cms
--------
URL: https://www.newageislam.com/islamic-world-news/new-age-islam-news-bureau/bangladesh-qaumi-madrasas-to-resist-regulation,-leading-islamist-leaders-on-their-side/d/13559