New Age Islam News Bureau
23 Apr 2016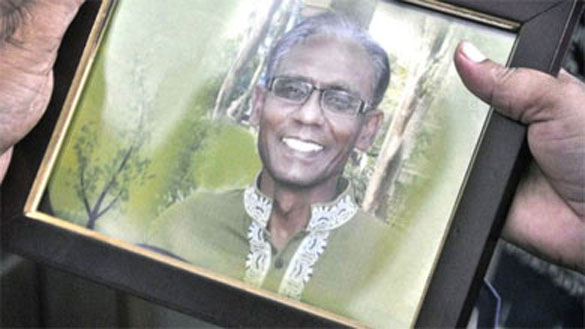 A man holds a portrait of Bangladeshi Professor Siddique, who was hacked to death by unidentified attackers, in Rajshahi on April 23, 2016.Image copyright AFP
---------
South Asia
• Bangladesh Professor Hacked To Death in Suspected Islamist Attack
• 31 Militants Killed, 23 Wounded In Latest Operations Of Afghan Forces
• US Pressed Pakistan After Kabul Attack amid Reports Haqqani Network Was Involved
• Taliban suffer heavy casualties as Afghan forces re-open Kunduz-Takhar highway
• Russia Embassy rejects Moscow is cooperating with Taliban to fight ISIS
• Outgoing ICRC Head for Afghanistan warns of further security deterioration
• C-130s increase Afghanistan's mobility capability
• Afghanistan facing an imposed war, Stanikzai says during Kunduz visit
----
Europe
• UN Torture Committee Calls on Saudi Arabia to Stop Corporal Punishments
• Moroccan Was Planning a Terrorist Attack in Spain, Judge Finds
• Tracing the path of four terrorists sent to Europe by the Islamic State
• Brussels bomber 'identified as jailer of foreign Isis hostages'
---
North America
• Chilling Recording Reveals How FBI Targets American Muslims with 'Romantic Allure'
• Muslims in America: Voters Share Views On The US Presidential Candidates
-----
Arab World
• ISIL Dismantling, Selling Public Assets in Mosul
• Video Shows ISIL Tunnel to Smuggle Iraq's Ancient Artefacts to Israel, Europe
• Syria: Infightings Kill, Wound Dozens of Terrorists near Damascus
• Iraqi Air Force Destroys ISIL's Oil Convoy in Nineveh
• Syria: Gov't Forces Push ISIL back from more Lands near Ancient Palmyra
• Syrian Army Close to Enter ISIL-Held Oil-Rich Region in Homs
• Iran, Azerbaijan Focus on Joint Cooperation in Campaign against Terrorism
• Palmyra: Russian Sappers Unearth Depot with 12,000 Explosive Devices
• Leader's Top Aide: Iran to Continue Support for Syria's Territorial Integrity, President Assad
• Hundreds of Displaced Syrians Return Home in Quaryatayn after Collapse of ISIL
• ISIS now executing MAGICIANS – as another gay man is thrown to his death
---
Mideast
• Palestinian Refugee Camp Plays Battleground for ISIS, Al-Qaida Clashes
• Al-Qaida Members Fighting In Damascus Are Known As Al-Nusra Front or Jabhat Al-Nusra
• Azerbaijan Succeeds At Islamic Music Festival
• Four Turkish academics charged with terror propaganda released
• Six ISIL suspects detained in central Turkey
• Soldier killed in PKK attack in Turkey's southeast
• Migrant crisis: Merkel and EU officials visit Turkey to promote deal
---
Southeast Asia
• Islamic State Inspiring Indonesian Jihadist Activity, Expert Sidney Jones Warns
• How Indonesia Deals with Current Piracy Could Determine whether it becomes the 'New Somalia'
----
India
• Srinagar: Anti-IS Flag Displayed By Protesters outside Jama Masjid
• India-Pakistan Leadership Determined To Continue Dialogue Process
• Include educationally backward Muslims in OBCs: Mani Shankar Aiyar
---
Pakistan
• CJP Jamali to decide on Panama leaks commission: Justice Nisar
• Pakistan Opposition Keeps Pressure on Sharif despite Probe Pledge
• US concerned over Pakistan's tolerance for terrorist groups
• Military farms tenants set up protest camp in Islamabad
• The army's unusual reticence
---
Africa
• Mali Arrests Suspect in Hotel and Restaurant Attacks
• Africa's cash strapped sovereigns face difficult funding dilemmas
• Tunisia tops Arab and African countries in Open Data
-----
Compiled by New Age Islam News Bureau
URL: https://www.newageislam.com/islamic-world-news/new-age-islam-news-bureau/bangladesh-professor-hacked-to-death-in-suspected-islamist-attack/d/107084
------
Bangladesh Professor Hacked To Death in Suspected Islamist Attack
Apr 23, 2016
Unidentified attackers hacked to death a university teacher in northwestern Bangladesh on Saturday, amid growing concerns at home and abroad about the confrontation between Islamist hardliners and secularists in the country.
AFM Rezaul Karim Siddique, an English professor, was attacked in the morning when he was walking for a bus near his home to get to Rajshahi University, where he worked, Sushanta Chandra Roy, assistant commissioner of Rajshahi Metropolitan Police, said over phone.
Roy said they had no immediate clues about the killing and no group immediately claimed responsibility.
He said the killing has similarities with recent murders of atheist bloggers in Bangladesh, adding that some witnesses told them that the attack was carried out by two young men riding a motorbike.
The official said the attackers used sharp weapons, and fled the scene immediately.
'Wrote poems, short stories'
Siddique's family said they had no idea whether he faced any threat or was concerned about his life.
The professor used to play Tanpura and led a cultural group and edited a literally magazine, his brother Sajidul Karim Siddique.
"It's a mystery to us, I can't believe someone can kill such a simple man," Siddique told Hindustan Times by phone.
Asked whether he suspected any radical groups, he said his brother was never outspoken about any ideology that could hurt anybody.
"He used to write poems and short stories," he said.
Since last year, a number of atheist bloggers, activists and publishers had been attacked and killed allegedly by Islamist groups.
Since 2006, three other teachers of the same university have been killed. Police have blamed radical Islamist groups for those killings. One of the slain teachers was a follower of mystic poet and lyricist Lalon.
Attacks also took place against foreigners and minority Shia, Ahmadiya and Hindu communities. Many Christian priests have reported that they have been threatened by unidentified people.
Some of the attacks were claimed by the Islamic State group, but Prime Minister Sheikh Hasina's government claimed that this group has no base in Bangladesh.
http://www.hindustantimes.com/world/professor-hacked-to-death-near-home-in-bangladesh-in-latest-attacks/story-spHgh3C0iaxtEqkP6mpbAN.html
------
UN Torture Committee Calls on Saudi Arabia to Stop Corporal Punishments
23 April 2016
TEHRAN (FNA)- The United Nations torture committee called on Saudi Arabia to stop physical punishment, including flogging and amputations, in the Persian Gulf kingdom.
In its first review of Saudi Arabia since 2002, the committee that monitors the UN Convention against Torture also expressed concern about the abuse of bloggers, activists and human rights lawyers in Saudi prisons on Friday, presstv reported.
"Has Saudi Arabia taken steps to prohibit... corporal punishments, such as flogging and amputation of limbs, which are in breach of the convention?" committee member Felice Gaer asked Saudi officials.
Gaer said "a significant number" of suspects have been tortured into making confessions by the Saudi regime.
She pointed to the case of Raif Badawi, a 31-year-old Saudi blogger who has been sentenced to 1,000 lashes and 10 years in jail for his writings on the internet, which Saudi authorities described as an affront to Islam. Imprisoned since 2012, Badawi received his first 50 lashes in a public square in the Saudi city of Jeddah in January 2015.
"We are aware of many people belonging to or who actually created human rights organizations have been deprived of their liberty, and sometimes charged and even sentenced to lengthy jail terms," Gaer said. "This casts a pall over the review."
The committee generally examines countries every five years or so, but it could not do so for Saudi Arabia because Riyadh's report on its compliance with the Convention against Torture was already four years overdue.
The UN report follows a recent visit to the kingdom by US President Barack Obama, who raised concerns about human rights violations in the country.
Riyadh has long been under fire at the international level for its grim human rights record.
The kingdom reportedly executed 153 individuals, including 71 foreign nationals, in 2015. Amnesty International said in a report last year that court proceedings in Saudi Arabia "fall far short" of global norms of fairness.
http://en.farsnews.com/newstext.aspx?nn=13950204000693
------
Chilling Recording Reveals How FBI Targets American Muslims With 'Romantic Allure'
22 April 2016
Providing "a rare glimpse into how federal informants work," The Intercept on Thursday published a recording of a conversation between a lonely, 21-year-old Michigan man and the woman whom he tried to impress by claiming he had both an AK-47 and supposed aspirations for violence.
The man is Khalil Abu Rayyan, who has been indicted on federal gun charges. The woman called herself "Jannah Bride," and claimed to be a 19-year-old Sunni Muslim. In fact, she was an FBI informant who, when Rayyan spoke of wanting to kill himself, "deftly steered the conversation to violence against other people."
Jannah Bride was what is known as an FBI "honeypot"—a spy who uses romantic allure to entrap his or her target.
According to reporter Trevor Aaronson, a contributing writer at The Intercept and executive director of the non-profit Florida Center for Investigative Reporting, "the U.S. government now alleges that Rayyan…is an Islamic State sympathizer who talked of attacking a church in Detroit. Federal prosecutors have not filed terrorism-related charges, yet they are handling Rayyan's indictment with the secrecy of a national security investigation."
The exposé is further evidence of how U.S. law enforcement has targeted the American Muslim community.
As Aaronson wrote in March, "the FBI uses more than 15,000 informants widely in counterterrorism investigations. Recent FBI investigations have focused on alleged Islamic State sympathizers, many with highly questionable outcomes."
Indeed, a 2014 report from Human Rights Watch and Columbia Law School's Human Rights Institute revealed the many ways in which U.S. law enforcement treats American Muslims like "terrorists-in-waiting."
Last year, The Intercept's Glenn Greenwald and Andrew Fishman explored "a now-familiar FBI pattern whereby the agency does not disrupt planned domestic terror attacks but rather creates them, then publicly praises itself for stopping its own plots."
The agency's first step, wrote Greenwald and Fishman, is to "target a Muslim: not due to any evidence of intent or capability to engage in terrorism, but rather for the 'radical' political views he expresses. In most cases, the Muslim targeted by the FBI is a very young (late teens, early 20s), adrift, unemployed loner who has shown no signs of mastering basic life functions, let alone carrying out a serious terror attack, and has no known involvement with actual terrorist groups."
In a motion filed last week, Rayyan's lawyers, Todd Shanker and Benton C. Martin, reportedly wrote: "The government clearly exploited Rayyan, and blatantly attempted to steer him toward terrorism as an acceptable form of suicide before God."
https://www.mintpressnews.com/honeypot-recording-evidence-fbi-targets-american-muslims/215822/
-----
ISIL Dismantling, Selling Public Assets in Mosul
23 April 2016
TEHRAN (FNA)- Informed sources in the city of Mosul in Western Iraq disclosed that as ISIL's financial conditions have deteriorated, the Takfiri terrorist group has started stealing and selling public properties in areas under its control.
"The ISIL terrorists in oil workers suit started dismantling and stealing the railway tracks in the city of Mosul in a bid to sell them; they have already taken some of the tracks to Syria," the Arabic-language Ara News quoted an unnamed source as saying.
The source said that the ISIL has also started dismantling and selling parts of the factories and workshops in all areas under its control.
ISIL was once described as the richest terrorist group in the world, but apparently those days are long since over.
The terrorist group's finances have crumbled thanks to the Russian coalitions destroying the bulk of the group's oil infrastructure, the global slide in oil prices and territorial losses in Iraq and Syria.
The self-proclaimed caliphate, unlike other terrorist groups, generates its income locally.
The militants mostly make money from taxes, extortion, kidnappings, oil smuggling and private donations.
These sources have recently been affected, with ISIL losing territories, fighters, civilians, hard cash, and oil fields and smuggling routes.
Although many have warned against predicting ISIL's swift financial demise, more reports have emerged pointing to the group's major financial troubles. This might be indirect evidence, but it is nevertheless telling.
While senior ISIL commanders are said to have clashed over allegations of corruption, mismanagement and theft, some fighters have not been paid at all, the US media reported, citing US counterterrorism officials.
"Cash shortages already have forced the group to put many of its Iraqi and Syrian recruits on half-pay, and accounts from recent defectors suggest that some units haven't received salaries in months," the media outlet detailed.
Civilians and businesses living in cities under ISIL's control "complain of being subjected to ever-higher taxes and fees to make up the shortfall."
Conflict monitor groups painted the same picture in mid-March, saying that ISIL "was struggling financially."
The trend manifested itself in "tax hikes, increases in the cost of state-run services and significant cuts of up to 50 percent in the salaries" paid to the fighters.
http://en.farsnews.com/newstext.aspx?nn=13950204000611
-----
South Asia
31 militants killed, 23 wounded in latest operations of Afghan forces
Sat Apr 23 2016
At least 31 militants were killed in the latest clearance operations of the Afghan National Security Forces (ANSF), the Ministry of Defense (MoD) said.
According to a statement by MoD, at least 23 militants were also wounded and 4 others were detained during the same operations.
The statement further added that the operations were conducted in Nangarhar, Kabul, Parwan, Paktia, Zabul, Kandahar, Badghis, Baghlan, Balkh, Jawzjan, Faryab, Kunduz and Helmand provinces.
At least 16 of the militants were killed during the operations in Chardara, Imam Sahib and center of Kunduz province, MoD said, adding that 14 others were wounded during the same operations.
In a separate operation at least 7 militants were killed and 4 others were wounded in the northern Faryab province, MoD said.
The statement also added that 5 militants were killed in other raids conducted in Khogyani district of Nangarhar.
Another militant was killed, 5 others were wounded and 4 more were arrested in separate raids conducted in Zabul, Parwan and Jawzjan provinces, MoD added.
According to MoD, a soldier of the Afghan National Army (ANA) forces also lost his life during the clearance operations.
The anti-government armed militant groups including the Taliban insurgents have not commented regarding the reports so far.
http://www.khaama.com/31-militants-killed-23-wounded-in-latest-operations-of-afghan-forces-0736
--
US pressed Pakistan after Kabul attack amid reports Haqqani network was involved
Sat Apr 23 2016
The United States pressed Pakistan to follow up on Islamabad's expressed commitment not to discriminate between terror groups amid reports that the deadly Kabul attack was plotted and carried out by the notorious Haqqani terrorist network.
Elizabeth Trudeau, Director of Press Office for the State Department, said "We have consistently expressed our concerns at the highest level of the Government of Pakistan about their continued tolerance for Afghan Taliban groups such as the Haqqani Network operating from Pakistani soil."
She was speaking during daily press briefing in Washington DC and responded to a question regarding the Kabul attack as reports suggest the deadly attack was plotted by the Pakistan-based Haqqani terrorist network.
"And we did again – after this week's attack, we have pressed the Government of Pakistan to follow up on its expressed commitment not to discriminate between terror groups regardless of their agenda or their affiliation by undertaking concrete action against the Haqqanis," Trudeau added.
At least 64 people were killed and 347 others were wounded in the attack on a unit of the Afghan intelligence in capital Kabul on Tuesday.
The Taliban group claimed responsibility behind the attack which followed days after the group announced its spring offensive, vowing to carry out more such attacks across the country.
The attack was initially launched by detonating a Vehicle-borne Improvised Explosive Device (VBIED) near the Directorate of Security for Prominent Figures, triggering gun battle between the remaining militants and Afghan security forces.
http://www.khaama.com/us-pressed-pakistan-after-kabul-attack-amid-reports-haqqani-network-was-involved-0741
--
Taliban suffer heavy casualties as Afghan forces re-open Kunduz-Takhar highway
Sat Apr 23 2016
The Taliban militants suffered heavy casualties during a military operation launched by the Afghan National Security Forces (ANSF) which led to the opening of Kunduz-Takhar highway.
According to the local security officials, the operation was launched late on Friday night in parts of Kunduz province, near the main highway connecting Kunduz and northeastern Takhar province.
Provincial police Chief Mohammad Qasim Jangalbagh said at least 20 Taliban insurgents were killed and 6 others were wounded during the operation.
The clearance operations are currently underway in certain villages and parts of Kunduz which threaten the main highway, the officials added.
The highway going through Kunduz is considered as one of the main highways in northern Afghanistan which connects north-eastern Takhar with Badakhshan and Kunduz provinces.
The anti-government armed militants are usually threatening the highway by conducting insurgency activities, mainly in Kunduz province where the Taliban insurgents are having a widespread presence.
The Taliban militants launched a major offensive during the recent weeks in a bid to capture key parts of Kunduz province, including the strategic Kunduz city which was seized by the group last year.
http://www.khaama.com/taliban-suffer-heavy-casualties-as-afghan-forces-re-open-kunduz-takhar-highway-0740
--
Russia Embassy rejects Moscow is cooperating with Taliban to fight ISIS
Sat Apr 23 2016
The Embassy of Russia in Kabul has rejected reports regarding Moscow's cooperation with the Taliban group in fight against the loyalists of the Islamic State of Iraq and Syria (ISIS) terrorist group in the country.
According to a statement by the Embassy of Russia, the statements by the Russian Presidential Special Envoy for Afghanistan Zamir Kabulov have been repeatedly altered.
Dismissing the reports as baseless, the statement further added that the reports have sparked anger among the Russian officials, specifically the misinterpretation of the statements following the deadly attack in Kabul.
The statement also added that rumors circulating in social media are aimed at provoking the public view against the Russia, warning that such moves will have a negative impact on relations between the two nations.
The Russian Embassy also insisted that Moscow's stance towards the Afghan peace process is clear, emphasizing that the Taliban group should accept the Afghan constitution, refrain from violence and terminate links with al-Qaeda and other terrorist networks.
The statement said Russia remains committed in supporting Afghanistan to bolster security and capabilities of the Afghan National Security Forces.
This comes as reports earlier emerged regarding the growing concerns of Moscow as the loyalists of the Islamic State are expanding foothold and terrorist related activities in Afghanistan.
Moscow is mainly concerned that the loyalists of the terror group are looking to further expand foothold by infiltrating into the Central Asian countries and Russia.
http://www.khaama.com/russia-embassy-rejects-moscow-is-cooperating-with-taliban-to-fight-isis-0739
--
Outgoing ICRC Head for Afghanistan warns of further security deterioration
Sat Apr 23 2016
The outgoing head of the International Committee of the Red Cross (ICRC) in Afghanistan Jean-Nicolas Marti has warned that the security situation will further deteriorate during the year, insisting that the world must not let the country become a forgotten crisis.
"The international community must keep their attention on Afghanistan. It's far from being over. It's not the time to switch off," Marti quoted in a report by Reuters said.
He also expressed concerns regarding donor fatigue and 'brain drain' of educated professionals from the country amid worsening security situation.
Calling the security situation at levels not seen since 2001, Marti said "The security situation has really deteriorated … and my prediction is a further deterioration," Marti said. "Potentially the 18 months ahead of us will be much tougher."
"The message is (we need) to make sure that Afghanistan doesn't become a forgotten or ignored conflict," Marti added as he is meeting government officials in European capitals and Washington to press for greater political, financial and humanitarian support.
The remarks by Marti come as the level of violence has further escalated in the country with the rampant Taliban-led insurgency.
The Taliban group carried out a massive attack in capital Kabul on Tuesday, days after the group announced its spring offensive earlier this month, vowing to carry out more attacks across the country.
http://www.khaama.com/outgoing-icrc-head-for-afghanistan-warns-of-further-security-deterioration-0738
--
C-130s increase Afghanistan's mobility capability
Sat Apr 23 2016
When two C-130H aircraft arrived at Robins in the fall of 2013, each would play a significant role nearly two years later in a country over 7,000 miles away.
The nose of one aircraft, scheduled to be retired, served as a donor to a second C-130. The second had experienced a hard landing and suffered structural damage to its nose, prior to its arrival for unscheduled depot level maintenance at the Warner Robins Air Logistics Complex.
It was that second C-130 that received the most attention – a new nose section that would not only breathe new life into the aircraft, but assist with efforts to provide increased tactical airlift capabilities and mobility operations throughout Afghanistan.
The successful PDM of that C-130 resulted in a successful aircraft delivery supporting operations with the Afghan Air Force.
The C-130 with the donor nose was the fourth aircraft delivered to the country in June 2015. Since its arrival this year, it has continued to serve as a valuable resource to the AAF.
"Adding a fourth aircraft to the Afghan Air Force's C-130 fleet has led to a significant increase in Afghanistan's strategic airlift capabilities," said Lt. Col. Michael Morales, 538th Air Expeditionary Advisory Squadron commander, with Train, Advise, Assist Command-Air.
TAAC-Air groups work to support NATO's Resolute Support mission, which trains, advises and assists Afghan partners to develop a sustainable air force.
"The C-130's night, all-weather airlift capability provides vital, rapid and agile support to Afghan National Defense Security Force counterinsurgency operations throughout the country," he said.
Operational impact of the AAF's C-130 fleet can already be felt with the addition of that fourth C-130, on which employees at Robins installed a new nose section and a new center wing box.
Cargo shipments increased by 249 percent; casualty evacuation movement up 276 percent; and passenger movements increased 142 percent from 2014 to 2015, according to Morales.
From its arrival last June to January of this year, that C-130H has flown over 100 flying hours with more than 80 sorties; supported over 150 medical evacuations; and assisted with flying more than 60,000 cargo pounds.
But as with any weapon system in the Defense Department inventory, ongoing maintenance and sustainment is critical in ensuring future needs will be met.
A Robins team plays a support role in further assisting with the ongoing needs of the four Afghan C-130s. That can include awarding and sustaining contracts to tech order responsibilities.
"Anything that an active duty C-130 unit would normally do, the contractor does that within their capabilities. We provide oversight for them to do that," said Robert Burleigh, Afghanistan Security Assistance program manager. "That mindset of a high density/low demand asset really comes into play. They fly them every day, and use them to fly troops in and around the country, as well as move their wounded around. The more they have available and the more crews they have trained to fly, the better off they are in fighting that war. In our program, it's one day at a time, because something always changes."
Bill Blunk, a logistician with the program office here, touched on the complex situation that crews face.
"This program is unique in that we have a very small number of assets. With four aircraft, our goal is to train the Afghans – but you're doing it in a war zone," he said. "Those same assets training air crews are also dropping off combat troops into hot zones."
"We're on the tail end of the logistics trail. Here in the states you can just pick up the phone and get a part. In Kabul, when you don't have a part, you have to source it from the states, which can take a week or longer."
Rob Townsend who works in the Robins program office, spends much of his time with his eyes and ears on the ground in Afghanistan – some nine and a half hours away.
Typical days for the aircraft include routine inspections and service to ensure its mission readiness. Its daily flying mission provides the AAF with airlift capability throughout the country, delivering troops and equipment to combat terrorism and support weapon systems throughout the country, according to Townsend.
Coordination is a must, he said, as facilities are few and far between, so support for both AAF training and flying missions is essential.
"TAAC-Air, the Robins Program Management Office and technicians continue to provide the AAF with a reliable medium airlift capability to support Afghan missions, even when faced with the challenges of environment and security," he said. "The aircraft is vital to the mission – and displayed each time it breaks ground and returns home in Kabul."
http://www.khaama.com/c-130s-increase-afghanistans-mobility-capability-0735
--
Afghanistan facing an imposed war, Stanikzai says during Kunduz visit
Fri Apr 22 2016
The Acting Minister of Defense Masoom Stanikzai said Afghanistan is facing an imposed war and vowed that the Afghan forces will remain resilient against the conspiracies of enemies of Afghanistan.
Stanikzai made the remarks during a visit to northern Kunduz province along with some other high level government officials, including Minister of Interior General Taj Mohammad Jahid.
He hailed the Afghan National Security Forces (ANSF) members for their bravery and dedication to repulse the Taliban offensive on Kunduz.
The visit by the high level officials followed days after the Taliban militants launched a major offensive to take control of key areas of Kunduz, including the strategic Kunduz city which fell to Taliban last year.
The Taliban militants suffered heavy casualties after launching the attack on Kunduz with the local officials saying at least 40 militants were killed in the initial phase of the clashes.
The gun battle continued for several days after the attack was launched almost a week ago.
The Taliban militants seized the control of the city late in mid-2015 after launched coordinated attacks on the city.
However, the Afghan Special Operations Forces have retaken the control of Kunduz city from the Taliban militants earlier in the month of October after the city was in control of the militants for almost a week.
The Taliban insurgents were accused of horrific criminal activities after they seized control of the city, including target killings, rape, kidnappings, use of civilians as shields, looting of public and private properties.
http://www.khaama.com/afghanistan-facing-an-imposed-war-stanikzai-says-during-kunduz-visit-0734
-----
Europe
Moroccan Was Planning a Terrorist Attack In Spain, Judge Finds
APRIL 22, 2016
MADRID — A Moroccan restaurant cook who was arrested this week on the island of Majorca had been preparing a terrorist attack in Spain, according to a judge, who ordered him imprisoned without bail on Thursday.
The cook, Mohamed Harrak, 26, was arrested on Tuesday and questioned by Judge Carmen Lamela Díaz of the Audiencia Nacional, or National Court, in Madrid on Thursday. In a report after her video conference with Mr. Harrak, the judge stated several reasons to keep him in prison, including his involvement in a plan to carry out a terrorist attack in Spain that was aborted for reasons beyond his control.
Judge Lamela Díaz did not provide any details about the alleged plot.
Mr. Harrak was also preparing to travel to Syria to join Islamic State fighters there, according to the judge's 13-page report. He had gathered military documentation, undergone training and taken part in a European competition of so-called airsoft, a form of combat simulation, she wrote.
Judge Lamela Díaz also found that Mr. Harrak had actively sought to recruit Islamic fighters online and helped organize clandestine travel routes to the war zone from Europe, with the help of Islamic State members in Syria.
Mr. Harrak is also accused of spreading violent messages and propaganda from the Islamic State as far back as 2014, including publishing an online video showing the execution of a British hostage. After the attacks in and around Paris on Nov. 13, the judge wrote, Mr. Harrak posted another message online, calling it "an excellent day" that "left Europe shaking." In January, he downloaded an Arabic-language manual that the Islamic State has used to help prepare terrorists.
Mr. Harrak was arrested after being put under surveillance for two months. The police also found 22 grams of cocaine in his apartment, as well as scales. Traces of cocaine and another scale were found in the hotel restaurant where he worked.
Mr. Harrak had been sentenced in 2010 for hitting his sister, who was then 12, a local newspaper, Diario de Mallorca, reported on Friday. That sentence then prevented him from gaining Spanish citizenship, according to the newspaper.
Since Mr. Harrak's arrest on Tuesday, the newspaper has published articles about his activities, largely based on interviews with friends and neighbors. Mr. Harrak was described as a basketball referee and an introvert. He was arrested in Son Gotleu, a poor neighborhood of Palma, the island's capital, where he lived with his parents and two siblings.
http://www.nytimes.com/2016/04/23/world/europe/moroccan-was-planning-a-terrorist-attack-in-spain-judge-finds.html
--
Tracing the Path of Four Terrorists Sent To Europe By The Islamic State
April 22, 2016
SALZBURG, Austria — On a crisp morning last October, 198 migrants arrived on the Greek island of Leros, all of them seemingly desperate people seeking sanctuary in Europe. But hiding among them were four men with a very different agenda.
The four were posing as war-weary Syrians — all carrying doctored passports with false identities. And they were on a deadly mission for the Islamic State.
Two of the four would masquerade as migrants all the way to Paris. There, at 9:20 p.m. on Nov. 13, they would detonate suicide vests near the Stade de France sports complex, fulfilling their part in the worst attack on French soil since World War II.
The other two men would not make it that far.
Stopped upon arrival in Greece for lying about their identities, they were delayed — but only for a few weeks before being granted permission to continue their journey deeper into Europe. Their story — including key details never before disclosed — offers a cautionary tale for a continent suddenly facing its worst security threat since the end of the Cold War. The mens' journey from the battlefields of Syria was reconstructed through interviews with intelligence officials and from French investigative documents obtained by The Washington Post, as well as an interview with an Islamic State commander.
European security officials say they believe that the Islamic State has seeded terror cells on the continent over the past year and was able to do so in part because the European Union failed to come to grips with a migrant crisis that opened a funnel for the militant group.
Europe is now working with Turkey to bar its doors, ending the waves of irregular migration that washed over the continent last year. But more than a million migrants — a record — have already entered. Hundreds of thousands of them, European intelligence agencies say, may have done so without thorough checks at their entry point: Greece.
The vast majority of migrants were genuinely fleeing war and poverty. But, over the past six months, more than three dozen suspected militants who impersonated migrants have been arrested or died while planning or carrying out acts of terror. They include at least seven directly tied to the bloody attacks in Paris and Brussels.
The Islamic State is gloating that they have far more lying in wait.
"We have sent many operatives to Europe with the refugees," an Islamic State commander said in an interview over an encrypted data service. "Some of our brothers have fulfilled their mission, but others are still waiting to be activated."
The accounts of the two men who landed in Leros with plans to die in France, only to stop short of their goal, expose the weaknesses in a haphazard system that has created risks of unknown dimensions.
"The Greeks failed in protecting the borders into the EU," said a senior European intelligence official who, along with 11 other senior European, U.S. and Arab officials interviewed for this story, spoke on the condition of anonymity in order to discuss classified information.
He added, "And we all failed by not pushing hard enough to establish that security."
———
In early September, just a few weeks before the four men landed on Leros, they were invited to attend a secret meeting in a central Syrian city controlled by the Islamic State.
Two of them — the ones who would blow themselves up outside the Stade de France — were later glorified in an Islamic State video as unnamed militants from Iraq. The other two men, both round-faced and lightly bearded, were Mohamed Usman, a Pakistani who claims to be 23 years old, and Adel Haddadi, a 28-year-old Algerian.
Usman and Haddadi had joined the Islamic State in 2014, the men would tell European investigators. In Syria, they received extensive training with automatic weapons, but neither was a stranger to extremism.
Haddadi had previously been on the watch lists of Algerian intelligence for his activities; Usman was suspected of links to Lashkar-e-Taiba, a radical Pakistani terror group tied to the 2008 siege of Mumbai, according to two senior European security officials.
That September meeting in Syria would prove fateful to their futures. In the living room of a home, according to their accounts, a senior Islamic State official told them that the time had come to leave the Caliphate.
"You are on a mission to go to France, to kill, to become a martyr," an Islamic State commander told them, according to their testimony, which was cited by a European security official.
The men, in interviews with European investigators, would later recall an intense sense of pride at being picked for such a mission.
"They were happy and honored that they were chosen to die for the cause and for Allah," said the European security official. "They were told that they would go to paradise."
To get as far as Leros, the four men were spirited out of Syria and into Turkey, where they made their way to the coast. From there, they told investigators, they took a smuggler's raft laden with migrants. The vast majority of asylum seekers departing from Turkey were arriving on Greek islands — some of which lie a brief 30-minute boat ride away. The numbers of arrivals were so large, in the thousands per day, that Greece — a nation brought to its knees by recession and EU-imposed budget cuts — could not handle the caseloads.
Frontex, the EU's border agency, provided some preliminary vetting. But managing the masses was largely left to the overwhelmed Greek Coast Guard and to local island police, who were more used to chasing pickpockets than screening for possible terrorists.
Many of the new arrivals — particularly Syrians fleeing war — had no passports or legal travel documents at all. Yet European intelligence agencies and security analysts now estimate that up until the Paris attacks in November, only about 20 percent of the new arrivals were being thoroughly questioned and checked.
"The fact that only about 20 percent of those who entered Greece were fully processed allowed for a lot of cracks in the system," said Ioannis Michaletos, an Athens-based security analyst. "This increased security risks in Greece, but also for the rest of Europe."
In an interview, Zacharoula Tsirigoti, lieutenant general of the Greek police, conceded her forces were overwhelmed. Greece, she said, had pleaded with the EU for more help, but until the Paris attacks, that assistance — including requests for more staff and machines to enter migrants' information into a regional database known as Eurodac — was not forthcoming.
"We had been asking for support knowing we needed more specialized personnel in the islands and more Eurodac machines," she said. "But we received very little. Everyone knew we were facing huge financial problems. So for months we had to make due with what we had, hoping help would arrive."
———
On the morning of Oct. 3, the four terrorists tried to blend in with the migrants who had come ashore that day. According to a manifest, they were among at least 47 asylum seekers who said they were Syrians fleeing war. But there was also a dizzying array of other nationalities, including Somalis, Yemenis, Afghans and Palestinians.
When their turn came, the two Iraqi militants showed authorities doctored Syrian passports, according to the classified French files obtained by The Post. Remains of the documents found near their bodies at the Stade de France suggested they had come from a cache of more than 3,800 passports — all authentic — seized by the Islamic State after its major advances in Syria in 2013.
While the passports had been tampered with to insert new photographs, they otherwise appeared real to the eye and touch. The men's claims of being Syrian asylum seekers were not seriously questioned by Frontex or the Greeks. Along with dozens of other migrants who landed that day, they were not detained and merely told to leave Greece within six months.
Classified records show the Iraqis who claimed to be Syrian — and who still have not been identified — then quickly traveled over land to Serbia, where they registered at a refugee camp in Presevo on Oct. 7. By November, they had linked up with the other assailants involved in the Paris attacks.
On Nov. 13, they became the only non-European born attackers to take part in a series of assaults that saw nine men kill 130 people at different locations in Paris. But that day, what was nine assailants might have been 11, possibly leading to even more victims but for the grace of a few extra questions in Leros.
Like the two Iraqis, Usman and Haddadi also produced falsified Syrian documents that senior European intelligence officials now think came from the same Islamic State stash of seized passports. But when questioned by Frontex, the two men, unlike the Iraqis, crumbled.
Usman, a Pakistani, did not speak Arabic well — quickly betraying his claim to be Syrian. Haddadi knew almost nothing about the city he said was his birthplace — Aleppo, Syria.
Under EU guidelines, the most the European border agency could do was pass them on to the Greeks. So that's what they did, and the local authorities promptly lumped them in with a then-surging backlog of economic migrants who were using fake documents to enter the asylum system.
Both men were transferred to the larger Greek island of Kos, where they were given lightening legal judgments. In what became a customary practice in Greece, Usman and Haddadi received suspended three-month sentences along with an order to leave the country within a month. It didn't matter how or which way they went.
After gaining their freedom on Oct. 28, Haddadi, the more senior of the two, quickly sent a text via the messaging app WhatsApp to their Islamic State handler in Syria.
"We need money," it simply said, according to intelligence officials with access to the pair's phone records.
That money soon arrived via the same method often used by migrants — a wire from Turkey to Greece. Now flush with cash, the two men continued their journey.
They were only 25 days behind their Islamic State comrades traveling to Paris.
The men, taking a path frequently traversed by migrants, embarked on a trek through the western Balkans.
They knew their destination was France, but the men said they had not been given precise instructions on when or where the attacks would unfold. They also were unaware of the identities of the other Paris attackers besides the two Iraqi militants they had traveled with. They were to get further instructions along the way.
The Islamic State commander who spoke to The Post said that was the way the group was seeking to operate.
"The cells don't necessarily know one another; that's to protect other operatives," he said. "So even if one or two get arrested, they won't be able to lead to other operatives, because they don't know them. We are not finished yet with Europe, since they didn't seem to have understood our warnings."
But their delay in Greece had a major side effect that may very well have saved lives: As the nine attackers were fanning out across Paris on the evening of Nov. 13, Usman and Haddadi were still on the road. After passing through Macedonia, Serbia, Croatia and Slovenia, they arrived in the shadow of the Alps: Austria.
And they had received fresh orders to stay put.
The men entered Austria without passports and offering fake names, while this time claiming to be from their real countries, Pakistan and Algeria. On Dec. 4, both men applied for asylum in Austria, and then took up residence in a teeming refugee center — a converted truck storage depot — about a mile from the German border.
Their phone records show that they had begun reaching out to contacts all over Europe, a list that, investigators say, included other newly arrived migrants as well as longer-term immigrants tied to the region's criminal underworld.
European authorities had immediately launched a massive investigation following the Paris attacks, and were beginning to retrace the attackers' steps. After finding a Syrian passport at the Stade de France, investigators ran fingerprints and discovered that two of the dead men had arrived in Greece as Syrian migrants on Oct. 3. With the aid of German and U.S. intelligence, a manifest of the day's migrant arrivals — including photos — was run through databases and a face-recognition system of known radicals and Islamic State militants, according to a senior European intelligence official.
The searches returned two hits — men also claiming to be Syrian who had arrived that day.
On Dec. 10, Austrian police in Salzburg received their photos and fake Syrian names from French intelligence. Within four hours, they had tracked them down to the refugee center on Münchener Street. A SWAT team moved in, arresting the two men in their room. As they were taken into custody, Haddadi attempted to pass his cellphone's SIM card to another migrant, who was later arrested.
During 150 hours of interrogation, both men would tell their stories. They are now being held at an undisclosed jail in Austria, and based on their testimony investigators are pursuing various leads that have already led to the arrest of two more migrants in the same Salzburg camp where the men were living. Officials expect that the two men will ultimately be extradited to France to stand trial in connection with the Paris attacks.
"They are sad because they are still alive, because they feel they should have been martyrs," said a European security official. "They are sad they did not die with the others in France."
http://www.stripes.com/news/europe/tracing-the-path-of-four-terrorists-sent-to-europe-by-the-islamic-state-1.405826
--
Brussels bomber 'identified as jailer of foreign Isis hostages'
22nd April 2016
One of the two suicide bombers who killed 16 people at Brussels' Zaventem airport last month has been identified as a former Islamic State prison guard in Syria.
French journalists seized in Syria by the terror group in 2013 have identified Najim Laachraoui, the presumed bomb-maker for both the Brussels attacks and those carried out in Paris in November last year, as one of the captors who held them hostage for 10 months, their lawyer said.
"I can confirm that he was the jailer of my clients," said Marie-Laure Ingouf, a lawyer for two of the four journalists who were freed in April 2014, confirming French media reports. Ingouf said one of her clients, Nicolas Hénin, had "formally identified" the bomber.
Laachraoui, a 24-year-old Belgian national, blew himself up at the airport on 22 March with Ibrahim El Bakraoui, whose brother Khalid detonated another suicide bomb at the Maelbeek metro station shortly afterwards, killing a further 16 people.
French media said the journalists had recognised Laachraoui as one of their captors, known to them as Abou Idriss, when his photograph was published in the aftermath of the Brussels attacks.
They had earlier identified another of their jailers as Mehdi Nemmouche, a Frenchman currently in custody after killing four people in an attack on Brussels' Jewish Museum in May 2014, Le Parisien reported, and a third as Salim Benghalem, an Islamic State recruiter sentenced in absentia in France.
The paper said the journalists had described Abou Idriss, who had a Belgian accent, as less violent than Nemmouche, and said he occasionally asked them "scientific questions he expected them to answer". The Belgian seemed to be "someone of intelligence, composed, capable of adapting rapidly to new situations", Le Parisien quoted an interior ministry source as saying.
Belgian prosecutors have said Laachraoui, an electrical engineering student who dropped out of university in Brussels, travelled to Syria in February 2013 to join Isis forces as a foreign fighter. He next resurfaced crossing the border between Hungary and Austria in September 2015 under a false name.
French prosecutors have linked him to the Paris attacks that killed 130 people two months later. Laachraoui's DNA was found on a suicide vest and a piece of cloth found at at the Bataclan concert hall, where 90 people died, and also on explosives used at the Stade de France.
Earlier this month, Brussels police arrested Mohamed Abrini, the "man in the hat" who was caught on CCTV cameras at the airport with Laachraoui and Ibrahim El Bakraoui and is suspected of preparing to detonate a third bomb before fleeing.
A Swedish national, Osama Krayem, who was filmed on CCTV talking to Khalid El Bakraoui minutes before the metro station bomb exploded, has also been arrested and charged in connection with both the Paris and Brussels attacks.
Brussels transport authorities announced on Friday that Maelbeek station, near the main European Union headquarters, will reopen on Monday after being closed since the bombing. Repair work will be completed by Friday evening, a spokeswoman said.
Train services to Zaventem airport, which was extensively damaged in the attacks, will also resume on Friday night. The airport itself partially reopened two weeks ago and is expected to be fully functioning in June.
http://www.theguardian.com/world/2016/apr/22/brussels-bomber-najim-laachraoui-identified-isis-jailer-foreign-hostages
-----
North America
Muslims In America: Voters Share Views On The US Presidential Candidates
22nd April 2016
In 2008, 89% of US Muslims voted for Democrat Barack Obama, according to a poll by the Council on American-Islamic Relations. In a 2011 survey by the Pew Research Center, some 48% of Muslims living in America said they felt the Republican party was unfriendly towards them. Just 7% said the same of the Democratic party.
This year's US election has been marked by a serious upsurge in anti-Muslim rhetoric among Republican candidates – particularly from frontrunner Donald Trump, who has called for a ban on foreign Muslims coming into the country until "until our country's representatives can figure out what is going on" with extremism. To find out more about how American Muslims felt about the presidential race this year, we asked them to share their views using an online callout, telephone and email interviews. Here are some of the results.
If I vote it will be for Bernie; an ill-equipped man with a moral compass is better than a brilliant statesman without
Inas Younis
Among those voting in this year's election is 18-year-old Aamir Khan, a Muslim man from North Carolina, who supported Obama in 2008; even though he was not eligible to vote, age 10. He believes Obama has done a good job fighting for Muslim rights despite disagreeing with some of his foreign policies, particularly in the Middle East. But this time around, Khan is finding it difficult to put his full support behind any of the presidential nominees – Republican or Democrat. But what he is certain about is that if either Trump or Ted Cruz – the two leading Republican candidates – win the presidency, he would seriously consider leaving the country.
"With Cruz and Trump holding so much hate in their hearts, I can't risk staying in this nation if they really do what they say they will. I would probably flee to Canada. I feel that their anti-Muslim rhetoric will echo through our nation and put Muslims in even more danger than they are right now.
"Out of all the candidates, I feel that Bernie Sanders is the most trustworthy," he said of the leftwing Democrat. "He has shown his love for all people from all walks of life, and I think he will be the most just president, at least socially."
Trump's "total and complete shutdown" of the country's borders to Muslims – except for his friends – and Cruz's calls for the "patrolling and securing" of Muslim areas in the US have both been labelled unconstitutional and discriminatory, as well as xenophobic.
For 29-year-old Wardah Khalid, a writer and analyst on Middle East policy and Islam in America, says that even if both Republicans left the race today, the damage they have caused the Muslim community in the US has already been done.
"We're already seen as outsiders, unwelcome and dangerous by many and the presidential campaign rhetoric is only making it worse. That is not to say that there aren't good people in this country who know better, but it's definitely an uphill battle," she says.
Just over half of all US Muslims believe life in the US has become more difficult since 9/11, according to a 2011 Pew Research Center report.
Some 28% of those polled reported being looked at with suspicion, 22% have been called offensive names, and 15% reported that a mosque or Islamic centre in their community had been the target of vandalism in the last year.
"What they're not thinking about is how people like me will have to deal with the consequences of being labeled a threat to other Americans after the election is over," says Khalid. "It is irresponsible and dangerous to speak this way, especially if you are running to lead the country that includes the very people you are shunning."
What makes me sad is that in 2016 we have to deal with this level of xenophobia.
Aisha Yaqoob
According to an online YouGov survey, the majority of Americans support Trump's suggestion to ban Muslims from the US; among independents that support had grown from 42% in December to 62% in May. Cruz's proposal to monitor Muslim areas was less popular, although more Americans said they supported it (45%) than those who opposed it (40%).
Twenty-two-year-old Aisha Yaqoob, founder and executive director of the Georgia Muslim Voter Project, says she has never been the target of discrimination. Her main worry, shared by the majority of voters interviewed by the Guardian, is that the Republican candidates are igniting anti-Muslim views and making it more acceptable to voice them.
"Its been a fun ride. Being born and raised in the south, its always a challenge to walk down the street in hijab and feel the stares," she says. "There are comments here and there but people have been polite for the most part."
"Hillary and Bernie have both responded to the xenophobic comments from some of the Republican candidates. I don't think most people understand how important their comments are. Without figureheads like them speaking out, perhaps people would not notice how ridiculous Cruz and Trump's comments are," she adds. "I appreciate [former Democratic candidate] Martin O'Malley's visit to a mosque early on in his campaign; even though he's no longer running I have to give him credit for that."
But not all Muslims are anti-Republican. Despite his dislike of some Republican nominees, Omar (who preferred not to give his last name) from Washington DC says he wholeheartedly supports the party. He believes Republican party ideals have helped his family succeed.
"My father came from an extremely poor village in Syria with no money and has been able to achieve success in this country and the American dream," he says. "The party was founded for the sole reason to end slavery and Trump's xenophobic statements go completely against Republican and American values. Jeb Bush [a former Republican candidate], for example, wants those on the bottom to rise up. He also supported a no fly zone the creation of a moderate rebel force to fight Assad and Isis, as well as ending the deal with Iran's regime which backs Assad – a policy that would have helped many of my cousins fleeing by boat to Europe.
I think a lot of Muslim Americans are not paying attention to the things that the mainstream Republican Party is saying
Omar
"I think a lot of Muslim Americans are not paying attention to the things that the mainstream Republican Party is saying. While politicians like Trump and Cruz are getting all the attention, the majority in the House and Senate or in governorships across the country are saying a lot of stuff they'd actually agree with."
Omar praises Bush's rejection of anti-Muslim sentiment, and what he calls the former candidate's "comprehensive plan" to fight terrorism.
"Unlike other Republican candidates Bush said it was totally appropriate for Obama to visit a mosque and said the only issue was why he didn't visit one sooner," he says of a February visit to a Baltimore mosque that was criticized by some Republicans. "He has been consistently firm in rejecting anti-Muslim rhetoric whether by Trump or other Republicans, as well as disgusting ideas such as carpet bombing Isis and killing civilians that people like Ted Cruz have proposed," Omar says.
Bush dropped out of the nomination race in late February after losing in South Carolina. He endorsed Cruz for the nomination a month later.
"I think Bush endorsed Cruz to stop Trump," says Omar. "Lindsey Graham, one of my favourite senators, said that the choice between Trump and Cruz was the choice between being poisoned or being shot. If Cruz gets enough delegates the Republicans will go to a contested convention where it is possible that neither Trump or Cruz win. I think there are a lot of Republicans who want no candidate to reach the 1237 so there is a contested convention."
Inas Younis, a 42-year-old writer from Kansas City, supports Sanders. Although she is keen to emphasise that she isn't a socialist but believes America needs a president "with a moral compass".
"Muslims are bewildered by Trump's rise in power. If I vote for Bernie it will be for one reason only: a less experienced man with a moral compass is better than a brilliant statesman without one. I was born in Iraq, so I have an almost immediate visceral hatred towards anything that is socialist or collectivist in any way. The laws that restrain government are the laws that have freed me. But I am still drawn to Bernie in spite of his more socialistic tendencies simply because is an honest man of principle.
"The other candidates might be better equipped but if they are more inclined to play politics then to live by principle, what good are all their qualifications? We are at a point in our country's history where the only way to reinstate our national principles is to elect a man with principle," she says.
Clinton has also been taking steps to ensure that Muslim voices are heard
Inas Younis
Sanders supporter Farzana Waseeq from Los Angeles, believes that Sanders "holds a genuine distaste for anti-Muslim sentiment and believes it to be based on racism and ignorance".
"He publicly stands against all injustice and prejudice, which I believe to be exceptionally respectable. Hillary Clinton has also been taking steps to ensure that Muslim voices are heard, holding a roundtable with Mayor Eric Garcetti and my former supervisor Salam al-Maryati, on community engagement in defeating anti-Muslim rhetoric as well as fundamentalists abroad.
"It worries me that Trump is popular with the American public, but unfortunately it is more than a racist epidemic. Those who are voting for him suffered the most during the 2008 economic crisis, and want somebody to blame. Trump's rhetoric points plenty of fingers and gives them options. However, does this excuse their support for him? Absolutely not.
"I am a bit of an optimist, so I have faith in the global public and in the assumption that the majority of people do not hate Muslims or believe Islam to be a truly violent religion and, or political philosophy. Anything that is learned can eventually be unlearned" she says.
http://www.theguardian.com/world/2016/apr/22/muslims-america-views-presidential-candidates-donald-trump-ted-cruz
---
Arab World
Video Shows ISIL Tunnel to Smuggle Iraq's Ancient Artefacts to Israel, Europe
23 April 2016
TEHRAN (FNA)- A video released recently shows that the ISIL has dug a tunnel beneath the ancient al-Tawba hill to steal the invaluable artefacts of the Iraqi city of Nineveh and smuggle them to Israel and Europe via Turkey.
The video released on Friday by the Arabic section of Sputnik news agency and taken by one of Mosul's residents showed how the ISIL dug the tunnel near the walls of the ancient city of Nineveh to take the antiquities out of the region.
The eyewitness who took the footages of the tunnel said that the ISIL smuggles the ancient artefacts every day, adding that the tunnel is equipped with electrical lamps using a generator.
Also, Amer Abdullah al-Jomaili, a professor at Mosul's university, revealed that 25 pieces of the antiquities have already been smuggled to Israel via Turkey and the rest are being sold in the European auctions.
The city of Nineveh was mentioned in the Bible, dates to the 7th century BC, and was once the largest city in the world.
Earlier reports also said that the ISIL terrorist group has destroyed a 2,000-year-old gate near the Iraqi city of Mosul.
The structure is known as the Gate of God, and used to guard the ancient Assyrian city Nineveh, a British archaeological studies institute in Iraq reported earlier this month.
The destruction of the ancient structure, also called the Mashqi Gate, has been confirmed by the British Institute for the Study of Iraq, and the Antiquities Department in Baghdad hasn't denied the demolition.
The terrorists demolished the 2,000-year-old gate using military equipment, activists in Mosul said.
Media activist Zuheir Mousilly added that ISIL have destroyed many of Iraqi historic sites and monuments, including the Assyrian city of Nimrud, the Winged Bulls, and the Mosul National Museum.
As for the gate, other reports suggested that the ISIL terrorists were dismantling it and selling separate blocks.
The historic Mishqi gate, which was discovered in 1968, is believed to be one of the ancient gates in Eastern Nineveh province.
"ISIL views tombs they destroy as sacrilegious and a return to paganism," Syrian antiquities chief Abdul Maamoun Abdulkarim said.
http://en.farsnews.com/newstext.aspx?nn=13950204000382
---
Syria: Infightings Kill, Wound Dozens of Terrorists near Damascus
23 April 2016
TEHRAN (FNA)- Local sources said that scores of the terrorists were killed or wounded in continued clashes between the rival groups of ISIL and al-Nusra Front in the Palestinian Yarmouk refugee camp in the Southern part of the capital.
"The ISIL and al-Nusra terrorists engaged in heavy fighting to take control over Yarmouk camp, which ended in the killing or wounding of tens of militants from both sides," the sources said.
"The ISIL terrorists launched another assault to take control of the Palestine Roundabout that separates the Yarmouk camp and the neighboring Tadamon district in Southern Damascus, but their attempts fell flat under the heavy fire of al-Nusra rivals," the sources added.
Earlier this week, a senior field commander of al-Nusra Front was killed by rival ISIL terrorists in Yarmouk camp in the Southern countryside of Damascus.
Abu Omar al-Qashi, a notorious commander of the al-Qaeda-affiliated al-Nusra front, was killed in intense infighting in Yarmouk camp.
http://en.farsnews.com/newstext.aspx?nn=13950204000631
---
Iraqi Air Force Destroys ISIL's Oil Convoy in Nineveh
23 April 2016
TEHRAN (FNA)- The Iraqi fighter jets struck and destroyed an oil convoy of the ISIL in the Northern part of Iraq, inflicting heavy losses on the Takfiri terrorists.
The ISIL convoy comprising 20 oil tankers was completely razed down in the Iraqi airstrikes.
The ISIL's oil tankers were carrying crude oil from al-Qayareh oilfields in the Southern part of the Mosul city in Nineveh province.
At least 10 ISIL militants were killed in the Iraqi air raids on their oil convoy.
In a relevant development earlier this month, the Russian Air Force struck a long oil convoy of the ISIL terrorist group in the Northeastern part of Homs province near the town of al-Sukhnah.
The Russian airstrike destroyed half a dozen of oil tankers that were smuggling crude supplies from Deir Ezzur to Raqqa in order to sell them on the black market.
The Russian Air Force has constantly targeted the terrorist group's oil supply routes along Sukhnah-Sufayah Road that leads to Raqqa province; this has made it difficult for ISIL to smuggle crude supplies.
On Friday, Syrian fighter jets, in a fresh series of combat fights, targeted heavily the ISIL gatherings and concentration centers in the Eastern part of Homs province, pinning the terrorists down behind their strongholds.
The Syrian army's aircraft targeted several positions and gatherings of the ISIL terrorists in Jbab Hamad, Un al-Reesh, Rasm al-Taweel and to the South of al-Hayr al-Gharbi Palace site in the Eastern part of Homs, which ended in the killing or wounding of tens of terrorists and destroyed their military equipment.
http://en.farsnews.com/newstext.aspx?nn=13950204000685
------
Syria: Gov't Forces Push ISIL back from more Lands near Ancient Palmyra
23 April 2016
TEHRAN (FNA)- The Syrian Army troops and the National Defense Forces (NDF) stormed the ISIL strongholds around several military bases the terrorists captured a year ago and forced them to retreat from the battlefield.
The ISIL terrorists left behind tens of the dead and wounded members and pulled the remaining pockets of their forces back from the Base 410 and the Base of Special Forces in the Northern part of Mazar mountain and Northeastern part of Brigade 550 Base under the heavy offensives of the Syrian government forces.
The Syrian soldiers then started to advance towards Murbet Al-Hassan mountain in order to push the ISIL back from more positions near Palmyra.
A report said on Thursday that the Syrian Army troops and the NDF continued to push the ISIL terrorists back from more positions in the Eastern part of Homs province, and restored security to more regions near the recently-liberated city of Palmyra (Tadmur).
The Syrian government forces launched a fresh round of offensives in the Northern side of Palmyra and forced the ISIL terrorists to retreat from the Antar chain mountains located in the Northern side of al-Tar mountain.
The ISIL left behind scores of the dead and wounded members and fled the battlefield to evade more casualties.
The ISIL military hardware also sustained major losses in the army's advances.
http://en.farsnews.com/newstext.aspx?nn=13950204000547
--
Syrian Army Close to Enter ISIL-Held Oil-Rich Region in Homs
23 April 2016
TEHRAN (FNA)- Syrian Army and the National Defense Forces (NDF) have significantly advanced against the ISIL terrorists in the Eastern part of Homs province and have deployed their ready-to-fight forces near the country's main energy-rich region, informed sources said.
"The Syrian government forces pushed the ISIL terrorists back from a long chunk of Palmyra-Raqqa highway and have positioned their forces around the Arak oilfields," the sources said.
"The rapid advances of the Syrian army and popular forces against the ISIL in the Eastern part of Homs province will end the terrorist group's rule over the oil and gas fields," the sources added.
"The Takfiri terrorist group will loss much of its oil supply," they went on to say.
A report said on Thursday that the Syrian Army troops and the NDF continued to push the ISIL terrorists back from more positions in the Eastern part of Homs province, and restored security to more regions near the recently-liberated city of Palmyra (Tadmur).
The Syrian government forces launched a fresh round of offensives in the Northern side of Palmyra and forced the ISIL terrorists to retreat from the Antar chain mountains located in the Northern side of al-Tar mountain.
The ISIL left behind scores of the dead and wounded members and fled the battlefield to evade more casualties.
The ISIL military hardware also sustained major losses in the army's advances.
http://en.farsnews.com/newstext.aspx?nn=13950204000431
-----
Iran, Azerbaijan Focus on Joint Cooperation in Campaign against Terrorism
23 April 2016
TEHRAN (FNA)- Iranian and Azeri officials conferred on the two countries' cooperation to fight against terrorism and extremism, and stressed the need for settling the Nagorno-Karabakh crisis based on the international laws.
The meeting was held between Iranian Communications and Information Technology Minister Mahmoud Vaezi and Azeri Prime Minister Artur Rasizade in Baku on Saturday.
During the meeting, they underlined the need for the expansion of cooperation between the two countries in fighting against terrorism and extremism and the necessity for settling the regional conflicts, including the Nagorno-Karabakh crisis, through international cooperation and laws.
Also in a meeting with Azeri Foreign Minister Elmar Mammadyarov, Vaezi emphasized that Iran is interested in regional security and peace.
He also said that cooperation between the two countries' security bodies to fight against the regional threats, extremism and terrorism is highly important.
In relevant remarks in February, Iranian and Azeri Presidents Hassan Rouhani and Ilham Aliyev called for greater cooperation between the two neighbors in the war against terrorism and extremism.
"Iran and Azerbaijan are determined to strengthen cooperation in the ongoing war on terror in the region," Rouhani said at a joint press conference with Aliyev in Tehran.
He said the two neighbors also believe that regional crises should be settled through dialog and not militarily.
Aliyev, for his part, highlighted the agreement reached between Tehran and Baku to work together in the war on terror, adding that the two neighbors share similar views on the region, specially on Syria.
"We also believe that the Syrian people should decide their own fate and their own political future," he noted.
http://en.farsnews.com/newstext.aspx?nn=13950204000600
-----
Palmyra: Russian Sappers Unearth Depot with 12,000 Explosive Devices
23 April 2016
TEHRAN (FNA)- Russian combat engineers, clearing the Syrian city of Palmyra of explosives left behind by ISIL, have discovered and defused "one of the largest Takfiri terrorists arsenals" of more than 12,000 explosive devices.
"The warehouse was well-disguised and discovered through the use of special equipment, brought by Russian engineers to Syria," General Igor Konashenkov, Defense Ministry spokesman, told reporters, RT reported.
"They have removed more than 12,000 explosive objects, including large-caliber mortar mines, artillery shells, as well as anti-tank mines and anti-personnel landmines, from the terrorists' cache."
He stressed that this is "one of the largest ammunition depots from which improvised explosive devices and bombs were used by ISIL for terrorist attacks not only in the province of Homs but in other areas of Syria just as well."
Sappers from the Russian Army's International Anti-mine Center were deployed to Palmyra following the Syrian government's request to help de-mine the city. Palmyra was recaptured by the Syrian Army backed by Russian forces on March 27.
According to the spokesman, the warehouse was discovered by Russian combat engineers on the outskirts of the city of Palmyra. The terrorists' arsenal was protected against accidental discovery by trip wires connected to nine demolition bombs.
"Worthy of note is that the discovered arsenal contained about a thousand electronic detonators and home-made radio-controlled detonators used for equipment of improvised explosive devices," Konashenkov said, adding that the cache was neutralized, with explosive devices cleared and taken to a safe place for disposal.
Earlier this week Russian engineers completed clearing of explosives the architectural and historical part of the UNESCO World Heritage site. With the help of Uran-6 robots and specially-trained dogs Russian engineers have cleared 234 hectares of land, 23km (14 miles) of roads and 10 architectural objects since April 2, the head of the Russian Army's engineering unit, Yury Stavitsky, said on Thursday. In total, 2,991 explosive devices, including 432 makeshift bombs, have been defused. Ninety-eight Russian servicemen have been involved in the effort.
http://en.farsnews.com/newstext.aspx?nn=13950204000178
--
Leader's Top Aide: Iran to Continue Support for Syria's Territorial Integrity, President Assad
23 April 2016
TEHRAN (FNA)- Iranian Supreme Leader's Top Advisor for International Affairs Ali Akbar Velayati reiterated the country's continued support for Syria's territorial integrity and President Bashar al-Assad's legal government.
"It is obvious that the Islamic Republic of Iran supports Syria's territorial integrity and independence and his Excellency Bashar Assad's legal government which has been elected through public vote and it doesn't accept any plan which contradicts the Syrian nation's interests," Velayati said in a meeting with Syrian Ambassador to Tehran Adnan Hassan on Saturday.
He referred to certain countries' opposition to the legal Syrian government, and said, "The reason for this opposition is its legitimacy and popularity and the Americans and certain countries which support the terrorists and the Takfiri and extremist streams want empowerment of a puppet government in the country which of course will not be materialized."
Hassan, for his part, referred to the plans presented by the terrorists and dissident groups on Syria, and said they are seriously similar to the Zionist regime's plan.
He also voiced regret that certain Arab states which support terrorism don't take any position against the Zionist regime's acts but adopt measures against the regional Muslim countries.
In relevant remarks in March, Iranian Parliament Speaker Ali Larijani in a meeting with Syrian Deputy Foreign and Expatriates Minister Faisal Mikdad reiterated Tehran's continued support for the Syrian people and government in their campaign on terrorism.
"Syrians are a resistant nation who has managed to leave behind critical conditions with resistance," Larijani said in the meeting in Tehran.
Noting that the future path is bright for the Syrian nation, he said, "We hope that the resistance front can reach tranquility and security alongisde the Syrian nation as soon as possible and they should be sure that the Islamic Republic of Iran will always support them."
Mikdad, for his part, referred to the ceasefire in Syria, and said, "We hope that the ceasefire will be the source of establishment of peace and tranquility in Syria and the Syrian people can decide their own future in full tranquility through elections."
He also appreciated the Iranian officials and people's support for the resistant Syrian people.
Also in November, Syrian Prime Minister Wael al-Halqi hailed Tehran's support for the Damascus government and nation in their fight against the Takfiri terrorists.
"We thank the Iranian government and nation for their help to the Syrians in their fight against foreign-backed militants," Halqi said in a meeting with Iranian Ambassador to Syria Mohammad Reza Raouf Sheibani in Damascus.
The Syrian prime minister described Tehran-Damascus relations, and said, "Iran is playing a key role in restoration of regional stability."
Halqi reiterated that Iran-Syria strategic relations helped the resistance pivot to foil the plots hatched by Israel and the US for the region.
The Iranian ambassador, for his part, reiterated Iran's full support for Syrian government and nation in their ongoing fight against Takfiri terrorists.
http://en.farsnews.com/newstext.aspx?nn=13950204000456
-----
Hundreds of Displaced Syrians Return Home in Quaryatayn after Collapse of ISIL
23 April 2016
TEHRAN (FNA)- Locals in Quaryatayn city in Homs province called for speeding up the provision of infrastructural services such as water, electricity, telephone networks and sewage networks.
The locals expressed their determination to stay in their city despite the difficulties they face, noting the sacrifices of the Syrian Army in eliminating Takfiri terrorists in Quaryatayn and securing the return of locals to live in peace and stability, SANA reported.
Mayor of Quaryatayn Mohammed Deif Allah al-Qaed said that about 200 families currently live in the city in addition to hundreds of families willing to return back after securing the basic infrastructure, particularly drinking water.
During a tour in Quaryatayn on April 18th, Homs Governor Tala al-Barazi said that the service workshops continue their work to secure all requirements for locals.
The Syrian Army alongside the National Defense Forces, backed up by the Russian and Syrian Air Forces, on April 3rd ended ISIL's rule over the ancient Assyrian town of Quaryatayn and freed the entire neighborhoods of the town after days of non-stop battle.
http://en.farsnews.com/newstext.aspx?nn=13950204000317
--
ISIS now executing MAGICIANS – as another gay man is thrown to his death
23 April 2016
The man – an Iraqi – was forced to be photographed holding a large sheet of paper that showed workings out in pen and contraptions designed to "invoke magic".
He is then led bare foot and dressed in an orange boiler suit by ISIS executioners – one carrying the regime's feared black flag – to a town square and beheaded with a giant scimitar-style sword after he placed his chin on a rough wooden block.
Strict Sharia law condemns the practice of magic as entertainment as being anti-Islamic as it is designed to fool and trick.
Days earlier, a gay man was thrown off a tall modern-style building –believed to be in the Iraqi strong-hold of Mosul – for being gay.
A group of small children witnessed the sickening death as a cleric read out the punishment for "sodomy" under Sharia law on a microphone.
In one bloodbath 132 detainees were shot in Mosul after a senior leader authorised the slaughter on "economic" grounds.
And in the regime's self-declared capital of Raqqa in Syria 68 captives were killed and there are plans to murder 50 more in another killing spree.
A member of underground monitoring group Sound and Picture said: "Many detainees have stayed under detention for more than three years without any charges or intention for releasing, as detainees for IS are its human shields and a renewed [source of ] blood and body parts bank for its injured or sick princes."
The group said the order for the killings in Mosul had been given by security leader Maryam Al-anbari "in order to reduce food and medical expenses".
Dissidents reported a similar horrific mass murder in Raqqa.
http://www.dailystar.co.uk/news/latest-news/510004/ISIS-executing-magicians-gay-man-jihadi-butchers-Iraq-murder
-------
Mideast
Palestinian Refugee Camp Plays Battleground for ISIS, Al-Qaida Clashes
23 APRIL 2016
Members of world's two most notorious Islamic fundamentalist groups have been clashing in recent weeks at a Palestinian refugee camp in Damascus, AFP reported Friday.
A senior Palestinian official claimed that Islamic State and their chief rival al-Qaida have been fighting over the past two weeks inside the Yarmuk refugee camp located on the outskirts of the Syrian capital, with ISIS now in almost complete control of the territory.
"[Islamic State] has chased Al-Nusra, its former ally in the Yarmuk camp, from 90 percent of the territory it controlled," the Palestine Liberation Organization chief in Damascus, Anwar Abdel Hadi, told AFP.
http://www.jpost.com/Middle-East/Palestinian-refugee-camp-plays-battleground-for-ISIS-al-Qaida-clashes-452084
-----
Al-Qaida Members Fighting In Damascus Are Known As Al-Nusra Front or Jabhat Al-Nusra
23 APRIL 2016
So far, five civilians have been killed in the fighting with another 20 wounded, according to Abdel Hadi. There were no reports on how many jihadists on either side have been killed in the clashes, he added.
In April 2015, ISIS and al-Qaida controlled 70 percent of the Yarmuk refugee camp. Yet, one year later most of the 160,000 residents of Yarmuk have fled, leaving only 6,000 Palestinian civilians behind along with 3,000 ISIS fighters. An estimated 300 al-Qaida members also inhabit the camp, according to AFP.
Abdel Hadi noted that Palestinian factions and pro-government forces have refrained from taking part in the jihadi conflagrations.
A spokesman for UNRWA, the United Nations agency established to aid Palestinian refugees, said Thursday that the "residents in Yarmuk remained trapped" and "humanitarian conditions are dire."
"UNRWA remains concerned about reports on the lack of access to fresh water," Chris Gunness told AFP.
http://www.jpost.com/Middle-East/Palestinian-refugee-camp-plays-battleground-for-ISIS-al-Qaida-clashes-452084
---
Azerbaijan Succeeds At Islamic Music Festival
22 APRIL 2016
Baku Music Academy hosted the awarding ceremony of the Fifth International Festival-Competition of young performers (under 20) among the countries of the Islamic World.
The contest aims to uncover new talents, exchange international experience and ideas, portray the Azerbaijani culture and arts for teenagers and youth from all over the world, and intensify dialogue between performers from the East and the West, Azertac reported.
The festival, which is considered the project of "Kainat" Youth Center, is organized with the support of the Islamic Educational, Scientific and Cultural Organization (ISESCO), the Ministry of Youth and Sports of the Republic of Azerbaijan, with participation of the Ministry of Foreign Affairs of Azerbaijan,the Ministry of Culture and Tourism as well as Baku Music Academy.
The competition was attended by young performers from Azerbaijan, Kazakhstan, Uzbekitsan, Kyrgyzstan, Iran, Indonesia etc.
In his speech, Deputy Youth and Sports Minister of Azerbaijan Intiqam Babayev stressed that the festival has become a traditional event which is being held for the fifth time.
The first International Festival-Contest of young Islamic classic music performers was held in Baku on April 27-28, 2012 and joined by representatives from 28 countries, including Turkey, Egypt, Morocco, Kuwait, Kazakhstan, Uzbekistan, and the Russian republic of Tatarstan.
Addressing the event Intiqam Babayev spoke about recent cultural achievements of the country and stressed the role of government in making Azerbaijan the venue for major international cultural events – festivals, competitions, forums etc. He emphasized the role of Heydar Aliyev Foundation and its president Mehriban Aliyeva in promotion of Azerbaijani culture abroad.
"This project once again has shown that the music of the Islamic countries roots to ancient cultural traditions and has talented followers," said Babayev.
Later, Rahib Rasulzadeh, Chairman of the Organizing Committee, Director of "Kainat" Youth Center, announced the winners.
The main prize of the festival (Grand Prix) was presented to Azerbaijani pianist Muhammad Ali Pasha-zadeh.
The winners of the 1st, 2nd and 3rd places were awarded diplomas and gifts.
Other participants of the competition were awarded prizes of the Ministry of Culture and Tourism and the Ministry of Youth and Sports.
The event ended with a concert program of winners of the Fourth International Festival-Competition.
http://www.azernews.az/culture/95590.html
------
Four Turkish academics charged with terror propaganda released
23 April 2016
An Istanbul court ordered the release of four Turkish academics on April 22 on the first hearing of a trial opened against them for making "terrorist propaganda" when they read out a joint petition in January signed by over 1000 colleagues calling on the government to end the security operations against the outlawed Kurdistan Workers' Party (PKK).
The arrest of academics Esra Mungan, Muzaffer Kaya and Kivanç Ersoy came after the three were detained for holding a press conference on March 10 at the Education and Science Workers' Union's (EGITIM-Sen) 6th Office in Istanbul, where they read out a declaration entitled "We won't be part of this crime."
The fourth academic, Meral Camci, was arrested later on April 1, after she returned to Turkey and appealed to the police about the arrest warrant issued in her name. In her testimony, Camci argued criticizing the government's policies was an exercise in freedom of expression and fulfillment of her duty "as a citizen and an academic."
During the trial, the public prosecutor called for an abatement of the proceedings, saying the subject of the trial may be covered under Article 301 of the Turkish Penal Court (TCK) penalizing "insulting Turkey, the Turkish nation or Turkish government institutions," which would require permission from the Justice Ministry.
The prosecutor asked the court to release the suspects to prevent "rights violations," explaining that the ministry's response may be delayed. The request was granted by the court. Meanwhile, riot police stood guard outside the Çaglayan courthouse in central Istanbul, where two journalists accused of divulging state secrets attended the third hearing of their espionage trial, before staying on to watch the scholars' case.
"We are at the academics' hearing. The same groundless allegations," tweeted Can Dündar, editor-in-chief of daily Cumhuriyet, who was also at the courthouse to attend his own hearing in a trial on "espionage" charges for reporting on Turkish intelligence trucks allegedly transporting weapons to Syrian rebel groups in November 2014.
Some 500 people had gathered at the court to support both the journalists and the scholars, with protesters holding up placards reading "Freedom for the academics" and "Freedom for the pencils."
Opposition members of parliament participated in the rally, as two armored police trucks equipped with water cannons stood by.
The university scholars are being prosecuted for signing a petition along with over 1000 colleagues and supporters denouncing the government's military operations against PKK militants in the country's southeast.
The petition urged Ankara to halt "its deliberate massacres and deportation of Kurdish and other peoples in the region," infuriating President Recep Tayyip Erdogan, who accused them of falling into a "pit of treachery."
The four are accused of engaging in "terrorist propaganda" and "inciting hatred and enmity" for not only signing the plea but making a statement on the same lines on March 10, a day before the petition was published.
The court's verdict said the declaration was in support of the PKK and showed similarities to earlier remarks made by Bese Hozat, a PKK figure.
The academics denied the charges, with Kaya and Ersoy saying they had not heard of Hozat before.
Mungan is an academic at Bogaziçi University's psychology department and Kaya lectures at Nisantasi Univeristy. Ersoy lectures at Mimar Sinan Fine Arts University.
If convicted, Mungan, Camc, Ersoy and Kaya face up to seven and a half years behind bars, according to Academics for Peace (BAK), the organization behind the contested statement.
The defendants had been held in high-security closed prisons in Istanbul since their arrest last month.
The probe into the petition was opened after 1,128 academics from 89 different universities - including foreign scholars like Noam Chomsky, David Harvey and Immanuel Wallerstein - signed a declaration titled "We won't be part of this crime." Universities and prosecutor's offices across the country subsequently opened probes into many of the 1,128 Turkish and foreign academics and intellectuals who fell within the Turkish state's jurisdiction, arguing that the petition exceeded the limits of academic freedom. Erdogan and government officials have repeatedly criticized the academics who signed the petition, accusing them of supporting the PKK.
In the 2016 World Press Freedom Index, Turkey slipped two places to 151 out of 180, Reporters Without Borders said April 20, citing the president's "offensive" against the media and his critics.
Almost 2,000 people have been prosecuted for "insulting" Erdogan since the former premier became president in August 2014, Turkey's justice minister said in March.
http://www.hurriyetdailynews.com/four-turkish-academics-charged-with-terror-propaganda-released.aspx?pageID=238&nID=98203&NewsCatID=509
--
Six ISIL suspects detained in central Turkey
23 APRIL 2016
Some six suspected members of the Islamic State of Iraq and the Levant (ISIL) were caught in an operation on early April 23 in the Central Anatolian province of Konya.
Police detained six foreigner ISIL members during operations at various addresses in the province.
The Konya Governor's Office said in a statement that ISIL members sought possible attacks targeting statesmen visiting the city along with other strategic targets.
Meanwhile, Turkish Prime Minister Ahmet Davutoglu attended a "Holy birth week" event in the city on April 22.
http://www.hurriyetdailynews.com/six-isil-suspects-detained-in-central-turkey.aspx?pageID=238&nID=98225&NewsCatID=509
---
Soldier killed in PKK attack in Turkey's southeast
23 APRIL 2016
One soldier was killed on April 23 in an outlawed Kurdistan Workers' Party (PKK) attack in the south-eastern province of Mardin.
Gendarmerie specialized sergeant Ethem Hacimahmutoglu was heavily wounded by PKK sharpshooter fire during operations in the Nusaybin district at around 8 a.m. He was immediately taken to the Nusaybin State Hospital but later succumbed to injuries despite all efforts.
Security forces operation in the district was ongoing.
http://www.hurriyetdailynews.com/soldier-killed-in-pkk-attack-in-turkeys-southeast.aspx?pageID=238&nID=98228&NewsCatID=341
--
Migrant crisis: Merkel and EU officials visit Turkey to promote deal
23 APRIL 2016
German Chancellor Angela Merkel and top EU officials are due to visit the Turkish-Syrian border to promote a controversial month-old migrant deal.
The visit comes amid questions over the legality of the EU-Turkey pact, which deports back to Turkey migrants who do not qualify for asylum in Greece.
Human rights groups say Turkey is not a safe place to return people.
Turkish officials have warned the deal could collapse if demands for visa-free EU travel for its citizens are not met.
The agreement says Turkey must meet 72 conditions by 4 May to earn the visa waiver, but diplomats say only half of those points have been met so far.
Satire row
Mrs Merkel is expected to visit a refugee camp in the southern city of Gaziantep, near the Syrian border, where she will meet Turkey's Prime Minister, Ahmet Davutoglu.
She will travel with the European Council President, Donald Tusk, and the EU Commission Vice-President, Frans Timmermans.
What the EU-Turkey deal is about
The crisis in seven charts
More on the migrant crisis
Satire row stirs free speech fears
Mrs Merkel has faced opposition in Germany for her migration policies and has defended the deal with Turkey despite opposition from some European partners.
Her trip comes as she faces additional pressure for agreeing to the prosecution of a German comedian accused of insulting Turkish President Recep Tayyip Erdogan.
Advocates of freedom of speech in both Turkey and Germany have called on Mrs Merkel to send out a strong message on the issue during her visit.
'Not everyone is convinced': Selin Girit, BBC News, Gaziantep, near the Syrian border.
It has been over a month now since the migrant deal between the EU and Turkey was struck, but not everyone is convinced that it is working smoothly.
Although the number of migrants reaching Greece from Turkey has dropped by around 80%, few of staff promised by the EU to help enforce the deal have arrived, and many EU nations are dragging their feet to accept more migrants.
Angela Merkel said the aim of the visit was to see the living conditions of migrants in Turkey.
But more will be on the table, such as the promise of visa-free travel for Turkish citizens willing to go to Europe, which seems to be one of the most contentious issues.
Deal's first month
The goal of the EU-Turkey deal is to deter migrants, mainly Syrians and Iraqis, from making the crossing between Turkey and Greece.
Under the agreement, migrants who have arrived illegally in Greece since 20 March are expected to be sent back to Turkey if they do not apply for asylum or if their claim is rejected.
Police officer escorts migrant from Turkish ferry carrying migrants deported from Europe to
For each Syrian migrant returned to Turkey, the EU is due to take in another Syrian who has made a legitimate request.
The scheme has reduced sharply the number of arrivals, from more than 56,000 in February to around 7,800 over the past 30 days, according to the European Commission.
However, the International Organization of Migration said unofficial data for arrivals in Greece in recent days suggested the numbers were picking up again.
And the promised relocation to EU countries seems to be slow as nations are reluctant to take in more migrants - 103 Syrians have been resettled from Turkey to Europe, the commission said.
Last month, EU border agency Frontex requested 1,550 extra staff to help oversee the deal, but so far only 340 police officers and experts have been sent.
Have EU promises been kept?
Rights organisations have attacked the scheme, with Amnesty International saying that Turkey has illegally returned Syrians to their country, a charge Ankara denies.
The EU has pledged up to $6.8bn (£4.5bn) in aid to Turkey over the next four years.
Ankara, however, expects more, including visa liberalisation, a point which faces opposition of some EU members.
"If the European Union does not take the steps it needs to take, if it does not fulfil its pledges, then Turkey won't implement this agreement,'' Mr Erdogan said earlier this month.
Turkey already hosts some 2.7 million Syrian refugees, at a cost of over $10bn (£7bn), the government says.
http://www.bbc.com/news/world-europe-36117950
------
Southeast Asia
Islamic State inspiring Indonesian jihadist activity, expert Sidney Jones warns
April 23, 2016
Speaking at Murdoch University's Asia Research Centre in Perth, Ms Jones said it was likely there would be more violence in the short term, as Indonesia's many groups — inspired by Islamic State (IS) — switched their focus to domestic attacks after finding it difficult to get to Syria.
"I think for the last two and half years or so, we've seen a focus of the groups committed to violence with getting to Syria," she said.
"All of their energies have been on how you emigrate and join ISIS in Syria.
"Now it's become harder to get to Syria — the Turkish border has got more tight, the Indonesians have gotten more vigilant, there's been more prosecutions.
"The message from leading extremist groups is if you can't get to Syria, wage war at home".
The head of the Jakarta-based Institute for Policy Analysis of Conflict, Ms Jones said Indonesian jihadist groups were taking their inspiration and often, orders, from Islamic State operatives in Syria.
"We have more activity among Jihadi groups than in any time in the last 10 years," she said.
The bombings in Jakarta in January, which killed eight people, were an example of IS-inspired terrorism.
"That was also clearly sparked by several men in Syria vying for leadership and recognition by the ISIS central leadership, so it's been a kind of one-upmanship," Ms Jones said.
"We had the January attacks because these guys wanted to do a version of Paris in Jakarta."
But she said the bombings were "unprofessional" and "kind of pathetic" because the extremist groups lacked the money and training for a sophisticated attack.
'Americans, Australians - anyone who's involved'
While Indonesian groups might not have the capability to pull off a large-scale attack like the 2002 Bali bombings or the 2004 Australian embassy bombing in Jakarta, Ms Jones said it did not mean they were unable to commit acts of terrorism.
"When you think of terrorism attacks, you can't just think of targeting a Starbucks, targeting a hotel," she said.
"You have to think these days of somebody coming up with a knife and going after a foreigner."
While police are the number one focus of Indonesian extremists, foreigners — particularly nations involved in the US-led coalition against IS — remain a key target, Ms Jones said.
"It includes anybody from the coalition — that means Americans, Australians - anyone who's involved," she said.
"Unfortunately, it tends to translate into anyone who's white."
In February, the Department of Foreign Affairs and Trade warned that terrorists could be in the "advanced stages" of planning attacks in Indonesia.
It is advising travellers to be vigilant when travelling throughout the country, including tourist spots like Bali.
http://www.abc.net.au/news/2016-04-23/jihadist-activity-indonesia-ten-year-high-terrorism-sidney-jones/7352272
--
How Indonesia Deals with Current Piracy Could Determine Whether it Becomes the 'New Somalia'
April 22, 2016
Indonesia's handling of a recent spate of hijackings of coal-laden tugboats and the kidnap of their crews could determine whether the country's already serious problem with piracy spirals into a situation akin to that seen off the coast of East Africa in recent years, according to a maritime security expert.
The hijack of towing vessel TB Henry and capture of its four crewmembers off the southern coast of the Philippines by suspected members of the Islamic extremist network Abu Sayaff last Friday was the third such act of piracy in the Sulu Sea in the space of two weeks.
The militants, who are based in the southern Philippines and have previously pledged allegiance to Islamic State, are reportedly demanding 50 million Filipino pesos ($1.1 million) to free the Indonesians among up to 18 kidnapped crewmembers they are holding.
According to Peter King, a former Royal Marine Commando who founded maritime security consultancy firm the International Maritime Anti-Piracy Advisory Group, should their demands be met, it could trigger an explosion in hostage-focused piracy in the region like that seen off the coast of East Africa in previous years.
"If these ransom demands are met, we could see the floodgates open," he told VICE News. "As we saw in Somalia, as soon as insurance companies paid out for the first few, land-based Somalis responded and the whole situation grew."
King's comments followed the suggestion on Thursday by Indonesian chief security minister Luhut Pandjaitan that piracy on the country's sea border with the Philippines could see it become "a new Somalia," though hijackings in the Sulu Sea, where the territorial waters of Indonesia, Malaysia, and the Philippines meet, have so far not approached a comparable scale or nature.
An estimated $40 billion worth of cargo transits through the Sulu Sea each year, much of it transported aboard supertankers that cannot negotiate the crowded waters of the Malacca Straight between Indonesia and Malaysia, which is already a major hotbed of piracy. While such supertankers have been targeted by Somali pirates in recent years, so far hijackings in Southeast Asia have mainly affected smaller vessels.
"This has been more of a theft issue," said King, pointing out that in most cases the pirates simply sought to steal oil being transported on smaller tankers before escaping.
In the wake of the recent hijackings, Pandjaitan said the foreign ministers of Indonesia, Malaysia, and the Philippines will meet to discuss the possibility of joint patrols, and the armed forces chiefs of the three countries are set to hold talks in Indonesia's capital Jakarta on May 3.
Piracy near Somalia's coast has subsided in the last few years, mainly due to shipping firms hiring heavily armed private security details and increased patrols from international warships. Gains have also been made to combat hijackings off the coast of West Africa — which in 2014 was reported to be the world's new piracy danger zone — leaving the waters off the coast of Indonesia to emerge as the global hub of piracy, amid a general growth in the activity in Southeast Asia.
https://news.vice.com/article/how-indonesia-deals-with-current-piracy-could-determine-whether-it-becomes-the-next-somalia
---
India
Srinagar: Anti-IS Flag Displayed By Protesters outside Jama Masjid
Apr 23, 2016
A display of anti-Islamic State (IS) flags outside Srinagar's Jama Masjid after Friday's prayers caught people by surprise, given that pro-IS flags are a routine feature here.
Witnesses said that a group of young men climbed a wall in Nawhatta chowk immediately after the prayers and displayed a poster depicting an IS commander.
Written in Urdu, the poster shows the commander as saying, "God does not order us to declare jihad against Israel", in response to which a second line questions: "Then does God order you to blast mosques?"
The emergence of the Islamic militant group on a global scale seemed to enamour many of the younger people in Kashmir, particularly in Srinagar's downtown where flags in support of the IS often get waived around during protests.
Police attribute the allure to the "usage of Islamic symbols". However, Friday's stunt could indicate a changing mindset in the Valley.
Almost all prominent militant groups operating from Kashmir, including the United Jihad Council and Lashkar-e-Toiba (LeT), have been antagonistic to the claims and actions of IS.
Last year in November, the LeT had termed the IS as "a production of anti-Islamic western countries, which had no role and scope in Jammu and Kashmir".
United Jihad Council general secretary and Tehreek-ul-Mujahideen chief, Sheikh Jamil-ur-Rehman had dismissed any "scope for the Al-Qaeda and IS in Jammu and Kashmir".
In January this year, separatist leader Syed Ali Shah Geelani condemned the group as "anti-Islamic" and a "group of murderers" after a group of boys made it a practice to put up IS flags near the mosque in downtown Srinagar every Friday.
"Those fighting for Daesh (IS) are actually murderers, who are spilling innocent blood and are not in any way representing Islam," he said, urging youth to not be swayed by propaganda.
With fears of the group infiltrating Kashmir cropping up, police officials say there is hardly any presence of the IS on the ground, and allege that the flag hoisting routine is done "to annoy security forces" and "get media attention".
Friday's anomaly however, went unnoticed by them. Station House Officer (SHO), Nawhatta, Mudasir Shafi said, "Today we had a relatively peaceful day after the prayers. There were some very minor incidents of stone pelting," adding he was unaware of the incident.
Aside from the anti-IS flags, those of LeT were also allegedly put up.
http://www.hindustantimes.com/india/srinagar-anti-is-flag-displayed-by-protesters-outside-jamia-masjid/story-WezRsbcns6mGDrwum9F6cP.html
--
India-Pakistan Leadership Determined To Continue Dialogue Process
Friday, April 22, 2016
New Delhi: Pakistan High Commissioner Abdul Basit on Friday evening said the leadership of India and Pakistan is "determined" to pursue the peace process, but Islamabad still awaits New Delhi`s response on resumption of Foreign Secretary level talks.
Interacting with members of the All India Muslim Majlis Mushwarat, an apex body of various Muslim groups at Abul Fazal Enclave, the high commissioner said that despite the terror attack on the airbase in Pathankot, communication links between the two countries did not get snapped.
"There is a need to work together to carry forward the peace process so that the South Asian region is rid of terrorism, hunger and poverty," he said.
Basit`s statement on Friday comes after he last week stated that the "peace process is suspended", which was contradicted by the Pakistan foreign ministry on the same day.
On Friday, the Indian Ministry of External Affairs spokesperson Vikas Swarup, said at a briefing, that "talks with Pakistan are not suspended".
Earlier, Basit was welcomed by Mushawarat Chief Navid Hamid, Secretary General Mujtaba Farooqi and other members.
Basit said it is strange that SAARC had not achieved the desired goal of regional cooperation like other regional blocs in the world due to various disputes among the member countries. "It is time for us to resolve these issue amicably and peacefully," he said.
He added that the efforts to this end of both Prime Minister Narendra Modi and his Pakistani counterpart Nawaz Sharif "are highly laudable".
Referring to the condition of minorities in Pakistan, the envoy claimed that they are not facing any discrimination or victimisation.
In fact Pakistan faces more sectarian violence and clashes than attacks on minorities, he said.
The high commissioner said that adequate representation is given to minorities in legislative assemblies and the national assembly. He acknowledged that the Blasphemy Law is "misused" by some forces. However, he said that more Muslims were held guilty under this law than non-Muslims.
He said that there is only three percent minorities in the country. "A bogey has been raised that at the time of creation of Pakistan there was more than 23 per cent minorities, and now only three per cent. No one understands the fact that bulk percentage of minorities were livng in East Pakistan, now Bangladesh," he said.
He praised the progress achieved by Muslims in all fields in India. He also mentioned the role of Indian religious leaders and others in their secular approach.
Basit said that "some elements are trying to malign Islam for their own vested interests".
"We need to work together for unity among Muslims who are divided today on the basis of sect, ideology and region."
He said that India is the second largest Muslims nation in the world and the country`s secular and democratic system enables them to get opportunities in development of the nation.
The high commissioner said that Pakistan has also made strides in various fields.
http://zeenews.india.com/news/india/india-pakistan-leadership-determined-to-continue-dialogue-process-abdul-basit_1878837.html
--
Include educationally backward Muslims in OBCs: Mani Shankar Aiyar
Friday, April 22, 2016
Calling for change in the "system of affirmative action", former Congress MP Mani Shankar Aiyar on Thursday said educationally backward Muslims should be included in OBCs and Christian Dalits in Scheduled Castes for giving reservation in education and jobs.
"You need affirmative action to deal with social problems. But if we have a model of economic growth, a more equitable than the present one is, then we will be able to address the problem," he said at a seminar in New Delhi.
Noting that he sees no reason why the present system of affirmative action should not undergone change, the former Petroleum Minister said while Muslim dalits cannot be included in Scheduled Caste list as they don't have any dalits, Christan dalits should certainly be included.
"If you have to make changes in the system and one of first changes that I want to see is that Christian dalits should be included in the reservation for Scheduled Castes," Aiyar said. But the same cannot be said about Muslim dalits as "the Muslim community says that they don't have dalits." "But in the Christian community, they have been saying so and I think that it is shameful that we have not included them," he said. However, when it comes to other backward classes (OBCs), "I see no reason at all why Muslims who are at least educationally backward (cannot be included in OBCs)… they fall within the definition of Article 15 and 16 of the Constitution. I see no reason at all why Muslims should not be included in the OBCs," he said. Aiyar said, "In effect, if you are Scheduled Caste, you are very lucky not to be poor and if you are poor, you are very lucky not to be Scheduled Caste."
http://indianexpress.com/article/india/india-news-india/include-educationally-backward-muslims-in-obcs-mani-shankar-aiyar-2766620/
-----
Pakistan
CJP Jamali to Decide On Panama Leaks Commission: Justice Nisar
23 April 2016
ISLAMABAD: Decision on a request made by the PML-N government for the formation of a judicial commission to probe the Panama Papers leaks will be taken after Chief Justice of Pakistan (CJP) Anwar Zaheer Jamali returns from his visit abroad, acting CJP Saqib Nisar said on Saturday.
Speaking on the sidelines of his oath-taking ceremony as the acting CJP, Justice Nisar said he did not have the powers as the acting chief to constitute the judicial commission.
The CJP will consult other judges before making any decision regarding the commission requested by the government, said Justice Nisar. He made it clear that every government department or agency would be bound to cooperate and assist the judicial commission if it is constituted.
Registrar Supreme Court Arbab Arif told media personnel that although the letter by the government about the commission has already been sent to the chief justice, "the decision will be made after Chief Justice Anwar Zaheer Jamali returns".
The oath was administered to Justice Nisar by Justice Asif Saeed Khan Khosa in a ceremony at the Supreme Court.
Justice Nisar will serve as CJP during Chief Justice Jamali's stay in Turkey, where he will participate in the annual ceremony of the Turkish Constitutional Court. He is expected to return on May 1.
Prime Minister Nawaz Sharif in his state address on Friday announced the writing of a letter to the chief justice to investigate allegations made against the premier's family in wake of the Panama Papers leak.
Soon after the announcement, the government issued an SRO under which a three-man commission under Section 3(1) of the Pakistan Commission of Inquiry Act, 1956 is appointed.
Constitutional expert S.M. Zafar said that the acting chief justice has the authority to take decision on the government request to constitute a judicial commission to probe the Panama Papers allegations.
However, "the acting Chief Justice Saqib Nisar is not willing to take any decision on the government's request," sources said.
Many, including former advocate general of Punjab, Khawaja Haris, were of the opinion that any decision by the acting chief justice will not be prudent because the opposition is demanding for a CJP-led commission to investigate the Panama leaks scandal.
"In all probability, the acting chief justice will prefer to stay away from the controversy," he said.
'Powerless body'
Supreme Court Bar Association President Ali Zafar has termed the commission a powerless body because it had no power to conduct investigation in foreign lands.
His view was endorsed by former additional attorney general Tariq Khokhar who believed that the leaks scandal could not be investigated meaningfully in Pakistan because the material evidence was mostly in Panama.
"It is beyond the realm of possibility to expect anyone from Pakistan to probe in Panama, which being a sovereign state, is not legally required to render any assistance to a Pakistani commission," he said.
But Pakistan Bar Council Vice-Chairman Farogh Naseem was of the opinion that the commission could appoint any panel with a direction to go abroad and seek evidence.
Commission's terms of reference
The Commission of Inquiry shall have the following Terms of Reference:
To examine information relating to involvement of Pakistani citizens, persons of Pakistan origin and legal entities in off-shore companies in Panama or in any other country.
Involvement of former and present holders of public office in writing off their own bank loans or those of their immediate family members through political influence.
Transfer from Pakistan of funds which have originated from corruption, commissions or kickbacks, and to determine whether, in any case referred to above, any law for the time being in force in Pakistan has been infringed.
In case the answer to above is affirmative, to determine responsibility for such infringement, and to make such recommendations as may be deemed appropriate.
The Commission shall have powers under the Code of Civil Procedure, 1908 for summoning and enforcing the attendance of any person, including a tax expert or accountant, and examining him on oath, requiring the discovery and production of any documents, receiving evidence on affidavits, issuing commissions for the examination of witnesses on documents and requisitioning any public record or copy thereof from any Court or office.
The Commission shall have the powers to require any person, subject to any privilege which may be claimed by that person under any law for the time being in force, to furnish information on such point or matters as, in the opinion of the Commission, may be useful for, or relevant to, the subject matter of the inquiry.
Any officer not below the rank of a gazetted officer, specially authorized in this behalf by the President of the Commission may enter any building or place where the Commission has reason to believe that any books of account or other documents relating to the subject matter of the inquiry may be found, and may seize any such books of account or documents or take extracts or copies therefrom subject to the provisions of section 102 and section 103 of the Code of Criminal Procedure, 1898, insofar as they may be applicable.
Any proceeding before the Commission shall be deemed to be a judicial proceeding within the meaning of sections 193 and 228 of the Pakistan Penal Code, 1860.
The Commission shall be assisted by all the concerned authorities of the Federal and Provincial Governments.
The Commission shall start the inquiry at a place and on a date to be fixed by it and shall submit its report to the Federal Government in accordance with its Terms of Reference.
The Cabinet Division shall provide secretarial assistance to the Commission.
http://www.dawn.com/news/1253934/cjp-jamali-to-decide-on-panama-leaks-commission-justice-nisar
------
Pakistan Opposition Keeps Pressure on Sharif despite Probe Pledge
23rd April 2016
ISLAMABAD: Pakistan's opposition political parties are keeping up pressure on Prime Minister Nawaz Sharif despite his announcement to hold probe into Panama Papers leak and a commitment to step down if found guilty of corruption.
Opposition Leader in the National Assembly Khursheed Shah telephoned Jamaat-i-Islami chief Sirajul Haq and Tehreek-i- Insaf's Shah Mehmood Qureshi yesterday to discuss with them several options to investigate the scandal involving the offshore accounts of the Sharif family and other Pakistanis.
Jamaat chief suggested that while the government was writing a letter to the Supreme Court chief justice to set up an inquiry commission, opposition parties should also send a similar request to the Chief Justice of Pakistan (CJP) to ask him not to turn down the government's request, Dawn reported.
The chief justice should be requested not only to probe the Panama leaks scandal, but also help bring back the looted money from abroad and announce exemplary punishment for those responsible for the offence.
The Jamaat chief noted that the request was necessary to assure the CJP that the opposition had confidence in him to bridge the trust deficit caused by the rejection of a report of the commission that had been set up on the alleged rigging in 2013 elections.
When the Pakistan Peoples Party leader contacted Qureshi on the suggestion, the Pakistan Tehreek-e-Insaf leader said that his party would take a decision after going through contents of the government letter.
In an apparent move to put more pressure on the government not to back out of its promised investigation into the Panama leaks, the Opposition Leader in the Punjab Assembly, Mian Mahmoodur Rashid, visited Pakistan Muslim League Qauaid-e-Azam (PML-Q) leader Chaudhry Pervaiz Elahi.
Both the leaders agreed to work in unison within and outside assemblies as the opposition might not get a better opportunity than this to hold rulers accountable, Rashid said after the meeting.
They both demanded that instead of repeatedly addressing the nation, the prime minister should resign before setting up the proposed commission.
Sharif in his address to the nation yesterday announced to request CJP to lead the probe. He pledged to resign if proved guilty of graft or misappropriation in a high-level probe.
http://www.newindianexpress.com/world/Pakistan-Opposition-Keeps-Pressure-on-Sharif-Despite-Probe-Pledge/2016/04/23/article3396230.ece
-----
US concerned over Pakistan's tolerance for terrorist groups
Sat, 23 Apr 2016
The US on Friday expressed concern over Pakistan's continued tolerance for terrorist groups like Haqqani network and said that it has raised this issue at the highest level with the authorities in Islamabad.
"We have consistently expressed our concerns at that the highest level of the government of Pakistan about their continued tolerance for Afghan Taliban groups, such as the Haqqani network, operating from Pakistani soil," State Department Spokesman Elizabeth Trudeau said. America's concerns were raised with Pakistan again after the dreaded terrorist attack in Kabul this week in which more than 70 people were killed.
Afghan authorities have blamed this to the Haqqani network and alleged this had the backing of the Pakistani establishment. "We have pressed the government of Pakistan to follow up on its expressed commitment not to discriminate between terror groups, regardless of their agenda or their affiliation by undertaking concrete action against the Haqqanis," Trudeau said in response to a question.
Pakistani authorities have reiterated their commitment that they will not discriminate against those groups, she noted. "We continue to call on them to live up to that commitment," the State Department spokesperson said.
"I think words matter and we continue to encourage them to have their actions match those words," Trudeau said responding to Afghan allegations that Pakistanis helped the Haqqani network in this Kabul attack.
"Any attack the Haqqani group conducts is not possible without Pakistan's help and this has been repeatedly proven in the last 14 years," a presidential spokesman, Dawa Khan Meenapal, was quoted as saying by Voice of America today.
http://www.dnaindia.com/world/report-us-concerned-over-pakistan-s-tolerance-for-terrorist-groups-2205186
--
Military farms tenants set up protest camp in Islamabad
23 April 2016
ISLAMABAD: Hameeda Bibi, who is in her late 60s, is among the scores of tenants from the Okara military farms who set up a protest camp outside the National Press Club on Friday.
Hameeda Bibi told Dawn that she came to the federal capital in hopes that her voice would reach the rulers and the Supreme Court of Pakistan. But she regretted that till the evening, not a single politician had visited the camp.
However, PPP chairman Bilawal Bhutto Zardari called the representatives of the tenants to Zardari House and listened to their grievances.
Say instead of vacating the land they are ready to purchase it on market rate
"I was born in the village 15/4L and now even my grandchildren are earning their bread and butter from the land. But for the last 16 years, we have continuously been receiving threats from the army to vacate the land," she added.
Mohammad Mukhtar, another resident of 15/4L, said there were 19 villages near Okara in which over 900,000 people lived. The total land is 18,000 acres out of which 4,000 acres are already in the possession of the army. Now the army is trying to also take over the remaining land.
"Most of the families pay Rs25, 000 to Rs60,000 per acre annually to the army. A majority of the people have three to six acres of land. We are ready to pay the cost of the land but the army is trying to get the land vacated," he said.
"Just two days ago, Mujahid Abbas, a schoolteacher, was arrested after he refused to vacate the land. During the last 16 years, 13 people have been killed and 25 arrested by the police and scores of others injured during protest demonstrations," he said.
Mian Safdar, a resident of 12/4L, said his forefathers cultivated the land for over 100 years. "I have six acres and don't have any other option but to live there."
Fazal Hussain, 57, added that he had five acres and had to feed his three sons and two daughters.
"A brigadier visited the area and threatened the tenants. When I raised an objection, a case under the Anti-Terrorism Act (ATA) was registered against me in the Okara Saddar police station," he alleged.
The protesters said the market rate of the land was Rs800,000 per acre so instead of forcing the people to vacate the land the government should sell it to them.
Rights activist and leader of Awami Workers Party Farzana Bari said she knew that most of the political leaders would not visit the camp.
"However, we invited the tenants to the capital to show that at least the civil society understands their problem and shows solidarity with them," she said.
President Anjuman-i-Mazareen Mian Khushi Mohammad added: "In Islamabad, at least the national and international media visited our camp and listened to our problems. I am sure that our issue will be highlighted at the national and international level."
He said the PPP chairman assured them that he would play his role to address the issue. He said the PPP chief also promised that opposition leader Syed Khurshid Shah would take up the issue on the floor of the National Assembly. Moreover, services of Latif Ahmed Khosa advocate would be provided to the tenants to fight their case.
The Okara military farms were developed during the British rule in the 19th century to protect the subcontinent from any attack from the northwest. People were encouraged to settle there with an offer that the land would be transferred in their names. However, the offer was never materialised.
As the British army owned the land, after the partition of the subcontinent in 1947, the land was automatically transferred to the Pakistan Army. The army used to get share from the production but during the tenure of Pervez Musharraf a contract system was introduced and the farmers were directed to pay the rent in cash. Moreover, it was decided that the military can vacate the land anytime.
As a result, the farmers established Anjuman-i-Mazareen to protect their rights. But the military has been asking the tenants to vacate the land.
Meanwhile, Bilawal Bhutto Zardari in a statement hailed the struggle of the tenants.
He said he was shocked to learn about the injustices with the tenants.
Spokesperson Senator Farhatullah Babar said the PPP chairman condemned the registration of terrorism cases against the tenants for refusing to give up their proprietary rights and demanded withdrawal of the cases.
http://www.dawn.com/news/1253898/military-farms-tenants-set-up-protest-camp-in-islamabad
--
The army's unusual reticence
Friday, April 23, 2016
ISLAMABAD: The recent dismissal of senior army officers including two generals, dominated the headlines and the general chatter in Islamabad on Thursday with many people questioning why such a big story was 'leaked' without any official confirmation.
The story about the generals and four others being fired for corruption was not confirmed by ISPR officially, the military's media wing, and this did not go un-noticed.
Retired army officers were also taken aback at the manner in which this news made its way to the media.
Retired Maj-Gen Rashid Qureshi says the military "in routine" does not make public information regarding dismissal of its officers or punishment awarded to them
Unexpected leaks
According to retired Maj-Gen Rashid Qureshi, former Director General Inter Services Public Relations (ISPR), the military's spokesman releases information with the approval of Chief of General Staff (CGS), who gives the green signal after the consent of the Chief of Army Staff (COAS).
He explained that the military "in routine" does not make public information regarding dismissal of its officers or punishment awarded to them by the military courts.
So much so that "even the story of the punishment awarded to a Lt-Gen and Maj-Gen in the NLC case was shocking to me as well as to other serving and retired officers," said Qureshi.
The NLC scam related to the illegal investment of three to four billion rupees in the stock market which surfaced during the proceedings of the Public Accounts Committee (PAC) in 2009. An investigation committee finalised its report on the scam in January 2010 and the findings were shared with GHQ in September 2010.
However, last year, in August 2015, the military officially announced that a former quartermaster general, retired Lt-Gen Afzal Muzaffar, was awarded "severe displeasure" under the army act, retired Lt-Gen Khalid Munir Khan was exonerated while retired Major General Khalid Zaheer Akhtar was 'dismissed from service' for the scam.
Indeed, apart from a few exceptions where the military authorities announced the award of punishment to officers, most such incidents do not become public.
This is why Qureshi calls the NLC case and Thursday's'leak' "unexpected".
"The policy of the armed forces is that matters related to the personnel of armed forces are dealt with, and remain within, the institution."
This is why many such incidents, in which army officers who were held accountable for corruption, the information became public only when the convicted officers brought the matter to the high courts or the apex court.
For example, in 2012, a colonel and three majors were sacked from military service after it emerged that they had accepted kickbacks while inspecting arms purchased by the Khyber Pakhtunkhwa government for the police in 2010.
The sacked officers are alleged to have accepted Rs11 million from a contractor to give a clean bill of health to weapons, ammunition, bullet-proof jackets and bullet-proof helmets which were then supplied to the Khyber Pakhtunkhwa police department.
The sacked officers were posted at the Inspectorate of Armament (I of A) of Rawalpindi in 2010 when they were asked to inspect the weapons and other equipment sent by the KPK police department. The latter wanted the weapons tested.
However, the story of their corruption and subsequent dismissal emerged when the former officers – Colonel Iftikhar Ahmed Malik, Major Awais Chaudhry, Major Tabassum Daud and Major Khurram Sheikh – who were sacked by the army on Sept 24, 2012, petitioned the Lahore High Court against their dismissals.
Sometimes it's news and sometimes it's not
It appears that in recent years, the military has not followed a clear cut policy; in some exceptional cases the news has been leaked about some convictions or punishments.
For instance, the information about the conviction of the militants who attacked the military's General Headquarters (GHQ) was confirmed by the military's spokesman once the defence counsels leaked the news to the media.
The information about the conviction of ex-Brigadier Ali due to his alleged association with banned outfit Hizbut Tahrir (HuT) in 2012 was officially released by the ISPR as was the punishment awarded to Lt-Gen Afzal Muzaffar and Maj-Gen Khalid Zahir Akhtar in the NLC scam.
According to retired Brigadier Wasaf Khan Niazi, former Judge Advocate General (JAG) army, the NLC scam is different from the routine court martial cases.
"The NLC is not a military's entity as it is managed by the National Logistic Board (NLB) run by the finance ministry, therefore, the ISPR released this information without any hesitation," he argued.
Chief's order or court martial
Niazi also pointed out that the military authorities dismissed the officers on administrative grounds and without commencing court martial proceedings against them.
The procedure for removing an officer on administrative ground is comparatively simple, compared to court martial proceedings, he said.
"The authorities under Section 16 of the Pakistan Army Act (PAA), 1952 can dismiss an officer by court martial or on administrative grounds," he explained.
In a court martial, after the investigation and inquiry, the prosecution submits its case before the court. It then produces evidence and witnesses to prove charges against the accused.
On the other hand, an administrative disposal is simple; the COAS in the light of inquiry recommends dismissal of the accused officers. The action is confirmed by the federal government, he explained. It appears that the dismissals on Thursday were also the result of an administrative measure.
"I have conducted several court martial proceedings and dealt with the removal cases of a number of officers but none of them appeared in the press," Niazi claimed.
Leaks and playing politics
However, many observers as well as retired military officers agreed that the 'leaks' about the six army officers on Thursday were linked to the Panama leaks and aimed at pressuring the government.
Retired Lt-Col Nazar Mohammad said that the news about the firing of six army officers had put the government under pressure, which was earlier reluctant to proceed against those named in the Panama papers.
"I think the army has given a signal to the heads of other state's pillar to proceed against corrupt elements without any discrimination," he said.
"It was not easy to remove generals and if the army has done it; now the executive and the judiciary has to reciprocate," he added.
It is noteworthy that two days before the news of the firings came, the chief of army staff, Raheel Sharif, had called for across the board accountability in a speech he made to troops. Seen as a reference to the government's delaying tactics in addressing the Panama leaks, his speech was also criticised and questions were asked as to why accountability was only carried out of politicians and not military men.
Two days later, on Thursday, came the leaks about 'accountability' within the ranks.
Military sources insisted that the information about the dismissal of the officers was not leaked by the army. They added that the notification about these army officers had also been forwarded to the federal government through the ministry of defence.
"The military had publicly commented on the governance issue in November last year in a press release about a corps commander meeting but it was criticised by politicians and other segments of society. This is why, perhaps, the dismissals were not made public by the army. Someone else did. Had it been released through ISPR, it might have been seen differently," said an official.
http://www.dawn.com/news/1253909/the-armys-unusual-reticence
------
Africa
Mali Arrests Suspect in Hotel and Restaurant Attacks
Apr 22, 2016
BAMAKO, Mali — Officials in Mali said on Friday that they had arrested a member of a group linked to Al Qaeda that has claimed responsibility for attacks that killed dozens in Mali, Burkina Faso and Ivory Coast.
The suspect, Fawaz Ould Ahmed, was captured by members of the security and intelligence services in Bamako, the capital of Mali, on Thursday as he was preparing to carry out an attack, said a Security Ministry spokesman, Amadou Sangho.
"We found him with grenades and a small suitcase containing weapons," Mr. Sangho said. He said Mr. Ould Ahmed was behind attacks on three hotels and a restaurant in Mali.
Mr. Sangho said Mr. Ould Ahmed was a member of Al Mourabitoun, a militant group allied with Al Qaeda in the Islamic Maghreb.
Beginning with an attack on a restaurant in Bamako, La Terrasse, in March 2015 that killed five people, the two groups have teamed up to strike civilians at locations frequented by Westerners.
In August, 17 people were killed in an attack on the Hotel Byblos in the town of Sevare, and 20 people were killed in a raid on the luxury hotel Radisson Blu in the capital in November.
Attacks on a restaurant in Burkina Faso's capital, Ouagadougou, and a beach resort town in Ivory Coast in January and March of this year left dozens more dead.
There were no casualties in last month's attack on the Hotel Nord Sud in Bamako, which serves as the headquarters of the European Union's military training mission in Mali.
Al Mourabitoun and Al Qaeda in the Islamic Maghreb claimed responsibility for all the attacks, but Mr. Sangho linked Mr. Ould Ahmed only to attacks inside Mali.
Islamist violence is on the rise across West Africa despite a 2013 French-led military intervention that sought to drive militants out of northern Mali, which they had seized a year earlier.
Before Mr. Ould Ahmed's capture, Malian officials had claimed to have arrested a number of people suspected of being militants over the past month, who they say organized or carried out the assaults.
Some experts question the importance of the recent arrests. Five scholars who focus on Islamist militant groups in the region said in interviews that they had never heard of Mr. Ould Ahmed.
http://www.nytimes.com/2016/04/23/world/africa/mali-fawaz-ould-ahmed-al-mourabitoun.html
--
Africa's cash strapped sovereigns face difficult funding dilemmas
Fri, 22 Apr 2016
Since the onset of the oil price crisis, Angolan authorities have adopted a number of tight policy measures to preserve the health of their balance sheet. Authorities have implemented deep and painful budget cuts, announced multiple currency devaluations alongside hawkish monetary policy, and increased the price at the pump. But still, the government is approaching its limits on fiscal austerity, insofar as it wants to avoid a major public backlash. To plug the fiscal shortfall, the country has also had to turn to external sources. Having already exhausted a loan from China, tapped the Eurobond market and pursued a World Bank loan, the country is out of policy bullets and has finally decided to enter an International Monetary Fund (IMF) programme. Ghana and Mozambique have already called on this option while Zambia continues to flirt with the IMF for the time being. Nigeria, however, is likely to pursue a range of options including Chinese financing and concessional loans, and possibly even commercial borrowing, before arriving at such a point, given its low debt stock and aversion to changing its currency regime.
Such is the predicament of many African sovereigns (especially commodity exporters), who have now found their respective economies in crisis and state coffers running dangerously low following the commodity rout. Some have been more nimble and effective than others in managing the downturn, but major policy dilemmas have ensued, forcing governments to balance economically prudent solutions with what is politically palatable. Now, policymakers need to decide on the least damaging options for their economies as they adapt to a "new normal" of "lower for longer" commodity prices. With budget deficits approaching unsustainable levels in many countries and the supply of cheap debt in decline, some African governments face tough choices – cut spending and dramatically improve domestic revenue collection. Given low tax bases and revenue collection, as well as a huge reliance on commodity revenues, it will be difficult for governments to address these challenges without external assistance.
At the crux of the issue is the question of where the money will come from and on what terms and conditions. Many countries have either already run out or are running out of policy options, having made a number of painful fiscal adjustments. Angola, Nigeria and Ghana are all having to adopt a range of differing options to prevent their economies from coming to a standstill. While the severity and magnitude of the challenges vary in each country, the nature of the problem remains the same. None of these options are ideal for policymakers, but some are clearly more desirable than others.
The first and most obvious option is to raise funding via domestic markets. However, many countries are facing liquidity issues and exorbitant financing costs which renders this solution difficult. Countries like Zambia and Ghana are facing expensive interest rates in excess of 20% in their domestic market, which rules this option out of the equation.
Alternatively, policymakers can turn to bilateral loans. China's influence on the continent is well documented, but loans typically assume the form of project finance rather than direct budgetary support. The recently held India-Africa Forum Summit, as well as the "look east" and "oil diplomacy" strategies are efforts that may yield results for African sovereigns over the longer term, but the quantum of such bilateral arrangements is unlikely to be substantial enough to plug the financing shortfalls that exist in the short term.
Another alternative is to go the financial market route. But in recent times, dollar strength as well as a ramp up in debt has made commercial borrowing an expensive and risky option. Some commentators have even described this option as "suicidal" in the current context, given the fact that debt service costs have risen up to three fold for some countries.
Post-financial crisis, several African countries issued US dollar-denominated sovereign bonds for the first time at remarkably low interest rates, as investors flocked to African frontier markets in search of high yields. Eurobonds represented an attractive option for African sovereigns in the face of commodity price booms, low growth in the developed world and a need to finance continued economic growth. Furthermore, the unregulated nature of the instruments allowed them to emerge as a favoured financing mechanism. African governments have been able to raise funds without the level of scrutiny that is associated with other options, while also shielding investors from liability, making this option far more compelling than turning to IMF.
But the continent's reliance on this type of debt as a source of revenue is concerning. With undiversified revenue streams, credit ratings downgrades, narrow tax bases and structurally constrained economies which are vulnerable to commodity and currency shocks and negative market sentiment, the magnitude of the debt servicing problem could be significant, if not approached with prudence.
Concessional financing is a method favoured by a number of governments given its less expensive nature and somewhat softer conditionality than the IMF. Typically, loans from the likes of the World Bank and African Development Bank assume lower interest rates than commercial debt. The overall aim is to keep the cost and risk of the debt (measured against any external shocks to revenues/exports/currency) sustainable. These loans cover a mix of project, institutional and budget support, and are usually entered into with the IMF's blessing. Tanzania, for example, prefers this method of funding to commercial debt which it views as an expensive and unsustainable option. Concessional funding is also an avenue currently being pursued by Nigeria to alleviate some of its immediate financing pressures. Abuja is seeking a package composed of around US3.5 billion, with US$2.5 billion coming from the World Bank and an additional US$1 billion from the African Development Bank.
Finally, without the requisite political will to adopt the fiscal policy measures required to reform structurally, many sovereigns may again end up in the IMF casualty ward. This was the case in Ghana where ballooning government debt and falling export revenue triggered a 31% plunge in the currency against the dollar in 2014, leaving the cash-strapped government with no option but to turn to the IMF for financial and technical assistance.
While an IMF programme is often seen as a nominal policy anchor, which can provide investors with an additional level of confidence and open the doors for fiscal consolidation, it is often met with political resistance due to the fact that such programmes entail huge conditionality and austerity, which is not ideal for politicians, particularly in the run-up to tightly contested elections.
Essentially, the sticking point is around the "emotional aspect of conditionality".
IMF programmes are also deeply unpopular because of the sweeping structural reforms they prescribe, the perceived negative impact on the poor, as well as the perception that they infringe on a country's sovereignty. Furthermore, IMF involvement is often viewed in a poor light due to the legacy of the failed structural adjustment programmes of the 1980s. Aside from these factors, the fiscal transparency required from such arrangements is often incongruent with the political agendas of policymakers. As a result, authorities typically try to avoid this option.
Yet financial markets provided their own version of a "carrot and stick", with yields for many Eurobonds spiking on the back of fiscal indiscipline and poor macroeconomic management. Zambia bears witness to this with its Eurobond yield rising to a staggering 14% earlier this year. This is a far cry from the dizzy heights of 2012, when the country's maiden issuance spectacularly fetched a yield of 5,625%, lower than that of Spain. In both Zambia and Ghana, the tide has turned dramatically on account of "wicked" financial markets which have demonstrated the ability to punish countries without sound macroeconomic frameworks. Similarly, the Kenyan government, which aims to borrow at levels below 10%, has felt upward pressure from the political noise around its 2014 Eurobond and investor concern overs the country's large current account, fiscal deficits and already high debt servicing obligations.
While loans from China may not entail political conditionality there is certainly "no free lunch". Typically, loans assume the form of 'cash for resources', drawing criticism that African governments are mortgaging their futures to Chinese development finance, albeit with less "paperwork". The China Exim Bank and China Development Bank only lend if the repayment profile is secured via predictable cash flows or payment in kind, hence such facilities are usually resource-backed. The DRC (Copper, cobalt), Ghana (oil, cocoa), Angola (oil) have experienced the negative side of this strategy in recent times.
The question worth asking is whether the conditionality in each funding option is explicit or implicit and how these are handled to limit political fallout.
Policymakers face sensitivities in balancing the need to attract foreign capital and appeasing international investors, with domestic considerations of the electorate and how such policies affect the "man on the street" and consequently their political popularity. More simply put, the funding "waterfall" equation is one that requires policymakers to walk a tightrope between "politics of the stomach" and having "money in the coffers".
http://www.cnbcafrica.com/news/financial/2016/04/22/africas-funding-dilemmas/
--
Tunisia tops Arab and African countries in Open Data
Apr 22, 2016
TUNIS (TAP) – In 2015, Tunisia ranked 1st in the Arab world and Africa in the Open Data Barometer and 39th worldwide, moving up 6 spots compared to 2014, according to the World Wide Web Foundation.
http://newsafricanow.com/2016/04/tunisia-tops-arab-and-african-countries-in-open-data/
------
URL: https://www.newageislam.com/islamic-world-news/new-age-islam-news-bureau/bangladesh-professor-hacked-to-death-in-suspected-islamist-attack/d/107084