New Age Islam News Bureau
12 Dec 2013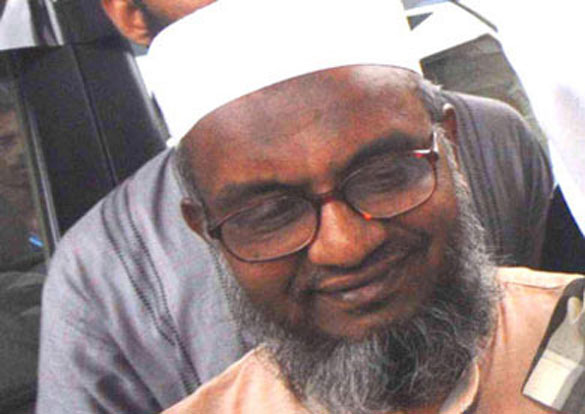 Islamist Leader Abdul Quadir Molla
Bangladesh Executes Top Islamist Leader Abdul Quader Molla For War Crimes
--------
North America
• US Tweaks Syria Policy after Western Backed Rebels Suffer Setback to Islamists
• US lawmakers to introduce bill on new Iran sanctions soon
• White House 'failing to challenge Iran's interpretations of Geneva deal'
Africa
• Tomorrow you will see us in America itself: Boko Haram leader
• CAR Muslims want peace with Christians
• French troops in Central African Republic 'to avoid carnage'
• Violent Clashes Limit the Reach of Humanitarian Aid in CAR
• Ethiopia's colossal human airlift from Saudi Arabia
• Escalating Clashes in Northern Kenya
Southeast Asia
• We Don't Want To Be Like Iraq, Says Malaysian Home Minister Over Shia Controversy
• Ministry reveals evidence of Mat Sabu's alleged Shia activities
• Anti-Shia attacks will ruin Malaysia's image, warns analyst
Mideast
• Israeli Ethiopian-born MP's spurned blood stirs outcry
• Turkish help for Palestinian homes awaits Israeli permission
• 5 killed in fresh Houthi attack in Yemen
Arab World
• Inside Egypt's draft constitution: Role of Sharia redefined
• Top Western-backed rebel commander run out of Syria by Islamists
• Egyptian Civilians in Crosshairs of Sinai Militants
• Media urge Syrian rebels to stop journalist kidnappings
• Kuwaiti security chief worried by Iraq turmoil
• OIC Blames Free Speech for "Islamophobia" in West
• 600,000 young Saudis to participate in Makkah Youth Forum competitions
Europe
• International Muslim scholars decry Jewish settler attacks in Israel
• 38 dead in Darfur-border tribal dispute: UN
• HRW: 3,000 killed in sectarian violence in Nigeria
• Lavrov urges Western countries to ensure Syrian opposition's presence at Geneva-2 conference
Pakistan
• Pakistan Ulema Council: For implementation of code of conduct to curb sectarian violence
• One dead, four injured in Balochistan violence
• 6 dead as killings go unabated in Karachi
• Two 26/11 key witnesses quizzed in Rawalpindi
• K-P govt urges centre to hold APC on drones, NATO supplies
India
• Darul Uloom Deoband welcomes Supreme Court verdict on homosexuality
• India to reassure Maldives of defence cooperation
• Sharif's brother calls on Manmohan Singh
• NIA identifies 11 Yasin Bhatkal associates
South Asia
• Bangladesh Court Clears Way for Execution of Islamist Leader
• Bedridden Taliban commander emerges as prize in high-stakes Afghan-U.S. poker game
• BNP must shun violence before next talk: Hasina
• Bangla expats want fair trial for Jamaat leader
• Molla can be hanged anytime now: Attorney general
• Ganajagaran Mancha to demonstrate until Molla is hanged
• "Maldives is spending beyond its means": World Bank
Compiled by New Age Islam News Bureau
URL: https://newageislam.com/islamic-world-news/bangladesh-executes-top-islamist-leader/d/34821
-----------
Bangladesh executes top Islamist leader Abdul Quader Molla for war crimes
Agence France-Presse
December 12, 2013
Dhaka: Bangladesh on Thursday hanged a senior Islamist leader known as the "Butcher of Mirpur", making him the first person to be put to death for massacres committed during the country's bloody 1971 war of independence.

"The execution has been carried out," deputy law minister Quamrul Islam told AFP, adding that Abdul Quader Molla, 65, a senior leader of the Jamaat-e-Islami party, was hanged at 10.01 pm (1601 GMT) in a jail in the capital Dhaka.

The hanging took place just hours after the country's Supreme Court dismissed Molla's appeal for a final review of his death sentence, removing the last legal option against his execution.

The wife and children of Molla met the Jamaat-e-Islami leader at a jail in Dhaka for one last time hours before the execution, and found him to be "calm".

"He has told us that he is proud to be a martyr for the cause of Islamic movement in the country," Molla's son Hasan Jamil told AFP after meeting his father.

Security has also been tightened outside the jail gate and in the capital Dhaka, with the authorities deploying paramilitary border guards in key flashpoints.

Islamists and opposition protesters armed with crude bombs and rocks clashed with police in riots in several cities across the country after the Supreme Court announced the brief verdict paving the way for the execution.

Molla was originally set to be hanged on Tuesday night after he refused to seek presidential clemency.

But in a night of high drama a judge stayed the hanging just 90 minutes before the scheduled execution, amid international concern over the fairness of the war crime trials of mainly opposition leaders.

Molla was found to have been a leader of a pro-Pakistan militia which fought against the country's independence and killed some of Bangladesh's top professors, doctors, writers and journalists.

A key opposition official, he was convicted of rape, murder and mass murder, including the killing of more than 350 unarmed civilians. Prosecutors described him as the "Butcher of Mirpur", a Dhaka suburb where he committed most of the atrocities.

Hundreds of secular protesters erupted in celebration hearing the news of the execution. They have been camping at Shahbagh square in Dhaka since Tuesday night, shouting slogans including: "Hang Quader Molla, hang war criminals".
http://www.ndtv.com/article/world/bangladesh-executes-top-islamist-leader-abdul-quader-molla-for-war-crimes-458072
----
North America
US tweaks Syria policy after Western backed rebels suffer setback to Islamists
Dec 12 2013
WASHINGTON -- The fundamentalist Islamic Front in Syria seized the headquarters and warehouses of the Western-backed Supreme Military Council of opposition forces this week, prompting the United States to suspend the delivery of all non-lethal assistance into the country's north.
The suspension— which marks the first rollback since US President Barack Obama first agreed to involve the US in the Syrian war— was announced by the State Department on Wednesday, and includes food and non-military technologies, State Department spokeswoman Jen Psaki said. Humanitarian assistance will not be effected.
The reports have "obviously concerned" the Obama administration, a State Department official told The Jerusalem Post on Wednesday.
"As a result of this situation, the United States has suspended all further deliveries of non-lethal assistance into northern Syria. The humanitarian assistance to the Syrian people is not impacted by this suspension," the official said.
"We are working with General Idriss and the SMC to inventory the status of U.S. equipment and supplies provided to the SMC," the official added.
"Our support for the SMC is well known and longstanding. And, in general, we have long urged unity on the battlefield under the SMC and General Idriss."
Infighting among Syrian rebels has weakened their efforts to bring down President Bashar Assad in the conflict which began as peaceful protests against his rule in March 2011 and has descended into civil war.
Psaki said that the administration is still evaluating what happened that allowed the Islamic Front—which is Islamist but does not affiliate with al Qaeda and is not listed as a terrorist group by the US — to seize these materials.
"It is not a suspension of aid, or a holding back of aid," Psaki said, given the continued delivery of assistance to the rest of the country. "This has nothing to do with our support for the SMC."
And yet there have been other similar incidents with the SMC, Psaki acknowledged.
The US continues to evaluate its relationship with dozens of other opposition groups fighting for the overthrow of Syrian president Bashar Assad.
The US is still discussing the impact of the raid on stockpiled goods, Psaki added.
http://www.jpost.com/Middle-East/US-tweaks-Syria-policy-after-Western-backed-rebels-suffer-setback-to-Islamists-334712
----------
US lawmakers to introduce bill on new Iran sanctions soon
Dec 12 2013
WASHINGTON - US senators will introduce legislation to impose new sanctions on Iran as soon as this week, Senate aides said on Wednesday, despite the Obama administration's insistence that such a measure would violate terms of an interim agreement to curb Tehran's nuclear program.
Iran's foreign minister has also said a new sanctions law would kill the agreement. In the interim agreement, Tehran agreed to limit uranium enrichment in return for an easing of international sanctions.
Robert Menendez, the Democratic chairman of the Senate Foreign Relations Committee, and Republican Senator Mark Kirk are finishing legislation that would target Iran's remaining oil exports and foreign exchange and seek to limit President Barack Obama's ability to waive sanctions.
However, the measure would impose the new sanctions only if the interim deal has gone nowhere in six months or Iran violates terms of the agreement. Supporters said that would comply with the administration's request to allow negotiators to pursue a comprehensive diplomatic solution to the Iran nuclear crisis.
But the measure faces an uphill battle to become law.
Administration officials have been pushing Congress hard not to go ahead, including a classified briefing for the entire 100-member Senate on Wednesday by Secretary of State John Kerry and Treasury Secretary Jack Lew.
The session seemed to have done little to change lawmakers' minds.
Republican Senator Lindsey Graham, a supporter of the Menendez-Kirk plan, said after the meeting that the sanctions bill should go ahead.
"Giving the administration a six-month period to negotiate a successful deal makes sense to me. But having sanctions hanging over the head of the Iranians if the deal is not acceptable also makes sense to me," Graham told reporters after the meeting with Kerry and Lew.
Graham said he anticipated a vote on the plan in January. He insisted it would win enough support not only to pass, but also the two-thirds majority needed to override a veto.
But other senators expressed skepticism.
Democrat Dianne Feinstein said Kerry and Lew "made a very compelling presentation" and she was convinced Congress should hold off on any sanctions to allow negotiators to pursue a final agreement.
"The key is the comprehensive agreement," she told Reuters after the briefing.
Obama has said he can envision a final agreement that would ensure Iran does not have the capacity to build a nuclear bomb. Tehran says its nuclear program is entirely peaceful.
http://www.jpost.com/Iranian-Threat/News/US-lawmakers-to-introduce-bill-on-new-Iran-sanctions-soon-334747
----------
White House 'failing to challenge Iran's interpretations of Geneva deal'
Dec 12 2013
Iranian interpretations of the Geneva interim nuclear agreement, which run contrary to the White House's presentation of the accord, are going unchecked by the Obama administration, a security expert told The Jerusalem Post on Wednesday.
Dr. Emily Landau, who heads the Arms Control and Regional Security Program at the Institute for National Security Studies, expressed concern over the White House's ongoing silence in the face of Iranian attempts to redefine the Geneva agreement after its signing.
Landau cited recent examples of Iranian interpretations of the agreement that contradict claims put forward by the US, including the "immediate Iranian rejection of the White House fact sheet [on the Geneva interim accord]."
According to Iran's publication of its own interpretation of what was achieved in Geneva and an announcement by Iranian Foreign Minister Mohammad Javad Zarif, within days of the agreement, Iran will continue construction work at Arak.
On Monday, Landau noted, Iran announced that it is testing its advanced new-generation centrifuges.
All the while, Iranian Supreme Leader Ayatollah Khamenei is continuing to air "horrific rhetoric," Landau said.
These developments have affirmed concerns that any partial deal will "quickly become a platform for continuing bickering between the two sides, as Iran pushed its own interpretations of what was agreed, which would not be acceptable to the P5+1," Landau said.
"We saw a lot of this in the 2003-2005 period – continuous arguing over who agreed to what, who is upholding what. That period ended with the EU3 totally disillusioned with Iran and its lack of good faith," she said.
"What we have seen so far, since the late November agreement, is Iran indeed demonstrating that it will continue to push the envelope with its interpretations, with statements and pronouncements that certainly do not indicate 'good faith' as far as its intentions to back down from military aspirations," Landau continued.
Most disturbingly, the P5+1, and the US in particular, are "not even reacting," she said.
In fact, the Obama administration "seems focused exclusively on Congress," and appears to have prioritized the prevention of Congress from passing new sanctions against Iran over countering Iran's conduct, she added.
"Why no reaction to Iran? Why is the administration steadfastly clinging to the narrative that the interim deal is a historic achievement when many proliferation experts (and even a Washington Post editorial) are voicing serious concerns?" Landau asked.
The security analyst was also highly critical of the White House's failure to define clear criteria for a failure of the diplomatic process, saying, "Perhaps if the criteria for failure were clear – at least to Congress – it would be less nervous about the obvious loopholes in the interim deal."
Without a criteria to define failure, the Obama administration will be able to evade declaring a failure as such, and "interpret any result as not necessarily constituting a failure, either by saying that they need more time, or, as they are saying now, 'it's not perfect, but that's the best we could get,'" said Landau.
Additionally, Landau said, the agreement carries no mention of the need to inspect Iran's Parchin site, where suspected nuclear bomb research has been carried out.
"After two years of pressing to visit the Parchin military site, and repeated Iranian intransigence on this count, there is no longer mention of Parchin.
The inspectors came to Arak and this was played up as Iranian cooperation after the interim deal, but what about Parchin and the question of Iran's work on the military dimension of its nuclear program?" she asked.
http://www.jpost.com/Iranian-Threat/News/White-House-failing-to-challenge-Irans-interpretations-of-Geneva-deal-334700
----------
Africa
Tomorrow you will see us in America itself: Boko Haram leader
December 12, 2013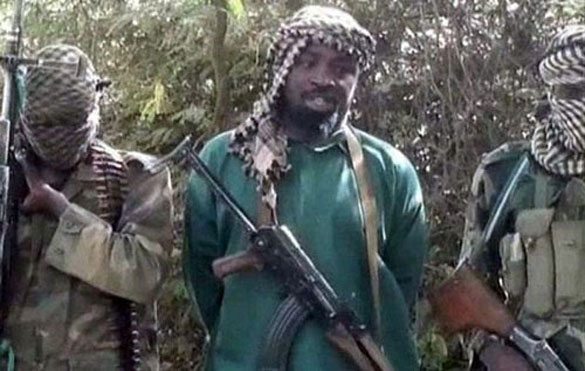 A picture taken from a video by AFP on March 5, 2013 shows Abubakar Shekau (C), the leader of Nigerian Islamist extremist group Boko Haram, flanked by two armed and hooded fighters in an undisclosed place. Image by: HO / BOKO HARAM / AFP
-----------
The leader of an Islamic uprising in north-eastern Nigeria boasts in a new video of a daring attack on military bases in a provincial capital and threatens to attack the United States.
The video shows burning buildings and aircraft in the Dec. 2 attack on an air force base outside Maiduguri and warns, "Don't think we will stop in Maiduguri. Tomorrow you will see us in America itself. Our operation is not confined to Nigeria. It is for the whole world."
"Allah the Almighty has given us victory in the attack we launched inside Maiduguri (which was) called Borno in ancient times," said Abubakar Shekau in a 40-minute clip.
Speaking in Arabic, Hausa and Kanuri widely spoken in northeast Nigeria, Shekau added: "We stormed the city and fought them (and) Allah blessed us with lots of booty."
The video, which was obtained through an intermediary, shows Shekau dressed in military fatigues with a turban and Kalashnikov assault rifle leaning on his chest.
He speaks for 19 minutes in all while the rest of the tape shows images of burning buildings and aircraft said to be from the December 2 attack in Maiduguri, which is capital of Borno state.
It also shows a display of weapons the banned Islamist group says it seized in the attack, including dozens of Kalashnikovs and rockets.
The shaky camera footage appears to show militant gunmen with their heads covered carrying assault rifles in the army and air force compounds, with buildings ablaze in the darkness.
At first light, groups of men are seen setting fire to three fighter jets on the tarmac as fires raged in the cockpits of two helicopters in aircraft hangars.
In another shot, a burnt-out tank is seen in a deserted street.
The authenticity of the tape could not be verified independently but it appears to back up descriptions from witnesses and the military, who described aircraft being destroyed and buildings set on fire.
The early morning raid was seen as significant because the Nigerian military had previously claimed to have pushed the militants out of urban centres and into more remote, rural areas.
Few believe the Boko Haram terrorist network has such capability despite fears its insurgency could reach neighbouring states.
In the video received Thursday, Abubakar Shekau dismisses last month's U.S. designation of his group as a terrorist organisation and suggests a country that could not stop the 9/11 attacks cannot hurt his movement.
Maiduguri
Maiduguri is considered the spiritual home of Boko Haram, whose name roughly translates from Hausa as "Western education is sin".
The group's aim is to impose a harsh form of Islamic law or sharia across the country.
Thousands of people have died in deadly violence since 2009, both at the hands of the militants and as a result of the military response to the violence.
In the Maiduguri raid, Nigeria's military said 24 militants were killed and two service personnel were wounded.
But Shekau said only seven fighters lost their lives -- three in suicide bombings, three were shot and one in "friendly fire".
At least two local residents were also killed, people in the city said.
The US State Department in July offered a reward of up to $7 million for information leading to the arrest of Shekau.
In the video, he said "the whole world" feared him, name-checking US President Barack Obama, French President Francois Hollande, Israeli Prime Minister Benjamin Netanyahu and even the late British premier Margaret Thatcher.
Shekau singled out in particular the United States, which on November 13 designated Boko Haram and its offshoot Ansaru as international terror groups.
"You are boasting you are going to join forces with Nigeria to crush us. Bloody liars," he said, in an apparent reference to a pledge by Washington to support Abuja in the fight against the extremists.
Shekau's claims about the international nature of Boko Haram stand at odds with analysts' general assessments that the group is largely Nigeria-based.
But the United States has said the group and Ansaru have links the wider Islamist jihadi network, in particular Al-Qaeda in the Islamic Maghreb (AQIM), which has provided limited training and funding.
http://www.timeslive.co.za/africa/2013/12/12/tomorrow-you-will-see-us-in-america-itself-boko-haram-leader
---------
CAR Muslims want peace with Christians
World Bulletin / News Desk
Dec 12 2013
Muslims in the war-ravaged Central African Republic (CAR) want to live in peace, once again, with their Christian compatriots.
"We have always lived with Christians in harmony and we wish the sectarian violence here ends soon and we return to our normal lives," Sheikh Ahamadu Misil, a Muslim cleric who works for Islamic Humanitarian Assistance – a local NGO that provides assistance to Muslims in CAR and in neighboring Cameroon – told Anadolu Agency by phone from capital Bangui.
He added that he had been surprised on Tuesday to see angry Christians destroying mosques in the capital.
Local residents have confirmed to AA that at least one major mosque was attacked and partially destroyed by angry Christians in Bangui.
Armed with machetes and clubs, they destroyed parts of the mosque and set several nearby parked cars afire.
Sources said that at least three other smaller mosques had also been attacked in Bangui on Tuesday.
"This violence must stop," Sheikh Misil pleaded.
According to estimates by humanitarian organizations, at least 460 people have been killed in Bangui alone within the last five days.
The landlocked African country descended into chaos in March, when Seleka rebels – from the mostly-Muslim north – ousted President François Bozize.
A Christian who had been in office for ten years, Bozize had enjoyed the strong support of the country's Christian majority.
The months since have witnessed clashes between Seleka fighters and Christian self-defense anti-balaka militias that have emerged recently.
The groups are accused of killing civilians based on their religious affiliations.
According to UN estimates, the latest violence has forced more than 400,000 people – nearly ten percent of the country's 4.6 million-strong population – to abandon their homes.
They are now taking refuge in religious centers, schools and hospitals – or in the bush – across the country.
Charm offensive
Sheikh Misil said many Muslims, fearing attack, were staying inside their homes.
"We're currently indoors," he said. "If the situation improves, we plan to visit Christian neighborhoods and tell them we want to live with them in peace as we did before."
Osman Yusuf, another Muslim resident of Bangui, agrees.
"I saw a lot of dead bodies last week," he told AA by phone.
Muslims, he said, were fed up with the violence and yearned for the restoration of peace and security.
"I pray for peace to return. Christians and Muslims must learn to live together," he said.
According to the CIA factbook, Christians account for around 50 percent of CAR's population while Muslims account for about 15 percent.
Sheikh Misil denied media reports that French troops were providing protection to Christian anti-balaka militias instead of restraining them from attacking Muslim communities.
"French and African Union troops have been treating everyone here equally," he told AA.
"They have not been drawn into the politics of this conflict as yet, and we pray they remain neutral."
A Nigerian newspaper had earlier quoted a Nigerian community leader in Bangui as saying that French troops were protecting Christian anti-balaka militias.
"The French have been disarming every group," said Yusuf.
"They disarmed both the Seleka and the anti-balaka. I don't see them as biased."
On Tuesday, French President Francois Hollande flew into Bangui after attending an official memorial service for late South African leader Nelson Mandela.
While in CAR, Hollande paid tribute to two French soldiers killed in recent clashes in the violence-wracked country.
Over the weekend, France stepped up its military presence in the former colony to a total of 1,600 troops.
Sheikh Misil, for his part, voiced optimism that peace would eventually be restored to the country.
"The world needs to unite and save the people of CAR from ongoing sectarian violence," he pleaded.
http://www.worldbulletin.net/?aType=haber&ArticleID=124767
----------
French troops in Central African Republic 'to avoid carnage'
Dec 12 2013
President Francois Hollande has defended France's military intervention in the Central African Republic - after two French soldiers were killed in the capital Bangui.
Speaking in Bangui, he said last week's deployment of 1,600 troops had been necessary to "avoid carnage".
The two French soldiers were killed in combat near Bangui airport.
The CAR has been in chaos since rebel leader Michel Djotodia ousted President Francois Bozize in March.
Fuelled by ethnic rivalries, the conflict has also now become sectarian in nature as he installed himself as the first Muslim leader in the Christian-majority country sparking months of bloody clashes between rival Muslim and Christian fighters.
Full report at:
http://www.bbc.co.uk/news/world-europe-25327976
----------
Violent Clashes Limit the Reach of Humanitarian Aid in Central African Republic
Dec 12 2013
Sectarian violence between the Muslim and Christian militias in the Central African Republic (CAR), has continued to escalate, resulting in a prolonged humanitarian refugee crisis.
According to the United Nations refugee agency (UNHCR), the conflict has led to over a half-million internally displaced persons (IDPs) and forced 69,800 people to flee the country since December 2012. Violence in the capital city of Bangui has displaced at least 137,000 people. While French peacekeeping troops have started disarming fighters, roads are blocked and dangerous, making it difficult for human rights organizations to deliver refugee aid.
Fighting between the armed factions--Séléka and "anti-balaka"--has resulted in at least 400 deaths since Dec. 5. Séléka is the Muslim rebel coalition behind the ousting of President Francois Bozizé in March 2013. "Anti-balaka" means "anti-machete," and refers to Christian Full report at:
http://allafrica.com/stories/201312121086.html?viewall=1
----------
Ethiopia's colossal human airlift from Saudi Arabia
Dec 12 2013
When Ethiopia started repatriating its citizens living illegally in Saudi Arabia last month, 30,000 people were expected to return.
Today, four times that amount have been repatriated -- with numbers still swelling daily -- straining agencies to support one of the largest human airlift operations in recent history.
"We really need support. It's a very big challenge returning over 120,000 people in less than a month... It's an emergency," said Sharon Dimanche of the International Organization for Migration (IOM), which is assisting the government-led repatriation programme.
"We have to save people's lives," she added.
Full report at:
http://english.ahram.org.eg/NewsContent/2/9/88916/World/International/Ethiopias-colossal-human-airlift-from-Saudi-Arabia.aspx
----------
Escalating Clashes in Northern Kenya
Dec 12 2013
Moyale — A fresh outbreak of violence between communities in northern Kenya's Moyale area - in Marsabit County - has displaced tens of thousands and led the government to take the almost unprecedented step of deploying its troops domestically in an effort to quell the unrest.
The violence, which has broken out intermittently since late 2011, has paralysed business and transport activities.
The attacks have often been abrupt in nature, targeting people at work or who are travelling, according to a 9 December Kenya Red Cross Society (KRCS) update.
There have been incidents of roads being barricaded, as well. On 28 November, transport between Moyale and Nairobi was cut off after the road was blocked at the Turbi area for over 10 hours, notes KRCS.
Full report at:
http://allafrica.com/stories/201312120228.html?viewall=1
----------
Southeast Asia
We Don't Want To Be Like Iraq, Says Malaysian Home Minister Over Shia Controversy
Dec 12 2013
Home Minister Datuk Seri Dr Ahmad Zahid Hamidi said that he does not want Malaysia to turn into Iraq which he says is in turmoil because of the existence of the Sunni and Shia Muslim communities.
"Iraq used to have only one school of thought and that was Sunni, but now there are the Shia and the Sunni groups and this has divided the country. We do not want that here," he said.
Ahmad Zahid was responding to a statement by an Iraqi parlimentarian in Baghdad, Iraq, Sheikh Jalaluddin Ash-Shoghir, recently, who had said that the Malaysian government was the first in the world to officially denounce the Shia sect.
"Malaysian companies are happily reaping multiple projects in Iraq and many business opportunities have been specially handed to the Malaysian government," the cleric had said in a Youtube video that has gone viral.
Full report at:
http://www.themalaysianinsider.com/malaysia/article/we-dont-want-to-be-like-iraq-says-home-minister-over-shia-controversy
----------
Ministry reveals evidence of Mat Sabu's alleged Shia activities
Dec 12 2013
The Home Ministry today revealed evidence to back up its claims that PAS deputy president Mohamad Sabu was involved in Shia activities.
It alleged that Mohamad, or Mat Sabu, was involved in Shia activities connected to the struggle of Iranian revolutionist Ayatollah Ruhullah Musawi al Khomeini.
Ministry secretary-general Datuk Seri Abdul Rahim Mohamad Radzi confirmed that Mat Sabu was the person Home Minister Datuk Seri Dr Ahmad Zahid Hamidi had been referring to at the recent Umno general assembly.
"The statement made by Ahmad Zahid regarding a top PAS leader being involved with Shia teachings is Mat Sabu," he told reporters today.
"Mat Sabu (pic) had urged Islamic followers to adopt the Islamic leadership principles based on Imam Khomeini in an article published in Harakah in July 2008.
Full report at:
http://www.themalaysianinsider.com/malaysia/article/ministry-reveals-evidence-of-mat-sabus-alleged-shia-activities
----------
Anti-Shia attacks will ruin Malaysia's image, warns analyst
Dec 12 2013
Malaysia should follow the example of some Middle East nations in handling the differences between Islamic sects, or risk jeopardising the country's image, said a political scientist on labelling Shias as deviants.
Universiti Malaya Professor Datuk Mohamad Abu Bakar (pic) said: "We should be careful with this matter. We have to be worried that this will open a room of opportunities for Western interference especially those who like to see Muslims in discord.
"Moreover, some even said that the agenda to pit Shias and Sunnis against each other was set up a long time ago."
Sunni Muslims in the Middle East have never accused the Shias of deviating from Islam despite their differences, said Ahmad.
Full report at:
http://www.themalaysianinsider.com/malaysia/article/attacks-on-shias-will-ruin-malaysias-image-globally-warns-analyst
----------
Mideast
Israeli Ethiopian-born MP's spurned blood stirs outcry
Dec 12 2013
The speaker of Israel's parliament ordered a blood-collection crew to leave the legislature's premises on Dec. 11 after it turned down an offer of a blood donation from an Ethiopian-born lawmaker.
Knesset member Pnina Tamano-Shata, 32, wanted to donate blood to a routine visit by an ambulance service but was told by a member of the crew that set criteria disqualified her because she immigrated to Israel from Ethiopia at age three.
Israeli Health Ministry criteria bar people born in most African countries since 1977 from donating blood due to a fear that there is an increased risk they may carry the HIV virus.
Tamano-Shata said ministry guidelines determine that Ethiopian-born Jews who immigrated to Israel when they were over two years old are ineligible to be blood donors.
Full report at:
http://www.hurriyetdailynews.com/israeli-ethiopian-born-mps-spurned-blood-stirs-outcry.aspx?pageID=238&nID=59454&NewsCatID=352
----------
Turkish help for Palestinian homes awaits Israeli permission
World Bulletin / News Desk
Dec 12 2013
The Turkish International Cooperation and Development Agency (TIKA) is awaiting an Israeli permission to renovate Palestinian houses in the Old City of Al-Quds (occupied East Jerusalem), Palestinian officials have said.
"TIKA has pledged to renovate a number of houses in al-Qarmi neighborhood, but the Jerusalem Municipality is procrastinating to give permission for the process," Hayel Sandoqah, a member of house renovation committee, told Anadolu Agency on Wednesday.
Located near the Aqsa Mosque, the al-Qarmi neighborhood is frequently attacked by extremist settlers, according to residents.
Full report at:
http://www.worldbulletin.net/?aType=haber&ArticleID=124803
----------
5 killed in fresh Houthi attack in Yemen
World Bulletin / News Desk
Dec 12 2013
At least five people were killed late Wednesday and nine others injured in a fresh attack by Houthi rebels in the flashpoint Yemen town of Dammaj
"The attack is the third by Houthis in less than a week," Salafi activist Abu Ismail al-Wadie told Anadolu Agency.
He said the victims had fallen when Houthi rebels tried to break into a Salafi educational center, where around 4,000 students were studying religious sciences.
Since 2011, the northern Yemeni town of Dammaj has seen several rounds of fighting between the Shiite rebels and Salafis, which have left dozens dead.
Full report at:
http://www.worldbulletin.net/?aType=haber&ArticleID=124810
----------
Arab World
Inside Egypt's draft constitution: Role of sharia redefined
Dec 12 2013
The draft Egyptian constitution, which will be put to public referendum in a matter of weeks, comprises a major step forward in regulating the role of Islamic sharia and in allowing religious freedom, according to observers.
The previous constitution was drafted in 2012 by an assembly dominated by Islamist figures, and was subject to frequent criticism by non-Islamists for its stance on religious freedoms and on the role of sharia law.
The democratic process that followed the fall of autocrat Hosni Mubarak saw the rise of the Islamist Muslim Brotherhood to power, but following the ouster of the Brotherhood's Morsi from the presidency in July, a new roadmap was announced by the interim authorities. The controversial 2012 constitution, which had been approved by national referendum in December 2012, was suspended.
Full report at:
http://english.ahram.org.eg/NewsContent/1/64/88632/Egypt/Politics-/Inside-Egypts-draft-constitution-Role-of-sharia-re.aspx
----------
Top Western-backed rebel commander run out of Syria by Islamists
Dec 12 2013
The top Western-backed commander of the opposition forces in Syria has been run out of the country by Islamist militants, US officials said Wednesday.
According to US officials cited by the Wall Street Journal, Free Syrian Army General Salim Idris was forced to take flight.
This comes after the US and Britain announced Wednesday that they was freezing non-lethal aid to the opposition after radical militants from the Islamic Front took control of the Free Syrian Army's bases in northern Syria.
Gen. Idris fled to Doha, Qatar on Sunday after leaving Syria for Turkey, US officials said Wednesday.
"He fled as a result of the Islamic Front taking over his headquarters," a senior US official said.
The Islamic Front is a coalition of the largest Islamist rebel factions, excluding two top Al-Qaeda-associated groups, the Nusra Front and the Islamic State of Iraq in Syria. It is considered more moderate among Islamist militant groups.
Full report at:
http://rt.com/news/syria-rebel-commander-flees-099/
----------
Egyptian Civilians in Crosshairs of Sinai Militants
Dec 12 2013
Al-Arish — Hani Ayesh, a resident of al-Arish, in Egypt's Sinai Peninsula, was on his way to work when his bus was struck by a rocket or missile launched by militants targeting a nearby army vehicle.
Three people died and 22 were injured that morning, on 15 July. Ayesh's hearing was still impaired when IRIN met him three months later; 40 pieces of shrapnel were still embedded in his skin.
Another civilian died in October from a militant attack on a police bus travelling from Rafah to al-Arish, security sources told the media.
Full report at:
http://allafrica.com/stories/201312120240.html?viewall=1
----------
Media urge Syrian rebels to stop journalist kidnappings
Dec 12 2013
Major international news organisations have urged armed Syrian rebel groups to stop kidnapping journalists, and to free those who are currently held.
The 13 organisations, including the BBC, have signed a letter to the rebels warning that the abductions threaten the coverage of the Syrian conflict.
It is believed that more than 30 journalists are currently being detained in Syria.
Many kidnappings have been downplayed in the hope of aiding negotiations.
On Tuesday the Spanish newspaper El Mundo decided to publicise the abduction of two journalists in Syria in September after indirect communications with their captors led to "no result".
Full report at:
http://www.bbc.co.uk/news/world-middle-east-25347483
---------
600,000 young Saudis to participate in Makkah Youth Forum competitions
December 12, 2013
JEDDAH — Makkah Emir Prince Khaled Al-Faisal formally opened the preliminary round of competitions and an awareness campaign as part of the fourth Makkah Youth Forum at his office in Jeddah on Wednesday.
Speaking on the occasion, Prince Khaled said more than 600,000 young Saudi men and women would take part in some 55 competitions and 200 activities to be staged in all 16 regions of the province.
The Makkah governorate is organizing the forum with the objective of developing the skills of young Saudis and boosting their cultural and sporting capabilities. This year, the theme is "Positive thinking and sincerity in work."
Prince Khaled said the youths started presenting "their innovative and unconventional ideas, works and solutions for this this extraordinary age."
He said excellent thinking should "rise up from the ordinary to the outstanding and from the traditional to the innovative."
Full report at:
http://www.saudigazette.com.sa/index.cfm?method=home.regcon&contentid=20131212189353
---------
Kuwaiti security chief worried by Iraq turmoil
December 12, 2013
MANAMA: Kuwait is anxious about instability in Iraq and disappointed at its neighbor's failure to arrest a militia leader who said his group was behind a mortar attack on Saudi Arabia, a Kuwaiti intelligence chief said.
Sheikh Thamer Al-Sabah, president of Kuwait's National Security Bureau intelligence service, said in a rare interview that his work relationships with his counterparts in Iraq, which occupied Kuwait in 1990-91, and Iran needed improvement.
"We are deeply worried ... about the rapidly growing instability in Iraq," Sheikh Thamer said on the sidelines of the Manama Dialogue, an annual Gulf security seminar.
"After all, Kuwait's longest borders are with Iraq and any instability will have a direct and a profound impact on us."
Full report at:
http://www.arabnews.com/news/491411
---------
OIC Blames Free Speech for "Islamophobia" in West
by Soeren Kern
December 11, 2013
The common thread that binds the entire document together is the OIC's repeated insistence that the main culprit responsible for "the institutionalization of Islamophobia" in Western countries is freedom of speech.
"The Istanbul Process started with Secretary of State Hillary Clinton and the EU High Representative for Foreign Affairs and Security Policy Catherine Ashton.... We need to build on it." — OIC Secretary General Ekmeleddin Isanoglu
The Organization of Islamic Cooperation, an influential bloc of 57 Muslim countries, has released the latest edition of its annual "Islamophobia" report.
The "Sixth OIC Observatory Report on Islamophobia: October 2012-September 2013" is a 94-page document purporting to "offer a comprehensive picture of Islamophobia, as it exists mainly in contemporary Western societies."
Full report at:
http://www.gatestoneinstitute.org/4088/islamophobia-oic-free-speech
----------
Europe
International Muslim scholars decry Jewish settler attacks in Israel
World Bulletin / News Desk
Dec 12 2013
The International Union for Muslim Scholars (IUMS) on Thursday called on mosque preachers worldwide to denounce assaults on Muslim places of worship and insults to Islam's Prophet Muhammad by extremist Jewish settlers in Israel.
In a Thursday statement, the IUMS urged Muslim imams around the world to dedicate their Friday sermons to "denouncing these criminal acts, which hurt the sentiments of Muslims."
On Saturday, a group of Israeli settlers spray-painted anti-Arab slogans on the walls of a local mosque in the predominantly Arab village of Baka al-Gharbiya – which is home to roughly 31,000 Palestinian Arabs – near the city of Haifa.
Full report at:
http://www.worldbulletin.net/?aType=haber&ArticleID=124813
----------
38 dead in Darfur-border tribal dispute: UN
Dec 12 2013
A tribal dispute on the border of Sudan's Darfur region has killed 38 people, the United Nations said on Wednesday.
"According to reports received by the UN, 16 Maaliya and 22 Hamar tribesmen were killed following clashes" on December 5, the UN's Office for the Coordination of Humanitarian Affairs said in its weekly bulletin.
The fighting, apparently sparked by a dispute over grazing rights, occurred in West Kordofan state just over the border from East Darfur's Adila region.
"Fighting stopped following the deployment of SAF (Sudan Armed Forces) and negotiations between tribal leaders from both tribes. However, tensions in the area remain high," OCHA said.
Full report at:
http://english.ahram.org.eg/NewsContent/2/8/88903/World/Region/-dead-in-Darfurborder-tribal-dispute-UN.aspx
----------
HRW: 3,000 killed in sectarian violence in Nigeria
World Bulletin / News Desk
Dec 12 2013
Nigerian authorities have largely ignored sectarian clashes in the nation's religiously mixed central region that have killed 3,000 people since 2010, Human Rights Watch said on Thursday.
Local police rejected the findings by the international watchdog, which said that a series of massacres and tit-for-tat sectarian attacks have gone largely unpunished as police overlooked witnesses or failed to collect evidence properly.
"Witnesses came forward to tell their stories, compiled lists of the dead, and identified the attackers, but in most cases nothing was done," said Daniel Bekele, Africa director at Human Rights Watch.
Full report at:
http://www.worldbulletin.net/?aType=haber&ArticleID=124828
---------
Lavrov urges Western countries to ensure Syrian opposition's presence at Geneva-2 conference
Dec 12 2013
The Western countries that can influence the Syrian opposition should make sure that it takes part in the Geneva II international conference on Syria, Russian Foreign Minister Sergei Lavrov said.
Speaking to journalists following President Vladimir Putin's annual address to the Federal Assembly on Thursday, Lavrov said, "The main goal on Syria now is to make sure that the entire political spectrum of Syrian society be present at the Geneva II conference."
"We have done our job of ensuring the Syrian government's presence," he said.
"We believe the opposition should recall its courage and primarily address the interests of all Syrian people. It should give up its ambitions. It's not the right time now to distribute portfolios, not to mention threaten to leave the Syrian opposition's National Coalition," he said.
Full report at:
http://voiceofrussia.com/news/2013_12_12/Lavrov-urges-Western-countries-to-ensure-Syrian-oppositions-presence-at-Geneva-2-conference-1524/
----------
Pakistan
Pakistan Ulema Council: For implementation of code of conduct to curb sectarian violence
Dec 12 2013
LAHORE: A grand conference of 32 religious groups and political parties under the umbrella of Pakistan Ulema Council (PUC) on Wednesday demanded the government implement the recently prepared code of conduct and make it a formal law to curb sectarian violence in the country.
The 'Istehkam-e-Pakistan Conference' was attended by PUC Chairman Maulana Tahir Asharfi, Jamaat-e-Islami Secretary General and Milli Yakjehti Council Secretary General Liaquat Baloch, Jamaatud Dawa leader Amir Hamza, Sunni Ittehad Council Chairman Syed Mahfooz Mashhadi, PPP's Naveed Chaudhry, Shia Ulema Council Vice President Hafiz Raza Naqvi, Mujeebur Rehman Inqlabi from Jamia Ashrafia and other scholars.
Addressing the conference, Maulana Tahir Asharfi said that participants of the conference have announced their support for the prescribed code of conduct and pledged to abide by these regulations.
Full report at:
http://www.dailytimes.com.pk/default.asp?page=2013\12\12\story_12-12-2013_pg7_13
----------
One dead, four injured in Balochistan violence
SYED-ALI-SHAH
013-12-11
QUETTA: At least one person was killed and four others injured on Wednesday in a firing incident in Liaquat Bazaar area of Quetta, the capital of Balochistan.
Police said the incident forced shopkeepers to shut down their shutters, resulting in Liaquat Bazaar, Sattar Road and other commercial parts of Quetta to be closed.
"Miscreants opened firing in different parts of the city and caused panic," police said in a press release.
The injured were immediately rushed to civil hospital Quetta for medical treatment.
"The condition of two of the injured seems to be serious," a duty doctor who requested not to be named told Dawn.com.
Full report at:
http://www.dawn.com/news/1061916/one-dead-four-injured-in-balochistan-violence
----------
6 dead as killings go unabated in Karachi
Dec 12 2013
KARACHI: As police and Rangers continue nabbing criminals in their ongoing 'targeted' raids, the spate of targeted killing is also going on correspondingly as another six people lost their lives in different incidents across the city on Wednesday.
Five people were also wounded in grenade attack in Lyari locality.
Armed gangsters hurled a hand grenade in Gul Mohammad lane of Lyari's Kalakot area. Resultantly, five people including a woman and her two years old son was wounded. The injured were identified as 35-year-old, Humaira, wife of Rafiq Baloch, and her two-year-old son, Ahmed Ali and three more passersby, Ismail, 10, son of Ibrahim, Shahzad, 5, son of Ejaz and Mohammad Usman, 6, son of Hanif.
Full report at:
http://www.dailytimes.com.pk/default.asp?page=2013\12\12\story_12-12-2013_pg7_10
----------
Two 26/11 key witnesses quizzed in Rawalpindi
MEENA MENON
December 12, 2013
The trial in the 2008 Mumbai terror attacks case resumed on Wednesday and defence cross-examined two key witnesses at a special court room in Adyala Jail in Rawalpindi.
Special Public Prosecutor Chaudhry Muhammed Azhar told The Hindu over the phone that the bank manager of the Muslim Commercial Bank in Islamabad was cross-examined. He testified earlier that Rs. 2,00,000 was transferred to the account of Amad Ameen Sadiq, an accused in the case. Mr. Azhar said this money was to be used for the terror operation.
Full report at:
http://www.thehindu.com/news/international/south-asia/two-2611-key-witnesses-quizzed-in-rawalpindi/article5448775.ece
---------
K-P govt urges centre to hold APC on drones, NATO supplies
December 12, 2013
PESHAWAR: Khyber-Pakhtunkhwa (K-P) Minister for Information Shah Farman on Wednesday urged the federal government to call an all-parties conference (APC) on the issue of drone attacks and Nato supplies passing through the country.
"If the [federal] government does not call the conference, the people have a right to continue their protest," said Farman, justifying the ongoing Pakistan Tehreek-e-Insaf (PTI) and Jamat-e-Islami (JI) led protest blocking the Nato supply lines in K-P.
Addressing a seminar on 'Good Governance through Prevention' organised in the provincial capital during the Anti-corruption Week, Farman also brought forth the issue of power and gas crisis in the province.
Full report at:
http://tribune.com.pk/story/644144/anti-corruption-drive-k-p-govt-urges-centre-to-hold-apc-on-drones-nato-supplies/
----------
India
Darul Uloom Deoband welcomes Supreme Court verdict on homosexuality
PTI | Dec 12, 2013
MUZAFFARNAGAR: Leading Islamic seminary Darul Uloom Deoband on Thursday welcomed the Supreme Court verdict declaring gay sex illegal and asked the Centre not to repeal Section 377 that criminalizes homosexuality.
"Homosexuality is an offence under Islamic law and 'haram' [prohibited] in Islam," deputy vice-chancellor of Darul Uloom Deoband Maulana Abul Khlik Madrasi told PTI here.
He also asked the government not to repeal Section 377 of the IPC which criminalizes homosexuality.
Full report at:
http://timesofindia.indiatimes.com/india/Darul-Uloom-Deoband-welcomes-Supreme-Court-verdict-on-homosexuality/articleshow/27242066.cms
----------
India to reassure Maldives of defence cooperation
Rajat Pandit,TNN | Dec 11, 2013
NEW DELHI: India is all set to reiterate its commitment to Maldives to step up bilateral defence cooperation during the five-day visit of Maldivian defence minister Mohammed Nazim here, who is slated to meet his Indian counterpart AK Antony on Thursday.
As part of the ongoing training and "capacity-building" of its armed forces, India will also hand over another Dhruv advanced light helicopter to Maldives when Nazim visits the Southern Naval Command at Kochi on Saturday.
In the run up to the proposed visit of newly-elected Maldivian President Abdulla Yameen to India from December 23 to 25, Nazim will be holding talks with Antony, home minister Sushilkumar Shinde, external affairs minister Salman Khurshid, national security advisor Shivshankar Menon and others on Thursday and Friday.
Full report at:
http://timesofindia.indiatimes.com/india/India-to-reassure-Maldives-of-defence-cooperation/articleshow/27225835.cms
----------
Sharif's brother calls on Manmohan Singh
Dec 12 2013
Chief Minister of Pakistan Punjab Muhammad Shahbaz Sharif called on Prime Minister Manmohan Singh, shortly after his arrival here on Thursday and delivered a message of goodwill from his younger brother and Pakistan Prime Minister Nawaz Sharif.
Emphasising Pakistan's desire to forge friendly and cooperative relations with India, Mr. Shahbaz also underscored the importance of resumption of dialogue and peaceful resolution of all issues, according to a Pakistan High Commission release which described the meeting as "cordial, constructive and forward looking."
Full report at:
http://www.thehindu.com/news/national/sharifs-brother-calls-on-manmohan-singh/article5451449.ece
----------
NIA identifies 11 Yasin Bhatkal associates
Dec 12 2013
New Delhi : Expanding its probe after the arrest of Indian Mujahideen (IM) co-founder Yasin Bhatkal, the NIA, investigating a 'larger conspiracy' involving Indian Mujahideen(IM), has identified 11 associates of Bhatkal who are now named for their alleged roles in terror plots across India.
While seven of them hail from Bhatkal in Karnataka, three are from Azamgarh. Yasin was said to be instrumental in motivating and recruiting them. The agency is also approaching a Delhi court to get non-bailable warrants issued against them.
Full report at:
http://www.indianexpress.com/news/nia-identifies-11-yasin-bhatkal-associates/1206816/
---------
South Asia
Bangladesh Court Clears Way for Execution of Islamist Leader
December 12, 2013
Bangladesh's Supreme Court has rejected an appeal against the death sentence of an Islamist opposition leader convicted of war crimes, clearing the way for his execution.
The court on Wednesday turned down a request for a review of the death penalty by the legal team for Abdul Qader Mollah, who was set to be hanged Wednesday before his lawyers secured a postponement.
Saiful Islam, the prosecutor of the War Crimes Tribunal of Bangladesh, spoke outside the courtroom.
"The defense council of the accused Abdul Quader Mollah has filed for the review petition under article 105 and that has been dismissed by the honorable appellate court of Bangladesh Supreme Court, and now the execution can be proceeded as per rules," he said.
Mollah was convicted of committing war crimes during the nation's war of independence against Pakistan in 1971. If he is executed, critics fear it could begin a fresh wave of political violence before national elections set for next month.
Full report at:
http://www.dhakatribune.com/politics/2013/dec/12/bnp-must-shun-violence-next-talk-hasina#sthash.6mKslYQd.dpuf
----------
Bedridden Taliban commander emerges as prize in high-stakes Afghan-U.S. poker game
PRAVEEN SWAMI
Dec 12, 2013
As deadlock over Afghan-U.S. security pact continues, efforts on to hammer out behind-the-scenes compromise
Late last month, top Afghan peace negotiator Salahuddin Rabbani arrived in Islamabad to meet a man he hoped would change the course of history.
Access
Following years of pushing, Pakistan's new government had agreed to arrange access to Mullah Abdul Gani Baradar, long-incarcerated Taliban second-in-command.
Mr. Rabbani, sources close to him say, was flown to Karachi in a military helicopter, and driven to a safe house on the fringes of the city.
Mr. Rabbani, sources close to him say, found the man he'd hoped held the keys to peace laid out near-comatose on a bed, unable to put together a coherent sentence.
Now, the bedridden Taliban Number Two has emerged as the prize at the centre of a high-stakes diplomatic poker game involving Afghanistan, Pakistan and the United States.
The deal, three highly placed Afghan government sources told The Hindu, involved Mr. Baradar being freed to open a political dialogue with Kabul.
In return, a high-ranking Minister would sign the long-delayed Bilateral Security Agreement (BSA) between Afghanistan and the U.S., allowing Western troops to stay on after 2014, and ensuring aid flow.
Afghanistan Interior Minister Umar Daudzai, earlier Ambassador to Pakistan and one of Mr. Karzai's most trusted aides, has been charged with back-channel negotiations to ensure the BSA is signed before late-February — the deadline laid down by the U.S.
Mr. Daudzai, a source familiar with the negotiations said, in the meantime wants Mr. Baradar freed, leading to a meeting in mid-January with Afghanistan's Higher Peace Council, led by Mr. Rabbani.
Then, Mr. Baradar be allowed to travel to relocate overseas, signing on to negotiations with the Kabul government.
Security pact deadlock
Mr. Karzai has refused to sign the BSA, defying the wishes of a Loya Jirga, or tribal assembly, as well as both political allies and opponents. In a recent interview to Le Monde diplomatique, he complained of a "lack of visible and genuine effort on behalf of the U.S. to help us with the peace process."
The President added that he wanted the war against the Taliban "taken to terrorist sanctuaries, where they are trained and nurtured."
In September, Pakistan Prime Minister Nawaz Sharif had promised to free Mr. Baradar. In a later visit to Kabul, though, Mr. Sharif reportedly told Afghan interlocutors that he could only do so with the consent of the U.S.
The change in position, a member of Mr. Karzai's staff said, fuelled the President's suspicions that the U.S. might be seeking to hand power to Pakistan-backed Taliban hardliners, who want Afghanistan's Constitution scrapped.
Both Pakistan and the U.S. have backed a separate group of the Taliban led by Tayyeb Agha, who is believed to have close links with the ISI. Though a Taliban office in the Qatari city of Doha was shut down after angry Afghan protests in the summer, the group continues to operate out of the city's Four Seasons Hotel.
Uncertain prospects
It is unclear, though, Mr. Daudzai's plan will eventually bear fruit.
Efforts to engage Mr. Baradar in dialogue are not new. The Afghan President and Mr. Baradar, both Popalzai Pashtuns, share clan ties. Mr. Baradar is reputed to have helped arrange the burial of Mr. Karzai's father in Kandahar, then under the Taliban rule. Mr. Karzai's extended family is also thought to have met Mr. Baradar in 2006-2007.
Mr. Daudzai met Mr. Baradar in 2012, in a brief Inter-Services Intelligence-brokered meeting, where the Taliban chief is believed to have said there was no point in two slaves talking — referring to his relationship with Pakistan, and the Afghan government's relationship with the U.S.There is no consensus, though, on whether Mr. Baradar has enough heft with the current Taliban leadership to push through a deal.
Aga Jan Motasim, a top Taliban commander, who is also Mullah Omar's son-in-law, survived a near-successful assassination attempt after criticising the organisation's anti-talks position.
Dialogue process
Moreover, the Taliban's top command — including the organisation's chief, Mullah Muhammad Omar, as well as Akhtar Mansour, Zakir Qayyum,Hafiz Abdul Majeed and Sirajuddin Haqqani — is from clans that have historically competed for power with Mr. Baradar and Mr. Karzai's Popalzai.
"The President is willing to take the chance," a Minister close to him said.
"He wants a dialogue process with the Taliban to be his legacy when he retires in April."
http://www.thehindu.com/news/international/bedridden-taliban-commander-emerges-as-prize-in-highstakes-afghanus-poker-game/article5448862.ece
---------
BNP must shun violence before next talk: Hasina
Dec 12 2013
Prime Minister Sheikh Hasina yesterday said her party agreed to continue dialogue to end the political crisis but BNP must withdraw its destructive political programmes before the next round of talks. Movement and dialogue cannot go together, the premier told her cabinet colleagues at an informal meeting at Ganabhaban. Her Foreign Affairs Adviser Gowher Rizvi told reporters that the dialogue would continue. Workers Party of Bangladesh President and Post and Telecommunications Minister of the polls-time government Rashed Khan Menon who was present at the meeting said they discussed the dialogue issue, phone calls of Ban-Ki moon and John Kerry to the premier.
Full report at:
http://www.dhakatribune.com/politics/2013/dec/12/bnp-must-shun-violence-next-talk-hasina#sthash.6mKslYQd.dpuf
----------
Bangla expats want fair trial for Jamaat leader
December 12, 2013
Several Bangladeshi expatriates have welcomed the stay of execution won by senior Jamaat-e-Islami leader Abdul Quader Mollah following countrywide protests in their country.
Mollah was convicted in February of crimes against humanity during the country's 1971 war of independence from Pakistan. Mollah denies the charges. He would have been executed on Tuesday night.
Abdullah Noman, a Jamaat-e-Islami follower living in Riyadh, said the decision to execute Mollah was politically motivated. "He must be given a constitutional right to appeal against his sentence," he said.
Full report at:
http://www.arabnews.com/news/491366
---------
Molla can be hanged anytime now: Attorney general
Dec 12 2013
Attorney general Mahbubey Alam said the jail authority can executive the verdict against the convicted war criminal Quader Mollah if they want. "There is no need for the copy of the order to reach the hands of the jail authority, they can executive the verdict," he said. The attorney general made the statement while talking to the journalist after the hearing now on Thursday afternoon. The full bench of Appellate Division of the Supreme Court rejected convicted war criminal Quader Mollah's plea of filing review petition. The five-member full bench of Appellate Division led by Chief Justice M Mojammel Hossen passed the order on Thursday after hearing the arguments.
http://www.dhakatribune.com/bangladesh/2013/dec/12/molla-can-be-hanged-anytime-now#sthash.NZecWwTT.dpuf
----------
Ganajagaran Mancha to demonstrate until Molla is hanged
Dec 12 2013
Activists of the Shahbagh Ganajagaran Mancha yesterday announced to continue their sit-in at the Projonmo Chattar until the death sentence of war criminal Abdul Quader Molla was executed. The platform expressed dissatisfaction at the postponement of the execution of the war criminal "without any logical grounds." Its Convener Imran H Sarkar yesterday told the Dhaka Tribune: "We will not go back until the execution of the verdict of Quader Molla…We will return with a victory procession after Molla is hanged." He said: "We do not know of any comprehensible cause for the withdrawal of the decision. We the people of the country want to know why the chamber judge stopped the execution without any specific reason."
Full report at:
http://www.dhakatribune.com/bangladesh/2013/dec/12/ganajagaran-mancha-demonstrate-until-molla-hanged#sthash.57NzIwwD.dpuf
----------
"Maldives is spending beyond its means": World Bank
By Zaheena Rasheed | December 11th, 2013
The Maldives' economy is at risk due to excessive state expenditure, the World Bank has warned in a new report.
The report titled "Maldives Development Update October 2013" (English) paints a dire financial picture, brought on by the Maldives pursuing untenable measures to finance the state budget.
Noted areas of excess include a high civil service wage bill, healthcare and electricity subsidies, and transfers to State Owned Enterprises (SOEs).
"Maldives is spending beyond its means and financing the budget risks affecting the real economy," the report said.
Full report at:
http://minivannews.com/politics/%E2%80%9Cmaldives-is-spending-beyond-its-means%E2%80%9D-world-bank-73175
----------
URL: https://newageislam.com/islamic-world-news/bangladesh-executes-top-islamist-leader/d/34821