New Age Islam News Bureau
26 May 2015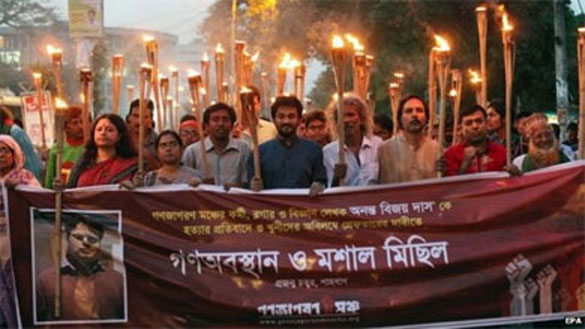 The murders of the bloggers have triggered large scale protests across Bangladesh
-------------
South Asia
• Bangladesh Bans Islamist Group Linked To 'Secular Bloggers' Killings
• Facebook Group Publishes Maldivian Jihadi Azlif's Obituary
• 58 Rebels Killed In Military Operations across Afghanistan
• Kabul Forms Militias, Calls on Warlords to Battle Terrorists
• Rohingya Muslims look for better life in Malaysia, with little persecution
• Ansarullah sixth outlawed militant group
• Afghanistan: Maidan Wardak Assault Ended After All Attackers Killed
Arab World
• Saudi Shiites Resolved to Form Popular Defense Force in Qatif
• Iraqi Forces Kill 13 ISIL Terrorists in Anbar
• Al-Nusra Front Defeats ISIL in South
• Syrian state TV signal blocked, blames foreign enemies
• IS denounced for shedding Muslim blood: King Salman
• ISIS Design to Divide Kingdom Exposed
• Joint Arab force protocol drafted
• Saudi religious police berate gloveless woman
• Iraq Deputy PM Slams US-Trained Gov't Forces for Inability to Fight ISIL
Africa
• Around 25 Kenyan Police Killed In Al Shabaab Attacks
• Boko Haram Hacks to Death 10 in NE Nigeria: Local Official
• Militants kill Bangladeshi UN peacekeeper in Mali's capital
• Zuma: Africa Day is chance to fight xenophobia
Pakistan
• Jamaat-e-Islami Fields Most Minority Candidates from Peshawar
• Seven Militants Killed In Orangi Town Search Operation
• Three Hazara people among four killed in Quetta
• Asif Zardari killed Benazir: Zulfiqar Mirza
• SC dismisses petition seeking abolition of death penalty
• Seven convicts hanged in jails across Pakistan
Mideast
• 10 Saudi Soldiers Killed in Retaliatory Attack
• 9 Dead in Saudi Attacks in Yemen's Ta'izz
• Saudi Airstrikes Claim Lives of 6 in Hajjah
• Over 22,000 illegal Yemenis in Saudi Arabia correct status
• Israel court jails Palestinian parliament speaker 1 yr
• Ex-IDF chief: Hezbollah knows price of a future war, so it won't start one
• Jewish settlers storm Jerusalem's Al-Aqsa complex
• Turkish president: ISIL appropriating region's oil
India
• IS Twitter Handle: Mehdi Biswas to Be Charged With International Terrorism
• VHP Wants Ban on Cow Slaughter, No Dams on Ganga
• Kashmir Violence documentary: HC clears release of Butalia's film without any cut or disclaimer
Southeast Asia
• Churches Won't Convert Muslims, Says Qatar-Based Scholar
• Indonesian Migrant Workers Held Hostage and Abused in Cambodia: Embassy
• Penang police yet to receive instructions on placement of Rohingya refugees
• Indonesia to send back rescued Bangladeshis
• Police Take Aim at Jailbreak Terror Suspect in Sulawesi Manhunt
North America
• Obama Touts End of Middle East Ground Wars
• Muslims Say Fallen U.S. Soldiers Should Not Be Honoured on Memorial Day
• Obama vows to withdraw all but embassy staff from Afghanistan
• Biden does damage control over Iraq remarks
Europe
• Austria Tries 15-Year-Old 'Terror' Suspect of Turkish Origin
• 743,000 children uprooted by Nigeria violence: UNICEF
• Britain, Russia remain split over Syria's Assad
• UK Ramadan Campaign Helps Muslim with Diabetes
Compiled by New Age Islam News Bureau
URL: https://newageislam.com/islamic-world-news/bangladesh-bans-islamist-group-linked/d/103169
-----------
South Asia
Bangladesh Bans Islamist Group Linked To 'Secular Bloggers' Killings
May 26, 2015
Bangladesh has reportedly outlawed an Islamic militant group accused of attacking, and killing three secular bloggers in the nation, interior ministry said.
The move came after police sought a ban on the Ansarullah Bangla Team (ABT), saying that preliminary probe had implicated the group in the three murders, reported the BBC.
Bloggers Avijit Roy, Ananta Bijoy Das and Washiqur Rahman were hacked to death earlier this year for writing blogs critical of certain aspects of Islam.
The killings touched off massive protests from activists, who accused the authorities of failing to protect critics of religious bigotry.
http://indianexpress.com/article/world/neighbours/bangladesh-bans-islamist-group-linked-to-secular-bloggers-killings-2/
-----------
Facebook Group Publishes Maldivian Jihadi Azlif's Obituary
May 26 2015
A Facebook page has published today the obituary and pictures of Maldivian Jihadi Azlif Rauf who reportedly died in Syria in mid-May.
"The purpose of this page isn't, by any means, to spread any propaganda. The reason we have taken special measures about the case of Azlif (Rahimahullah) is because people continuously keep slandering and putting false allegations on him," the newly created page Haqqu said.
The former Maldivian National Defence Force (MNDF) officer is a suspect in the brutal murder of MP Dr Afrasheem Ali in 2012. He reportedly left the Maldives in December with six members of the Kuda Henveiru gang.
He was under house arrest at the time.
Azlif's family was reportedly informed of his death on May 17, but there has been no independent verification of his death.
Opposition politicians have questioned whether he had in fact gone to Syria and suggested he may have fled the country to escape prosecution.
Haqqu, created on May 15, supports the Islamic State. It has published 11 pictures of Azlif. In some pictures he is wearing military clothing and posing with a rifle alone. In others, three other men who look to be Maldivian and other foreign fighters pose with him.
Azlif with friends in Syria
Azlif jihad
Haqqu is also the name of a website created in late 2014 which featured IS-related news in Dhivehi as well as translations of a sermon by IS Caliph Abu Bakr al-Baghdadi. The website appears to be inaccessible now.
A Twitter account by the same name last tweeted in November 28 on currency in the Islamic State.
In the obituary, Haqqu said Azlif was born in Malé and joined the MNDF after completing secondary school.
"During these times in life, he was associated with gangs and gang fights. If it were to be described shortly, we would have to say that he had a stained past, but despite all of this, he was a great leader, a caring father, and a compassionate husband."
Despite a life long journey on a strayed path, Allah showed him the true path in 2013, Haqqu said.
"He immediately sacrificed all his worldly happiness and dedicated himself, to gain knowledge about Islam."
His new friends were "baffled by his dedication, and commitment," but they appreciated him in the same way his old gang members did, Haqqu said.
Azlif left the Maldives in December "despite being under close watch from the Kufr [infidel] police." Citing fellow fighters in Syria, Haqqu said Azlif's new goal had been to kill as many non-Muslims as possible.
He was reportedly part of a 12-member platoon.
"His brothers there described him as a soft, and silent man, who struck, sharp and accurately at the right times, just like a snake." He was shot in the hamstring and killed in a skirmish near an airport Quarius Airport in a region called Wilayat Al Halab.
A man called Abu Arsalaan who was reportedly with Azlif at the time of his death said that "he could make out Azlif (Rahimahuallah)'s face even though it was a dark night, due to the glow in his face."
Azlif has three children, two girls and one boy.
In January, newspaper Haveeru said Azlif had attempted to take his daughters and then-pregnant wife with him, but was prevented by his wife's family.
The majority of Facebook users who commented on the post left prayers for Azlif, saying they hoped Allah would accept Azlif as a martyr and would grant him eternity in heaven.
"A good example to those who have military training but do nothing to help the ummah," one commenter said.
Others questioned the authenticity of the post. One pointed out the page had been created just before Azlif's death was reported.
Haqqu said in reply: "The fact that this page was created soon before the martyrdom of Azlif (Rahimahullah) is merely a coincidence. We had one other page named Haqqu, but since at the time, the brothers were more focused on updating the Haqqu website, the page wasn't up to date. You can search for yourself."
The police were unavailable for comment at the time of going to press.
The police had forwarded terrorism charges against Azlif to the prosecutor general's office over Afrasheem's murder. But the PG had not filed charges at the court.
Hussain Humam Ahmed, now serving a life sentence over the murder, had said Azlif had planned the murder in October 2012. Humam later retracted the confession and claimed it had come under duress.
Nearly a dozen Maldivians are reported to have died in Syria. A majority reportedly fought with the Al Qaeda-affiliated Jabhat al Nusra front.
The government is working on a new terrorism law to criminalise participation in foreign wars. The police in January said more than 50 Maldivians are in Syria, but the opposition says the figure could be as high as 200.
http://minivannews.com/politics/facebook-group-publishes-maldivian-jihadi-azlifs-obituary-98664#sthash.tTlLjRbv.dpuf
-----------
58 Rebels Killed In Military Operations across Afghanistan
May 26 2015
58 militants have been killed during separate military operations across the country.
Ministry of Defense (MoI) issuing a statement on Tuesday morning states that the operations were conducted in eleven provinces where 41 insurgents also wounded and 25 suspects arrested in past 24 hours.
The areas of the operations were Surkh Rud and Chaparhar districts of Nangarhar province, Khogyani District of Ghazni province, Gumal and Gilan districts of Paktika, Dehrawoud, Charchino and Sirab districts of Urozgan, Gizab and Kujran districts of Daikundi, Nish and Mia Nashin districts of Kandahar, Marja District of Helmand and Jurm District of Badakhshan province.
MoI statement confirms that 10 Army soldiers embraced martyrdom due to landmine explosion and enemy fire across the country in past 24 hours.
This year has been a challenging year for Afghan National Security Forces as they took full responsibility of security from NATO forces in January.
They launched several large-scale counter-terrorism operations across the country killing hundreds of militants since the beginning of this year. The military operations still continue.
http://www.khaama.com/58-rebels-killed-in-military-operations-across-the-country-3369
-----------
Kabul Forms Militias, Calls On Warlords To Battle Terrorists
NYT News Service | May 26, 2015
By Mujib Mashal, Joseph Goldstein & Jawad Sukhanyar
KABUL: Facing a fierce Taliban offensive across a corridor of northern Afghanistan, the government in Kabul is turning to a strategy fraught with risk: forming local militias and beseeching old warlords for military assistance, according to Afghan and Western officials.
The effort is expected to eventually mobilize several thousand Afghans from the north to fight against the Taliban in areas where the Afghan military and police forces are losing ground or have had little presence.
The action is being seen as directly undermining assurances by officials that the security forces were holding their own against the Taliban.
Further, the plan to turn to irregular forces is stoking anxieties of factional rivalries and civil strife in a nation still haunted by a civil war in the 1990s in which feuding militia commanders tore the country apart. Some of the commanders involved in that bloodletting a generation ago now hold senior government positions and are encouraging the current effort to mobilize and rearm militias.
"We have experienced this failed experiment of militia-making before," said Fawzia Koofi, a member of Parliament from Badakhshan, one of the provinces where the government is planning to form the militias. "This will spread the war from house to house, starting rivalries as everyone begins arming their own groups." The establishment of the Afghan military and police forces, which are said by officials to number more than 320,000 members as of late last year, has been held up as one of the signal accomplishments of the US-led presence here.
But the Afghans are taking casualties at an alarming rate. In the first four months of 2015, more than 1,800 soldiers and police officers were killed, and another 3,400 were wounded, according to a Western military official, who spoke on the condition of anonymity to discuss figures not being officially released by the government. Now, the militia plan suggests diminished confidence in the Afghan forces — important national institutions in a country with few of them. Indeed, the intent in creating nationalized forces was to replace the patchwork of militias around the country.
http://timesofindia.indiatimes.com/world/south-asia/Kabul-forms-militias-calls-on-warlords-to-battle-terrorists/articleshow/47423471.cms
-----------
Rohingya Muslims look for better life in Malaysia, with little persecution
May 26, 2015 7:04 am
Malaysia has been a sort of promised land for Rohingya Muslims fleeing persecution in Myanmar. The tens of thousands who endured perilous journeys to get here find more work opportunities than in Indonesia and a more Muslim-friendly environment than in Thailand.
But in the 25 years since Hamid Hussein Abul Khair arrived, that promise has been worn away by the statelessness and poverty that have never left him.
Rohingya face a tenuous existence here, unable to legally work because Malaysia, like Thailand and Indonesia, doesn't recognize asylum seekers and refugees and has not signed the U.N. Refugee Convention. They mostly scrape by on dirty or dangerous jobs shunned by Malaysians, live in squalid conditions and have no access to free health care and state-run schools.
Full report at:
http://indianexpress.com/article/world/world-others/rohingya-muslims-look-for-better-life-in-malaysia-with-little-persecution/#comments
-----------
Ansarullah sixth outlawed militant group
May 26 2015
From now on, any open or secret activities of Ansarullah Bangla Team, believed to be an al-Qaeda proxy in Bangladesh, will be considered as anti-state after the government yesterday imposed ban on the radical Islamist outfit.
Following the decision, Ansarullah activists will not be allowed to hold meetings, processions or preach its ideologies. Such activities would be termed anti-state and the law enforcers would take legal action under the Anti-Terrorism Act, police say.
The government in 2013 planned to blacklist the group.
Emerged in 2007, Ansarullah – like many other militant and radical organisations of the country – aims at establishing Shariah law in the country.
According to detectives, objectives of Ansarullah include radicalisation of youths in the country, inciting active participation in a jihad and capturing power. The group targets youths having technological knowledge and radical mindset against democratic system and propagate jihadist ideology to guide terror attacks.
Full report at:
http://www.dhakatribune.com/bangladesh/2015/may/26/ansarullah-sixth-outlawed-militant-group#sthash.YBLScpcE.dpuf
-----------
Afghanistan: Maidan Wardak Assault Ended After All Attackers Killed
May 26 2015
A group of four militants equipped with explosive materials and weapons attacked the building of the appeal court in Maidan Shar the provincial capital of Maidan Wardak province at around 10:30 AM on Tuesday.
Officials say the assault began with a suicide attack at the front gate of the court following which three other militants started a gun battle with security forces.
All three militants were gunned down by the security forces during the short gun battle.
Full report at:
http://www.khaama.com/breaking-news-huge-explosion-reported-in-provincial-capital-of-maidan-wardak-3371
-----------
Arab World
Saudi Shiites Resolved to Form Popular Defense Force in Qatif
26 May 2015
Sheikh Abdel Jalil al-Zakki, a prominent Saudi Shiite cleric, condemned the recent terrorist attack on a Mosque in al-Qatif province, and called for setting up a popular defense force to protect the Shiites.
On Friday, a suicide bomber detonated explosives during prayers at Imam Ali (PBUH) mosque in al-Qadeeh, Qatif province, killing 21 people and injuring more than 100 others.
Addressing a gathering of Qatif people and in reaction to the Shiite mosque bombing, Sheikh al-Zakki called for Shiite alliance, and said that the popular committees should be formed to protect the Shiites.
In similar remarks, a Shiite religious authority had also earlier called for forming popular committees like what the Iraqis have to help the Saudi Shiites.
On Saturday, thousands of people in Qatif staged a massive rally to support the establishment of popular defense force after the ISIL suicide attack on the Imam Ali (PBUH) mosque.
http://english.farsnews.com/newstext.aspx?nn=13940304001330
-----------
Iraqi Forces Kill 13 ISIL Terrorists in Anbar
26 May 2015
Iraqi security forces fired mortar shells at positions of the Islamic State of Iraq and the Levant (ISIL) terrorists in al-Karmah city in Anbar province on Tuesday.
Thirteen ISIL terrorists were killed in the mortar attack in al-Harariat district in al-Karmah city, 53km East of Ramadi city, a security source said, adding that two of the Takfiri militants' vehicles were also destroyed.
The ISIL Takfiri terrorists currently control shrinking swathes of Syria and Iraq. They have threatened all communities, including Shiites, Sunnis, Kurds, Christians, Ezadi Kurds and others, as they continue their atrocities in Iraq.
Senior Iraqi officials have blamed Saudi Arabia, Qatar, and some Persian Gulf Arab states for the growing terrorism in their country.
The ISIL has links with Saudi intelligence and is believed to be indirectly supported by the Israeli regime.
http://english.farsnews.com/newstext.aspx?nn=13940305000766
-----------
Al-Nusra Front Defeats ISIL in South
26 May 2015
The infighting between rival terrorist groups continued in several parts of Syria in the last 24 hours, and the Islamic State of Iraq and the Levant (ISIL) lost its positions to the Al-Nusra Front in the Southern parts of the country.
The ISIL terrorists withdrew from the town of Sahm Joulan in Western Dara'a as the Al-Nusra Front attacked the ISIL's positions in that town.
Tens of terrorists from both sides were killed in heavy clashes.
The ISIL's defeat from Al-Nusra Front in Southern Syria came as the Takfiri terrorist group was also pushed back from vast territories in the North.
Also in the past 24 hours, the Syrian army and the Lebanese Hezbollah resistance fighters made massive gains in the province of Idlib and took control over hilltops near the strategic city of Jisr al-Shughour in Northwest.
The army and Hezbollah forces tightened their grip over the last hilltops under Al-Nusra Front control before winning back Jisr al-Shughour. Almost the entire city is under terrorists' control.
Full report at:
http://english.farsnews.com/newstext.aspx?nn=13940305000781
-----------
Syrian state TV signal blocked, blames foreign enemies
26 May 2015
Syria's government-run satellite telvision channels were interrupted on Tuesday due to what the official news agency said was interference by enemy countries that wanted to "block out the voice of truth."
Syria TV, a 24-hour rolling news channel, flickered on and off and then issued a news flash, before going totally dark, saying that signals were being interrupted. Its broadcasting was then switched to the frequency of another state-run channel, Syrian Drama TV.
State news agency SANA said the state channels had been hit by signal jamming.
It said Syrian channels were frequently disrupted by the "countries of conspiracy" aimed at stopping truthful news reaching viewers worldwide.
It did not specify which country it believed was to blame.
The government of President Bashar Assad, which has been fighting insurgents for the last four years, is opposed by Western and Gulf Arab countries.
http://www.jpost.com/Breaking-News/Syrian-state-TV-signal-blocked-blames-foreign-enemies-404097
-----------
IS denounced for shedding Muslim blood: King Salman
May 26 2015
JEDDAH: The Cabinet, chaired by Custodian of the Two Holy Mosques King Salman, denounced Friday's terrorist attack on a Qatif mosque and said it was aimed at undermining the Kingdom's security and stability.
"The heinous crime resulted in the killing of innocent people," the Cabinet said in a statement. "This terrorist aggression came from the spiteful criminals who shed the blood of Muslims and targeted worshippers."
Culture and Information Minister Adel Al-Toraifi said the Cabinet commended the efforts made by security agencies to identify the suicide bomber as well as his accomplices and arresting most members of the terrorist cell to which the bomber belongs.
He said the bomber acted on the directives of IS terrorist organization with the intent of creating division among Saudi citizens, spread hostility and sedition among them, and create disunity in society.
Full report at:
http://www.arabnews.com/featured/news/752291
-----------
ISIS design to divide Kingdom exposed
May 26 2015
JEDDAH: The Interior Ministry has confirmed the hand of Islamic State in Qatif suicide bombing.
Maj. Gen. Mansour Al-Turki, Interior Ministry spokesman, said latest investigations have revealed that IS was behind the bombing of Ali bin Abi Taleb Mosque.
Last month, a cell was busted, and security forces revealed that one of the arrested members, Essam Al-Daoud, had provided shelter to Al-Qadeeh suicide bomber Saleh Al-Qashami.
Al-Turki said that Al-Daoud has been brought back to the Kingdom from Lebanon in 2009 and was sentenced to two years in prison in the Kingdom. He was released after serving his prison term.
Brig. Gen. Bassam Attia said that the IS strategy is based on splitting the Kingdom into sectors based on geographical, sectarian and economic divides. He added that IS foresees implementing three clear objectives — targeting security men, inciting sectarian strife and targeting foreigners. These three goals serve the organization's general aim of spreading chaos.
Full report at:
http://www.arabnews.com/saudi-arabia/news/751781
-----------
Joint Arab force protocol drafted
May 26 2015
CAIRO: Army chiefs of staff of Arab countries have drafted a protocol for a new joint force to intervene in Middle East hotspots on missions ranging from fighting militants to Iran-backed groups — despite lingering disagreements on some details, including where to base the force's headquarters.
The plan, drafted at a gathering Sunday in Cairo, describes where and how the force would be put into action. Membership is "voluntary," the draft says, and if only three of the members sign up, it's enough to put the plan into action. A decision to intervene would be based on a request from a member state "facing threats."
Full report at:
http://www.arabnews.com/featured/news/752281
-----------
Saudi religious police berate gloveless woman
26 May 2015
A video of a Saudi religious policeman shouting at a veiled woman and barring her from entering a shop for not wearing gloves has gone viral on the Internet.
The religious police, known as the Commission for the Promotion of Virtue and Prevention of Vice, is notorious for imposing Saudi Arabia's strict version of Islam.
Commission members enforce the segregation of the sexes and have traditionally forced women to cover from head to toe when in public. But they are often accused of abuses.
The woman that appears in the video is seen covered in the traditional Saudi black abaya cloak, with only her bare hands showing.
As she tries to enter a shop in Barzan Mall, in the northwestern city of Hail, the woman is stopped by a bearded man who shouts at her, demanding she cover her hands.
"Walk away... don't say a word... Put on some gloves," the bearded man says, refusing to let her inside the shop.
Full report at:
http://english.ahram.org.eg/NewsContent/2/8/131155/World/Region/Saudi-religious-police-berate-gloveless-woman.aspx
-----------
Iraq Deputy PM Slams US-Trained Gov't Forces for Inability to Fight ISIL
26 May 2015
Iraqi Deputy Prime Minister Saleh Mutlaq criticized government forces trained by US instructors for their inability to protect the Iraqi city of Ramadi against the Islamic State of Iraq and the Levant (ISIL) terrorist group.
Mutlaq told CNN Monday that the Iraqi army's reluctance to defend Ramadi "surprised all of us".
"It's not clear for us why such a unit, which was supposed to be trained by the Americans for years, and supposed to be one of the best units in the army, would withdraw from Ramadi in such a way," he said, adding that "this is not the army that we are willing to see or we are expecting to see".
US Defense Secretary Ashton Carter said earlier that ISIL captured Ramadi because the Iraqi military refused to fight. According to the Pentagon, Iraqi forces greatly outnumbered the enemy, yet fled the battle.
Full report at:
http://english.farsnews.com/newstext.aspx?nn=13940305000667
----------
Africa
Around 25 Kenyan police killed in al Shabaab attacks
May 26 2015
NAIROBI, May 26 (Reuters) - Al Shabaab gunmen killed around 25 Kenyan police, ambushing some officers in a village in the east of the country after others died when their vehicle hit a landmine planted by the militants, their military spokesman said.
The Islamist group also burnt five vehicles in the two incidents, Sheikh Abdiasis Abu Musab said.
"We took all their weapons. There were some Kenyan forces that escaped in the course of the ambush fighting," he said.
Some 20 police died in the ambush, which occurred in Monday evening in Yumbis village, 70 km (45 miles) north of the town of Garissa, the Standard and Daily Nation newspapers said.
Last week, al Shabaab attacked Yumbis and hoisted their flag on a mosque where they held prayers before heading to another nearby village.
Full report at:
http://www.trust.org/item/20150526063834-ygjlv/?source=jtOtherNews1
-----------
Boko Haram hacks to death 10 in NE Nigeria: Local official
26 May 2015
Boko Haram fighters hacked to death 10 people in a remote village in northeast Nigeria, a local government official told AFP.
Maina Ularamu, local government chairman of Madagali, in the north of Adamawa state, said the attack happened early on Friday morning in Pambula-Kwamda village.
"The attackers went into the village around 4:00 am (0300 GMT) while residents were still asleep and used machetes to attack their victims," he added.
News of the attack only emerged on Monday because of the remote location and communications difficulties caused by the insurgency.
The attack is the latest by Boko Haram in northern Adamawa state, which was declared "clear" of insurgents in March by the military.
Full report at:
http://english.ahram.org.eg/NewsContent/2/9/131139/World/International/Boko-Haram-hacks-to-death--in-NE-Nigeria-Local-off.aspx
-----------
Militants kill Bangladeshi UN peacekeeper in Mali's capital
May 26 2015
BAMAKO: Militants opened fire on two Bangladeshi peacekeepers in Mali's Bamako on Monday, killing one, the second attack within days in the capital of what is considered the most dangerous UN mission in the world.
One of the peacekeepers, both ranked as privates, died on the scene and the other was rushed immediately to hospital with bullet wounds after the ambush on their SUV, Bangladesh army spokesperson Nur Islam said Tuesday.
"Armed men that we have not yet identified shot at two peacekeepers who were on board a UN vehicle on Monday night. One of them was killed and the other seriously wounded," a Malian security source told AFP.
Full report at:
http://tribune.com.pk/story/892550/militants-kill-bangladeshi-un-peacekeeper-in-malis-capital/
------------
Zuma: Africa Day is chance to fight xenophobia
World Bulletin / News Desk
26 May 2015
South Africa's president has said that economic growth in Africa must be "inclusive" and improve the quality of life for the one billion people who live on the continent.
Jacob Zuma was speaking in Pretoria, ushering in a month of events starting from Africa Day which falls on Monday.
Africa Day marks the 1963 foundation of the Organisation for African Unity (OAU), which became the African Union in 2002.
Speaking on Sunday at the Mamelodi Campus of the University of Pretoria, Zuma said: "Today we also celebrate the advancement of the continent economically, although there is still a long way to go."
"We have a sound socio-economic development plan in the form of the New Partnership for Africa's Development, NEPAD. We have clear programs to advance infrastructure development, industrialization and advancement in agriculture, health and other social programs."
Full report at:
http://www.worldbulletin.net/headlines/159667/zuma-africa-day-is-chance-to-fight-xenophobia
-----------
Pakistan
Jamaat-e-Islami Fields Most Minority Candidates from Peshawar
May 26 2015
PESHAWAR: For many, Jamaat-e-Islami's name says it all; a religious party working for the Muslim community. On the contrary, however, it has fielded as many as 57 minority candidates for Peshawar district alone—outnumbering any religious or secular party.
The secret is the strength of its minority wing on the district, provincial and national level. As a result, whereas other political parties are struggling to field minority candidates, JI has faced no such problem.
Central and Provincial President JI Minority Wing Pervez Masih tells The Express Tribune that 47 of the party's minority candidates are vying for councillor seats, while 10 are running for town and district seats.
"The key lies in the strong organisational structure of our party," he says. "I am the national level president of JI's minority wing and the provincial president of K-P," he says. Masih adds the party's minority wing's other officials in Peshawar are District President Danial Samuel, Vice President Dilawar Masih, General Secretary Javed Gil, Secretary Information Munir Siraj and the town presidents.
Full report at:
http://tribune.com.pk/story/892210/ji-fields-most-minority-candidates-from-peshawar/
----------
Seven militants killed in Orangi Town search operation
May 26 2015
KARACHI: In an operation that began late Monday night, seven militants belonging to the outlawed Tehreek-e-Taliban Pakistan (TTP) were killed in Orangi Town area of Karachi, Express News reported.
According to reports, at least four militants were killed in a search operation conducted in Orangi Town's Faqir Colony area on Tuesday. The militants first attacked Rangers with hand grenades and opened fire as they tried to escape. The attack comes after at least two suspected militants were killed on Monday night after one of them blew his suicide vest in the operation.
Full report at:
http://tribune.com.pk/story/892487/search-operation-rangers-kill-four-militants-in-orangi-town/
-----------
Three Hazara people among four killed in Quetta
May 26 2015
QUETTA: Four people, three of them belonging to the Shia Hazara community, were killed and eight others, two women among them, suffered injuries in three incidents of firing here on Monday.
Bazaars, markets, shopping centres and shops were closed and normal activities suspended in the city after the incidents. Vehicular traffic remained thin in and around the city.
People of Hazara community and traders demonstrated outside the office of the inspector general of police and Quetta Press Club to protest against the incidents.
Enraged people gathered on Masjid Road and Liaquat Road, forcing shopkeepers to close their shops.
Full report at:
http://www.dawn.com/news/1184277/three-hazara-people-among-four-killed-in-quetta
-----------
Asif Zardari killed Benazir: Zulfiqar Mirza
May 26 2015
In a startling revelation, Pakistan Peoples Party's estranged leader Zulfiqar Mirza alleged that former president Asif Ali Zardari killed former prime minister Benazir Bhutto.
"Asif Ali Zardari murdered Benazir Bhutto," the former home minister said, while addressing a press conference at his residence in Karachi.
"Benazir would not have even married Zardari if it was not for my efforts," he added.
Angry that his security was taken back from him, Mirza reiterated he has been receiving threats.
"Taking my security back is the first step in trying to kill me," he said, fearing a repeat of what happened to Mir Murtaza.
Further, the former provincial home minister said if something happens to him, Zardari's sister Faryal Talpur should be held responsible.
Full report at:
http://tribune.com.pk/story/892537/asif-zardari-killed-benazir-zulfiqar-mirza/
-----------
SC dismisses petition seeking abolition of death penalty
May 26 2015
ISLAMABAD: The Supreme Court on Tuesday dismissed a petition seeking the abolition of death penalty, maintaining that life and liberty are not absolute under the Constitution of Pakistan.
The petitioner, Barrister Zafarullah, from the Watan Party had filed the petition seeking the abolition of the death penalty, arguing that punishment was against the fundamental rights in a country where the criminal justice system was ineffective.
A three-member bench of the apex court headed by Justice Saqib Nisar dismissed the petition, stating that right to life and liberty are not absolute in nature nor in the Constitution of Pakistan and no one can be given the liberty to do about as they please.
The court stated that the death penalty was provided for in the law, and the life of a person may be taken if done under provision of law.
Full report at:
http://www.dawn.com/news/1184338/sc-dismisses-petition-seeking-abolition-of-death-penalty
-----------
Mideast
10 Saudi Soldiers Killed in Retaliatory Attack
26 May 2015
More than ten Saudi soldiers were killed as cross-border tensions between the kingdom's forces and Yemeni tribal fighter escalated on Tuesday.
The Yemeni tribesmen carried out a retaliatory attack against Saudi border guards in the Southwestern Saudi city of Najran and claimed the lives of more than 10 soldiers.
The attack came after Saudi warplanes pounded residential areas in border towns and killed large groups of innocent people.
Cross-border skirmishes between the Saudi troops and Yemeni tribes have flared up over the last six weeks, as the monarchy's airstrikes continue and have so far claimed the lives of thousands of innocent people, particularly at border areas.
Saudi Arabia has been bombing Yemen in the last 62 days to bring its ally, fugitive president Mansour Hadi, back to power.
Full report at:
http://english.farsnews.com/newstext.aspx?nn=13940305000348
-----------
9 Dead in Saudi Attacks in Yemen's Ta'izz
26 May 2015
At least 9 people were killed after Saudi warplanes bombarded residential areas in the Southern province of Ta'izz on Tuesday.
The Saudi air raids left more than 9 people dead and several others injured in Jabal Sabir district in Ta'izz.
Saudi Arabia has been bombing Yemen in the last 62 days to bring its ally, fugitive president Mansour Hadi, back to power.
The airstrikes have killed, at least, 3,912 Yemenis, according to FNA's independent tally.
According to a recent report by Freedom House Foundation, most of the victims of the deadly Al Saud campaign are civilians, including a large number of women and children.
Thousands of residential buildings have been destroyed, and hundreds of civil and public facilities were reduced to rubble as a result of the bombardments by Saudi warplanes on the Yemeni cities and towns, the group said.
http://english.farsnews.com/newstext.aspx?nn=13940305000217
-----------
Saudi Airstrikes Claim Lives of 6 in Hajjah
26 May 2015
Saudi fighter jets pounded a village in Hajjah province early on Tuesday and claimed the lives of at least 6 people.
More than six civilians lost their lives on Tuesday after Saudi jets hit a village in Harad district in Hajjah.
Saudi Arabia has been bombing Yemen in the last 62 days to bring its ally, fugitive president Mansour Hadi, back to power.
The airstrikes have killed, at least, 3,912 Yemenis, according to FNA's independent tally.
According to a recent report by Freedom House Foundation, most of the victims of the deadly Al Saud campaign are civilians, including a large number of women and children.
Thousands of residential buildings have been destroyed, and hundreds of civil and public facilities were reduced to rubble as a result of the bombardments by Saudi warplanes on the Yemeni cities and towns, the group said.
http://english.farsnews.com/newstext.aspx?nn=13940305000220
-----------
Over 22,000 illegal Yemenis in Saudi Arabia correct status
26 May 2015
A total of 22,500 illegal Yemenis all over the Kingdom have corrected their residence status since an amnesty for the community started on May 10.
Custodian of the Two Holy Mosques King Salman issued a royal order to help all illegal Yemenis who have been residing in the Kingdom before April 9 obtain papers to stay and work in the country legally.
According to Maj. Gen. Daifullah Bin Sattam Al-Huwaifi, deputy director of the Directorate General of Passports (Jawazat), as many as 1,422 Yemenis have corrected their status in the Eastern Province.
He said the Eastern Province's Jawazat corrects the status of 3,000 to 3,500 Yemenis daily.
The correction status will continue until July 7 and will also include prisoners and those with criminal records.
Full report at:
http://english.alarabiya.net/en/News/middle-east/2015/05/26/Over-22-000-illegal-Yemenis-in-Saudi-Arabia-correct-status.html
-----------
Israel court jails Palestinian parliament speaker 1 yr
World Bulletin / News Desk
26 May 2015
An Israeli military court on Monday slapped the speaker of the Palestinian Legislative Council (parliament) with a one-year jail term, a Palestinian NGO has said.
"The court sentenced Aziz Dweik to 12 months in prison and fined him 6,000 shekels [roughly $1,500]," the Ahrar Center for Human Rights Studies, an NGO, said in a statement.
"We call on all international organizations to stand against Israel's racist actions against our people," it added.
Aziz was detained by the Israeli army in June of last year from his home in the West Bank city of Hebron.
In recent months, Israeli forces have detained hundreds of West Bank Palestinians, including 12 lawmakers and former cabinet ministers.
Over 6,500 Palestinians are currently languishing in prisons throughout Israel, according to official Palestinian figures.
http://www.worldbulletin.net/headlines/159684/israel-court-jails-palestinian-parliament-speaker-1-yr
-----------
Ex-IDF chief: Hezbollah knows price of a future war, so it won't start one
26 May 2015
Hezbollah "understands well the price of a future war," and will not initiate one deliberately, Lt.-Gen. (res.) Benny Gantz, the former IDF chief of staff, told Israel Radio on Monday.
During the interview, held to commemorate 15 years since the IDF's withdrawal from southern Lebanon, Gantz said: "Still, there is high sensitivity in the north. War can still occur because of local conditions. I know that the IDF is ready for any potential developments."
Israel, Gantz said, "has no interests beyond the northern and southern borders, other than security interests. If we are challenged, we will know how to deal with it."
Gantz, who was the former commander of the Lebanon Liaison Unit at the time of Israel's withdrawal, told Israel Radio that he thought the decision to leave Lebanon was the right one, though he added that it should have been carried out with "more coordination."
Gantz entered Lebanon in March 1986, and left with the IDF, being the last member of the military to exit the country, exactly 15 years ago, in 2000. "I came in as a soldier, and left as a general," he said.
Full report at:
http://www.jpost.com/Arab-Israeli-Conflict/Ex-army-chief-Gantz-Hezbollah-understands-price-of-a-future-war-so-it-wont-start-one-404024
-----------
Jewish settlers storm Jerusalem's Al-Aqsa complex
World Bulletin / News Desk
26 May 2015
Scores of Jewish settlers forced their way into occupied East Jerusalem's flashpoint Al-Aqsa Mosque compound on Monday to mark the Jewish Shavuot holiday, a Palestinian official has said.
"At least 60 Jewish settlers in groups – backed by Israeli police – stormed the holy compound through the Al-Magharbeh Gate," Sheikh Omar al-Qiswani, Al-Aqsa Mosque director, told Anadolu Agency.
"The settlers inspected the complex, passing by the Al-Qibali and the Dome of the Rock mosques, and tried to perform Talmudic rituals before leaving the compound through the Al-Silsila Gate," he said.
Full report at:
http://www.worldbulletin.net/headlines/159654/jewish-settlers-storm-jerusalems-al-aqsa-complex
--------
Turkish president: ISIL appropriating region's oil
May 26 2015
President Recep Tayyip Erdoğan has used an international gathering on energy as an opportunity to question the motives of the Islamic State of Iraq and the Levant (ISIL) in its "constant oil operations" in the region.
"What does oil matter if there is nothing human? If there is humanity then water is also valuable. The entire world needs to comprehend that this merciless system cannot continue in the 21st century," said Erdoğan on May 25, in a speech delivered at the opening of the 6th World Forum on Energy Regulation in Istanbul.
"At the moment, oil wells are at the hands of Daesh," he said, using the Arabic acronym for ISIL.
Full report at:
http://www.hurriyetdailynews.com/turkish-president-isil-appropriating-regions-oil.aspx?pageID=238&nID=82954&NewsCatID=348
-----------
India
IS Twitter Handle: Mehdi Biswas to be charged with international terrorism
May 26, 2015
The Centre has accorded permission to Bangalore police for pressing international terrorism charges against Mehdi Masroor Biswas, who was arrested last year for allegedly operating pro-Islamic State (IS) Twitter handle @shamiwitness.
Bangalore's Central Crime Branch police is scheduled to file the chargesheet against 24-year-old Biswas in the next few days. At first, a preliminary chargesheet will be filed. Police will file a final chargesheet once Twitter furnishes data on some international accounts of IS fighters and supporters, sources said.
Biswas, originally from West Bengal, was arrested on December 13, 2014 after UK's Channel 4 "identified" him as operator of the pro-IS Twitter handle. At the time of his arrest, he was working as an executive at a multinational food company.
Full report at:
http://indianexpress.com/article/india/india-others/is-twitter-handle-mehdi-biswas-to-be-charged-with-international-terrorism/
-----------
VHP wants ban on cow slaughter, no dams on Ganga
May 26, 2015
The Vishva Hindu Parishad (VHP) on Monday demanded that the NDA government enact a legislation imposing a complete ban on cow slaughter, and also asked it not to plan any dam on the Ganga in order to ensure the river's uninterrupted flow.
The VHP's central governing body, on the first day of its two-day conclave in Hardwar, unanimously passed two resolutions — "Save Ganga" and "Save Cow".
In a press note, the saffron body said only a white revolution can save the farmers and rural India.
During the conclave, in which around 110 seers are debating VHP's future plans, Swami Satyamitranand suggested that reciting Hanuman Chalisa and reading Sundarakand could help bring down incidents of rape.
Full report at:
http://indianexpress.com/article/india/india-others/vhp-wants-ban-on-cow-slaughter-no-dams-on-ganga/
-----------
Kashmir Violence documentary: HC clears release of Butalia's film without any cut or disclaimer
By Aneesha Mathur
May 26, 2015
The Delhi High Court on Monday allowed the release of a documentary by filmmaker Pankaj Butalia on Kashmir violence, noting that the "right to censor films, shown in whatever form, constitutes a prior restraint," and should "necessarily be reasonable".
Butalia's work focuses on the spate of violence in Kashmir between 2005 and 2013 and contains interviews of people affected by it. The filmmaker had approached the HC after the Central Board of Film Certification and Film Certificate Appellate Tribunal suggested some major cuts in the 61-minute documentary.
The CBFC and the FCAT had suggested that some angry remarks — made by parents of children killed during the 2010 stone-pelting clashes in Srinagar — should be censored. They had also directed Butalia to include a disclaimer stating "all views in the film are personal", before the beginning of the documentary.
Full report at:
http://indianexpress.com/article/india/india-others/kashmir-violence-documentary-hc-clears-release-of-butalias-film-without-any-cut-or-disclaimer/
----------
Southeast Asia
Churches Won't Convert Muslims, Says Qatar-Based Scholar
May 26 2015
Doha-based scholar Dr Jasser Auda scoffed today at Muslims who protest against churches and temples in Muslim-majority areas, saying that converting out of Islam is a matter of faith and not caused by buildings.
The Islamic Studies professor said government should not regulate places of worship as long as they do not harm the public or disrupt public order.
"I come from Egypt. In Egypt, we have churches besides the mosques everywhere," Jasser told reporters after a roundtable of 'Maqasid Al-Syariah', or the higher intentions of Shariah, held by the Global Movement of Moderates Foundation.
"We've been living like that for the past 1,400 years. As a person who grew up in Cairo, I don't see a problem having a church beside a mosque. The issue of conversion is a different issue. People convert according to their beliefs, it has nothing to do with building a church or not," he added.
Full report at:
http://www.themalaymailonline.com/malaysia/article/churches-wont-convert-muslims-says-qatar-based-scholar#sthash.ZULtGPt8.dpuf
------------
Indonesian Migrant Workers Held Hostage and Abused in Cambodia: Embassy
May 26 2015
Jakarta. Indonesia's embassy in Phnom Penh has criticized Cambodian authorities for failing to take action against a "mafia-style casino" that allegedly took 16 Indonesian migrant workers hostage and physically abused them.
The migrant workers found themselves in trouble after their employer, the Grand Dragon Resort in Chrey Thom, Kandal province, accused them of embezzlement, according to the embassy.
The 16 Indonesians were then unlawfully held in the casino's shelter for five days and threatened by a casino manager with an "electric shock device," the embassy said in a press release sent to Cambodian media that was seen by the Jakarta Globe.
Three of the workers allegedly suffered physical abuse during their detention between May 11 and 16.
Full report at:
http://thejakartaglobe.beritasatu.com/news/indonesian-migrant-workers-held-hostage-abused-cambodia-embassy/
-----------
Penang police yet to receive instructions on placement of Rohingya refugees
May 26 2015
The police have yet to receive instructions on placement of Rohingya refugees in Penang.
Penang police chief Datuk Abdul Rahim Hanafi said they were fully prepared to take the necessary steps if instructed to do so
"We will also cooperate with other agencies involved regarding this issue."
Recently Inspector-General of Police Tan Sri Khalid Abu Bakar was reported as saying the Rohingya refugees might be placed in temporary shelters in northern states, including Penang.
The country recently saw a massive influx of "boat people" from Myanmar and Bangladesh.
http://www.themalaysianinsider.com/malaysia/article/penang-police-yet-to-receive-instructions-on-placement-of-rohingya-refugees#sthash.x9My2x5q.dpuf
----------
Indonesia to send back rescued Bangladeshis
May 26 2015
Indonesia is likely to send back Bangladeshi migrants who landed on its shores in two or three weeks, said an Indonesian immigration official.
"The Bangladeshi government has committed to taking back all its citizens. Indonesia will do its best to help with the process," The Straits Times quoted Mr Mirza Iskandar, investigation and enforcement director at the national immigration office in Jakarta.
Asked how soon the Bangladeshis would be repatriated, he said: "Can't be in a week's time, maybe two or three weeks."
However, the country has agreed to allow Muslim Rohingya refugees to stay on until they are accepted by a third country.
There are more than 800 Bangladeshis in Aceh province and another 56 in North Sumatra.
They were rescued together with more than 1,000 Rohingya off the eastern part of Sumatra island by local fishermen about a week ago.
The rescued Bangladeshi migrants would be sent to Medan of North Sumatra before their trip home, head of the local prosecutors' office Mr Armiftahul Arifin said.
http://www.dhakatribune.com/asia-pacific/2015/may/26/indonesia-send-back-bangladeshi-migrants-weeks#sthash.FUqPajzD.dpuf
-----------
Police Take Aim at Jailbreak Terror Suspect in Sulawesi Manhunt
May 26 2015
Jakarta. The National Police have revealed the identity of convicted terrorist and explosives expert they say is a key target in a terrorist network led by Indonesia's most wanted radical Santoso.
"Besides Santoso, another [main] target is Basri. He's the one we are also chasing after," National Police chief Comr. Gen. Badrodin Haiti said in Jakarta on Tuesday.
In April 2013, Basri, who is also known as Ayas or Bagong, escaped Ampana Penitentiary in Poso district, Central Sulawesi.
He was sentenced in December 2007 to 19 years in prison for his role in the 2005 beheadings of three Catholic schoolgirls in Poso, which was previously the scene of deadly sectarian conflict that left about 1,000 dead.
Full report at:
http://thejakartaglobe.beritasatu.com/news/police-take-aim-jailbreak-terror-suspect-sulawesi-manhunt/
-----------
North America
Obama touts end of Middle East ground wars
26 May 2015
U.S. President Barack Obama paid a Memorial Day tribute to America's "fallen heroes" Monday, stressing the heavy burden of perennial wars and underscoring his decision to pull troops from Afghanistan and Iraq.
Echoing Abraham Lincoln's praise for those who offered the "last full measure of devotion," Obama praised "everyday heroes" who died in the "mountains of Korea, the jungles of Vietnam, the deserts of the Middle East" and in countless other conflagrations.
While looking to the past, Obama's address was tinged by war politics that have pervaded Washington for a generation and which are still alive today.
"For many of us, this Memorial Day is especially meaningful; it is the first since our war in Afghanistan came to an end," he said.
"Today is the first Memorial Day in 14 years that the United States is not engaged in a major ground war."
The Nobel Prize-winning president fulfilled an election promise to wind down the wars in Afghanistan that killed 2,200 Americans and Iraq where there are now fewer than 10,000 non-combat troops.
Full report at:
http://english.alarabiya.net/en/News/middle-east/2015/05/26/Obama-touts-end-of-Middle-East-wars-.html
-----------
Muslims Say Fallen U.S. Soldiers Should NOT Be Honored on Memorial Day
26 May 2015
The Muslim Council on American-Islamic Relations (CAIR) has decided that Memorial Day should not honor those American soldiers who have died, instead, it should honor those Muslim terrorists who were killed by American soldiers.
You read that right. As nearly all Americans come together on Memorial Day to honor those who paid the ultimate sacrifice for the country's freedom and safety, two CAIR officials spent the holiday weekend differently: questioning whether U.S. troops deserve to be honored and tweeting that the country was "established upon white supremacy."
The Council on American-Islamic Relations (CAIR), a group labeled by the Justice Department as a U.S. Muslim Brotherhood entity and "un-indicted co-conspirator" in a terrorism-financing trial, disingenuously claims that it is a moderate organization.
Full report at:
http://toprightnews.com/muslims-say-u-s-military-should-not-be-honored-on-memorial-day/
-----------
Obama vows to withdraw all but embassy staff from Afghanistan
May 26 2015
WASHINGTON: US President Barack Obama said on Monday that this Memorial Day was "especially meaningful" because it was the first since America's war in Afghanistan came to an end.
In a Memorial Day address to his nation from the Arlington National Cemetery near Washington, President Obama also vowed to reduce the US mission in Afghanistan to an embassy presence by the end of next year.
The last Monday of every May is observed across the United States as Memorial Day for remembering those who died while serving in the country's armed forces.
"Today is the first Memorial Day in 14 years that the United States is not engaged in a major ground war," said Mr Obama in an address to the nation from the Arlington National Cemetery, near Washington.
Full report at:
http://www.dawn.com/news/1184263/obama-vows-to-withdraw-all-but-embassy-staff-from-afghanistan
-----------
Biden does damage control over Iraq remarks
26 May 2015
Vice President Joe Biden reassured Iraqi Prime Minister Haidar al-Abadi of the U.S. commitment to help fight the Islamic State of Iraq and Syria (ISIS) militants in an effort at damage control on Monday after Defense Secretary Ash Carter questioned Iraqi troops' desire to fight.
Carter told CNN on Sunday that Iraqi forces showed no will to battle against ISIS militants during the fall of Ramadi a week ago, and U.S. forces were trying to encourage them to engage more directly.
His remarks drew a rebuke from Abadi, with whom President Barack Obama has sought to build a positive relationship despite tension over the U.S. role in the country.
Full report at:
http://english.alarabiya.net/en/News/world/2015/05/26/Biden-reassures-Iraqi-prime-minister-of-U-S-support.html
-----------
Europe
Austria tries 15-year-old 'terror' suspect of Turkish origin
May 26 2015
A 15-year-old Austrian schoolboy with alleged ties to Islamist extremists and accused of intending to bomb a Vienna train station went on trial May 26 facing up to five years in prison.
The defendant, named only as Mertkan G., was arrested in October 2014 when he was 14 and allegedly had contact with supporters of the Islamic State of Iraq and the Levant (ISIL) jihadist group and Al-Qaeda, the court in his hometown Sankt-Poelten said.
In addition he is suspected of obtaining instructions on how to make an explosive device from an Al-Qaeda website... in order to carry out an attack in Vienna," the court 70 kilometres (45 miles) west of the Austrian capital said.
According to the charge sheet, the teenager, who emigrated from Turkey in 2007, wanted to carry out the attack before travelling to join "holy war" in Syria and was in contact with ISIL recruiters in Vienna.
Full report at:
http://www.hurriyetdailynews.com/austria-tries-15-year-old-terror-suspect-of-turkish-origin.aspx?pageID=238&nID=82973&NewsCatID=359
-----------
743,000 children uprooted by Nigeria violence: UNICEF
World Bulletin / News Desk
26 May 2015
The UN children's fund (UNICEF) estimates that around 734,000 children have been displaced or otherwise affected by recent Boko Haram violence in Nigeria's restive northeast, with at least 10,000 of them having been separated from their parents.
"An estimated 743,000 children have been uprooted by the conflict in the three most affected states of Nigeria," Geoffrey Njoku, a Nigerian spokesman for UNICEF, said in a Tuesday statement.
"The number of unaccompanied and separated children could be as high as 10,000," he added.
Nigeria is battling a six-year insurgency, especially in its northeastern region, where tens of thousands of people have been killed – and millions displaced – across the region.
Last year, Boko Haram militants seized several towns and villages – across a swathe of Nigerian territory the size of Belgium – amid stepped up attacks in the northeastern Adamawa, Borno and Yobe states.
Full report at:
http://www.worldbulletin.net/todays-news/159727/743000-children-uprooted-by-nigeria-violence-unicef
-----------
Britain, Russia remain split over Syria's Assad
World Bulletin / News Desk
26 May 2015
Britain and Russia remain divided over the role of Bashar al-Assad in the Syrian conflict, despite a new pledge to find a solution to the war and counter the rise of Daesh.
British Prime Minister David Cameron and Russian President Vladimir Putin spoke on the phone on Monday following Cameron's recent victory in the U.K. general election on May 7.
A Downing Street spokesperson on Monday said the two leaders spoke for 30 minutes and focused on two key issues: Syria and Ukraine.
The pair agreed that national security advisers should meet to restart Syrian talks but Cameron and Putin remain at odds over Assad. Downing Street said that Cameron "reiterated his belief that President Assad could not be part of the solution in Syria."
Full report at:
http://www.worldbulletin.net/todays-news/159711/britain-russia-remain-split-over-syrias-assad
-----------
UK Ramadan Campaign Helps Muslim with Diabetes
26 May 2015
CAIRO – As Muslims worldwide brace for the fasting month of Ramadan, a Scottish charity has launched a new campaign to offer medical care for Muslims who suffer diabetes during the holy month.
"This year Ramadan falls in summer, meaning the length of fast could be 17 hours or more," Saqib Abbasi of the Diabetes UK's Scottish arm told The Herald Scotland on Monday, May 25.
"For Muslims with diabetes this could lead to a much higher risk of hypoglycemia (low blood sugar) and dehydration, as well as an increased chance of high glucose levels at suhoor (pre-dawn meal) and iftar (evening meal when the fast is ended)."
Abbasi urged UK Muslims with diabetes to seek healthcare support during Ramadan offered by the British charity.
"If you are considering fasting and have diabetes, then you should make sure to speak to both your Imam and your GP in advance before making your final decision," he said.
The Diabetes UK's Ramadan 2015 campaign includes distributing factsheets about the disease in various languages to mosques and Islamic centers.
Campaign members will also deliver presentations on managing diabetes during Ramadan, as a part of this year's program.
Full report at:
http://www.onislam.net/english/news/europe/486511-uk-ramadan-campaign-helps-muslim-with-diabetes.html
-----------
URL: https://newageislam.com/islamic-world-news/bangladesh-bans-islamist-group-linked/d/103169