New Age Islam News Bureau
20 Jul 2017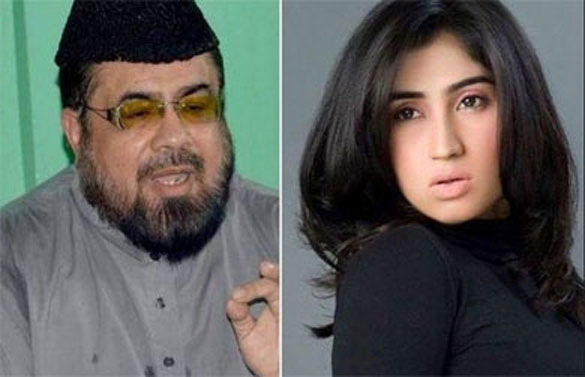 Mufti Qavi calls Qandeel and all honour crimes victims 'martyrs'
-----
• Bangladesh: 17 Gulf State NGOs Accused Of Funding Terrorist Groups
• Pakistan Terror Safe Haven, Lashkar and Jaish Move Freely: US Administration
• Would Hazimis - The Most Violent, Extremist Group - Replace ISIS?
• Pakistan Wants Hindu-Muslim Riots over Issues like Cow Vigilantism: Shiv Sena
• Mufti Qavi Calls Qandeel and All Honour Crimes Victims 'Martyrs'
• German Study Finds Radicalized Muslims Have Little Actual Knowledge of Islam
South Asia
• Bangladesh: 17 Gulf State NGOs Accused Of Funding Terrorist Groups
• Deadly Taliban Offensive Repulsed In Helmand, Leaving 31 Dead, 12 Wounded
• NATO rejects involvement in forced diversion of Afghan vice president's plane
• Abdullah reacts at Ata Mohammad Noor's remarks recent violence
--------
North America
• Pakistan Terror Safe Haven, Lashkar and Jaish Move Freely: US Administration
• Washington: Houthi Militias Attack Saudi Arabia with Iranian Weapons
• US praises Qatar's role in fight against 'terrorism'
• Bankole: Muslims are no less Americans
• Washington: Terrorists in Qatar are exploiting their financial system
• Trump to end CIA program to arm and train anti-Assad militants
--------
Arab World
• Would Hazimis - The Most Violent, Extremist Group - Replace ISIS?
• Militants in More Regions Lay down Arms, Join Peace Plan with Syrian Army
• Infighting Continues among Al-Nusra, Ahrar al-Sham in Syria's Idlib
• 30 civilians dead in anti-IS strikes in Syria
• Al-Nusra Withdraws from More Positions in Eastern Damascus
• Syrian Armed Forces Continue to Hit ISIL's Centers Hard in Deir Ezzur
• Syrian Soldiers Continue to March on ISIL's Positions in Eastern Homs
• US accuses Lebanon's Hezbollah of weapons buildup
• King Salman orders arrest of prince for abusive behavior toward citizens
• Syrian forces advance near Daesh-held Raqqah
• Saudi crown prince, Iraqi interior minister discuss common issues, counterterrorism
--------
India
• Pakistan Wants Hindu-Muslim Riots over Issues like Cow Vigilantism: Shiv Sena
• In A First, Shia Cleric to Teach At Aligarh Muslim University
• Four Muslim Men Held For Allegedly Killing a Cow in Gujarat, Say Police
• BJP wing, Hindu Jagran Manch shut Kashmiri's shop in Mussoorie
• 95 terrorists killed in J-K this year, 150 in 2016: Centre tells Parliament
• Basirhat Fights Back With Home-Grown Initiatives
• China can attack, has atom bomb in Pakistan: Mulayam Singh Yadav
• Mentally challenged Muslim thrashed on suspicion of being a cattle thief
--------
Pakistan
• Mufti Qavi Calls Qandeel and All Honour Crimes Victims 'Martyrs'
• President Asks Bureaucracy to Follow Islamic Principles
• Gunmen in Pakistan kill four Shi'ites in suspected sectarian attack
• Pakistani Catholic family flees following blasphemy allegation
• Lawmakers grill govt. over ex-army chief's role in Saudi-led coalition
• Muslim leaders condemn the locking of Masjid-Al-Aqsa
• Dubai job report puts Pakistani PM Nawaz Sharif in a spot
--------
Europe
• German Study Finds Radicalized Muslims Have Little Actual Knowledge of Islam
• Unable To Go Home, Russian Who Fought For IS Settles in Ukraine
• Russia sending 2nd humanitarian aid flight to Yemen
• Istanbul nightclub massacre suspect arrested in Denmark
--------
Mideast
• Turkey Leaks Secret Locations of US Troops in Syria as Tensions Rise Between Ankara, Washington
• Iran's Revolutionary Guard Begins Recruitment for War against Iraqi Kurdistan
• Commander: Revenge Taken for Jordanian Pilot's Painful Death by IRGC Missile Strikes against ISIL
• Iran Displays Indigenized ScanEagle Drone in MAKS-2017 Exhibit
• Israel signals metal detectors to stay at Jerusalem shrine
• 20 Yemeni civilians killed in airstrike
• Court orders two and a half years in jail to Islamic preacher for insulting Atatürk
• US sees Iran's tactful, sensible policies threat to own profiteering plans: Official
• Palestinians urge ICC to expedite Israel war crime probe
--------
Southeast Asia
• Indian Muslims Can Be Malays, Not Bumiputeras
• Apandi Dismisses 'Childish' Mahathir's Call to Swear on Quran
• Eko Nugroho's Puppet Show 'Semelah' Tells Story of Islam in Java
• Philippines Cancels Talks with Rebels after Attack on Presidential Guards
--------
Africa
• Kenya: Police Release Photos, Names of Al-Shabaab Terrorists Planning Fresh Attacks
• Muslims return to CAR to find their homes are gone
• Egypt's poorest risk death for promise of work in Libya
• Kenyan police issue bounty for 5 terror suspects
• Central Africa: Catholic bishops call for interreligious dialogue as intolerance rises
Compiled by New Age Islam News Bureau
URL: https://www.newageislam.com/islamic-world-news/bangladesh-17-gulf-state-ngos/d/111898
--------
Bangladesh: 17 Gulf State NGOs Accused Of Funding Terrorist Groups
By Siam Sarower Jamil in Dhaka
Jul 20, 2017
SAUDI and other Gulf state NGOs are funding terrorist groups in Bangladesh and India, intelligence services have claimed.
The Bangladesh Finance Intelligence Unit (BFIU) revealed the bombshell conclusions of a special government taskforce meeting last month to journalists on Tuesday.
The June 21 meeting, chaired by Industries Minister Amir Hossain Amu with Home Minister Asaduzzaman Khan in attendance, identified 17 suspect NGOs from Saudi Arabia, Qatar, Kuwait, Bahrain and other Middle East countries.
Mr Amu said all have been placed under intense surveillance for unusual financial transactions — although some were already under scrutiny.
Officials from Bangladesh Bank, the country's central bank, said most of the organisations were under the control of fundamentalist Jamaat-eIslami politics — an Indian group formed in 1941 which has since split into separate organisations in Pakistan and India.
The suspected NGOs include the Bangladesh Krishi Kalyan Samity, Muslim Aid Bangladesh, Rabeta Al-Alam alIslami, Qatar Charitable Society, Islamic Relief Agency, Al-Furkan Foundation, Kuwait Joint Relief Committee, International Islamic Relief Organisation, Hayatul Ighachha, Revival of Islamic Heritage Society, Tawhidi Noor and AlMuntada al-Islami.
British Prime Minister Theresa May has been attacked for refusing to publish a terrorist funding report that could point the finger at her Saudia Arabian allies.
BFIU General Manager Devprasad Debnath said: "A number of issues including militancy funding were discussed at the June 21 meeting which came up with some important decisions."
"Among the decisions, the issue of militant funding is very sensitive and important," he stressed.
Mr Devnath said the surveillance has been increased against the 17 NGOs as authorities have found evidence of aid to Bangladeshi militant and terrorist activities.
He said groups were also allegedly aiding separatist insurgents in the eight states of the north-east India region, which borders Bangladesh to the east, adding the BFIU had passed on the information to the Indian government.
Bangladeshi intelligence and financial authorities have boosted monitoring and surveillance since a surge in extremist attacks began in 2012.
Five years of work have yielded more accurate information on ostensibly charitable NGOs operating in the country.
The 2014 BFIU showed an alarming rise in suspicious financial transactions, up to 619 in 2013-14 from 420 in 2012-13 and 175 in 2011-12.
https://www.morningstaronline.co.uk/a-b6f0-Bangladesh-17-Gulf-state-NGOs-accused-of-funding-terrorist-groups
--------
Pakistan terror safe haven, Lashkar and Jaish move freely: US administration
July 20, 2017
by Shubhajit Roy
Identifying Pakistan as one of the "terrorist safe havens", the US administration under President Donald Trump on Wednesday said that Islamabad did not take sufficient action against "externally focused groups" like Lashkar-e-Tayyiba and Jaish-e-Mohammad in 2016, which "continued to operate, train, organise and fundraise in Pakistan".
This is one of the key takeaways from the US State Department's 'Country Report on Terrorism 2016' to the US Congress — the first submitted by the Trump administration. It follows a similar submission by US intelligence officials to US Congress committees a few months ago.
After perusing the report, Indian government sources said the segments on South and Central Asia "vindicate India's longstanding position on the menace of cross-border terrorism in our region".
"Numerous terrorist groups, including the Haqqani Network (HQN), Lashkar-e-Tayyiba (LeT) and Jaish-e-Mohammad (JeM), continued to operate from Pakistani soil in 2016. Although LeT is banned in Pakistan, LeT's wings Jamaat-ud-Dawa (JuD) and Falah-i-Insaniat Foundation (FiF) were able to openly engage in fundraising, including in the capital. LeT's chief Hafiz Saeed (a UN-designated terrorist) continued to address large rallies, although in February 2017, Pakistan proscribed him under relevant provisions of Schedule Four of the Anti-Terrorism Act, thus severely restricting his freedom of movement," said the report released on Wednesday night.
News Bulletin 1: Modi, Trump Have Strong Mandate To Deal With Terrorism Says Former Obama Advisor Joshua White And More
"The Pakistani government did not publicly reverse its December 2015 declaration that neither JuD nor FiF is banned in Pakistan, despite their listing under UN sanctions regimes, although in January 2017, Pakistan placed both organisations 'under observation', pursuant to Schedule Two of the Anti-Terrorism Act. While not a ban, this allows the government to closely scrutinise the activities of both organisations," it said.
On November 11, Pakistan's National Counterterrorism Authority published its own list of banned organisations, which placed JuD in a separate section for groups "under observation" but not banned, it added.
"Pakistan did not take sufficient action against other externally focused groups, such as Lashkar-e-Tayyiba and Jaish-e-Mohammad in 2016, which continued to operate, train, organise, and fundraise in Pakistan… Groups located in Pakistan, but focused on conducting attacks outside the country, included the Afghan Taliban, the Haqqani Network (HQN), Lashkar e-Tayyiba (LeT), and Jaish-e-Mohammad (JeM)," it said.
The report said the Pakistan government did not take any significant action against LeT or JeM, other than implementing an ongoing ban on media coverage of their activities. It said the 2015 ban on media coverage of Saeed, JuD and FiF continued, and was generally followed by broadcast and print media. "LeT and JeM continued to hold rallies, raise money, recruit, and train in Pakistan," it said.
It also said that Indian and US leaders directed officials to identify new areas of collaboration, through the July US-India Counterterrorism Joint Working Group, applauded finalisation of a bilateral arrangement to facilitate the sharing of terrorism screening information, and called upon Pakistan to bring the perpetrators of terrorist attacks against India to justice.
"The trial of seven suspects in the 2008 Mumbai terrorist attack remained stalled, with many witnesses for the prosecution remaining to be called by the court. The lead defendant, alleged LeT operational commander Zaki-ur Rehman Lakhvi, remained free on bail," said the report.
It also said that progress remained slow on regulating madrasas, blocking extremist messaging, empowering the National Counter Terrorism Authority, cutting off terrorist financing and strengthening the judicial system.
Pakistan is a member of the Asia Pacific Group on Money Laundering, a Financial Action Task Force (FATF)-style regional body. Pakistan criminalises terrorist financing through the ATA. "However, there has not been a significant number of prosecutions or convictions of terrorist financing cases reported by Pakistan in recent years due to a lack of resources and capacity within investigative and judicial bodies," it said.
"In 2015, FATF removed Pakistan from its review process due to progress on countering the financing of terrorism. In October 2016, FATF noted concern among members that Pakistan's outstanding gaps in the implementation of the UN Security Council ISIL (Da'esh) and al-Qa'ida sanctions regime had not been resolved, and that UN-listed entities — including LeT and its branches — were not being effectively prohibited from raising funds in Pakistan. Despite Pakistan's CFT laws, its freezing of several relevant bank accounts from March 2015 to March 2016, and other limited efforts to stem fundraising by LeT, the group and its wings continued to make use of economic resources and raise funds in the country in 2016. Pakistan's ban on media coverage also did not appear to reduce the ability of LeT to collect donations," said the report.
http://indianexpress.com/article/india/pakistan-terror-safe-haven-lashkar-and-jaish-move-freely-us-administration-4758711/
--------
Would Hazimis - The Most Violent, Extremist Group - Replace ISIS?
19 July 2017
Researchers looking into the workings ISIS are of the opinion that once vanquished; its place would be taken by groups that are more violent and extremist. High on the list are the 'Hazimis.'
In fact, many extremists have been communicating through the Telegram app, atoning for Abu Bakr al-Baghdadi and claiming that he is responsible for the defeat of ISIS because of his leniency in implementing Shariaa law.
The organization of the Hazimis gained its name from terrorist Ahmed bin Omar al-Hazimi, who was arrested by Saudi Arabia in 2015.
According to the researcher in Islamic affairs Abdelali Raqad, the latter was killed last May in a Russian raid on al-Raqqa.
Dispute
He added that the first dispute between the two broke out because al-Binali considers that it is not possible to atone the ignorant while al-Hazimi does.
Al-Qaeda was the first to attack al-Hazmi through a series of articles and statements published by the terrorist website Sahab.
Al-Hazimi's writings and tapes are scattered here and there. They deny and atone ISIS and al-Qaeda, and call on people not to abide by scholars - to expiate and kill those suspected of atonement - and to not follow any law that is contrary to Sharia law, even if it is based on the opinion of scholars.
https://english.alarabiya.net/en/features/2017/07/19/Are-Hazimis-the-most-violent-extremist-group-and-will-they-replace-ISIS-.html
--------
Pakistan wants Hindu-Muslim riots over issues like cow vigilantism: Shiv Sena
July 19, 2017
In an article published in the party mouthpiece Saamna, the Shiv Sena likened cow vigilantism to "business". The article went on to add that Pakistan wants Hindus and Muslims in India to fight over such issues and divide the nation.
Speaking to news agency ANI, Shiv Sena MP Sanjay Raut said, "Who are these gau rakshaks who beat up innocents? Even PM is asking this repeatedly, these are not real gau rakshaks."
"Does Pakistan through one of its conspiracies again want to trigger Hindu-Muslim riots in India?" he added.
The Shiv Sena has been vocal about gau rakshaks and criticised their acts in the past. The article also asked where were these so-called gau rakshaks when innocent pilgrims were being killed during the Amarnath yatra.
Earlier, Uddhav Thackeray had mocked the cow vigilantes saying that the terrorists would not have been spared had they been carrying beef. "The issue of 'gau rakshaks' is raging today. Why don't you send these cow vigilantes to face terrorists?" Thackeray said.
The country has witnessed a rise in violence in the name of cow protection across the country. Prime Minister Narendra Modi, while condemning these acts, warned people against taking the law in to their hands in the name of cow protection.
http://indianexpress.com/article/india/shiv-sena-slams-centre-blames-pakistan-for-cow-vigilantism-in-india-4757544/
--------
Mufti Qavi calls Qandeel and all honour crimes victims 'martyrs'
July 20, 2017
NEWS DESK: A year after social media sensation Qandeel Baloch's murder, Mufti Abdul Qavi, who got embroiled in a controversy after he appeared in selfie pictures and videos with the murdered social media starlet, said that Qandeel and all other honour-killing victims were martyrs.
Addressing journalists in Multan on Wednesday, Qavi, whose selfies with the rising starlet went viral last year, drawing the ire of various circles and costing him his membership in various prominent religious councils, said taking someone's life in the name of honour was illegal and not permitted in Islam.
The cleric further said that he was writing a journal on honour killings in which he will cite references from the Holy Quran and the sayings of the Holy Prophet (PBUH) against the appalling custom.
Qavi said police investigating Baloch's death had contacted him in the past few days for further interrogation. "Earlier, I was interrogated for three hours and all of that was recorded on video," he added.
The cleric claimed that foreign forces were hatching conspiracies against him because the 'West is the enemy of Islam'.
"They want to declare me Qandeel Baloch's killer in their hatred against Islam," he claimed. "The international media are trying to establish me as her killer."
He further said 19 foreign publications interviewed him after Baloch's murder. "A female reporter of the BBC has reported fake news on the death anniversary of Qandeel Baloch, which was nothing but propaganda and a conspiracy against me," he maintained. "I haven't killed her and have already declared that killing an innocent person in the name of honour is illegitimate in Islam."
The cleric further said that he was not in contact with Baloch's brother who had confessed to drugging and strangling her last year for bringing a 'bad name' to the family with her social media posts.
Qavi said the police had already checked all the data in his phone, including the last 5,000 phone calls. "My name is not in the FIR registered for Qandeel's murder, but I will present myself to the police whenever they call me for more information," he added.
The cleric claimed that it had been a year since the social media star had died but some of the suspects in the case had been released on bail.
"As per the law, I should not be investigated again, but a lawyer named Safdar Shah wants to drag me into the case," he claimed. "However, lawyers and the laws in Pakistan, all are with me."
https://www.samaa.tv/pakistan/2017/07/mufti-qavi-calls-qandeel-and-all-honour-crimes-victims-martyrs/
--------
German Study Finds Radicalized Muslims Have Little Actual Knowledge Of Islam
15/07/2017
Extremists and Islamophobes alike have attempted to paint violent factions within Islam as the true expression of the faith. But a new study gives credence to what countless Muslim leaders, activists and scholars have argued: that groups like the self-proclaimed Islamic State are Muslim in name alone.
A group of German scholars at the Universities of Bielefeld and Osnabrück analyzed 5,757 WhatsApp messages found on a phone seized by police following a terrorist attack in the spring of 2016. The messages were exchanged among 12 young men involved in the attack. The attack itself was not identified in the report.
Deutsche Welle noted that the timeframe suggested it may have been a bombing at a Sikh temple in Essen carried out in April of that year by a group of German teens with reported links to Islamic extremism.
Researchers conducting the study said the young men's conversations demonstrated little understanding of their professed faith and that the group constructed a "Lego Islam" to suit their purposes.
Bacem Dziri, a researcher at the University of Osnabrück and co-author on the report, examined the messages from an Islamic studies perspective and concluded: "The group had no basic knowledge about Islam."
The scholars published their study as a book exploring the "violent Salafist youth scene in Germany," according to the Amazon blurb, referencing an ultraconservative strain of Islam with which the young men were allegedly affiliated.
The Brookings Institute defines Salafism as "the idea that the most authentic and true Islam is found in the lived example of the early, righteous generations of Muslims, known as the Salaf, who were closest in both time and proximity to the Prophet Muhammad." The movement has historically been apolitical and nonviolent, wrote researcher Mohammed Alyahya in a column on The New York Times. But Brookings notes that a smaller offshoot faction, called Salafi-jihadists, do promote violence as a "divine imperative" and include groups like ISIS and al-Qaeda.
As one case study, the Amazon blurb highlights, the WhatsApp chats offer "insight into the group-internal dynamics of young Salafists" and their "radicalization processes."
One thing that stood out, Dziri said in an email to HuffPost, was the extent to which the men had distanced themselves from local mosques and seemed confused about things as simple as how to go about conducting Friday prayers.
At one point in the exchange a young man asked if the faith permits cheating in school, the researcher said. "The answer was, that it is allowed to do everything with the unbelievers. And since nearly all other people are unbelievers, you can do everything with everyone," Dziri said.
Another man admitted in the messages he didn't have a copy of the Quran, Islam's holy text. And the others agreed that they needed to purchase one. Dr. Rauf Ceylan, a professor at the University of Osnabrück and one of the study's co-authors, said it was "striking" that the discussion about obtaining a Quran occurred well after the group had been established.
"All religious conversations conducted up to this time were only content that has been learned from hearsay and rumors," Ceylan told HuffPost.
When the group's self-appointed leader called for a meeting, one participant fretted that he didn't have any Islamic clothing. The leader responded: "You can also wear sweatpants or something like that. If you want I can loan you something for the day."
The report is just a case study from one group of individuals, and its conclusions might not apply in all circumstances. But it echoes the conclusions of many Muslim scholars and activists who see little resemblance to their religion in such militant groups.
Ceylan and Dziri also noted that the 12 men involved in the WhatsApp chat appeared to have received little "religious socialization" and isolated themselves from other Muslims in their community.
"One of the main points for us is that these young radicalized people come mostly from a family which is remote from religion and they do not radicalize themselves in mosques," Dziri said. "With a profound knowledge of faith, it would be impossible, or at least considerably more difficult to radicalize in that way."
http://www.huffingtonpost.in/entry/german-study-finds-radicalized-muslims-have-little-actual-knowledge-of-islam_us_5967f362e4b03389bb163c58
--------
South Asia
Deadly Taliban offensive repulsed in Helmand, leaving 31 dead, 12 wounded
Jul 19 2017
A deadly offensive by the Taliban insurgents was repulsed by the security forces in southern Helmand province of Afghanistan, inflicting casualties to both the Afghan forces and the Taliban insurgents.
According to the local government officials, the incident took place late on Tuesday night after several Taliban insurgents launched a coordinated attack on the security forces check posts in Garamser district.
The officials further added that two senior leaders of the Taliban group are also among those killed.
The provincial government media office in a statement confirmed the clashes and said the dead bodies of the Taliban insurgents are still left in the battleground.
The statement further added that two public order police forces personnel lost their lives and three others sustained injuries during the attack.
The control of the check posts are still in the hands of the national defense and security forces, the provincial government added.
The anti-government armed militant groups including the Taliban insurgents have not commented regarding the report so far.
Helmand is among the volatile provinces in southern Afghanistan where the Taliban insurgents are actively operating in its various districts and often carry out insurgency activities.
This comes as the Afghan security forces managed to take control of the restive Nawa district during a large operation launched after almost nine months when the control of the district was seized by the Taliban group.
http://www.khaama.com/deadly-taliban-offensive-repulsed-in-helmand-leaving-31-dead-12-wounded-03180
--------
NATO rejects involvement in forced diversion of Afghan vice president's plane
Jul 20, 2017
The NATO-led Resolute Support Mission in Afghanistan denied that permission was granted by the alliance to prohibit the landing of the plane of the first vice president of Afghanistan General Abdul Rashid Dostum to Mazar airport, according to Khaama Press.
The alliance also rejected any involvement of the Germany forces based in Afghanistan in the issue.
A spokesman for the alliance Capt. William K. Salvin in a statement said "Afghan First Vice President Dostum's aircraft was not denied permission to land at Mazar-e-Sharif airport by German Forces."
"It is not the business of the Resolute Support Mission to get involved in internal Afghan Government Affairs," Capt. Salvin added.
This comes as earlier reports indicated that the plane was forcefully diverted as it was carrying the first vice president from Turkey to Mazar-e-Sharif city.
The office of the first vice president in a statement stated that all reports suggesting that the plane was forcefully diverted are false.
The statement further added that the vice president is still based in Ankara city and no decision has been taken regarding his return in the near future.
Dostum is in Turkey for the treatment with President Ghani earlier saying that the first vice president has left the country after receiving approval and permission from the Attorney General Office.
Full report at:
http://nation.com.pk/international/19-Jul-2017/nato-rejects-involvement-in-forced-diversion-of-afghan-vice-president-s-plane
--------
Abdullah reacts at Ata Mohammad Noor's remarks recent violence
Jul 19 2017
The chief executive of the government of national unity of Afghanistan reacted at the remarks of the governor of northern Balkh province Ata Mohmmad Noor regarding the recent violence in the country, stating that he has never been after protecting his seat but working for the interests of the people.
Abdullah made the remarks during a gathering in Kabul which was organized to change the name of Zanbaq square to Martyred Mohammad Salim Izadyar square.
Salim, the son of the first deputy chairman of the senate house, was killed two days after a deadly bombing close to Zanbaq square where a deadly explosion left over 150 people dead.
Apparently gesturing towards Noor's remarks regarding his failure to ensure security for the people, specifically those who casted votes for him, Abdullah said the issue of the recent bombings in Kabul and the violent protests are always shared during the security meetings.
Abdullah further added that the security officials are always asked to launch a comprehensive investigation into the incidents and violence against the protesters.
Speaking during a gathering on Sunday, for the first time after the agreement for formation of a new political coalition, Noor said the government, specifically the chief executive failed to ensure security of the ordinary people during the protests who were shot dead and even run over by the armored vehicles.
Noor said the chief executive has particularly failed to ensure the right of those people who had once casted votes in his favor in the elections.
In other parts of speech, Noor said a major conspiracy is being orchestrated against the Jamiat-e-Islami party and its allies and the last month's attack on the funeral Salim Izadyar, the son of the deputy chairman of the Senate House, was plotted to eliminate the party's leaders.
He said the deployment of four suicide bombers on the funeral ceremony remains questionable as even the chief executive who is a member of the security council, failed to ensure security for an important event.
Full report at:
http://www.khaama.com/abdullah-reacts-at-ata-mohammad-noors-remarks-recent-violence-03179
--------
North America
Washington: Houthi militias attack Saudi Arabia with Iranian weapons
19 July 2017
The United States announced new sanctions against Iran over its ballistic missile program and military activities in the Middle East, a few hours after adhering to the international nuclear deal with Tehran.
Washington confirmed that the Houthi militias were attacking Saudi Arabia with Iranian weapons, reported Al Arabiya.
Washington also said Iran was continuing to supply the Houthis with weapons threatening the security of navigation in the Red Sea adding that Iran was deporting Afghan refugees who refuse to fight in Syria.
The US State Department imposed sanctions on 18 individuals and entities associated with the program of the Ballistic Missiles and the Iranian Revolutionary Guard Corps (IRGC).
"The United States remains deeply concerned about Iran's malicious activities across the Middle East which jeopardizes stability, security and prosperity in the region, the State Department said.
White House officials announced Monday evening that Washington was preparing additional sanctions on Tehran while maintaining an agreement on Iran's nuclear program, signed on July 14, 2015.
https://english.alarabiya.net/en/News/world/2017/07/19/Washington-Houthi-militias-attack-Saudi-Arabia-with-Iranian-weapons.html
--------
US praises Qatar's role in fight against 'terrorism'
July 20, 2017
The US Department of State praised Qatar's "strong partnership" in the fight against "terrorism" in its annual "Country Reports on Terrorism" released on Wednesday.
The state department said Doha had "maintained a strong partnership in the fight against terrorism in 2016 and collaborated to foster closer regional and international cooperation on counterterrorism, law enforcement and rule of law activities".
Qatar, it added, has made "significant progress" in combating "terrorist" financing but "terrorist financiers within the country are still able to exploit Qatar's informal financial system".
Al Jazeera's Mike Hanna, reporting from Washington, DC, said: "However, the report makes very clear too that in 2015 and 2016 Qatar began to successfully prosecute individual financiers who it accused of carrying out these acts."
Saudi Arabia, the United Arab Emirates (UAE), Bahrain and Egypt cut ties with Qatar on June 5 and imposed a land, air and sea blockade on the country.
The quartet accused Qatar of funding "terrorism", an accusation Qatar rejects as "baseless".
The state department also said that individuals and "entities" in Saudi Arabia had been channelling money out of the country to "terrorist" organisations and that some of this money may be carried out by pilgrims.
The United States said Saudi Arabia is making concerted efforts to stop this illegal outflow of cash funds and that: "Saudi Arabia continued to maintain a strong counterterrorism relationship with the United States," stated the report.
The report also mentioned that individuals have made use of the UAE as a financial hub to funnel money out of the country or through the financial system to "terrorist" groups, but that the UAE had increased its counterterrorism prosecutions.
Emma Ashford, a Research Fellow at the Cato Institute, told Al Jazeera that the state department's reports tend to talk about Qatar, the UAE and Saudi Arabia in fairly similar language.
"Obviously the state department report doesn't want to offend countries that are considered US partners or allies. But even within that, all three Gulf states are talked about in the context of their working against terror financing. But they're also not working perhaps as hard as they could be."
Qatar and the US signed an agreement earlier this month to help combat "terrorism financing" during a visit to Doha by US Secretary of State Rex Tillerson.
"It's important to note though that - of all these Gulf countries - Qatar is the only one to have signed a bilateral agreement with the US to combat 'terror' financing," said Al Jazeera's Mike Hanna.
Overall attacks falling
The report also found that attacks across the globe decreased in 2016 for a second straight year and claimed that Iran is still the world's leading "state sponsor of terrorism".
The state department pointed to Tehran's elite extra-territorial Quds Force that "continued to play a destabilising role" in Iraq, Syria and Yemen.
The report also pointed to a "common thread" in many of the attacks last year, namely "adherence to violent extremist ideology put forth by a fundamentalist strain of Sunni Islam that perceives itself to be under attack by the West and in conflict with other branches of Islam", particularly attacks directed or inspired by the Islamic State of Iraq and the Levant (ISIL, also known as ISIS) group.
But it said overall attacks had fallen nine percent last year from 2015, and deaths were down 13 percent.
More than half of the attacks took place in Iraq, Afghanistan, India, Pakistan and the Philippines, said the department's acting coordinator for counterterrorism, Justin Siberell.
Attacks and deaths were up notably in Iraq, Somalia and Turkey.
Ashford told Al Jazeera that one of the problems with the State Department's list of "terror sponsoring nations" is that it is a "very political assessment".
Full report at:
http://www.aljazeera.com/news/2017/07/praises-qatar-role-fight-terrorism-170719233236420.html
--------
Bankole: Muslims are no less Americans
July 20, 2017
For many American Muslims, since the terrorist attacks of Sept. 11, 2001, being identified as an observer of the religion has become an albatross.
In a nation founded on a creed that all are created equal, Muslims say they have been victims of stereotyping and hate speech while being viewed through a lens that ignores their existence or treats them as "the other," ignoring, questioning or minimizing their contributions to society.
And the ongoing political bickering about the place of Muslims in America today is even widening the divide.
Take, for example, the diabolical comments reported last week of Jeff Sieting, the Kalkaska village president in northern Michigan, who in a Facebook post called for "every last Muslim" to be killed and then refused to apologize for his comments.
A new study by the Washington-based Institute for Social Policy and Understanding, however, is seeking to counter that divide and the hatred spewed by the Jeff Sietings of the world by spotlighting the contributions of Muslims in Michigan.
The study, titled "Muslims for American Progress," was launched "to provide a more accurate and dynamic portrayal of Muslim American life, and we do so by focusing specifically on the contributions of Muslims in Michigan," said Rebecca Karam, principal investigator for the project.
"Coverage of Muslims has largely been determined by security issues and terrorism at the expense of stories about everyday religious and social life and therefore do not accurately portray the lived experiences of Muslim Americans," she said. "This project begins re-writing these narratives."
Why Michigan?
"We selected Michigan's Muslim community to serve as a case study for the rest of the nation, and the findings from this project are in many ways indicative of Muslim contributions across the United States," Karam explained. The state's Muslim communities "closely follow national averages in terms of socioeconomic status, ethno-racial diversity, nativity status, and other demographic markers," she added.
The Pew Research Center "estimates that Muslims comprise approximately 1 percent of the nation's total population. In Michigan, we estimate that approximately 2.75 percent of the population are Muslim," she said.
The study examined the roles of Muslims across the following areas: medicine, science, technology, engineering and mathematics (STEM), civics and democracy, philanthropy and nonprofit; education, economics, arts, entertainment and sports.
"In the field of medicine, for example, Michigan Muslims comprise more than 15 percent of the state's medical doctors and more than 10 percent of the state's pharmacists," Karam said. "What's more, many of Michigan's Muslim doctors and nurses use their skills and expertise to remedy injustices by providing charitable medical care to those without insurance."
The study found that in 2015 alone, Muslims in Michigan gave $177 million in charity, and donated 1.3 million pounds of food, 14,000 gallons of water and 45,300 articles of clothing. In addition, Muslim household consumer spending that year totaled $5.5 billion, while Muslim-owned businesses employed an estimated 103,000 workers.
Fatima Salman, a member of the Michigan Muslim Community Council board of directors, welcomed the project as a critical step to begin a dialogue.
"Dialogue building conversations and going out of our comfort zones to meet others of different faiths and races is going to be critical in countering stereotypes," Salman said. "I can tell you that Muslims sure feel like they are doing a lot to counter these stereotypes.
"However, we as Americans need to realize that when hatred affects any group of people, it will start affecting other groups as well."
Salman said it is time for all people of conscience to stand up and speak out against stereotypes that are being propagated.
That is exactly the example that former boxing great Muhammad Ali, widely seen as America's greatest Muslim ambassador, whom Nelson Mandela once described as "an inspiration to me, even in prison," set for many in this nation to follow.
Upon his conversion to Islam decades ago, Ali declared: "I believe in Allah and in peace," and since then there was never any question that Ali proved that being American and Muslim are not antithetical concepts.
Years later, Ali would go on to be a champion of peace and tolerance, condemning the 2001 terrorist attacks as cruel acts by murderers.
"People say a Muslim caused this destruction. I am angry that the world sees a certain group of Islam followers who caused this destruction, but they are not real Muslims," Ali told Reader's Digest magazine at the time.
"They are racist fanatics who call themselves Muslims, permitting this murder of thousands."
The MAP project is sure to ignite debate about the prism through which Muslims are seen. But let's hope that the debate helps us separate fact from fiction as Ali sought to do.
Let us also hope that the debate becomes an enlightenment process, not the opposite, because all religions — whether Christian, Islam and others — uphold the indispensable value of humanity.
When asked about the religions of the world, Ali said they are like "rivers, ponds, lakes and streams. They have different names, but all contain water. Religions have different names but all contain truth."
Full report at:
http://www.detroitnews.com/story/opinion/columnists/bankole-thompson/2017/07/20/opinion-muslims-america/103844424/
--------
Washington: Terrorists in Qatar are exploiting their financial system
20 July 2017
The US State Department announced on Wednesday in its report on terrorism during 2016, that the financiers of terrorism in Qatar are still exploiting its financial system.
The report said that Qatar was trying to progress in the fight against terrorism after signing an agreement with Washington, but the Qatari financiers of terrorism are still able to exploit the financial system in Doha to support terrorism.
The report said that the al-Qaeda organization and forces supported by Tehran, especially Hezbollah, are the first threat to the American state.
The US report accused Iran of being the first country to support terrorism in 2016 through the Revolutionary Guards, Iraq's Popular Mobilization Forces, the Houthis in Yemen and Hezbollah in Syria.
The US State Department also accused Hezbollah of playing a key role in supporting the Syrian regime in the crimes it committed in Syria.
Saudi Arabia has a global role in the fight against terrorism
The US State departments report on the other hand praised Saudi Arabia on its role in the fight against terrorism.
The report said Saudi Arabia remains a key member and active participant in the international coalition against ISIS.
Full report at:
https://english.alarabiya.net/en/News/gulf/2017/07/20/Washington-Terrorists-in-Qatar-are-exploiting-their-financial-system.html
--------
Trump to end CIA program to arm and train anti-Assad militants
Jul 20, 2017
The Trump administration has decided to end the CIA's years-long covert program to arm and train what they call Syrian moderate opposition, militants fighting the government of Syrian President Bashar al-Assad.
Quoting two unnamed US officials, The Washington Post reported the suspension of the program on Wednesday, while the CIA declined to comment on the topic. White House spokeswoman Sarah Sanders also declined to comment at the White House briefing.
The CIA program began in 2013 as part of the efforts by the Obama administration to overthrow Assad but produced no tangible results. Another downside of the program is that some armed and trained rebels defected to Daesh and other radical groups.
According to the officials, the shuttering of the program shows Trump's attempts to bolster closer relations with Russia. "It's a signal to Putin that the administration wants to improve ties to Russia," one of the officials said.
The decision to scrap the CIA program was made about a month ago, after an Oval Office meeting with CIA Director Mike Pompeo and National Security Adviser H.R. McMaster and before Trump's July 7 meeting with Russian President Vladimir Putin at the G20 summit in Germany, according to the officials. They also said that it was not part of US-Russian negotiations on a ceasefire in southwestern Syria.
This is not the end of US involvement in Syria as Trump signed off in May on a plan to arm the so-called Syrian Democratic Forces -- a Kurdish rebel group -- using Department of Defense funds; and a separate effort by the US military to support other Syrian rebel groups with air strikes and other actions will continue, the officials said.
Pentagon chief spokeswoman Dana White said in a statement that "the president authorized the Department of Defense to equip Kurdish elements of the Syrian Democratic Forces as necessary to ensure a clear victory over ISIL in Raqqa, Syria."
Full report at:
http://www.presstv.ir/Detail/2017/07/20/529036/Trump-CIA-arms-support-Syria-rebels
--------
Arab World
Militants in More Regions Lay down Arms, Join Peace Plan with Syrian Army
Jul 19, 2017
The Russian Defense Ministry said that gunmen in seven villages and towns in Homs province surrendered to the army and joined the nationwide reconciliation plan, adding, "The total number of regions, towns, settlements and villages that have thus far ended fight with the Syrian army stands at 2,032."
The ministry added that talks between the army and representatives of the militants are underway in the provinces of Aleppo, Idlib, Damascus, Hama, Homs and Quneitra.
The Russian Defense Ministry announced last week that militants in 2,000 towns, villages and regions ended battle against the Syrian Army and joined nationwide reconciliation plan.
Militants in one more region in Sweida province laid down arms and endorsed peace agreement with the army, the ministry said, adding that the total number of towns, villages and regions that have so far joined the peace plan with Damascus government stands at 2,000.
http://en.farsnews.com/newstext.aspx?nn=13960428001276
--------
Infighting Continues Among Al-Nusra, Ahrar al-Sham in Syria's Idlib
Jul 19, 2017
A fresh round of heavy infighting erupted between Tahrir al-Shan and Ahrar al-Sham in the villages and towns of Iblin, Haas, Kansafreh, Hazarin, Kafr Nabal, Kafruma and Idlib, leaving several militants dead or wounded.
A number of militants from both sides were captured too.
Field sources reported that Tahrir al-Sham took control of Ahrar al-Sham's checkpoint along Hawarin-Kafr Nabal road, the town of Hazarin and another checkpoint at the Western entrance of the town of Kafruma in Southern Idlib.
The sources said that Ahrar al-Sham dispatched more forces and equipment to the town of Hazarin in Idlib's countryside to attack the positions of Tahrir al-Sham.
Also, Tahrir al-Sham sent a large volume of military hardware to the villages of Jabal (mount) al-Zaweiyeh.
Based on the field reports Tahrir al-Sham and Ahrar al-Sham have engaged in heavy fighting in the villages of Jabal al-Zawiyeh up to the village of Haas.
The reports added that the two warring groups have gone on full alert in Bab al-Hawa passageway and Northern Idlib.
Relevant reports said on Sunday that Ahrar al-Sham and Tahrir al-Sham Hay'at were preparing for an imminent large-scale war in Eastern Idlib after intensified infighting between the two rival terrorist groups.
Tahrir al-Sham and Ahrar al-Sham dispatched a large number of fresh forces and a large volume of military equipment to their positions in Tal al-Towqan and Saraqib and other battlefields in Eastern Idlib after their recent clashes in Tal Toqan region.
Full report at:
http://en.farsnews.com/newstext.aspx?nn=13960428000846
--------
30 civilians dead in anti-IS strikes in Syria
Jul 20, 2017
BEIRUT - At least 30 civilians were killed Wednesday in separate bombing raids by the US-led coalition and pro-regime warplanes on militant-held territory in Syria, a monitor said.
Fifteen of the victims died in coalition air strikes on a village near the Islamic State group's stronghold of Raqa, according to the Syrian Observatory for Human Rights.
"The strikes this morning hit the village of Zur Shammar, about 30 kilometres (20 miles) from Raqa on the southern banks of the Euphrates River," said Observatory head Rami Abdel Rahman.
"The victims included three children and four women," he added.
The US-led coalition is providing air support to Arab and Kurdish fighters battling to oust IS from Raqa and the wider province.
To the southeast, Syrian government forces backed by their Russian allies are fighting IS in the oil-rich province of Deir Ezzor.
Suspected Russian air strikes on Wednesday killed another 15 civilians - mostly children - in an IS-held village in that province, the Observatory said.
The dead were two families, Abdel Rahman said, "a man, his two wives, and their seven children, and a second family of two parents and three children."
Full report at:
http://nation.com.pk/international/20-Jul-2017/30-civilians-dead-in-anti-is-strikes-in-syria
--------
Al-Nusra Withdraws from More Positions in Eastern Damascus
Jul 19, 2017
The army soldiers engaged in fierce clashes with Al-Nusra in Ein Terma and drove terrorists out of several buildings Northwest of the meat-packing company.
The army men also advanced against Al-Nusra from al-Kheir bazaars and reached the Kuyen shopping center in Ein Terma Wadi region.
A number of Al-Nusra terrorists were killed or wounded in the clashes.
A well-informed source said earlier today that a second ceasefire brokered by the US and Russia may come into force in Eastern Damascus and Homs in mid August before Astana talks on the Syrian crisis.
The Arabic-language desk of Sputnik quoted the source as saying that Moscow and Washington will possibly announce the second ceasefire deal in mid August that will include Eastern Ghouta and Homs.
"It will be announced soon, before the next international meeting on Syria in Astana (in late August), around August 14 or 15," the source said.
Full report at:
http://en.farsnews.com/newstext.aspx?nn=13960428001326
--------
Syrian Armed Forces Continue to Hit ISIL's Centers Hard in Deir Ezzur
Jul 19, 2017
The army aircraft targeted ISIL's movements and strongholds around of Deir Ezzur airbase, Zamen battalion base, the village of al-Janineh, al-Kanamat passageway, and the neighborhoods of al-Hamidiyeh and al-Sina'ah.
Tens of ISIL terrorists were killed and several positions, vehicles and a large volume of their military equipment were destroyed in the air raids.
In the meantime, local sources in Southeastern Deir Ezzur reported that unknown assailants set fire at one of the media centers of the ISIL near al-Bakreh square in the town of al-Mayadeen.
The Syrian Army forces continued to hit ISIL's positions in Eastern Homs and drove terrorists out of more positions in the depth of Badiyeh (desert) near the town of al-Sukhnah, the last main stronghold of the terrorist group before Deir Ezzur.
Reports said earlier today that the army men engaged in fierce clashes with ISIL in the depth of Badiyeh along the road that connects al-Heil oilfield to al-Sukhnah and managed to take control over several positions 2km East of al-Heil in Northeast Palmyra city.
The army men deployed in Tafheh al-Janoubi also advanced against ISIL towards the Northeast and imposed control over several positions 2km to the Homs-Palmyra highway in Eastern Homs.
The army units further fortified the newly-captured positions in Eastern Homs.
Full report at:
http://en.farsnews.com/newstext.aspx?nn=13960428001196
--------
Syrian Soldiers Continue to March on ISIL's Positions in Eastern Homs
Jul 19, 2017
The army men engaged in fierce clashes with ISIL East of al-Heil energy field in Eastern Homs and managed to take back al-Heil gas station.
In the meantime, the army's artillery and missile units shelled heavily ISIL's positions near al-Sukhnah, inflicting major losses on the terrorists.
A military source said that ISIL terrorists are fleeing towards Deir Ezzur after the Russian and Syrian fighter jets intensified airstrikes in Syria's Badiyeh and destroyed ISIL's command centers and warehouses.
Relevant reports said on Tuesday that the army units engaged in fierce clashes with ISIL in Eastern Homs and managed to advance against terrorists from the Northern and Eastern directions of al-Heil oilfield.
Meantime, the Russian and Syrian fighter jets carried out intense attacks on ISIL's positions in the depth of al-Sukhnah and Humeimeh in Eastern Homs, destroying the entire positions and killing or wounding tens of militants.
Full report at:
http://en.farsnews.com/newstext.aspx?nn=13960428001153
--------
US accuses Lebanon's Hezbollah of weapons buildup
20 July 2017
US Ambassador Nikki Haley on Wednesday accused Lebanon's Hezbollah of amassing weapons and said the world must turn its attention to the actions of the powerful paramilitary organization.
Haley met with UN envoy for Lebanon Sigrid Kaag ahead of a Security Council meeting Thursday focussing on the UN peacekeeping force deployed in southern Lebanon.
"Ambassador Haley expressed alarm over the build-up of weapons by Hezbollah, a situation that demands the international community's attention to prevent the further escalation of regional tensions," said a statement by the US mission.
She stressed that the international community must "apply more pressure on Hezbollah to disarm and cease its destabilizing behavior, especially toward Israel."
Supporter of Israel
Haley has been a strong supporter of Israel, which fought a month-long war against Hezbollah in 2006. The fighting killed more than 1,200 Lebanese, mostly civilians, and more than 160 Israelis, mostly soldiers.
There has been speculation about the possibility of a new war between Israel and Hezbollah, a powerful Lebanese paramilitary organization, more than a decade after their last direct confrontation.
Full report at:
https://english.alarabiya.net/en/News/middle-east/2017/07/20/US-accuses-Lebanon-s-Hezbollah-of-weapons-buildup.html
--------
King Salman orders arrest of prince for abusive behavior toward citizens
20 July 2017
Saudi Arabia's King Salman bin Abdulaziz on Thursday issued an immediate arrest warrant for Prince Saud bin Abdulaziz bin Musaed bin Saud bin Abdulaziz Al Saud and the imprisonment of all those who participated with him in abusive behavior toward citizens.
King Salman ordered that testimonies of victims as well as violators be heard and recorded for judicial purposes. The royal order stressed that no accused be released until the Islamic ruling has been issued.
The order also stated that steps will also be taken to prevent any deviant behavior in the kingdom and to maintain the security of the state, including protection of citizens and residents rights.
Measures will also be taken to prevent injustice, coercion, abuse and infringement of law, as well as to ensure that there is no transgression or violation of law by any person irrespective of his status.
Full report at:
https://english.alarabiya.net/en/News/gulf/2017/07/20/King-Salman-orders-arrest-of-prince-for-abusive-behaviour-towards-citizens-.html
--------
Syrian forces advance near Daesh-held Raqqah
Jul 19, 2017
Syrian military forces and allies have made advances near the city of Raqqah as they close in on the Daesh-held territories east of the country.
Syria's Defense Ministry said on Wednesday that pro-government forces had captured al-Ramilan, a complex containing residential units and a dam located on the southern outskirts of Raqqah.
It said Syrian forces took control over 15 oil and gas wells as well as two water pumping facilities. It added that scores from the ranks of Daesh were killed in the operation while heavy material damage was inflicted on their tanks and military vehicles. Syria has been making back-to-back to advances against terrorists over the past few months. The army and allied forces managed to liberate some key locations from the grip of terrorists in the north of the country last year. The onus is now on the east, where Daesh holds territories.
Reports on Wednesday said Syrian forces had managed to impose a siege on the Tal Asfar area in the Syrian Desert in the southeast. They said government forces had advanced from the northeastern countryside of Sweida governorate to areas controlled by Daesh in the desert and blocked roads that terrorist groups could use to advance to the south and to the capital Damascus. The gains came as part of a wider operation dubbed Fajr al-Kubra, which has seen Syrians pushing back militants from key locations.
The advances by the Syrian government forces come against the backdrop of incessant infighting among militant groups. Reports on Wednesday said one such insider battle spread through northwestern Syria between terrorists of Ahrar al-Shaam, a group supported by Saudi Arabia, and al-Qaeda-linked militants operating near the Turkish border. The Britain-based Syrian Observatory for Human Rights, a group that advocates anti-government militants, said at least 11 people, among them three civilians, were killed in the infighting, which came over the control of Sarmada, an important border town that controls the trade through the vital Bab al-Hawa crossing with Turkey.
Full report at:
http://www.presstv.ir/Detail/2017/07/19/529024/Syria-Raqqah-oilfield
--------
Saudi crown prince, Iraqi interior minister discuss common issues, counterterrorism
20 July 2017
JEDDAH: Crown Prince Mohammad bin Salman, deputy prime minister and defense minister, met in Jeddah on Wednesday with Iraqi Interior Minister Qasim Al-Araji.
They discussed issues of common interest and counterterrorism efforts.
The meeting was attended by Saudi Interior Minister Prince Abdul Aziz bin Saud bin Naif, Commerce and Investment Minister Majid Al-Qassabi, Director General of General Investigations Abdul Aziz Al-Hoireny, and an official Iraqi delegation accompanying Al-Araji.
Earlier, the crown prince also chaired a meeting of the Council for Political and Security Affairs.
Full report at:
http://www.arabnews.com/node/1132141/saudi-arabia
--------
India
In a first, Shia cleric to teach at Aligarh Muslim University
Anuja Jaiswal
Jul 20, 2017
AGRA: In an unprecedented move, the Aligarh Muslim University has appointed prominent Shia cleric Maulana Kalbe Jawad Naqvi, general secretary of Majlis-e-Ulama-e-Hind, as an adjunct faculty in Shia theology in the university for a year. He is among 12 faculty members drawn from across the globe who would be teaching AMU students, officials said.
According to AMU registrar Javaid Akhtar, though this was the first time that a cleric would be teaching students at AMU, Kalbe Jawad had been chosen for his expertise in the subject. He is a prominent Shia Muslim cleric and scholar from Lucknow. He led anti-government demonstrations in 1997 to lift a two-decade-old ban on the controversial Azadari processions in Lucknow and was arrested twice during the movement. Jawad is also famous for holding the biggest ever anti-US-Israel-Denmark rally at Lucknow which was attended by over one million people in protest against cartoons of the Prophet in a Danish newspaper.
Recently, at the meeting of a national-level body of Shia clerics, Jawad had advised clerics and organisations of the community to stay out of the controversy regarding triple talaq, calling it an "issue which concerns the Sunnis".
A senior professor at AMU said that the aim of having an adjunct faculty is "to attract distinguished individuals who have excelled in any field of specialisation to enrich the overall leaning processes by bringing external perspectives to regular teaching".
Others in the faculty include Dr Madad Ali from the US, who has been appointed at the department of surgery; Sangeeta Bagga-Gupta from Sweden, who has been assigned to teach at the department of education, Todd R Sandrin from Arizona State University, (US), who will teach at the department of interdisciplinary biotechnology unit; Ivan Coste-Maniris from France who has been appointed to teach at the department of business administration and Sultana Nurun Nahar at the department of physics.
Distinguished scholars from India also feature in the list of adjunct faculty, such as Peri Bhaskararao from Hyderabad, who will teach at the department of linguistics; S K Singh, former vice chancellor, HNB Garhwal Central University in Uttarakhand who will be teaching at the department of physics; Azizuddin Khan from Mumbai who will teach at the department of psychology; Salim H Naqvi who will teach applied physics; Dr Manju Gupta from Safdarjung Hospital in New Delhi who has been appointed to teach at the department of cardiothoracic and vascular surgery and Dr Jaideep Malhotra from Agra who will teach at the department of obstetrics and gynecology, university officials said.
http://timesofindia.indiatimes.com/city/agra/in-a-first-shia-cleric-to-teach-at-amu/articleshow/59670675.cms
--------
Four Muslim Men Held For Allegedly Killing a Cow in Gujarat, Say Police
Jul 20, 2017
The Gujarat police arrested four Muslim men for allegedly killing a cow and booked them under a newly-enacted law, which provides for life term for slaughtering a cow.
The four were arrested for "killing" the cow which had entered their cattle shed in Maanpur village of Banaskantha district, said the police, adding they would be tried under the stringent Gujarat Animal Preservation (Amendment) Act-2017.
The police identified the four accused as Aiyub Vagadiya, Jamaluddin Vagadiya, Arif Vagadiya and Israilbhai Vagadiya of Maanpur village.
The police arrested the four on a complaint by Kansa village resident Raghabhai Bumadiya, who approached Danta taluka police station yesterday and alleged that the accused had killed one of his cows after it entered their cattle shed.
"In his complaint, Raghabhai claimed his son had taken their cows and goats for grazing to the neighbouring Maanpur village yesterday. As some of the cows inadvertently entered into a cattle shed, four members of the family confronted Raghabhai's son and scolded him," said Police Sub-Inspector AR Vala.
"Though his son tendered an apology, the accused attacked one of the cows in a fit of rage and killed the animal using sticks, choppers and axe. Based on his complaint, we lodged a case yesterday for killing the cattle under section 429 of the Indian Penal Code and the Gujarat Animal Preservation (Amendment) Act-2017," said Vala, adding that the four were arrested today.
"Since the new Act against cow slaughter has come into force recently, all these accused will be tried under sections 8 and 10 of the Act," said Vala.
The Gujarat Animal Preservation (Amendment) Bill, 2017 was passed by the state assembly on March 31.
This amended Act provides for not less than 10 years in jail which can extend up to life term for those found to be involved in the slaughter of bovines, including cows, calves, bulls and bullocks.
Full report at:
http://www.hindustantimes.com/india-news/four-muslim-men-held-for-allegedly-killing-a-cow-in-gujarat-say-police/story-obPvQ09SNpRj0HzQQIbb0O.html
--------
BJP wing, Hindu Jagran Manch shut Kashmiri's shop in Mussoorie
July 20, 2017
A Kashmiri garment trader's shop was forcibly shut down in Mussoorie on Wednesday after an alleged post praising the Pakistan Army was found on his Facebook page.
Manzoor Ahmad, 59, from Hamhama in Kashmir's Budgam district, is among the five oldest trader families in Mussoorie. His shop has been selling garments since 1971.
His shop was shut down by the Mussoorie BJP youth wing and the Hindu Jagran Manch after they said they found a video appreciating the Pakistan Army, posted by Ahmad on Facebook. "After getting his (Ahmad's) shop closed, we and the local traders' body (the Mussoorie Traders & Welfare Association) went to the police station to file a complaint against him," the president of the BJP youth wing in Mussoorie, Dharampal Singh Panwar, said.
"Ahmad also came to the police station to file an application about his Facebook account having been hacked," Mussoorie police station SHO, Rajeev Rauthan, said. He said the alleged "anti-national post" could no more be seen on Ahmad's Facebook page.
The Mussoorie police seized Ahmad's phone and submitted it to the cyber cell to verify whether his Facebook account was hacked.
A concerted effort to get Kashmiri traders ousted from Mussoorie started on June 18, when India lost to Pakistan in the Champions Trophy final and three Muslim boys were allegedly seen on the Mall Road shouting "Pakistan zindabad". While none of the three was from the Valley, the BJP leaders and a section of local traders said the Kashmiri traders had "incited" them and other Muslims.
On June 20, the local traders' body in Mussoorie asked for the Kashmiri traders to leave the town by February 28, 2018. However, Ahmad and four other older Kashmiri traders were "allowed to stay", the president of the traders' body Rajat Aggarwal said.
Full report at:
http://indianexpress.com/article/india/kashmiri-traders-in-mussoorie-under-fire-after-facebook-post-praising-pakistan-army-4758353/
--------
95 terrorists killed in J-K this year, 150 in 2016: Centre tells Parliament
Jul 19, 2017
As many as 95 terrorists were eliminated in Jammu and Kashmir between January and July 9, while this figure was 150 for 2016, the Rajya Sabha was informed on Wednesday.
As many as 38 security personnel and 12 civilians were also killed during this period in the Valley that witnessed 172 terror incidents, Union minister of state for home Hansraj Gangaram Ahir said in a written reply.
Ahir said 150 terrorists – the highest since 2011 – were neutralised in 2016 in Jammu and Kashmir which faced 322 terror incidents in which 82 security men and 15 civilians were killed.
In 2015, 108 terrorists were killed during clashes with security forces at different places, while 39 security personnel and 17 civilians also lost their lives in 208 terror incidents.
In 2014, 110 terrorists were killed in different shootouts in the Valley, which witnessed 222 incidents of terrorist violence and killing of 47 security personnel and 28 civilians.
In 2013, 67 terrorists were neutralised while 53 security personnel and 15 civilians were killed in 170 terror-related incidents.
In 2012, 72 terrorists were killed, apart from 15 security personnel and a similar number of civilians in 220 violent attacks.
In 2011, 100 terrorists were killed, apart from 33 security personnel and 31 civilians in 340 terror incidents.
Full report at:
http://www.hindustantimes.com/india-news/95-terrorists-killed-in-j-k-this-year-150-in-2016-centre-tells-parliament/story-YTn8YfliogPM1ttt5lAO3O.html
--------
Basirhat fights back with home-grown initiatives
Jul 20, 2017
Heart-warming tales of communal harmony have started emerging from pockets of Basirhat, which found itself in the middle of a communal flare-up barely a fortnight ago.
Muslims have offered to pay for the repair of damage caused to a village temple even as Hindus of a nearby market have kept their shops shuttered in solidarity with Muslim traders whose establishments have borne the wrath of mob violence. And at Khanpara, a Muslim-majority neighbourhood in Jir-akpur in the heart of Basirhat, members of both communities have come together to set up a resistance group after seeing how mobs from outside tried to foment trouble in their locality.
"About 80% of Khanpara's 200-odd families are Muslims. So, when trouble erupted on July 3, our primary concern was the insecurity that the nei-ghbourhood's Hindu families might feel. The first thing we did was to dispel this fear by calling a meeting of club members, where youths from both communities gathered. We apportioned responsibility among both Hindus and Muslims to verify and dispel the wild rumours that were being floated," recounted Sk Aslam Hossain, known as Sooja in the locality.
Initially, when trouble mongers ruled in the absence of adequate police force, there were rumours that temples were being damaged by Muslims and mosques being set ablaze by Hindus. "Every time we heard some disturbing news, we called up an acquaintance living in the neighbourhood where the incident had allegedly occurred and checked its veracity. Almost all the 'news' turned out to be fake. Rumours were being deliberately spread to incite communal tension," Abhishek Pal said.
The Mayer Ichchhe Kali temple near Moyelakhola Mayer Bazaar in the adjoining nei-ghbourhood was one that was actually damaged. "When the Haji Saheb of Dargah Sharif in Sonpukur learned about it, he immediately sent word that funds from the dargah's corpus would be released for repairs," a villager said.
Hindus of a nearby market have returned this favour. Some shops owned by Muslims were ransacked and torched during the mob frenzy. Peace has returned now but shops owned by Hindus, too, remain shut as the owners have decided to restart business only when the Muslim owners are able to reopen their shops after getting them repaired.
The resistance group continues its vigil at Khanpara. Every night, 15 young men — both Muslims and Hindus — walk shoulder to shoulder, guarding the locality so that every household can sleep in peace. "It is peaceful now but we are wary of trouble mongers who can cause mischief by attacking a household in the area. We will continue to be on guard," said Mirza Ghalib, owner of a welding shop.
On Tuesday evening, a feast was organised where at least one family member from each household was asked to participate. It was a simple rice-dal-and-mutton curry fare but people turned up with enthusiasm. "Some people have been holed up in their homes. We wanted them to step out and feel safe. Hence the evening picnic," explained Soumen Majumdar.
Full report at:
http://timesofindia.indiatimes.com/city/kolkata/basirhat-fights-back-with-home-grown-initiatives/articleshow/59674217.cms
--------
China can attack, has atom bomb in Pakistan: Mulayam Singh Yadav
July 20, 2017
Samajwadi Party leader Mulayam Singh Yadav brought up the Doklam standoff in Lok Sabha Wednesday, saying China was preparing to attack India and had teamed up with Pakistan to foment trouble in J&K. Mulayam said during zero hour that he had information that China was not only holding drills near the border but had hidden atomic bomb(s) underground in Pakistan. "I have been saying for 20 years that China is conspiring against India and has Pakistan on its side. It has set up atom bomb underground in Pakistan, I have learnt. The government would have better information on that. China is ready for an attack. But till now I have not heard anything from the government on what it is doing regarding the threat from China."
He said it was India's responsibility to protect Sikkim and Bhutan. "We have already committed a big mistake. I had told the then PM — I will not take his name — that don't give Tibet to China. We didn't stand by Dalai Lama… We should support Tibet's struggle…" He said he has said several times that China, not Pakistan, is India's real enemy. "Pakistan can do us no harm."
He added, however, that China was fomenting trouble in J&K with help from Pakistan and that Pakistan was using Chinese weapons. He said if China does not stop interference in J&K, India should stop using Chinese products. He said Indian markets were full of Chinese products but the government was not taking any action.
Full report at:
http://indianexpress.com/article/india/china-can-attack-has-atom-bomb-in-pakistan-mulayam-singh-yadav-4758629/
--------
Mentally challenged Muslim thrashed on suspicion of being a cattle thief
July 19, 2017
A mentally challenged Muslim man was assualted at Dharjori in Jharkhand's Dhanbad district by people allegedly on suspicions that he was a cattle thief. Reports reaching the district headquarters in Dhanbad on Wednesday said the incident took place on Tuesday evening when Mohammed Afroz(27), a resident of Wasseypur, had gone Dharjori Chowk. Some youths there allegedly found his activities unusual and assaulted him sticks before fleeing. His injuries were, however, minor, said the doctors at Patliputra Medical College Hospital where he was rushed by the police after being informed by a passerby.
East Basuria outpost in-charge Prem Chandra Hansda, who rushed in immediately said "All the miscreants had fled before I reached the spot." He said no arrests were made as no complaint was lodged. However, investigation into it is on. The family members of Afroz also reached Dharjori Chowk on being informed by the passerby and showed documents of Ranchi mental hospital, where Afroz is being treated.
Full report at:
http://indianexpress.com/article/india/mentally-challenged-muslim-thrashed-on-suspicion-of-being-a-cattle-thief-4758493/
--------
Pakistan
President asks bureaucracy to follow Islamic principles
Jul 20, 2017
President Mamnoon Hussain has urged the civil servants to serve the public with a missionary spirit, in line with the exemplary sense of duty, compassion, and extraordinary spirit of their predecessors, as taught in Islam.
Addressing the participants of the 10th National Management Course (NMC) at the National School of Public Policy (NSPP) here on Wednesday, he hailed the pioneer civil servants who worked day and night despite the lack of resources and means of the progress and development of the country, soon after the creation of Pakistan.
He said the civil servants must adopt the golden principles of kindness, sympathetic address of people's complaints, and public service to win the confidence of the masses.
Mamnoon Hussain said bureaucracy, in an Islamic welfare state, must emulate the spirit of public service as per the golden principles of Islam.
The President said only those nations achieved progress in the world whose individuals and the responsible remained active in every challenge of life. He said missionary spirit and passion are required in every step of a nation's life, while, the absence of these traits causes the downfall of nations.
He urged the civil servants to keep the spirit of public service alive in their hearts so that the grievances of the masses could be resolved and national development could be achieved.
The President said that only those nations could play their positive role among the comity of nations which had combated challenges successfully.
He said Pakistan had been grappling with different challenges during the past seventy years and now was the time to reap the fruits of the sacrifices rendered by the state institutions and the people.
Mamnoon said the phases of the construction and completion of the China-Pakistan Economic Corridor (CPEC) demand the same spirit and passion which were seen during the struggle for the solidarity of the country soon after the creation of Pakistan. He called upon the people and the civil servant officers never to let this spirit die down in their hearts.
https://www.pakistantoday.com.pk/2017/07/19/president-asks-bureaucracy-to-follow-islamic-principles/
--------
Gunmen in Pakistan kill four Shi'ites in suspected sectarian attack
JULY 19, 2017
QUETTA, Pakistan (Reuters) - Gunmen on Wednesday shot dead four members of the Shi'ite Muslim minority in Pakistan's southwestern province of Baluchistan, officials said, in what police suspect was a sectarian attack.
Recent violence in Baluchistan has fueled concern about security for projects in the $57-billion China Pakistan Economic Corridor, a transport and energy link planned to run from western China to Pakistan's southern deep-water port of Gwadar.
Provincial Home Minister Sarfraz Bugti said three men and a woman from the Hazara community were traveling to the southern port city of Karachi when armed men on two motorcycles attacked their car on a highway close to Quetta, the provincial capital.
"The Shi'ites were targeted because of their faith," added Ghazanfar Ali, police chief in the town of Mastung, about 50 km (31 miles) south of Quetta.
No group has so far claimed responsibility.
If claimed by Islamist militants, the latest killing would be fourth such attack in recent weeks in volatile Baluchistan, which borders Afghanistan and Iran.
Factions of the Islamist Pakistani Taliban group and the Islamic State have claimed two of the four attacks, including two in which six police officers were killed.
Last week Pakistani army chief Gen. Qamar Javed Bajwa visited the resource-rich province, long plagued by separatist insurgencies, and said the militants, frustrated by defeats, were attacking soft targets and police.
Early in June, the Pakistani army said it dismantled a network of Islamic State militants and their affiliates who were trying to establish bases in rough terrain near Mastung.
Islamic State and its sectarian allies despise Shi'ite Muslims, whom they consider infidels.
Full report at:
https://www.reuters.com/article/us-pakistan-shooting-idUSKBN1A40S4
--------
Pakistani Catholic family flees following blasphemy allegation
Jul 20, 2017
By Kamran Chaudhry
A Catholic family in Pakistan has fled their home fearing attack by local Islamists after their eldest son was arrested on blasphemy charges on July 13.
"We left the city same evening the clerics captured him," Shfaaqt Masih told ucanews.com. "I switched off my phone fearing they will trace my family."Shfaaqt, whose name Masih is not a surname but identifies him as a Christian male, said that local police station will not tell them where 16-year-old Shahzad is currently being held."My relatives even visited the jail but he is not there. We don't know what to do," he said.The father of four has been hiding since Shahzad was taken into custody for allegedly insulting the Prophet Mohammed, a crime that carries a mandatory death sentence in Pakistan.Shfaaqt, a builder, is liaising with his parish priest in the hope to somehow resolve the situation. "We are poor people and I am out of work now. The clerics did not listen to our please; they will kill my son," he said.Shahzad worked as a sweeper in a hospital of Dinga City, Punjab province, where a Muslim shopkeeper accused him of blasphemy. He was later taken to a madrassa (Islamic seminary) by activists from the Islamist party Tehreek-e-Tuhafaz Islam Pakistan and was then arrested by the police.More than 50 party activists later protested in front of the police station.Dinga has a population of about 80,000 people of whom 150 are Christians who live in a Christian colony near the city's railway station.In response to the allegations, an X-marked photo of Shahzad is now being shared on social media captioned laanat (shame).Raja Nadeem Ahmad, the main complainant of the blasphemy allegation, said Shahzad said abusive things about the Prophet Mohammed."We brought him to my shop and he repeated the same insulting remarks ... he has hurt our feelings and tried to disrupt the peace in the area," stated Ahmad in the first information report made with the police.Ghazi Saqib Shakeel Jalali, from Tehreek-e-Tuhafaz Islam Pakistan said, "We will not forgive even if the court releases him. We are not cowards."The law, said Jalali, tried to "make an example out of Mumtaz Qadri," referring to Malik Mumtaz Hussein Qadri, a police bodyguard, who was executed last year for assassinating Punjab governor Salman Taseer over his opposition to the country's blasphemy laws. "What will we tell our generations that we could not save a person who loves the Prophet? We will continue preaching the love of the Prophet," said Jalali.Meanwhile, Christian NGOs are lobbying with politicians from minority religions to support Shfaaqt and his family. Lahore based Center for Legal Aid, Assistance and Settlement CLAAS plans to visit Dinga city this week. Joseph Francis, director of CLAAS shared about challenges in dealing with blasphemy cases. "A famous televangelist has now jumped to the occasion and gives refuge to the victim's families. However, they have complicated the case by approaching courts for a bail plea," said Francis. "This further pressurizes police. The victims are then usually left on their own. We shall struggle for Shahzad's freedom during the ongoing police investigation," he said.Kashif Nawab, a patron of Minority Rights Watch, plans to offer legal support. "An assistant sub inspector lodged the FIR though law clearly states that no police officer below the rank of superintendent can investigate cases involving derogatory remarks in respect to the Prophet," said Nawab."The government should also establish a committee of religious leaders and police to probe and handle such issues," he said.Both church and civil society have been demanding a repeal of the controversial blasphemy laws which, they say, are being used to settle personal scores and persecute religious minorities.According to the Human Rights Commission of Pakistan, 15 people were charged with blasphemy last year. These include 10 Muslims and five non-Muslims. Two Muslims and as many Christians were sentenced to death for blasphemy in 2016.The state has however not carried out an execution for blasphemy but several people accused of blasphemy have been killed, some in prison or before trials ended. Blasphemy against the Quran is punishable with life imprisonment.
http://www.heraldmalaysia.com/news/pakistani-catholic-family-flees-following-blasphemy-allegation/37359/1
--------
Lawmakers grill govt. over ex-army chief's role in Saudi-led coalition
Jul 19, 2017
Pakistani lawmakers have grilled the government by raising objections over the appointment of the former army chief General Raheel Sharif as the commander of a Saudi-led military alliance.
Sartaj Aziz, a National Security and Foreign Affairs Adviser to Prime Minister Nawaz Shaif, told the senate, the upper house of parliament, that the divisive military bloc had yet to take formal shape.
Aziz added that the Terms of Reference (ToRs ) governing the operations of the so-called Islamic military alliance had not been finalized as yet. "There must be a meeting between member nations in order for the ToRs to be finalized, which has not been possible."
Aziz's statement, however, sparked controversy and generated a heated debate in the parliament. Lawmakers responded to his statement by questioning why the former army chief had been sent to Saudi Arabia if the ToRs were still unclear.
Senate Chairman Raza Rabbani argued why Sharif was in Saudi Arabia if he was not yet leading any army.
Rabbani also asked how the government had deemed it okay to send a former army chief who has knowledge of the country's nuclear secrets to a sensitive area without even knowing what he would be doing there.
"What if the ToRs are not in the interest of Pakistan's national security? What will you do then? You have already sent Raheel Sharif to Saudi Arabia," he asked.
Farhatullah Babar, a senior lawmaker, asked whether the former Pakistani army chief wished to signal his availability post-retirement to Saudi Arabia and whether the announcement was made for the benefit of the Saudi leadership.
The lawmaker asked why Raheel Sharif had announced 10 months prior to his retirement that he would not be looking for an extension in his tenure as army chief.
"What was the purpose of making the announcement so far in advance," Babar asked, "particularly if no offers had been made to him at that point?"
Ilyas Bilour, another senior lawmaker, said the ToRs against Iran would not be acceptable.
He said lawmakers would not allow there to be any sectarian conflict in Pakistan. "The country will be destroyed if there is sectarian conflict."
The appointment of Pakistan's former army chief as the commander of a Saudi-led military alliance has sparked controversy in the country.
The Islamabad government earlier issued a no-objection certificate (NOC) for Sharif to assume the command of the controversial alliance after an understanding that was reached between Pakistan and Saudi Arabia on the matter.
In December 2015, Saudi Defense Minister Deputy Crown Prince Mohammed bin Salman announced the formation of an alliance of Muslim-majority countries, which now includes 40 members. Riyadh claims the alliance has been formed to fight extremist groups such as the Daesh Takfiri terrorist group.
The news of the controversial appointment was strongly denounced by some politicians, retired army officers and intellectuals, as well as Shia and moderate Sunni Muslim leaders in Pakistan.
Main opposition parties, including the Pakistan People's Party (PPP) and Pakistan Tehreek-e-Insaf (PTI), are also skeptical of Sharif's role in the alliance.
Opposition lawmakers consider the decision a violation of a parliamentary resolution passed in April 2015 that called for Pakistan to maintain a policy of neutrality, particularly in the Saudi aggression against Yemen. The Saudi campaign has killed over 12,000 Yemenis, according to the latest tallies.
Full report at:
http://www.presstv.ir/Detail/2017/07/19/528990/Pakistan-General-Raheel-Sharif-Senate-Saudi-Arabia
--------
Muslim leaders condemn the locking of Masjid-Al-Aqsa
Jul 20, 2017
RAWALPINDI: Speakers and diplomats from different Islamic countries, while addressing the "Tahafuz Harman Al Sharifain, Al-Aqsa Conference", stated that the locking of Masjid-Al- Aqsa by Israeli leadership will not be tolerated by the Muslim Ummah and demanded Pakistan's government to end its silence on the matter.
Representatives of different religious organisations, speaking at the conference held here on Wednesday at Islamabad Hotel, also announced to observe 21st July as "Youm-e- Al-Aqsa".
The leadership of different political organisations and ambassadors of Palestine and Jordan also attended the conference.
Addressing the conference, Palestinian Ambassador to Pakistan Waleed Abu Ali stated that the locking of Masjid-Al-Aqsa on the part of Israeli leadership is in violation of human rights and amidst prevailing challenges, the entire Muslim Ummah should unite for freedom of Masjid-Al-Aqsa and the security of Haramain Al-Sharifain.
Jewish conspiracies are not limited to Palestine and were also aimed at making the entire Muslim world hostage, said Abu Waleed. He also added that if the Muslims did not contain Jewish targets with unity of action, then the sanctity of Harmain Al-Sharifain will be under threat. He lauded the efforts of Pakistan Ulema Council for raising voice for the cause.
Pakistan Ulema Council Chairman Hafiz Tahir Mehmood, while speaking on this occasion, said that the alliance of Israel and India could be counteracted with unity amongst Muslims.
JUI-F leader Maulana Atahullah Shahab said that the people of Pakistan have an emotional attachment with people of Palestine and denounce the locking of Masjid-Al-Aqsa by the Israeli leadership.
Full report at:
https://www.pakistantoday.com.pk/2017/07/19/muslim-leaders-condemn-the-locking-of-masjid-al-aqsa/
--------
Dubai job report puts Pakistani PM Nawaz Sharif in a spot
Asma Ali Zain
Jul 20, 2017
The JIT has revealed that Nawaz did not disclose this information before running for the highest public office in 2013.
A Khaleej Times' report on Pakistani Prime Minister Nawaz Sharif's employment status in Dubai and verification of the related documents as being 100 per cent legal have created a stir among the Pakistani public, media and political parties.
On Wednesday, KT broke an exclusive story quoting a Dubai-based law firm that submitted a legal opinion on Sharif's employment in Dubai Capital FZE in Jebel Ali Free Zone until 2014 to Pakistan's Supreme Court which is currently hearing a slew of alleged corruption cases against the prime minister.
The firm, Khalifa bin Huwaidan, which was consulted by the Joint Investigation Team (JIT) that has submitted a 254-page report to the court on the Sharif family's wealth, verified that the employment documents that imply Sharif was employed by Capital FZE in Dubai until 2014 are 100 per cent legal.
All major Pakistani political parties shared the news on their social media sites while news anchors of major Pakistani channels, such as ARY, Dunya TV, AAJ and several others, quoted the story in their prime time broadcasts.
Rauf Klasra, author and columnist who appears on the prime time show Muqabil on Channel 92, discussed the KT story saying: "Very damaging and could change the case for Nawaz Sharif."
Speaking to Khaleej Times on Wednesday on how the story would impact the current political scenario, Klasra said: "The story has put further dent in the PM case in SC as so far doubts were being created about his job status or if payment was made against his job or not."
"It was a timely and credible story."
"It was a sort of bombshell confirming facts about PM's job in Dubai. It was a new thing for Pakistanis that a Dubai law firm had submitted its legal opinion in SC. No one knew it," he said.
"This story has put all rumours to rest after proper quotes and confirmation from the law firm quoting labour laws and 100 per cent legal status of job contract," he added.
He said that the government or the prime minister's office has not commented on the story. "The moment I shared this story on my programme, other channels who monitor our show started breaking the news even in their 9:00pm news bulletins," he added.
Klasra also said that the story has put an end to the ongoing debate in Pakistan on whether Sharif withdrew a salary or not since all employees in the UAE were covered under the Wage Protection System (WPS) which makes it compulsory for an employer to pay an employee. "So this chapter has been closed by the KT story," he said.
Former Pakistani president Pervez Musharraf's All-Pakistan Muslim League party tweeted: "Confirmation by Khaleej Times. Nawaz Sharif is a source of shame for Pakistan!"
Imran Khan's Pakistan Tehreeke-Insaaf shared the KT story on its social media, saying, "Final nail in the coffin of Nawaz's rule as Dubai-based firm verifies that Nawaz Sharif was an employee of a UAE company till 2014 which was never declared by him."
Pakistan's leading newspaper Dawn quoted the KT story and added: "PM's counsel Khawaja Harris Ahmed had conceded before the SC on Tuesday that Hassan Nawaz - the son of the prime minister - was the owner of Capital FZE. He claimed that though the prime minister was the designated chairman of the board, he did not draw any salary."
However, as per the UAE labour law, all employees have to receive a salary through a bank account under the UAE's Wage Protection System (WPS) failing which the firm can be blacklisted and shut down.
Also as per the UAE law, if no record of a salary transfer to the bank is found, the employer is held liable, not the employee, Khalifa bin Huwaidan, lawyer and legal advisor at the firm, had told Khaleej Times earlier.
"Normally businessmen establish companies in Dubai if they want to maintain a visa status in the company but in this case (Nawaz Sharif) was an employee in a Jafza-based firm," he said.
Khalifa based the conclusion on the copy of the labour contract Nawaz had with Capital FZE and said: "The contract is 100 per cent legal." However, his employment status was terminated in 2014 after the company was dissolved. This was a year after he became the prime minister of Pakistan for the third time. Also as per the UAE law, if no record of a salary transfer to the bank is found, the employer is held liable, not the employee. However, it is not clear who owned Capital FZE before it was dissolved.
The JIT has revealed that Nawaz did not disclose this information before running for the highest public office in 2013 which is against the Constitution of Pakistan. The JIT findings are based on its correspondence with Jafza.
Full report at:
http://www.khaleejtimes.com/nation/dubai/dubai-job-report-puts-pakistani-pm-nawaz-sharif-in-a-tough-spot
--------
Europe
Unable to go home, Russian who fought for IS settles in Ukraine
20 Jul 2017
MOSCOW: When Islamic State fighter Marat Nurmagomedov escaped from Syria to Turkey after becoming disillusioned with the militant group, he was unable to return home to Russia for fear of arrest.
Instead, he managed to obtain a passport under another name and flew from Istanbul to Ukraine, whose ability to identify him as a terrorism suspect was hindered by a lack of intelligence sharing between Moscow and Kiev.
The 33-year-old Muslim slipped easily through passport control, aided by the fact that Ukrainian border guards do not use an electronic database that shows the faces of terrorism suspects wanted by Moscow.
If Kiev used the database, it would have been much more likely to establish Nurmagomedov's true identity and stop him entering the country, said a Russian security official involved in counter-terrorism operations.
Moscow reduced intelligence sharing with Kiev, and the Ukrainian Security Service halted it altogether, after Russia annexed Crimea and backed separatists in eastern Ukraine in 2014, officials in both countries said. Reuters was unable to ascertain whether Kiev used the database before 2014.
Reuters was unable to verify Nurmagomedov's comments independently but spoke to several people who know him including his father, a family friend and a friend in Ukraine who is also from Nurmagomedov's home region of Dagestan. They confirmed the man interviewed was Nurmagomedov.
Nurmagomedov, who says he spent about two years in Syria, believes Ukrainian authorities are still unaware of his identity.
"It is quiet here. If you're not involved in anything, no one is interested in you," he told Reuters at his new home in Ukraine, on condition that the location not be disclosed.
He could face up to 15 years in jail if he returns to Russia, which strictly enforces a law punishing Russians who take part in conflicts abroad that are against Russian national interests.
Renouncing violent Islamism and denying he is a security threat, he said: "I don't have it in mind to blow up someone in the metro... My goal is to study Islam and to get back to a quiet life."
RETURNING JIHADIS
Nurmagomedov said he arrived in Syria in the summer of 2013. When he lost faith in IS, he was detained for four months but freed after pledging loyalty to the group.
He said he eventually paid a family of Syrian refugees to hide him under their belongings in a van and drive him out of IS-held territory in Syria in mid-2015.
He later went by foot to Turkey, and said he spent several months in Istanbul before being detained and told he would be deported to the country of his choice.
"I wanted to go to Ukraine," he said.
Thousands of citizens of former Soviet republics have fought for IS in Iraq and Syria, Russian security officials say. One said "quite a lot" of Russian former jihadis were now in Ukraine but gave no figures.
Ukraine's Security Service said it barred entry to anyone known to be a foreign fighter who tried to enter the country, but nine foreigners had been convicted of IS-related offences since 2015.
The Ukrainian Migration Service said it know of no Russian Islamists living in Ukraine. Russia's Federal Security Service did not respond to questions.
Russian citizens have the right to go to Ukraine visa-free and can stay for continuously three months in an 180-day period.
Since Nurmagomedov's arrival in Ukraine, his older brother, a Moscow businessman, has been arrested in Russia and charged with financing terrorism. His father, Kazim, said the payments were part of the family's efforts to help Nurmagomedov.
Russians can apply for a Ukrainian passport after living in Ukraine for five years. The process can be accelerated if they have a close relative in Ukraine or have lived there before. Neither case applies to Nurmagomedov.
Ukraine borders the European Union and, under an agreement in force since June 11, Ukrainians with biometric passports can gain visa-free access to most countries in the bloc.
Asked about the situation, an EU spokeswoman said Ukraine met "all of the necessary requirements" set out under its visa liberalisation plan.
EU officials said privately they believed anyone who has been included in Turkish or Russian databases could be flagged up biometrically at the EU border and that they were confident Ukrainian authorities would continue strict checks on biometric passports to ensure they complied with the visa-free agreement.
"The EU is strengthening its policies on returning foreign fighters by working more closely with countries of origin, transit and destination," the EU spokeswoman said.
"The EU is also taking very firm measures to strengthen its external borders by, for example, improving information exchange among relevant authorities such as security and law enforcement authorities, including customs and border guards, where relevant...," she added.
http://www.channelnewsasia.com/news/world/unable-to-go-home--russian-who-fought-for-is-settles-in-ukraine-9046476
--------
Russia sending 2nd humanitarian aid flight to Yemen
Jul 19, 2017
Russia says it is sending a new humanitarian aid flight to Yemen, where people have been dealing with famine and an outbreak of cholera following a months-long Saudi-led war.
"The Russian Emergencies Ministry has started loading the Il-76 aircraft with more than 23 tons of humanitarian supplies to be delivered to Yemen," the ministry told Russia's TASS news agency on Wednesday.
Carrying tents and other necessities for the people of the war-torn country, the cargo plane was slated to arrive in Yemen later in the day.
On its way back, the plane would board Russian and CIS (Commonwealth of Independent States) citizens willing to leave the war zone and take them back to Moscow, the report noted.
This will be the second Russian aid flight to Yemen since Tuesday. The first flight delivered 20 tons of humanitarian supplies after landing in Sana'a International Airport and returned with 62 Russian and CIS citizens on board.
Saudi air blockade
The capital Sana'a is currently controlled by Houthi Ansarullah fighters, who have been defending the nation against a deadly offensive by Saudi Arabia and its allies since March 2015.
On Tuesday, Saudis blocked a United Nations charter flight carrying aid agency staff from landing in Sana'a, on the grounds that it could not guarantee the security of three journalists working for British state-run broadcaster BBC on board.
Later on, Saudi officials claimed that all inbound flights to Yemen must land in the country's southern port city of Aden, which is under the control of the former government, headed by former President Abd Rabuuh Mansour Hadi, a staunch ally of Riyadh.
The Houthis took control of state affairs in 2014 after Hadi resigned, despite Ansarullah's calls on him to review the decision. Hadi's resignation created more chaos in a country already grappling with al-Qaeda terror threats.
The brutal Saudi aggression, that was launched to reinstate Hadi, has so far killed more than 12,000 people, most of them civilians.
The conflict has also left more than 17 million people in the country food-insecure, with some 6.8 million of them in need of immediate aid.
The conflict-stricken country has also been grappling with a cholera outbreak, which has so far killed more than 1,700 people according to the UN. The number of suspected cholera cases across Yemen has surpassed 320,000.
Full report at:
http://www.presstv.ir/Detail/2017/07/19/529021/Russia-Yemen-Saudi-cholera-humanitarian-aid
--------
Istanbul nightclub massacre suspect arrested in Denmark
20 July 2017
Ibrahimjon Asparov, an alleged accomplice to Abdulgadir Masharipov, the main suspect in the Reina nightclub attack New Year's Eve, was taken into custody Wednesday in Denmark.
Asparov, 42, accused of supplying weapons and ammunition to Masharipov, was taken into custody for a second time at the request of Turkey, According to the Danish newspaper Vejle Amst Avis.
He made a court appearance in which he gave brief answers to questions from the judge, the newspaper said.
After reading the summary of the charges against Asparov by Turkey, Prosecutor Dorthe Moller-Andersen requested he be held for four weeks until a decision is made on his extradition.
The judge accepted the prosecutor's request that was appealed by the Asparov's lawyer.
According to the newspaper the police also confiscated some computer equipment at the suspect's house.
Following a request by Turkey, Asparov was detained June 29 in southeastern Jutland with the help of Danish Security and Intelligence Service (PET) but was released after giving a statement.
Moller-Andersen told Danish Public Broadcaster DR that Turkey has to request an extradition for Asparov within 18 days.
If the state prosecutor responds positively to the request, the suspect has the right to go to court, she said, adding that the extradition decision would be first seen in the city court and then likely in the Supreme Court.
At least 39 people, including a police officer, were killed when a gunman opened fire on partygoers at the nightclub in Istanbul's Ortakoy district.
On Jan. 16, Masharipov was captured by police in Istanbul's Esenyurt district.
Full report at:
http://www.worldbulletin.net/europe/192038/istanbul-nightclub-massacre-suspect-arrested-in-denmark
--------
Mideast
Turkey Leaks Secret Locations of US Troops in Syria as Tensions Rise Between Ankara, Washington
Jul 19, 2017
Two US bases in Syria that are in Rmeilan in Northern Hasaka and in Kharab Ishq, near Kobani in Aleppo province already were well-known before the Anadolu news agency released their locations.
Anadolu said Rmeilan, in Syria's oil-producing district, was set up in November 2016, and is big enough to handle transport aircraft, while the base South of Kobani, set up in March 2016, is used only by military helicopters.
The report disclosed that eight outposts, often hidden behind signs warning of a "prohibited area," are being used both for active military operations, such as shelling into the city of Raqqa, and for desk jobs such as training and operational planning.
It claimed bases used for military operations house artillery batteries with high maneuverability, multi-barrel rocket launchers, various mobile equipment for intelligence, and armored vehicles for general patrols and security.
According to Turkish security officials in Hasaka province, the US has three outposts, all used to train Kurdish forces, as Anadolu even gave the number of US Special Forces troops it believed were stationed at two of the three outposts.
According to Anadolu, there are three US military outposts in Syria's Raqqa province. French special forces troops are stationed at two of them. One of the locations serves as a communication center for the International Coalition fighting ISIL and is also used to disrupt group's communications.
In Manbij, which the Kurdish fighters captured last August, the US now has two outposts. The US sends out patrols, the agency noted acerbically, to protect the Kurds from militants operating out of the Turkish controlled part of Syria known as the Jarabulus pocket.
Turkish security officials confirmed the accuracy of the Anadolu list to The Daily Beast.
Turkish President Recep Tayyip Erdogan declared at the end of G20 summit in German city of Hamburg that Ankara will respond decisively to any threats on its borders, warning against any push by the Kurds to secure their own independent region.
Earlier, US Defense Secretary Jim Mattis had announced that Washington will continue to provide weapons to Syrian Kurdish fighters after the battle to oust Daesh militants from Raqqa is over.
Mattis' comments came after Turkish officials disclosed that US Defense Secretary has reassured them by letter that arms given to the Syrian Kurds would be taken back and that Washington would provide Ankara with a regular list of arms give to the fighters.
In May, US President Donald Trump had approved arming of Kurdish militiamen in Syria with heavy armament, including mortars and machine guns, ahead of an attempt to drive ISIL from Raqqa.
http://en.farsnews.com/newstext.aspx?nn=13960428000968
--------
Iran's Revolutionary Guard begins recruitment for war against Iraqi Kurdistan
19 July 2017
An Iranian Kurdish journalist reported in an interview with Al Arabiya that the Iranian Revolutionary Guard forces in Iran's Kurdistan and its recruiting forces, known as the Basij, received orders to launch a recruitment campaign in preparation for a possible war against the Kurdistan region in the event of its independence.
Azad Mustovi, an Iranian Kurdish journalist in exile in France, quoted an informed source in Kurdistan Iran, who declined to be identified for security reasons, as saying that in recent days, the headquarters of the Revolutionary Guards and the mobilization forces have launched a recruitment campaign to send troops to Iraqi Kurdistan if necessary in preparation for a possible war with the Kurdish Peshmerga of Iraq in the event of the declaration of independence of Iraqi Kurdistan.
The source added that some elements of the Iranian Revolutionary Guards of Iranian Kurds origins declared their unwillingness to fight against the Kurds of Iraq, but they are ready to fight against ISIS.
Mustovi emphasized that: "After the president of the Kurdistan region, Masoud Barzani, announced the organization of an independence referendum from Iraq on September 25th, the Iranian regime has been trying to prevent it at any cost."
Kurds in Iran
The Kurds are the third largest ethnic group in Iran after the Persians and the Turkish Azerbaijani. They constitute a majority in three provinces: Kurdistan, Kermanshah, Elam and a minority in eastern Azerbaijan, North Khorasan Province and the rest of Iran. According to some statistics, the Kurds' population amounts to 9 million people, which explains Iran's concern about the independence of Iraqi Kurdistan that may raise the trend of independence among its Kurds as well.
In 1946, the Kurds in Iran formed an internal republic in Iran's Kurdistan, dubbed the Republic of Mahabad, before the Shah of Iran Mohammad Reza Pahlavi ordered the assassination of its president Qazi Muhammad.
There are Kurdish parties fighting within Iran to establish federal rule or the right to self-determination, the most important of which is the Kurdistan Democratic Party of Iran, which was founded in 1946. It is considered to be the mother party of the Kurdish parties in the Middle East, in addition to the Komala Party of Iranian Kurdistan and the Pijak Party, an associate of the Kurdistan Workers' Party.
The Iranian Position
Full report at:
https://english.alarabiya.net/en/News/middle-east/2017/07/19/Iran-s-Revolutionary-Guard-begins-recruitment-campaign-for-war-against-Iraqi-Kurdistan.html
--------
Commander: Revenge Taken for Jordanian Pilot's Painful Death by IRGC Missile Strikes against ISIL
Jul 19, 2017
"We fired 6 missiles within 12 minutes during the missile operations but the news of their firing was released in the social media while two missiles were still on the launcher. When we pursued the issue, we understood that the people who were around the place where the missiles were fired had taken footages of the early launch moments and released them," General Hajizadeh said, addressing a ceremony in Tehran on Tuesday.
The IRGC launched 6 missile strikes at ISIL centers in Syria's Deir Ezzur in retaliation for the June 7 twin ISIL terrorist attacks in Tehran which killed 18 people, it said in a statement issued on June 18, adding that the mid-range ballistic missiles were fired from bases in Western Iran and flew through Iraq's airspace before hitting the targets in Syria and killing tens of ISIL militants and their commanders.
"I was in the operations room when the first missile hit the target and I watched in the monitor when the first missile hit the target but suddenly, we saw tall flames from three points around the target… one missile was fired and hit the target precisely, and beneath the target, the ISIL had an underground base which was burning in fire," he added.
Noting that Iran was not aware of the existence of the ISIL underground base beneath the target, General Hajizadeh said, "When the second missile hit the target, an oil tanker was also damaged and the fuel inside it poured into a tunnel and a big fire started. I thought how such a big fire was created and concluded that God had decided to take the revenge for the Jordanian pilot who was burned alive by the ISIL in addition to the blood of the martyrs who were killed in the terrorist attacks in Tehran."
The ISIL terrorists released a video in 2015 that showed the Jordanian pilot they had been holding hostage being burned alive.
Moaz al-Kasaesbeh, a pilot in the Jordanian air force, was captured by ISIL on December 24, 2014.
Known social media feeds of ISIL members also posted photographs of the event.
In it, Lt Kasaesbeh was standing in a cage, with a line of armed and masked terrorists looking on.
Full report at:
http://en.farsnews.com/newstext.aspx?nn=13960428000420
--------
Iran Displays Indigenized ScanEagle Drone in MAKS-2017 Exhibit
Jul 19, 2017
The exhibition is being held at the Ramenskoye aerodrome on July 18-23.
Several Iranian firms and three knowledge-based companies affiliated to the defense ministry participated in the exhibition and displayed their achievements.
Also, Iran displayed a model of its new home-made double-cockpit training jet, 'Kowsar', in the exhibition.
ScanEagle is a small, low-cost, long-endurance unmanned aerial vehicle built by Insitu, a subsidiary of Boeing.
As standard payload ScanEagle carries either an inertially stabilized electro-optical or an infrared camera. The gimbaled camera allows the operator to easily track both stationary and moving targets, providing real-time intelligence.
Capable of flying above 16,000 feet, the UAV has also demonstrated the ability to provide persistent low-altitude reconnaissance.
Iran in February 2013 aired images of a drone production line which was producing copies of the US ScanEagle UAVs.
The domestically-manufactured drones have been put into service by the Iranian Armed Forces.
In December 2012, Commander of the Islamic Revolution Guards Corps (IRGC) Aerospace Force Brigadier General Amir Ali Hajizadeh had said that the recent capture of the US ScanEagle by the IRGC was nothing new as Iran had previously captured a similar drone and even copied it for production.
Full report at:
http://en.farsnews.com/newstext.aspx?nn=13960428001306
--------
Israel signals metal detectors to stay at Jerusalem shrine
Jul 20, 2017
JERUSALEM: Israeli Prime Minister Benjamin Netanyahu signaled he's sticking to a decision to install metal detectors at a contested Jerusalem shrine, despite rising tensions and a Muslim call for mass protests in the city.
Netanyahu, who was in Hungary, spoke by phone Wednesday with Israeli security chiefs about the escalation in Jerusalem and was to hold more consultations after his return to Israel on Thursday.
The mass protests are set for Friday, the highlight of the Muslim religious week, when tens of thousands of Muslims typically attend prayers in the walled compound in Jerusalem's Old City.
Meanwhile, several thousand Palestinian Muslims prayed Wednesday evening in the streets near Lion's Gate, one of the entrances to the shrine that was fitted with metal detectors. Such prayers, with the faithful kneeling in orderly lines on the pavement, have been the main form of protest this week, signaling their refusal to pass through the metal detectors, but protesters have also scuffled with police.
Conflicts over the holy site, revered by Muslims and Jews, have repeatedly triggered Israeli-Palestinian confrontations. The site — known as the Temple Mount to Jews and Haram al-Sharif, or Noble Sanctuary, to Muslims — is at the heart of the Israeli-Palestinian conflict.
The latest escalation began last week when three Palestinian gunmen launched an attack from there, killing two Israeli policemen at a gate to the Muslim-administered compound.
In response, Israel began installing metal detectors, a move Muslim religious leaders and Palestinian politicians allege is part of an Israeli attempt to expand control at the site.
Israel has denied such allegations, saying metal detectors are routine security devices used at holy sites around the world.
Muslim clerics on Wednesday urged the faithful to forego prayers in neighborhood mosques in the city on Friday and converge on the shrine, in an attempt to draw larger crowds. Worshippers were asked to pray in the streets rather than submit to the new security procedures.
Netanyahu spoke with security chiefs by phone and told reporters in Budapest, "There is no change regarding the metal detectors."
Israeli media reported that security chiefs are at odds over the new devices. Israel's Shin Bet security service, which closely monitors Palestinian society, reportedly opposes the metal detectors as counterproductive, while police support the new measures.
Netanyahu said Israel is in close contact with Jordan, the traditional Muslim custodian of the shrine. Netanyahu said Jordan wants to "end this as quietly as possible."
"We expected everyone to help restore calm," he said.
Netanyahu rejected Muslim allegations that Israel is changing long-standing arrangements at the shrine.
"We should look at the facts and the truth — the installation of metal detectors does not constitute any change in the status quo," he said. "It is only meant to prevent a repeat of an attack with weapons."
Jordanian Foreign Minister Ayman Safadi said the key to restoring calm is to have Israel respect the "historic and legal status" at the shrine, the state news agency Petra reported.
Safadi told ambassadors from Europe and Asia that ending tensions is in the hands of Israel which he said should immediately reopen the shrine without any hindrances.
Palestinian President Mahmoud Abbas, who was in China, is returning to the West Bank to deal with the crisis, his office said in a statement.
In the meantime, Abbas is in touch with Arab and international leaders to try to "prevent a deterioration of the situation," it said.
The White House called on Israel and Jordan "to make a good faith effort to reduce tensions and to find a solution that assures public safety and the security of the site and maintains the status quo," according to a statement from the press secretary. It also said the U.S. would closely monitor developments.
After last week's shooting, Israel closed the site for two days for searches. It was only the third closure since Israel captured the shrine, along with east Jerusalem and other territories, in the 1967 Mideast war.
The closure drew wide condemnation from the Muslim world. Israel began opening the site gradually on Sunday.
Jews revere the 37-acre raised platform as the site of their biblical temples. It is the holiest site in Judaism and the nearby Western Wall, a remnant of one of the temples, is the holiest place where Jews can pray.
Full report at:
http://nation.com.pk/international/20-Jul-2017/israel-signals-metal-detectors-to-stay-at-jerusalem-shrine
--------
20 Yemeni civilians killed in airstrike
Jul 20, 2017
DUBAI : At least 20 Yemeni civilians were killed and many others were wounded when a Saudi-led coalition air strike hit a village in the south, officials from the armed Houthi movement and the government said on Wednesday.
The UN said the victims of Tuesday's bombing, which hit al-Atera village in Taiz province where fighting between Yemen's two warring sides has intensified, were internally displaced people (IDPs).
Yemen's internationally recognised government confirmed that around 20 people were killed, including women and children. It gave no further details on the attack.
Yemen's human rights minister, Mohammed Askar, called for a government investigation into what he described as an "unfortunate incident." while Houthi spokesman Mohammed Abdul-Salam condemned it as a "monstrous crime."
Shabia Mantoo, United Nations High Commissioner for Refugees (UNHCR) spokesman in Yemen, said most of those killed were believed to be from the same family.
Government forces backed by the coalition have been fighting to seize a major military base in the area for several months. The Saudi-led coalition was formed in 2015 to fight the Iran-allied Houthis after they overran the capital Sanaa.
Tuesday's attack was the latest in a series of coalition bombings that have hit schools, hospitals, markets and private homes across northern Yemen. The impoverished Arab country has been devastated by the war, which has killed more than 10,000 people and sparked a cholera outbreak among 300,000 people. Thousands of people have been displaced and more than a million people have been forced to flee their homes nationwide, according to the UN
Meanwhile, a Saudi-led coalition fighting in Yemen has barred a United Nations aid flight from heading to the country's rebel-held capital with journalists on board, the UN and Yemen's government said Wednesday.
"The coalition suspended the UN flight leaving Djibouti for Sanaa on Tuesday as there were three BBC journalists on board," Saleh Humeidi, a top official with Yemen's information ministry, told AFP. Saudi Arabia leads a pro-government military coalition which is fighting Iran-backed Huthi rebels for control of the impoverished country.
The conflict has killed more than 8,000 people and displaced three million since the coalition intervened in 2015.
The coalition has imposed an air embargo on areas controlled by Huthi rebels and their allies, former troops loyal to ex-president Ali Abdullah Saleh — including the capital Sanaa.
International organisations require clearance to deliver aid to the country, which the UN says is the world's biggest humanitarian crisis.
The UN on Wednesday confirmed that the flight had been cancelled despite all those on board having the required visas.
"We confirm that the coalition cancelled yesterday the Djibouti-Sanaa UN flight because of a BBC team on the manifest, asking for the flight to be rescheduled without the journalists," said Ahmed Ben Lassoued, Yemen spokesman for the UN's humanitarian coordination office, UNOCHA.
Ben Lassoued said the journalists had secured visas from both sides of Yemen's conflict — government and rebel authorities — and shared their itinerary with the Saudi-led coalition.
The information ministry of Yemen's internationally recognised government, based in second city Aden, said it "regrets the UN attempt" to put journalists on the flight. Authorities "feared for the safety of the journalists", it said.
Full report at:
http://nation.com.pk/international/20-Jul-2017/20-yemeni-civilians-killed-in-airstrike
--------
Court orders two and a half years in jail to Islamic preacher for insulting Atatürk
July/19/2017
An Istanbul court ordered two and a half years in jail for Islamic preacher Hasan Akar on July 19 for insulting Mustafa Kemal Atatürk who was the founder of modern Turkey.
The court decided Akar's jail sentence in the second hearing of the trial.
Akar was sentenced one and a half years over charges on "insulting the memory of Atatürk" and one year on "inciting hatred and hostility among the public."
Hasan Akar, who had been charged for posting videos online that insult Atatürk, was arrested by the Istanbul court on June 20, 43 days after his arrest warrant was issued.
Prosecutor Ertuğrul Sarıyar had issued the warrant on May 11, demanding up to 7.5 years of jail time.
The Bakırköy Chief Public Prosecutor's Office launched an investigation into Akar on charges of "insulting the memory of Atatürk" and "inciting hatred and hostility among the public" due to his comments about Atatürk's mother. He surrendered himself to the Bakırköy courthouse on June 20.
Akar had also claimed "Atatürk was an illegitimate child" in his online videos, triggering an angry reaction among many Turks.
Full report at:
http://www.hurriyetdailynews.com/court-orders-two-and-a-half-years-in-jail-to-islamic-preacher-for-insulting-ataturk.aspx?pageID=238&nID=115694&NewsCatID=509
--------
US sees Iran's tactful, sensible policies threat to own profiteering plans: Official
Jul 19, 2017
Iran has dismissed as "baseless" the recent US allegation that Tehran is undermining regional stability, saying American officials perceive the Islamic Republic's "wise" policies vis-à-vis the developments in the region as a threat to their meddlesome policies.
"American officials see the independent and sensible policies of Iran... vis-à-vis the global and regional developments as a threat to their meddlesome and profit-oriented policies," Iranian Foreign Ministry Spokesman Bahram Qassemi said on Wednesday.
He noted that as one of the most ancient countries in the region, Iran has always regarded regional peace, stability, and security as its own.
"The Islamic Republic of Iran believes that the real, serious threat to the regional security, stability and development is the US interference in the affairs of other countries, which is aimed at stoking instability and insecurity" to achieve certain objectives, he added.
This came in response to remarks by US State Department spokeswoman Heather Nauert, who on Tuesday accused Iran of undermining stability and security in the Middle East and sponsoring terrorism.
Qassemi also rejected Nauert's claim that Iran was violating the spirit of the 2015 nuclear deal reached between Tehran and the P5+1 group of countries, including the US.
He said that Washington accuses Tehran of violating the spirit of the Joint Comprehensive Plan of Action (JCPOA) while "the US government has, over the past two years, acted against its obligations under the JCPOA… through tension-provoking measures, decisions and policies," adding that the US is expected to be committed to the "successful" implementation of the deal based on "goodwill."
The US has tried, directly or indirectly, to prevent Iran from reaping the benefits of the JCPOA, Qassemi said, adding that Iran has on several occasions brought up the issue at the Joint Commission of the JCPOA, which monitors the implementation of the deal.
Earlier, Iranian Foreign Minister Mohammad said that the US was violating the spirit of the JCPOA after Washington said it was imposing new economic sanctions against Iran over the Islamic Republic's missile program.
"It violates the spirit of the deal. We will look at it and see whether it violates the letter of the deal, and we will act accordingly," Zarif said on Tuesday in an interview with CBS.
Full report at:
http://www.presstv.ir/Detail/2017/07/19/529000/Iran-United-States-nuclear-deal-Bahram-Qassemi-Heather-Nauert
--------
Palestinians urge ICC to expedite Israel war crime probe
Jul 20, 2017
Palestinian attorneys and civil society groups have strongly urged the International Criminal Court (ICC) to speed up inquiries into Israeli abuses and war crimes against Palestinians.
Lawyers, representing 448 named victims mostly of Israel's aggression against the Gaza Strip back in the summer of 2014, along with over 50 Palestinian trade unions and groups submitted a thick dossier to the ICC prosecutor's office on Wednesday, showing "clearly that crimes within the jurisdiction of the court have been committed."
The 50-day Israeli military aggression against Gaza killed nearly 2,200 Palestinians, including 577 children. Over 11,100 others — including 3,374 children, 2,088 women and 410 elderly people — were also wounded in the war.
In February 2015, the Palestinian Authority (PA), led by President Mahmoud Abbas, appointed a 45-member committee, chaired by Palestinian Liberation Organization (PLO) negotiator Saeb Erekat, to gather evidence of Israeli abuse and war crimes against Palestinians.
In June 2015, the committee formally handed over to The Hague-based ICC several dossiers on the Israeli war on Gaza, the regime's illegal settlement construction in the occupied territories, and the mistreatment of Palestinian prisoners in Israeli custody.
However, almost no progress has been made in the process of examining the submitted documents and evidence by the ICC, which initially said it had launched a preliminary examination of the dossiers.
"For two years, Palestine is under preliminary examination," said lawyer Gilles Devers in a press conference on Wednesday. "In Gaza, we think two years is too long." He added that the Israeli military operations in the 2014 Gaza war constituted war crimes and the "ICC was competent" to handle the case.
Devers said the ICC's Chief Prosecutor Fatou Bensouda had "an obligation" to turn the preliminary examination into a full probe.
Palestinian activists also told journalists that the long-awaited probe had stalled, calling on both the ICC and the PA to speed up the examining process.
The Israeli regime, which is not a party to the Rome Statute of the ICC, has already rejected that it has committed war crimes, saying the international court has no authority to hear Palestine's allegations since "it is not a country," and because Israel's so-called judicial system is independent and can itself examine war crime accusations.
Over 30 lawyers in the Palestinian occupied territories helped draft the fresh dossier.
It was the first time that Palestinian civil groups, including physicians, farmers, fishermen, and educators, were appealing directly to the international tribunal.
They said they had stepped forward because of "the lack of political will on behalf of the Palestinian Authority," which had not raised an official complaint as a state member of The Hague-based court.
Gaza, with a population of more than 1.8 million, has been under siege by the Israeli regime since June 2007. The blockade has caused a decline in the standards of living as well as unprecedented levels of unemployment and unrelenting poverty.
Furthermore, the occupied Palestinian territories have witnessed new tensions ever since Israeli forces introduced restrictions on the entry of Palestinian worshipers into the al-Aqsa Mosque compound in East Jerusalem al-Quds in August 2015.
More than 300 Palestinians have lost their lives at the hands of Israeli forces in the ongoing tensions since the beginning of October 2015.
Full report at:
http://www.presstv.ir/Detail/2017/07/20/529058/Palestine-Israel-Gaza-war-crime-abuse-ICC-West-Bank-PA
--------
Southeast Asia
Indian Muslims can be Malays, not Bumiputeras
Robin Augustin
July 20, 2017
PETALING JAYA: Indian Muslims can't become Bumiputeras, but a case could be made to categorise them as Malays, according to historian Khoo Kay Kim.
The emeritus professor's remark came a day after Prime Minister Najib Razak said the government would study the Indian Muslim community's request for recognition as Bumiputeras.
Khoo told FMT the term "Bumiputera" was coined in 1963 to refer to the non-Muslim indigenous peoples of Sabah, Sarawak and Peninsular Malaysia.
"Before 1963, Malays in Peninsular Malaysia were just called Malays," he said, noting that a Malay is defined as someone who is a Muslim, speaks Malay habitually and practises Malay customs.
He added that a Bumiputera who is a Muslim can be considered a Malay.
Khoo said the definition of "Malay" was developed by the British in 1913 when the colonial government introduced the Malay Land Reservation Enactment and needed to provide a definition.
"But as we know, Bumiputeras can't buy Malay reserve land. Sabah and Sarawak Bumiputeras can buy the reserve land in their respective states."
He noted that both Malays and Bumiputeras enjoyed special rights.
He also noted that Indian Muslims in Penang had been regarded as Malays for a long time.
It was the Indian Muslims who, in 1927, formed Penang's first Malay association. They played a major role in the establishment of Umno in the state.
"So, while the government cannot give the Indian Muslims Bumiputera status, it can give them Malay status if they want that," Khoo said.
For some time now, members of the Indian Muslim community have been pushing to be recognised as Bumiputeras, with some saying there is no reason to deny them the status since the Melaka Portuguese are considered Bumiputeras.
However, according to Richard Hendricks, who chairs the Portuguese Settlement's village and security committee, the Portuguese don't have Bumiputera status although they enjoy some Bumiputera benefits, such as being qualified to participate in the Amanah Saham Bumiputera scheme.
The Peranakan Chinese of Melaka are also seeking recognition as Bumiputeras.
Going by news reports, there is some confusion over the Bumiputera status of the Siamese community, although Senator Boon Som Inong said in 2012 that it did indeed have that status.
Prime Minister Najib Razak spoke on the Indian Muslims' request on Tuesday at an event organised by the Federation of Malaysian Indian Muslim Associations (Permim). He said Putrajaya would study it.
At the event, Permim president Dhajudeen Shahul Hameed made three demands, namely the gazetting of the community as Bumiputera, the setting up of an Indian Muslim landmark in Kuala Lumpur or Putrajaya, and the appointment of a special officer in the Prime Minister's Department to manage the affairs of Indian Muslims in the country.
http://www.freemalaysiatoday.com/category/nation/2017/07/20/indian-muslims-can-be-malays-not-bumiputeras/
--------
Apandi dismisses 'childish' Mahathir's call to swear on Quran
July 20, 2017
PETALING JAYA: Attorney-General Mohamed Apandi Ali has dismissed further comments and accusations made against him by Pakatan Harapan chairman Dr Mahathir Mohamad, calling the former prime minister "childish".
In a posting on his blog yesterday, Mahathir had called for Apandi to swear on the Quran in a mosque if he had indeed not found any wrongdoing by Prime Minister Najib Razak in the investigation into the 1MDB scandal.
Mahathir's comments followed what Apandi had said on Tuesday, that he only feared God, and that he had nothing to hide pertaining to the 1MDB investigation.
"I do not fear anyone including Mahathir. I don't fear any human being but I do fear Allah. Whatever I do as the AG is all based on the available facts as contained in the investigation papers. There is nothing to hide," Apandi told FMT in a text message on Tuesday.
Hovever, Mahathir was not happy with Apandi's comments and even accused him of lying to save Najib, referring to the need to classify investigation reports by Bank Negara, the Malaysian Anti-Corruption Commission (MACC) and the auditor-general under the Official Secrets Act (OSA).
"That means he lied. God knows he lied in order to protect Najib from facing the courts. It is a lie and a breach of trust by a prosecutor. Committing a breach of trust is a sin," said Mahathir, who is also PPBM chairman.
Asked for a response, Apandi simply told FMT: "He has become childish, maybe a 2nd or 3rd childhood. I feel pity for him."
On Monday, in his maiden speech as Pakatan Harapan chairman at a ceramah in Shah Alam, Mahathir, claimed there were reports linking Najib to the alleged embezzlement of funds from 1MDB, following investigations by MACC, Bank Negara and the auditor-general.
But these reports, he alleged, were sealed under the OSA, making it inaccessible to those without clearance.
Full report at:
http://www.freemalaysiatoday.com/category/nation/2017/07/20/apandi-dismisses-childish-mahathirs-call-to-swear-on-quran/
--------
Eko Nugroho's Puppet Show 'Semelah' Tells Story of Islam in Java
Jul 20, 2017
Jakarta. After touring the United States, "Semelah" (God Bliss), a shadow puppet play created by Indonesian visual artist Eko Nugroho returned home in a series of performances in Jakarta, the last of which was staged at Teater Kecil in Taman Ismail Marzuki in Cikini, Central Jakarta, on Monday (17/07).
The title of the play, Semelah, is taken from the way Javanese Muslims pronounce the Arabic word "Bismillah," which means "in the name of Allah," used to begin almost all prayers. The plot is loosely based on the history of Islam's spread in Java and how Islamic teachings merged with Javanese traditions.
The one-hour play's story is set in sixteenth century, conflict-torn Java when the powerful Hindu-Buddhist kingdom Majapahit was on it last legs and at war with the new Islamic kingdom Demak. The long, drawn-out conflict resulted in poverty and hunger for the Javanese populace, leaving many homeless or on the run as refugees.
Raden Mas Said, a noble, decided to become a local Robin Hood, taking on a new identity and a new pseudonym, Maling Aguna, or Aguna the Thief. He steals from the rich and gives away all he steals to the poor.
It was when he failed to rob a kyai (Muslim cleric) that the thief with a heart of gold had an epiphany. After losing a fierce fight with the kyai, Aguna decided he would study under him instead. The kyai's first lesson was teaching Aguna how to meditate. During Aguna's meditation, the story changed into Eko's own version of the myth of Wrekudara or Bima, one of the five Pandawa brothers in the Hindu mythology Mahabharata, in particular the story of when the powerful hero met a pint-sized god called Dewa Ruci.
Just like Aguna, Wrekurdara had a hot temper and his personality was not exactly pleasant. However, after much effort, he was finally able to earn the god's blessing and reach enlightenment.
The Bima myth reflects Aguna's story, showing that everyone, even a thief like Aguna or a brute like Bima, still has a chance to repent and reach spiritual enlightenment.
When Aguna finally woke up from his meditation, he felt like he had gone through a rebirth. Upon reuniting with the kyai, he recited the syahadat — Muslim declaration of belief — and said he would spread Islam in Java through peaceful ways, for example by staging wayang performances.
Aguna, as Eko's story has it, is a representation of the legendary figure now better known as Sunan Kalijaga, one of the "wali songo" or nine Islamic saints of Java.
According to Eko, Semelah does not just depict history but also functions as a social commentary that argues religion should be used to create peace instead of conflict, and that Islam is essentially full of kindness, not violence.
Blending It Together
The story was performed in a contemporary style called "wayang bocor," invented by Eko himself in 2008. The word "bocor" means "leaking" and refers to the fact the performance allows a fusion of many different forms of art and music, such as puppetry, live theater, Indonesian pop music dangdut and drawings.
"The reason it's called wayang bocor is because form-wise it's like a bucket with holes in it from which water keeps leaking. This format is a fusion of ketoprak [traditional Javanese drama], wayang, dagelan [comedies], dangdut music and other forms of art. In every performance the story changes, gets more complex, because we keep exploring the themes and other art forms, and add them to the play," Eko told the Jakarta Globe after the performance.
On stage, wayang bocor proved to be more dynamic than a traditional puppet show. There were more white screens and sometimes actors, instead of puppets, would act behind them. The dalang (puppeteer) did not sit in front of the main screen with the gamelan musicians like in traditional wayang shows. In fact, Semelah's score was pre-recorded except for the live singing and rebana (tambourine).
Eko's forte is visual art, so he collaborated with other artists to take care of the play's other elements, such as stage actor and poet Gunawan Maryanto who became the director and scriptwriter of Semelah.
"The challenge was to give life to Eko's concepts. Sometimes I took on classic wayang characters and then created a story based on them, but other times I used Eko's comics as a starting point, especially their funny titles," Gunawan said.
Some of Eko's zany comic titles — part of his "Daging Tumbuh" (Metastasizing Flesh) series — include "Tendangan Maut Nanas Muda" (A Raw Pineapple's Deadly Kick), "Berlian Ajaib" (Magic Diamond) and "Di-Miscall Leluhur" (Missed Phone Calls From an Ancestor).
Back before wayang bocor became famous, Eko and his troupe would perform from one village to another and the stories would be localized according to what issues the villagers would most like to hear, usually an argument about money or making fun of local authority figures.
Eko said every performance of wayang bocor, even for the same title, always brings something new. For instance, the religious theme in Semelah was in fact requested by the Asian Society of New York, but the story evolves quickly as each performance brings in more and more of history, mythology and references of current affairs.
The version of Semelah that was performed in the United States in New York, North Carolina and California included some lampooning of Donald Trump, which were popular with the crowd.
Eko said there were four types of crowd during his US tour: university students, the Indonesian diaspora, locals who already knew wayang and locals who did not.
"They took to wayang bocor enthusiastically because they could see how how we infused references to current affairs into our play, [...] but we put our own spin on it," Eko said.
He pointed out the shows in Pekanbaru, Riau, on July 11-12 featured more pantuns (Malay quatrains) because of the predominating Malay culture there, whereas the shows in Yogyakarta on July 7-8 were performed in full Javanese.
Eko has not named his troupe's next stop after Jakarta, but art enthusiasts should expect more of wayang bocor in the near future because the artist-cum-director has no plan to stop anytime soon. He also hopes to inspire other artists to get interested in wayang, showing them it does not have to be so complicated as traditions have it.
Full report at:
http://jakartaglobe.id/features/eko-nugrohos-puppet-show-semelah-tells-story-islam-java/
--------
Philippines Cancels Talks With Rebels After Attack on Presidential Guards
Jul 20, 2017
Manila. The Philippines on Wednesday (19/07) canceled talks with Maoist-led rebels due on the weekend in the Netherlands after guerrillas attacked a convoy of President Rodrigo Duterte's security men, killing a paramilitary guard and wounding six.
Duterte was not in the area on the southern island of Mindanao when the clash between the presidential guards and New People's Army (NPA) rebels erupted early on Wednesday.
But the incident was basis enough for peace adviser Jesus Dureza to call off informal, "back channel" talks with exiled leaders of the Communist Party of the Philippines aimed at restarting a stalled peace process.
"The situation on the ground necessary to provide the desired enabling environment for the conduct of peace negotiations are still not present," Dureza said in a statement.
Maoist-led rebels have been waging a guerrilla war for nearly 50 years to overthrow the government.
The conflict has killed more than 40,000 people and stunted growth in poor but resource-rich rural regions.
The peace process, an important initiative of Duterte, has been fraught with breakdowns, with both sides abandoning unilateral ceasefires in February, blaming each other for launching attacks while talks were going on.
Duterte on Tuesday met his negotiators dealing with the communists, and told them not to agree to a bilateral ceasefire until the NPA ceased attacks on troops. He also called the political leadership to keep its fighters under control.
The clash at a checkpoint came a day after Duterte asked Congress to extend martial law until the end of the year to tackle rising Islamist militancy.
The Philippines has been beset by separate communist and Muslim insurgencies in various parts of the country for decades.
Communist and Muslim rebels both operate on Mindanao, stretching the military on multiple fronts on the island of 22 million people.
Government forces are battling to defeat Islamic State-inspired rebels who have occupied the heart of the island's Marawi City for 58 days, while operations continue on islands to the west of Mindanao against Abu Sayyaf rebels behind kidnappings and piracy.
Military chief Eduardo Ano said the Maoist rebels were exploiting the security crisis.
"That's why you are seeing now an increase in the intensity of encounters nationwide," he said, adding two marines were also killed by rebels on Palawan island.
Full report at:
http://jakartaglobe.id/international/philippines-cancels-talks-rebels-attack-presidential-guards/
--------
Africa
Kenya: Police Release Photos, Names of Al-Shabaab Terrorists Planning Fresh Attacks
19 JULY 2017
By Fred Mukinda
Al-Shabaab militants in Somalia are amassing at Lakta belt adjacent to Boni forest in Lamu County, with the aim of entering the forest ahead of a rejuvenated counter terror operation ordered by President Uhuru Kenyatta.
Five Kenyan Al-Shabaab militants have also been dispatched from Somalia by the terror group to lead fresh attacks and police believe some of their relatives are involved in helping them sneak into the country.
Police on Wednesday circulated photographs of five militants of high value and appealed to the public to report their whereabouts.
Police also offered Sh2 million reward for information that would lead to the arrest of any of them.
THE TERRORISTS
They are Abdikadir Mohamed aka Ikrima, Mohammed Tajir Ali, Suleiman Irungu Mwangi as well as brothers Salad Tari Gufu and Gufu Tari Gufu.
Suleiman has other aliases including Habib, Maalim Zakariya and Jureij.
Within Al-Shabaab, he is enlisted in Amniyaat, the terror group's intelligence wing.
Appealing to the public police said Mohammed Tajir also uses the names like Wahome and Abu Jaffar.
He has been in Somalia since 2009.
OPERATIONS
Kenya Defence Forces (KDF), the Somali National Army (SNA) with support of United States (US) have also intensified operations in Somalia to ensure the terrorists do not enter Kenya.
"Security agencies have intensified operations within the Lakta belt and overflowing into Boni enclave. They are looking for key Al-Shabaab operators, key amongst them Salad Tari Gufu," a government report says.
It added: "Kenyan relatives could be trying to aid the return of their brothers fighting alongside Al-Shabaab in Somalia so that they can join the war in Boni forest."
It also says their relatives in Kenya are "sympathetic to their cause."
The other terrorists include Mohammed Abubakar who also calls himself Bokoboko.
MPEKETONI MASSACRE
There are also Maulana Ipere, Mselem Bajinaf and Said Jamal Mwangi aka Jamalo.
Gufu Tari Gufu, ran to Somalia in 2013. He is from Marsabit County.
Besides his brother, his cousin Hassan Jarso Kartola is also on the list of wanted terrorists.
Kartola, is believed to have been part of the militants involved in Mpeketoni massacre in 2014 and holds a key position in Jayshi Ayman, the Kenyan outfit of the terror group.
ANTHRAX ATTACK
Salad, before fleeing to Somalia, operated a studio in Marsabit and sold DVDs containing sermons of radical Muslim preachers.
He was also linked to a terror cell at Moi University, Eldoret, before it was dismantled.
The varsity cell was led by Mohammed Abdi Ali aka Abu Fidaa, who was arrested as he prepared a group of students to launch anthrax attacks in Kenya.
"The ongoing efforts by security agencies are aimed at finally clearing the Al-Shabaab menace in the country," the report said.
http://allafrica.com/stories/201707200134.html
--------
Muslims return to CAR to find their homes are gone
byAzad Essa
bySorin Furcoi
Bangui, Central African Republic - M Babakir Ali cuts a lonely figure sitting on a plastic chair outside a rundown cafe in the PK5 district of Bangui.
Once the owner of five houses and 18,000 square metres of land in the Foulbe district of Pk13, on the outskirts of Bangui, capital of the Central African Republic, Ali is now reduced to a pair of jeans and a short white sleeved shirt. The thin vertical stripes are faintly visible beyond the creases. He is a refugee in his own city.
"I left for Chad in January 2014 because of what happened on the streets of Bangui," Ali says.
Ali says he watched as bodies of young Muslim men were dragged through the streets of the capital and then piled at a local mosque in what was to signal the changing fortunes for Muslims in the country.
He was right.
In early January, Muslims in the PK5, PK12, PK13 districts of Bangui were hunted down, mutilated, burned alive and left on the streets. Muslims in the towns of Bossangoa, Bozoum, Bouca, Yaloke, Mbaiki, Bossembele and others also fled, as Anti-balaka embarked on a reign of terror across the northwest and southwestern regions.
Ali gathered his family, and fled to neighbouring Chad, too.
With the unrest in Bangui lifting in 2016 as the country neared elections, he decided to come home.
But he knew he would face a new struggle on his return.
"I knew my houses and my land, that everything had been taken," 45-year-old Ali says. "I knew I would be coming back to nothing."
Ali speaks in short and abrupt sentences. The already battered plastic chair bends and shifts with his every gesture. There is a calm dissonance in his moist, jaundiced eyes even as he explains that his property was sold to a third party by a local chief. "I am not the only one. So many from my district have returned, and have nowhere to go," Ali says, looking away.
'Exodus of historic proportions'
Thousands have been killed since the Central African Republic fell into a slow-churning civil war following a coup in 2013. Close to a million others fled their homes fearing catching a stray bullet or becoming the victims of targeted killings.
At first, when the Muslim-led Seleka rebels took Bangui, the Christian community was attacked.
Later, when Christians formed self-defence groups into what became known as the Anti-balaka, and many Seleka rebels disarmed, the Muslim minority was attacked.
Muslims were shunned, forced to flee into enclaves and displaced camps or into neighbouring Cameroon or Chad in a cascade of violence.
Amnesty International warned of "a Muslim exodus of historic proportions". And when the Muslims left, their homes, property and lands were confiscated, sold or occupied.
In June 2016, the country held presidential elections and a new government led by President Faustin-Archange Touadera was voted in. Security returned to the capital Bangui.
Under a sizeable UN peacekeeping force, many thousands of people like Ali began returning to districts in and around Bangui.
But many others refuse to come back, either out of fear or because they have no home to return to. One-fifth of the country's population is currently either displaced internally or abroad in neighbouring Chad, Cameroon or the Democratic Republic Congo.
Reclaiming property
Humanitarian organisations in Bangui are concerned that if left unresolved, unlawful and illegal occupation of homes or properties could easily become another driver of conflict in a country already overwhelmingly riveted on land, resources and power.
"Addressing housing, land and property is a crucial component of sustainable peacebuilding efforts," Ingrid Beauquis, spokesperson for the Norwegian Refugee Council (NRC) in Bangui, says.
"If people displaced by violence cannot return to their communities, reclaim their property or relocate with the support of authorities, small conflicts over land may escalate to violence, communities may remain divided, and long-term stability may become impossible," Beauquis told Al Jazeera.
The NRC has been working with the local government in tackling what they call Housing, Land and Property (HLP) rights in an effort to facilitate the process of returning homes and land to the rightful owners. But results have varied.
For instance, out of the 475 cases the NRC is directly mediating, including illegal selling and occupation, destruction and encroachment of land or houses, just 18 cases have been successfully solved.
But resolving these cases is complicated.
For instance, Ali's family is one of 280 households who has been reportedly displaced in the PK13 district. Given the sensitivities of broaching an issue that encompasses theft, sectarianism and desperation, simply asking the new occupants to leave is not possible.
"Once we verify all 280 cases, the local community and local authorities will approach the secondary occupants," Beauquis says.
But amid mass displacement, insecurity and a crisis of authority, the government is simply unable to prioritise housing, land and property rights.
"We have to work with local leaders and movement on the cases is dependent on their willingness to push ahead with the cases." Jennifer Jecolia, a programme coordinator with the NRC, says.
Justice for social cohesion
Jean Emmanuel Gazanguenza's pinstripe suit hangs from his gaunt body. The mayor of Begoua or PK12, one of the 134 district of Bangui, chooses his words slowly and meticulously. His organised thoughts are a far cry from the chaos that is his desk: a melange of reports and loose papers, unopened envelopes, an assortment of plastic pink roses that remarkably match the surrounding four walls of his office.
Gazanguenza says that it was only a few months ago that he was displaced too, and that he only just moved back home and into his office.
He says that his office has identified 231 houses in his district that were sold illegally. A majority of which originally belonged to Muslims, he admits.
"Many regret what they did, because they never had issues before and they realise they got carried away in the chaos," he says.
Gazanguenza is clear that people will need to get their lot back.
"Else we will have a problem here," the mayor says slowly. "If people feel that there is impunity, then everyone will do what they like, and there will be revenge," he says, his hands slowly forming a steeple.
"Justice and reparation are necessary for social cohesion," he says.
But even he understands that this is easier said than done.
Part of the problem is many home or property owners, especially outside the capital Bangui, simply do not have title deeds.
If individual owners have the financial capability to approach the courts, the country's property law does not sufficiently protect the rights of the displaced to return to their property. In circumstances where title deeds or ownership cannot be established, the displaced have simply nowhere to turn.
According to the NRC, a new framework law on property is currently being drafted with the dual ambition of protecting the very particular rights of the displaced and helping to facilitate the resolution of future land or property conflicts.
But like so many other facets of CAR, law enforcement is likely to remain a major obstacle, especially outside the capital, the NRC says.
As it stands, the state starts and ends in Bangui. The countryside remains firmly within the ambit of armed groups. Groups belonging to the Seleka or Anti-balaka can be observed running towns and villages often in the full view of UN peacekeepers.
Even in Bangui, individuals who want their land back are most likely to find traction via the NRC or through their local mayors, who focus on discussions and negotiations in an effort to have secondary occupants give up the stolen property.
Forty-five-year-old M Osman from PK13 lost five of his houses in 2013. Osman is still not able to return to his properties because they have been occupied by people who were displaced by the violence themselves.
In Osman's case, the NRC, together with the head of the district, approached the new residents and explained that the owner wanted to return. They agreed to leave. But Osman is still not convinced that the area is safe enough for Muslims to return. Until more Muslims return, he won't go back.
"I told them that I will give them one month notice before I want to move back," Osman told Al Jazeera. Until then, he will be living in the PK5 district.
It is not clear how much longer people will wait. Noumou Waziri, 60, an Imam who lost his home and his mosque in PK13 in 2014, says he continues to remind people to be patient.
"I tell them not to take revenge. I tell them that despite what has happened, we do not accept that people can take action in their own hands."
Full report at:
http://www.aljazeera.com/indepth/features/2017/07/muslims-return-car-find-homes-170711140733834.html
--------
Egypt's poorest risk death for promise of work in Libya
20 July 2017
TARFA AL-KOM, Egypt: In a bare room with nothing but a small pillow, a few pots, and a sheet to cover the dusty floor, Youssef Abdullah's family was living in an impoverished Upper Egyptian village when they were told he died in the Libyan desert.
Abdullah was one of at least 22 Egyptians found dead this month, perishing from heat and starvation after trekking through the Libyan desert by foot in search of jobs they could not secure at home.
"Youssef's circumstances were very bad. If he found work here he wouldn't have traveled. I wish I had stopped him but I wasn't able to ... he traveled without me knowing," his father, Abdullah Mahmoud, told Reuters.
The Libyan Red Crescent said the bodies were found in the Jaghbub desert, some 400 km (250 miles) south of Tobruk.
Many of them came from villages in Minya, an impoverished province south of Cairo, where residents say poverty and unemployment have been driving villagers to put their lives at risk to find work of any kind, even if it means contending with the lawless chaos of Libya's civil war.
Egypt last year began sweeping economic reforms as part of a three-year $12 billion International Monetary Fund loan program, floating its pound currency and slashing subsidies in a bid to lure back foreign investment that fled after its 2011 uprising.
But the measures have pushed inflation above 30 percent and slashed purchasing power.
"Conditions are as bad as it gets," said Abdullah's mother.
Abdullah made about 50 pounds ($2.70) a day working as a farmer, but that work was not available every day.
Before Libya descended into civil war, Abdullah's brothers had traveled there for work, returning with enough money to build a modest two-story brick home.
When Abdullah was unable to come up with the money to build his own, he decided he too would go to Libya.
Traders of lives
To get to Libya, Abdullah and others from his neighborhood paid a broker from a nearby village, who took money in exchange for providing what he said was legal passage, the families Reuters spoke to said. He then passed them on to smugglers who left them in the Libyan desert without water or food.
The broker, who charged 5,000-7,000 Egyptian pounds for the service, remains free. Residents said he threatened revenge if they reported him to authorities.
Among the other victims was Ibrahim Abushusha, a 26-year-old man who worked as a day laborer and had married just six months earlier.
His brother Khalid, who himself returned from Libya when security there deteriorated, described the migrant brokers as "traders of lives" and "blood dealers." He warned Ibrahim not to deal with them.
"People pay 7,000 pounds to head off to Libya ... in order to die ... After Ibrahim died the broker spoke to his father and told him 'prepare the money, your son arrived'," said Khalid.
"Why do young people travel like this and throw themselves into the fire? It's because they don't find anything here. There are no job opportunities making them stay," said Khalid.
Though official unemployment figures show the jobless rate at around 12 percent, young people remain disproportionately impacted by the jobs shortage, which economists say is likely to be much higher in reality.
President Abdel Fattah El-Sisi has pledged to reduce joblessness to 10 percent over the next few years, but economists say that would take higher economic growth.
'State not helping'
Among the survivors was Said Abdullah, who dug his 17-year-old son a grave by hand in the desert after he died.
Samir, Abdullah's brother, described what happened as human trafficking, the result of the poor getting even poorer because of economic austerity.
"The state is not helping the people ... the rising prices that we are dealing with. Every so often they tell you, just wait another six months, and then prices go higher again," he said.
Family members of victims said they were unable to obtain official death certificates, which they need to apply for social security.
"The state is supposed to help us in getting the death certificate. But they don't help us in death or in life," said Samir.
Egyptian Migration Minister Nabila Makram said in a statement last week the deaths were "tragic, unfortunate and painful and speak to the danger of illegal immigration."
"The ministry is combating illegal immigration by seeking to provide training, rehabilitation and employment opportunities for young people from the poorest provinces with the most emigration" it said.
Egyptian authorities have issued scores of warnings against travel to Libya, but Egyptians often do not adhere to the advice.
Despite the deaths, youths are still undertaking the journey or considering the prospect.
Full report at:
"(But) if I found a job and a decent life ... why would I leave?"
http://www.arabnews.com/node/1132176/middle-east
--------
Kenyan police issue bounty for 5 terror suspects
20 July 2017
Kenyan police on Wednesday offered a large reward for five al-Shabaab militants the security forces claim have been sent to carry out terror attacks in the East African country.
Police have placed a bounty of two million Kenyan shillings (roughly $19,230) on their heads.
At least 18 people in Kenya have been killed by the Somalia-based al-Qaeda affiliate in the past two weeks alone.
Police have identified the five Kenyan suspects as: Abdikadir Mohamed alias Ikrima; Gufu Tari Gufu; Mohammed Tajir Ali; Salad Tari Gufu; and Suleiman Irungu Mwangi.
The fresh attacks are supposedly in retaliation for President Uhuru Kenyatta's directive on Monday calling on security forces not to arrest and jail militants but to shoot them on sight.
Full report at:
http://www.worldbulletin.net/africa/192033/kenyan-police-issue-bounty-for-5-terror-suspects
--------
Central Africa: Catholic bishops call for interreligious dialogue as intolerance rises
July 20, 2017
YAOUNDÉ, Cameroon - Inter-religious wars in the Central African Republic, the excesses of the terrorist sect Boko Haram in Cameroon, and a steep rise in Christian revivalist movements are rapidly changing the religious landscape in the Central African sub-region, and paving the way for religious intolerance.
In the Central African Republic, the fight for political control became increasingly religious with the Muslim Seleka rebels wresting control of the capital Bangui in 2013 and looting, raping and killing the Christian-dominated Anti-Balaka.
But when the Christians seized back the capital months later, they committed the same crimes against the Muslims.
In Cameroon and Chad, the Nigerian Islamist sect Boko Haram has become a source of continued attacks, killing at least 500 civilians since it started cross-border attacks in 2013.
Across the entire area, a rise in Pentecostal movements and their extremist ideologies has taken sway.
"The Central African sub-region is in crisis, and these crises are an expression of hate," says the 86-year-old Archbishop emeritus of Douala in Cameroon, Cardinal Christian Tumi.
"If I love my brother, if I love my sister, I won't take up a gun to kill him," he added.
In view of the troubling situation, some 80 Catholic bishops from the Central African Sub-region along with representatives from other Christian denominations and Muslim communities came together in Yaoundé for the 11th Forum of the Episcopal Conferences of Central Africa, with ecumenism and inter-religious dialogue at the center of their discussions.
The bishops and their guests discussed "Islam in Central Africa today," traditional African religions and inter-religious dialogue," "Christianity, Islam and Politics," as well as "dialogue between the Catholic Church and the different Islamic currents in Central Africa."
Coming at a time when the Boko Haram attacks are frequently blamed on Islam, causing anti-Islamic sentiments across the region, Islamic leader Cheick Djibril Oumarou was quick to point out that Islam remains a religion of peace.
"Those who kill in the name of Islam simply don't understand what Islam means," he said.
He pointed out Boko Haram has targeted mosques and Muslims at prayer in their attacks.
"If it were about Muslims attacking non-Muslims, then how come Allah's followers are also targets for elimination?" he asked.
He then referred to a 2014 public opinion poll on public attitudes toward ISIS that were published in three Arab countries for the Fikra Forum. The findings demonstrated a rejection of terrorist ideologies by the Muslim nations in which the polls were conducted: In Egypt, only three percent of respondents held favorable views of ISIS; in Saudi Arabia, the figure was five percent; In Lebanon, less than one percent.
"So, it is right we call terrorists who they really are: Ruthless killers," he said. "They are simply giving Islam a bad name."
The Archbishop of Bangui, Cardinal Dieudonné Nzapalainga, agreed, noting that "God created all men for life. He who kills cannot use religion to justify his action. Neither in the Koran nor in the Bible is it recommended to kill. It is ignorance and fanaticism that leads people to kill."
Participants at the Yaoundé meeting recommended inter-religious dialogue as the way forward for the sub-region.
"We want to eradicate extremism for the good of the sub-region," said Bishop Bienvenu Manamika Bafouakouahou of the Diocese of Dolisie in the Republic of Congo.
Archbishop Samuel Kleda of Douala, Cameroon, added "we need to create structures that will foster dialogue in the sub-region. It doesn't matter whether you are Christian or Muslim or Protestant…we are all created by the same God. And because God is love and we are created in his image, we intrinsically love people."
Bishop Bala's Ghost Hangs Over the Conclave
The meeting was, however, haunted by the ghost of the Bishop of Bafia, Jean-Marie Benoît Balla.
Bala, 58, disappeared from his residence on the night of May 31, 2017. His car was found parked on a bridge over the Sanaga river, a couple of miles from his residence. A note, purportedly written by the bishop saying simply "I am in the water," was placed inside the car, along with his personal documents.
His body was found floating in the river by a Malian fisherman near Monatélé on June 2, over 10 miles from the bridge.
Postmortem examinations were carried out on the bishop by local medical examiners on June 2 and June 22. The results were never published.
Another examination was sought, and the international police agency INTERPOL sent a team of experts to perform another autopsy.
The INTERPOL team concluded that "drowning was the most probable cause of the bishop's death."
The nation's bishops have rejected these results, and claimed Bala "was brutally assassinated."
Full report at:
https://cruxnow.com/global-church/2017/07/20/central-africa-catholic-bishops-call-interreligious-dialogue-intolerance-rises/
--------
URL: https://www.newageislam.com/islamic-world-news/bangladesh-17-gulf-state-ngos/d/111898
New Age Islam, Islam Online, Islamic Website, African Muslim News, Arab World News, South Asia News, Indian Muslim News, World Muslim News, Women in Islam, Islamic Feminism, Arab Women, Women In Arab, Islamophobia in America, Muslim Women in West, Islam Women and Feminism