New Age Islam News Bureau
5 Dec 2019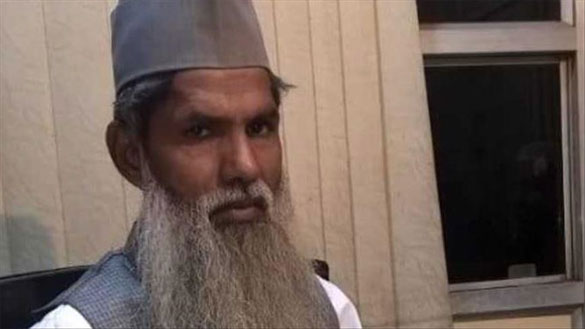 • Balbir Singh, Part of the Hindu Mob That Demolished Babri Mosque, Converted To Islam and Has Already Built 90 Mosques
• Musharraf Says He Is Ready To Record His Statement In A High Treason Case
• Xinjiang Islamic Association Stands Out Against US House Passing of Xinjiang-Related Bill
• China Rejects Contentious Report by American News Agency about Pakistani Brides
• World's Largest Ritual Animal Slaughter Goes Ahead Despite Ban By The Temple Authorities In 2015 In Nepal
• Video Shows 17-Year-Old Girl Hold Open Mosque Doors As Panicked Students Run From Wisconsin School Stabbing
• Floods: Mosques Encourages To Hold Solat Hajat After Friday Prayer Tomorrow - Mujahid
• Ayatollah Khamenei Stresses 'Islamic Compassion' In Dealing With Riot Suspects
Still In Streets, Iraqis Say Problem Is Poverty
• Merger Momentum for Islamic Banks to Continue In 2020
• Maryland School District Officials Adopt Calendar That Gives Off Muslim Holiday
• Judge Rules Leader of New Mexico Jihadi Cult Not Fit to Stand Trial
Compiled By New Age Islam News Bureau
URL: https://www.newageislam.com/islamic-world-news/balbir-singh-part-hindu-mob/d/120447
------
India
• 'India -- No Country for Muslims': Mehbooba Mufti's Daughter On Citizenship Bill
• Muslims Not Allowed Inside Sanctum Sanctorum of Kartarpur Sahib Gurdwara
• Gehlot Calls For Campaign Against Women's 'Parda' Custom
------
Pakistan
• Special court to announce verdict in Musharraf treason case on Dec 17
• PM forms committee for fresh legislation
• Pakistan foiled attempts to cut UNMOGIP budget: ex-envoy
• UK company accused of facilitating fraudsters operated from Karachi
• Unfortunate scheme to render ECP dysfunctional succeeds
• Kidnappers demand $2.5 lakh for Dua Mangi's recovery
• Diplomatic Quarter: Pakistan establishes permanent mission to OIC
------
South Asia
• Chinese state media blasts US bill that pushes for tougher response to Muslim detainment camps
• China Looks To Muslim World For Security And Development
• Turkistan Islamic Party Touts Captured Equipment, Training Camp In Afghanistan
• NATO welcomes continued efforts towards peace in Afghanistan; reaffirms commitment to Afghan security forces
• The only Japanese national with an honorary Afghan citizenship killed on the way to his work in the eastern Jalalabad city
------
Europe
• Special lecture event to be held at Muslim religious centre after London Bridge attack
• 'I Moved To Cambridge and Rediscovered Islam': One Woman's Heart-Warming Story Of Acceptance
• Alleged IS member Lisa Smith refused bail by Dublin court
• Labour leads on Muslim issues, Tories and Lib Dems lag far behind
• Denmark Strips Third Islamic State Member of Passport
• 'Nasty', 'two-faced', 'brain dead': Nato pulls off summit despite insults
• France's Macron Accuses Turkey's Erdogan of Working with Islamic State
------
Southeast Asia
• Islamic finance industry to see surge in demand from youngsters
• Yuz Museum and Lacma confident they can show Middle Eastern art in China—despite crackdown on Islam
• Malaysia opens Palestinian embassy in Amman
• Typhoon Kammuri death toll hits 13 in Philippines
------
Mideast
• Iran's Emissaries of Terror: How Mullahs' Embassies Run the Network of Espionage and Murder
• Hizballah Operative Sentenced To 40 Years In Prison For Covert Terrorist Activities On
• Turkish president Erdoğan expected to attend Cambridge Central Mosque opening
• Commander: IRGC, Basij Forces Not Carrying Arms during Recent Riots
• UAE Sends 3 Planeloads of Arms to Iraqi Kurdistan Region
• Iran: Incidental Deaths during Riots Labelled as Martyrdom
• President Rouhani Orders Tripartite Committee to Probe Foreign-Backed Riots in Iran
• Netanyahu to press Pompeo for more pressure on 'tottering' Iran
------
Arab World
• Custodian of the Two Holy Mosques invites King of Bahrain to attend GCC meeting
• Prime Minister meets audit, fatwa, tenders authorities' officials
• Riyadh Season organizes leisure trip for elderly
• Misk concludes 2nd accelerator program
• Top Saudi surgeon visits separated conjoined twins
• E-sports legends target Riyadh for game-changing festival
------
North America
• 'Thought that Guam was floating': SEAL who shot bin Laden mocks Democrat over impeachment
• Islamic terrorist killed with "secret CIA" bladed missile that does not explode
• US Negotiator To Resume Taliban Talks In Qatar
------
Africa
• 18 Indians feared killed in LPG blast at Sudan factory
• Macron Issues Stern Rebuke to West Africa after Mali Deaths
• Pirates abduct 18 Indian sailors off Nigeria coast
• Kenya to Remain with AU Mission in Somalia Amid Tensions
-----
Balbir Singh, Part of the Hindu Mob That Demolished Babri Mosque, Converted To Islam and Has Already Built 90 Mosques
Shuriah Niazi
04.12.2019
NEW DELHI
Consumed by hate against Muslims, Balbir Singh was part of the Hindu fanatic mob that demolished the 16th-century Babri Mosque in the Indian city of Ayodhya on Dec. 6, 1992.
He was the first person to reach on top of the central dome, brandishing a hammer in his hand. After pulling down the mosque, he even took away a brick, to keep as a souvenir to placate his rancour and scorn against Muslims.
Soon after the demolition, Balbir along with another Kar Sevak (Hindu volunteers who demolished mosque) Yogendra Pal went into deep introspection. Six months later, they converted to Islam. Twenty-eight years later, Singh rechristened as Mohammed Amir, has already built 90 mosques. He had vowed to build 100 mosques to atone his participation in the demolition.
Talking to Anadolu Agency, Balbir Singh now Amir, said 28-years ago, he was consumed by hate, when he enthusiastically joined to demolish the mosque.
"I had pledged to build the temple in the name of Lord Ram at the site of Babri Mosque. After realizing blunder, I pledged to wash my sins, by constructing 100 mosques," he said.
Inspired by Rashtriya Swayamsevak Sangh (RSS), patron of all Hindu radical outfits, Singh was a member of the political outfit Shiv Sena.
"I used to attend RSS drills and training programs regularly in the city of Panipat in the state of Haryana, adjoining national capital Delhi," he said. India's current ruling Bharatiya Janata Party (BJP) is believed to be the political wing of the RSS.
Recalling his journey, Singh said that he went into self-examination, soon after the demolition. "I came in contact with Maulana Kaleem Siddiqui through Yogendra Pal. His behavior and way of understanding led me to soul-searching. On June 1, 1993, I embraced Islam," he said.
Siddiqui is an Indian cleric, who runs an Islamic teaching center in Phulat village located in Khatauli tehsil of Muzaffarnagar district of Uttar Pradesh state.
Singh has now migrated to deep south in Hyderabad from the city of Panipat. He claims that over the past 28-years, he has already built or repaired 90 mosques all over India.
Born in a Hindu Rajput (upper caste) family in a small village near Panipat, Singh's father, a school teacher, was inspired by the philosophy of India's freedom icon Mahatma Gandhi, known for his theory of nonviolence.
"My father was upset with the bloodshed and large-scale violence, soon after India's independence and did his best to help the Muslims in the area. He had wished me and my brothers to follow his footsteps," said Singh.
His family had shifted from the village to the city of Panipat to continue education, where he started attending drills organized by the RSS. He later joined the Shiv Sena. He also started working with his brother in his loom business.
Recalling the day of demolition
Recalling the fateful day of Dec. 6, 1992, Balbir said the Hindu volunteers gathered all over India were afraid that the government may deploy the army to protect the mosque.
"There was no effective security around the mosque and that emboldened us. We were mentally prepared to destroy the mosque," he said.
Singh said that he was in the first batch of volunteers, who reached the city of Ayodhya, where Babri Mosque was located. "My group reached there on Dec. 1 and I was the first one, who climbed atop the central dome of the mosque, using tools to bring it down," he narrated.
"Our group from Panipat and the nearby city of Sonipat were the first, who charged towards the mosque using hammers and other tools to tear the dome down. After accomplishing the task, we were accorded hero's welcome, when we returned to Panipat," he recalled.
But, when Singh reached home, his family's reaction shocked him. "They condemned me. All the euphoria evaporated. I realized that I had done the wrong thing. I had taken law in my own hands and violated the Constitution of India," he added.
"I went into introspection. People thought I have lost mental balance. Finally, I decided to embrace Islam to give me peace of mind. Immediately, I started feeling better, "he said.
Today, Amir (formerly Balbir) is married to a Muslim woman and runs a school to spread Islamic teachings to a wide audience in the city of Hyderabad. He has built 90 mosques so far with his colleague Yogendra Pal.
Singh said that he is ready to face punishment for his involvement in the demolition of the Babri Mosque.
When asked about the Indian Supreme Court verdict in the Babri Mosque case, he said: "Muslims should now move forward and work towards improving the relationship with Hindu brothers. Allah is with us. We should only look to Him for our needs."
https://www.aa.com.tr/en/asia-pacific/hindu-fanatic-part-of-babri-mosque-demolition-now-builds-mosques/1663610
------
Musharraf says he is ready to record his statement in a high treason case
Dec 4, 2019
ISLAMABAD: Pakistan's former military ruler General Pervez Musharraf has expressed his readiness to record his statement after a special court trying him for high treason had set December 5 as the deadline for him to appear before it.
The video statement, recorded from a hospital bed, came a day after Musharraf was shifted to a medical facility in Dubai, complaining about his health. "In my view, the (treason) case against me is baseless. I have gone above and beyond the call of duty for the country. I have fought wars. I served the country for 10 years. That's why I consider the case to be baseless. I consider it to be unfair and the prerequisite of justice are not being fulfilled," said the former dictator.
"The commission can come here and listen to me. They must see themselves how my health condition is and then decide. That commission, with my lawyer, must then be heard in the court," he said. The former president also expressed hope that he would get justice in the high treason case.
About his health, the former president said his condition was very bad. "I've been visiting the hospital regularly. This morning also, I felt dizziness and fainted. I had to be admitted to the hospital later," he said.
The special court had ruled on November 19 that it would announce its verdict on November 28.
Days ahead of the verdict, the incumbent Pakistan Tehreek-i-Insaf (PTI) government had come to Musharraf's aid and had filed a petition in the Islamabad HC seeking deferment of the announcement of the verdict in the case.
Following the government's petition, the Islamabad HC had stopped the special court from issuing the verdict and directed the government to form a new prosecution team for the case by December 5.
Last Thursday, the special court had granted Musharraf time till December 5 to record his statement but noted that it was not bound to follow high court's order against announcing the verdict.
https://timesofindia.indiatimes.com/world/pakistan/musharraf-says-he-is-ready-to-record-his-statement-in-a-high-treason-case/articleshow/72374238.cms
------
Xinjiang Islamic Association stands out against US House passing of Xinjiang-related bill
05/12/2019
URUMQI, Dec 5 -- The Xinjiang Islamic Association Thursday voiced firm opposition to the approval of a Xinjiang-related bill by the United States (US) House of Representatives, Xinhua news agency reported.
As an association representing more than 10 million Muslims, including the Uygur ethnic group in northwest China's Xinjiang Uygur Autonomous Region, the Xinjiang Islamic Association expressed its firm opposition and strong condemnation against the so-called "Uyghur Human Rights Policy Act of 2019," which has distorted and discredited the human rights of Muslims in Xinjiang.
The association also warned those who call white black under the guise of human rights and religion.
"It is we Xinjiang Muslims ourselves who have the say for our own human rights," the association added.
http://www.bernama.com/en/world/news.php?id=1796522
------
China rejects contentious report by American news agency about Pakistani brides
December 5, 2019
The Chinese Embassy in Islamabad on Wednesday categorically rejected the media reports by a foreign press agency that had claimed that at least 629 Pakistani girls were sold as brides to China.
The Associated Press on December 4 had reported that more than five hundred Pakistani girls were sold as brides to China recently, alleging acts of abuse, organized prostitution, organ trading and so on.
In response to the report, the Spokesperson of the Chinese Embassy issued a statement on Wednesday and said: "We have noted the above-mentioned media report. It is the same old stuff and not true."
Stating the view of its government on these reports, the spokesperson of the Embassy of China in Pakistan said: "The Embassy would like to reiterate its clear position on the issue of transnational marriage."
"The Chinese government will protect legitimate marriages and combat crimes. If any organization or individual commits a crime in Pakistan under the banner of transnational marriage," the spokesperson noted.
The embassy official added that under the joint efforts of the two government, the illegal marriage matching activity has been effectively curbed, and that China would always support Pakistan in this regard.
According to the statement, the Ministry of Public Security of China launched an investigation in this connection and found no such evidence, adding that there was no forced prostitution or sale of human organs.
It added: "The Chinese side also sent a task force to Pakistan to carry out law enforcement cooperation with the Pakistani side, which is proved to be very effective."
"It is clear that certain media has made groundless story again without full investigation and inrespect of the facts. Its intention is very suspicious," the statement further read.
"We will never allow a few criminals to undermine China-Pakistan friendship and hurt the friendly feelings between two peoples. We also hope that media reports should seek truth from facts."
https://www.thenews.com.pk/latest/579014-reports-about-pakistani-girls-sold-as-brides-to-china-not-true-chinese-embassy
------
World's Largest Ritual Animal Slaughter Goes Ahead Despite Ban By The Temple Authorities In 2015 In Nepal
Mon 2 Dec 2019
Thousands of Hindus have gathered in southern Nepal before a festival believed to be the world's largest ritual animal slaughter, despite court orders and calls by animal activists to end the event.
The sacrifices, set to begin on Tuesday, take place every five years in the village of Bariyarpur close to the Indian border, in honour of the Hindu goddess of power.
An estimated 200,000 animals ranging from goats to rats were killed during the last two-day Gadhimai festival in 2014 and this year's preparations were well under way by Monday night.
Buffaloes were corralled into holding pens as worshippers slept and cooked along the road to the temple.
Among them was Sabu Sahani, 25, who travelled with his family for a day from India's Bihar with a goat offering.
"I am happy to be here. The goddess listened to me. We did not have children, but my wife has now given birth to a daughter," Sahani said.
Unlicensed traders and pilgrims who cross the border between India and Nepal are responsible for supplying most of the animals, with scores seized at crossings by Indian security officials and volunteers.
Many were hopeful the centuries-old tradition would end after the temple authorities announced a ban in 2015 and Nepal's Supreme Court directed the government to discourage the bloodshed a year later.
But animal rights activists say that both government agencies and temple committees have failed to implement these rulings. "The officials have let their personal beliefs rule over the court orders. They did not do enough to discourage the slaughters," animal rights activist Manoj Gautam said.
Local priest Mangal Chaudhary, the 10th generation of his family to serve at the temple, did not comment on whether the temple supported this year's mass sacrifice but said that the numbers in attendance were increasing. "We will follow our traditions and perform the rituals in the temple. But what the devotees do outside is their own wish," he said.
According to legend, the first sacrifices in Bariyarpur were conducted several centuries ago when the Hindu goddess Gadhimai appeared to a prisoner in a dream and asked him to establish a temple to her. When he awoke, his shackles had fallen open and he was able to leave the prison and build the temple, where he sacrificed animals in gratitude.
https://www.theguardian.com/world/2019/dec/02/worlds-largest-ritual-animal-slaughter-goes-ahead-despite-ban
------
Video shows 17-year-old girl hold open mosque doors as panicked students run from Wisconsin school stabbing
ByELLA TORRES
Dec 4, 2019
A 17-year-old girl is being praised for her "remarkable" actions after surveillance video showed her opening her mosque and ushering in students running from an alleged stabbing at their Wisconsin high school.
Duaa Ahmad, a senior at Oshkosh West High School, could be seen holding open the door to Oshkosh Ahmadiyya Muslims mosque and ushering in dozens before she herself went in."I just felt like I did what had to be done," Ahmad told ABC News in a telephone interview on Wednesday.
Chaos ensued Tuesday morning after a 16-year-old student stabbed a school resource officer, who shot the student once at the high school, which was across from the mosque, according to Oshkosh Chief of Police Dean Smith.
Their injuries are expected to be non-life-threatening, authorities said.
While Ahmad said she felt "a little fear," she was mainly focused on getting everyone inside.
She said that just minutes before, a teacher told students to run from the campus, but they didn't know why.
"It could have been anything. That fact that we didn't know caused even more anxiety," Ahmad said.
Yet, thankfully, she and other students exited through a door close to the mosque and everyone beelined toward it.
"I'm lucky that I was in that place when that situation ensued, and I'm just grateful that I was able to enter the code and let as many people in," Ahmad said.
While she didn't consider her actions heroic, her father and uncle were stunned when they saw the video.
"When I look at the video now, I feel pride," Saad Ahmad, her father, told ABC News.
"Her composure is remarkable in that situation," he said. "I don't know how I would react in that situation."
He added that while she looked calm, "she was also scared."
Duaa Ahmad's uncle, Khurram Ahmad, called it an "uplifting" moment in a terrifying situation.
"At first you see it, and you don't consider the subtlety in it that she remained outside," her uncle said. "These are things that cannot be taught."
He also serves as the public affairs secretary for the Ahmadiyya Muslim Community, to which the Oshkosh mosque belongs.
He said about 100 students from the school ran to the mosque and sought shelter there, thanks to his niece.
"At that moment, it was her alone. Her basic instinct kicked in," Khurram Ahmad said.
Duaa Ahmad is now focused on returning to school Friday and moving forward as a community, but she hopes that people will remember how terrifying these situations are.
"You never what that situation's gonna be like," she said, "until you've actually experienced."
https://abcnews.go.com/US/video-shows-17-year-girl-hold-open-mosque/story?id=67504076
------
Floods: Mosques encourages to hold solat hajat after Friday prayer tomorrow - Mujahid
05/12/2019
KUALA LUMPUR, Dec 5 -- Mosques across the country are encouraged to hold the 'solat hajat' after Friday prayers tomorrow, to pray for ease in facing of the current flood situation.
The recommendation was made by the Minister in the Prime Minister's Department Datuk Seri Dr Mujahid Yusof following the recent flood situation which saw an increase in the number of flood evacuees in Kelantan, Terengganu and Johor.
"May Allah facilitate all matters and avoid any inconveniences in the flood-affected states. May Allah always protect this country from any untoward disasters," he said in a statement here today.
The National Disaster Management Agency (Nadma) reported that there were 12,131 flood victims in Kelantan, 1,106 victims in Terengganu and 21 victims in Johor last night.
The media also reported that there were areas that recorded an increase in flood evacuees, as of last night.
http://www.bernama.com/en/general/news.php?id=1796555
------
Ayatollah Khamenei stresses 'Islamic compassion' in dealing with riot suspects
December 04, 2019
Leader of the Islamic Revolution Ayatollah Seyyed Ali Khamenei has called on Iranian officials to treat those suspected of involvement in the recent riots over gasoline price hikes with "Islamic compassion."
The Leader's remark came in response to a report by Ali Shamkhani, secretary of Iran's Supreme National Security Council, that put forward suggestions for handling the situation in the wake of the riots and compensating those killed or sustained damage or injuries.
In mid-November, the Iranian government raised gasoline prices in order to moderate the national consumption rate.
The move prompted protests in a number of cities that went largely peaceful but turned violent when armed riotous elements took advantage of the situation to vandalize public and state property, and attack civilians and security forces alike, Presstv reported.
Shortly after the riots broke out, the Leader tasked the Supreme National Security Council with compiling a report detailing the reasons behind the riots and immediate attending of the families of victims.
The report suggested that ordinary people who were killed during the riots but did not play a role in them be designated as "martyrs."
It also suggested sympathizing with and paying blood money to the relatives of those killed in the riots.
Regarding the situation of those who lost their lives during armed clashes with security forces, it was proposed that after investigations into the background of their families, the respectable ones be separated from those who were involved in criminal acts and the families of those victims who were not involved in criminal activities be condoled.
The Leader urged the body to immediately carry out the proposed measures but called on the authorities to show "Islamic mercy" towards those suspected to have been involved in the developments.
Rouhani calls for release of innocent protesters
Separately on Wednesday, Iran's President Hassan Rouhani called for the release of innocent people or those who committed misdemeanors.
"Of all those arrested, some are innocent and should be released … For example if someone committed an offense torching a tire, this is not a crime to me although he did not do a right thing. But we should not detain them. A youth has … shouted a slogan. We should not be strict," he said during the insurance conference in the capital of Tehran.
He, however, stressed that those who carried weapons or committed crimes and those who came to the scene in an organized manner should be dealt with according to the law.
"Those who committed misdemeanors should be treated with Islamic clemency," he added.
Iran says many of the rioters were found to have links to the notorious US-backed Mujahedin-e Khalq Organization (MKO) terror group, separatists besides members of organized groups trained towards staging acts of sabotage.
The Iranian Judiciary says around 300 individuals currently remain in custody over their suspected involvement in the deadly riots.
Gholam-Hossein Esmaili, the Judiciary's spokesman, said Tuesday that those detainees who are found to have been among "saboteurs" will face imminent prosecution, while the rest will be released as soon as possible.
http://www.iran-daily.com/News/262508.html?catid=3&title=Ayatollah-Khamenei-stresses--Islamic-compassion--in-dealing-with-riot-suspects
------
Still in streets, Iraqis say problem is poverty
05 December 2019
DIWANIYAH/IRAQ : Chants demanding complete regime change have echoed across Iraq for weeks, but what first brought demonstrators onto the street was the profound poverty of one of the world's most oil-rich countries.
And that is what has kept them there, with protesters brushing off the resignation of Prime Minister Adel Abdul Mahdi as failing to root out the rampant corruption that denies them jobs and public services.
In the southern protest hotspot of Diwaniyah, one of the poorest agricultural areas in the country, Umm Salah has joined rallies every day outside the provincial council.
"I've suffered in my country, even though it's a rich country," she told AFP, carrying an Iraqi tricolor.
The 57-year-old widow has been protesting every day since October with her seven children, none of whom are employed.
They walk 4 km to reach the protest camp as they cannot afford a taxi from the worn-down informal shelter where they live.
"My husband died four years ago because we are poor and couldn't afford medical treatment in private clinics or hospitals abroad," Umm Salah says.
Iraq suffers from an extremely dilapidated health care system, with hospitals severely under-equipped and doctors often threatened on the basis of political or tribal disputes.
Despite Iraq being OPEC's second-largest crude producer, one in five of its people live in poverty and youth unemployment stands at one quarter, the World Bank says.
The government has been the largest employer by far for decades but has recently struggled to provide jobs for a growing number of graduates.
Already, youths make up 60 percent of the 40 million-strong population, which is set to grow by 10 million more before 2030.
The future looks even bleaker given predictions that heavy crude exports — which fund more than 90 percent of Iraq's state budget — will become less profitable as the world shifts to other energy sources.
For now, protesters blame the staggering joblessness rates on a patronage system that hands out work based on bribes, family connections or party affiliation instead of merit.
Muhannad Fadel, 30, dreamt of a government post when he graduated years ago with a degree in physical education, but his diploma opened few doors for him.
After a brief stint as a university lecturer, Fadel sought other work but his monthly income didn't rise above $100.
"I started to drive a taxi but I was afraid some of my students would recognize me," he told AFP.
"Then I opened a little confectionary store on the ground floor of our home and I make around 5,000 dinars a day," or just $3,
e added.
Scraping together some savings, Fadel could marry but not buy a house, so his new wife moved in with his family.
"Our whole family together earns $150 per month. How is that possible in one of the countries with the most oil in the world?"
e said.
For him and many protesters, the root of the problem is a political class more interested in earning money and paying homage to regional backers than in improving Iraqi infrastructure, or people's lives.
"They're corrupt and steal the people's money to give to Iran and other parties," Fadel said bitterly.
Iraq is ranked the 12th most corrupt country in the world by watchdog group Transparency International.
A recent government probe found over $450 billion in public funds were lost to embezzlement, fake contracts or salaries for so-called ghost employees
ince 2003.
"The deterioration of the economic conditions of Iraqis is the main reason for protests, as 8 million Iraqis live under the poverty line," said Moussa Khalaf, an economic history professor
in Diwaniyah.
A series of flare-ups before the major wave of protests erupted in October had hinted at the conflagration that was to come.
In September, local authorities began demolishing unauthorized houses in the shrine city of Karbala, in Basra in the south and in the central city of Kut.
The settlements are home to 3 million Iraqis, many of them the poorest of the poor.
That same month, a young man in Kut died after desperately setting himself alight when authorities seized his mobile kiosk.
"You need an economic policy that makes use of resources based on scientific and economic facts, not on privileges or political gains," says Khalaf.
Protesters have clung on in the streets and public squares even days after Abdel Mahdi stepped down.
"Of course that's not enough," one young demonstrator in Baghdad's Tahrir Square told AFP about bringing down the head of government.
"We won't leave our barricades until the regime falls, until we get jobs, water, electricity," he said.
Another protester, 45-year-old Hussein Maneh, slammed the government for its years of failure.
"Since 2003, they've done nothing but increased poverty, destroyed agriculture and industry, impoverished schools and hospitals, created confessionalism, and stole our oil," he fumed.
https://www.arabnews.com/node/1594261/middle-east
------
Merger momentum for Islamic banks to continue in 2020
Fareed Rahman
Dec 5, 2019
Mergers and acquisitions (M&A) in Islamic banks in the GCC are expected to continue in 2020 as Sharia-compliant lenders look to carve out market share in an increasingly competitive environment, a senior executive of Fitch Ratings said.
"We've seen the trend of GCC Islamic banks M&A in 2019 and we expect that to continue next year," Bashar Al Natoor, global head of Islamic finance at Fitch Ratings, told The National in an exclusive interview.
"Islamic banks are searching for market position. Secondly, they are looking for growth opportunities to cement their positions and third, you have overbanking in some countries and the consolidation is something that is happening in these countries - to have a number of financial institutions at the lower level than it is currently."
The comments come as a number of sharia-compliant lenders in the Gulf hold talks to combine their operations to boost revenues.
Dubai Islamic Bank, the biggest Sharia-compliant lender in the UAE, is in the process of taking over its smaller rival Noor Bank, while National Commercial Bank in Saudi Arabia is pursuing a merger with its competitor, Riyad Bank.
National Bank of Bahrain, a majority government-owned lender, last month firmed up its bid for Bahrain Islamic Bank. It is looking to acquire at least 40 per cent of BIB in a deal which values it at 124 million Bahraini dinars (Dh1.41bn).
Earlier this week, Kuwait Finance House said it had gained approval from the Central Bank of Bahrain for its acquisition of Ahli United Bank - a deal that will create a combined Islamic banking entity with $96.7 billion (Dh354.7bn) in assets.
"You could have various scenarios in mergers and acquisitions. You could have an Islamic bank with an Islamic bank or you could have a conventional bank with an Islamic bank. Each of these have their own challenges," said Mr Al Natoor.
The credit outlook for Islamic banks is stable, driven by sovereign support, he said, adding "the growth in Islamic banks in the past 10 years has been in double digits and [they] have been growing significantly at higher rates compared to conventional banks".
However, as the industry matures, he expects this outperformance gap to narrow.
"The growth itself in the past two years is in single digits and in some cases around 5 per cent. Islamic banks do not operate in a cocoon from the operating environment [which] is having its own challenges."
The sukuk market is also set to continue its recent growth as both governments and corporates focus on diversifying funding sources and plugging budget gaps caused by lower oil prices. A high oil price is not conducive to sukuk issuance, but a low oil price discourages investors, Mr Al Natoor said.
"There is a sweet spot in the middle between $55 to $65 per barrel where there is still need for diversification in funding and still some comfort for investors."
Sukuk issuance is set to rise 6 per cent to $130bn this year, rival ratings agency Moody's Investors Service said in August.
Mr Al Natoor said Islamic finance is gaining traction all over the world with new entrants like Morocco, which recently introduced laws to govern Islamic banks as well as the takaful industry. Turkey is trying to establish state-owned Islamic banks and Indonesia is planning to roll out a road map to boost the Islamic finance sector, he said.
"We are seeing new entries to the market like Morocco and other countries but the top 10 countries for Islamic finance continue to be six GCC countries plus Malaysia, Turkey, Pakistan and Indonesia," Mr Al Natoor added.
https://www.thenational.ae/business/merger-momentum-for-islamic-banks-to-continue-in-2020-1.946944
------
Maryland school district officials adopt calendar that gives off Muslim holiday
BY MARINA PITOFSKY
12/04/19
Elected officials in Montgomery County, Maryland, which lies just outside of Washington, D.C., voted Tuesday to give students a day off on the Muslim holiday of Eid al-Fitr.
The change will go into effect for the 2020-2021 school year, designating May 13 as a teacher professional day so students can celebrate the holiday, the Washington Post reported.
College Board, the organization that facilitates testing for Advanced Placement classes, said tests planned for May 13 will be given a second time for Montgomery County students on May 18.
Muslim parents and students pressed for the day off at a recent school board meeting, the Washington Post reported. Montgomery County makes up Maryland's largest school system with an enrollment of more than 165,000 students, and it gives students the day off for two Jewish holidays and multiple days around Christmas and Easter.
"This is a big victory for our students," said Samira Hussein, a longtime advocate for the move told the Washington Post. "They will feel accepted and acknowledged by their teachers, their Board of Education, their superintendent."
The Council on American-Islamic Relations, a national Muslim civil liberties organization, applauded the shift and the school board for lobbying the College Board to make the calendar work for students. The organization said the action shows "a strong commitment to inclusivity, diversity and equity."
"This kind of decision sends a message to these students that you are not only welcome here but you belong here and you are celebrated here — we want you to feel like you have a place in the school system," Zainab Chaudry, the organization's director of Maryland outreach told the Washington Post.
The calendar will also give students the day off for Lunar New Year, which is celebrated by many Asian families. That date will fall on Feb. 12, 2021 in the 2020-2021 school year.
Inauguration Day in 2021 will still be a normal school day, but Montgomery County School Board member Patricia O'Neill called for teachers to provide instruction related to the inauguration and for schools to air the ceremony.
https://thehill.com/blogs/blog-briefing-room/news/473123-maryland-school-district-officials-adopt-calendar-that-gives
------
Judge Rules Leader of New Mexico Jihadi Cult Not Fit to Stand Trial
December 3, 2019
A judge ruled that the arrested leader of the New Mexico jihadi cult was not fit to stand trial and ordered her hospitalized instead.
U.S. District Court Judge William Johnson found that Jany Leveille, who was arrested in August 2018 at the cult's compound along with the four other adults present, suffers from a "mental disease or defect" making her unable to understand the charges she faces or the court proceedings and thus incapable of assisting in her own defense.
Leveille, an illegal immigrant from Haiti, faces firearms and conspiracy charges as well as possible terrorism charges. Other defendants include Siraj Ibn Wahhaj, son of well-known radical preacher Siraj Wahhaj, Sr., two of his sisters — Hujrah Wahhaj and Subhannah Wahhaj — and Lucas Morton.
Based on evidence found at their compound in New Mexico (on land which they illegally occupied between December 2017 and August 2018) as well as testimony by some of the older of the 11 starving children whom local police rescued from the compound, federal prosecutors say the group had "a common plan to prepare for violent attacks on government, military, educational and financial institutions."
The teenage children said they were being given military training to carry out jihadi school shootings, among other attacks.
The five defendants were arrested last August after police raided their compound. Although federal authorities were watching the compound, they held off raiding the property. Local police moved in after hearing reports of starving and abused children at the compound.
Authorities also found the body of three-year-old Abdul-Ghani Wahhaj at the compound. Abdul-Ghani was Wahhaj's son who suffered from epilepsy. Wahhaj is accused of kidnapping his son and bringing him to the New Mexico compound where he denied him his medication and subjected him to Islamic exorcism rituals. During these rituals (known as ruqyah), the boy would cry, scream and foam at the mouth, and his eyes would roll back in his head. Authorities say the rituals were performed for hours a day until Abdul-Ghani died.
At present, none of the New Mexico jihadi cult members have been charged in the boy's death. All are currently being held without bail.
Leveille will first be hospitalized for up to four months. An evaluation will then be made by doctors to determine if she eventually could become competent to stand trial. If so, she will continue to receive treatment for an "additional reasonable period of time."
https://clarionproject.org/judge-rules-leader-of-new-mexico-jihadi-cult-not-fit-to-stand-trial/?utm_source=Clarion+Project+Newsletter&utm_campaign=afdfad3987-EMAIL_CAMPAIGN_2019_12_04_02_35&utm_medium=email&utm_term=0_60abb35148-afdfad3987-6425445&mc_cid=afdfad3987&mc_eid=8ce16af41e
------
India
'India -- No country for Muslims': Mehbooba Mufti's daughter on Citizenship bill
Dec 5, 2019
New Delhi: On Wednesday, former Jammu and Kashmir Chief Minister Mehbooba Mufti's daughter slammed the approval of the Citizenship Amendment bill by the Union cabinet and termed it as an indication that the country's BJP-led central government discriminates against those from the Muslim community.
Hours after the Union cabinet cleared the bill, "India - No country for Muslims," a message was posted through the Peoples Democratic Party chief's Twitter handle. As the Peoples Democratic Party chief Mehbooba Mufti has been in detention since August 5, when Article 370 was scrapped, her daughter Sana Iltija Javed operates her social media accounts.
The legislation, which seeks to make it easier for minorities from neighbouring countries such as Pakistan, Bangladesh and Afghanistan to obtain citizenship, has been accused by rights groups as well as opposition parties of being discriminatory towards Muslims. However, the Centre defended its decision, claiming that it was duty-bound to help "persecuted" minorities from surrounding countries.
This is not the first time Mehbooba Mufti or her daughter has accused the government of targeting Muslims.
Mehbooba Mufti, National Conference chief Farooq Abdullah and his son Omar still remain in "precautionary detention", and there is no clarity on their likely date of release.
https://www.deccanchronicle.com/nation/current-affairs/051219/india-no-country-for-muslims-mehbooba-muftis-daughter-on-ci.html
------
Muslims not allowed inside sanctum sanctorum of Kartarpur Sahib gurdwara
Dec 5, 2019
AMRITSAR: Gurdwaras are open to persons of every religion without any bias, but Muslims are not being allowed into the sanctum sanctorum of Gurdwara Darbar Sahib, Kartarpur Sahib, in Pakistan even as they have to shell out an entry fee of Rs 200 to enter the shrine complex.
The sanctum sanctorum is situated on the first floor of the gurdwara's building where Guru Granth Sahib has been kept.
Earlier, many Muslim followers of Baba Nanak, as Guru Nanak Dev is more popularly known in Pakistan, used to visit his mazar at Kartarpur Sahib to pay obeisance, but Pakistan government started levying a fee of Rs 200 on Muslims to enter the gurdwara.
The mazar is situated outside the gurdwara building. When Nanak passed away, there was disagreement over his cremation between Hindu and Muslim followers, following which a samadh was constructed by Hindus and a mazar by Muslims.
Pakistan Sikh Gurdwara Parbandhak Committee president Satwant Singh told TOI over the phone from Nankana Sahib on Wednesday that the instructions were issued fearing violation of maryada (Sikh code of religious conduct). "A large number of Muslims don't know Sikh rehat maryada, including removal of socks, washing of hands and covering of head among others while entering a gurdwara," said Satwant, adding that many liked to take selfies in the sanctum sanctorum, a violation of maryada.
However, he said, there was no blanket ban on entry of Muslims in the sanctum sanctorum. "But they should be accompanied by a Sikh, Gurdwara caretaker or granthi, who take them inside the holy place," he added.
He reasoned that 5,000-6,000 daily visited the gurdwara. "If a large number of locals are allowed inside the sanctum sanctorum, it would create problems for pilgrims since the staircase to the first floor is narrow," he said.
He also confirmed that Rs 200 was charged only from Muslim devotees. "But PSGPC has written a letter to the government, urging it to waive the Rs 200 from Muslim devotees," he said.
https://timesofindia.indiatimes.com/city/amritsar/muslims-not-allowed-inside-sanctum-sanctorum-of-kartarpur-sahib-gurdwara/articleshow/72375462.cms
------
Gehlot calls for campaign against women's 'parda' custom
December 04, 2019
Jaipur: There is no need for women to wear the 'parda' (veil) or burqa in a modern world which is reaching the Moon and Mars, Rajasthan Chief Minister Ashok Gehlot said on Wednesday giving a call to launch a "Ghoonghat Hatao Abhiyan" (No to the veil campaign).
Gehlot gave the call at a 'Shabad Kirtan' programme organised at his residence organised to mark the 550th birth anniversary of Guru Nanak where notables among various castes and creeds were present together in conveying a strong message of secularism.Addressing the gathering, Gehlot stressed the need to eradicate the 'parda' practice saying that limiting women to a "veiled outlook" cannot be "justified" .
"Although this practice has not been adopted throughout the country, but it is followed strongly in Rajasthan and I think that time has come that we should say no to 'parda pratha' (custom).
"This is a scientific era, age of mobiles where world can be reached out through the cellphone, and in this situation, limiting a women to veiled world is not justified," he said.
"Imagine her plight, what she must be going through within the veiled world, in and out of her family. Hence, a 'Ghoghant Hatao Abhiyan' should be launched where women from the state and the country should come ahead to join hands for this campaign.
"Also men should come out in support of this campaign, as India being a male dominated nation has a lot of male pressure on women to stay behind the veil. In fact, no matter if it is the 'parda' or burqa, when the world is reaching Mars and the Moon, what's the need to do 'parda' in the modern world?", he asked.
He noted that over 500 years back, Guru Nanak also preached women empowerment and said that a woman gives birth to the king.
"Today when, instead of kings, there are MPs, MLAs, who are all born from the womb of women, we should, therefore, respect women," he added.
He said Guru Nanak's teachings remain very relevant in the modern world.
"He preached Hindu-Muslim unity and it stands sacrosanct even today. In his teachings he used to say that 'I am neither Hindu not muslim, but am a follower of God, He gave a message to stand for truth which is relevant today."
On the occasion, the Chief Minister announced that Sikh students are fully entitled to appear for different competitive exams while wearing their religious sysmbols of kada, kripan and pagdi.
He also announced that laws for registration of marriages solemnised via Sikh rituals would be modified.
Gehlot also said that he has approved the format of the Rajasthan Anand Marriage Registration Rules 2019 for registering Sikh marriages.
https://gulfnews.com/world/asia/india/gehlot-calls-for-campaign-against-womens-parda-custom-1.1575474831856
------
Pakistan
Special court to announce verdict in Musharraf treason case on Dec 17
Haseeb Bhatti
December 05, 2019
A special court in Islamabad on Thursday said it would announce the verdict in the high treason case against former president retired Gen Pervez Musharraf on December 17 after hearing the arguments of the government's new prosecution team.
The Islamabad High Court (IHC) on November 27 stopped the special court from issuing the verdict it had earlier reserved in the high treason case. Additionally, the high court had directed the government to notify a prosecution team by December 5.
On October 24, the special court was informed that the government had sacked the entire prosecution team engaged by the previous PML-N government to prosecute the high treason case against Musharraf.
Peshawar High Court Chief Justice Waqar Ahmad Seth headed a three-member bench of the special court as a new prosecution team for the government appeared before the court during today's proceedings.
Prosecutor Advocate Ali Zia Bajwa said that he and Munir Bhatti had been appointed as prosecutors in the case and after receiving the notification of his appointment at 4pm on Wednesday, he had received a 3,000-page record.
The prosecutor asked for time to read over the record of the case, adding that he would not depend on the arguments of the previous prosecution team.
Justice Nazar Akbar, who was part of the bench, asked the newly appointed prosecutor to tell them when he would present his arguments, adding that he would not be given more than a week's time.
Advocate Bajwa asked the court to give them a reasonable amount of time.
Justice Seth said they (prosecutors) should set aside other cases and fight this case, while Justice Akbar added that four days were enough to prepare.
Justice Seth added that judges had come from various parts of the country for the special court.
"This is a special case and this is a special court," Justice Seth remarked.
The prosecutor said there was "a lot of pressure" on them, in response to which Justice Akbar said: "What pressure could there be on lawyers and the court? The lawyers' job is to assist the court."
Justice Seth added that they would write that the prosecution should give their statements by December 17.
Adjourning proceedings till December 17, Justice Seth said they would hear arguments in the next proceeding and announce the verdict.
IHC verdict binding on special court
Earlier in the week, IHC ruled that its order of stopping the special court from announcing its verdict in the treason case was binding on it (special court) regardless of the fact that it comprises three high court judges.
In the previous hearing of the case in the special court, the bench acknowledged the receipt of a short order of the IHC dated November 27 in which the special court was restrained from announcing its verdict in the treason trial.
However, the court remarked, "without commenting upon the maintainability and jurisdiction of the said petition […] before the Islamabad High Court, we direct the representative of the ministry of interior to nominate the prosecutor".
The high treason trial of the former military dictator for clamping the state of emergency on Nov 3, 2007, has been pending since December 2013.
He was booked in the treason case in December 2013. Musharraf was indicted on March 31, 2014, and the prosecution had tabled the entire evidence before the special court in September the same year. However, due to litigation at appellate forums, the trial of the former military dictator lingered on and he left Pakistan in March 2016.
https://www.dawn.com/news/1520592/special-court-to-announce-verdict-in-musharraf-treason-case-on-dec-17
------
PM forms committee for fresh legislation
December 05, 2019
ISLAMABAD: Prime Minister Imran Khan on Wednesday constituted an eight-member committee headed by Law Minister Farogh Naseem apparently to make fresh legislation/amendment to the Constitution regarding the appointment of the army chief and extension in his tenure as directed by the Supreme Court.
The Committee for Disposal of Legislative Cases (CCLC) was constituted in terms of rule 17(2) of the Rules of Business, 1973.
"The committee shall examine the cases of fresh legislation as well as amendments to the existing laws and give its recommendations whether they are to be introduced in the parliament or otherwise, subject to ratification by the cabinet," the committee's terms of reference stated.
Secretarial support to the committee will be provided by the cabinet division.
Other members of the CCLC are Attorney General Anwar Mansoor, Minister for Parliamentary Affairs Azam Khan Swati, the federal minister concerned [by special invitation], Special Assistant to the Prime Minister on Accountability Mirza Shahzad Akbar, the law and justice secretary, a joint secretary [Prime Minister Office] and the cabinet secretary as secretary of the committee.
The Supreme Court had in a recent verdict allowed extension/reappointment of Gen Qamar Javed Bajwa as Chief of the Army Staff for another six months. At the same time, the apex court directed the government to determine the tenure, terms and conditions of service of the army chief through legislation within this period.
However, some government ministers, including Farogh Naseem, had claimed that the incumbent army chief would serve for another three years.
Though it is a fact that the government cannot pass any fresh legislation without the support of the opposition, which enjoys majority in the Senate, the prime minister and his ministers are bent upon bashing the opposition leaders almost on a daily basis.
Meanwhile, a delegation of the Pakistan Muslim League-Nawaz is leaving for London to meet party's supreme leader and former prime minister Nawaz Sharif and seek his guidance on the issue of legislation regarding tenure, terms and conditions of service of the army chief. The delegation comprises Khawaja Asif, Marriyum Aurangzeb, Sardar Ayaz Sadiq, Rana Tanveer and Ahsan Iqbal.
https://www.dawn.com/news/1520530/pm-forms-committee-for-fresh-legislation
------
Pakistan foiled attempts to cut UNMOGIP budget: ex-envoy
December 05, 2019
ISLAMABAD: Pakistan saved the United Nations Military Observer Group in India and Pakistan (UNMOGIP) by foiling multiple attempts to cut its budget.
This was disclosed by Pakistan's former permanent representative at the United Nations in New York Dr Maleeha Lodhi, who has recently returned after completing her tenure.
"We have been able to thwart a number of sinister attempts to cut UNMOGIP's budget over the last few years which could have led to it being disbanded," Dr Lodhi said while delivering a lecture at the Institute of Strategic Studies Islamabad (ISSI) on 'Pakistan and the UN: Challenges and Opportunities of Multilateralism'.
She said the UNMOGIP's role had become more significant in view of the increased ceasefire violations by India. According to the figures last shared by ISPR on Oct 27, 2019, India had breached ceasefire 2,608 times. There have been several more violations since then.
United Nations Military Observers Group (UNMOGIP) is one of the oldest peace keeping missions deployed by the world body. It has been in Kashmir since January 1949 to supervise the ceasefire between India and Pakistan under the Security Council Resolutions 39 and 47.
UNMOGIP is financed through the regular UN budget. It should be recalled that the group's budget for 2018-19 was cut by 11.39pc. The cuts had hit its field trips and operating budget. Pakistan has been extending full cooperation and unfettered access to the observers and has been asking UN to strengthen their role.
India, meanwhile, does not allow UNMOGIP to fully function according to its mandate and report to the Security Council. New Delhi doesn't accept the mandate of the UNMOGIP. India argues that under Shimla Accord it had agreed with Pakistan to resolve all disputes, including Kashmir, bilaterally.
India evicted UNMOGIP from its offices in Delhi in 2014. Indian approach on UNMOGIP has been to prevent the observers from investigating the complaints on its side.
Speaking about the unresolved Kashmir dispute, Dr Lodhi said it is "Pakistan's core foreign policy priority; it remains front and centre of our engagement at the UN".
She said UN's failure to enforce its 11 resolutions on Jammu and Kashmir was affecting public perceptions in Pakistan about the world body and its utility. She also noted that increased skepticism about the UN was not specific to Pakistan and could be witnessed all over the world.
"Much of this disillusionment is directed or focused on the peace and security pillar of the UN which is the responsibility of the Security Council. As the world's premier crisis management body, the council is widely seen to have fallen short on its principle role. Its failure to resolve longstanding disputes and ongoing crises and in the case of Kashmir, to enforce its own resolutions, are all seen as glaring aspects of persistent failures," the former envoy maintained.
This, she said, is happening at a time when multilateralism is facing new threats and challenges, and has been in retreat as a result of major powers rejecting or renouncing treaties or walking out of international bodies.
The former Pakistani envoy said whatever its drawbacks, multilaterism is needed more, especially when a rules-based international system was under assault. An important way to strengthen multilaterism would be to strengthen the role of UN. But, she added, this objective can best be achieved by a comprehensive reform of the security council.
Dr Lodhi also touched upon the negotiations at the UN on reform of the Security Council.
https://www.dawn.com/news/1520475/pakistan-foiled-attempts-to-cut-unmogip-budget-ex-envoy
------
UK company accused of facilitating fraudsters operated from Karachi
Umar Cheema
December 5, 2019
ISLAMABAD: A family-owned company in London at the heart of controversy for having fraudsters, organised crime and Italian mafia among its clients was operating from a building situated in the Information Technology Park of Karachi, leaked documents have revealed. The News, reporting partner in this investigation collaborated by journalists from different countries, has confirmed from its Karachi staff in addition to discovering companies it registered in Pakistan for this business.
Formation House is a company formation enterprise in London owned by Nadeem Khan, a Pakistani-British citizen who died in 2015 shortly before standing a trial in a money laundering case. It offers a range of services for creating and operating corporate entities in a number of countries including offshore secrecy jurisdictions such like British VirginIslands (BVI), Seychelles, Panama and others. Taking its website as a guide, Formation House has created over 400,000 companies, partnerships and trusts and sold 25,000 ready-made companies and partnerships.
A number of businesses, banks and tax havens used by international crime gangs were created by Formation House, documents show, and that it has repeatedly failed in doing proper due diligence on clients as companies would be set up after examining the basic identity record. Incidentally only one noted Pakistani client of Formation House was found from the leaked record who set up an offshore company in the name of his son and wife. Helicopters were purchased through this company named Golden Eagle Aviation Limited.
The leaked documents of 131 gigabytes were obtained by anti-secrecy information activist group Distributed Denial of Secrets and shared with numerous media outlets through The Organized Crime and Corruption Reporting Project (OCCRP) which partnered with 17 other media organisations including The News (Pakistan), The Times (UK), Finance Uncovered (UK), Suddeutsche Zeitung (Germany), South China Morning Post (Hong Kong), NBC TV (US), Economic Times (India), tro.si (Slovenia) and others. The project has been dubbed #29Leaks in reference with Formation House address: 29 Harley Street, London.
Formation House, itself an offshore company incorporated in BVI, is owned by Centre Limited which was registered with Security Exchange Commission of Pakistan in 2004. Nadeem Khan was the owner of Formation House whereas Centre Limited is registered in the name of his mother, Firdous Khan, and brother-in-law, Abid Raheem who through confirmed being its director he said it is no more operational. Discussion with staff in Karachi indicates the operation here was closed in 2017 as family feud after Nadeem's death resulted in separation between his children and brothers. Currently, Charlotte Pawar, Nadeem's step-daughter is chief executive. Darius Khan, his son, is also involved.
As many as eight companies connected with Formation House are registered with SECP, all of them private limited enterprises that don't require annual filings with the regulator thus leaving everybody clueless about the nature of business. Centre Limited and Infini Logic, another company, were also registered with Pakistan Software Export Board for "IT export" much like the Karachi-based enterprise that was caught involved in selling fake degrees worldwide.
Although legitimate companies use the services of Formations House, many others use it to hide their shady deals and to avoid inspections from financial regulators. One of the incentives for clients was to have a postal address of London's posh area: 29 Harley Street. Besides the offer of an upmarket address, Formations House offers a local phone number, a bank account, and preparation of annual accounts and company filings. For those seeking a business façade and a degree of anonymity, this is a one-stop-shop.
Sales, information technology and accounting operation of Formation House were being carried out from Karachi where at one point of time were more than 150 employees having occupied entire 14th floor of Caesers' Tower situated in IT Park of Karachi. Since calls were routed to Karachi's call center from London, local employees were given Western names. The head of sales department, for example, was Oliver Hartmann. This German sounding name was of Syed Rizwan Ahmed who was dealing with the clients throughout the world. Included among them were Iranian officials who wanted to register a company in Gambia to disguise identity in order to evade international sanctions. The daughter of an Italian mafia was also among them.
Charlotte Pawar, the step-daughter of Nadeem Khan is current chief executive of Formation House. She admitted to an undercover report from The Times (UK) that it was possible for company owners to conceal their identities and deposit funds at foreign banks.
The level of due diligence is also apparent from the fact that director of at least 40 UK companies (let alone the entities registered in other jurisdictions) that Formation House created have been disqualified after allegations of wrong doing. Charlotte's grandmother was a director of companies and signed off accounts even though she was dead.
Responding to questions collectively sent by reporting partners of #29Leaks project, Charlotte said the database had been stolen from its server and used for "several report extortion attempts." Like all other formation agents in our industry, she continues, we have no control over the actions of companies and their directors after we have provided our formation service. She however insisted that her business carries out due diligence practices required by Revenue & Customs and performed more due diligence and anti-money laundering check than were required by Companies House's own online process. "As part of our MLR (Money-laundering regulations) registration we are required to carry out regular reviews of our compliance procedures. As a result, from time to time we have added new measures to our processes," she noted.
Karachi operation would have remained a secret had Oliver (Rizwan) not shared during an email exchange with a client he trusted, named Michael. "I would like to share something with you in confidence. I am managing this offshore office of FORMATIONS HOUSE from Pakistan.(Karachi). We do have main office on Harley Street, where you were and met Charlotte (She is my boss) but I, myself is managing offshore office from Pakistan in which we have sales and support operations. I do not tell this to all the clients, only to those which I am confident, that they understand nowadays business needs for offshoring," read his email dated April 27, 2015.
Talking to The News, Rizwan said there was nothing illegal. He did what his boss ordered. Due diligence of clients was not my responsibility, he explained. "It was done from UK office," he said. While Formation House was doing a roaring business, staff in Karachi office was almost starving. Majority of them were hired at salary ranged between Rs25,000-75,000, their salaries were being delayed. At the time of operation's closure in Karachi, salaries were pending at least for three months in each case. Rizwan who was dealing with billionaires intending to set up companies, said he had to pull out children out of school due to financial crisis. "I'm happy you people are doing this. It may help in recovering of our pending dues," he said.
https://www.thenews.com.pk/print/578792-uk-company-accused-of-facilitating-fraudsters-operated-from-karachi
------
Unfortunate scheme to render ECP dysfunctional succeeds
Tariq Butt
December 5, 2019
ISLAMABAD: The devious scheme to render the Election Commission of Pakistan (ECP) dysfunctional has finally succeeded as none of the three key appointments has been made. The ECP will be out of action, incapacitated after the retirement of incumbent Chief Election Commissioner (CEC) Justice (R) Sardar Raza after two days on December 6.
Old-timers say this is the first time that the ECP will become inoperative. This will lead to stoppage of all sorts of activities that the electoral commission is required to undertake under the Constitution.
As predicted since long, the parliamentary committee that has equal representation of the ruling alliance and opposition parties failed to take a decision on the selection of the two ECP members to represent Sindh and Balochistan.
The two vacancies exist since January, and no meaningful effort has been made to fill them. The consultative process to pick up the new CEC is yet to be launched as Prime Minister Imran Khan has not so far given his three choices. However, leader of the opposition in the National Assembly Shahbaz Sharif has proposed the names of three retired top bureaucrats – Nasir Mahmood Khosa, Akhlaque Tarar and Jalil Abbas Jilani – who generally enjoy good reputation.
The exercise will proceed further only after the premier will come out with his preferences. He is averse to holding consultations with the opposition leader. However, he can send his recommendations direct to the parliamentary committee instead of talking to Shahbaz Sharif.
It is unclear as to when the new CEC and the two ECP members will be appointed with the parliamentary committee chairperson Federal Minister Dr Shirin Mazari saying after its second session that all the three nominations will be taken up next week and a decision will be taken.
Without waiting for the outcome, the opposition parties have knocked at the doors of the Supreme Court for interpretation of Article 213 of the Constitution. However, as the petition will be heard in the apex court, the parliamentary committee can still decide on the new CEC and ECP members.
The Constitution is silent on how to break the deadlock between the two chief consultees and in the parliamentary committee on the appointment of the CEC and ECP members. A real stalemate and crisis has occurred, reflecting politicians' failure to resolve it.
The confrontation and lack of communication between the government and the opposition over the past 16 months has resulted in this crisis. Inside the parliamentary committee, every side pushed to choose its nominees as the ECP members in the absence of a spirit of "give and take".
Under the Elections Act, the CEC, though the administrative head of the ECP, doesn't have any special powers that he used to enjoy earlier over the ECP members. The act made him equal to every ECP member.
Now, it is the ECP and not the CEC that takes all decisions. The ECP means the CEC and its four members representing as many provinces. In the old law, the CEC used to be all powerful.
While striking down the appointment of two ECP members by the government ignoring the proposed names of the opposition leader, the Islamabad High Court (IHC) had tasked National Assembly Speaker Asad Qaisar and Senate Chairman Sadiq Sanjrani to carry out the exercise for the requisite nominations and submit a report to it by December 5.
They did make efforts but were unable to bypass the constitutional process. They got the proposed names from the prime minister and opposition leaders for the ECP members and forwarded them to the parliamentary committee. They played the role of post office only.
Article 213 says there will be a CEC, who will be appointed by the President. No person will be appointed to be CEC unless he has been a judge of the Supreme Court or has been a senior civil servant or is a technocrat and is not more than sixty-eight years of age.
Civil servant means the one who has served for at least 20 years under the federal or a provincial government and has retired in Grade 22 or above. Technocrat means a person who is the holder of a degree requiring conclusion of at least 16 years of education, recognised by the Higher Education Commission and has at least 20 years of experience, including a record of achievements at the national or international level.
According to the article, the prime minister will, in consultation with the opposition leader, forward three names for appointment of the CEC to a parliamentary committee for hearing and confirmation of any one person. However, in case there is no consensus between them, each will forward separate lists to the committee for consideration which may confirm any one name.
The committee to be constituted by the speaker will comprise 50 per cent members from the treasury benches and 50 percent from the opposition parties, based on their strength in Parliament to be nominated by the respective parliamentary leaders. Its total strength will be 12 members out of which one-third shall be from the Senate.
https://www.thenews.com.pk/print/578800-unfortunate-scheme-to-render-ecp-dysfunctional-succeeds
------
Kidnappers demand $2.5 lakh for Dua Mangi's recovery
Afzal Nadeem Dogar
December 5, 2019
KARACHI: Some criminals claiming to be holding Dua Mangi hostage have demanded a hefty ransom of $2.5 lakh (Rs38.8 million) for her release.
Dua Mangi was kidnapped from a car in the Defence Housing Authority on Saturday night by four to five armed people from near a restaurant at Bara Bukhari in Phase VI, DHA.
The kidnappers also shot and injured her friend Haris Soomro in the resultant altercation in the jurisdiction of Darakshan police station.
According to police sources, the ransom demand was made through WhatsApp from Mangi's parents. They have contacted the family thrice in the last three days. They insisted on payment of 2.5 lakh USD when they last contacted the girl's parents on Wednesday.
Besides the police, intelligence agencies are also investigating the kidnapping incident.
Despite the efforts the police have absolutely failed even in getting some substantive clues to the incident which has generated a widespread wave of fear among the citizens of the lawless city.
https://www.thenews.com.pk/print/578788-kidnappers-demand-2-5-lakh-for-dua-mangi-s-recovery
------
Diplomatic Quarter: Pakistan establishes permanent mission to OIC
05 December 2019
JEDDAH: Pakistan's newly appointed permanent representative to the Organization of Islamic Cooperation (OIC) Ambassador Rizwan Saeed Sheikh presented his credentials to OIC Secretary-General Dr. Yousef Al-Othaimeen at the organization's headquarters in Jeddah.
A presentation of credentials by Sheikh marked the establishment of Pakistan's dedicated permanent mission. Previously, Islamabad's representation to the OIC was established in Riyadh.
The establishment of the new mission, coinciding with the golden jubilee of the OIC, is based on a system-wide approach reflecting Pakistan's intent to deepen and strengthen its engagement with the OIC.
As a founding member, Pakistan attaches great importance to the OIC, which is the second-largest intergovernmental organization after the UN.
The OIC has maintained a record of consistent support to the Kashmir cause.
Pakistan also remains one of the largest beneficiaries of financial assistance afforded by the Islamic Development Bank group, which is a specialized organ of the organization.
https://www.arabnews.com/node/1594281/saudi-arabia
------
South Asia
Chinese state media blasts US bill that pushes for tougher response to Muslim detainment camps
DEC 4 2019
Chinese official media excoriated the United States and called for harsh reprisals in editorials on Thursday after the U.S. House of Representatives passed legislation requiring a stronger response to Beijing's treatment of its Uighur Muslim minority.
The commentaries follow warnings from China on Wednesday that the legislation could affect bilateral cooperation, including a near-term deal to end the two countries' trade war.
A front-page editorial in the ruling Communist Party's People's Daily newspaper said the passage of the U.S. legislation "harbors evil intent and is extremely sinister".
"Underestimating the determination and will of the Chinese people is doomed to fail," it said.
By a vote of 407 to 1, the U.S. House of Representatives on Tuesday approved the Uighur bill, which would require the Trump administration to toughen its response to China's crackdown in Xinjiang, a region in China's far west.
The bill still has to be approved by the Republican-controlled Senate before being sent to U.S. President Donald Trump to sign into law.
The White House has yet to say whether Trump would sign or veto the bill, which contains a provision allowing the president to waive sanctions if he determines that to be in the national interest.
U.N. experts and activists say China has detained possibly one million Uighurs in mass detention camps in Xinjiang.
China says the camps are part of an anti-terror crackdown and are providing vocational training. It denies any mistreatment of Uighurs.
The English-language China Daily called the bill a "stab in the back, given Beijing's efforts to stabilize the already turbulent China-U.S. relationship".
"It seems an odds-on bet that more (sanctions) can be expected if the latest approval for State Department meddling goes into the statute books," it said.
The English-language edition of the Global Times, a nationalist tabloid published by the People's Daily, said China should be prepared for a "long-term battle with the U.S."
The editorials echoed comments by Chinese foreign ministry spokeswoman Hua Chunying, who said on Wednesday that "any wrong words and deeds must pay the due price."
Official commentary also took aim at the Hong Kong Human Rights and Democracy Act, recently signed into law by Trump.
The act requires the U.S. State Department to certify at least annually that Hong Kong retains enough autonomy to justify favorable U.S. trading terms, and threatens sanctions for human rights violations.
A front-page editorial in the overseas edition of the People's Daily framed the bill as a U.S. attempt to use Hong Kong to contain China, calling such a move "idiotic nonsense".
"The Chinese government will in no way allow anyone to act wilfully in Hong Kong, and must take effective measures to prevent, contain and counteract external forces from interfering in Hong Kong affairs."
Hong Kong has been wracked by nearly six months of often violent protests, with demonstrators demanding greater democratic freedoms in the Chinese city.
https://www.cnbc.com/2019/12/05/chinese-state-media-blasts-us-bill-condemning-muslim-detainment-camps.html
------
China looks to Muslim world for security and development
ZHU XINGLONG
December 04, 2019
In today's world, security is the foundation of development, while development is a pathway to security.
China attaches great importance to the security of the Middle East, and recently held the Middle East Security Forum in Beijing. At the forum, nearly 200 representatives from various countries, including Saudi Arabia, discussed possible solutions to the main security issues in the Middle East in order to pursue stability and development.
Terrorism and extremist ideologies are a menace to the entire world. Both China and the Arab world are victims of terrorism. From 1990 to 2016, separatists, extremists and terrorists plotted and carried out several thousand acts of terrorism in Xinjiang and other places in China, causing the deaths of numerous civilians from all ethnic backgrounds, and enormous amounts of property damage. In the "July 5" incident in Xinjiang that shocked the world in 2009, 197 people were killed and more than 1,700 injured.
The international community must come together to combat these terrorists who betray their countries and beliefs. Unfortunately, some countries apply double standards in combating counter-terrorism — choosing to enforce rules that suit their purposes, but discarding those they deem obstructive, using it as a tool to maintain hegemony and geopolitical competition.
They identify terrorism with specific countries and religions, while turning a blind eye to other countries' efforts and achievements in safeguarding security and combating terrorism and extremism, and seek to encourage attacks on certain countries under the pretext of democracy and human rights.
Recently, some certain countries and individuals have started to highlight the so-called "Xinjiang issue" again, in an attempt to slander China's efforts to combat terrorism and de-radicalization, and to sow discord between China and the Islamic world.
The issue Xinjiang faces is not about ethnicity, religion or human rights. Rather, it is about fighting violence, terrorism and separatism. At the third session of the Committee on the Elimination of Racial Discrimination not long ago, more than 60 countries — including many friendly Islamic countries — all supported China by commending in their statements the human rights achievements in Xinjiang and the fruits of counter-terrorism and deradicalization, as well as supporting China's stance over Xinjiang. This illustrated that justice naturally inhabits man's heart.
China is a diverse country in which all religions, including Islam, are treated equally and coexist in harmony.
According to the Constitution of the People's Republic of China: "Citizens of the People's Republic of China enjoy freedom of religious belief." Muslims in China, particularly in Xinjiang, fully enjoy that freedom of belief. The territory is home to more than 20,000 mosques, 29,000 clerical personnel and eight religious colleges.
Moreover, the Chinese government has regularly sent religious students and clerical personnel to colleges and universities in Islamic countries and has established scholarships for them.
Members of all ethnic groups are insistent in their demands that terrorism be punished, and that their lives and property should be protected. Therefore, having drawn on the experience of friendly countries including Saudi Arabia, the Chinese government has taken counter-terrorism and de-radicalization measures and eliminated the sources of terrorism and extremism.
The establishment of vocational education and training centers in Xinjiang is a concrete step in China's implementation of the international community's counter-terrorism and de-radicalization initiatives, including the UN Global Counter-Terrorism Strategy and the Plan of Action to Prevent Violent Extremism.
The centers help people who have been influenced by extremist and terrorist ideologies, and enable them to master the skills necessary to reintegrate into society through language, law and vocational skills.
There hasn't been a single violent terrorist incident in Xinjiang for three years now. This shows that the de-radicalization and preventive counter-terrorism measures adopted there have achieved tangible results, and greatly improved the sense of security and happiness of people from all ethnic groups in Xinjiang.
As I understand it, more than 20 other countries have implemented similar compulsory programs for terrorists. For example, the UK set up the Desistance and Disengagement Program for convicted terrorists. France has established de- radicalization centers in major communities nationwide, and the US has also introduced "community correction" measures. I believe that the ideas behind these measures are just the same as those behind the vocational education and training centers in Xinjiang.
Since the end of 2018, more than 1,000 representatives have visited the vocational education and training centers, including diplomatic envoys from various countries, officials from international organizations, and media personnel. They have all witnessed the remarkable positive results of Xinjiang's preventive counter-terrorism and de-radicalization measures. They also saw with their own eyes people in Xinjiang enjoying a happy life and the lawful rights of religious freedom and education, and various ethnic groups living in harmony and solidarity.
They agreed after visiting Xinjiang that the counter-terrorism and de-radicalization efforts there are an important contribution to the world and a valuable experience for all to learn from.
As China and many Islamic states are developing countries, China advocates international cooperation to ensure development is effective in removing breeding grounds for terrorism and radical ideologies.
The Belt and Road Initiative proposed by President Xi Jinping in 2013 has won extensive support from, and attracted the participation of, various countries across the world, including Islamic ones. China has signed cooperation documents on the Belt and Road Initiative with 47 Islamic countries.
Gossip dies when it hits a wise person's ears, and seeing is believing. The Chinese government has always regarded Islamic countries as close partners in promoting shared development, safeguarding peace and stability, and building a secure shared future for mankind. China is willing to work with Islamic countries to build a world of lasting peace, universal security and common prosperity, and to realize the peaceful and sustainable development of humanity.
• Zhu Xinglong is counselor at the Embassy of China in Riyadh.
https://www.arabnews.com/node/1594231
------
Turkistan Islamic Party touts captured equipment, training camp in Afghanistan
BY CALEB WEISS
December 4, 2019
The Turkistan Islamic Party (TIP), a largely Uighur jihadist group that is affiliated with al Qaeda and also operates in Syria, released a new video earlier today showcasing it's men fighting in Afghanistan.
The video, dated for November 2019, is largely a photo montage featuring its fighters and their families. However, it also serves to tout its spoils taken from the Afghan military.
Dozens of TIP's men can be seen with captured Afghan military vehicles, including several Humvees. Captured weapons, including M16 and M4 variant rifles, can also be seen in the hands of the jihadists.
In several photos, child soldiers, a recurring theme within TIP propaganda, are also shown with the older militants.
This is not the first time the TIP has highlighted captured Afghan equipment and vehicles. Last year, it released a combat video from Afghanistan which showed several captured Humvees in the aftermath of the battle.
In 2015, a similar video was released in which another Humvee was captured in skirmishes with the Afghan military.
Additionally, photos from a training camp are also featured prominently in today's propaganda film. The camp appears to be an established facility, as it is maintained within a fortified perimeter. The camp is also shown in varying degrees of weather, indicating it is not a temporary fixture.
However, it is unknown where the training camp is located. Given the terrain featured in the photos, it is likely in northern Afghanistan. This tracks with a statement made by the U.S. military last year wherein it reported striking a TIP training camp in Badakhshan.
The TIP is also known to operate several training camps inside Syria, where it has played a prominent role inside Idlib and its surroundings since 2015.
Jihadist training camps in Afghanistan
Despite the presence of U.S. forces dedicated to targeting terrorist groups in Afghanistan, these organizations have been able to establish and operate training camps throughout the country.
For instance, the Taliban has publicly flaunted at least 20 of its training camps since the end of 2014. In late 2015, the Taliban announced that its Khalid bin Walid Camp operated 12 satellite facilities throughout Afghanistan, and had the capacity to "train up to 2,000 recruits at a single time."
In 2015, the U.S. raided an al Qaeda camp in Bermal district in Paktika, and two others in the Shorabak district in Kandahar province. Al Qaeda has also operated camps in Kunar and Nuristan.
Harakat-ul-Mujahideen, a Pakistani jihadist group that is closely allied with al Qaeda, "operates terrorist training camps in eastern Afghanistan," the U.S. government stated in 2014.
Last year, the U.S. military also struck a Pakistani Taliban training camp in Kunar.
And the Uzbek groups, Islamic Jihad Union and Katibat Imam al Bukhari, both of which also operate in Syria, have advertised their own training camps inside Afghanistan.
https://www.longwarjournal.org/archives/2019/12/turkistan-islamic-party-touts-captured-equipment-training-camp-in-afghanistan.php
------
NATO welcomes continued efforts towards peace in Afghanistan; reaffirms commitment to Afghan security forces
Wednesday, 04 Dec 2019
LONDON – Jens Stoltenberg, NATO Secretary General in a press conference following the NATO Leaders Meeting in London expressed that the Alliance welcome continued efforts towards peace in Afghanistan; reaffirms commitment to Afghan security forces.
"I welcome the efforts to restart the peace talks. NATO supported the talks because we believe that we need a political negotiated solution in Afghanistan.", said the Secretary General.
He also said that NATO welcomes 'Ceasefire' as a precondition or at least reduction in violence before the talks resume.
" welcome also of course the efforts to try to either have some kind of ceasefire and or at least a reduction in violence but I will not be specific on the exact preconditions for restarting the peace talks.", He said.
The NATO leaders have also reassured to continue its supports to the Afghanistan National Security Defense Forces as the peace talks restart.
"What I can say is that we are committed to continue to support Afghanistan. Because we strongly believe that the best way NATO can support the peace efforts is to train, assist and advise the Afghan security forces so that the Taliban understand that they will never win on the battlefield.", Stoltenberg said.
This comes as the U.S peace envoy, Zalmai Khalilzad arrived in Kabul on Wednesday for the revival of the peace negotiations.
The 2 days 'NATO's 70th anniversary and the leaders meeting' was held on the 3-4 December 2019 in London.
Twenty Nine leaders from the NATO alliance countries gathered in London on Wednesday to celebrate the organization's 70th year anniversary and discussed the NATO's role in the fight against terrorism, arms control, relationship with Russia and the rise of China.
https://www.khaama.com/nato-welcomes-ceasefire-as-a-pre-condition-in-the-eve-of-afghan-peace-talks-resumption/
------
The only Japanese national with an honorary Afghan citizenship killed on the way to his work in the eastern Jalalabad city
Wednesday, 04 Dec 2019
Tetsu Nakamura, the only Japanese national with a honorary Afghan citizenship died of wounds after an attack in eastern Jalalabad city in Nangarhar province of Afghanistan.
Attaullah Khogyani, the provincial spokesperson for Nangarhar told media that Tetsu Nakamura, a physician and aid-worker was attacked by unknown gunmen in the center of Jalalabad city as he was heading to his office.
The incident occurred at around 8:00 o'clock on Wednesday morning, said Khogyani.
"Tetsu Nakamura was seriously wounded and his four body guards and driver were killed on the attack site", the provincial spokesperson confirmed.
Khogyani further added the Nakamura died of serious wounds at the Jalalabad airport as he was being transferred to Bagram airbase for treatment.
The Taliban has rejected their involvements in killing the Japanese physician and aid-worker. Zabihullah Mujahid tweeted that the insurgent group "has no connection" to Wednesday's attack and does not consider the Japanese charity a target in the holy war the Taliban are waging to create an Islamic emirate.
No other groups or individuals have claimed the responsibility of this attack.
Tetsu Nakamura was a Japanese national who was engaged in managing a charity organization in the eastern Jalalabad city for many many years.
Nakamura had received Afghanistan's honorary citizenship in recognition to his charity services in Afghanistan.
https://www.khaama.com/the-only-japanese-physician-with-a-honorary-afghan-citizenship-killed-in-eastern-nangarhar-province-98743/
------
Europe
Special lecture event to be held at Muslim religious centre after London Bridge attack
4 DEC 2019
ByTom Burnett
A special event is taking place at a Muslim religious centre in Stoke-on-Trent following the London Bridge attack orchestrated by Tunstall terrorist Usman Khan.
The 'Terrorism is never Islamic' event is being held at the Masjid Abi Hurairah on North Road in Cobridge on Friday evening (December 6 2019).
Non-Muslims and Muslims are all welcome to the event, which is scheduled to begin at 7.30pm and will feature special guest speaker Abu Khadeejah Abdul-Waahid.
On Saturday Masjid Abi Hurairah issued a statement condemning the incident - which saw convicted terrorist Khan, aged 28, stab two people to death and injure a number of others before being shot and killed by police.
On social media platform Twitter they said: "Masjid Abi Hurairah unequivocally condemns the recent heinous act committed in London resulting in the killing of innocent lives and the harming of others.
"The religion of Islam and Muslims are free from such atrocities."
A number of Muslim community leaders from North Staffordshire have also already condemned Khan's actions - with Councillor Mohammed Pervez describing Khan as 'pretty much forgotten about'.
The attack was also condemned by the Stafford & District Friends of Faith, which was created to promote good inter-faith relations in Stafford - where Khan was living prior to carrying out his attack.
In a statement issued today the group said: "The Stafford and District Friends of Faith join their voices with the many others to condemn the latest acts of terrorism committed in London on Friday 29th November. Our thoughts, prayers, and sympathies go to the victims of this abhorrent attack and their families.
"Learning that the attacker on this occasion came from within our own neighbourhoods has, of course, brought added distress to many within our communities. Together with people of all faiths and none, we condemn this attack unreservedly.
"No person should ever have to face the pain and sadness brought on by such egregious acts.
"Together we must make a stand against all extremism and work together for a more peaceful and inclusive world."
https://www.stokesentinel.co.uk/news/stoke-on-trent-news/terrorism-london-bridge-event-cobridge-3608865
------
'I Moved To Cambridge And Rediscovered Islam': One Woman's Heart-warming Story Of Acceptance
4 DEC 2019
ByDebbie Luxon
It may come as a surprise to some that 20-year-old Frehya Ashraf didn't start following the teachings of Islam until she moved to England from Sargodha, in Pakistan, ten years ago.
After moving to Cambridge this year, the community she has found here has inspired her to look again at the faith she took for granted in Pakistan - where it was a fact of life among much of the population.
"When I was growing up I wasn't really into Islam," Frehya explains. "But now the feeling I have is very different. Now I read the books, I go to the mosque. I feel I'm coming onto the right path."
She's now on a gap year, before attending Queen Mary University of London to study science and engineering, so she's using the time to reconnect with her faith.
Frehya said living with her cousins and wider family here has opened her mind to other possibilities. "They taught me things I didn't know about before," she says. "The feelings I have towards my religion are different."
Beyond her homestead, the Muslim community of Cambridge, and the wider community have made her feel so welcome that she's felt inspired to get more involved.
"I'm so moved," she says. "I want this to be my culture. I've not had that before."
Her experience of Manchester, where she lived up until moving to Cambridge this year, was much different to her experience here, as she experienced racism there - even, she claims, from the Asian community of which she is a part.
"They'd say things like 'fresh off the boat' and other insults, and my accent was one of the reasons I was bullied at school," she says. "I was excited to move here and see a different culture but the reality is hard.
"For my parents, these comments are normal. They tell us to just ignore them and pretend it's not happening."
https://www.cambridge-news.co.uk/news/cambridge-news/cambridge-islam-muslim-story-acceptance-17338646
------
Alleged IS member Lisa Smith refused bail by Dublin court
By Aoife Moore, PA
05 December, 2019
An alleged member of so-called Islamic State (IS) has been refused bail at a court hearing in Dublin.
Lisa Smith, a 38-year-old Irish citizen and former Irish Defence Forces member, was arrested on Sunday at Dublin Airport on suspicion of terrorist offences after returning from Turkey.
Smith was detained at the city's Kevin Street Garda Station before appearing at Dublin District Court, at the Criminal Courts of Justice, on Wednesday.
She was charged with membership of an unlawful organisation, under 2005 terror legislation, before Mr Justice Colin Daly.
Her lawyer Peter Corrigan told the court Smith had lived most of her life in the Republic of Ireland, going on to progress her career in the Irish Defence Forces, where she showed exemplary behaviour, and joined the Air Corps in 2006.
He said: "After this, she went through a difficult period of her life, suffered severe depression and was suicidal – to sum up, a very vulnerable young woman.
"She was looking for answers to life and in 2011 she found Islam and became a Muslim, and was radicalised.
"Her case is she is a very, very loyal Muslim, and that she was advised by another person, who in retrospect was preying on her vulnerabilities.
"They told her the Koran advised that if there is a caliphate, it is the obligation of all Muslims, irrespective of sects, if the conditions are satisfied in the Koran, have a duty and obligation to the Islamic State under your religious beliefs.
"Living in an Islamic state does not make you guilty."
Mr Corrigan went on to say that Smith travelled to Syria in 2015, and believed it was her moral religious duty to do so.
He said: "Videos were put out throughout the Muslim world saying that this was the promised land, and all Muslims go to this state, and thousands of people did, elderly and professionals."
Mr Corrigan said Smith, who he claimed had been held at a "horrendous" refugee camp with her young daughter, could have absconded elsewhere when the camp was dissolved but chose to return to Ireland, which he says proves she has no allegiance to the terrorist group.
During her three days of interviews, the court heard Smith "answered every question comprehensively".
Mr Corrigan said: "She condemned IS terrorists, and said this continually in interviews, that they are barbaric, to everyone, including Muslims, that they raped them, and treated them horrendously – is this the example of someone who is a committed member, who in most strident terms condemned them?"
The court heard there is "no evidence" of Smith training anyone to fight or that she ever held a gun while in Syria.
Mr Corrigan added Smith is keen to get back to her young daughter and is distressed at being apart from the child, who is currently with her family.
For the prosecution, Garda Sergeant Gareth Kane told the court he could not think of any conditions that he would be comfortable with in which Smith could be bailed, due to the severity of the charges against her.
Mr Kane said in court that during police interviews, Smith admitted being radicalised and pledging allegiance to the Islamic State, and had lived in a house under Islamic State control, according to a witness.
Justice Daly refused bail under the conditions that Smith might be a flight risk, and remanded her to Cloverhill Women's Prison in Dublin.
Her representative requested that she be separated from the general prison population for her own safety.
She will return to court on December 11.
https://www.belfasttelegraph.co.uk/news/republic-of-ireland/alleged-is-member-lisa-smith-refused-bail-by-dublin-court-38753988.html
------
Labour leads on Muslim issues, Tories and Lib Dems lag far behind
Murtaza Ali Shah
December 5, 2019
LONDON: Britain's leading Muslim organization, the Muslim Council of Britain (MCB), has said in a research report that the Labour Party leads on key Muslim issues while Liberal Democrats and Conservatives lag far behind.
In its research report, the MCB has judged each major party's manifesto against the priorities and concerns of their members from Muslim communities across the UK.
On ten key pledges, the Labour manifesto achieved a "Pass" on nine out of the ten, the Liberal Democrats achieved a 50 percent pass rate, and the Conservatives did not achieve a "Pass" on a single one of the policy areas, but were recognised as making progress on various issues.
Tackling racism and Islamophobia is understandably one of the top concerns for British Muslims, but other areas such as health, criminal justice and education feature prominently in the MCB's election pledges.
The commitments were formed after detailed surveys and focus groups of MCB affiliates and amongst Muslim communities.
MCB Secretary General, Harun Khan, said, "We want British Muslims' key concerns - some of which are unique to them but many of which are universal - to be acknowledged and represented across political divides."
"Rather than being a party political issue, we would hope that all parties can agree to policies like working against Islamophobia, protecting health and elderly care, creating equality in education and revitalising our criminal justice system. Currently, Labour Party policies are 90 percent aligned with those pledges from Muslim communities, but we want to see a world where Muslims can vote for whoever they are politically inclined towards."
"The failure of the Conservative Party to tackle the structural Islamophobia within its ranks appears to be only one of the many concerns Muslim communities are likely to have with the Party, which may lead conservative-leaning Muslim voters to cast their ballot for someone else."
Muslim groups have called on the leading political parties to adopt the All Parties Parliamentary Group (APPG) on British Muslims definition of Islamophobia across the UK, defining Islamophobia as being rooted in racism and as a type of racism that targets expressions of Muslimness or perceived Muslimness; defend the right of Muslims – and people of all faiths – to express their faith, be that in religious clothing, food and reasonable accommodation of religious observance; commit to proactively engage with a broad and representative spectrum of British Muslim communities to ensure a plurality of views are being considered; safeguard visitors at places of worship, by providing support and funding for any Muslim institutions to implement safety measures, in line with other faith groups; encourage the resettlement of refugees across the UK, working with communities to address and tackle issues faced by refugees resettling in Britain.
Political parties have been called on to enhance democracy by enabling increased participation of minorities and women in politics and public life, addressing the underlying socio-economic challenges in place; address the disparity of treatment and outcomes for BAME people within the criminal justice system.
Rebuild trust with Muslim communities by ensuring all counter-terror legislation is evidence-led, non-discriminatory, and open to evaluation; and ensure a fair approach to educational provision for all children, with a syllabus that reflects the diversity of communities, with appropriate parent involvement.
https://www.thenews.com.pk/print/578796-labour-leads-on-muslim-issues-tories-and-lib-dems-lag-far-behind
------
Denmark Strips Third Islamic State Member of Passport
CHRIS TOMLINSON
4 Dec 2019
Denmark has announced that another Islamic State member will have their passport and citizenship revoked in what has become the third case in just over a week.
The first case involved a 25-year-old Kurdish man who had joined Islamic State as a fighter and had attempted to come back to Denmark from Istanbul for over a year, Danish newspaper Berlingske reports. The 25-year-old had been given a prison sentence in his absence in absentia in Denmark for joining the terror group in 2016.
The second case involved a 30-year-old woman who moved to the former Islamic State capital of Raqqa, where she married a Danish fighter named Rawand Taher and worked at a clinic in the city.
The woman, who spent around four years in the Islamic State, later married an Afghan fighter after the death of Taher in a 2015 drone strike. She was then captured by Kurdish forces and currently resides in a Kurdish-run camp.
The identity of the third individual to has so far not been revealed by Danish authorities.
All three cases, which have been pursued by Foreign Minister for Immigration and Integration Mattias Tesfaye, have come in just over a week and take advantage of legislation passed in October that allows the government to strip the citizenship of dual nationals deemed a severe security risk to the country.
Danish Prime Minister Mette Frederiksen justified the policy in October stating: "These are people who have turned their backs on Denmark and fought with violence against our democracy and freedom. They pose a threat to our security. They are unwanted in Denmark."
Denmark has faced several radical Islamic threats in recent years, most recently a plot that involved a 33-year-old Muslim man in Copenhagen plotting to murder the Danish and Swedish royal families.
https://www.breitbart.com/europe/2019/12/04/denmark-strips-third-islamic-state-member-of-passport/
------
'Nasty', 'two-faced', 'brain dead': Nato pulls off summit despite insults
Dec 4, 2019
WATFORD (ENGLAND): Nato leaders set aside public insults ranging from "delinquent" to "brain dead" on Wednesday, declaring at a 70th anniversary summit they would stand together against a common threat from Russia and prepare for China's rise.
Officials insisted the summit was a success: notably, Turkey's President Tayyip Erdogan backed off from an apparent threat to block plans to defend northern and eastern Europe unless allies declared Kurdish fighters in Syria terrorists.
But the meeting began and ended in acrimony startling even for the era of US President Donald Trump, who arrived declaring the French president "nasty" and left calling Canada's prime minister "two-faced" for mocking him on a hot mic.
"We have been able to overcome our disagreements and continue to deliver on our core tasks to protect and defend each other," Nato's ever-optimistic Secretary-General Jens Stoltenberg told a news conference.
In a joint declaration, the leaders said: "Russia's aggressive actions constitute a threat to Euro-Atlantic security; terrorism in all its forms and manifestations remains a persistent threat to us all."
The half-day summit at a golf resort on the outskirts of London was always going to be tricky, with officials hoping to avoid acrimony that burst forth at their meeting last year when Trump complained about allies failing to bear the burden of collective security.
But this year's meeting was made even more difficult by Erdogan, who launched an incursion into Syria and bought Russian missiles against the objections of his allies, and by French President Emmanuel Macron, who had described the alliance's strategy as brain dead in an interview last month.
In public it seemed to go worse than expected, beginning on Tuesday when Trump called Macron's remarks "very, very nasty" and described allies who spend too little on defence as "delinquents" — a term officials said Trump used again on Wednesday behind closed doors during the summit itself.
At a Buckingham Palace reception on Tuesday evening, Canada's Justin Trudeau was caught on camera with Macron, Britain's Boris Johnson and Mark Rutte of the Netherlands, laughing at Trump's long press appearances. "You just watched his team's jaws drop to the floor," said Trudeau.
By the time the summit wound up on Wednesday, Trump had decided not to hold a final press conference, saying he had already said enough. "He's two-faced," Trump said of Trudeau.
Huawei security risk
Nevertheless, officials said important decisions were reached, including an agreement to ensure the security of communications, including new 5G mobile phone networks. The United States wants allies to ban equipment from the world's biggest telecoms gear maker, Chinese firm Huawei.
"I do think it's a security risk, it's a security danger," Trump said in response to a question on Huawei, although the leaders' declaration did not refer to the company by name.
"I spoke to Italy and they look like they are not going to go forward with that. I spoke to other countries, they are not going to go forward," he said of contracts with Huawei.
Ahead of the summit, Johnson — the British host who faces an election next week and chose to avoid making any public appearances with Trump — appealed for unity.
"Clearly it is very important that the alliance stays together," he said. "But there is far, far more that unites us than divides us."
Macron held his ground over his earlier criticism of Nato's strategy, saying as he arrived that it was important for leaders to discuss issues in an open and forthright manner if they were to find solutions.
"I think it's our responsibility to raise differences that could be damaging and have a real strategic debate," he said. "It has started, so I am satisfied."
One of Macron's chief complaints is that Turkey, a Nato member since 1952 and a critical ally in the Middle East, has increasingly acted unilaterally, launching its incursion in Syria and buying Russian S-400 anti-aircraft missiles.
In his comments to the press, Stoltenberg said that while Russia was a threat, Nato also wanted to ensure a constructive dialogue with it. He added, in a reference to Turkey, that the S-400 system was in no way compatible with Nato's defence.
At the summit, Europe, Turkey and Canada pledged to spend an extra $400 billion on defence by 2024, responding to Trump's accusations that they spend too little. Germany, a frequent target of Trump's blandishments, has promised to spend 2% of national output by 2031.
France and Germany also won backing for a strategic review of Nato's mission, with the alliance set to establish a "wise persons" group to study how the organisation needs to reposition for the future. That could involve shifting its posture away from the East and towards threats in the Middle East and Africa.
https://timesofindia.indiatimes.com/world/europe/nasty-two-faced-brain-dead-nato-pulls-off-summit-despite-insults/articleshow/72372667.cms
------
France's Macron Accuses Turkey's Erdogan of Working with Islamic State
FRANCES MARTEL
4 Dec 2019
The remark is the latest in accusations that have mounted for years against Islamist President Recep Tayyip Erdogan that his government, at best, has been too permissive with Islamic State jihadists seeking to cross into the Syrian Civil War theater and, in the worst-case scenario, has actively aided and abetted Islamic State terrorists.
Erdogan dispatched the military into Syria in October for "Operation Peace Spring," an invasion alongside the Free Syrian Army (FSA), a coalition of militias known to include al-Qaeda elements.
Operation Peace Spring's goal was to eradicate the indigenous Kurdish presence of northern Syria to make room for mostly Arab Sunni refugees currently in Turkey, a plan the Kurds have repeatedly described as ethnic cleansing.
The Syrian Democratic Forces (SDF), the group Turkey invaded to attack, is a coalition largely led by Syrian Kurdish forces that also includes Christians and other ethnic minorities. The SDF has close ties to the government of France.
During a press conference with Trump at the ongoing North Atlantic Treaty Organization (NATO) summit in London, Macron took a moment to address tensions with fellow NATO member Turkey over its cooperation with radical Islamic groups in Syria.
"The common enemy today is the terrorist groups. I'm sorry to say, we don't have the same definition of terrorism around the table," Macron said of Turkey and France.
"When I look at Turkey, they now are fighting against those who fought with us. And sometimes they work with ISIS proxies," Macron said. "We have lost cooperation with Turkey, on security and trade and migration and European Union and France."
The SDF, which Erdogan attacked, was America's most reliable ally on the ground in Syria and largely responsible for the defeat of the Islamic State in its "capital," Raqqa. SDF intelligence was also instrumental in finding, capturing, and neutralizing Abu Bakr al-Baghdadi, the "caliph" of the terrorist organization.
Macron also condemned Erdogan for insisting on purchasing an S-400 missile system from Russia, which is not interoperable with NATO standard equipment, a violation of NATO protocol.
"How is it possible to be a member of the alliance, to work with – to be integrated and buy things from Russia?" Macron denounced.
Macron's comments were tame compared to Erdogan's incendiary statements in response to Macron's remarks about NATO generally in an interview last month. Macron had told The Economist that he feared for the viability of the alliance, declaring, "What we are currently experiencing is the brain death of NATO."
"I am talking to France's President Emmanuel Macron, and I will also say this at NATO. First of all, have your own brain death checked. These statements are suitable only to people like you who are in a state of brain death," Erdogan responded in televised remarks in Turkey.
Erdogan's Foreign Minister Mevlut Cavusoglu also accused Macron of engaging in terrorist activities in remarks last week.
"In any case, he (Macron) is sponsoring the terrorist organisation, he receives them regularly at the Elysee (presidential palace)," Cavusoglu said, referring to SDF leaders. "Let Macron not forget… Turkey is also a member of NATO. That it stands by its allies."
The government of Turkey considers the SDF a terrorist organization and a proxy of the Kurdistan Workers' Party (PKK), a Marxist terrorist organization. The United States has designated the PKK a terrorist organization but cooperates with the SDF. The PKK has also fought the Islamic State in northern Iraq, helping defeat them amid the group's genocide of Iraq's Yazidi minority.
Macron's comments on the "brain death" of NATO did not find support from Trump, who referred to them as "very, very nasty" and "insulting to a lot of different forces" in remarks Tuesday. In a different press conference alongside Macron, Trump also said that Turkey had been "very helpful" in finding and cornering al-Baghdadi and that Erdogan's government was "very supportive, actually."
Trump also appeared to pressure Macron to help American and Kurdish forces in Syria handle European nationals captured fighting for ISIS.
"Would you like some nice ISIS fighters? You can take everyone you want," Trump asked Macron, which left the French president "visibly irritated," according to Reuters. Macron replied that Europeans fighting for ISIS were a "tiny minority of the overall problem."
"This is why he's a great politician, because that was one of the greatest non-answers I've ever heard, and that's okay," Trump replied.
Erdogan calling Macron "brain dead" was the latest chapter in a tumultuous relationship between the two leaders. Last year, following a meeting between Macron and SDF leaders, Erdogan threatened France with a flood of terrorists "fleeing from Syria and Iraq," and a key deputy warned that Turkey would treat French forces like terrorists if Macron insisted on his alliance with the Kurds.
"Those who host at the highest level the members of a terrorist organisation, which has been freely carrying out its activities in their countries, should be aware that this is nothing but an expression of hostility against Turkey," Erdogan said. "Those who get into bed with terrorists and even welcome them at their palaces will sooner or later see the mistake they have made. We hope they will not dare to seek our help when France is filled with terrorists fleeing from Syria and Iraq after being encouraged by French policies."
"Those who enter into cooperation and solidarity with terror groups against Turkey … will, like the terrorists, become a target of Turkey. We hope France does not take such an irrational step," Turkish Deputy Prime Minister Bekir Bozdag said.
https://www.breitbart.com/europe/2019/12/04/frances-macron-accuses-turkeys-erdogan-of-working-with-islamic-state/
------
Southeast Asia
Islamic finance industry to see surge in demand from youngsters
November 30, 2019
Most of demand likely to come from GCC/Middle East, followed by Asia, particularly Indonesia and Malaysia, and also from Africa
The $2.6 trillion global Islamic finance industry, which is getting popular among non-Muslims also, will see a major surge in demand in the next five years from young high networth individuals, according to a report.
Individuals aged 25-50 will be the key driver of demand, and are forecast to account for more than half (55 per cent) of this increase, versus 33 per cent from family offices and 12 per cent from institutions, said the report commissioned by Jersey Finance and Hubbis. At present, it is those aged 50-70 who use Islamic wealth management products/solutions the most, accounting for 59 per cent of the total.
The report, The Evolution of Wealth Management in the World of Islamic Finance 2019, said most of the demand is likely to come from the GCC/Middle East, followed by Asia, particularly Indonesia and Malaysia, and also from Africa.
Today, Malaysia leads the ranks as the largest Islamic finance hub, Dubai is noted as the second 'most sought-after jurisdiction', followed by Jersey in third.
According to the 10th Global Islamic Finance Report (GIFR) 2019, the estimated figure for the global Islamic financial industry at the end of 2018 was $2.6 trillion after recording a growth of 6.58 per cent.
According to Professor Humayon Dar, director-general the of Cambridge Institute of Islamic Finance and founder of GIFR, Islamic finance as an industry has been witnessing substantial growth in the past decade, but its growth rate has steadily declined since 2013 from 11.16 per cent to 6.02 per cent in 2017. After five years of declining trend, the industry has once again picked up to register annual growth in assets of 6.58 per cent during 2018.
The report by Jersey Finance and Hubbis highlights that promoters of Islamic wealth management - from the providers to the regulators - are gearing up to offer a greater array of Shariah-compliant wealth management products and solutions to a client base that is generating private wealth at a remarkable rate.
Socially-responsible investing and products offering environmental, social and governance standards are driving the increase in demand for Islamic wealth management products/solutions.
Faizal Bhana, director for the Middle East and Gulf at Jersey Finance, said the report shows that Islamic finance is no longer a niche product for Muslim investors alone.
"Rather, we're seeing more non-Muslim families and institutional investors seeking both performance and long-term value, as an alternative to conventional products and solutions."
As demand grows, the report called for "better structures and proper governance". Islamic Finance hubs in the Middle East, Dubai and Bahrain are examples of jurisdictions that are revamping their trust regimes and will continue to improve its regulatory framework and market initiatives to vie for the top spot.
The global Islamic finance market is growing moderately, because of the strong investments in the halal sectors, infrastructure and sukuk bonds, especially through electronic modes in all products and services. The factors driving the growth of the market are directing investment toward the tremendous growth opportunities in the promising Islamic sectors.
Islamic banking is the largest sector in the Islamic finance industry, contributing to 71 per cent, or $ 1.72 trillion, of the industry's assets.
https://www.khaleejtimes.com/business/banking-finance/young-hnwis-to-drive-26t-islamic-finance-industry
------
Yuz Museum and Lacma confident they can show Middle Eastern art in China—despite crackdown on Islam
4th December 2019
Shanghai's Yuz Museum and the Los Angeles County Museum of Art (Lacma) are not letting legalities or politics slow their ambitious partnership, with a joint exhibition series and a new collaboration with Qatar Museums kicking off last month. Although plans to establish a joint foundation that will preserve Yuz founder Budi Tek's extensive collection of Chinese contemporary art in Shanghai are not yet finalised, Lacma's chief executive and director Michael Govan anticipates that "by next year, [the foundation] should be fully operational."
Tek says that the months of political turmoil in Hong Kong have had no impact on the progress of the joint venture, or on Yuz's existing foundation, which is based in the Special Administrative Region. "I do not consider that to be a problem at all," Tek says. "It is never in my mind that whatever happens in Hong Kong will affect our programme, or our [future] achievements."
Qatar Museums' involvement will focus on exhibitions and not extend to the foundation. Middle Eastern and Islamic art is rarely shown in mainland China: the Solomon R. Guggenheim Museum's touring exhibition of Middle Eastern contemporary art But a Storm Is Blowing From Paradise was abruptly cancelled a month before it was due to open at Shanghai's Rockbund Art Museum in 2017, and the Yinchuan Art Museum's previous mission to bring Islamic art to China has been quietly terminated. A film by US-based Emirati artist Farah Al Qasimi, with secular content but strong Gulf cultural context, is notable for its inclusion in the show D.E.E.P (Disaster of Extra Epic Proportions) (until 13 December) at the Chi K11 Art Museum in Shanghai.
Leaked Chinese government documents first published by the New York Times in mid-November revealed that the mass detention of Muslims in the northwest region of Xinjiang is part of a national campaign restricting Islam. Tek and Govan, however, do not foresee any troubles in bringing Qatar's exhibitions to Shanghai.
"Here it is very open," Tek says. Although he acknowledges that the Chinese authorities "review and view every programme that we are going to show" at the Yuz Museum, he says this is "not because of religion, or which country [the art] is coming from", but a way to ensure local audiences are not offended by "things that are not part of the culture in China".
Lacma is "one of the most aggressive museums in the world collecting art of the Middle East… and I am sure that a lot of that will find its way here," Govan said in an interview in Shanghai last month. "So much of it is universal in its content, I think actually it will find a big audience here. That's what happening: artists are using their own cultural identities, but always thinking about general humanity."
Sheikha Al Mayassa Bint Hamad Bin Khalifa Al-Thani, the chair of Qatar Museums, notes that her institution has had links with China since 2011, including an exhibition of pearls at the National Museum of China in Beijing in 2016, the Qatar-China Year of Culture. She says that Doha and Shanghai have in common "vibrant cultural scenes, with world-class museums that are on the cutting edge of contemporary art and visitor engagement", but the differences between their collections "complement each other in terms of the exhibition programme that will happen between the two cities".
https://www.theartnewspaper.com/news/behind-the-scenes-of-yuz-museum-s-landmark-partnership-with-lacma-and-qatar
------
Malaysia opens Palestinian embassy in Amman
December 4, 2019
AhlulBayt News Agency (ABNA): Malaysia has opened an "Embassy to Palestine" in Jordan, after Israeli authorities purportedly refused to grant officials from the Southeast Asian country access to the seat of the Palestinian Authority, in the central occupied West Bank city of Ramallah.
Israeli English-language broadsheet newspaper, The Jerusalem Post, reported that the Israeli foreign ministry took the measure in response to what it described as various "anti-Semitic" and anti-Israel statements made by Malaysian Prime Minister Mahathir Mohamad.
As a result, Malaysia opened an "Embassy to Palestine" in the Jordanian capital city of Amman, the report asserted.
This is while Malaysian Foreign Minister Saifuddin Abdullah had earlier stated that his country plans to open an embassy accredited to Palestine in Jordan because it has no diplomatic ties between Kuala Lumpur and Tel Aviv.
That is the main reason why we cannot open our office in Ramallah, in West Bank. If our embassy is opened in Ramallah, Malaysia will need to officially engage with Israel for logistics, administrative and immigration matters," he said on October 31.
Saifuddin said the Malaysian government was taking the necessary steps in order to realize the opening of the embassy as soon as possible.
"Our ministry is in the midst of gathering information to implement this decision and getting feedback and experiences from parties that had opened diplomatic missions or embassies in Palestine," he said then.
Al Ray further reports that, on October 25, Mahathir announced that Malaysia will open an embassy accredited to Palestine, to enable it to extend aid to Palestinians more easily.
On September 8 last year, Malaysia launched a national fundraising campaign to support Palestine refugees, through the United Nations Relief and Works Agency for Palestine refugees in the Near East (UNRWA).
The campaign sought to mobilize resources for the UNRWA at a time when the UN body faces a financial crisis after the United States, one of its leading supporters, announced its decision to no longer fund the agency.
Palestine currently has an embassy in Kuala Lumpur, and the diplomatic mission is headed by Ambassador Anwar al-Agha.
Malaysian Ambassador to Egypt, Mohd Haniff Abd Rahman, is accredited to Palestine.
https://en.abna24.com/news//malaysia-opens-palestinian-embassy-in-amman_991409.html
------
Typhoon Kammuri death toll hits 13 in Philippines
Dec 5, 2019
MANILA: The number of people killed by Typhoon Kammuri's pounding of the Philippines this week has hit 13, officials said on Thursday, as authorities confirmed reports of storm-related deaths.
Kammuri's fierce winds toppled trees and flattened flimsy homes across a swathe of the nation's north on Tuesday, and forced a rare 12-hour shutdown of Manila's international airport.
Authorities said on Wednesday one person had drowned while three died after being hit by trees and flying objects.
Disaster officials did not offer details on how the other victims died, but local police reports indicated some may have drowned or been crushed by trees.
Mark Timbal, spokesman for the national disaster agency, said no new bodies have been found but the death toll could rise as reports on the ground are verified.
"There is the possibility of an increase in the number, but we are hoping against it," Timbal told AFP.
Hundreds of thousands of people living in exposed or low-lying areas were evacuated from their homes before Kammuri made landfall late Monday, which authorities said had saved lives.
Still the storm damaged 135 schools and destroyed nearly 1,200 homes, with crop damage in the hardest hit areas estimated to reach nearly $16 million.
The Philippines is hit by an average of 20 storms and typhoons each year, killing hundreds and putting people in disaster-prone areas in a state of constant poverty.
President Rodrigo Duterte is scheduled to visit on Thursday the Bicol region, a peninsula south of Manila which was hit hard by the typhoon.
Ninoy Aquino international airport was closed half of Tuesday as a precaution, affecting over 500 flights, while roughly half the day's programme at the Southeast Asian Games, hosted by Manila and nearby cities, had to be postponed.
https://timesofindia.indiatimes.com/world/south-asia/typhoon-kammuri-death-toll-hits-13-in-philippines/articleshow/72379336.cms
------
Mideast
Iran's Emissaries of Terror: How Mullahs' Embassies Run the Network of Espionage and Murder
The National Council of Resistance of Iran-U.S. (NCRI-US) is an outgrowth of the Iranian political group known as the Mujahedeen-e Khalq (MEK) or People's Mujahedeen of Iran. It has a well-deserved reputation for exaggeration and misrepresentation as well as for a cult-like lack of transparency. NCRI-US regularly represents itself as an important factor in the opposition inside Iran, which is simply not the case. It has also been less than transparent about the exorbitant speaker fees it has paid to eminent Americans. Despite presenting itself as committed to democracy, internally it is the exact opposite: Dedicated core members—now living in a camp in Albania, after being thrown out of their long-time camp in Iraq—are subject to strict rules set from the top.
That said, NCRI-US sometimes does excellent work. Iran's Emissaries of Terror is in fact a very useful account. Much of the volume details recent plots—many, but not all, against the NCRI—in which Iranian diplomats have been directly implicated. The book also recounts the long history of Iranian officials' direct role in terror attacks from the earliest days of the Islamic Republic. The volume includes chapters about Iranian embassies in seven European countries (Albania, Austria, France, Germany, Italy, Sweden, Switzerland, and Turkey) and profiles eleven key individuals in the Iranian government's terror apparatus with important information about their backgrounds and careers. In addition, the book explains the role of five key institutions in ordering and executing terrorist attacks. It also reproduces newspaper articles about the Iranian regime's direct role in terrorism in Europe and North America.
But Iran's Emissaries of Terror has serious limitations. It is sometimes too quick to accept the Islamic Republic's explanations: for instance, the idea that the Ministry of Intelligence and Security was created in 1984 not only from the Islamic Revolutionary Guard Corps' intelligence wing but also from the shah's intelligence agency SAVAK, which continued to function after the revolution. And the main limitation is that Iran's Emissaries of Terror is con
fined to Europe and North America while the principal Iranian embassies that organize terrorism are in the Middle East, notably Iraq and Lebanon. The volume has very little about the many Iranian-sponsored terror attacks against Middle Easterners—mostly Israelis, but also Saudis, Syrian dissidents, and anti-Iranian Iraqis and Lebanese.
https://www.meforum.org/60032/irans-emissaries-of-terror
------
Hizballah Operative Sentenced To 40 Years In Prison For Covert Terrorist Activities On Behalf Of Hizballah's Islamic Jihad Organization
Tuesday, December 3, 2019
Ali Kourani Was Trained by Hizballah's External Terrorist Operations Component and Gathered Intelligence in New York City in Support of Attack-Planning Efforts
Geoffrey S. Berman, the United States Attorney for the Southern District of New York, John C. Demers, Assistant Attorney General for National Security, William F. Sweeney Jr., Assistant Director-in-Charge of the New York Office of the Federal Bureau of Investigation ("FBI"), and Dermot F. Shea, Commissioner of the New York City Police Department ("NYPD"), announced today that ALI KOURANI was sentenced to 40 years in prison based on terrorism, sanctions, and immigration convictions arising from KOURANI's illicit work as an operative for the Islamic Jihad Organization, Hizballah's external attack-planning component.
Manhattan U.S. Attorney Geoffrey S. Berman said: "Ali Kourani was recruited, trained, and deployed by Hizballah's Islamic Jihad Organization to plan and execute acts of terrorism around New York City. After spending years conducting surveillance on the City's critical infrastructure, federal buildings, international airports, and even daycare centers, he is now the first Islamic Jihad Organization operative to be convicted and sentenced for his crimes against the United States. The lengthy prison term imposed today on Kourani sends an important message to Hizballah and the Islamic Jihad Organization: If you are caught planning harm against this City and its residents, you will face justice and be held accountable."
Assistant Attorney General John C. Demers said: "While living in the United States, Kourani served as an operative of Hizballah in order to help the foreign terrorist organization prepare for potential future attacks against the United States. With today's sentence, he is being held accountable for his crimes. The evidence at trial showed that Kourani searched for suppliers who could provide weapons for such attacks, identified people who could be recruited or targeted for violence, and gathered information about and conducted surveillance of potential targets within our country. Such covert activities conducted on U.S. soil are a clear threat to our national security and I applaud the agents, analysts, and prosecutors who are responsible for this investigation and prosecution."
FBI Assistant Director William F. Sweeney Jr. said: "Ali Kourani's arrest was a reminder to us all that New York City and its surrounding areas remain primary targets for those looking to conduct a violent attack against our way of life. His sentencing today, however, is also a reminder of the many successes of our FBI JTTFs nationwide, and their never-ending determination to disrupt the plans of those working to harm us."
Police Commissioner Dermot F. Shea said: "This sentencing is an another example of the dedicated work of the New York Joint Terrorism Task Force and the close partnership with the U.S. Attorney's Office, Southern District, to combat terror and hold accountable those who seek to support and promote terrorist groups. I thank the NYPD investigators and our law enforcement partners whose hard work brought Mr. Kourani to justice."
As reflected in the criminal Complaint, Indictment, court filings, and evidence presented at trial:
Hizballah is a Lebanon-based Shia Islamic organization with political, social, and terrorist components that was founded in the 1980s with support from Iran. Since Hizballah's formation, the organization has been responsible for numerous terrorist attacks that have killed hundreds, including United States citizens and military personnel. In 1997, the U.S. Department of State designated Hizballah a Foreign Terrorist Organization, pursuant to Section 219 of the Immigration and Nationality Act, and it remains so designated today. In 2010, State Department officials described Hizballah as the most technically capable terrorist group in the world, and a continued security threat to the United States.
The Islamic Jihad Organization (IJO), which is also known as the External Security Organization and "910," is a highly compartmentalized component of Hizballah responsible for the planning, preparation, and execution of intelligence, counterintelligence, and terrorist activities on behalf of Hizballah outside of Lebanon. In July 2012, an IJO operative detonated explosives on a bus transporting Israeli tourists in the vicinity of an airport in Burgas, Bulgaria, killing six people and injuring 32 others. Law enforcement authorities have disrupted several other IJO attack-planning operations around the world, including the arrest of an IJO operative surveilling Israeli targets in Cyprus in 2012, the seizure of bomb-making precursor chemicals in Thailand in 2012, including chemicals manufactured by a medical devices company based in Guangzhou, China (Guangzhou Company-1), and a similar seizure of chemicals manufactured by Guangzhou Company-1 in Cyprus in May 2015 in connection with the arrest of another IJO operative.
KOURANI, who was born in Lebanon, attended Hizballah-sponsored weapons training in Lebanon in 2000 when he was approximately 16 years old. After lawfully entering the United States in 2003, KOURANI obtained a Bachelor of Science in biomedical engineering in 2009, and a Master of Business Administration in 2013.
KOURANI and certain of his relatives were in Lebanon during the summer 2006 conflict between Israel and Hizballah, when a residence belonging to his family was destroyed. At some point by 2008, IJO recruited KOURANI to its ranks. In August 2008, KOURANI submitted an application for naturalization in the United States in which he falsely claimed, among other things, that he was not affiliated with a terrorist organization. In April 2009, KOURANI became a naturalized citizen and was issued a United States passport. Despite claiming in his passport application that he had no travel plans, KOURANI traveled to Guangzhou, China – the location of Guangzhou Company-1 – on May 3, 2009. The purpose of the trip was to develop relationships that the IJO could rely on to obtain ammonium nitrate to be used as an explosive precursor chemical.
IJO assigned KOURANI an IJO handler, or mentor, responsible for providing him with taskings, debriefings, and arranging training. KOURANI sometimes communicated with his handler using coded email communications, including messages sent by the handler that informed KOURANI of the need to return to Lebanon. In order to establish contact with his handler when KOURANI returned to Lebanon, KOURANI called a telephone number associated with a pager (the IJO Pager) and provided a code that he understood was specific to him. After contacting the IJO Pager, the handler would contact KOURANI to set up an in-person meeting by calling a phone belonging to one of KOURANI's relatives. The IJO also provided KOURANI with additional training in tradecraft, weapons, and tactics. In 2011, for example, KOURANI attended a weapons training camp in the vicinity of Birkat Jabrur, Lebanon, where he used a rocket-propelled grenade launcher, an AK-47 assault rifle, an MP5 submachine gun, a PKS machine gun (a Russian-made belt-fed weapon) and a Glock pistol.
Based on other taskings from IJO personnel, which IJO personnel conveyed during periodic in-person meetings when KOURANI returned to Lebanon, KOURANI conducted operations, which he understood to be aimed at preparing for potential future Hizballah attacks. These covert activities included searching for weapons suppliers in the United States who could provide firearms to support IJO operations; identifying individuals affiliated with the Israeli Defense Force whom the IJO could either recruit or target for violence; gathering information regarding operations and security at airports in the United States and elsewhere, including JFK International Airport in New York; and surveilling U.S. military and law enforcement facilities in New York City, including the federal building at 26 Federal Plaza in Manhattan. KOURANI transmitted some of the products of his surveillance and intelligence-gathering efforts back to IJO personnel in Lebanon using digital storage media.
* * *
In addition to the prison term, KOURANI, 35, was also sentenced to five years of supervised release.
Mr. Berman praised the outstanding efforts of the FBI's New York Joint Terrorism Task Force, which principally consists of agents from the FBI and detectives from the New York City Police Department. Mr. Berman also thanked the Counterterrorism Section of the Department of Justice's National Security Division.
This prosecution is being handled by the Office's Terrorism and International Narcotics Unit. Assistant U.S. Attorneys Amanda L. Houle and Emil J. Bove III are in charge of the case, with assistance from Trial Attorney Bridget Behling of the Counterterrorism Section.
https://www.justice.gov/usao-sdny/pr/hizballah-operative-sentenced-40-years-prison-covert-terrorist-activities-behalf
------
Turkish president Erdoğan expected to attend Cambridge Central Mosque opening
04 December 2019
By Gemma Gardner
The President of Turkey Recep Tayyip Erdoğan is expected to visit the city tomorrow (Thursday, December 4) for the official inauguration of the new Cambridge Central Mosque.
The President has been in the UK this week for the NATO summit in London.
It is expected that the President will travel to Cambridge where he will attend the opening ceremony with the Turkish Minister of Foreign Affairs, Treasury and Finance and National Defence.
Erdoğan was invited by Yusuf Islam, formerly known as Cat Stevens and Patron of Cambridge Central Mosque, when Islam visited Turkey in November.
The mosque was funded by more than 10,000 private and public local and international donations, with the main donor a consortium of government agencies in the Republic of Turkey, together with a Turkish private company and the Qatar National Fund.
A protest is being planned by Cambridge Stop The War Coalition, Cambridge Kurdistan Solidarity, Cambridge rs21 and Cambridge Social Ecology.
The event listing says: "We will be standing in solidarity with the Kurdish community against Turkish war crimes and against the oppression of any who dare to protest against the Turkish Government."
A number of road closures will be in place when the formal opening takes place.
Hundreds of people have been invited to attend the opening and as a result there will be no access to vehicles and restricted access to pedestrians along parts of Mill Road and some side streets.
The closures will be in place between 9am and 6pm.
The affected roads are: Mill Road from its junction with Coleridge Road to Brooks Road; Vinery Road from Mill Road to Romsey Road; St Philip's Road from Hemingford Road to Vinery Road; Seymour Street from Vinery Road to Mill Road; Suez Road from Mill Road to Marmora Road; Madras Road from Mill Road to Marmora Road; and Hobart Road from Mill Road to Marmora Road.
Chief Inspector Paul Ormerod said: "Closing the roads allows everyone to attend safely."
https://www.cambridgeindependent.co.uk/news/turkish-president-erdo-an-expected-to-attend-cambridge-central-mosque-opening-9092316/
------
Commander: IRGC, Basij Forces Not Carrying Arms during Recent Riots
Wed Dec 04, 2019
TEHRAN (FNA)- Lieutenant Commander of the Islamic Revolution Guards Corps Rear Admiral Ali Fadavi underlined on Wednesday that none of the IRGC and Basij (volunteer) forces who stood against the outlaws in the recent riots were armed.
"In the recent incidents, not even one of the IRGC and Basij forces was carrying weapons. We went to the towns without arms while there were many weapons pointed at us," Rear Admiral Fadavi said, addressing a forum in Tehran today.
He, meantime, said the IRGC and Basij were keeping arms at their bases as usual and when the rioters attacked them, the IRGC and Basij forces defended themselves.
"But in the streets, we controlled everything comprehensively. Even we had live contacts with all parts of the country and received all images (live)," Rear Admiral Fadavi said.
Iran's Judiciary Spokesman Gholam Hossein Esmayeeli said on Tuesday that armed rioters and outlaws wounded and killed a number of people and policemen during the recent unrests after the protest rallies against the gasoline rationing.
"It is confirmed that a considerable number of people have been killed by the outlaws and many officers who were trying to establish order have also been wounded by the weapons of these outlaws too," Esmayeeli told reporters in a press conference in Tehran.
He, meantime, said that the number of individuals killed in the recent riots is less than what some foreign parties claim, "as they name people who have died in other incidents that are different from the recent riots and many of those people claimed to be killed are alive".
Esmayeeli said arson attacks and plundering the banks and stores and killing of innocent people and police officers were all carried out by the hooligans who were affiliated to the anti-revolutionary and dissident groups and were supported by the foreign spy agencies.
He underlined that the judiciary differentiates between the protestors against the gasoline prices and the outlaws, adding that most of the detained people during the recent unrests have been freed.
"300 people are still in detention in Tehran," Esmayeeli said, adding that the number is still to decrease.
In relevant remarks on Monday, Head of the Islamic Revolution Guards Corps' Public Relations Department and IRGC Spokesman Brigadier General Ramezan Sharif said rioters that destroyed public and private properties in the recent unrests in Iran were utilizing complex tools and instruments.
"The outlaws used the most equipped tools and most professional methods in the recent sedition," General Sharif said, addressing a forum in the Central city of Arak.
He noted that the riots were fomented in Iran after the country succeeded in defeating the ISIL terrorist group, the resistance front gained great victories and the IRGC shot down an intruder US spy plane over the Iranian territories on June 20.
"The enemies are seeking to make up [for their failure] after every success Iran earns," General Sharif said.
On November 15, the government raised Iran's extremely cheap gas price in order to moderate the national consumption rate, which stands at 110 million liters per day, 40 million liters above the maximum domestic requirement.
The government also announced a number of aid and subsidiary programs to protect vulnerable households from the adverse effects of the measure.
The price reform, required by Iranian legislature and essential as US-imposed sanctions seek to deplete Iran's budgetary resources, had been long delayed due to concerns regarding the move's probable backlash.
The measure's adoption prompted initially peaceful protests, but riotous elements, abusing the situation, quickly entered the scene, destroying public property, setting ablaze banks and gas stations among other facilities, and opening fire on people and security forces.
Intelligence reports and eye-witness accounts showed that the rioters who had taken advantage of public protests against gasoline price hikes to stir chaos in the country were armed with different weapons.
The protest rallies of Iranian people against the gasoline rationing turned violent since the first hours of the gatherings after the rioters used weapons.
In Sirjan city in the Southern province of Kerman, for instance, armed hooligans were about to detonate gasoline tanks, and almost made it if it hadn't been for the immediate presence of the police troops on the scene.
Security and police reports said the large number of weapons in the hands of the outlaws and rioters which had turned the scene of protests into a battlefield was one of the main features of the unrests.
Investigations showed that most people shot in riots were targeted from behind or the sides from a short range and from among protestors.
Also, reports by the security bodies and witnesses indicated that many of the bullets were fired from inside the protesting crowd and with weapons not registered at official bodies.
Iranian Government Spokesman Ali Rabiyee announced last Monday that rioters used cold weapons and firearms during unrests in some cities and towns, killing and wounding a number of police forces.
"Based on reports, the rioters have repeatedly used cold weapons and firearms in some cities," Rabiyee told reporters in a press conference in Tehran.
Also, Commander of the Law Enforcement Police in Kurdistan province Brigadier General Ali Azadi announced that his forces had arrested 25 ringleaders of the recent riots, and seized 3 rifles from them.
"25 ringleaders and main culprits behind the riots in the two cities of Marivan and Sanandaj have been detained in coordination with the judicial officials and 3 firearms and some cold weapons have been discovered and seized from them," General Azadi said on Sunday.
Late last month, Secretary of Iran's Supreme National Security Council (SNSC) Ali Shamkhani said that Tehran had successfully thwarted an attempt by a small group of foreign-backed rioters to set oil facilities on fire in the iconic Persian Gulf port city of Assaluyeh, adding that the attack was meant to be in retaliation for Yemenis' bombardment of the Saudi oil sites in September.
He added that during the recent unrests in the country, which came after the government's decision to substantially increase the gas price, some rioters tried to attack the iconic Persian Gulf port city of Assaluyeh in the South of Iran.
"The attack on Assaluyeh had been planned by the enemy," according to Shamkhani.
The top Iranian security official added, "the enemy appeared to be seeking to avenge what Yemen Ansarullah did in attacking Saudi facilities, but it failed".
https://en.farsnews.com/newstext.aspx?nn=13980913000855
------
UAE Sends 3 Planeloads of Arms to Iraqi Kurdistan Region
Wed Dec 04, 2019
TEHRAN (FNA)- A leading Arab newspaper reported that 3 UAE-flagged planes carrying weapons have been sent to the Kurdistan Regional Government (KRG).
The Arabic-language al-Mayadeen paper quoted informed Iraqi sources as saying on Wednesday that the planes landed in Kurdistan region after the region's Prime Minister Masrour Barzani and President Nechirvan Barzani visited Abu Dhabi.
The newspaper said the UAE arms supply to the KRG has taken place without the knowledge of the Central government in Baghdad, raising questions about the nature and objectives of the move, specially considering the tumoltous status in Iraq following the recent protests and unrests in the country.
A senior delegation from the KRG visited the UAE on Sunday at the invitation of the nation's Crown Prince who also serves as the Deputy Supreme Commander of the country's armed forces.
The senior Kurdistan Region leaders landed in the country to attend the final round of the Abu Dhabi Grand Prix 2019 – Formula 1 Race at the Yas Marina Circuit.
During the visit, the top Kurdish delegation met with Crown Prince Al Nahyan, as well as the UAE's Vice President and Prime Minister, Mohammed Bin-Rashid.
The Kurdish leaders also met with the Crown Prince of Saudi Arabia, Mohammad Bin Salman Al Saud, as well as other regional leaders.
https://en.farsnews.com/newstext.aspx?nn=13980913000953
------
Iran: Incidental Deaths during Riots Labeled as Martyrdom
Wed Dec 04, 2019
TEHRAN (FNA)- A senior Iranian official said that special committees have been set up in different provinces to identify innocent people who have been accidentally killed during clashes between the security forces and outlaws in recent riots to classify them as 'martyrs'.
The official told the Persian-language Nour news that based on regulations, people who have been killed in clashes between the Armed Forces and the intelligence ministry officers and enemies, anti-revolutionary forces and outlaws are considered as martyrs.
He added that special provincial committees will precisely study evidence, documents, reports and images to provide a report for final decision by the relevant officials, noting that family members of the martyrs will be supported by the Martyr and Veterans Affairs Foundation.
Senior Iranian officials have said some protesters have been killed by armed outlaws from close range with hand guns equipped with silencers.
Iran's Judiciary Spokesman Gholam Hossein Esmayeeli said on Tuesday that armed rioters and outlaws wounded and killed a number of people and policemen during the recent unrests after the protest rallies against the gasoline rationing.
"It is confirmed that a considerable number of people have been killed by the outlaws and many officers who were trying to establish order have also been wounded by the weapons of these outlaws too," Esmayeeli told reporters in a press conference in Tehran.
He, meantime, said that the number of individuals killed in the recent riots is less than what some foreign parties claim, "as they name people who have died in other incidents that are different from the recent riots and many of those people claimed to be killed are alive".
Esmayeeli said arson attacks and plundering the banks and stores and killing of innocent people and police officers were all carried out by the hooligans who were affiliated to the anti-revolutionary and dissident groups and were supported by the foreign spy agencies.
He underlined that the judiciary differentiates between the protestors against the gasoline prices and the outlaws, adding that most of the detained people during the recent unrests have been freed.
"300 people are still in detention in Tehran," Esmayeeli said, adding that the number is still to decrease.
In relevant remarks on Monday, Head of the Islamic Revolution Guards Corps' Public Relations Department and IRGC Spokesman Brigadier General Ramezan Sharif said rioters that destroyed public and private properties in the recent unrests in Iran were utilizing complex tools and instruments.
"The outlaws used the most equipped tools and most professional methods in the recent sedition," General Sharif said, addressing a forum in the Central city of Arak.
He noted that the riots were fomented in Iran after the country succeeded in defeating the ISIL terrorist group, the resistance front gained great victories and the IRGC shot down an intruder US spy plane over the Iranian territories on June 20.
"The enemies are seeking to make up [for their failure] after every success Iran earns," General Sharif said.
On November 15, the government raised Iran's extremely cheap gas price in order to moderate the national consumption rate, which stands at 110 million liters per day, 40 million liters above the maximum domestic requirement.
The government also announced a number of aid and subsidiary programs to protect vulnerable households from the adverse effects of the measure.
The price reform, required by Iranian legislature and essential as US-imposed sanctions seek to deplete Iran's budgetary resources, had been long delayed due to concerns regarding the move's probable backlash.
The measure's adoption prompted initially peaceful protests, but riotous elements, abusing the situation, quickly entered the scene, destroying public property, setting ablaze banks and gas stations among other facilities, and opening fire on people and security forces.
Intelligence reports and eye-witness accounts showed that the rioters who had taken advantage of public protests against gasoline price hikes to stir chaos in the country were armed with different weapons.
The protest rallies of Iranian people against the gasoline rationing turned violent since the first hours of the gatherings after the rioters used weapons.
In Sirjan city in the Southern province of Kerman, for instance, armed hooligans were about to detonate gasoline tanks, and almost made it if it hadn't been for the immediate presence of the police troops on the scene.
Security and police reports said the large number of weapons in the hands of the outlaws and rioters which had turned the scene of protests into a battlefield was one of the main features of the unrests.
Investigations showed that most people shot in riots were targeted from behind or the sides from a short range and from among protestors.
Also, reports by the security bodies and witnesses indicated that many of the bullets were fired from inside the protesting crowd and with weapons not registered at official bodies.
Iranian Government Spokesman Ali Rabiyee announced last Monday that rioters used cold weapons and firearms during unrests in some cities and towns, killing and wounding a number of police forces.
"Based on reports, the rioters have repeatedly used cold weapons and firearms in some cities," Rabiyee told reporters in a press conference in Tehran.
Also, Commander of the Law Enforcement Police in Kurdistan province Brigadier General Ali Azadi announced that his forces had arrested 25 ringleaders of the recent riots, and seized 3 rifles from them.
"25 ringleaders and main culprits behind the riots in the two cities of Marivan and Sanandaj have been detained in coordination with the judicial officials and 3 firearms and some cold weapons have been discovered and seized from them," General Azadi said on Sunday.
Late last month, Secretary of Iran's Supreme National Security Council (SNSC) Ali Shamkhani said that Tehran had successfully thwarted an attempt by a small group of foreign-backed rioters to set oil facilities on fire in the iconic Persian Gulf port city of Assaluyeh, adding that the attack was meant to be in retaliation for Yemenis' bombardment of the Saudi oil sites in September.
He added that during the recent unrests in the country, which came after the government's decision to substantially increase the gas price, some rioters tried to attack the iconic Persian Gulf port city of Assaluyeh in the South of Iran.
"The attack on Assaluyeh had been planned by the enemy," according to Shamkhani.
The top Iranian security official added, "the enemy appeared to be seeking to avenge what Yemen Ansarullah did in attacking Saudi facilities, but it failed".
https://en.farsnews.com/newstext.aspx?nn=13980913000250
------
President Rouhani Orders Tripartite Committee to Probe Foreign-Backed Riots in Iran
Wed Dec 04, 2019
TEHRAN (FNA)- Iranian President Hassan Rouhani ordered a commission to be formed by two members of his cabinet and a vice-president to thoroughly investigate the role of foreign states and the extent of losses and damages in the riots of the last month which hijacked peaceful protests against gas price rise in the country.
President Rouhani ordered a committee to be formed find the main perpetrators and to assess the ways for compensating for the losses inflicted on some of the Iranian citizens during the recent riots.
The committee is comprised of Interior Minister, Judiciary Minister and Vice President for Legal Affairs who are obligated by the President to study social, legal, and economic aspects of the issue besides making efforts to find ways to compensate for the losses. The report should be prepared and handed over to the President as soon as possible.
On Tuesday, Commander of Iran's Law Enforcement Police Brigadier General Hossein Ashtari said foreign sides have been involved in the recent riots in the country after protests at gas rationing.
Earlier on the day, Iran's Judiciary Spokesman Gholam Hossein Esmayeeli said arson attacks and plundering the banks and stores and killing of innocent people and police officers were all carried out by the hooligans who were affiliated to the anti-revolutionary and dissident groups and were supported by the foreign spy agencies.
On November 15, the government raised Iran's extremely cheap gas price in order to moderate the national consumption rate, which stands at 110 million liters per day, 40 million liters above the maximum domestic requirement.
The government also announced a number of aid and subsidiary programs to protect vulnerable households from the adverse effects of the measure.
The price reform, required by Iranian legislature and essential as US-imposed sanctions seek to deplete Iran's budgetary resources, had been long delayed due to concerns regarding the move's probable backlash.
The measure's adoption prompted initially peaceful protests, but riotous elements, abusing the situation, quickly entered the scene, destroying public property, setting ablaze banks and gas stations among other facilities, and opening fire on people and security forces.
Intelligence reports and eye-witness accounts showed that the rioters who had taken advantage of public protests against gasoline price hikes to stir chaos in the country were armed with different weapons.
The protest rallies of Iranian people against the gasoline rationing turned violent since the first hours of the gatherings after the rioters used weapons.
https://en.farsnews.com/newstext.aspx?nn=13980913000431
------
Netanyahu to press Pompeo for more pressure on 'tottering' Iran
05 December 2019
JERUSALEM: Israeli Prime Minister Benjamin Netanyahu traveled to Portugal on Wednesday to meet US Secretary of State Mike Pompeo and call for increased pressure on the "tottering" Iranian government.
The two men were set to meet on Wednesday night in Lisbon, the US State Department announced.
Speaking before setting off, Netanyahu said US President Donald Trump's sanctions against Iran were paying dividends and he would be urging Pompeo to take further steps.
"I think President Trump has placed tremendous pressures and sanctions on Iran," he said.
"We're seeing the Iranian empire totter. We see demonstrations in Tehran, demonstrations in Baghdad, demonstrations in Beirut. It's important to increase this pressure against Iranian aggression."
Israel, which has the Middle East's sole but undeclared nuclear arsenal, has for years accused Iran of seeking to obtain nuclear weapons and strongly opposed a 2015 agreement designed to address the concerns of major powers.
Trump, a strong Netanyahu ally, unilaterally pulled the US out of the deal in May last year and reimposed crippling sanctions.
Netanyahu, who is fighting for his political life after an indictment on graft charges, has hailed the Trump sanctions.
Israel believes they have squeezed the Iranian economy, prompting the government to raise fuel prices — sparking nationwide protests.
Lebanon and Iraq, both countries where Iran has significant influence, have also seen major demonstrations.
Netanyahu criticized European governments that have signed up to a barter system that would allow Iran to trade without fear of US sanctions.
https://www.arabnews.com/node/1594246/middle-east
------
Arab World
Custodian of the Two Holy Mosques invites King of Bahrain to attend GCC meeting
2019/12/05
Manama, December 04, 2019, SPA -- Custodian of the Two Holy Mosques King Salman bin Abdulaziz Al Saud has sent a written message to King Hamad bin Isa Al Khalifa, the King of Bahrain, inviting him to attend the 40th session of the GCC Supreme Council.
The message was delivered to the King of Bahrain by Secretary General of the Gulf Cooperation Council (GCC) Dr. Abdullatif bin Rashid Al Zayani during a reception today.
During the meeting, King Hamad was briefed on the current preparations for the 40th session of the GCC Supreme Council.
https://www.spa.gov.sa/viewfullstory.php?lang=en&newsid=2007098
------
Prime Minister meets audit, fatwa, tenders authorities' officials
04/12/2019
KUWAIT: His Highness the Prime Minister Sheikh Sabah Al-Khaled Al-Hamad Al-Sabah received yesterday at Seif Palace the Head of the Fatwa and Legislation Department Salah Hussein Al-Mesad. His Highness Sheikh Sabah Al-Khaled also received separately yesterday the Chairman of the Central Tenders Committee (CTC) Abdullah Saud Al-Abdulrazzaq, before paying a visit to the State Audit Bureau.
These visits and receptions came in implementation of His Highness the Amir Sheikh Sabah Al-Ahmad Al-Jaber Al-Sabah's directives to fight corruption and protect public funds, His Highness Sheikh Sabah Al-Khaled said in a statement to the press. Highness Sheikh Sabah Al-Khaled had earlier met with Chairman of Kuwait's Supreme Judicial Council and the Cassation Court, and President of the Constitutional Court Justice Yousef Al-Mutawaa, as well as National Assembly Speaker Marzouq Al-Ghanem to coordinate on efforts to fight corruption in implementation of His Highness the Amir's directives. – KUNA
https://news.kuwaittimes.net/website/prime-minister-meets-audit-fatwa-tenders-authorities-officials/
------
Riyadh Season organizes leisure trip for elderly
December 05, 2019
RIYADH: Elderly and retirees were treated to a visit to Riyadh's Winter Wonderland as a token of appreciation from the General Entertainment Authority (GEA).
Organized under the support and guidance of GEA chairman, Turki Al Sheikh, the trip was aimed at introducing the elders and their companions to some of the Riyadh Season activities.
On a related note, the GEA recently launched an initiative in cooperation with the Saudi National Retirees Association to encourage more people to take part in walking activities.
The event held on Nov. 27 involved a walk starting from the main gate of Riyadh Boulevard, through the illuminated passageway, and including the dancing fountain and its surrounding facilities, before ending at the VIP gate.
Association members were among those who took part and walkers now gather there every Wednesday evening to step out together.
Riyadh Season has so far attracted more than 8 million people to its events spread over 12 locations across the capital and covering an area of 14 million square meters.
Riyadh Season is one of 11 Saudi Seasons that aim to promote Saudi Arabia as a tourism hub, as well as enhance the quality of life for the people of the Kingdom.
https://www.arabnews.com/node/1594351/saudi-arabia
------
Misk concludes 2nd accelerator program
05 December 2019
RIYADH: The initiatives center at the Prince Mohammed bin Salman bin Abdul Aziz Foundation (Misk) concluded the second edition of its Misk 500 Accelerator on Tuesday.
The accelerator was organized by the Misk Innovation Initiative to encourage startups, empower entrepreneurs, and to serve and support promising businesses in the Middle East and North Africa (MENA) region. It included a three-month integrated support program for entrepreneurs, supervised by a group of mentors and international experts, with a series of workshops and training sessions, under which people discovered the strengths and weaknesses in their projects.
All those who joined the program will receive SR187,000 ($50,000), provided that their project met the preconditions of having a qualified team and a product in the field of technology or other related area ready to market. The Misk Innovation Initiative aims to raise the level of professional qualification and skills for young people, enabling them to create successful projects.
Misk has launched several programs to encourage Saudis to hone their talents and contribute to the economy of the Kingdom. One of those initiatives was launched on Tuesday in partnership with the Qiddiya Investment Co. The program will run for 28 weeks, and will provide trainees with an opportunity to work alongside senior team members in many fields, preparing them for large-scale uplift projects.
https://www.arabnews.com/node/1594301/saudi-arabia
------
Top Saudi surgeon visits separated conjoined twins
05 December 2019
RIYADH: Top Saudi pediatric surgeon Dr. Abdullah Al-Rabeeah on Wednesday visited young Libyan conjoined twins Ahmed and Mohammed who are recovering in hospital after intricate surgery to separate them.
The brothers, who were joined at the abdomen and pelvis, have been transferred from the intensive care unit to a normal ward at the King Abdullah Specialist Children's Hospital following the successful operation on Nov. 14.
Al-Rabeeah, who is an adviser at the Royal Court and also the general supervisor of the King Salman Humanitarian Aid and Relief Center (KSRelief), headed the 35-strong medical and surgical team for the 14-hour procedure.
Ahmed and Mohammed were attached at the lower abdomen and pelvic areas, and each child had a lower limb in addition to a third deformed limb in-between. They also shared digestive, urinary and reproductive systems and a pelvis.
During his visit to the hospital, Al-Rabeeah met with the boys' parents and listened to an update on their medical condition and post-operative treatment and rehabilitation.
In a statement, the surgeon said that the twins were in a stable condition and showing normal vital signs. He added that they had started breastfeeding, no longer required additional nutrients, and were interacting normally with the medical team and their parents.
Their rehabilitation is likely to last between eight to 12 weeks, and he said the medical team expected Ahmed and Mohammed to remain under the Kingdom's medical care for three to four months before returning to Libya.
Al-Rabeeah thanked King Salman and Crown Prince Mohammed bin Salman for their support and care, and he praised the Kingdom for being a "beacon" in its backing of humanitarian initiatives and support for the needy.
He pointed out that the medical expertise involved in the separation surgery was further evidence of the country's achievements and proof of the health sector's competence and excellence.
Al-Rabeeah also thanked his colleagues and members of the medical and surgical team for their efforts, diligence, dedication and pioneering work in a number of surgeries to separate conjoined twins.
Ahmed and Mohammed became the 48th set of twins in the last 30 years to undergo the operation under the Saudi National Siamese Twins Separation Program.
https://www.arabnews.com/node/1594286/saudi-arabia
------
E-sports legends target Riyadh for game-changing festival
05 December 2019
RIYADH: The Saudi capital is preparing to welcome leading gamers from the Middle East and North Africa (MENA) on the eve of the Nexus Festival — the first official League of Legends tournament in the region.
US video game developer Riot Games is aiming to shape the gaming landscape in the MENA region through the festival.
The three-day festival from Dec. 5-7 is an initiative by the Saudi General Entertainment Authority (GEA) that will offer gamers and non-gamers 23 different activities and mini-games as well as a theme park.
Players will battle for glory across six competitions for a slice of the $2 million prize money in front of more than 30,000 people.
Eight teams have booked their place in the showpiece event after competing against more than 750 teams in qualifying rounds held in 13 countries across the region.
Each region saw their top two teams qualify, including heavyweights such as Saudi's EGZ and Oshtek Warriors, Levant's Nasr eSports and Qlash, North Africa's Devine Vendetta and Eagle Esports Tunisia, and the GCC's Hex and Shot 2 Kill.
The final playoffs promise a showdown between some of the best players of the region, such as Korean Kid, Cipher, Gaaloul, Azra and internationally renowned coaches such as Yamato Cannon and Kanini.
The event's flagship competitions include the "five versus five" summoners rift, while a special "influencer tournament" will see the region's top eight influencers team up with micro-influencers. The schedule also includes the "one versus one" battle, Team Fight Tactics, auto battler within the League of Legends universe and the cosplay competition.
US singer Jason Derulo will take to the stage for a special concert as part of the festival, while a series of activities and entertainment has been lined up for people of all ages.
Onur Tamer, METAI general manager at Riot Games, said: "We are looking forward to welcoming thousands of people for the first Riot Games tournament in the region. The gaming industry has rapidly increased in the MENA, especially in Saudi Arabia, and we are delighted to be hosting the first Nexus festival here in Riyadh.
"We have been thoroughly impressed with what we have seen during the qualifying stages and this will provide a series of enthralling contests at the festival. With the best gamers testing themselves to be crowned champion in six competitions, it promises to be a thrilling three days of action."
Tickets are available for the festival, which includes a variety of gaming experiences, music and attractions.
https://www.arabnews.com/node/1594291/saudi-arabia
------
North America
'Thought that Guam was floating': SEAL who shot bin Laden mocks Democrat over impeachment
by Caitlin Yilek
December 04, 2019
The former Navy SEAL who claims to have shot Osama bin Laden sought to cast doubt on Democrats' intelligence during the House Judiciary Committee's first impeachment hearing.
"Keep in mind: One of the guys on the impeachment panel once thought that Guam was floating, not an underwater mountain. It's not going to tip over, Congressman!" Robert O'Neill tweeted Wednesday.
His tweet was in reference to Rep. Hank Johnson of Georgia saying in 2010 that he feared stationing thousands of Marines on Guam would cause the island to capsize.
Johnson expressed his concern during a House Armed Services Committee meeting with Adm. Robert Willard, who was then commander of the U.S. Pacific Command and has since retired.
"My fear is that the whole island will become so overly populated that it will tip over and capsize," Johnson said when asking about the dimensions of the U.S. territory.
"We don't anticipate that," Willard responded. "The Guam population, I think currently about 175,000, and again with 8,000 Marines and their families, it's an addition of about 25,000 more into the population.
https://www.washingtonexaminer.com/news/thought-that-guam-was-floating-seal-who-shot-bin-laden-mocks-democrat-over-impeachment
------
Islamic terrorist killed with "secret CIA" bladed missile that does not explode
December 4, 2019
The bladed Hellfire missiles of our nightmare struck again, this time hitting a minivan in northwestern Syria.
The attack appeared to utilize the AGM-114R9X, a variant of the Hellfire missile that uses four giant blades to take out its targets with laser-pinpoint accuracy, thus cutting down on collateral damage.
The strike is said to have taken place in Atmeh, which is situated in Syria's Idlib province and is less than five miles away from the Turkish border.
Two individuals are reported to have been killed, with one believed to have ties to the Al Qaeda spinoff group Hayat Tahrir Al Sham (HTS).
Chatter from HTS WhatsApp groups claim the person killed is Abu Ahmad al-Muhajir, a foreign trainer of the elite force of the HTS, "The Red Bands"
According to The Drive, photos show the smashed-up van still largely intact, save the gaping hole in the roof. No explosive warheads appeared to have been on the missile, pointing to indications that the device used was, in fact, a R9X variant of the Hellfire.
R9Xs appear to be used in cases where high-value targets often hide in collateral damage-prone areas, such as when one was used against Abu Khayr Al Masri, then Al Qaeda's number two leader, as he drove his car around the Syrian city of Al Mastouma in 2017.
According to the WSJ, the secret weapon is used by the CIA and Pentagon, which have worked hard at keeping it a secret.
The bladed head performs "pinpoint airstrikes, killing terrorists with no explosion, drastically reducing damage and minimizing the chances of civilian casualties."
https://warisboring.com/islamic-terrorist-killed-with-secret-cia-bladed-missile-that-does-not-explode/
------
US negotiator to resume Taliban talks in Qatar
Dec 4, 2019
WASHINGTON: The US negotiator on Afghanistan will shortly resume talks with the Taliban, the State Department said on Wednesday, three months after President Donald Trump abruptly halted negotiations.
Zalmay Khalilzad will head to Qatar to "rejoin talks with the Taliban to discuss steps that could lead to intra-Afghan negotiations and a peaceful settlement of the war, specifically a reduction in violence that leads to a ceasefire," a State Department statement said.
https://timesofindia.indiatimes.com/world/south-asia/us-negotiator-to-resume-taliban-talks-in-qatar/articleshow/72372083.cms
------
Africa
18 Indians feared killed in LPG blast at Sudan factory
Dec 5, 2019
Eighteen Indians were feared killed in an LPG tanker blast at a ceramic factory in Sudan. While there was no official confirmation of the deaths, mainly because many bodies were badly burned, the Indian embassy in Khartoum released a list of 16 Indians who are missing.
Twenty-three people were killed in the blast at Seela Ceramic Factory. The embassy clarified that some of the missing may be in the list of dead which it was yet to receive. "As per the latest reports, but so far not confirmed officially, 18 are dead,'' it said.
The embassy also said seven people had been hospitalised, with four in critical condition. "Anguished by the blast in a ceramic factory in Sudan, where some Indian workers have lost their lives and some are injured. My thoughts are with the bereaved families and prayers with the injured. Our embassy is providing all possible assistance to those affected," Prime Minister Narendra Modi tweeted.
Of the 16 men missing, four are from Bihar and three each from UP and Tamil Nadu. The remaining are from Haryana, Gujarat and Rajasthan. About 70 Indians were employed with the factory in Sudan. At least 34 Indians survived. An AFP report quoted the Sudanese government as saying that more than 130 injured. Preliminary reports indicated that safety equipment was missing at the site. "Inflammable material was also improperly stored," the government said, adding that a probe had been launched.Foreign minister S Jaishankar offered his condolences. "Grieved to learn that some Indian workers have lost their lives while some others have been seriously injured," he posted on Twitter.
https://timesofindia.indiatimes.com/world/rest-of-world/18-indians-feared-killed-in-lpg-blast-at-sudan-factory/articleshow/72375881.cms
------
Macron Issues Stern Rebuke to West Africa after Mali Deaths
By Helene Fouquet
December 4, 2019
President Emmanuel Macron summoned West African leaders to France for talks following the deaths of 13 French soldiers in Mali last week, and suggested that he could pull his troops out of the country if he doesn't like what he hears.
"I can't, nor do I want French soldiers on the ground while there is anti-French sentiment that is sometimes held by the leaders" of some of the African countries, Macron said at a news conference during a NATO summit in Watford, England.
The leaders of five West African nations -- Mali, Burkina Faso, Niger, and Chad -- should come to France on Dec. 16 to "provide clarifications," he added.
The soldiers died on Nov. 26 when the two helicopters they were traveling in collided at nightfall, just as they were swooping into support troops battling Islamist militants. It was one the worst losses of life in France's military in more than three decades.
France has thousands of troops fighting extremists and hunting down their commanders in the western Sahel in an operation known as Barkhane -- it's France's largest overseas, with a budget of about 600 million euros ($665 million) a year.
Yet violence by al-Qaeda and Islamic State militants is growing and spreading across borders, and with mounting deaths, anti-French sentiment is surging. So much so that while the French were once hailed as liberators in the country, these days Malians want them gone.
"They owe us clarity, for them who ask us to be there and that they assume it," Macron said. "We are not there out of some colonial or business interest."
Asked if he would withdraw troops, Macron said that he'd "draw consequences" from talks with the African leaders. "I need clarifications to maintain my troops there."
https://www.bloomberg.com/news/articles/2019-12-04/macron-issues-stern-rebuke-to-west-africa-after-mali-deaths
------
Pirates abduct 18 Indian sailors off Nigeria coast
Dec 5, 2019
MUMBAI: Nineteen crew members, including 18 Indians, on board a large crude carrier, were abducted by pirates, 66 nautical miles south of Bonny offshore terminal, Nigeria, late on Tuesday. Shortly before the abduction, a chief officer on the ship who was also taken hostage had called his wife in Mumbai.
The officer has not been identified due to security reasons. There was no information about their whereabouts and TOI could not independently confirm the fate of the crew till Wednesday. Two news sites reported that armed pirates attacked the Anglo-Eastern-managed Nave Constellation, while transiting through Nigeria, and captured the ship. At the time of the attack, the ship was not under any escort.
BBC reported in June that the region is the number one spot for piracy. One of the 26 crew members was Turkish. Reports said that seven seafarers remained on board. The chief officer's father said that his son has been associated with Hong Kong-based Anglo-Eastern for around 15 years.
"He is of captain rank and works as a chief officer on the ship. Last night (Tuesday), he told his wife around 10.15pm that he was going for duty. On Wednesday morning, I was shocked to receive a call from the company," his father said.
The attack took place around 80 nautical miles south of Bonny and reports stated that the pirates boarded the vessel and abducted the 19 sailors before fleeing. Some media outlets reported that the vessel was, at present, safe and under escort of the Nigerian navy. "He left home in May and was supposed to return in four months. Generally, he returns in four to five months. We have been waiting for him for some time now. He told us there was too much work and that he would return soon," the chief officer's father said.
https://timesofindia.indiatimes.com/india/pirates-abduct-18-indian-sailors-off-nigeria-coast/articleshow/72375754.cms
------
Kenya to Remain with AU Mission in Somalia Amid Tensions
By Mohammed Yusuf
December 03, 2019
NAIROBI - Kenya's president has said his forces will remain part of the African Union Mission in Somalia and leave the country when it's secure and stable. The president's statement came at a time Kenya's forces are facing hostility in parts of Somalia for their support of the Jubaland administration, which the Somali government has refused to recognize.
This month Kenya and Somalia agreed to normalize relations after months of diplomatic tensions between the two countries, which had differences on many issues, including the disputed Jubaland elections.
Jubaland, Somalia
Kenya has been the only country in the region to recognize the outcome of the contest in which Ahmed Madobe was re-elected for another four years. The Somali government is planning another election for Jubaland regional state.
George Musamali is the director of the Center for Risk Management in Africa.
"What is really happening is that the Somali government [is] pulling its muscles, showing very well we do not recognize the government in Jubaland. And this informed the decision to have the Jubaland vice president be denied access into Somalia and this is coming hot on the heels of now having Kenyans being removed [from] Gedo land to other areas of operation, bringing in more friendly Ethiopia force which friendly to the Mogadishu government. I think we are going to see a lot of activity going on in that area," he said.
Kenya sent its troops to Somalia in 2011 to push al-Shabab and protect its borders from the group's terror attacks. Months later Kenya joined the African Union Mission in Somalia known as AMISOM.
Kenyan President Uhuru Kenyatta said on Thursday his country will be in Somalia for a longer term.
"As I have stated before our troops will continue in being part of AMISOM until such time that our objective has been achieved," he said.
Kenya Defence Force (KDF) soldiers, serving in the African Union Mission in Somalia (AMISOM), patrol past stockpiles of charcoal near the Kismayo sea port town in lower Juba region, Somalia, Feb. 27, 2013.
FILE - Kenya Defence Force (KDF) soldiers, serving in the African Union Mission in Somalia (AMISOM), patrol past stockpiles of charcoal near the Kismayo sea port town in lower Juba region, Somalia, Feb. 27, 2013.
Kenya has troops in Lower and Middle Juba and Gedo regions, which share borders with Kenya.
Mohamed Abdullahi Gardhuub is the Luuq district commissioner in Gedo region. He says his area is under the control of central government forces.
"The security is of the district is good. The area is being protected by the forces from the federal government and they are the ones who are in charge of the security. The forces are not only in Luuq district but they are in other seven districts of the Gedo region," he said.
This week Jubaland deputy leader was denied entry in Gedo region.
Musamali said the Gedo region exposes Kenya to more security risks.
"Now being moved out of Gedo an area that they have a lot of interest in clearly exposes Kenya to more insecurity because we don't know how Ethiopians are going to play it. Kenya should be worried about that."
The issue of Jubaland leadership has been the tension for years between the Mogadishu administration and Kenya.
In remarks to the United Nations Security Council, James Swan, the U.N. representative in Somalia, said the disagreement of the August polls in Jubaland poses a risk of violence, clan division, and external interference. Swan called on the leaders to address issues through dialogue, compromise, and pragmatism.
https://www.voanews.com/africa/kenya-remain-au-mission-somalia-amid-tensions
------
URL: https://www.newageislam.com/islamic-world-news/balbir-singh-part-hindu-mob/d/120447
New Age Islam, Islam Online, Islamic Website, African Muslim News, Arab World News, South Asia News, Indian Muslim News, World Muslim News, Women in Islam, Islamic Feminism, Arab Women, Women In Arab, Islamophobia in America, Muslim Women in West, Islam Women and Feminism