New Age Islam News Bureau
3 Aug 2015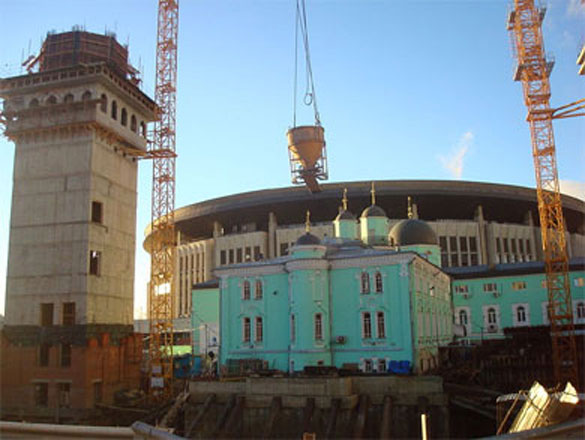 Cathedral mosque in Moscow
---------
Pakistan
• Baitullah Mehsud Caravan joins ISIS in Pakistan's Waziristan
• Police Secure Fresh Bonds from Pakistan Madrasa Faculty Members on Watch List
• Clerics Support Army's Swoop on Terrorists
• Taliban Council 'Yet To Endorse' Mansour as TTA Chief
• Lej's Fate Hangs in Balance after Ishaq's Killing
• 14 arrested in seminaries search operation
• Nexus between drug dealers, terrorists will be broken: COAS
• MQM committee defends Altaf's speech
• Imran orders PTI leaders to end political wrangling
• Sanctions on Iran pipeline project still there, says US
• Confusion persists over summer vacation
• Four terrorists held in Nasirabad
• JUP urges PM to use offices for imrpovement in Saudi-Iran relations
-----------
Arab World
• Dozens Killed, Wounded After Warplane Crashed In Syria
• Syrian Analyst Lambasts Qatar, S. Arabia for Dishonest Policy on Terrorism
• U.S.-Turkey deal on Syria seen as 'big gamble'
• Syria govt forces battle rebels near regime bastion: monitor
• Nusra Front posts video of 'capture' of U.S.-trained rebels
• Top Russian, U.S. and Saudi diplomats to meet in Qatar
• Syrian opposition group quits major coalition
• Syrian Army Operations in Hama, Idlib Herald Massive Gains
• Syrian Army Advances against Rebels in Aleppo City
• Saudi king brings early end to controversial holiday in France
-----------
South Asia
• First Clash between Taliban Militants Following Mullah Omar's Death
• Afghan Government Says It Won't Separately Deal With Taliban
• Exclave residents of Panchagarh district want new territories declared as unions
• Rajon killing: No specifics over bringing back Kamrul
• 11 Bangladeshi Jamaat men remanded
-----------
Mideast
• Houthi Militia Chief 'Ready For Political Settlement'
• Car Bomb Blast Kills 3 in Yemen's Dhale Province
• Gulf ministers, Kerry discuss Iran deal in Doha
• Israel approves jailing Jewish militants without trial
• Iran deal can speed solutions in Syria: Rowhani
• Turkey denies hitting civilians in airstrikes
• Iran Natural Gas Exports to Turkey Resumed
• Iranian FM Proposes Regional Talks Convention to Soothe Tensions
• Sources: 1,500 Saudi-Led Soldiers Arrive in Aden to Fight Yemeni Forces
• Israeli forces clash with Palestinians in West Bank
-----------
Africa
• Nigeria Air Strikes Kill 'Large Number' Of Boko Haram
• UN peacekeeper killed in Central African Republic
• Boko Haram attack reported in Nigeria village
• Mali 'Religious Sign' Draws Crowds
----------
Southeast Asia
• Joko Calls on NU Congress to Tackle Indonesia's Escalating Intolerance
• Police Arrest Three Suspected Members Of IS In NTT
• Hadi: Solve current crisis with Islam, not street rallies
• Malaysia's promotion in US trafficking ranking 'undeserved'
• Trade, Defense Cooperation Top Agenda During Erdogan's State Visit
• Jokowi Renews Call for Independent Palestine
• NU vows to maintain tolerant, peaceful Islam
• Race starts for Muhammadiyah leadership
• 11 Indonesians detained in Saudi Arabia
-----------
India
• Congress Plans To Counter AIMIM Brand of Politics
• Muslim Leaders Urge Community to Give Up Beef
• Pak violates ceasefire again, targets several J&K forward posts
-----------
North America
• US Comedian: Prophet Had Great Sense of Humour
• American Muslims: A Vibrant History, Misplaced Hatred
-----------
Europe
• Faith Leaders in Moscow Mosque Opening
Compiled by New Age Islam News Bureau
URL: https://www.newageislam.com/islamic-world-news/new-age-islam-news-bureau/baitullah-mehsud-caravan-joins-isis-in-pakistan's-waziristan/d/104148
-----------
Pakistan
Baitullah Mehsud Caravan join ISIS in Pakistan's Waziristan
By KHAAMA PRESS - Mon Aug 03 2015
A caravan of the militants of Baitullah Mehsud pledged allegiance to the Islamic State of Iraq and Syria (ISIS) terrorist group.
An affiliate of the Islamic State Wilayat Khurasan confirmed the allegiance of Mehsud caravan to the terror group.
"Baitullah Mehsud Carvan, Waziristan pledged allegiance to Islamic State, Khorasan Province," the ISIS supporter said in a Twitter message.
He also added "Growing and Expanding by the well of Allah, Training camp, Hakimullah Mehsud Waziristan, Khorasan Province."
A picture which purportedly shows a group of militants holding black flags in a valley with a black banner announcing allegiance to ISIS terror group was also posted online.
Baitullah Mehsud was the founder of Tehrik-e-Taliban Pakistan being a leading militant in Waziristan who formed an alliance of about militants groups in December 2007.
He was reportedly commanding up to 5,000 militants, was involved in numerous attacks in Pakistan and was also accused of assassinating Benazir Bhutto.
http://www.khaama.com/baitullah-mehsud-caravan-join-isis-in-pakistans-waziristan-9559
-----------
Police Secure Fresh Bonds from Pakistan Madrasa Faculty Members on Watch List
MOHAMMAD ASGHAR
Aug 3, 2015
RAWALPINDI: Authorities implementing the counterterrorism National Action Plan (NAP) have found that 115 among the people put on a watch list in Rawalpindi district for having links with banned groups belonged to Madrasa faculties.
Their placement on the 4th schedule of the Anti-Terrorism Act (ATA) 1997 bound them to inform the local police about their activities and out-of-town travels before leaving, and on return to, their place of residence. But the Counter Terrorism Department (CTD) found the police to be lax in keeping a watch on them.
Dawn has learnt that the CTD has written to the Rawalpindi City Police Officer (CTO) Israr Ahmed Abbasi to take appropriate measures to check the activities of the individuals on the watch list and see that they disassociate themselves from Madrasas.
Section IV of the ATA also requires any person on the list who has served a prison term to provide a surety bond that he would keep good behaviour and peaceful conduct for three years.
Since receiving the CTD's critical communication, the district police have started collecting 'fresh surety bonds' from all those persons who got training in Afghanistan during the West-supported jihad there in the 1980s and the Lal Masjid elements.
Asked if any of the so-called Afghan Trained Boys (ATBs) or Returnees from Afghan Prisons (RAPs) figured among the 115 faculty members of Madrasas now on the Schedule IV list, a senior security official replied in the negative.
Counter Terrorism Department has asked CTO Israr Ahmed Abbasi to take measures to check the activities of such individuals
"Their names were placed on the list for having links with banned organisations," he said.
The CTD communication suggested to the CPO Rawalpindi to direct SHOs of police stations to issue notice to Madrasa faculty members figuring on the watch list to dis-associate themselves as under the new laws they can't run Madrasas.
It added that if such a faculty member managed to get pre-arrest bail from a court, police should initiate legal action under the relevant sections of ATA.
CTO Rawalpindi Israr Ahmed Abbasi, however, told Dawn that "the police will not take any action against any such person for being a faculty member of some Madrasa unless he violates ban on use of loudspeaker or found delivering hate-speeches."
He said fresh surety bonds have been obtained from the people placed on the watch list in Rawalpindi and expected over 100 more added to it.
A similar report prepared by the Special Branch of police in 2013 had informed the Punjab Home Department that 40 individuals on the ATA watch list were working in government departments, including sensitive institutions and schools.
According to intelligence agencies, there are 1,256 Madrasas in Rawalpindi division. Only 507 of them are registered and the rest are unregistered.
Together they have 74,400 students on their rolls – 36,352 of them in Madrasas in the Rawalpindi district.
http://www.dawn.com/news/1198106/police-secure-fresh-bonds-from-Madrasa-faculty-members-on-watch-list
-----------
Clerics support Army's swoop on terrorists
August 03, 2015
LAHORE - Religious scholars of Brelvi school of thought have termed the sectarian violence and killing of innocent people in the name of Jihad as against the teachings of Islam.
They were gathered at Jamia Naeemia to attend "Muslim Scholars Conference" on Sunday and extended their full support for government and army in its operation against terrorism. They said they wanted to see pens instead of guns in the hands of next generation of the country.
A statement issued by the Jamia stated the religious scholars from foreign counties also attended the conference. Those who addressed included Jamia Naeema Nazim-e-Alla Allama Raghib Hussain Naeemi, President Naeemian Association Norway Allama Ashraf Shah, Allama Qasim Alvi, Sheikhul Hadith Mufti Abdul Aleem, Professor Liaqat Ali and others.
Allama Raghib, speaking on occasion, highlighted the role of scholars of Ahle Sunnat in preaching of Islam, nation building and bringing betterment and spreading positive values in the society. He said the Brelivi ulma had never compromised in the protection of Islamic values.
He urged to impose the economic system given by Islam to end financial problems of Pakistan and world. He overwhelmingly supported the China-Pakistan Economic Corridor and urged government not to consider the pressure of any country against its completion. He appreciated the resolve of Pakistan Army in favour of the corridor.
Allama Naeemi thanked the scholars and participants for attending the conference.
http://nation.com.pk/lahore/03-Aug-2015/clerics-support-army-s-swoop-on-terrorists
-----------
Taliban council 'yet to endorse' Mansour as TTA chief
August 03, 2015
LAHORE - Mullah Akhtar Mansour has been named as ameer of the Tehreek-e-Taliban Afghanistan for the time being, and he will succeed Mullah Omar as Ameerul Momineen after the TTA's 40-member supreme council lends its support by swearing allegiance to him. However, no timeframe has been given in this connection.
The difference between the TTA headship and the "Lord of Faithful" was explained by Javed Ibrahim Paracha who is regarded as part of the Taliban movement.
Talking to The Nation on Sunday, Paracha remarked, "The issue of TTA chieftainship will be settled conclusively in next few weeks."
About Mullah Yaqoub, the son of Mullah Omar, who has reportedly challenged Mullah Mansour Akhtar's headship, Paracha informed that Mullah Omar never in his lifetime had promoted his son, brother or nephew as his possible successor. Mullah Omar strongly followed the system of shura (supreme council) in the TTA which decides all matters of the organisation."
He added, "Mullah Mansour will finally get oath of allegiance of all members of the supreme council whether in parts or in a single meeting in next few weeks. Mullah Akhtar was nominated as second-in-command of the TTA by the founding ameer himself. At this stage, Mullah Mansour is naming himself as the ameer of the TTA and would be called as Ameerul Momineen after getting support of all members of the supreme council."
"The supreme council members, who had already thrown their support behind Mullah Mansour, are likely to be announced in next few days."
Mullah Mansour urged the Taliban commanders in his first audio message to keep on fighting and dismissed peace talks as enemy propaganda.
Paracha confronted, "Mullah Mansour's point relating to subject was unclear, as he conditionalised the peace talks with imposition of Sharia which was the stated position of the Taliban."
Mansour had given an unclear message on peace talks because he wanted to consolidate his position by removing the troublemakers from the organisation in order to resume the process.
He remarked, "The Taliban committee for peace talks has not issued any statement concerning the future of dialogues, which clearly indicates the new TTA leadership will resume talks."
The committee, which had held first round of peace dialogues at Murree last month, was constituted by Mullah Omar himself in 2010 for handling negotiating matters. The same committee held talks with the authorities concerned over the issue of handing over of al-Qaeda chief Osama bin Laden to the US authorities.
Asked about the Taliban commanders opposing the peace process, Paracha said they are only a few in numbers and have no significance. Such commanders had joined hands with the limited network of Daesh (ISIS) in Afghanistan, while some of them had been killed in fighting with the Taliban. He claimed, "All Taliban groups are unanimous on single point that Pakistan is the key neighbour and should never be kept out of the loop as far as Afghan peace issue is concerned."
Why the TTA leadership kept secret the death of its founding chief, Paracha observed that the Taliban movement was at its peak when Mullah Omar died, and the TTA supreme council believed that the death news could possibly demoralise their commanders at various fronts and the enemy could exploit the situation.
He added the news of Mullah Omar's death was released with the consent of the supreme council. The supreme council at this stage believed there is no harm in announcing this news as the Taliban movement had brought its opponents to knees and the peace process has started.
http://nation.com.pk/national/03-Aug-2015/taliban-council-yet-to-endorse-mansour-as-tta-chief
-----------
LeJ's fate hangs in balance after Ishaq's killing
Aug 3, 2015
LAHORE - The Taliban have chosen Mullah Omar's deputy to replace him. But nobody has been 'notified' yet as the successor of Malik Ishaq, the so-called chief of the Lashkar-e-Jhangvi (LeJ), who was killed by police along with his two sons and 11 commanders.
The revelation regarding the death of Mullah Muhammad Omar coincided with the killing of 14 LeJ men including its chief in Muzaffargarh district of the Punjab on Wednesday. The deaths of both the militants made headlines across the world.
Shortly after the armed encounter, a spokesperson for the Counter-Terrorism Department (CTD) termed the killings as a big blow to terrorists. "A chapter of target killings in South Punjab has been closed," said the spokesperson.
"Malik Ishaq and Ghulam Rasool Shah were running a big gang of terrorists and target killers. These gangsters were also in league with the Tehrik-e-Taliban Pakistan TTP and Al-Qaeda groups operating in the area."
Since TTP, Punjabi Taliban, and Al-Qaeda have the same ideology, their association with the Islamic State or ISIS is understandable. Many analysts say Malik Ishaq had links to the ISIS. The LeJ has been an ally to ISIS in waging war against the armed forces in collusion with local militants and facilitators. Malik Ishaq had established active cells in the Southern Punjab. The Punjab police record also reveals the LeJ chief mainly focused on his home division of Bahawalpur in recruiting militants. He also recruited youth from Sargodha, Multan, Lodhran, Bhakkar and Mianwali.
Official sources say they believe the killings of Ishaq and his accomplices will make a significant dent in the rank and file of terrorists and banned or proscribed organizations operating in the South Punjab.
The killings of top LeJ leadership in a staged police encounter, security experts believe, is a policy shift on the one hand. And the action is a strong message to the world in general and the militants in particular that the security forces are eliminating terrorists by showing zero-tolerance towards militancy.
It is very significant that no religious group or followers of the dead militant leaders dared stage protest demonstration in the province. While Friday is always a preferred day for religious groups to stage protest demonstrations soon after Juma prayers in Lahore, none of groups took to the streets. The police were strictly ordered to react quickly and pick up the protesters in case anyone tries to stage protest against the said killings.
Seriously, it seemed that all the followers, supporters, or sympathizers of the militant, who had become a symbol of terror for many Pakistanis, have gone underground.
Since the government has ordered the provincial governments to fully implement the national action plan (NAP) to quell extremism and militancy, the Punjab police are ruthlessly killing the criminals particularly the militants.
Interestingly, the police are actively fighting against the militants along with security and intelligence agencies. As per police record, at least 198 alleged criminals including many militants have been killed in police encounters during the first six months of this year across the Punjab province. Last year, the police during the same period had killed 141 alleged criminals in armed encounters. The police 'encounters' with the militants are likely to increase in the days ahead as the security and law enforcement agencies have stepped up clampdown on the extremists.
Malik Ishaq along with Akram Lahori and Riaz Basra had formed Lashkar-e-Jhangvi in 1996. Before 1996, Malik Ishaq, Akram Lahori, and Riaz Basra were among the central leadership of a proscribed outfit called, Sipah-e-Sahaba Pakistan (SSP). The trio launched the banned outfit LeJ after they developed differences with the SSP leadership.
In January this year, convicted sectarian terrorist Ikramul Haq alias Akram Lahori had been executed in Lahore's Kot Lakhpat Jail. Riaz Basra, also accused of hundreds of sectarian killings, had been killed along with three of his accomplices in an encounter with the police in Mailsi Tehsil of District Vehari in May 2002.
Reports say the Ahle Sunnat Wal Jamaat is unwilling to own slain Lashkar-e-Jhangvi (LeJ) chief Malik Ishaq. According to one ASWJ leader, they were a 'peace-loving party' and could not own a person with militant background "so protesting on roads against the death of Malik Ishaq and others is out of question." He said the party also did not have street power at present as the religious schools (madrassas) linked to the outfit are closed these days. Many security experts believe Malik Ishaq was a controversial leader even within his own party.
The ASWJ, currently led by Maulana Muhammad Ahmed Ludhianvi, emerged after the SSP was banned and some well-wishers of the two groups attempted to unite them under one umbrella. Malik Ishaq was made vice-president of the outfit. However, he was removed from the office within months after he was jailed again. Malik's group contested intra-party polls but lost badly to the Ludhianvi group, which supported legal ways and means for countering a rival sect. For an instance, in the last elections for Punjab chapter president his nominee and Maulana Azam Tariq's son could not get more than a dozen votes against 1,200 of the rival group's Shamsur Rehman, who was shot dead in Lahore a few months ago.
Security experts and political pundits say proscribed LeJ is unlikely to survive since its first, second, third, and fourth line leadership have been eliminated. However, the outfit had developed active cells, a network of facilitators in the Southern Punjab. The sons of Maulana Azam Tariq will not play any role in LeJ activities. Maulana Haq Nawaz Jhangvi's son had also been killed in Karachi a few years ago. Under such a scenario, the Malik's death along with leading commanders has created a serious leadership crisis in LeJ. The backbone of the militant outfit is broken.
http://nation.com.pk/lahore/03-Aug-2015/lej-s-fate-hangs-in-balance-after-ishaq-s-killing
-----------
14 arrested in seminaries search operation
Aug 3, 2015
LAHORE: Police carried out a search operation in nine seminaries of different schools of thought in the provincial capital and took 14 students in custody for interrogation.
The arrests were made from Jamia Masjid Fatima and Muhammadi Masjid in Nawab Town (Chuhng police circle), ASP Irfan Samoon told Dawn.
Earlier, Capital City Police Officer (CCPO) Amin Wains said police teams checked particulars of 1,100 students.
In a statement, he said the details of the students were checked in Madrasa Qasar-i-Farooq-i-Azam, Shahdara, Madrasa Urwa Tulwaska, Kot Lakhpat, Madrasa Jamia Muhammadia, Chauburji, Madrasa-i-Farooq Azam, South Cantt, Madrasa Hanfia, Ghaziabad, Madrasa Minhajul Hasnain, Johar Town and Hostel Madrasa Almustafa, Muslim Town. He said Madrasas' management was issued advisory letters besides instructions that no student should be registered without complete particulars.
The CCPO said that during first seven months of current year, Lahore police, under the National Action Plan (NAP), conducted search operations at more than 150,000 houses, 2,500 hotels and inns, 4,000 shops and other places, including 80 seminaries.
Mr Wains further said more than 4,000 cases had been registered for violation of loudspeaker act, publication and distribution of sectarian material, wall chalking and provocative speeches. Similarly, more than 500 cases were registered for display of fire arms and aerial firing. He said police checked identification documents of 350,000 people, including 7,000 tenants, and apprehended more than 6,000 suspects.
gang busted: Police on Sunday claimed to have arrested 20 members of a gang of dacoits involved in a number of cases of robberies and dacoities, and recovered looted items, including cash, gold jewellery and other valuables, worth over Rs3 million as well as illegal weapons from their possession.
Full report at:
http://www.dawn.com/news/1198039/14-arrested-in-seminaries-search-operation
-----------
Nexus between drug dealers, terrorists will be broken: COAS
MATEEN HAIDER
Aug 3, 2015
RAWALPINDI: Chief of the Army Staff (COAS) General Raheel Sharif said on Monday that the nexus between drug dealers, financiers and perpetrators of terrorism will be broken.
Army Chief Gen Raheel Sharif issued the statement while visiting the headquarters of the Anti-Narcotic Force (ANF) where he was given a detailed briefing of the various aspects of ANF's counter drug smuggling operations by Director General (DG) ANF Major General Khawar Hanif.
During the briefing, General Khawar apprised the COAS of the international and regional drug situation and its negative effects on society. He also talked about ANF's strategy and efforts to ensure a "drug free society", the challenges faced and the Five Years Force Development Plan.
Full report at:
http://www.dawn.com/news/1198133/nexus-between-drug-dealers-terrorists-will-be-broken-coas
-----------
MQM committee defends Altaf's speech
AZFAR-UL-ASHFAQUE
Aug 3, 2015
KARACHI: The Muttahida Qaumi Movement (MQM) denied on Sunday that its London-based chief Altaf Hussain had talked about seeking "help from India, Nato and the United Nations" in his speech at a party programme held in the United States on Saturday.
The MQM coordination committee held a late-night press conference in response to widespread criticism of Mr Hussain's latest remarks.
Party leader Dr Farooq Sattar said Mr Hussain's speech was within the parameters of the Constitution of Pakistan.
Also read: MQM submits letter to UN chief over alleged mistreatment of activists
"The MQM and Altaf Hussain are inseparable," he declared. "He is struggling for the rights of Mohajirs and [was] speaking on behalf of 50 million Mohajirs."
In response to Interior Minister Chaudhry Nisar Ali Khan's remarks that Mr Hussain was giving controversial statements because of cases against him in London, Dr Sattar said they had been pending for five years. "Has Altaf Bhai been speaking like this for the past five years?" he asked.
Full report at:
http://www.dawn.com/news/1198128/mqm-committee-defends-altafs-speech
-----------
Imran orders PTI leaders to end political wrangling
KHAWAR GHUMMAN
Aug 3, 2015
ISLAMABAD: Pakistan Tehreek-i-Insaf Chairman Imran Khan has said that he would never tolerate a division within his party.
A fully worked-up Mr Khan delivered a marathon three-hour pep talk to his party leaders gathered here on Sunday.
Take a look: PTI chief resolves differences with Justice (r) Wajihuddin, Hamid Khan
Dressed in his favourite black shalwar-kameez, he warned his party's central and provincial leaders that their continued wrangling would benefit only the adversaries.
Journalists were kept out of the event, but PTI's Twitter account contained snippets from Mr Khan's speech. And PTI spokesperson Dr Shireen Mazari released main points of the speech.
Mr Khan was the only speaker on the occasion but before his speech a documentary was shown to the participants.
Following the release of the poll inquiry commission report, senior PTI leaders Hamid Khan and retired Justice Wajihuddin Ahmad have been criticising party's General Secretary Jahangir Tareen for having failed to effectively present the case before the commission.
Mr Hamid Khan even said that Imran Khan was surrounded by opportunists, remnants of General Musharraf and power grabbers, while Justice Ahmad, based on findings of the PTI's election tribunal which he headed, has been pressing for terminating Mr Tareen's basic membership.
Know more: Hamid criticises PTI's legal team
According to a senior party leader and close aide to the PTI chairman, Sunday's meeting was meant to give a clear warning to all tiers of the leadership against continuous finger-pointing within the party. "No political party can afford to let the washing of its dirty linen in public and that too at this scale."
Putting up a stout defence of Mr Tareen, according to one participant, the chairman spent a considerable time to clarify his own position.
"A leader chooses his advisers and his team. There is no seniority in a team. There is merit in the team selection. All those close to me know that I will never make concessions because they are close to me. So those who say I chose Mr Tareen because he owns a plane are wrong. Ten years ago I was informed of his organisational skills and I invited him to join."
He said Mr Tareen's appointment as secretary general of the party in place of Pervez Khattak who had been elected as chief minister of Khyber Pakhtunkhwa was made after consultations with Shah Mehmood Qureshi and Asad Umar.
Full report at:
http://www.dawn.com/news/1198119/imran-orders-pti-leaders-to-end-political-wrangling
-----------
Sanctions on Iran pipeline project still there, says US
Aug 3, 2015
WASHINGTON: The Iran-Pakistan gas pipeline project will not yet benefit from the nuclear agreement that may ease economic sanctions on Tehran, says the US State Department.
On July 14, the United States and five other world powers signed a deal with Iran, which would end international economic sanctions on Tehran if it abandoned its nuclear weapons programme.
Tariq Fatemi, the prime minister's special adviser on foreign affairs, told a think-tank in Washington last week that Pakistan welcomed the deal because it would open the doors for economic cooperation with Iran, including the construction of a pipeline to bring natural gas for the energy-starved South Asian nation.
Take a look: Tehran nuclear deal revives hope for Pakistan-Iran gas pipeline
Asked to comment on Mr Fatemi's statement, a State Department spokesman Mark Toner said the lifting of sanctions for commercial deals with Iran had not started yet.
"We don't consider Iran open for business yet, and there's no new sanctions relief beyond the very limited relief under the joint plan of action that's been in place since January 2014," he said. "When Iran meets its key nuclear steps and we get to implementation day, then there will be commensurate relief of nuclear-related sanctions."
Full report at:
http://www.dawn.com/news/1198078/sanctions-on-iran-pipeline-project-still-there-says-us
-----------
Four terrorists held in Nasirabad
August 03, 2015
NASIRABAD - At least four terrorists including an important commander of a banned outfit were arrested in Quetta and other areas of Gandhaka and Nasirabad Sunday.
According to details, the commander was arrested during raid in Jinnah Town, Quetta. A huge cache of arms and literature was recovered from his custody. Reportedly, he was involved in attacks at the GHQ and FIA office in Sukkur. He has been shifted to an undisclosed location for further interrogation.
Meanwhile, the FC while conducting operation in Naseerabad arrested three terrorists and also confiscated huge cache of weapons which included eight rocket launchers, four LMGs, four ammunitions, 11 magazine pistols, three short guns, one TT-pistol, five IEDs, Kalashnikovs and hundreds of shells.
While talking to media, Colonel Barkatullah said the FC officials had information that planning was underway for terrorist attack in Goth Faiz as a result of which the raid was conducted and arrests were made.
Full report at:
http://nation.com.pk/national/03-Aug-2015/four-terrorists-held-in-nasirabad
-----------
JUP urges PM to use offices for imrpovement in Saudi-Iran relations
August 02, 2015
LAHORE: Jammiat Ulema-e-Pakistan (JUI) urged Prime Minister Nawaz Sharif to use his good offices for better cordial relations between Saudi Arabia and Iran in a bid to avoid further aggravate tension between the two Islamic states.
Adopting different resolutions in the session of the Majlas e Shoora of the JUP, the members supported Iran's nuclear accord with six world powers, terming it in benefit of the entire Ummah.
Full report at:
http://nation.com.pk/national/02-Aug-2015/jup-urges-pm-to-use-offices-for-imrpovement-in-saudi-iran-relations
-----------
Arab World
Dozens killed, wounded after warplane crashed in Syria
By ZABIHULLAH MOOSAKHAIL - Mon Aug 03 2015
Dozens of people have been killed and wounded after a warplane crashed in northwesterly part of Syria.
The plane crashed over a popular marketplace in the town of Ariha in Idlib province on Monday.
The Syrian Observatory for Human Rights said that those killed include at least 12 civilians as the warplane landed on residential quarters.
The Observatory further states that the area was under the air assault of Bashar al-Assad's air force as it is in the control of the opposition groups.
After the crash Syria's Sham News Network posted photos of the aftermath of the plane, showing destroyed buildings and a ravaged square covered with debris and destroyed concrete.
Full report at:
http://www.khaama.com/dozens-killed-wounded-after-warplane-crashed-in-syria-3701
-----------
Syrian Analyst Lambasts Qatar, S. Arabia for Dishonest Policy on Terrorism
Aug 03, 2015
Mahir al-Attar told FNA on Monday that Syrian officials welcome talks for their country's interests, and said, "Therefore, any cooperation and rapprochement between Syria and Qatar and Saudi Arabia is acceptable to us and it merely needs Saudi Arabia and other countries' sincerity about serious interaction."
"The Syrian nation is a sincere nation which seeks return of security and stability to the country and the Saudi nation is the Syrian nation's brother, and it is the policy of al-Saud which is different from the nation's intention in regional war on terrorism," he added.
His remarks came after unconfirmed reports said that Mamlouk visited Riyadh recently and met with the Saudi deputy crown prince as a result of a Russian-brokered initiative, and differences between the two sides were discussed.
Syria has been grappling with a deadly crisis since March 2011. The violence fuelled by Takfiri groups has so far claimed the lives of over 210,000 people, according to reports. New figures show that over 76,000 people, including thousands of children, lost their lives in Syria last year.
Over 3.8 million Syrians have left their country since the beginning of the crisis. According to reports, more than seven million Syrians have become internally displaced.
The regional and even western officials and analysts have blamed Turkey, Saudi Arabia, Qatar and Israel for the terrorist acts in Syria.
In late April, a ranking Takfiri militant disclosed that Ankara, Riyadh and Doha masterminded and led the terrorists' attacks in Syria, adding that they have been preparing militants and equipment for the assaults.
Full report at:
http://english.farsnews.com/newstext.aspx?nn=13940512000425
-----------
U.S.-Turkey deal on Syria seen as 'big gamble'
3 August 2015
President Barack Obama and Turkish President Recep Tayyip Erdogan are both taking a big gamble as they agree to work together against the ISIS group militants in Syria.
Their goals, while overlapping in some ways, are far different in others, mainly on the question of how to handle Kurdish militants battling ISIS fighters in Syria. And that's the problem.
Erdogan wants to combat ISIS militants in his country who had flown freely across the border with Syria. But his biggest priority is one that's driven by domestic politics: curtailing growing Kurdish power along Turkey's southern border. Ankara is worried that Kurdish gains in Iraq and in Syria will encourage a revival of the Kurdish insurgency in Turkey in pursuit of an independent state.
To that end, Erdogan used the start of Turkish air strikes against ISIS forces in Syria to also attack Kurdistan Workers' Party (PKK) rebels in northern Iraq. And on July 27, the main Syrian Kurdish militia, the People's Protection Unit, known as the YPG, claimed that it had been shelled by Turkish troops. A Turkish official said the military was only returning fire, and that the military campaign does not include the YPG.
Since the U.S.-Turkey agreement was announced late last month, Turkish warplanes have attacked PKK bases in northern Iraq and its forces in southeastern Turkey on an almost daily basis.
The U.S. has gained access to Turkey's Incerlik air base near Syria's northern border, as well as Turkey's participation in attacks on Islamic state fighters from the air.
But what the U.S. stands to lose could be even greater: Washington's most effective allies and ground forces in the battle against the ISIS in Syria are the Kurds, ever wary of being targeted by Turkey, despite Ankara's promise not to attack them.
"It's no secret that Turkey has been less interested in fighting ISIL (the ISIS) than suppressing the Kurds," said Stephen Tankel, professor at American University. "That's still true. Bringing Turkey further into the fight against ISIL is a positive thing depending on the cost. Turkey has said it won't strike the Syrian Kurdish militias, which are one of the most effective U.S. partners on the ground. "
The Kurds, an ethnic group with their own language and customs, have long sought a homeland. Nearly 25 million Kurds live mostly in Turkey, Iraq, Syria, Iran and Armenia.
The Kurds have made unprecedented gains since Syria's civil war began, carving out territory where they declared their own civil administration. With the help of U.S.-led airstrikes against the IS group, Kurdish fighters expelled the militants in Kobani, a Syrian village on the Turkish border in January after a long battle. In June, the Kurds pushed the ISIS group from their stronghold of Tal Abyad also along the border with Turkey, robbing IS of a key avenue for smuggling oil and foreign fighters.
Until about two years ago, Kurds had fought a three-decade insurgency in southeastern Turkey and from bases in northern Iraq. That fighting has taken at least 37,000 lives.
Peace talks begun in 2013 have broken down with the renewed Turkish bombing in northern Iraq and PKK counterattacks inside Turkey.
Full report at:
https://english.alarabiya.net/en/News/middle-east/2015/08/03/U-S-Turkey-deal-on-Syria-a-big-gamble-.html
-----------
Syria govt forces battle rebels near regime bastion: monitor
2 August 2015
Syrian troops backed by Hezbollah fighters on Sunday pressed a counteroffensive against rebels near President Bashar al-Assad's coastal heartland, a monitoring group said.
The Syrian Observatory for Human Rights said that more than 100 fighters have been killed in three days of intense clashes in the Sahl al-Ghab region of central Hama province.
The area borders the Latakia province, a bastion of support for Assad and home to his ancestral village.
A rebel alliance including Al-Qaeda's Syria affiliate, Al-Nusra Front, launched an offensive late Monday against Sahl al-Ghab, in a push threatening a string of pro-regime Alawite villages.
The rebel alliance, Army of Conquest, seized more than a dozen strategic hilltops and other positions, including a power plant, before being pushed out by pro-government forces, said the Observatory.
Full report at:
https://english.alarabiya.net/en/News/middle-east/2015/08/02/Syria-govt-forces-battle-rebels-near-regime-bastion-monitor.html
-----------
Nusra Front posts video of 'capture' of U.S.-trained rebels
2 August 2015
Al-Qaeda's Syria branch has posted a video purportedly showing its capture last week of members of a US-trained rebel force it accuses of aiding US-led air strikes against its fighters.
The Pentagon denied on Thursday that any graduates of its training program for moderate rebels had been captured in Syria.
But the Syrian Observatory for Human Rights said that eight members of the 54-strong Division 30 unit inserted into Aleppo province in mid-July were being held by al-Qaeda affiliate al-Nusra Front.
The video released by the group on its YouTube account on Saturday appears to show at least some of the captured rebel fighters.
It depicts five men walking through a field in a straight line, hands behind their heads, supervised by one hooded man and one armed man.
One of the apparently detained men tells the camera he was recruited by the U.S. through intermediaries, to receive training in Turkey for a month and a half.
He said the trainees were each given an M16 assault rifle and some cash to "fight Nusra" in Syria.
Full report at:
https://english.alarabiya.net/en/News/middle-east/2015/08/02/Nusra-Front-posts-video-of-capture-of-U-S-trained-rebels.html
-----------
Top Russian, U.S. and Saudi diplomats to meet in Qatar
2 August 2015
Russia's foreign minister has scheduled a trilateral meeting in Qatar with his U.S. and Saudi counterparts.
The Russian Foreign Ministry said that Sergey Lavrov will confer with U.S. Secretary of State John Kerry and Saudi Foreign Minister Saudi Foreign Minister Adel Al-Jubeir during his two-day trip to Doha starting Sunday. Kerry earlier has said he plans to meet separately in Doha with Lavrov to discuss Syria, Iran and the ongoing crisis in Ukraine.
Full report at:
https://english.alarabiya.net/en/News/middle-east/2015/08/02/Top-Russian-U-S-and-Saudi-diplomats-to-meet-in-Qatar.html
-----------
Syrian opposition group quits major coalition
August 2015
A major Syrian anti-regime group, the Local Coordination Committees, announced Saturday it had quit the opposition in exile, accusing it of being undermined by internal conflict and manipulated by foreign powers.
In a letter to the Syrian National Coalition, the LCC denounced what it termed the SNC's transformation into "blocs linked to foreign forces", referring to Saudi Arabia, Qatar and Turkey.
"We wish to inform you that the LCC has decided to withdraw officially from the coalition," the group of activists said in a letter, a copy of which was seen by AFP.
"We had hoped that this political grouping, of which we are one of the founders, would realize the aspirations of the people and the principles of the revolution for which it has paid an unimaginable price," the letter said.
"Unfortunately, we have on several occasions noted its inability to undertake this mission," added the LCC which through its network of activists across the country has covered events since the beginning of the Syrian crisis in 2011.
Full report at:
https://english.alarabiya.net/en/News/middle-east/2015/08/02/Syrian-anti-regime-group-quits-major-bloc-.html
-----------
Syrian Army Operations in Hama, Idlib Herald Massive Gains
August 03, 2015
"The Syrian army is conducting military operations to assess the military capabilities of the terrorists and bring them out of their hideouts to pave the way for a major battle to seize back the cities of Aleppo, Jisr al-Shugour and Ariha," Syrian military expert Ali Maqsoud told FNA on Monday.
He pointed to the Syrian army's strategy in its battles against the terrorist in Idlib and Hama, and said, "The Syrian army conducted unique and precise strategic military operations to bring out terrorists from their hideouts and then hunt them."
On Sunday, the Syrian army seized back new areas in heavy clashes with Jeish al-Fath Takfiri terrorists in Idlib countryside.
Full report at:
http://english.farsnews.com/newstext.aspx?nn=13940512000378
-----------
Syrian Army Advances against Rebels in Aleppo City
Aug 03, 2015
he Syrian army targeted the militants' hideouts and concentration centers near the air force academy and al-Mansoura neighborhood in Aleppo, and killed a number of them, the sources said.
On Saturday, Syrian warplanes bombed one of the main supply routes of the rebel groups in Aleppo province.
Sources said that the Syrian Air Forces hit a long convoy of al-Nusra Front's vehicles on one of the main supply route of the rebels near Bshantara and Kafr Dael in the Western part of the province.
Full report at:
http://english.farsnews.com/newstext.aspx?nn=13940512000448
-----------
Saudi king brings early end to controversial holiday in France
Aug 3, 2015
Saudi King Salman has unexpectedly left the Mediterranean coastline of French Riviera, where he had been vacationing over the past days amid security measures including the closure of the public beach.
The Saudi monarch, who arrived in the southern French community of Vallauris on July 26, boarded a Sunday flight from Nice airport to the Moroccan city of Tangiers, bringing an end to his planned three-week holiday only after eight days of stay.
"We can assume that the king has ended his stay," local official Philippe Castanet told AFP, adding that at least half of his 1,000-strong entourage left France with the king.
It is not yet clear why the king and his massive entourage have left.
Castanet also said the beach, which had been closed for security reasons and the Saudis' privacy, would reopen to the public on Monday.
The closure of the public beach had angered some of the locals, generating global headlines and prompting over 150,000 people to sign a petition protesting against the "privatization" of the public land.
A French police officer stands guard at the entrance to a public beach closed to locals during a visit by the Saudi King Salman in the southern French community of Vallauris, July 26, 2015. (© AFP)
Elsewhere in his remarks, Castanet said a temporary lift connecting the beach to the port yard of the king's villa – which had also outraged some local people – would be removed in the coming weeks.
Full report at:
http://www.presstv.in/Detail/2015/08/03/423065/-Saudi-France-King-Salman-Vallauris-Morocco
-----------
South Asia
First clash between Taliban militants following Mullah Omar's death
By KHAAMA PRESS - Mon Aug 03 2015,
A clash broke out between the Taliban militants for the first time since the confirmation of the group's supreme leader Mullah Mohammad Omar's death.
The incident reportedly took place in western Herat province of Afghanistan on Monday following a verbal clash between the militants regarding the appointment of the group's new supreme leader.
A local security official in Shindand district said at least 9 Taliban insurgents including the group's senior commander were killed during the infighting.
The official speaking on the condition of anonymity further added that the militants were divided in two groups regarding allegiance to Mullah Akhtar Mansoor which led to gun battle between the two sides.
He said the senior Taliban commander killed during the gun battle has been identified as Mullah Ismail who was killed along with his five men and three militants from the other group was also killed.
Taliban formally confirmed the death of Mullah Omar by issuing a statement last week and later announced the Mullah Mansoor was appointed as the group's new supreme leader.
Reports regarding the death of Mullah Omar emerged last week suggesting Pakistan have confirmed the death of Mullah Mohammad Omar to the Afghan government.
Mullah Omar's death was first confirmed by a splinter group of the Taliban – Afghanistan Islamic Movement Fidai Mahaz, which claimed that he was assassinated Mullah Akhtar Muhammad Mansoor and Gull Agha.
The group's spokesman Qari Hamza said Mullah Omar was killed two years ago in the same month of July.
Hamza claimed that the group has evidences to prove their claims that Mullah Omar was killed by Mullah Akhtar Muhammad Mansoor and Gull Agha.
-----------
Afghan government says it won't separately deal with Taliban
Aug 3, 2015
KABUL: The Afghan government addressed the growing leadership crisis in the Afghan Taliban for the first time on Monday, saying it will not deal with the militant group separately from other "armed opposition" in the country.
The statement from Afghan President Ashraf Ghani's office said it will not accept any "parallel political structure" opposed to the Afghan government — a clear reference to the Taliban, who still call themselves the "Islamic Emirate of Afghanistan".
Fledgling peace talks between the Afghan Taliban and the government halted last week after Afghan authorities announced that Mullah Omar had died in April 2013.
Also read: Mullah Omar died in Karachi in April 2013: Afghan govt
The Taliban confirmed Mullah Omar's death and said Mullah Akhtar Mansour had been elected to replace him.
Full report at:
http://www.dawn.com/news/1198139/afghan-government-says-it-wont-separately-deal-with-taliban
-----------
Exclave residents of Panchagarh district want new territories declared as unions
August 3, 2015
This is the ninth and final report in a series on the exclaves
The residents of India's erstwhile exclaves in Panchagarh district who have decided to take Bangladeshi nationality want the former Indian territories to be turned into independent unions in Bangladesh.
After 68 years of neglect under India, exclave residents say they are keen to fast-track the development of the under-served areas.
Take a look: New lands to get electricity soon
"We want our exclave to be a separate union to enable the quick development of the land," Rabbul Alam, 50, a resident of Dahala Khagrabari in Panchagarh, told the Dhaka Tribune on Thursday.
Rabbul, also president of the exclave Citizen Committee, said the residents of the former Indian territory had never enjoyed any public services. But Rabbul believes his people's deprivation will continue if the exclave is attached to an existing union.
Former exclave residents, some of whom described their lives as "wretched," said they want to transform their condition after becoming part of Bangladesh.
Tojammel Hossen, vice president of the exclave Citizen Committee said: "Currently exclaves are administered by a citizen committee formed by the people of the exclaves of both India and Bangladesh."
"The committee will automatically lapse after the exchange of territory takes place at midnight on July 31," he said.
Also read: Indian exclave residents choose to become Bangladeshi • Why some are opting for India
Tojammel demanded that the land be declared a separate union and elections be held to form a local administration.
Full report at:
http://www.dhakatribune.com/bangladesh/2015/aug/03/exclave-residents-want-new-territories-declared-unions
-----------
Rajon killing: No specifics over bringing back Kamrul
August 03, 2015
Authorities are yet to say when Kamrul Islam, who along with others beat the life out of 13-year-old child Rajon last month, will be brought back to the country.
"Necessary documents have been sent to Saudi Arab authorities through diplomatic channels of the foreign ministry last week," Mahbubur Rahman Bhuiyan, an assistant inspector general of police and in-charge of Interpol desk in Dhaka, said today.
Kamrul was seen most active in beating up the child – that was filmed by a laughing associate. The video was later released over the internet. It drew widespread flack.
"We are communicating with Interpol and relevant diplomatic channels so that Kamrul can be brought back to the country very soon," Md Kamrul Ahsan, commissioner of Sylhet Metropolitan Police (SMP) said.
Full report at:
http://www.thedailystar.net/country/rajon-killing-no-specifics-over-bringing-back-kamrul-121099
-----------
11 Jamaat men remanded
August 03, 2015
A court granted one-day remand for eleven leaders and activists of Jamaat-e-Islami in a sabotage case.
Jessore police produced them before the court and asked for three days' remand. The court passed the order after the hearing yesterday.
The arrestees are Abdul Malek, ameer of Jamaat's Kochua union unit, its secretary Tariqul Islam and nine other activists.
Full report at:
http://www.thedailystar.net/country/11-jamaat-men-remanded-120703
-----------
Mideast
Houthi militia chief 'ready for political settlement'
3 August 2015
The leader of the Iranian-backed Houthis said on Sunday he was ready for a political settlement to end the war in Yemen.
"A political solution is still possible, internally," Abdel-Malek al-Houthi said in a speech live on television, without elaborating.
During the speech, Houthi urged his militia to fight on against Yemen's government, dismissing its recapture of Aden last month as a 'limited' achievement made possible by Ramadan.
He said Aden's fall occurred only because some Houthis had returned home to be with their families at the end of the Muslim holy month of Ramadan.
"Continue and move in your resistance. You are in a strong position. And you are on the way to win," he said. "We are in a battle, a great battle, in which we must use all our efforts."
"The enemy, when it threw all its weight and carried out thousands of raids, succeeded in limited achievements. They took advantage of an opportunity," Houthi said, referring to Ramadan.
Full report at:
https://english.alarabiya.net/en/News/middle-east/2015/08/03/Houthi-chief-ready-for-political-settlement-.html
-----------
Car bomb blast kills 3 in Yemen's Dhale Province
Aug 3, 2015
A car bomb explosion has killed at least three people and injured three others in the southern Yemeni province of Dhale amid the ongoing Saudi airstrikes on the impoverished Arab country.
The blast took place in the town of Damat in the province on Monday.
Also on Monday, a military source said that an al-Qaeda leader identified as Ahmad Hassan was killed in the southern city of Aden, but did not provide further details on his death.
This comes as two other al-Qaeda leaders were also killed in Yemen's northwestern province of Hajjah which borders the Red Sea in west of the country.
The events come as Saudi fighter jets are continuing to pound several parts in the Arab country.
In the latest acts of aggression, Saudi warplanes bombarded the Taffah district in the southeastern Yemeni province of al-Bayda three times, killing and injuring a number of people.
Among those injured in the airstrikes were two girls.
On Monday, Saudi jets also targeted a mosque and a farm in Shabwah Province in southeast of Yemen.
Saudi Arabia has been pounding Yemen since March 26 – without a UN mandate – in a bid to undermine the Houthi Ansarullah movement and to restore power to the fugitive former president, Abd Rabbuh Mansour Hadi, an ally of Riyadh.
Full report at:
http://www.presstv.in/Detail/2015/08/03/423076/Yemen-bomb-explosion-Dhale-Taffah-Shabwah-Jizan-alBayda
-----------
Gulf ministers, Kerry discuss Iran deal in Doha
3 August 2015
Gulf foreign ministers are holding a joint meeting with U.S. Secretary of State John Kerry in Doha on Monday, the Saudi Press Agency reported.
Foreign Minister Adel Jubeir led the Saudi delegation participating in a pre-summit meeting on Sunday which was chaired by Qatari Minister of Foreign Affairs Dr. Khalid Bin Mohammed al-Attiyah, and attended by the GCC Secretary General Dr. Abdullatif bin Rashid al-Zayani.
The GCC-U.S. meeting is to discuss a number of regional issues, including the nuclear deal between P5+1 and Iran, signed in July.
Kerry arrived in the Qatari capital on Sunday after visiting Egypt, where he also spoke in favor of the agreement reached with Iran last month in Vienna. Gulf Arab states fear Iran's increasing assertiveness in the region. In Cairo, Kerry acknowledged Iran's negative role but said it would be easier to deal with if Tehran cannot develop a nuclear weapon.
"Iran is engaged in destabilizing activities in the region - and that is why it is so important to ensure that Iran's nuclear program remains wholly peaceful," he told reporters at news conference with Egypt's foreign minister. "There can be absolutely no question that the Vienna plan, if implemented, will make Egypt and all the countries of this region safer than they otherwise would be."
Full report at:
https://english.alarabiya.net/en/News/middle-east/2015/08/03/Gulf-ministers-Kerry-to-discuss-Iran-deal-in-Doha-.html
-----------
Israel approves jailing Jewish militants without trial
2 August 2015
Israel's security cabinet approved on Sunday the detention of citizens suspected of waging violence against Palestinians without trial in a crackdown aimed at capturing the perpetrators of a lethal West Bank arson attack blamed on Jewish militants.
The extension to Israelis of so-called "administration detention", a practice commonly applied to Palestinian militant suspects and condemned internationally, laid bare authorities' frustration at failing to curb Jewish ultra-nationalist attacks.
Friday's torching of a Palestinian home killed a toddler and seriously injured his parents and brother, causing an outcry abroad and vows by Israeli Prime Minister Benjamin Netanyahu to crack down on what he deemed "terrorism" by "criminals in our nation".
There was no claim of responsibility for the arson at Duma village, in the occupied West Bank. Graffiti in Hebrew reading "revenge" daubed at the site was consistent with past vandalism and other hate crimes by bands of young Jewish zealots targeting Arabs, Christians, peace activists or Israeli army property.
With no arrests yet made for the arson, some Israeli commentators on Sunday questioned the resolve of security services which, when responding to Palestinian attacks, often round up suspects en masse as part of accelerated investigations.
Full report at:
https://english.alarabiya.net/en/News/middle-east/2015/08/02/Israel-approves-jailing-Jewish-militants-without-trial-to-resolve-lethal-arson.html
-----------
Iran deal can speed solutions in Syria: Rowhani
2 August 2015
Iran's President Hassan Rowhani says his country achieved its main goals in the landmark nuclear deal reached with world powers last month.
In a national address late Sunday, he says the accord recognizes Iran's right to enrich uranium and lifts international sanctions.
He says negotiations between Iran and the six-nation group -- the U.S., Russia, China, Britain, France and Germany -- worked because of "constructive interaction" instead of confrontation.
The U.S. Congress and Iran's parliament will vote on the accord in the coming months before it is implemented.
Full report at:
https://english.alarabiya.net/en/News/middle-east/2015/08/02/Iran-s-president-says-nuclear-deal-achieves-goals.html
-----------
Turkey denies hitting civilians in airstrikes
2 August 2015
Turkey's military on Sunday denied allegations that it hit civilians in the village of Zargala during air strikes and said the target was a shelter for Kurdistan Workers Party (PKK) militants.
"The targets in northern Iraq and inside Turkey are being identified by qualified personnel, based on confirmed visual data and as a result of a very meticulous and detailed study," the military said.
It added that an investigation regarding the village in question returned no findings of civilian residential areas within the impact range of the bombardment.
Earlier today, two Turkish soldiers were killed and 31 were wounded early on Sunday in a suicide bombing blamed on PKK militants that ripped through their local headquarters in eastern Turkey, reports said.
A suicide bomber drove a tractor laden with explosives up to the military station in the Dogubayazit district of the eastern Agri province, the official Anatolia news agency reported, quoting the local governor's office.
Full report at:
https://english.alarabiya.net/en/News/middle-east/2015/08/02/Two-Turkish-soldiers-killed-24-wounded-in-PKK-suicide-attack-.html
-----------
Iran Natural Gas Exports to Turkey Resumed
Aug 03, 2015
The National Iranian Gas Company (NIGC) resumed its exports to the Western neighbor on Sunday Nightby the help of the Turkish BOTAŞ Petroleum Pipeline Corporation (BOTAS) after a one-week disruption in the gas flow from Iran to Turkey due to an explosion that hit the pipeline in the Turkish province of Agrı on July 27.
Full report at:
http://english.farsnews.com/newstext.aspx?nn=13940512000544
-----------
Iranian FM Proposes Regional Talks Convention to Soothe Tensions
Aug 03, 2015
In his message published in two Arabic-language al-Safir and al-Shorouq newspapers, he raised his proposal for the start of talks on regional and Islamic issue, and urged serious negotiations and efforts to produce a mechanism to uproot tension and its components in the region as well as mistrust among the regional states.
He underlined that respect for nations' sovereignty, territorial integrity and political independence, non-interference in other countries' internal affairs, avoiding use of threats and forces and efforts to materialize peace, stability, progress and prosperity in the region conform the principles of these talks.
Zarif described the crisis in Yemen as a good ground for serious talks between Iran and its neighbors, and reminded the regional countries of Tehran's plans presented in the past to settle the crises in Yemen and Syria politically.
Zarif's message came after his three-leg tour of Kuwait, Qatar and Iraq late in July.
During the trip, he held a meeting with Qatari Emir Sheikh Tamim bin Hamad Al Thani in which the Iranian top diplomat underlined the necessity for cooperation among the neighboring and regional states to establish security and stability in the region.
"Security and stability in the region is only established through regional cooperation among the neighboring countries," Zarif said during the meeting in Doha.
He also stressed the necessity for regional cooperation to effectively fight against terrorism and extremist-Takfiri groups, and said, "Terrorism and extremism should be confronted within the framework of safeguarding and respect for the states' national sovereignty."
The Qatari Emir, for his part, said that regional cooperation to establish stability and security in the neighboring states is an important issue, stressing that all countries should remain committed to this principle.
Full report at:
"Iran is standing beside the regional nations against the threat of extremism," Zarif said.
http://english.farsnews.com/newstext.aspx?nn=13940512000287
-----------
Sources: 1,500 Saudi-Led Soldiers Arrive in Aden to Fight Yemeni Forces
Aug 03, 2015
"The Saudi-led Arab states have sent some 1,500 soldiers to Aden to help the pro-Hadi and al-Qaeda militants," the London-based Al-Hayat newspaper quoted informed sources as saying on Monday.
The daily wrote that the soldiers are mostly from the UAE and other Persian Gulf states who arrived in the port of al-Bariqa and then sent to a location near Aden refinery.
Al-Hayat also wrote that a large amount of state-of-the-art military equipment, including tanks and personal armored carriers, have also been sent by Saudi Arabia and its allies to Aden.
The Saudi-backed forces have sustained major defeats and hundreds of casualties in Aden in the last 6 weeks, and Riyadh is now trying to send in fresh troops to stop the march of the Yemeni army-Ansarullah joint forces on the positions of the Al-Qaeda and pro-Hadi militants and prepare for a acounterattack.
In a relevant development on Saturday, Yemeni security forces disclosed that thousands of terrorists have arrived in Yemen to help the pro-Hadi and al-Qaeda militants in their fight against Yemen's army and popular forces.
"Over 3,000 terrorists mostly from Syria have arrived in the terrorist-controlled areas in Aden," Yemeni Security Official Lawa al-Azodi told FNA.
Azodi reiterated that the pro-Hadi and Al-Qaeda terrorists are planning to compensate for their defeats in recent months.
Early in July, Yemeni sources reported that hundreds of mercenaries from Senegal had been hired by Saudi Arabia and sent to Aden to back up the Al-Qaeda militants and forces loyal to fugitive president Mansour Hadi.
Full report at:
http://english.farsnews.com/newstext.aspx?nn=13940512000600
-----------
Israeli forces clash with Palestinians in West Bank
Aug 3, 2015
Israeli forces have engaged in heavy clashes with Palestinians in the city of Jenin in the north of the occupied West Bank.
The clashes erupted after Israeli soldiers stormed Palestinian houses in Ya'bad town in Jenin on Monday morning.
According to reports, the Israeli troops fired tear gas and tossed sonic bombs among Palestinians in the town, prompting the Palestinians to hurl stones at the soldiers.
The sonic bombs set fire to olive trees in the area, witnesses say.
Meanwhile, Israeli soldiers have also abducted eight Palestinians in different parts across the West Bank.
A young Palestinian was also shot dead by Israeli forces during clashes in the city of Nablus in the West Bank.
Israeli forces regularly launch attacks on Palestinians, storming their villages, farms and houses.
Full report at:
http://www.presstv.in/Detail/2015/08/03/423071/Isarel-Jenin-West-Bank-
-----------
Africa
Nigeria air strikes kill 'large number' of Boko Haram
August 03, 2015
ABUJA : Nigeria said Sunday it had carried out air strikes in the northeast of the country to repel an attack by Boko Haram and had killed a "large number" of the Islamist extremists.
The air raids came as Nigeria and its neighbours prepared to launch a new multinational force to combat Boko Haram, in the face of the group's escalating violence in the region.
The Nigerian Air Force said it had "successfully repelled an attack on Bita village by the Boko Haram terrorist group" in a combined operation with ground troops after spotting militants planning an assault.
Full report at:
http://nation.com.pk/international/03-Aug-2015/nigeria-air-strikes-kill-large-number-of-boko-haram
-----------
UN peacekeeper killed in Central African Republic
Aug 3, 2015
A United Nations peacekeeper has been shot dead in the Central African Republic (CAR) during a firefight with gunmen.
The incident happened in the capital Bangui on Sunday, a UN peacekeeper in the conflict-ridden country told AFP.
"As the (UN) blue helmets approached the area, they were targeted by armed individuals and responded," the UN officer from the MINUSCA peacekeeping mission said.
Eight other people, mostly civilians, were injured in the attack and exchange of fire that took place shortly afterwards.
According to reports, tension remains high in the area with shops and markets closed.
The CAR Security Minister Dominique Said Paguindji said operations were ongoing, without confirming the casualties.
"Once calm and security are restored... we can look at the operational toll" the officer added.
No person or group has yet claimed responsibility for the attack.
Meanwhile, the UN said that the Central African Republic is staring at one of the largest humanitarian crises of our time if immediate action is not taken to increase aid to the country.
Full report at:
http://www.presstv.in/Detail/2015/08/03/423027/UN-MINUSCA-peacekeeper-dead-Central-African-Republic-CAR
-----------
Boko Haram attack reported in Nigeria village
02 Aug 2015
Boko Haram fighters have killed 13 people in an attack on Malari village in northeast Nigeria's Borno state, witnesses say.
Moha Saleh, a local farmer, told AFP news agency on Sunday that 27 people were also injured in the attack, which began when the armed group stormed the village at around 1am local time.
"They also set many houses ablaze after accusing us of telling soldiers their whereabouts," he reportedly said.
A local community vigilante, Goni Musi, confirmed the death toll.
Meanwhile, the Nigerian air force said on Sunday it had carried out air strikes in the northeast to repel an attack by Boko Haram and had killed a "large number" of fighters.
The air raids came as Nigeria and its neighbours prepared to launch a new multinational force to combat Boko Haram, which wants to set up an Islamic state.
The air force said it had "successfully repelled an attack on Bita village by the Boko Haram terrorist group" in a combined operation with ground troops.
"Consequently, a large number of the insurgents were killed and several others were injured," it said in a statement, without disclosing when the incident took place.
Cotonou meeting
The leaders of Nigeria and Benin met in Benin's capital, Cotonou, on Saturday to consolidate their continued cooperation along their shared border in tackling Boko Haram.
Benin has pledged troops towards a 8,700-strong multinational force to combat Boko Haram in the Lake Chad region [EPA]
Full report at:
http://www.aljazeera.com/news/2015/08/boko-haram-attack-reported-nigeria-village-150802193909808.html
-----------
Mali 'Religious Sign' Draws Crowds
01 August 2015
BAMAKO – Thousands of Malian Muslims flocked to the capital Bamako to see a sign that suddenly appeared outside the wall of a toilet last weekend, believing it is a religious sign or message from God.
"We believe it is a vision of our prophet," Aliou Traore, who lives in the compound, told the BBC.
"People have come from Senegal to see it and several Malian government ministers and religious leaders have paid us a visit," he said.
Droves flocked to Bamako when what is believed to be a white image showing a man praying appeared on the outside wall of a toilet. The sign was interpreted it as a message from God.
As people queued day and night to see the sign, riot police was deployed to watch the crowd.
Traore said the mark has been changing shape since it first appeared.
"Sometimes the white apparition leaves the wall altogether and moves around the compound. Then it goes back," he said.
The photos of the mark have been circulated widely in Bamako by mobile phone since it appeared on Saturday evening.
"It's a miracle, I've seen it," schoolteacher Aboubakar Diarra said after looking at the wall.
"It's obviously true. It's a sign from God to Mali that our nation is great."
Most southern Malians are Tijani Muslims, a moderate sect of Sufi Islam who are known for respecting "miracle" signs.
Full report at:
http://www.onislam.net/english/news/africa/490937-mali-religious-sign-draws-crowds.html
----------
Southeast Asia
Joko Calls on NU Congress to Tackle Indonesia's Escalating Intolerance
By Aries Sudiono
Aug 02, 2015
[Updated at 6:03 p.m. on Sunday, Aug. 2, 2015, to add details on Muhammadiyah congress held this week and background]
Jombang, East Java. President Joko Widodo is calling on Indonesia's largest Muslim organization, Nahdlatul Ulama, to increase its role as a representative of moderate and peaceful Islam and to address the issue of extremism wreaking havoc in the Muslim world.
Joko said NU, which is one of the oldest Islamic organizations in Indonesia and has an estimated 60 million followers across the archipelago, has played a significant part in supporting and preserving the pluralistic spirit of the nation since its establishment in 1926.
He called on NU members to hold fast to the group's "moderate Islamic values," but also increase its role in curbing Islamic extremism by helping address the root cause of the rising global phenomenon.
"NU, which has promoted moderate values of Islam since its birth, can heighten its partnership with various parties in order to build a just global order, especially in regards to eradicating poverty, backwardness and inequality — which are the root cause of terrorism and radicalism," Joko said in his speech during the opening ceremony of NU's National Congress in Jombang district, East Java, on Saturday evening.
The president reminded the audience of how NU founding figures had contributed to the establishment of the Unitary State of the Republic of Indonesia — proof of the organization's commitment to nationalism and pluralism.
"As a role model for the promotion of an Islam which is 'rahmatan lil alamin' [a blessing for the entire universe]… NU members must make Islam their guide in building an advanced community — those who make religion a source of advancement, justice and peace."
Joko cited his meeting with British Prime Minister David Cameron, saying the latter had been "impressed" with the role of moderate Muslim groups, such a NU and Muhammadiyah, in promoting a tolerant and peaceful face of Islam in Indonesia.
Muhammadiyah is Indonesia's second-largest Islamic organization. NU is generally seen as traditionalist in orientation while Muhammadiyah is more modernist.
Inter-religious communication
Cameron visited Jakarta for two days last week to boost bilateral trade and promote British investment in Indonesia, as well as to forge a cooperation between the two countries in addressing the growing threat of religious extremism and terrorism – especially after the rise of the jihadist Islamic State movement in Syria and Iraq.
Joko also touched on the Tolikara incident in Papua, where a small mosque was reportedly burned to the ground as part of a riot during the Idul Fitri holiday last month.
Although Muslims make up the majority of Indonesia's 250 million population, they are a minority in Papua, where most residents are Christian.
The incident incited hate speeches against Christians across social media platforms – although it was later discovered that the mosque was not intentionally burned, but had accidentally caught fire during a riot .
Full report at:
http://thejakartaglobe.beritasatu.com/news/joko-calls-nu-congress-tackle-indonesias-escalating-intolerance/
-----------
Police arrest three suspected members of IS in NTT
August 03 2015
East Nusa Tenggara Police arrested three people on Monday for their alleged involvement in the Islamic State (IS) movement.
Acting as healers, the three were arrested on July 31 on suspicion of spreading IS teachings to local communities.
They were identified as Zakarias Kiri and a man with initials HI, both from Alor regency, and Syamsudin Uba from Bekasi.
Full report at:
http://www.thejakartapost.com/news/2015/08/03/police-arrest-three-suspected-members-is-ntt.html
-----------
Hadi: Solve current crisis with Islam, not street rallies
August 3, 2015
PETALING JAYA: The current political crisis gripping the country could be resolved according to the principles and tenets of Islam rather through the staging of street rallies that only bring about violence, PAS President Abdul Hadi Awang told supporters. "We demonstrate, fight with the police, while others just watch. Don't be fooled (by irresponsible quarters)," he was quoted by The Rakyat Post as saying during the Perhimpunan Istiqamah Hingga Kemenangan event last night.
He also said that rally instigators preferred to watch from the sidelines while participants had brushes with the law and faced getting arrested.
The MP for Marang made this statement just days after the #TangkapNajib rally on August 1 in Kuala Lumpur that saw police coming down hard on the crowd that gathered in front of the Sogo Shopping Mall. 29 people were arrested.
He said street rallies brought nothing except violence especially if there were individuals who made the situation worse through provocation.
Full report at:
http://www.freemalaysiatoday.com/category/nation/2015/08/03/hadi-solve-current-crisis-with-islam-not-street-rallies/
-----------
Malaysia's promotion in US trafficking ranking 'undeserved'
August 3, 2015
KUALA LUMPUR: Describing the situation in Malaysia as "grim as ever", the Washington Post has expressed "surprise" that "habitual offender" Malaysia has been promoted to Tier 2 of the United States State Department's annual trafficking of persons rankings.
"Malaysia does not deserve congratulations," the Post claims. "It deserves the kind of censure that will force it to change."
The Post hinted that the promotion may have been for economic expediency. "Had Malaysia remained in Tier 3, it could not have participated in the Trans-Pacific Partnership," it claimed.
It goes on to claim that the discovery in May of mass graves of suspected trafficked persons had not been taken into account as it only came to light after the reporting deadline.
Malaysia's promotion to Tier 2 simply reflects the fact that she has made "concrete commitments" towards compliance, the Post notes. It does not mean the State Department thinks the country is tough enough on human trafficking.
Full report at:
http://www.freemalaysiatoday.com/category/nation/2015/08/03/malaysias-promotion-in-us-trafficking-ranking-undeserved/
-----------
Trade, Defense Cooperation Top Agenda During Erdogan's State Visit
By Novianti Setuningsih & Ezra Sihite
Aug 01, 2015
Jakarta. Turkish President Recep Tayyip Erdogan, during a three-day state visit to Indonesia, discussed intelligence sharing about the Islamic State movement as well as greater economic and defense cooperation between the two nations.
After meeting with his counterpart Joko Widodo at the State Palace on Friday, Erdogan later in the day had a tete-a-tete with Vice President Jusuf Kalla at the Ritz-Carlton hotel in South Jakarta.
At a press conference after the palace meeting, Joko said that he had proposed to the Turkish president to improve intelligence cooperation, especially to prevent Indonesian nationals from joining the Islamic State movement.
Most would-be fighters leave for IS-controlled territories in Iraq and Syria through Turkey, which borders both. A number of Indonesians have already been apprehended by Turkish authorities while supposedly trying to join IS.
Erdogan told reporters that the IS fighters are creating serious problems in the Middle East and that indeed Indonesians were among those trying the join.
"We'll have to close our border for those [people who want to join IS]," he said, adding that so far 1,600 people had been deported for trying to do so.
Joko said that he had also discussed boosting trade with Turkey, and Erdogan acknowledged that "entrepreneurs from our two countries can cooperate more closely."
"Indonesia is a leader in Asean [the Association of Southeast Asian Nations] and we would like to be one of their partners," the Turkish leader said.
With Kalla, later in the day, Erdogan also discussed trade, defense cooperation as well as ways to foster moderate understandings of Islam.
A number of defense deals were closed during the state visit, including with Indonesia's state-owned weapons manufacturer Pindad.
Full report at:
http://thejakartaglobe.beritasatu.com/news/trade-defense-cooperation-top-agenda-erdogans-state-visit/
-----------
Jokowi Renews Call for Independent Palestine
By Yustinus Paa
Aug 03, 2015
Jakarta. President Joko Widodo has again expressed his support for an independent Palestine, urging participants of the Muhammadiyah congress he opened on Monday to speak out on the matter.
"As the state with the largest Muslim population in the world, we have to dare to voice [support for] Palestinian independence," Joko said in a speech for members of Muhammadiyah, one of the nation's main Muslim organizations, and its women's wing Aisyiyah.
Muhammadiyah, which is the second-largest socio-religious organization in Indonesia, after Nahdlatul Ulama, is holding its 47th leadership congress this week in Makassar, South Sulawesi.
The president also said in his speech that he hoped that the faithful would use their nation's growing prominence on the international stage to showcase how peace and harmony can be achieved amid ethnic, religious and cultural diversity.
"I hope that Muhammadiyah … takes responsibility for and appreciates diversity," Joko said. "Build an Indonesia that appreciates diversity and create eternal peace and social justice."
Earlier this year, a statement to support an independent Palestine was agreed upon at the Asian-African Conference held in Bandung.
Full report at:
http://thejakartaglobe.beritasatu.com/news/jokowi-renews-call-independent-palestine/
-----------
NU vows to maintain tolerant, peaceful Islam
Ahmad Junaidi
August 03 2015
Hundreds of Nahdlatul Ulama (NU) youth gathered on Sunday on the sidelines of the country's largest Islamic organization's 33rd muktamar (national congress) to pledge to maintain the organization's tolerant and peaceful identity.
Meeting at KH A. Wahab Hasbullah University in Jombang, East Java, the youths agreed on the need to spread tolerance and peace through various means, including social media, amid increasing hatred and religion-based violence in the country.
Social media activist Savic Ali said he saw huge potential among NU youth as they were avid users of social media.
"If one of the country's largest news portals only has 300 journalists, imagine us starting up an online media outlet with our large numbers. [Or] We can blog on NU teachings," Savic, who is also chief editor of NU Online, the organization's official news site, said.
Savic, a former student activist who took part in the demonstrations that toppled president Soeharto in 1998, also called on NU youth to maintain consistent messages on social media.
"Write consistently, like how we used to read the Koran. Or at least, write once a week. So there will be a lot of writings," he said.
According to NU's official website, quoting a recent poll by the Indonesian Survey Institute, its follower numbers stand at around 84 million.
In his opening speech at the congress on Saturday night, President Joko "Jokowi" Widodo said he hoped NU could maintain its tolerant, peaceful and moderate identity.
"NU, along with Muhammadiyah, could become examples of moderate, tolerant, peaceful and progressive Islam to the world," Jokowi said, also mentioning the name of the country's second-largest Islamic organization.
Also speaking at Sunday's meeting, Ahmad Suaedy, director of the Wahid Institute, saw a big opportunity for Islam in Southeast Asia, especially Indonesia, as the country with the world's largest Muslim population.
"Islam in Southeast Asia, including Islam Nusantara, has a distinctive identity, different from other parts of the world," Suaedy said.
The term Islam Nusantara (Islam of the archipelago), the theme of the congress, has been reaffirmed by NU chairman Said Aqil Siradj.
"Actually it [Islam Nusantara] is not new. It is rooted in tradition. Islam Nusantara is also based on akhlakul karimah [good deeds], nationalism, diversity and humanity," Said told the 3,000 people attending the congress' opening ceremony on Saturday.
Meanwhile, young intellectual Syafiq Hasyim agreed that NU youth could play an important role in spreading tolerance and peace, but said they might face internal challenges from groups that promoted discriminatory teachings.
"We have groups, such as NU Garis Lurus [straight], which is discriminatory [toward other groups], although they are the minority. So NU youth should handle this too," Syafiq, who recently completed his PhD from Freie Universitat Berlin with a dissertation based on research on the Indonesian Ulema Council (MUI), said.
Full report at:
http://www.thejakartapost.com/news/2015/08/03/nu-vows-maintain-tolerant-peaceful-islam.html
-----------
Race starts for Muhammadiyah leadership
Haeril Halim/Andi Hajramurni
August 02 2015
The country's second-largest Muslim organization, Muhammadiyah, held a plenary session on Saturday in Makassar, South Sulawesi, to select a short list of 39 candidates to replace outgoing chairman Din Syamsuddin.
Candidates on the short list will be picked from 82 senior Muhammadiyah members who have registered for the race to replace Din, who has been at the helm of the organization since 2005.
Muhammadiyah Youth Association head Dahnil Anzar Simanjuntak said that 204 members held a muktamar (internal discussion) at the venue of the congress to decide who would be on the list.
"Selection is still ongoing. Tomorrow the 39 names will be announced," Dahnil said on Saturday night.
The candidates being scrutinized by the meeting participants included former Corruption Eradication Commission (KPK) chairman Busyro Muqoddas, Malang Muhammadiyah University rector Muhadjir Effendy, Muhammadiyah leadership board member Yunahar Ilyas, Muhammadiyah treasurer Zamroni, Muhammadiyah secretary-general Agung Danarto, Muhammadiyah Youth Association head Sukriyanto AR and Muhammadiyah secretary Abdul Mu'ti.
The names of the 39 candidates will then be presented at a plenary meeting during which 2,500 congress participants will cast their votes. The candidates will fill in the 13 vacant seats on Muhammadiyah's central board.
After participants select 13 people for Muhammadiyah's central board, the elected officials will then hold a closed-door meeting to appoint one of them to take the helm of Muhammadiyah from 2015 to 2020. If no agreement is reached, the 13 members will hold a vote.
Strategic issues to be deliberated were also discussed during the muktamar.
In his speech to open a tanwir meeting, Din said the upcoming muktar (chairman) would formulate strategic programs that would affect about 35 million Muhammadiyah members across the country.
"Muhammadiyah will prioritize programs in fields like humanity in national and international state of affairs," Din said.
Muhammadiyah will officially kick of its 47th muktamar on Aug. 3, with the theme Enlightenment for a Progressive Indonesia.
The term "Progressive Indonesia" was taken from Muhammadiyah's long-standing concept of an Islam Berkemajuan (Progressive Islam).
Full report at:
http://www.thejakartapost.com/news/2015/08/02/race-starts-muhammadiyah-leadership.html
-----------
11 Indonesians detained in Saudi Arabia
August 01 2015
The Religious Affairs Ministry will collaborate with the Indonesian Consulate General in Jeddah, Saudi Arabia, to assist 11 Indonesian citizens detained by the Saudi police.
"We are coordinating with our friends in Jeddah to find out more information about these citizens, who are undergoing questioning," said director general for haj and umrah Abdul Djamil as quoted by kemenag.go.id on Saturday.
Full report at:
http://www.thejakartapost.com/news/2015/08/01/11-indonesians-detained-saudi-arabia.html
-----------
India
Congress plans to counter AIMIM brand of politics
by Shubhangi Khapre
Mumbai Published:Aug 3, 2015
The execution of 1993 Mumbai bomb blasts convict Yakub Memon has set the political pot stirring with the All India Majlis-e-Ittehadul Muslimeen (AIMIM) using it as a plank to gain Muslim support and make deeper inroads in Maharashtra. This has unsettled the Congress and the Samajwadi Party who see an erosion of their traditional vote bank and plan to arrest the drift over the coming months. Former chief minister Prithviraj Chavan said, "Frankly, we cannot comment on the Supreme Court judgment. But Congress has always been at the forefront of exposing the double standards of the BJP-led government at the Centre and the state. We have voiced our concerns for implementation of Srikrishna Commission report." After Memon's death, the AIMIM has found an outpouring of support on social media from the Muslim community. AIMIM's president Asaduddin Owaisi's statement, "Memon was hanged because he was a Muslim", has to some extent struck a chord with a sizeable section of the community. The presence of 15,000 people at the funeral is seen as meticulous planning by the AIMIM to consolidate its base ahead of the crucial 2017 BMC elections. The top leadership of the Congress has convened a meeting next week to review the developments. Explaining the dilemma within the party, political managers said they could not afford partisan politics or exploit the situation through hate speeches. "It is easy in the short-term but counter productive in the long-term," said a leader. According to Congress MP Husain Dalwai, "The Muslims of this country have always reposed their faith in Congress. The smaller groups rise and disappear taking advantage of the situation. But Congress will always remain the mainstay." Several Congress leaders admitted that they found themselves at the crossroads at the moment. "How else do we describe the failure of our MLAs or MPs to support the signature campaign against the execution? The initiative remained confined to just seven MLAs from minority-dominated constituencies," said a leader.
http://indianexpress.com/article/india/maharashtra/congress-plans-to-counter-aimim-brand-of-politics/
-----------
Muslim leaders urge community to give up beef
Eram Agha
Aug 2, 2015
Aligarh: Muslim leaders, members of the ruling Samajwadi Party in the state and academics from Aligarh Muslim University joined the Akhil Bharatiya Muslim Gau Rakshak Sansthan to begin a series of events to campaign against the consumption of beef.
At a press conference on Sunday, quoting from the life of Prophet Mohammad and citing writings by Mughal emperor Babur, Mohd Shabbir, retired teacher of the law department of AMU, who now chairs the Foundation for Education, Research, Development and Action, said, "Abdullah Ibn-Masood, an ardent follower of Prophet Mohammad, had narrated the prophet's message, in which he said that while cow milk and butter were beneficial, its meat was not good for health. Hazrat Ali, the first Shia Imam, also asked his followers to steer clear of beef," Shabbir said.
Shabbir said even Mughal emperors knew that the way to rule in India was to give up the meat of cows. He said Mughal emperor Babur, in his 'Wasiyyat namd-i-majchfi' (Persian text meaning 'secret testament' authored by Babur) wrote, "Refrain from cow sacrifice, for that way lies the conquest of the hearts of the people of Hindustan."
Shabbir said in peninsular India, Haider Ali and Tipu Sultan had enforced punishment for cow slaughter. He said later Mughals Akbar and Jahangir too imposed selective bans on cow slaughter, and these were followed even by Ahmad Shah and the last Mughal emperor, Bahadur Shah Zafar.
Muslim leaders now feel growing concern over the potential of cow slaughter to incite communal hatred.
Full report at:
http://timesofindia.indiatimes.com/city/agra/Muslim-leaders-urge-community-to-give-up-beef/articleshow/48320143.cms
-----------
Pak violates ceasefire again, targets several J&K forward posts
Aug 3, 2015
JAMMU: In yet another ceasefire violation, Pakistani troops tonight opened unprovoked firing on several forward posts in Jammu, Rajouri and Poonch districts of Jammu and Kashmir, prompting the Indian army to retaliate.
"Pakistani troops have been resorting to unprovoked small arms firing in forward posts along the Line of Control (LoC) in Krishnagati, Mandi, Balakote and Pallanwala sectors since 2130 hours tonight," a defence spokesman told PTI.
While Krishnagati and Mandi sectors fall in Poonch, Balakote and Pallanwala are in Rajouri and Jammu respectively.
Full report at:
http://timesofindia.indiatimes.com/india/Pak-violates-ceasefire-again-targets-several-JK-forward-posts/articleshow/48322421.cms
-----------
North America
US Comedian: Prophet Had Great Sense of Humour
02 August 2015
WASHINGTON – In a world plagued by negative stereotypes about Muslims, US Muslim comedian Mohammed, or "Mo," Amer has offered audience a new perspective, saying that the Prophet Muhammad (peace be upon him) had a great sense of humor.
"He had a great sense of humor," Amer told CBS News on Saturday, August 1.
"The Prophet said, 'My way is the middle way.' So, extreme is not right and be totally seclude is not right.'"
Born in Kuwait to Palestinian parent, Amer, at the age of 9, and his family had to escape as political refugees during the first Gulf War, ending up in Houston.
"There was a cultural, societal gap," Amer said.
"I didn't know how to acclimate. I was here during like a week before Halloween. Freaked me out! I was like, 'Why is everybody dressed this way? What is happening in America today!'"
Amer became the first Arab-American to star in his own nationally televised one-hour stand-up special, "Legally Homeless." The show is inspired by his travels without a passport.
"They give you a travel document... like a fake passport," Amer said.
"It acts like a passport. It really wants to be a passport, really badly. But it's not, and it only lasts for a year."
Tackling all hot topics, Amer focuses on breaking stereotypes surrounding Islam and Muslims.
"Have you or anyone you know been involved with or given funds to any terrorist organizations, Mr. Mohammed?" Amer said to start one of his stand-up routines in Washington, DC.
Full report at:
http://www.onislam.net/english/news/americas/491005-us-comedian-prophet-had-great-sense-of-humor.html
-----------
American Muslims: A Vibrant History, Misplaced Hatred
By Michael Sliwinski
August 2, 2015
The United States is a patchwork of cultures so diverse that large groups can often go under the radar unnoticed or unidentified. That is, until a tragedy brings that group to the forefront. American Muslims in particular have repeatedly been branded as terrorists throughout history, most recently after a terrible shooting by a Muslim man at an army base in Chattanooga, Tennessee. This viewpoint is unfair and uninformed. Far from being a secret insurgency, Muslims in the United States are one of its oldest groups and most average populations. Read on to learn more about Muslims in the United States, starting with the group's culture, moving to a profile of the modern American Muslim, and lastly how this group of people is portrayed by the culture.
HISTORY OF ISLAM IN THE U.S.
Muslims have a long history in the United States, perhaps going back to a time before Europeans even settled the area. According to some legends, Muslim Moors who had been expelled from Spain as part of Christian Reconquista may have explored the Caribbean and what is now America. In fact it has even been speculated that Columbus on his travels to the New World cited a book written by Muslims who had made a similar voyage in the 12th century. There are also reports of physical Muslim guides used by the Spanish in their conquests beginning in the 16th century.
The first major migration of Muslims unquestionably came through the slave trade. In fact, as many as ten to 15 percent of the imported human cargo was believed to be Muslim. These slaves were often forced to convert to Christianity or at least hide their beliefs, however some populations were able to hold out into the 20th century.
Following this wave was another from the Middle East from the late 1800s to early 1900s. This group settled in the modern day American Midwest, as jobs were readily available particularly in the automobile industry. A third wave came in the 1950s and 60s from throughout Asia, when the United States relaxed its strict immigration policies. Islam in the United States was also invigorated by Black Americans who sought to restore their original faith, beginning with the Great Migration and continuing to this day. The first mosque in the United States was built in Cedar Rapids, Iowa and as of today there are more than one thousand mosques nationwide. Additionally, some of the most notable Muslims of the time were and are major historical figures such as Malcolm X and Muhammed Ali. The following video below depicts the history of Islam in the U.S.
THE MODERN AMERICAN MUSLIM
Like the varied waves in which they immigrated to the United States, the current population of Muslims in the U.S., numbering anywhere from five to 12 million people, is also an ethnic hodgepodge of American Blacks, Africans, Asians, Hispanics, Europeans, and converts. Along with a diversity that mirrors the U.S. population as a whole, Muslims in America are quintessentially American in a number of other ways. The number of Muslims with college and graduate degrees for example is nearly exactly the national average. This correlation holds true for the number of Muslims making $100,000 down to those making less than $30,000 annually.
Full report at:
http://lawstreetmedia.com/issues/entertainment-and-culture/american-muslims-vibrant-history-misplaced-hatred/
-----------
Europe
Faith Leaders in Moscow Mosque Opening
01 August 2015
MOSCOW ­– As preparations are underway for the opening of the Cathedral mosque in Moscow, the Russian Muslim Board said that several Muslim leaders along with leaders of different faiths will attend the long-awaited Islamic event.
"I think the top officials [of Islamic countries] will undoubtedly attend. The leaders of the countries that are friendly to us and whose attitude to Russia remained unchanged both at peaceful times and in crises will definitely be invited," Damir Gizatullin, first deputy chairman of the Muslim Board of Russia's European Part, told Interfax-Religion on Friday, July 31.
"World-famous religious figures, and not only Muslims, but also our brothers Orthodox Christians, Jews and Buddhists" will also be invited.
Scheduled on September 23, the opening ceremony of the decades-old mosque is expected to draw hundreds of political and spiritual leaders of Muslim countries.
Built in 1904, the historical Moscow Cathedral Mosque, located on Olimpiysky Avenue, was demolished in 2011.
"This ceremony will bring Russia closer to the Islamic world, which now sees good examples represented by the Russian state and the Muslims who live in it," Gizatullin said.
He added that foreign political leaders at the ceremony "will give a message that will also become a starting point for Muslims in their countries as regards development in a secular democratic state."
Full report at:
http://www.onislam.net/english/news/europe/490927-faith-leaders-in-moscow-mosque-opening.html
-----------
URL: https://www.newageislam.com/islamic-world-news/new-age-islam-news-bureau/baitullah-mehsud-caravan-joins-isis-in-pakistan's-waziristan/d/104148