New Age Islam News Bureau
8 Nov 2014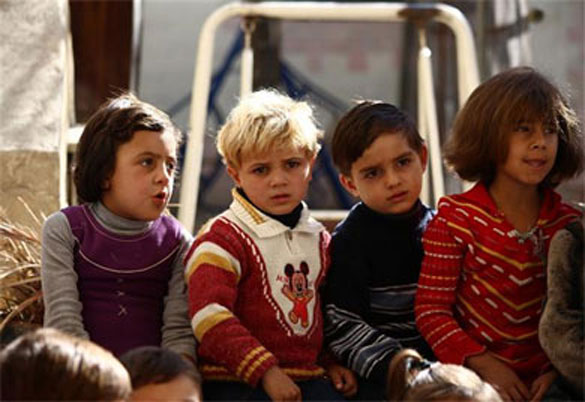 Islamic State of Iraq and the Levant (ISIL) has shut all schools in areas it controls in eastern Syria pending a religious revision of the curriculum AFP Photo
-----------
Arab World
• Bahrainis Hold New Protest against Al Khalifa Rule
• ISIL Shuts Down All Schools in Eastern Syria
• Ambassadors leave Riyadh for Kaa'ba washing
• Two die in Egypt as Mursi backers clash with police
------------
India
• Former BJP MP Advocates Pervez Musharraf Formula on Kashmir
• Finance Minister Jaitley Defends Modi Government in Gujarat Over 2002 Riots
------------
Pakistan
• Religious Scholars Demand Justice for Murdered Christian Couple
• Bodies of 17 Suspected Militants Recovered From Khyber's Tirah
• Musharraf summoned over Lal Masjid cleric's murder
• Pak origin man among four arrested for murder plot against Queen in London
• New ISI chief Rizwan faces daunting challenges
• Pakistan, China ink 19 agreements on energy, basic infrastructure
• Hashmi terms Nov 7 important day in history
• 'Gujrat detainee was tortured before murder'
• Pakistan urges UNSC to work towards settling Palestinian issue
• In US, Qadri curses 'Family democracy' in Pakistan
------------
South Asia
• India Arrests Suspect In Plot to Kill Bangladesh PM, Opposition Leader
• Besieged Jamaat fights for life in Bangladesh
• Competitors go past Bangladesh in US apparel market
• Sheikh Hasina asks party leaders to hold AL national council in time
------------
Mideast
• 10 blasts hit Fatah property in Gaza
• Hamas creates 'popular army' in Gaza to confront Israel
• Israel's firing at refugee camp shakes Jerusalem
• Top Al Qaeda leader killed by Yemeni forces
• 'Palestine grateful to KSA for billions in aid'
• Palestinians clash with Israeli troops again over holy site
• Israel 'pushing for religious warfare'
• World must help Afghan refugees return home: Iran
• Israeli forces reportedly kill Palestinian man in W Bank
------------
North America
• Washington moving towards wider war in Iraq and Syria
• Rice: US not engaged in military coordination with Iran against ISIL
• Iraq invasion paved way for ISIL terrorists, Bush regrets
• Obama approves sending 1,500 more troops to Iraq
• Photo shows 2 Syrian children killed in US airstrike
------------
Europe
• 4 arrested in Britain over alleged Islamist plot
• Britain to send forces to Iraq to help anti-ISIL fight
• Suspected terrorists arrested in London
• Protesters in London demand release of Saudi Shia cleric
------------
Southeast Asia
• Indonesian HM Criticized by All Sides in Religion ID Debate
• Minister's grandfather named national hero
• Malaysia defers verdict in Anwar sodomy case
------------
Africa
• Libya militias threaten independence over rival parliament
• Tunisian presidential candidates call for unity against terror
• South Sudan rivals agree to ceasefire: Mediator
• Eroding Algeria's political status quo
Compiled by New Age Islam News Bureau
URL: https://www.newageislam.com/islamic-world-news/new-age-islam-news-bureau/bahrainis-hold-new-protest-against-al-khalifa-rule/d/99924
------------
Arab World
Bahrainis Hold New Protest against Al Khalifa Rule
Nov 8, 2014
Thousands of people in Bahrain have held another anti-regime demonstration, calling on the ruling Al Khalifah regime to relinquish power.
The Bahrainis participated in the protest rally which was held in the Persian Gulf state's northeastern island of Sitra on Friday.
The demonstrators chanted slogans against Bahraini King Hamad bin Isa Al Khalifa during the protest rally.
Bahraini people have staged several protests over the past few days to voice their anger at the Al Khalifa regime's recent clampdown on the Shia mourners commemorating the martyrdom anniversary of Imam Hussein (PBUH), the third Shia Imam.
On November 4, Bahraini soldiers in armored vehicles roamed the streets in the village of Nuwaidrat, situated about 10 kilometers (six miles) south of the capital Manama, as people marched through the streets to observe the rituals of Ashura, the 10th day of the lunar month of Muharram.
Bahraini regime forces in riot gear then engaged in scuffles with the mourners and fired tear gas canisters to disperse them.
Bahraini forces also targeted the mourners in several villages across the country on November 1, removing all banners, flags and black cloths commemorating the Ashura anniversary.
Imam Hussein, the grandson of Prophet Muhammad (PBUH), and 72 of his loyal companions, were martyred on Ashura in the battle of Karbala against the second Umayyad caliph, Yazid I, in 680 AD. Imam Hussein was killed after he refused to pledge allegiance to the tyrant ruler.
Bahrain's Shia community has long complained of discrimination in the Shia-dominated Persian Gulf island state.
Since mid-February 2011, thousands of anti-regime protesters have held numerous demonstrations in the streets of Bahrain, calling for the Al Khalifa royal family to relinquish power.
http://www.presstv.ir/detail/2
Bahrainis hold new protest against Al Khalifa rule
Nov 8, 2014
Thousands of people in Bahrain have held another anti-regime demonstration, calling on the ruling Al Khalifah regime to relinquish power.
The Bahrainis participated in the protest rally which was held in the Persian Gulf state's north-eastern island of Sitra on Friday.
The demonstrators chanted slogans against Bahraini King Hamad bin Isa Al Khalifa during the protest rally.
Bahraini people have staged several protests over the past few days to voice their anger at the Al Khalifa regime's recent clampdown on the Shia mourners commemorating the martyrdom anniversary of Imam Hussein (PBUH), the third Shia Imam.
On November 4, Bahraini soldiers in armoured vehicles roamed the streets in the village of Nuwaidrat, situated about 10 kilometres (six miles) south of the capital Manama, as people marched through the streets to observe the rituals of Ashura, the 10th day of the lunar month of Muharram.
Bahraini regime forces in riot gear then engaged in scuffles with the mourners and fired tear gas canisters to disperse them.
Bahraini forces also targeted the mourners in several villages across the country on November 1, removing all banners, flags and black cloths commemorating the Ashura anniversary.
Imam Hussein, the grandson of Prophet Muhammad (PBUH), and 72 of his loyal companions, were martyred on Ashura in the battle of Karbala against the second Umayyad caliph, Yazid I, in 680 AD. Imam Hussein was killed after he refused to pledge allegiance to the tyrant ruler.
Bahrain's Shia community has long complained of discrimination in the Shia-dominated Persian Gulf island state.
Since mid-February 2011, thousands of anti-regime protesters have held numerous demonstrations in the streets of Bahrain, calling for the Al Khalifa royal family to relinquish power.
http://www.presstv.ir/detail/2014/11/08/385201/bahrainis-hold-fresh-antiregime-demo/ 014/11/08/385201/bahrainis-hold-fresh-antiregime-demo/
------------
ISIL shuts down all schools in eastern Syria
Nov 8, 2014
The ISIL Takfiri terrorists have shut all schools in areas they control in eastern Syria, pending a revision of the curriculum, residents say.
The terrorists are tightening their rules on civilian life in the eastern Syrian province of Dayr al-Zawr, which fell under near-complete control of the militants this summer.
The government still controls a military air base on the outskirts of the provincial capital and other small areas inside the city.
According to the so-called Syrian Observatory for Human Rights, the announcement came Wednesday after the ISIL militants held a meeting with school administrators on the outskirts of Dayr al-Zawr.
"ISIS informed them that teachers shall undergo a religious instructional course for one month, and that ISIS officials were currently developing a new curriculum instead of the current infidel education," the Britain-based group said in a statement.
The militants have already annulled history, literature and Christianity courses in the Iraqi city of Mosul, situated some 400 kilometers (250 miles) northwest of the capital, Baghdad.
The Takfiris have released an education statement in Mosul that strictly bans any reference to the republics of Iraq or Syria, declares patriotic anthems and lyrics as a show of "polytheism and blasphemy," and orders that pictures which the ISIL deems inappropriate be ripped out of textbooks.
Moreover, the new guidelines emphasize that teachers must be segregated, with men teaching at boys' schools, and women teaching girls.
The Takfiri ISIL militants are controlling large swathes of land in Syrian and Iraq.
http://www.presstv.ir/detail/2014/11/08/385231/isil-closes-all-schools-in-e-syria/
------------
Ambassadors leave Riyadh for Kaa'ba washing
8 November 2014
A number of Muslim ambassadors based in the capital left for Makkah on Friday to take part in the ceremonial washing of the Kaaba on Saturday morning. Aside from the Muslim members of the diplomatic group, top Saudi officials including several ministers, Islamic scholars, Muslim diplomats, as well as citizens and visitors to the Grand Mosque are expected to attend the washing ceremony.
The scheduled washing ceremony will be led by Makkah Gov. Prince Mishaal bin Abdullah, on behalf of Custodian of the Two Holy Mosques King Abdullah. The Kaaba is given a new Kiswa (covering) on the 9th of Dul Hijjah when pilgrims proceed to Arafat for the main event of the Haj.
The ceremonial washing of Kaaba is held following the example of Prophet Muhammad (peace be upon him), who washed it after entering it at the time of the conquest of Makkah. The sacred event takes place twice a year on the 15th of Shabaan (the month preceding the fasting month of Ramadan) and in mid-Muharram (the month after Dul Hijjah when Muslims perform Haj).
South African Ambassador Mohammad Sadiq Jaafar said he deemed it a great honor to participate in the washing of the Kaaba. "This is the fifth time I am fortunate enough to get this honor," the envoy added.
Sri Lankan Senior Minister for Urban Affairs Abdul Hameed Mohamed Fowzie, who has come to Makkah on invitation from Haj Minister Bandar Hajjar, said it is a wonderful opportunity to take part in the ceremony. He thanked the Custodian of the Two Holy Mosques and his government for rendering a yeoman's service to the Islamic Ummah through his magnanimity. Fowzie is also the chairman of the island's Haj committee in Colombo.
Bangladesh Ambassador Mohammed Shahidul Islam said that he is going to participate in the ceremony for the ninth time consecutively. "I am really proud and happy that the Haj Ministry has given me this opportunity once more," he added.
The washing ritual begins with the performance of two raka'hs of Nafl prayer inside the Kaaba. The interior walls are then cleaned with rose, oud and musk perfumes using white cloth. Zamzam water mixed with rose perfume is then splashed on the floor and wiped with bare hands and palm leaves.
Before entering the Kaaba to do the washing, the governor is slated to circle the Kaaba seven times (Tawaf) during which he will touch the Black Stone.
http://www.arabnews.com/saudi-arabia/news/656801
------------
Two die in Egypt as Mursi backers clash with police
8 November 2014
CAIRO: Two people were killed Friday when supporters of Egypt's ousted President Muhammad Mursi clashed with police and residents outside Cairo, security officials said.
In the province of Fayoum, south of the capital, violence erupted after Mursi supporters staged a protest following Friday prayers, leading to the death of a 19-year-old student.
Security officials said police used tear gas after protesters fired birdshot at them.
The exact cause of the student's death was not immediately clear, said Health Ministry official Medhat Shukri. He added that three policemen were also wounded in the clashes.
Another person was killed when pro-Mursi protesters clashed in the Ain Shams district northeast of Cairo with residents opposed to Mursi's presidency, which was toppled by the army last year.
Two other people were wounded in the clashes which erupted after the protesters fired birdshot and live rounds at Ain Shams residents, a Cairo police official said.
Security officials said that 13 people who took part in protests Friday in support of Mursi were arrested, including five in Fayoum who were found in possession of petrol bombs.
Supporters of Mursi still attempt to stage protests demanding his reinstatement, but their rallies have dwindled amid a deadly government crackdown since the army ousted the Islamist last year.
At least 1,400 people have been killed in the crackdown, while more than 15,000 have been jailed and hundreds sentenced to death.
The authorities have tightened security around universities after more than a dozen students were killed in violence sparked by pro-Mursi protests during the last academic year.
http://www.arabnews.com/middle-east/news/656521
------------
India
Former BJP MP Advocates Pervez Musharraf Formula on Kashmir
November 8, 2014
Advocating former Pakistan ruler Pervez Musharraf's four-point formula on Kashmir, former BJP MP and eminent lawyer Ram Jethmalani today said the document should be the basis for a permanent solution to the Kashmir issue and that Musharraf's efforts were "frustrated" by India.
"Musharraf came to India with a firm and honest intention. His proposal is a fantastic solution to the Kashmir problem. It is a wonderful document which should be the basis for a permanent solution of Kashmir. I have no difficulty in confessing that his efforts were frustrated by India and not Pakistan," 92-year-old Jethmalani told reporters here.
Jethmalani, who is the chairman of Kashmir committee, also claimed he had made some changes to Musharraf's proposal and the purpose of the document was that there should be a secular democracy on both sides of Kashmir.
"I have been working for Kashmir for a long time and Musharraf knew. He sent his proposal to me through a common friend. I made some changes to the document as part of the proposals on behalf of the Kashmir Committee which Musharraf accepted. The whole purpose of the document is that there should be a secular democracy on both sides," he said.
The former union minister, who was expelled from the BJP earlier this year, said a formal body comprising of statesmen and recognised by both India and Pakistan should be there to see to it that people are not exploited by these governments.
The head of the Kashmir Committee, constituted in 2002 to reach out to separatists here, said he was in constant touch with the separatists and not all of them were "Pakistan agents".
"They all are not Pakistan agents. It is possible that at one time they were pro-Pakistan, but I am glad to tell you that majority of them want to be with India," he said.
Talking about the killing of two youth by Army in Chattergam, Jethmalani said the Army men involved in the incident on Monday should be dealt with according to law.
"If they did that intentionally, there should be severe punishment…they should be hanged. But it should first be thoroughly investigated as to what led to the firing," he said.
He said Army's presence in the state has to be "terminated as soon as the terror stops".
"Army's presence should be terminated as soon as possible. But let the terror stop, I am sure army must go," he said.
Asked about curbs on separatist leaders ahead of the assembly elections, the noted legal luminary said, "I have told them (separatists) to create good evidence that they have been restrained and I will take the matter to the Supreme Court."
http://indianexpress.com/article/india/india-others/jethmalani-advocates-musharraf-formula-on-kashmir/
------------
Finance Minister Jaitley Defends Modi Government in Gujarat Over 2002 Riots
By IANS: 08th November 2014
NEW DELHI: Finance Minister Arun Jaitley Friday defended the then Gujarat government headed by Narendra Modi over the 2002 riots, saying the state government was not responsible for the incident that sparked off the violence - the burning of the Godhra train in 2002 in which 59 people were burnt alive.
"How is the Gujarat government responsible for the initial Godhra violence? The Godhra violence was an incident at a railway station where some misguided people went and burnt a train bogey, which sparked off riots across the state," Jaitley said.
He added that the state had utilised its full machinery to bring about law and order.
"You had cases to that affect being investigated. You had various kind of inquiry, and also an unfriendly government in power at the centre, which did everything to find and fix responsibility on Modi. But it was not able to do so," Jaitley told TV talk show host Karan Thapar.
Asked about journalist Rajdeep Sardesai's comment that the Vishwa Hindu Parishad was the dominant force in the state and its chief Praveen Togadia was more powerful in the state at that time than Modi who had taken over some months ago, Jaitley said: "He (Modi) was new to governance".
Full report at:
http://www.newindianexpress.com/nation/Jaitley-Defends-Modi-Government-in-Gujarat-Over-2002-Riots/2014/11/08/article2512614.ece
-------
Pakistan
Religious scholars demand justice for murdered Christian couple
November 08, 2014
LAHORE: Religious scholars on Friday condemned the Kot Radha Kishan incident wherein a violent mob killed a Christian man and his pregnant wife.
The Peace and Harmony Network Pakistan – an association of scholars and different religious representatives – asked the government to show no mercy and punish those responsible for this brutality under the law.
"Our state has to act proactively and sincerely to protect religious minorities from violence and injustice," a statement read.
In a joint statement, Archbishop of Lahore Sebastian Francis Shaw, Catholic Council for Inter-religious Dialogue and Ecumenism Chairman Bishop Dr Andrew Francis, Pakistan Ulema Council office-bearer Allama Zubair Abid and Peace and Harmony Network Pakistan Secretary-General Javaid William pointed out that incidents of hatred and prejudice were on the rise, especially in Punjab.
According to police, an enraged mob had beaten a Christian couple to death and burnt their bodies in the brick kiln for allegedly desecrating a copy of the Holy Quran.
The incident had taken place in Kot Radha Kishan, some 60km southwest of Lahore, and was the latest example of mob violence against religious minorities accused of blasphemy.
Archbishop Shaw said such incidents were the outcome of religious extremism, which was increasing alarmingly in society. He demanded the federal and all provincial governments to take measures to ensure safety of religious minorities.
Bishop Dr Francis said consistent failure by the authorities to tackle growing hatred and violence in the name of religion had effectively spread the message that anyone could commit abuses on the pretext of defence of religious sentiments. This time, those responsible either individuals or a group or a mob must be brought to justice besides protection to the communities at risk, he suggested.
Calling the act inhumane, Javaid William pointed out that quick response from the government, especially steps by Prime Minister Nawaz Sharif and Chief Minister Shahbaz Sharif, were encouraging. "(But) we also hope justice will be done after an impartial investigation," he added.
Abid appealed to all religious scholars to guide their followers and inform them about the real essence of Islam as the foundations of the religion were based on peace and brotherhood. He said those who burnt the young couple deserved no leniency, as the incident would increase fear among all religious minorities that any person or a mob could destroy their lives in the name of religion.
Full report at:
http://www.dawn.com/news/1143038/religious-scholars-demand-justice-for-murdered-christian-couple
------------
Bodies of 17 suspected militants recovered from Khyber's Tirah
Zahir Shah Sherazi
November 08, 2014
PESHAWAR: Bodies of 17 suspected militants were recovered from the Spin Qabar area of Khyber Agency's Tirah valley on Saturday. However, these claims could not be independently verified as journalists have limited access to the restive tribal agency.
The Inter Service Public Relations has confirmed that at least 60 suspected militants attacked a security check-post. During the encounter at least 17 suspected militants were killed and the rest fled, leaving the bodies of their comrades behind. The attack was successfully repulsed
Their bodies have not been identified as yet.
One suspected militant killed, four security personnel injured in Lower Dir clash
In a separate incident, one militant was killed and four security personnel were injured in a clash in Lower Dir district.
According to sources, the militant — who was a suicide bomber — blew himself up when he was rounded up for a security check. Four security personnel also sustained injuries.
Security forces also seized 10 hand grenades and other weapons during a search operation carried out in the Chakdara area of Lower Dir.
Full report at:
http://www.dawn.com/news/1143115/bodies-of-17-suspected-militants-recovered-from-khybers-tirah
------------
Musharraf summoned over Lal Masjid cleric's murder
November 08, 2014
ISLAMABAD: A Pakistani court on Saturday said former military ruler General (retd) Pervez Musharraf must appear at a hearing in December over Lal Masjid cleric Ghazi Abdul Rasheed's death during a bloody mosque siege, rejecting his fears over security.
Musharraf faces a string of court cases dating back to his 1999-2008 rule, including over the death of Ghazi, one of more than 100 people killed after Pakistani troops stormed the Red Mosque in Islamabad on July 10, 2007.
The mosque was the scene of a week-long military siege against radicals that unleashed a wave of militant attacks across Pakistan.
Musharraf's legal team has fought to avoid a court appearance over the case being pursued by Ghazi's family, citing ill health – he has been receiving treatment for heart problems – and security fears.
The former president narrowly escaped an apparent assassination attempt in Islamabad in April as a roadside bomb went off shortly before his convoy was due to pass.
"The court has rejected the exemption plea of General Pervez Musharraf in the case regarding killing of Abdul Rasheed Ghazi and ordered him to appear on the next hearing of December 6," Abdul Haq Malik, the lawyer representing the cleric's son Haron-ur-Rashid Ghazi, told AFP.
Full report at:
http://www.dawn.com/news/1143142/musharraf-summoned-over-lal-masjid-clerics-murder
------
Pak origin man among four arrested for murder plot against Queen in London
8 November 2014
London: Britain's counter terror police have arrested four men including one whose family is of Pakistani heritage, for allegedly plotting a murder against Queen Elizabeth II over the weekend.
According to the Huffington Post, police believe the suspected terrorists were conspiring to assassinate the Queen over the weekend as she made an appearance at the Albert Hall to celebrate the end of the First World War.
The police detained the men on Friday at locations across west London and High Wyocombe Road as routine surveillance was going on.
Full report at:
http://69.16.252.177/english/news/pak-origin-man-among-four-arrested-murder-plot-against-queen-london
-------
New ISI chief Rizwan faces daunting challenges
November 08, 2014
ISLAMABAD - Lieutenant General Rizwan Akhtar on Friday assumed his charge as head of the Pakistan's premier spy agency, Inter Services Intelligence (ISI). He was appointed as Director General (DG) of ISI on September 22.
General Akhtar's predecessor Lieutenant General Zaheerul Islam who retired on Friday handed over the charge at a simple ceremony.
General Akhtar drives reputation of a bold and experienced officer as he has a vast experience in countering terrorism and insurgency.
Earlier, he had served as DG Rangers Sindh to ensure law and order situation in Karachi.
Besides that, he also served as commander Infantry Brigade and Infantry Division Federally Administered Tribal Areas (FATA) in addition to serving as GOC South Waziristan.
According to a BBC report, after taking over the intelligence service, Lt Gen Rizwan Akhtar has become one of the two most powerful men in Pakistan, answerable only to the army chief.
While most intelligence agencies concern themselves with threats to national security, the ISI's remit extends to virtually all aspects of Pakistani life.
Gen Akhtar inherits a highly disciplined and powerful organisation with staff and informers deployed throughout the country's big cities and small towns.
The ISI's capacity to enforce its will makes it the only state institution of which no Pakistani, however rich and powerful, would want be on the wrong side.
The business and political elite may laugh at the tax authorities, bully the police and manipulate the judicial system - but none of them dare cross the ISI.
But for all the authority he will command, Gen Akhtar faces daunting problems at home and abroad.
Pakistan is confronted with Taliban jihadis trying to overthrow the state, Baloch nationalists fighting for independence, and sectarian outfits killing on a massive scale.
The US drawdown in Afghanistan brings added problems: Pakistan faces a period of relative international isolation.
Many senior US officials are highly critical of Pakistan. They believe the billions of dollars they pumped into Islamabad after 9/11 - much of it channelled through the ISI - was rewarded by years of Pakistani duplicity.
Some even go as far as to say that Washington's long war in Afghanistan failed because of Pakistani support for the Afghan Taliban.
Regardless of how fair this charge may be, Gen Akhtar will find many of his US counterparts simply won't believe what he says. The trust has gone.
Nevertheless, his relationship with Washington will be manageable.
As the new ISI chief knows, the US cannot contemplate the complete collapse of a nuclear state.
Full report at:
http://nation.com.pk/national/08-Nov-2014/new-isi-chief-rizwan-faces-daunting-challenges
------------
Pakistan, China ink 19 agreements on energy, basic infrastructure
November 08, 2014
BEIJING: Pakistan and China on Saturday signed 19 agreements and Memorandum of Understandings (MoUs) to further boost the bilateral ties between the two countries in various fields, including energy and basic infrastructure sectors.
A meeting between Prime Minister Nawaz Sharif and his Chinese counterpart Li Keqiang was held in Beijing. Both the leaders discussed bilateral relations and the regional situation.
Punjab Chief Minister Shahbaz Sharif, Federal Ministers Khawaja Muhammad Asif, Shahid Khaqan Abbasi and Ahsan Iqbal, and Special Assistant to the PM on Foreign Affairs Tariq Fatemi were also present on the occasion.
The Chinese premier was assisted by Vice Chairman of National Development and Reforms Commission and other officials.
The agreements signed between the two countries include solar power production at Quaid-e Azam Solar Park, easy loan for laying optic fibre between the two countries, mining of 65,00,000 metric tons of coal in Thar Block-2, 870 MW Sukhi Kinari hydropower project, 1320 MW Sahiwal power project and MoU for 100 MW Jhimpir wind power project.
An agreement was also signed to establish an Industrial Park in Faisalabad.
The two countries also inked an agreement for economic and technical cooperation between the two countries.
Full report at:
http://www.dawn.com/news/1143111/pakistan-china-ink-19-agreements-on-energy-basic-infrastructure
------------
Hashmi terms Nov 7 important day in history
November 08, 2014
MULTAN: Veteran politician Javed Hashmi said Nov 7 was an important day in the country's history as the forces that had created a (political) crisis in the country had failed in their designs.
In a press conference here on Friday, he said the army and its chief had played their role to save democracy but there were 'certain forces' that created problems.
"The (political) crisis in Pakistan is over after Nov 7; however, there is need to keep an eye on post-Nov 7 situation as this crisis could re-emerge in the future as well," he said.
Hashmi said some people had tried to use the Supreme Court and army for their conspiracies and he (Hashmi) had also informed Imran Khan about it, adding that he had asked Khan to avoid such people as achieving the targets, set by the party, in their presence was impossible. To strengthen the political system and democracy, there was need to strengthen the political parties, including the Pakistan Tehreek-i-Insaf (PTI), he said.
Says political crisis over, army chief saved democracy
"We should strengthen the political parties and we have to help the PTI and its chief Imran Khan as the PTI should not be weakened for the sake of political system," he said.
He said 21 to 25 PTI members of the National Assembly were not ready to resign.
"When I decided to resign, I was asked to make a forward block in the PTI but I believe that the PTI should not be done away with if we want to strengthen the system," he said.
Mr Hashmi said he used to express his opinion honestly when he was in the PTI and always gave importance to the party's interests over his personal interests.
Full report at:
http://www.dawn.com/news/1143028/hashmi-terms-nov-7-important-day-in-history
------------
'Gujrat detainee was tortured before murder'
November 08, 2014
GUJRAT: The autopsy report of a detainee, who was hacked to death by an ASI at the Civil Lines police station on Thursday, reveals severe physical torture before murder.
The report says marks of torture and cigarette burn wounds have been found on the body during the autopsy at Aziz Bhatti Shaheed hospital.
Sources in the police told Dawn that besides the ASI, some other police officials tortured Syed Tufail Haider in the lock-up soon after bringing him to the police station as the man continued to hurl abuses at the officials.
The area magistrate, Masood Asghar, on Friday handed over accused Syed Faraz Naveed to the local police on a three-day physical remand. On being asked by the magistrate if he wanted to record any statement before the court, the accused said he would hand over his written statement to the investigation officer of the police. He will be presented in court on Nov 11.
The police claimed that they had arrested Tufail, who hailed from a village in Ahmadpur Sial Tehsil, when he was found scuffling with some people near a plaza on Rehman Shaheed Road. He had visited Madina Syedan village of Gujrat to attend a 'Majlis' organised by his relative but did not return home.
The killer accused the victim of uttering derogatory remarks about the companions of the Holy Prophet (Peace be upon Him) but some other policemen said he hurled abuses at them (policemen).
The victim's brother, Syed Kausar Ali, in his statement that was made part of the FIR, cited "unknown reasons behind the murder." A case had been registered against the ASI under sections 302 and 155-C of the Pakistan Penal Code.
Van stands sealed: The district administration on Friday sealed at least 12 van stands besides impounding around 24 passenger vans for charging higher fares than those officially notified by the Road Transport Authority (RTA).
Full report at:
http://www.dawn.com/news/1143032/gujrat-victim-was-tortured-before-murder
------------
Pakistan urges UNSC to work towards settling Palestinian issue
November 08, 2014
UNITED NATIONS - Pakistan has called on the UN Security Council to show its leadership in resolving the decades-old Middle East problem by establishing an independent State of Palestine based on the pre-1967 borders with Al-Quds Al-Sharif as its capital. "A long-term solution would also require the withdrawal of occupation forces from all Arab lands, including those of Lebanon and the Syrian Golan,"Ambassador Masood Khan, Pakistan's permanent representative to the UN, told the General Assembly's Fourth Committee, which deals with Special Political and Decolonisation questions.
"We reiterate Pakistan's unflinching support to the Palestinian people in their continuing quest for their right to self-determination, for peace, for an independent State and for economic development," he declared on Thursday before delegates from around the world.
At the outset of his speech, Masood Khan strongly condemned the Israeli attack on the Al-Aqsa Mosque, stating such provocative actions triggered protests and imperilled the fragile calm in the region.
Masood Khan, who was speaking in a debate on the report of UN's Special Committee investigating Israeli practices in occupied territories, said that the peace process had collapsed due to the biggest land grab from Israel with the development of new settlements.
As the report highlighted, he said 10 years after the International Court of Justice advisory opinion, the wall continued to be built and was now three times bigger. Human rights of the Palestinian people are being systematically violated, the Pakistani envoy said, adding, administrative detentions have become the norm and settler violence continues unabated. Will Gaza be rebuilt to be destroyed again, he asked. "This 'build-destroy-build-destroy-cycle' must be broken."
Full report at:
http://nation.com.pk/national/08-Nov-2014/pakistan-urges-unsc-to-work-towards-settling-palestinian-issue
------------
In US, Qadri curses 'Family democracy' in Pakistan
November 08, 2014
LAHORE - PAT chief Dr Tahirul Qadri has said that Pakistan can never prosper until the rule of elite families is rooted out of the country. Talking to party leaders and workers after arriving at a New York airport, the PAT chief stated that the prime minister took his brother along to China and begged for aid in the name of 35 billion dollars investment.
"Had Pakistan been a democratic country in real sense, Prime Minister Nawaz Sharif would have taken chief ministers of all the provinces accompanied on his tour to China," Dr Qadri added.
He also pointed out the reservations of independent bodies about the billions dollar deals that PM Nawaz Sharif was about to sign with neighbouring country.
Curious about the nature of the investment whether it was loans or direct investment, Dr Qadri argued that Sharif family would benefit more from such investment than the masses of the country.
He assured that his party was keeping a close watch on all such activities and would reveal misappropriations of the rulers to the public. The workers chanted slogans in favor of PAT and its leader Dr. Tahir ul Qadri, said a statement issued from here on Friday.
Full report at:
http://nation.com.pk/lahore/08-Nov-2014/in-us-qadri-curses-family-democracy-in-pakistan
------------
South Asia
India Arrests Suspect In Plot to Kill Bangladesh PM, Opposition Leader
Reuters
GUWAHATI: Indian police have arrested a 36-year-old woman suspected of being involved in a plot to assassinate the prime minister of Bangladesh and carry out a coup, police said on Saturday.
The arrest comes days after Indian security officials said they had uncovered a plot by members of the Jamaat-ul-Mujahideen, accused of carrying out scores of attacks in Bangladesh, targeting Prime Minister Sheikh Hasina.
The group also planned to assassinate the country's main opposition leader, Khaleda Zia, Indian officials said. Hasina and Zia have dominated Bangladeshi politics for more than a decade.
Full report at:
http://www.dawn.com/news/1143138/india-arrests-suspect-in-plot-to-kill-bangladesh-pm-opposition-leader
--------
Besieged Jamaat fights for life in Bangladesh
November 08, 2014
Shafiqul ALAM - Bangladesh's largest Islamic party faces an existential crisis after a series of body blows, including the sentencing to death of its leaders and abandonment by its main secular ally, say analysts.
With its leader having recently died in prison, top officials languishing on death row and a muted response to protest calls, observers say Jamaat itself could be on its last legs.
"Jamaat has no future unless it transforms itself into a new party and finds a new leadership that can effectively mobilise people and shake off its war-time legacy," Dhaka-based analyst Ataur Rahman told AFP.
"The sooner it comes to realise this, the better for the party," added Rahman, a former professor at the State University of New York.
Although Prime Minister Sheikh Hasina's Awami League and the main opposition Bangladesh Nationalist Party (BNP) have dominated politics since independence, Jamaat has been a kingmaker and served as a junior coalition partner as recently as 2006. But its growing marginalisation was sealed last year when it was banned from a general election after judges ruled its charter conflicted with the country's secular constitution.
That ruling further inflamed supporters already fuming over the trials of around a dozen leaders accused of war crimes in the 1971 conflict.
Around 500 people were killed in political violence last year, both in the aftermath of war crimes verdicts and the build-up to January's election which the BNP boycotted. But although Jamaat's mobilisations last year were a show of strength, the subsequent violence alienated the public.
Full report at:
http://nation.com.pk/international/08-Nov-2014/besieged-jamaat-fights-for-life-in-bangladesh
------------
Competitors go past Bangladesh in US apparel market
Ibrahim Hossain Ovi
november 8, 2014
Apparel export to US market has seen a 2.12% fall in January-September period compared to the corresponding period last year while its nearest competitors India and Vietnam have posted significant gain.
As per the latest data by the US Department of Commerce's Office of Textile and Apparel (OTEXA), in January-September period of 2014 Bangladesh's apparel export to the US market plummeted to $3.78 billion which was $3.86 billion last year.
Bangladesh's close competitors India's export, on the other hand, rose by 5.64% (from $2.5 billion to $2.64 billion), Vietnam's by 15.63% (from $6.05 billion to $6.9 billion), China's by 0.26% (from $22.36 billion to $22.4 billion) while South Korea's by 3.64% (from $171 million to $177 million).
Pakistan has also seen a 1.19% decline ($1.12 billion to 1.10 billion) in its apparel export to the US market..
After the Rana Plaza building collapse which killed 1,135 workers and injured over 2,500 Bangladesh's apparel export to the US market has seen a downtrend.
On June 27 last year, the US government suspended Generalised System of Preferences (GSP) for Bangladesh because of concerns over labour rights and workers' safety after hundreds of apparel workers died in the deadliest Rana Plaza building collapse.
"Buyers from the US market has shifted orders from Bangladesh to Vietnam, which caused downswing in Bangladesh export to US, Bangladesh Garment Manufacturers and Exporters Association (BGMEA) Vice-President Shahidullah Azim, said adding that Disney World had shifted its order worth $500 million from Bangladesh to Vietnam.
Buyers have to change their attitude toward Bangladesh as we are in satisfactory level over safety issues and as per the buyers demands safety standard had improved.
Inspection conducted by the Alliance platform of North American buyers had found less than 2% factories risky, said Azim.
Full report at:
http://www.dhakatribune.com/foreign-affairs/2014/nov/08/competitors-go-past-bangladesh-us-apparel-market
------------
Sheikh Hasina asks party leaders to hold AL national council in time
November 08, 2014
Awami League President and Prime Minister Sheikh Hasina yesterday instructed her party leaders to hold its national council in time and prepare a draft on the overall activities to this end.
The Awami League chief came up with the instruction during her first visit to her Dhanmondi political office since assuming office through the January 5 polls.
Hasina arrived at the office around 4:30pm and held discussions with leaders of the party on various issues relating to organisational activities for more than an hour.
Awami League General Secretary and LGRD and Cooperatives Minister Syed Ashraful Islam, its presidium members Agriculture Minister Matia Chowdhury, Shahara Khatun and Nuh-ul Alam Lenin, Prime Minister's Adviser HT Imam, Mahbubul Alam Hanif, Barrister Fazle Noor Tapas were present.
In her discussion with the leaders, Hasina stressed the need for holding the party council in time and asked them to prepare a draft on the overall activities to this end.
Briefing reporters at the PM's Dhanmondi political office, Syed Ashraful said the party chief mainly enquired about the organisational activities, and the ongoing councils of the party's district committees across the country.
Full report at:
http://www.dhakatribune.com/politics/2014/nov/08/sheikh-hasina-asks-party-leaders-hold-al-national-council-time
------------
Mideast
10 blasts hit Fatah property in Gaza
November 08, 2014
GAZA CITY — At least 10 explosions hit houses and cars belonging to members of the Fatah movement of Palestinian president Mahmud Abbas in Gaza on Friday, an AFP correspondent and witnesses said. There were no immediate reports of any casualties from the blasts, which were condemned by both Fatah and its rival Hamas, which dominates the Gaza Strip.
Full report at:
http://www.saudigazette.com.sa/index.cfm?method=home.regcon&contentid=20141108223695
-----
Hamas creates 'popular army' in Gaza to confront Israel
Nov 8, 2014
The Palestinian resistance movement Hamas has announced the formation of a "popular army" in the besieged Gaza Strip to counter the Israeli regime's aggression.
A spokesman for the Ezzedine al-Qassam Brigades, the military wing of Hamas, said at a ceremony at the Jabaliya refugee camp on Friday that "the first section of the popular army for the liberation of al-Aqsa and of Palestine" would consist of 2,500 recruits.
Hamas said the new force is tasked with confronting any future Israeli aggression, particularly against the al-Aqsa Mosque in East al-Quds (Jerusalem).
Mohammed Abu Askar, a Hamas official, also noted that individuals over 20 years old could sign up "to be prepared for any confrontation" with Israel, adding that the popular force has been created "at a moment when the al-Aqsa Mosque is subject to serious Israeli violations."
The announcement comes as the resistance movement and the people of Gaza are angry over the recent Israeli aggression against Palestinians in the occupied West Bank and the al-Aqsa Mosque.
On Friday, Palestinian protesters held a demo at the Qalandia checkpoint, Beit Lahm and al-Khalil (Hebron) to express their anger at Israel's decision to deny Palestinians under the age of 50 entry into the holy al-Aqsa Mosque. The Israeli regime's troops used tear gas to disperse the demonstrators.
Earlier in the day, Tel Aviv deployed some 1,300 soldiers in and around the occupied Old City of al-Quds to suppress Palestinians protesting Israel's violations in the al-Aqsa Mosque.
The mosque has recently been the scene of clashes between Palestinian worshippers and Israelis.
Full report at:
http://www.presstv.ir/detail/2014/11/08/385192/hamas-forms-antiisrael-popular-army/
------------
Israel's firing at refugee camp shakes Jerusalem
November 08, 2014
JERUSALEM: Stone-throwing Palestinians battled Israeli police in a refugee camp in east Jerusalem on Friday as the top EU diplomat warned of a new wave of violence if peace efforts remain deadlocked.
Clashes shook the Shuafat camp for a third straight day with security forces firing tear gas at crowds of youths who set light to tyres and rubbish bins.
The camp descended into chaos on Wednesday after one of its residents deliberately ran down two groups of pedestrians in Jerusalem, killing a border policeman and injuring another nine people before being shot dead. On Friday, a young Israeli also died of injuries sustained in the attack — the second of its kind in a fortnight.
Police barred men of 35 and under from attending the Friday prayers at the flashpoint Al-Aqsa mosque compound in the Old City, for fear of a repetition of heavy clashes there earlier this week that prompted Jordan to recall its ambassador.
Police said that in the event the Old City was calm and 15,000 worshippers prayed at Al-Aqsa without incident, with more than 1,300 police deployed to maintain order.
Annexed east Jerusalem has been engulfed by violence over the past four months, with clashes occurring on an almost daily basis in several flashpoints Palestinian neighbourhoods.
Community officials say the wave of unrest is fuelled by a sense of hopelessness resulting from Israel's policies in east Jerusalem, which have left many youths with a sense they have nothing to lose.
Full report at:
http://www.dawn.com/news/1143014/israels-firing-at-refugee-camp-shakes-jerusalem
------------
Top Al Qaeda leader killed by Yemeni forces
November 08, 2014
SANAA: Yemeni security forces have killed a senior Al Qaeda operative in the southern province of Lahij, where he was known as the group's local chief, state media said on Friday.
Saba news agency, quoting an unnamed security official, said that Turki al-Assiri, a Saudi also known as Marwan al-Mekki, was shot dead on Thursday in the Tuban region.
He was killed as he resisted arrest and one of his companions was wounded and detained, the official said.
Full report at:
http://www.dawn.com/news/1143080/top-al-qaeda-leader-killed-by-yemeni-forces
------------
'Palestine grateful to KSA for billions in aid'
8 November 2014
The Palestinian people would always remain grateful for the billions in aid the Kingdom has given them over the years, the nation's ambassador said here recently.
In a wide-ranging interview with Arab News, Basem A. Alagha also condemned the recent attacks by terrorists in Al-Ahsa, saying it was an attempt to destabilize the Kingdom. He said the Palestinian people backed the Kingdom's efforts to tackle extremism in the region and world.
He said Saudi Arabia has given the country many billions over the years. Recent payments include a transfer Thursday of SR7.5 million to a United Nations shelter. Earlier, it gave another SR37 million to another entity.
During Israel's war on Gaza, Saudi Arabia gave SR675 million to the Ministry of Health, SR56 million to support Al-Nahr Al-Bared refugee camp and SR1.8 billion for the reconstruction of Gaza, said Alagha.
He said the Kingdom's leaders including Custodian of the Two Holy Mosques King Abdullah and Crown Prince Salman have given Palestinians great moral support over the years.
On the recent Swedish recognition of Palestine, he said it is the first step in breaking the deadlock on the recognition of Palestine. It is a historic move because Sweden becomes the first European state to recognize Palestine.
Regarding the situation in the occupied Palestinian territories, the ambassador said the occupation force has no respect for moral values. "Israeli soldiers violate the sanctity of the Al-Aqsa Mosque and kill our children in cold blood. Jerusalem is a holy place recognized by both Muslims and Christians. Yet, all moral values are being violated at this place with impunity by the Israelis."
Full report at:
http://www.arabnews.com/saudi-arabia/news/656786
------------
Palestinians clash with Israeli troops again over holy site
7 November 2014
JERUSALEM/GAZA: Palestinian protesters fought with Israeli security forces in East Jerusalem and the occupied West Bank on Friday, the latest clashes in a fortnight of violence over access to Jerusalem's holiest site.
At the Qalandia checkpoint separating Ramallah from Jerusalem, troops fired rubber bullets as several hundred protesters marched, some throwing rocks and petrol bombs.
In East Jerusalem, police fired tear gas to disperse protesters hurling firecrackers and burning tires that sent up huge clouds of black smoke in Shoafat refugee camp.
Palestinian and regional anger, still simmering over Israel's war with Gaza's Hamas movement in July and August, has focused in the last two weeks on Jerusalem's holiest site, known to Muslims as the Noble Sanctuary and to Jews as Temple Mount.
For decades, Israel has maintained a ban on Jews praying at the site, which houses the Dome of the Rock and the 8th-century Al-Aqsa mosque and was also the site of ancient Jewish temples.
Full report at:
http://www.arabnews.com/featured/news/656386
------------
Israel 'pushing for religious warfare'
07 Nov 2014
Jerusalem — Amid heightened tensions at Jerusalem's al-Aqsa mosque, the Palestinian Minister of Awqaf and Religious Affairs, Sheikh Yousef Adeis, has called on the international community to push for the site's protection.
Weeks of clashes at the al-Aqsa compound reached a climax this week, as Israeli security forces stormed the mosque, triggering confrontations between riot police and Palestinian worshippers.
Adeis says Arab and Muslim decision-makers must broach the threat to al-Aqsa with UNESCO, the UN's cultural arm, and provide daily updates on Israel's "aggressive acts" to the UN Security Council.
"Muslims and Arabs should develop a united stance towards defending the mosque… Israel, by its aggressive acts, is pushing for religious warfare that would have dreadful consequences on the region," Adeis said.
Financial support should also be increased, he said, to deter Palestinians from abandoning their homes in the Old City, where al-Aqsa is located: "I'm calling upon all Muslims worldwide to support Jerusalem and its people against the daily Israeli assaults on their rights."
Under long-standing arrangements, Jews are allowed to visit al-Aqsa but are forbidden to pray, for fear of religious unrest. The site is Judaism's holiest, believed to be the site of the Biblical temples, and the third-holiest in Islam. Jewish hardliners have been ramping up demands to be allowed to pray at the Muslim-run site.
TIMELINE: Al-Aqsa mosque
On Thursday, Israeli Prime Minister Benjamin Netanyahu assured Jordan's King Abdullah II that he would not yield to those demands, after Jordan recalled its ambassador to Israel in protest against the "unacceptable" police assault on the mosque.
"We're keeping the status quo on the Temple Mount," Netanyahu said, using the Jewish name for the compound, which has seen frequent clashes between stone-throwing Palestinians and Israeli riot police.
On Friday, Israel's chief rabbi, Yitzhak Yosef, told Jews to stop ascending the plateau to pray, calling it a religious crime. "We must stop this," he said at a funeral service for a 17-year-old killed in a hit-and-run attack in Jerusalem earlier this week .
Senior members of Netanyahu's government, including deputy Knesset speaker Moshe Feiglin, have been among the loudest voices pushing to change the status quo. Economy Minister Naftali Bennett, the head of the right-wing Jewish Home party, criticised the chief rabbi's decree.
Full report at:
http://www.aljazeera.com/news/middleeast/2014/11/israel-pushing-religious-warfare-201411712126561877.html
------------
World must help Afghan refugees return home: Iran
Nov 8, 2014
Iran has criticized the international community for turning a blind eye to the situation of refugees, calling for global efforts to help Afghan refugees return to their homeland.
Speaking at a meeting of the Third Committee of the UN General Assembly, an expert with the Iranian Mission to the UN Mesbah Ansari elaborated on the measures and policies that Iran has adopted regarding millions of Afghan and Iraqi refugees in the country for over three decades, saying 97 percent of those refugees reside in urban areas.
The Third Committee of the UN General Assembly, which comprises 193 Member States and 2 non-member Observer States, is a forum for discussing international social, humanitarian, and cultural issues.
Full report at:
http://www.presstv.ir/detail/2014/11/08/385232/iran-urges-return-of-afghan-refugees/
------------
Israeli forces reportedly kill Palestinian man in W Bank
Nov 8, 2014
Israeli forces have reportedly shot dead a young Palestinian man in the occupied West Bank.
Witnesses said Israeli troops raided the village of Kafr Kanna early Saturday and opened fire on 22-year-old Khair Lotfi Hamdan following an altercation with him.
The Palestinian died of his wounds in the hospital shortly afterwards.
Israeli police, however, claim that they first fired into the air to warn the young man and shot him in the chest later when they felt threatened.
Full report at:
http://www.presstv.ir/detail/2014/11/08/385235/palestinian-shot-dead-by-israeli-troops/
------------
North America
Washington moving towards wider war in Iraq and Syria
Nov 8, 2014
There are new indications that Washington is moving toward a wider and protracted military intervention in the Middle East in the name of combating the Islamic State of Iraq and Syria (ISIS).
In the wake of last weekend's collapse of US-backed Syrian "rebels" in the face of an offensive by Al-Qaeda's Syrian affiliate, the al-Nusra Front, plans are being prepared to extend the three-month-old US-led bombing campaign deeper into Syria. The ostensible purpose of these air strikes would be to provide air support for the Western-backed militias formed to prosecute the war for regime change against the government of President Bashar al-Assad.
The concern within US military and intelligence circles is that the Nusra Front fighters appear poised to seize control of the strategic Bab al-Hawa border crossing with Turkey, which has served as a key conduit for funneling arms and other aid to the Syrian "rebels."
A substantial portion of that aid, including heavy weapons such as TOW anti-tank missiles and GRAD rockets, fell into the hands of the Nusra Front last weekend as the American-backed groups—the Syrian Revolutionary Front and Harakat Hazm (Steadfastness Movement)—surrendered without a shot being fired. Many of the members of these groups then joined the Nusra Front.
"The recent fighting in northwestern Syria has been taking place a long way from areas farther east where US and Arab warplanes have been pounding Islamic State positions," the Washington Post reported Wednesday. "But US concern has grown rapidly in recent days amid fears about the [Bab al-Hawa] border crossing, according to senior administration officials who spoke about internal discussions on the condition of anonymity."
The report cited discussions about likely "complications" arising from air strikes in the area, in particular whether the Syrian government would "tolerate an expansion" of the war beyond Iraq and areas of Syria near the Iraqi border, which have fallen under ISIS control.
There are, however, multiple demands that Washington carry out such an expansion with the aim of directing the US-led war precisely at toppling the Assad regime [sic].
This is the position being advanced by the governments of both France and Turkey. French foreign minister Laurent Fabius wrote an opinion column published by several media organizations earlier this week calling on the US and its allies to shift the military intervention away from the Kurdish border town of Kobane, where there have been regular US bombings, to the city of Aleppo. Previously Syria's industrial capital, Aleppo has been the scene of stepped up fighting as the Syrian government seeks to consolidate its control by defeating the so-called rebels.
Full report at:
http://www.presstv.ir/detail/2014/11/08/385216/us-moving-towards-wider-war-in-mideast/
------------
Rice: US not engaged in military coordination with Iran against ISIL
Nov 8, 2014
US National Security Adviser Susan Rice says Washington is not engaged in any military coordination with Iran in fight against the ISIL terrorist group.
"We are in no way engaged in any coordination - military coordination - with Iran on countering ISIL," she said on Friday.
She made the comments after the Wall Street Journal reported that President Barack Obama sent a letter to Leader of the Islamic Revolution Ayatollah Seyyed Ali Khamenei over the US-Iran shared interests in fighting ISIL.
Rice also said she would not comment on "potential presidential correspondence."
Tehran earlier rejected a US request for cooperation against the ISIL terrorists, saying that the efforts by the US and its allies are not genuine.
Full report at:
http://www.presstv.ir/detail/2014/11/08/385197/us-rejects-working-with-iran-against-isil/
------------
Iraq invasion paved way for ISIL terrorists, Bush regrets
Nov 7, 2014
Former US President George W. Bush says he regrets the fact that the US-led invasion of Iraq paved the way for the ISIL terrorist group, which is operating in Iraq and Syria.
"I think it was the right decision [to go into Iraq]," Bush told CBS News in an interview that will be broadcast on Sunday. "My regret is that…a violent group of people have risen up again…This is 'Al Qaeda plus'…they need to be defeated. And I hope we do…I hope the strategy works."
In 2003, Bush ordered the invasion on Iraq under the pretext that former Iraqi dictator Saddam Hussein possessed weapons of mass destruction. In October 2004, however, a CIA report revealed that Saddam did not possess any weapons of mass destruction at the time of the invasion.
The US war in Iraq cost American taxpayers $1.7 trillion with an additional $490 billion in benefits owed to war veterans, expenses that could grow to more than $6 trillion over the next four decades counting interest, according to a study called Costs of War Project by the Watson Institute for International Studies at Brown University.
In his CBS interview, Bush also said that when he made the announcement to invade Iraq, Saddam did not take him very seriously.
Full report at:
http://www.presstv.ir/detail/2014/11/07/385156/iraq-war-paved-way-for-isil-bush/
------------
Obama approves sending 1,500 more troops to Iraq
November 8th, 2014
WASHINGTON: President Barack Obama has approved sending up to 1,500 additional troops to Iraq to aid Baghdad government and Kurdish forces fighting the Islamic State group, roughly doubling the number of US troops in the country, the White House said on Friday.
The 1,500 troops will include a group of advisers to help Iraqi forces plan operations and a group of trainers who will be deployed across the country, officials said, as Washington steps up the pressure on the IS militants.
Some of the advisers will be deployed to western Anbar province, where the Iraqi army has been forced to retreat from advancing IS jihadists, a defence official who spoke on condition of anonymity said.
Some of the additional troops will begin to arrive in Iraq in the next several weeks, the official said.
"As a part of our strategy for strengthening partners on the ground, President Obama
today authorized the deployment of up to 1,500 additional US military personnel in a non-combat role to train, advise, and assist Iraqi security forces, including Kurdish forces," a statement said.
Full report at:
http://www.dawn.com/news/1143090/obama-approves-sending-1500-more-troops-to-iraq
------------
Photo shows 2 Syrian children killed in US airstrike
Nov 8, 2014
A photo shared by activists on social media shows two Syrian children who were killed by the latest US airstrikes in the Arab country on Wednesday night.
The activists shared the photo on Friday, which shows two Syrian children covered in blood and dust, according to Reuters which said it itself received the photo.
One of the activists from Idlib province in Syria, who asked to remain anonymous, said that at least four children were killed during the air raids in the town of Harem.
The US conducted air raids on Wednesday night killing several militants in Idlib and Aleppo but also a number of Syrian civilians.
Full report at:
http://www.presstv.ir/detail/2014/11/08/385212/photo-shows-2-kids-killed-in-us-strike/
------------
Europe
4 arrested in Britain over alleged Islamist plot
November 08, 2014
LONDON - Police in London said Friday they had arrested four men in connection with an alleged Islamist plot, which media reports said was planned for British soil.
The men, aged 19, 22, 25 and 27, were arrested overnight 'on suspicion of being concerned in the commission, preparation or instigation of acts of terrorism', Scotland Yard said. A number of addresses and vehicles are being searched as part of the investigation, which is being carried out in cooperation with the domestic intelligence agency MI5.
Full report at:
http://nation.com.pk/international/08-Nov-2014/4-arrested-in-britain-over-alleged-islamist-plot
------------
Britain to send forces to Iraq to help anti-ISIL fight
Nov 5, 2014
Britain is preparing to deploy forces to Iraq to help the Iraqi security forces in their fight against the ISIL Takfiri militants, a British newspaper says.
Several British officers are set to join a US base in Baghdad to train and advise the Iraqi army forces, The Times reported on Wednesday.
The paper added that more training teams could also be dispatched to the semi-autonomous Kurdistan region in northern Iraq.
The British defense ministry has yet to comment on the report.
The move will be the first British mission to Iraq after it pulled its forces out of the war-hit country in 2011 following the 2003 US-led invasion.
Britain's Ministry of Defense said the first set of British warplanes have taken off to carry out airstrikes over Iraq following a move by the UK parliament to approve airstrikes targeting ISIL terrorists in the Arab country.
Full report at:
http://www.presstv.ir/detail/2014/11/05/384862/uk-to-send-troops-to-iraq-to-fight-isil/
------------
Suspected terrorists arrested in London
Nov 7, 2014
British officials say at least four men have been arrested in London for a suspected terrorist attack on Remembrance Sunday commemorations.
The men aged 19 to 27 and were apprehended in four different southern England locales overnight. Three of the latest arrests occurred at addresses in west London and the Thames Valley area, to the west of the capital. The fourth man was in a car in the Southall district of west London when he was taken into custody, according to police.
The 19-year old, arrested in High Wycombe, attended the same school as 27-year-old Omar Hussain, a former Morrison's supermarket worker who travelled to Syria in January this year to join ISIS, causing speculation of a connection with the hardline terrorist group.
According to friends and neighbors, Hussain's home had been raided once before this year shortly after he returned from a trip to Pakistan. Over the past few months he had become increasingly religious, spending time with only a few close friends, the media reported.
The Metropolitan police said officers had arrested the four "on suspicion of being concerned in the commission, preparation or instigation of acts of terrorism". All men have been taken to police stations in central London where they remain in custody.
Full report at:
http://www.presstv.ir/detail/2014/11/07/385158/suspected-terrorists-arrested-in-london/
------------
Protesters in London demand release of Saudi Shia cleric
Nov 8, 2014
People have held a protest rally in the British capital, London, to demand the release of prominent Saudi Shia cleric Sheikh Nimr al-Nimr whose death sentence was recently upheld in Saudi Arabia, Press TV reports.
During the Friday rally outside Downing Street, the demonstrators raised their voices in solidarity with others around the world to shine a spotlight on the fate of the man they say is a pioneer for justice and a peaceful activist.
"It is completely horrendous to behead someone simply because of their freedom to express their views about a particular political ideology or regime," a protester told Press TV.
Frank Gelli, an Anglican priest, also said, "All Sheikh Nimr wants is justice, a freedom for his people and reform, like any decent human being and indeed someone who is motivated by faith would actually demand, so what is happening is intolerable."
The demonstrators also urged British Prime Minister David Cameron to intervene in the case of the Shia cleric.
Full report at:
http://www.presstv.ir/detail/2014/11/08/385228/britons-urge-release-of-saudi-cleric/
------------
Southeast Asia
Indonesian HM Criticized by All Sides in Religion ID Debate
Nov 08, 2014
By Adelia Putri Anjani & Robertus Wardhi
Jakarta. Home Affairs Minister Tjahjo Kumolo waded in to a heated debate after suggesting that people have the option of leaving the religion column blank on their identity cards, forcing him to clarify his original remarks.
The minister earlier said on Thursday that stating or not stating one's religion is "a matter of privacy," but later changed his statement saying that the option only applies to followers of religions that are not formally recognized by the state.
"The government should not meddle in citizens' choice of beliefs, providing [those beliefs] don't disturb the general order," he said earlier.
Indonesia formally recognizes only six religions, namely Islam, Protestantism, Catholicism, Buddhism, Hinduism and Confucianism. Followers of the six religions are required to fill the column, he said.
Religious freedom advocacy group, the Setara Institute noted that Tjahjo's stance does not differ much from the existing regulations set by his predecessor Gamawan Fauzi.
Under the current laws and regulations, observers of minority and indigenous religions such as Sunda Wiwitan, Buhun and Kejawen have their religion column left blank, regardless of whether they wish to state their faith or not.
It is not clear whether Tjahjo will allow observers of such faiths to openly state their religions on their identification cards.
For minority religions "we will consult about this with the Indonesian Council of Ulema, PGI [Indonesian Communion of Churches] and so on. Are these [minority religions] considered deviant or not. That is up to the Ministry of Religious Affairs and religious figures," he said.
"What is important is for people not to obtain their right [of acquiring an identification card] because their religions are not recognized [by the state]."
Haris Azhar, coordinator of human rights group the Commission for the Disappeared and Victims of Violence (Kontras) said Tjahjo's remarks showed that the minister has no real standing on the matter.
Full report at:
http://thejakartaglobe.beritasatu.com/news/home-affairs-minister-criticized-sides-religion-id-debate/
------------
Minister's grandfather named national hero
November 08 2014
Coordinating Maritime Affairs Minister Indroyono Soesilo did not try to hide his pride when President Joko "Jokowi" Widodo named his maternal grandfather, Mohamad Mangundiprojo, a national hero along with three other independence fighters, in an official ceremony at the Presidential Palace on Friday.
Indroyono's joy was shared by Muhammad Romahurmuziy, whose claim to be the new chairman of the United Development Party (PPP) was recently recognized by the government. Romahurmuziy's grandfather, Abdul Wahab Hasbullah, was also recognized as a national hero.
Mangundiprojo, from East Java, fought during the revolution in Surabaya in 1945. He was a treasurer at the then People's Security Body (BKR) East Java, which was established on Aug. 22, 1945 and would later become the Indonesian Military (TNI).
The President bestowed on Friday the title of national hero on four war veterans for their extraordinary contributions to the country before and after the Proclamation of Independence on Aug. 17, 1945.
The other two names were Tarigan Djamin Gintings and Sukarni Kartodiwirjo.
"East Java people have proposed his name for three years," said Indroyono of his grandfather while speaking to journalists after the ceremony.
The state has conferred the title on 159 independence fighters, including 12 women. The families or descendants of national heroes have the right to receive a Rp 1.5 million (US$120) monthly allowance and a Rp 3 million annual medical allowance. They are also entitled to Rp 25 million for house renovation.
The ceremony at the palace was part of the National Heroes Day commemoration, which falls on Nov. 10 and remembers the battle between Indonesia and Allied Forces in Surabaya in November 1945.
"On behalf of the Kyai Wahab family, I'd like to express gratitude. This is also an honor for the NU [Nahdlatul Ulama]," Wahab's grandson Romahurmuziy said at the State Palace.
Abdul Wahab was a Muslim leader from East Java who was born in Jombang. He helped Indonesia in the war against the Dutch by gathering support from Muslim figures and Islamic boarding schools in the country. Wahab was one of the founders of NU, the country's largest Muslim organization.
Full report at:
http://www.thejakartapost.com/news/2014/11/08/minister-s-grandfather-named-national-hero.html
------------
Malaysia defers verdict in Anwar sodomy case
07 Nov 2014
Malaysia's top court has delayed giving a verdict in opposition leader Anwar Ibrahim's appeal against his sodomy conviction, the country's most sensitive trial.
Chief Justice Arifin Zakaria said on Friday that the verdict, which will have far reaching implications for Malaysia's politics, would be announced at a later, unspecified date.
Anwar was sentenced to five years in prison in March on charges of sodomising a male aide in 2008, after Malaysia's appeals court overturned an earlier acquittal.
On Friday, he said he was confident that the lower court verdict would be overturned.
"I have no worries... They (my lawyers) have destroyed the case of the prosecution," Anwar, 67, told reporters outside the courtroom.
"The authorities should stop with oppression (and) harassment, using obsolete and draconian laws."
Critics and human rights activists said the case against Anwar was the latest in a long-running campaign by Malaysia's government to silence its most potent threat.
The US and other Western governments have expressed concern over Anwar's treatment.
The trial, which lasted eight days, heard submissions from both sides, and the court said it needed more time to consider the case.
'Venom and malice'
"The prosecution should have conducted it professionally, but here, you have so much venom and maliciousness,'' Anwar said as he left the courtroom.
Sodomy, even consensual, is a crime in Muslim-majority Malaysia and is punishable by up to 20 years in prison.
Full report at:
http://www.aljazeera.com/news/asia-pacific/2014/11/malaysia-defers-verdict-anwar-sodomy-case-2014117101142388321.html
------------
Africa
Libya militias threaten independence over rival parliament
Nov 8, 2014
A militia group in Libya has threatened to declare independence in the eastern parts of the country should the international community recognize a rival parliament in the capital, Tripoli.
"If the world recognizes the (rival assembly) General National Congress ... then we will be forced to declare eastern independence," the group, which controls major oil ports in the east, said in a Friday statement.
The militiamen, led by Ibrahim al-Jathran, added that they had discussed the issue with some tribal leaders in eastern Libya.
The Libyan government and elected parliament moved to the eastern city of Tobruk after an armed group from the town of Misrata seized the capital and most state institutions in August.
The new Tripoli rulers have set up a rival parliament, which is not recognized by the government and the global community.
Full report at:
http://www.presstv.ir/detail/2014/11/08/385199/eastern-libya-in-independence-threat/
------------
Tunisian presidential candidates call for unity against terror
Nov 8, 2014
Tunisian presidential candidates have called for national unity to confront the threats posed by Takfiri terrorists in the North African country's upcoming election, Press TV reports.
The candidates condemned the violence committed by terrorists in a ceremony on Friday, when they paid tribute to five soldiers killed by suspected militants in north-western Tunisia earlier this week.
The militants attacked an army bus in the region of Nebeur, located between the towns of Kef and Jendouba, near Tunisia's border with Algeria. Four soldiers were initially reported to have been killed in the assault and a fifth succumbed later to his wounds.
"Takfiris have divided our society into believers and disbelievers. We are here to show to the world that we have different political affiliations, but we remain united. We support our troops and security forces in their war against terrorism," presidential candidate Mehrez Boussayene said.
Full report at:
http://www.presstv.ir/detail/2014/11/08/385218/tunisia-candidates-against-takfiris/
------------
South Sudan rivals agree to ceasefire: Mediator
Nov 8, 2014
Warring factions in South Sudan have agreed to a ceasefire aimed at putting an end to the months-long violence in the northeastern African country, says a mediator in the peace talks.
"The parties commit to an unconditional, complete and immediate end to all hostilities, and to bring the war to an end," the chief mediator for the Inter-governmental Authority on Development (IGAD), Seyoum Mesfin, said on Saturday on the sidelines of the 28th Extraordinary Summit of the IGAD Head of State and Government in the Ethiopian capital city of Addis Ababa.
Full report at:
http://www.presstv.ir/detail/2014/11/08/385205/s-sudan-rivals-agree-to-ceasefire/
------------
Eroding Algeria's political status quo
08 Nov 2014
Algiers - In his first public appearance since being re-elected to a fourth term in April, a wheelchair-bound President Abdelaziz Bouteflika, 77, visited the al-Alia cemetery in Algiers last week to mark the 60th anniversary of the start of the Algerian revolution.
A veteran of the Algerian war of independence, Bouteflika has been widely viewed as one of the pillars of stability in Algeria, the other being the country's oil-rich economy.
But there are growing signs that these two pillars are beginning to crumble, as global oil prices plummet and popular dissent reaches unprecedented levels.
Late last month, after hundreds of police officers demonstrated outside the Algerian presidency, the country's civil protection department issued a statement threatening to protest again this month if their working conditions were not improved. This was the first time in Algeria's history that security forces have taken to the streets. The officers were reportedly demanding better pay and working conditions, along with public housing for their families.
"There is a widespread perception in Algeria nowadays that the only way to be heard is to bypass the president's 'court' and to go straight to him [Bouteflika]," Riccardo Fabiani, a senior North Africa analyst at Eurasia Group, told Al Jazeera. "Ultimately he is supposedly the strongman who can resolve this kind of issue."
According to Amel Boubekeur, a non-resident fellow at the German Institute for International and Security Affairs, "while the older generations used to wash their dirty linen in private," people now tend to make their grievances public in order to put pressure on the government.
"There is a deep social malaise in Algeria, even among those who benefit from the Algerian clientelist political system, such as the policemen, whose salaries have been significantly increased since 2011," Boubekeur told Al Jazeera.
The Algerian regime has become increasingly brittle since Abdelaziz Bouteflika suffered a mini-stroke in April of 2013 and spent 80 days at the Val-de-Grace military hospital in Paris. This was not the first time Bouteflika travelled to France for medical reasons: In 2005, he went there for surgery after being diagnosed with stomach cancer, according to a leaked US diplomatic cable.
Full report at:
http://www.aljazeera.com/news/middleeast/2014/11/eroding-algerias-political-status-quo-201411391034544485.html
------------
URL: https://www.newageislam.com/islamic-world-news/new-age-islam-news-bureau/bahrainis-hold-new-protest-against-al-khalifa-rule/d/99924