New Age Islam News Bureau
7 Dec 2019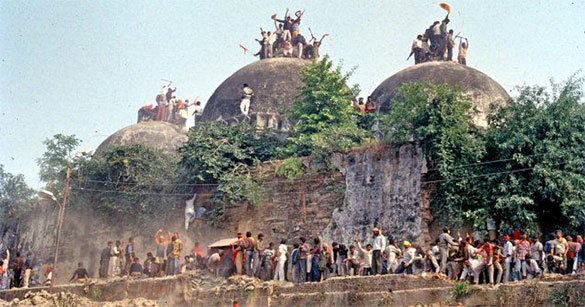 Babri Masjid Demolition
----
• Babri Masjid Demolition: Both Sides Avoid Events to Mark Dec 6
• Over 400 Members of Tamil Nadu Muslim Group Arrested For Protests on Ayodhya Verdict
• China Debuts Propaganda Film Justifying Muslim Concentration Camps
• Majority of Saudi Youth 'Highly Interested' In Volunteer Work
• Belgian Teacher Shares Facebook Video of Imam's Sermon about Jihad on Jews
• Pensacola, Florida Shooter's Alleged Manifesto Slams 'Crimes against Muslims' and US Policies Abroad – Report
• Secretive Israeli Entity Found Co-Opting Anti-Islam Haters On Facebook
• Bangladesh Is Also Worried About Indian Muslims: Pakistan President Said During a Meeting with a Saudi Parliamentary Delegation
• Exim Bank Provides USD 500 mn Credit to Bangladesh for Defence Procurement
• Lagos Crescent Bearers Celebrate 80 Years of Impacting Modern Muslims
Compiled By New Age Islam News Bureau
URL: https://www.newageislam.com/islamic-world-news/babri-masjid-demolition-sides-avoid/d/120466
------
India
• MIM Says Treat Muslims On Par With SCs and STs
• Why did students protest against a Muslim teaching Sanskrit in India?
• India: Undercover reporter predicted demolition of Babri Mosque
------
Southeast Asia
• Indonesia Encourages Sharia Economy To Boost SMEs
• Islamic Finance Set To Be Greater Contributor to Planet, People, Prosperity - Sultan Nazrin
• Drop Malay Supremacy Concept, Urges Johor Umno Delegate
• 52 nations confirm taking part in Kuala Lumpur Summit
------
Arab World
• Islamic Cooperation Says Florida Accident Does Not Represent Tolerant Values Of Saudis
• Saudi Automotive Services Company Signs Islamic Credit Facility For Aramco IPO
• Iraq's top Shia cleric warns against outside influence
• Saudi ambassador joins high-level UN talks
• 'He doesn't represent us': Saudis tweet in solidarity with Americans over Florida Navy base shooting
• 12 killed in Baghdad square as assailants fire live rounds
------
Europe
• Muslims to distribute 10,000 Quran copies in Norway after burning attempt
• Singer Yusuf Islam's media consultant converts to Islam
• Islamic Schools Grow As Parents Seek A 'Safe Zone' For Their Children
• Hundreds attend Peterborough mosque events
• President Recep Tayyip Erdogan opens Europe's first eco-friendly mosque
• Man armed with knife caught trying to enter Leeds mosque
• Skegness Muslim community's prayers answered as mosque plans are approved
• UN: Iranian forces were 'shooting to kill' protesters
------
North America
• Saudi military student kills three at US naval base
• Shia LaBeouf Can't SLAPP His Way Out of Bartender's Slander Suit
• Islamic State sympathizer sentenced to 22 years in prison
• Man convicted of death threat against Muslim candidate
• Flight Attendant Behaving Badly? Southwest Offers Freebies To Journalist After His Muslim Wife Was Reduced To Tears
• US says drone shot down by Russian air defences near Libyan capital
------
Mideast
• Facebook Closes Arabic Page of Imam Khamenei
• Ingush Mufti Denounces Magas Effort to Keep Imams from Talking about 1992 War
• Iran Calls for Confronting Soft War Plots against Muslim States
• Iran: US Least Qualified to Comment on Muslims' Rights
• Zarif Quotes US Brian Hook to Dismiss E3 Claims about Ballistic Missiles
• Envoy Rejects Europeans' Arbitrary Interpretation of UNSCR 2231
• Senior Cleric: Iran to Continue Resisting against US by Increasing Scientific Output
• Lebanese lawmakers to defy naming of new PM
• Israel detains Palestinian journalists for 'illegal activity'
------
Pakistan
• The Muslim Who Saved a Hindu Temple from a Mob in Pakistan
• PM holds huddle with Sindh allies, focuses on 'corruption' in province
• NAB focuses on case, not face, says anti-graft body chief
• PML-N walks out of NA over non-issuance of production orders
• IHC once again reserves verdict on petition seeking three MNAs' disqualification
• Public safety body censures Sindh IGP for missing second consecutive meeting
------
South Asia
• Bangladesh Bank Criticised For 'Sexist' Job Circular
• Rohingya Genocide Trial: ICJ on course to hold hearings
• Afghanistan Needs Billions in Aid Even After a Peace Deal, World Bank Says
• Deadly Clashes Erupt in Volatile Northern Afghan Province
• Sri Lanka Govt to Invite Fresh Muslim Representatives
• Sri Lanka Muslim party leader 'fine' with lack of Muslim ministers in new government
• Fidah, A Talented Afghan Rapper With A Unique Music Style That Comes All The Way From Canada
------
Africa
• Nigerian authorities detain Shia group leader with ties to Iran
• Islamic Movement in Nigeria condemns transfer of Sheikh Zazaky, wife to Kaduna prison
• At least eight killed in Kenya in suspected Islamist militant attack
• Islamist rebels kill at least 17 in eastern Congo: local official
• The Islamic State in Libya Has Yet to Recover
• Tensions mount after Greece's expulsion of Libyan envoy
------
Babri Masjid demolition: Both sides avoid events to mark Dec 6
Dec 7, 2019
AYODHYA: The first Babri Masjid demolition anniversary after the SC verdict on Ayodhya land dispute recorded a break in the usual commemoration of the day by both Hindus and Muslims, though security was tighter than before in the city on Friday.
Since 1993, Ayodhya on December 6 has looked much the same every year. While the Vishwa Hindu Parishad and supporters would celebrate the demolition of Babri Masjid as 'Shaurya Diwas' (day of bravery), Ayodhya's Muslims would dub the day 'Yaum-e-Gham' (day of sorrow). Each side would hold programmes marked with fervent speeches to remember the day as Ayodhya would resemble a fortress under thick security cover.
This continued for 26 years until December 6, 2019, when both sides exercised restraint and discontinued with the 'tradition'. At VHP's Karsevakpuram, the mood was unlike previous years. No speeches blared from loudspeakers and no one gathered at the site. "Why celebrate or remember the day now when the SC has put an end to the dispute. We are at peace," said VHP's national executive member Puroshottam Narayan Singh.
Till last year, the house of Haji Mehboob — a litigant in the case — would be abuzz with men in skull caps seated in front of a makeshift stage from where speech after speech would fill the air. There was no such gathering this time.
(With inputs from Arshad Afzaal Khan)
https://timesofindia.indiatimes.com/india/babri-masjid-demolition-both-sides-avoid-events-to-mark-dec-6/articleshow/72409385.cms
------
Over 400 members of Tamil Nadu Muslim group arrested for protests on Ayodhya verdict
07th December 2019
TIRUCHY: Amid heavy police deployment, over 400 cadre belonging to Tamil Nadu Muslim Munnetra Kazhagam (TMMK) staged a demonstration on Friday in Tiruchy against the Supreme Court order on the Babri Masjid demolition. Raising slogans that December 6 is a black day in Indian history, TMMK cadre demanded a reconsideration of the Supreme Court order which awarded the disputed territory in Ayodhya for construction of the Ram temple. "It is a place which belonged to Muslims.
There was a proper mosque built in the area, how can they place Hindu idols inside it and claim its the birthplace of Ram? Even the ASI gave no confirmation what was below was a Hindu structure," said a protester. With the protest being held without the permission of police, all cadre involved in the demonstration were arrested. As a precaution, police also deployed several officers on the roads and buildings and brought in riot control water tankers.
"Apart from re-consideration, we also want the court to arrest the people who were responsible for the demolition. Justice needs to be served and the court should respect the religious sentiments of the minority," added the protester. TMMK also demanded punishment for the building owner who raised the wall which killed 17 people in Mettupalayam and for the government to take necessary action to safeguard the lives of women and children in the country.
Similarly, SDPI held a demonstration in the city and 525 were arrested and lodged in a private wedding hall.
https://www.newindianexpress.com/states/tamil-nadu/2019/dec/07/over-400-members-of-tamil-nadu-muslim-group-arrested-for-protests-on-ayodhya-verdict-2072650.html
------
China Debuts Propaganda Film Justifying Muslim Concentration Camps
6 Dec 2019
BEN KEW
According to the English language propaganda outlet Global Times, the documentary, entitled Fighting Terrorism in Xinjiang, prompted "wide discussions among the audience with never-before-seen real crime scenes of terrorism, which highlighted the hefty prices China has paid and the country's resolution in eradicating terrorism."
The documentary also supposedly provided "concrete evidence of the horrible crimes wreaked by terrorists" across the region, while also revealing "hard evidence of interactions between terrorists and overseas masterminds."
Xinjiang is home to the East Turkestan Islamic Movement (ETIM), a jihadist group that mainly advocates for independence from China. It has also experienced several attacks by separatists protesting Chinese communist oppression in the region. Xinjiang is home to the majority of the nation's ethnic Uyghur Muslims and a variety of other ethnic minorities rare elsewhere in China. The Uyghur have their own language and culture significantly different from the majority Han Chinese, one that Beijing has attempted to erase through the disappearance of Uyghurs into concentration camps and the flooding of Xinjiang with Han Chinese people who have earned the trust of the Communist Party.
China began the process of eradicating Uyghur culture in 2017, ordering the imprisonment of approximately 1.5 million Uyghurs and other ethnic minorities across Xinjiang.
Multiple reports from within the concentration camps have documented evidence of egregious human rights abuses, including the employment of slave labor, imposing forced sterilization or birth control, and using prisoners as live organ donors.
According to the Times, the documentary also looks at the "launching [of] vocational education and training centers," the Chinese state's official term for the concentration camps, describing them as "highly effective in de-radicalizing and fighting extremist forces."
The outlet goes on to cite "incomplete data" claiming that the region has seen "thousands of terrorist attacks that killed large numbers of innocent people and hundreds of police officers."
The documentary claims that the cause behind attacks has not been China's long-term persecution of the Uyghur people, but rather a global Islamist terror movement symbolized by the 9/11 attacks.
"Some Western countries spread the idea that the 2009 Urumqi riots were ethnic clashes triggered by repression. Chinese experts say that's illogical, given the 9/11 attacks," the documentary declares. "The anti-China interpretation shows the double-standard approach adopted by some."
Urumqi is the capital of Xinjiang province. In 2009, 140 died in protests that grew violent against communist intrusion in Uyghur life.
Pressure is growing on China from the international community to allow greater access to the camps to human rights experts to assess the situation. However, a communist official this week claimed the camps are "schools" and "vocational training centers," while also insisting that all escapees who have testified on the matter of human rights abuses are lying because of their animosity to the Chinese state.
On Tuesday, the House of Representatives passed a bill aimed at countering what it describes as "arbitrary detention, torture, and harassment" of the Uyghur people, calling for "targeted sanctions" on senior communist officials involved the repression. The bill still must still be passed through the Senate and approved by President Donald Trump. Such legislation was poorly received in Beijing, which accused the U.S. of "gross interference" in their internal affairs.
https://www.breitbart.com/national-security/2019/12/06/china-debuts-propaganda-film-justifying-muslim-concentration-camps/
------
Majority of Saudi youth 'highly interested' in volunteer work
December 07, 2019
RIYADH: The majority of Saudi youth would be more than willing to get involved in volunteer work, according to a survey.
The study found that 84 percent of the 1,126 young people questioned were "highly interested" in donating their time to take part in community programs.
Almost half of those quizzed from throughout the Kingdom — of which 64 percent were men and 36 percent women – said that finding a volunteer opportunity in the Saudi community was "easy," while 27 percent found it "difficult" and 11 percent claimed no openings were available.
However, 14 percent noted that young Saudis did not receive enough information about volunteer opportunities.
The results of the survey, conducted by the National Center for Public Opinion Polls at the King Abdul Aziz Center for National Dialogue, in Riyadh, also showed that 70 percent of respondents had read or heard about the importance and advantages of volunteering, as opposed to 30 percent who were unaware.
Of those questioned, 45 percent had already participated in volunteer work, and the expectations of 68 percent of them were met.
The main reason given for preventing Saudi youth from volunteering was not having enough time (49 percent), while 24 percent said they "did not know about the volunteer opportunities," 13 percent "had difficulty in getting volunteer opportunities," and 12 percent replied by saying they had never been asked to contribute their time.
The motivations for taking part were "serving the community" (22 percent), "appreciation incentives" (16 percent), "financial incentives" (12 percent), "self-fulfillment and self-satisfaction" (7.5 percent), and "learning values and ethics" (7 percent).
Around 5 percent of other important incentives were to "acquire knowledge and skills," "build social relationships," "develop a career," "submit the volunteer hours to work and school," and "experience the volunteer work environment."
https://www.arabnews.com/node/1595326/saudi-arabia
------
Belgian teacher shares Facebook video of imam's sermon about jihad on Jews
By CNAAN LIPHSHIZ/JTA
DECEMBER 7, 2019
A high school teacher in Belgium shared a Facebook video of an imam calling for a jihad, or holy war, against the Jews and those who "conspire" with them.
Talal Magri, who teaches about Islam as part of the religions major at the Royal Agri Saint-Georges Athenaeum 35 miles southeast of Brussels, posted the video last month of an unidentified man preaching in Arabic, the La Dernière Heure website reported Thursday.
"Those who cooperate, work, conspire with the Jews, Allah, take them without delay. Shake their bases and topple their buildings, Allah. Support the jihad fighters, whom some of us find excuses not to join," the preacher is seen saying.
Education Ministry officials in Wallonia, the Belgian state that employs Magri, told La Dernière Heure that they filed a complaint with police over hate speech. The school declined to comment on whether he will be allowed to continue to teach there.
Conacted by La Dernière Heure, Magri denied that the sermon mentioned Jews or jihad, adding it couldn't be anti-Semitic "because I am an Arab and Arabs are Semites, too."
But Khalil Zeguendi, editor of the Le Maroxellois magazine whose mother tongue is Arabic, confirmed to La Dernière Heure the translation as the website printed it.
Magri headed the 2018 elections campaign of Belgium's Islam Party, which supports the promotion of Sharia, Islamic law, and headed its regional list for Liege.
Joel Rubinfeld, the president of the Belgian League Against Antisemitism, called Magri one of multiple "preachers spreading poison and turning students into time bombs."
https://www.jpost.com/Diaspora/Belgian-schoolteacher-shares-imams-sermon-about-jihad-on-Jews-610144
------
Pensacola, Florida Shooter's Alleged Manifesto Slams 'Crimes against Muslims' and US Policies Abroad – Report
7 Dec, 2019
The man behind a shooting that killed three people at a naval base in Pensacola, Florida reportedly published a manifesto online before the act, blasting US policies overseas, according to the SITE Intelligence Group.
SITE, a private organization that monitors and tracks extremist groups' online presence, published the text of the manifesto on Friday. While officials have yet to name the attacker, he was confirmed to be a Saudi military officer stationed at the Naval Air Station for training. Posted on Twitter shortly before the gunman carried out the shooting, the manifesto attacks what it calls an American "war of attrition" waged on Muslims around the world, citing the US drone war and the Guantanamo Bay prison in Cuba, where a number of terrorism suspects face indefinite detention.
"I'm not against you for just being American, I don't hate you because your freedoms," the post begins. "I hate you because every day you [support] funding and committing crimes not only against Muslims but also humanity," the manifesto, attributed to the attacker, says.
The manifesto also takes aim at Washington's unmatched defense spending, which, the author argues, only provides "Americans a false sense of security," warning that they won't be "safe" until US troops withdraw from "our lands."
Earlier on Friday, Fox News identified the shooter as Mohammed Saeed Alshamrani, citing anonymous officials, corroborating what conservative outlet One America News reported previously. President Trump appeared to confirm the report, sharing a screenshot on Twitter.
Little else is known about the attacker, with both American and Saudi officials remaining tight-lipped about his identity or possible motives.
The manifesto was released just as the New York Times reported that six Saudi nationals had been detained for questioning at the Pensacola naval base, some of which reportedly filmed the officer's shooting rampage, which injured eight in addition to to the fatalities.
Saudi King Salman bin Abdulaziz al-Saud sent condolences after the shooting, explaining that "the Saudi people are greatly angered by the barbaric actions of the shooter," adding that his country "[loves] the American people," according to President Trump, who spoke to the Gulf monarch by phone.
Over the last two decades, US foreign policy has mostly fixated on the Muslim world, intervening across the Middle East, Central Asia and North Africa in a "War on Terror." The ill-fated invasions of Afghanistan and Iraq in the early 2000s – launched in the wake of the September 11 attacks – preceded a chain of additional incursions, including in Libya, Syria, Pakistan, Somalia, Mali and Yemen.
https://www.rt.com/usa/475255-pensacola-manifesto-shooter-crimes/
------
Secretive Israeli entity found co-opting anti-Islam haters on Facebook
Friday, 06 December 2019
A "mysterious" Israel-based group has been co-opting separate far-right pages on Facebook to spread anti-Islam hate messages both for financial profit and influence in politics across the world, an investigation has found.
An exclusive investigation published by British newspaper The Guardian on Thursday revealed that unidentified operators at the Israel-based group gained access to existing right-wing pages by messaging their administrators and offering to help increase their content and reach by acting as "editors."
At least 21 "organically grown" far-right pages — some of which are among the largest of such pages on Facebook — have been co-opted by the Israeli entity during the past two years, the report said.
"Once they (the Israelis) gain access, the Israeli administrators publish identical posts almost simultaneously to the network's 21 Facebook pages, which have a combined 1 million followers," The Guardian wrote.
The posts spread hatred against Islam "across the western world," the report said, specifically stating that the group influences "politics in Australia, Canada, the UK and the US by amplifying far-right parties."
The posts also attempt to vilify Muslim politicians, such as US Democratic Representative Ilhan Omar, and target left-wing figures such as UK Labour Party leader Jeremy Corbyn "at critical points in national election campaigns" with false stories.
Omar has spoken out against Israeli policies in Palestine in the past, as well.
The group also seeks to make money out of the online traffic by directing its audiences to "10 advertisement heavy websites."
Using the assistance of Queensland University of Technology, The Guardian's investigation was able to confirm that the Facebook posts in question were "distributed by a single source" and probably with the help of "auto-scheduling software."
"Those behind the network have gone to great lengths to hide their identity," the report said.
The investigation revealed that the group has so far published at least 165,000 posts and attracted 14.3 million likes, shares, or comments, with nearly 6,000 posts being published in October alone, attracting about 850,000 likes, shares, or comments.
After The Guardian notified Facebook of the investigation's findings, the social media company responded by saying that it had removed pages "that appeared to be financially motivated."
"Nobody can advocate or advertise hate or violence on Facebook and we remove any violations as soon as we become aware," a spokesperson for the group told The Guardian.
The newspaper, however, described its revelations as an instance demonstrating Facebook's failure to stop coordinated hate campaigns.
"The network uncovered by the Guardian has operated with relative impunity even since [Facebook CEO] Mark Zuckerberg offered his apology to the US Senate" last year following a series of privacy and alleged foreign interference scandals in the US, the report said.
https://www.presstv.com/Detail/2019/12/06/613001/Israeli-group-anti-Islam-hate-Facebook-The-Guardian
------
Bangladesh Is Also Worried About Indian Muslims: Pakistan President Said During a Meeting with A Saudi Parliamentary Delegation
December 07, 2019
ISLAMABAD: President Dr Arif Alvi has revealed that not only Pakistan but Bangladesh is also quite worried about Muslims in India who have been discriminated against under the recent amendment made in the Citizenship Act, 1955.
"I have talked to Bangladeshi Prime Minister Sheikh Hasina Wajed who is worried about the fate of Muslims in the Indian state of Bihar and feared influx of migrants to her country," the president said during a meeting with a Saudi parliamentary delegation led by Chairman of the Shura Council Dr Abdullah bin Mohammed bin Ibrahim Al-Sheikh at the Presidency on Friday.
Press secretary to the president Mian Jehangir Iqbal told Dawn that Dr Alvi talked to Hasina Wajed during a recent conference in Baku where she expressed concern over amendments made in India's Citizenship Act.
A source who attended the meeting said Mr Alvi was of the view that under the amended bill, Muslims in India have to present evidence of properties of their grandfathers to retain their citizenship.
The source quoted the president as saying: "Prime Minister Hasina Wajed feared that if any action is taken against Muslims of Bihar by the Indian government, they [Muslim if Bihar] will try to migrate to Bangladesh."
According to an official press release, the president said Saudi Arabia has always played a proactive role in the challenges faced by the Ummah and urged the Kingdom to highlight the conspiracy being hatched against Muslims of India.
It has been reported that the Indian cabinet signed off on Dec 4 on a legislation that will give citizenship to certain religious minorities, excluding Muslims. The amended bill has provisions to determine various kinds of citizenship, including that by birth, by registration, by naturalisation or by descent. The bill, if passed, would change a key part in the category for illegal immigrants from Bangladesh and Pakistan — Muslim-majority states that were once part of the undivided India as defined in the Government of India Act, 1935.
It was revealed in the meeting that Saudi authorities were eager to hold a conference of Muslim countries on the miseries of Kashmiris who have been under curfew for over four months.
The Shura Council chairman reiterated Saudi Arabia's support to Pakistan on the issue of Kashmir, the press release said.
PM meets Saudi delegation
In a separate meeting with the Saudi delegation, Prime Minister Imran Khan lauded the growing cooperation between the parliaments of Pakistan and Saudi Arabia. He apprised the Shura Council chairman of the dire human rights and humanitarian situation in India-held Kashmir marked by the inhuman lockdown and communications blockade, which had continued since Aug 5. "The world must take cognizance of India's egregious violations of human rights in Occupied Kashmir, make all possible efforts to alleviate the sufferings of the Kashmiri people, and facilitate a peaceful resolution of the Kashmir dispute in accordance with UN Security Council resolutions," he added.
https://www.dawn.com/news/1520874/bangladesh-is-also-worried-about-indian-muslims-alvi
------
Exim Bank provides USD 500 mn credit to Bangladesh for defence procurement
Dec 06, 2019
MUMBAI: India has provided USD 500 million (Rs 3,561 crore) line of credit to Bangladesh for defence-related procurement in the neighbouring country.
Export Import Bank of India (Exim Bank) entered into an agreement on April 11 with Bangladesh's Armed Forces Division for making available to the latter a Government of India-supported line of credit (LoC) of USD 500 million, the RBI said in a notification on Friday.
The LoC is for the purpose of financing defence-related procurement in Bangladesh, it said.
Under this soft loan facility, financing of export of eligible goods and services from India would be allowed subject to the Foreign Trade Policy, the Reserve Bank of India (RBI) said.
"Out of the total credit by Exim Bank under the agreement, goods and services including consultancy services of the value of at least 75 per cent of the contract price shall be supplied by the seller from India," it said.
The remaining 25 per cent of goods and services may be procured by the seller for the purpose of the eligible contract from outside India, including Bangladesh.
But, based on the nature of the procurement, the eligible goods and services up to the contract price to be supplied by seller from India may be further reduced from 75 per cent to 65 per cent and further reduction may be considered on a case-to-case basis.
The agreement under the LoC is effective from November 7.
The terminal utilisation period of the loan is 10 years from the date of signing of the agreement, the RBI added further.
https://economictimes.indiatimes.com/news/defence/exim-bank-provides-usd-500-mn-credit-to-bangladesh-for-defence-procurement/articleshow/72401580.cms
------
Lagos Crescent Bearers Celebrate 80 Years of Impacting Modern Muslims
By Professor Adele Jinadu
07 December 2019
The Crescent Bearers, Lagos, founded on November 11, 1939, is celebrating the 80th Anniversary of its founding this year, between November 11, 2019 and December 8, 2019.
This follows the celebration of its 50th, 60th and 70th anniversaries respectively in 1989, 1999 and 2009.
Highlights of the 80th Anniversary celebration included a special anniversary prayers and luncheon for bearers and their wives, a group Jumaat at the Lekki Central Mosque, visit to the Bab Es Salaam Home, GRA, Ikeja, visits to Ansar-Ud-Deen College, Isolo, and Anwar Islamiyah Model College, Agege; and lecture titled: Education as a Resource for the Growth and Development of a Nation-the Nigerian Case, to be delivered by Prof Mahmood Yakubu at the Yoruba Tennis Club tomorrow at 11:00 a.m.
The primary objective of the Crescent Bearers (CB) founding fathers was to promote the acquisition of western education by Muslims for their collective improvement and upwardly social mobility in a colonial society, in which Muslims not only experienced marginalization, but were also typically held up to ridicule and suffered social opprobrium for their religious beliefs and cultural attachments.
It was from these schools with low enrolment of Muslim students that higher cadres of administrative and professional staff were recruited into the colonial civil and public service, and into expatriate private and merchant companies in colonial Lagos.
It was also from the schools that admission was secured by qualified students to undertake higher education in professional fields such as Accountancy, Banking, Journalism, Law, Medicine and Teaching. That there were few Muslims in the professions in the 1930s underscored the low enrolment of Muslims in these places of higher learning, and the urgent need to address it.
In moving to address this low enrolment problem, the CB (1939) founding fathers were part of a rising movement among the Muslim Ummah in Lagos to take the issue of Islamic and Muslim education seriously.
This was the background to the emergent movement in Muslim circles in Lagos for the reform of the colonial educational system, to take into account their concerns. It was also to provide the stimulus for Muslim sects in Lagos to set up their own primary, secondary and teachers' training colleges to provide access to western education, in an environment where the pedagogy of teaching would be informed by Islamic epistemology, ethics, and metaphysics.
The Lagos society of their time was by and large a religiously tolerant and inter-faith one, characterised generally by the peaceful coexistence of all religions. Many, perhaps all, of the CB founding fathers, as indeed many of their Muslim contemporaries then, were alumni of Christian missionary schools.
Looking back to the 80 years since 1939, one is struck by the remarkable extent to which the founding fathers' foresight in embracing education and deploying it in the service of Islam has been achieved, as witnessed in the considerable expansion in Islamic education and in the education of Muslims in Lagos, and in the evident high profile positions now occupied by Muslims in state and society in Lagos.
In recent years, the CB has moved more self-consciously to promote mutual understanding, interest and co-operation among its member and the wider Muslim Ummah in Lagos State and beyond through religious and community-centered educational, religious and socio-cultural activities.
The major activities fall into the following four categories: First, the maintenance and refurbishment of CB Mourners' Pavilions in some cemeteries, The pavilions were built several years ago by the CB at the Atan Cemetery, Akoka, on the Lagos Mainland, and the Abari Cemetery and the Okesuna Cemetery, both specially reserved for the burial of Muslims, on the Lagos Island. Second, charitable support to facilities in Muslim-owned schools, and facilities for the poor, elderly and those on the margins of Lagos society. Thirdly, the on-going building of an Islamic Centre (Masjid) at the Abijo GRA, Lekki/Epe Expressway, Lagos; and fourthly, Muslim education support.
The CB education support activities stand on two planks. The first is the CB-commissioned Ninalowo / Olurode Report on the declining state of Muslim Education in Lagos State, which has provided a firm empirical basis for CB action designed to arrest the decline and stimulate efforts to improve the education of Lagos Muslim students on a sustainable basis.
The second plank is the CB Education Endowment Fund, wholly funded through levies imposed on CB members. Under the endowment fund, the CB Scholarship Award program, between 2010 and 2018, awarded N9,450,000 to 131 undergraduate and graduate students of Lagos State origin in various faculties at the Federal College of Education, Akoka, Lagos State University, Ojo, Lagos, the Obafemi Awolowo University, Ife, the University of Ibadan, Ibadan, and the University of Lagos, Akoka.
Looking back as it celebrates the 80th year of its founding, and looks ahead to its 90th Anniversary in 2029, the CB faces the core challenge of adapting the direction in which it has moved from where the Founding Fathers left the CB. This requires that it moves towards connecting more firmly with the poorest and least privileged of the Muslim Ummah in Lagos, and towards more vigorously providing the leadership within the Muslim Ummah in Lagos to address the current decline in Muslim education in Lagos, as detailed in the Ninalowo / Olurode Report to the CB.
https://guardian.ng/news/lagos-crescent-bearers-celebrate-80-years-of-impacting-modern-muslims-2/
------
India
MIM says treat Muslims on par with SCs and STs
Dec 7, 2019
HYDERABAD: The MIM has sought that Muslim aspirants be treated on par with SC and ST candidates during the special recruitment drive for filling up vacancies of teaching posts in government schools and colleges. The request was made when Majlis legislators, led by Assembly floor leader Akbaruddin Owaisi, called on education minister Sabitha Indra Reddy on Friday.
Mr Owaisi said this was a promise made by Chief Minister K. Chandrasekhar Rao. He demanded that the vacant posts be filled up immediately on a contract basis. He pointed out that there were 205 government schools that were running without electricity supply, while water connections had been disconnected in case of several government schools.
The delegation brought up the issue of non-availability of second language textbooks for Urdu medium students, and said they must be made available on a war footing.
Mr Owaisi asked the minister to ensure immediate construction of buildings in Chanchalguda and Falaknuma campuses, as the government had sanctioned Rs 5 crore each for them. Likewise, construction of buildings must also be taken up for establishing junior colleges for boys and girls in Zoo Park, Karwan and Hakeempet areas.
The legislators raised the serious issue of many private unrecognised schools running in the Old City, as no list has been published listing the recognised schools in the area.
https://www.deccanchronicle.com/nation/current-affairs/071219/mim-says-treat-muslims-on-par-with-scs-and-sts.html
------
Why did students protest against a Muslim teaching Sanskrit in India?
By Sanjay Kumar
December 6, 2019
India has quite a few institutes which teach Sanskrit, and often times interested people from different parts of the world attend classes to learn the ancient language. In the 19th century, German Max Mueller learnt Sanskrit and translated the ancient Vedic texts into English and other languages. He was a great scholar of Sanskrit at a time when the world was not exposed to India the way it is now. His translation of the Indian ancient texts helped ensure that the world had access to India's philosophical and cultural treasures. This cultural exchange has been part of the civilisational history of South Asia, and the Indian subcontinent has always been a melting pot where diversity was always a defining feature. Ultimately, a language does not fall under the domain of any particular religion. Languages must be the collective property of the human race since they all serve as catalogues of the human experience. But India, the progeny of that past, presents a study in contrast now. The country seems to be in reverse gear today, standing for that which is regressive and that which negates the glorious past of the subcontinent. The Firoz Khan matter is only further proof of this.
Recently, a section of the student body of Banaras Hindu University (BHU), in the eastern Indian city of Varanasi, protested against the appointment of a Muslim professor, Khan, in the Sanskrit department. Khan, who has has done his PhD in Sanskrit and inherited an interest in the language from his father, was chosen to be an assistant professor in the Sanskrit department at one of the oldest universities in India on his own merit. Yet, given the protests, Khan is yet to give a lecture at the university.
On November 7th, just two days after Khan took up the position at BHU, a right-wing student organisation, the Akhil Bharatiya Vidyarthi Parishad, called for him to be removed from his post and transferred to another department. They have been protesting against his appointment on the grounds that Khan is a Muslim and he cannot do justice to a language associated with Hinduism. It has been argued that as a Muslim he is not fit to utter the slokas or comment on the rituals and other religious practices associated with the language. Furthermore, it is worth keeping in mind that the Akhil Bharatiya Vidyarthi Parishad is the student wing of the Bhartiya Janata Party (BJP) and that the university comes under the parliamentary constituency of Prime Minister Narendra Modi.
It is hard to think of another point in time in the history of independent India where there has been such a blatant campaign against knowledge and scholarship. The current situation illustrates how much of the religious polarisation which has come to define politics is now shaping the lives of ordinary people in the country.
Although the university is standing by the Muslim scholar and has issued a statement saying that Khan would not be removed from his post, it has been reported that the associate professor chose to leave the university and return home till the protests die down. However, his current whereabouts are still unknown. But the inability of the university to take a tougher stand against the hateful demands of some students presents a unique situation where the university is showing deference to students steeped in ignorance and parochial views.
On the other hand, the ruling BJP led government in Delhi is acting tough against the genuine demands of the students who have been protesting against a steep fee hike in Jawaharlal Nehru University (JNU), with the police using all kinds brutal tactics to dissuade students from participating in the strike. Yet the same BJP administration is showing great leniency when confronted with the unreasonable demands of some narrow minded students at BHU.
The problem is that India is passing through a phase where the ruling establishment, media and various institutions are demonstrating a naked bias towards the Muslim community in the country. This environment is vitiating young minds, prompting them to make a religious issue out of many non-issues. Thus, the politics of the BJP is creating boundaries and barriers between communities and groups, with new fault lines being created every day. In this atmosphere, language has become the prisoner of religion. The way things are going, one would not be surprised if the demand is made to restrict the usage of Hindi only for Hindus, and Urdu only for Muslims. What kind of country are we becoming?
India's greatness has always resided in the diversity and plurality of the people who inhabit it. As a country which wants to emerge as a leading voice in the international arena, India today oozes more negativity than hope. With the rise of sectarian forces and individuals peddling a divisive agenda, it seems that India's diversity narrative is losing its credibility. Khan should have been celebrated as a symbol of India's diversity and multiculturalism, but instead he is being targeted for being a Muslim.
https://blogs.tribune.com.pk/story/91703/why-did-students-protest-against-a-muslim-teaching-sanskrit-in-india/
------
India: Undercover reporter predicted demolition of Babri Mosque
Ahmad Adil
Twenty-seven years ago, Sanjay Kaw, 51, then a young reporter, predicted the demolition of the 16th-century Babri Mosque, beating India's elaborate intelligence system.
As an undercover journalist, he infiltrated into the ranks of kar sevaks (Hindu volunteers). He unearthed a conspiracy days before a charged fanatic Hindu mob demolished the mosque, on Dec. 6, 1992.
A few days earlier, then Chief Minister of the state of Uttar Pradesh Kalyan Singh had given a written undertaking to the Supreme Court ensuring maintenance of the status quo.
Relying on his promise, the central government led by Prime Minister Narasimha Rao and other government institutions were sure that no harm will come to the mosque. Kaw, however, was not sure.
Risking his life, he merged into the ranks of kar sevaks and got whiff of all their plans. On eve of the anniversary of the demolition of the historic mosque, Kaw recalled his adventure in an interview with Anadolu Agency.
Anadolu Agency: How you got the risky idea to infiltrate into the ranks of kar sevaks?
Sanjay Kaw (SK): I was working for The Statesmen newspaper in 1992. One night, while I was returning home, I asked my driver that if he has any story idea. He gave me a tip-off that kar sevaks who are going to Ayodhya, are preparing for something big. The next day, I shared the same idea in the office. My editor told me to travel to Ayodhya as a kar sevak. Initially, I thought he (editor) was kidding and I ignored his suggestion. The next day, he asked me why I had not left. Then I decided to travel to Ayodhya. But the credit of idea rests with the driver.
AA: How difficult it was to travel to the city of Ayodhya pretending as a kar sevak?
SK: Before starting my journey, I visited the office of the Bharatiya Janata Party (BJP) in New Delhi. I got an introductory letter from them. I wrote my name as Sanjay Kaul and told them I was keen to participate in building of the temple. Soon, I boarded a train with a group. Some people did question me about my antecedents. When we reached the district headquarters of Faizabad, a few miles away from Ayodhya, I was repeatedly questioned by another batch of volunteers. They were extremely cautious. I showed them a letter, I had procured from the BJP office. I pretended as an engineering student, who had to abandon his studies, because of militancy in Kashmir. At least five to six people interrogated me. I never knew that it was going to be so tough. Yes, I did start feeling a threat to my life.
AA: What was going on in Ayodhya? How was your time as a kar sevak?
SK: When I reached Ayodhya, I was again questioned. Possibly I was a new face for them. But I silenced them, by telling that I am a Kashmiri Pandit (Hindu). I was allotted a tent along with others. I was also chanting slogans of Jai Shri Ram like them. They started breaking graves near the mosque. I also helped them to dump the debris in the nearby pond. They were in a way rehearsing to demolish the mosque a few days later. They were talking in whispers about the plan, lest any intelligence mole or journalist may get a whiff of it. I would spend most of the time with kar sevaks. A sadhu (Hindu saint) carrying a walkie-talkie set told me that they were keeping tabs on journalists, who were staying in a local hotel. I was also taught how to use a knife.
AA: You had left Ayodhya before the mosque was demolished. Why you did not stay till Dec. 6, the day when the mosque was razed to the ground?
SK: The activities of kar sevaks had scared me. I decided to leave as soon as possible and tell the world that the mosque will be demolished. I convinced them to let me return to Delhi, to get more volunteers. Upon reaching Delhi, I broke the story. This story should not be seen from the prism of politics or any religion. I did the job of a journalist. The reports of other journalists were mostly based on political statements and assurances of leaders etc. My reports were different because I succeeded to depict the ground situation. And I have never returned to Ayodhya since then.
AA: What was the first impression when you heard about the demolition?
SK: On Dec. 6 evening I heard about the demolition, at a wire news agency office. As a journalist, I felt happy, because my story was turning true bit by bit. Nobody in Delhi had believed my reports. Everybody had been carried away by assurances, the provincial government had made at the apex court. As a human being, I was feeling sad. Whatever I had witnessed during my stay in Ayodhya, I had faithfully written in the newspaper, I was working with.
https://www.aa.com.tr/en/asia-pacific/india-undercover-reporter-predicted-demolition-of-babri-mosque/1665600
------
Southeast Asia
Indonesia encourages sharia economy to boost SMEs
Dandy Koswaraputra, Pizaro Gozali, and Rhany Chairunissa
06.12.2019
While small businesses across the world are hit by high interest rates, Indonesia has offered Sharia-based (Islamic law-based, interest-free) business to small- and medium-sized entrepreneurs, according to a top Indonesian leader.
In an exclusive interview with Anadolu Agency's Indonesian service in Jakarta, Indonesian Vice President Ma'ruf Amin covered a wide range of topics -- domestic, international, and economic -- and said that his country plans to pay more attention to halal tourism.
The 76-year-old former leader of the Indonesian Ulema Council said his government is planning to set up an Islamic social fund and expand Islamic finance enterprises across the county.
Anadolu Agency: As vice president, what are your main programs for the next five years? Do you have specific tasks assigned by President Joko Widodo?
Ma'ruf Amin: The president and I share the same visions. There are five visions that we want to achieve, including human resource development, infrastructure development, regulatory simplification, bureaucratic reform, and economic transformation. However, the president already gave specific tasks, particularly about the empowerment of micro, small and medium enterprises, poverty alleviation, Islamic economic development, and combating radicalism.
Q: You are known as an important figure from the Indonesian Ulema Council, the largest Islamic organization in the country. What efforts will you make in achieving peace in the Islamic world?
AMIN: The government considers developing and strengthening the Islamic economy as crucial steps, so they established the National Sharia Finance Committee, which is chaired by the president. As the committee is expanding, the government has to revise the president regulation so it covers not only finance but also Islamic economics.
At least four goals must be achieved within Islamic economic development.
First, the halal [Muslim production code] industry needs to be developed. So far Indonesia only provides halal certification for both domestic and foreign products. According to official data, our country is the largest consumer of halal products, and now we are striving to become a producer as well. Hence, we will encourage our halal industry to be a producer that meets domestic and foreign needs.
Second, we ought to expand the Islamic finance industry, including bank and non-bank financial institutions such as insurance firms, pawnshops, capital markets and sukuk [Sharia/Islamic bonds].
Third, we also want to increase Islamic social funds in the form of/through zakat and waqf because we believe it has huge potential. Currently, we only managed to collect 3.5% of zakat funds which amounted to 8 trillion Indonesian rupiah [$571.8 million]. Meanwhile, waqf also has great potential, as it is able to boost investment in the country.
Last but not least, we will encourage the growth of Sharia business, especially small- and medium-sized enterprises. The rapidly growing SMEs make up around 98% of all business entities and employ more than 75% of the total workforce in our country. However, we must improve both quantity and quality. This is our main concern right now.
Q: As vice president, can you explain the government's efforts for people empowerment?
AMIN: We will continue to encourage economic empowerment by expanding small- and medium-sized enterprises (SMEs). So far, we have coordinated and synergized with related institutions and ministries to strengthen these efforts.
We need to involve large groups of entrepreneurs and state-owned enterprises (SOEs) so they do not set foot in this sector or handle the small business. Large entrepreneurs and state-owned enterprises must collaborate with small entrepreneurs to make them grow.
We cannot let the growth of SMEs be hampered. Besides, we also encourage e-commerce groups to expand SMEs' products domestically and abroad and provide guidance so they will be able to produce market-friendly products.
Q: Indonesia will once again host a trilateral meeting with Afghan and Pakistani clerics next year. What are the goals of the meeting?
AMIN: We will encourage the Bogor Ulema Declaration for Peace so that it will not only be a unifying agreement but can be fully implemented. Therefore, we will encourage the achievement of a "meeting point" between the differences.
We also aim for a national agreement or "ittifaq wathaniyah" using our methods as the model. Indonesia is more pluralist than Afghanistan. We have six recognized religions and more than 700 tribes or ethnic groups.
However, we are able to unite as a country because we have a meeting point, which is Pancasila [foundational philosophical theory of Indonesia] and the agreements that have been summarized in the Constitution. Therefore, we want to bring Afghanistan to peace with similar approaches.
Q: Turkish President Recep Tayyip Erdogan is scheduled to visit Indonesia next year. What do you think about potential cooperation between the two countries?
AMIN: Turkey is our strategic partner and we continue to build and develop ties, especially in trade and culture. Indonesia sends a lot of students to study in Turkey every year, and there are many Turkish schools established here. We are members of the G20 and also fellow moderate Muslim countries.
Only a few countries with a majority of moderate Muslims can overcome the clash between Islamic and nationalistic values. We have the desire to advance the economy of the people, to revive it, and to not let it go down. We also want to maintain world peace.
Therefore, Indonesia develops the principle of "ukhuwah Islamiyah" [Islamic brotherhood]. Here, the principle of Islamic brotherhood has been widely applied, but in the region, it has not been well implemented. We also try to build "ukhuwah insaniyah" [humanitarian brotherhood]. There are still many conflicts here and there.
For this reason, together with Turkey, Indonesia aims to strengthen these principles so that we can become mediators to build peace. Currently, a lot of conflicts have been dealt with in political and military ways, but they have not yet been resolved.
So we attempt to use religious and civilization approaches to resolve conflicts. As a partner, Indonesia would like to invite Turkey, together with other world leaders, to work together to carry out these approaches to resolve ongoing conflicts.
Q: The Kuala Lumpur Summit will be held on Dec. 18-21. Some 450 leaders and thinkers from the Muslim world will attend the event, including from Indonesia and Turkey. Do you think there will be a new Muslim body established? What do you think about the summit?
AMIN: It seems that the KL Summit will not yet form an institution like the Organization of Islamic Cooperation (OIC), but I think we need to align our perception that we are facing several problems.
Some Islamic countries are still economically weak. Therefore, we must think about how to build the economic power of Islamic countries.
Islamic countries have also lost their cultural prestige. In the past, Islamic states were known as cultural centers, but nowadays, we seem to have lost our political and cultural power.
Islamic countries still face conflicts, internally or between each other. That happened because of the weakening of unity, integrity and cooperation between the countries.
We can't conclude whether the KL Summit will strengthen the OIC or form a new body that provides new values to strengthen and empower Islamic countries.
Q: Indonesia has a very important role in the Association of Southeast Asian Nations [ASEAN], but we often get criticized for not taking concrete steps, especially in dealing with the Rohingya issue. What do you think about this?
AMIN: I believe Indonesia has taken a leading role, especially in the framework for repatriation and assisting the Rohingya in dealing with their problems. Indonesia has built schools and hospitals in [Myanmar's] conflict-weary Rakhine state.
We are determined to become more involved in social and political roles. Our president, Joko Widodo, along with former Vice President Jusuf Kalla, has visited Rakhine. We also urged the United Nations to get involved more in these efforts.
Q: The volume of trade between Indonesia and Turkey falls short of the desired level. What do you think the government can do to manage this issue?
AMIN: Like I said earlier, Turkey is our strategic partner. We will continue to renew trade agreements so that they can be mutually beneficial and help one another. We will continue to improve the agreements.
In principle, we want to advance our trade relations together. We will keep exploring our export and imports according to our needs. In this way, [a balanced] strategic trade partnership will be formed.
Q: Anadolu Agency's Indonesian service has been established for more than two years. How do you see its role as a Turkish news agency operating in Indonesia?
AMIN: There are a lot of positive things about the presence of Anadolu Agency in Indonesia. The agency reports on developments in Indonesia and vice versa also reports on advancements in Turkey. The agency also delivers various [types of] information to build closer and more positive cooperation for the advancement of people in both countries.
The news published [by Anadolu Agency] will be able to encourage the two countries to learn from each other. As there are many Turkish [university] alumni here, the information will also help to pursue developments.
https://www.aa.com.tr/en/asia-pacific/indonesia-encourages-sharia-economy-to-boost-smes/1665656
------
Islamic finance set to be greater contributor to planet, people, prosperity - Sultan Nazrin
Last update: 07/12/2019
KUALA LUMPUR, Dec 7 -- Planet, people and prosperity -- or the Three Ps -- are the new frontier of Islamic finance in bringing greater value to the economy, society and the environment, says the Sultan of Perak, Sultan Nazrin Shah.
While in many tangible ways Islamic finance industry has already helped to generate more socially conscious and sustainable economic system, much work needs to be done in these three key areas, he pointed out.
On the first P, the Perak ruler said with many countries declaring climate emergency, the welfare of the planet is certainly an area in which immediate action is needed.
As for the second P, he said the world is witnessing huge movements of people due to conflict, persecution, and hardship.
"By 2030, an estimated 80 per cent of the world's extreme poor will live in areas defined as fragile, the majority of which will be Muslim-majority countries or states with significant Muslim populations," he said in his speech before receiving a honorary doctorate in Islamic finance at INCEIF 11th convocation at a hotel here today.
Regarding the third P, prosperity, which is unseparable from the other two, Sultan Nazrin said high indebtedness, widening inequality and substantial funding shortfalls hamper the efforts both in addressing the hardships of people in need and also in protecting the planet.
He added that Islamic finance has the potential to make a significant, and even vital, contribution to redressing these serious shortfalls as its core is based on principles that emphasise, among other objectives, equitable risk-sharing and inclusiveness.
Sultan Nazrin said that it also requires Shariah-compliant transactions to be based on real, productive assets. All of these principles promote fiscal responsibility and sustainability, meaning that the industry is well-placed to withstand economic turbulence and provide reliable, long-term solutions to alleviate poverty as well as the climate and humanitarian crises.
Furthermore, he said, Islamic finance is rooted in the Maqasid Shariah.
"The Shariah laws which govern it are designed to protect both the individual and the community, and to improve the living conditions of mankind.
"The traditional instruments of Islamic finance, such as waqf and zakat, are being effectively utilised and targeted towards the needs of the modern world," he said.
In 2018, the International Federation of the Red Cross and Red Crescent Societies (IFRC) used zakat monies to fund a drought assistance programme in the Kenyan county of Kitui, pioneering a sustainable humanitarian zakat initiative.
http://www.bernama.com/en/general/news.php?id=1797232
------
Drop Malay supremacy concept, urges Johor Umno delegate
Nur Hasliza Mohd Salleh
December 7, 2019
KUALA LUMPUR: A representative of Johor Umno today called on the party's leadership to sow several key elements in the Muafakat Nasional alliance, calling it a "new nationalism".
Kulai Umno deputy chief Mohd Jafni Syukor said the collaboration between Umno and PAS, the two biggest Malay-Muslim parties, needed to be injected with a new fighting spirit based on this new nationalism.
Jafni said the Malays needed to show themselves as a race who were hungry to advance themselves and be successful by leaving behind the concept of Malay supremacy, adding that they were too comfortable with being "landlords".
"Yes, we're proud of it (the title of landlord) but it must be proportionate.
"Malays must learn to be richer and more studied, we must be landlords who are successful economically, educationally and socially,
"We must prioritise our mutual interest to ensure our peace and prosperity," he said at the Umno general assembly at Putra World Trade Centre here today, adding that Muafakat Nasional must be seen as an inclusive agenda for all Malaysians.
Jafni said the Umno-PAS alliance must depict Islam as a progressive and moderate religion, and that it must be the basis of this "new Malay" race.
He also called on Prime Minister Dr Mahathir Mohamad to dissolve Parliament as the Pakatan Harapan (PH) government had failed to manage the country well after 18 months in power.
PH suffered its heaviest loss on Nov 16 during the Tanjung Piai by-election, with Barisan Nasional winning the seat with a 15,000-vote majority.
https://www.freemalaysiatoday.com/category/nation/2019/12/07/drop-malay-supremacy-concept-urges-johor-umno-delegate/?utm_source=FMT+Media+Sdn.+Bhd.&utm_campaign=30abc50d9e-RSS_EMAIL_CAMPAIGN&utm_medium=email&utm_term=0_dfafd0994c-30abc50d9e-228005497
------
52 nations confirm taking part in Kuala Lumpur Summit
December 7, 2019
KUALA LUMPUR: Fifty-two countries have confirmed their participation in the 2019 Kuala Lumpur Summit to seek solutions to problems afflecting the Muslim world.
Summit co-secretary general Samsudin Osman said more than 400 participants, including at least 250 from abroad, have signed up for the event to be held at the Kuala Lumpur Convention Centre (KLCC) from Dec 18 to 21.
In an interview on the "Assalamualaikum" programme produced by TV Alhijrah, the official broadcaster for the conference, Samsudin said Turkish President Recep Tayyip Erdogan, the Emir of Qatar Sheikh Tamim bin Hamad Al Thani, Iranian President Hassan Rouhani and Pakistan Prime Minister Imran Khan were expected to join Prime Minister Dr Mahathir Mohamad at the summit.
The objectives of the event include finding new and workable solutions for problems afflicting the Muslim world, and contributing towards improving the state of affairs of Muslims and Muslim nations.
The summit also seeks to form a network among Islamic leaders, intellectuals, scholars and thinkers from around the world, and revive the Islamic civilisation.
The Yang di-Pertuan Agong Sultan Abdullah Sultan Ahmad Shah is scheduled to open the event.
Samsudin said Mahathir, the summit chairman, had engaged Muslim intellectuals, scholars and thinkers on ways to overcome problems affecting the Muslim world even when he was outside the government.
It was from these interactions, he said, that Mahathir saw the need to convene a gathering such as the KL Summit.
https://www.freemalaysiatoday.com/category/nation/2019/12/07/52-nations-confirm-taking-part-in-kuala-lumpur-summit/?utm_source=FMT+Media+Sdn.+Bhd.&utm_campaign=30abc50d9e-RSS_EMAIL_CAMPAIGN&utm_medium=email&utm_term=0_dfafd0994c-30abc50d9e-228005497
------
Arab World
Islamic Cooperation Says Florida Accident Does Not Represent Tolerant Values Of Saudis
ARAB NEWS
December 07, 2019
The Organization of Islamic Cooperation (OIC) expressed Saturday sorrow over the shooting incident that took place in Florida that killed three and injured several others.
The organization condemned the attack in a statement, and stressing that the shooter did not represent the tolerant Islamic values of the Saudi people and all Muslims who believe in "tolerance and moderation."
The Secretary-General of the OIC, Yousef Al-Othaimeen, offered condolences to the families of the victims and expressed his wishes for a speedy recovery for the injured.
https://www.arabnews.com/node/1595511/saudi-arabia
----
Saudi Automotive Services Company signs Islamic credit facility for Aramco IPO
04 DEC 2019
Saudi Automotive Services Company has signed a 190 million riyals ($50.67 million) Shariah-compliant credit facility with SABB Bank to diversify its investments by subscribing to Saudi Aramco's IPO.
The medium-term financing is guaranteed by an order note of 100% of total facilities, in addition to its portfolio of Aramco shares, the company said in a stock exchange filing on Wednesday (Nov 4).
The amount of financing will be determined based on the shares to be allocated to the company after the subscription.
Saudi Aramco's IPO started on November 17 and investors have until 5pm Saudi time on December 4 to place orders.
State-owned Aramco plans to sell 1.5% of its shares in a deal that could raise around $25 billion.
https://www.salaamgateway.com/story/saudi-automotive-services-company-signs-islamic-credit-facility-for-aramco-ipo
------
Iraq's top Shia cleric warns against outside influence
Mohamed Waleed
06.12.2019
Prominent Shia cleric Ali al-Sistani on Friday urged the formation of a new government away from outside interventions.
In a statement read by his representative Abdul-Mahdi al-Karbalai during Friday sermon in Karbala province, the cleric said: "We hope that the selection of the new prime minister and his members come within the constitutional period and according to the aspirations of the Iraqi citizens away from any external interference -- noting that -- the religious reference is not a part in any discussion in this regard."
According to Iraqi local media, Qasem Suleimani, the chief of Iran's Islamic Revolutionary Guard Corps arrived in Iraq to discuss the formation of the new government.
Last Sunday, the Iraqi parliament accepted the resignation of Prime Minister Adel Abdel-Mahdi amid protests against corruption and poor living conditions.
"If the [Iraqi] popular movement expanded, it will be an effective tool to put pressure on those who have power but the prerequisite for this is not to be dragged into acts of violence, chaos nor sabotage," Karbalai said.
He urged everyone to support and respect the security forces and avoid chaos.
Iraq has been rocked by mass protests since early October in which 460 Iraqis were killed and 17,000 injured, Iraq's High Commission for Human Rights said.
https://www.aa.com.tr/en/middle-east/iraqs-top-shia-cleric-warns-against-outside-influence/1666118
------
Saudi ambassador joins high-level UN talks
December 07, 2019
UNITED NATIONS: Political challenges facing Arab countries took center stage at a series of meetings attended by Saudi Arabia's Permanent Representative to the UN, Abdullah bin Yahya Al-Muallami.
A meeting of the UN Arab Group chaired by Algeria's Permanent Representative, Sofiane Mimouni, focused on issues of common concern, including Palestine.
Mahamoud Ali Youssouf, Djibouti's foreign minister, briefed the meeting on the country's candidacy for the UN Security Council nonpermanent seat for 2021-2022.
Al-Muallami also joined a meeting of the Organization of Islamic Cooperation, chaired by Afghanistan's Permanent Representative to the UN, Adela Raz.
The meeting focused on political challenges facing Islamic countries.
In a meeting with High Representative of the UN Alliance of Civilizations Miguel Moratinos, Al-Muallami discussed the alliance's efforts to spread the message of peace, and promote a culture of dialogue, cooperation and coexistence while rejecting hate speech, racism and intolerance.
https://www.arabnews.com/node/1595351/saudi-arabia
------
'He doesn't represent us': Saudis tweet in solidarity with Americans over Florida Navy base shooting
December 07, 2019
JEDDAH: Saudis took to social media to offer heartfelt condolences in solidarity with Americans after a Saudi student opened fire at a US Navy base in Florida on Friday.
Three people were killed and several injured in the attack at the Naval Air Station Pensacola in Florida. The gunman was shot and killed.
Under several hashtags, most prominently an Arabic one which translates to #Florida_Criminal_Does_not_represent_us, Saudis expressed deep sympathy with those affected.
Abdullah Al-Najdi said on Twitter: "He does not represent Saudi Arabia and only represents his devious ideology. Criminals exist in every religion and every country. He is responsible for his own action."
Another Twitter user said: "Saudi people are against terrorism and terrorists. We are with tolerance and peace."
Hamad Al-Mansour said: "No doubt that this is a criminal act that does not represent us. We reject any act of aggression anywhere and any place. King Salman said it that this shooter does not represent us. My condolences to the American people."
@Samahafam said: "Saudis are denouncing the heinous barbaric act of the Florida attack. 'Florida's criminal does not represent us' is trending in Saudi Arabia. Our condolences to our American friends.
@lionnsser said the attacker was a criminal who did not represent Islam.
"Saudi Arabia is always working on spreading peace, tolerance and coexistence between people."
Another Twitter user described the attack as a "heinous crime."
"We regret every incident in which innocent lives have been killed. Everyone should know that this event has nothing to do with religion or the homeland, our condolences to the families of the dead," the user said.
@nai901 said: "Saudi Arabia foiled many terrorist attempts around the world. Saudi scholarship students saved many people and placed their lives in danger, some of them died doing it. This is an isolated incident that is condemned by Saudi people and government."
https://www.arabnews.com/node/1595316/saudi-arabia
------
12 killed in Baghdad square as assailants fire live rounds
December 06, 2019
BAGHDAD: Iraqi officials say 12 people have been killed in Baghdad's Khilani Square after unknown assailants fired live ammunition from cars. Security and medical officials say at least two of the dead were policeman.
Protesters fearing for their lives ran from the plaza to nearby Tahrir Square and mosques to take cover. Protesters are occupying part of Jumhuriya, Sinak and Ahar bridges in a standoff with security forces. All bridges lead to or near the heavily-fortified Green Zone, the seat of Iraq's government.
The attacks come one day after a string of suspicious stabbing incidents left at least 13 wounded in Baghdad's Tahrir Square, the epicenter of Iraq's leaderless protest movement.
The attacks by unknown perpetrators occurred as demonstrators supporting political parties and Iran-backed militias withdrew from the Square on Thursday evening.
The incidents fueled paranoia among protesters, who immediately implemented self security measures to uncover saboteurs within the square.
https://www.arabnews.com/node/1595201/middle-east
------
Europe
Muslims to distribute 10,000 Quran copies in Norway after burning attempt
December 6, 2019
AhlulBayt News Agency (ABNA): In the aftermath of a Quran desecration incident in Norway, three Muslim organizations will distribute thousands of free copies of the Holy Book to Norwegians in an attempt to prevent future instances.
According to the newspaper Vårt Land, the three organizations- Norwegian Muslim Arts and Culture Association, the Islamic Literature Association and the Minhaj-ul-Quran Mosque - together will distribute a total of 10,000 copies of the Quran with Norwegian translation to the citizens.
The religious community has stands at various places in Oslo, the capital, where they will distribute the Qurans.
It is in response to the burning of a copy of the Quran by SIAN (Stop Islamization of Norway) during a demonstration that took place just over two weeks ago in the Muslim-populated city of Kristiansand.
The Quran burning incident drew worldwide condemnation, and Turkey, Pakistan, Iran formally denounced it.
Norwegian Muslims have also organized a Holy Quran recitation event in the street to spread tolerance and mercy of Islam.
https://en.abna24.com/news//muslims-to-distribute-10000-quran-copies-in-norway-after-burning-attempt_991713.html
------
Singer Yusuf Islam's media consultant converts to Islam
Hasan Esen
06.12.2019
CAMBRIDGE, UK
Media consultant of a prominent British singer-songwriter and philanthropist Yusuf Islam converted to Islam in Cambridge Central Mosque, newly inaugurated by the Turkish president in Cambridge, England.
Following the Friday prayer ceremony last week, Pedro Carvalho had a conversation outside of the mosque with Ali Tos, a Turkish imam, about the necessity of the Christian world to get to know Islam better.
Carvalho added that the obstacles for learning the religion should be removed, and that he learned about Islam while working with Muslims.
He told the imam about his intention of becoming a Muslim, but that he was "looking for the right time".
"If you're looking for the right time, the right time is right now. We live in a world where we have no guarantee for another second, so the right time is right now," Tos said.
Upon asking the imam to "show him how to become a Muslim," Carvalho and Tos proceeded together into the mosque where the media consultant converted to Islam.
Carvalho told Anadolu Agency that converting to Islam has been a journey for him, adding: "It's all to do with my feelings for the Almighty, for Allah."
Pointing to his heart, Carvalho said that converting to Islam was an inner decision.
"This feeling is part of my soul, it's part of me, and one day I will meet my Maker, and today I feel much happier," he added.
Following his conversion to Islam, people in the mosque kept greeting and hugging Carvalho.
British singer -- also known as Cat Stevens, who became Muslim over 40 years ago -- later on also congratulated his media consultant on the conversion, while Carvalho's fiancee, also a converted Muslim, along with her family supported him on his decision.
Cambridge Central Mosque
The new Cambridge Central Mosque is considered Europe's very first eco-friendly mosque.
Turkish President Recep Tayyip Erdogan along with first lady Emine Erdogan and a group of high-level Turkish officials on Thursday attended the inauguration ceremony of the mosque.
Also attending the ceremony, Islam said the mosque will promote mutual understanding among the communities, and thanked the Turkish president and Turkey's Religious Affairs Directorate for assistance in building the mosque.
The road to building Europe's first eco-friendly mosque began back in 2008, when the capacity of local churches and houses was unable to meet the worship needs of local Muslims. Muslim students in the city turned to one of Britain's most influential Muslims Timothy Winter, also known as Shaykh Abdal Hakim Murad -- also the dean of the Cambridge Muslim College -- who was instrumental in getting the land for the new mosque.
More than 10,000 people and groups donated money for the landmark purchase, with Turkish groups donating most generously.
The Qatar National Fund also was among the donors.
The design of the mosque's backyard, where some 1,000 people can pray at the same time, pays respect to Islamic traditions, and makes the mosque building eco-friendly.
Besides using natural materials such as wood and marble, the mosque is already famed for its zero-carbon footprint.
* Writing by Jeyhun Aliyev from Ankara
https://www.aa.com.tr/en/europe/singer-yusuf-islams-media-consultant-converts-to-islam/1666047
------
Islamic schools grow as parents seek a 'safe zone' for their children
By Adam Carey
December 6, 2019
Victoria's private Islamic schools are the fastest growing schools in the state, almost doubling their population in just eight years.
Combined, student numbers at the state's 10 Islamic schools grew at six times the rate of enrolment growth at government schools and nine times the rate at Catholic schools between 2010 and 2018.
Professor Mohamad Abdalla, the director of the Centre for Islamic Thought and Education at UniSA, said most Australian Muslim parents sent their children to Islamic schools to preserve faith and identity.
But he said there was another important reason Muslim communities were gravitating to their own schools: Islamophobia.
"Especially after 9/11, parents want a safe zone for their children, where they can prosper at an individual level and not be subject to bullying of an Islamophobic nature, and be able to express their faith without being subject to ridicule," Professor Abdalla said.
The population of Victoria's Islamic school sector grew 84 per cent between 2010 and 2018, from 6684 students at eight schools to 12,318 students at 10 schools.
By comparison, the state school student population grew by 14.8 per cent and Catholic schools grew by 9.5 per cent.
MySchool data reveals that Ilim College in Dallas was the state's fastest growing school in that time.
With a campus occupying the former grounds of Broadmeadows Technical School – closed by the Kennett government in the 1990s – Ilim's student population has surged from 1102 students in 2010 to 2340 last year.
The college's chief financial officer, Kerim Buday, said the school expects to enrol about 2500 students next year.
Mr Buday said the school sought to strike a balance between striving for academic excellence and instilling Islamic values.
"We obviously teach the Victorian curriculum but we also have Islamic studies and Koranic studies, which is really important for a whole lot of our parents," he said.
All students above year three attend the school's mosque for midday prayers.
Mr Buday put the school's growth down to its close ties with the local community, and parents' growing confidence about its academic standards.
"For parents who are looking for a private education for their children, we're an affordable option as well, that's a very key factor," he said.
Fees range from $3300 a year at primary level to $4600 at VCE level.
It is not compulsory for students at the school to be of Muslim faith, although almost all of them are, Mr Buday said.
Students come from more than 40 different nationalities, and 99 per cent have a non-English speaking background.
Adel Salman, vice president of the Islamic Council of Victoria, said many parents who chose an Islamic school were not necessarily devout Muslims themselves, but still sought a strong grounding in Islamic principles for their children.
"I think it's quite reassuring and comforting for Muslim parents that their children are brought up in an environment where Islam and the Muslim identity is not seen as a hindrance at all, but perhaps as a source of strength and a real anchoring of who they are as Australian Muslims," Mr Salman said.
Many Muslims also had conservative beliefs about social issues such as same-sex marriage and gender identity, he said.
"If you mention Safe Schools to Muslim parents you will get a particular reaction: I don't want my children exposed to that."
Dr Emma Rowe, senior lecturer in education at Deakin University, said Islamic schools were growing fast but remained a very small part of the school system overall, representing just 0.46 per cent of Australia's school population.
Dr Rowe argued in a paper published in the academic journal T&F Online this month that Islamic schools have faced a level of suspicion from the government and the media unmatched by any other school sector, culminating in recent years in an "unprecedented policy intervention in which the federal Australian government withdrew funding from the largest Islamic private schools in the country".
https://www.theage.com.au/national/victoria/islamic-schools-grow-as-parents-seek-a-safe-zone-for-their-children-20191206-p53hll.html
------
Hundreds attend Peterborough mosque events
JOEL LAMY
Saturday 07 December 2019
More than 200 people attended, with the star speaker being scholar Ameena Blake who converted to Islam a number of years ago.
Attendees included Chief Constable at Cambridgeshire police Nick Dean, while Adrian Chapman, service director for communities at Peterborough City Council, spoke about the contribution Muslims make in the community and the work the Joint Mosques Council carries out.
Following the speeches, which were well received, a buffet dinner was held.
An Islamic exhibition which came from London was also put on display for the guests to enjoy.
https://www.peterboroughtoday.co.uk/news/people/hundreds-attend-peterborough-mosque-events-1-9166413
------
President Recep Tayyip Erdogan opens Europe's first eco-friendly mosque
December 7, 2019
LONDON: Turkish President Recep Tayyip Erdogan has attended the official opening of a mosque in Cambridge, foreign media reported on Friday. The Central Mosque in Mill Road, which cost £23m (Rs4.766 billion) and has the capacity for 1,000 worshippers, has been billed as "Europe's first eco-mosque". A group of about 40 supporters welcomed the arrival of his cavalcade
President Erdogan, who arrived in the UK this week for the Nato leaders' meeting, was invited to the mosque by singer-songwriter Yusuf Islam, formerly known as Cat Stevens. The musician is patron of the mosque. The main donor was a consortium of government agencies in Turkey, together with a Turkish private company and the Qatar National Fund.
https://www.thenews.com.pk/print/579687-erdogan-opens-europe-s-first-eco-friendly-mosque
------
Man armed with knife caught trying to enter Leeds mosque
ByNathan Hyde
6 DEC 2019
A man has been detained by police after he tried to get into a Leeds mosque while carrying a knife.
The man was seen acting suspiciously with a knife in a butcher's shop before he tried to enter Abu Huraira Masjid mosque in Catherine Grove, Beeston, at around 1pm on Friday, December 6.
He began walking to Cross Flatts Park after he was refused entry to the mosque and then detained by West Yorkshire Police.
Superintendent Chris Bowen said: "We are carrying out enquiries to establish the full circumstances around these incidents but at this stage mental health appears to be a factor.
"We have been liaising with representatives in the community to reassure them following these incidents given the understandable concern it will have caused and we will be keeping them updated."
The £2.2 million mosque was opened in September 2018, following seven years of planning and fundraising by the community in South Leeds.
The mosque replaces the former site at the old Co-op mill building, which the Kashmir Muslim Welfare Association (KMWA) had acquired over 30 years ago.
https://www.leeds-live.co.uk/news/leeds-news/man-armed-knife-caught-trying-17377964
------
Skegness Muslim community's prayers answered as moseque plans are approved
By Daniel Jaines
Thursday, 5th December 2019
The authority's planning committee voted in favour of Skegness Central Mosque Group's plans, including four self-contained flats, which will be built next to the former Methodist Chapel on Roman Bank.
Applicant Naseer Iqbal told councillors he had purchased the site after more than 10 years with no interest and called it a "blot on the landscape".
He said the new centre would serve all people, both Muslim and the local community, with part of the hall available to rent for public events.
He told councillors: "We are a small, peaceful community that needs a place to worship."
Objectors say they are concerned about the impact on traffic including congestion on Roman Bank and inadequate parking leading to an overspill into residential areas.
The meeting revolved around parking spaces accessed via two private roads.
Mr Iqbal told members he had moved some of the parking following consultation with residents who he said had feared overlooking.
However, he said they had later changed their minds from being supportive to objecting after he showed them the revised plans – something residents denied following the meeting, saying they had only been shown the original plans which had parking to the front.
During the meeting, Councillor Danny Brookes told members he did not object to the centre, but said: "If cars were parked round the front, I wouldn't be sat here now."
Approving the plans, councillors gave power to planning officer Paul Edwards to try to resolve the issue either by working with residents on access to the rear or finding alternative parking locations.
Councillor Jill Makinson-Sanders said: "It's important that we encourage diversity in our communities and we should congratulate people for wanting to do up a derelict building."
Councillor Dick Edginton added: "I'm pleased someone's put forward an application to improve what is an eyesore on one of the busiest roads in Skegness.
"If we can come up with a compromise that satisfies all parties I would support that."
Following the meeting Mr Iqbal, who has lived in Skegness for 45 years and runs a local business, said he would be amenable to coming up with a compromise and called on all neighbours to "get on with one another".
"We are local community and we just want to be accepted as a local part of local community," he said.
"It is a community centre for the whole of the town, not just for Muslims or non-Muslims, but all of town," he said.
Arson attack delays build further
An arson attack on the site of the community centre earlier this year has hit the plans funds and building works.
Earlier this year, the site was targeted by what police say was a hate-crime.
On Sunday, October 6, around 45 firefighters attended a fire at the two-storey derelict building the facility was hoped to replace.
The incident was later said by police to be arson and carried out as a hate crime and an investigation was launched.
On November 19, police issued CCTV footage of a man they wished to trace as their investigations continued.
No arrests have been made and enquiries are ongoing.
Mr Iqbal told reporters following the planning meeting that the incident had not left the organisation with much money.
He said the attack had resulted in a required demolition of the site and clearing of asbestos.
"At the moment there's not much in the kitty and we will have to start fundraising again," he said.
He said how much money the build would now require would have to be calculated now it had been approved in planning, but that building would not take place for at least another two-three years.
Anyone with information regarding the arson attack is asked to contact Lincolnshire Police on 101 quoting 19000533449.
https://www.skegnessstandard.co.uk/business/skegness-muslim-communitys-prayers-answered-moseque-plans-are-approved-1333762
------
UN: Iranian forces were 'shooting to kill' protesters
December 06, 2019
GENEVA: Iranian security forces were "shooting to kill" in their deadly crackdown against protesters in recent weeks, according to credible video footage, the UN human rights chief said on Friday.
It had obtained "verified video footage" showing security forces firing on protesters, apparently with intent to kill, the UN human rights office said in a statement.
UN High Commissioner for Human Rights Michelle Bachelet said the unrest left at least 208 people dead nationwide, supporting a toll previously given by Amnesty International.
"There are also reports, which the UN Human Rights Office has so far been unable to verify, suggesting more than twice that number killed," the statement added.
Iran disputes death toll figures released by foreign organizations but has so far refused to any countrywide casualty or arrest figures.
Bachelet said footage received by her office appears to show demonstrators were gunned down while running away, or being shot "directly in the face and vital organs."
It also said that at least 7,000 people have "reportedly" been arrested in Iran since mass demonstrations erupted last month, and called for the immediate release of those arbitrarily detained.
Such actions amounted to "serious violations of human rights," Bachelet said.
She urged Iran to allow independent investigations into the violations, and release of all protesters who were unfairly stripped of their liberty during the crackdown.
"Verified video footage indicates severe violence was used against protesters, including armed members of security forces shooting from the roof of a justice department building in one city, and from helicopters in another," Bachelet said.
Bachelet's office said it had received many reports of ill-treatment against people arrested, "including with the apparent aim of extracting forced confessions."
The demonstrations began in mid-November after the government raised minimum gasoline prices. Cheap gasoline is practically considered a birthright in Iran, home to the world's fourth-largest crude oil reserves despite decades of economic woes. That disparity, especially given Iran's oil wealth, fueled the anger felt by demonstrators.
Additional video material shows "armed members of security forces shooting from the roof of a justice department building" in the city of Javanrud, west of Tehran in Kermanshah province, as well as gunfire from helicopters in Sadra, in Fars province.
The toll of at least 208 makes it the bloodiest unrest in Iran since the time of the Islamic revolution.
Iran has yet to give overall figures for the number of people killed or arrested when security forces moved in to quell the unrest that saw buildings torched and shops looted.
Bachelet charged that "many of the arrested protesters have not had access to a lawyer," while raising alarm over "reports of severe overcrowding and harsh conditions in detention centers, which in some cities include military barracks, sports venues and schools."
"I urge the authorities to immediately release from detention all protesters who have been arbitrarily deprived of their liberty," she further said.
The 2009 Green Movement protests that followed a disputed presidential election drew millions to the streets but saw far less killing.
The demonstrations show the widespread economic discontent gripping Iran since May 2018, when President Donald Trump imposed crushing sanctions after unilaterally withdrawing the US from the nuclear deal that Tehran struck with world powers. That decision has seen Iran begin to break limits of the deal, as well as a series of attacks across the Mideast that America has blamed on Tehran.
https://www.arabnews.com/node/1595211/middle-east
------
North America
Saudi military student kills three at US naval base
Dec 7, 2019
MIAMI: A Saudi air force trainee opened fire Friday at a US naval base, killing three people before being shot dead by police, with the country's king quickly offering his condolences to President Donald Trump.
The shooting, which took place in a classroom building at Naval Air Station Pensacola in Florida, left eight people wounded, including two sheriff's deputies who responded to the attack.
Florida Governor Ron DeSantis said the shooter was from Saudi Arabia — the same nationality as 15 of the 19 men involved in the 9/11 attacks, some of whom attended civilian flight school in Florida.
"There's obviously going to be a lot of questions about this individual being a foreign national, being a part of the Saudi air force and then to be here training on our soil," DeSantis told a press conference.
"Obviously the government of Saudi Arabia needs to make things better for these victims. And I think they are going to owe a debt here given that this is one of their individuals."
Captain Timothy Kinsella said the shooter — whose name authorities declined to release — was an aviation trainee, one of "a couple hundred" foreign students at the base.
Saudi Arabia's King Salman telephoned Trump on Friday to denounce the shooting, the official Saudi Press Agency said.
"He (the king) affirmed that the perpetrator of this heinous crime does not represent the Saudi people," the report said.
Trump said in a tweet that King Salman "just called to express his sincere condolences and give his sympathies to the families and friends of the warriors who were killed and wounded in the attack that took place in Pensacola, Florida."
Police received their first call about the shooting shortly before 7:00 am (1200 GMT), Escambia County Sheriff David Morgan said.
One of the responding deputies eventually killed the attacker, who used a handgun.
Only members of the security forces can bring weapons on base, Kinsella said, and it was not clear how the shooter got the gun onto the premises.
"Walking through the crime scene was like being on the set of a movie," Morgan said. "You don't expect this to happen."
Kinsella said the base's security forces first responded before outside police agencies arrived.
The facility, made up mostly of classrooms, was shut down until further notice.
Witnesses described a chaotic scene as police rushed to respond.
Federal agencies are investigating, authorities said, including the FBI and the Bureau of Alcohol, Tobacco, Firearms and Explosives.
Just two days earlier, a US sailor fatally shot two people and wounded a third at the Pearl Harbor Naval Shipyard in Hawaii before taking his own life.
The Pensacola naval air station hosts 16,000 military personnel and more than 7,000 civilians, and is home to a flight demonstration squadron.
It is an early training center for naval pilots, and is known as the "cradle of naval aviation."
The base is the center for the US Navy foreign military training programs, established in 1985 specifically for Saudi students before being expanded to other nationalities.
Saudi Arabia has long been a major US ally in the Middle East, thanks primarily to security considerations and oil.
While mass shootings in the United States are common, those at military facilities are rare.
In July 2015, Mohammad Youssuf Abdulazeez carried out an attack at two military installations in Tennessee that killed four Marines and a sailor, with the FBI concluding that the violence was inspired by a "foreign terrorist group."
Two years earlier, Aaron Alexis killed 12 people and wounded eight others at the Washington Navy Yard, just two miles (three kilometers) from the US Capitol building, before being shot dead by officers.
Four years before that, Major Nidal Hasan, a US Army psychiatrist, killed 13 people and wounded more than 30 others at Fort Hood.
He was considered a "lone wolf" who supported terror network al-Qaida.
Supporters of tighter gun laws seized on the latest shooting.
"Our veterans and active-duty military put their lives on the line to protect us overseas -- they shouldn't have to be terrorized by gun violence at home," Cindy Martin, a volunteer with the Florida chapter of Moms Demand Action whose daughter works at the naval base, said in a statement.
https://timesofindia.indiatimes.com/world/us/saudi-military-student-kills-three-at-us-naval-base/articleshowprint/72410043.cms
------
Shia LaBeouf Can't SLAPP His Way Out of Bartender's Slander Suit
DECEMBER 06, 2019
The actor's fame isn't enough to make anything he says or does a matter of public interest, the court ruled.
Shia LaBeouf can't evade a lawsuit from a Studio City bartender by arguing his claims are barred by California's anti-SLAPP statute, a California appeals court has ruled.
The actor was sued in May 2017 after a dust-up with a bartender at Jerry's Famous Deli became a viral video. David Bernstein refused to serve LaBeouf alcohol and the actor called the bartender "a fucking racist."
LaBeouf's lawyer Brian Wolf of Lavely & Singer filed a motion to strike Bernstein's complaint for assault, slander and intentional infliction of emotional distress pursuant to the anti-SLAPP law — which brings an early end to frivolous lawsuits arising from protected conduct like free speech concerning an issue of public interest. Wolf argued that the suit was nothing more than "civil extortion."
In February 2018, L.A. County Superior Court judge Laura A. Matz denied the motion, finding Bernstein's claims stemmed from a private dispute and rejected the notion that LaBeouf's statements contributed to the public debate on racism and were a matter of public interest because of his fame. The anti-SLAPP law includes an immediate right to appeal, so LaBeouf did just that.
California's 2nd District Court of Appeals on Friday published a decision affirming Matz's ruling.
The three-judge panel didn't reach the merits of Bernstein's claims to determine whether or not the complaint is frivolous because they found LaBeouf couldn't get past the statute's first hurdle: proving the claim arose from protected conduct.
"While courts have held the public's interest in the life and work of entertainers and other celebrities can create an issue of public interest for purposes of [the statute]...it is the subject of the defendant's speech or conduct that determines whether an issue of public interest has been implicated for purposes of anti-SLAPP protection," writes Justice Luis A. Lavin. "The defendant's celebrity status, on its own, is not sufficient to render anything the defendant says or does subject to anti-SLAPP protection."
LaBeouf's statements, the panel found, weren't directed at someone in the public eye and didn't address an ongoing controversy. (Read the decision in full below.)
"Rather, the statements concerned an isolated dispute between a bartender and an inebriated client over the bartender's refusal to serve the client alcohol at a restaurant," writes Lavin. "Although footage of the altercation was later disseminated to many people on the Internet and television, a private dispute does not become a matter of public interest simply because it was widely communicated to the public."
The panel also found that LaBeouf's use of the word "racist" didn't automatically convert his "tantrum" into an effort to "further public debate on the issue of racism."
Wolf has not yet responded to a request for comment on the decision.
https://www.hollywoodreporter.com/thr-esq/shia-labeouf-cant-slapp-his-way-bartenders-slander-suit-1260453
------
Islamic State sympathizer sentenced to 22 years in prison
7 December 2019
NEW YORK (AP) - An Albanian turned U.S. citizen who kept an Islamic State group flag in his apartment was sentenced to 22 years in prison Friday after pleading guilty to terror charges.
Sajmir Alimehmeti, 26, of the Bronx was sentenced Friday by U.S. District Judge Paul A. Engelmayer, who called him a "ticking time bomb." He called his conduct "terrifying."
In February 2018, he admitted providing material support to the group.
A onetime plumbing assistant who had studied funeral services, Alimehmeti was arrested in May 2016 on evidence assembled over eight months by two undercover New York City police officers and an undercover FBI employee posing as Islamic State group recruits.
Authorities said Alimehmeti began collecting weapons such as combat knives that could be used in a "lone-wolf" style terrorist attack.
Arresting agents reported recovering terrorist propaganda, the flag and images of jihadist fighters.
U.S. Attorney Geoffrey S. Berman said in a release that Alimehmeti had traveled overseas to support the Islamic State group's terror campaign by buying military-grade weapons and helping another recruit get travel documents, equipment and encryption technology to fight with the group in Syria.
"Even after his incarceration, Alimehmeti continued his supportive conduct for ISIS by working with convicted Chelsea bomber Ahmad Khan Rahimi, to distribute ISIS propaganda in prison," Berman said.
https://www.dailymail.co.uk/wires/ap/article-7766067/Islamic-State-sympathizer-sentenced-22-years-prison.html
------
Man convicted of death threat against Muslim candidate
6 December 2019
A North Carolina man was convicted Friday of a charge he anonymously threatened to lynch a Muslim-American man who ran for a state Senate seat in Virginia, federal prosecutors said.
Joseph Cecil Vandevere, 53, of Black Mountain, faces a maximum sentence of 5 years in prison following his conviction in federal court in Asheville, North Carolina, according to U.S. Attorney Andrew Murray's office. A sentencing date wasn't immediately set.
Vandevere, whose trial started Thursday, was charged in June with interstate communication of a threat to injure a person in connection with a tweet directed at candidate Qasim Rashid. The tweet included a picture of a lynching and read, "VIEW YOUR DESTINY."
Rashid, an attorney who works on immigrant rights cases, posted a screenshot of the threatening tweet in March 2018 and reported it to the FBI.
Rashid, who testified at the trial on Friday, said there would have been "zero consequences" if he had reported such a threat in his native Pakistan. He said the jury's verdict is a powerful testament to the U.S. Constitution's guarantee of "equal protection and equal justice for all."
"They looked at the facts. They looked at the law. They applied it to the situation and came up with a just verdict," he said in a telephone interview.
Rashid said the verdict doesn't end his fight against hate and intolerance.
"I've had justice but there are many others who have not," he added.
An attorney for Vandevere didn't immediately respond to an email seeking comment on the verdict.
Rashid, a Democrat, lost his Nov. 5 bid to defeat an incumbent Republican state senator in Virginia.
In September, U.S. District Judge Max Cogburn Jr. rejected Vandevere´s argument that his indictment must be dismissed on First Amendment free speech grounds
Vandevere´s attorney, Andrew Banzhoff, claimed the communication in question was not a "true threat."
"In 2019, the political arena necessarily includes the public exchange of political views that occurs daily on Twitter and other social media sites," Banzhoff wrote.
Cogburn Jr. said he couldn´t rule as a matter of law that the alleged threat was "political hyperbole" or that "no reasonable person would interpret this communication as a serious expression of intent to do harm."
The indictment identifies the victim only by the initials "Q.R." Federal prosecutors didn´t name Rashid in court filings but said the victim's political campaign started well after the threat was made "and had no bearing on the threat."
Authorities also accused Vandevere of posting an anti-Semitic threat on a Florida synagogue's Facebook page.
Investigators linked Vandevere to a threatening comment posted in February 2018 on the website of a synagogue in Plantation, Florida, according to an FBI agent´s affidavit. A rabbi at Ramat Shalom Synagogue contacted the FBI after somebody using the name Bob Smith posted a "disturbing" comment in response to the rabbi's post showing support for the Parkland, Florida, high school where a gunman killed 17 people earlier that month, the agent wrote.
An "open source search" using Vandevere's telephone number linked him to the same Twitter account - with the handle "DaDUTCHMAN5" - that posted the threat against Rashid, according to the affidavit. The post was accompanied by a black-and-white photograph of the infamous 1915 lynching of a Jewish man, Leo Frank, in Marietta, Georgia.
Twitter suspended the "DaDUTCHMAN5" account.
https://www.dailymail.co.uk/wires/ap/article-7765427/Man-convicted-death-threat-against-Muslim-candidate.html
------
Flight Attendant Behaving Badly? Southwest Offers Freebies To Journalist After His Muslim Wife Was Reduced To Tears
December 06, 2019
BETSY ROTHSTEIN
Southwest Airlines is offering a political journalist vouchers after he claimed a flight attendant treated his wife poorly on a Sunday night flight to Washington because she was wearing a hijab.
Mehdi Hasan, a British columnist for The Intercept and a presenter for Al Jazeera English, began raising hell Monday on Twitter. He said the airline destroyed the end to his family's Thanksgiving holiday. Some five days later, he and his family are still waiting for a meaningful response from the airline that doesn't involve sweeping the whole thing under the rug. (RELATED: British Journo Says Muslim Wife Was Unfairly Targeted On Southwest Flight)
He wants a public apology. So far he isn't getting one.
"Update & a new thread from me," Hasan tweeted Friday. "@SouthwestAir have apologized privately but refuse to apologize publicly; offered travel vouchers to fly with them (!) that don't cover the costs of our flights; & have made up a totally false narrative."
There are two versions of the incident.
Southwest is talking, but not saying much.
Version #1: On board SW Flight 5539 to D.C. Sunday night, Hasan's wife asked another passenger to switch seats with her so she could sit with her family. This sounded alarm bells for a flight attendant, who said the woman was making passengers "uncomfortable" and warned that she could be removed from the plane. She reportedly called ground control to cover her ass.
"I heard the flight attendant tell a passenger she was calling ground crew to cover herself in the event of a complaint from my wife!" he explained.
According to Hasan, the incident left his wife, who was wearing a hijab, distraught and in tears.
Version #2: A Southwest spokesperson told The Sun Newspaper that the airline is communicating privately with the family. The spokesperson also said, "We understand that some passengers were involved in a disagreement over seat selection."
The Mirror has issued multiple requests for comment from Southwest Airlines. But so far I've received zilch.
Lots of journalists routinely whine about their travel experiences. But many do not involve ethnic components. Most are pretty stupid, actually.
And who can forget the time that NYT columnist Charles Blow claimed that no one would sit next to him on the pricey Acela train because he's black?
Hasan is calling bullshit on Southwest.
"This is false," he wrote. "There was no disagreement, only a flight attendant who was trying to incite passengers against my hijab-wearing wife."
He continued, "@southwestAir in all their DM conversations with me have ignored the fact that their flight attendant told my wife she was making passengers 'uncomfortable' (which is false) by 'reading' their faces (huh?). Uncomfortable, by politely asking for a swap which every family does?"
Hasan is convinced that the Southwest flight attendant reacted as she did because his wife is Muslim. "This had nothing to do with the passengers, or seat saving or swapping (which Southwest have no policy on, they say)," he tweeted. "It has everything to do with the *flight attendant* – who targeted & threatened my wife for no good reason. Unless her hijab is a good reason."
Hasan said Southwest should be ashamed.
"I'm now more furious than I was on Sunday. Then it was a rude and racist flight attendant. Now it's an entire airline, an entire company, that seems unconcerned by, even maybe covering up, racism and harassment onboard. Shame on you @southwestAir."
https://dailycaller.com/2019/12/06/southwest-freebies-journalist-muslim-wife-tears/
------
US says drone shot down by Russian air defenses near Libyan capital
December 07, 2019
The US military believes that an unarmed American drone reported lost near Libya's capital last month was in fact shot down by Russian air defenses and it is demanding the return of the aircraft's wreckage, US Africa Command says.
Such a shootdown would underscore Moscow's increasingly muscular role in the energy-rich nation, where Russian mercenaries are reportedly intervening on behalf of east Libya-based commander Khalifa Haftar in Libya's civil war.
Haftar has sought to take the capital Tripoli, now held by Libya's internationally recognized Government of National Accord (GNA).
US Army General Stephen Townsend, who leads Africa command, said he believed the operators of the air defenses at the time "didn't know it was a US remotely piloted aircraft when they fired on it."
"But they certainly know who it belongs to now and they are refusing to return it. They say they don't know where it is but I am not buying it," Townsend told Reuters in a statement, without elaborating.
The US assessment, which has not been previously disclosed, concludes that either Russian private military contractors or Haftar's so-called Libyan National Army were operating the air defenses at the time the drone was reported lost on Nov. 21, said Africa Command spokesman Air Force Col. Christopher Karns.
Karns said the United States believed the air defense operators fired on the US aircraft after "mistaking it for an opposition" drone.
An official in Libya's internationally recognized Government of National Accord (GNA) told Reuters that Russian mercenaries appeared to be responsible.
Russian authorities deny using military contractors in any foreign military theater and say any Russian civilians who may be fighting abroad are volunteers. The LNA denies it has foreign backing.
One current and one former Russian contractor told Reuters that since September the LNA had received ground support from several hundred private military contractors from a Russian group.
Military officials linked to the GNA and Western diplomats have also confirmed the presence of Russian contractors in Libya.
Haftar, who claims to be fighting to rid Tripoli of Islamist-leaning armed groups, has received support from the United Arab Emirates and Egypt, and, most recently, from Russian mercenaries, according to diplomats and Tripoli officials
Frederic Wehrey, a senior fellow at the US-based Carnegie Endowment for International Peace, said the Russians' contributions of advanced capabilities — everything from snipers to precision weaponry — could be felt on the battlefield, boosting the morale of Haftar's forces.
"It's giving Haftar a real technological edge," said Wehrey, who recently returned from Libya.
US Defense Secretary Mark Esper, in an interview with Reuters earlier this week, declined to comment directly on the drone but said he believed Russia was trying to "put their finger on the scale" in Libya's civil war to create a situation that was advantageous to Moscow.
Townsend voiced deep concern about Russia's growing role in the country, including how it would affect Libya's "territorial sovereignty and AFRICOM's counter-terrorism mission."
"This highlights the malign influence of Russian mercenaries acting to influence the outcome of the civil war in Libya, and who are directly responsible for the recent and sharp increase in fighting, casualties and destruction around Tripoli," Townsend said.
Mohammed Ali Abdallah, adviser for US affairs in Libya's GNA, said the US drone had come down near the pro-LNA stronghold of Tarhuna, 65km (40 miles) south-east of Tripoli.
More than 1,400 Russian mercenaries were deployed with the LNA, he said.
"Only the Russians have that ability — and they were operating where it happened," Abdallah said, in written comments sent to Reuters.
"It's our understanding that Haftar was asked by his Russian partners to claim responsibility, despite not having the capability or equipment to shoot down a US drone."
More than 200 civilians have been killed and more than 128,000 displaced in the fighting since April, according to UN figures.
https://www.arabnews.com/node/1595426/middle-east
------
Mideast
Facebook closes Arabic page of Imam Khamenei
December 7, 2019
AhlulBayt News Agency (ABNA): Facebook has deleted the page which was publishing remarks of the Islamic Revolution Leader Ayatollah Khamenei in Arabic.
The page had some 100,000 followers and had been earlier restricted by the American company.
This is not the first time that pages related to the Islamic Revolution Leader are being restricted in social media as Instagram, Twitter and Facebook have repeatedly removed posts from 'Khamenei.ir' accounts or imposed other limitations.
A new Arabic page on Facebook with the address of 'facebook.com/ar.khamenei.ir' has been opened to reflect remarks and viewpoints of Ayatollah Khamenei.
https://en.abna24.com/news//facebook-closes-arabic-page-of-imam-khamenei_991834.html
------
Ingush Mufti Denounces Magas Effort to Keep Imams from Talking about 1992 War
Paul Goble
Staunton, December 4 – Mufti Abdurakhman Martazanov has denounced efforts by Ruslan Volkov, the new head of the republic nationalities ministry, to tell imams what they should and should not say in their weekly homilies and especially Volkov's demand that they not talk about the 1992 clash between Ingush and Ossetians over the Prigorodny District.
According to the republic mufti, Volkov told the imams to forget about that clash and to avoid any suggestion that Ingushetia should seek to recover its lands. Such official interference, Martazanov said, is absolutely unacceptable (doshdu.com/muftijat-ingushetii-osudil-glavu-minnaca-za-popytki-povlijat-na-imamov/).
In a commentary for Portal Six, Akhmed Buzutanov pointed to another development that has sparked controversy over the last few days: the tendency of online discussions of republic problems to go to extremes and provoke far deeper divisions than occur when people talk to each other directly (6portal.ru/posts/процесс-роста-нетерпимости-мнений-и-с/).
When people defined their position on the basis of personal conversations, he argues, "there was understanding and a common attitude toward events." But with the Internet becoming the main place for discussions and with people expressing themselves more sharply, this unity is breaking down to the detriment of the Ingush people.
Today, there were four other noteworthy developments in Ingushetia. First, Murad Daskiyev, head of the Union of Teips, says his group represents democracy in action and that it has showed the Ingush people what can be done when issues are discussed and then votes are taken (fortanga.org/2019/12/murad-daskiev-my-delaem-chto-dolzhny/).
Second, Sultan Kodzoyev, a commentator for Portal Six, says that Ingush should not be mislead that there has been a real campaign against corruption. A few officials have in fact been charged, but how many other Yevkurov-era corrupt figures are "coming out of the water dry?" (6portal.ru/posts/коррупционное-десятилетие-кто-еще-по/).
Three, Ingush people living near the border with North Ossetia have organized to demand that Magas open a new border post so that they can come and go to their ancestral lands more easily. Officials say they will consider the demand (fortanga.org/2019/12/na-granitse-s-osetiej-mogut-ustanovit-novyj-post/).
And fourth, the Nazran draft commission said it had sent 546 young men into army in places far away from the North Caucasus. More sought to be drafted than there were spaces for – those with higher education got preference --and no one who was called sought to escape service (gazetaingush.ru/obshchestvo/v-nazranovskom-rayone-uspeshno-osushchestvlyaetsya-prizyvnaya-kampaniya).
http://windowoneurasia2.blogspot.com/2019/12/ingush-mufti-denounces-magas-effort-to.html
------
Iran Calls for Confronting Soft War Plots against Muslim States
Fri Dec 06, 2019
TEHRAN (FNA)- Iran's Cultural Attaché to Lebanon Abbas Khamehyar said on Friday that enemies' soft war against the Shia and Sunni Muslims has a cultural dimension which could only be confronted by joint comprehensive planning.
"There are conspiracies, heresies and seditions in the Middle East that have been shaped by the planning of a new colonization," Khamehyar said on during a meeting with the chief and members of the Central Council of the Association of Muslim Scholars of Lebanon in Beirut on Friday.
He noted that the main goal of such plots is to noting that its ultimate goal is to create a rift among the various Muslim groups.
"The way to confront and prevent the spread of these innovations, seditions and the soft war of modern colonialism, is to plan to further the foundations of Muslim unity," Khamehyar added.
The association of Muslim scholars of Lebanon, consisting of 300 Shias and Sunni scholars, has been active in the Lebanese cultural and religious scene for more than 30 years.
https://en.farsnews.com/newstext.aspx?nn=13980915000446
------
Iran: US Least Qualified to Comment on Muslims' Rights
Fri Dec 06, 2019
TEHRAN (FNA)- Iranian Foreign Ministry Spokesman Seyed Abbas Mousavi said that dark records of the US government in adopting measures against Muslims has made Washington the worst country to talk about Muslims' rights in China, adding that the US congress move about Uyghurs is a blatant interference in the internal affairs of Beijing.
"With a disgraceful record in genocide of indigenous people, black slavery and massacres of civilians, as well as the killing of Muslims in Afghanistan, Iraq, Syria, Libya, Palestine and Yemen, and the pardoning of war criminals, America is the least qualified to comment on ethnicity, races and Muslims," Mousavi said on Friday.
The remark came as the US House of Representatives approved a bill that requires President Donald Trump to toughen response to what is going on in the Chinese autonomous region of Xinjiang, where Washington claims Beijing is holding re-education camps for Muslims.
"Repeating such blatant violations against the principles of the international law is just stressing the fact that interfering in internal affairs of other countries has become a tenet of America's anti-normative foreign policy," added Mousavi.
Condemning the recent measure taken by the US Congress against China, Mousavi warned the international community against threats of such behaviors that endanger global peace and stability.
The spokesman also called on independent countries to react to uncontrolled US behavior and unilateralism.
On Sunday, Iranian Deputy Foreign Minister Seyed Abbas Araqchi, at a joint press conference following the meeting with his Chinese counterpart Ma Jao Shi, lashed out at Washington for posing pressure on other signatory states to the 2015 nuclear deal, formally known as the Joint Comprehensive Plan of Action (JCPOA).
In October, Mousavi had condemned the US sanctions against 28 Chinese organizations and companies under the pretext of advocating Muslims rights in China, adding that American crimes against the followers of Islam show that Washington is not entitled to talk about Muslims' rights.
Condemning the US' actions, the diplomat noted that the United States lacks the minimum moral authority to sanction others on the pretext of protecting Muslims' rights due to committing numerous crimes against innocent Muslims around the world, specially in the Middle East.
The US government widened its trade blacklist to include some of China's top artificial intelligence startups, punishing Beijing for its treatment of Muslim minorities and ratcheting up tensions ahead of high-level trade talks in Washington this week, Reuters reported.
The decision, which drew a sharp rebuke from Beijing, targets 20 Chinese public security bureaus and eight companies, including video surveillance firm Hikvision, as well as leaders in facial recognition technology SenseTime Group Ltd and Megvii Technology Ltd.
The action bars the firms from buying components from the US companies without the US government approval - a potentially crippling move for some of them. It follows the same blueprint used by Washington in its attempt to limit the influence of Huawei Technologies Co Ltd [HWT.UL] for what it says are national security reasons.
The US officials said the action was not tied to this week's resumption of trade talks with China, but it signals no let-up in US President Donald Trump's hardline stance as the world's two biggest economies seek to end their 15-month trade war.
The Commerce Department said in a filing the "entities have been implicated in human rights violations and abuses in the implementation of China's campaign of repression, mass arbitrary detention, and high-technology surveillance against Uighurs, Kazakhs, and other members of Muslim minority groups."
"The US Government and Department of Commerce cannot and will not tolerate the brutal suppression of ethnic minorities within China," said Secretary of Commerce Wilbur Ross.
In June, the Iranian foreign ministry deplored the US trade war against China as an instance of "economic terrorism", warning of its consequences and impacts on global economy.
https://en.farsnews.com/newstext.aspx?nn=13980915000501
------
Zarif Quotes US Brian Hook to Dismiss E3 Claims about Ballistic Missiles
Fri Dec 06, 2019
TEHRAN (FNA)- Iranian Foreign Minister Mohammad Javad Zarif, in a tweet on Friday, once again reminded the European signatories of the nuclear deal that Tehran's ballistic missiles are under no ban under the nuclear deal and UN Resolution 2231, reminding that US special representative for Iran Brian Hook has also admitted the fact.
"Brian Hook has given our E3 JCPOA partners a timely reminder, openly admitting that missile testing is NOT prohibited in Security Council Resolution 2231," tweeted Zarif, after the trio of Britain, France and Germany who make up the three European signatories of the nuclear deal, officially known as the Joint Comprehensive Plan of Action (JCPOA), forwarded a letter to United Nations Secretary-General Antonio Guterres.
The trio made the allegation that Iran's ballistic missile activity is "inconsistent" with the call in a council resolution endorsing the 2015 nuclear deal with Iran. quoting Hook as saying, "One of the deficiencies of the Iran nuclear deal is that it ENDED the prohibition on Iran's ballistic missile testing."
In a tweet on Thursday, Zarif wrote, "Latest E3 letter to UNSG on missiles is a desperate falsehood to cover up their miserable incompetence in fulfilling bare minimum of their own JCPOA obligations."
"If E3 want a modicum of global credibility, they can begin by exerting sovereignty rather than bowing to US bullying," Zarif stressed.
The Iranian diplomat capped off his tweet with an image of two UNSC resolutions, with the Resolution 1929 on banning Iran's ballistic activities stamped as 'terminated', and Resolution 2231, still endorsed, outlining the termination of Resolution 1929 in 2010, under Article 41 of UN Charter.
Iran has several times stressed that its missile program is not included in the resolution 2231.
Iranian Ambassador to the United Nations Majid Takht Ravanchi underlined in May the defensive nature of Iran's missile activities, saying that UN Security Council Resolution 2231 was not related to Tehran's missile program.
Iran's missile program is a national defense issue which is non-negotiable and never contradicts with the UN Security Council Resolution 2231, Takht Ravanchi told said in an interview with the state TV.
He referred to the US attempts to raise allegations that Iran is violating the UN Resolution 2231, and said that one of the officials at the US State Department conferred with members of the UNSC about Iran's ballistic missile activities.
They are trying to create a negative atmosphere against Iran's missile activities, Takht Ravanchi said.
Positions of the Islamic Republic of Iran are very clear in a way that Iran's missile programs are not included within the framework of UNSC Resolution 2231 at all, he emphasized.
"Iran's peaceful nuclear activities have been confirmed by the International Atomic Energy Agency (IAEA) for 14 times as well," the senior diplomat said.
https://en.farsnews.com/newstext.aspx?nn=13980915000459
------
Envoy Rejects Europeans' Arbitrary Interpretation of UNSCR 2231
Fri Dec 06, 2019
TEHRAN (FNA)- Iran's Ambassador and Permanent Representative to the United Nations Majid Takht Ravanchi dismissed the erroneous interpretation of the United Nations Security Council Resolution 2231 by the three European signatories of the nuclear deal, adding that Tehran will resolutely keep strengthening its missile and space programs.
In a letter to President of the United Nations Security Council, Takht Ravanchi refuted the claims made by the trio of the UK, France and Germany about Iran's missile program, highlighting that Tehran is determined to boost its missile and space programs.
The letter came after the trio of Britain, France and Germany, who make up the three European signatories of the nuclear deal, forwarded a letter to United Nations Secretary General Antonio Guterres.
In their letter to Guterres, the trio made the allegation that Iran's ballistic missile activity is "inconsistent" with the call in a council resolution endorsing the 2015 nuclear deal with Iran, officially known as the Joint Comprehensive Plan of Action (JCPOA).
Takht Ravanchi strongly rejected the claims, highlighting that "Iran's activities related to space launch vehicles and ballistic missiles fall outside of the purview or competence of resolution 2231 (2015) and its annexes."
"Iran is determined to resolutely continue its activities related to ballistic missiles and space launch vehicles, both of which are within its inherent rights under international law and are necessary for securing its security as well as socioeconomic interests," the envoy concluded in the letter.
Here comes the full text of his letter:
"In the name of God, the most Compassionate, the most Merciful
Excellency,
I am writing with reference to the letter dated 21 November 2019 from the Permanent Representatives of France, Germany and the United Kingdom of Great Britain and Northern Ireland to the United Nations addressed to the Secretary-General (S/2019/911).
In the aforesaid letter, another attempt has been made for the arbitrary interpretation of paragraph 3 of annex B to Security Council resolution 2231 (2015) to prove supposed inconsistency regarding Iran's missile activities with that paragraph. This has been made through making reference to such unreliable sources as "social media", citing outdated reports, referencing documents of bodies like the International Atomic Energy Agency which has no technical competence regarding missiles, making irrelevant and yet politically motivated reference to the missile capabilities of regional countries, repeated use of terms such as "if" "may" and "likely" which even reflect complete uncertainty, as well as invoking the criteria contained in the exclusive club of the Missile Technology Control Regime.
As we have repeatedly stated, including in our letters, the latest of which are contained in documents S/2019/49, S/2019/315 and S/2019/752, there is no implicit or explicit reference in paragraph 3 of annex B to Security Council resolution 2231 (2015) either to the Missile Technology Control Regime itself or to its definitions.
Additionally, the definition and criteria contained in the Missile Technology Control Regime are not legally binding even for its 35 members, let alone being accepted universally. Accordingly, any attempt to portray them as the universally agreed definition is not only wrong but also any reference thereto is totally misleading and unacceptable.
Moreover, in interpreting the phrase "designed to be capable" in that paragraph, attempts have been made to disregard the negotiating history of paragraph 3 of annex B to resolution 2231 (2015) and the raison d'être of that phrase. The addition of the phrase "designed to be" to the wording "capable of delivering nuclear weapons" used in the already terminated Security Council resolution 1929 (2010) was a deliberate modification following lengthy negotiations in order to exclude Iran's defensive missile program that is "designed" to be exclusively capable of delivering conventional warheads. Given the fact that none of Iran's missiles are "designed to be capable of delivering nuclear weapons", paragraph 3 of annex B to resolution 2231 (2015) does not limit, in any way, the activities related to the conventional ballistic missiles of the Islamic Republic of Iran. Consequently, Iran's related activities are not inconsistent with that paragraph. Rather, they fall outside of the purview or competence of the Security Council resolution and its annexes (S/2015/550).
At the same time, "there is no universally accepted norm or instrument specifically governing the development, testing, production, acquisition, transfer, deployment or use of missiles", as stated in the report of the Secretary-General (A/57/229). This fact has also recently been acknowledged by the United Nations High Representative for Disarmament Affairs in her remarks on 22 August 2019 before the Security Council wherein she stated that, "There remains no universal norm, treaty or agreement regulating missiles" (S/PV.8602).
Likewise, when the previous missile launches by Iran were discussed, "There was no consensus in the Security Council on how this particular launch related to resolution 2231 (2015)" (S/2017/515).
Surprisingly enough, the authors of that letter have also claimed that "annex B to Council resolution 2231 (2015) barring the transfer of missile technology from Iran". This is a clear distortion of the text of that resolution.
Contrary to their argument, according to resolution itself, "All States may participate in and permit" "the supply, sale or transfer" of such items "to or from Iran". Therefore, it is crystal clear that all States can conduct such activities in the first place. They merely need to inform the Security Council in advance, which shall decide "on a case-by-case basis to permit such activity". Nevertheless, to date, certain western members of the Security Council, for clear political reasons, have prevented the actual operationalization of the necessary mechanism for making required decisions to permit such activities which is essential for the full and effective implementation of the very same resolution. Iran also refutes, once again, the charges that it has violated Security Council Resolution 2216 (2015).
Furthermore, an unsuccessful attempt has been made to link Iran's activities related to space launch vehicles to the implementation of paragraph 3 of annex B to resolution 2231(2015) while there is no implicit or explicit reference or language in that paragraph pertaining to the space launch vehicles, which are intrinsically designed to place satellites into orbit, not deliver warheads, and Iran's space launch vehicles are no exception.
Whereas Iran's space launch vehicles do not even fall into the category of ballistic missiles, let alone one "designed to be capable of delivering nuclear weapons", it is quite clear that their development and launch or any other related activities are not covered, in any way, by resolution 2231 (2015) and, accordingly, could not even be regarded as inconsistent with that resolution. It is also worth recalling that when the launch of a space launch vehicles by Iran in 2017 was discussed in the Security Council, "there was no consensus on how this particular launch related to resolution 2231 (2015)" (S/2017/1058).
At the same time, the international community must be extremely vigilant regarding the politically motivated approach by the United States and certain other industrialized countries, which, under such absurd pretexts as proliferation concerns, attempt to demonize benign technologies such as space technology that are critical for the socioeconomic development of all nations, particularly developing countries. This trend seriously runs the risk of endangering the exercise of the inherent right of States to free access to all areas of space and celestial bodies, their freedom in the exploration and use of outer space for peaceful purposes as well as their free access to outer space through space science, technologies and their applications without discrimination of any kind..
Since Iran's activities related to space launch vehicles and ballistic missiles fall outside of the purview or competence of resolution 2231 (2015) and its annexes, and given the mandate set forth in the note by the President of the Security Council on Security Council tasks under resolution 2231 (2015) (S/2016/44), the Secretary-General is therefore expected to avoid reporting on such irrelevant activities in his reports on the implementation of that resolution.
Finally, in light of the above, I would like to re-emphasize that Iran has not conducted any activity inconsistent with paragraph 3 of annex B to resolution 2231 (2015). Accordingly, while rejecting the claims made in that letter, I would like to stress once again that Iran is determined to resolutely continue its activities related to ballistic missiles and space launch vehicles, both of which are within its inherent rights under international law and are necessary for securing its security as well as socioeconomic interests.
I should be grateful if you would have the present letter circulated as a document of the Security Council.
Please accept, Excellency, the assurances of my highest consideration.
https://en.farsnews.com/newstext.aspx?nn=13980915000484
------
Senior Cleric: Iran to Continue Resisting against US by Increasing Scientific Output
Fri Dec 06, 2019
TEHRAN (FNA)- Tehran's provincial Friday Prayers Leader Hojjatoleslam Seyed Mohammad Hassan Aboutorabifard blasted the US for continuing to re-impose its unilateral sanctions against Iran, and said that the Iranian people will keep on resisting the sanctions re-imposed by Washington against their country.
Addressing a large and fervent congregation of the people in Tehran on Friday, Ayatollah Aboutorabifard said, "Today, standing against America means moving towards producing knowledge and science which will lead to establishing a powerful and prosperous Iran with the highest possible per-capita income and the Iranians will continue to do so."
The senior Iranian cleric, meantime, lauded Iran for keeping its trade balance despite the US unilateral sanctions.
"Iran's oil export in the first seven months of this year (March 21 – October 22) stood at some $30 billion while the country has imported some $22 billion and this trade balance is an honor for the country," he added.
In relevant remarks on Wednesday, Iranian President Hassan Rouhani underlined that given the US stubbornness in opposition to the removal of the sanctions against Iran, his country has no way but resistance against Washington.
"We are in sanctions conditions and it is not our fault and these conditions have been created with the provocation of the Zionists and the reactionary regimes in the region," Rouhani said in Tehran.
"In such conditions, we do not have any way but resistance against those that have imposed the sanctions. Meantime, we have not closed the doors to talks," he added.
President Rouhani stressed that once the US removes the "terrorist unfair" sanctions, the two countries' high-ranking officials could meet within the framework of the Group 5+1.
He said when he was in New York for a UN General Assembly meeting, he had told the European interlocutors that he would meet the US president immediately after and only when Trump removed the sanctions on Iran.
https://en.farsnews.com/newstext.aspx?nn=13980915000479
------
Lebanese lawmakers to defy naming of new PM
NAJIA HOUSSARI
December 07, 2019
BEIRUT: Three lawmakers and members of Lebanese President Michel Aoun's parliamentary bloc will not abide by its decision to name a new prime minister on Monday.
Meanwhile, activists in the civil movement are holding meetings to announce a general strike and the blocking of roads on Monday in protest over reports that the new government will not include technocrats.Samir Al-Khatib is considered the most favored candidate after preliminary consultations conducted by Aoun with his allies prior to setting the date for binding parliamentary consultations to nominate a Sunni prime minister, as required by the Lebanese constitution.
Prime Minister Saad Hariri submitted the resignation of his government on Oct. 29 as a result of ongoing mass protests against corruption. He later said he would not agree to head a new government unless it consisted of technocrats.
Lawmaker Neemat Frem urged citizens to provide him with the name of their favorite candidate to head the new government, "for you are the primary source of authority, and it is my duty to convey your voice in the binding parliamentary consultations."
Lawmaker Chamel Roukoz said he will not nominate anyone for the position of prime minister.
Lawmaker Michel Daher declared his intention to boycott the parliamentary consultations if Al-Khatib is the only candidate.
Aoun assured a delegation of British financial and investment institutions, and US bank Morgan Stanley, that binding parliamentary consultations will take place on Monday to form a new government, which will help Lebanon's friends launch agreed-to development projects.
"The new government's priority will be to address the economic and financial conditions as soon as it is formed," he said.
On Friday, Hariri sent letters to the leaders of a number of countries with good relations with Lebanon.
He asked them to help Lebanon secure credit to import goods from these countries, in order to ensure food security and availability of raw materials for production in various sectors.
His media office said the move "is part of his efforts to address the shortage of financial liquidity, and to secure procuring the basic import requirements for citizens."
Among the leaders Hariri wrote to are Saudi Arabia's King Salman; the presidents of France, Russia, Egypt and Turkey; the prime ministers of China and Italy; and the US secretary of state.
On Dec. 11, Paris is due to host a meeting of the International Support Group for Lebanon. Reuters quoted a European source as saying: "France has already sent invitations to attend the group meeting."
Protesters continued their sit-ins in front of government institutions in Nabatieh, Zahle and Saida.
In Tripoli, protesters blocked the city's main roads, which were eventually reopened by the army.
In Akkar, protesters raided public institutions and called for an "independent government that fights corruption, restores looted funds, and rescues the economic situation and living conditions from total collapse."
Lebanese designer Robert Abi Nader canceled a fashion show that was due to be organized in Downtown Beirut, where protesters are gathering.
Abi Nader said he intended through his show to express support for the protests by designing a special outfit called "the bride of the revolution," and revenues were to be dedicated to families in need.
https://www.arabnews.com/node/1595286/middle-east
------
Israel detains Palestinian journalists for 'illegal activity'
December 06, 2019
JERUSALEM: Israeli police on Friday detained four journalists from Palestine's official television station in Jerusalem, drawing protest from Palestinians who say their activities in the holy city are increasingly restricted.
The Palestine TV crew was filming a talk show outside of Jerusalem's walled Old City when Israeli officers detained them and took their equipment, the Authority's Wafa news service said.
The journalists with the daily "Good Morning Jerusalem" program were held for four hours at a police station in Jerusalem and later released, said Mohammad Barghouti, Palestine TV's general manager for news.
Israeli police spokesman Micky Rosenfeld said: "The journalists were detained in connection with illegal activity by (the) Palestinian Authority in Jerusalem."
Israel forbids any official activity in Jerusalem by the Western-backed PA, saying it breaches Israel's sovereignty over the city and violates interim peace agreements.
The Palestinians want East Jerusalem, which includes the Old City, as capital of a future state. Israel annexed the area after capturing it in the 1967 Middle East war and says the entire city is its eternal and indivisible capital.
Palestinian President Mahmoud Abbas condemned the journalists' detention as "part of the Israeli government's scheme to entrench Israeli control over the occupied city of Jerusalem and its holy sites."
In November, Israel ordered the closure of Palestine TV's Jerusalem office for six months on the grounds that it was planning to stage activities for the PA, which exercises limited self-rule in the occupied West Bank adjacent to Jerusalem.
An office of the PA's Education Ministry in Jerusalem was also given a six-month closure notice in November, which Israeli Strategic Affairs Minister Gilad Erdan said at the time was "part of a firm policy against any attempt by the (PA) to violate our sovereignty in the capital."
The last round of peace talks between the two sides broke down in 2014. Palestinians have boycotted US President Donald Trump's mediation efforts, partly over his recognition in 2017 of Jerusalem as Israel's capital.
https://www.arabnews.com/node/1595221/middle-east
------
Pakistan
The Muslim who saved a Hindu temple from a mob in Pakistan
by Haroon Khalid & Sameer Shafi Warraich
Lahore, Pakistan - The loud banging on the door was accompanied by chants.
"Death to India," shouted the mob that had converged on the government-run school in the small town of Niaz Baig.
It was December 7, 1992, a crisp winter morning.
The day before, a mosque had been demolished in neighbouring India. The destruction of the 16th century Babri Mosque by Hindu nationalists had triggered riots that left 2,000 people - most of them Indian Muslims - dead.
But the fallout from that day would not remain within India's borders.
In protest against the destruction of the mosque, the government of Pakistan had declared December 7 a national holiday.
So, with the school's pupils off for the day, only the principal, some teachers and a few community members were present when the mob came knocking.
A school among the sprawl
It is a small detour from Lahore's well-kept, tree-lined Canal Road to the chaotic old town of Niaz Baig. But the contrast is stark.
The midday dust rises, first from the tarmac and then, as we venture deeper into the town, from the rubbish-lined dirt tracks.
We search for the school among the ill-planned sprawl of crumbling houses and, soon enough, find ourselves sitting inside it with its affable principal, Master Ashfaq, and Naseeb Khan, a former teacher who was there on that morning 27 years ago.
1992 was Khan's first year teaching at the school. It is one the well-spoken teacher will not forget.
A tall, domed structure with a faded Pakistani flag on top and faded floral frescoes on the ceiling, the school stands out among the poorly-constructed homes that surround it.
That is because, before its current incarnation as a school, it was the Bhadra Kali Hindu Mandir, a 19th-century Hindu temple dedicated to the Goddess Kali.
And that is why the angry mob descended upon it that December morning.
From temple to mosque
Part of a vast complex that included a traditional well, a holy pool and orchards, all surrounded by a thick boundary wall, Bhadra Kali Hindu Mandir was once one of the most prominent Hindu temples in Lahore.
But, like hundreds of others, it was abandoned in 1947 as British India was divided into Hindu-majority India and Muslim-majority Pakistan. The city of Lahore became part of Pakistan.
The new Pakistani state, struggling to accommodate the millions of refugees who had fled there in the bloody aftermath of Partition, allocated several Hindu and Sikh properties for them.
Niaz Baig's temple was among them. Its orchards and sacred rooms became home to the Meo community, an ethnic group originally from Gurgaon in India who converted to Islam from Hinduism between the 12th and 17th centuries.
But for many years after Partition, the temple's main building was largely abandoned; used occasionally by members of the community for wedding ceremonies and sometimes taken over by drug users and illegal gamblers.
Unhappy with how the sacred space was being used, in the 1970s a few members of the community decided to convert it into a mosque.
The man primarily responsible for this was Bashir Ahmad Meo.
'We are all Pakistanis now'
Bashir Ahmad Meo was a boy when he fled Gurgaon with his family during Partition. They arrived in Niaz Baig, where they found refuge in the temple's complex.
After finishing school, he joined the Pakistan army and fought against India in the wars of 1965 and 1971.
When he retired soon after the 1971 war, Meo returned to Niaz Baig.
He had a special affinity with the temple complex, explains Meo's 55-year-old son, Muhammad Mushtaq, who still lives in the area and talks proudly of his father. He would read all he could about its history, he adds.
Later, Ashfaq shows us papers from a school council meeting in which Meo had recorded a detailed pre-Partition history of the building.
The army veteran became a self-appointed welfare officer for his community, helping people and animals in need, explains Mushtaq. He raised funds for widows, donated his land to establish the community's only veterinary clinic and provided financial support to many of the school's teachers.
But his particular concern was taking care of the temple.
"This is a part of Pakistan now," Mushtaq recalls his father saying. "It doesn't matter if it's for Hindus or Muslims, we are all Pakistanis now."
The land mafias
But, in this, Meo encountered an obstacle in the form of local land mafias who saw the vast space in the middle of an increasingly congested area as a money-making opportunity.
"You know, as was the case with most temples and gurdwaras, the land mafia thought this, too, would be an easy target for them to take over," Mushtaq explains.
Meo feared that they would succeed in their efforts unless he could find a way to make the community feel invested in the building.
So, along with some other members of the community, he decided to convert the temple into a mosque.
Leaving the sacred room dedicated to the goddess intact inside the temple, the local Muslim community began to gather there to offer their five daily prayers beside walls covered in frescoes of Hindu deities.
Mushtaq recalls his father telling him: "We must accept our history. When Pakistan was created, we took an oath to accept, protect and be proud of whatever we inherited as part of it."
A little over two decades after Partition, when Hindus and Muslims had slit each other's throats in Lahore and elsewhere, the Muslim community of this small town prayed in a Hindu temple, maintaining its sanctity and protecting it from land mafias.
From mosque to school
Then, in 1980, when the nearest school was flooded, Meo came up with another idea: The temple turned mosque should be converted again, this time into a primary school.
"These are our kids," Mushtaq quotes his father. "We have a moral obligation to educate them, even if it is under the old banyan tree [by the entrance to the temple]."
A government school, Meo reasoned, would receive government protection.
But Meo's problems with the land mafia did not subside.
Ashfaq and Khan say that for years after the school was moved into the building, dead animals or blood-stained shrouds would appear in the courtyard overnight.
The land mafia, they explain, wanted to give the impression that the building was haunted so families would refuse to send their children there.
"They tried everything under the sun to scare us away," says Khan. "But we would quietly go in and remove such signs before the children showed up in the mornings."
Meo was determined that the school - and the temple building - would remain.
Babri Mosque
Then, the Babri Mosque was demolished.
Pakistan's government under Prime Minister Nawaz Sharif watched passively as hundreds of mobs ransacked historical Hindu temples across the country and attacked members of the Hindu community. At least 24 people are thought to have been killed.
It was just such a mob that had gathered outside the school that morning.
Ashfaq and Khan insist it had come from Hanjarwal, a neighbouring town.
Mushtaq agrees."People here weren't bothered about the temple," he says. "They already knew this was a school. But the boys from Hanjarwal, we were later told, had planned to walk all the way here to bring down the structure."
Meo was at the school that morning as the mob knocked on the door.
Unaware of what was happening to Hindu temples in other parts of the country, Meo and the teachers were caught by surprise.
"We were all inside the school … when suddenly we heard a loud thud on the door and the sound of shovels beating against the boundary wall," recalls Mushtaq.
The mob had brought shovels, spades and trowels with them. The structure may have taken on several different identities during its history, but that day, all that mattered to them was its Hindu identity.
After spending more than 20 years caring for the structure, Meo was not about to let anyone bring it down.
By then in his 50s, he confronted the 150-person strong mob, convinced that he could reason with them.
"My father raised his hands," Mushtaq explains. "His old age and stature were enough to make the mob stop at the door."
Mushtaq says his father talked to the mob for about two hours, explaining that destroying the temple to avenge the Babri Mosque would be against the injunctions of Islam.
Giving them the example of the Prophet Muhammad, who did not attack the property of any non-Muslim after the conquest of Mecca, Meo urged them to abandon their plans. He argued that now Pakistan had been created, it was their duty as Pakistanis to protect not just the Hindu community but also their places of worship.
"We, the Muslims, too, were once a minority before the Partition," Mushtaq says his father told them. "We should treat the minorities in the same way that we wanted ourselves to be treated then. Even though there are no Hindus here, we still ought to grant them freedom to worship as fellow Pakistanis. Let's not avenge the martyrdom of Babri Mosque by making a bad example of ourselves."
According to Khan, Meo told the mob that as the school catered to the poor children of the community, bringing it down would not only be a disservice to Islam but also to their futures.
Sections of the mob were unconvinced; they burned one of the temple's wooden doors and damaged part of its boundary wall. But most were persuaded and eventually turned away.
The temple had been saved.
Meo died in 2018, at the age of 83. Mushtaq, Ashfaq and Khan say his legacy lives on in this temple turned school.
"My father lived a truly selfless life. He devoted his time and energy towards others," says Mushtaq. "What started as an abandoned Hindu building, worthless to many at the time, is now a school for over 400 students, shaping the future of, hopefully, a more inclusive Pakistan."
https://www.aljazeera.com/indepth/features/muslim-saved-hindu-temple-mob-pakistan-191128133210411.html
------
PM holds huddle with Sindh allies, focuses on 'corruption' in province
Imran Ayub
December 07, 2019
KARACHI: Prime Minister Imran Khan with his party legislators and those of his government's coalition partners in Sindh on Friday discussed future political strategy in the province. Pursuing anti-graft cases against Pakistan Peoples Party's (PPP) leaders, federal government-funded projects mainly in Karachi and enhanced coordination among the allied parties for effective performance and result-oriented moves came under discussion, officials and sources said.
The leaders of the Pakistan Tehreek-i-Insaf (PTI), Muttahida Qaumi Movement-Pakistan (MQM-P) and the Grand Democratic Alliance (GDA), led by Sindh Governor Imran Ismail, flew to Islamabad where they held more than an hour-long meeting with the prime minister and discussed a range of issues.
A statement issued by the PM Office after the meeting gave sketchy details of the huddle, but hinted at an increased role of the federal government and its coalition partners in Sindh's governance matters.
"Prime Minister Imran Khan said the progress and prosperity of the people of Sindh was amongst top priorities of the government and all possible steps would be taken in that regard," said the statement.
"The meeting discussed progress on the ongoing social welfare and development projects in Sindh. The delegates informed the prime minister about the difficulties they faced in implementation of the roadmap for the development and prosperity of the people of Sindh."
Leaders of MQM-P and GDA flew to Islamabad to hold meeting with Imran Khan
It referred to the prime minister's resolve when he said that the key agenda of the PTI government was eradication of corruption. The prime minister reiterated that corruption would not be tolerated at any cost because it had deprived the country of development and prosperity. He said the process of accountability across the board would be continued uninterrupted in the whole country.
The meeting was attended by Kishwar Zehra, Kanwar Naveed Jamil, Mohammad Hussain Khan, Hameed-ul-Zafar and Mohammad Rashid Khilji of the MQM-P while Dr Fahmida Mirza, Ghous Baksh Mahar, Arbab Ghulam Rahim, Murtaza Jatoi, Ayaz Palijo, Safdar Abbasi, Zulfikar Mirza and Ali Gohar represented the GDA.
Apart from the Sindh governor, Shah Mehmood Qureshi, Asad Umar, Omar Ayub Khan, Ali Haider Zaidi, Muhammadmian Soomro, Naeemul Haq, Firdous Shamim Naqvi, Haleem Adil Sheikh, Mohammad Aslam Abro, Khurram Sher Zaman, Amir Baksh Bhutto, Jai Parkash Akrani, Ashraf Qureshi, Ali Junejo and Hasnain Mirza attended the meeting from the PTI side.
When contacted, leaders of the allied parties also shared details of the meeting which could further increase the political temperature in Sindh's politics. Among other issues which were discussed in the meeting, the leaders from all sides agreed with the prime minister to actively pursue the corruption cases against those in the Sindh government.
"Those who attended the meeting from Sindh briefed the PM on bad governance in Sindh and growing corruption," MQM-P MPA Mohammad Hussain Khan told Dawn after the meeting.
"The PM was clear that like the centre and other provinces, corruption would not be tolerated in Sindh. It's a very strong resolve of the government that it would eradicate corruption from all public institutions whether they are under federal or provincial government."
When asked about discussion on any measures that could practically check or eradicate alleged corruption in the Sindh government, he said that the federal government enjoyed all those powers and authority to address this issue in any province.
"It has yet to be seen what practical solution comes out for this strategy. But it's principally decided that the federal government would play its role for eradication of corruption in Sindh and it has all tools and authority available for practical implementation of its decision," said the MQM-P lawmaker.
https://www.dawn.com/news/1520824/pm-holds-huddle-with-sindh-allies-focuses-on-corruption-in-province
------
NAB focuses on case, not face, says anti-graft body chief
December 07, 2019
ISLAMABAD: National Accountability Bureau (NAB) chairman retired justice Javed Iqbal has said "national interest should be given priority over personal interests in the state of Madina". "The state of Madina is a dream and to achieve this goal we should work with dedication. We should prefer national interests over personal interests," he said while addressing a seminar on 'Role of youth in eradicating corruption' at the Fatima Jinnah Women University in Rawalpindi on Friday.
Apparently, the NAB chairman gave these remarks against the backdrop of the prime minister's vision he [the PM] presents almost in his every speech: to replicate the glorified welfare state of Madina, in Pakistan.
Talking more about the dream of state of Madina, Justice Iqbal said: "People become successful when they fight ups and downs bravely. We should work hard for achieving the goal of making [Pakistan] Madina state."
Talking about his department's functioning, the NAB chairman said: "NAB only considers case, not face." He said the anti-graft watchdog was committed to eradicating the menace of corruption by pursuing the policy of accountability for all indiscriminately. "If accountability is crime, NAB will continue to commit it for making Pakistan a corruption-free country," he added.
Iqbal says national interest should be given priority over personal interests
Criticising the Pakistan Tehreek-i-Insaf government, he said that despite millions of rupees of health budget, anti-rabies vaccines were not available. "If asking such a question is a crime, we will continue committing this crime" he added.
"Few families have become rich by looting the country's wealth. Looted wealth would be taken back from them," said the NAB chairman.
Since its inception, he said, NAB had deposited Rs328 billion in the national exchequer which was a record success. "NAB wants to enhance awareness about the menace of corruption among the people and [motivate them] to play a positive role [in this regard]," he said.
"NAB has signed a memorandum of understanding with the Higher Education Commission for establishing over 55,000 character-building societies in different schools, colleges and universities," he said.
"Corruption has made unmatched progress in the country and pushed the national economy to the verge of destruction. Surgery is needed to eradicate the menace. NAB is performing its duties without caring about any intimidation and threats," the NAB chief said.
Javed Iqbal said eradication of corruption was the first and last goal of NAB, but the bureau could not deal with this 70-year-old menace alone. "We all should play our role in ensuring self-accountability; this will help in eradicating corruption."
Javed Iqbal asked the new generation to help NAB in eradicating corruption. "This dream can turn into reality by sheer hard work. And bright future of students is linked with the bright future of the country," he added.
Assurance to business community
Talking about the concerns of the business fraternity, the NAB chief assured them that nobody would hurt them, but in the same breath warned that accountability of the owners of housing societies would be ensured.
"Our mission is only the betterment of the country and if this is a crime we will continue committing it," he said.
"NAB has recovered Rs153bn from the corrupt and deposited in national exchequer during the last 25 months," he said, adding that 1,262 cases valuing Rs943bn were still pending before different accountability courts.
https://www.dawn.com/news/1520918/nab-focuses-on-case-not-face-says-anti-graft-body-chief
------
PML-N walks out of NA over non-issuance of production orders
December 07, 2019
ISLAMABAD: The main opposition Pakistan Muslim League-Nawaz on Friday staged a walkout from the National Assembly in protest against non-issuance of production orders for two detained leaders of PML-N Rana Sanaullah and Khawaja Saad Rafique.
Balochistan National Party-Mengal (BNP-M) chief Akhtar Mengal also walked out of the house on the issue of arrest of four women in Awaran district of Balochistan four days ago.
Proceedings of the lower house could not continue for more than 10 minutes after one member of the National Assembly pointed out lack of quorum and the session was adjourned till Monday.
Proceedings came to a halt within 10 minutes over lack of quorum
As the NA session began after recitation from the Holy Quran and playing of the national anthem, some leaders of the PML-N stood up to discuss the matter of non-issuance of production orders for their two leaders, but they were not allowed the discuss the matter by Deputy Speaker Qasim Khan Suri, who was presiding over the house.
After PML-N leaders' walkout, BNP-M chief Akhtar Mengal, a government ally, also stood up and demanded the release of the four women picked up by intelligence agencies from Awaran district of Balochistan.
Mr Mengal also staged a walkout in protest against the "illegal detention" the four women and keeping them in a torture cell. On Thursday, he had staged a sit-in in front of the speaker's dais on the same issue.
According to Mr Mengal, four women had been arrested on Nov 29 and taken away to a torture cell and were allegedly tortured there.
On Tuesday, the BNP-M had termed the reported arrest of the women a "direct attack on the traditions of Baloch people". The party had demanded the formation of a high-level committee to investigate the incident.
https://www.dawn.com/news/1520915/pml-n-walks-out-of-na-over-non-issuance-of-production-orders
------
IHC once again reserves verdict on petition seeking three MNAs' disqualification
Malik Asad
December 07, 2019
ISLAMABAD: The Islamabad High Court (IHC) on Friday once again reserved its order on a petition seeking disqualification of three PTI woman members of the National Assembly.
Earlier on July 31, IHC bench comprising Justice Aamer Farooq reserved the verdict on the petition.
However, the judge later on observed that since some legal issues required to be addressed, therefore, he decided to re-hear the matter.
The court, however, on Oct 18 deferred the pronouncement of the verdict as the judge was of the view that some legal questions related to filing of nomination papers and its scrutiny were required to be re-examined.
Subsequently, the court issued notices to the respondents again and after hearing their arguments reserved the verdict on Friday.
Petitioners had challenged eligibility of Maleeka Bokhari, Tashfeen Safdar and Kanwal Shauzab
The petitioners had challenged the eligibility of MNAs Maleeka Bokhari, Tashfeen Safdar and Kanwal Shauzab, alleging that they were dual nationals.
In March 2018, Ms Shauzab had contested the Senate election on a general seat from the federal capital but she did not win the election.
The petition said that Ms Shauzab's permanent and present addresses were in Rawalpindi and Sargodha, but she gave Islamabad as her permanent address hence she had misled the ECP about her residence and registration of vote and was, therefore, ineligible to contest the elections for the National Assembly.
The petitioners' counsel argued before the court that the Federal Investigation Agency (FIA) had identified Ms Bokhari as a UK passport holder.
Through an affidavit, in support of her nomination papers dated June 19, she said she had renounced her British nationality and surrendered her passport.
She claimed that the UK Home Office had also acknowledged the renunciation of her British nationality.
The petition said Ms Bokhari had referred to an email correspondence she made to the first secretary justice and home affairs at the British High Commission in Islamabad and Dave Walsh at the UK Home Office "in support of the duly signed and stamped declaration of renunciation".
The petition said the emails had date of June 11, 2018, and Ms Bokhari had submitted her nomination papers a day earlier.
Therefore, it contended, based on the deadline set by the ECP for nomination papers' submission, she was still a dual national.
Regarding Ms Safdar, the petition said that she had submitted her nomination papers on June 8, while an FIA report submitted to the ECP identified her as a British passport holder.
In her affidavit, Ms Safdar said that she had "not ceased to be a citizen of Pakistan nor had acquired or applied for the citizenship of a foreign state".
The petition said she held a foreign passport/nationality when she surrendered it vide a declaration of renunciation dated March 25, 2013, which was registered and effectuated/operative by the Home Office, UK, on April 4, 2013.
It maintained that Ms Safdar had failed to disclose her renunciation in the affidavit dated June 8 and that "failure to do so [is] tantamount to mala fide, perjury and fabricating false evidence".
https://www.dawn.com/news/1520834/ihc-once-again-reserves-verdict-on-petition-seeking-three-mnas-disqualification
------
Public safety body censures Sindh IGP for missing second consecutive meeting
Habib Khan Ghori
December 07, 2019
KARACHI: The Sindh Public Safety and Police Complaints Commission passed a resolution against Inspector General of Police Dr Kaleem Imam for failing to attend a second consecutive meeting of the statutory body chaired by Chief Minister Murad Ali Shah on Friday.
The resolution against IGP Imam was passed as he chose to attend an emergency meeting convened by the prime minister in Islamabad instead of participating in the commission's meeting held at the CM House.
According to the agenda of the meeting, the IGP was supposed to submit a comprehensive report on action taken against drug mafia, manufacturers/smugglers of gutka, mainpuri, narcotics, arrests made and cases filed in courts.
The other items of the agenda included review of detailed reports submitted by the IGP regarding the students' issue in Shaheed Benazirabad University; Mehrabpur incident of beating of a child and Pir Jo Goth incident of suicide of a boy.
Other items on the agenda included provincial annual policing plan, office space for the commission, progress on establishment of the district public safety and police complaints commission, district selection panel and rules of procedure of the commission.
Murad expresses displeasure over 14 polio cases in Sindh
It was the third meeting of the commission and the IGP was also absent in the previous meeting.
At the outset, participants of the meeting came to know that the IGP had flown to Islamabad to attend a meeting. The chief minister said that the IGP had informed him about an emergency meeting convened by the prime minister so he had been called there.
However, one of the members of the commission disclosed that it was not an emergency meeting as it was scheduled before the current month.
The commission members observed that it was the second consecutive meeting which the IGP had "avoided". They felt that the police chief was not ready to attend a meeting of the body.
Karamat Ali, a senior member of the commission, in consultation with other members presented a resolution to express their displeasure against the absence of the IGP from the meeting.
The resolution further said that the IGP preferred to attend a "political" meeting in Islamabad and avoided the meeting of a statutory body in Sindh.
The commission unanimously passed the resolution against the IGP.
Later, the commission called Karachi police chief Additional IG Ghulam Nabi Memon, Addl IG Yaqoob Minhas and DIG Khaliq Shaikh in the meeting and Mr Ali informed them about the resolution passed against the IGP.
Mr Ali told the city police chief that the commission was postponing the agenda relating to the IGP and was taking up only administrative items.
The commission members also expressed surprise that the federal government was inviting the IGP and other top officers serving in Sindh without informing the chief minister. In principle, they should be called in meetings through the chief executive of the province, they added.
The commission discussed the office space for the commission and other items.
The commission was told that a few offices had been identified and now the members had to visit the places to select a location.
As far as rules of procedure of the commission were concerned, Advocate Jhamat Mal told the meeting that he framed the rules and further input of the members was required. Therefore, the commission members were asked to submit their input.
The secretary of the commission, Saifullah Abro, informed the members that he requested the district administration to recommend names for district public safety and police complaint commission so that it could be established.
The commission members decided to convene the fourth meeting of the body within next 10 days in which police complaints would be discussed.
The meeting was attended by its members Sharjeel Inam Memon, Imdad Ali Pitafi, Mohammad Ali Aziz, Shahnaz Begum, Shamim Mumtaz, Karamat Ali, Advocate Jhamat Mal and Qurban Ali Malano. CM's Law Adviser Murtaza Wahab attended the meeting on a special invitation.
Murad irked by detection of 14 polio cases in Sindh
The chief minister also presided over a meeting of the provincial task force for polio eradication at CM House.
He expressed his displeasure and anguish over detection of 14 polio cases in the province during 2019.
He directed the health department to launch a fresh campaign with a new strategy and vigour by involving councillors, members of the provincial assembly and also administer polio drops to every person at transit points such as Jacobabad, the Mochko post and Karachi Toll Plaza.
He also declared Sindh would be polio free in 2020 for which he assigned the task to all departments, divisional, district and municipal administrations.
The meeting was attended by Health Minister Dr Azra Pechuho, Local Government Minister Nasir Shah, Karachi Mayor Wasim Akhtar, Shahnaz Wazir Ali and other senior officials.
The chief minister said that the emergence of 14 cases in the province in 2019 had undone all the efforts the provincial government had taken so far.
"We had 30 cases in 2014 and after that the provincial government with its effective campaign controlled the situation and the cases started declining," he said, adding that in 2015 there were 14 cases, in 2016 eight cases, in 2017 two cases and in 2018 one case only.
He lamented that in 2019 "we have returned to the worst situation which was somewhere between 2014 and 2015".
The chief minister said that the cases detected from Karachi were among those children who originally belonged to Balochistan and Khyber Pakhtunkhwa.
The next anti-polio campaign would start from Dec 16 and continue till Dec 22 in all 29 districts and 1,125 union councils of the province. In the campaign all 9,087,234 children would be administered with the polio vaccine.
Mr Shah said that he would hold a meeting on Dec 23 to review the progress of the eight-day campaign. "I'll take all the DCs and local bodies' representatives on video link," he said and added he would personally monitor the campaign so that Sindh could be made a polio-free province by the end of 2020.
https://www.dawn.com/news/1520822/public-safety-body-censures-sindh-igp-for-missing-second-consecutive-meeting
------
South Asia
Bangladesh Bank Criticised For 'Sexist' Job Circular
December 06, 2019
Dhaka: The Bangladesh Bank was criticised for a "sexist" job circular, where it asked married female applicants to mention their husbands permanent address as their own, it was reported on Friday.
The central bank's human resource department had issued the circular signed by General Manager Noor-Un-Nahar on Sunday seeking applications to fill up vacant posts of Assistant Director (General), reports bdnews24.
"A married female applicant must mention the permanent address of her husband as her own," reads point No. 14 of the notification.
Nasimun Ara Hoq Minu, president of Bangladesh Nari Sangbadik Kendra, an organisation of female journalists, told bdnews24.com on Thursday: "It's neither realistic, nor is it contextual.
"It's not contextual because the employers must see only the applicant's eligibility, not their marital status.
"And there is no such rule in any government job. It's an applicant's personal matter what permanent address they will give. They can use the in-laws' address if it's necessary."
Bangladesh Bank spokesperson Serajul Islam told bdnews24.com it follows rules set by the government.
"But we will see to it that no one faces any problem. We will request the related department to take steps in accordance with the applicants' demands," he said.
https://www.ndtv.com/world-news/bangladesh-bank-criticised-for-sexist-job-circular-2144428
------
Rohingya Genocide Trial: ICJ on course to hold hearings
December 07, 2019
Porimol Palma
The Gambia is set to launch a legal battle against Myanmar at the International Court of Justice as it starts hearing the Rohigya genocide case on Tuesday.
Gambia Attorney General and Justice Minister Abubacarr Marie Tambadou and Myanmar State Counsellor Aung San Suu Kyi will lead the lawyers on behalf of their respective countries during the December 10-12 hearing at the court in The Hague.
The hearing will be held from 10:00am to 1:00pm on Tuesday and Wednesday and from 10:00am to 4:30pm on Thursday (Netherlands local time), according to the ICJ, the top UN court that holds the state parties accountable.
The Gambia is seeking provisional measures to protect the Rohingya from further violence in Rakhine, according to a brief on the case prepared by International Commission of Jurists, a Geneva-based non-profit organisation.
The court can issue such orders to protect the rights of the parties to a case pending the final decision to avoid irreparable damage to the rights of the subject of the case, it added.
According to the case statement, all members of the Rohingya group in Myanmar are presently in grave danger of further genocidal acts. They continue to face daily threats of death, torture, rape, starvation and other deliberate actions aimed at their collective destruction, in whole or in part.
"Lawyers will also ask the judges of the top UN court to issue orders so that Myanmar does not destroy any evidence of massacres that happened in 2016 and 2017 in Myanmar's Rakhine state," said Nay San Lwin, campaign coordinator of Free Rohingya Coalition, a global alliance of the Rohingya, which is closely working with The Gambia.
The African country, on behalf of the 57-member Organisation of Islamic Conference (OIC), had filed the lawsuit against Myanmar on November 11, accusing it of violating the UN Genocide Convention.
The move came more than two years after some 7,50,000 Rohingyas fled a brutal military campaign in Rakhine and took shelter in Bangladesh.
The Gambia in its lawsuit said the Rohingyas were facing longstanding persecution and discrimination. From around October 2016, Myanmar military and other security forces began widespread and systematic "clearance operations" against the group.
"The genocidal acts were intended to destroy the Rohingya as a group, in whole or in part, by the use of mass murder, rape and other forms of sexual violence, as well as the systematic destruction by fire of their villages, often with inhabitants locked inside burning houses," it said.
From August 2017 onwards, such genocidal acts continued with Myanmar's resumption of "clearance operations" on a more massive and wider geographical scale. These facts are extensively documented by UN independent investigators and corroborated by international rights organisations, the lawsuit said.
Myanmar denies allegations of genocide, saying its army was fighting militants who attacked security posts. Nobel laureate Suu Kyi, whose image was tarnished for not doing enough to prevent Rohingya genocide, will try to defend Myanmar at the ICJ.
Rohingya activists say several hundred Myanmar nationals are likely to be present in The Hague to demonstrate their support for Myanmar.
"This is a historic case. We have been facing genocide for decades. It's a chance we will have justice," Rohingya activist Nay San Lwin told The Daily Star over the phone from Germany yesterday.
He said over 100 Rohingya activists, mostly from Europe, were going to attend the hearing. Besides, people from a number of other ethnic communities would be there.
Nay will fly to The Hague on Monday.
International Commission of Jurists said any decision by the ICJ shall be communicated to the UN secretary-general for transmission to the UN Security Council. The court may also request information from the parties on any matter concerning implementation of the provisional measures.
Northern Alliance bloc of ethnic armed groups -- the Ta'ang National Liberation Army, Arakan Army and Myanmar National Democratic Alliance Army -- have welcomed the lawsuit against Myanmar, reports Anadolu Agency.
The groups said they stand ready to cooperate and collect evidence of war crimes and are in full support of the international organisations that have taken up the matter with the court.
Prof Mizanur Rahman, an expert on international law at Dhaka University, said if the ICJ primarily found evidence of genocide, it could issue an order for provisional measures.
"It would really be a good progress," he told this correspondent.
Genocide researcher Mofidul Hoque, also a trustee of the Liberation War Museum, said it was quite unique that Suu Kyi, an alleged perpetrator, would be leading a legal team to The Hague.
He said there was enough evidence to prove the case in the court.
https://www.thedailystar.net/frontpage/news/rohingya-genocide-trial-icj-course-hold-hearings-1836880
------
Afghanistan Needs Billions in Aid Even After a Peace Deal, World Bank Says
By Mujib Mashal
Dec. 5, 2019
KABUL, Afghanistan — As the United States urgently pushes a peace deal with the Taliban to end its costly military presence in Afghanistan, the World Bank has warned that the war-stricken country will still require billions of dollars in international aid over many years after a peace deal to deliver basic services and sustain any potential peace.
Eighteen years of expensive American and NATO military presence marked by inefficient funneling of billions of dollars has shaped an economy almost entirely dependent on foreign aid. The country's $11 billion in public expenditure each year is a far cry from its modest revenues, which even after recent improvements barely reach $2.5 billion, officials and analysts say. The difference, about 75 percent of expenses, is footed by grants from international partners, particularly the United States.
A new World Bank report, titled "Financing Peace," addresses the idea that American and other international donors to Afghanistan see a potential deal with the Taliban as what one official described as an "out of jail card" to significantly reduce their costs in Afghanistan, particularly on the civilian side. The report warns that even after a settlement with the Taliban the country would still require financial assistance at near current levels, as much as $7 billion a year for several years to come, to be able to sustain its most basic services.
About half of Afghanistan's public expenditure goes to a security force of around 300,000 members who are locked in an intensifying war with the Taliban. Officials do not expect the size of that force, too large for its own means, to shrink immediately after a peace deal; in fact, it would be likely to grow if part of a peace deal involved integrating Taliban fighters into the security forces.
Meanwhile, the most basic civilian services are already underfunded, with the economy growing at a slower pace than the rate of population growth. More than half of the population is considered below poverty line. That has become a national security concern, as support for the central government is tightly tied to the delivery of services — and that would be even more so immediately after a peace deal, with more people expecting an improvement in their lives when the war ends.
"A sudden and substantial reduction in civilian grants would risk a reversal of the gains that have been achieved, driving increased hardship and poverty," said Henry Kerali, the World Bank country director for Afghanistan. "While Afghanistan is not expected to be reliant on grants forever, the pace of decline in grant support needs to reflect current realities."
When the United States invaded Afghanistan in 2001, there was little government infrastructure left after decades of conflict. The capacity to absorb the large amounts of money that came in — about $130 billion so far from the United States alone — was simply not there. Government corruption and a wasteful system of contracting and subcontracting, both inside Afghanistan and in Washington, created an inflated economy simply unrealistic for the means of the country.
Even 18 years later, nearly half of the international aid is still spent not through the Afghan government, which donors say is still marred by corruption, but rather through contracts where a major slice is simply lost on layers of handoffs and the costs of expensive international consultants brought in on projects. Often, the Afghan government has little idea of how much money is being spent at a particular time around the country in its name, struggling to keep tally of all the contracts.
Khaled Payenda, a former deputy finance minister of Afghanistan, said that donor fatigue was understandable considering the war had dragged on for 18 years.
"But for me, and for so many people who believe in better aid, it's not the levels of assistance that are important, but rather how you spend the money," said Mr. Payenda. "Five hundred million dollars from USAID could mean two or three big contracts to big U.S. subcontractors, or a lot of good work through the government's budget."
The current cycle of financial commitments of international donors to Afghanistan, with just under $5 billion in security assistance each year and $3.5 billion in civilian aid, expires next year. The discussion around the future of aid is happening amid what one Western official called a "perfect storm" — the government in Kabul is locked in a messy re-election dispute and also disagrees with the United States over how peace talks with the Taliban should proceed. In the West, the conversation is more focused on Brexit and President Trump's desire to reduce costs abroad as fulfilling a campaign pledge of refocusing domestically.
Afghan and Western officials say that while there is little concern about European donors reducing aid, the United States government — the biggest donor to Afghanistan by far — has signaled to expect a significant reduction at least in civilian assistance in the next cycle.
A State Department spokesman said a reduction in civilian aid has been a gradual process over the years, aligned with the American objective of assisting the Afghan government in expanding its "capacity and desire for greater self-reliance." United States civilian assistance has dropped to $480 million in 2019, from $4 billion in 2010.
"Earlier this year, the U.S. embassy in Kabul led a review of all U.S. civilian assistance," the spokesman said. "The review endorsed the present strategy and concluded that future requests for civilian assistance will continue to responsibly decrease as U.S. policy objectives are met in Afghanistan."
https://www.nytimes.com/2019/12/05/world/asia/afghanistan-aid-world-bank.html
------
Deadly Clashes Erupt in Volatile Northern Afghan Province
By Ayaz Gul
December 06, 2019
ISLAMABAD, PAKISTAN - New clashes between government security forces and the Taliban in northern Afghanistan are said to have killed around 20 combatants on both sides.
The predawn fighting in Kunduz province erupted after insurgents assaulted several Afghan police outposts in the volatile Imam Sahib district.
A provincial police spokesman, Inamuddin Rahmani, told VOA the clashes left at least nine police personnel, including a local commander, dead and several others injured. He said 11 assailants were also killed.
For its part the Taliban claimed in a statement that the raid killed 14 among the government forces and overran the security posts. It did not give insurgent casualties.
It was not possible to verify either claim from independent sources in a province that has been the site of intense fighting for years. The Taliban twice captured, though briefly, the provincial capital, also known as Kunduz.
The latest fighting comes as the United States is preparing to relaunch its peace negotiations with the Taliban, possibly next week, nearly three months after President Donald Trump abruptly halted the process.
U.S. chief negotiator, Zalmay Khalilzad, is currently visiting the Afghan capital of Kabul, where he is holding meetings with politicians inside and outside of the government before heading to Doha, Qatar, where Taliban negotiators are based.
"In Doha, Ambassador Khalilzad will rejoin talks with the Taliban to discuss steps that could lead to intra-Afghan negotiations and a peaceful settlement of the war, specifically a reduction in violence that leads to a ceasefire," a State Department announcement said.
The Gulf nation played host to the yearlong U.S.-Taliban dialogue before it was called off by Trump on September 7, when the process had entered a decisive stage, say Taliban officials. Trump had cited intensification in deadly insurgent attacks in Kabul that also killed, among others, an American soldier.
The two foes in the 18-year war, America's longest, had come close to concluding an agreement that would have set the stage for a phased withdrawal of U.S and NATO forces. In return, the Taliban would have immediately observed a ceasefire in areas of troop withdrawal and given counterterrorism assurances, The insurgent group would have also been required to launch intra-Afghan negotiations to discuss a permanent ceasefire across Afghanistan among other political issues.
https://www.voanews.com/south-central-asia/deadly-clashes-erupt-volatile-northern-afghan-province
------
Sri Lanka Govt To Invite Fresh Muslim Representatives
7 December 2019
The SLPP will invite new Muslim representatives to join the party before the general elections and have assured of equal minority representation in the new cabinet if it wins the general elections next year, Cabinet Spokesperson, Ramesh Pathirana told the Daily Mirror yesterday.
Noting that the interim cabinet did not have any minority representation, Minister Pathirana said this was due to the existing Muslim political parties pledging their support to Sajith Premadasa at the November 16 presidential polls.
However he said under the instructions of President Gotabaya Rajapaksa, the SLPP will invite leading Muslim representatives who supported the President's campaign to contest at the general elections so that there can be a strong minority representation when the new cabinet is appointed, if they win the polls.
When questioned if the SLPP would approach MP Rauf Hakeem from the Sri Lanka Muslim Congress (SLMC) and MP Rishard Bathiudeen from the All Ceylon Makkal Congress, Minister Pathirana said these two parliamentarians will not be approached due to allegations still not being cleared, of there alleged indirect or direct links with radical Islamic groups.
"There are many new strong Muslim representatives we will approach. Even though some of these existing Muslim parties did not support President Gotabaya Rajapaksa at the Presidential polls, we still had a sizable Muslim community who supported the President. We will have fresh representation," Minister Pathirana said.
The SLPP, along with SLFP and 15 other political parties have decided to contest the general election under a broader coalition named Sri Lanka Freedom People's Alliance, which was formed before the November 16 Presidential Election.
Some of the other parties in the alliance include the UPFA, SLPP, National Freedom Front (NFF), Pivithuru Hela Urumaya (PHU) and Mahajana Eksath Peramuna. (Jamila Husain)
http://www.dailymirror.lk/breaking_news/Govt-to-invite-fresh-Muslim-representatives/108-179206
------
Sri Lanka Muslim party leader 'fine' with lack of Muslim ministers in new government
Sat, Dec 7, 2019
Dec 07, Colombo: Leader of Muslim party, All Ceylon Makkal Congress (ACMC), former Minister Rishad Bathiudeen says he has no issue with the lack of Muslim ministers in the current government under President Gotabaya Rajapaksa and the new government takes all people as "Sri Lankans".
"They won with a majority. They can appoint the Cabinet as they want-that's their right. If they see us too as Sri Lankans and if they treat us equally, that is enough for us," ACMC Leader Bathiudeen said addressing a press briefing yesterday (06).
ACMC Leader Bathiudeen also voiced his grave concerns on increasing political mud-slinging against him on such charged issues as the Wilpattu and Easter Sunday bombings.
"They used terrorist leader Sahran's incident to create anti-Muslim fear among the voters of the majority community and won the Presidential election. They cannot politically market Sahran again in the forthcoming general elections. Therefore they need a new target. That is us, Muslim leaders-mainly I and leader of SLMC Rauff Hakeem. However, this is very wrong. Both I and Hakeem are democratically elected Muslim political leaders and not in any way similar to Sahran" Bathiudeen said.
Speaking about the Wilpattu issue, the former Minister and Wanni district MP said he has been pointed out as a person who destroyed Wilpattu national forest.
"I did not destroy any parts of Wilpattu Forest Reserve by abusing my powers. In 2009, the Muslim refugees displaced in 1990 received the opportunity to re-settle in their original lands," he said.
Former Industry and Commerce Minister yesterday called on President Gotabaya Rajapaksa to appoint Presidential commissions to investigate the Easter Sunday attacks and the alleged destruction of the Wilpattu National park.
In a letter to President Rajapaksa, MP Bathiudeen said certain groups using various media outlets are engaged in leveling "baseless and unfounded allegations" against him for narrow political gains and to fan "communal flames".
http://www.colombopage.com/archive_19B/Dec07_1575695824CH.php
------
Fidah, a talented Afghan Rapper with a unique music style that comes all the way from Canada
Saturday, 07 Dec 2019
Fidah is the one who makes the choice to sacrifice if the cause is worthy. Like Socrates during his trial or Mohandas when he faced hunger; Hassan-e-Sabbah on Alamut Mountain. The gift of oneself for the common good.
Originally from Afghanistan, born in Moscow, Russia, Ahmad Salim aka Fidah arrived in Montreal at the age of 1 when his parents and his five brothers and sisters fled the war in Kabul during the early Cold War in the 90s, to come to Canada. The family spent a few years in Pakistan and then in Russia, arrived in Montreal in 1997 to live in a small neighbourhood district that is commonly called The Ghet, Place-Saint-Martin for google, Saint-Martin de Tours for historians, Charles-Edouard Jeanneret Le Corbusier for the geniuses of the street. The family was among many as a refugee from wars in this area of the 450.Salim grew up watching her family challenge the challenges of life, cultural shock, getting to know each other as Afghan, Muslims and Quebecers, Canadians at the same time. Fidah spent 20 years of his life there: "I know his in, those behind and all his ways." as he says. Moreover, the first scene of his clip "Sama" (directed by his brother @zahirxbatin and @MaxVisons) was shot there!
Concerning the inspirations of his name Fidah it is in relation to his relation with the Islamic spirituality and his Muslim confession which pushes him to engage in the fight against the violence and the ignorance by engaging in an intellectual, poetic and musical fight. The inspiration of the title Sama is from an Arabic word that refers to the notion of spiritual hearing. A particular modality to the divine invocation within the Sufi / Mystical brotherhoods of Islam. Fidah uses this notion in the Hiphop.
Fidah's love of writing and music started at the age of 13. From a very young age he used to play drum on everything that goes by his hands and fingers. His brother Shuhib said that he felt the music in these noises made by tapping on everything similar to Synesthesia. Although he had an average level in French, Fidah continued to learn the language and enrich his lexicon. On his very first notebook he wrote his first beat, "Relique du ghetto". Since that day, he wrote prose, rap, wisdom, insults, stories and discoveries every day. Shuhib, his older brother, offered him books to read; Beaudlaire, Rumi, Nasir-e Khusraw, Avicenna, Plato, Aristotle and of course the Holy Qur'an.When he was young, he wrote songs all by himself in his room and imagined himself on stage, but now he can finally go on stage, but he imagines himself alone in his room. He would be 23 years old soon.
Fidah had a Muslim rapper friend, Anasse, and they talked together about the mechanism of hiphop and how to balance their lives between profession and faith in God. They listened to Eminem, Big L, Lunatic Booba / Ali, Nessbeal, Sniper, IAM, Little Brother, Shurikn, Medina, Manu, Vai, Samian, Soprano and many others. With former stage names for Annasse, it's Kamicaz and Fidah was Iss-iz. Kamicaz, has recorded the first official sound of Fidah which is entitled "Faut de la maille" at the age 14 years old. One of his favorite punchlines is: " Avec le temps, je me perds dans ses courbatures, la vérité se caricature…Suis-je un peintre ou une peinture?" His brother Shuhib has always supported him by explaining to him how the music industry works while signing on the @ZahirXBatin label. After buying beats on the internet Fidah's brother decided to produce the rapper's next sound by merging Persian melodies and the 808s. The rapper is already preparing a studio mixtape and a video freestyle in the near future.
The Hiphop in Montreal, the New France hiphop.
For those who are not familiar with rap in Quebec, there are Nzey, JKilla, Annasse a.k.a Kamicaz, YH, Mad Yizzy Kid.H2war, there are Nino Birdz and Gioco to see absolutely,they killing everything!
A few years ago, Fidah was able to do the first part of Manu Millitari, one of his idols, among the best in Quebec! After this performance, the rapper knew he wanted to spend his life on stage and make a place in the French rap game. The current rap scene draws a lot of Fidah with: Vai and his new album Colors, Samian, Drake, J.Cole, Kendrick Lamar, Royce, Da 5.9, and Booba always, rap game boss!
Attracted by the incredible fusion of sounds, cultures, rapper energies, Fidah is very ambitious to make a classic like Nas / Lunatic or to start a trap style with sensible content. Fidah already has a few recorded tracks that will come out very soon, "Calmate" and "Parlé", "Parlé" is available on Soundcloud with a clip to come characterized by the 90s hiphop. Fidah wants to come to France to meet his idols rappers and freestyle in radio and he even has the ambition to collaborate musically with them such as Sofiane, Youssoupha, La Fouine, Nekfeu, Booba / Ali, Volt Face, Moha La Squale, Lartiste, Medina, Tunisiano, and Soprano. In any case, Fidah will enter the rap game with its musical / intellectual coming out, for those who are afraid of gray areas, you will see all black!
https://www.khaama.com/fidah-a-talented-afghan-rapper-with-a-unique-music-style-that-comes-all-the-way-from-canada-23987/
------
Africa
Nigerian authorities detain Shia group leader with ties to Iran
Saturday, 7 December 2019
Nigerian authorities have arrested Nigerian Shia leader Ibrahim Zakzaky upon his return from India, where he was refused treatment because his sectarian ties to Iran do not abide by the country's residency regulations.
The leader of the Islamic Movement in Nigeria (IMN) Zakzaky and his wife are both being held in Nigeria's Kaduna Prison, and Zakzaky's trial has been postponed to February 2020, according to the Persian Al-Alam news channel website.
According to unnamed sources, India expelled the Shia leader out of fear that he would use his time in India to spread his sectarian views.
Zakzaky was arrested in December 2015 after the Nigerian government stormed the Islamic Movement in Nigeria (IMN), resulting in approximately 350 deaths. In early August, Zakzaky's brother had accused Iran of converting Zakzaky and said the IMN should be proscribed for causing terror, according to an interview with Nigeria's Punch Newspapers.
Zakzaky founded the IMN in the early 1980s after he visited post-revolution Iran. The group draws inspiration from Iran's former Supreme Leader Ruhollah Khomeini, with members having to pledge allegiance to Khomeini before pledging allegiance to Zakzaky.
The group has been banned and designated as a terrorist organization by the Nigerian government, amid fears that its military-trained members may launch an insurgency against Sunni President Muhammadu Buhari's government, whose authority it rejects.
Iranian Press TV had reported in late August that the Shia leader left an Indian hospital without treatment and arrived back in the Nigerian capital Abuja.
Semi-official Iranian news agency Fars had said in a report published in August that Indian authorities gave Zakzaky two hours to accept the treatment available, or else leave the country, citing the head of the pro-Iran Islamic Human Rights Commission.
In a video, Zakzaky accused the Nigerian authorities of providing India with false information about his illness and preventing him from receiving treatment.
https://english.alarabiya.net/en/News/world/2019/12/07/Nigerian-authorities-detain-Shia-group-leader-with-ties-to-Iran-.html
------
Islamic Movement in Nigeria condemns transfer of Sheikh Zazaky, wife to Kaduna prison
December 6, 2019
AhlulBayt News Agency (ABNA): The Islamic Movement in Nigeria (IMN) denounced the transfer of their leader, Sheikh Ibrahim Zakzaky and his wife from the custody of Nigerian Department of State Security Service to the Kaduna central Correctional Service as ordered Thursday by the state high court.
In a statement issued on Thursday, the IMN spokesman, Ibrahim Musa, said that any attempt to take Sheikh Zakzaky and his wife to anywhere other than a hospital that is sufficiently equipped to handle their medical needs amounts to punishing them further.
The group also lamented that the facilities at the Kaduna Central Prison where the couple were taken to, are dilapidated.
According to the statement, it was in that very prison that some survivors of the Zaria genocide of December 2015 died due to lack of medical attention.
"It can therefore never be a substitute for appropriately furnished medical facility that can take care of their urgent medical needs," the statement read in part, according to channelstv.com.
The IMN's full statement is as follows:
*We Are Vehemently Opposed to Subjecting Sheikh Zakzaky to Further Hardships In Whatever Guise*
The Islamic Movement in Nigeria condemns the wicked antics adopted today in court by the Kaduna state government through their prosecuting counsels aimed at humiliating our leader, Sheikh Ibraheem Zakzaky, and subjecting him to further hardships. These mischievous moves by the Elrufai government were equally meant to ridicule the formidable legal team of the Sheikh, who had consistently defeated their team in all cases thus far, including securing a landmark favorable judgment ordering the immediate release of the ailing Sheikh and his wife, both of whom the government is still detaining in contempt of a competent court order.
It will be recalled that the Kaduna state government had chosen a path of dishonor and shame in charging the Sheikh and his wife for aiding and abetting alleged offences they couldn't prove in the same court against hundreds of his supporters.
They refused to diligently pursue the case, but rather use one flimsy excuse or the other to delay making any progress in the case because of their knowledge that they don't have a case against them. When the court granted them medical leave to go and seek urgent medical attention in India, the government had opposed, trying to rather put obstacles on their paths.
Then they attempted to assassinate the Sheikh, with the active connivance of NIA, in India. That too was botched with the Sheikh opting to rather return to Nigeria. Since that return, the Sheikh and his wife have been largely held incommunicado. No contact with their legal representatives was given and only a minimal contact with doctors, and even that only after the Sheikh's wife took seriously ill in detention.
We, therefore, take a very strong exception to the misinformation in court today that they were being allowed unfettered access to their legal representatives. To rub salt to injury, the prosecuting counsels had requested the court to order the immediate transfer of these very ill persons to the ill-equipped Kaduna Convict Prison rather than to a well-equipped medical facility.
The Kaduna prison is dilapidated and is without any medical facility. It was in that very prison that some survivors of the Zaria genocide of December 2015 died due to lack of medical attention. It can therefore never be a substitute for appropriately furnished medical facility that can take care of their urgent medical needs.
We view any attempt to take Sheikh Zakzaky and his wife to anywhere other than a hospital that is sufficiently equipped to handle their medical needs as punishing them further.
Their absence in court again today is even worrisome, because they were equally absent during the last court session because of what their counsel, Femi Falana, said at that time, was due to their deteriorating health conditions.
We, therefore, vehemently condemn any attempt at further subjecting Sheikh Zakzaky and his wife to more hardship. We reiterate our unequivocal demand for their immediate and unconditional release. We will never waiver or succumb, and will leave no stone unturned in our legitimate demand for his freedom.
https://en.abna24.com/news//islamic-movement-in-nigeria-condemns-transfer-of-sheikh-zazaky-wife-to-kaduna-prison_991710.html
------
At least eight killed in Kenya in suspected Islamist militant attack
DECEMBER 7, 2019
NAIROBI (Reuters) - Several people were killed on Friday when suspected Islamist militants attacked a bus in Kenya near the border with Somalia, police and local media outlets said.
Stephen Ng'etich, the police commander for Wajir county, told Reuters the bus had been attacked in an area called Kotulo, without providing details of casualties.
"A group of armed men ambushed a bus travelling to northern Kenya this evening ... We suspect al Shabaab was involved," he said, referring to the Islamist militant group from Somalia.
Al Shabaab has targeted Kenya many times since the East African nation sent its troops across the border to fight the militants in their homeland in October 2011.
The local privately-owned Citizen TV channel said that eight people had been killed. Police spokesman Charles Owino said "lives are believed to have been lost", without giving details.
The Medina Bus Company vehicle was travelling between Wajir and Mandera when it was ambushed at about 5.30 pm local time (1430 GMT), Owino said in a statement.
Ismail Adan, a resident, said those who were killed were ordered out of the bus and shot at close range. Police did not immediately comment on this.
https://uk.reuters.com/article/uk-kenya-attack/at-least-eight-killed-in-kenya-in-suspected-islamist-militant-attack-idUKKBN1YA293?rpc=401&
------
Islamist rebels kill at least 17 in eastern Congo: local official
DECEMBER 6, 2019
GOMA, Democratic Republic of Congo (Reuters) - Members of an Islamist militia hacked to death at least 17 people in two attacks in eastern Congo on Thursday, a local official said, part of a surge in violence that is hampering efforts to contain the second-worst Ebola epidemic on record.
The Allied Democratic Forces (ADF), a jihadist group originally from Uganda, has killed more than 100 civilians in near-daily raids since late October when the army launched a large operation against them.
On Thursday afternoon the rebels killed 14 people in Mantumbi, a village 17 km (11 miles) west of the city of Oicha, said Donat Kibwana, administrator of Beni territory.
Earlier that day they had killed two and beheaded a third in Kolokoko, a suburb of Oicha, he told Reuters.
"Everybody has fled the village (Mantumbi). There are only soldiers here, who are in the process of helping to remove the bodies of the people who were all killed with knives," he said.
The U.N. says deteriorating security in the region may reverse recent progress made combating the Ebola outbreak, which has infected 3,313 and killed 2,203 people since August 2018.
Aid groups suspended operations and withdraw staff from the epidemic's last strongholds following attacks on their facilities by a different rebel group late last month.
https://www.reuters.com/article/us-congo-security/islamist-rebels-kill-at-least-17-in-eastern-congo-local-official-idUSKBN1YA1YJ?feedType=RSS&feedName=worldNews&utm_source=feedburner&utm_medium=feed&utm_campaign=Feed%3A+Reuters%2FworldNews+%28Reuters+World+News%29&&rpc=401
------
The Islamic State in Libya Has Yet to Recover
Aaron Y. Zelin
December 6, 2019
Given the group's operational silence and loss of foreign help, it may not be able to launch the type of insurgency seen in Syria, but that could change if U.S. attention wanes militarily or diplomatically.
On December 6, 2016, the Islamic State in Libya (ISL) lost its last vestige of territorial control when it surrendered the north-central city of Sirte. Three years later, the group is a shadow of its former self, despite the fact that around twenty-five ISL members pledged allegiance (baya) to the new leader of their transnational parent organization on November 15.
In the past, ISL sought to replicate Islamic State practices in Iraq and Syria, reaching similar levels of military and governance success. Today, however, ISL has not claimed responsibility for a single attack in six months, and has suffered substantial setbacks in recruitment, funding, and media capabilities. This is why it has consolidated its three Libyan "provinces" into one entity in order to streamline decisionmaking, similar to what the Islamic State did in Iraq and Syria. Yet ISL does not appear to have the same staying power as its brethren did in Iraq last decade or in Syria today—assuming the United States and other actors are willing to keep up the pressure.
PROPAGANDA SINCE THE FALL OF SIRTE
Over the past three years, ISL has released only four video messages, suggesting its media operations have been severely degraded. The most recent was published this week, most likely to rally supporters. It had nothing new to show, however, relying on footage of past attacks from this spring and indirectly confirming the group's weakness.
In the previous three videos, the following themes were most resonant:
September 2017: "We will be patient and persistent."
July 2018: "Commit to jihad for the sake of God and fight."
July 2019: "We are still one in the covenant."
These ideas are in line with the general narratives that the Islamic State has been pushing in various countries, illustrating how ISL has maintained fealty to the parent group's messaging methodologies despite the strain it is under in Libya.
That said, the timing of the third video indicates a communication delay between ISL and IS. That video was part of a series of messages reaffirming pledges of baya to Abu Bakr al-Baghdadi, the IS leader at the time. Yet ISL's video was the eighth to be released, even though it had previously been the strongest IS franchise outside the core. Similarly, after Baghdadi was killed in late October, ISL's baya to the new leader was released a full two weeks after IS conducted a media campaign to showcase continuing support in its core and external "provinces."
MILITARY OPERATIONS SINCE THE FALL OF SIRTE
Following ISL's territorial disintegration, the group went underground and was relatively quiet in 2017, partly due to follow-on U.S. airstrikes against its camps outside Sirte. ISL claimed responsibility for just four attacks that year: two in Sirte, and one each in Misratah and Ajdabiya. These were likely attacks of opportunity rather than a coordinated campaign.
The tempo began to increase in February 2018, when ISL seemingly decided the time had come to reemerge from the shadows and renew its insurgency. The group conducted attacks in many locales through December of that year: four in Ajdabiya, three in Tripoli, two in Jufrah, and one each in Sirte, Awjilah, al-Uqaylah, al-Fuqaha, Wadi Kaam, and Tazirbu. ISL became so confident that in August 2018, it began to man checkpoints on the road between Ajdabiya and Jalu; two months later, it claimed it had taken over the town of al-Fuqaha for a few hours.
According to Italian journalist Daniele Raineri, however, this momentum was halted in December 2018, when the Libyan National Army (LNA) discovered an ISL base near the oasis town of Ghadduwah. The group then moved to the volcanic field of Haruj and began operating again in April 2019, conducting eleven attacks in the ensuing weeks: two in Sabha, two in Tmassah, and one each in al-Fuqaha (a town it once again claimed to take over briefly), Ghadduwah, Zillah, Darnah, Samnu, Haruj, and Checkpoint 400 between Sabha and Jufrah. These attacks came to an end when the LNA found ISL's latest base of operations in mid-June, and it has yet to recover.
DEGRADATION OF ISL
The group's decreased operational tempo and broader inability to rebuild itself in a sustainable manner can be attributed to three main factors:
U.S. airstrikes. In addition to local efforts to stifle ISL networks and activities, the United States has continued its airstrikes against the group's assets and camps. This has neutered ISL's ability to sustain any type of resurgence—a lesson Washington likely learned from its failure to turn tactical victories in Iraq a decade ago into something more strategic. In mid-November, Defense Secretary Mark Esper described this strategy as "mowing the lawn," explaining that "every now and then, you have to do these things to stay on top of it so that a threat doesn't grow, doesn't resurge." Since the fall of Sirte, U.S. Africa Command has announced ten sets of airstrike operations against ISL, mainly targeting roving camps, vehicles, and group members. According to U.S. defense officials, the most recent series of strikes took place this September and killed 43 ISL militants—a setback that reportedly left as few as 100 fighters still in action nationwide.
Downfall of foreign fighter networks. Even at ISL's peak, a good portion of its activities were run by foreigners, especially Tunisians, Sudanese, and Egyptians. Many of these foreign operatives were killed in the campaign that Misratah's al-Bunyan al-Marsus and other forces launched to take back territory seized by ISL. Others fled to Tunisia (to assist the Islamic State's network there), Sinai (to join the local IS insurgency), or Sudan (whether to find safe haven or facilitate logistics between different networks in the region). When jihadist groups "go to ground," it is more difficult for foreigners to fit it in within the local milieu, and foreign fighters have not been joining ISL as they did during the group's 2014-2016 height.
Financial pain. For years, ISL relied on funding from its parent organization, but much of this money has dried up since the Islamic State lost its territory in Iraq and Syria. That said, UN reports indicate that ISL has attempted to diversify its funding through local sources, such as investing in small- and medium-size enterprises in coastal cities, extorting Libyan citizens, taxing human trafficking networks, and kidnapping individuals for ransom. The latter efforts were curtailed at the beginning of this year by LNA raids on ISL's Ghadduwah encampment, where the group had reportedly been holding twenty-four hostages.
THE FUTURE OF ISL
The Islamic State's long-term capacity to launch and sustain an insurgency in Libya is difficult to predict given the country's ongoing civil war. The fact that ISL has been unable to take advantage of said conflict provides some hope, illustrating that Libyans may not be as susceptible to the group's ideology or brutality as some foreigners have been. Yet changing dynamics could free more space for ISL to operate. In particular, Gen. Khalifa Haftar's current campaign to take Tripoli might help the group recruit disgruntled or outraged Islamists who believe joining ISL is their only option for revenge.
For the time being, ISL has been unable to carry out the type of resurgence that the main IS predecessor group, the Islamic State in Iraq, achieved after major setbacks in 2006-2009. Even at the latter group's lowest point, its operational tempo was much higher than ISL's has been in the past three years. And by 2012, it was already clear that the Iraqi organization was rebuilding itself and taking advantage of unrest at home and new opportunities in Syria. Of course, Libya does not have the same type of sectarian dynamics seen in Iraq, let alone a brewing civil war next door like the one that broke out in Syria. If such a conflict were to emerge in Egypt, Sudan, or Algeria, it would certainly alter ISL's prospects, but that seems unlikely in the near term.
Even so, Washington needs to continue coordinating airstrikes and sharing intelligence with its partners in Libya in order to break up ISL camps and prevent the group from carrying out an Iraq/Syria-style resurgence. In addition, U.S. diplomats should mediate between various Libyan parties locally and internationally to help avert the negative consequences that a full-on assault of Tripoli could have in terms of boosting ISL's prospects for a comeback.
Aaron Zelin is the Richard Borow Fellow at The Washington Institute and author of the forthcoming book Your Sons Are at Your Service: Tunisia's Missionaries of Jihad.
https://www.washingtoninstitute.org/policy-analysis/view/the-islamic-state-in-libya-has-yet-to-recover
------
Tensions mount after Greece's expulsion of Libyan envoy
December 06, 2019
ANKARA: The showdown between Turkey and Greece over Ankara's controversial "sea grab" deal with Libya on Friday looked set to escalate after Athens was slammed for its "outrageous" expulsion of the Libyan envoy.
Tripoli's ambassador to Greece, Mohamed Younis A.B. Menfi, was ordered to leave the country in the wake of his interim government's signing of a maritime border agreement last month handing Turkey control over a huge area of the eastern Mediterranean stretching from its southern coast to North Africa.
The Turkish Parliament has since approved the accord which gives Turkey lucrative rights to drill for gas and oil in areas that include the island of Crete's territorial waters. Ankara condemned the Greek decision to expel Menfi. "Had they asked us, we could have given a copy of the maritime deal to Greece. They didn't. This is outrageous," said Turkish Minister of Foreign Affairs Mevlut Cavusoglu.
Following Menfi's dismissal, attention has turned to the Turkish Ambassador to Greece Burak Ozugergin, who last Thursday was summoned to Athens to explain the maritime delimitation deal.
Greece has been pushing to see full details of the agreement, and the whole crisis has been further heightened by Cyprus' petitioning of the International Court of Justice in a bid to safeguard its offshore mineral rights. Egypt is also furious about the Turkish-Libyan move.
Despite the uproar, Turkey's Energy Minister Fatih Donmez announced that his country would begin oil and gas drilling once the deal had been ratified by both sides. But Greece has slammed the move as a violation of its sovereign rights.
Ankara already has deep disagreements with Athens and Nicosia over the disputed territorial waters surrounding the divided island of Cyprus. Turkey has deployed drilling ships to Turkish Cypriot waters four times, sparking condemnation from not only Greece and Cyprus, but also the EU which has warned Turkey it may impose punitive measures if it does not renounce its drilling activities in the region.
However, there are fears that the entry of a Turkish drillship, escorted by naval vessels, could trigger an armed conflict between Turkey and Greece in an area Athens claims to be its own exclusive economic zone. Greece has also sent military reinforcements to Crete naval base.
Greek Prime Minister Kyriakos Mitsotakis and Turkish President Recep Tayyip Erdogan met on the sidelines of the NATO leaders' summit in London on Wednesday, but without agreeing any solution to the crisis.
Seth J. Frantzman, executive director of the Middle East Center for Reporting and Analysis, said the EU remained cautious over punishing Turkey because it feared an influx of migrants and refugees which EU states have been paying Turkey to deal with since the 2015 refugee crises.
"For many EU governments, trade with Turkey and ending migration is more important than standing up for issues in the Mediterranean," he told Arab News.
"It appears that Greece and Turkey will now have some discussions about the Libya deal and that Turkey, having appeared to ask for influence over a huge swathe of water, will then appear to 'give' Greece something by not demanding the whole of what it wanted. This is the general Turkish strategy, just like in northern Syria with the safe zone."
According to Frantzman, Turkey understood how to use pressure against European powers.
"It seeks to use trade with the UK and Germany to get what it wants and has sought to even use refugees and migrants as a tool to get European powers to agree to its demands. Surely it will then use this to confront Greek concerns about the Libya deal," he said.
https://www.arabnews.com/node/1594976/middle-east
------
URL: https://www.newageislam.com/islamic-world-news/babri-masjid-demolition-sides-avoid/d/120466
New Age Islam, Islam Online, Islamic Website, African Muslim News, Arab World News, South Asia News, Indian Muslim News, World Muslim News, Women in Islam, Islamic Feminism, Arab Women, Women In Arab, Islamophobia in America, Muslim Women in West, Islam Women and Feminism