New Age Islam News Bureau
28 Feb 2014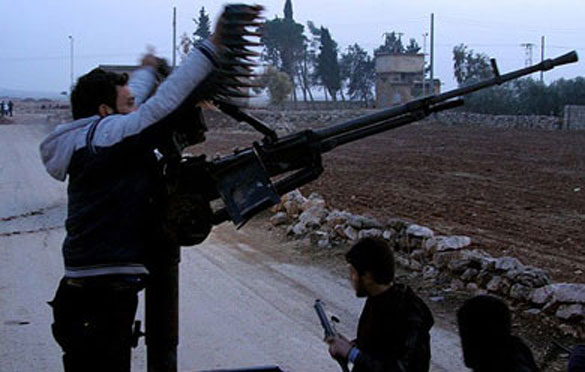 File Photo: Mujahedeen Shura Council in the Environs of Jerusalem reportedly issued a statement asserting that they were "committed to helping ISIS and bolstering its ranks."
--------------
Arab World
• Azhar Grand Imam Rejects 'Zionist Control' Of Al-Aqusa
• Iraq Violence Claims 52 Lives In Baghdad's Sadr City
• Radical cleric rejects 'Islamic tax' in Syria
• Syria civil war 'horrors' lead US human rights report
• Thousands trapped in Syria's Yarmuk camp 'slowly dying'
• Makkah meet to discuss challenges Muslims face
• Bahrain arrests 4 for 'religious insult' on Instagram
• ISIL jihadists retreat from parts of north Syria
• Bomber kills prominent tribal leader in Iraq
• Syrian jets strike areas in Lebanon
India
• India, Saudi Arabia cooperating in fight against terror: President
• India, Israel ink anti-terror pacts
• Crown prince talks reflect warmth in Indo-Saudi ties
• No flats for Muslims, says Bandra to saviour of Indians stuck in Kuwait
• Maulana Azad Corp approves 45 cr for minority welfare schemes
• 'Indians' tortured, buried alive in Saudi Arabia in 2010: Report
Africa
• 'Boko Haram attacks' kill 37, including at Christian college
• Ansar al Sharia Tunisia deputy leader reportedly in Syria
• Libya: Politicians Face Death Penalty over Blasphemous Cartoon
• Mali: Hopes for Reconciliation - the View from Timbuktu
• Morocco Islamist cleared of 'threats' against Egypt envoy
Mideast
• Gaza Salafists pledge allegiance to ISIS- report
• North Yemen clashes between army, rebels kill 24
• Palestinians pray outside Gaza's Rafah crossing
• Israel warns Lebanon to curb Hezbollah reprisals for air strike
• Israel to limit Friday access to al-Aqusa mosque: Police
• Christians fleeing Syria return to Turkish homeland
• Soldier killed, mutilated by separatists in Yemen
Pakistan
• Sharia is the only way to peace, says Jamiat Ulema-e-Islam-Fazl
• Three suspected militants killed in Khyber Agency encounter
• 11 killed in Karachi violence
• Pakistanis jailed in Spain for terror protest innocence
• Pakistan values Chinese support for national security: Nawaz
• A perfect storm for Pakistan predicted: U.S. Sherry Rehman
• No military operation underway in tribal areas: Interior Minister Nisar
• Pakistani man challenges Christian Divorce Act in court
• Médecins Sans Frontières: Pakistani medic applies balm on Sudan's war
South Asia
• China's turbulent Xinjiang weighs anti-terror laws for the first time
• Afghan Taliban shot at downed US helicopter 'head-on'
• Academician hails Bangladesh minister's demand for speedy trial of Pak war criminals
• Al Qaeda plots comeback in Afghanistan: officials
• Bloomberg's $10M Gift Targets Bangladesh Drowning
Europe
• Spiritual leader Aga Khan compares Sunni-Shia conflict to Ireland
• Fearing their homeland, Afghans seek refuge in Brussels church
• Islam flourishing in Belgium
• Brits who fight in Syria could face life in jail
• European Parliament condemns drone strikes
• New documentary recounts story of heroic Muslim spy, Noor Inayat Khan
North America
• New online campaign urges American Muslims to 'drop the A-word'
• U.S. Militant, Hidden, Spurs Drone Debate
• Kerry decries 'new isolationism', says US acts like poor nation
• US drawdown: Afghanistan's stability crucial for Pakistan
• FBI mole had contact with bin Laden years before 9/11: US media
• US notes consolidation of democracy in Pakistan
Southeast Asia
• With No Birth Certificate, 50 Million Kids Grow Up With No Rights: Indonesia
• Danger ahead for planned Philippine Muslim peace deal
Compiled by New Age Islam News Bureau
URL: https://newageislam.com/islamic-world-news/azhar-grand-imam-rejects-zionist/d/45955
------------
Arab World
Azhar grand imam rejects 'Zionist control' of Al-Aqusa
World Bulletin / News Desk
Feb 28, 2014
The grand imam of Egypt's Al-Azhar University said Thursday that Al-Azhar, one of the world's oldest Sunni-Muslim scholarly institutions, would not accept Israeli oversight of Jerusalem's Al-Aqusa Mosque.
"[Al-Azhar] will not, under any circumstances, accept the Zionist occupation's control over Al-Aqusa," Ahmed al-Tayeb said in a statement.
"These Zionist practices will impede peace all over the world," the grand imam added.
Al-Tayeb described recent proposals to establish Israeli control over the landmark mosque as a "blatant violation of Islamic sanctities." He called on Muslim countries, along with "free people of the world," to adopt a firm stance against the controversial proposal.
In a Tuesday session of the Knesset (Israel's parliament), which was boycotted by Arab MPs, lawmakers discussed a proposal by rightwing Israeli MP Moshe Feiglin to place the Al-Aqusa Mosque compound under Israeli oversight, thus nullifying Jordan's decades-old administrative responsibility for Islam's third holiest site, according to an Israeli news website.
The proposal ignited tensions with Jordan, whose parliament responded by voting unanimously on Wednesday to expel the Israeli ambassador in Amman. Jordanian MPs also threatened to withdraw confidence from the Jordanian government if the latter failed to implement the non-binding decision.
Since the 1950s, the Hashemite Kingdom has administered and overseen all Muslim and Christian religious sites in Al-Quds (occupied East Jerusalem).
A 1994 peace treaty between Amman and Tel Aviv recognized Jordan's "special supervisory role" over religious sites in the holy city.
Al-Quds was captured by Israel during the 1967 Middle East war. In 1980, the self-proclaimed Jewish state annexed the city in a move never recognized by the international community.
Palestinians want Al-Quds – home to the iconic Al-Aqusa Mosque – as the capital of their future state.
Israel deploys forces in Al-Quds ahead of weekly prayer
Israeli authorities on Friday deployed hundreds of soldiers in Al-Quds (occupied East Jerusalem) ahead of the weekly prayers at Al-Aqusa Mosque. Tension has been high in Al-Quds over plans by the Israeli Knesset (parliament) to hold a debate on imposing Israeli oversight on the holy sites in Al-Quds
Hundreds of army and police personnel were seen transported into the holy city, according to an Anadolu Agency reporter.
Barricades have been set up at the entrances of Al-Quds' Old City, with Israeli soldiers denying access to scores of Palestinian youths into the Al-Aqsa Mosque.
The Israeli army has imposed restrictions on the entry of Palestinian worshippers into the mosque, allowing only those over 50 into the worship place.
Tension has been high in Al-Quds over plans by the Israeli Knesset (parliament) to hold a debate on imposing Israeli oversight on the city's holy sites.
http://www.worldbulletin.net/headlines/129852/azhar-grand-imam-rejects-zionist-control-of-al-aqsa
------------
Iraq violence claims 52 lives in Baghdad's Sadr City
2014-02-28
BAGHDAD: At least 52 people were killed as a motorcycle rigged with explosives detonated in Baghdad's Sadr City and militants targeted mostly Shia neighbourhoods around the country.
The motorcycle was parked in a second-hand bike market in the Shia Muslim neighbourhood that was filled with people, mostly young men, when it exploded late Thursday afternoon, killing 31 and wounding 51 others, Iraqi medical and police sources said.
Blood covered the ground, storefront windows were shattered and shoes and motorcycle parts were strewn around the market, according to a Reuter's correspondent at the scene.
Dozens of people were screaming for information about their relatives.
A wounded man, who identified himself as Ahmed, rested in a nearby hospital. "I was about to leave the market when a huge explosion happened," Ahmed said. "I was hit in my face and my hands and when I got up, everyone was screaming and running towards me away from the blast."
It was not clear who was behind the bombing but violence against Shias is often blamed on the Sunni Muslim Islamic State of Iraq and the Levant (ISIL), an al Qaeda-linked group.
In other violence the same day, four people died from bombs on two different mini-buses in Shia sections of Baghdad.
A militant smashed his explosives-packed vehicle into a checkpoint, killing three soldiers and wounding six others in Mushaada, a Sunni district, in northern Baghdad, police said.
In Salahuddin province, a pro-government Sunni-manned checkpoint in the town of Shirqat was hit by a bomb that killed two fighters and wounded four others, police said.
A suicide car bomber piled into the greeting house of a prominent tribal leader in Haditha in western Anbar province, killing Sheikh Said Fleah al-Usman and six of his guests and wounding 22 others, police said.
Usman had been a leader of the pro-government "Awakening" paramilitary force and a member of Haditha's municipal council.
The manner of his death reflected the bloody struggles taking place within the Sunni community in Anbar as some support the government, others back al Qaeda linked groups and some factions are opposed to both.
To the north in Tuz Khurmatu, a bomb in an outdoor marketplace frequented by Shia Turkmen killed two people and wounded 11 others.
In Diyala province to the east, which has been roiled by tit-for-tat violence between Sunnis and Shias, gunmen shot dead three members of a Sunni family in Khallis as they drove home, police said.
No reason was given for the killings.
https://www.dawn.com/news/1090100/iraq-violence-claims-52-lives
------------
Radical cleric rejects 'Islamic tax' in Syria
Feb 28, 2014
AMMAN: A radical Jordanian preacher deported from Britain who is on trial on terrorism charges says Al-Qaeda fighters in Syria should not impose an Islamic tax on Christians under their control.
Abu Qatada, 52, who is described as a senior Al-Qaeda figure in Europe with ties to the late Osama Bin Laden, spoke to reporters during a break in his trial on Thursday.
His remarks follow reports on militant websites that the Nusra Front, one of two main Al-Qaeda-allied groups in Syria, was considering the tax, also known as Zakat, for Christians.
When asked, Abu Qatada said the militants do not yet fully control the areas they are fighting in and should not impose such a tax.
http://www.arabnews.com/news/532481
----------
Syria civil war 'horrors' lead US human rights report
Feb 28, 2014
A global human rights report released by the US has singled out Syria's civil war as a tragedy that "stands apart in its scope and human cost".
The US said a chemical weapons attack in Syria that it says killed 1,429 was "one of many horrors" in the war.
The annual state department review also noted the increased crackdown elsewhere on protesters and civil society groups.
The report cited official persecution of dissidents in Ukraine, Venezuela, Turkey and China in 2013.
The review known as the Country Reports on Human Rights Practices includes indictments of countries in every corner of the world.
But it saved its harshest condemnation for the government of Syria, where well over 100,000 people have been killed and millions more forced to flee since March 2011.
It cites the 21 August 2013 chemical weapons attack on Ghouta, an agricultural belt around Damascus, as one of "many horrors in a civil war filled with countless crimes against humanity, from the torture and murder of prisoners to the targeting of civilians with barrel bombs and Scud missiles".
In remarks after the release of the report on Thursday, Secretary of State John Kerry also condemned the government of Ukraine for the recent violence against protesters.
"In Ukraine, as we all just saw in real time in the last days, tens of thousands took to the streets... to demonstrate again the power of people to be able to demand a more democratic and accountable governance, and to stand up even against those who would sniper from roofs and take their lives in the effort to have their voices heard," Mr Kerry told reporters.
Mr Kerry described Ukraine as one example of a nation in which public backlash against corruption and overbearing governments has been further inflamed by official violence.
Ukraine's ex-President Viktor Yanukovych has fled the capital after months of unrest.
The report criticises Mr Yanukovych's government for parliamentary elections that did not meet international standards for fairness or transparency, security forces beating protesters during a peaceful 30 November demonstration, and a general crackdown on the country's news media.
Mr Kerry also criticised the government of Venezuela, where a crackdown on anti-government protests this month left at least a dozen people dead.
The report gave poor marks to both former Egyptian President Mohammed Morsi and Field Marshal Abdul Fattah al-Sisi, head of the armed forces which overthrew him.
Also, Assistant Secretary of State Uzra Zeya said Iran had seen "little meaningful improvement" in its human rights record since the election last year of President Hassan Rouhani.
Other alleged human rights abuses and developments called out by the US in the review include:
Selective use of a law against "extremism" in Russia and persecution of government critics, religious minorities, and gays and lesbians
Turkey's jailing of as many as 73 journalists charged under an anti-terror law
The alleged beating and torture by security forces in Belarus of protesters and detainees
Lapses in labour fire safety standards in Bangladesh, as the collapse of a factory building killed more than 1,000 garment workers
Anti-gay violence and official anti-gay discrimination in Nigeria and Uganda
A "state-directed crackdown on activists and suppression of political dissent and public advocacy" in China
http://www.bbc.com/news/world-us-canada-26377552
----------
Thousands trapped in Syria's Yarmuk camp 'slowly dying'
AFP | Feb 28, 2014
BEIRUT: Gaunt, ragged figures fill the streets for as far as the eye can see in the besieged Palestinian refugee camp of Yarmuk outside Damascus, where some 40,000 are said to be slowly starving to death.
The United Nations distributed shocking images this week of thousands of people, their faces emaciated, desperately flocking to receive food aid that only a few were lucky enough to collect.
"We live in a big prison," said Rami al-Sayed, a Syrian activist living in Yarmuk, speaking to AFP via the Internet.
"But at least, in a prison, you have food. Here, there's nothing. We are slowly dying."
"Sometimes, crowds of children stop me on the streets, begging me: 'For the love of God, we want to eat, give us food.' But of course, I have no food to give them," Sayed said.
After months of shelling and fierce fighting in and around Yarmuk between rebels and President Bashar al-Assad's troops, the camp's population has shrunk from more than 150,000 to 40,000. Among them are 18,000 Palestinians.
Full report at:
http://timesofindia.indiatimes.com/world/middle-east/Thousands-trapped-in-Syrias-Yarmuk-camp-slowly-dying/articleshow/31153308.cms
-----------
Makkah meet to discuss challenges Muslims face
Feb 28, 2014
Hundreds of delegates are expected to participate in the second international conference entitled "Islamic Solidarity — Problems and Solutions," in Makkah from March 2 to 4 to discuss challenges facing Muslims in the world.
Sheikh Abdullah bin Abdul Mohsin Al-Turki, secretary general of the Muslim World League (MWL), said at a press conference in Makkah on Thursday that the aim of the gathering is to urge Muslims to work with their governments for peace and stability in their countries.
Custodian of the Two Holy Mosques King Abdullah supports the conference, Al-Turki said.
Quoting verses from the Qur'an to support his argument, Al-Turki said that Muslims can only achieve unity if they obey Allah.
Full report at:
http://www.arabnews.com/news/532531
----------
Bahrain arrests 4 for 'religious insult' on Instagram
28 February 2014
Manama: Bahraini authorities said Thursday that four cyberactivists have been arrested for posting insults about companions of Prophet Mohammad (PBUH) on Instagram.
The four are accused of posting on the smartphone photo-sharing service "texts and pictures damaging to companions of the Prophet", state news agency BNA reported.
It said they were arrested after an investigation of users of the Instagram account and would be put on trial, without identifying the suspects.
The companions of the Prophet are revered by Muslims.
http://gulfnews.com/news/gulf/bahrain/bahrain-arrests-4-for-religious-insult-on-instagram-1.1297124
-----------
ISIL jihadists retreat from parts of north Syria
28 February 2014
Beirut: The jihadist Islamic State of Iraq and the Levant (Isil) has begun withdrawing from parts of northern Syria ahead of a deadline set by a rival group, a monitor said on Friday.
The Syrian Observatory for Human Rights said the group was retreating east towards its stronghold in the city of Raqa.
The withdrawal comes four days after the Al Qaida affiliated Al Nusra Front issued Isil an ultimatum to go before an Islamic court for mediation or face being forced from Syria altogether.
The deadline expires on Saturday.
"Isil has withdrawn from Aazaz, its most important bastion in Aleppo province, as well as the Minnigh military airport, the Mayer region and the villages of Deir Jamal and Kafin," the Observatory said.
Full report at:
http://gulfnews.com/in-focus/syria/isil-jihadists-retreat-from-parts-of-north-syria-1.1297092
-----------
Bomber kills prominent tribal leader in Iraq
28 February 2014
Baghdad: Iraqi police say a suicide bomber in western Iraq has killed a prominent pro-government tribal shaikh as well as six of his militiamen.
Police chief of the town of Haditha, Col Farouq Al Jughaifi, said Friday that the bomber rammed his explosives-laden car late Thursday into the guesthouse of Shaikh Saeed Fleih Al Osman — a councilman and a leader for the town's anti-Al Qaida Sunni tribal militias.
Al Jughaifi added that five civilians were also wounded.
Full report at:
http://gulfnews.com/news/region/iraq/bomber-kills-prominent-tribal-leader-in-iraq-1.1297073
----------
Syrian jets strike areas in Lebanon
PTI | Feb 28, 2014
Syrian jets launched air strikes on Friday on mountainous areas in Lebanon, activists and the Lebanese National Agency reported.
The jets struck areas in the hills of Kherbet Younine near Lebanon's north-eastern town of Arsal.
A Lebanese security source in the area said the raid targeted what is believed to be hideouts of Syrian rebels.
"The Syrian aerial attacks which took place in the area of Younine also are aimed at cutting off any possible supply route to the area of Qalamoun which is adjacent to the Lebanese border," the source said.
Full report at:
http://www.thehindu.com/news/international/world/syrian-jets-strike-areas-in-lebanon/article5736465.ece
-----------
India
India, Saudi Arabia cooperating in fight against terror: President
Feb 28, 2014
India and Saudi Arabia share many security concerns and have been cooperating in the fight against terrorism, President Pranab Mukherjee said Thursday.
Welcoming the Crown Prince of Saudi Arabia Salman bin Abdulaziz Al Saud, who called on him at the Rashtrapati Bhavan here, the president said: "Relations between India and Saudi Arabia will be greatly strengthened by this visit.
"India cherishes its cordial and friendly relations with Saudi Arabia, which are deep-rooted in history and based on the foundation of close people-to-people contacts," he added.
He said the MoU signed Wednesday will help defence personnel of the two countries work closely and learn from the experiences of each other. Both countries are vulnerable to the scourge of terrorism.
Full report at:
http://www.siasat.com/english/news/india-saudi-arabia-cooperating-fight-against-terror-president
-----------
India, Israel ink anti-terror pacts
Subhro Niyogi,TNN | Feb 28, 2014
KOLKATA: India and Israel have signed a number of agreements on cooperation in legal assistance and public and homeland security.
The pacts are part of the ongoing efforts by both countries in the war against terror and are based on the shared determination to protect citizens, assets and interests.
"We believe that these agreements are another important platform for the cooperation between our countries and we would like to express our appreciation for the leadership of the ministry of home affairs in this regard," Israel ambassador in India Alon Ushpiz said.
Israel's minister of public security Yitzhak Aharonovich said: "Today is an important day. These agreements that were signed are a fine example of our substantial and equal partnership with India. The various types and forms of threats the two countries face make this cooperation an indispensable one. Terror is a global threat and only through cooperation between allies can peace-seeking countries overcome such threats."
Full report at:
http://timesofindia.indiatimes.com/india/India-Israel-ink-anti-terror-pacts/articleshow/31152208.cms
------------
Crown prince talks reflect warmth in Indo-Saudi ties
Feb 28, 2014
Saudi Arabia and India on Thursday sought to further deepen strategic diplomatic and business relations as Crown Prince Salman, deputy premier and minister of defense, met India's top leadership, including President Pranab Mukherjee and Prime Minister Manmohan Singh.
A wide range of bilateral and regional issues including terrorism and security situation in the Middle East and Afghanistan figured prominently during the talks between the Crown Prince and Indian officials. The two sides pledged to work closely to safeguard economic and security interests through proactive diplomacy in the Middle East.
A statement released by the Indian Prime Minister's office on Thursday said: "Crown Prince Salman and Prime Minister Singh discussed trade, investment, terrorism and security situation in West Asia and Afghanistan in the talks."
Full report at:
http://www.arabnews.com/news/532586
------------
No flats for Muslims, says Bandra to saviour of Indians stuck in Kuwait
Sandhya Soman, Mohammed Wajihuddin & Mithila Phadke,TNN | Feb 28, 2014
MUMBAI: In September 1990, Captain Zainul Abidin Juvale, master of a cargo vessel called MV Safeer, became master of the fate of 722 Indians who sailed out with him from Kuwait to Dubai. Iraqi dictator Saddam Hussein's troops had invaded Kuwait and the Indians there were stranded for over a month.
Tanweer Khalfay, one of the passengers on Juvale's vessel, had told TOI (September 12, 1990): "The BBC team that covered our arrival in Dubai called him [Juvale] a hero, but we don't need foreigners to tell us that."
For over a month now, Juvale has been house-hunting in Bandra (W), but he is unable to buy a flat when he likes one.
The brokers have frankly told him that the societies where he has shown interest have an unwritten rule: not to rent or sell flats to Muslims.
"Nobody asked me my religion when I risked my life to rescue fellow Indians who faced starvation and death in Kuwait," says Juvale. "Now I am being made aware of my Muslim identity."
Full report at:
http://timesofindia.indiatimes.com/city/mumbai/No-flats-for-Muslims-says-Bandra-to-saviour-of-Indians-stuck-in-Kuwait/articleshow/31125991.cms
------------
Maulana Azad Corp approves 45 cr for minority welfare schemes
Feb 28, 2014
Mumbai: The Maulana Azad Minorities Financial Development Corporation (MAMFDC) has approved Rs 45 crore to be distributed as loans for education and business among minorities.
The MAMFDC has approved 9,648 applications and a total of Rs 45 crore will be distributed among the applicants under different schemes.
According to an Inquilab daily report, Rs 2.4 crore has been allotted to education while Rs 42 crore for employments under different scheme. MAMFDC chairman Ameen Patel said that 7,390 applicants under 'Maulana Azad Direct Loan scheme, 2,046 under 'Unnati Term scheme, 186 under 'Rajiv Gandhi Education Loan' scheme and 26 under 'Micro Finance' scheme have been given approval.
Full report at:
http://twocircles.net/2009jul17/maulana_azad_corp_approves_45_cr_minority_welfare_schemes.html#at_pco=smlwn-1.0&at_tot=1&at_ab=per-2&at_pos=0
------------
'Indians' tortured, buried alive in Saudi Arabia in 2010: Report
TNN | Feb 28, 2014
NEW DELHI: In a shocking revelation, three men have confessed to a Saudi Arabia court of torturing and burying alive five Asian workers in 2010.
According to a report in Arab News, the three men confessed in the Qatif general court on Wednesday of torturing five Asian workers — believed to be Indians — for hours and then burying them alive.
The decomposed bodies of the five men were recovered from a farm in Safwa, a city in the eastern province of Saudi Arabia, situated on the Gulf coast.
Full report at:
http://timesofindia.indiatimes.com/nri/middle-east-news/Indians-tortured-buried-alive-in-Saudi-Arabia-Report/articleshow/31156598.cms
------------
Africa
'Boko Haram attacks' kill 37, including at Christian college
February 28, 2014
KANO, NIGERIA: Suspected Boko Haram gunmen killed at least 37 people in three separate attacks in northeast Nigeria, including at a theological college, a local government official and residents said on Thursday.
The coordinated attacks in Adamawa state late on Wednesday came just a day after Islamist militant fighters were blamed for killing 43 people, most of them students, as they slept at a boarding school in Yobe state. The chairman of the Madagali local government area in Adamawa, Maina Ularamu, said "a large number of militants carried out three separate attacks on Shuwa and Kirchinga in my local government area and on Michika in neighbouring Michika district".
"The gunmen divided themselves into three groups and separately attacked the three locations," he told AFP. He had earlier put the death toll in Shuwa, part of Madagali local government area, at 17. But he later told AFP that eight more bodies were recovered in the village, including three from a Christian college, confirming the account of a resident about the three burnt corpse found in the seminary.
Full report at:
http://www.nation.com.pk/international/28-Feb-2014/boko-haram-attacks-kill-37-including-at-christian-college
---------
Ansar al Sharia Tunisia deputy leader reportedly in Syria
Feb 28, 2014
The deputy emir of Ansar al Sharia Tunisia is reported to have left his home country and traveled to Syria to wage jihad alongside the Islamic State of Iraq and the Sham.
Kamel Zarrouk, who is described by Magharebia as Ansar al Sharia Tunisia's "second-in-command," fled Tunisia after security forces raided the Ettawba mosque in Tunis in January. Tunisian police tried to detain Zarrouk at his mosque in September 2013, but failed after his followers halted the raid and allowed him to escape.
Zarrouk is reported to have traveled to Libya before departing for Syria.
In 2011, Zarrouk began speaking at mosques as a "khatib" in 2011, and he once "likened Osama Bin Laden to the prophet's companions."
Zarrouk has praised al Qaeda and its allies in his sermons. In May 2013, he claimed that a host of al Qaeda-linked groups, including two known to operate in Syria, "stand united."
Full report at:
http://www.longwarjournal.org/archives/2014/02/ansar_al_sharia_tuni_7.php#ixzz2udxnlewt
----------
Libya: Politicians Face Death Penalty Over Blasphemous Cartoon
Feb 28, 2014
Two politicians could be sentenced to death over a cartoon deemed offensive to Islam when a verdict is issued in their case on Sunday 2 March, said Amnesty International. The organization is calling for the charges against them to be dropped immediately.
The cartoon, which depicts a group of men discussing the role of women in society, appeared on a Libyan National Party electoral campaign poster in the main streets of Libyan cities ahead of parliamentary elections in 2012.
"It is shocking that two political figures may face a firing squad over a cartoon that was published on an electoral campaign poster. No one should be prosecuted for freely expressing his or her views in public - however offensive they may seem to others," said Said Boumedouha, Deputy Director of the Middle East and North Africa Programme at Amnesty International.
Full report at:
http://allafrica.com/stories/201402280093.html?viewall=1
----------
Mali: Hopes for Reconciliation - the View from Timbuktu
Feb 28, 2014
Timbuktu — Residents of Timbuktu, Mali's cultural capital, are hopeful the city can draw on its long history of tolerance to heal social relations frayed by a 10-month Islamist occupation, which Arab and Tuareg communities are still being accused of abetting.
In his book on the recent Islamist occupation of Timbuktu, senior government official Houday Ag Mohamed, a Tuareg, points out that each insurgency has brought a wave of discrimination and hostility against Tuareg and Arabs living in Mali. It is "an ostracism you can see in the looks full of hate and recrimination they receive," he said.
Full report at:
http://allafrica.com/stories/201402280227.html?viewall=1
----------
Morocco Islamist cleared of 'threats' against Egypt envoy
28 February 2014
A member of Morocco's ruling Islamist party was cleared on Thursday of accusations by the Egyptian ambassador that she threatened him during a telephone call denouncing President Mohammed Mursi's ouster.
Khadija Mansour, 25, was arrested after she rang the embassy in Rabat in December to protest that the Egyptian authorities had no legitimacy following the army's overthrow of the country's first freely elected president in July, her lawyer Toufik Moussaif said.
She urged the ambassador to leave Morocco, and he filed a lawsuit accusing her of "threats."
"The judge decided she was innocent... that there was no evidence of a threat to the Egyptian ambassador," Moussaif told AFP.
Full report at:
http://english.alarabiya.net/en/News/middle-east/2014/02/28/-Morocco-Islamist-cleared-of-threats-against-Egypt-envoy-.html
-----------
Mideast
Gaza Salafists pledge allegiance to ISIS- report
World Bulletin/News Desk
Feb 28, 2014
The most prominent Salafist organizations operating in the Gaza Strip, the Mujahedeen Shura Council in the Environs of Jerusalem reportedly issued a statement on Feb. 2, asserting that they were "committed to helping ISIS and bolstering its ranks."
According to the Al Monitor web site, the statement added that the infighting taking place in Syria was due to "an unfair view toward ISIS and its emir, the Prince of Believers Abu Bakr al-Baghdadi."
A video spread on social networking sites and local news agencies showing purported Salafists affiliated with al-Qaeda, meeting in the Gaza Strip on Feb. 11, to offer support and pledge allegiance to ISIS, report says.
Full report at:
http://www.worldbulletin.net/todays-news/129873/gaza-salafists-pledge-allegiance-to-isis-report
----------
North Yemen clashes between army, rebels kill 24
28 February 2014
Sana'a: At least 24 people were killed on Friday as Yemeni troops and allied Islamists engaged in heavy fighting with Shiite rebels in the north, tribal sources said.
The fighting, in which soldiers aided by fighters from the Islamist Al Islah party were pitted against Zaidi rebels, was for control of local government offices in Hizm, capital of Jawf province.
"The army and Al Islah lost eight men, while the rebels lost twice that number, and there have been dozens of wounded on both sides," one of the sources said.
Full report at:
http://gulfnews.com/news/gulf/yemen/north-yemen-clashes-between-army-rebels-kill-24-1.1297081
-----------
Palestinians pray outside Gaza's Rafah crossing
Feb 28, 2014
Hundreds of supporters of Palestinian resistance movement Hamas performed the weekly Friday prayers outside the gates of the Rafah crossing linking the Gaza Strip to Egypt.
"[The Rafa] terminal is the only gateway for the Gaza people," preacher Sheikh Mohamed Saqr said.
"The crossing must be opened in order not to leave the Palestinian people suffering under the blockade," he added.
The preacher went on to call on Egyptian authorities to end of he described as "injustice and oppression of the Palestinian people".
Hamas leader Mohamed al-Raqeb, for his part, called on Egyptian authorities to reopen the Rafah crossing in both directions, vowing to escalate what he called a "peaceful struggle" to bring "the unjust siege" to an end.
Full report at:
http://www.worldbulletin.net/headlines/129904/palestinians-pray-outside-gazas-rafah-crossing
----------
Israel warns Lebanon to curb Hezbollah reprisals for air strike
28 February 2014
Occupied Jerusalem: Israel warned Lebanon on Friday to prevent Hezbollah retaliation for an alleged Israeli air strike on a site used by the guerrillas on the Syrian border.
Israel has neither confirmed nor denied carrying out Monday's strike, in keeping with its silence on at least three such attacks over the past year targeting suspected Hezbollah-bound convoys of advanced weapons from civil war-torn Syria.
In an unusually forthright public statement about the incident, Hezbollah said on Wednesday it would "choose the time and place and the proper way to respond" against Israel, with which it fought a war in south Lebanon in 2006.
Full report at:
http://gulfnews.com/news/region/lebanon/israel-warns-lebanon-to-curb-hezbollah-reprisals-for-air-strike-1.1297121
-----------
Israel to limit Friday access to al-Aqsa mosque: Police
February 28, 2014
JERUSALEM: Israeli police said they will limit access for Muslim men to Jerusalem's al-Aqsa mosque compound during Friday prayers to prevent possible clashes following services.
Police spokesperson Luba Samri said on Thursday that men under the age of 50 will be barred from Friday prayers, based on intelligence of plans for unrest, with security forces bolstering their presence in the area.
The decision comes after police clashed with stone-throwing Palestinians at the compound on Tuesday, hours ahead of a debate in the Israeli parliament on Jews' right to pray at the compound, which is currently denied.
Full report at:
http://tribune.com.pk/story/677226/israel-to-limit-friday-access-to-al-aqsa-mosque-police/
----------
Christians fleeing Syria return to Turkish homeland
World Bulletin/News Desk
Feb 28, 2014
When Louis Bandak fled the violence in Syria, he sought refuge in the country his grandfather was forced to abandon exactly 90 years ago this week.
Bandak, his wife and two daughters are part of a small but growing trickle of Christians arriving in Turkey after three years of civil war in Syria killed more than 140,000 people.
"Although I had never been here before, it does not feel strange. This too is my homeland," says Bandak, sitting in warm winter sun outside the 5th Century Mor Abrohom Monastery in Midyat, 30 miles (50 km) north of the border.
Full report at:
http://www.worldbulletin.net/headlines/129880/christians-fleeing-syria-return-to-turkish-homeland
---------
Soldier killed, mutilated by separatists in Yemen
World Bulletin / News Desk
Feb 28, 2014
A soldier kidnapped by separatist militants on Wednesday in Yemen's southern Ad Dali' province was found dead on Thursday, eyewitnesses said.
"Southern separatists abducted the soldier yesterday, killed him and dumped his body in a sewage-disposal area in central Ad Dali' city," one eyewitness said, noting that the body had been mutilated.
No group has claimed responsibility for the abduction and killing.
In recent months, southern Yemen has seen violent clashes between the army and suspected separatist militants who call for secession from the country's north.
Full report at:
http://www.worldbulletin.net/todays-news/129866/soldier-killed-mutilated-by-separatists-in-yemen
----------
Pakistan
Sharia is the only way to peace, says Jamiat Ulema-e-Islam-Fazl
February 28, 2014
MINGORA: Most of the country's issues will be resolved by the imposition of the Sharia law, Jamiat Ulema-e-Islam-Fazl (JUI-F) General Secretary Maulana Abdul Ghafoor Haideri said on Thursday.
Speaking at the Tahaffuz Tahzib-e-Islam Conference, Maulana Haideri said that 70% of the country's issues could be resolved if Sharia was imposed. "If Sharia is not implemented in the country, it wouldn't survive further," he said, adding that they would never let the country become a secular state.
The JUI-F general secretary said his party was struggling to establish peace in the country. He further argued, "People who are unfamiliar with the tribal traditions are made part of the peace committee".
Full report at:
http://tribune.com.pk/story/677101/the-other-way-round-sharia-is-the-only-way-to-peace-says-jui-f/
----------
Three suspected militants killed in Khyber Agency encounter
2014-02-28
PESHAWAR: Police conducted an operation in several areas of Peshawar Friday and detained 25 suspects meanwhile three suspected militants were killed and three others were injured in an exchange of fire between security officials and suspected militants separately in the Khyber Agency, DawnNews reported.
The Bana Mari police conducted raids in the areas of Bahadur Kallay, Kamarudin Ghari, Ghari Ata Mohammad and Javedabad.
Subsequently, 25 suspects were taken into custody whereas arms and ammunition were seized from their possession.
Full report at:
https://www.dawn.com/news/1090084/three-suspected-militants-killed-in-khyber-agency-encounter
----------
11 killed in Karachi violence
Feb 28, 2014
KARACHI: At least 11 people including religious scholar Allama Taqi Hadi Naqvi and teacher of a seminary Qari Ali Hasan were killed in different incidents of firing in Karachi on Thursday, Geo News reported.
Allama Taqi Hadi Naqvi was shot dead near board office located in North Nazimabad area in an apparent incident of target killing.
According to police, the incident took place when four unidentified armed men riding motorbikes opened fire at the rickshaw Allama Naqvi was riding in, resultantly he lost his life on the spot.
Full report at:
http://www.thenews.com.pk/article-139405-11-killed-in-Karachi-violence
----------
Pakistanis jailed in Spain for terror protest innocence
2014-02-27
ISLAMABAD: A group of Pakistanis jailed in Spain in 2009 over a plot to bomb the Barcelona metro protested their innocence Thursday, claiming they were framed by a corrupt witness.
Jan Khan, the legal consultant for the men, said they wanted to clear their names of the terror charges.
Ten Pakistanis and one Indian were jailed for between eight and 14 years in December 2009 for planning a terror attack on the metro system.
Eight of the Pakistanis have served their sentences and seven of them have been deported, while one is a Spanish resident.
Full report at:
https://www.dawn.com/news/1089871/pakistanis-jailed-in-spain-for-terror-protest-innocence
----------
Pakistan values Chinese support for national security: Nawaz
February 28, 2014
ISLAMABAD: Expressing confidence in Pakistan-China cooperation, Prime Minister Nawaz Sharif on Friday said the country deeply values China's support for Pakistan's national security and territorial integrity, Radio Pakistan reported.
The prime minister made this comment when Chinese Defense Minister General Chang Wanquan called upon him in Islamabad today.
Nawaz said China and Pakistan enjoy a unique relationship and he appreciated Chinese support for national projects including the Pakistan-China Economic corridor. He stressed that the corridor would help connect the south and central Asian countries and transform the economy of the region.
Full report at:
http://tribune.com.pk/story/677216/pakistan-values-chinese-support-for-national-security-nawaz/
----------
A perfect storm for Pakistan predicted: U.S. Sherry Rehman
MEENA MENON
Feb 28, 2014
Pointing to international and regional conflict trends in the vicinity, former ambassador to the U.S. Sherry Rehman predicted a perfect storm in the context of the coalition forces leaving Afghanistan and the elections there, even as Pakistan has to brace for fresh challenges this brings.
Speaking on Transition 2014 — Conflict and Regional Futures organized by the Jinnah Institute on Thursday, Ms. Rehman said a consensus on key policy issues was crucial and shifting the regional game with India in terms of peace and trade instead of conflict and crisis management was one of them. The other was moving away from seeking strategic depth or avoiding power brokering in Afghanistan by seeking no favourites.
Full report at:
http://www.thehindu.com/news/international/south-asia/a-perfect-storm-for-pakistan-predicted/article5733426.ece
----------
No military operation underway in tribal areas: Interior Minister Nisar
2014-02-28
ISLAMABAD: Interior Minister Chaudhry Nisar Ali Khan on Friday stated that no military operation was going on in the Federally Administered Tribal Areas (Fata) and only targeted action was being carried out, DawnNews reported.
Speaking in the National Assembly, the minister said the government had not made its mind up on launching a military operation and no such decision would be taken in a stealthy manner.
He said the damage to the local population as a result of the targeted action was minimal, adding that the numbers of those displaced in the aftermath was not great enough to require a process of formal transportation and registration.
Full report at:
https://www.dawn.com/news/1090099/no-military-operation-underway-in-tribal-areas-nisar
----------
Pakistani man challenges Christian Divorce Act in court
PTI | Feb 28, 2014
LAHORE: A Pakistani man on Friday challenged the nearly 150-year-old Christian Divorce Act in a court so that he could separate from his wife without accusing her of adultery.
Ameen Masih, who filed a petition in the Lahore high court, said, "I want separation but owing to complications in the Christian Divorce Act of 1869, I have no other option but to level an allegation of adultery against her.
"I am not living happily with my wife over the past two years as I do not enjoy good relations with my in-laws."
Full report at:
http://timesofindia.indiatimes.com/world/pakistan/Pakistani-man-challenges-Christian-Divorce-Act-in-court/articleshow/31176550.cms
----------
Médecins Sans Frontières: Pakistani medic applies balm on Sudan's war
February 28, 2014
The Pakistani logistician Gul Badshah first encountered the humanitarian world when a deadly earthquake devastated the north of his country nearly a decade ago. Shortly afterwards he joined Médecins Sans Frontières (MSF) and nowadays he tries with his actions to alleviate the suffering of the population in war-hit South Sudan.
Gul Badshah is used to rapidly changing scenarios. He was born 33 years ago in the Battagram district of Khyber Pakhtunkhwa, one of the areas in the north of Pakistan that was hit by the devastating earthquake that claimed around 75,000 lives in 2005. From this dramatic experience he got the inspiration to help other people in need and joined the medical humanitarian organisation Médecins Sans Frontières (MSF). Today, after some stints in Pakistan and Uzbekistan, he works thousands of kilometres away from home, in the town of Lankien, situated in the South Sudanese state of Jonglei, which has witnessed some of the most violent episodes of the conflict that has ravaged the African country during the last five decades.
Full report at:
http://tribune.com.pk/story/677046/medecins-sans-frontieres-pakistani-medic-applies-balm-on-sudans-war/
----------
South Asia
China's turbulent Xinjiang weighs anti-terror laws for the first time
28 February 2014
China's restive far western region of Xinjiang is considering drafting anti-terror laws for the first time, following a string of deadly incidents, a state-run newspaper said on Friday.
Authorities are keen to clamp down on unrest that has killed more than 100 people during the past year in the resource-rich region, where tensions have long simmered between a large Muslim Uighur minority and growing numbers of ethnic Han Chinese.
Work on the anti-terror law is planned to start this year, although finalizing a draft may take several years, legislative official Bo Xiao told the China Daily.
"The legislation is in the second phase of this year's legislative work plan," said Bo, director of a regional law-drafting body, adding that discussion now centered on the feasibility and impact of the law.
Full report at:
http://english.alarabiya.net/en/News/asia/2014/02/28/China-s-turbulent-Xinjiang-weighs-anti-terror-laws-for-the-first-time.html
-----------
Afghan Taliban shot at downed US helicopter 'head-on'
2014-02-28
WASHINGTON: Taliban fighters shot at a US helicopter head-on from nearly point-blank range, US lawmakers heard Thursday, in what was the single deadliest incident for US and Nato forces in the Afghan war.
Lawmakers were grilling US military officials over the August 6, 2011 attack on the Chinook that killed 30 Americans as it transported Navy SEAL commandos, along with other American and Afghan troops, to flush out a Taliban commander in Wardak province.
Families of some of the victims have alleged the military has not revealed all the facts of the incident, failed to punish commanders in charge of the operation and mishandled some of the remains of the dead.
Full report at:
https://www.dawn.com/news/1090072/afghan-taliban-shot-at-downed-us-helicopter-head-on/print
----------
Academician hails Bangladesh minister's demand for speedy trial of Pak war criminals
Feb 28, 2014
Dhaka, ANI): Bangladesh academician Mesbah Kamal has hailed the law minister's demand for a speedy trial of Pakistani war criminals, accused of genocide during 1971 liberation struggle, and who were released under the Simla Agreement in 1972.
The Simla Agreement was inked between India and Pakistan in July 2, 1972, which paved the way "for a diplomatic recognition" of Bangladesh.
Recently, Bangladesh Law Minister Shafique Ahmed hinted at the trial of Pakistani war criminals.
Kamal, while talking to reporters in Dhaka, said that the international community should support the demand for the trial of Pakistani war criminals.
Full report at:
http://www.newstrackindia.com/newsdetails/2014/02/27/274-Academician-hails-Bangladesh-law-minister-s-demand-for-speedy-trial-of-Pak-war-criminals.html
----------
Al Qaeda plots comeback in Afghanistan: officials
2014-02-28
WASHINGTON: Al Qaeda's Afghanistan leader is laying the groundwork to relaunch his war-shattered organisation once the United States and international forces withdraw from the country, as they have warned they will do without a security agreement from the Afghan government, US officials say.
Farouq Al Qahtani Al Qatari has been cementing local ties and bringing in small numbers of experienced militants to train a new generation of fighters, and US military and intelligence officials say they have increased drone and jet missile strikes against him and his followers in the mountainous eastern provinces of Kunar and Nuristan.
Full report at:
https://www.dawn.com/news/1090087/al-qaeda-plots-comeback-in-afghanistan-officials
----------
Bloomberg's $10M Gift Targets Bangladesh Drowning
Feb 28, 2014
Former New York City Mayor Michael Bloomberg's foundation is donating $10 million to a program aimed at preventing the drowning of Bangladeshi children who may be improperly supervised while their parents are at work.
Bloomberg Philanthropies, the charity of the billionaire businessman and former mayor, is partnering with the World Health Organization and Johns Hopkins Bloomberg School of Public Health to tackle the problem.
The initiative will fund community day-care and locally manufactured playpens. It will monitor 80,000 children over a two-year period and evaluate the effectiveness of those approaches.
Full report at:
http://abcnews.go.com/US/wireStory/bloombergs-10m-gift-targets-bangladesh-drownings-22698244
--------
Europe
Spiritual leader Aga Khan compares Sunni-Shia conflict to Ireland
014-02-28
OTTAWA: The spiritual leader of the world's 15 million Ismaili Muslims Thursday compared a conflict between Sunni and Shia Muslims to Ireland, urging the West to engage both branches of Islam.
Speaking to both houses of Canada's parliament, the Aga Khan said tensions between the two denominations "have increased massively in scope and intensity recently and have been further exacerbated by external interventions."
"In Pakistan, Malaysia, Iraq, Syria, Lebanon, Bahrain, Yemen, Somalia and Afghanistan it is becoming a disaster," he warned.
To help bring an end to the strife in these countries, the Aga Khan said "it is important for (the West) to communicate with both Sunni and Shia voices."
"To be oblivious to this reality would be like ignoring over many centuries that there were differences between Catholics and Protestants. Or trying to resolve the civil war in Ireland without engaging both Christian communities."
Full report at:
https://www.dawn.com/news/1089880/aga-khan-compares-sunni-shia-conflict-to-ireland
----------
Fearing their homeland, Afghans seek refuge in Brussels church
Feb 28, 2014
BRUSSELS: Hundreds of Afghan refugees have set up camp in a Brussels church, protesting against their imminent deportation to their home country, which they say is not safe.
Sitting in the heart of Brussels' trendy Saint Catherine district, with renowned fish restaurants and designer fashion stores, nothing on the outside of Saint John the Baptist at the Beguinage hints at its temporary residents.
Inside, however, half of the church is filled with tents and makeshift beds. People sit on the floor to eat their lunch and children run around the 17th century baroque church's nave.
The refugees say they fear they would be killed or be forced to join terrorist groups if they returned to Afghanistan.
"We are afraid to die, to go back to die or to join a group of Al Qaeda that is against humanity," said Samir Hamdard, the 29-year-old spokesman for the group.
Hamdard was born in Afghanistan, but moved to a refugee camp in Peshawar, Pakistan, at the age of six.
Full report at:
https://www.dawn.com/news/1089841/fearing-their-homeland-afghans-seek-refuge-in-brussels-church
----------
Islam flourishing in Belgium
Feb 28, 2014
A leading Islamic academy in the city of Ghent, Belgium, has celebrated its 25th anniversary, marking a quarter century of success in teaching the Holy Qur'an and Islamic education.
Ghent is located 60 km from Brussels, with about 25,000 Muslims living there.
The Islamic Development and Research Academy was founded in Ghent in 1989 to cater to the needs of the Muslims in the region. The academy also monitors the process of providing animal meats for consumption according to the Islamic laws on slaughtering and it issues certificates for Halal food products.
The top priority since its foundation has been to preserve the study of the Arabic language, Islamic education, and the Holy Qur'an among the younger generations, who are born and raised as Muslim Belgians.
Full report at:
http://www.saudigazette.com.sa/index.cfm?method=home.regcon&contentid=20140228197123
----------
Brits who fight in Syria could face life in jail
World Bulletin/News Desk
Feb 28, 2014
One of Britain's top prosecutors today warned that Britons who travel to join the Syrian conflict will face prosecution and potential life sentences on their return, U.K. media reports.
According to the London Evening Standad, Sue Hemming said it was a crime to fight in another country even if it was to topple a "loathsome" dictator such as president Bashar Assad.
The head of counter-terrorism at the Crown Prosecution Service said Britons could also face charges for attending rebel training camps.
She quoted as saying that further prosecutions would be brought against those yet to depart if police found evidence that they were planning to fight.
Her comments, in an interview with the Evening Standard, come as seven British residents including two London women await trial over charges connected to the Syrian conflict.
They follow a recent surge in arrests by police and a warning by the Met's counter-terrorism chief about the growing number of young Britons either travelling to Syria or attempting to go.
Full report at:
http://www.worldbulletin.net/headlines/129869/brits-who-fight-in-syria-could-face-life-in-jail
----------
European Parliament condemns drone strikes
February 28, 2014
The European Parliament on Thursday condemned the covert drone strikes in countries such as Pakistan that have claimed lives of hundreds of innocent civilians, a Reprieve press release stated.
On the morning of February 27, the majority (534 to 49) of the members of the European Parliament (MEPs) voted in favour of a resolution that demanded European Union Member States not to "perpetrate unlawful targeted killings or facilitate such killings by other states" and called on them to "oppose and ban practices of extra judicial targeted killings."
Reprieve is a non government organisation working against the death penalty.
Resolution
Full report at:
http://tribune.com.pk/story/677202/european-parliament-condemns-drone-strikes/
----------
New documentary recounts story of heroic Muslim spy, Noor Inayat Khan
Feb 28, 2014
Noor Inayat Khan's bust looks over Gordon Square Garden in London, while British Prime Minister David Cameron has praised her for her "bravery," ''indomitable courage" and "inspirational self-sacrifice."
Yet to Emmy Award-winning film director Rob Gardner, Khan was in many ways a mystery.
"How do you explain this person who wrote children's stories and who grew up in a spiritual home to all of a sudden be fighting against the Nazis?" he asked.
Gardner has just completed "Enemy of the Reich: The Noor Inayat Khan Story," about the Indian-American Muslim woman who worked as a British spy in Nazi-occupied Paris. He hopes his film will introduce this unlikely heroine to millions of Americans. The film premiered at the Warner Theatre in Washington, D.C., earlier this month. It travels to 14 cities between March 15 and May 4 and will be broadcast on PBS later this year.
Full report at:
http://www.washingtonpost.com/national/religion/new-documentary-recounts-story-of-heroic-muslim-spy/2014/02/27/fb86897c-9fed-11e3-878c-65222df220eb_story.html
----------
North America
New online campaign urges American Muslims to 'drop the A-word'
Feb 28, 2014
A new Muslim-American group has launched a social media campaign urging Arabs not to use Arabic racial slurs against African Americans, the U.S. daily news website The Desert Sun reported on Wednesday.
The group, which goes by the name of "Drop the A-Word," calls on Arabs living in America to stop using the words "Abeed" and "abed" to describe African Americans.
In Arabic, the world "abed" and its plural form "Abeed" mean "slave" or "servant."
"We should stop using 'Abeed' to describe or reference people of African descent," said Majed Moughni, a Dearborn-based supporter of the group.
"It's being used in a racial sense, and that's derogatory," Moughni added.
Demanding respect
Supporters of the campaign took to social networking site Twitter to show their support for the initiative.
Full report at:
http://english.alarabiya.net/en/life-style/art-and-culture/2014/02/27/New-online-campaign-urges-American-Muslims-to-drop-the-A-word-.html
----------
U.S. Militant, Hidden, Spurs Drone Debate
By MARK MAZZETTI and ERIC SCHMITT
FEB. 28, 2014
WASHINGTON — He is known as Abdullah al-Shami, an Arabic name meaning Abdullah the Syrian. But his nom de guerre masks a reality: He was born in the United States, and the United States is now deciding whether to kill him.
Mr. Shami, a militant who American officials say is living in the barren mountains of northwestern Pakistan, is at the center of a debate inside the government over whether President Obama should once again take the extraordinary step of authorizing the killing of an American citizen overseas.
It is a debate that encapsulates some of the thorniest questions raised by the targeted killing program that Mr. Obama has embraced as president: under what circumstances the government may kill American citizens without a trial, whether the battered leadership of Al Qaeda in Pakistan still poses an imminent threat to Americans, and whether the C.I.A. or the Pentagon ought to be the dominant agency running America's secret wars.
Full report at:
http://www.nytimes.com/2014/02/28/world/asia/us-militant-hidden-spurs-drone-debate.html?_r=0
----------
Kerry decries 'new isolationism', says US acts like poor nation
Reuters | Feb 28, 2014
WASHINGTON: US Secretary of State John Kerry decried what he called a "new isolationism" in the United States on Wednesday and suggested that the country was beginning to behave like a poor nation.
Speaking to reporters, Kerry inveighed against what he sees as a tendency within the United States to retreat from the world even as he defended the Obama administration's diplomatic efforts from Syria to the Israeli-Palestinian conflict.
In comments tied to the budget that US President Barack Obama is expected to present on Tuesday, Kerry suggested that tighter spending, in part at the behest of congressional Republicans, may limit US clout around the world.
Full report at:
http://timesofindia.indiatimes.com/world/us/Kerry-decries-new-isolationism-says-US-acts-like-poor-nation/articleshow/31117326.cms
----------
US drawdown: Afghanistan's stability crucial for Pakistan
February 28, 2014
ISLAMABAD: For the time being, nobody knows who will pay for Afghanistan and how the gains made will be protected while the country's stability is equally crucial for Pakistan's well-being after the US drawdown.
As Pakistan prepares to weather a dark new chapter in its militancy challenge, there is a real danger that international and regional conflict trends in the country's vicinity could lead to a perfect storm. The cautionary assessment was made by Jinnah Institute President and Pakistan's former Ambassador to the United States Sherry Rehman at a panel discussion on Thursday.
The discussion, titled "Transition 2014: Conflict and Regional Futures" was also joined by policy experts Khawar Mumtaz, Security expert Talat Masood, senior journalist Zahid Hussain, and Jawaharlal Nehru University lecturer Professor Uma Singh.
Full report at:
http://tribune.com.pk/story/676956/us-drawdown-afghanistans-stability-crucial-for-pakistan/
----------
FBI mole had contact with bin Laden years before 9/11: US media
Feb 28, 2014
WASHINGTON: An informant working for the FBI had contact with terrorist leader Osama bin Laden eight years before the September 11, 2001, attacks on the United States, The Washington Times and NBC reported.
An FBI mole inside the al-Qaeda terrorist network met with bin Laden and knew that he wanted to finance attacks.
The FBI informant had worked as a driver and a confidant of the radical Egyptian preacher Omar Abdel Rahman, the blind shiekh serving life in prison for the 1993 attack on the World Trade Center in New York. Rahman allegedly told the informant "If you need money, go directly to Osama and tell him that I sent you."
Full report at:
http://www.thenews.com.pk/article-139452-FBI-mole-had-contact-with-bin-Laden-years-before-911:-US-media
----------
US notes consolidation of democracy in Pakistan
2014-02-28
WASHINGTON: In a rare praise for Pakistan, a US State Department's human rights report, released on Thursday, acknowledged that there was significant consolidation of the country's democratic institutions during 2013.
The report on Pakistan also noted that violence, abuse, and social and religious intolerance by militant organisations and other non-governmental actors contributed to a culture of lawlessness in Balochistan, Sindh, Khyber Pakhtunkhwa and the Federally Administered Tribal Areas.
The report also focused on the May general election, noting that it "marked the first time since independence in 1947 that one elected government completed its term and peacefully transferred power to another."
Full report at:
https://www.dawn.com/news/1090044/us-notes-consolidation-of-democracy-in-pakistan
----------
Southeast Asia
With No Birth Certificate, 50 Million Kids Grow Up With No Rights: Indonesia
Feb 28, 2014
Jakarta. Up to 50 million children are in danger of not being able to access the most basic civil services due to the lack of a birth certificate, a study has found.
A baseline study on legal identity conducted by the Australia Indonesia Partnership for Justice and the Center for Child Protection at the University of Indonesia (Puskapa UI) released on Thursday found that 50 million children did not have birth certificates due to their parents' poor knowledge about the procedure and a complicated bureaucracy.
"There was an assumption that people didn't have proper documents because of poor awareness. However, our study found that 41 percent of the people we surveyed don't have a birth certificates because of the additional cost," Puskapa co-director Santi Kusumaningrum told the Jakarta Globe on Thursday.
Full report at:
http://www.thejakartaglobe.com/news/with-no-birth-certificate-50-million-kids-grow-up-with-no-rights/
----------
Danger ahead for planned Philippine Muslim peace deal
2014-02-28
MANILA: Philippine President Benigno Aquino is on the brink of an accord to end one of Asia's longest and deadliest rebellions, but renegade guerrillas, hostile politicians and the nation's highest court lie in potential ambush.
After completing negotiations last month, Aquino is expected to sign within weeks a final peace deal with the Moro Islamic Liberation Front (MILF) for a power-sharing arrangement with the nation's Muslim minority in the south.
In a process patterned on the 1998 Good Friday accord that ended the Northern Ireland conflict, the MILF would then gradually disband its 12,000-member force and put its weapons "beyond use".
Full report at:
https://www.dawn.com/news/1089961/danger-ahead-for-planned-philippine-muslim-peace-deal
----------
URL: https://newageislam.com/islamic-world-news/azhar-grand-imam-rejects-zionist/d/45955