New Age Islam News Bureau
30 January 2021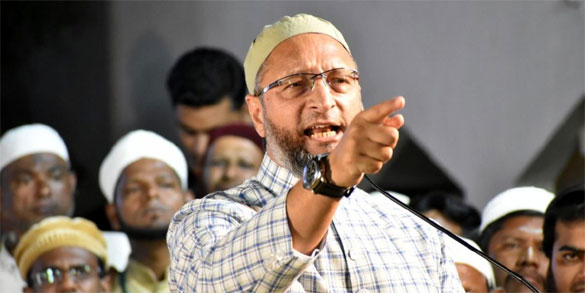 • Not Bound By Treaty On Prohibition Of Nuclear Weapons; As It Failed To Take Into Account The Interests Of All Stakeholders: Pakistan
• U.S. Is Bombarding Civilians In Breach Of Afghan Deal: Taliban
• Indonesia's Aceh Province Publicly Canes Two Gay Men
• UAE Says Will Cooperate With UN, US On Libya Conflict
• Archaeologists In Israel Discover Remnants Of Ancient Mosque Built Around 670 AD
• Israel, Morocco Set Up Working Groups To Boost Ties After Normalization
• Tony Blinken Dials Shah Mahmood Qureshi, Seeks Accountability In Daniel Pearl's Murder Case
New US Iran Envoy Talks To European Officials About Nuclear Deal: Reuters
India
• Ayodhya Seers And Clerics Called Asaduddin Owaisi's Statement That Ayodhya Mosque Was Haram, 'Polarisation Agenda Of The Hyderabadi Politician'
• Letter From Israeli Embassy Blast Site Talks Of Avenging 'Martyred Iranians': Key Developments
• 2 terrorists trapped during encounter with security forces surrender in J&K's Pulwama
• Blast near Israel embassy, Delhi Police probing terror angle
• Pulwama twin encounter: Hizbul trio killed in Tral, another gunfight starts in Kakapora
• AMU Student, Arif Tyagi, Externed From Aligarh Under Goondas Act
• Ashish Patil and Gopal Patil Held For 'Vandalising Prayer Hall, Burning Religious Books In Songadh' In Tapi District
• India, Bangladesh Foreign Secys Review Ties, Discuss PM Modi's Visit To Dhaka
--------
Pakistan
• Not Bound By Treaty On Prohibition Of Nuclear Weapons; As It Failed To Take Into Account The Interests Of All Stakeholders: Pakistan
• Pakistan-Based Banned Terror Group Lashkar-e-Islam Picks, Afridi From Akakhel Tribe, Its New Leader
• Pakistan to be made into industrial state, agro-based economy: PM Imran
• Bajwa holds security talks with Qatar leadership
• Bilquis Edhi declared 'Person of the Decade'
• PTM not against any community, institution: Pashteen
• Pakistan arrests key militant over Iran terror links
--------
South Asia
• U.S. Is Bombarding Civilians In Breach Of Afghan Deal: Taliban
• Terrorizing blasts in Kabul kills 1, wounds many
• Middle Eastern ISIS group moves to Afghanistan: SCO
• Dozens killed in two separate incidents in Nangarhar, Wardak
• Interim government leads to 'bloodshed': Ashraf Ghani
--------
Southeast Asia
• Indonesia's Aceh Province Publicly Canes Two Gay Men
• Hadi Under Fire After Unfriendly Remarks About Joe Biden
• Singapore Christians and Muslims condemn plans for attack against two mosques
--------
Arab World
• UAE Says Will Cooperate With UN, US On Libya Conflict
• Clear Confidence In Working With European, US Allies On Regional Challenges: Saudi FM
• US military refusal to pull out troops to be met with Iraqi nation's resistance, MP warns
• Lebanese leaders denounce violent anti-lockdown protests in Tripoli
• Damascus says terrorist groups, US-backed militants continue to commit crimes in Syria
--------
Mideast
• Archaeologists In Israel Discover Remnants Of Ancient Mosque Built Around 670 AD
• Iran executes Javid Dehghan despite calls from UN, organizations to end killing spree
• UN Condemns Iran Execution Spree, Worried About Minorities
• Conflicting reports on reason for sirens in Tehran as Turkish flight diverted to Baku
• Yemen's Ansarullah welcomes Italy's decision to block arms exports to Saudi Arabia, UAE
• Israeli troops attack Palestinian protest against settlements
--------
Africa
• Israel, Morocco Set Up Working Groups To Boost Ties After Normalization
• More Victims Kidnapped By Boko Haram, Including Chibok Girls Escape From Captivity
• Somalia: Civilian Killed in Roadside Bomb On Afgoye-Mogadishu Road Construction Site
• No poison found in suspect letter to Tunisian President Kais Saied
--------
North America
• Tony Blinken Dials Shah Mahmood Qureshi, Seeks Accountability In Daniel Pearl's Murder Case
• Biden administration extends program allowing Syrians to seek temporary refuge in US
• Priority for US is dealing with Iran moving closer to nuclear weapon: Official
• Afghanistan's Taliban say honouring Doha deal, warn US troops to leave or die
--------
Europe
• New US Iran Envoy Talks To European Officials About Nuclear Deal: Reuters
• French President Emmanuel Macron to visit crisis-hit Lebanon for a third time
• In 'Historic' Move, Italy Blocks Arms Sales To Saudi Arabia, UAE Over Yemen Crimes
• Former MEPs slam Iran's terror campaign across Europe
• Muslim headscarves barred in all public areas in France under new measures proposed by Marine Le Pen
Compiled by New Age Islam News Bureau
URL: https://www.newageislam.com/islamic-world-news/ayodhya-seers-clerics-called-asaduddin/d/124188
--------
Ayodhya Seers And Clerics Called Asaduddin Owaisi's Statement That Ayodhya Mosque Was Haram, 'Polarisation Agenda Of The Hyderabadi Politician'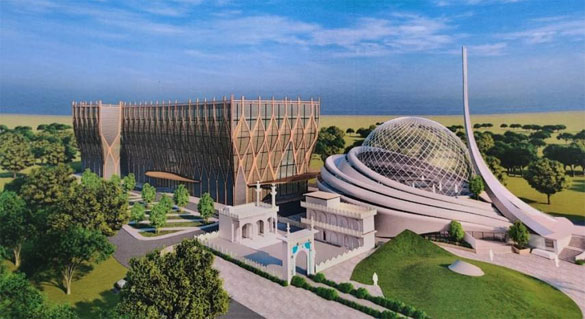 Jan 30, 2021
AIMIM president Asaduddin Owaisi's statement that the Ayodhya mosque on 5-acre land was 'haraam' (un-Islamic) has triggered an unprecedented bonding between Hindus and Muslims, who unitedly criticised what they called "polarisation agenda of the Hyderabadi politician".
Cementing communal harmony and holding aloft Ayodhya's syncretic moorings, clerics and seers called out Owaisi for trying to create rift to serve his politics.
Talking to TOI, mahant of Tapaswi Chavni, Paramhans Das, said, "I strongly advocate construction of the mosque in Ayodhya. Offering prayers cannot be illegal anywhere as every part of the world was created for worship of God. Also, the proposed land is not disputed and mandated by the Supreme Court. Owaisi is trying to create confusion with rhetoric and building walls between communities."
Muslim representatives also objected to Owaisi's statement. One of the oldest litigants in the Ayodhya title suit, Iqbal Ansari, said, "Owaisi has no right to call anybody 'munafiq' (hypocrite) or 'zaalim' (tyrant). He will face tremendous opposition from Muslims when comes to Uttar Pradesh to seek votes. The proposed 5acre land is not in any manner a barter or an exchange. We fought a prolonged legal battle, but lost. The Supreme Court on its own gave the land for building a mosque," he said.
Another prominent Ayodhya cleric, Mukhtar Ahmad, said, "Owaisi is not a mufti (Islamic legal authority). How he can issue a fatwa that the land for the proposed mosque is haraam (un-Islamic). He has no right to term anyone munafiq or zaalim."
In another bold move promote harmony, president of Ashfaqullah Khan Memorial Shaheed Research Foundation, Surya Kant Pandey, has written to temple trust secretary Champat Rai and mosque trust secretary Athar Hussain to install memorials of freedom fighters, Ashfaqullah Khan and Ram Prasad Bismil at Ramjanmabhoomi and Dhannipur mosque site.
https://timesofindia.indiatimes.com/city/hyderabad/ayodhya-seers-clerics-slam-owaisi/articleshow/80591706.cms
--------
Not Bound By Treaty On Prohibition Of Nuclear Weapons; As It Failed To Take Into Account The Interests Of All Stakeholders: Pakistan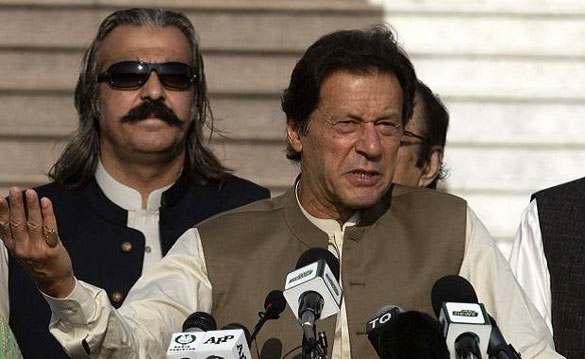 There are nine nuclear-armed countries, with Russia and the United States holding the majority of nuclear weapons.
-----
Jan 29, 2021
ISLAMABAD: Pakistan on Friday said it was not bound by the treaty on the prohibition of nuclear weapons as it failed to take into account the interests of all stakeholders.
The Treaty on the Prohibition of Nuclear Weapons entered into force on January 22, culminating a decades-long campaign aimed at preventing a repetition of the US atomic bombings of Hiroshima and Nagasaki at the end of World War II.
Though hailed as a historic step by several nations, the treaty was opposed by the world's nuclear-armed countries, including the US, China, Russia, the UK and India. Japan also didn't support the pact.
The treaty, which was adopted in July 2017, was "negotiated outside the established UN disarmament negotiating forums," Pakistan's Foreign Office said in a statement.
"Accordingly, Pakistan does not consider itself bound by any of the obligations enshrined in this treaty. Pakistan stresses that this treaty neither forms a part of, nor contributes to the development of customary international law in any manner," it said.
The statement noted that none of the nuclear armed states, including Pakistan, took part in the negotiations of the treaty which "failed to take on board the legitimate interests of all the stakeholders" and many non-nuclear armed states have also refrained from becoming parties to the agreement.
The foreign ministry underlined that the UN General Assembly at its first special session devoted to nuclear disarmament in 1978 had agreed by consensus that in the adoption of disarmament measures, the right of each state to security should be kept in mind.
It also agreed that at each stage of the disarmament process the objective would be undiminished security for all states at the lowest possible level of armaments and military forces, the ministry said.
This objective, it said, can only be achieved as a cooperative and universally agreed undertaking, through a consensus-based process involving all the relevant stakeholders, which results in equal and undiminished security for all states.
https://timesofindia.indiatimes.com/world/pakistan/not-bound-by-treaty-on-prohibition-of-nuclear-weapons-pakistan/articleshow/80589581.cms
--------
U.S. Is Bombarding Civilians In Breach Of Afghan Deal: Taliban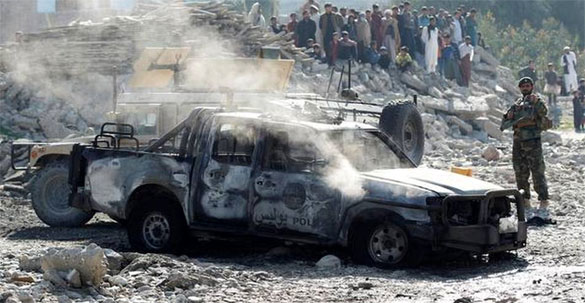 Blame game: An Afghan National Army soldier inspects the wreckage after a blast in Jalalabad on Wednesday. | Photo Credit: REUTERS
------
JANUARY 29, 2021
The Taliban on Friday rejected Washington's accusations that it had not lived up to its promises in Afghanistan, in turn claiming the U.S. was 'bombarding civilians'.
The U.S. signed a landmark deal with the insurgents last year, agreeing to withdraw its troops from the country in return for security guarantees after a stalemate on the battlefield.
"The other side have violated the agreement, almost every day they are violating it," Mohammad Naeem, a Taliban spokesman said.
"They are bombarding civilians, houses and villages, and we have informed them from time to time, these are not just violations of the agreement but violations of human rights."
The U.S military has in recent months carried out air strikes against the Taliban fighters in defence of Afghan forces in some provinces.
Taliban spokesman Zabihullah Mujahid added on Twitter that the allegations against the group were "unfounded" and that it was "fully committed" to the agreement.
Pentagon spokesman John Kirby told reporters on Thursday that the Biden administration remains committed to the Taliban-U.S. deal and ending the war "in a responsible way".
However, he said, "the Taliban are not meeting their commitments to reduce violence, and to renounce their ties to al-Qaeda".
"We are still involved in trying to get a negotiated settlement," he added.
The agreement, signed in Doha last year, required the Taliban to halt attacks on U.S. forces, sharply decrease the level of violence in the country, and advance peace talks with the government in Kabul.
In return, the United States would steadily reduce its troop levels in the country, and remove all forces by May 2021.
Mr. Kirby said the U.S. Defense Department is comfortable with the current level of 2,500 US troops in the country, down from close to 13,000 a year ago.
It is enough to carry out the main U.S. mission, to counter Islamic State and Al-Qaeda forces operating in Afghanistan, he said.
But he would not say if the Pentagon will complete a full withdrawal before the May deadline.
Much depends on whether the Taliban and the Afghan government, who launched peace talks in September, can negotiate a settlement.
Violence has soared in the country, which is also facing a new trend of targeted killings since the talks began.
"I would say this to the leaders of the Taliban, that... they make it that much more difficult for final decisions to be made about force presence by their reticence to commit to reasonable, sustainable and credible negotiations at the table," Mr. Kirby said.
https://www.thehindu.com/news/international/us-is-bombarding-civilians-in-breach-of-afghan-deal-taliban/article33698544.ece
--------
Indonesia's Aceh province publicly canes two gay men
JAN 30, 2021
Authorities in Indonesia's Aceh province publicly caned six people accused of breaching Islamic law, including two men who received 77 lashes for having a same sex relationship, in a punishment Human Rights Watch called "public torture".
Aceh is the only province in majority-Muslim Indonesia to follow Islamic law, and this was the third such caning since Aceh outlawed homosexuality in 2014. The province, on the northern tip of Sumatra island, also imposes caning for crimes such as theft, gambling and adultery.
A hooded religious police officer carried out Thursday's floggings, watched by a crowd wearing face masks. One of the men grimaced in pain as he received the punishment, which caused his mother to faint.
Two other people received 40 lashes for alcohol consumption and another two 17 lashes for adultery.
Andreas Harsono, Indonesia researcher for Human Rights Watch, condemned the canings and the homophobic attitudes displayed by some in Aceh, a deeply conservative society where lesbian, gay, bisexual, and transgender (LGBT) people are ostracised and targeted by the authorities.
"If Indonesia is to be considered a civilized country... the government must stop the practice of torture in Aceh" and immediately review how Islamic law has been integrated into regional regulations, he said.
Opinions among Acehnese are a still a world away for any tolerance of LGBT communities. Devi Arinah, a 53-year-old teacher, said she backed caning for homosexual acts but in addition felt people should be "given counseling so that they realize that their actions are not suitable for us as believers."
Another resident, 17-year-old Teguh Khosul said that if caning did not alter behaviour then either a cleric should help "rehabilitate" gay people in a religious way or be cast out from society.
https://www.hindustantimes.com/lifestyle/relationships/indonesias-aceh-province-publicly-canes-two-gay-men-101611981486839.html
--------
UAE says will cooperate with UN, US on Libya conflict
30 January 2021
The United Arab Emirates has issued a statement Friday stating its readiness to work "closely" with the new US administration for a peaceful solution to the Libya conflict.
"There is an urgent need for renewed diplomatic efforts to resolve the conflict in Libya," Lana Nusseibeh, the UAE ambassador to the UN, said in a letter.
"The UAE stands ready to work closely with all Security Council members, including the new US administration, to achieve a peaceful settlement for the Libyan people," she said.
She said the country welcomed the Security Council's "call for all foreign forces to withdraw from Libya. Foreign intervention in the conflict must end now."
The day before, during a virtual meeting of the Security Council on Libya, the United States called on "all external parties, to include Russia, Turkey and the UAE, to respect Libyan sovereignty and immediately cease all military intervention in Libya."
Together with Egypt and Russia, the UAE is one of the main supporters of Khalifa Haftar, the Libyan general the east of Libya who is fighting the Government of National Accord (GNA) in Tripoli.
"The UAE firmly believes that diplomatic and political solutions are the sole path to end the Libyan conflict, Nusseibeh said.
"The first priority is to preserve and reinforce the ceasefire agreement" agreed to in October, she said.
"This will enable and encourage a political process and a Libyan-led transition that fulfills the aspirations of the Libyan people for stability, peace, and prosperity," she added.
https://english.alarabiya.net/News/north-africa/2021/01/30/Libya-conflict-UAE-says-will-cooperate-with-UN-US-on-Libya-conflict
--------
Archaeologists in Israel discover remnants of ancient mosque built around 670 AD
JAN 30, 2021
Archaeologists in Israel say they have discovered the remnants of an early mosque — believed to date to the earliest decades of Islam — during an excavation in the northern city of Tiberias.
This mosque's foundations, excavated just south of the Sea of Galilee by the Hebrew University of Jerusalem, point to its construction roughly a generation after the death of the Prophet Mohammad, making it one of the earliest Muslim houses of worship to be studied by archaeologists.
"We know about many early mosques that were founded right in the beginning of the Islamic period," said Katia Cytryn-Silverman, a specialist in Islamic archaeology at Hebrew University who heads the dig. Other mosques dating from around the same time, such as the Prophet's Mosque in Medina, the Great Mosque of Damascus, and Jerusalem's Al-Aqsa mosque, are still in use today and cannot be tampered with by archaeologists.
Cytryn-Silverman said that excavating the Tiberian mosque allows a rare chance to study the architecture of Muslim prayer houses in their infancy and indicates a tolerance for other faiths by early Islamic leaders. She announced the findings this month in a virtual conference.
When the mosque was built around 670 AD, Tiberias had been a Muslim-ruled city for a few decades. Named after Rome's second emperor around 20 AD, the city was a major center of Jewish life and scholarship for nearly five centuries. Before its conquest by Muslim armies in 635, the Byzantine city was home to one of a constellation of Christian holy sites dotting the Sea of Galilee's shoreline.
Under Muslim rule, Tiberias became a provincial capital in the early Islamic empire and grew in prominence. Early caliphs built palaces on its outskirts along the lake shore. But until recently, little was known about the city's early Muslim past.
Gideon Avni, chief archaeologist with the Israel Antiquities Authority, who was not involved in the excavation, said the discovery helps resolve a scholarly debate about when mosques began standardizing their design, facing toward Mecca.
"In the archaeological finds, it was very rare to find early mosques," he said.
Archaeological digs around Tiberias have proceeded in fits and starts for the past century. In recent decades the ancient city has started yielding other monumental buildings from its past, including a sizeable Roman theater overlooking the water and a Byzantine church.
Since early last year, the coronavirus pandemic halted excavations and lush Galilean grasses, herbs and weeds have grown over the ruins. Hebrew University and its partners, the German Protestant Institute of Archaeology, plan to restart the dig in February.
Initial excavations of the site in the 1950s led scholars to believe that the building was a Byzantine marketplace later used as a mosque.
But Cytryn-Silverman's excavations delved deeper beneath the floor. Coins and ceramics nestled among at the base of the crudely crafted foundations helped date them to around 660-680 AD, barely a generation after the city's capture. The building's dimensions, pillared floor-plan, and qiblah, or prayer niche, closely paralleled other mosques from the period.
Avni said that for a long time, academics weren't sure what happened to cities in the Levant and Mesopotamia conquered by the Muslims in the early 7th century.
"Earlier opinions said that there was a process of conquest, destruction and devastation," he said. Today, he said, archaeologists understand that there was a "fairly gradual process, and in Tiberias you see that."
The first mosque built in the newly conquered city stood cheek by jowl with the local synagogues and the Byzantine church that dominated the skyline. This earliest phase of the mosque was "more humble" than a larger, grander structure that replaced it half a century later, Cytryn-Silverman said.
"At least until the monumental mosque was erected in the 8th century, the church continued being the main building in Tiberias," she added.
She says this supports the idea that the early Muslim rulers — who governed an overwhelmingly non-Muslim population — adopted a tolerant approach toward other faiths, allowing a "golden age" of coexistence.
"You see that the beginning of the Islamic rule here respected very much the population that was the main population of the city: Christians, Jews, Samaritans," Cytryn-Silverman said. "They were not in a hurry to make their presence expressed into buildings. They were not destroying others' houses of prayers, but they were actually fitting themselves into the societies that they now were the leaders of."
https://www.hindustantimes.com/trending
--------
Israel, Morocco set up working groups to boost ties after normalization
29 January 2021
Israel and Morocco on Friday announced the creation of "working groups" to bolster cooperation between the two countries, following an agreement to restore diplomatic ties.
Morocco and Israel in December signed a US-brokered normalization agreement in Rabat, and on Tuesday Israel announced the re-opening of its diplomatic mission in the North African country.
It had closed after Morocco shut its liaison office in Tel Aviv in 2000, at the start of the second Palestinian intifada, or uprising, against Israeli occupation.
Morocco's Foreign Minister Nasser Bourita and Israel's National Security Advisor Meir Ben Shabbat spoke by telephone on Thursday, a statement from both countries said.
"They agreed to set up working groups which will work towards collaboration agreements on many areas including investments, agriculture, water, environment, tourism, science, innovation, energy and more," a statement from the Israeli prime minister's office said.
The foreign ministry in Rabat confirmed the report.
The working groups will meet first online due to the coronavirus pandemic, but with visits in person later.
"Hopefully in February a high-level Moroccan delegation will arrive in Israel... and Ben Shabbat is also expected to head a delegation to Morocco this February," the Israeli statement said.
Bourita and Ben Shabbat "discussed the great potential in collaboration, which will benefit not only Morocco and Israel, but also the entire region", the statement said.
Morocco was one of three Arab nations last year to normalize ties with Tel Aviv under US-brokered deals after the United Arab Emirates and Bahrain, with Sudan following suit this month.
The kingdom has North Africa's largest Jewish community of about 3,000 people, and Israel is home to 700,000 Jews of Moroccan origin.
https://english.alarabiya.net/News/north-africa/2021/01/29/Israel-relations-Israel-Morocco-set-up-working-groups-to-boost-ties-after-normalization
--------
Tony Blinken dials Shah Mahmood Qureshi, seeks accountability in Daniel Pearl's murder case
Jan 30, 2021
WASHINGTON/ISLAMABAD: US secretary of state Tony Blinken has spoken over phone with Pakistan's foreign minister Shah Mahmood Qureshi and discussed the accountability of convicted terrorists responsible for the brutal murder of American journalist Daniel Pearl, according to the state department.
Pearl, the 38-year-old South Asia bureau chief for The Wall Street Journal, was abducted and beheaded while he was in Pakistan investigating a story in 2002 on the links between the country's powerful spy agency ISI and al-Qaeda.
State department spokesperson Ned Price said on Friday that Blinken reinforced America's concern over Pakistan Supreme Court's ruling acquitting Pearl's killers.
"Blinken and Qureshi discussed how to ensure accountability for convicted terrorist Ahmed Omar Saeed Sheikh and others responsible for the kidnapping and murder of American journalist Daniel Pearl," Price said in a readout of the call.
In addition, Blinken and Qureshi discussed the importance of continued US-Pakistan cooperation on the Afghan peace process, support for regional stability, and the potential to expand our trade and commercial ties, Price said.
The Pakistan foreign office said in a statement that the two leaders discussed "recent developments in the Daniel Pearl case" and Qureshi "underscored that it was important and in the mutual interest that justice is served through legal means."
Qureshi congratulated secretary Blinken on assuming his office, underscoring Pakistan's commitment to forging a comprehensive partnership with the United States based on the convergence of interests on a whole range of issues, it said.
Qureshi told Blinken that peace in Afghanistan through a negotiated political settlement was one of the fundamental convergences between the two countries.
He said it was essential to have a reduction in violence leading to the ceasefire and to work towards securing an inclusive political solution in Afghanistan.
Qureshi said Pakistan had facilitated the Afghan peace process and remained committed to working with the United States as a partner for peace, the foreign office said.
Qureshi and Blinken also agreed to remain engaged and work together on advancing the two countries' bilateral agenda and promoting common interests in the region and beyond, it said.
A day earlier, Blinken expressed concern over the Pakistan Supreme Court's decision of acquitting those involved in the sensational kidnapping and murder of Pearl and said that the judgement is an affront to terrorism victims everywhere.
In a strongly-worded statement, Blinken urged Pakistan to explore all legal options to ensure that the killers of Pearl are brought to justice.
"The United States is deeply concerned by the Pakistani Supreme Court's decision to acquit those involved in Daniel Pearl's kidnapping and murder and any proposed action to release them," he said.
Pakistan's Supreme Court on Thursday dismissed appeals against the acquittal of British-born al-Qaeda terrorist Ahmed Omar Saeed Sheikh in the kidnapping and murder case of Pearl and ordered his release, a judgement denounced by the American journalist's family as 'a complete travesty of justice.'
Sheikh and his three aides - Fahad Naseem, Sheikh Adil and Salman Saqib - were convicted and sentenced in the abduction and murder case of Pearl in Karachi in 2002.
Blinken said, "Ahmad Omar Saeed Sheikh was indicted in the United States in 2002 for hostage-taking and conspiracy to commit hostage-taking, resulting in the murder of Pearl, the South Asia bureau chief for the Wall Street Journal, as well as the 1994 kidnapping of another United States citizen in India."
The court's decision is an affront to terrorism victims everywhere, including in Pakistan, he said.
"We expect the Pakistani government to expeditiously review its legal options to ensure justice is served. We take note of the attorney general's statement that he intends to seek review and recall of the decision. We are also prepared to prosecute Sheikh in the United States for his horrific crimes against an American citizen," Blinken said.
The United States is committed to securing justice for Pearl's family and holding terrorists accountable, he said.
Pearl's murder took place three years after Sheikh, along with Jaish-e-Mohammad chief Masood Azhar and Mushtaq Ahmed Zargar, was released by India in 1999 and given safe passage to Afghanistan in exchange for the nearly 150 passengers of hijacked Indian Airlines Flight 814.
He was serving a prison term in India for kidnappings of Western tourists in the country.
A three-judge bench of Pakistan supreme court led by justice Mushir Alam on Thursday dismissed the Sindh government's appeal against the Sindh high court's (SHC) decision to overturn the conviction of Sheikh in the Pearl murder case. The beheading of the American journalist in 2002 had grabbed international headlines.
The court ordered that three others, who had been sentenced to life in prison for their part in Pearl's kidnapping and death, also be freed.
https://timesofindia.indiatimes.com/world/us/tony-blinken-dials-shah-mahmood-qureshi-seeks-accountability-in-daniel-pearls-murder-case/articleshow/80598896.cms
--------
New US Iran envoy talks to European officials about nuclear deal: Reuters
29 January 2021
The new US Iran envoy spoke with British, French and German officials on Thursday as the United States explores how to revive the 2015 nuclear deal, two sources familiar with the matter said on Friday.
"It was to take stock of the dossier and to assess what our state of mind is," a European diplomatic source said of US special envoy Rob Malley's conversation with the British, French and German foreign ministry political directors.
For the latest headlines, follow our Google News channel online or via the app.
A second source confirmed that the discussion took place but offered no details. The State Department did not immediately respond to requests for comment.
The nuclear deal, formally called the Joint Comprehensive Plan of Action (JCPOA), was struck by Iran and six major powers and committed Iran to restricting its nuclear program in return for sanctions relief from the United States and others. Malley was a member of the US team that negotiated the deal during the Obama administration.
US President Joe Biden has said if Tehran returns to the pact, Washington would do so as well and would then seek to build a broader pact to also deal with Iran's development of ballistic missiles and support for proxy forces in Iraq, Syria, Yemen and elsewhere.
Trump withdrew the US from the deal in 2018 and revived US sanctions.
Iran was accused of violating the deal and then started enriching larger quantities of uranium to higher levels of purity.
The Biden administration has insisted Iran resume complying before it would. Tehran argues that Washington abandoned the agreement and should return before Iran does.
US Secretary of State Antony Blinken has said the time it would take Iran to make enough fissile material for a single nuclear weapon has fallen to three or four months from over a year under the deal.
"From our perspective, a critical early priority has to be to deal with what is an escalating nuclear crisis as they (Iran) move closer and closer to having enough fissile material for a weapon," White House national security adviser Jake Sullivan said at an event in Washington on Friday.
The talks with the British, French and German officials are likely only the first step in consultations that will ultimately bring in China and Russia, the other major powers in the pact, and, eventually Iran itself.
French President Emmanuel Macron was quoted on Friday as saying any new negotiations would be very "strict" and should include Saudi Arabia, Iran's regional adversary, Al Arabiya reported.
https://english.alarabiya.net/News/middle-east/2021/01/30/New-US-Iran-envoy-talks-to-European-officials-about-nuclear-deal-Reuters
--------
India
Letter from Israeli embassy blast site talks of avenging 'martyred Iranians': Key developments
Jan 30, 2021
NEW DELHI: Friday's low-intensity blast outside New Delhi's Israel embassy has stirred up questions of a larger terror angle.
The incident has put focus on a similar incident from 2012, when an Israeli embassy vehicle was targeted in Delhi, and the probe pointed to a possibility of involvement of Iranian agencies.
Here's a quick look at the developments since Friday's blast in the high-security zone of the capital.
Delhi Police's Special Cell team visits blast site
An investigation team of Delhi Police's Special Cell on Saturday visited the blast site to collect more evidence as part of its ongoing probe.
Forensic experts have collected samples from the crime scene that will ascertain the chemical composition used in the low-intensity improvised explosive device (IED).
Ball bearings seized from the spot were found scattered on the ground and the impact of the explosion was felt within a radius of 20-25 metres.
Delhi: A low-intensity explosion occurred near Israel Embassy yesterday. Samples collected from the spot by a crime… https://t.co/NaexEj6l1n
— ANI (@ANI) 1611982278000
Suspicious envelope found outside embassy
Investigators have recovered an envelope with text written on it related to Israel Embassy officials from the blast site, according to sources.
Delhi police sources revealed that in the letter, yesterday's explosion has been referred to as a 'trailer'.
The killing of two Iranians has also been mentioned in the letter. The names mentioned as 'martyrs' in the letter are- Qasem Soleimani (Iranian military officer who served in the Islamic Revolutionary Guard Corps and was killed in a US airstrike in January 2020) and Mohsen Fakhrizadeh (Iranian nuclear scientist assassinated in November 2020).
"This is a trailer. We can end your life, anytime, anywhere. Iranian martyr.." the letter reads.
Two persons spotted in CCTV footage
A CCTV footage of the blast site has revealed that a cab had dropped two persons near the embassy and it is yet to be ascertained whether these persons have any role in the explosion, according to Delhi Police sources.
The Delhi Police Special Cell has contacted the concerned cab driver and enquired about the two persons. Police are drawing out the pictures of the two persons on the basis of inputs gathered from the cab driver.
Blast may be connected to 2012 attack on diplomats: Envoy Ron Malka
Israeli ambassador to Delhi Ron Malka on Saturday said that there might be a connection between Friday's blast near the Israeli Embassy and the 2012 attack targeting the country's diplomats in Delhi.
"As of now, our strong assumption is that it is a terror attack that targeted the Israeli Embassy. Fortunately, nobody was hurt," the envoy said.
Delhi police seeks details of Iranians from FRRO
Delhi police has asked for details of all Iranians, including Iranians settled overseas, who have come to the national capital through the Foreigner Regional Registration Office (FRRO).
Last one month's details in this regard have been sought from the FRRO. So far details of those who stayed in hotels are being gathered.
Israel to send investigators
Israel will send a team to participate in an investigation into the blast outside its embassy in New Delhi. Israel's defence establishments have suspected Iran's IRGC (Islamic Revolutionary Guard Corps) behind the attack, according to the sources.
Jaishankar assures 'fullest protection' to Israeli diplomats
External Affairs Minister S Jaishankar has assured the Israeli Foreign Minister Gabi Ashkenazi of "fullest protection" to their diplomats.
"EAM (S Jaishnakar) called our Minister of Foreign Affairs (Gabi Ashkenazi) and Foreign Secretory Harsh Vardhan Shringla called our DG in Ministry of Foreign Affairs. NSA Ajit Doval called our NSA Meir Ben-Shabbat. There is full collaboration. They gave their assurances and offered all support, protection or assistance that we need," the Israeli envoy to New Delhi said.
https://timesofindia.indiatimes.com/india/letter-from-israeli-embassy-blast-site-talks-of-avenging-martyred-iranians-key-developments/articleshow/80599744.cms
--------
2 terrorists trapped during encounter with security forces surrender in J&K's Pulwama
Jan 30, 2021
SRINAGAR: Two terrorists, who were trapped during an encounter with security forces, laid down their arms before the authorities in Jammu and Kashmir's Pulwama district on Saturday, officials said.
The security forces had launched a cordon-and-search operation at Lelhaar in the Kakapora area of the district on Friday night following information about the presence of terrorists there, the officials said.
They said the search operation turned into an encounter after the hiding terrorists opened firing.
After a night-long lull in the firing, the two terrorists surrendered before the security forces along with their two AK rifles, the officials said.
The two were identified as Akeel Ahmad Lone and Rouf Ul Islam. Lone had sustained splinter injuries in his right foot and was taken to the police hospital here for treatment, they added.
https://timesofindia.indiatimes.com/india/2-terrorists-trapped-during-encounter-with-security-forces-surrender-in-jks-pulwama/articleshow/80596785.cms
--------
Blast near Israel embassy, Delhi Police probing terror angle
Jan 30, 2021
NEW DELHI: A low-intensity blast took place near the Israel embassy in New Delhi around 5pm on Friday, coinciding with the anniversary of India and Israel establishing full diplomatic relations on January 29, 1992. No one was injured, but window panes of three cars were damaged.
With Israel embassy officials treating it as a suspected terror attack, Delhi Police decided to hand over the probe to its anti-terror unit. Mossad is assisting Indian agencies in the investigation. An FIR under Explosives Act has been registered.
An envelope with "Israeli ambassador" written on it was found at the spot. Though a forensic report is awaited on the kind of explosive used in the blast, an anti-terror squad officer told TOI that there were reasons to believe that ammonium nitrate was used. The CCTV footage around the spot and adjoining areas is being scanned.
Preliminary investigations suggested that the bomb might have been wrapped in a plastic/polythene and thrown towards the footpath from a moving car, probably a bike. The bomb fell on the grass and exploded, leading to chaos and panic.
Sleuths of the Delhi Police Special Cell and intelligence agencies, accompanied by bomb disposal and sniffer dog squads, rushed to the spot and cordoned off the area. The police said the bomb could have been a crude Improvise Explosive Device.
Immigration and airport officials were alerted to keep an eye on all international passengers scheduled to fly out in the next 48-72 hours.
"The suspects may have carried out a recce. So we are scanning CCTV footage of the last couple of days. All nearby hotels are being checked," a senior officer said.
A blast had taken place on February 13, 2012 when the wife of an Israeli diplomat was targeted on Aurangzeb Road by a bike-borne man. The bomber had taken a flight out of the country the same night. Israel had blamed Iran for the attack and probe by Indian agencies had also found the role of Iranian Revolutionary Guard Corps. A Delhi-based journalist was arrested on charges of being a part of the conspiracy.
https://timesofindia.indiatimes.com/india/blast-near-israel-embassy-delhi-police-probing-terror-angle/articleshow/80593723.cms
--------
Pulwama twin encounter: Hizbul trio killed in Tral, another gunfight starts in Kakapora
Jan 30, 2021
SRINAGAR: Three Hizbul Mujahideen terrorists were killed in an anti-terror operation in Tral belt of south Kashmir's Pulwama district on Friday afternoon, while another gunfight broke out in the district's Kakapora belt in the evening where at least two to three terrorists were believed to be trapped till the filing of this report.
Identified as Waris Hassan from Naibugh, Aarif Bashir of Monghama and Ahtishamul Haq from Awantipora, the slain Hizbul ultras were part of groups involved in several terror crimes, as per police records. On January 2, Bashir had lobbed a grenade on security personnel near Tral bus stand, leaving a jawan and eight civilians with splinter injuries. Hassan, along with some others, had fired at a patrolling party of Awantipora Police on October 5, 2020. They were also wanted for putting up threat posters at Dadsara on December 2 last year, warning citizens to refrain from voting, IGP (Kashmir Range) Vijay Kumar said.
In the afternoon, a joint team of Army's 42RR, CRPF and J&K Police launched a cordon-and-search operation in Tral's Mandoora village based on intelligence inputs about the presence of terrorists there. As the security personnel approached the suspected hideout, the holed up terrorists were given a chance to surrender but instead of yielding, they opened fire at the search party, triggering an encounter, Kumar said.
During a subsequent search of the area, the bodies of the slain ultras were retrieved along with arms, ammunition and other incriminating material, the IGP said. Residents were advised against venturing near the vicinity to prevent injury or loss of life due to live ammunition, the IGP added.
Later in the evening, a joint team of Army's 50RR, CRPF and J&K Police launched a cordon-and-search operation in Kakapora's Batpora Lelhara village based on intelligence inputs about terrorists' presence there. Hiding terrorists fired at the search party, triggering a gunfight, a senior police officer confirmed.
In an appeal, the IGP asked parents of misguided Kashmiri youths to come forward and help the force in bringing their children back to the mainstream. He also urged guardians to keep a tab on their wards' activities as young minds are susceptible to systematic indoctrination by anti-national elements through social media.
https://timesofindia.indiatimes.com/india/pulwama-twin-encounter-hizb-trio-killed-in-tral-another-gunfight-starts-in-kakapora/articleshow/80591514.cms
--------
AMU Student, Arif Tyagi, Externed From Aligarh Under Goondas Act
by Manish Sahu
January 30, 2021
The Aligarh district administration has issued an externment order against Aligarh Muslim University (AMU) student leader Arif Tyagi, banning him from the district for six months under the UP Control of Goondas Act. The order was issued last week but Tyagi on Friday said that he received it two days ago.
Six cases were lodged against the 27-year-old final-year postgraduate student at the Civil Lines police station between 2018 and 2020 on several charges, including under IPC Section 153A (promoting enmity between two groups). A police officer said chargesheets had been filed in two cases while the investigation was on in the rest.
Assistant Superintendent of Police, Aligarh City, Kuldeep Singh Gunawat said the Goonda Act was invoked based on the cases lodged against him.
Tyagi has not yet obtained bail in the six cases, he said.
"Invoking Goonda Act against students and issuing an externment order are absolute harassment meted out by the district administration and police. All cases were lodged against me while I was protesting on the AMU campus. The protests were related to several issues, including the presence of a portrait of Pakistan founder Mohammad Ali Jinnah at AMU students' union office and against the CAA and the NRC. I got to know about the cases after I received a show-cause notice from the district administration asking why I should not be externed from the district," said Tyagi, who has unsuccessfully contested the elections for the post of vice-president of the students' union.
He added, "I have filed a petition before the Aligarh Commissioner against the externment order. If needed, I will also move the Allahabad High Court for justice."
The Aligarh police report seeking to banish Tyagi says he is "reckless and frightful, and is a threat to the public".
https://indianexpress.com/article/india/amu-student-externed-from-aligarh-under-goondas-act-7167189/
--------
Ashish Patil and Gopal Patil Held For 'Vandalising Prayer Hall, Burning Religious Books In Songadh' In Tapi District
January 30, 2021
Tapi district police on Friday evening arrested two persons for allegedly burning religious books and vandalising a house used as a prayer hall by the Muslim community in Songadh town.
According to police, the accused allegedly broke into the house of Faruk Haveliwala, a tailoring shop owner and resident of Junagam in Songadh town, at Bapa Sitaram Nagar, on Thursday and burnt pages of religious books and damaged an almirah, clock and fan. The accused were identified as Ashish Patil (26) and Gopal Patil (29), both residents of Bapasitaram nagar in Songadh town.
Songadh Poliid, "During their interrogation, the duo confessed to have committed the offence. Inspector H C Gohil sa They reside in the neighbouring house of Faruk Haveliwala. Ashish and Gopal were unhappy with members of Muslim community coming to the house five times a day for namaz. We are questioning them to find out more details."
Meanwhile, on Friday, JD(U) president of Tapi district Yakub Gamit, along with some party workers, submitted a memorandum to the Songadh Mamlatdar seeking strict action against the offenders.
The memorandum submitted by the JD (U) said that the party condemns the incident, which was an attempt "to damage the peace and communal harmony of the district."
"It is a shameful incident of burning religious books. Strict actions should be taken against the accused and it has to be ensured that such an incident will not take place again." Speaking to the Indian Express, Gamit said, "We have visited the spot and later handed over a memorandum (to the mamlatdar). We appealed to people to maintain peace. Let police take action and catch the notorious elements involved in the incident."
https://indianexpress.com/article/india/2-held-for-vandalising-prayer-hall-burning-religious-books-in-songadh-7167118/
--------
India, Bangladesh foreign secys review ties, discuss PM Modi's visit to Dhaka
January 30, 2021
FOREIGN SECRETARIES of India and Bangladesh on Friday carried out a comprehensive review of the overall bilateral ties and held discussions on preparations for Prime Minister Narendra Modi's likely visit to Dhaka on March 26.
The Ministry of External Affairs (MEA) said both sides reviewed progress in the bilateral relationship, including in the areas of defence and security, border management, trade, connectivity, power, energy and cooperation in dealing with the coronavirus pandemic.
Bangladesh Foreign Secretary Masud Bin Momen arrived here on Thursday on a three-day visit, primarily to prepare ground for Modi's upcoming visit to Dhaka.
In the talks held under the framework of India-Bangladesh foreign office consultations, Foreign Secretary Harsh Vardhan Shringla and Momen agreed to maintain the steady momentum of bilateral cooperation and people-to-people ties.
"Both sides held a comprehensive review of the progress achieved in the bilateral relationship, including in the areas of Covid-19 cooperation, trade, connectivity, development partnership, power, energy and water resources, regional and multilateral cooperation as well as border management and security and defence cooperation," the MEA said in a statement.
At a virtual summit with his Bangladesh counterpart Sheikh Hasina last month, Modi described the neighbouring country as a "key pillar" of India's 'Neighbourhood First' policy.
The MEA said discussion also focussed on preparations for the forthcoming visit of Modi to Dhaka and events relating to the commemoration of the 50th anniversary of establishment of diplomatic ties between the two countries.
"Both sides also agreed to hold the next home secretary level talks, commerce secretary level talks and the secretary level meeting of joint rivers commission before the March summit," it said.
It said both sides noted with appreciation the cooperation on the coronavirus-related issues, including India's gift of two million doses of Covishield vaccine to Bangladesh in keeping with its 'Neighbourhood First' policy.
The two countries underscored the importance of the year 2021 in the context of the 50th anniversary of the liberation of Bangladesh, the 50th year of bilateral diplomatic ties as well as the birth centenary of Bangabandhu Sheikh Mujibur Rahman.
https://indianexpress.com/article/india/india-bangladesh-foreign-secys-review-ties-discuss-pm-modis-visit-to-dhaka-7167252/
--------
Pakistan
Pakistan-Based Banned Terror Group Lashkar-e-Islam Picks, Afridi From Akakhel Tribe, Its New Leader
Jan 30, 2021
PESHAWAR: Pakistan's banned terrorist group Lashkar-e-Islam has named Zala Khan Afridi as its new head, days after the outfit's fugitive leader Mangal Bagh was killed in a roadside bomb blast in southern Afghanistan.
Afridi, a close associate of Bagh, was named as the new head after members of the group held a meeting at Bander area in Khyber Pakhtunkhwa province. The new head belongs to Akakhel tribe of Bara tehsil in Khyber Pakhtunkhwa province.
The Shura (council) also nominated Bagh's son Tayyab alias Ajnabi as the new deputy commander.
Bagh, who was involved in a number of terrorist activities and carried up to $3 million American bounty on his head, was killed in southern Afghanistan, media reports said on Thursday, quoting a senior Afghan official.
He was "killed along with two of his aides in the roadside bomb blast in the Bandar Dara area of Achin district of Nangarhar this morning," the Express Tribune newspaper had reported, quoting Afghanistan's Nangarhar province governor Ziaulhaq Amarkhil.
Bagh, a truck cleaner-turned-militant, was affiliated with the outlawed Tehreek-e-Taliban Pakistan (TTP) – the umbrella of militant groups operating in Pakistan's tribal regions. His terror group was accused of attacking Nato convoys.
His group virtually ruled Bara tehsil of Khyber Agency until June 2008 when he and his armed men fled to Afghanistan after the security forces launched a military operation against the militants.
The Pakistan government had placed a bounty of Rs 20 million on the head of Bagh, who for several years was based in the Khyber Agency and ran his private prison and court.
Bagh, a member of the Afridi tribe, studied at a madrassa for several years and later fought alongside militant groups in Afghanistan.
https://timesofindia.indiatimes.com/world/pakistan/pakistan-based-banned-terror-group-lashkar-e-islam-picks-its-new-leader/articleshow/80601143.cms
--------
Pakistan to be made into industrial state, agro-based economy: PM Imran
January 29, 2021
SAHIWAL:
Prime Minister Imran Khan said on Friday that efforts were underway to turn Pakistan into an industrial state and an agro-based economy, to ensure sustainable development and prosperity.
Addressing a cheque-distribution ceremony under the Ehsaas programme and tractors under the Kamyab Jawan programme in Sahiwal, the premier said the government was collaborating with China in learning new agricultural techniques under the China-Pakistan Economic Corridor (CPEC).
On the launch of Rs 18 billion developments in Sahiwal, he said the government was firm on the uplift of under-developed areas of the country.
The premier said Sahiwal would be provided best facilities in the fields of health, education, road infrastructure and social welfare.
The prime minister said Punjab had immense potential for development in agriculture and livestock sectors.
"The Ehsaas programme is meant to provide safety net to the lower income households," the premier said while speaking at the gathering.
He maintained that his PTI-led government under the welfare programme is aiming to provide universal health care.
"Even developed countries don't have universal health coverage," he maintained, adding "This govt is focusing on provision of health as well as education."
While speaking about the effects of the ongoing pandemic in other countries, PM Imran referred to the Lebanon protests. He said that among the protestors' demands was the unfair distribution of compensation money paid during the Covid-19 lockdown."
"We distributed Rs180 billion to the masses. There was not a single complaint about the compensation process being politically motivated," He said most of the funds were distributed in Sindh, even though the PTI does not have its government in the province, "because the process was based on merit."
'Lahore's biggest qabza group'
PM Imran also congratulated Punjab Chief Minister Usman Buzdar and his team on successfully tackling "Lahore's biggest qabza group".
The premier's statement was a reference to the demolition of 'illegal construction' at Khokhar Palace - the residence of former Pakistan Muslim League-Nawaz (PML-N) MPA Saiful Malook Khokhar - last week.
The premier blamed former prime minister Nawaz Sharif for providing patronage to 'land mafia'.
According to the premier, no country in the world has progressed without the implementation of the rule of law. "Only countries that uphold the rule of law progress," he said.
Throwng his weight behind the provincial chief minister, the PM said people say he is a shy public official, does not give speeches, adding that "...this is the job he does. And these are the kind of issues that need to be tackled.
https://tribune.com.pk/story/2281796/pakistan-to-be-made-into-industrial-state-agro-based-economy-pm-imran
--------
Bajwa holds security talks with Qatar leadership
January 30, 2021
ISLAMABAD: Pakistan and Qatar on Friday underscored the importance of enhancing cooperation between the armed forces of the two countries.
Chief of the Army Staff (COAS) General Qamar Javed Bajwa, who is on a two-day official visit to the Gulf state, called on Emir of Qatar Sheikh Tamim bin Hamad Al-Thani and its core military leadership.
During the meetings, matters of mutual interest, defence and security cooperation and regional geo-political environment were discussed.
Gen Bajwa along with the Qatari emir also held meetings with Deputy Prime Minister and Minister of Defence Affairs Doctor Khalid bin Muhammad Al-Attiya and Chief of Staff of Qatar Armed Forces Lt Gen (Pilot) Ghanim bin Shaheen Al-Ghanim, said an Inter-Services Public Relations press release.
The COAS also witnessed the passing-out parade at Ahmed bin Muhammad Military College. He appreciated high standards of the institution and its efforts towards grooming young cadets to take on challenges of future battlefield.
The Qatari leadership reiterated that Pakistan and Qatar shared brotherly relations of strategic value. While expressing their satisfaction over the level of defence relations between the two armed forces, both sides underscored the importance of further enhancing the cooperation.
https://www.dawn.com/news/1604423/bajwa-holds-security-talks-with-qatar-leadership
--------
Bilquis Edhi declared 'Person of the Decade'
January 30, 2021
LAHORE: Philanthropist and humanitarian Bilquis Edhi has been declared the 'Person of the Decade', along with UN rapporteur on human rights Prof Yanghee Lee and the US ethicist Stephen Soldz by an international organisation.
A spokesperson for the Edhi Foundation told the APP that as per the domino effect verdict, announced on Friday by the Impact Hallmarks [IH], Bilquis Edhi was declared the most impactful person of the first two decades of the 21st century.
Bilquis Bano Edhi is a professional nurse and she heads the Bilquis Edhi Foundation. She has spent more than six decades of her life serving humanity. Her charity has saved over 42,000 unwanted babies so far by placing jhoolas (cradles) at the Edhi Homes and centres across the country.
Called the Mother of Pakistan, Bilquis has already been given various national and foreign awards including Hilal-e-Imtiaz, the Lenin Peace Prize, Mother Teresa Memorial International Award for Social Justice (2015), and the Ramon Magsaysay Award for Public Service, she received along with her husband Abdul Sattar Edhi in 1986.
The Impact Hallmarks [IH], an international web-based organisation that conducted the process, said in its announcement that the three persons Bilquis Edhi, Prof. Yanghee Lee and Stephen Soldz have stretched and segmented the top of the decades impact hallmarks and the opinion polls top triarchy as well.
Another honour the contest brought for the country was the declaration of another Pakistani an erudite, a polymath and a discoverer, Prof. Aurangzeb Al Hafi among 'Top of the Top Ten' for his scientific discoveries. He was listed on position six among the most impactful persons of the world.
The three scientific discoveries shortlisted by the Impact Hallmarks were: the first-ever scientific demonstration of Magneto-Hydro-Tropism (MHT), his IRT Model of Terato-kinetics, and the first methodological baselines engrossed annotation-broadsheet with reference to the Covid-19, which was made available to the World Health Organisation, and others concerned on March 3, 2020 for the academic considerations.
https://www.dawn.com/news/1604402/bilquis-edhi-declared-person-of-the-decade
--------
PTM not against any community, institution: Pashteen
Kalbe Ali
January 30, 2021
ISLAMABAD: Leaders of the Pashtun Tahafuz Movement (PTM) have said that they are not against any individual, community or institution but will keep raising their voice against alleged extra-judicial killings.
At a news conference at the National Press Club here on Friday, PTM leader Manzoor Pashteen said in reply to a question that "we are only against those who are involved in creating insecurity for our people".
The PTM leader said: "We want to walk along with people from all walks of life to raise the voice of unvoiced and helpless people."
He said the PTM wanted to live in coherence with all to promote peace.
The PTM leaders announced holding a demonstration on Feb 7 in Peshawar where women and children of those who have been killed, gone missing, or were behind bars will be present.
Flanked by MNA Mohsin Dawar and other office-bearers of the party, Mr Pashteen called for the release of Dr Said Alam Mehsud and MNA Ali Wazir and the arrest of those responsible for the killings of innocent people in erstwhile Fata.
https://www.dawn.com/news/1604422/ptm-not-against-any-community-institution-pashteen
--------
Pakistan arrests key militant over Iran terror links
NAIMAT KHAN
January 28, 2021
KARACHI: Pakistan has arrested a "most wanted" militant linked to the Zainabiyoun Brigade, with investigators saying on Thursday he had received military training in neighboring Iran.
The Zainabiyoun Brigade was placed on the US Treasury's financial blacklist in January 2019 and is believed to have sent young members of the Pakistani Shiite community to fight in Syria.
"The arrested terrorist, Abbas Jafri, is a close aide of another most-wanted terrorist, Yawar Abbas, and, much like other members of the Zainabiyoun Brigade, got his military training in neighboring Iran," Omar Shahid, deputy inspector-general of the Counter-Terrorism Department (CTD), said.
According to an official handout, Jafri, who was arrested in Karachi, was trained in 2014 and, among other skills, taught to carry out intelligence operations and provide medical services.
"The arrested terrorist specialized in automatic weapons and received training from a neighboring country," the handout added.
Police said that weapons were confiscated from Jafri following his arrest.
Jafri was described as the right-hand man of Yawar Abbas and named in the "Red Book," an official document that lists the names and profiles of hardened militants.
According to police, Jafri helped carry out reconnaissance activities for militants.
He has been moved to an undisclosed location for further investigation, police said.
Earlier in December, the CTD said it had arrested two members of the Zainabiyoun Brigade from the Qur'angi area of Karachi in connection with a string of killings in the past six years.
Tehran has not responded to the claims.
On Nov. 27, an AP report said that a number of Pakistanis were among 19 pro-Iran militia fighters killed in eastern Syria.
In March, a senior official told Arab News that up to 50 Pakistani fighters were killed by the Turkish army and Syrian forces in a major rebel stronghold in the northwest of the country.
https://www.arabnews.com/node/1800071/world
--------
South Asia
Terrorizing blasts in Kabul kills 1, wounds many
By Khaama Press
30 Jan 2021
The city of Kabul began its day with two explosions caused by magnetic mines in the PD5 and PD10 areas of the city.
According to Kabul police, the first explosion took place in the Pol-e-Company area of Kabul's fifth security district, which did not cause any casualties.
A police Ranger type vehicle was reportedly targeted by a magnetic IED blast.
The second explosion took place in the Salim Karwan area in PD10 of Kabul city.
According to an eyewitness, one person was killed in the blast, but Kabul Police indicated that the blast left four people injured.
A corolla vehicle was the target of a magnetic mine in this incident.
No group or individual has yet claimed the responsibility for the attacks.
https://www.khaama.com/terrorizing-blasts-in-kabul-kills-one-person-5656565/
--------
Middle Eastern ISIS group moves to Afghanistan: SCO
30 Jan 2021
Faryab, Naqibullah Fayaq, the provincial governor said Juma Bay, an Uzbek national-led Daesh group is also operating in the region, adding that the group has been living with their families, most of the Daesh leaders are stationed in Faryab province.
Earlier on Friday, Vladimir Norov, Secretary-General of Shanghai cooperation group in a webinar organized by Islamabad Policy Research Institute said, That the Daesh-ISIS has moved from the middle east to Afghanistan, which poses a serious threat to the region.
"According to the SCO regional anti-terrorist structure, the numbers of fighters arriving in the north of the country [Afghanistan] are growing", he added, the pose a threat to the SCO member states.
Norov stressed that the group uses information and communication technologies to promote their ideology in the region, recruit and manage the group's sleeper cells.
Jumakhon Giyosov, the SCO Director of the Executive Committee of the Regional Anti-Terrorist Structure, also said "There is an increase in the number of militants arriving in northern Afghanistan, whose leaders are actively interacting with the leaders of the other terrorist organizations,".
Faryab Governor, also added that the Taliban are now equipped with Iranian-made armor-piercing sniper (Haidar).
This comes as Captain Mohammad Hanif, Chief of Crime Branch for Zaranj district was shot and killed by his subordinate during a security patrol.
Source on anonymity told Pajhwok News, that the incident happened in Nimroz province on Friday, as police patrolled the city.
The perpetrator fled the area but was later captured by the security forces in the region.
According to the report, the incident occurred on Friday evening, and an investigation is ongoing to determine the motive behind the attack.
https://www.khaama.com/middle-eastern-isis-group-moves-to-afghanistan-sco-44554544/
--------
Dozens killed in two separate incidents in Nangarhar, Wardak
30 Jan 2021
Tariq Arian, spokesman for the Ministry of Interior Affairs stated in a clash with the police 9 people were killed and seven others were wounded on Friday.
The "irresponsible gunmen" loyal to commander Alipoor an anti-Taliban commander resisted the appointment of His-i-Awal and Hisa-i-Dowom district police chiefs.
The men loyal to Alipoor gathered outside the district compound in Maidan Wardak province and opened fire on security officials as to which number of security members and civilians were wounded, the statement said.
According to a police statement, 68 individuals loyal to Alipoor were arrested, but Parliament member Mahdi Rasikh stated, that police opened fire on civilians while peacefully protesting.
He claimed that 9 people were killed and further 20 people were wounded.
This comes as eight civil order force members were killed in a suicide car bomb attack in Shirzad district of the eastern province of Nangarhar on Saturday.
Officials confirmed the incident and added, that the civil order forces unit operates under ANA.
Obaidullah Shinwari, deputy head of the provincial council told the media that at least 14 soldiers were killed.
Meanwhile, the Taliban claimed responsibility for the attack, claiming that heavy casualties had been inflicted on security forces.
Qari Yusuf Ahmadi, a spokesman for the Taliban, said that around 5:30 a.m. today, the group's fighters attacked a security checkpoint in the Shirzad district of Nangarhar province with an explosive-laden vehicle.
According to Qari Yusuf, there were 50 security forces stationed at the checkpoint, both the personnel and the outpost were completely destroyed.
https://www.khaama.com/dozens-killed-in-two-separate-incidents-in-nangarhar-wardak-34343888/
--------
Interim government leads to 'bloodshed': Ashraf Ghani
30 Jan 2021
President Ashraf Ghani on Friday said he is not an obstacle to peace, but he is a champion in peace in Afghanistan, responding to the Taliban's remarks expressed early in the day who blamed the incumbent government for hindering the efforts to end the conflicts through a political settlement.
Talking to ASPEN Security Forum on Friday, President Ghani stressed that the creation of an interim government means "bloodshed", he also expressed himself as a champion of Afghanistan peace.
President Ghani rejected the establishment of the interim government saying, "We've had interim governments. They have led to bloodshed," President Ghani said, and interim setup would be detrimental and inimical.
"The citizens of Afghanistan must be empowered… Where would I get the authority to dissolve the Republic? I have sworn to uphold the constitution," Ghani added.
In regards to violence escalation and US troops withdrawal Ghani said, "We must ask what is required to preserve the legacy of the US presence in Afghanistan," Ghani said.
Ghani reiterated on Taliban's commitment, that a strong verification mechanism is required, he added "You have to have ironclad agreements and verification mechanisms… Many peace agreements are Trojan horses. They promise the moon and deliver the opposite,".
President Ghani also called on Biden's administration to put pressure on the Taliban, and not to quickly plan for full troops withdrawal, Ghani said: "The United States and NATO must take a very strong stand on the conditions-based approach,".
Following the last year's US-Taliban agreement, US officials assured Afghanistan "there will be a ceasefire or a very substantial reduction of violence", Ghani said.
"Instead, violence has peaked," he added.
This comes as the National Security Council, MoD, and MoI on Friday indicated that the Taliban violence has escalated since they signed the US-Taliban peace deal, and the group has still maintained ties with Al-Qaeda.
Rahmatullah Andar, NSC spokesman said, that 11 Al-Qaeda members were arrested in the ranks of the Taliban, and "three of those are key members of the group". Ministries of Defense and Interior reported that the Taliban attacks have increased, they have raged their attacking shape of targeted IED explosions, car bomb attacks on military installations, Roadside and Magnetic IED blasts, targeted killings of security forces, government workers, civil society activists, and the journalist.
https://www.khaama.com/interim-government-leads-to-bloodshed-ashraf-ghani-556655/
--------
Southeast Asia
Hadi under fire after unfriendly remarks about Joe Biden
Adam Abu Bakar
January 30, 2021
PETALING JAYA: A former deputy foreign affairs minister has criticised PAS president Abdul Hadi Awang over his comments on the new administration in the United States.
Marzuki Yahya, who served as deputy foreign minister in the previous Pakatan Harapan government, said Hadi's remarks were "improper" more so when he was a member of a government that was not chosen by the people.
Hadi, who is Malaysia's special envoy to the Middle East, had said having a new president in the White House was meaningless for Muslim countries as President Joe Biden will continue with Zionist-influenced policies.
He had also said the only difference between Biden and his predecessor Donald Trump was Biden's softer and more diplomatic approach.
Hadi's comments were a stark contrast to Prime Minister Muhyiddin Yassin's congratulatory message to Biden where he expressed Malaysia's desire to strengthen ties with the US.
Speaking to FMT, Marzuki said: "It's not right, we have a foreign policy, we must be on good terms with all countries, we cannot criticise foreign democracies. Biden was chosen by Americans while the present government in Malaysia was not. A government that is not chosen by the people does not know how to respect democracy."
Marzuki said Hadi, as a special envoy with ministerial status, should be more diplomatic.
He said Hadi's remarks could be seen as an attempt to disrupt bilateral ties between Malaysia and the US, and that a principle of Malaysia's foreign policy was to resolve any disputes through negotiations rather than open arguments.
Marzuki said Malaysia always held to the principle of non-intervention in another country's domestic affairs.
https://www.freemalaysiatoday.com/category/nation/2021/01/30/hadi-under-fire-after-unfriendly-remarks-about-joe-biden/
--------
Singapore Christians and Muslims condemn plans for attack against two mosques
Jan 29, 2021
SINGAPORE: Christian and Muslim leaders have condemned the plan of a young Singaporean man to carry out an attack on two city mosques.Last night, Singapore authorities reported that a 16-year-old Protestant man, an ethnic Indian, was taken into custody in December under the Internal Security Act. According to the police, he planned to attack Muslims with machetes in two mosques in the Woodlands area.The attack was set for 15 March, exactly two years after a right-wing extremist, Brenton Tarrant, shot and killed 51 Muslims in a mosque and an Islamic centre in Christchurch, New Zealand.For investigators, the aspiring Singapore terrorist has radicalised himself on the web, inspired by Tarrant.In a statement released this morning, the Catholic Archdiocese of Singapore said it was concerned about the news, and expressed solidarity with its Muslim brothers and sisters, noting that Islam is a religion of peace."The Church believes in religious harmony and the peaceful co-existence of all religions," reads a statement issued by the Catholic Archdiocese of Singapore.The latter goes on to stress that the proliferation of violent content on the web, especially about religion, requires an educational effort to guide young people on the right path.Rev Keith Lai, president of the Council of Christian Churches in Singapore, and the Mufti of Singapore Dr Nazirudin Mohd Nasir share this view.The two religious leaders met today with government officials to discuss the problem of religious radicalism. They call on the authorities and families to work together to contain the harmful influence of online indoctrination.Religious coexistence is one of Singapore's singular traits. The government allows full freedom of worship as long as it does not interfere with the affairs of the state.--Asia News
http://www.heraldmalaysia.com/news/singapore-christians-and-muslims-condemn-plans-for-attack-against-two-mosques/57736/1
--------
Arab World
Clear confidence in working with European, US allies on regional challenges: Saudi FM
Ismaeel Naar
29 January 2021
The security of the region occupies the concerns of European countries and the administration of US President Joe Biden, according to Saudi Arabia's Foreign Minister Prince Faisal bin Farhan.
"We've heard very clear statements from the Biden administration and the key people on foreign policy in the Biden administration, that they're going to address the challenges within our region with very open eyes and a clear focus on making sure that we continue to have stability and security," Prince Faisal said during his panel discussion at Davos virtually.
"We, of course, are going to have a dialogue about the various regional challenges, not least, Iran's destabilizing activity, and it's ramping up its nuclear program and we are quite confident that we're working with the US and our European partners. We will be able to overcome these challenges," he added.
Prince Faisal was speaking during his participation at the annual Davos forum, held virtually this year amid the ongoing COVID-19 pandemic.
https://english.alarabiya.net/News/gulf/2021/01/29/Regional-security-main-concerns-among-European-countries-Biden-Saudi-FM
--------
US military refusal to pull out troops to be met with Iraqi nation's resistance, MP warns
29 January 2021
An Iraqi lawmaker has stressed the need for the implementation of a resolution adopted by Iraq's parliament concerning the expulsion of US-led foreign forces from the Arab country, saying that the Iraqi nation will resort to resistance in case the Pentagon refuses to abide by the decision.
"The decision to remove foreign troops from Iraq is an Iraqi matter. If the Iraqi government's political solutions for the withdrawal of foreign forces do not succeed, we will then resort to resistance to attain the objective," Mohammed al-Baldawi, a member of the Iraqi Parliament's Security and Defense Committee, told the Arabic-language Baghdad Today news agency on Thursday.
He made the remarks as the Wall Street Journal reported on Tuesday that authorities in Washington are counting on reconsidering the decision of former US president Donald Trump's administration to reduce the number of US forces in Afghanistan and Iraq.
The newspaper quoted Pentagon spokesperson John Kirby as saying that the official decision to review the number of US forces in Afghanistan and Iraq has not yet been taken.
He asserted, however, that the current US President Joe Biden's administration "is counting on a better understanding of the current situation with regard to operations in both countries."
Baldawi added, "The decision to expel foreign troops from Iraq has been finalized and it is irreversible. Foreign troops have no option but to withdraw. We are working with the government to implement the [parliamentary] resolution."
"The presence of US-led foreign troops in Iraq poses a dangerous threat to the security and stability of the country as well as the region, because the United States wants to plunge Iraq into turmoil. This is completely rejected," the Iraqi legislator concluded.
Anti-US sentiment has been running high in Iraq since the assassination of top Iranian anti-terror commander Lieutenant General Qassem Soleimani, commander of the Quds Force of Iran's Islamic Revolution Guards Corps (IRGC), and his Iraqi trenchmate, Abu Mahdi al-Muhandis, deputy head of the Popular Mobilization Units, along with their companions in a US terror drone strike authorized by Trump near Baghdad International Airport on January 3 last year.
Iraqi lawmakers approved a bill two days later, demanding the expulsion of all foreign military forces led by the United States from the Arab country.
https://www.presstv.com/Detail/2021/01/29/644099/US-military-refusal-to-pull-out-troops-will-be-met-with-Iraqi-nation-resistance-MP
--------
Lebanese leaders denounce violent anti-lockdown protests in Tripoli
30 January 2021
Lebanese caretaker Prime Minister Hassan Diab and President Michel Aoun have condemned violence and clashes in the northern city of Tripoli between security forces and demonstrators angered by a strict coronavirus lockdown that has exacerbated a chronic economic crisis.
"The criminals who set the municipality on fire and attempted to burn the court... represent a black hatred for Tripoli," Diab said in a statement.
"We promise to work quickly to restore the municipality building of Tripoli so that it remains an expression of its dignity and pure heritage," he added.
"The challenge now is in defeating these criminals by arresting them one by one and referring them to the judicial system," Aoun also said in a separate statement in condemnation of the violence.
The Lebanese Army's Directorate of Orientation announced in a statement on Friday that it had arrested five people involved in the overnight torching of Tripoli's municipal building.
In the statement, the army said three suspects – two Lebanese nationals and a Syrian citizen – were present inside the building when they were detained.
Lebanese army forces arrested two other people in the Bab al-Tabbaneh area and the Miten Street area on suspicion of preventing firefighters from reaching the burning municipal building and taking part in rioting.
The Army Command noted that three soldiers were injured in Thursday's incidents, emphasizing that "military units are sparing no effort to preserve security and stability in Tripoli and the rest of the Lebanese territories."
One person has died and more than 250 others have been injured in Tripoli during straight nights of unrest this week.
On Friday afternoon, a number of young men gathered outside the government's main building in Tripoli, pelting security forces with stones as some of them chanted "We're Hungry, We Want to Eat!"
Security forces, in return, fired tear gas to disperse the protesters as army troops deployed around the city's Abdul Hamid Karami Square, which is also known as al-Nour Square.
The soldiers later intervened and pushed protesters away from both sites, sending them to neighboring streets after which they pelted the troops with stones.
Former Prime Minister Najib Mikati warned on Friday that should the army prove unable to control the situation in his hometown quickly enough, dangerous disorder could set in.
"I may have to carry arms to protect myself and my institutions," Mikati told local media.
Earlier this month, Lebanon imposed a nationwide lockdown in a bid to stem a surge in COVID-19 infection cases and prevent its hospitals from being overwhelmed.
A round-the-clock curfew is in force, and grocery shopping is restricted to home deliveries, which are often unavailable in Tripoli that is already one of Lebanon's poorest areas. Authorities have extended the lockdown by two weeks to February 8.
Lebanon has been fighting against COVID-19 cases since the coronavirus pandemic began there on February 21, 2020. The country has recorded over 289,000 COVID-19 cases while death toll from the virus stands at more than 2,500.
Lebanon has also been in the throes of an unprecedented economic and financial crisis since 2019. The crisis has left tens of thousands people jobless as the local currency has lost 80 percent of its value amid US sanctions.
Diab has continued to steer the government in a caretaker capacity since he quit in the aftermath of the suspicious August 4 explosion at Beirut's port, which killed at least 190 people, injured thousands, and left some 300,000 homeless.
https://www.presstv.com/Detail/2021/01/30/644155/Lebanese-leaders-denounce-violent-anti-lockdown-protests-in-Tripoli
--------
Damascus says terrorist groups, US-backed militants continue to commit crimes in Syria
30 January 2021
Syria's Deputy Foreign Minister Bashar al-Jaafari says terrorist organizations and militants of the so-called Syrian Democratic Forces (SDF), which is supported by the United States, continue to commit crimes in the Arab country.
The Syrian diplomat made the remarks during an informal session of the United Nations Security Council held via video conference at the initiative of Russia and Kazakhstan on Friday, Syria's official news agency, SANA, reported.
During the session titled, "Children in Armed Conflict in Syria," Jaafari noted that the said groups kept committing crimes and violations against children, including killing, kidnapping, recruiting, and transferring children to conflict areas in the countries of the region.
He added that those groups were also burning and destroying schools and hospitals and preventing children from receiving education.
The Syrian deputy foreign minister, however, stressed that despite all the crimes and violations, Damascus exerts tremendous effort to protect and care for the children who are found in the areas liberated from the grips of terrorists or those minors reached to the state institutions.
Jaafari further described terrorism as one of the most dangerous threats that affect countries and communities, warning that when it spreads, the first affected and the most vulnerable ones would be children.
The veteran diplomat also warned that an extremely alarming impact of terrorism is recruiting children by terrorists and illegitimate entities and forcing them to take part in terrorist acts.
Last week, the UN Children's Agency said more than half of Syrian children in the war-ravaged country were missing out on education, as almost a third of schools have either fallen down or been commandeered by militant factions.
It estimated that there are more than 2.4 million children out of school inside the Arab country.
The new figures showed an alarming sharp rise from previous estimates when the UN agency said a third of Syrian schoolgoers were deprived of education.
https://www.presstv.com/Detail/2021/01/30/644143/Syria-terrorists-US-SDF-children-crimes
--------
Mideast
Iran executes Javid Dehghan despite calls from UN, organizations to end killing spree
Tamara Abueish
30 January 2021
Iran on Saturday executed Javid Dehghan, an ethnic Baluchi man accused of belonging to a "terrorist" group, despite calls from the United Nations and international organizations for Tehran to end its killing spree, Iran International reported.
The 31-year-old was executed in the Zahedan Central Prison in the Sistan-Baluchestan province, according to the report.
Dhahghan was reportedly a leader of the Jaish al-Adl Sunni militant group, and was convicted for killing two members of Iran's Revolutionary Guard Corps in 2015. Jaish al-Adl says it seeks greater rights and better living conditions for ethnic minority Baluchis.
The UN human rights office had urged Iran to halt the hanging of Dehghan and several other prisoners from minority groups only a day earlier.
"#Iran: We strongly condemn the series of executions – at least 28 – since mid-December, including of people from minority groups. We urge the authorities to halt the imminent execution of Javid Dehghan, to review his and other death penalty cases in line with human rights law," the UN human rights office said on Twitter.
Iran – which regularly receives criticism from international organization for its human rights violations against minorities and anti-regime activists – frequently dismisses the accusations as baseless.
Sistan-Baluchestan, Iran's poorest province, is mostly populated by ethnic Sunni Baluchis. As a minority in the mostly-Shia country, the group complains of ethnic and religious discrimination and accuses the Iranian regime of deliberately neglecting the province due to the population's Sunni faith.
In December 2020, Iran executed two ethnic Baluchi citizens on unclear charges in Zahedan, the Europe-based rights group Baluchi Activists Campaign said.
https://english.alarabiya.net/News/middle-east/2021/01/30/Iran-executes-Baluchi-man-despite-calls-from-UN-organizations-to-end-killing-spree
--------
UN condemns Iran execution spree, worried about minorities
30 January 2021
The United Nations human rights office on Friday condemned an alleged spree of 28 executions in Iran, including several prisoners from minority groups, and called on Tehran to halt the hanging of an ethnic Baluchi man.
Iran has often faced criticism from world bodies and Western human rights group for its rights record and high number of executions - the world's highest after China, according to Amnesty International. Tehran has dismissed the criticism as baseless and due to a lack of understanding of its Islamic laws.
"#Iran: We strongly condemn the series of executions – at least 28 – since mid-December, including of people from minority groups," the UN human rights office said on Twitter.
"We urge the authorities to halt the imminent execution of Javid Dehghan, to review his and other death penalty cases in line with human rights law," it added.
There was no immediate official Iranian reaction to the UN statement on Friday, the weekend in the country.
Dehghan was sentenced to death after being convicted "following a grossly unfair trial" of belonging to an armed group and involvement in an ambush that killed two Revolutionary Guards, Amnesty International said.
"The court relied on torture-tainted 'confessions' and ignored the serious due process abuses committed by Revolutionary Guards agents and prosecution authorities during the investigation process," Amnesty said.
Iran's Sistan-Baluchestan province borders on Afghanistan, the world's biggest producer of opium, and Pakistan. The area has long been plagued by unrest from drug smuggling gangs and separatist militants. The population of the province is mostly Sunni Muslim, while the majority of Iranians are Shi'ites.
On Thursday, state media said an Iranian member of ISIS was executed in southwestern Khuzestan province, home to many of Iran's ethnic Arabs, for taking part in an attack that killed two paramilitary Basij militiamen.
https://english.alarabiya.net/News/middle-east/2021/01/30/UN-condemns-Iran-execution-spree-worried-about-minorities
--------
Conflicting reports on reason for sirens in Tehran as Turkish flight diverted to Baku
Ismaeel Naar and Yaghoub Fazeli
30 January 2021
Air raid sirens were sounded in and around parts of Iran's capital Tehran, according to reports and videos shared on social media.
The siren was heard for several minutes in western Tehran, according to videos shared by Iranian users.
Around the same time, a Turkish Airlines flight from Istanbul to Tehran circled above the Iranian capital before being diverted away. A Flight Radar 24 path of the airplane showed it changed its flight path to Baku during the same time as reports of the sirens were heard.
The two events are "unrelated," Iran's state TV reported, citing unnamed sources.
The Public Relations office of Tehran's Imam Khomeini airport said the Turkish Airlines plane had diverted due to "weather conditions."
"The pilot of the Turkish Airlines plane changed its route to Baku due to weather conditions and will return to Tehran as the weather conditions stabilize," the semi-official Tasnim news agency quoted the airport department as saying.
The siren heard in western Tehran was due to a "disruption in the sound system of an organization," the semi-official ISNA news agency quoted Hamidreza Goudarzi, Tehran Governor's Deputy for Security, as saying. Goudarzi did not say which organization.
"There are no security problems and people should not worry," Goudarzi added.
The director general of Tehran's crisis management organization told state TV the siren heard in the capital was the security alarm of "a complex" which was "activated due to a leak caused by heavy rainfall."
https://english.alarabiya.net/News/middle-east/2021/01/30/Air-raid-sirens-sound-in-and-around-Tehran-in-Iran-Reports
--------
Yemen's Ansarullah welcomes Italy's decision to block arms exports to Saudi Arabia, UAE
30 January 2021
The popular Houthi Ansarullah movement has praised Italy's decision to halt arms exports to Saudi Arabia and the United Arab Emirates which have been waging a devastating war on impoverished Yemen for years.
"Italy's announcement to stop selling weapons to countries that launch aggression against Yemen is a positive step, which contributes to protecting civilians and supporting the peace process," Mohammed Abdul-Salam, the Ansarullah spokesman, wrote in a post published on his official Twitter page late Friday.
Earlier Friday, Italy's Foreign Minister Luigi Di Maio said, "Today I am announcing that the government has revoked the authorizations under way for the export of missiles and aircraft bombs to Saudi Arabia and the United Arab Emirates."
He added, "[This is] an act that we considered due, a clear message of peace coming from our country. For us, respect for human rights is an unbreakable commitment."
Italy's Peace and Disarmament Network, a campaign group, hailed the move as "historic" and said the move would stop the supply of at least 12,700 bombs.
It "puts an end, once and for all, to the possibility that thousands of ordnance manufactured in Italy could strike civilian facilities, cause casualties among the population or contribute to worsening the already serious humanitarian situation", the group said.
Earlier this week, US President Joe Biden paused arms sales to Saudi Arabia and the UAE as part of his administration review of the exports.
Amnesty International welcomed the US move, calling on European countries to follow suit and end weapons exports to the two countries involved in a devastating military campaign against Yemen.
"President Biden's decision to freeze arms sales to Saudi Arabia and the UAE represents a welcome relief in an otherwise shameful chapter of history. Almost six years of conflict in Yemen, fueled by irresponsible arms transfers, have left 14 million Yemenis in dire need of humanitarian assistance," Philippe Nassif, advocacy director for the Middle East and North Africa at Amnesty International USA, said on Thursday.
"The suspension of arms sales by the US is a step in the right direction and ups the pressure on European countries, most notably the UK and France, to follow suit and stop fueling the human misery in Yemen."
Saudi Arabia and a number of its regional allies launched the war on Yemen in March 2015, with the goal of bringing the government of former president, Abd Rabbuh Mansur Hadi, back to power and crushing the popular Houthi Ansarullah movement.
According to the UN, 80 percent of Yemen's 30 million people need some form of aid or protection. About 13.5 million Yemenis currently face acute food insecurity, UN data shows.
The popular Houthi Ansarullah movement, backed by the Yemeni armed forces and allied popular groups, has gone from strength to strength against the Saudi-led invaders, and successfully defended Yemen against the Saudi aggression, leaving Riyadh and its allies bogged down in the county.
https://www.presstv.com/Detail/2021/01/30/644148/Ansarullah-welcomes-Italy-decision-to-block-arms-exports-to-Saudi-Arabia-UAE
--------
Israeli troops attack Palestinian protest against settlements
29 January 2021
Israeli troops have attacked Palestinians during another round of anti-settlement protests in the occupied West Bank.
The Israeli troopers attacked participants in a weekly, peaceful protest in Kafr Qaddum, east of Qalqilya City, on Friday.
Three young Palestinian men were hit by bullets fired by the Israeli forces during the clashes, which also saw the forces tear-gas the demonstrators, giving dozens of them breathing difficulties.
Palestinians take to the streets of the occupied West Bank every week to denounce Israel's settlement expansion policy.
More than 600,000 Israelis live in over 230 settlements built since the 1967 Israeli occupation of the Palestinian territories of the West Bank and East Jerusalem al-Quds.
Emboldened by the anti-Palestine policies of former US president Donald Trump, Israel stepped up its settlement expansion in defiance of United Nations Security Council Resolution 2334, which pronounces settlements in the West Bank and East Jerusalem al-Quds "a flagrant violation under international law."
All Israeli settlements are illegal under international law as they are built on occupied land.
https://www.presstv.com/Detail/2021/01/29/644109/Israeli-troops-attack-Palestinian-protest-against-settlements
--------
Africa
More Victims Kidnapped By Boko Haram, Including Chibok Girls Escape From Captivity
JAN 28, 2021
Anumber of victims kidnapped by Boko Haram, including some of the abducted Chibok schoolgirls have escaped from their captors, SaharaReporters can confirm.
SaharaReporters also learnt that the escapees are still with the military.
A source privy to the information confirmed the news to SaharaReporters, saying, "They are many and not only Chibok girls alone; they are made up of a variety of women abducted by Boko Haram terrorists."
It was that some parents had been contacted by government officials and may reunite with their loved ones in Maiduguri, Borno State, soon.
According to Daily Trust, some parents had been contacted by officials handling the girls and that they might be invited to Maiduguri on a later date.
A source indicated that Halima Ali is one of the girls believed to have escaped five years since the escape of her sister Maryam.
Halima was allegedly married off to a commander under the instruction of Abubakar Shekau a few months after their abduction from their boarding school in Chibok.
Her father, Ali Maiyanga, could not be reached for comment but a credible source said that friends and family members trooped to his house to congratulate the family on the good news.
When contacted, the Secretary, Chibok Parents Association, Lawal Zannah, said he had information that some of the girls had escaped but had not yet ascertained the number.
"We heard that some of our girls have escaped from the forest, but we are yet to get the details about their number," Zannah said.
SaharaReporters recalled that about 276 girls were kidnapped from Government Girls Secondary School, Chibok, Borno state on April 14, 2014.
Since then, a number of them have regained freedom. 57 of the girls escaped the night they were kidnapped while three of the girls were later found.
Twenty-one of the girls were released in October, 2016 while a good another number of the girls, 82, were released on May 6.
The government said the 82 girls were swapped with Boko Haram prisoners.
On May, 27 2017, another girl also escaped from the terrorists.
http://saharareporters.com/2021/01/28/more-victims-kidnapped-boko-haram-including-chibok-girls-escape-captivity?utm_source=iterable&utm_medium=email&utm_campaign=1949435_
--------
Somalia: Civilian Killed in Roadside Bomb On Afgoye-Mogadishu Road Construction Site
27 JANUARY 2021
A landmine explosion has hit a vehicle transporting Turkish company workers near ex-control Afgoye in Mogadishu on Wednesday.
According to witnesses, one pedestrian was killed and another one injured rushed to the hospital for treatment.
Al-Shabaab often targets Turkish workers and engineers building a tarmac road between Mogadishu and Afgoye, and construction is nearing completion near Afgoye.
Authorities have not yet commented on the incident.
No group has claimed responsibility but Al-Shabaab fighters have on 2 January attacked Mogadishu Afgoye construction site killing five people including two Turkish engineers.
Mogadishu Afgoye road construction is funded Qatar project runs and runs 120 kilometres.
It will link the capital and the agriculturally productive Lower Shabelle region.
https://allafrica.com/stories/202101280147.html?utm_source=iterable&utm_medium=email&utm_campaign=1949435_
--------
No poison found in suspect letter to Tunisian President Kais Saied
29 January 2021
A suspicious letter addressed to Tunisian President Kais Saied did not contain any dangerous material, a senior official said Friday, after the presidency had suggested an attempted poisoning.
Saied's chief of staff Nadia Akacha, who opened the envelope, was briefly hospitalized this week after suffering from short-term vision loss and headaches, according to the presidency.
Tunisian media suggested the letter may have contained ricin, a poison that can be lethal in high doses.
But Mohsen Dali, the spokesman of the prosecution department, told AFP that analysis carried out on the empty envelope indicated it "did not contain any suspicious, toxic or dangerous" material.
He added, however, that an investigation is still underway.
The presidency did not say when the incident occurred but stressed that Saied did not come into contact with the envelope -- which was eventually destroyed in a shredder -- and that he was in good health.
Another employee, who was in the same room with Akacha when she opened the envelope, had similar symptoms but of lesser intensity, it added.
Akacha was discharged from hospital on Wednesday.
https://english.alarabiya.net/News/north-africa/2021/01/29/No-poison-found-in-suspect-letter-to-Tunisian-President-Kais-Saied
--------
North America
Biden administration extends program allowing Syrians to seek temporary refuge in US
Joseph Haboush
29 January 2021
The Biden administration Friday issued an order to allow thousands of Syrian nationals to stay in the United States for at least another year and a half due to the ongoing civil war and danger faced by the Assad regime.
Syria's Temporary Protected Status (TPS) designation was extended for another 18 months, acting Homeland Security Secretary David Pekoske announced in a statement.
According to his statement, more than 6,700 eligible Syrians will benefit from the action, which now allows them to seek refuge in the US until September 2022.
Another 1,800 individuals can file applications to become eligible for this status, Pekoske added.
The program allows people without nationality, but last lived in Syria, to apply.
The TPS designation is issued when a country is in a state of armed conflict or environmental disaster.
"The Syrian civil war continues to demonstrate deliberate targeting of civilians, the use of chemical weapons and irregular warfare tactics, and use of child soldiers. The war has also caused the sustained need for humanitarian assistance, an increase in refugees and displaced people, food insecurity, limited access to water and medical care, and large-scale destruction of Syria's infrastructure," Pekoske said.
Due to the circumstances, Syrians cannot safely return to their homeland, he said.
Syria's TPS designation was first issued in March 2012, nearly a year after the outbreak of the Syrian war.
https://english.alarabiya.net/News/middle-east/2021/01/29/Biden-administration-extends-program-allowing-Syrians-to-seek-temporary-refuge-in-US
--------
Priority for US is dealing with Iran moving closer to nuclear weapon: Official
Joseph Haboush
29 January 2021
A "critical" early priority for the Biden administration is to deal with Iran getting closer to a nuclear weapon, US National Security Advisor Jake Sullivan said Friday.
"A critical early priority [for the administration] is to deal with the escalating nuclear crisis [as Iran] moves closer and closer" to getting a nuclear weapon, Sullivan said during a webinar with the United States Institute of Peace.
In a slight jab at the Trump administration for withdrawing from the 2015 Joint Comprehensive Plan of Action (JCPOA), Sullivan claimed that Iran was "significantly" closer to manufacturing a nuclear weapon than under the Obama administration.
Sullivan also touched on Iran's ballistic missile capability, which "has advanced, and advanced under the Obama administration." But he said this had "now accelerated" under former President Donald Trump.
Direct attacks on US partners in the region, as well as Tehran's support for proxies, has become "more audacious," Sullivan said.
"Our view is that if we can get back into diplomacy to put Iran's nuclear program back into a box," it will put Washington in a position to address the ballistic missile program.
"We have to address Iran's other malign behavior in the region," Sullivan said.
Earlier in the day, French President Emmanuel Macron said it was necessary to include regional allies, including Saudi Arabia, in any future nuclear talks.
https://english.alarabiya.net/News/middle-east/2021/01/29/Priority-for-US-is-dealing-with-Iran-moving-closer-to-nuclear-weapon-Official
--------
Afghanistan's Taliban say honouring Doha deal, warn US troops to leave or die
29 January 2021
The Taliban have roundly dismissed the Pentagon's claim that the Afghan militant group is not in compliance with the agreement it reached with the United States in Qatar last year, warning Washington that US troops will be killed if they refuse to leave the country as required by the deal.
In a tweet on Friday, Zabihullah Mujahid, a spokesman for the Taliban, reacted to Pentagon press secretary John Kirby's comments in his first news conference a day earlier about the US military presence in Afghanistan.
Kirby claimed "the Taliban have not met their commitments" under the deal they reached with the former US administration in Doha last February, which would ultimately lead to a permanent cease-fire in exchange for cutting the number of American troops in Afghanistan in phases to go to zero by May 2021.
The US troop drawdown began under ex-president Donald Trump, who reduced the number of American boots on the ground from approximately 13,500 to 2,500 before leaving office in mid-January.
Kirby, however, said the US will not proceed with the drawdown unless the Taliban comply with the Doha agreement. He added that new Defense Secretary Lloyd Austin was reviewing the matter and had discussed the path forward in the war-torn country with NATO allies and partners.
Mujahid, however, said the Pentagon's claim about the Taliban's non-compliance was not true.
The Afghan group, he added, "is committed to all articles of the agreement and is honoring its side."
"Implementing the Doha deal is the only solution to the current challenge," The Taliban's spokesman said. "We want the Americans to honor the Doha agreement as well."
In a phone conversation with Afghan President Ashraf Ghani on Thursday, new US Secretary of State Antony Blinken said Washington was reviewing the agreement with Taliban to see whether the Taliban was fulfilling commitments to "cut ties with terrorist groups, to reduce violence in Afghanistan, and to engage in meaningful negotiations with the Afghan government and other stakeholders."
In recent weeks, deadly attacks and high-profile assassinations have seen a rise in Afghanistan. The Taliban have denied responsibility for the killings, but Afghan and US officials have pinned the blame on the group.
A part of the deal, the Taliban promised to break ties with al-Qaeda and not allow any other armed group to use the Afghan territories under their control to attack the US.
However, the memorandum from the US Treasury Department to the Department of Defense, released on January 4, claimed, "as of 2020, al-Qaeda is gaining strength in Afghanistan while continuing to operate with the Taliban under the Taliban's protection."
That claim was also rejected by the Taliban, with its deputy peace negotiator, Shir Mohammad Abbas Stanikzai, saying the Afghan group has no ties to terrorist outfits, including al-Qaeda.
"We are acting based on the agreement [with the US] and do not allow foreign militants to have presence in Afghanistan," he told Russian media on Friday during a visit to Moscow.
Stanikzai said such claims are intended to mislead the world community and serve as a pretext to justify the US military's continued presence on Afghan soil.
Taliban: We will kill US troops if they refuse to leave
He added that the 2020 agreement with the United States was also meant offer American "invading" troops a "safe passage" out of Afghanistan, and that the Taliban expects new US President Joe Biden administration's so-called review of the document will not lead to its destruction.
"We hope that when they are reviewing it they will come to the same positive [conclusion]," Stanikzai stressed.
The Taliban negotiator once again rejected a New York Times report in June 2020 that accused Russia of paying the militant group to kill American troops in Afghanistan, delivering a stern warning to the US against attempting to keep its forces on Afghan oil in defiance of the Doha accord.
"We do not need anyone to give us reward for the killing of Americans. Americans are the invaders and we are [have been] killing them since 2001," he said.
"If they remain in Afghanistan after this [the agreed deadline] we will also kill them even if somebody reward us or do not reward us. We take our reward from God. We fight the invaders without a reward, without any bounty," Stanikzai warned.
The Taliban view the Kabul government as a US agent and cite the presence of foreign forces in Afghanistan as the main reason behind their continued militancy.
The US along with its NATO allies invaded Afghanistan in 2001 under the guise of fighting terrorism and dismantling al-Qaeda.
The invasion — which has turned into the longest war in US history — removed the Taliban from power in Afghanistan, but it only led to more militancy and violence as well as the emergence of Takfiri terrorism in the Central Asian country.
Over 2,400 American soldiers and tens of thousands of Afghan civilians have also been killed in the war.
https://www.presstv.com/Detail/2021/01/29/644110/Taliban-dismiss-US-claim-of-non-compliance-with-Doha-deal
--------
Europe
French President Emmanuel Macron to visit crisis-hit Lebanon for a third time
Joseph Haboush & Hussein Kneiber
29 January 2021
French President Emmanuel Macron said Friday that he would pay a third visit to Lebanon, less than a year after he made two trips in an attempt to speed up the formation of a new government.
Macron, who took the lead on forming a roadmap for Lebanon to crawl out of its unprecedented economic crisis, told Al Arabiya that the French proposal was "still on the table" because there were "no other solutions available."
Following the deadly Aug. 4 Beirut blast, Macron laid out a plan that Lebanese officials and politicians committed to, which required economic reforms and a serious effort to clamp down on corruption.
Six months after the explosion, the ruling elite has yet to implement any reforms needed to unlock badly needed economic aid.
The international community, including regional countries that have traditionally stood by Lebanon, refuses to provide financial assistance to a ruling elite that is seen as corrupt by a majority of the Lebanese population.
But Macron said he would visit Lebanon for the third time after particular actions were taken. He did not elaborate.
"We will do everything to help form a new government in Lebanon," even if it does not meet all the criteria, he said.
Macron revealed that preparations are underway for a new round of talks on the Lebanese file.
He also commended the Lebanese people and the expat community. "As for their leaders, they don't deserve their country," Macron said.
https://english.alarabiya.net/News/middle-east/2021/01/29/French-President-Emmanuel-Macron-to-visit-crisis-hit-Lebanon-for-a-third-time
--------
In 'historic' move, Italy blocks arms sales to Saudi Arabia, UAE over Yemen crimes
29 January 2021
Italy has permanently stopped exports of arms to Saudi Arabia and the United Arab Emirates (UAE) amid worries over the two regimes' continued war crimes in Yemen, in what human rights campaigners praised as a "historic" move that sets "an important precedent" for other European countries.
Foreign Minister Luigi Di Maio announced the halt on Friday, citing Rome's commitment to ending the bloodshed in Yemen and protecting human rights.
"This is an act that we considered necessary, a clear message of peace coming from our country. For us, the respect of human rights is an unbreakable commitment," Di Maio said in a statement.
In an interview with Italy's il Fatto Quotidiano newspaper, Manlio Di Stefano, undersecretary for foreign affairs, said the decision was make last week, after Prime Minister Giuseppe Conte gave the green-light to a relevant recommendation made by Di Maio.
The Italian Network for Peace and Disarmament said the decision would block the sale of around 12,700 missiles to Saudi Arabia, which were part of a total allotment of 20,000 missiles worth over 400 million euros agreed in 2016 under the ex-administration.
'Spotlight now on UK, other European arms sellers'
Andrew Smith from the Campaign Against the Arms Trade told the Middle East Eye online news portal that the Italian decision sets a "vitally important precedent" for other European countries that keep selling weapons to the Saudi regime, despite its atrocities in Yemen.
"The Italian government should not have been arming Saudi forces in the first place. The arms sales they have supported have fueled a brutal war and helped to create a humanitarian catastrophe," Smith said.
"However, this sets a vitally important precedent from a major European arms exporter," he added. "The spotlight now has to be turned on the UK, and other arms-dealing governments who have played a central role in enabling the conflict."
The activist such arms exports must come to an end, "so must the political support that has underpinned them."
Conte had in 2018 expressed a desire for his government to end arms sales to Saudi Arabia due to its devastating war on Yemen as well as the state-sponsored assassination of dissident journalist Jamal Khashoggi in the kingdom's Istanbul consulate a year earlier.
Italy's latest decision followed an announcement by new US President Joe Biden earlier this week that there would a pause in arms exports to Riyadh and Abu Dhabi as his administration reviewed the exports.
The temporary ban will reportedly include the sale of precision-guided weapons to Saudi Arabia and advanced F-35 fighters to the UAE.
The Biden administration's decision was welcomed on Thursday by prominent human rights group Amnesty International, which called on the European countries to follow suit.
Backed by the US, the UK and other Western states, Saudi regime and a coalition of its allies have been engaged in a military against Yemen since early 2015 with the aim of reinstalling a Riyadh-friendly government there.
The campaign has failed to achieve its goals, thanks to the resistance put up by the Yemeni army and allied popular groups, but it has left the poorest Arabian Peninsula state mired in the "world's worst humanitarian crisis," as the United Nations put it.
According to the latest figure provided by the UN in December 2020, that war has claimed over 233,000 lives so far. The campaign of aggression has also left millions of Yemenis on the brink of famine and wreaked havoc on the country's civilian infrastructure, including hospitals and schools.
https://www.presstv.com/Detail/2021/01/29/644121/Italy-blocks-arms-sales-to-Saudi-Arabia,-UAE-over-Yemen-crimes
--------
Former MEPs slam Iran's terror campaign across Europe
January 29, 2021
LONDON: A group of former Members of the European Parliament (MEPs) have slammed Iran for its campaign of terror across Europe.
A cross-party panel of former European policymakers and experts on Tehran's use of terrorism criticized the regime for using intelligence assets as terrorists.
The panel, hosted by the International Committee in Search of Justice (ISJ), gathered amid a diplomatic crisis between Iran and the EU, with an Iranian diplomat currently on trial for planning to bomb an anti-Tehran rally in Paris.
Assadollah Assadi — a senior Iranian diplomat at the embassy in Vienna, Austria — and his three co-conspirators are charged with plotting a terror attack on an annual gathering of the Iranian opposition in 2018.
The "Free Iran" gathering was launched to show support for the Iranian opposition leader Maryam Rajavi's proposed roadmap for the future of Iran, which calls for the universal right to vote, free elections, and a market economy.
A court in Belgium is expected to offer its ruling on the case of Assadi and his conspirators on Feb. 4.
The ISJ panel included Alejo Vidal-Quadras, former vice president of the European Parliament, Giulio Terzi, former Italian foreign minister, Struan Stevenson, former Scotland MEP, and Paulo Casaca, a former Portuguese MEP.
Vidal-Quadras said: "I would advise policymakers that if you want peace and stability in the region, if you want human rights to be respected in Iran, do not engage with this regime."
On the foiled plot to bomb the rally in 2018, Vidal-Quadras said: "Fortunately, this plot was disrupted through the cooperation of European governments. The latest revelations from the trial show that the Iranian-Belgian couple Nasimeh Naami and Amir Saadouni, who received the bomb directly from Assadi, were instructed to place the explosive device as close as possible to Rajavi."
He added: "I was sitting very close to Rajavi. First-rank political figures were sitting in a space of a few meters around her. You can imagine the consequences if such an attack succeeded."
Terzi told the audience: "There are many questions about this case and European policy. How is Europe going to stop these terrorist activities? If we look at history, there have been a lot of terrorist actions on European soil that the regime has denied despite a huge amount of evidence that pointed to Iran. How will Europe stop these terrorist attacks against Europeans and political refugees?
Asked by Arab News how the EU could combat Iran's reign of terror across the continent, Stevenson said: "The only policy that works is toughness and decisiveness."
He added: "To stop Tehran's terrorism, the EU must list the Iranian Revolutionary Guards Corps, the Quds Force and the intelligence services as terrorist outfits.
"Secondly, the EU must investigate who Assadi met in Europe, and whom he paid. Identify and arrest these agents and expel them."
His final suggestion was for the EU to "shut down Iran's embassies until we have absolute assurance that the regime will dismantle their terror network in Europe."
Casaca said: "European institutions should reinforce European unity, uphold the rule of law, and ensure the protection of values that keep our countries together, including freedom and protection from terrorism.
"They must not bow to foreign terrorist powers that want us to bow before them. The regime must not enjoy impunity in causing terrorism."
https://www.arabnews.com/node/1800211/middle-east
--------
Muslim headscarves barred in all public areas in France under new measures proposed by Marine Le Pen
Maya Oppenheim
Jan 30, 2021
Muslim headscarves would be prohibited in all public areas in France under new measures proposed by French far-right leader Marine Le Pen.
Ms Le Pen claimed the headscarf was an "Islamist" piece of clothing as she branded "Islamist ideologies" as "totalitarian and murderous" at a press conference where she unveiled the newly suggested law.
The court would challenge the measure proposed by the leader of the National Rally party – previously known as the National Front – and be likely to declare it unconstitutional.
It comes after the prime minister Jean Castex recently ruled out a bid to ban religious veils for children in public spaces in France.
The proposal had been suggested by a member of Emmanuel Macron's party and had the support of senior politicians in the centrist party as well as gaining Ms Le Pen's backing.
Speculation has mounted Ms Le Pen could win the 2022 election by capitalising on mounting discontent over the coronavirus crisis and the ensuing financial fallout from the pandemic.
A poll carried out by Harris Interactive found Le Pen would be close behind Macron, managing to clinch 48 per cent of the vote, while the current French leader would be elected again with 52 per cent. This is the smallest margin a poll pitting the two leaders against each other has ever found.
Ms Le Pen, who is the youngest daughter of Jean-Marie Le Pen, a convicted racist who is former president of the National Front, is known for her virulently xenophobic and islamophobic views.
The politician, who suffered a massive defeat to Mr Macron in the 2017 presidential elections, has long pledged to implement a heavy clampdown on immigration as well as outlawing the Muslim headscarf.
Ms Le Pen branded Donald Trump's win as president in the US as "an additional stone in the building of a new world".
https://www.independent.co.uk/news/uk/home-news/marine-le-pen-muslim-headscarves-france-b1795112.html
--------
URL: https://www.newageislam.com/islamic-world-news/ayodhya-seers-clerics-called-asaduddin/d/124188
New Age Islam, Islam Online, Islamic Website, African Muslim News, Arab World News, South Asia News, Indian Muslim News, World Muslim News, Women in Islam, Islamic Feminism, Arab Women, Women In Arab, Islamophobia in America, Muslim Women in West, Islam Women and Feminism