New Age Islam News Bureau
19 Nov 2018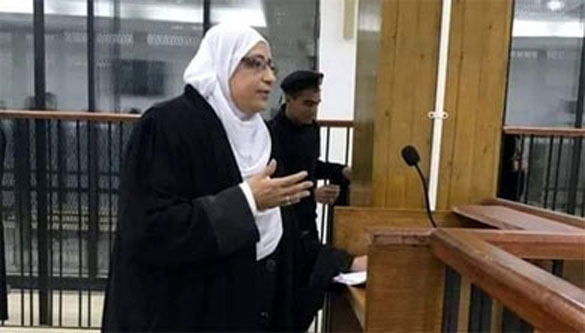 Human rights lawyer Huda Abdelmoneim, 60, was arrested from her home at 1:30am on 1 November (supplied)
-----
• Ayodhya Film: Chairman of the Shia Waqf Board, Syed Waseem Rizvi to Release Trailer
• Chinese City Urges Those 'Poisoned By Extremism', Who Follow Conservative Islam to Confess Crimes
• 40 Human Rights Defenders Missing In Egypt: HRW
• Religious Scholar Demands Board for Research on Life of Prophet (PBUH)
• They Don't Do a Damn Thing for Us, Says Trump on Pakistan
India
• Ayodhya Film: Chairman of the Shia Waqf Board, Syed Waseem Rizvi to Release Trailer
• Man Who Funded Palwal Mosque Had Been To Pakistan Thrice, Says NIA
• Eid-e-Milad Procession in Pune Moves to Morning Slot
• One Personnel killed, 2 injured in terrorist attack on CRPF camp in J&K
• Involvement of terror groups in Amritsar attack not ruled out, says CM Amarinder
--------
Southeast Asia
• Chinese City Urges Those 'Poisoned By Extremism', Who Follow Conservative Islam To Confess Crimes
• Read and Understand the Quran In Your Own Language, Dr M Tells Muslims
• Malay-Muslims will 'run amok' if ICERD ratified, Zahid warns
• Judge sends seven Rohingya children from Kedah immigration detention to KL shelter
• 'Moral panic' targets Indonesia's LGBT community
• Political Parties Clash over Sharia-Based Bylaws
• Surabaya Redux: Terror time bomb fears as Indonesia frees Islamic extremists
--------
Arab World
• 40 Human Rights Defenders Missing In Egypt: HRW
• Over 50,000 Refugees Incarcerated by US-Backed Militants in Al-Tanf
• Five French Terrorists Killed in Clashes with Rival Group in Northwestern Syria
• Iraqi airstrikes kill nearly dozen Daesh Takfiri terrorists
• Syrian Army Purges ISIL from More Regions in Badiyeh of Sweida
• Syrian Army Discovers American, Israeli-Made Arms in Terrorists' Positions Again
• Turkey-Backed Forces, Kurds Engage in First Clashes in Northern Syria's Manbij
• Car bomb blast kills five in Iraq's Tikrit, say sources
--------
Pakistan
• Religious Scholar Demands Board for Research on Life of Prophet (PBUH)
• Why Pakistan's Centuries-Old Weapon Making Market Is Slowly Dying
• Imran Khan Meets UAE Prime Minister amid Reports of Financial Assistance Package
• 3 security personnel martyred in Quetta IED blast
• Iranian border forces arrest 253 Pakistanis on their way to Europe
• Pakistan, UAE to jointly curb money laundering
--------
North America
• They Don't Do a Damn Thing for Us, Says Trump on Pakistan
• Trump Doesn't Want to Hear 'Suffering' Khashoggi's Murder Tape
• US Police Skips Prosecution of Assailants against Washington D.C. Imam at Mosque
• Who can really know' if bin Salman lied in Khashoggi case, Trump wonders on Fox News
• US Senator Rand Paul urges Trump to kill Saudi arms deal over Khashoggi murder
• Turkey says US support for YPG Kurdish militants in Syria 'big mistake'
--------
Mideast
• Iran, Iraq Consider Using Local Cash in Mutual Trade
• Israeli Minister, Dozens of Settlers Storm Al-Aqsa Mosque
• Photos of US Forces Dining With Kurdish Militants In Syria Anger Turkey
• Clashes between pro-Turkish rebels kill 25 in Syria's Afrin
• Netanyahu says 'unnecessary and wrong' to call snap Israeli polls
• Yemen's Houthis Announce Halt of Missile Attacks on Saudi Arabia
• Houthi sea mine explosion kills two Yemeni fishermen in Hodeidah
• Yemen's army recaptures 'Ahem Triangle' in Hajjah
• Yemen fighters say halting counterstrikes on aggressors
--------
Africa
• Where Are Libya's Billions under Qaddafi Abroad and Who Benefits from Them?
• Why Is Nigerian Govt So Afraid Of Sheikh Zakzaky?
• Hundreds of schools shut in Burkina Faso over militant attacks
• Nigeria: Buhari Lauds South-West Muslims for Religious Tolerance
--------
Europe
• Row As Imam Recites the Muslim Call to Prayer in A Church Of England Cathedral
• French MP Proposes Muslims Adopt French Names to Become Citizens, Extend Ban on Islamic Headscarves
• British foreign secretary due in Iran for nuclear deal talks
• Trump says report on Khashoggi death expected within two days
--------
South Asia
• Myanmar Police Shoot, Injure Four Rohingya Muslims in Camp Raid
• Bangladesh to Relocate 100,000 Rohingya Refugees despite HRW Warning
• Taliban's Red Unit fighters and militants suffer heavy casualties in Nangarhar
• Khalilzad eyes peace agreement with Taliban before presidential elections
• US hopes for peace accord with Taliban by April 2019
Compiled by New Age Islam News Bureau
URL: https://www.newageislam.com/islamic-world-news/ayodhya-film-chairman-shia-waqf/d/116920
--------
Ayodhya Film: Chairman of the Shia Waqf Board, Syed Waseem Rizvi to Release Trailer
Nov 19, 2018
Lucknow: The chairman of the Shia Waqf Board, Syed Waseem Rizvi will release the trailer of a film on Ayodhya on Monday. The film chronicles the timeline of the Ayodhya movement and focuses on the fact that the faith of millions was challenged by fundamentalists that led to a divide between India's two largest communities.
Syed Waseem Rizvi, in recent months, has been a strong supporter of Ram temple in Ayodhya and even offered prayers at the makeshit temple a few weeks ago. He even gave an application in the Supreme Court saying that the Shia community was ready to give up its claim on the disputed land so that the grand Ram temple could be built.
This led to stiff opposition from the petitioners in the Ayodhya title suit and also led to the ex-communication of Syed Waseem Rizvi from Islam. The announcement of the film on Ayodhya comes at a time when the Supreme Court has postponed hearing of the title suit to January and Hindu organizations including VHP are trying to revive the temple movement in a big way.
http://www.asianage.com/india/all-india/191118/ayodhya-film-shia-cleric-to-release-trailer.html
--------
Chinese City Urges Those 'Poisoned By Extremism', Who Follow Conservative Islam To Confess Crimes
NOVEMBER 19, 2018
BEIJING (Reuters) - A city in China's far-western Xinjiang region has ordered people who are "poisoned by extremism, terrorism and separatism", in contact with overseas terror groups or act in a conservative Islamic manner, to turn themselves in to authorities.
Those who surrender to judicial organs within 30 days and confess to their crimes will be treated leniently and might avoid punishment, said a notice posted on Sunday on the official social media account of the Hami city government.
Beijing has in recent months faced an outcry from activists, academics and foreign governments over mass detentions and strict surveillance of the Muslim Uighur minority and other ethnic groups that live in Xinjiang.
China rejects the criticism, saying that it protects the religion and culture of minorities in the region and that its security measures are needed to combat the influence of "extremist" groups that incite violence there.
"All individuals involved in terrorist crimes and poisoned by the 'three evil forces' are urged to surrender themselves to the judicial organs within 30 days and to confess and hand over the facts of your crime," said the Hami city notice.
The notice issued by the municipal "leading small group for stability maintenance" says that actions ranging from being in contact with overseas "terror" groups to conservative Islamic behaviour should prompt individuals to turn themselves in.
Advocating that people live their entire lives in accordance with the Koran, stopping other people from watching television, or banning alcohol, smoking and dancing at weddings are listed as behaviours that should warrant informing the authorities.
The list also included openly destroying, rejecting or thwarting the government identification system, as well as rejecting government provided housing, subsidies and cigarettes or booze as being "Haram" or forbidden.
Those who turn themselves in on time will be treated leniently, and if the information provides a significant clue, then they might avoid all punishment, the notice said.
In August, a United Nations human rights panel said it had received many credible reports that a million or more Uighurs and other minorities are being held in what resembles a "massive internment camp that is shrouded in secrecy" in Xinjiang.
China rejects the criticism, saying that it protects the religion and culture of minorities in the region and that its security measures are needed to combat the influence of "extremist" groups that incite violence there.
"All individuals involved in terrorist crimes and poisoned by the 'three evil forces' are urged to surrender themselves to the judicial organs within 30 days and to confess and hand over the facts of your crime," said the Hami city notice.
The notice issued by the municipal "leading small group for stability maintenance" says that actions ranging from being in contact with overseas "terror" groups to conservative Islamic behaviour should prompt individuals to turn themselves in.
Advocating that people live their entire lives in accordance with the Koran, stopping other people from watching television, or banning alcohol, smoking and dancing at weddings are listed as behaviours that should warrant informing the authorities.
The list also included openly destroying, rejecting or thwarting the government identification system, as well as rejecting government provided housing, subsidies and cigarettes or booze as being "Haram" or forbidden.
Those who turn themselves in on time will be treated leniently, and if the information provides a significant clue, then they might avoid all punishment, the notice said.
In August, a United Nations human rights panel said it had received many credible reports that a million or more Uighurs and other minorities are being held in what resembles a "massive internment camp that is shrouded in secrecy" in Xinjiang.
https://www.reuters.com/article/us-china-xinjiang/chinese-city-urges-those-poisoned-by-extremism-who-follow-conservative-islam-to-confess-crimes-idUSKCN1NO0D7?il=0
--------
40 human rights defenders missing in Egypt: HRW
Nov 18, 2018
Human Rights Watch (HRW) says at least 40 rights workers, activists and lawyers have been rounded up by Egyptian authorities since late October and are being held in "undisclosed locations."
The international rights group said in a statement on Sunday that it had spoken to "a lawyer, a human rights activist and two political activists who have been in direct contact with the families of those arrested" since the end of October.
"Many of those arrested were people who provided humanitarian and legal support to families of political detainees," the statement read.
Michael Page, deputy Middle East and North Africa director at HRW, voiced concern over the ongoing political repression across the country. "The Egyptian security agencies' repression now extends to disappearing those brave men and women who have been trying to protect the disappeared."
Sources told HRW that as many as 80 people had been detained in the wave of arrests, but the rights group said it could only verify 40 names. The New York-based group has called on Egyptian authorities to "immediately reveal all the detainees' whereabouts, release all of those arrested solely for exercising their rights, and bring any others swiftly before a judge to review their detention."
Some of the detainees were close to the Egyptian Coordination for Rights and Freedoms, an independent human rights group which has come under fire from pro-government media in recent months.
Among those detained is Hoda Abdelmoneim, a 60-year-old lawyer and former spokesperson for Egypt's Women Revolutionary Coalition, a group close to the Muslim Brotherhood. Security forces also arrested Aisha Khairat al-Shater, the daughter of a former Brotherhood leader currently in detention, along with her husband, lawyer Mohammed Abu Horayra.
Egypt has cracked down on suspected extremists since President Abdel Fattah el-Sisi led the overthrow of the first democratically-elected president and Brotherhood leader, Mohamed Morsi.
Brotherhood is the most prominent political party in Egypt which is now outlawed.
Authorities say the state crackdown on dissent and freedom is directed at terrorists and saboteurs trying to undermine Egypt.
Death sentences have been handed down to hundreds of dissidents, including Brotherhood supporters and members. In September, 75 were sentenced to death over a 2013 sit-in which ended with security forces killing hundreds of protesters.
The crackdown on Brotherhood members and other dissidents has sparked widespread criticism around the world.
https://www.presstv.com/Detail/2018/11/18/580435/Egypt-HRW
--------
Religious scholar demands board for research on life of Prophet (PBUH)
November 19, 2018
A prominent spiritual leader demanded on Sunday constitution of a board to carry out research on various aspects of life of Prophet Muhammad (PBUH) so that the same could be placed on the internet for benefit of people at large. Pir Kabir Ali Shah, who is also the custodian of Choora Sharif seat of spirituality, said this while talking to reporters that Muslims should effectively counter the enemies' propaganda against Islam. For the past several years, Pir Kabir Ali has been running a special campaign to persuade Muslim women to cover themselves with shawls. For this purpose, he gifts shawls to women. So far, he has given 1.2 million shawls to ladies and his gesture is bringing a very positive response. He is committed to continuing the mission in the future. Another important mission he is working on is the construction of mosques in Pakistan and other countries. He says he has set up 98 mosques so far to facilitate people of the relevant localities to offer their prayers there. Some of the mosques are in Britain and the United States. He said Choora Sharif has nothing to do with politics. However, his followers would vigorously support all steps taken by the PTI government for the promotion of Islamic values. "If the rulers set their direction towards Madina, we'll support all their policies and decisions", said Pir Kabir Ali Shah. He was of the opinion that the government should include teachings of sufis in the curriculum for the benefit of the younger generation. He is holding the 43rd conference on the life of Prophet Muhammad (PBUH) on Tuesday (11th of Rabiul Awwal) at his residence at Khyaban-i-Choora Sharif, Lahore. It is in Hanjarwal area. A large number of people from Pakistan and other countries are expected to participate. –Staff Reporter
https://nation.com.pk/19-Nov-2018/religious-scholar-demands-board-for-research-on-life-of-prophet-pbuh
--------
They don't do a damn thing for us, says Trump on Pakistan
Nov 19, 2018
United States (US) President Donald Trump on Sunday slammed Pakistan "for doing nothing" for his country, claiming that Pakistan helped shelter former al Qaeda chief Osama bin Laden in Abbottabad.
In an interview with Fox News, Trump defended his administration's decision to pull hundreds of millions of dollars in military aid to Pakistan.
He said, "You know, living – think of this – living in Pakistan, beautifully in Pakistan in what I guess they considered a nice mansion, I don't know, I've seen nicer," referring to bin Laden and his former compound in Abbottabad.
In 2011, the compound was destroyed shortly after the US Naval Special Warfare Development Group forces, in a helicopter raid, killed bin Laden.
"But living in Pakistan right next to the military academy, everybody in Pakistan knew he was there," he added. "And we give Pakistan $1.3 billion a year . … [bin Laden] lived in Pakistan, we're supporting Pakistan, we're giving them $1.3 billion a year –which we don't give them any more, by the way, I ended it because they don't do anything for us, they don't do a damn thing for us."
Trump also plans to visit the US troops stationed in Iraq and Afghanistan for the first time.
"Well, I think you will see that happen," the president said after the interviewer reminded that Obama and former President George W Bush had each visited soldiers in war zones. He commented, "There are things that are being planned. We don't want to talk about it because of — obviously because of security reasons and everything else."
Meanwhile, Trump said that he was briefed on the audio recording of journalist Jamal Khashoggi's apparent murder in Turkey, but said he hasn't listened to it, calling it a "suffering tape" that he was advised not to hear.
"You saw we put on very heavy sanctions, massive sanctions on a large group of people from Saudi Arabia," Trump said. "But at the same time we do have an ally and I want to stick with an ally that in many ways has been very good." He also said it "takes two to tango" to resolve the conflict in Yemen, where Iranian-backed insurgents are facing off in a proxy war against Saudi-backed forces, noting that "I want Saudi to stop, but I want Iran to stop also."
It is pertinent to mention that the US cancelled $300 million in aid to Pakistan this year for its 'lack of' decisive action against militant groups.
The cancellation of aid is part of President Trump's New Year tweet in which he launched a scathing criticism against Pakistan for betraying the US.
"The United States has foolishly given Pakistan more than 33 billion dollars in aid over the last 15 years, and they have given us nothing but lies & deceit, thinking of our leaders as fools. They give safe haven to the terrorists we hunt in Afghanistan, with little help. No more!," Trump tweeted on New Year's Day.
https://www.pakistantoday.com.pk/2018/11/18/they-dont-do-a-damn-thing-for-us-says-trump-on-pakistan/
--------
India
Man who funded Palwal mosque had been to Pakistan thrice, says NIA
by Deeptiman Tiwary
November 19, 2018
NIA investigations into a Palwal mosque, allegedly built with funds received from the Hafiz Saeed-led Lashkar-e-Taiba (LeT), have found that the man who contributed the funds had travelled to Pakistan thrice and was in touch with two LeT men in Pakistan and UAE.
As reported first by The Indian Express on October 15, NIA had found that Nizamuddin resident Mohammed Salman contributed Rs 70 lakh to the building of Khulafa-e-Rashideen mosque in Palwal, Haryana. This money, according to NIA, had been allegedly received by Salman from LeT's front NGO Falah-e-Insaniyat Foundation (FIF).
The development had alerted intelligence agencies which are now probing if LeT has designs of creating influence or establishing sleeper cells by investing in religious activities in India.
"We have strong evidence to connect Salman with both the money and Pakistan-based LeT operatives. There is electronic evidence in the form of emails and chats where he is discussing about funds with Pakistani nationals connected to FIF. There are two such communications in Pakistan and Dubai. We have also found he travelled thrice to Pakistan," an NIA officer said.
The agency, however, has not been able to establish the financial trail completely since the payments were made through hawala.
The Khulafa-e-Rashideen masjid at Uttawar village in Palwal was searched by NIA officers on October 3, days after the agency arrested three men, including the Imam of the mosque, Mohammed Salman, in Delhi in an alleged terror-funding case.
While residents of Uttawar have claimed the mosque is embroiled in a land dispute and that they were unaware of Salman's alleged links to LeT, NIA has questioned office bearers of the mosque and scrutinised account books and documents.
Salman (52), Mohammed Salim and Sajjad Abdul Wani were arrested on September 26 for allegedly receiving terror funding from Lahore-based FIF, an NGO set up by Hafiz Saeed's Jamaat-ud-Dawa, Lashkar's parent organisation.
NIA investigations, sources said, have found that Salman allegedly funnelled FIF money to build the mosque. "Salman, who came in touch with LeT associated men when he was in Dubai, had been receiving funds from FIF. The organisation, we have learnt, gave him Rs 70 lakh to build a mosque in Uttawar. It even gave him money for the marriage of his daughters," an NIA officer said.
The officer said Salman, who hails from Uttawar but has been living in Delhi since childhood, was among the largest contributors to funds raised to build the mosque. Sources said residents of the village arranged for over 10 acres and money for construction was given by Salman, among others.
The NIA alleged that this money actually came from FIF. "The village does not appear to be aware of the source of funds. They believe it has come from Salman," said another officer. After Salman's arrest in September, NIA said in a statement: "During investigation, it emerged that one Mohammad Salman is in regular touch with one Dubai-based Pakistani national, who in turn is connected with the Deputy Chief of Falah-e-Insaniyat Foundation. The accused person has been receiving funds, being sent by FIF operators and his associates through hawala operators."
According to the NIA, FIF is a front-end organisation of "LeT, a terror organisation proscribed under UAPA. FIF is placed on the list of terrorist organisations as per entry 33 in the First Schedule to the UAPA read with Prevention and Suppression of Terrorism (Implementation of Security Council Resolutions) Order 2016".
In Uttawar, however, few buy the NIA version. Most believe it is a result of a court battle between the villagers and some families squatting on the mosque land. "Because we are trying to evict them, it appears someone has given this wrong information to police. Salman comes from a very reputed family. No one from his family has ever had a criminal case against them," said Khalid Hussain. Hussain was at the mosque when it was searched and is the son of former Sarpanch Akhtar Hussain.
Salman's cousin Yaqub (77) said, "In Islam, betraying the nation is a sin. Hafiz Saeed is a foreigner. A God-fearing man like Salman would never align with him."
https://indianexpress.com/article/india/man-who-funded-palwal-mosque-had-been-to-pakistan-thrice-says-nia-5452692/
--------
Eid-e-Milad procession in Pune moves to morning slot
Nov 19, 2018
PUNE: For the first time in the city, the Eid-e-Milad procession will be organized in the morning instead its usual evening slot, mainly to avoid traffic congestion.
Scholars have decided to organize the procession — marking Prophet Muhammad's birth — from 9am to 2pm on November 21. The procession was traditionally held from 2pm to 11pm.
It features floats depicting the kaba and the Prophet's tomb, besides social messages like "save water" and "save the girl child". A large number of children participate in the procession. People from all communities distribute snacks and refreshments.
The procession starts from Manusha Masjid in Nana Peth and goes through Qureshinagar, M G Road and Sarbatwala Chowk in Camp and Laxmi Road, from via Quarter Gate, and will culminate at Shantranjiwala Chowk.
"Eid-e-Milad is celebrated all over the world in the morning because the prophet was born before sunrise. The Ulemas (scholars) came together and took this historic decision after consulting the community members to prevent skipping prayers.
(This) also will prevent traffic congestion in peak hours," Maulana Abdul Rehma Misbahi, a scholar, said.
"Lakhs of people participate in the procession in the evening. The number will come down in the morning. Our community members have welcomed the decision and pledged to participate in large numbers. We are holding talks with people opposed to the decision. The procession will send a message to people from all the communities that we love the Prophet," he said.
Renowned educationist Salat Baig expressed apprehension over the afternoon heat taking a toll on the participants, especially children. "The hot sun in the afternoon can expose them to sunstroke and other illnesses, such as fatigue. Morning hours can be tried as an experiment, if it fails, we can be revert to the evening slot," Baig said.
Hafiz Taslim Muhammad Shaikh, who is associated with mosques and madrasas in the city, said a morning procession will go a long way in easing traffic congestion.
"We welcome the decision ... but youths and social service organization are disappointed because they were not consulted. We will meet the police commissioner on Monday and request him to allow us to take out the procession on the main roads after 2pm," Munawar Qureshi, founder-president of the All India Muslim Front, said.
"The decision is correct, but senior members from the community should take the youths into confidence and arrive at a consensus, as it will send a strong message to other communities that we are united and that we love the prophet," Zakir Shaikh, president of All India Quami Tanzeem (western Maharashtra) said.
"The Seerat committee, Azam Campus and Khadki groups have agreed to the morning and afternoon timings. The other groups, who want to take out the procession in the evening, may do it in their own areas," deputy commissioner of police (special branch) Ashok Morale said.
Full report at:
https://timesofindia.indiatimes.com/city/pune/eid-e-milad-procession-moves-to-morning-slot/articleshow/66684307.cms
--------
One Personnel killed, 2 injured in terrorist attack on CRPF camp in J&K
Nov 18, 2018
SRINAGAR: Terrorists attacked a newly set up camp of the CRPF in Pulwama district of south Kashmir on Sunday, killing one personnel, officials said.
The ultras opened indiscriminate fire and hurled grenades on the CRPF camp at Kakapora in the district, killing the havaldar and injuring two others, they said.
The camp had come up in view of the ongoing panchayat elections in the state.
Full report at:
https://timesofindia.indiatimes.com/india/personnel-killed-2-injured-in-terrorist-attack-on-crpf-camp-in-jk/articleshow/66681159.cms
--------
Involvement of terror groups in Amritsar attack not ruled out, says CM Amarinder
Nov 18, 2018
CHANDIGARH: Punjab chief minister Amarinder Singh said the possibility of involvement of ISI-based Khalistani/Kashmiri terror groups in the grenade attack at Nirankari Bhawan in Amritsar's Adliwal village that claimed three lives and left 15 injured could not be ruled out. Meanwhile, he also announced a compensation of Rs 5,00,000 each to the kin of the dead.
Amarinder said preliminary investigations had revealed that two men, one of them with a flowing beard, with covered faces, allegedly forced their way into the hall by brandishing a pistol. They detained the sewadar, lobbed the grenade into the prayer room, and fled on a motorcycle.
A crater, which is three inches in diameter was formed by the impact of the explosion and was being examined by the forensic team. The safety valve of the grenade has also been found and was being examined.
Police teams are there to raid suspected hideouts of the assailants and multiple teams are investigating various angles to crack the case. Forensic teams have rushed to the spot and all angles were being investigated, said an official spokesperson.
Amarinder directed the home secretary, DG Police, DG Law and Order and DG Intelligence to immediately rush to Village Adliwal, Raja Sansi, to personally supervise the investigations into the suspected hand grenade attack at Nirankari Bhawan, which claimed three lives and left 15 people injured.
Amarinder, who reviewed the law and order situation following the blast, has also directed the police to immediately enhance security arrangements at all sensitive places in the wake of the explosion – the first such indiscriminate attack on innocent people in recent past.
He said his government was "on top of things" and would get to the bottom of the incident soon and ensure that the culprits are apprehended and brought to book. Nobody will be allowed to get away with trying to disturb the peace and harmony of the state, he said.
Though the state had been hit by a series of cases of targeted attacks since 2015-16, this was the first attempt, in a long time, to disturb the peace in the state through indiscriminate killings, said Amarinder, adding that it strengthened the belief that Pakistan was continuing with its nefarious activities to disturb the state's peace.
Full report at:
https://timesofindia.indiatimes.com/india/involvement-of-terror-groups-in-amritsar-attack-not-ruled-out-says-cm-amarinder/articleshow/66679395.cms
--------
Southeast Asia
Read and understand the Quran in your own language, Dr M tells Muslims
18 November 2018
PORT MORESBY, Nov 18 — Muslims can only make Islam a way of life if they read the Quran, the authoritative source on their faith, in a language they know instead of just reading Arabic script that they don't understand, Tun Dr Mahathir Mohamad said today. The prime minister told a small congregation at Hohola Mosque in the Papua New Guinea capital here that although the Quran must be in Arabic, one must read the holy scriptures in a language they know in order to understand the teachings of Islam.
"If you read the Quran, it will teach you what is the way of life for the Muslims. But if you go according to certain interpretations by leaders, then you may not be getting the right message of the Quran that's found in the Quran," Dr Mahathir said.
"So it is important that you learn from the Quran, even if it has to be translated into a language that you understand. Then and then only will you be able to live the life of a Muslim. Then and then only will Islam be a way of life."
Muslims generally regard the Arabic text as the definitive version of the Quran. However, most Muslims in Malaysia do not understand Arabic, despite being able to read the script.
Furthermore, tahfiz schools have also become increasingly popular, where students memorise the Muslim holy scripture through rote recitals, sometimes from a very young age.
The prime minister said the fact remained that the teachings of Islam must be taught in an understandable language.
"It may be your own native language, it may be in English, or it may be any other language, but whether we like it or not, we have to read or understand the Quran in our own language."
Dr Mahathir blamed conflicts and wars between Muslims on the prioritisation of certain religious teachers, which leads to different sects, over the Quran.
"The Quran should be the final guidance for us. Whenever we fail to understand or whenever we find teachings to be in doubt, go back to the Quran," he said.
He also disputed claims that Islam requires four witnesses to a crime, highlighting a story in the Quran about a woman named Zulaikha who desired a man named Yusof and tore his shirt as she went after him.
"In the case of the torn shirt of Yusof, it was regarded as sufficient evidence that it was Zulaikha who was chasing after him."
https://www.malaymail.com/s/1694723/read-and-understand-the-quran-in-your-own-language-dr-m-tells-muslims
--------
Malay-Muslims will 'run amok' if ICERD ratified, Zahid warns
18 November 2018
KAMPUNG GAJAH, Nov 18 — Umno president Datuk Seri Ahmad Zahid Hamid warned Putrajaya last night that the Malay-Muslim community will "run amok" to protest the Pakatan Harapan (PH) government's pledge to ratify the International Convention on the Elimination of All Forms of Racial Discrimination (ICERD).
Speaking in a protest held by the Perak chapter of Malay-Muslim groups coalition Ummah last night, Zahid said Umno and PAS leaders will mobilise "millions" of their members to the streets to protest the anti-discrimination human rights treaty next month.
"Don't wait until the Malays run amok. But if our warning goes unheeded, Umno and PAS will unite.
"This is not a mere warning, don't play if you don't want the amok to happen."
Thousands of protesters, even from different states such as Kedah, Kuala Lumpur, Kelantan and Terengganu, gathered at the Kampung Gajah taxi stand here to oppose the ICERD.
Among the politicians present were Umno supreme council member Datuk Seri Tajuddin Abdul Rahman, state PAS commissioner Razman Zakaria and state Umno chief Datuk Saarani Mohamad.
Zahid said both parties will join hands to oppose the ICERD by taking to the streets on December 8 in Kuala Lumpur.
"We have put aside all our political difference and united in the spirit of Malays and Muslims," he added.
Malaysia is among the 14 countries in the world yet to accede to the ICERD, which has been ratified by numerous Muslim-majority countries, such as Indonesia, Saudi Arabia, Iran, Turkey and Jordan.
Ratifying the ICERD and five other United Nations' core human rights conventions is part of the PH election manifesto, and last week, Prime Minister Tun Dr Mahathir Mohamad said Putrajaya is ready to hear public feedback on the matter.
Various legal experts, including the Malaysian Bar, have repeatedly stressed that the ratification would not in any way alter or affect the country's Federal Constitution.
Full report at:
https://www.malaymail.com/s/1694534/malay-muslims-will-run-amok-if-icerd-ratified-zahid-warns
--------
Judge sends seven Rohingya children from Kedah immigration detention to KL shelter
19 November 2018
KUALA LUMPUR, Nov 19 — A judge has ordered that seven asylum-seeking Rohingya Muslim children be released immediately from detention by immigration authorities in Kedah.
Lee Shee Pin, one of the lawyers representing the children for free, said the High Court judge in Alor Setar decided that the children — some as young as five years' old — be released to a children's shelter after being held for over seven months.
"The judge in placing the children at the shelter held that the continued detention of these minors is in breach of their rights under Article 22 of the Convention on the Rights of the Child read together with the preamble of the Child Act which guarantees the necessary protection and humanitarian assistance to be given to them," he told Malay Mail.
Following a court hearing last Sunday, the High Court judge Datuk Ghazali Cha yesterday delivered his decision on the seven children's habeas corpus bid to challenge their detention.
The judge noted that the children had fled from Myanmar due to citizenship issues, and that a 14-day detention order for investigation purposes was issued by the Immigration Department after their April 3 arrival in a boat of 56 Rohingyas on the shores of Langkawi.
The judge said the children had to date not been produced in court for the detention order, and that they had not been charged or convicted of any offences, adding that the Kedah immigration authorities had subsequently on April 16 issued a deportation order on them.
The High Court agreed that immigration authorities have the power to deport or detain a non-citizen before the latter is deported.
While the High Court ruled that the detention order on the children was valid ,as they were non-citizens who did not have the approval to enter and remain in Malaysia, the judge also noted the requirement for the United Nations High Commissioner for Refugees' (UNHCR) protection and humanitarian aid as they were children with one as young as five.
The judge decided that the children should not be detained further at the Kedah detention facility, allowing their request to be placed in a protection centre where their welfare could be assured.
"Without need for further elaboration, this court is of the view that, continued detention of the applicants at the Belantik detention camp, has violated the children's rights under CRC and also the Child Act 2001 that also recognises the right to protection and assistance in all situation to children regardless of race, colour, gender, language, religion and so on," the judge said in the judgment sighted by Malay Mail.
The CRC refers to the Convention on the Rights of the Child which Malaysia had ratified, with the international treaty's Article 22 stating that countries who signed the convention should take appropriate measures to ensure a child seeking refugee status receives protection and humanitarian assistance.
The High Court said it felt that the Kuala Lumpur-based Yayasan Chow Kit would be a suitable shelter for the seven children, also saying that RM500 would have to be posted by a Malaysian each for each child as a guarantee.
"The safety and welfare of the applicants at the 'shelter' should also be assured during the detention on them and they should be made 'available' at all times needed by the authorities for any further action on them, including to be present in court to answer any charges if there are such charges," the judge said.
About the seven children
The seven children comprise five boys aged 10 to 14, as well as two girls aged 14 and five.
Their lawyers previously said the children were mostly unaccompanied by adults and that the UNHCR, lawyers and family members were unable to access them at the time when the habeas corpus application was filed on September 10.
In the application to challenge their allegedly unlawful detention and secure their release, the children had named the Belantik Immigration depot's commandant, the Kedah Immigration department's director, the Immigration director-general, and the Home Ministry.
Their lawyers had previously highlighted that the Rohingya children's indefinite detention was invalid as they may not be deported due to their statelessness.
Full report at:
https://www.malaymail.com/s/1694885/judge-sends-seven-rohingya-children-from-kedah-immigration-detention-to-kl
--------
'Moral panic' targets Indonesia's LGBT community
19 Nov 2018
Jakarta (AFP) - Indonesian Budi Ahmad used to live openly as a gay man without fear of becoming a target for violence in the world's biggest Muslim-majority nation. Not any more.
The country of 260 million is in the grip of a moral panic, with critics saying the vulnerable LGBT minority is being used as a political punching bag in the run-up to 2019 elections.
Hardline rhetoric and a string of arrests have raised fears among the community.
"There could be more persecution and we're scared that the public might become vigilantes," said Ahmad, who agreed to speak to AFP using a pseudonym.
The 29-year-old, from a small town in the province of West Sumatra, said family and friends in the tight-knit area have long been aware of his sexual orientation.
But he said the public mood was turning increasingly ugly and he was now confronted with deepening hostility.
"People look at me wherever I go these days. Some avoid me," said Ahmad of his non-traditional masculine image.
"Now when I go to withdraw money from the ATM, for example, there are people staring at me. It never used to be this bad."
Indonesia's LGBT community has always been vilified as immoral.
But the recent police crackdown -- including authorities hosing down a group of transgender women in what they called a "mandatory bath" -- comes against the backdrop of a recent lurch toward religious conservatism.
The shift, led by increasingly powerful hardliners, has dented Indonesia's reputation for moderate Islam.
Last week, thousands of anti-LGBT demonstrators marched outside the capital Jakarta, as some local politicians called for carte blanche to detain and "rehabilitate" members of the minority.
Several mosques in West Java were recently urged by the local government to conduct sermons on the dangers of homosexuality.
And Indonesia's biggest Muslim organisation -- the 80-million-member Nahdlatul Ulama -- has called for a clampdown on same-sex relations.
- 'Cynical political gain' -
Concerns have been aggravated by president Joko Widodo selecting a conservative cleric, known for his disparaging views of the gay community and other minorities, as his running mate for next year's elections.
A poll this year showed nearly 90 percent of Indonesians felt "threatened" by the LGBT community, while a 2013 Pew survey said 72 percent of Indonesian Muslims supported replacing the secular code with Islamic law, which bans gay sex.
"(The elections) could mean an uptick in politicians scapegoating... people for cynical political gain," said Human Rights Watch researcher Kyle Knight.
"The verbal threats politicians issue can quickly metastasise into physical attacks."
Police arrested at least 300 suspected LGBT people last year -- a record -- mostly under an anti-pornography law as homosexuality and gay sex are legal in Indonesia.
This month, 10 people described as "suspected lesbians" were arrested in West Sumatra, following the detention of another eight lesbians and transgender people in October.
"This situation is alarming as the hateful abuses by law enforcement bodies... are seen as a normal practice by many people," said Usman Hamid, Amnesty International Indonesia's Executive Director.
- 'Eradicate LGBT' -
Officials are unfazed by the criticism.
"We're being consistent in our efforts to eradicate LGBT (behaviour) because it's very destructive," said West Sumatra deputy governor Nasrul Abit, adding that thousands of people were having "deviant sex" in the region.
Parliament is considering a move to criminalise sex outside marriage -- including gay couples -- while the health ministry previously announced plans to release a medical guide classifying homosexuality as a mental disorder.
The UN human rights chief and Association of Southeast Asian Nations (ASEAN) have criticised the proposed legal overhaul.
Authorities have also taken aim at social media, arresting two men for links to a LGBT community Facebook page.
Google in January pulled one of the world's largest gay dating apps from the Indonesian version of its online store in response to government demands.
- 'This is wrong' -
The latest crackdown can be traced back to 2016 when Indonesia's higher education minister Mohamad Nasir called for LGBT student groups to be banned from universities, and the defence minister criticised gay and trans rights activism, Human Rights Watch said.
Since then, police have raided nightclubs, saunas, hair salons, hotels and even private homes in pursuit of LGBT people.
Gay people have been publicly flogged in Aceh under the province's Islamic legal code.
Local police there made global headlines when they arrested a dozen transgender people and publicly humiliated them by chopping off their long hair and forcing them to wear men's clothes.
Full report at:
https://www.thestar.com.my/news/regional/2018/11/19/moral-panic-targets-indonesias-lgbt-community/
--------
Political parties clash over sharia-based bylaws
November 19, 2018
Indonesian Solidarity Party (PSI) chairman Grace Natalie's declaration that her party was against religion-based regulations has reignited the controversy surrounding the proliferation of sharia-inspired bylaws in regions across the country.
"The PSI will prevent the emergence of injustice, discrimination and all intolerant acts in this country. The PSI will never support gospel-based bylaws or sharia-based bylaws," Grace said last week at a celebration of the PSI's fourth anniversary.
Her remarks came as some local politicians in several regions promised to enact "morality" bylaws in what analysts say is an attempt to win votes in the 2019 legislative election, particularly from Muslim constituents.
The statements drew criticism from an Islamist group that has accused Grace of blasphemy and from the older parties within both the ruling coalition and the opposition, which were quick to defend sharia-based bylaws.
"It is fardhu kifayah [a collective obligation] for there to be a political party that is focused on implementing sharia principles in Indonesian laws and regulations," United Development Party (PPP) chairman Romahurmuziy wrote in an Instagram post on Saturday. "That is why we in the PPP will continue to safeguard sharia bylaws because, for us, adopting sharia principles is a reflection of Pancasila as seen in the spirit of Belief in the One and Only God."
Gerindra Party executive Sodik Mudjahid echoed Romy's statement that sharia-based laws were in accordance with the values of state ideology Pancasila.
"The values of Islamic sharia and those of other religions in Indonesia are the soul and pillars of Pancasila's five principles," he told The Jakarta Post on Sunday.
"People who say sharia should be fought because it contradicts Pancasila do not understand the history, essence, philosophy and substance of Pancasila."
Prosperous Justice Party (PKS) executive Suhud Aliyudin also reiterated his party's support for sharia-based laws and regulations, adding that regulations that were considered intolerant could be challenged in court. "If someone does not agree [with a sharia bylaw] or believes it causes intolerance, then they have to prove it in court through a judicial review."
Indonesian Democratic Party of Struggle (PDI-P) lawmaker and Jokowi-Ma'ruf Amin campaign team member Eva Kusuma Sundari, on the other hand, said the PDI-P was against "exclusive" religion-based bylaws that could often lead to discrimination.
"We support sharia bylaws that are universal, such as those that fight against poverty and ignorance. We also support specific but optional bylaws such as those on sharia banking," she said. "But we do not agree with exclusive bylaws that are discriminatory, for example, bylaws that restrict women from being out of the house at night and bylaws that create religion-based segregation."
Golkar Party lawmaker Firman Soebagyo said that the matter was a sensitive one, but that in principle, "regional bylaws should not contradict existing laws and the constitutions".
"Bylaws should safeguard our national unity and diversity."
Sharia bylaws are widely popular among Indonesian Muslims, with 90.9 percent of 1,620 respondents in a 2017 Institute of South East Asian Studies survey saying that there were benefits to implementing sharia law.
Research conducted by University of London political analyst Michael Buehler found that 443 sharia-based regulations had been issued at the provincial, regency and municipal levels between 1998 and 2013. The regulations were enacted by regional heads and legislative councils from both secular and Islamic parties.
In his 2016 book, The Politics of Shari'a Law, Buehler argues that politicians' support for sharia-based bylaws and regulations was more the result of political considerations than ideological or religious ones. "State elites in Indonesia are opportunist Islamizers whose affection for Islamic law is less emotional than transactional," he wrote.
Full report at:
http://www.thejakartapost.com/news/2018/11/19/political-parties-clash-over-sharia-based-bylaws.html
--------
Surabaya Redux: Terror time bomb fears as Indonesia frees Islamic extremists
19 NOVEMBER, 2018
SURABAYA (Indonesia) — On May 13 and 14, 28 people were killed and dozens more injured in multiple bombings carried out by three families in Surabaya, East Java.
It was Indonesia's deadliest terrorist strike in more than a decade. And it was the first time that entire families, including children, had been involved in such attacks in the country.
Authorities tightened security in response, passing a new counterterrorism law and making hundreds of arrests.
But experts warn that the Surabaya suicide attacks may be just a preview of what is to come, with extremist elements in Indonesia likely to regroup, support for Islamic State (IS) likely to continue and new alliances set to emerge.
"The government needs to pay particular attention to Jamaah Ansharud Daulah members [the pro-IS group linked to the Surabaya attacks] who are about to be or have been released, because this is the pool from which new leaders will be drawn," says Ms Sidney Jones, director of the Institute for Policy Analysis of Conflict (Ipac) in Jakarta.
"The Surabaya bombings show that the decline of IS in the Middle East has in no way diminished the fervour of its supporters in Indonesia," Ipac's latest report reads.
"Jamaah Ansharud Daulah members in East Java and elsewhere took to heart the exhortation from IS to wage war at home, and no one should think that the police crackdown has put an end to that determination. If past patterns hold, there may well be a period of dormancy until surveillance eases and complacency returns. But the problem is far from over."
Seventy convicted extremists were released between January 2017 and August 2018, according to Ipac, while some 400 have been arrested – more than 280 of them since May. Among the clusters of prisoners out or due to be released by the end of 2019 are groups from West Java and Solo. This comes at a politically sensitive time, as the Muslim-majority nation is preparing to go to the polls to elect its next president in April.
"Given the number of arrests, the government should expect a backlash," says Mr Taufik Andrie, executive director of the Institute for International Peace Building in Indonesia. "Law enforcement is working well, but the fight against radicalism and the terrorism narrative in Indonesia is not sufficient yet. It takes a lot of effort not only from the government, but also from non-government actors, Muslim groups and the rest of the society."
FURTHER CHALLENGES
The Surabaya attacks sparked fears to which the authorities have struggled to find solutions.
The communities hit by the bombings were left in disbelief. On a Sunday in May, a couple and their three children, who seemed to lead a normal life, carried out attacks on three churches.
An explosion erupted in a flat complex a few hours later, killing a couple and their 17-year-old daughter. The day after, another family of five detonated explosives at the Surabaya Police Headquarters.
The incidents were described as the deadliest terrorist attacks in Indonesia since the 2002 Bali bombings.
"The greatest impact [of the Surabaya attacks] on counterterrorism strategy was to force the hand of lawmakers to finally pass the updated legislation, which has provided greater powers of arrest, prosecution, and longer sentences," says Mr Cameron Sumpter, an associate research fellow at the Centre of Excellence for National Security at the Nanyang Technological University in Singapore, referring to the legislation approved on May 25.
The anti-terror law grants the police wider grounds to arrest suspected terrorists and allows more time for investigation. Authorities can now detain suspects for 14 days before charging them with a crime. After charges have been brought, prosecutors can also apply for various extensions that allow for about nine months of pre-trial detention.
Another example of the crackdown on extremism came on June 22, when radical cleric Aman Abdurrahman, an Indonesian recruiter for IS, was sentenced to death for instigating terror attacks in the country.
Experts say that the Surabaya bombings transformed the map of violent extremism in Indonesia, posing further challenges to the government. With an increasing number of people linked to Islamic extremist movements getting arrested, the country's criminal justice infrastructure is on the brink of collapse and prisons are not only overcrowded but also understaffed.
"It's difficult to say how many of the suspects will be successfully prosecuted, but releases among the roughly 300 prisoners currently serving sentences, and particularly those who have refused to cooperate with authorities while behind bars, could represent significant potential problems for the authorities," Mr Sumpter warns.
RADICALISING FAMILY MEMBERS
Professor Greg Barton, a professor of global Islamic politics at Deakin University in Australia, notes that the Indonesian government, despite the new legislation, has not fundamentally changed its counterterrorism strategy, though it "did sharpen the focus on small groups flying under the radar".
Those small factions, says Mr Andrie of the Institute for International Peace Building, warrant the most concern. Such groups are not particularly sophisticated or well resourced, but their networks are tighter and harder to track down.
"Even though there are so many arrests, there are groups that continue to grow here and there," he says. "They may be small, but they are more militant. They have the willingness and the courage to act. Their power is not as big as, say, 10 years ago – they have less resources and funding. But it's still concerning… These small cell groups can manage to do anything."
This trend towards smaller terrorist groups has not escaped the notice of Indonesian Chief Security Minister Wiranto.
"Terrorists have modified both their strategies and patterns of attack. They used to act as one organisation, but now their attacks come from smaller units, or from self-initiated plans or lone wolves, also involving women and children," he told a multi-country meeting on counterterrorism strategies held in the Indonesian capital earlier this month, according to the Jakarta Globe.
Mr Andrie says that such groups have been spreading radical ideology though online and offline platforms, particularly among youths. But in recent years they have also targeted their own family members.
"It's easier mostly because of their loyalty. They can control everything under their family. The husband recruiting the wife and the kids makes the planning much smoother," he says.
"This is also worrying, because when we talk about the children, many are choosing to homeschool them. We cannot rely on schools to address this issue."
After the Surabaya bombings, authorities said that several children who had been involved were home-schooled, so their exposure to the outside world had been limited.
According to experts, relatives have also been used as couriers. Those arrested since May have mostly been denied the use of mobile phones in prison, but some have sent messages to their followers through their family members.
Mr Sumpter hopes that the new legislation will help to prevent further attacks where children are used.
"The new legislation includes stipulations on prevention initiatives, which may bring about more effective coordination between relevant stakeholders, who will hopefully increase their attention towards the role of women and the vulnerability of children," the researcher says.
Mr Sumpter notes that the legislation includes a clause stating that individuals who involve children in their crimes will see their sentence extended by one-third.
The national police and counterterrorism agency has been engaging with and assisting the families of convicted terrorists for a number of years, but the active role of women in extremist activity is still relatively recent and questions have emerged about the effectiveness of current rehabilitation programmes.
"The repatriation of Indonesian women and children suspected of extremist activity abroad over the past couple of years has obliged an evolution of approach to prevention-type efforts," Mr Sumpter says, arguing that current programmes have much room for improvement. "The tragedies in Surabaya will hopefully lead to more tailored social interventions involving women and young people."
The growing role of females in extremism was highlighted in December 2016, when Indonesian authorities arrested two women who were believed to be planning a suicide bombing at Jakarta's presidential palace and another in Bali.
Last year, Ipac released a report saying that at least 50 Indonesian female domestic workers in East Asia – most of them living in Hong Kong – were turning to radicalism and taking part in extremist discussion groups. Experts warned at the time that even though the number involved was believed to be low, it was something that could not be ignored.
The months ahead, experts say, will be particularly challenging when it comes to security in Indonesia. "We are in an uncertain and sensitive period, especially between now and April's elections," Prof Barton says.
According to Mr Andrie, December and January are traditionally high-alert periods. "This time is a priority for authorities because it has to do with the narrative that the radical groups follow of attacking non-Muslims: Christmas, the New Year's party, things they hate … They still talk about it on online forums. Whether they will do it or not, it's hard to say," he says.
Soon after the festive season, another sensitive time is set to arrive: the presidential election in which incumbent Mr Joko "Jokowi" Widodo will be running alongside cleric Ma'ruf Amin, chairman of the Indonesian Ulema Council and leader of the country's largest Islamic organisation Nahdlatul Ulama.
"I imagine there will be a small number of people who see the elections as an evil process of Western influence and may seek to disrupt proceedings with violence," Mr Sumpter says. "But this year's crackdown on jihadist networks and the likely heavy police presence at campaign events will probably make any potential attack unlikely to meet much success."
Mr Sumpter says he does not expect radicalisation to be among the central campaign issues.
"But if there's an attack leading up to the elections it will surely propel the problem to the forefront of discussions," he says.
Prof Barton also says he does not think extremism will take centre stage in the elections.
Full report at:
https://www.todayonline.com/world/surabaya-redux-terror-time-bomb-fears-indonesia-frees-islamic-extremists
--------
Arab World
Over 50,000 Refugees Incarcerated by US-Backed Militants in Al-Tanf
Nov 18, 2018
The Arabic-language al-Watan newspaper quoted families who have managed to escape the camp as saying on Sunday that the militants are forcing each civilian to pay $1,500 in return for the permit to leave the camp.
They added that over 50,000 refugees have been taken hostage by Maqawir al-Thawrah terrorist group, noting that the civilians in the camp are in very hard conditions.
According to reports, human trafficking has increased in the region and the terrorists plunder civilians' properties.
The head of the Russian center for reconciliation of conflicting sides in Syria said earlier this month delivery of humanitarian cargo to the Rukban camp near the Syrian city of al-Tanf was disrupted by the US-backed militants.
According to the Russian Reconciliation Center head, Lt. Gen. Vladimir Savchenko, the convoy was to take over 450 tons of food and medicines to the refugee camp.
"Once again as a result of actions by the US side, which has been unable to fulfill its commitments to ensure safety within the 55-km radius around its base in Al-Tanf, the convoy's departure was disrupted," he said.
http://en.farsnews.com/newstext.aspx?nn=13970827001058
--------
Five French Terrorists Killed in Clashes with Rival Group in Northwestern Syria
Nov 18, 2018
The sources said that Horras al-Deen engaged in clashes with Tahrir al-Sham in the small town of Harem in Idlib province on Saturday, adding that 5 French members of the former were killed in the clashes and 45 French gunmen came under Tahrir al-Sham's siege at a Horras al-Deen stronghold.
The sources further said that over 12 Tahrir al-Sham gunmen were also killed and several more were wounded in exchange of fire.
The sources went on to say that the fresh clashes between the two rival groups have sparked a wave of fear among the locals in Harem.
On Saturday, Abu al-Yaman al-Qafqazi, a notorious commander of the Turkistani Islamic Party from the Caucasus region, was killed in gun fire near the town of Jisr al-Shughour in Southwestern Idlib.
In the meantime, a Mufti (religious leader) of Tahrir al-Sham Hay'at was targeted and injured by unknown assailants in the small town of Darkoush in Jisr al-Shughour region.
Full report at:
http://en.farsnews.com/newstext.aspx?nn=13970827000258
--------
Iraqi airstrikes kill nearly dozen Daesh Takfiri terrorists
Nov 18, 2018
Nearly a dozen members of the Daesh Takfiri terrorist group have been killed when Iraqi Air Force fighter jets carried out separate airstrikes against militant hideouts in the country's north-central province of Salahuddin.
Iraq's Joint Operations Command spokesman Brigadier General Yahya Rasoul said the military aircraft bombarded two terrorist hideouts and three of their trenches in Gan'ous village near the town of Shirqat, located 300 kilometers (190 miles) north of the capital Baghdad, on Sunday, leaving 10 Daesh Takfiris dead.
Former Iraqi prime minister Haider al-Abadi declared the end of military operations against Daesh in the Arab country on December 9, 2017.
On July 10 that year, he formally declared victory over Daesh in Mosul, which served as the terrorists' main urban stronghold in Iraq.
In the run-up to Mosul's liberation, Iraqi army soldiers and volunteer Hashd al-Sha'abi fighters had made sweeping gains against Daesh.
Iraqi forces took control of eastern Mosul in January 2017 after 100 days of fighting, and launched the battle in the west on February 19 last year.
Daesh began a terror campaign in Iraq in 2014, overrunning vast swathes in lightning attacks.
Leading figure of Iraq's Basra protests assassinated
Meanwhile, unidentified armed men have assassinated one of the key figures involved in the protests in the oil-rich Iraqi southern city of Basra against the government and the lack of basic services.
Security sources and witnesses, requesting not to be named, said on Sunday that Sheikh Wissam al-Gharawi was gunned down in front of his home in the al-Muwafaqiya district of the city the previous evening.
There was no immediate claim of responsibility by any militant group.
"Sheikh Gharawi was assassinated after demonstrations started up again in Basra over the past few days," an unnamed security source told Kurdish-language Kurdistan 24 television news network.
A medical source, speaking on condition of anonymity, said Gharawi was transferred to a nearby military hospital following the attack in an attempt to save his life, but was pronounced dead shortly afterwards.
"Several bullets were extracted from his body," the source added.
Seven Izadi bodies found in mass grave in Iraq's Nineveh
Separately, local forces have found a mass grave in the northern province of Nineveh, which contains the bodies of six Izadis believed to have been executed by Daesh Takfiri terrorists when they were in control of an area there.
Mahma Xelil, the mayor of Sinjar, was quoted as saying by the Kurdish-language Rudaw television news network that the discovery was made in Kar Azir town, and that five bodies have been identified so far.
A recent report has disclosed that foreign militants, including many of European origins, were responsible for atrocities and acts of brutality carried out by the Daesh Takfiri terrorist group against members of the Izadi minority.
The Paris-based International Federation for Human Rights said in a report on October 25 that the extremist group's actions amount to genocide and crimes against humanity.
Nadia Murad, an Iraqi Izadi human rights activist and one of the 2018 Nobel Peace Prize laureates, confirmed the findings of the report.
Murad was kidnapped from her hometown of Kojo in the northern Iraqi province of Nineveh in 2014, and held by Daesh terrorists for three months.
Back in August, an official at the Endowments and Religious Affairs Ministry of the semi-autonomous Kurdistan Regional Government said more than 3,000 members of the Izadi minority remained unaccounted for ever since Daesh militants overran their hometowns in northern Iraq in 2014.
"The fate of 3,102 Izadis remain unknown since Daesh terrorists attacked our towns and cities in mid-2014," Khairi Bozarni said at a conference devoted to the "Izadi Genocide" in the Kurdish capital city of Erbil on August 15.
Full report at:
https://www.presstv.com/Detail/2018/11/18/580413/Iraqi-airstrikes-kill-nearly-dozen-Daesh-Takfiri-terrorists
--------
Syrian Army Purges ISIL from More Regions in Badiyeh of Sweida
Nov 18, 2018
The Syrian army units continued purging ISIL terrorists from Toloul al-Safa rugged terrain in Eastern Badiyeh of Sweida after imposing control over the entire region, capturing Zaribeh, Arz al-Safa, Karkiyeh, Khashbat al-Toloul and Tal al-Marati regions.
Meantime, field sources reported that the Syrian army's clashes with the remnants of the ISIL in the mountainous areas near Toloul al-Safa in the Western parts of Qabr Sheikh Hossein and South of Lowaizeh graveyard still continue.
The army troops killed a number of ISIL militants and destroyed their weapons and military equipment during the clashes.
In a relevant development earlier today, the Syrian Army troops continued storming ISIL in the Eastern desert of Sweida, capturing the entire Toloul al-Safa rugged terrain, the vital stronghold of the terrorist group in the desert.
The army men, backed up by the country's air forces and missile and artillery units, stormed ISIL in 3 flanks in Toloul al-Safa in the Eastern desert of Sweida and managed to drive the terrorists out of Khasham Abu Shamrah, Rajam Farihah and Hawi Shani'a East of Toloul al-Safa and also Jourah al-Hasan and Loweiza Graves South of the rugged terrain.
Other units of the army managed to advance 5 km in Qabr Sheikh Hossein region and captured several heights.
In the meantime, a Syrian military source reported that the army men managed to seized control over the entire heights in Toloul al-Safa, adding that the ISIL front has collapsed in the region.
The source further said that the last pockets of the ISIL that were between Toloul al-Safas and Toloul Abu Qanem have all been killed or arrested by the army men.
The army has killed a large number of terrorists, including their snipers, in Toloul al-Safa and destroyed their military hardware in the last 2 days.
Full report at:
http://en.farsnews.com/newstext.aspx?nn=13970827001100
--------
Syrian Army Discovers American, Israeli-Made Arms in Terrorists' Positions Again
Nov 18, 2018
The army's engineering units continued cleansing operations in the small town of al-Yadoudah and its nearby farms in Western Dara'a, discovering a large volume of arms and ammunition.
US-made TOW anti-tank missiles, and other Israeli weapons, mortars and LAW missiles were among the discovered weapons.
The army men also found a large number of landmines, RPG rockets, cannons, machineguns, sniper rifles, guided missiles and night vision goggles.
The army discoveres weapons and military equipment supplied by the US, Israel and a number of western states to the terrorists in regions that were once under the control of Tahrir al-Sham Hay'at (the Levant Liberation Board or the Al-Nusra Front) and other terrorist groups.
A field source reported on Saturday that the engineering units of the army discovered the arms and equipment which included the US-made TOW missiles, RPGs and its ammunition, machine-guns, grenades, mortars and other ammunitions in a farm between the towns of Babbila and Beit Saham near the capital Damascus.
Meantime, the army forces also found a network of tunnels near Damascus used by the terrorists for transferring goods and weapons in their purging operations in the towns of Yalda, Babbila and Beit Saham in Southern Damascus.
Full report at:
http://en.farsnews.com/newstext.aspx?nn=13970827001008
--------
Turkey-Backed Forces, Kurds Engage in First Clashes in Northern Syria's Manbij
Nov 18, 2018
Militants of the Turkey-led Euphrates Shield forces attacked the positions of Manbij Military Council near the village of Mohsenli West of the town of Manbij, sparking fierce clashes in the region.
The attack was launched regardless of the join patrol done by the Turkish and American troops in Manbij region. Joint patrolling was one of the items of an agreement signed by Ankara and Washington several months ago to partition the Turkey-backed militants and and Kurds and stop a Turkish army attack on Manbij.
In the meantime, the Turkish soliders opened heavy machinegun fire at the Kurdish positions East of the town of Tal Abyadh in Northern Raqqa.
Meanwhile, Turkey's Anadolu news agency reported that militants of Firqa al-Hamzah, affiliated to the Turkey-backed Free Army, are preparing for an assault on the Kurdish militias on the Eastern bank of the Euphrates River.
It said that the total number of Firqa al-Hamzah militants that are kept on alert in the town of Azaz stands at 6,500.
The London-based Syrian Observatory for Human Rights (SOHR) reported last week that the Ankara-backed forces known as the Euphrates Shield opened heavy machinegun fire at the village of al-Hamran Northwest of the town of Manbij.
It further said that the Ankara forces targeted the positions of the Syrian Democratic Forces and farms in the region.
In the meantime, the US-led coalition fighter jets conducted round the clock flights over Manbij.
Full report at:
http://en.farsnews.com/newstext.aspx?nn=13970827000733
--------
Car bomb blast kills five in Iraq's Tikrit, say sources
18 November 2018
A car bomb blast killed at least five people and wounded 16 others in the Iraqi city of Tikrit on Sunday, police and medical sources said.
The blast set nearly a dozen vehicles on fire, the police sources said. Security forces have closed most of the city streets and deployed in case of any other incidents.
There was no immediate claim of responsibility for the explosion. Such attacks have been rare in Tikrit, about 100 miles north of Baghdad, since ISIS extremist group was defeated in Iraq in 2017.
ISIS militants have switched from controllingterritory to insurgency tactics such as bombings and attacks on security forces since their military defeat.
Analysts and security sources warn these attacks are likely to increase in traditional Sunni militant strongholds in the north and west of the country, although security in Baghdad has improved.
Full report at:
https://english.alarabiya.net/en/News/middle-east/2018/11/18/Casualties-in-car-explosion-in-Iraq-s-Tikrit-.html
--------
Pakistan
Why Pakistan's centuries-old weapon making market is slowly dying
By Kaswar Klasra
18 November 2018
Improved law and order across Pakistan especially in tribal belt bordering Afghanistan and ever-increasing sense of security among tribesmen following successful military operations conducted there by Pakistan Army to quell militancy, have cut demand of deadly weapons to an extent that gun manufacturers of Pakistan's centuries old 'Darra Adam Khel" are scrapping gun-making business.
Known to the world as South Asia's biggest black market for knock-off weapons, Dara Adam Khel is located at outskirts of 'Kohat' district of Pakistan's Khyber Pakhtoonkhaw province which shares porous border with Afghanistan. Its roots trace back to 1857 when a British Soldier set up a small gun making factory there. Since the market had flourished to a great extent. Official record shows there were as many as 7500 gun-manufacturing workshops until 2014. All had been doing roaring business.
Located in tribal areas at a distance of 49 kilometers south of the provincial capital 'Peshawar', Dara Adam Khel's weapons market is 160 years old and is known to the world for making handmade sophisticated replicas of deadly weapons ranging from AK-47s to anti-aircraft guns. This is world's best market where one can get handmade replicas of any weapon in the world at a cheap price.
Deadly weapons including revolvers, automatic pistols, shotguns, Kalashnikovs and snipers line the shelves of every shop there. While they keep deadly weapons such as anti-personnel mines, sub-machine guns, anti-aircraft guns, small cannons and even rocket launchers in their basement.
A replica of the AK-47, or Kalashnikov which is supposed to be a favorite of guerrilla fighters around the world, cost $110 US dollars with one-year warranty. While prices of an original stands between $1200 to $2200.
Similarly, a local replica of M16 automatic rifle (Chinese made) would cost a buyer $340-$870. While the price of an original one (Chinese version) stands at $2200 to $2,700.
While the exact number of gunsmiths associated with Darra Adam Khel's illegitimate arms industry is not known, local authorities told Al Arabiya English that as many as 3500 may be earning bread and butter from gun-making.
"Since it's a black market, we don't have exact documentation about it. I guess, 3500 people including marketers and gunsmith are associated with Darra's gun making industry," Mohammad jan, a local official told Al Arabiya English.
Gunsmiths of Darra's local firearms making industry are skilled to an extent that they can make a replica of any weapon in seven to ten working days. They offer one-year warranty for every product they make.
"Show me the weapon of any brand. I will make a copy for it within ten days," Ismail Khan, chief gunsmith of 'Lala And Sons' told Al Arabiya.
While majority of Darra's gunsmith claim to make high grade weapons compared to the original one, Ismail khan boldly admitted the weapon they produce are of inferior quality as compared to original one.
"Given the inferior quality of steel our weapons are made from, replica can't be compared to that of original one which is made from weapon-grade steel that too on automatic high technology machines," Ismail said.
Police crackdown
However, improved security condition in across Pakistan has brought bad news for the traders and manufacturers of weaponry as it has drastically cut demand of their weapons forcing most of them to switch business. A large number have already shut down gun making/selling businesses only to open grocery stores. Some have ended up in establishing mini flour mills.
Out of a total of 7000, as many as 3000 workshops have shut down as sales have fallen to new low.
Consumer demand has fallen to "new, lower levels," according to owner of 110 years old gun makers 'Yusufzai And Sons'.
"Following military operations in tribal belt, demands of weapons plunged to new low forcing majority of firearms shops to scrap business," Nazir Yusufzai told Al Arabiya English.
Pakistan military had launched offensive known as ' operation Zarb-e-Azb' against militant groups, including the Tehrik-i-Taliban Pakistan (TTP), the Islamic Movement of Uzbekistan, the East Turkestan Islamic Movement, Lashkar-e-Jhangvi, al-Qaeda, Jundallah and the Haqqani network on 15 June 2014 in North Waziristan along the Pakistan-Afghanistan border.
The operation which lasted for one and a half years achieved its targets clearing the entire tribal belt of local and foreign militants breaking a backbone dismantling structure. 3,400 terrorists were killed, with 837 hideouts from where they were carrying out terrorist activities were destroyed. Officials believe demand of weapons made by Darra's gun industry plunged to a new low forcing huge number of traders and gun makers to scrap businesses.
However, still a large number of workers are loyal to the weapon making industry keeping a centuries old business of making firearms in Darra's arms industry alive.
"Nothing can stop us from making guns. Rather than forcing us to switching business of gun making, government should regulate of industry," Kaleem khan, an influential trader of gun told this correspondent.
A few years ago, higher authorities of Pakistan's interior department as well as top army intelligence officials had recommended immediate closure of all arms markets in the tribal belt. However, the idea was not well received.
This correspondent's conversation with firearms dealers and government officials has revealed that government is encouraging the arms manufacturers in Darra to participate in international defence weapons exhibitions held annually in major Pakistani cities.
"The idea is to introduce the tribesmen to the international arms market and create new, above-board relationships that are more easily regulated," said an official.
According to local officials, a fraction of gunsmith are involved in arms manufacturing in Darra are supplying clients abroad. While majority continue to focus on local markets especially in Punjab province, a lucrative market of 120 million people.
"Punjab is a target market for Darra's arms industry as locals there like small arms," Sanaullah Khan, a local official of Kohat district told Al Arabiya English.
https://english.alarabiya.net/en/features/2018/11/18/Why-Pakistan-s-centuries-old-weapon-making-market-is-slowly-dying.html
--------
Imran Khan meets UAE prime minister amid reports of financial assistance package
November 18, 2018
Prime Minister Imran Khan, who is in the United Arab Emirates (UAE) on an official visit, held a meeting with his counterpart Sheikh Mohammed bin Rashid Al Maktoum, read a statement issued by Pakistan Tehreek-e-Insaf.
Imran Khan met the ruler of the Emirate of Dubai for the first time after taking oath as the premier. Matters of bilateral interests, and important international and regional issues came under discussion during the meeting.
The UAE prime minister issued a statement in Urdu through his official Twitter account to welcome Imran Khan to the Gulf state. "We cherish our rich history of bilateral ties [with Pakistan] based on brotherhood and trade," the UAE premier said.
The prime minister was invited to the UAE by Crown Prince of Abu Dhabi Sheikh Mohammed bin Zayed bin Sultan Al-Nahyan. He travelled there on Sunday on a one-day visit amid reports that the UAE is ready to extend financial assistance to Pakistan.
PM Khan was received by the crown prince at an official reception at the Presidential Palace in Abu Dhabi.
Following the reception, PM Khan and the Pakistani delegation — including Finance Minister Asad Umar, Foreign Minister Shah Mahmood Qureshi and Army Chief Gen Qamar Javed Bajwa — met the Abu Dhabi crown prince and his delegation, and discussed bilateral, regional and global issues of mutual interest.
Expressing satisfaction at the positive trajectory of relations, the leaders of the two countries agreed to take immediate measures to further elevate their historic partnership. They resolved to strengthen trade and economic ties and eliminate all impediments to a seamless flow of bilateral trade and investment.
According to a joint statement issued after the meeting, the two sides agreed to chalk out a comprehensive roadmap to accelerate cooperation and partnership in areas encompassing trade, investment, economic development, energy, infrastructure and agriculture, with a view to accrue early dividends from the economic partnership.
Acknowledging the contribution of Pakistani professionals as well as skilled and unskilled workers in the development of UAE, the two sides agreed to enhance cooperation on all labour related issues.
This is the prime minister's second trip to the UAE in as many months.
During his last visit to Abu Dhabi on Sept 19, the two countries had agreed to strengthen economic, trade and investment relations.
The government had, during a later visit of an Emirati delegation to Islamabad, made a formal request for assistance.
The signals from the UAE were positive and the government was hopeful of getting what officials are calling "a good package".
Some say it would be comparable with the Saudi bailout of $6 billion — $3bn in balance of payments support and a deferred payment facility on oil imports worth $3bn.
The UAE is one of the major oil suppliers to Pakistan.
The government has also been in talks with the Chinese government for an assistance package after PM Khan's visit to Beijing. However, the outcome of the negotiations are still unknown. It is believed that China has asked for more discussion on the matter.
Meanwhile, the negotiations with the International Monetary Fund for a loan facility are concluding next week, with Finance Minister Asad Umar optimistic about reaching a basic agreement with the Fund by November 20.
Umar had, after the trip to China, announced that the impending balance of payments crisis had been averted after Beijing and Riyadh's pledges of help.
Full report at:
https://www.dawn.com/news/1446362/imran-khan-meets-uae-prime-minister-amid-reports-of-financial-assistance-package
--------
3 security personnel martyred in Quetta IED blast
Ghalib Nihad
November 18, 2018
At least three security personnel were martyred and three others injured in Quetta's Margate area on Sunday when an improvised explosive device (IED) targeting a security forces vehicle was detonated, DawnNewsTV reported.
According to Balochistan Frontier Corps (FC) spokesperson Khan Wasey, the roadside IED targeted a security forces vehicle transporting rations to the security personnel.
The injured FC personnel were transported to Combined Military Hospital Quetta where they were said to be out of danger.
Earlier on Saturday night, a retired deputy inspector general of police was gunned down in Junior Assistant Colony in Quetta.
Full report at:
https://www.dawn.com/news/1446367/3-security-personnel-martyred-in-quetta-ied-blast
--------
Iranian border forces arrest 253 Pakistanis on their way to Europe
Nov 19, 2018
QUETTA: Iranian border forces on Sunday arrested 253 Pakistani citizens who had entered Iran without documents and handed them over to the Taftan authorities.
According to Chagai Levies sources, the Pakistani citizens were planning to go to Europe via Iran in pursuit of a bright future. They said that legal action would be taken against them for trying to cross the border without valid travel documents.
https://www.pakistantoday.com.pk/2018/11/18/iranian-border-forces-arrest-253-pakistanis-on-their-way-to-europe/
--------
Pakistan, UAE to jointly curb money laundering
NOVEMBER 19, 2018
ISLAMABAD: Pakistan and the United Arab Emirates (UAE) Sunday resolved to strengthen bilateral trade and economic ties, besides fostering cooperation to deal with transnational organized crime, including money laundering, drug trafficking and human trafficking.
Bilateral relations were discussed in meetings between UAE leadership and Prime Minister Imran Khan who paid a day-long visit to the Emirates at the invitation of Sheikh Muhammad bin Zayed Al Nahyan, the crown prince of Abu Dhabi and deputy supreme commander of UAE Armed Forces, according to a Foreign Office statement.
On his arrival at the Presidential Palace, Sheikh Muhammad bin Zayed Al Nahyan received the prime minister and accorded a ceremonial reception which was followed by delegation-level talks.
In Dubai, the prime minister was received by Sheikh Muhammad bin Rashid Al Maktoum, the vice president and prime minister of the UAE and ruler of Dubai.
The prime minister also visited Sheikh Zayed Mosque and the Martyrs' Memorial where he paid homage to Emirati heroes who had sacrificed their lives in the service of nation.
In the delegation-level talks with Crown Prince Sheikh Muhmmad bin Zayed, the two sides focused on all areas of bilateral, regional, and global interest. Expressing satisfaction at the positive trajectory of relations, the two leaders agreed to take immediate measures to further elevate their historic partnership. They expressed satisfaction over the fruitful outcome of the recent visit of a high-level UAE economic delegation to Pakistan and reiterated their resolve to transform the existing special relations into a strategic long-term economic partnership by adopting a direct, transparent and time-bound approach.
The two sides agreed to chalk out a comprehensive roadmap to accelerate cooperation and partnership in areas encompassing trade, investment, economic development, energy, infrastructure and agriculture with a view to accrue early dividends from the economic partnership.
Prime Minister Imran Khan and Crown Prince Muhammad bin Zayed decided to hold the next Pakistan-UAE Joint Ministerial Commission to be co-chaired by the respective foreign ministers in Abu Dhabi in February 2019. They further reaffirmed their commitment to hold the senior officials' bilateral political consultations between the foreign ministries and fast track finalization of pending agreements at the earliest.
The two leaders expressed satisfaction at the ongoing defence and security cooperation and resolved to explore further collaboration in the areas of training, joint exercises and defence production. They noted that a key element of partnership between the two countries was the complete identity of views on regional and global importance. They reiterated their strong belief that only by espousing the principles of tolerance, inclusivity, non-interference and focusing on a people centric development agenda the region could attain sustainable peace and stability. They strongly condemned terrorism in all its forms and manifestations, and expressed their resolve to work closely to root out the scourge. The crown prince recognized the efforts and unparalleled sacrifices made by Pakistan to eliminate terrorism and extremism.
Prime Minister Imran Khan briefed the UAE leadership about his government's people-centric reform agenda, including the steps being taken to eliminate corruption and promote transparency, and accountability at all levels of government. He reiterated Pakistan's readiness to actively participate in Expo 2020 and extend full support to the UAE in making the mega event a great success.
Full report at:
https://dailytimes.com.pk/323793/pakistan-uae-to-jointly-curb-money-laundering/
--------
North America
Trump doesn't want to hear 'suffering' Khashoggi's murder tape
November 19, 2018
WASHINGTON: US President Donald Trump says he has been fully briefed on an audio recording of journalist Jamal Khashoggi's murder but does not want to listen to it himself.
"Because it's a suffering tape. It's a terrible tape," he said in an interview with Fox News Sunday. "It was very violent, very vicious and terrible."
The CIA has reportedly concluded that Saudi Crown Prince Mohammed bin Salman ordered Khashoggi's assassination in the Saudi consulate in Istanbul on Oct 2.
But the State Department has called those reports "inaccurate", and Trump on Saturday told reporters that the US would release "a very full report" on the matter as early as Monday. He was interviewed by Fox on Friday.
Asked whether the crown prince had lied to him in denying any role in the killing, Trump said: "I don't know. Who can really know? But I can say this, he's got many people ... that say he had no knowledge."
"He told me that he had nothing to do with it. He told me that, I would say, maybe five times at different points, as recently as a few days ago."
Trump acknowledged that people close to the prince "were probably involved" but added, "I want to stick with an ally that in many ways has been very good."
Asked whether he would go along with moves in the US Congress to cut off US involvement in the Saudi-led war in Yemen or halt arms sales to the kingdom, Trump equivocated. "I want to see Yemen end. It takes two to tango and Iran has to end also," he said. "I want Saudi to stop but I want Iran to stop also."
https://www.dawn.com/news/1446508/trump-doesnt-want-to-hear-suffering-khashoggis-murder-tape
--------
US Police Skips Prosecution of Assailants against Washington D.C. Imam at Mosque
Nov 18, 2018
On November 4, two gunmen attacked Imam Abdul Alim Musa in California and violently assaulted him.
In an interview with FNA on Sunday, the Imam said the attack was a coordinated attempt by the US administration.
He said that the two gunmen ran into the mosque's yard while screaming, first threatened him with their guns and then started beating and injuring his head until he started bleeding.
Imam Musa has filed a complaint against the two assailants at the city police department and informed the law enforcement of the assailants' identity, but his case has not yet been seriously pursued after two weeks.
Imam Musa said that he has visited the police station twice since November 4 but without any results, adding that he will pursue his lawsuit again on Monday.
He believes that the two assailants are the US government's agents and have close cooperation with the police and that's why the case is ignored.
In a relevant incident in 2014, a group of gunmen had also attacked Imam Musa in Oakland, California, and violently assaulted him.
The imam is the director and founder of As-Sabiqun with branches in Oakland, Philadelphia, Los Angeles, San Diego and Sacramento. He is also founder and director of the Islamic Institute of Counter-Zionist American Psychological Warfare, and is a member of the Institute of Contemporary Islamic Thought.
In his remarks in 2016, the imam — an African American convert to Islam — had accused Zionists of creating "a Hitlerian" environment "exactly like the one that existed in Germany before World War II".
Zionists brought Donald Trump to the White House, and did so in order to "maintain their global power," he said at the time.
Full report at:
http://en.farsnews.com/newstext.aspx?nn=13970827000493
--------
Who can really know' if bin Salman lied in Khashoggi case, Trump wonders on Fox News
Nov 18, 2018
US President Donald Trump is still remaining non-committal about the possibility that Saudi Crown Prince Mohammed bin Salman lied to him when he denied involvement in the assassination of dissident Saudi journalist Jamal Khashoggi.
" I don't know, you know, who could really know," Trump said on Fox News Sunday, when asked if he thought he had been lied to. "But I can say this: he's got many people now that say he had no knowledge."
The president, who is in a $110 billion arms deal with the monarchy, further said he would not listen to the audio of Khashoggi's killing provided to the CIA by the Turkish intelligence.
"We have the tape. I don't want to hear the tape. No reason for me to hear the tape… because it's a suffering tape," Trump said. "It's a terrible tape… I've been fully briefed on it. There's no reason for me to hear it."
The tape was reportedly shared with CIA Director Gina Haspel, who visited Turkey amid an investigation into the journalist disappearance after entering the Saudi consulate in Istanbul last month.
Turkish intelligence intercepts reportedly show that Khashoggi, who was last seen entering the Saudi mission in Istanbul on October 2, was murdered on a direct order from bin Salman, the de facto ruler of Saudi Arabia.
Khashoggi had been there to obtain a document certifying he divorced his ex-wife.
Full report at:
https://www.presstv.com/Detail/2018/11/18/580445/Who-can-really-know-if-bin-Salman-lied-in-Khashoggi-case-Trump-wonders-on-Fox-News
--------
US Senator Rand Paul urges Trump to kill Saudi arms deal over Khashoggi murder
Nov 18, 2018
US President Donald Trump should cancel arms deals with Saudi Arabia as a punishment over the murder of dissident journalist Jamal Khashoggi, says top Republican Senator Rand Paul.
Khashoggi, a US resident who wrote for the Washington Post, was killed in the Saudi consulate in Istanbul on October 2 after being lured into the mission for some standard paperwork.
While mounting evidence released by Turkey and even the CIA point to Saudi Crown Prince Mohammed bin Salman's role in the murder, Trump has so far resisted calls inside Washington to hold him responsible.
In an attempt to ease the criticism, the US Treasury Department imposed economic sanctions on 17 Saudis involved in the murder on Thursday.
The sanctions came after the Saudi public prosecutor announced that five officials faced a possible death sentence in the case but exonerated bin Salman, also known as MBS.
"We need to punish who ordered this, who is in charge and really the only thing they understand over there is strength," Paul told CBS News on Sunday. "I think they will see sanctions as weakness on the part of the president and if the president wants to act strongly he should cut off the arms sale."
Referring to US Secretary of State Mike Pompeo's recent trip to Riyadh to discuss the Khashoggi case as well as the ongoing Saudi-led war on Yemen, Paul said Saudi Arabia's insistence on "bombing civilian populations" had already proven the ineffectiveness of the Trump administration's current approach.
"Secretary Pompeo told Saudi Arabia three weeks ago to stop bombing civilian populations, since then Saudi Arabia has bombed cities 200 times," Paul said. "They are not listening."
During his maiden state visit, Trump went to Saudi Arabia last year where he signed a massive $110 billion arms deal with the oil-rich kingdom.
This is while Saudi Arabia and its regional allies, including the United Arab Emirates, have been using American and British weapons and intelligence to bomb Yemeni cities since March 2015, when Riyadh declared war to reinstate fugitive former President Abd Rabbuh Mansour Hadi and destroy the Houthi Ansarullah Movement.
The unprovoked war has so far killed thousands of Yemeni people while destroying the impoverished country's infrastructure. It has also led to widespread food shortages and deadly cholera breakouts.
Trump, however, has refused to throw away his profitable deal with Riyadh arguing that doing so would only push the staunch Middle East ally towards Russia.
"If they don't buy it from us, they're going to buy it from Russia or they're going to buy it from China," said the president. "Think of that, $110 billion, all they're going to do is give it to other countries, and I think that would be very foolish."
Full report at:
https://www.presstv.com/Detail/2018/11/18/580441/US-Saudi-Khashoggi-Trump-Rand-Paul
--------
Turkey says US support for YPG Kurdish militants in Syria 'big mistake'
Nov 18, 2018
Turkey's foreign minister says it is a "big mistake" for Washington to support the Syrian Kurdish militants of the People's Protection Units (YPG), stressing that the matter has strained relations between the two NATO allies.
Mevlut Cavusoglu met with Turkish citizens at the Turkish consulate in New York on Sunday.
Washington has infuriated Ankara by announcing a plan for the formation of a Kurdish militant force in Syria near the Turkish border.
The plan prompted Turkey to launch a cross-border military operation on January 20 inside the Arab country, code-named Operation Olive Branch, with the declared aim of eliminating the YPG militants from northern Syria, particularly Afrin region.
The YPG forms the backbone of the so-called Syrian Democratic Forces (SDF), an anti-Damascus alliance of predominantly Kurdish militants supported by the United States.
Ankara views the YPG as a terrorist organization and the Syrian branch of the outlawed Kurdistan Workers' Party (PKK), which has been fighting for an autonomous region inside Turkey since 1984.
"Despite knowing and acknowledging that (the YPG) is the same organization (as the PKK), seeing this cooperation as necessary is really a big mistake," Cavusoglu said, adding that he would "broadly" discuss Ankara-Washington ties with US Secretary of State Mike Pompeo on Tuesday.
The Turkish top diplomat arrived in New York on Saturday to attend the 8th Global Forum of the United Nations Alliance of Civilizations (UNAOC) on partnerships for prevention and sustaining peace, which will be held at the UN headquarters on Monday and Tuesday.
Washington has been arming and training Kurdish militants under the banner of helping them fight the Takfiri Daesh terrorist group, but Syria and several other countries see ulterior motives behind the deployment.
The Syrian government has given a degree of authority to the Kurdish regions to run their own affairs. The US, however, has used the power vacuum to establish a foothold in those regions with the help of militants.
Ankara, one of Washington's key allies in the region, has repeatedly questioned the United States' deployment of heavy weapons in Syria despite the defeat of Daesh in much of the Arab country.
According to the Turkish government, US Defense Secretary James Mattis promised in 2017 that Washington would take back weapons from the Kurdish militants once Daesh had been routed.
Earlier this year, Turkish President Recep Tayyip Erdogan threatened to push Turkey's Afrin offensive against the YPG militants eastward to Manbij, where American forces are stationed, risking a confrontation between the NATO allies.
Syria has strongly denounced the presence of Turkish and US troops around Manbij.
Separately on Sunday, the state-owned Anadolu news agency cited Turkish Defense Minister Hulusi Akar as saying that he had told US Chief of Staff Joseph Dunford that Ankara expected Washington to halt its support for the YPG as soon as possible.
Full report at:
https://www.presstv.com/Detail/2018/11/18/580416/Turkey-US-Syria-YPG-Cavusoglu-SDF-Afrin-PKK
--------
Mideast
Iran, Iraq consider using local cash in mutual trade
Nov 18, 2018
Iran says it is discussing a plan with Iraq to switch to dinar in trade instead of the US dollar.
The announcement was made by Iran's Ambassador Iraj Masjedi who said the plan had been devised in response to recent US sanctions that restricted Iran's access to the greenback.
"Considering the problems that have emerged in dollar-based banking transactions, a joint proposal between Iran and Iraq is using Iraq's dinar in trade," said Masjedi.
An alternative plan, he added, would be to use barter mechanisms to carry out imports and exports with Iraq.
The official was speaking as Iraq's President Barham Salih was visiting Tehran on his first trip to the Islamic Republic.
President Salih told his Iranian counterpart Hassan Rouhani during a press conference that Baghdad was determined to boost trade with Tehran. He made the announcement only days after his country rejected a US deadline to stop importing Iranian gas under new American sanctions.
"I have come here today with a clear message from Baghdad: We appreciate the importance of relations with Iran and these economic, cultural and political relations are rooted in history," Salih said in a joint news conference with Rouhani.
Masjedi further emphasized that the current level of trade between Iran and Iraq stood at $12 billion, stressing that serious plans were on agenda to promote this to as high as $20 billion.
He acknowledged that Iraq had come under pressure from the US over doing business with Iran after the return of the sanctions and underscored comments by Iraqi officials that Baghdad would not toe Washington's line as a sign that the country could not afford to cut trade ties with its eastern neighbor.
"The Iraqis need Iran's natural gas, electricity, food items and industrial materials," Masjedi emphasized. "If exports of these to Iraq are stopped, there will be problems not only for Iran but also for the Iraqis, as well."
The port of Basra in southern Iraq was hit by violent protests, which spread to other cities this summer, partly because of a halt of imports of electricity from Iran.
Earlier this month, Iraq's former prime minister and leader of the al-Wataniya faction in parliament Ayad Allawi warned that new US sanctions on Iran would have deep impact on the Iraqi economy.
Iraq's new Prime Minister Adel Abdul-Mahdi also said his country "will not be part of the sanctions regime, as it will not be part of aggression against any country."
On Tuesday, head of Iraqi Chambers of Commerce Jafar Rasul Hamdani said that despite US sanctions against Iran, the two countries have sharply increased their trade exchanges in recent months.
"In the first six months of this year, the volume of exchanges rose from $4 billion to $6.4 billion compared to the same period in 2017," he told Iran's state news agency IRNA.
https://www.presstv.com/Detail/2018/11/18/580406/Iran-Iraq-consider-using-local-cash-in-mutual-trade
--------
Israeli minister, dozens of settlers storm al-Aqsa Mosque
Nov 18, 2018
An Israeli minister along with dozens of Israeli settlers have stormed the al-Aqsa Mosque compound in the occupied Old City of East Jerusalem al-Quds amid frequent acts of violence committed by Israeli forces and settlers against the Palestinian people.
The Palestinian Ma'an news agency, citing Firas al-Dibs, spokesperson of the Islamic Waqf (Endowment) organization, said Uri Ariel, the minister of agriculture and rural development in the occupied territories, and dozens of other Israeli settlers stormed the compound on Sunday.
Al-Dibs added that the settlers led by Ariel stormed through the Moroccan Gate and toured the compound "provocatively." A large number of Israeli forces had been deployed across the compound for their protection.
The report said the Israeli minister had previously stormed al-Aqsa Mosque compound in September.
The number of Israeli lawmakers, or members of the Knesset, who storm the sacred compound, has increased in the past few months after Prime Minister Benjamin Netanyahu decided in July to allow the legislators to visit the compound once every three months following a restriction of access that has been in place since October 2015.
Most of the Knesset members are right-wing extremists, who support the demolition of the Islamic site in order to build a Jewish temple instead.
The al-Aqsa Mosque compound sits just above the Western Wall plaza and houses both the Dome of the Rock and al-Aqsa mosque.
Separately on Sunday, a large number of Israeli settlers attacked Palestinian ambulance in the al-Shuhada Street in al-Khalil (Hebron) in the early hours of the day, Ma'an reported.
The report, citing local sources, added that the ambulance was passing through the street to take a Palestinian patient to a nearby hospital, when Israeli settlers started attacking the vehicle by hurling rocks at it.
The ambulance, which belonged to the Palestinian Red Crescent Society (PRCS), received material damage, such as shattered windows, in the attack.
The Palestinian Authority, which runs the occupied West Bank, has no jurisdiction over Israeli settlers in the region and acts carried out by Israelis often occur in the presence of Israeli troops, who rarely intervene to protect Palestinian residents.
Tensions continue in the occupied Palestinian territories as part of the aftermath of US President Donald Trump's recognition of Jerusalem al-Quds as Israel's "capital" and relocation of the US embassy to the occupied city.
On December 21 last year, the United Nations General Assembly overwhelmingly voted in favor of a resolution that calls on the US to withdraw its controversial policy shift.
Despite the vote, the US went ahead with the embassy transfer on May 14, triggering demonstrations in the occupied Palestinian territories, Iran, Turkey, Egypt, Jordan, Tunisia, Algeria, Iraq, Morocco and other Muslim countries.
Full report at:
https://www.presstv.com/Detail/2018/11/18/580439/Israel-minister-Aqsa-
--------
Photos of US forces dining with Kurdish militants in Syria anger Turkey
Nov 18, 2018
Turkey's Defense Minister Hulusi Akar has expressed indignation at photos showing US troops dining with Kurdish militants near the Turkish border in Syria.
"These photos have found wide coverage in our media and disturbed our people. They tarnished the image of the US and its army... for the Turkish public," he was quoted by the official Anatolia news agency as saying.
The pictures dated November 11 show American troops having a US Veterans Day dinner with members of the so-called People's Protection Units (YPG) militant group in the city of Manbij in northern Syria.
The US has been arming and training Kurdish militants under the banner of helping them fight the Daesh terror group, but Syria and several other countries see ulterior motives behind the deployment.
The assistance peaked in April 2016, when the US support for Syria-based militants expanded to enlist hundreds of US special forces and teams.
Turkey, a key US ally in the region, has repeatedly questioned Washington's deployment of heavy weapons in Syria despite the defeat of Daesh in much of the Arab country.
Turkey associates the YPG with anti-Ankara separatists, and has long been insisting that Washington stop the support.
"We expect US to stop cooperation with the YPG terror group as promised," the Turkish defense chief said on Saturday.
Last year, Ankara said Washington had promised it through Defense Secretary James Mattis to take back weapons from Kurdish militants once the Takfiri group was routed.
"It is unacceptable for the US to provide arms and ammunition by plane and trucks to the YPG terrorist group even when Daesh has been neutralized to a large extent," Akar said.
Syria and its allies pushed Daesh out of its last stronghold in the eastern province of Dayr al-Zawr early this year.
Last week, US point man on Syria James Jeffrey said Washington was laying the groundwork for a long-term commitment to eastern Syria that would include "stabilization" after Daesh's defeat.
Jeffrey came up with a novel justification, saying US troops would not withdraw as long as "Iranian-commanded forces" were present in Syria.
Full report at:
https://www.presstv.com/Detail/2018/11/18/580366/Turkey-United-States-Kurdish-militants-photo-Syria-Manbij
--------
Clashes between pro-Turkish rebels kill 25 in Syria's Afrin
18 November 2018
Clashes on Sunday between Turkish-backed rebel factions vying for influence in the northern Syrian town of Afrin left 25 fighters dead, a war monitor said.
Turkish troops and allied rebel groups seized the Afrin region from Kurdish forces in March after a two-month air and ground offensive.
The Britain-based Syrian Observatory for Human Rights said fighting in several districts erupted on Saturday.
Turkish troops stationed in the town imposed a curfew on civilians from Saturday evening in a bid to avoid bloodshed, the Observatory said.
The clashes pitched the majority of the pro-Ankara rebels against a group of some 200 fighters who were accused of "disobeying" Turkish forces and "committing abuses", the monitor said.
The main alliance of Turkish-backed rebels in Afrin wrote on Twitter that current operations were aimed at "pursuing outlaw gangs".
Since Turkish troops and pro-Ankara Arab rebels captured the town from the Kurdish People's Protection Units (YPG), the United Nations and human rights groups, including Amnesty International, have documented widespread abuses.
Full report at:
https://english.alarabiya.net/en/News/middle-east/2018/11/18/Clashes-between-pro-Turkish-rebels-kill-11-in-Syria-s-Afrin.html
--------
Netanyahu says 'unnecessary and wrong' to call snap Israeli polls
18 November 2018
Israeli Prime Minister Benjamin Netanyahu said Sunday it would be "unnecessary and wrong" to call snap polls, as he sought to hold his governing coalition together following the resignation of his defense minister.
"In a period of security sensitivity, it's unnecessary and wrong to go to elections," Netanyahu said at the start of a cabinet meeting.
He noted past instances when right-wing governments had called elections that did not turn out as they had hoped.
"We need to do whatever we can to avoid such mistakes," he said.
Netanyahu's coalition was thrown into crisis Wednesday when Defense Minister Avigdor Lieberman resigned over a controversial Gaza ceasefire deal, sparking speculation over whether early elections were now inevitable.
After Lieberman's withdrawal, Netanyahu's government was left clinging to a one-seat majority in the 120-seat parliament.
The veteran premier was to meet Finance Minister Moshe Kahlon, whose center-right Kulanu party has 10 seats, later Sunday to discuss ways of holding the coalition together.
Education Minister Naftali Bennett of the far-right Jewish Home party, which holds eight seats in parliament, has demanded the defense portfolio, but Netanyahu says he will take it over at least temporarily.
Bennett is one of Netanyahu's main right-wing rivals.
On Saturday, Bennett told Israeli television that Lieberman had "collapsed the government."
Full report at:
https://english.alarabiya.net/en/News/middle-east/2018/11/18/Netanyahu-says-unnecessary-and-wrong-to-call-snap-Israeli-polls-.html
--------
Yemen's Houthis announce halt of missile attacks on Saudi Arabia
19 November 2018
Yemen's Houthi militias said on Monday they were halting drone and missile attacks on Saudi Arabia, the United Arab Emirates and their Yemeni allies, responding to a demand from the United Nations.
The move from the Houthi militias came after the Saudi-led coalition ordered a halt in its offensive against Yemen's main port city Hodeidah, which has become the focus of the war.
"After our contacts with the UN envoy and his request to stop drone and missile strikes ... We announce our initiative ... to halt missile and drone strikes," Mohammed Ali al-Houthi, the head of the Houthis' Supreme Revolutionary Committee, said in a statement.
Meanwhile, the Arab Coalition had confirmed that forces have intercepted and destroyed three ballistic missiles launched by the Houthi militias at Marib on Sunday. The coalition's air defenses last week had also intercepted two ballistic missiles fired by the militias toward the coalition headquarters in the same province.
UN special envoy Martin Griffiths is trying to salvage peace talks after a round in September collapsed when the Houthis did not show up. He hopes to convene talks before the end of the year in Sweden to agree on a framework for peace under a transitional government.
Yemen's parties have given "firm assurances" they are committed to attending peace talks to be convened shortly, Griffiths told the UN Security Council on Friday, and pledged to escort the Houthi delegation from Sanaa if needed.
The Iranian-aligned group which has been battling the Saudi-backed government for nearly four years added it was ready for a broader ceasefire if "the Saudi-led coalition wants peace."
Full report at:
https://english.alarabiya.net/en/News/gulf/2018/11/19/Yemen-s-Houthis-announce-halt-of-missile-attacks-on-Saudi-Arabia.html
--------
Houthi sea mine explosion kills two Yemeni fishermen in Hodeidah
19 November 2018
Two Yemeni fishermen were killed on Sunday evening by a sea mine planted by the pro-Iranian Houthi militias near the coast of Hodeidah port city, west of the country.
Local sources said that the explosion of the sea mine killed two fishermen, three miles from the coast of Haruniya west of the directorate of al-Munira, north of Hodeidah.
Sources in the port of Ibn Abbas named the two fishermen victims as AbdelJaleel Nasser Shibam, 33, and his brother Nasr Nasser Shibam, 17.
Earlier, local news websites reported that the Houthi militias created a series of naval tunnels with the help of Iranian experts near the coast of al-Munira, and that the militias planted sea mines southwest of the coast of the port of Ibn Abbas north of Hodeidah.
The militias fear sea landings in those areas, which will cut their supply lines coming from Hajjah and Saada toward the districts of al-Lahiya and al-Saleef, according to local news websites.
Full report at:
https://english.alarabiya.net/en/News/gulf/2018/11/19/Houthi-s-sea-mine-explosion-kills-two-Yemeni-fishermen-in-Hodeidah-.html
--------
Yemen's army recaptures 'Ahem Triangle' in Hajjah
18 November 2018
The Yemeni national army said its forces completed the recapturing and secured the Ahem Triangle in Hajjah Governorate in north-western Yemen and completed its control of the remaining villages adjacent to the triangle, following a military operation by the army backed by the Arab coalition supporting legitimacy in Yemen against the pro-Iranian Houthi militias.
Army forces took control of several villages east and north of the triangle and sources said the fighting was continuing to recapture the remaining villages.
The coalition fighter jets launched several air raids on Houthi gatherings and reinforcements resulting in the destruction of a military vehicle carrying a number of militias' elements, according to the army media office.
The importance of the Ahem Triangle is that it connects the districts of Harad and Medi in the north, Hiran in the south, and the directorates of Hajour, MestABa and Bakil al-Meer in the east, which is a vital artery connecting the governorates of Saada and Amran with Harad, Medi and Hodeidah.
Full report at:
https://english.alarabiya.net/en/News/gulf/2018/11/18/Yemeni-army-recapture-Ahem-Triangle-in-Hajjah.html
--------
Yemen fighters say halting counterstrikes on aggressors
Nov 19, 2018
Yemen's popular Houthi Ansarullah movement, which has been defending the nation against a Saudi Arabian-led war, says it is halting its counterstrikes as a goodwill measure to speed up "peace" process.
The fighters said in a statement on Monday that they were taking the initiative in response to a request by the United Nations special envoy for the impoverished country, Martin Griffiths.
"After our contacts with the UN envoy and his request to stop drone and missile strikes...We announce our initiative...to halt missile and drone strikes on the countries of aggression," said Mohammed Ali al-Houthi, the head of the Houthis' Supreme Revolutionary Committee, Reuters reported.
The group said it was ready for a broader ceasefire if "the Saudi-led coalition wants peace."
"[The decision] came to support the UN envoy, to show good faith and support the peace efforts," the statement said.
Griffiths is trying to reconvene conflict resolution talks in Sweden.
Those involved in the conflict have given "firm assurances" that they were committed to attending the talks "to be convened shortly," he was quoted by the agency as telling the UN Security Council on Friday.
Yemen has been in turmoil since 2015 when former president Abd Rabbuh Mansur Hadi stepped down and fled to Riyadh.
The Houthis took over state affairs to fill the void. The Saudi-led coalition, however, invaded the country to bring back the former Riyadh-allied officials.
Thousands have been killed in the invasion which has also pushed Yemen to the edge of famine.
The two sides began holding several rounds of UN-sponsored talks in Switzerland after the war began, without hammering out anything beyond prisoner exchange deals.
Then they gathered Kuwait in 2016 with hopes of striking a "power-sharing" deal, but the Saudi-backed side left the venue in protest at the Houthis' demands.
Last time, Griffith invited the two sides to pick up where they had left in Geneva. The Saudis, however, refused to give permission to an Omani plane" to land in the Yemeni capital Sana'a to take the Houthi delegation to the negotiations.
Full report at:
https://www.presstv.com/Detail/2018/11/19/580450/Yemen-Houthis-halt-counterstrikes-aggressors-Saudi-Arabia-war-United-Nations-Griffith-talks-Sweden
--------
Africa
Where Are Libya's Billions under Qaddafi Abroad and Who Benefits from Them?
18 November 2018
The release by Belgium of the frozen Libyan funds interest has provided more confirmations about the presence of a real threat to Libyan funds frozen abroad, either from the host countries or by the Libyan Investment Corporation, the entity that manages the assets.
The Libya's sovereign wealth fund said five EU countries paid out money from frozen accounts in Europe that once belonged to Muammar Qaddafi despite international sanctions, according to POLITICO.
Questions about mystery payments from the Libyan dictator's supposedly frozen billions in Europe have already become a hot political issue in Belgium, because significant sums flowed out of accounts in Brussels.
The LIA said in an emailed statement to POLITICO that Belgium's government was not alone in taking advantage of a loophole by paying out the interest earned on the frozen money.
"In many jurisdictions (the UK, Belgium, Germany, Italy and Luxembourg for example) the interest and dividends on holdings frozen under the UN sanctions are not frozen," the LIA said through its London-based PR agency Maitland.
The statement also sought to deflect mounting questions about why Belgium decided to unfreeze funds from accounts managed by Euroclear, a financial institution headquartered in Brussels.
The enthusiasm shown by these countries and the exclusion of the Libyan frozen billions' interest from the action, has raised internal fears of the possibility of losing the wealth which was left by Qaddafi after his assassination seven years ago, either by funding the armed groups in order to jeopardize the country's stability, or by manipulating frozen balances in foreign banks.
To date, it is not clear who has received the interest of the frozen funds sent by the Belgian bank "Euroclear" to Libyan Investment Corporation accounts in Luxembourg and Britain, though the entity admitted that the money reception, but did not provide more clarifications.
Despite the fact that more than $ 1 billion of frozen interest was transferred between the years 2011 to October 2017 to the accounts of the Libyan Investment Corporation, Ali Al-Shamikh, one of the executives who worked for the Foundation in 2016 and 2017, denied in a statement to Al Arabiya English any knowledge, adding that he had seen the reports in the media, which raises more question.
"With no doubts, this issue has become a matter of public opinion and national security," said Abdel Salam Nassia , member of the Libyan parliament's Finance Committee. "It is inconceivable that there is an investigation and questioning in Belgium of Libyan funds, while the owner of this money is silent, especially as there is suspicion of misconduct in treating these funds."
"We do not want to know how these funds were released, but we want to know who has spent the money," he said. "The Libyan Investment Corporation's statements and actions do not amount to the level and importance of the case. It does not help to argue that it was done in the era of previous administrations, "calling on the Attorney General investigate in order to track the fortunes that belong to all Libyans.
Although these funds were frozen under a UN resolution, recent indications suggest that some parties still benefit from the financial empire left by Qaddafi's governments. These funds have also begun to initiate the greed of some host countries, such as Britain which has been seeking since some time to issue a law to use frozen Libyan assets in its banks, to compensate the victims of the Irish army, which was supported by Colonel Qaddafi's regime in the 1980s.
In order to ensure that Libya's wealth is preserved, the Libyan economist and founder of the Libyan stock market, Sulayman al-Shahoumi, called for "an international review of Libyan accounts frozen abroad by the United Nations, and making them available to the public, especially that the controversial statements from the Libyan Investment Corporation, which is in charge of managing these stocks, make them questionable.
https://english.alarabiya.net/en/News/north-africa/2018/11/18/Where-are-Libya-s-billions-under-Qaddafi-abroad-and-who-benefits-from-them-.html
--------
Why Is Nigerian Govt So Afraid Of Sheikh Zakzaky?
18 November 2018
Last week, on the day of Arbaeen, thousands of Islamic Movement in Nigeria (IMN) supporters took part in a series of peaceful protests in the Nigerian capital Abuja to demand the release of their incarcerated leader Sheikh Ibraheem Zakzaky. Nigerian security forces used live ammunition to crush the protest, leading to the death of at least 50 people.
Human rights groups quoting eyewitness testimonies said the Nigerian military dispersed peaceful gatherings by firing indiscriminately without warning, in blatant violation of the international and Nigerian law. Muhammadu Buhari government, despite the global outcry and court orders, continues to keep IMN leader Sheikh Zakzaky behind bars.
Oluyemi Fasipe is a Nigerian political analyst, social activist, and communication strategist. In an interview with Tehran Times, he talks about the latest army crackdown on the supporters of IMN and the horrendous atrocities unleashed on Nigerian Shias by the Buhari government, backed by Western and Arab powers.
Following are the excerpts:
Nigerian police at the behest of Buhari government carried out another gory massacre against Shiites on the day of Arbaeen this year. Can you tell us exactly what happened?
The army claimed that the Shiites attacked their convoy that was escorting ammunitions and attempted to overpower them, but the video circulated online only shows the army shooting at them while they run away. The Nigerian Shiites are known for peaceful protests.
Nigerian army cited a video of US President Donald Trump, in which he said soldiers should respond with force to migrants throwing stones, to justify opening fire on the supporters of the Islamic Movement in Nigeria. How would you react to that?
I have never been more embarrassed as a Nigerian. In the purported video of Trump, he was talking about Mexican immigrants trying to cross into the US illegally and he later backtracked on it. The Nigerian Army has no justification whatsoever to shoot at and kill unarmed protestors simply because they belong to a Muslim sect different from that of the President. There can be no justification to it whatsoever.
Contrary to the claims of Nigerian authorities, Amnesty International said the protestors were unarmed, calling on the US and Nigerian governments to abide by international human rights law. Do you think the international community needs to put more pressure on the Buhari government?
Yes, but whether it will yield any results different from what we have witnessed in the last three years is another thing entirely.
Sheikh Ibraheem Zakzaky is still in prison despite a 2016 High Court ruling ordering his unconditional release. On what grounds is the Nigerian government justifying his continued incarceration?
The three arms of the Nigerian government distrust each other, go against each other and have worked over the years to sabotage any semblance of synergy between each other. The executive government justifies Zakzaky's continuous incarceration by alleging that the judiciary has been compromised and lacks the credibility to pass judgments that are for the good of the country. The judiciary holds similar sentiments towards the legislative and executive and vice versa.
Why is the Nigerian government so afraid of Sheikh Zakzaky and the Islamic Movement in Nigeria?
Nigerian politicians, especially those from Northern extraction, view Shia Islam as a threat to the majority Sunni Islam. This isn't peculiar to Nigeria. Globally, Shia Muslims are not generally viewed positively. In Nigeria, they have been accused of not recognizing the Nigerian state and of trying to run a parallel government. There is also the fear of Sunni Muslim youth in Nigeria being converted to Shia Islam.
We all know their history and conflicts over the years. This escalation of hostilities is as a result of the emergence of a Sunni bigot as Governor of Kaduna State the umbrella body of followers of terrorism-enabled Wahhabism in Nigeria (JIBWIS) made a Press Release where they fraudulently claimed that "Shiites will hide under the cover of celebrating the Birthday Anniversary of Prophet Muhammad (sa) to foment crisis".
These bloodthirsty Wahhabi barbarians are the final stage incubation of #ISIS, #AlQaeda and #BokoHaram terrorism. Whatever the ISIS barbarians believed in these bloodthirsty savages also believed in it. They are one and the same.
Every year the Islamic Movement in Nigeria under the leadership of Sheikh Ibraheem Zakzaky uses the occasion of the Birthday Anniversary of Prophet Muhammad (AS) to mark #Unity Week. A week dedicated to enhance and strengthen the bond of Islamic brotherhood among all Muslims.
But we all know that bloodthirsty Wahhabi barbarians are against the celebration of the Birthday Anniversary of Prophet Muhammad (AS). Though the same savages celebrate the Birth Anniversary of Saudi Arabia!
Full report at:
https://en.mehrnews.com/news/139712/Why-is-Nigerian-govt-so-afraid-of-Sheikh-Zakzaky
--------
Hundreds of schools shut in Burkina Faso over militant attacks
November 19, 2018
OUAHIGOUYA, Burkina Faso: In Burkina Faso, a country struggling to contain militant violence, education is one of the victims of the insurgency, with hundreds of schools closed, teachers in hiding and pupils kept indoors over the fear of attacks.
In the conflict-ridden north, more than three years of assaults and threats by radical Islamists have led to the closure of more than 300 schools, according to estimates, with the east of the West African nation now also seeing school closures.
"They (the militants) are slowly killing education," said Kassoum Ouedraogo, who used to teach in a primary school in the small town of Nenebouro, near the border with Mali.
One of his colleagues was murdered in 2016 and last year teachers felt the security threat was so dangerous that they shut the school.
Ouedraogo moved to the northern regional capital Ouahigouya where, he says, he "lives with fear in his stomach."
"They do not want 'French' schools ... they want schools in Arabic," he said, describing how teachers have been threatened by Islamists angry about "Western-style" education.
"(I used to) stay with villagers so that they could not find me so easily," Ouedraogo said, who considered the accommodation provided by the school unsafe.
Burkina Faso is part of the vast Sahel region, which has turned into a hotbed of violent extremism and lawlessness since chaos engulfed Libya in 2011, the Islamist takeover of northern Mali in 2012 and the rise of Boko Haram in northern Nigeria.
Despite international efforts to create a transnational anti-militant military operation, named the G5 Sahel force, the situation is getting worse.
A recent report submitted to the UN Security Council warned that security had "deteriorated rapidly over the last six months" in the area between Burkina Faso, Mali and Niger, with attacks spreading to eastern Burkina Faso.
According to an official report in September, 229 people have been killed in Islamist attacks in Burkina Faso since 2015 — including three major assaults on the capital Ouagadougou.
Another teacher, who wished to remain anonymous, said militant attacks and destroyed his school.
"One day, armed men arrived in the village. Some students ran to warn me and we went into the bush to hide. The men shot at the doors of the school, then they burned everything inside," the teacher said, declining even to name the region of the attack.
In the eastern town of Matiakoali, a dozen schools were forced to close at the end of October due to threats of violence, teachers and local security forces said.
Militants had visited mosques in nearby villages and warned that the staff had to leave, a teacher said on condition of anonymity.
"The teachers from neighboring villages got together and we decided to leave," he said, explaining that they moved to other cities for safety.
The growing boldness of militant fighters in the former French colony reflects the government's apparent inability to protect its citizens across vast stretches of the country.
Teachers and unions warn that thousands of children face years without access to schools unless the government steps up the fight against the growing terror.
"The situation is worrying. More than a dozen secondary schools have closed ... hundreds of primary schools. There are many places where there are no schools," said Yssa Kintiga from F-Synter union.
"The state must give itself the means to ensure security so that all children have access to education," Kintiga added.
In one of the world's poorest countries that is proving hard to do.
France has a 4,500-member military mission in the Sahel and is backing Burkina Faso and other members of the G5 Sahel group to improve security but it has had funding issues.
French Foreign Minister Jean-Yves Le Drian visited Ouagadougou last month and announced a €30 million ($34 million) "Three Borders" aid package for Burkina Faso, Mali and Niger to help spur development.
The money is seen as essential for easing the conditions which have allowed the militant insurgencies to thrive.
But optimism is hard to find with a French diplomatic source warning of a "very long" anti-terrorist fight.
Full report at:
http://www.arabnews.com/node/1407126/world
--------
Nigeria: Buhari Lauds South-West Muslims for Religious Tolerance
19 NOVEMBER 2018
By Kemi Olaitan
Ibadan — President Muhammdu Buhari yesterday in Ibadan, Oyo State capital, commended Muslims in the South West, for promoting peaceful coexistence of Nigerians from different religious backgrounds in the region
He gave the commendation in his speech at the grand finale of the 10th anniversary celebration of the Muslim Ummah of South West Nigeria (MUSWEN) and N5 billion launch of MUSWEN international Centre, which took place at the International Conference Centre of the University of Ibadan.
The President, who was the Chief Guest of Honour at the event and represented, by the Minister of Education, Mallam Adamu Adamu, assured of the readiness of his administration to continue to promote religious tolerance in the country.
He lauded MUSWEN for giving "a voice to Muslims in South West Nigeria", noting that the region has continued to contribute immensely to the development of Islam in the country.
In his speech, the Sultan of Sokoto and President - General of the Nigeria Supreme Council for Islamic Affairs (NSCIA), Alhaji Muhammad Sa'ad Abubakar, in his speech, cautioned Muslims against violence, urging them to remain calm, even at the point of provocation.
According to him, whenever the Muslims are denied their rights, they should not use foul and abusive languages, noting that this was hallmark of Prophet Muhammad as a messenger of peace.
He said, " Let's show decorum, let's show people that we are Muslims. We should not use foul languages. We can be aggrieved, but don't let us allow grievances to make us to be violent".
Similarly, in his keynote address, the Emir of Kano, Alhaji Muhammadu Sanusi 11, insisted that Islam is a religion of peace, adding that national security should not be threatened or undermined all in the name of Jihad.
On his part, Governor Abiola Ajimobi of Oyo state, who was the host governor, urged South-west Muslims to continue to embrace peace as the 2019 general elections are fast approaching.
Ajimobi who noted that it is only in the atmosphere of peace that meaningful development can be witnessed, commended MUSWEN leadership for promoting religious harmony in the region.
A former President of the organisation and chairman, Board of Trustees, Prince Abdul-Jabar Bola Ajibola, who stressed the need for unity among Muslims in South West with credible leadership, noted that in the last 10 years, MUSWEN had made conscious efforts to have robust engagement with its internal and external stakeholders.
He said MUSWEN had taken genuine steps that have set the Ummah in the region on the path of development and progress.
Full report at:
https://allafrica.com/stories/201811190071.html
--------
Europe
Row As Imam Recites the Muslim Call To Prayer in A Church Of England Cathedral
18 November 2018
An imam was filmed reciting the Muslim call to prayer in a Church of England cathedral the night before Remembrance Day.
He performed the call to worship in front of an audience of around 400 people in Blackburn Cathedral last Saturday.
In Arabic, the imam made the declaration: 'Allah is the greatest; I bear witness that there is no other God but Allah; I bear witness that Muhammad is the messenger of Allah.'
It was part of a concert to commemorate the armistice and was carried out without the church's permission.
Peter Howell-Jones, the dean of Blackburn Cathedral, has said he 'partially agrees' with calls for his resignation.
He told The Sunday Times: 'I don't think this should have happened here. If people are going to call for my resignation there's nothing more I can say or do to people to pacify them because actually I agree with their arguments.'
The call to prayer was part of Welsh composer Karl Jenkins' The Armed Man - an anti-war Mass - organised by Blackburn Music Society.
The second movement, which is sometimes omitted, is a traditional Muslim adhan recited in Arabic.
The dean only realised that the Muslim call to prayer was in the piece shortly before it began and didn't want to cause upset by removing it, the newspaper reports.
Mr Howell-Jones said he never looked into the contents of the Mass because the Blackburn Music Society regularly held events at the church and no controversy had ever come of them.
It's thought the music society asked the imam, rather than a musician, for the part on the advice of the Blackburn with Darwen Interfaith Forum.
On its website, it described itself as an organisation that 'builds stronger links between different faith communities and promotes community cohesion and social inclusion within Blackburn with Darwen'.
Gavin Ashenden, a former chaplain to the Queen, criticised the church for trying to move from 'being a religious organistion to a cultural one'.
Dean Howell-Jones stressed that Blackburn Cathedral was not only a place for Christian people, but for all faiths.
https://www.dailymail.co.uk/news/article-6402535/Imam-recites-Muslim-call-prayer-Church-England-cathedrals-Armistice-concert.html
--------
French MP Proposes Muslims Adopt French Names to Become Citizens, Extend Ban on Islamic Headscarves
18 Nov 2018
French conservative Republican MP Julien Aubert has put his name behind a series of migrant integration proposals that would include banning the Islamic headscarf in public institutions and make Muslims adopt French names to become citizens.
The proposals come from a new 50-page booklet entitled the "Tricolore Booklet on the Islam(s) of France," which lists 18 proposals in total, published by the Oser la France movement which was formed by Aubert last year, France3 reports.
According to the booklet, the group say they would like to see all Muslim migrants acquiring citizenship from naturalisation, marriage, or by being born in France, to change at least one of their names to a traditional French name.
"It would show a desire for integration (for the adults) and, for the children allow them, if they wish, to change their usual first name by inverting it with a second or third name more adapted to the national culture," Mr Aubert said.
Aubert also defended the proposed extended ban on the Islamic headscarf saying, "The coexistence of micro-nations in the same territory can only lead to confrontation."
The ban would see the headscarf prohibited in public institutions such as publicly owned companies and universities. The ban, according to Aubert, could also extend to the streets under certain conditions.
The booklet also cited a Jordanian study which claimed that the Islamic veil stunted development in children, contributed to vitamin D deficiency, and even led to hair loss, as reasons to ban pre-pubescent girls from wearing the garment.
The role of Islam in French society has been a heated source of debate in the past several years with President Emmanuel Macron proposing reforms in the way Islam operates in the country including reforming the foreign financing of mosques, as well as the influence of foreign nations on Islam in France.
In September, a report linked to the proposed reforms was released by French-Tunisian Islam expert Hakim el Karoui of the Montaigne Institute who said that support for radical Salafist ideas dominates Islamic intellectual circles and that bookshops were full of Salafist literature.
While there has been a push to reform Islam in France, there has also been a recent pushback against the ban on the full-face veil that was made illegal to wear in public in 2010.
Full report at:
https://www.breitbart.com/europe/2018/11/18/french-mp-proposes-muslims-adopt-french-names-become-citizens-extend-ban-hijab/
--------
British foreign secretary due in Iran for nuclear deal talks
Nov 19, 2018
British Foreign Secretary Jeremy Hunt is due in Iran on Monday for talks that will focus on a 2015 multilateral nuclear deal with the Islamic Republic, his office has announced.
The British official will meet with his Iranian counterpart, Foreign Minister Mohammad Javad Zarif, in the capital Tehran, according to Hunt's office.
Secretary Hunt will be the first Western official of his rank to visit Iran since the United States — formerly a party to the deal — unilaterally withdrew from the agreement in May.
The administration of US President Donald Trump had been hoping to get the other parties to the deal with Iran to likewise scrap the deal. Instead, they have stressed that not only will they stick to the agreement but that they will also work to sustain it in the face of increased US pressure.
In a statement ahead of the visit, Hunt called the Iran deal "a vital component of stability in the Middle East."
"It (the Iran nuclear deal) needs 100 percent compliance though to survive," the British foreign secretary stressed. "We will stick to our side of the bargain as long as Iran does."
Just last week, the International Atomic Energy Agency (IAEA) confirmed that Iran continues to adhere to all of its obligations under the deal, known as the Joint Comprehensive Plan of Action (JCPOA), despite the US pullout, which also entailed the restoration of unilateral sanctions on Iran and the countries doing business with it.
The IAEA is tasked with monitoring the technical aspects of the deal. It is yet to post its latest verification and monitoring report on Iran on its website, but Reuters has obtained a copy and reported its content.
Iran's partners in the deal, namely the UK, France, Russia, China, Germany, and the European Union (EU), have been working on a financial mechanism that would bypass the American monetary system and enable direct and secure payments to the Islamic Republic, including for oil purchases, which the US sanctions have attempted to hinder.
That mechanism, known as the Special Purpose Vehicle, will likely be one topic of discussion between Hunt and Zarif.
Full report at:
https://www.presstv.com/Detail/2018/11/19/580456/Iran-UK-Foreign-Secretary-Jeremy-Hunt-nuclear-deal-JCPOA
--------
Trump says report on Khashoggi death expected within two days
November 18, 2018
President Donald Trump said his administration will get a full report in the next two days about the death of Saudi journalist Jamal Khashoggi.
Saudi Foreign Minister Adel Al Jubeir says a rogue operation was responsible for the dissident writer's slaying in the Saudi consulate in Istanbul on October 2 but insists Crown Prince Mohammed bin Salman had "absolutely" nothing to do with the killing.
The situation has created a diplomatic dilemma for the US president: How to admonish Riyadh for the killing yet maintain strong ties with a close ally in the Middle East.
"We'll be having a very full report over the next two days, probably Monday or Tuesday," President Trump said Saturday. That will include "who did it," he said.
One potential sign of the tension the incident has caused within the US administration is the resignation on Friday of a top White House official responsible for American policy towards Saudi Arabia.
Kirsten Fontenrose, who had pushed for tough sanctions against the Saudi government over the death of Khashoggi, resigned as the director for the Persian Gulf region at the National Security Council, The New York Times reports.
The reasons for her departure were not clear, but Ms Fontenrose recently travelled to Riyadh to discuss American sanctions imposed against the Saudi officials the US identified as responsible for Khashoggi's death.
CIA Director Gina Haspel and Secretary of State Mike Pompeo briefed President Trump about Khashoggi's death again on Saturday. White House press secretary Sarah Huckabee Sanders provided no details of his call but said the president has confidence in the CIA.
Before the briefing, President Trump told reporters that when it came to the crown prince, "as of this moment we were told that he did not play a role. We're going to have to find out what they have to say." That echoed remarks by national security adviser John Bolton, who said earlier this week that people who have listened to an audio recording of the killing do not think it implicates the crown prince.
But despite Saudi denials, American intelligence agencies have concluded that the crown prince ordered Khashoggi's killing, one US official familiar with the assessment told the Associated Press. The official was not authorised to discuss the matter publicly and spoke on condition of anonymity. Others familiar with the case caution that while it's likely that the crown prince was involved in the death, there continue to be questions about what role he played.
"The United States government is determined to hold all those responsible for the killing of Jamal Khashoggi accountable," the State Department said in a statement. "Recent reports indicating that the US government has made a final conclusion are inaccurate. There remain numerous unanswered questions with respect to the murder of Mr Khashoggi."
The statement added: "The US government has taken decisive measures against the individuals responsible, including visa and sanctions actions. We will continue to explore additional measures to hold those accountable who planned, led and were connected to the murder. And, we will do that while maintaining the important strategic relationship between the United States and Saudi Arabia."
President Trump said on Saturday Saudi Arabia was "a truly spectacular ally in terms of jobs and economic development."
"I have to take a lot of things into consideration" when deciding what measures to take against the kingdom, he said.
The president has called the killing a botched operation that was carried out very poorly and has said "the cover-up was one of the worst cover-ups in the history of cover-ups."
But he has resisted calls to cut off arms sales to the kingdom and has been reluctant to antagonise the Saudi rulers. President Trump considers the Saudis vital allies in his Middle East agenda.
Full report at:
https://www.thenational.ae/world/gcc/trump-says-report-on-khashoggi-death-expected-within-two-days-1.793081
--------
South Asia
Myanmar police shoot, injure four Rohingya Muslims in camp raid
November 18, 2018
Myanmar police shot and injured four Rohingya Muslims on Sunday, after detaining two men accused of smuggling people out of a camp for displaced people in western Rakhine state, a witness and police told Reuters.
Some 20 police entered Ah Nauk Ye camp, about 15 km (9 miles) east of the state capital Sittwe on Sunday morning, apprehending the two men accused of owning a boat used in an attempt to smuggle 106 Rohingya out of the country on Friday.
The rickety vessel, which carried 25 children among its passengers, had been bound for Malaysia when authorities stopped it south of Yangon, detaining those on board. The incident, and similar recent boat departures, have raised fears of a fresh wave of dangerous voyages after a 2015 regional crackdown on people smugglers.
Maung Maung Aye, a 27-year-old Rohingya Muslim from the camp who witnessed the shooting, told Reuters four people were injured in the incident, with two of them in serious condition.
"People from the camp went out to look and police shot at people," he told Reuters by phone.
Police said the Rohingya surrounded them with swords and threw stones at them, injuring some officers.
"I heard that Bengali from the camp tried to grab the arrested people back from the police and police had to fire warning shots. I heard some Bengali got injured. I don't know the details," said police inspector Than Htay from a nearby police station.
Many people in Myanmar call the Rohingya "Bengali," implying they are interlopers from Bangladesh.
Maung Maung Aye disputed that version of events. He said the Rohingya did not attack the police or try to grab the arrested men. He said police fired at residents and not into the sky.
Myanmar government spokesman Zaw Htay did not answer calls seeking comment.
Tens of thousands of Rohingya have been confined to camps outside Sittwe since violence swept Rakhine in 2012. They are denied free movement, access to decent healthcare and education.
In August last year, Solidarites International, an international aid group, warned the conditions at Ah Nauk Ye, home to more than 4,000 Rohingya, were severe.
It said the "natural environment" at the camp was "unsuitable to human settlement" and warned of water shortages, poor access to livelihood opportunities and communal violence.
For years, the Rohingya have boarded boats organised by smugglers in the dry months between November and March, when the sea is calm. The perilous journey to Thailand or Malaysia, often undertaken in overcrowded vessels, has cost many lives.
The 106 Rohingya detained off Yangon on Friday were put on a navy ship destined for the Rakhine camps on Sunday.
More than 700,000 Rohingya fled a brutal army crackdown in the northern part of Rakhine last year, according to U.N. agencies. U.N. investigators have accused the Myanmar army of "genocidal intent" and ethnic cleansing.
Myanmar denies the allegations genocide, saying it was battling terrorists. Attacks by Rohingya insurgents preceded the army's crackdown that began in late August 2017.
https://www.yenisafak.com/en/world/myanmar-police-shoot-injure-four-rohingya-muslims-in-camp-raid-3466671
--------
Bangladesh to relocate 100,000 Rohingya refugees despite HRW warning
November 18, 2018
DHAKA: The Bangladesh government claims to have completed all necessary preparations to relocate 100,000 Rohingya refugees to the newly formed Bhashan Char (floating island) in the Bay of Bengal.
The government has rendered a deaf ear to concerns raised by climate change experts, human rights activists and the refugee community itself about the idea of relocation to the floating island who call the desolate place "uninhabitable."
Shah Kamal, disaster and relief management secretary of the Bangladesh government, said the government has completed "90 percent of preparations in this regard."
He told Arab News that the Bangladesh navy is assisting in construction units for Rohingya refugees and building a dam to protect the island from high tides and cyclones.
"Our government has built 120 cyclone centers and 141 sheds to ensure comfortable living for Rohingya. Here, the inhabitants will enjoy proper sanitation and bathroom facilities as well," Kamal said.
"Each of the sheds will accommodate 16 families and the refugees here will get the opportunities for livelihood through cattle rearing, vegetable cultivation and other income-generating chores," he added.
However, although the preparations are almost over, Kamal could not confirm the exact date when the authorities will start the relocation process.
"I think the government may consider the relocation of the refugees after the general election which is scheduled to take place on Dec. 30," he said.
The US-based Human Rights Watch (HRW) has strongly opposed the relocation idea. In its recent 68-page report, the HRW warned that the floating island is still "uninhabitable" and "formed only in the last 20 years by silt from Bangladesh's Meghna River."
The island can be "completely submerged during an event of high tide" which will endanger the lives of the people on the island, the report said.
Security concerns
According to HRW, the island is completely separated from the mainland by about 30 kilometers, which would "essentially turn the island into a detention center."
Responding to the HRW report, Kamal said: "We have taken all safety measures and addressed all the relevant security concerns."
The Rohingya refugees who are proposed for relocation to the island have also strongly rejected the idea.
Abdul Awal, 35, a refugee living in Kutupalang camp, told Arab News: "This relocation to the island will restrict all our movement and eventually it will be a sort of isolation from the mainland. I don't think any of my fellow refugees will comply with this idea."
Mohammad Akkas, 42, another refugee of the Jamtoli camp, said: "I have heard about the relocation. However, it's not clear to me what will happen during the devastating cyclones and medical emergencies. Is it practical to travel 30 kilometers through the rough sea during any emergency situation?"
Climate experts and human rights activists in the country also echoed the voice of the HRW, which opposed the idea of relocation now.
Dr. Shahidul Islam, a renowned climate change expert from Bangladesh, termed the island as "the most vulnerable place for human beings."
"This area is highly prone to high tide and cyclone. During any high tide, the island may be completely submerged under water," said Islam, a professor at Dhaka University.
He believes that this relocation will cause "serious ecological" repercussions and create "ocean pollution" in the Bay of Bengal.
"It may also increase the risk of international human trafficking since the area is isolated from the mainland and accessible to the traffickers through water," Islam said.
"Already, in Cox's Bazar, huge environmental damage has been caused by the Rohingyas. Now, if they are relocated to the newly built Bhashan Char, it will also create irreparable loss to the ecology and environment of the island," Islam said.
Nur Khan, an eminent human rights activist, said the relocation would "isolate the refugees from the mainland and will make them vulnerable to natural disasters."
"However, if it is inevitable that the refugees will be relocated to the island, the government can make it free for all the concerned stakeholders so they all can experience the reality on ground and make suggestions on the relocation idea," Khan pointed out.
Full report at:
http://www.arabnews.com/node/1406956/world
--------
Taliban's Red Unit fighters and militants suffer heavy casualties in Nangarhar
Nov 18 2018
The fighters of the Red Unit of Taliban and several other militants suffered casualties during the operations and airstrikes in eastern Nangarhar province of Afghanistan.
The 201st Silab Corps of the Afghan Military in the East in a statement said the 02 unit of the Afghan military in Nangarhar conducted operations with the support of the Air Forces in Khogyani district, leaving at least 30 militants dead.
The statement further added at least three Taliban militants also sustained injuries during the same operations and airstrikes.
In the meantime, the 201st Silab Corps said a number of the Red Unit fighters of the Taliban group are also among those killed.
The anti-government armed militant groups including Taliban have not commented regarding the report so far.
Full report at:
https://www.khaama.com/talibans-red-unit-fighters-and-militants-suffer-heavy-casualties-in-nangarhar-02770/
--------
Khalilzad eyes peace agreement with Taliban before presidential elections
Nov 18 2018
The U.S. Special Adviser for Afghanistan Reconciliation Ambassador Zalmay Khalilzad eyes a peace agreement with the Taliban group ahead of presidential elections.
Ambassador Khalilzad cautiously expressed optimisms regarding the reconciliation between the Afghan government and Taliban and said he expects a breakthrough until April of 2019.
In the meantime, informed sources have told Western media outlets that Ambassador Khalilzad met with the Taliban political leaders in Qatar during separate meetings which lasted for three days.
The meetings were reportedly attended by Taliban leaders Khairullah Khairkhwa and Mohammad Afzal.
According to the reports, the Taliban militants have demanded the suspension of presidential elections and formation of a transitional government.
Khalilzad arrived in Kabul last week to the meet with the Afghan leaders and officials ahead of his trip to Qatar.
The Office of the President, ARG Palace, said last week that Ambassador Khalilzad briefed President Ghani regarding the ongoing efforts for an Afghan-led and Afghan-owned peace process and his planned trips to certain countries.
Full report at:
https://www.khaama.com/khalilzad-eyes-peace-agreement-with-taliban-before-presidential-elections-02768/
--------
US hopes for peace accord with Taliban by April 2019
Tahir Khan
NOVEMBER 19, 2018
ISLAMABAD/KABUL: The US special envoy to Afghanistan hopes to cement a peace deal with Taliban by April 2019.
Zalmay Khalilzad, in Kabul to lead talks between the United States, the Taliban and the Afghan government, told reporters at the US embassy in Kabul that he hopes 'a peace deal is reached before April 20 next year', when Afghanistan is planning to hold a presidential election.
The Afghan-born US diplomat said he remained 'cautiously optimistic' about the peace talks, adding that the end state of the talks would be "peace and a successful Afghanistan, one that doesn't pose any threats to itself and to the international community". He said there is an opportunity and potential for reconciliation and peace although the roots of the conflict in Afghanistan are complex as it not only has internal dimensions but also external. "The Taliban are saying that they do not believe they can succeed militarily and that they would like to see the problems resolved by peaceful means and by political negotiations … and I know the international community particularly the US also likes that," he said.
The US envoy described his mission as 'difficult and challenging' but said there is a potential and that "all sides need to organize themselves to seize the potential opportunity and to put Afghanistan on the path towards political settlement and end to the war and the conflict that is on-going."
He pressed the Kabul administration to form an 'authoritative and inclusive' delegation that could represent the Afghans, adding that the Taliban have already formed a team. He did not directly reply to a question about reports regarding suggestions to delay the presidential elections and form an interim government. "The important issue in Afghanistan is peace … the US supports peace and the US supports efforts of the election commission for holding that elections. I hope that the Taliban and other Afghans would use the election date as a deadline to achieve peace agreement before then. That will be my hope … I think that will be the hope of Afghans as well because the sooner we get peace the better it will be … because violence will end, participation will be broader, the outcome will be more broadly accepted. But it happens or not, it is not only in the hands of the government but the other side, the Taliban, must also agree," he said.
The US envoy has been shuttling between Qatar-based Taliban and the Afghan leaders in Kabul over the past few days, trying to broker a settlement to end the conflict in Afghanistan. He returned to Kabul on Sunday after wrapping up his meetings with the Taliban in Qatar where they have political office.
A Taliban official, aware of the Taliban political activities, confirmed to Daily Times that Khalilzad held a series of meetings with the Taliban for the second time in less than two months.
Taliban spokesman Zabihullah Mujahid and the group's political office refused to comment on what was discussed in the latest round of meetings. However, a Taliban official, who has knowledge of the Qatar negotiations, said the Taliban and the US have not reached any decision like release of prisoners held at Bagram and in Afghan jails, reopening of the office and lifting travel ban and other sanctions on the Taliban leaders.He told Daily Times that Taliban want delaying the upcoming presidential elections and formation of an interim government in Afghanistan under an impartial personality who should lead the future talks.
The Taliban official, who requested not to be identified, said Khalilzad has suggested a deal in six months, however Taliban argue the time is not enough and it should be extended. He also proposed a ceasefire and that the talks should continue during the ceasefire. "Taliban have rejected the suggestion of ceasefire and insisted progress on their demands," he further said. He confirmed the participation of the Guantanamo inmates Mullah Khairullah Khairkhwa and Mulla Fazil in the talks with Khalilzad for the first time.
Three Taliban leaders – Mullah Abbas, Noorud Din Turabi and Amir Khan Mutaqi – also reportedly travelled to Qatar to join the meetings.
The Taliban have inducted senior leaders in the negotiation team for the formal talks, however the Afghan government has yet to form its team.
Khalilzad has also postponed his visit to Pakistan, apparently due to his hectic meetings with the Taliban negotiators, the US embassy and Pakistani officials confirmed Sunday.
Full report at:
https://dailytimes.com.pk/323782/us-hopes-for-peace-accord-with-taliban-by-april-2019/
--------
URL: https://www.newageislam.com/islamic-world-news/ayodhya-film-chairman-shia-waqf/d/116920
New Age Islam, Islam Online, Islamic Website, African Muslim News, Arab World News, South Asia News, Indian Muslim News, World Muslim News, Women in Islam, Islamic Feminism, Arab Women, Women In Arab, Islamophobia in America, Muslim Women in West, Islam Women and Feminism