New Age Islam News Bureau
7 Nov 2019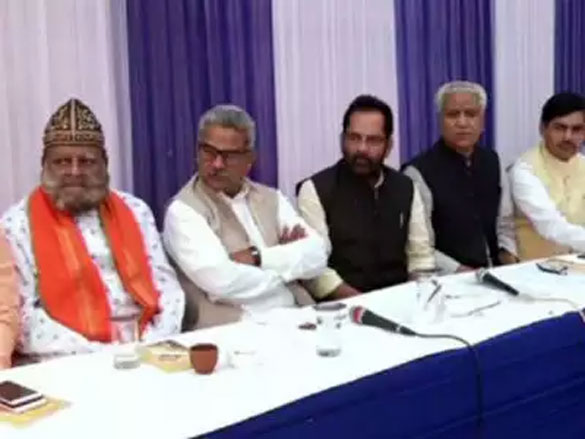 ANI photo
-----
• Ayodhya: Don't Celebrate, VHP And RSS on Wednesday Announced a Slew of Curbs on Its Cadres
• PM Modi to His Council Of Ministers: No Unnecessary Ayodhya Talk
• Muslim Delegation from Hazrat Nizamuddin Dargah to Visit across Country to Spread Peace Ahead Of SC Verdict in Ayodhya Case
• Saudi Arabia Hands Over Illegally Held Iraqi Historical Documents Dating Back To The Beginning Of 1940
• Independent Islamic School Segregating Children by Sex, Says Ofsted
• Indian Sikh Pilgrims Will Require Passport to Visit Kartarpur: Pak Army
• Pakistan Army 'Too Busy' To Get Involved In Political Matters: Maj Gen Ghafoor
• China's War on Islam: Muslim Women 'Forced To Share Beds' With Male Officials
• Study: Twitter fuelled attacks on Ilhan Omar, other Muslim candidates in 2018
-----
India
• Ayodhya on Tenterhooks: Some Shift Out, Others Stocking Up On Ration
• Northern Railway to resume train services in Kashmir from Nov 11
• Ahead of Ayodhya verdict, BJP reaches out to Muslims in UP
• Agra administration holds meeting of citizens ahead of Ayodhya judgment to ensure communal Harmony
-----
Arab World
• Women And Students Are at the Heart of Lebanon's Protests
• Riyadh has 'open channel' with Houthis: Saudi official
• Saudi Arabia supporting peacekeeping operations, says envoy
• Dozens injured as Iraqi security forces clash with protesters in 'Battle of the Bridges'
-----
Europe
• Greece jails elected Muslim religious leader for usurping authority
• European court opposes deportation of Afghan convert to Christianity
• Why the Royal Court is theatre's answer to Islamic State
----
Pakistan
• Nawaz Sharif being given Polonium to die slow death, claims Altaf Hussain
• Pakistan occupying Gilgit Baltistan illegally: Activist
• Government, Opposition should talk to end deadlock in Pakistan, says protest leader
• Video of Islamic flags hoisted in Punjab shared as Pakistani flags
• Fakhar Imam urge UN to ask Modi govt for immediate lift curfew in Kashmir valley
• Pak cops start probe into 'suicide' of 2 Hindu women
------
Southeast Asia
• Islamic Nation Built Through the Behaviour of the People, Not Branding Of the Country - Sultan Nazrin
• Muslims have a responsibility to dispel fear of Islam, says Penang assemblyman
• Penang drafts state law against proselytisation to Muslims
• Assailants kill 15 in Muslim-majority southern Thailand
-----
North America
• U.S. growth of Islam creates need for religious scholars
• FBI, Police Investigating 'It's OK To Be White,' 'Islam Is Right About Women' Flyers Posted On College
• Campus
• US: 4 Indian-Americans Win State, Local Elections
• Muslim Democrats Ghazala Hashmi, Abrar Omeish Make History In Virginia Elections
• Three Funds Proposed To Distribute Money Donated To Christchurch Mosque Attack Victims
-----
Mideast
• Elected Muslim Religious Leader Gets Prison In Greece
• Symposium on Islamic Art to open at VCUarts Qatar
-----
South Asia
• Sri Lankan Muslims Pressured To Curb Rise of Extremism
• Implied or actual threat Ali Sabry's address to Muslim community
------
Africa
• Niger Gov Invites EFCC to Investigate $181m Islamic Bank Loan
-----
Compiled by New Age Islam News Bureau
URL: https://www.newageislam.com/islamic-world-news/ayodhya-dont-celebrate-vhp-rss/d/120204
Ayodhya: Don't Celebrate, VHP And RSS on Wednesday Announced a Slew of Curbs on Its Cadres
Nov 7, 2019
NEW DELHI: VHP and RSS on Wednesday announced a slew of curbs on its cadres — including a ban on distribution of sweets publicly if the SC's verdict on the Ayodhya issue is in favour of the Hindu side — even as the UP government braced itself for the law and order situation in the state after the judgment.
Senior RSS and VHP functionaries told TOI that there would not be any celebration that can potentially disturb harmony. "Cadres have been told to refrain from distributing sweets, bursting crackers or taking out processions," said a senior RSS functionary. In a letter issued to VHP workers, its vice-president Champat Rai said the verdict should not be seen as any community's victory.
"The verdict should not be a trigger for a Hindu-Muslim face-off, but an acceptance of the judgment," he said. The UP administration has taken various steps to ensure that peace prevails after the verdict. In the Varanasi zone, police are roping in prominent Hindus and Muslims of the respective areas to ensure safety of religious sites in localities where the ratio of the two communities is lopsided.
ADG Varanasi zone Brij Bhushan told TOI, "We are strengthening the peace committees in all 204 police station areas. Muslims will be included in the committees in minoritydominated areas to ensure safety of temples. Similarly, Hindus will be roped in to ensure safety of mosques." The Jamiat Ulama-i-Hind faction led by Maulana Arshad Madani hoped that the Ayodhya case would be adjudicated on the basis of hard facts and evidence and not on the basis of faith and belief. "We are hopeful that the SC verdict will be in our favour, but even if it is not, we will accept it," said Madani.
https://timesofindia.indiatimes.com/india/ayodhya-dont-celebrate-vhp-rss-instruct-cadres/articleshow/71947198.cms
------
PM Modi to His Council Of Ministers: No Unnecessary Ayodhya Talk
Nov 7, 2019
NEW DELHI: Ahead of the Supreme Court verdict on Ayodhya, PM Modi asked his council of ministers on Wednesday to refrain from making unnecessary statements on the issue and maintain harmony in the country, sources said.
At a meeting of the council of ministers, Modi said it was everyone's responsibility to maintain harmony in the country. The SC is likely to deliver its verdict on or before November 17.
In the latest edition of his Mann ki Baat radio programme on October 27, Modi had recalled how the government, political parties and civil society prevented attempts to create fissures when the Allahabad high court ruling on the disputed land in Ayodhya was to be delivered in 2010.
https://timesofindia.indiatimes.com/india/pm-modi-to-ministers-no-unnecessary-ayodhya-talk/articleshow/71947066.cms
------
Muslim Delegation from Hazrat Nizamuddin Dargah to Visit across Country to Spread Peace Ahead Of SC Verdict in Ayodhya Case
Nov 6, 2019,
NEW DELHI: A delegation of around 20 members from Delhi's Hazrat Nizamuddin Dargah is embarking on a journey to visit several cities across the country to urge people to maintain peace after the expected verdict by Supreme Court on long-pending Ram Janambhoomi-Babri Masjid land dispute case.
"With this delegation, we are sending a message to the entire country that the Supreme Court verdict is not a matter of victory or loss to any community. The verdict is about the Ayodhya land dispute. We will reach across the country and urge people to maintain peace and brotherhood," Muslim Rashtriya Manch spokesperson Syed Yaser Jilani told ANI on Wednesday.
He said when the first Mosque was constructed in India around a thousand years ago, there were not enough Muslims to have constructed the structure themselves. "Our Hindu brothers had helped build the mosque at the time. We have to remember that and restrain ourselves. This is going to be a historic moment for India," Jilani added.
The delegation is likely to reach the capital of Uttar Pradesh, Lucknow, in two to three days.
"We are sending this delegation, which will visit several parts across the country to meet religious leaders and urge the people to maintain peace. In the Dargah, we are also praying that brotherhood among the Hindi, Muslim, Sikh, and Christians in the country is maintained regardless of what the Supreme Court verdict in the matter," said Kashif Ali Nizami, who heads the Hazrat Nizamuddin Dargah.
Meanwhile, Jamaat Ulama-e-Hind President Molana Suhaib Qasmi said that he believes that the Supreme Court's verdict in the matter will bring the 130 crore people of the country close together.
"Everyone wanted to resolve the matter outside the court, however, it could not happen. Now it is the Supreme Court's responsibility to pass a verdict that brings the people of the country closer together," he said.
A five-judge bench of the Supreme Court has concluded the hearing in the Ayodhya land dispute case and reserved its verdict. The apex court is expected to deliver its verdict on a dispute over the ownership of 2.77 acres of land in Ayodhya district in Uttar Pradesh before November 17, when the Chief Justice Ranjan Gogoi retires.
https://timesofindia.indiatimes.com/india/muslim-delegation-to-visit-across-country-to-spread-peace-ahead-of-sc-verdict-in-ayodhya-case/articleshow/71944266.cms
------
Saudi Arabia hands over illegally held Iraqi historical documents dating back to the beginning of 1940
November 07, 2019
The documents were seized by Saudi authoritiies inside the Kingdom from people illegally holding them
RIYADH: Saudi Arabia, represented by the Saudi Commission for Tourism and National Heritage (SCTH), handed over historical documents to Iraq, the Saudi Press Agency reported on Wednesday.
Rustom bin Maqbool Al-Kubaisi, deputy chairman of the national heritage sector at SCTH, handed over the documents to the ambassador of Iraq to the Kingdom, Dr. Kahtan Taha Khalaf, at Riyadh's National Museum in the King Abdul Aziz Historical Center.
The seized documents were held by an Arab resident in the Kingdom who obtained them illegally and posted some of them online.
They contain 250 papers dating back to the beginning of 1940 and are owned by the Iraq National Library and Archive and related to the ruling family in that period.
The documents were seized inside the territory of the Kingdom with the cooperation of the Ministry of Interior, Ministry of Foreign Affairs, and the Public Prosecutor.
The handover of these documents implements the UNESCO's Convention on the Means of Prohibiting and Preventing the Illicit Import, Export and Transfer of Ownership of Cultural Property, adopted in 1970.
This is the third time that the Kingdom has handed over cultural property to Iraq. It delivered artifacts in 2009-2010 in cooperation with its partners. The Kingdom is keen to preserve world heritage and implement international agreements in this regard.
https://www.arabnews.com/node/1580336/saudi-arabia
------
Independent Islamic School Segregating Children by Sex, Says Ofsted
Wed, 06 Nov 2019
An independent Islamic school in Greater Manchester has been found in breach of the independent school standards for segregating children by sex, two years after the practice was ruled unlawful.
Rochdale Islamic Academy, a school with 221 pupils on roll aged between 11 and 16, was criticised in an Ofsted report published last week.
The Court of Appeal ruled that segregating children by sex within the same school was unlawful in 2017.
Ofsted's report said:
The school was segregating pupils by sex "for the whole of their education and at social times".
The school's buildings were on two separate sites – one for boys and the other for girls.
Pupils didn't have "the choice to socialise or work with pupils of the opposite sex", and this was "detrimental to their education and social development".
Boys and girls followed different curricula, their choice of subjects was limited by their sex and segregation denied them "opportunities to work and socialise with pupils of the opposite sex".
Girls have "more time and lessons dedicated to learning secular subjects than boys do", with boys spending "every morning taking part in Islamic studies".
The report also noted that the school's leaders are applying to register its two sites as separate schools, one for boys and one for girls.
In response, National Secular Society head of education Alastair Lichten said: "It is concerning that two years after sex segregation within the same school was ruled unlawful, some schools with a religious character are persisting in treating boys and girls unequally.
"Gender segregation and stereotyping harm pupils' access to equal opportunities and their ability to form healthy relationships with people of the opposite sex.
"The government must make clear that all schools, including independent faith schools, are obliged to follow the law and treat male and female pupils equally."
Notes
The report came after the school was subject to an emergency inspection on 18 September. Emergency inspections are designed only to assess schools' compliance with particular standards.
The government issued warning notices to two more independent Islamic schools which were segregating children by gender earlier this year.
Ofsted conducted another inspection of Rochdale Islamic Academy in May 2019, when inspectors said the school met the independent school standards.
https://www.secularism.org.uk/news/2019/11/independent-islamic-school-segregating-children-by-sex-says-ofsted?utm
------
Indian Sikh pilgrims will require passport to visit Kartarpur: Pak army
Nov 7, 2019,
ISLAMABAD: Indian Sikh pilgrims visiting the Kartarpur Sahib will need a passport to use the Kartarpur Corridor, which will be inaugurated this week, the Pakistan Army has said, according to a media report on Thursday, days after Prime Minister Imran Khan announced that Indian devotees would only need a valid ID to visit the revered Gurdwara Darbar Sahib.
The comments by Pakistan army spokesman Maj Gen Asif Ghafoor came a day after India asked Pakistan to clarify whether passport will be required by the Sikh pilgrims to visit the Gurdwara in Kartarpur.
The Kartarpur Corridor, which provides a visa-free access to Indian Sikhs to Gurdwara Darbar Sahib, will be inaugurated on Saturday by Prime Minister Imran Khan to mark Sikhism founder Guru Nanak Dev's 550th birth anniversary.
Maj Gen Ghafoor on Wednesday said that Indian Sikh pilgrims would require a passport to use Kartarpur Corridor, Dawn News quoted Hum News channel as saying.
"As we have a security link, the entry would be a legal one under a permit on a passport-based identity. There will be no compromise on security or sovereignty," Ghafoor said.
On Wednesday, India asked Pakistan to clarify whether passport will be required to visit the Kartarpur Sahib.
On November 1, Prime Minister Khan, while announcing the completion of Kartarpur Corridor on Twitter, said he had waived two requirements relating to passport and registering 10 days in advance for Sikhs coming for pilgrimage to Kartarpur from India.
He said that Sikh pilgrims from India would only need a valid ID and not a passport to travel to Kartarpur. The service fee of USD 20 dollars for those coming for the inaugural ceremony and on the 550th birth anniversary of the Sikh Guru on November 12 was also abolished.
The year 2019 marks the 550th birth anniversary year of Sikhism founder Guru Nanak Dev, whose birthplace is Sri Nankana Sahib in Pakistan. The corridor has been established to commemorate his birth anniversary.
The Kartarpur Corridor will connect the Dera Baba Nanak shrine in India's Punjab with Darbar Sahib at Kartarpur, just 4 kilometres from the International Border, located at Narowal district of Pakistan's Punjab province.
Notwithstanding a chill in bilateral ties over Kashmir, Pakistan and India after tough negotiations signed a landmark agreement last week to operationalise the historic Kartarpur Corridor to allow Indian Sikh pilgrims to visit the holy Darbar Sahib in Pakistan.
The two countries decided that 5,000 pilgrims can visit the shrine daily. India and Pakistan have also decided that the corridor will be operational through the year and seven days a week and that pilgrims, except kids and elderly persons, will have a choice to visit it as individuals or in groups.
https://timesofindia.indiatimes.com/india/indian-sikh-pilgrims-will-require-passport-to-visit-kartarpur-pak-army/articleshow/71950521.cms
------
Pakistan army 'too busy' to get involved in political matters: Maj Gen Ghafoor
Nov 7, 2019
ISLAMABAD: The Pakistan army on Wednesday said that it was "too busy" in matters of national security to get involved in any political issue, apparently referring to the massive protest led by Jamiat Ulema-e-Islam Fazl (JUI-F) leader Maulana Fazlur Rehman demanding the ouster of country's Prime Minister Imran Khan.
Maj Gen Asif Ghafoor, Pakistan army spokesman, made the comments in an interview to Hum News Channel when asked if the army chief will mediate in the ongoing demonstration by the cleric-cum-politician Rehman.
Rehman is leading the massive protest, which entered the sixth day on Wednesday. Dubbed as 'Azadi March', the protestors demand Prime Minister Khan's resignation, accusing him of "rigging" the 2018 general elections.
Rehman said the anti-government sit-in was staged with a view to fulfil a "national responsibility" and for which "much effort and resilience" has been exercised.
Ghafoor told the channel that army had nothing to do with the politics of sit-ins.
"We are too busy in matters of national security and defence to become involved in things like these and respond to these allegations," he said.
When asked if army chief would try to resolve the ongoing dharna against the government, he said, "the dharna is a political activity which the army as an institution has nothing to do with."
He rejected the impression that army was against the government when Imran Khan staged a similar sit-in in 2014 and said that the military had supported the government.
Ghafoor also rejected army's meddling in the electoral process.
"It neither has any role in the country's electoral process nor has it any desire to do so," he said.
Rehman, addressing the protestors, said the protest would continue unless government accepted the demands of the protestors.
In its list of demands, the Rehbar Committee sought the premier's resignation and fresh elections in the country without the supervision of the armed forces.
The government, on the other hand, has demanded that the committee end the sit-in.
Meanwhile, Punjab Assembly Speaker Chaudhry Pervaiz Elahi met Rehman to convince him to end the protest. He told reporters that positive progress was made in the talks.
The protestors camping at Peshawar Mor area of Islamabad braved heavy rain, chilly winds and cold weather but refused to disperse until asked by Rehman.
Rehman on Monday asked his supporters to continue their anti-government protest with "perseverance" and "courage", as the 48-hour deadline set by him for Prime Minister Khan's resignation expired.
He said the movement to oust the prime minister "will continue to move ahead and will never be on the back foot".
The protest is supported by Pakistan Muslim League-Nawaz (PML-N), Pakistan Peoples Party (PPP), Pakhtunkhwa Milli Awami Party, Qaumi Watan Party, National Party, wami National Party and others.
https://timesofindia.indiatimes.com/world/pakistan/pakistan-army-too-busy-to-get-involved-in-political-matters-maj-gen-ghafoor/articleshow/71948723.cms
------
China's war on Islam: Muslim women 'forced to share beds' with male officials
by: Hamad Momin
Several reports have suggested that Muslim women whose husbands have been detained in Chinese concentration camps are being forced to share beds with male government officials. These men have been appointed to closely monitor the homes of Uyghur Muslims.
Sources informed Radio Free Asia (RFA) that Communist party workers would frequently sleep alongside female members of the Uyghur community as part of surveillance visits which last up to a week.
This latest revelation is not new and forms part of a wide scale systemic repression and persecution of Uyghur Muslims. Several human rights organisations and experts have raised concerns surrounding the Chinese government's actions against the minority community.
According to UN experts and activists, China is holding over one million people, particularly Uyghur Muslims, in detention centres. However, China describes these camps as "re-education camps" aiming to "stamp out 'extremism' and give [Uyghur Muslims] new skills."
The Uyghur Muslims that are not detained and thrown into concentration camps and are instead faced with scrutiny from the security forces. This includes but is not limited to armed checkpoints, ID cards and facial recognition cameras.
China is said to have also deployed over a million spies to closely monitor the activity of Uyghur Muslims. According to a Communist party officer, the spies visit Uyghur households and during their visits they work, eat, and frequently share a bed with their "hosts".
Speaking on condition of anonymity, the officer who oversees between 70 to 80 Uyghur families, Yengisar county said, "They stay with their paired relatives day and night".
He added that "normally one or two people sleep in one bed, and if the weather is cold, three people sleep together".
China's 'Xinjiang' region is home to some 10 million Uyghurs. The Turkic Muslim group, which accounts for roughly 45% of 'Xinjiang's' total population, has long accused the Chinese authorities of political, economic, and cultural discrimination.
Over the last two years, China has subjected the region to increasingly draconian restrictions, including banning men from growing beards and women from wearing veils. The country has also introduced, what many observers see as, the world's most extensive electronic surveillance program, according to reports in The Wall Street Journal.
Meanwhile, as least one million people – roughly 7% of Xinjiang's Muslim population – have been incarcerated in an ever-expanding network of "political re-education" camps, according to both US and UN officials.
May Allah (subh?a¯nahu wa ta?a¯la¯) free all of our brothers and sisters from oppression, forgive our shortcomings and give us the tawfiq to get to work. Amin.
https://www.islam21c.com/news-views/chinas-war-on-islam-muslim-women-forced-to-share-beds-with-male-officials/
------
Study: Twitter fueled attacks on Ilhan Omar, other Muslim candidates in 2018
Nov 6th 2019
Muslim candidates, including Reps. Ilhan Omar and Rashida Tlaib, endured torrents of hateful, xenophobic and threatening tweets during last year's campaign season, much of it amplified through bots and other fake accounts, according to a study to be released Tuesday.
https://www.grandforksherald.com/news/government-and-politics/4757926-Study-Twitter-fueled-attacks-on-Ilhan-Omar-other-Muslim-candidates-in-2018
------
India
Ayodhya on tenterhooks: Some shift out, others stocking up on ration
Nov 7, 2019
AYODHYA: In Ayodhya these days, the air is thick with apprehension and anxiety. With the temple verdict expected any day now, the town's residents are making whatever preparations they can — some are hoarding food and essentials, while others have quietly begun shifting women and children out to places they feel are safe.
Some are even cancelling weddings or moving venues outside the district. A middle-aged tailor in Syedwada, a neighbourhood with a considerable number of Muslim families living alongside temples and Hindu households, said, "They (locals residents) talk among themselves and say that Syedwada will be targeted this time. It is worrisome."
The man, who didn't want to give out his name, added, "They are saying there will be trouble if the judgment is not in favour of the Ram temple. What will we do in such a situation if not send our families away?" Many in the community had done the same when in November last year VHP and Shiv Sena members descended on the town.
Some distance away, Ghanshyam Gupta, whose family has been selling ladoos outside the famous Hanuman Garhi temple for three generations, said, "We have made suitable arrangements and are stocking rice and lentils at home." Umar Farooq, a litigant in the Ramjanmabhoomi-Babri Masjid dispute, said he's seen it all — the violence in 1990, the demolition of Babri Masjid in 1992 and the arson that followed, the tension around the high court judgment of 2010, and when the Shiv Sena marched into Ayodhya in November last year.
"Through all this, Ayodhya residents never had problems with one another. Trouble starts when a mob comes from outside. That's when there is chaos for us," he added. The district administration, meanwhile, is holding peace gatherings with community leaders and is even forming WhatsApp groups for real-time communication and deployment of additional forces in the event of an emergency.
District magistrate Anuj K Jha told TOI that a number of meetings in October and November with Hindu mahants and Muslim imams had been held to address worries and give assurances of safety. "We have assured Muslims that a survey of all sensitive areas, including minority-dominant ones and those with mixed populations, has already been done and we will be deploying forces ahead of the verdict. There is no need for people to panic. Our focus is peace and protection in the whole of Ayodhya," Jha said.
However, apprehension is still running deep. In October, the Muslim community's nervousness became apparent when a meeting was called at the house of Haji Mahboob, another litigant in the dispute, to get their concerns addressed. "Security was beefed up in Ayodhya in 2010 when the high court was to pronounce a judgment. Things will be fine if there is a similar bandobast in place. But people are scared. Many haven't been able to forget 1992."
He has a point. Syed Khalique Ahmed's son was to get married in December. But feeling that the situation is "not conducive" for a celebration, Ahmed not just changed the venue of the wedding from Faizabad to Lucknow but also got his son married in early November itself. Hotel owners in Ayodhya echoed Ahmed's sentiment.
Pawan Singh, manager of the Birla Dharmashala, meters away from Hanuman Garhi, said, "People have cancelled bookings for venues and rooms, not just for November and December but until February next year. Whoever is saying normal life in Ayodhya has not been disrupted is not telling the truth."
https://timesofindia.indiatimes.com/india/ayodhya-on-tenterhooks-some-shift-out-others-stocking-up-on-ration/articleshow/71946991.cms
------
Northern Railway to resume train services in Kashmir from Nov 11
Nov 6, 2019,
SRINAGAR: Northern Railway (NR) on Wednesday decided to resume train services for local commuters across Kashmir Valley from November 11. The services have remained suspended for over three months now following nullification of Article 370 on August 5.
A senior railway official said before resuming the services, a trial run would be done on November 10. Railway staff would assess the damage if any, caused to the tracks anywhere in the Valley during the past three months due to some incidents of stone-pelting or otherwise, he added.
According to the official, around 26 trains used to chug daily across the Valley from Banihal to Baramulla. There were around 1,000 railway employees and an equal number of security personnel involved in the operations, he said.
Senior officers of the Union territory administration, headed by Kashmir divisional commissioner (DC) Baseer Khan, SSP (Railways), chief controller (NR), senior divisional mechanical engineer (NR) and other officials concerned held a meeting wherein the date for resumption of train services was finalized.
The DC asked railway authorities to conduct track inspection within three days, to be followed by a trial run on November 10 and resumption of services the next day, the official said.
Train services for local commuters in the Valley had first started in 2009. Since then, the services spread to every nook and corner of Kashmir, catering to thousands of locals and government employees.
https://timesofindia.indiatimes.com/india/northern-railway-to-resume-train-services-in-kashmir-from-nov-11/articleshow/71944908.cms
------
Ahead of Ayodhya verdict, BJP reaches out to Muslims in UP
Nov 07, 2019
The ruling Bharatiya Janata Party (BJP), along with its ideological fountainhead RSS, has rolled out possibly its biggest Muslim outreach initiative in recent years in Uttar Pradesh.
Sangh-backed Muslim Rashtriya Manch (MRM) and BJP's Muslim faces like Mohsin Raza and Ammar Rizvi are helping the party connect with the community.
Mosques and madarsas in Muslim-dominated localities are being increasingly visited by minority community members in keeping with the decision reached at the meeting of top BJP, RSS and leadership of Sangh-backed MRM which has veteran RSS pracharak Indresh, as its mentor, in Delhi on Friday.
The MRM is also holding 'hubbal watani' (love for the land) conferences across the state.
In UP, the initiative has already been rolled out with Yogi Adityanath government's lone Muslim face Mohsin Raza meeting clerics of both Shia and Sunni sects in the state capital.
Former UP minister Ammar Rizvi, considered a Congress loyalist surprised many by switching loyalties to the BJP last week. He also heads the All India Minorities Forum For Democracy.
Soon after joining BJP, his Forum issued a signed appeal by him backing the proposal of All India Personal Law Board vice president Maulana Kalbe Sadiq who has favoured Muslims voluntarily giving up the disputed land to Hindus ahead of verdict as a 'goodwill gesture'.
Apart from Raza and Rizvi, the BJP is busy digging out its Muslim faces, including those it imported from other parties like Bukkal Nawab, the former Samajwadi Party (SP) lawmaker who switched sides to the BJP and was made an MLC to Rumana Siddiqui, the former head of BJP's minority cell in UP who is now member of UP Commission for Minorities to convey two things to the community.
"We are working for peace after verdict. It has already been decided there won't be any vulgar celebrations mocking the other community after the apex court gives its verdict. Simultaneously we are also telling them that Ayodhya has the same sentimental value to Hindus that Mecca has for Muslims," says Zameer Raza, a Bareilly-based MRM functionary.
UP Shiq Wakf Board chief Waseem Rizvi has been vocal in his support for the temple and the views of such community voices are being marketed among the larger community by the leaders of Sangh Parivar and its foot soldiers.
"Our outreach has a mission. When the decision comes, whatever it is, we will ensure that there are no riots, no bloodshed and no tension on the issue. Our volunteers are meeting everyone. We are visiting madarsas and mosques across the state," said Raees Khan, an MRM office-bearer who is also connected with Sunni Social Forum, another Muslim outfit that has Sangh's backing.
"See we are also telling Muslims that Lord Ram isn't just a Hindu god. In fact, many from the minority community equally revers Lord Ram and consider him as one of the messengers of God," said Khan.
"It's our responsibility to maintain peace. We are approaching clerics and requesting them to support the state government," said Raza, who first met Shia cleric Maulana Syed Kalbe Jawad on Wednesday.
"Peace is above all. We appeal to all are Muslim brethren to accept the verdict, even if it may or may not come in favour," the shia cleric said.
Raza also met another Shia cleric Ayatullah Syed Hamidul Hasan, who is known for his religious sermons in Indian and abroad. "We are already making an appeal to the people to not to react to rumours and accept the verdict," said Hamidul Hasan.
Raza also met Sunni cleric Maulana Khalid Rasheed Farangi Mahali. Mahali assured the minister that he will continue with his appeal for peace and harmony.
Raza also met other senior religious leaders, including Maulana Salman Nadvi and Maulana Rashid Ali.
The BJP's outreach comes at a time when the All India Muslim Personal Law Board has accused a 'section of the media' of being involved in rabble rousing on an issue that is sub-judice.
A news agency quoted the Muslim body urging the media to stick to the advisory issued by the News Broadcasting Standards Association (NBSA) regarding the coverage of the Ram Janambhoomi-Babri Masjid land dispute.
"A matter which is pending before the Supreme Court must be reported in the press from a legal point of view without any adjective, personal opinion, prejudice, bias or emotional narrative in the garb of freedom of the press," the statement said.
https://www.hindustantimes.com/lucknow/ahead-of-ayodhya-verdict-bjp-reaches-out-to-muslims-in-up/story-2wbRxVJvsCT9iRG50Rt2DJ.html
------
Agra administration holds meeting of citizens ahead of Ayodhya judgment to ensure communal harmony
Siraj Qureshi
November 6, 2019
Besides being the city of the Taj Mahal, Agra in Uttar Pradesh is also known as the city that postulated the principle of Sulh-e-Kul, espousing harmony between all communities living in India, irrespective of their cultural and religious differences.
Being an internationally renowned tourist destination, Agra is also considered to be a sensitive place and any incidents in Agra get widely reported all over the world.
Citing the international status of Agra, District Magistrate NG Ravi Kumar and SSP Bablu Kumar appealed to both Hindu and Muslim communities of Agra to maintain peace and harmony during the festival of Eid-Milad-ul-Nabi which will be celebrated by the Muslims on November 10.
IG Agra Zone A Satish Ganesh told India Today that all senior police officials of Agra Zone have been given strict instructions to hold locality-wise meetings with the local residents, "appealing to them to keep calm and maintain communal harmony following the Ayodhya judgment which is expected to arrive in the coming couple of weeks."
Keeping these instructions in mind, senior district police and administrative officials held a conference of prominent citizens of both communities at the conference hall of Ram Swarup Girls Inter College, where the officials appealed to the assembled guests to maintain peace and harmony between the two communities, irrespective of the outcome of the Ayodhya case.
Agra District Magistrate NG Ravi Kumar said that Agra is the city of love and in all conditions, Hindu and Muslim communities have to maintain harmony, while welcoming the judgment on the Ayodhya case, which may favor any community. He said, "Agra needs to set an example of communal harmony before the rest of the country at this time."
SSP Bablu Kumar warned the assembled guests that the police are monitoring the social media channels like Facebook, WhatsApp, Twitter, etc and "anyone who makes any inflammatory post before or after the Ayodhya judgment will be sent to jail immediately".
He said, "If such inflammatory posts are found on your mobile, it becomes your responsibility to report the sender of such post to the police."
Representatives of Hindustani Biradari present at the conference said that Agra has been a city of Sulh-e-Kul for hundreds of years and "during the festival season, the solidarity between Hindu and Muslim communities is exemplary".
"The steps taken by Hindus to facilitate Muslims during the Ramzan period are beyond words. Similar efforts are made by Muslims to facilitate their Hindu brothers during Hindu festivals. A similar spirit will be shown by both communities after the Ayodhya judgment, no matter in whose favor the judgment arrives," Representatives of Hindustani Biradari present at the conference said.
Agra Vyapar Mandal President TN Agarwal assured the police and administration of their continued support in maintaining the law and order, with communal harmony, so that the name of Agra is not tarnished by the blot of communal violence over the Ayodhya issue.
https://www.indiatoday.in/india/story/agra-ayodhya-judgement-hindus-muslims-communal-harmony-1616345-2019-11-06
------
Arab World
Women and students are at the heart of Lebanon's protests
07 November 2019
NAJIA HOUSSARI
BEIRUT: To keep up the momentum of the Lebanese protests for the 21st day, students in secondary schools took to the streets expressing fears about their future in the country.
The students, aged between 16 and 18, entered school on Wednesday morning before deciding, despite threats of expulsion if they joined the protests, to leave by force chanting "revolution" and "the people want the downfall of the regime," while waving Lebanese flags.
Images on television and social media amazed many politicians. MP Paula Yacoubian paid tribute to the students on Twitter, while MP Sami Gemayel said "after a long absence, Lebanese students returned to the national struggle to build a new Lebanon. The path of change will not stop any more."
"It became clear that the most dynamic group in Lebanon is the Twitter and Facebook generation, a cross-sectarian group, a transformational, free and strong group capable of achieving miracles. The confusion it has created among the traditional parties is clear evidence of that. It has laid the foundations of a new political phenomenon. I salute you, carry on," said former MP Fares Souaid.
Students protested in front of the Palace of Justice in Beirut for "an independent judiciary" and at the Ministry of Education for "modern curricula," as well as at public institutions in Beirut and across the country.
"What is the point of studying and receiving a degree if we will not find a job in Lebanon and have to leave?" asked a student named Nayla, "Those in power have to step down and make way for those who can actually deal with corruption and provide us with a better life."
"I asked a security personnel trying to stop us from blocking the street if he was running a luxurious life. He told me that his salary does not allow him to get married," said another student.
Students broke the barrier of fear after some schools threatened to expel those who participated in the protests. One such threat was made by a school director in Sidon, but she retracted it after her voice recording went viral on social media.
Women, too, have broken the chains of fear. They have constituted the heart of the protests in various regions since the start of the movement on Oct. 17. They were on the frontlines confronting the security forces and the supporters of Hezbollah and Amal Movement.
Actress Nada Bou Farhat said: "I turned the picture of the girl kicking her aggressor into a sticker on my phone."
Protests in downtown Beirut have turned into discussion forums every evening where activists exchange ideas. Dozens of women activists from organizations concerned with women's rights took part in the discussion titled "Women – Revolution." They expressed their opinions on women's achievements during the revolution and how to protect their rights.
"First of all, we are against insults that used female organs. Women have proved during this revolution that they are as smart as men," said Bou Farhat, noting that "the revolution overcame the fear of abandoning political parties and joining the movement, the fear of our parents and the politicians that linked opposition to the return of civil war, which was proved wrong by the revolution."
"I have never protested before. I broke many barriers to take part in this movement. They used to say that protests are limited to men, but women played a leadership role in this revolution. Women helped write signs, encouraged people to take to the streets and even protected men. This revolution means a lot to me as it demands social and economic justice," said the activist Reine Hammoud.
Dr. Halima Al-Kakour told Arab news that "some want to insult women by calling the revolution a cabaret. This is a blatant distortion of the revolution. Women courageously stood up and protected the protests by forming a human barrier in the face of aggressors.
"Women activists are taking part in planning and organizing the squares. They have a pivotal role in the society's dynamic organizations, but are marginalized by a corrupt sectarian patriarchal system.
"Politicians want to undermine women's dignity, but they will not scare us or make us feel weak."
"Building a nation and promoting democracy without women is impossible. We will not accept less than half of the seats for women in future governments and parliaments," she said.
https://www.arabnews.com/node/1580341/middle-east
-----
Riyadh has 'open channel' with Houthis: Saudi official
November 07, 2019
RIYADH: Riyadh has an "open channel" with Yemen's Iran-backed militia with the goal of ending the country's civil war, a Saudi official said Wednesday.
The comment comes after Saudi Arabia brokered a power-sharing agreement between Yemen's internationally recognized government and southern separatists, which observers say could pave the way for a wider peace deal.
"We have had an open channel with the Houthis since 2016. We are continuing these communications to support peace in Yemen," a senior Saudi official told reporters. "We don't close our doors with the Houthis."
The official, who declined to be named, did not describe the nature of the communication.
There was no immediate comment from the Houthis, who seized the capital Sanaa and much of northern Yemen in 2014.
Washington too is in talks with the Houthis, Assistant Secretary of Near Eastern Affairs David Schenker said during a visit to Saudi Arabia in September.
Wednesday's confirmation comes amid the slow implementation of a landmark ceasefire deal for the key aid port of Hodeida, which was agreed between the government and the militia in Sweden late last year.
"If the Houthis (are) serious to de-escalate and agree to come to the table, Saudi Arabia will support their demand and support all political parties to reach a political solution," the Saudi official said.
https://www.arabnews.com/node/1580296/saudi-arabia
--------
Saudi Arabia supporting peacekeeping operations, says envoy
November 07, 2019
NEW YORK: Saudi Arabia's permanent representative to the UN, Abdallah Al-Mouallimi, praised the brave soldiers of the Kingdom who make sacrifices to support legitimacy in Yemen to preserve the capabilities of the people and their legitimate government against the coup militias, recalling those who sacrificed their lives in order to contribute to peacemaking around the world.
This came in the Kingdom's speech to the Special Policies and Decolonization Committee.
In the speech, Al-Mouallimi expressed Saudi Arabia's appreciation for the great efforts exerted by the UN represented by the peacekeeping forces to maintain international peace and security.
He also reviewed the Kingdom's continuous efforts to support peacekeeping operations and countries suffering from wars and conflicts, including Yemen.
Al-Mouallimi pointed out that the Kingdom believes in the pivotal role of the UN and international peacekeeping forces in establishing peace and order.
He assured that Saudi Arabia is working in collaboration with the UN through satisfying its financial obligations towards peacekeeping forces, and procuring political and logistical support to its various agencies, noting that the Kingdom was a pioneer state in responding to international calls for emergency humanitarian aid.
He added that the Kingdom provides full support to the Yemeni people and their legitimate government to reach a comprehensive political solution to put an end to the coup of the Houthi militias. This was most evident through the Kingdom's total humanitarian assistance to the Yemeni people, which has totaled $14 billion since the beginning of the crisis.
Al-Mouallimi assured that "as part of its efforts to restore stability in Yemen, the Kingdom has hosted a dialogue between the Yemeni government and the Southern Transitional Council that led to an agreement, bringing closer their views regarding a political solution to the crisis, providing support to the legitimate Yemeni government and confronting the coup."
Finally, Al-Mouallimi reaffirmed Saudi Arabia's view on the importance of UN organizations promoting stability in countries enduring conflict.
https://www.arabnews.com/node/1580331/saudi-arabia
------
Dozens injured as Iraqi security forces clash with protesters in 'Battle of the Bridges'
ARAB NEWS
November 07, 2019
BAGHDAD: Gunfire erupted again in central Baghdad on Wednesday as Iraqi security forces fought protesters in the "Battle of the Bridges" near Tahrir Square.
At least 27 people were injured in clashes at Al-Jumhuriyah, Al-Ahrar, Al-Shuhada, Al-Sinek and Bab Al-Muatham bridges across the Tigris River.
Protesters have confronted security forces for two weeks on Al-Jumhuriyah bridge, which leads to the fortified Green Zone of government offices and embassies. They also massed at Al-Sinek, which leads to the Iranian Embassy, and Al-Ahrar, which is near other government buildings. The demonstrators tried on Wednesday to cross Al-Shuhada, but were met with live ammunition from security forces.
"The riot police hit us with batons on our heads and we threw rocks at them," said Mahmoud, 20, a protester being treated for injuries after he tried to cross Al-Shuhada. "But then they started firing live rounds at people."
Security forces resumed firing live ammunition in Baghdad on Monday, after nearly two weeks of using only tear gas to repel protesters. Doctors and rights groups said the police now appeared to be firing the canisters directly at protesters, causing most of the injuries.
More than 260 Iraqis have been killed since the beginning of October in protests against corruption, unemployment and nonfunctioning public services. Protesters have been massing in Tahrir Square for weeks in the biggest wave of civil unrest since the fall of Saddam Hussein in 2003.
Thousands have also been gathering in the impoverished provinces of the Shiite south. Protesters on Wednesday blocked the entrance to the Nassiriya oil refinery, halting fuel deliveries to retail outlets.
Thousands of demonstrators have also blocked roads leading to Umm Qasr, near Basra, Iraq's main Gulf port. Operations at the port, which receives most of Iraq's imports of grain, vegetable oils and sugar, have been at a standstill for a week. The blockade has already cost Iraq more than $6 billion, a spokesman for Prime Minister Adel Abdul Mahdi said. In a televised address, he said Iraq could not afford the economic cost of the unrest, and asked protesters to stop damaging property.
The internet monitor NetBlocks said the government's blocking of internet access had cost Iraq about $1 billion in October. Access remained blocked on Wednesday after being shut down on Monday and restored for a few hours on Tuesday.
The US Embassy in Baghdad condemned the violence against unarmed protesters, and urged Iraq's leaders to engage urgently with them.
https://www.arabnews.com/node/1580251/middle-east
-----
Europe
Greece jails elected Muslim religious leader for usurping authority
November 7, 2019
ANKARA: An elected Muslim religious leader in Greece's Western Thrace region was given 80 days of a prison sentence for usurping authority.
Ibrahim Serif is the elected mufti of Komotini (Gumulcine) which is one of the three major cities of the Western Thrace region in Greece, home to a Muslim-Turkish minority of around 150,000 people.
Serif tweeted on Wednesday that he was convicted by a court in Alexandroupoli (Dedeagac) on Tuesday on the basis of his participation in a Friday prayer in one of the villages of Evros province in March 2016.
Serif also shared a copy of the court summons.
His lawyer has appealed the decision in a higher court.
Serif previously won a case in 1999 over the same charge after appealing to the European Court of Human Rights.
He was elected mufti of Komotini in 1990 by the local Muslim Turkish community.
In Western Thrace, the election of muftis has been a bone of contention for the Muslim Turkish community since 1991. Muftis have the jurisdiction to decide on family and inheritance matters of local Muslims.
The election of muftis by Muslims in Greece was regulated in the 1913 Treaty of Athens between Greece and the Ottoman Empire and was later included in the Greek Act 2345/1920.
However, Greece annulled this law in 1991 and started appointing the muftis itself.
The majority of Muslim Turks in the cities of Komotini (Gumulcine) and Xanthi (Iskece) do not recognize the appointed muftis and elect their own instead, who are not recognized by the Greek state.
https://tribune.com.pk/story/2095230/3-greece-jails-elected-muslim-religious-leader-usurping-authority/
------
European court opposes deportation of Afghan convert to Christianity
John Burger | Nov 06, 2019
AMuslim from Afghanistan who became a Christian would be in serious danger if he were to return to the Middle Eastern country, the European Court of Human Rights agreed. The court ruled in favor of the Afghani citizen, who sought asylum in Switzerland and faced deportation.
The person would have faced severe persecution if deported back to Afghanistan, said ADF International, which intervened in the case of A.A. v. Switzerland. Conversion from Islam to another religion is considered "apostasy" and can be punished with anything from lengthy imprisonment to death, the human rights legal firm said.
"Nobody should be persecuted because of their faith," said Robert Clarke, Director of European Advocacy for ADF International. "Our society has a responsibility to protect those who are facing torture, imprisonment, or death due to their religious beliefs. Afghanistan counts as one of the most dangerous countries in the world for Christians and, in particular, for converts. ADF International's intervention sought to highlight the severe breaches of human rights in Afghanistan against religious minorities and especially the widespread persecution of Christians. We welcome this important judgment from the European Court of Human Rights, affirming that Christians should not have to hide their faith to avoid persecution."
ADF explained that the Afghan Constitution protects religious freedom in general, but also defines Islam as the state religion and prohibits the enactment of any law contradicting Islamic beliefs. This creates a parallel legal system based on Sunni law, enforced by so-called jirga civil courts, the firm said in a statement. These civil courts investigate "crimes against God." Such "hudud" crimes like apostasy, blasphemy, anti-Islamic writings or speech, and proselytism are considered serious and punishable by beheadings for males, life imprisonment for females, confiscation of property, and inheritance limitations.
"Today, the Judges of the Strasbourg Court held that the applicant (identified only as 'A.A.') would be compelled to conceal their Christian faith and would in effect 'be forced to live a lie' if deported to Afghanistan by the Swiss authorities," said Lorcán Price, Legal Counsel for ADF International in Strasbourg. "The Court was critical of the Swiss authorities and their failure to properly conduct an assessment of the risks and consequences of deporting a Christian convert to Afghanistan. It concluded that this was in breach of Switzerland's obligations to protect individuals from torture under the European Convention of Human Rights."
"We are glad that the Strasbourg Court has used this case to uphold the rights of Christians to openly profess their faith without facing the threat of physical violence, imprisonment, and possibly the death penalty. Switzerland, and every other member state of the European Convention on Human Rights, has an obligation in international law to protect those fleeing religious persecution," Price said.
ADF said that international law protects refugees from being returned to territories where their life could be in danger. In its International Religious Freedom Report the US State Department reported that individuals who converted from Islam faced annulment of their marriages, rejection by their communities and families, loss of employment, and possibly the death penalty.
https://aleteia.org/2019/11/06/european-court-opposes-deportation-of-afghani-convert-to-christianity/
------
Why the Royal Court is theatre's answer to Islamic State
9 November 2019
The Royal Court is the theatre's answer to Islamic State, a conspiracy of nihilists fascinated with death, supported by groups of self-flagellating puritans, and committed to inflicting pain on all who stray into its orbit. The latest fatwa from Sloane Square concerns the imminent demise of the Welsh language — an emergency for which there seems to be scant evidence. On Bear Ridge by Ed Thomas proclaims its amateurish origins with stage directions that belong in Pseuds Corner. 'Spindly winter branches dance on a fading sign,' is Thomas's attempt to create a ghostly mood. The setting is a derelict village shop where 'ancient bluebottles cling to death on sticky brown fly-catching strips'.
Britain has been struck by some unexplained apocalypse, perhaps a war, which has left a few survivors scratching a perilous living in 'a mountain wilderness' somewhere in Wales. The shop-owner is a wittering bumpkin, John Daniel, who lives with his gormless wife, Noni, in the shattered ruins of a cottage overlooking a landscape of chunky grey boulders. This is Snowdonia, clearly. Yet the characters use south Wales accents. Come on, chaps. Get the basics right.
A visit from a displaced captain prompts long passages of chit-chat and reminiscence. Rhys Ifans works hard to give John Daniel a certain dippy charm and he succeeds. Some of his Pythonesque word-play would suit a TV sketch-show but without any narrative thrust or movement the verbal effects become stodgy and stagey. The characters keep uttering the words, 'Tomb Shonkin', which few play-goers will recognise as the Welsh name, Twm Siencyn. After an hour we learn that 'Tomb Shonkin' is the only son of Noni and John Daniel and that he met a gruesome end in some faraway city. This disaster forced his grieving parents to take a curious decision about 'the old tongue', as they call Welsh. But why exactly? Purely because the play needs some ponderous symbolic moment with which to crown itself.
The script has a problem which any competent editor could identify. The dual narrative involves an external disaster (the mysterious apocalypse), and an internal crisis (the death of Twm Siencyn). This is the dramatic equivalent of a tautology. One calamity is enough. Two is too many. It's strange that neither the Court, nor Wales's National Theatre which commissioned the script, was able to spot this elementary blunder and to ask a professional to correct it. But there's a silver lining here. By staging a play about a fictional threat to an ancient Celtic language, the Court seems to be hinting that it has run out of man-made problems with which to terrorise its customers. What a relief.
God's Dice by David Baddiel is a romcom about advanced physics and alternative universes. Henry, a brilliant but unsuccessful lecturer, is married to Virginia, a bestselling writer who circles the globe giving talks to stadiums full of adoring fans. One of Henry's young pupils, a Christian named Edie, quizzes him about Christ's miracles and asks if physics could explain some of the stunts pulled by the Messiah in the New Testament. The pair establish a nerdy friendship based on a mutual interest in science and religion. Jealous Virginia demands to know if the couple are lovers. No, insists Henry. Virginia accepts his honesty. This may be true to life but it's very bad news for the play.
A gutsier writer would have slung Henry and Edie into bed straightaway, and examined their developing characters as they grappled with the emotional fall-out. But Baddiel leaves them in dry-dock. Two possible reasons. First, a reluctance to turn Henry into a seedy, ogling Weinstein. Second, a fear that Alan Davies, the ubiquitous panel-show teddy-bear who plays Henry, might have turned down the role of a paunchy sex-pest. However, Baddiel, for all his egalitarian credentials, evidently finds the idea of a nubile brainbox like Edie irresistibly sexy. So he creates a second middle-aged lothario, Tim, whose clumsy attempts at seduction are also rejected. This leaves Edie perched at the side of the drama like an unclaimed Magimix at a village tombola. In the second half, Henry writes a bestselling book that examines Christ's miracles from a scientific viewpoint. This leads to some amusing but maddeningly good-tempered banter between Henry and Virginia, who is now his rival. And Henry's success turns him into a god-like hero to whom strangers genuflect in the street. Or does it? This twist, like the stalled Henry/Edie fling, is not pursued as punchily as it might have been.
God's Dice deals with a topic that would appeal to millions like me who hunger to understand theoretical physics. A drama that offered glimpses into its mysteries while satisfying the basic need for complex characters and gripping storylines would work brilliantly on TV. There's gold here but it needs a fresh team of prospectors to dig it out.
https://www.spectator.co.uk/2019/11/why-the-royal-court-is-theatres-answer-to-islamic-state/
--------
Pakistan
Nawaz Sharif being given Polonium to die slow death, claims Altaf Hussain
November 7, 2019 0
Muttahida Qaumi Movement (MQM) founder Altaf Hussain has claimed that former Pakistan Prime Minister Nawaz Sharif has been given polonium, the drug which slowly poisoned Yasser Arafat, famed Palestinian President, to death in 2004.
"Lower platelets count in Nawaz Sharif's body! A known fact is that 'Polonium' (a radioactive element) is used to eliminate enemies. It acts as a slow poison and destroys platelets. Only specialised radioactive laboratory can verify it. The international laboratory must examine it," Hussain first tweeted on November 2.
On Tuesday, Altaf Hussain posted a research article -- 'Polonium - A Perfect Poison' -- on his Twitter handle, after several questions were put up to him regarding his earlier post on the micro-blogging site.
"Dear Students and Followers! Here is my research article on 'Polonium-A Perfect Poison' in reply to questions put up by people about my 2nd November 2019 tweet regarding #Polonium. I tried my level best to give answers on this important subject. Please read it thoroughly," Hussain wrote alongside the article, which briefs about polonium, its symptoms and treatment.
"Besides Yasser Arafat, Irene Joliot Curie (1956), a Nobel Laureate and daughter of Madam Curie and Alexander Litvinenko (2006) are some of the known/suspicious victims of polonium poisoning," Hussain has claimed in his article.
"The mysterious and deteriorating medical condition of any person exposed to polonium need some serious screening and thorough investigations from globally recognised and reputed radioactive laboratories," said Hussain.
Polonium radiation destroys DNA and can lead to cell death and cancer. It is a known carcinogen. When inhaled, polonium causes lung cancer. When swallowed, it becomes concentrated in red blood cells, before spreading to other important organs like liver, kidneys, and bone marrow.
Nawaz Sharif was discharged from the Services Institute of Medical Sciences (SIMS) in Lahore and shifted to his residence -- Jati Umra -- on Wednesday. The 69-year-old leader was admitted to the SIMS on October 22 after his health conditions deteriorated drastically due to "critically" low platelet count.
An Intensive Care Unit (ICU) has been set up at Sharif's residence and the doctors have put a ban on the people visiting him, Marriyum Aurangzeb, spokesperson of the Pakistan Muslim League-Nawaz (PML-N), said in a statement.
Adding that there were chances that an infection might develop due to low platelet counts, Aurangzeb said the doctors had suggested the setting up of a special medical unit at Sharif's residence.
"The unit was set up under the supervision of Sharif's personal physician Dr Adnan Khan and the doctors will be present in the ICU round the clock," she added.
While being shifted to his residence from the hospital, Sharif was accompanied by his mother, daughter Maryam Nawaz and other family members.
On October 29, Sharif was granted bail by the Islamabad High Court on medical grounds in connection with Al Azizia and Chaudhry Sugar Mills corruption cases.
The ailing Pakistani leader was serving a seven-year imprisonment in the Al-Azizia case in Kot Lakhpat jail in Lahore. Besides this, he was remanded to the NAB custody in Chaudhry Sugar Mills case.
https://www.indiatoday.in/world/story/nawaz-sharif-being-given-polonium-to-die-slow-death-claims-altaf-hussain-1616440-2019-11-07
------
Pakistan occupying Gilgit Baltistan illegally: Activist
Nov 7, 2019
WASHINGTON: Senge H Sering, a political activist from Gilgit Baltistan, alleged that Pakistan is violating UN Security Council resolution and it continues to illegally occupy the region. On October 22, 1947, tribal militias backed by Pakistan Army invaded Jammu & Kashmir and occupied the region called as Pakistan occupied Kashmir and Gilgit-Baltistan.
The matter was later taken to the United Nations where Pakistan was asked to withdraw its forces from the occupied territories. Sering, director of Institute of Gilgit Baltistan Studies, said: "Pakistan is an occupier.
It is very clear when it comes to international laws, Pakistan has never fulfilled or respected the UN resolutions and this has slowed down the process that could have given the people of Gilgit-Baltistan in PoJK (Pakistan occupied Jammu & Kashmir) the same constitutional rights that the people of J&K and Ladakh have for the last 70 years."
https://timesofindia.indiatimes.com/world/pakistan/pakistan-occupying-gilgit-baltistan-illegally-activist/articleshow/71947322.cms
------
Government, Opposition should talk to end deadlock in Pakistan, says protest leader
NOVEMBER 06, 2019
The opposition parties, including the Pakistan Muslim League-Nawaz (PML-N) and the Pakistan People Party (PPP), have also thrown their weight behind the massive anti-government rally
The Pakistan government should present its suggestions to the Opposition parties if it wants to find a middle ground and break the deadlock, firebrand cleric-cum-politician Maulana Fazlur Rehman, who has been leading the 'Azadi March' demanding the ouster of Prime Minister Imran Khan, said on Wednesday.
https://www.thehindu.com/news/international/govt-opposition-should-talk-to-end-pak-deadlock/article29902054.ece
------
Video of Islamic flags hoisted in Punjab shared as Pakistani flags
Jignesh Patel
6th November 2019
A video of flags hoisted on the terrace of several buildings in Jalandhar, Punjab was shared on social media with a claim that these were Pakistani national flags. In the video, a man can be heard calling the territory "mini Pakistan". Twitter handle @noconversion posted the video with the message, "Pakistani flags … in Jalandhar Punjab, this area Vijay Colony is infested with Christian Missionaries". It has garnered more than 900 retweets so far.
Pakistani flags ... in Jalandhar Punjab , this area Vijay Colony is infested with Christian Missionaries @AmitShah @SureshChavhanke @rohitsardaana @ZeeNews @aajtak @amitmalviya
A few more people on Facebook shared the video with a similar narrative. A post by a Facebook user Karishma has amassed close to 1,300 shares at the time of writing this article.
With the help of a keyword search on Google, we found a news report published by Dainik Bhaskar on November 4, 2019. This was also pointed out by a Twitter user. On November 4, the police reached Jalandhar's Vijay Colony along with a local Shiv Sena leader who informed that the Muslim community was allegedly raising Pakistani flags. According to the report, the flags were removed by the residents, however, a protest was later staged. The Muslim community argued that the flags were "Islamic religious flags", not Pakistani flags. After the outrage, the police realised their misunderstanding and the flags were reinstated under the police's direction.
In the comparison below, one can observe a clear distinction between the two flags. The Pakistani national flag (right) has a vertical white stripe on the left with a crescent moon and a star on a green background. On the other hand, the flags that were used in Jalandhar (left) had two stripes, one with white spots on a blue background and other with black zig-zag lines on a white coloured stripe. These were hoisted in the locality to mark the celebration of Prophet Hazrat Muhammed's birth anniversary on November 10.
A video of Islamic flags hoisted in Punjab's Jalandhar was shared with the false narrative that Pakistani flags were raised in the locality. The police mistook them for Pakistani flags and took them down, however, the flags were later restored.
https://www.altnews.in/fake-viral-message-warning-of-social-media-surveillance-over-ayodhya-case/
------
Fakhar Imam urge UN to ask Modi govt for immediate lift curfew in Kashmir valley
November 7, 2019367
ISLAMABAD, Nov 7 (APP):Chairman, Kashmir Committee Syed Fakhar Imam Thursday urged that the United Nations (UN) must ask Modi government to immediately lift the inhuman continued curfew in occupied Kashmir and release all the Hurriyet leaders.
The innocent Kashmiri people were facing the shortage of food and medicines and unable to reach hospitals due to curfew, he said while talking to private news channel.
The world has rejected the Indian narrative on Kashmir after illegal Indian move in occupied Kashmir and acknowledging the stance of Pakistan in this regard, he mentioned.
The chairman urged the human rights council to take serious steps to bring to justice the perpetrators of human rights violations of the innocent Kashmiris.
He said people of occupied Kashmir have been waiting for their right to
self-determination for seven decades.
India's efforts to hide its atrocities by false statements of freedom movement in occupied Kashmir terrorism and cross border terrorism are shameless and indefensible, he added.
He further said Prime Minister Imran Khan delivered an inspiring speech on actual situation in Kashmir at United Nations General Assembly (UNGA) forum that was hailed by many leaders in the world.
India is not allowing foreign delegations, fact finding missions and even its own politicians to visit Kashmir valley, he said.
Pakistan welcomes any foreign delegation to visit its side of LOC, he said adding, the international media is also exposing cruel Indian face through fact-based reporting and US congress has also condemned Indian atrocities and human rights violations in strong words.
Indian forces are using pellet guns and cluster bombs on unarmed Kashmiris which is violation of international norms, Fakhar said.
The day will come when Kashmiris will get for which they have been struggling for the last many decades, he hoped.
https://www.app.com.pk/fakhar-imam-urge-un-to-ask-modi-govt-for-immediate-lift-curfew-in-kashmir-valley/
------
Pak cops start probe into 'suicide' of 2 Hindu women
Nov 6, 2019
ISLAMABAD: Pakistani police have started an investigation into the alleged joint suicide of two young Hindu women in Thar district, one of the country's poorest and most-neglected districts, in the southern Sind province.
The BBC reported on Wednesday that locals had informed police after spotting the bodies of Nathu Bai and Veeru Bai on a farmland on Sunday morning in Kehri village, where they lived. Both were in their early twenties and were married to two brothers, Chaman Kohli and Pehlaj Kohli, who worked on the farms of a local landowner in the nearby town of Islamkot.
While police have yet to ascertain the cause of their death, campaigners say there has been a spate of suicides in the area in the recent past.
"I personally went to the site. It was apparently a suicide, though we are still looking into it," Kabeer Khan, a local police inspector, reportedly said.
"It's really hard for me to say why they did it. It's the harvest season, so we can't say hunger could be a reason. But you can't rule out domestic tensions caused by overwork or negligence," he added.
Dr Pushpa Ramesh, who examined the bodies at a hospital in Islamkot on Sunday night, was quoted by the BBC as saying: "There were no injuries or signs of trauma on the bodies to suggest any other cause of death."
According to Aware.Org, a civil society group, at least 59 people, including 38 women and two children, have killed themselves in the Thar region so far this year. About 198 suicides were reported in the region in 2018.
The reasons cited for people taking their lives in the region are increasing poverty and population displacements caused by coal mining projects. Rights activists believe these and other factors mean domestic tensions are commonplace. The lack of government's safety net to help the downtrodden and poverty-stricken people in the region, populated predominantly by low-caste Hindus, has made the situation even worse.
https://timesofindia.indiatimes.com/world/pakistan/pak-cops-start-probe-into-suicide-of-2-hindu-women/articleshow/71944970.cms
------
Southeast Asia
Islamic nation built through the behaviour of the people, not branding of the country - Sultan Nazrin
07/11/2019
PUTRAJAYA, Nov 7 -- Sultan of Perak Sultan Nazrin Muizuddin Shah said today that an Islamic is developed by its people, through their behavior, and not by the branding of the country.
His Majesty said that countries and organisations could not claim to be Islamic if their citizens and members did not practice the qualities of a true Muslim.
"Every Islamic organisation and every Muslim has the obligation to take this country on the right path, to become a prosperous nation and to obtain divine forgiveness," he said in his royal address in conjunction with the National Council for Islamic Affairs (MKI) Golden Jubilee celebration, here today.
He said Muslims had a serious challenge to transform their mind and soul so that they could be Independent and devote themselves to Allah S.W.T. and will not conspire with things that are forbidden, but instead, must dare to defy it.
Sultan Nazrin said, the survival of Muslims must be built by the strengthening of mind and inculcating confidence to compete, not by intimidation, that could create prejudice and make Muslims feel alienated when they are surrounded by non-Muslims.
According to Sultan Nazrin, Muslims who love the religion and understand the true teachings of Islam should not chose to only watch and be the silent majority, thus allowing Islam to be hijacked by groups that manipulate Islam to fit their narrow purpose.
"Religion has proven to possess an incredible force and attraction to mobilise people.
"Therefore, religion is vulnerable to be misused as instrument to achieve the narrow goals of individuals or groups, if the public can be convinced and if the public, without first examining the facts and the authenticity, and without thinking, accept their religious slogan or rhetoric," he said .
-- BERNAMA
http://www.bernama.com/en/general/news.php?id=1787167
------
Muslims have a responsibility to dispel fear of Islam, says Penang assemblyman
06 Nov 2019
GEORGE TOWN, Nov 6 — It is every Muslim's responsibility to dispel any fear against Islam, instead of allowing the religion to be misunderstood by non-Muslims, state assemblyman Norlela Ariffin (PKR- Penanti) said at the state legislative assembly today.
She said ignorance will only breed hatred and fear among those who do not know or understand the religion.
She said each Muslim must explain what true Islam is to non-Muslims so that they understand the religion instead of fearing it based on hearsay.
"I ask all of you Muslims here, you live in a multiracial community and you create this fear of Islam, how are you going to answer to Allah at Akhirat that you did not do anything to explain about Islam?" she said during her debate of the Supply Bill 2020 at the state legislative assembly today.
She said Muslims must also be open to understanding other religions, especially those who are born Muslims and not exposed to other religions.
"We must understand other religions so that we do not have this fear of other religions," she said.
She pointed out that Allah created people of different skin colour and different races so that everyone can get to know each other and understand each other.
"How can we understand our neighbours of different races and religion if we do not make an effort to learn about their religion," she said.
She said it was when Muslims remain ignorant about other communities that controversies can be sparked and they can be easily instigated against other communities.
"We do not want our harmony to be threatened by any politician from either side who use religion to create hatred," she said.
She explained this was the reason why she organised sessions for Muslims and non-Muslims to understand each others' religions back in 2015.
"The rural people are not exposed to and some do not understand their neighbours' faith so these sessions helped them understand other religions," she said.
Norlela also asked the state government to look into creating new tourism products that focused on the mainland instead of the island.
"I look at all the events by Penang Global Tourism and all of it are on the island, they spent RM7.5 million just for some balloons to go up and down," she said.
She said there were millions in allocation for tourism and this can be used to develop better tourism products for the state.
"We can promote our unique freshwater wetlands on the mainland and our mangrove swamps," she said.
She used the Langkawi Geopark as an example of a successful eco-tourism site based on an existing natural environment.
"The Kilim Karst Geoforest Park is one of the biggest eco-tourism hot spots in the region," she said.
She said the state should not wait for a private company to promote the state's natural environment as a tourism product.
"Don't wait for a developer to do it, the state government can do it and when the residents benefit from it, they will have their own income and can put in more resources to improve the sites," she said.
https://www.malaymail.com/news/malaysia/2019/11/06/muslims-have-a-responsibility-to-dispel-fear-of-islam-says-penang-assemblym/1807496
------
Penang drafts state law against proselytisation to Muslims
Thursday, 07 Nov 2019
GEORGE TOWN, Nov 7 — The Penang state government is preparing an enactment to further control and prohibit the spread of other religions to Muslims in the state, Deputy Chief Minister I Ahmad Zakiyuddin Abd Rahman (PKR - Pinang Tunggal) said today.
He said the legal technical committee secretary of the Penang Islamic Religious Council (MAINPP) proposed the enactment during a meeting on October 14.
"On principle, the committee agreed with the proposal and the state Sharia prosecution department will review the draft enactment and make improvements to it by referring to other states that has a similar enactment and are enforcing it," he said in reply to an oral question by Nor Hafizah Othman (BN - Permatang Berangan) at the state legislative assembly.
On whether the state's Islamic Affairs Department was taking appropriate actions against those who tried to spread other religions to Muslims, he said enforcement was as needed.
"The enforcement team from the department will cooperate with the police to investigate and monitor any activities of attempts to convert Muslims to other religions," he said.
He said it is already an offence under Section 5 of the Penang Sharia Offences Enactment 1996 for anyone to spread non-Islamic beliefs, religions or doctrine to Muslims, with offenders to be tried in the civil courts.
Those convicted of the offence are liable to a maximum fine of RM3,000 or up to two years' imprisonment or both.
"Since the section stresses that cases must be tried in the civil courts, enforcement actions must be conducted together with the police," he said.
He said both the Penang Islamic Affairs Department and the police are responsible for enforcing the law against this offence.
https://www.malaymail.com/news/malaysia/2019/11/07/penang-drafts-state-law-against-proselytisation-to-muslims/1807750
------
Assailants kill 15 in Muslim-majority southern Thailand
Riyaz ul Khaliq
At least 15 people were shot dead in an overnight assault when unknown gunmen launched a scathing armed attack on security deployment in southern Thailand, local media reported on Wednesday.
The incident took place in Muang district of an insurgency-hit Muslim-majority Yala province.
According to daily Bangkok Post, some 10 unknown gunmen attacked defense volunteer booth in Moo 5 village about 11.20 p.m. local time (1820GMT).
The report said that eleven of the volunteers and officials were shot dead on the spot while four others succumbed to their wounds later at the local health facility.
Three officials were under treatment while two defense volunteers escaped the attack.
The assailants took away the arms of the slain Thai forces.
To thwart any expected help to the security post, attackers brought down an electricity pole and cut down a tree to block the road while it set tyres on fire, the report said.
The government imposed martial law in three Muslim-majority provinces in southern Thailand -- Pattani, Narathiwat, Yala -- following deadly violences in 2004.
Since then, almost 13,000 residents have been arrested by the military, according to the Prey Network of Emergency Law (JASAD), a group advocating for victims of soldier violence in Pattani.
https://www.aa.com.tr/en/asia-pacific/assailants-kill-15-in-muslim-majority-southern-thailand/1636973
------
North America
U.S. growth of Islam creates need for religious scholars
Jeff Karoub Noreen Nasir
Nov 5, 2019
DEARBORN HEIGHTS, Mich. — Imam Mohammad Qazwini's deep understanding of Islam and his formal training at a seminary in the holy city of Qom, Iran, draws students to this suburban Detroit classroom just off the large prayer room of a mosque.
But there's another attraction. The Quran, Islam's holy book, is written in classical Arabic, but many of the students aren't well-versed in the language. Qazwini navigates its intricacies effortlessly — in the everyday English they use, opening a door for many of the students.
An increasing number of U.S. Muslims want guidance from religious instructors who they can understand linguistically and culturally.
For mosques around the country, the need to produce U.S.-trained religious leaders is increasing.
Traditional imams and scholars who once came from the Middle East or were educated in schools there are having more difficulty entering the United States. The Trump administration imposed a travel ban in January 2017 on people from several Muslim majority countries, and the government has made it harder to enter the U.S. entirely, with more rigorous interviews and background checks.
"In many other states there are mosques with no ... functional imam, who can assume the responsibilities of the religious leader or even speak," said Islamic Institute of America leader Imam Hassan Qazwini, who started the seminary with his son. "I thought maybe a long-term solution for facing this shortage is to have our own Shiite Islamic seminary in the U.S., instead of waiting for imams to come."
Al-Hujjah Seminary is the newest of several seminaries focused on the Shiite branch of Islam in the United States and Canada working to address a shortage of leaders.
The seminary started in fall 2017 with about 35 registered students. Now it has nearly 400, with some attending in-person, others watching live and still more watching recorded videos online. In addition to the Qazwinis, there are four other instructors.
Although there are students in 25 countries the emphasis is on North America because of the desire to deepen the bench of U.S.-trained imams, scholars and speakers, according to the elder Qazwini, a native of Iraq.
In a class on a recent evening, the younger Qazwini led an intense session on faith, proposing case studies, playing devil's advocate and prompting a philosophical back-and-forth with his students. His execution is informal but authoritative. The students understand him.
"I need to make sure he speaks the language, he's knowledgeable, he's respectful, he's truly caring and he's trying to adapt to the country we live in," said Alia Bazzi, 32, a graphic designer and seminary student. "Why would my imam speak Arabic if we live in America and the main language we speak is English? ... I want to know he's up to date, he knows what's going on."
About an hour's drive south, in Toledo, Ohio, the Ahlul Bayt Center mosque has been running for about four years without a full-time imam. Imam Mohammad Qazwini and other clerics travel there for services and special events.
Dr. Ali Nawras, a board member of the Toledo mosque, said the arrangement works for day-to-day needs because of its proximity to the Detroit area — a longtime hub for Islam in America. But the center seeks a permanent imam to meet its broader, long-term objectives: Having a strong understanding of challenges within their own community, particularly among youth, and forging stronger bonds between the Muslim and non-Muslim populations.
"On one hand, you can find an imam who is very knowledgeable, very strong background in theology, but that person might not speak English or might have lived most of his life outside the country," Nawras said. "On the other hand, you might find someone who is born here and educated here, but they don't have a good or strong theology background."
"To have a combination of both, that is where the challenge comes," he added.
Qazwini wants to expand the curriculum, faculty and enrollment at Al-Hujjah but another important step for the seminary is pursuing accreditation so it can award official degrees rather than completion certificates. In the meantime, he has spoken with other established schools offering Islamic studies about collaborating on accreditation.
The Ahl al-Bayt Islamic Seminary, located near Chicago, is another U.S.-based seminary focused on the Shiite tradition. Shaykh Amir Mukhtar Faezi founded it in 2014, offering a five-year graduate program. Ten students graduated earlier this year.
Faezi, a Pakistan native who also studied in Iran, said the program is on hold while they seek more resources, but it plans to accept students in 2020.
Traditionally as a minority, Shiite communities are more dependent on having trained and accredited scholars leading their mosques, but as the community has grown in the United States, so too has the need for these trained scholars. Faezi said in the 1980s, Shiite communities began inviting scholars and imams from places like India, Pakistan, Iraq, Iran or Lebanon to fulfill the need. But many scholars were unable to get visas, especially as relations between the United States and some of the countries soured.
"Those who were able to get the visa and they came here, they were also not very effective, because their mindset was very different than the people who had migrated here... not to mention the communication barrier," Faezi said.
Jawad Bayat, 31, comes from a Shiite background and is part of the changing face of faith here. While in college, he began to explore his spiritual journey and considered going abroad to attend a seminary. Instead he enrolled at Hartford Seminary in Connecticut, a non-denominational graduate school for religious and theological studies. Bayat graduated in 2015 and now serves as an imam and Muslim chaplain at an academic medical center in Cleveland, Ohio.
"There is a shortage of Muslim leaders as a whole in the U.S., whether it's in Sunni or Shiite communities," Bayat said, adding the focus on applied spirituality that allows him to connect with the Cleveland Muslims he serves now may not have been covered in a more traditional seminary overseas.
Zaytuna College in Berkeley, California, was founded in 2009 and is the first accredited U.S.-based Muslim college, but it focuses on the Sunni branch of Islam. Overall, Sunni is the largest sect of Islam and Shiite the second-largest. The schism between them stems from the early days of Islam and arguments over the Prophet Muhammad's successors as the spiritual and temporal leader.
There are nearly two dozen other institutions across the United States offering varying levels of post-secondary degrees in Islamic scholarship. Most are also Sunni-based and are in the process of seeking accreditation.
For Ali Ghazala, 22, the purpose of attending the Michigan seminary is to gain a greater understanding of his faith so he can better represent it around those who don't practice or understand it.
"It is vital that if you are a Muslim growing up in the West interacting with non-Muslims that you present to them the correct religion," he said. "I have to be the one who is certain before I can go to other people and explain to them why I am the way I am or why we are the way we are."
https://www.phillytrib.com/u-s-growth-of-islam-creates-need-for-religious-scholars/article_0ef38261-a94f-5cc2-9e24-734116d0a26f.html
------
FBI, police investigating 'It's OK to be white,' 'Islam is right about women' flyers posted on college campus
Flyers declaring "It's OK to be white" and "Islam is right about women" were found Thursday night on the campus of Western Connecticut State University, the Hartford Courant reported — and now the Federal Bureau of Investigation as well as state and local police are on the case in an effort to identify who distributed them.
University President John Clark penned a strongly worded message on Friday to the campus community condemning the "hate-filled flyers" and asking people to come forward with information.
Clark said the "full-scale investigation" includes a "review of footage from our surveillance cameras as well as interviews with individuals who may have witnessed any of this despicable and utterly unacceptable behavior."
He added, "Have no doubt that we are treating this as an attack on our university community and making every effort to see that those responsible are caught and properly punished. I am fully committed to the absolutely necessary goal this does not happen again. We must be ever vigilant to protect our university against these hateful attacks."
More from Clark's message:
There is a distinct possibility this is the work of outside agitators. If correct, we will take the appropriate action to defend our university against such virulent attacks and take action against these individual(s). I want to state directly and without equivocation that if any member of our university community is found to be party to these revolting actions they will be subject to the severest disciplinary actions, including dismissal as well as possible civil and criminal actions.
I am both shocked and immensely saddened about this sick and outrageous behavior, especially since our university has worked so hard to be a warm, diverse and caring community for all, no matter their race, color, gender, sexual orientation/identification, disability and age. All members of our community should feel comfortable, safe and secure at the university. Indeed, we all should feel that WCSU is our second home.
Again, please rest assured that we are taking every measure possible and working with our law enforcement agencies to find and prosecute these sick individuals and defend our university.
Other incidents at other schools
Inside Higher Ed noted an uptick in the number of "It's OK to be white" flyers found on college campuses around the country, adding that they've typically been posted by off-campus individuals and organizations.
More from the outlet:
Last weekend leaflets with the "OK to be white" message turned up in Vermont, at the University of Vermont and Champlain College.
Since then the posters have appeared at American River College, Duke University, North Carolina State University, Tufts University, the University of Delaware, the University of Denver and the University of St. Thomas, in Minnesota.
The trend is not confined to the United States. One Canadian institution, the University of Manitoba, also had the posters turn up. In Australia, the use of the phrase by some politicians has set off a major political debate (and appearance of the posters), but in that case, the focus is not in higher education.
Also last week, white nationalist posters turned up at California State University at San Marcos.
Here's a report on "It's OK to be white" flyers found at Eastern Tennessee State University last week:
------
US: 4 Indian-Americans win state, local elections
November 7, 2019
Four Indian-Americans, including a Muslim woman and a former White House technology policy advisor, have won state and local elections held in the United States on Tuesday.
Indian-American Ghazala Hashmi, a former community college professor, created history by becoming the first Muslim woman to be elected to the Virginia State Senate, while Suhas Subramanyam, who served as the White House technology policy adviser to former president Barack Obama, has been elected to the Virginia State House of Representative.
In her maiden attempt, Hashmi, a Democrat, defeated incumbent Republican State Senator Glen Sturtevant for the Virginia's 10th Senate District, drawing national attention.
"This victory is not mine alone. It belongs to all of you who believed that we needed to make progressive change here in Virginia, for all of you who felt that you haven't had a voice and believed in me to be yours in the General Assembly," Hashmi said after her historic victory.
Former secretary of state Hillary Clinton, who was the first woman presidential candidate, congratulated Hashmi.
"I also want to shout out Hashmi, the first Muslim woman elected to the VA State Senate. As she said yesterday, her victory 'belongs to all of you who believed that we needed to make progressive change here in Virginia, for all of you who felt that you haven't had a voice'," Clinton said in a tweet.
Hashmi, who had moved to the US from India as a young girl with her family 50 years ago, responded, saying, "I am deeply honoured by your words, Secretary Clinton. You broke so many glass ceilings for women in public service."
Hashmi was raised in a small town in Georgia and saw firsthand how community-building and open dialogue can bridge cultural and socioeconomic divisions, uniting people from all walks of life. She earned a BA in English from Georgia Southern University and a PhD from Emory University.
She and her husband, Azhar, moved to the Richmond area in 1991. Hashmi has spent the past 25 years as a leading educator in Virginia's college and university system. She currently serves as the founding director of the Center for Excellence in Teaching and Learning (CETL) at Reynolds Community College.
"After flipping the Senate, I'll have Democrats by my side to fight to protect Virginians from the climate crisis and senseless gun violence, and work to expand our access to affordable health care and funding for public education. I can't wait to work together in the state Senate," Hashmi said.
Subramanyam, meanwhile, entered the Virginia State House of Representatives from the Indian-American-dominated district of Loudon and Prince William.
"My promise to the people of Loudoun and Prince William: I will always listen to you, work tirelessly for you, and do everything I can to empower you. The campaign is over, but my work for you has just begun," Subramanyam said.
His mother, a native of Bengaluru in India, had immigrated to the United States in 1979. She landed at Dulles airport to start a new life and went on to become a physician and raise a family.
Subramanyam served on Capitol Hill as a healthcare and veterans policy aide, and spent time as a technology and regulatory attorney. Former US president Barack Obama had named him his White House technology policy adviser.
In this capacity, he led a task force on technology policy that Obama charged with addressing some of the country's most challenging technology issues, including job creation and displacement in the technology sector, regulating emerging technology, and addressing cybersecurity and IT modernisation in the public sector.
In California, Indian-American Mano Raju won his election to remain San Francisco's Public Defender.
Raju attended Columbia University as an undergraduate where he researched Critical Race Theory under Professor Kendall Thomas. After an influential fellowship at the Oxford Center for African Studies, he relocated to Berkeley in the 90s to pursue his Masters in South Asian Studies and later his JD at Berkeley School of Law, where he interned in the San Francisco Public Defender's Office.
In North Carolina, incumbent Dimple Ajmera won a convincing re-election to Charlotte City Council. A former Certified Public Accountant, Ajmera immigrated to the US from India along with her parents when she was 16. At that time, she spoke no English. Proving her tenacity, she went on to graduate from the University of Southern California (USC) and later became a Certified Public Accountant (CPA).
https://www.indiatoday.in/india/story/us-4-indian-americans-win-state-local-elections-1616483-2019-11-07
------
Muslim Democrats Ghazala Hashmi, Abrar Omeish Make History In Virginia Elections
By Dominique Mosbergen
Democrats Ghazala Hashmi and Abrar Omeish made history in Virginia's elections on Tuesday. In a surprise victory, Hashmi unseated incumbent Republican Glen Sturtevant in the state Senate, and Omeish clinched one of three vacant seats on the Fairfax County School Board.
Celebrating her win, Omeish, 24, said she was the youngest woman to hold elected office in Virginia's history and also the first Muslim woman to be elected in the state. She shares that second accolade with Hashmi, who is also Muslim.
Hashmi is the first Muslim to be elected to the state Senate, the Richmond Times-Dispatch reported. Two Muslim men ― Democrats Ibraheem Samirah and Sam Rasoul ― currently serve in Virginia's General Assembly.
Hashmi's win was part of the blue wave that swept Virginia on Tuesday. Democrats successfully flipped both houses of the state legislature. The election has been described as a possible "watershed" moment for the once-conservative Southern state.
"Today we sent a message that the status quo is no longer accepted," a victorious Hashmi wrote on Twitter.
Today we sent a message that the status quo is no longer accepted. Thank you all for your support and passion in helping me become the next state Senator for Virginia's 10th District! I couldn't be more honored to be apart of the change to come for Virginia.
This victory, is not mine alone. It belongs to all of you who believed that we needed to make progressive change here in Virginia, for all of you who felt that you haven't had a voice and believed in me to be yours in the General Assembly.
Omeish, along with Democrats Karen Keys-Gamarra and Rachna Sizemore Heizer, won the three open seats on the Fairfax County School Board.
"Abrar's campaign worked hard to elevate young voices and those of underserved and underrepresented communities, proactively reaching out to constituencies who have otherwise not been engaged by registering 1,500 new voters and training hundreds of new volunteers," Omeish's campaign said in a statement celebrating her victory to an at-large seat.
"She strives towards facilitating a school system that believes fully in the potential of the leader in every child and believes that the investment in that child is worthwhile no matter their race, ethnicity, socioeconomic status, religion, gender, sexual orientation, or immigration status," the campaign continued.
Omeish has been open in the past about the discrimination she's faced and the challenges she's had to overcome as a Muslim woman striving for elected office.
Speaking to HuffPost in May in the aftermath of President Donald Trump's public attacks on Democratic Rep. Ilhan Omar of Minnesota, Omeish said she hadn't anticipated the baseless "ignorance and animosity" she'd come up against.
"I underestimated how much diversity and being a minority for me has shaped how I think about others. So it surprised me to see how shameless people can be in how they behave or express themselves against me," she said.
Earlier this year, Omeish made headlines after she was allegedly pepper-sprayed and forced to remove her headscarf during a routine traffic stop.
She told The Washington Post in June that she had committed a traffic violation ― turning right on a red light ― but said the officer used unnecessary force.
"It makes no logical sense to me that, within three minutes, an officer would have to pull mace and that it would escalate and devolve into everything it was that night, over a minor traffic violation," she said.
A Fairfax County police spokeswoman told the Post that the Omeish "actively resisted arrest."
'I realized that I had an obligation to speak out.' — Trump's Muslim ban inspired @Hashmi4Va to run for office and she could become the first Muslim woman in the Virginia Senate
In an April blog post on Medium, Hashmi described her terror as she watched the Trump administration roll out its racist immigration agenda ― and how that fueled her desire to run for office.
"What triggered my panic was not so much the deliberate and callous way the administration sought to criminalize people and communities on the basis of their faith, but rather the casual ease with which we were now willing to accept — as legitimate legal action — this assault on our democratic values. And I had to wonder: do I, a Muslim American who has lived in this country for close to 50 years, have a home in this country any longer?" she wrote.
"I decided to run for the State Senate because in 400 years of the General Assembly — the oldest legislative body in America — Virginians have never elected a Muslim woman to office," Hashmi continued. "I decided to run for the State Senate because if marginalized communities like mine don't stand up for ourselves, we can't expect others to do it for us."
Elsewhere on Tuesday, Safiya Khalid became the first Somali-American to be elected to the Lewiston City Council in Maine; and Nadia Mohamed became the first Muslim and Somali-American to be elected to the St. Louis Park City Council in Minnesota.
https://www.huffingtonpost.com.au/entry/muslim-democrats-make-history-in-virginia-elections_au_5dc38677e4b03ddc02eeec66?utm_hp_ref=au-politics
------
Three funds proposed to distribute money donated to Christchurch mosque attack victims
Nov 07 2019
An announcement will be made in December on how millions of dollars donated in the wake of the March 15 Christchurch mosque attack will be distributed.
About $12 million was donated to the Our People, Our City fund, administered by the Christchurch Foundation, following the terror attack, including $4m set aside for specific purposes outlined by the donors.
Independent advisor and former Christchurch city councillor Raf Manji has made a series of recommendations to the foundation about how to distribute the money.
After conducting more than 150 meetings with the affected community and support organisations, Manji has recommended the money be divided into three different funds – victims, education and community support.
"Many issues have been raised and I have done my best to feed those back to the appropriate agencies. This has not been an easy process and there are still many challenges now and in the future for the community," he said.
Thousands converge on Christchurch's Hagley Park to attend a vigil for the 50 people killed in the mosque massacres. (Video first published in March 2019)
Manji has proposed the victim's fund would provide cash support for those directly impacted by the attack. The education fund would provide money for higher education and post-school training to children of bereaved families and the severely injured. It was envisaged the community support fund would be put toward the long-term recovery and well-being of the community.
"It is clear that the victims will continue to need support, particularly the more vulnerable amongst them."
Manji said he hoped money from the victim's fund would be distributed in December.
The Christchurch Foundation will make a decision on Manji's recommendations at the end of November and an announcement is expected in the first week of December.
https://www.stuff.co.nz/the-press/news/117239391/three-funds-proposed-to-distribute-money-donated-to-christchurch-mosque-attack-victims
--------
Mideast
Elected Muslim religious leader gets prison in Greece
An elected Muslim religious leader in Greece's Western Thrace region was given 80 days of prison sentence for usurping authority.
İbrahim Şerif is the elected mufti of Komotini (Gümülcine) which is one of the three major cities of the Western Thrace region in Greece, home to a Muslim-Turkish minority of around 150,000 people.
Şerif tweeted on Nov. 6 that he was convicted by a court in Alexandroupoli (Dedeağac) on Nov. 5 on the basis of his participation in a Friday prayer in one of the villages of Evros province in March 2016.
Serif also shared a copy of the court summons.
His lawyer has appealed the decision in a higher court.
Şerif previously won a case in 1999 over the same charge after appealing to the European Court of Human Rights.
He was elected mufti of Komotini in 1990 by the local Muslim Turkish community.
In Western Thrace, the election of muftis has been a bone of contention for the Muslim Turkish community since 1991. Muftis have the jurisdiction to decide on family and inheritance matters of local Muslims.
The election of muftis by Muslims in Greece was regulated in the 1913 Treaty of Athens between Greece and the Ottoman Empire and was later included in the Greek Act 2345/1920.
However, Greece annulled this law in 1991 and started appointing the muftis itself.
The majority of Muslim Turks in the cities of Komotini (Gümülcine) and Xanthi (Iskece) do not recognize the appointed muftis and elect their own instead, who are not recognized by the Greek state.
http://www.hurriyetdailynews.com/elected-muslim-religious-leader-gets-prison-in-greece-148406
------
Symposium on Islamic Art to open at VCUarts Qatar
07 Nov 2019
One-of-the world's most prestigious events on the Islamic art and architecture calendar, the 8th Biennial Hamad bin Khalifa Symposium on Islamic Art, will take place at Virginia Commonwealth University School of the Arts in Qatar (VCUarts Qatar) in Education City on November 10 and 11.
The Symposium takes place every two years and this year's theme is, "The Seas and the Mobility of Islamic Art."
It will include eminent scholars such as Avinoam Shalem, the Riggio Professor of the arts of Islam at the Columbia University; Prita Meier, Associate Professor of African Art History at New York University; Esra Akcan, Associate Professor in the Department of Architecture at Cornell University; Jessica Hallett, the Curator of the Early Modern Middle East at Calouste Gulbenkian Museum; and George Lane, Senior Teaching Fellow, from SOAS University of London.
Panel discussions will take place on subjects such as Islamic Art in 11th-14th century Chinese port cities, Muslim-centred design, and architecture in the 20th and 21st centuries, Ibn Battuta's maritime adventures, pilgrimage and transfer of craftsmanship from South Asia to the Hijaz, Islamic connections between India and China during the Song and Yuan Periods Islam and identity in new master-planned cities: Malaysia, Indonesia, and Saudi Arabia, and Islamic art and material culture in East Asia.
The Symposium co-chairs will be VCUarts Qatar Art History professors Dr. Radha Dalal, Dr. Jochen Sokoly, and Dr. Sean Roberts. The Art History programme at VCUarts Qatar is the only undergraduate degree programme of its kind in the Gulf region.
The Symposium will include an exhibition at the University's Gallery, titled, "The Sea is the Limit". The exhibition will bring together works by international artists who are addressing the issues of refugees, borders, migration and national identity. The opening reception will take place on November 10 at 5:30pm and the exhibition will run until December 7, 2019.
https://thepeninsulaqatar.com/article/07/11/2019/Symposium-on-Islamic-Art-to-open-at-VCUarts-Qatar
--------
South Asia
Sri Lankan Muslims pressured to curb rise of extremism
NOVEMBER 07, 2019 12:16 JST
A Sri Lankan muslim woman walks past a mosque in Colombo. Sri Lanka's madrassas have come under scrutiny after Sri Lankan nationals who claimed links to Islamic State carried out coordinated suicide bombings on Easter Sunday that killed more than 250 people. © AP
KATTANKUDY, Sri Lanka -- Muslim religious leaders are ramping up warnings about the danger of Islamic extremists in Kattankudy, a densely packed Muslim town along Sri Lanka's eastern coast, in sermons delivered during weekly Friday afternoon prayers.
"The sermons against radicalization are new; they have not focused on this topic before," said Mohamed Abdul Careem Mohamed Jawahir, director of the nonprofit Federation of Civil Society Organizations in Kattankudy. "It is making the entire community more vigilant about radicalization." The federation focuses on cultivating religious co-existence.
The killing of Abu Bakr al-Baghdadi, the leader of the Islamic State group, in Syria by U.S. Special Forces on Oct. 26 has been greeted with relief by local residents and also the All Ceylon Jamiyyathul Ulama, a national body of Islamic theologians, which welcomed the operation against "an absolutely deviant organization."
Sri Lanka's Muslim community, which accounts for just 10% of the population in the largely Buddhist country, has been under siege after a wave of suicide bombings on Easter Sunday in April this year killed more than 250 people and injured 500. That was the worst terror attack in Sri Lanka since a near-30-year civil war ended in May 2009, which was waged between government troops and the separatist Tamil Tigers.
The perpetrators were the first homegrown suicide bombers from the Muslim community. Mohamad Cassim Mohamed Zaharan, the ringleader, and four family members involved in the attack came from Kattankudy.
A chilling video of Zaharan released shortly after the attack said that Islamic State group claimed responsibility for the attacks. But investigations since then raised questions about any direct link between Sri Lankan Muslim extremists and the Islamic State group.
The attacks triggered a backlash against Muslims in some pockets of the country, led by organized mobs from the majority Sinhalese community. The Sinhalese trace their history to northern India, while the Tamils, the largest minority, have roots in southern India.
A Muslim man stands inside the Abbraar Masjid mosque after a mob attack in Kiniyama, Sri Lanka on May 13. © Reuters
"The Easter attacks breathed new life into an anti-Muslim campaign that Sinhalese nationalists had been waging since 2011," said the International Crisis Group, a Brussels-based think tank, in a September report that pointed to "large-scale rioting against Muslims, with nationalist organizations bussing in supporters and mobilizing local Sinhalese."
Not surprisingly, Kattankudy's connection to the ringleader Zaharan has put madrassas -- Islamic religious schools -- in the town and in other Muslim communities under scrutiny by the country's national security forces. Zaharan was thought to have built a following through such Muslim religious schools by preaching extremism.
Kattankudy and other towns in the east, also home to high concentrations of Muslims, have been a battleground between the new wave of religious leaders preaching an extremist brand of the faith and leaders who advocated a traditional, moderate version. Tension, at times leading to clashes, has been rife since 2006, with the extremists always coming out on top.
Moderate Muslims had raised the alarm about the mushrooming madrassas that preached intolerance for years. "In the East many had been set up by moulavis [Muslim religious teachers] who had come from India and Pakistan and had married local women," said Shreen Saroor, a leading Muslim women's rights activist. "I saw this trend in the last five years, when they enforced change to local Muslims with their intolerant attitudes."
Hilmy Ahamed, vice president of the Muslim Council of Sri Lanka, a civil society network, said that Muslims must face up to the extremism that has taken root in their midst. "We have a huge problem with mushrooming madrassa education where no set curricula are followed," he said.
"Different ideological groups like the Thablighi movement and the recent Thowheed groups are teaching their brand of Islam." The Thablighi movement is an Islamic missionary organization that tries to enforce rigid religious rules, while the National Thowheed Jamat is a break-away faction of a militant Muslim group in Sri Lanka.
Zaharan tapped into this toxic religious environment to build his network. According to Sri Lankan intelligence sources, Zaharan's network had been targeting young men to attend religious youth camps since 2014.
"The attendees who showed skill and interest were then invited to attend a second, smaller camp, after which the cream of this crop was taken to attend a final, advance course," said an intelligence source. "The last session was over two weeks where the focus was on religious ideology and they were taught how to dismantle and reassemble a gun."
Some of these accounts have come to light from the 300 Muslims still in custody after over 1,800 men and a few women were arrested following the attacks.
The Sri Lankan government has also warned against the spread of Wahhabism, a strand of Islam practised in Saudi Arabia, which some analysts say has fueled the rise of extremism.
Other political commentators said that the internet must also be monitored as a breeding ground for extremism. "The germ of violent extremism has spread through the internet, and you cannot say radicalization only spreads through schools," said Javed Yusuf, a respected Muslim political commentator. "The government needs to be sensitive in handling this and not make the Muslims feel they are being targeted."
https://asia.nikkei.com/Politics/Sri-Lankan-Muslims-pressured-to-curb-rise-of-extremism
------
Implied or actual threat Ali Sabry's address to Muslim community
7 November 2019
As canvassing heightens, party supporters are doing the rounds convincing possible target audiences to cast their votes in favour of their candidates and manifestos. Recently one such canvassing video went viral on social media sparking debate among viewers as to whether its contents were an implied or actual threat. The video featured President's Counsel (PC) Ali Sabry on the campaign trail supporting Sri Lanka Podujana Peramuna (SLPP) candidate Gotabaya Rajapaksa. Mr. Sabry was addressing members of the Muslim community, explaining why he believed they should vote for Mr. Rajapaksa.
The video translates as follows:
"We have to live in peace with the Sinhalese community. Our national anthem itself says that we Sri Lankans are children of one mother. Sajith is saying he will rule this country like his father. So it reminded me how Muslim people in the North, South and East were given 24 hours to leave the country back in 1990. So use your vote wisely. Keep Badurdeen and Hakeem aside because when Mahinda Rajapaksa comes to power they will fall behind him and get posts in Parliament. But Gotabaya will speak on behalf of the Muslim community and work for them. Like in Elpitiya, we can win the majority of votes if we go along with the winning party and then we can be a part of that victory."
As he said if Muslims don't align with the winning party, someone in the audience interrupted him and shouted "ambanaikku kidaikkum" which roughly translates to "we will get it thoroughly", causing Mr. Sabry to first pause and then endorse the sentiment.
"The comment was not a threat or a sign of things to come": Sabry
We have to live in peace with the Sinhalese community
At the onset of the video being posted on social media, Mr. Sabry wrote on his personal Facebook profile: "There have been several questions raised and even personal statements made about me with regards to a comment made during a meeting where I allegedly spoke of violence if Muslims don't vote a certain way. My message through has been one of inclusivity, or living in harmony with the other races and to move forward with all the religions equally - a concept of inclusive Nationalism. However, a comment made by a member of the audience which I repeated during the speech has been repeatedly quoted out of context to portray it as being an indirect threat for not voting for Mr. Rajapaksa.
someone in the audience interrupted him and shouted "ambanaikku kidaikkum" which roughly translates to "we will get it thoroughly
"I am a firm believer in democracy, and believe that each person has the right to vote for their preferred candidate. The comment made was not in anyway a threat or a 'sign of things to come' as some are saying, but was meant to construe that Muslims and the other minorities cannot continue to isolate itself from the majority, and that further isolation and alienation is not a good thing as after all we are living in a multi-ethnic country.
"I only request that you view the whole speech made by me, and come to your own conclusions as to what my message is without being swayed by self serving edits made by those seeking to discredit me."
"Promoting hate speech has been their common practice": Hakeem
"Nobody can forget the past," opined Sri Lanka Muslim Congress (SLMC) leader Minster Rauff Hakeem. "Muslims have faced bitter experiences. But now Ali Sabry is trying to market Gotabaya as the savior of the nation. After the war, the way they tried to govern with an iron fist allowed xenophobic events to take place. Between 2012 and 2014 some places of religious worship were attacked and this kept happening at a rate. So after the war they were looking for an enemy. When the Aluthgama incident occurred, the Muslims said enough is enough. None of us can forget history and some memories are still fresh in their minds," he said. "But they have been pointing fingers at us although we have had moderate views and have never empowered extremism," Mr. Hakeem continued. "When Muslim youth were getting frustrated and started becoming LTTE members the SLMC prevented them from being gobbled up by Tamil militancy forces. The real perpetrators of the Ampara and Digana incidents were those in the past regime. Promoting hate speech is a pretext that they use to play with the emotions of people. This has been their common practice," he added.
"We want a Mandela not a Mugabe": Rahuman
We had to face a lot of issues. There were riots in several parts of the country
In his comments, UNP MP Mujibur Rahuman said before the Easter Sunday attacks a lot of politicians and civil society organisations had campaigned against Muslims to create an anti-Muslim sentiment. "After the bombs, these politicians compelled the majority Sinhala community to suspect the Muslim community. As a result we had to face a lot of discriminating issues. There were riots in several parts of the country and the police arrested many Pohottuwa supporters who were part of extremist groups. They created anger and suspicions within communities. So with all that in mind how can Muslims vote for Gotabaya? This lawyer is asking the Muslim community to vote for Gotabaya so that he will bring about national harmony when he's already surrounded by a group of extremists. We don't want a Mugabe. We need a leader like Mandela."
Meanwhile, commenting on the same, United People's Freedom Alliance MP Faiszer Musthapha said Mr. Sabry has already issued a statement explaining in what context he made those remarks. "He meant that if Muslims don't vote for Gotabaya, the problems they faced after the Easter Sunday attacks would continue."
http://www.dailymirror.lk/opinion/Implied-or-actual-threat-Ali-Sabrys-address-to-Muslim-community/172-177413
-------
Africa
Niger gov invites EFCC to investigate $181m Islamic bank loan
November 6, 2019
Barely weeks after former governor Babangida Aliyu alleged that Islamic Development Bank had released a $181m loan to the All Progressives Congress-led administration to fix Minna-Bida Road, Governor Abubakar Bello of Niger State has invited the Economic and Financial Crimes Commission to determine if the money has been released or not.
Bello insisted that it is only the EFCC that can come in to clear the air about the issue.
He made this known at the official flag-off of the 2019 Local Government Area election campaign in Minna, declaring that the loan had not entered into the coffers of the government.
Aliyu had accused the government of not utilizing the $181 million IDB loan which had entered into the government's account after he had left the office.
The former governor stated that the loan was meant for the dualization of the Minna-Bida Road and wondered why the government did not utilise the money for the purpose it was meant for urging the people to demand that the government give an account of the money and the purpose it was expended on.
READ ALSO: Minna-Bida Road: How did you spend $181m loan? Ex-gov Aliyu asks Niger APC
"I went to Jeddah in the Kingdom of Saudi Arabia to seek an interest-free loan to dualise the Minna-Bida Road, but by the time the money came I had left the office."
In reaction, Bello said, "Based on the allegation on the loan meant for fixing Bida- Minna Road, we did not meet any money in government account when we came into office neither has there been any money of such received by the government.
"For this, we are inviting the EFCC to come and probe this government and the other government to see who is lying between us. But I still say that we did not meet anything in the account. EFCC should come and find out if the money has been released from that time till now.
"The National and State Assembly has approved it but we are yet to receive it. The money has not been released but if Aliyu said it has been released, EFCC should come and investigate who has taken the money."
https://punchng.com/niger-gov-invites-efcc-to-investigate-181m-islamic-bank-loan/
--------
URL: https://www.newageislam.com/islamic-world-news/ayodhya-dont-celebrate-vhp-rss/d/120204
New Age Islam, Islam Online, Islamic Website, African Muslim News, Arab World News, South Asia News, Indian Muslim News, World Muslim News, Women in Islam, Islamic Feminism, Arab Women, Women In Arab, Islamophobia in America, Muslim Women in West, Islam Women and Feminism