New Age Islam News Bureau
26 September 2020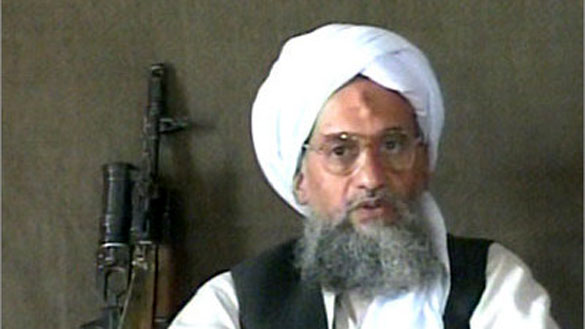 Al Qaeda chief Ayman al-Zawahiri | Flickr
-----
• India Questions Pakistan PM Imran Khan's Claim to Be Protector of Muslims at the UN General Assembly
• Baloch and Sindhis Protest Outside UN against Pakistan's Human Rights Violations in Balochistan & Sindh
• Feeling Abandoned by Kabul, Many Rural Afghans Flock to Join the Taliban
• Night Images Reveal Many New Detention Sites for Uighur Muslims in China's Xinjiang Region
• Saudi King Had Better Directly Face Iran If He Has Scores To Settle: Yemen's Ansarullah
• Israel Destroying Last Opportunity for Peaceful Settlement: Abbas to UNGA
• US Asks Sudan to Normalize Ties with Israel In Return For Coming off Terror List
North America
• Ayman al-Zawahiri Brainchild - Al-Qaeda in Indian Subcontinent - Only Capable Of Small-Scale Regional Attacks: U.S. Official
• Israel's War to Censor Social Media Freedom of Speech
• U.S. Prepares to Take Sudan off List of States That Support Terrorism
• U.S. Commandos Use Secretive Missiles to Kill Qaeda Leaders in Syria
• US media platforms censor top Palestinian activist under Israeli pressure
--------
India
• India Questions Pakistan PM Imran Khan's Claim to Be Protector of Muslims at the UN General Assembly
• Terrorism, Clandestine Nuclear Trade Pakistan's 'Only Crowning Glory' For 70 Years: India at UN
• NIA Court Convicts Kerala Man Who Joined IS In Iraq
• 2 top Lashkar commanders killed in op: IGP
• Indian diplomat walks out after Imran Khan raises Kashmir issue at UN
--------
Pakistan
• Baloch and Sindhis Protest Outside UN against Pakistan's Human Rights Violations in Balochistan & Sindh
• Pakistan PM Demands UN Action against 'Rising Islamophobia' In Many Countries Including India
• Opposition Trying To Cause Army-Govt Rift: Imran
• Porous border, residents' support behind APS tragedy: probe body
• PM for taking parliamentary parties on board in lawmaking
• PIMA To Hold Basic Life Support Workshops In 50 Mosques
--------
South Asia
• Feeling Abandoned by Kabul, Many Rural Afghans Flock to Join the Taliban
• Surviving the Perils of the Bloodied Bangladesh-India Border by Mostly Ethnic Santal and Catholic
• 65 Taliban insurgents killed in eastern Afghanistan
--------
Southeast Asia
• Night Images Reveal Many New Detention Sites for Uighur Muslims in China's Xinjiang Region
• Promote bilingualism to break schools deadlock
• Sabah polls a straight fight between Shafie and Muhyiddin, says Ilham Centre report
• Manila will not seek pardon for Filipino drug dealers convicted in Middle East
--------
Arab world
• Saudi King Had Better Directly Face Iran If He Has Scores To Settle: Yemen's Ansarullah
• US Threatens Baghdad with Sanctions over Iran-Backed Militia Attacks In Iraq: Sources
• Emiratis Are 'Cheerleaders' For US Role in Middle East: UAE Ambassador to Washington
• Adib presents government proposal to Aoun as Hezbollah pressure grows
• Israel admits ISIS fighter in Iraqi prison is its own and permits his return
--------
Mideast
• Israel Destroying Last Opportunity for Peaceful Settlement: Abbas to UNGA
• Iran not buckling under to Trump's madman theory threats
• Turkey orders 82 arrests, including Kurdish opposition members, over 2014 protests
• Israeli forces clash with Palestinian protesters in West Bank
• Ankara lashes out at Pelosi for suggesting Turkey not democratic
• Netanyahu Endorses Construction Of Over 5,000 New Settler Units In Occupied West Bank
• Iran: Saudi Arabia Source of Instability in Region
• Palestine's Abbas calls on UN to arrange international conference next year
--------
Africa
• US Asks Sudan to Normalize Ties with Israel In Return For Coming off Terror List
• Algeria rules out rapprochement with Israel, says ready to host meeting of Palestine factions
• At UN, Libyan premier urges rebels to lay down arms, respect ceasefire
• Severe floods in South Sudan displace over 600,000 people, UN says
• Compensation deal between US, Sudan on embassy attacks 'close': Acting FM
• One dead, multiple injured in clashes between GNA factions in Libya's Tajoura
• Suspected extremists abduct 3 non-Muslims in Kenya's north
--------
Europe
• Turkey's Behaviour in Region Is 'Explosive and Dangerous' To Its Neighbours, Says Cypriot Envoy
• French trial of 2015 terror attacks in Paris: Testimonies of survivors
• New IRA Links Confirm Hezbollah's Growing Terror Threat in Europe
Compiled by New Age Islam News Bureau
URL: https://www.newageislam.com/islamic-world-news/ayman-al-zawahiri-brainchild-al/d/122955
--------
Ayman al-Zawahiri Brainchild - Al-Qaeda In Indian Subcontinent - Only Capable Of Small-Scale Regional Attacks: U.S. Official
SEPTEMBER 25, 2020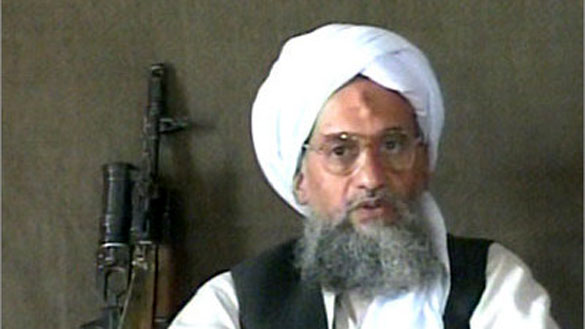 Al Qaeda chief Ayman al-Zawahiri | Flickr
-----
In mid-March, AQIS published a special issue of Nawa e Afghan Jihad praising the U.S.-Taliban agreement, which mirrored al-Qaeda's leaders' statements on the deal.
Al-Qaeda in the Indian Subcontinent (AQIS), a globally-banned terror group, is now probably capable of only "small-scale regional attacks", a top American counter-terrorism official has told lawmakers.
AQIS was set up by al-Qaeda chief Ayman al-Zawahiri in 2014 to expand the terror group's influence in the region.
In South Asia, al-Qaeda in the Indian Subcontinent (AQIS) has struggled to rebound from the death of its leader, Asim Umar, in a U.S. military raid in Afghanistan in September 2019 and is probably only capable of small-scale regional attacks, Christopher Miller Director, National Counter-terrorism Center, told a Senate committee on Thursday.
Testifying before the Senate Homeland Security and Governmental Affairs Committee on the Threats to the Homeland, the top American counter-terrorism official said that in mid-March, AQIS published a special issue of Nawai Afghan Jihad praising the U.S.-Taliban agreement, which mirrored al-Qaeda's leaders' statements on the deal.
Finally, al-Qaeda's presence in Afghanistan has been reduced to a few dozen fighters who are primarily focused on their survival, and are probably incapable of conducting attacks outside the country under sustained CT pressure, Mr. Miller said.
According to Mr. Miller, since the Global War on Terror began nearly two decades ago, the U.S. has significantly degraded terrorist adversaries and made the U.S. a considerably harder target for them to reach.
"Today's terrorism threat to the U.S. and our allies is less acute but more diffuse — emanating from more groups in more places than it did in 2001," he said.
While continued counter-terrorism pressure has degraded the group's Afghanistan-Pakistan senior leadership, in the near term, al-Qaeda is more likely to focus on building its international affiliates and supporting small-scale, readily achievable attacks in key regions such as East and West Africa, said FBI Director Christopher Wray.
Simultaneously, over the last year, propaganda from al-Qaeda leaders seeks to inspire individuals to conduct their own attacks in the U.S. and the West. For example, the December 2019 attack at Naval Air Station Pensacola demonstrates that groups such as al-Qaeda continue to be interested in encouraging attacks on the U.S. soil, he said.
Mr. Miller told senators that 19 years ago, after the shock of al-Qaeda's devastating attacks abated, the U.S. set out to accomplish three objectives; one, harden its borders; two, go overseas to destroy the safe havens and sanctuaries of al-Qaeda and its associated groups and attrit their combat forces; and three, address the drivers of instability that created al-Qaeda by supporting like-minded partners in their efforts to combat Islamist extremism.
"Due to the enormous dedication, selfless service and sacrifice of hundreds of thousands of Americans and like-minded foreign partners, we have been remarkably successful in accomplishing the first two objectives."
"I sense that we are on the verge, if providence is kind, of transitioning from a U.S.-led, partner-enable campaign to an era where local and regional partners take the lead and we provide them niche support to fill gaps in their security, intelligence, informational and legal architectures," he said.
"I must be clear and not histrionic. Our enemies will successfully attack us again, as their adaptation and innovation are driven by a profound hatred for what we represent. This is our terrorists' dilemma and their strategic advantage. They only need to be successful once while our defences must be successful all the time for preventing a cataclysmic attack. But our enemies have profoundly underestimated the resilience of the American people time and again," Mr. Miller said.
Mr. Miller wondered if the 9/11 al-Qaeda leaders regretted their decision to attack the U.S.
"I'm confident the survivors must. They thought us soft, and spoiled and morally unanchored. They are now either dead, imprisoned or in hiding awaiting death or capture. Their ideology is debunked in the overwhelming majority of this Islamic world."
"No one today misjudges our resolve and commitment to protecting the security of our citizens and using all available instruments of national power against those that bring war and violence to our shores," he added.
https://www.thehindu.com/news/international/al-qaeda-in-indian-subcontinent-only-capable-of-small-scale-regional-attacks-us-official/article32694186.ece
--------
India Questions Pakistan PM Imran Khan's Claim to Be Protector of Muslims at the UN General Assembly
Yashwant Raj
Sep 26, 2020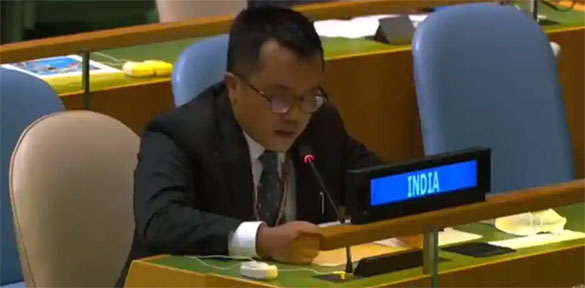 Mijito Vinito, First Secretary, India Mission to UN exercises India's right of reply to Pakistan PM at UNGA (ANI Photo)
----
India on Friday slammed Pakistan Prime Minister Imran Khan's verbal attack on India at the UN General Assembly as a "new low" for the world body on its 75th anniversary, and questioned his claim to be a champion of Muslims when he is unable to protect them in his own country.
An Indian diplomat, who delivered India's response to the Pakistan PM's diatribe, also sought to remind Khan of the "genocide" perpetrated by his country on Muslims of erstwhile East Pakistan before it became Bangladesh, without naming them.
India sought to target the Pakistan PM's attempt to position himself as a champion of Muslims to align himself with leading Islamic countries such as Turkey, Saudi Arabia and Malaysia.
"This august forum witnessed today a new low on its 75th anniversary," said Mijito Vinito, a diplomat at the Indian permanent mission to the UN, reading a statement under the UNGA debates' "right of reply" rule, which gives member countries an opportunity to respond if criticised.
"For someone who professes to be a champion of Islam, this is also a country that has encouraged the killing of fellow Muslims merely because they belonged to a different sect, or to a different region in Pakistan, and through sponsoring terrorist attacks against its neighbours," the India diplomat said.
Vinito was referring to the killing of Muslims of the Shia and Sufi sects in Pakistan by terrorists sheltered and supported by the state, the large number of people killed and missing in Balochistan, a restive province of Pakistan, and those killed in cross-border attacks in Kashmir.
The Indian diplomat went on to cite the most glaring instance yet of a Muslim-majority country turning upon its own people. "This is the country that brought genocide to South Asia 39 years back when it killed its own people," Vinito said, addressing Khan's use of the word "genocide" in his speech as he had attacked India without apparent evidence.
He added, "This is also the country that is shameless enough not to offer a sincere apology for the horrors it perpetrated even after so many years."
The "genocide" the Indian diplomat referred to was the killing of between 300,000 and 3,000,000 people in current-day Bangladesh, mostly Muslims, by the Pakistan Army in 1971 to quell an independence movement that succeeded eventually with the help of the Indian Army.
Indian Prime Minister Narendra Modi will address the UNGA at 6.30pm India time.
https://www.hindustantimes.com/world-news/unga-india-questions-pakistan-pm-imran-khan-s-claim-to-be-protector-of-muslims/story-oABRr4VrGmA0VGhM39IaVL.html
--------
Baloch And Sindhis Protest Outside UN Against Pakistan's Human Rights Violations In Balochistan & Sindh
Sep 25, 2020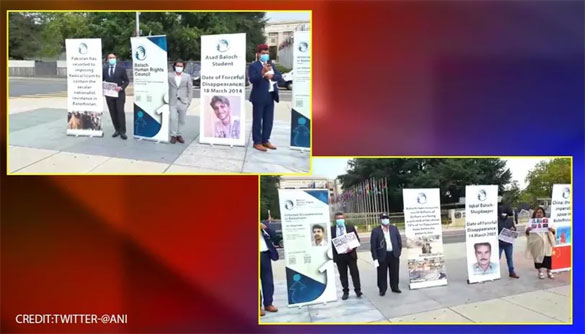 BHRC and WSC on Friday, held a joint protest outside the UN building at the Broken Chair in Geneva against Pakistan's human rights violations.
-----
GENEVA: The Baloch Human Rights Council (BHRC) and the World Sindhi Congress (WSC) held a joint protest outside the UN building at the Broken Chair in Geneva during the 45th session of the United Nations Human Rights Council (UNHRC) against the institutionalised state violence and other forms of socio-economic and political suppression of the Baloch and Sindhi people by the Pakistan military.
Human Rights defenders from various nationalities including Pashtuns and Kashmiris who also suffer at the hands of the military establishment of Pakistan, participated in the protest and expressed solidarity with the Baloch and Sindhis. Samad Baloch, the secretary-general of the BHRC led the protest whereas those who addressed the protest included the secretary-general of WSC Dr Lakhu Luhana, Kaihan Mashriqwala leader of the PTM Italy and a human rights defender Anila Gulzar.
The protestors called upon the United Nations and the International community to live up to their mandate and commitments without any hindrance and political pressures and make Pakistan, which is a signatory to various human rights instruments, end its genocidal policies in Balochistan and Sindh.
"Stop Abducting Baloch People", "Pakistan Stop Baloch Genocide", "Stop Abducting Sindhi People" were slogans chanted by the protesters while different roller banners highlighting the various violations of human rights in Balochistan and Sindh by Pakistan were put on display. "The perpetrators of crimes against humanity in Balochistan must be tried in the International court of justice" read one of the banners.
Following the protest, a memorandum documenting some of the major human rights issues requiring urgent attention was also submitted to the Office of the United Nations High Commissioner for Human Rights by the BHRC representatives.
https://timesofindia.indiatimes.com/world/pakistan/baloch-and-sindhis-protest-outside-un-against-pakistans-human-rights-violations-in-balochistan-sindh/articleshow/78323907.cms
--------
Feeling Abandoned by Kabul, Many Rural Afghans Flock to Join the Taliban
BY STEFANIE GLINSKI
SEPTEMBER 24, 2020
MOMAND DARA, Afghanistan—Arman Omari grew up among guns, drugs, and airstrikes, with control of his village changing hands several times throughout his teenage years and with women largely absent from public life. He learned to shoot before learning to write his name.
Sitting in an unfinished building in Momand Dara district in the eastern province of Nangarhar, not far from the village in Achin district where he grew up, Omari, 25, explained that he didn't see a future for his family the way Afghanistan is currently run. The gap between relatively well-off urban areas and rural areas like his—bereft of clinics, schools, or jobs—has only grown after nearly two decades of fitful efforts at governance from leaders in Kabul.
That's why last month he made a fateful decision—like so many others, especially from rural Afghanistan. "I joined the Taliban because the government is corrupt," said Omari, a slender man with greasy, shoulder-length hair, a trimmed beard, and kohl-rimmed eyes.
"There are two overriding laws—one for the rich and one for the poor. People like me have no opportunities, and I'm hoping this will change with an Islamic system in place," Omari said. "The government has failed us, so my hope is with the Taliban. If they come to power, I want to be on their side."
As Taliban militants and the Afghan government meet for a first round of direct negotiations in Qatar, aiming to work out a final peace deal and perhaps a power-sharing arrangement that could see the Taliban return to power, the Islamist group is gaining momentum and recruits—especially in rural areas like Omari's. Almost 20 years after U.S. and international troops first went into Afghanistan to root out the Taliban and vanquish al Qaeda, the Taliban are now stronger than ever, controlling dozens of Afghan districts, according to a report by the Council on Foreign Relations.
For many rural (and less well-educated) Afghans, Taliban indoctrination finds a receptive audience, greased by the fact that the Taliban use family, friends, and community connections to recruit new members. Decades-old promises of a better life under the national government have failed to materialize: Omari's family is part of the 90 percent of Afghanistan that lives below the national poverty line of $2 per day, according to the Afghan Ministry of Economy. Three-quarters of Afghans live in rural areas, where even basic services are in short supply; the Ministry of Education this month revealed that 7,000 schools across the country don't actually have buildings—including in Omari's native Achin district.
While many Afghans fear that a Taliban return to power will bring the excesses of the 1990s—a harsh, austere interpretation of Islam that imposed strict rules, summary justice, and the disappearance of women from public life—for many poor, desperate, rural Afghans who've seen little good come out of Kabul, the attitude is often: Why not give the Taliban a try?
https://foreignpolicy.com/2020/09/24/taliban-kabul-rural-afghans-join-peace-deal/?utm_source=iterable&utm_medium=email&utm_campaign=1555151_
--------
Night Images Reveal Many New Detention Sites for Uighur Muslims in China's Xinjiang Region
SEPTEMBER 25, 2020
As China faced rising international censure last year over its mass internment of Muslim minorities, officials asserted that the indoctrination camps in the western region of Xinjiang had shrunk as former camp inmates rejoined society as reformed citizens.
Researchers at the Australian Strategic Policy Institute on Thursday challenged those claims with an investigation that found that Xinjiang authorities had been expanding a variety of detention sites since last year. Rather than being released, many detainees were likely being sent to prisons and perhaps other facilities, the investigation found, citing satellite images of new and expanded incarceration sites.
Nathan Ruser, a researcher who led the project at the institute, also called ASPI, said the findings undercut Chinese officials' claims that inmates from the camps — which the government calls vocational training centers — had "graduated."
"Evidence suggests that many extrajudicial detainees in Xinjiang's vast 'reeducation' network are now being formally charged and locked up in higher security facilities, including newly built or expanded prisons," Ruser wrote in the report.
The Chinese government has created formidable barriers to investigating conditions in Xinjiang. Officials tail and harass foreign journalists, making it impossible to safely conduct interviews. Access to camps is limited to selected visitors, who are taken on choreographed tours where inmates are shown singing and dancing.
The researchers for the new report overcame those barriers with long-distance sleuthing. They pored over satellite images of Xinjiang at night to find telltale clusters of new lights, especially in barely habited areas, which often proved to be new detention sites. A closer examination of such images sometimes revealed hulking buildings, surrounded by high walls, watchtowers and barbed-wire internal fencing — features that distinguished detention facilities from other large public compounds like schools or hospitals.
"I don't believe this timing is merely coincidental," Timothy Grose, an associate professor of China studies at the Rose-Hulman Institute of Technology, who was not involved in the ASPI project, said of the accumulating evidence of expanding incarceration sites.
"In my opinion, we are witnessing a new stage in the crisis," he said. "Some detainees have been released, others have been placed in factories, while others still have been sentenced."
China has repeatedly refused to disclose the number of detention sites and detainees in Xinjiang and elsewhere. ASPI researchers found and examined some 380 suspected detention sites in Xinjiang. At least 61 of them had expanded in area between July 2019 and July of this year, and of those, 14 were still growing, according to the latest available satellite images.
The researchers divided the sites into four security levels, and they said that about half of the expanding sites were higher-security facilities.
The researchers found signs that some reeducation camps were being rolled back, partially confirming government claims of a shift. At least 70 sites had seen the removal of security infrastructure such as internal fencing or perimeter walls, and eight camps appeared to be undergoing decommissioning, they wrote. The facilities apparently being scaled back were largely lower-security camps, they said.
Under Xi Jinping, the Chinese leader, authorities have carried out a sweeping crackdown in Xinjiang, with as many as 1 million or more people incarcerated in recent years, according to scholars' estimates. The ASPI report was issued one day after the sixth anniversary of a key moment in the increasingly harsh campaign, the sentencing of Ilham Tohti, a prominent Uighur scholar, to life in prison.
Late last year, Shohrat Zakir, chairman of the Xinjiang government, told reporters in Beijing that the reeducation sites were now housing only people who were there voluntarily, and that others who had been in the facilities had "graduated." Where to, he did not say.
The ASPI report builds on previous investigations that also pointed to explosive growth in the prison population in Xinjiang over recent years, even as the building of indoctrination camps appeared to peak.
Last month, BuzzFeed News found 268 detention compounds in Xinjiang built since 2017. The news organization identified the compounds with the help of spots blanked out of the online mapping service from Baidu, the Chinese technology company.
An investigation by The New York Times last year found that courts in Xinjiang — where Uighurs and other largely Muslim minorities make up more than half of the population of 25 million — sentenced 230,000 people to prison or other punishments in 2017 and 2018, far more than in any other period on record for the region.
Official sentencing statistics for 2019 have not been released. But a report released by authorities in Xinjiang early this year said that prosecutors indicted 96,596 people for criminal trial in 2019, suggesting that the flow of trials — which almost always lead to convictions — was lower than in the previous two years, but still much higher than in the years before the crackdown took off.
"Even though the internment camps are obviously the most headline-grabbing aspect of what's happening, there's been a much broader effort from the beginning that has also included significant incarceration" in prisons, said Sean R. Roberts, an associate professor at George Washington University and author of "The War on the Uyghurs: China's Campaign Against Xinjiang's Muslims."
The United States has begun to take a more confrontational stance toward China over the repression in Xinjiang. This year, the Trump administration has imposed sanctions on officials responsible for policy in the region, as well as the Xinjiang Production and Construction Corps, which is both a farm conglomerate and a quasi-military security institution. It has also imposed restrictions on imports of clothing, hair products and technological goods from Xinjiang, but stopped short of banning all cotton and tomatoes, two of the region's key exports.
This week, the House of Representatives passed legislation that would bar any imports from Xinjiang unless they were proven not to have been produced using forced labour.
https://www.news18.com/news/world/night-images-reveal-many-new-detention-sites-for-uighur-muslims-in-chinas-xinjiang-region-2907403.html
--------
Saudi king had better directly face Iran if he has scores to settle: Yemen's Ansarullah
25 September 2020
A senior Yemeni Houthi Ansarullah official has asked Saudi King Salman bin Abdulaziz to settle scores with Iran if he dares to face the Islamic Republic directly.
Mohammed-Ali al-Houthi, the chairman of Yemen's Supreme Revolutionary Committee, made the remarks in a sarcastic tweet on Friday.
"King Salman well knows the Yemenis are only fighting the Americans who are using the Saudi soil and US-made weapons to wage a war against the Yemeni nation," al-Houthi said.
"If the Saudi king has scores to settle with Iran, he'd better face the country directly," he added.
The Yemeni official made the remarks in reaction to the Saudi king's virtual address to the 75th General Assembly of the United Nations, in which he said Riyadh would not take its hands off the Yemeni nation until it "gets rid of Iran's domination".
King Salman blamed the Islamic Republic for much of the Middle East's instability, and repeated a host of baseless accusations against Iran, ranging from "sponsoring terrorism" to seeking weapons of mass destruction.
The video of the speech was released on Wednesday showing the aging monarch sitting at his office as he struggled to read the text from papers, which he was grasping with both hands, without looking at the camera.
The 84-year-old monarch accused Iran of providing support to Yemen's popular Houthi Ansarullah movement, which has been defending the Arab country against the kingdom's 2015-present war. He once again blamed Iran for the 2019 Yemeni attacks against Saudi Arabia's Aramco oil installations.
The Saudi ruler also took aim at the 2015 Iran nuclear deal, claiming Tehran exploited the agreement to "intensify its expansionist activities." He also claimed "the kingdom's hands were extended to Iran in peace with a positive and open attitude over the past decades, but to no avail."
Iran strongly dismissed the king's claims, and highlighted the Saudi regime's atrocities and civilian massacres in Yemen, of which King Salman made no reference during the speech.
Iranian Foreign Ministry spokesman Saeed Khatibzadeh said the Saudis are engaging in such a blame game to "escape responsibility for their own war crimes against Yemeni women and children.
"The continuous military and political defeats in Yemen have sent Saudi Arabia into a state of delirium."
"As the birthplace and origin of the ideas of Takfiri terrorist groups and as the main financial and logistical supporter of terrorism in the region, Saudi Arabia has, for many years, been pursuing a policy of blame games and distorting the realities to escape accountability for its crimes," Khatibzadeh said.
"The Saudi regime's support for and alignment with the United States in keeping up the failed policy of 'maximum pressure' against Iran as well as [the kingdom's] attempts to expand relations with the occupying Zionist regime and [paying] billions of dollars in bribe money to others from the pockets of the people of the country, has not only failed to bring results for them, but has turned Saudi Arabia into a humiliated entity among the Arab states."
Khatibzadeh also noted that the Islamic Republic, in line with its responsible regional approach, has repeatedly warned the world about "the Saudis' miscalculations — which have inflicted heavy costs on the region — and still stresses its principled policy of strengthening diplomatic and dialog-based processes in the region and developing relations with all its neighbors."
https://www.presstv.com/Detail/2020/09/25/634986/Yemen%E2%80%99s-Ansarullah-dares-Saudi-king-to-face-Iran-directly
--------
Israel destroying last opportunity for peaceful settlement: Abbas to UNGA
25 September 2020
Palestinian President Mahmoud Abbas has said that Israel is destroying its last chance for a peaceful settlement by pushing forward with the US-devised "deal of the century," a plot that unilaterally grants Israel much of the occupied West Bank.
Addressing the 75th session of the United Nations General Assembly on Friday, Abbas said the so-called plan would effectively annex 33 percent of Palestinian land, a clear violation of previous international accords.
"The Palestinian nation will continue with its endurance and resistance, will never surrender and will eventually be victorious," Abbas said.
The Palestinian president called on UN Secretary-General Antonio Guterres to launch an international conference that can make way for "a genuine peace process" early next year.
"Until when should the cause of the Palestinian people remain without a fair resolution? A solution should be conceived on the basis of international regulations."
"Security, peace, stability and coexistence are not possible under occupation," he added.
Abbas added that Israel and the US seek to subvert international regulations and accords with the "deal of the century."
"The Palestinian Liberation Organization has not granted any individual or country permission to represent it or the people of Palestine," he noted.
The PLO, which Abbas also chairs, has been historically regarded as the official representative of the Palestinian people in international agreements related to Palestine.
The Palestinian president also censured Bahrain and the United Arab Emirates for the formalization of ties with Israel earlier this month.
The states become only the third and fourth Arab states to establish formal ties with the occupying regime after Egypt and Jordan.
Abu Dhabi and Manama's agreements with Israel received condemnation from Palestinians as a betrayal of their cause, a sentiment echoed by Iran and Turkey and Muslim authorities throughout the region.
Amid increasing Israeli aggression, the Gaza-based Palestinian resistance movement Hamas and the Fatah Party - which rules the West Bank as a faction of the PLO - have pledged unity against Israel's annexation plans.
On Thursday, the two groups reached a deal to hold the first general elections across Gaza and the West Bank in nearly 15 years.
According to reports, parliamentary and presidential polls will consequentially be scheduled within six months.
https://www.presstv.com/Detail/2020/09/25/635009/Israel-Palestine-Abbas-Peace
--------
US asks Sudan to normalize ties with Israel in return for coming off terror list
26 September 2020
The United States is pressing Sudan to establish diplomatic relations with Israel in return for removal of the Northeast African country from a US list of states that sponsor terrorism.
Three Sudanese government officials familiar with the matter, however, told Reuters news agency on Thursday that Khartoum is resisting the linkage of the two issues.
"Sudan has completed all the necessary conditions" an official said on condition of anonymity. "We expect to be removed from the list soon."
Back in 1993, the US designated Sudan as a state sponsor of terrorism, cutting it off from financial markets and strangling its economy over allegations that the government of former longtime leader Omar al-Bashir was supporting "terrorism."
Sudan's interim government took power last year after Bashir was overthrown by the army following mass popular protests. It is set to remain in office until elections in 2022.
Sudanese officials argue that their country's designation as a state sponsor of terrorism is now undeserved as Bashir's regime has been toppled, and Sudan has cooperated with the US on counter-terrorism ever since.
Earlier this week, US officials indicated during talks with Chairman of the Sovereignty Council of Sudan, General Abdel Fattah al-Burhan, that they want Khartoum to follow the United Arab Emirates (UAE) and Bahrain in establishment of ties with the Tel Aviv regime.
"Sudan made clear to the American side that there is no relationship between removing Sudan from the terror list and exploring relations with Israel," another Sudanese government source stated.
Even if a normalization deal is struck between Sudan and Israel, the US Congress must still pass a necessary legislation to restore Sudan's sovereign immunity.
Sudan wants the legislation passed before it reaches a $335 million financial settlement with victims of al-Qaeda terror attacks on US embassies in Kenya and Tanzania in 1998.
Sudan's lawyers in the United States said it had already paid an additional $72 million to victims of the families of 17 US sailors, who were killed during an attack on the USS Cole while it was docked in Yemen's Aden Port in 2000. The attack was apparently sponsored by slain al-Qaeda founder Osama bin Laden who was living in Sudan prior to the attack.
"We want to ensure the passing of the immunity law so that we can put an end to the settlements matter," a Sudanese official said.
In February, Sudan's ruling council head Abdel-Fattah al-Burhan met with Israeli prime minister Benjamin Netanyahu in Uganda, sparking anger among politicians and public at home, where anti-Israel and pro-Palestine sentiments run high.
Sudan has been widely tipped to be the next Arab country that would normalize ties with Israel after the UAE and Bahrain agreed to do so as part of US-brokered agreements.
Netanyahu signed agreements with Emirati Foreign Minister Sheikh Abdullah bin Zayed Al Nahyan and Bahrain's Foreign Minister Abdullatif Al Zayani during an official ceremony hosted by US President Donald Trump at the White House on September 15.
Palestinians, who seek an independent state in the occupied West Bank and Gaza, with East Jerusalem al-Quds as its capital view the deals as betrayal of their cause.
Palestinian President Mahmoud Abbas protested the normalization deals with Israel, saying they will be fruitless as long as the United States and the Israeli regime do not recognize the rights of the Palestinian nation and refuse to resolve the issue of Palestinian refugees.
Kuwait reiterates unswerving support for Palestinian cause, nation
Meanwhile, Kuwaiti Prime Minister Sheikh Sabah al-Khalid Al Sabah highlighted on Friday that his country firmly supports Palestinians in their struggle to achieve their inalienable rights and to establish an independent sovereign state with Jerusalem al-Quds as its capital.
Addressing the General Debate of the 75th Session of the United Nations General Assembly, Sabah emphasized that "the Palestinian cause still has a central, historical and pivotal place in our Arab and Muslim worlds."
He noted that Kuwait's principled and firm position is to support the Palestinian people in their struggle to obtain their legitimate rights.
The Kuwaiti prime minister then underscored the significance of resumption of so-called peace negotiations between Palestinians and the Israeli regime, stating that the talks should bring an end to the Israeli occupation and lead to creation of an independent Palestinian state on the borders before June 4, 1967, with East Jerusalem al-Quds as its capital.
Bahraini regime forces arrest poet critical of normalization with Israel
Separately, Bahraini regime forces have arrested a literary figure after he criticized the tiny Persian Gulf kingdom's normalization with the Israeli regime.
Bahraini activists said the forces arrested the poet Abdul Hussein Ahmed Ali, days after he published a poem in condemnation of the deal, the Arabic-language Bahrain Mirror news website reported.
"I am not flattering to those who speak this day ... Let them hear my words far and wide … Bahrainis are proud, honorable and noble, and do not accept the pledge of allegiance to a criminal and a perpetrator," a part of the poem read.
https://www.presstv.com/Detail/2020/09/26/635033/US-asks-Sudan-to-normalize-ties-with-Israel-in-return-for-coming-off-terror-list
--------
North America
Israel's war to censor social media freedom of speech
25 September 2020
By Walt Peretto
Israel and its agents are actively engaged in shutting down freedom of speech in the United States on multiple fronts.
Zionist interests own or control virtually 100% of America's mainstream media and are now lobbying major social media companies such a Facebook, Twitter, Zoom, and YouTube, to censor any material that challenges all the false or misleading narratives that are in Israel's interests.
With air-tight media control, Israel was able to successfully kill 3,000 people in New York and Washington on September 11, 2001 and blame it on patsies with Arab names, without any media or judicial inquiry into the actual evidence. The internet has been proven more difficult to control, but Israel is busy gaining more and more influence on social media to the point that censorship is fast becoming the norm.
On Wednesday, Palestinian activist Leila Khaled was scheduled to speak from San Francisco State University via Zoom videoconferencing and the Israeli lobby was able to convince Zoom to refuse to air the broadcast. The lobby cites accusations of anti-Semitism, Jew-hatred, and accusations that speaker Khaled once engaged in terrorism over 40 years ago.
Meanwhile, 9/11, less than 20 years ago seems to an approved act of terrorism since it was done primarily by Israeli. Israel cannot afford an even playing field when it comes to freedom of speech in America or anywhere else because of their history of terrorism, spying, and infiltration of virtually all important US institutions. Exposure of the truth via freedom of speech would force Israel to finally face the rightful indignation of virtually the entire world. If this ever happened their globalist one world government aspirations would be irrevocably damaged.
If the United States had a free media, 9/11 could not happen, elections would be more democratic, soldiers would not be sent overseas to fight wars for Israel and their psychopathic globalists. Control of the mainstream media and internet is a must if a one world government dystopia is going to be achieved.
Ever since the founding of the United States in 1776, psychopathic globalists based in Europe have had their eyes locked onto control of this country. The War of 1812 was the first major attempt to infiltrate---followed by several attempts to control the US money supply---and then attempting to split the US by financing of the Civil War. Finally, the permanent takeover of the US economy happened in 1913 when President Woodrow Wilson's signed the Federal Reserve Act. Since then pathological European globalists have been infiltrating virtually all major US institutions. In 1948, these European interests founded the State of Israel and since then they have seized control of all the mainstream media and are now working non-stop to seize control of the internet.
Those of us who value freedom of speech and understand its vital importance must expose Israel and their pathological allies by setting up channels of free speech that are beyond their control. Without freedom of expression we will all be living in a cashless, high-tech surveillance, one world system of government with no recourse except to be slaves to the global psychopath elite that Israel represents. Fighting this evil must be done with full respect for the average, sane, everyday Jewish people who have nothing to do with these pathological globalist aspirations.
This is not about any religion, skin-tone, ethnicity, or culture---it has everything to do with organized groups of people who share a common mental defect called clinical (primary) psychopathy. It is genetic and it runs in families. With knowledge of these pathologies the world will begin to make sense instead to the common people being mired in confusion and thinking humanity can vote its way out of this impeding grave. The election systems in the burgeoning one world order are controlled by the same pathological interests. The time has come for humanity to wake up to sociopolitical reality and develop counter strategies that have a real chance to work.
Walt Peretto is a writer and researcher in Washington, DC. He recorded this article for Press TV website.
https://www.presstv.com/Detail/2020/09/25/635013/Israel%E2%80%99s-war-on-freedom-of-speech-in-US
--------
U.S. Prepares to Take Sudan Off List of States That Support Terrorism
By Lara Jakes
Sept. 24, 2020
WASHINGTON — The Trump administration is preparing to remove Sudan from a list of states that sponsor terrorism, seeking another foreign policy victory before the election but putting at risk the compensation for victims of terrorist attacks that American courts have concluded were carried out with Khartoum's support.
Sudan has been on the terrorism list since 1993 and, as a result, has been restricted from receiving the global assistance that would help stabilize its new government and foment democracy. Its delisting is widely expected in the next few weeks, according to four people with direct knowledge of the plan by the State Department.
That would also clear the way for Sudan to normalize diplomatic relations with Israel in an accord similar to those the Trump administration helped the Jewish state cement this month with the United Arab Emirates and Bahrain and that President Trump celebrated at the White House last week with a promise that other nations would soon join them.
A full diplomatic accord between Israel and Sudan would be difficult, if not impossible, while Sudan remains on the American terrorism list.
But the administration intends to move ahead without legislation from Congress that would assure immediate compensation for victims of bombings against American embassies in Kenya and Tanzania in 1998 and the destroyer Cole in 2000 and their families, who have expected to be paid a $335 million settlement from Sudan for harboring militants who carried out the attacks.
"It's basically enabling Sudan to get off the list without any penalty," said Riz Khaliq, a former Commerce Department official who was injured in the attack on the U.S. Embassy in Nairobi, Kenya's capital.
"There won't be any reason for Sudan to make the victims whole in any way," Mr. Khaliq said on Wednesday. "They've gotten what they wanted, and frankly the victims who were impacted by the terrorist list are left high and dry."
"That's really painful and distressing," he added.
The new plan would place the money in an escrow account, to be released to victims once Congress gives Sudan immunity from future legal claims for past terrorist attacks. But Congress refused to include the legal protections in a spending bill that was negotiated this week, all but certainly delaying the payout — if it happens at all — until after the election on Nov. 3.
Officials cautioned that a final decision to remove Sudan from the terrorism list must be approved by the White House.
But President Trump is not expected to wait for Congress to act.
With six weeks before the election, Mr. Trump has cited the warming ties among once-rival states in the Middle East and North Africa as an example of his administration's diplomatic prowess. Five additional countries are considering formal relations with Israel, the president said on Sept. 15, and officials have said they include Sudan.
"We'll be signing up other nations," Mr. Trump said at the White House last week, shortly before Prime Minister Benjamin Netanyahu of Israel signed the accords with the United Arab Emirates and Bahrain, with the deputy Sudanese ambassador in the audience. "And these are very strong agreements. These are very strong. This is really peace. This is serious peace."
Cementing diplomacy between Israel and Sudan would be a coup for the administration, given their turbulent history.
It was in Khartoum after the Arab-Israeli War in 1967 that the Arab League announced its "three no's" resolution, which opposed peace, negotiations and recognition of Israel. That was widely recognized among Arab states until President Anwar el-Sadat of Egypt made a historic trip to Jerusalem in 1977. Until last week's accords, Egypt and Jordan were the only two Arab states with formal diplomatic relations with Israel.
Sudan was placed on the U.S. list of state sponsors of terrorism after officials concluded in 1993 that the government of its leader at the time, Omar Hassan al-Bashir, provided refuge and other support to Hezbollah and Palestinian groups. Only three other nations — Iran, North Korea and Syria — are on the State Department list that restricts assistance from the United States and, effectively, the World Bank and International Monetary Fund.
But in 2016, after Sudan cut its diplomatic ties with Iran, the United States began easing sanctions against Khartoum to reward its cooperation on counterterrorism missions and ending military attacks against Sudanese citizens. The détente was fueled last year by Mr. al-Bashir's ouster and international efforts to support democracy in the new transitional government.
Israel has cultivated its own nascent ties with the country. In February, Mr. Netanyahu met with Sudan's de facto leader, Lt. Gen. Abdel Fattah al-Burhan, for talks in Uganda that were reportedly arranged by the United Arab Emirates. Days later, Sudan began allowing Israeli commercial planes to fly in its airspace.
Secretary of State Mike Pompeo has the authority to remove Sudan from the terrorism list without congressional approval. Meeting last month in Khartoum with Prime Minister Abdalla Hamdok, Mr. Pompeo described delisting Sudan as "a critical bilateral priority for both countries."
The two men also "discussed positive developments in the Sudan-Israel relationship," according to a State Department summary of the meeting. They spoke again on Sept. 12.
Sudan's lawyer in Washington, Christopher Curran, said the transitional government wanted to "fully rejoin the community of respectable nations." In a statement on Wednesday, he said that would happen by Sudan entering into international trade, settling past liabilities and with "the forthcoming dedesignation as a state sponsor of terrorism."
Until recently, Mr. Pompeo has indicated he would wait to take Sudan off the terrorism list until payments for the bombing victims are assured.
But with a settlement between the United States and Sudan snarled in Congress, officials said Mr. Pompeo was willing to move forward.
Sudan insists it will hold the $335 million in victims' compensation in escrow until it receives legal immunity from Congress to protect itself from new financial claims for past terrorist attacks. But Sudan is unlikely to hold the money indefinitely, according to a government representative for the country, given its rampant poverty, rapidly-weakening economy and $60 billion in international debt.
The fragility of a yearslong process to bolster Sudan's stability and compensate terrorism victims alarmed a bipartisan group of senators who noted in a Sept. 14 letter a "rare opportunity" for the United States to help the country "move away from a regime that, for decades, supported terrorism and stifled freedom."
But Congress is divided over the administration's approach.
Some lawmakers have objected to unequal distribution of payments for the victims of the East Africa embassy bombings that would award American citizens far more than Kenyan and Tanzanian employees — nearly all of whom are Black — who were foreign citizens at the time of the attacks.
Additionally, families of victims of the Sept. 11, 2001, attacks are seeking compensation since Sudan was a longtime haven for Al Qaeda. Supported by lawmakers who represent the region, including Senator Chuck Schumer, Democrat of New York and the minority leader, those families have broadly objected to the immunity legislation before their own legal cases against Sudan are resolved.
"Congress should not deny families of Sept. 11 victims their day in court," said Alex Nguyen, Mr. Schumer's spokesman.
Congressional officials said that it was possible that a last-minute deal could be reached — including one that would mollify some of the families of Sept. 11 victims by making them eligible for $1 billion in additional payouts from a separate Justice Department victims' fund.
But it would be difficult to approve that before the election, and some of those families questioned why the United States would rush to remove Sudan from the terrorism list and discard its leverage to enforce the payments.
"Foreign governments who have supported and harbored terrorists should not be given a free pass by any administration, Congress, or the global community," Lorie Van Auken, Mindy Kleinberg and Kristen Breitweiser, whose husbands were killed in the Sept. 11 attacks, said in a statement. "They must be held accountable for their actions."
There is also some opposition in Sudan to forming an alliance with Israel, particularly among liberal-leaning officials in the transitional government who for years have defended demands by Palestinians for a sovereign state.
During last month's meeting in Khartoum, Mr. Hamdok told Mr. Pompeo that Sudan's transitional government had no mandate to normalize relations with Israel and instead was focused on stabilizing the country before democratic elections in 2022.
But more recently, senior Sudanese officials have reluctantly acknowledged that agreeing to normalize relations with Israel may be the price of coming off the American terrorism list, according to people in Washington and Khartoum who are familiar with the discussions.
"One has to wonder whether the Sudanese are genuinely interested in a relationship with Israel, given the opposition it's likely to stir in Khartoum, and more interested in the attendant benefits of coming off the state sponsor of terrorism list," said Steven A. Cook, a Middle East and North Africa expert at the Council on Foreign Relations.
"That's clearly what's driving them, and clearly they know the best and easiest path there is through Tel Aviv," Mr. Cook said.
https://www.nytimes.com/2020/09/24/us/politics/us-sudan-terrorism.html?utm_source=iterable&utm_medium=email&utm_campaign=1555151_
--------
U.S. Commandos Use Secretive Missiles to Kill Qaeda Leaders in Syria
By Eric Schmitt
Sept. 24, 2020
WASHINGTON — U.S. Special Operations forces, with no fanfare, killed a top Qaeda leader in northwest Syria in an unusual drone strike nearly two weeks ago.
They used a secretive weapon — a so-called Ninja Hellfire missile on which the explosive warhead is replaced by long blades to crush or slice its victim while minimizing risks to any civilians nearby. It was the second time in three months that American commandos have killed a senior Qaeda leader in northwest Syria with these specially designed missiles.
The strike illustrated the complexities of carrying out operations against terrorist groups in a part of the world where the United States and Russia have been warily pursuing their own objectives and occasionally coming into conflict.
The recent ramming of an American ground patrol by a Russian armored vehicle escalated tensions between the two rival powers in northeast Syria. The clash prompted the Pentagon last week to dispatch Bradley fighting vehicles and more fighter jet patrols to reinforce the more than 500 American troops helping stamp out remnants of the Islamic State there.
But in an opposite corner of the country, where the United States has no troops on the ground, the military's secretive Joint Special Operations Command, with help from the C.I.A., is carrying out a shadow war against a different terrorist threat — a small but virulent Al Qaeda affiliate — that American officials say is plotting attacks against the West.
The Pentagon will not say much about the latest Reaper drone strike in northwest Syria. Maj. Beth Riordan, a spokeswoman for the U.S. Central Command, confirmed a military strike near Idlib on Sept. 14 against the Qaeda affiliate in Syria, but offered no details.
Other American military and counterterrorism officials, as well as the Syrian Observatory for Human Rights, said that the Hellfire missile strike killed Sayyaf al-Tunsi, a Tunisian who was a senior planner of Qaeda attacks against the West, including the United States. U.S. military officials said Mr. al-Tunsi's death would disrupt operations of the Qaeda affiliate, called Hurras al-Din.
On Thursday, the government's top counterterrorism official hinted at the clandestine campaign to destroy the group's leadership, without offering specific details, most of which remain classified.
"In Syria, Hurras al-Din — a group made up of several Qaeda veterans — has suffered successive losses of key leaders and operatives, which, along with conflicts with other violent extremist factions and the erosion of its safe haven in Idlib Province, has stunted the group's growth," Christopher Miller, the director of the National Counterterrorism Center, told the Senate Homeland Security and Governmental Affairs Committee.
The Qaeda leaders in Syria have sought to operate in urban areas, calculating that American forces will be wary of carrying out missile strikes that could harm civilians.
But the modified Hellfire missile carries an inert warhead. Instead of exploding, it hurls about 100 pounds of metal through the top of a target's vehicle. If the high-velocity projectile does not kill the target, the missile's other feature almost certainly does: six long blades tucked inside, which deploy seconds before impact to slice up anything in its path.
The Hellfire variant, known as the R9X, was initially developed nearly a decade ago under pressure from President Barack Obama to reduce civilian casualties and property damage in the United States' long-running wars on terrorism in far-flung hot spots such as Afghanistan, Pakistan, Iraq, Syria, Somalia and Yemen.
The weapon has been used perhaps a half-dozen times in recent years, American officials said, typically when a senior terrorist leader has been situated but other weapons would risk killing nearby civilians.
Conventional Hellfire missiles, with an explosive warhead of about 20 pounds, are often used against groups of individuals or a so-called high-value target who is meeting with other militants. But when Special Operations forces are hunting a lone leader, the R9X, called the Ninja by commandos, is now often the weapon of choice.
American Special Operations forces used a R9X missile in June to kill Khaled al-Aruri, the de facto leader of the Qaeda branch in Syria. He was a Qaeda veteran whose jihadist career dates to the 1990s. American officials confirmed the use of the unusual missile in two earlier instances, one by the C.I.A. in northwest Syria and one by the Joint Special Operations Command in Yemen.
The center of the latest drone strikes is Idlib Province, whose population has ballooned to more than three million people during Syria's civil war. It contains a witch's brew of violent Islamic extremist groups, dominated by the Qaeda-linked organization Hayat Tahrir al-Sham, formerly the Nusra Front. Syrian military forces, backed by Iranian and Russian firepower, have targeted the group.
Hurras al-Din emerged in early 2018 after several factions broke away from the Nusra Front, which at least publicly has since distanced itself from Al Qaeda's overall leadership in Pakistan. Hurras al-Din is the successor to the Khorasan Group, a small but dangerous organization of hardened senior Qaeda operatives that Ayman al-Zawahri, Al Qaeda's leader, sent to Syria to plot attacks against the West.
The Khorasan Group was effectively wiped out by a series of American airstrikes several years ago. But with as many as 2,000 fighters, including seasoned leaders from Jordan and Egypt, Hurras al-Din is much larger and has operated in areas where Russian air defenses, at least until recently, have largely shielded its members from American airstrikes and the persistent stare of American surveillance planes.
Moscow dispatched military aid and advisers to Syria in late 2015 to support the beleaguered government of President Bashar al-Assad.
"The group remains committed to preparing for external attacks despite its current focus on targeting Syrian forces," a United Nations counterterrorism assessment concluded in July.
Hurras al-Din is considered so dangerous that as recently as this summer, the Pentagon took the unusual step of using a special hotline to Russian commanders in Syria to allow the Special Operations forces to conduct uncontested airstrikes against the Qaeda leaders. Previous strikes have also attacked training camps in Aleppo and Idlib Provinces.
These are rare attacks west of the unofficial dividing line between American forces to the east of the Euphrates River, and Russian and Syrian government troops to the west of the river.
"As for the Russians, we do deconflict flights in northwest Syria," said one senior American military official. "While they don't particularly like us being there, most of the time they don't object."
Terrorism analysts say internecine tensions between the two Qaeda-related groups in Syria have boiled over in recent months, posing another problem for Hurras al-Din.
"As of late June, battlefield conflicts between Hurras al-Din and the Nusra Front continued to escalate, prompting Al Qaeda to issue a public statement condemning the fighting," Mr. Miller, the counterterrorism chief, said on Thursday.
Terrorism analysts say these tensions and the increasing American drone strikes are putting more pressure on Hurras al-Din. "Al Qaeda in Syria is in a hard spot," said Aaron Y. Zelin, a terrorism scholar at the Washington Institute for Near East Policy. "They don't have much room to maneuver."
But other analysts point to reports that some Qaeda operatives may have fled to other parts of Syria or across the border into Lebanon, and could continue plotting from there.
"We're on borrowed time with Al Qaeda in Idlib," said Jennifer Cafarella, a national security fellow at the Institute for the Study of War in Washington.
https://www.nytimes.com/2020/09/24/us/politics/missiles-al-qaeda-syria.html?utm_source=iterable&utm_medium=email&utm_campaign=1555151_
--------
US media platforms censor top Palestinian activist under Israeli pressure
25 September 2020
US social media companies have canceled under alleged pressure from Israeli lobbies a webinar that was due to be held at an American university by a senior member of a Palestinian resistance group.
The webinar was supposed to feature Leila Khaled, a top Palestinian activist and resistance icon, but was blocked by major Silicon Valley companies of Facebook, YouTube and Zoom.
Khaled, who is also a member of the Popular Front for the Liberation of Palestine (PFLP), was due to deliver a speech through the webinar at San Francisco State University (SFSU) on Wednesday.
The video conferencing platform, Zoom, initially prohibited the university from using its software to host the event, titled "Whose NARRATIVES? Gender, Justice and Resistance," and the webinar was also restricted by Facebook, which has a lengthy history of censoring Palestinians on behalf of Israel.
Later, the event went ahead via YouTube but shortly after it began, the company cut off the video stream and replaced it with a notice that said, "This video has been removed for violating YouTube's Terms of Service."
Many Palestinians and rights activists censured the social media platforms for censoring the webinar's content and limiting free speech, and said the event was cancelled due to pressure from the Israeli regime and Zionist lobbying groups.
Rabab Ibrahim Abdulhadi, one of the organizers of the event, shared an email he sent to the San Francisco State University regarding the cancellation of the webinar and lashed out at the obnoxious move.
"This censorship violates our freedom of speech and academic freedom as a faculty to teach, deprives our student from the right to learn, and denies the general public the right to hear from speakers who are not readily available on mainstream media," the email read.
"We therefore expect the university to seriously and publicly challenge Zoom's attempt to control higher education and the content of our curriculum and classrooms," it added.
Over 2,000 people also signed a petition to support academic freedom on Palestine in support of the webinar and underlined that, "The SFSU is under attack from the ultra-right-wing Zionists for hosting a conversation with Palestinian freedom fighter, Leila Khaled."
The petition described Khaled as a "powerful, inspiring figure," and said, "She's more than just a freedom fighter. Leila is a mother, a wife, and a national icon. Leila Khaled proved that a woman and a mother have a place in resisting Israeli occupation and colonialism. What Leila proves to us most is that everyone has a place in the Liberation of Palestine."
Reports said Israel's lobby organizations attempted to get federal and state governments involved in shutting down the webinar, with the Lawfare Project, a pro-Israel group that uses lawsuits to harass supporters of Palestinian rights, recently sending a letter to the National Security Division of the US Department of Justice to dissuade the SFSU from hosting Khaled.
Moreover, Israeli authorities have expressed satisfaction about the cancellation of the webinar and a number of pro-Israel groups have also taken credit for pressuring the platforms to call off the event.
The event is the latest example of US-based media platforms censoring Palestinian content online.
Earlier this year, more than 50 Palestinian journalists and activists had their profiles deleted or deactivated by Facebook, for what the social platform claimed "not following Community Standards", leaving many frustrated and confused about the real reason behind the move.
US President Donald Trump has given Tel Aviv the green light to annex large parts of the West Bank and Jordan Valley in his self-proclaimed "deal of the century," which was unveiled in January with the aim of legitimizing Israel's occupation and re-drawing the Middle East map.
Trump's scheme largely gives in to Israel's demands while creating a Palestinian state with limited control over its own security and borders, enshrining the occupied Jerusalem al-Quds as Israel's "capital" and allowing the regime to annex settlements in the West Bank and the Jordan Valley.
The United Nations (UN), the European Union (EU), and some Arab countries have all said annexation would violate international law and undermine the prospects of establishing a sovereign Palestinian state on the 1967 boundaries.
The Palestinians want the occupied West Bank as part of a future independent state with East Jerusalem al-Quds as its capital.
https://www.presstv.com/Detail/2020/09/25/635005/US-social-media-Leila-Khaled-webinar-Israeli-lobbies
--------
India
Terrorism, clandestine nuclear trade Pakistan's 'only crowning glory' for 70 years: India at UN
Sep 26, 2020
UNITED NATIONS: The "only crowning glory" that Pakistan has to show to the world for the last seven decades is terrorism, ethnic cleansing, majoritarian fundamentalism and clandestine nuclear trade, India said in a scathing response on Friday, slamming Pakistani Prime Minister Imran Khan's "incessant rant" and "venom" in the UN General Assembly.
"This august forum witnessed a new low on its 75th anniversary. The leader of Pakistan today called for those who incite hate and violence to be outlawed. But as he went on, we were left wondering, was he referring to himself?" first secretary in the permanent mission of India to the UN Mijito Vinito said, making India's right of reply.
The strong rebuttal came after Khan spoke about India's internal affairs, including the issue of Jammu and Kashmir, during his pre-recorded video statement at the high-level general debate. Vinito, who was sitting at India's seat in the UN General Assembly hall for the general debate, walked out when Khan started his usual "diatribe" about India.
"This hall heard the incessant rant of someone who had nothing to show for himself, who had no achievements to speak of and no reasonable suggestion to offer to the world. Instead, we saw lies, misinformation, war mongering and malice spread through this Assembly," the young Indian diplomat said.
Slamming Pakistan for its record as a nation, Vinito said, "The only crowning glory that this country has to show to the world for the last 70 years is terrorism, ethnic cleansing, majoritarian fundamentalism and clandestine nuclear trade."
Alluding to the "stellar record" of Pakistan, he said this is the country that has the "dubious distinction" of hosting the largest number of terrorists proscribed by the United Nations, a reference to terror masterminds such as Lashkar-e-Taiba (LeT) founder Hafiz Saeed and Jaish-e-Mohammed (JeM) head Masood Azhar.
"This is the same country that provides pensions for dreaded and listed terrorists out of State funds. The leader whom we heard today is the same person who referred to terrorist Osama Bin Laden as a 'martyr'" in the Pakistani Parliament in July, Vinito said.
He added that it is Pakistan that brought genocide to South Asia 39 years ago when it killed its own people and it is also the country that is "shameless enough" not to offer a sincere apology for the horrors it perpetrated even after so many years.
India asserted in its right of reply that Khan, "who spewed venom today", admitted in 2019 in public in the US that his country still has about 30,000-40,000 terrorists, who have been trained by Pakistan and have fought in Afghanistan and in the Indian Union Territory of Jammu and Kashmir.
"This is the country that has systematically cleansed its minorities, including Hindus, Christians, Sikhs and others, through the abuse of its blasphemy laws and through forced religious conversions," Vinito said, adding that "for someone who professes to be a champion of Islam, this is also a country that has encouraged killing of fellow Muslims merely because they belonged to a different sect or to a different region in Pakistan and through sponsoring terrorist attacks against its neighbours".
Pakistan has consistently used UN platforms, including the high-level General Assembly sessions, to rake up the issue of Jammu and Kashmir, but has repeatedly found no resonance with the international community for its "diatribe".
India strongly asserted that Jammu and Kashmir is its "integral and inalienable part" and the rules and legislations brought in the Union Territory are strictly its internal affairs.
"The only dispute left in Kashmir relates to that part of Kashmir that is still under the illegal occupation of Pakistan. We call upon Pakistan to vacate all those areas that it is in illegal occupation of," Vinito said, adding that what should instead be on the agenda of the UN is Pakistan's "deep state and its unrelenting political and financial support to terrorist organisations and mercenaries, which are a threat to global peace and security".
"The only way for Pakistan to become a normal country is to abjure its moral, financial and material support to terrorism, turn its attention to the problems faced by its own population, including its minorities, and stop misusing UN platforms to further its nefarious agenda," India said.
The words used in the General Assembly by Khan "demean" the very essence of the United Nations, Vinito said, adding that "for a nation that is deeply buried in medievalism, it is understandable that the tenets of a modern civilised society such as peace, dialogue and diplomacy are farfetched".
Pakistan's delegate then made a response to India's right of reply.
https://timesofindia.indiatimes.com/india/terrorism-clandestine-nuclear-trade-pakistans-only-crowning-glory-for-70-years-india-at-un/articleshow/78327545.cms
--------
NIA court convicts Kerala man who joined IS in Iraq
Sep 26, 2020
KOCHI: The special court in Kochi for NIA cases on Thursday found Thodupuzha native Subahani Haja Moideen guilty in the case relating to his travel to Iraq to join the Islamic State and wage war against that country, a nation in alliance with India. The court will pronounce the quantum of sentence on Monday.
Moideen, 36, was found guilty of several offences, including criminal conspiracy, waging war against Asiatic power in alliance with India under, being a member of a terrorist organisation, among others. He said he believes in peace and urged the court to consider his age and family situation while deciding quantum of punishment. Senior prosecutor for NIA, Arjun Ambalapatta told the court Moideen has no remorse and should be given life imprisonment.
https://timesofindia.indiatimes.com/india/nia-court-convicts-kerala-man-who-joined-is-in-iraq/articleshow/78327360.cms
--------
2 top Lashkar commanders killed in op: IGP
Sep 26, 2020
SRINAGAR: Top Lashkar-e-Taiba commanders Adil Bhat, who was involved in the August 14 Nowgam attack in which two cops were killed, and his Pakistani aide Abu Rehan were slain in an anti-terror operation in Sirhama area in south Kashmir's Anantnag district on Friday morning, IGP (Kashmir Range) Vijay Kumar said. Later in the day, four youth were injured in an explosion at the encounter site after an undetected explosive went off.
Bhat was a resident of Larve in Kakapora area of south Kashmir's Pulwama district. Rehan, meanwhile, was known to be active since March 2019, the IGP said at a press conference in Srinagar. The encounter began late Thursday after security forces, on receiving information. Holed-up ultras opened fire at the team, triggering a gunfight.
Few hours later, an explosion took place while a group of people was clearing debris from the house razed in the operation. The injured Sirhama residents were identified as Muhammad Yasin Rather, Shahid Yousuf, Irfan Ahmed Bhat and Mudasir Ahmed Magray.
https://timesofindia.indiatimes.com/india/2-top-lashkar-commanders-killed-in-op-igp/articleshow/78327337.cms
--------
Indian diplomat walks out after Imran Khan raises Kashmir issue at UN
Sep 26, 2020
The Indian delegate at the UN General Assembly meeting in New York walked out of the hall when Pakistan Prime Minister Imran Khan's pre-recorded statement was played on Friday.
The delegate, a junior diplomat named Mijito Vinito from the 2010 batch of the Indian Foreign Service, picked up his papers and left the hall as Khan's speech was played on a large overhead screen.
Khan raised the Kashmir issue, as he has done in recent speeches to multilateral bodies, and criticised the Indian government on several issues.
After Khan's speech, TS Tirumurti, India's permanent representative to the UN, tweeted that the country would use the "right of reply" facility to respond to the Pakistani premier's address.
"PM of Pakistan statement a new diplomatic low – at 75th UN General Assembly. Another litany of vicious falsehood, personal attacks, war mongering and obfuscation of Pakistan's persecution of its own minorities & of its cross-border terrorism. Befitting Right of Reply awaits," Tirumurti said in his tweet.
Prime Minister Narendra Modi is expected to address the UN General Assembly through a video statement on Saturday.
https://www.hindustantimes.com/india-news/indian-delegate-walks-out-during-pakistan-pm-imran-khan-s-speech-at-un/story-GlQiOjgqFNJzCBNOgmj9FO.html
--------
Pakistan
Pakistan PM Demands UN Action against 'Rising Islamophobia' In Many Countries Including India
By Ayaz Gul
September 25, 2020
ISLAMABAD, PAKISTAN - Pakistan Prime Minister Imran Khan has urged the United Nations to universally outlaw what he called rising Islamophobia in many countries, including neighbouring India.
In a prerecorded speech to the U.N. General Assembly on Friday, the Pakistani leader denounced the fresh publication of cartoons of the Prophet Mohammed by Charlie Hebdo, a French satirical weekly.
"Muslims continue to be targeted with impunity in many countries," Khan said. He added that rising trends of religious hatred and violence "in the name of freedom of speech" have accentuated Islamophobia.
"We stress that willful provocations and incitement to hate and violence must be universally outlawed," Khan said. "This assembly should declare an 'International Day to Combat Islamophobia' and build a coalition to fight this scourge."
Khan again assailed Indian Prime Minister Narendra Modi's Hindu nationalist government for allegedly turning the country into a state sponsor of religious hatred and violence against nearly 200 million minority Muslims who live in India.
"They believe that India is exclusively for Hindus and others are not equal citizens," the Pakistani leader said.
India's U.N. representative, T.S. Tirumurti, took to Twitter to denounce Khan's speech, calling it "a new diplomatic low" full of "vicious falsehood."
Pakistan's military tensions with India have escalated since August 2019, when the Indian government revoked a decades long semi-autonomous status for India-administered two-thirds of Kashmir and split it into two union territories.
Islamabad, which administers the remaining one-third of the disputed Himalayan region, rejected the move, saying that Kashmir is an internationally recognized disputed territory under a long-standing U.N. Security Council resolution and neither country can unilaterally change the status.
Both nuclear-armed South Asia rival nations claim Kashmir in its entirety and have fought two wars over it.
Increased bilateral tensions in recent months have led to almost daily military skirmishes along the Line of Control, which separates Pakistan- and Indian-ruled parts of Kashmir, rendering almost ineffective a 2003 mutual cease-fire truce.
Khan warned Friday "India is playing a dangerous game of upping the military ante against Pakistan in a nuclearized environment" to divert attention from Indian "illegal actions and atrocities" in Kashmir.
India alleges Pakistan trains and arms Kashmiri insurgents fighting New Delhi's rule.
Islamabad rejects the charges, saying it provides only diplomatic, political and moral support to what Pakistan describes as an indigenous struggle for Kashmir's freedom.
India's August 2019 action coupled with a security clampdown in Muslim-majority Kashmir has drawn criticism from U.N. and global rights defenders.
Indian security forces have arrested thousands of Kashmiris, including politicians and civil society activists, to deter violent protests against its actions.
Khan has routinely used international platforms to highlight the plight of Muslims, but critics say his persistent silence, like that of leaders in many other Muslim countries, on China's alleged abuses against its Muslim minority Uighur population undermines Pakistan's argument.
Islamabad and Beijing maintain close economic and military ties. In recent years, the relationship has cemented in the wake of billions of dollars in Chinese investment in Pakistan, building roads, ports, power plants, industrial zones and other major infrastructure projects.
https://www.voanews.com/south-central-asia/pakistan-pm-demands-un-action-against-rising-islamophobia
--------
Opposition Trying To Cause Army-Govt Rift: Imran
Syed Irfan Raza
26 Sep 2020
ISLAMABAD: Prime Minister Imran Khan on Friday said the opposition wanted to create a rift between the government and armed forces, claiming that he had been aware of politicians' meetings with army leadership.
The prime minister in a meeting with news directors of some private TV channels said he had no fear of the opposition, as he would go for by-elections in the country if all opposition members gave resignation from the assemblies.
When contacted, a participant of the meeting said Mr Khan was asked if he knew about politicians' meetings with Chief of Army Staff (COAS) Gen Qamar Javed Bajwa and Inter-Services Intelligence (ISI) Director General Lt Gen Faiz Hameed last week. The premier replied he always knew about such meetings as well as about the recent particular meeting.
The prime minister, however, refused to comment on the meeting in which, according to the railways minister, top opposition leaders including Pakistan Muslim League-Nawaz (PML-N) president Shahbaz Sharif and Pakistan Peoples Party (PPP) chairman Bilawal Bhutto-Zardari were present. "I [am] always aware of such meetings but what I can say about the people who meet military leadership in secret," the prime minister was quoted as saying.
Asked whether he was invited to the meeting or not, Mr Khan explained that the meeting was actually called from security point of view to brief the heads of political parties taking part in upcoming elections in Gilgit-Baltistan. "I have no need to attend the meeting because it was security related," the prime minister said.
"Secondly, I did not want to sit with the opposition leaders who always tried to blackmail the government over even the recent legislation on Financial Action Task Force-related bills in the parliament," Mr Khan declared. The opposition was not happy to see "unprecedented" harmony between the government and the army he said, adding that they wanted to create a rift between the civil-military leadership. "Army does 100 per cent what I ask it. Army honoured my decision on different important issues like return of Indian pilot Abhinandan to India, opening of Kartarpur Corridor for Sikh pilgrims, policies on Afghanistan and India etc," he said.
Mr Khan said the army followed the manifesto of ruling Pakistan Tehreek-i-Insaf (PTI) because its leadership was not corrupt. However, he rejected the impression that the PTI government came into power with the army's help. However, he added, "Whereas the army had laid foundations of both PML-N and PPP."
Answering another question, Mr Khan said he would not give any National Reconciliation Ordinance-like relief to the "corrupt politicians" and would hold by-elections if the opposition gave resignations from assemblies.
He was of the opinion that the [major] opposition parties always took Jamiat Ulema-i-Islam-F (JUI-F) chief Maulana Fazlur Rehman with them, because their followers would not take to the streets.
The prime minister said former president Pervez Musharraf had committed a blunder by giving NRO to the politicians, paving the way of unprecedented corruption for one decade.
About the recent speech of PML-N supremo Nawaz Sharif aired through video link from London, Mr Khan said he allowed airing of his (Nawaz's) speech on TV channels to "give a level-playing field" to the opposition. "I would have been blamed for subjugating the right of speech if I had not allowed media to televise his speech," he said. But the opposition party leader was toeing an agenda of India that was why his speech was given a lot of media coverage in the neighbouring country, the prime minister said.
"Nawaz Sharif always blackmailed the army that was why he could not maintain good relations with such institutions, but now our government and the army have unprecedented harmony and this always irritates the opposition," he added.
Talking about the Gilgit Baltistan assembly elections in November, Mr Khan said India wanted to create unrest in GB and spending a lot of money to meet its nefarious designs.
He said India also wanted to create a sectarian crisis in Pakistan by killing religious leaders of Shia and Sunni sects of Islam. He claimed that two groups from Islamabad had been busted recently, as they intended to kill religious leaders belonging to the two sects.
About the sugar "mafia", Mr Khan said the government was taking stern action against the sugar barons involved in the sugar crisis so that they could not increase price of the commodity in future.
About the recent increase in the prices of 94 life-saving drugs, Mr Khan backed the decision and said their prices had not been increased for over 15 years, with the result that they had vanished from the market. "Now the supply of these medicines will improve," he said.
https://www.dawn.com/news/1581623/opposition-trying-to-cause-army-govt-rift-imran
--------
Porous border, residents' support behind APS tragedy: probe body
Nasir Iqbal
26 Sep 2020
ISLAMABAD: A judicial commission appointed around two years ago to inquire into the Dec 16, 2014 terrorist attack on the Army Public School (APS) in Peshawar has observed in its report that the tragic incident plagued success stories of the armed forces which otherwise deserved deification.
Equally incomprehensible is the inertia on part of the Askari Guards as well as the deputed static guards to the initial heavy firing and blasts by terrorists until Mobile Vigilance Team (MVT) patrolling in the vicinity and Quick Response Force (QRF) arrived, regretted the 525-page inquiry report that was furnished before the Supreme Court on Friday.
The deadly attack had left 147 people, including 132 schoolchildren, martyred when militants had stormed the APS-Warsak school in Khyber Pakhtunkhwa's capital around six years ago.
A three-judge SC bench, headed by Chief Justice of Pakistan Gulzar Ahmed, on Friday ordered the federal government to make public the report of the commission that completed it on June 26, 2020. The court had appointed one-member judicial commission comprising Justice Mohammad Ibrahim Khan of the Peshawar High Court on Oct 5, 2018 to hold inquiry into the incident.
Commission was formed in Oct 2018 to investigate attack on Army Public School in Peshawar
The court had ordered Attorney General for Pakistan Khalid Jawed Khan last month to get the federal government's instructions regarding the judicial commission's report.
The report, which comprises statements of the aggrieved families, evidence led by the bureaucracy, police and military as well as discussions and observations, highlighted the belated response to the terror attack. Had the force shown a little response and could engage the militants in the very beginning of the attack, the impact of the incident might have been less, the report highlighted. Nevertheless, the movement of the militants towards the adjacent toddlers' block was restricted by the valiant soldiers of the MVT-2 and QRF on their arrival and thus further devastation in that block was foiled, it said.
While expressing sympathy with the parents of the martyred students, the chief justice during the hearing assured the families that those responsible for the tragedy would not be spared.
The Dec 16 incident was not a painful and unfortunate event for them only, but the horrendous act also jolted every citizen of our beloved land, observed Justice Mohammad Khan in the report.
It said the country remained at war with the enemy that carried occult activities and let loose terrorism, which hit the highest points in 2013-14, but this did not obligate the authorities to hold that the country's sensitive installations and soft targets could be forsaken as a prey to the terrorist attack.
Entry of terrorists
The entry of the terrorists from the cross-border (Afghanistan) till their infiltration into the doomed school's perimeter befooling the security apparatus could be attributed to mainly the porous north-west border and Afghan refugees' movement across the border in view of the understanding inter se the government and international agency regarding refugee's unrestrained movement, the report said. Above all, it added, the assistance provided to the fanatics from the inhabitants of locality, especially in this particular episode, was palpable and unpardonable.
"I can perceive it with utmost honesty that when one's own blood and flesh commit treachery and betrayal, the result would always be devastating," Justice Khan observed deploring that it diminished and compromised the security apparatus efforts and augmented and intensified the accomplishment rate of the enemy's nefarious plan.
No agency, how capable and able in terms of manpower, infrastructure and technology could outperform the impact of any attack effortlessly when infidels are within the inside, the judicial commission reported.
The report mentioned the three-layered security protocol namely the static guards at the outer gates, two MVTs patrolling in the vicinity of the APS for vigil, the QRF destined at a distance of around 10 minutes from the APS and the Rapid Response Force (RRF) of police for response within Peshawar cantonment. One MVT was beguiled towards the smoke erupted from the vehicle set ablaze by the terrorists as part of their plan while leaving the premises of APS unattended, it said, adding this act alone gave an edge to the militants to break into APS from backside where the MVT had to patrol.
Though the other MVT did respond it wasn't capable to buy the much needed time for the QRF and the RRF to overpower the terrorists before they could cause the catastrophe.
The generic threat alert issued by the National Counterterrorism Authority (Nacta) was in fact attributed to all the academic institutions run by the armed forces with the sole objective to target the army families as retribution for the unstoppable and successful military operations against the terrorists hideouts particularly operations Zarb-i-Azb and Khyber-I, the report said.
The report also mentioned how the aggrieved parents moaned that the operation was considerably delayed because of belated arrival of the Special Services Group (SSG) Commandoes without any plausible reason, whereby the terrorist acquired enough time to accomplish their plan of causing maximum damage in terms of loss of lives of innocent souls.
The aggrieved parents also recorded their reservations regarding the capacity of the militants to bring huge arms and ammunitions enabling them to engage in fighting till late hours of the day.
According to the report, most of the aggrieved families complained that notwithstanding their arrival at the site, the police were not allowed to enter the premises, giving the parents skewed hope of safety of their children. They questioned how the combat operation and evacuation activity could be conducted simultaneously. Though the aggrieved parents themselves observed the activities of military-men/security agencies, they formulated their own opinion based on circumstantial and incidental events happened that day.
The parents questioned when terrorists committed massacre in the first 15 minutes of the attack, why army after arrival could not eliminate the militants sooner? Likewise, the reason of continuation of the battle since morning till late evening shrouded them in mystery, as none could answer them for long till this day of commission's proceedings. They questioned how the evacuation of Shuhada/injured/survivors and military operation was conducted in chorus? Thus while casting doubt on "genuineness" of the force's response, they also alleged that the police were not allowed entry into the APS though they had reached ahead of the armed forces on the day of the incident.
They also complained that accurate information was not shared with the curious parents who were in utter despair fearing for their children's safety on the fateful day and at the end, they found their kids brutally killed and injured by the terrorists.
Justice Khan in his report acknowledged that the anguish endured by the bereaved families was beyond possible stretch of human imagination. Also, the report acknowledged the efforts of the armed forces in consoling and placating the agonies of parents of the shuhada and other victims, compared to the pains taken by such institutions in tragedies of this magnitude elsewhere in the world.
Recommendations
The commission also made certain recommendations such as medical and psychological treatment of the injured, parents and siblings of the Shuhada, provision of free education to the injured, provision of secondary and higher education to the siblings of the Shuhada, naming schools and other prominent places in the name of the Shuhada, conferring the honorary rank of Captain on the Shuhada students etc.
Justice Khan observed that the nation was proud of the sons and daughters who embraced martyrdom in the tragic incident and paid salute to the innocent lives, acknowledging them as the real heroes of the motherland.
The commission also appreciated the role of the Pakistan Military in uprooting the menace of terrorism from the country after the incident and for their unflinching support to the victim families. The armed forces demonstrated valour and endurance throughout their fight against the peril, the report said, adding the bereaved families and armed forces were two limbs of the same body, as the grievance and outcry of the former could be attributed to multilateral factors. No external force, how high or powerful it could be, could intrude and dilute this sacred relationship between the citizens of Pakistan including the bereaved families and the armed forces.
Meanwhile, the federal government assured the court that the recommendations of the commission would be shared with all relevant authorities to ensure strict compliance. The government admitted that it was obligation of the State to continue to provide for the welfare of those injured in the incident and where possible, extend worldly comforts for the members of the bereaved families. The government said the government had also awarded 22 Shuhada with Tamgha-i-Shujaat and Sitara-i-Shujaat (civil awards).
https://www.dawn.com/news/1581631/porous-border-residents-support-behind-aps-tragedy-probe-body
--------
PM for taking parliamentary parties on board in lawmaking
26 Sep 2020
ISLAMABAD: Removing a provision of public hanging of rapists from the anti-rape bill, Prime Minister Imran Khan on Friday said he wanted to take all parliamentary parties on board in future legislation.
During a meeting with National Assembly Speaker Asad Qaiser at the Prime Minister House, he said the anti-rape bill would be introduced in the National Assembly in its next session.
A source privy to the meeting told Dawn that the bill had suggested stern action and exemplary punishments for those involved in the sexual abuse of women and children, including chemical and physical castration of habitual rapists. They will also be registered so that police could keep a vigilant eye on them.
"The prime minister desired to take along other parliamentary parties in the legislative process in the best public interest," said an official press release issued by the Prime Minister Office after the meeting.
It said the prime minister discussed matters related to legislation, measures of public interest and welfare with the speaker.
Prime Minister Khan said the legislature had an important role to play in protecting and upholding the rights of the people under the Constitution and law.
"Treasury members will continue to play their due role in any reforms or amendments required to the existing laws," he added.
Later, Minister for Human Rights Dr Shireen Mazari, in a separate press conference, said the prime minister had excluded the provision of public hanging from the anti-rape bill while other exemplary punishments for rapists had been suggested.
On Sept 14, the prime minister called for public hanging of those involved in sexually assaulting women and children or physically castrating them so that they could not commit such crimes in future.
Universal health coverage
The prime minister directed the Punjab government to launch the facility of universal health coverage for the residents of two big cities of the province.
He was presiding over the review meeting on the National Health Card Programme to provide quality services to deserving people in Punjab and Khyber Pakhtunkhwa.
The meeting was attended by Special Assistant to the Prime Minister on Health Dr Faisal Sultan, Punjab Health Minister Yasmin Rashid, KP Health Minister Taimur Saleem Jhagra, Parliamentary Secretary Dr Nausheen Hamid, secretaries of relevant departments and senior officials.
The prime minister was informed that the Sehat Sahulat Programme had been extended to 36 districts of Punjab with 5.1 million families registered under it.
The meeting was told that the beneficiaries of the programme had increased during the tenure of the present government with 80,389 people benefited from the facility this year.
During the last one-and-a-half months, around 1.3 million families had been registered, whereas 235 hospitals were included in the panel.
https://www.dawn.com/news/1581661/pm-for-taking-parliamentary-parties-on-board-in-lawmaking
--------
PIMA to hold basic life support workshops in 50 mosques
September 26, 2020
Islamabad : The Pakistan Islamic Medical Association (PIMA) has embarked on a unique initiative that seeks to guide and train common citizens about first aid measures that can and should be provided to someone who suffers a sudden cardiac or respiratory arrest, especially where basic facilities to save precious lives are not available.
This lifesaving project was first initiated on a large scale by the British Islamic Medical Association, and was later on adopted by all doctors' associations including PIMA, affiliated with the Federation of Islamic Medical Associations (FIMA).
September 26 has been marked for holding life support sessions in mosques all over the world. As an active partner of this campaign, PIMA had arranged sessions on basics of emergency care in 48 mosques of 16 cities across Pakistan last year as well. The project is of utmost importance, especially for Third World and under-developed countries like Pakistan where emergency services are none-existent in far-flung areas of the country.
The Incharge of PIMA's lifesaving project, Dr. Abdul Aziz Memon, said a large number of people suffer cardiac arrests at home or at their workplaces and lose their lives due to lack of awareness about basic life support techniques. He further assured that many lives can be saved with Cardio Pulmonary Resuscitation (CPR) training, which is simple to learn. CPR is an emergency first-aid procedure that is applied to maintain respiration and blood circulation in a person whose breathing and heartbeat suddenly stops.
https://www.thenews.com.pk/print/720309-pima-to-hold-basic-life-support-workshops-in-50-mosques
--------
South Asia
Surviving the Perils of the Bloodied Bangladesh-India Border by Mostly Ethnic Santal and Catholic
September 25, 2020
For generations Patrick Baskey and his family have been living undisturbed in Kurmoil village in the Dhamoirhat area of Naogaon district in northern Bangladesh, close to the Indian border zone.
Several hundred villagers, mostly ethnic Santal and Catholic like the Baskeys, rely on agriculture, fishing and day labour for a livelihood.
Like most of Bangladesh's 18 border zones with India, it is notorious for illegal activities including smuggling of goods and cattle, human trafficking and trespassing, leading to torture, arrest and killings by members of India's Border Security Force (BSF) at regular intervals.
"Often people trespass into India illegally for various purposes like migration, employment and smuggling. A syndicate consisting of Bangladeshi and Indian people as well as some officials of the local administration are involved in illegal activities. People get arrested, tortured and shot dead by the BSF, and all of them are Bangladeshi citizens," Baskey, 29, told UCA News.
"Some poor people do it for an income and others do it to get rich quickly. Lack of employment, low income and greed can be blamed for such activities that sometimes cost lives."
Baskey is a member of Christ the King of Peace Church in Chandpukur of Naogaon in the Diocese of Rajshahi. The parish, set up in 1979, has about 5,230 indigenous Catholics spread around 60 villages, some within two kilometers of the Indian border.
No local Christian, despite being poor, will resort to such illegal activities because of the considerable risks to their lives, so there have been no abuse or killing of Christians in decades, he said, adding that priests, nuns and catechists always warn Catholics about the dangers of illegal activities on the border.
"Involvement in illegal activities is not always about poverty but also due to a decline in morality. On the other hand, abuses and killing people by shooting are violations of human rights and unacceptable," Baskey added.
Keeping people away from border
Father Fabian Mardy, the former parish priest of Chandpukur Church, said alerting Catholics to the dangers of illegal activities on the border has been a priority for years.
"In my seven years in the parish, I never heard any Christian had been abused or killed at the border as they don't do anything that can threaten their lives. Also, we always keep in touch with our people in the border zone and make them aware of various risks," Father Mardy, parish priest of Sacred Heart of Jesus Church, also in Naogaon district, told UCA News.
The priest strongly condemned arbitrary shootings and killing of unarmed civilians at the border by the BSF.
"If people commit crimes, they can be arrested and punished, but no one should be victims of extrajudicial shooting and killing. Both governments must work better to bring border killing to zero," the priest said.
Like Chandpukur Parish, Queen of Fatima Church in Ruhea in Thakurgaon district of Dinajpur Diocese, has not seen any Christian casualties in recent decades. The parish has about 7,514 Bengali and indigenous Catholics, with hundreds living in villages close to the border.
"Local Christians are mostly farmers and day laborers, and they never go to the border, so there has been no abuse or killing of Christians in the past years. We always advise them to remain alert so that they don't face any troubles," Father Anthony Sen, convener of the diocese's Justice and Peace Commission, told UCA News.
The priest also deplored the torture and killing of people at the border by Indian forces irrespective of their religious or ethnic background.
"This is a gross violation of human rights. India is a big and powerful country, but it does not mean its forces can do whatever they like and keep shooting and killing people at will. We are frustrated to see border forces of both nations holding meetings and promising to stop border killings, but now and then Bangladeshi people are being killed," Father Sen said.
While churches in border areas score successes in helping people evade casualties at the hands of Indian forces, in many places Bangladeshi people continue to be killed.
Unabated border killings
Bangladesh, a Muslim-majority South Asian nation of over 160 million, shares a border of about 4,100 kilometers with Hindu-majority India, its giant eastern neighbor.
Despite India's support for Bangladesh's War of Independence from Pakistan in 1971, its border forces have adopted a lethal policy that has left several thousand people, mostly unarmed Bangladeshi villagers, shot and tortured to death in the past decades.
India has also constructed a barbed wire fence encircling Bangladesh to stop illegal immigration, smuggling and other crimes on the border.
In a 2010 report, New York-based Human Rights Watch dubbed the BSF a "trigger-happy" force that follow a "shoot-to-kill" policy and termed Bangladesh-India border zones "South Asian Killing Fields" due to unabated killings. No one has been held responsible or prosecuted for the killings.
A series of diplomatic exchanges and joint meetings of border forces of the two nations have been held in recent years in an attempt to stop the use of excessive force and lethal weapons. The killings have declined but not stopped, rights groups say.
At the end of the 50th meeting between director generals of Border Guards Bangladesh and India's Border Security Force on Sept. 16-19, promises were made to stop border killings, prioritize human rights and introduce joint patrols to curb smuggling and trafficking of drugs and arms.
Rights activists, referring to earlier promises, are skeptical about the new pact.
So far, 34 Bangladeshi people have been shot and tortured to death by the BSF at the border in 2020, according to Ain-O-Salish Kendra (ASK), a Dhaka-based rights group. It has documented a total of 43 killings on the border.
"Even if crimes are committed at border zones, killing is in no way acceptable. There are laws to punish people if they engage in crimes, but they cannot be shot at like birds to kill. While India needs to act as a responsible neighbor, Bangladesh needs to be vocal against such rights violations," Nina Goswami, senior deputy director at ASK, told UCA News.
"We would like to see meetings are held not only for the sake of meetings but also to bear fruit and stop abuses and killings."
Efforts to curb crimes on the border will continue to increase, said Lt. Col. Foyzur Rahman, spokesman for Border Guards Bangladesh, but he didn't elaborate on activities to stop killings by Indian counterparts.
"We try to tackle criminal activities, which are daily realities in border areas. Our efforts to maintain close connections with Indian forces and to curb crimes and killings have increased and will continue," Rahman told UCA News.
https://www.ucanews.com/news/surviving-the-perils-of-the-bloodied-bangladesh-india-border/89652#
--------
65 Taliban insurgents killed in eastern Afghanistan
September 24, 2020
KHOST, Afghanistan: Afghan security forces have killed 65 Taliban militants during an intense battle in eastern Afghanistan, officials said Thursday, as fighting rages between the two sides despite ongoing peace talks.
The latest bloodshed came late Wednesday after the Taliban stormed a military headquarters building in the Wazi Khwa district of Paktika province.
"The fighting lasted several hours and in a retaliatory attack by the Afghan forces, the Taliban suffered heavy casualties," Paktika police spokesman Shah Mohammad Arian told AFP.
"In the clash, 65 Taliban fighters were killed and 35 others were wounded. Unfortunately, three police forces were martyred and six others wounded."
Bakhtiar Gul Zadran, the head of Paktika provincial council, confirmed the information.
The Taliban did not immediately comment.
The violence came a day after the Taliban said they had killed 28 Afghan paramilitary policemen in Uruzgan in southern Afghanistan.
The violence comes as Taliban and Afghan government negotiators are meeting in Doha, where they are trying to find a way to end 19 years of war.
A hopeful start to the peace talks September 12 was immediately marred by fresh violence across Afghanistan.
Negotiations are moving slowly, with the two sides trying to thrash out various parameters before deciding an agenda.
https://www.arabnews.com/node/1739541/world
--------
Southeast Asia
Promote bilingualism to break schools deadlock
Sharifah Munirah Alatas
September 26, 2020
The problems surrounding the nation's language policy have lingered for decades. The endless debates continue, over the teaching of English, the positions of vernacular schools and of Bahasa Malaysia; the question of national patriotism and the rising unemployability of university graduates.
The constant debates demonstrate how self-centred and ethnocentric our leadership has been for decades.
For all the grandiose statements made by former prime ministers, and our vision to become a developed nation by 2020, 2030 or 2050, we are still unwilling to solve our education problems: we are still arguing about whether English is important, or if our Federal Constitution has provisions to promote bilingualism or multilingualism in our system.
Prof Shad Saleem Faruqi of Universiti Malaya recently alluded to the fact that our leaders need "the wisdom, political courage and educational vision". They need to acknowledge there are no legal impediments to the use of English, vernacular and native languages in our schools and tertiary institutions.
There are provisions under the Education Act, the National Language Act and the Private Higher Education Act.
The US has never promoted English as its official language. For all intents and purposes, it has no official language. The country has also been a developed nation for more than a century, and the world's superpower for more than half a century.
Its founding fathers did not see the need to declare an official language as English was the dominant language. There was no need to "protect it". For the US, no official language was declared because they did not want to "offend their non-English speaking fellow Americans who helped fight for independence". This represents the wisdom and political courage mentioned above.
On the flip side, our founding fathers declared Bahasa Malaysia as the official language. The majority of Malaysians are Malays, so the Malay language was already dominant. Hypothetically, the Malay language (like Islam) should not need to be "protected". Rather, it should automatically be the patriotic glue that binds the nation together.
Language was used as a racial and religious tool
So, where is our educational vision?
Problems emerged when Malaysians started to politicise race and religion. Language was used as a tool to drive a wedge between the races and religions. The political game seeped into the education system. The situation was compounded when our nation began to trail behind in regional and global productivity and marketability. We have our leaders to blame for this.
Rising university graduate unemployment, backwardness in technological and scientific innovation and a diminishing role in global competitiveness have caused us to argue more about education policies. Instead of pooling our resources to rise to the global economic challenges, our leaders chose to bicker endlessly about which race and language is supreme, and which language and religion needed protection.
It is obvious that our leaders have a very selfish and narrow educational vision. Since 2003, the same issues have been highlighted, ad nauseum. We are forever reading about unemployable university graduates due to their poor command of English at job interviews.
Polls conducted over the decades have consistently indicated that the majority of Malaysians want their children to be more proficient in the language. Parents are frustrated that their children's economic future will be in jeopardy because they lack English communication skills.
The problem is the ill-intentions of nationalists
The issue is not about our Federal Constitution, failure to understand it or fear about dwindling patriotism. The problem lies in the ill-intentions of nationalists, Malay and non-Malay, who use the issue of language to construct narratives which serve selfish political ends.
One narrative is that the Malays feel that teaching students in English will erode national identity and patriotism and make the students less Islamic, more immoral and westernised. In 2003, when former prime minister Dr Mahathir Mohamed introduced the teaching of science and mathematics in English (PPSMI), the grades for those subjects drastically fell.
Mostly, it was the rural Malays who were disadvantaged. However, this had a lot to do with the poor quality of teachers assigned, and poor infrastructural and supplemental facilities in the rural schools. The problems were very practical and not some ideological rejection based on patriotic sentiments or fear of abandoning Islam.
Recently, Perlis mufti Mohd Asri Zainul Abidin had suggested abolishing ALL streams, including religious streams at the primary level. Earlier, a rather inexperienced politician had called for the abolition of vernacular schools, saying they were a hindrance to nation building. He should have studied the matter in more detail.
Nation building is a complex phenomenon. The US has been a progressive and united nation, whose citizens are largely patriotic. This is despite having not declared an official national language. The young politician mentioned above should read more and learn to contextualise, not politicise his statements. All he has shown is his irresponsible, politically-motivated and hurtful intentions to many non-Malay Malaysians.
Where's the evidence about integration?
Another narrative says vernacular education is necessary at the primary level. It would not be advisable to defer vernacular education to the secondary level. The view also suggests we lack empirical evidence that single-stream primary education leads to more integration compared to single-stream secondary education.
This is true. It shows that the decades of arguing about language and education has not been taken seriously. If it was, by now there would be an abundance of socio-psychological, linguistic, historical and anthropological studies and publications on the matter.
For decades there has been a steady decline in the quality of school and university graduates. A columnist recently wrote "a complacent public allowed extremist leaders to dominate almost every area of our lives, including education, and today, we reap the benefits".
This is not true. Our public has not been complacent. In fact, we have been continuously upset and confused because our leaders keep changing the language policy every few years. They keep grabbing "the wrong end of the cow". Our leaders are complacent, not the public.
The fact that Malaysia is falling behind in global competitiveness, scientific and technological advancements is not because of the decline in the quality or use of Bahasa Malaysia. It is also not because vernacular schools have produced more unpatriotic Malaysians.
Backwardness caused by unethical leaders
The crux of the matter lies in the overall backwardness of our people, led by a regressive and unethical leadership. More than a thousand years ago, the Arabic language advanced the subjects of science, mathematics, engineering, physics, philosophy and medicine. Today, it is English that does this.
The Arabic language is not to blame, but rather the moral decline of Muslim leaders and their over indulgence in the material aspects of life. Neither language nor religion should be blamed.
Since we have a national language, the language of instruction should be in Bahasa Malaysia. However, a large quota of our mental efforts and physical resources should be directed at how we teach English as a second language. We must acknowledge that educators have to be able to teach a high level of English as a second language, the way it is done in the Netherlands, Finland and China. It is also insufficient or half-baked to focus the teaching of English only for certain subjects such as science and mathematics.
Our educational vision should be to develop Malaysians who are truly bilingual in Bahasa Malaysia and English. Since Malaysia is naturally a multicultural and multi-linguistic nation, our vernacular languages are part of our national identity and should not be silenced.
Our leadership should prioritise bilingualism, but not be fanatical about abolishing our vernacular languages. Find the political will, intellectual capability and financial resources to do it. Stop the endless debates.
https://www.freemalaysiatoday.com/category/opinion/2020/09/26/promote-bilingualism-to-break-schools-deadlock/
--------
Sabah polls a straight fight between Shafie and Muhyiddin, says Ilham Centre report
25 Sep 2020
BY DANIAL DZULKIFLY
KUALA LUMPUR, Sept 25 — The highly-anticipated Sabah state election is a contest between two political personalities only, namely Prime Minister Tan Sri Muhyiddin Yassin and caretaker Chief Minister Datuk Seri Shafie Apdal, according to a report by think-tank Ilham Centre.
The report, dubbed "The Executive Summary of the Sabah State Election 2020: Voting Patterns and Predictions", stated that Shafie has a clear advantage due to his campaign strategy.
"This state election is actually a clash between Shafie Apdal and Muhyiddin Yassin. The latter comes across as very diligent and even his campaign schedule has been quite packed in Sabah.
"After examining their appeal, Shafie has the greater advantage of the two. Muhyiddin's popularity in the peninsula seems to be quite limited here," the report said in reference to Sabah.
"In this regard, Shafie has the edge due to his firm leadership in terms of seat distribution, use of symbols and choice of candidates. He demonstrated his ability to finalise the distribution of Warisan Plus seats despite being pressured by PKR during negotiations.
"At the same time, Shafie took the bold approach of dropping old, non-performing candidates and replacing them with new faces who are relatable to local voters," added the report.
In contrast, Opposition alliance Gabungan Rakyat Sabah's (GRS) direction remains unclear, with Muhyiddin failing to resolve seat allocation disputes among its component parties.
"Umno and Barisan Nasional (BN), on the other hand, took the approach of presenting almost 90 per cent new candidates.
"However, the stubbornness and ego of their leaders in refusing to comply with the 'straight-fight' clash requirement is likely to give Warisan Plus a slight advantage in some seats.
"Further, the lukewarm relationship between Bung Moktar and Hajiji Noor makes it hard to predict how Umno and Bersatu supporters will vote on polling day," said the report, referring to Sabah Umno chief Datuk Seri Bung Moktar Radin and Sabah Parti Pribumi Bersatu Malaysia chief Datuk Hajiji Noor.
"Our observations in the field found that the Umno and Bersatu machinery did not cooperate with one another. This also had an indirect effect on their respective supporters."
However, in this state election, Ilham Centre found that Sabahans indicated that they now prefer to vote for a candidate rather than a party.
"Some voters are very mature in evaluating the candidates who will be elected. 'Radu' (fights) and clashes can cause a change in voting pattern from being for a party to a candidate," said the report.
Polling takes place tomorrow, with 447 candidates vying for 73 state assembly seats.
https://www.malaymail.com/news/malaysia/2020/09/25/sabah-polls-a-straight-fight-between-shafie-and-muhyiddin-says-ilham-centre/1906726
--------
Manila will not seek pardon for Filipino drug dealers convicted in Middle East
September 25, 2020
MANILA: Philippine Foreign Secretary Teodoro Locsin said on Friday that he had instructed Philippine ambassadors in the Middle East to exclude convicted Filipino drug dealers from prisoner exchange programs and let the law of the host countries take its course.
"I won't allow the pardon of convicted Filipino drug dealers in the Middle East," Locsin said on his Twitter account.
"My orders to my ambassadors there is exclude drug dealers from prisoner exchanges."
Echoing President Rodrigo Duterte's stand on drug offenders, he said: "You destroy my people I will . . . let the law abroad destroy you."
He stressed that unlike in Indonesia, Filipino drug dealers in the Middle East "were not fooled."
He was apparently referring to the case of Mary Jane Veloso, which made international headlines when the Philippine woman was sentenced to death by Indonesian authorities in 2010 for carrying 2.6 kilograms of heroin in her luggage.
Veloso was scheduled to face the firing squad in April 2015 but was given a last-minute stay of execution after an appeal by then Philippine President Benigno Aquino III.
She denied knowledge about the heroin and insisted that she was tricked into carrying the drug-laden luggage by her Philippine-based recruiter who promised her a job in neighboring Malaysia.
Senate President Vicente Sotto III, meanwhile, expressed his support for Locsin's stand on drug convicts.
"Exactly my position when I was Dangerous Drugs Board chairman! Korek (correct)!" he said also in a Twitter post.
It was not immediately clear what prompted Locsin's statement, but the Department of Foreign Affairs, which he leads, was involved in a recent prisoner exchange with the UAE.
Earlier this month, 95 Filipinos detained for various offenses in the UAE were released and allowed to return to the Philippines in exchange for two UAE nationals pardoned by Duterte.
https://www.arabnews.com/node/1740051/world
--------
Arab world
US threatens Baghdad with sanctions over Iran-backed militia attacks in Iraq: Sources
Joseph Haboush
25 September 2020
The United States has threatened to shut its embassy in Baghdad in a strongly-worded message delivered to Iraq's president in recent days over continued attacks against US targets by Iran-backed militias, sources familiar with the matter said Friday.
US Secretary of State Mike Pompeo sent a "very tough message" to Iraqi President Barham Salih regarding Washington's frustration, which included the threat of sanctions on top Iraqi officials, an Iraqi political source said.
For all the latest headlines, follow our Google News channel online or via the app.
US and Iraqi political sources briefed on the content of the message told Al Arabiya English that the threat of sanctions and limits on dollar transactions, including withholding badly-needed aid through the World Bank and the International Monetary Fund for Iraq, were all raised by Pompeo.
The US State Department said it does not comment on the Secretary of State's private diplomatic conversations with foreign leaders when asked about the matter.
"We have made the point before, however, that the Iran-backed groups launching rockets at our Embassy are a danger not only to us but to the Government of Iraq, neighboring diplomatic missions, and residents of the former International Zone and surrounding areas," a State Department official told Al Arabiya English.
The US has around 5,200 troops stationed in Iraq, although Washington announced that it would reduce the number to about 3,000.
Meanwhile, rocket attacks continue against bases housing US or Coalition forces. In August, three Katyusha rockets fell in the vicinity of Baghdad International Airport.
That attack followed at least five attacks directed at US interests in Iraq within one week, including four blasts against convoys carrying supplies to bases housing US forces, a rocket attack on an air base north of Baghdad and a rocket attack near the US Embassy in the capital.
This week a former Iraqi official acknowledged the message sent by Pompeo.
Hoshyar Zebari, the former finance and foreign minister, said the "recent stern warning" from Pompeo meant that "Iraqi leaders have to rise to the challenges posed by armed militia to target US diplomatic & military installations."
The US has been patient with Iraq, and the international community will follow Washington's calls to help Baghdad or not, Randa Slim of the Middle East Institute think-tank said.
"The US waited for the Iraqi government to stop attacks on its assets in Iraq and have been very patient. The international community will take its cues from Washington if it were to refuse to offer assistance to Iraq," Slim told Al Arabiya English, adding that an IMF assistance package was needed for Iraq.
The State Department official said that the US was working to secure financial support for Iraq from the international community and various private-sector businesses. But "the presence of lawless, Iran-backed militias remains the single biggest deterrent to additional investment in Iraq."
https://english.alarabiya.net/en/News/middle-east/2020/09/26/US-threatens-Baghdad-with-sanctions-over-Iran-backed-militia-attacks-in-Iraq-Sources
--------
Emiratis are 'cheerleaders' for US role in Middle East: UAE ambassador to Washington
25 September 2020
The UAE's ambassador to the United States has described officials in his Persian Gulf country as "cheerleaders" for the US role in the Middle East, saying the recent normalization agreement between Abu Dhabi and the Israeli regime would not have taken place without the White House's tutelage.
Speaking Thursday at a virtual meeting with the Anti-Defamation League, a pro-Israel group which tracks anti- Semitic attacks, Yousef al-Otaiba commended US President Donald Trump for brokering the UAE-Israel deal in "less than four weeks."
Otaiba then sought to paint a rosy picture of Washington's role in the region, saying, "We're not only in the pro-US camp. We are the cheerleaders of the pro-US camp."
In an op-ed published in Israel's largest Hebrew language daily Yedioth Ahronoth last June, Otaiba promoted normalization with Israel.
He was among the three Arab ambassadors who attended Trump's January unveiling of his so-called Middle East plan, dubbed the deal of the century.
The so-called deal of the century envisions Jerusalem al-Quds as "Israel's undivided capital" and allows the Tel Aviv regime to annex settlements in the occupied West Bank and Jordan Valley. The plan also denies Palestinian refugees the right of return to their homeland, among other controversial terms.
Trump's plan was immediately rejected by the Palestinians, and has triggered waves of protest around the globe.
Otaiba went on to allege on Thursday that the UAE-Israel deal kept the "two-state solution alive."
"What we did was we put time on the clock. Now how the parties use that time on the clock to their advantage, that's ultimately their decision," the UAE ambassador said.
Israel and the UAE agreed to a US-brokered deal to normalize relations on August 13. Under the agreement, the Tel Aviv regime has supposedly agreed to "temporarily" suspend applying its own rule to further areas in the West Bank and Jordan Valley that Israeli Prime Minister Benjamin Netanyahu had pledged to annex.
While Emirati officials have described the normalization deal with the Tel Aviv regime as a successful means to stave off annexation and save the so-called two-state solution to the Israeli-Palestinian conflict, Israeli leaders have lined up to reject the bluff of Abu Dhabi's crown prince and de facto ruler of the UAE, Sheikh Mohammed bin Zayed Al Nahyan, that Israel's annexation plans were off the table.
Netanyahu has underlined that annexation is not off the table, but has simply been delayed.
The Israeli prime minister signed agreements with Emirati Foreign Minister Sheikh Abdullah bin Zayed Al Nahyan and Bahrain's Foreign Minister Abdullatif Al Zayani during an official ceremony hosted by Trump at the White House on September 15.
Palestinians, who seek an independent state in the occupied West Bank and Gaza, with East Jerusalem al-Quds as its capital view the deals as betrayal of their cause.
Palestinian President Mahmoud Abbas protested the normalization deals with Israel, saying they will be fruitless as long as the United States and the Israeli regime do not recognize the rights of the Palestinian nation and refuse to resolve the issue of Palestinian refugees.
Friedman: UAE has to wait 7 years to receive F-35
An early hurdle in UAE-Israeli relations has been Abu Dhabi's push to acquire American F-35 stealth fighter jets.
The Trump administration, on the other hand, is studying how to structure an agreement without running afoul of Israel as any deal must satisfy decades of agreements with the Tel Aviv regime.
A longstanding American tradition maintains that any US weapons sold to the Middle East must not impair Israel's qualitative military edge (QME), guaranteeing US weapons furnished to the regime are "superior in capability" to those sold to Washington's regional allies.
US Ambassador to Israel David Friedman said on Wednesday it would likely take six to seven years before the UAE receives the F-35 stealth aircraft.
"The Emiratis have been trying to get the F-35 for six or seven years. The delivery time is probably another six or seven years from now, if they got [approval to purchase the aircraft]," Friedman said in an interview during a Jerusalem Post newspaper conference.
The Reuters news agency, citing sources close to the US-UAE negotiations, said on Tuesday that the two sides hope to have an initial agreement on the sale of the warplanes to the Persian Gulf state for UAE National Day, celebrated on December 2.
https://www.presstv.com/Detail/2020/09/25/634977/Emiratis-are-cheerleaders-for-US-role-in-Middle-East-UAE-ambassador-to-Washington
--------
Adib presents government proposal to Aoun as Hezbollah pressure grows
NAJIA HOUSSARI
September 25, 2020
LEBANON: As Lebanon's Prime Minister-designate Mustapha Adib continues his efforts to form a new government, on Friday he presented to President Michel Aoun a proposal for "distributing the ministries to various sects before setting a final formula on who will be nominated to these ministries," sources said. The two men will meet again on Saturday for further discussions.
Adib is facing sustained pressure from Hezbollah and the Amal Movement, who have raised their demands to insist that all ministerial positions are filled by Shiites, and not only the key role of minister of finance.
This has jeopardized his efforts to form a "government that satisfies everybody," based on a French initiative that calls for the appointment of a small team of independent specialists representing all religious sects, who are not members of the main political parties.
Government sources said: "Adib, during his meeting with representatives of Hezbollah and the Amal Movement on Thursday evening, refused to accept from them a list of names of Shiites from which to choose a minister of finance."
During his Friday sermon the following day, the Grand Jaafari Mufti Ahmad Qabalan said: "We insist on nominating our ministers and we refuse to accept that anyone else will do that for us, no matter who he is."
Economic experts said on Friday that the continuing debates about the formation of the government are a "waste of precious time," which is a luxury Lebanon does not have. They criticized the continued prioritization of political interests over the best interests of the country and warned that "it is a matter of life or death for the Lebanese people."
They pointed out "thousands have lost their businesses and tens of thousands have lost their jobs, and 55 percent of the Lebanese people are living below the poverty line. There is a shortage of essential products, and the reserves of the Banque du Liban (the Lebanese Central Bank) have withered away." Meanwhile there has been a brain drain of professionals and businessmen leaving the country, "which threatens to deprive Lebanon of one of its strongest and most important assets."
Adib faced further obstacles from Hezbollah allies on Friday when Suleiman Frangieh, leader of the Marada Movement, announced that he does not agree that the Prime Minister-designate should choose who represents his party in the government without consulting with him.
Meanwhile, Talal Arslan, leader of the Lebanese Democratic Party, called on Adib to "show respect to parliamentary blocks."
Others warned that the president cannot approve a list of ministers he does not know, and that giving a Shiite party the finance portfolio must not deny other sects the right to ministries that they claim.
"The French initiative is blocked due to the conflict between particular interests and regional and international calculations," said Lebanese MP Bilal Abdallah. "The country cannot stand this any more and it might collapse if things continue the way they are."
He added that he hopes Adib will continue his efforts to form a government and give the French initiative a chance.
Lebanese academic Dr. Hares Sleiman said: "The options of Hezbollah and Amal Movement are determined by their priorities: do they want to defend Iran's quota … or do they want to have the livelihood of the Lebanese people as their priority, including their supporters and the Shiites of Lebanon?"
He added: "(Amal Movement leader and Speaker of the Parliament Nabih) Berri wants the Ministry of Finance at a time when there is a shortage of money, and the international community is demanding the dismissal of those who are corrupt and the implementation of reforms to save the Lebanese economy.
"So would Berri accept an independent government that satisfies the demands of protesters in the streets so that Lebanon would enjoy internal, Arab and international support? If he does that, he would be conspiring against Hezbollah and its allies in power. If he does not, then the caretaker government of Hassan Diab will stay, and the crisis and the sanctions will continue."
https://www.arabnews.com/node/1740096/middle-east
--------
Israel admits ISIS fighter in Iraqi prison is its own and permits his return
Jack Moore
Sep 25, 2020
Israel has acknowledged the existence of an Arab Israeli ISIS fighter who has languished in solitary confinement at a northern Iraqi prison without trial for more than two years, according to a letter obtained by The National. It says he would be allowed to return home if he can reach Israel's borders from Iraq, despite a lack of formal ties between the two countries.
When US forces captured Mohammed Khalid in a December 2017 raid in eastern Syria following four years spent fighting for ISIS across the group's self-proclaimed state, Israel kept the case of the Palestinian from Israel's Arab-majority Northern Triangle area, and his whereabouts, in the dark.
But after The National interviewed him at an Iraqi Kurdish counter-terrorism facility and tracked down his family in northern Israel, the Israeli government finally acknowledged his existence in the state's first comments on his case, one fraught with legal implications and that counter-terror experts said was the first they had witnessed of a state refusing to even recognise a foreign fighter as its own – let alone allow his repatriation.
All evidence pointed to Israeli knowledge about his case despite its denials. Before Khalid's capture, the family say they were questioned about him on numerous occasions at Israel's Ben Gurion Airport. Since then, their repeated attempts to obtain information about him from the Israeli government since October 2018 have been ignored. Khalid himself said Israeli security agents approached him at least twice before he fled to Syria.
After he was captured, the 29-year-old from the northern Israeli town of Umm Al Fahm was transferred between American forces, the Jordanians, the Iraqis in Baghdad and the Kurds in Sulaymaniyah, according to Iraqi officials, who say Israel rejected his return when Jordan offered him back.
In the October interview, he admitted that he fought for the terror group, denied committing crimes on the battlefield and defended rape, slavery and the murder of journalists. He is an unashamed militant who is unwanted by his country and viewed as a traitor, and whom the Israeli government has repeatedly denied knowledge of until now.
In the letter dated February 18, 2020, titled 'Entry to Israel', and sent to the Khalid family lawyer by the Israeli Ministry of Justice in English, Hebrew and Arabic, government lawyer Omri Ben-Zvi told the family attorney, Hussein Abu Hussein: "I would like to inform you that according to relevant government officials, the State does not prohibit the entry of Mr Mahameed to the territory of Israel."
The government referred to Khalid, whose full name is Mohammed Khalid Mohammed, as Muhammad Muhameed.
Mr Ben-Zvi did not respond to a request for comment on which government officials approved of Khalid's return, nor the discrepancy in the Israeli government's policy. At least two Arab ISIS fighters, unlike Khalid, have had their Israeli citizenships revoked since ISIS rose to global attention in 2014, according to Israeli officials.
An Israeli Justice Department spokesperson said policy regarding admission into Israel is directed solely by the Minister of Interior, who "consults with the relevant security authorities fighting abroad for terrorist organisations".
Both an Israeli interior ministry official and spokesperson for the Shin Bet, Israel's domestic spy agency, declined to comment.
After Israel's admission, there is now a growing effort to bring the hardened fighter back to Israel, where his family want him to face justice and serve any prison sentence meted out. Mr Hussein told The National that he had connected the family with the Red Cross in Jerusalem "in order to make the needed efforts to find their son, enquire about the conditions of his detention and bring him back".
The Red Cross refused to comment, saying that the agency "works directly with families in need of tracing their loved ones and treats cases with strict confidentiality." But Khalid's sister, Tala, said there "aren't any updates" on his case. A family lawyer in Mr Hussein's office said: "The family is frustrated and is afraid that the maximum they will get is a telephone call with their son".
The family had sporadic contact with Khalid after he fled northern Israel for the southern Turkish city of Adana in August 2013, where he was smuggled into Syria to fight with rebels, before defecting and joining the ranks of ISIS. He cut off contact with the family in late 2016, and they thought he was dead, until The National revealed his location. His family now want him to face his punishment at home, instead of a far away land with no judicial oversight.
"Even if it's 10, 15 years here in prison, it would be better. At least we [would] know where he is," Mousa, Khalid's father, told The National in November.
Even though Israel said it is willing to receive Khalid, its lack of formal diplomatic relations with Iraq means his repatriation, and any subsequent trial, remains unlikely, but acknowledging his existence paves the way for an eventual return.
An Iraqi Kurdish intelligence official said Khalid is still in detention in Sulaymaniyah as his situation "remains the same as before": that of a "prisoner of war" caught fighting coalition forces. The Kurdish counter-terrorism forces with whom he is detained are part of the semi-autonomous Kurdistan Region of Iraq. As non-state actors, they have no obligations under international law, nor the formal ability to conduct a proper trial by international standards.
A number of Iraqi Kurdish officials have long held clandestine relations with the Israelis, who have worked to boost Kurdish independence ambitions in return for help with Iraqi recognition of Israel.
While officials and politicians in Baghdad have been consistently opposed to the normalisation of ties with Israel, many Kurdish officials privately express hope for a future deal that brings Israeli money and tech to their semi-autonomous region of Iraq.
Yet, on the matter of Khalid's incarceration, they say there has been no agreement with his home country.
"There's no deal of any sort. There is no communication between Iraq and Israel," the Kurdish intelligence official said. "We're not holding him on their behalf."
"How can they take him back? Israel and Iraq have no relations whatsoever."
An alternative to repatriation to Israel is a trial under Iraqi law. Such trials have been criticised by rights groups for severe due process violations, as well as the prospect of torture faced by suspects.
The United Nations, which first commented on his case in October, is clear that he should be returned to Israel for trial because of his prolonged incarceration in solitary confinement, which scientific research shows can have a degenerative impact on prisoners, leading to incidents of self-harm, and in the worst cases, death by suicide.
"If there is evidence of Mr Mahameed being ill-treated, and extensive solitary confinement could constitute ill-treatment, then the Kurdish authorities are violating their obligations under the law of war, and Israel, knowing of his conditions of detention, should, in my opinion, seek his removal," Agnes Callamard, the UN special rapporteur on extrajudicial killings, told The National.
"The nature of the crime committed by Mr Muhameed does not strip him of (all) his rights as an Israel citizen and certainly not the rights related to his life and dignity," she said. "From this standpoint, Israel is under an obligation to ensure he is not the subject of torture or ill-treatment, and it ought to take all measures to prevent his life from being arbitrarily taken."
But the global body's repeated call for justice to be administered to Khalid, according to international human rights law, continues to remain a low priority for those involved in his case.
"[At the] end of the day…[there is] not a lot of interest in anyone to release an ISIS fighter who doesn't even deny he was a terrorist," the Kurdish intelligence official said.
"Will they charge him if they take him back?" he asked. "If they can't charge him, then do they really want to let a terrorist back into their country?"
https://www.thenational.ae/world/mena/israel-admits-isis-fighter-in-iraqi-prison-is-its-own-and-permits-his-return-1.1082940?utm_source=iterable&utm_medium=email&utm_campaign=1555151_
--------
Mideast
Iran not buckling under to Trump's madman theory threats
25 September 2020
By Kevin Barrett
Hossein Dehqan, who is a former defense minister and current advisor to the Supreme Leader of Iran, has spoken out to warn the United States that if it acts against Iran, it will receive a decisive response and that the Americans should not twist the lion's tail.
Mr. Dehqan said that Trump is "an anarchist. He's ready to wreak havoc on his own society. And he's an anarchist in every sense of the word." Well, I often agree with people in Tehran about these things, but in this case, I have to differ with Mr. Hossein Dehqan, because calling Donald Trump an anarchist is an insult to anarchists. Anarchism is an honorable political philosophy that does include a minority of crazy bomb throwers and idiots like Trump, but the theoreticians of anarchism, people like Leo Tolstoy and Mikhail Bakunin and so on, are actually quite respectable. And many would argue that they won their debates with the communists back in the 19th century.
So don't call Trump an anarchist. Call him a madman, because that's what he is. He is psychologically unhinged, and thousands of mental health professionals have gone on record making that point. So Trump is pushing the madman theory of power way past its limits. President Nixon created the madman theory of American power. He and Henry Kissinger hatched a scheme to convince the North Vietnamese that Nixon was a madman and he might drop nuclear weapons on them, so they should surrender.
Well, we all know how well that worked. Nixon tried to play the madman and he was fairly convincing in certain respects. But Trump is more like a method actor who just completely gets into his role, so much that I don't think he knows the difference between his madman role and any other role he might play in life. The guy really is over the top. He's an extreme narcissist, completely deficient in reality testing, doesn't know the difference between truth and lies. So you can't really call him a liar. Most other American politicians are worse liars than Trump. Because Trump is so crazy, he can't tell the difference, and in fact he blurts out the truth far more often than most American politicians do.
So Trump is a lunatic and his speech to the United Nations that Mr. Dehqan was referring to or responding to is a perfect demonstration of Trump's absolute lunacy.
In that speech, Trump rambled on, screaming about the "evil Chinese" who were responsible for COVID. And he bragged in an extremely megalomaniacal fashion that the United States is doing the most, the biggest and best mobilization since the Second World War, and we're producing all these ventilators (which of course are killing people). And we will distribute a vaccine and defeat the virus and so on. He's making it sound like the United States is heroically succeeding against COVID, when in fact it's the biggest disaster in the entire world, thanks to Trump.
Trump is trying to lay all the blame at the feet of China, just attacking China on every imaginable basis as well as several unimaginable ones. And then he goes on to rant and rave about how his insane hostility towards Iran, which is his payback to kosher nostra kingpins like Sheldon Adelson and Bibi Netanyahu, who hacked the voting machines in swing states and put him in office, that this is somehow also succeeding when it obviously isn't.
Iran is not buckling under to Trump's madman theory threats and his murderous killing of Iranians through sanctions, his murder of General Soleimani, who was lured to Baghdad on false pretenses of a peace plan and murdered in cold blood—and Trump is at the United Nations bragging about it. If there's anybody who deserves to be dealt with that way, it's Donald Trump, it's not Gen Soleimani, and more and more Americans feel that way.
The entire country, at least everybody with an IQ over 100 and a 6th grade plus education, is tearing their hair out right now at the possibility that this madman, who has said that he will not accept the results of the elections, is going to carry out his threat and try to mobilize his heavily armed supporters (who fortunately are mostly morons) and turn the country into civil chaos after the upcoming non-election, which he says will go much better if there are no ballots. And then if the outcome will be pre-determined and peaceful, he says. This man is nuts.
How could he ever have risen to a position of dog catcher in Podunk Iowa, much less President of the United States? It must be some kind of cosmic joke.
Kevin Barrett is an American author, journalist and radio host with a Ph.D. in Islamic and Arabic Studies. He has been studying the events of 9/11 since late 2003. He recorded this article for Press TV website.
https://www.presstv.com/Detail/2020/09/25/635023/Iran-not-buckling-under-to-Trump's-madman-theory-threats
--------
Turkey orders 82 arrests, including Kurdish opposition members, over 2014 protests
25 September 2020
Turkey on Friday ordered the arrest of 82 people including members of a pro-Kurdish opposition party over violent protests in 2014 against an attack on the Syrian Kurdish town of Kobane.
Protesters flooded streets in Turkey's mainly Kurdish southeast that October, accusing the Turkish army of standing by as the ISIS-besieged Kobane in plain view just across the Syrian border. The protests led to the deaths of 37 people.
For all the latest headlines, follow our Google News channel online or via the app.
Turkish authorities accuse the militant Kurdistan Workers' Party (PKK), which has fought for greater autonomy for the southeast since 1984, of inciting the demonstrations.
They also accuse the pro-Kurdish Peoples' Democratic Party (HDP) of links to the PKK and supporting the protests. The HDP, the third largest party, denies links to terrorism.
Former HDP leaders Selahattin Demirtas and Figen Yuksekdag have been in jail since 2016 on charges related to the Kobani protests.
In a statement on Friday, the Ankara prosecutor's Terror Crimes Investigation Bureau said arrest warrants had been issued over "several calls made to invite the public to the streets and carry out terror acts."
Those detained on Friday included the mayor of the northeasterly Kars province, Ayhan Bilgen, and former lawmaker Sirri Sureyya Onder, both prominent HDP figures, as well as some party executives.
Mithat Sancar, the party's current co-leader, said the AK Party of President Tayyip Erdogan "wants to intimidate the opposition and spread fear among the public by silencing the HDP."
He said the HDP's own requests that the Kobani protests be investigated had been dismissed.
Since local elections in 2019, Ankara has removed dozens of mayors belonging to the HDP, accusing them of links to terrorism, and appointed trustees in their place. Two HDP lawmakers have been ejected from parliament since elections in 2018 after being convicted on terrorism charges.
Eleven others were ejected in the previous term.
The Ankara prosecutor's office is now preparing proceedings against seven more HDP lawmakers that could lead to their immunity being lifted to allow them to be charged, the state-owned Anadolu news agency reported.
The PKK is designated a terrorist group by Turkey, the United States and European Union.
https://english.alarabiya.net/en/News/middle-east/2020/09/25/Turkey-orders-82-arrests-including-Kurdish-opposition-members-over-2014-protests
--------
Israeli forces clash with Palestinian protesters in West Bank
25 September 2020
Israeli forces have clashed with Palestinians taking part in protests against the Israeli settlements in the occupied West Bank, leaving a number of people injured.
Hundreds of Palestinians rallied in the village of Kafr Qaddum in Qalqilya City on Friday to protest against the settlements. They also urged the Emirati and Bahraini people to reject the normalization deals reached between their governments and the Israeli regime.
On September 15, the United Arab Emirates and Bahrain signed US-brokered normalization agreements with Israel at the White House — a move that was condemned by the Palestinian government and people as a betrayal of their cause.
Israeli troops fired rubber-coated metal bullets, sound bombs and tear gas canisters at the protesters in Kafr Qaddum, leaving seven Palestinians, including a journalist, injured. Dozens of others suffered breathing problems because of inhaling the tear gas.
Palestinian people also gathered in Khlet Hassan district in the city of Salfit to protest against the settlements.
They also condemned the UAE and Bahrain for attempting to normalize relations with Tel Aviv, stressing that the Palestinian people would continue to defend their land.
In the district of Bab Al Zawia in al-Khalil (Hebron) City, a number of Palestinians suffered breathing problems due to the tear gas fired by Israeli forces, who also used stun bullets and sound bombs against the demonstrators.
Similar clashes also took place between Israeli forces and Palestinians in the village of Asira al-Qibliya in Nablus. A number of Palestinians were hit by bullets and suffered breathing problems during the clashes.
The clashes occurred when Israeli forces and settlers attacked an event organized by residents and activists to till lands at risk of being seized by Israeli authorities.
More than 700,000 Israelis live in settlements built since the 1967 Israeli occupation of the Palestinian territories of the West Bank and East Jerusalem al-Quds.
On Thursday, Israeli Prime Minister Benjamin Netanyahu approved the construction of over 5,000 units in the occupied West Bank, in contravention of international law.
https://www.presstv.com/Detail/2020/09/25/635004/Israeli-forces-clash-with-Palestinian-protesters-in-West-Bank
--------
Ankara lashes out at Pelosi for suggesting Turkey not democratic
25 September 2020
The Turkish foreign minister has slammed US House Speaker Nancy Pelosi's "blatant ignorance" for suggesting that Turkey is not democratic.
In remarks meant primarily against US President Donald Trump, Pelosi had said the US president "admires [Russian President Vladimir] Putin… [North Korean leader] Kim Jong-un… [and President Recep Tayyip] Erdogan in Turkey," suggesting that they presided over non-democratic regimes.
Turkish Foreign Minister Mevlut Cavusoglu said in a tweet on Friday that Pelosi's rise to the position of the speaker of the House of Representatives was "what is truly worrisome for American democracy, given her blatant ignorance."
"You will learn to respect the Turkish people's will," Cavusoglu said, addressing Pelosi.
The Turkish president's top press aide, Fahrettin Altun, also decried Pelosi's comments as "careless."
Trump had earlier said that he wouldn't accept the results of the upcoming presidential election in November if he loses, preemptively refusing to concede and setting America up for political chaos. Pelosi said in reaction to that remark that Trump was living in America, not in Turkey.
Altun said power routinely transferred in Turkey on peaceful and democratic terms.
"When was the last time that there was no peaceful transfer of power in Turkey — with the exception of military coups?" Altun asked on his Twitter account in English. "And we remember who supported those attacks against Turkish democracy, too."
"It's against the US national interest and the spirit of an alliance to denigrate Turkey in an attempt to score domestic political points," he said.
Turkey is angry at the United States for refusing to hand over US-based opposition figure Fethullah Gulen, whom Ankara says orchestrated a July 2016 coup in the country.
https://www.presstv.com/Detail/2020/09/25/635012/Ankara-lashes-out-at-Pelosi-for-suggesting-Turkey-not-democratic-
--------
Netanyahu endorses construction of over 5,000 new settler units in occupied West Bank
25 September 2020
Israeli prime minister Benjamin Netanyahu has approved the construction of thousands more homes in the occupied West Bank, in complete defiance of international outcry against the Tel Aviv regime's policies of land grab and illegal settlement expansion in the occupied Palestinian lands, a report says.
Palestinian Arabic-language Ma'an news agency, citing a report published by Israel's Channel 7 media network, reported that the 70-year-old chairman of Likud political party had given the green light for plans to build over 5,000 units, after more than six months during which such construction had been frozen.
The report added that there have been contacts between settlement leaders and Netanyahu over the past few days, where Jewish extremists have called on the Israeli premier to end the freeze on settlement construction activities in the West Bank or face large-scale protests against his administration.
Israel and the UAE agreed to a US-brokered deal to normalize relations on August 13. Under the agreement, the Tel Aviv regime has supposedly agreed to "temporarily" suspend applying its own rule to further areas in the occupied West Bank and the strategic Jordan Valley that Netanyahu had pledged to annex.
While Emirati officials have described the normalization deal with the Tel Aviv regime as a successful means to stave off annexation and save the so-called two-state solution to the Israeli-Palestinian conflict, Israeli leaders have lined up to reject the bluff of Abu Dhabi's crown prince and de facto ruler of the UAE, Sheikh Mohammed bin Zayed Al Nahyan, that Israel's annexation plans were off the table.
The Israeli prime minister has underlined that annexation is not off the table, but has simply been delayed.
Netanyahu signed agreements with Emirati Foreign Minister Sheikh Abdullah bin Zayed Al Nahyan and Bahrain's Foreign Minister Abdullatif Al Zayani during an official ceremony hosted by US President Donald Trump at the White House on September 15.
Palestinians, who seek an independent state in the occupied West Bank and Gaza with East Jerusalem as its capital, view the deals as betrayal of their cause.
Palestinian President Mahmoud Abbas protested the normalization deals with Israel, saying they will be fruitless as long as the United States and the Israeli regime do not recognize the rights of the Palestinian nation and refuse to resolve the issue of Palestinian refugees.
More than 600,000 Israelis live in over 230 settlements built since the 1967 Israeli occupation of Palestinian territories of the West Bank and East Jerusalem al-Quds. All Israeli settlements are illegal under international law.
The UN Security Council has condemned Israel's settlement activities in the occupied Palestinian territories in several resolutions.
https://www.presstv.com/Detail/2020/09/25/634966/Netanyahu-endorses-construction-of-over-5,000-new-settler-units-in-occupied-West-Bank-
--------
Iran: Saudi Arabia Source of Instability in Region
Sep 25, 2020
Takht Ravanchi made the remarks in reaction to the Saudi King Salman's anti-Iran remarks at the UN General Assembly on Wednesday.
"Saudi Arabia has been a source of instability in the region for decades," the Iranian ambassador said.
The following is the full text of Takht Ravanchi's statement addressing the UN General Assembly:
In the name of God the most Compassionate, the most Merciful
Your Excellency,
I am writing to you with regard to a statement made by the delegation of the Kingdom of Saudi Arabia, on 23 September 2020, in the course of the general debate of the seventy-fifth session of the General Assembly, wherein unfounded allegations were raised against my country, all of which are hereby rejected categorically.
Indeed, through a series of fabrication and disinformation, Saudi Arabia desperately attempts to distract attention away from its dark long record in harboring, financing, inducing and arming the most dangerous terrorist networks, disseminating hate speech and extremist ideology, sowing the seeds of sectarian division, pursuing destabilizing, disruptive and subversive policies and practices in the region as well as the crimes it continues to commit for over six years in Yemen in flagrant violation of the basic principles of morality and humanity and rules of international law, particularly international humanitarian law, entailing its international responsibility.
Saudi Arabia has been a source of instability in the region for decades. It is a well-established fact that Saudi Arabia was the main financial supporter of the Iraqi dictator, Saddam, in his eight-year aggression against the Islamic Republic of Iran in which he committed numerous crimes, including the use of chemical weapons against Iranian and Iraqi cities and citizens.
With respect to the role of Saudi Arabia in supporting terrorist groups, it has now become quite evident that this country's Wahhabi ideology is the main inspiring source of the most dangerous terrorist groups such as the Islamic State in Iraq and the Levant (ISIL) and Al-Qaida and through its petrodollars, Saudi Arabia has served as the main financier of such terrorist groups.
Another living example of the destructive policies of the Kingdom of Saudi Arabia in the region is its almost six years of aggression, death and destruction in Yemen, in which thousands of civilians, including women and children, have been killed, and homes, mosques, hospitals, schools, marketplaces, diplomatic missions and even wedding and funeral ceremonies have been targeted. Such crimes have been so brutal and horrible that the United Nations placed this country at the top of the list of global child-killers.
Although later, for clear non-professional reasons, its name was dropped from that list. This country still uses starvation as a war tactic and continues to prevent the entry of fuel, food, medicine and medical equipment to the most populated areas in Yemen amid the extremely serious health situation as a result of the coronavirus disease (COVID-19) pandemic, further deteriorating the already critical humanitarian situation in Yemen.
Reiterating that restoration of peace and security in the region requires a genuine dialogue with the active and constructive engagement of all regional countries based on mutual respect, inclusivity and basic principles of international law, and recalling the Hormuz Peace Endeavour (known as HOPE), launched by the President of the Islamic Republic of Iran at the seventy-fourth session of the General Assembly (A/74/581-S/2019/933) -- which has received positive reactions from a number of regional countries -- I would like to underline that relying on foreign forces whose main interests are to sell more deadly weapons to this region has not produced security for the region. Instead, the regional countries should resolve their differences through dialogue and rely on their own capabilities to promote peace and security in the region. In this context, the Kingdom of Saudi Arabia is called upon to accept such a call for dialogue among all littoral States of the Persian Gulf.
Here, I should express our appreciation to the presidents of the Security Council for the months of August and September 2020, as well as to thirteen of its members—especially Russia and China—who twice said a decisive and resounding "NO" to the unlawful US attempt to exploit the Council and its Resolution 2231.
This is a victory not just for Iran, but for the global community—during the transitional international order in the post-Western world—that an aspirant of hegemony is humiliated in such self-created isolation.
Ladies and Gentlemen
Where can you find precedent for a government to renege, without any reason, on the outcome of 13 years of multilateral talks—also attended by its predecessor, shamelessly violate a resolution of the Security Council and even punish others for abiding by a UNSC resolution? And simultaneously claim to be seeking negotiations and a "big deal?"
The United States can impose neither negotiations, nor war on us.
Life is hard under sanctions. However, harder, is life without independence.
Political freedom at home is important. We—as the oldest democracy in the Middle East—are proud of our people determining their destiny and will not trade domestic freedom with foreign interference.
Democracy is the sovereign right of a nation, and not the right of interference by an outsider—let alone a terrorist and interventionist outsider that remains captive to the illusions of 19 August 1953, when its predecessors overthrew the only democracy in the Middle East through a coup d'état.
Dignity and prosperity of our nation are essential for us; and they are attained through diplomacy relying on national will coupled with resilience.
We are not a bargaining chip in US elections and domestic policy.
Any US administration after the upcoming elections will have no choice but to surrender to the resilience of the Iranian nation.
And for the world: Today is the time to say "no" to bullying and arrogance. The era of dominance and hegemony is long over. Our nations and children deserve a better and safer world based on the rule of law.
Now is the time for the right choice.
I thank you for your attention.
https://en.farsnews.ir/newstext.aspx?nn=13990704000223
--------
Palestine's Abbas calls on UN to arrange international conference next year
25 September 2020
Palestinian president Mahmud Abbas appealed Friday to the United Nations to arrange an international conference on the peace process, in the wake of Gulf Arab recognition of Israel.
In an address to the UN General Assembly, Abbas asked Secretary-General Antonio Guterres to convene the meeting "early next year" and bring in "all relevant parties."
For all the latest headlines, follow our Google News channel online or via the app.
"The conference should have full authority to launch a genuine peace process based on international law," Abbas told the virtual General Assembly in a recorded address.
"It should aim to end the occupation and grant the Palestinian people their freedom and independence in their own state along the 1967 borders with East Jerusalem as its capital and settle final-status issues, notably the refugee question," he said.
The United Arab Emirates and Bahrain earlier this month agreed to recognize Israel, a major coup Israel and diplomatic win for US President Donald Trump.
The two Arab states, while saying they still support a Palestinian state, share concerns of Israel and the United States about neighboring Iran.
https://english.alarabiya.net/en/News/middle-east/2020/09/25/Palestine-s-Abbas-calls-on-UN-to-arrange-international-conference-next-year
--------
Africa
Algeria rules out rapprochement with Israel, says ready to host meeting of Palestine factions
25 September 2020
Algeria has once again rejected any normalization of relations with the Israeli regime, saying that Algiers is prepared to host a meeting of Palestinian factions as part of its efforts to support the Palestinian cause.
Ammar Belhimer, the Algerian minister of communication and the government spokesman, told Lebanon's al-Mayadeen TV channel that the cause of Palestinian nation is the top issue of Algeria.
"The Palestinian nation's cause is a sacred one. Algeria considers it as its most important cause. This is a matter of fairness, and our position is clear, straightforward, and fixed on it," he said.
The spokesman said Algerian President Abdelmadjid Tebboune has on various occasions stressed the country would not welcome and support normalization of relations with Israel.
In his Thursday virtual address to the 75th General Assembly of the United Nations, the Algerian president said the right of the Palestinian people to have a state with Jerusalem al-Quds as its capital cannot be traded away.
"Once again, we express our firm support for the Palestinian people and their inalienable and non-negotiable right to establish their independent, sovereign state with al-Quds as its capital," Tebboune said, stressing that the Palestinian cause remained a "sacred cause for Algeria and its people".
In his Friday comments, the Algerian spokesman echoed the president's remarks and said, "Algeria's position is always clear and transparent, and that is non-interference in the internal affairs of other countries, and [finding] a peaceful and internal solution to settle the crises."
The spokesman expressed his country's preparedness to invite all Palestinian groups to a comprehensive meeting in Algeria considering the amicable ties it has with them.
He also reiterated his country's call on the Arab League to revise its structure and mechanism so that its operation would become more effective and serve the interests of all countries without any exception.
Palestinian factions have praised President Tebboune for his government's strong opposition to any bids aimed at establishing ties with Israel, calling on Arab rulers to follow suit and reject normalization.
The factions, in a joint statement released on Monday, lauded Algeria's stance as "the authentic Arab position that embraces and supports the Palestinian cause," al-Mayadeen reported.
On Sunday, Tebboune strongly criticized the United Arab Emirates and Bahrain over signing normalization agreements with the Tel Aviv regime at the White House last week.
The Algerian president emphasized that his country would never be part of an agreement to normalize relations with the Tel Aviv regime.
Palestinians, who seek an independent state in the occupied West Bank and Gaza, with East Jerusalem al-Quds as its capital view the normalization deals with Israel as a betrayal of their cause.
Palestinian President Mahmoud Abbas protested the agreements last Tuesday, saying they will be fruitless as long as the United States and the Israeli regime do not recognize the rights of the Palestinian nation and refuse to resolve the issue of Palestinian refugees.
On 15 September, the United Arab Emirates and Bahrain signed US-brokered normalization agreements with Israel at the White House – a move that was rejected by the Palestinian government and people.
Abu Dhabi said the normalization deal was an effort to stave off Tel Aviv's planned annexation of the occupied West Bank, however, Israeli leaders said the annexation plans are not off the table.
Opponents believe the normalization efforts have been in the offing for many years as Israeli officials have made official visits to the UAE and attended conferences in the Persian Gulf country which had no diplomatic or other ties with the occupation state.
https://www.presstv.com/Detail/2020/09/25/634983/Algeria-normalization-Israel-
--------
At UN, Libyan premier urges rebels to lay down arms, respect ceasefire
25 September 2020
The head of the Libyan government has called on rebel forces under the command of renegade general Khalifa Haftar to lay down their weapons and respect a ceasefire that aims to stop violence and help resume oil production in the conflict-ridden North African country.
In a video speech at the United Nations General Assembly on Thursday, Libyan Prime Minister Fayez al-Sarraj warned against the lack of commitment to last month's ceasefire by Haftar's militias in eastern Libya and said the rebels would be held to account for any possible casualties due to the ceasefire violations.
"We have not yet seen cooperation from armed groups and the aggressive militias," Sarraj said in his video address.
"In fact, we have only seen hostile remarks from their spokesmen and violations by their forces. Therefore we would hold them responsible for any military confrontations and any resulting casualties and destruction," he added.
The head of the UN-recognized government also said, "We want peace, not war," and added that the Tripoli-based administration had "welcomed" the announcement of the ceasefire and the resumption of oil production in eastern terminals controlled by Haftar's forces.
Libya's Government of National Accord (GNA) and a Haftar-backed parliament in the eastern city of Tobruk agreed last month on a ceasefire and the holding of elections by next March.
Sarraj also called on Thursday for the United Nations' support in organizing the upcoming vote and said, "Libyans have waited too long for these elections, which will end the legitimacy crisis."
After recent talks between the two sides in Morocco, the Libyan premier said he was willing to resign as a new government comes together.
Several Libyan cities have in recent weeks been the scene of protests against deteriorating living standards, largely caused by a rebel blockade of energy exports since the beginning of the year. The blockade imposed by Haftar's militias has cost the oil-rich African country 6.5 billion dollars in lost revenue.
Libya, which sits atop the largest oil reserves in Africa, initially plunged into chaos in 2011, when a popular uprising and a NATO intervention led to the ouster of long-time dictator Muammar Gaddafi.
Since 2014, two rival seats of power have emerged in Libya, namely the GNA led by Sarraj, and another group under Haftar's command which is based in the eastern city of Tobruk and supported militarily by forces loyal to him — known as the so-called Libyan National Army (LNA).
The strongman, who is primarily supported by the United Arab Emirates, Egypt, and Jordan, launched a deadly offensive to capture the capital Tripoli, the seat of the GNA, in April last year. Despite intense fighting, he has so far failed to achieve his objective of ousting the internationally-recognized government, and the offensive has stalled outside the city.
Turkey has been of significant help to the Tripoli-based government in its defense against the LNA.
Last month, the GNA declared a ceasefire and called for an end to a blockade imposed by the rebels on oil facilities in eastern Libya.
Haftar dismissed the calls, but said last Friday he would lift his blockade on oil outputs for one month,and that he had agreed with the GNA on "fair distribution" of energy revenue.
The rebels started the blockade of the oil facilities in January, when they managed to take control of oil fields and export terminals in the east.
https://www.presstv.com/Detail/2020/09/25/634972/Libyan-government-Fayez-al-Sarraj-ceasefire-Khalifa-Haftar-oil-production
--------
Severe floods in South Sudan displace over 600,000 people, UN says
25 September 2020
Severe flooding in South Sudan has forced more than 600,000 people to flee their homes since July, the United Nations said, after months of torrential rains caused the Nile to burst its banks.
The impoverished East African nation is struggling to recover from a five-year civil war and was already suffering severe food shortages.
For all the latest headlines, follow our Google News channel online or via the app.
Scientists say the unusual rains are caused by a cyclical weather pattern that has been exacerbated by climate change.
The coronavirus pandemic is also complicating the response, said United Nations humanitarian coordinator for South Sudan Alain Noudéhou.
For more coronavirus news, visit our dedicated page.
Costs for delivering aid have risen with the need to protect aid workers and families are forced to squeeze together on thin slivers of land.
"With the flooding, people had to move to higher ground and there's not much higher ground," he said on Thursday during a visit to flood-hit areas.
He said the UN had allocated $10 million to help flood victims but needed $40 million more by the end of the year.
Around him, families waded through water or tried to herd bedraggled chickens away from sodden piles of belongings.
Kok Manyok, 70, said he was sleeping under the trees after fleeing from his village Dorok in August with his grandchildren.
"The water level reached almost halfway up my body," he said, motioning to his chest as he spoke in his native Dinka language.
"There are no shelters for me and my grandchildren, our cattle are gone and we are sleeping under a tree."
Families were living off of leaves and sorghum, said Matthew Hollingworth, the country director of the UN's World Food Program (WFP).
"That is not enough to keep them healthy and fit," he said. Some food was due to be distributed next month but there was not enough to go round, he said.
South Sudan's civil war erupted two years after the country won its independence from Sudan in 2011 and ended with a peace deal signed between the main parties in 2018.
But not all armed groups signed the deal and low-level clashes, banditry and attacks on aid workers continue.
The conflict displaced around a third of the 12 million population, creating the worst refugee crisis in Africa since the 1994 Rwandan genocide.
https://english.alarabiya.net/en/News/middle-east/2020/09/25/Severe-floods-in-South-Sudan-displace-over-600-000-people-UN-says
--------
Compensation deal between US, Sudan on embassy attacks 'close': Acting FM
24 September 2020
Sudan's acting foreign minister said Thursday that a compensation agreement for the families of victims of two 1998 terrorist attacks on US embassies in Africa is within sight.
"We are very close to getting that signed and done with," Omar Gamaledinne told reporters during a visit to Geneva to meet United Nations refugees and human rights chiefs.
For all the latest headlines, follow our Google News channel online or via the app.
"As Sudanese we think that if we can do it yesterday, it is better for us, because we can move on to something else."
Gamaledinne stressed that he was not aware of any deadline set by US Secretary of State Mike Pompeo, although the US administration is pressed for time ahead of the November 3 presidential election.
With a deal finalized, Khartoum will be better placed to say to Washington "let's end this once and for all," and lift Sudan from its list of state sponsors of terrorism, he added.
The sanctions -- source of an investment drought for the country -- date back to 1993, when Sudan under president Omar al-Bashir become an outcast for having hosted Al-Qaeda leader Osama bin Laden.
The crisis worsened with the 1998 embassy attacks in Nairobi and Dar es Salaam, which killed more than 200 people.
Washington has changed its tone in recent years, as Bashir began to cooperate in the fight against terrorism and played the peace game in South Sudan.
The United States reconnected with Khartoum under former president Barack Obama, and talks have been moving towards striking Sudan from its blacklist.
The 2019 revolution that swept Bashir from power sped up the progress.
"Now we are to get ourselves out of that list, which the US is using as leverage to get some benefits of the relationship that it has with Sudan, which is completely legitimate," Gamaledinne said.
"That is why we are engaging with the rest of the world and trying to call on the country's friends to call on the United States to end that embargo and to get Sudan lifted off 'state sponsors of terrorism'," he said.
Gamaledinne said that without a compensation deal, subsequent Sudanese governments could find themselves embroiled in court cases that could drag on "indefinitely."
His plan would see Khartoum pay into a blocked account from which the funds would only be paid under certain conditions -- including Sudan's removal from the blacklist -- to the United States to compensate the plaintiffs.
US media cited the total amount as being $335 million.
https://english.alarabiya.net/en/News/middle-east/2020/09/25/Compensation-deal-between-US-Sudan-on-embassy-attacks-close-Acting-FM
--------
One dead, multiple injured in clashes between GNA factions in Libya's Tajoura
25 September 2020
One person was killed and multiple others were wounded during clashes between different groups within the Government of National Accord (GNA) in the Libyan town of Tajoura, according to Al Arabiya sources.
No further details were provided.
Since 2014, Libya has been split, with a government controlling the capital, Tripoli, and the northwest, while military leader Khalifa Haftar in Benghazi rules the east.
Haftar is supported by the United Arab Emirates, Egypt and Russia, while the GNA is backed by Turkey.
https://english.alarabiya.net/en/News/north-africa/2020/09/25/One-dead-multiple-injured-in-clashes-between-GNA-factions-in-Libya-s-Tajoura
--------
Suspected extremists abduct 3 non-Muslims in Kenya's north
By TOM ODULA
9/24/20
NAIROBI, Kenya — Officials in Kenya say three non-Muslim bus passengers were abducted by suspected Islamic extremists in Kenya's northern Mandera county that borders Somalia.
Armed gunmen, believed to be Somalia's al-Shabab rebels, stopped a bus about 30 kilometers (18 miles) from Lafey town and ordered everyone out. The attackers picked three passengers from 54 on the bus and ordered the rest to leave, regional police chief Rono Bunei told The Associated Press Thursday.
"We are still pursuing them in an effort to rescue them alive. We are wondering how they (the attackers) knew the three were on board the bus," he said.
He said it's not clear why the bus did not have a police escort, a requirement for commercial transport traveling in Mandera county which has been hard hit by violence from Somalia's extremists.
Al-Shabab has vowed retribution on Kenya for sending troops to Somalia to fight the rebels. Since 2011 Somalia's rebels, who are linked to al-Qaida, have launched scores of deadly attacks in Kenya.
The government repeatedly said since 2014 that it is mandatory for public buses traveling through Mandera county to have armed police escorts.
Al-Shabab rebels have often attacked buses and have singled out and killed non-Muslim passengers. In November 2014, 28 non-Muslims were killed in an attack after they were pulled off a Nairobi-bound bus near Mandera.
In December last year al-Shabab killed 11 police officers who were pulled from a bus that was taking them back to duty in Mandera county.
Since December, al-Shabab has increased the frequency of its attacks in five Kenyan counties along the Somali border that have been named as hotspots for extremist violence. They are Lamu, Garissa, Wajir, Tana River and Mandera counties.
In January the extremists overran Manda Bay Airfield in Lamu county, a key military base used by U.S. counterterror forces in Kenya, killing three American Department of Defense personnel and destroying several U.S. aircraft and vehicles.
The frequency of attacks slowed in the months of April, May and June as the coronavirus started spreading in many African towns, including al-Shabab's base in Somalia. Since July Kenya's security forces have experienced an increase in their vehicles being hit by roadside bombs.
http://www.therepublic.com/2020/09/24/af-kenya-extremist-abductions/?utm_source=iterable&utm_medium=email&utm_campaign=1555151_
--------
Europe
Turkey's Behaviour in Region Is 'Explosive and Dangerous' To Its Neighbours, Says Cypriot Envoy
September 26, 2020
NEW YORK: Turkey is engaged in an "expansionist and imperialistic policy" that is creating "very, very explosive and dangerous" problems for neighboring countries, according to Andreas Mavroyiannis, the permanent representative of Cyprus to the UN.
Turkey and Greece have been fighting over Cyprus for decades. In 1974, the ruling Greek military junta staged a coup in an attempt to incorporate the island into Greece. In response, Turkey invaded and, after gaining control of the north, unilaterally declared the establishment of the Turkish Republic of Northern Cyprus.
Almost 50 years later, tensions between Greece and Turkey continue to run high and recent developments, including a dispute over rights to energy resources in the eastern Mediterranean, have raised concerns that they could escalate into open conflict.
Last year, Ankara signed a maritime accord with the Libyan Government of National Accord and began gas exploration operations in areas of the Mediterranean Greece considers part of its economic zone. More recently, Turkey sent survey vessels close to areas the Cypriot government have licensed to multinational companies to explore for oil and gas.
"Recently, we have this more hegemonic Turkish policy in the area," said Mavroyiannis in an exclusive interview with Arab News. "(It is an) expansionist and imperialistic policy that creates problems for all neighbors.
"The (Turks) are trying to create a fait accompli and the situation is very, very explosive and dangerous."
He conceded that his country's small size and lack of military power means that its options for responding to Ankara's actions are limited to diplomatic and political channels.
"But this is (only the situation) for us," said Mavroyiannis. "I understand and appreciate that for other neighbors — and in particular Greece, which is now the focus of the Turkish expansionist policies — it is very different.
"Greece not only has the means to react (but) it is compelled to use those means if Turkey continues with its current violations of international law and of maritime zones."
The dispute between Greece and Turkey escalated in August when Ankara sent survey vessels, accompanied by Navy warships, to explore gas reserves in the eastern Mediterranean. During the standoff that followed, Greek and Turkish warships were involved in a minor collision.
Athens subsequently announced significant weapons purchases, along with plans to expand its armed forces.
However, Turkey's activities in the region have repercussions not only for Cyprus and Greece, said Mavroyiannis. One way or another, all neighboring nations — including Egypt, Israel and Syria — are affected, he added, and Ankara's policies should be of concern to the entire Arab world.
France sides with Greece and has urged Turkish President Recep Tayyip Erdogan to "refrain from any new unilateral action likely to provoke tensions, and to engage without ambiguity in the construction of an area of peace and cooperation in the Mediterranean."
While France has adopted an aggressive stance, as evidenced by heated exchanges between Erdogan and his French counterpart, Emmanuel Macron, Germany has struck a more conciliatory tone, proposing incentives for Ankara in return for deescalation.
"Those (two European) schools of thought are two sides of the same coin," said Mavroyiannis. "On the one hand the stick, and on the other hand the carrot.
"(If) Turkey accepts the approach of Germany and we have deescalation, (then) of course, the relationship will improve. If (the Turks) don't (it must be made) clear that there are consequences. (Turkey) has to understand that there is no free ride."
Despite intensive diplomatic efforts, in Cyprus the dispute between Turkish and Greek Cypriots remains as tense as it was four decades ago. The most recent round of talks between the two sides collapsed in 2017.
During his speech to the 75th General Assembly of the UN this week, Cypriot President Nicos Anastasiades, who leads his country's internationally recognized government, reaffirmed his commitment to resuming reunification talks with Turkish Cypriots, "but not at gunpoint."
Following a meeting with UN Secretary-General Antonio Guterres in Berlin last November, both sides in Cyprus agreed to wait until after the presidential election in Northern Cyprus that was scheduled for April this year before resuming negotiations. However, the election was delayed until October 11 as a result of the COVID-19 pandemic.
During his opening remarks at the General Assembly, Guterres stressed the importance of confidence-building measures from all parties, and warned against any further "unilateral actions" that might further stoke the fear of war in the eastern Mediterranean.
"To resume actual, substantive negotiations, we need to have the right atmosphere — we cannot negotiate under duress," Mavroyiannis said.
"The message from the secretary-general is this: there is a need for those who don't abide by the rules to stop their activities and to allow the negotiations to move forward.
"So, for us, (this is) a clear message to Turkey to stop all those violations of international law (and) of Cyprus's maritime zones, to create a climate conducive to negotiation."
Mavroyiannis also expressed regret over what he described as the suffering that has been inflicted on the region by the decision of the US to reduce its presence and withdraw troops. This, he said, has emboldened Erdogan.
"The US is the number one world power," he said. "Turkey and the US are also partners in NATO. I believe that the US has a lot of leverage and we would like them to exercise it.
"At the end of the day, for us the most important thing is to have our place under the sun, and to continue having seamless cooperation with all our neighbors to promote peace and security and prosperity in the eastern Mediterranean."
https://www.arabnews.com/node/1740191/world
--------
French trial of 2015 terror attacks in Paris: Testimonies of survivors
By SARAH CHEMLA
SEPTEMBER 25, 2020
As the French trial of the January 2015 terror attack in Paris continues, the testimonies of the kosher supermarket victims' families and hostages were heard this week.
One after the other, those affected by the terrible killings of the kosher supermarket in Paris were recounting their part of the story, their feelings as well as how the last few years were impacted by this tragic attack that either robbed them of a loved one, or left an unerasable trauma on their memory.
During Tuesday's and Wednesday's proceedings, witnesses and relatives of the four Hyper Cacher victims — Yohan Cohen, Yoav Hattab, Michel Saada and Philippe Braham — spoke before the court.
The father of Yohan Cohen, one of the four victims murdered by the Islamist gunman Coulibaly, broke down during court testimony on Tuesday as he recalled the virulent antisemitism behind the atrocity.
"Why this gratuitous wickedness, why this hatred of the Jew?" screamed Eric Cohen before the Paris courtroom where 14 suspects in the three days of terrorist attacks that gripped the French capital are currently on trial.
Cohen remembered that on the day of the attack, while terribly worried for Yohan, he was given the incorrect news that there had been no fatalities during the siege at the market. "I told myself that I would see my son again, that was huge."
In fact, it was discovered that at the time of the siege, the media didn't know about the victims, and that the terrorist himself called the television's channels to establish the number of dead and hostages.
"He didn't notice to read on the TV that there were only hostages and no dead," explained police commander Christian Deau at the proceedings, a police commander.
Tragically, Yohan's father continued, adding that "half an hour later, we were told there had been four deaths…it was a punishment twice over."
"It's not just a child who died, it's a whole family that died," declared in from of the court Yohan's uncle. "Today I hope that we will find the culprits [guilty]. Taking people's lives, there is nothing more terrible."
As the details of the siege were laid out before the courtroom, Cohen and other relatives heard of how Yohan, who was shot immediately by the terrorist Amedy Coulibaly, took more than three hours to die from his wounds. Coulibaly at one point asked the other hostages whether they wanted him to "finish off" Cohen, in order to silence his moans.
The trial also learned of the heroism of Yoav Hattab, a shopper at the market who tried to snatch one of the automatic rifles being carried by Coulibaly, which happened not to be working, and was shot dead by the terrorist as he did so.
"The hostages were released, but not my son Yoav — he tried to kill Amedy Coulibaly," Binyamin Hattab, father of Yoav, told the court.
"My son was shot in the head, he was 21 years old. Our life has changed since. We had a very difficult time," Binyamin said. "I lived with the Muslims in Tunis. The Muslim community in Tunis, they cried with me. For my son. They are my brothers."
"I can't forget what happened. I can't stand it. Why the hatred?," he added. "My son came into the store and bought a bottle of wine that cost him life".
"I am proud of my son, there is a commandment to save human beings," he reminisced. "I ask for justice for the people who hurt my son. They tore me apart. I want them to have what they deserve."
Yoav is buried in Jerusalem.
The sister of murdered victim Michel Saada recalled in her testimony that her brother had often expressed concern at rising antisemitism in France. He used to tell her that "you can't stay in France anymore if you're a Jew."
"That sentence, it keeps coming back to me," Annie-Laure Saada said.
"He was very lucid about what was happening in France, in Europe," she said, "and particularly about the threat of antisemitism. He was preparing to go and settle permanently in Israel, to be close to his children, and yet he loved France viscerally."
Valerie Braham, the wife of victim Phillipe Braham, cried before the court as she described the impact of her husband's murder upon their young family.
"My husband was my rock, and I died with him," Mrs. Braham said.
"When the assault happened, I looked at the screen. I even thought that I saw him. We were told by the police that there were victims, later that there were no victim. Everything was turned upside down. I called the people, the hospitals, no one could answer me. The president of the community knew, I didn't know, how to find out the truth. I saw my brother-in-law chatting with him and I understood, but I didn't want to."
"I said, 'But what's going on?'..."
"My brother-in-law couldn't even look at me," she remembered, in tears. "I didn't believe it. Until I saw him, I couldn't believe it."
She said that her children "know that it was a bad man who killed their father but they don't understand why."
"My children are growing up without their daddy, our last child doesn't even remember him."
The court also heard testimony from two workers at the Hyper Cacher — Zarie Sibony, a cashier, and Lassana Bathily, a market assistant.
Sibony remembered the scene with the terrorist, saying: "I saw the bodies of Yohan and Mr. Braham. I thought he was doing it for money. I offered him to take it all. He laughed and said to me: 'you really think I came for money!'"
He explained her "that he was part of the same team as the Kouachi, that they had coordinated," the Kouachi being the terrorists who massacred 12 people at the offices of satirical magazine Charlie Hebdo two days previously
Then she recalled that he told her: "You Jews love life too much, you think life is the most important, while death is the most important," adding that he intended to die as a "martyr."
"I wanted to survive," said Sibony, adding "I was going to do everything to survive. Whatever he was going to ask of me I was going to do it."
She remembered Coulibaly telling her "You are the two things I hate most in the world, you are Jews, and you are French."
Sibony described the terrorist, who was killed by police at the end of the siege, as cold-blooded and contemptuous toward his victims for the duration.
Coulibaly interrogated all the hostages at the market, asking them their religious affiliations, she said. All but two were Jewish.
"You have chosen the wrong day to go shopping in a kosher store," he told the group.
Lassana Bathily's testimony centered meanwhile on his own role sheltering hostages in the toilet and storage rooms in the basement of the market while Coulibaly was upstairs.
"It was a Jewish store, I was a practicing Muslim, but there was no problem, everyone respected each other," Bathily recounted.
Bathily said he remembered Yohan Cohen, his fellow employee from 2013, as a "brother."
Originated from Mali, like Coulibaly, Bathily received French citizenship in recognition of his heroism in protecting the hostages.
Francis Kalifat, President of the Crif, organization for Jewish communities in France, declared that: "It was important to remember that these victims of antisemitism are not the only ones."
He quotes the names of Sébastien Selam, Ilan Hamili, the names of the Jewish victims of Mohamed Merah, Jonathan Sandler, his two sons Arieh and Gabriel, aged 5 and 3 respectively, as well as Myriam Monsonego, 7, Yohan Cohen, Yoav Hattab, Michel Saada, Philippe Braham, Sarah Halimi, Mireille Knoll.
"All murdered on the grounds that they 'were Jews."
https://www.jpost.com/diaspora/antisemitism/january-2015-terror-attacks-in-france-the-trial-643534?utm_source=iterable&utm_medium=email&utm_campaign=1555151_
--------
New IRA Links Confirm Hezbollah's Growing Terror Threat in Europe
Con Coughlin
Sep 24, 2020
The latest allegations that senior representatives of Lebanon's Hezbollah militia met with members of a breakaway Irish terrorist group have highlighted the growing extent of the Iranian-backed organisation's operations in Europe.
For decades, Hezbollah's primary focus has been the Middle East, where the terrorist organisation – working in conjunction with Iran's Islamic Revolutionary Guard Corps (IRGC) – has been responsible for conducting attacks designed to create political instability and discord. In recent years, however, it has gradually expanded its operations farther afield, with its terror cells operating from locations in Latin America, Africa and Asia.
Now there is fresh evidence that it is investing in its terrorist network in Europe by establishing arms caches in several countries and building links with terrorist and criminal organisations on the continent. The most recent proof of this has emerged after members of an Irish dissident group were arrested on terrorism charges last month following claims they met with Hezbollah officials at Iran's embassy in Dublin.
As The National reported this month, Irish and British security officials believe that former members of the Provisional Irish Republican Army (IRA) sought to revive long-standing contacts with Hezbollah in an attempt to obtain finance and weapons for the New IRA (NIRA), a fanatical offshoot of the Irish republican movement that is bitterly opposed to the Good Friday Agreement between Northern Ireland and the Irish Republic.
Dissident Irish republicans have been waging a militant campaign against the police and security forces in Northern Ireland since 2009, and were held responsible for the killing of Irish journalist Lyra McKee in April last year.
According to officials investigating the Hezbollah plot, Irish dissidents were seeking advanced bomb-making technology previously used by Hezbollah in Lebanon and Iraq. They were in advanced talks with Hezbollah to strike a deal that would have greatly enhanced NIRA's ability to attack British security forces, including the use of sophisticated improvised explosive devices.
Nine NIRA members have now been arrested following a long-running operation by MI5, the British security service.
Among those detained was Dr Issam Hijjawi Bassalat, a Palestinian, who has been charged with terrorism offences. At least two of those detained are said to have attended a commemoration ceremony at the Iranian embassy in Dublin following the assassination of Iranian general Qassem Suleimani by a US drone strike in January.
From the IRA's perspective, the claims that NIRA members are attempting to link up with terrorist organisations such as Hezbollah should not come as a big surprise. Irish republicans have a long history of associating with global terror groups and rogue regimes. In the past, the IRA received weapons and other forms of support from the Palestine Liberation Organisation, the Libyan regime of Muammar Qaddafi, Colombian insurgents Farc and Basque terrorist group ETA.
The suggestion, however, that senior Irish republicans have been attempting to form a terror pact with Hezbollah is an illustration of the organisation's growing influence among Europe's criminal and terrorist networks.
This month, the US State Department accused Hezbollah of storing caches of weapons and ammonium nitrate, the same material responsible for the devastating explosion at Beirut's port last month, at bases throughout Europe. According to Nathan Sales, the State Department's counterterrorism co-ordinator, Hezbollah has been steadily building up its weapons stockpiles on the continent with the aim of preparing for terrorist acts that may be ordered by Tehran.
Describing it as a "clear and present danger to the US" and its allies, Mr Sales said that intelligence reports showed Hezbollah had weapons in Belgium, France, Greece, Italy, Spain and Switzerland, while "significant" ammonium nitrate cashes had either been discovered or destroyed in France, Greece and Italy.
"We have reason to believe that this activity is still under way," Mr Sales said in a recent video briefing in Washington. "Why would Hezbollah stockpile ammonium nitrate on European soil? The answer is clear. It can conduct major terror attacks whenever its masters in Tehran deem it necessary."
The threat to European security posed by the growth of Hezbollah's terrorist network was highlighted this week following the conviction of two suspected terrorists for the murder of five Israeli tourists in Bulgaria in 2012.
Meliad Farah, a Lebanese-Australian, and Hassan El Hajj Hassan, a Lebanese-Canadian, were found guilty of helping plan the bombing of an Israeli tourist bus in an operation prosecutors claim was carried out on the orders of Hezbollah. The organisation has denied any involvement in the attack, and the whereabouts of the two convicted men are not known. But European Union officials accepted that there was sufficient evidence to point to its involvement in the attack, and responded by placing its military wing on its terrorism blacklist.
The latest revelations come against a deepening background of tensions between the US and Iran over its controversial nuclear programme. This week, the Trump administration announced it was re-imposing sanctions against Tehran, a move that prompted fierce opposition from other members of the UN Security Council committed to maintaining the nuclear deal struck with Iran in 2015.
But while the European signatories to the deal – Britain, France and Germany – have opposed Washington's decision, the introduction of fresh sanctions against Iran by the US could provoke Tehran to launch a fresh wave of terror attacks, including against targets in Europe.
https://www.thenational.ae/opinion/comment/new-ira-links-confirm-hezbollah-s-growing-terror-threat-in-europe-1.1082993?utm
--------
URL: https://www.newageislam.com/islamic-world-news/ayman-al-zawahiri-brainchild-al/d/122955
New Age Islam, Islam Online, Islamic Website, African Muslim News, Arab World News, South Asia News, Indian Muslim News, World Muslim News, Women in Islam, Islamic Feminism, Arab Women, Women In Arab, Islamophobia in America, Muslim Women in West, Islam Women and Feminism