07 March 2021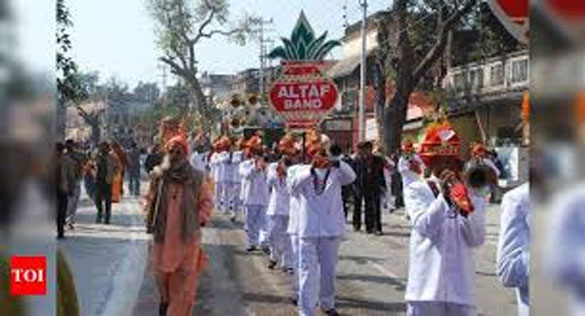 • At Kumbh, Muslim Bhajan Singers Hit Right Notes With Hindu Sadhus - Altaf Band Sings 'Banke Bihari Tere Mote Mote Nain'
• The Shiite Representative In Ur Presents The Pope A Letter Written By Imam Ali
• Turkish Pro-Government Media Awash With Conspiracy Theories - Islamist Conspiracy Theorists Find Secret Messages In Pope's Visit To Iraq
• Sri Lanka Bans Importing Islamic Religious Books Unless Approved By The Ministry Of Defence
• French Politics Swing Right and French Muslims Feel the Sting
• UN Envoy Urges Myanmar Be Put 'On Notice' Amid Fresh Bloodshed
• Shia Scholar: Sheikh Zakzaky's Doctrine Must Be Spread Throughout The World
• Pakistan Shia Ulema Council To Launch Protest In Punjab Against Anti-Shia Policy Of Govt
• Put Aside Leaders With Criminal Charges To Move Forward, Musa Hitam Urges Umno
India
• At Uttarakhand Kumbh, Muslim Bhajan Singers Hit Right Notes With Hindu Sadhus - Altaf Band Sings 'Banke Bihari Tere Mote Mote Nain'
• In Delhi, Muslim Riot Survivors Are Torn Between Calls For 'Compromise' And Desire For Justice
• UP Govt Nominates Two Women, Firangi Mahal Cleric To Sunni Waqf Board
• Time To Call The Bluff, Bust Myths Created By Hindutva Groups To Demonise Muslims: Former CEC S Y Quraishi
---------
Arab world
• The Shiite Representative In Ur Presents The Pope A Letter Written By Imam Ali
• Pope In Meeting With Grand Ayatollah Sistani Stressed Importance Of Friendship, Mutual Respect, Dialogue Btw Religious Communities
• Pope To Pray For Victims In Iraq's One-Time Islamic State Bastion
• 'Doha, Capital of Culture in Islamic World' set to begin
• Osama bin Laden son takes up painting
• Pope Francis urges Iraq's Muslims, Christians to unite for peace
-------
Mideast
• Turkish Pro-Government Media Awash With Conspiracy Theories - Islamist Conspiracy Theorists Find Secret Messages In Pope's Visit To Iraq
• Hamas condemns Israeli decision to install elevator for Jewish settlers at Ibrahimi Mosque
• More than 100 British charities condemn aid cuts to Yemen
• Over 25,000 Muslims perform Friday prayer at Al-Aqsa Mosque
• Imam Khamenei urges people, officials to protect plants, environment
--------
South Asia
• Sri Lanka Bans Importing Islamic Religious Books Unless Approved By The Ministry Of Defence
• Attempts Are On To Create Militants By Misinterpreting Islam: Bangladesh Awami League Joint General Secretary and Minister
• ANA operation claims 25 Taliban fighters, injures 36
• Seven Afghan solders killed in Taliban attack
• Pandemic Response: Hasina among 3 phenomenal PMs
-------
Europe
• French Politics Swing Right and French Muslims Feel the Sting
• Pope's Prayer At Birthplace Of Abraham, Father Of Christians, Jews, Muslims
• 'A lot of uncertainty': imams fighting Covid misinformation in Australia's Muslim community
• Pope and Shiite Islam leader promote dialogue and respect
• France must repatriate 'Islamic State' sympathizers stranded in Syria
• People urged not to attend cemetery for Islamic holy nights
--------
North America
• UN Envoy Urges Myanmar Be Put 'On Notice' Amid Fresh Bloodshed
• Has Overturned Trump's 'Muslim Travel Ban.' Activists Say That's Not Enough
• US Agency Probes Facebook For 'Systemic' Racial Bias In Hiring, Promotions
-------
Africa
• Shia Scholar: Sheikh Zakzaky's Doctrine Must Be Spread Throughout The World
• South African Shia Cleric: Islamic Revolution Gave Us Confidence, Courage To Stand Against Apartheid Regime
• Extremists exploit religious tensions to achieve parochial goals: South African scholar
-------
Pakistan
• Pakistan Shia Ulema Council To Launch Protest In Punjab Against Anti-Shia Policy Of Govt
• Foreign ministry asked to share JIT report of 'MQM-L man' with Belgium
• PTI asks ECP to hold Yousuf Raza Gilani's victory notification
• Martyr Dr Ali Naqvi taught youth to rise against enemies of Islam
-------
Southeast Asia
• Put Aside Leaders With Criminal Charges To Move Forward, Musa Hitam Urges Umno
• Musa Hitam: In the game of politics, Muhyiddin won over Dr Mahathir thanks to opportunism
• PKR Sarawak establishes Council of Elders following Sng's departure from party
Compiled by New Age Islam News Bureau
URL: https://www.newageislam.com/islamic-world-news/at-uttarakhand-kumbh-muslim-bhajan/d/124478
------
At Uttarakhand Kumbh, Muslim Bhajan Singers Hit Right Notes With Hindu Sadhus - Altaf Band Sings 'Banke Bihari Tere Mote Mote Nain'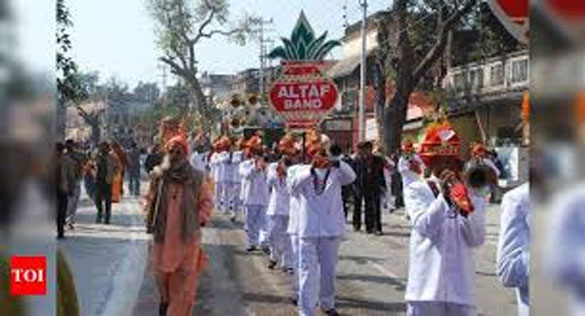 Ishita Mishra
Mar 7, 2021
Dehradun: When Shahrukh Khan's troupe Altaf Band starts singing 'Banke Bihari tere mote mote nain', every sadhu joins in the dance. And when he is done, seers in dreadlocks and ash on forehead gather around him smiling, shake his hand, offer him money and garland him. Altaf Band is one of many all-Muslim music groups that keep devotional tunes going at the Maha Kumbh, the largest congregation for followers of the Hindu faith.
"Muslim bands have been a constant at Kumbh Melas. They play songs that touch the heart. God is one for all," said Mahant Rishishwaranand from Udaseen Akhara, president of the Bharat Bandhu Samaj and head of Chetan Jyoti Ashram.
It is a tradition deeply entrenched in the Kumbh culture.
Altaf Band itself is 100 years old. "Ours is one of the oldest bands in India. We have around 70 people with us, on drums, the guitar, bagpipes, flutes and vocals," said Abdul Rehman, the fourth-generation owner of the band. "Our founder, Mohd Altaf, started the tradition of Muslims singing Hindu bhajans. We had also contributed over Rs 1 lakh to the defence funds during the 1971 India-Pakistan War. We are proud of it," he said, adding that the receipt for that is still showcased at their office in Dehradun.
Has there ever been any resistance? "We are not Hindu or Muslim. We are artistes. We do our best to make the event a success," said Master Faheem, who runs the 50-year-old Milap Band from Jwalapur, which has about 35 members, led by Mohd Mumtiyaz, Bhoora and Mohd Tanveer on vocals.
Behind the scenes is undying rigour. The bands, which come all the way from Saharanpur, Muzaffarnagar, Roorkee, Dehradun and Meerut, practise for at least six months before the Kumbh season begins. They buy bhajans — those about Shiva, Krishna and Hanuman are most popular — and keep listening first. Then they start singing and playing with the songs, and keep at it until it's perfected.
Every season has its chart-topper. This time, Altaf Band is ready with 'Nagar mein jogi aaya', Milap Band is brushing up on 'Hanuman Tera Naam Jag Mein Sab Se Pyaara', and Gulab Band from Haridwar is tuning up 'Jag Mein Ooncha Tera Naam, Mere Raam.' "We started with Juna, Niranjani and Nirvani Akharas. Now, Atal Akhara is lined up for March 9. After all peshwais (grand processions) are done, we will give the team some rest for a couple of days, and then move to Kumbh from April 1 for the big season," said Rehman.
And they all have quite a following. "People want selfies with us all the time. They offer us money, tell us they loved our playlist. But most of all, we get their blessings," said Mohd Insaas, who runs Gulab Band. "What better way to make a living?"
https://timesofindia.indiatimes.com/city/dehradun/when-mohammad-sings-meera-at-kumbh-muslim-bhajan-singers-hit-right-notes-with-hindu-sadhus/articleshowprint/81369474.cms
-------
The Shiite Representative in Ur presents the Pope a letter written by Imam Ali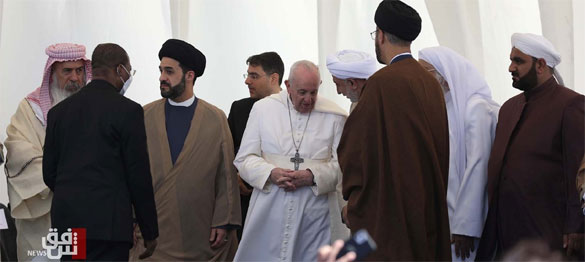 The Shiite representative in the historical city of Ur presented the Pope Francis a letter written by Imam Ali 1400 years ago.
-----
Iraq News
2021-03-06
Shafaq News/ The Shiite representative in the historical city of Ur presented the Pope Francis a letter written by Imam Ali 1400 years ago.
The letter presented to the Pontiff stipulated, "People are of two types: Either your brother in faith or your equal in humanity."
Pope Francis held a historic meeting with a senior Shiite cleric in Iraq Saturday and appealed for greater interfaith unity visiting the birthplace of Abraham, as part of his whirlwind tour of the Middle Eastern country.
Francis, 84, met with Grand Ayatollah Ali al-Sistani, 90, at his home in the holy city of Najaf in central Iraq, where the two elderly men of faith provided a highly symbolic moment of tolerance, for a country scarred by sectarianism and violence.
Iraq's Prime Minister Mustafa al-Kadhimi called the meeting "historic" on Twitter and declared March 6 an annual 'National Day of Tolerance and Coexistence' in Iraq.
After the meeting, Francis travelled to the desert plain of Ur in southern Iraq, revered as the birthplace of Abraham — the patriarch of monotheism and a unifying prophet in Islam, Christianity and Judaism.
https://shafaq.com/en/Iraq-News/The-Shiite-Representative-in-Ur-presents-the-Pope-a-letter-written-by-Imam-Ali
-------
Turkish Pro-Government Media Awash With Conspiracy Theories - Islamist Conspiracy Theorists Find Secret Messages In Pope's Visit To Iraq

Turkish pro-government media is already awash with conspiracy theories
-----
Ahval
Mar 07 2021
As the Turkish pro-government media is already awash with conspiracy theories, antisemitism and propaganda, Pope Francis's current visit to Iraq has led Islamist conspiracy theorists to raise the claim that the visit amounts to Western interference in the Turkey's affairs.
One of the most prominent, pro-government Islamist columnist from Yeni Şafak newspaper Yusuf Kaplan described the visit as a "siege" of Vatican-Zionism.
"The Pope's visit to Iraq is a message to Turkey! The Pope's meeting with the leading Shiite leaders of Iraq is an indication of this. The Vatican intervenes so that Islam does not shape the region! This is the siege of Vatican-Zionism!", Kaplan tweeted on Friday.
Another pro-government Islamist columnist and former editor-in-chief of Yeni Şafak İbrahim Karagül commented on a picture taken during the meeting of the Pope and Ayatollah Sistani, the leading spiritual leader of Iraqi Shia Muslims.
"A disturbing picture ...One looks like asking for an account, the other he looks like he's afraid of being scolded. A book is written on this photograph",Karagül said.
"If they put the Pope on the field, the big project is active", Abdullah Ağar, a former Turkish army officer who is famous with his own wild conspiracy theories in the past, remarked over the Pope's visit.
In January, Abdurrahman Dilipak, one of the loudest and most imaginative pro-government Islamist Turkish columnists, went to court along with an official from aid organisation the Santa Claus Association to try to stop the government's vaccination drive.
Turkey's most recent popularity of wild conspiracy theories began with the 2013 Gezi protests, in which 80 out of 81 cities across Turkey participated the protests against the environmental destruction but the government said they were planned by foreign powers to overthrow the government. The Erdogan government's officials repeated this line since then. The Erdogan government has deployed wild conspiracy theories in its press since 2013 to explain Turkish government's failures or perceived shortcoming in and around Turkey.
https://ahvalnews.com/pro-government-media/turkeys-islamist-conspiracy-theorists-find-secret-messages-popes-visit-iraq
------
Sri Lanka bans importing Islamic religious books unless approved by the Ministry of Defence
TIMES GUARDIAN
06 March 2021
Sri Lanka's Ministry of Defence has issued a ban on importing Islamic religious books except for those that the ministry approve.
This statement follows the retraction of Sri Lanka's internationally condemned policy of forced cremations. Thus far the government has only permitted selective burial grounds for coronavirus victims almost solely in the island's North-East. This has triggered protests from Tamil and Muslim civil society who view this as a ploy by the government to induce tensions between their communities.
Sri Lanka has also proposed a discriminatory ban on face veils which is seen as an assault on Muslim's religious freedom. The government has denied criticisms of discrimination, alleging that veils pose a threat to national security.
With the current UN Human Rights Council's focus on the deteriorating human rights situation in Sri Lanka, Alan Keenan, senior consultant for the International Crisis Group, has emphasised the importance of the Organisation of Islamic Cooperation member states in exerting pressure on Sri Lanka over the "growing discrimination against Muslims".
https://www.tamilguardian.com/content/sri-lanka-bans-importing-islamic-religious-books-unless-approved-ministry-defence
------
French Politics Swing Right and French Muslims Feel the Sting
CAIN BURDEAU
March 6, 2021
France's politics are shifting to the right — some worry to the far right — in the run-up to next year's presidential elections and French Muslims are bearing the brunt of this turn as they come under attack as enemies of the nation's founding republican values.
The signs of this right-ward shift are mushrooming as France mends deep scars inflicted on it by a series of terrorist attacks carried out by Islamic extremists in the past six years that have left more than 250 killed and over 900 wounded.
The latest attacks occurred last fall when a middle school teacher was beheaded after he showed his class controversial cartoons of the Prophet Mohammed and subsequently three Catholic worshippers were stabbed to death in a church in Nice.
The series of attacks have turned many French against Muslims, opinion polls show. A Pew Research Center survey in spring 2016 found only about 29% of French respondents saying they had a negative view of Muslims. By October 2020, an IFOP poll found 79% of those questioned believed Islamic extremists had declared war on France and its values.
Amid this atmosphere and a collapse of France's left-wing parties, far-right leader Marine Le Pen is gaining momentum and polls show her only narrowly losing to French President Emmanuel Macron if a presidential election were held today. A Le Pen victory remains highly unlikely, but not completely unthinkable, in the actual elections, with a first round of voting set for April 2022 and runoffs in May.
Macron, once seen as Europe's liberal champion, is a driving force behind this rightward drift: In speeches, he's declared Islam a troubled religion around the world and that France's core values are being undermined by "Islamic separatism."
"What we must tackle is Islamist separatism," he said in an October speech where he proposed a new law against this perceived threat. In the speech, he laid out steps to rein in Islamic extremism, such as crackdowns on radical groups and cutting off their financing from abroad and training imams in France rather than allow them to be brought in from the wider Muslim world. He said he wants to "forge an Enlightenment Islam in France."
"It's indoctrination and, through this, the negation of our principles, gender equality and human dignity," he said in describing a France where a "counter-society" of Muslims refuse to join French life and demand France adapt to their beliefs by serving halal food at school cafeterias and separating men and women at public swimming pools.
In effect, Macron's rhetoric mimics those on the far right who claim Muslim radicals are proliferating due to the growth of a parallel society within France where French Muslim children are taught to despise the republic's founding principles: la liberté, l'égalité, la fraternité, l'éducation, la laïcité.
The last of these five principles — laïcité, or in English secularism — is at the heart of this heated debate over French Muslims and their place in French society.
In France, perhaps unlike anywhere else in the world, secularism carries with it a deep, powerful and complicated symbolic meaning. It's more than the separation of religion and state: Laïcité is a central pillar in French society and it rests on the idea that every citizen — regardless of race, religion, ethnicity, gender — is equal.
In pursuit of a "color-blind republic," France does not recognize ethnic and racial differences. It is actually illegal for the government to gather information about a person's ethnicity or religion. This policy was written into the post-World War II constitution in response to the Vichy regime's role in identifying and deporting Jews to Nazi concentration camps.
For this reason, it is also impossible to know with any exactitude how many Muslims live in France. Estimates range between 3 million and 6 million (or between 4.5% and 9% of the total population); regardless, France has the largest population of Muslims in Western Europe.
But many question whether this policy model is actually contributing to the discrimination and injustices faced by French Muslims, who often find their cultural differences under attack for allegedly breaching France's sacred laïcité.
"The problems faced by Muslims in France today stem partly from this Republican ideal of unity and its refusal to acknowledge the realities of a multicultural, ethnically and religiously diverse population," said James Shields, a professor of French studies at the University of Warwick in Great Britain, in an email.
"There is no more pointed illustration of this denial of diverse identity than the energy with which French officialdom has sought to set limits on Islamic dress, from the outlawing of Islamic face veils (most notably the burka) to the municipal bans provoked by the 'burkini' on some French beaches," Shields said.
"Yet the same officialdom that seeks to quash such personal expressions of Islamic separatism too often turns a blind eye to the widely reported — though technically illegal — practice of ethnic discrimination in jobs, housing and other areas of economic and social service provision," he added.
Historically, Muslims began arriving from regions that were under or tied to France's colonial empire: Algeria, Tunisia, Morocco, West Africa, Syria and Lebanon. In the wake of World War II's destruction, larger numbers of Muslims, mostly from North Africa's Maghreb region, migrated to France as much-needed manual laborers.
After the onset of industrial recession in the 1970s, Shields said much of France's Muslim population increasingly "became perennial residents of dilapidated housing estates around the ring roads of French towns."
"These communities have no voice since the French state refuses to recognize the claims of ethnic or religious minorities, insisting instead on a Republican assimilationist model with equality as its founding principle," Shields wrote. "The Constitution confers rights on individuals, not on groups."
Purporting to defend France's special brand of secularism, Macron and the political party he created during his ascendency to the Élysée Palace, the centrist and neoliberal Republic on the Move, is steering through parliament controversial legislation that gives authorities new powers over Muslim mosques, schools and associations, even extending their reach into sports. The bill also reinforces existing laws banning polygamy, forced marriages and virginity tests and potentially could curb home schooling.
Additionally, the legislation seeks to protect public workers from harassment and threats, such as what happened prior to the attack on Samuel Paty, the middle school teacher beheaded last October.
By pushing the law, Shields said Macron is seeking to deprive Le Pen of the "sole rights to this critical security issue" and fend off her campaign focused on security, immigration and national identity."
"These are not Macron's natural terrain; as a presidential candidate in 2017, he balanced restrictive policing and security with an emphasis on individual freedoms and an openness towards the benefits of France's ethnic and religious diversity," Shields said. "But the recent terrorist attacks have shifted the government's priorities from the protection of individual rights to the maintenance of public order and a clamp-down on radical Islamism."
Macron — who first climbed the political ladder in France's Socialist Party — has surrounded himself with right-wing figures ready to pounce on Muslim radicalism.
His prime minister, Jean Castex, has railed against radical French Muslims as an insidious but powerful force seeking to destroy French society from within as a kind of fifth column.
In an interview with Le Monde, the French daily newspaper, Castex painted France as a country where Muslim children are taught to refuse to play with non-Muslims and plug their ears during music class at public schools and instead chant Koranic surahs. He cited an example of Muslims refusing to bow to their opponents in judo matches because they say they only bow to Allah.
Macron's interior minister, Gérald Darmanin, is seen as an even more vehement exponent of the government's new rightward swing. He was brought in last summer to take over at Place Beauvau, the interior ministry's headquarters, and since then has become Macron's attack dog.
After the atrocities by Islamic extremists in October, Darmanin closed down Muslim groups and stated his dislike for aisles in supermarkets dedicated to halal and kosher foods.
In a recent televised debate, Darmanin even tried to outdo Le Pen as the crusader-in-chief against Islamic radicalization, suggesting Le Pen had gone "soft" on her anti-Islamist rhetoric. Politically, Le Pen appears to be toning down her far-right instincts to win over more moderates in her contest with Macron.
Macron's government has even shown support for a new reactionary movement in French universities seeking to stop the importation of American ideas that say society's problems can only be solved by solving injustices linked to race, identity and colonialism. Right-wing voices are tagging these American ideas as "Islamo-leftism" and say concepts such as "white privilege" and "state racism" do not pertain to France, the "color-blind republic."
In a recent television interview, Macron's higher education minister, Frédérique Vidal, said French academia was "gangrened by Islamo-leftism." She then ordered France's state-funded National Scientific Research Center (known as CNRS, its initial in French) to purge "militant and ideologically driven work" in academia. She labeled post-colonial studies unscientific. The CNRS shot back, calling "Islamo-leftism" a political slogan with no "scientific reality" and vowed to defend academic freedom.
In his October speech, Macron too spoke of the dangers of adopting "social science theories entirely imported from the United States" that he said do not reflect France's reality and are fueling divisions in France. Earlier in June, he attacked academia for encouraging "the racialization of socio-economic issues."
For many, Macron's shift to the right — and playing on Le Pen's turf — shows that France is heading in the wrong direction if it wants to tackle the economic and social problems faced by French Muslims.
Joseph Downing, a scholar at the London School of Economics and author of "French Muslims in Perspective," said the entire debate over Muslim separatism is built upon a false premise.
For example, he said large numbers of French Muslims sign up for the military and police duty. In his research involving extensive interviews with French Muslims, he found even those living in the poorest neighborhoods identified themselves as French.
"These individuals definitely feel French," he said. "They don't feel like they have a primary allegiance to somewhere else in the world just because they eat halal chicken."
"There's a huge amount of entrepreneurship, there's a huge amount of Muslim-owned businesses; there is a very large and prominent Muslim upper middle class in France of professionals, of university graduates, of doctors," he said.
He said French politicians and media mistakenly lump French Muslims all together as though they belong to a monolithic cultural group with identical political, moral and religious beliefs that poses an existential threat by becoming an ever bigger segment of French society thanks to high fertility rates.
"The right bangs on constantly: 'Oh my God, they're having five children, and French people are only having one,'" he said. "It's essentially not true."
He said within a generation French Muslims who immigrate to France tend to have as many children as the general population. Within the Muslim population, there are also strong cultural and religious differences, he said.
"You see a much more diverse set of opinions and beliefs than appears on the surface," he said. "The same kind of individuals that will talk about 'the Muslims in France' being a bloc would never talk about white French people as being politically homogenous."
He added: "The problem is it doesn't get discussed. It's discussed in this kind of one-dimensional way, where it's like: 'Oh, the Muslims, they're becoming more Muslim because they eat halal kebab.' To me, it doesn't stand up; it's a much more complex picture."
He also dismissed as false the assumption that Muslims in France are becoming more radical — and prone to acts of violence — due to their poverty. This notion gained traction following three weeks of violent riots in 2005 by mostly youths of African, North African and Arab roots in the suburbs of France and other cities.
Most significantly, Gilles Kepel, a French scholar and expert on Islam, produced research into the suburbs — known as banlieues in French — that linked the Islamization of these areas to homegrown terrorism.
"I think it sowed many of the seeds for Macron's current focus on things like separatism because that's basically what Kepel was saying," Downing said.
"The numbers of people involved in any kind of radicalization or violence, however you want to measure the metric, is extremely low," he said. "If poverty was this big causal factor, you would expect a much higher number."
He said a biographical study of those who have committed terrorist acts in France also disproves the link. He said that while some of the attacks were done by French-born men, others were committed by people coming from elsewhere. Also, he pointed out that jihadists in France, as elsewhere, generally "come from not so religious households and are generally fairly well educated."
Instead of seeking to clamp down on Muslims, mosques and Islamic groups, Downing said France would be better placed to prevent mass killings, such as the 2015 massacres at the Charlie Hebdo magazine and Bataclan music hall in Paris, by curtailing the illegal flow of military-grade weapons, such as Kalashnikov rifles, into Europe and France.
"They are used constantly for gangland killings, to rob a corner store, and other crimes," he said. "There's no discussion of cracking down on illegal weapons. It's not on the political agenda."
"There's no plan underway for the massive redevelopment of suburbs or economic programs for those places at all," he said. "It is totally missing from the political spectrum."
Instead, with Macron and Le Pen battling over the hearts and minds of France's conservative voters, debates in France seem poised to become even more focused on the place of Muslims in society.
"(Macron) knows the election will be won or lost by wooing the right, center-right voters," Downing said. "The other thing for Macron, the quote-unquote radical Islam issue is an issue he really can't lose on because everything else that he's centered his political career on hasn't gone that well. Reforms have been stifled; he's had the Yellow Vest protests; any kind of economic measures, unemployment, and the sort of liberalization of the French economy under his first term hasn't gone that well."
"One thing that he can put out there that is guaranteed to whip up fervor that he can then satisfy with this kind of legislation is the secularism card," Downing said.
"They constantly reference the Jugoslav wars, Lebanon, this kind of ethno-religious strife," Downing said. "They really do think that the (laïcité) law that they have is the only thing between them and some sort of religious civil war. Politicians know that and unfortunately they manipulate it," he said. "They know people are really frustrated by it and they know they can whip up emotion with it."
"There was a whole anti-kebab polemic a few years ago that emerged in the French media — people talking about the threat that halal kebabs pose to French cuisine," Downing said. Similarly, France's ban on full-face veils in 2010 was cast as protecting democracy.
"You can attach [Islam] to anything: food, university, dress, whatever, and all of a sudden it's a massive big problem," Downing said.
Now, to see Macron shift so much to the right and adopt the language of Le Pen, he said is stunning.
"He was seen as a sort of reliable, almost technocratic, not so charismatic, kind of reformer," Downing said. "The fact that he would sort of metamorphosize into this much more kind of dogmatic far-right figure is quite a shock."
https://www.courthousenews.com/french-politics-swing-right-and-french-muslims-feel-the-sting/
-------
UN envoy urges Myanmar be put 'on notice' amid fresh bloodshed
Aljazeera
5 Mar 2021
Another anti-coup protester has been shot dead and another fatally stabbed in Myanmar as a UN envoy urged a divided Security Council to hear the nation's "desperate pleas" and take swift action to restore democracy.
Despite an increasingly brutal crackdown by the military authorities that has seen more than 50 people killed, protesters took to the streets again in towns around the country on Friday to denounce the February 1 coup.
In Mandalay, Myanmar's second-largest city, hundreds of engineers took to the streets crying "Free our leader" in reference to ousted State Counsellor Aung San Suu Kyi, detained by the military since the first night of the takeover.
A 26-year-old man helping set up barriers in the city to slow security forces died after being shot in the neck, medical officials told AFP news agency.
An official from Aung San Suu Kyi's National League for Democracy was also stabbed to death along with his 17-year-old nephew in an apparent mob attack in the central Magwe region, local media reported.
The killings follow the deadliest day of the crackdown so far on Wednesday, when the UN said at least 38 people were killed as graphic images showed security forces firing into crowds and bloodied bodies dragged away.
Police also fired tear gas at demonstrators in the southern city of Dawei while protesters in the commercial capital Yangon were defiant despite the danger.
"Scared, yeah, I'm very scared to stay on the frontline. But we believe in our comrades and we promise to protect each other if someone is injured," protester Didi, 27, told AFP news agency.
Thousands also rallied in the southeastern Karen state, accompanied by fighters from the Karen National Union (KNU), an ethnic armed group engaged in a long-running war with the military.
"People in urban areas, ethnic armed groups, and the international community must work together until the military dictatorship falls," it said.
Crowds also gathered in Pathein, to the west of Yangon, and in central Myingyan, where dozens of women in straw hats held up signs calling for Aung San Suu Kyi's release.
The United Nations special envoy on Myanmar Christine Schraner Burgener on Friday urged the UN Security Council to take immediate action to stop the military's deadly violence against peaceful protesters and restore democracy after last month's coup.
Schraner Burgener called on the council for "unified action", asking "how much more can we allow the Myanmar military to get away with?" after the deaths of dozens of civilian protesters this week.
"It is critical that this council is resolute and coherent in putting the security forces on notice and standing with the people of Myanmar firmly, in support of the clear November election results," Schraner Burgener said.
The UN Security Council has voiced concern over the state of emergency imposed by the Myanmar military but stopped short of condemning the coup because of opposition from Russia and China.
"All parties should exercise utmost calm and restraint, refrain from intensifying tensions or using violence, and prevent any incident of bloodshed," said China's UN Ambassador Zhang Jun.
But Schraner Burgener warned that no country should recognise or legitimise Myanmar's military government. She urged the Security Council to give its full support to Myanmar's UN ambassador Kyaw Moe Tun.
Myanmar has been in turmoil since the army seized power and detained civilian government leader Aung San Suu Kyi and many of her National League for Democracy (NLD) party colleagues on February 1, after the military complained of fraud in a November election.
https://www.aljazeera.com/news/2021/3/5/un-envoy-calls-for-unified-action-in-myanmar
-------
Shia scholar: Sheikh Zakzaky's doctrine must be spread throughout the world
Source : Hausa TV
March 7, 2021
The ideas of Sheikh Ibrahim El-Zakzaky, the leader of the Islamic Movement in Nigeria (IMN), should be spread not only in Nigeria, but throughout the world, says an Iranian Islamic scholar.
The remarks were made by Sheikh Hassan Mahdavian, the cultural advisor at the Al-Mustafa International University in the holy Iranian city of Mashhad.
Mahdavian told family members of those killed in the 2015 Zaria massacre in Nigeria that Sheikh Zakzaky has shown that he is willing to sacrifice himself and his family for the sake of God and Islam, following in the footsteps of Imam Hussein, who gave everything for Allah.
Muslims and all humankind must seek salvation and guidance from the Quran and Prophet Muhammad (PBUH) and his successors, Mahdavian added.
The ceremony was held in the presence of the fathers, mothers and wives of a number of martyrs of the Zaria massacre and three daughters of Sheikh Zakzaky at the holy shrine of Imam Reza.
Observers say Nigeria's government sees Sheikh Zakzay as a threat and seeks to gradually kill him in prison by preventing him from receiving medical care and treatment for his past injuries.
Sheikh Zakzaky and his wife were tried and imprisoned for their alleged involvement in violence that resulted in the death of a member of the security forces during the 2015 massacre.
The couple remain in custody in Kaduna state prison in parlous health despite an earlier court ruling ordering their release.
https://en.abna24.com/news//shia-scholar-sheikh-zakzakys-doctrine-must-be-spread-throughout-the-world_1121289.html
--------
Pakistan Shia Ulema Council to launch protest in Punjab against anti-Shia policy of govt
Source : Shiite News
March 7, 2021
Pakistan Shia Ulema Council to launch protest movement in Punjab against anti Shia policy by government after a similar protest campaign in Sindh province.
Shia Ulema Council North Punjab chapter has made decision during its recent meeting.
Allama Syed Sibtain Sabzwari presided the meeting at the SUC North Punjab chapter's camp office in Lahore.
The meeting slammed the biased Punjab government and police for victimizing Shia Muslims.
Particularly, they condemned unlawful cases against Shia mourners which they say amount to usurp legitimate rights of Shia citizens.
Furthermore, they rejected inclusion of innocent Shia notables in the fourth schedule.
They demanded Punjab government to nullify all the cases registered against Shia mourners for Chehlum (Arbaeen) azadari and protest against massacre of Hazara Shia coalminers.
Meanwhile, Shia Ulema Council Sindh chapter had launched a protest long march from Sukkur on Sunday.
They have reached Hyderabad on Monday but Sindh government reportedly ordered to halt them at Hyderabad Toll Plaza.
In the meantime, Sindh government had issued notification to show they have accepted demands of the protesters.
However, organizers of the long march said they would continue their protest march until formal notification.
After having seen the notification's content, the SUC Sindh chapter president Allama Nazir rejected the notification on technical ground.
However, their meeting with the PPP-led Sindh govt in Nooriabad reportedly bore fruit.
https://en.abna24.com/news//pakistan-shia-ulema-council-to-launch-protest-in-punjab-against-anti-shia-policy-of-govt_1121281.html
-------
Put aside leaders with criminal charges to move forward, Musa Hitam urges Umno
BY DANIAL DZULKIFLY
07 Mar 2021
KUALA LUMPUR, Mar 7 — Former deputy prime minister Tun Musa Hitam said Umno needs to put aside its leaders who are facing criminal charges, until proven innocent, as a means to revitalise the party.
In an interview with Utusan Malaysia's Sunday edition Mingguan Malaysia, Musa who was an Umno deputy president, said when the party decides to take a principled stance on the issue, only then public trust can be regained.
"Firstly, Umno has to take the stance that whoever is related to [criminal] charges in court, has to be put aside until they can prove their innocence. Only with that can the public respect us," he was quoted saying, referring to Umno.
In the interview, Musa also explained that severe infighting within Umno has caused the party to be splintered into three factions.
One faction he described as Umno puritans who believe in the spirit of the party, the second faction are those who side with the party leaders such as its current president Datuk Seri Ahmad Zahid Hamid, and the third consists of capable leaders that were not given the opportunities to step forward.
Musa explained that another step to allow the party to regain public trust is also to allow young and capable leaders to lead the party.
Commenting on the current political "musical chairs" affecting the country, Musa expresses his disgust, stating politicians who switch sides are making a mockery of national politics.
"I'm bored of the whole situation. I said once that what are you politicians doing, it is as if you are all 'pretend playing cooking' in politics. They are fooling around with politics, for their own interest.
"With the issue of switching parties that is out of control now, in my opinion it's not about politics or ideology. If it can be an ideology by gaining money, it could be the ideology of money. That is possibly what is happening now.
"Some said that the reward now is no longer small like in the past. This sort of situation will become more often when a general election is near," he reportedly said.
In Umno, its former president Datuk Seri Najib Razak was found guilty of seven charges involving money laundering, abuse of power, and money laundering over RM42 million of SRC International funds.
His wife Datin Seri Rosmah Mansor is on trial for allegedly soliciting RM187.5 million in bribes and receiving RM6.5 million in bribes related to a solar energy project in Sarawak.
Others facing charges include current president Zahid who faces 47 charges related to corruption, criminal breach of trust, and money laundering concerning funds belonging to Yayasan Akalbudi, as well as former Federal Territories Minister Datuk Seri Tengku Adnan Tengku Mansor who was found guilty of a RM2 million graft charge.
https://www.malaymail.com/news/malaysia/2021/03/07/put-aside-leaders-with-criminal-charges-to-move-forward-musa-hitam-urges-um/1955591
------
India
In Delhi, Muslim riot survivors are torn between calls for 'compromise' and desire for justice
Oishika Neogi
07-03-2021
"We just want our lives back. Would a compromise get us that?" asked Zehra, visibly tired as she boiled tea on a makeshift stove on her terrace. Her eyes were set on the white dome of Fatima Masjid in North East Delhi's Khajuri Khas as she recounted her story.
"What do we do when we start fearing the same people who are supposed to protect us?" asked Zehra, whose name, like those of others in this article has been changed to protect her identity.
Nine months after the February 2020 communal violence in the area that left 53 people dead, 38 of whom were Muslim, and a few months after her burned house had been rebuilt by a local community organisation, her husband Ismail was detained by the police, Zehra said. He was the sole bread-earner of the family of seven.
The police alleged that Ismail had instigated violence during the riots, though they did not lodge an official complaint. The father of five and a government worker spent almost three weeks in prison.
Soon after the violence, Ismail had filed a complaint against his neighbours for being a part of the mob that burned down their house. This would help him receive his state-mandated compensation.
Ismail's undocumented arrest was among the intimidation tactics being employed by some in the police, at the instigation of local residents, to force complainants to withdraw their charges, Zehra alleged.
He had been told that if normalcy was to be restored in the neighbourhood, he needed to compromise and retract his complaint. As for Zehra, a wife and mother who merely wants her eldest daughter to be able to study to her heart's content, she just wanted to go back to life before those violent nights last February.
Zehra's is not an exceptional story. We have come across several similar accounts of intimidation over the past year as we have been engaged in extending support to the survivors of the communal violence for the past year as part of a collective of lawyers, activists and social workers. We hve been conducting an assessment of the medical, legal, livelihood and psychosocial situation of almost 300 survivor families
The police action is often undocumented and the survivor families – economically vulnerable and in a minority in their areas – are reluctant to share their experience out of fear and in desperate consideration of a truce with their neighbours.
Their broken neighbourly relations have resulted in a sense of discomfort that is palpable on the streets of Khajuri Khas, which has a population of over 75,000 people, both Hindu and Muslim. This has led to men choosing to walk in small groups with members of their own communities, and women sitting outside their homes visibly anxious of seeing any new face in the lanes. Children are seldom seen running around. Barricades stand at the end of each lane as they have been for a year now.
As stones were hurled and mobs marched towards the Muslim-residential areas in North East Delhi, 54 houses in Khajuri Khas were damaged. Our field observations were in line with the fact-finding reports: 90% destruction of property was suffered by Muslims.
The mobs at Khajuri Khas consisted of neighbours who had lived in relative peace with each other for decades. Houses, shops and places of worship belonging to Muslims were selectively torched. Men were accosted by the mobs and asked to prove that they were not Muslim, survivors said. Obscene threats were made to women.
With the area witnessing the highest number of riot-related arrests, according to a study by our team, Muslims today lives in fear of any form of confrontation and attracting police attention. Quarrels of an everyday nature – over parking or children playing – assume communal overtones in the blink of an eye.
"We are still being asked to let go of our shops and return them to its owners. They don't want our names on it anymore," said a middle-aged man sitting outside his electrical shop, which is rented from a Hindu. One year on, other shops operated by Muslims but owned by Hindus are being forcefully vacated, people in the neighbourhood say. Invisible boundaries have been sketched in the neighbourhood.
Young men in the lanes of Khajuri Khas are still being interrogated and arrested by the police, residents said. Even though investigations against the primary accused have barely been carried out, fresh arrests are being effected against the victims who filed the FIRs.
Amidst an environment this hostile, conversations about a "compromise" have recently surfaced, residents said. In a bid to reach a settlement with the Muslim community, some local Hindu leaders in Khajuri Khas have proposed a mutual retraction of all First Information Reports.
In an atmosphere of communal hostility and alleged police intimidation, such a sttlement for the Muslim survivors in the area is a proposition worth considering only because it holds the slim hope of putting an end to the hatred to which they are subjected every day.
Understandably, their lawyers have advised against such an action. This poses a choice before the Muslim residents of Khajuri Khas today – one between survival and justice.
Soon after the riots, the Delhi government had introduced a scheme of monetary compensation for the damage sustained by riot survivors. Classifying such damage into categories such as major and minor, serious and manageable injuries, and houses looted and burned, the state's redressal mechanism with nominal amounts did not pay any heed to the long-term psychological trauma that the communities suffered.
With no accompanying programmes to rebuild lost livelihoods and broken communal faith, the state seemed to shirk its responsibility.
"How will some money give us back our lives?" said a 32-year-old man who lost his one eye after being attacked by the mobs on his way back home from his factory in West Delhi on February 25, 2020.
On February 1, 2021 – the anniversary month of the riots – a rath yatra was scheduled to wend its way through North East Delhi. In the guise of collecting funds for the construction of the Ram mandir in Ayodhya, BJP MP Manoj Tiwari planned to go door-to-door through neighbourhoods that have still not healed from the wounds of the riots. Afraid that it would spark violence, several Muslim families said that they would be leaving the locality at the time of the yatra.
However, soon after the beginning of the drive it was postponed at the behest of Delhi Police and because of the farmers' protests in the city. Tiwari announced that the rath yatra would resume as soon as the situation settled down. The police passed off the drive as an act of religious charity.
"Our houses are rebuilt now. But until when can we stay here?" said a 19-year-old woman who conducts tuition classes for school children to help her labourer-father provide for the family. "We are scared that someone will come and tell us that this country is not ours, and we are not this country's."
https://scroll.in/article/988800/in-delhi-muslim-riot-survivors-are-torn-between-calls-for-compromise-and-desire-for-justice
--------
UP govt nominates two women, Firangi Mahal cleric to Sunni Waqf Board
Arshad Afzaal Khan
Mar 7, 2021
AYODHYA : The state government on Saturday nominated two women and a Firangi Mahal cleric as members of Uttar Pradesh Sunni Waqf Board, a day after eight members were elected unopposed, following twin withdrawal of nominations by Amroha SP MLC Amroha Parvez Ali and Sambhal SP MLA Iqbal Mahmood.
State nominations helped constitute the waqf board's quorum of 11, paving way for the crucial election of the chairman on Tuesday. Frontrunner Zufar Farooqui, who's eyeing a third consecutive stint at the helm told TOI he's hopeful the chairman would be elected unanimously.
On Saturday, two women nominated by the UP government included prominent social worker and resident of Lucknow's Lal Bagh locality, Sabiha Ahmad, and joint director (administration), health directorate, Dr Tabassum Khan.
The third notable government nomination was of Maulana Naeem ur Rahman Siddiqui, principal of Darul Uloom Firangi Mahal — an Islamic institute in Lucknow run by Imam of Aishbagh Eidgah and executive member of All-India Muslim Personal Law Board, Maulana Khalid Rasheed Firangi Mahali.
Principal secretary, minorities affairs department, B L Mina, has summoned a meeting of newly elected waqf board members at Bapu Bhawan, Lucknow, on Tuesday to elect the chairman.
Top sources in the Board said, Kunwar Danish Ali may be in the fray for the post of chairman. However, the BSP MP harped on consultation and unanimity while talking to TOI on a probable contest for the top job.
"I am a member of parliament and my priorities lie in my constituency. On the question of chairmanship of waqf board, it will be decided unanimously after consultation. UP Sunni Waqf Board is a great institution and I am here to ensure it serves every member of the community. I will work to mobilise revenue for the Board, which will be used for the community's uplift," he said.
On Friday, eight members were elected unopposed which included two from the mutawalli quota — former chairman of Sunni Waqf Board and president of the Ayodhya mosque trust Zufar Farooqui and another trustee, Adnaan Farrukh of Gorakhpur.
For the two seats from Member of Parliament quota, Samajwadi Party MP S T Hasan from Moradabad and Bahujan Samaj Party MP Kunwar Danish Ali from Amroha were elected without contest. For the two seats of MLA/MLC quota, SP MLAs Abrar Ahmad from Sultanpur and Nafees Ahmad from Azamgarh too had a cakewalk.
https://timesofindia.indiatimes.com/city/lucknow/up-govt-nominates-two-women-firangi-mahal-cleric-to-sunni-waqf-board/articleshowprint/81372666.cms
-------
Time to call the bluff, bust myths created by Hindutva groups to demonise Muslims: Former CEC S Y Quraishi
07th March 2021
By PTI
NEW DELHI: Declaring that the time has come to bust "myths created by Hindutva groups" to demonise Muslims, former chief election commissioner S Y Quraishi says Islam is not hostile to the concept of family planning and Muslims are the least polygamous among all communities in India.
There is also no organised conspiracy by Muslims to overtake Hindus in terms of population and their number can never rival that of Hindus in the country, Quraishi argues in his newly released book "The Population Myth: Islam, Family Planning and Politics in India".
He uses facts and figures to demolish propaganda that he says is reaching a "crescendo".
"If you repeat a lie a hundred times, it becomes the truth," Quraishi added in an interview to PTI on his book.
The propaganda, he said, has become "very blatant" and gained traction, and it's time to challenge the narrative perpetuated against the community over the years.
One myth, which most Muslims also believe, is that Islam is against family planning.
But that is not so at all, Quraishi said.
"A close look at Islamic jurisprudence reveals that Islam is not against family planning at all. On the contrary, it is the pioneer of the concept, a fact that has got blurred over the years because of skewed interpretations of the Quran and Hadith," Quraishi said.
"I have argued that the Quran has nowhere prohibited family planning," he added while stressing that there are only interpretations - for or against.
Islam, he explained, is supportive of family planning ideas as it expects youth to marry only when they have the wherewithal to support a family.
"It lays great emphasis on the health of mother and children and the need for proper upbringing," said the former bureaucrat who was chief election commissioner from July 2010 to June 2012.
Quraishi argues in his book that family planning is actually not a Hindu-versus-Muslim issue as the two communities have similar statistics and stand "shoulder to shoulder" in the socio-economic indicators that influence family planning behaviour.
Their socio-economic conditions are region specific, and that is what determines their fertility behaviours, he asserts.
It is true that a Hindu-Muslim fertility differential persists in the demographic reality of India, but this is due to the relative backwardness of Muslims in all factors that determine fertility behaviour -- literacy, income and access to services being some of them.
Polygamy is among the myths he has attempted to bust in his book.
Hindutva groups have perpetuated the propaganda that Muslims marry four wives to increase their population with statements such as "Hum Chaar Humare Chalees" and "Hum Paanch Humare Pachchees" which are all "utterly baseless", Quraishi said.
"Trends through three decadal Censuses, from 1931 to 1960, confirm that polygamy cuts across all communities, but is declining among all of them, and, most importantly, is least among the Muslims, as per the only government report on the issue," he said in a phone interview.
In fact, Muslim society in India in general views polygamy with great disfavour, he said.
"A bigamist is looked down upon as an outsider in his family," he said, adding that polygamy is also statistically not possible in India as the gender ratio (only 924 women per 1,000 men) does not permit it.
The propaganda, repeated and orchestrated, is meant to create doubts and fears in the minds of Hindus.
Refrains like 'Hinduism khatre mein hai' (Hinduism is in danger), Muslims will increase in number and capture political power, are part of a "deliberate design with the clear intention of driving a wedge between Hindus and Muslims," Quraishi said.
While it is true the proportion of Hindus has come down in 70 years -- from 84.1 per cent to 79.8 per cent -- with corresponding increase in population of the minorities, mainly the Muslims, the Muslim adoption of family planning has been much faster in the last three decades, he said.
If Muslims have the highest birth rate, Hindus are a close second, the former CEC pointed out.
Even in absolute numbers, Hindus have nothing to fear, Quraishi said, adding that there were 30 crore more Hindus than Muslims in 1951 and the gap increased to over 80 crore by 2011.
Nobody has called the bluff of this propaganda, he said.
To underscore his argument, Quraishi has added a mathematical model in the book.
Quraishi also addresses himself to the issue of women and the notion that Islam treats them badly.
Nothing, he said, can be farther from the truth.
As early as 14 centuries ago, Islam recognised women as equal partners to men in all spheres of life.
Muslim women got property rights 1,400 years ago while women in the rest of the world got it in the 20th century, he said.
He also hit out at the argument that Muslims were a vote bank, saying that they would be politically powerful if they were indeed a solid vote bank, "They get crumbs in the name of power. If they were a vote bank, despite being 30 per cent in Bengal and Kerala and 20 per cent in UP and Bihar, they can't dream of becoming a political force. Instead, all they get is a token 'minister of minorities'. "
The Muslim vote tends to get divided and they do not vote en bloc, he argued.
Quraishi says in his book that population stabilisation is now well within sight with 24 of 29 states reaching below the replacement rate of 2.1.
"We need to focus on the four biggest states of the Hindi belt which are pulling us down. If the collective march towards the cherished goal of population stabilisation continues uninterrupted, the country can hope to reap the benefits of demographic dividend and become a global economic super power very soon," he said.
He also urged Muslims not to fall prey to the hate propaganda and incitement for a procreation war but adopt family planning proactively in the interest of the community and the country.
https://www.newindianexpress.com/nation/2021/mar/07/time-to-call-the-bluff-bust-myths-created-by-hindutva-groups-to-demonise-muslims-former-cec-s-y-qu-2273442.html
-------
Arab world
Pope in meeting with Grand Ayatollah Sistani stressed importance of friendship, mutual respect, dialogue btw religious communities
Source : Vatican news
March 7, 2021
Grand Shiite cleric, Ayatollah Sistani, issued a statement after his encounter in Najaf with the pope March 6, saying that world religious leaders should work to hold "great powers" to account, calling upon them "to give priority to reason and wisdom, to reject the language of war, and not to expand concern for their self-interests over the rights of people to live in freedom and dignity."
Pope Francis met this Saturday morning in Najaf with Grand Ayatollah Sayyid Ali Al-Husayni Al-Sistani in a visit which stressed the importance of friendship, mutual respect and dialogue between religious communities.
According to a statement from the Holy See Press Office, during the courtesy visit, which lasted about forty-five minutes, "the Holy Father stressed the importance of cooperation and friendship between religious communities for contributing – through the cultivation of mutual respect and dialogue – to the good of Iraq, the region and the entire human family."
The communique also says, "The meeting was an occasion for the Pope to thank Grand Ayatollah al-Sistani for speaking up – together with the Shiite community – in defence of those most vulnerable and persecuted amid the violence and great hardships of recent years, and for affirming the sacredness of human life and the importance of the unity of the Iraqi people."
In taking leave of the Grand Ayatollah, the Holy Father stated that he continues to pray that God, the Creator of all, will grant a future of peace and fraternity for the beloved land of Iraq, for the Middle East and for the whole world.
https://en.abna24.com/news//pope-in-meeting-with-grand-ayatollah-sistani-stressed-importance-of-friendship-mutual-respect-dialogue-btw-religious-communities_1121290.html
-------
Pope to pray for victims in Iraq's one-time Islamic State bastion
Mar 7, 2021
Dpa-International
Pope Francis will pray for victims of the conflict with Islamic State in the terrorist group's one-time stronghold in northern Iraq on Sunday as part of his historic trip to the country.
The 84-year-old pontiff is currently on the first-ever papal visit to Iraq, where the Christian community has dwindled after years of war and persecution.
On Sunday, he is to travel to the northern autonomous Kurdistan region before heading to the Nineveh plains, where thousands of people were killed and hundreds of thousands displaced by Islamic State in 2014. Francis will visit Nineveh's capital city of Mosul, which Islamic State had seized and made its key stronghold in Iraq.
There were once more than 1 million Christians in Iraq, but now their population is estimated to be between 250,000 and 400,000 after years of war, religious persecution and a steep economic decline.
The pontiff landed in Baghdad on Friday for a four-day trip, defying the global pandemic and security concerns after a series of recent attacks in Iraq.
During his trip, he has already visited churches in Baghdad, met top Shiite cleric Ali al-Sistani and held an interfaith meeting in the ancient city of Ur in today's southern Iraq.
Ur is mentioned in the Bible as the home of the prophet Abraham, the father of the three monotheistic faiths of Judaism, Christianity and Islam.
https://www.dpa-international.com/topic/pope-pray-victims-iraq-one-time-islamic-state-bastion-urn%3Anewsml%3Adpa.com%3A20090101%3A210307-99-720395
-------
'Doha, Capital of Culture in Islamic World' set to begin
GULF TIMES
March 06 2021
The Ministry of Education and Higher Education is to participate in the activities of 'Doha, the Capital of Culture in the Islamic World', as a strategic partner, which will start on Monday.
It will run throughout 2021, under the supervision of the Ministry of Culture and Sports, and in co-operation with Islamic World Educational, Scientific and Cultural Organisation (ISESCO) and Qatar National Commission for Education, Culture and Science, as well as a number of strategic partners in the state.
On Qatar's role in promoting and encouraging Arab culture, the Head of the Public Relations Department at the Ministry of Education and Higher Education Aisha Abdullah Kafoud, said that the country seeks to promote Arab and Islamic culture, stressing that choosing Doha as the capital of culture comes in recognition of its great role in promoting Arab culture, and its position in encouraging cultural giving, which occupies the heart of every Arab and international intellectual, writer, and artist.
She indicated that Qatar's acceptance to host this session in light of these exceptional circumstances due to the coronavirus (Covid-19) pandemic is a noble position towards it to strengthen cultural relations and contribute to conveying its message to the world, which is that the State is concerned with culture and arts, and is interested in education and research, as its name has been associated since a long time with pioneering cultural publications that contributed to enlightenment worldwide.
The activities organised by the ministry aim to highlight the cultural diversity, historical monuments, and human values of the culture and ancient history of Qatar, by organising a number of various events on this occasion, including the Rail event, which is a video presentation that includes a film in which a rail trip through various regions in Qatar, and through the most important witnessed events and activities, as the Rail passes through the most important institutions in Qatar.
The Ministry of Education has also prepared a programme to celebrate this occasion in co-ordination with the strategic partners in the country throughout the year, as it includes many activities and events that reflect the long history of Doha and its legacy, and the cultural components and many Islamic features that Qatar includes which reflects its Islamic character.
Choosing Doha as the capital of culture in the Islamic world for the year 2021 comes from the fact that it is a land of dialogue and a meeting place for cultures, tolerance and openness to civilizations.
https://www.gulf-times.com/story/686148/Doha-Capital-of-Culture-in-Islamic-World-set-to-be
-------
Osama bin Laden son takes up painting
ARAB NEWS
March 06, 2021
LONDON: Osama bin Laden's son Omar has reportedly taken up painting as a method of coping with lockdowns introduced to curb the spread of COVID-19.
Omar, the 39-year-old fourth son of the former Al-Qaeda leader, lives in Normandy in northern France with his wife Zaina, a painter from Cheshire in the UK.
His creations including vivid depictions of the US, a country he has never visited and against which his father waged a terrorist insurgency for many years, including the 9/11 attacks, culminating in his assassination in 2011.
Omar's works also include landscapes of the mountains of Tora Bora in Afghanistan, where his father hid from US forces for many years.
He told Vice News that he had suffered for many years with post-traumatic stress disorder, following a childhood that saw him uprooted from his family home outside Jeddah to resettle in Sudan and war-torn Afghanistan as his father pursued his campaigns.
Omar later rejected his father and left Afghanistan following his experiences of the conflict there.
"I want the world to learn that I have grown; that I am comfortable within myself for the first time in my life; that the past is the past and one must learn to live with what has gone by," he said. "One must forgive if not forget, so that one may be at peace with one's emotions."
https://www.arabnews.com/node/1820956/lifestyle
-------
Pope Francis urges Iraq's Muslims, Christians to unite for peace
6 Mar 2021
Aljazeera
Pope Francis has urged Iraq's Muslim and Christian religious leaders to put aside animosities and work together for peace and unity during an interfaith meeting in the traditional birthplace of the Prophet Abraham, father of their faiths.
"This is true religiosity: to worship God and to love our neighbour," the pontiff told the gathering on Saturday.
Francis travelled to the ruins of Ur in southern Iraq to reinforce his message of inter-religious tolerance and fraternity during the first-ever papal visit to Iraq, a country riven by religious and ethnic divisions.
With a magnificent ziggurat nearby, Francis told the faith leaders that it was fitting that they come together in Ur, "back to our origins, to the sources of God's work, to the birth of our religions" to pray together for peace as children of Abraham, the prophet common to Muslims, Christians and Jews.
"From this place, where faith was born, from the land of our father Abraham, let us affirm that God is merciful and that the greatest blasphemy is to profane his name by hating our brothers and sisters," he said. "Hostility, extremism and violence are not born of a religious heart: they are betrayals of religion."
The pope said there could never be peace as long as Iraqis viewed people of different faiths as the "other".
"Peace does not demand winners or losers, but rather brothers and sisters who, for all the misunderstandings and hurts of the past, are journeying from conflict to unity," he said.
https://www.aljazeera.com/news/2021/3/6/pope-francis-urges-iraqs-muslims-christians-to-unite-for-peace
-------
Mideast
Hamas condemns Israeli decision to install elevator for Jewish settlers at Ibrahimi Mosque
Source : Palestine Info
March 6, 2021
The Hamas Movement has condemned the Israeli insistence on installing an elevator for Jewish settlers at the Ibrahimi Mosque in al-Khalil city as "flagrant aggression against the Islamic holy sites."
This came in Twitter remarks made by Hamas spokesman Abdul-Latif al-Qanua in response to an Israeli court verdict rejecting a Palestinian petition against the appropriation of around 300 square meters in the Mosque's courtyard for the purpose of installing an elevator for Jewish settlers.
Spokesman Qanua described the court decision as "aimed at Judaizing the Ibrahimi Mosque and changing its historic Islamic identity."
"Such racist Zionist policy towards Palestinian holy sites and property will never confer legitimacy on the [Jewish] settlers living on our land," the spokesman underlined.
https://en.abna24.com/news//hamas-condemns-israeli-decision-to-install-elevator-for-jewish-settlers-at-ibrahimi-mosque_1121039.html
------
More than 100 British charities condemn aid cuts to Yemen
Source : Iran Press
March 7, 2021
More than a hundred British charities have written a joint letter to the Government condemning London's decision to slash humanitarian aid to Yemen, following cross-party criticism.
At least £87 million has been pledged in aid to the Middle Eastern country, down from £164m in 2019-2020.
A Foreign Office spokesman said the government remained "steadfast" in its support to the Yemeni people.
Yemen is among several Middle Eastern and African countries whose UK aid is at risk, a leaked email suggests.
First reported by open Democracy, a leaked document dated last month suggests officials are considering cutting aid to Syria by 67% and Lebanon by 88%.
Aid to Nigeria could drop 58%, Somalia 60%, South Sudan 59%, and the Democratic Republic of Congo by 60%, it says.
In a letter to Boris Johnson, charities say the government has made a "misjudgment" by thinking the public is happy to turn away from countries affected by poverty, war, and disease.
"History will not judge this nation kindly if the government chooses to step away from the people in Yemen and thus destroy the UK's global reputation as a country that steps up to help those most in need," the letter says.
Oxfam, Christian Aid, Save the Children and Care International are among the 101 signatories.
Danny Sriskandarajah, Oxfam GB chief executive, said: "Aid cuts are a false economy that will remove a vital lifeline from millions of people in Yemen and beyond who can't feed their families, have lost their homes, and whose lives are threatened by conflict and Covid."
He also urged the government to stop the "immoral" practice of selling arms to the war-torn state.
MPs from across the political spectrum have criticized the reduction in aid.
Conservative former international development secretary Andrew Mitchell said the "unimaginable" move would "condemn hundreds of thousands of children to starvation".
Shadow foreign secretary Lisa Nandy said the change represented the UK "abandoning our moral obligations".
https://en.abna24.com/news//more-than-100-british-charities-condemn-aid-cuts-to-yemen_1121282.html
-------
Over 25,000 Muslims perform Friday prayer at Al-Aqsa Mosque
Source : Palestine Info
March 6, 2021
More than 25,000 Muslim worshipers performed Friday prayer in the holy Al-Aqsa Mosque despite the restrictions of the Israeli occupation authorities.
Jerusalemite sources reported that thousands of Palestinians arrived at Al-Aqsa from al-Quds (Jerusalem) and the 1948 occupied territories in addition to few residents of the West Bank who were able to bypass the Israeli barriers.
Since the morning hours, Jerusalem has witnessed tight security measures by the occupation police who have set up military checkpoints at all entrances to the Old City.
The Israeli police also prevented Palestinians who hold ID cards of the West Bank from entering the Al-Aqsa Mosque and detained a number of them.
During the Friday Khutba (sermon), the preacher of the Al-Aqsa Mosque, Sheikh Muhammad Salim, stressed the need for a righteous Muslim ruler, who never forsakes the Al-Aqsa Mosque.
He also said that the Al-Aqsa Mosque is a central issue for all Muslims and the weakness of the Arab nation will disappear.
https://en.abna24.com/news//over-25000-muslims-perform-friday-prayer-at-al-aqsa-mosque_1121048.html
-------
Imam Khamenei urges people, officials to protect plants, environment
Source : Khamenei.ir
March 6, 2021
On the occasion of National Tree Planting Day and Natural Resources Week, Imam Khamenei, the Leader of the Islamic Revolution, planted two saplings on Friday morning. Describing plants and greenery as an important factor in life and in building human civilization, the Leader of the Islamic Revolution referred to the religious aspects of caring for the environment by saying, "Planting trees and saplings is one of the good deeds that is stressed in the Islamic religious law."
Imam Khamenei spoke of the significance of the environment in the Constitution and said, "Actions to conserve the environment are religious, revolutionary activities. We should not look at such activities as being just some formal, ornamental activities."
His Eminence stated that the diversity in climate and environment that exists in the country is a good opportunity for the people and the youth of the country to be active in the area of the environment. Expressing his regret at the destruction of forests, natural resources and sources of groundwater at the hands of profiteers, he said, "Destroying the environment is a grave tragedy that ruins humanity's future. Therefore, both the officials and the people should work against this."
Referring to events such as burning forests and the drying of lakes and wetlands, Imam Khamenei stated, "These events can be prevented. The officials who do not carry out their duties are to blame."
Elsewhere in his statements, the Leader of the Islamic Revolution touched on the issue of the Coronavirus pandemic, saying, "Last year, people acted in accordance with the recommendations during the New Year holidays, thus immunizing the country against a grave disaster. But this year, the danger is even more serious and more widespread. Therefore, everyone should observe the recommendations this year as well."
He continued on to say, "Whatever the National Committee on Combating Coronavirus announces should be carried out. If they have imposed bans on traveling, people should not travel. I myself will definitely not travel this year, just like last year."
Another issue that Imam Khamenei discussed was the problem in people's livelihood due to the pandemic, "If Corona continues, there will be more problems in livelihood. Therefore, everyone should cooperate to eliminate this disease as soon as possible."
Expressing his dissatisfaction concerning the issue of high prices and the people's problems in livelihood, His Eminence stated, "This situation close to the New Year has caused us great concern. Of course, there is not a shortage in goods such as fruits, but prices are extremely high. And it is not the hardworking farmers who are receiving the profit from these high prices. Rather, it is profiteering dealers and middlemen who are reaping large profits at the expense of the people."
The Leader of the Islamic Revolution stressed that the officials must solve the people's economic problems and the issue of high prices. He also added, "There are solutions for all these problems. I have discussed these points with officials many times in numerous meetings. I have communicated the solutions suggested by the experts to the officials."
https://en.abna24.com/news//imam-khamenei-urges-people-officials-to-protect-plants-environment_1120948.html
------
South Asia
Attempts Are On To Create Militants By Misinterpreting Islam: Bangladesh Awami League Joint General Secretary and Minister
Dr Hasan
March 6, 2021
CHATTOGRAM,(BSS) – Bangladesh Awami League Joint General Secretary and Information Minister Dr. Hassan Mahmud said that Islam is being misinterpreted in many ways, many people are being misled by the misinterpretation and many are also trying to become militants.
"The Alem are speaking against the misinterpretation. I urge them to speak more against it. Islam is a religion of peace; there is no room for oppression on others in Islam," he said.
The information minister was speaking as the chief guest at an anti-dowry and anti-drug rally organized by Anjuman Rajvia Nuria Bangladesh at Jamiatul Falah Mosque Complex in the city this evening.
Maulana Abul Kashem Nuri, Chairman of Anjumane Rajviya Nuria, presided over the function while Joint Secretary General of the International Human Rights Organization Ershad Mahmud, youth organizer Faraj Karim Chowdhury, Professor Akbar Hossain, politician Dr. Masum Chowdhury, Allama Masood Hossain Alkaderi and Advocate Abdur Rashid Daulati, among others, addressed the function.
Dr. Hasan Mahmud said Islam has never been established in the sub-continent through any war, rather it was established by the saints.
Thanking Abul Kashem Nuri for organizing the anti-dowry rally every year, the information minister said if such a social movement is carried out on behalf of the Alem Samaj it will have a big impact on the society.
He also urged the people to raise their voice against dowry from their respective positions to free the society from this curse.
https://www.bssnews.net/?p=543229
-------
ANA operation claims 25 Taliban fighters, injures 36
By Khaama Press
06 Mar 2021
At least 25 Taliban were killed and 36 others were wounded in Arghandab and Panjwai districts of Kandahar Province, the Ministry of Defense tweeted on Saturday.
13 IEDs planted by the Taliban to target soldiers and civilians were also discovered and defused by the Afghan National Army personnel.
This comes as 7 members of Afghan government forces were killed and four others were wounded in a clash with the Taliban in Chimtal district of Balkh Province on Friday night, local officials told media.
According to reports, the clashes occurred when the Taliban stormed an Afghan army outpost in Lab-e-Nahr village in Chimatal district.
At least five Taliban militants including their designated deputy district governor for Chaharbolak district in Balkh were killed.
Despite peace efforts in the country violence remains high and humans killing one another in Afghanistan becomes part of a daily schedule.
https://www.khaama.com/ana-operation-claims-25-taliban-fighters-injures-36-453344/
--------
Seven Afghan solders killed in Taliban attack
Source : Ava Press
March 7, 2021
Seven members of the Afghan National Army were killed and four more were wounded in an attack by the Taliban in Chimtal district, Balkh province, on Friday night, local officials said.
The army officials the clashes happened after armed Taliban terrorists attacked an army outpost in Lab-e-Nahr village in Chimtal district, said Mohammad Hanif Rezaee, spokesman for Afghan Army's 209 Shaheen_Corps.
He said that five Taliban, including their designated deputy district governor for Balkh's Chaharbolak district, were killed in the clashes.
The spokesman said that reinforcements have been sent to the area and the Taliban has been pushed back from the village.
The Taliban terrorists have not commented on the casualties.
This comes as violence remains high in the country despite efforts for peace.
The country has been experiencing a growing number of explosions and terrorist attacks in the past months. In 2001, US forces along with NATO waged a war in Afghanistan claiming to fight against terrorism and since then the number of military and civilian casualties in the country has steadily increased.
https://en.abna24.com/news//seven-afghan-solders-killed-in-taliban-attack_1121272.html
------
Pandemic Response: Hasina among 3 phenomenal PMs
March 07, 2021
Diplomatic Correspondent
Prime Minister Sheikh Hasina has been named among the top three inspirational women leaders who have demonstrated extraordinary leadership during the Covid-19 pandemic in the Commonwealth, Bangladesh High Commission in London said in a statement yesterday.
In a special announcement ahead of the International Women's Day 2021, Commonwealth Secretary-General Patricia Scotland QC bracketed Hasina with New Zealand Prime Minister Jacinda Arden and Barbados Prime Minister Mia Amor Mottley for demonstrating extraordinary leadership during the pandemic.
"For me whilst I am inspired all the time by so many women and girls, I would like to name three phenomenal leaders in our Commonwealth -- Jacinda Arden, the prime minister of New Zealand, Mia Amor Mottley, the prime minister of Barbados and Sheikh Hasina, the prime minister of Bangladesh -- for their leadership during Covid-19 in their roles in their respective countries," the Commonwealth secretary-general said.
"All three leaders alongside so many other women have given me hope for a world that delivers a common future for women and men and serves all of our common good," she added.
Of the total 549,724 coronavirus cases in Bangladesh until March 6, the number of recoveries is 501,966. A total of 8,451 people have died -- one of the low ratios of infections and deaths, though health systems have been affected during the peak months.
Bangladesh's agricultural productivity, as well as foreign remittance, has been robust. The government declared stimulus packages for the people adversely affected by the pandemic.
Referring to Bangladesh's past successes in disaster management, UN Secretary-General Antonio Guterres last week said in view of the country's ranking as a global leader in risk mitigation, he was not surprised to see such an accomplishment.
He expressed admiration for PM Hasina, especially for her strong commitment to the people of Bangladesh.
https://www.thedailystar.net/frontpage/news/3-pms-phenomenal-pandemic-2056049
-------
Europe
Pope's prayer at birthplace of Abraham, father of Christians, Jews, Muslims
Kathleen N. Hattrup -
03/06/21
Here is the prayer of the religious leaders at an interreligious meeting led by Pope Francis on March 6 in Ur, the birthplace of Abraham.
Almighty God, our Creator, you love our human family and every work of your hands: As children of Abraham, Jews, Christians and Muslims, together with other believers and all persons of good will, we thank you for having given us Abraham, a distinguished son of this noble and beloved country, to be our common father in faith.
We thank you for his example as a man of faith, who obeyed you completely, left behind his family, his tribe and his native land, and set out for a land that he knew not.
We thank you too, for the example of courage, resilience, strength of spirit, generosity and hospitality set for us by our common father in faith.
We thank you in a special way for his heroic faith, shown by his readiness even to sacrifice his son in obedience to your command. We know that this was an extreme test, yet one from which he emerged victorious, since he trusted unreservedly in you, who are merciful and always offer the possibility of beginning anew.
We ask you, the God of our father Abraham and our God, to grant us a strong faith, a faith that abounds in good works, a faith that opens our hearts to you and to all our brothers and sisters; and a boundless hope capable of discerning in every situation your fidelity to your promises.
Make each of us a witness of your loving care for all, particularly refugees and the displaced, widows and orphans, the poor and the infirm.
Open our hearts to mutual forgiveness and in this way make us instruments of reconciliation, builders of a more just and fraternal society.
Guide our hands in the work of rebuilding this country, and grant us the strength needed to help those forced to leave behind their homes and lands, enabling them to return in security and dignity, and to embark upon a new, serene and prosperous life. Amen.
https://aleteia.org/2021/03/06/popes-prayer-at-birthplace-of-abraham-father-of-christians-jews-muslims/
-------
'A lot of uncertainty': imams fighting Covid misinformation in Australia's Muslim community
Mostafa Rachwani
7th March, 2021
Whenever imam Alaa Elzokm comes across conspiracy theories – whether in person or online – he bridles at their poor sourcing.
During the past year, Elzokm has seen posts on Instagram, Facebook and Whatsapp shared among Australia's Muslim community, spreading misinformation about Covid and vaccinations.
Based at the Elsedeaq Heidelberg Mosque in Melbourne, he is one of a number of Muslim leaders who have been working throughout the pandemic to combat the spread throughout his congregation and community.
As the Covid vaccine began rolling out across the country last month, he held an online event with three doctors with the aim of clearing up any anxieties people may have had about vaccination.
"Most people are just confused, they don't know what to do. Some people are afraid, having heard these conspiracy theories, but once we speak to them, and they hear from doctors, they are usually very satisfied," he says.
"The idea really is to formulate a conversation … to just present the medical information, hopefully in a way that really resonates with people," he says.
"I feel I have … a responsibility to the community at large – not just the Muslim community – and I love that responsibility, it's something I have to honour."
Chehata and Elzokm were involved in the development of the recently released Coronavirus Vaccine fatwa from the Australia Fatwa Council, which pronounced both the Pfizer and AstraZeneca vaccines as halal for Muslims.
Elzokm says he believes it was imperative the vaccine be labelled halal, because without the fatwa many in the community would have hesitated to take it.
"We felt we needed to talk about this issue, because people had questions," Elzokm explains. "We expected them to ask about the religious permissibility of the vaccine, and so we worked on and issued the fatwa."
"It was our own work, our own decision. We did this as a service to the community. We wanted to give our perspective on the vaccine without any pressure from the government."
The federal government has recently stepped up its campaign to combat misinformation around the vaccine and its contents, but these Muslim leaders say their efforts are not driven by the government.
Ibrahim Dadoun, director of public relations at the Australian National Imams Council, says while the government had been working with the council, "we issued a verdict without any directives from the Department of Health or from the government in general."
Adel Salman, spokesperson from the Islamic Council of Victoria, says without the engagement of community leaders the vaccine rollout will fail.
Salman says it's not just about flooding public platforms with information, but about understanding how information spreads in particular communities and taking the time to address them appropriately.
"They really need to engage with communities, especially minority communities, in the right way, in the right forums and with the right channels."
"I'm not trying to convince you. I'm not trying to sell you something or I'm not getting any benefit in any way. I'm just delivering the information and leave it up to you to mull it over.
"Once you explain it, there isn't really much pushback per se because of the way I present it. I'm not some guy pushing an agenda. I'm just the guy saying I'll just explain to you the situation in a very simple way, take it or leave it."
Tareq Ahmed, a mental health advocate, says he has been campaigning against misinformation using his own personal social media accounts.
"There's a lot of information that pops up on my newsfeed that's just simply incorrect. And if you spend some time online to research it, you'll usually find its exaggerated or misrepresented."
"I think people … use positions of influence to spread such information. And I understand why people might be afraid, there's a lot of uncertainty, a lot of questions that need to be answered."
"But the worst part is that it's taken and shared thousands of times, and taken as gospel. Whereas I like to share the other side."
In his running battles against conspiracy theories, he's noticed many doubters focus on single details, such as ingredients in a vaccine or daily case numbers.
"People look at the ingredients of the vaccine and jump to conclusions, without consideration for the dosage or anything like that, they just look at the names, and that can sound scary."
Elzokm often returned to the importance of expert advice, saying he felt that the best way to combat misinformation and conspiracy theories was to provide people with access to experts.
"You'd take your legal advice from a lawyer and your financial advice from an accountant, so we have to take our health advice from a doctor.
It is a sentiment echoed by Ahmed, who tells the Guardian he hasn't come across any government work to combat misinformation so far.
"They need to be doing a lot more to target minority communities. I haven't really seen anything that directly focuses on the Muslim or Arab communities.
"The number one thing for me is to actually share resources and information from evidence based pages and from reputable scientific and government sources.
"The least I can do is share this information online and have those conversations in person."
https://www.theguardian.com/australia-news/2021/mar/07/a-lot-of-uncertainty-imams-fighting-covid-misinformation-in-australias-muslim-community
--------
Pope and Shiite Islam leader promote dialogue and respect
I.Media for Aleteia
03/06/21
Pope Francis and Grand Ayatollah Ali al-Sistani, Iraq's highest Shiite authority, jointly spoke of the importance of cultivating dialogue and mutual respect for the "good of Iraq" after a historic meeting March 6 on the pope's first full day in Iraq.
Pope Francis arrived at 9 a.m. local time in Najaf, the spiritual city of the Shiites of Iraq, accompanied by a large convoy. Welcomed by the son of al-Sistani, the pontiff entered his residence as doves were released. The private interview lasted 45 minutes instead of the planned 30 minutes.
In a statement, the Holy See announced that the two men had stressed "the importance of collaboration and friendship" between their religions so that, by cultivating mutual respect and dialogue, "they contribute to the good of Iraq," of the region and of all humanity.
This meeting was an opportunity for the Pope to thank the Grand Ayatollah al-Sistani because with the Shiite community – in the face of the violence and the great difficulties of recent years – he "raised his voice to defend the weakest and the most persecuted, affirming the sanctity of human life and the importance of the unity of the Iraqi people."
https://aleteia.org/2021/03/06/pope-and-shiite-islam-leader-promote-dialogue-and-respect/
-------
France must repatriate 'Islamic State' sympathizers stranded in Syria
Luisa von Richthofen
06.03.2021
French authorities are loathed to repatriate French women who left the country to join the so-called 'Islamic State' (IS) and are now stuck in Syrian jails. Since the defeat of 'IS' in 2014, 120 French women and over 300 children have remained in the country.
Ten days ago, a dozen of these French nationals went on hunger strike to protest against the conditions at Syria's overcrowded al-Hol and Roj prison camps. They're desperate to leave the dirty, muddy and cold jails, where murder and intimidation are rife.
It's obvious, why. France, which suffered numerous bloddy 'IS' terror attacks, has grown wary and scared. A 2019 study shows that 89% of French respondents fear a return of former 'IS' sympathizers from abroad, with 67% saying "'IS' offspring" should remain in Syria — an overwhelming majority, especially by French standards. And it's unlikely these sentiments will have changed much.
President Emmanuel Macron knows repatriating French 'IS' sympathizers will only weaken his political standing at home. He is reluctant to act, especially with the presidential election only a year away. French authorities say they are vetting each any every individual before bringing them back. A mere 35 children, many of them orphans, were repatriated in the past two years. At this rate, French citizens will face many more years in increasingly squalid and inhumane Syrian jails.
Leaving its citizens to languish abroad would not only run counter to French human rights principles, but also its own interests.
Naturally, some 'IS' supporters remain unrepentant. Standing up for the human rights of individuals who may have participated in or supported Shiite Muslim massacres, the enslavement of Yazidis, the crucifixion of Christians, the murder of homosexuals or the attack on the Bataclan will raise eyebrows. But yet, these individuals are a product of our society. They must be repatriated and brought to justice, according to the rule of law. Every citizen is entitled to a fair trial. Judgments by European courts in the past week with regard to Syria have shown they are capable of doing just that.
France should repatriate its citizens from northern Syrian jails before 'IS' fighters liberate the camps. The terror organization has been making a comeback in the region. Insiders report that inmates have been smuggled out of one Kurdish camp for between €14,000 and €18,000. Fourteen French 'IS' prisoners — among them, the wife of Amedy Coulibaly, who participated in the January 2015 Paris attacks — have already vanished without a trace. Al-Hol's Kurdish prison guards have also warned that an uprising among the 60,000 inmates could prove impossible to control.
That brings us to the 300 French children locked up the Syrian camps. Two thirds of them are younger than six years of age. They are neither "'IS' offspring" nor "mini terrorists," but are merely innocent minors. Most of them are too young to have even experienced 'IS' rule. They have grown up knowing only a grimy and cold camp. The older children, too, must not be punished for their parents' decisions. These minors are victims of war, and many are deeply traumatized. Leaving them to languish in inhumane conditions risks creating a breeding ground for tomorrow's jihadists.
France has a responsibility to these children. It must allow these children to live dignified lives. France, after all, considers itself the "birthplace of human rights."
https://www.dw.com/en/opinion-france-must-repatriate-islamic-state-sympathizers-stranded-in-syria/a-56789997
-------
People urged not to attend cemetery for Islamic holy nights
By Shuiab Khan
6th March,2021
Every year people attend the cemetery late at night as part of the Shab-e-Baraat and Shab-e-Meraj traditions when people pray beside the graves of their loved ones. In previous years small congregations have gathered and these have been led by some local imams.
A joint statement from the Lancashire Council of Mosques, Blackburn with Darwen Council and the Blackburn Muslim Burial Society said: "We respect it is tradition for the Muslim community to visit the cemetery to offer prayers for their loved ones and the Ummah. We acknowledge these are very special nights in the Islamic Calendar.
"On behalf of the Blackburn with Darwen Council, Lancashire Council of Mosques and Blackburn Muslim Burial Society we would like to inform you that due to the Covid restrictions Pleasington cemetery will be closed during the night on Thursday 11 March, Friday 12 March. Saturday 27 March, Sunday 28 March and Monday 29 March.
"The cemetery will remain open during the day from 10am to 4.30pm and as of 1 April the cemetery will open from 10am to 8.30pm."
The statement goes on to add, "Kindly follow the latest Covid guidance, social distancing and avoid congregating at all times whilst at the cemetery."
Earlier this week as more places of worship prepare to open for congregational prayers and services from 8 March, the three Directors of Public Health for Lancashire had also written to all faith leaders to offer further public health advice.
Prof Dominic Harrison, Director of Public Health for Blackburn with Darwen, said "When England went into lockdown in early January, religious services and communal prayers were still allowed. However we strongly advised all places of worship to temporarily suspend these activities, because of the high virus rates we were seeing locally and the transmission of new Coronavirus variants.
"Now, we're advising places of worship that they can resume collective worship from 8 March, and offering them help to review their risk assessments and update their COVID-secure arrangements if necessary.
"We're getting a good grip on the virus now and we need all places of worship to remain vigilant and ensure their arrangements are robust enough to protect their congregations."
In Blackburn with Darwen, the Council's Public Protection team is giving support to all places of worship that may need to review their risk assessments in the light of new virus variants.
Spot checks are also taking place to monitor compliance at places of worship, similar to at workplaces and in shops.
https://www.lancashiretelegraph.co.uk/news/19140194.people-urged-not-attend-cemetery-islamic-holy-nights/
--------
North America
Biden Has Overturned Trump's 'Muslim Travel Ban.' Activists Say That's Not Enough
March 6, 2021
Npr.Org
NPR's Scott Simon asks Iman Awad of Emgage Action what advocates want the Biden administration to do after repealing the travel ban that primarily affected Muslim-majority and African countries.
SCOTT SIMON, HOST:
President Biden signed an executive order to reverse what's been called the Muslim ban, signed by former President Trump, that banned travelers from seven Muslim-majority countries from entering the United States. But some advocacy groups say that more work still needs to be done. Iman Awad is the deputy director of Emgage Action, a Muslim advocacy group in Washington, D.C. Thanks so much for joining us.
IMAN AWAD: Thank you for having me.
SIMON: You, I gather, agree that President Biden rescinding the order is a big step, but you don't believe enough.
AWAD: Absolutely. I do want to note the contrast between five years ago. Advocacy groups were in the midst of dealing with the fallout of the institution of the Muslim ban. We had a presidential candidate, then President Trump, calling for a complete and total shutdown of Muslims entering the United States, in contrast to President Joe Biden committing to repeal this on day one. The Muslim communities are thrilled that he upheld his promise to our community, but we need to recognize that more needs to be done, specifically through congressional action, to ensure that no future administration can abuse the presidential authorities we saw Donald Trump abuse.
SIMON: What would you like to see done?
AWAD: We would like to see the passage in both the House and the Senate of the NO BAN Act, which would amend the Immigration and Nationality Act. Specifically, Code 212(f) was the authority used by Donald Trump to institute the Muslim ban. And we need to see Congress pass the NO BAN Act, amend the language in the Immigration and Nationality Act and provide better oversight and accountability moving forward.
SIMON: Help us understand that piece of legislation if you could.
AWAD: Absolutely. The Immigration and Nationality Act, as it stands, does not include any protections for discrimination based on religious affiliation. What the NO BAN Act does is amend that language to include that. Therefore, administrations moving forward would have - you know, they could not discriminate on national origin, sex and also including religion at this point if the NO BAN Act is passed. Furthermore, the legislation calls for more oversight by both Congress and also appropriate agencies to make sure any future travel ban is based off of credible facts.
SIMON: You - you've also said that an assessment of families who've been affected by the ban has to be done. What would that entail?
AWAD: That would entail recognition that there was a very deep human impact by this xenophobic ban Donald Trump instituted. There are tens of thousands of families separated, whether it's spouses, children, grandparents, aunts and uncles who were unable to visit, to immigrate. And even more nefarious was individuals and families fleeing from violence that were unable to seek asylum in this country. There needs to be an assessment that those people, who were denied their ability to come to the United States as an impact of the ban, are going to be expedited in process and, additionally, not charged any additional fees for being denied under the ban.
SIMON: I gather you believe there's a lot of damage that has to be repaired.
AWAD: There is. What we saw in 2020, with the pandemic and being unable to visit our loved ones - that was, you know, very similar to what these individuals felt on such a deeper level for four, now going on five, years with no clear indication on how they would be able to see and visit their families. And again, individuals, specifically from Yemen, who - there's no U.S. consulate in their country - traveling to Djibouti to get visas and having to travel back into danger. This is something that they've lived with for five years. And with the rescission by President Biden, the fight is not over because now we have a backlog of visas and families and people who need to be processed once again.
SIMON: Iman Awad is the deputy director of the Muslim advocacy group Emgage Action. Thank you so much for being with us.
AWAD: Thank you.
https://www.npr.org/2021/03/06/974339586/biden-has-overturned-trumps-muslim-travel-ban-activists-say-thats-not-enough
-------
US agency probes Facebook for 'systemic' racial bias in hiring, promotions
BusinessToday
March 7, 2021
A US agency investigating Facebook Inc for racial bias in hiring and promotions has designated the probe as "systemic," attorneys for three job applicants and a manager who claim the company discriminated against them told Reuters on Friday. A "systemic" probe means the agency, the Equal Employment Opportunity Commission, suspects company policies may be contributing to widespread discrimination.
The EEOC typically resolves disputes through mediation or allowing complainants to sue employers. But agency officials designate a few cases "systemic," enabling investigators to rope in specialists to analyze company data and potentially bring a broader lawsuit representing entire classes of workers.
Facebook operations program manager Oscar Veneszee Jr. and two applicants denied jobs brought a charge last July to the EEOC, and a third rejected applicant joined the case in December. They have alleged Facebook discriminates against Black candidates and employees by relying on subjective evaluations and promoting problematic racial stereotypes.
The designation of the EEOC's probe has not been previously reported. The EEOC has not brought allegations against Facebook. Its investigation, which may last months more, may not result in findings of wrongdoing. The agency declined to comment.
Facebook spokesman Andy Stone declined to comment on the status of the probe or specific allegations but said that "it is essential to provide all employees with a respectful and safe working environment." "We take any allegations of discrimination seriously and investigate every case," he said.
The EEOC brought in systemic investigators by last August and received detailed briefing papers from both sides over the last four months, said Peter Romer-Friedman, an attorney at Gupta Wessler representing Veneszee and the job candidates.
Employment law firms Mehri & Skalet and Katz Marshall & Banks also are helping the workers. The EEOC's Baltimore, Pittsburgh and Washington offices are involved, attorneys from the firms said. Facebook's counsel, Covington & Burling, did not respond to a request for comment.
Increasing racial and gender diversity has been a persistent challenge for the nation's largest tech companies, which at times have blamed a shortage of qualified candidates from underrepresented groups. But tech workers have grown emboldened to publicly challenge that notion and allege in formal complaints that biased employment practices cause disparities.
Romer-Friedman said he and his colleagues told the EEOC in a submission last month that one such Facebook policy is awarding employees bonuses of up to $5,000 when a candidate they refer is hired. Referred candidates tend to reflect the makeup of existing employees, disadvantaging Black professionals, he said. Facebook said about 3.9% of its U.S. employees as of last June were Black.
David Lopez, a former EEOC general counsel now teaching at Rutgers University, said that systemic investigations are significant because of the additional resources involved. When they result in allegations of wrongdoing, multimillion-dollar settlements sometimes follow, he said, citing recent cases against Dollar General Corp and Walmart Inc.
In the year ended last Sept. 30, 13 of the 93 EEOC merit lawsuits were systemic, according to agency data. Last December, the Justice Department accused Facebook of discriminating against U.S. workers broadly, saying it gave hiring preference to temporary workers such as H-1B visa holders. Alphabet Inc's Google last month agreed to spend $3.8 million to settle U.S. government allegations that it underpaid women and unfairly passed over women and Asians for job openings.
https://www.businesstoday.in/current/world/us-agency-probes-facebook-systemic-racial-bias-hiring-promotions/story/433195.html
-------
Africa
South African Shia cleric: Islamic Revolution gave us confidence, courage to stand against apartheid regime
Source : Taghrib News
March 6, 2021
Chairperson of the Ahlul Bayt Islamic Council of South Africa highlighted the role of Iran's Islamic Revolution in fighting the apartheid regime in S Africa stressed the history of the popular uprising in Iran bringing hope and courage to the people in South Africa.
Sheikh Shuaib Booley, top cleric from South Africa attended the international webinar held by Iran's World Forum for Proximity of Islamic Schools of Thought and underlined the positive effects of the uprising on the people in South Africa to stand against the apartheid regime.
He said," Immediately after victory of the Islamic revolution Imam Khomeini severed relations with the apartheid regime in South Africa and Israeli regime."
He hailed the supportive stance of late Imam Khomeini (RA) for the oppressed people in South Africa, South America and Palestinians and other oppressed nations."
"Imam Khomeini (RA) continuously urged Muslims to be united and always reminded us that the victory of Muslims against the imperialist America and its allies lies in the unity of Muslims" said Sheikh Shuaib Booley.
Islamic revolution in Iran taught the oppressed people around the world across the world that by the might of iman (faith) and unity of expression and resorting to Islam we can stand against the so-called superpowers and defeat them.
South African cleric also praised the late founder of Islamic Revolution for making the point clear that," Islamic Revolution will not depend or succumb to the east or the west but to depend and succumb to Allah alone."
According to the chairperson of the Ahlul Bayt Islamic Council of South Africa the problem for enemies of Iran is not Iran per se but Islamic Iran.
The more we can do to support the resistance the sooner we will achieve our Islamic goals to stop the enemies of Islam from creating any further problems in west Asia.
"The only obstacle on our way to liberate Palestine is disunity of the ummah" noted Sheikh Shuaib Booley and demanded," For how much longer our Muslims will be mere spectators that Palestinian women and children are being massacred by the Zionist terrorists?"
He stressed that the time for political maneuvers are over and said," The colonization of Palestine by Zionist Israelis is our problem and only we the Muslims can resolve it."
Sheikh Shuaib Booley, Chairperson of the Ahlul Bayt Islamic Council of South Africa made the comments in the webinar held by World Forum for Proximity of Islamic Schools of Thought on the 42nd anniversary of the Islamic Revolution held on February 9.
https://en.abna24.com/news//south-african-shia-cleric-islamic-revolution-gave-us-confidence-courage-to-stand-against-apartheid-regime_1120970.html
------
Extremists exploit religious tensions to achieve parochial goals: South African scholar
By Mohammad Mazhari
March 6, 2021
"Violent extremist groups tend to exploit inter and intra-religious tensions to achieve parochial objectives," Akinola Olojo tells the Tehran Times.
"It is absolutely essential that cooperation across the religious spectrum is a component of preventing and countering violent extremism in African countries and indeed globally," says Olojo, a senior researcher in transnational threats and international crime at the Institute for Security Studies in Pretoria.
Following is the text of the interview:
Q: What are the main reasons for the rise of violent extremism in Africa? Is Africa a safe haven for terrorists affiliated with ISIS?
A: A combination of reasons helps us to make sense of the spread of violent extremism on the continent. These reasons can also be understood as risk factors that have existed for a long time in a number of African countries. These risk factors create conditions that violent extremist groups such as the so-called Islamic State (ISIS) and their affiliates are able to exploit.
Apart from ISIS, there are also groups such as Boko Haram and al-Shabaab. Decades of ineffective state institutions, longstanding neglect of communities living on the margins of society, failure to constructively engage local community actors or groups, including the youth, have collectively contributed to a situation where the aforementioned violent extremist groups exploit leadership gaps along with the power of ideology that equally exploits religion to appeal to vulnerable populations.
One must also understand that governments' weak understanding of the workings of these different groups and their strategies, as well as ill-informed state responses, also complicates the situation. Furthermore, in cases where good countering violent extremism (CVE) policies exist, the political will to implement these policies and the sense of urgency required are weak.
Q: Do you with this view that certain regimes in other regions, for example in West Asia, have exported their problems to Africa, especially in Libya? Is violent extremism a kind of imported phenomenon to Africa?
A: I would say that violent extremism is a transnational challenge, and this applies globally. In the context of Africa, the threat it poses and its multiple dimensions certainly transcend the borders of states. In the Lake Chad Basin region, countries such as Cameroon, Chad, Niger and Nigeria are faced with a regional challenge caused by Boko Haram. In the Sahel, countries such as Mali, Burkina Faso and Niger are faced with the regional challenge cause by the Jama'a Nusrat ul-Islam wa al-Muslimin (JNIM).
Similarly, in the East and the Horn of Africa, countries such as Somalia, Kenya, and Uganda face the regional challenge caused by al-Shabaab. The multi-dimensional character of violent extremism is expressed through combatants that cross borders, through the movement of weapons, and through the flow of ideological narratives. To some extent, the flow of weapons from Libya after the fall of Gaddafi also influenced the trends of violence in certain parts of the Sahel.
Q: Which countries and regions in Africa are at stake due to the rise of ISIS in the continent?
A: In recent years, countries such as the Democratic Republic of the Congo and Mozambique have also come under the radar of what is referred to as the Islamic State Central Africa Province. The threat posed by ISIS should not be taken for granted because it concerns quite a number of regions, as earlier pointed out. In the Lake Chad Basin, Boko Haram called the Islamic State West Africa Province, and Cameroon, Chad, Niger and Nigeria are faced with challenges. There is the Islamic State in the Greater Sahara, which threatens parts of Mali, Burkina Faso and Niger. There is also the Islamic State in Somalia which causes problems for places such as Puntland.
Q: What is the main social base of terrorist groups like Boko Haram in Africa? Why do some youth join Boko Haram and other groups?
A: Attraction to or membership of Boko Haram must be understood in terms of phases/periods. During the early stages of Boko Haram's rise, different population groups joined for various reasons. Some individuals were attracted by ideological reasons and the need to have a sense of identity. Others joined as a result of socio-economic or political grievances. Some also joined for reasons linked to vengeance, for instance, due to the killing of a family member or friend by security agencies. In other words, there is also a human rights dimension associated with the rationale behind some individuals joining these groups. Each individual's pathway towards joining Boko Haram is unique. However, in more recent years and especially in light of the group's atrocities against both Muslims and Christians, Boko Haram lost a lot of appeals. Therefore, what is being witnessed in recent years is instances where the group engages in a series of abductions of individuals. Many individuals are forcefully recruited and manipulated to perpetrate attacks.
Q: What are the challenges and opportunities of African states when it comes to fighting violent extremism?
A: There are a number of challenges and there is one related to the struggle to strike a balance between military versus holistic approaches when addressing violent extremism. Another challenge relates to the inadequate inclusion of local or affected communities when formulating and implementing policies. There are also other challenges linked to gaps in state inter-agency analyses and operational coordination. The challenge posed by the porosity of borders also exists.
In terms of opportunities, it is vital to mention that African countries are learning vital lessons from mistakes made in the past despite the challenges. There are quite a number of local, national, regional and continental frameworks already in place. There is the Regional Strategy for the Stabilisation, Recovery and Resilience of the Boko Haram-affected Areas of the Lake Chad Basin. There is the G5 Sahel and a counter-terrorism Action Plan inspired by the Economic Community of West African States. There is also the African Union Mission in Somalia (AMISOM). All these multilateral frameworks are in progress and they represent opportunities for affected states to implement comprehensive strategies and revise existing ones such that they are people-focused.
Q: How do you see the importance of dialogue between religions in undermining the position of violent extremists in Africa?
A: The idea of inter-religious dialogue is very crucial. Dialogue provides a platform for key conversations between religious leaders as well as other community members of different religious faiths. These conversational frameworks enable different groups to seek clarity, demystify stereotypes, foster collaboration towards a common societal good, and share lessons. Violent extremist groups tend to exploit inter and intra-religious tensions to achieve parochial objectives. Therefore, it is essential that cooperation across the religious spectrum is a component of preventing and countering violent extremism in African countries and globally.
https://www.tehrantimes.com/news/458857/Extremists-exploit-religious-tensions-to-achieve-parochial-goals
--------
Pakistan
Foreign ministry asked to share JIT report of 'MQM-L man' with Belgium
Imtiaz Ali
March 7, 2021
KARACHI: The Counter-Terrorism Department (CTD) has approached the foreign ministry to share the joint interrogation team (JIT) report of a suspect, said to be associated with the Muttahida Qaumi Movement-London, with Belgium since he possessed dual nationality.
DIG-CTD Omar Shahid Hamid wrote a letter to the ministry of foreign affairs about the JIT report of suspect Wahid Husain alias Guddu.
"During interrogation, he disclosed names of his associates namely Arif Ajakia, Mohammed Saleem alias Belgium and others, who have committed various crimes in Belgium," the letter stated.
The suspect was arrested by the CTD on Feb 20 when he came to Karachi to meet his ailing grandson. The CTD claimed to have recovered a hand grenade from his possession.
According to the JIT of the held suspect, he was arrested twice in 1995 and then in 1998 and got bail after spending some time in prison.
He told the JIT that MQM founder Altaf Husain became 'aggressive' when the MQM-Pakistan leadership 'disowned' him after his infamous speech at the Karachi Press Club (KPC). It said he wanted to take 'revenge' from the MQM-P leadership, Pak Sarzameen Party (PSP) and law enforcers by creating law and order situation.
The JIT report said that on Aug 22, 2016, Mr Hussain chanted anti-Pakistan slogans during a hunger strike at the KPC and directed his workers to attack media houses/sit-ins in front of police/Rangers headquarters.
The suspect informed the JIT that Saleem alias Belgium allegedly told him that after the Aug 22 incident, the leadership of London was "highly aggressive /disappointed and intend to take revenge from leadership of MQM-Pakistan, the PSP and law enforcement agencies by creating law and order situation through terrorist activities in Karachi".
For the purpose, Saleem allegedly formed his targeted killing teams in Karachi and directed them to carry out reconnaissance of MQM-P and PSP leadership for their "target killing to create law and order situation and prevent common people to join the MQM-P and PSP".
The held suspect told the JIT members that Saleem further told him that on Dec 10, 2018, one of his teams carried out a remote-control bomb blast on a Mehfil-i-Milad organised by the MQM-P in Gulistan-i-Jauhar causing injuries to eight persons including MQM-P convener and then IT minister Dr Khalid Maqbool Siddiqui, it added.
Saleem told the held suspect that he had paid a handsome amount to the perpetrators for this terrorist activity but Altaf Bhai was "unhappy" because no prominent leader of MQM-P was killed.
The suspect told the JIT that on Dec 24, 2018, the target killing team carried out firing at a PSP office in Usmania Colony, Gulbahar, killing two workers and wounding as many others.
According to the JIT report, the suspect revealed that on Feb 13, 2019, the target killing team carried out firing at a union council office of the MQM-P in New Karachi; resultantly two workers were killed.
The held suspect also told the JIT members that MQM's Belgium unit consisted of about 30-40 individuals. "Almost all had criminal cases registered against them in Pakistan."
"These individuals entered Belgium and other European countries illegally for the most part, and claimed asylum on false pretences," the JIT report said, adding: "While there, they also flouted local laws, defrauded the Belgian government on tax, welfare, immigration and other related areas, personally enriching themselves, while at the same time maintaining a plea that they were persecuted in Pakistan."
The JIT members came to the conclusion that suspect Wahid along with his associates was involved in "terrorism and anti-Pakistan activities".
"They are also involved in overseas black jobs, benefits, chanda (donation) collection for target killers, DVD/CD piracy, tax under invoicing, hawala/hundi, making fake/forged documents for MQM workers etc."
According to the JIT report, they collect illegal funds from Pakistani community for organising different party functions in Belgium and London and also transferred to target killing teams via hawala/hundi.
The JIT said that suspect Wahid was a close aide of suspect Saleem Ajakia and others, who "carried out multiple terrorist activities inside and outside Pakistan and involved in anti-Pakistan activities".
https://www.dawn.com/news/1611041/foreign-ministry-asked-to-share-jit-report-of-mqm-l-man-with-belgium
-------
PTI asks ECP to hold Yousuf Raza Gilani's victory notification
Iftikhar A. Khan
March 7, 2021
ISLAMABAD: The Pakistan Tehreek-i-Insaf (PTI) on Saturday filed a petition in the Election Commission of Pakistan (ECP), asking it not to issue the notification about former prime minister Yousuf Raza Gilani's victory on a general seat from Islamabad in the recently held Senate elections.
The petition has been filed on the basis of a leaked audio clip of Sindh Minister Nasir Hussain Shah purportedly bargaining with four PTI lawmakers for their votes in the Senate elections and a video of Mr Gilani's son Ali Haider Gilani in which he is allegedly showing some PTI MNAs techniques to waste their votes.
The issuance of the notification should be stopped till action on the video scandal is completed, the petition filed by PTI lawmakers Farrukh Habib, Maleeka Bokhari and Kanwal Shauzab says.
"Ali Haider Gilani kept bribing members of the National Assembly," claim the petitioners. They have also alleged that Maryam Nawaz, in her speeches, made promises of giving lawmakers a PML-N ticket in the next general elections if they vote for Gilani.
On Wednesday, the opposition's joint candidate former prime minister Gilani defeated the government's candidate, Finance Minister Abdul Hafeez Shaikh, in the Senate elections for the general seat from Islamabad.
A day before the Senate election, a video and audio clip had surfaced which the PTI claims provides evidence of vote-buying by the opposition to secure the former prime minister's victory.
Ali Haider Gilani admitted to his conversation with the PTI lawmakers, but said he was just responding to their question as to what to do if the votes are made traceable by a barcode. He, however, said he had made no attempt to 'buy' votes.
Yousuf Raza Gilani also defended his son, saying that they were seeking votes from all MNAs as they formed the electoral college for the Senate elections. He said he had also contacted Prime Minister Imran Khan in this connection.
The ECP will take up for hearing on March 11 — a day before the election for the coveted office of Senate chairman — a petition seeking Mr Gilani's disqualification.
Mr Gilani is most likely to be the PDM candidate for the slot against sitting Senate chairman Sadiq Sanjrani, who is being fielded by the PTI.
Meanwhile, newly elected senator and former prime minister Gilani on Saturday met MQM-P convener and MNA Khalid Maqbool Siddiqui to seek support for PDM candidates in the elections for Senate chairman and deputy chairman.
MQM-P is part of the federal coalition government and had earlier turned down the PDM's request not to vote for finance minister Abdul Hafeez Shaikh in Senate polls.
Speaking on the floor of the house, the MQM-P convener congratulated Mr Khan and said they reposed their confidence in him on time and now he should give confidence to the nation.
https://www.dawn.com/news/1611141/pti-asks-ecp-to-hold-yousuf-raza-gilanis-victory-notification
--------
Martyr Dr Ali Naqvi taught youth to rise against enemies of Islam
Source : Shiite News
March 7, 2021
"Dr Mohammad Ali Naqvi taught youth to rise against enemies of Islam and the motherland (Pakistan)". MPA Syeda Zahra Naqvi said this in her statement on the 26th anniversary of her father abd prominent Pakistani Shia activist 'Dr Mohammad Ali Naqvi'.
Syeda Zahra Naqvi said Dr Naqvi led an ideal life during which he tirelessly served oppressed humanity.
Belonging to MWM, Ms Naqvi said he had taught youth by action that they should live with honour and dignity.
Furthermore, she said that Dr Naqvi taught youth to rise against the enemies not caring their strength and power.
Zahra Naqvi said that Dr Naqvi had remained stick to his true Islamic ideology and defendant of Islam and Pakistan throughout his life.
However, she also advised his admirers and followers to stay alert all the time keeping possibility of deviance from his ideology.
She further said that following the ideology of Dr Naqvi should remain focus of his followers.
In this regard, Imamia Students Organization (ISO) Pakistan has announced two-day events.
The senior vice president Hassan Arif said that they will hold Martyrs Night on March 6, 2021.
Further, ISO will host main event on March 7 in Lahore.
During Martyrs Night, family of Dr Mohammad Ali Naqvi and other martyrs will also participate.
Imamia Scouts will parade at the shrine of Dr Mohammad Ali Naqvi on Mach 07.
https://en.abna24.com/news//martyr-dr-ali-naqvi-taught-youth-to-rise-against-enemies-of-islam_1121286.html
-------
Southeast Asia
Musa Hitam: In the game of politics, Muhyiddin won over Dr Mahathir thanks to opportunism
BY DANIAL DZULKIFLY
07 Mar 2021
KUALA LUMPUR, Mar 7 — Tan Sri Muhyiddin Yassin was able to beat Tun Dr Mahathir Mohamad in the 2020 political tumult that saw the formation of the Perikatan Nasional administration, said Tun Musa Hitam as reported by Mingguan Malaysia.
In an interview with the Sunday edition of Utusan Malaysia, Musa who was also a former deputy prime minister said Muhyiddin was able to outfight Mahathir then in their political pursuit in securing who would lead the country next following the collapse of the Pakatan Harapan administration.
"There is nothing to be ashamed of if you are deemed opportunistic in politics, it's part and parcel of a character," Musa was quoted saying.
Muhyiddin now leads the Perikatan Nasional government after taking his Parti Pribumi Bersatu Malaysia to join forces with former rivals Umno and PAS.
Musa also commented that Muhyiddin was a man of experience, having served in various ministries before and commended on his fluent command of Bahasa Malaysia and English as well as his alleged strong religious faith.
On Dr Mahathir, Musa who had experience of trading barbs with his former boss before, said he admires the Langkawi MP and described him as the best leader among other leaders.
In his interview, Musa also described Datuk Seri Najib Razak as one of the most successful prime ministers who was smart and able to make decisions.
"I know him and he has shown the ability to lead that I consider as the best as from the time of Tunku Abdul Rahman until now," he said, referring to the country's first prime minister.
https://www.malaymail.com/news/malaysia/2021/03/07/musa-hitam-in-the-game-of-politics-muhyiddin-won-over-dr-mahathir-thanks-to/1955592
-------
PKR Sarawak establishes Council of Elders following Sng's departure from party
06 Mar 2021
Borneo Post
KUCHING, March 6) — Parti Keadilan Rakyat (PKR) Sarawak has set up a Council of Elders (COE) comprising senior party leaders following its first state committee meeting after the departure of Julau MP Larry Sng on Feb 28.
State PKR information chief Abun Sui Anyit said the COE, which had been approved by the national-level leadership, will lead PKR Sarawak into the 12th state election.
"The COE will be chaired by the state PKR deputy chairman and is responsible for making decisions in a collective and accountable manner on behalf of the state PKR committee," he said in a statement dated Mar 5.
He pointed out that the COE would also represent PKR Sarawak in the Pakatan Harapan (PH) Sarawak central committee comprising leaders from two other component parties; namely the Democratic Action Party (DAP) and Parti Amanah Negara (Amanah).
"The president also reiterated the party's stand that PKR Sarawak is indeed given the autonomy to make its own decisions without interference from the national leadership in line with the Malaysia Agreement1963 as stipulated in the PKR party constitution," he added.
Sng won the Julau seat in the 2018 general elections as an independent and after stepping down as the state PKR chief, he has declared himself as a "government-friendly" independent.
https://www.malaymail.com/news/malaysia/2021/03/06/pkr-sarawak-establishes-council-of-elders-following-sngs-departure-from-par/1955465
-------
URL: https://www.newageislam.com/islamic-world-news/at-uttarakhand-kumbh-muslim-bhajan/d/124478
New Age Islam, Islam Online, Islamic Website, African Muslim News, Arab World News, South Asia News, Indian Muslim News, World Muslim News, Women in Islam, Islamic Feminism, Arab Women, Women In Arab, Islamophobia in America, Muslim Women in West, Islam Women and Feminism