New Age Islam News Bureau
1 Jan 2020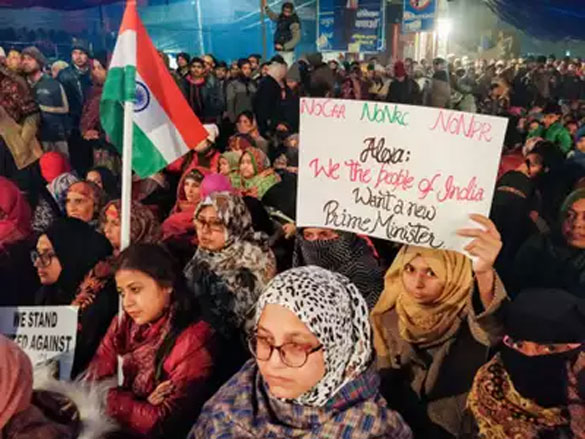 Protesters at Shaheen Bagh to oppose CAA in New Delhi on Tuesday. (Photo: ANI)
-----
• At Delhi's Shaheen Bagh, Anti-CAA Protesters Ring In New Year with National Anthem
• Muslim Youth Arrange Funeral for Destitute Hindu Woman In Trichy
• Imran Khan Promises Complete Protection for Trans People In Muslim-Majority Pakistan
• Najib's Oath Not provided for in Shariah Law, Says Hadi
• Messiah: Jordan Calls On Netflix to Ban Controversial 'Anti-Islamic' Drama Series
• This Is What It's Like To Be One Of London's Youngest Imams
• Libya Militias Rake In Millions in European Migration Funds: AP
• Trump Says He Does Not Want, Nor Foresee, War With Iran
• Taliban Takes Over Darzab District Of Northern Jawzjan Province
Compiled By New Age Islam News Bureau
URL: https://www.newageislam.com/islamic-world-news/at-delhi-shaheen-bagh-anti/d/120682
------
India
• India's Muslim Protesters Say Police Response Was 'Act of Vengeance'
• Hyderabad: Muslims From Across India Gather To Contest NRC
• No Land Identified For Mosque In Ayodhya, Says UP Government
• St Xavier's Students March against Police Brutality in Jamia Millia Islamia, Aligarh Muslim University
------
Pakistan
• Pakistan experienced 370 terrorist attacks in 2019
• Two houses of parliament convened on 24-hour notice
• Trade under Pak-China FTA-II begins today
• May 2020 be year of change for Pakistan, prays Ahsan Iqbal
• Don't Harass Citizens, Let Them Welcome New Year In Peace: CM Murad's To Sindh Police
• Pakistani High Commission in UK to run 'Visit Pakistan' video on LNYDP
------
Southeast Asia
• Acknowledging unhappiness in 2019, PM promises Malaysia better in 2020
• Bangko Sentral Ng Pilipinas Lays Groundwork For Islamic Banking In PH
• Inside China's push to turn Muslim minorities into an army of workers
• Despite police warning, Muslim students group proceed with anti-Dong Zong rally
• As Visit Malaysia Year Kicks Off, PAS Demands Govt Reinstate Visa for Chinese, Indian Tourists
• Indonesia Protests to China over Border Intrusion near South China Sea
------
Arab World
• Oman Arab Bank submits offer to take over Alizz Islamic Bank
• Saudi Cabinet: Exit of foreign militias a must for Syria peace
• Culture minister in global pledge over Saudi Arabia's 'cherished' national heritage
• Italian ambassador to Riyadh hails Saudi 'social revolution'
• Conjoined Mauritanian twins arrive in Saudi Arabia for separation
------
Europe
• Press Regulator Says Muslims Are Treated Differently By Newspapers
• British Muslim chef knows how to run the dish, makes it on royal honours list
• Russia, Ukraine finalize deals for gas transit to Europe
------
Africa
• Islamic Foundation Opens Up On 'Broke' Central Mosques In Nigeria
• Sudan Seizes Islamic Schools Affiliated To Al-Bashir's Regime
• Sudan shuts down 10 Islamic satellite TV channels
• How Buhari's lopsided appointments to northern Muslims causing disunity in Nigeria – HURIWA
------
North America
• Islamic Certificates Give Investors Alternate Exposure to Fixed Income
• Muslim NBA Player Enes Kanter Expresses Support for Jewish Community After Monsey Stabbing Attack
• UN Experts Find No Link between Islamic State And Congolese Militia
• Why did the US become the focus of Iraqis' anger?
• US to deploy troops to Middle East after embassy attack
• Trump threatens Iran after Baghdad embassy attacked
------
South Asia
• India makes new record, issues 15 lakh visas to Bangladesh nationals in 2019
• How Afghan officials are tackling Kabul's 'hazardous' pollution
• Fact check: Biden makes misleading comments on his past positions on Iraq, Afghanistan wars
• Man killed in 'shootout' at Rohingya camp
------
Mideast
• Ayatollah Sistani Condemns US Attacks on Hashd Al-Shaabi Bases
• Over 49 Syria families take refuge in mosque to escape regime bombing of Idlib
• Tear gas fired at pro-Iran protesters outside US embassy in Baghdad, Iraq
• Syria death toll for 2019 lowest in civil war: monitor
• Yemen moving toward peaceful solution, says UN official
• Iranian Army Commander: Heavily-Armed Terrorist Group Disbanded before Crossing Borders
• FM: Iran, Russia, China in Consensus on Grave Danger to Multilateralism by US Actions
• Iran Blasts Germany for Closing Eyes on US Destabilizing Acts in West Asia
• Iranian FM Stresses Further Bolstering of Strategic Ties with China
• Kataeb Hezbollah Blasts US for Turning Iraq into Ground for Avenging Iran
------
New Zealand
• Christchurch Mosque Attacks: Anniversary To Be Difficult Time - Mayor
------
At Delhi's Shaheen Bagh, anti-CAA protesters ring in New Year with national anthem
Jan 1, 2020
NEW DELHI: The youth skipped parties and the elderly shun the comfort of watching TV at home on the New Year's eve as thousands of people protesting against the Citizenship Amendment Act (CAA) rang in 2020 with singing the national anthem at Delhi's Shaheen Bagh.
Many people roamed around the venue and thronged kiosks for chai to bear with the winter chill, while many more stayed put under the tarpaulin shed listening to speakers taking the stage one by one.
Several roamed around waving national flags while others displayed creative placards against the new law and chanted "Aazadi, Aazadi".
As the clock struck 12, the protesting crowd burst into a cheer to greet the fellow protesters the new year, and moments later broke into the national anthem in unison which was followed by the slogan "Inquilab Zindabad".
Amid the thousands was a group of young working professionals who had come in from various parts of Delhi, skipping party invitations to usher in 2020.
"Of course, I would have been celebrating all through the new year's eve had the situation been normal," a 30-year-old man, who works in a private firm, told PTI.
Asked for his name, the man requested anonymity and added, "I don't want me being here to be identified with any religion. It's for a bigger cause, it's to oppose the Citizenship Amendment Act and the National Register of Citizens."
A city-based artist, who identified herself as "Phool Kumari", used the platform to also protest against the arrests of some artists in south India who were held by the police over their anti-CAA kollams recently.
"We are living on Orwellian reality. Absurdity is the new normal. Government is using its brute force at wrong places. Arts, and protests, in general should not be held against the citizens," the 26-year-old artist said, busy writing with chalk captions on posters that were used by some protesters at the venue.
Local men and women too remained at the ground well past 12, in solidarity for the cause they said was the "most important now".
"Otherwise we would have watched TV at home," a woman said requesting anonymity.
Shaheen Bagh, near Jamia Millia Islamia, has been a protest venue for a section of people opposed to the CAA and the NRC since December 15.
Besides Delhi, protests have been witnessed across the country over the contentious law.
https://timesofindia.indiatimes.com/city/delhi/at-delhis-shaheen-bagh-anti-caa-protesters-ring-in-new-year-with-national-anthem/articleshow/73054069.cms
------
Muslim youth arrange funeral for destitute Hindu woman in Trichy
01st January 2020
THANJAVUR: In a gesture transcending religions, a group of Muslim youth arranged the last rites of a destitute Hindu woman in Adirampattinam. Devi (54), a destitute woman was living off alms in Adiramapttinam for many years.
She fell sick a week ago and got admitted to the Government Hospital in Adirampattinam. She died on Sunday. As there was no one related to her to get her body for the last rites, a group of youth led by K Syed Ahamed Kabir, a faculty member of Khadir Mohideen college and his friends Naina Mohammed, Arif and Hasan came forward to arrange for the last journey of the destitute woman.
After getting permissions from the Village Administrative officer and the police, the youth arranged for a hearse and took the body to the Vandipettai burial ground for the Hindus. The team of youth spent their own money for the last rites.
https://www.newindianexpress.com/states/tamil-nadu/2020/jan/01/muslim-youth-arrange-funeral-for-destitute-hindu-woman-in-trichy-2083579.html
------
Imran Khan promises COMPLETE PROTECTION for trans people in Muslim-majority Pakistan
31 Dec, 2019
At the risk of stirring a massive backlash from devout fundamentalists, Pakistani PM Imran Khan has promised to protect transgender people and incorporate them into local welfare programs.
The Pakistani government will ensure "complete protection" for the transgender community, the prime minister said on Monday. He also promised to eliminate anti-LGBT sentiment that has long persisted in the deeply conservative country where homosexual acts are still a criminal offence.
Khan attacked his predecessors for "pretending that the transgender communities do not even exist" and treating them like "non-persons," before proclaiming that things are about to change.
"The objective behind this is that our government is owning you," the prime minister said. To help trans people cope better with the hardships they face, the government will incorporate them in a healthcare program by handing out Sehat Insaf health insurance cards.
While Khan's promises may not go down well in Pakistan, which has the second-largest Muslim population in the world, the trend is not entirely new. Last year, the country's parliament made history by passing the Transgender Person Act, which allowed Pakistanis to self-identify as male, female, both or neither. Under the law, they may also have their gender identity stated on national IDs, driver licenses and education diplomas.
It also prohibits employers and public officials from discriminating against LGBT people. Nevertheless, the country still has a penal code that provides for life imprisonment for "carnal intercourse against the order of nature with any man, woman or animal."
The transgender community was counted in the 2017 nationwide census for the first time in Pakistan's history, recording 10,418 in a population of about 207 million.
https://www.rt.com/news/477159-imran-khan-transgenders-protection/
------
Najib's oath not provided for in shariah law, says Hadi
Jason Santos
January 1, 2020
KOTA KINABALU: PAS president Abdul Hadi Awang has questioned the value of the oath that former prime minister Najib Razak recently took to deny his involvement in the murder of Mongolian national Altantuya Shaariibuu.
Speaking here last night at a function to welcome the new year, Hadi said shariah law provided only for what is called "li'an", an oath taken by a husband accusing his wife of adultery without legal proof and without becoming liable to punishment for doing so. The wife can take the same oath to deny the allegation.
The taker of the li'an oath invokes God's curse on himself if he is lying.
According to Hadi, there are no other legal oaths in Islam but there are no restrictions against anyone wanting to take whatever oath.
"But if the accused does not have any witness, it's best to keep quiet," he said.
Hadi was giving a talk and a member of the audience had asked for his opinion on the so-called "sumpah laknat" that Najib took at the Kampung Baru mosque in Kuala Lumpur last Dec 20.
He advised Muslims against being too eager to take oaths, saying they might incur God's displeasure.
Najib made his oath to reject an allegation by former policeman Azilah Hadri that he ordered the murder of Altantuya. Azilah is one of two policemen convicted for the murder.
Eleven years ago, at a mosque in Bukit Mertajam, Najib made an oath to deny that he ever knew Altantuya.
https://www.freemalaysiatoday.com/category/nation/2020/01/01/najibs-oath-not-provided-for-in-shariah-law-says-hadi/
------
Messiah: Jordan calls on Netflix to ban controversial 'anti-Islamic' drama series
The Royal Film Commission of Jordan has called on Netflix to ban a controversial US drama series due to stream in the country this week.
Messiah revolves around a CIA agent (Michelle Monaghan) investigating a man named Al-Masih (Mehdi Dehbi), who has sparked a legion of devoted followers after claiming to have been sent to earth by a higher being.
"Having been made aware of its content, the RFC has asked officially the management of Netflix to refrain from streaming it in Jordan," the commission's statement reads.
"The story is purely fictional and so are the characters, yet the RFC deems that the content of the series could be largely perceived or interpreted as infringing on the sanctity of religion, thus possibly contravening the laws in the country."
The statement continues, "While still standing firmly by its principles, notably the respect of creative freedom, the RFC – as a public and responsible institution – cannot condone or ignore messages that infringe on the Kingdom's basic laws."
Messiah was partially shot in Jordan, with the commission previously permitting filming in the country based on story synopses of the episodes.
In a statement, Netflix said: "Messiah is a work of fiction. It is not based on any one character, figure or religion. All Netflix shows feature ratings and information to help members make their own decisions about what's right for them and their families."
Messiah has already courted controversy, with more than 4,000 people signing a petition to ban the show. The petition claims that the series is "evil and anti-Islamic propaganda".
The show was also criticised in December after Arabic-speaking Twitter users claimed that they had already worked out the show's central plot twist after translating the name of the "messiah" character of the title.
In Islamic eschatology, Al-Masih ad-Dajjal is an evil figure comparable to the Antichrist – whose name translates to "the false messiah, liar, the deceiver" in Arabic.
Messiah arrives on Netflix on 1 January.
https://www.independent.co.uk/arts-entertainment/tv/news/messiah-netflix-banned-islamophobia-jordan-petition-michelle-monaghan-a9265156.html
------
This Is What It's Like To Be One Of London's Youngest Imams
BY SABAH AHMEDI
I am one of Britain's youngest Imams. An Imam is a Muslim who has devoted his life to the service of Islam; my job means that I encourage people to do good, stay away from all that is immoral and serve humanity in every way possible.
I have seen this great city transition through many different phases, and observed the good as well as the ugly, from scenes such as the tragic July 2005 bombings to the jubilation of the 2012 Olympics. But what truly makes London a standalone city in the 21st century is the vibrancy and diversity it boasts like no other place. One can find people from all walks of life in this city. It is a melting pot of ethnicities, cultures and faiths; and it is for this reason that I am so proud to call myself a Londoner.
Sabah Ahmedi
In recent years however, the mood seems to have become much more uneasy. Divisions across our country have resulted in record breaking cases of racism and xenophobia. According to the Home Office, religious hate crime has increased by 40% in the last two years. Statistics further show that a staggering 31% of the public believe that Islam poses a threat to the British way of life. Anti-Islamic sentiments are not typical of any particular group or section within society but rather range across the political spectrum.
Why is it that people hold such negative views about Islam? Often it's the perception that Islam is incompatible with freedom of speech. Some 41% of the British public believe that Islam poses a threat to their way of life because "Islam breeds intolerance…and calls for violent actions against those who depict the religion in ways they believe are offensive". Another reason people are likely to fear Islam is the concern that Islam supposedly promotes discrimination and oppression against women.
This is something I have personally experienced. My wife Melissa and I were once travelling back on the tube from dinner in Kensington, with two middle-aged men sat opposite us. I began to notice that they were staring at us, talking and then shaking their heads. Bearing in mind Melissa, who converted to Islam when she was 14, was wearing a headscarf, I understandably felt uncomfortable and wondered what the issue was. I ignored them once, twice, but then when they did it the third time I had to question what they were so concerned about.
Sabah and Melissa experienced an uncomfortable situation on the tube
When I asked them they replied by saying that they weren't looking at us rather at somebody else. But when I looked around it was only us in the carriage. To be honest I think they were shocked when I questioned them, because they hurried off at the next stop. I personally think that they were concerned by one of two things; either they were wondering why Melissa, a white British woman, had converted to Islam, or they thought she was being forced to wear a headscarf. Both were totally untrue.
What, then, is the solution? I believe that both Muslims and non-Muslims alike must play an active role in engaging in constructive dialogue about Islam. Muslims have a responsibility to promote the true and peaceful teachings of Islam. As a student of religion, it is my firm faith that Islam is indeed compatible with the modern world. It is an all-encompassing religion with incredible dynamism. Due to the views of a small minority of Muslims, Islam has received unfair negative coverage.
The concern that Islam seeks to curb freedom of speech is, in my view, unfounded. If we turn to classical Islamic tradition, we find a very different story. The respected Rabbi Sacks has observed that throughout history, the first concrete example of freedom of speech can be found in no place other than the works of medieval Islamic philosopher, Averroës. According to him,'you should always cite the views of your opponents. Silencing them is an implicit admission of the weakness of your case.' The idea which Averroës puts forward is simple; through trying to silence your opponent, you in fact weaken your own stance. Rather, we should trust in the inherent integrity and beauty of religion to be able to assert the truth independently. This is such a powerful argument — the idea that truth speaks for itself.
Additionally, if we turn to the Holy Qur'an, we find it states, "There is no compulsion in Religion". Clear evidence that Islam promotes the freedom of conscience. Everyone is free to choose his or her faith and no Muslim can lawfully impose upon a non-believer. Of course, there are ongoing debates as to what limits should be placed on freedom of speech, with the lines between free speech and hate speech often being blurry.
Regarding the case of women, I always find it unbelievable that people raise such an allegation against Islam. Studying Islam in its historical context, we find that it was the first religion to give women the right to inherit, to marry out of choice, divorce, work, own property independent of any male relative, seek protection of the law and to participate in civic and political society. In fact, one of the great scholars in the Islamic tradition is the wife of the Holy Prophet Muhammad (peace be upon him), Ayesha — who we proudly call the 'Mother of the believers'.
We all must live together in this city. If we are to have any hope of preserving a positive future for our children something needs to be done. Brexit has shaken Britain's position on the world stage. As much as it is a matter defining our relationship with the outside world, it is equally an event which has forced us to look within ourselves, redefine our identity and decide the type of community we want to become. It is my firm belief that through constructive and honest dialogue we will be able to challenge the difficulties which face us ahead.
https://londonist.com/london/features/britains-youngest-imams-london
------
Libya militias rake in millions in European migration funds: AP
When the European Union started funnelling millions of euros into Libya to slow the tide of migrants crossing the Mediterranean, the money came with EU promises to improve detention centres notorious for abuse and fight human trafficking.
That has not happened. Instead, the misery of migrants in Libya has spawned a thriving and highly lucrative web of businesses funded in part by the EU and enabled by the United Nations, an Associated Press investigation has found.
The EU has sent more than 327.9 million euros to Libya, with an additional 41 million approved in early December, largely funnelled through UN agencies. The AP found that in a country without a functioning government, huge sums of European money have been diverted to intertwined networks of militiamen, traffickers and coast guard members who exploit migrants.
In some cases, UN officials knew militia networks were getting the money, according to internal emails.
The militias torture, extort and otherwise abuse migrants for ransoms in detention centres under the nose of the UN, often in compounds that receive millions in European money, the investigation showed.
Many migrants also simply disappear from detention centers, sold to traffickers or to other centres.
The same militias conspire with some members of Libyan coast guard units. The coast guard gets training and equipment from Europe to keep migrants away from its shores. But coast guard members return some migrants to the detention centres under deals with militias, the AP found, and receive bribes to let others pass en route to Europe.
The militias involved in abuse and trafficking also skim off European funds given through the UN to feed and otherwise help migrants, who go hungry. For example, millions of euros in UN food contracts were under negotiation with a company controlled by a militia leader, even as other UN teams raised alarms about starvation in his detention centre, according to emails obtained by the AP and interviews with at least a half-dozen Libyan officials.
In many cases, the money goes to neighbouring Tunisia to be laundered, and then flows back to the militias in Libya.
Highly complex issue
he story of Prudence Aimee and her family shows how migrants are exploited at every stage of their journey through Libya.
Aimee left Cameroon in 2015, and when her family heard nothing from her for a year, they thought she was dead. But she was in detention and incommunicado. In nine months at the Abu Salim detention centre, she told the AP she saw "European Union milk" and nappies delivered by UN staff pilfered before they could reach migrant children, including her toddler son. Aimee herself would spend two days at a time without food or drink, she said.
In 2017, an Arab man came looking for her with a photo of her on his phone.
"They called my family and told them they had found me," she said. "That's when my family sent money." Weeping, Aimee said her family paid a ransom equivalent of $670 to get her out of the centre. She could not say who got the money.
She was moved to an informal warehouse and eventually sold to yet another detention centre, where yet another ransom - $750 this time - had to be raised from her family. Her captors finally released the young mother, who got on a boat that made it past the coast guard patrol, after her husband paid $850 for the passage.
A European humanitarian ship rescued Aimee, but her husband remains in Libya.
Aimee was one of more than 50 migrants interviewed by the AP at sea, in Europe, Tunisia and Rwanda, and in furtive messages from inside detention centres in Libya. Journalists also spoke with Libyan government officials, aid workers and businessmen in Tripoli, obtained internal UN emails and analysed budget documents and contracts.
The issue of migration has convulsed Europe since the influx in 2015 and 2016 of more than a million people fleeing violence and poverty in the Middle East, Afghanistan and Africa. In 2015, the European Union set up a fund intended to curb migration from Africa, from which money is sent to Libya. The EU gives the money mainly through the UN's International Organization for Migration (IOM) and the High Commissioner for Refugees (UNHCR).
But Libya is plagued by corruption and caught in a civil war. The country's west, including the capital Tripoli, is ruled by a UN-brokered government, while the east is ruled by another government supported by army commander Khalifa Haftar. The chaos is ideal for profiteers making money off migrants.
The EU's own documents show it was aware of the dangers of effectively outsourcing its migration crisis to Libya. Budget documents from as early as 2017 for a 90-million-euro outlay warned of a medium to high risk that Europe's support would lead to more human rights violations against migrants, and that the Libyan government would deny access to detention centres.
A recent EU assessment found the world was likely to get the "wrong perception" that European money could be seen as supporting abuse.
Despite the roles they play in the detention system in Libya, both the EU and the UN say they want the centres closed. In a statement to the AP, the EU said that under international law, it is not responsible for what goes on inside the centres.
"Libyan authorities have to provide the detained refugees and migrants with adequate and quality food while ensuring that conditions in detention centres uphold international agreed standards," the statement said.
The EU also says more than half of the money in its fund for Africa is used to help and protect migrants, and that it relies on the UN to spend the money wisely.
The UN said the situation in Libya was highly complex, and it has to work with whoever runs the detention centres to preserve access to vulnerable migrants.
"UNHCR does not choose its counterparts," said Charlie Yaxley, a spokesman for the UN refugee agency. "Some presumably also have allegiances with local militias."
After two weeks of being questioned by the AP, UNHCR said it would change its policy on awarding food and aid contracts for migrants through intermediaries.
"Due in part to the escalating conflict in Tripoli and the possible risk to the integrity of UNHCR's programme, UNHCR decided to contract directly for these services from 1 January 2020," Yaxley said.
Julien Raickman, who until recently was the Libya mission chief for the aid group Doctors Without Borders, known by its French initials MSF, believes the problem starts with Europe's unwillingness to deal with the politics of migration.
"If you were to treat dogs in Europe the way these people are treated, it would be considered a societal problem," he said.
Extortion inside the detention centres
bout 5,000 migrants in Libya are crowded into between 16 and 23 detention centres at any given time, depending on who is counting and when. Most are concentrated in the west, where the militias are more powerful than the weak UN-backed government.
Aid intended for migrants helps support the al-Nasr Martyrs detention centre, named for the militia that controls it, in the western coastal town of Zawiya. The UN's migration agency, the IOM, keeps a temporary office there for medical checks of migrants, and its staff and that of the UNHCR visit the compound regularly.
Yet migrants at the centre are tortured for ransoms to be freed and trafficked for more money, only to be intercepted at sea by the coast guard and brought back to the centre, according to more than a dozen migrants, Libyan aid workers, Libyan officials and European human rights groups.
A UNHCR report in late 2018 noted the allegations as well, and the head of the militia, Mohammed Kachlaf, is under UN sanctions for human trafficking. Kachlaf, other militia leaders named by the AP and the Libyan coast guard all did not respond to requests for comment.
Many migrants recalled being cut, shot and whipped with electrified hoses and wooden boards. They also heard the screams of others emerging from the cell blocks off-limits to UN aid workers.
Families back home are made to listen during the torture to get them to pay, or are sent videos afterwards.
Eric Boakye, a Ghanaian, was locked in the al-Nasr Martyrs centre twice, both times after he was intercepted at sea, most recently around three years ago.
The first time, his jailers simply took the money on him and set him free. He tried again to cross and was again picked up by the coast guard and returned to his jailers.
"They cut me with a knife on my back and beat me with sticks," he said, lifting his shirt to show the scars lining his back. "Each and every day they beat us to call our family and send money." The new price for freedom: Around $2,000.
That was more than his family could scrape together. Boakye finally managed to escape. He worked small jobs for some time to save money, then tried to cross again. On his fourth try, he was picked up by the Ocean Viking humanitarian ship to be taken to Italy. In all, Boakye had paid $4,300 to get out of Libya.
Fathi al-Far, the head of the al-Nasr International Relief and Development agency, which operates at the centre and has ties to the militia, denied that migrants are mistreated. He blamed "misinformation" on migrants who blew things out of proportion in an attempt to get asylum.
"I am not saying it's paradise - we have people who have never worked before with the migrants, they are not trained," he said. But he called the al-Nasr Martyrs detention centre "the most beautiful in the country."
At least five former detainees showed an AP journalist scars from their injuries at the centre, which they said were inflicted by guards or ransom seekers making demands to their families. One man had bullet wounds to both feet, and another had cuts on his back from a sharp blade.
All said they had to pay to get out. Five to seven people are freed every day after they pay anywhere from $1,800 to $8,500 each, the former migrants said. At al-Nasr, they said, the militia gets around $14,000 every day from ransoms; at Tarek al-Sikka, a detention centre in Tripoli, it was closer to $17,000 a day, they said.
They based their estimates on what they and others detained with them had paid, by scraping together money from family and friends.
The militias also make money from selling groups of migrants, who then often simply disappear from a centre. An analysis commissioned by the EU and released earlier this month by the Global Initiative Against Transnational Organized Crime noted that the detention centres profit by selling migrants among themselves and to traffickers, as well as into prostitution and forced labour.
Hundreds of migrants this year who were intercepted at sea and taken to detention centres had vanished by the time international aid groups visited, according to MSF. There is no way to tell where they went, but MSF suspects they were sold to another detention centre or to traffickers.
A former guard at the Khoms centre acknowledged to the AP that migrants often were seized in large numbers by men armed with anti-aircraft guns and RPGs. He said he could not keep his colleagues from abusing the migrants, or traffickers from taking them out of the centre.
"I don't want to remember what happened," he said. The IOM was present at Khoms, he noted, but the centre closed last year.
A man who remains detained at the al-Nasr Martyrs centre said Libyans frequently arrive in the middle of the night to take people. Twice this autumn, he said, they tried to load a group of mostly women into a small convoy of vehicles but failed because the centre's detainees revolted.
Fighting engulfed Zawiya last week, but migrants remained locked inside the al-Nasr Martyrs centre, which is also being used for weapons storage.
Trafficking and interception at sea
Even when migrants pay to be released from the detention centres, they are rarely free. Instead, the militias sell them to traffickers, who promise to take them across the Mediterranean to Europe for a further fee.
These traffickers work hand in hand with some coast guard members, the AP found.
The Libyan coast guard is supported by both the UN and the EU. The IOM, the UN's agency for migration, highlights its cooperation with the coast guard on its Libya home page. Europe has spent more than 90 million euros since 2017 for training and faster boats for the Libyan coast guard to stop migrants from ending up in Europe.
This fall, Italy renewed a memorandum of understanding with Libya to support the coast guard with training and vessels, and it delivered 10 new speedboats to Libya in November.
In internal documents obtained in September by the European watchdog Statewatch, the European Council described the coast guard as "operating effectively, thus confirming the process achieved over the past three years".
The Libyan coast guard says it intercepted nearly 9,000 people in 2019 en route to Europe and returned them to Libya this year, after quietly extending its coastal rescue zone 100 miles offshore with European encouragement.
What is unclear is how often militias paid the coast guard to intercept these people and bring them back to the detention centres - the business more than a dozen migrants described at the al-Nasr Martyrs facility in Zawiya.
The coast guard unit at Zawiya is commanded by Abdel-Rahman Milad, who has sanctions against him for human trafficking by the UN's Security Council. Yet when his men intercept boats carrying migrants, they contact UN staff at disembarkation points for cursory medical checks.
Despite the sanctions and an arrest warrant against him, Milad remains free because he has the support of the al-Nasr militia. In 2017, before the sanctions, Milad was even flown to Rome, along with a militia leader, Mohammed al-Khoja, as part of a Libyan delegation for a UN-sponsored migration meeting.
In response to the sanctions, Milad denied any links to human smuggling and said traffickers wear uniforms similar to those of his men.
Migrants named at least two other operations along the coast, at Zuwara and Tripoli, that they said operated along the same lines as Milad's. Neither centre responded to requests for comment.
The IOM, the UN migration agency, acknowledged to the AP that it has to work with partners who might have contacts with local militias.
"Without those contacts it would be impossible to operate in those areas and for IOM to provide support services to migrants and the local population," said Safa Msehli, the spokeswoman for the UN's International Organization for Migration.
"Failure to provide that support would have compounded the misery of hundreds of men, women and children."
The story of Abdullah, a Sudanese man who made two attempts to flee Libya, shows just how lucrative the cycle of trafficking and interception really is.
All told, the group of 47 in his first crossing from Tripoli over a year ago had paid a uniformed Libyan and his cronies $127,000 in a mix of dollars, euros and Libyan dinars for the chance to leave their detention centre and cross in two boats.
They were intercepted in a coast guard boat by the same uniformed Libyan, shaken down for their cell phones and more money, and tossed back into detention.
"We talked to him and asked him, why did you let us out and then arrest us?" said Abdullah, who asked that only his first name be used because he was afraid of retaliation. "He beat two of us who brought it up."
Abdullah later ended up in the al-Nasr Martyrs detention centre, where he learned the new price list for release and an attempted crossing based on nationality: Ethiopians, $5,000; Somalis $6,800; Moroccans and Egyptians, $8,100; and finally Bangladeshis, a minimum $18,500. Across the board, women pay more.
Abdullah scraped together another ransom payment and another crossing fee. Last July, he and 18 others paid $48,000 in total for a boat with a malfunctioning engine that sputtered to a stop within hours.
After a few days stuck at sea off the Libyan coast under a sweltering sun, they threw a dead man overboard and waited for their own lives to end. Instead, they were rescued on their ninth day at sea by Tunisian fishermen, who took them back to Tunisia.
"There are only three ways out of the prison: You escape, you pay ransom, or you die," Abdullah said, referring to the detention centre.
In all, Abdullah spent a total of $3,300 to leave Libya's detention centres and take to the sea. He ended up barely 160 km (100 miles) away.
Sometimes members of the coast guard make money by doing exactly what the EU wants them to prevent: letting migrants cross, according to Tarik Lamloum, the head of the Libyan human rights organisation, Beladi. Traffickers pay the coast guard a bribe of around $10,000 per boat that is allowed to pass, with around five to six boats launching at a time when conditions are favourable, he said.
The head of Libya's Department for Combating Irregular Migration or DCIM, the agency responsible for the detention centres under the Ministry of Interior, acknowledged corruption and collusion among the militias and the coast guard and traffickers, and even within the government itself.
"They are in bed with them, as well as people from my own agency," said Al Mabrouk Abdel-Hafez.
Skimming profits
Beyond the direct abuse of migrants, the militia network also profits by siphoning money from EU funds sent for their food and security - even those earmarked for a UN-run migrant centre, according to more than a dozen officials and aid workers in Libya and Tunisia, as well as internal UN emails and meeting minutes seen by The Associated Press.
An audit in May of the UNHCR, the UN refugee agency responsible for the centre, found a lack of oversight and accountability at nearly all levels of spending in the Libya mission. The audit identified inexplicable payments in American dollars to Libyan firms and deliveries of goods that were never verified.
In December 2018, during the period reviewed in the audit, the UN launched its migrant centre in Tripoli, known as the Gathering and Departure Facility or GDF, as an " alternative to detention". For the recipients of the services contracts, sent through the Libyan government agency Libaid, it was a windfall.
Millions of euros in contracts for food and migrant aid went to at least one company linked to al-Khoja, the militia leader flown to Rome for the UN migration meeting, according to internal UN emails seen by the AP, two senior Libyan officials and an international aid worker.
Al-Khoja is also the deputy head of the DCIM, the government agency responsible for the detention centres.
One of the Libyan officials saw the multimillion-euro catering contract with a company named Ard al-Watan, or The Land of the Nation, which al-Khoja controls.
"We feel like this is al-Khoja's fiefdom. He controls everything. He shuts the doors and he opens the doors," said the official, a former employee at the UN centre who like other Libyan officials spoke anonymously out of fear for his safety. He said al-Khoja used sections of the UN centre to train his militia fighters and built a luxury apartment inside.
Even as the contracts for the UN centre were negotiated, Libyan officials said, three Libyan government agencies, including the prosecutor's office, were investigating al-Khoja in connection with the disappearance of $570 million from government spending allocated to feed migrants in detention centres in the west.
At the time, al-Khoja already ran another centre for migrants, Tarik al-Sikka, notorious for abuses including beating, hard labour and a massive ransom scheme.
Tekila, an Eritrean refugee, said that for two years at Tarik al-Sikka, he and other migrants lived on macaroni, even after he was among 25 people who came down with tuberculosis, a disease exacerbated by malnutrition. Tekila asked that only his first name be used for his safety.
"When there is little food, there is no choice but to go to sleep," he said.
Despite internal UN emails warning of severe malnutrition inside Tarik al-Sikka, UN officials in February and March 2018 repeatedly visited the detention centre to negotiate the future opening of the GDF.
AP saw emails confirming that by July 2018, the UNHCR's chief of mission was notified that companies controlled by al-Khoja's militia would receive subcontracts for services.
Yaxley, the spokesman for the UNHCR, emphasised that the officials the UN refugee agency works with are "all under the authority of the Ministry of Interior".
He said the UNHCR monitors expenses to make sure its standard rules are followed, and may withhold payments otherwise.
A senior official at LibAid, the Libyan government agency that managed the centre with the UN, said the contracts are worth at least $7 million for catering, cleaning and security, and 30 out of the 65 LibAid staff were essentially ghost employees who showed up on the payroll, sight unseen.
The UN centre was "a treasure trove," the senior Libaid official lamented. "There was no way you could operate while being surrounded by Tripoli militias. It was a big gamble."
An internal UN communication from early 2019 shows it was aware of the problem. The note found a high risk that food for the UN centre was being diverted to militias, given the amount budgeted compared to the amount migrants were eating.
In general, around 50 dinars a day, or $35, is budgeted per detainee for food and other essentials for all centres, according to two Libyan officials, two owners of food catering companies and an international aid worker.
Of that, only around 2 dinars is actually spent on meals, according to their rough calculations and migrants' descriptions.
Yaxley, the spokesman for the UNHCR, said the UN refugee agency monitors expenses to make sure its standard rules are followed, and may withhold payments otherwise. He also emphasised that the officials UNHCR works with are "all under the authority of the Ministry of Interior".
Despite the investigations into al-Khoja, Tarik al-Sikka and another detention centre shared a 996,000-euro grant from the EU and Italy in February.
At the Zawiya centre, emergency goods delivered by UN agencies ended up redistributed "half for the prisoners, half for the workers," said Orobosa Bright, a Nigerian who endured three stints there for a total of 11 months.
Many of the goods end up on Libya's black market as well, Libyan officials and international aid workers say.
IOM's spokeswoman said "aid diversion is a reality" in Libya and beyond, and that the UN agency does its best.
"Were it to become a regular occurrence IOM would be forced to re-evaluate the support it is providing to migrants in detention centres under DCIM despite our awareness that any reduction in this lifesaving assistance will add to the misery of the migrants," Msehli said.
Despite the corruption, the detention system in Libya is still expanding in places, with money from Europe.
At a detention centre in Sabaa where migrants are already going hungry, they were forced to build yet another wing funded by the Italian government, said Lamloum, the Libyan aid worker. The Italian government did not respond to a request for comment. Lamloum sent a photo of the new prison. It has no windows.
Tunisia laundering
The money earned off the suffering of migrants is whitewashed in money laundering operations in Tunisia, Libya's neighbour.
In the town of Ben Gardane, dozens of money-changing stalls transform Libyan dinars, dollars and euros into Tunisian currency before the money continues on its way to the capital, Tunis. Even Libyans without residency can open a bank account.
Libya migrant business
Informal exchange offices line a street on a border town of Ben Garden, southern Tunisia [Mosa'ab Elshamy/AP]
Tunisia also offers another opportunity for militia networks to make money off European funds earmarked for migrants. Because of Libya's dysfunctional banking system, where cash is scarce and militias control accounts, international organisations give contracts, usually in dollars, to Libyan organisations with bank accounts in Tunisia.
The vendors compound the money on Libya's black-market exchange, which ranges between four and nine times greater than the official rate.
Libya's government handed over more than 100 files to Tunisia earlier this year listing companies under investigation for fraud and money laundering.
The companies largely involve militia warlords and politicians, according to Nadia Saadi, a manager at the Tunisian anti-corruption authority. The laundering involves cash payments for real estate, falsified customs documents and faked bills for fictitious companies.
"All in all, Libya is run by militias," said a senior Libyan judicial official, who spoke on condition of anonymity for fear of risking his life. "Whatever governments say, and whatever uniform they wear, or stickers they put ... this is the bottom line."
Husni Bey, a prominent businessman in Libya, said the idea of Europe sending aid money to Libya, a once-wealthy country suffering from corruption, was ill-conceived from the beginning.
"Europe wants to buy those who can stop smuggling with all of these programmes," Bey said. "They would be much better off blacklisting the names of those involved in human trafficking, fuel and drug smuggling and charging them with crimes, instead of giving them money."
https://www.aljazeera.com/news/2019/12/libya-militias-rake-millions-european-migration-funds-ap-191231134806918.html
------
Trump says he does not want, nor foresee, war with Iran
Jan 1, 2020
PALM BEACH, Fla.: US President Donald Trump said on Tuesday he does not want, or foresee, war with Iran, after he earlier threatened to retaliate against the country following violent protests led by Iranian-backed militias at the US embassy in Baghdad.
Asked about the possibility of tensions spiraling into a war with Iran, Trump told reporters at his Mar-a-Lago club in Florida: "Do I want to? No. I want to have peace. I like peace. And Iran should want to have peace more than anybody. So I don't see that happening."
https://timesofindia.indiatimes.com/world/us/trump-says-he-does-not-want-nor-foresee-war-with-iran/articleshow/73053730.cms
------
Taliban takes over Darzab district of northern Jawzjan province
Tuesday, 31 Dec 2019
Taliban has taken over Darzab district of northern Jawzjan province as the ANSDF have drawn back from the area bearing no casualties, official said.
Maroof Azar, a spokesperson for the Jawzjan province told Khaama Press that Afghanistan National Security Defense Force based at 'Antan Hill' in Darzab district of Jawzjan have peacefully drawn back from the area as per the demands of the residence of Darzab.
"Almost 50% of the district was in the hands of Taliban for the last 3 months, the residents of the district ere fed up of a continuous war.", Azar said.
"Around 2,000 residence of Darzab district had spoken with the Taliban commanders based in Darzab, requesting them for a 'ceasefire', but Taliban did not accept it, therefore the residence came to ANSDF asking for a draw back for the sake of peace and security.", Maroof Azar added.
"The ANSDF have fully drawn back from Darzab, leaving the district including the 'Antan Hill' military base for Taliban", Maroof said.
The area is now in full control of Taliban militants, Maroof confirmed.
Afghanistan Ministry of Defense (MOD) has said in a statement that Afghan forces have changed their base from 'Antan Hill' to another location due to cold weather condition.
https://www.khaama.com/taliban-takes-over-darzab-district-of-jawzjan-90876/
------
India
India's Muslim protesters say police response was 'act of vengeance'
Taniya Dutta
Dec 31, 2019
Haji Hamid Ali's eyes well with tears every time he talks about the night when he says dozens of armed police barged into his three-storey house, vandalised it beyond repair and detained his son.
Protesters say police went on an hours-long rampage across Muslim-dominated areas of Muzaffarnagar, a city in the north Indian state of Uttar Pradesh, after protests this month.
Hundreds of thousands of Muslims took to the streets across India after Friday prayers on December 20 to decry a new law that grants Indian citizenship to people from certain religious groups in three neighbouring countries, but not Muslims.
Uttar Pradesh is the country's most populous state with 200 million residents, of whom about 20 per cent are Muslim.
It was also where at least 19 people were killed during protests against the citizenship law.
That proposed law has been further compounded by the introduction of a national citizenship register, prompting fears that Muslims could be stripped of Indian citizenship.
The protests met a harsh response with the internet blocked in districts across the state. Authorities said that was to help end the unrest.
Only days later did the harrowing reports of police violence begin to come to light.
Mainstream media broadcast videos showing police attacking protesters, firing live ammunition and smashing up Muslim properties in Uttar Pradesh.
Muzaffarnagar's Muslim residents say police stormed their homes and destroyed their possessions.
They claim it was a clear "act of vengeance" by the state's government, which is led by a firebrand Hindu monk, Yogi Adityanath, who has promised an iron fist in response to protests.
"It is worse than anything that has happened in all the previous riots over the decades," said Mr Ali, 73, as he lay in bed recovering.
"I have been living here for 40 years but never witnessed this barbarity."
More than a week later, his home still resembles a junkyard. "They did not spare a thing in this house. We do not have a cup left to drink tea," said Mr Ali, who runs a timber business.
Shanno, 25, is seven months pregnant and had her world turned upside down by the protests.
Her husband, Noor Mohammad, a manual worker originally from Khalapur, was shot in the head on his way to work and died.
Police did not allow relatives to take his body home. They said the burial had to take place in another city, 60 kilometres away.
"I couldn't even see his body. My daughter couldn't see her father's body. I want justice," Shanno said.
She said she was worried for the future of her daughter, 18 months, and the new baby.
Police said they did not fire live bullets in their operation to calm the unrest and that the shot that killed Mohammad had come from the protesters.
About 70 people have been formally charged with rioting, attempted murder and arson, with local police searching for another 200 people suspected of committing crimes during the protests.
"Stones were being thrown, there was arson and attacks on police vehicles," said Abhishek Yadav, the district police chief.
"We were outnumbered heavily by the protesters but still used minimum force to control the situation."
Mr Yadav denied allegations of police vandalism and said a special team had been set up to investigate the claims.
"We are a disciplined police force. We do not go to homes to vandalise and steal," he said. "Our job is to safeguard every citizen."
The small city of about 500,000 people is 125km north of New Delhi and is known for its sugarcane fields.
It has a history of communal violence and is separated into enclaves for the 55 per cent who are Hindu and the 41 per cent who are Muslim.
In 2013, 62 people were killed in violence between the two communities in one of the worst riots of the past two decades.
Muslims in the state claim they are being attacked because of their faith under the rule of Prime Minister Narendra Modi's Hindu nationalist Bharatiya Janata Party.
Hindu gangs have attacked or killed scores of Muslims in the past few years over allegations that they were eating beef or slaughtering cows, which are considered holy animals by many Hindus.
Tens of thousands marched on December 20 in Muzaffarnagar, shouting anti-government slogans, and had planned to hand over a notice to the district officials against the passage of the law.
Many dispersed peacefully but some pelted police with stones and set fire to official vehicles, top officials said. Authorities said they were forced to use tear gas and batons.
But residents say they were victims of co-ordinated, state-orchestrated violence, with police and BJP supporters yelling religious slurs and asking them to choose between "Pakistan or a graveyard".
Many are also worried that the government will reprimand the Muslim population for its dissent.
"They broke the shutter of my shop and looted mobiles worth 8 lakh rupees (Dh42,233)," said Mohammad Asif, 49, who operates near the city centre.
"They targeted our shop because it is next to a mosque."
Zulfiqar, 40, said the police raid "sounded like a thunderstorm".
"There were police everywhere, banging on doors, hitting cars and vehicles we could hear from a distance the shouts of police and people screaming at home," Zulfiqar said.
He said police and men in plain clothes were choosing affluent Muslim families.
Mehraaz, 38, and sister-in-law Ruksana Begum, 50, said their house was broken into after midnight by police who ransacked everything.
"Our husbands ran away in fear of arrest," Mehraaz said. "The police took one lakh rupee in cash, before beating and detaining my brother who was visiting."
Her husband Haji Akbar, 40, said: "They wanted to scare us, teach us a lesson, but Muslims are not scared of standing up for their rights."
The government has defended its crackdown, and Muzaffarnagar police said they were following guidelines to control the protest situation.
Amid fear and anxiety, many Muslims say they will fight for their rights peacefully and refuse to be cowed by heavy-handed police tactics.
"This is our country," Mr Akbar said. "They are intimidating us, trying to target us, but we will not leave this place and we will live peacefully.
"The protests will continue and we will not go anywhere. This is our place."
https://www.thenational.ae/world/asia/india-s-muslim-protesters-say-police-response-was-act-of-vengeance-1.958299
------
Hyderabad: Muslims from across India gather to contest NRC
Jan 1, 2020
Hyderabad: Twenty-five leaders from Muslim communities all over India gathered in Hyderabad to take stock of the post-CAA situation in the country. They were clear that CAA is not a problem only for Muslims and that secular and educated Indians must be a part of the anti-CAA struggle.
The elders felt that if the country's people do not act promptly on the initiatives taken by the union government to divide the nation on a religious basis, India will witness a new order where citizens will be denied equal rights and status.
However, they expressed that it is a satisfactory sign that the student fraternity has come forward and take the responsibility of safeguarding the constitution and upholding the secular fabric of the country.
They were happy that students are now leading the movement against CAA, NRC and NPR. Though the union government is dividing the nation, it is great that the new generation is well aware of the nefarious designs of the fascist forces and are taking them on. We should extend our support to the agitating students, they said.
They resolved to hold a special session with constitutional experts and eminent lawyers to ascertain the legal aspects of the amendments carried out in the CAA and additional points added in NPR and their implications. They also decided to appeal to political parties against NRC and CAA to oppose the NPR as well. They emphasized that this struggle should not be converted into a movement of a particular community.
A meeting will be convened in New Delhi in the month of January with constitutional experts and eminent lawyers to understand the legal aspects of the CAA and proposed NPR and NRC and the prospects of the petitions filed in the Supreme Court challenging the amendments carried out in the CAA.
Prominent among those who attended the meeting were Moulana Syed Arshad Madani, president of Jamiat Ulema Hind, Moulana Abul Qasim Nomani, vice chancellor, Darul Uloom Deoband (Waqf), Moulana Mahmood Madani, general secretary, Jamiat Ulema Hind, Moulana Gulam Mohammed Vastanvi, former vice chancellor, Darul Uloom Deoband, Moulana Siddiqullah Chowdhury, minister. West Bengal, Moulana Shabbir Nadwi (Bengaluru), Moulana Shah Jamal ur Rahman, president, Khatm e Nabuwat, Telangana and AP, Moulana Hafiz Peer Shabbir Ahmed and Moulana Mufti Gayasuddin Rahmani.
https://www.deccanchronicle.com/nation/current-affairs/010120/hyderabad-muslims-from-across-india-gather-to-contest-nrc.html
------
No Land Identified For Mosque In Ayodhya, Says UP Government
Jan 01, 2020
The Uttar Pradesh government on Tuesday denied media reports that it has identified five options for a five-acre land to build a mosque in Ayodhya as per the Supreme Court ruling in the Ram Janmabhoomi-Babri Masjid case.
A section of media had reported earlier in the day that the state government had identified an alternative plot outside the 'Panch-Kosi Parikrama' periphery, the roughly 15-km route that covers all the important temples and shrines in the present-day Ayodhya.
Denying the reports, additional chief secretary (home), Awanish Awasthi, said, "The state government has not done anything of the sort."
Media reports had also said that the UP government, through the Ayodhya district administration, had shortlisted five places, each with five acres of land available, and forwarded the proposal to the Union home ministry to finalise one. However, Ayodhya district magistrate AK Jha denied that the district administration had made any such move.
UP Sunni Central Waqf Board (UPSCWB) chairman Zafar Ahmad Faruqui said, "I have not received any information or official communication from either the state or Centre regarding the allocation of (five-acre) land."
The UPSCWB has kept its options open even though Muslim organisations like the All India Muslim Personal Law Board and Jamait-e- Ulema Hind rejected the offer of land made by the Supreme Court in its November 9 verdict. In its November 25 meeting, the UPSCWB had decided to take a final call on whether or not to accept the land only after deliberation among its members once it receives a formal communication about it.
https://www.hindustantimes.com/lucknow/no-land-identified-for-mosque-says-up-government/story-w2B9s6alfmhoWKugkg25HP.html
------
St Xavier's students march against police brutality in Jamia Millia Islamia, Aligarh Muslim University
Dec 31, 2019
KOLKATA: Around 500 current and former students of St Xavier's College walked through the neighbourhoods near their Park Street campus on Monday to protest against police brutality on students at Jamia Millia Islamia, Aligarh Muslim University and other educational institutes. They also voiced their protest against the Citizenship Amendment Act and National Register of Citizens (NRC).
"When I read about the details of police atrocities and saw videos of innocent students being beaten up, I found it difficult to control myself. This is the first time I am participating in a procession. I believe, religion cannot be the basis to form a law and I condemn such an attempt," said Nurul Hasan, a first-year journalism MA student of St Xavier's University.
Teachers who are attached with the university for several years said, this was the first time that students were stepping out of the campus to protest against any issue. Founded in 1860 and named after St Francis Xavier, a Jesuit saint of the 16th century, St Xavier's College is one of the most respected institutes in the country that maintains an apolitical status and generally refrains from any protest march or rallies directly.
Monday, however, was different as St Xavier's College, St Xavier's College Students' Council and St Xavier's College Alumni Association jointly organised the silent rally from 4pm after days of propagating the same on social media.
The rally started at 4pm from the college's main gate, walked past the DC south's office and the residence of Kolkata police commissioner at Loudon Street and culminated at the college's back gate on Hungerford Street after marching through Short Street. No slogan was raised and no political banner or flag was visible at the rally.
"We have never even participated in a sit-in demonstration, forget any protest march. This is the first time, I am participating in any rally just because of the very cause of the protest march," said Saheel Periwal, a student of St Xavier's College.
The only political face at the rally was Trinamool Congress leader and former railway minister Dinesh Trivedi, who clarified, he was there at the rally just as an alumnus of the college.
"I am not here representing any party but just as a St Xavier's College alumnus. This is not just a protest march but a vital attempt to unite the whole of India as students are the torch bearers of the country. ," said Trivedi.
Filmmaker Firdausal Hasan, an former student and one of the main organisers of the protest march, was enthralled with its success.
https://timesofindia.indiatimes.com/city/kolkata/st-xaviers-students-march-against-police-brutality-in-jamia-millia-islamia-aligarh-muslim-university/articleshow/73042698.cms
------
Pakistan
Pakistan experienced 370 terrorist attacks in 2019
December 31, 2019
Pakistan is bidding farewell to year 2019 in which some 370 terrorists' attacks occurred in the country claiming the lives of 518 innocent people.
AhlulBayt News Agency (ABNA): Pakistan is bidding farewell to year 2019 in which some 370 terrorists' attacks occurred in the country claiming the lives of 518 innocent people.
Local media quoting data released by Center for Research and Security Studies (CRSS) said Pakistan witnessed a nearly 31 percent reduction in terror and counter-terror fatalities in 2019 compared to 2018.
Only outlawed Tehreek-i-Taliban Pakistan (TTP)'s splinter groups and Daesh claimed responsibility for 12 and one attacks, respectively. But their own ranks depleted by nearly 30pc. Civilian fatalities declined by about 36pc.
A 30.71pc drop in fatalities was observed in 2019 (from 980 in 2018 to 679 in 2019).
The largest drop in fatalities was observed in Balochistan (44.2pc) followed by Fata (39pc), Sindh (19pc) and Punjab (11.8pc).
Report says for the first time since 2004 there was no drone attack in outgoing year.
Nearly 370 terror attacks were reported in the country in 2019 that left 518 people dead. This is a 30pc drop from the 739 fatalities from the nearly 400 terror attacks in 2018. Suicide attacks also dropped from 26 in 2018 to nine in 2019.
These attacks also resulted in the loss of 295 lives in 2018 but the fatalities dropped to 56 in 2019.
Though civilians were the most affected, the overall civilian fatalities declined by about 36pc. Government and security officials' fatalities decreased by 19pc while militants and insurgents had a 30pc drop in their fatalities.
In 2019, no drone attack was reported compared to four in 2018 that resulted in the death of 13 militants.
Only two militant outfits, TTP and Daesh continued claiming responsibilities for terror attacks. However, the number of these attacks and associated fatalities dropped significantly.
One of the causes in bringing militancy under control was the apprehension of militants belonging to banned outfits.
https://en.abna24.com/news//pakistan-experienced-370-terrorist-attacks-in-2019_997918.html
------
Two houses of parliament convened on 24-hour notice
Iftikhar A. Khan
January 01, 2020
ISLAMABAD: In a move that took many by surprise, the government on Tuesday convened both houses of parliament to meet on a 24-hour notice.
While the opposition appeared to be wondering as to what was the need for convening the sessions of parliament in such haste, the government said the decision had been taken to take the legislature into confidence over recent important developments.
When contacted, former Senate chairman Raza Rabbani said he had failed to understand the reasons behind convening the sessions within 24 hours. He said in foggy weather many members from other cities would find it difficult to reach Islamabad in time.
He regretted that the Senate session had only been convened a day after the opposition had requisitioned it. He said the government continues to ignore the parliament and pointed out that the Senate would be meeting after a gap of 124 days, apart from a requisitioned session convened in between.
Opposition baffled over the haste in convening the sessions
A regular session of the Senate was last held from Aug 29 to Sept 3 while the previous National Assembly session was abruptly prorogued on Dec 16. The NA session under a decision taken by the business advisory committee was to continue till Dec 20, but was abruptly prorogued early for some unknown reasons.
Mr Rabbani said under Article 54 of the Constitution the president might from time to time summon either house or both houses of parliament in joint sitting to meet at such time and place as he thought fit and might also prorogue the same. Article 54 (2) reads: "There shall be at least 3 [three] sessions of the National Assembly every year and not more than one hundred and twenty days shall intervene between the last sitting of the Assembly in one session and the date appointed for its first sitting in the next session."
Article 61 reads: "The provisions of clauses (2) to (7) of Article 53, clauses (2) and (3) of Article 54 and Article 55 shall apply to the Senate as they apply to the National Assembly and, in their application to the Senate, shall have effect as if references therein to the National Assembly, Speaker and Deputy Speaker were references, respectively, to the Senate, Chairman and Deputy Chairman …."
Mr Rabbani said this meant that a constitutional provision had conveniently been ignored by the government, which now is convening both the houses to meet at a short notice.
Parliamentary Leader of the Pakistan Peoples Party (PPP) in the Senate Sherry Rehman said the government had abruptly called a Senate session without giving a 48-hour notice, which was inappropriate and had caused inconvenience to the Senators during the smog season when flights were unavailable.
"How will those flying in from Sindh and Balochistan make it?"
She said the Senate session had not been called in 120 days despite repeated requests and letters to the ministry of parliamentary affairs, while the upper house still has to meet for 56 days to complete the parliamentary year.
"When the government finally decided to call one, they badly mistimed it. Is this some new way to break the opposition's strength in the Senate? Their lack of seriousness is unbelievable," she said.
Ms Rehman said Pakistan was facing multiple challenges like economic and foreign policy issues, but every issue of national or public importance was being decided through ordinances without consulting the parliament, the recent being amendments to the NAB ordinance to avoid accountability.
"No wonder PTI (Pakistan Tehreek-i-Insaf) does not care about following the constitutionally laid out procedures in Article 61," she said.
MNA Shazia Marri of the PPP said the "out of mind" government wanted to run parliament in a haphazard way, just as it was running the country.
She said it was 5pm on Tuesday when the members were informed through media about the parliament sessions to be held the very next day.
"Neither were the members taken into confidence nor was the notification of the meeting issued. The members should have been informed about the meeting at least 48 hours earlier. How the members will be able to attend the session in this weather condition?
"Does the government want the members not to attend the session?"
Ms Marri said the government had failed on every front. "If Imran Khan cannot run the government then he should go home because people and their representatives are suffering due to his inability to run the country properly. Parliament is not Imran Khan's cabinet which he wants to run according to his wishes."
Leader of the house in the Senate Syed Shibli Faraz told Dawn that the opposition's clamour was surprising as the parliament's sessions had been convened on their request.
He said after the opposition submitted a requisition with the Senate secretariat on Monday, he had contacted leader of the opposition in the Senate Raja Zafarul Haq, Sherry Rehman and other parliamentary leaders and told them that the government was convening the Senate as a session on their requisition would need 14 days.
He said important developments had taken place since the last session was held and the government wanted to take the house into confidence.
He said Prime Minister Khan would attend the coming Senate session.
https://www.dawn.com/news/1525538/two-houses-of-parliament-convened-on-24-hour-notice
------
Trade under Pak-China FTA-II begins today
Khalid Mustafa
January 1, 2020
ISLAMABAD: Beijing and Islamabad will start from today (Wednesday) trade under Free Trade Agreement (FTA)–II which will provide the opportunity to Pakistan to increase its exports to China by $4-6 billion in next five years.
The prominent salient feature of the FTA is the safe guard measures (SGMs) under which Pakistan will be able to restrict the import from China if it deems that its industry is going to injure with the import of that particular items. SGMs can be applied for three years, and can be extended to an additional two years. This has not been granted to any other country by China.
"The FBR has issued the notification heralding the implementation of FTA-II under which the trade between the two countries will begin from today," a senior official of Commerce Ministry told The News. "Under short-term basis, Pakistan will increase its exports by $500-600 million," he said.
The official said China has extended zero duty to Pakistan on 313 tariff lines which will help Pakistan exports increase and to capitalise the potential to increase exports, Pakistan decision makers require ensuring export surplus.
Though the government is trying to allure Chinese companies to relocate to Pakistan's Special Economic Zones, but the required pace is not visible, as the Chinese companies only want to plug and start playing but the government is not responding up to the mark.
Pakistan and China inked the FTA-II in Beijing on April 28, 2019 and under the new FTA Pakistan has secured enhanced and deeper concessions on products of its export interests, revision of safeguards mechanism for protection of the domestic industry, inclusion of the balance of payment clause as a safety valve against balance of payments difficulties, and effective enforcement of the electronic data exchange.
About the market access, the official said that under the Phase-II of China Pakistan Free Trade Agreement,both countries will liberalise 75 percent of tariff lines for each other in a period of 10 years by China and 15 years by Pakistan.
China will immediately eliminate tariffs on 313 most priority tariff lines of Pakistan's export interest. Overall, China has granted concessions to products which include textiles and garments, seafood, meat and other animal products, prepared foods, leather, chemicals, plastics, oil seeds, footwear as well as engineering goods including tractors, auto parts, home appliances, machineries, etc.
Pakistan has offered market access to China on raw materials, intermediate goods and machineries. Access to cheaper imported inputs and machinery will improve Pakistan's export competitiveness and help upgrade its industrial production. About Protected Tariff Lines, he said that 25 percent of tariff lines i.e., 1760 TLs have been placed in the protected list. The major protected industries include: textiles and clothing, iron and steel, auto, electrical equipment, agriculture, chemicals, plastics, rubber, paper and paper board, ceramics, glass and glassware, surgical instruments, footwear, leather, wood, articles of stones and plaster, and miscellaneous goods.
Mentioning SGMs, he said that these are invoked to temporarily restrict imports of a product which cause injury or threaten to cause injury to the domestic industry. The existing SGM, in CPFTA were inadequate to address the concerns of the industry and have lapsed since these could only be invoked during the transition period i.e. 2007-12. He said that some modifications have been incorporated in the agreement that include a) In Phase-I SGM were limited to the absolute increase in imports, but now can be invoked on relative increase in imports as well, b) The transition period has been increased to 10 years for CAT-I and 8 years for the remaining tracks, which in relation to Tariff Reduction Modality will be 15 years for CAT-II & 23 years for CAT-III. C) SGMs can be applied for three years, and can be extended to an additional two years. This has not been granted to any other country by China. d) In Phase-I SGM, injury to the industry had to be proven but an emergency measure of 180 days can be imposed in Phase-II without proving injury. With regard to balance of payment, provision has been introduced in the agreement as such measures can help to forestall the imminent threat of a serious decline in monetary reserves. "In order to avoid mis-declaration and under-invoicing of imports from China, a system of Electronic Data Exchange has been enforced on trade taking place under the framework of Free Trade Agreement," he said.
https://www.thenews.com.pk/print/591749-trade-under-pak-china-fta-ii-begins-today
------
May 2020 be year of change for Pakistan, prays Ahsan Iqbal
December 31, 2019
Pakistan Muslim League- Nawaz (PML-N) leader Ahsan Iqbal on Tuesday prayed for 2020 to be "the year of real change" for the country, as he was being shifted from Islamabad to Lahore in the National Accountability Bureau's (NAB) custody.
"I pray that 2020 be the year of real change for Pakistan," he said.
Iqbal's stitches will be opened at Services Hospital, Lahore. Recently, a plate had been removed from the former interior minister's arm during a surgery. In May, 2018, Iqbal was shot and injured in Narowal during a corner meeting of the PML-N.
The NAB had begun investigating the Narowal Sports Complex in July 2018. It was built at a staggering cost of over Rs3,000 million. The bureau's investigation team also visited the sports complex last month to secure records.
The mega venture was one of the primary projects developed under former minister for planning Ahsan during the PML-N's tenure.
PML-N Spokesperson Marriyum Aurangzeb had slammed the government following Iqbal's arrest . She had said that the anti-graft body was taking action against the party's leaders at the behest of Prime Minister Imran. She described the arrest as a 'masterpiece of NAB-Niazi nexus'.
https://www.thenews.com.pk/latest/591537-nab-officials-have-shifted-pml-n-leader-ahsan-iqbal-from-islamabad-to-lahore-his-arm-stitches-will-be-opened-at-the-services-hospital
------
Don't harass citizens, let them welcome new year in peace: CM Murad's to Sindh Police
December 31, 2019
KARACHI: Sindh Chief Minister Syed Murad Ali Shah issued stern directives to the provincial police not to harass citizens and "let them welcome the new year in peace".
The home department had issued a notification to ban billion-riding, carrying of fire arms, and aerial firing on new year night. On the directives of the chief minister, the home department withdrew the ban on pillion-riding.
The administration and the police had blocked certain roads leading to Seaview in Karachi with containers. The chief minister also instructed the administration to remove the containers and open the roads for smooth flow of traffic and directed them to manage it by declaring some roads one-way.
He told the police to not harass citizens and let people welcome the new year with new hopes, peace of mind amid cheers and traditional halla gulla [enjoyment].
Shah, however, urged people of the city, particularly the youngsters, to not behave irresponsibly, due to which the law would be forced to take its due course.
The chief minister also urged people to pray for the prosperity of Pakistan, national unity and the strengthening of democracy in the country.
"Pakistan is [the] most beautiful country on the planet and we all have to make it like paradise," he said.
Earlier, the chief minister presided over a meeting of Thar Coal & Energy Board at CM House and vowed to facilitate investors in Thar.
"Inshallah Thar will steer the country out of darkness of load-shedding," he said.
https://www.thenews.com.pk/latest/591534-dont-harass-citizens-let-them-welcome-new-year-in-peace-cm-murads-directives-to-sindh-police
------
Pakistani High Commission in UK to run 'Visit Pakistan' video on LNYDP
December 31, 2019
LONDON: The High Commission of Pakistan in London will be running a 'Visit Pakistan' video message on London's New Year's Day Parade (LNYDP) 2020.
The specially produced video, with National Anthem tune played in the background, contains Prime Minister Imran Khan's brief message, some most beautiful photos and scenes of country's breathtaking tourist destinations and glimpses of the Royal Couple's recent visit to Pakistan.
Pakistan would be one of the 12 countries/brands to be showcased on the Giant Screens covering the LNYDP throughout the day.
Screens will be strategically located along the parade route at Piccadilly Circus, Pall Mall, Trafalgar Square and Big Ben/Houses of Parliament.
The video message will be played in front of as many as 650,000 Street Spectators in addition to more than one million viewing audience through the day. Besides, hundreds of international television channels will also be airing the footage of the Giant Screens to their millions of viewers.
Commenting on the initiative, High Commissioner Nafees Zakaria said: "Presenting Pakistan as the top tourist destination for 2020 on the Giant Screens in London is a unique opportunity. This is the occasion when tourists decide where to visit during the year ahead and 'Visit Pakistan' message is perfectly timed, particularly after the successful Royal Visit to Pakistan.
https://www.thenews.com.pk/latest/591523-lkdgkjhfvf
------
Southeast Asia
Acknowledging unhappiness in 2019, PM promises Malaysia better in 2020
Wednesday, 01 Jan 2020
BY RADZI RAZAK
KUALA LUMPUR, Jan 1 — On the final day of 2019, Prime Minister Tun Dr Mahathir Mohamad conceded that some Malaysians were dissatisfied with the Pakatan Harapan administration's performance over the year.
However, he said the government took note of the public's unhappiness and pledged that the ruling coalition would do better, before urging the country to back his administration's efforts to deliver this.
"While there is a bit of anxiety in the face of unforeseen events that can be devastating and frustrating, on the whole, we have to be confident that the effort we put into 2019 will be fruitful in 2020.
"The government is aware that throughout 2019 there were some issues that cause dissatisfaction among the people.
"We recognise and take note of these voices and efforts to develop this country remain the government's main responsibility," he told the thousands who attended the New Year's eve event at Dataran Merdeka last night.
Dr Mahathir said that 2020 was particularly significant for him as it was the target for Vision 2020 that he introduced in 1991.
He went on to concede that the goal to make Malaysia a developed nation this year will not be met, but said this was because Tun Abdullah Ahmad Badawi and Datuk Seri Najib Razak who succeeded him had deviated from his blueprint.
Abdullah succeeded Dr Mahathir when the latter left office after his stint as the fourth prime minister.
"Our hope is that 2020 will bring us more happiness and prosperity than 2019 that we have left with many bitter and sweet memories.
"However, due to the approaches taken year ago by the fifth and sixth government leaders, the Vision was not achieved and this year (2019) we had to extend that tenure for another 10 years," he said.
In October, Dr Mahathir introduced the Shared Prosperity Vision (SPV) 2030, a ten-year plan to guide Malaysia towards achieving the goals set for this year, with an added emphasis on narrowing income gaps in the country.
Dr Mahathir added that SPV 2030 would only be successful with the support of all sections of the country beginning now.
He went on to stress the importance of ensuring the nation's wealth and development are felt by all layers of Malaysia.
"When the poor increase their income through opportunities introduced (by the government), the gap between the poor and the rich can be reduced," he said.
More than 10,000 Malaysian came to welcome the new year in Kuala Lumpur last night, with people filling up Jalan Raja Laut, Jalan Tun Perak and Padang Dataran Merdeka for the festivities.
At exactly midnight, a five-minute light show coordinated by Kuala Lumpur City Hall and Intel was projected into the night sky, along with several firework displays in other parts of Kuala Lumpur.
The light show highlighted the Visit Truly Asia Malaysia, the slogan for Visit Malaysia 2020 as well as Asia Pacific Economic Cooperation (Apec) that Malaysia will host this year.
https://www.malaymail.com/news/malaysia/2020/01/01/acknowledging-unhappiness-in-2019-pm-promises-malaysia-better-in-2020/1823672
------
Bangko Sentral Ng Pilipinas Lays Groundwork For Islamic Banking In PH
January 01, 2020
The policy making Monetary Board has approved the preliminary initiatives of the Bangko Sentral ng Pilipinas (BSP) to jumpstart the implementation of the law on Islamic banks, which President Duterte enacted last year, according to the regulator.
In a statement, the BSP said Republic Act No. 11439—An Act Providing for the Regulation and Organization of Islamic Banks, and the relevant provisions on Islamic banking under R.A. No. 11054, otherwise known as the Organic Law for the Bangsamoro Autonomous Region in Muslim Mindanao—provided it with the legal authority to issue a broader set of rules and regulations on Islamic banking.The law was signed on Aug. 22, 2019, and became effective on Sept. 22, 2019.
The BSP said it "aims to create an enabling environment that will allow Islamic banks to operate alongside the conventional banks under the same regulatory and supervisory approach, taking into consideration the unique features of the Islamic banking operations."
"The goal is to provide a coherent, consistent and comprehensive set of regulations and standards to encourage wider investor and consumer participation on Islamic banking and finance without any regulatory arbitrage," the regulator said.
The regulations reinforced BSP's promotion of strong corporate governance and consumer protection as well as to cover the licensing framework on the establishment of Islamic banks and Islamic Banking Units and the BSP's expectations on the Shari'ah Governance Framework.
Under the scheme, the BSP's existing licensing framework on the establishment of conventional banks and branches is adopted, as appropriate, with supplementary requirements relevant to Islamic banking operations and Shari'ah compliance. The regulations will implement the legal provisions on the establishment of Islamic banks, which allows other players—either full-fledged Islamic banks or Islamic banking windows—to operate in the Philippines.
Subject to the approval of the Monetary Board, conventional banks, whether domestic or foreign banks, will be allowed to open Islamic banking unit or to establish a subsidiary Islamic bank.
https://business.inquirer.net/286385/bsp-lays-groundwork-for-islamic-banking-in-ph
------
Inside China's push to turn Muslim minorities into an army of workers
Dec 31, 2019
KASHGAR, CHINA - The order from Chinese officials was blunt and urgent. Villagers from Muslim minorities should be pushed into jobs, willing or not. Quotas would be set and families penalised if they refused to go along.
"Make people who are hard to employ renounce their selfish ideas," the labor bureau of Qapqal, a county in the western region of Xinjiang, said in the directive last year.
Such orders are part of an aggressive campaign to remold Xinjiang's Muslim minorities - mostly Uighurs and Kazakhs - into an army of workers for factories and other big employers. Under pressure from authorities, poor farmers, small traders and idle villagers of working age attend training and indoctrination courses for weeks or months, and are then assigned to stitch clothes, make shoes, sweep streets or fill other jobs.
These labor programs represent an expanding front in a major effort by China's leader, Xi Jinping, to entrench control over this region, where these minorities make up about half the population. They are crucial to the government's strategy of social re-engineering alongside the indoctrination camps, which have held 1 million or more Uighurs and Kazakhs.
The labor bureau of Qapqal ordered that villagers should undergo military-style training to convert them into obedient workers, loyal to employers and the ruling Communist Party. "Turn around their ingrained lazy, lax, slow, sloppy, freewheeling, individualistic ways so they obey company rules," the directive said.
The government maintains that the Uighur and Kazakh villagers are "rural surplus labor" and are an underemployed population that threatens social stability. Putting them in steady, supervised government-approved work, officials say, will erase poverty and slow the spread of religious extremism and ethnic violence.
The government describes the labourers as volunteers, though critics say they are clearly coerced. Official documents, interviews with experts, and visits by The New York Times to Xinjiang indicate that local plans uproot villagers, restrict their movements and pressure them to stay at jobs.
Experts say those harsh methods can amount to forced labor, potentially tainting the global supply chain that uses Xinjiang workers, particularly for cotton goods. Japanese retailers Muji and Uniqlo say they have used cotton from the region, while Walmart has bought goods from a company that until recently used workers from Xinjiang.
Given the tight control on Xinjiang, "we have to assume for the moment that there's a very significant risk of coercion," said Amy K Lehr, director of the human rights initiative at the Center for Strategic and International Studies and a co-author of a study on Xinjiang's labour programmes.
Forced labour could arise "even if the coercion was implicit or the programmes offered workers a decent income," she added.
The labor programs operate in parallel with the indoctrination camps in Xinjiang that have drawn condemnation from Western governments. Camp inmates also receive job training, and officials say that many will be sent to work in factories.
Taken collectively, the policies are designed to make the region's Muslim minorities more secular and urbanized like China's Han majority. Many Chinese people see that as laudable. Uighur critics see it as ethnic subjugation.
"What they are trying to do is assimilate the Uighur people," said Mustafa Aksu, a program coordinator at the Uyghur Human Rights Project.
- 'Foster a sense of discipline'
The factory run by the Jinfujie Clothing Co. on the sandy edge of Kashgar, a city in southern Xinjiang, has been a star in the government's labor campaign.
Jinfujie, which calls itself Golden Future in English, trained and employed 2,300 workers from villages. It also opened a branch factory in an indoctrination camp, where it would put to work more than 500 inmates, a company executive told officials last year.
The executive, Sun Yijie, a former soldier, said the company ran a tight ship to turn villagers into workers. "Beginning with military drills before they start their jobs, we foster a sense of discipline," he said.
Video footage posted online shows Jinfujie workers in gray-and-orange uniforms lined up for a pep rally. "A successful future," they shouted in unison.
The company has said it won an order from Germany to make hundreds of thousands of ski pants. Jinfujie would not answer questions about the claimed order. During a recent visit, Times reporters were barred by guards from visiting the Jinfujie factory or the surrounding industrial zone.
Dozens of factory zones have emerged across Xinjiang, attesting to the government's ambitions to remake the region. Xi, China's leader, has vowed to end poverty nationwide by late 2020, and Xinjiang officials face intense pressure to create jobs.
"The offensive to eradicate poverty has reached the crucial stage in a decisive battle," Chen Quanguo, the Communist Party secretary of Xinjiang, said early this month on a tour of southern Xinjiang. "Transmit the pressure down, level by level."
The labor programs depend on luring companies from China's wealthier eastern seaboard, where fewer young people want to work on production lines. Xinjiang has offered manufacturers inexpensive labour, as well as generous tax breaks and subsidies.
"They're still not as fast as workers from other parts of China," said He Tan, a businessman who owns a small factory on the outskirts of Hotan, a city in Xinjiang.
The government's goals are sweeping. One plan issued in 2018 called for putting to work 100,000 people from the poorest parts of southern Xinjiang, a heavily Uighur area, by the end of 2020. The government recently said that target was met a year ahead of schedule. By late 2023, another plan says, Xinjiang wants 1 million working in its textile and garment industries, up from about 100,000 in 2017.
At He's factory, dozens of Uighur women from nearby villages sat wordlessly in rows sewing school uniforms. Guzalnur Mamatjan, a 20-year-old Uighur, said she made about $200 a month.
"I'd like to work here for two or three years and then open my own clothes shop," she said in a brief interview in the presence of officials.
'A great deal of pressure'
Jutting out against desert dunes, the new industrial zones in Xinjiang are often surrounded by high walls, barbed wire and security cameras. Some are built near indoctrination camps and employ former inmates.
Xinjiang's drive to put minorities in jobs often feels less like a job fair and more like a military call-up.
Trainee laborers often first attend political courses similar to those used in the indoctrination camps. They practice military drills, learn patriotic Chinese songs, and listen to lectures warning against Islamic zeal and preaching gratitude to the Communist Party. New laborers are sometimes shown in Chinese news reports wearing military-type uniforms and standing at attention as they are escorted to their employers.
Many are separated from their families. A directive from the Qapqal government ordered that children of working couples be put in care centers in their home villages for the young, or in boarding schools for older ones, so their parents could move for work.
Workers' movements are highly controlled if they are far from home. In Yanqi County in the region's north, workers sent from the south are not allowed to quit unless they get written permission from several officials, according to rules from the local government.
Labor recruits undergo "political vetting" to determine if they are a security risk. In Qapqal County, officials imposed rules to grade potential recruits from most to least trustworthy. The least trustworthy had to attend indoctrination classes in the evenings, while only the most trusted could leave the county for work.
"There is a great deal of pressure placed on individuals to sign work contracts," said Darren Byler, an expert on Xinjiang at the University of Colorado Boulder.
Byler said many residents believed that resisting work transfers could prompt detention. "The threat of the camps hangs over everyone's heads, so there is really no resistance to assigned factory work," he said.
Chinese official media reports that workers make $400 and up a month, a decent income. The reality may differ, especially in smaller, struggling factories. In a township in southern Xinjiang, two-thirds of 43 factory employees whose wages were included in online records earned $114 a month, according to Adrian Zenz, an expert on Xinjiang who has studied the labor programs.
Amanzhol Qisa, a 31-year-old Xinjiang resident, spent a year in an indoctrination camp and in April was sent to work at a clothing factory for three months. She was paid $115 a month, less than half the minimum wage, according to her husband, Muhamet Qyzyrbek.
Qyzyrbek, a Kazakh citizen, said by phone from Shymkent, a city in southern Kazakhstan, that his wife had no choice but to take the job. "After being released, you need to work according to their policies," he said.
Ethical risks
Starting in late summer, villagers in Xinjiang file onto buses taking them to cotton farms, sometimes hundreds of miles away. For a few intense weeks under the sun, they hunch over in fields, picking the crop that ends up in Chinese clothing factories.
Teams of Communist Party officials in villages hold "mobilization meetings," pressing farmers to sign up. The pay is good, they say.
"Head out boldly and bring back the cash," a village official in Dol Township in southern Xinjiang told dozens of farmers, according a local government report last year. The village officials urged team leaders to take special care of three villagers in their 60s who had signed up to pick cotton, the report said.
Xinjiang grows 85% of China's cotton, by official estimates, and is pushing to make more textiles and garments. And nearly every link in the supply chain intersects with the government's labour programmes.
Large Chinese textile makers, such as Huafu Fashion Co., based in eastern China, have promoted their role in employing minorities from the countryside, while denying that any were forced to take the work.
Some global companies have advertised high-quality Xinjiang cotton as a selling point. Japanese retailer Muji describes that its flannel uses "hand harvested" cotton from the region.
The international concern over human rights in Xinjiang is putting pressure on global retailers to vet their suppliers. The United States recently banned clothing from Hetian Taida, a company in Xinjiang suspected of using workers from an indoctrination camp.
The parent company of the Japanese retailer Uniqlo said the brand had stopped working with production partners in Xinjiang. Muji did not respond to emails requesting comment. In August, its parent company, Ryohin Keikaku, said it was committed to banning forced labour, including any used by its business partners.
Until recently, Qapqal County had sent a total of over 440 workers to east China to work for a factory that makes inflatable paddle pools and beds for export to the United States and other countries. The factory is owned by the Bestway Leisure Products Co., which has sold such products to Walmart, Kmart and other retailers, according to export records.
Pat Fumagalli, a chief strategic officer for Bestway who is based in the United States, said the company had ended the program to take workers from Xinjiang in October after managers in the United States noted reports about the region's labour programmes.
Marilee McInnis, a spokeswoman for Walmart, said in email: "Responsible recruitment and voluntary labor are two very important issues for Walmart."
Transform Holdco, the parent company of Kmart, declined to comment.
After The Times made inquiries, inspectors acting for Walmart visited the factory. The inspectors from the ICTI Ethical Toy Program examined records and spoke to managers. They found no disparity between the pay and conditions of workers from Xinjiang and other places, said Mark Robertson, a senior vice president for the inspection program.
"We did not have the opportunity to interview workers from Xinjiang as none were working at the factory when we conducted our visit," he said.
https://timesofindia.indiatimes.com/world/china/inside-chinas-push-to-turn-muslim-minorities-into-an-army-of-workers/articleshow/73048506.cms
------
Despite police warning, Muslim students group proceed with anti-Dong Zong rally
Wednesday, 01 Jan 2020
KUALA LUMPUR, Jan 1 — Over 300 Muslim students gathered in a peaceful protest here today to simultaneously rally public support for jawi and demand the government ban Chinese educationist group Dong Zong for opposing plans to teach the script.
Clad mostly in white and with some donning headbands and black tengkolok, the students brandished placards and banners in Malay that variously said "Rise people, defend Jawi", "Ban Dong Zong" and "Don't challenge the Malays".
The Malaysian Muslim Students Coalition (Gamis) organised the rally and students assembled at the Sogo shopping complex at 2:30pm.
Earlier, some 150 students assembled at the iconic Masjid Jamek and had intended to march to the Sogo shopping complex.
However, Gamis president Saifudin Baiduri advised them not to proceed as moving protests are expressly prohibited under the Peaceful Assembly Act.
Instead, the attendees made their way independently to the Sogo Shopping complex and assembled there.
Yesterday, Dang Wangi District Police chief ACP Mohd Fahmi Visuvanathan Abdullah confirmed that the rally organisers did not adhere with the requirements of the PAA and the event was consequently against the law.
https://www.malaymail.com/news/malaysia/2020/01/01/despite-police-warning-muslim-students-group-proceed-with-anti-dong-zong-ra/1823796
------
As Visit Malaysia Year kicks off, PAS demands govt reinstate visa for Chinese, Indian tourists
Wednesday, 01 Jan 2020
BY AZRIL ANNUAR
KUALA LUMPUR, Jan 1 ― Islamist party PAS today demanded Putrajaya cancel its visa waiver programme for Chinese and Indian tourists as part of the Visit Malaysia Year 2020 campaign, until an ongoing problem of overstaying migrants from the two Asian giants are resolved.
Its deputy president Datuk Tuan Ibrahim Tuan Man insisted more than 95 per cent of Chinese and Indian tourists overstayed from 2016 to 2018 and said the federal government must deal with this first, citing national security.
"The real figure exposed by the Malaysian Immigration System (MyIMMs) is more than 115,000 individuals. The Auditor-General's Report 2018 Second Series have also found around 1.26 Chinese nationals and 296,000 Indian nationals are being processed manually under MyIMMs.
"The vast amount of overstayed Chinese and Indian nationals living in this country must be resolved as soon as possible. Security issues have become top priority when compared to tourist numbers under Visit Malaysia Year 2020," said Tuan Ibrahim.
The Kubang Kerian MP pointed out that the special visa exemption that was granted to Chinese and Indian citizens in 2016 and 2017 should have been stopped to resolve their "residential" status here.
He said that PAS does not want the federal government to compromise and take the easy way out regarding foreigners entering the country.
"The critical problem that we are facing is the serious weakness found in implementing the Electronic Travel Registration and Information (eNTRI) system and also MyIMMs during the tourists' entry process," said Tuan Ibrahim.
The Opposition lawmaker pointed to the recent bust of fraud and identity card scams by syndicates led by nationals from China operating in Malaysia.
On December 29, 2019, Prime Minister Tun Dr Mahathir Mohamad who was exercising the functions of the Home Minister had stated that tourists from China and India will be able to visit Malaysia without a tourist visa next year.
Throughout 2020, they will be able to enter the country for up to 15 days by using the electronic travel registration and information system ― either individually or through travel agencies in their respective countries.
However, the tourists must enter and exit Malaysia only through authorised airports or entry points.
Upon arrival, they must produce proof of sufficient cash for expenses, credit card or bank card, and produce their travel itinerary in Malaysia. They should also have a valid return ticket.
According to a statement from the government, these tourists will be able to travel to Malaysia three months after registration.
https://www.malaymail.com/news/malaysia/2020/01/01/as-visit-malaysia-year-kicks-off-pas-demands-govt-reinstate-visa-for-chines/1823757
------
Indonesia Protests to China over Border Intrusion near South China Sea
December 30, 2019
JAKARTA - Indonesia said on Monday it had protested to Beijing over the presence of a Chinese coastguard vessel in its territorial waters near the disputed South China Sea, saying it marked a "violation of sovereignty."
The boat trespassed into Indonesia's exclusive economic zone off the coast of the northern islands of Natuna, Indonesia's foreign ministry said in a statement. It did not say when the incident occurred.
"The foreign affairs ministry has summoned the Chinese ambassador in Jakarta and conveyed a strong protest regarding this incident. A diplomatic note of protest has also been sent," it said.
The ambassador will report back to Beijing, but both sides have decided to maintain good bilateral relations, it said.
China's embassy in Jakarta could not immediately be reached for comment.
Local fishermen saw a Chinese coastguard vessel escorting fishing boats several times in recent days and then reported what they had seen to the Maritime Security Agency, media reports said.
Indonesia's foreign ministry reiterated its stance that the country is a non-claimant state in the South China Sea and that it has no overlapping jurisdiction with China.
However, Jakarta has clashed with Beijing before over fishing rights around the Natuna Islands and has also expanded its military presence in the area.
China claims most of the South China Sea, an important trade route which is believed to contain large quantities of oil and natural gas.
Beijing has been building artificial islands in the area, developments that have irked members of the Association of South East Asian Nations (ASEAN).
Brunei, Malaysia, Vietnam and the Philippines - all members of ASEAN - and also Taiwan also have claims in the sea.
https://www.voanews.com/east-asia-pacific/indonesia-protests-china-over-border-intrusion-near-south-china-sea
------
Arab World
Oman Arab Bank submits offer to take over Alizz Islamic Bank
Oman Arab Bank (OAB), a subsidiary of Omani conglomerate Ominvest, has made a share swap offer to take over Muscat-listed Alizz Islamic Bank, more than a year after signing a preliminary agreement to explore a merger.
The offer proposes a swap ratio where Oman Arab Bank Shareholders will own 81 per cent of the combined entity, and Alizz shareholders the remaining 19 per cent.
"OAB will issue its shares to Alizz shareholders based on the agreed swap ratio," OAB's parent Ominvest said in a regulatory filing to the Muscat Securities Market on Tuesday.
Islamic lender Alizz bank said in a separate statement that its board of directors will review the offer and the potential transaction structure. It did not say when a decision would be made on the merger offer.
"The final structure will result in OAB becoming a listed holding company and AIB [Alizz] …. becoming a fully-owned Islamic banking subsidiary," OAB said in its offer letter.
The two Muscat-based lenders said in May last year they were exploring the possibility of a strategic collaboration that could lead to an eventual merger of the two entities. A preliminary agreement pledging to continue merger talks was signed last year, when legal and financial advisers were also appointed to conduct due diligence.
The proposed deal would be credit positive for OAB and provide it with a larger Islamic franchise and asset base, "allowing it to improve its interest income and deposit-gathering ability", Moody Investors Service said in an October 2018 report.
It would also help the bank capitalise on the fast-growing Islamic banking segment in Oman, it added.
The deal, if successful, will be a continuation of the consolidation trend underway in the Gulf's banking sector. Bank mergers in the region have picked up pace in recent years as lenders combine their balance sheets to gain scale and drive efficiencies to face tough market conditions against a weaker global economic backdrop.
Dubai Islamic Bank's takeover of its smaller rival, Noor Bank, is the latest deal nearing completion. DIB, the UAE's biggest Sharia-compliant lender, received shareholder approval earlier this month for the acquisition through a capital increase and share swap to create a banking entity with assets of more than Dh275 billion.
This follows the merger of National Bank of Abu Dhabi and First Gulf Bank to create First Abu Dhabi Bank, a banking powerhouse in the UAE, and a three-way tie-up between Abu Dhabi Commercial Bank, Union National Bank and Islamic lender Al Hilal bank earlier this year.
Elsewhere in the region, the boards of Kuwait Finance House and Ahli United Bank in September agreed on a share swap ratio, a crucial step in the former's bid to take over its smaller Bahraini counterpart and create a combined Islamic banking entity with more than $96.7bn in assets.
https://www.thenational.ae/business/banking/oman-arab-bank-submits-offer-to-take-over-alizz-islamic-bank-1.958237
------
Saudi Cabinet: Exit of foreign militias a must for Syria peace
January 01, 2020
RIYADH: The Saudi Cabinet on Tuesday called on the international community to take steps for a complete withdrawal of foreign forces and militias, backed mainly by Iran, to ensure lasting peace in Syria and the social cohesion of the war-torn country.
The weekly session, chaired by King Salman in Riyadh, reviewed the final statement of a recent meeting between Syrian stakeholders. The ministers stressed the importance of continuing the political process in accordance with international decisions.
The Cabinet welcomed an agreement between the Kingdom and Kuwait to resume pumping at two major oilfields in a shared neutral zone.
The meeting also reviewed the latest global and regional developments.
Saudi Media Minister Turki Al-Shabanah, in a statement issued to the Saudi Press Agency, said the ministers praised the adoption of a resolution on Rohingya Muslims and other minorities in Myanmar, which was presented by Saudi Arabia at the UN General Assembly. They said the Kingdom wants a solution to this problem and recognition of their basic rights.
The Cabinet hailed the Saudi security forces for their continued efforts to keep terrorists and terrorism at bay. The ministers lauded the forces for thwarting a terror attack in Dammam by swiftly taking action against the terrorists.
Condemning the terrorist operation carried out by the Iranian-backed militia on US forces stationed in Iraq, the Cabinet called for cooperation between the Iraqi government and the US-led international coalition forces to conduct a probe into the attack to help prevent such incidents supported by the Iranian regime in the future.
The Cabinet also condemned terrorist attacks in Burkina Faso and Somalia.
The ministers approved an agreement between Saudi Arabia and Iraq to promote and protect mutual investments. A royal decree to this effect has been prepared.
The Cabinet also approved an agreement for the establishment of the Gulf Payments Company. The ministers also authorized different ministries to sign deals or memorandums of understanding with their foreign counterparts to boost cooperation in their respective fields.
https://www.arabnews.com/node/1606786/saudi-arabia
------
Culture minister in global pledge over Saudi Arabia's 'cherished' national heritage
January 01, 2020
JEDDAH: The Saudi culture minister on Tuesday pledged to utilize the Kingdom's "cherished" heritage treasures to help promote "creativity and cultural expression" throughout the world.
Prince Badr bin Abdullah bin Farhan Al-Saud was speaking after the Cabinet decided to shift responsibility for running the Kingdom's national heritage activities from the Saudi Commission for Tourism and National Heritage (SCTH) to the Ministry of Culture.
Thanking the country's leadership for supporting the cultural sector and the commission for its efforts, the prince said: "The Kingdom of Saudi Arabia is the land of culture and heritage treasures. It has embraced many human civilizations and is rich in history.
"The ministry will work to serve national heritage, and will continue to encourage the cultural sector to reflect the truth of our ancient past and contribute to our efforts to build a future that cherishes heritage and opens new and different outlets for the world for creativity and cultural expression. This is what the ministry will work on."
Prince Badr on Tuesday also visited the Prince Faisal bin Fahd Fine Arts Hall, in Riyadh, that was reopened the day before. The gallery was the first government building devoted to fine arts in the capital and is also considered the largest such venue in terms of floor space, covering 5,600 square meters.
The minister shared a video of the reopening on Twitter and said: "The Prince Faisal bin Fahd Fine Arts Hall is spacious and tells the stories of beautiful older times of the arts movement in Saudi Arabia. Today, it is back to its glory as it was 34 years ago."
https://www.arabnews.com/node/1606756/saudi-arabia
------
Italian ambassador to Riyadh hails Saudi 'social revolution'
January 01, 2020
NOOR NUGALI
RIYADH: The outgoing Italian ambassador to Saudi Arabia has described the last four years in the Kingdom as remarkable, calling them a "social revolution."
Luca Ferrari was reflecting on his time in the country, from the changes he witnessed firsthand to the political relations between Italy and Saudi Arabia.
"These are the four years of the most remarkable event in Saudi Arabia, which is a social revolution," he told Arab News. "There's also an economic one and a political one, but I think the strongest element is the social evolution."
He said the younger generation was taking control and imposing their own way of life on the Kingdom, saying this development exceeded expectations.
"I see the younger generations in Europe who are always crying for the state to do something. Here I see the younger generations in Saudi Arabia taking things in their own hands and just building up and moving on."
Last year's Formula E event in Diriyah was a moment when the Kingdom changed dramatically, he added, while his favorite cultural event in Saudi Arabia was the performance of Italian opera star Andrea Bocellia at the Winter at Tantora Festival in AlUla.
"That was quite remarkable, because the setting of this dramatic theater in the middle of the desert created by Italian architects in AlUla," he said, speaking of the theater which is set between volcanic mountains and Nabataean ruins. "It was stunning."
His second cultural highlight was Milan's La Scala making its debut in Riyadh in June, when the symphony orchestra from the world-famous opera house treated 3,000 people to an hour of beautiful classical music.
The show opened with a surprise performance of the Kingdom's national anthem by Saudi opera singer Sawsan Al-Bahiti, who received a standing ovation for her rendition.
The orchestra was conducted by maestro Pietro Mianetti, and featured performances by soprano Francisca Manzo and tenor Ricardo Della Sciucca.
"It was packed," said Ferrari. "They played some of the best pieces of Italian concertos and opera. It was very well done. It wasn't an embassy event. It was something by the Saudis for the Saudis."
Italian visitor numbers to Saudi Arabia were increasing thanks to the introduction of a new tourist visa, with holidaymakers going out and about in Riyadh and elsewhere. There was also an increase of Saudis heading to Italy and the ambassador said he was happy about those numbers too.
"You know, it takes very little time to get a bad image, but then it takes a long time to make a bad image better. And Saudi Arabia had a bad image because it was a very closed country. Nobody knew anything about it. And so, you allowed those who were against you to speak, to badmouth this country without reacting. Now that you're opening up, just by the fact that you're opening up, I mean, this is beyond the response. Maybe some problems were true, but most of them were not."
People will discover Saudi Arabia for themselves and spread the word, he added, although it could take as much as a generation. "Saudi Arabia's image will change. Saudi Arabia will change, and I think only to something better."
Another transformation was many Saudis staying put instead of traveling overseas for their holidays. "Everybody was here, because there was so much to see and to do in Riyadh, Jeddah, Dammam, everywhere. There is a lot to do in the country. I could testify that 80 percent of my Saudi friends are all here and I see them every day. Last year or the year before they were all away."
The ambassador said he had visited different parts of Saudi Arabia and had a lot of fun.
"I think they (Saudis) should be proud of their country. They should be proud of their changes. They should never sell themselves short. You can be open-minded and still maintain your traditions and one thing does not impede the other. And that's very, very important. Yes, it has a future ahead. You're a very young country and young people are thriving, and they have a long future in front of them."
His next posting is in China.
https://www.arabnews.com/node/1606761/saudi-arabia
------
Conjoined Mauritanian twins arrive in Saudi Arabia for separation
January 01, 2020
RIYADH: Mauritanian conjoined twins have arrived in Saudi Arabia following directives from King Salman and Crown Prince Mohammed bin Salman to study their case and the possibility of separating them.
The children, Mohammed and Fadhil, were transferred to the King Abdullah Children Specialist Hospital in Riyadh. Their father, who accompanied them, thanked the Saudi leadership for its warm welcome, hospitality and interest in the family.
He said the procedures for transferring the twins to Riyadh were carried out easily, and expressed his confidence in Allah and in the Saudi medical team, led by the supervisor general of the King Salman Humanitarian Aid and Relief Center and renowned pediatric surgeon, Dr. Abdullah Al-Rabeeah, due to his experience in this field.
Their case is being studied as part of the Saudi National Siamese Twins Separation Program.
Should their operation be approved they will become the 49th set of twins to undergo the procedure in one of the largest separation programs in the world.
https://www.arabnews.com/node/1606776/saudi-arabia
------
Europe
Press regulator says Muslims are treated differently by newspapers
The outgoing chairman of Britain's major press regulator has said he suspects Muslims are written about in a different way to Jews or Roman Catholics.
In an interview with the Financial Times, Sir Alan Moses, who is standing down as chairman of the Independent Press Standards Organisation (Ipso), said the portrayal of Islam and Muslims in the British press has been "the most difficult issue" facing the press watchdog in the past five years.
"I speak for myself, but I have a suspicion that [Muslims] are from time to time written about in a way that [newspapers] would simply not write about Jews or Roman Catholics," said Moses.
His comments come two months ahead of Ipso's plans to publish voluntary guidance for journalists when writing about Muslims.
Ipso was founded in 2014 after calls for a tougher system of press self-regulation following the phone hacking scandal. It regulates more than 1,000 British newspapers and can force members in breach of its editors' code to publish a correction, or pay a fine if there has been a serious and systemic breach.
Sir Alan Moses
Sir Alan said Ipso faced "constant" requests to make its editors' code stricter on discrimination, which states that the press "must avoid prejudicial or pejorative reference" to an individual based on a range of categories, including religion. "I think producing guidance is the best, sensible and decent way forward," he said, adding that Ipso's powers to "tell an editor what to write" were unprecedented and had to be administered "proportionally."
But he argued that more stringent rules on what newspapers were allowed to write would lead British media down a dangerous path of authoritarianism. "That is not a price worth paying, but it is wretched if you are part of the group that is under attack."
One of the first jobs for Sir Alan's successor as chairman, Edward Faulks, will be to defend its guidance on writing about Muslims. It has already been branded a threat to free speech by newspapers such as The Telegraph.
The regulator has said the claims are "groundless" but added that "comment pieces, while free to be partisan, challenge, shock and offend, nonetheless must be accurate."
Some critics have argued that Ipso is too close to the newspapers it seeks to regulate. The organisation is paid for by its members, which also foot the £150,000-a-year salary for the part-time role of the chair.
"We never have [issued a fine] because we have not had a newspaper that had a systemic failure," Sir Alan said, adding that one outlet had been "close to it" because of "a stream of misleading statistics about immigration."
https://5pillarsuk.com/2019/12/31/press-regulator-says-muslims-are-treated-differently-by-newspapers/
------
British Muslim chef knows how to run the dish, makes it on royal honors list
2019-12-31
By Mariam Nabbout
On Friday, British Muslim celebrity chef Nadiya Hussain was awarded the prestigious "Most Excellent Order of the British Empire" (MBE).
The winner of The Great British Bake Off's sixth season is among more than 1,000 people awarded in the New Year's honors list for 2020. She was recognized for her "services to broadcasting and the culinary arts."
The chef now joins the likes of author JK Rowling, actress Judi Dench, and several other iconic individuals who were previously recognized with the award — which celebrates major contributions to public life in the UK.
Since taking the title of the popular television show in 2015, Hussain has carved a place for herself among the UK's top chefs, building an illustrious career in culinary arts.
The wife and mother is now a television presenter and published author of several best-selling cookbooks.
In a heartfelt response to her MBE feat, Hussain took to Instagram in an emotional post to thank her family, friends, and fans for their constant support.
Hussain wrote that she never imagined she would be granted such an honor, adding that her late grandparents would've been proud of how far she had come.
Thousands congratulated Hussain on her achievement in comments left under her post. Many are rightfully thrilled that a British Muslim chef who has always stood up to Islamophobes in the UK has received the recognition she so deserves.
Not everyone is celebrating Hussain though. Some criticized her awarding, saying she didn't deserve an MBE over a four-year career. Racist trolls also joined the conversation, hating on news of the chef's latest achievement.
http://stepfeed.com/british-muslim-chef-knows-how-to-run-the-dish-makes-it-on-royal-honors-list-9809
------
Russia, Ukraine finalize deals for gas transit to Europe
By VLADIMIR ISACHENKOV
December 31, 2019
MOSCOW (AP) — Russian and Ukrainian gas companies say they have finalized a slew of contracts ensuring uninterrupted transit of Russian natural gas to Europe.
Ukraine's President Volodymyr Zelenskiy hailed the agreements that were signed late Monday, saying they will allow Ukraine to get at least $7 billion in transit payments from Russia over the next five years.
Zelenskiy said on Facebook the documents ensured Ukraine's "energy security and well-being" and let "Europe know that we won't fail it when it comes to energy security."
The deal that comes just 24 hours before the current transit contract expires on Tuesday will ease European fears of an interruption in Russian gas supplies. Russia ships about 40 percent of its European gas deliveries through pipelines that cross Ukraine.
Russia's Gazprom state-controlled gas giant and Ukraine's Naftogaz energy company described the agreements signed in Vienna late Monday as a hard-won compromise that followed five days of strenuous talks.
The agreements formalized a tentative deal reached earlier this month that envisaged shipments of 65 billion cubic meters of natural gas through Ukraine in 2020 and annual shipments of 40 billion cubic meters thereafter.
Those amounts are smaller than what Russia has sent through Ukraine in previous years. Russia has been working intensively to build new delivery networks that bypass Ukraine.
They include the prospective Nord Stream 2 undersea pipeline between Russia and Germany. Russian officials vowed that it would be completed next year despite the U.S. sanctions that forced a Swiss company laying sections of the pipeline to suspend work. They said that Gazprom has its own assets to complete the construction.
The Russia-Ukraine gas agreements come as the two neighbors remain locked in a tug-of-war that followed Russia's annexation of Ukraine's Crimea and Moscow's support for a separatist insurgency in eastern Ukraine.
It follows the Dec. 9 talks in Paris between the leaders of Ukraine, Russia, France and Germany on settling the conflict in the east. The negotiations marked Zelenskiy's first encounter with Russian President Vladimir Putin, during which they talked about the gas issue, paving way for the deal.
The Ukraine-Russia gas deal envisaged payment by Russia of $2.9 billion to settle an arbitration claim resulting from previous transit disputes and waived any other claims related to the 2009 transit contract.
Naftogaz CEO Andriy Kobolyev hailed the agreements as a compromise ensuring that Ukraine's gas transport network will operate without loss over the next five years and "demonstrated Ukraine's reliability as a transit partner for the EU."
Gazprom CEO Alexei Miller described the set of agreements as a "big package deal that restored the balance of interests between the parties."
"Gazprom has shown again that it's a responsible supplier and a reliable partner," Miller said.
https://apnews.com/4615057928c343afb421a24cdd0bedf1
------
Africa
Islamic foundation opens up on 'broke' Central Mosques in Nigeria
December 31, 2019
By Samson Atekojo Usman
A Nigerian based Islamic non-governmental organization, Rafeeqee Foundation has revealed that the Central Mosques in Nigeria are broke and cash strapped and that their Chief Imams could barely carry out their responsibilities in line with the Islamic faith.
Founder of the Islamic Organisation, Modinat Lawal-Famuditimi in a statement to DAILY POST in Abuja on Tuesday said, the traditional role of Central Mosques was building the people spiritually and financially, while decrying that such was no more in Nigerian Mosques.
She said, it was a spiritual responsibility of Central Mosques through their Chief Imams to identify the less privileged people in their communities for assistance, noting that these days, mosques barely meet up with their financial obligations.
She called on Muslims to offer helping hands to the less privileged people in the society, stressing that such was in consonance with the quoranic faith.
The statement said, "the Rafeeqee Foundation fed over 1000 poor and vulnerable Muslims across Nigeria in 2019" adding that government alone could not cater for the society.
According to her, the foundation which engages in numerous Sadaqa projects, partnered with local mosques in the region to feed the poor during the year and hopes to do more in the coming year.
"One of our major projects is the Ramadan Feed the Poor Programme.
"The foundation partnered with several Chief Imams of Central Mosques and suburban Masjids that in turn worked with Masjids within their community to identify poor people that meet the requirements of getting Ramadan Food.
"The Foundation also aims at helping struggling Muslims to be better by implementing the Quran, Hadiths, and Sunnah in their day to day lives.
"Muslims should be more engaged in their places of worship even as the traditional role of a Central Mosque is to help in building the community to maintain its Islamic, spiritual, financial and educational values.
"The masjid should be more than a place where they offer Salaat. They also read the Qur'aan, share and provide Zakat, Sadaqa, tend to community events and affairs amongst others".
"If you go from one Central Mosque in Nigeria, they are cash starved and can barely carry out their financial obligations to run the Masjid. As it's tough for them to run the Central mosque, it's even tougher to tend to the needs of the community at large.
"With the current economic situation in Nigeria, Central mosques ought to be the place to go for financial support in regards to sadaqa, zakaatul Maul and Fitri, but most Central masjids are lacking in providing services that they were originally intended to serve.
"The work of empowering Central Mosques in Nigeria as a whole falls on every Muslims home and abroad", the statement added.
https://dailypost.ng/2019/12/31/islamic-foundation-opens-up-on-broke-central-mosques-in-nigeria/
------
Sudan seizes Islamic schools affiliated to al-Bashir's regime
December 31, 2019
December 31st 2019 (Nyamilepedia) – Sudanese government on Sunday seized schools belonging to Dawaa al-Islamia, an Islamic organization affiliated to the former regime of ousted president Omar al-Bashir according to a Sudanese official quoted by Sudan Tribune.
The Humanitarian Aid Commission took control of the administrative offices of the schools of the African Council for Private Education (AFPE) which is owned by the Islamic Call Organization or Dawaa al-Islamia.
The measure to seize the schools came as a consequence of a recent law passed by Sudan's ruling coalition to dismantle the former regime's National Congress Party which has been accused of Islamizing the country.
In total, 35 schools and 19 kindergartens in the states of Khartoum, Gezira, Gedaref, Kassala, and the Red Sea, were seized as well as some overseas.
https://www.nyamile.com/2019/12/31/sudan-seizes-islamic-schools-affiliated-to-al-bashirs-regime/?utm_source=rss&utm_medium=rss&utm_campaign=sudan-seizes-islamic-schools-affiliated-to-al-bashirs-regime
------
Sudan shuts down 10 Islamic satellite TV channels
December 31, 2019
Sudan's Ministry of Culture and Media ordered the closure of ten Islamic satellite TV channels, citing lack of permissions.
AhlulBayt News Agency (ABNA): Sudan's Ministry of Culture and Media ordered the closure of ten Islamic satellite TV channels, citing lack of permissions.
According to arabi21.com website, the networks had been operating without obtaining the necessary permissions.
Tayiba TV, which is close to Salafi groups, is among those banned.
Based in the capital Khartoum, the network began broadcasting its programs in 2008.
All of the ten banned channels belong to the al-Andalusia Media Production Company.
https://en.abna24.com/news//sudan-shuts-down-10-islamic-satellite-tv-channels_997933.html
------
How Buhari's lopsided appointments to northern Muslims causing disunity in Nigeria – HURIWA
December 31, 2019
By Seun Opejobi
Human Rights Writers Association of Nigeria, HURIWA, on Tuesday blamed President Muhammadu Buhari's alleged heavily lopsided top level appointments allotted to Muslim northerners as the fundamental and underlying reason for the massive disunity and divisions that exist amongst the diverse ethno-religious communities in Nigeria since 2015.
HURIWA said the Buhari's administration created an atmospheric circumstance which planted seeds of discord that has fully germinated and evolved into a near hydra headed monster threatening to tear down the walls of unity which has held Nigeria since October 1st 1960 as an Independent political sovereign nation together.
In a statement jointly signed by its National Coordinator, Comrade Emmanuel Onwubiko and National Media Affairs Director, Miss Zainab Yusuf, HURIWA urged Buhari to urgently end the season of naked hypocrisy in the fight against corruption in Nigeria next year.
The statement reads: "Now, the President Muhammadu Buhari-led administration has started using the Code of Conduct Tribunal to witch hunt Christians holding top level positions in government at the centre such as the then Chief Justice of Nigeria Justice Onnoghen, the acting Registrar General of Corporate commission Mrs. Azinge and many others have been removed from office over nebulous charges just for their faith and Ethnic identity just as all the Internal Security Services are all headed by Hausa/Fulani MOSLEMS thereby marginalizing the rest of the nation including Christians, animists and African traditional worshippers."
HURIWA has also expressed absolute lack of confidence and trust in the commitments of the current administration to decisively wage a thoroughly objective, balanced and forthright war against the widespread greed, avarice, bribery, corruption and staggering economic crimes being systematically carried out by top level government appointees and unelected members of the so-called Presidential cabal who have come under the searchlights of overwhelming accusations of heist of federal government's resources which the Economic and Financial Crimes Commission (EFCC) and the timid Independent Corrupt Practices and Allied offences Commission (ICPC) usually gloss over or even go into media overdrive and unrestrained hysteria of providing defence for the accused highly connected persons in the corridors of political power in Abuja.
The Rights group said it was "sad and unfortunate that over two dozen high profile allegations of graft and corruption by Presidency officials including the Presidential cabal in the mismanagement of revenues accruing to Nigeria through the activities of rogues in the Nigerian National Petroleum Corporation; the Federal Inland Revenue Services, the Nigerian Customs Service (NCS) and even amongst cabinet level ministers who were governors in the immediate past dispensation but who have conveniently been granted soft landing and suspended immunity by the anti-graft bodies just for decamping to the ruling All Progressives Congress (APC)."
The Rights group said the current Ministers of Petroleum Resources who was former Bayelsa State governor Temipre Silva, the Minister of Niger Delta Affairs Senator Godswill Akpabio and the Minister of Defence Major General Bashir Magashi(rtd) implicated in a scam during the regime of the then maximum military dictator General Sani Abacha of in-glorious junta are going about as government officials with Presidential licences to operate as overlords who are above the law of the land. The current administration promotes impunity and lawlessness.
HURIWA stated as follows: "May we remind President Muhammadu Buhari that he has been hypocritical about the fight against corruption and his government has embarked on political vendetta and the use of selective vigilante justice application both within and without his administration targeting those elements who are suspected of some levels of disloyalty.
"Even as recent as Yesterday, the current administration came under heavy criticism for his failure to act in the alleged indictment of his Minister of Defence, Bashir Magashi, for a $550,000 security fund diversion. Presidential spokesman, Garba Shehu reportedly deflected response on the allegation against the minister of defence.
"HURIWA recalled that as reported by the media, against a groundswell of allegations of cherry-picking on whom to prosecute in his anti-corruption offensive, Buhari is now directly fingered for shielding Magashi, who is accused of stealing and shipping $550,000 from the nation's treasury to an offshore account.
"Magashi has been called out to explain his role in the slush amount he received from the infamous 'Abacha loot' estimated by Transparency International to be at least $5 billion, out of which $3 billion has been recovered. In aviation ministry, N1 billion was allocated for air Nigeria since two years now but till now there is no clarity and accountability from the ministry of Aviation."
HURIWA therefore challenged the current government to make a resolution in the New Year to decidedly wage a war against corruption starting from a six-month wave of anti-graft crusades within the Federal government officials beginning from the cabinet level ministers and directors General of federal government agencies in Nigeria.
"The other time the chief security officer to the Wife of the President was allegedly accused of stealing about N1 billion from the bedroom of the First Lady and the First family. That allegation has died down. There is little or no transparency or accountability in the running of government strategic revenue yielding bodies which even the regulatory body in the solid and crude minerals sectors known as NEITI has continuously indicted NNPC in alleged diversion of billions of Public fund.
"Few days back the newspapers reported that a son of a Director-General of a federal agency was caught in Dubai with $5 million USD cash and driving a Lamborghini. The $1 billion security fund taken from the Escrow account has not been accounted for. The President Muhammadu Buhari should focus on his home front and stop the political fights," the statement added.
https://dailypost.ng/2019/12/31/how-buharis-lopsided-appointments-to-northern-muslims-causing-disunity-in-nigeria-huriwa/
------
North America
Islamic Certificates Give Investors Alternate Exposure to Fixed Income
by BEN HERNANDEZonDECEMBER 31, 2019
2019 saw a marked increase in bond activity and with the advent of fixed income exchange-traded funds (ETFs), more investors can take advantage of the debt space at a low cost, as well as less initial capital required. With global yields at all-time lows, including some nations offering negative yields on government debt, investors are seeking alternate forms of fixed income and one way is via Sharia-compliant fixed income ETFs via the SP Funds Dow Jones Global Sukuk ETF (NYSEArca: SPSK).
SPSK is the first fund to give investors provide targeted exposure to sukuks. Per Investopedia, a sukuk is "an Islamic financial certificate, similar to a bond in Western finance, that complies with Islamic religious law commonly known as Sharia. Since the traditional Western interest-paying bond structure is not permissible, the issuer of a sukuk sells an investor group a certificate, and then uses the proceeds to purchase an asset, of which the investor group has partial ownership. The issuer must also make a contractual promise to buy back the bond at a future date at par value."
Compared to conventional bonds, sukuks are based on a variety of contracts to create financial obligations and the returns to investors are profit-sharing versus interest—as the Investopedia definition addressed. It's an area of the bond market that gives investors niche fixed income exposure without accepting much duration risk.
As opposed to the U.S. Treasury market, investors would have to opt for 30-year Treasuries in order to obtain maximum yield. That isn't the case with sukuks.
"The global sukuk marketplace is very robust but to this point there had not been an ETF solution for investors looking to add this type of exposure to their income-focused portfolios. We're very pleased to be first to market with this approach," said Naushad Virji, CEO of SP Funds in a press release. "Not only is this a diversifier in terms of the underlying holdings in SPSK, but the fund is also designed to provide investors with decreased exposure to duration risk and interest rate risk, important considerations as investors are finding it ever more difficult to access yield from the traditional sources."
Sharia-Compliant Equity Exposure
SP Funds also gives investors exposure to Sharia-compliant equities via the SP Funds S&P 500 Sharia Industry Exclusions ETF (NYSEArca: SPUS). The fund tracks the S&P 500 Sharia Industry Exclusions Index, which is designed to provide value-conscious exposure to those S&P 500 companies that meet the guidelines of the Accounting and Auditing Organization for Islamic Financial Institutions (AAOIFI).
When selecting investments, the fund eschews companies involved in the following:
"We designed our initial equity ETF not only for investors who might be looking for halal exposure, but for any investor who looks at their portfolio through a value-focused lens as well as those who seek to avoid over-levered enterprises, which can encounter serious turbulence in choppy markets," said Naushad Virji, CEO of SP Funds.
https://www.etftrends.com/smart-beta-channel/islamic-certificates-give-investors-alternate-exposure-to-fixed-income/?utm_source=feedburner&utm_medium=feed&utm_campaign=Feed%3A+etftrends-feed+%28ETF+Trends%29
------
Muslim NBA Player Enes Kanter Expresses Support for Jewish Community After Monsey Stabbing Attack
by Shiryn Ghermezian
Boston Celtics center Enes Kanter posted on Sunday morning a Twitter message that expressed support for the Jewish community following the antisemitic stabbing attack in Monsey, New York, the previous night.
The 27-year-old Turkish NBA player, who is Muslim, tweeted, "America has no place for hate. Our Jewish sisters and brothers should not be living in fear. #Antisemitism will NOT be tolerated."
Kanter is an outspoken critic of Turkish President Recep Tayyip Erdogan's government and its human rights record. He has received death threats for his views and a Turkish court indicted him in 2018 on charges of belonging to an armed terrorist group, which he denies.
Five people were wounded Saturday's assault at a Hanukkah celebration in a rabbi's home in Monsey.
The suspect, 37-year-old Grafton Thomas, was arraigned on Sunday in a state court in Ramapo on five counts of attempted murder.
https://www.algemeiner.com/2019/12/30/muslim-nba-player-enes-kanter-expresses-support-for-jewish-community-after-monsey-stabbing-attack/
------
UN experts find no link between Islamic State and Congolese militia
Jeremy Binnie, London
31 December 2019
The United Nations Group of Experts on the Democratic Republic of the Congo (DRC) has said in its latest report that it "was not able to confirm any direct link" between the Islamic State and the Allied Democratic Forces (ADF) militia that operates in the DRC's North Kivu province.
The now deceased Islamic State leader Abu Bakr al-Baghdadi made a brief reference to his organisation having a Central African Province in August 2018. Affiliated media organisations then claimed in April that the group had carried out an attack on security forces in the Kamango area of North Kivu.
At the time, the attack was attributed to the ADF, which was originally a Ugandan rebel group that has emerged as the most dangerous of the many militias that operate in the mineral-rich North Kivu region.
https://www.janes.com/article/93436/un-experts-find-no-link-between-islamic-state-and-congolese-militia
------
Why did the US become the focus of Iraqis' anger?
Jan 1, 2020
For months, furious protests have battered Iraq, driven by frustration at a dysfunctional economy, corruption and the pervasive influence of a foreign power: Iran.
Then a rocket attack killed an American contractor in Iraq, American airstrikes hit an Iranian-backed Iraqi militia, and Iraqis' anger turned back on the United States, culminating with a break-in at its embassy compound in Baghdad on Tuesday.
The airstrikes and the embassy break-in brought the United States to its most serious crisis in the country in years — and pulled it deeper into the volatile problems engulfing Iraq and its neighbor Iran.
Complicated at the best of times, the relations between Iraq, Iran and the United States are now even more fraught.
What happened in the last few days?
On Friday, more than 30 rockets were fired at an Iraqi military base near Kirkuk, in northern Iraq, killing an American civilian contractor and wounding four American and two Iraqi servicemen. The United States accused an Iranian-backed militia, Kataib Hezbollah, of carrying out the attack. A spokesman for the militia denied its involvement. President Donald Trump blamed Iran for the attack, writing Tuesday on Twitter, "Iran killed an American contractor, wounding many." The American military launched airstrikes against the militia over the weekend, killing 24 members in what Secretary of State Mike Pompeo called "a decisive response." He said the United States would "not stand for the Islamic Republic of Iran to take actions that put American men and women in jeopardy." The United States and Iran are at long-standing odds — over influence in Iraq, Iran's nuclear program and other issues — and tensions have spiked under the Trump administration, which pulled out of the 2015 nuclear accord and imposed punishing sanctions on Tehran. But the American airstrikes came at a particularly combustible moment in Iraq, where anger at foreign meddling was already running high. The country's top Shiite cleric, Grand Ayatollah Ali al-Husseini al-Sistani, warned that Iraq must not become "a field for settling regional and international scores," and Prime Minister Adel Abdul-Mahdi called the airstrikes a violation of Iraqi sovereignty. On Tuesday, protesters stormed the sprawling U.S. Embassy compound in Baghdad. They did not enter the main embassy buildings, and eventually joined thousands of others nearby — many of them members of the fighting groups technically overseen by the Iraqi military, and many chanting "Death to America." Trump accused Iran of "orchestrating" the break-in, adding "they will be held fully responsible." Many of the protesters who broke into the compound were members of Kataib Hezbollah and other Iranian-backed militias. While Iran remains deeply influential in Iraq, it has also been the recent target of anger, and sometimes violence, by Iraqi protesters.
Why has Iraq been so volatile recently?
Huge, sometimes violent protests began erupting across Iraq in October, as people angry about unemployment, corruption and shambolic public services poured into the streets. For 12 weeks, the government flailed for a solution, variously promising reform and cracking down. More than 500 people were killed and 19,000 injured in the unrest, according to the U.N. special envoy to Iraq. The brutal government response hardened protesters' resolve, and the protests gradually expanded to include complaints about Iran's widespread influence in Iraq's government. (An Iranian general, Maj. Gen. Qasem Soleimani, had brokered the deal creating the current government.) Many protesters link Iranian influence to corruption in the government and among Shiite militias. In November, protesters burned down the Iranian Consulate in the southern city of Najaf, and for weeks, protesters camped outside the heavily guarded Green Zone of Baghdad, the seat of Parliament and the prime minister. By the end of the month, Abdul-Mahdi said he would resign. Iraq's government has been in limbo ever since, unable to pick his successor.
How is Iran involved in Iraq's militias?
After years of competing with the United States for influence over Iraq, Iran has emerged as an aggressive and powerful force in Iraqi life. Iran wields powerful influence in the government, business and religion. Iranian-linked parties have gained significant strength in Parliament, especially since the American military withdrawal in 2009. And when the Islamic State invaded Iraq in 2014, Iran helped form Shiite militias to fight it, giving it leverage in Iraq's security. As the militias and the United States — effectively fighting on the same side — drove the Islamic State out of territory it controlled in Iraq, the militias gained influence. They control powerful factions in Parliament and the military, and some have turned into mafia-like groups that use extortion rackets to profit from Iraqis. Some militias have attacked Iraqi bases where Americans are stationed, too. The populist cleric Muqtada al-Sadr, who has called for the United States and Iran to leave Iraq, urged the militias to stop "irresponsible actions." The group accused in Friday's rocket attack, Kataib Hezbollah, has close ties to Iran, but many Iraqis consider it a primarily Iraqi force. It is separate from the Hezbollah movement in Lebanon, though both groups have Iran's backing and oppose the United States. The State Department has designated both groups as terrorist organizations. Kataib Hezbollah promised "retaliation" for the airstrikes, without providing details. Iran's Foreign Ministry said the United States "must accept full responsibility for the consequences of this illegal action."
What is the United States presence in Iraq?
The United States has about 5,200 troops in Iraq, and a fluctuating number of civilian contractors. Most of the soldiers are stationed at a base northwest of Baghdad and at a base in the Kurdish-controlled north. The embassy compound in Baghdad opened in 2009 and, at 104 acres, is nearly as large as Vatican City. The compound and the American Consulate in Irbil, in northern Iraq, have a combined staff of 486, most in Baghdad. After the storming on Tuesday, the Pentagon sent 120 additional Marines to Baghdad. The American presence in Iraq has declined sharply from its height during and immediately after the Iraq War. There were nearly 16,000 people in the embassy compound in 2012, and 170,000 troops in Iraq in 2007. Amid rising tensions with Iran this year, the State Department ordered some diplomats to leave the embassy.
What's happening in Iran?
Adding to the regional turmoil, Iran has also been reckoning with its worst unrest in decades. These protests began in November with a sudden increase in gasoline prices, and grew into demonstrations against Iran's leaders and how they have handled American sanctions, a staggering economy and anger from neighbors in Iraq and Lebanon. Thousands of people demonstrated, many from cities with large low-income and working-class populations, but Iran's security forces crushed the protest, killing up to 450 people, according to human rights groups. Iran's supreme leader, Ayatollah Ali Khamenei, justified the crackdown by calling the protests a plot by Iran's enemies at home and abroad.
https://timesofindia.indiatimes.com/world/middle-east/why-did-the-us-become-the-focus-of-iraqis-anger/articleshow/73053276.cms
------
US to deploy troops to Middle East after embassy attack
Jan 1, 2020
WASHINGTON: The US will send 750 soldiers to the Middle East, following an attack by pro-Iranian protesters on the US embassy in Baghdad.
US Secretary of Defence Mark Esper said on Tuesday that the US will deploy the troops immediately to the Middle East, a move taken hours after demonstrators stormed its embassy.
"Approximately 750 Soldiers will deploy to the region immediately and additional forces from the IRF are prepared to deploy over the next several days," said the Pentagon chief in a series of tweets on Tuesday evening, reported Xinhua news agency.
The IRF refers to the Immediate Response Force of the 82nd Airborne Division.
"This deployment is an appropriate and precautionary action taken in response to increased threat levels against US personnel and facilities, such as we witnessed in Baghdad today," Esper added.
The Pentagon's decision came hours after hundreds of demonstrators, mourning for the Hashd Shaabi members killed in a US attack in Iraq on Sunday, stormed the US embassy in Baghdad's Green Zone.
US President Donald Trump blamed Iran for "orchestrating an attack" on the embassy in a Tuesday morning tweet.
https://timesofindia.indiatimes.com/world/us/us-to-deploy-troops-to-middle-east-after-embassy-attack/articleshow/73053948.cms
------
Trump threatens Iran after Baghdad embassy attacked
January 01, 2020
US President Donald Trump warned Tehran it would "pay a very big price" after a mob of pro-Iranian demonstrators stormed the American embassy compound in Iraq, as his government said it is sending hundreds more troops to the Middle East.
Angered by US air strikes that killed two dozen paramilitary fighters on Sunday, hundreds of protesters spilled through checkpoints in the high-security Green Zone Tuesday, demanding the removal of American troops from Iraq and voicing loyalty to a powerful Iranian general, Qasem Soleimani of the Revolutionary Guard Corps.
US Secretary of State Mike Pompeo said the attack was "orchestrated by terrorists," one of whom he named as Abu Mahdi al-Muhandis.
Muhandis has been identified as second-in-command of the Tehran-backed Hashed al-Shaabi paramilitary group which includes Kataeb Hezbollah, the group that was targeted in the US air strikes.
Defense Secretary Mark Esper said around 750 troops from a rapid response unit of the 82nd Airborne Division are prepared to deploy over the next several days to the region.
"This deployment is an appropriate and precautionary action taken in response to increased threat levels against US personnel and facilities, such as we witnessed in Baghdad today," he said.
Prior to the announcement, a US official told AFP that "up to 4,000 (troops) may ultimately be deployed".
The US had already flown a rapid response team of Marines into Baghdad to reinforce its embassy after the attack Tuesday, which left smoke and flames rising from the embassy entrance and further heightened tension between Tehran and Washington.
Esper's announcement is the latest move by Washington to step up its defences in the region since US President Donald Trump in May 2018 pulled out of a multinational nuclear deal with Iran and re-imposed crippling economic sanctions.
Trump blamed Tehran for the embassy attack and warned that it would face punishment if Americans are killed.
"Iran will be held fully responsible for lives lost, or damage incurred, at any of our facilities," Trump said on Twitter.
"They will pay a very BIG PRICE! This is not a Warning, it is a Threat," wrote Trump, adding "Happy New Year!" However, Trump later told reporters that he did not foresee war with Tehran.
Surprise, fury
Trump's message came at the end of a day in which Washington officials appeared surprised and furious over the ease at which the protestors entered the Green Zone, reaching the US embassy compound for the first time in years.
Live broadcasts showed the protesters battering down the high-security doors of the embassy reception building, smashing windows, burning a sentry box and chanting "Death to America!"
The State Department and Pentagon demanded Iraq's leaders provide security to the compound — which was already heavily fortified.
By the time a contingent of US Marine reinforcements flew in, some of the demonstrators had pulled back and others settled in for a sustained protest, preparing food for the evening.
Tehran said the United States is itself to blame for air strikes that killed about two dozen Kataeb Hezbollah fighters on Sunday.
"The surprising audacity of American officials is so much that after killing at least 25 [...] and violating the country's sovereignty and territorial integrity, that now [...] they attribute the Iraqi people's protest against their cruel acts to the Islamic Republic of Iran," said foreign ministry spokesman Abbas Mousavi.
'Strategic patience'
The mob attack put a focus on the strains in the US-Iraqi relationship.
Allies of Iran, which enjoys significant support in parts of the Iraqi government, increasingly challenge Washington's influence in the country.
US jet fighters on Sunday struck five Kateab Hezbollah outposts in Iraq and Syria after a series of rocket attacks on US-occupied facilities in Iraq over the past two months that are blamed on the group and its alleged Iranian sponsors.
One of those attacks, in Kirkuk on Friday, left an American civilian contractor dead and exhausted what US officials called Trump's "strategic patience" with Tehran.
'First lesson' to US
It also added to the growing calls by some political factions in Iraq to push US troops out of the country nearly 17 years after they entered and overthrew Saddam Hussein's regime.
The protesters who besieged the US embassy on Tuesday carried posters reading: "Parliament should oust US troops, or else we will!"
Late on Tuesday Kataeb Hezbollah hailed the attack as a "first lesson" to Washington, "so that Trump knows he did something extremely stupid".
US officials said there were no plans to evacuate the mission, and no US personnel were reported injured. Ambassador Matthew Tueller, who had been on holiday, was on his way back to the embassy.
https://www.dawn.com/news/1525635/trump-threatens-iran-after-baghdad-embassy-attacked
------
South Asia
India makes new record, issues 15 lakh visas to Bangladesh nationals in 2019
Jan 01, 2020
India issued a record number of visas to Bangladesh nationals in 2019, said the Indian high commissioner to Dhaka Riva Ganguly Das, as she expressed satisfaction over the growing people-to-people contact between the two countries, according to a report by The Wire.
At the event held at the Indian Visa Application Centre (IVAC), visa number 15,00,000 was issued, shared the office of High Commission of India in Bangladesh in a tweet on December 31.
On the occasion, the high commissioner handed over "landmark" five-year multiple entry visas to three "Muktijoddha" — freedom fighters of the 1971 liberation war – the report stated.
Speaking at the event, Das said the number of annual visas has been increased more than double in the last few years. "We're seeing the results. Even a few years back, we used to issue 6.5 lakh to 7 lakh visas yearly. This year, we issued 15 lakh visas," Das was quoted as saying.
According to the data states in the report, India issued 13.8 lakh visas in 2017, which increased to 1.46 million visas in 2018.
The neighbouring nation constitutes about 20 percent of foreign visitors to India, the report said.
The reason behind the surge in Bangladesh tourists to India was said to be shopping and business.
The report has come while the relationship between the countries is reportedly witnessing up and down due to the passage of the controversial Citizenship Amendment Act (CAA), causing much concern in Dhaka that it could lead to an influx of migrants from India.
The Bangladesh government has recently shut down mobile telephone networks along the country's borders with India, hitting around 10 million subscribers.
The Bangladesh Telecommunication Regulatory Commission (BTRC), in its order to telecommunications service providers- Grameenphone, Teletalk, Robi and Banglalink- on December 29, 2019, said network coverage in the border areas should be suspended until further notice "for the sake of the country's security in the current circumstances", said a PTI report.
https://www.moneycontrol.com/news/india/india-makes-new-record-issues-15-lakh-visas-to-bangladesh-nationals-in-2019-4776741.html
------
How Afghan officials are tackling Kabul's 'hazardous' pollution
30 Dec 2019
Afghan officials have begun cracking down on local businesses thought to be the main contributors to air pollution in the capital to battle a crisis that has reached "hazardous" levels.
The owners of wedding halls, public baths, and property management offices were also warned to stop burning scrap tyres and plastics - commonly done to provide heating in places of business, Leila Samani, a spokeswoman for Afghanistan's National Environmental Protection Agency told the dpa news agency on Monday.
She also called on residents to reduce the use of coal - used to warm homes - and repair their old cars.
Three wedding halls and two property management offices were shut down as a senior delegation from the police, municipality and environmental agency started operating on Sunday evening.
Another 28 businesses have been identified for closure this week, according to Samani.
Many residents cite poverty and lack of electricity as the primary cause of pollution, which will be impossible to solve without cheaper gas and electricity.
Kabul is ranked as one of the worst-polluted cities in the world.
Seasonal air pollution is a major cause of disease in Kabul, and environmental activists have launched a campaign in which they distribute face masks.
Many people, especially children, suffer from respiratory infections caused by breathing polluted air.
"Kabul air is not breathable," tweeted Shaharzad Akbar, the chairperson of Afghanistan's Human Rights Commission.
"I feel constantly exhausted and low in energy, my son coughs at night and we don't dare to go out for a walk."
https://www.aljazeera.com/news/2019/12/afghan-officials-tackling-kabul-hazardous-pollution-191230074740582.html
------
Fact check: Biden makes misleading comments on his past positions on Iraq, Afghanistan wars
By Daniel Dale
December 31, 2019
Washington (CNN)Democratic presidential candidate Pete Buttigieg attacked rival Joe Biden on Sunday over Biden's support for the invasion of Iraq, saying Biden had "supported the worst foreign policy decision made by the United States in my lifetime."
Biden's Monday response was misleading -- both about his past position on the war in Iraq and about his past position on the war in Afghanistan.
Biden and Afghanistan
Before he addressed his past position on Iraq in particular, Biden touted his broader foreign policy record. Citing judgment calls he said had been vindicated, such as his opposition to US intervention in Libya, he told the editorial board of New Hampshire's Seacoast Media Group: "I'm the guy that -- as has been pointed out repeatedly -- that thought we should not be going into Afghanistan."
Biden might have just been speaking imprecisely here, but the result was misleading no matter what his intentions.
Biden did not oppose the US invasion of Afghanistan. As a US senator from Delaware, he joined his Senate colleagues in a unanimous vote in support of the 2001 resolution that authorized the use of military force against "nations, organizations, or persons" President George W. Bush determined were behind the terrorist attacks of September 11, 2001.
What, then, was Biden talking about when he said he was the man who "thought we should not be going into Afghanistan"? He was referring to his opposition to President Barack Obama's "surge" of additional troops into the country when Biden was vice president in 2009, a campaign official said on condition of anonymity. (Biden is known to have argued against the surge in internal debates.)
Indeed, Biden's next comments to the editorial board were about how he urged Obama-era military leaders to use a smaller military footprint in Afghanistan than some of them wanted.
So Biden can accurately say --- as he did at a debate earlier this month -- that he opposed the deployment of extra troops to Afghanistan more than seven years into the war. But that is not what he said to the editorial board.
Biden and Iraq
Following his comments about Afghanistan, Biden turned to his Senate vote in October 2002 to authorize Bush to use military force against Iraq.
Biden told the editorial board that it's important to remember the "context." Biden went on to say that Bush had "promised me" that the congressional resolution would "only" be used to get the United Nations Security Council to vote on "whether or not we can get inspectors in to determine what Saddam Hussein was doing." Biden continued: "And he did that. But then he went to war."
Biden himself was leaving out important context.
Regardless of what did or didn't transpire between Bush and Biden behind closed doors -- Bush's spokesman denied to NPR in September that he had made Biden any such private promise -- Biden omitted his own extensive comments endorsing a war in Iraq, both before and after the congressional vote. And Biden omitted his post-invasion declaration that his vote had been "correct."
Biden did argue during the 2002 Senate debate that passing the resolution would actually reduce the chances of war, since, in his view, passage would increase the chances of a "tough" Security Council resolution that would help weapons inspectors gain permission to enter Iraq. (After the resolution was passed, Bush continued to express hope that Iraq's "threat" could be resolved "peacefully.")
But Biden made clear in the same Senate speech that he knew a war might still happen -- and he also made clear that he was not opposed in principle to even a war conducted by the US alone.
"There is also a chance Saddam will once again miscalculate, that he will misjudge our resolve, and in that event we must be prepared to use force with others if we can, and alone if we must," Biden said. "The American people must be prepared. They must be prepared for the possible consequences of military action."
Biden had previously made similar comments in which he both called for more diplomacy and expressed support in principle for possible unilateral action. In 2002, he spoke about finding a way to end the Hussein regime "one way or another" and called for the US to build an international alliance for doing so -- but said that the US could use military force "with or without the help of our allies," as our KFILE team reported in a deep dive in September on Biden's Iraq position.
In February 2003, a month before the war started, Biden gave a Delaware speech in which, according to a text available on an archived version of his Senate website, he warned that Bush had not informed Americans how difficult it would be to "win the peace" in Iraq after the invasion.
Amid his cautions about the challenges of occupation, however, he added, "Let everyone here be absolutely clear: I supported the resolution to go to war. I am NOT opposed to war to remove weapons of mass destruction from Iraq. I am NOT opposed to war to remove Saddam from those weapons if it comes to that."
In a July 2003 speech at the Brookings Institution, Biden said, "Nine months ago, I voted with my colleagues to give the President of the United States of America the authority to use force and I would vote that way again today. It was the right vote then and would be a correct vote today."
Biden also criticized the Bush administration early in the war, saying again that Bush officials were not being truthful with the American people about how long and hard the conflict would be. He warned on CNN in July 2003 that "if we don't make real progress very soon, what will happen is we'll lose the support of the Iraqi people, and then there will be hell to pay."
By 2005, Biden had begun calling his vote in favor of the 2002 resolution "a mistake."
In his Monday comments, Biden did not repeat the false statement he made in an NPR interview that aired in September, in which he inaccurately claimed to have opposed the war from the "moment it started." (Biden's campaign later said he "misspoke.") But he was still not telling the full truth.
The Biden campaign declined to comment on his latest Iraq remarks. Biden spokesman Andrew Bates told CNN for the September article that Biden worked in "good faith" to get UN weapons inspectors into Iraq and avert an invasion.
"His good faith was not reciprocated and even once inspections were back on track the Bush administration plunged the nation into war," Bates said. "As he has long said, his vote was a mistake."
https://edition.cnn.com/2019/12/31/politics/fact-check-biden-buttigieg-iraq-afghanistan/index.html
------
Man killed in 'shootout' at Rohingya camp
January 01, 2020
An alleged robber was killed in a "gunfight" with members of Rapid Action Battalion at a Rohingya camp in Teknaf upazila of Cox's Bazar on Monday night.
The dead is Anwar Sadek, 32, of Lether Paschim Para in the upazila.
Shaha Alam, company commander of Rab-15 (Whykong camp), claimed that they raided Nayapara Mochoni Rohingya camp to recover drugs.
A gang of robbers opened fire on Rab members while they were conducting the anti-narcotics drive, forcing them to retaliate, he added.
Sadek sustained bullet injuries and died on the spot, the Rab official said, adding that Sadek used to work for notorious robber Zakir.
Arms and drugs were recovered from the spot, he claimed, without providing any further detail.
The Daily Star, however, could not independently verify the Rab claims.
Earlier on the day, two Rab members sustained bullet injuries at the same spot when they were conducting an anti-narcotics drive.
Locals said criminals tend to hide into Rohingya camps as they were located in hilly areas.
https://www.thedailystar.net/backpage/news/man-killed-shootout-rohingya-camp-1847896
------
Mideast
Ayatollah Sistani condemns US attacks on Hashd al-Shaabi bases
December 31, 2019
Iraq's top Shiite cleric Grand Ayatollah Ali al-Sistani condemned "the criminal aggression" by the US that targeted the positions of the Arab country's popular forces, calling on Iraqi officials to take the necessary measures and stop Washington.
AhlulBayt News Agency (ABNA): Iraq's top Shiite cleric Grand Ayatollah Ali al-Sistani condemned "the criminal aggression" by the US that targeted the positions of the Arab country's popular forces, calling on Iraqi officials to take the necessary measures and stop Washington.
"The supreme religious authority condemns the criminal aggression that targeted a number of official Iraqi forces and resulted in the martyrdom and wounds of many," Ayatollah Sistani's office said in a statement on Monday.
The "practices carried out by some sides" must not be used as a reason to violate Iraq's sovereignty, Ayatollah Sistani's office said in the statement, Reuters reported.
"The Iraqi authorities alone are entitled to deal with these practices and take the necessary measures to prevent them. They are called upon do so and to ensure Iraq does not become a field for settling regional and international scores and that others do not interfere in its internal affairs," the grand Ayatollah said.
On Sunday, US forces conducted drone strikes on a number of Kata'ib Hezbollah bases in Iraq's western Anbar province, killing at least 25 individuals and leaving another 51 injured, according to the PMU (Popular Mobilization Units).
Following the strikes, the Pentagon issued a statement saying that it had targeted three locations of the Iraqi fighters in Iraq and two in Syria in response to alleged attacks targeting American forces.
https://en.abna24.com/news//ayatollah-sistani-condemns-us-attacks-on-hashd-al-shaabi-bases_997908.html
------
Over 49 Syria families take refuge in mosque to escape regime bombing of Idlib
December 31, 2019
At least 49 Syrian families took refuge in a mosque in the city of Idlib to escape the Syrian regime's bombardment against civilians in the city, the Anadolu Agency reported.
Abdullah Sharaf Al-Din, who took refuge in the mosque along with his wife and six children, told the news agency that they had to leave their home nine days ago to escape the violent bombing by the Syrian regime and Russia.
He added that the family is struggling to survive in the very harsh winter conditions.
Sharaf Al-Din's wife said the family is suffering from the cold weather in the mosque, adding that her children are sick due to their living conditions.
She wished that the war would end soon so that they could all return to their home.
Fatima Ahmadi told Anadolu that she had taken refuge in the mosque two days ago with her children to escape the heavy shelling, adding that there was nowhere else she could go.
The Syrian regime and its allies recently launched a new attack against Idlib, the last opposition stronghold. Some 264,000 civilians have been displaced as a result.
https://www.middleeastmonitor.com/20191231-over-49-syria-families-take-refuge-in-mosque-to-escape-regime-bombing-of-idlib/
------
Tear gas fired at pro-Iran protesters outside US embassy in Baghdad, Iraq
January 01, 2020
BASGHDAD: Security forces at the US embassy in Baghdad fired tear gas early Wednesday to disperse pro-Iran demonstrators who had spent the night outside the mission's gates, an AFP photographer said.
Thousands of supporters of Iraqi armed factions close to Iran had massed at the embassy on Tuesday in outrage over US air strikes that killed 25 pro-Iran fighters at the weekend.
They marched easily through checkpoints in the usually high-security Green Zone to reach the embassy, broke through a security reception area and scribbled graffiti in support of Tehran.
Setting up some 50 tents and even portable bathrooms, hundreds of demonstrators announced a sit-in at the embassy's gates until US forces are ousted from the country.
On Wednesday morning, the crowds drew closer to the single wall separating them and the larger diplomatic compound, setting US flags on fire.
In response, security forces inside fired tear gas at the protesters, several of whom were reported wounded and ferried away by ambulances.
A cordon of Iraqi security forces that had formed around the embassy dissipated when the gas was fired.
But reinforcements from the federal police soon arrived and the brief skirmishes calmed.
The US has blamed Iran for the attack but also pressured Iraqi security forces to step up, alarmed that the mobs were able to reach the embassy so easily.
Defense Secretary Mark Esper said around 750 troops from a rapid response unit of the 82nd Airborne Division were prepared to deploy over the next several days to the region in response to the unrest.
Prior to the announcement, a US official told AFP that "up to 4,000 (troops) may ultimately be deployed."
Overnight, the US flew a rapid response team of Marines into the embassy to reinforce security there.
No US personnel were injured and US officials said there were no plans to evacuate the mission.
Ambassador Matthew Tueller, who had been on holiday, was said to be on his way back to the embassy.
By Wednesday morning, Iraqi security forces had reimposed normal security measures along the perimeter of the Green Zone, which is usually inaccessible without a badge.
But they did not oust the crowds that had spent the night inside.
The mob attack put a focus on the strained US-Iraqi relationship, which officials from both countries have described to AFP as the "coldest" in years.
Baghdad has close ties to both Iran and the United States and has feared being caught in the throes of escalating tensions between the two sides.
The dramatic developments outside the embassy on Tuesday sparked comparisons with both the 1979 hostage crisis at the US embassy in Tehran and the deadly 2012 attack on the US mission in Libya's Benghazi.
https://www.arabnews.com/node/1606916/middle-east
------
Syria death toll for 2019 lowest in civil war: monitor
January 01, 2020
BEIRUT: Syria's nearly nine-year-old conflict which has cost more than 370,000 lives recorded its lowest annual death toll in 2019, a war monitor said Tuesday.
A total of 11,215 fighters and civilians were killed in the past year, the Syrian Observatory for Human Rights said.
Of those, 3,473 were civilians including 1,021 children, the Britain-based monitor said.
Fighting has raged on three major fronts in Syria during the past year.
In March, US-backed Kurdish forces expelled Daesh militants from their last patch of territory in the country's far east near the Iraqi border.
Over the summer and in recent weeks, regime forces upped their military campaign against the militant-run region of Idlib in the northwest of the country.
The violence over the summer alone killed around 1,000 civilians in the region of some three million people where rebels are also present.
And to the east, Turkey and its Syrian proxies in October launched a cross-border incursion into Syrian territory to expel Kurdish fighters they view as "terrorists."
The Observatory relies on a vast network of sources across Syria to document the war that broke out after the brutal repression of nationwide anti-regime protests in 2011.
The Damascus regime has since 2015 regained large swathes of the country from rebels and militants with Russian military backing.
The death toll for 2017 stood at more than 33,000, but dropped to just above 19,600 people the following year.
The bloodiest year of the conflict was in 2014, when around 76,000 people lost their lives.
That year saw the rise of Daesh across large swathes of the country and in neighboring Iraq.
Since early 2011, an average of more than 40,000 people a year have been killed and millions have been displaced from their homes in the war.
https://www.arabnews.com/node/1606731/middle-east
------
Yemen moving toward peaceful solution, says UN official
BADR ALQAHTANI
January 01, 2020
LONDON: Yemen is moving toward a more peaceful situation, but requires warring sides to come to an agreement on operations if the war is to end and a resolution is reached, the chairman of the UN's Redeployment Coordination Committee (RCC) in the crucial port city of Hodeidah has said.
Lt. Gen. (retired) Abhijit Guha told Arabic newspaper Asharq Al-Awsat that factions needed to reach an agreement about local security forces.
The war in Yemen began after Houthis seized the capital Sanaa in 2014 from the internationally recognized government and launched an offensive across the country. A coalition including Saudi Arabia and the UAE intervened in 2015 after the militants invaded the city of Aden.
Under a deal reached in Stockholm in Dec. 2018 the UN Security Council authorized the deployment of a team to monitor and support a cease-fire and redeployment of forces from Hodeidah.
The city was for months the main frontline in the war after government forces, supported by the coalition, sought to capture it.
The Stockholm Agreement stipulates a full cease-fire, followed by the withdrawal and redeployment of rival forces from the city. But these clauses have yet to be fulfilled and the withdrawal is at a stalemate, with both sides blaming the other for its delay.
The UN has been criticized for its refusal to blame anyone for the current obstruction of redeployment in Hodeidah, but Guha said
it was essential that the UN remained neutral.
The UN's role was to work with both parties, stay the course, and help bridge the gap wherever necessary and to implement the redeployment in a satisfactory way to both parties, and of course, most importantly, to the people of Yemen, he added.
The former military man chaired his first RCC meeting on Dec. 18 and 19, telling the newspaper he was encouraged by the initial responses from both parties. He proposed to move between Mocha and the capital to finalize issues, so that a "common military concept" of operations for the redeployment process could be established.
"Of course, the actual redeployment would only be possible once the issue of the local security force is politically discussed and resolved," he added.
"To me, the issue of the local security force is one of a political nature, and will have to be resolved by the political leadership of both parties. And I feel when the moment is right, they would resolve this issue. But till then, it is incumbent on me to prepare and be ready for it by having a concept of operations to be followed when this time comes."
Both parties had committed to adhere to the cease-fires, said Guha, but there was a lot of mistrust as a result of the long conflict. He pointed out, however, that there had been no offensive since the agreement was signed and that there had been "significant de-escalation" compared to how things were previously. "I believe both parties are sincere in their hope to end the war. So, all of this gives me a lot of hope."
He highlighted other key areas for activity and attention, including relief work.
"We have generally found that people are most keen on this (facilitating humanitarian access), and I am sure that this movement would be possible in a more regulated way, not that it's not happening now, but it will be happening in a more regulated way. The third issue is the issue of improving the movement of civilians across frontlines. This is an issue which both sides have shown keenness about, and I'm sure we will be able to implement this also in
due course."
He described Yemen as a "laboratory of the world" for its position as a crossroads between civilizations, trade and world affairs, saying he would like to see what was believed to be the world's first irrigation system in the south of Yemen.
Guha also had words for Yemenis. "I think my message to them is that you are the people who brought us into this world. It was through you that humanity spread. And we owe it to you to give you peace."
https://www.arabnews.com/node/1606716/middle-east
------
Iranian Army Commander: Heavily-Armed Terrorist Group Disbanded before Crossing Borders
Wed Jan 01, 2020
TEHRAN (FNA)- Commander of the Iranian Army Major General Seyed Abdolrahim Mousavi said that border guards have dismantled a terrorist group and seized a huge arms cargo before they could cross the border into the country.
"The Army has been entrusted with protection of a part of the country's borders in the West, East and Northeast and thanks God, the borders are under the no threat and the country faces no problem in this regard," General Mousavi said in a meeting in the Southern city of Shiraz on Tuesday.
He added that a terrorist group that intended to enter the country with a large number of weapons to stir chaos in Karaj city (near Tehran) was disbanded thanks to the vigilance of the border guards.
The Iranian police, border guards and the IRGC are actively engaged in security operations against anti-Iran terrorist groups.
Commander of the Islamic Revolution Guards Corps Ground Force Brigadier General Mohammad Pakpour announced late in September that the IRGC forces had engaged in over 50 clashes with the terrorists at the Iranian borders and killed tens of militants since late March.
"Over 50 cases of attack have happened in the past 6 months which have led to clashes and considerable tolls have been inflicted on the terrorists' operational teams at the Northwestern and Southeastern borders of Iran," General Pakpour told FNA.
He also added that several Takfiri and terrorist teams in the Western borders of Iran have been dismantled completely by the IRGC Ground Forces and tens of terrorists have been killed in the past three years.
General Pakpour underlined that security and tranquility prevails at the Iranian borders despite all moves made by the terrorist groups due to the intelligence superiority and preparedness of the IRGC Ground Force's units.
https://en.farsnews.com/newstext.aspx?nn=13981011000149
------
FM: Iran, Russia, China in Consensus on Grave Danger to Multilateralism by US Actions
Tue Dec 31, 2019
TEHRAN (FNA)- Iranian Foreign Minister Mohammad Javad Zarif underlined that his country and Russia and China believe that the US actions have seriously endangered multilateralism in the world.
"On my final trip of this decade, consensus among Iran, Russia and China that multilateralism is in grave danger due to US actions and US violations have jeopardized JCPOA and international security," Zarif wrote on his twitter page from Beijing on Tuesday.
He added that the three countries are also in this belief that the "only way E3/EU can save JCPOA is to stop posturing and begin fulfilling their own obligations".
Zarif had also in October criticized some Western countries, specially the US, for applying unilateral policies against other nations, reminding that world issues will have no solutions unless they are addressed collectively.
"Multilateralism has become a must for the human community, and the world cannot survive without taking multilateralism into consideration," Zarif said, addressing the International Conference on "Unilateralism and International Law" which was held in Tehran.
The top diplomat slammed some Western countries for their unilateral policies towards other nations, saying, "Neither do all realities happen in the West nor can the West make every decision about the world's developments."
He highlighted the crucial role multilateralism plays in today's world, saying the human community will not be able to survive unless it addresses world issues collectively.
Zarif stressed that Iran has always been steadfast in multilateralism since the world needs to collectively address the issues at the international arena.
The imposition of the will of a single power over all other nations is an existential threat for everyone, he added.
https://en.farsnews.com/newstext.aspx?nn=13981010000992
------
Iran Blasts Germany for Closing Eyes on US Destabilizing Acts in West Asia
Tue Dec 31, 2019
TEHRAN (FNA)- The Iranian foreign ministry lashed out at Germany for its anti-Iran statement after the US aggression against Iraq, and called on Berlin to open its eyes to Washington's destabilizing measures in West Asia.
"Germany is making a mistake and is lying through the accusations that Iran is destabilizing the region, while it (Germany) has closed its eyes on the US illegal interference as the most important cause of instability in West Asia," Foreign Ministry Spokesman Seyed Abbas Mousavi wrote on his twitter page on Tuesday.
He added that if Berlin continues taking such positions, its claimed influential role in the establishment of peace and stability will be seriously suspected.
The US drones on Sunday bombarded a Hashd al-Shaabi base near the border with Syria in Iraq's Western province of Anbar, a Hashd Shaabi statement said.
The attack took place in the evening when the US drones bombarded the base of Hashd Shaabi's 45th Brigade near the border town of al-Qaim, the statement said.
The bombardment left tens of the brigade's members killed and wounded.
In reaction, Hashd al-Shaabi Lieutenant Commander Abu Mahdi al-Muhandis warned of a harsh response to the attack, saying that the blood of martyrs will not be wasted.
Also, Asa'eb al-Haq Movement, affiliated to the Iraqi popular forces of Hashd al-Shaabi, described the US deployment in Iraq as a threat to the country, calling on all political groups to react to Washington's "cowardly attack".
Meantime, Qassem Moslih, the commander of Hashd al-Shaabi in al-Anbar province, said that the US wanted to change the equations by bombing the popular forces' positions.
Also, resigned Iraqi Prime Minister Adel Abdul Mahdi in a message to the US secretary of defense underlined his opposition to the attack, waring that bombing Hashd al-Shaabi positions is a dangerous tension which threatens the security of Iraq and the region.
Meantime, Head of the National Wisdom Movement of Iraq Ammar al-Hakim condemned the attack, describing it as clear violation of Iraq's sovereignty.
Also, Falih al-Khazali, a member of al-Fatah coalition in the Iraqi parliament, warned that the US forces have started an obvious war against Iraq.
Meantime, Iraq's Hezbollah Brigades in a statement deplored the attack, terming it hostile aggression against the defenders of Iraq's borders.
Also, Iraqi President Barham Salih underlined that the attack was conducted against the two countries' agreements, describing it as unacceptable.
https://en.farsnews.com/newstext.aspx?nn=13981010000642
------
Iranian FM Stresses Further Bolstering of Strategic Ties with China
Tue Dec 31, 2019
TEHRAN (FNA)- Iranian Foreign Minister Mohammad Javad Zarif underlined the necessity for the further reinvigoration of strategic relations with china as well as closer regional and international cooperation.
"Potentials of 25-year bilateral roadmap to further solidify Iran-China comprehensive strategic partnership are immense," Zarif wrote on his twitter page on Tuesday.
"We intend to realize them, while also pursuing closer regional and global cooperation," he added.
Zarif also noted that he is "delighted to welcome 2020 with our Chinese friends in Beijing".
The Iranian top diplomat arrived in Beijing on Tuesday morning and held his first round of talks with his Chinese counterpart Wang Yi.
During the meeting, he called on the world countries to push back Washington's unilateralism.
"The international community should takes measures to push back the unilateralist approaches of the US," Zarif said.
The Iranian foreign minister, meantime, condemned the US brutal sanctions against Iran.
The Iranian foreign minister also hailed China for its role in supporting international issues, including the Joint Comprehensive Plan of Action (JCPOA).
The Chinese foreign minister, for his part, underlined that the two countries need to preserve bilateral relations and at the same time exchange views on different issues.
https://en.farsnews.com/newstext.aspx?nn=13981010000925
------
Kataeb Hezbollah Blasts US for Turning Iraq into Ground for Avenging Iran
Tue Dec 31, 2019
TEHRAN (FNA)- Kataeb Hezbollah group, affiliated to Hashd al-Shaabi (popular forces), condemned the US for attacking its positions in Iraq and using the country's soil as a ground to take revenge for its failures against Iran.
"When the US wants to target a group in Iraq, it attributes them to Iran. The Americans label the Iraqi sons who have confronted the ISIL as affiliated to Iran," Spokesman of Iraq's Kataeb Hezbollah Mohammed Mohei told the Arabic-language service of RT on Tuesday.
He added that the strategic agreements signed between Baghdad and Washington do not allow the US to establish permanent bases in Iraq, use Iraq's land as a platform against other countries or attack any Iraqi groups.
Separately, Mohei said in an interview with the Arabic-language Baghdad al-Youm news website that the leaders of Kataeb Hezbollah have in a meeting studied ways to respond to the US attacks, and stated, "A proper response at a desirable level should be given to the aggression. The US Sunday night attack flagrantly violated Iraq's sovereignty."
The US drones on Sunday bombarded a Hashd al-Shaabi base near the border with Syria in Iraq's Western province of Anbar, a Hashd Shaabi statement said.
The attack took place in the evening when the US drones bombarded the base of Hashd Shaabi's 45th Brigade near the border town of al-Qaim, the statement said.
The bombardment left tens of the brigade's members killed and wounded.
In reaction, Hashd al-Shaabi Lieutenant Commander Abu Mahdi al-Muhandis warned of a harsh response to the attack, saying that the blood of martyrs will not be wasted.
Also, Asa'eb al-Haq Movement, affiliated to the Iraqi popular forces of Hashd al-Shaabi, described the US deployment in Iraq as a threat to the country, calling on all political groups to react to Washington's "cowardly attack".
Meantime, Qassem Moslih, the commander of Hashd al-Shaabi in al-Anbar province, said that the US wanted to change the equations by bombing the popular forces' positions.
Also, resigned Iraqi Prime Minister Adel Abdul Mahdi in a message to the US secretary of defense underlined his opposition to the attack, waring that bombing Hashd al-Shaabi positions is a dangerous tension which threatens the security of Iraq and the region.
Meantime, Head of the National Wisdom Movement of Iraq Ammar al-Hakim condemned the attack, describing it as clear violation of Iraq's sovereignty.
Also, Falih al-Khazali, a member of al-Fatah coalition in the Iraqi parliament, warned that the US forces have started an obvious war against Iraq.
Meantime, Iraq's Hezbollah Brigades in a statement deplored the attack, terming it hostile aggression against the defenders of Iraq's borders.
Also, Iraqi President Barham Salih underlined that the attack was conducted against the two countries' agreements, describing it as unacceptable.
https://en.farsnews.com/newstext.aspx?nn=13981010000730
------
New Zealand
Christchurch mosque attacks: Anniversary to be difficult time - mayor
Christchurch Mayor Lianne Dalziel says the New Year will bring back difficult memories for the city, as it approaches the first anniversary of the mosque attacks.
On 15 March, 51 people were killed when a gunman opened fire at the Masjid Al Noor and the Linwood Islamic Centre in Christchurch.
Dalziel said the first anniversary of the terror attack would be an opportunity to come together and reflect on the enormity of how it affected not only the city but the country as a whole.
"I don't think that anyone would have thought that such an act could ever happen in Christchurch but actually anywhere in New Zealand, it's been such a shock," she said.
Dalziel said 2020 would also bring progress in the city's post-earthquake rebuild, with the opening of the new $475 million convention centre in October.
"[It] is going to be again one of those massive and dramatic impact moments for the city, there are already conferences booked for both the end of next year and all the way through 2021," she said.
She believed the momentum in the central city's recovery has picked up following the opening of the Riverside Market.
"It's been extraordinary, the numbers of people going into the central city and the flow-on effect that it's had right across the CBD has been enormous," she said.
"I live in town now, I'm often walking through the central city and it's just great to see so many people coming in to enjoy the environment and actually even watching the families that come and feed the eels in the Avon River, I haven't seen eels in the Avon River like they are now for many, many years."
https://www.rnz.co.nz/news/national/406509/christchurch-mosque-attacks-anniversary-to-be-difficult-time-mayor
------
URL: https://www.newageislam.com/islamic-world-news/at-delhi-shaheen-bagh-anti/d/120682
New Age Islam, Islam Online, Islamic Website, African Muslim News, Arab World News, South Asia News, Indian Muslim News, World Muslim News, Women in Islam, Islamic Feminism, Arab Women, Women In Arab, Islamophobia in America, Muslim Women in West, Islam Women and Feminism