New Age Islam News Bureau
11 Dec 2019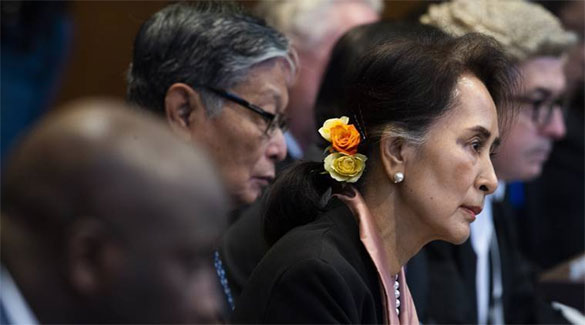 Myanmar's leader Aung San Suu Kyi and Gambia's Justice Minister Aboubacarr Tambadou, left, listen to judges in the court room of the International Court of Justice for the first day of three days of hearings in The Hague, Netherlands, Tuesday, Dec. 10, 2019. (AP)
-----
• As Suu Kyi Looks On, Gambia Details Mass Rapes, Killings in Myanmar
• Al-Arafah Islami Bank in Association with Dmoney Bangladesh Yesterday Launched an
'Islamic Wallet'
• Violence Rages in Assam over CAB, Net Suspended In Tripura
• 'No Muslim in India Needs to Worry,' Says Amit Shah On Citizenship Bill In RS
• Ask 'Old People' For Advice: World's Oldest PM Mahathir to Sanna Marin, The Youngest
• Organization of Islamic Cooperation's Rights Body Underscores Role Of Youth In Progress
• UN Withholds Comments on India's Anti-Muslim Legislation, But Urges Adoption of Non-Discriminatory Laws
• How Can The U.S. Dare Lecturing China About Rights Of The Muslims?
• Iraqi Expert: US Aims to Revive ISIL in Iraq through Sanctions against Hashd Al-Shaabi
Compiled By New Age Islam News Bureau
URL: https://www.newageislam.com/islamic-world-news/as-suu-kyi-looks-on/d/120497
-------
South Asia
• The Afghanistan war has claimed 157,000 lives since 2001
• Explosion near Bagram military airbase, damages a medical facility
• Myanmar's Suu Kyi told to 'stop the genocide' of Rohingya Muslims in UN court
------
India
• FIR against Aligarh Muslim University students for protesting against Citizenship (Amendment) Bill
• Why no protection for persecuted Rohingya Muslims, ask settlers
• Waqf Board and Mosques Prepare Community for NRC, Census 2021
• Ayodhya verdict: Shia Board chairman raises objection against allotment of 5-acre land to Sunnis
------
Southeast Asia
• Duterte to Lift Martial Law in Muslim-Majority South Philippines
• Najib explains second RM2 billion loans for SRC
------
Arab World
• Saudi Efforts for Promotion of Human Rights Lauded
• Saudi ministry launches training program on education policy
• 70% Saudi citizens, residents satisfied with health care
• Exhibition devoted to King Faisal to open in London this month
• Egypt Faisal Islamic Bank's business volume 14.1% up end-November
------
Europe
• Muslim Prayer Call as Part of 'Diversity Event' in Swedish Church Raises Eyebrows
• After the Pensacola jihad, can we finally break with the Saudis?
• Prominent Anti-Abortion Chief Warned Of Muslims 'Replacing' Christian Europeans
• After Russian loan, Kyrgyz businessman casts Putin in stone
• Record 24 Muslim MPs Likely To Be Elected To UK Parliament
• Charity Shocked After Being Told By Football Club They Can Raise Money 'But Not For Muslims'
• CCTV appeal after break-in at mosque in Pollokshields
------
North America
• UN experts: Libya is new focus of Islamic State extremists
• U.S. imposes sanctions on Islamist rebels in eastern Congo
• US blacklists Pakistani police officer over human rights violations
• After Florida shooting, US grounds Saudi pilots, restricts military training
• Why French Jews and Muslims are learning each other's language
• Six shot dead in Czech hospital attack, suspect shoots himself
------
Mideast
• US-Backed SDF Recruits Over 100 Children of ISIL Terrorists
• Senior MP: US Sending Weapons to Ein Al-Assad Base without Baghdad's Knowledge
• Ready for prisoner swaps, Iran says US holding 20 Iranians
• Foreign Ministry Asks Iranian Nationals to Postpone Visit to France
• Several Riot Leaders Arrested in Western Iran
• Iran: Foreign Troops Detrimental to Situation in Afghanistan
• SALT conference: Saudi Arabia, UAE 'promoting US engagement' in the Middle East
• Israeli lawmakers submit bill to dissolve parliament
• Protests, explosions hit Iraq's south as demos maintain strength
• Sudan's deposed Bashir questioned over 1989 coup: lawyer
------
Africa
• Cyclone hits Madagascar, killing 9 and making 1,400 homeless
• Somalia shootout spreads from presidential palace to hotel; 5 Islamic extremist rebels killed
• Islam won't allow terrorism, militancy: Home Minister
• No mosque will be demolished on riverbanks: Khalid
• Kwa Njenga muslims' suit to bar board from assets dismissed
• Islamists attack Somali hotel, police say two militants killed
• Report: 9 Christians Murdered in Kenya for Refusing to Recite Islamic Creed
------
Pakistan
• Ready To Record Statement From Hospital Bed In Dubai In Treason Trial: Pervez Musharraf
• US blacklists Rao Anwar for 'serious human rights abuse' through fake police encounters
• Lahore High Court seeks govt input on charges against Musharraf
• General Qamar Bajwa chairs corps commanders conference
------
As Suu Kyi looks on, Gambia details mass rapes, killings in Myanmar
December 10, 2019
Gambia's legal team described mass rapes, the burning of families in their homes and killing of dozens of Muslim Rohingya children with knives as it set out its genocide case against Myanmar at the UN's International Court of Justice on Tuesday.
Myanmar's leader Aung San Suu Kyi, a Nobel Peace laureate, looked on impassively as the alleged atrocities were detailed at the beginning of three days of hearings in The Hague instituted by Gambia against Buddhist-majority Myanmar in November.
"All that The Gambia asks is that you tell Myanmar to stop these senseless killings," Gambia's Justice Minister Abubacarr Tambadou said in opening comments. "To stop these acts of barbarity and brutality that have shocked and continue to shock our collective conscience. To stop this genocide of its own people." Suu Kyi is expected to repeat denials of genocide and argue that military operations launched in August 2017 were a legitimate counterterrorism response to attacks by Rohingya militants on security forces.
"I entered the house with four of my neighbours and three of us had babies," Loewenstein quoted from one survivor's testimony to the UN fact-finding mission. "There were dead bodies on the floor: young boys from our village. As we entered the house, the soldiers locked the door. One soldier raped me. He stabbed me in the back of my neck and in my abdomen. I was trying to save my baby, who was only 28 days old, but they threw him on the ground and he died." More than 730,000 Rohingya fled Myanmar after the military-led crackdown and were forced into squalid camps across the border in Bangladesh.
The UN investigators concluded the military campaign was executed with "genocidal intent". Myanmar has previously denied almost all allegations made by refugees against its troops, including of mass rape, killings and arson, and promised to punish any soldiers involved in what it says were isolated cases of wrongdoing.
Outside the court, dozens of Rohingya demonstrated to demand justice for victims. Hours earlier in Yangon, Myanmar's commercial capital, thousands of people had rallied in support of Suu Kyi.
"It's like Mother Suu went to the frontlines for our country," said 58-year-old Myint Myint Thwin. "Therefore to show our support and that we stand with her we joined this march."
Once feted in the West, Suu Kyi has faced mounting international criticism over the Rohingya crisis. But she has remained popular at home since coming to power 2016 as part of the transition to democracy after decades of military rule.
A Suu Kyi supporter in The Hague, Moe Moe Hnin, said people abroad have been "misinformed" about events in Myanmar. "Yes, military dictators have been committing human rights violations in the whole Burma," she said. "It is not Burma, it is not Burmese people or our religion. We are not racist."
This week's proceedings, before a panel of 17 judges, will not deal with the core allegation of genocide, but Gambia has requested a court order for Myanmar to halt any activity that may aggravate the dispute.
The tiny, mostly Muslim West African country is arguing that Myanmar's forces carried out widespread and systematic atrocities that constituted genocide during what the army called "clearance operations" against militants. The tribunal has no enforcement powers, but its rulings are final and have significant legal weight.
In the Bangladeshi refugee camps on Tuesday, hundreds gathered on a hilltop and chanted, "Gambia! Gambia!", pumping their fists. Some offered special prayers at mosques in the camps and many others were fasting. "Our people were killed, our children were thrown into fire, our women were raped, our houses were burnt down. All we want is a fair trial," said Nurul Amin, 30.
https://indianexpress.com/article/world/myanmar-suu-kyi-gambia-mass-rapes-killings-rohingya-muslims-un-international-court-justice-6160237/
------
Al-Arafah Islami Bank in Association With Dmoney Bangladesh Yesterday Launched An "Islamic Wallet"
December 11, 2019
Al-Arafah Islami Bank in association with Dmoney Bangladesh yesterday launched an "Islamic Wallet", which it terms as the country's first Shariah- and mobile phone-based enabler of digital financial services.
The mobile app is said to facilitate fast, secure and hassle-free online financial transactions and account management such as cash-in and cash-out, fund transfers from bank accounts and cards and access to a range of lifestyle services.
It offers four payment combinations, the bank said in a statement.
One is at the person-to-business level such as bill payments and for food delivery, mobile top-ups, insurance premiums and loan instalments while another is at person-to-government such as government duties, taxes, fees etc.
It is also possible to make business-to-person payments such as payroll and commission disbursement alongside government-to-person payments such as subsidies, freedom fighter allowances, social welfare payments and endowments.
Al-Arafah bank said the wallet activities would regularly be monitored by a Shariah supervisory council to ensure adherence with the bank's Shariah guidelines.
Inaugurating the app at Le Méridien Dhaka, Bangladesh Bank Governor Fazle Kabir said Bangladesh's foreign currency reserve stood at $32 billion while the economy was the 39th largest in the world.
Al-Arafah's Chairman Abdus Samad Labu said the bank was working to ensure equity and justice for sustainable and balanced growth and socio-economic development and facilitate the formation of a cashless society in Bangladesh.
Managing Director and CEO Farman R Chowdhury said the launch of "Islamic Wallet" would be one step forward towards fulfilling the dream of achieving a "Digital Bangladesh" in a Shariah-compliant manner.
He said this product would certainly act as a catalyst to achieve the goal of bringing in more and more of the unbanked and under-banked people under the banking umbrella as this would offer a full lifestyle solution.
Anjan Chowdhury, chairman of Dmoney, said they were proud to have supported the Al-Arafah in leveraging Dmoney's technology platform to serve the needs of Shariah-based customers through a modern banking app.
Al-Arafah Senior Executive Vice President Syed Masodul Bari and Dmoney Bangladesh Co-Founder and Managing Director Aref R Bashir jointly introduced the app's features.
https://www.thedailystar.net/business/news/al-arafah-launches-islamic-wallet-1838668
------
Violence rages in Assam over CAB, net suspended in Tripura
Dec 11, 2019
GUWAHATI/AGARTALA: Traders were attacked, shops set ablaze in two Tripura districts on Tuesday, while the streets of Guwahati turned into a veritable battle zone littered with burnt tyres, stones and teargas shells as protests against the Citizenship (Amendment) Bill turned violent and virulent in parts of the northeast.
In view of the protests against the Bill, internet services have been suspended for 48 hours from 2 pm in Tripura on Tuesday.
A fruit vendor who had opened his stall at Manughat Bazar in Tripura's Dhalai district was critically injured when protesters hit him on the head with sharp weapons, a senior police official said. Three other traders suffered injuries in separate attacks by protesters, who also set fire to or ransacked shops that had opened in Dhalai and North Tripura in defiance of a bandh call by tribal parties. At least eight motorbikes were destroyed in the arson.
In Assam, at least 1,000 people were detained by the police during the course of the 11-hour bandh called by the Northeast Students' Organisation (Neso), of which the influential All Assam Students' Union (Aasu) is a key constituent.
Guwahati was the epicentre of the agitation, with the police resorting to a cane charge and firing in the air to disperse groups of protesters targeting state-owned buses and other government vehicles.
In Jalukbari, a group of youths blocked the road that leads to minister Himanta Biswa Sarma's residence and shouted slogans against the citizenship bill. They left only after the police fired blanks to scare them away. Another group damaged the gate to the residence of the BJP MP from Guwahati, Queen Oja, and burnt her effigy.
Four protesters were injured in a clash with police personnel near Dispur, where the state secretariat and the assembly building are located. The group prevented education minister Siddhartha Bhattacharya's convoy from entering the secretariat complex.
National award-winning filmmaker Jahnu Barua showed solidarity with organisations leading the campaign against the citizenship bill by announcing that he had withdrawn his film Bhoga Khirikee (Broken Window), produced by Priyanka Chopra, from the upcoming Assam film awards .
Expressing anguish over political leaders "disrobing the motherland", he told PTI: "I am very unhappy at the ongoing situation. This bill should not have happened. We believed the (BJP) leadership, but they are not trying to understand us. In such a situation, I do not want to participate in such a programme."
Assamese actor Barsharani Bishaya and several other artistes assembled in the Chandmari area of the city for a protest.
For travellers arriving by train or air during the day, it was a long wait till evening for private and commercial vehicles to resume plying from the railway station and the airport. The administration did arrange transport, but not everyone took the risk of a mid-journey hitch. "We have safely ferried more than 500 people from the airport to Paltan Bazar. Three buses were pelted with stones, but no passenger was hurt," city police commissioner Deepak Kumar said.
In Upper Assam, including CM Sarbananda Sonowal's home turf Dibrugarh, the shutdown was total. Protesters blocked highways in almost every district. Trains were stopped at Moran in Dibrugarh and Simaluguri in Sivasagar district.
A flag of the banned Ulfa was flying outside a lower primary school in Dibrugarh town until someone reported it to the police. "It was the handiwork of miscreants," Dibrugarh SP Gautam Borah said.
Krishak Mukti Sangram Samiti leader Akhil Gogoi led a large group of protesters on motorcycles in the town. He later told reporters: "CAB violates the preamble to the Constitution. If the Bill is passed (by the Rajya Sabha), we will move the apex court. We are not going to rest till the Centre repeals it."
In the Bengali-dominated Barak Valley, the call for a shutdown evoked partial response. Protesters who tried to disrupt functioning of government offices, banks and educational institutions in the towns were rounded up. Only Assam University postponed examinations that were scheduled for the day.
In Manipur, life came to a standstill during the bandh called by the All Manipur Students' Union despite home minister Amit Shah announcing in Parliament on Monday that the Inner Line Permit system would be introduced in the state to insulate it from the new citizenship law. The announcement had been greeted with celebrations in Imphal on Monday evening.
The Manipur People Against CAB, which had announced a "ceasework" from 1am on Monday till 3am on Wednesday, called off the agitation and thanked Shah for bringing the state under the ILP system.
Meghalaya was almost completely shut in protest against the citizenship bill, although the lone Lok Sabha MP of the National People's Party (NPP), which is a constituent of the NDA, voted in favour of it.
While MP Agatha Sangma insisted that 97% of the state, which comes under the purview of the 6th Schedule of the Constitution, would be exempt from the provisions of the bill, speculation was rife about the fate of the coalition in power in the state after her vote. The state government led by Agatha's brother, Conrad K Sangma, had been at the forefront of opposition to the contentious bill.
In Arunachar Pradesh, the 11-hour Neso-called bandh kept educational institutions, banks, markets and commercial establishments closed throughout the day. Protesters in Itanagar pelted vehicles with stones and burnt tyres on NH 415, SP Tumme Amo said.
https://timesofindia.indiatimes.com/india/violence-rages-in-assam-over-cab-net-suspended-in-tripura/articleshow/72465100.cms
------
'No Muslim in India needs to worry,' says Amit Shah on Citizenship Bill in RS
Dec 11, 2019
New Delhi: The Citizenship (Amendment) Bill 2019 (CAB) was tabled in the Rajya Sabha by the Union home minister Amit Shah on Wednesday.
Addressing the Rajya Sabha, Shah said: "No Muslim in India needs to worry due to this Bill. Don't get scared if someone tries to scare you. This is Narendra Modi's government working according to Constitution, minorities will get full protection."
Shah said misinformation have been spread that this Bill was against Muslims of India. "I want to ask the people saying this that how is this bill related to Indian Muslims? They are Indian citizens and will always remain. No discrimination against them," he added.
Opposition parties including the Congress, AIMIM and the Trinamool Congress are against the bill. The Congress had issued a 3-line whip mandating its members in the Rajya Sabha to be present during the presentation of the bill.
The BJP is certain that it would get support from parties such as the AIADMK, the YSR Congress Party (YSRCP), the TDP and BJD-- all of which are outside the fold of the National Democratic Allliance (NDA).
In the 245-member Rajya Sabha, the halfway mark is currently 121 as five seats are vacant bringing down the strength of the House to 240.
The bill had an easy passage in the Lok Sabha where the BJP-led NDA has majority. The Lower House passed the bill 334-106 after a fierce day-long debate on Monday.
https://www.deccanchronicle.com/nation/current-affairs/111219/union-home-minister-amit-shah-tables-citizenship-bill-in-rajya-sabha.html
------
Ask 'old people' for advice: World's oldest PM Mahathir to Sanna Marin, the youngest
December 10, 2019
Malaysia's Mahathir Mohamad, the world's oldest serving premier, said on Tuesday it would be a good idea for the world's youngest prime minister, Finland's Sanna Marin, to ask "old people" for their advice.
Marin, 34, was the sole candidate for her government's top post after the resignation of Antti Rinne following a declaration of no confidence in him by a party in Finland's ruling coalition.
"While we believe in the idealism of young people, it is important also for them to consider the experience of the old people," Mahathir, 94, told Reuters in an interview.
"Then there will be a combination of the two, and that would be good."
Marin has had a swift rise in Finnish politics since becoming head of the city council of her industrial hometown of Tampere at the age of 27. She will take over in the middle of a 3-day wave of strikes, which will halt production at some of Finland's largest companies from Monday.
Mahathir led the Malaysian opposition to an unprecedented election win last May. It is his second stint as Malaysia's premier, a post he previously held for 22 years from 1981 to 2003.
https://indianexpress.com/article/world/ask-old-people-for-advice-worlds-oldest-pm-mahathir-to-sanna-marin-the-youngest-6159844/
------
Organization of Islamic Cooperation's rights body underscores role of youth in progress
11 December 2019
JEDDAH: The Organization of Islamic Cooperation's (OIC) Independent Permanent Human Rights Commission (IPHRC) called on all member states to bolster their efforts to integrate the role of youth in achieving the goals of sustainable development.
In a statement issued on Tuesday marking the "International Human Rights Day," the rights body said in order to capitalize on the youth potential, the OIC has proposed a "youth strategy" with particular focus on alleviating poverty, promoting universal education and ensuring gender equality.
It said the energy and creativity of youth are vital for building peace and inclusive societies.
The OIC body stressed the need to invest in the education and character building of the youth for a better future.
The IPHRC, realizing the importance of youth, held its 2019 annual seminar on the subject of "Importance of promoting and protecting the rights of youth for building peaceful democratic societies and sustainable development," in Tashkent in October.
https://www.arabnews.com/node/1597116/saudi-arabia
------
UN withholds comments on India's anti-Muslim legislation, but urges adoption of non-discriminatory laws
December 11, 2019
UNITED NATIONS, Dec 10 (APP):The United Nations Tuesday withheld comments until the completion of legislative process involving a controversial bill passed by India's lower house that prevents Muslim migrants from neighboring countries from receiving citizenship, while emphasizing that member states adopt non-discriminatory laws.
"This is a legislation which continuing to go through legislative process … so we wouldn't have any comments while the domestic legislative process is being carried out," United Nations Deputy Spokesman Farhan Haq said in reply to a question from APP at the regular noon briefing.
"At the same time," he added, "You know what our concern are about making sure that all governments pursue non-discriminatory laws."
Meanwhile, Muslim organizations, rights groups and others have called the bill a part of Prime Minister Narendra Modi's push to marginalize India's 200-million-strong Muslim minority.
On August 5, Modi illegally annexed Jammu and Kashmir where thousands of troops poured in, setting up roadblocks, imposing a curfew and imprisoning political leaders.
And in November, India's top court settled a politically charged court battle over the site of Babri Mosque contested for decades between Hindus and Muslims, ruling in the Hindus' favour.
Throughout, the Modi government has turned a blind eye to mob violence against Muslims.
https://www.app.com.pk/un-withholds-comments-on-indias-anti-muslim-legislation-but-urges-adoption-of-non-discriminatory-laws/
------
How can the U.S. dare lecturing China about Rights of the Muslims?
by Andre Vltchek / December 10th, 2019
In 2019, I have written a long analysis about "the Uygur issue"; analysis which will be soon published as a book.
For some time, I have been warning the world that the West, and the United States in particular, are helping to radicalize the Uyghurs in Xinjiang Province and outside.
And not only that: I clearly mapped movement of the Uyghur radicals through some countries like Indonesia, towards Turkey, from where they are then injected into brutal war zones like Idlib in Syria. I worked in Idlib area, with the Syrian commanders, and I spoke at length with the Syrian internally displaced people; victims of the Uyghur genocidal attacks.
The majority of Uyghur people are Muslims. They have their own, ancient, specific culture and most of them are, of course, very decent human beings. Northwest China is their home.
The "problem" is that Urumqi, Xinjiang, are located on the main branch of BRI (The Belt and Road Initiative) – an extremely optimistic, internationalist project which is ready to connect billions of people on all continents. The BRI is infrastructural as well as cultural project, which will soon pull hundreds of millions of people out of poverty and under-development.
Washington is horrified that China is taking a lead in building a much brighter future for humanity. It is because, if China succeeds, it could be the end of Western imperialism and neo-colonialism, leading to real freedom and independence for dozens of until now suffering nations.
Therefore, Washington has decided to act, in order to preserve the status quo and its dominance over the world.
Step one: to antagonize, provoke and to smear China by all means, be it over Hong Kong, Taiwan, South China Sea or, above mentioned "Uygur Issue".
Step two: to try to turn a part of China's constitutionally-recognized national minority – Uyghurs – into "rebels", or more precisely, terrorists.
Turkey, a member of NATO, offered the U.S. a helping hand. Uyghurs were flown with their families to Istanbul, with Turkish passports, through hubs in Southeast Asia. Then, their passports were confiscated in Istanbul. Many Uyghurs were recruited, trained, and then transported into war-torn Syria. Smaller group stayed in places like Indonesia, joining jihadi cadres there. When terrorist groups in Syria were almost thoroughly defeated, some Uyghurs were moved to Afghanistan, where I also used to work, and investigated.
Needless to say, Afghanistan has a short but important border with China.
Why all this complex operation? The answer is simple: NATO/Washington/West hope that the hardened, well-trained Uyghur jihadi fighters will eventually return home to Xinjiang. There, they would start to fight for "independence", and while doing that, they would sabotage the BRI.
This way, China would be injured, and its most powerful global project (BRI) would be disrupted.
The Chinese government is, naturally, alarmed. It is clear that the West has prepared a brilliant trap: 1) If China does nothing, it will have to face an extremely dangerous terrorist threat on its own territory (remember Soviet Union being dragged into Afghanistan, and mortally injured by Western trained, financed and supported Mujahedeen? The West has long history of using Islam for its Machiavellian designs). 2) If China does something to protect itself, it will get attacked by the Western media and politicians. Precisely this is what is happening now.
Everything is ready, prepared.
On 12 September 2019, South China Morning Post, reported:
"US Senate passes Uygur Human Rights Policy Act calling for sanctions on Chinese officials over Xinjiang camps
Bill also urges Trump administration to prohibit export of goods and services to state agents in Chinese region where upwards of 1 million Uygurs are being held
Beijing describes move as a 'gross interference in China's internal affairs'"
Naturally, the so-called rights act to interfere in Xinjiang's affairs is one great exercise in hypocrisy and intimidation.
Let us not forget that the United States is treating Muslim people with absolute spite. It even bans them from entering the country, if they happened to live in certain nations. It arbitrarily bombs them in Pakistan, Afghanistan and elsewhere, worrying nothing about the loss of civilian lives. It tortures Muslims, and it humiliates them at home and even in their own countries.
And frankly: by trying to trigger the Uyghur insurgency in China, Washington is clearly doing a great harm to the Uyghurs themselves, and actually to all people of Northwest China. It is not just wrong; the United States is committing crime against humanity.
*****
China is a multi-national, multi-cultural country. The Muslim culture is part of PRC's identity. I suggest anyone who doubts that to travel to Xi'an, one of three ancient capital cities of China.
Xi'an is where the old great Silk Road originated (ancient BRI, one could argue). Until now it is proud of its tremendous Muslim monuments, as well as of wonderful Muslim food and music. Every year, tens of millions of Chinese visitors travel to Xi'an, to understand its legacy, and enjoy its culture. The city is loved and appreciated, mainly because of its vibrant Muslim identity.
It is thorough nonsense that China is 'anti-Muslim'. Both China (and Russia) are much more tolerant towards Islam than the West. Historically, and currently.
The same nonsense is to claim that China is building "concentration camps" in Xinjiang.
China's position is clear: what the West describes as camps, are "vocational training centers" where "trainees" can learn Chinese and gain job skills to stop them becoming victims of "terrorism and religious extremism". A group of Muslim Indonesian leaders, which gained access to these so-called 'camps' in Xinjiang, recently told my colleague, that people who spend some time in these institutions can actually sleep at home, at night.
Hardly a Guantanamo Bay, frankly speaking.
The self-proclaimed "judge"- the United States – has hundreds of high-security prisons, scattered all over the country. It is well known fact that throwing often innocent people to jail is big (privatized) business there, already for long decades. Millions of people are locked in for nothing. How can a country with one of the greatest number of prisoners on earth (on per capita basis) dare to preach anyone about justice? It is actually a great mystery.
*****
What is the true purpose of such acts?
The answer is easy to define: It is that the determined unwillingness of the U.S. to share influence on the world, with other, much more humanistic countries, such as China; it is its unwillingness to compete on the basis of great ideas and goodwill.
The more nihilist the U.S. foreign policy becomes, the more it accuses others of 'murder'.
The way things function is simple: Washington creates some terrible conflict, somewhere. When the victim-country tries to resolve the conflict, and so-to speak 'extinguish fire', it is accused of 'violating rights' and gets slammed by sanctions.
All this has to stop at some point soon. This policy of Washington turns millions of human lives into agony.
• First, in shorter version, published by the China Daily
https://dissidentvoice.org/2019/12/how-can-the-u-s-dare-lecturing-china-about-rights-of-the-muslims/
------
Iraqi Expert: US Aims to Revive ISIL in Iraq through Sanctions against Hashd Al-Shaabi
Tue Dec 10, 2019
TEHRAN (FNA)- A senior Iraqi security expert warned that the US sanctions against Hashd al-Shaabi (popular forces) are aimed at paving the ground for returning the ISIL terrorists to Iraq and foment insecurity in the country again.
"The US wants to force the Iraqi government to retreat Hashd al-Shaabi forces from the bordering areas of Iraq and Syria by imposing sanctions against them," Abbas al-Ardawi told the Arabic-language al-Ma'aloumeh news website on Tuesday.
"The US is planning to misuse the political crisis in Iraq to interfere in the country's political and security affairs," he cautioned.
Iraq's political figures and groups deplored the US Treasury Department for imposing sanctions on Hashd al-Shaabi leaders, describing the move as clear interference in Iraq's internal affairs.
"We see the move as a flagrant violation of our national sovereignty and meddling in Iraq's internal affairs," Hekmat Fraction said in a statement on Saturday.
Also, Mohammed al-Rubai'e, the spokesman of al-Sadeqoun fraction's political bureau affiliated to Asa'ib Ahl al-Haq group, described the sanctions as a futile move.
"The sanctions are in vain. We did not and will not have any foreign accounts," he wrote on his twitter page on Saturday, adding that the Iraqi popular forces are like thorns in the eyes of the hegemonic powers and will stand against them.
The US has slapped sanctions on a number of Iraqi leaders over allegations they were involved in the abuse of protesters.
Among those targeted by the sanctions is Qais al-Khazali, the head of the powerful Asa'ib Ahl al-Haq (AAH) group.
Also targeted were Khazali's brother Laith al-Khazali, and Hussein Falih al-Lami, the security chief of the Hashd al-Shaabi, the umbrella grouping which includes AAH.
Iraqi Hashd al-Shaabi group has denied any role in the deaths of protesters, who have demonstrated against the government for more than two months.
https://en.farsnews.com/newstext.aspx?nn=13980919000350
------
South Asia
The Afghanistan war has claimed 157,000 lives since 2001
Wednesday, 11 Dec 2019
The long-term Afghanistan war has claimed around 157,000 lives since the US-led military invasion in the country in late 2001, Washington Post reported on Monday.
WP released 2,000 pages of unpublished 'confidential' documents which are the result of assessments by government officials, diplomats, military officers and aid workers of the post-2001 war efforts in Afghanistan, many of which were critical of how the war was conducted—on every level—and how falsely it was reported up the chain of command and to the public.
The documents unveils that an estimated 43,074 Afghan civilians, 64,124 Afghan security force members and 42,100 Taliban fighters have died so far. Also, 7,295 foreigners–among them 3,814 US contractors, 1,145 coalition forces' members and 2,300 American soldiers–have also lost lives.
A senior National Security Council official said the Obama administration and Pentagon pushed metrics that portrayed the 2009 decision to surge 30,000 troops to Afghanistan in an inaccurately positive light:
"It was impossible to create good metrics. We tried using troop numbers trained, violence levels, control of territory and none of it painted an accurate picture," and "The metrics were always manipulated for the duration of the war."
Jeffrey Eggers, a retired Navy SEAL and White House official under Bush and Obama administration, asked in a Lessons Learned interview included in the collection:
"Why did we make the Taliban the enemy when we were attacked by al-Qaeda? Why did we want to defeat the Taliban?"
Eggers also said: "Collectively the system is incapable of taking a step back to question basic assumptions."
https://www.khaama.com/the-afghanistan-war-has-claimed-157000-lives-since-2001/
------
Explosion near Bagram military airbase, damages a medical facility
Wednesday, 11 Dec 2019
A Wednesday morning explosion near Bagram military airbase has badly damaged a medical facility which was under construction, a Resolute Support spokesman told Khaama Press.
"Enemy forces conducted an attack on Bargram airfield this morning, targeting a medical facility being constructed to help the Afghan people who live near the base", RS spokesperson said.
The attack was quickly contained and repelled by the ANDSF and Coalition partners, but the future medical facility was badly damaged, he said.
He also confirmed that there were no U.S or Coalition casualties and Bagram remained secure throughout the attack.
No individual or group has so far claimed the responsibility for this attack.
This comes as it is the fifth day of peace negotiations between the Taliban and U.S delegations in Doha, Qatar.
Taliban has set on the table with the U.S peace delegation to come to an agreement for a political settlement in Afghanistan.
Reduction of violence, Ceasefire and Intra-Afghan talks are the hot topics of the discussions, sources said.
Reports suggest that Taliban and U.S are likely to reach an agreement soon.
Suhail Shaheen, Taliban spokesperson in Doha said on Tuesday that foreign ministers from a number of countries and representatives of international organizations, especially the United Nations, will be invited to Qatar during the signing of the agreement.
https://www.khaama.com/explosion-near-bagram-military-airbase-damages-a-medical-facility/
------
Myanmar's Suu Kyi told to 'stop the genocide' of Rohingya Muslims in UN court
10 Dec 2019
Nobel peace laureate Aung San Suu Kyi faced calls for Myanmar to "stop the genocide" of Rohingya Muslims as she personally led her country's defence at the UN's top court on Tuesday.
Myanmar's civilian leader sat through graphic accounts of mass murder and rape as the west African state of The Gambia set out its case at the International Court of Justice in The Hague.
Thousands of people back home in Yangon rallied in support of 74-year-old Suu Kyi, whose silence about the plight of the Rohingya has tarnished her international reputation as a rights icon.
Around 740,000 Rohingya fled to neighbouring Bangladesh after a bloody crackdown by the Myanmar military in 2017 that UN investigators have already described as genocide.
"Tell Myanmar to stop these senseless killings, to stop these acts of barbarity that continue to shock our collective conscience, to stop this genocide of its own people," Gambian Justice Minister Abubacarr Tambadou told the judges.
Muslim-majority Gambia accuses Myanmar of breaching the 1948 genocide convention and has asked the court, set up in 1946 to rule on disputes between UN member states, to take emergency measures to stop further violence.
"Another genocide is unfolding right before our eyes yet we do nothing to stop it," added Tambadou, a former prosecutor at the tribunal into the Rwanda's 1994 genocide.
"Every day of inaction means more people are being killed, more women are being raped and more children are being burned alive. For what crime? Only that they were born different."
Suu Kyi, who 28 years ago today was awarded the Nobel Peace Prize, is set to speak in Myanmar's defence on Wednesday. She is expected to argue that Myanmar was conducting legitimate operations against Rohingya militants and that the ICJ has no jurisdiction in the case.
- 'In it together' -
Her decision to personally lead the southeast Asian nation's case at the court has proved popular at home, where the Rohingya are widely regarded as illegal immigrants despite having lived in Myanmar for decades.
In Myanmar, flag-waving supporters joined rallies in support of Suu Kyi in several cities across the country on Tuesday, with some 2,000 people marching through Yangon and tens of thousands more in Mandalay.
Popular reggae singer Saw Phoe Khwa was among the celebrities who took to the stage in Yangon, imploring everyone to love each other before breaking into song.
"We have to stand behind her as she travels to defend our country's dignity," said 57-year-old Yangon resident Thant Zin, sporting Suu Kyi stickers on both cheeks.
The Gambia's lawyers however said the appearance of huge billboards across Myanmar in recent weeks featuring pictures of Suu Kyi with three smiling generals showed she was "in it together" with the army that once held her captive.
"It can only be have been intended to show that they are all in it together and that Myanmar has absolutely no intention of holding its emboldened military leadership accountable," lawyer Paul Reichler told the court.
A group of some 50 pro-Rohingya protesters gathered outside the gates of the ICJ for the hearing, carrying banners saying: 'Say yes to Rohingya, justice delayed is justice denied" and "Stop Burma military attack Rohingya."
"Today is the start for our right to justice," said Mohammed Harun, 49, who travelled from London for the hearings. "It's international justice day for Rohingya," he told AFP.
A small group of Suu Kyi supporters also unfurled a banner outside the court with the Myanmar leader's face on it saying: " We love you, we stand with you!"
"Suu Kyi is the only person who can solve this problem," supporter Swe Swe Aye, 47, told AFP.
- 'I demand justice' -
The 74-year-old Suu Kyi was once mentioned in the same breath as Nelson Mandela and Mahatma Gandhi, having won the Nobel in 1991 for her resistance to Myanmar's brutal junta.
After 15 years under house arrest she was freed in 2010 and led her party to victory in elections in 2015, but her defence of the same generals who once kept her locked up has since caused international condemnation.
The case is also being watched in Bangladesh where the Rohingya remain in sprawling camps.
"I demand justice from the world," said Nur Karima, a Rohingya refugee whose brothers and grandparents were killed in a massacre in the village of Tula Toli in August 2017.
ICJ judges have only once before ruled that genocide was committed, in the 1995 Srebrenica massacre in Bosnia.
Myanmar, however, faces a number of legal challenges over the fate of the Rohingya, including a probe by the International Criminal Court -- a separate war crimes tribunal in The Hague -- and a lawsuit in Argentina.
https://www.livemint.com/news/world/myanmar-s-suu-kyi-told-to-stop-the-genocide-of-rohingya-muslims-in-un-court-11575983062553.html
------
India
FIR against Aligarh Muslim University students for protesting against Citizenship (Amendment) Bill
DECEMBER 11, 2019
Aligarh: Police have registered an FIR against 20 identified and 200 unidentified students of Aligarh Muslim University (AMU) for protesting against the Citizenship (Amendment) Bill on Tuesday. Speaking to ANI, Circle Officer, Civil Lines Anil Samania gave this information.
Demonstrations by students at Aligarh Muslim University have been going on for the past two days against the Citizenship (Amendment) Bill. In view of the protests today, a large number of Rapid Action Force (RAF) personnel have been deployed outside the campus.
The Citizenship (Amendment) Bill, 2019, was passed with a majority of 311 votes against 80 votes in Lok Sabha where 391 members were present and voting.
The Bill seeks to grant Indian citizenship to refugees from Hindu, Christian, Sikh, Buddhist and Zoroastrian communities fleeing religious persecution from Pakistan, Afghanistan, and Bangladesh who entered India on or before December 31, 2014.
https://www.timesnownews.com/india/article/fir-registered-against-some-amu-students-for-protesting-against-citizenship-amendment-bill/525795
------
Why no protection for persecuted Rohingya Muslims, ask settlers
Sidharth Ravi
DECEMBER 11, 2019
The voice of TV news anchors talking on the Citizenship (Amendment) Bill (CAB) passed by the Lok Sabha late on Monday night filled the the shanty of Shobir*, a Rohingya refugee settled at a camp in Kalindi Kunj, as a few others sat around intently watching videos on his smartphone on Tuesday afternoon.
The Bill, which has been proposed as a measure to extend protection to certain persecuted religious minorities from Bangladesh, Afghanistan and Pakistan, does not include persecuted Rohingya Muslims from Myanmar.
"We have faced things you would not believe," said Shobir. "Children were killed, daughters raped, our rights seized. No one wants to leave their country and settle somewhere else like this. We were forced to flee."
Ramad*, who escaped from Myanmar in 2012, said the same persecution faced by minorities in other countries was faced by them, if not worse. "We were oppressed in the Buddhist-majority Myanmar. We couldn't travel, get married, have children, our citizenship was taken away," he said.
To go back to Myanmar was "unthinkable" for these people. "You might as well throw us into the sea," he said.
Residents of the settlement here live in abject squalor — open defecation on muddy roads, absence of proper drainage system and fragile makeshift housing which witnessed a massive fire last year. Despite this, Ramad said they manage alright. "We get nothing from the government but at least our children get to go to school here. It's even worse for our relatives living in Bangladesh."
The National Register of Citizens (NRC) exercise, currently under way in Assam, was also on their minds. "If the NRC is conducted all over India and refugees are removed, they will all be Muslims," said a despondent Anwar*. "I am thinking about my children..They are so young, they don't even know which country they live in. Would we have to move again? Where will we go?" he asked.
The CAB is being viewed as an "injustice" here. "We believed in the virtues of this country, in India's democracy," said Shobir. "But this [CAB] has turned all that on its head. It is very disappointing."
"I wish I weren't a Muslim," said Anwar. "That's the only reason I am in this situation. If we were Hindu or Christian or something else, we wouldn't have to face this problem."
(*All names have been changed)
https://www.thehindu.com/news/cities/Delhi/why-no-protection-for-persecuted-rohingya-muslims-ask-settlers/article30271407.ece
------
Waqf Board and mosques prepare community for NRC, Census 2021
Dec 11, 2019
Bengaluru: From Aadhaar cards to death certificates, Muslim families in Karnataka are compiling a slew of government documents they plan to keep ready ahead of the National Register of Citizens (NRC). There's a sense of urgency as the Citizenship (Amendment) Bill, 2019, makes its way through Parliament this week.
Many families have approached notaries for affidavits with their family trees to prove kinship.
Meanwhile, community leaders, mosques, their jama'ats and several not-for-profits working with Muslims have begun educating people about various documents they need to have in order. The Karnataka Waqf Board issued a circular asking mosques to ensure that members of the community organise all required documents before the 2021 census begins.
Responding to the circular, administrators of various mosques in the state, many of which had already begun organising people, are sharing checklists of necessary documents, including residence proof from or before 1951, land and tenant records, passport, LIC policies and educational certificates, among others, with the community.
The community is circulating what it calls a "pre-NRC assessment form" to all Muslims, and mosque administrators claim this helps in preparing a family tree and establish proof of residence and nativity.
AB Ibrahim, administrator, Karnataka Waqf Board, in a letter said: "It is proposed to have a register in every masjid containing the details along with documents such as birth certificates, voter ID, Aadhaar, ration and PAN cards, etc. The register shall have all the details, and masjids in cities can also make and store soft copies."
Syed Shafiulla Saheb, president, Masjid-e-Sahaba in Electronics City, while stating there was no clarity yet on what the census questionnaire may seek, said one of the challenges is that many community members are below the poverty line, most of whom are daily wage labourers with neither information nor resources to organise the required documents.
"We're looking at deploying educated volunteers at the mosque and when the census begins, we're also telling families to ensure their names are not misspelled. Sometimes, details are collected in English and census workers need to translate to Kannada or vice-versa. It's best that we write all details in both languages," he said.
Anwer A Mavad, president, Masjid-e-Badr in Okalipuram, said the mosque has already started sending volunteers door to door to ensure every family associated with it has all documents.
Nisar Ahmed, retired IPS officer and chairman, National Centre for Research & Development, an NGO, said the upcoming NRC is important and every person must be diligent with documents. "There is no need for panic. For citizens born till July 1, 1987, the birth certificate will be the best document," he said.
Ibrahim told TOI the note by the Waqf Board to mosques is more like a checklist. "More than the NRC, the exercise is to prepare people for the 2021 census so they don't panic at the last moment." He added that the Minority Information Centre of the state government can be a nodal centre for information and guidance.
A senior government official the exercise is much needed and will help people of the community to be proactive in organising their documents.
https://timesofindia.indiatimes.com/city/bengaluru/Waqf-board-and-mosques-prepare-community-for-nrc-census-2021/articleshow/72464350.cms
------
Ayodhya verdict: Shia Board chairman raises objection against allotment of 5-acre land to Sunnis
10th December 2019
LUCKNOW: Raising objections over the allotment of 5-acre land to Sunni Muslims, Uttar Pradesh Shia Central Waqf Board chairman Wasim Rizmi on Tuesday said that the land should be given to Shias and not Sunnis as Mir Bakshi was a Shia.
"The mosque was built by Mir Bakshi on the temple. He was a Shia. Even if the land is allotted then it should be given to Shias, not Sunnis," he said while speaking to ANI in Lucknow.
"The 5-acre land should not be given to Sunnis in Ayodhya. The land should be given for charitable purposes. This is not right," he addded.
In a unanimous verdict, the Supreme Court last month cleared the way for the construction of a Ram temple at the disputed site in Ayodhya and directed the Centre to allot a separate five-acre plot to the Sunni Waqf Board to build a mosque.
Yesterday also Rizmi urged Centre to include his community in Citizenship (Amendment) Bill 2019 claiming that the Shia Muslim community has been facing religious discrimination in several countries.
"We want to bring to your notice that Shia Muslims are being subjected to inhumane treatment and also being killed in Pakistan, Bangladesh, Afghanistan, Syria, Saudi Arabia, and Kenya because of their minority status," he wrote in the letter, calling Shias a weak section of the Muslim community.
He had further stated that the Shia community is being exploited by the Sunni community for nearly fourteen hundred years.
https://www.newindianexpress.com/nation/2019/dec/10/ayodhya-verdict-shia-board-chairman-raises-objection-against-allotment-of-5-acre-land-to-sunnis-2074162.html
------
Southeast Asia
Duterte to lift martial law in Muslim-majority south Philippines
Wednesday, 11 December 2019
President Rodrigo Duterte has decided to end more than two years of martial law in the southern Philippines after government forces weakened Takfiri militant groups there with the capture and killing of their leaders, his spokesman says.
Duterte placed the Mindanao region under martial law after hundreds of local militants aligned with the Daesh group and backed by foreign fighters occupied buildings, a commercial district and communities in Marawi city starting May 23, 2017, in the worst security crisis Duterte has faced.
Troops quelled the disastrous siege after five months of intense airstrikes and ground offensives with the help of American and Australian surveillance aircraft. The Philippine Congress approved an extension of martial law in Mindanao three times after Duterte warned that militants continued to recruit fighters and plot attacks.
Duterte decided not to further extend martial law, which expires at the end of the year, after his defense and security advisers provided an assessment that "the terrorist and extremist rebellion" has been weakened with the losses of the militants' leaders and a drop in crime in the region, presidential spokesman Salvador Panelo said.
"The (presidential) palace is confident on the capability of our security forces in maintaining the peace and security of Mindanao without extending martial law," Panelo said in a statement. "The people of Mindanao are assured that any incipient major threat in the region would be nipped in the bud."
The military welcomed Duterte's decision to follow its recommendation to end martial law in the south. It added that the military will pursue amendments to an anti-terrorism law to lessen restrictions on government forces and make it more potent in countering terrorism.
Defense Secretary Delfin Lorenzana has told Duterte that Takfiri militants can no longer carry out an attack like the siege on Marawi, which left more than 1,000 people dead, mostly militants, and turned the mosque-studded city's commercial and residential areas into a wasteland of burned and pock-marked buildings and houses.
Troops have also made significant progress in efforts to defeat the decades-old communist insurgency in the region, Lorenzana said.
The Marawi attack reinforced fears that the Daesh group was gaining a foothold in Southeast Asia despite its battle defeats in Iraq and Syria.
Opposition politicians argued Duterte's martial law was unconstitutional because it is an "extreme measure" that can only be imposed when an actual rebellion against the government exists. They also feared the move could be a prelude to Duterte declaring martial law throughout the Philippines.
Foreign governments have also expressed concern, but Lorenzana said the martial law imposed in Mindanao was "mild" compared to the martial rule declared by authoritarian leader Ferdinand Marcos in the Philippines in the 1970s. The Marcos-era martial law was characterized by widespread human rights violations and alleged plunder of state coffers.
Lorenzana said businesspeople were reluctant to invest in the south because of martial law.
Suicide bombings by Daesh group-linked militants have rocked the southern province of Sulu this year, including the first one staged by a Filipino militant, but Lorenzana expressed confidence that government forces "can maintain the peace and order there and improve it further, make it more peaceful, without martial law."
(Source: AP)
https://www.presstv.com/Detail/2019/12/11/613364/Duterte-Philippine-Martial-Law
------
Najib explains second RM2 billion loan for SRC
Ho Kit Yen
December 11, 2019
KUALA LUMPUR: Former prime minister Najib Razak told the High Court in his SRC International trial today that he was informed that the company wanted another RM2 billion loan as it did not have enough money to support its operations.
He said he was told that SRC International had set aside the first RM2 billion from the Retirement Fund Incorporated (KWAP) for "investment purposes".
"The second loan was needed because SRC International was carrying out activities in line with the national energy policy, and to reduce the country's reliance on the oil and gas industry," he said.
The court previously heard that KWAP had lent SRC International RM2 billion in August 2011 and another RM2 billion in February 2012. Both loans were guaranteed by the government.
When questioned by Attorney-General Tommy Thomas on whether, as finance minister, he had asked the company why it needed another RM2 billion, Najib said SRC International received the first tranche after about seven months.
"They said they had immediate plans for investment purposes. I did not ask further questions," he said, adding that he had signed the second government guarantee as Ahmad Husni Hanadzlah, the second finance minister at the time, had not been around.
Husni had signed the first government guarantee in August 2011.
Thomas asked if Najib had "acted wrongly" in signing the second guarantee without checking what had happened to the first round of funds. However, Najib said he did not agree.
When asked if the first RM2 billion could have been misspent, Najib said he was not informed of such matters by the company directors.
"I assumed the board should do it. It was their fiduciary duty," he added.
He also disagreed with the testimony of Treasury officer Afidah Azwa Abdul Aziz, who said SRC International was the "prime minister's company" and that she was pressured to rush the relevant paperwork so that the Cabinet could make a decision on the second government guarantee.
"There is nothing to say that I owned the company," he said.
He also said he only realised "much later" that RM1.8 billion from the company's bank account was transferred to Falcon Private Bank and Julius Baer Group AG in Hong Kong.
"It was not my decision to park the money there," he said.
The hearing continues before High Court judge Mohd Nazlan Mohd Ghazali.
Najib face six charges of money laundering and criminal breach of trust in the transfer of RM42 million to his account from SRC International, a former unit of 1MDB.
He is also accused of abusing his power as prime minister by giving government guarantees on SRC International's RM4 billion loan from KWAP.
https://www.freemalaysiatoday.com/category/nation/2019/12/11/najib-explains-second-rm2-billion-loan-for-src/
------
Arab World
Saudi efforts for promotion of human rights lauded
December 10, 2019
RIYADH: Dr. Awwad Al-Awwad, president of the Kingdom's Human Rights Commission, said on Tuesday Saudi Arabia is keen to play a constructive role to maintain international peace and security, prevent conflicts and promote a culture of tolerance.
He said this during a meeting with Marielle de Sarnez, who is a member of the French National Assembly, in Riyadh.
They reviewed Saudi efforts in supporting human rights and the ongoing reforms in the Kingdom with a particular reference to the protection of human rights.
The French politician praised the developments taking place in the Kingdom in all sectors particularly human rights and women's empowerment.
Saudi assistance
On the occasion of Human Rights Day, which is observed globally on Dec. 10, Al-Awwad said: "(Protection of) human rights is an issue of great international concern especially in the light of the rise in wars, intolerance, terrorism, hatred and racism."
Highlighting the Kingdom's role in humanitarian causes, the rights chief said that Saudi Arabia has spent more than $86 billion in over 81 countries between 1996 and 2018.
Commenting on the Kingdom's keenness to preserve global and regional peace, he cited the Riyadh agreement between the legitimate Yemeni government and the Southern Transitional Council as an example.
He reiterated the Kingdom's historical stance on the Palestinian issue.
The Human Rights Commission organized on Tuesday a symposium titled "Human Rights, A Vision for the Future" in Riyadh.
Professionals in the field of human rights from inside and outside the Kingdom participated in this symposium, which was attended by a number of diplomats.
The symposium highlighted the Kingdom's role in protecting and promoting human rights in accordance with its national and international commitments in this field. It also shed light on the Kingdom's cooperation with various human rights organizations and reviewed the importance it attaches to the independence of the judiciary, the rule of law, safeguarding the rights of subjects of law, and respecting the course of justice.
The symposium discussed the most prominent developments in human rights during the reign of King Salman, safeguarding the privacy and rights of children in light of the digital age, and providing protection to the elderly as well as the challenges facing providing them with a suitable environment.
Abdul Aziz bin Abdullah Al-Khayyal, vice president of the Human Rights Commission, emphasized in a speech he delivered on behalf of the commission's president, Dr. Al-Awwad, that Saudi Arabia, led by King Salman and Crown Prince Mohammed bin Salman, has made strides in the field of human rights.
"Saudi Arabia works continuously to achieve sustainable development through Vision 2030, in which the youth actively participate and play a major role in positive social change to contribute to more development achievements," he said.
UN Resident Coordinator Nathalie Fustier stressed in her speech that the Kingdom has made many achievements in the field of human rights and that these efforts deserve to be saluted.
She added that the youth account for 25 percent of the Kingdom's population and are the heart of society as they create the future of the next generations.
Fustier pointed out that at a global level, all development goals stipulate the protection of rights, including the rights of young people as they deserve many advantages and must be provided with the maximum benefits and more than the well-being and rights they have.
https://www.arabnews.com/node/1596976/saudi-arabia
------
Saudi ministry launches training program on education policy
December 11, 2019
RIYADH: The Saudi Education Ministry has launched a training program titled "Effective reform foundations for education policies: Research and policymaking," presented by the Education Policy Research Center in cooperation with the World Bank.
The five-day program, taking place on Dec. 9-13, is aimed at people interested in research and studies on education policies.
The program's topics include managing an effective education system, supporting teachers, promoting concepts and means to finance education, building foundations for early childhood education, and strengthening students' evaluation and curriculums.
Dr. Ibrahim Al-Bidyawi, the ministry's undersecretary for planning and development, inaugurated the program.
He said it aims to introduce trainees to the most important issues of education policies to qualify them as researchers in the field, thus contributing to building capacities in the field of improving educational policies and decision-making.
He also shed light on the partnership between the ministry and the World Bank, which aims to implement programs to develop the education system in line with the Saudi leadership's aspirations and ambitions.
https://www.arabnews.com/node/1597111/saudi-arabia
------
70% Saudi citizens, residents satisfied with health care
December 11, 2019
RIYADH: Seventy percent of Saudi citizens have a positive outlook toward the Kingdom's health services, according to a national survey.
And the competence of Saudi doctors and nurses was highest among the reasons for people being confident about the services provided by the country's Ministry of Health.
The results of the study, conducted by the National Center for Public Opinion Polls, showed that 84 percent of citizens and residents were satisfied with the ministry's efforts in combating infectious diseases.
On the satisfaction scale, 63 percent of respondents were happy with its handling of common diseases, 68 percent with the establishment of sophisticated medical centers, 66 percent with existing medical services, and 69 percent with the ministry's representation in the media in terms of promoting its different services and various awareness campaigns.
Of the 1,252 people randomly questioned from throughout the Kingdom, 47 percent gave less-positive feedback about the provision of treatment services abroad, with 46 percent skeptical about the recruitment of foreign medical staff.
A consensus 92 percent gave a positive reaction to the annual medical services put in place by the ministry during the Hajj season, with 76 percent agreeing there had been an improvement in service-level provision over the last three years. However, 11 percent thought the level was weak and 13 percent said they did not perceive any improvement.
The study showed that 65 percent of people surveyed trusted the ministry to improve and develop medical care services, although 15 percent did not share that trust, and 19 percent were neutral on the matter.
Of those quizzed for the opinion poll, 63 percent were men and 37 percent women, with 91 percent of them being Saudis. The survey was carried out for 24 hours through a scientific methodology that relied on a direct phone interview with participants.
https://www.arabnews.com/node/1597106/saudi-arabia
------
Exhibition devoted to King Faisal to open in London this month
11 December 2019
LONDON: An exhibition about King Faisal bin Abul Aziz will open in London this month. Titled "A life at the Heart of the Twentieth Century," it commemorates the 100th anniversary of his historic, five-month visit to Britain, Ireland and France. Still a child at the time, he was the first Saudi royal to visit England.
"This exhibition is one of many to be held in Europe to introduce the world to King Faisal, his personality, history and biography as one of the most prominent world leaders," said Prince Turki Al-Faisal, the chairman of the King Faisal Center for Research and Islamic Studies, which organized the event.
"It will trace King Faisal's footsteps, showcasing parts of his journey, some of the places he visited, the figures he met and the importance of his visit to the continent in 1919.
"The event, titled 'A life at the Heart of the Twentieth Century,' will run for three weeks. It will include some of his personal possessions, along with manuscripts, telegrams, letters, paintings, maps, photographs, articles and press coverage that documented this historic visit."
The exhibition features seven sections. "Najed" showcases the king's early life, while "India" tells the story of the visit that constituted his first contact with the outside world. "London" documents his visit to the city that was his first stop during his 1919 visit, while "England, Wales and Ireland," traces his subsequent tour of Britain and Ireland.
"On the battlefields" highlight King Faisal's visit to the killing fields of Europe just a year after the end of World War I. "Paris" tells the story of his visit to the French capital, while "Heritage" explores the positive results and legacy of his historic trip.
The exhibition opens in the Nash Room at 116 Pall Mall on Dec. 20. In addition to KFCRIS, the official sponsors are the King Faisal Foundation and the Kingdom's embassy in the UK. The Family Office Co. and Al-Saad Group for Investment and Development are strategic sponsors, and Sadco Holding Co. is a gold sponsor.
The silver sponsors are the Saudi Petrochemical Company, Al-Rashed Trading and Contracting Co., Al-Zamil Group and Mohammed Al-Saad Al-Ajlan Sons Co. The official carrier is Saudia Airlines, and the international media sponsors are Arab News and Asharq Al-Awsat newspapers.
The exhibition has been held in a number of regions in the Kingdom and was hosted by the Kazakh cities of Astana and Almaty in 2017.
https://www.arabnews.com/node/1597091/saudi-arabia
------
Egypt Faisal Islamic Bank's business volume 14.1% up end-November
By Amwal Al Ghad
Dec 11, 2019
Faisal Islamic Bank of Egypt reported on Tuesday a 14.1 percent year-on-year increase in business volume to 102.680 billion Egyptian pounds ($6.3 billion) at the end of November, according to Mubasher.
Earlier, business volume stood at 90 billion pounds at the end of November in 2018, the bank's financial indicators showed.
The bank's assets grew to 100.93 billion 102.680 billion Egyptian pounds at the end of last November versus 88.48 billion pounds during the same period last year, according to a statement to the Egyptian Exchange (EGX) on Tuesday.
Moreover, current accounts and savings schemes ran by Faisal Bank rose by 13.4 percent to 84.93 million pounds last month against 74.90 million pounds.
This was accompanied by a growth in the number of current accounts and saving schemes, which totalled 1.717 million.
Faisal Islamic Bank of Egypt posted a net profit of 2.07 billion pounds during the first nine months of 2019, compared with 1.96 billion pounds during the same nine months of the preceding year.
In addition, the bank's revenues amounted 4.98 billion pounds, rising year-on-year from 4.6 billion pounds.
https://en.amwalalghad.com/egypt-faisal-islamic-banks-business-volume-14-1-up-end-november/
------
Europe
Muslim Prayer Call as Part of 'Diversity Event' in Swedish Church Raises Eyebrows
11.12.2019
The Church of Sweden, Europe's largest Lutheran denomination, has been leaking members at an alarming rate in recent years.
Korpilombolo church in Pajala Municipality in northern Sweden has held an Islamic prayer call as part of an event called European Festival of the Night.
The Muslim prayer call was part of the performance called "A Prayer for Humanity" with the subheading "We Are All Children of the Earth" arranged by the Korpilombolo Cultural Association and the peace movement Vox Pacis, which was founded response to the Muhammad cartoons scandal that hit Denmark in 2005 and infuriated much of the Muslim world.
Apart from the Muslim prayer calls, the performance included Sami yoik, Syrian, Arabic and Hebrew sounds, Hindu mantras and Nordic folk music, the Christian newspaper Världen Idag reported.
Pastor and Pajala congregation operations manager Åke Nordlundh saw no problems with holding Muslim prayer calls in a church.
"This is not a worship service in the ordinary sense but a diversity event, a cultural expression of a common desire for peace, regardless of religious affiliation. It contains religious expressions of various kinds. Some may be perceived as controversial, but we have reasoned and made a weighted assessment that it is possible to host it in the church," Nordlundh told the news outlet.
The event in Korpilombolo was supported by the Stockholm Cathedral Assembly.
"It is my Christian conviction that if I practice daily to deepen my Christian faith and identity, I can be curious about what other beliefs have to add," dean Hans Ulfvebrand said.
According to Nordlundh, "a couple people" have criticised of the event. Världen Idag also reported a negative response from the public, with people voicing their concern over the church's diversity push.
Nordlundh assured that had it been a worship service, the boundaries would have been set in another way.
"In a Christian church only Christian services are held," Nordlundh said.
At the same time, the Church of Sweden is leaking membership at an alarming rate of about 2 percent a year, which is sometimes ascribed to so-called "church tax" and the church's overtly liberal attitudes to many social issues, such as LGBT issues, the migrant crisis and climate change. Earlier this year, Eva Brunne, the world's first openly lesbian bishop, riled many worshippers by saying that she had more in common with Muslims than with the "Christian right".
"Left the Church of Sweden when I turned eighteen. Empirical experience and hindsight show that it was a very wise decision", a user reacted to the news of an Islamic prayer call.
https://sputniknews.com/society/201912111077539606-muslim-prayer-call-as-part-of-diversity-event-in-swedish-church-raises-eyebrows/
------
After the Pensacola jihad, can we finally break with the Saudis?
December 10, 2019
By Bob McManus
Ensign Joshua Kaleb Watson, US Navy, died a warrior's death at Naval Air Station Pensacola last week, and now the question is how best for the Navy — for America — to memorialize the young hero.
How about with a Silver Star — and a stern warning to Saudi Arabia to stop sending us radicalized young men who say they want to learn how to fly?
This would command attention in Riyadh, which needs reminding that America's newfound energy independence is changing the rules of global petro-diplomacy,
Watson was a duty watch officer at the Florida panhandle training center on Friday, when Mohammed Alshamrani, a Saudi national at Pensacola for training, pulled a gun and opened fire. Watson deliberately placed himself between the weapon and Alshamrani's targets; he was mortally wounded but still managed to direct arriving police to where they needed to be. Authorities said the aspiring naval aviator, now forever 23, had saved many lives, and who's to doubt it?
That Watson acted in the highest tradition of the naval service is ­obvious, and the Navy doesn't lack for means to recognize such heroism. It needs to do right by the young officer, of course, and a posthumously awarded set of gold aviator's wings wouldn't be out of ­order, either.
But for now there is the matter of Alshamrani, and what he was doing at Pensacola in the first place. It turns out that his radicalization wasn't exactly a secret. He allegedly had hosted a dinner party where Islamist snuff videos were played — and the FBI now has at least 10 fellow Saudi trainees in custody while it sorts out the ­details.
For its part, in a classic ex post facto barring of the barn door, the Navy on Tuesday grounded 300 Saudi aviation trainees at three Florida bases as it, too, parsed ­evidence.
Or at least that's what the agencies say they are doing. When it comes to Islamist fanaticism, it's not always useful to take Washington's words at face value.
Certainly, Friday's butcher's bill — three dead, including Watson and enlisted sailors Mohammed Haitham, 19, and Cameron Walters, 21 — was more modest than the 13 lives extracted by radical Islamist Army Maj. Nidal Hasan at Fort Hood, Texas, 10 years ago.
And there's some small comfort to be taken from the fact that it only required 24-plus hours for the FBI to "presume" the Pensacola ­attack was an act of terrorism — a sharp departure from the Obama administration's declaration that the Fort Hood assassinations constituted "workplace violence."
Little steps for little feet, as it were.
But other things have changed over the past decade, as well, perhaps not the least being that America has all but achieved energy independence since then. It no longer must abase itself before Middle Eastern oil potentates, including, if not especially, the Saudis.
The whole mob has had inordinate influence in the West since the end of World War II and not just the West. Both Japan and China largely depend on the Mideast for oil, and that matters a lot.
As does stability in the Mideast. There is no need to be reckless.
But there is also no need to continue the pretense that Saudi Arabia is in any meaningful way capable of protecting itself from its regional enemies — a task America has undertaken to the tune of two conventional Mideast wars in the last 30 years and a special-operations oriented presence in Afghanistan that has persisted for almost two decades.
The training of Saudi military personnel is part of the charade, and while bringing an end to the practice would largely be symbolic, it also would be noticed.
More to the point is the need to inform Riyadh that America will no longer tolerate its long-standing and well-documented practice of funding Islamist radicals who agree to stay out of Saudi Arabia but who nevertheless work elsewhere to destabilize the West.
This led directly to 9/11 and to much of the turmoil that followed — and, indeed, to much of the Islamist violence that plagues the world today. (Count Ensign Watson and naval Airmen Haitham and Walters as among the latest victims.)
The Mideast is a devil's cauldron, to be sure, and wrong steps can bring terrible consequences. But what's the point of energy independence if America is to continue kowtowing to the energy sheiks?
We don't have to. So enough.
https://nypost.com/2019/12/10/after-the-pensacola-jihad-can-we-finally-break-with-the-saudis/
------
Prominent anti-abortion chief warned of Muslims 'replacing' Christian Europeans
Wed 11 Dec 2019
The chief executive of Obria, an anti-choice and anti-contraception organisation that has been awarded millions of dollars in grants by the Trump administration, once said that Christianity was dying out thanks to contraception and abortion, leading Europeans to be "replaced" by immigrant Muslims.
The reported remarks by Kathleen Eaton Bravo, the founder and chief executive officer of the Obria Group, raise new questions about the Trump administration's controversial decision to award millions of dollars in health and human services grants to the group, which runs a national network of health centers opposed to abortion and contraception.
Bravo's remarks, which were published in a 2015 interview with the Catholic World Report, shows how xenophobic fears about immigrants from African and Middle Eastern countries "replacing" white Christian populations have influenced anti-choice campaigners in the US.
In the interview, Bravo was asked whether abortion was getting the attention it deserved. She said it was not, because abortion had become a political rather than a moral issue.
"Few realize that it has had a devastating impact on our society, and threatens our culture's survival. Take the example of Europe. When its nations accepted contraception and abortion, they stopped replacing their population. Christianity began to die out. And, with Europeans having no children, immigrant Muslims came in to replace them, and now the culture of Europe is changing," she said.
The idea that white people are being "replaced" by non-whites and non-Christians has long been a fallacy propagated by white supremacists. The words "you will not replace us" where chanted by white supremacists in Charlottesville in 2017 and were part of the racist ideology espoused by mass shooters in El Paso and New Zealand.
Bravo also said in the interview that the US was bound to follow in Europe's footsteps.
"In only two of the past 40 years have we replaced our population. We're on the same track as Europe. The church and family are in crisis," she said.
The Guardian attempted to reach Bravo for comment but she did not return a detailed message left for her at her office, or an email message sent through the group's website.
The Obria chief has emerged as a force in the conservative and Catholic anti-choice movement that has sought to siphon public funds away from healthcare clinics like Planned Parenthood, which provide reproductive care and abortion services.
Obria received a $1.7m grant from the Trump administration in March 2019 and is due to receive an additional $3.4m over the next two years. The designation is controversial because such federal family planning funds – known as title X funding – was until recently only offered to groups that offered women access to contraception and referrals and counseling for abortion services.
Clinics were already barred from using title X money to directly provide abortions, but new restrictions imposed by the Trump administration have made it illegal for staff at health clinics that receive federal funds – which mostly help poor women – from referring patients to other facilities where they can terminate their pregnancies.
Planned Parenthood, which has for years been vilified by anti-choice campaigners, previously operated about 40% of the clinics that serve poor women, and received about $60m in family planning funds from the federal government annually. It left the title X program this year, however, after the new Trump administration restrictions on counseling and referrals went into effect. Planned Parenthood said at the time that the move would lead to suffering for its patients, and that the gag rule was both unethical and illegal.
Bravo was highly critical of Planned Parenthood in the 2015 interview, suggesting that the group promoted a "hook-up" culture and "oral sex, anal sex, and S&M sex".
An investigation by the Campaign for Accountability, a not-for-profit watchdog group, found that Obria's quest to win grant money from HHS was supported by political appointees at the department, including Diane Foley, who is in charge of title X funding. Foley congratulated Bravo in an email after Obria won its 2019 grant, and invited Bravo to have a private call with her to discuss the funding.
HHS did not return a request for comment about Bravo's remarks.
Alice Huling, CFA's counsel, told the Guardian that HHS has said that changes to its title X program were designed to diversify its grant applications. But Huling said that in reality, the change has given groups like Obria, which do not provide contraception or abortion-related services, access to federal funds for the first time, possibly opening the "floodgates" for similar organizations to win grants that would otherwise have gone to organizations that do provide such services.
The Guardian reported earlier this year that Obria has also received $150,000 in free advertising from Google, even though the group has run deceptive ads that suggest its clinics provide abortion services. The ads are designed to attract "abortion-minded women" to the clinics, even though they cannot obtain abortion services.
Google changed its advertising policy in the wake of the Guardian's report, and has started publishing information under some of its ads that state whether the clinics do or do not provide termination services.
https://www.theguardian.com/world/2019/dec/11/abortion-trump-obria-kathleen-eaton-bravo
------
After Russian loan, Kyrgyz businessman casts Putin in stone
Dec 10, 2019
BISHKEK: A ski resort in Kyrgyzstan has unveiled a 2.5 metre (8 foot)- high statue of Russian President Vladimir Putin, after the resort's founder received a $1.2 million loan from a Russian-sponsored development fund.
Erected last month, the monument sees Russia's leader wearing a suit as he looks out over a barren landscape of rocky valleys and snow-capped peaks, 30 km (18.6 miles) south of the capital, Bishkek.
Resort director Akbar Roziev said he had turned to Kyrgyz banks looking for a credit line but did not find the terms on offer to his liking, whereas the Russian-Kyrgyz Development Fund, opened in 2014, extended him a loan at 4%.
"I didn't know how to express my gratitude," Roziev said, adding that he saw Putin as a role model. "Thanks to his loan, we now have a (much better) centre."
"What else can I say? Putin is the man, with a capital M," Roziev said.
The fund supporting Roziev's project describes itself as the leading mechanism for integrating Kyrgyzstan into the Eurasian Union, a foreign policy initiative promoted by Putin since 2011 which aims to remove barriers to trade, capital and labour movement between Russia and its ex-Soviet neighbours.
The statue joins other monuments of leaders erected by the ski resort, including one of early Soviet leader Vladimir Lenin.
https://timesofindia.indiatimes.com/world/rest-of-world/after-russian-loan-kyrgyz-businessman-casts-putin-in-stone/articleshow/72459884.cms
------
Record 24 Muslim MPs likely to be elected to UK parliament
Murtaza Ali Shah
December 11, 2019
LONDON: A total of around two dozen candidates of Muslim faith are expected to be elected to Parliament this Thursday in the historic increase in the number of elected politicians of Muslim faith from mainly Pakistani, Bangladesh and also of Kurdish backgrounds.
An analysis of constituencies, candidates and trends by Geo and The News shows that more than 70 percent newly elected Muslim MPs will be from British Pakistani background, followed by Bangladeshis.
Highest number of Muslim and Pakistani candidates will be on the Labour ticket, followed by the Tories/Conservatives. Around three million Muslims now live in Britain, making them the second largest faith group after the Christians.
Our analysis and breakdown shows that the total number of Muslim prospective parliamentary candidates have gone up from just 47 in 2017 to more than 70 for this Thursday's general elections.
The Labour Party has given ticket to 33 Muslim candidates with outright or slim chance of winning. Of these, around 16 look comfortable to win their seats against the Tory opponents, unless there is a big upset on the Election Day.
The number of Muslims on Conservative seats will double from just three in 2017 to around six or more on Thursday's election. The Conservative Party has given tickets to 22 Muslim candidates but only around five are considered to be on safe seats.
The Liberal Democrats never had a Muslim MP and that looks likely to change during the general election 2019. It's expected that of the 17 candidates who were given tickets against Labour and Tory opponents, around two could win their seats for the first time.
The following candidates are participating on Labour's ticket. Mohammad Yasin in Bedford; Shabana Mahmood in Birmingham Ladywood; Khalid Mahmood in Birmingham Perry Barr; Yasmin Qureshi in Bolton South East; Afzal Khan in Manchester Gorton, Imran Hussain in Bradford East; Naz Shah in Bradford West; Faisal Rashid in Warrington South; and Dr Rosena Allen-Khan in Tooting. All of them won in 2017 elections from same seats and all of them look comfortable with the exception of Tooting seat.
Zara Sultana in Coventry South and Tahir Ali in Birmingham Hall Green have been awarded ticket on the safe seats and are likely to win.
Rushnara Ali in Bethnal Green & Bow, Rupa Haq in Ealing Central & Acton, Tulip Siddiq in Hampstead & Kilburn are of Bangladeshi origin. Three of them were part of the last parliament while Apsana Begum has been allotted a ticket from Labour's safe seat of Poplar & Lime House.
Ibrahim Dogus of Kurdish origin has been awarded ticket from Labour's safe seat of West Bromwich which was previously held by Labour's outgoing deputy leader Tom Watson. Another strong Labour candidate of Kurdish origin is Faryal Clark who is contesting from Enfield North, a labour safe seat in North of London.
Azhar Ali, Khalil Ahmed and Faiza Shaheen are Labour's candidates from Pendle, Wycombe and South Woodford respectively. Conservative party's Andrew Stephenson, Steve Baker & Ian Duncan Smith, previously held all three constituencies. All of them have been running strong campaigns to oust their Tory opponents. Faiza Shaheen has won support of lots of public figures and actor Hugh Grant campaigned for her last week in her constituency. This will be a huge election upset if she manages to unseat Tory grandee Ian Duncan Smith who lives in a mansion far away from the constituency where has been elected from.
The Muslim vote in general and Pakistani/Kashmiri communities vote in particular can be decisive in several seats.
Also on Labour's ticket from Uxbridge, Ali Milani of Iranian origin is challenging to unseat the Prime Minister and leader of the Conservative party Boris Johnson. He has been running an energetic campaign with help from the mass Corbyn supporting movement called Momentum.
The following of Kashmiri/Pakistani origin are set to take Conservative seats: Sajid Javid in Bromsgrove, Nusrat Ghani in Wealden; and Rehman Chishti in Gillingham. Nadhim Zahawi in Stratford-upon-Avon is of Kurdish origin he was also part of the previous parliament.
Saqib Bhatti is a new comer and has been awarded a Tory ticket from a safe seat of Meriden. Imran Ahmed Khan of Pakistani origin and Mo Ali of Somali origin are having a close fight with Labour's Marry Creagh and Anna McMorrin from Wakefield and Cardiff North respectively. Both seats were held be Labour in the previous elections.
Liberal Democrats didn't award ticket from any of the seats held by party in the previous elections to any Muslim candidate but have shortlisted Hina Bokhari in Sutton & Cheam and Humaira Malik in Bermondsey & Southwark. These two constituencies were held by Lib Dams until 2010 but lost to Conservative party in 2015 elections.
The Liberal Democrat's Party has been trying to get these two South London seats back and their chances look good locally. A strong remain vote on Brexit can win both seats for Lib Dams because of Party's Anti-Brexit stance.
Another promising candidate is Kamran Hussain in Leeds North West. Although Brexit Party and Green Party have awarded tickets to Muslim candidates but they are unlikely to make any significant impact in the elections.
Scottish SNP and Welsh Plaid Cymru parties didn't give tickets to any Muslim candidate in this election.
https://www.thenews.com.pk/print/581602-record-24-muslim-mps-likely-to-be-elected-to-uk-parliament
------
Charity shocked after being told by football club they can raise money 'but not for Muslims'
10th December
A football club has apologised after a charity was told they could raise money on match days but only 'if it had nothing to do with Muslims'.
The ILM (International Learning Movement) charity regularly ask sports clubs if they can attend matches and raise money at the ground for the charity.
In a correspondence, an ILM employee asks Ashville Football Club, "I am a worker at ILM UK based in Blackburn. Our aim is to provide aid to the poorest people in the poorest countries.
"I am writing today to ask permission if we are able to do any collections on match days outside of the stadium. The money raised here will help are different projects that we are currently doing and will provide the poorest with the aid and essentials of life providing them with happy and healthy life as everyone has the right to live. I will leave a link in the email so you can access our website."
A reply from Cheshire based Ashville Football Club says, "Hi yes we are interested as long as it has nothing to do with Muslims."
The charity have complained to both the Cheshire FA and the Football Association. who are now investigating. But told us they were shocked at the lack of interest shown by the bodies in dealing with their initial complaint.
When Asian Image contacted Ashville FC, Mr Buckley said his e-mail had been hacked and apologised for any offence caused, He said, "My email and phone has been hacked with several emails being responded with not very nice replies.
"I've since changed my password and hopefully no more emails will be sent. I send my apologies for any distress this may have caused."
Ashville FC's teams play in the West Cheshire Football League and Youth Leagues of Wirral District.
------
CCTV appeal after break-in at mosque in Pollokshields
Wednesday 11 December 2019
Police in Glasgow have released CCTV images of a man they wish to trace who they believe may be able to assist them in their enquiries into a house breaking which occurred at the Masjid Noor Mosque on Forth Street, Pollokshields between 11am and 11.30am on Sunday, October 20.
A number of low value items were removed from the premises.
The man who police believe may be able to assist them with their enquiries is described as being dark skinned with a shaved head, around 40-45 years of age and tall. He is seen wearing a black Kufi hat and loose black clothing with no footwear when entering the Mosque.
Police Constable Sammy Garcia of Gorbals Police Office said: "As part of our ongoing inquiries, we're urging anyone who may recognise this man, or who has any information about any of this incident, to get in touch with us as soon as possible.
Those with information can contact Police Scotland on 101 or report this anonymously to the charity Crimestoppers on 0800 555 111.
Please quote incident 2434 of October 20, 2019 in relation to the incident.
https://www.glasgowsouthandeastwoodextra.co.uk/news/people/cctv-appeal-after-break-in-at-mosque-in-pollokshields-1-5060449
------
North America
UN experts: Libya is new focus of Islamic State extremists
10 December 2019
UNITED NATIONS (AP) - U.N. experts say the interference of Chadian and Sudanese fighters in Libya is "a direct threat" to the security and stability of the war-torn country, which a leader of the Islamic State extremist group has declared "one of the main axes" of its future operations.
The panel of experts said in a 376-page report to the U.N. Security Council released Tuesday that the presence of the Chadians and Sudanese "has become more marked" in 2019 as a result of the intensification of the conflict in Libya. It said their continued presence as organized groups or as mercenaries "may lead to further instability."
Libya has been in turmoil since a civil war in 2011 toppled Moammar Gadhafi, who was later killed. In the chaos that followed, the country was divided, with a weak U.N.-supported administration in Tripoli overseeing the country's west and a rival government in the east aligned with the Libyan National Army led by Gen. Khalifa Hifter, each supported by an array of militias and foreign governments.
Hifter launched a surprise military offensive April 4 aimed at capturing Tripoli despite commitments to attend a national conference weeks later aimed at forming a united government and moving toward elections. Fighting for Tripoli has stalled in recent months, with both sides dug in and shelling one another along the city´s southern reaches with increasingly sophisticated weapons.
While the LNA and the eastern government enjoy the support of France, Russia, Jordan, the United Arab Emirates and other key Arab countries, the Tripoli-based government is backed by Italy, Turkey and Qatar.
"Jordan, Turkey and the United Arab Emirates routinely and sometimes blatantly supplied weapons, with little effort to disguise the source" in violation of a U.N. arms embargo, the report said.
The experts identified multiple cases of non-compliance with the arms embargo, the majority of transfers to Hifter´s LNA from Jordan or the United Arab Emirates and the majority to the Tripoli government from Turkey.
But, the panel said, "Neither side has the military capability to effectively decide the outcome to their advantage."
The experts said counter-terrorism operations in Libya against Islamic State and al-Qaida extremists by the government and Hifter´s forces, and an increase in activity by the United States Africa Command, continue to disrupt the structure of both groups and temporarily reduce their capacity to conduct operations.
But the panel also reported the new focus on Libya by the Islamic State, also known as ISIL, quoting a video in July by an Islamic State leader in Libya, Mahmud Massud al-Baraassi, also known as Abu Musab Allibi. In the video, the report said, "he highlighted that Libya was now one of the main axes of future ISIL operations, which are designed to compensate for the loss of ground" in Syria.
"ISIL in Libya finances its activities through robbery, kidnap for ransom, extortion of Libyan citizens and the cross-border smuggling of artifacts and other commodities," the panel said. "Taxation of human trafficking networks continues to be a source of funding for ISIL in Libya."
As for foreign fighters, the experts named five Sudanese armed groups operating in Libya - four in support of Hifter´s LNA and one backing the government´s forces. They named four Chadian armed groups - one supporting the LNA, two supporting the government, and one with 100 fighters whose factions support both side.
In one example, the panel estimated 1,000 Sudanese troops from Sudan's Rapid Support Forces were deployed to Libya on July 25 by Gen. Mohamed Hamdan Dagalo, initially to guard critical infrastructure so Hifter´s troops could carry out offensive operations.
The panel said Sudan and Dagalo, who has command responsibility, both violated U.N. sanctions.
The Associated Press reported last week that Libyan government officials plan to confront Moscow over the alleged deployment of Russian mercenaries fighting alongside Hifter´s LNA. U.S. officials also accuse Russia of deploying fighters through a private security contractor to key battleground areas in Libya in the past months.
The U.N. panel of experts, who monitor sanctions against Libya, made no mention of Russian mercenaries in the report. Several diplomats said they expect the Russian mercenary issue to be raised in the Security Council.
https://www.dailymail.co.uk/wires/ap/article-7778643/UN-experts-Libya-new-focus-Islamic-State-extremists.html
------
U.S. imposes sanctions on Islamist rebels in eastern Congo
DECEMBER 11, 2019
GOMA, Democratic Republic of Congo (Reuters) - The United States imposed sanctions on the leader of an Islamist rebel group and five others on Tuesday for perpetrating serious human rights abuses including mass rape, torture and killings in eastern Congo, the U.S. Treasury said.
Congolese officials have accused the rebel Allied Democratic Forces (ADF), who are originally from Uganda, of killing more than 100 people in a series of raids on villages over the last six weeks, hampering efforts to end an Ebola epidemic in the area.
The group has been fighting in the dense jungles of eastern Democratic Republic of Congo since the mid-1990s, where it has carried out massacres, kidnappings and looting, often in collaboration with other local militias and leaders.
According to the Treasury's Office of Foreign Assets Control (OFAC), ADF leader Musa Baluku assisted the group "through recruitment, logistics, administration, financing, intelligence, and operations coordination".
The ADF "continues to perpetuate widespread violence and innumerable human rights abuses including the abduction, recruitment, and use of children during attacks and other violent operations".
The sanctions allow the U.S. government to seize any property or accounts the fighters have in the U.S. and prohibits anyone in the U.S. from doing business with them.
"These sanctions will help expose the financial network of ADF rebels around the world and whether they are involved in money laundering in the region," Carly Nzanzu Kasivita, governor of North Kivu province, told Reuters by telephone.
Baluku took over the group after its former leader Jamil Mukulu was arrested in Tanzania four years ago.
Since then several ADF attacks have been claimed by Islamic State, although there is a lack of hard evidence linking the two groups said Daniel Fahey, visiting professor at the U.S. University of Notre Dame in Indiana.
"ISIS claims are worth noting, but also appear to be aspirational — asserting their relevance at a time when they have grown weaker and lost territorial control," said Fahey, a former member of the UN panel of experts on Congo.
"Sanctions are unlikely to have much impact in the short-term, but they are a sign that the U.S. government is taking seriously the violence in Beni, and pursuing non-military means to address it," he told Reuters by email.
The army began large-scale operations to uproot the ADF on October 30, triggering a surge in alleged reprisal attacks on civilians.
https://uk.reuters.com/article/uk-congo-security/u-s-imposes-sanctions-on-islamist-rebels-in-eastern-congo-idUKKBN1YE2IM?rpc=401&
------
US blacklists Pakistani police officer over human rights violations
Dec 11, 2019
WASHINGTON: The US has blacklisted Rao Anwar Ahmed Khan, a retired Pakistani police officer, for his involvement in serious human rights violations, the US Department of Treasury has said.
Anwar, who was an encounter specialist served as the Senior Superintendent of Police in Malir district of Pakistan's Sindh province, and is accused of extrajudicial killings.
"During his tenure as the SSP in Malir, Anwar was reportedly responsible for staging numerous fake police encounters in which police killed individuals," the department said on Tuesday.
Anwar during his service was also responsible for extortion, land-grabbing, narcotics and murder.
"Anwar staged over 190 police encounters in the Malir District that led to the deaths of over 400 people, many of which were extrajudicial murders," a senior administration official told reporters.
"Anwar was also in charge of a network of police and criminal thugs responsible for extortion, land-grabbing, narcotics, and murder," the official said.
The US move was welcomed by Pakistan.
Voice of Karachi chairman Nadeem Nusrat has welcomed the US Treasury Department's decision and said the move is a historic step in safeguarding human rights globally.
"On behalf of the entire team of Voice of Karachi as well as around 40 million residents of urban Sindh, I welcome the US Treasury Department's announcement about the callous butcher Rao Anwar and other individuals involved in abusing human rights globally," Nusrat said.
https://timesofindia.indiatimes.com/world/pakistan/us-blacklists-pakistani-police-officer-over-human-rights-violations/articleshow/72466113.cms
------
After Florida shooting, US grounds Saudi pilots, restricts military training
December 11, 2019
Written by Patricia Mazzei and Eric Schmitt
The Pentagon has suspended operational training for all Saudi military students in the United States, indefinitely halting flight instruction, firing range training and all other operations outside the classroom in the wake of a shooting last week at Naval Air Station Pensacola in Florida by a member of the Saudi Royal Air Force.
The suspension will affect nearly 900 Saudi students across the country, the Defense Department said Tuesday. Classroom teaching, including language courses, will continue while Pentagon leaders review vetting procedures for all foreign military trainees. An estimated 5,200 international students in the United States will be covered by the security review.
The "safety stand-down" was issued pending the results of an FBI investigation into the shooting Friday that left three young sailors dead and eight other people wounded. Several lawmakers, including Sen. Rick Scott of Florida and Rep. Matt Gaetz, whose congressional district includes Pensacola, had called for a review of foreign military programs and their screening process.
The suspension of operational training for hundreds of Saudi military students is an extraordinary rebuke by the Pentagon, especially at a time when President Donald Trump has tamped down suggestions that the Saudi government must be held to account on an array of recent issues.
Even before the shooting Friday, the White House had been fighting efforts in Congress to cut military aid to the Saudis, a reflection of anger over the continuing war in Yemen and the brutal killing in Istanbul of Jamal Khashoggi, a Saudi dissident and journalist who had been granted legal residence in the United States.
U.S. intelligence findings closely tie Saudi Arabia's crown prince and de facto leader, Mohammed bin Salman, to the killing.
Senior Defense Department officials, speaking to reporters in a hastily organized conference call Tuesday night, insisted that suspending operational training for students from Saudi Arabia — the only country singled out for a broader review of security procedures governing the international military students — would be short-term and would not upset the strategic relationship between the two countries.
Defense Secretary Mark Esper called his Saudi counterpart, Khalid bin Salman, to discuss the new limitations on Saudi military students, who are now essentially restricted to classroom training like English language courses.
It was unclear whether the review of security and vetting procedures means that federal investigators have found something troubling or whether it was merely a precautionary measure.
Lawmakers praised the Defense Department's action on the Saudi trainees.
"At this point, suspending training just makes sense," said Rep. Elissa Slotkin, D-Mich., a former Pentagon official. "We have to maintain the utmost, serious security standards — and obviously something has gone deeply awry."
The Navy had announced earlier Tuesday that about 300 Saudi aviation students would be grounded at three bases in Florida. The Pentagon later released a memo from David Norquist, the deputy secretary of defense, clarifying that the suspension would apply to 852 Saudis enrolled in all military training programs.
The memo described Saudi Arabia an "essential partner" that is working closely with the United States to investigate the shooting.
"The Department has trained more than 28,000 Saudi students over the life of our security cooperation relationship without serious incident," Norquist wrote.
He gave military staff members 10 days to complete a review of policies for vetting foreign students and granting access to U.S. military bases, although the Saudi operational suspension will most likely last longer.
He said the leadership of the various branches of military service "may take additional security measures as they see fit."
The latest orders came as investigators released new details about how the 21-year-old gunman, Mohammed Saeed Alshamrani, had acquired the weapon used in the shooting.
The gunman legally purchased the Glock 45 9 mm handgun in late July, shortly after he had obtained a state hunting license, the FBI said Tuesday.
Alshamrani was issued a hunting license July 11, according to the Florida Fish and Wildlife Conservation Commission. Nine days later, he purchased the handgun at a federally licensed firearms dealer in Florida.
The ability for a foreign military student to legally buy a gun has come under scrutiny after Friday's attack. The gunman used an extended magazine and had four to six other magazines in his possession when he was killed by a sheriff's deputy, a person familiar with the investigation has said.
Those who travel to the United States on a nonimmigrant visa, as the gunman did, are prohibited under federal law from having a weapon or ammunition. But the law also lists several exceptions, including one for those holding a valid hunting license.
Alshamrani may have qualified to legally buy a gun under other exceptions as well, according to the FBI's Jacksonville field office, which is leading the investigation.
Other exceptions are included in the law for accredited representatives of foreign governments, distinguished foreign visitors designated by the State Department, and foreign law enforcement officers of a friendly government entering the United States on official business.
Gov. Ron DeSantis, a Republican, called the exceptions a "loophole" in federal gun laws that should be closed.
"I'm a big supporter of the Second Amendment, but the Second Amendment applies so that we the American people can keep and bear arms," DeSantis, a former Navy prosecutor, said at a Sunday news conference in Pensacola. "But it does not apply to Saudi Arabians."
Much remains unknown about the gunman and his motive, although the FBI is treating the shooting as a presumed act of terrorism. Investigators have received information that Alshamrani was active on social media. Although they have not released any specifics, the SITE Intelligence Group, which monitors jihadi activity online, found a Twitter account with a name matching the gunman's criticizing the United States as "evil."
The Pentagon heightened security reviews at bases around the country Monday, citing the two shootings that occurred last week on military bases, in Pensacola and at the Pearl Harbor Naval Shipyard in Hawaii. In the Pearl Harbor attack, the gunman fatally shot two shipyard workers before killing himself.
On Tuesday, Thomas Modly, the acting Navy secretary, awarded posthumous "wings of gold" to the three Pensacola victims, proclaiming Ensign Joshua Kaleb Watson a naval aviator and Airman Mohammed Haitham and Airman Apprentice Cameron Walters naval aircrewmen. Five of the injured had been sent home from the hospital by Monday, with the three remaining patients in stable condition.
https://indianexpress.com/article/world/after-florida-shooting-us-grounds-saudi-pilots-restricts-military-training-6161057/
------
Why French Jews and Muslims are learning each other's language
December 10, 2019
By Colette Davidson
It's 7 p.m. on a Tuesday and the temperature is just above freezing – the perfect setting for a bowl of hot soup on the couch after a long day at work. But some 60 students have instead chosen to be here, at the Lycée Diderot high school, learning Arabic.
"Jamila … Jameeeeela," says teacher Eugénie Paris, moving around the classroom as her beginner students bury their heads in notebooks as they try to spell out the word for "beautiful" in Arabic script.
In a little over an hour, the students from the four levels meet in one room to share drinks and food, before switching classrooms and languages – this time learning Hebrew.
The language double bill is part of the Parler en Paix (Speak in Peace) initiative – to promote language learning as well as cultural understanding. It's something that resonates with the diverse group of students who have registered for the year – young and old, Jewish and Muslim, Catholic and atheist.
Grassroots initiatives like Parler en Paix are working to repair relations between France's Jewish and Muslim communities, which have been challenged by France's debate on laïcité – "secularism" – which has once again come to the fore in recent weeks. In October, a Muslim woman was asked by a politician at a regional assembly meeting to remove her veil while accompanying her child on a school outing. And in early November, Paris and Toulouse held anti-Islamophobia protests to call for an end to anti-Islamic sentiment. Meanwhile, recent studies show that anti-Semitic acts are on the rise in France.
And yet there is a sense among French people that relations between the country's Jewish and Muslim communities are markedly more peaceful than what is portrayed in the media. Many feel that the term laïcité has gained too much prominence in political debate. Efforts like Parler en Paix emphasize a desire within the French public for tolerance and unification; to find common ground – be it through language learning, cultural events, or trips abroad.
"There's been a real competition between the two stakeholders [Jewish and Muslim] for their representation towards the state … to address underground issues that weren't being talked about." says Amel Boubekeur, a visiting fellow in the Middle East and North Africa program at the European Council on Foreign Relations. "But if you're talking about the average French person, within family circles, at work or school, things aren't so bad. It's not a problem of daily socialization."
Laïcite and Jewish-Muslim relations
France's Jewish and Muslim communities have a long and complicated history that can be traced back to North Africa more than a century ago. Their relationship often involved legal status – in 1870, the approximately 40,000 Jews in Algeria were granted French citizenship while their Muslim neighbors were not. Through World War I and the Algerian War, the relationship between Jews and Muslims remained complex, flip-flopping between cordial relations and intermittent violence.
"French Jews and Muslims have a long history of co-existence despite tensions," says Ethan Katz, a history professor at UC Berkeley and author of "The Burdens of Brotherhood: Jews and Muslims from North Africa to France." "Historically, Jews and Muslims have tried at different times to negotiate their different identities … and the perception of what it means to be French, for both themselves and others, while maintaining their Jewish and Muslim identities."
Complicating matters further have been France's laws on laïcité. Initially enshrined in a 1905 law to separate church and state, it has morphed through the years, influencing laws and legislation, and powering debate. Most notably, it fueled a 2004 law banning conspicuous religious symbols in the public sphere, including Jewish kippas, the Muslim veil, and Catholic crosses.
But many say France's laïcité unfairly targets the country's Muslim population. The 2004 law has been at the root of controversies involving wearing the hijab or burkini on French beaches or the full-face veil (burqa) while driving. And in late October, French senators voted to ban veiled women from accompanying their children on school field trips.
Critics have connected the bans to a climate that fosters xenophobia and anti-Semitism too. The number of anti-Semitic acts in France rose by 74% in 2018, according to police figures. And a study conducted for the book "L'an prochain à Jérusalem" ("Next Year in Jerusalem") showed that the majority of French Jews who immigrated to Israel in recent years were overwhelmingly motivated by a feeling of insecurity.
"We have to get back to French history," says Ms. Boubekeur. "Does laïcité mean that the state is protecting religion or that it should be taken out of the public sphere?"
Building bridges
While the political climate may increasingly pit the Jewish and Muslim communities against one another, there is a desire for healing from a large swath of society. That's a major reason why nonprofits are working to unite Jewish and Muslim communities – and keeping politics out of it. Parler en Paix identifies itself as nonpolitical, and says that remaining neutral allows for a more diverse group of students.
"We see people from very different backgrounds that would probably never have met if there was a political angle," says Nicolas Bontemps, the president of Parler en Paix. "It's the opposite of what happens at more activist organizations."
French nonprofit Langage de Femmes (Language of Women) also stays away from politics, while encouraging women from different religious and cultural backgrounds to join their organization, which holds regular social gatherings, a film club, and a trip to Auschwitz.
Co-founders Samia Essabaa and Suzanne Nakache say that the initial obstacle for women joining the organization is overcoming their personal prejudices.
"The first thing I hear from some [Jewish] members is 'Muslims don't like us," said Ms. Nakache, who grew up in a Jewish community in Algeria, during a November meeting of Anglophone journalists in Paris. "Then on the other side, there will be women who are in Holocaust denial who go to Auschwitz with us and leave completely changed."
Ms. Essabaa, who is also a high school teacher, says that working with women is a particularly powerful way of reaching more people. "It's not enough to work with young people," she says. "You need to work with the mothers so that they can transmit their knowledge to their children."
"A respect for others"
Both Parler en Paix and Langage de Femmes put an importance on social connection. At Langage de Femmes, members regularly attend an open forum where they can meet one another and ask questions about other religions or cultures in a nonjudgmental setting.
And at Parler en Paix, the dinner break midway through the Arab-Hebrew classes is a chance for students to exchange with open, like-minded people. They argue that the atmosphere here is a microcosm of what they experience in their daily lives and not what is presented in the media.
"I grew up with many Jewish people, in an environment of tolerance," says Sonia I., who is Muslim, and did not want to give her last name. "But all we hear these days about [Jewish-Muslim relations] are negative things."
"I have a very diverse friend group," says Aurelien Bonneil, a university student who describes himself as nonreligious. He says the classes have helped him gain a better understanding of both Jewish and Muslim cultures. "I wish we could move on from talking about religion and how no one gets along."
For some, a more universal understanding of laïcité could repair relations. Others say a redefinition of the word is in order. Unlike in the U.S., which allows and even encourages individual expression, some say that the French version of secularism calls for people to hide their religion, effectively effacing their identity and fostering resentment.
"Does it really shock people to see a woman wearing a headscarf, or a nun wearing a cross?" asks Abderrahmane Jebbari, who teaches Arabic for Parler en Paix. "We say that France is united by universal values … but it's just as bad to force someone to wear something as it is to force them to take it off. That's not what laïcité should be. It should be a respect for others."
https://www.csmonitor.com/World/Europe/2019/1210/Why-French-Jews-and-Muslims-are-learning-each-other-s-language
------
Six shot dead in Czech hospital attack, suspect shoots himself
December 10, 2019
A gunman shot dead six people on Tuesday at a hospital waiting room in the eastern Czech city of Ostrava in an unexplained attack, authorities said. Police hunting for the shooter said about three hours after the attack that a man had shot himself in the head in a car they had been looking for. Czech TV said he died.
"Police found the car, there was shooting heard from the site. We are establishing the identity of the man who shot himself in the head before the police action," the police said on Twitter.
It was the worst shooting since the Czech Republic's deadliest such attack in 2015 when a man shot eight people dead and then killed himself at a restaurant in the eastern city of Uhersky Brod.
Police said they received calls about a shooting at 7.19 am (0619 GMT) at the University Hospital in Ostrava, 350 km east of the capital Prague and near the border with Poland. Officers were on the scene five minutes later.
Hospital director Jiri Havrlant told a televised briefing five people died in the attack and one died in surgery. Another two were seriously injured but no medics were hurt, he said.
The attack happened in the waiting room of the outpatient clinic and victims had been shot at close range, he said.
https://indianexpress.com/article/world/six-shot-dead-in-czech-hospital-attack-suspect-shoots-himself-6159971/
------
Mideast
US-Backed SDF Recruits Over 100 Children of ISIL Terrorists
Tue Dec 10, 2019
TEHRAN (FNA)- The US-backed Kurdish Syrian Democratic Forces (SDF) militia in collaboration with the American forces have recruited more than 100 ISIL children aged 12-14 to be used as child soldiers in Hasaka.
The Arabic-language website of Sputnik news agency reported on Tuesday that the children, who are orphans, have been transferred from al-Haul camp in Southeastern Hasaka to Tal Aswad camp in the town of al-Malekiyeh in Northeastern Hasaka which hosts nearly 1,800 women and children.
The relief workers in the region have voiced concern that the children would be trained and used by the Kurdish militants as soldiers in war conditions.
Local sources in Hasaka have also confirmed the report.
Relevant reports also said in March that the ISIL terrorist group had restarted training children for war and suicide operations in a region protected by the US and its allied Syrian Democratic Forces (SDF) in Deir Ezzur in Southeastern Syria.
The Arabic-language al-Manar news website quoted sources affiliated to the Syrian government's armed opposition as saying that the ISIL had again set up a military base to train what it calls 'The Caliphate's Lion Cubs' in Southeastern Deir Ezzur near the border with Iraq.
Numerous reports said in recent months that the ISIL is recruiting again in Syria with the US help to attack the Syrian army positions in Deir Ezzur and destabilize the country.
Al-Manar said the child militias training center has been set up under the supervision of the former commander of ISIL bases in Raqqa, Abu Mohammed al-Fransi, adding that a large number of Syrian and foreign children had been recruited in there.
https://en.farsnews.com/newstext.aspx?nn=13980919000157
------
Senior MP: US Sending Weapons to Ein Al-Assad Base without Baghdad's Knowledge
Tue Dec 10, 2019
TEHRAN (FNA)- A senior member of the Iraqi parliament's Security and Defense Commission disclosed on Tuesday that the US continues non-stop dispatch of arms and military equipment to Ein al-Assad base in al-Anbar province without the government's knowledge.
"The American side does not provide the Iraqi government with any information about the military equipment which continuously enters Ein al-Asad base in al-Anbar province," Aynas al-Maksousi told the Arabic-language al-Ma'aloumeh news website.
He added that the Iraqi security bodies are also unaware of the type and amount of weapons sent by the US to Ein al-Assad base, cautioning that the secret arms shipments have caused deep worries among Iraqi people and legislators.
Al-Maksousi voiced concern that most visits and military measures of Washington in Iraq are not declared officially.
Iraqi sources had said in September that tens of military trucks carrying military equipment were dispatched by the US to Ein al-Assad military base in al-Anbar Province in Western Iraq from Jordan.
Al-Ma'aloumeh news website quoted a military source in the command center of Hashd al-Sha'abi (Iraq's Popular Mobilization) forces as saying that a US military convoy comprising 108 trucks carrying military vehicles and equipment entered Ein al-Assad Air Base of Western Iraq from the neighboring Jordan via Erbil border crossing.
The source underlined that the US military convoy was accompanied by a security company called 'Peacock Kingdom' and backed by the US Air Force.
It pointed to the dispatch of military equipment to Ein al-Assad Base by the security companies, and said that the US soldiers are also dispatched to Ein al-Assad military air base on US Army airplanes.
https://en.farsnews.com/newstext.aspx?nn=13980919000464
------
Ready for prisoner swaps, Iran says US holding 20 Iranians
Dec 10, 2019
TEHRAN: Iran said on Tuesday that American authorities are holding about 20 Iranian nationals in jail, its official news agency reported, a day after Tehran said it was ready for more prisoner swaps with the US.
A prisoner exchange over the weekend saw Iran free a Chinese-American scholar from Princeton who had been held for three years on widely criticized espionage charges. It was seen as a rare diplomatic breakthrough between Tehran and Washington after months of tensions.
"We told the American side that our figure is more or less 20 but this is not final,'' IRNA quoted as saying Mohsen Baharvand, an aid to Iran's foreign minister. The report didn't provide further details on the claim.
According to Baharvand, US authorities say that Iran is holding one American national and five dual US-Iranian nationals. He said Iranian officials didn't have "any orders'' so far to begin talks on their release, though he suggested this could be the next "phase'' in indirect negotiations between Tehran and Washington.
US citizens held in Iran include US Navy veteran Michael White, who is serving a 10-year espionage sentence, as well as environmentalist Morad Tahbaz, an Iranian with US and British citizenship also initially sentenced to 10 years in prison.
Baharvand said Iran didn't undertake direct talks with the US for the weekend's prisoner swap in Switzerland. The two sides only communicated through Swiss officials, who represent US interests in Iran. Washington and Tehran have had no diplomatic ties since the 1979 Islamic revolution.
Others with Western ties held in Iran include two French researchers, Roland Marchal and dual Iranian national Fariba Adelkhah. Their lawyer, Saeed Dehgan, told The Associated Press on Tuesday that Iranian prosecutors have defied a judge's ruling that the two academics could be released on bail.
Iranian officials disclosed in July the arrest of Adelkhah, a prominent anthropologist who often traveled to Iran for her research on post-revolutionary Iranian society. They said she was arrested on espionage charges.
Iran does not recognize dual citizenship for its nationals.
In October, France revealed that Marchal had also been arrested.
Tensions have risen sharply over Iran's unraveling nuclear deal with world powers, which France still supports. US President Donald Trump unilaterally withdrew from the accord over a year ago, before re-imposing crippling sanctions on Iran's economy.
https://timesofindia.indiatimes.com/world/middle-east/ready-for-prisoner-swaps-iran-says-us-holding-20-iranians/articleshow/72463515.cms
------
Foreign Ministry Asks Iranian Nationals to Postpone Visit to France
Tue Dec 10, 2019
TEHRAN (FNA)- Iran's foreign ministry in a statement on Tuesday called on the Iranian nationals to delay their trips to France due to countrywide strikes and violence in the European state.
"Given the continued popular protests in the French Republic during the past year and the general strikes in the past two days and the violence shown during the protests in different cities of the country, specially Paris, we seriously recommend the Iranian passengers and tourists to postpone to another time their trip to the Republic of France to protect their security and health," the statement said.
French unions are staging a second round of mass street demonstrations as the country entered its sixth day of a nationwide strike and transport standstill over proposed plans to change the pensions system.
The government's standoff with unions continued as the prime minister, Édouard Philippe, said he would stand firm and announce details of the pension changes on Wednesday, with speculation over possible concessions on the start date in order to diffuse growing tensions on the streets.
The government will be watching Tuesday's turnout after being caught off-guard by the scale of last week's protests when at least 800,000 people took part in one of the biggest demonstrations of trade union strength in a decade.
Crucially, the number of protesters has been particularly high in small provincial towns, echoing the mood of the gilets jaunes (yellow vests) anti-government protests earlier this year. People are angry not only with pensions but low salaries, worsening prospects, the state of public services and what one demonstrator called "the feeling of being forgotten".
https://en.farsnews.com/newstext.aspx?nn=13980919000768
------
Several Riot Leaders Arrested in Western Iran
Tue Dec 10, 2019
TEHRAN (FNA)- Commander of Kermanshah province's Law Enforcement Police Brigadier General Ali Akbar Javidan announced that his forces have recently arrested 4 other ringleaders of the recent unrests and riots.
"Police officers could identify 4 ringleaders of the riots in extensive operations after coordination with the judiciary officials," General Javidan told reporters in Tehran on Tuesday.
He added that the arrested people are aged between 20 to 35, noting that one of them had fomented insecurity in the town of Javanroud and three others in the provincial capital city of Kermanshah during the riots.
General Javidan said that the detainees are accused of provoking people to riots, destruction of public properties and attacking the police forces, adding that 29 hunting guns used in the recent unrests have also been discovered in their hideouts.
In relevant remarks last Tuesday, General Javidan announced that 4 suspects who had collaborated in murdering Major Iraj Javaheri during the recent riots in the Western Iranian province had been detained.
"Major Iraj Javaheri, one of the officers of Elahiyeh police station, was martyred in Kermanshah city in clashes with the outlaws and rioters after the riots on November 16," General Javidan told reporters in Kermanshah.
He added that the Iranian security forces identified and arrested 4 culprits behind the murder of Major Javaheri in Kermanshah city and in another province in Central Iran.
General Javidan said that all arrested suspects had previous records of criminal perpetration, noting that the murder weapons have also been discovered from their hideouts.
On November 15, the government raised Iran's extremely cheap gas price in order to moderate the national consumption rate, which stands at 110 million liters per day, 40 million liters above the maximum domestic requirement.
The government also announced a number of aid and subsidiary programs to protect vulnerable households from the adverse effects of the measure.
The price reform, required by Iranian legislature and essential as US-imposed sanctions seek to deplete Iran's budgetary resources, had been long delayed due to concerns regarding the move's probable backlash.
The measure's adoption prompted initially peaceful protests, but riotous elements, abusing the situation, quickly entered the scene, destroying public property, setting ablaze banks and gas stations among other facilities, and opening fire on people and security forces.
Intelligence reports and eye-witness accounts showed that the rioters who had taken advantage of public protests against gasoline price hikes to stir chaos in the country were armed with different weapons.
The protest rallies of Iranian people against the gasoline rationing turned violent since the first hours of the gatherings after the rioters used weapons.
https://en.farsnews.com/newstext.aspx?nn=13980919000702
------
Iran: Foreign Troops Detrimental to Situation in Afghanistan
Tue Dec 10, 2019
TEHRAN (FNA)- Iranian Foreign Minister Mohammad Javad Zarif said that foreign forces in Afghanistan are not going to solve the problems of the war-torn country, adding that such military deployments have proved to be contributing to the spread of extremism in the region.
"There is no military solution in Afghanistan," Zarif said on Monday, while delivering a speech at the 8th Ministerial Conference of Heart of Asia - Istanbul Process in Turkey.
"The presence of foreign forces has never brought stability in our region and has historically provided a recruiting ground for extremists," the top diplomat underlined, warning that the American and NATO troops in Afghanistan will have detrimental effects for the poor country.
"The announcement of a timetable for a responsible exit of foreign troops from Afghanistan would prepare the necessary ground for the Afghan government to promote peace and reconciliation process at the national level," Zarif added, noting that the Afghans have to seek unity and respect to their Constitution for solving their problems, rather than pinning hope on foreign military forces.
This is while, last month, Afghan Ambassador to Tehran Abdolqafour Lival underlined that Kabul does not want permanent deployment of foreign forces, and reiterated that there should be an end to foreign military buildup in Afghanistan.
Early in October, Iran's Prosecutor General Mohammad Jafar Montazeri blasted the US-led coalition for the soaring increase in production of different illicit drugs in Afghanistan, warning that the country is also turning into the pole of industrial narcotics.
The Iranian police officials maintain that drug production in Afghanistan has hugely increased since the US-led invasion of the country in 2001.
Afghan and western officials blame Washington and NATO for the change, saying that allies have "overlooked" the drug problem since invading the country more than 18 years ago.
Elsewhere in his address, Zarif urged Afghans to get united and develop national understanding mechanism.
"We consider the 2018 parliamentary and 2019 Presidential elections as crucial steps envisaged in the Constitution of Afghanistan. We urge our Afghan friends to settle any differences taking into account the absolute imperative of keeping Afghanistan's unity as well as the constitutional arrangements intact," he called for Afghans' solidarity and abidance by constitutional arrangements.
"In that regard, we support an Afghan-owned and Afghan-led peace process with the participation of all political groups and factions including the Taliban with the Afghan government in the center," the Iranian diplomatic chief called upon Afghans to promote national dialogue, adding that Tehran is supportive of intra-Afghan talks.
"Transparency and inclusiveness would be the keys to any successful prospect. We also encourage all relevant parties to participate in such an independent national dialogue and resolve their differences through constructive engagement and negotiations," he stated.
"We would also use every means at our disposal to facilitate a peace process that would preserve the achievements of the 2001 Bonn Conference, in particular, the Constitution of the Islamic Republic of Afghanistan as a solid foundation for any political solution," the top diplomat voiced concern that previous achievements may be wasted.
"Taking the views of neighboring countries and considering their legitimate concerns during the process would guarantee that the peace agreement has stronger supports regionally," he noted that regional issues are better to be addressed by regional countries rather than trans-regional players.
"We believe the United Nations could become active to bring all domestic groups as well as international partners of the Afghan government under one umbrella to facilitate this process," Zarif noted.
Iran's Foreign Minister then warned that the ISIL terrorist group is relocating to Afghanistan, adding that it should not be forgotten that the increasing threat of the ISIL in Afghanistan has led to "more bloodshed" and introduced "dangerous sectarian tendencies".
"More dangerously, it has radicalized the local armed groups in a competition over followers and recruits. As no one gained from introducing and supporting Daesh and other extremists in Syria and Iraq, no one will gain from introducing them to Afghanistan and Central Asia," he said, referring to the ISIL with its original Arabic title.
"This horrific trend needs to be arrested before it reaches catastrophic proportions. We firmly believe that we need to form a united front and strongly stand against Daesh," Zarif cautioned of consequences of a revival of the ISIL in Afghanistan.
Early in March, Lieutenant Commander of the Iranian Army's Air Force Brigadier General Ali Shadmani warned China, Russia and other regional states of the US attempts to relocate the ISIL terrorists to Afghanistan.
Elsewhere in his address, Zarif touched upon poverty and its negative consequences for security in Afghanistan.
"Afghanistan is a very rich country in terms of natural resources and the numerous capacities it enjoys. Regrettably, its people are deprived of such potential wealth. With poverty and underdevelopment, we shall never expect a durable success in the fight against terrorism, drugs or organized crime," he reminded that underdevelopment and poverty are encouraging the poor masses of the country to join criminal cartels and terrorist groups.
"Iran is building the third part of the Khaf-Harat railway, connecting Afghanistan to our railway network and through our network to the region and Europe. This would help Afghan businesses and traders bring their goods to regional markets and beyond. We also have provided traders from Afghanistan easy access to international waters through the strategic port of Chabahar. The Chabahar-Zahedan railway would complete a major section of the North-South corridor which connects Afghanistan and Central-Asian countries to open seas through Chabahar," he recounted Tehran's efforts for bringing development to Afghanistan.
"Iran is ready to continue to help the people and government of Afghanistan in their quest for peace and cooperate with all with the same objective," Zarif pledged that Tehran will keep supporting Kabul and Afghan people on their way toward prosperity and salvation.
Last month, Assistant to Iranian Foreign Minister and Director General of West Asia at Iran's ministry of foreign affairs Seyed Rasoul Mousavi underscored that his country's participation in any talks on Afghanistan depends on the partnership of the Kabul central government.
In September, Former Afghan President Hamid Karzai, in a meeting with Iran's special Envoy to Afghanistan Ebrahim Taherian, highlighted Tehran's key role in restoring peace and stability in the war-torn country.
In 2015, Retired Lieutenant General Douglas Lute, who served as a top advisor on the war during the Bush and Obama administrations in the US, told government interviewers, "We were devoid of a fundamental understanding of Afghanistan — we didn't know what we were doing," according to a piece published by the Washington Post on Monday.
Lute went on to lament the deaths of US military personnel that he blamed on bureaucratic entanglements between the State Department, the Pentagon and Congress.
https://en.farsnews.com/newstext.aspx?nn=13980919000385
------
SALT conference: Saudi Arabia, UAE 'promoting US engagement' in the Middle East
11 December 2019
ABU DHABI: The transformations taking place in Saudi Arabia and the model adopted by the UAE will be crucial to moving US-Arab relations forward.
This was one of the many insights offered by Norman T. Roule, chief executive officer at Pharos Strategic Consulting LLC, a GCC- and Iran-focused company, during a panel discussion at the first SALT Conference in Abu Dhabi.
He said what Saudi Arabia is doing, and given what the UAE has done so well, will promote engagement between entrepreneurs and academics, adding that the people who actually move societies "are more efficient, in many ways, than governments."
Roule was one of three speakers in the discussion on the "Future of US-Arab relations", moderated by Editor-in-chief of Arab News Faisal J. Abbas. The other two were Richard Haass, president of the Council on Foreign Relations, and Dania Koleilat, affiliated scholar at the Issam Fares Institute for Public Policy and International Affairs.
"Governments will deal with the big, heavy, perhaps unsolvable issues, but I have great hopes for this region," Roule said, referring to the Gulf countries.
"There has never been so much education. (It is) a young region aspiring beyond sectarianism, corruption and the old ways of thinking - and we should be part of that evolution."
According to him, entrepreneurs will be the future of engagement between the US and the Middle East. To this end, he suggested, bringing more Americans to the Middle East – something the three-day SALT Conference has done - will prove vital.
Roule said "there has never been so much people-to-people engagement between the US and the region as we have today." Additionally, there is social media, which "ties together the US and the region in a way that has not happened before."
In the context of Saudi-US relations, Roule said there has been a shift in US public opinion due to Jamal Khashoggi's murder. At the same time, he said, "former or current policymakers say,'We have a strategic relationship with Saudi Arabia.' But they will never explain what that means, or where we should take it."
Roule thinks Saudi Arabia has an enormous role to play in such areas as moderating Islam worldwide, enhancing the role of women throughout the region, improving the economies of the Middle East, including Jordan and Israel, as well as rebuilding broken states, including Libya and Yemen.
"America needs to be behind that," Roule said. "It's unfortunate that policymakers don't spend a lot of time talking about where we should go with the Kingdom, but I agree that the Kingdom doesn't have a great reputation right now in the election."
Nevertheless, he said he has seen US policymakers make requests to the Saudi leadership to support a number of regional initiatives.
Left to right: Faisal J. Abbas, Dania Koleilat Khatib, Richard Haass and Norman T. Roule discuss the relationship between the Middle East and the US at the first SALT conference in Abu Dhabi. (AN photo by Huda Bashatah)
Overall the Iraq war and the Afghan conflict were "anomalies" in how America has handled the Middle East since 1945. "And in many ways, America's position in the Middle East is generally to try to avoid another conflict, to try to empower our allies to defend themselves, and to work to resolve regional problems," he said.
Fluctuating Middle East oil prices are still felt in such places as Ohio, Roule noted, but added: "There is fatigue in the US over endless peace process efforts that seem to go nowhere, endless wars in the Middle East, which consume budgets, armies, calendars and reputations and which never seem to end for anybody. There's not a lot of interest in doing that."
In a similar vein, Dr. Richard Haass, president of the Council on Foreign Relations, one of Washington's most influential foreign-policy think tanks, said that when the Cold War ended 30 years ago, nobody would have predicted that such a large percentage of American foreign policy would be consumed in the Middle East, beginning with the Gulf War, which was "thrust" on the US by "Saddam (Hussein's) aggression".
"But then we ultimately had what I would call wars of choice, in places like Iraq in 2003, and some other issues that we're dealing with now," he said.
"There's a general sense that the Middle East absorbed too high a percentage of America's national security resources. Our energy interests in the Middle East and our direct interests are down."
Haass said there is disillusionment among Americans who think that the return on investment of the resources the US devoted to the Middle East has not been particularly good. "We have a domestic society that is more divided," he said, "and, internationally, there are several big developments, one of which is the rise of US-Chinese competition."
He said what is emerging for many as the defining feature of US foreign policy is a much worse relationship with Russia, a much less certain Europe, problems in Asia, including China's rise and North Korea's nuclear weapons, and global issues such as climate change.
"The Middle East has to compete with other regions of the world, other relationships and other challenges at the global level," Haass said. "So it's not surprising that there's a dialing down, or a re-evaluation, of how much we are involved in the region and how we are involved."
This regional "dialing down" by the US was called out by Koleilat, particularly in the context of the ongoing protests in Iraq and Lebanon. She said "the two countries have reached a boiling point" as an opinion poll shows strong majorities supporting a separation of politics and religion.
As a Lebanese who specializes in US-Arab relations, Koleilat spoke of a personal feeling of betrayal over the US administration's position.
"Lebanese people have realized that sectarianism has led to clientelism, which has led to corruption, which in turn, had led to state failure," she said. "Today, we have gone from 30 to 50 percent of Lebanese below the poverty level and the state is unable to provide services."
Although she said the US could not be expected to engage with protesters, it could still put pressure on the Lebanese government to reform and change, adding that such pressure could include withholding of support unless such reforms were implemented.
"The demands of the Lebanese people are very clear," she said. "We want a non-political government of technocrats."
According to Koleilat, the US is less interested in the Middle East these days because of three factors, one of which is American isolationism.
"It started after the Iraq war. People in the US want to disengage from the region," she said.
"The second factor you have to look at is Trump's way of conducting foreign policy in a transactional manner, so you don't see engagement for the long haul."
The third factor is the strategic value of oil, she said. "I don't see the doctrine where the US would say it is ready to use military force to keep the security of the Gulf," she said.
"So, if you take these three factors into consideration, there is less American interest and less engagement, and this (approach) will continue in the future."
For his part, Haass cited Iran as a case where the present US administration has succeeded in exerting tremendous pressure - more than what analysts had predicted was possible - through unilateral sanctions.
The question is to what end, he said.
"Sanctions are a means, they're a foreign policy instrument," he said. "The question then is what our definition of success and our goal are here."
Haass said it is unlikely the government in Tehran can be brought down as the system has proved resilient for four decades now. Rather, the US needs to signal to Iran and have a conversation about its requirements in the realms of nuclear technology and missiles, as well as regional and local issues, in order to have a degree of sanctions removed.
"That, to me is what we used to call diplomacy," Haass said. "The question is whether there is a place for diplomacy.
The answer is "potentially yes. If not, the danger is we drift towards war because Iran has shown it is simply not going to absorb economic pressure or warfare from us. We need to have a diplomatic initiative."
https://www.arabnews.com/node/1597166/middle-east
------
Israeli lawmakers submit bill to dissolve parliament
December 10, 2019
JERUSALEM: Israeli legislators submitted a bill Tuesday that would dissolve parliament and trigger unprecedented third national elections in less than a year.
Israel has been mired in political deadlock for months.
With the two largest parties, Likud and Blue and White, unable to form a power-sharing agreement ahead of a Wednesday deadline, lawmakers from the rival sides together tabled the bill.
It is expected to go to a vote in parliament on Wednesday, setting the date for the next election on March 2.
"Under the exceptional circumstances that have emerged, and after two adjacent election campaigns in which no government was formed, the dissolution of the 22nd Knesset is being proposed," the bill reads.
Neither Prime Minister Benjamin Netanyahu nor his main rival Benny Gantz have been able to form a coalition government after two inconclusive elections. Polls have predicted the third vote is unlikely to produce dramatically different results.
The legislation is something of a formality. The allotted period for forming a government following September's election expires at midnight on Wednesday. Without a coalition deal, elections would have been automatically triggered later in March.
Each of this year's elections, and their subsequent coalition jockeying, have largely been a referendum on Netanyahu, who was recently indicted for bribery, breach of trust and fraud in three corruption affairs.
Blue and White's Gantz has refused to sit in a Netanyahu-led coalition, citing the long-serving leader's legal troubles. Netanyahu has refused to step down, still overwhelmingly backed by his Likud party and his adoring base.
https://www.arabnews.com/node/1597036/middle-east
------
Protests, explosions hit Iraq's south as demos maintain strength
December 10, 2019
BAGHDAD: Iraq's south saw further protests and explosions, as demonstrations against the government and its Iranian sponsor that erupted on October 1 persist unabated, according to security sources.
The southern city of Amara was rocked overnight by four near-simultaneous explosions targeting premises of two pro-Iran armed factions, according to police.
"Three sound grenades targeted two premises and the house of an Assaib Ahl Al-Haq leader and an improvised explosive device targeted the house of an Ansar Allah commander," police said.
Asaib Ahl Al-Haq is one of the most powerful groups in Iraq's Hashed Al-Shaabi security force, a network of armed groups integrated into the state, of which Ansar Allah is also a component.
Medical sources reported three wounded by the blasts.
Founded in 2014 to fight IS jihadists who had seized swathes of northern Iraq and neighboring Syria, the Hashed is made up of mostly Shiite factions, many of which have been backed by Iran.
According to security sources, the attacks were committed against the groups due to their loyalty to neighboring Iran, whose influence continues to grow in Iraq, in particular via armed groups that it has long trained and financed.
These attacks come shortly after the recent bloodshed in several Iraqi cities, the latest seeing 24 people killed, including four police officers, on Friday evening in central Baghdad.
Both the state and the demonstrators accuse armed men of perpetrating the violence, the former claiming that it is not possible to identify those responsible, while the latter point to pro-Iran entities.
Since October 1, Iraq's capital and its Shiite-majority south have been gripped by rallies against corruption, poor public services, a lack of jobs and Iran's perceived political interference.
More than 450 people have been killed and more than 20,000 wounded during the unprecedented protest movement demanding an overhaul of the political system.
In the holy Shiite city of Karbala, protesters rallied at the police station to demand information within 24 hours on the death of Fahem Al-Tai, a 53-year-old prominent civil society activist gunned down in a drive-by shooting on Sunday evening while returning home from protests.
Others blocked access to the courthouse to demand proceedings be launched against local leaders for corruption — a key priority of the protest movement in a country ranked the 12th most corrupt country in the world by Transparency International.
In Diwaniya, also in the south, protesters blocked the road to the Shanafiya oil refinery, according to police, demanding employment.
Despite Iraq being OPEC's second-largest crude producer, one in five of its people live in poverty and youth unemployment stands at one quarter of the population, the World Bank says.
Protesters from several cities in the south on Tuesday joined thousands of demonstrators gathered for more than two months in Baghdad's Tahrir Square, which is the epicenter of the demonstrations in the capital.
"We came to support our brothers in Baghdad," said an activist in the movement from Nassiriya, Haydar Kazem.
https://www.arabnews.com/node/1596971/middle-east
------
Sudan's deposed Bashir questioned over 1989 coup: lawyer
December 10, 2019
KHARTOUM: Sudan's former president Omar Al-Bashir appeared on Tuesday before a prosecutors' committee over the 1989 coup that brought him to power, his lawyer said.
Bashir was "brought to be investigated in the case of the alleged 1989 coup," said his lawyer, Mohamed Al-Hassan, who did not attend the hearing.
The lawyer also told reporters that in his view the hearing was "not a judicial matter, it's a political matter."
In 1989, Bashir, a brigadier at the time, seized power in an Islamist-backed coup that toppled the elected government of prime minister Sadiq Al-Mahdi.
The former president was himself ousted by the army in April of this year after months of nationwide protests against his iron-fisted rule of three decades.
On November 12, Sudanese authorities filed charges against Bashir and some of his aides for "plotting" the 1989 coup. The prosecution established a special committee for the case.
If found guilty, he could face the death penalty or life imprisonment under Sudanese law.
Sudan is now ruled by a joint civilian and military sovereign council, which is tasked with overseeing a transition to civilian rule as demanded by the protest movement.
Bashir is being held in Kober prison in a separate case, for which he has been on trial since August, on charges of illegally acquiring and using foreign funds.
A verdict is due in that case on Saturday.
On Tuesday, Bashir was taken from Kober prison to the prosecutor's office in a convoy under strong armed protection.
After the hearing, which lasted about an hour, a crowd gathered in front of the prosecutor's office, chanting "Kober prison — the best place for you!" and "you killed people!"
Wearing the traditional white Sudanese jalabiya and turban, Bashir raised his hands to the crowd, before he set off back toward Kober in the convoy.
The veteran leader is also wanted by The Hague-based International Criminal Court on charges of genocide, war crimes and crimes against humanity over his role in the war in Sudan's western Darfur region.
To date, Sudanese transitional authorities do not want to extradite the former leader to The Hague.
https://www.arabnews.com/node/1596921/middle-east
------
Africa
Cyclone hits Madagascar, killing 9 and making 1,400 homeless
Dec 10, 2019
ANTANANARIVO, MADAGASCAR: Cyclone Belna has hit northern Madagascar, with nine dead and three missing from the first tropical storm of the season, according to local officials.
Belna blew into the western town of Soalala, where more than 1,400 residents were made homeless because their houses were destroyed, damaged or flooded, Col Elack Olivier Andriakaja of the national catastrophe management office, said Tuesday.
Those displaced have found temporary shelter in primary schools, mosques and district offices but they need food, said Andriakaja.
Many government administrative buildings and roads have also been damaged, he said.
Emergency food rations will be delivered to Soalala by sea, said officials.
Madagascar's Prime Minister Christian Ntsay will be flying to Soalala to assess the damage.
The storm's winds blew off or dislodged the roofs of 80% of the town's residences and government offices, said Soalala's member of parliament Naina Randriamisa, who said water is rising across the city.
Belna has been downgraded to a tropical storm as it travels south on the island. Heavy rains and winds are expected through Wednesday. The cyclone should be finished by then, according to the meteorology department.
https://timesofindia.indiatimes.com/world/rest-of-world/cyclone-hits-madagascar-killing-9-and-making-1400-homeless/articleshow/72456897.cms
------
Somalia shootout spreads from presidential palace to hotel; 5 Islamic extremist rebels killed
By Frank Miles
Extremists from the Al Qaeda-linked Islamic terrorist group Al-Shabab attacked the presidential palace in Somalia's capital Tuesday, which led to a shootout that spread from the heavily fortified government complex to a nearby hotel.
All five heavily armed Islamic extremist rebels from the group, which is trying to topple Somalia's weak United Nations-backed government, were killed by security forces, The Associated Press reported.
Police Capt. Mohamed Hussein said that soldiers shot dead three attackers near the entrance to the presidential residence in Mogadishu, and then killed the last two near the parking lot of the nearby hotel after they took positions by the kitchen area, close to the first gate of the hotel compound.
At least three people were killed in the firefight at the hotel, which lasted about two hours and was marked by sustained gunfire punctuated by grenade blasts, said Ahmed Ali, a Somali police officer.
He said 20 others, including government officials, were rescued from the hotel, frequented by government officials and Mogadishu's elite.
Al-Shabab later claimed responsibility for the attack, according to an announcement on their Andalus radio station.
The rebel assault was carried out completely by gunmen on foot, security officials said.
New security measures, including multiple checkpoints across Mogadishu, have made it difficult for the rebels to sneak car bombs into the capital city, and have forced the rebels to stage attacks on foot.
Al-Shabab extremists in September staged an attack on a U.S. military base in Somalia, which is used to launch drone strikes.
An all-night siege that lasted more than 14 hours in July was waged by Al-Shabab extremist militants at a Somali hotel in the southern port city of Kismayo; it ended with 26 people -- including two Americans -- being killed.
https://www.foxnews.com/world/somalia-shootout-presidential-palace-hotel-five-islamic-extremist-rebels-dead
------
Islam won't allow terrorism, militancy: Home Minister
DHAKA, Dec 10, 2019 (BSS) – Terming Bangladesh as a role model of curbing militancy and terrorism, Home Minister Asaduzzaman Khan Kamal today said Islam does not allow terrorism and militancy.
"We have successfully controlled militancy following the zero tolerance policy set by Prime Minister Sheikh Hasina," he said while speaking as the
chief guest at the closing ceremony of a two-day National Conference on Preventing/Countering Violent Extremism 2019 at Bashundhara International Convention Hall.
Counter Terrorism and Transnational Crime (CTTC) unit of Dhaka Metropolitan Police organised the national conference in collaboration with Stop Violence Coalition Secretariat of UN, USAID and a non-government organisation Rupantar.
Chaired by Chief of CTTC and Additional Commissioner of DMP Md Monirul Islam, the ceremony was also addressed, among others, by Inspector General of Police (IGP) Dr Mohammad Javed Patwari and DMP Commissioner Md Shafiqul Islam as special guests.
Bangladesh is the role model in the world for rooting out militancy, the home minister said, adding, "Our law enforcement agencies are working coordinately to curb extremism and militancy."
He said madrasas are not involved in producing militants because militancy has no place in Islam. "Peace loving people in this country never like militancy. It is not accepted that militancy and terrorism will exist in this peaceful country," he added.
Mentioning that Bangladesh's people do not give shelter to militancy, he said incidents of target killing took place in the country, but people resisted those incidents unitedly.
"We have to engage our children in welfare activities so that they cannot get involved in extremism and violent activities," the minister added.
He urged the people not to believe all internet contents. "We have to use our wit and knowledge to be sure which internet contents are believable not," he added.
https://www.bssnews.net/?p=317196
------
No mosque will be demolished on riverbanks: Khalid
DHAKA, Dec 10, 2019 (BSS) – State Minister for Shipping Khalid Mahmud Chowdhury today said that any unauthorized mosques which were established on the bank of rivers will not be demolished.
"The mosques illegally established on the bank of rivers– Buriganga, Turag, Balu, Shitalakkha and Dhaleshwari will not be demolished. The mosques will be beautified and designed. The government will assist in this case. A sub-committee will be formed after holding meeting with Ministry of Religion, Islamic Foundation and Home Ministry," said the state minister.
He came up with the comments while addressing a discussion meeting held at BIWTA Bhaban in the capital's Motijheel.
Secretary of the Ministry of Shipping Md. Abdus Samad, Islamic Scholar Hafiz Abdur Razzaque, BIWTA Chairman Commodore M Mahbub-ul Islam, among others, were present at the programme.
https://www.bssnews.net/?p=317339
------
Kwa Njenga muslims' suit to bar board from assets dismissed
The High Court has dismissed an application by Al-Huda Mosque members who sought orders restraining the mosque's committee from dealing with its assets.
In their application, 21 members of the Kwa Njenga mosque sued the committee and its chairperson for rampant misapplication and misappropriation of the mosque revenues; from parking facilities to rental rooms.
The members in the application say there has never been any election of the board since 1992 and the leadership is self-declared.
"The current leadership has been under discretion and whims of un-elected and a self-declared chairman against the wishes of the Al-Huda Muslim Community members," the application reads.
But the application was thrown out on grounds they would not suffer a loss if it were not to be granted.
Further, they said the mosque lacks a controlling system for efficient management of donations given by Muslim well-wishers and donors.
In the application, the mosque leadership was accused of lacking transparency, accountability and not involving the mosque members.
"All decisions on crucial and fundamental issues are handled solely by the self-imposed chairman and a clique of craftily appointed members," they said.
The 21 have accused the committee of chasing congregants from the mosque early last year and ordering them to pray at their homes.
The committee has also been faulted for using police officers to silence members a majority of whom are arrested and charged with 'imagined offenses' when they voice their concerns.
"The defendants (committee) have turned down, ignored, neglected and refused to consider the request from the 21 members to call for and hold meetings with the mosque congregations but instead have used the police."
The committee was also said to have threatened the mosque community with dire consequences including expulsion from the mosque.
While seeking for the orders, the members termed it 'totally unreasonable and procedurally unfair for the committee to micromanage the affairs of the mosque without the input of the mosque membership'.
The members pledged to continue fighting for justice until efficient management is established.
https://www.the-star.co.ke/news/2019-12-11-kwa-njenga-muslims-suit-to-bar-board-from-assets-dismissed/
------
Islamists attack Somali hotel, police say two militants killed
MOGADISHU (Reuters) - Islamist Al Shabaab gunmen attacked a hotel in Somalia's capital near the presidential residence on Tuesday and police said they killed two attackers and rescued dozens of people from inside.
The two attackers were killed outside the hotel as they launched the attack, while two others stormed inside, deputy police commissioner General Zakia Hussen said, adding security forces had rescued 82 people, including several officials.
"We warn people against calling their relatives who they think are in the hotel until the operation is finished," she wrote on Twitter while fighting still raged.
The militant group, which frequently launches bombing and gun raids in Mogadishu in a bid to topple the U.N.-backed government, confirmed it had attacked the Syl hotel, which is popular with officials and lawmakers.
The group had also attacked the hotel in 2016.
One police officer, who only gave his name as Ahmed, said security forces at the hotel had thought the gunmen were police as they approached, until they started shooting and hurling grenades. "We exchanged fire at the gate of the hotel," he said.
Al Shabaab's military spokesman Abdiaziz Abu Musab said the group's fighters stormed the hotel compound near the presidential palace. "The compound is home to enemy officials," he said.
Osman Abdulle, a witness at a nearby hotel, said he heard gunfire inside the hotel late into the night on Tuesday.
"I could see dozens of people being rescued with ladders placed on the back wall of the hotel. We heard some blasts," he told Reuters. "The whole area is still under siege."
Somalia, in the Horn of Africa, has been mired in conflict and chaos since 1991, when clan-based warlords overthrew a dictator.
Al Shabaab, which once controlled much of the country, was forced out of Mogadishu in 2011 and has since then lost most of its other strongholds. But its fighters regularly attack sites in Somalia and neighbouring Kenya, which has troops in Somalia.
https://uk.reuters.com/article/uk-somalia-attacks/islamists-attack-somali-hotel-police-say-two-militants-killed-idUKKBN1YE29U?rpc=401&
------
Report: 9 Christians Murdered in Kenya for Refusing to Recite Islamic Creed
By Michael W. Chapman
December 10, 2019
At least nine Christians were murdered by Islamic extremists in Kenya on Dec. 6 because they refused to recite the Islamic Shadada, a Muslim creed, according to International Christian Concern (ICC), a human rights organization based in Washington, D.C.
The ICC further reported that similar crimes have occurred in Northern Kenya for many years, usually carried out by members of the radical Islamic group al-Shabaab.
"On December 6, 2019, 11 non-local Christian passengers were attacked while travelling to Mandera from Nairobi and killed at Kotulo in northeastern Kenya," said the ICC. "They were reportedly separated from their Muslim counterparts and killed for failing to recite the Islamic Shahada."
A Kenyan police officer told the ICC that "a passenger bus belonging to Medina Bus Company, traveling between Wajir and Mandera was attacked by a criminal gang at around 1730 hours this evening. The attack happened at Maadathe area, five kilometers to Kotulo. Lives are believed to have been lost."
According to the ICC and its sources, the passengers on the bus were separated by the Islamist radicals. "Nine of the passengers on the Mandera-bound bus who could not recite the Shahada were paraded out of the bus and shot dead at close range by those believed to be al-Shabaab militants," said the ICC. Two bus passengers are still missing and considered dead.
The people killed were Athanus Kiti, Enos Odhiambo, Kelvin Mandela, Wisely Meli, Tikane Kasale, Leonard Mukanda, Francis Mbuvi, Rodgers Machuka, and Anchari Okerosi. The two still missing are Emmanuel Barasa and Nathan Bett.
The governor of Mandera County in Kenya, Ibrahim Ali Roba, said of the crime, "I am deeply saddened to learn of the heinous bus attack near Kotulo, Wajir today around 5:00 p.m. where 10 passengers were killed [or are missing]. I am informed that the suspected al-Shabaab fighters cowardly segregated non-locals heading to Mandera from Nairobi. It is extremely sad and humanly disturbing to learn that, yet again, they segregated locals from non-locals before killing those they believed to be non-locals."
The ICC further reported two Christian men, Frederick Ngonde and Joshua Obila, were killed in a similar manner in 2018 -- they refused to recite the Islamic creed.
In 2015, at least 148 students at Garissa University were gunned down by Muslim extremists, said the ICC. That same year, "a Muslim teacher, Salah Farah, was shot for defending Christian passengers who were being separated for execution by al-Shabaab."
In 2014, "28 teachers traveling to Nairobi for the Christmas holiday were killed after being forced to recite the Islamic statement of faith," reported the ICC.
Nathan Johnson, the ICC's regional manager for Africa, said, "We hope that the government will take effective action to stop the senseless killing of so many Christians in Kenya at the hands of Islamic extremists like al-Shabaab. We praise God as the refuge and strong tower that He is for our persecuted brothers and sisters in Christ who continue to endure so much."
https://www.cnsnews.com/blog/michael-w-chapman/report-9-christians-murdered-kenya-refusing-recite-islamic-creed
------
Pakistan
Ready to record statement from hospital bed in Dubai in treason trial: Pervez Musharraf
Dec 10, 2019
LAHORE: Pakistan's ailing former dictator Gen (retd) Pervez Musharraf has informed a court here that he is ready to record his statement from a hospital bed in Dubai in the treason trial against him, according to a media report on Tuesday.
Musharraf, who has been living in Dubai since March 2016, is facing treason charges for suspending the constitution and imposing emergency rule in 2007, a punishable offence for which he was indicted in 2014.
The 76-year-old former Pakistan army chief left for Dubai for medical treatment and has not returned since, citing security and health reasons.
The Lahore high court (LHC) on Tuesday resumed hearing of a petition filed Musharraf requesting to stay the treason case trial against him until he recuperates and appears before the court, The Express Tribune reported.
The newspaper reported that Musharraf, who is currently in Dubai for treatment of a rare medical condition, recorded a video message from his hospital bed in which he said that he was ready to record his statement in the case.
"A judicial commission can come here and hear me out. It must see my health condition and make a decision. The commission, with my lawyer, must then be heard in the court," Musharraf added.
Musharraf has maintained that owing to his deteriorating health, multiple life-threatening ailments and of his aged mother, he is unable to return to Pakistan.
During Tuesday's proceedings, the high court questioned how former the former president's actions in 2007 fall under the ambit of Article 6 of the constitution.
According to Article 6, any person who abrogates or subverts or suspends or holds in abeyance, or attempts or conspires to abrogate or subvert or suspend or hold in abeyance, the constitution by use of force or show of force or by any other unconstitutional means shall be guilty of high treason.
A person found guilty of high treason as defined in Article 6 of the constitution, could be punished with death or life imprisonment.
Musharraf became Pakistan's first Army chief to be charged with treason when he was indicted on March 31, 2014. He pleaded not guilty to five charges and dismissed them as being politically motivated.
While adjourning the case till December 17, the Lahore high court on Tuesday directed additional attorney general Ishtiaq A Khan to discuss the matter with the interior secretary on whether the formal military ruler imposing emergency in 2007 amounts to the abrogation of the constitution.
The court further asked whether the complaint could be withdrawn at this stage and sought the interior secretary's opinion on how the act falls under Article 6.
On November 29, the Islamabad high court (IHC), while hearing a petition of the interior ministry, had restrained the special court from announcing its verdict in the Musharraf's treason case which it was to hand down on November 29.
In a two-page brief order, the IHC asked the special court to hear pleas of all sides and decide the case "in accordance with the law" while directing the government to form a new prosecution team for the case by December 5.
https://timesofindia.indiatimes.com/world/pakistan/ready-to-record-statement-from-hospital-bed-in-dubai-in-treason-trial-pervez-musharraf/articleshow/72461488.cms
------
US blacklists Rao Anwar for 'serious human rights abuse' through fake police encounters
December 10, 2019
The United States on Tuesday blacklisted former Malir senior superintendent of police (SSP) Rao Anwar for engaging in "serious human rights abuse" by carrying out alleged fake police 'encounters' in which scores of individuals including Waziristan native Naqeebullah Mehsud were killed, the US Treasury Department said.
Anwar is among 18 individuals from six countries that the Trump administration has imposed economic sanctions on for suspected human rights violations. Two others have been banned from entering the US, including the former consul general of Saudi Arabia in Turkey for his alleged role in the murder of Saudi journalist Jamal Khashoggi. Tuesday's announcement was made in connection with International Human Rights Day.
"During his tenure as the Senior Superintendent of Police in District Malir, Pakistan, Rao Anwar Khan (Anwar) was reportedly responsible for staging numerous fake police encounters in which individuals were killed by police, and was involved in over 190 police encounters that resulted in the deaths of over 400 people, including the murder of Naqeebullah Mehsood," the US Treasury said in a statement.
It said Anwar "helped to lead a network of police and criminal thugs that were allegedly responsible for extortion, land grabbing, narcotics, and murder".
According to the press release, the former Malir SSP has been designated "for being responsible for or complicit in, or having directly or indirectly engaged in, serious human rights abuse".
The sanctions freeze the US assets of the 18 designated individuals and prohibit Americans from doing business with them.
"The United States will not tolerate torture, kidnapping, sexual violence, murder or brutality against innocent civilians," Treasury Secretary Steven Mnuchin said in a statement.
"America is the world leader in combatting human rights abuse and we will hold perpetrators and enablers accountable wherever they operate."
Naqeebullah's murder
Anwar had retired from police service while being suspended and facing trial for killing four men, including South Waziristan youngster Mehsud, in a fake encounter last year, official sources had told Dawn earlier this year.
After protests by the civil society and anger on social media, the Supreme Court had last year taken suo motu notice and ordered Anwar's arrest. Protests staged by the Mehsud tribe and the Pashtun Tahaffuz Movement (PTM) had also lent impetus to the call for justice for Naqeeb.
Anwar had gone into hiding soon after demands for his arrest gained traction after it came to light that Mehsud had been a shopkeeper and an aspiring model from Waziristan who had settled in Karachi.
He was arrested in March 2018 when he finally appeared before the Supreme Court after eluding law enforcement agencies for over a month. After spending more than three months in prison, an antiterrorism court granted him bail which led to his release.
Myanmar military leaders sanctioned
The Treasury also blacklisted four Myanmar military leaders, including the commander-in-chief, in the toughest action taken yet by Washington for alleged human rights abuses against the Rohingya and other minorities.
The sanctions targeted Commander-in-Chief of the Burmese military forces Min Aung Hlaing, Deputy Commander-in-Chief Soe Win, Than Oo, a leader of the 99th Light Infantry Division, and Aung Aung, a leader of the 33rd Light Infantry Division, the Treasury said.
The military in Myanmar has denied accusations of widespread abuses and says its actions were part of a fight against terrorism.
Some analysts and diplomats have tipped Min Aung Hlaing as a potential presidential candidate in the next election in 2020, when Nobel laureate Aung San Suu Kyi's National League for Democracy is likely to face opposition from nationalists aligned with the military.
His political ambitions could be damaged by the sanctions, as well as an earlier US travel ban and Facebook's decision in August 2018 to remove the army chief's page that had been his main channel of communication with the public.
The US also took action against a notorious militia in the Democratic Republic of Congo, the Allied Democratic Forces, which is accused of massacring civilians in an apparent bid to stop them from joining the military. The Treasury Department slapped sanctions on the group's leader, Musa Baluku, as well as five other people accused of supporting the group.
Washington also imposed sanctions on five people over abuses in war-torn South Sudan and a militia commander in Libya.
The Treasury also designated one European — Slovak businessman Marian Kocner, who is accused of ordering the 2018 murder of investigative journalist Jan Kuciak, who was probing high-level graft.
https://www.dawn.com/news/1521511/us-blacklists-rao-anwar-for-serious-human-rights-abuse-through-fake-police-encounters
------
Lahore High Court seeks govt input on charges against Musharraf
December 11, 2019
LAHORE: The Lahore High Court on Tuesday sought assistance from the federal ministry of interior on a legal point whether the imposition of a state of emergency by former military ruler Pervez Musharraf on Nov 3, 2007 fell within the definition of abrogation of the Constitution, an offence of high treason.
Justice Syed Mazahar Ali Akbar Naqvi also posed a direct query to Additional Attorney General Chaudhry Ishtiaq A. Khan whether the complaint against the former president could be withdrawn in the light of the 'legal shortcomings' pointed out by the counsel for retired general Musharraf.
The judge was hearing a petition by the former dictator challenging formation of a special court holding his trial under charges of high treason and legal flaws committed in the procedure.
During the hearing, Justice Naqvi asked the additional attorney general if declaring a state of emergency in the country and abrogating the Constitution were two separate things. He further asked the law officer whether Article 6 of the Constitution attracted in the Musharraf case.
Law officer asked if complaint against former military ruler can be withdrawn on basis of shortcomings as pointed out by his counsel
"The court would also like to know if the government can withdraw the complaint [in case] legal requirements are not met," the judge said to the law officer.
AAG Khan sought time from the court to seek instructions from the interior secretary on the queries raised during the hearing.
Earlier, the law officer also submitted the record of the high treason case against Musharraf.
The judge allowed time to the law officer and adjourned hearing till Dec 17.
Advocate Azhar Siddique representing Gen Musharraf argued that the previous government had told the Supreme Court that it would file a complaint against the former dictator and an inquiry would be initiated. However, he said, the complaint was filed on the direction of then prime minister Nawaz Sharif instead of federal cabinet's recommendation. Also the prosecution team was appointed on the advice of the then prime minister, the counsel pointed out.
He argued that the ex-premier had initiated the case over 'personal grudge', as the SC had not ordered the previous government to file the case.
He said that Gen Musharraf had been undergoing medical treatment for multiple diseases in the UAE. The counsel said that the former president had recently sent a recorded video message from his hospital bed stating that he was ready to record his statement in the case.
On Dec 3, a day after being admitted to the hospital, Gen Musharraf in a video message said he was ready to record his statement in the high treason case against him, complaining that he had not been heard and that he was being victimised.
The former military dictator was booked in Dec 2013 for imposing the state of emergency on Nov 3, 2007 and suspending the Constitution till the mid of Dec 2007. He was declared a proclaimed offender by a special court in the high treason case.
Just last week the three-member special court had said it would announce verdict in the high treason case on Dec 17 after hearing the arguments of the government's new prosecution team.
https://www.dawn.com/news/1521592/lahore-high-court-seeks-govt-input-on-charges-against-musharraf
------
General Qamar Bajwa chairs corps commanders conference
December 11, 2019
RAWALPINDI: Chief of the Army Staff (COAS) General Qamar Javed Bajwa on Tuesday presided over a corps commanders conference. Director General Inter-Services Public Relations (ISPR) Major General Asif Ghafoor shared a video from the meeting, which was held at the General Headquarters (GHQ).
The DG ISPR is expected to hold a press conference today (Wednesday) to talk about the issues that came under discussion during the conference.
https://www.thenews.com.pk/print/581600-coas-chairs-corps-commanders-conference
------
URL: https://www.newageislam.com/islamic-world-news/as-suu-kyi-looks-on/d/120497
New Age Islam, Islam Online, Islamic Website, African Muslim News, Arab World News, South Asia News, Indian Muslim News, World Muslim News, Women in Islam, Islamic Feminism, Arab Women, Women In Arab, Islamophobia in America, Muslim Women in West, Islam Women and Feminism