New Age Islam News Bureau
18 October 2021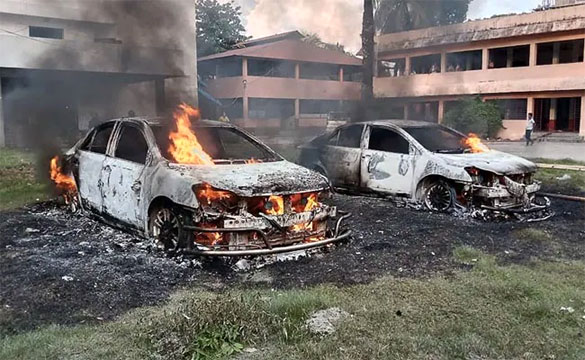 It took officials over seven hours to put out the blaze
-----
• Analysts In India See Conspiracy Against Hasina Govt In Attacks On Durga Puja Marquees
• IS's Weekly, Al-Naba: Shia Muslims 'Perilous', Will Be Targeted By Us Everywhere Across The Globe, Says Islamic State
• We Feel Mental State Of Hindus In Bangladesh, Stand By Them At This Hour: Bengal Imams Association
• Algeria Recalls French Massacre At Ottoman-Era Ketchaoua Mosque
• UNESCO: Iraq's Historic Al-Nuri Mosque Being Rebuilt After Damage By Extremists In 2017
South Asia
• Non-Recognition Of Govt In Afghanistan Is Benefitting ISIS-K: Taliban
• Mob Burns Down 20 Hindu Homes In Fresh Communal Violence In Bangladesh's Rangpur: Report
• Bangladesh: Muslims, Hindus protest amid religious unrest
• Taliban underrate Daesh, do not call it danger in Afghanistan
--------
Arab World
• Microsoft Heiress, Bill And Melinda Gates Eldest Daughter Weds To Egyptian Muslim
• Syria's government, opposition agree on drafting new constitution: UN Envoy
• Hezbollah MP says recent violence a 'massacre,' calls for accountability
• Damascus accuses Israel of killing former Syrian legislator
• Syrian shelling of opposition-held town close to Turkey border kills four
• Lebanon Maronite patriarch says no party should resort to threats, violence
• Arab Coalition: At least 165 Houthi militia members killed near Yemen's Marib
-------
India
• Alert In Assam Over Threats Of Attacks By Pakistan's ISI, Al Qaeda Over Alleged Violence Against Muslims
• Bangladesh Violence: Furfura Sharif Cleric's 'Beheading' Remark Kicks Off Controversy
• Bihar: 3 Muslims Attacked In Different Incidents On Dussehra Night
• Indian Americans Along With Their Jewish Friends Protest Against Islamic Terrorism In Kashmir
• 'Illegal Funding Of Islamic Activities': Vadodara SIT Begins Questioning Of 2 Accused
• After 2 more killings in J&K, cops want migrants corralled
--------
Africa
• Pro-military protests in Sudan as political crisis deepens
• Tunisia reaches out to Saudi Arabia, UAE as economic woes deepen
--------
Europe
• Pope Francis slams attacks in Afghanistan, Norway, Britain
• Dutch municipalities 'unlawfully' investigating mosques – report
• Muslim Council of Britain condemns 'cold-blooded murder' of lawmaker
• Sweden's foreign minister visits Israel in effort to rebuild ties
• UN envoy: Syrian Constitutional Committee agrees to start drafting charter
--------
Pakistan
• Pakistani Artists Make World's Largest Copy Of Islam's Holy Quran
• Seerat Authority To Take Pakistan In Right Direction: Ashrafi
• Study Finds No Evidence Of 'Forced Religious Conversion' In Sindh
• Rulers have broken all records of incompetence: JI chief
--------
Southeast Asia
• PAS Dewan Ulama Wants All Promotions For Malaysian-Made Whisky 'Timah' To Cease
• When Indonesia's Blasphemy Law Turns Blasphemous
• Religious affairs minister: Special committee meeting will discuss SOPs for mosque, surau activities
• World Muslim leaders should act on mosque bombings in Afghanistan
• Indonesia, Malaysia concerned over Aukus nuclear subs plan
--------
Mideast
• Iran Criticizes Europe's Failure in Fulfilling JCPOA Commitments
• Top preacher urges Muslims' presence at Al-Aqsa Mosque Tuesday
• Top Commander: Iran, Pakistan Agree to Hold Joint Naval Drills
• Israel expects 2,000 rockets a day in any war with Hezbollah: Army
• Israeli officer punished for violence against protesters, military says
• EU fails to secure commitment from Iran to resume nuclear deal negotiations: Report
--------
North America
• Being Tougher On Iran Is Biden's Key To Saudi Arabia-Israel Normalization: Pompeo
• Time for Turkish-US rapprochement: Envoy to Washington
• US likely to attend Moscow meeting on Afghanistan
Compiled by New Age Islam News Bureau
URL: https://www.newageislam.com/islamic-world-news/bangladesh-minority-blasphemous-torch/d/125601
--------
Arsonists Torch 29 Hindu Homes In Bangladesh Over An Alleged Blasphemous Social Media Post
Oct 18, 2021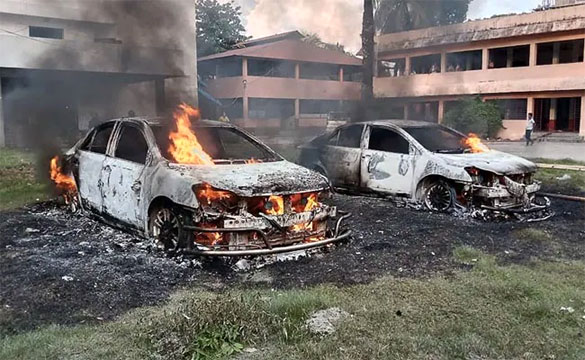 It took officials over seven hours to put out the blaze
-----
A group of assailants has set on fire at least 29 homes of Hindus in Bangladesh over an alleged blasphemous social media post amidst protests by the minority community against temple vandalism incidents during the Durga Puja celebrations last week, media reports said on Monday.
The arson attack happened late on Sunday on a village in Rangpur district's Pirgonj upazila, about 255 kms from here, the bdnews24.com reported.
The police rushed to a fishermen neighbourhood as tension mounted over a rumour that a young Hindu man of the village had 'dishonoured religion' in a Facebook post, the report quoted district's superintendent of police Mohammad Qamruzzaman as saying.
As the police stood guard around the man's home, the attackers set fire to other homes nearby, the report said.
The Fire Service Control Room said that their report from the scene indicates that 29 residential houses, two kitchens, two barns and 20 haystacks belonging to 15 different owners were torched in Pirgonj's Majhipara, it said, adding that an 'unruly crowd' has been identified as the cause of fire.
The fire service received a report of the fire at 8:45 pm and finally put it out by 4:10 am, the report said.
There were no immediate reports of casualties.
The arson incident occurred amid rising communal tension over an alleged blasphemy incident at a Durga Puja venue in Cumilla which led to attacks on Hindu temples and clashes between vandals and the police in Cumilla, Chandpur, Chattogram, Cox's Bazar, Bandarban, Moulvibazar, Gazipur, Chapainawabganj, Feni and other districts.
Dozens of people have been arrested over the attacks and the spread of communal hatred on social media, the report said.
The Bangladesh Hindu Buddhist Christian Unity Council alleges that at least four Hindu devotees have died in the attacks in Chandpur and Noakhali.
Meanwhile, the elite anti-crime force Rapid Action Battalion (RAB) has arrested two more men in connection with the looting and vandalism of temples and shops belonging to the Hindu minority community in Feni, about 155 kms from here.
"They were arrested for their involvement in communal violence and inciting people on social media. They were handed over to the local police station," said Imran Khan, assistant director of the paramilitary force's Legal and Media Wing.
Earlier on Saturday, one person was arrested in connection with the attack which took place when the Feni Puja celebration committee and its supporters were preparing to protest against the communal violence in the country.
The assailants also vandalised and looted several temples and a number of shops owned by Hindus and torched vehicles. They clashed with the police for about seven hours.
Authorities deployed additional police forces and the paramilitary force—Border Guard Bangladesh (BGB), after several temples and businesses owned by Hindus were vandalised and robbed during clashes.
Approximately 40 people were injured in the violence, including Feni Model Police Station's Officer-in-Charge Nizam Uddin.
On Sunday, two cases were filed against 400 unnamed people.
Meanwhile on Monday, a group of Dhaka University students joined hands with protesting religious groups against the attacks on the temples, puja venues and homes of the Hindu community across Bangladesh, the report said.
The protesters called for the formation of a separate ministry to handle affairs related to minority groups.
In a separate report, the bdnews24.com, quoting the prominent rights group in Bangladesh Ain o Salish Kendra (ASK), said that as many as 3,679 attacks on the minority Hindu community took place between January 2013 and September this year.
The attacks included vandalism of and setting fire to 559 houses and 442 shops and businesses of the Hindu community, it said.
At least 1,678 cases of vandalism and arson attacks on Hindu temples, idols and places of worship were also reported in the same period, it said.
While 11 citizens from the Hindu community have died in these incidents, another 862 were injured, the report said.
Two Hindu women were raped in 2014 and another four were sexually assaulted, it said, adding that at least 10 Hindu families were evicted from their homes and land in 2016, 2017 and 2020.
On Thursday, Prime Minister Sheikh Hasina promised to bring to justice the culprits behind the violence, saying anyone involved in the attacks on Hindu temples and Durga Puja venues in Comilla will not be spared.
"The incidents in Comilla are being thoroughly investigated. Nobody will be spared. It doesn't matter which religion they belong to. They will be hunted down and punished," she said while exchanging greetings with the Hindu community members during an event at Dhakeshwari National Temple in Dhaka on the occasion of Durga Puja.
The Durga Puja celebrations, considered to be the biggest festival of the minority Hindu community in Bangladesh, concluded without the traditional Bijoya Dashami procession. —PTI
Source: Tribune India
Please click the following URL to read the text of the original story:
https://www.tribuneindia.com/news/world/arsonists-torch-29-homes-of-hindu-community-in-bangladesh-amidst-protests-over-durga-puja-violence-326217
--------
Analysts In India See Conspiracy Against Hasina Govt In Attacks On Durga Puja Marquees
Oct 17, 2021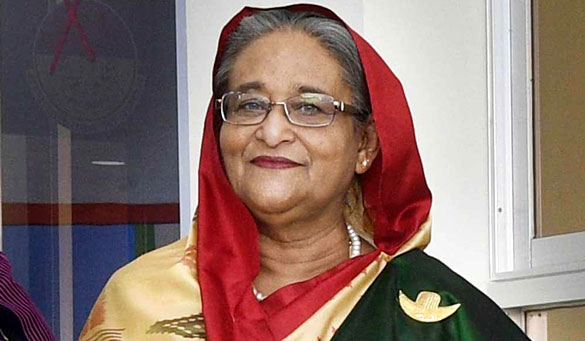 Sheikh Hasina
----
KOLKATA: Analysts in India are worried by the turn of events in Bangladesh where violence during Durga Puja celebrations has left four dead and fear this to be part of a larger conspiracy to destabilise the Sheikh Hasina government there.
While the Bangladesh government has been swift in clamping down on a series of attacks that started in a couple of towns in Comilla district of Bangladesh, strategic analysts and former Indian ambassadors feel that there is need for caution given the renewed rise of Islamists emboldened by the establishment of Taliban rule in Afghanistan.
"This is a worrying development and requires cautious handling. It is also an attempt to destabilise the democracy and communal harmony which the Sheikh Hasina government has brought about," said Ambassador Pinak R Chakravarty, former Indian High Commissioner to Bangladesh.
"A conspiracy by a fundamentalist organisation backed by Pakistan is apparent. The Bangladesh government has to neutralise these elements," he said.
The Bangladesh prime minister has in a meeting with Hindu leaders already promised stern action against perpetrators of the attack, and several suspects have been arrested. Police there have indicated that the spark to the violent attacks, a Koran found in a Puja tableau, was planted by miscreants in a planned conspiracy.
"We have reason to believe that this is part of a larger conspiracy by elements inimical to both India and Bangladesh. Islamist forces seem to have been emboldened by the Taliban takeover of Afghanistan," said Shantanu Mukharji, a former IPS officer and security analyst who has served as National Security Advisor to Mauritius.
Bangladesh has in the past cracked down on hard-line Islamist terror groups like the Jamaat-ul-Mujahideen Bangladesh and arrested or gunned down in fire-fights its leaders and cadres.
The Taliban had recruited large numbers of fighters from Bangladesh in the 1990s who formed the core of extremists who later plagued that nation in the last two decades.
The Bangladesh government has in recent years also hung several Jamaat-e-Islami leaders who were involved in war crimes against civilians during that country's war of liberation against Pakistan in 1971. The Jamaat-e-Islami had collaborated with the Pakistani Army in the 1971 genocide.
Ambassador Pinak Chakravarty said, "Smarting from the blows delivered by the War Crimes Tribunal, this is their (Islamists) way of exacting revenge which could destabilise their government and ties with India."
Many analysts believe that these elements emboldened by the Taliban victory will again try to destabilise the Sheikh Hasina government.
"We have to worry about the future. While Sheikh Hasina has been extremely effective in her tackling of terror groups, we must have a programme of de-radicalisation for the future and also see to it that we cooperate with the Bangladesh government in tackling a common menace," said Ambassador Sarvajit Chakravarti, member of the think tank Research Centre for Eastern & North Eastern Studies.
Added Sreeradha Dutta, who heads the South Asia Neighbourhood Studies Centre of the Vivekananda International Foundation and is a former Director of Maulana Abul Kalam Azad Institute of Asian Studies, Kolkata: "There is a need for vigilance and realisation that events in the two countries are interdependent."
Hasina, who has been the target in the past of several coups and assassination attempts, in her statement on Thursday too has warned that India should remain vigilant and said nothing should happen in the larger neighbourhood which could impact Bangladesh, without stating what she was alluding to.
Source: Times of India
Please click the following URL to read the text of the original story:
https://timesofindia.indiatimes.com/world/south-asia/analysts-see-conspiracy-against-hasina-govt-in-attacks-on-durga-puja-marquees/articleshow/87087328.cms
--------
IS's Weekly, Al-Naba: Shia Muslims 'Perilous', Will Be Targeted By Us Everywhere Across The Globe, Says Islamic State
October 18, 2021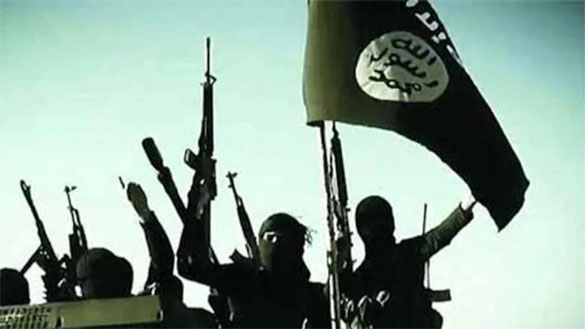 Threatening Shia Muslims living in Afghanistan particularly, the IS said they would be targeted everywhere from Baghdad to Khorasan. (Representative Image)
------
The Islamic State of Iraq and Syria (ISIS), also known as Islamic State (IS) has warned that Shia Muslims will be targeted by the terror group across the globe. The IS called the Shia Muslims "perilous", news agency ANI reported.
The warning was published in IS's weekly, Al-Naba, which further said that the Shia Muslims would be targeted in their homes and centres, ANI quoted a Khaama Press report.
Threatening Shia Muslims living in Afghanistan particularly, the IS said in the statement that Shia Muslims would be targeted everywhere from Baghdad to Khorasan.
According to the report, IS Khorasan — named after a province in Afghanistan —now remains the biggest threat to peace in the country after the Taliban took control of war-torn Afghanistan.
The warning comes after suicide bombers attacked a Shia mosque packed with worshippers attending Friday prayers in southern Afghanistan on October 15. At least 47 people were killed in the attack that left 70 others wounded. The attack was claimed by the IS-K.
On October 8, another terrorist attack on a Shia mosque in Afghanistan's Kunduz killed more than 100 people and injured several others. The deadly blast ripped through Sayed Abad Mosque in a northern Afghanistan city. Local residents attended the mosque for Friday prayers.
Source: India Today
Please click the following URL to read the text of the original story:
https://www.indiatoday.in/world/story/shia-muslims-islamic-state-is-khorasan-afghanistan-1865984-2021-10-18
--------
We Feel Mental State Of Hindus In Bangladesh, Stand By Them At This Hour: Bengal Imams Association
17th October 2021
KOLKATA: Bengal Imams Association, a representative body of Muslims in the eastern state, has condemned the attacks on Hindus in Bangladesh during Durga Puja and called upon everyone to stand by minorities in both India and the neighbouring country.
The association, in a statement issued on Saturday, said that everyone should have been celebrating the festival of amity and brotherhood in Bangladesh, where at least 32,000 Durga Pujas are organised.
"Instead, some people with vested interests sowed the seeds of communal poison by circulating images of a stray incident at a Pandal in Comilla to carry out large-scale arson at several puja marquees. Knowledge of rocket science is not needed to understand the sinister game plan to create a rift among members of two communities by these forces, who are not glorifying any religion by such acts. Being members of the minority community in India, we feel the mental state of the Hindus in Bangladesh who are a minority in that country. We stand by them at this hour," Association Chairman Md Yahia said in the statement.
Md Yahia also called upon people to be alert against efforts to foment trouble by spreading rumours and fake information and images on social media.
At least four people were killed in clashes between miscreants and law enforcers and several Hindu temples and Durga Puja pandals were vandalised in Bangladesh, following which paramilitary forces were deployed in many affected districts.
Bangladesh Prime Minister Sheikh Hasina, while exchanging greetings with Hindus during a recent event at Dhakeshwari National Temple in Dhaka, had said that all the perpetrators would be hunted down and punished.
Ministry of External Affairs (MEA) has noted that the government in the neighbouring country has reacted promptly to ensure that the situation was under control and said that the Indian mission is in close contact with the Bangladeshi authorities over the matter.
Source: New Indian Express
Please click the following URL to read the text of the original story:
https://www.newindianexpress.com/nation/2021/oct/17/we-feel-mental-state-of-bangla-hindus-stand-by-them-at-this-hour-bengal-imams-association-2372469.html
--------
Algeria recalls French massacre at Ottoman-era Ketchaoua Mosque
OCT 17, 2021
The Ketchaoua Mosque, which is a piece of Ottoman heritage that Adm. Hayreddin Barbarossa had commissioned in Algeria, witnessed the crimes committed by the French colonial administration in the country and stands as one of the symbols of its independence.
In an interview with local media on Oct. 11, Algerian President Abdelmadjid Tebboune gave an official account of the French massacre of nearly 4,000 worshipers early on during the colonial era that spanned 1830-1962.
"France colonized us for 132 years, years which saw heinous crimes that cannot be erased with fine words. There are families and tribes that were completely wiped out such as the Zaatcha (southeastern Algeria), and not even babies were spared," said Tebboune.
He added that in Ketchaoua "they killed 4,000 worshipers, who were martyred after being surrounded by cannons and exterminated."
The Ketchaoua Mosque was commissioned in 1520 by Hayreddin Barbarossa, then-Ottoman ruler of Algeria, in the famed Casbah quarter of the capital Algiers.
Algerian historical accounts show that the French ruler of Algeria in the early colonial days, Anne Jean Marie Rene Savary, the Duke of Rovigo, decided at the end of 1832 to storm the mosque to turn it into a church.
When the city's residents camped inside the building in protest, Rovigo demolished the mosque, massacred those inside and burned copies of the Quran, the Muslim holy book.
The Ketchaoua Mosque on the Mediterranean coast, an important symbol of Algerian independence, was first used as a military depot during the French occupation and later as a residence for the archbishops of Algeria. After the mosque's demolition in 1844, a large church was built, and the building remained a cathedral until Algeria gained independence in 1962. With the country's independence, Algerians performed their first Friday prayer here.
The mosque was closed in 2008 due to damage from a 2003 earthquake.
In April 2018, the mosque was reopened following its restoration by the Turkish International Cooperation and Development Agency (TIKA), Turkey's state-run aid agency. The mosque was restored in line with the original Ottoman architectural plan according to historians and researchers from both Algeria and Turkey.
Algerian historian Amir Rahile also told Anadolu Agency (AA) that France promised to respect the teachings of Islam after entering Algeria in the 19th century, but the French did not keep the promise. Reiterating that France committed a crime against the Ketchaoua Mosque and Algerians on Dece. 18, 1832, Rahile said: "The French army decided to turn this place into a cathedral. Algerians marched to the capital and held a sit-in protest in the mosque to deter the colonialists from implementing this decision. But the French killed them when they were defenseless."
Rahile also noted that the Ottomans were in Algeria within the framework of the Islamic caliphate and emphasized: "Ottomans did not eliminate the Algerian identity, unlike the French, who did. If the Ottomans had not come and liberated Algeria from the Crusades in 1515, France's colonization of the country would not have been delayed until 1830 and the country would have been shared between Italy, France and Spain."
Source: Daily Sabah
Please click the following URL to read the text of the original story:
https://www.dailysabah.com/arts/algeria-recalls-french-massacre-at-ottoman-era-ketchaoua-mosque/news
--------
UNESCO: Iraq's Historic Al-Nuri Mosque Being Rebuilt After Damage By Extremists In 2017
17 October ,2021
To the sound of drums, religious chants resounded on Sunday evening for the first ceremony of its kind at Iraq's historic Al-Nuri mosque, which is being rebuilt after damage by extremists.
The city of Mosul's 12th-century mosque, known for its leaning minaret, was severely damaged in 2017. Iraq's army accused the ISIS group of blowing it up.
It is now being rebuilt under a project from the United Nations cultural agency, UNESCO.
"For me it's an extraordinary day. I am joyful," said Marwan Muafak, 45, a teaching administrator.
"This celebration symbolizes the return of the chant of the muezzin and prayer in this place," he added. "The residents of Mosul want to get their old lives back."
Several hundred people gathered at the site to mark the birthday of the Prophet Mohammed, in a courtyard decorated with multi-coloured lights between the mosque with its gaping windows, surrounded by scaffolding, and the minaret -- only the base of which survived.
It was there, on a stage, that five men in traditional robes banged on their daf, a traditional drum, and chanted to the glory of the Prophet after the celebration began with a communal prayer.
"It's the first celebration organized in Al-Nuri mosque on the occasion of the Prophet's birthday," said Abu Bakr Kenaan, head of Sunni religious properties in Nineveh province.
"Our joy is immense. Our feelings are indescribable in seeing all these people here."
Abu Bakr Baghdadi made his only confirmed public appearance in July 2014 at the Al-Nuri mosque, declaring the establishment of a "caliphate".
Iraq's army and an international coalition forced them out of the northern city in 2017.
Eight Egyptian architects won an international competition to reconstruct the mosque as part of UNESCO's "Revive the Spirit of Mosul" initiative for rehabilitating Iraq's second city and its cultural life.
UNESCO raised more than $100 million for the project, half of it pledged by the United Arab Emirates. The restoration is to be finished by 2023.
"The minaret and the prayer room will be rebuilt just as they were," a local antiquities official told AFP.
Source: Al Arabiya
Please click the following URL to read the text of the original story:
https://english.alarabiya.net/News/middle-east/2021/10/18/Symbol-of-rebirth-at-Iraq-s-historic-al-Nuri-mosque
--------
South Asia
Non-recognition of govt in Afghanistan is benefitting ISIS-K: Taliban
Oct 17, 2021
KABUL: The Taliban have said that not recognizing the new government in Afghanistan is benefiting Islamic State Khorasan (ISIS-K). However, the outfit dismissed concerns that the terrorist group was a threat to Afghanistan.
This comes after ISIS-K claimed responsibility for Friday's Shia mosque explosion in Kandahar in which 47 people were killed and 70 others suffered injuries. The attack follows several other recent attacks against religious institutions in Afghanistan, including last week's attack against the Gozar-e-Sayed Abad Mosque in Kunduz.
While talking to Anadolu Agency, Afghanistan's acting foreign minister Amir Khan Muttaqi said the official recognition of his government and international aid held great importance to the recovery of the country's economy.
The Taliban minister also said the freezing of Afghan foreign reserves by the US violated international law and human rights, Ariana News reported. "The real question is, why was this money blocked? What did the citizens of Afghanistan do?" he asked.
"On the other hand, the US and other countries say that humanitarian aid should be given to Afghanistan and human rights should be respected. But, they leave the Afghan people with a population of about 40 million without basic necessities."
He further added that not "recognizing the new government in Afghanistan benefits Daesh (ISIS-K)."
After Friday's blast, the Taliban had vowed to deploy more forces to protect Shi'ite mosques. Abdul Ghafar Muhammadi, the commander of police in Kandahar province has said that his forces will be working alongside the local volunteers to ensure the security of the mosques.
Source: Times of India
Please click the following URL to read the full text of the original story:
https://timesofindia.indiatimes.com/world/south-asia/non-recognition-of-govt-in-afghanistan-is-benefitting-isis-k-taliban/articleshow/87085634.cms
--------
Mob Burns Down 20 Hindu Homes In Fresh Communal Violence In Bangladesh's Rangpur: Report
Oct 18, 2021
NEW DELHI: Fresh communal violence was reported in Bangladesh on Sunday when more than 20 houses of Hindus were burned down by a mob in the city Rangpur.
As per a news report, the incident followed a rumour after a Hindu youth allegedly posted a status on Facebook - hurting religious sentiments of Muslims.
"Tension erupted there after a Hindu youth allegedly posted an offensive status on Facebook. Police secured his home after the post went viral. However, the attackers vented their anger on neighbours and burned down 20 houses," Additional Police Superintendent Kamruzzaman told media.
No one was injured during the attack and the situation was brought under control, the report added.
The incident took place in Pirganj upazila's Karimganj on Sunday night.
This incident of violence comes just a day after two Hindu men were killed amid the recent unrest in the country.
Protests began on Wednesday after footage emerged on social media of a "blasphemous incident" during celebrations at a Durga Puja pavilion in Cumilla, bordering Chandpur and about 100 kms from Dhaka.
At least four people were killed on Wednesday when police opened fire on a crowd of around 500 people attacking a Hindu temple in Hajiganj, one of several towns hit by the disturbances. Extreme right-wing Islamic Shashontantra Andolon on Saturday took out a procession in downtown Dhaka area against the viral social media image from Cumilla, saying it was insulting to the country's Muslim majority.
Source: Times of India
Please click the following URL to read the full text of the original story:
https://timesofindia.indiatimes.com/world/south-asia/mob-burns-down-20-hindu-homes-in-bangladeshs-rangpur-report/articleshow/87096307.cms
--------
Bangladesh: Muslims, Hindus protest amid religious unrest
October 17, 2021
The Bangladeshi capital of Dhaka witnessed a second day of unrest Saturday as thousands of Muslims and Hindus staged separate protests.
Tensions in the South Asian country escalated on Wednesday after widely circulated footage on social media showed the Islamic holy book of Quran being placed on the knee of a Hindu god during celebrations for the Hindu festival Durga Puja in the eastern district of Cumilla.
The image was seen as insulting by many of the country's Muslim majority.
Officials said Saturday that two Hindu men were killed in the latest spate of communal violence, taking the death toll to six. At least four people were killed on Wednesday when police opened fire on a mob of around 500 people attacking a Hindu temple in the southern town of Hajiganj.
As tensions spiked, incidents of vandalism at Hindu temples across Bangladesh were reported.
Protests rock Dhaka
On Saturday, nearly 10,000 demonstrators gathered outside the main mosque in Dhaka, a day after protests at the same spot ended in clashes with police.
Many were seen with banners of Islamist political parties as the crowd chanted, "Down with the enemies of the Islam" and "Hang the culprits".
Source: Indian Express
Please click the following URL to read the full text of the original story:
https://indianexpress.com/article/world/bangladesh-muslims-hindus-protest-amid-religious-unrest-7576245/
--------
Taliban underrate Daesh, do not call it danger in Afghanistan
17 Oct 2021
Afghanistan's acting foreign minister Amir Khan Motaqi during his visit to Turkey said that ISIS-K (Daesh) is not a threat in Afghanistan and the group does not have training centers in the country.
Amir Khan Motaqi has apparently underestimated the militant group in Afghanistan and added that there is no security problem in Afghanistan.
The acting ministry has said that there has been propaganda for ISIS-K to weaken the Taliban.
The comments come as ISIS-K has killed and wounded more than 300 Shi'ite Muslims in the mosques of Kunduz and Kandahar provinces in the past two weeks.
Amir Motaqi said that the bomb blasts were carried out in places where it was difficult to man security.
Taliban have repeatedly underrated the ISIS-K while the group has conducted the deadliest attacks since the Taliban takeover.
Source: Khaama Press
Please click the following URL to read the full text of the original story:
https://www.khaama.com/taliban-underrates-daesh-do-not-call-it-danger-in-afghanistan-4574754/
--------
Arab World
Microsoft heiress, Bill and Melinda Gates eldest daughter weds to Egyptian Muslim
October 18, 2021
NEW YORK: Microsoft heiress Jennifer Gates has married Nayel Nassar, 30, during a beautiful ceremony on Saturday afternoon at her home here in Westchester.
It was her second set of nuptials of the weekend having previously tied the knot with the Egyptian equestrian in a secret religious Muslim ceremony on Friday night, foreign media reported.
The private Muslim ceremony was held on Friday night in the garden of the family's 142-acre estate in North Salem, New York where a much larger civil ceremony with 300 guests took place on Saturday afternoon.
Jennifer began dating Nassar — a businessman who, like herself, is an accomplished equestrian and fellow Stanford University graduate — in 2017. She announced their engagement in January 2020, which occurred while the two were on a ski trip.
After the wedding on Saturday, Jennifer and her father, Bill, danced to Elton John's 'Can You Feel The Love Tonight'.
The bride, wearing a custom Vera Wang gown, stepped out of her mansion flanked by nine bridesmaids dressed in evergreen, who all appeared to be smiling and laughing as they posed for pictures.
One of the bridesmaids was seen holding up Gates' long veil as the group gathered for pictures with shades of autumn all around.
Jennifer was seen to be clutching a white flower bouquet, her veil lifted over her face. She wore her auburn hair half up and half down and wore a pair of earrings to accent her dress.
She, together with her parents then headed across the road where hundreds of guests had begun to gather from 3pm to witness the happy couple getting married in a civil ceremony.
Parents Bill and Melinda Gates jointly walked 25-year-old Jennifer down the aisle at the ceremony on Saturday afternoon.
The reception began shortly after 4pm. Bill could be seen in a dark suit, while Melinda was wearing a flowing purple gown.
The crowd let out a big cheer shortly after 5pm as the couple were finally declared man and wife. Servers could be seen standing at the ready with celebratory glasses of champagne which were handed to guests as they passed by.
Following the ceremony, the couple made a quick getaway to have some private wedding photos taken on the estate.
Saturday's guest list mostly consists of friends and family, with few celebrities or politicians invited. Georgina Bloomberg, the daughter of billionaire Michael Bloomberg and a fellow professional equestrian who owns a horse farm nearby, was invited.
The daughter of former New York City Mayor Michael Bloomberg was seen arriving at the nuptials drinking a glass of what looked like a beer while sat in the back of her SUV, arriving at the venue just after 4pm.
Friday night's rehearsal dinner — which secretly served as a reception for the private religious ceremony — was catered by Jean-Georges and included a lobster dish and pasta.
The extravagant two-day event costing an estimated $2 million was orchestrated by famed wedding planner Marcy Blum, whose elite client list includes Kevin Bacon, LeBron James and Billy Joel.
At the rehearsal, father of the bride Bill Gates and his daughter could be seen sitting on the outdoor deck of her Westchester mansion with the pair laughing and joking before appearing deep in thought.
Bill and Melinda Gates, who divorced in August after 27 years of marriage, were also seen mingling with guests at the dinner in their first appearance together since separating.
Just hours before the second, larger ceremony on Saturday, workers were racing to put the finishing touches in place.
As dark clouds formed overhead on Saturday morning, with a line of storms bearing down on New York, an acapella group was heard rehearsing 'Shine Your Light on Me' at the wedding venue.
As the hour of the civil ceremony neared, security precautions kicked into high gear. Local police, with the help of the New York State Police, shut down the road outside the Gates estate to all traffic except for invited guests.
As well, a man in a dark suit walked a German Shepherd dog into the event venue to sniff around, possibly checking for explosives.
The canine had a black vest reading 'working dog-do not pet.' No uniformed police were spotted, so there was no suggestion of an actual threat and the precaution was likely routine.
Meanwhile, trucks kept rolling in, including a Gallucci Catering truck filled with trays of food for the event.
The owner wouldn't reveal the menu but their prime offerings include Eggplant Imbottito, Chicken Campagna and scallops, as well as less chichi offerings such as franks in a blanket.
A green truck from French luxury bakery Ladurée brought the massive wedding cake in separate tiers for assembly, with a wooden dowel through the center to prevent it from toppling.
As the clock ticked down to the civil vows Saturday, workers were scrambling to make last second adjustments. This included a debate over climate control.
"I'm not sure what temperature to leave the venue so the dance floor doesn't bubble, and so we don't kill the trees," one crew member warned.
As if on cue, one of the newly-erected trees toppled over onto the dance floor.
'It's a bloody mess down here," one staffer laughed.
"I'm on it," another replied.
Later on, someone was heard asking to cut the air conditioning down in the artist tent, noting "they're freezing in there."
Workers were hauling in white flowers in orange Home Depot 5-gallon buckets, to be placed along a walkway leading into the ceremony.
Choral music could also be heard coming from the horse farm as dozens of catering staff who were wearing black shirts walked outside the wooden barns. Silver heaters together with lanterns were all seen waiting to be put into place.
The workers brought in their own catering, boxes of Dunkin Donuts and gallons of coffee.
Source: The News Pakistan
Please click the following URL to read the full text of the original story:
https://www.thenews.com.pk/print/901294-microsoft-heiress-bill-and-melinda-gates-eldest-daughter-weds-to-egyptian-muslim
--------
Syria's government, opposition agree on drafting new constitution: UN Envoy
17 October ,2021
The United Nations Special Envoy for Syria said on Sunday the government and opposition co-chairs of the Syrian Constitutional Committee had agreed to start the process of drafting a new constitution.
The committee, comprising 45 representatives of Syria's government, opposition and civil society, has a mandate to draw up a new basic law leading to UN-supervised elections.
For the latest headlines, follow our Google News channel online or via the app.
Special Envoy Geir Pedersen said its Syrian co-chairs, who he met together for the first time ahead of week-long talks, had agreed to "prepare and start drafting constitutional reform."
The talks, the sixth round in two years and the first since January for the drafting committee, will discuss "clear principles", he told reporters in Geneva, without elaborating.
The decade-old war, which spiraled out of an uprising against President Bashar al-Assad's rule, sparked the world's biggest refugee crisis. Syria's neighbors host 5.6 million refugees and European countries more than 1 million.
After support from ally Russia, Assad has recovered most of Syria, but significant areas remain outside his control: Turkish forces are deployed in much of the north and northwest and US forces are stationed in the Kurdish-controlled east and northeast.
In January, Pedersen, a veteran Norwegian diplomat, said that Assad's representatives had rejected proposals by the Syrian opposition as well as the envoy's own ideas for moving the process forward.
Source: Al Arabiya
Please click the following URL to read the full text of the original story:
https://english.alarabiya.net/News/middle-east/2021/10/17/Syria-s-government-opposition-agree-on-drafting-new-constitution-UN-Envoy
--------
Hezbollah MP says recent violence a 'massacre,' calls for accountability
17 October ,2021
The deadly clashes that broke out in Beirut on Thursday amounted to a "massacre" and its perpetrators should be held to account, local media cited a Hezbollah representative in the Lebanese parliament as saying on Sunday.
Hezbollah blamed the Christian Lebanese Forces party for the deaths on Thursday, an accusation the head of that party, Samir Geagea, denied.
The perpetrators should be held to account, the pro-Iranian al-Mayadeen TV quoted a Hezbollah representative in the Lebanese parliament as saying on Sunday.
"What the criminals ... did is a massacre and it will have important ramifications," MP Hassan Fadallah said, according to the Beirut-based channel. "Those who incited, planned ... and opened fire should be held to account all the way up to the top."
On Thursday, the army initially said rounds were fired on at protesters as they passed through the Teyouneh traffic circle dividing Christian and Shia Muslim neighborhoods. It later said there had been an "altercation and exchange of fire" as protesters were on their way to the demonstration.
Source: Al Arabiya
Please click the following URL to read the full text of the original story:
https://english.alarabiya.net/News/middle-east/2021/10/17/Hezbollah-MP-says-recent-violence-a-massacre-calls-for-accountability
--------
Damascus accuses Israel of killing former Syrian legislator
16 October ,2021
Syria accused Israeli forces on Saturday of shooting dead Medhat Al-Saleh, a former member of Syrian parliament who had spent 12 years in jail in Israel, state-run television Al-Ekhbariya quoted the cabinet as saying.
Syrian state news agency SANA said Al-Saleh "was martyred as the Israeli enemy targeted him with fire while returning home" on Saturday in Ain al-Tineh, a village inside Syria that is near the Israeli-occupied Golan Heights.
The Syrian government denounced "this cowardly criminal act."
An Israeli military spokesperson said the military does not comment on foreign reports.
Source: Al Arabiya
Please click the following URL to read the full text of the original story:
https://english.alarabiya.net/News/middle-east/2021/10/16/Damascus-accuses-Israel-of-killing-former-Syrian-legislator
--------
Syrian shelling of opposition-held town close to Turkey border kills four
16 October ,2021
Syrian government shelling of an opposition-held town near the border with Turkey on Saturday killed four people and wounded more than a dozen, Syrian opposition activists said.
The shelling of the town of Sarmada comes amid increasing tensions in the last opposition stronghold in the Syrian northwest, where a truce reached in March last year has been repeatedly violated in recent weeks.
The Britain-based Syrian Observatory for Human Rights, an opposition war monitoring group, said three of the dead were local policemen whose station received a direct hit. It said 17 people were also wounded.
The opposition's Syrian Civil Defense, also known as White Helmets, said the shelling was concentrated on Sarmada and a road linking it with the border crossing point of Bab al-Hawa with Turkey. The Civil Defense also said four persons were killed but gave a higher number of wounded, 23.
A truce negotiated between Turkey, which supports Syria's opposition, and Russia, the Syrian government's main backer, ended a crushing Russian-backed government offensive on northwestern Syria in March last year.
In other developments, a roadside bomb hit a Turkish military convoy on Friday night, killing two soldiers and wounding five on the road leading to Bab al-Hawa, according to Turkish media and the Observatory.
Source: Al Arabiya
Please click the following URL to read the full text of the original story:
https://english.alarabiya.net/News/middle-east/2021/10/16/Syrian-shelling-of-rebel-held-town-close-to-Turkey-border-kills-4
--------
Lebanon Maronite patriarch says no party should resort to threats, violence
17 October ,2021
Lebanon's Maronite Patriarch Bechara Boutros al-Rai, the top Christian cleric, said on Sunday the country's judiciary should be free of political interference and sectarian "activism" amid rising tensions over a probe into last year's blast at Beirut port.
Rai also said that it was unacceptable for any party to resort to threats or violence after last week's deadly unrest around the investigation - which was Lebanon's worst street bloodshed in more than a decade and stirred memories of the ruinous 1975-1990 civil war.
"We must free the judiciary from political interference, sectarian and partisan political activism and respect its independence according to the principle of separation of powers," he said in his sermon.
"No one is above the law and judiciary."
Rai, head of the Maronite church, has an influential role as religious leader of the biggest Christian community in Lebanon, where political power is divided between its main Christian, Muslim and Druze sects.
The inquiry into the Aug. 4, 2020 explosion, which killed more than 200 people and devastated swathes of Beirut, has made little headway amid pushback from powerful political factions, with Hezbollah chief Hassan Nasrallah saying Judge Tarek Bitar -- the lead investigator -- is biased and politicized.
Seven Shia Muslims were killed on Thursday as crowds were on their way to a protest against Bitar in a demonstration called by the Iran-backed Shia Hezbollah group and its Shia ally Amal.
The violence added to concerns over the stability of a country that is awash with weapons and grappling with an economic meltdown.
"The democratic system has afforded us peaceful means for freedom of expression whether in support or opposition so it's not acceptable that any party should resort to threats or violence and setting up party checkpoints or tribal ones to get what they want through force," said Rai.
Source: Al Arabiya
Please click the following URL to read the full text of the original story:
https://english.alarabiya.net/News/middle-east/2021/10/17/Lebanon-Maronite-patriarch-says-no-party-should-resort-to-threats-violence
--------
Arab Coalition: At least 165 Houthi militia members killed near Yemen's Marib
17 October ,2021
The Arab Coalition on Sunday said at least 165 members of the Iran-backed Houthi militia were killed, and ten of their vehicles were destroyed near Yemen's Marib in the past 24 hours.
The coalition also said it had targeted 41 vehicles and elements belonging to the Houthi militia in the past 24 hours in Yemen's Abdiya and surrounding villages near Marib.
Source: Al Arabiya
Please click the following URL to read the full text of the original story:
https://english.alarabiya.net/News/gulf/2021/10/17/Arab-Coalition-targets-Houthi-militia-elements-in-Yemen-s-Abdiya
--------
India
Alert In Assam Over Threats Of Attacks By Pakistan's ISI, Al Qaeda Over Alleged Violence Against Muslims
By Utpal Parashar
Oct 18, 2021
The Assam Police have issued an alert about possible attacks in the state by Pakistan's Inter-Services Intelligence (ISI) and al Qaeda over alleged violence against Muslims. Based on intelligence inputs about such threats, a circular issued on Saturday to the Guwahati police commissioner and all district police heads asked them to remain alert and take "necessary preventive and precautionary measures". The circular, a copy of which HT has seen, linked the threats to a possible response to the violent eviction drive at Dhalpur in Darrang district last month in which two civilians (both Muslims) were killed and nearly 20 others including 11 policemen were injured.
The circular said ISI is planning to "target individuals including RSS (Rashtriya Swayamsevak Sangh) cadres and army areas in Assam and other places in India". It added that global terror outfits could indulge in "spectacular action by resorting to explosion of bombs/IEDs in places of mass gathering/mass transport, religious places etc."
Source: Hindustan Times
Please click the following URL to read the full text of the original story:
https://www.hindustantimes.com/india-news/alert-in-assam-over-threats-of-attacks-by-pakistan-s-isi-al-qaeda-101634529088373.html
--------
Bangladesh Violence: Furfura Sharif Cleric's 'Beheading' Remark Kicks Off Controversy
Anupam Mishra
October 17, 2021
Furfura Sharif cleric and Indian Secular Front (ISF) founder Pirzada Abbas Siddiqui stoked controversy by saying those who allegedly placed a copy of the Quran at a Durga Puja Pandal in Bangladesh should be "beheaded".
In a video of the incident, Abbas Siddiqui could be seen speaking in Bangla that those who placed a copy of the Quran near the feet of a deity at a Durga Puja Pandal in Bangladesh should be "beheaded".
Siddiqui made this statement during a religious program in West Bengal's North 24 Parganas on Friday.
Abbas Siddiqui could also be heard saying in Bangla that Muslim youth are doing wrong by attending Durga Puja. "I remember that a few years ago, a theme of Durga Puja pandal, Kaaba was also made. If Kaaba is liked so much then why don't you embrace Islam," he said in the video.
Earlier this week, three people were killed in an attack on a Durga Puja pandal near Nanuar Dighi lake in Bangladesh's Comilla. Violence was also reported near temples in Chandpur's Hajiganj, Chattogram's Banshkhali and Cox's Bazar's Pekua.
As soon as the video went viral on social media, Abbas Siddiqui released a video on Facebook and demanded an inquiry into the matter of someone allegedly placing a copy of the Quran at a Durga Puja pandal in Bangladesh. He also demanded strict punishment for those who attacked the pandals.
His brother Mohammad Nawsad Siddique, who is the only MLA from the Indian Secular Front (ISF) in the West Bengal Assembly, wrote to Bangladesh Prime Minister Sheikh Hasina seeking a probe into the incident of allegedly placing a copy of the Quran at a Durga Puja pandal.
He also urged the Bangladeshi PM to take stern action against perpetrators of crimes against minorities.
BJP demands arrest of Abbas Siddiqui
Meanwhile, the BJP has demanded the arrest of Abbas Siddiqui over his remark. BJP MP Rahul Sinha said that Abbas Siddiqui was trying to disturb the communal atmosphere in the state and appealed to Chief Minister Mamata Banerjee to order the arrest of Siddiqui.
Trinamool Congress TMC leader Kunal Ghosh took a dig at the Left leaders, asking them why they were not condemning Siddiqui's statement.
Abbas Siddiqui's party ISF had contested the last election in alliance with the Left Front and Congress.
Source: India Today
Please click the following URL to read the full text of the original story:
https://www.indiatoday.in/india/story/furfura-sharif-abbas-siddiqui-bangladesh-durga-puja-pandal-attack-bengal-1865841-2021-10-17
--------
Bihar: 3 Muslims attacked in different incidents on Dussehra night
17th October 2021
Hyderabad: Hindu mobs on the last day of Dussehra reportedly attacked three Muslim men in different incidents in Bihar Sharif, Nalanda district. The hate-crimes took place on October 15, after which the state police reportedly filed an FIR in at least one attack.
After being identified as Muslims, Md Raza, Saddam Qureshi and Md Aasif were attacked on Dashami, the last day of Dussehra, the victims told Maktoob media.
"There was a rush of Dashmi. Someone from the crowd asked me: 'Are you a Hindu or a Muslim?' I replied: 'Muslim.' Then someone said from the crowd 'Maar Miya Saale ko' [attack this bloody Muslim] and then they started beating me," said 23-year-old Md Raza, who was attacked while returning from a market. Raza alleged that the mob looted him and raised anti-Muslim slurs while thrashing him mercilessly.
MS Education Academy
"Is it a crime for me to be a Muslim in this country?" another victim, Saddam Qureshi asked? He was hit on the head while visiting his in-laws' house. Sharing his story, he stated "I had gone to in-laws house at Moth Mahua Tola, Bihar Sharif, to meet my wife. Around 7:30 pm, I was standing at the gate of the road then suddenly 15-20 people came and asked my name. As I told my name, they started beating me while calling me Miya".
Qureshi reportedly demanded the police to check footage from the CCTV installed in the locality and arrest the assailants. The third known victim of the day, Asif, was attacked in similar manner when he asked the crowd about the occasion.
Source: Siasat Daily
Please click the following URL to read the full text of the original story:
https://www.siasat.com/bihar-3-muslims-attacked-in-different-incidents-on-dussehra-night-2209728/
--------
Indian Americans Along With Their Jewish Friends Protest Against Islamic Terrorism In Kashmir
18 Oct 2021
Indian Americans from South Florida along with their Jewish friends on Sunday held a demonstration against the growing Islamist terrorism in Kashmir.
Organised by the Kashmir Hindu Foundation, the protesters raised slogans like "stop Islamist jihad against minorities in Kashmir" and "fight back Islamist terrorism".
Deepak Ganju, the founding member of the KHF, urged the global community to wake up and understand that what is happening in Kashmir is the "worst violation" of human rights anywhere in the world.
Many protesters said their families were forced to flee in 1990 and they do not feel safe in returning to their homes, a media release said.
The protesters called upon the Government of India to take strong measures to safeguard remaining minority members in the Valley and ensure that no more targeted killings take place.
Former US Congressman Joe Kaufman spoke on the relevance of exposing the "terrorist sympathising organisations" like the Islamic Society of North America and ICNA.
ICNA is the American arm of Jamaat-e-Islami (JI), South Asia's largest Islamist group.
Source: Outlook
Please click the following URL to read the full text of the original story:
https://www.outlookindia.com/website/story/world-news-indian-americans-protest-against-islamic-terrorism-in-usa/397934
--------
'Illegal funding of Islamic activities': Vadodara SIT begins questioning of 2 accused
by Aditi Raja
October 18, 2021
The Special Investigation Team (SIT) of the Vadodara police, formed to probe the alleged case of AFMI Charitable Trusts' "illegal funding of Islamic activities", including the construction of mosques and legal aid to riot accused and anti-CAA protesters, Sunday, began questioning the two accused — Salahuddin Sheikh and Mohammad Umar Gautam.
Police said that the two are being interrogated separately. Following a post-midnight hearing — a first for a Vadodara court, the Vadodara city police was granted seven days custody of the two accused till October 23.
Assistant Commissioner of Police (ACP) DS Chauhan, who is overseeing the SIT probe, told this newspaper that the police took the two into custody at around 2.30 am Sunday after the court considered the 19-point remand application filed by the Vadodara police.
Among the grounds for the remand, the police told the court that an investigation is needed into the connections of the accused with people associated with certain prohibited organisations, in addition to the siphoning off of foreign funds for "Islamic activities" as well as hawala transactions.
The police will also investigate links of the accused in Maharashtra, Madhya Pradesh, Uttar Pradesh and Assam, where they have allegedly funded the construction of over 100 mosques.
Chauhan told this newspaper, "While Salahuddin is originally from Vadodara, Umar Gautam is from Delhi and he has said that his originally Rajput family converted to Islam in 1984, while he was in college. We are also probing their connection with Abdullah Fefdawala of Nabipur in Bharuch, who set up the Majlis-e-Al-Fala Trust that transferred Rs 2.06 crore during the period under investigation."
According to Chauhan, Fefda-wala, a businessman, moved out of Nabipur to the United Kingdom and the police have come across a video of him delivering a "hate speech". Chauhan said, "The accused have close connections with Fefdawala and the money trail is incriminating." The SIT has also sent summons to Fefdawala at his Nabipur and UK residences.
Chauhan also added that two others, including Mustafa Thanawala, have also been issued summons to remain present before the SIT by October 21.
Police said that the SIT has also studied the questions posed to the two accused by the UP ATS while they were in their custody since July, especially related to the part of the religious conversions allegedly by the Da'wah Centre run by Umar Gautam. "On some questions, the accused are cooperating and on some, they are not… We have also recorded statements of some more persons, which will be used to question them," Chauhan said.
Among the points mentioned in the remand application is also a specific probe into the alleged meetings held in Bharuch to "plan anti- CAA protests". Chauhan said, "We had put 19 points before the court in our remand application, which includes the accused are involved in serious offences… We will also probe the financial transaction data that the accused have said they have stored on a hard disk."
Source: Indian Express
Please click the following URL to read the full text of the original story:
https://indianexpress.com/article/cities/baroda/illegal-funding-of-islamic-activities-vadodara-sit-begins-questioning-of-2-accused-7577096/
--------
After 2 more killings in J&K, cops want migrants corralled
M Saleem Pandit
Oct 18, 2021
SRINAGAR: Terrorists targeting non-Kashmiris in J&K widened the arc of their carnage on Sunday, shooting dead two more labourers from Bihar and critically injuring a third in south Kashmir's Kulgam district to take the count of civilian casualties to 11 in a fortnight, including five migrant workers.
The killings came a day after terrorists fatally shot a roadside snack vendor from Bihar in downtown Srinagar and a carpenter from UP in Pulwama within hours of each other.
The victims – Raja Reshi Dev and Joginder Reshi Dev – were inside their rented accommodation at Laran Gangipora Wanpoh in Kulgam with a fellow native of Bihar when the terrorists barged in and opened fire indiscriminately, the police said. Raja and Joginder died where they fell while the third person in the room, identified as Chunchun Reshi Dev, is said to be stable after being treated in an Anantnag hospital.
Migrant workers in other rooms of the rented house were unharmed. A police official quoted one of them as saying that the two deceased were shot six times each.
In a message flashed to the 10 district police headquarters in the Valley late in the night, IGP (Kashmir range) Vijay Kumar said, "All non-local labourers in your respective jurisdiction should be brought to the nearest police or central paramilitary force or army establishment just now. The matter is most urgent."
Bihar CM Nitish Kumar announced compensation of Rs 2 lakh each to the families of the slain workers. He also called J&K lieutenant governor Manoj Sinha, seeking adequate security for scores of migrants from Bihar making a living in the UT as roadside vendors or labourers."I strongly condemn the despicable terror attack on civilians in Kulgam... Our security forces will give a befitting reply to the terrorists. The J&K government stands by the families in this time of grief," Sinha said later.
Former CM and PDP chief Mehbooba Mufti tweeted, "There are no words strong enough to condemn the repeated barbaric attacks on innocent civilians. My heart goes out to their families because they leave the comforts of their homes to earn a dignified livelihood. Terribly sad."
Source: Times of India
Please click the following URL to read the full text of the original story:
https://timesofindia.indiatimes.com/india/terrorists-kill-2-more-non-locals-injure-1-in-jammu-kashmir/articleshow/87091250.cms
--------
Africa
Pro-military protests in Sudan as political crisis deepens
16 October ,2021
Thousands of military-aligned demonstrators gathered in front of the presidential palace in Khartoum on Saturday, chanting "down with the government of hunger" as Sudan grapples with the biggest political crisis in its two-year transition.
Military and civilian groups have been sharing power in the east African country in an uneasy alliance since the toppling of long-standing President Omar al-Bashir in 2019.
But following a failed coup attempt in September attributed to forces loyal to Bashir, military leaders have been demanding reforms to the so-called Forces of Freedom and Change (FFC) coalition and to the civilian cabinet.
Civilian leaders, however, have accused them of aiming for a power grab.
A military-aligned faction of the FFC, including armed groups that rebelled against Bashir, called for Saturday's protests.
Ahead of the demonstrations, members of an unidentified armed group removed security barriers around government buildings and prevented the police and security forces from going about their work, Khartoum State governor Ayman Khalid said in a statement.
Source: Al Arabiya
Please click the following URL to read the full text of the original story:
https://english.alarabiya.net/News/middle-east/2021/10/16/Pro-military-protests-in-Sudan-as-political-crisis-deepens
--------
Tunisia reaches out to Saudi Arabia, UAE as economic woes deepen
17 October ,2021
Tunisia is in "very advanced discussions with Saudi Arabia and the United Arab Emirates for sorely needed financial aid, and talks with the IMF are ongoing," a central bank official said, as the nation's political crisis weighs on already dire economic ills.
An agreement with the two Gulf states may be reached soon, the head of financing and foreign transactions at the Tunisian regulator, Abdelkarim Lassoued, said on Saturday in a phone interview. He didn't give details on the amount of aid being discussed.
Tunisia is battling long-running economic troubles and has been mired in fresh political upheaval since late July, when President Kais Saied suspended parliament and assumed more powers.
The political turmoil led Moody's Investor Service last week to cut its assessment of Tunisia by one notch, to Caa1. The central bank recently voiced concern over an "acute drying up of foreign financing and the sustainability of public debt."
Lassoued said the nation would be able to meet its foreign commitments through the end of 2022, and that if a deal with the IMF is reached and reforms are launched at the beginning of the year, "there will be no problem in repaying debts."
Lassoued, who earlier had stressed authorities need to act quickly to avert a deepening of the crisis, said the central bank and Finance Ministry have had recent discussions with the Washington-based lender about possible economic reforms and that there has been "progress on the technical level."
Source: Al Arabiya
Please click the following URL to read the full text of the original story:
https://english.alarabiya.net/business/economy/2021/10/17/Tunisia-reaches-out-to-Saudi-Arabia-UAE-as-economic-woes-deepen
--------
Europe
Pope Francis slams attacks in Afghanistan, Norway, Britain
October 18, 2021
The head of the Catholic Church decried recent deadly attacks in Afghanistan, Norway and Britain, calling violence "a defeat for everyone."
"Last week various attacks were carried out, for example in Norway, Afghanistan, England, which caused many deaths and injuries," Pope Francis said, after greeting the public in St. Peter's Square for his customary Sunday remarks and blessings delivered from a window of the Apostolic Palace.
"I express my closeness to the families of the victims," Francis said.
In Norway, a bow-and-arrow attack claimed five lives and left three persons wounded.
In southern Afghanistan, a suicide bombing at a mosque killed at least 47 people and wounded scores more. The Daesh (ISIL or ISIS) terrorist group claimed responsibility.
In Britain, a lawmaker who was meeting at a church with some of his constituents was fatally stabbed, and police are investigating the slaying as a terrorist act.
"I implore you, please, to abandon the path of violence, which is always a losing one, is a defeat for all," Francis said. "Let's remember that violence generates violence."
Source: ABNA
Please click the following URL to read the full text of the original story:
https://en.abna24.com/news//pope-francis-slams-attacks-in-afghanistan-norway-britain_1189636.html
--------
Dutch municipalities 'unlawfully' investigating mosques – report
October 18, 2021
Some city governments in the Netherlands have been secretly investigating mosques and Muslim institutions through private companies, local media reported.
Dutch daily NRC reported on Saturday that at least 10 municipalities in the country have been investigating mosques, imams, mosque association officials, and people active in the community.
According to the report, the municipalities involved in such investigations include Rotterdam, Delft, Almere, Huizen, Leidschendam-Voorburg, Zoetermeer, Veenendaal, and Ede.
The newspaper added that the Utrecht Municipality had stopped its investigation due to concerns about privacy and the method of the probe.
The report claimed that the NTA (Nuance door Training en Advies), a consultancy firm that informs the government on radicalisation, was paid by the national coordinator for security and counterterrorism through municipalities.
Around $347,990 (€300,000) has been spent so far on the secret investigations, according to the report.
The NTA employees doing investigations posed as members of the community or visitors and met numerous people without revealing their true identities, the report added.
According to the daily, findings on the backgrounds of imams and administrators, such as where they came from or their schooling, were submitted to the municipalities as "secret information" by the NTA.
Radicalisation problems
According to the report, a government investigation into radicalisation due to Daesh role in the Syrian civil war fell short, and the municipalities wanted to gauge this problem with a separate inquiry.
The NRC reported that the municipalities wanted to get more "realistic" results by having mosques in their regions closely monitored.
Citing constitutional law professor Ymre Schuurmans, the daily reported that such investigations were "unlawful" and that the "municipalities cannot do this through private companies."
Also quoting SPIOR, a Muslim umbrella group, the daily reported that the investigation did grave damage to the Muslim community's trust in the government.
'Illegal actions'
Dutch Muslims criticised the secret investigations.
Muhsin Koktas, head of the Dutch Muslim Organisation for Government Relations, said that they were greatly disappointed by the news.
Underlining that for years Muslims have been working to be good citizens in the Netherlands, Koktas said: "With such actions the state is constantly derailing our efforts. For this reason, they lose the trust of Muslims instead of gaining it."
Source: TRTWORLD
Please click the following URL to read the full text of the original story:
https://www.trtworld.com/europe/dutch-municipalities-unlawfully-investigating-mosques-report-50825
--------
Muslim Council of Britain condemns 'cold-blooded murder' of lawmaker
Karim El-Bar
18.10.2021
LONDON
The Muslim Council of Britain (MCB) issued a strongly worded statement Sunday in response to the stabbing death last week of British lawmaker Sir David Amess, who it called a friend of the Muslim community.
"The MCB's position is clear in its condemnation of this cold-blooded murder in the strongest possible terms," said MCB Secretary General Zara Mohammed.
"The perpetrators of this, and similar despicable crimes, should know that there is no justification for murder and the taking of innocent life."
She continued by saying that the vitality of Britain's democracy depended on the accessibility of its elected representatives.
"Within the past five years, we have witnessed two members of Parliament killed in the course of performing their duties," Mohammed said.
"Those whom we entrust with public office must be able to serve their communities without facing such grave threats to their safety, and so we welcome steps being taken to ensure better security for them. The killers of both Jo Cox MP and Sir David Amess MP are not only united in their total disregard for the sanctity of life, but their desire to sow division in society. We will not let them succeed."
Paying tribute to Amess, Mohammed said he was a friend of Muslim communities, who spoke "poignantly" about their relationship with him.
"He was always eager to support mosques and Muslim organizations in their work, attending Eid celebrations and the grand opening of Southend's Essex Jamme Mosque," she said.
Mohammed added that nationally, Amess championed many causes that resonated with many across society.
Source: Anadolu Agency
Please click the following URL to read the full text of the original story:
https://www.aa.com.tr/en/europe/muslim-council-of-britain-condemns-cold-blooded-murder-of-lawmaker/2395131
--------
Sweden's foreign minister visits Israel in effort to rebuild ties
Beyza Binnur Dönmez
18.10.2021
Sweden's foreign minister landed in Israel late Sunday in the first visit by the country's top diplomat in 10 years.
"Just arrived in Israel. This official visit marks a new beginning in the relationship between [Israel and Sweden]," Ann Linde said on Twitter.
Noting that she will be meeting Monday with her Israeli counterpart Yair Lapid and President Isaac Herzog, she added: "This will be the first visit by a Swedish foreign minister to Israel in ten years."
Linde plans to visit the Palestinian city of Ramallah in the West Bank on the second day of her visit.
Source: Anadolu Agency
Please click the following URL to read the full text of the original story:
https://www.aa.com.tr/en/europe/sweden-s-foreign-minister-visits-israel-in-effort-to-rebuild-ties/2395126
--------
UN envoy: Syrian Constitutional Committee agrees to start drafting charter
Bayram Altug
17.10.2021
GENEVA
The Syrian Constitutional Committee has agreed to start drafting a new constitution, the UN's special envoy for Syria announced on Sunday.
"The two co-chairs now agree that we will not only prepare for constitutional reform, but we will prepare and start drafting for constitutional reform," Geir Pedersen told reporters in Geneva ahead of the committee's sixth session, which is set to start Monday.
"So, the new thing this week is that we will actually be starting a drafting process for constitutional reform in Syria," he added.
The members of the "Middle Third" of the constitution committee, consisting of 15 members apiece from the Bashar al-Assad regime, NGOs, and the Syrian opposition, are meeting again in Geneva after a nearly nine-month hiatus.
Pedersen also said that he met the representatives of the Assad regime, NGOs, and the Syrian opposition separately on Sunday morning.
"But then also another very important meeting took place, and that was for the first time, the two co-chairs, the one nominated by the government and the other nominated by the opposition, were sitting down together with me for a substantial and frank discussion on how we are to proceed with the constitutional reform and indeed in detail how we are planning for the week ahead of us," he added.
He said that the drafting committee has met five times, but after the fifth meeting this January, it concluded that they were "not making sufficient progress."
Asked by Anadolu Agency how many more rounds of meetings are expected before a constitution is ready, he said: "Very short answer to that, I don't know. We will see how the meeting proceeds this week and then you (will) know."
During Pedersen's meeting with Hadi Al Bahra, the committee's opposition co-chair, and Ahmad Nabil al-Kuzbari, the regime co-chair, Alessandra Vellucci, head of the UN Information Service in Geneva, was also present. Anadolu Agency learned.
Source: Anadolu Agency
Please click the following URL to read the full text of the original story:
https://www.aa.com.tr/en/europe/un-envoy-syrian-constitutional-committee-agrees-to-start-drafting-charter/2395074
--------
Pakistan
Pakistani artists make world's largest copy of Islam's holy Quran
OCT 17, 2021
Renowned Pakistani artist Shahid Rassam and more than 200 of his associates have been working on preparing the world's largest copy of the Quran, Islam's holy book, in the Karachi Arts Council since 2017.
The unique project is scheduled to be completed in 2026.
The rare artwork, measuring 8.5 feet (2.59 meters) long and 6.5 feet wide, is poised to break the record currently held by a copy of the Quran sized at 6.5 feet by 4.5 feet, which was prepared in Afghanistan in 2017 and is now kept at the Kul Sharif Mosque in the Russian city of Kazan.
According to Rassam, it marks the first time in the over 1,400-year history of Islam that the Quran is being cast in aluminum. Calligraphers have previously produced classic art in creating copies of the holy book using conventional materials such as wood, paper, animal skin and cloth.
"This is my lifetime project," Rassam told Anadolu Agency (AA) as his associates continued concentrating on their work.
Over the past several months, Rassam, 49, who took two years to prepare the first two pages of the holy Quran, has been spending an average of 10 hours a day on the project.
"It's more than a challenging task and equally sensitive (in terms of the sanctity of the Quran). One minor mistake can ruin the whole effort," he noted.
Inspired by Turkish, Arabic and Iranian art
Rassam will display the first sample of his artwork, Surah Ar-Rahman – the 55th Chapter of the Quran – at the ongoing Dubai expo 2020 in November.
The Karachi-based artist said his work is inspired by Turkish, Arabic and Iranian art designs.
"We have created our own design (to cast the Quran) after studying Turkish, Arabic and Iranian designs. It's not a mixture of these designs, but it is inspiration," he said.
In the first step, he said, the letters are cast in clay, which is later plastered and finally converted into fiber before being cast in aluminum.
Over 200 kilograms (440 pounds) of gold, 2,000 kilograms of aluminum and 600 canvas rolls will be used to cast 77,430 words on 550 pages. To illuminate and enrich the design, precious stones such as rubies, sapphires and emeralds will also be used, he said.
The Italian glazing technique and acrylic colors have been used to develop the design, as they can last for hundreds of years.
Not all about religion
Rassam said he had prepared a sample of the artwork at the request of a friend in 2016, which propelled him to produce it on a wider scale.
"I kicked off this project solely on my own. I am still disbursing my own resources on it. There has been no (financial) support by the government or any institution," he said when asked how he would bear such large expenses.
"Some foreign governments, however, have approached me in this regard," he said, without mentioning the countries' names.
These types of rare and huge projects, he observed, always require support from the state.
Rassam said his work is not all about religion but about art and culture as well.
"This (work) is not meant for Muslims only but to attract people from different religions through art. It is aimed at highlighting Islamic art and culture," he said.
He said a separate museum would be required to display this huge artwork.
Source: Daily Sabah
Please click the following URL to read the full text of the original story:
https://www.dailysabah.com/arts/pakistani-artists-make-worlds-largest-copy-of-islams-holy-quran/news
--------
Seerat Authority to take Pakistan in right direction: Ashrafi
October 18, 2021
LAHORE: PM's Special Aide on Religious Harmony and Middle East, Hafiz Tahir Mehmood Ashrafi while addressing a press conference Sunday stressed that the implementation of Nizam-e-Mustafa (SAW) in the country will have to start from our very homes.
He said Seerat Authority is being set up to take Pakistan in the right direction of making it Madina state. Hafiz Tahir Ashrafi, who is also chairman Pakistan Ulema Council (PUC), said the government will hold historical events in Islamabad in connection with the celebrations of 12th Rabi-ul-Awal. The Seerat Authority will highlight all aspects of Seerat-e-Tayyaba (SAW) before the youth and world. He said elimination of Islamophobia and allegations raised against Islam can only be addressed through promoting Islamic teachings and by making public the Seerat-e-Mustafa (SAW). He said Pakistan needs a struggle at every level to make it a Medina-style state.
He urged the political leadership not to target country's security agencies, adding that Pakistan is safe today because of the nation and the army. He warned that enemies were conspiring to make Pakistan like Libya, Syria and Iraq, and said such a dream will not come true.
He welcomed the revoking of social distancing during prayers in the holy places by the Saudi Arabian government, terming it good news for the Muslim Ummah. He said 'Ashra-e-Rehmatul-il-Alameen' is being celebrated all over the country. There is a need to adopt the Sirat-e-Taiba (SAW). The real follower is only that one who ensures implementation of teachings of Seerat-e-Nabvi (SAW) which makes it necessary to discharge the rights of Allah and the rights of people with equal sincerity. He said establishment of Seerat-e-Rahmat-ul-Alamin Authority is being lauded by scholars, ulema and Mashaikh across the country as well as in the Islamic world. If such a step had been taken 70 years ago, Nizam-e-Mustafa (SAW) would have been implemented in the country today, he said, adding that the only solution to the problems is to ensure implementation of Seerat-e-Mustafa (SAW).
Source: The News Pakistan
Please click the following URL to read the full text of the original story:
https://www.thenews.com.pk/print/901305-seerat-authority-to-take-pakistan-in-right-direction-ashrafi
--------
Study finds no evidence of 'forced religious conversion' in Sindh
October 17, 2021
There is no evidence suggesting that non-Muslims, including underage girls, have been forcibly converted to Islam in Sindh, shows a groundbreaking study by Institute of Policy Studies' (IPS) researcher Sufi Ghulam Hussain based on his ten years of episodical fieldwork, interviews with a cross-section of Sindhi society and statistical analysis of data acquired from seminaries and courts across the province.
The study which was also consulted and by the parliamentary committee formed on the controversial 'anti-forced conversion bill' rejected last week is based on exclusive IPS datasets.
The extensive and exhaustive fieldwork consisted of 200 in-depth interviews with a cross-section of Muslim and non-Muslim population, content analysis of over 400 audio recordings, along with review of 19 NGO reports. The quantitative sample comprised 6,055 cases of converts documented and collected during 2008 to 2020.
Some 32 families, 24 couples (of whom females were mostly neo-converts), 16 males, 24 leaders of the Hindu community, 22 religious clerics, 21 civil society activists, eight lawyers, two police officers and two magistrates were interviewed by the lead researcher Ghulam Hussain.
The key hypothesis was to investigate whether non-Muslim girls below the age of 18 are forcibly converted to Islam. Analysis of data shows that of the total recorded cases of conversion involving freewill marriages in this study, only a fraction was minor. "Given the prevalence of marriages below 18 years in rural Sindh, this is not unexpected", said Ghulam Hussain.
None of the cases verified by this research proved to be forcible conversion whereby 'force' means coercion, blackmail, deception or the threat to kill a person or his/her parents. Contradictory to the commonly propagated perception, it was found that coercion is often used by parents and the community of the converting individual to revert such a person.
This is in the form of political pressure, influencing the local administration and state institutions, social media campaigning, NGO activism, invoking caste or community honor, appealing to patriarchal ego, mobilizing separatist elements, and even torture.
The study shows that religious conversions occur at Sindh's main seminaries and religious sites that take care of legal requirements and relevant documentation, including through courts. During the course of research, of converts registered with prominent religious seminaries/centers were obtained. These sites include Amrot Sharif (Shikarpur), Barchoondi Sharif (Ghotki), Gulzar-i-Khaleel (Umerkot), Bait-us-Salam (Badin), Madina Masjid (Mirpurkhas), and Jamia Binnoria (Karachi).
Source: Pakistan Today
Please click the following URL to read the full text of the original story:
https://www.pakistantoday.com.pk/2021/10/17/study-finds-no-evidence-of-forced-religious-conversion-in-sindh/
--------
Rulers have broken all records of incompetence: JI chief
October 18, 2021
LOWER DIR: Jamaat-i-Islami chief Sirajul Haq said on Sunday that inflation, poverty and unemployment had made life miserable for the masses.
Addressing concluding session of a seven-day Fahmul Quran class at the Timergara Rest House ground as chief guest, the JI chief said the rulers had broken all records of incompetence and inefficiency.
"The nation as a whole shall collectively repent and seek forgiveness from Allah Almighty," he said, adding the Islamic justice system was not being followed in the courts, banks and other financial institutions of the country.
The JI chief said that Rs3.3 trillion was paid as interest on the loans this year, which had virtually ruined the national economy. He said that the Western law was being followed in the economy and courts of the country.
Siraj says inflation, poverty has made life miserable for people
Following successful conduct of Fahmul Quran classes in Khyber Pakhtunkhwa, he said that such classes would now be arranged in Punjab, Sindh and Balochistan to unite the people.
The gathering was also addressed by JI provincial deputy chief Maulana Dr Mohammad Ismail, who conducted the class for seven consecutive days.
PENSIONERS' DEMAND: The retired government employees here on Sunday demanded increase in pension and Shuhada package.
The demand was made in a meeting of the ex-servicemen of civil and military institutions held in Talash and attended by its central, provincial and local leaders.
Speaking on the occasion, central vice-chairman of the association retired Capt Mohammad Rehman, provincial chairman retired Capt Sher Wali and others said that about 8,000 soldiers had embraced martyrdom for the sake of the country.
Source: Dawn
Please click the following URL to read the full text of the original story:
https://www.dawn.com/news/1652692/rulers-have-broken-all-records-of-incompetence-ji-chief
--------
Southeast Asia
PAS Dewan Ulama wants all promotions for Malaysian-made whisky 'Timah' to cease
18 Oct 2021
BY SOO WERN JUN
KUALA LUMPUR, Oct 18 — The Central PAS Dewan Ulama (DUPP) has expressed its concerns about the recent controversy over a local whisky brand called Timah.
Calling for a stop to all promotion and sale of the liquor to the public, Dewan Ulama information chief Mohd Nor Hamzah said this was to prevent any negative impact on society, especially young people.
"In fact, any liquor company should take into account religious sensitivities when promoting their products even though Malaysia is a multiracial country," he said in a statement today.
Mohd Nor was responding to criticisms linked to the liquor brand being directed at PAS since it is a component party of the federal government.
In a statement, the DUPP also suggested several steps that the government could take. They are:
Conduct a background check and due diligence on the liquor company;
Take firm action by closing down the liquor company to avoid it setting a precedent for the emergence of new liquor companies; and
Ensure that any advertisements and promotions regarding liquor by any company must be monitored in accordance with the guidelines prohibiting the promotion of liquor and alcohol as set out in Part 3, Content Code on Advertisements, Paragraph 8.5 (Other Specific Advertisements), Code Malaysian Communications and Multimedia Content (Content Code).
The DUPP also suggested that the government needs to streamline monitoring and enforcement by the authorities, such as the Home Ministry and the Ministry of Domestic Trade and Consumer Affairs, so there is no repeat of the controversy.
Malaysian-made whisky, Timah, is sold at RM190 per bottle and contains 40 per cent alcohol.
Source: Malay Mail
Please click the following URL to read the full text of the original story:
https://www.malaymail.com/news/malaysia/2021/10/18/pas-dewan-ulama-wants-all-promotions-for-malaysian-made-whisky-timah-to-cea/2014194
--------
When Indonesia's blasphemy law turns blasphemous
Siktus Harson
October 18, 2021
In monotheistic religions, it's common for blasphemy, the act of insulting or showing contempt to a deity or sacred object, to be looked upon as a serious crime and punishable.
This view gave birth to anti-blasphemy laws to ensure people's faith in God and devotion to sacred objects are safeguarded from attacks. One such ban appears in the Ten Commandments of the Old Testament.
In many countries, mostly Muslim-majority ones, such laws have created a magnitude of problems as they have become an effective weapon in the hands of the powerful majority to restrict minority groups from exercising their faith or to bridle freedom of expression.
The US Commission on International Religious Freedom (USCIRF) in its 2020 annual report named many Asian nations, including India, Pakistan, China and Myanmar, as countries of "particular concern" because of serious religious freedom violations.
According to International Christian Concern, false blasphemy accusations in Pakistan are used to incite religious hatred against Christians.
One of the most high-profile cases was Asia Bibi, a Christian woman who spent years on death row after being convicted of blasphemy in 2010 following an argument with a group of Muslim women. A court acquitted her of all charges eight years later but she was forced to flee to Canada as her life was still considered in danger.
The USCIRF placed Indonesia on a "special watch list" because its government allows or engages in severe religious freedom violations. Bowing to public pressure following blasphemy accusations has contributed to this listing.
Indonesia and Pakistan have something in common with regards to anti-blasphemy laws. The laws are not only exploited to persecute Christians and other religious minorities but also to settle rivalries, including against other Muslim groups such as the Ahmadiyya and Shia.
The blasphemy ban in Indonesia is regulated by the 1965 Prevention of Religious Blasphemy Law, supported by Articles 156 and 157 of the Criminal Code.
Article 156 guarantees the rights of Indonesian people of different races, origins, religions, nationalities or positions. Meanwhile, Paragraph 1 of Article 157 relates to criminal charges on a person who broadcasts, displays or publicly posts writings or paintings containing statements of hostility, hatred or humiliation against other people or religious groups.
The electronic transaction law sets a punishment of up to six years in prison for those who post blasphemous content via the internet against any of the country's official religions — Islam, Protestantism, Catholicism, Hinduism, Buddhism and Confucianism.
According to Andreas Harsono, an Indonesia researcher for Human Rights Watch, more than 150 Indonesians, mostly from religious minorities, have been convicted of blasphemy since the blasphemy law's introduction in 1965.
Muhammad Kece, a Christian who converted from Islam, and Muslim cleric Yahya Waloni could become the latest victims following their arrest in August. Kece, who was later assaulted while in detention, allegedly insulted the Prophet Muhammad, while Waloni allegedly declared the Christian Bible as fake.
Every time a blasphemy charge is laid, calls for a revision of the law usually follow.
Many calls came in 2016 after a Muslim mob damaged several Buddhist temples in retaliation against a Buddhist woman in North Sumatra who was accused of blasphemy for complaining about loud calls to prayer from a nearby mosque.
A similar incident occurred in May near Jakarta when an angry mob attacked and burned the house of a man who complained about the loudspeakers at a nearby mosque.
Moves to revise, or even abolish, the law have been filed by critics who say it is haphazardly used for political purposes to target groups such as Shia Muslims, Ahmadis or Christians.
A case in point was when Basuki Tjahaja Purnama, the former Jakarta governor, was accused of blasphemy and sentenced to two years in prison in 2017.
However, the majority, including those in power claim the law, in its present form, maintains interreligious harmony.
The Constitutional Court said the anti-blasphemy law helps Indonesia uphold freedom of religion.
According to the court, punishing blasphemy is necessary because insulting a religion cannot be justified. The court said no person or institution has the right to harass or treat other religious elements maliciously as it could trigger anger and public unrest.
A multi-religious country such as Indonesia must maintain interfaith harmony. But imposing a law that has often been abused is questionable.
Ideally, a blasphemy law should function like traffic lights that prevent cars from bumping into each other. It works when it protects believers from attacks by fundamentalists who claim that their religious point of view is better than others.
But it fails when it is used as a weapon to oppress minority groups as happened to members of Indonesia's Ahmadi community in early September.
Source: UCA News
Please click the following URL to read the full text of the original story:
https://www.ucanews.com/news/when-indonesias-blasphemy-law-turns-blasphemous/94562
--------
Religious affairs minister: Special committee meeting will discuss SOPs for mosque, surau activities
17 Oct 2021
KUALA LUMPUR, Oct 17 — The Muzakarah Committee of the National Council for Islamic Religious Affairs (MKI) is set to convene a special meeting to discuss issues relating to standard operating procedures (SOP) for mosque and surau activities, including a proposal to reduce the gap between congregants during congregational prayers.
Minister in the Prime Minister's Department (Religious Affairs) Idris Ahmad said he had asked the Malaysian Islamic Development Department (Jakim) to arrange the meeting to listen to a briefing on the current Covid-19 risk assessment by the Ministry of Health (MOH).
He said this was following the announcement by Prime Minister Datuk Seri Ismail Sabri Yaakob on states transitioning to the next phase as well as relaxation of the SOP under the National Recovery Plan (PPN).
"I believe a decision will be achieved for the good of the public, and hope that mosque and surau activities, especially congregational prayers will be allowed as usual with certain SOPs," he said in a statement today.
Apart from the MOH and the National Security Council (MKN), Idris said all members of the MKI comprising respective state muftis as well as appointed members among experts were also invited to attend the meeting.
Source: Malay Mail
Please click the following URL to read the full text of the original story:
https://www.malaymail.com/news/malaysia/2021/10/17/religious-affairs-minister-special-committee-meeting-will-discuss-sops-for/2014052
--------
World Muslim leaders should act on mosque bombings in Afghanistan
10- 16- 2021
KUALA LUMPUR: With Afghanistan again rocked by mosque bombings for the third time in October, world Muslim leaders should immediately voice out their concern and act to prevent the repeat of the tragic incidents.
According to a statement quoting Global Peace Mission (GPM) Malaysia's Chief Operating Officer in Kabul, Syahrir Azfar Saleh, the same pattern of bombing took place yesterday (Friday) in Kandahar with more than 23 people killed.
"Do something before things get worse where we end up seeing never ending war in Afghanistan," the statement said.
The first incident on October 3, 2021 occurred in Eid Gah Mosque in Kabul, killing at least five. Just five days later, another suicide bombing incident took place at a mosque in Kunduz when Afghans were performing their Friday prayers killing more than 80 people.
GPM in its statement of regret over the bombing incident in Kunduz had urged all parties in the conflict to take their differences to the negotiation table, and avoid actions that endanger the safety and the lives of the public.
Source: The Sun Daily
Please click the following URL to read the full text of the original story:
https://www.thesundaily.my/local/world-muslim-leaders-should-act-on-mosque-bombings-in-afghanistan-HJ8469238
--------
Indonesia, Malaysia concerned over Aukus nuclear subs plan
Monday, 18 Oct 2021
JAKARTA, Oct 18 — Malaysia and Indonesia share strong reservations over Australia's decision to acquire nuclear-powered submarines, even though nuclear weapons were not part of the plan, Malaysia's foreign minister said on Monday.
Referring to Aukus, a trilateral security pact agreed last month between Australia, the United States and Britain, Datuk Saifuddin Abdullah said the two South-east Asian nations were similarly concerned about its ramifications.
"We agree on the latest issue in the region regarding a country near our territory that is purchasing new nuclear-powered submarines," Saifuddin told a joint news conference after a meeting counterpart Retno Marsudi.
"Even though that country doesn't have the capacity for nuclear weapons, we are worried and concerned."
Indonesia last month said it was concerned Aukus could lead to a regional arms race.
The deal comes amid increasing tensions in the East and South China Seas, conduits for trillions of dollars of shipments amounting to about a third of global trade.
The Philippines, a US defence treaty ally, has backed Aukus it, saying it offers a necessary counterbalance to an increasingly assertive China.
Malaysia previously said it would seek views on the issue with China and Asean.
The Indonesian and Malaysian ministers also expressed disappointment with the Myanmar junta's lack of progress in implementing an agreed peace plan with the Association of Southeast Asian nations (Asean).
Source: Malay Mail
Please click the following URL to read the full text of the original story:
https://www.malaymail.com/news/malaysia/2021/10/18/indonesia-malaysia-to-start-work-on-travel-corridor/2014197
--------
Mideast
Iran Criticizes Europe's Failure in Fulfilling JCPOA Commitments
2021-October-18
"After the US withdrawal from the JCPOA, Europe failed to comply with its obligations," Baqer Kani said during the meeting.
The fifth round of political talks between Islamic Republic of Iran and Austria was held in Tehran co-chaired by Baqeri Kani and Launsky-Tieffentha.
During the meeting, Bagheri Kani pointed to the age-old history of relations between the two countries of Iran and Ausutria and termed it as a valuable asset.
Emphasizing Iran's adherence to its obligations under the JCPOA, the Iranian deputy foreign minister said, "Although Europe did not withdraw from Iran's nuclear deal, after withdrawal of the United States from this important international agreement, it (Europe) did not take effective and practical action within the framework of its obligations under JCPOA."
Peter Launsky-Tieffentha, for his part, said that mutual respect and understanding has institutionalized the will to cooperate by the two countries.
Referring to the high capabilities and potentials of the two countries in enhancing economic ties, he emphasized presence of Austrian firms for having active presence in the Islamic Republic of Iran.
In a relevant development on Sunday, Iranian Foreign Minister Hossein Amir Abdollahian in a meeting with Launsky-Tieffenthal in Tehran pointed to the recent deadly terrorist attacks in Afghanistan, and said the ISIL and other terrorist groups are alarmingly rising their operations in Iran's neighboring country.
"The rise of Daesh (the ISIL) and other Takfiri terrorist groups, following a change of government in Afghanistan, is dangerous," Amir Abdollahian said during the meeting in the Iranian capital.
On October 8 and 15, the ISIL terrorists attacked Shia mosques in the Afghan cities of Kunduz and Kandahar, respectively, killing and injuring hundreds of innocent worshipers attending Friday prayers.
The terrorist attacks happened almost two months after the Taliban took control of Afghanistan amid swift advances on the ground, which many attribute to a hasty withdrawal of the US-led foreign forces.
The Iranian foreign minister, meantime, called on the European Union to take "a more responsible approach" in protecting the rights of Afghans displaced by violence.
Elsewhere in his remarks, Amir Abdollahian referred to Iran's longstanding and old relations with Austria, and expressed the hope for a growth in economic and trade ties between the two countries.
Launsky-Tieffenthal, for his part, praised the friendly relations between Tehran and Vienna.
He also denounced the latest terrorist acts in Afghanistan, and said Iran and Austria have common concerns concerning the ISIL.
Additionally, he stressed Austria's support for meetings of Afghanistan's neighbors to help resolve that country's problems.
In relevant remarks earlier on Sunday, Iranian Parliament Speaker Mohammad Baqer Qalibaf condemned the trans-regional forces for violating security in the region, and said that the US is seeking to push the regional states into war to deprive them of lasting peace and economic prosperity.
"The West Asian region is in a very sensitive situation today. Some complicated plans are underway to involve the countries of the region in civil wars," the Iranian Parliament speaker said while addressing the Sunday session of the parliament.
"Creating dispute between the countries of the region is on the agenda of the United States and its allies to prevent economic cooperation and the establishment of lasting peace throughout the region," he added.
Qalibaf underlined that the occurrence of tragic events such as the killing of innocent people at the Bibi Fatima Mosque in Kandahar, the armed and illegal riots in Lebanon, the divisiveness in Iraq and the false and divisive statements made by some regional leaders in the past week have revealed these conspiracies more than before.
He reiterated that the Islamic Republic wants to maintain stability and security throughout the region, and said that Iran considers the will of the people in every country as the determining factor to settle disputes, as well thwart conspiracies.
The Iranian parliament speaker also said that any action that violate security throughout the region are condemned, adding that all countries must work to establish lasting peace and stability and increase economic relations in the region.
In a relevant development on Thursday, Iran's Ambassador to the European Union Gholamhossein Dehqani underlined that the US and other member-states of the NATO military alliance should shoulder the responsibility for the negative consequences of their invasion of Afghanistan.
Source: Fars News Agency
Please click the following URL to read the full text of the original story:
https://www.farsnews.ir/en/news/14000725000747/Iran-Criicizes-Erpe's-Failre-in-Flfilling-JCPOA-Cmmimens
--------
Top preacher urges Muslims' presence at Al-Aqsa Mosque Tuesday
October 18, 2021
The imam and preacher of Al-Aqsa Mosque called on Muslims to visit the mosque in large numbers on Tuesday to celebrate the birth anniversary of Prophet Muhammad (PBUH).
It is upon Muslims to deem the auspicious occasion as an opportunity to go to the mosque and say prayers and attend celebrations there, Sheikh Akrama Sabri said, al-Quds daily reported.
He also underlined the need for every Muslim man and woman to study the Seerah (life) of the Holy Prophet (PBUH) and try to follow the Seerah in all aspects of life.
Sheikh Sabri also called on the Muslim and Arab nations to get united in support of Al-Aqsa Mosque and make efforts to protect holy sites in Jerusalem al-Quds and elsewhere in Palestine.
Muslims must also counter onslaughts on Islam and its sublime teachings that promote moderation, justice, dignity, compassion, tolerance and respect for others' views, he went on to say.
Source: ABNA
Please click the following URL to read the full text of the original story:
https://en.abna24.com/news//top-preacher-urges-muslims%e2%80%99-presence-at-al-aqsa-mosque-tuesday_1189637.html
--------
Top Commander: Iran, Pakistan Agree to Hold Joint Naval Drills
2021-October-17
"Iran and Pakistan have agreed to improve security along common borders and have made great efforts to create border barriers, control border traffic, fight drugs smuggling and human trafficking and combat other factors causing insecurity at borders," General Baqeri said.
"Today, fortunately, the common border between the two countries is much safer than in the past," the top commander added.
General Baqeri recalled that the two neighboring states have enjoyed military cooperation in recent years, and said, "During this visit, good agreements were reached, including on holding joint naval drills whether in Pakistan's waters or in the southern waters of the Islamic Republic of Iran in the future."
He noted that Pakistan would attend joint maritime exercises by Iran, Russia and China, which have been held since two years ago.
In a relevant development on Thursday, General Baqeri and Pakistan's Chief of Naval Staff Admiral Muhammad Amjad Khan Niazi in a meeting in Islamabad reviewed ways to further expand relations and cooperation between the two countries' navies.
General Baqeri and Admiral Amjad Niazi exchanged views on issues of mutual interest, the latest state of fraternal relations between Iran and Pakistan, including the level of cooperation between the two countries' navies.
The two sides discussed maritime security in the region and a wide range of other security developments.
Over the past days, General Baqeri held meetings and consultations with the Pakistani political and military leaders. He met with Army Chief General Qamar Javed Bajwa, Chairman of the Joint Chiefs of Staff Committee General Nadeem Reza, and Pakistani Prime Minister Imran Khan.
In these meetings, the latest situation of the relations between the two countries in the military, security, strategic dimensions, and strategies for the development of these relations were reviewed.
Source: Fars News Agency
Please click the following URL to read the full text of the original story:
https://www.farsnews.ir/en/news/14000725000503/Tp-Cmmander-Iran-Pakisan-Agree-Hld-Jin-Naval-Drills
--------
Israel expects 2,000 rockets a day in any war with Hezbollah: Army
18 October ,2021
Israel does not want war with Lebanon's Hezbollah but is prepared to face about 2,000 rockets a day from the armed group if conflict breaks out, a senior Israeli military official told AFP.
In May this year, the Israeli army fought an 11-day war against Palestinian armed groups in the Gaza Strip, who fired around 4,400 projectiles towards Israel.
Israel says its Iron Dome defense system, which has been in use for around a decade, intercepted around 90 percent of the rockets headed for populated areas, while just under 300 hit inhabited districts.
The rate of fire surpassed that seen in Israel's 2006 war against Hezbollah, when a similar number of rockets were launched from Lebanon -- but over the course of around a month -- the Israeli army said.
In May, cities like Tel Aviv and Ashdod experienced the "highest number of fire towards them in the history of Israel", said Uri Gordin, chief of the army's Home Front Command.
"We saw a pace of more than 400 rockets fired towards Israel on a daily basis."
He said that in the case of "conflict or a war with Hezbollah, we expect more than five times the number of rockets fired every day from Lebanon to Israel".
"Basically we are looking between 1,500 and 2,500 rockets fired daily towards Israel," he told AFP.
'Wake-up call'
Set up in 1992 after the first Gulf War, Gordin's Home Front Command is in charge of civil defense, meaning it is responsible for readying the country in case of threat, conflict or disaster.
The unit was criticized for its response to the 2006 war with Hezbollah, which killed more than 1,200 Lebanese, mostly civilians, and 160 Israelis, the majority of them soldiers.
That war was a "wake-up call" for the Home Front Command, Gordin said, adding that it had since beefed up its liaison units, which are now active across 250 Israeli municipalities to provide assistance in case of any attack.
The Home Front Command uses computer projections to predict a rocket's trajectory after it has been launched, and advises the public, within a specific range, to head to bomb shelters.
During the Gaza conflict in May, this allowed emergency services to "go to every incident within less than five minutes", Gordin said from the control room of the unit's headquarters in Ramla, near Tel Aviv.
He said preparations had been made for any incidents on the border with Lebanon.
'Source of instability'
An Israeli security source said the Israel army hoped for "stability" in its northern neighbor, which is mired in a crippling economic crisis and on Thursday saw deadly sectarian clashes in the capital Beirut that left seven dead, including Hezbollah members.
Iran-backed Hezbollah was "the source of instability in Lebanon", the security source said, adding that the group "exploits the state's resources for Iranian interests".
Iran is "closer to creating fissile material for nuclear weapons than they ever were in the past" but would still need two years to obtain a bomb, the source said, echoing a timeframe cited by other Israeli officials.
Tehran insists its nuclear program is for civilian purposes.
"We are preparing for all options and scenarios, including military capabilities," the security source said.
Israel has been staunchly opposed to the revival of a nuclear deal agreed between Tehran and world powers in 2015.
The agreement has been on life support since then President Donald Trump withdrew the US in 2018 and reimposed crippling sanctions.
Source: Al Arabiya
Please click the following URL to read the full text of the original story:
https://english.alarabiya.net/News/middle-east/2021/10/18/Israel-expects-2-000-rockets-a-day-in-any-war-with-Hezbollah-Army
--------
Israeli officer punished for violence against protesters, military says
18 October ,2021
The Israeli military on Sunday said it has reprimanded an officer who was found to have used excessive force against protesters in the occupied West Bank, including pushing a 65-year-old Israeli peace activist to the ground.
The army said the officer, a major, had deviated from "the professional norms and standards" expected of him. It said he could not be promoted or attend a commander's course for the next three years.
For the latest headlines, follow our Google News channel online or via the app.
The officer was punished in connection to a pair of incidents, the army said. Among them was a Sept. 17 demonstration in the southern West Bank in which an Israeli activist was shoved to the ground and suffered a serious injury to his eye socket. The activists had come to deliver water to Palestinian villages in the parched area.
In the second incident, it said the officer had improperly pushed a Palestinian while forces were confronting stone-throwers.
Combatants for Peace, the advocacy group that sponsored the project to help the village, said the punishment was light and accused the army of encouraging further abuse by failing to take tougher action.
"The army's decision to postpone the promotion of a violent officer who was caught week after week abusing Palestinians and hitting human rights activists is a farce and is tacit approval for the violence," it said. It also criticized Defense Minister Benny Gantz, a former military chief, for remaining silent.
In recent weeks, there have been a string of incidents in which Israeli settlers attacked Palestinians and soldiers either failed to stop them or appear to have used excessive force against Palestinians and Israeli activists.
In one case, the Haaretz daily said that soldiers detained two Palestinian boys, ages 13 and 15, after spotting them in a West Bank field trying to set a bottle on fire with aluminum and cleaning fluid in a game they called "Flash." The report said the boys were held for 29 hours, bound, beaten and not given food.
It published a photo of the younger boy with bruises on his face. The boy, Mustafa Amir, said he was beaten as he was taken away.
The army denied the accusations, saying the boy had tripped and hit his face as he tried to run away after detonating an explosive device. It said the boy was given medical care and that both of them were given food and water in custody.
In another incident last week, Haaretz said that a Palestinian villager was beaten and detained when residents in the northern West Bank tried to pick olives from their land. The news site published a photo of a soldier standing with a boot on the man's back. The villagers say they cannot reach their land because an illegal Israeli outpost has been set up there.
Source: Al Arabiya
Please click the following URL to read the full text of the original story:
https://english.alarabiya.net/News/middle-east/2021/10/18/Israeli-officer-punished-for-violence-against-protesters-military-says
--------
EU fails to secure commitment from Iran to resume nuclear deal negotiations: Report
17 October ,2021
An EU mission to Iran failed this week to secure a commitment from Tehran's administration to resume negotiations over reviving the abandoned 2015 nuclear deal, Politico reported on Sunday.
A senior EU official said: "They are not yet ready for engaging in Vienna."
Instead, Iran committed to meeting with EU officials in Brussels to discuss "details of texts on the table at the end of the last round of talks in June, which took place in Vienna," Politico reported.
"It's not a bad idea that we sit down in a long meeting with the new [Iranian] delegation and we go through all the texts … and we clarify with the new delegation different questions that they can have," the senior EU official said.
"This seems to be a dead-end situation and I am very concerned," a senior diplomat told Politico. "I hope I am wrong, but if things continue this way, we will end up nowhere."
The possibility of upcoming talks in Brussels, the official added, "cannot substitute a resumption of indirect talks between Iran and the US in Vienna, together with all remaining signatories of the deal."
Source: Al Arabiya
Please click the following URL to read the full text of the original story:
https://english.alarabiya.net/News/middle-east/2021/10/17/EU-fails-to-secure-commitment-from-Iran-to-resume-nuclear-deal-negotiations-Report
--------
North America
Being tougher on Iran is Biden's key to Saudi Arabia-Israel normalization: Pompeo
17 October ,2021
US President Joe Biden must adopt a much tougher stance against Iran to convince Saudi Arabia to normalize ties with Israel, former Secretary of State Mike Pompeo said.
"I'm convinced there will be many more countries joining the Abraham Accords and one day the Kingdom of Saudi Arabia will as well," Pompeo said in an interview with the Telegraph.
Pompeo was one of the main diplomats involved in the US brokered Abraham Accords which saw four Arab countries normalize ties with Israel – the UAE, Bahrain, Sudan and Morocco.
After the UAE and Bahrain restored full diplomatic relations with Israel in 2020, there was wide speculation on whether Saudi Arabia would follow suit.
At the time, Saudi Arabia's Foreign Minister Prince Faisal bin Farhan said the Kingdom remained open to fully normalize ties with Israel on the condition of a Palestinian state and a peace plan between the Israelis and the Palestinians.
Pompeo, Donald Trump's former chief diplomat, believes that Biden's administration may be able to convince Saudi Arabia to sign the Abraham Accords if it adopted a harsher stand against Iran.
"There are a couple other pieces to the puzzle that they need to see - they need to see strong American leadership, they need to see an America that they know will support them, most particularly with respect to the challenge presented by Iran," Pompeo said.
Iran is viewed by both Israel and Saudi Arabia as the biggest threat to peace in the Middle East.
Pompeo wants the US to take action against Tehran and its network of proxies – Shia militias in the region such as Hamas in the Gaza Strip, the Houthis in Yemen, Hezbollah in Lebanon and Kata'ib Hezbollah in Iraq.
Source: Al Arabiya
Please click the following URL to read the full text of the original story:
https://english.alarabiya.net/News/gulf/2021/10/17/Being-tougher-on-Iran-is-Biden-s-key-to-Saudi-Arabia-Israel-normalization-Pompeo
--------
Time for Turkish-US rapprochement: Envoy to Washington
Servet Gunerigok
17.10.2021
WASHINGTON
The transatlantic alliance is being tested with recent developments in the Middle East, North Africa, Black Sea basin, and Asia, and it is time for rapprochement between Turkey and US, according to Turkey's ambassador to Washington.
In an article posted Sunday on the Defense One website, Hasan Murat Mercan said political, social, and security fractures are triggering mass refugee flows and increased asymmetrical threats that require both nations to revisit their partnership.
"But transitioning transatlantic security priorities to an era of great power competition inevitably will necessitate exploring venues of gradual rapprochement between Turkey and the United States," said Mercan.
In the piece, the diplomat called the transatlantic community "complex and delicate."
"If left unchecked, seemingly stand-alone crises and conflicts across 'Greater Eurasia' would trigger a chain reaction politically, socially, economically, and security-wise with global repercussions," he added.
Mercan said Ankara and Washington need "optimal" partnership engagements "if we are to continue operating together in non-permissive and semi-permissive environments."
"Any recalibration of those transatlantic engagements in the region must include capable, willing, and reliable allies and partners if they are to produce timely and lasting solutions," he wrote. "Turkey remains one of those allies and partners."
Turkey's vital role, unique capacity
He cited Turkey's contribution in Afghanistan after US withdrawal in late August, saying the situation there reaffirmed that transatlantic actors must continue to work together as security providers.
"The fall of Afghanistan's provincial capitals in less than 10 days, which led to the rapid collapse of the Afghan government, caught the world by surprise. The unexpected turn of events and images of desperation coming from Kabul International Airport will haunt the international community for a long time," said Mercan.
Stating that Turkey played a vital role in Afghanistan, Mercan explained how Ankara engaged with Taliban for an inclusive government, provided humanitarian aid to the Afghan people, and deployed technical teams to reopen the Kabul airport.
"This once again showcased Turkish unique capacity that cannot be substituted by or sub-contracted to any other state or non-state actor in 'Greater Eurasia'," Mercan wrote.
Source: Anadolu Agency
Please click the following URL to read the full text of the original story:
https://www.aa.com.tr/en/americas/time-for-turkish-us-rapprochement-envoy-to-washington/2395084
--------
US likely to attend Moscow meeting on Afghanistan
Anwar Iqbal
October 18, 2021
WASHINGTON: The United States appears willing to attend the Extended Troika talks in Moscow this week but is still reluctant to confirm its participation, diplomatic sources in Washington said on Sunday.
Russia's presidential envoy for Afghanistan Zamir Kabulov said last week that the group — which includes Russia, the US, China, and Pakistan — will meet soon to discuss the latest developments in Afghanistan.
Although he did not specify a date, Russian officials told journalists that the meeting could be held on Oct 20.
Mr Kabulov, however, said the participants "will try to work out a common position on the changing situation in Afghanistan".
At a news briefing in Washington, US State Department's spokesperson Ned Price indicated that the Biden administration was willing to attend the meeting.
"We do have an alignment of interests with countries like Russia when it comes to Afghanistan," he said. "And we previously have found the extended Troika format to be useful."
The US official said that Washington had "taken note of the upcoming session in Moscow" but he could not yet confirm America's participation.
The United States, he said, was determined to ensure that outfits like Al Qaeda and the militant Islamic State-Khorasan (IS-K) group could never again use the Afghan soil as a launching pad for attacks on other countries.
Source: Dawn
Please click the following URL to read the full text of the original story:
https://www.dawn.com/news/1652682/us-likely-to-attend-moscow-meeting-on-afghanistan
--------
URL: https://www.newageislam.com/islamic-world-news/bangladesh-minority-blasphemous-torch/d/125601
New Age Islam, Islam Online, Islamic Website, African Muslim News, Arab World News, South Asia News, Indian Muslim News, World Muslim News, Women in Islam, Islamic Feminism, Arab Women, Women In Arab, Islamophobia in America, Muslim Women in West, Islam Women and Feminism