New Age Islam News Bureau
7 Nov 2016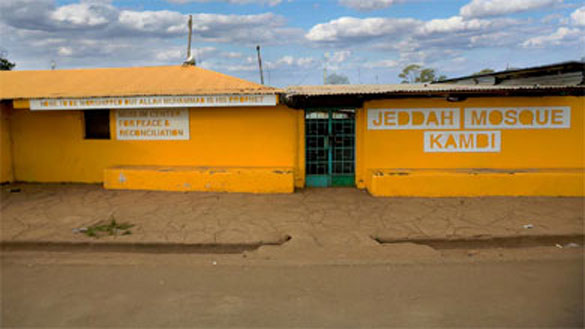 Where it all began ... the Jeddah Mosque Kambi. Photograph: Mohammed Altoum/Yazmany Arboleda and the Colour in Faith project
-----
• Arson and Vandalism Rattle Hindu Communities in Bangladesh
• Tolerant Indonesian Muslims Encouraged To Speak Up, Defend Harmony
• Terrorists Plan to Hide among Civilians in Aleppo to Evade Syrian Air Raids
• Experts Claim Saudi Arabia and Iran Stoking Sunni-Shia Tensions in Nigeria
• American Muslims Brace for the Worst after US Election
South Asia
• Arson and Vandalism Rattle Hindu Communities in Bangladesh
• Terrorists from Syria, Iraq Likely To Be Ousted To Afghanistan: Kazakh President
• 18 killed in Kabul, Laghman and Herat road accidents
• Massoud promises support to Afghan soldier blinded in the line of duty
• Bangladesh nabs four militant suspects, including pair linked to Japanese farmer's slaying
• Afghanistan, China to lay foundation for 10,000 housing units soon: Naderi
--------
Southeast Asia
• Tolerant Indonesian Muslims Encouraged To Speak Up, Defend Harmony
• Jakim Says No Resurgence of Interfaith Commission, Apostate Groups
• Zaid: True knowledge, spirit of Islam in Indonesia
• Indonesia Police Question Christian Politician in Blasphemy Case
• Malaysia: PM Najib Razak faces backlash at home following deals with China
--------
Arab World
• Terrorists Plan to Hide among Civilians in Aleppo to Evade Syrian Air Raids
• US-Backed Forces Launch Bid To Capture IS Syria 'Capital'
• 25 Killed In Iraq Suicide Bombings Claimed By IS
• Militants in Five More Towns Join Peace Agreement with Syrian Gov't
• Large Numbers of Chinese, Caucasian Terrorists Killed in Southwestern Aleppo
• Syria regime shelling kills six children in kindergarten
• Top Iraqi Kurdish official: ISIS deployed drones with mustard gas
• Saudi Arabia, China to boost cooperation in fighting terror
• Fight against Daesh will not end in Mosul: Masrour Barzani
• Saudi Military Positions in Najran Come Under Yemeni Artillery Attack
• Yemeni Popular Forces Vow to Fire More Missiles at Saudi Arabia
• Syria: 140 Militants Receive Amnesty in Hasaka
• Syria in Last 24 Hours: Army Uncovers Terrorists' Tunnel in Damascus
• Syria: Nusra Leaders Oppose Relocation of Militants from Western Ghouta to Idlib
--------
Africa
• Experts Claim Saudi Arabia and Iran Stoking Sunni-Shia Tensions in Nigeria
• Kenya: Mosques and Churches, Bathed In Yellow Paint
• Saudi Arabia: A forlorn plea of African migrant worker
• Emulate Sultan; promote unity, Nigerian leaders told
• Trump Says Minnesota Has "Suffered Enough" For Taking in Somali Refugees
• Libya pro-government forces rescue 14 civilians in Sirte
• Boko Haram razes village near Chibok
--------
North America
• American Muslims Brace for the Worst after US Election
• Khizr Khan and the Presidential Election Mark a Muslim Moment in American History
• Dearborn: Arab Americans gear up to vote, defying Trump
• Being Muslim in America in the era of Trump: A community's view before voting
• US in 'close contact' with Turkey over Raqqa assault
• Raqqa liberation battle 'will not be easy': US defence chief
--------
Mideast
• Erdogan's Al Qaeda Mercenary Army of Uyyghur Chinese "Jihadists" Dispatched to Syria
• Erdogan Blasts West As Kurdish Party Boycotts Parliament
• Fresh Yemen fighting kills 20
• American held in Yemen released and flown to Oman
• Turkey pro-Kurd party quits Parliament over arrests
• Kurdish Fighters Push ISIL Back for 10km on Day 1 of Raqqa Operation
--------
India
• Interference in Muslim Personal Law will not be tolerated – Maulana Sajjad Noomani
• Clues to Bhopal SIMI Activists Jailbreak 'Inside Job': Moulds, CCTV Off
• Terrorist Killed, 2 Army Soldiers Injured In Encounter in J&K's Shopian
• Muslim elders from Bhopal to visit families of slain SIMI operatives
• Hurriyat to meet 'stakeholders' on future course of protest in Kashmir
--------
Pakistan
• Protests Continue In Karachi against Arrests of Workers of Religious Parties
• Six Suspected Militants Held In Mach, Mastung
• Jamaat-i-Islami Demands KP-Fata Merger before 2018 Polls
• High-risk schools overlooking security lapses: report
• PTI's 'bad patch' irks teammates: PPP senses chance to fight back
• ASWJ general secretary, top Shia cleric detained in Karachi
• Curfew imposed in Jamrud after Khasadar's killing
• Sattar, eight others declared POs
• Balochistan govt issues terror threat alert
--------
Europe
• UK's Muslim Brotherhood Policy 'Undermined By Ties with Saudi Arabia'
• German ministry wants migrants returned to Africa
• Role of Muslim countries in the 90s' Bosnian conflict
• Norwich forum opens dialogue on Islam
Compiled by New Age Islam News Bureau
URL: https://www.newageislam.com/islamic-world-news/new-age-islam-news-bureau/arson-and-vandalism-rattle-hindu-communities-in-bangladesh/d/109035
--------
Arson and Vandalism Rattle Hindu Communities in Bangladesh
By Julfikar Ali Manik and Ellen Barry
NOV. 6, 2016
DHAKA, Bangladesh — Vandalism and arson directed at Hindu temples and homes continued over the weekend in Bangladesh, as crowds in various parts of the Muslim-majority country appeared to target its largest religious minority group.
Many of the acts were minor. Late Saturday or early Sunday, for instance, Hindu idols were defaced in temples in the north and south of the country, according to the police.
But Hindu communities are increasingly unnerved, said Anjan Kumar Deb, the vice chairman of Nasirnagar subdistrict, northeast of Dhaka, the capital, where an angry Muslim crowd ransacked 15 temples and scores of homes on Oct. 30.
Fifty-three people have been arrested in connection with those crimes.
India expressed "grave concern" over the attacks, with Sushma Swaraj, the external affairs minister, instructing Delhi's ambassador to the country to visit the prime minister of Bangladesh, Sheikh Hasina.
The violence in Nasirnagar, whose population is about 40 percent Hindu, was set off by a Facebook post published by a Hindu youth. The post included an image of the Hindu god Shiva appearing at a Muslim holy site in the Saudi city of Mecca.
Mr. Deb, a Hindu community leader, received a call on Saturday that unknown people had built a fire on the veranda of his home. "The attackers want to create a panic among Hindus," Mr. Deb said, adding that the campaigns may aim to strip Hindus of their lands.
Human rights and government groups have opened investigations into last week's attacks, including allegations that leaders from the governing party helped incite a crowd that went on to overrun temples and homes in Nasirnagar.
Journalists also questioned why police permission had been given to Muslim organizations to hold a rally over the Facebook post when it was clear that they were bent on violence.
Nasirnagar's top administrator, who had issued permission, was transferred on Sunday, an indication of official displeasure.
Mizanur Rahman, the superintendent of the police overseeing the district, said that 500 security personnel had been deployed since the violence on Oct. 30, but that they had been unable to prevent the burning of six more houses on Thursday.
"It is not possible to guard each and every place in the area," he said. "If someone is smoking or has a matchbook with him, if he drops his burning cigarette, or sets fire to a bunch of dry jute sticks or a bamboo house, that could trigger a fire." He added, "How can we stop this type of incident?"
On Saturday, in the northern district of Netrakona, a youth was arrested while trying to set fire to a temple, said Zaydeb Chowdhury, the superintendent of police.
In Jhalakathi, a southern district, "unknown miscreants" destroyed Hindu idols either late Saturday or early Sunday, said Mohammad Mahe Alam, the officer in charge of Jhalakathi police station. He said that there were no witnesses, and that he suspected the attack had been motivated by a dispute over the land the temple occupies.
On the same night in Sirajganj, in northern Bangladesh, "unidentified miscreants" broke the heads off statues of goddesses from a temple, said Basudeb Sinha, the head investigatory officer at the Sirajganj police station.
Julfikar Ali Manik reported from Dhaka, and Ellen Barry from New Delhi.
http://www.nytimes.com/2016/11/07/world/asia/bangladesh-hindu-muslim-nasrinagar.html
--------
Tolerant Indonesian Muslims Encouraged To Speak Up, Defend Harmony
November 7, 2016
Interfaith activist Mohammad Guntur Romli has called on tolerant Muslims in Indonesia to speak up and counter religion-driven sentiments against Jakarta Governor Basuki Tjahaja "Ahok" Purnama.
Guntur said anti-Ahok sentiments, which peaked at the Nov.4 rally by Islamic organizations against the governor's alleged blasphemous speech, were only political maneuvers amid the Jakarta gubernatorial election campaign but these would destroy diversity in the country if ignored.
"Several groups out there aim to change our Constitution, which upholds our religious harmony, into a Khilafah Islamiyah [Islamic caliphate]," the activist told The Jakarta Post on Monday.
"Tolerant Muslims as the majority must no longer keep silent. Our Constitution has opened the opportunity for anyone to compete in elections regardless of their religious and racial backgrounds," he said.
Protests against Ahok developed after part of his speech, in which he cited a verse from the Quran, was uploaded by Buni Yani, a communications lecturer, who later admitted that he had made errors in transcribing the video he uploaded on his Facebook page.
The video went viral and sparked public outrage, which eventually led to Nov. 4's mass rally by several Islamic organizations, which called on the police to conduct a transparent legal process against Ahok over his alleged blasphemy. (ebf)
http://www.thejakartapost.com/news/2016/11/07/tolerant-muslims-encouraged-to-speak-up-defend-harmony.html
--------
Terrorists Plan to Hide among Civilians in Aleppo to Evade Syrian Air Raids
Nov 07, 2016
"In the second wave of their so-called Great Epic Operation, the terrorist groups tried hard to turn the Aleppo war into street clashes to force the Syrian warplanes to stop air raids on militant centers for the fear of civilians' casualties," the field commander said.
"The terrorists sought to prevail over government positions in the district of New Aleppo, if so, the air force should leave the battle and the clashes would spread across streets and residential buildings," he added.
"The terrorists had chosen the Western parts of Aleppo to attack due to its proximity to large residential complexes full of people. Deployment in such areas was a guarantee for the militants to be immune from the Syrian and Russian air attacks," he went on to say.
On Sunday, the Syrian Air Force bombed heavily the positions and gatherings of the terrorist groups in the Western and Southwestern parts of Aleppo city, killing tens of militants.
Tens of terrorists were killed and many more were wounded in the air assault their positions, bases and roads in the villages of al-Jeniyeh, al-Mansoureh, Zorat Abd Rabbeh, Khan al-Asal and Awrom al-Cobra and the districts of al-Rashedeen 4 and 5.
Terrorists' bases and military vehicles sustained major damage in the air raid.
The Syrian fighter jets also pounded terrorists' centers near the Housing Project 1070, preventing terrorists from advancing towards 3,000-Units Housing Complex.
Syrian warplanes also targeted terrorists' positions in Atarib, Aram, Kafr Naha and Abin, claiming the lives of several militants.
The air raids also targeted terrorists' convoy of reinforcement troops on the way to the New Aleppo district and the Assad Military-Engineering Academy.
Last week, sources close to the terrorist groups admitted that between 2,200 up to 2,500 militants have been killed or wounded in their large-scale offensive on government forces' positions in the Western and Southwestern parts of Aleppo city in the last few days.
The Arabic service of RT quoted the sources as saying that the terrorist groups suffered between 2, 200 up to 2,500 casualties, including a large number of non-Syrian militants, in their Great Epic Operation on Army positions in Western and Southwestern Aleppo.
Terrorist groups-affiliated media acknowledged on Saturday that hundreds of militants were killed or wounded in failed attacks on the positions of the government troops in the second wave of the Great Epic Operation in Western and Southwestern Aleppo.
http://en.farsnews.com/newstext.aspx?nn=13950817000463
--------
Experts claim Saudi Arabia and Iran stoking Sunni-Shia tensions in Nigeria
07.11.2016
Northern Nigeria has become the latest battleground in the proxy war between Iran and Saudi Arabia, after violent clashes between supporters of rival groups from the two main branches of Islam.
Members of the Izala movement, backed by mainly Sunni Muslim Saudi Arabia, last month attacked the Islamic Movement in Nigeria (IMN), which is sympathetic to Shia majority Iran. IMN ceremonies in at least four northern cities to mark the annual Shia day of mourning, Ashura, were targeted, with the worst riots in Kaduna, an Izala stronghold. At least two IMN supporters were killed.
Witnesses and local media said mobs who looted and set fire to homes and businesses over two days shouted "No more Shias".
Sectarian tensions in Nigeria's Muslim-majority north had already been running high, especially in Kaduna, after the state government banned the IMN as an unlawful group and a security threat days earlier. That followed a recommendation from the judicial inquiry it commissioned to investigate clashes in Zaria city last December in which soldiers killed more than 300 IMN members.
Those clashes and the recent escalating tension indicate that the proxy Saudi-Iran conflict – well-known in places such as Lebanon, Yemen and Syria – is now being played out in Nigeria, experts said.
"It is a fact that Saudi Arabia has been financing anti-Shia campaigns in many areas of the world," political scientist Abubakar Sadiq Mohammed, from Ahmadu Bello University in Zaria, told journalists. "If the attacks against the Shias escalate, of course Iran will support them and Saudi Arabia will support the attacks on Shias."
Izala leader Abdullahi Bala Lau has been accused of stoking anger by declaring that Nigeria's constitution only recognises Sunni Islam. His group has close relations with Riyadh and Nigeria's government while its satellite television station, Manara, also broadcasts fiery anti-Shia rhetoric.
Leaders from Saudi Arabia and Iran both contacted Nigeria's President Muhammadu Buhari after the Zaria attacks.
Iran's President Hassan Rouhani called for restraint and accused "a group" of "sowing the seeds of discord among Muslims in Islamic countries" in what was seen as a clear reference to Saudi Arabia.
Nigerian media reported that Saudi King Salman backed Abuja's crackdown on the IMN, describing it as a "fight against terrorism".
The Sunni jihadists of Boko Haram have killed at least 20,000 people in northeast Nigeria since taking up arms against the government in 2009.
Riyadh has largely refrained from openly backing Nigeria's fight against the ultra-conservative Salafist rebels but Mohammed noted it was "quick to do so in the case of IMN".
"The responses of Iran and Saudi to the Zaria clashes belie sectarian undercurrents," he added.
In March, Saudi clerics attended an Izala-organised conference on "deviant Islamic ideologies" in Nigeria and have since been preaching in the country.
In May, Iran's envoy to Nigeria called for the release of IMN leader Ibrahim Zakzaky and described his detention as "unfair", straining diplomatic ties. He was later recalled to Tehran.
A senior Nigerian security officer said IMN's religious beliefs were immaterial but its alleged disregard for law and order was an issue, as was its lack of recognition of the Nigerian state.
IMN started out as a student movement in 1978 and morphed into a Sunni revolutionary group inspired by the Islamic revolution in Iran in 1979. The group switched to Shia Islam in 1996 due to Zakzaky's close association with Iran, worsening mutual resentment with conservative Wahhabists, including Izala, which was founded in 1978 by a Saudi-trained cleric.
Islamic history expert Dahiru Hamza said Izala's focus had up to then been against those in the mystical Sufi tradition, whose beliefs they considered heretical.
"They shifted their focus on Shias who were getting more organised and challenging the Salafi influence by winning more converts in the territory under the Salafi control," he added.
Izala received funding from Saudi Arabia and wealthy adherents, allowing it to establish mosques and schools. It also encouraged members to participate in politics, gaining government allies. Izala's preaching against IMN and Shia Islam has increased since last December. It openly supported the military crackdown in Zaria and even called for harsher action.
Lau dismisses claims he is fuelling tensions as a smear campaign.
At least five northern states have followed Kaduna's example in banning the IMN from holding public processions.
"The ordinary people took the ban on IMN as a ban on Shia (Islam) because IMN is the more prominent Shia group due to its public activities like street procession," said the editor of the Shia newspaper Ahlulbayt, Muhammad Ibrahim.
"This worried us because we saw how Izala followers were spreading the information that the government banned Shia and the people began to believe it." (AFP)
https://en.qantara.de/content/experts-claim-saudi-arabia-and-iran-stoking-sunni-shia-tensions-in-nigeria
--------
American Muslims brace for the worst after US election
Ali Younes
7 November 2016
Atlanta, United States - With the US presidential election only days away, many in the US - particularly the Muslim-American community - are bracing for the worst over fears that a win, or a loss, by Republican candidate Donald Trump could bring violence. Fuelled by Trump's inflammatory rhetoric, members of local militias from across the US have said they plan to carry firearms at polling stations to prevent alleged election "rigging" in favour of Democratic candidate Hillary Clinton.
In Newton County, 85km south of Atlanta, Georgia, those concerns are justified.
When a local Muslim-American community in the Atlanta area decided last August to buy land to be used primarily as a community cemetery, they did not expect their innocuous plans would set off a firestorm of opposition that included local officials and armed white nationalist militia groups.
Al Maad al-Islami Mosque sought approval from Newton County to construct a cemetery, a funeral home and, perhaps many years down the road, a mosque and a recreational area on the half a square kilometre of land purchased for the project.
But when word spread of the plans, local residents and several county commissioners protested on the grounds that the property would be used as "training ground for ISIL terrorists", referring to the armed group known as the Islamic State in Iraq and the Levant, or ISIS.
The plans also drew the attention of a group known as the Georgia Security Force III% , one of many white nationalist militias around the country that have been galvanised by the Trump campaign and his anti-immigrant and anti-Muslim rhetoric.
In August, Members of Georgia Force III% - headed by Chris Hill, 42, a former US marine who goes by the name "General Blood Agent" - held an armed protest against the Muslim community at the property in Newton County, accusing them of being an ISIL supporters and "terrorists".
The Georgia militia group is also connected to a Kansas militia, which had plotted to blow up a Somali Muslim mosque and community center, according to Ryan Lenz, a researcher for the Southern Poverty Law Center, which tracks and researches hate groups in the US.
The FBI announced last month that it had foiled a plot by a local militia in Garden City, Kansas, to detonate car bombs at the Somali Muslim community centre and around the apartment buildings where many of the community members live.
Lenz told Al Jazeera that historically, white nationalist groups have tended to embrace a conspiratorial view of the US federal government, accusing it of conspiring with the UN to establish a new world order and thereby undermining the US.
"In the aftermath of September 11, white nationalist groups teamed up with organised anti-Muslim hate groups, creating a dangerous and threatening alliance against members of American Muslim community," he said.
Lenz added that the convergence of these two groups has created a terrifying mix in US local and national politics, the effects of which are not going away anytime soon.
"The election of President Barack Obama, whom white nationalists and anti-Muslim hate groups accuse of being a crypto Muslim, is also energising the anti-Muslim hate campaign in this country."
The Georgia Security Force III% did not respond to Al Jazeera's requests for an interview.
Imam Mohamad Islam, the leader of the al Maad Mosque, is unfazed by the threats and hateful statements made by militia members and others who opposed the cemetery plans.
He said he only wants to establish legitimate institutions to care for the community's social and religious needs, but knows a change in local attitudes will only come through patience and dialogue with the area's non-Muslim community.
"As a Muslim, I have to exercise patience when facing hardship and animosity," Islam told Al Jazeera.
Islam also expressed frustration that as an American and a Muslim he is somehow required by the general public and the American media to answer for actions of other Muslims across the globe.
"It seems like certain segments of the American society insist on holding us responsible for the violent actions of some Muslims overseas. We don't condone any kind of violence much less defend those who commit it. We are Americans first and foremost."
Edward Ahmed Mitchel, the executive director of the Council of Islamic American Relations (CAIR) and a former Atlanta prosecutor, agreed with Islam that Muslim Americans are just as American as any other citizen of the US and therefore should be treated equally.
The build-up to the 2016 presidential election, Mitchel stressed, has caused anti-Muslim rhetoric to spike, with candidates like Trump and Ben Carson frequently making bigoted statements against Islam and Muslims.
"The anti-Muslim rhetoric of certain politicians encouraged bigots who otherwise lurked in the dark recesses of the internet have now a national platform," he said.
Imam Islam's approach of reaching out to county officials, dignitaries in the area and the local community by holding several joint meetings and having lunches and dinners with them has worked in easing the tension and eliminate the misunderstanding between the two communities.
A Newton County spokeswoman told Al Jazeera the county is now ready to receive the mosque's application for permits to start the construction of its cemetery ground.
"At the end, the people of Newton County stood up in defence of religious freedom that ultimately makes this a success story," Mitchell said.
http://www.aljazeera.com/indepth/features/2016/11/american-muslims-brace-worst-election-161106210609441.html
--------
South Asia
Terrorists from Syria, Iraq likely to be ousted to Afghanistan: Kazakh president
Nov 07 2016
The President of Kazakhstan has warned that the terrorists from Syria and Iraq will likely be ousted to Afghanistan as pressures on the rise due the military operations.
President Nursultan Nazarbayev made the remarks during an interview with the Japanese journalists in the run-up to his official visit to Japan, according to Russia's TASS News.
"The more pressure on those terrorists in Iraq and Syria, the more they are eager to leave for Afghanistan," Nazarbayev said. At the same time, he noted that no threat existed for regional security so far, saying "there are not any visible threats as of today, there are no such fears."
"Turkmenistan has the longest border with Afghanistan, followed by Uzbekistan and Tajikistan. As far as I know, everything is calm in those states, but they have been taking some measures," he said.
The remarks by Nazarbayev came as there are concerns that the terrorist groups operating in Afghanistan are attempting to expand their insurgency to the Central Asian countries.
The Central Asian leaders as well as Russia are mainly concerned regarding the attempts made by ISIS loyalists to expand foothold in the country despite the Afghan and US forces conduct regular counter-insurgency operations to eliminate the terror group.
The Afghan and coalition forces officials earlier warned that the ISIS loyalists are attempting to turn the Nangarhar province into a regional operational base and establish the Khurasan Caliphate in the region.
http://www.khaama.com/terrorists-from-syria-iraq-likely-to-be-ousted-to-afghanistan-kazakh-president-02221
--------
18 killed in Kabul, Laghman and Herat road accidents
Nov 06 2016
At least 18 people were killed in separate road accidents on Kabul-Jalalabad highway and western Herat province of Afghanistan, local officials said Sunday.
Local officials in Laghman province said at least 4 people lost their lives in a head collision between a car a police vehicle in Kakas area.
Provincial governor's spokesman Sarhadi Zwak said at least 4 people including a policeman were also among those wounded in the incident.
The second took place in Shakar Dara area of Kabul after a car collided with a truck, leaving at least 5 people dead and 2 others wounded, a source in the district said.
The source further added that the car was on its way to Kabul from the northern part of the country when it collided with the truck.
Full report at:
http://www.khaama.com/18-killed-in-kabul-laghman-and-herat-road-accidents-02219
--------
Massoud promises support to Afghan soldier blinded in the line of duty
Nov 07 2016
Adviser to the National Security Council Zubai Massoud met with the Afghan soldier blinded in the line of duty as he promised to support his family and possible treatment outside the country.
The police soldier, Abdul Agha, was severely wounded during a clash with the Taliban militants in the central Logar province of Afghanistan.
He lost his vision besides his right arm was decapitated during the clash with the Taliban insurgents.
Massoud hosted Abdul Agha for a dinner on Sunday night after his story went viral in media and particularly in social media which is widely used across the country.
"Afghan soldier Abdul Agha lost his eyesight and his right arm defending Afghanistan,he must be sent for treatment,we are forever in his debt," Massoud said in a Twitter post.
The story of Abdul Agha reflects the burden of difficulties the Afghan National Security Forces (ANDSF) members are facing on daily basis, specifically those suffering from severe injuries in the line of duty.
The casualties of the Afghan National Defense and Security Forces (ANDSF) have dramatically increased during the recent months amid a rampant insurgency led by the anti-government militant groups.
Full report at:
http://www.khaama.com/massoud-promises-support-to-afghan-soldier-blinded-in-the-line-of-duty-02220
--------
Bangladesh nabs four militant suspects, including pair linked to Japanese farmer's slaying
Nov 7, 2016
DHAKA – Bangladesh police on Sunday arrested four suspected Islamist militants, including two linked to the slaying of a Japanese man one year ago, in a raid on their hideout in an abandoned brick kiln.
The Jama'atul Mujahideen Bangladesh (JMB) militants threw homemade bombs, wounding three police, before they were overpowered, according to police. Guns, explosives and other weapons were found at the scene.
The arrests were made some 300 km (186 miles) north of Dhaka in Rangpur district, where Kunio Hoshi, a 65-year-old agriculturalist, was killed while working on a farming project in the impoverished, majority Muslim country.
Mizanur Rahman, a police superintendent in Rangpur, told reporters that two of the men arrested, Belal Hossain and Ershad Alam, had helped to train the militants who had killed Hoshi.
The other men who were arrested, Ashraful Islam and Al Amin, were JMB activists, he said.
In July, police lodged a charge sheet against eight JMB members, including ringleaders Saddam Hossain and Masud Rana, who were said to be involved in Hoshi's killing.
A JMB splinter group that has aligned with the Islamic State group claimed responsibility for the attack in July on a restaurant in an upscale neighborhood of Dhaka that killed 22 people, mostly foreign nationals. Two police and five gunmen were also killed during the gun battle at the restaurant.
Rangpur district police chief Rahman said Belal Hossain, described as the recruiter and mentor of the killers of Kunio Hoshi, was detained along with three of his followers during an operation in the northern district.
"Hossain was an absconding militant and a senior member of the JMB who mentored and trained up Kunio's killers," Rahman said.
He was referring to the homegrown JMB, which has been banned for over a decade.
"We caught four of them near an abandoned brick kiln," Rahman said, adding the militants injured four policemen by hurling homemade bombs.
Full report at:
http://www.japantimes.co.jp/news/2016/11/07/national/crime-legal/bangladesh-nabs-four-militant-suspects-including-pair-linked-japanese-farmers-slaying/#.WCAqedJ97IU
--------
Afghanistan, China to lay foundation for 10,000 housing units soon: Naderi
Nov 07 2016
The foundation stone of 10,000 housing units will be laid in the near future as the technical and design assessment of the project has been finalized.
The Minister of Urban Development and Housing Syed Sadat Mansoor Naderi informed regarding the foundation laying of the project which will be built with the financial support of China.
Speaking at the opening of the 3rd Urban National Conference in Kabul, Minister Naderi initially pointed towards the main challenges of the urban development.
Naderi further added that the challenges include unbalanced development, migration of village residents to the main cities, refugees repatriation, construction of unplanned buildings, severe poverty, violation of urban laws, lack of attention to environment, and lack of urban infrastructure.
However, Naderi said necessary steps were taken in the past one year to establish a responsive urban system which include establishment of the high council of urban development, completion of urban condition study, printing of cities Atlas, launch of documents distribution to unplanned areas, preparation of Urban National Priority Program (UNPP), conclusion of municipalities law, urban development and land, full implementation of coordination between urban development sectors, establishment of department for the development of the capital, launch of Citizens Charter program, preparation of strategic programs for the cities, and some other programs.
Full report at:
http://www.khaama.com/afghanistan-china-to-lay-foundation-for-10000-housing-units-soon-naderi-02223
--------
Southeast Asia
Jakim says no resurgence of interfaith commission, apostate groups
November 7, 2016
KUALA LUMPUR, Nov 7 — Malaysia's federal Islamic authority has denied that the Interfaith Commission of Malaysia (IFC) previously proposed by Putrajaya has been registered, amid Muslim concern over the spread of so-called pluralism in the country.
According to the Islamic Development Department of Malaysia (Jakim), its checks with the Registrar of Societies (RoS) and the Home Ministry confirmed that there is no such entity registered nor two other purported groups of Malay apostates.
"Jakim sees that such an issue can arouse worry and anxiety among Muslims, in addition to affecting the harmony between the multi-racial society in this country," Jakim director-general Tan Sri Othman Mustapha said in a statement.
Jakim was dispelling the rumour that the IFC and two groups — Malay Apostates' Society and Malays Christians' Society — have been registered with the RoS.
The same rumour involving the commission and the two societies had previously spread online on October 2014.
In 2005, civil society, professional and political groups had banded together to advocate the IFC as conciliatory and advisory body among the country's various creeds.
The IFC has long been opposed by Islamist groups in Malaysia who claimed that it will spread pluralism and equality among all religions in the country, subsequently undermining the position of Islam and would lead to a proliferation of Muslim apostasy.
Minister Tan Sri Joseph Kurup had explained in August 2013 that the IFC was not shelved, but instead was renamed as the Cabinet's Special Committee to Promote Understanding and Harmony Among Religious Adherents (JKMPKA).
JKMPKA was formed in 2010 under the purview of the Department of National Unity under the Prime Minister's Department, and is currently headed by chairman Datuk Azman Amin Hassan.
Speaking at the appointment to JKMPKA committee members in February this year, Prime Minister Datuk Seri Najib Razak said the committee is crucial towards resolving religious issues amicably.
http://www.themalaymailonline.com/malaysia/article/jakim-says-no-resurgence-of-interfaith-commission-apostate-groups
--------
Zaid: True knowledge, spirit of Islam in Indonesia
November 7, 2016
PETALING JAYA: While many political analysts have described the tens of thousands of Muslims who took to the streets of Jakarta last Friday as a sign of increasing conservatism in Indonesia, Zaid Ibrahim said he was not concerned.
Writing in his blog today, the former defacto law minister said there was no reason to worry about a Taliban-like movement growing in Indonesia because they had an established medium of religious education that was not influenced by the Saudi teachings on Islam.
"In Indonesia, they have their 'pesantren', or village religious schools, and they have been in existence for more than 300 years. This is where Indonesians are taught the true knowledge and spirit of Islam.
"They do not learn about Islam from the Saudis or from unemployed graduates of Islamic studies. They learn their religion from their elders and respected Imams in their villages," Zaid said.
The lawyer-turned-politician said unlike in Malaysia, the preachers in Indonesia did not work for the ruling political party or get paid by the political apparatus of the ruling party.
"They are genuine religious preachers who have consistently rejected extremism and violence in Islam for over 300 years."
On the protest last Friday, Zaid noted that there was a distinct difference in the way the protest started and the way it ended, with respect to the violence that ensued.
"The protesters were peaceful until towards the end of the day, when those who had been sponsored by Ahok's (whose real name is Basuki Tjahaja Purnama) political opponents to come from afar became angry when they were not paid for their trouble. They burned cars and smashed buildings in the vicinity in the process.
"What impressed me most was the calm and collected response from most of the city residents. They did not panic or do anything to aggravate the situation," Zaid said, attributing this to their belief in the security forces acting professionally and not taking sides.
He added that the security forces justified the people's belief as they acted firmly by using water cannons to disperse the rampaging mobs, bringing law and order back to the streets of Jakarta.
Full report at:
http://www.freemalaysiatoday.com/category/nation/2016/11/07/zaid-true-knowledge-spirit-of-islam-in-indonesia/
--------
Indonesia Police Question Christian Politician in Blasphemy Case
Nov. 7, 2016
JAKARTA, Indonesia—Police questioned the most prominent Christian politician in this predominantly Muslim country on Monday as they consider a blasphemy charge against him, just three months ahead of an election where he is the leading candidate.
The case has raised concerns about the growing strength of conservative Islam in Indonesia, less than two decades after the ouster of the dictator Suharto ushered in the democratic era here.
Gov. Basuki Tjahaja Purnama, known generally as Ahok, arrived early at national police headquarters as dozens of his supporters gathered outside, many wearing his trademark red, blue and white checkered shirts.
The voluntary appearance followed an anti-Ahok rally called by hard-line Muslim groups that drew some 200,000 people to the capital on Friday. They demanded he be prosecuted for a reference he had made to the Quran.
Hours after the protest ended, President Joko Widodo appeared on television promising legal proceedings regarding Mr. Purnama—his former deputy— would be swift and transparent.
Police said they would question Mr. Purnama and various experts and then discuss—in unprecedented televised hearings—whether to mount a case. They haven't set a date for those deliberations.
The criminal charge of blasphemy, while still relatively uncommon, has been levied more frequently here in recent years. The charge carries a maximum penalty of five years in prison if convicted.
There were 10 cases between 1965 and 1998 under Suharto, while more than 100 people have been convicted in the decade since 2005, according to Amnesty International.
Most cases involved perceived offenses to Islam, such as leading a deviant sect or insulting the Prophet.
Mr. Purnama, who is from Indonesia's ethnic Chinese minority, is being investigated for comments made in September about a verse of the Quran that says Muslims shouldn't be led by non-Muslims.
Mr. Purnama had made light of the verse, telling constituents it was fine if they felt they had to vote against him because of it. He also indirectly suggested that people could be fooled by the verse.
Weeks later, some hard-line Muslim groups accused him of blasphemy for, they said, calling the Quranic verse a lie. An influential ulema council of Islamic scholars concluded that he had committed blasphemy.
Full report at:
http://www.wsj.com/articles/indonesia-police-question-christian-politician-in-blasphemy-case-1478502985
--------
Malaysia: PM Najib Razak faces backlash at home following deals with China
November 7, 2016
Malaysian Prime Minister Najib Razak is facing grumblings back home that he is "selling off" his country after returning from China with about $34 billion worth of deals, which could help lift the economy ahead of elections. The concerns emerge from a deep-seated distrust of the Chinese among Malaysia's Malay-Muslim majority, who form the support base for the ruling United Malay National Organisation (UMNO). Najib was quick to dismiss the concerns after concluding his six-day visit to China.
"Some have scaremongered that Malaysia is being sold off. This is absurd and absolutely false," Najib said in a statement on Friday, insisting the projects will be owned and run by Malaysians.
The deals include Malaysia's first significant defence deal with China, an agreement to buy four Chinese naval vessels.
Najib's visit followed that of Philippines President Rodrigo Duterte, who announced his country's "separation" from the United States and signed agreements and loan pledges worth an estimated $24 billion with Beijing.
UMNO leaders expect Najib to brief them soon so the party can start allaying any fears about China's rising influence in Malaysia, said Shahidan Kassim, a senior member of the party's supreme council and a federal minister.
"All of this has its pros and cons, but in UMNO we must have a policy statement on this," he told Reuters.
Ethnicity And Religion
Ethnicity and religion are sensitive issues in Malaysia, where Muslim Malays form a little over 50 percent of the population of 31 million. Ethnic Chinese make up about 25 percent and ethnic Indians about 7 percent.
Malaysia's ethnic Chinese have long been a scapegoat for the Malay community, with UMNO leaders pointing to ethnic Chinese economic dominance to unite Malays and keep a firm grip on political power.
Last year, ethnic ties became strained under the weight of two opposing demonstrations largely split along racial lines. A 'Malay pride' rally blocked off Chinatown in Kuala Lumpur in a show of strength following an anti-government rally dominated by Malaysian-Chinese. Najib's government summoned China's ambassador over his remarks ahead of the "Malay pride' rally.
Full report at:
http://indianexpress.com/article/world/world-news/malaysia-pm-najib-razak-faces-backlash-at-home-following-deals-with-china-3741274/
--------
Arab World
US-backed forces launch bid to capture IS Syria 'capital'
November 07, 2016
AIN ISSA - US-backed Kurdish-Arab forces launched an offensive Sunday on the Islamic State group's de facto Syrian capital Raqa, upping pressure on the jihadists who are already battling Iraqi troops in Mosul.
The start of the assault by the Syrian Democratic Forces (SDF) came as Iraqi forces fought inside Mosul for the third day running, with the jihadists putting up fierce resistance.
The two cities are the last major urban centres under IS control after the jihadists suffered a string of territorial losses in Iraq and Syria over the past year.
The US-led coalition battling IS is backing both assaults, hoping to deal a knockout blow to the self-styled "caliphate" the group declared in mid-2014.
Lined up in crisp fatigues at an outdoor press conference, SDF commanders announced the start of the operation against Raqa in Ain Issa, some 50 kilometres (30 miles) north of the city.
"The major battle to liberate Raqa and its surroundings has begun," SDF spokeswoman Jihan Sheikh Ahmed said.
The operation, dubbed "Wrath of the Euphrates", involves some 30,000 fighters and began on Saturday night, Ahmed said.
SDF spokesman Talal Sello told AFP it would proceed in two phases, first seizing areas around Raqa and isolating the city, then taking control of the city itself.
SDF forces are advancing on three fronts, from Ain Issa and Tal Abyad to the north of Raqa, and from the village of Makman to the east.
"The fight will not be easy, and will require accurate and careful operations because IS will defend its bastion knowing that the loss of Raqa will mean it is finished in Syria," Sello said.
An AFP correspondent in Ain Issa saw dozens of SDF fighters heading on vehicles towards the front line.
Driving the jihadists from Mosul and Raqa has been the endgame since the US-led coalition launched air strikes against IS in the summer of 2014.
The coalition has also provided training and deployed hundreds of advisers to work with Iraqi forces and select Syrian fighters, including the SDF.
Sello said the alliance had received new weapons from the coalition for the Raqa battle, including anti-tank missiles.
Another SDF source said 50 US military advisers would be involved in the operation, particularly to guide air strikes.
After it was seized by IS, Raqa became the scene of some of the jihadists' worst atrocities, from stonings and beheadings to the trading of sex slaves.
Thousands of foreign fighters flocked there to join IS, and US officials have described it as the nerve centre for the group's attacks abroad.
In Washington, a US official confirmed the start of the operation to capture the stronghold.
"We will first undertake an effort to isolate Raqa to set the stage for an eventual assault on the city itself to liberate it," the official said, speaking on condition of anonymity.
'HEAVY RESISTANCE' IN MOSUL
In Mosul, Iraqi forces were clearing eastern neighbourhoods of the city on Sunday, nearly three weeks into the offensive to retake the city.
"Resistance is very heavy and they (IS) have suffered major losses," Staff Lieutenant General Abdelghani al-Assadi of the elite Counter-Terrorism Service told AFP.
Soldiers from the army's 9th Armoured Division also battled jihadists in a southeastern neighbourhood of Intisar, an AFP correspondent reported.
IS has responded to the Mosul assault with a string of diversionary attacks elsewhere in Iraq, including spectacular operations in Kirkuk and Rutba.
It claimed responsibility for suicide bombings on Sunday in Tikrit and Samarra, two cities north of Baghdad, that officials said killed at least 25 people and wounded more than 50.
Aid groups have raised deep concerns for civilians trapped in both Mosul and Raqa, with warnings the jihadists are likely to use them as human shields.
More than a million people are believed to be in the Iraqi city.
Raqa had a population of some 240,000 before the start of Syria's civil war and more than 80,000 people have since fled there from other parts of the country.
http://nation.com.pk/international/07-Nov-2016/us-backed-forces-launch-bid-to-capture-is-syria-capital
--------
25 killed in Iraq suicide bombings claimed by IS
November 07, 2016
KIRKUK - Suicide bombings claimed by the Islamic State group killed at least 25 people and wounded more than 50 in two cities north of Baghdad on Sunday, officials said.
One bomber detonated an explosives-rigged vehicle at the southern entrance to Tikrit, while another other blew up an ambulance at a car park in Samarra, possibly in concert with a third bomber.
The Tikrit attack killed at least 15 people and wounded at least 33, while at least 10 died and at least 25 were wounded in Samarra, security and medical officials said.
Iranian pilgrims were among the victims in Samarra, which is home to a major Shiite shrine that was bombed in 2006, setting off a wave of brutal sectarian violence.
IS issued a statement claiming Sunday's attacks, but said there were three suicide bombers: two who struck Samarra and the third who attacked Tikrit.
A police lieutenant colonel also said there was a second bomber who attacked the car park in Samarra, but other sources only mentioned one in the city.
The IS statement identified two of the bombers as "Al-Moslawi" -- a nom de guerre that would indicate they were from Mosul, though it could be a propaganda attempt to link militants from other areas with the ongoing battle for Iraq's second city.
Full report at:
http://nation.com.pk/international/07-Nov-2016/25-killed-in-iraq-suicide-bombings-claimed-by-is
--------
Militants in Five More Towns Join Peace Agreement with Syrian Gov't
Nov 06, 2016
The center said in a statement on Sunday that representatives of four towns in Lattakia province and a town in Homs province have inked the peace agreement, and added, "The total number of the cities, towns, villages and regions that have thus far joined to peace plan now stands at 893."
The Peace Coordination Center in Syria said earlier this week that militants in four more regions gave up fight against the Syrian army and joined the peace agreement with Damascus.
The Center declared in its latest statement that militants in two regions in Lattakia and two more regions in Hama joined the nationwide reconciliation plan.
In late October, the center announced that militants in fifteen towns ended fight against the Syrian army and joined a peace agreement with Damascus.
Full report at:
http://en.farsnews.com/newstext.aspx?nn=13950816001209
--------
Large Numbers of Chinese, Caucasian Terrorists Killed in Southwestern Aleppo
Nov 06, 2016
"At least 70 Uyghur and Caucasian militants have been killed in the Great Epic Operation on government troops' positions in the Western and Southwestern parts of the Aleppo city in the last seven days," the sources said.
"Fatah al-Sham Front (the al-Qaeda-affiliated terrorist group previously known as the al-Nusra Front) and some other terrorist groups launched the Great Epic Operation in Western and Southwestern Aleppo city on October 28 to remove the siege on their comrades in the Eastern districts of Aleppo," the sources added.
"In the meantime, only 86 Syrian terrorists have been killed in the first nine days of Great Epic Operation in Aleppo," the source said.
The army and its allies have laid siege on thousands militants in the Eastern part of Aleppo city.
Media sources said for their part that the real number of killed militants in Great Epic Operation is larger than the number which is announced by the terrorist groups and their backers.
Full report at:
http://en.farsnews.com/newstext.aspx?nn=13950816001393
--------
Syria regime shelling kills six children in kindergarten
November 07, 2016
BEIRUT:– At least six children were killed on Sunday in Syrian government shelling that hit a kindergarten in the rebel-held town of Harasta outside the capital Damascus, a monitor said.
The Britain-based Syrian Observatory for Human Rights monitor said 17 people, most of them children, were also injured in the shelling.
An AFP photographer saw the body of one child, a girl, lying on a bed at a makeshift hospital, her face bloodied and her clothes torn.
Full report at:
http://nation.com.pk/international/07-Nov-2016/syria-regime-shelling-kills-six-children-in-kindergarten
--------
Top Iraqi Kurdish official: ISIS deployed drones with mustard gas
7 November 2016
ISIS has deployed drones strapped with explosives, long-range artillery shells filled with chlorine and mustard gas and highly effective snipers, a top Iraqi Kurdish security official told Reuters in an interview on Sunday.
Masrour Barzani, head of the Kurdistan Regional Government's Security Council, said ISIS deployed these drones so far during the three-week operation to recapture Iraq's second largest city Mosul.
Barzani said Iraqi forces are expected to face much fiercer resistance from ISIS in the next phase of the battle for Mosul, including booby traps that can blow up entire neighborhoods.
"The fight against ISIS is going to be a long fight," he said. "Not only militarily but also economically, ideologically."
Full report at:
https://english.alarabiya.net/en/News/middle-east/2016/11/07/Top-Iraqi-Kurdish-official-ISIS-deployed-drones-with-mustard-gas.html
--------
Saudi Arabia, China to boost cooperation in fighting terror
7 November 2016
RIYADH: Saudi Arabia and China agreed to step up cooperation on various key issues including security and counter-terrorism during talks held in Riyadh Sunday.
Custodian of the Two Holy Mosques King Salman, Crown Prince Mohammed bin Naif and Deputy Crown Prince Mohammed bin Salman, received a delegation led by Chinese President Xi Jinping's special envoy Meng Jianzhu. The two sides also reached agreement to deepen the cordial ties between Saudi Arabia and China.
The talks in Riyadh follow the signing of 15 preliminary agreements between Saudi Arabia and China in August — touching on a wide range of fields from energy to housing — during the visit of the deputy crown prince.
Meng and his delegation arrived here Saturday night.
The visit fits in with a broad reforms drive to reduce the Kingdom's reliance on oil exports and showcases Saudi Arabia as a dynamic nation with promising opportunities for global investors.
Full report at:
http://www.arabnews.com/node/1007606/saudi-arabia
--------
Fight against Daesh will not end in Mosul: Masrour Barzani
7 November 2016
SALAHUDDIN, Iraq: Iraqi forces are expected to face much fiercer resistance from Daesh in the next phase of the battle for Mosul, including booby traps that can blow up entire neighborhoods, the top Kurdish security official said on Sunday.
Masrour Barzani, head of the Kurdistan Regional Government's (KRG) Security Council, said that even if Daesh is driven out of its main stronghold Mosul, that will not be enough to eliminate the group, and its radical ideology will survive.
"The fight against ISIS is going to be a long fight," Barzani told Reuters. "Not only militarily but also economically, ideologically."
He spoke as Iraq's special forces worked Sunday to clear neighborhoods on the eastern edge of Mosul as bombings launched by the extremist group elsewhere in the country killed at least 20 people.
"There are a lot of civilians and we are trying to protect them," said Lt. Col. Muhanad Al-Timimi.
"This is one of the hardest battles that we've faced till now."
Barzani also said that Iraqi forces have made quick progress clearing out terrorists from eastern Mosul after Kurdish peshmerga units broke through its first lines of defense.
"As they are getting more desperate, expectations are that they might fight more fiercely as you close in," said Barzani, 47, son of veteran Kurdish leader and KRG President Masoud Barzani. So far in the three-week operation, Daesh has deployed drones strapped with explosives, long-range artillery shells filled with chlorine and mustard gas and highly effective snipers, said Barzani. Kurdish forces have destroyed more than 50 car bombs.
And he cautioned that western Mosul will be a more complex campaign, with a vast number of narrow streets that can't accommodate large military vehicles and an enemy that will fight to the death to defend the capital of its so-called caliphate.
"There are many different IEDs (improvised explosive devices) that they put in different places, come up with different tactics. Many that are used like networks," Barzani said.
"So in one house they are putting one IED and trying to hide it. And once it explodes then the entire neighborhood explodes."
The Mosul campaign is the most critical land battle in Iraq since a US-led coalition toppled Saddam Hussein in 2003.
Iraqi leaders are also under pressure to ensure that the offensive does not inflame sectarian tensions in Mosul and in the country as a whole.
That's why Shiite militias and Kurdish peshmerga forces are not fighting inside Mosul, although some Iraqi forces who are taking part have been flying Shiite banners on their vehicles, an act that has angered Sunni residents.
Barzani called on Iraq's complex patchwork of sects and ethnic communities to set aside their political differences or risk long-term instability.
When the Daesh seized Mosul in 2014, some members of that minority sect supported the group after accusing the government of widespread discrimination, an allegation it denied.
"Winning the peace after winning the war is equally important," said Barzani.
"The number one point to prevent the rise of terrorist and radical organizations is to make sure there is political reconciliation and a political agreement among all the components so that no one will feel like an outcast."
Full report at:
http://www.arabnews.com/node/1007601/middle-east
--------
Saudi Military Positions in Najran Come Under Yemeni Artillery Attack
Nov 07, 2016
The Saudi army troops sustained heavy losses in the Yemeni attacks on their military positions.
The Yemeni army's artillery attacks came in response to the ongoing Saudi airstrikes on the civilian population across Yemen.
Meantime, the Saudi fighter jets continued their airstrikes against the defenseless Yemeni civilians.
The Saudi warplanes also hit the residential areas along al-Khoukheh coast in the port city of Hudayda several times.
Full report at:
http://en.farsnews.com/newstext.aspx?nn=13950817000334
--------
Yemeni Popular Forces Vow to Fire More Missiles at Saudi Arabia
Nov 06, 2016
"Ansarullah has a warehouse full of missiles which can continue hitting the targets inside Saudi Arabia until the end of war with the Riyadh government," Ansarullah officials said.
Meantime, Yemeni Army Spokesman Brigadier General Sharaf Luqman also threatened Saudi Arabia with an increasing number of missile strikes.
On Friday a prominent Yemeni analyst underlined the country's army and popular forces' growing military power, and said their missiles which can now hit the Saudi bases anywhere inside the kingdom are changing the balance of power in the war.
"When the Yemenis fired the Borkan-1 missiles on Jeddah, some kind of power balance and deterrence was created, since with this action, the Yemeni forces showed that the war has entered a new phase and they made the enemy understand that extensive regions inside Saudi Arabia are now within their reach," Ahmad al-Shami said.
He, meantime, stressed that the Yemeni army and popular forces merely target the Saudi military bases and they have and will never attack the civilians.
Also on Wednesday, another prominent analyst said that the Yemeni forces are developing their missile power to target Riyadh and Dubai in the future.
"The Yemeni forces have increased their missile and military capabilities and expanded the range of their military operations against the enemies," Seyed Sadeq al-Sharafi said.
Noting that continued war in Yemen will further complicate the situation of the Saudis and make the Yemeni forces stronger, he said, "The range of the army and popular committees' missiles has increased to hit targets in Jeddah, meaning that they are likely to hit targets in Riyadh and beyond as well as Dubai and other sensitive regions soon in future."
Sharafi expressed confidence that the balance of power is changing and the Saudis' failure is imminent, and said, "The Saudis are moving towards full collapse, while the Yemeni nation is going towards victory and gaining more power in the military and defense fields."
His remarks came after the Yemeni army and popular forces launched a Borkan-1 ballistic missile attack from Sa'ada province to a Saudi Airbase in Jeddah late October.
Yemeni soldiers and their allies fired a Borkan-1 (Volcano-1) missile towards King Abdulaziz International Airport, located 19 kilometers North of the Western Saudi port city of Jeddah, Arabic-language al-Masirah television network reported.
A military source, speaking on condition of anonymity, later told the official Saba news agency that the 12.5-meter-long missile had hit its target accurately and left massive destruction at the airport.
Full report at:
http://en.farsnews.com/newstext.aspx?nn=13950816001514
--------
Syria: 140 Militants Receive Amnesty in Hasaka
Nov 07, 2016
"Some 140 persons in Qamishli city in Hasaka province have had their legal case processed based on the Amnesty Decree no. 15 for 2016 after they turned themselves in to authorities," the governed said.
Late in October, Syrian President Bashar Assad extended the validity of the decree on the amnesty for militants who decided to lay down weapons.
The July decree said that armed militants should be exempt from liability if they surrender and hand over their weapons to judicial authorities or the police within three months from the date of that decree's publication.
Full report at:
http://en.farsnews.com/newstext.aspx?nn=13950817000295
--------
Syria in Last 24 Hours: Army Uncovers Terrorists' Tunnel in Damascus
Nov 07, 2016
The Syrian troops continued their offensive operations against the Takfiri groups in Damascus countryside, uncovering a tunnel connecting a number of buildings in the area.
Meantime, the Syrian army and popular forces continued their military advances in other parts of Syria, including Dara'a and Hama, over the past 24 hours.
Tens of terrorists were killed and dozens more were injured during the Syrian army's operations in key provinces of Syria.
Damascus
Syrian Army troops discovered and detonated a long tunnel of the terrorists in Southwestern Damascus, killing at least 15 militants including three commanders.
Fifteen members of Fatah al-Sham Front (the al-Qaeda-affiliated terrorist group previously known as the al-Nusra Front) and Ahrar al-Sham, including three commanders, were killed after the Syrian army targeted their hideout in a tunnel in Khan al-Sheih region.
The army men also seized a workshop of the terrorists used for manufacturing mortar shells and missiles near Khan al-Sheih.
The army soldiers also seized terrorists' arms and ammunition depot with US and Israel-made weapons.
Idlib
Top commanders of Fatah al-Sham Front (formerly al-Nusra Front) as well as a number of their counterparts in other terrorist groups that are deployed in Idlib voiced opposition to the transfer of the militants, who agreed on Saturday to leave their positions in Southwestern Damascus to relocate to Idlib.
"While the representatives of Damascus and militant groups are working jointly on relocating those militants, who have agreed to leave their positions in the regions of Khan al-Sheih, al-Zakiyeh, Moqilibiyeh, al-Tibeh, al-Hosseiniyeh and al-Keswat al-Sharghiyeh farms, the leaders of Fatah al-Sham have rejected militants' request to be transferred to Idlib," media sources said.
"In the meantime, the Syrian government has voiced opposition to the relocation of militants of Khan al-Sheih and its surroundings in the provinces of Dara'a or Quneitra," the sources added.
"The terrorists in Western Ghouta have been in close contact with al-Mouk Operation Room in Jordan," the sources said.
"The Fatah al-Sham central command has accused militants in Khan al-Sheih of betrayal in their battle against the government forces in Darayya, saying negligence of these militants gave the upper hand to the Syrian army in the region," the sources added.
Based on the peace agreement with government, militants in Khan al-Sheih were to hand over their heavy weapons, equipment and the map of landmine-planted areas to the Syrian army and in return the army would allow them to leave the region for Idlib carrying only their light firearms.
Full report at:
http://en.farsnews.com/newstext.aspx?nn=13950817000260
--------
Syria: Nusra Leaders Oppose Relocation of Militants from Western Ghouta to Idlib
Nov 06, 2016
"While the representatives of Damascus and militant groups are working jointly on relocating those militants, who have agreed to leave their positions in the regions of Khan al-Sheih, al-Zakiyeh, Moqilibiyeh, al-Tibeh, al-Hosseiniyeh and al-Keswat al-Sharghiyeh farms, the leaders of Fatah al-Sham have rejected militants' request to be transferred to Idlib," media sources said.
"In the meantime, the Syrian government has voiced opposition to the relocation of militants of Khan al-Sheih and its surroundings in the provinces of Dara'a or Quneitra," the sources added.
"The terrorists in Western Ghouta have been in close contact with al-Mouk Operation Room in Jordan," the sources said.
"The Fatah al-Sham central command has accused militants in Khan al-Sheih of betrayal in their battle against the government forces in Darayya, saying negligence of these militants gave the upper hand to the Syrian army in the region," the sources added.
Based on the peace agreement with government, militants in Khan al-Sheih were to hand over their heavy weapons, equipment and the map of landmine-planted areas to the Syrian army and in return the army would allow them to leave the region for Idlib carrying only their light firearms.
The agreed peace plan was expected to come into force today or tomorrow to relocate the terrorists to Idlib from their largest base in Southwestern Damascus.
With the exit of the militants from Western Ghouta, the army would find a much stronger control over the security ring around the capital and al-Salam highway connecting Damascus to Quneitra.
The militants in Khan al-Sheih in Western Ghouta voiced concession on Saturday to the Syrian Army terms for their evacuation from the town to be relocated to Idlib province.
Full report at:
http://en.farsnews.com/newstext.aspx?nn=13950816001170
--------
Africa
Kenya: Mosques and Churches, Bathed In Yellow Paint
06 November 2016
Kenya's churches, mosques, and temples are turning yellow.
As the sun sets in Kenya, reflecting its golden rays off thousands of rusty iron sheets in Nairobi's Kibera slum, a couple of buildings painted yellow stand out from the usual oranges and browns dominating the rusted iron sheets and mud houses.
One of the buildings is a mosque, while the rest are churches, all painted golden yellow.
Sheikh Yusuf Nasur Abuhamza who leads the Jeddah Mosque, told Anadolu Agency that the mosque was the first place of worship in Kenya to be painted yellow.
"I remember that day as if it was yesterday. Both Muslims and Christians came here to paint the mosque," Nasur says, pointing to a section of the mosque's walls.
"Everybody was happy; this is the significance of the colour yellow. Christians and Muslims have always lived as brothers and sisters, helping each other when in need. This is the message that we are sending, we want to promote peace, love, and unity among all religions," he added.
The "colour in faith" project to paint Kenyan houses of worship yellow started this August, although the actual painting took place just a month ago, according to project organizers.
Speaking to Kenya's Nation television, Nabila Alibhai, who spearheaded the project, spoke about the significance of the use of yellow.
"Yellow is a colour that is neutral, it is also the color of light, and light dispels darkness. When you look at paintings of divinity and of angels and of saints, they seem to be flanked with this aura of yellow."
With the project's co-founder, Colombian artist Yazmany Arboleda, Alibhai has also worked in Afghanistan and Kabul in similar projects to spread peace and unity among religions.
Abdi Fatah, one of the Muslim faithful who prays at Nairobi's Jeddah Mosque, told Anadolu Agency that he longs for the day when Muslims will no longer be seen as terrorists due to the terrorist acts committed by the al-Shabaab militant group.
"Anyone wearing white clothes like I am is called a terrorist, any devout Muslim is called a terrorist, but this colour" – he gestures to the yellow on the mosque – "means that you and I are one, we are a family. This colour will unite Kenyans, and one day no person will be judged for their religion."
Islam is Kenya's second-most popular religion, with 4.3 million adherents making up 11 percent of the Kenyan population, while Christianity makes up 84 percent, as the most popular religion in the East African country.
In recent years Al-Shabaab militants have carried out a spate of attacks on Kenyan soil, including the most notorious, an April 2015 attack claiming the lives of more than 140 students at Garissa University.
The attacks have driven a wedge between Christians and Muslims, as the militants claim to be protecting Muslims who are oppressed and killed by Kenyan security forces.
But Nasur said, "We should not allow religion to divide us, mostly after being mixed with politics. A Christian should not fear a Muslim, and Muslims shouldn't do the same. We need to help each other as humans."
He added that as soon as they finished painting the mosque, they all marched down to the Anglican Church of Kenya (ACK) Holy Trinity parish, almost next door, to give that place of worship a fresh coat of paint.
"The church is just up that road 200 meters from here, you can't miss it, it's the one with the yellow roof," he said, pointing to a roof in a distance.
http://www.worldbulletin.net/world/179691/suicide-bombings-kill-9-in-northern-iraq
--------
Saudi Arabia: A forlorn plea of African migrant worker
7 November 2016
Prior to Americans discovery of oil in commercial quantities in 1938, what is now oil rich kingdom of Saudi Arabia was predominantly a poverty-drenched nomadic economy.
The data from US Energy Information Administration suggest that Saudi Arabia possesses 16% of the world's proved oil reserves. It is the largest exporter of total petroleum liquids in the world.
from oil, the Saudi Arabian city of Mecca is the holy abode of Muslims all over the world. Certainly, the obligatory performance of hajj at the holy city of Mecca as one of the pillars of Islam coupled with the cosmopolitan nature of Islam and its emphasis on universal brotherhood and hospitality had naturally attracted many migrant workers into the kingdom of Saudi Arabia.
The horrific experience of some of these workers from poverty-stricken frightened economies of Africa and south eastern Asia deserve the priority attention of the international communities. This article reflects on the conditions of migrants workers in the kingdom of Saudi Arabia.
Torture, rape, sexual assaults, beating, killings are the treatment meted out to migrant workers in Saudi Arabia. Saudi Arabia abolished slavery in 1962. The abolition of slavery is an illusion as the contract slavery of domestic servants still exist in Saudi Arabia. Economic gains on the part of sending and receiving nations motivate the influx of female workers from their home countries to Saudi Arabia. Besides, restrictive contract system, apparently a catalyst for servitude, bind the female domestic workers to her employer.
In his article, Graham Peeble asserted that "Migrant workers make up a third (8 million) of the population and over half the workforce in Saudi Arabia; they are mainly unskilled labourers and domestic workers (jobs the Saudis don't want to do), "are inadequately protected by labour laws and are vulnerable to exploitation and abuse by their employers"
[Amnesty International[ii]], including: excessive working hours, up to 15 to 20 hours a day, seven days a week; wages withheld for months or years on end; forced confinement; food deprivation; and severe psychological, physical, and sexual abuse. Women domestic workers "are also at particular risk of sexual violence and other abuses."
A study by the Philippines based Committee on Workers Overseas Welfare[iii] says, "70% of [Filipino] workers employed as caregivers or without a specific work qualification suffers continuous physical and psychological harassment," in the oil rich gulf state [report by Asia News[iv]]. Lorraine, a 27-year old Filipino arrived in Saudi Arabia in 2010. 'When my boss came to pick me up' - she says – 'he tried to touch me at once to see if I was available. In the first weeks I constantly suffered his advances, which became more insistent every time I refused.' In nine months of employment Lorraine was raped five times." She was beaten and insulted by the man's wife and fed on bread and leftovers."
Readers can follow up on this link http://www.grahampeebles.org/5583d82ae4b0c29e1bf22fc2/2015/6/19/killed-beaten-raped-migrant-workers-in-saudi-arabia
One Ghanaian lady who spoke to the journalist, Nana Kyei-Baffour of Klasic radio in Atlanta Georgia lamented over how she is being harassed. The ministry of foreign affairs and the Ghana embassy in Saudi Arabia must act quickly and save the lives of these domestic servants in Saudi Arabia.
Full report at:
http://www.ghanaweb.com/GhanaHomePage/features/Saudi-Arabia-A-forlorn-plea-of-African-migrant-worker-484320
--------
Emulate Sultan, promote unity, Nigerian leaders told
Nov 7 2016
As activities marking the 10th anniversary of the Sultan of Sokoto, Muhammad Sa'ad Abubakar came to a close weekend, Nigerian leaders were urged to emulate the Sultan in the promotion of peace, unity and understanding in the country.
Deputy President General (South), Nigeria Supreme Council for Islamic Affairs, Dr.Sakariyau Babalola made the call in Sokoto when he led a delegation of Muslim leaders from southern Nigeria to the state for the 10th anniversary commemoration. He said they came to celebrate the leadership style of the Sultan whom he described as a bridge, not just a bridge builder.
"The Sultan has unified all Muslim Ummah in the south and Nigeria as a whole," he stated.
Full report at:
http://www.dailytrust.com.ng/news/general/emulate-sultan-promote-unity-nigerian-leaders-told/170446.html
--------
Trump Says Minnesota Has "Suffered Enough" For Taking In Somali Refugees
Nov. 7, 2016
Donald Trump on Sunday stepped up his attacks on Muslim refugees, saying they will bring "generations of terrorism" into the US, adding that Minnesota had "suffered enough" since the state has become home to Somali refugees.
Speaking to supporters in Minneapolis, Trump repeated a talking point that Hillary Clinton would increase the number of Syrian refugees coming into the US by 550%. (Clinton said in September last year she supported increasing the number of Syrian refugees allowed into the US from 10,000 to 65,000).
"She wants virtually unlimited immigration and refugee admissions, from the most dangerous regions of the world, to come into our country and to come into Minnesota, and you know it better than anybody," Trump told his crowd. "Her plan will import generations of terrorism, extremism, and radicalism into your schools and throughout your community. You already have it."
Trump pointed to the stabbings in September at a mall in St. Cloud, Minnesota, in which nine people were injured. The attacker, who was shot dead by an off-duty police officer, was claimed as a supporter by ISIS, but authorities believe 20-year-old Dahir Adan, a Somali refugee, planned the attack alone, the Minneapolis Star-Tribune reported.
"A Trump administration will not admit any refugees without the support of the local community where they are being placed," Trump said on Sunday. "It's the least they can do for you.
Full report at:
https://www.buzzfeed.com/claudiakoerner/trump-vs-somali-refugees?utm_term=.uj0ME72lOd#.oy2Y1O0Dpq
--------
Libya pro-government forces rescue 14 civilians in Sirte
6 November 2016
Libyan pro-government forces fighting ISIS in Sirte evacuated 14 civilians from a battleground district of the city, they said on Sunday.
"Our forces today successfully secured the departure of 14 civilians, mostly women and children," from the last part of the city where ISIS fighters are holed up, the pro-government forces said in a statement.
ISIS militants have been cornered in a single area of Sirte after a months-long assault by forces allied with Libya's UN-backed Government of National Unity (GNA).
It is not known how many civilians remain in the Al-Jiza Al-Bahriya neighborhood.
Sirte, 450 kilometers (280 miles) east of the capital Tripoli, had a population of 120,000 before IS seized it in June 2015 and residents began to flee.
Pro-GNA forces said in October they had managed to rescue an Egyptian and a Turk from ISIS-controlled zones, as well as 11 Eritreans who were thought to have been held hostage by the group.
Full report at:
https://english.alarabiya.net/en/News/asia/2016/11/06/Libya-pro-government-forces-rescue-14-civilians-in-Sirte-.html
--------
Boko Haram razes village near Chibok
7 November 2016
KANO: Boko Haram militants killed two soldiers and razed a village adjoining the northeast Nigerian town of Chibok where the group kidnapped more than 200 schoolgirls two years ago, residents said Sunday.
The Nigerian army, meanwhile, said it had retaken some villages from the terrorist group in the Lake Chad region in operations on Friday and Saturday and "rescued" 85 people, including women and children. It also claimed nearly 40 terrorists were killed in other operations.
A group of Boko Haram gunmen arrived in Akwada, 10 kilometres from Chibok, late Saturday and torched homes after looting food supplies.
The attack came just hours after the army said it had rescued one of the missing Chibok schoolgirls with her 10-month-old baby near the Cameroon border. "Boko Haram gunmen attacked the village around 7:30 p.m. They fired indiscriminately and hurled explosives," resident Bitrus John told AFP.
"They killed two soldiers and injured another one in gunfight," he said. Troops patrolling the area engaged the Islamists in a shootout, allowing residents to flee the village unhurt, said John.
Soldiers had deployed in the village following incessant attacks in the area in recent months. "The village has been entirely burnt, there is nothing left apart from burnt rubble of our mud houses," said Bulus Samson.
The attack underscores the continued threat of Boko Haram in Nigeria's volatile northeast, where the military is battling for control despite making gains against the insurgents over the past year. It came two weeks after similar raids on two nearby villages where the terrorists looted and burnt homes.
Full report at:
http://www.arabnews.com/node/1007351/world
--------
North America
Khizr Khan and the Presidential Election Mark a Muslim Moment in American History
7 November 2016
Contrary to the famous poem inscribed on the Statue of Liberty that calls out to the world, "Give me your tired, your poor, your huddled masses yearning to breathe free," and setting aside the spirit and ideas of the great Founding Fathers on religious pluralism, the United States has a history of hostility towards immigrant groups. And in this election climate, that patriotic stain has helped fuel the rhetoric of politicians like Republican nominee Donald Trump.
But long before the Trumps of the world talked of building walls and closing borders, America was exclusive. Many communities that settled in this country, I discovered in my year-long field study that resulted in a book and film both called "Journey Into America," had to endure a period of hateful discrimination and often savage violence as they established themselves here. It would often take a dramatic bloody event, the death of someone ― or indeed the deaths of many members of the marginalized community ― before the group would become more widely accepted and eventually merge with larger American society. There is a distinct pattern that can be traced for this evolution: long decades of prejudice facing the community as it struggles to be a part of American life, a crisis which results in the taking of life or lives and finally acceptance by and into the mainstream. Though the experiences associated with each are unique and the alienation and isolation members feel may not completely evaporate, there comes a point in time at which the group ― and in some cases there is overlap between groups ― is met with something other than hostility. It is that threshold of assimilation Muslims in this country now find themselves at with the presidential election and the story of Capt. Humayun Khan and his family.
Take the African-American community, which for centuries faced degradation, humiliation, lynching, rape and murder with heroic courage and dignity. It was finally the Civil Rights Movement, under the extraordinary leadership of Martin Luther King Jr. and his compatriots in the 1960s, that would begin to shift attitudes. But it would be King's assassination in 1968 that would stun American society and burst the bubble of racial prejudice. It was the moment when mainstream America, however reluctantly, embraced the African-American community. Barack Obama reached the White House as a result of the sacrifice and struggle of MLK and others like him, including those whose names we may never know or read about in history books.
The Catholic and Jewish communities, too, have faced strife and though different, their histories resonate with this general model as well. Catholics, many in the case of the Irish escaping famine, were beaten, battered and abused on their arrival in, for example, New York, the main port of entry in the 19th century. Even into the 20th century popular entertainers suffered from anti-Catholic sentiment. The man who signed Frank Sinatra encouraged him to change his stage name to "Frankie Satin" to conceal his Italian heritage. When John F. Kennedy ran for president, his critics accused him of having loyalties to the pope and predicted that he would take his orders from Rome. It was only with JFK's death that the anti-Catholic bubble burst and America realized the remarkable young president whom they had lost. Henceforth, along with Kennedy, the Catholics would become part and parcel of American society.
Many members of the Jewish community faced animosity and anti-Semitism as immigrants arriving from Europe to find a better life in America or escape persecution. Acts were passed in the United States Congress restricting Jewish immigration during the interwar period. The Ku Klux Klan targeted both African-Americans and the Jews. A boatload of about a thousand refugees from Hitler's Germany were refused entry into the United States and their ship was forced to turn back to Europe, and around a quarter of the passengers were killed in Nazi concentration camps. The consistent and generous contributions of the arriving Jewish immigrants to the development of America ― for example, scientists like Albert Einstein ― went largely unrecognized. It was the realization of the unparalleled horrors of the Holocaust, especially when American soldiers witnessed firsthand the atrocities the community had suffered, that pricked America's conscience and galvanized widespread support and empathy for the Jewish community. It was a turning point in relations between majority and minority.
For the Muslim community, a similarly defining moment may have been reached when U.S. Democratic presidential nominee Hillary Clinton gave a primetime platform to Khizr and Ghazala Khan at the 2016 Democratic National Convention. Though the tragedy of their son and the tragedy of the Holocaust are not nearly on the same number scale, the impact of each event on and for the community in the context of American identity noticeably altered the way society received them.
Khizr and Ghazala Khan stepped onto the stage framed by a photograph of their son, Humayun Khan, a soldier who had given his life in Iraq to save his fellows in arms. Few Americans had heard of any of these names until then. But, with the national spotlight on him and representing a proud if mournful Gold Star family, Khizr Khan entered history.
He spoke briefly, boldly and clearly, embracing his Pakistani heritage as he pulled out a copy of the U.S. Constitution and asked Donald Trump if he, the GOP nominee, had even read the founding document. Khan was arguing on the basis of the Constitution and the vision of the Founding Fathers that Trump's exclusion and disdain of the Muslim community was ultimately un-American. The very idea that it was a Muslim man who challenged a flag-waving white American essentially celebrating white supremacy is in itself illustrative of the distance my community has traveled in a short while. While Muslims had made an impact in America before, like the great boxer Muhammad Ali, this incident is emblematic of the larger process of change taking place. With a bow to Ali, it can be said that with one knockout blow Khizr Khan had shaken the ugly paradigm and social pyramid that had established Trump and people who thought like him at the top. Americans were suddenly looking at this minority group, which had been firmly placed at the bottom of the social pyramid, threatened with deportation, surveillance and faith-based immigration bans, in a new light.
Trump did not take Khizr Khan's comments lightly, even going on to attack Ghazala Khan by suggesting that she did not speak because, he implied, Muslim men suppress their women. But the Khans are made of sterner stuff. Ghazala responded with a fiery editorial in the Washington Post. Thousands of ordinary Americans were moved by the story of the Khans and the sacrifice that they had made for the United States. Overnight, groups of military veterans jumped into the fray in support of them, outraged at Trump's smear of a Gold Star family. Khizr Khan went on to continue his involvement in the presidential campaign, and was featured in a powerful and emotional ad for Hillary Clinton last month. Once again, an example of a dramatic death and the extraordinary courage and resilience of the community ― in this case, the Khans ― had moved the stream of history in a certain direction: humanization, and even, celebration.
Even beyond the Khans, this presidential election has been momentous for the American Muslim community, especially in light of an array of very sharp and nasty comments. Because the community has been so shaken, I have observed a distinct uniting across ethnic, sectarian and ideological lines. Muslims are more active in electoral politics than I recall in previous elections. This year, realizing it has political potential, the community is determined to go to the polls in greater numbers.
Members of "Muslims for Hillary" are active across the U.S. and consist of a wide network of entrepreneurs, business professionals and media figures. In addition, Muslim organizations like the Council on American-Islamic Relations are fully plugged into the elections and Muslims are reaching out to other minority groups like Jews, Latinos and African-Americans.
And this trend of Muslims having their moment in history ― Muslims being grouped with something other than terrorism ― extends beyond America, even amidst a tide of Islamophobia. Muslim immigrants today are able to say they have an increasing number of role models, or people of notoriety making an impact in their fields, in the West such as the mayor of London, Sadiq Khan, who was elected only a few months ago and Zayn Malik, formerly of the band One Direction.
As a Muslim and Pakistani immigrant in Washington, I am acutely aware of the widespread terrorism, violence and breakdown of law and order in countries like my own often grouped together under the umbrella of a "troubled Muslim world." But I have always believed that given the right leadership and circumstances, Pakistan ― and indeed many Muslim-majority countries facing tribulations these days ― has the potential to develop a genuine modernist vision of Muslim society as envisaged by its founding father M.A. Jinnah with rights for women, minorities and respect for the law. Khizr and Ghazala Khan are a product of that vision.
Shortly after his encounter with the Khans, Trump was accused of groping and assaulting by more than a dozen women following the release of a tape with untoward comments he'd made about women years prior. Perhaps Khizr can remind Trump that a book authored by former President George Washington has the words "rules of civility and decent behavior" in its title, so important did the Founding Father consider these virtues as essential to the American character. Nowhere will Trump find any instructions about "grabbing the pussy" of the nearest female; nor for that matter the banning of any community to the U.S. on the basis of religion.
But unfortunately, the process of exclusion followed by integration has become a rite of passage for immigrant communities in the United States, way before Trump. Every community goes through this ritual. It is a prolonged, painful and public test. But as the above histories reveal, and as American Muslims are demonstrating today, immigrant communities are resilient. If we look for that moment when the community is finally accepted, we begin to recognize certain keystone events shared by both majority and minority communities, such as collective mourning over the Holocaust, the assassinations of JFK and MLK and the loss of young Humayun Khan. These touch points of unity provide the ultimate sign that a minority community is finally being recognized as fully part of American identity. In time, the people become the shared symbols of society itself.
It should be noted that when this happens, it does not mean that the stereotypes of the communities disappear overnight, or even the violence against them. Many stereotypes and prejudices go underground, and some are still present. For example, the cases of violence and prejudice against African-Americans are too frequent to suggest that racial equality has been achieved simply because Obama is in the White House. Some still hold the stereotype of Italians as mafiosos, as seen in films and popular culture. As for Catholics, documents released by WikiLeaks from the Clinton campaign appeared to indicate lingering reservations towards them. And the elections have shown that anti-Semitism lurks beneath the surface and can be sighted as it rears its ugly head. It is a fascinating time to be watching American society once again respond to, adapt and change in dealing with a minority and that, too, in the throes of one of the most unusual ― even bizarre ― presidential elections in its history. A side effect will be the long-term impact on the Muslim community. It is precisely its openness and flexibility which make America still one of the most dynamic, exciting and hopeful societies on the planet.
We do not know what the long-term effects of the Khan family's story will be. Islamophobia remains a serious problem, heightened in the passions of the election, and the association between Islam and terrorism remains widespread, as polling confirms. But I do believe that the story of the Khans has awoken Americans to the crucial realization that Muslims are as American as anyone else, and that they, too, have fought and died for the country. The tale of the Khan family may have marked a turning point in this process and pattern of minorities becoming American. It may well take a long time and require further struggle, sacrifice and more active involvement from the Muslim community before measurable change is achieved, but the important point is that however slow and hesitating, the process has now begun. And this gives me hope.
If history is to be the judge, Islamophobia will in time be contained and challenged from within mainstream society. I look forward to seeing Muslim women in hijabs able to go about their business without being harassed and assaulted, and mosques left free from attacks. I look forward to Muslims contributing as normal everyday Americans in every walk of life without fear or favor. And I look forward to the day when American Muslims will be recognized not just by the religion they practice, but for the great contributions they make to this country.
http://www.huffingtonpost.com/entry/khizr-khan-muslim-moment-america_us_581bd866e4b0e80b02c8fdd7
--------
Dearborn: Arab Americans gear up to vote, defying Trump
byKurt Nagl
7 November 2016
Dearborn, United States - As Election Day draws closer, Arab Americans are heading to the polls with the rhetoric of this year's presidential campaign ringing in their ears.
Imam Ibrahim Kazerooni hopes that after many months of listening, his community will take its turn to speak out on November 8.
"There's a realisation in this election that we have to be serious," Kazerooni says. "We cannot afford to be apathetic."
Kazerooni is an imam at the Islamic Center of America. He leads a congregation of Shia Muslims at the largest mosque in the United States, which is located in Dearborn, a suburb of Detroit, Michigan.
Home to the largest concentration of Arabs in the country and comprising more than 30 percent of Dearborn's population (PDF), the community here has been especially rattled by this year's presidential campaign. Many residents are originally from Lebanon, Syria, Palestine, Yemen and Iraq.
Arab community leaders and activists have noted a startling increase in threats and hate speech as the election nears.
Last-minute efforts by Democratic nominee Hillary Clinton and her Republican rival Donald Trump in Michigan have signalled its importance as a swing state. With an estimated 500,000 Arabs living in the state, according to data compiled by the Arab American Institute, their vote could play a vital role (PDF).
Alienated by campaign rhetoric
Rachid Elabed, community engagement manager at the Arab-American nonprofit group ACCESS, says he and his team have devoted the past few months to convincing the community that their vote is important, and the results have been promising.
"Everybody wants to vote," Elabed says.
Many voters here feel misunderstood and alienated by the campaign rhetoric targeting the Arab and immigrant communities - such as Trump's call to build a wall and turn away refugees from the Middle East, and Clinton's insistence that Muslims be "eyes and ears" to keep the country secure.
But it has also helped galvanise Arab voters.
"Islamophobia is motivating Arabs by putting pressure on the community to get out and vote," Elabed says. "It's important to send a message that our community can unite and overcome this."
Asha Noor, who also works with ACCESS, agrees that the rhetoric has motivated Arabs, but also has emboldened those with intolerant views and sparked fear in the community.
"There's been backlash, and there's going to be more," Noor says. "This anti-Islam attitude isn't going to go away after the election."
To combat potential voter suppression, the group says it has trained volunteers to watch the polls on Election Day.
The Islamic Center has been increasingly targeted with threats in the run-up to the election, Kazerooni says, adding that more people seem to be weary of him and his family when out in public.
Full report at:
http://www.aljazeera.com/indepth/features/2016/11/dearborn-arab-americans-161105035322068.html
--------
Being Muslim in America in the era of Trump: A community's view before voting
Nov 07, 2016
The campaign for the 2016 US presidential elections began against a backdrop of already rising Islamophobia with hundreds of incidents of anti-Muslim violence and vandalism being reported in the country.
Republican candidate Donald Trump's rhetorics on Islam and Muslims has raised concerns among American Muslims and added to the anti-Muslim sentiments.
With barely a few hours remaining to the polling, Hindustan Times contacted some prominent American Muslims through email asking them about their views on Trump and the elections this year.
Here's what they had to say:
Wajahat Ali is a writer and former journalist at Al Jazeera America. The 36-year-old is also the director of Affinis Labs, an award-winning social entrepreneurial hub in Virginia. He lives in Washington DC.
Growing up a Muslim in America, my life, for the most part, has been privileged, safe and I've lived and thrived with diverse community members. I never thought we'd live to see a day where a Republican presidential candidate will advocate a ban of 1.6 billion Muslims and promise to have the rest of us undergo "extreme vetting". It is sad, discouraging and bit frightening - especially with the rise in anti-Muslim incidents, assaults, violent, vandalism against mosques and harassment and bullying of Muslim kids.
Read| Trump proposes 'extreme vetting' of immigrants in anti-IS plan
Shadi Ahmed, 33, is a senior fellow in the Project on US Relations with the Islamic World at the Brookings Institution and author of Islamic Exceptionalism: How the Struggle Over Islam Is Reshaping the World. He lives in Washington DC.
To be a Muslim in the era of Trump has, sadly, become a more fraught thing. We have become an object of concern and fear. I remember walking into a cafe in a rural part of Florida after Trump announced his ban on Muslim immigration. There was something almost surreal about it and I'm not sure I ever felt anything quite like that before. It wasn't me. I was part of the inchoate collective and a collective that was apparently a threat to the country I loved.
Read| Donald Trump calls for 'complete shutdown' on Muslims entering US
Murtuza Husain, 29, is a New York-based journalist and political commentator. His work focuses on human rights, foreign policy and cultural affairs.
It is uncomfortable to witness the rise of anti-Muslim populism in the country as exemplified by Trump. We are hoping he will lose in the election ... He has unleashed negative passions in the society that are going to be with us for a long time. As Muslims, I think that most of us feel relatively secure and confident, but things can change quite quickly particularly when an economic downturn happens. His candidacy is a wake-up call for our activism and advocacy for the future.
Omer Aziz, 26, lives in New Haven. He is a student at Yale Law School and a writer who publishes in various magazines. He formerly worked for the United Nations.
In one awful respect, I am glad for Trump because he has brought the racism and xenophobia underlying our society to the forefront. Trump is not this foreign monster who has come out of nowhere; he is a representative of a large part of the American people; he is the winner of 14 million votes in the Republican primaries — the largest victory ever. Donald Trump is to America what the RSS is to India - a chauvinist and nationalist who exploits people's worries by scapegoating others.
Ambarien AlQadar is an award-winning Indian filmmaker teaching at The Rochester Institute of Technology Film Program. She lives in Rochester.
At a local church event, the morning speaker sometimes asks the question: "Why are Muslims so violent?" It is a deeply discomforting moment because it forces me to speak as a Muslim in a moment when I am trying to find my new bearings. I am aware that Mr Trump might be the next president. If that's the verdict of the American people, then I respect it. In the same moment, I feel the need for a grassroots movement lead by peace loving Muslims who can spread love in times of hate.
Dr Sayed Ammar Nakshawani, 35, is from London now settled in Washington DC. He is a professor and the Imam Ali Chair of Shia studies at Hartford Seminary as well as an Islamic subject matter expert, scholar and author. He is listed as one of the 500 Most Influential Muslims in the World.
It is an honour to be an American Muslim. There is more free thought in the United States of America than in many Muslim majority countries in Asia and Middle East and we live either as brethren in faiths or equals in humanity. Yes, naturally there may be some politically motivated people with prejudices or bigotry but the Muslims are not the first to face this in the United States, this period will pass and we shall overcome to live in peace.
Abbas Kadhim, 48, is a senior foreign policy fellow, FPI-SAIS, Johns Hopkins University. He lives in Washington.
Full report at:
http://www.hindustantimes.com/world-news/being-muslim-in-america-in-the-era-of-trump-a-community-s-view-before-voting/story-1T6Tynyx7uuhcRbXrURNJM.html
--------
US in 'close contact' with Turkey over Raqqa assault
6 November 2016
Washington is in "close contact" with Ankara over the assault launched by American-backed Kurdish-Arab forces on ISIS's bastion Raqa in Syria, a senior US official said Sunday.
"We are in close close contact with our Turkish allies and that is why the chairman of joint chiefs is in Ankara today," Brett McGurk, President Barack Obama's envoy to the US-led coalition battling the militants, told a news conference in the Jordanian capital Amman.
"We want this to be as coordinated as possible, recognizing that there will be a mix of forces on the field and that many of those forces of course do not see eye to eye, but they do share a very common and still very lethal enemy," he said of ISIS.
The chairman of the US joint chiefs of staff, General Joseph Dunford, arrived Sunday in Ankara on a previously unannounced visit and was to meet his Turkish counterpart Hulusi Akar, the Turkish army said earlier, without elaborating.
'Complex environment'
"It is a complex environment in Syria to say the least, but we are constantly in touch with all the different players, and I think in terms of the phasing of the overall Raqqa campaign we have a fairly good understanding of what is to come," said McGurk.
Kurdish-led Syrian forces backed by the US began an offensive Sunday to liberate ISIS's de facto capital of Raqqa, clashing with the extremists north of the Syrian city.
The attack ratchets up pressure on the militant group at a critical moment, with its fighters already battling an offensive by Iraqi security forces on their remaining Iraqi stronghold in the northern city of Mosul.
The US-backed Syria Democratic Forces (SDF), an alliance of Kurdish and Arab armed groups, first announced on Sunday that a campaign to retake Raqqa would begin within hours, with US forces providing air cover. Soon afterwards, it said that the operation, called Euphrates Anger, had begun.
"The general command of the Syria Democratic Forces announces the blessed start of its major military campaign to liberate the city of Raqqa," Jehan Sheikh Amad, an SDF spokeswoman, told a news conference in the Syrian town of Ain Issa.
The SDF called on Raqqa's civilians to avoid areas where ISIS militants are present and to go to "liberated territory."
Full report at:
https://english.alarabiya.net/en/News/middle-east/2016/11/06/US-backed-Syrian-forces-begin-Raqqa-offensive.html
--------
Raqqa liberation battle 'will not be easy': US defense chief
7 November 2016
WASHINGTON: US Defense Secretary Ashton Carter has warned that the fight to wrest control of Raqqa, the Daesh stronghold in Syria, "will not be easy."
"The effort to isolate, and ultimately liberate, Raqqa marks the next step in our coalition campaign plan," Carter said in a statement.
"As in Mosul, the fight will not be easy and there is hard work ahead, but it is necessary to end the fiction of Daesh's caliphate and disrupt the group's ability to carry out terror attacks against the US, our allies and our partners," he said.
"The international coalition will continue to do what we can to enable local forces in both Iraq and Syria to deliver ISIL (Daesh) the lasting defeat it deserves," the US defense chief added.
Carter issued his remarks as Kurdish-led Syrian forces backed by the US said they had begun a military campaign to liberate Raqqa from Daesh, urging civilians to avoid "enemy gatherings" in the Syrian city and warning Turkey not to interfere in the operation.
In Amman, a senior US official said Washington is in "close contact" with Ankara over the assault launched by Kurdish-Arab Syrian Democratic Forces (SDF).
"We are in close close contact with our Turkish allies and that is why the chairman of joint chiefs is in Ankara," Brett McGurk, US President Barack Obama's envoy to the US-led coalition battling Daesh, told a news conference in Amman.
"We want this to be as coordinated as possible, recognizing that there will be a mix of forces on the field and that many of those forces of course do not see eye to eye, but they do share a very common and still very lethal enemy," he said of Daesh.
The SDF said earlier that Washington had agreed Turkey would play no role in the offensive.
Ankara had previously expressed alarm that the SDF were dominated by the Kurdish Peoples' Protection Units (YPG) militia which it considers an offshoot of the Kurdistan Workers' Party (PKK) that has waged an insurgency against Turkey for more than three decades.
"It is a complex environment in Syria to say the least, but we are constantly in touch with all the different players, and I think in terms of the phasing of the overall Raqqa campaign we have a fairly good understanding of what is to come," said McGurk.
SDF commanders announced the start of the operation against Raqqa in Ain Issa, some 50 km north of the city.
Full report at:
http://www.arabnews.com/node/1007596/middle-east
--------
Mideast
Erdogan's Al Qaeda Mercenary Army of Uyyghur Chinese "Jihadists" Dispatched to Syria
By Steven Sahiounie
November 06, 2016
urkey's President Erdogan used his mercenary Army to fight against the Syrian government military forces for the purpose of regime change. This military project of regime change in Syria was devised, supported and established by the United States of America, who is a close ally of Turkey, and fellow NATO member.
"This is a memo that describes how we're going to take out seven countries in five years, starting with Iraq, and then Syria, Lebanon, Libya, Somalia, Sudan and, finishing off, Iran." General Wesley Clark, interview with "Democracy Now" dated 2007.
Pres. Erdogan's mercenary Army are all Chinese citizens of the far Western region in China, and home of the Uygur people, and are Sunni Muslims. The Uygur people are an ethnic group of Muslims living near the far west frontier of China and they speak the ancient Turkic language, which is the root of the modern Turkish language now spoken in Turkey. Their province is Xinjiang, and their capital city is Urumqi.
For many years, Pres. Erdogan has supported the Uygur's claims of oppression by the Chinese government. Pres. Erdogan has made speeches in which he compared the Uygur people to the ancestors of the people of Turkey. Pres. Erdogan feels there is a close historical and ethnical tie between modern Turkey and the Uygur people. In a speech, President Recep Tayyip Erdogan stated that "Eastern Turkestan is not only the home of the Turkic peoples, but it is also the cradle of Turkic history, civilization, and culture. The martyrs of Eastern Turkestan are our own martyrs." His designation of Eastern Turkestan is actually the Chinese province of Xinjiang, the home of the Uygur people.
Pres. Erdogan used his own mercenary Army of Chinese citizens: the Uygurs. He had allowed them Turkish passports, which they used to pass legally through Central Asia to arrive in Turkey. The immigration officials at the airport in Turkey recognized these special passports, and would confiscate them, but allow the Chinese to pass through legally and enter Turkey. Pres. Erdogan had arranged for them to be transported from the airport in Turkey into Syria through the large and porous border area North of Idlib, which was once a mid-size town in North West Syria. In the Zeytinburnu distict of Istanbul, Nurali T., a Uyghur Turk working to transport terrorists into Syria, with implicit allowance of the Turkish government, and especially the Turkish Intelligence Services, provides militants with passports worldwide. According to Nurali T.'s office manager, "More than 50,000 Uyghur Turks came to Turkey with these fake passports from China via Thailand and Malaysia and entered Syria after staying a day in Istanbul". Militants who entered Turkey with these fake passports are hosted either in hotels or guesthouses for a day before they pass into Syria through the borders which are under terrorist control.
Idlib was a hot-spot of violence and destruction from the early months of the Syrian crisis, which started in March 2011. By late summer of 2011, Idlib was almost empty of residents, who either fled to Turkish refugee camps nearby, or fled to the refugee camps of Latakia. Idlib transformed into a Free Syrian Army headquarters and base of operations.
When Republican Senator John McCain of Arizona made his famous illegal trip into Syria, to meet the FSA commanders, he was near Idlib. Eventually, the FSA recruited and invited Al Qaeda from Libya, Afghanistan, Chechnya, and other Arab and Western countries, such as USA, UK, Europe and Australia. The majority of Syrian residents do not support armed revolution, or the armed opposition called FSA. Because of this lack of support on the ground, the FSA chose to call in their Jihadi brothers globally, or face defeat. The American CIA office in Adana, Turkey, who runs the FSA command and supplies headquarters, had no problem in allowing the Al Qaeda and their affiliates to bolster the ground forces of the FSA, who had been dwindling. America used the Free Syrian Army (FSA), and Al Qaeda affiliates: Jibhat al Nusra, Islamic Army, Nour al Deen al Zinki and Ahrar al Sham, to fight the Syrian government forces, thus avoiding American "boots on the ground". In fact, the FSA and all the other armed militias are acting as American "boots on the ground": as mercenaries.
The Turkistan Islamic Party (TIP) is the Radical Islamic political group made up of Uygur people. Their leader is Emir Abd al-Ḥaqq al-Turkistānī. Since 2001, TIP has been affiliated with Al Qaeda. The ground battlefield leaders of TIP in Idlib province of Syria are Abu Rida al-Turkestani, and Ibrahim Mansour. In 2013 TIP aligned itself with Jibhat al Nusra, a terrorist group in Syria which is on the US list of outlawed terrorist groups. The Syrian Observatory for Human Rights said, "Chechens who defected to ISIS were replaced with the Uyghur Turkistan Islamic Party allied with Al-Qaeda."
"Islam Awazi," the TIP's media center, publishes three to four videos monthly in the column, "A Call From the Front Lines of Jihad," which report about the military "successes" of TIP fighters. Also, a monthly "Tourism of the Believers" video is produced which demonstrates the "peaceful" and "military" life of Uyghur fighters in Syria. In particular, on July 22, 2016 the Turkestan Islamic Party distributed a video titled "My Desire," which highlighted photos of Uyghur fighters in Syria."
Today ISIS-inspired radicals in Europe repeat the experience of TIP fighters, who massacred Han Chinese at stations in Kunming and Guangzhou using knives, axes, and machetes in 2014. The TIP has a long history of terrorist attacks inside China, targeting Chinese people who are not Muslim. Now that TIP is in Syria in large numbers, they have become a serious contender in global Jihad. In October 2013, five died when a car crashed into a group of pedestrians near Tiananmen Square in Beijing, and TIP claimed responsibility for the attack in a video. This act reminds us of the Nice, France truck attack which killed and injured a large number of pedestrians in summer 2016.
The TIP terrorists in Idlib took great pride in destroying the several Christian Churches of the area. As in many parts of Syria, the Idlib area had been home to Muslims, Christians and minority sects. The TIP made many videos of the destruction of Churches and placing their TIP flag on the steeple of the Churches.
The Uygurs are in general a poor and under educated group in China. They have a strong sense of family ties, and some have felt a political alienation from the Chinese government and society. Because of that, most of the Uygurs who migrated to Idlib, Syria brought their entire families with them. The married males: their wife, their children and their elderly parents. This is unlike most Jihadists, who are young males traveling alone. Because these Jihadists of the TIP had arrived in Idlib, Syria as whole family units, they needed special living arrangements, unlike the male-only typical terrorist camps. The TIP occupied a whole village in the Idlib province named Az-Zanbaqi, which is now home to 3,500 Uygurs of all ages and sexes. There were so many children with them, that they established their own schools there. The children are mainly taught the Koran and military training, like 'Junior Jihadis'. Their dream is to survive the Syrian Jihad, and grow up well trained in terrorist fighting, then make their way back to China and begin their attack on China, to transform China into an Islamic State.
The Saudi Arabian and Qatari petro-dollars are funding the regime change project in Syria, with the actual cash payroll distributed from Turkey by a Saudi official. America is the source of the regime change policy towards Syria, with Turkey as the logistical base of operations, and Syria is the battlefield, with unarmed Syrian civilians amounting to the largest number of casualties.
Turkey is a modern democracy. It has long prided itself on its secular form of government. However, the AKP party, which is now the ruling party of Pres. Erdogan, is in fact an Islamist party. Pres. Erdogan has continually been making substantial changes to the social and political fabric of Turkey, in order to shift it towards Radical Islam. Radical Islam is not a religion, or sect, but a political ideology. The Muslim Brotherhood is a global political party which is based on Radical Islam. The Muslim Brotherhood is outlawed in many countries, notably Egypt and Syria. Pres. Erdogan is a supporter and defender of the Muslim Brotherhood. The Syrian armed opposition, FSA, has a political wing, Syrian National Coalition (SNC). Pres. Erdogan hosted the SNC in Istanbul, Turkey. America is also home to the Muslim Brotherhood, with offices and members in almost every big city across USA. The US Congress once debated outlawing the Muslim Brotherhood; however, it did not pass. Members of the Muslim Brotherhood hold high positions in Pres. Obama's administration, and in key departments such as security and defense. In the United Kingdom, the Muslim Brotherhood is also throughout the country, and has established itself with close ties to the UK government. The same can be said of the Australian government scene.
Saudi Arabia is home to the Wahhabi brand of Radical Islam, while Qatar promotes the Salafi brand of Radical Islam, and Turkey, USA and UK are bases for the Muslim Brotherhood brand of Radical Islam. These three brands are the three sides of the same coin. However, the vast majority of Muslims worldwide reject Radical Islam, and according to Islamic scholars, they reject the "Death Cult "called ISIS, which was born out of the three brands just described.
Syria's "Chinatown" is not a tourist spot, known for bright red paper lanterns and tasty noodle dishes. For that you will have to go to San Francisco, or Seattle. Syria's "Chinatown" is a small village in the countryside, of rolling hills and olive orchards. Syria's Chinatown is a terrorist town, not a tourist town. One day those Uygur 'tourists' to Syria will have out-stayed their VISA issued by Pres. Erdogan, and will face either death on the battlefield, or a slow walk Eastwards on the Old Silk Road their ancestors once made famous.
http://www.globalresearch.ca/erdogans-al-qaeda-mercenary-army-of-uyyghur-chinese-jihadists-dispatched-to-syria/5555297
--------
Erdogan blasts West as Kurdish party boycotts parliament
November 07, 2016
ANKARA - Turkish President Tayyip Erdogan accused Europe on Sunday of abetting terrorism by supporting Kurdish militants and said he did not care if it called him a dictator.
Turkey drew international condemnation for the arrest on Friday of leaders and lawmakers from the pro-Kurdish Peoples' Democratic Party (HDP), the second-largest opposition grouping in parliament, as part of a terrorism investigation.
The government accuses the HDP, which made history last year by becoming the first Kurdish party to win 10 percent of the vote and enter parliament, of financing and supporting an armed Kurdish insurgency, which it denies.
The HDP announced a partial boycott of parliament on Sunday, saying it was "halting its legislative efforts" and that its deputies would stop participating in sessions of the legislature or meetings of parliamentary commissions.
The action against the HDP has heightened concern among Western allies about the state of democracy in Turkey, a NATO member which aspires to join the European Union and which is a buffer between Europe and the conflicts in Syria and Iraq.
More than 110,000 officials - from soldiers and judges to teachers and journalists - have been detained or suspended since a failed military coup in July, in what Erdogan's critics say is a crackdown on all forms of dissent.
"I don't care if they call me dictator or whatever else, it goes in one ear, out the other.
What matters is what my people call me," Erdogan said in a speech at an Istanbul university, where he was receiving an honorary doctorate.
Erdogan and the government are furious at what they see as Western criticism of their fight against the Kurdistan Workers Party (PKK) militant group, which has waged a three-decade insurgency for Kurdish autonomy and whose allied groups in Syria enjoy U.
S.
support in the fight against Islamic State.
Erdogan said the PKK, listed as a terrorist group by the European Union and United States, had killed almost 800 members of the security forces and more than 300 civilians since a ceasefire in the largely Kurdish southeast collapsed last year.
A PKK offshoot claimed responsibility for a car bomb in the southeastern city of Diyarbakir on Friday which killed 11 and wounded at least 100 hours after the HDP detentions, according to a website close to the militants.
Islamic State had also claimed the attack, according to the group's Amaq news agency.
"Europe, as a whole, is abetting terrorism.
Even though they declared the PKK a terrorist organisation, this is clear," Erdogan said.
"We see how the PKK can act so freely and comfortably in Europe.
Full report at:
http://nation.com.pk/international/07-Nov-2016/erdogan-blasts-west-as-kurdish-party-boycotts-parliament
--------
Fresh Yemen fighting kills 20
November 07, 2016
ADEN: Fresh clashes in two different parts of Yemen on Sunday killed 14 pro-Iran rebels and six fighters loyal to the internationally recognised government, military officials said.
Among them was loyalist General Yehia al-Khayati who died at a Saudi hospital where he was taken after being wounded in clashes in Midi, a northwestern town close to the Saudi border and the Red Sea coast, an official told AFP.
Two rebel fighters were also killed in those clashes, the source said.
Further south on the outskirts of the oil-rich Usailan district of Shabwa province, rebel forces attacked loyalist positions sparking clashes that killed 12 insurgents and five pro-government soldiers, another military source said.
Full report at:
http://nation.com.pk/international/07-Nov-2016/fresh-yemen-fighting-kills-20
--------
American held in Yemen released and flown to Oman
6 November 2016
An American held in Yemen was flown to Oman on Sunday in the first leg of his journey home after he was released in the Houthi-controlled capital of Sanaa, the Omani state new agency ONA reported.
Oman has kept good ties with the Iran-backed Houthi militia group who control much of northern Yemen by taking a neutral stand in the 19-month-old war that has drawn an Arab coalition into the conflict.
Full report at:
https://english.alarabiya.net/en/News/middle-east/2016/11/06/American-held-in-Yemen-freed-evacuated-to-Oman.html
--------
Turkey pro-Kurd party quits Parliament over arrests
7 November 2016
ISTANBUL: Turkey's main pro-Kurdish party on Sunday said it was pulling out of parliament after nine of its MPs including the two co-leaders were arrested in an unprecedented crackdown.
The Peoples' Democratic Party (HDP), the third-largest party in this legislature, said it would no longer be taking part in general sessions of parliament or commission work.
The arrest on Friday of the MPs, including party leaders Selahattin Demirtas and Figen Yuksekdag, added to tensions as Turkey wages a relentless battle against Kurdish militants and deals with the aftermath of a July 15 failed coup.
They have been charged with membership and promotion of the outlawed Kurdistan Workers Party (PKK).
The move also compounded concerns among Turkey's Western allies that the state of emergency imposed after the coup bid is being used for a general crackdown against critics of President Recep Tayyip Erdogan and not just the suspected plotters.
On Saturday, an Istanbul court ordered the jailing pending trial of nine executives and editorial staff from the opposition Cumhuriyet newspaper.
Some 35,000 people have been arrested after the coup bid, which Ankara blames on the US-based preacher Fethullah Gulen, while tens of thousands more have been fired from their jobs.
Full report at:
http://www.arabnews.com/node/1007446/middle-east
--------
Kurdish Fighters Push ISIL Back for 10km on Day 1 of Raqqa Operation
Nov 06, 2016
"The SDF started its offensive on ISIL positions from two flanks near the towns of Solouk and Ein Issa. The Kurdish fighters advanced nine kilometers from Solouk direction and 10 kilometers from Ein Issa's direction," Kurdish sources said Sunday afternoon.
"The SDF, in Ein Issa and Solouk offensives, beat ISIL back from the village of al-Wahid, five farms and a small but strategic base near the village of Laqteh," the sources aid.
"ISIL's military vehicles also sustained major damage in the attacks," the sources went on to say.
Earlier today, the SDF declared the start of military operation to capture ISIL's de facto capital of Raqqa.
The start of the 'Angry Euphrates Operation' was declared on Sunday by Kurdish commanders in a press conference in the Syrian town of Ein Issa, North of the ISIL bastion.
The SDF said the US would coordinate with the Kurdish fighters to provide air cover during the Raqqa operation.
"The major battle to liberate Raqqa and its countryside has begun," a Kurdish commander said, adding that "The ground operation in Raqqa would be carried out only by the Syrian Democratic Forces".
Kurdish forces also warned Raqqa residents to stay away from the terrorists and urged all civilians to move to the territories liberated from ISIL.
Meanwhile, Kurdish forces announced that at least 30,000 fighters participate in the Raqqa offensive, stressing that Turkey would play no role in the operation.
"Our hope is that the Turkish state will not interfere in the internal affairs of Syria," an SDF official declared at the press conference.
The operation comes amid the ongoing operation to liberate another ISIL capital, the Iraqi city of Mosul.
The Iraqi Army along with Kurdish and popular forces on October 17 started the offensive to retake the city which fell to the ISIL in 2014.
The SDF that is comprised of mainly Kurdish fighters as well as a few hundred Syrian Arab dissident forces who have received training from the US and have been provided with scanty US-coalition air support in their battles in Raqqa province in Northeastern Syria; but in Northern and Northwestern battlefronts, they have been operating alongside the YPG and received the Russian air backup in their Aleppo wars that started with the conquest of Tishrin Dam on the Euphrates early in February.
Full report at:
http://en.farsnews.com/newstext.aspx?nn=13950816001465
--------
India
Interference in Muslim Personal Law will not be tolerated – Maulana Sajjad Noomani
November 7, 2016
Hyderabad: Muslim Personal Law Board desires to request the parliament to enact a law to impose three years imprisonment to those who pronounce triple talaq. This was expressed by Maulana Syed Khaleel ur Rahman Sajjad Noomani, member of All India Muslim Personal Law Board. He was addressing a gathering of women organized by Tahafuz-e-Shariat Committee in Hyderabad yesterday. There is no denying that triple talaq is a very bad act. Attempts are being continued to persuade people not to pronounce triple talaq at one stretch. Mr. Mohammed Mahmood Ali, Dy. CM of Telangana State, Barrister Asaduddin Owaisi, MP, Mr. Mohammed Mushtaq Malik, Mr. Hamid Mohammed Khan, Hafiz Shabbir Ahmed, Mr. Raheemuddin Ansari and others also addressed the gathering.
Full report at:
http://www.siasat.com/news/interference-muslim-personal-law-will-not-tolerated-maulana-sajjad-noomani-1059158/
--------
Clues to Bhopal SIMI activists jailbreak 'inside job': Moulds, CCTV off
by Dipankar Ghose
November 7, 2016
MOULDS FASHIONED to match keys to locks, a knife found near a drain and non-functioning CCTV cameras that cover Block B of Bhopal's Central Jail.
These are some of the pointers that have led senior police officers in Madhya Pradesh to admit that the jailbreak of eight activists of the banned SIMI last Monday was a result not just of lax policing, but of insider help and complicity.
Hours after the jailbreak, the eight were gunned down in an encounter in Acharpura about 12 km away, with audio clips suggesting that the police were instructed to "finish them all", and videos that show personnel shooting at bodies on the ground.
A senior police officer told The Indian Express, on the condition of anonymity, that the extent of "inside help" involved in the jailbreak was "staggering".
When contacted, Madhya Pradesh Home Minister Bhupendra Singh said it was "impossible to escape without inside collusion" and alleged that the jailbreak was facilitated by "funding from outside".
"It must have taken elaborate planning over two to three months because it is not possible to make duplicate keys so early and without help from an insider," said Singh.
The first indicator of foul play is the non-functioning of the three CCTV cameras that point to where the undertrials were lodged in Block B. "There are around 50 cameras in the jail, most of which are working, but these three being off together is far too much of a coincidence. They had been turned off," said the senior officer.
Each of these cameras had a residual memory of seven days, and had been switched off for longer, resulting in a complete lack of any video footage of the area for the past week, he said.
"One of the three cameras was brand new, installed a few months ago when Rs 20 lakh had been left over after three other jails in the state had cameras sanctioned for them. We put it in Block B because of the presence of those accused under UAPA and terror cases. That, too, was turned off," said the officer.
What also points to complicity are the key moulds found by officers, that were used by the activists to break out of the barracks. The keys were fashioned out of hard plastic toothbrushes, standard issue for those in jail, as well as sticks, said the officer.
Full report at:
http://indianexpress.com/article/india/india-news-india/bhopal-simi-activist-jailbreak-encounter-insider-job-3740874/
--------
Terrorist killed, 2 army soldiers injured in encounter in J&K's Shopian
Nov 7, 2016
SRINAGAR: A massive gunfight broke out in Shopian, Jammu and Kashmir on Monday in which a terrorist was neutralised and an Army personnel sustained injuries.
A joint team of 62 Rashtriya Rifles and the J&K Police launched an operation last night after receiving specific information about untoward elements.
One AK 47 rifle along with other ammunition and warlike stores were also recovered.
A total of two Army soldiers were injured in the overnight operation and were immediately evacuated and are stable now.
Yesterday, an Army jawan was killed in a ceasefire violation in Poonch district.
The firing from Pakistan came hours after an Indian soldier was killed and a civilian was injured at the RS Pura Sector.
Full report at:
http://timesofindia.indiatimes.com/india/Terrorist-killed-2-army-soldiers-injured-in-encounter-in-JKs-Shopian/articleshow/55284422.cms
--------
Muslim elders from Bhopal to visit families of slain SIMI operatives
Nov 06, 2016
A group of Muslim elders and leaders from Bhopal will soon visit families of six SIMI operatives from the state killed by police in an alleged encounter, along with two others, on October 31.
The other two SIMI operatives shot dead in the "gun battle" were from Gujarat and Maharashtra. The eight were killed at a hillock at Manikhedi on the outskirts of Bhopal, hours after they escaped from the high-security Bhopal central jail.
Five SIMI operatives namely Amjad Khan, Mohammad Aqeel Khilji , Mehboob Guddu , Zakir Hussein and Mohammad Saliq alias Sallu, were from Khandwa. The other operative from the state, Abdul Majid, hailed from Mahidpur town in Ujjain district. They were buried in their respective home towns on Tuesday.
The group would pay visits to Khandwa and Ujjain to console the bereaved families and interact with them, said Masood Ahmed Khan, secretary of the Madhya Pradesh unit of the Coordination Committee for Indian Muslims (CCIM).
He said they were also exploring legal options so that "victims of the encounter get justice."
The families of the slain operatives had earlier talking to HT alleged the encounter was fake and demanded a high-level judicial inquiry or a CBI inquiry into the incident.
Many Muslims groups in Bhopal, including the MP unit of the CCIM, too alleged the encounter was stage- managed and demanded a probe by a sitting judge of the Supreme Court.
They said there were many loopholes in the police versions of the incident.
The visit of the Muslim elders assume significance in the wake of a SC guidelines that states: "If the family of any victim finds that all the SC guidelines have not been followed or there exists a pattern of abuse or lack of independent investigation or impartiality by any of the functionaries, it can make a complaint to the Session Judge having territorial jurisdiction over the place of incident".
Full report at:
http://www.hindustantimes.com/bhopal/muslim-elders-from-bhopal-to-visit-families-of-slain-simi-operatives/story-L2H0MVgsjr1VRXPrDqnDaN.html
--------
Hurriyat to meet 'stakeholders' on future course of protest in Kashmir
Nov 07, 2016
Kashmiri separatist leaders have called a meeting of all "stakeholders" on Tuesday to decide the course of the agitation in the Valley, with sources saying they give relief to education and trade in the next protest calendar.
The Valley has been in the grip of violent street protests -- the spread and the intensity has gone down in recent weeks -- for four months, throwing normal life out of gear. As many as 90 people, most of them civilians, have been killed and thousands injured.
The violence broke out after a militant was killed in a gunfight with security forces on July 8. Rolling curfew, which was lifted, and shutdown calls by the separatists have hit businesses and schools. Vehicles, too, have remained off roads.
The Hurriyat Conference leaders will meet at the house of Syed Ali Geelani, the leader of a hardline faction of the separatist conglomerate. Mirwaiz Umar Farooq, who heads a moderate faction, and Yasin Malik met Geelani on Sunday.
Read | Pakistan a friend, India occupying force: Kashmir separatist leader Geelani
Traders, educationists, transporters, civil society members, religious, social and political organisations, bar association and people from other walks of life were called for Tuesday's meeting, a statement issued by the three leaders said.
Full report at:
http://www.hindustantimes.com/india-news/hurriyat-to-meet-stakeholders-on-future-course-of-protest-in-kashmir/story-SXOuMQAyNqronFu2TjzywJ.html
--------
Pakistan
Protests continue in Karachi against arrests of workers of religious parties
SYED WASIM | MOHAMMAD RAZA
Nov 7, 2016
Protests continue in Karachi's Malir area on Monday, a day after top Shia cleric Mirza Yusuf Husain and leader of the proscribed Ahle Sunnat Wal Jamaat (ASWJ), Taj Hanafi, were apprehended by law enforcement personnel. The two were detained following a resurgence in targeted sectarian killings linked that claimed 13 lives in the city within a week's time.
Representatives of various Shia parties began protesting early Monday at around 1:30am in Malir and on Shahrah-i-Pakistan against targeted killings and arrests of workers, DawnNews reported, with protesters saying they will continue their demonstrations until arrested workers are released.
Police used tear gas shelling and aerial firing in an attempt to disperse the protesters, who were obstructing railway tracks in the area and bringing morning traffic along the National Highway to a standstill, DawnNews reported.
After an initial attempt at dispersing the crowd, the protesters regrouped at the same location. Talks between police and the crowd are ongoing.
Protests also took place on Sunday against the alleged 'desecration' of religious texts during a search operation in Shah Najaf Imambargah in Rizvia Society, a charge denied by Pakistan Rangers (Sindh).
A spokesperson of the paramilitary force termed photos of the alleged 'desecration' being shared on social media by 'miscreants' as contrary to facts. The motive for spreading such photos was "to create hindrances in the operation", he said.
"The Rangers tended to pay due respect to the sanctity of the mosque, the imambargah and the seminaries during search operations in relation to the presence of miscreants there," said a Rangers statement.
Personnel of Pakistan Rangers (Sindh) and police conducted a search operation at the ASWJ headquarter near Nagan Chowrangi and detained ASWJ's Karachi secretary general Allama Taj Mohammed Hanafi, said an ASWJ spokesperson on Sunday.
There was no word from the paramilitary force about his detention. The relevant New Karachi police officer also expressed ignorance about the incident.
ASWJ president Allama Aurangzeb Farooqui criticised the detention of Allama Taj Mohammed Hanafi and said that the detained leader was a candidate of the party for the by-election on NA-258 in Malir, scheduled to be held on Nov 24.
"Unjustified detention of Hanafi shows that the PPP-led government feared defeat of its candidate in the by-poll," he said.
Full report at:
http://www.dawn.com/news/1294823/protests-continue-in-karachi-against-arrests-of-workers-of-religious-parties
--------
Six suspected militants held in Mach, Mastung
07-Nov-16
QUETTA: The Frontier Corps Sunday arrested two suspected militants from Goth Katta village in Mach tehsil of Kachhi Bolan district. According to a FC spokesman, security personnel, on a tip-off, launched a search operation in Goth Katta village and arrested two suspected militants. He said weapons were also seized during the operation. Separately, law enforcement agencies Sunday took four suspects into custody from Mastung district, said a spokesman for Frontier Corps Balochistan. He said police and FC launched a search operation in Shamsabad area of the district and arrested four suspects.
Full report at:
http://dailytimes.com.pk/balochistan/07-Nov-16/six-suspected-militants-held-in-mach-mastung
--------
Jamaat-i-Islami Demands KP-Fata Merger before 2018 Polls
November 07, 2016
DIR UPPER - The Jamaat-i-Islami (JI) provincial chief Mushtaq Ahmad Khan has demanded the federal government to merge FATA with Khyber Pakhtunkhwa (KP) before the 2018 general elections.
Speaking at a party workers gathering at district assembly hall in Dir Upper on Sunday, JI provincial chief said his party wants a real democratic government y and due rights for every citizen in the country.
The chief said that the tribal people had faced many challenges as they were made IDPs in their own country and now the federal government should announce a special monetary package for them, to address their problems.
He said that tribesmen had rendered sacrifices for Pakistan but the governments had ignored them at all phases of development.
Full report at:
http://nation.com.pk/national/07-Nov-2016/ji-demands-kp-fata-merger-before-2018-polls
--------
High-risk schools overlooking security lapses: report
MOHAMMAD ASGHAR
Nov 7, 2016
RAWALPINDI: An intelligence agency has raised serious concerns over the lack of proper security arrangements in educational institutions across Punjab, adding major security lapses were being overlooked.
The concerns were raised after a security audit of educational institutes included in the 'A' (high risk) category was carried out by the intelligence agency on Oct 7. A report on the security lapses was sent to the Punjab home department.
After the terrorist attack on the Army Public School (APS) Peshawar in December 2014, law enforcement agencies were directed to take measures to ensure the security of educational institutions in Punjab.
An intelligence agency was also tasked to carry out an audit of all the institutes, some of which were still under terror threats.
Intelligence report expresses dissatisfaction over arrangements for security of educational institutions in Punjab
After the security audit, the home department has directed the divisional police chiefs and divisional commissioners across the province to take up the issue with all the stakeholders within five days to ensure foolproof security in all the educational institutions to avoid any untoward incident.
The intelligence agency's field staff carried out an inspection of 5,085 educational institutes included in the "A" category. Of these, 1,403 institutes were in the private and the remaining in the public sector. About 475 of the institutes were located in the Rawalpindi region.
The report said of the 5,085 educational institutions, boundary walls around 131 were yet to be constructed. Most of the schools without boundary walls - 84 - were located in the Sahiwal region.
Razor wires around the boundary walls were not laid in 60 institutions in the Faisalabad region.
The academic blocks in 1,338 of the institutions were still without boundary walls. Besides, observation posts have not been constructed in 520 institutes with 179 of them in the Sheikhupura region.
The report also said the dilapidated walls around 877 institutes were yet to be reconstructed and 468 of such schools were located in the Sheikhupura region.
In addition, searchlights have not been installed around hostels of 1,760 institutes and 416 of such schools were located in Multan.
Full report at:
http://www.dawn.com/news/1294763/high-risk-schools-overlooking-security-lapses-report
--------
PTI's 'bad patch' irks teammates: PPP senses chance to fight back
ZULQERNAIN TAHIR
Nov 7, 2016
LAHORE: As PPP chairman Bilawal Bhutto-Zaradri is expected to camp in Lahore later this month, the workers believe that he has a fair chance of reviving the party in Punjab in the face of the Pakistan Tehreek-i-Insaf's back-to-back 'political failures'.
Some PPP leaders Dawn spoke to on Sunday were of the view that PTI chairman Imran Khan's failure to first gather his supporters in large number in Islamabad to lock down the city over Panamgate issue and then calling it off for face-saving had immensely disappointed his party workers as well as his leaders.
They say seeing the people disappointed with Khan and his style of politics, the PPP has got another revival chance in Punjab and it will fully exploit it. They say a good number of PTI leaders including those who had switched loyalties from the PPP after its rise on the national scene in Oct 30, 2011, are seriously considering to say goodbye to Khan and join the Bhutto's party.
"Mr Bilawal will camp in Lahore later this month and do aggressive politics. He will also preside over the main event in connection with the foundation day on Nov 30 at Bilawal House here," PPP senior leader and coordinator of Asif Ali Zardari in Punjab Navid Chaudhry said.
"We are seeing a visible chance to fill the vacuum in Punjab Imran Khan left after his flopped show in Islamabad. Mr Khan who used to cite social media for different things should now visit it to know that his supporters are utterly disappointed with him for calling off the Islamabad protest after his failure to gather a large number of people there to lock down the capital," he said.
Navid Chaudhry further said: "Today everyone in the party circle is talking about this vacuum created after the PTI's Islamabad failure. Some of the old guard of the PPP, who joined the PTI after its rise, are regretting their decision. They are of the view that brave leaders like Nusrat Bhutto and Benazir Bhutto could lead the workers while Imran Khan chose to stay back home while his party workers were being baton-charged on roads," he said and predicted that these old PPP guard would soon return to their original party.
He said Mr Bilawal had started taking on both PML-N and PTI on the demand of the party workers. "Today he is giving a befitting reply to Nawaz and Imran in the same fashion thus charging up the party workers which is the need of the hour to mobilise them ahead of the general election," he said.
PPP Parliamentary Leader in Punjab Assembly Qazi Ahmad Saeed said Bilawal had decided to visit Punjab by road. "In the current situation, the PPP has a great chance to revive itself in Punjab as the PTI is fast losing its popularity. We had conceded our space to the PTI and now time has come to get it back," he said.
Full report at:
http://www.dawn.com/news/1294754/ptis-bad-patch-irks-teammates-ppp-senses-chance-to-fight-back
--------
ASWJ general secretary, top Shia cleric detained in Karachi
IMTIAZ ALI
Nov 7, 2016
Secretary general of the proscribed Ahle Sunnat Wal Jamaat (ASWJ) Taj Hanafi and All Pakistan Shia Action Committee Chief Allama Mirza Yusuf Husain were detained in Karachi, officials said Sunday.
According to the Rangers, Hanafi was arrested from Karachi's Nagan Chowrangi area on Sunday afternoon.
An ASWJ spokesman also confirmed that Hanafi, who was to contest the Nov 24 NA-298 by-polls, had been arrested.
All Pakistan Shia Action Committee chief Allama Mirza Yusuf Husain was apprehended from his residence in Karachi by police late Saturday night, a Majlis Wahdat-e-Muslimeen (MWM) spokesperson told Dawn.
Husain's residence is attached to Jamia Masjid Noor-i-Iman in Nazimabad where he is a prayer leader, he said.
MWM leader Ahmed Iqbal Rizvi in a statement, while condemning Husain's detention, said that "killings of the mourners and detentions of Shia leaders were a conspiracy to foil Karachi operation."
A police spokesperson said that several people were detained during 'combing and search operations' in different parts of the city.
Residents blocked roads in Karachi protesting the alleged insult of religious texts during a search operation in a mosque in Rizvia Society. The allegations surfaced after photographs showing the aftermath of the search operation were shared widely across social media.
A Rangers press release, however, denied any such incident took place during a search operation.
"The Pakistan Rangers term photos being shared on social media by miscreants contrary to the facts," the press release said. "The purpose of such photos is to hinder the operation."
"After receiving information about the presence of miscreants, the Rangers paid due respect to the sanctity of the mosque, imambargah and madressah during their search operation."
Police also registered a case pertaining to possession of illegal arms against ex-PPP Senator Faisal Raza Abidi, a senior police officer said on Sunday. Abidi was arrested on Saturday from his residence in Karachi.
Jamshed Quarters SP Tahir Noorani said Abidi was taken into custody in connection with the killing of two men who belonged to the Tableeghi Jamaat in Patel Para area of the metropolis a day earlier.
Full report at:
http://www.dawn.com/news/1294666/aswj-general-secretary-top-shia-cleric-detained-in-karachi
--------
Curfew imposed in Jamrud after Khasadar's killing
November 07, 2016
KHYBER AGENCY - A khasadar was killed and three Frontier Corps (FC) soldiers were wounded when unidentified militants attacked Takhta Baig check post in Jamrud Tehsil here.
Assistant Political Agent (APA) Jamrud Ziaur Rehman Marwat told The Nation on Sunday that last night unidentified persons equipped with sophisticated weapons attacked the Takhta Baig check post and opened indiscriminate fire, shooting dead a Khasadar force personnel and wounded three Frontier Corps (FC) soldiers. In retaliation the militants were forced to escape.
Immediately after the incident, reinforcement moved to the checkpoint, cordoned off the entire area and shifted the injured and body to the nearest health centre.
The deceased Khasadar official was identified as Shahid Khan who was laid to rest on Sunday morning in his ancestral graveyard in Jaba village of Jamrud.
The next morning security forces agencies imposed curfew and launched a massive search operation in Ali Masjid, Shagai, Bhagyari, Sur Kamar, Shah Kas, Wazir Dand and other areas of Jamrud to trace the culprits, APA Marwat maintained.
He added that two high profile militant commanders were also apprehended and were shifted to an undisclosed location for interrogation.
Huge quantity of explosives and arms were also recovered during the search operation and were transported to Fort Slope, Bara for media display, he added.
Due to forces operation, the Pak-Afghan highway was closed for all kind of movement for more than seven hours that multiplied problems for the locals.
Meanwhile, the political administration of the Khyber Agency further enhanced security measures at the check post and deployed extra Levies and Khasadar personnel to avoid any untoward incident.
FORMER COMMANDER OF 'PEACE BODY' SHOT DEAD IN TANK
Staff Reporter from Tank adds: Unidentified armed persons killed a former commander of a so called peace body in the Mulazi area of District Tank on Sunday.
Full report at:
http://nation.com.pk/national/07-Nov-2016/curfew-imposed-in-jamrud-after-khasadar-s-killing
--------
Sattar, eight others declared POs
November 07, 2016
KARACHI - An Anti-terrorism court on Sunday declared Muttahida Qaumi Movement founder, Altaf Hussain, Pakistan chapter chief Farooq Sattar and eight other party members 'proclaimed offenders' (POs).
An ATC in cases related to terrorism declared 11 MQM leaders including founder Altaf Hussain and convener Sattar 'proclaimed offenders' upon failure to appear before court.
The court also ordered Farooq Sattar to present before it on Nov 21 at 8:00am.
MQM-Pakistan leader Amir Khan was also declared a proclaimed offenders.
The court was hearing the case upon FIR no 117, 116/2016.
The ATC court number two also published advertisement in special case no 1497, 1496/2016.
One of the cases was related to the ATC had taken up was related to the August 22 violence in which a provocative speech by MQM founder had led to incitement to violence of workers.
On Nov 2,MQM Pakistan leader Abdul Rauf Siddiqui and Pak Sarzameen party leader Anees Qaimkhani were released on bail after over three months in prison.
Full report at:
http://nation.com.pk/national/07-Nov-2016/sattar-eight-others-declared-pos
--------
Balochistan govt issues terror threat alert
November 06, 2016
QUETTA: Balochistan's Home department has issued a threat alert stating that a "lady suicide bomber" has reached Quetta, where she is believed to carry out terrorist activity.
"It has reliably been learnt that a lady suicide bomber, age of 17/18 has reached Quetta for some terrorist activity," a letter read.
Full report at:
http://nation.com.pk/national/06-Nov-2016/balochistan-govt-issues-terror-threat-alert
--------
Europe
UK's Muslim Brotherhood policy 'undermined by ties with Saudi Arabia'
7 November 2016
The government has allowed confidence in Britain's policy towards the Muslim Brotherhood to be undermined by the impression it is being influenced by the Islamist group's enemies in Saudi Arabia and the Gulf, MPs have warned.
The UK's impartiality towards the group that ruled in Egypt from 2012 to 2013 – but has been designated as a terrorist organisation by Saudi Arabia and the UAE – is now in question because of the way it handled an official review of the organisation, members of the foreign affairs select committee said in a report published on Monday.
The appointment of Sir John Jenkins, who was the British ambassador to Saudi Arabia until 2015, to lead the review "created the impression that a foreign state, when it was an interested party, had a private window into the conduct of a UK government inquiry", they said.
Crispin Blunt MP, chair of the committee, said any repeat of the failings would undermine Britain's credibility in engaging with political Islamist groups that have performed well in elections across the Middle East and north Africa.
The MPs also cited concerns that the UK's image abroad had been damaged by the government's failure to mention the violent persecution of the Brotherhood in the review's conclusions published last November. David Cameron had said parts of the group "have an ambiguous relationship with violent extremism".
It emerged last year that in 2012, the UAE threatened to block billion-pound arms deals with the UK, stop inward investment and cut intelligence cooperation if the then prime minister did not act against the group. In 2014 it also complained to the UK government about its apparent indifference to the group's operations.
The committee said it had seen no evidence of undue Saudi influence but Jenkins's appointment "undermined confidence in the impartiality of the FCO's work on such an important and contentious area".
They also demanded the government explain why it delayed publication of the completed review by a year and a half, only to release a summary on 17 December 2015, the last day before parliament's Christmas recess.
"This secretive review sought to understand the Muslim Brotherhood, but failed to mention some of the most significant factors influencing the Brotherhood – not least its removal from power in Egypt in 2013 and the subsequent repression of its supporters," it concluded.
"The opacity of the process, the obvious charge around motivation for the review and the failure to publish it in full left the review's main findings wholly open to criticism.
"Given that the review was led by one of the FCO's most senior diplomats, these shortfalls damaged the UK's reputation for fair dealing more generally. The FCO should highlight and condemn all human rights abuses, including those against political Islamists."
A Foreign Office spokeswoman said: "There are many views on the Muslim Brotherhood in Britain and around the world, including various voices reflected in this latest document. But the British government's position, based on an 18-month detailed review and a decision of the full national security council, including the current prime minister, remains unchanged.
"As the prime minister [Cameron] stated in December 2015, membership of the Muslim Brotherhood is a possible indicator of extremism, and our policy will take account of the Muslim Brotherhood's ambiguity about violence and contradictions between Muslim Brotherhood ideology and actions and UK values and interests."
https://www.theguardian.com/world/2016/nov/07/uks-muslim-brotherhood-policy-undermined-by-ties-with-saudi-arabia
--------
German ministry wants migrants returned to Africa
November 07, 2016
BERLIN : The German Interior Ministry wants to stop migrants ever reaching Europe's Mediterranean coast by picking them up at sea and returning them to Africa, the Welt am Sonntag newspaper reported on Sunday.
In what would be a huge shift for a country with one of the most generous asylum policies, the ministry says the European Union should adopt an Australian-style system under which migrants intercepted at sea are sent for processing at camps in third countries.
"The elimination of the prospect of reaching the European coast could convince migrants to avoid embarking on the life-threatening and costly journey in the first place," the paper quoted a ministry spokeswoman as saying.
"The goal must be to remove the basis for people-smuggling organisations and to save migrants from the life-threatening journey.
The ministry's proposal calls for migrants picked up in the Mediterranean - most of whom set off from conflict-torn Libya - to be sent to Tunisia, Egypt or other north African states to apply for asylum from there.
If their asylum applications are accepted, the migrants could then be transported safely to Europe.
The ministry is headed by Thomas de Maiziere, a member of Chancellor Angela Merkel's conservative Christian Democrats.
Merkel has been under fire for her open-door refugee policy, with her party losing votes to the anti-immigration Alternative for Germany (AfD) party in recent regional elections.
The ministry said there were no concrete plans or discussions at EU-level about the proposal, but opposition politicians condemned the plan.
Bernd Riexinger, head of the opposition Left party, said it would be "a humanitarian scandal and a further step toward elimination of the right to asylum," the paper reported.
He said asylum applications should be filed in Germany to ensure applicants had access to legal help and he called Australia's treatment of migrants "absolutely unacceptable".
More than 2,200 migrants were rescued in the Mediterranean in a single day on Saturday and 10 bodies were recovered, Italy's coast guard said.
The International Organization for Migration said last week that 159,496 people had reach Italy by sea this year and 4,220 died trying - a sharp increase from 3,777 in the whole of 2015.
http://nation.com.pk/international/07-Nov-2016/german-ministry-wants-migrants-returned-to-africa
--------
Role of Muslim countries in the 90s' Bosnian conflict
By Fatima Zaidi
November 07, 2016
The nature of support for the Bosniaks (Bosnian Muslims) from the Islamic countries interestingly came in two forms, one as Mujahideen and the second as part of the UN peacekeeping mission. Pakistan was among the countries that extended support to the Bosniaks during the war of Bosnia and Herzegovina.
To an event on Thursday titled "Black beards and blue helmets: Jihad, peace-keeping and Islamic universalisms in the Bosnia crisis", the Habib University invited Darryl Li, an associate professor at the University of Chicago with a doctorate in anthropology and Middle-Eastern studies, to explore the significance of the Bosnian conflict in the Muslim world which gave rise to various solidarity efforts.
Rooted in ethnic conflict, the war came in the aftermath of the Socialist Republic of Bosnia and Herzegovina declaring independence in February 1992. The republic was inhabited largely by Bosniak Muslims - 44 percent – Orthodox Serbs – over 30 percent – and Catholic Croats – less than 20 percent.
As religious divisions came into play in various conflicts that emerged during the Cold War era, it was but natural for religious differences of the three ethnicities to give a devastating impetus to the conflict.
To add to that, the Bosnian war also came at a time that was pivotal for the UN's peacekeeping as well as European integration since it had only been months to the disintegration of the Soviet Union.
Reading out his paper, Li shared how since Bosniaks were a majority Muslim population in Europe, helping them in the conflict became equivalent to saving Islam (read Jihad).
Among the famed Muhajideen was Abu Zubair, an Arab, who had travelled to Bosnia, in August 1992, after having fought in the Soviet-Afghan war.
He was among the few men who had stayed back to defend the Sarajevo airport in October 1992 and had ironically died while fighting with the peacekeeping battalion.
Apart from Abu Zubair a number of other ethnic Muslims also reached Bosnia, majority of whom settled down with local women and started their own families.
Discussing the impact of these marriages, Li shared that Bosnian women were not only used by the Mujahideen, but the trend later paved way for more serious sexual exploitation at the hands of rich Gulf leaders.
The leaders started contracting marriages with women ravaged by the war, only to be later divorced by them.
This practice of marrying women with the intention of divorce was also sanctified by the Saudia Arab's grand Mufti 'Abd al-Aziz bin Baz'. The edict was, nevertheless, assailed by other Islamic schools of thought.
But the sexual exploitation of poor Bosnian women was not only committed by the Mujahideen. As the conflict extended, soldiers serving on the UN peacekeeping mission, the UN Protective Force (UNPROFOR) were found to be involved in more serious sexual crimes.
Li also spoke about a female officer of the UNPROFOR being fired from her post after she attempted to expose the racket.
According to Li, what made the two kinds of exploitation more distinct was the fact that both the Mujahideen and the soldiers deployed in the peacekeeping mission belonged to Muslim countries.
Full report at:
https://www.thenews.com.pk/print/162864-Role-of-Muslim-countries-in-the-90s-Bosnian-conflict
--------
Norwich forum opens dialogue on Islam
Nov 6, 2016
NORWICH — Folks like Jean and Tom Miller, of Norwich, said they didn't know a lot about Islam before Sunday's special forum about the religion, but attending made them want to learn more and to look past the stereotypes so often portrayed in mass media.
"We should do this every week," Jean Miller said after the 90-minute forum hosted by Park Congregational Church. "I knew nothing, and absolutely learned a lot."
They weren't alone as more than 50 people asked a panel of three Connecticut Muslims dozens of questions about the religion - and nothing was off the table for discussion.
Using written questions from the audience in order to spur frank dialogue, "Honest Conversations with Muslim Neighbors" delved into dicey topics such as how Muslims feel about the election, whether they consider Jesus as the son of God, and the true nature of Sharia, which is often cited by terrorist groups such as ISIS.
Panelist Lejla Duric, a native of Bosnia who teaches eighth- and ninth-grade children at the Bosnian-American Islamic Cultural Center in Hartford, said the presidential campaign has prompted the youngsters to question their identity as Muslims in America. "They are very confused in this period in time," she said. "They ask, 'Are we going to get deported now, what's going to happen to us, should I not be supporting my president.' Lots of identity issues among our youth, that's my concern."
The forum was to promote understanding of the Muslim faith through open and respectful dialogue and questions. It was sponsored by the Connecticut Council for Interreligious Understanding, the Muslim Coalition of Connecticut and the Hartford Seminary. It was the 18th discussion panel sponsored by the organizations.
Panelist Reza Mansoor, a cardiologist at Hartford Hospital, dispelled the myth that Muslims must destroy all non-believers. Mansoor is president of the Islamic Association of Greater Hartford and an adviser to the Muslim Student Association, as well as a founder and past president of the Muslim Coalition of Connecticut.
Full report at:
http://www.norwichbulletin.com/news/20161106/norwich-forum-opens-dialogue-on-islam
--------
URL: https://www.newageislam.com/islamic-world-news/new-age-islam-news-bureau/arson-and-vandalism-rattle-hindu-communities-in-bangladesh/d/109035
New Age Islam, Islam Online, Islamic Website, African Muslim News, Arab World News, South Asia News, Indian Muslim News, World Muslim News, Womens in Islam, Islamic Feminism, Arab Women, Womens In Arab, Islamphobia in America, Muslim Women in West, Islam Women and Feminism, Moderate Islam, Moderate Muslims, Progressive Islam, Progressive Muslims, Liberal Islam, Liberal Muslims,Islamic World News, Attack in Munich, Munich Attack, Terror in Munich