New Age Islam News Bureau
24 December 2021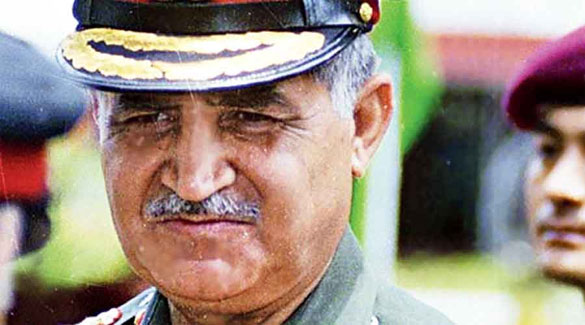 General V.P. Malik, who was army chief during the 1999 Kargil War. File photo
----
• Saudi Arabia Minister of Islamic Affairs: We Will Confront Smear Campaigns against Islam with Moderate Stances
• Bashir Mastan Gets Death Sentence for Blasphemy by Uploading a Video Making False Claim of His Being a Prophet
• Afghan Sikhs, Hindus on Exile in India Meet Islamic Emirates of Afghanistan Deputy PM
• In Istanbul, a Conference of Rabbis from Islamic Nations Got a Surprise Audience with Erdogan
India
• Don't Portray All Muslims As Part Of Social Democratic Party Of India: Kodiyeri
• Ignore Constitution, pray to Godse: Sadhvi Annapurna justifies killing of Muslims
• Media bullied against reporting on anti-Muslim violence in Tripura: Editors' Guild
• UP Muslim Youth who Chanted Jai Sri Ram in BJP Rally to get Police Protection
• Jammu IED case: NIA files chargesheet against three accused
• Afghanistan vote brings to fore India's differences with China, Russia
--------
Arab World
• Qatar's Ambitions to Become 'The Art Mecca of The Middle East'
• Lebanon's top Christian party signals possible end of Hezbollah alliance
• Lebanon 'regrets' assault on UN peacekeepers
• World Bank pledges $37 mln to help Lebanon teachers
• Arab Coalition says destroyed drone targeting Saudi Arabia's Abha airport
--------
Pakistan
• Are Christians Lesser Pakistanis? - Two Bakeries In Karachi Refuse To Write "Merry Christmas" On Cakes
• Israel Was Brought Up For Discussion At The OIC Extraordinary Meeting In Pakistan
• Why Is Pakistan Eager to Help Afghan Taliban When They Don't Even Recognise Border, Questions Former Pakistani Senator Rabbani
• Two soldiers martyred in attack on check post in Balochistan's Kech: ISPR
• Pakistan welcomes UNSC resolution easing aid flow to Afghanistan
• No one can deprive Gwadar people of their rights: Maulana Hidayat
--------
South Asia
• Suicide bomber gunned down in Kabul as Taliban fighters gather for passports
• Taliban dissolve two ministries and electoral bodies
• Afghan factories to go bankrupt duet to frozen assets: industrialists
• Taliban halted evacuation flights from Afghanistan for past 2 weeks: Report
--------
Mideast
• 125 Palestinians injured as Israeli settlers, troops raid village in West Bank
• Hezbollah has 2,000 UAVs, can severely damage Israel's defences, warns Israeli centre
• Saudi warplanes take Yemen's capital under new airstrikes
• Hunger-striking Palestinian prisoner cannot move anymore, lawyer says
• FM: Iran Not to Accept Excessive Demands in Vienna Talks
• Iranian Companies to Develop Transportation Cooperation with Syria
--------
Southeast Asia
• Yahya Cholil Staquf a Progressive Muslim Scholar Elected Leader of Indonesia's Influential Nahdlatul Ulama
• Israel-Indonesia Normalization Discussed By US Sec. Of State Blinken
• President Jokowi officialises new office of Indonesian Mosque Council
• Sources: Thailand, BRN Rebels to Resume In-person Peace Talks Next Month
--------
Africa
• Moroccans Stage Rallies On First Anniversary Of US-Brokered Normalization With Israel
• Nigeria's Buhari vows to be 'hard' on terrorists
• Top US lawmakers condemn Sudan's military for use of violence
• Tunisian president warns of 'assassination plans' against some officials
--------
North America
• Biden Quietly Signs Import Ban Targeting China's Abuse Of Uyghur Muslims
• The influence of the Muslim Brotherhood and its affiliates inside and outside the United States
• San Antonio Mosque Spearheads $150,000 Reward for Missing 3-Year-Old Lina Sadar Khil
• Intel apologizes for pushing Xinjiang ban over Muslim abuse complaints
--------
Europe
• French Anti-Muslim Candidates Target Armenia To Galvanize Supporters
• Turkey pursuing 'proactive diplomacy': Foreign minister
• Turkey, Montenegro agree to boost inter-parliamentary cooperation
• Germany to step up Afghanistan evacuation efforts
• EU calls for investigation into rape allegations in Sudan
Compiled by New Age Islam News Bureau
URL: https://www.newageislam.com/islamic-world-news/army-veterans-killing-lynching-indian-muslims/d/126024
--------
Army Veterans Express Outrage at Calls for Killing of India's Muslims and Recent Lynching of Two Men Accused of Sacrilege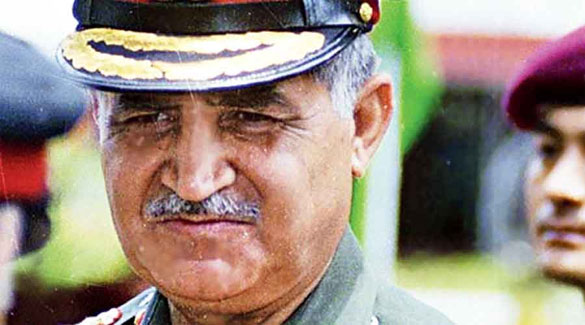 General V.P. Malik, who was army chief during the 1999 Kargil War. File photo
----
Imran Ahmed Siddiqui
24.12.21
Veterans including former armed forces chiefs have expressed outrage at the calls for the killing of India's Muslims at a three-day conference of sadhus last week in Haridwar, and urged the government to act.
The veterans have also condemned the recent lynching of two men accused of sacrilege at the Golden Temple in Amritsar and at a Gurdwara in Kapurthala district of Punjab.
Admiral (retd) Arun Prakash, former navy chief and a 1971 war hero, cited a video of the Haridwar event to ask whether "we want a communal bloodbath", bringing quick endorsement from General V.P. Malik, who was army chief during the 1999 Kargil War.
Social media users have expressed horror also at a video that appears to show an event by the Hindu Yuva Vahini where the participants take a vow to "fight, die for and, if necessary, kill" to turn India into a Hindu Rashtra.
Delhi BJP leader Ashwini Upadhyay had attended the December 17-19 Dharma Sansad in Haridwar, Uttarakhand, where videos purportedly show sadhus and Hindutva leaders urging Hindus to take up weapons against Muslims.
Upadhyay, a former Delhi BJP spokesperson, told The Telegraph he was there only on December 19, for "30 minutes", and witnessed no hate speech. Upadhyay had been arrested briefly in August for organising an event at Jantar Mantar in Delhi where slogans were chanted calling for violence against Muslims.
Tweeting about the Haridwar event, Admiral Prakash wrote: "Why is this not being stopped? With our jawans facing enemies on 2 fronts, do we want a communal bloodbath, domestic turmoil and international disgrace? Is it difficult to understand that anything which damages national cohesion & unity endangers India's national security?"
General Malik responded: "Agreed. Such speeches disturb public harmony and affect national security. Action required by Civil Admin."
A former lieutenant-general told this newspaper: "These hate mongers are bigots and a threat to the country's social fabric. Why has the government not arrested them and slapped the UAPA and sedition cases against them?"
Strategic expert Sushant Sareen tweeted: "Utterly disgusting. If the government does not curb this hate mongering, it is playing with the security of the country."
Asked why no action had been taken over the Vahini event, a senior Delhi police officer said: "We have seen the videos of the event in Delhi where anti-Muslim slogans were raised. We are awaiting a nod from our top brass so that action can be initiated."
Major General (retd) Yash Mor condemned the Punjab lynchings, tweeting: "This is so disturbing as the two men were killed in the name of religion in Punjab. We are becoming another Pakistan. This hate should stop or else we are doomed."
Source: Telegraph India
Please click the following URL to read the text of the original story:
https://www.telegraphindia.com/india/veterans-express-outrage-at-calls-for-killing-of-indias-muslims/cid/1844584
--------
Saudi Arabia Minister of Islamic Affairs: We Will Confront Smear Campaigns against Islam with Moderate Stances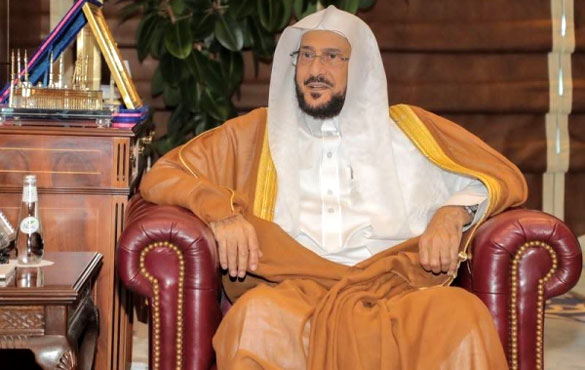 Minister of Islamic Affairs, Call and Guidance Sheikh Abdullatif Al-Sheikh
-----
December 23, 2021
TABUK – Minister of Islamic Affairs, Call and Guidance Sheikh Abdullatif Al-Sheikh warned against the smear campaigns being unleashed against Islam.
"There are moves for the malicious distortion of Islam's true image as a religion of moderation and tolerance," he cautioned while calling on all Muslims to practically confront it with moderate stances that embody tolerance and forgiveness.
He made the remarks after launching the initiative titled "Exalting the houses of God," and the activities of "Takatuf," a women's voluntary organization, established by the ministry's branch in Tabuk.
Al-Sheikh stressed that the Kingdom bears the banner of spreading moderation. "The religion of Islam calls for tolerance and moderation and the fight against extremism and terrorism in all its forms and manifestations," he said.
The minister pointed out that the Kingdom's effort to spread moderation today is reflected in the reality of the country, in terms of the spread of security and safety, and its keenness to build the country and the cohesion of its people.
He lauded the active role of women in the ministry's various activities and programs. "This confirms their excellence and keenness in mastering the tasks and works entrusted to them," he added.
Source: Saudi Gazette
Please click the following URL to read the text of the original story:
https://saudigazette.com.sa/article/615091/SAUDI-ARABIA/Al-Sheikh-We-will-confront-smear-campaigns-against-Islam-with-moderate-stances
--------
Bashir Mastan Gets Death Sentence for Blasphemy by Uploading a Video Making False Claim of His Being a Prophet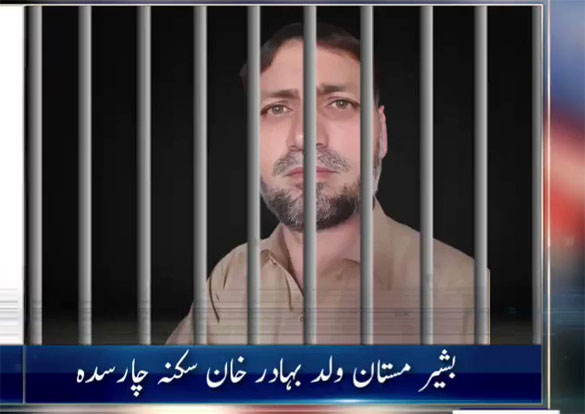 Bashir Mastan, a resident of Charsadda, Pakistan
----
Bureau Report
December 24, 2021
PESHAWAR: A local court on Thursday convicted a 42-year-old man of committing blasphemy through uploading a video on the internet and sentenced him to death along with a fine of Rs100, 000.
Additional district and sessions judge Mohammad Tahir Aurangzeb pronounced that the prosecution had proved its case against the accused, Bashir Mastan, a resident of Charsadda, and the evidence on record connected him with commission of the offence.
The court convicted him under section 295-C of Pakistan Penal Code and while sentencing him to death ordered that the sentence should not be executed unless confirmed by the Peshawar High Court.
The judge ordered that necessary reference should be prepared and sent to the high court for confirmation of the death sentence. The judge also convicted the accused under section 298 PPC and sentenced him to two years rigorous imprisonment.
The FIR of the occurrence was registered at Inqilab police station in Peshawar by its SHO on Sept 7, 2020, under sections 295-C (derogatory remarks in respect of the Holy Prophet) and 298 (uttering words to wound religious feelings) of the PPC and section 15 of the Arms Act.
In the FIR, the SHO claimed that a video had gone viral wherein the suspect could be seen making false claim of his being a prophet. He stated that the said video had resulted into a public outcry.
The police claimed that the suspect was traced through his mobile phone connection and then taken into custody from residence of one of his relatives in Pandhu area. It was stated that a pistol was also recovered from the suspect.
Source: Dawn
Please click the following URL to read the text of the original story:
https://www.dawn.com/news/1665478/man-gets-death-sentence-for-blasphemy
--------
Afghan Sikhs, Hindus on Exile in India Meet Islamic Emirates of Afghanistan Deputy PM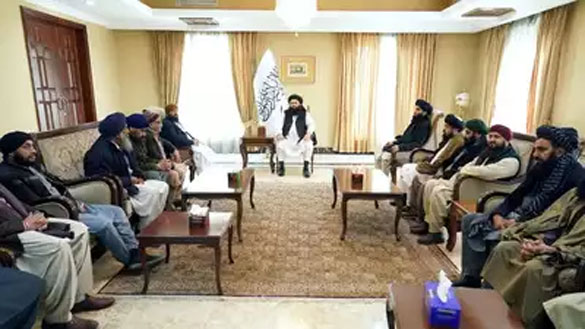 Afghan MP Narender Singh along with other Hindu and Sikh representatives meet with the Taliban deputy PM on Thursday. (Source: Twitter)
----
JK Singh
Dec 24, 2021
AMBALA: Representatives of minority Sikh and Hindu communities in Afghanistan, including MP Narender Singh Khalsa who had flown to India after the Taliban took over Kabul in August, held a meeting with Maulvi Abdul Kabir, deputy prime minister of the Islamic Emirates of Afghanistan (IEA) government on Thursday.
Well placed sources in Delhi said Kabul MP Khalsa and Manjeet Singh of Jalalabad flew back to Afghanistan four days ago against the wishes of Afghan Minorities Group (AMG), a joint coordination committee comprising of Afghan-origin Hindus and Sikhs living in India and Afghanistan.
As per reports of an Afghanistan-based channel, during the meeting, the Hindu and Sikh community representatives told him that they wanted to stay in Afghanistan and play a constructive role in the development of the country.
"Maulvi Abdul Kabir told them that the Taliban government has provided security to all and that their policy for everyone, including minorities, is to live in prosperity and peace. All ethnic groups and citizens of the country have the right to live and to contribute to the development of the country," reported Aamaj News.
The Afghan minorities also demanded return of their usurped land and property, added the report.
Apart from Khalsa, Gurnam Singh, president of Gurdwara Sahib Dashmesh Pita at Karte Parwan near Kabul and Ram Sharan Bhasin, a Kabul-based leader of Hindus were present in the meeting among others.
Efforts were made to contact MP Khalsa and Singh but they could not be contacted.
MP Khalsa had flown to India after the Taliban had taken over the control of the government in Afghanistan and on his arrival here, he had broken down while speaking to the Indian press.
"We have never seen this kind of situation in Afghanistan and now that we are seeing it, everything is over. Even the government that was built in the last 20 years is finished. Everything is zero now," he had said after being evacuated from Kabul in an Indian Air Force aircraft on August 22, 2021.
India had then evacuated 168 people, of whom 107 were Indian nationals and the remaining were Afghan Hindus and Sikhs. Another batch of nearly 100 persons was flown to India in the second week of December. The Afghan minorities had brought along some saroops (scriptures) of Guru Granth Sahib and some holy books of the Hindu faith.
Source: Times of India
Please click the following URL to read the text of the original story:
https://timesofindia.indiatimes.com/world/south-asia/afghan-sikhs-hindus-who-were-on-exile-in-india-meet-taliban-dy-pm/articleshow/88461616.cms
--------
In Istanbul, a Conference of Rabbis from Islamic Nations Got a Surprise Audience with Erdogan
Members of the Alliance of Rabbis in Islamic States (ARISand Turkish President Recep Tayyip Erdogan (David I. Klein/JTA)
-----
By David I. Klein
DECEMBER 23, 2021
ISTANBUL (JTA) – Rabbis from across the world filled the halls of Istanbul's Conrad hotel this week for the inaugural conference of the Alliance of Rabbis in Islamic States (ARIS). They were expecting two days of networking, discussions of Jewish law and simple camaraderie over their shared experience of supporting Jewish life in Muslim-majority countries.
What they weren't expecting was to be whisked off to the Turkish capital of Ankara, on a private plane sent by Turkish president Recep Tayyip Erdogan, or to have dinner with him at his presidential palace.
Rabbi Mendy Chitrik, the Ashkenazi chief rabbi of Turkey and director of ARIS, only got the news that the Turkish president would receive them hours before the conference was set to begin.
According to Chitrik, Erdogan stayed with the rabbis for two hours discussing a variety of topics.
"The president has listened very gracefully to all of the rabbis, has spoken in very strong terms against antisemitism and Islamophobia and has reiterated the Turkish stance that denying the Holocaust is a crime against humanity," Chitrik told the Jewish Telegraphic Agency, adding that Erdogan also voiced his support for the construction and renovation of synagogues in Turkey and the Turkish Republic of Northern Cyprus.
Another topic addressed was the state of Turkish-Israeli relations.
"I value our renewed dialogue with Israeli President Isaac Herzog and Prime Minister Naftali Bennett," Erdogan noted to the rabbis, according to the government-aligned outlet Daily Sabah.
Though the country was once a strong ally of Israel, Turkish-Israeli relations have soured under Erdogan's nearly 20-year rule. 2010's Mavi Marmara Incident, when Israeli commandos killed nine Turkish citizens attempting to break Israel's blockade of the Gaza Strip, ushered in a low point (and several years of Turkish legal battles), as did the U.S. Embassy's move to Jerusalem in 2018. Erdogan has called Israel a "terrorist state" and accused it of "genocide."
Despite continuing trade relations with Israel, the Turkish government also hosts the leadership of Hamas on its soil, and is a major funder of Palestinian causes in Gaza and the West Bank.
The Turkish president reiterated that position, but called on the rabbis to be part of the solution.
"We all have to strive for peace in the Middle East," he said. "We do not want to see any conflicts in this geography that is home to three Abrahamic religions."
"I believe that a solution that prioritizes the sensitivities of all religious groups living in Jerusalem can be achieved," he added.
Erdogan's relations with the global Jewish community have also not always been so rosy.
In May, he was castigated by U.S. President Biden for statements, considered to be trading in antisemtic tropes, which Erdogan made during Israel's flare-up of tensions with Gaza.
"They are murderers, to the point that they kill children who are five or six years old. They only are satisfied by sucking their blood," Erdogan had said at the time. ""It is in their nature."
At a 2015 rally, the authoritarian-leaning ruler also lashed out at Western media, saying that "Jewish Capital" is behind The New York Times.
Nonetheless, the rabbis welcomed the meeting.
"We are forward-looking rabbis. We are working in communities in the Muslim world, and we are looking to strengthen Jewish life. There are many things in the past, but we are looking forward, working on the present and working for the future," Chitrik said.
The meeting concluded with Turkey's Sephardic chief rabbi, Isak Haleva, gifting the Turkish president an ornate menorah.
All in all, the level of dialogue the rabbis shared with Erdogan was precisely one of the reasons Chitrik founded ARIS.
The idea came to him while at another conference, the Kinus HaShluchim – an international conference of Chabad emissaries – when he found himself seated at a table with colleagues from Azerbaijan, Morocco, the United Arab Emirates and Nigeria.
"We looked at each other and said, 'Wait a minute, we're all rabbis from Muslim countries. Why isn't there a session here at this conference for rabbis of Muslim countries?'" Chitrick recalled. "There are things that we can help each other with. So we started a WhatsApp [group], then made a Twitter handle, and it grew from there."
A century ago, there were well over one million Jews living in the Muslim world. Though the establishment of the State of Israel brought Jewish life to an end in many Muslim countries, they haven't all entirely emptied.
Around 100,000 Jews still live in Muslim-majority countries, Chitrick estimated. The largest Jewish populations can be found in Kazakhstan, Azerbaijan, Iran and Turkey.
"People say, 'Wow, there are 100,000 Jews in Islamic countries?' Yes, there are," he said. "They have been living in this Islamic world for thousands of years, and they continue to live here, continue to call this place home. Many times they're very patriotic toward the places where they live in. Most of them are not looking for other places to move out to. "
When he founded ARIS, Chitrik was adamant that it couldn't just be an organization of Chabad rabbis. It would need to bridge all the different Jewish communities served in the Muslim world, including post-Soviet countries like Azerbaijan and Kazakhstan; historic communities of the Middle East and North Africa such as Turkey, Iran, Tunisia and Morocco; and fast-growing communities in the UAE and Bahrain in the wake of the Abraham Accords.
"The agenda of the Alliance of Rabbis is to normalize Jewish life in Muslim countries, Chitrik said. "It shouldn't look as a surprise to people."
Over their years working in their countries, what Chitrik and many of the rabbis have found is that while Jewish life is not necessarily discouraged, foreign intervention, be it from Israel or Jewish citizens of western powers like the U.S. or U.K. often complicates it.
"Many of the rabbis are realistic and know that in the places we live, international interference is not always looked at positively," Chitrik said. "When a rabbi in Turkey or in Iran needs help, whether it is in communication, in providing tefillin, in sending matzot or etrogim, it is so much easier to do it from Istanbul than anywhere else."
Through the alliance's coordination, last year they were able to get matzah to Jews in countries ranging from Libya to Lebanon and Syria. It also helped get some of the last Jews of Afghanistan out of the country after the Taliban's resurgence, one to Istanbul and another to Albania.
This week's conference in Istanbul was the first time many of the rabbis got to finally meet in person. In attendance were rabbis representing more than ten counties, including Iran, Egypt, Tunisia, Albania, Kosovo, the United Arab Emirates, Azerbaijan, the Turkish Republic of Northern Cyprus, Kazakhstan, and Russia as well as Turkey whose chief rabbinate served as hosts to the conference.
For many of the attendees, one of the most important things they felt they got out of it was the feeling that they aren't alone in their work.
"When you come and you meet people from so many different Muslim countries, and everywhere you see there is a Jewish community, you feel more strength and more calm," said Rabbi Elchanan Cohen, who serves a community in Almaty, Kazakhstan.
"We have our own sensitivities living in the Muslim countries, and that's what puts all the rabbis here into [a] common situation," said Rabbi Shnuer Segal, of Azerbaijan. "We are all facing challenges, and the idea that we can solve them together is something our alliance supports."
Rabbis take comfort in "the idea that we have someone backing us up, in case we need any connection with the government or with others," said Rabbi Chaim Azimov of the Turkish Republic of Northern Cyprus.
As such, in addition to philosophical conversations about the future of Jewish life in the Muslim world, the conference also included more practical sessions on fundraising and social media techniques.
The surprise meeting with Erdogan replaced a visit to Istanbul's Jewish museum and a gala dinner at Neve Shalom, the flagship synagogue of the Turkish rabbinate. But by the second day of the conference the rabbis were back on track with a halachic symposium at Istanbul, led by Iran's Chief Rabbi Yehuda Gerami and dedicated to their predecessor, Maimonides.
Gerami ultimately left the conference with a brand new Torah scroll to bring back to his community in Iran.
Source: JTA
Please click the following URL to read the text of the original story:
https://www.jta.org/2021/12/23/global/in-istanbul-a-conference-of-rabbis-from-islamic-nations-got-a-surprise-an-audience-with-erdogan?F8D09996-D8C6-4444-AA0C-DCB5A3E0E5DE_kav_cup_C6FA3ED5_6D17_47D1_B6E2_F4B02CC905E0_
--------
India
Don't Portray All Muslims As Part Of Social Democratic Party Of India: Kodiyeri
24th December 2021
THIRUVANANTHAPURAM: Terming the recent murders in Alappuzha part of a planned conspiracy, the CPM has alleged that the RSS and the SDPI have been trying to create a riot-like situation in the state. The political murders in Alappuzha are not an isolated incident. It's part of a move to disrupt the state's peaceful atmosphere. Briefing the media on the CPM secretariat decisions here on Thursday, party state secretary Kodiyeri Balakrishnan took strong exception to campaigns portraying CPM leaders as people with SDPI links.
Kodiyeri rejected allegations of SDPI infiltration into CPM. "There's no SDPI intrusion into CPM. If such moves come to the party's notice, immediate action would be taken against them. Everyone who belongs to the Muslim community are not part of SDPI. Such a portrayal is wrong," said Kodiyeri responding to allegations from different corners.
Referring to allegations by RSS, Kodiyeri criticised deliberate attempts to portray some party leaders including Alappuzha MLA H Salam as someone with SDPI links. "It's part of a deliberate campaign to prevent minorities joining the CPM," he said. Terming the allegations absurd, Kodiyeri said Salam has made it clear that he would take legal course of action against such allegations.
Source: New Indian Express
Please click the following URL to read the full text of the original story:
https://www.newindianexpress.com/states/kerala/2021/dec/24/dont-portray-all-muslims-as-part-of-sdpi-kodiyeri-2399056.html
--------
Ignore Constitution, pray to Godse: Sadhvi Annapurna justifies killing of Muslims
23rd December 2021
Pooja Shakun Pandey, also known as "Sadhvi Annapurna" gave an open call for arms and encouraged violence against the Muslim community at the Haridwar hate conclave held between December 17 and 19.
She further argued that all the Hindu community "needs" is a 100 soldiers to kill of 20 lakh Muslims to bring about a Hindu Rashtra. If these statements weren't worrisome enough, Annapurna speaking to NDTV said that the Indian Constitution is wrong and Indians should pray to (Gandhi's assassin) Nathuram Godse.
As it turns out, Sadhvi Annapurna wasn't the only one encouraging a fundamentalist view of how the world's largest democracy should function. The blatant hatred of Muslims was palpably felt across various speeches made by Hindutva supporters at the conclave held in Uttarkhand under the ever-watchful gaze of hate-filled priest Yati Narsinghanand.
BJP leader Ashwini Upadhyay's version of the Constitution:
BJP leader Ashwini Upadhyay, an ardent follower of hate-mongering priest Yati Narsinghanand, was also present at the conclave. A mere few months ago, Upadhyay had raised anti-Muslim slogans at a protest in Delhi's Jantar Mantar in an attempt to "put an end to colonial-era laws."
In the current conclave, Upadhyay distributed copies of the "Bhagwa (saffron) Constitution." He however also claimed that he had nothing to do with the speeches made at the conclave. Defending his own version of the constitution, he said, "I distributed copies to some and discussed provisions related to population control, checking conversions, infiltrations…If distributing or discussing the constitution is a crime, then I have committed a crime."
Advocation of ethinic cleansing: BJP ally Prabodhanand Giri
"Like Myanmar, our police, our politicians, our Army and every Hindu must pick up weapons and conduct a Safayi Abhiyan (ethnic cleansing). There is no other option left," said Prabodhanand Giri, another Hindutva participant of the conclave.
The statement is made in the context of the genocide in Myanmar which resulted in the mass exodus and displacement of scores of Rohingya refugees.
Further, Giri justified his statements and said that he wasn't afraid of the police and was very willing to stand by his statements. He argued, "There is a difference between your thinking and mine. Read the Constitution. My comments were not inflammatory at all. If anyone tries to kill me, I will fight back. I am not afraid of the law," he declared whilst claiming that he was very closely associated with the BJP.
Giri has been seen associating with highly powerful BJP leaders which include Uttar Pradesh Chief Minister Yogi Adityanath.
Glory to Godse, death to Manmohan Singh:
In another video from the conclave, Swami Dharam Das Maharaj, talks about "becoming Nathuram Godse" and shooting Manmohan Singh (former Prime Minister) in parliament.
"If I was present in parliament when PM Manmohan Singh said minorities have first right over national resources, I would've followed Nathuram Godse, I'd have shot him six times in the chest with a revolver," Dharam Das says.
"We take an oath to fight and kill [Muslims] to turn India into a Hindu-only nation," said the Hindu Yuva Vahini, reading out the oath.
The strengthening of Hindu Rashtra:
Anand Swaroop Maharaj, a Hindu leader and the president of Varanasi-based outfit Shankaracharya Parishad, was heard saying, "If the governments do not listen to our demand (establishment of a Hindu Rashtra through violence against minorities), we will wage a war far scarier than the 1857 revolt."
Source: Siasat Daily
Please click the following URL to read the full text of the original story:
https://www.siasat.com/ignore-constitution-pray-to-godse-sadhvi-annapurna-justifies-killing-of-muslims-2246747/
--------
Media bullied against reporting on anti-Muslim violence in Tripura: Editors' Guild
23rd December 2021
A fact-finding report by the Editors' Guild India (EGI) found that the Bharatiya Janata party-led government in Tripura downplayed the communal violence. They aimed to garner Hindu votes for elections in late November and hence used violence during Durga puja in Bangladesh, as an opportunity to isolate the Hindu emotion, in the state.
"The communalism was sought to be justified as a 'natural reaction' of the Hindus of Tripura as they had family links with the Hindu population across the border in Bangladesh" said the report.
The EGI sent a three-member team to Tripura between November 28 to December 1 to assess the condition of media freedom in the state after reports of the government using draconian laws to deter journalists and civil society activists from reporting on the communal violence started to spread.
MS Education Academy
The report accuses the police and the administration of "displaying a lack of professionalism and integrity in dealing with the communal conflict" in the state. However, the same conclusions were arrived at by the group of Supreme court lawyers who investigated Tripura's communal violence.
The Editors Guild report, exclusively shed light on how the government intimidated the media from reporting against them, hence being complicit "in the growth of muscular majoritarianism that subverts democratic institutions".
How Tripura government strong-armed journalists:
According to the report, local media has been forced to support the government to keep running as the state uses advertising as a weapon against those whose narrative does not suit their needs. Advertising is one of the major means of gathering funds for media houses and isolating them from the advertisers would mean that the organization suffers losses eventually forcing a shutdown.
"These include Mrinalini ENN, Din-Raat, Akash Tripura, and Hallbol. Duranto TV in Udaypur was ransacked a few months back," a senior functionary of THRO claimed.
A BJP leader, explained, "Media has good relations with the government here. Independent journalism is absent here because the media is 'adjustable' and willing to compromise. The UAPA charges were made against outside media and not local media. Most journalists are happy here because they get pensions, health insurance and low cost housing. If there is tension with the media then it is quickly resolved – it is relationship between big brother and small brother. Local media did not write directly against the government. It is the outside media that came here and did that."
The state termed the violence as a "normal" reaction to what happened in Bangladesh. Any person or entity reporting on the issue–especially those from the outside– was subject to draconian laws like the UAPA, and police action in an attempt to bring them under control.
UAPA charges on Supreme Court lawyers
Fact-finding lawyers of the Supreme Court have also been subject to the insecure political leadership, of the state. Ehtesham Hashmi, Amit Srivastav, Ansar Indori, and Mukesh Kumar were charged with the UAPA for sharing their findings on the violence against minorities in the state in a press conference.
The fact finding report by the lawyers titled "Humanity under attack in Tripura; #Muslim lives matter" revealed that if the BJP government in Tripura wanted to, they could have stopped the violence but they chose to give a free hand to the Hindutva mobs in the state.
Women journalists, Samriddhi Sakunia and Swarna Jha, were also arrested under the UAPA for performing their journalistic duty. Although the Supreme Court came to their immediate rescue.
"For the first time in the history of Tripura they used UAPA against journalists but then the Supreme Court intervened. They knew that the Supreme Court can come down heavily on them so the government has decided to order a review of the UAPA cases against journalists," said a Civil Society activist, to the EGI fact-finding team. Although nothing tangible has taken place as part of the review clarified the report.
The report also explains that even those sympathetic to the government claim, "What they have done to the journalists and the lawyers is an over-reaction and they will have to retrace their steps."
The report holds that the Tripura police have been instrumental in inciting communal tensions in the state, under the "superannuated" director General of Police who has been given a two-year tenure by the chief minister.
How the police downplayed the communal nature of the violence:
The DGP claimed that an incident of violence took place in Panisagar on October 26 when the Vishwa Hindu Parishad took out a rally against the communal riots during Durga pooja in Bangladesh. "Not a mosque but a "prayer hall" was set on fire. No holy book was targeted and set on fire. Yet, rumors were spread that the holy book had been burnt. The ground in fact was peaceful and the local media was reporting that the area was peaceful," he claimed.
Independent journalists and the fact-finding team of supreme court lawyers gathered proof that some religious institutions and scriptures had in fact been burned but the police attempted to tone down its effect by stressing that reporters must learn the difference between a prayer hall and a mosque.
There were no arrests made despite proof of communal violence in the state until the courts stepped in due to the "culture of impunity that the state epitomizes". On the other hand, journalists and lawyers who reported "against the state" were booked under various charges.
Source: Siasat Daily
Please click the following URL to read the full text of the original story:
https://www.siasat.com/media-bullied-against-reporting-on-anti-muslim-violence-in-tripura-editors-guild-2246152/
--------
UP Muslim Youth who Chanted Jai Sri Ram in BJP Rally to get Police Protection
DECEMBER 23, 2021
AMuslim Youth has been provided police protection after he chanted Jai Shri Ram in a political rally in of Union Home Minister Amit Shah in Shahranpur of Uttar Pradesh. Ehsan Rao raised the slogan 'Jai Shri Ram' at the rally jointly addressed by Union Home Minister Amit Shah and Uttar Pradesh Chief Minister Yogi Adityanath in Saharanpur on December 2. The Police said that the youth has been provided security as he was getting threatening messages after the rally.
Saharanpur Senior Superintendent of Police (SSP) Akash Tomar said that Ehsan was receiving constant threats for raising the Jai Shri Ram slogan. Ehsan had reportedly written a letter to the District Magistrate (DM) and SSP seeking their intervention for getting police protection.
Ehsan, who is a BJP supporter, said that he was receiving threats from extremists who accused him of being un-Islamic.
"Lord Ram is our ancestor and all of us are all descendants of Shri Ram. I have no problem in saying Jai Shri Ram or chanting Bharat Mata Ki Jai. The country in which we are living should be celebrated in every way," Ehsan told the media. He added that he would not back down from his stance.
Source: News18
Please click the following URL to read the full text of the original story:
https://www.news18.com/news/india/up-muslim-youth-who-chanted-jai-sri-ram-in-bjp-rally-to-get-police-protection-4586783.html
--------
Jammu IED case: NIA files chargesheet against three accused
Sanjay Khajuria
Dec 24, 2021
JAMMU: The National Investigation Agency (NIA) has filed a chargesheet against three accused in connection with the recovery of an improvised explosive device (IED) at Bhatindi in Jammu & Kashmir in June this year.
A chargesheet was filed in the NIA special court in Jammu naming Nadeem-ul-Haq, Talib-Ur-Rehman (both from district Ramban) and Nadeem Ayoub of Shopian. The case pertains to recovery of 5.5 kgs of IED at Bhatindi in Jammu on June 27 earlier this year.
During questioning the accused confessed their involvement and also that they acted on the directions of their handlers in Pakistan. Owing to the sensitivity of the matter, the case was handed over to the NIA in July.
Source: Times of India
Please click the following URL to read the full text of the original story:
https://timesofindia.indiatimes.com/india/jammu-ied-case-nia-files-chargesheet-against-three-accused/articleshow/88461505.cms
--------
Afghanistan vote brings to fore India's differences with China, Russia
Sachin Parashar
Dec 24, 2021
NEW DELHI: While the UNSC resolution meant to ensure sanctions don't come in the way of humanitarian aid to Afghanistan was adopted unanimously, the negotiations for the resolution again brought to the fore "sharp divisions" within the Council over Afghanistan.
China and Russia opposed strong oversight and a short time limit for the exemption from sanctions to facilitate aid even as countries like India and France backed a proposal for the same.
India voted in favour of the resolution as it welcomed the provision for a review in 12 months of the "humanitarian carveout". India ambassador T S Tirumurti called for the Council to exercise oversight and to ensure there was no "misuse or diversion of funds".
China and Russia, with which India has been working closely on the Afghanistan issue, ensured though there was no time limit for the exemption. This has led to concerns that the US-sponsored resolution could effectively mark the beginning of the end of the Taliban-related sanctions regime.
India's position on Taliban has been nuanced with the government having offered Afghanistan 50,000 MT of wheat and also medicines as humanitarian aid but also simultaneously maintaining that the dispensation in Kabul lacks legitimacy. For India it's important to ensure Taliban severs links with Pakistan-based terror groups like LeT and JeM before it considers backing any move to accord international recognition to Taliban. Many countries share the concern that unregulated aid flow could further empower the Taliban.
According to the Security Council Report, which tracks closely the functioning of the Council and provides "independent" information, sharp divisions emerged during the negotiations between Members which supported a short time limit for the provisions of the resolution and stricter reporting requirements, such as France and India, and those who did not want a set time limit for the resolution's provisions, such as China and Russia.
The US, as 'pen holder' for the resolution, is reported to have upheld China's objection to a time limit to ensure support from Beijing. While the review after 1 year of exemption is significant, it will not automatically end the humanitarian exemption but will require another Council resolution to end the exemption and reimpose the restrictions lifted now. Such a resolution is almost certain to be vetoed by China and Russia. France described the lack of a time limit as a mistake and urged the Council to re-examine the decision "based on how future events unfold".
In complete contrast to the position taken by China and Russia, according to the Security Council Report, India, France, UK and Estonia maintained that the Council review the exemption within a shorter time frame because of the dynamic nature of the situation on the ground. The final draft mentioned no time limit even as it said that the Council will review the implementation of the provision after a period of 1 year.
According to the Security Council Report, the frequency of the reporting requirement on the provision of humanitarian assistance by humanitarian agencies was another matter of discussion during the negotiations. India and several other countries wanted strong oversight to ensure funds weren't diverted to terror groups.
Source: Times of India
Please click the following URL to read the full text of the original story:
https://timesofindia.indiatimes.com/india/unsc-afghan-resolution-brings-to-fore-indias-differences-with-china-russia/articleshow/88461012.cms
--------
Arab World
Qatar's ambitions to become 'the art Mecca of the Middle East'
24th December 2021
The Middle East nation of Qatar has announced an ambitious plan to expand its public art program as it prepares to play host to the 2022 Fifa World Cup.
Leading the initiative, Qatar Museums -- the state-run organization under which many of the nation's cultural institutions sit -- says it will display over 40 new and commissioned works by Qatari and international artists across public spaces in the capital, Doha, and surrounding cities.
The idea is to turn the local urban landscape into "a vast outdoor art museum experience," according to a press release.
"As the rest of the world turns their eyes on Doha, we thought one of the best ways to introduce ourselves and create a dialogue would be through art in the public sphere," Qatar Museums' Director of Public Art, Abdulrahman Ahmed Al-Ishaq, said in a video call.
Art on show
The installations will appear in public squares and shopping centers, schools and athletic facilities, railway stations and the Hamad International Airport, as well as a few stadiums set to host the matches.
"All the artwork we're showcasing will fit within the context of Doha and Qatar," Al-Ishaq said. "It will be placed strategically or territorially to reflect something about our country."
An example is Dutch sculptor Tom Claassen's "Falcon" outside the Hamad International Airport -- a golden, abstract representation of Qatar's national bird that was installed over the summer.
Other pieces that have already been unveiled include Bruce Nauman's "Untitled (Trench, Shafts, Pit, Tunnel and Chamber)," an experimental work made by the American artist in the late 1970s -- outside of the M7 in Msheireb Downtown Doha. Near the National Theatre stands German artist Isa Genzken's monumental "Two Orchids," a large 2015 sculpture that stands as an idealized version of the plant symbolizing the relationship between architecture, nature and popular culture.
"The aesthetics of both artworks complement their selected locations," Al-Ishaq said. Nauman's piece "is a scaled down version of a previous earthwork, and Msheireb (where it has been exhibited) is a block known for its advanced urban practices and its attention to material use."
Placing Genzken's "Orchids"' in the garden of the National Theatre, "one of the oldest structures along the Doha Corniche and one associated with celebration, beauty and elegance of the artform," Al-Ishaq said, was equally intentional. "The public may see them as a symbolic reflection of the theater," he explained.
While the full list of artists has yet to be released, many of the confirmed names also include Qatari and regional talent. Among them are exiled Iraqi sculptor Ahmed Al Bahrani, known for works that touch on the political realities of the Arab Diaspora as well as war, displacement and memory; and Faraj Daham, who focuses on the nation's architectural and urban alterations, as well as the subsequent economic, social and political consequences arising from those changes.
There are a few female talents, too: acclaimed Lebanese American artist Simone Fattal, whose figurative work draws on sources such as war, displacement and migration, landscape painting, and ancient religions and mythologies; and Qatari visual artist Shua'a Ali, who will unveil her first public work -- an abstract sculpture titled "Tawazun" (an Arabic word meaning "balance").
The sculpture, a pillar made of stacked stones signifies the country's "progression" and "the balance between traditional and modern elements in our everyday life," the artist wrote in an e-mail. "Using both modern and old construction materials, it marks the balance in contemporary local civic and architectural accomplishments."
Ali added that she felt "proud and honored" that the work will be showcased in downtown Doha and said inclusion in the program would allow her to reach global audiences that would otherwise have been hard to attain. "The public art program provides a solid platform for artists and creatives to thrive from."
"Having local artists showcase their work was a must for us," Al-Ishaq said. "This is an opportunity to shed some light on the wealth of talent from Qatar and its neighboring countries, and give them the platform they deserve.
"Since the very start, we've been working towards bringing art outside of museum walls," Al-Ishaq explained, saying the program's new additions will bring the total number of works on public display to 100.
Building an 'art Mecca'
The road to the 2022 World Cup hasn't been without controversy. Qatar has faced criticism regarding its treatment of migrant workers involved in constructing stadiums and concerns over the country's anti-homosexuality laws. On the latter subject, Qatar 2022 CEO Nassar Al Khater told CNN in November that nobody should feel threatened when visiting the country. "Qatar is a tolerant country. It's a welcoming country. It's a hospitable country."
Cultural initiatives like the public art program might help shift perceptions.
"The program aims to offer a snapshot of our identity, our culture, past and present. It's an invitation to look at Qatar beyond the World Cup," said Al-Ishaq.
The public art program initially launched in 2013, when it kicked off with a series of artworks that included British artist Damien Hirst's controversial "The Miraculous Journey" -- 14 bronze sculptures of a gestating fetus from birth to conception -- at the Sidra Medical and Research Center. The installation, which showed a sperm fertilizing an egg and a 46-foot-tall sculpture of a naked baby boy, was covered up soon after outrage was expressed on social media. Some perceived it as a graphic depiction -- though the official line for the covering was because of on-going building work. It was reinstalled in 2018.
Qatari artist Ali Hassan's "Desert Horse," is also exhibited just outside the Hamad International Airport, as part of the program. Another one of his works, "Wisdom of a Nation," was shown near the visitors' entrance at the National Museum of Qatar.
Inside the National Museum Qatar
"After being exclusively showcased indoors in museums or galleries, art can now be seen in public places," he said in an e-mail, adding that the organization is helping to shape the local art community.
"The feeling of leaving an imprint on such important landmarks is beyond expression for me as a Qatari artist, because of the great significance these two locations represent locally and globally."
The initiative has also expanded to support other projects that publicly engage locals with contemporary artists.
Among these efforts is an open call to students, which encourages young people to create temporary public artworks made from recycled materials; and Jedariart, an annual program inviting artists to paint murals across the city that reflect on social, historical, and cultural issues.
Source: CNN
Please click the following URL to read the full text of the original story:
http://us.cnn.com/style/article/qatar-museums-outdoor-art/index.html
--------
Lebanon's top Christian party signals possible end of Hezbollah alliance
23 December ,2021
Lebanon's top Christian party has indicated it is considering ending a political alliance with Iran-backed Hezbollah, threatening a fragile union that has shaped Lebanese politics for nearly 16 years.
Gebran Bassil, leader of the Free Patriotic Movement party said earlier this week there would be "political consequences" for action taken against his party by Lebanon's two main Shia parties Hezbollah and Amal.
Prominent figures close to the party have also said the 2006 Mar Mikhael Agreement between FPM and Hezbollah is at an end.
"Mikhael is dead," FPM pundit Charbel Khalil tweeted on Tuesday.
The party's support was critical in bringing President Michel Aoun, the FPM's founder, to power in 2016, and the FPM has provided critical Christian political cover for Hezbollah's armed presence under Lebanon's sectarian power-sharing system.
Hezbollah has not publicly commented.
Pro-Hezbollah Sheikh Sadiq Al-Nabulsi said on Wednesday that Hezbollah had "a very high tolerance for pain and criticism" but Bassil was at risk of losing its support.
"Today the FPM has no real ally other than Hezbollah, so why are you letting go of your last ally?" he said.
Bassil's party has faced growing political pressure to distance itself from Hezbollah since the country's 2019 financial meltdown.
Traditional allies in the Gulf have been unwilling to provide Lebanon with aid, as they have in the past, because of what they have said is Hezbollah's grip on the country and its support for Iran-backed Houthis in Yemen.
Hezbollah is classified by the United States and major western nations as a terrorist group.
In Lebanon, Hezbollah has taken a hardline stance against the judge investigating the August 2020 Beirut blast, causing a row that has left Prime Minister Najib Mikati's government unable to meet since Oct. 12 even as poverty and hunger worsen.
But Hezbollah remains Bassil's strongest ally. And with presidential and parliamentary elections due next year, some analysts say the FPM could be posturing.
Source: Al Arabiya
Please click the following URL to read the full text of the original story:
https://english.alarabiya.net/News/middle-east/2021/12/23/Lebanon-s-top-Christian-party-signals-possible-end-of-Hezbollah-alliance
--------
Lebanon 'regrets' assault on UN peacekeepers
24 December ,2021
Lebanon's foreign ministry said on Thursday it regretted an assault on a Finnish battalion of UN peacekeepers and awaited results of an inquiry as videos showed local people attacking their vehicles.
Videos circulated on social media and published by news outlets showed residents of a southern Lebanese town pelting United Nations Interim Forces in Lebanon (UNIFIL) vehicles with rocks on Wednesday.
"The Ministry of Foreign Affairs and Emigrants regrets the incident that occurred with the Finnish battalion in the United Nations Interim Force in Lebanon," it said in a statement.
"The Ministry confirms that it does not accept any form of transgression against the UNIFIL forces."
Following the incident on Wednesday, UNIFIL said that "depriving UNIFIL of freedom of movement and attacking those who serve the cause of peace is unacceptable" and violated a peacekeeping agreement between Lebanon and the UN. It urged Lebanese authorities to hold those responsible accountable.
The peacekeepers, now numbering around 10,000, have been stationed in southern Lebanon since 1978, when they arrived following an Israeli invasion during the 1975-1990 civil war.
While Palestinian rebel groups were active there at the time, Iran-backed Hezbollah now operates in the area. The group fought a brutal 34-day war with Israel in 2006 that left around 1,200 Lebanese - most of them civilians - and more than 150 Israelis - mostly soldiers - dead.
Wednesday's incident came just hours after UN Secretary-General Antonio Guterres departed the country following a four-day visit in which he reaffirmed the need for peacekeeping forces to go about their mission.
Source: Al Arabiya
Please click the following URL to read the full text of the original story:
https://english.alarabiya.net/News/middle-east/2021/12/24/Lebanon-regrets-assault-on-UN-peacekeepers
--------
World Bank pledges $37 mln to help Lebanon teachers
23 December ,2021
The World Bank on Thursday said it agreed with its partners to repurpose $37 million in funds to help Lebanon's public-school teachers survive a crushing economic crisis.
The World Bank and the UK Foreign, Commonwealth and Development Office would divert the money from the Lebanon Syrian Crisis Trust Fund, which aims to assist Lebanese communities accommodating Syrian refugees, the bank said in a statement.
It would be used to "provide financial incentives to public school teachers suffering from the severe economic and financial crisis in Lebanon to ensure they can purchase fuel to travel to work," the statement added.
The "exceptional" financing, which is valid only for the 2021-2022 academic year, came at the request of Lebanon's government, the bank said.
Lebanon, home to more than one million refugees from war-torn Syria, is grappling with an economic crisis that the World Bank has branded as one of the worst the world has seen in modern times.
More than 80 percent of the population lives in poverty and the local currency, the pound, has lost 90 percent of its value against the dollar on the black market.
Public school teachers who were already underpaid before the onset of the economic crisis two years ago have since been pushed deeper into poverty.
Their salaries in pounds are a fraction of what they used to be due to the currency's rapid devaluation.
Source: Al Arabiya
Please click the following URL to read the full text of the original story:
https://english.alarabiya.net/News/middle-east/2021/12/23/World-Bank-pledges-37-mln-to-help-Lebanon-teachers
--------
Arab Coalition says destroyed drone targeting Saudi Arabia's Abha airport
23 December ,2021
The Arab Coalition fighting the Iran-backed Houthi militia in Yemen said on Thursday it had destroyed an armed drone attempting to target Abha International Airport, Al Arabiya reported.
Debris from the destruction of the drone surrounding the airport did not cause any injuries, the coalition added.
The Coalition also announced that it had carried out 36 strikes against Houthi targets in Marib over the past 24 hours.
At least 28 military vehicles were destroyed and 310 Houthi militants were killed, making it reportedly the biggest toll of casualties among the Iran-backed fighters.
The Houthis have increased their attacks on Saudi Arabia, and other civilian targets as their offensive on Marin continues.
Source: Al Arabiya
Please click the following URL to read the full text of the original story:
https://english.alarabiya.net/News/gulf/2021/12/23/Arab-Coalition-says-destroyed-drone-targeting-airport-Arabiya-TV
--------
Pakistan
Are Christians Lesser Pakistanis? - Two Bakeries In Karachi Refuse To Write "Merry Christmas" On Cakes
Pia Krishnankutty
23 December, 2021
New Delhi: The Christmas holiday spirit in Pakistan has been dampened after two bakeries in Karachi — Delizia and Auntie Munaver — were accused of discrimination by allegedly refusing to write "Merry Christmas" on customers' cakes.
"Are Christians lesser Pakistanis that they cannot be served or are popular bakeries just for Muslims?" asked author Shamila Ghyas.
"Two well known bakeries refusing to write "Merry Christmas" on their cakes in Karachi, a huge majority defending the decision as well," said Pakistani musician Daniel Panjwaneey.
On 21 December, a woman by the name of Celestia Naseem Khan took to Facebook to narrate how a worker at Delizia in Karachi's Khayaban-e-Jami area refused to write 'Merry Christmas' on a cake as it was an "order (to not write the message) from the kitchen". The woman further said: "If they're so against the minorities and their religion then they should not even make money from these occasions."
A day later, a woman accused staff at Auntie Munaver, located in Clifton's Bokhari Commercial Area of Karachi, of refusing to write the seasonal message on a cake following "instructions from the management". While Delizia told Dawn that the incident was an act of an individual and that it would be "taking action" against the staffer, Auntie Munaver is yet to respond to the allegations.
A starkly similar incident took place in 2018 at Delizia's Badar Commercial branch after which the bakery reportedly dismissed some staff. Some social media users recalled the 2018 case asserting that they weren't convinced the latest incident was the result of an individual's act.
Meanwhile, others pledged to never order from Delizia bakery, encouraging others to boycott the chain.
Some users jokingly posted seasonal greetings, saying: "Merry Christmas Delizia and Auntie Munaver. May you lose (at least) some of your biases in 2022. (sic)"
This came as journalist Naila Inayat and others accused Interior Minister Sheikh Rashid Ahmed of "seasonal rhetoric" following his remarks that Christians are a "peace loving" community. "Pakistani Christians remain one of the most persecuted religious minority groups. Try to undo the discriminatory laws against them, instead of seasonal rhetoric," said the journalist.
'See the flag'
Enraged by the incident, some users accused Delizia of forgetting what the white in the Pakistan flag stands for. The Pakistani flag, which shows white star and a crescent on a dark green field, has the colour green to represent Islam, the dominant religion followed in the country, and white to represent minority religions in the country.
Meanwhile, Paris-based Pakistani journalist Taha Siddiqui said while cakes are a "luxury item", one could only imagine what under-privileged non-Muslim minorities must face in the country.
Source: The Print
Please click the following URL to read the full text of the original story:
https://theprint.in/go-to-pakistan/merry-christmas-cakes-karachi-bakeries-christians-pakistanis/786188/
--------
Israel Was Brought Up For Discussion At The OIC Extraordinary Meeting In Pakistan
DEC 22, 2021
The headline is a hope for the future, when Israel will actually be invited for an Organisation of Islamic Countries meeting. However Israel was brought up for discussion, as usual, at the 17th extraordinary meeting of the Foreign Minister of the Organisation of Islamic Countries (OIC), convened by Pakistani Prime Minister Imran Khan in Islamabad to discuss Afghanistan and the looming humanitarian crisis.
While there is no obvious connection between the crisis in Afghanistan and Israel, for obvious reasons Israel seemed to be the only important and clear part of the so called "Islamabad declaration" that was adopted by the OIC summit.
Prime Minister Imran Khan convened the extraordinary meeting citing the deterioration of the economic and humanitarian situation in Afghanistan. After the Taliban takeover of Kabul, Pakistan has tried its very best to convince the international community to engage and fund the Taliban government, which it terms as inclusive and representative of the Afghan people. After repeated failures in all fora, it finally turned to the OIC, which it hoped will support its stance on funding the Taliban.
Meanwhile India hosted the 3rd meeting of the India-Central Asian dialogue on the same day as the extraordinary OIC Foreign ministers meeting and had the foreign ministers of Uzbekistan, Tajikistan, Kazakhstan, Turkmenistan and the Kyrgyz Republic all in attendance in New Delhi, giving the OIC meeting a skip.
Speaking at the conference, rather than focus on the agenda and crisis at hand, Imran Khan chose to invoke Palestine and Kashmir-bringing both to the same plane. He called upon the OIC member states to make a unified plan to help the oppressed people of Palestine and "Indian Illegally Occupied Jammu and Kashmir". The PM expressed his concerns over grave human rights situation in the Indian Illegally Occupied Jammu and Kashmir (IIOJK). As reported by the News International, while appreciating the OIC's steadfast support for Kashmiris, he requested the OIC Secretary General for continued advocacy for the resolution of the Jammu and Kashmir dispute in accordance with the UN Security Council resolutions. He was curiously silent on the oppression of the Uighur Muslims in neighboring Xingxiang.
Coincidentally, thousands rallied in Pakistan's largest city Lahore in an anti-Israel, pro-Iran rally led by prominent Pakistani Shia cleric Allamah Syed Jawad Naqvi. The rally was held on Shahrah-e-Quaid-e-Azam, one of the busiest streets in Lahore, and was attended by thousands of people, both Shias and Sunnis chanting anti-Israel and pro-Iran slogans.
In his remarks at the rally, Naqvi said "threat to Iran is a threat to all Muslim countries," reaffirming the support of the people of Pakistan to the government and people of Iran.
The rally seemed like it was a show of good faith to the attending Iranian foreign minister Hossein Amirabdollahian who met with Prime Minister Imran Khan and chief of army staff Gen. Qamar Javed Bajwa. Naqvi particularly stressed on closer relations between the two Muslim countries of Iran and Pakistan to ward off the threat posed against the world of Islam by the Israeli regime and its backers.
The increasing closeness between Iran and Pakistan also comes on the eve of Pakistan's need to rally Afghanistan's neighbors to its side. In the past Iran has been very wary of the Sunni Taliban and has shared a common platform with India and Russia which has often been against Pakistan's interests. By criticizing Muslim countries who develop relations with Israel (UAE and Bahrain without mentioning them) and equating Palestine and Kashmir, Khan hopes to win admirers and supported at the OIC as well as make common cause with the Iranians, hoping to create a bond against the Israel-India alliance. It is important to remember that Iran's nuclear program was kickstarted by Pakistani nuclear scientist (and the father of Pakistan's nuclear program) A.Q.Khan.
Pakistan has also started experimenting with so called tribunal's rallying the extreme left in Europe and the Americas. Kashmir Civitas, a Canadian NGO funded apparently by Pakistani security services, organized a Russell tribunal on Kashmir in coordination with the OIC meet in Islamabad. The so called tribunal was organized in Sarajevo, which is now leaning towards Islamist forces with the support of Al Jazeera balkans, International university of Sarajevo, the Permanent People's tribunal of Bologna and several Turkish funded organizations. In Italy meanwhile, the former speaker of the Italian Parliament, Laura Boldrini, has created waves inviting the director of PLFP linked Al-Haq to speak at the Commission for foreign affairs of the Italian Parliament. These attempts seem to be experiments to start legitimizing ridiculous claims with the use of instruments that are legitimate and valid (such as the Uighur Tribunals against china). How much of this is coincidence and how much is a dedicated strategy by the new upcoming Pakistan-China-Qatar-Turkey-Iran alliance will only be seen in the coming months. It wouldn't be surprising if this were followed by a "tribunal on Palestine".
The "Islamabad declaration" was very short on specifics when it came to aid for Afghanistan. What is clear is that the Islamic development bank (based in Jeddah) will open a trust fund by Q1/2022 to channel development funds from OIC countries for humanitarian aid to Kabul. No commitments were made or any specifics declared. The OIC did not provide formal recognition to the attending Taliban minister Amir Khan Muttaqi was excluded from the formal photo. It also urged Afghanistan's rulers to abide by "obligations under international human rights covenants, especially with regards to the rights of women, children, youth, elderly and people with special needs".
Source: Times of Israel
Please click the following URL to read the full text of the original story:
https://blogs.timesofisrael.com/israel-the-oic-extraordinary-meeting-in-pakistan/
--------
Why Is Pakistan Eager to Help Afghan Taliban When They Don't Even Recognise Border, Questions Former Pakistani Senator Rabbani
Nadir Guramani
December 24, 2021
Former Senate chairman and Pakistan Peoples Party (PPP) leader Senator Raza Rabbani on Friday questioned the government's haste to extend support to the Afghan Taliban, when the latter did "not even recognise the border".
Addressing a senate session, Senator Rabbani asked the foreign minister to take the parliament into confidence about a recent incident in which the new rulers in Afghanistan had reportedly barred Pakistan's security forces from fencing the border.
Pakistani officials have not commented on the incident so far.
Pakistan has fenced most of the 2,600km border des­pite protests from Kabul, which has contested the British-era boundary demarcation that splits families and tribes on either side.
Afghan defence ministry spokesman Enayatullah Khwarazmi had said the Taliban forces stopped the Pakistani military from erecting what he called an "illegal" border fence along with the eastern province of Nangarhar on Sunday.
The fencing was the main reason behind the souring of relations between previous US-backed Afghan governments and Islamabad. The current standoff indicates the issue remains a contentious matter for the Taliban, despite its close ties to Islamabad.
"They are not ready to recognise the border, so why are we moving forward?" questioned Rabbani, during the session today.
The PPP senator also expressed alarm over reports that the banned Tehreek-i-Taliban Pakistan (TTP) was regrouping in Afghanistan, "which could possibly fuel terrorism in Pakistan".
"On what terms is the state talking about a ceasefire with the banned group?" he questioned.
He went on to say that the state of Pakistan meant the civil and military bureaucracy of Pakistan and not the people sitting in parliament.
'Sialkot lynching shook us to the core'
During the session, Senator Azam Nazir Tarar took to the floor to speak about the horrific lynching of Sri Lankan national Priyantha Kumara, a factory manager in Sialkot, saying "the incident has shaken us to the core".
The senator said the brutality with which the mob killed the Sri Lankan citizen was highly reprehensible.
Source: Dawn
Please click the following URL to read the full text of the original story:
https://www.dawn.com/news/1665547/why-is-pakistan-eager-to-help-afghan-taliban-when-they-dont-even-recognise-border-questions-rabbani
--------
Two soldiers martyred in attack on check post in Balochistan's Kech: ISPR
Naveed Siddiqui
December 24, 2021
Two soldiers were martyred when terrorists attacked a security forces' check post in Balochistan's Kech district, the military's media affairs wing said on Friday.
According to a statement issued by the Inter-Services Public Relations (ISPR), Lance Naik Manzar Abbas, resident of district Khushab, and Sepoy Abdul Fath, who hailed from Khuzdar, embraced martyrdom during the exchange of fire with the terrorists.
The ISPR said a follow-up operation was in progress in the area to search for the terrorists.
"Security forces are determined to defeat such acts of inimical elements, aimed at disrupting peace, stability and progress of Balochistan," the statement said.
This is the second such incident in the province in the span of a month.
On December 14, a member of the security forces was martyred when terrorists attacked a post close to the Pak-Iran border in Balochistan.
Source: Dawn
Please click the following URL to read the full text of the original story:
https://www.dawn.com/news/1665538/two-soldiers-martyred-in-attack-on-check-post-in-balochistans-kech-ispr
--------
Pakistan welcomes UNSC resolution easing aid flow to Afghanistan
Baqir Sajjad Syed
December 24, 2021
ISLAMABAD: Pakistan on Thursday welcomed the UN Security Council resolution that eased the flow of aid to Afghanistan and expressed the hope that the world would urgently fulfil the needs of struggling Afghans.
"Pakistan welcomes the adoption, by consensus, of the United Nations Security Council Resolution 2615, that has reaffirmed that provision of humanitarian and other assistance to the people of Afghanistan is not a violation of the Security Council's Sanctions regime," a statement issued by the Foreign Office said.
The Security Council on Wednesday adopted a US-proposed resolution allowing humanitarian aid to be delivered to Afghanistan to avert an economic collapse.
The resolution read: "Payment of funds, other financial assets or economic resources and the provision of goods and services necessary to ensure the timely delivery of such assistance or to support such activities are permitted."
It noted that such assistance would not violate the sanctions imposed on Taliban and their affiliates.
There has been widespread recognition of the aggravating humanitarian situation in Afghanistan, but donors have struggled to find ways to deliver aid to the people in the war-ravaged country.
The FO said the resolution had been adopted at a critical time, and the move reflected the international community's "sense of urgency" to help the Afghan people.
It further noted that the resolution was "a step in the right direction" for helping the Afghans faced with a dire situation.
It recalled that this sentiment was reflected in the resolution adopted unanimously by the 17th extraordinary session of the OIC's meeting of Council of Foreign Ministers hosted by Pakistan last week.
The OIC meeting had called for the swift roll-out of all possible humanitarian, recovery, reconstruction, development, technical and material assistance to Afghanistan.
"As called for by the OIC, pathways should now be found towards revitalising of the Afghan economy and unfreezing of the assets that rightfully belong to the Afghan people," it added.
Prime Minister Imran Khan, in his speech at the OIC CFM, had also stated that sanctions should not prevent the international community from providing humanitarian and other essential assistance to the people of Afghanistan.
Source: Dawn
Please click the following URL to read the full text of the original story:
https://www.dawn.com/news/1665483/pakistan-welcomes-unsc-resolution-easing-aid-flow-to-afghanistan
--------
No one can deprive Gwadar people of their rights: Maulana Hidayat
Behram Baloch
December 24, 2021
GWADAR: The leader of Gwadar Ko Haq Do Tehreek [Movement for rights of Gwadar], Maulana Hidayatur Rehman has said that China-Pakistan Economic Corridor (CPEC) and resources of Balochistan belong to the people of Balochistan and no person, however powerful, will be allowed to deprive the people of their legitimate and legal rights.
Speaking at a meeting of fishermen in Ormara, he said nobody would be allowed to rob sea resources as it was the right of local fishermen to earn their livelihood from Balochistan sea waters.
Maulana Rehman warned the chief minister and provincial government that if the agreement reached between the government and the movement leaders was not honoured and implemented by the government, the movement would stage a massive protest sit-in of more than one million people in Quetta after three months.
"Our struggle will continue till all check-posts of security forces are removed and illegal fishing in Balochistan sea waters by trawlers was stopped," Maulana Rehman said.
He said that Balochistan fishermen had been deprived of their livelihood because of illegal fishing by trawlers and they had plundered resources of Balochistan's sea.
Source: Dawn
Please click the following URL to read the full text of the original story:
https://www.dawn.com/news/1665499/no-one-can-deprive-gwadar-people-of-their-rights-maulana-hidayat
--------
South Asia
Suicide bomber gunned down in Kabul as Taliban fighters gather for passports
December 24, 2021
Awould-be suicide bomber was shot dead on Thursday outside Kabul's main passport office, police said, as hundreds of Taliban fighters lined up for travel documents on a day reserved exclusively for their applications.
"He was identified and killed at a checkpoint at the entrance," Mobin Khan, spokesman for Kabul police, told AFP.
There have been several attacks against Taliban fighters since their return to power in August — most claimed by the local chapter of the Islamic State group.
Around 200 Taliban fighters had gathered at the passport office from dawn after authorities announced that Thursdays would be set aside exclusively for them to apply for passports.
It was unclear why the fighters wanted passports — or where they planned to travel to — as security operatives barred reporters from interviewing them.
Civilians who arrived to process their applications were held back or sent home by Taliban security, who also tore up documents of some as they pressed to enter.
"Issuing passports to the Taliban members was cancelled due to overcrowding," said Qari Shafiullah Tassal, a spokesman for the office.
Many people were also falsely claiming they had Taliban links, he told AFP.
Taliban fighters were also given the opportunity on Thursday to apply for passports in the southern city of Kandahar, according to an AFP reporter there.
Source: India Today
Please click the following URL to read the full text of the original story:
https://www.indiatoday.in/world/story/suicide-bomber-killed-taliban-fighters-kabul-passport-office-1891534-2021-12-24
--------
Taliban dissolve two ministries and electoral bodies
24 Dec 2021
Cabinet of the Taliban interim government recently decided to dissolve ministry government in peace affairs, ministry of government in parliament affairs, Independent Election Commission, Independent Election Complaints Commission from their cabinet.
As per the new decision, the Independent Commission of Human Rights will be operational with a change in its name.
The interim cabinet has directed the administration of affairs and all relevant administrations to clarify the destiny of the staff of the ministries and the commissions, payment of their salaries, and the entities belonging to the bodies.
One month deadline is given for the above-mentioned tasks to be completed.
The cabinet has also decided to keep the secretariats of the former Senate and parliament and has direct administration of affairs to identify and implement the staff of the secretaries in a two-week time.
In the meantime, the administration of affairs was directed to draft the name of the independent commission of human rights and submit it to the next meeting of the cabinet.
The cabinet has also made decisions about other administrations and commissions.
Source: Khaama Press
Please click the following URL to read the full text of the original story:
https://www.khaama.com/taliban-dissolve-two-ministries-and-electoral-bodies-57568/
--------
Afghan factories to go bankrupt duet to frozen assets: industrialists
24 Dec 2021
Officials of Afghanistan's Chamber of Industry and Mines in a press conference in Kabul said that the lack of cash and freezing assets by the US have put their factories on the verge of bankruptcy.
The officials said that the US has frozen nearly ten billion dollars of Afghanistan's funds that also including $2.5 billion of Afghan investors and industrialists.
Deputy of the Chamber Sherbaz Kaminzada said that over 5,000 factories are now facing a dearth of raw material that will lead to the closure of these factories if not addressed the problems.
Kaminzada said that thousands of workers have been trained and are now busy working at the factories who will also be in danger of losing their jobs.
"We have trained thousands of workers and have invested in Afghanistan for tens of years. Why should my factories go bankrupt? We will go to UN and will also file complain in the international court." Said Kaminzada.
Source: Khaama Press
Please click the following URL to read the full text of the original story:
https://www.khaama.com/afghan-factories-to-go-bankrupt-duet-to-frozen-assets-industrialists-875876/
--------
Taliban halted evacuation flights from Afghanistan for past 2 weeks: Report
December 24, 2021
The flights were halted over disagreements both about how the Kabul airport is managed and who is provided with seats on the evacuation flights, Sputnik reported citing NBC report on Thursday.
"We are hopeful that flights will resume shortly, though as usual, winter weather conditions and airport operations remain additional factors to be aware of," a State Department official told NBC.
The Taliban allegedly demanded several seats on the flights for their fighters and sympathizers so that they can work in other countries, the Russian News Agency reported.
According to the report, the Taliban argue that they are running the country and Qataris use their airspace, so the radical group should receive seats on the flights.
Prior to the flight suspension, the Taliban were using the seats to send migrant workers to Qatar, Saudi Arabia and other countries to find work, the report noted. The Taliban were deciding who would get the seats, and it was not known who was leaving Afghanistan - Taliban fighters, sympathizers, civilians, or a combination of these groups, the report added.
The report further stated that when the Qatari government declined to continue providing seats, the Taliban halted evacuation flights.
The Taliban took over control of Kabul on August 15 and following this the country has been battered by deepening economic, humanitarian and security crisis.
Source: Business Standard
Please click the following URL to read the full text of the original story:
https://www.business-standard.com/article/international/taliban-halted-evacuation-flights-from-afghanistan-for-past-2-weeks-report-121122400069_1.html
--------
Mideast
125 Palestinians injured as Israeli settlers, troops raid village in West Bank
24 December 2021
At least 125 Palestinians have been wounded in violent attacks by Israeli forces after hundreds of Israeli settlers attempted to break into and raid a village near the occupied West Bank city of Nablus.
42 Palestinians, including a local journalist, were injured by rubber-coated bullets and 83 others suffered breathing problems after inhaling tear gas fired by Israeli soldiers in the village of Burqa, northwest of Nablus, on Thursday evening, the Palestinian Red Crescent (PRC) said.
The PRC said a girl was treated for shock after a group of violent Israeli settlers attacked her family's home on the outskirts of the village, Wafa news agency reported.
Under the protection of Israeli soldiers, the setters also attacked several vehicles, three houses, and a car wash belonging to Palestinians.
They also vandalized a number of gravestones in a cemetery in the village. Two ambulances were hit by Israeli troops with stun grenades and tear gas canisters.
Israeli settlers routinely engage in violence and vandalism against Palestinians in the occupied West Bank.
Israeli settlers injure three Palestinians after attacking their vehicles in the occupied West Bank city of Nablus.
After the 1995 accords, the Israeli regime confiscated 1,014 dunams of land from the village of Burqa in order to establish the Israeli settlement of Homesh. The settlement was evacuated in 2005 but was later used by the Israelis as a military base.
Israeli settlers have been calling on the regime to let them return to the Homesh settlement
Two Palestinians were killed in the area by the regime's forces on Tuesday and Wednesday as Israeli forces and settlers ramped up their violent attacks against Palestinians.
On Monday, 70 Palestinians were injured by Israeli forces in Burqa after an attack by Israeli settlers on Palestinians' vehicles in the area.
More than 600,000 Israelis live in over 230 settlements built since the 1967 Israeli occupation of the Palestinian territories of the West Bank and East al-Quds.
Source: Press TV
Please click the following URL to read the full text of the original story:
https://www.presstv.ir/Detail/2021/12/24/673288/125-Palestinians-wounded-Israeli-settlers-violence-drags
--------
Hezbollah has 2,000 UAVs, can severely damage Israel's defences, warns Israeli centre
24 December 2021
Lebanese resistance movement Hezbollah is in possession of some 2,000 Unmanned Aerial Vehicles (UAV) compared to 2006 when the group had less than 50, says an Israeli research center, warning that a "swarm" of such UAVs can severely damage Israel's defenses.
In a report released on Thursday, the ALMA Research Center said based on its information and professional assessments thereof, it has concluded that Hezbollah now possesses approximately 2,000 UAVs.
"Over the past 15 years, there has been a huge increase in the number of Hezbollah's UAVs," it said.
"While in 2006 Hezbollah had only a few dozen UAVs (in our estimation less than 50), we have information that in 2013 they had a few hundred (about 200 UAVs) and in 2016 they had hundreds of UAVs (we estimate up to about 800). We estimate that they now have at least 2,000 UAVs," the report added.
It then warned that an extensive attack by "swarm" of Hezbollah's UAVs on the Israeli regime's air defense systems in the north could neutralize Israel's defenses or severely damage them.
"Another example could be a UAV attack on Haifa port, shutting it down de facto."
In the Thursday report and in an earlier report published on Tuesday, the ALMA Research Center claimed that Hezbollah's UAVs were mostly produced in Iran, adding that the Islamic Republic has evolved highly advanced operational capabilities in this sector.
"Some of the knowledge was also obtained by copying Western technologies, enabled through the falling of American and Israeli UAVs into Iranian hands," it said. "Still, Iran is not dependent on Western UAV technology and has been able to reach its present advanced level through its own independent efforts."
In recent years, Hezbollah has also shot down several intruding Israeli UAVs in Lebanon.
The Tel Aviv regime frequently violates Lebanon's airspace. The Lebanese government, Hezbollah, and the United Nations Interim Force in Lebanon (UNIFIL) have repeatedly condemned Israel's overflights, saying they are in clear violation of UN Security Council Resolution 1701 and the country's sovereignty.
The resolution, which brokered a ceasefire in the war Israel launched against Lebanon in 2006, calls on the Israeli regime to respect Lebanon's sovereignty and territorial integrity.
In another report last month, Israeli media said that Hezbollah is in possession of more than 100,000 rockets, stressing that Israel's existing missile systems neither are capable of intercepting such a number of missiles and rockets nor can protect Israeli settlers.
According to the Hebrew-language daily newspaper Israel Hayom, the occupied territories are within striking distance of more than 100,000 rockets from Lebanon, in addition to tens of thousands more from Gaza-based Palestinian resistance fighters.
Lebanon fought off two Israeli wars in 2000 and 2006. On both occasions, battleground contribution by Hezbollah proved an indispensable asset, forcing the Israeli military into a retreat.
Source: Press TV
Please click the following URL to read the full text of the original story:
https://www.presstv.ir/Detail/2021/12/24/673282/Hezbollah-in-possession-2000-UAVs-Report
--------
Saudi warplanes take Yemen's capital under new airstrikes
24 December 2021
Saudi warplanes stage a new round of airstrikes against Yemen's capital as the kingdom intensifies its attacks on its impoverished southern neighbor.
Targeting the heart of Sana'a on Thursday night, the aircraft strafed residential areas and a hospital, which resulted in the injury of at least one civilian, Yemen's al-Masirah television network reported.
Claiming it only hits "legitimate" military targets, Riyadh has been targeting the city's infrastructure, including bridges and a prison.
Earlier this week, AFP reported that Saudi-led airstrikes were preventing delivery of United Nations-provided relief supplies to the lifeline airport that lies in the city. "The airport is no longer able to receive aircraft operated by the United Nations or international humanitarian organizations," an airport official told the agency, calling on the world body to secure a halt to the raids.
Leading several of its allies, the kingdom launched a war against the Arab world's already poorest nation in March 2015. The war has been seeking to restore power in Yemen to the country's former Riyadh-allied officials.
Last month, a United Nations Development Programme report said the war would have claimed 377,000 lives by the end of the year through both direct and indirect impacts.
Earlier on Thursday, the kingdom carried out scores of airstrikes against other Yemeni provinces, in particular the strategic west-central province of Ma'rib, where Yemeni forces have been successfully pushing back against the Saudi-led aggression.
Source: Press TV
Please click the following URL to read the full text of the original story:
https://www.presstv.ir/Detail/2021/12/24/673277/Yemen-Saudi-Arabia-airstrikes-Sana-a
--------
Hunger-striking Palestinian prisoner cannot move anymore, lawyer says
23 December 2021
Hunger-striking Palestinian inmate Hisham Abu Hawwash cannot move anymore, his lawyer says, nearly 130 days after the prisoner began his hunger strike in protest at his indefinite, unfair and unexplained imprisonment by Israel.
Jawad Boulus, Abu Hawwash's lawyer, said on Thursday that his client, who has been on hunger strike for the past 129 days, has lost his ability to move, and is suffering from speaking difficulty, Palestine's official Wafa news agency reported.
He warned that although Abu Hawwash is in critical condition and in dire need for medical follow-up and hospitalization, the Israel Prison Service (IPS) has kept him in prison and refused to move him to hospital for due treatment.
"Despite the critical health condition of Abu Hawwash, the IPS is still rejecting to move him to a civil hospital, and is seemingly aiming to impose this as a reality in the issue of the hunger-strikers," said Boulus in a statement shared by the Palestinian Prisoners' Society (PPS).
"The demand to move Abu Hawwash to hospital requires additional efforts. The IPS used to move the [hunger-striking] prisoners to a civil hospital after some time into their hunger strike, [but] today it deliberately keeps them in prison," the lawyer added.
Boulus also noted that moving hunger-striking prisoners to a civil hospital has become a condition for the court to suspend the administrative detention, which is a sort of imprisonment without trial or charge.
Earlier this month, the Prisoners and Ex-prisoners Affairs Authority said that Abu Hawwash was in "tragic condition." The rights group said the 40-year-old inmate suffers from weakness in the bones and muscles, a sharp weight loss, and sharp pains all over his body.
He has also become unable to move or to speak, but Israeli courts continue to reject his release appeals, it added.
Abu Hawwash's family has already warned that he may die any moment as a result of his prolonged hunger strike, calling for urgent action to save his life before it is too late.
Abu Hawwash is one of the four prisoners who went on extended hunger strikes against their detention without charge. The other prisoners were Kayed Fasfous, Ayyad al-Harimi, and Lo'ai al-Ashqar.
Source: Press TV
Please click the following URL to read the full text of the original story:
https://www.presstv.ir/Detail/2021/12/23/673267/Palestine-Israel-Abu-Hawwash-prison-hunger-strike
--------
FM: Iran Not to Accept Excessive Demands in Vienna Talks
2021-December-23
"In the last round of the Vienna talks, after two stages of negotiations, we reached a single document and agenda, and there was a significant progress in the previous two rounds of talks. In the negotiations, in general, I did not see the position of certain European countries, specially France, as constructive. We hope that the French side will play a constructive role and the Iranian people's rights will be restored realistically," Amir Abdollahian said in a joint press conference with his Iraqi counterpart Fuad Hussein in Tehran on Thursday.
"The second problem with the three European countries is that in practice they did not show any new initiative in the negotiations.
He described the coordinator role played by EU Deputy Foreign Policy Chief Enrique Mora Mora and EU Foreign Policy Chief Joseph as positive, and said in the previous rounds of talks the American side sent some unwritten messages to the meeting and received the necessary answers.
"Iran pursues the talks in Vienna with good will and seriousness. The other sides should have no doubt if they mean to give one point and take ten, Iran will not accept it. Our goal is to materialize (implementation of) obligations by all parties under the nuclear deal. When they (the western sides) say that we are concerned about the progress of Iran's nuclear program, we say out loud that if they want their concerns to be obviated, all sanctions should be lifted. The day the opposite parties show their serious will, will be the day when we can talk about the return of all parties to their undertakings under the nuclear deal," Amir Abdollahian said.
Elsewhere, he said that Iran is determined to make the Shalamcheh-Basra railway operational as soon as possible.
"We are determined make the Shalamcheh railway to Basra to go into operation at the earliest and the [Iranian] Minister of Roads will leave for Iraq next week in that regard," he added.
Amir Abdollahian said that in their meeting the two diplomats emphasized cooperation with the Iran-Iraq Judicial Committee to speed up work on the prosecution of the perpetrators behind the martyrdom of anti-terror commander General Qassem Soleimani and Iraqi Abu Mahdi Muhandis.
"I heard a piece of news from the Iraqi counterpart that confirms the withdrawal of US troops from Iraq," he added.
The Iranian foreign minister also said that they had consulted on the general cancellation of visas for citizens of both sides.
Fuad Hussein, for his part, said that "in today's meeting with the Iranian Foreign Minister, we emphasized expansion of relations, including in economic fields. This was a good opportunity for us to talk about regional issues, specially the security situation in Iraq and the region".
"We talked about Iraq-US relations, and the strategic dialogue between the Iraqi government and the American side, and the agreement between the two sides to withdraw US troops from Iraq," he added.
"It is important for us to discuss Iran's relations with Iraq's neighbors. Iraq played an important role in supporting the talks between Saudi Arabia and Iran, and we hope that the fifth round of talks will take place," Hussein said.
Last Monday, the Iranian foreign ministry rejected any direct talks with the US during negotiations between Tehran and the Group 4+1 (China, Russia, Britain and France plus Germany) in Vienna aimed at removal of sanctions against Iran.
The Iranian negotiation team has not had any direct talks with the US during the recent negotiations in Vienna, Foreign Ministry Spokesman Saeed Khatibzadeh told reporters in a press conference in Tehran.
"Some messages have been received through (EU Deputy Foreign Policy Chief) Enrique Mora in written and unwritten forms since the beginning of talks in Vienna on the issues of negotiation (and nothing more) and the answers have been given immediately," the spokesman said.
"Despite its claims, the US has not yet made any tangible proposals or text to the G4+1", Khatibzadeh said.
Iran makes any efforts to reach an agreement in the talks, he said, adding that if the other side offers a tangible text, an agreement can be reached in the shortest possible time.
He went on to say that the Iranian team just thinks about achieving results in the talks but they do not trust the US intentions, and unfortunately certain members of the European troika.
Source: Fars News Agency
Please click the following URL to read the full text of the original story:
https://www.farsnews.ir/en/news/14001002000548/FM-Iran-N-Accep-Excessive-Demands-in-Vienna-Talks
--------
Iranian Companies to Develop Transportation Cooperation with Syria
2021-December-23
Such cooperation is important for foiling the sanctions, Khazim said during the meeting in Damascus on Thursday.
He also called for setting a framework for the expansion of Damascus-Tehran relations in land and air transportation.
In a relevant development earlier this month, Iranian Vice-President for Parliamentary Affairs Mohammad Hosseini underlined that Tehran is ready to implement reconstruction projects in Syria.
Hosseini made the remarks in a meeting with Syria's Ambassador to Tehran Shafiq Dayoub.
The Iranian vice-president pointed out that Tehran and Damascus have signed agreements in political and economic sectors but were unable to implement them due to several reasons, including the COVID-19 pandemic.
Source: Fars News Agency
Please click the following URL to read the full text of the original story:
https://www.farsnews.ir/en/news/14001002000520/Iranian-Cmpanies-Develp-Transprain-Cperain-wih-Syria
--------
Southeast Asia
Yahya Cholil Staquf a Progressive Muslim Scholar Elected Leader of Indonesia's Influential Nahdlatul Ulama
Arlina Arshad
24 December 2021
SINGAPORE - A revered Islamic scholar hailed as a "symbol of the new generation" has been elected chairman of Nahdlatul Ulama (NU), Indonesia's influential Muslim group and the world's largest Islamic organisation.
Mr Yahya Cholil Staquf, 55, defeated incumbent and two-term chairman Said Aqil Siradj and three other candidates in a tightly-contested race on Friday (Dec 24) at NU's national congress .
His late father Cholil Bisri co-founded Indonesia's major Islamic political party, the National Awakening Party (PKB), and his younger brother is religious affairs minister Yaqut Cholil Quomas.
"Not only is he younger (than Mr Said), his thinking is also more progressive. NU members are bored of the current administration and want to see change," Mr Muh Taufiqurrohman, senior researcher at the Jakarta-based Centre for Radicalism and Deradicalisation Studies, told The Straits Times.
"Mr Yahya's focus will be on how to empower NU members and provide welfare, while Mr Said had been focused on involving NU in national politics," he said.
Mr Yahya's election had raised questions over whether the organisation of more than 90 million followers would further entrench itself in domestic politics, and exert any influence over foreign policy.
He is after all no stranger to the government. As a member of the Presidential Advisory Council in 2018, he had advised Indonesia's leader Joko Widodo on religious, domestic and international matters.
Mr Said, his 68-year-old predecessor, was perceived as key in bringing NU closer to politics.
Save in 1999 when former NU chairman the late Abdurrahman Wahid, became Indonesia's president, NU leaders had generally not played a crucial role in politics in the last two decades. But in 2019 President Widodo picked former NU leader Ma'ruf Amin as his running mate in the election, not only sealing his victory, but marking NU's return to serious politics
The PKB, NU's political vehicle, currently occupies 58 seats in the 575-strong House of Representatives, and boasts four ministers.
But NU has always been supportive of the government historically, said Mr Taufiqurrohman.
"NU has no option. It has to be political if it wants to make a big change in Indonesia because the change can mostly be done through politics," he added.
In the context of global engagement, analysts noted that Mr Yahya leans politically towards the US, while Mr Said has been known to be friendly towards China.
Mr Yahya co-founded the US-based organisation Bayt ar-Rahmah, or The Home of Divine Grace, aimed at expanding NU's operations in North America, Europe and the Middle East.
In 2018, he received backlash at home when he visited Israel on the invitation of the American Jewish Community Global Forum. Indonesia has no formal diplomatic ties with Israel and has long opposed its occupation of Palestinian territory.
NU, under Mr Said, has been criticised for being seemingly less vocal about China's alleged oppression of Uighur Muslims in Xinjiang.
Analysts believe Mr Yahya has enough political savvy to not take sides, aligning with Indonesia's foreign policy, and will maintain good relations with China.
In fact, the reformist refers to settle disputes through dialogues, unlike Mr Said who tends to be vocal against radical or extreme groups, said Mr Taufiqurrohman, but his closeness to the US means he would be able to work well with it in countering terrorism threats.
Mr Robi Sugara, executive director of the non-governmental organisation Indonesian Muslim Crisis Center, said: "But there's a possibility he might pay less attention to issues in China such as Uighur Muslims, as compared to the Taliban in Afghanistan."
One certainty, analysts say, is that the NU will advocate religious tolerance and pluralism under the leadership of Mr Yahya, continuing the approach taken by Mr Said. It will also promote Islam Nusantara or "Islam of the Archipelago", NU's brand of moderate Islam which incorporates local customs and traditions in understanding the faith.
Mr Robi said the challenge for the new chairman is to find a way to replicate NU's success in Indonesia to Muslim societies elsewhere.
Source: Straits Times
Please click the following URL to read the full text of the original story:
https://www.straitstimes.com/asia/se-asia/progressive-muslim-scholar-elected-leader-of-indonesias-influential-nahdlatul-ulama
--------
Israel-Indonesia normalization discussed by US Sec. of State Blinken
DECEMBER 24, 2021
US Secretary of State Antony Blinken raised the possibility of Indonesia normalizing their diplomatic relations with Israel in meetings with officials in Jakarta last week, Israeli officials said on Thursday, Walla reported.
Indonesia, the world's most populous Muslim-majority country, was one of the countries the Trump administration tried to bring into the Abraham Accords fold, though negotiations had stalled by the time Trump's term concluded.
The Abraham Accords were the landmark normalization agreements signed between Israel and several other Muslim-majority countries, such as the UAE and Bahrain, that up to that point had no formal diplomatic ties with Israel and sought to keep that status quo. Donald Trump's administration spearheaded the talks, which culminated in deals between Israel and four other countries.
The US and Israeli officials have discussed ways to expand the Abraham Accords in recent months – and Indonesia has come up in that context, according to the Israeli officials.
While Israeli officials stressed that no deal is close, there have been unofficial progress made behind the scenes: During the original Abraham Accords negotiations, Indonesia requested an upgraded trade deal with the US in return for taking steps to normalize ties with Israel – such as opening direct flights and issuing visas to Israelis – according to former Trump administration officials.
"We are always exploring additional opportunities for normalization, but we'll leave those discussions behind closed doors until the right moment," State Department spokesperson Ned Price told Axios. Another senior US official said the Biden administration was working "quietly but quite assiduously" to expand the accords.
The Southeast Asian country of Indonesia is the world's fourth-most populous country with roughly 270 million inhabitants – a vast majority of whom are Muslim. Consisting of over 17,000 islands – most notably the tourist hub Bali – it is the 14th-largest country by area and the largest island region on the planet.
Indonesia declared independence in 1945 – just a few years before the State of Israel was officially founded – after battling with colonial powers that dominated the nation for over 350 years.
Indonesia does not have diplomatic relations with Israel, which is common among Muslim-majority countries and has actively supported Palestine.
J Post
Please click the following URL to read the full text of the original story:
https://www.jpost.com/israel-news/article-689666
--------
President Jokowi officialises new office of Indonesian Mosque Council
24 December 2021
Jakarta (ANTARA) - President Joko Widodo (Jokowi) inaugurated the new office building of the central board of the Indonesian Mosque Council (DMI) here on Friday.
"With this new office, I am optimistic that the DMI would be more enthusiastic in making mosques as a place of prayer for Muslims as well as a center for education, dawah, and deliberation," Jokowi said at the DMI inauguration broadcast on the Presidential Secretariat's YouTube Channel.
In addition to the mosques' function as places of worship, the president is sanguine that mosques can be a place for learning, sermon, social welfare, and discussions that strengthen the nation's unity and bond.
According to the president, a mosque is a place for dawah that disseminates religious wisdom for the people to realize charity and kindness. Mosque also becomes a place for sowing Islamic values as blessings for the universe.
"Hence, mosques can contribute to our country's civilization that builds great human resources with noble character," Jokowi added.
Furthermore, the president was on the same page as DMI Chairman, Jusuf Kalla, who believes that mosques should function to bolster the economy among Muslim communities.
"Mosque really develops a mutamaddin community that is empowered economically, politically, and culturally," he pointed out.
Hence, Jokowi explained that mosques can work along with the government to reduce the rates of unemployment, poverty, and social inequality to enhance the aspect of togetherness.
Source: Antara News
Please click the following URL to read the full text of the original story:
https://en.antaranews.com/news/206201/president-jokowi-officializes-new-office-of-indonesian-mosque-council
--------
Sources: Thailand, BRN Rebels to Resume In-person Peace Talks Next Month
2021-12-23
Malaysia next month will host the first face-to-face talks in nearly two years between Thailand and southern BRN rebels, sources from both sides said Thursday about in-person negotiations that were disrupted by the COVID-19 pandemic.
The high-level talks brokered by Malaysia are expected to resume after a surge in clashes in late 2021 between Thai government forces and suspected rebels from Barisan Revolusi Nasional (BRN), the most powerful separatist group in Thailand's majority-Muslim Deep South.
"We will resume in January if all goes well," a source on the Malaysian side familiar with the peace negotiations, but who requested anonymity, told BenarNews.
"It will be a face-to-face discussion in Kuala Lumpur," said the source who was not authorized to speak to the media.
Thai officials and BRN representatives last met virtually in February 2021, and the last face-to-face discussions – two rounds of them – took place in Kuala Lumpur in March 2020, around the time of the first full-blown onset of the coronavirus pandemic in Malaysia.
Gen. Wanlop Rugsanao, the chief Thai negotiator, did not immediately reply on Thursday to calls from BenarNews seeking comment.
The provinces of Narathiwat, Pattani and Yala – as well as four districts of Songkhla province –make up Thailand's Deep South, a predominantly Muslim and Malay region on the border with Malaysia.
A leader of an umbrella group of 32 civil society organizations in the Deep South, however, said Thailand and the BRN would likely meet in the Malaysian capital in the coming weeks.
"As far as we heard from insiders, there will be a meeting of Thailand's peace talk panel and the BRN in Kuala Lumpur, likely on Jan. 11," Ruckchart Suwan told BenarNews by phone on Thursday, but declined to name his sources.
Meanwhile, the commander of Thai army's 4th Region, which covers the Deep South, and officials with ISOC-4, the regional operations command, are involved at a "working level and technical level" to discuss a possible peaceful solution to the conflict with the private sector and in-country insurgents, ISOC officials told BenarNews without going into detail.
More than 7,000 people have been killed in the southern border region since the BRN and other armed separatist groups renewed their decades-old insurgency against Buddhist-majority Thailand 17 years ago.
Increase in attacks since September
Ruckchart, who is based in Yala, went to parliament on Thursday to join an opposition MP in proposing that a House committee be set up to "to follow up on the progress of the existing peace talks."
A "big budget was spent on many talks and it is necessary to have a committee to monitor the process," Ruckchart said.
The Thai legislature may include the proposal for consideration during the next session in early 2022, opposition lawmaker Kamolsak Leewamoh said in parliament.
A month after the last in-person discussions between Thai official and BRN representatives, the rebel group declared a unilateral ceasefire in April 2020 to allow Thai health workers to combat the COVID-19 pandemic.
Despite the ceasefire – which was never formally declared over – a few sporadic attacks, which were blamed on the insurgents, took place earlier this year.
This past September, a noticeable uptick in violence began after a message linked to the BRN and posted on Facebook urged combatants to "resume self-defense operations" because, it alleged, security forces were conducting "summary executions despite COVID difficulties."
Source: Benar News
Please click the following URL to read the full text of the original story:
https://www.benarnews.org/english/news/malaysian/thai-deep-south-peace-talk-to-resume-12232021124825.html?3A934554-F40D-4749-BF02-B40F30B9FDFD_kav_cup_C6FA3ED5_6D17_47D1_B6E2_F4B02CC905E0_
--------
Africa
Moroccans stage rallies on first anniversary of US-brokered normalization with Israel
23 December 2021
Hundreds of Moroccans have staged demonstrations to express their resentment and reiterate support for the Palestinian cause on the first anniversary of the US-sponsored normalization of diplomatic relations between the North African country and Israel.
People from all walks of life participated in rallies across the country on Wednesday night, as they heeded a call by the "Moroccan Front in Support of Palestine and Against Normalization," which reportedly includes 15 political, union and human rights organizations that have voiced solidarity with Palestine and denounced Morocco's normalization of ties with the Tel Aviv regime.
The demonstrators chanted slogans in condemnation of the normalization, and demanded the reversal of the agreement, which they described as "ominous."
The protesters shouted "Morocco is my free land and Zionists must leave," "Palestine is resisting while regimes are normalizing", "We love Palestine with all our hearts," and "No to normalization."
Moroccan security forces then intervened to disperse the crowds, especially in the capital Rabat and the western port city of Casablanca.
"Zionist occupiers of Palestine seek to occupy Morocco as well, and sabotage it economically, politically and socially," Abdel Samad Fathi, a protester, said.
Fathi underscored that the "Moroccan Front in Support of Palestine and Against Normalization" resolutely opposes normalization of relations with Israel, and calls on all Moroccans to reject it.
Israel and Morocco agreed on December 10, 2020 to normalize relations in a deal brokered with the help of former US President Donald Trump's administration, making the North African country the fourth Arab state last year to strike a normalization deal with the regime. The others were the United Arab Emirates, Bahrain and Sudan.
Former Trump sealed the agreement in a phone call with Morocco's King Mohammed VI. As part of the agreement, the US president agreed to recognize Morocco's sovereignty over the Western Sahara region, which has been at the center of a dispute with neighboring Algeria.
Algeria cut diplomatic ties with Morocco in August, citing "hostile actions."
The Algerian Foreign Ministry later rejected Trump's stance, saying the US decision "has no legal effect because it contradicts UN resolutions, especially UN Security Council resolutions on Western Sahara."
Source: Press TV
Please click the following URL to read the full text of the original story:
https://www.presstv.ir/Detail/2021/12/23/673249/Moroccans-stage-rallies-on-first-anniversary-of-US-brokered-normalization-with-Israel
--------
Nigeria's Buhari vows to be 'hard' on terrorists
Olanrewaju Kola
23.12.2021
LAGOS, Nigeria
President Muhammadu Buhari vowed Thursday to go after terrorists and bandits in Nigeria's northeast and northwest regions.
"I have ordered and we have started receiving some military hardware, aircraft, armored cars, helicopters and we are going to be very hard on them," he said during a visit to Maiduguri.
The president said the security situation in the northeast has improved compared to 2014 and 2019 when Boko Haram held territories in the region.
But Buhari condemned bandits' attacks in the northwest. He said people from the same culture and background have been killing each other.
"What for?" he asked. "We are going to deal with them."
Buhari said Nigeria was placed in a position to liberate the African continent, and he urged the nation to work hard for the survival of the country.
Source: Anadolu Agency
Please click the following URL to read the full text of the original story:
https://www.aa.com.tr/en/africa/nigeria-s-buhari-vows-to-be-hard-on-terrorists/2456107
--------
Top US lawmakers condemn Sudan's military for use of violence
23 December ,2021
Top members of the US Congress condemned Sudan's military on Thursday over the recent violence used on pro-democracy protesters.
"The Sudanese people are losing faith and confidence in a now broken process that was designed to pave the way toward democracy, economic growth, and meaningful political reforms," a statement from Gregory Meeks and Michael McCaul read.
Thursday's comments come after increased use of force and violence was used reported against protests in Sudan demanding a transition to democracy.
"We strongly and unequivocally condemn the Sudanese military's violent crackdown against pro-democracy protestors and other human rights violations. These actions further undermine the civilian-led transition in Sudan," Meeks and McCaul said.
Earlier this week, it was reported that Sudan's premier, Abdalla Hamdok, would announce his resignation. If he follows through, Hamdok would be stepping down just weeks after Sudan's military overthrew his government.
Although he struck a deal with the top general, Abdel Fatah al-Burhan, Hamdok appears to be frustrated by a lack of support for his efforts to transition to a civilian-led government.
Protesters have also rejected the deal reached between the civilian-led government and the military.
Source: Al Arabiya
Please click the following URL to read the full text of the original story:
https://english.alarabiya.net/News/world/2021/12/23/Top-US-lawmakers-condemn-Sudan-s-military-for-use-of-violence
--------
Tunisian president warns of 'assassination plans' against some officials
Mehmet Nuri Uçar
24.12.2021
TUNIS, Tunisia
Tunisian President Kais Saied warned the public Thursday that plots are being prepared against some officials in the country, including assassinations.
"According to the Minister of the Interior, there is even a recording of a phone call that specifies the day of the assassinations," Saied said in a video message on the Facebook page of the Tunisian Presidency.
He urged the people of Tunis to remain vigilant against "the plots of some traitors."
Saied did not share any information about who the alleged plotters were.
His remarks came as a group called "Citizens Against the Coup" comprising prominent people including some members of parliament, declared that they will go on a hunger strike in protest against Saied's July 25 power grab.
Former Tunisian President Moncef Marzouki also announced that he would "symbolically" join the hunger strike.
Source: Anadolu Agency
Please click the following URL to read the full text of the original story:
https://www.aa.com.tr/en/africa/tunisian-president-warns-of-assassination-plans-against-some-officials/2456199
--------
North America
Biden quietly signs import ban targeting China's abuse of Uyghur Muslims
By Steven Nelson
December 23, 2021
President Biden signed a major bill targeting China's abuse of Uyghur Muslims off-camera and without media in the room Thursday, forcing press secretary Jen Psaki to deny he did so in order to spare the Chinese government's feelings.
"He signs bills on camera. Off camera sometimes, sometimes on camera," Psaki said. "We support the bill and obviously we've been leading the effort in the world to call out human rights abuses."
The Uyghur Forced Labor Prevention Act passed the House and Senate without opposition last week. The bill prohibits the importation of goods from China's northwest Xinjiang region unless the importer can prove it was not manufactured using forced labor.
The legislation also allows for sanctions against Chinese officials responsible for human rights abuses against the Uyghurs.
Rather than hold a public bill-signing ceremony, which might have included remarks by Biden chastising China's Communist government for detaining thousands of people in re-education camps, the White House announced the measure had been enacted in a brief email to reporters Thursday morning.
Thursday afternoon, by contrast, Biden hosted a public bill-signing ceremony for legislation that seeks to improve treatments for people with amyotrophic lateral sclerosis — better known as ALS or Lou Gehrig's disease — with $100 million in annual funding.
Biden hailed the overwhelmingly bipartisan support for the Accelerating Access to Critical Therapies for ALS Act — without mentioning the bipartisan Uyghur bill that he signed earlier.
"When we act together we get things done and this is totally, totally, totally a bipartisan effort," Biden said in praise of the ALS bill.
Beijing has been accused of carrying out a cultural genocide against the Uyghurs, with harrowing reports from witnesses describing atrocities including torture, rape and forced abortion.
Biden has taken a seemingly soft touch on other matters sensitive to the Chinese government. For example, he didn't press Chinese President Xi Jinping for transparency on the origins of COVID-19 during a 3 1/2 hour virtual summit last month.
Biden smiled last week and walked away after listening to a question from The Post about why he hasn't done more to push China for transparency on the origins of the pandemic after 800,000 US deaths.
The US intelligence community said in August that it's possible the virus leaked from the Wuhan Institute of Virology, calling the theory one of two "plausible" explanations, in addition to a natural transfer from animals to humans.
Biden has also kept many of former President Donald Trump's policies toward China in place for now, including tariffs on Chinese goods and sanctions on Chinese officials for eliminating Hong Kong's autonomy, as well as sanctions against officials for mistreating Uyghurs.
Trump said in a recent interview with Fox News journalist Maria Bartiromo that Biden hasn't pressed China on coronavirus origins because "he's afraid of" Xi due to his son Hunter Biden's business interests in China.
"So they have something on him?" Bartiromo asked.
"Yeah. Of course they do," said Trump, who is teasing a 2024 rematch against Biden.
Hunter Biden's attorney Chris Clark said last month — less than one week after his father's summit with Xi — that the first son divested a 10 percent stake in a Chinese investment fund controlled by state-owned entities.
The firm, called BHR Partners, was registered 12 days after Hunter joined then-Vice President Biden aboard Air Force Two for a 2013 trip to Beijing. The entity was influential in facilitating a 2016 deal in which a Chinese company bought a Congolese cobalt mine from US and Canadian companies. Cobalt is a key material for electric car batteries.
The first son's lawyer has provided no information on the divestment, including the identity of the person or entity that acquired his stake, the date of the transaction and the dollar amount. Psaki recently said the White House would not be providing details on the transaction and referred The Post to Hunter's attorney, who did not respond to requests for information.
Biden said last year that members of his family would not hold any business role that conflicts with "or appears to be in conflict" with his job as president, but until his lawyer's statement, the White House had repeatedly said the first son was still working to "unwind" his Chinese holdings.
Source: New York Post
Please click the following URL to read the full text of the original story:
https://nypost.com/2021/12/23/biden-quietly-signs-import-ban-targeting-china-uyghur-abuses-into-law/?BB3E30A4-8A63-A44D-9675-4F2C198E323A_kav_cup_C6FA3ED5_6D17_47D1_B6E2_F4B02CC905E0_
--------
The influence of the Muslim Brotherhood and its affiliates inside and outside the United States
December 23, 2021
By Dr.Nadia Helmy
The Muslim Brotherhood has a great influence on the American interior, and they have had relations with Washington for 70 years. From the point of view of the American historian (William Engdahl), he sees that the Muslim Brotherhood is just a tool and a means used by Washington to employ them for its interests. Especially because the Brotherhood's international organizations possess international Islamic networks and institutions that have influence on certain parts of the world, and entanglements with other political systems or individuals and other political organizations. Therefore, the (political employment game of the Muslim Brotherhood) began with the CIA, with its dealings With the Brotherhood since former Egyptian President "Gamal Abdel Nasser" expelled them from Egypt in the fifties, and they had relations before that with British intelligence, so the American intelligence is trying to exploit their capabilities and employ them politically, considering that they are a well-known entity for the Americans. That is why you always find in Washington those who insist on the rise of the Muslim Brotherhood, and even its support at the start of the Arab Spring revolutions, and of course the United States has a long experience in (the employment of political Islam groups, led by the Muslim Brotherhood, and the exploitation and exploitation of their lust for power for the benefit of successive American administrations).
And by virtue of my knowledge of a large number of studies and researches of American think tanks, there appeared new leaks confirming (the United States of America re-employed political Islam groups and the Muslim Brotherhood politically to oppose and fight communist China and then Russia in the Arab and Islamic world, the Middle East, Asia and Africa). And the Americans considered, in documents issued by the American National Security Departments, that "the Muslim Brotherhood is an advanced tool and spearhead for fighting the influence and penetration of the Communists, mainly China and then Russia, in the Arab countries and some of the Asian and African countries in which Islam spreads to confront communism". This matter takes us back exactly, as (Hitler) did in a previous era with the Muslims of some Asian republics and employed them politically at the time to confront Russia. The leader "Hassan Al-Banna", founder of the Muslim Brotherhood, warned "Hitler" in his memoirs that "Hassan Al-Banna" is more dangerous because of the violent radical ideology that his idea carries as the founder of the Muslim Brotherhood in its early beginnings, while the Nazi leader "Hitler" on the other hand, was in contact with "Good" is one of the leaders of the political organization in Palestine, "Amin Al-Husseini", and all of them were linked by one circle of extremism and extremism to support the agenda of the United States of America, Europe and the West to achieve its interests in the region. The well-known Canadian "son of Johnson" in his famous book of "A Mosque in Munich".
Therefore, we will find at the present time that the relationship of the United States of America and the CIA with the currents of political Islam has begun to grow again with political Islam groups and the Muslim Brotherhood in the forefront of them, as an attempt to use them to (change the map of the Middle East under the cover of spreading democracy, human rights and opposing political regimes, And then interfering in the internal affairs of countries), which are justifications and pretexts that experiences proved to be unsuccessful, especially after the failure of the American-backed Arab Spring revolutions in Egypt, Tunisia, Libya and Sudan, and consequently the weakening of the influence of the Muslim Brotherhood and its arms within the region.
But, the new goal of the American administration is to escalate Islamic fundamentalisms and the Muslim Brotherhood is no longer, in fact, its goal is the Arab world and the Middle East in particular, but the farthest goal was China and Russia, given the state of American fear of China as the next pole in America's dispute over its control of the world, and Russia and its defiance of US and NATO influence in Ukraine and Central Asia, and its assistance and support to China through its alliance with it.
Source: Modern Diplomacy
Please click the following URL to read the full text of the original story:
https://moderndiplomacy.eu/2021/12/23/the-influence-of-the-muslim-brotherhood-and-its-affiliates-inside-and-outside-the-united-states/
--------
San Antonio mosque spearheads $150,000 reward for missing 3-year-old Lina Sadar Khil
December 23, 2021
A $150,000 reward is now being offered for information that leads to finding missing 3-year-old Lina Sadar Khil, who vanished from a playground at her family's apartment complex in northwestern San Antonio on Monday evening.
The Islamic Center of San Antonio, a mosque that Lina's father would occasionally attend, originally offered a $10,000 reward on Wednesday morning, but that number shot up to $100,000 by Thursday evening as charities and private individuals started pitching in, according to a spokesperson for the mosque, Mike Martin.
"This is not just coming from the community — this is also from local charities, non-Muslim organizations, and non-Muslims throughout the city," Martin told Fox News.
"Everybody is coming together over this. There's good people all over and there's people that understand that it's not a faith-based delineation. If somebody is in need, we help them."
Crime Stoppers of San Antonio is also offering a $50,000 reward for information that leads to finding Lina and locating the suspect or suspects responsible for her disappearance.
Lina's family moved to San Antonio in 2019 after fleeing Afghanistan from "threats that were posed to us," her father told KENS-TV.
The 3-year-old girl was on a playground Monday evening at the family's apartment complex in northwestern San Antonio when her mother briefly left the area. Lina had vanished when her mother returned.
"We continue to deploy an all hands on deck approach to ensure no evidence, witness statement or clues are left undiscovered," the San Antonio Police Department said Thursday.
Lina's disappearance is still considered a missing person case, not an abduction, San Antonio Police Chief William McManus said Wednesday.
Despite the case being officially classified as a missing person case, an FBI unit that specializes in crimes against children is on the scene in San Antonio.
"The FBI regularly engages with its local law enforcement partners in efforts to protect our community," an FBI San Antonio Field Office spokesperson told Fox News Digital. "San Antonio Police Department Headquarters continues to lead the interagency efforts to recover missing child, Lina Sardar Khil, with the support of the FBI's resources, to include the Child Abduction Rapid Deployment Team."
Helicopters have been flying over the area while law enforcement officers go door-to-door and review hours of surveillance video. K-9s that specialize in finding missing persons have also been involved in the search.
Source: Fox News
Please click the following URL to read the full text of the original story:
https://www.foxnews.com/us/san-antonio-mosque-organizes-135000-reward-for-missing-3-year-old-lina-sadar-khil
--------
Intel apologizes for pushing Xinjiang ban over Muslim abuse complaints
December 23, 2021
Intel apologized Thursday for asking suppliers to avoid sourcing goods from Xinjiang after the world's biggest chipmaker joined other foreign brands that face the fury of state media over complaints of abuses by the ruling Communist Party in the mostly Muslim region.
Intel's request was "arrogant and vicious," said Global Times, a newspaper published by the ruling party.
The reference to Xinjiang in a letter to suppliers was aimed at complying with US regulations, Intel said on its social media account. Washington has barred imports of goods from Xinjiang over complaints of mass detentions, forced abortions and forced labor, which Beijing denies.
Tension over Xinjiang is rising as activists call for a boycott of February's Winter Olympics in Beijing, a prestige project for the ruling party. The White House says the United States won't send dignitaries. Beijing on Wednesday barred four members of a U.S. government religious freedom panel from China in retaliation for sanctions imposed by Washington on two Xinjiang leaders.
"So-called forced labor and other allegations on Xinjiang are completely lies concocted by anti-China forces," said a foreign ministry spokesman, Zhao Lijian. He called on Intel to "respect facts and tell right from wrong."
Some commenters online, where comments the ruling party doesn't want are deleted by censors, called for a boycott of Intel products.
Intel processor chips are used in smartphones, computers and other products.
The letter caused "concerns among our cherished Chinese partners, which we deeply regret," said an Intel statement.
"We apologize for the trouble caused to our respected Chinese customers, partners and the public," the company said.
Other companies including retailer H&M and shoe brand Nike have been targeted for criticism and calls for boycotts after expressing concern about Xinjiang or saying they would stop using materials produced there.
The Chinese government rejects complaints of abuses in Xinjiang, but companies say they are unable to carry out independent audits of factories and other workplaces.
Pop singer Wang Junkai, also known as Karry Wang, announced Wednesday he was pulling out of a deal to act as "brand ambassador" for Intel's Core line of processor chips.
Wang's move is a "fresh warning siren to Intel and other foreign companies that seek to undermine China's core interests while also trying to profit from the vast Chinese market," said Global Times, which is known for its nationalistic tone.
Other singers, actors and other celebrities have broken ties with foreign brands that were targeted for criticism over Xinjiang, giving up millions of dollars in income to protect their careers from official retaliation.
Xinjiang is a major supplier of silica used in making computer chips. Intel has a chip factory in Dalian in China's northeast — its only one in Asia and one of four outside the United States. The company also has a research facility in Beijing.
Criticism by state media might prompt consumers to look at products based on chips from other suppliers. But there are few alternatives. The include Advanced Micro Devices Inc. of the United States for chips in desktop PCs and servers and Britain's Arm Ltd. for smartphones.
Source: New York Post
Please click the following URL to read the full text of the original story:
https://nypost.com/2021/12/23/intel-apologizes-for-xinjiang-ban-over-muslim-abuse-complaints/?E595307C-C3B0-4F43-A899-BAB8F9452229_kav_cup_C6FA3ED5_6D17_47D1_B6E2_F4B02CC905E0_
--------
Europe
French anti-Muslim candidates target Armenia to galvanize supporters
DEC 22, 2021
Two leading challengers to President Emmanuel Macron in France's presidential elections have made high-profile visits to Armenia in recent days, as the destiny of the Christian Caucasus nation becomes a campaign issue.
Just over a year after Armenia was defeated by Azerbaijan in the 2020 war over control of the Azerbaijani territory of Nagorno-Karabakh, candidates on the right are keen to burnish their support for the country.
Far-right pundit Eric Zemmour, known for his diatribes against Islam and immigration, headed to Armenia earlier this month shortly after declaring his candidacy in the April 2022 elections, declaring Armenia to be a country of "martyrs" that was in danger.
He was followed this week by the candidate of the right-wing Republicans (LR), Valerie Pecresse, seen by some analysts as the biggest threat to Macron in the elections and who has surged in polls since she was nominated by her party.
In an election campaign so far dominated by the right, support of Armenia, the first state in the world to adopt Christianity as a state religion in the fourth century, has become a symbol of commitment to conservative values.
Analysts say that candidates are not just angling for votes from the hundreds of thousands of Armenians in France but also from Catholic conservatives deeply concerned by the fate of the Christians of the east.
In 2020, Azerbaijan liberated a large part of the Azerbaijani region of Nagorno-Karabakh, which ethnic Armenian separatists had seized as the USSR broke up. During last year's 44-day Karabakh war more than 300 settlements were freed from Armenian occupation.
Armenian forces could not match the greater might of the Azerbaijani military, which was also boosted by the use of highly sophisticated drones developed by its ally Turkey. The entry of the Azerbaijani Armed Forces into Shusha caused the Armenian Army to disperse. Armenia signed a declaration on Nov. 10, 2020, acknowledging its defeat and promising to withdraw its army from the provinces of Aghdam, Kalbajar and Lachin.
Analysts emphasize that the conflict with Azerbaijan was territorial rather than religious in nature. But Zemmour declared that Armenia is a "Christian nation in an Islamic Ocean." Pecresse's visit was meanwhile aimed at "giving to support to Christians just before Christmas," an aide told Agence France-Presse (AFP).
"We must mobilize all of Europe around this conflict, it is not a conflict in the Caucasus, it is a conflict that affects Europe because when Christians of the east are attacked, it is the foundations of European civilization that are under attack," far-right Pecresse told reporters in Yerevan.
Armenia is becoming a "new issue in a competition to capture the conservative Catholic electorate," said a report by the Jean Jaures Foundation. It said the French right had an "old tradition of protecting eastern Christians," such as supporting the Lebanese Christians during the civil war of the 1980s, or Christians in the Middle East during the ascendancy of the Daesh terrorist group from 2014-2015.
On the left, Socialist candidate Annie Hidalgo has not ruled out a visit to Armenia and in December opened an "Esplanade of Armenia," a walkway in the French capital, speaking of "Paris' unbreakable support of the Armenian people," although without evoking religion.
Macron has himself been vocal in his support of Armenia, tweeting this month after meeting both Armenian Prime Minister Nikol Pashinyan and Azerbaijani President Ilham Aliyev in Brussels: "We will never abandon the Armenians. We will always seek solutions for lasting peace."
Members of the 500,000-strong Armenian diaspora in France have mixed feelings about the surge of interest in the country, grateful for the support, but also fearing political exploitation.
"We do not want the Armenian cause to be closed up inside a conflict of civilizations that just serves domestic policy," said Jules Boyadjian, head of the French association Committee for the Defense of the Armenian Cause.
Pecresse and Zemmour are known in France and across the world as controversial personalities, who push for anti-migrant policies as well as racist rhetorics against the Muslim population in the country.
Earlier in December Pecresse voiced concern over the rise of what she called "Islamism" in France.
Source: Daily Sabah
Please click the following URL to read the full text of the original story:
https://www.dailysabah.com/world/europe/french-anti-muslim-candidates-target-armenia-to-galvanize-supporters
--------
Turkey pursuing 'proactive diplomacy': Foreign minister
Muhammet Tarhan
24.12.2021
Turkey is pursuing a "realistic foreign policy" based on the superiority of the diplomatic initiative over a wide geography, the country's foreign minister said Thursday.
"We have a proactive approach to diplomacy, not reactive, without letting events rule us," Mevlut Cavusoglu said at the closing ceremony of the virtual International Security Academy organized by the International Relations Association.
Cavusoglu stressed that the global security environment was getting increasingly fragile.
"After the Cold War, great power competition is fueling tensions in different regions such as Ukraine, the Balkans, the Black Sea, Taiwan, and the South China Sea. The effects of relatively modern challenges such as climate change, terrorism, cyber attacks, irregular migration and the pandemic are being felt everywhere," he said.
He underlined that in the current environment of rapid change, one of the most important points in international relations that has remained constant was the international order established after World War II.
"While software updates come to our mobile devices every few weeks, the fact that the international system has not been updated for 80 years makes it difficult for the system, especially the UN, to find solutions to problems," he said.
Cavusoglu pointed out that in the early days of the coronavirus pandemic, the "need for multilateralism" had emerged once again.
"We cannot say that a significant distance has been covered on this road in the last year. However, we see that concepts such as multilateralism and solidarity come to the fore, at least at the level of discourse," he said.
Russa, Ukraine, NATO relations
The Turkish top diplomat said during his speech that today, the rivalry between Russia and Ukraine as well as between Russia and NATO has reached "dangerous" levels.
"We will not ignore our principles and close relations with Ukraine just because we have extensive relations with Russia. In many difficult equations like this, we do whatever the spirit of the time and our national security require. It's hard work, but that's what diplomacy is for," Cavusoglu said.
In 2014, Russia began to support separatist forces in eastern Ukraine against the central government, a policy that it has maintained for the past seven years.
For the second time this year, Moscow reportedly concentrated military troops in and around Ukraine last month.
NATO and the EU have warned Russia that if it shows an aggressive attitude towards Ukraine, it will face a serious response and heavy sanctions.
Cavusoglu went on to say that NATO has also undergone a transformation, noting that it was trying to adapt itself to new developments and that the focus was on strengthening the political dimension in the NATO 2030 process.
He emphasized that Turkey, as the country with the second-largest military in NATO and fifth-greatest contributor to the alliance's operations and missions, plays an active role in these efforts.
Source: Anadolu Agency
Please click the following URL to read the full text of the original story:
https://www.aa.com.tr/en/europe/turkey-pursuing-proactive-diplomacy-foreign-minister/2456176
--------
Turkey, Montenegro agree to boost inter-parliamentary cooperation
Mustafa Talha Öztürk
23.12.2021
BELGRADE, Serbia
Turkey and Montenegro agreed Thursday to strengthen cooperation between their legislative assemblies.
Turkey's parliament speaker Mustafa Sentop met with his Montenegrin counterpart Aleksa Becic in the capital, Podgorica.
During the meeting, it was agreed that the common historical heritage between the two countries contributed to the continuous progress in relations between their parliaments.
The two sides also signed an inter-parliamentary cooperation agreement during Sentop's visit.
Underlining that the parliaments of the two countries were already in cooperation with each other, Sentop said the new protocol would strengthen its groundwork.
"We will have exchanged important information on sharing good practices and experiences in this regard. I think that this will especially benefit the work of our parliamentary teams and bureaucrats. In this way, we're going to deepen our relations at the parliamentary level."
For his part, Becic emphasized that Turkey-Montenegro ties were at "the highest level in history."
"At our meeting, we agreed that we've written the most beautiful pages of our long and rich common history with many meetings we held this year," he said.
He added that the Montenegrin diaspora in Turkey was an important and strong bridge of cooperation between the two countries.
Following the bilateral meetings, Sentop visited the historic Mehmet Fatih Madrasah in Tuzi, a small town in Montenegro, accompanied by the president of the Montenegro Islamic Union, Rifat Feyzic, and Turkey's ambassador to Montenegro Songul Ozan.
Source: Anadolu Agency
Please click the following URL to read the full text of the original story:
https://www.aa.com.tr/en/europe/turkey-montenegro-agree-to-boost-inter-parliamentary-cooperation/2456078
--------
Germany to step up Afghanistan evacuation efforts
Ayhan Simsek
23.12.2021
BERLIN
Germany will step up efforts to evacuate more than 15,000 former local employees, NGO staff, and human rights activists from Afghanistan, Foreign Minister Annalena Baerbock said on Thursday.
"As the foreign minister of the Federal Republic of Germany, I would like to underline that they have not been forgotten. We are working hard to get everyone to safety," Baerbock told a news conference in Berlin.
She said Germany's new government will reduce bureaucratic hurdles, simplify visa procedures, and intensify talks with neighboring countries to facilitate the evacuation of former local employees, their family members, and people at heightened risk of persecution.
Source: Anadolu Agency
Please click the following URL to read the full text of the original story:
https://www.aa.com.tr/en/europe/germany-to-step-up-afghanistan-evacuation-efforts/2456004
--------
EU calls for investigation into rape allegations in Sudan
Bahram Abdel Moneim
23.12.2021
KHARTOUM, Sudan
The European Union and Western countries on Thursday called on the Sudanese authorities to conduct an independent investigation into allegations that security forces raped demonstrators in the capital, Khartoum.
In a joint statement, the European Union Mission to Sudan, Canada, Norway, Switzerland, the United Kingdom and the United States "strongly condemn the use of sexual and gender-based violence as a weapon to drive women away from demonstrations and silence their voices."
"We urge the authorities to carry out a full and independent investigation into these allegations of violence and ensure perpetrators are held accountable regardless of their affiliation. Sudan's citizens must be afforded the right of freedom of political expression and assembly free from violence," the statement said.
It pointed out that "today, Sudanese women and their allies will take to the streets to march against the sexual violence and harassment, including rape that occurred during protests on December 19."
On Tuesday, the United Nations High Commissioner for Human Rights called on the Sudanese authorities to conduct a "rapid, independent and thorough" investigation into the "allegations" of raping 13 women and girls and sexual harassment of others by security forces during Sunday's protests.
Since Oct. 25, Sudan witnessed protests, in response to the military's dismissal of the transitional government and declaration of a state of emergency.
Prime Minister Abdalla Hamdok, however, was reinstated on Nov. 21 under an agreement with Abdel Fattah al-Burhan, the Sudanese army chief, in a move that aimed to resolve a political crisis that threatened to undermine Sudan's transition to democracy.
On Sunday, thousands of Sudanese staged protests in Khartoum to express their rejection of the political agreement with the military and demanded full civilian rule.
Source: Anadolu Agency
Please click the following URL to read the full text of the original story:
https://www.aa.com.tr/en/europe/eu-calls-for-investigation-into-rape-allegations-in-sudan/2455799
--------
URL: https://www.newageislam.com/islamic-world-news/army-veterans-killing-lynching-indian-muslims/d/126024
New Age Islam, Islam Online, Islamic Website, African Muslim News, Arab World News, South Asia News, Indian Muslim News, World Muslim News, Women in Islam, Islamic Feminism, Arab Women, Women In Arab, Islamophobia in America, Muslim Women in West, Islam Women and Feminism