New Age Islam News Bureau
26 Nov 2018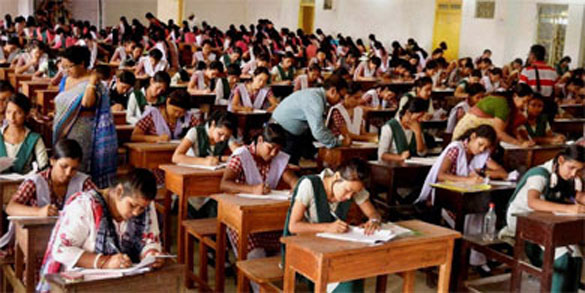 Representative image. Credit: PTI, The Gujarat government is using a mandatory online form to identify Muslim students
-----
• Archaeologists Discover 7,500-Year-Old Temple City in Kuwait
• Gujarat Government is Asking Muslim Students to Identify Their Religion, Parents Say
• Pak University VC Alleges Army Enrolling Jihadis, Faces Removal Petition
• US Looking At Tools at Its Disposal to Convince Pakistan to Crack Down On Terrorist Groups
• Al Shabab Gunmen Kill Cleric, 9 Others at Religious Centre in Somalia
• Chairman of the Indonesian Mosque Council Urges High-Ranking Officials to Lead Govt Mosques amid Extremism
Arab World
• Archaeologists Discover 7,500-Year-Old Temple City in Kuwait
• Ankara-Backed Terrorists in Afrin Using Civilians as Human-Shield
• Bahrain praises Saudi Arabia's leadership in supporting Arab, Islamic nations
• Syrian opposition leader: Iranian militias behind chemical attack on Aleppo
• Syria: Dozens dead in clashes between US-backed forces and ISIS
• Egypt upholds nine death sentences over prosecutor killing
• Russia strikes militants behind 'chlorine' attack on Syria's Aleppo
• Fresh US-led airstrikes kill over dozen Syrian civilians in Dayr al-Zawr
--------
India
• Gujarat Government is Asking Muslim Students to Identify Their Religion, Parents Say
• Ayodhya Build Up, an Open "Challenge" To Court: Says Muslim Law Board
• Six Lashker, Hizb terrorists among eight killed in encounter in J&K
• 3 ISJK 'terrorists' arrested in Srinagar with help of Delhi Police
• 26/11 attack: US announces $5 million reward for information on perpetrators
• India marks tenth anniversary of Mumbai terror attacks
--------
Pakistan
• Pak University VC Alleges Army Enrolling Jihadis, Faces Removal Petition
• MORA Suspends Madrasa Reforms Project Grant to Seminaries
• FM Qureshi welcomes India's decision to send ministers for Kartarpur ceremony
• Sikhs keen for good relations between India, Pakistan: US body's chief
• Sikh pilgrims gather at Punja Sahib for Guru Nanak's birth anniversary
• Sindh government invokes MPO ordinance to detain 156 TLP leaders and workers
--------
North America
• US Looking At Tools at Its Disposal to Convince Pakistan To Crack Down On Terrorist Groups
• More Republican Lawmakers Challenge Trump over Murdered Saudi Journalist
• Trump Makes Backing MbS 'Sound Easy' After Khashoggi's Death
• American Muslims' political empowerment after the midterm elections
--------
Africa
• Al Shabab Gunmen Kill Cleric, 9 Others at Religious Centre in Somalia
• Libyan Army Kills 12 IS Militants after Attack
• Jordan Border Guards Kill 4 Trying To Enter Kingdom
• Nigeria: Gumi Warns FG Against Continuous Detention of El-Zakzaky
• Nigerian soldiers lash out in video after bloody Boko Haram attack
--------
Southeast Asia
• Chairman of the Indonesian Mosque Council Urges High-Ranking Officials to Lead Govt Mosques amid Extremism
• Indonesia's 'Millennials Party' Draws Fire for Comments on Sharia Bylaws
• Nothing wrong with having separate canteens for Muslim students, says Kota Melaka MP
• China is creating concentration camps in Xinjiang. Here's how we hold it accountable.
--------
South Asia
• Taliban Ambush Police Convoy in Afghanistan, Killing 20
• Protest in Myanmar's Rakhine State Opposes Refugees Return
• Bangladesh police to grill man for 'running fake news websites' as election nears
• Ghani leaves Switzerland to participate in Geneva conference on Afghanistan
• Coalition forces reject involvement in commander Alipur's arrest in Kabul
• Afghan military reports progress in ongoing operations in Dasht Archi
• West and Muslim nations must gauge pent-up anger against Rohingyas
--------
Mideast
• Israel Re-Arrests Palestinian Jerusalem Governor
• Houthi Militias Strike Residential Neighbourhoods In Hodeidah
• Yemeni information minister calls for UN envoy to visit Houthi-ravaged Taiz
• Saudi-led attacks on Yemen's Hudaydah will destroy UN peace efforts: Ansarullah
• Yemeni ballistic missile hits military base in Asir region
• Yemen army stops Houthi advance towards south Hodeidah
--------
Europe
• Global Experts: Khashoggi's Death Used to Further Destabilize Middle East
• 2 Detained After Shooting near Austrian Embassy in Turkey
• Moroccan Intellectuals Oppose Controversial Islamist Preacher's Visit To Morocco
• Bosnia Arrests Islamist Militant on Terrorism Charges: Statement
Compiled by New Age Islam News Bureau
URL: https://www.newageislam.com/islamic-world-news/archaeologists-discover-7500-year-old/d/116987
--------
Archaeologists discover 7,500-year-old temple city in Kuwait
25 November, 2018
Archaeologists in Kuwait have uncovered a 7,500-year-old temple city in the northern coast of Kuwait Bay, according to Polish archeologists.
The discovery includes a temple and public plaza, indicating that a complex and advanced society may have existed in the area over seven millennia ago.
The archeological team, led by Professor Piotr Bielinski of the Polish Centre of Mediterranean Archaeology (PCMA) at the University of Warsaw, discovered the ancient structures at the Bahra 1 dig site.
"Indications suggest that it was a building with a cultic (religious) function and it combines elements of the Ubaid culture", said Professor Bielinski.
Although little is known about the Ubaid civilisation, it is believed that they were the first agricultural settlers in the region, which would later be known as Sumer.
Professeor Bielinski added that the spacing between the building "indicates town planning, which is very surprising at a site with such an early date".
The Bahra 1 site in eastern Kuwait is the largest discovered Ubaid settlement in the Arabian Peninsula.
Further investigation into the buildings could prove that they are the oldest of their kind ever discovered.
At least ten other structures and at least 16,000 pottery fragments have been found at the same site.
https://www.alaraby.co.uk/english/news/2018/11/25/archaeologists-discover-7-500-year-old-temple-city-in-kuwait
--------
Gujarat Government is Asking Muslim Students to Identify Their Religion, Parents Say
The Wire Staff
25 November 2018
New Delhi: The Gujarat government is using a mandatory online form to identify Muslim students appearing for their 10th and 12th standard Board examinations, Ahmedabad Mirror reported on Friday.
The online form asks the students whether they belong to the minority category. Once the student chooses the category, the form gives two further categories to identify themselves with: 'Muslim' and 'Others'.
The newspaper pointed out that although Gujarat has at least four other religious minorities – Christians, Sikhs, Buddhists and Jains – the Gujarat government is asking only Muslim students to identify themselves.
Each year, around 17.5 lakh students write the Board exams in Gujarat, conducted by the Gujarat Secondary and Higher Secondary Education (GSHSEB).
The students' parents who came to know of the discrepancy fear it is a deliberate attempt on the part of the Gujarat government to collect data on Muslim students.
A student's father who wanted to remain anonymous told the Ahmedabad Mirror, "The forms are usually filled by the school administration. I came to know after I went to school to fill up my child's form and saw that they had asked if we belong to the minority. When we clicked on "yes", it offered two options: "Muslims or Others". This left me wondering if the data gathered from online forms could be misused for something else. This has raised fear in me."
Also read: Oversight During RTE Implementation in Gujarat Has Bred Feelings of Caste Antagonism
An Ahmedabad-based Muslim restauranteur, whose son is appearing for his 12th Science examinations, told the Ahmedabad Mirror, "I am scared. Before 2002, a similar exercise was initiated by the Gujarat government where every police station was asked to identify Muslim businesses in their locality. My restaurant was singled out and burnt. It was revealed that rioters had used the census collected by the government and police. I am scared for my son now. Why is Gujarat government keen to know if the student is Muslim or not. What is the purpose?"
GSHEB chairman A.J. Shah told the newspaper that the same form had been in place since 2013. "I have seen this form in this format for past two years. There are other questions that seeks student's information including whether s/he is differently abled. So far, nobody has complained to me about details of Muslim students."
Vadgam MLA Jignesh Mevani called the action "unconstitutional". The Constitution does not allow any discrimination on basis of religion. "The BJP can't be trusted to put that data to any good, and thus, this gathering of data is also extremely worrisome. Moreover, it is very disgusting that they are reaping such divisive seeds in young minds. This action of the government is extremely disturbing and should be immediately rescinded," told Ahmedabad Mirror.
Patidar leader Hardik Patel said, "On one hand, BJP talks about nationalism and, on the other hand, it is show-casing its divisive nature. It is shocking that the BJP government is asking Muslim students to identify their religion. The BJP must treat all citizens equally and not discriminate on the basis of religion. It is the government, not the education department, which is at the helm of such divisive conspiracies."
Source: https://thewire.in/education/gujarat-government-is-asking-muslim-students-to-identify-their-religion-parents-say
--------
Pak university VC alleges army enrolling jihadis, faces removal petition
Nov 26, 2018
LAHORE: The Vice Chancellor of a leading university in Pakistan has come under fire for allegedly making controversial remarks against the country's powerful army saying that terrorists were making up to its top ranks.
A petition was filed Saturday with the Punjab province Governor and Chancellor of the University of Punjab Chaudhary Muhammad Sarwar, seeking the removal of the varsity's VC Niaz Ahmed for the remarks.
In the petition filed by one Muhammad Ali said that Ahmed, in a speech on campus, had claimed that the Pakistan Army was facing the challenge of terrorists making up to its top ranks.
"A terrorist had made up to high rank in the Pakistan Army. In fact, he was working for the Taliban and had killed many of soldiers during the Swat Operation (in 2009)," Ali alleged.
He also said that the VC further claimed that "in Swat, there was an army major, who went on leave three-to-four times and every time he told his subordinate soldiers not to retaliate to the Taliban's firing as per an understanding (undercover deal) between Taliban and the Army.
The petitioner said the VC instead of narrating stories of valour of the Pakistan Army martyrs, mentioned an incident which has no relevance.
He also said that slogans against the Pakistan Army were written on one of the underpasses at the varsity's campus but the VC did not take any action, and alleged that he patronises activists of Islami Jamiat Tulaba.
PU spokesperson Khurram Shahzad told PTI that the Vice Chancellor "did not meant anything that could harm repute of the institution of the army which is defending the boundaries of Pakistan".
He said in the ceremony, the Vice Chancellor highlighted the sacrifices of the Pakistan Army in 1965 war and his speech was taken out of context as all allegations against him are "baseless".
https://timesofindia.indiatimes.com/world/pakistan/pak-university-vc-comes-under-fire-for-his-remarks-against-army/articleshow/66802471.cms
--------
US looking at tools at its disposal to convince Pakistan to crack down on terrorist groups
Nov 26, 2018
WASHINGTON: Except for designating Pakistan as a state sponsor of terrorism, the United States is looking at all possible tools at its disposal to convince Islamabad to crack down on terrorist groups, a senior US official has said.
"The focus of the discussions has not been on designating Pakistan a state sponsor of terrorism, rather how to use other tools at our disposal to convince Pakistan that it is in its interest to crack down on terrorist groups," the administration official told PTI.
"Pakistan has a stark choice: Cooperate and enjoy the benefits of close relationship with the US and the rest of the world, or face international isolation if it chooses not to change its behaviour," the official said in response to a question.
This past week, US President Donald Trump – in an interview to Fox News, on twitter and in interaction with White House reporters – accused Pakistan of doing nothing for the US in the fight against terrorism and reiterated that till the time Islamabad changes its behaviour, his administration will continue to suspend all assistance to it.
"I want Pakistan to help us. We're no longer paying $1.3 billion to Pakistan. We're paying them nothing because that's what they've done to help us. Nothing," President Trump told reporters at the White House on November 20.
And on November 18, in an interview to Fox News, Trump alleged that people in Pakistan knew that Osama bin Laden was living in a mansion near their garrison city of Abbottabad, but they did not tell the US and kept on accepting billions of dollars in aid.
At the same time, he said that his administration hopes to have a "good relationship" with Pakistan.
Speaking on the condition of anonymity, his administration officials say they are looking at ways through which they can convince Pakistan to change its behaviour.
Last August, when Trump announced his South Asia Policy, White House officials had listed out some of these tools, like reviewing the major non-NATO ally status, or visa ban on officials having links with designated terrorist groups, adopting a tough posture against Pakistan at major international forums like the International Monetary Fund.
In January this year, Trump had announced to suspend all its security assistance to Pakistan. Last week, Pentagon said that so far it has suspended $1.66 billion in security assistance to Pakistan after Trump's January directive.
But the United States has not been thinking about designating Pakistan a state sponsor of terrorism, a demand being made by several American lawmakers including those from the ruling Republican party.
Currently four countries have been designated as state sponsor of terrorism. These are Iran, North Korea, Sudan and Syria.
Recent media reports suggests that US is considering Venezuela in this list.
However, in its latest Country Report on Terrorism, the State Department listed Pakistan among countries that provide safe havens to terrorists. President Trump and top US officials have expressed their frustration over the fact that Pakistan has not been taking concrete steps in this regard.
https://timesofindia.indiatimes.com/world/pakistan/us-looking-at-tools-at-its-disposal-to-convince-pakistan-to-crack-down-on-terrorist-groups/articleshow/66802523.cms
--------
Al Shabab Gunmen Kill Cleric, 9 Others at Religious Centre in Somalia
November 26, 2018
MOGADISHU: Al Shabab gunmen and a suicide car bomber struck a religious center in central Somalia on Monday, killing a cleric and at least nine of his followers, a police officer said.
"The militants killed 10 people including the cleric, teenagers and women who lived inside the camp," Police Major Abdirahman Abdullahi told Reuters by phone from the central city of Galkayo.
"Fighting between security forces and Al-Shabab still goes in the center, the toll may rise," he added.
Al Shabab, an Islamist group fighting to topple the Somali government, told Reuters they were responsible for the attack.
"A car bomb rammed into the center of the man who insulted the prophet. Our militants are now inside and fighting goes on," Al Shabab spokesman Abdiasis Abu Musab told Reuters.
Residents of Galkayo and a regional official said Abdiweli may have also been targeted because his center hosts mostly youths who play music and dance.
Al Shabab said last year the cleric had referred to himself as the Prophet, an accusation denied at the time by Abdiweli.
"We cannot know the figure of casualties right now. Al Shabab had threatened him many times," Abdirashid Hashi, the governor of Mudug region, told Reuters.
Al Shabab is fighting to establish its own rule based on its harsh interpretation of Islamic law. The group controls small sections on Mudug region, but it does not include Galkayo.
"Galkayo north has been very peaceful and the question is how armed militants with a suicide car bomb entered the town," Police Captain Nur Mohamed told Reuters from Galkayo.
http://www.arabnews.com/node/1411096/world
--------
Chairman of the Indonesian Mosque Council Urges High-Ranking Officials to Lead Govt Mosques amid Extremism
November 26, 2018
Vice President Jusuf Kalla has urged high-ranking government officials who have a deep understanding of Islam to lead government office mosques, following a recent study that found that dozens of mosques at government offices in Jakarta have been promoting extreme Islamic teachings.
Kalla, who also serves as the chairman of the Indonesian Mosque Council (DMI), said the appointment of high-ranking officials would prevent the spread of extreme teachings. At present, low-ranking officials lead most government office mosques in Jakarta.
"These appointments will serve as a filter [of the teachings of each mosque]," Kalla said during the council's meeting in Jakarta on Sunday, as quoted by kompas.com.
Earlier this week, State Intelligence Agency (BIN) spokesman Wawan Hari Purwanto, revealed that imams at 41 places of worship in government offices in Jakarta alone were preaching extremism to their congregations, who are mostly civil servants, AFP reported.
The number was based on a study released in July by the Nahdlatul Ulama's association of Islamic boarding schools and social development (P3M).
According to the report, at least 17 clerics were found to be expressing support or sympathy for the Islamic State (IS) movement, and were encouraging their congregations to fight for the Islamist group in Syria and Marawi, the Philippine city that was overrun by foreign IS fighters last year.
Responding to the report, Kalla said the council would ask for more information from representatives of the mosques. "We will ask each mosque, especially the ones located at government offices, to evaluate [their system]." (kuk)
http://www.thejakartapost.com/news/2018/11/26/kalla-urges-high-ranking-officials-to-lead-govt-mosques-amid-extremism.html
--------
Arab World
Ankara-Backed Terrorists in Afrin Using Civilians as Human-Shield
Nov 25, 2018
The Arabic-language service of Hawar news reported on Sunday that the militants have also planted bombs in the houses of civilians to detonate them if the Turkish army approaches them.
Meantime, reports said that a military convoy of the so-called National Free Army affiliated to the Turkish army has recently arrived in Afrin to help end infighting among the Ankara-backed militants.
An informed source said that Ankara plans to quell the terrorist groups which oppose Turkey's policies in Northern Syria, adding that these clashes would spread from Afrin to the Northern parts of Aleppo, including al-Ra'ei and Jandaris.
In a relevant development last Sunday, the Turkish army and its allied militants engaged in intense infighting in occupied Afrin region in Northwestern Aleppo.
The Turkish army commandoes assisted by a number of their allied militants started fierce clashes with Tajamo'a al-Sharqyah, another Ankara-backed militant group, in the occupied town of Afrin.
The army and its allied militants further closed off the entire roads to Afrin and laid siege on several neighborhoods, while heavy exchange of fire was reported in al-Filat street.
The clashes inflicted a number of causalities on both sides and also on civilians.
The clashes came after some of the Ankara-backed militants refused to obey Turkish troops' military orders in region.
http://en.farsnews.com/newstext.aspx?nn=13970904000164
--------
Bahrain praises Saudi Arabia's leadership in supporting Arab, Islamic nations
November 26, 2018
DUBAI: Bahrain's Foreign Minister Khalid bin Ahmed praised Saudi Arabia's leading role in supporting Arab and Islamic nations, Saudi Press Agency reported on Sunday.
The foreign minister said Bahrain continued to stand with Saudi Arabia under King Salman's leadership and the Kingdom's role in improving security and stability in the region.
His comments came as Saudi Crown Prince Mohammed bin Salman visits Bahrain on his tour of the Arab region which began earlier this week.
The prince landed in Manama on Sunday for the second leg of his tour after visiting the UAE.
Full report at:
http://www.arabnews.com/node/1411071/saudi-arabia
--------
Syrian opposition leader: Iranian militias behind chemical attack on Aleppo
26 November 2018
Iran's militias were behind the chemical attack targeting Aleppo, and they seek to abort the Sochi deal in Idlib, the head of the High Negotiations Committee, Naser al-Hariri, told al-Hadath news channel.
The High Negotiations Committee is an umbrella body which was created to represent the Syrian opposition in the planned Geneva peace talks in 2016.
This comes after government shelling killed nine people on Saturday in Syria's rebel-held Idlib, while state media said insurgent shells wounded dozens in Aleppo causing breathing problems.
The deal to create the demilitarized zone staved off an army offensive against the Idlib region, including nearby parts of Aleppo and Hama provinces.
Earlier this month, Moscow accused insurgents of trying to wreck the deal, while rebels accused the Syrian army and its allies of attacking the region.
Abdul-Salam Abdul-Razzaq, the military commander of the National Liberation Front (FNL), said that the opposition had no chemical gases or capabilities to launch them. "This is a lie, the revolutionaries do not have a chemical weapon or laboratories to equip it, and they do not have most of the means of use," he said in a tweet.
"The Iranian presence in Syria and in the south in particular is unprecedented. Iran has recently established many military sites, headquarters, training centers and others," said Hariri, who was recently re-elected as head of the negotiations committee.
Full report at:
https://english.alarabiya.net/en/News/middle-east/2018/11/26/Syrian-opposition-leader-Iranian-militias-behind-chemical-attack-on-Aleppo.html
--------
Syria: Dozens dead in clashes between US-backed forces and ISIS
25 November 2018
Heavy clashes between ISIS extremist group and US-backed forces in eastern Syria killed dozens of civilians and fighters in the past two days, a monitoring group said.
With the help of US jets and special forces, the Syrian Democratic Forces (SDF) alliance is battling the remnants of ISIS in an enclave near the Iraqi border.
The SDF restored positions it had lost to attacks in recent days, the Syrian Observatory for Human Rights said. Battles raged on the eastern bank of the Euphrates river on Sunday.
"The SDF did regain back a lot of territory lost the other day," Colonel Sean Ryan, spokesman for the US-led coalition, told Reuters. "Both sides took casualties."
Iraqi security forces are securing the border so no fighters can escape, he added.
The SDF, which the Kurdish YPG militia leads, has seized vast territory from the jihadists across northern and eastern Syria, where some 2,000 US troops are stationed.
SDF officials were not immediately available for comment.
ISIS self-proclaimed caliphate has crumbled after different offensives in Iraq and Syria, but its fighters still operate in the desert border region and mount attacks.
Syrian state news agency SANA said coalition warplanes killed 14 people "in a new massacre" in al-Shaafa village. Air strikes had killed 20 other people, including nine children, in the nearby town of Hajin, it said a day earlier.
The US-led coalition says it seeks to avoid civilian casualties and investigates any allegations. Colonel Ryan said on Saturday that strikes were limited and had not affected civilians.
The UK-based Syrian Observatory for Human Rights put the death toll at 31 civilians in the past two days, as well as 50 ISIS and 79 SDF fighters.
ISIS released a graphic video overnight showing its militants beheading a hostage and threatening the families of SDF fighters.
Its media outlet Amaq on Saturday said the extremists staged attacks on two fronts, killing dozens of Kurdish milita fighters and taking 30 others hostage.
Full report at:
https://english.alarabiya.net/en/News/middle-east/2018/11/25/Syria-Dozens-dead-in-clashes-between-US-backed-forces-and-ISIS.html
--------
Egypt upholds nine death sentences over prosecutor killing
25 November 2018
An Egyptian court on Sunday upheld death sentences for nine people convicted of the murder of a top prosecutor in a car bombing three years ago, a judiciary source said.
Hisham Barakat was killed in June 2015 when a bomb struck his convoy in Cairo after extremist calls for attacks on the judiciary to avenge a crackdown on the Muslim Brotherhood.
Two years later, an Egyptian criminal court sentenced 28 people to death for their involvement in his murder, with only 15 defendants present in court for the verdict at the time.
On Sunday, Egypt's court of cassation confirmed the death sentence for nine of the 15, while reducing the sentences of the six others to life imprisonment, the judicial source said.
The verdicts of the other defendants were not considered because they had been sentenced in absentia.
No one claimed the attack against Barakat but the authorities pointed the finger at members of the outlawed Muslim Brotherhood of ousted president Mohamed Morsi.
Full report at:
https://english.alarabiya.net/en/News/middle-east/2018/11/25/Egypt-upholds-9-death-sentences-over-prosecutor-killing-.html
--------
Russia strikes militants behind 'chlorine' attack on Syria's Aleppo
Nov 25, 2018
Russia has carried out airstrikes against militants it held responsible for firing shells filled with chlorine gas at Syria's northern city of Aleppo.
Russian Defense Ministry Spokesman Major General Igor Konashenkov said on Sunday that Russian strikes had destroyed all of militant hideouts and targets in the region.
"Air strikes were carried out by Russian air force planes," Konashenkov said in comments reported by TASS state news agency.
Konashenkov pointed out that Russia carried out strikes after finding evidence they could use such weapons again.
The spokesman said Russia had warned Turkey of the bombing raid in advance via a telephone hotline.
Elsewhere in his remarks, Konashenkov pointed to repeated warnings from Russia that the so-called White Helmets volunteers in Idlib were staging chemical attacks in order to blame them on the Syrian government forces. The group is a Western-backed organization which stands accused of working with Takfiri terrorists and staging false-flag chemical weapons attacks in Syria.
The militant attack hit al-Khalidiya neighborhood in the government-held city on Saturday, foreign news agencies and state television reported, saying close to 100 people have been hospitalized.
Doctors said most of those admitted to hospitals have breathing problems and blurred vision. State TV showed footage of medical professionals treating men and women on hospital beds.
Russia said the chemical attack had been launched from an area in the Idlib de-escalation zone controlled by the Jabhat Fateh al-Sham, formerly known as al-Nusra Front, Takfiri terrorist group.
In a statement, Russia's Ministry of Defense said it planned to talk to Turkey about the incident since Ankara was a guarantor of how the militants there upheld a ceasefire.
In the past, the United States and its allies have been using as pretexts to carry out missile strikes against Syria.
The first such attack came in April 2017, when US President Donald Trump ordered US Navy warships in the Mediterranean to fire a total of 59 Tomahawk cruise missiles at a Syrian airbase.
About a year later, Trump and French President Emmanuel Macron, and British Prime Minister Theresa May authorized a joint missile attack against alleged chemical weapons manufacturing sites inside Syria.
The latter attack, which came in response to what the US and its allies had insisted was another chemical attack in Douma on the outskirts of Damascus, saw 105 cruise missiles being fired from sea and air at Syrian government targets.
Syria finished dismantling its stockpiles of chemical weapons in 2014 under a joint mission led by the United Nations and the Organization for the Prohibition of Chemical Weapons.
Full report at:
https://www.presstv.com/Detail/2018/11/25/581124/Syria-Aleppo-Russia
--------
Fresh US-led airstrikes kill over dozen Syrian civilians in Dayr al-Zawr
Nov 25, 2018
More than a dozen civilians have lost their lives and sustained injuries when the so-called US-led coalition purportedly fighting the Daesh Takfiri terrorist group carried out a number of aerial attacks in Syria's troubled eastern province of Dayr al-Zawr.
Local sources, speaking on condition of anonymity, told Syria's official news agency SANA that the airstrikes targeted the town of al-Shaafah, which lies in the Abu Kamal district of the province, on Sunday evening, leaving 14 people dead.
The sources added that the victims were all members of the same family.
The development came only a day after twenty civilians, including women and children, were killed in US-led coalition airstrikes against the town of Hajin.
Local sources, requesting anonymity, told SANA that nine children and eight women were among the dead after the strikes targeted a local market.
Earlier on Saturday, SANA reported another coalition strike in the same province, where 11 civilians, including three women and five children, were killed.
On November 13, the Syrian Ministry of Foreign Affairs and Expatriates condemned a recent airstrike by the so-called US-led coalition against the eastern town of al-Shaafah, which left more than 60 people dead and injured, arguing that the massacre clearly pointed to the fact that members of the military alliance had no respect for moral values, international rules and regulations besides the lives of innocent civilians.
The ministry, in two separate letters, addressed to United Nations Secretary General Antonio Guterres and the rotating president of the UN Security Council Ma Zhaoxu, called on the Security Council to fulfill its responsibilities and stop US-led aerial assaults.
It also asked the world body to propose an international, independent and impartial mechanism to investigate the crimes being perpetrated by the so-called US-led coalition.
The letters noted that the coalition was deliberately targeting Syria civilians and making use of internationally banned weapons, including white phosphorus bombs, in Syria.
The ministry stressed that the so-called US-led coalition airstrikes were meant to kill as many Syrian people as possible, prolong the ongoing Syrian conflict, destroy the country's infrastructure and undermine its sovereignty and territorial integrity in flagrant violation of all UN Security Council resolutions on Syria.
Full report at:
https://www.presstv.com/Detail/2018/11/25/581111/Fresh-USled-airstrikes-kill-over-dozen-Syrian-civilians-in-Dayr-alZawr
--------
India
Ayodhya Build Up, An Open "Challenge" To Court: Says Muslim Law Board
November 25, 2018
LUCKNOW: Terming VHP's "Dharm Sabha" and visit of Shiv Sena President Uddhav Thackerey to Ayodhya an open "challenge" to Supreme Court, All India Muslim Personal Law Board (AIMPLB) Sunday said a situation is being created against the Muslims.
"It is not the matter of giving a mosque but its a matter of principle that how many mosques will we have to sacrifice gradually. If we talk to someone, it will withdraw and another one will come. Sri Sri Ravishankar had offered that we should construct a big mosque outside Ayodhya. But later he cornered himself. Just imagine, what had happened, we entered into an agreement with him," AIMPLB General Secretary Maulana Wali Rehmani said while talking to PTI.
"VHP's dharm sansad and visit of Mr Thackerey and similar such programmes, a situation is being created against Muslims and its also an open challenge to the judiciary (SC)," he said.
On Samajwadi Party chief Akhilesh Yadav's statement that Army should be brought in Ayodhya, Rehmani said "his demand is not unjustified especially keeping in mind the role of the state police and biased action against Muslims."
"In such a scenario, it seems Akhilesh is disappointed with the police and has demanded deployment of Army there. Government will be responsible for communal tension, if any," he added.
Mr Yadav had on Friday said, "The Supreme Court should take notice of the situation in Uttar Pradesh. It should seriously consider the matter and bring in the Army, if required... as the BJP and its allies can go to any extent."
On talks to resolve the Ayodhya issue, Mr Rehmani said, "as far as talks are concerned we are asked to make mosque outside Ayodhya. This is like dictating terms".
There is no talk like "kuch tum peeche hato, kuch ham" (Both compromise a little), he added.
Stating that "compromise on Babri mosque" has many drawbacks, Mr Rehmani said, "First, it will be said that if Muslims can leave claim of a mosque when why not on second, third, fourth and so on..Secondly, even if maximum Muslims parties sign for giving mosque's land what's the guarantee that non-signatories will not raise for another mosque."
Asked whether attempts to rake up temple issue is becoming successful, Mr Rehmani said: "There is not doubt the Hindu brothers are taking is as a pure politics. But certainly the foundation movement on which Hindus are being targeted is becoming successful.
"Only the time will tell, how much it succeeds," he added.
Mr Rehmani said a AIMPLB meeting is proposed in Lucknow on December 16 in which the present situation in Ayodhya will be discussed, though it is not in the agenda.
He however, ruled out any need for emergent meeting of AIMPLB on the issue.
https://www.ndtv.com/india-news/ayodhya-build-up-an-open-challenge-to-court-says-all-india-muslim-personal-law-board-1953155
--------
Six Lashker, Hizb terrorists among eight killed in encounter in J&K
Nov 25, 2018
SRINAGAR: In another blow to Pakistan-based Lashker-e-Taiba and Hizbul Mujahideen, six of its terrorists, including a Pakistani involved in slaughtering of civilians, were killed in an encounter on Sunday, along with a soldier and a civilian, in a village of South Kashmir's Shopian district, police said.
The police said that based on a credible input about the presence of terrorists in Batagund area of Kapran of Shopian district, a cordon and search operation was launched in the night jointly by the police and security forces in the area.
As the searches were going on, the terrorists fired upon the search party which retaliated effectively leading to an encounter.
"Initially, one jawan of 34 RR sustained injuries in the exchange of fire. He was evacuated to the hospital and is stated to be stable now," the police said.
"Another jawan identified as Nazir Ahmad of 34 RR who was grievously injured in the final phase of the encounter has succumbed and attained martyrdom," the police added.
One militant was identified Mushtaq Ahmad Mir of Shopian who, the police said, was involved in motivating innocent youths into the terrorist fold and also demanding money from public for strengthening Lashker cadre.
The others were identified as Mohammad Abass Bhatt and Khalid Farooq Malik, from Shopian, Umar Majeed from Kulgam, Mohd Hameed Wagey and a Pakistani terrorist, Kafeel.
"It was an intelligence based operation in which six terrorists were eliminated. They were involved in gruesome killing of civilians and security forces," Inspector General of Police (Kashmir range) Swayam Prakash Pani said after the encounter.
"We have been able to made a considerable dent in terror groups operating in the Valley," Pani said.
Two days back, a module of six terrorists of these two terror groups was eliminated in Bijbehara in South Kashmir which included one man, who was wanted in assassination of journalist Sujaat Bukhari.
In another encounter, a Jaish-e-Mohammed terrorist code named 'Waseem' was killed in a separate encounter with security forces at Khrew in Awantipura district of South Kashmir.
In the Shopian encounter, the Pakistani terrorist code named Kafeel was involved in the killing of a civilian who was kidnapped from Shopian and his throat was slit. The video of this gruesome act was uploaded on social networking sites.
"All the killed six terrorists were wanted by the law for their complicity in a series of terror crimes, including attacks on security establishments and civilian killings in the area. With their elimination, all notorious terrorists of the belt have been successfully eliminated," the police said.
As per the police records, Mushtaq Ahmad Mir alias Hammad had a long history of terror crimes since 2014. He was a close associate of terrorist commander Zeenat-ul-Islam and was involved in several terror attacks on security establishments and civilian killings.
Mohammad Abass Bhatt was earlier convicted for a murder case and sentenced for five years.
After his release in April 2016 he joined terrorist ranks and was involved in several terror-related crimes and according to police records he was involved in the recent spate of gruesome killings of civilians in Shopian, including the decapitation of 19-yearsold Huzaif Ashraf.
He was wanted for killing of young officer trainee Lt Omar Fayaz, advocate Imtiyaz Khan and four police personnel at Shopian in August this year and many other civilian killings in the area.
Umer Majid Ganai, who had escaped from Batmaloo encounter and whose photo was recently circulated on social media showing him near clock tower Lal Chowk, was involved in the killing of several policemen and civilians in the area since 2016.
He was involved in Pombai Bank guard attack case in which four policemen and two banks guards had lost their lives in 2017.
Mohd Waseem Wagay alias Saifullah was involved in several terror crimes in the area and attacks on the security establishments. He was part of a terror group involved in the killing of four police personnel in August this year at Shopian and so was Khalid Farooq.
Full report at:
https://timesofindia.indiatimes.com/india/six-lashker-hizb-terrorists-among-eight-killed-in-encounter-in-jk/articleshow/66797596.cms
--------
3 ISJK 'terrorists' arrested in Srinagar with help of Delhi Police
Nov 25, 2018
SRINAGAR: The police here claimed on Sunday to have arrested three suspected terrorists at a checkpoint in Srinagar's Lal Chowk in the afternoon with the help of the Delhi Police special cell.
A police spokesman said Srinagar Police, acting on specific inputs, busted an IS-inspired module and arrested three terrorists with the assistance of the Delhi Police.
"At a naka, a party of Srinagar police intercepted motorcycle-borne terrorists who were moving through the Kothi Bagh area.
Police, acting swiftly, apprehended the motorcyclist and the other two associates," the spokesman said.
The police said it had recovered three grenades and two pistols from the operatives who, they said, belonged to a newlycreated outfit called Islamic State of Jammu and Kashmir (ISJK). Two mobile phones, an "ISIS black flag" and a Pulsar motorcycle were also seized.
The spokesman identified the terrorists as Tahir Ahmad Khan (24) of Chandrigam, in Tral; Haris Mushtaq Khan (23), a resident of Wathoora in Budgam; and Asif Suhail Nadaf (22), a resident of Rainawari, Srinagar.
"Police registered a case, FIR No 93/2018 PS Kothi Bagh, under RPC Section 307, and Secs 16 and 18 of the ULA (P) Act read with Sec 7/25 of the IA Act, in this regard. Further investigation in the matter is in progress," the spokesman said.
Khan, aka Abu Bakr, was a student of Jamia Millia Islamia in New Delhi and had quit studies to join the terrorists in 2017, a Delhi police statement said. He had graduated in the arts and had been pursuing a master's in art at the university. The group used chat applications like Telegram and Threema for encrypted communication within their ranks.
The arrests, the police said, had averted a grenade attack in Srinagar. The police said the three men had dug a big ditch in an apple orchard in Awantipora area which they had converted into a bunker where they would hide and stash away arms and ammunition. They had stocked the "bunker" with ready-to-cook food, an LPG cylinder and utensils.
Sunday's arrests come two months after two ISJK members from Shopian were arrested from near Red Fort in Delhi. They had given valuable intelligence on the other members of their module after which the police began a follow-up operation.
"On the intelligence developed by a team led by ACPs Lalit Mohan Negi and Hriday Bhushan, the J&K SOG laid a trap near the tourist reception centre in Srinagar. The terrorists were spotted and asked to surrender but they tried to escape after throwing a grenade at the police team. They were overpowered and arrested," a senior police officer said.
Interrogation yielded valuable information and raids were conducted at over a dozen hideouts of this module, leading to the picking of six overground workers for questioning.
The ISJK is believed to behind several attacks on security personnel in the valley. In July, three CRPF personnel were injured when the group lobbed a grenade at them in Anantnag. A sub-inspector and a police informer were killed in other attacks.
Full report at:
https://timesofindia.indiatimes.com/india/3-isjk-terrorists-arrested-in-srinagar-with-help-of-delhi-police/articleshow/66799839.cms
--------
26/11 attack: US announces $5 million reward for information on perpetrators
November 26, 2018
On the tenth anniversary of the 26/11 attacks, the United States on Monday offered a reward of $ 5 million for information leading to the arrest or conviction of any individual who was involved in planning or facilitating the assault. A total of 166 people, including Americans, were killed after 10 LeT terrorists unleashed a wave of violence in Mumbai in 2008. Nine of the attackers were killed by the police while lone survivor Ajmal Kasab was captured and hanged after he was handed a death sentence by a court.
"It is an affront to the families of the victims that, after ten years, those who planned the Mumbai attack have still not been convicted for their involvement," US Secretary of State Mike Pompeo said in a statement. "We call upon all countries, particularly Pakistan, to uphold their UN Security Council obligations to implement sanctions against the terrorists responsible for this atrocity, including Lashkar-e-Tayyiba and its affiliates."
"We stand with the families and friends of the victims, whose loved ones were lost in this act of barbarism, including six American citizens. The barbarity of 26/11 shocked the entire world," he said, expressing solidarity with the survivors of the attack. The United States, Pompeo said, is committed to seeing that those responsible for the attack face justice.
The announcement was the third such cash reward made available by the Department of State Rewards for Justice (RFJ) Program. "The United States is committed to working with our international partners to identify and bring to justice those responsible for the 2008 Mumbai attack," it said. Earlier the department had announced a bounty of $10 million for Lashkar-e-Tayyiba (LeT) founder Hafiz Mohammad Saeed and $2 million for Hafiz Abdul Rahman Makki, another senior leader of the group.
The State Department said anyone with information on this incident can contact the RFJ office via the website, e-mail (info@rewardsforjustice.net), phone (800-877-3927 in North America), or mail (Rewards for Justice, Washington, D.C., 20520-0303, USA). Individuals may also contact the Regional Security Officer at the nearest US embassy or consulate. "All information will be kept strictly confidential," it said.
Full report at:
https://indianexpress.com/article/india/10-years-of-26-11-attack-us-announces-5-million-reward-for-information-on-perpetrators-5464334/
--------
India marks tenth anniversary of Mumbai terror attacks
26 November 2018
India marks the tenth anniversary on Monday of the Mumbai terror attacks that left 166 people dead and hundreds more injured.
On November 26, 2008 militants from Pakistan unleashed a wave of violence across India's financial capital that lasted three days and played out on TV news channels around the world.
They struck several targets in a series of co-ordinated attacks, including luxury hotels, the city's main railway station, a restaurant popular with tourists and a Jewish centre.
The ten attackers -- who were armed with AK-47 assault rifles and hand grenades -- belonged to Pakistan-based militant group Lashkar-e-Taiba (LeT).
Mumbai's police force will remember the more than a dozen officers who were killed, many while fighting the militants, in a ceremony starting at 09:30 am (0400 GMT).
Relatives of the victims will lay wreaths at a police memorial honoring the dead. The chief minister of Maharashtra state, of which Mumbai is the capital, will attend the ceremony.
Residents are also expected to pay their respects at Chhatrapati Shivaji Terminus where Mohammed Kasab, the only gunman caught alive, and another attacker killed almost 60 people and wounded at least 100 others.
The Taj Mahal Palace and Tower Hotel will hold a private service to remember the 31 people who died there.
Over 60 hours four attackers shot dead guests and hotel staff, detonated explosives and set parts of the building -- including its famous dome -- on fire.
The dramatic scenes were beamed live on television as Indian commandos battled the heavily armed gunmen and guests tried to escape out of windows using bed sheets.
India's security forces only retook control of the hotel on the morning of November 29.
More than 30 people also died at the Oberoi and Trident hotels in a 42-hour siege involving shootings, explosions and hostage-taking.
Six hostages -- including the rabbi and his pregnant wife -- were also killed at Nariman House, a Jewish cultural and religious centre.
Full report at:
https://english.alarabiya.net/en/features/2018/11/25/Can-Iran-stop-the-rial-s-death-spiral-in-the-long-term-.html
--------
Pakistan
MORA Suspends Madrasa Reforms Project Grant to Seminaries
Nov 26, 2018
ISLAMABAD: The Ministry of Religious Affairs (MORA) on Sunday suspended a Rs40.22 million Madrassah Reforms Project grant to religious seminaries.
The ministry secretary has informed the chief secretaries of all provinces about the grant's suspension in this regard.
The heads of all the madaris have strongly condemned the move and asked the religious affairs minister to intervene.
According to sources at the ministry, the government has stopped the grant that was being released to madaris for modern education for the last 16 years.
Sources further informed that the ministry had released grants to 240 madaris after verification last year.
https://www.pakistantoday.com.pk/2018/11/25/mora-suspends-madrassa-reforms-project-grant-to-seminaries/
--------
FM Qureshi welcomes India's decision to send ministers for Kartarpur ceremony
November 25, 2018
Foreign Minister Shah Mahmood Qureshi on Sunday welcomed India's decision to send two of its ministers to attend the groundbreaking ceremony of the Kartarpur border crossing, Radio Pakistan reported.
The foreign minister said the Indian response to the peace initiative taken up by Pakistan has been positive.
On Wednesday, Prime Minister Imran Khan will perform the groundbreaking of the 4-km-long corridor connecting Dera Baba Nanak in India's Gurdaspur district with Gurdwara Kartarpur Sahib in Pakistan. The corridor will provide visa-free access to the Indian Sikh pilgrims to the shrine.
Lying dormant due to the tense relations between the two countries since 1988, the proposal to construct the corridor providing visa-free access to Sikh pilgrims had been renewed by Army Chief Gen Qamar Javed Bajwa in August this year.
Earlier, the Pakistan government had invited Indian Minister for External Affairs Sushma Swaraj, Indian Punjab Chief Minister Amarinder Singh, Congress leader Navjot Singh Sidhu besides 17 Indian journalists to the Nov 28 Kartarpur corridor groundbreaking ceremony.
The invitation was accepted with "unalloyed joy" by Sidhu, who termed the development as "historic". Who added that he had lodged an application with the Ministry of External Affairs for permission to attend the groundbreaking event.
"This day will indeed break ground," Sidhu said in his letter. "As our two nations take this first step, the Kartarpur Spirit can make pilgrims of us all, venturing out on a journey that breaks the barriers of history and opens the borders of the heart and the mind."
Meanwhile, the chief minister of Indian Punjab thanked Qureshi for the invitation but declined it in a letter addressed to the foreign minister.
Swaraj had earlier excused herself from attending the ceremony, citing "prior commitments" but had announced that India's Minister for Food Processing Industries Harsimrat Kaur Badal and Minister of State for Housing and Urban Affairs Shri Hardeep Singh Puri will attend the ceremony in Kartarpur Sahib as representatives of the Indian government.
In a late night tweet on Saturday, Swaraj had said, "We hope that the Government of Pakistan will expedite construction of the corridor in order to ensure that our citizens can pay their respects at the Gurudwara Karatpur Sahib using the corridor as soon as possible."
Qureshi expressed confidence that Kartarpur Corridor would attract members of Sikh community to Pakistan from across the world including the United States and the United Kingdom.
He said the Sikh community will be greeted here amid sentiments of love and would take back positive image about Pakistan and its people.
While the idea was shared by the army chief with the Congress leader and Indian Punjab minister Navjot Singh Sidhu during his visit to Pakistan in August for attending Imran Khan's oath-taking ceremony, the Pakistan government announced the date for the groundbreaking ceremony of the corridor only this week after the Indian Union cabinet agreed to avail the offer of the passageway in view of the 550th birth anniversary of the founder of the Sikh faith, Shri Guru Nanak Dev Ji, next year.
Full report at:
https://www.dawn.com/news/1447588/fm-qureshi-welcomes-indias-decision-to-send-ministers-for-kartarpur-ceremony
--------
Sikhs keen for good relations between India, Pakistan: US body's chief
Anwar Iqbal
November 26, 2018
WASHINGTON: Sikhs across the world want good relations between India and Pakistan as tensions between the two neighbours prevent them from visiting some of their holiest shrines, says the American Sikh community.
Among the Sikhs in North America, there's an almost universal welcome for Pakistan's decision to open the Kartarpur crossing and build a corridor between the two Punjabs to facilitate visits to Gurdwara Kartarpur Saheb.
"Are we happy? Happiness is a small word. We are absolutely thrilled and congratulate Pakistan for taking this historic decision," said Sardar Jasbir Singh, chairman of 'Sikhs of America' — the largest Sikh organisation in North America.
"This is a big khush khabri (good news) from Pakistan," said Baljinder Singh Shammi, a former president of the Sikh Association of Baltimore. "We have been working for it for decades. Finally, it happened."
On Wednesday, Prime Minister Imran Khan will perform the groundbreaking of the 4km-long corridor, which will provide visa-free access to Indian Sikh pilgrims to Gurdwara Kartarpur Sahib in Pakistan.
Kartarpur, which is about four kilometres from the Dera Baba Nanak shrine in Punjab's Gurdaspur district, was established by the Sikh Guru in 1522. The first Gurdwara, Kartarpur Sahib, was built here, where Baba Guru Nanak is said to have died.
"Every Sikh wants good relations with Pakistan. We have very strong ties with the neighbouring country," said Jasbir Singh. "Every day, we pray for Pakistan. We cannot do otherwise because some of our holiest shrines are there. Pakistan is also the main source of Punjabi culture and literature."
Jasbir Singh, who is also adviser to President Donald Trump on religious diversity, said Republican Pakistani leader Sajid Tarar "worked tirelessly with the North American Sikh community" to make this happen.
Mr Tarar said he decided to work on this project because he believed it would help improve relations between South Asia's two nuclear powers. "It is not just the Indians or Pakistanis who want good relations between these two countries. All peace-loving people across the globe want this," he said.
Jasbir Singh also welcomed India's positive response to the Pakistani proposal. "We want India and Pakistan to be like the United States and Canada," he said. "We want to have breakfast in Amritsar and dinner in Lahore."
Full report at:
https://www.dawn.com/news/1447708/sikhs-keen-for-good-relations-between-india-pakistan-us-bodys-chief
--------
Sikh pilgrims gather at Punja Sahib for Guru Nanak's birth anniversary
Amjad Iqbal
November 26, 2018
TAXILA: Gurdwara Punja Sahib echoed with religious slogans of Wahe Guru Ji Ka Khalsa, Wahe Guru Ji Ki Fateh on Sunday morning as pilgrims from across the world poured into the third most sacred place of Sikh religion in Hassanabdal to celebrate the 549th birth anniversary of Guru Nanak Dev.
Over 3,800 Indian Sikh pilgrims, 148 from United Kingdom, seven from UAE and thousands of Sikh and Hindu devotees from various parts of the country, especially Fata and interior Sindh, arrived at the gurdwara to perform their rituals which include Akhand Path, Ashnan, Matha Teak and Kirtan.
Elaborated security measures were taken in and around the gurdwara where dozens of officials from the security agencies were deployed.
Talking to the media, leader of the Indian pilgrims Marjeet Singh lauded the role of the Pakistani government in opening Kartarpur corridor. He said with the opening of this corridor, the Pakistani government had won the hearts of millions of Sikhs living on the other side of the border. The number of pilgrims had also increased compared to last year, he added.
Raminder Singh, leader of Delhi Sikh Gurdwara Parbandhak committee, lauded the steps taken by the Pakistani government for the upkeep and restoration of gurdwaras, adding that the latest step of opening the corridor would further cement relations between Pakistan and the Sikh community.
He added that the opening of the Kartarpur corridor would be a gift for the Sikh community by the governments of both sides. He said over 10,000 Sikh pilgrims would visit Pakistan on the occasion. He stressed the need for opening more corridors between the two countries, especially in Kashmir.
Sohan Singh, contingent leader from the Bhai Mardana Sikh committee, said every religion taught love, tolerance and respect for humanity. He appreciated Pakistani government's efforts for ensuring religious freedom for minorities and safeguarding sacred places and gurdwaras of the Sikh community.
However, leader of female contingent from India Manmohan Kaur expressed her displeasure over the mismanagement by the railways department as a result of which over 113 pilgrims were left behind at Nankana Sahib.
He said despite prior information, additional coaches were not attached to the trains. When the pilgrims protested, they were sent by buses after waiting for several hours in the cold weather. She said visa-free entry to Gurdwara Darbar Sahib Kartarpur would be a great facility for Sikh pilgrims.
Talking to mediapersons, Evacuee Trust Property Board (ETPB) Deputy Secretary Shrines Imran Gondal said mismanagement was due to the negligence of the railway authorities and the pilgrims' displeasure was communicated to the relevant authorities.
He said the government had decided to open a new cross-border corridor to allow Sikh pilgrims from neighbouring India to visit their gurdwara in Pakistan. He said this corridor would formally be inaugurated by Prime Minister Imran Khan on November 28 while Punjab Governor Mohammad Sarwar would host a reception in honour of the Indian Sikhs in Lahore on the 27th.
Full report at:
https://www.dawn.com/news/1447656/sikh-pilgrims-gather-at-punja-sahib-for-guru-nanaks-birth-anniversary
--------
Sindh government invokes MPO ordinance to detain 156 TLP leaders and workers
Imtiaz Ali
November 26, 2018
The Sindh government has invoked the 1960 Maintenance of Public Order (MPO) law to detain 156 leaders and workers of Tehreek-i-Labbaik Pakistan (TLP) for 30 days.
The MPO was promulgated by the governor of the then West Pakistan on Dec 2, 1960, during the martial law of Gen Ayub Khan. Since then this controversial law has regularly been used and misused by the successive governments.
According to police officials and documents obtained by Dawn on Sunday, the detainees were held after accusing them that they were in the 'habit' of creating an adverse law and order situation by blocking main roads and causing immense inconveniences to the citizens.
Most of them were arrested on Friday night over staging protest sit-ins in Karachi and other parts of Sindh soon after the arrest of their leader, Khadim Hussain Rizvi in Lahore.
Sindh government has issued orders to this effect on the request of police authorities.
The officials said that Sindh Inspector General of Police (IGP) Dr Syed Kaleem Imam on Saturday had written a letter to Sindh Home Secretary Abdul Kabir Kazi, requesting him to issue detention orders under Section 3 of Maintenance of Public Order, 1960.
Two deputy inspector generals (DIGs) of Karachi's West and East Zone and four DIGs of Hyderabad, Sukkur, Shaheed Benazirabad, and Mirpurkhas, respectively, had submitted their reports to the Sindh IGP, suggesting that TLP workers be detained under the relevant law to avoid any mishap and untoward incident.
A senior police official told Dawn that the home secretary had then issued orders for the detention of leaders and activists of the TLP, numbering a total of 156, of which most were apprehended from Karachi.
According to the detention orders issued by the home secretary: "The members of Tehreek-i-Labbaik Pakistan (TLP) are in the habit to harass the general public, instigating mobs against honourable Supreme Court of Pakistan in the judgement of Aasia Bibi case and challenging the writ of the State by blocking the public thoroughfares, damaging the public property and creating panic among the masses."
The orders continue to state: "They will create [an adverse] law and order situation and cause harassment amongst the general public, which will become [a] potential danger to public peace."
Therefore, under Section 3 (1) of the West Pakistan Maintenance of Public Order Ordinance, 1960 "the held workers of the religious party shall be detained for a period of thirty days from the date of their arrest".
Their custody shall be placed under the care of the superintendent of the Central Prison in Karachi. The detained shall be at liberty "to make a representation to the provincial government against this order", the orders further state.
The official added that apart from the detention of 156 leaders and workers of the TLP under MPO, 44 others have been arrested under Section 7 of the Anti-Terrorism Act, 1997, as they had allegedly resorted to violence near the Quaid's mausoleum on Friday night.
Full report at:
https://www.dawn.com/news/1447596/sindh-government-invokes-mpo-ordinance-to-detain-156-tlp-leaders-and-workers
--------
North America
More Republican lawmakers challenge Trump over murdered Saudi journalist
Nov 25, 2018
Several US Republican senators have again rejected President Donald Trump's defense of Saudi Arabia after the murder of Saudi journalist Jamal Khashoggi, with some lawmakers from his party saying Congress must take additional action.
Trump vowed last week to remain a "steadfast partner" of Saudi Arabia and said it was not clear whether Saudi Crown Prince Mohammed bin Salman knew about the plan to kill Khashoggi on October 2 at the Saudi consulate in Istanbul, Turkey.
The CIA believes bin Salman ordered the killing of Khashoggi, a US resident since 2017 and a columnist for the Washington Post who was critical of Saudi Arabia's de facto leader.
However, the US president has cast doubt on the CIA assessment, telling reporters that the intelligence agency had not formed a definitive conclusion.
"I disagree with the president's assessment. It's inconsistent with the intelligence I've seen," which implicates the crown prince, Republican Senator Mike Lee of Utah said Sunday on NBC's "Meet the Press."
He cited the Khashoggi killing as another reason why he has pushed against helping Saudi Arabia's war effort in Yemen.
Earlier this month, the United States imposed economic sanctions on 17 Saudi officials for their role in the killing of Khashoggi and senators from both major US political parties introduced legislation that would suspend weapon sales to Saudi Arabia over Khashoggi and for its devastating military campaign in Yemen.
US Representative Adam Schiff, a Democratic from California, has promised investigations on the Khashoggi case as well as whether Trump's personal financial interests are dictating his Saudi policy.
Schiff is in line to become chairman of the House of Representatives Intelligence Committee when Democrats regain control of the lower chamber of Congress in January.
"Look, the president is not being honest with the country about the murder of Jamal Khashoggi," Schiff said on CNN's "State of the Union" program. "What's driving this?"
Riyadh initially denied knowledge of Khashoggi's disappearance, then offered contradictory explanations.
Republican Senator Joni Ernst said it was very likely that bin Salman was involved in the murder, while acknowledging Saudi Arabia's importance as a strategic partner for the US.
"And if there are indicators that the prince was involved in this murder then we need to absolutely consider further action."
Republican Senator Ben Sasse, a frequent Trump critic, criticized Trump's stance on Khashoggi's killing as weak.
"Making the realist case is a different thing than being so weak that we failed to tell the truth, Sasse said on "Fox News Sunday." Crown Prince Mohammed "contributed to murdering somebody abroad and it is not strength to sort of mumble past that. Strength is telling the truth even when it's hard."
Other Republican senators, including Lindsey Graham, Rand Paul and Bob Corker, have been unsparing in their assessments of Saudi Arabia's involvement in Khashoggi's killing.
"I never thought I'd see the day a White House would moonlight as a public relations firm for the Crown Prince of Saudi Arabia," Corker, chairman of the Senate Foreign Relations Committee, wrote on Twitter after Trump's comments on Tuesday.
https://www.presstv.com/Detail/2018/11/25/581131/US-Trump-Congressional-Republicans-Jamal-Khashoggi-
--------
Trump makes backing MbS 'sound easy' after Khashoggi's death
Nov 25, 2018
It is not easy for US President Donald Trump to simply turn a blind eye to probable implication of Saudi Crown Prince Mohammed bin Salman in the murder of dissident journalist Jamal Khashoggi, says a US senator,
Maine Independent Senator Angus King slammed Trump's statement last week on Saudi Arabia during an interview on CBS on Sunday, saying it "was amazing because it made it sound easy."
"We do have to make these difficult decisions, but so far what they're doing is giving a pass to this guy, and I think it gives a pass to dictators around the world," he added. "That's the danger. It undermines our values and the authority of our values across the planet."
The CIA has reportedly concluded that the crown prince ordered the killing.
"You don't have to be the CIA to put things together and say, 'how could this have happened without the prince being involved?' He's in total control," King said.
Utah Republican Senator Mike Lee has said he has seen intelligence reports suggesting bin Salman ordered Khashoggi's assassination at the Saudi consulate in Istanbul last month.
"I disagree with the president's assessment. It's inconsistent with the intelligence I've seen," Lee said on NBC. "Intelligence I've seen suggests that this was ordered by the crown prince."
He further called for an end to US support for the monarchy's bombardment of impoverished Yemen.
"This unauthorized, unconstitutional war from our standpoint is not something we ought to be fighting," he said. "This is not an ally that deserves this kind of military intervention, especially because there's been no connection between the safety of the American people and our involvement in this war."
California Representative Adam Schiff also said he had been briefed by the Central Intelligence Agency about the Saudi plot, calling Trump "dishonest."
"I have been briefed by the CIA, and while I cannot discuss the contents of the briefing in any way, I can say that I think the president is being dishonest with the American people," Schiff said on CNN. "I don't know why. It's certainly not atypical… Frankly, the president has been dishonest with the country about a great many things. But I think what is most important here is we need to speak up for democratic values."
Trump has thrown his support behind the monarchy and bin Salman, citing economic relations with Riyadh and particularly his $110 billion deal with the kingdom.
"It causes our standing in the world to plummet. It telegraphs to despots around the world they can murder people with impunity, and that this president will have their back," Schiff said. "As long as they praise him, as long as they do business with him potentially, and that cannot be the guiding principle behind our foreign policy."
Nebraska Republican Senator Ben Sasse also slammed Trump for his unconditional Trump for Saudi on the pretext of trade.
"If you want to make a hardcore, realist case that there are places and times when ours and Saudis' interests temporarily align, and sometimes you have to work with bad guys in the world, there's a coherent, realist case to be made there," Sasse said on Fox News. "Making a realist case is a different thing than being so weak that we fail to tell the truth… (The crown prince) contributed to murdering somebody abroad, and it is not strength to sort of mumble past that. Strength is telling the truth even when it's hard."
Sasse is among senators briefed by the intelligence authorities on the matter.
"The report is really clear, and the president should be stronger," Sasse said. "That was a weak statement."
But Iowa Republican Senator Joni Ernst (pictured above) declined to criticize Trump over his response.
"I do think we need to look into [the Khashoggi killing] further… And we need to understand where the investigations are leading us. And I'm anxious to hear from a number of our intelligence agencies on this," she said. "Now, Saudi Arabia is a great strategic partner for us… It is an important country when it when it comes to the Middle Eastern region. We know that they are great projection platform for us. We understand that. However, we also are a very strong nation when it comes to human rights when it comes to the rule of law. And if there are indicators that the prince was involved in this murder then we need to absolutely consider further action."
Trump was meanwhile hailing his good ties with Riyadh and the low oil price.
"So great that oil prices are falling (thank you President T)," the president wrote. "Add that, which is like a big Tax Cut, to our other good Economic news. Inflation down (are you listening Fed)!"
Saudi Arabia has acknowledged the murder, yet left many questions unanswered.
Full report at:
https://www.presstv.com/Detail/2018/11/25/581134/Trump-makes-backing-MbS-sound-easy-after-Khashoggis-death
--------
American Muslims' political empowerment after the midterm elections
HATEM BAZIAN
Nov 26, 2018
American Muslim women have scored significant victories in the 2018 U.S. Midterm elections with both Ilhan Omar and Rashida Tlaib from Minnesota and Michigan winning their seats for Congress. Indeed, the dust has begun to settle on the U.S. midterm elections, and American Muslims over all have registered some significant gains at all levels of elected offices. "The Rise of American Muslim Changemakers: Political Organizing in the Trump Era," a report on the midterm elections prepared by CAIR, Jetpac, and MPower Change identified 276 Muslims who ran for public office in this cycle, 177 men and 99 women or 64 percent and 36 percent, respectively.
According to the recently published report, the total number of Muslims elected to office was 131, an impressive percentage just below 50 percent of all the candidates who ran ended up winning. This represents a very high and unique success rate considering the current cynical and Islamophobic atmosphere permeating the country. For Muslims and political parties alike, understanding and situating this development in the midterm elections is essential and what lessons can be deducted to better prepare for the 2020 cycle?
One key race that garnered most national attention from American Muslim communities is that of Dr. Abdul El-Sayed, who ran for the Michigan governor's office but lost. However, what is significant is that Dr. El-Sayed ran in the election while unapologetically Muslim: "Yes, I'm 33 years old. Yes, I'm Egyptian-American. Yes, I'm Muslim. We past that? Great. Now let's start talking about solutions to problems Michiganders face." Running for the governor's office of a major state is a significant development no matter what the results and for a new comer into the political process.
Ilhan Omar's representation
On the positive side, the next Congress will have the first Somali-American member, Ilhan Omar, who came to the U.S. more than two decades ago as a refugee and now has risen to the highest echelons of America's political elite. The same attitude of Dr. El-Sayed was evidenced in Ilhan Omar's campaign and readiness to embrace her Muslim identity as a decisive and guiding epistemic throughout and post-election.
Indeed, Ilhan Omar, who will be the first woman in hijab and one of the first two Muslim women to be elected to Congress in 2018, demonstrated this unapologetic and natural attitude. Ilhan began her acceptance speech in Minnesota on the eve of Nov. 6, with a universal Islamic greeting "As-salaam aleikum," then followed it by saying "Alhamdulillah, Alhamdulillah, Alhamdulillah," three times. Ilhan's greetings and Islamic expressions of gratitude garnered some negative reactions from the expected Islamophobic corners, but for the most part, it was celebrated in Minnesota and across the country. On the eve of the elections, Congresswoman-elect Omar posted on Twitter: "Congratulations to my sister @RashidaTlaib on your victory! I cannot wait to serve with you, inshallah," which also used the Islamic term "God Willing," one of the most commonly used phrases among Muslims. Here, the entry of Ilhan and Rashida into Congress reflects a shift not only concerning winning or losing elections but the arrival and inclusion of Muslims on their own cultural and epistemic terms.
The election of Rashida Tlaib
The second positive outcome was the election of Rashida Tlaib, the daughter of Palestinian immigrants, who before the 2018 victory became the first Muslim woman member of Michigan's state legislature a decade ago. A self-professed and unapologetic progressive, Tlaib is a grassroots organizer and a vocal critic of President Donald Trump and "was arrested two years ago for disrupting a Trump speech in Detroit."
On her part, Rashida Tlaib's victory witnessed another aspect of the emerging unapologetically Muslim, the identification rhetorically and culturally with her Palestinian background. "I ran because of injustices and because of my boys, who are questioning their identity and whether they belong. I've never been one to stand on the sidelines," Tlaib said during the campaign. Rashida's victory celebration reverberated and became "a source of pride for Palestine and the entire Arab and Muslim world," her uncle Bassam Tlaib commented after the election. In Detroit, Rashida's mother, family, and friends celebrated and danced and viewed the election of the first Palestinian American to Congress as a step in the right direction to represent both the local district's concerns and Palestinians in the diaspora.
From a political and organizational perspective, the 2018 midterm elections are a turning point for the American Muslim community due to the national scope and extensive mobilization at a grassroots level. More importantly, CAIR, Jetpac, and MPower Change report show that the American Muslim community was able to bring about "a significant rise in voter turnout." Furthermore, the "newly activated political base translated into direct political support in the form of votes, finance, or in-kind contributions," which turned to $16.2 million raised between the 2016-2018 election cycle, a critical qualitative and quantitative shift in the strategic investment of the community. The ability to raise such amounts for an election cycle gives the community an independent source of funding and readiness of Muslim candidate to take bolder positions while running for office. Elections and politics boil down to votes and funding for campaigns, the American Muslim community has demonstrated the ability to bring both into contests across the country.
The spectrum of Muslims running for office included African-Americans, Palestinians, Somali, Syrians, Pakistanis, Afghans, Latinos and other diverse sets of candidates that represent the changing demographics landscape in the country and reflect the potential for Muslims future political horizons. Indeed, the Muslim "political candidates were grassroots oriented, non-institutional, and often faced opposition from established political actors," but the wind of change that brought about victory at the ballot box will force political parties to reassess their strategies in the lead-up to the 2020 election cycle. The Republican Party has lost the American Muslim community and other minorities with their appeal to whites, old men and the uneducated population identity constructs.
Here, a note of caution is essential as this midterm election reflected a normal pattern in the U.S. election cycle since the party that holds the White House often loses seats in the Congress and Senate to the opposition party, the Democratic Party in this case. The challenge for the American Muslim community is whether it can continue to engage and activate the "new political bases" for the foreseeable future and sustain this drive financially. The report points out that "most American Muslim candidates reported that Trump-era Islamophobia motivated them to enter formal politics," and "their faith motivated their agenda, but did not define or limit it." Consequently, questions must be asked as to how the community harnesses the mass mobilization, grassroots organizing and financial contribution beyond a Trump's presidency and would a total embrace of the Democratic Party be sufficient for American Muslim empowerment.
The road ahead for the American Muslim community is tough and challenging, but the bold entry of Muslim candidates into the electoral fray and winning as Muslims is a significant development in the current Islamophobic social imaginary dominating the public discourse. Muslim "candidates reported that their faith values guided their social justice orientation by prioritizing human welfare and social equity" which moving forward, possibly, could be translated into a unique Muslim brand of social justice and engagement. Not to imply that a total shift to the Democratic Party is a safe harbor, far from it, as Democrats have exhibited as much Islamophobia and marginalization of communities of color as Republicans but they are far more sophisticated in using liberal discourses and demanding conformity on all issues.
Only against Trump?
In the age of Trump's Muslim ban, the Democratic Party today has embraced Muslims as a counter-narrative to white supremacy and nationalism, but the community must be aware that the utilitarian embrace is fraught with inherent contradictions and could be ephemeral or only momentary. The contradiction includes the insistence on Muslims acceptance of certain social norms, support of militarism, uncritical adoption of neoliberal economic modalities, interventionist foreign policy and the never-ending unconditional support for Israel.
Full report at:
https://www.dailysabah.com/columns/hatem-bazian/2018/11/26/american-muslims-political-empowerment-after-the-midterm-elections
--------
Africa
Libyan army kills 12 IS militants after attack
November 26, 2018
TRIPOLI - Libyan army and security forces killed 12 Islamic State militants near the southeastern town of Tazerbu after a deadly attack Friday, said a military source late on Saturday. "Joint forces of military battalions and security elements chased a number of remnants of the terrorists, who were hiding in the uninhabited site west of Tazerbu," the source said.
A number of armed vehicles were destroyed, and weapons and ammunition were confiscated, it added.
The small oasis town of Tazerbu witnessed a deadly attack on Friday when dozens of gunmen on armed vehicles targeted its police station and a number of government buildings. 8 people were killed and more than 15 others were injured.
The terrorists also took dozens as hostages before they withdrew from the area. The source said the army issued orders to "respond to and eliminate the terrorists who attacked Tazerbu and killed innocent people." The UN Support Mission in Libya on Saturday condemned the attack, calling on parties in the conflict to "immediately cease targeting civilians and civilian objects in compliance with International Humanitarian Law."
Tazerbu is one of the most important groundwater sources supplying western and central Libyan cities with water.
https://nation.com.pk/26-Nov-2018/libyan-army-kills-12-is-militants-after-attack
--------
Jordan border guards kill 4 trying to enter kingdom
Nov 25, 2018
Jordanian border guards killed four people and detained two others attempting to sneak into the kingdom Sunday, the army said, adding that it had also foiled two bids to smuggle drugs.
"An infiltration operation was foiled after watching six people attempt to cross the Jordanian (border)," an unnamed military official said in a statement.
"The rules of engagement were implemented leading to the death of four and the wounding of two others who were transported to the relevant authorities."
Separately, the army said "two bids to smuggle a large quantity of drugs" had been thwarted.
In the first operation, border guards confiscated 362,000 tablets of Captagon, a popular amphetamine, and 50,000 tablets of Tramadol, a powerful opiate-based painkiller.
In the second, they seized 28 bricks of hashish and 72,000 Captagon tablets.
The statement did not specify which neighboring country the smugglers or the infiltrators were coming from.
Jordan's army regularly announces that it has foiled attempts to infiltrate or smuggle drugs into the kingdom from neighboring Syria.
Some 650,000 Syrian refugees have registered with the United Nations in Jordan since fleeing their country's seven-year war, which started with anti-government protests in 2011.
Amman estimates the true number of refugees is closer to 1.3 million.
Jordanian authorities have arrested and imprisoned dozens of militants trying to sneak across the border to fight in Syria.
Captagon is one of the most commonly used drugs among fighters in the Syrian war.
But dozens of drug traffickers have also been detained by Jordanian authorities.
Full report at:
https://www.presstv.com/Detail/2018/11/25/581128/Jordan-army-border-drug-Syria-war-refugees-UN-
--------
Nigeria: Gumi Warns FG Against Continuous Detention of El-Zakzaky
26 NOVEMBER 2018
By John Shiklam
Kaduna — Famous Islamic cleric, Sheikh Ahmad Gumi, has warned that the continuous detention of the leader of the Islamic Movement in Nigeria ( IMN) also known as Shiite, Sheikh Ibrahim El-Zakzaky, portends serious security threat to the country.
Speaking in an interview with THISDAY in Kaduna yesterday, Gumi called on the federal government to release the IMN leader to avoid compounding the security challenges facing the country.
He said the government must learn some lessons from how the Boko Haram insurgency started.
Zakzaky has been in detention since December 2015, following a clash between his followers and the Nigerian Army in Zaria, Kaduna State. Over 350 members of the IMN were allegedly killed during the clashes.
Zakzaky's continuous detention, despite a court judgment ordering his release has led to frequent protests which often resulted in clashes with security agencies.
Gumi advised the federal government to release Zakzaky to avoid the emergence of another insurrection.
"Look at what we are facing now. Shi'ites are getting more militant. I have seen video clips of Shi'ites attacking and throwing stones at police officers. "This is a very serious development. Now they are not afraid of security agents, they want to revenge. In trying to revenge, they may start looking for weapons that would be effective.
"We are dealing with Boko Haram and now Shi'ites are coming up. I have been suggesting that their leader should be released. Look at the leader of (Indigenous People of Biafra (IPOB), Nnamdi Kanu, when he was released, the South-east became calm.
"If he were still in incarceration, the situation there would have been serious," Gumi said.
Speaking further, the Islamic cleric said the government must respect the court, order his release.
According to him, Zakzaky is beginning to recognise the authority of the country.
"They should release Zakzaky, moreover they are covered by the court and the court ordered for his release.
"He is beginning to realise and recognise the authority of the country because if he is granted bail and he accepts bail conditions, it means he recognises the authority.
"But when you continue to incarcerate them, they will develop resistance. This is exactly how Boko Haram started. So the problem is being manhandled," he added.
Gumi, however, regretted the position of some Sunni Muslims who, because of sectarian differences, seemed to be applauding the government for incarcerating the IMN leader.
"I am not Shi'ite and I don't support some of the things the Shiite does, but as Nigerians, we have to support them humanely.
Gumi recalled that prior to the clashes between the Shiite and the army in Zaria in 2015; he had cause to openly advise the Shiites to stop blocking roads.
"Exactly a year before they were attacked, I wrote an open letter to the Shiite leaders advising them to stop blocking roads.
"I told them if they continue blocking roads, something bad will happen one day. I have been advising the Shiites and the government to do the right thing. Let them release him and let him fulfill the bail conditions.
Full report at:
https://allafrica.com/stories/201811260023.html
--------
Nigerian soldiers lash out in video after bloody Boko Haram attack
2018-11-25
Troops fighting on the frontlines of the Boko Haram conflict in northeastern Nigeria have released a video claiming at least 100 soldiers died in a recent attack and deploring the poor state of their equipment.
In the five-minute video seen by AFP on Saturday, a soldier narrating in the background shows the burnt shells of several tanks and vehicles at the Metele base, which was attacked by the IS-affiliated Islamic State West Africa Province on November 18.
At least 43 soldiers were killed in the attack according to military and civilian sources, though the army disputes the death toll.
The video came as it emerged Saturday that around a dozen girls had been kidnapped by suspected members of Boko Haram in border villages in southeastern Niger.
It underscored growing desperation among troops, who in June protested at being redeployed to the remote Lake Chad region after fighting Boko Haram jihadists for years without relief.
"No less than 100 plus soldiers died here. Many are missing in action, they are nowhere to be found," said the soldier in the video, which was obtained by AFP from a military source who confirmed its authenticity.
"See the weapons they bring here. These are not working," he said as the footage revealed the charred remains of tanks and other military equipment.
"These are outdated vehicles, they are not working. They just keep them here for formality," said the soldier.
"Imagine, they are killing us every day," he said. "The situation is getting worse."
The video shows the sprawling camp in the middle of the desert, 260 kilometres (161 miles) from the Borno state capital of Maiduguri.
There was no immediate response from the army on the release of the video.
More than 27 000 people are thought to have been killed in the nine-year Islamist insurgency that has triggered a humanitarian crisis and left 1.8 million people without homes.
'Deep shock'
The video, the first public glimpse of the base since it was attacked, shows piles of blackened zinc sheets that were the living quarters of the troops.
Personal effects and cooking pots lay scattered across the ground as soldiers move around the debris under a bright blue sky.
On Monday, ISWAP said it had killed "more than 40 Nigerian soldiers" in Metele and carted away "four tanks" along with other vehicles and ammunition.
On Friday, the jihadist group claimed that its fighters killed 118 Nigerian soldiers in five attacks on military bases across the northeast in the past week.
The Nigerian military broke its silence late Friday evening to confirm that the Metele base had been attacked.
It said in a statement that while it is "true" there was an attack, it observed that "several social media, print and online publications have been brandishing false casualty figures."
Nigeria's President Muhammadu Buhari said on Saturday in a statement that he was in "deep shock" over the Metele attack.
"We are ready to give them all the needed support in terms of equipment and manpower to succeed in ending the renewed threat," said Buhari.
"In the coming days, I am engaging the military and intelligence chiefs in extensive discussions on the next steps we shall be taking."
AFP has reported at least 17 attempts to overrun army bases since July.
Many have been claimed by the Islamic State West Africa Province (ISWAP).
The attacks have been seen as a sign of a hardline takeover in the faction by more radical commanders and have stretched the army at a time when soldiers are complaining of fatigue.
Full report at:
https://www.news24.com/Africa/News/nigerian-soldiers-lash-out-in-video-after-bloody-boko-haram-attack-20181125-2
--------
Southeast Asia
Indonesia's 'millennials party' draws fire for comments on sharia bylaws
26 November 2018
JAKARTA, Nov 26 — Police in Muslim-majority Indonesia have questioned the head of one of its newest and most progressive parties, who is battling accusations of "Islamophobia" from rival politicians, after she said her party opposed the growth of bylaws based on religion.
Indonesia is officially secular and has a tradition of pluralism but Islam has increasingly crept into politics in a country home to significant Christian, Hindu and other religious minorities.
Grace Natalie set up the Indonesian Solidarity Party (PSI), often dubbed the "millennials party", in 2014 to offer an alternative for young voters disillusioned by traditional parties often run by an entrenched elite.
In a speech this week attended by President Joko Widodo, Natalie, who is ethnic Chinese, spoke out against intolerance, saying PSI would not support local regulations based on Islamic law or Christian scripture.
"We want to return back to the constitution so that there is a guarantee for all citizens, whatever their background, or religion they believe, or faith they have," said Natalie, whose party is part of a coalition backing Widodo's bid for a second term in 2019 elections.
Police questioned Natalie following a complaint filed by Eggi Sudjana, a lawyer and politician of an Islamic party, who told Reuters her comments breached laws on hate speech and attacked religion. He urged her to apologise.
Some rival politicians also accused her of "Islamophobia", while defending the adoption of bylaws based on sharia or religious values.
Jakarta police are still investigating to determine if any law was broken, said spokesman Argo Yuwono.
In a party statement, Natalie said that during six hours of questioning she had told police her speech referred to "a willingness to implement equality and justice for all citizens before the law".
She also said it was based on an academic study showing how religion-based rules could affect women and minority groups.
The only province in Indonesia allowed to enforce Islamic law is Aceh, but other regions have adopted bylaws enforcing elements of sharia.
Such bylaws were divisive, said Muhammad Abdullah Darraz, director of the Maarif Institute, which promotes religious and cultural harmony, who defended Natalie.
"We have witnessed identity politics recently emerging and it has the potential to divide the unity of the nation," he said.
Indonesia's state ideology includes national unity, social justice and democracy alongside belief in God, and enshrines religious diversity in a secular system of government.
But religious and political tension has spiralled in the last few years after Islamists led hundreds of thousands in Jakarta protests against the capital's then governor, an ethnic Chinese Christian charged with insulting the Koran.
Basuki Tjahaja Purnama, a Widodo ally, lost his bid for re-election in 2017 to a Muslim rival after a radical group, the Islamic Defenders Front (FPI) agitated against him for months. He was jailed for two years over blasphemy. — Reuters
https://www.malaymail.com/s/1697076/indonesias-millennials-party-draws-fire-for-comments-on-sharia-bylaws
--------
Nothing wrong with having separate canteens for Muslim students, says Kota Melaka MP
25 Nov 2018
MELAKA: Missionary and Chinese secondary schools in the state have separate canteens serving purely halal food out of respect for Muslim students, and there is nothing wrong with this, says MP for Kota Melaka Khoo Poay Tiong (pic).
He said halal sections were made available some 15 years ago to cater to the rising number of Muslims students in missionary schools, purely to give an option for those students.
"There are about five missionary schools in the historic city with halal sections, and parents were fine with their existence.
"One Chinese secondary school in my constituency also allocates a caterer for Muslim students and the school is fine with it," he said when interviewed here on Sunday (Nov 25).
Khoo said these canteens could be patronised by non-Muslims too and there were no restrictions.
"We seem to be turning everything into a racial rhetoric and I hope we move on and respect the religious obligations of other communities.
"The existence of the separate canteens had never segregated the students, the ex-students, both Muslims and non-Muslims, maintain their brotherhood, that's the strength of Malaysians," he said in response to a report on a news portal on the existence of dual canteens at missionary schools here.
Khoo said it's more crucial now to focus on economic growth of the state without wasting time on adverse issues being brought up again after a few decades.
"I was asked to comment on the canteen issue seven years ago.
"I maintained the same stand as it's right for Muslims to consume halal items and parents or the school managements have no issues," he said.
Melaka Action Group for Parents in Education (Magpie) chairman Mak Chee Kin said separate canteens have been there for some time and there have been no complaints.
He said dual canteens also elicit healthy competition between operators, where students could enjoy cheaper prices and better quality food.
"The only concern of Magpie is on the attitude of some teachers who often try to influence the minds of students with bigoted ideologies.
"Anyway, we hope the Education Ministry will also look into the need for vegetarian sections at schools," he said, adding that the dual canteens were encouraged under the Barisan Nasional government.
Full report at:
https://www.thestar.com.my/news/nation/2018/11/25/nothing-wrong-with-having-separate-canteens-for-muslims-students-says-kota-melaka-mp/
--------
China is creating concentration camps in Xinjiang. Here's how we hold it accountable.
November 24
CHINA CONTINUES to see the uproar over its creation of concentration camps holding as many as 1 million ethnic Uighurs and others as a public-relations problem. In recent days, the government issued another white paper claiming it is protecting religious freedom and culture in the autonomous northwestern province of Xinjiang, despite evidence that it has corralled much of the Muslim population into spartan camps for forced brainwashing. When Western nations repeatedly brought up the camps on Nov. 6 at China's five-year United Nations human rights review in Geneva, a top Chinese official dismissed the claims as "seriously far from the truth."
That is why recently introduced bipartisan legislation in Congress is vitally important. China's leaders have dissembled for a year and cannot be allowed to escape accountability for the massive indoctrination and internment drive. Exposure of the camps — by witnesses, scholars, nongovernmental organizations and Western governments — has been extremely important. But China's leaders are not shamed. They are old hands at repression, having built the system known as laojiao, or reeducation through labor, that existed outside the regular prison system and was widely used for punishing dissidents and petty criminals until it was closed down in 2013. Now it has been resurrected for use against the ethnic Uighurs, big time.
The Uighur Human Rights Policy Act of 2018 — introduced with bipartisan sponsors, including Sen. Marco Rubio (R-Fla.); Sen. Robert Menendez (N.J.), the ranking Democrat on the Foreign Relations Committee; and Rep. Christopher H. Smith (R-N.J.) in the House — calls for creating a U.S. special coordinator for Xinjiang to respond to the crisis, as well as paving the way for applying Global Magnitsky Act sanctions on specific Chinese officials responsible for the human rights violations. That includes Chen Quanguo, the party secretary overseeing the imprisonment.
The legislation, if enacted, would mandate a report to Congress identifying Chinese firms contributing to the camps and ubiquitous surveillance systems in Xinjiang, perhaps leading to the sanctioning of these companies, and would empower the FBI to track down Chinese officials responsible for harassing Uighurs in the United States. When Uighurs outside China have protested what is happening, their relatives in Xinjiang have been hauled off to camps and other locations, as happened to relatives of six U.S.-based journalists for Radio Free Asia.
Congress needs to act to fill a vacuum left by the Trump administration, which has said and done little about the Xinjiang repression. In Beijing, in an initiative led by Canada, 15 Western ambassadors have sought a meeting with Mr. Chen to express concern, but the United States did not join. It should. Most of the world's majority-Muslim nations have been unconscionably mute about the repression; the United States should stand with other liberal democracies.
Full report at:
https://www.washingtonpost.com/opinions/china-is-creating-concentration-camps-in-xinjiang-heres-how-we-hold-it-accountable/2018/11/23/93dd8c34-e9d6-11e8-bbdb-72fdbf9d4fed_story.html?utm_term=.f806ac304ca6
--------
South Asia
Taliban ambush police convoy in Afghanistan, killing 20
November 26, 2018
KABUL, Afghanistan: An Afghan official says that at least 20 policemen were killed when the Taliban ambushed a police convoy in western Farah province.
Dadullah Qaneh, a member of the provincial council in Farah, says four policemen, including the deputy provincial police chief, were wounded in the attack on Sunday afternoon near Lash wa Juwayn district.
Another council member, Abdul Samad Salehi, says the convoy was on its way to the district to introduce newly appointed district police chief when it came under attack.
Qaneh says the newly appointed chief was also killed.
The Taliban, who in recent years have taken over nearly half of Afghanistan, claimed responsibility for the attack.
It was the latest in a series of brutal, near-daily Taliban assaults on Afghan military and security forces throughout the country.
http://www.arabnews.com/node/1411081/world
--------
Protest in Myanmar's Rakhine state opposes refugees return
26 November 2018
Protesters in Myanmar's troubled Rakhine state demonstrated Sunday against the planned repatriation of Rohingya Muslims from Bangladesh, referring to them as "runaway refugees".
About 100 people led by Buddhists monks marched through the state capital Sittwe holding red banners and chanting slogans.
"There will be no benefits to us or our country if we accept the Bengalis," one monk said, according to a live video streaming of the protest.
Bengali is a derogatory term for the Rohingya in Myanmar that falsely implies they are newcomers from Bangladesh.
The demonstration comes 10 days after Bangladesh and Myanmar were supposed to officially start repatriating members of the Rohingya minority who had fled violent military operations in August 2017.
Rohingya refugees in Bangladesh said Myanmar's armed forces raped women, murdered their relatives and burned down their houses in a bid to drive them permanently out of the country after decades of persecution.
The deal to bring them back was struck a year ago but Rohingya in the Bangladesh camps fear returning without guarantees of citizenship, safety, and equal access to healthcare and education.
They also are wary of hostility from the non-Muslim residents in Rakhine.
The Buddhist protesters in Sittwe on Sunday reflected that view, holding signs that included calls for authorities to not "allow resettling (of) the runaway refugees" in parts of northern Rakhine state.
Full report at:
http://www.mizzima.com/article/protest-myanmars-rakhine-state-opposes-refugees-return
--------
Bangladesh police to grill man for 'running fake news websites' as election nears
18-11-25
The Rapid Action Battalion or RAB arrested Enamul Haque, a PhD student of a South Korean university, on Saturday.
The RAB said Enamul, an operative of the Jamaat-e-Islami's student front Islami Chhatra Shibir, ran at least 22 such fake websites and used to donate most of the money from the sites to the organisation's fund.
Police started a case against him under the Digital Security Act at Kamalapur Railway Police Station.
On Sunday, Judicial Magistrate Rajib Hasan granted three days when investigator Sub-Inspector Mizanur Rahman produced Enamul in the court and sought a 10-day remand.
Enamul sought bail but the judge rejected his plea, court police's Inspector Md Asaduzzaman told bdnews24.com.
According to case dossier, Enamul published the fake news by counterfeiting websites to belittle the Father of the Nation Bangabandhu Sheikh Mujibur Rahman, Prime Minister Sheikh Hasina, and members of her cabinet.
As fears over spread of fake news have grown ahead of the general elections, several news publishers recently alleged that their websites had been faked with almost the same look, but extra letters in the URL or address of their website.
The information ministry's rumour identification and prevention cell also recently identified fake news on the Bangabandhu satellite that went viral on the social media.
The report titled "Bangabandhu satellite went missing" on the social media and other online portals is a rumour, according to a statement from the ministry.
Full report at:
https://bdnews24.com/bangladesh/2018/11/25/bangladesh-police-to-grill-man-for-running-fake-news-websites-as-election-nears
--------
Ghani leaves Switzerland to participate in Geneva conference on Afghanistan
Nov 26 2018
President Mohammad Ashraf Ghani left Kabul for Switzerland to participate in an international conference on Afghanistan.
The Office of the President, ARG Palace, in a statement said President Mohammad Ashraf Ghani left for Switzerland, accompanying a delegation of high level government officials, to participate in Geneva conference on Afghanistan.
The statement further added that President Ghani would deliver a speech during in the conference and would also meet with officials of the participating nations on the sidelines of the conference.
The two-day Geneva conference on Afghanistan will kick off on Tuesday and would be attended by the officials and representatives of the international community, including regional countries as well as international organizations.
The conference would focus on Afghan government's commitments to the nation and international community as well as the progress made in this regard.
Full report at:
https://www.khaama.com/ghani-leaves-switzerland-to-participate-in-geneva-conference-on-afghanistan-02818/
--------
Coalition forces reject involvement in commander Alipur's arrest in Kabul
Nov 26 2018
The coalition forces have rejected refuted rumors suggesting that the U.S. forces were involved in the arrest of the uprising commander Alipur in Kabul.
A spokesman for the U.S. military in Afghanistan Colonel David Butler has said neither U.S. Forces nor Resolute Support had anything to do with the arrest Alipur.
Col. Butler further added that National Directorate of Security will also confirm this information.
This comes as rumors started to surface following the arrest of commander Alipur suggesting that the U.S. forces were involved in his arrest.
Eyewitnesses had earlier said that Commander Alipur was detained by the National Directorate of Security forces from Qala Qazi area of the city on Sunday morning.
Full report at:
https://www.khaama.com/coalition-forces-reject-involvement-in-commander-alipurs-arrest-in-kabul-02817/
--------
Afghan military reports progress in ongoing operations in Dasht Archi
Nov 25 2018
The Afghan Military in the North has reported a progress in the ongoing joint clearance operations being conducted in Dasht Archi district of Kunduz province.
The 209th Shaheen Corps of the Afghan Military in the North in a statement said at least 69 militants have been killed since the launch of the operations which kicked off four days ago.
The statement further added that the operations are jointly being conducted by the 10th Kandak of Afghan Special Forces and 09th and 05th Units of the National Directorate of Security.
Around 54 militants have been killed during the operations over the past four days and at least 15 others have sustained injuries, the statement added
At least 13 commanders of the Taliban group are also among those killed, the 209th Shaheen Corps said, adding that the Afghan forces have also discovered and defused 33 landmines while two mortars, a Dshk heavy machine gun and two motorcycles have been destroyed during the airstrikes.
Full report at:
https://www.khaama.com/afghan-military-reports-progress-in-ongoing-operations-in-dasht-archi-02814/
--------
West and Muslim nations must gauge pent-up anger against Rohingyas
November 26, 2018
Of late, Myanmar State Counsellor Aung San Suu Kyi has been a punching bag for all leaders from the West and the East- the Christian and the Muslims. The US Vice President Mike Pence could not let go of such an opportunity in a bilateral meeting with her on the sidelines of the 33rd annual summit of the Association of Southeast Asian Nations (ASEAN) in Singapore on November 14. The Myanmar leader rightly rebuffed criticism from Pence (and also other leaders) over her government's treatment of ethnic Rohingya Muslims.
Pence was "anxious to hear about progress" in resolving the crisis stemming from a retaliatory military crackdown in Rakhine state that the United Nations (UN) has called ethnic cleansing."The violence and persecution by military and vigilantes that resulted in driving 700,000 Rohingya to Bangladesh is without excuse," Pence said and was eager to know how Myanmar will enable the Rohingya to voluntary return home.
He criticised the arrest and conviction of two Reuters journalists as deeply troubling and emphasized the importance of a free and independent press. The US Vice President attended ASEAN and the summit of the Asia-Pacific Economic Cooperation forum in Papua New Guinea in Trump's stead. Suu Kyi gave a befitting reply to Pence, saying it was good to exchange views, but that "we understand our country better than any other country does. I'm sure you will say the same of yours, that you understand your own country better than anybody else. So we are in a better position to explain to you what is happening, how we see things panning out."
Malaysian Prime Minister Mahathir Mohamed was not far behind. He had made an unusually harsh public criticism of Suu Kyi earlier, saying that as a former political prisoner, she should better understand suffering. He said the treatment of the Rohingya was "indefensible". The nonagenarian Islamist Prime Minister who is hosting and shielding India's fugitive religious bigot and fundamentalist Zakir Nayak under silliest pretexts deserves a fitting rebuff.
Myanmar's government and most of the nation's Buddhist majority regard the members of the Muslim minority as "Bengalis" who migrated illegally from Bangladesh.
They do not acknowledge the Rohingya as a local ethnic group even though they have lived in Myanmar for generations. As Bangladesh authorities ready plans to repatriate 2,200 Rohingya refugees to Myanmar the UN officials urge caution fearing danger to their lives. The UN human rights office has received reports of rights violations in Rakhine state, "which include allegations of killings, disappearances and arbitrary arrests". Some 130,000 people, including many Rohingya, remain internally displaced in central Rakhine. The UNHCR also has also advised against the returns. All these reflect public anger against Rohingyas.
The vast landscape right from Iran, Afghanistan, Pakistan, India, Bangladesh and Myanmar down to Malaysia and Indonesia were once populated by peace loving people with rich local cultures and resplendent religious traditions like Zoroastrianism, Hinduism, and Buddhism that taught tolerance.
The sword-wielding Muslim invaders ran over the entire region totally destroying in the process cultures and religions nurtured over millennia. Neither the UN nor the west nor the Muslim nations prophesising proselytising religions like Christianity and Islam understand the depth of public anger against the invaders accumulated over centuries.
Temples, synagogues, viharas were destroyed, people of other faiths mercilessly beheaded, women folk defiled and syncretic religions obliterated through mass conversions by fear of word. The arrogant religion degraded the people of other faiths as Kufaars and unleashed hell on them.
Things in Ayodhya (India) and Rakhine (Myanmar) is reflective of peace-loving religions reaching the elastic lag end of their tolerance with hooliganism.
The centuries-old patience is now wearing thin, as the pent up anger bursts forth to the surface.
Full report at:
https://www.newdelhitimes.com/west-and-muslim-nations-must-gauge-pent-up-anger-against-rohingyas/
--------
Mideast
Israel Re-Arrests Palestinian Jerusalem Governor
25 November 2018
Israeli police arrested the Palestinian governor of Jerusalem for the second time in as many months, a spokesman said Sunday, after reports of an investigation related to a land sale.
Adnan Gheith was arrested in east Jerusalem overnight, police spokesman Micky Rosenfeld said in a statement, without providing further details.
Israeli security forces would not comment beyond saying the arrest had to do with money-related issues.
Gheith will be brought for a remand hearing in the Jerusalem magistrate's court later in the day and details of the allegations against him may be released then.
On October 20, Gheith was detained for two days of questioning before being released, with Israel's Shin Bet domestic security agency saying it was over "illegal activity by the (Palestinian Authority) in Jerusalem".
He was also taken for questioning a number of times in recent weeks and his office was raided on November 4.
Israeli media have reported that authorities have been investigating the governor following the PA's arrest of a man in October accused of being involved in selling property in east Jerusalem to a Jewish buyer.
Such sales are considered treasonous among Palestinians concerned with Israeli settlers buying property in east Jerusalem.
But among Israelis, there have been calls for authorities to free the man arrested by the PA over the sale.
Israeli newspaper Haaretz has reported that the man is a Palestinian with US citizenship.
Fuad Hallaq, a senior advisor to the Palestine Liberation Organization in Jerusalem, told AFP that he believed the latest arrest was part of Israeli efforts to pressure the Palestinian leadership to release the man.
Israel occupied east Jerusalem in the 1967 Six-Day War and later annexed it in a move never recognized by the international community.
It considers the entire city its capital, while the Palestinians see the eastern sector as the capital of their future state.
Palestinian Authority activities are barred from Jerusalem by Israel.
As a result, the PA has a minister for Jerusalem affairs and a Jerusalem governor located in Al-Ram, just on the other side of Israel's separation wall from Jerusalem in the occupied West Bank.
https://english.alarabiya.net/en/News/middle-east/2018/11/25/Israel-rearrests-Palestinian-Jerusalem-governor.html
--------
Houthi Militias Strike Residential Neighbourhoods In Hodeidah
25 November 2018
Sources confirmed that Houthi militias have taken advantage of a truce they have broken in the city of Hodeidah and sent reinforcements to push further into the strategic Yemeni city.
According to local sources, the militias fired tens of rockets towards residential neighborhoods south and east of the city.
Additionally, the militias also attacked military concentrated areas in an attempt to regain some of the land it lost in the past few days.
Meanwhile, coalition planes launched dozens of raids targeting militants on the northern lines of the city of Hodeidah and areas connecting Hodeidah with the governorates of Hajjah and al-Mahwit and Sanaa through the Directorate of Alduha and al-Qanbar.
https://english.alarabiya.net/en/News/gulf/2018/11/25/Houthi-militias-strike-residential-neighborhoods-in-Hodeidah-.html
--------
Yemeni information minister calls for UN envoy to visit Houthi-ravaged Taiz
26 November 2018
Yemeni information minister Moammar al-Eryani said on Sunday that the Yemeni government called on UN special envoy Martin Griffiths to visit the Houthi-ravaged city of Taiz.
The visit, according to the minister, would be crucial in stopping any further damage caused by the Iranian-backed Houthi militia on infrastructure and residential complexes in the city.
The civilian death toll has skyrocketed due to the grenades, mortar shells, and snipers used by the Houthis.
In a series of tweets al-Eryani said that "Taiz is off the UN's radar despite its destitute humanitarian situation". He also added that "this humanitarian crises is due to the harsh seize witnessed for four consecutive years as a result of the international community's neglect to put an end to it".
He also said that the Yemeni province of Taiz was the most impacted by the war which was sparked by the Houthi militias.
Taiz has the largest population among other governorates, and it has witnessed the highest magnitude of suffering.
Full report at:
https://english.alarabiya.net/en/News/gulf/2018/11/26/Al-Eryani-calls-for-UN-envoy-to-visit-Houthi-ridden-Taiz-.html
--------
Saudi-led attacks on Yemen's Hudaydah will destroy UN peace efforts: Ansarullah
Nov 25, 2018
The spokesman for Yemen's Houthi Ansarullah movement says the uptick in Saudi-led airstrikes on the strategic port city of Hudaydah will eventually frustrate efforts by United Nations Envoy to Yemen Martin Griffiths to rekindle peace talks in Sweden next month.
Saudi-led military aircraft have bombarded Hudaydah 35 times over the last 12 hours. This came as Saudi-sponsored militiamen loyal to former Yemeni president Abd Rabbuh Mansur Hadi have targeted several areas in the port city with missiles and artillery rounds, Yemen's Arabic-language al-Masirah television network cited Mohammed Abdul-Salam as writing on his official Twitter page on Sunday.
He noted that the increase in the extent of Saudi-led attacks on Hudaydah have exposed the main motives of the Riyadh regime and its regional allies, warning that the process will only destroy peace efforts of the UN special envoy to Yemen.
Earlier on Sunday, Saudi warplanes launched two airstrikes against a farm in the al-Durayhimi district of the Yemeni province. There were no immediate reports about possible casualties and the extent of damage caused.
Saudi warplanes also carried out ten aerial assaults on al-Garrahi and al-Tuhayat districts in Hudaydah province, with no immediate reports of casualties.
During a meeting with Griffiths in the Yemeni capital Sana'a on Thursday, the leader of the Houthi Ansarullah movement stressed the importance of credibility and the will of the Saudi-led military alliance to push for a political solution to the Yemeni conflict away from fallacies that it employed during the previous round of negotiations.
Abdul-Malik al-Houthi added that people from all strata of the Yemeni society were suffering from the Saudi-led military aggression alongside the sea, land and air blockade on the Arab country.
The Ansarullah leader also praised positive initiatives and practical steps, which seek to ensure a political solution to the Yemeni conflict.
Houthi then demanded an immediate end to the Saudi-led aggression, the removal of economic sanctions, which have forced the Yemeni riyal to plunge drastically against foreign currencies, and the ease of humanitarian aid deliveries.
Earlier this week, the administration of Hadi announced that it would take part in the proposed peace talks in Sweden next month, hours after the chairman of the Supreme Revolutionary Committee of Yemen, Mohammed Ali al-Houthi, said Ansarullah fighters were halting their retaliatory attacks as a goodwill measure to speed up "peace" process.
Griffiths says that he has received "firm assurances" that the warring Yemeni parties would attend talks in the Swedish city of Stockholm.
Britain has presented a draft UN Security Council resolution on Yemen, and called on parties involved in Yemen's crisis to restart peace negotiations.
"The conflict in Yemen can only be resolved though an inclusive political process," the draft resolution said.
The draft sets a two-week deadline for warring Yemeni parties to remove all barriers to humanitarian aid, to halt attacks on civilian areas and allow unhindered access to the strategic port city of Hudaydah.
Saudi Arabia and a number of its regional allies launched a devastating military campaign against Yemen in March 2015, with the aim of bringing the government of Hadi back to power and crushing the country's Houthi Ansarullah movement.
According to a new report by the Armed Conflict Location and Event Data Project (ACLED), a nonprofit conflict-research organization, the Saudi-led war has so far claimed the lives of around 56,000 Yemenis.
The Saudi-led war has also taken a heavy toll on the country's infrastructure, destroying hospitals, schools, and factories. The UN has already said that a record 22.2 million Yemenis are in dire need of food, including 8.4 million threatened by severe hunger. According to the world body, Yemen is suffering from the most severe famine in more than 100 years.
Full report at:
https://www.presstv.com/Detail/2018/11/25/581106/Saudiled-attacks-on-Yemens-Hudaydah-will-destroy-UN-peace-efforts-Ansarullah
--------
Yemeni ballistic missile hits military base in Asir region
Nov 25, 2018
Yemeni army forces, supported by allied fighters from Popular Committees, have hit a military base in Saudi Arabia's Asir region with a domestically-manufactured high-precision ballistic missile in retaliation for the regime's campaign of military aggression against the impoverished nation, a report says.
Yemen's Arabic-language al-Masirah television network, citing an unnamed military official from the missile unit of the Yemeni army, reported that the military base, located in al-Alab border crossing, had been hit with the short-range and solid-propellant Badr P-1 missile on Sunday.
It added that the projectile had struck the designated target with precision, leaving an unspecified number of soldiers either killed or wounded. The explosion also inflicted damage to the hardware and equipment of the base.
Last month, the Yemeni army unveiled its domestically-designed missile, which is an upgrade of Badr-1 short-range ballistic missile, intended to precisely hit specific targets, minimize collateral damage and increase lethality against designated targets. The Badr P-1 missile has a pinpoint accuracy of 3 meters, the army says.
Earlier on Sunday, Yemeni army hit a Saudi-led military base in Nihm district in Yemen's west-central province of Sana'a, inflicting casualties on the Saudi enemy and caused material damage to the base, another report by al-Masirah said.
Leading a coalition of its allies, most prominently the UAE, Saudi Arabia invaded Yemen in March 2015 in an attempt to reinstall Yemen's former President Abd Rabbuh Mansur Hadi, who had resigned amid popular discontent and fled to the Arab kingdom.
The aggression initially consisted of a bombing campaign but was later coupled with a naval blockade and the deployment of ground forces to Yemen.
Since the onset of the imposed war, the Yemeni army, backed by fighters of the country's popular Houthi Ansarullah movement, has been defending the impoverished nation against the brutal aggression. The coalition is also resolute to crush the movement as another goal in its war on Yemen, which is teetering on the edge of famine.
More than three and a half years into the war, Saudi Arabia has achieved neither of its objectives. Riyadh had declared at the start of the invasion that the war would take no more than a couple of weeks.
Back in June, the Emirati forces, backed by armed militia loyal to Hadi, launched a full-scale offensive against the Houthi-held Hudaydah, which is currently under a tight siege imposed by the invaders. The so-called liberation operation, however, failed to achieve its objective, which is overrunning the vital port and defeating Houthi fighters, backed by those from the Popular Committees.
Over the past several months, humanitarian organizations have warned that military operations against Hudaydah threaten to cut off essential supplies to millions of Yemeni people. More than 70 percent of Yemen's imports pass through Hudaydah's docks.
The coalition claims Houthis are using Hudaydah for weapons delivery, an allegation rejected by Ansarullah fighters.
The Saudi-led war has also taken a heavy toll on the country's infrastructure, destroying hospitals, schools, and factories. The UN has already said that a record 22.2 million Yemenis are in dire need of food, including 8.4 million threatened by severe hunger. According to the world body, Yemen is suffering from the most severe famine in more than 100 years.
Full report at:
https://www.presstv.com/Detail/2018/11/25/581102/Yemen-missile-Asir-
--------
Yemen army stops Houthi advance towards south Hodeidah
November 26, 2018
DUBAI: Yemen's national army, backed by the Saudi-led Arab coalition, foiled an attempt by Houthi militia to infiltrate areas in the Hays district in the southern countryside of Hodeidah province, Saudi Press Agency reported on Sunday.
"The Houthis tried to infiltrate through a valley in the outskirts of Hays, but our forces thwarted the attempt and inflicted heavy casualties on the militia and their equipment," Yemen's army media center said.
Meanwhile, SPA reported that the Houthis continued "criminal operations" and "violations against civilians in the province."
The statement added that the Houthi militia had shelled several civilian houses with mortars, causing severe damage, displacing dozens of families.
http://www.arabnews.com/node/1411066/middle-east
--------
Europe
Global experts: Khashoggi's death used to further destabilize Middle East
25 November 2018 T
International prominent experts expressed their views over continuing media uproar about the murder of Jamal Khashoggi.
Many op-eds and analysis in many international media outlets concluded that the Middle East has been undergoing a "dramatic realignment, dividing itself between those regimes that support extremism and those that oppose it, and the Gulf Cooperation Council (GCC), has been at the forefront of these efforts against extremism."
Alexander Downer, the former Australian FM, wrote an op-ed in the Financial Times, saying "The real crime was that Khashoggi was backed alone by Muslim Brotherhood supporters, namely the Qatari regime and the Turkish government."
Overlooked in the heated rhetoric is the larger issue of stability in the Middle East. Saudi Arabia plays a crucial role and is strategically important to maintaining a balance of power as Downer notes.
At the 2018 Halifax International Security Forum, Gen. Joseph Dunford, chairman of the U.S. Joint Chiefs of Staff, commented on the Saudis' critical importance, noting: "Saudi Arabia has been an important partner to regional security in the past. I expect they will be in the future. … Their cooperation, their interoperability, in my judgment, is a good thing. Their cooperation, interoperability, capability if you will, would be a stabilizing force on the region. Has been a stabilizing force in the region." Jeff Carlson who is a CFA charterholder, wrote an opinion in theepochtimes. He said "You can in government be swept up in the prevailing media narrative, and if you design your foreign policy on that basis, you will achieve nothing. "
He added "There are players, such as Turkey and Iran, who stand to gain from a weakening or destabilizing of the U.S.–Saudi relationship.
Russian Radio Sputnik discussed the issue with James Dorsey, a senior fellow at the Rajaratnam School of International Studies in Singapore.
"There's no doubt that there is a motive. The question is: what is the Turkish goal? Is the Turkish goal to basically significantly weaken Saudi Arabia and undermine its credibility, and in doing so strengthen Turkey's regional position, as well as its negotiating position vis-à-vis Saudi Arabia and possibly the United States? "
Also in an analysis to the Atlantic, Cagaptay, the author of The New Sultan: Erdoğan and the Crisis of Modern Turkey, said "Erdoğan, who has portrayed himself as a leader of the Muslim world, has another goal: that of Islamic unity."
The piece added "One way to achieve that unity is through an end to the Saudi-led Arab boycott of Qatar. Turkey, along with Iran, has supported Doha during the more-than-year-long embargo imposed on Qatar by its fellow Arab states for, among other things, its alleged support of Islamist groups. Many of those groups are linked to the Muslim Brotherhood, which most Arab states regard as a terrorist organization, but which Erdoğan openly supports because of its espousal of political Islam."
https://english.alarabiya.net/en/News/world/2018/11/25/Global-experts-Khashoggi-s-death-used-to-further-destabilize-Middle-East-.html
--------
2 Detained After Shooting Near Austrian Embassy in Turkey
November 25, 2018
ISTANBUL —
Turkish authorities detained two people following a drive-by shooting near the Austrian Embassy in capital Ankara early Sunday.
The governor's office said in a statement the two suspects were detained and their weapon confiscated. It said the suspects were thought to be under the influence of alcohol after having drunk late into the night.
The governor's office said the suspects shot into the air from a moving car near the Austrian Embassy at 0400 am (0100 GMT). There were no reports of damage or injuries.
Official Anadolu news agency said they were in a white car and security forces briefly closed down roads near the embassy in Ankara. According to the agency, crime scene investigators found many shell casings overnight.
Video from the night showed police at the scene and numerous police cars.
It is unclear if the embassy was the target. All was normal in the area Sunday morning.
In August, three bullets hit the gate and reinforced window outside the U.S. Embassy in Ankara in a drive-by shooting. No one was injured. The U.S. embassy is located on the same boulevard as the Austrian one, about 130 meters (427 feet) away.
https://www.voanews.com/a/detained-after-shooting-near-austrian-embassy-in-turkey/4672946.html
--------
Moroccan Intellectuals Oppose Controversial Islamist Preacher's Visit to Morocco
Nov 23, 2018
Sheikh Abdelkafi "is known for his extremist sermons that incite hatred towards the followers of the two religions," said the group's statement, referring to Judaism and Christianity.
The 67-year-old preacher is expected to give two religious lectures on November 24-25 at the Mohammed V theater in Rabat. Al Joud Islamic association invited the preacher and organized the lectures.
Titled "No to hatred and extremism," the petition said that "nothing justifies the arrival of this controversial preacher to Morocco," calling on organizers to "cancel the visit."
The signatories also stressed Ablelkafi's "admiration for the Nazi criminal Adolf Hitler." The Egyption, the petition elaborated, is a "misogynist preacher, known for his many sermons discriminating against the Muslim woman".
According to the group, Sheikh Abdelkafi's visit constitutes an "insult to our non-Muslim fellow citizens, an affront to Moroccan women and a categorical denial of open and tolerant Islam."
Other intellectuals have called for restraint, declining to sign the petition.
Renowned Moroccan author Mohammed Ennaji, who opposed the petition, argued that the controversial Egyptian Sheikh should be granted his right to exercise his freedom of speech.
We should respond to the preacher "with analysis and criticism, not with prohibition, unless he calls for violence," Ennaji wrote on his Facebook page.
An official of Al Joud association told AFP that the invitation is programed. There is "nothing hateful in the preaching of Sheikh Abdelkafi."
The intellectuals also called on the Moroccan Ministry of Culture to "ensure that institutions under its supervision do not serve as a platform for events and stakeholders advocating extremism, hatred, racial or religious supremacy, exclusion, and violence ".
Full report at:
https://www.moroccoworldnews.com/2018/11/258582/intellectuals-oppose-omar-abdelkafi-visit-morocco/
--------
Bosnia Arrests Islamist Militant on Terrorism Charges: Statement
Nov. 23, 2018
SARAJEVO (REUTERS) - Bosnian police have arrested an Islamist militant for terrorism offences in Bosnia, prosecutors said on Friday, and a Balkan news service said the man was believed to assisted a 2011 attack on the U.S. Embassy in Sarajevo.
A state prosecutor's statement said the man was taken into custody at Sarajevo airport and was also suspected to have fought for Islamic State and rival Syrian militant group Nusra Front, an ex-al Qaeda affiliate, in Iraq and Syria.
It added that the detainee had been under investigation on suspicion of forming a terrorist group in Bosnia.
Citing sources close to the investigation, the Balkan Investigative Reporting Network (BIRN) said the arrested man was believed to have assisted in the attack on the U.S. Embassy in which a Bosnian gunman shot and wounded a police guard before being wounded by a sniper and then apprehended.
The gunman, also an Islamist militant, was jailed for 18 years after his conviction but his term was reduced to 15 years in 2013 after he apologized for the attack.
Bosnian Muslims generally practice a moderate form of Islam but some have adopted radical Salafi Islam from foreign fighters who came to the country during its 1992-95 war to fight alongside Muslims against Orthodox Serbs and Catholic Croats.
Full report at:
https://www.usnews.com/news/world/articles/2018-11-23/bosnia-arrests-islamist-militant-on-terrorism-charges-statement
--------
URL: https://www.newageislam.com/islamic-world-news/archaeologists-discover-7500-year-old/d/116987
New Age Islam, Islam Online, Islamic Website, African Muslim News, Arab World News, South Asia News, Indian Muslim News, World Muslim News, Women in Islam, Islamic Feminism, Arab Women, Women In Arab, Islamophobia in America, Muslim Women in West, Islam Women and Feminism