New Age Islam News Bureau
9 Jul 2013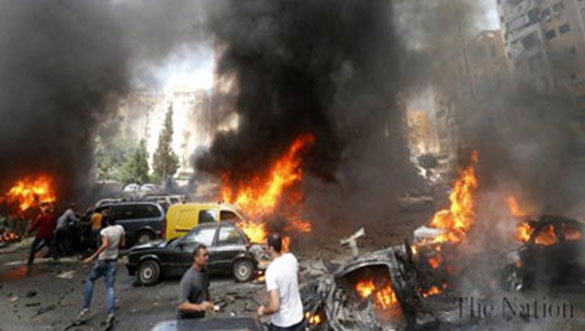 Photo: Car bomb wounds 53 in Shiite Beirut suburb
---------
Arab World
• At least 51 protesters killed in Egypt as army opens fire 'like pouring rain'
• 27 killed in a string of attacks in Iraq
• Car bomb wounds 53 in Shiite Beirut suburb
• Saudi to expel non-Muslim expatriates disrespecting Ramadan
• Egypt's top cleric says will go into seclusion until end of bloodshed
• New Egyptian leader vows fresh elections after 51 killed
• "Massacre" in Egypt Destroys Hope for Peaceful Transition
• Egypt unrest: Brotherhood rejects Mansour poll decree
• Egypt arrests 650 of pro-Morsi protesters
• At Tahrir Square, liberals to carry on vigil at night
• Egypt reportedly bars entry to Palestinians en route to Gaza
• From power to protest, Egypt's Brotherhood fights for life
• Egyptian Rebel campaign says constitutional decree was a 'surprise'
• Syria rebel PM Ghassan Hitto resigns: Statement
• Explosion hits Hezbollah stronghold in Lebanon
India
• Arab Donates Land for Swaminarayan Temple in UAE
• Delhi CM Asks Waqf Board to Give Annual Salary Hikes to Imams
• Punjab CM allows fruits, milk for Muslim jail inmates in Ramzan
• IM, Rohingya outfit under scanner for Bodh Gaya blasts
• Five infiltrators killed on LoC in Kashmir
• Love to see what Sharif will do to improve Indo-Pak ties: J&K CM
• Muslims suffer most as Indian economy slides
• Pathans use cricket riches for charity
• Bodh Gaya blasts: Investigators spot six suspects in CCTV clips
• Poor placing of bombs saved Lord Buddha's statute
• Muslim bodies slam politics over Bodh Gaya blasts
• Terrorists' audacity leaves sleuths aghast, at Bodh Gaya
• CBI probe in Ishrat case based on solid evidence: CBI chief Ranjit Sinha
• Stranded Rajasthani labourers in Saudi Arabia threaten suicide
• 26/11 case: Pak judicial panel in India soon
• Mumbai cops to take help from Dabbawalas to tackle terrorism
South Asia
• Hefazat-E-Islam Chief's Video on Sexual Harassment Creating Storm in Social Media
• Attacks in China's Xinjiang aimed at causing violence: Militant
• Afghan soldier 'kills NATO colleague' at Kandahar airport
• Adhaalath Party brings 34 Hafiz for Ramazan prayers
• Afghan spies arrest US translator for torture
• Taliban close Qatar office to protest flag fracas
• Better to work with AP than risk "negative long-term effects": Maldives President
• President opens Maldives' first Burger King
• Bangladesh faces challenges in improving living standards
• Bangladesh Jamaat-e-Islami leader 'committed' 9 types of crimes
• Myanmar govt, Suu Kyi slam attack on Buddhist shrine
Africa
• 'Hi girls,' Blair tells Qaddafi's teen sex slaves: report
• Nigeria: UK Bans Boko Haram, Minbar Ansar-Deen
• South Sudan failing after two years of freedom, activists say
• Darfur attack wounds Sudan war crimes suspect
• Hundreds of migrants intercepted on boats from Libya
• Mali's army accuses Tuaregs of violating peace deal
• Libyan armed forces to be trained in the UK
Pakistan
• Separate blasts, Suicide Attack kill at least nine in Khyber Pakhtunkhwa: police
• Maulana Fazl ur Rehman fails to win PML-N support for Senate seat
• Saudi Arabia, UNHCR to construct houses for displaced people of South Waziristan
• No executions in Pakistan until President Zardari retires: aide
• Senate committee proposes 7-point Action Plan for Cyber Secure Pakistan
• Secret is out: how Osama hoodwinked Pak for a decade
• Laden killing: ISI statement missing from 'leaked report'
• 'Laden was reaching for AK-47 when he was shot'
• Too early to comment on failure to detect Osama bin Laden in country: Pak govt
• Pakistan Taliban sack spokesman in sign of growing divisions
• Benazir assassination case: Court outraged over Musharraf absence
• Pakistan seeks $2bn more from IMF
• Violence continues: Political workers among 18 killed in the city
• FATA Secretariat changes medium of instruction to English
• Swift completion of uplift work at Bari Imam Shrine ordered
Europe
• Acting Head of Dagestan Says Government May Amnesty Militants
• Corruption worsened in Arab countries since uprisings: Poll
• UK right activist to take up the case of Indian PoWs in Pakistan
• UN chief Ban appeals for Ramadan truce across Syria
• Pope greets Muslim migrants on Ramadan
• Myanmar army frees 42 child recruits in move to end practice of child soldiers
• UN Secretary-General demands inquiry into 'disturbing' Egypt bloodshed
• Russia doubts new Syrian opposition leader's commitment to peace
Mideast
• Hamas shaken and cautious after Egyptian upheaval
• Official Condemns US for Espionage Operations against Iran
• Israel urges U.S. not to freeze Egypt aid, says report
Southeast Asia
• Malaysian Police set to safeguard Ahmadiyah mosques
• Refrain From Fireworks during Ramadan: Indonesian Council of Ulema
• Religious Intolerance Down Slightly in Indonesia: Setara
• Indonesian Muslims Prepare for a Costlier Ramadan
• "Allah" appeal irrational, illogical, says Catholic church
• Malaysians see cops, politicians as most corrupt
• Philippine military calls off offensive on rebels
North America
• Gitmo force-feeding is 'cruelty, not religious empathy': HR Advocates
• Barack Obama greets Muslims on the occasion of Ramadan
• Congress divided on using aid to pressure Egypt
• In New Video, Snowden Predicted US Reaction to Disclosure of Spy Programs
• U.S. mulls leaving no American troops behind in Afghanistan
• Boston bombing suspect faces first court appearance
• Manning was 'upset' at plight of Iraqis: Witness
Compiled by New Age Islam News Bureau
URL: https://www.newageislam.com/islamic-world-news/new-age-islam-news-bureau/arab-donates-land-for-swaminarayan-temple-in-uae/d/12520
-----------
Arab Donates Land for Swaminarayan Temple in UAE
Chitra Unnithan & Bharat Yagnik , TNN | Jul 9, 2013
AHMEDABAD: Swaminarayan will soon get an abode in Abu Dhabi on land donated by an Arab Muslim.
The Bochasanwasi Shri Akshar Purushottam Swaminarayan Sanstha (BAPS) is planning to set up a temple there after a team visited the United Arab Emirates capital last month.
Sources say a Muslim businessman has donated five acres of land adjoining a mosque to BAPS for setting up the temple. The temple will have photographs of Swaminarayan due to restrictions on idol worship. "Talks are on and we have not decided anything yet," says a BAPS source.
The team visited Abu Dhabi on an invitation from Nazem Al Kudsi, chief executive officer of Invest AD, an investment company.
http://timesofindia.indiatimes.com/india/Arab-donates-land-for-Swaminarayan-temple-in-UAE/articleshow/20979897.cms
-----------
Arab World
At least 51 protesters killed in Egypt as army opens fire 'like pouring rain'
Patrick Kingsley in Cairo
8 July 2013
On several floors of Cairo's Health Insurance hospital, room after room was filled with bloodied, moaning protesters, many of them waiting to be treated. Supporters queued up to donate blood as doctors rushed more wounded past them on stretchers. Security officials screamed at journalists to leave; families of victims implored them to stay.
By the end of Monday at least 51 protesters had died and more than 400 had been injured in one of the bloodiest incidents in Egypt's recent history.
It began, according to the wounded, as dawn prayers were ending. Hundreds of members of the Muslim Brotherhood, supporters of the deposed president, Mohamed Morsi, had knelt in Salah Salem Street, one of Cairo's main thoroughfares, outside the headquarters of Egypt's Republican Guards at first light on Monday when the imam's chants were shattered by the sound of gunshots.
"It was like pouring rain," said Mohamed Atia, one of the hundreds injured in the subsequent bloodbath, speaking in hospital. A pool of dried blood darkened his once-grey trousers, the gunshot wound to his shoulder still awaiting medical attention. "They started shooting teargas and then live ammunition. We were shouting 'peaceful, peaceful', but the shooting continued."
Mohamed Saber el-Sebaei lay with a dirty bandage around his head, blood caking his eyes shut. "There were dawn prayers and then I heard someone calling for help, so the imam finished the prayers quickly," he said.
"Just before we finished, the shooting started. The army units that were standing in front of the Republican Guard headquarters first started shooting teargas, then live ammunition above people's heads … I was taking cover with another guy behind some rubble and I felt something hit my head. I held my prayer mat in my hand and I started to cover my head with it. But I couldn't stop the bleeding because there was so much blood."
A third injured man, Abdel Aziz Abdel Shokor, crippled by a live round to his leg, swore that no one had provoked the assault. "I swear to God no one was doing anything," he said. In post-revolutionary Cairo, now more divided than ever after the toppling of Morsi last Wednesday, the narrative of history is rarely straightforward. On Monday the city was awash with claims and counterclaims about whether the bloody events had been provoked.
According to the army, a thousand pro-Morsi supporters had been camped outside the guards' compound since Thursday, protesting at the overthrow of Morsi, who was reportedly under house arrest inside. About 4am, the army said, an armed group of Morsi loyalists attacked the compound, first with stones, then with live ammunition.
The army had no choice but to return fire, a spokesman said in a heated afternoon press conference. At least one security official was killed.
Even at the site of the incident, no one could agree how it started. Videos showed armed Islamists later continuing the fight in the streets, leading to a nearby pro-Morsi sit-in.
But there was no conclusive evidence that either the army, the police or Morsi supporters fired the first shot.
Those at the hospital claimed the massacre began after a soldier was shot by friendly fire. But at the area near the Republican Guard building, which is inhabited mainly by ex-military families, some local residents strolling the now empty and debris-strewn protest site said it was started by armed Islamists.
"After prayers somebody came here and said 'jihad, jihad'," claimed a man who said he was a friend of both Hosni Mubarak and Mubarak's last prime minister Ahmed Shafiq. "Armoured trucks came and somebody shot one officer and two soldiers. Then people got really crazy broke off part of the barbed wire by the presidential guard and then [the soldiers] started firing teargas and live fire."
There were women and children among them, the man admitted, as well as people not interested in fighting. At least 100 fled into the nearest residential tower block, banging on any door they could find, asking for shelter and vinegar – a homemade remedy for teargas. The residents put them on the roof until the police arrived to arrest them. One petrified 11-year-old was still there by the afternoon.
An ex-policeman who said he lived on the 11th floor of a building overlooking the site said the army and police had not fired a single bullet. "All this time there was no live ammunition, just teargas," he said. "I saw this with my own eyes. No one was killed. It was protesters running back who started burning their own tents. As you can see there is no blood or ammunition."
Officials were in the middle of a large-scale cleanup, but the Guardian found a live military round among the detritus. Metres away stood a car with two bullet-holes and an exit hole. "I saw people being carried away from here in blankets, and people later washed the blood off. They were shot, they fell, and they got carried away," admitted a man who gave his name as Mohamed – in testimony that contradicted that of his neighbours.
One thing they all agreed on was the attitude of the protesters. "They've been here for three days," said Mohamed, "and they've been treating the soldiers very disrespectfully."
Hours later, many of those same protesters were still arriving in bodybags at Cairo's Zeinhom morgue.
http://www.guardian.co.uk/world/2013/jul/08/egypt-clashes-morsi-muslim-brotherhood-military
-----------
27 killed in a string of attacks in Iraq
July 09, 2013
A string of attacks in different parts of Iraq left at least 27 people killed and 13 wounded, police said on Monday. Four people were killed and six injured when a car bomb struck a policeman's house in the residential complex of Mishraq, near Mosul city, some 400 km from Baghdad,
reported Xinhua citing a police source.
Two civilians were killed and four wounded, including two army members, when a car bomb targeted an army patrol in Mosul, the source said.
Meanwhile, unidentified gunmen killed Qahtan Sammy, a spokesperson for Nineveh province, as he drove his car in Mosul, the source added.
Also, four people were killed in two separate attacks near Diyala's provincial capital of Baquba, some 65km from Baghdad, local media reported.
Unidentified gunmen killed two brothers inside a grove near Baquba. While in another attack, unidentified gunmen opened fire and killed two people near Kobbah village, a security source said.
The police said earlier that 12 people were killed and three wounded in two attacks near Baghdad.
http://www.hindustantimes.com/world-news/restofasia/27-killed-in-a-string-of-attacks-in-Iraq/Article1-1089501.aspx
-----------
Car bomb wounds 53 in Shiite Beirut suburb
Jul 9, 2013
A car bomb has wounded dozens of people in a stronghold of Lebanon's Shia militant group Hezbollah in Beirut.
Lebanon's Health Minister Ali Hassan Khalil says 53 people were hurt in the blast, in the Beir el-Abed area.
No group has said it was behind the attack.
Rebels in neighbouring Syria have threatened to target Hezbollah in Lebanon, which intervened in the fighting over the border to support President Bashar al-Assad.
Two rockets hit south Beirut in May.
Tuesday's explosion in the city's southern suburbs took place in a car park near an Islamic centre; no-one was in the car at the time.
Dramatic footage broadcast by Hezbollah-run al-Manar TV showed firefighters trying to put out the flames.
The BBC's Dima Hamdan, reporting from the scene, described considerable damage to nearby buildings. Many shops were forced to close as their windows were shattered, she said.
"Everyone started panicking. Everyone was running left and right," local shopkeeper Carole Mansour told AFP news agency.
"I can't believe someone would do this on the first day of Ramadan," she added. Many Shia Muslims in Lebanon are beginning their Ramadan fast on Tuesday, other Shia and Sunnis on Wednesday or Thursday.
http://www.bbc.co.uk/news/world-middle-east-23239299
-------
Saudi to expel non-Muslim expatriates disrespecting Ramadan
July 09, 2013
Saudi Arabia threatened on Tuesday to expel non-Muslim expatriates who eat, drink, or smoke in public during the Muslim fasting month of Ramadan.
Ramadan begins in the kingdom on Wednesday.
"Non-Muslim residents in the kingdom must not eat or drink in public during Ramadan, in respect to the holiness of Ramadan and the feelings of Muslims," said an interior ministry statement published by the official SPA news agency.
Foreigners caught breaking the fast in public "will be subject to deterrent measures that include terminating their employment contracts and expelling them from the kingdom," the ministry said.
It added that "companies, corporations and individuals are required to inform their employees" of the rules.
Oil-rich Saudi Arabia, which applies a strict version of sharia (Islamic) law, is home to eight million foreigners, mostly Asians.
During Ramadan, Muslims fast from dawn to dusk and strive to be more pious and charitable.
The month begins with the sighting of the new moon, which varies from country to country.
During Ramadan, Muslims are also required to abstain from drinking liquids, smoking and having sex from dawn until dusk. The fast is one of the five main religious obligations under Islam.
The month is sacred to Muslims because tradition says it is the month in which the Koran was revealed by Allah to the Prophet Mohammed.
http://www.hindustantimes.com/world-news/restofasia/Saudi-to-expel-expatriates-disrespecting-Ramadan/Article1-1089762.aspx
---------
Egypt's top cleric says will go into seclusion until end of bloodshed
8 July 2013
Azhar's Grand Imam Ahmed al-Tayyeb said on Monday that he will go into seclusion until violence ends after the death of more than 50 people were killed in an attack outside the Republican Guard building.
Tayyeb said he would "remain in seclusion in his house until all the spilling of Egyptian blood ends and those behind it take responsibility," Reuters reported.
The grand imam was a key party to army-sponsored talks that yielded a roadmap for a political transition in Egypt after the military's ouster of Islamist president Mohamed Mursi on Wednesday.
Full report at:
http://english.alarabiya.net/en/News/middle-east/2013/07/08/Egypt-s-top-cleric-says-will-go-into-seclusion-until-end-of-bloodshed.html
-----------
"Massacre" in Egypt Destroys Hope for Peaceful Transition
July 9, 2013
More than 40 people are reported dead and hundreds wounded in Cairo on Monday following pre-dawn violence in which supporters of Mohammed Morsi and the Muslim Brotherhood were fired upon by Egyptian military and security personnel outside the military barracks where the ousted president is being held.
Witnesses at the scene describe differing accounts of what led to the shootings, but the violence is a troubling sign that tensions are likely to increase as the country seeks to negotiate its way out of a complex political crisis.
Full report at:
http://www.commondreams.org/headline/2013/07/08
---------
Egypt unrest: Brotherhood rejects Mansour poll decree
Jul 9, 2013
Egypt's Muslim Brotherhood has rejected a timetable for new elections laid out by interim president Adly Mansour, saying it is illegitimate.
President Mohammed Morsi was ousted by the army last week after mass protests.
The Tamarod movement, which organised the protests, has said it was not consulted on the election plan and has asked to see Mr Mansour urgently.
On Monday at least 51 people were killed outside a Cairo barracks where Mr Morsi's supporters say he is held.
Full report at:
http://www.bbc.co.uk/news/world-middle-east-23237852
-------
Egypt arrests 650 of pro-Morsi protesters
AP | Jul 9, 2013
CAIRO: An Egyptian security official says 650 people, mostly backers of ousted President Mohammed Morsi, have been detained for allegedly trying to storm a military facility, an incident the military claims sparked violence that left more than 50 pro-Morsi protesters dead.
Full report at:
http://timesofindia.indiatimes.com/world/rest-of-world/Egypt-arrests-650-of-pro-Morsi-protesters/articleshow/20990524.cms
-------
At Tahrir Square, liberals to carry on vigil at night
Saumya Pant, TNN | Jul 9, 2013
CAIRO: Nationalistic songs blared from every corner as Muslim Brotherhood members continued to gather at Cairo's Nasr City demanding the reinstatement of ousted President Mohamed Morsi despite the killing of 51 protesters, including a six-month-old, in shootings blamed on the army.
The scene of morning clashes and the shootings outside the Republican Guard compound, where Morsi is believed to be held, was littered with shattered glass, shoes, clothes, prayer rugs and photographs. The shootings during morning prayers have tarnished the respect the army commands in Egypt.
Full report at:
http://timesofindia.indiatimes.com/world/middle-east/At-Tahrir-Square-liberals-to-carry-on-vigil-at-night/articleshow/20980848.cms
-----------
Egypt reportedly bars entry to Palestinians en route to Gaza
8 Jul 2013
Palestinians who fly into Cairo International Airport to return to the Gaza Strip via the Rafah land crossing are being sent back to the countries they flew into Egypt from without prior notification, the Palestinian website Electronic Intifada website has reported.
The Rafah border crossing between Egypt and the Gaza Strip has been closed indefinitely since the removal of Mohamed Morsi, Egypt's former president, on 3 July.
Full report at:
http://english.ahram.org.eg/NewsContent/2/8/76035/World/Region/Egypt-reportedly-bars-entry-to-Palestinians-en-rou.aspx
-----------
From power to protest, Egypt's Brotherhood fights for life
9 July 2013
The Muslim Brotherhood is facing an old adversary in the fight of its life, but has few means to confront the Egyptian military that has swept it from power. Reduced to camping out on the Cairo streets, all it can do, it seems, is mourn its dead.
The deaths of 51 Brotherhood supporters killed when the army opened fire on them on Monday was the latest and bloodiest blow to a group reeling from President Mohamed Mursi's dramatic ouster from office at the hands of the generals.
Even as the bloodshed may help it rally supporters around a sense of shared suffering, the Brotherhood faces big questions: how will it manage the internal divisions likely to result from its failure; should it re-engage in electoral politics; and what happens to leaders whose policies got it into this situation.
Full report at:
http://english.alarabiya.net/en/perspective/analysis/2013/07/09/From-power-to-protest-Egypt-s-Brotherhood-fights-for-life-.html
-----------
Egyptian Rebel campaign says constitutional decree was a 'surprise'
9 Jul 2013
Mahmoud Badr, spokesperson of the 'Rebel' (Tamarod) movement, has said that the group was "surprised" by the presidency's constitutional decree.
The group, which spearheaded the 30 June protests that toppled former president Mohamed Morsi, was reportedly unaware of the contents of the 33-article decree that was unveiled by the presidency on Monday night.
Full report at:
http://english.ahram.org.eg/NewsContent/1/64/76089/Egypt/Politics-/Rebel-campaign-says-constitutional-decree-was-a-su.aspx
-----------
Syria rebel PM Ghassan Hitto resigns: Statement
8 Jul 2013
Syria's rebel prime minister Ghassan Hitto announced his resignation on Monday, nearly four months after his appointment and having failed to form a government.
"I announce I will not continue in my capacity as prime minister tasked with leading the interim government, though I emphasise I will continue working for the interests of the revolution and towards achieving its objectives," Hitto said in an online statement.
http://english.ahram.org.eg/NewsContent/2/8/76034/World/Region/Syria-rebel-PM-Ghassan-Hitto-resigns-Statement.aspx
-----------
Explosion hits Hezbollah stronghold in Lebanon
July 09, 2013
A large explosion rocked a stronghold of the Shiite militant Hezbollah group in the Lebanese capital early on Tuesday, sending black smoke billowing into the sky and causing an unknown number of casualties, security officials said.
The officials said it was not clear whether the blast in the suburb of Beir el-Abed in south Beirut was caused by a car bomb. The officials, who spoke on condition of anonymity in line with regulations, said it was near a gas station.
Hezbollah's Al-Manar TV said the blast was a car bomb inside a parking lot near an Islamic center. The station broadcast footage of a thick plume of smoke rising into the sky at the site of the blast as people rushed to take casualties to the hospital.
Full report at:
http://www.hindustantimes.com/India-news/newdelhi/Bodh-Gaya-blasts-despite-repeated-alerts-state-failed-to-act-timely/Article1-1089417.aspx
-----------
India
Delhi CM Asks Waqf Board to Give Annual Salary Hikes to Imams
Jul 09 2013
New Delhi: Days after announcing a 100 per cent hike in the remuneration of Imams associated with the Wakf Board in Delhi, Chief Minister Sheila Dikshit on Monday asked the board to work out a formula to effect an automatic hike in salary every year.
With an eye on the Assembly elections later this year, Dikshit had requested the board to consider a proposal to increase salaries of Imams and Muezzins in the national capital.
This is the second hike in salaries for Imams and Muezzins effected by the Waqf Board. While an Imam's salary has been hiked from Rs 5,200 to Rs 10,000, a Muezzin will now earn Rs 9,000 from the earlier Rs 4,800 in remuneration. Dikshit was felicitated on Monday at the India Islamic Cultural Centre by Imams from across Delhi.
Full report at:
http://www.indianexpress.com/news/eye-on-polls-cm-asks-wakf-board-to-give-annual-salary-hikes-to-imams/1139339/
---------
Punjab CM allows fruits, milk for Muslim jail inmates in Ramzan
Jul 09 2013
Ludhiana : For the very first time, Muslim inmates lodged in Punjab jails will be getting fruits, milk, dates, Rooh Afza, bread and other food items during the holy month of Ramzan beginning on July 10.
This is in accordance with the latest orders passed by CM Parkash Singh Badal on Monday, after State Minority Commission member Hafiz Tehsin Ahmed met him on Tuesday last week at his residence in Chandigarh.
Talking to Newsline, Ahmad said, "The CM not only allowed special food items to be served to Muslim inmates during Ramzan but also told authorities that all expenses regarding the same will be cut from his own CM fund."
Full report at:
http://www.indianexpress.com/news/badal-allows-fruits-milk-for-muslim-jail-inmates-in-ramzan/1139254/
---------
IM, Rohingya outfit under scanner for Bodh Gaya blasts
July 09, 2013
Home-grown terror outfit Indian Mujahideen and radicals among Myanmar's Rohingya Muslims are under the scanner for the series of blasts that rocked Mahabodhi Temple and nearby areas in Bodh Gaya on Sunday even as the lone "suspect" in the case failed to yield much.
Poor quality of the footage of the 16 functional CCTVs installed in one of Buddhism's holiest shrines has complicated the job of the investigators still looking for a breakthrough.
"The suspicion is on IM as it had issued a threat earlier also, but we are exploring all angles," a senior NIA official told HT in Bodh Gaya.
Full report at:
http://www.hindustantimes.com/India-news/patna/IM-Rohingya-outfit-under-scanner-for-Bodh-Gaya-blasts/Article1-1089415.aspx
-----------
Five infiltrators killed on LoC in Kashmir
AHMED ALI FAYYAZ
July 09, 2013
Suspicious movement of about eight to nine persons was noticed in the area between the LoC and fencing in Furkian gali in Kupwara, a Defence spokesman said.
Five militants have reportedly died in an encounter, on the LOC, in a major infiltration attempt in Keran sector of Kupwara district in Kashmir valley.
Authoritative sources said that Army troops foiled an attempt of infiltration by the heavily armed militants of Lashkar-e-Toiba when they noticed some suspicious human movement close to Hema post on the LOC in Keran sector of north Kashmir late on Monday night.
Full report at:
http://www.thehindu.com/news/national/other-states/five-infiltrators-killed-on-loc-in-kashmir/article4897746.ece
-----------
Love to see what Sharif will do to improve Indo-Pak ties: Abdullah
July 09, 2013
"The proof of the pudding is in the eating", Jammu and Kashmir Chief Minister Omar Abdullah said on Monday, emphasising he would love to see what Pakistan's Prime Minister Nawaz Sharif will do to improve ties with India.
Describing some of the statements from Islamabad as "heartening" after Mr. Sharif's return to power, Omar said that improved relationship between India and Pakistan benefitted his state which suffers when Indo-Pak ties turn sour.
Full report at:
http://www.thehindu.com/news/national/other-states/love-to-see-what-sharif-will-do-to-improve-indopak-ties-abdullah/article4894840.ece
---------
Muslims suffer most as Indian economy slides
Despite hefty allocation for Muslims in the national budget, they are likely to be most affected by the slowing economy.
By Udayan Namboodiri
July 09, 2013
With the Rupee sinking to record lows and growth slowing to 5%, India's status as the world's second-fastest growing major economy after China appears to be slipping. Though all Indians are affected, the hardest hit is likely to be its largest minority community: Muslims.
"The expectation that the poorest Indians, a group where the representation of Muslims is disproportionately high, would see better days in the 2010s has been belied," Yashwant Singh, a former finance minister, told Khabar South Asia.
Full report at:
http://khabarsouthasia.com/en_GB/articles/apwi/articles/features/2013/07/09/feature-01
-----------
Pathans use cricket riches for charity
Ajit Bezbaruah
Jul 8, 2013
HMEDABAD: On Sunday, Mahmood Khan Pathan, father of international cricketers Irfan and Yusuf Pathan, distributed alms among 250 Muslim widows at the Juma Masjid in Vadodara.
"Since Ramadan is starting from Tuesday (July 9), we decided to give anaaz (grains) to these poor and needy women so that they can do their iftari in peace after observing religious fast during the holy month," said Pathan Sr and added that the packets which are provided to these ladies contain rice, wheat, sugar, dates etc which are essential during Ramadan.
This is not just a one-off gesture as the Pathans donate the same to more than 200 Muslim and the same number of Hindu widows during Eid-E-Milad. They are also providing tuition fees for the whole year to almost 700 kids (both Hindus and Muslims), some of whom are orphans. Full report at:
http://articles.timesofindia.indiatimes.com/2013-07-08/off-the-field/40442459_1_pathans-irfan-vadodara
-----------
Bodh Gaya blasts: Investigators spot six suspects in CCTV clips
IANS | Jul 9, 2013
BODH GAYA: Six suspects, including a woman, have been spotted in CCTV footage by investigators probing the 10 bomb explosions at Bodh Gaya's Mahabodhi temple in Bihar, police officials said on Tuesday.
"We have detected six suspects, including a woman, since their movement close to the temple gate and wall, hours before the blasts, were captured in the CCTV footage," said a police official involved in looking at the footage.
Full report at:
http://timesofindia.indiatimes.com/india/Bodh-Gaya-blasts-Investigators-spot-six-suspects-in-CCTV-clips/articleshow/20985195.cms
-----------
Poor placing of bombs saved Lord Buddha's statute
Deeptiman Tiwary, TNN | Jul 9, 2013
NEW DELHI: The sacred Lord Buddha statue in the Mahabodhi Temple complex in Bodh Gaya could have been badly damaged had the terrorists been more judicious in placing the bomb. However, they placed the bomb meant for the statue so close to another that explosion in one broke the other's clock rendering it useless. Two other bombs too followed the same fate because of their proximity to rest of the explosives.
Full report at:
http://timesofindia.indiatimes.com/india/Poor-placing-of-bombs-saved-Lord-Buddhas-statute/articleshow/20980315.cms
-----------
Muslim bodies slam politics over Bodh Gaya blasts
Rakhi Chakrabarty, TNN | Jul 9, 2013
NEW DELHI: Muslim bodies slammed political parties for indulging in terror politics over Bodh Gaya blast for electoral gains. Congress leader Digvijaya Singh's not-so-subtle allusion to Hindutva groups as perpetrators of the blast and BJP's retort has not gone down well with Muslim community leaders. They insisted that investigating agencies should be allowed to conduct an impartial probe without mounting pressure on them.
Full report at:
http://timesofindia.indiatimes.com/india/Muslim-bodies-slam-politics-over-Bodh-Gaya-blasts/articleshow/20980285.cms
-----------
Terrorists' audacity leaves sleuths aghast, at Bodh Gaya
TNN | Jul 9, 2013
NEW DELHI: Placing a dozen cylinder bombs in and around the Mahabodhi Temple complex in Bodh Gaya could not have been difficult for terrorists in the absence of security, but the manner in which they placed two explosives at a platform (16 feet high) left the visiting Central team — comprising NIA and NSG officials - aghast.
The officials, having long experience of investigating terror cases, wondered why the terrorists placed the bombs at the platform when they had to use a ladder that could have attracted attention of any passerby early Sunday morning.
Full report at:
http://timesofindia.indiatimes.com/india/Terrorists-audacity-leaves-sleuths-aghast/articleshow/20980039.cms
-----------
CBI probe in Ishrat case based on solid evidence: CBI chief Ranjit Sinha
Neeraj Chauhan, TNN | Jul 9, 2013
NEW DELHI: CBI chief Ranjit Sinha on Monday confirmed that a senior IPS officer of Gujarat cadre had asked agency officials probing the Ishrat Jahan case to file a chargesheet drafted by him.
"The chargesheet brought to us by the officer (Satish Verma) did not match our investigations and we had already made our chargesheet so there was no point including anything which did not come out in our investigations," Sinha told TOI on Monday.
Full report at:
http://timesofindia.indiatimes.com/india/CBI-probe-in-Ishrat-case-based-on-solid-evidence-Sinha/articleshow/20979695.cms
-----------
Stranded Rajasthani labourers in Saudi Arabia threaten suicide
Nitesh Kumar Sharma, TNN | Jul 9, 2013
JAIPUR: A group of 33 daily wage earners from Rajasthan who are stranded in Saudi Arabia for the past two months have threatened mass suicide.
Demanding action against a travel and placement agency from Jaipur which had sent them to Saudi Arabia on false promises these people said that they would commit suicide instead of waiting for death due to starvation, thirst, and lack of basic facilities. "We have repeatedly sent faxes to the chief minister's office pleading for help, but none has come. We are forced to stay in enclosures meant for buffaloes. We are hungry for almost a week now," said Gulzar, a labourer from Tonk district.
Full report at:
http://timesofindia.indiatimes.com/india/Stranded-Rajasthani-labourers-in-Saudi-Arabia-threaten-suicide/articleshow/20979649.cms
-----------
26/11 case: Pak judicial panel in India soon
July 09, 2013
In a move that could be seen aimed at addressing India's "core concern", Pakistan has conveyed that it will send a judicial commission on 26/11 Mumbai terror strike to India soon, government sources told Hindustan Times.
India had told the interlocutors of Nawaz Sharif regime that unraveling full conspiracy in the Mumbai terror case of 2008 and bringing the guilty to justice is a domestic imperative for normalising ties with the neighbour.
Full report at:
http://www.hindustantimes.com/India-news/newdelhi/26-11-case-Pak-judicial-panel-in-India-soon/Article1-1089445.aspx
-----------
Mumbai cops to take help from Dabbawalas to tackle terrorism
Mateen Hafeez, TNN | Jul 9, 2013
MUMBAI: For the first time the city police are roping the Dabbawalas to take help in security and avoiding any terror attack. A day after the Bodh Gaya bomb blasts, the cops conducted meetings with over 200 home delivery Dabbawalas and requested them to monitor suspicious people and movements since they interact with hundreds of people on daily basis and visit dozens of places to deliver Tiffin's. Cops say it will help them to monitor situation and bring the anti-social and anti-national elements under their radar.
Full report at:
http://timesofindia.indiatimes.com/city/mumbai/Mumbai-cops-to-take-help-from-dabbawalas-to-tackle-terrorism/articleshow/20990377.cms
--------
South Asia
Hefazat-E-Islam Chief's Video on Sexual Harassment Creating Storm in Social Media
Manik Miazee, Muktasree Chakma Sathi
July 9, 2013
Shafi justified the rampant incidents of sexual harassment and violence against women in the video clip
A recent YouTube video clip of Hefazat-e-Islam chief Shah Ahmed Shafi has created much outrage in social networking sites. In the video, Shafi told to his followers not to educate girls after the primary level, to keep them at home and not to let women become financially independent.
Shafi justified the rampant incidents of sexual harassment and violence against women, saying such things would keep happening as long as they go outside their homes, either for studies, work or shopping. Contacted for comments, the secretary general of the Islamist group, Junaid Babunagari said the video was "fabricated."
Full report at:
http://www.dhakatribune.com/politics/2013/jul/09/comments-women-shafi%E2%80%99s-video-creating-storm-social-media
-----------
Attacks in China's Xinjiang aimed at causing violence: Militant
July 08, 2013
Beijing: The recent attacks in China's Muslim Uygur majority Xinjiang province that left 35 people dead were "carefully planned" and did not target any particular ethnic group, according to a captured militant.
"We were assigned different tasks in the attack. Mine was to attack the police station from the front entrance," said Wulayin Ali, the only surviving member of a 16-member group that carried out attacks on a police station and surrounding areas at in Lukqun township, Turpan prefecture recently.
The attack started with an assault on a police station. The group killed 24 people, including two police officers, two assistant officers and two women. Sixteen of the dead were ethnic Uygurs. Eleven attackers were killed by security forces while five others, including Wulayin, were captured.
Full report at:
http://zeenews.india.com/news/world/attacks-in-china-s-xinjiang-aimed-at-causing-violence-militant_860768.html
----------
Afghan soldier 'kills Nato colleague' at Kandahar airport
Jul 9, 2013
An Afghan soldier has opened fire inside Kandahar international airport, killing one Nato soldier and injuring two others, the Afghan army says.
Gen Abdul Razir Shirzai said the soldier fired from a security tower before being overpowered.
The casualties are Slovakian, the BBC learned. Nato confirmed the death but gave no details. Thousands of Nato and Afghan troops are based at the airport.
Full report at:
http://www.bbc.co.uk/news/world-asia-23242444
-------
Adhaalath Party brings 34 Hafiz for Ramazan prayers
By Minivan News | July 8th, 2013
The Adhaalath Party (AP) has arranged for 38 Hafiz, individuals who can recite the Quran from memory, to lead tarawih (night prayer) throughout the atolls during Ramazan, reports local media.
The hafiz will be sent to islands by the first day of Ramazan (July 9) and AP is currently coordinating with island councils and associations to determine which islands they will be assigned, said Adhaalath.
This is the fifth year the AP has brought hafiz under its social responsibility program, with 34 arriving from India and four from Sri Lanka.
http://minivannews.com/category/news-in-brief
-----------
Afghan spies arrest US translator for torture
AFP
July 9, 2013
KABUL: Afghanistan's intelligence agency is holding an Afghan-American translator on suspicion of torturing and killing civilians while working for US special forces, officials said Monday.
Zakrya Kandahari, who worked with the elite US troops in Wardak province bordering Kabul, was detained in May by the National Directorate of Security (NDS) following an order from President Hamid Karzai.
"Zakrya Kandahari... a translator for American special forces in Nerkh district of Wardak, accused of multiple felonies, was arrested in a special operation," the spy agency said in its first report on the case.
Full report at:
http://dawn.com/news/1023700/afghan-spies-arrest-us-translator-for-torture
-----------
Taliban close Qatar office to protest flag fracas
July 09, 2013
The Afghan Taliban are closing their Qatar office at least temporarily to protest demands that they remove a sign that identified the movement as the Islamic Emirate of Afghanistan, a diplomat and a Taliban official said on Tuesday.
The office was opened less than a month ago to facilitate peace talks and has come under pressure for using the same white flag flown during the Taliban's five-year rule of Afghanistan that ended with the US-led invasion in 2001.
Full report at:
http://www.thehindu.com/news/international/south-asia/taliban-close-qatar-office-to-protest-flag-fracas/article4898219.ece
-----------
Better to work with AP than risk "negative long-term effects": Maldives President
By Leah Malone | July 9th, 2013
President Mohamed Waheed has pledged to continue working with the religious conservative Adhaalath Party (AP) and has said he remains unconcerned about radicalisation in the Maldives.
Following a two day official visit to Sri Lanka, Waheed spoke to the AFP about his Adhaalath coalition partners and addressed concerns about rising religious fundamentalism in the Maldives.
Waheed believes excluding Adhaalath from mainstream Maldivian politics risked marginalising the party, which would have a "negative long-term effect".
"We believe we can work with them (Adhaalath), we believe we must work them, because not working with them would be to marginalise them," Waheed told the AFP.
Full report at:
http://minivannews.com/politics/better-to-work-with-adhaalath-party-than-risk-negative-long-term-effects-president-waheed-60910
-----------
President opens Maldives' first Burger King
By JJ Robinson | July 8th, 2013
President Mohamed Waheed has opened the Maldives' first Burger King, one of four international restaurant chains in Ibrahim Nasir International Airport (INIA)'s new food court.
Besides Burger King's there are two restaurants on either side of the departure gates. The new restaurants include 'casual' Thai eatery Thai Express, a Australian cafe chain selling mixed drinks and snacks called Coffee Club, and Swensen's ice creamery, which has already been operating in the airport for several months.
Full report at:
http://minivannews.com/politics/president-opens-maldives-first-burger-king-60892
-----------
Bangladesh faces challenges in improving living standards
July 9, 2013
Despite achieving some targets of Millennium Development Goals (MDGs)-2015, Bangladesh is still facing challenges in upgrading people's living standards, said experts yesterday.
Social economy, malnutrition, sustainable development, climate change and good governance are some of the factors Bangladesh must address to ensure the benefits of achieving the MDGs, they observed.
Full report at:
http://www.thedailystar.net/beta2/news/bangladesh-faces-challenges-in-improving-living-standards/
-----------
Bangladesh Jamaat-e-Islami leader 'committed' 9 types of crimes
July 9, 2013
The investigation agency designated to probe war crimes has found "evidence" about Jamaat-e-Islami leader ATM Azharul Islam's "involvement" in nine types of war crimes committed during the Liberation War.
Azhar, the alleged Al-Badr commander of Rangpur, was "involved" in at least six incidents of war crimes, which left over 1,200 people dead between April 3 and December 16, 1971.
The probe body revealed the information before the media yesterday after completing its investigation against the Jamaat's assistant secretary general.
Full report at:
http://www.thedailystar.net/beta2/news/azhar-committed-9-types-of-crimes/
-----------
Myanmar govt, Suu Kyi slam attack on Buddhist shrine
TNN | Jul 9, 2013
NEW DELHI: The Myanmar government and Opposition leader Aung San Suu kyi expressed unhappiness about the terror attacks in Bodh Gaya which damaged the Mahabodhi shrine and injured a young Myanmarese monk on Sunday. The Bihar government has been criticized for ignoring intelligence warnings that the shrine may be under terror threat.
The Bodh Gaya blasts will be a diplomatic embarrassment for India among countries who India courts as the repository of Buddhism's holy sites — from Japan, China, Bhutan, Thailand to Myanmar and Sri Lanka. For all these countries, India's position in the world of Buddhism is unique. This incident could cast a shadow on that, which would mean India would have to work doubly hard to secure religious sites that have an international presence.
Full report at:
http://timesofindia.indiatimes.com/india/Myanmar-govt-Suu-Kyi-slam-attack-on-Buddhist-shrine/articleshow/20981390.cms
-----------
Africa
'Hi girls,' Blair tells Qaddafi's teen sex slaves: report
8 July 2013
"Hi girls," Tony Blair greeted sex slave teen girls outside a tent in Libya where they were raped later after the former British prime minister finished his meeting with former strongman Muammar Qaddafi, a new book has claimed.
The book – "Gaddafi's Harem"— includes a description of how teenage sexual slave Soraya was taken from her parents and forcefully prepared to meet the demands of Qaddafi's sexual orders.
Full report at:
http://english.alarabiya.net/en/variety/2013/07/08/-Hi-girls-Blair-tells-Qaddafi-s-teen-sex-slave-report.html
--------
Nigeria: UK Bans Boko Haram, Minbar Ansar-Deen
BY RALIAT AHMED-YUSUF, 9 JULY 2013
The United Kingdom government has taken a step further in the global fight against terrorism by placing a ban on two extremist groups - the UK-based Minbar Ansar-Deen and Nigeria-based radical sect Boko Haram. They are to be proscribed in Britain under terrorism laws, making membership and support for them a criminal offence.
UK home secretary Theresa May has issued an order which, once approved by Parliament, will ban both organisations from operating in the UK from Friday, according to the Guardian of London newspaper.
Full report at:
http://allafrica.com/stories/201307090384.html
-----------
South Sudan failing after two years of freedom, activists say
9 July 2013
South Sudan is guilty of widespread human rights abuses and awash with corruption, campaigners warned on the second anniversary of the country's independence Tuesday.
US activists who backed the split from Sudan claimed in a letter that the fledgling country faces "an increasingly perilous state".
Signatories of the letter, which accuses the new country of failing its own people and repeating the mistakes of previous rulers before independence, include John Prendergast, a former director for African affairs at the White House's National Security Council.
Full report at:
http://english.alarabiya.net/en/News/africa/2013/07/09/South-Sudan-failing-after-two-years-of-freedom-activists.html
---------
Darfur attack wounds Sudan war crimes suspect
9 July 2013
KHARTOUM: A suspect wanted for war crimes in Sudan's Darfur has been left wounded after an attack which reportedly killed two of his men, sources in the region's largest city Nyala said yesterday.
Ali Kushayb, a former commander of the feared Janjaweed militia, was attacked on Sunday during battles in the city, which state officials blamed on "differences" between members of the security forces.
"It's Kushayb who was injured," one source said, referring to the man who is wanted by the International Criminal Court.
Full report at:
http://www.arabnews.com/news/457462
---------
Hundreds of migrants intercepted on boats from Libya
9 July 2013
ROME — Hundreds of migrants were intercepted by Italian, Libyan and Maltese border guards on Tuesday on several boats leaving from Libya, a day after Pope Francis called for more solidarity with the refugees.
Italy's coast guard said in a statement it had scrambled cargo vessels that were in the area to help out during the nighttime operation to rescue 303 migrants on three boats that were in difficulty.
Full report at:
http://www.saudigazette.com.sa/index.cfm?method=home.regcon&contentid=20130709172904
---------
Mali's army accuses Tuaregs of violating peace deal
8 Jul 2013
Mali's army has accused a Tuareg rebel group of breaching a peace accord in the flashpoint northeastern town of Kidal, by attacking civilians and soldiers.
"The MNLA has mobilised women and children in Kidal to throw stones at the black population, African (peacekeeping) troops and Malian soldiers," army spokesman Lieutenant-Colonel Diarran Kone said late on Sunday, referring to the Tuareg separatist National Movement for the Liberation of Azawad (MNLA).
"It's a serious violation of the peace accord" signed on 18 June by the rebels and Mali's transitional government, he added.
Kone stated that when Malian soldiers entered the Tuareg-held town on Friday, "demonstrators, manipulated by the MNLA, wounded three African soldiers of MINUSMA (the UN stabilisation mission in Mali) and stoned three Malian army vehicles, including an ambulance."
Full report at:
http://english.ahram.org.eg/NewsContent/2/9/76013/World/International/Malis-army-accuses-Tuaregs-of-violating-peace-deal.aspx
---------
Libyan armed forces to be trained in the UK
Jul 9, 2013
The British army will train up to 2,000 Libyan troops in the UK, the foreign secretary has announced.
William Hague said the Libyan troops would be brought to the UK in small groups later this year.
They will be given 10-week courses in basic infantry skills and leadership at Bassingbourn Barracks in Cambridgeshire.
The training of Libyan forces is part of a broader international effort to support Libya's democratic transition.
Full report at:
http://www.bbc.co.uk/news/uk-23245230
-------
Pakistan
Separate blasts, Suicide Attack kill at least nine in Khyber Pakhtunkhwa: police
ZAHIR SHAH SHERAZI
July 9, 2013
PESHAWAR: At least nine people, including two bomb disposal officers, were killed Monday in two separate explosions in restive northwestern Khyber Pakhtunkhwa province.
Station House Officer (SHO) Doaba police station Rahim Khan said a suicide bomber rammed his motorcycle into the vehicle of a tribal elder in KP's Hangu district, killing seven people.
Ten other people were also wounded in the blast near a bus stand in Hangu's Doaba tehsil.
The explosion also destroyed seven other vehicles.
Full report at:
http://dawn.com/news/1023694/separate-blasts-kill-at-least-nine-in-khyber-pakhtunkhwa-police
-----------
Maulana Fazl ur Rehman fails to win PML-N support for Senate seat
AMIR WASIM
July 9, 2013
ISLAMABAD: Despite all-out efforts, the JUI-F finds itself on a limb after its failure to gain support of the PML-N for its candidate on one of the two vacant Senate seats from Balochistan.
Sources told Dawn that the leaders of the two parties met in Islamabad on Monday to exclusively discuss the issue, but failed to reach any consensus on the candidates.
The seats had fallen vacant after resignation of Mir Lashkari Raisani and Maulana Mohammad Khan Sherani. Mr Raisani, who had been elected as senator on a PPP ticket, had announced his resignation from the upper house after joining the PML-N just before the May 11 general elections while Maulana Sheerani quit the Senate after winning a seat in the National Assembly.
Full report at:
http://dawn.com/news/1023843/jui-f-fails-to-win-pml-n-support-for-senate-seat
-----------
Saudi Arabia, UNHCR to construct houses for displaced people of South Waziristan
July 9, 2013
ISLAMABAD: The Saudi Fund for Development (SFD) and the UNHCR on Monday launched a project to construct two-room houses for the people of South Waziristan whose dwellings have been damaged during the operation in tribal areas.
The houses will be constructed for some of the most-vulnerable returnees who are unable to rebuild their damaged buildings. With financial support from Saudi Arabia, houses will be built at the cost of $8 million in South Waziristan, Kurram, Bajaur and Mohmand Agencies. The project is likely to complete by the end of this year.
Full report at:
http://www.dailytimes.com.pk/default.asp?page=2013\07\09\story_9-7-2013_pg11_1
-----------
No executions in Pakistan until President Zardari retires: aide
SHAHZAD RAZA
July 9, 2013
ISLAMABAD: President Asif Ali Zardari would not reject any mercy petitions of criminals facing the death penalty as long as he is in office, a close presidential aide said Monday.
Presidential spokesman Senator Farhatullah Khan Babar confirmed that President Zardari would prolong the matter until he retires on September 8, 2013.
In Pakistan, all executions must be approved by the president.
A presidential order issued in 2008 had imposed a moratorium on the death penalty. The Pakistan Muslim League – Nawaz (PML-N) government decided to end the moratorium after the presidential order expired on 30 June.
Full report at:
http://dawn.com/news/1023701/no-executions-in-pakistan-until-president-zardari-retires-aide
-----------
Senate committee proposes 7-point Action Plan for Cyber Secure Pakistan
APP
July 9, 2013
ISLAMABAD: The Senate Committee on Defence and Defence Production organised a policy seminar on "Defending Pakistan Through Cyber Security Strategy" in coordination with Pakistan Information Security Association (PISA) in order to address security issues related to the internet.
The event was held at the Pakistan Institute of Parliamentary Services (PIPS) in the federal capital city of Islamabad in wake of startling revelations made by Edward Snowden who claimed that the American National Security Agency (NSA) was spying on Pakistan through internet and online communication systems with 13.5 billion pieces of email, phone and fax communications intercepted.
Full report at:
http://dawn.com/news/1023706/senate-committee-proposes-7-point-action-plan-for-cyber-secure-pakistan
-----------
Secret is out: how Osama hoodwinked Pak for a decade
July 09, 2013
Osama bin Laden lived in plain sight for almost a decade and was once even pulled over for speeding but not apprehended, thanks to the incompetence of Pakistan's intelligence and security services, an official report into his killing said on Monday.
The report, leaked to Qatar-based broadcaster Al Jazeera which circulated it late on Monday, offers fascinating details about life on the run for the world's most wanted man, who, it says, wore a cowboy hat to avoid being spotted from above.
Written by a judge-led commission that the Pakistani government set up shortly after US special forces killed bin Laden in 2011, the 336-page report is based on interviews with 201 sources including members of his family and various officials.
Full report at:
http://www.hindustantimes.com/world-news/pakistan/Secret-is-out-how-Osama-hoodwinked-Pak-for-a-decade/Article1-1089587.aspx
-----------
Laden killing: ISI statement missing from 'leaked report'
July 09, 2013
Pakistani incompetence and negligence allowed al Qaeda leader Osama bin Laden to live in the country undetected for more than nine years, a leaked report has revealed. CIA spies tracked down bin Laden to the northwestern town of Abbottabad, where he was shot dead by US Navy SEALs on May
2, 2011 during a dramatic raid near Pakistan's military academy.
It was one of the most humiliating episodes in Pakistan's short history and exposed the country to allegations of incompetency or colluding with al Qaeda to hide the world's most wanted man.
Full report at:
http://www.hindustantimes.com/world-news/pakistan/Laden--killing-ISI-statement-missing-from-leaked-report/Article1-1089484.aspx
-----------
'Laden was reaching for AK-47 when he was shot'
July 08, 2013
Osama bin Laden was reaching for his weapons when he was shot by US Navy SEALs in his Abbottabad hideout, according to an account of the raid given by his family. The al Qaeda leader had been living in that house with his family and two guards and their families since 2005, moving from
nearby Haripur where they stayed for two years.
Bin Laden had been in Pakistan since at least 2002.
These new findings are contained in a report of the Abbottabad Commission that investigated bin Laden's presence in Pakistan and his death in a US raid on May 2, 2011.
The report, which examined 201 witnesses including bin Laden's three widows and the widow of one of his guards, has not been made public officially yet.
Full report at:
http://www.hindustantimes.com/world-news/northamerica/Laden-was-reaching-for-AK-47-when-he-was-shot/Article1-1089349.aspx
-----------
Pakistan Taliban sack spokesman in sign of growing divisions
July 09, 2013
Pakistan-based Taliban sacked their spokesman on Tuesday for making remarks that angered their Afghan allies, in a move highlighting efforts to patch up divisions within the increasingly fractured insurgency.
Tehreek-e-Taliban Pakistan (TTP), formed in 2007, is an umbrella group uniting various militant factions operating in Pakistan's volatile northwestern tribal areas along the porous border with Afghanistan.
Any further divisions within the movement are likely to weaken the Afghan Taliban's fight against Western forces there, making it more difficult to recruit young fighters and disrupting safe havens in Pakistan used by Afghan militants.
Full report at:
http://www.hindustantimes.com/world-news/pakistan/Pakistan-Taliban-sack-spokesman-in-sign-of-growing-divisions/Article1-1089780.aspx
-------
Too early to comment on failure to detect Osama bin Laden in country: Pak govt
PTI | Jul 9, 2013
ISLAMABAD: Pakistan government on Tuesday said that it was too early to say whether someone would be punished for failing to detect Osama bin Laden's decade-long stay in the country, a day after a leaked report blamed authorities for negligence in tracing the slain al-Qaida chief.
Information minister Pervaiz Rashid said that government was not in a hurry to take action against those responsible for negligence in tracing bin Laden.
"It is too early to ask this question," Rashid told reporters when asked about any punitive measures being contemplated by the authorities against those who failed to locate the al-Qaida chief's whereabouts in the country.
Full report at:
http://timesofindia.indiatimes.com/world/pakistan/Too-early-to-comment-on-failure-to-detect-Osama-bin-Laden-in-country-Pak-govt/articleshow/20989088.cms
-------
Benazir assassination case: Court outraged over Musharraf absence
July 9, 2013
RAWALPINDI: The Anti Terrorism Court (ATC) expressed its outrage at the non-presence of former President Pervez Musharraf at the Benazir Bhutto assassination case hearing on Tuesday, and stated that if Musharraf was not presented at the next hearing, the hearing would take place at Rawalpindi Central Jail, Express News reported.
Musharraf's lawyers stated that he could not have been presented at the hearing due to security concerns, at which ATC judge Rehman expressed outrage and said that the charged had to be present so that the case could proceed.
Full report at:
http://tribune.com.pk/story/574491/benazir-assassination-case-court-outraged-over-musharraf-absence/
-----------
Pakistan seeks $2bn more from IMF
July 9, 2013
ISLAMABAD: With the government struggling to bridge the $3 billion additional gap between external monetary outflows and inflows, the International Monetary Fund (IMF)'s deputy managing director has assured Islamabad of his support for an additional $2 billion in loans.
This was revealed by Finance Minister Ishaq Dar on the fringes of a microfinance summit on Monday. He predicted a bumpy road ahead for the national economy, despite the $5.3 billion assistance from the IMF.
Full report at:
http://tribune.com.pk/story/574389/stabilising-economy-pakistan-seeks-2bn-more-from-imf/
-----------
Violence continues: Political workers among 18 killed in the city
July 9, 2013
KARACHI: Eighteen people, including five workers of the Muttahida Qaumi Movement (MQM), an activist of the Pakistan Sunni Tehreek (PST) and a police inspector, were killed.
The neighbourhoods of New Karachi, North Karachi, Surjani and Orangi towns were tense after the target killing of MQM joint unit in-charge, Izhar Hussain, on Sunday night in Khwaja Ajmer Nagri police remits. Three PST workers, Arshad K-2, Irfan aka Irfan Chewara, and Furqan, were nominated in the murder FIR but the police have yet to make arrests.
Full report at:
http://tribune.com.pk/story/574166/violence-continues-political-workers-among-18-killed-in-the-city/
-----------
FATA Secretariat changes medium of instruction to English
July 9, 2013
PESHAWAR: In order to improve the education system in the Federally Administrated Tribal Areas (Fata), the FATA Secretariat has planned a range of initiatives for the next Annual Development Programme (ADP).
Talking to The Express Tribune, FATA Secretariat Education Secretary Muhammad Abid Majeed said a total of 69 schools in Fata have so far been converted into English-medium institutions.
"From grade six onwards Mathematics, Social Studies and General Science will now be taught in English," Majeed said, adding that subject specialist teachers in these schools possess a Masters degree and are well-versed in the English Language.
Full report at:
http://tribune.com.pk/story/574301/fata-secretariat-changes-medium-of-instruction-to-english/
-----------
Swift completion of uplift work at Bari Imam shrine ordered
July 9, 2013
ISLAMABAD: Finance Minister Muhammad Ishaq Dar, while expressing dismay over the delay, said that development work at the Hazrat Bari Imam shrine should be accelerated. "Sufi saints are a source of guidance and spiritual enlightenment for all Muslims. Pakistan is fortunate enough to have many saints on its soil. Hazrat Bari Imam is revered for his contribution in spreading Islam and spiritual uplift of Muslims," he said while chairing a high-level meeting of the newly reconstituted committee on Bari Imam. Barri Imam Shrine Project architect Syed Mohammad Ali Mazhar briefed the meeting on the construction of a new building at the shrine. The meeting was informed that the construction work at the shrine was started in 2008, but had not been completed to date. Dar, who is also the head of the Bari Imam Committee, constituted two sub-committees to supervise the construction work and to look after the environment and other issues relating to the shrine.
http://www.dailytimes.com.pk/default.asp?page=2013\07\09\story_9-7-2013_pg11_3
-----------
Experts concerned over malnutrition indicators in Pakistan
July 9, 2013
LAHORE: Right to adequate food and nutrition was emphasised during a consultative session organised by the Development Partners for Nutrition (DPN) in Pakistan and the Child Rights Movement Punjab on Monday at a local hotel.
The session aimed to promote nutrition as a basic human right by increasing the understanding and knowledge of civil society organisations on nutrition, which ultimately lead towards improved nutrition advocacy initiatives by CSOs. CRM Punjab representatives Miqdad Naqvi, Director Micronutrient Initiative Dr Tausif Akhtar Janjua, Director Advocacy and Child Rights Governance Arshad Mahmood, Provincial Coordinator Lady Health Workers Programme Government of Punjab Dr Akhtar Rasheed and Dr Tahir Manzoor of UNICEF were the keynote speakers on the occasion.
Full report at:
http://www.dailytimes.com.pk/default.asp?page=2013\07\09\story_9-7-2013_pg13_6
---------
Europe
Acting Head of Dagestan Says Government May Amnesty Militants
July 9, 2013
On June 24, the acting head of Dagestan, Ramazan Abdulatipov, said an amnesty for militants in the republic who want to return to civilian life could be announced. Abdulatipov made the surprise comments in an interview with Russian TV Channel One (Pervy Kanal). "We should learn how to forgive each other," Abdulatipov said, striking perhaps the most conciliatory tone to date (http://www.1tv.ru/sprojects/si=5756). The Dagestani leader was responding to the earlier call by journalist Marina Akhmedova, who published an open letter on Radio Liberty's website stating that Dagestani militants were prepared to "have an agreement" with the government since they could trust Abdulatipov, unlike the republic's previous leaders. Full report at:
The Jamestown Foundation
-----------
Corruption worsened in Arab countries since uprisings: Poll
July 9, 2013
DUBAI: Corruption has worsened in most Arab countries since their 2011 revolutions, even though anger with corrupt officials was a major reason for the uprisings, according to a public opinion poll released on Tuesday.
The survey by Transparency International, a global non-governmental body which studies bribery around the world, appears to dash hopes that the Arab Spring would produce cleaner government and business in the region.
The Arab public's continued frustration with corruption may undermine governments' efforts to restore political stability, while hindering economic growth and foreign investment.
Of four countries which experienced changes of government during the Arab Spring, a majority of respondents in three-Egypt, Tunisia and Yemen – feel the level of corruption has risen in the past two years, the survey showed.
Full report at:
http://tribune.com.pk/story/574468/corruption-worsened-in-arab-countries-since-uprisings-poll/
-----------
UK right activist to take up the case of Indian PoWs in Pakistan
Yudhvir Rana | Jul 8, 2013
AMRITSAR: While blaming successive Indian governments for dereliction of their duties in knowing the status of Indian Prisoners of War ( PoW) languishing in Pak jails, UK based right activist and advocate Jas Uppal has announced she will move the International Court of Justice to pressurize Pakistan government to divulge the correct information about Indian Prisoners of War (PoW) and and ensure their return to India.
"Pakistan authorities should have kept the records of Indian PoWs under the rule of Geneva Conventions and it is the duty of Indian government to find out what had happened to the captured Indian army soldiers in Pakistan," said Jas while talking to over phone from UK on Monday.
Full report at:
http://timesofindia.indiatimes.com/india/UK-right-activist-to-take-up-the-case-of-Indian-PoWs-in-Pakistan/articleshow/20974537.cms
-----------
UN chief Ban appeals for Ramadan truce across Syria
9 Jul 2013, Reuters
By Louis Charbonneau
UNITED NATIONS, July 8 (Reuters) - U.N. Secretary-General Ban Ki-moon appealed on Monday for forces loyal to Syrian President Bashar al-Assad and rebel fighters in Syria to put down their weapons during the Muslim holy month of Ramadan.
In a statement, Ban said Ramadan is one of the four months on the Islamic calendar during which fighting is supposed to cease.
"For the sake of the Syrian people, therefore, I would like to call on all parties in Syria to respect this religious obligation for at least, at a minimum, one month," Ban said on the eve of Ramadan, which begins on Tuesday.
Full report at:
http://www.trust.org/item/20130709020409-f7elm/?source=dpagehead
-----------
Pope greets Muslim migrants on Ramadan
July 9, 2013
Rome: Pope Francis, on the eve of the holy month of Ramadan, Monday said Muslim migrants in Italy had the support of the Catholic Church.
"I sent heartfelt greetings to dear Muslim immigrants who, this evening (Monday), will begin the Ramadan fast, and wish them abundant spiritual rewards," Pope Francis said as he held mass on the tiny Italian island of Lampedusa.
"The Church is close to you in your search for better lives for yourselves and your families," Francis said.
During his visit to Lampedusa, his first outside Rome as pontiff, Francis said he came to the island to "awaken consciences".
Full report at:
http://zeenews.india.com/news/world/pope-greets-muslim-migrants-on-ramadan_860839.html
-----------
Myanmar army frees 42 child recruits in move to end practice of child soldiers
Thomson Reuters Foundation
Mon, 8 Jul 2013
BANGKOK (Thomson Reuters Foundation) – The Myanmar army discharged 42 children and young adults who had been recruited for soldiering and other duties on Sunday, part of a U.N. deal to end the use of child fighters, the United Nations' children's agency UNICEF said.
Last June, Myanmar signed an agreement with the United Nations to end the recruitment and use of child soldiers after years of negotiations. However, rights groups have criticised Myanmar's government for not moving quickly enough to free them and urged the army and rebel groups to stop recruiting young people.
Full report at:
http://www.trust.org/item/20130708110512-oemwh/?source=hpeditorial
---------
UN Secretary-General demands inquiry into 'disturbing' Egypt bloodshed
AFP | Jul 9, 2013
NEW YORK CITY: UN Secretary-General Ban Ki-moon has condemned the latest wave of bloodshed in Egypt, calling for an independent inquiry into fresh violence which left more than 50 people dead.
Fifty-one people, mostly loyalists of ousted Egyptian president Mohamed Morsi, were killed outside an army barracks in Cairo on Monday.
Ban's spokesman Martin Nesirky said the UN leader was "deeply disturbed" by the killings, which have been described by Morsi's supporters as a "massacre."
Full report at:
http://timesofindia.indiatimes.com/world/middle-east/UN-Secretary-General-demands-inquiry-into-disturbing-Egypt-bloodshed/articleshow/20982341.cms
--------
Russia doubts new Syrian opposition leader's commitment to peace
8 Jul 2013
Russia said on Monday that remarks by the new leader of the opposition Syrian National Coalition have raised questions about his dedication to a political solution of the conflict, and urged the group to commit to attending a peace conference.
Ahmad Jarba, elected president of the coalition on Saturday, told Reuters the opposition would not go to the conference that Russia and the United States are trying to convene in Geneva unless its military fortunes improve.
http://english.ahram.org.eg/NewsContent/2/8/76036/World/Region/Russia-doubts-new-Syrian-opposition-leaders-commit.aspx
--------
Mideast
Hamas shaken and cautious after Egyptian upheaval
9 July 2013
Reuters, Gaza
Just a year ago, tens of thousands of Hamas supporters took to the streets of Gaza for a noisy celebration of the election of fellow Islamist Mohammad Mursi as Egypt's president.
Stunned silence among Hamas officials in the Palestinian enclave, which shares a border with Egypt's lawless Sinai peninsula, greeted his overthrow last Wednesday by the Egyptian military.
A shaken Hamas - an offshoot of the deposed leader's Muslim Brotherhood - is cautiously watching the scenes of street battles between pro- and anti-Mursi demonstrators in Egypt's cities and pondering how the turmoil will play out and what it means for its own rule in the Gaza Strip.
Full report at:
http://english.alarabiya.net/en/News/middle-east/2013/07/09/Hamas-shaken-and-cautious-after-Egyptian-upheaval.html
---------
Official Condemns US for Espionage Operations against Iran
July 9, 2013
TEHRAN (FNA)- Tehran deplored the US for conducting espionage operations against Iran, alluding to former CIA employee Edward Snowden's revelations on the case.
Foreign Ministry Spokesman Seyed Abbas Araqchi made the remarks on Tuesday after Snowden revealed that Iran was one of the main targets for Washington's espionage operations.
"These remarks are nothing new and it is obvious that Iran has always been one of the targets of the US espionage operations and the US officials have repeatedly pointed to this issue," Araqchi said.
Full report at:
http://english.farsnews.com/newstext.aspx?nn=13920418000797
-----------
Israel urges U.S. not to freeze Egypt aid, says report
9 July 2013
Israel has urged Washington not to suspend its annual $1.3 billion in aid to Cairo in the wake of the ouster of Egyptian president Mohammad Mursi by the military, press reports said on Tuesday.
Under U.S. law, all military and economic aid must be suspended to any country where the government is overthrown by the military, although Washington has not yet determined whether it considers the June 30 removal of Mursi was actually a coup, a claim made by the Muslim Brotherhood, to which the ousted president belongs.
Full report at:
http://english.alarabiya.net/en/business/economy/2013/07/09/Israel-urges-U-S-not-to-freeze-Egypt-aid-says-report.html
--------
Southeast Asia
Malaysian Police set to safeguard Ahmadiyah mosques
July 09 2013
Festive fasting: Residents flocked to the main thoroughfares in Semarang, Central Java, during the dugderan parade on Monday to welcome the Ramadhan fasting month which starts on Wednesday. The dugderan parade, a traditional Semarang way to welcome Ramadhan, consisted of various warak endog effigies, golden cart and floats. (JP/Ainur Rohmah)
The Bandung City Police have prepared its officers to safeguard four Ahmadiyah mosques in the city during the Ramadhan fasting month.
"We do not want any vandalism to take place again," Bandung City Police deputy chief Adj. Sr. Comr. Awal Chairuddin said on Monday.
There are about 9,000 Ahmadis in Bandung and the four mosques are located in the Astana Anyar and Cibeunying Kaler districts.
Full report at:
http://www.thejakartapost.com/news/2013/07/09/police-set-safeguard-ahmadiyah-mosques.html
-----------
Refrain From Fireworks during Ramadan: Indonesian Council of Ulema
By Arientha Primanita & Bayu Marhaenjati
July 9, 2013
Amid police raids cracking down on fireworks and firecrackers prior to Ramadan and Idul Fitri, the Indonesian Council of Ulema (MUI) has urged Muslims against setting off explosives in celebration of the holiday.
"It's okay if it is part of the culture and advantageous to the celebrator. But if it only draws danger to oneself and the environment and has no other benefit, it is better to avoid setting them off," Asrorun Niam Soleh, the secretary of the MUI's edict commission, told the Jakarta Globe on Tuesday.
Full report at:
http://www.thejakartaglobe.com/news/jakarta/refrain-from-fireworks-during-ramadan-mui/
-----------
Religious Intolerance Down Slightly in Indonesia: Setara
By Stephanie Hendarta
July 9, 2013
Violence between Sunni and Shiite Muslims on East Java's Madura Island and an attack on an Ahmadiyah community in West Java are among the 282 cases of religious violence in Indonesia reported in the first half of the year by the Setara Institute, an organization that monitors religious freedom in the country.
The struggle for religious freedom continues to face headwinds, as the institute reported only a minor drop in the number of acts of religious intolerance. In its January-July 2012 report, Setara recorded a total of 297 cases of violence.
Full report at:
http://www.thejakartaglobe.com/news/incidents-of-religious-intolerance-down-slightly-setara/
-----------
Indonesian Muslims Prepare for a Costlier Ramadan
July 9, 2013
As the holy month of Ramadan arrives and Muslims in Indonesia prepare for a season of fasting and reflection, many will return to their hometowns to celebrate the culmination of the festivities and feast on traditional Indonesian dishes.
Unfortunately, this year's celebrations will be dampened by the rise in fuel and food prices across the archipelago.
Though people are used to dealing with the annual Ramadan-induced inflation, the recent hike in subsidized fuel prices — which effectively doubled the financial impact for most Indonesians — has made the situation much more dire.
Full report at:
http://www.thejakartaglobe.com/news/indonesian-muslims-prepare-for-a-costlier-ramadan-after-fuel-price-hike/
-----------
"Allah" appeal irrational, illogical, says Catholic church
BY V. ANBALAGAN
JULY 09, 2013
The Catholic Church will argue that the Najib administration's appeal against a High Court decision allowing a church newspaper to use the word "Allah" should be struck out because it is irrational and illogical.
A source familiar with the case told The Malaysian Insider that the appeal was an academic and futile exercise by the government.
The reason: a list of promises given by Prime Minister Datuk Seri Najib Razak in April 2011 just before the Sarawak state elections explicitly allowed Catholics to use the word "Allah".
With one eye on the Christian vote in the East Malaysian state, Najib offered a 10-point solution to the problems faced by Christians in practising their religion freely as provided under the Federal Constitution.
Full report at:
http://www.themalaysianinsider.com/malaysia/article/allah-appeal-irrational-illogical-says-catholic-church/
-----------
Malaysians see cops, politicians as most corrupt
BY TRINNA LEONG
JULY 09, 2013
There is a sharp drop in the number of Malaysians who are confident of the government's anti-corruption efforts.
This finding by Transparency International paints a troubling picture for the Najib administration and the latest bout of bad news for the beleagured Malaysian Anti-Corruption Commission (MACC).
The latest survey showed that police and political parties were perceived to be the two most corrupted institutions.
Full report at:
http://www.themalaysianinsider.com/malaysia/article/malaysians-see-cops-politicians-as-most-corrupted/
----------
Philippine military calls off offensive on rebels
9 July 2013
MANILA: Philippine troops have called off an offensive that killed dozens of breakaway Muslim rebels and dislodged 100 others from two southern strongholds ahead of the resumption this week of peace talks between the government and a main insurgent group, military officials said yesterday.
Village officials and witnesses have reported between 36 to 80 armed fighters of the rebel faction Bangsamoro Islamic Liberation Movement were killed in clashes over the weekend in villages of a vast marshland bordering the provinces of Maguindanao and North Cotabato, according to army officials.
Full report at:
http://www.arabnews.com/news/457457
---------
North America
Gitmo force-feeding is 'cruelty, not religious empathy': HR Advocates
NARAYAN LAKSHMAN
July 09, 2013
Force-feeding of some among a group of 106 hunger-striking inmates by guards at the Guantanamo Bay prison came under a renewed barrage of fire from critics and human rights advocates this week after protest groups published a video "demonstration" of the procedure on a celebrity volunteer.
Earlier reports that prison guards would force-feed inmates only after sunset and before sunrise during Ramadan prompted protests, including by leaders of the American Muslim community, that it represented continuing cruelty rather than religious empathy.
Full report at:
http://www.thehindu.com/news/international/world/gitmo-forcefeeding-is-cruelty-not-religious-empathy/article4895631.ece
-----------
Barack Obama greets Muslims on the occasion of Ramadan
Jul 09 2013
Washington : Greeting Muslims on the occasion of the start of the holy month of Ramadan, US President Barack Obama today said this month reminds that freedom, dignity and opportunity are the undeniable rights of all mankind.
"For the world's 1.5 billion Muslims, Ramadan is a time for thoughtful reflection, fasting and devotion," Obama said in a statement issued on the eve of Ramadan. "It is also an opportunity for family and friends to come together and celebrate the principles that bind people of different faiths - a commitment to peace, justice, equality and compassion towards our fellow human beings. These bonds are far stronger than the differences that too often drive us apart," he said.
Full report at:
http://www.indianexpress.com/news/barack-obama-greets-muslims-on-the-occasion-of-ramadan/1139490/
---------
Congress divided on using aid to pressure Egypt
9 July 2013
The Associated Press, Washington
While the Obama administration throws its support behind Egypt's military, some members of Congress are looking at withholding some or all of the annual $1.5 billion U.S. aid package if a civilian government isn't quickly restored.
Without the administration's support, that's a high hurdle. But after watching the violence spiral in recent days in Cairo and elsewhere, more lawmakers are questioning whether the Egyptian military's ouster of Mohammed Mursi's Muslim Brotherhood-led government last week must be defined as a "coup" and how the U.S. should leverage the only significant element of influence it has in Egypt.
Full report at:
http://english.alarabiya.net/en/News/middle-east/2013/07/09/Congress-divided-on-using-aid-to-pressure-Egypt.html
---------
In New Video, Snowden Predicted US Reaction to Disclosure of Spy Programs
Jon Queally
July 9, 2013
Nearly one month to the day after Edward Snowden revealed himself as the NSA whistleblower behind a series of explosive news stories that have shown the depth and detailed workings of the spy agency's vast global surveillance network, the Guardian on Monday released a second video interview—recorded while he was still in Hong Kong—in which he makes surprisingly prescient predictions about how his actions would be interpreted and how the US government would try to paint him as "an enemy" for making these disclosures.
Full report at:
http://www.commondreams.org/headline/2013/07/08-2
-----------
U.S. mulls leaving no American troops behind in Afghanistan
Source: Reuters
9 Jul 2013
WASHINGTON, July 8 (Reuters) - The United States is considering leaving no American troops behind in Afghanistan after the planned 2014 withdrawal date, U.S. officials said on Monday, amid ongoing tensions between the President Barack Obama's administration and Afghan President Hamid Karzai's government.
Obama is committed to wrapping up U.S. military involvement in Afghanistan by the end of 2014, but the United States has been talking with officials in Afghanistan about keeping a small residual force there of perhaps 8,000 troops after next year.
Full report at:
http://www.trust.org/item/20130709032700-f2hwn/?source=hptop
-----------
Boston bombing suspect faces first court appearance
July 9, 2013
NEW YORK: Boston bombing suspect Dzhokhar Tsarnaev is to appear in court for the first time on Wednesday following his arrest for the April attacks which left three people dead.
Tsarnaev, a 19-year-old US national of Chechen origin, was captured on April 19, four days after a huge manhunt after the Boston Marathon bombing.
The teenager is to appear in federal court in Boston on Wednesday before judge Marianne Bowler. Tsarnaev may formally enter his plea at the hearing.
Three people were killed and 264 injured after Tsarnaev and his elder brother Tamerlan detonated two pressure cooker bombs along the closing stages of the marathon route on April 15.
Full report at:
http://tribune.com.pk/story/574474/boston-bombing-suspect-faces-first-court-appearance/
-----------
Manning was 'upset' at plight of Iraqis: Witness
July 9, 2013
FORT MEADE: The US soldier accused of espionage for leaking a trove of secret files to WikiLeaks was "upset" about the plight of Iraqi civilians during his tour in Baghdad, a witness told the court Monday.
The US Army private was dismayed over an incident in which 15 Iraqi civilians had been jailed – with US backing – for handing out pamphlets criticising the government, said Sergeant David Sadtler, who helped oversee Manning's work as an intelligence analyst in Baghdad.
Manning "was concerned that this was happening," said Sadtler, who was called as a witness for the defense.
Full report at:
http://tribune.com.pk/story/574478/manning-was-upset-at-plight-of-iraqis-witness/
-----------
URL: https://www.newageislam.com/islamic-world-news/new-age-islam-news-bureau/arab-donates-land-for-swaminarayan-temple-in-uae/d/12520