New Age Islam News Bureau
2 Feb 2015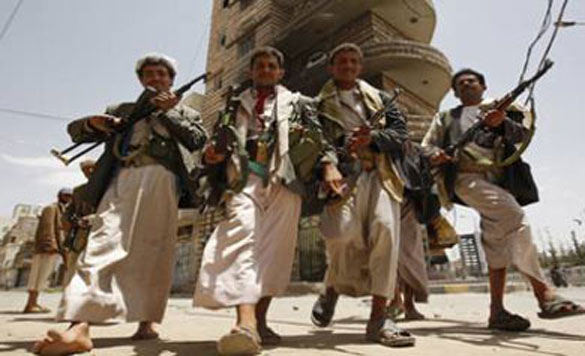 Photo: Yemen risks disintegration as south rejects Shia group's takeover
-------------
Arab World
• Serve Your Religion, Country, People Well King Salman Tells Emirs and Ministers
• Arab Anger! Imam Sparks Outrage By Rejoicing At Saudi King's Death
• Hezbollah: Damascus Attack Proof of Terrorists' Barbarism Who Serve Zionist Entity
• Syrian Army Makes Fresh Gains against Militants
• Syria Premier: ISIL Militancy Approaching End
• IS claims beheading of Iraqi security personnel
• Saudi beheads murderer, 5th execution under new king
• Iraqi Kurdistan tourism in tatters as IS war drags on
• Nationals of 42 countries caught smuggling drugs
• Syria: Western-backed rebel group joins armed coalition to stem losses to Al-Nusra
• Pilot held by Islamic State puts Jordan's king in a tough spot
• Kurdish fighters in Iraq struggle to hold gains against IS
• Two Al Jazeera prisoners at forefront of Greste's mind: Family
• Iraqi artist gets creative with old shoes to mock ISIS
Pakistan
• Four Prayer Leaders of Different Mosques Booked For Violating the Use of Loudspeakers
• Three Ahle Sunnat Wal Jamat Workers Killed In Two 'Sectarian' Attacks
• Banned militant organisation case moved to ATC in Multan
• Pakistan conducts flight test of Ra'ad
• Govt cautioned against opting for nuclear power plants
• Jamaat-i-Islami chief for resolving Balochistan issues through dialogue
• "Only political leadership can change militant mindset"
• Maulana Fazl ur Rehman says Kashmir settlement key to peace in S. Asia
• Students set up 'global village', call for peace
• Morale of the nation is high in war against terrorism: Punjab CM Shahbaz Sharif
Africa
• Suicide Bomber Kills 10 People in Northeast Nigeria's Potiskum
• South Sudan Foes Agree to End Conflict
• Islamic courts are formed in eastern Libya city
• Tunisia's Islamist party agrees to join coalition government
• Several killed in Somalia airstrike: Witnesses
India
• Reference to Religious Divide "Unfortunate", But I Endorse Obama's Statement: HM
• Indians with ISIS Leanings Freed In Bengaluru
• IS killings spark fresh fear for 39 Indian hostages in Iraq
• Tension in Muzaffarnagar as 4 Muslim boys booked
• Terror plot on US consulate: Another Pakistani involved in conspiracy
• Pune police deny permission for meet on Muslim reservation
South Asia
• 4 Policemen Killed in Chasht, Herat, in Taliban Attack
• Japanese PM: Working With Global Community Only Way to Fight Terrorism
• Afghan policemen kill 4 comrades in Kandahar province
• Muhith: Islamic banking built on misconception
• MPs demand new law to prevent petrol bomb
• BNP: Hartal, blockade to go on until govt steps down
Europe
• Muslims and the Left Wing in Europe
• "Visit My Mosque day" in UK
• UN slams Daesh beheading of Japanese hostage
• Egypt in cover-up of protester killings on revolution anniversary: Amnesty
• Defeating Islamic State needs patience, says UK PM
• UK mosque battles bad reputation with tea and biscuits
Mideast
• Yemen Risks Disintegration As South Rejects Shia Group's Takeover
• 'Risk Desks' Set Up To Stanch Jihadist Flow: Turkey
• Turkey's Erdogan gets dragged into Indonesia selfie debacle
• Israel razes Palestinian structures in W. Bank
• 6 Jewish settlers detained over Al-Aqsa 'violations'
North America
• US not at war with radical Islam: Obama
• Meet the Muslim superhero fighting bigotry on San Francisco buses
• Texas lawmaker shows Muslim visitors Israeli flag, demands pledge of allegiance
• Israel bypassed White House to amass weapons: WSJ
Southeast Asia
• Islamic authority's appeal against bookstore manager is persecution, says DAP
• Same old racial mindset in Malaysia
• 'Free Muslims from alcohol industry', PAS reps demand
• Look in the mirror, Muslim don tells Malaysians critical of Western discrimination
Compiled by New Age Islam News Bureau
URL: https://www.newageislam.com/islamic-world-news/new-age-islam-news-bureau/arab-anger!-tehran-imam-sparks-outrage-by-rejoicing-at-saudi-king-s-death/d/101330
----------
Arab World
Arab Anger! Tehran Imam Sparks Outrage by Rejoicing at Saudi King's Death
02 Feb, 2015
Manama: Dr. Anwar Mohammad Gargash, UAE Minister of State for Foreign Affairs, said that Iran's Guardian Council Chairman, Ahmad Jannati is compounding Tehran's relations with the Arab capitals.
On Friday, Jannati congratulated Muslims over the death of Saudi king Abdullah Bin Abdul Aziz.
"We should express condolences to the Israelis and Americans and congratulation to Muslims," Jannati said on during his Friday sermon in Tehran, Iran's Mehr news agency reported.
However, Gargash blasted the rejoice over the death of the Custodian of the Two Holy Mosques as fuelling sectarianism.
"The attack by the mosque imam Jannati on our departed King Abdullah Bin Abdul Aziz and on his life has sectarian overtones," he posted. "It targets all of us and compounds Iran's relations with Arab countries," the minister posted on his Twitter account.
Dr. Gargash said that mosques should not be used to target the dead.
"Mosque tribunes must not be used to spread sectarian ideologies, disrespects the dead, and interfere in the domestic affairs of others. If you cannot say a proper thing, then you should lapse into silence. King Abdullah is the pride of the Arabs," he posted.
King Abdullah died in the first hour of January 23 and news of his death sparked huge messages of compassion and sympathy in social media and in political circles across the world.
Iran's President Hassan Rouhani extended his condolences to the Saudi government and people on the monarch's demise while Foreign Minister Mohammad Javad Zarif paid a rare visit Riyadh express his sympathies.
Reports from Iran said that Ayatollah Abdollah Javadi Amoli decried the joy expressed by some Iranian media following the death of the Saudi king.
"The rejoicing over the death of individuals is neither recommended nor obligatory in Islamic teachings," he said. "Why should we hurt the feelings of some groups?"
http://gulfnews.com/news/gulf/saudi-arabia/imam-blasted-for-joy-over-king-abdullah-s-death-1.1449554
----------
Serve your religion, country, people well King Salman tells emirs and ministers
02 Feb, 2015
RIYADH — The newly appointed emirs and ministers took the oath of office before Custodian of the Two Holy Mosques King Salman here on Sunday.
Addressing them, King Salman said: "It is hoped from our ministers and emirs of regions that they will do good. They are from the roots of this country that was unified by Allah and then the late King Abdul Aziz. Thanks to Allah it is enjoying security, prosperity, stability and unity. "The Kingdom is the Qibla of Muslims and it is the cradle of revelation.
"Our loyalty is to our country and people. The late King Abdullah's advice was to serve our citizens and religion before anything else. Thanks to Allah, this state since it was unified by King Abdul Aziz has been in security and stability. We pray to Allah Almighty to grant us success to serve our religion, country and people."
http://www.saudigazette.com.sa/index.cfm?method=home.regcon&contentid=20150202232435
----------
Hezbollah: Damascus Attack Proof of Terrorists' Barbarism Who Serve Zionist Entity
02 Feb, 2015
Hezbollah condemned the terrorist bombing that was carried out on Sunday by Takfiri criminals in the Syrian capital of Damascus.
"This bombing is an episode of a series of bombings that target pilgrims in Syria, civilians in Iraq and worshipers in Pakistan, and claim the lives of dozens of martyrs", Hezbollah indicated in a statement, Al-Manar reported.
A 5-kilogram explosive device has been planted in the bus of Lebanese pilgrims while they were visiting the grand-daughter of Prophet Mohammad (PBUH), Sayyeda Rokayya (as) daughter of Imam Hussein (as).
The terrorist blast killed 6 pilgrims and wounded 22 others, including two of critical conditions.
"This brutal bombing represents evidence of the barbarism that is simmering in the hearts of those terrorists who are serving the criminal Zionist entity and achieving its scheme," it added.
Hezbollah underlined that "bombings, destruction of shrines and vandalizing sanctities carried out by those criminals around the world must be the catalyst for all the rational and vital forces of the nation and of the world to focus efforts on fighting and eliminate them after they became a criminal tool in the hands of the Zionist entity".
http://english.farsnews.com/newstext.aspx?nn=13931113000608
----------
Syrian Army Makes Fresh Gains against Militants
02 Feb, 2015
Syrian army forces continued their military operations against foreign-backed militants to flush them out of parts of al-Meraiyie in the Eastern province of Deir Ezzur.
Syrian soldiers repelled the attack by ISIL militants in al-Tharda mountain and Huwaijet Saqr and restored security to areas in al-Meraiyie village, some 10 kilometers East of the provincial capital city of Deir Ezzur, press tv reported.
They also targeted ISIL strongholds in al-Meraiyie, destroying 17 vehicles equipped with heavy machineguns and seizing weapons and equipment.
Syrian army troops have also taken control over Dahret al-Marhiyat, Dahret al-Wardeh areas and Maadar village in Kafer Yabous in Damascus countryside, killing many terrorists of the Al-Qaeda-linked al-Nusra Front.
Syria has been grappling with a deadly crisis since March 2011. The violence fuelled by Takfiri groups has so far claimed the lives of over 200,000 people, according to reports. New figures show that over 76,000 people, including thousands of children, lost their lives in Syria last year.
Over 7.2 million Syrians have also become internally displaced due to the ongoing crisis, according to the United Nations.
http://english.farsnews.com/newstext.aspx?nn=13931113000849
----------
Syria Premier: ISIL Militancy Approaching End
02 Feb, 2015
Syrian Prime Minister Wael al-Halqi vowed that the ISIL Takfiri group and its affiliated terrorist groups will be flushed out of the country in the year 2015.
"The time of the rise of ISIS (ISIL) and its sisters is approaching its end," said al-Halaqi, addressing People's Assembly of Syria in a session on Sunday, Syria's official news agency, SANA, reported.
The Syrian premier further pointed to the sacrifices made by the Syrian armed forces and popular defense groups, adding that establishing security across the crisis-hit country is a top priority for the government of President Bashar al-Assad, press tv reported.
He went on to say that the support provided for the terrorist group by the West, some Arab countries, Turkey and Israel is the main reason for the persistence of terrorism in the Middle Eastern country.
Halqi also listed pursuing efforts for national reconciliation, providing the Syrian citizens with their needs and continuing the reconstruction of damaged infrastructure as other plans of the utmost significance for the government.
He also called on Syrian refugees in other countries to return to their homeland, promising that the government will fully support them.
Syria has been grappling with a deadly crisis since March 2011. The violence fuelled by Takfiri groups has so far claimed the lives of over 200,000 people, according to reports. New figures show that over 76,000 people, including thousands of children, lost their lives in Syria last year.
Over 7.2 million Syrians have also become internally displaced due to the ongoing crisis, according to the United Nations.
The Takfiri terrorist groups, with members from several western countries, control swathes of land in Syria and Iraq, and have been carrying out horrific acts of violence such as public decapitations and crucifixions against all communities such as Shiites, Sunnis, Kurds, and Christians.
http://english.farsnews.com/newstext.aspx?nn=13931113000650
----------
Syria: Western-backed rebel group joins armed coalition to stem losses to Al-Nusra
02 Feb, 2015
Beirut, Asharq Al-Awsat—The Hazzm Movement, a Western-backed Syrian rebel group, has joined a coalition of other Syrian fighting groups, in what observers say is an attempt to protect itself from Al-Qaeda's representative in Syria, the Al-Nusra Front.
A statement released by the coalition, known as the Levantine Front, confirmed on Friday evening that the Hazzm Movement, "along with all its components and members," had now joined the umbrella group.
Speaking to Asharq Al-Awsat, a Syrian opposition source said it was likely the movement—one of the few remaining non-jihadist rebel groups in Syria—was seeking through its membership of the Levantine Front to protect itself from Al-Nusra, which has more arms and better-trained fighters than Hazzm.
Fighting has been raging between both groups since Thursday when the Al-Qaeda affiliate attacked Hazzm Movement positions in the cities of Aleppo and Idlib, where non-jihadist rebels such as Hazzm still have some presence on the ground.
Full report at:
http://www.aawsat.net/2015/02/article55341041
----------
IS claims beheading of Iraqi security personnel
2 February 2015
The Islamic State group beheaded an Iraqi police officer and a soldier, the latest in a long series of atrocities committed by the jihadists, according to pictures posted online.
In one photo, a blindfolded man said to be a police lieutenant colonel kneels in a street in front of a row of gunmen.
A masked militant is then shown beheading the victim with a machete, after which his severed head is placed atop his body and the machete driven into his back.
Another photo shows an overweight masked militant apparently struggling to behead a man identified as a captured Iraqi soldier.
The caption says a second soldier was also beheaded, but his death is not shown.
The authenticity of the photos could not be independently confirmed.
IS spearheaded a sweeping militant offensive in June that overran large areas north and west of Baghdad, and also holds significant territory in neighbouring Syria.
The brutal militant group has killed thousands of people in both countries, some of them in highly-choreographed videotaped sequences in which the victims are beheaded.
Iraqi security forces, backed by Kurdish troops, Shiite militias, Sunni tribesmen and a US-led campaign of air strikes, have managed to regain some ground from IS.
But the jihadists still control significant territory, including three major cities.
http://english.ahram.org.eg/NewsContent/2/8/121918/World/Region/IS-claims-beheading-of-Iraqi-security-personnel.aspx
----------
Saudi beheads murderer, 5th execution under new king
FEBRUARY 2, 2015
Saudi Arabia today beheaded a convicted murderer, bringing to five the number of people executed since new King Salman took office, continuing the kingdom's use of the harshest punishment.
Abdelrahman al-Jahni, a Saudi, was convicted of shooting another man dead during a dispute, the interior ministry said in a statement carried by the official Saudi Press Agency.
The sentence was carried out in the holy city of Medina.
According to an AFP tally, Jahni is the latest of 17 locals and foreigners to be executed this year.
Five have been beheaded since King Salman took office on January 23 after the death of his predecessor Abdullah.
The interior ministry says the death penalty in such cases reflects the government's commitment to "maintaining security, realising justice".
But the kingdom has faced constant international criticism over its human rights record, including the use of the death penalty.
Under Abdullah, the number of executions jumped from 27 in 2010 to around 80 annually, with 87 recorded last year.
http://www.themalaysianinsider.com/world/article/saudi-beheads-murderer-5th-execution-under-new-king#sthash.n9LRAPJI.dpuf
----------
Iraqi Kurdistan tourism in tatters as IS war drags on
02 Feb, 2015
ARBIL, Iraq — Billboards still read "Welcome to Arbil, 2014 Arab Tourism Capital," but most of the visitors Iraq's Kurdistan region welcomed last year were people made homeless by a militant offensive.
It was supposed to be tourism's takeoff year but the self-proclaimed Islamic State (IS) group's June onslaught dashed those hopes overnight when it plunged Iraq into chaos.
"I cannot even talk about a decline in numbers, it's more like everything collapsed," said Hearsh Ahmad Karem, the manager of the Kurdistan Hotels and Restaurants Association.
What was a growing $1 billion (885-million-euro) sector in 2013 came to a screeching halt when IS fighters took over large parts of Iraq north and west of Baghdad and moved within striking distance of Arbil.
Plans for a new zoo, the renovation of Arbil's UNESCO-listed citadel and many similarly ambitious projects have been halted.
"Instead of getting tourists, we got IDPs," said Karem, referring to the 900,000 internally displaced persons who fled conflict in Iraq and found refuge in Kurdistan.
The autonomous three-province region has been spared most of the violence that tore Iraq apart but Kurdish peshmerga forces were mobilized en masse, transport was disrupted and the destination's image took a big hit.
Full report at:
http://www.saudigazette.com.sa/index.cfm?method=home.regcon&contentid=20150202232367
----------
Nationals of 42 countries caught smuggling drugs
02 Feb, 2015
RIYADH — The General Department for Combating Narcotics and other concerned authorities have apprehended nationals of 42 countries who attempted to smuggle drugs into the Kingdom, the Makkah newspaper reported on Sunday.
A department report said the apprehended smugglers included 80 unidentified people and 104 expatriates living in the Kingdom.
According to the report, the smugglers hailed from 19 African countries and 23 other neighboring Asian and Arab countries.
It said Saudis topped all other nationalities, with 30,000 of them caught attempting to smuggle drugs in a single year out of 47,487 traffickers.
The report said Yemenis accounted for the second largest group of drug traffickers, with 7,688 arrested in one year.
The department said a total of 2,763 cases of drug smuggling attempts were registered against 80 unidentified persons while 104 expatriates were caught in connection with 91 drug cases.
In 2009 a total of 30,999 cases were registered. This was a figure superseded in 2013, which witnessed 35,695 cases.
http://www.saudigazette.com.sa/index.cfm?method=home.regcon&contentid=20150202232385
----------
Kurdish fighters in Iraq struggle to hold gains against IS
02 Feb, 2015
Only stray dogs and a dozen armed fighters walk the streets of Snuny, a ghost town at the base of Mount Sinjar where rapid military changes of fortune are written on the walls.
"Smoking is banned" has been scribbled in Arabic outside one cafe. A nearby building bears the warning: "Submit to the Islamic State, you infidels."
Those messages don't reflect the views of the new management. Today, flags representing various Kurdish political groups flap furiously in the wind over Snuny, claiming ownership of the town's barren streets.
But all along the Kurds' shifting front lines, it's a tenuous hold sustained only with timely air support from the US-led coalition. Questions remain whether the coalition-backed Kurds can secure strategic crossroads like Snuny and renew an offensive versus the Islamic State group, which controls a broad swath of northern Iraq from its base in Iraq's second-largest city, Mosul.
Full report at:
http://english.ahram.org.eg/NewsContent/2/8/121975/World/Region/Kurdish-fighters-in-Iraq-struggle-to-hold-gains-ag.aspx
----------
Two Al Jazeera prisoners at forefront of Greste's mind: Family
02 Feb, 2015
The relief that Australian journalist Peter Greste feels at being freed from prison in Egypt is restrained by concern for his two colleagues who remain in detention, his family said on Monday.
Al Jazeera journalist Greste was released on Sunday after 400 days in a Cairo jail and later left Egypt. He had been sentenced to seven years on charges that included aiding a terrorist group, security officials said.
Canadian-Egyptian Mohamed Fahmy and Egyptian national Baher Mohamed remain in prison. They were jailed for between seven and 10 years on charges including spreading lies to help a terrorist organisation - a reference to the outlawed Muslim Brotherhood.
It is the fate of his two Al Jazeera colleagues that is tempering Greste's joy, his brother told a news conference in the city of Brisbane.
"He's not going to forget his two other colleagues, there's no doubt that his excitement is tempered and restrained and will be until those guys are free. He won't give up until Baher and Mohamed Fahmy are out of there," Andrew Greste said.
Full report at:
http://english.ahram.org.eg/NewsContent/1/64/121973/Egypt/Politics-/Two-Al-Jazeera-prisoners-at-forefront-of-Grestes-m.aspx
----------
Iraqi artist gets creative with old shoes to mock ISIS
2 February 2015
The Islamic State of Iraq and Syria (ISIS) militant glares at Baghdad residents with bulging eyes and bared teeth, but neither kidnapping nor death are imminent, because this jihadist is made from a shoe.
A black, treaded sole with the toe broken off serves as his face and nose, while old shoelaces evoke both black headscarf and long hair.
For teeth, zippers dangle into a mouth formed by the space between the heel and toe, and round metal pieces stand in for bulging eyes.
The jihadist is the creation of Iraqi artist Akeel Khreef, who takes worn-out shoes and transforms them into faces representing the "ugliness" of ISIS, which has committed a slew of atrocities in his country.
"I wanted to portray the extent of the criminality and ugliness and ugly acts of the organization's members," says Khreef, a 35-year-old architectural engineering professor who is working on a mural of two dozen shoe faces.
Full report at:
http://english.alarabiya.net/en/life-style/art-and-culture/2015/02/01/Iraqi-artist-gets-creative-with-old-shoes-to-mock-ISIS-.html
----------
Pakistan
Four prayer leaders of different mosques booked for violating the use of loudspeakers
02 Feb, 2015
TAXILA: Four prayer leaders of different mosques in Wah Cantonment were booked for violating the ban on the use of loudspeakers.
Police also seized sound systems from the custody of the prayer leaders while filing cases against them under the Punjab Sound System Regulation Ordinance 2015.
A police official said the use of loudspeaker for any speech except Azan was banned and action would be taken against the violators of the ban.
Meanwhile, two girls were abducted in the limits of the Wah Saddar police on Sunday. The police have registered separate cases and started investigations.
http://www.dawn.com/news/1160928/four-prayer-leaders-booked
----------
Three Ahle Sunnat Waljamat workers killed in two 'sectarian' attacks
02 Feb, 2015
KARACHI: Three workers of the Ahle Sunnat Waljamat (ASWJ) were killed in two suspected 'sectarian' attacks in the Malir and Orangi Town areas while five "notorious gangsters" were gunned in an 'encounter' with the Rangers in Salar Goth on Sunday, officials and party sources said.
Two young men belonging to the ASWJ were shot dead in a suspected 'sectarian' attack on the main National Highway near Malir Halt in the evening, the airport police said.
They added the victims were riding on a motorbike when two gunmen also on a motorbike attacked them near the local headquarters of Rangers.
They were taken to the Jinnah Postgraduate Medical Centre (JPMC), where doctors pronounced them dead on arrival, said Dr Seemin Jamali, head of the emergency department.
The deceased were identified as 28-year-old Naseem Khan and 24-year-old Mohammed Asif, residents of Mujahid Colony in Nazimabad.
The police also recovered a diary containing name of the Ahle Sunnat Wal Jamat, said Malir SP Rao Anwar.
The senior officer added that the double murder occurred around 50 feet away from the Rangers local headquarters.
The victims were office-bearers of the ASWJ in district central, said a spokesperson for the ASWJ.
Full report at:
http://www.dawn.com/news/1160898/three-aswj-workers-killed-in-two-sectarian-attacks
----------
Banned militant organisation case moved to ATC in Multan
02 Feb, 2015
LAHORE: An anti-terrorism court (ATC) in Lahore has transferred the case against Malik Ishaq, leader of banned militant organisation Lashkar-e-Jhangvi (LeJ), to an ATC in Multan on the orders of the Lahore High Court.
During the ATC hearing, the case against Ishaq's alleged spreading of religious dissent was transferred to an anti-terrorism court in Multan on the orders of Lahore High Court.
The hearing of the case will commence from Feb 14 in Multan.
He was also previously arrested over charges relating hate-speech and inciting violence.
Having faced charges relating to killing of more than 100 people, most of them Shia Muslims, and the attack on the Sri Lankan cricket team in March 2009, Ishaq has spent around 15 years in Pakistani jails.
Punjab government has filed a case against Ishaq, who is currently incarcerated in Multan, of advocating and preaching religious violence.
http://www.dawn.com/news/1161031/malik-ishaqs-case-moved-to-atc-in-multan
----------
Pakistan conducts flight test of Ra'ad
02 Feb, 2015
RAWALPINDI: Pakistan on Monday conducted a successful flight test of the indigenously developed Air Launched Cruise Missile (ALCM) "Ra'ad", said an Inter Services Public Relations (ISPR) press release.
The Ra'ad missile, with a range of 350 km, enables Pakistan to achieve 'strategic standoff capability' on land and at sea.
"Cruise Technology" is extremely complex and has been developed by only a few countries in the world. The state of the art Ra'ad Cruise Missile with stealth capabilities is a low altitude, terrain hugging missile with high maneuverability; can deliver nuclear and conventional warheads with pin point accuracy.
Director General Strategic Plans Division, Lieutenant General Zubair Mahmood Hayat, while congratulating the scientists and engineers on achieving yet another milestone of historic significance, termed it a major step towards strengthening Pakistan's full spectrum credible minimum deterrence capability. Pakistan's strategic pursuits are aimed at achieving strategic stability in the region, he said.
He appreciated the technical prowess, dedication and commitment of scientists who contributed whole heartedly to make this launch a success.
He showed his full confidence over operational preparedness of strategic forces including employment and deployment concepts, refinement and training of all ranks in operational and technical domains.
The successful launch has been commended by President Mamnoon Hussain and Prime Minister Nawaz Sharif, who have congratulated the scientists and engineers on their outstanding achievement.
http://www.dawn.com/news/1161034/pakistan-conducts-flight-test-of-raad
----------
Govt cautioned against opting for nuclear power plants
02 Feb, 2015
KARACHI: Reacting to the news of the United States financing solar power projects in India, rights activists have urged Pakistan to look for alternative energy generating sources rather than opting for nuclear power plants, which may pose a serious threat to Karachi's population.
They stressed the need for the involvement of the public in an imminent public hearing on the ongoing case of the Chinese nuclear reactors to be built at the Karachi Nuclear Power Plant and said that an Environmental Impact Assessment (EIA) was being organised for the first time and that too for a nuclear plant.
They were speaking at a workshop titled 'Proposed Karachi nuclear power plants: preparing for the EIA and public hearing', organised by the Pakistan Institute of Labour Education and Research (Piler) on Sunday. The debate over the nuclear power plant gathered steam soon after the project was given a green light by Prime Minister Nawaz Sharif in December 2013.
The activists argued that a nuclear project closer to the population could pose a serious threat in the event of a catastrophe which might necessitate evacuation of a large population from one place to another.
Full report at:
http://www.dawn.com/news/1160900/govt-cautioned-against-opting-for-nuclear-power-plants
----------
Jamaat-i-Islami chief for resolving Balochistan issues through dialogue
02 Feb, 2015
QUETTA: Jamaat-i-Islami Emir Sirajul Haq has urged Prime Minister Nawaz Sharif to take the Baloch leadership into confidence to resolve contentious issues of Balochistan through dialogue.
Addressing a press conference here on Saturday, Mr Haq said there was a need to end the sense of deprivation prevailing in the province. The province is rich in natural resources but a large number of people are deprived of basic facilities. The government needed to understand the gravity of the situation and solve the problems of the province, he added.
Mr Haq said his party was against change of government through violence. However, he clarified that launching protest movements against the government was right of opposition parties.
The JI chief criticised the United States and said due to its policies 13 Muslim countries were in the grip of terrorism. He held Washington responsible for bloodshed in Afghanistan, Pakistan and Middle East countries.
He said the US wanted to take control of Muslim countries' resources by exploiting their internal differences.
He said bombardment by US forces had killed thousands of innocent people in Afghanistan.
http://www.dawn.com/news/1160984/ji-chief-for-resolving-balochistan-issues-through-dialogue
----------
"Only political leadership can change militant mindset"
02 Feb, 2015
LAHORE: The Pakistan Muslim League-Nawaz on Sunday organised a meeting of intellectuals and opinion-makers to have their input on the impact of the 21st constitutional amendment.
Those who attended the meeting organised by PML-N Media Coordinator Muhammad Mehdi included Wajahat Masood, Khalid Farooqi, Ataur Rehman, Salman Abid, Sajjad Mir, Prof Amjad Magsi, Najam Wali Khan, Farooq Chohan, Lateef Chaudhry and Slaman Ghani.
Mr Mehdi on the occasion said prime minister swallowed bitter pill of military courts in the "larger national interest" though Nawaz Sharif himself had been a victim of such an arrangement.
Political analyst Wajahat Masood said the prevailing situation led a segment of society to believe they could achieve their goals only through the use of force. This mindset, he said, could be changed by the political leadership and not the military.
Full report at:
http://www.dawn.com/news/1161039/only-political-leadership-can-change-militant-mindset
----------
Mau­lana Fazlur Rehman says Kashmir settlement key to peace in S. Asia
02 Feb, 2015
ISLAMABAD: Kashmir Committee Chairman Mau­lana Fazlur Rehman has said that peace in South Asia is linked to restoration of good relations between Pakistan and India, which, he added, was not possible without resolving the Kashmir issue.
Addressing a seminar held in connection with the Kashmir Solidarity Day here on Sunday, he said Kashmiris had been rendering sacrifices for the right to self-determination and Pakistan stood with them for resolving the issue as per their aspirations.
Maulana Fazl, who heads his own faction of Jamiat Ulema-i-Islam, criticised the international community for its discriminatory attitude towards the Kashmir dispute.
He said India had been refusing to implement the resolutions adopted by the United Nations Security Council on the issue of Kashmir, even though the whole world recognised it as a dispute.
In his address, Federal Minister for Information and Broadcasting Pervaiz Rashid said Pakistan would continue to extend moral, political and diplomatic support to Kashmiris in their just struggle for right to self-determination.
He said that settlement of Kashmir dispute was imperative for durable peace in South Asia because it would bring prosperity to the region and its people would get rid of illiteracy and poverty.
He asked the government in New Delhi to fulfil its promise of holding referendum in India-held Kashmir, adding that without doing so India would not be able to become a permanent member of the UN Security Council
Muslim Conference Presi­dent Sardar Attique Ahmed Khan said the Kashmir freedom movement had entered a new phase after elections in India.
"We believe in dialogue to resolve the issue."
http://www.dawn.com/news/1160996/fazl-says-kashmir-settlement-key-to-peace-in-s-asia
----------
Students set up 'global village', call for peace
02 Feb, 2015
LAHORE: Students from different countries, including Pakistani universities, set up a "global village" at Alhamra Cultural Complex with the objective to rediscover peace.
The daylong event arranged by the Lahore chapter of AIESEC and Bargad Volunteers Network (BVN) in collaboration with Punjab Youth and Education Department was attended by more than 500 students from various universities including LUMS, PU, FAST, LSE, FCU and other educational institutions. Also, interns from Brazil, China, Palestine, Columbia, Philippine, Palestine, and Somalia set up stalls about their countries. In total, more than 15 countries introduction stalls were set up to tell the students about the countries. Students showcased culture of different countries on the stalls in which local students took lot of interest.
Punjab Youth Minister Rana Mashood Ahmed Khan, in his message, said that the government was encouraging such activities promoting peace and diversity. He said it was important to involve youth in peace and diversity efforts and inviting students from different other countries to come to Pakistan and talk to Pakistani youth. He said it was third such "global village" which was set up in collaboration with Bargad Volunteers Network and AIESEC local chapter.
Full report at:
http://www.dailytimes.com.pk/punjab/02-Feb-2015/students-set-up-global-village-call-for-peace
----------
Morale of the nation is high in war against terrorism: Punjab CM Shahbaz Sharif
02 Feb, 2015
LAHORE: Punjab Chief Minister Shahbaz Sharif has said that the war started by terrorists against humanity by shedding the blood of innocent Pakistanis will have to be won at any cost and Pakistan and its people will achieve the final victory. He said that the whole nation is united for elimination of terrorism, extremism and sectarianism while intolerance and extremism will be rooted out from the country.
He said that Pakistan will be rid of terrorists who have caused an irreparable loss to national economy and the country. He said that political and military leadership as well as all institutions are determined to eradicate terrorism as elimination of this menace is necessary for the progress and stability of the country and providing a safe future to the coming generations. He said that a coordinated strategy has been adopted through mutual consultation for eliminating terrorism and the national action plan collectively evolved by the national leadership will greatly help in this regard.
Full report at:
http://www.dailytimes.com.pk/punjab/02-Feb-2015/morale-of-the-nation-is-high-in-war-against-terrorism-cm
-------
Africa
Suicide Bomber Kills 10 People in Northeast Nigeria's Potiskum
02 Feb, 2015
A suicide bomber blew himself up outside the house of a legislator in the Northeast Nigerian town of Potiskum on Sunday, killing 10 people, two security sources said.
The bomber walked up to the house of Sabo Garbu, a member of the house of representatives in the federal government, before detonating the explosives, Reuters reported.
http://english.farsnews.com/newstext.aspx?nn=13931112001645
----------
South Sudan Foes Agree to End Conflict
02 Feb, 2015
South Sudan's President Salva Kiir and rebel commander Riek Machar signed a deal, committing to end the conflict that has devastated the country.
The ceasefire agreement was signed at talks in Ethiopia, BBC reported.
But consultations will continue on the contentious issue of a future government and power-sharing.
The conflict - which erupted in December 2013 - has displaced about 1.5 million people and earlier ceasefire deals have not lasted.
Coup allegation
"Complete cessation of hostilities in South Sudan is expected as of this morning (Monday)," said Seyoum Mesfin, a negotiator from the regional IGAD bloc.
It is proposed that Kiir would remain president in a new administration, while Machar would be appointed vice-president, two African diplomats attending the talks told Reuters.
But the talks have now been adjourned until mid-February to allow the parties involved to consider the power-sharing arrangements, the BBC's Emmanuel Igunza in Addis Ababa reports.
A final agreement should be concluded by 5 March.
Clashes in South Sudan erupted several months after a decision by Kiir in July 2013 to dismiss the entire cabinet and Vice-President Machar.
The president had accused Machar of plotting a coup.
Machar denied the allegation, but then raised a rebel force to fight government troops.
Some 10,000 people are estimated to have died in the fighting, which has mainly been between President Kiir's Dinka ethnic group and the Nuer group of Machar.
Salva Kiir has led South Sudan, the world's newest state, since its independence from Sudan in 2011.
http://english.farsnews.com/newstext.aspx?nn=13931113000369
----------
Islamic courts are formed in eastern Libya city
World Bulletin / News Desk
2 February 2015
The Ansar Al-Sharia organization has formed an Islamic police force and Islamic courts in areas it controls in the eastern Libyan city of Benghazi, an organization official has said.
The official, who requested anonymity, told The Anadolu Agency on Sunday that the organization had also launched a morality police force known as the "Promotion of Virtue and the Prevention of Vices" in the areas it controls in Benghazi.
"All these agencies have already started doing their work this week," the official said.
He added that these agencies would do the same work in other areas to be "liberated" by the organization in the future.
Ansar Al-Sharia has been fighting against the Tobruk-backed parliament for control over Benghazi and other Libyan cities.
Full report at:
http://www.worldbulletin.net/headlines/154172/islamic-courts-are-formed-in-eastern-libya-city
----------
Tunisia's Islamist party agrees to join coalition government
02 Feb, 2015
Tunisia's moderate Islamist party Ennahda has agreed to join its main rival secular party Nidaa Tounes in a coalition government, party leaders said on Sunday.
The agreement could bolster stability in Tunisia, which is just emerging from its transition to full democracy four years after the uprising that ousted autocrat Zine El-Abidine Ben Ali.
The deal came after Tunisian Prime Minister-designate Habib Essid's new cabinet faced a threat of rejection in parliament last week from key parties, including Ennahda, because they opposed his choice of ministers.
The prime minister had announced a government without any cabinet posts for moderate Islamists.
Despite tensions and a political crisis that almost ended its transition, Tunisian politics has been dominated by compromises between secular and Islamist leaders to help keep the North African country on track.
Full report at:
http://english.ahram.org.eg/NewsContent/2/8/121941/World/Region/Tunisias-Islamist-party-agrees-to-join-coalition-g.aspx
----------
Several killed in Somalia airstrike: Witnesses
2 February 2015
Several people are believed to have been killed in an airstrike in southern Somalia apparently targetting a house used by members of the Al-Qaeda-affiliated Shebab militia, officials and witnesses said Sunday.
A Shebab source confirmed a missile hit the Islamist-held stronghold of Dinsoor, 270 kilometres (170 miles) west of the capital Mogadishu, late Saturday, but declined to give details on who was targeted and how many casualties there were from the attack.
Abdukadir Mohamed Nur, a Somali government official in the lower Shabele region, said several Shebab militants died.
"Many Al-Shebab militants were killed in the airstrike," he said, without giving details on who was targeted and which country carried out the attack.
A resident in Dinsoor, Ali Yare, told AFP by telephone that four civilians may have been wounded or killed in the attack.
"We heard a very loud explosion and a few minutes later I saw cars rushing to the scene, some of them returned with casualties. Four civilians were among the casualties," he said. "We don't know who was the target because the area was sealed off."
In September last year the Shebab's leader, Ahmed Abdi Godane, was killed in a US airstrike, and Washington carried out another strike in December, killing who Somali officials said was a top Shebab intelligence official.
The United States has no permanently deployed ground force in Somalia but supports the government and sometimes deploys air power or special forces against targets linked to Al-Qaeda.
http://english.ahram.org.eg/NewsContent/2/8/121878/World/Region/Several-killed-in-Somalia-airstrike-Witnesses.aspx
----------
India
Reference to religious divide "Unfortunate", but I endorse Obama's statement: HM
Feb 2, 2015
While union home Minister Rajnath Singh termed as "really unfortunate" that a reference to religious divide in India was made in U.S.President Barack Obama's farewell address, he however said he "endorsed" Mr.Obama's statement that an India divided on religious lines cannot progress.
At a press conference here after attending a function at the Taralabalu mutt, Mr.Singh when first asked about Mr. Obama's comments said "I think that comment was really unfortunate that India is divided on religious", however he added that he "endorsed" the view that India divided on religious lines cannot progress. "He is correct" the home minister reiterated.
On the issue of the controversial 'Ghar Wapsi' programme Mr.singh reiterated that the government will stand firm against such issues. "There is no scope for any activity like "Ghar Wapsi" in the nation as the BJP completely believes in secularism and will be committed to tackle issues that would divide people on communal lines" He said. He further added that "the government under any circumstances will not entertain such acts by any group or individual""
The union government has taken steps to maintain good diplomatic relations with all the countries across the world and the move would definitely play crucial role in tackling complicated issues like border disputes with neighboring countries, terrorism and internal security of the nation.
Answering to a question on bringing back black money from different countries bank accounts, the Minister stated that it was a major poll agenda of the party during MP elections and after coming to power the government has formedSpecial Investigation Team (SIT) which has made considerable progress in sorting out the issue. The government is committed on its assurance and brings back all the black money.
http://www.thehindu.com/news/national/karnataka/obamas-reference-to-religious-freedom-really-unfortunate-rajnath-singh/article6848368.ece?homepage=true
----------
Indians with ISIS leanings freed in Bengaluru
TNN | Feb 2, 2015
BENGALURU: The nine people who were picked up from the Kempegowda International Airport here late on Friday after being deported from Turkey for allegedly trying to enter Syria to join terror outfit ISIS, were released on Sunday. The police said all of them had given an undertaking saying they would not indulge in any such terror-related activity in future.
The people released were engineers Ibrahim Nowfal (24) from Hassan in Karnataka, Javeed Baba (24) from Khammam district in Telangana, and Chennai resident Muhammed Abdul Ahad (46), his wife and their five children.
The Bengaluru city police, Andhra Pradesh police and intelligence agencies interrogated them for over 30 hours before letting them off. The city police also questioned the family members of Nowfal. They said the group intended to join ISIS, but was not involved with the outfit in any way.
Sources said all the nine had travelled to Turkey on December 24 on tourist visas and were caught by the local police at the border.
The police said Ahad has a master's in computer science from Kennedy-Western University, California and worked in the US for more than 10 years. Ahad, who had left India soon after his engineering, is settled in the US. Two of his children are US citizens, but he still holds an Indian passport.
In December, the Bengaluru police had arrested Mehdi Masroor Biswas from the city for operating a pro-ISIS Twitter handle. Biswas owned @ShamiWitness, which had 17,700 followers.
http://timesofindia.indiatimes.com/india/Indians-with-ISIS-leanings-freed-in-Bengaluru/articleshow/46090122.cms
----------
IS killings spark fresh fear for 39 Indian hostages in Iraq
Written by Praveen Swami
February 2, 2015
Fear is mounting over the fate of at least 39 Indian construction workers held by the Islamic State, with the government's efforts to locate the men having had no success since last year, highly-placed sources said. Efforts to seek further information from cross-border traffickers linked to Turkey's intelligence services, as well as non-governmental organisations working with refugees, have also drawn a blank.
The recent beheadings of Japanese nationals of Haruna Yukawa and Kenji Goto (on Saturday), preceded by weeks of back-channel negotiations over a cash ransom with the Islamic State, has heightened New Delhi's concerns. Diplomats noted that there has been no response to Indian feelers.
Full report at:
http://indianexpress.com/article/india/india-others/is-killings-spark-fresh-fear-for-39-indian-hostages-in-iraq/99/#sthash.GhZzB3wt.dpuf
----------
Tension in Muzaffarnagar as 4 Muslim boys booked
2 February 2015
Tension flared up at Kasampur village in Muzaffarnagar after four Muslim boys allegedly harassed a minor Hindu Dalit girl while she was on way home from school. The miscreants allegedly also thrashed the victim's cousin when he tried to intervene. Heavy police force, including the PAC, have been deployed in the village in case of violent clashes.
A case has been filed against Sanvar, Mukamil, Shahnawaj and Asif — all residents of Kasampur village — at the Chapaar police station on Saturday late night. No one has been arrested.
Following the incident, a panchayat was organised by Hindus at the Kasampur village pradhan's residence demanding action against culprits.
Station Officer, Chapaar police station, K K Gautam said raids are going on to trace the accused who have gone underground. He added that medical examination of victim's cousin has also been done. The SO added that they have no knowledge about the age of accused, but all are said to be students. A case has been filed under various sections of the IPC, including 354 (assault or criminal force to woman with intent to outrage her modesty) and the SC/ST Act, police said.
Full report at:
http://indianexpress.com/article/india/india-others/tension-in-muzaffarnagar-as-4-muslim-boys-booked-2/#sthash.zjeMusdN.dpuf
----------
Terror plot on US consulate: Another Pakistani involved in conspiracy
2 February 2015
As part of its probe into an alleged terror plot to target the US consulate in Chennai and the Israeli consulate in Bangalore, the NIA has received details of an email account from the US, under the Mutual Legal Assistance Treaty, providing further evidence of the involvement of a Pakistani national, "Shahjee", in the conspiracy, sources said.
They said the NIA had sent a request under MLAT for accessing details from the service provider of an email account, which was used by Sakir Hussain, convicted in the case, to communicate with his Sri Lanka-based handler Amir Zubair Siddiqui, who worked as a visa counsellor at the Pakistan High Commission in Colombo.
The details received by the NIA provide evidence that the email account was created and operated by one "Shahjee" who has been named by Hussain as Siddiqui's right hand man.
The email account was registered under Shahjee's name, and the details provided allegedly show that the email account was used to communicate with Siddiqui's personal account and with email addresses operated from Pakistan.
Full report at:
http://indianexpress.com/article/india/india-others/terror-plot-on-us-consulate-another-pakistani-involved-in-conspiracy/#sthash.hMLZxBge.dpuf
----------
Pune police deny permission for meet on Muslim reservation
Feb 2, 2015
Discomfited by the anticipated presence of All India Majlis-e-Ittehad-ul Muslimeen (MIM) president Asaduddin Owaisi, the Pune police on Monday denied permission for a gathering on the question of Muslim reservation in which the Hyderabad-based MIM leader was due to take part on grounds that his presence could "provoke communal tension."
Already, the gathering, under the name of 'Muslim Arakshan Parishad' that was due on February 4 at the city's Golibar Maidan, had heated the city's political barometer in anticipation of Mr. Owaisi's speech.
"We wanted to preclude any untoward incident that might give rise to social tensions," said a senior police officer requesting anonymity.
According to source nb m90s, the congregation was scrapped at the behest of the Shiv Sena top brass, who rushed off a delegation in Pune to city Police Commissioner Satish Mathur, demanding that they would "not tolerate any comment against Hindus" on the occasion.
"Owaisi has a history of giving inflammatory speeches. So, we had requested the police to take action and scrap the gathering," said the Sena's newly-elected Pune unit chief Vinayak Nimhan.
Full report at:
http://www.thehindu.com/news/national/pune-police-deny-permission-for-meet-on-muslim-reservation/article6848577.ece
-------
South Asia
4 Policemen Killed in Chasht, Herat, in Taliban Attack
Feb 02 2015
Security Officials of Herat province say that four Policemen have been killed and three others injured in a Taliban attack on a security check post.
Ghulam Rasoul Khan, Police Chief of Chasht district confirmed the incident and said that a group of Taliban gunmen attacked a check post in his district and killed soldiers.
He added that a policeman of the same security check post has disappeared following the attack, adding that information received indicate that the policeman has escaped with Taliban.
He said that the policeman might have hand with Taliban for carrying out yesterday's attack.
He further said that Taliban have also taken weapons and ammunitions of the check post.
Security incidents have recently increased in Herat province. In past seven days this is 4th reported terrorist attack in Herat province.
On Saturday a commander of Afghan Local Police (ALP) was killed along with his son in a bomb explosion in Pashtoon Zarghoon District of Herat province.
Late Friday evening an Afghan National Army officer was killed by unknown gunmen in the main city of Herat and on Wednesday a policewoman was killed in an explosion on Herat-Islam Qala highway where explosives were placed near a security check post.
Afghan President Mohammad Ashraf Ghani after taking office replaced most of the high ranking security and civilian administration officials of Herat province due to continued complaints from Herat residents but the security situation has not gotten better in this province.
http://www.khaama.com/4-policemen-killed-in-chasht-herat-29007
----------
Japanese PM: Working With Global Community Only Way to Fight Terrorism
02 Feb, 2015
Tokyo. Japanese Prime Minister Shinzo Abe said on Monday he wanted to debate the possibility of Japan's military rescuing Japanese citizens abroad, a day after Islamic State militants said they had beheaded a Japanese journalist.
The militants said on Sunday they had beheaded Kenji Goto, a veteran war reporter, after international efforts to secure his release through a prisoner swap failed. They killed another Japanese hostage, Haruna Yukawa, a week before.
Abe reiterated his denunciation of the militants and said Japan was firmly committed to fulfilling its responsibility as a member of the global community in fighting terrorism and that it needed to be able to protect its citizens.
"Preserving the safety of Japanese nationals is the responsibility of the government, and I am the person who holds the most responsibility," Abe told a parliamentary committee, adding that he wanted to discuss a framework for rescuing Japanese in danger.
In a show of defiance on Sunday, Abe vowed to boost Japan's humanitarian aid to the Middle East.
The hard-line Islamist group, which controls large parts of Syria and Iraq, released a video purporting to show the beheading of Goto, 47, who was captured in late October.
The video was released a week after footage was issued appearing to show the beheaded body of Yukawa, who the militants seized in August after he went to Syria to launch a security company.
Full report at:
http://thejakartaglobe.beritasatu.com/international/abe-working-global-community-way-fight-terrorism/
--------
Afghan policemen kills 4 comrades in Kandahar province
Feb 02 2015
At least four policemen were shot dead by their comrades in southern Kandahar province of Afghanistan late on Sunday night.
The incident took place place in Maiwand district of Kandahar province after two policemen opened fire on their comrades.
Provincial police spokesman Zia Durani confirmed the incident and said at least four policemen were killed in the attack.
No group including the Taliban militants has so far claimed responsiblity behind the incident.
This comes as local security officials earlier said the two policemen were possibly having links with the anti-government armed militant groups.
This is a developing story and will be updated as new information comes in.
http://www.khaama.com/afghan-policemen-kills-7-comrades-in-kandahar-province-9300
----------
Muhith: Islamic banking built on misconception
02 Feb, 2015
Finance Minister AMA Muhith yesterday said the Islamic banking system has been build up based on a "misconception."
Replying to a supplementary question at the parliament, the finance minister said: "Islamic Banking system is absolutely fraud to me."
Observing that the Islamic banking system has become popular around the world, Muhith said it was unfortunate that many organisations like the International Monetary Fund spoke about it.
He added that "Riba" (an Arabic word which means exploitative gains made in trade or business and also condemned in the Qur'an) and interest are not the same.
"Riba has been made forbidden in Islam. It is compound interest and there is no humanity in this system. But interest that is fixed in the regular banking system has humanity. It is fixed by considering the cost of fund and cost of administration," Muhith said.
He, however, said he had nothing to do to stop Islamic banking system in the country. "The Muslim Ummah and those who think about Islam and its system can do anything regarding this."
Full report at:
http://www.dhakatribune.com/politics/2015/feb/02/muhith-islamic-banking-built-misconception#sthash.QY0TQYsW.dpuf
----------
MPs demand new law to prevent petrol bomb
02 Feb, 2015
Lawmakers in parliament yesterday demanded a fresh law with a provision for capital punishment to prevent petrol bomb attack, numerous incidents of which has been seen across the country during the BNP-led 20-party alliance's transport blockade and hartal.
"They [the BNP-led alliance] are playing with the lives of the general people in the name of politics. To protect the people we need to go for passing an act with capital punishment," ruling party lawmaker Dr Hasan Mahmud told parliament during an unscheduled discussion.
Echoing him, MP Nurul Islam Suzon said: "Khaleda Zia is destroying the future of 15 lakh students. She is hatching a conspiracy against the whole country.
"To bring petrol bomb attackers under the law we need to formulate a fresh law very soon."
Taking floor on a point of order, a few other senior lawmakers also urged the government to hold the Secondary School Certificate and equivalent examinations on time.
Full report at:
http://www.dhakatribune.com/bangladesh/2015/feb/02/mps-demand-new-law-prevent-petrol-bomb#sthash.tAdHsBl8.dpuf
----------
BNP: Hartal, blockade to go on until govt steps down
02 Feb, 2015
Issuing a note of warning, the BNP yesterday said the ongoing hartal and blockade would continue until the present government steps down.
BNP joint Secretary Salahuddin Ahmed in a press release said the ongoing movement would continue till the "illegal" government steps down and free and fair election is held.
The party demanded immediate restoration of internet, telephone and cable lines in the office of party Chairperson Khaleda Zia
"We are requesting people to sacrifice temporarily for the sake of waging movement to oust the Awami League-led government," Ahmed said.
The countrywide transport blockade has been going on since January 5 which have seen over 40 people killed and hundreds of vehicles vandalised and torched.
Amid the transport blockade, the BNP-led 20-party alliance is enforcing a 72-hour countrywide strike from Sunday.
The SSC and equivalent exams were slated to start from February 2 but due to the hartal the exam was shifted to February 4.
Full report at:
http://www.dhakatribune.com/politics/2015/feb/02/bnp-hartal-blockade-go-until-govt-steps-down#sthash.4iwZhOcS.dpuf
----------
Europe
Muslims and the Left Wing in Europe
2 February 2015
The Syriza Party, which is presented as a radical left wing, however whose populist left-wing character comes to the foreground when the election pledges are observed, will be talked about a lot, especially in the EU. It's the success of a party that managed to meet with the public's reaction against developmentalist policies, in which the middle class had collapsed and the austerity policies are burdened on the large masses, and unemployment….. At the same time, the communal accumulation, which came to life by the complete collapse of the central political parties….
Is it the left wing's success against neo-liberal policies? If it is, then it is still too early for questions like; "what alternative will it bring forth when they sit at the table with the EU and the global financial system?" or "What will be left from the left-wing expression?" Especially, it's not that hard to guess that the EU is making plans on how to tame this movement, which they are not happy with.
The reflection of Syriza's increase in votes throughout Greece on Western Thrace is remarkable. There are three Turkish parliamentarians in Greece's parliament and two of them are from the Left-Wing Syriza. At the first glance, it could be thought as the reflection of the election average.
However, there is a matter here that should be taken into consideration; the case of the Turkish and Muslim community in Western Thrace, with their conservative structure, preferring a party, whose leader is an atheist.
Full report at:
http://www.worldbulletin.net/news-analysis/154034/muslims-and-the-left-wing-in-europe
----------
"Visit My Mosque day" in UK
World Bulletin / News Desk
2 February 2015
The Muslim Council of Britain is organising a national Visit My Mosque day on Sunday 1st February 2015, where British mosques will open their doors to the general public.
Mosques will be sharing tea and cakes alongside an insight into the day-to-day goings on of a busy Muslim centre of worship.
Members of the community are there to get to know one another better and some may be on hand to answer questions about Muslims and Islam where this is possible. Local mosques will also be inviting inter-faith leaders as well, and all will be invited to come together to demonstrate unity and solidarity during what has been a tense time for faith communities.
Visit My Mosque day is part of a national initiative by Muslims to reach out to fellow Britons following tensions around terrorism. Many mosques have open door policies, and many have special set days to invite the local community around them. We celebrate these existing schemes as well. This is a pilot national event and we hope, based on feedback, to be repeating it again later in the year.
http://www.worldbulletin.net/headlines/154164/visit-my-mosque-day-in-uk
----------
UN slams Daesh beheading of Japanese hostage
02 Feb, 2015
The United Nations Security Council has denounced the beheading of a Japanese journalist by ISIL militants as a "heinous and cowardly" crime.
"This crime is, yet again, a tragic reminder of the increasing dangers journalists and others face every day in Syria," the 15-member world body said in a statement released on Sunday.
The Security Council "deplored" the purported murder of 47-year-old Kenji Goto.
On Saturday, the ISIL terrorists released a video showing Goto kneeling down while dressed in an orange jumpsuit in a similar fashion to a number of other ISIL victims, including Haruna Yukawa, another Japanese man decapitated earlier.
The video ended with a still photo of Goto's body with his head resting on his back.
Goto, a respected journalist known for his work covering the suffering of civilians in war zones, was captured in Syria last October. He reportedly went to Syria to try to secure Yukawa's release.
In a video posted online earlier, the ISIL militants showed Goto saying he would be killed unless Jordan released female militant Sajida al-Rishawi, who is thought to have been behind an attack on a hotel in Jordan in 2005 and is on death row in Jordanian custody.
Japanese authorities had made efforts to no avail for the release of Goto and Yukawa from captivation by the ISIL terrorists, who initially demanded a $200 million ransom for release of the two.
http://www.albawaba.com/main-headlines/un-slams-daesh-beheading-japanese-hostage-651390
----------
Egypt in cover-up of protester killings on revolution anniversary: Amnesty
2 February 2015
Amnesty International has accused Egyptian authorities of covering up the killing of 27 people during protests marking the fourth anniversary of January 25 Revolution.
The human rights group said it had documented evidence that security forces repeatedly used excessive force against demonstrators and bystanders during protests last week.
In a new report on Egypt, Amnesty accused authorities of "doing nothing to rein them in," calling on the international community to "act now to stop a mounting human rights crisis in Egypt."
Egypt's General Prosecution Service has launched official investigations into the killings.
However, Amnesty said this move appeared "to aim at whitewashing mounting evidence of the security forces' ruthless and unlawful actions."
Full report at:
http://english.ahram.org.eg/NewsContent/1/64/121873/Egypt/Politics-/Egypt-in-coverup-of-protester-killings-on-revoluti.aspx
----------
Defeating Islamic State needs patience, says UK PM
2 February 2015
The UK has strongly condemned the apparent beheading of Japanese journalist Kenji Goto as a "despicable and appalling murder" and pledged not to allow the Islamic State militant group to succeed.
Prime Minister David Cameron has vowed his country stands united with Japan after the extremist group released a video appearing to show the beheading of hostage Goto.
The video showed a British-accented figure, known as Jihadi John, before gruesome footage of Goto's decapitated body.
The apparent killing of the Japanese freelance journalist came days after reports of the beheading of another Japanese man, Haruna Yukawa.
"I condemn what appears to be the despicable and appalling murder of Kenji Goto. It is a reminder that ISIL (the Islamic State in Iraq and Levant) is the embodiment of evil, with no regard for human life," Cameron said in an official statement.
Full report at:
http://english.ahram.org.eg/NewsContent/2/9/121867/World/International/Defeating-Islamic-State-needs-patience,-says-UK.aspx
----------
UK mosque battles bad reputation with tea and biscuits
02 Feb, 2015
LONDON: Could anything be more "British" than meeting the neighbours over a cup of tea and some biscuits?
That is what greeted curious visitors on Sunday who came through the doors of London's Finsbury Park mosque, which has long sought to shake off a reputation as a centre of radical Islamism.
"Come in, come in, you are all welcome," retired doctor Mohammed Ali Said told visitors to the mosque, whose former imam Abu Hamza was jailed for life in New York on terrorism charges last month. "We don't have any bombs," he joked.
The kind-eyed Said was one of a group of volunteers who organised an open day at the mosque, part of a Muslim Council of Britain initiative to promote better understanding of Islam following the recent terror attacks in Paris.
Full report at:
http://www.dawn.com/news/1161016/uk-mosque-battles-bad-reputation-with-tea-and-biscuits
----------
Mideast
Yemen risks disintegration as south rejects Shia group's takeover
02 Feb, 2015
SANAA: No sooner had Yemeni President Abd-Rabbu Mansour Hadi announced his resignation than his country's tenuous political fabric began to disintegrate.
Provinces across a nation barely held together by a complex web of tribal and religious alliances said they would no longer take military commands from Sanaa after the
Iranian-allied shia Houthi group besieged Hadi's home and palace this week.
The emerging fragmentation of the Arabian Peninsula country has sparked fears of the "Somalization" of a state which is home to a
revitalized al Qaeda insurgency as well as a neighbor to top oil exporter Saudi Arabia.
For Washington, Yemen's splintering would make it hard to carry out a counter-terrorism strategy against al Qaeda plotters who have targeted it and its ally Saudi Arabia and claimed responsibility for the Jan. 7 Charlie Hebdo attacks in Paris.
Through Hadi, a supporter of US. drone strikes on al Qaeda, Yemen was a top US. ally in the Washington's fight against islamist militancy.
For Yemen's neighbors, especially Saudi Arabia, the rise of the Houthis resembles yet another fallen domino in capitals where allies of regional rival Iran have risen to power - including Damascus, Beirut and Baghdad.
Full report at:
http://www.dailytimes.com.pk/region/02-Feb-2015/yemen-risks-disintegration-as-south-rejects-shia-group-s-takeover
----------
'Risk desks' set up to stanch jihadist flow: Turkey
02 Feb, 2015
Turkey has taken a new step in its struggle against the flow of foreign fighters heading to Syria via its soil, establishing "risk desks" at airports, border gates and ports in order to prevent potential foreign fighters from passing into conflict-driven Syria.
The entrance of many of the fighters stems from failures in intelligence-sharing with EU countries, according to Turkish authorities.
Following the Jan. 7 terrorist attacks in Paris against the satirical magazine Charlie Hebdo and a Jewish supermarket that left 17 people dead, Ankara rapidly put new measures in place.
Ankara has complained that many European countries, especially France, have either not shared intelligence or provided intelligence belatedly concerning the passage of foreign fighters through Turkish territory aiming to join the ranks of the Islamic State of Iraq and the Levant (ISIL).
Full report at:
http://www.hurriyetdailynews.com/risk-desks-set-up-to-stanch-jihadist-flow.aspx?pageID=238&nID=77752&NewsCatID=359
----------
Turkey's Erdogan gets dragged into Indonesia selfie debacle
2 February 2015
The social media war on Felix Siauw, an Indonesian Muslim preacher who issued a fatwa claiming that taking self-portraits was a sin, has taken an international twist, with some online users posting a photo of Turkey's president with an Indonesian official as part of their campaign against the cleric, reported the Turkish Hurriyet Daily News.
Last week, a group of Indonesian women declared a social media war on Siauw, launching the hashtag campaign #Selfie4Siauw, after the preacher issued a 17-point manifesto in which he outlined the reasons for condemning selfies, according to the website Coconuts Jakarta.
"If we take a selfie, sift through and choose our best pose, and then we're awed and impressed by ourselves - worryingly, that's called PRIDE," Siauw, who has more than 1 million followers on Twitter, wrote.
"These days many Muslim women take selfies without shame. There are usually nine frames in one photo with facial poses that are just - My Goodness - where's the purity in women?" he said.
According to Hurriyet Daily News, one of the photographs used in the campaign shows Turkish President Recep Tayyip Erdogan and Indonesian Deputy Parliament Speaker Fahri Hamzah in a selfie dated Dec. 22, 2014. The photo was taken during a trip by Erdogan to the Southeast Asian country.
http://english.alarabiya.net/en/media/digital/2015/02/01/Turkey-s-Erdogan-gets-dragged-into-Indonesia-selfie-debacle.html
----------
Israel razes Palestinian structures in W. Bank
World Bulletin / News Desk
2 February 2015
Israeli bulldozers on Monday razed several Palestinian buildings near the West Bank city of Nablus, an official has said.
"An Israeli army force backed by several bulldozers raided the West bank town of Kasra," Ghassan Daghlas, a Palestinian official in charge of Israeli settlements file in the northern part of the occupied West Bank, told The Anadolu Agency.
"They demolished two storage facilities used by farmers, a water well and a fence, under the pretext of having been built without permit in Area C," Daghlas said.
He also noted that violent clashes erupted between Israeli troops and residents of Kasra where Palestinian youths hurled rocks at the Israeli troops, who used teargas and rubber bullets, leaving a number Palestinians with temporary asphyxia.
Israeli authorities could not be reached for a comment.
The U.S.-sponsored Oslo Accords, signed between Israel and the Palestinian Authority in 1993 and 1995, divided the West Bank into areas A, B and C.
Israel typically prevents Palestinians in the West Bank's "Area C" from erecting structures in the area on grounds that the land is under Israeli administration.
Area C, which constitutes nearly two thirds of the West Bank's total territory, remains – in line with the terms of the accords – under full Israeli security and civilian control.
Israel occupied East Jerusalem and the West Bank during the 1967 Middle East War. It later annexed the city of Jerusalem in 1980, claiming it as the capital of the self-proclaimed Jewish state in a move never recognized by the international community.
http://www.worldbulletin.net/todays-news/154177/israel-razes-palestinian-structures-in-w-bank
----------
6 Jewish settlers detained over Al-Aqsa 'violations'
World Bulletin / News Desk
2 February 2015
Six Jewish settlers have been detained for carrying out "provocative" acts during their presence inside the Al-Aqsa Mosque compound in East Jerusalem, Israeli police said Sunday.
The police said in a statement that the detained settlers' ages ranged between 14 and 17.
Israeli police usually release settlers hours after their detention on the background of such infringements.
One of the Palestinian guards of the mosque, meanwhile, said that around 25 settlers had entered the mosque compound and provoked Muslims praying inside by performing Jewish prayers.
Full report at:
http://www.worldbulletin.net/todays-news/154166/6-jewish-settlers-detained-over-al-aqsa-violations
---------
North America
US not at war with radical Islam: Obama
02 Feb, 2015
WASHINGTON - President Barack Obama has rejected demands for labelling the US fight against terrorism as a war on radical Islam or any kind of "religious war," insisting that such labels hurt efforts to root out radical ideologies in Muslim communities.
"I think that the way to understand this is there is an element growing out of Muslim communities in certain parts of the world that have perverted the religion, have embraced a nihilistic, violent, almost medieval interpretation of Islam.
And they're doing damage in a lot of countries around the world," he said in an interview with CNN aired Sunday.
"But it is absolutely true that I reject a notion that somehow that creates a religious war because the overwhelming majority of Muslims reject that interpretation of Islam.
They don't even recognise it as being Islam," the president told CNN's Fareed Zakaria.
The interview was taped in New Delhi during Obama's visit to India.
Obama also cautioned against the risk of overplaying the threat of terror groups and said the US should instead align itself with the overwhelming majority of Muslims who reject the radical ideology and tactics of terrorist groups like ISIS and Al-Qaeda.
"I don't quibble with labels.
I think we all recognise that this is a particular problem that has roots in Muslim communities," Obama said.
"But I think we do ourselves a disservice in this fight if we are not taking into account the fact that the overwhelming majority of Muslims reject this ideology.
Republicans have criticised Obama in recent weeks for refusing to label the terror threat the US and the West faces as Islamic extremism or rooted in radical Islam.
Obama stuck to condemning the terrorism and violent extremism.
"We are in a religious war with radical Islamists," Senator Lindsey Graham proclaimed on Fox News earlier this month.
Full report at:
http://nation.com.pk/national/02-Feb-2015/us-not-at-war-with-radical-islam-obama
----------
Meet the Muslim superhero fighting bigotry on San Francisco buses
02 Feb, 2015
At the start of the year, the extremist anti-Islamic group the Freedom Defense Initiative purchased 50 controversial ads to be displayed on San Francisco city buses. The ads – perceived as out of step with the city's largely liberal metropolitan community – called for an end to aid to Islamic countries and depicted a Muslim leader consorting with Hitler, essentially equating Islam with Nazism. In response to these Islamophobic messages, street artists affiliated with the Bay Area Art Queers Unleashing Power acted quickly to cover the ads with vibrant images of Pakistani-American superhero Ms Marvel along with comic-style blurbs trumpeting messages of equality: "Calling All Bigotry Busters," "Stamp Out Racism" and "Free Speech Isn't a License to Spread Hate".
The bus art has been called "graffiti", "defacement", and "supremacist criminality" by some, but for an overwhelming majority the culture-jamming demonstration holds a powerful significance. For the first time ever, Muslim Americans have a visible, mainstream superhero they can call to arms. As a major Marvel character, Kamala Khan (Ms Marvel's alter ego) stands alongside Wolverine, Captain America, Iron Man and the X-Men. Her image is synonymous with her message: freedom of speech belongs to everyone. Ms Marvel comic co-creator and writer G Willow Wilson, a Muslim American herself, likened the bus art to a freedom of speech "call and response", ultimately summing up her sentiments with a tweet that ended with "Spread love."
Full report at:
http://www.theguardian.com/books/2015/feb/01/meet-the-muslim-superhero-fighting-bigotry-on-san-francisco-buses
---------
Texas lawmaker shows Muslim visitors Israeli flag, demands pledge of allegiance
02 Feb, 2015
On Texas Muslim Capitol Day, an annual event in Austin, freshman legislator Molly White was in her home district. But she left left word with her staff that any Muslim visitors to her office were to be asked to renounce terrorism and pledge allegiance to the United States. And she left a Israeli flag on her desk as well.
In fact, Mediaite reported Jan. 29, Molly White boasted about her plans on Facebook. "Today is Texas Muslim Capital Day in Austin," she wrote. "The House is in recess until Monday. Most Members including myself are back in District. I did leave an Israeli flag on the reception desk in my office with instructions to staff to ask representatives from the Muslim community to renounce Islamic terrorist groups and publicly announce allegiance to America and our laws. We will see how long they stay in my office."
One wonders if she asks Baptists to renounce Christian militia groups? Perhaps she gets them to pledge allegiance to the nation as the price of entrance into her office in Austin? But even if she does not, it should be noted that Muslims that actually gathered at the Texas capitol building for the day's speeches sung the "Star Spangled Banner" -- the entire time having to weather the shouts of protesters hurling catcalls, slurs, and hateful slogans (such as "Islam is a lie."). There were also signs, according to the Texas Tribune, declaring "Radical Islam is the New Nazi" and "Go Home & Take Obama With You."
Full report at:
http://www.examiner.com/article/texas-lawmaker-shows-muslim-visitors-israeli-flag-demands-pledge-of-allegiance
----------
Israel bypassed White House to amass weapons: WSJ
02 Feb, 2015
NEW YORK: As the Israeli prime minister eagerly waits to address the US Congress on the question of American sanctions against Iran, revelations of how Israel bypassed the White House to build weapons stockpiles have come to the surface.
The Wall Street Journal reported on Friday that as diplomatic ties between US President Barack Obama and the Israeli leader, Benjamin Netanyahu, hit the lowest point, Israel's military continues to reach out to the Pentagon to replenish its weapons.
Once the White House learned of the ongoing military-to-military back channel, the Obama administration halted the request for a large number of Hellfire missiles.
The decision by the White House was tantamount to telling Israel: "The buck stops here. Wait a second … It's not OK anymore," a senior Obama administration official told the WSJ.
The revelation underscores the ongoing tension between Obama and Netanyahu, who has secured hawkish allies in Congress, while the White House continues to raise serious concerns over the civilian death toll among Palestinians in the Gaza Strip.
http://www.dawn.com/news/1160795/israel-bypassed-white-house-to-amass-weapons-wsj
---------
Southeast Asia
Islamic authority's appeal against bookstore manager is persecution, says DAP
02 Feb, 2015
The federal Islamic authority's appeal to the Federal Court against a Muslim bookstore employee is simply persecution of an innocent person, a DAP lawmaker said today.
It was also a "hopeless case", said Zairil Khir Johari, as Borders employee Nik Raina Nik Abdul Aziz had already been cleared by the High Court and Court of Appeal, which found the actions of the Federal Territories Islamic Affairs Department (Jawi) against her and the bookstore illegal and unconstitutional.
"It does not take a legal genius to know that Jawi's case is completely baseless. In fact, this conclusion has been corroborated by two court decisions that found the confiscation of the books illegal and unconstitutional.
"Jawi's Federal Court appeal is nothing more than an act of desperation and a blatant attempt to persecute an innocent individual," the Bukit Bendera MP said.
Urging Jawi to end its "charade", he also said the religious authority should stop wasting funds on a hopeless case.
Full report at:
http://www.themalaysianinsider.com/malaysia/article/islamic-authoritys-appeal-against-bookstore-manager-is-persecution-says-dap#sthash.jP2gNdtO.dpuf
----------
Same old racial mindset in Malaysia
02 Feb, 2015
We have celebrated 51 years as Malaysians but to some people, we are still in the racial silos of Malay, Chinese, Indian and Others. And with that come all the stereotypes of each race.
Mind you, this racial mindset still persists despite Prime Minister Datuk Seri Najib Razak's 1Malaysia campaign to bring all Malaysians together after the fractious 2008 polls where Barisan Nasional (BN) saw its majority evaporate to less than the customary two-thirds in the federal parliament.
1Malaysia has been hardly heard of since BN's further losses in 2013 and there is a good reason for that: Najib's colleagues in his hand-picked Cabinet have not much regard for it.
Take the latest volley from Agriculture and Agro-based Industries Minister Datuk Seri Ismail Sabri Yaakob, who wrote in his Facebook account that the Malays should boycott Chinese businesses, singling out the Old Town White Coffee franchise because of its alleged DAP links.
The minister has stood by his statement, telling The Malaysian Insider that it was directed at Chinese businesses whom he said were "reluctant" to lower their prices.
"I am referring to Chinese traders who are reluctant to reduce the prices of goods even though the price of petrol has come down.
Full report at:
http://www.themalaysianinsider.com/malaysia/article/same-old-racial-mindset-in-1malaysia#sthash.L4b6Z0HA.dpuf
----------
'Free Muslims from alcohol industry', PAS reps demand
FEBRUARY 2, 2015
KUALA LUMPUR, Feb 2 — Seeking to protect the sanctity of Islam, three PAS federal lawmakers called on state governments today to follow Malacca's lead and ban the sale of alcohol from convenience stores in Muslim-majority areas.
According to the MPs, the ban will help "free" Muslims from being involved in work prohibited by their religion.
"We urge for alcohol-related state government policies to be standardised nationwide. Furthermore, every effort to free Muslims from the alcohol industry must be supported," the lawmakers said in a joint statement.
The three PAS MPs are Temerloh MP Nasruddin Hassan, Kuala Nerus MP Datuk Dr Khairuddin Aman Razali and Pasir Mas MP Nik Mohamad Abduh Nik Abdul Aziz.
Muslims are forbidden from using money obtained through prohibited practices, including the sale of alcohol.
On January 28, Malacca said it will review its approval for the sale of alcohol in 76 convenience stores in the state based on the composition of the neighbourhood they are located in.
Malay daily Berita Harian reported Malacca Chief Minister Datuk Seri Idris Haron as saying that store owners must immediately stop selling alcohol — deemed as haram, or prohibited in Islam — if Muslims make up more than 90 per cent of the local community.
Muslims make up 61.3 per cent of the Malaysian population, followed by Buddhists at 19.8 per cent, and Christians at 9.2 per cent, according to the latest census data from 2010.
http://www.themalaymailonline.com/malaysia/article/free-muslims-from-alcohol-industry-pas-reps-demand#sthash.NPaebdqX.dpuf
----------
Look in the mirror, Muslim don tells Malaysians critical of Western discrimination
FEBRUARY 2, 2015
Malaysian Muslims complaining of discrimination by the West should first acknowledge the injustices against minorities in their own country, a renowned Muslim academic said critically today.
Speaking in defence pluralism, Swiss academic Dr Tariq Ramadan recounted anecdotes from non-Muslims here that they are being treated as "second class citizens", which he said contradicted principles of Islam.
"I'm sorry but some of your fellow citizens in this country who are not Muslims are facing this discrimination, they are facing injustices," Ramadan said in a question-and-answers session after a talk on "jihad", or holy struggle.
"If you want to be good Muslims, instead of preventing people from believing, you become better believers. Don't be scared of people who are not Muslim. Be scared, be afraid, be worried about our own lack of consistency."
Ramadan said that just as the West, the Muslim world is equally guilty of having double standards, discrepancies and inconsistencies when it comes to criticism and practice of values.
Earlier in his talk, the ethnic Egyptian academic also urged Malaysian Muslims to speak out against parts of Malaysian culture that are un-Islamic, which included stigmatisation of the minorities and censorship of ideas.
"Malaysian Muslims should struggle against anything in Malaysian culture which does not protect dignity and equality of human being," said Ramadan.
Last year, Selangor has declared a fatwa, or religious decree, against "liberalism and religious pluralism", calling those involved with the ideologies as "deviants".
http://www.themalaymailonline.com/malaysia/article/look-in-the-mirror-muslim-don-tells-malaysians-critical-of-western-discrimi#sthash.siZBhctw.dpuf
----------
URL: https://www.newageislam.com/islamic-world-news/new-age-islam-news-bureau/arab-anger!-tehran-imam-sparks-outrage-by-rejoicing-at-saudi-king-s-death/d/101330