New Age Islam News Bureau
08 September 2022
Players of both teams greet each other at the end of first match of Asia Cup. AP
----
• Message of Harmony: Muslims in Hassan Offer Prayers during Ganesha Procession
• 'No One to Protect Us': Afghan Journalists Who Fled To Pakistan Say Western Nations Have Abandoned Them
• Most of Top TV Shows Feature No Muslims, Actors Negatively Stereotyped: Study by University of Southern California
• 'PKK Terror Group Luring Iraqi Children with False Promises of Life in Europe'
Europe
• Swedish far-right politician caught sharing racist images about Black people
• EU seeks closer ties with gas-rich Qatar amid energy crisis
• Iranian diplomats burn documents hours before leaving Albania
--------
India
• Opposition Tears Into Proposal to Change 'Muslim' Names of Wards in CM's Gorakhpur
• SC: Nobody Prohibiting Hijab, Wearing It to School the Issue
• Right to dress includes right to undress too? SC Judge in hijab case
• Glass 'More Than Half Full' After Sheikh Hasina Visit
• "He Said Marry Me or..." Muslim Man Arrested For Stalking Hindu Woman
• UP: BJP Leader and 21 Others Booked For Allegedly Beating Muslim Man to Death in Bhadohi City
• Maharashtra: MP Navneet Rana Creates 'Fracas' At Police Station over 'Love Jihad' Case
• Help Rohingya Girl in Assam Meet Parents in Bangladesh: SC to Government
• NIA files chargesheet against 8 in Jaish-e-Mohammed conspiracy case
• Two terrorists killed in Anantnag encounter
--------
South Asia
• Taliban to Revise Mass Media Law In Afghanistan, Condition Of The Press Could Deteriorate
• One Year On, Official Cabinet of the Islamic Emirate Still Not Announced
• Hope Teesta water agreement would be resolved soon: Bangladesh PM Sheikh Hasina
• Even as it struggles for recognition, Taliban claims nations 'behave with us like an official government'
--------
North America
• CNN Hires Retired Police Official Accused Of Lying About Muslim Surveillance
• Israel's Lapid rebuffs US call for West Bank tactics review
• US condemns Iran's alleged cyberattack on NATO ally Albania
--------
Arab World
• In A Snub to Sadr, Iraq's Top Court Says It Can't Dissolve Parliament
• US Provides Military Training For YPG/PKK Terrorists In Syria: Sources
• Syria's foreign ministry: Israeli airstrikes on airport amount to a 'war crime'
• Four Egyptian journalists questioned over 'false' report
• UAE leaders congratulate Liz Truss on her appointment as UK's new PM
--------
Pakistan
• Imran Khan Vows Not To Let Sharif, Zardari Pick Next Army Chief
• Eighteen die in Pakistan's unprecedented floods, taking toll to 1,343
• Pakistan Sikhs seek action against man for tarnishing community's image
• Ex-premier Imran sold four foreign gifts, ECP told
• IHC refuses to accept apology of ex-judge in contempt case
• Tirah residents asked to leave ahead of action against militants
• Imran Khan alleges political conspiracy being hatched to topple Punjab govt
--------
Mideast
• Iran's Near Weapons-Grade Uranium Stock Grows, Probe Stuck: IAEA Reports
• Turkish security forces nab 5 so-called senior Daesh/ISIS terrorists
• Israeli prime minister threatens Iran amid tension over nuclear deal
• Israel PM backs soldier who killed journo Abu Akleh, rules out prosecution
• West's 'provocative' policies against Russia not correct, says Turkey's Erdogan
• US Senator dismisses Israeli military probe on Abu Akleh's murder
--------
Africa
• Kenya's President-Elect, Outgoing Leader Speak After Months in Boost for Smooth Transition
• Libya exhumes 6 bodies from mass grave in Tarhuna
• Major opposition front boycotts Tunisia's parliamentary elections
--------
Southeast Asia
• Vital To Address Halal Guarantee Issues In Promoting The Halal Industry: PM
• Zahid to know on Sept 23 whether to enter defence on graft charges
Compiled by New Age Islam News Bureau
URL: https://newageislam.com/islamic-world-news/terrorising-hindus-uk-muslim-pakistan-t20/d/127904
--------
Anti-Hindu rampage in UK: Muslim gangs terrorising Hindus, vandalising property after India's T20 win over Pakistan
Players of both teams greet each other at the end of first match of Asia Cup. AP
----
September 07, 2022
New Delhi: After India's victory against Pakistan in the 28 August T20 match of ongoing Asia Cup, well-organised Muslim gangs have been vandalising and terrorising Hindus in the UK's Leicester city.
Videos of gangs escalating attacks on Hindus have been shared on Twitter.
"Gangs running riot and escalating attacks on Hindus. Innocent Hindus have been terrorized in their own properties, there have been attempts to stab and there has been rampant vandalism of Hindu properties," one user wrote.
Meanwhile, in response to continued tensions, the local police have put special measures in place to contain the situation.
A number of people were filmed making offensive statements amid scenes of violence in the Belgrave area of the city, as per a report by LeicestershireLive.
Leicestershire Police said it was treating chants made by the men and related violence as 'hate crimes'. Police have put in place special stop and search and dispersal measure in neighbourhoods of Belgrave, Rushey Mead and Spinney Hills, among others.
Also, dispersal powers under Sections 34 and 35 of the Anti-Social Behaviour, Crime and Policing Act 2014 have been authorised by Chief Superintendent Adam Slonecki which allow officers to return anyone under the age of 16 to their home address.
According to local media reports, notices can be issued for a period of up to 48 hours and anyone found breaching a notice is liable to be arrested and face further action.
Besides this, powers have also been granted by a senior officer under Section 60 of the Criminal Justice and Public Order Act 1994. This allows officers to stop and search anyone in a specific area without needing to have reasonable grounds.
Amid all this, an emergency meeting between faith communities has also been called. A Leicestershire Police officer was also assaulted during the violence, as per reports.
Suleman Nagdi, spokesman for the Federation of Muslim Organisations, said a meeting will be held with the police and other stakeholders to inform people what's going on and give reassurances to the community that they are taking things seriously.
Source: Firstpost
Please click the following URL to read the text of the original story:
https://www.firstpost.com/india/anti-hindu-rampage-in-uk-muslim-gangs-terrorising-hindus-vandalising-property-after-indias-t20-win-over-pakistan-11200941.html
--------
Message of Harmony: Muslims in Hassan Offer Prayers during Ganesha Procession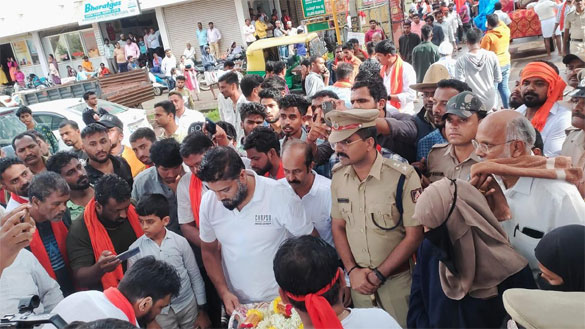 Muslim residents of Pension Mohalla offered prayers to Ganesha idol in Hassan on Monday. | Photo Credit: SPECIAL ARRANGEMENT
-----
September 07, 2022
At Pension Mohalla, a group of Muslim men and women offered a garland, lighted incense sticks, did Aarti and offered a coconut to the Ganesha idol
A group of Muslim residents of Pension Mohalla in Hassan offered prayers to Ganesha during the procession of Panchajanya Ganapati in the city on Monday. This gesture by the Muslim residents has been appreciated widely.
Rashtriya Swayamsevak Sangh activists of Hassan city had installed Ganesha on the premises of Hasanamba Kalakshetra. On the final day, the organisers took out a procession of the idol on prominent streets of the city, before immersing the idol at Devigere.
As the procession reached Pension Mohalla, a group of Muslim men and women offered a garland, lighted incense sticks, did Aarti and offered a coconut. A video clip of their prayer is doing rounds in the city.
Message of harmony
Hassan Superintendent of Police Hariram Shankar has said the event spread the message of harmony. "It is a model gesture by Barline Masjid Committee in Pension Mohalla. I appreciate all those involved in this act. They have sent a message of harmony and peace to society," he said.
Hundreds of people from different parts of the district participated in the procession. The police had made elaborate arrangements for the event. The SP appreciated the cooperation of the organisers of the Panchajanya Ganapati Utsava and the public in ensuring smooth conduct of the event.
Source: The Hindu
Please click the following URL to read the text of the original story:
https://www.thehindu.com/news/national/karnataka/muslims-in-hassan-offer-prayers-during-ganesha-procession/article65860688.ece
--------
'No One to Protect Us': Afghan Journalists Who Fled To Pakistan Say Western Nations Have Abandoned Them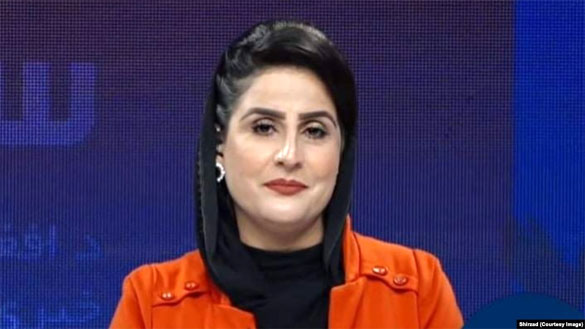 Nasrin Shirzad, a former journalist with Afghanistan's Ariana TV,
-----
September 07, 2022
By Majeed Babar
Speaking truth to power was a lifeline for Nasrin Shirzad, who made her mark on Afghanistan's media scene by covering issues that often conflicted with the Taliban's extremist views.
That lifeline was severed when the Taliban returned to power in Kabul in August 2021, setting off a cascade of setbacks for the female newscaster and anchor.
Unemployed and fearing for her life, Shirzad fled with her family to neighboring Pakistan. For months, she has received letter after letter telling her she cannot be helped because it is impossible to determine that she was under threat in Afghanistan.
The night letter the 42-year-old mother of three found on her doorstep in the eastern province of Nangarhar immediately after the Taliban seized power tells a different story.
Handwritten and bearing a Taliban letterhead and stamp, the letter's message is as dire as it is brief:
"To Nasrin, daughter of Saif Al-Maluk, reporter for Ariana News in Kabul:
Since you worked as a journalist for infidel channels (TV) and made propaganda against the Islamic Emirate, you presented the Islamic Emirate as a terrorist group to the people and thus you are a sinner in the opinion of the Islamic Emirate. Make up for your mistakes and sins as soon as possible or the Islamic Emirate will take care of you."
RFE/RL, which reviewed the letter, was unable to verify its authenticity. In written comments, Taliban spokesman Zabiullah Mujahid dismissed the letter as a "fake," and said "people make up cases like this" in order to seek asylum in the West.
But Shirzad said her work as a journalist has earned her and her family many such threats over the years. It came as a relief when in February she finally received a visa to evacuate her family to Pakistan.
Now, however, her life is in limbo. Her visa has expired, her landlord has given her an eviction notice, and her appeals to NGOs and Western countries to help her move abroad have been rebuffed.
"We were able to document your journalistic background but we were not able to document the recent threats/safety problems you have been exposed to as a result of your work," read one reply from Reporters Without Borders (RSF) to Shirzad's request for support in applying for a visa to a third country.
When she sought help from France, which was heavily involved in the nearly 20-year U.S.-led war in Afghanistan, Shirzad said she was told by the embassy that "they can't repatriate me and my family because they say I am not facing any danger due to my journalism in Afghanistan."
Journalists Covered Up, Silenced
A WhatsApp group dedicated to Afghan journalists who have escaped to Pakistan shows that Shirzad is far from alone. In the year since the Taliban retook power, the group has expanded to about 200 journalists who share their stories of living on the run with little help from the outside world.
Many, like Shirzad, left their homeland out of fear of retribution for their work over the past two decades as Afghanistan tried to develop a more open media landscape.
Although the Taliban has pledged to support media freedom, the message sent through acts of censorship, pressure, and violence against journalists -- and orders that female newscasters like Shirzad must abide by strict Islamic dress codes on air -- made it clear the promise would not be upheld.
RSF, in a report published on August 10, said that Afghanistan has lost nearly 40 percent of its media outlets and just under 60 percent of its journalists since the Taliban takeover.
Women journalists, the media watchdog said, were most affected by Taliban rule, with more than 76 percent having lost their jobs and "disappeared completely from the media landscape in 11 of Afghanistan's 34 provinces." Whereas 2,756 women journalists and media workers were employed in the country prior to August 2021, only 656 are still working, the vast majority in Kabul.
In July, Taliban leader Mullah Haibatullah Akhundzada issued a decree that forbade "false accusations against officials or criticism of them." The decree has been called out by media watchdogs as an attempt to silence free speech.
The order joins the "11 rules for journalists" -- issued shortly after the Taliban seized power -- that prohibit the publication or broadcasting of reports that are "contrary to Islam" and which discourage reporting of news that has not been confirmed by Taliban officials.
More than 80 journalists have been arbitrarily detained since August 2021, and 50 have been the direct victims of violence at the hands of the Taliban's security forces, according to RSF.
The situation has led to calls by civil society and media organizations for countries to protect and evacuate Afghan media workers, and promises of help from Western countries.
The United States pledged in September 2021 that despite the evacuation of American troops it would continue to work to help "at-risk people leave Afghanistan."
Visa Issues
Days before the Taliban takeover, Islamabad took steps to address such concerns by easing its visa policy to help media workers who wanted to evacuate Afghanistan via Pakistan.
ut that measure expired last month and the government has yet to approve an extension.
Malik Muhammad Afzal, an official who works for the Pakistani Interior Ministry's visa department, said the measure was slated to be extended this week but that it is subject to approval by the country's intelligence agencies.
Even with the eased restrictions, many Afghan journalists who fled to Pakistan have said they've encountered numerous problems extending their visas, forcing some to pay bribes in either Afghanistan or Pakistan to obtain new documents.
Abdullah Hameem, a journalist with leading Afghan broadcaster Tolo TV who covered the war between the Taliban and foreign and Afghan government forces, said that "every day our colleagues are getting different legal, financial, and emotional pressures, and we don't know where to go."
Most are having visa renewal problems, and some of our friends went back to Afghanistan for a fresh entry visa for Pakistan," Hameem said. "This is a very dangerous move, to go to Afghanistan. Some of our friends paid $300 to $400 to private dealers for the renewal of Pakistani visas."
Hameem said he manages to get by with financial support provided by the rights watchdog Amnesty International.
Rafiullah Nekzad, a 23-year-old who worked for the private Khurshid TV channel in Kabul, said he went to Pakistan this spring after he had heard the Taliban was looking for him.
"Two months ago, I applied for a visa extension to stay in Pakistan legally, but I still have not received the renewal," he said. "If I don't get my visa renewal, then I am not able to rent a place to live, and if someone sends money, I cannot collect it with an expired visa."
Sodaba Nasiry, a 26-year-old journalist who worked for the former Afghan parliament's television channel, said she left Kabul for Pakistan the day the Taliban stormed Kabul.
She said her visa expired this month, leaving her unable to rent a room legally. For now, she is staying with an Afghan widow in Islamabad.
"I don't know where to go. All my e-mails and applications to the International Federation of Journalists, Reporters Without Borders, the Committee to Protect Journalists, and the German, French, Italian, and Canadian embassies have given no positive replies to requests for any assistance," Nasiry said. "Now I suffer from depression. I was admitted to a hospital for treatment but after a few days I had to leave due to a shortage of money."
Afzal from the Pakistani Interior Ministry's visa department offered assurances to RFE/RL's Radio Mashaal that all applications for visa extensions filed by Afghan journalists are being processed. He said that if any Afghan media workers provide proof about bribe-taking that legal action would be taken against the perpetrators.
As for outside help, media watchdogs such as RSF say they are doing what they can to help.
"It's very hard for me to talk about specific cases, but we are helping those who fled from the Taliban and went to Pakistan or Iran or are still living in Afghanistan," RSF Asia-Pacific director Daniel Bastard said. "Our policy for Afghan journalists is to give them assistance."
Bastard said the support his organization provides includes helping Afghan journalists in Pakistan get to third countries because "we know they cannot live for [the] long term in Pakistan."
Going back to Afghanistan is not an option for journalists like Shirzad, who says her hometown is dominated by the Taliban and whose husband, a cameraman, has also received threats related to his work as a journalist.
With no visa in hand and no one to take up her cause, she said she feels "great hopelessness."
"You work to tell the truth," she said of her profession, "only to face death threats and find there is no one to protect us."
Source: Gandhara
Please click the following URL to read the text of the original story:
https://gandhara.rferl.org/a/afghan-journalists-pakistan-say-west-abandoned-them/32023039.html
--------
Most of Top TV Shows Feature No Muslims, Actors Negatively Stereotyped: Study by University of Southern California
Terrorist mastermind ... Anjli Mohindra as Nadia in Bodyguard. Photograph: BBC
-----
Darren Christopher Lyn
07.09.2022
HOUSTON, Texas
Muslim actors are virtually in the shadows on major television shows, according to a study released Wednesday by the University of Southern California (USC) Annenberg Inclusion Initiative.
The report looked at the 200 top-rated television series from 2018 and 2019 that aired in the US, UK, Australia and New Zealand and revealed that Muslim actors are largely absent from pop culture TV shows.
"Muslims make up 25% of the world's population yet were only 1.1% of characters in popular television series," said Al-Baab Khan, the study's lead author. "Not only is this radical erasure an insult, it has the potential to create real-world injury for audiences, particularly Muslims who may be the victims of prejudice, discrimination, and even violence."
The USC study examined nearly 9,000 speaking characters and revealed that the ratio of non-Muslim characters to Muslim ones was 90 to one
It also discovered that 87% of the series that were scrutinized did not feature any Muslim characters and about 8% of the programs had only one Muslim actor. In addition, Muslim characters did not appear to grow over time with no Muslim characters added in the programs studied from 2018 to 2019.
The report stated that the study portrays the "disheartening reality of Muslims on screen."
"For Muslims this sends a message that they don't belong or don't matter," said Riz Ahmed of the production company Left Handed Films, in a statement. "For other people, we risk normalizing fear, bigotry and stigmatization against Muslims."
"TV shows are the stories we bring into our homes," Ahmed continued. "They play a big part in shaping how we understand the world, each other, and our place within it. This study reminds us that when it comes to Muslim portrayals, we're still being fed a TV diet of stereotyping and erasure."
According to the study, nearly one-third of the Muslim characters were depicted onscreen as violent offenders and almost 40% were targets of violent attacks. 37.2% of Muslim characters were shown as criminals and 15.7% worked in law enforcement.
Male Muslim characters were more likely to be depicted with a job than female characters, while female Muslim characters were also subject to other stereotyping, including more than half of the women wearing a hijab versus men being dressed in a variety of street clothes.
The study also showed that Muslim women were often depicted as "fearful and submissive to their male counterparts."
"Networks and streaming services need to embrace their responsibility to ensure Muslims of all backgrounds see themselves reflected in our favorite TV shows," said Ahmed. "And they would be wise to embrace this gigantic opportunity to reach and connect with an underserved global audience – not just as part of a passing diversity fad but as a decisive shift towards inclusive story-telling."
Source: Anadolu Agency
Please click the following URL to read the text of the original story:
https://www.aa.com.tr/en/americas/most-of-top-tv-shows-feature-no-muslims-actors-negatively-stereotyped-study/2679519
--------
'PKK Terror Group Luring Iraqi Children with False Promises of Life in Europe'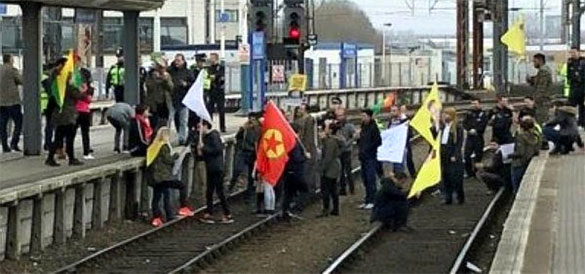 PKK terror group has been abducting children as young as 12 and 13 from Iraq's Kurdish Regional Government
------
07.09.2022
ERBIL, Iraq
The PKK terror group has been abducting children as young as 12 and 13 from Iraq's Kurdish Regional Government (KRG), luring them with promises of a life in Europe, according to an official.
"Over the past two years, the PKK has taken many children age 12-13 from Koysancak to Qaradagh and Qandil with false promises of getting them to Europe," Aso Kakeres, an official of the Patriotic Union of Kurdistan (PUK), told Anadolu Agency on Wednesday.
"Anyone under the age of 18 are considered children. This is deception," said Kakeres, who is the PUK's deputy chairman for Koysancak, a district in Erbil.
The PKK terror group has been a constant thorn in the KRG's side, he added.
In its more than 35-year terror campaign against Türkiye, the PKK – listed as a terrorist organization by Türkiye, the US and EU – has been responsible for the deaths of over 40,000 people, including women, children, and infants.
Source: Anadolu Agency
Please click the following URL to read the text of the original story:
https://www.aa.com.tr/en/middle-east/pkk-terror-group-luring-iraqi-children-with-false-promises-of-life-in-europe/2679289
--------
Europe
Swedish far-right politician caught sharing racist images about Black people
Leila Nezirevic
07.09.2022
LONDON
Swedish politician has resigned after it was revealed that he shared racist images and texts about Black people and Somalis, according to a Swedish magazine.
The country's anti-racist magazine Expo exposed and confronted Daniel Cedergren, a top politician for the political party Sweden Democrats, about the images and texts that he shared in private chats about Muslims, the Holocaust, Nazism, hanging Black people, and murdering Somalis.
The politician resigned on Tuesday, saying those were "jokes" between him and the person that he was sending them.
According to Cedergren, he was not asked to leave his post but he decided to resign, saying "policy is not his thing."
"I'm not an academic. I'm an ordinary worker. I'm not politically educated in any way," said Cedergren.
When initially confronted, he claimed that he did not remember the chats or the images but a few hours later, he announced that he had resigned from all the missions for the Sweden Democrats.
The far-right politician is number one on the Swedish Democrats' municipal ballot in the Jarfalla area and was a member of the municipal council as well as the Cultural and Leisure Board, and a replacement in the boards of two municipal housing and real estate companies.
Source: Anadolu Agency
Please click the following URL to read the full text of the original story:
https://www.aa.com.tr/en/europe/swedish-far-right-politician-caught-sharing-racist-images-about-black-people/2678674
--------
EU seeks closer ties with gas-rich Qatar amid energy crisis
07 September, 2022
The European Union opened an office in Qatar on Wednesday in a sign of the Gulf state's growing influence in solving the international energy crisis.
EU council president Charles Michel was to meet the emir of Qatar, Sheikh Tamim bin Hamad al-Thani, and other top officials in Doha later in the day.
Michel arrived from Algeria where he also discussed supplies of natural gas. Qatar is one of the world's top suppliers of liquefied natural gas and growing requests have been made by Germany and other European nations.
Michel said his visit was "an important signal of our political will to strengthen ties with Qatar," as he opened the EU mission.
The EU wants closer ties on "the energy sector, economic development, security challenges," he told reporters.
Source: Al Arabiya
Please click the following URL to read the full text of the original story:
https://english.alarabiya.net/business/energy/2022/09/07/EU-seeks-closer-ties-with-gas-rich-Qatar-amid-energy-crisis
--------
Iranian diplomats burn documents hours before leaving Albania
September 08, 2022
TIRANA: Iranian diplomats burned documents in the early morning on Thursday hours before they were to leave the country after Albania cut diplomatic relations with Iran, accusing the Islamic Republic of an cyberattack in July.
In a rare video address on Wednesday, Albania's Prime Minister Edi Rama said he had ordered Iranian diplomats and staff to close the embassy and leave the country within 24 hours.
Rama said the July cyberattack has "threatened to paralyze public services, erase digital systems and hack into state records, steal government intranet electronic communication and stir chaos and insecurity in the country."
A Reuters witness saw a man from inside the embassy throwing papers in a rusted barrel, with flames illuminating the walls of the three-story embassy.
Washington, Albania's closest ally, also blamed Iran for the attack and promised to "take further action to hold Iran accountable for actions that threaten the security of a US ally."
Tehran has strongly condemned Tirana's decision to cut its diplomatic ties calling as "baseless claims" Albania's reasons for the move.
Albania and Iran have had tense relations since 2014, when Albania accepted some 3,000 members of the exiled opposition group People's Mujahideen Organization of Iran, also known by its Farsi name Mujahideen-e-Khalq, who have settled in a camp near Durres, the country's main port.
Days after the cyberattack Tirana based media have reported that hackers have published personal data of the opposition members that were saved in Albania's state computers such as personal, social and security numbers, names and photos.
On Thursday morning, it appeared calm outside the embassy in Tirana located just 200 meters (yards) away from the prime minister's office.
Source: Arab News
Please click the following URL to read the full text of the original story:
https://www.arabnews.com/node/2158541/world
--------
India
Opposition Tears Into Proposal to Change 'Muslim' Names of Wards in CM's Gorakhpur
Shikha Salaria
7 September, 2022
Lucknow: Miyan Bazaar may be renamed as 'Maya Bazaar', Humayunpur as 'Hanumant Nagar', Rasoolpur as 'Maharana Pratap Nagar' and Jafra Bazaar as 'Atma Ram Nagar' under a delimitation exercise of the Gorakhpur Municipal Corporation in BJP-ruled Uttar Pradesh.
While 10 wards are to be added to the existing 70, the exercise also proposes to regroup around 245 Mohalla into wards. But what has raised the hackles of the opposition is the proposal to rename wards that have 'Muslim' and 'Persian' names.
Around 50 wards, including the 10 new ones, are to be named after Hindu gods, freedom fighters and other historic personalities. This has sparked allegations by the opposition that it is a rerun of previous campaigns by now chief minister Yogi Adityanath from when he first became Lok Sabha MP from Gorakhpur in 1998.
Back then, Yogi had led a campaign demanding that 'Urdu Bazaar' be renamed 'Hindi Bazaar' and 'Ali Nagar' be called 'Arya Nagar'. In 2018, the Yogi government had approved the renaming of Faizabad and Allahabad as Ayodhya and Prayagraj.
While the Samajwadi Party has alleged that the exercise was done by civic officials to "please" the government, the BJP claims that the opposition was "ill-informed" as it had nothing to do with any caste or religion.
What is the exercise?
On August 31, the Gorakhpur civic body had issued a notification proposing the delimitation of municipal wards and sought feedback within seven days. However, the notification drew flak after the proposed names went viral.
In the notification, accessed by ThePrint, the names of 49 out of the total 80 wards are new. The names of the 10 new wards include Baba Raghavdas Nagar, Baba Gambhirnath Nagar, Ranidiha, Madan Mohan Malviya Nagar, Bagdo, Sanjhai, Dr Rajendra Prasad Nagar, Matsayendra Nagar and Mohanpur.
If approved by the government, these wards will incorporate several areas with Muslim or Persian names including Salempur, Umarpur, Suba Bazaar and Nuruddinchak.
Similarly, the new names of existing wards include Sardar Bhagat Singh Nagar, Shaheed Shiv Singh Chhetri Nagar, Hanumant Nagar, Ramprasad Bismil Nagar, Shaheed Ashfaqullah Nagar, Maharana Pratap Nagar, Mahatma Jyotiba Phule, Bandhu Singh Nagar, Sant Jhulelal Nagar, Raghupati Sahay Firaq Nagar, Geeta Press Nagar, Aatmaram Nagar, Vishwakarmapuram, Maya Bazaar, Arya Nagar, Kanha Upvan Nagar, Ghantaghar, Shivaji Nagar, and Devi Prasad Nagar.
Several areas including Mohaddipur, Turkmanpur, Rasoolpur, Dilejakpur, Niyamatchak, Ilahibagh, Daudchak, Daudpur, Rustampur, Zafra Bazaar, Alinagar, Humayunpur, Abu Bazaar, Islamchak, Miyanbazar, Muftipur, Shahmaroof, Dhammal, Askarganj, Chaksa Hussain, Zahibabad among others will be regrouped and end up getting new names according to the ward they fall under.
A municipal area is divided into wards, which in turn comprise several areas.
Samajwadi Party corporators claim Gorakhpur municipal officials are only trying to "please" Yogi by indulging in "Hindu-Muslim politics".
On Monday, a delegation of SP corporators protested the move at the office of Gorakhpur Municipal Commissioner Avinash Singh, raising slogans before handing over a memorandum to Singh.
"When Yogi was the MP from here, he would regularly run a campaign and agitate to change the name of Urdu Bazaar to Hindi Bazaar, Ali Nagar to Arya Nagar and Miyan Bazaar to Maya Nagar. The Nagar Nigam officials are set to change the names of the wards in a bid to please him," SP spokesperson Kirti Nidhi Pandey told media persons after the protest.
"If the wards were to be named after freedom fighters, then why was the first freedom fighter Mangal Pandey forgotten? If the names were kept after saints like Digvijay Nath, then why did you forget Roshan Ali, Shaheed Abdullah Ansari, Shaheed Sardar Ali Khan?" he further said, adding: "Why was no ward named after Vindhyavasini Verma? Those personalities with link to Gorakhpur were ignored and the renaming was done only to indulge in Hindu-Muslim politics…"
Ismailpur corporator and SP leader Shahab Ansari said the BJP leaders along with Nagar Nigam officials have "conspired" to rename the wards. He also claimed that corporators were not consulted before coming out with the proposal.
"While we agree to renaming of the wards in the names of freedom fighters, the old wards have been renamed with wrong names. For instance, the historically used name Miyan Bazaar has been changed to Maya Bazar," Ansari said. "We have spoken to the corporators. All of those who disagree with the names will lodge objections."
Gorakhpur civic chief Avinash Singh told the media that the corporation tried to send a proposal following everyone's agreement and consensus. He added that an attempt has been made to ensure partnership with the public because all Nagar Nigam activities are public-oriented.
"But still if anyone has any objection, we will consider them…," he said.
Claiming that the opposition was ill-informed, the BJP gave the example of Ashfaqullah Khan Nagar to stress that the exercise was focused only on "signs of oppression under the British and Mughal rule".
Uttar Pradesh BJP spokesperson Rakesh Tripathi told ThePrint that the motive was on the lines of Prime Minister Narendra Modi's Independence Day pitch to get out of slavery mindset. The name changes aim at doing away with the signs of the oppressive British and Mughal rules, he added.
Source: The Print
Please click the following URL to read the full text of the original story:
https://theprint.in/politics/bid-to-please-yogi-oppn-tears-into-proposal-to-change-muslim-names-of-wards-in-cms-gorakhpur/1119353/
--------
SC: Nobody prohibiting hijab, wearing it to school the issue
Sep 08, 2022
By Utkarsh Anand
Only one community wants to come to educational institutions wearing hijab while others are willing to follow the dress code, the Supreme Court observed on Wednesday as it prima facie disagreed that the Karnataka government's February order on making uniforms mandatory targeted just one community.
Hearing the Karnataka hijab ban cases, the bench of justices Hemant Gupta and Sudhanshu Dhulia also disagreed with the submissions of one of the petitioners that right to dress is a fundamental right since it involves freedom of expression.
"You cannot take it to illogical ends. If the right to dress is a fundamental right, the right to undress also becomes a fundamental right... Nobody is prohibiting you from wearing the hijab. The question is about wearing it in school," the bench told senior advocate Devadatt Kamat, who was appearing for a girl student from Udupi which turned out to be the epicentre of the original protests seeking to wear the hijab.
Kamat sought to persuade the bench that the February Government Order (GO) by the state government specifically mentioned that wearing of hijab is not a part of essential religious practice of Islam, arguing that the GO targeted only one community. The bench, however, responded: "You may not be right. Only one community wants to come with hijab or head scarf while all other communities are following the dress code."
Kamat tried to argue that it may not be true only about one community since students also wear a 'rudraksha' (stonefruit worn by Hindus) or a cross in schools and colleges, and therefore the question is about showing a religious symbol in addition to wearing the uniform. "The State is required to be more generous. That's the concept of reasonable accommodation," he added. But the bench retorted: "Rudraksha or a cross is not worn outside but under your shirt. Nobody is asking you to take out your shirt to see what you are wearing and hence, it does not bother anyone. It is not a violation of a dress code."
Clarifying that he is not challenging the prescription of uniform but the mandate of the state to deny fundamental rights of those wanting to wear a hijab without contravening the dress code, Kamat contended that the ban on hijab cannot be justified either as a reasonable restriction or on the grounds of public order.
He also said that only a constitution bench should hear the clutch of petitions against the March 15 judgment by the Karnataka high court, which held that wearing of hijab by Muslim women does not form a part of essential religious practice in Islam. The petitioners include girl students, women's right groups, lawyers, activists and Islamic bodies.
"The issue is whether a student citizen in our Constitutional scheme is expected to surrender her fundamental right in lieu of access to education. The argument of the state is that you keep your fundamental rights at home when you come to school...(but) I (the petitioner students) was wearing it (the hijab) for years until some nationalist woke up and said this is anti-national," rued Kamat.
The senior lawyer also cited various judgments from courts in UK, USA, Canada and South Africa to bring home his point that religious and cultural rights are to be respected by educational institutions.
At this point, the bench told Kamat: "How can we compare India to USA? The judgments that you are citing are based on their society, their culture. We cannot totally follow them here... no other country has diversification like our country. All other countries also have uniform law for all their citizens unlike us."
During the 120-minute hearing, Kamat also emphasised that the concept of secularism accepted by the Supreme Court is "positive secularism", as he quoted a verse from Upanishads that meant one God is worshipped in different names.
To this, the court remarked: "Is that statement that there is one God and different ways to achieve it accepted as true by all faiths in India? Is that a correct statement? Do all religious streams accept it since you are arguing it? Mr Kamat, our Constitution talks about secularism and not faiths."
As Kamat added that secularism cannot mean restricting display of religious symbol of just one faith, the bench pointed out that the words "secularism" and "socialism" were not there in the original draft of the Constitution because the framers felt they are implicit and run through the spirit of the Constitution.
Source: Hindustan Times
Please click the following URL to read the full text of the original story:
https://www.hindustantimes.com/india-news/sc-nobody-prohibiting-hijab-wearing-it-to-school-the-issue-101662580431716.html
--------
Right to dress includes right to undress too? SC Judge in hijab case
7th September 2022
The Supreme Court's bench of Justice Hemant Gupta and Justice Sudhanshu Dhulia on Wednesday proceeded to hear the appeals of the Karnataka High Court's decision upholding the prohibition on Muslim female students wearing the hijab in various State schools and colleges.
Justice Hemant Gupta said that Senior Advocate Devadatt Kamat's arguments regarding freedom of expression, including the freedom to dress and the right to wear a headscarf while in uniform, were "taking it to illogical ends" in the ongoing row over letting Muslim girl students wear the hijab.
Kamat was representing the petitioner in the lead petition, Aishat Shifa v. the State of Karnataka. The right to dress was then followed by a question from Justice Gupta regarding the right to "undress". The Hijab case has seen some interesting remarks and questions, as a day earlier one of the judges also asked if girls can turn up in mini skirts.
Senior Advocate Kamat had contended that freedom of dress (with regard to wearing a hijab) was also protected by Article 19 of the Indian Constitution, which grants citizens the right to free speech. He continued by saying that this privilege surely needed to be subject to acceptable limitations.
It, the petitioner wasn't against donning the uniform; rather, she only wanted to do so while donning a hijab. Justice Gupta retroted quickly saying, "You can't take it to illogical ends. Right to dress will include right to undress also?"
Source: Siasat Daily
Please click the following URL to read the full text of the original story:
https://www.siasat.com/right-to-dress-includes-right-to-undress-too-sc-judge-in-hijab-case-2407355/
--------
Glass 'more than half full' after Sheikh Hasina visit
Devadeep Purohit | Calcutta
08.09.22
Bangladesh Prime Minister Sheikh Hasina will have reason to smile while flying back home from India on Thursday.
The Prime Minister will be taking back with her an offer to use a select set of Indian seaports, land ports and airports for free transit of Dhaka's exports to third countries and a pledge to consider the steady flow of essential commodities and to ensure fuel supplies from India.
The other takeaways include a broad understanding to bring down the deaths along the borders, an agreement to connect the two countries' power grids and an Indian assurance to support Dhaka for the expeditious and safe return of the forcibly displaced Rohingyas to their homeland.
That Hasina was content with the outcome of her Delhi visit was clear on Wednesday.
"Having forged a strong partnership over the last 50 years, both countries are working on an increasingly wide range of sectoral collaboration," she said.
"The relationship is known to be the role model for neighbourhood diplomacy worldwide," Hasina added in her speech at a programme where direct descendants of the Indian soldiers and officers martyred or critically wounded during the Liberation War of 1971 were awarded the Mujib Scholarship.
On Thursday, after visiting the Ajmer Sharif in Rajasthan, Hasina will fly to Dhaka, where she will face a barrage of questions.
The success of bilateral visits by heads of state is normally measured in terms of takeaways for both countries, but the yardstick has often been different in Dhaka whenever Prime Ministers of India and Bangladesh have visited each other's capitals.
"What has Bangladesh got from the trip?" has been the predominant question in the neighbouring country's capital after all such visits.
Public scrutiny of the takeaways for Bangladesh has been more intense whenever Hasina -- often criticised in her country as pro-India -- has been involved in the bilateral visits.
"The glass is now more than half full.… I think the outcome of the visit is very positive," said Shamsher Mobin Chowdhury, former foreign secretary of Bangladesh, referring to the joint statement issued by both countries on the penultimate day of Hasina's visit to India after a gap of almost three years.
While the Opposition parties in Bangladesh have already begun accusing Hasina of "returning empty-handed", a closer reading of the joint statement --- prepared after officials of both sides burnt the midnight oil to reach a consensus -- reveals the incorporation of some of the most important concerns of Bangladesh.
Several policy experts in Bangladesh, such as Chowdhury, believe that the free transit for Bangladeshi exports to third countries, though not unrestricted, is one of the major gains from the visit and would benefit the Bangladesh economy.
When Bangladesh had earlier offered India transit through its territory, the Opposition parties had accused Hasina of kowtowing to India without securing anything in return. "This time, she clearly has something to show," said Chowdhury, congratulating Hasina for the progress made in areas of connectivity that would give a big push to regional trade.
A senior editor with a Bangladeshi news network said the cooperation in power generation and transmission -- both in the public and private sectors -- was the "best news" for the country as dwindling foreign reserves had prompted the government to shut down diesel-fired power stations.
"We are back to the days of long power cuts.… We hope the Adani group's power supply assurance will change the situation," the senior journalist said.
As Hasina faces the general election next year seeking a fourth term in a row, the ruling Awami League is trying to address the power outages that have turned the mood against the government.
The knives have always been out for her after every bilateral visit since 2011, with the much-awaited Teesta water-sharing agreement yet to be completed. Though there was no likelihood this time, either, of any progress on the Teesta deal – stuck because of opposition from Bengal chief minister Mamata Banerjee -- detractors have already begun attacking Hasina.
The fact, however, is that Hasina did mention the need for a speedy resolution of the Teesta stalemate, and the Bangladeshi side also got it recorded in the joint statement. Besides, the two sides not only signed an MoU on sharing the Kushiyara river's waters, they also made significant progress in the discussions on managing water resources.
"Whenever Prime Ministers of India and Bangladesh meet, it generates a lot of expectations.… The Opposition parties in our country can't do anything other than attacking the Prime Minister," said Shammi Ahmed, international affairs secretary, Awami League.
The Indian side tried to address some of the Bangladeshis' pet peeves, with the joint statement incorporating an assurance to look into the demand for a predictable supply of essential items such as rice, wheat, sugar, onion, ginger and garlic.
In the past, India had often restricted exports of some of these items when faced with supply shocks itself. These decisions had stoked anti-India feelings in Bangladesh. The issue of a steady supply of fuel has also found mention in the joint statement.
Border killings --- another contentious issue in the neighbouring country -- has also made it to the joint statement, with both sides appreciating the fall in the number of deaths along the border.
"Recently, the DG of the BSF was in Bangladesh for the BSF-BGB (Border Guard Bangladesh) conference.… It is true that the number of deaths along the border has come down. We have made a lot of progress in our relationship and the joint statement reflects that," said Biplab Barua, office secretary of the Awami League.
In keeping with a demand from Hasina's team, the joint statement has also included the issue of Rohingya repatriation to Myanmar, for which Dhaka is seeking India's support.
A source on the Indian side said that while New Delhi can do little about the repatriation of Rohingyas, it recognises the humanitarian approach of the Hasina government in giving shelter to over a million people from the Rakhine province in Myanmar.
Source: Telegraph India
Please click the following URL to read the full text of the original story:
https://www.telegraphindia.com/india/glass-more-than-half-full-after-hasina-visit/cid/1885287
--------
"He Said Marry Me or..." Muslim Man Arrested For Stalking Hindu Woman
September 07, 2022
Bhopal: A Muslim man in Madhya Pradesh has been arrested for allegedly stalking a 19-year-old nursing student, a Hindu, and threatening her with acid attack if she did not convert to Islam and marry him.
Monu Mansoori, 22, allegedly confronted the woman and showered flowers on her on Monday. The incident was reported from Madhya Pradesh's Khandwa district. The police said he had also threatened another woman in January this year, after which he was jailed. He was granted bail later.
In the latest case, both the woman and Monu Mansoori are residents of the same village. The nursing student in her police complaint said he somehow got her number and even pinged her on WhatsApp that he would kill her if she refused his marriage proposal.
"He's a Muslim guy. He followed me everyday to college from our village. He caught my hand and I yelled at him. He threw flowers on me, said he will kill me. He sent a photo of him on social media holding a gun," the woman told reporters.
The police said Monu Mansoori has been arrested under the Madhya Pradesh Freedom of Religion Act and the Indian Penal Code. The Madhya Pradesh law seeks to punish religious conversion by fraud, especially for marriage, and provides for up to 10-year jail.
The nursing student yelled for help when Monu Mansoori, after sneaking up from behind her, showered flowers on her head near a college, the police said. Before he ran away, he threatened her with acid attack if she did not convert to Islam and marry him, the police said.
The woman then sought the help of a Hindu organisation and filed a complaint with the police.
Source: ND TV
Please click the following URL to read the full text of the original story:
https://www.ndtv.com/india-news/madhya-pradesh-muslim-man-threatens-hindu-woman-to-convert-for-marriage-arrested-3325248
--------
UP: BJP leader and 21 others booked for allegedly beating Muslim man to death in Bhadohi city
September 07, 2022
A Bharatiya Janata Party leader and 21 other unidentified persons were booked by the police on Wednesday for allegedly beating a Muslim man to death in Bhadohi city of Uttar Pradesh, PTI reported.
Ashok Kumar Jaiswal, who is also the chairperson of the local municipality, was charged under Section 304 (culpable homicide not amounting to murder) of the Indian Penal Code.
The deceased man was identified as Mustqueem.
According to the police, the incident occurred on Tuesday after an argument broke out between two groups when a goat belonging to Mustqueem strayed into his neighbour Sandeep's house.
Additional Superintendent of Police Rajesh Bharti said that later at night, Jaiswal and others allegedly barged into Mustqueem's home in the Katra Bazar area and started thrashing them.
While Mustqueem died from internal injuries suffered during the assault, his two sons and daughters were also wounded, PTI reported.
"The injured are undergoing treatment at a hospital and their conditions are stable," Bharti said.
Source: Scroll
Please click the following URL to read the full text of the original story:
https://scroll.in/latest/1032322/up-bjp-leader-and-21-others-booked-for-beating-muslim-man-to-death-in-bhadohi-city
--------
Maharashtra: MP Navneet Rana creates 'fracas' at police station over 'love jihad' case
September 8, 2022
Independent MP Navneet Rana got into a spat with officers at the Rajapeth police station in Amravati Wednesday.
The Amravati MP alleged that a police officer recorded her phone call when she called him asking for an update on the investigation into the 'abduction' of a 19-year-old girl. Rana termed the girl to be a victim of 'Love Jihad'. The accused, who is in his 20s, has been detained by the police, the girl, however, has not been traced yet.
Police sources said the accused and the teenager live in different areas of Amravati city. The girl, a second-year degree student, and the man study in nearby colleges. The teenage girl went missing two days ago, after which her family lodged a complaint at the local Rajapeth police station.
At the police station, Rana said: "If you (deputy commissioner of police Vikram Sali) catch his family members, if you bring their parents to the police station or catch his brother who is moving around freely, within one hour you will trace the woman. There are so many such cases in Amravati. Amravati is getting a bad name because of this. I am an MP and I am answerable for this."
She further said, "Who gave you the right to record my call. Why can't I call to ask about women safety. Is it because I am a Dalit that my calls are recorded?… I always treat the police with respect. Call the police commissioner here or I will not get up from here. Who gave you the order? Give me an answer…"
The MP was seen banging a remote at the police station, shouting at the DCP and claiming that she will not leave the police station. She along with her supporters was finally escorted out of the police station.
Speaking to media persons outside the police station, Rana said: "The woman is missing… This is the fifth such incident from this region. When I asked them to deal with the man strictly, the police officer asked me to repeat what I said and started recording my phone call… We told them it's a case of love jihad and why they are unable to find the woman… This is happening everywhere in our country."
The MP alleged that senior police officers asked their subordinates to record her phone calls. "I will take action against them for recording my call. The woman's brother was at my home and was crying," added Rana.
Rana also targeted police commissioner Arti Singh, claiming that crime was increasing in Amravati city.
Source: Indian Express
Please click the following URL to read the full text of the original story:
https://indianexpress.com/article/cities/mumbai/navneet-rana-fracas-police-station-love-jihad-case-8137177/
--------
Help Rohingya girl in Assam meet parents in Bangladesh: SC to government
Sep 8, 2022
NEW DELHI: As a 14-year old Rohingya girl finds herself separated from her family — the girl ending up in Assam and her parents in a refugee camp in Bangladesh — the Supreme Court on Wednesday agreed to hear the plea of an NGO to unite the minor with her parents in the neighbouring country and asked the Centre to help her.
A bench of Justices S Abdul Nazeer and V Ramasubramanian said it was a tricky situation for the girl as she cannot be deported to her country and it would also not be fair to leave the girl at the border. The court was hearing a plea filed by the NGO Global Peace Initiative, which was approached by the parents for help.
Senior advocate Sanjay Hegde and lawyer Sriram Parakkat, appearing for the NGO, told the bench that the petition was filed on behalf of the girl and her parents and she should not be sent back to the war-torn country. Solicitor general Tushar Mehta, appearing for the Centre, submitted that the custody of the minor girl cannot be given to the NGO. He also said he had never heard about this NGO and it could not be relied upon.
Sanjay Hegde, however, assured the court that he would prove the credentials of the NGO, which has been working extensively for the cause of humanity. He said the NGO did not want custody of the child but only act as a facilitator to unite the family.
The court, however, questioned how it could be proven that the people who are claiming to be her parents were really her parents. Hegde told the bench that he will place a letter written by the parents to the NGO before the court.
Source: Times Of India
Please click the following URL to read the full text of the original story:
https://timesofindia.indiatimes.com/india/help-rohingya-girl-in-assam-meet-parents-in-bangladesh-sc-to-government/articleshow/94062270.cms
--------
NIA files chargesheet against 8 in Jaish-e-Mohammed conspiracy case
Sep 8, 2022
SRINAGAR: The National Investigation Agency (NIA) on Wednesday filed a chargesheet in a Jammu court against eight accused -- two Jaish-e-Mohammed (JeM) terrorists and six overground workers -- for a conspiracy to carry out attacks targeting security forces in south Kashmir.
The case was registered by Pulwama police on March 11 and was handed over to the NIA on April 8.
Those chargesheeted were Naseer Ahmed Malik, Imtiyaz Ahmed Rather, Rayees Ahmed Sheikh, Yawer Rashid Ganaie, Suhail Ahmed Khan, Shahid Ahmed Shergojri, Anayat Gulzar Bhat and Jahangir Ahmed Dar — all residents of Pulwama.
Source: Times Of India
Please click the following URL to read the full text of the original story:
https://timesofindia.indiatimes.com/india/nia-files-chargesheet-against-8-in-jem-conspiracy-case/articleshow/94060338.cms
--------
Two terrorists killed in Anantnag encounter
Sep 8, 2022
SRINAGAR: Anantnag Police killed two Ansar Ghazwat-ul-Hind terrorists in a brief firefight at Thajiwara, in the south Kashmir district's Bijbehara area, on Wednesday. Hours later, two hybrid terrorists affiliated with Lashkar-e-Taiba were arrested with a huge cache of arms and ammunition in Shopian district, also in south Kashmir.
The slain terrorists were identified as Fayaz Ahmad Kumar alias Faheem Kumar, and Owais Ahmad Khan, both from Bijbehara's Waghama area, ADGP (Kashmir Zone) Vijay Kumar said while lauding Anantnag Police for carrying out a swift encounter sans collateral damage.
As per police records, the duo was part of several terror crimes including an attack on police personnel at Cheeniwooder Srigufwara on July 3 in which a cop, Firdous Ahmad Dar, was severely injured. They were part of a similar attack in Bijbehara's Darashikon Park on August 12, another policeman, Ghulam Qadir, was left with grievous bullet wounds. The two were also involved in grenade-lobbing cases at Padshahibagh on June 15 and Sangam Chowk on August 22, said the ADGP.
Arms, ammunition and other incriminating items were seized from the site of the encounter and taken into case records. Police registered a case under relevant sections of the law and initiated a probe.
Source: Times Of India
Please click the following URL to read the full text of the original story:
https://timesofindia.indiatimes.com/india/two-terrorists-killed-in-anantnag-encounter/articleshow/94060169.cms
--------
South Asia
Taliban to revise mass media law in Afghanistan, condition of the press could deteriorate
8 September, 2022
Kabul [Afghanistan], September 8 (ANI): With Taliban officials set to make changes in the culture and religious sections of media books and revise the mass media law in the country, the condition of media personnel in Afghanistan is likely to get worse.
"We will make some changes in the culture and religious sections and send it to the Islamic Emirate leader to confirm, and in the near future it will be available to the media," said Taliban spokesperson, Zabiullah Mujahid in a tweet adding that the Ministry of Information and Culture will review mass media law.
The move occurred when Afghanistan Journalists Center (AFJC) expressed "deep concern" over the atrocities against media practitioners in Afghanistan, Khaama Press reported.
Reiterating revising the media law in the country, the acting minister of Information and culture said that last year they identified 150 books against the Islamic values that need to be revised, as per the Afghan media agency.
"Still now, we reviewed 80 books and there were 150 books that are against the principle of Islam, and there are some other books that are against unity," Khaama Press reported quoting the deputy of publications in the Ministry of Information and Culture, Hayatullah Muhajir Farahi as saying.
Notably, hundreds of male and female journalists have left the country since the Taliban seized power in Afghanistan on August 15 last year.
More than half of about 600 media outlets were shut down due to the financial crisis.
Currently, about 30 per cent of other media outlets that have been operating despite the odds are on the verge of financial collapse.
In the latest South Asia Press Freedom report 2022-22, the IFJ documented 75 media rights violations, including 12 killings and 30 arrests, in Afghanistan from May 2021 to April 2022 and attacks on Afghan journalists and media workers, including imprisonment, harassment, and assault, have significantly increased.
The ever-increasing restrictions against media in Afghanistan have also drawn widespread criticism globally with the United Nations (UN) and the Committee to Protect Journalists (CPJ) decrying the arrests, demanding the Taliban stop harassing local journalists and stifling freedom of speech through continued detentions and threats.
Source: The Print
Please click the following URL to read the full text of the original story:
https://theprint.in/world/taliban-to-revise-mass-media-law-in-afghanistan-condition-of-the-press-could-deteriorate/1120331/
--------
One Year On, Official Cabinet of the Islamic Emirate Still Not Announced
Sep 8, 2022
Even though it has been more than a year since the Islamic Emirate's acting cabinet was established, the formal cabinet has still not been announced by the current government, and all of the ministers are still serving as acting heads.
The Islamic Emirate's spokesperson, Zabiullah Mujahid, cited reasons including the lack of a constitution, the inability to create a council, and a few other governance-related issues as key reasons why an official cabinet has not been announced.
"At the moment, our cabinet is acting; however, this is still the result of some wisdom, since there are still some governance shortages in the country that need to be addressed. For instance, we do not yet have a council, the constitution has not yet been established, and there are still some other issues. Let us come together as a nation, and if we achieve stability, the system will no longer be acting," he remarked.
In addition to this issue, the Islamic Emirate has not been recognized by any country for more than a year, and the international community has consistently called for the creation of an inclusive government. Kabul, however, has continually emphasized that the current government is already inclusive.
"Tell us so that we truly understand what kind of government you want. Believe me, they haven't told us what kind of government they want up until now. However, the Afghan government must be the one to find a solution to that country's issues," said Amir Khan Muttaqi, the acting foreign minister.
But analysts have different views about the cabinet of the Islamic Emirate.
"Where there is no legislation, the relationship between the people and the government is not established, the structure of the government is not defined, the responsibilities, obligations, and duties of each power are not stated, it is difficult to announce the official cabinet," said Sayed Javad Sajadi, another political analyst.
"The Taliban should construct a normal government with all the standards, with national legitimacy, a ruler, and declare their cabinet-- if the Taliban really want to work for their country for their survival, and if they have come to rule," said Aziz Marij, a political analyst.
One of the issues that sparked controversy during the past year was the current cabinet's lack of female representation.
Meanwhile, one of the demands of the international community over the past year was that Afghanistan's territory not be used against other nations, and Kabul has consistently said that it is bound to this commitment.
"No person or group has been able to use Afghan land against any country in the past twelve months," said Amir Khan Muttaqi, acting foreign minister.
Source: Tolo News
Please click the following URL to read the full text of the original story:
https://tolonews.com/index.php/afghanistan-179746
--------
Hope Teesta water agreement would be resolved soon: Bangladesh PM Sheikh Hasina
Sep 7, 2022
NEW DELHI: Bangladesh Prime Minister Sheikh Hasina on Tuesday expressed her hope that the pending Teesta water agreement would be resolved soon, just as other pending bilateral issues between the two neighbours, after a bilateral meeting with Prime Minister Narendra Modi here.
"…I recalled that the two countries had resolved many outstanding issues in the spirit of friendship and cooperation and we hope that all outstanding issues including Teesta Water Sharing Treaty would be concluded at an early date," Hasina said on Tuesday.
While Hasina expressed hope on "Teesta" being settled soon, West Bengal chief minister Mamata Banerjee, who has been seen as a "stumbling block" in the deal, is keen to visit Bangladesh, accepting Hasina's invitation to see the Padma Bridge, according to sources.
Whether Banerjee will be able to make a trip to Dhaka, however, will depend on the Centre giving its clearance for such a visit. Earlier the Modi government has on two occasions denied the Bengal chief minister permission to travel to Rome and to China.
Hasina had communicated with Banerjee before her Delhi visit and had invited her to see the Padma Bridge, a major development achievement for Bangladesh. Before that Hasina had sent mangoes to Banerjee in the summer and the Bengal CM had congratulated the Bangladesh PM for the Padma Bridge in July.
Hasina and Banerjee have shared a cordial relationship, even as the Teesta waters have remained a contentious issue on both sides of the border.
Banerjee had objected to the Teesta treaty back in 2011, on the ground that the then Manmohan Singh government at the Centre had ignored Bengal's interest while deciding to share 37.5% of Teesta waters with Bangladesh, retaining 42.5% of the waters during the lean season between December and March.
Banerjee's contention has been that the quantity of water to be shared should be decided in consultation with Bengal since its people are real stakeholders in the agreement.
However, Banerjee has since been willing to discuss Teesta with the Centre to work out the quantity of water that Bengal can share with neighbouring Bangladesh.
But the Modi regime since 2014, has seen aggressive rivalry between Banerjee's Trinamool Congress ruled-Bengal and the BJP-ruled Centre. This political narrative has also come in the way of sorting out the Teesta waters issue.
Source: Times Of India
Please click the following URL to read the full text of the original story:
https://timesofindia.indiatimes.com/world/south-asia/hope-teesta-water-agreement-would-be-resolved-soon-bangladesh-pm-sheikh-hasina/articleshow/94058345.cms
--------
Even as it struggles for recognition, Taliban claims nations 'behave with us like an official government'
Sep 07, 2022
One year since the United States withdrew its forces from Afghanistan, the Taliban government is still struggling for global recognition. On Wednesday, the group's foreign minister Amir Khan Muttaqi acknowledged that their government remains isolated.
However, AP reports that he claimed that in spite of that the former insurgents were able to conduct business and trade internationally "as if it were officially recognised on the global stage."
Since August 2021, the country has been gripped by an economic crisis that has pushed millions more Afghans into poverty and even famine. In the midst of it, the Taliban has been attempting to shift from insurgency and warfare to governance.
The Taliban's brutal rule when they were last in power, more than 20 years ago, has made the international community hesitant in giving the year-old government international recognition.
"This is true that no country has made an announcement of official recognition of the new government of Afghanistan," Muttaqi told reporters in the capital, Kabul.
He insisted, however, that "whatever interaction" is taking place between the Taliban and other countries is "official".
"Maybe they have some issues," he continued, this as per AP refers to the Taliban's treatment of minorities, women, and other concerns.
Muttaqi's comments highlighted the challenges the Taliban has had since seizing control. Thanks to the delayed recognition Afghanistan's assets overseas have also been blocked.
However, Muttaqi claimed that other nations "behave with us like an official government."
Source: WIO News
Please click the following URL to read the full text of the original story:
https://www.wionews.com/south-asia/even-as-it-struggles-for-recognition-taliban-claims-nations-behave-with-us-like-an-official-government-513910
--------
North America
CNN hires retired police official accused of lying about Muslim surveillance
7 September 2022
CNN announced its newest hire, a retired New York Police Department top official who faced criticism after claiming that the agency did not spy on Muslims post 9/11.
John Miller has been brought on as CNN's chief law enforcement and intelligence analyst. At an eight-hour city council hearing on public safety in March, Miller claimed years-long surveillance of neighbourhoods and mosques was just a "perception".
Following his comments and calls for him to be fired, Miller retired from the NYPD in June.
"John will help deliver on CNN's commitment to tackle complex issues while presenting audiences with independent, objective news and meaningful analysis across platforms," the press release by CNN said. "As both a brilliant journalist and experienced, compelling subject matter expert, he brings to the network an incredible breadth of knowledge."
In March, Shahana Hanif, the first and only Muslim NYC council member, asked Miller if the NYPD could commit to fully disclosing the extent of its Muslim surveillance programme and if the law enforcement agency could also issue a formal apology or public acknowledgement to Muslim New Yorkers for the "discriminatory, fruitless, and damaging programme".
He answered: "Perception allowed to linger long enough becomes reality. I know from my own conversation with Muslim members of the community and Muslim community leaders, that there are people… who will believe forever… [that] there were spies in their mosques who are trying to entrap people," he said.
"There is no evidence that that occurred based on every objective study that's been done."
Yet according to reports, including from the Associated Press and NYPD's own internal documents, the NYPD did spy on Muslims.
The AP investigation found that the NYPD profiled and surveilled New York City's Muslims in an attempt to find "radicalisation", by mapping out communities, conducting video surveillance, recruiting informants, and generating intelligence databases.
A year later, the NYPD acknowledged in a testimony that the unit in charge of the surveillance - the demographics unit- never generated a lead or triggered a terrorism investigation. In 2014, the unit was discontinued.
"The nearly decade-long surveillance, harassment, and intimidation of the New York City Muslim community under the post-9/11 surveillance program has left deep scars, some of which have yet to heal. Knowing this full well, John Miller had the audacity to lie under oath about the nature of this program to my face," Hanif told Gizmodo.
Source: Middle East Eye
Please click the following URL to read the full text of the original story:
https://www.middleeasteye.net/news/cnn-hires-retired-officer-accused-of-lying-muslim-surveillance
--------
Israel's Lapid rebuffs US call for West Bank tactics review
07 September, 2022
Israel signaled opposition on Wednesday to US calls to review rules of engagement in the occupied West Bank as it pressed on with a near-daily series of operations against militants in the area in which dozens of Palestinians have been killed.
"No one will dictate our rules of engagement to us, when we are the ones fighting for our lives," Israeli Prime Minister Yair Lapid said at a military ceremony in Haifa, echoing earlier remarks by Defense Minister Benny Gantz.
The State Department said on Tuesday that Washington will urge Israel to review rules of engagement practices after its military concluded that Al Jazeera journalist Shireen Abu Akleh was likely shot unintentionally by an Israeli soldier.
The Palestinians have accused Israel of deliberately targeting Abu Akleh, who was killed on May 11 while covering an Israeli raid in the Palestinian militant stronghold city Jenin. Israel denies this.
"Israel has expressed sorrow over her death. It was a tragedy that transpired in an incident in which there was heavy enemy fire. The IDF (Israel Defense Forces) never intentionally shoots at innocent people," Lapid said.
Israel has stepped up its incursions into the West Bank since a wave of deadly Palestinian street attacks in Israeli cities. In the latest such raid, on Wednesday, Israeli troops killed a member of Palestinian Islamic Jihad.
As part of near-nightly security sweeps, the army carried out arrests and searches in several locations including the village of Tubas, where it said an improvised explosive device was thrown and shots were fired at soldiers, who returned fire.
Islamic Jihad claimed the man killed, Younis Tayeh, as a member and said he had died during clashes. Tayeh's family denied he had taken part and said he was crossing the street when shot.
US-brokered peace talks aimed at establishing a Palestinian state in the West Bank, Gaza and East Jerusalem collapsed in 2014.
The diplomatic stagnation has contributed to erosion of the credibility of the US-backed Palestinian Authority (PA), which has limited self-rule and security control in the West Bank.
Gantz said the PA should do more to rein in militants. "The spread of weapons and lack of governance are harming both the Palestinian people and the Palestinian Authority itself," Gantz said.
Source: Al Arabiya
Please click the following URL to read the full text of the original story:
https://english.alarabiya.net/News/middle-east/2022/09/07/Israel-s-Lapid-rebuffs-US-call-for-West-Bank-tactics-review
--------
US condemns Iran's alleged cyberattack on NATO ally Albania
Beyza Binnur Donmez
07.09.2022
The US on Wednesday "strongly" condemned Iran's alleged cyberattack on NATO ally Albania, noting it will take "further action to hold Iran accountable".
"We join in Prime Minister Rama's call for Iran to be held accountable for this unprecedented cyber incident. The United States will take further action to hold Iran accountable for actions that threaten the security of a U.S. ally and set a troubling precedent for cyberspace," National Security Council spokesperson Adrienne Watson said in a statement.
The statement came after Albania on Wednesday decided to cut diplomatic relations with Iran over cyberattacks.
Watson underlined that Washington has been on the ground for weeks to support Albania's efforts to "mitigate, recover from, and investigate the July 15 cyberattack that destroyed government data and disrupted government services to the public."
"We have concluded that the Government of Iran conducted this reckless and irresponsible cyberattack and that it is responsible for subsequent hack and leak operations," she said.
Noting that Albania views impacted government networks as "critical infrastructure," she said: "Malicious cyber activity by a State that intentionally damages critical infrastructure or otherwise impairs its use and operation to provide services to the public can have cascading domestic, regional, and global effects; pose an elevated risk of harm to the population; and may lead to escalation and conflict."
Source: Anadolu Agency
Please click the following URL to read the full text of the original story:
https://www.aa.com.tr/en/americas/us-condemns-iran-s-alleged-cyberattack-on-nato-ally-albania/2679217
--------
Arab World
In a snub to Sadr, Iraq's top court says it can't dissolve parliament
07 September 2022
Iraq's supreme court says it lacks the constitutional authority to dissolve the country's parliament as demanded by influential Shia cleric and political leader Muqtada al-Sadr.
In a ruling on Wednesday, which came in response to a lawsuit filed by lawmakers affiliated with Sadr, the country's apex court said it was only the parliament that could dissolve itself if it were to be found in default of its duties.
After the ruling, Iraqi security forces closed the gates to the heavily fortified Green Zone in Baghdad, the seat of the government, fearing angry reaction from Sadr's followers, according to reports.
The Arab country has been grappling with a political stalemate since last October when Sadr's parliamentary bloc won the general elections but refused to join an alliance with its fellow legislative factions to form a government.
Sadr and his followers have been calling for the parliament to be dismissed to pave way for fresh elections.
Last week, violent clashes between Sadr's loyalists and security forces led to the killing of at least 30 people, pushing the country to the brink of civil war.
It clashes followed the occupation of the country's parliament and the capital Baghdad's heavily-fortified Green Zone by the supporters of Sadr.
The violence came to a halt only after the top Iraqi clergy stepped in, prompting Sadr to order his supporters to withdraw.
The United Nations Security Council also "appealed for calm and restraint" in Iraq, urging different parties to refrain from violence and seek a political solution.
The leaders of the Coordination Framework, the rival parliamentary faction, say they are not opposed to early elections but they insist that the parliament should meet to vote on a new electoral law and dissolve itself.
Sadr opposes that and has called on the judiciary to dissolve the legislature, causing a political stalemate.
On Saturday, it was reported that the parliament staff was to return to work for the first time since July--when Sadr's followers stormed the legislature--as various factions agreed to hold national dialog to resolve the ongoing power struggle.
Source: Press TV
Please click the following URL to read the full text of the original story:
https://www.presstv.ir/Detail/2022/09/07/688807/Iraq-Sadr-Supreme-Court-parliament-political-chaos
--------
US provides military training for YPG/PKK terrorists in Syria: Sources
Esref Musa, and Omer Koparan
07.09.2022
AL-HASAKAH / TAL ABYAD, Syria (AA) – US forces continue providing military training to YPG/PKK terrorists in the Al-Hasakah province of northeastern Syria, according to local sources.
US Special Forces are providing armed training to 240 YPG/PKK terrorists in the area of the city of Al-Malikiyah, close to the Turkish-Iraqi border, according to the sources who spoke on condition of anonymity over security concerns.
In the training, in which many US-made Bradley armored fighting vehicles were used, the terrorists were taught about the use of light and medium weapons.
US helicopters also did reconnaissance flights in the training area on Tuesday.
Türkiye has long objected to the US – its NATO ally – providing weapons and training to the terrorist YPG/PKK. While the US says it is allied with the group in order to fight terror group Daesh/ISIS, Türkiye says using one terrorist group to fight another makes no sense.
Previous training for terrorists
The US and France, which are part of the coalition against the terror group Daesh/ISIS, have previously supported YPG/PKK terrorists in Al-Hasakah and Deir ez-Zor, east of the Euphrates River, with armed training and various exercises.
In Al-Hasakah, the Mount Abdulaziz and Sports Complex areas besides some US bases and the Omar Oil Field area in Deir ez-Zor have become training areas.
In previous training, the terrorists were taught about using weapons, ways of capturing positions determined by unmanned aerial vehicles (UAVs) from the ground, mortar attacks, artillery fire, airborne landings, and preventing attacks on bases.
At the sports complex in Al-Hasakah, which serves as a landing area for US helicopters, YPG/PKK terrorists are also given practical airborne training.
The French soldiers, acting under the auspices of the US in Syria, gave artillery fire training to YPG/PKK terrorists.
Hence, the US and the coalition forces it leads have provided armed training to thousands of YPG/PKK terrorists since 2015.
Also, last December and this February, US troops did joint armed exercises with YPG/PKK terrorists in the desert.
Source: Anadolu Agency
Please click the following URL to read the full text of the original story:
https://www.aa.com.tr/en/middle-east/us-provides-military-training-for-ypg-pkk-terrorists-in-syria-sources/2679403
--------
Syria's foreign ministry: Israeli airstrikes on airport amount to a 'war crime'
07 September, 2022
Syria's foreign ministry said in a statement on Wednesday it considered Israeli airstrikes on civilian infrastructure to be a "war crime according to international law."
The statement specifically referred to Israeli air raids late on Tuesday on the Aleppo International Airport, which put the site out of service for the second time in a week.
"Israel must be held to account for it," the statement said.
Israel's strikes on the airport of Aleppo in northern Syria killed at least three people, a war monitor said Wednesday.
The identities and nationalities of those killed could not be immediately confirmed.
Israel rarely comments on the strikes it carries out against Iranian and allied targets in Syria.
Source: Al Arabiya
Please click the following URL to read the full text of the original story:
https://english.alarabiya.net/News/middle-east/2022/09/07/Syria-s-foreign-ministry-Israeli-airstrikes-on-airport-amount-to-a-war-crime-
--------
Four Egyptian journalists questioned over 'false' report
08 September, 2022
The editor-in-chief and three journalists from independent Egyptian news outlet Mada Masr were interrogated by judicial officers on Wednesday for allegedly "spreading false information", the publication said on Twitter.
Mada Masr head Lina Attalah and journalists Rana Mamdouh, Sara Seif Eddin and Beesan Kassab were summoned following complaints from members of the pro-government Mostakbal Watan (Future of a Nation) party over an article accusing them of "serious financial infractions" that "should lead to their departure from the political scene".
According to Mada Masr, the four journalists - who were released on bail in the evening - were accused of defamation and "online harassment" as well as "spreading false information with an aim to destabilise the country".
While Egypt's 2014 constitution guarantees freedom of the press, the country has around 20 journalists behind bars and is regularly criticised for its human rights record, with more than 60,000 prisoners of conscience, several of them imprisoned for "spreading false information", according to international NGOs.
Egypt was ranked 168 out of 180 countries on the 2022 press freedom index compiled by the NGO Reporters Without Borders (RSF).
Mada Masr is an online outlet that publishes investigations into matters involving security and corruption in both Arabic and English.
The publication -- which is often critical of the regime of President Abdel Fattah al-Sisi -- is one of hundreds of news sites blocked by the authorities in recent years, and cannot be accessed in Egypt without a VPN.
In late 2019, police searched the publication's offices in Cairo and arrested three journalists, including Attalah, who was briefly detained again in May of 2020.
RSF on Wednesday said it was "extremely concerned by this threat to one of the few remaining Egyptian media outlets not to have been brought under the government's control".
Source: Al Arabiya
Please click the following URL to read the full text of the original story:
https://english.alarabiya.net/News/world/2022/09/08/Four-Egyptian-journalists-questioned-over-false-report-
--------
UAE leaders congratulate Liz Truss on her appointment as UK's new PM
08 September, 2022
UAE President Sheikh Mohamed bin Zayed Al Nahyan has sent a message of congratulations to Liz Truss on her appointment as the UK's new Prime Minister.
Sheikh Mohammed bin Rashid Al Maktoum, Vice President, Prime Minister and Ruler of Dubai, also dispatched a similar message to Prime Minister Truss, state news agency WAM reported.
Liz Truss on Tuesday formally became the new UK prime minister after being appointed by Queen Elizabeth II during an audience at her Balmoral estate in Scotland.
Royal officials released a picture of the monarch and Truss shaking hands to formalize her appointment, after Boris Johnson earlier tendered his resignation.
Long the front-runner in the race to replace Johnson, Truss has become the Conservatives' fourth prime minister since a 2015 election. Over that period the country has been buffeted from crisis to crisis, and now faces what is forecast to be a long recession triggered by sky-rocketing inflation which hit 10.1 percent in July.
Source: Al Arabiya
Please click the following URL to read the full text of the original story:
https://english.alarabiya.net/News/gulf/2022/09/08/UAE-leaders-congratulate-Liz-Truss-on-her-appointment-a
--------
Pakistan
Imran Khan vows not to let Sharif, Zardari pick next army chief
Sep 8, 2022
ISLAMABAD: The appointment of Pakistan's next army chief after Gen Qamar Javed Bajwa retires in November turned into another potential minefield in the country's politics after former PM and Pakistan Tehreek-e-Insaf (PTI) chief Imran Khan declared he wouldn't allow his predecessor Nawaz Sharif and ex-president Asif Ali Zardari to pick someone of their choice, come what may.
Addressing a rally in Peshawar in the northwest late Tuesday, Imran defended his previous stance on the issue. Last Sunday, he had accused the Sharif-Zardari duo of trying to bring in an army chief of their liking in a bid to protect their immense "looted wealth".
The remark plunged him into a controversy, drawing -condemnations from various quarters. The army's media wing issued a -statement saying it was aghast at the defamatory and uncalled-for statement about the institution's senior leadership.
Avoidind any response to the army's retort, Imran blamed his political rivals for twisting his statements to pit his party against the military and the judiciary. "They are planning to disqualify me first and then turn Pakistan's institutions, including the judiciary,against me through propaganda," he alleged.
"Sharif is a convict and absconder. We will not allow an absconder to select the new army chief. The new chief should be appointed on merit," the former PM said, adding that institutions are strengthened only when appointments there are made on merit.
Responding to the allegations of the coalition government, Imran said those who were labelling him as anti-army had themselves targeted Pakistan's institutions, including the
military, in the past.
Referring to the so-called "Dawn Leaks" on national security, the PTI chairman said the Sharif and his brother, PM Shehbaz Sharif, had sent a message to India that Pakistan's army was supporting terrorism while they had no role in it. Likewise, the ousted PM said, Zardari through Hussian Haqqani, the then Pakistani ambassador in Washington, had asked the US to save his government from the army.
"Should we allow such crooks (Sharif, Zardari) to make such important appointments? No we will never," he said.
Imran played videos of the ruling Pakistan Democratic (PDM) leaders, particularly Nawaz Sharif, Maryam Nawaz, Zardari and Maulana Fazlur Rehman, to show they had criticised the army in the past.
In an attempt to pacify the powerful military establishment, the former PM said, "My criticism of the Pakistan Army is constructive. The army is mine. This country is mine. Stability of the state is only guaranteed when institutions are strong."
He also played one of his own old videos during a public gathering in which he was speaking in favour of the army.
Source: Times Of India
Please click the following URL to read the full text of the original story:
https://timesofindia.indiatimes.com/world/pakistan/imran-khan-vows-not-to-let-sharif-zardari-pick-next-army-chief/articleshow/94060196.cms
--------
Eighteen die in Pakistan's unprecedented floods, taking toll to 1,343
Sep 7, 2022
SEHWAN, PAKISTAN: Eighteen more people have died in Pakistan, authorities said on Wednesday, taking to 1,343 the toll in unprecedented floods that have inundated more than a third of the South Asian nation, making hundreds of thousands homeless.
As many as 33 million of a population of 220 million have been affected in the disaster blamed on climate change, which officials estimate to have caused losses running into a minimum of $10 billion.
Many of the affected are from the southern province of Sindh, where Pakistan's largest freshwater lake is dangerously close to bursting its banks, even after having been breached in an operation that displaced 100,000 people.
National disaster officials said eight childen were among the dead in the last 24 hours. The floods were brought by record monsoon rains and glacier melt in Pakistan's northern mountains.
With more rain expected in the coming month, the situation could worsen further, a top official of the United Nations' refugee agency (UNHCR) has warned.
Already, the World Health Organization has said more than 6.4 million people need humanitarian support in the flooded areas.
Source: Times Of India
Please click the following URL to read the full text of the original story:
https://timesofindia.indiatimes.com/world/pakistan/eighteen-die-in-pakistans-unprecedented-floods-taking-toll-to-1343/articleshow/94048080.cms
--------
Pakistan Sikhs seek action against man for tarnishing community's image
7 September, 2022
Islamabad [Pakistan], September 7 (ANI): Pakistan's Sikh community has demanded strict action against Muhammad Qasim Dogar, who is falsely claiming to be Sikh and posting controversial videos on social media.
They demanded action against him for tarnishing the community's image in the international forum by uploading defamatory videos on Facebook and other social sites, Daily Sikh reported.
asim Dogar reportedly belongs to the Madina Town area of district Faisalabad.
As per reports, despite several protests and repeated warnings, Muhammad Qasim Dogar has been posting videos, wearing a turban and speaking fluent Punjabi, against a neighbouring country.
Notably, the Pakistan government is misleading Sikhs and the international community by maintaining only a handful of Gurudwaras in the country, whereas there are hundreds of such structures of historical significance that are being ruined and defiled, media reports said.
Hurting the sentiments of the Sikh community, the local administration in Pakistan has been desecrating their places of worship and have been illegally occupying them.
Gurudwaras in Pakistan are being blatantly neglected by the local authorities. The conditions of many gurudwaras are dilapidated.
Many such incidents have cropped up over which the Sikhs have registered their concerns. One such Gurudwara is the historical Gurudwara Sri Damdama Sahib which is situated in Raja Bazaar, Rawalpindi. It was built by Baba Khem Singh Bedi in 1876, reported Islam Khabar.
One more example of the sheer neglect of Gurudwaras in Pakistan is Gurudwara Sri Guru Singh Sabha. It is located in Galha Mandi, Sahiwal in the Punjab Province. The building is huge however the local administration has occupied the gurudwara and has converted it into City Police Station.
Another Gurudwara is Gurudwara Qila Sahib which was built in remembrance of Guru Hargobind Singh. They are located in Guru Nanakpura Mohalla, District Hafizabad. These historical Gurudwaras are either converted into tombs, graves or shrines.
The local Sikhs have raised such issues of illegal occupation by local police and private individuals several times. Moreover, many Gurudwaras have been desecrated by using them as meat shops, tombs, shrines and even sheds for the animals.
Source: The Print
Please click the following URL to read the full text of the original story:
https://theprint.in/world/pakistan-sikhs-seek-action-against-man-for-tarnishing-communitys-image/1119246/
--------
Ex-premier Imran sold four foreign gifts, ECP told
Iftikhar A. Kha
September 8, 2022
ISLAMABAD: Pakistan Tehreek-i-Insaf (PTI) Chairman and former prime minister Imran Khan on Wednesday submitted a reply to the Election Commission of Pakistan (ECP) in the Toshakhana case against him wherein he admitted to having sold at least four presents he had received during his tenure as the prime minister of Pakistan.
The former premier maintained that the sale of the gifts that he had procured from the state treasury after paying Rs21.56 million fetched about Rs58 million. One of the gifts included a graff wristwatch, a pair of cuff links, an expensive pen and a ring while the other three gifts included four Rolex watches.
From July 2018 to June 2019, Imran Khan received a total of 31 gifts and paid for only four as under the rules any gift below the assessed value of Rs 30,000 can be retained without any payment.
Editorial: Toshakhana saga
From July 2019 to June 2020, he received nine gifts and paid an amount of Rs 1.71 million for three of them. He claimed to have gifted these presents to some undisclosed individuals. One of the gifts included a box containing a gold and diamond locket, a pair of ear tops (gold and diamond) and a diamond ring. He deposited Rs 0.544 million to purchase this jewellery.
PTI chief's lawyer terms Toshakhana reference 'politically motivated'
From July 2020 to June 2021, he received 12 gifts and paid an amount of Rs12.90 million for five of these. From July 2021 to June 2022, he received six gifts and paid Rs3.10 million for two of the presents.
Mr Khan further said that as many as 329 gifts were received by different functionaries during his tenure; out of which 58 gifts, including vases, art pieces, lockets, and decorative items, were presented to him and his spouse Bushra Bibi between August 01, 2018, and December 31, 2021. Out of all these gifts, there were only 14 items worth more than Rs 30,000, which he bought by paying money as per the regular procedure.
'Quash the reference'
Barrister Ali Zafar, who is representing the PTI chief, urged the five-member ECP bench to quash the reference against the former premier as he termed it a "misleading" case based on "mala fide intentions and political motives". The reference was the misuse of power and the Constitution, the response added.
During the hearing, Mr Zafar said that as per the NA speaker, the disqualification case was to be made under Article 63(2), while in the reference sent to the ECP, Imran Khan's disqualification had been sought under Article 62(1)(f). He emphasised that the ECP could not hear the case under Article 62(1)(f) in proceedings of Article 63, adding that Article 62(1)(f) could only be applied by a court, not by the commission. To this, the ECP bench said that if the lawyer wanted to challenge the jurisdiction of the election watchdog, then he may file a separate application.
In Aug this year, National Assembly Speaker Raja Pervaiz Ashraf sent the reference to the ECP, seeking Imran Khan's disqualification in the light of the Toshakhana case. The reference contended that Imran Khan did not disclose the details of gifts taken from Toshakhana and the amount received from the sale of these gifts.
Editorial: No need for secrecy
However, the reply responded to these allegations and said that no member of the National Assembly declared mobiles, watches, shoes, and other such items as assets till date to the commission. The reply added that the four gifts were sold during the 2018-19 financial year and the respondent did not have those gifts by June 30, 2019. "Therefore, those were not mentioned by name in the statement of assets filed on Dec 31, 2019. However, the sale amount was received in [a] Bank Alfalah account and that amount was duly mentioned," the response added. Moreover, the total cost of gifts standing at Rs21,226,000 was paid by the respondent and declared in the tax return for the year 2019, it added.
According to the response, the reference was not competent in the first place as no reference under Article 63(2) of the Constitution could be referred to the commission unless one or more of the "sixteen questions" are involved. Those "questions" are contained in Article 63(1)(a) to Article 63(1)(p), it added.
Source: Dawn
Please click the following URL to read the full text of the original story:
https://www.dawn.com/news/1709026/ex-premier-imran-sold-four-foreign-gifts-ecp-told
--------
IHC refuses to accept apology of ex-judge in contempt case
Malik Asad
September 8, 2022
ISLAMABAD: The Islamabad High Court (IHC) gave a last chance to a former Gilgit-Baltistan chief judge on Wednesday to submit a list of witnesses to support his allegations against former chief justice of Pakistan Saqib Nisar.
The former GB chief justice, Rana Shamim Ahmed Khan, appeared before the high court along with his counsel Abdul Latif Afridi and submitted an apology, but the court didn't consider it.
IHC Chief Justice Athar Minallah observed that Mr Shamim had not backtracked from his allegations and disowned the contents of an affidavit he executed in London in November last year.
The matter surfaced last year when a newspaper published a report on Mr Shamim's affidavit, which alleged that ex-CJP Nisar had made a phone call to an IHC judge asking that former prime minister Nawaz Sharif and his daughter Maryam Nawaz not be released from prison until after the 2018 elections.
Rana Shamim given 'last chance' to submit witness list
During Wednesday's hearing, Justice Minallah noted that if Mr Shamim failed to prove the allegations, it would be "a grave contempt", adding that the court would consider his apology only if he proved that the contents of the affidavit had been written out of misunderstanding, misapprehension or confusion.
The high court referred to the judgement of a seven-member Supreme Court bench that had laid down certain principles to deal with contempt of court law, including the aspect of apology and pardon.
Justice Minallah, however, assured Mr Shamim's counsel that the IHC would provide every opportunity to his client to prove the allegations during the course of trial and advised him to submit a list of witnesses.
The counsel, Advocate Afridi, insisted that since Mr Shamim did not disclose the affidavit, he could not be tried under the contempt law merely for writing in private.
The IHC chief justice directed him to submit the list at the next hearing on Sept 12.
During the hearing, Additional Attorney General Barrister Munawar Duggal submitted the list of prosecution evidence and witnesses.
As per the prosecution list, Islamabad's deputy commissioner has been asked to produce an authentic copy of the declaration of The News International and Daily Jang newspapers along with copies of their Nov 15, 2021 editions, which carried the news containing the affidavit.
It also required the IHC registrar to produce Mr Shamim's original affidavit received from the UK.
The duty roster of Justice Aamer Farooq has also been included in the evidence against the former GB judge.
Source: Dawn
Please click the following URL to read the full text of the original story:
https://www.dawn.com/news/1708986/ihc-refuses-to-accept-apology-of-ex-judge-in-contempt-case
--------
Tirah residents asked to leave ahead of action against militants
September 8, 2022
KHYBER: Security officials in Tirah valley here have ordered residents of Sandana, Dray Naghari and Sanda Pal localities to vacate their houses in anticipation of a small-scale military operation against militants following recent attacks on security forces.
Sources in Bara told Dawn that local security commanders held a meeting with residents of Sandana area on Wednesday morning after a late night attack attack on the personnel deputed in the area. They said Sipah tribesmen, who inhabit the area, were given choice to either hand over the suspects involved in the attack or vacate their houses so that a military action could begin to flush out the miscreants.
Official sources also told Dawn that at least nine suspected persons were arrested during a search operation in Sandana and Nangrosa localities, both inhabited by Sipah tribesmen.
It was learnt from local sources that a number of families, who recently returned to Dray Naghari area, had once again started vacating their houses after receiving instructions from security forces.
The return of Sipah displaced families to Dray Naghari and Sanda Pal was temporarily suspended some three weeks ago after some of the returning persons reported to the security officials that armed militants were present in their area.
Over 5,000 Sipah displaced families had started returning to their respective localities on June 13, 10 years after they were displaced. Sipah tribesmen were the last of seven Bara tribes allowed to return home after a nod from the security officials.
Source: Dawn
Please click the following URL to read the full text of the original story:
https://www.dawn.com/news/1709018/tirah-residents-asked-to-leave-ahead-of-action-against-militants
--------
Imran Khan alleges political conspiracy being hatched to topple Punjab govt
8 September, 2022
Islamabad [Pakistan], September 8 (ANI): Former Pakistani Prime Minister and Pakistan Tehreek-e-Insaf (PTI) chief Imran Khan on Wednesday alleged that a conspiracy is being hatched to topple his party's government in Punjab.
Speaking during a jalsa in Chishtian, Punjab, Khan said that a new political conspiracy was unfolding in the country in a bid to topple the Pervez Elahi-led Punjab government, adding that "Mr X and Mr Y" were also issuing threats to him, reported Geo News.
Addressing the crowd, the former premier said that Chishtian was not a stronghold of the Pakistan Muslim League – Nawaz (PML-N) as it claims, rather the party's political centre was the city of London, taking a dig at PML-N supremo Nawaz Sharif.
"Overseas Pakistanis work hard to send remittances to the country but these people (PML-N leaders) steal money from the country and send it abroad," he said, adding that the entire Sharif family was living in London and only visits Pakistan to earn money here.
He said that unless there was justice in the country, there would be no prosperity, adding that he saw big dacoits in the National Assembly but petty thieves in jails, reported Geo News.
"We make the country's biggest robbers prime ministers. Today's ruling the country today have been robbing the country for 30 years," he reiterated.
Khan once again accused the Election Commission of Pakistan (ECP) and said that the body was a "pet of the coalition government."
Issuing a clarification about the controversial statements he earlier issued against the Pakistan Army, Khan said that "this country is mine and the army is also mine."
Khan on Tuesday accused the ruling coalition of trying to pit him against the military and judiciary and said that the government is "scared of him winning the elections", media reports said.
"I have never tried to undermine the institutions, but they [the government] are telling me to focus on the floods and ignore politics," he said.
"However, I will continue my haqeeqi aazadi (real freedom) movement to work against these thieves simultaneously," he added.
He accused the government of deliberately trying to create discord between him and the state institutions, reported The News International.
"I have stated that the army chief should be selected on merit and I still stand by my statement as there was nothing wrong with it. I have further stated that the two dacoits, Nawaz Sharif and Asif Zardari, should not select the future army chief," the former Prime Minister added.
Clarifying his previous comments that Imran Khan made in a public rally in Faisalabad where he criticized the government for delaying the elections to appoint an army chief of its own, Khan said that he made such remarks as Nawaz Sharif was a criminal. He alleged that former Prime Minister Nawaz Sharif was convicted by a court on corruption charges of billions of rupees and then escaped from the country.
Sending a message to PML-N supremo Nawaz Sharif, Khan said that he was waiting for him to return to Pakistan, reported Geo News.
"I am waiting for you, come back soon, the whole nation will welcome you in a way that has never happened to anyone in the history of the country," Khan said, adding that the story behind Nawaz's becoming an absconder started 10 years ago.
Source: The Print
Please click the following URL to read the full text of the original story:
https://theprint.in/world/imran-khan-alleges-political-conspiracy-being-hatched-to-topple-punjab-govt/1120339/
--------
Mideast
Iran's near weapons-grade uranium stock grows, probe stuck: IAEA reports
07 September, 2022
Iran's stock of uranium enriched to up to 60 percent, close to weapons-grade, has grown to well above the amount that by one definition is enough, if enriched further, for a nuclear bomb, a quarterly report by the UN atomic watchdog showed on Wednesday.
Iran's uranium enriched to up to 60 percent and in the form of uranium hexafluoride, the gas that centrifuges enrich, is estimated to have grown by 12.5 kg to 55.6 kg since the last quarterly International Atomic Energy Agency report issued on May 30, the IAEA report to member states seen by Reuters said.
At the same time, as in previous quarters, the IAEA issued a second report saying Iran had still not provided credible answers on the origin of uranium particles found at three undeclared sites that appear to mainly be old and which the IAEA has been investigating for years.
"The Director General is increasingly concerned that Iran has not engaged with the Agency on the outstanding safeguards issues during this reporting period and, therefore, that there has been no progress towards resolving them," the second report, also seen by Reuters, said.
The issue of the undeclared particles has been a sticking point in negotiations to revive the 2015 Iran nuclear deal, with Iran seeking to have the investigation closed while Western powers and the IAEA insist it is a separate matter that Iran is legally obliged to help clear up as a signatory to the nuclear Non-Proliferation Treaty.
US intelligence agencies and the IAEA believe Iran had a secret, coordinated nuclear weapons program that it halted in 2003. Iran, however, insists it never had such a program. Most of the sites are thought to date back to around 2003 or earlier.
Source: Al Arabiya
Please click the following URL to read the full text of the original story:
https://english.alarabiya.net/News/middle-east/2022/09/07/Iran-s-near-weapons-grade-uranium-stock-grows-probe-stuck-IAEA-reports
--------
Turkish security forces nab 5 so-called senior Daesh/ISIS terrorists
Sefa Sahin
07.09.2022
ANKARA
Turkish forces have captured five so-called senior members of the Daesh/ISIS terror group in northern Syria, the Turkish authorities announced on Wednesday.
Caught on Aug. 31 in the district of Jarablus as they attempted to cross the border, the terrorists included Daesh/ISIS' so-called judicial, intelligence, social media, and training chiefs, according to a statement by the Interior Ministry.
In response to questioning by Turkish authorities, the so-called judicial head, Ramo Muhammed al Hamed, codenamed Rami Remo, told authorities that the group was preparing to launch an attack in Türkiye, the statement said.
It added that the group had been released by another terrorist organization, the PKK/YPG, on condition that they go to Jarablus, which was liberated in a Turkish anti-terror operation in 2016.
In its more than 35-year terror campaign against Türkiye, the PKK – listed as a terrorist organization by Türkiye, the US, and EU – has been responsible for the deaths of over 40,000 people, including women, children and infants. The YPG is PKK's Syrian offshoot.
Since 2016, Ankara has launched a trio of successful anti-terror operations across its border in northern Syria to prevent the formation of a terror corridor and enable the peaceful settlement of residents: Euphrates Shield (2016), Olive Branch (2018) and Peace Spring (2019).
The ministry also stated that six accomplices were also detained, along with an AK-47 rifle, and ammunition.
In 2013, Türkiye became one of the first countries to declare Daesh/ISIS a terrorist group.
The country has since been attacked by the terror group multiple times, with over 300 people killed and hundreds more injured in at least 10 suicide bombings, seven bomb attacks, and four armed assaults.
Source: Anadolu Agency
Please click the following URL to read the full text of the original story:
https://www.aa.com.tr/en/middle-east/turkish-security-forces-nab-5-so-called-senior-daesh-isis-terrorists/2679108
--------
Israeli prime minister threatens Iran amid tension over nuclear deal
Abdel Raouf Arnaout
07.09.2022
JERUSALEM
Israeli Prime Minister Yair Lapid has threatened Iran of using Israel's military capabilities to thwart Tehran's nuclear program.
"It is still too early to know if we have indeed succeeded in stopping the nuclear agreement, but Israel is prepared for every threat and every scenario," Lapid said in a statement during a visit to the Nevatim airbase in southern Israel, which houses the Israeli Air Force's fleet of advanced F-35 fighter jets.
The Israeli premier said Tel Aviv is making great efforts to discourage Western countries from signing a "crystalline" agreement with Iran regarding its nuclear program.
"If Iran continues to test us, it will discover Israel's capabilities," he added, going on to stress Israel's " total freedom of action in preventing Iran from becoming a nuclear threat."
Lapid's threat came as Tehran and Washington have entered the last stretch to salvage the 2015 nuclear deal, with both sides currently exchanging comments on a draft proposal tabled by the European Union.
Israel accuses Iran of seeking to build a nuclear bomb, a claim denied by Tehran, which says its program is designed for peaceful purposes.
Former US President Donald Trump unilaterally withdrew the US from the Iran nuclear deal in 2018 and reimposed sanctions as part of a "maximum pressure campaign" on Tehran.
Source: Anadolu Agency
Please click the following URL to read the full text of the original story:
https://www.aa.com.tr/en/middle-east/israeli-prime-minister-threatens-iran-amid-tension-over-nuclear-deal/2678829
--------
Israel PM backs soldier who killed journo Abu Akleh, rules out prosecution
08 September 2022
Israeli prime minister Yair Lapid has come out in full support of the soldier who shot dead Palestinian journalist Shireen Abu Akleh in May, saying the regime's forces have the "full backing" of Tel Aviv, turning a deaf ear to international calls for punishment of those behind the cold-blooded murder.
Lapid claimed on Wednesday that the Israeli soldier behind the killing of Abu Akleh — who was wearing a vest clearly marked "Press" when she was shot — was "protecting himself" during exchanges of fire with Palestinians.
He said he would not allow the soldier to "be prosecuted just to receive applause from abroad."
"No one will dictate our rules of engagement to us," he said, adding that Israeli soldiers have the full backing of the regime and the Israelis.
Lapid was reacting to an Israeli military report that conceded for the first time that Abu Akleh, a US-Palestinian citizen, was likely shot by an Israeli soldier.
Abu Akleh was killed on May 11 while covering an Israeli military raid in the West Bank city of Jenin,
On Monday, the Israeli military announced that its investigations into the case concluded that Abu Akleh was likely shot "unintentionally" by an Israeli soldier who had mistaken her for a fighter.
"There is a high possibility that Ms. Abu Akleh was accidentally hit by [Israeli military] gunfire that was fired toward suspects identified as armed Palestinian gunmen," said the military report.
The military report also added that troops conducting operations in Jenin had come under heavy fire from all sides and had fired back, including towards the area where Abu Akleh was standing about 200 meters from their position, but claimed that they had not been able to identify her as a journalist.
This is while a United Nations investigation concluded in June that there was "no evidence of activity by armed Palestinians close by" when Abu Akleh was shot.
Initially, the regime's military insisted that it was impossible to determine the source of the deadly shot that killed the celebrated journalist.
In the immediate aftermath of her killing, the Zionist regime even claimed that she could have been shot by a Palestinian gunman.
Abu Akleh was one of the most recognizable faces reporting on the Israeli-Palestinian conflict for two decades. Her death triggered outrage across the world and led to calls for an independent investigation.
The Palestinians have accused Israel of deliberately targeting Abu Akleh. Palestinian authorities and Al Jazeera, of which Abu Akleh was a staff member, see the findings of Israeli investigations as unreliable and call for an international probe.
Source: Press TV
Please click the following URL to read the full text of the original story:
https://www.presstv.ir/Detail/2022/09/08/688831/Israel-fully-backs-soldier-accused-of-killing-journo-Abu-Akleh-objects-prosecution
--------
West's 'provocative' policies against Russia not correct, says Turkey's Erdogan
07 September 2022
Turkish President Recep Tayyip Erdogan said on Wednesday he does not think the "provocative" policies adopted by the West against Russia were correct after the European Union and Group of Seven (G7) nations proposed a price cap on Russian gas.
The Turkish leader made the comments at a joint press conference with his Serbian counterpart in Belgrade, two days after Russian President Vladimir Putin threatened to halt all supplies if the EU went ahead with such a step, raising the risk of rationing in the Western countries this winter.
"No need to list the names but I can clearly say that I do not find the stance that the West is adopting is correct. Because there is a West that is leading a policy based on provocation, it will not be possible to achieve a result there," said Erdogan.
He said other countries should not underestimate Russia against the backdrop of a proposal by the European Union and G7 for a price cap on Russian gas.
Since Russia began a "special military operation" in neighboring Ukraine on February 24, the United States and its European allies have imposed waves of sanctions against Moscow, warning other countries against doing business with Russia's sanctioned companies and individuals.
Turkey, despite being a NATO member, maintains good relations with Russia even after the onset of the operation. This has angered the US, which is becoming alarmed that Moscow and Russian businesses are allegedly using Turkey to evade Western financial and trading restrictions against the Kremlin.
Last month, the Turkish Industry and Business Association (Tusiad), Turkey's leading business association, said it had received a letter from US Deputy Treasury Secretary Wally Adeyemo, warning of possible sanctions risks if firms continue doing business with banned Russian entities and individuals.
Turkey and Russia are currently stitching their economies more tightly together, making Washington and its allies worried that the burgeoning relationship could weaken the effects of sanctions imposed on the Kremlin.
"Because the U.S. and EU countries closed their doors to Russia, Russia turned to Turkey," said Gıyasettin Eyyupkoca, the head of the Laleli Industrialists and Businessmen's Association, an industry group for Turkish trade with Russia.
On Tuesday, Erdogan denounced Europe for imposing sanctions against Russia. "Europe is actually reaping what it sowed. Putin is using all his means and weapons, and the most important of these is natural gas. Unfortunately, – we wouldn't want this but – such a situation is developing in Europe," the Turkish leader said at a press conference in Ankara. "I think Europe will experience serious problems this winter. We do not have such a problem."
The Kremlin blames disruption to equipment maintenance caused by Western sanctions for its halt to the flow of gas through the Nord Stream 1 pipe.
Gazprom, the Russian gas giant, suspended natural gas flows to Europe via Nord Stream 1 pipeline last Wednesday. Two days later, it said it would halt gas supplies through the key pipeline because of a technical fault, which it blamed on difficulties repairing German-made turbines in Canada.
Source: Press TV
Please click the following URL to read the full text of the original story:
https://www.presstv.ir/Detail/2022/09/07/688814/Turkey-Erdogan-Russia-Ukraine-West-sanctions-gas-Europe-Putin
--------
US Senator dismisses Israeli military probe on Abu Akleh's murder
07 September 2022
A US Senator has dismissed an Israeli military investigation that claims there is a "high possibility" that veteran Palestinian journalist Shireen Abu Akleh was "accidentally hit" by an Israeli soldier in the occupied West Bank four months ago.
Democratic Senator Chris Van Hollen for Maryland posted a tweet on Wednesday, saying the existing evidence did not support the claim that a soldier accidentally killed Abu Akleh in the midst of a gun battle in Jenin.
Van Hollen said the United Nations and reconstructions by major news outlets had found the female journalist was not in the immediate vicinity of fighting with the Palestinian resistance fighters and could not have been caught in the crossfire.
"The crux of the 'defense' in this military report is that a soldier was 'returning fire' from armed Palestinians" when Abu Akleh was struck, Van Hollen said. "But investigations … found no such firing at the time. This underscores need for independent US inquiry into this American journalist's death."
The Committee to Protect Journalists has labeled the Israeli report "late and incomplete."
"They provided no name for Shireen Abu [Akleh's] killer and no other information than his or her own testimony that the killing was a mistake."
Palestinian officials, rights advocates, and family of the slain journalist have already denounced the findings of the Israeli inquiry.
The journalist's niece, Lina Abu Akleh, said the family had no confidence in the report. "We could never expect any type of accountability or legitimate investigation from the very entity responsible for gunning down an unarmed and clearly identifiable journalist."
The family said an independent American investigation was "the bare minimum the US government should do for one of their own citizens." The family also said Abu Akleh's killing was a "war crime."
On Monday, the Israeli military admitted that the journalist was "accidentally" killed by the regime's gunfire on May 11, saying, however, that it will open no criminal investigation into the assassination.
The acknowledgement came after a final Israeli investigation concluded there was a "high possibility" the journalist had been shot dead by an Israeli soldier who mistook her for an armed Palestinian.
The report claimed she could have been shot by Palestinian gunfire even though all independent investigations on the shooting have totally dispelled the allegation.
Wearing press attire, the 51-year-old journalist was murdered in cold blood while covering an Israeli military raid. Later, her funeral was also attacked by the regime forces.
Israel's account shifted several times over the four months. However, eyewitness accounts and videos of Abu Akleh and the area around her at the time of her killing do not show a gun battle.
A United Nations investigation earlier found Israeli soldiers fired "several single, seemingly well-aimed bullets" at Abu Akleh and other journalists.
Investigations by the New York Times, Washington Post, and CNN have questioned the official Israeli version of the episode.
Source: Press TV
Please click the following URL to read the full text of the original story:
https://www.presstv.ir/Detail/2022/09/07/688810/Abu-Akleh-Israel-military-report-senator-van-hollen
--------
Africa
Kenya's president-elect, outgoing leader speak after months in boost for smooth transition
Andrew Wasike
07.09.2022
NAIROBI, Kenya
After a months-long rift, Kenya's President-elect William Ruto finally spoke to outgoing leader – and his current boss – Uhuru Kenyatta on Wednesday.
The phone call marks a major step forward in efforts to end the deadlock that emerged after Ruto won the Aug. 9 presidential election, a victory challenged by his Kenyatta-backed opponent Raila Odinga.
Kenyatta's decision to support opposition candidate Odinga over Ruto, who has been his deputy president for nearly a decade, led to a complete breakdown in communication between the country's top two leaders.
Taking to Twitter, Ruto announced that he had spoken to his estranged boss about the country's turbulent succession.
"We discussed the just concluded General Election and the transition as envisaged by our democratic tradition and practice," he said.
The phone call came just days after Kenya's top court upheld Ruto's election victory, dismissing nine petitions seeking to nullify the result.
Kenyatta visited Odinga and his family in Nairobi on Tuesday, the same day he made his first address to the nation since the polls, vowing to respect the Supreme Court verdict and ensuring a smooth transition of power.
Ruto, 55, and Rigathi Gachagua, his pick for deputy president, will be sworn in on Sept. 13.
Ruto has previously pledged that his government will "respect President Uhuru Kenyatta in his retirement."
Source: Anadolu Agency
Please click the following URL to read the full text of the original story:
https://www.aa.com.tr/en/africa/kenyas-president-elect-outgoing-leader-speak-after-months-in-boost-for-smooth-transition/2679009
--------
Libya exhumes 6 bodies from mass grave in Tarhuna
Walid Abdullah
07.09.2022
TRIPOLI, Libya
Libyan authorities on Wednesday exhumed six bodies from a mass grave in the city of Tarhuna, south of the capital Tripoli.
In a statement, the General Authority for Research and Identification of Missing Persons said the corpses were found in a landfill site in the city.
According to the statement, forensic teams are examining the bodies to determine their identity.
Discoveries of mass graves are common in war-torn Libya, especially in Tarhuna city, a former stronghold for warlord Khalifa Haftar.
Source: Anadolu Agency
Please click the following URL to read the full text of the original story:
https://www.aa.com.tr/en/middle-east/libya-exhumes-6-bodies-from-mass-grave-in-tarhuna/2679458
--------
Major opposition front boycotts Tunisia's parliamentary elections
Adel Thabeti
07.09.2022
TUNIS, Tunisia
The opposition National Salvation Front said Wednesday it will boycott Tunisia's upcoming parliamentary elections in December.
"The elections will be held under the supervision of a body that is not neutral and is loyal to the ruling authority," the front's head, Ahmed Najib Chebbi, told a press conference in the capital Tunis.
Tunisia will hold parliamentary elections on Dec. 17, amid a deep political crisis in the North African nation.
Chebbi called for holding early elections in Tunisia "under the 2014 Constitution to be supervised by an independent electoral commission that enjoys the confidence of all parties."
"We extend our hand to all national forces to agree on a national salvation government to deal with the social crisis" in Tunisia, he said.
The National Salvation Front is a major opposition coalition consisting of five parties -- Ennahda Movement, Heart of Tunisia Party, the Dignity Coalition, the Movement Party and Al-Amal Party.
Tunisia has been in the throes of a deep political crisis that aggravated the country's economic conditions since last year, when President Kais Saied ousted the government, suspended parliament and assumed executive authority. He later dissolved the assembly after lawmakers held a session to challenge his measures.
Source: Anadolu Agency
Please click the following URL to read the full text of the original story:
https://www.aa.com.tr/en/middle-east/major-opposition-front-boycotts-tunisia-s-parliamentary-elections/2679345
--------
Southeast Asia
Vital to address halal guarantee issues in promoting the halal industry: PM
09- 08- 2022
KUALA LUMPUR: Any issues related to halal guarantee is important to be addressed in efforts to promote the halal industry because it risks damaging the image of the halal industry that has been worked on over the years, said Prime Minister Datuk Seri Ismail Sabri Yaakob (pix).
"The halal guarantee refers to consumer confidence, standardisation, certification and accreditation," he said when officiating at the 18th Malaysia International Halal Showcase (MIHAS) here today.
According to the Prime Minister, there are now more than 8,000 companies in Malaysia recognised as halal with more than 20 per cent of them being exporting companies.
"The Department of Islamic Development Malaysia (JAKIM) also works with halal certification bodies from various countries for uniformity of standards in compliance with the shariah laws," he said.
Ismail Sabri said the Global Islamic Economic Indicator also predicted the halal market would grow to nearly RM14 trillion (US$3.27 trillion) by 2028, from RM8.8 trillion (US$2.09 trillion) as reported last year.
This is in line with the increase in the global Muslim population which had reached 1.9 billion in 2021, at the same time showing high potential in diversifying the halal industry in a more inclusive and comprehensive manner in the long term, he added.
"I am also proud to be informed that for nine consecutive years, Malaysia has managed to maintain the top spot, based on the Global Islamic Economy Indicator contained in the 'State of the Global Islamic Economy 2022' report, competing with 81 other countries," said the Prime Minister.
The assessment, he said, was made based on economic digitalisation initiatives, halal infrastructure development and increased government focus on food security and healthcare.
The organisation of the MIHAS this year is a testimony of the people's faith in the effectiveness of the government's strategy in driving the development and innovation of the halal industry in Malaysia and internationally, Ismail Sabri added.
He explained that the increase in sales from year to year will have a spillover effect on the halal-related sector, and indirectly contribute to the success of Malaysian companies, particularly the development of micro, small and medium enterprises (MSMEs).
"In fact, the increase in the sales of the halal sector will ultimately boost the growth of the Gross Domestic Product (GDP), in addition to opening up more space and opportunities for the Malaysian community to bring the halal industry to the international level," he said while inaugurating MIHAS 2022 here today.
The Prime Minister added that to facilitate the growth of Malaysia's halal industry, 'Halal Malaysia Industrial Parks', one of the world's largest halal hubs, was established to provide world-class facilities, a skilled workforce and ease of doing business, among other things.
It covers an area of 200,000 acres in 14 strategic halal parks that have received Halal Malaysia status from Halal Development Corporation.
"To date, halal parks have attracted a cumulative investment of more than RM16 billion, of which RM9.5 billion or 59 per cent of this amount are foreign direct investments (FDIs)," he said.
Source: The Sun Daily
Please click the following URL to read the full text of the original story:
https://www.thesundaily.my/home/vital-to-address-halal-guarantee-issues-in-promoting-the-halal-industry-pm-XK9792154
--------
Zahid to know on Sept 23 whether to enter defence on graft charges
V Anbalagan
September 7, 2022
SHAH ALAM: Former home minister Ahmad Zahid Hamidi will know on Sept 23 whether he is to enter his defence on 40 charges of receiving bribes from Ultra Kirana Sdn Bhd (UKSB) to extend its foreign visa system (VLN) contract.
High Court judge Yazid Mustafa informed the prosecution and defence of the date today after hearing oral submissions since Sept 1.
"I am fixing it for a Friday (Sept 23) because that is the day I usually deliver rulings," he said.
Yazid also ordered the prosecution and the defence to put their oral submissions in writing and submit them to the court by Sept 13.
The prosecution closed its case after calling 18 witnesses. The trial began on May 24 last year and lasted 33 days.
The prosecution has also offered Zahid's legal team a list of 27 witnesses should his defence be called.
Included in the list are former immigration director-general Mustafar Ali, who is also the current head of the National Financial Crime Centre. He also served in the Malaysian Anti-Corruption Commission (MACC).
Others include Chong Kian Leong @ Raymond, a director in Hong Kong company Maintech System HK Ltd, and Fong Mee Yee, a director at Visa Malaysia Ltd Hong Kong.
Zahid, who is also the Umno president and Bagan Datuk MP, is facing 33 charges of receiving bribes amounting to S$13.56 million (RM42 million) from UKSB as the then home minister to extend the firm's contract as the operator of the one-stop centre in China and the VLN system as well as to maintain the contract agreement for the supply of the VLN integrated system.
The principal charges are framed under the MACC Act while the alternative charge comes under the Penal Code.
He is also accused of another seven counts, under the Penal Code, of obtaining for himself S$1.15 million, RM3 million, 15,000 Swiss francs and US$15,000 from the same company in connection with his official duties.
Source: Free Malaysia Today
Please click the following URL to read the full text of the original story:
https://www.freemalaysiatoday.com/category/nation/2022/09/07/zahid-to-know-on-sept-23-whether-to-enter-defence-on-graft-charges/
--------
URL: https://newageislam.com/islamic-world-news/terrorising-hindus-uk-muslim-pakistan-t20/d/127904
New Age Islam, Islam Online, Islamic Website, African Muslim News, Arab World News, South Asia News, Indian Muslim News, World Muslim News, Women in Islam, Islamic Feminism, Arab Women, Women In Arab, Islamophobia in America, Muslim Women in West, Islam Women and Feminism