New Age Islam News Bureau
04 June 2022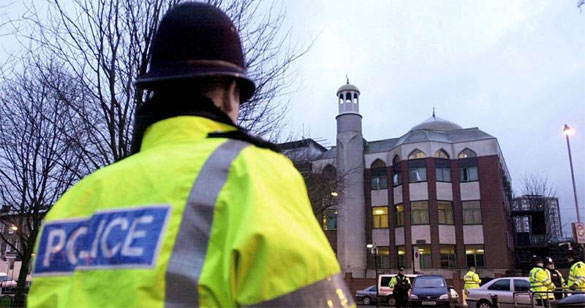 Sara Khan, the British government's extremism adviser, said the UK has let Islamists dominate the conversation over what Prevent does. EPA
-----
• Afghanistan's Taliban Rulers Face Threat from Islamic State, Maintain Close Ties with Al-Qaeda: UN Report
• Security Beefed Up In Karnataka's Srirangapatna over VHP's Call for Puja At Jamia Mosque
• Counsel Says FIA Wants To Arrest PM Shehbaz, Hamza in Rs16bn Money Laundering Case
• Egyptian Court Upholds Sentence for Listing 56 Muslim Brotherhood Members on Terrorists List
Europe
• AOCE Praises Appointments of Two Muslim Ministers in Australian Gov't
• Salman Rushdie leads over 40 British Indians in Queen's Jubilee Honours list
• Türkiye summons Greek envoy for terror groups' activities in Greece
• NATO chief speaks with Turkey's Erdogan about Finland, Sweden joining
--------
India
• Agra's Jama Masjid May Be UP's Next Disputed Mosque
• RSS Chief Mohan Bhagwat's Stand on Shrines Offers Hope: Deoband-based cleric Mufti Asad
• "Karnataka Declaration": Karnataka Congress to Fight Assembly Poll under Collective Leadership, To Protect Muslims, Christians
• High Court declined urgent hearing on plea against stopping of prayers at mosque
• Islamic State terrorist sentenced to life imprisonment by Kolkata court
• Shiv Sena Backs Bhagwat's 'No Need To Find Shiv Ling In Every Mosque' Comment; Needles BJP On Kashmir Situation
• Violence Breaks Out in Kanpur as Police, Muslim Protestors Clash
• Six Hurt, 18 Held In Kanpur Violence Over Closure Of Shops After Friday Prayers: Cops
• India's engagement with Taliban should redefine Tajikistan relationship
• Hizbul commander killed in encounter in J&K's Anantnag
--------
Pakistan
• TTP declares indefinite ceasefire with Pakistan
• China 'directly responsible' for grim economic situation of Pakistan
• ISI given legal cover to screen government officials
• No major breakthrough yet as jirga returns from Kabul
• Opposition senators take on govt over 'economic terrorism'
• Maryam Nawaz lashes out at Imran Khan for criticizing Pak army; calls him 'sick-minded person'
--------
Arab World
• Lebanon-based hackers linked to Iran's government targeted Israeli groups: Microsoft
• EU, Egypt near gas supply deal in shift away from Russia
• Lebanese security chief fears political paralysis, social collapse
• UAE firm to screen passengers at Afghan airports
• YPG/PKK Terrorists Accelerate Planting Mines, Booby Traps in Northern Syria
• Erdogan taking advantage of Ukraine war to push his own goals in Syria
--------
South Asia
• Acting FM of IEA, Muttaqi at Gathering Recounts Achievements of Islamic Emirate
• Islamic State in Khorasan Province's Rocket Attack in Tajikistan
• 'We Want Cordial Relations' With World: Mullah Yaqoob Mujahid
• The Afghan Refugees' Failure in Security Screening Delays Their Evacuation from the Balkan Camp
• Pakistan Seeks Kabul Mediation to Negotiate with TTP
--------
Southeast Asia
• Is Indonesia's Grand Experiment with Democracy Coming to an End?
• After Telling Bangladesh Not To Join Quad, China Now Urges It To Shun Bloc Politics
• 11 more arrested over half-naked dancers at open house
• Local cacao inspires duo to make a business out of it
• Sabah PH reps go to court over 40% revenue share for state
--------
Mideast
• Iranian Ambassador at the UNSC: Anti-Iran Sanctions New Method of War against Civilized Nations
• Deputy FM: Israeli Regime Can Only Dream of Attacking Iran
• Iran, Kenya Vow to Broaden Mutual Cooperation
• Iran, Syria Discuss Ways to Fight Sandstorms
• Iran vows 'immediate response' to any Western move against it at IAEA
--------
Africa
• Libya's Persistent Political Polarization amid Islamic State's bid to Remain Relevant
• Kwara Hijab controversy: Islamic group demands justice for student allegedly killed
• Sudan to privatize army firms, says Gulf aid talks ongoing
• Türkiye, Mali discuss bilateral relations, regional issues
• UN Security Council extends Libyan arms embargo for 1 more year
• Islamic Group, Ansaru Dissociates Self from Abuja-Kaduna Train Attack
--------
North America
• New York Man, a Uzbekistan Citizen, Sentenced To 15 Years In Prison For Support To Islamic State
• Muslim leaders ask FBI to investigate body found in burnt car as hate crime
• US airstrike kills 5 al-Shabaab terrorists in Somalia
• US Congress members denounce Israeli restrictions on academic freedom in Palestine
Compiled by New Age Islam News Bureau
URL: https://newageislam.com/islamic-world-news/extremism-muslim-communities-islamists/d/127173
--------
Anti-Extremism Prevent Strategy Failing To Engage Muslim Communities, Allows Islamists to Dominate Perceptions of the Scheme, Says UK Adviser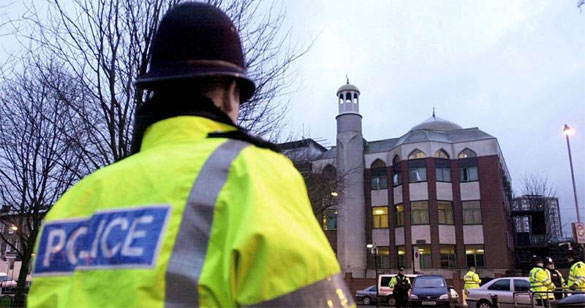 Sara Khan, the British government's extremism adviser, said the UK has let Islamists dominate the conversation over what Prevent does. EPA
-----
Simon Rushton
Jun 03, 2022
The UK's controversial Prevent anti-extremism programme has failed to engage with Muslim communities and allowed Islamists to dominate perceptions of the scheme, according to a senior government expert.
Dame Sara Khan, a UK government adviser on counter-extremism, said a continuing review into Prevent's work needed to rectify past mistakes.
She said the government "left a vacuum" about the purpose of the scheme, which has since been "dominated" by Islamists.
Prevent was launched in 2007 to stop people being lured by extremism and persuaded to become terrorists, but it has also faced criticism from some Muslim groups for what they call an unfair focus on their communities.
"The government did not explain to Muslim communities to explain what Prevent is about. They left a vacuum which Islamists dominated and said what Prevent is about. There have clearly been mistakes," she said.
"There were issues, detrimental failures that cause people to not respect the programme," she added, citing problems over perceptions that it was a spy programme.
"So those types of challenges have continued and I think continuing to engage with communities, explaining what the programme is, addressing concerns — that's got to continue in a much better way than we've seen previously," she said.
Speaking on the BBC's Political Thinking podcast, Dame Sara said there was a difference between Muslim communities and Islamist threats.
She also pointed out there were many types of extremism that needed to be looked at, from the far-left to far-right.
"I have criticised Prevent many times. I have reviewed the government's counter extremism programme and said it was completely outdated and not fit for purpose," she said.
"I think good policy has to be ideologically blind. If you understand extremism is a societal ill that has existed throughout time. It's like crime.
"For me, there are all different types of extremism. Focusing on one at the expense of others is totally counterproductive."
Prevent aims to protect people from becoming radicalised. Referrals are put to a Channel panel that decides if those people would benefit from more support and its programme.
Concerns over extreme right-wing radicalisation among teenagers have grown in recent years.
In January 2019, the government announced a review of the programme after some Muslim leaders claimed they were being unfairly targeted. Former charities regulator Mr Shawcross was appointed to lead the review last year.
The government said it plans to shake-up the programme after a series of attacks in which perpetrators had already been flagged by the counterterrorism strategy or had slipped through the net.
Source: The National News
Please click the following URL to read the text of the original story:
https://www.thenationalnews.com/world/uk-news/2022/06/03/anti-extremism-prevent-strategy-failing-to-engage-muslim-communities-says-uk-adviser/
--------
Afghanistan's Taliban Rulers Face Threat from Islamic State, Maintain Close Ties with Al-Qaeda: UN Report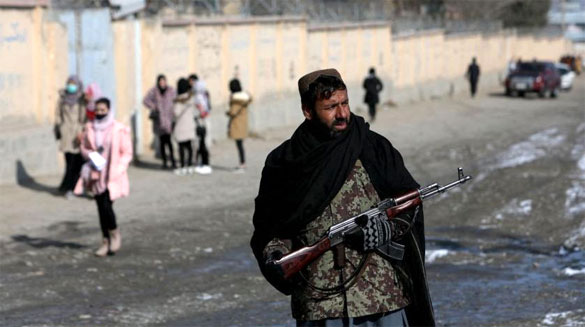 Taliban fighter guards a street in Kabul, Afghanistan, December 16, 2021. (Reuters)
-----
03 June, 2022
Afghanistan's Taliban rulers are maintaining close ties with Al-Qaeda as they consolidate control over the country, and their main military threat is coming from the Islamic State extremist group and guerrilla-style attacks by former Afghan government security personnel, UN experts said in a new report.
The experts said in the report to the UN Security Council that with the onset of better weather, fighting may escalate as both Islamic State and resistance forces undertake operations against Taliban forces.
But neither IS nor Al-Qaeda "is believed to be capable of mounting international attacks before 2023 at the earliest, regardless of their intent or of whether the Taliban acts to restrain them," the panel of experts said.
Nonetheless, it said the presence of IS, Al-Qaeda, and "many other terrorist groups and fighters on Afghan soil" is raising concerns in neighbouring countries and the wider international community.
Since their takeover of Afghanistan last August as US and NATO forces were in the final stages of their chaotic withdrawal from the country after 20 years, the Taliban "have favoured loyalty and seniority over competence, and their decision-making has been opaque and inconsistent," the experts said.
In the report obtained Thursday, the panel monitoring sanctions against the Taliban said its leaders have appointed 41 men on the UN sanctions blacklist to the Cabinet and senior positions, and they have favoured the country's dominant Pashtun ethnic group, alienating minority communities including ethnic Tajiks and Uzbeks.
The Taliban's primary concern has been to consolidate control "while seeking international recognition, to re-engage with the international financial system and to receive aid in order to deal with the growing economic and humanitarian crisis in Afghanistan", the experts said.
"Since taking power, however, there have been many factors creating internal tensions within the movement, leading to perceptions that the Taliban's governance has been chaotic, disjointed and prone to reversing policies and going back on promises," they said.
As the Taliban struggle to transition from an insurgency to a governing body, they have been divided between pragmatists and hardliners who have gained the upper hand and want to turn the clock back to the group's harsh rule from 1996 until December 2001, when they were ousted from power by US forces following the 9/11 attacks on the United States.
To date, their efforts to win recognition and aid from Western nations have floundered, largely because they have not formed a more representative government, and have restricted the rights of girls to education beyond elementary school, and of women to work and travel without a male relative's oversight.
"The central dilemma is how a movement with an inflexible ideology can engage with a society that has evolved during the past 20 years," the experts said. "Further stresses revolve around power, resources, and regional and ethnic divisions."
Despite these serious issues, the panel said the Taliban "appear confident in their ability to control the country and 'wait out' the international community to obtain eventual recognition of their government."
"They assess that, even if they make no significant concessions, the international community will ultimately recognise them as the government of Afghanistan, especially in the absence of a government in exile or significant internal resistance," the experts said.
So far, not a single country has officially recognised the Taliban, and there is growing international anger at its treatment of girls and women and its failure to keep its promise of forming an inclusive government. There are also concerns about the Taliban's inability to keep its promise not to allow terrorist groups to operate in Afghanistan.
The panel said the Haqqani Network, a militant Islamist group with close ties to the Taliban, moved quickly after their takeover to gain control of key portfolios and ministries including interior, intelligence, passports and migration. It now "largely controls security in Afghanistan, including the security of the capital, Kabul," the experts said.
"The Haqqani Network is still regarded as having the closest links to Al-Qaeda," the panel said, and the relationship between the Taliban and Al-Qaeda also remains close. The experts pointed to the reported presence of Al-Qaeda's "core leadership" in eastern Afghanistan including its leader Ayman al-Zawahri.
To counter the Islamic State, the report quoted an unidentified country as saying the Taliban have created three battalions of special forces called "red units".
The emergence of the National Resistance Front and Afghanistan Freedom Front comprising former Afghan security personnel "has led the Taliban to adopt aggressive measures against populations suspected of supporting anti-Taliban operations," the panel said.
In April, it said National Resistance Front forces stepped up operations in Badakhshan, Baghlan, Jowzjan, Kunduz, Panjshir, Takhar and Samangan provinces.
The Afghan Freedom Front, which only emerged recently, "has also claimed several attacks on Taliban bases in Badakhshan, Kandahar, Parwan and Samangan," the experts said.
"Taliban forces may be hard-pressed to counter several insurgencies simultaneously," they said.
Source: The New Arab
Please click the following URL to read the text of the original story:
https://english.alaraby.co.uk/news/taliban-faces-threat-islamic-state-un
--------
Security Beefed Up In Karnataka's Srirangapatna over VHP's Call for Puja at Jamia Mosque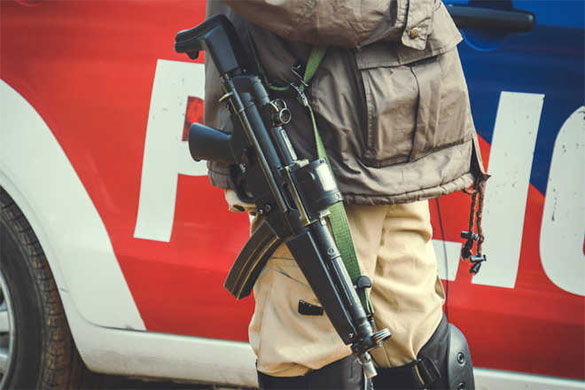 Photo for representation. iStock
----
04th June 2022
MANDYA: Security has been heightened in Srirangapatna, the erstwhile capital of 18th-century ruler Tipu Sultan in the district, following Vishwa Hindu Parishad's (VHP) call to perform puja at the Jamia mosque, claiming that it was built after razing a Hanuman temple.
Prohibitory orders have been imposed in the temple town under section 144 of the CrPC to prevent any protest or procession from taking place.
Besides the district police force, contingents of Karnataka State Reserved Police have also been deployed.
The roads have been barricaded and security pickets have been erected in the town.
Wearing saffron scarves and holding saffron flags, the Bajrang Dal and VHP activists on motorcycles raised 'Jai Sriram' slogans.
Fearing backlash, many shopkeepers around the shrine downed shutters for the day.
Members of fringe Hindu outfits have called for a protest march to the mosque.
However, authorities have denied permission for it.
State Home Minister Araga Jnanendra has given directions to the police to take all the measures to ensure peace and public order in view of VHP's 'Srirangapatna Chalo' campaign.
Meanwhile, the Sriram Sena chief Pramod Muthalik condemned the restrictions saying they should be imposed on 'them'.
"There is a Ganapati temple, a temple tank and a well inside the mosque. Despite all these, mosques running Madrassas and offering Namaz there is wrong. It is 'they' who should be stopped. They should be thrown out. I condemn the BJP government which is trying to stop our protest," Muthalik told reporters.
The right-wing organisations have been claiming that the Jamia mosque was an Anjaneya Temple, which Tipu Sultan had destroyed to build a mosque over it.
The outfits have submitted a memorandum to the district authorities seeking a survey of the mosque and taking steps to return the 'Anjaneya Temple' to Hindus if their claim is found to be true.
Source: New Indian Express
Please click the following URL to read the text of the original story:
https://www.newindianexpress.com/states/karnataka/2022/jun/04/security-beefed-up-in-karnatakas-srirangapatna-over-vhps-call-for-puja-at-mosque-2461729.html
--------
Counsel Says FIA Wants To Arrest PM Shehbaz, Hamza in Rs16bn Money Laundering Case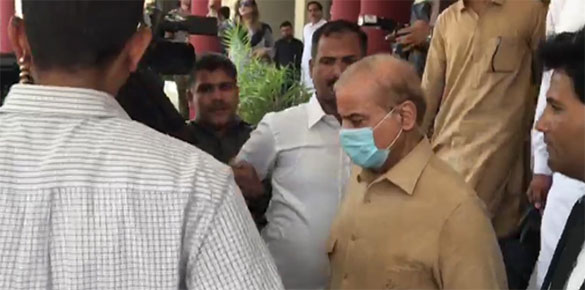 Prime Minister Shehbaz Sharif outside the Special Court (Central-I) in Lahore today. — DawnNewsTV
-----
Rana Bilal
June 4, 2022
The counsel for the Federal Investigating Agency (FIA) confirmed to a special court in Lahore on Saturday that the agency wanted to arrest Prime Minister Shehbaz Sharif and his son, Punjab Chief Minister Hamza Shehbaz, in a Rs16 billion money laundering case.
The counsel's confirmation was in response to presiding judge of the Special Court (Central-I) Ijaz Hassan Awan's query on whether the FIA wanted to arrest the father-son duo in the case against them and their family.
Both PM Shehbaz and Hamza, whose interim was extended till June 4 at the previous hearing, appeared before the court today.
At the outset of the hearing, the FIA's counsel told the judge that half of the prosecution's team had been barred from reaching the courtroom by security, at which the relevant SP gave assurances that the FIA members stopped by the security would be allowed into the courtroom.
PM Shehbaz and Hamza's counsel, Mohammad Amjad Pervaiz, then began his arguments, saying that the case had been investigated for one-and-a-half year and yet no evidence was on record.
Referring to the PTI's tenure but without naming the party, he said: "There had been worst political engineering in the previous tenure. The Lahore High Court has also declared political engineering a reality."
The counsel said it had been said a certain Mushtaq Cheeni had been included in the investigation, but he was neither made a witness nor a suspect.
He claimed that the FIA included Shehbaz and Hamza in the investigation while they were in jail and went on the allege that "state machinery was used to suppress opposition leaders in the previous tenure".
In response, the counsel for the FIA contended that the "suspects had not been included in the investigation". He did not elaborate whether he was referring to only Shehbaz or Hamza here.
Shehbaz and Hamza's lawyer argued back that the "suspects had been included in the investigation", and that "the FIA's lawyer is making a false statement".
Continuing his arguments, he said, "There was just one agenda to the previous government: to somehow put them (Shehbaz and Hamza) in jail".
He denied that Hamza had ever been a director or shareholder of the sugar mills named in the case.
Following that, Hamza and Shehbaz left after taking the court's permission.
Charges against Hamza, Shehbaz
The FIA had in December 2021 submitted the challan against Shehbaz and Hamza to a special court for their alleged involvement in laundering an amount of Rs16bn in the sugar scam case.
"The investigation team has detected 28 benami accounts of the Shehbaz family through which money laundering of Rs16.3bn was committed during 2008-18. The FIA examined the money trail of 17,000 credit transactions," according to an FIA report submitted to the court.
The amount was kept in "hidden accounts" and given to Shehbaz in a personal capacity, the report added.
This amount (Rs16bn) has nothing to do with the sugar business (of the Shehbaz family), it claimed. The money received from the accounts of low-wage employees by Shehbaz was transferred outside Pakistan via hundi/hawala networks, ultimately destined for the beneficial use of his family members, the FIA had alleged.
"Eleven low-paid employees of the Sharif group who 'held and possessed' the laundered proceeds on behalf of the principal accused, are found guilty of facilitating money laundering. The three other co-accused of the Sharif group also actively facilitated the money laundering," the agency had said.
Source: Dawn
Please click the following URL to read the text of the original story:
https://www.dawn.com/news/1693085/counsel-says-fia-wants-to-arrest-pm-shehbaz-hamza-in-rs16bn-money-laundering-case
--------
Egyptian Court Upholds Sentence for Listing 56 Muslim Brotherhood Members on Terrorists List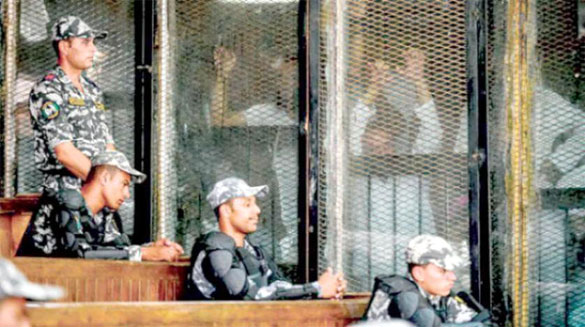 A previous trial for suspects in the case. (AFP)
-----
3 June, 2022
Egypt's Court of Cassation upheld the sentence to list 56 persons on the terrorism list and to designate the Muslim Brotherhood a terrorist entity.
The initial sentence was issued by the Cairo Criminal Court.
According to the investigations by Egypt's Public Prosecution, the listed Muslim Brotherhood leaders put a plan to provide financial support to the group through exploiting their personal credit in the Egyptian banks and part of the profits of the group-affiliated economic entities.
This financial support would go to fund violent acts against the state's institutions, blockade of main roads, and disruption of transportation.
Financing also covers the group's media activity against the state through spreading rumors and false statements to cause a rift between the citizens and the State.
The goal is to cause chaos in order to oust the ruling regime.
Investigations showed that the defendants possessed at their places of residence and companies amounts of money, regulatory papers, and laptops that contained the organization's plots.
They demanded listing 56 defendants on the terrorists list and designating the Muslim Brotherhood on the terrorist entities list.
Source: Aawsat
Please click the following URL to read the text of the original story:
https://english.aawsat.com/home/article/3681781/egyptian-court-upholds-sentence-listing-56-muslim-brotherhood-members
--------
Europe
AOCE Praises Appointments of Two Muslim Ministers in Australian Gov't
3 June, 2022
Al-Azhar Observatory for Combating Extremism (AOCE) hailed the appointment of two Muslim ministers in the new Australian government.
AOCE touched upon the Australian government's performance after the victory of the Australian Labor Party led by Anthony Albanese at the parliamentary elections.
It added that this cabinet line-up, comprising two Muslim ministers, is unprecedented.
Anne Aly took on the ministry roles of Minister for Early Childhood and Youth.
Anne Aly, Australia's first female Muslim minister, was sworn in as minister for early childhood and youth, while Industry and Science Minister Ed Husic is the first Muslim to serve in Cabinet.
AOCE praised this step considering that assigning Muslims to pioneering posts is a response to the hate speech promoted by the far-right groups in Europe.
Meanwhile, Azhar celebrated 5,000 teachers at Azhar who passed a training program to teach English language (AATAGs) in cooperation with the British Council.
This program comes in partnership with the British Council in the sustainable professional development field.
Source: Aawsat
Please click the following URL to read the full text of the original story:
https://english.aawsat.com/home/article/3681956/aoce-praises-appointments-two-muslim-ministers-australian-gov%E2%80%99t
--------
Salman Rushdie leads over 40 British Indians in Queen's Jubilee Honours list
Jun 2, 2022
LONDON: Salman Rushdie, the Mumbai-born author of the Booker Prize-winning novel 'Midnight's Children', leads a list of over 40 professionals and community champions of Indian-origin to be honoured in the Queen's Birthday Honours list.
Rushdie is named a Companion of Honour, an exclusive club with membership limited to just 65 people at any given time, for services to literature in a list released on Wednesday night as the Jubilee Honours to mark the Platinum Jubilee of Queen Elizabeth II's 70 years of service to the UK.
"It's a privilege to be included in such illustrious company, both past and present," said the 74-year-old author, who was the subject of a fatwa by Iranian leader Ayatollah Khomeini for his controversial novel 'The Satanic Verses' over 30 years ago.
The Companion of Honour is a special award granted to those who have made a major contribution to the arts, science, medicine, or government lasting over a long period of time.
Very few receive this high honour, which has been conferred on the likes of former British prime ministers Winston Churchill and John Major and renowned physicist Stephen Hawking in the past.
"Born in Bombay, he later attended Rugby School and King's College, Cambridge, where he read History," reads the citation for Rusdhie, author of 14 novels.
"Beginning his career in advertising, 'Midnight's Children' was twice (1993 and 2008) voted Best of the Bookers by the public. He was knighted for services to literature in 2007. He is also a storied author of non-fiction, an essayist, co-editor and a noted humanist," it notes.
Others honoured with some of the higher royal awards coinciding with celebrations of the 96-year-old monarch's 70-year reign, include a Commander of the Order of the British Empire (CBE) for Avnish Mitter Goyal, Chair of Care England, for services to social care and philanthropy.
Officers of the Order of the British Empire (OBEs) include hotelier Kishorkant (Vinu) Bhattessa for charitable and voluntary services, particularly during Covid-19, and Liverpool headteacher Rohit Naik for services to education.
Members of the Order of the British Empire (MBE) recognise a large number of British Indians who have contributed to their local community, including Councillors Pranav Bhanot and Ameet Jogia.
In the healthcare sector, Professor Indranil Chakravorty of the British Association of Physicians of Indian Origin (BAPIO) and orthopaedic surgeon Professor Srimathi Rajagopalan Murali are among those to be conferred with an MBE.
Dr Chila Kumari Singh Burman, Sandeep Mahal, Professor Daljit Nagra and Dr Chithra Ramakrishnan are among those honoured with MBEs in the field of arts, culture and literature.
"I'm thrilled and humbled to receive this significant recognition for my academic and voluntary work," said Dr Nikita Ved, Research Fellow and Lecturer in Medicine at the University of Oxford and co-founder of the 1928 Institute dedicated to British Indian research, who received an MBE for services to Covid-19 Response.
"Although myself and others have reservations on the phrase 'Member of the British Empire', I am accepting this award in the spirit of being acknowledged, particularly at my age as I feel many young people are overlooked for their hard work," said the 32-year-old academic.
Further down the list, Varsha Kumari Mistry – a Forensic Practitioner at Scotland Yard – has been conferred a Medallist of the Order of the British Empire (BEM) for services to diversity and inclusion in policing and to the Hindu community.
In tribute to Queen Elizabeth II, recipients have been awarded for their outstanding contributions across all sectors, but in particular for sustained public service, the environment and sustainability, and youth engagement.
"This historic Platinum Jubilee is not only a celebration of the monarch but of the qualities she possesses," said British prime minister Boris Johnson.
"The honours she confers this week reflect many of those qualities that have been invaluable from all different walks of life and to communities across the UK. I pay tribute to all of this year's winners. Their stories of courage and compassion are an inspiration to us all," he said.
A total of 1,134 candidates have been named for honours across different fields by the UK Cabinet Office – which compiles the list, with 13.3 per cent of the successful candidates from an ethnic minority background.
Others to receive high honours include a knighthood for crime writer Ian Rankin and CBEs for actor Damian Lewis and fashion designer Stella McCartney.
Source: Times Of India
Please click the following URL to read the full text of the original story:
https://timesofindia.indiatimes.com/world/uk/salman-rushdie-leads-over-40-british-indians-in-queens-jubilee-honours-list/articleshow/91953806.cms
--------
Türkiye summons Greek envoy for terror groups' activities in Greece
Burak Bir
04.06.2022
Türkiye's Foreign Ministry summoned Greece's ambassador to Ankara on Friday because of the PKK terror group demonstrations near the Turkish Embassy in Athens and his country's turning a blind eye to terror groups.
Christodoulos Lazaris was summoned to the Foreign Ministry building and was informed of Türkiye's views and reactions to the presence and activities of terror groups in Greece, according to diplomatic sources.
The Greek ambassador was also informed that terror organizations easily carry out propaganda, financing and recruitment activities in Greece and Greece's identity as a "safe haven" has increased in circles associated with terrorism.
Additionally, the Lavrio camp was shown to Lazaris as an example that terror groups threatening Türkiye's security benefit from all kinds of logistics and training opportunities.
Lazaris, who was also told that the Lavrion camp has become a hotbed for terrorism comparable to PKK camps in Iraq and Syria, was informed of Türkiye's reaction and views on the subject due to action that started from the camp and turned into an overt PKK demonstration around the Turkish Embassy in Athens.
During the meeting, concerns about the safety of Turkish representatives and citizens in Greece were also expressed, and the expectation of effective cooperation in the fight against terrorism was reiterated.
Source: Anadolu Agency
Please click the following URL to read the full text of the original story:
https://www.aa.com.tr/en/europe/turkiye-summons-greek-envoy-for-terror-groups-activities-in-greece/2605307
--------
NATO chief speaks with Turkey's Erdogan about Finland, Sweden joining
June 04, 2022
BRUSSELS: NATO Secretary-General Jens Stoltenberg has met with Finland's prime minister and spoken to Turkey's president as he seeks to overcome Turkish resistance to Finland and Sweden joining the alliance.
Stoltenberg, who visited Washington this week, tweeted late Friday that he met with Finnish Prime Minister Sanna Marin while there and discussed "the need to address Turkey's concerns and move forward" with the Finnish and Swedish membership applications.
Russia's war in Ukraine pushed the Nordic countries to apply to join NATO, but Turkish President Recep Tayyip Erdogan accuses Sweden and Finland of supporting Kurdish militants deemed by Turkey to be terrorists.
Stoltenberg said he had a "constructive phone call" with Erdogan, calling Turkey a "valued ally" and praising Turkish efforts to broker a deal to ensure the safe transportation of grain supplies from Ukraine amid global food shortages caused by Russia's invasion. Stoltenberg tweeted that he and Erdogan would continue their dialogue, without elaborating.
Source: Arab News
Please click the following URL to read the full text of the original story:
https://www.arabnews.com/node/2096401/world
--------
India
Agra's Jama Masjid may be UP's next disputed mosque
Siraj Qureshi
Agra
June 3, 2022
The temple-mosque issue is refusing to die down in Uttar Pradesh, despite the RSS chief Mohan Bhagwat's strong statement against Hindu organizations dragging every mosque into dispute.
Now, a lawyer has claimed that the 'vigrah (idol)' of Thakur Keshav Dev Ji was removed from Mathura's Krishna Janmabhoomi and taken to Agra, to be buried under the city's Shahi Jama Masjid.
The petitioner, Mahendra Pratap Singh, has served notices to the Centre, Secretary of Culture, Director General of the Archaeological Survey of India (ASI), Director of ASI Mathura, and Superintending Archaeologist of Agra before filing a petition at the court of the Civil Judge of Agra.
Singh had filed the same petition on May 27, as well. But it was rejected by the court since the ASI had not been served a notice.
"Aurangzeb demolished the Thakur Keshav Dev Ji temple in 1670 and then buried the 'vigrah' of the temple either under the stairs of Begum Sahiba Qudsia Begum Mosque or the Jama Masjid so that Muslims can walk over the deities for centuries," he told India Today.
"In my notice, I have cited many historical accounts in support of my claims," he said, adding that the notice requires the ASI to hand over the idol to Mathura's Katra Keshav Dev Temple within two months, failing which he will move court again.
Source: India Today
Please click the following URL to read the full text of the original story:
https://www.indiatoday.in/india/story/agra-jama-masjid-disputed-uttar-pradesh-thakur-keshav-dev-ji-mathura-aurangzeb-1958132-2022-06-03
--------
RSS Chief Mohan Bhagwat's Stand on Shrines Offers Hope: Deoband-based cleric Mufti Asad Qasmi Jun 4, 2022
MUZAFFARNAGAR: A day after RSS chief Mohan Bhagwat called for a "path through mutual agreement" while reacting to the ongoing controversies and litigation involving Muslim properties, clerics across UP welcomed his statement on Friday, seeing it as a "ray of hope".
While addressing an event in Nagpur on Thursday, Bhagwat had said, "Why look for a Shivling in every masjid? We cannot change history (on the Gyanvapi issue). Neither present-day Muslims nor Hindus created it. It all happened at that time."
Reacting to Mohan Bhagwat's comments, Deoband-based cleric Mufti Asad Qasmi said, "What he said deserves praise. It came at a time when the environment of hate is spreading fast. The statement is certainly a welcome step towards building communal harmony."
Another prominent cleric Maulana Ishak Gora said, "We may not agree with all his comments, but we agree on this one. People should pay attention to what the RSS chief said and try to build unity." Gora is also a patron of Muslim organisation Jamiat Dawat-ul Muslimeen.
Urging people to refrain from "unnecessary controversies", Lucknow-based scholar Maulana Khalid Rasheed Firangi Mahali said today's society should be "kept away from disputed matters". He added: "The more this can be done, the better."
Maulana Mahmood Madani, chief of Jamiat Ulema-I-Hind, had recently stressed on the "urgent need to build an environment conducive for peace and harmony".
Source: Times Of India
Please click the following URL to read the full text of the original story:
https://timesofindia.indiatimes.com/city/meerut/bhagwats-stand-on-shrines-offers-hope-muslim-clerics/articleshow/91993957.cms
--------
"Karnataka Declaration": Karnataka Congress to Fight Assembly Poll under Collective Leadership, To Protect Muslims, Christians
04th June 2022
BENGALURU: The Congress in Karnataka on Friday expressed its firm resolve and commitment to protect Muslims and Christians, fight the "cultural terrorism" unleashed by the ruling BJP, and come back to power in the State in the 2023 Assembly polls under a "collective leadership".
The principal opposition party in the State - Congress - which today adopted "Karnataka Declaration" at the end of its two-day 'Nava Sankalpa Shibira' has decided to reserve 50 per cent tickets to leaders aged below 50 in the upcoming local body polls, and to consider extending it to the Assembly polls.
The party, at its brainstorming session held on the lines of party's recent Udaipur 'Chintan Shivir', also promises to introduce reservation in the private sector if it comes to power, and would try to bring in reservation in the government sector where there is outsourcing.
"The political affairs committee of the party has decided to go for Assembly elections under a collective leadership and come to power," Shivakumar told reporters here.
Sharing details of the deliberations that took place for about 12 to 13 hours at the meet, which was attended by about 600 delegates, he said several issues concerning the State and party organisation were discussed and suggestions came in for the party manifesto.
"The pride of the State is getting affected and we are committed to protect it, our culture and tradition is being disturbed, even education is being polarised, the State is being defamed internationally. We are committed to restore its legacy and protect it. We will protect all sections, especially Muslims and Christians, facing atrocities and false cases, we stand behind them firmly," he added.
Congress Legislature Party leader and former Chief Minister Siddaramaiah, too, condemning atrocities and false cases against Muslim and Christians, said the party has resolved to fight the "cultural terrorism" unleashed by the ruling BJP.
He targeted the government on the textbook controversy, accusing it of supporting emotive issues being raised in the name of religion and communities, while not focusing on developmental issues.
In response to a question on PFI and SDPI, both leaders without taking any names said the party condemns all kinds of communal activities, and such politics, and would fight them.
The "Karnataka Declaration" almost resembled what probably would be the party's manifesto for the next year elections, as it contains many promises the Congress wants to fulfil on coming to power.
While promising to reserve 50 per cent of all party positions to those aged below 50, the Congress has decided to try this out in ticket distributions for the local body polls.
"In the upcoming Bruhat Bengaluru Mahanagara Palike (BBMP), zilla and taluk panchayat elections, 50 per cent of the tickets will be given to people below 50. We will consider this for other elections, too," Shivakumar said.
Assuring women in organisational positions of 33 per cent reservation, he said all communities and sections would be given representation in mandal and panchayat committees of the party.
Several top Congress leaders, including national General secretary Randeep Singh Surjewala, Leader of Opposition in Rajya Sabha Mallikarjun Kharge and former Union Minister Veerappa Moily, took part in the meet.
The party had set up six committees - economic affairs and price rise, social justice and empowerment, organisation, farmers and agriculture, youth-women-education and employment and political affairs and AICC programmes implementation - to deliberate at the meet.
Congress wants to introduce a NREGA-like scheme in urban areas, comprehensive reforms for the way in which government recruitment is done, and it promised to spend Rs 2 lakh crore in 5 years to complete all irrigation projects on coming to power.
"Every year, Rs 40,000 crore will be spent on irrigation, this is our commitment," both Shivakumar and Siddaramaiah said.
The party said it would prepare region-specific manifesto for - including Kalyana, Kittur, Bayalu Seeme - Karnataka regions and also for Bengaluru, and formulate programmes aimed at stopping migration, giving impetus to tourism and priority for youth and locals in job creation.
Also, the party leaders said it would formulate programmes on arts, housing, environment, forest rights and so on.
The 'Karnataka Declaration' document would be out in a couple of days, said the leaders.
Speaking about organisational changes, Shivakumar said by June 25, elections would be held to form new committees starting from the booth-level.
Source: New Indian Express
Please click the following URL to read the full text of the original story:
https://www.newindianexpress.com/states/karnataka/2022/jun/04/karnataka-congress-to-fight-assembly-poll-under-collective-leadership-to-back-muslims-christians-2461501.html
--------
High Court declined urgent hearing on plea against stopping of prayers at mosque
June 03, 2022
New Delhi: The Delhi High Court Friday refused to grant an urgent hearing on a plea against the halting of offering Namaz by devotees at the mosque in South Delhi's Mehrauli area.
The plea for an urgent listing was mentioned before a bench of Acting Chief Justice Vipin Sanghi and Justice Sachin Datta which declined to list it for Friday or during vacations.
File it, we are not going to list it today. No way... For vacations, you mention before the concerned registrar. We are not going to direct any listing for vacations, the bench said.
The Mughal mosque is situated at the entrance of the Qutub Complex, an area that is protected by the government.
Source: Firstpost
Please click the following URL to read the full text of the original story:
https://www.firstpost.com/india/high-court-declined-urgent-hearing-on-plea-against-stopping-of-prayers-at-mosque-10756071.html
--------
Islamic State terrorist sentenced to life imprisonment by Kolkata court
Indrajit Kundu
Kolkata
June 3, 2022
Islamic state (IS) terrorist Md. Masiuddin alias Musa was sentenced to life imprisonment by a National Investigation Agency (NIA) special court in Kolkata on Friday.
Musa was the first IS terrorist arrested in Bengal back in 2016.
Musa was arrested over charges of planning to carry out attacks at important tourist destinations in Bengal and Srinagar.
He was booked under relevant sections of the Unlawful Activities (Prevention) Act, Indian Penal Code and section 25 of the Arms Act.
Musa was even interrogated by a team of the Federal Bureau of Investigation (FBI). He was arrested by West Bengal Crime Investigation Department (CID) in 2016 and later handed over to NIA.
Mohammad Masiuddin alias Musa, a resident of Birbhum district, was arrested by CID from Burdwan railway station in July 2016.
Source: India Today
Please click the following URL to read the full text of the original story:
https://www.indiatoday.in/india/story/islamic-state-terrorist-life-imprisonment-musa-kolkata-nia-court-1958054-2022-06-03
--------
Shiv Sena backs Bhagwat's 'no need to find Shiv Ling in every mosque' comment; needles BJP on Kashmir situation
Jun 3, 2022
MUMBAI: The Shiv Sena on Friday supported RSS chief Mohan Bhagwat's comment that there was no need to find a 'Shiv Ling' in every mosque and start a new dispute every day, and added that the focus should be instead on how to save the lives of Kashmiri Pandits.
In a searing attack on the BJP-led Union government, Sena leader and MP Sanjay Raut also said that in view of Kashmiri Pandits once again fleeing from the Valley, "Kashmir Files 2" should be made to show who is responsible for their current plight.
Prime Minister Narendra Modi and home minister Amit Shah had supported the film "The Kashmir Files" which helped its producer earn Rs 400-500 crore, but the situation of Kashmiri Pandits did not change, he said.
"I support his (Bhagwat's) statement. This daily chaos should end or else it will hurt the country. Instead of looking for a Shiv Ling, we should think of how we can save the lives of Kashmiris....how the lives of Kashmiri Pandits can be saved," he said.
On Thursday, Bhagwat had said the Gyanvapi mosque-Kashi Vishwanath temple dispute in Varanasi involved some issues of faith and the court's decision on it should be accepted by all, but also there was no need to find a `Shiv Ling' in every mosque and start a new dispute every day.
Raut, meanwhile, dubbed the situation in Jammu and Kashmir as "really serious", noting that Union Home minister Amit Shah held an emergency meeting with Lt Governor Manoj Sinha over the developments.
The government is making efforts, but the situation is returning to what it was in 1990 when Kashmiri Pandits fled the Valley en masse, the Shiv Sena MP said.
Vijay Kumar, a 29-year-old bank manager from Rajasthan, was shot dead by a terrorist of the banned Lashkar-e-Taiba organization inside his office in South Kashmir's Kulgam district on Thursday, making it the eighth targeted killing in the Kashmir Valley since May 1 and the third of a non-Muslim government employee.
The BJP got votes by promising resettlement of Kashmiri Pandits in the Valley, but despite the scrapping of the Article 370, there was no change in the situation on the ground, Raut claimed.
Kashmiri Pandits were being targeted and killed and the government is not taking any steps to provide security, he alleged.
Had there been a government of any other party, the BJP would have made it a big issue, Raut said.
"But the Prime minister, the Home minister and the administration in Kashmir belong to you (the BJP) but still Kashmiri Pandits are being killed," he said.
Source: Times Of India
Please click the following URL to read the full text of the original story:
https://timesofindia.indiatimes.com/india/shiv-sena-backs-bhagwats-no-need-to-find-shiv-ling-in-every-mosque-comment-needles-bjp-on-kashmir-situation/articleshow/91988820.cms
--------
Violence Breaks Out in Kanpur as Police, Muslim Protestors Clash
Jun 4, 2022
New Delhi: Violence broke out in Uttar Pradesh's Kanpur in the evening of Friday, June 3 as members of the Muslim community in the region clashed with the police.
According to a report by the Hindustan Times, local Muslims had closed their shops and taken out a procession in response to an alleged insult to Prophet Mohammad. Hundreds of protestors had taken to the streets Kanpur's Becon Gunj.
The police reportedly baton-charged the protestors, leading to the outbreak of violence in which six individuals sutained injuries and 16 of them were detained thereafter.
The protestors were reportedly responding to objectionable comments about the prophet made by Bharatiya Janata Party (BJP) spokesperson Nupur Sharma during a debate on TV news channel Times Now on May 26.
After her comments, Sharma was booked by the Maharashtra police on May 30 and then by the Hyderabad police the next day, on the basis of a complaint by All India Majlis-e-Ittehadul Muslimeen chief Awasuddin Owaisi.
Source: The Wire
Please click the following URL to read the full text of the original story:
https://thewire.in/government/violence-breaks-out-in-kanpur-as-police-muslim-protestors-clash
--------
Six hurt, 18 held in Kanpur violence over closure of shops after Friday prayers: Cops
Jun 03, 2022
At least six persons were injured after violence erupted in Kanpur city of Uttar Pradesh on Friday as members of the minority community clashed with police.
Police said 18 people were arrested in connection with the violence. The injured were rushed to the hospital. A senior police officer also suffered injuries in the clashes.
According to reports, the violence broke out in the Becongunj area near Yatimkhana after police baton-charged some locals. Hundreds of people soon took to the streets in protest.
Some locals, including shopkeepers, reportedly observed a shutdown and had taken out a procession after Friday prayers over an allegedly insulting remark about Prophet Mohammad made by a BJP spokes on national television. Soon after, the clash broke out. Police said action would be initiated against the accused under provisions of the Gangster Act for creating tension in the city.
While initially the situation was brought under control, the violence resumed a little later with at least two shots being fired.
Additional director general (ADG) of police, law and order, Prashant Kumar, said the violence broke out when one group tried to oppose forced closure of markets by Muslim groups after Friday prayers. He said while 18 people were arrested, while further identification of trouble-makers were been done through video clips and photographs collected from different sources.
He said over 12 companies of Provincial Armed Constabulary were rushed to Kanpur to bring the situation under control.
Source: Hindustan Times
Please click the following URL to read the full text of the original story:
https://www.hindustantimes.com/cities/lucknow-news/violence-breaks-out-in-kanpur-several-take-to-streets-101654250319210.html
--------
India's engagement with Taliban should redefine Tajikistan relationship
By Shishir Gupta
Jun 04, 2022
The Narendra Modi government's swift move to offer humanitarian assistance and development cooperation to the Taliban regime in Afghanistan by sending an official delegation to Kabul clearly has sent shock waves in the neighbourhood of the Islamic Emirate.
While the delegation led by India's Afghan expert J P Singh is slated to return from Kabul today, it is quite evident that the Indian official quietly met the top Taliban leadership in the Afghan capital and discussed the next steps in taking the bilateral cooperation forward. Fact is that both sides were looking forward to the meeting which apparently caught both Pakistan and China unawares.
The Indian pragmatic engagement of the Taliban is expected to trigger a fresh approach of New Delhi towards Afghanistan's neighbour Tajikistan as it has a deeply adversarial relationship with the Sunni Pashtun force across the Amu Darya in Kabul. After the Taliban takeover of Kabul, Tajikistan under its authoritarian ruler Emomali Rahmon conducted military drills near its over 1300 km border with Afghanistan, alongside troops from members of the Russia-led Collective Security Organization.
Although India built a civilian hospital in Farkhor in southwestern Tajikistan and virtually across the border with Afghanistan way back in the 1990s to not only help the local population but also treat the Northern Alliance members injured in Afghan civil strife, New Delhi should have a recalibration of its relationship with Tajikistan as the latter has moved very close to Beijing in the past decade. China today is Tajikistan's biggest debt holder and its biggest investor. Since Tajikistan is largely a remittance-based economy, it is clearly under the Chinese debt trap and hence has compromised with the Xi Jinping regime to the extent of allowing Beijing to use its military base on its border with the restive Xinjiang region. Fact is that Dushanbe is a supporter of Chinese repressive policies against Sunni Muslim Uighur community in the Xinjiang region and has allowed Chinese companies to mine gold, silver and other mineral ores in Upper Kumarg goldfield in the Sughd province. China is also building an airbase in Tashkurgan, which will clearly help the PLA to monitor any Uighur secessionist activity in the Wakhan Corridor on the China-Afghanistan-Tajikistan border in the name of counter-terror cooperation.
It is perhaps due to the growing Chinese presence in Tajikistan and its service provider-client relationship with Pakistan that India really had a joint military air base just in name across the Afghan border with Dushanbe succumbing to pressures from China and Russia. China made it known to Tajikistan that it was apprehensive of Indian actions in Afghanistan and in Central Asia. This is despite India giving grants in aid, food, medicine, vaccine and humanitarian assistance to Tajikistan in the past decades.
Source: Hindustan Times
Please click the following URL to read the full text of the original story:
https://www.hindustantimes.com/world-news/indias-engagement-with-taliban-should-redefine-tajikistan-relationship-101654311607084.html
--------
Hizbul commander killed in encounter in J&K's Anantnag
Jun 4, 2022
SRINAGAR: In an overnight encounter in Jammu and Kashmir's Anantnag district, a self-styled Hizbul Mujahideen leader was killed, while three soldiers and a civilian were injured, police said on Saturday.
"Terrorist Commander of proscribed #terror outfit HM Nisar Khanday killed. #Incriminating materials, #arms & ammunition including 01 AK 47 rifle recovered. #Operation in progress," Inspector General of Police, Kashmir, Vijay Kumar tweeted.
#AnantnagEncounterUpdate: #Terrorist Commander of proscribed #terror outfit HM Nisar Khanday killed. #Incriminating… https://t.co/YzIrXed6sS
— Kashmir Zone Police (@KashmirPolice) 1654285872000
According to a police spokesperson, the encounter started on Friday evening in the Rishipora region of Anantnag.
Three troops and a civilian were injured in the initial exchange of fire with the terrorists, he added.
Source: Times Of India
Please click the following URL to read the full text of the original story:
https://timesofindia.indiatimes.com/india/hizbul-commander-killed-in-encounter-in-jks-anantnag/articleshow/91995502.cms
--------
Pakistan
TTP declares indefinite ceasefire with Pakistan
Jun 4, 2022
ISLAMABAD: Amid negotiations between the Pakistani Taliban and the grand jirga constituted by Islamabad in Kabul, the outlawed Tehreek-e-Taliban Pakistan (TTP) on Friday announced a truce for an indefinite time period.
A 50-member negotiating team comprising tribal elders and some sitting and former parliamentarians has been tasked by Islamabad to take forward the negotiations that had been going on between Pakistani security officials and militants for several weeks. The talks have been facilitated by the Afghan Taliban in Kabul to broker a final peace deal.
The TTP and Islamabad had agreed on an indefinite ceasefire ahead of the visit of jirga to Kabul but the two sides had avoided to publicly announce it.
"In the preceding two days, tremendous progress had been made in the negotiations. As a result, the TTP leadership has declared an indefinite ceasefire," Muhammad Khurasani, a TTP spokesperson, said. He added that conversations would continue in the next days to advance the dialogue process.
No official statement, however, was issued by Islamabad to verify TTP's claim.
Hours before TTP's announcement, Pakistani Army had claimed the killing of its soldier during an exchange of fire with terrorists who had attacked a military post in the Datta Khel area of North Waziristan tribal district bordering Afghanistan.
Source: Times Of India
Please click the following URL to read the full text of the original story:
https://timesofindia.indiatimes.com/world/pakistan/ttp-declares-indefinite-ceasefire-with-pakistan/articleshow/91993239.cms
--------
China 'directly responsible' for grim economic situation of Pakistan
4 June, 2022
Islamabad [Pakistan], June 3 (ANI): Chinese firms are enjoying the lion's share of benefits from the China-Pakistan Economic Corridor (CPEC) and its ill effect is directly affecting the local people of Pakistan.
As per Islam Khabar, Pakistan is also landing in the debt trap of its "all-weather friend" China.
The economic crisis in Pakistan appeared grimmer after more than two dozen Chinese firms or Independent Power Producers (IPPs) threatened to cease operations at power plants on May 9, if payments are not made upfront, media reports said.
Reportedly, Pakistan has to pay more than Rs 300 billion Pakistani rupees (USD 1.59 billion) in dues to several Chinese firms, which are operating in Pakistan.
There are more than 30 Chinese companies which are operating under the China-Pakistan Economic Corridor (CPEC) in several infrastructural projects in various fields like energy, communication, railways, roads and highways – across Pakistan to facilitate trade connectivity.
There was a myriad complaint from the Chinese side, including those relating to complex visa procedures for Chinese executives, heavy taxation and so on. About 25 representatives from Chinese independent power producers (IPPs) spoke one after the other and complained about the buildup of their accruing dues and warned that without upfront payments they would shut down within days, reported Islam Khabar.
In March 2022, with China threatening to halt the multi-billion-dollar CPEC over differences in cost estimations and contractual disputes, the issue of overdue payments owed to Chinese independent power producers (IPPs) is near a breaking point.
Reports claimed that Beijing was reluctant to pump in new funds under the CPEC arrangement until difficulties faced by Chinese investors are resolved and previous CPEC-related agreements are fully honoured by Pakistan.
Beijing has voiced its concerns about the non-payment of power dues for some time, including at the highest level during Imran Khan's visit to Beijing in 2022.
Geopolitical issues in Pakistan are also propped up, as the Baloch insurgency poses a constant threat to peace and stability. The Baloch insurgents are regularly targeting CPEC infrastructure projects, such as gas pipelines and electricity towers, because they consider China as an imperialist power that, along with the Pakistan government, wishes to plunder Balochistan's natural resources.
China is surely facing a tough situation in Pakistan. There may have been no departure of Chinese workers from Pakistan after the Karachi University attack, but they look less confident about the country's ability to protect them.
The CPEC project was started in the year 2015. In April 2015, Chinese President Xi Jinping visited Islamabad to inaugurate the CPEC, a US USD 46 billion investment in Pakistan's energy and transportation sectors. As part of China's One Belt, One Road (OBOR) initiative, CPEC was planned to endorse regional linkages among Pakistan, China, and Eurasia.
The two sides set up the "1+4" cooperation model, meaning the two sides take CPEC as the core while prioritizing in Gwadar, Energy, Transport Infrastructure and Industrial Cooperation. The Chinese side of the CPEC vision is to further advance the western development strategy, encourage economic and social development in Western China, quicken the Belt and Road construction, make way for China's advantages in capital, technology, production capacity and engineering operation, and help the formation of a new open economic system friendly to China.
On the other hand, the Pakistani side vision is to fully harness the demographic and natural endowment of the country by advancing its industrial capacity through the formation of new industrial clusters, complementing the regional socio-economic growth, enhancing people's happiness, and sponsoring domestic peace and stability.
However, only three schemes have been declared completed by the CPEC Authority, including USD 4 million Gwadar Smart Port City Master Plan. The other two schemes are the Physical Infrastructure of Gwadar Port and the Free Zone Phase-1 costing USD 300 million and the Pak-China Technical and Vocational Institute which has been built with a USD 10 million Chinese grant.
Keeping the slow pace of various projects and other challenges, it can be said that, CPEC is improbable to ever accomplish the aspirations that Xi Jinping and Nawaz Sharif envisioned in 2015, reported Islam Khabar.
Pakistan had big hope since beginning with this mammoth multi-pronged investment under CPEC but it must have approached it with great caution. Pakistan should be an equal partner rather than giving China a free hand and be allowed to monopolize its energy sector.
Source: The Print
Please click the following URL to read the full text of the original story:
https://theprint.in/world/china-directly-responsible-for-grim-economic-situation-of-pakistan/982935/
--------
ISI given legal cover to screen government officials
Malik Asad
June 4, 2022
ISLAMABAD: The prime minister has officially tasked the country's premier spy agency, Inter-Services Intelligence (ISI), with the screening of civil servants before their induction, appointments and postings, as well as promotions.
In doing so, the government has given legal cover to a practice that had already been in place, but had not been formalised as part of protocol.
According to the Estab­lishment Division notification: "In exercise of powers conferred by sub-section 1 of section 25 of the Civil Servants Act 1973 […] read with notification No. SRO 120 (1)/1998 […] the Prime Minister is pleased to notify Directorate General Inter-Services Intel­ligence (ISI)
as [the] Special Vetting Agency (SVA) for verification and screening of all Public Office Holders (Officers Category) …".
The quoted laws — i.e. sub-section 1 of section 25 of the Civil Servants Act as well as SRO 120 — empower the prime minister to amend or make rules for the civil bureaucracy. The direction to notify the ISI as SVA had been issued from the office of the Prime Minister on May 06, 2022.
A senior official from the Establishment Division told Dawn on the condition of anonymity that the ISI and the Intelligence Bureau (IB) both send their reports about civil servants before the latter are posted on important assignments.
Reports are especially sent to the Central Selection Board (CSB) at the time of promotion of bureaucrats. The practice has continued even though superior courts had, in a few cases in the past, discarded such intelligence reports while noting that there was no legal provision in the Civil Servants Act that mandated agency screening of civil servants.
According to the official, notwithstanding the notification, the IB will continue to send its reports as per routine. The official said that since the government has now given legal effect to reports issued by the ISI, these could henceforth be used in courts as a valid legal document.
However, a former Estab­lish­ment Division secretary disagreed. He noted that though the prime minister has the power to amend or make rules for the bureaucracy, it would have been better if the Establishment Division would have issued a Statutory Regulatory Order (SRO) to amend the Appointments, Promotions and Transfer (APT) Rules governing the civil bureaucracy if it wanted to give the ISI formal charge of the vetting process.
"Unless the rules are amended, a mere notification will not legitimise the agency's report and it cannot be used as a valid document during judicial scrutiny," he said.
The official said they did not believe that vetting by the ISI is required in the initial appointment of civil servants through the Federal Public Service Commission (FPSC).He added that the agency may instead be asked to screen those officers inducted from the armed forces into the civil bureaucracy.
It is worth noting that clearance from intelligence agencies is not only an integral part of the promotion process for civil servants, it also plays a key role in the appointment of judges to the superior judiciary. The Judicial Commission of Pakistan, headed by the chief justice, considers intelligence reports at the time of the confirmation and elevation of a Supreme Court judge.
Source: Dawn
Please click the following URL to read the full text of the original story:
https://www.dawn.com/news/1693049/isi-given-legal-cover-to-screen-government-officials
--------
No major breakthrough yet as jirga returns from Kabul
Ismail Khan
June 4, 2022
PESHAWAR: A 57-member jirga negotiating with the outlawed Tehreek-i-Taliban Pakistan (TTP) returned to Pakistan on Friday without any major breakthrough over the militants' demand for the reversal of Fata's merger with Khyber Pakhtunkhwa, a member of the jirga told Dawn.
The jirga consists of tribal elders, politicians and parliamentarians who met with senior TTP leaders at Kabul's Inter-Continental Hotel for two days and held threadbare discussions over demands, including the most contentious issue of Fata's merger.
"The overall atmosphere was very positive," a senior jirga member said. "There were long discussions. They had their own point of view and we had our own. We explained to them that the 25th Amendment that led to Fata's merger had political consensus and parliamentary support. Even the Supreme Court of Pakistan endorsed it," the member said. "We neither have the mandate to commit to undoing it, nor do we sincerely think it would be possible to undo it, given the broad political support including that of a larger section of the tribal people," the member said.
He said that the jirga sought three months' time for mutual consultation and discussions with important stakeholders, including political and military leadership, to frame proposals to address some of their concerns within the Constitutional framework.
Sirajuddin Haqqani recalls TTP sacrifices in jihad against Americans, says Pakistan should work out its differences with group through concessions
"We can meet in between and will continue to remain in touch to exchange ideas but the three months' timeframe is for us to complete our work within this time period," the member said.
He suggested that amendments could be made to the 25th Constitutional Amendment without changing its spirit but undoing it was not possible. The jirga member said that the TTP appeared to be under pressure from their Afghan hosts to resolve their issues with Pakistan.
Sirajuddin Haqqani, the acting minister for interior, said that the end of TTP's conflict with Pakistan was in Afghanistan's best interests, the member said. "Any attack from this side irks Pakistan, which creates problems for us with our neighbour and such incidents have international ramifications for the Islamic emirate", the member quoted Mr. Haqqani as saying.
"But we don't want to coerce the TTP. They have waged jihad with us against the Americans and made sacrifices. It would be better that Pakistan and TTP come to terms, after giving each other some concessions," Mr. Haqqani had told the jirga, according to the member.
"Overall, I think this issue is going to take some time. I don't see it ending any time soon. This would require engagement, perseverance and sincerity of purpose," the member said.
Separately, at the weekly press briefing at the Foreign Office, Spokesperson Asim Iftikhar Ahmed said that Pakistan will continue taking steps, including engagement with interim Afghan authorities and others, to have peaceful and stable borders.
Talking about the peace talks with TTP, he said that the objective of this exercise is peace, and "we hope that it leads to an outcome that ends violence by these groups".
Source: Dawn
Please click the following URL to read the full text of the original story:
https://www.dawn.com/news/1693014/no-major-breakthrough-yet-as-jirga-returns-from-kabul
--------
Opposition senators take on govt over 'economic terrorism'
Iftikhar A. Khan
June 4, 2022
ISLAMABAD: Opposi­ti­­o­­­n lawmakers in the Senate were up in arms on Friday over the recent massive increase in the prices of petroleum products and power, while the treasury held the former ruling Pakistan Tehreek-i-Insaf (PTI) responsible for the current economic mess and urged it to suggest a way forward instead of political point-scoring.
The issue was raised by Leader of the Opposition in the Senate Dr Shahzad Waseem, who sought a detailed discussion on it in the House on an adjournment motion, which the chair allowed after the question hour. PTI senators also staged a walkout as a mark of protest against yet another increase in the prices of petrol and diesel and hike in power tariff.
During the proceedings, the PTI members, some carrying placards, gathered near the chairman's podium and chanted anti-government slogans. They accused the rulers of capitulating before the lending agency and making the lives of the masses miserable.
PML-Q Senator Kamil Ali Agha, while speaking on the adjournment motion, protested the POL price hike, calling it unprecedented. He lauded the previous PTI government for allocating Rs466 billion for the subsidy it had announced on petroleum products.
Former finance minister Shaukat Tarin claimed the economy was in a tailspin owing to the indecision of the government and giving in to the IMF demands, whereas the PTI government had faced the lending agency for six months and did not increase power tariff and levy taxes worth Rs700bn.
Earlier, Leader of the House and Law Minister Azam Nazeer Tarar urged the opposition PTI to avoid point-scoring on the price increase and suggest a way forward as a ruined economy was not the issue of a single political party. He said the country needed unity badly. The PTI government had left the country on the verge of default besides ruining the economy. He blamed the PTI for high inflation, and urged the party to display political maturity by avoiding chaos.
Minister of State for Finance Dr Aisha Ghaus-Pasha called on the PTI members not to misguide the public, and urged them not to play with the economy and instead help the government, as it was a national issue. "There should be no politics on economy," she stressed, as some PTI senators kept beating their desks with some documents.
She reminded Mr Tarin that only a day ago he had suggested the government go to the IMF without any delay without which the government could not steer the economy and the country forward, but today he took a 180-degree turn. "What happened within 24 hours that made you take this turn?" she questioned.
Source: Dawn
Please click the following URL to read the full text of the original story:
https://www.dawn.com/news/1693041/opposition-senators-take-on-govt-over-economic-terrorism
--------
Maryam Nawaz lashes out at Imran Khan for criticizing Pak army; calls him 'sick-minded person'
3 June, 2022
Islamabad [Pakistan], June 3 (ANI): In a scathing attack on former prime minister Imran Khan, Pakistan Muslim League-Nawaz (PML-N) Vice President Maryam Nawaz called him a "sick-minded person" and on the "verge of insanity", adding that such person should not be allowed to roam freely.
The remarks came after Imran Khan criticized the Pakistani army and said that Pakistan could "split into three parts," reported The Express Tribune.
She said that Imran was desperate for power, and he wanted to take revenge on the "state" for his failures in politics, adding that nothing will happen to Pakistan but the party of the former premier itself would be split into 300 parts.
Addressing a news conference in the federal capital outside the Islamabad High Court (IHC), Maryam said that the PML-N also criticised the army but "it was positive criticism".
She claimed, "Imran is attacking the army" because it was abiding by the Constitution, reported The Express Tribune.
She also asked him to explain whose "agenda" he was working on.
She added that Imran was the first politician who had talked about the division of the country. "Your logic is that when you are in power then 'long live Pakistan' but when you are thrown out of power then Pakistan is on the verge of breaking into three parts," she chided.
The PML-N leader said that the nation would stop Imran if he tried to drag the military into politics, adding that the former premier will not be allowed to put the sacrifices of the law enforcement agencies on the altar of his politics.
In an allusion to Imran's comments that the establishment should make the "right decision" to prevent Pakistan from "suicide", Maryam asked Imran about these "right decisions".
"What are the right decisions in your opinion?" she asked. "Is it the decision to shut down the RTS system to help you win the election, or remain silent on your catastrophic economic policies, or help you take revenge on your political rivals?
Maryam said, "Imran believes that the army standing by the Constitution instead of him is wrong."
She added that Chief of Army Staff (COAS) General Qamar Javed Bajwa was a "great general" when he supported Imran during the Pakistan Tehreek-e-Insaf (PTI) government, but now he was being called "Mir Jaffar and Mir Sadiq" by the former premier. She claimed that Imran had always turned on his benefactors and supporters, reported The Express Tribune.
Maryam further claimed that several PTI MNAs were in contact with her party over en masse resignation issue.
In response to a question, Maryam said that a number of PTI stalwarts were in contact with the PML-N led government as they wanted to quit the former ruling party over the issue of resignations from the National Assembly (NA).
The PML-N leader claimed that the PTI leaders were unhappy because they believed Imran's economic policies and the foreign conspiracy narrative had considerably damaged the political stature of the party, reported The Express Tribune.
Source: The Print
Please click the following URL to read the full text of the original story:
https://theprint.in/world/maryam-nawaz-lashes-out-at-imran-khan-for-criticizing-pak-army-calls-him-sick-minded-person/982353/
--------
Arab World
Lebanon-based hackers linked to Iran's government targeted Israeli groups: Microsoft
04 June, 2022
Microsoft has announced that it detected and disabled cyberattacks over the last three months from a group based in Lebanon with ties to the Iranian government targeting over 20 organizations inside Israel and one intergovernmental organization in Lebanon.
According to statement released on Thursday, the group named POLONIUM was working in coordination with Iran's Ministry of Intelligence and Security "based primarily on victim overlap and commonality of tools and techniques."
Microsoft has suspended more than 20 OneDrive applications created by the POLONIUM group.
"Our goal with this blog is to help deter future activity by exposing and sharing the POLONIUM tactics with the community at large," Microsoft's blog post read.
The ties between Tehran and the hackers align "with a string of revelations since late 2020 that the Government of Iran is using third parties to carry out cyber operations on their behalf, likely to enhance Iran's plausible deniability."
Earlier this week, FBI Director Christopher Wray revealed that the US foiled a cyberattack by the Iranian government against a children's hospital in Boston, Massachusetts. The FBI head said it was "one of the most despicable cyberattacks I have ever seen."
Detailing the attempts to target Israeli and Lebanese groups, Microsoft said POLONIUM had been focusing on critical manufacturing, IT, and Israel's defense industry since February of this year.
Microsoft also said that an IT company was used to target a downstream aviation company and a law firm in one incident.
Source: Al Arabiya
Please click the following URL to read the full text of the original story:
https://english.alarabiya.net/News/middle-east/2022/06/04/Lebanon-based-hackers-linked-to-Iran-s-government-targeted-Israeli-groups-Microsoft
--------
EU, Egypt near gas supply deal in shift away from Russia
03 June, 2022
The European Union and Egypt are set to sign a deal later this month on supplying the bloc with gas as the bloc seeks to slash its dependence on Russian supplies, according to a draft document.
The two sides, and Israel, are poised to agree on a memorandum of understanding when European Commission President Ursula von der Leyen visits Cairo later this month, according to the draft statement.
Bloomberg previously reported that such a deal would involve Israeli natural gas being liquefied at Egypt's processing plants before being shipped to the EU. It may also contain measures to help stem leaks of methane, a powerful greenhouse gas.
"Security of gas supply is a common major concern, said the draft document," which is still subject to change. "Egypt and the EU will work together on the stable delivery of gas to the EU."
The proposed deal with Egypt highlights the country's crucial role in ensuring both food and energy security following Russia's invasion of Ukraine.
EU leaders have also highlighted the potential of African countries to provide not only the liquefied natural gas needed to replace Russian fossil fuels, but also green hydrogen in the coming years.
The bloc targets imports of 10 million tons of the green gas from abroad by the end of the decade, the same amount as the region aims to produce itself.
Still, there are concerns over the climate impact such new agreements will bring, especially regarding methane emissions that can be 80 times more powerful than carbon dioxide over two decades.
Algeria, another country with which the EU wants to source gas supplies, has a giant gas field that has been leaking methane for nearly four decades.
Source: Al Arabiya
Please click the following URL to read the full text of the original story:
https://english.alarabiya.net/News/middle-east/2022/06/03/EU-Egypt-near-gas-supply-deal-in-shift-away-from-Russia
--------
Lebanese security chief fears political paralysis, social collapse
03 June, 2022
A senior Lebanese security official has said the risk of political paralysis has increased since an election produced a fractured parliament last month, warning of a possible "disaster" because there is no majority to legislate.
Major General Abbas Ibrahim also said he was concerned about social instability, saying this worried him more than political instability in a country suffering one of the world's sharpest financial meltdowns.
For the latest headlines, follow our Google News channel online or via the app.
"The results of this election could cause a disaster since we have large political blocs with widening gaps between them on various issues and no majority to pass laws," Ibrahim told General Security magazine, an official publication of his security agency, which was published on Thursday.
The May 15 election, Lebanon's first since its economy collapsed in 2019, resulted in the Lebanese Hezbollah group and its allies losing their majority.
Reform-minded newcomers and the Lebanese Forces - a Christian party - gained seats.
Analysts have said the more fractured legislature increases the chance of political paralysis and tension among Lebanon's fractious politicians, at a time when the country is in dire need of government decisions to address the economic crisis.
The meltdown has sunk the Lebanese pound by more than 90 percent since 2019, frozen depositors out of their savings in the banking system, and led poverty to soar.
"The people have a right to object and raise their voice over the collapse of the Lebanese pound but we don't want matters to turn into chaos and we are working very hard to prevent the country from entering social chaos," Ibrahim said.
Source: Al Arabiya
Please click the following URL to read the full text of the original story:
https://english.alarabiya.net/News/middle-east/2022/06/03/Lebanese-security-chief-fears-political-paralysis-social-collapse-
--------
UAE firm to screen passengers at Afghan airports
03 June, 2022
The Taliban have tasked a United Arab Emirates firm with the security screening of passengers and luggage at Afghan airports, officials said, as the country seeks to expand international flights.
While some domestic and international flights are operating out of the capital's only airport, significant support is needed for major foreign airlines to resume a full service.
The full operation of Kabul's airport -- which was trashed in August during the mass evacuation of civilians after the Taliban stormed back to power -- is seen as crucial to reviving Afghanistan's shattered economy.
Abu Dhabi-based GAAC said it will manage screening at Kabul, Herat, Kandahar and Mazar-i-Sharif airports for the next three years.
"The signing of this contract is expected to enhance the confidence of foreign airlines to resume their flights," Ibrahim Morafi, regional director of GAAC, told AFP.
Afghanistan's transport and aviation ministry confirmed the deal.
No country has yet formally recognised the Taliban government, which has increasingly stripped away the freedoms of Afghans, particularly women.
GAAC, which operated in Afghanistan before the Taliban takeover, signed a separate contract last month to provide ground handling services at Kabul, Kandahar and Herat airports.
A Qatar-Turkey consortium has been in talks with the Afghan aviation ministry for months about operating Afghan airports, but discussions have stalled over the Taliban's insistence that their fighters guard the facilities.
Source: Al Arabiya
Please click the following URL to read the full text of the original story:
https://english.alarabiya.net/News/gulf/2022/06/03/UAE-firm-to-screen-passengers-at-Afghan-airports
--------
YPG/PKK Terrorists Accelerate Planting Mines, Booby Traps in Northern Syria
Ethem Emre Ozcan and Omer Koparan
03.06.2022
The terrorist group YPG/PKK has accelerated its efforts to lay mines and booby traps in Tal Rifat, northern Syria, near the Turkish border, according to locals and reporters on the ground.
The planting of the mines and booby traps in the center of Tal Rifat, which is occupied by the terror group, has especially accelerated.
YPG/PKK terrorists often use Tal Rifat and Manbij as bases to mount attacks on the nearby areas of Jarabulus, Afrin, and Azaz.
Aiming to slow down a possible counter-terrorism operation by Türkiye, the YPG/PKK laid anti-tank and anti-personnel mines at the entry points to some roads leading to the district center, according to information obtained by Anadolu Agency from local residents.
The terrorists are placing booby traps in some of the structures that the Turkish Armed Forces and opposition Syrian National Army units are likely to enter first if they need to evacuate the region for a possible anti-terror operation.
The terrorists also laid mines on the frontlines of the Tal Rifat district with the regions of Azaz, Afrin and Mare.
Through the joint efforts of Türkiye and the Syrian National Army, a large number of mines were found and disposed of during Operation Olive Branch and Operation Peace Spring, carried out in 2018 and 2019 in YPG/PKK-occupied regions in Afrin and east of the Euphrates River.
YPG/PKK terrorists often target Turkish security forces who provide security in the areas of the Euphrates Shield, Olive Branch and Peace Spring operations, and try to infiltrate the positions of Syrian opposition fighters from regions that the terror group was supposed to withdraw from under agreements with the US and Russia.
Since 2016, Ankara has launched a trio of successful anti-terror operations across its border in northern Syria to prevent the formation of a terror corridor and enable the peaceful settlement of residents: Euphrates Shield (2016), Olive Branch (2018), and Peace Spring (2019).
Source: Anadolu Agency
Please click the following URL to read the full text of the original story:
https://www.aa.com.tr/en/middle-east/ypg-pkk-terrorists-accelerate-planting-mines-booby-traps-in-northern-syria/2605109
--------
Erdogan taking advantage of Ukraine war to push his own goals in Syria
June 04, 2022
BEIRUT: In northern Syria, residents are bracing for a new fight. With the world's attention focused on the war in Ukraine, Turkey's leader says he's planning a major military operation to push back Syrian Kurdish fighters and create a long sought-after buffer zone in the border area.
Tensions are high. Hardly a day passes by without an exchange of fire and shelling between the US-backed Syrian Kurdish fighters, and Turkish forces and Turkey-backed Syrian opposition gunmen.
Analysts say Turkish President Recep Tayyip Erdogan is taking advantage of the war in Ukraine to push his own goals in neighboring Syria — even using Turkey's ability as a NATO member to veto alliance membership by Finland and Sweden as potential leverage.
But a major incursion by Ankara comes with risks and complications, threatening to upset Turkey's ties with both the US and Russia.
It also risks creating a new wave of displacement in a war-ravaged region where the Daesh group still lurks in the shadows.
Here's a look at the situation on the ground and some of the key issues:
Erdogan last month outlined plans to resume Turkish efforts to create a 30-km deep buffer zone in Syria, along its southern border through a cross-border incursion against US-allied Syrian Kurdish fighters. Erdogan wanted to create that zone in 2019 but a military operation fell short of achieving it.
"We'll come down on them suddenly one night. And we must," Erdogan said, without giving a specific timeline.
Since 2016, Turkey has launched three major operations inside Syria, targeting Syria's main Kurdish militia — the People's Protection Units or YPG — which Turkey considers to be a terrorist organization and an extension of the outlawed Kurdistan Workers' Party, or PKK. The PKK has for decades waged an insurgency within Turkey against the government in Ankara.
The YPG, however, forms the backbone of US-led forces in the fight against Daesh militants and has been a proven top US ally in Syria.
Turkey, through the three previous military operations in Syria, already has control over a large chunk of Syrian territory, including the towns of Afrin, Tel Abyad and Jarablus. Ankara plans to build thousands of housing units in those areas, to ensure what it says will be the "voluntary return" of 1 million out of the 3.7 million Syrian refugees currently in Turkey.
Erdogan said Wednesday that Turkish troops now aim to take new areas, including the towns of Tel Rifaat and Manbij, which sits on a major intersection of roads on Syria's west-east highway known as the M4. Turkey says the Syrian Kurdish fighters use Tel Rifaat as a base to attack areas held by Turkey-backed Syrian opposition fighters.
There have been also reports that Turkish troops might enter the strategic border town of Kobani, where the US military and Kurdish fighters first united to defeat IS in 2015. The town holds powerful symbolism for Syrian Kurds and their ambitions of self-rule in this part of Syria.
Analysts say Erdogan likely sees a confluence of circumstances, both international and domestic, that make an operation in Syria timely. The Russians are preoccupied with the war in Ukraine, and the Americans need Erdogan to drop his objections to the expansion of NATO to include Finland and Sweden.
"They (Turks) sense an opportunity to try and get concessions from the West," said Aaron Stein, head of research at the Foreign Policy Research Institute in Philadelphia.
A Syria offensive could also be used to rally Turkish nationalist voters at a time when their economy is in decline, with inflation running at 73.5 percent. Turkey is set to hold presidential and parliamentary elections next year, and previous incursions into Syria to drive out the YPG have bolstered support for Erdogan in past balloting.
So far, there are no signs of mobilization pointing to an imminent invasion, although the Turkish military could be called upon fairly quickly. Syrian Kurdish fighters, however, say they are taking Turkey's latest threat seriously and have been preparing for a possible attack.
They warn that an incursion would affect their ongoing fight against Daesh and their ability to protect prisons in northern Syria where thousands of extremists, many of them foreign nationals, have been locked up since Daesh was defeated territorially three years ago.
A large-scale military operation carries high risks and is likely to anger both the US and Russia, who also have a military presence in northern Syria.
Turkey and Russia support rival sides in Syria's 11-year conflict but have been closely coordinating in the country's north. While Russia has not officially commented, it has in recent days sent fighter jets and helicopter gunships to a base close to the border with Turkey, according to Syrian opposition activists.
As one of Damascus' closest allies, Russia's role in Syria has been paramount in turning the tide of the conflict in Syria — which started amid Arab Spring uprisings in 2011 — in favor of Syrian President Bashar Assad. The Syrian opposition fighters were relegated to an enclave in the northwest and Turkey's sphere of influence.
Source: Arab News
Please click the following URL to read the full text of the original story:
https://www.arabnews.com/node/2096266/middle-east
--------
South Asia
Acting FM of IEA, Muttaqi at Gathering Recounts Achievements of Islamic Emirate
Jun 4, 2022
The acting Minister of Foreign Affairs, Amir Khan Muttaqi, said the Islamic Emirate's relations with foreign countries are being extended.
Muttaqi made the remarks at a gathering held at the Ministry of Foreign Affairs, in which several spokesmen of the government institutions participated.
"We have a balanced policy towards the whole world. Today, we don't have problem with any neighboring country. Today, the Shirkhan port is opened, Hairatan, Torghondi and Islam Qala ports are opened. The Spin Boldak and Torkham ports are opened. We have good relations with all. Step by step Afghanistan will become an economic hub and this is a good policy," Muttaqi said.
"Before us, the education centers were closed due to the Covid-19 outbreak. Now, in the male section, all of them are opened. Before, the government had control over 30 percent of the soil but now the schools are opened in 100 percent of the soil," Muttaqi added.
Source: Tolo News
Please click the following URL to read the full text of the original story:
https://tolonews.com/afghanistan-178312
--------
Islamic State in Khorasan Province's Rocket Attack in Tajikistan
By: Nurbek Bekmurazev
June 3, 2022
On May 7, several rockets were launched from the Hojagor district of Takhar province, Afghanistan into the neighboring Panj district in Tajikistan (Radio Ozodi, May 8). The Islamic State in Khorasan Province (ISKP) released a statement on the same day to claim responsibility for the attack (Eurasianet May 9). On May 8, the State Committee of National Security of Tajikistan (GKNB) claimed that "bullets accidentally ended up on the territory of Tajikistan" after a shootout between Taliban and ISKP forces near the Afghan-Tajik border.
The GKNB statement also noted the situation on the border was stable, and the Taliban was conducting operations to locate and disarm the perpetrators (Khovar, May 8). Taliban officials confirmed this by delivering a statement on May 9 promising that "efforts are being made to arrest the perpetrators of the rocket attack from Afghanistan into Tajikistan (Pajhwok Afghan News, May 9)." Several Tajik analysts and authorities nevertheless doubted the sincerity of this promise and blamed the Taliban for the attack.
Although there were no reported casualties or material damage, ISKP's presence in Afghanistan is becoming more worrisome for the international community, and especially Central Asian countries. This was ISKP's second rocket attack in Central Asia in a three-week period and prompted conflicting accounts and explanations, with blame assigned to both the Taliban and ISKP (Radio Ozodlik, April 19). This article, however, explains why ISKP was clearly behind the latest attack in Tajikistan and what its motivations were.
Mistrust Between Tajikistan and the Taliban
Although the Tajik government did not explicitly blame the Taliban, several Tajik experts claimed that the attack occurred with the Taliban's blessing in order to exert pressure on the Tajik government to recognize the Taliban as the legitimate government of Afghanistan. The attack was, according to this view, retribution by the Taliban for the Tajik government's decision to provide sanctuary and support to the National Resistance Front (NRF) (Radio Ozodi, May 10). The NRF diplomatically and militarily opposes the Taliban, is based in the northern provinces of Afghanistan, and is led by Ahmad Massoud, the son of the deceased leader of the Afghan-Soviet War Ahmad Shah Massoud. Between May 4-8, the NRF targeted Taliban fighters in the Andarab district of Baghlan province, allegedly killing 27 (Aamaj News, May 9).
Fueling speculations were comments from Gulbuddin Hekmatyar, who was Afghanistan's prime minister for several months in 1996 and was one of the leaders of the 1980s and 1990s mujahideen factions. On May 6, a day before the ISKP attack and following Hekmatyar's meeting with the Taliban's Minister of Foreign Affairs, Hekmatyar delivered a speech. In it, he blamed the Tajik government for providing sanctuary to the NRF and stated that this was equivalent to declaring war on Afghanistan (Asia Plus, May 10).
It may be far-fetched to interpret Hekmatyar's comments as any indication that the Taliban were somehow responsible for the rocket attack against Tajikistan, however. First of all, ISKP and the Taliban are mortal enemies, and the Taliban would never empower and provide publicity to its fiercest enemy by allowing ISKP to carry out and claim the attack. Second, the attack dented the Taliban's legitimacy and credibility by giving Central Asian states another reason to question the Taliban as a security guarantor. Third, Hekmatyar does not hold any official post in the Taliban, so his comments cannot be seen as authoritative.
Most likely, Hekmatyar's comments are related to the commencement of NRF attacks on the Taliban in early May. The Taliban are frustrated by these attacks and the fact that the Tajik government is providing a sanctuary to the NRF 130 kilometers south of Dushanbe in Farkhor, where NRF fighters can recuperate, receive training, and travel to the front lines in Afghanistan (Asia Plus, May 10). Thus, it is likely that the Taliban used Hekmatyar as their talking head to send a message to the Tajik government that the Taliban leadership is aware of Tajikistan's dealings with the NRF and will not tolerate such relations in the future, even though the Taliban itself had no involvement in the rocket attack.
ISKP's Growing Capacity
With the Taliban eliminated as a possible perpetrator of the rocket attack in Tajikistan, there should be no doubt that ISKP was the perpetrator. First and foremost, ISKP claimed responsibility for it and published video proof with a man firing seven rockets in the direction of Tajikistan (Twitter/@war_noir, May 9). Moreover, Tajikistan has been the target of other ISKP terrorist attacks in the past, so this attack is not something that was totally unprecedented (Sputnik Tajikistan, November 9, 2019; Asia Plus, August 1, 2018).
Second, the attack continues the trend of ISKP coming into its own after the U.S withdrawal from Afghanistan in August 2021. In less than a year, the number of ISKP operatives has increased from 2,000 to roughly 4,000, with some new recruits coming from recently released prisoners in Afghanistan (PDF/UN Security Council, February 3). As a result, in the last four months of 2021, ISKP carried out 119 attacks in Afghanistan, a steep increase from the 39 which took place during the same period in 2020 (New York Times, May 1).
Source: James Town
Please click the following URL to read the full text of the original story:
https://jamestown.org/program/islamic-state-in-khorasan-provinces-rocket-attack-in-tajikistan/
--------
'We Want Cordial Relations' With World: Mullah Yaqoob Mujahid
Jun 4, 2022
The acting minister of defense, Mullah Mohammad Yaqoob Mujahid, in an interview with CNN News 18 said the Islamic Emirate wants "cordial relations with all countries of the world, especially the neighboring countries including India."
Mullah Yaqoob Mujahid appeared on a television news program for the first time and discussed the current situation of Afghanistan including girls' access to education and the Islamic Emirate's relations with the world. "We, Inshallah, will have cordial relations with all these countries. India is known as one of the best countries that maintains amicable relations. Afghans make friends with India and their friendship is cordial, based on trust and honesty," Mullah Yaqoob Mujahid said, as quoted by News 18.
On Thursday, a high-level delegation from India arrived in Kabul and met with several officials of the Islamic Emirate. The visit was the first since the Islamic Emirate came into power in the country.
Political analyst Torek Farhadi said: "India's policy has accelerated since Shahbaz Sharif replaced the government of Imran Khan in Pakistan. India feels that Shahbaz's government doesn't provide similar support to Kabul and (will try) to use this vacuum with a less diplomatic investment."
"India is in the heart of the people of Afghanistan. It can gain its influence in Afghanistan by providing humanitarian aid and preventing the influence of Pakistan," said Wali Frozan, a political analyst.
The acting minister of defense said the Afghan soil will not be used against the US and other countries.
He also said that there is no order regarding "stopping education" in Afghanistan.
Source: Tolo News
Please click the following URL to read the full text of the original story:
https://tolonews.com/afghanistan-178311
--------
The Afghan Refugees' Failure in Security Screening Delays Their Evacuation from the Balkan Camp
By Saqalain Eqbal
Jun 4, 2022
According to US security authorities, a number of Afghan nationals who were transferred to US military bases in Kosovo during the evacuation process failed the security screening process, causing the evacuation to be postponed.
Sean South, the Director of Strategic Communications and Assistant Press Secretary of the US National Security Council, stated that many of these immigrants passed the security screening procedure, with only a few being refused.
The base was originally planned to house evacuees for a period of one year, but it has now been extended until August 2023, according to Kosovo government officials.
Due to the non-disclosure of their personal information, Kosovo officials denied providing any additional information.
A number of US authorities have stated that a number of these migrants were transferred in these camps during the security screening process by the Department of the Interior and the US Federal Bureau of Investigation (FBI) for a variety of reasons, including a lack of sufficient documents and security concerns.
Afghans at the Kosovo camp held protests at the same time, claiming that their lives were in shambles.
The plight of these Afghan refugees has left them restless and desperate, and they recently organized a demonstration in the camp, shouting "We want justice," to demand an end to the situation.
The base has taken in a number of adults and children. People who travel with their families and have not yet been able to secure a US visa are among them.
Source: Khaama Press
Please click the following URL to read the full text of the original story:
https://www.khaama.com/the-afghan-refugee-failure-in-security-screening-delays-their-evacuation-from-the-balkan-camp37483/
--------
Pakistan Seeks Kabul Mediation to Negotiate with TTP
By Arif Ahmadi
03 Jun 2022
ISLAMABAD, Pakistan – The Taliban government vowed to continue being a mediator between the Pakistani government and its local insurgent group TTP, according to sources, aiming to ensure regional peace and stability.
Tehrik-i-Taliban Pakistan (TTP), commonly known as the Pakistani Taliban, is an umbrella organization of various Islamist armed militant groups operating along the Afghan–Pakistani border, the province of Khyber Pakhtunkhwa.
"Based on its main and permanent policy of supporting security and stability in the region, the Islamic Emirate of Afghanistan has continued to mediate between the Pakistani government and the Tehrik-i-Taliban and is still continuing its efforts and hopes for good results," said Inamullah Samangani, a spokesman for the Islamic Emirate, as TOLOnews quoted.
On Wednesday, Pakistani government sent a 50-member delegation of tribal leaders to Kabul to negotiate a ceasefire with Tehrik-i-Taliban, as the so-called Islamic Emirate played vital role as a mediator.
The TTP insurgency has been centered in the province of Khyber Pakhtunkhwa, bordering Afghanistan, which the group demand to be free from Pakistani army. The group also seek the release of its over 100 members, including elders, who are imprisoned by the Pakistani government.
"They want the release of all their prisoners (102 prisoners). They mentioned this at the beginning of the talks that include their elders," said Tahir Khan, a Pakistani reporter, according to the local media. They also called for the reverse of the cases that have been forged against them."
In recent months, the Islamic Emirate has mediated several talks between the Tehrik-i-Taliban Pakistan and the Pakistani government, as the tribal elders confirmed their latest trip to Kabul intended to agree on an extended ceasefire.
"Pakistan wants to give the group international credibility and then use the talks as a bargaining chip to lift international sanctions against the group if it agrees," said Asadullah Nadim, an analyst on military affairs.
Who are Tehrik-i-Taliban Pakistan (TTP)?
Tehrik-i-Taliban Pakistan (TTP), commonly known as the Pakistani Taliban is an umbrella organization of various Islamist armed militant groups operating along the Afghan–Pakistani border, now the province of Khyber Pakhtunkhwa.
Formed in 2007 by Baitullah Mehsud, its current leader is Noor Wali Mehsud, who has publicly pledged allegiance to the Afghan Taliban (known as Islamic Emirate of Afghanistan). The Pakistani Taliban share a common ideology with the Afghan Taliban and have assisted them in the 2001–2021 war, but the two groups have separate operation and command structures.
Source: Khaama Press
Please click the following URL to read the full text of the original story:
https://www.khaama.com/pakistan-seek-kabul-mediation-to-negotiate-with-ttp/
--------
Southeast Asia
Is Indonesia's Grand Experiment with Democracy Coming to an End?
By Dr. Rizal Ramli
June 03, 2022
Almost a quarter of a century ago, in the midst of the Asian financial crisis in May 1998, Indonesia's economy literally came to a standstill. The rupiah had crashed, tycoons were going bankrupt and losing their business empires. University students were filling the streets of cities across the archipelago demanding the resignation of then President Suharto, and after the tragic shooting of students in the yard of Trisakti University in Jakarta, protests became even larger and led to complete chaos. Indonesia was literally on the brink of collapse.
Suharto was reluctant at first to succumb to calls for him to step down. After more than three decades in power, he found himself surrounded by sycophants telling him that could ride out the wave of protests and manage to stay in office. Yet in his final days in the palace, realizing that if he ordered the military to come down hard on the protesters it could easily end in a bloodbath, Suharto came to his senses and realized he was playing the equivalent of a zero-sum game on a sinking ship.
On May 21, Suharto announced his resignation, and the New Order regime, which had overseen an economic success story yet was stained with violence and oppression, came to an end.
The only question at the time was, what would the next chapter look like? Would Suharto's previous vice president and successor, B.J. Habibie, prove to be an authoritarian as well, or would he meet Indonesians' demands for sweeping political reform?
As a former university student who protested against the Suharto regime in the 1970s only to find myself in jail, I waited with trepidation. Throughout his career Habibie was seen as a subservient acolyte of Suharto and his clan; his career offered no hints that he would end up becoming a reformist. And the fact that he was surrounded by men who had spent their years in power under Suharto as well made me pessimistic about our future.
What happened next came as a complete surprise to Habibie's naysayers, including myself. Instead of clamping down on pro-democracy activists, Habibie announced that democratic elections would be held three years earlier than scheduled. He also liberalized the press, oversaw the lifting of restrictions on political parties and the decentralization of political powers, effectively granting local governments a much greater control over their affairs.
These sweeping reforms marked the beginning of Indonesia's democratic transition. When Habibie's successor, Abdurrahman Wahid, came to power in the latter part of 1999, he managed to negotiate peace agreements with separatist groups in the provinces of Aceh and Papua. Wahid, the former head of the world's largest Islamic organization, Nahdlatul Ulama, quickly became a well-known figure on the global stage as a voice for moderate Islam, at one point even suggesting that Indonesia open up diplomatic relations with Israel.
Indonesia now held center stage as one of the world's more prestigious democracies, ranking as the third largest and the largest in the entire Muslim world. It was held up as a shining example of what other Muslim majority countries could, and should, aspire to.
It was during Wahid's stay in power that I served in his cabinet. Wahid made it known when he was first elected that he would prefer men and women who were previously staunch Suharto critics to serve in his cabinet. I was one of them, and after entering office my colleagues and I went about instituting economic and institutional reforms as part of our efforts to root out corruption in places such as the National Logistics Agency, and set out policies that formed the foundations for a quicker and sustainable economic recovery.
For the most part, we achieved our goals. Not only was Indonesia a vibrant democracy, it was now firmly on the path to economic growth and on a more equitable basis than ever before.
Wahid was not without his faults, one of which was an erratic leadership style that resulted in his earning a number of political enemies. Tycoons were unhappy as well since Wahid had no qualms about going after the rich and powerful. He could be fearless when it came to facing down those who he felt were on the wrong side of what he perceived as the nation's interest.
The wolves were circling, and one early morning the military also made its dissatisfaction known by sending tanks to the palace grounds with its turrets pointed toward the president's residence. As one conglomerate owner was overheard one day talking to his friends, "don't worry, it is only a matter of time before we get him."
Political elites and the military leadership decided to take action by calling for the president's impeachment and dismissal from office after he issued a decree to dissolve the Indonesian legislatures and disband the Golkar Party, which was former president Suharto's party and arguably still the most powerful in the country. In one fell swoop Wahid had managed to make mortal enemies out of nearly the entire political establishment.
Wahid saw this as an attempt to drain the proverbial political swamp, but rather than cleansing Indonesia's politics it ended up devouring him. Finally, during a special plenary session of the People's Consultative Assembly held on July 23, 2001, a majority of the legislators voted for Wahid to be dismissed from his presidency.
Wahid's successors, first his vice president Megawati Sukarnoputri who replaced him and served for the remainder of his five year term, and then retired general Susilo Bambang Yudhoyono, continued with the reform of Indonesian politics. Political stability and democracy were firmly in place, and as Indonesia's economy rose to become the 17th largest in the world, the future seemed incredibly bright.
That was then, but some things have gone horribly wrong since. With the ascent to power of Joko Widodo, better known simply as Jokowi to Indonesians, there has been a steady and dramatic reversal in our democratic institutions and norms.
As an indicator of Indonesia's democratic backsliding, one need only refer to the Economist Group's annual Democracy Index. In 2017, Indonesia fell 20 places in the index from 48th to 68th, making it the worst performer among the 165 countries surveyed, sliding from "flawed democracy" toward the "authoritarian" end of the scale.
Such a dramatic reversal is not only saddening. It is also a huge disappointment for me and the many Indonesians who voted Jokowi into office. When he first ran for the presidency in 2014, this former mayor and small business owner from Central Java came across as an easy-going personality and a man of the people. The fact that Jokowi didn't hail from the Jakarta elite classes or the military as previous presidents had, led voters to believe he would prove to be a new and better class of politician.
They were wrong.
To be fair to Jokowi, he should not be entirely blamed for Indonesia's ills. I had the pleasure of serving as coordinating minister in the earlier part of his presidency, and what I saw was a decent man with good intentions.
But decency and good intentions do not necessarily make for a good leader. Unfortunately Jokowi treats his coalition partners and cabinet members with kid gloves, and all too often they too easily get their way even when it is painfully obvious their behavior and actions cause harm to the national and public interest.
I was dismissed from my position in the Jokowi administration because more than once I spoke the truth when politicians were being dishonest or worse. Now I am back on the sidelines, much like I was during the Suharto years, and playing the role as an activist, public intellectual, and critic.
The freedom of speech, the right to express oneself and most importantly being careful to present the facts even if it means being critical of those in power and exposing hard truths is crucial in any democracy. When those rights are denied, democracy inevitably suffers. Unfortunately this is precisely what is happening now. Indonesians who post critiques of the president and the political establishment on social media are warned and must have the posts removed or otherwise face the consequences. Critics like myself are openly ridiculed by Jokowi's henchmen and threatened with lawsuits for blasphemy. The truth is no longer treated with respect; it is considered the enemy.
To the dismay of many Indonesians, Jokowi has lately fallen into the practice of promoting family members into positions of power and influence. The dynastic excesses of Jokowi have gone beyond even those of former presidents Sukarno, Suharto, Habibie, and Wahid. Jokowi was, for example, successful in promoting his son Gibran to become the mayor of Solo and his son-in-law Bobby to become mayor of Medan. His sister is also married to the chief of the Constitutional Court. All of these are clearly conflicts of interest.
There is a risk that Indonesia's democratic backsliding could become even worse. Right now there are party bosses lobbying behind closed doors to get a supermajority vote in a bid to amend Indonesia's constitution that would effectively allow the president to serve three five-year terms in office. If it happens, then Jokowi could conceivably win and end up serving 15 years as Indonesia's president.
So far these party bosses have come up short of securing the supermajority they need. But anything can happen in Indonesia's transactional politics, so the possibility should not be entirely dismissed.
Source: The Diplomat
Please click the following URL to read the full text of the original story:
https://thediplomat.com/2022/06/is-indonesias-grand-experiment-with-democracy-coming-to-an-end/
--------
After telling Bangladesh not to join Quad, China now urges it to shun bloc politics
Jun 3, 2022
BEIJING: China has told Bangladesh to stay independent and reject bloc politics, a year after publicly asking Dhaka not to join the Quad alliance comprising India, the US, Japan and Australia. "China believes that countries in the region, including Bangladesh, will bear in mind the fundamental interests of their own countries and the region, uphold independence, reject the Cold War mentality and bloc politics," Liu Jinsong, director-general of the department of Asian affairs of the Chinese foreign ministry, told Bangladeshi ambassador to China Mahbub Uz Zaman on Wednesday.
The regional countries should safeguard true multilateralism and defend the hardwon environment for peace and development in the region, Liu told Zaman during their meeting in Beijing, according to a press release issued by the foreign ministry.
In May last year, China's ambassador to Bangladeshi Li Jiming in Dhaka courted controversy by publicly asking Bangladesh not to join the Quad alliance. "Obviously, it will not be a good idea for Bangladesh to participate in this small club of four (Quad) because it will substantially damage our bilateral relationship," Li had said in Dhaka. Reacting to Li's comments, Bangladesh foreign minister AK Abdul Momen had called the Chinese envoy's comments "very unfortunate" and "aggressive". "We are an independent and sovereign state. We decide our foreign policy," Momen had said at the time.
China has been opposing Quad projecting it as Asian Nato aimed at containing its rise. In his meeting with Zaman in Beijing, Liu attacked the recent speech by US secretary of state Antony Blinken in which he said China is the only country with both the intent to reshape the international order and, increasingly, the economic, diplomatic, military, and technological power to do it.
Unveiling Biden administration's China policy, last Thursday, Blinken had called China "the most serious long-term challenge to the international order". He had said the US, while stepping up competition with "invest, align, compete" strategy, will, avoid conflict or new Cold War with China.
Source: Times Of India
Please click the following URL to read the full text of the original story:
https://timesofindia.indiatimes.com/world/china/after-telling-bangladesh-not-to-join-quad-china-now-urges-it-to-shun-bloc-politics/articleshow/91973508.cms
--------
11 more arrested over half-naked dancers at open house
June 3, 2022
KUALA LUMPUR: The police have detained 11 more witnesses for investigations into an Aidilfitri open house involving a group of trans women dancing half-naked.
Selangor police chief Arjunaidi Mohamed said six of the 11 were remanded, including one released on bail to undergo surgery. Five other witnesses were guests.
He said the police were tracking down two more suspects believed to be involved in the case.
"Currently, we have detained the organisers and identified the dancers involved. In addition, the police have identified the motive behind the event, which was to attract public attention," he said.
Source: Free Malaysia Today
Please click the following URL to read the full text of the original story:
https://www.freemalaysiatoday.com/category/nation/2022/06/03/11-more-arrested-over-half-naked-dancers-at-open-house/
--------
Local cacao inspires duo to make a business out of it
Fathimath Nuha
June 4, 2022
KUALA LUMPUR: The Covid-19 pandemic was a life-changing event on a global scale. Many people experienced lightbulb moments about the state of their lives and a fair number of them made corresponding lifestyle changes.
One of these people was Khaleeda Arpandi. An accountant by profession, she walked away from a well-paid job because the pandemic helped her realise that she needed more from life than a routine. She knew she wanted to run her own business.
"If you're going to do it, do it now. If not now, when are you going to take that chance? But I wasn't sure what exactly I wanted to do for a business," she told FMT.
As always, Khaleeda went to her good friend Amirul Asraf Mohsin for his insight. The 27-year-olds had met while studying in New Zealand and their shared love for food cemented their friendship.
It was on one of these food hunting trips that they came across a locally produced bar of chocolate and were floored by the richness of the taste, the smooth texture, and especially by the fact that the cacao used for the chocolate was locally grown.
"I felt like I wanted to tell everyone about it," Amirul said, beaming.
After some research, they discovered that cacao grown in Kelantan and Kota Marudu had won international awards for taste and quality.
Shocked by the lack of local knowledge that such quality products existed in Malaysia, they immediately threw themselves into starting a business dedicated to sharing the wonders of locally grown cacao.
"It tasted so good," Khaleeda laughed, "so we figured, why don't we do something with this local cocoa."
Since Khaleeda was freelancing as a graphic designer at the time, she began working on the branding for their business. Amirul, a full-time finance executive, helped by researching possible designs in his free time.
"I did all the taste testing," Amirul said with a big smile. He said he spent weeks experimenting with different combinations of cocoa powder and types of milk before hitting on the blends that they now sell.
The Good Cacao officially launched in March 2022 and began appearing at pop-up events and in bazaars throughout Kuala Lumpur. They have since gained a steady following.
Their mildly bitter, thirst-quenching iced chocolate drinks are a tasty alternative for those who are not fans of coffee but also dislike the sweetness of boba drinks.
As a business entity, they have made a conscious decision to collaborate with like-minded organisations that support local businesses and promote good causes.
This led to them serving a cup of their ice chocolate to Tunku Puteri Intan Safinaz, the chairperson of the Malaysian Red Crescent Society.
"It was such a big deal to us, to have someone we admire like that being one of our first customers," Khaleeda said happily.
It matters to them that the public know that there are good quality cocoa products available that are single origin and do not have as much of a negative climate effect as chocolate treats from other countries.
Amirul explained that The Good Cacao's objectives are two-fold: to spread the message that Malaysia has good cocoa products, and to help provide a sustainable income for local cacao farmers.
Right now, they receive their cocoa from suppliers working with farmers in Kelantan, Kota Marudu in Sabah, and Chemor in Perak.
In the future, they hope to work more closely with the farmers themselves and help develop the industry to a global level.
"We hope to collaborate with government agencies in the future to create more support for local cacao farmers and help them gain recognition locally and globally," Amirul explained.
It may seem a big dream for such a small business, but this might be well within the reach of two young people who are so fiercely proud of local Malaysian bounty.
Source: Free Malaysia Today
Please click the following URL to read the full text of the original story:
https://www.freemalaysiatoday.com/category/leisure/food/2022/06/04/local-cacao-inspires-duo-to-make-a-business-of-it/
--------
Sabah PH reps go to court over 40% revenue share for state
June 3, 2022
PETALING JAYA: Twelve Pakatan Harapan (PH) elected representatives in Sabah have filed a legal action at the Kota Kinabalu High Court, seeking a declaration that the state's 40% revenue share formula, as stipulated in the Malaysia Agreement 1963, is still applicable.
They are also seeking declarations that a review of Putrajaya's annual grant to Sabah should have been carried out in 1974, and that the 2022 review – jointly announced by the federal and Sabah state governments in April – was unconstitutional.
Among the representatives involved were Sabah PKR chief Christina Liew, Tuaran MP Wilfred Madius Tangau, Sabah DAP chief Frankie Poon, Sabah Amanah chief Lahirul Latigu, and Kota Kinabalu MP Chan Foong Hin.
Their lawyer, Nelson W Angang, said the group also wanted the federal government to disclose the net revenue derived from Sabah annually so that the state would know how much the 40% amounted to.
He said the group is also seeking a declaration that any review of Article 112D of the Federal Constitution, which touches on special grants and revenue for Sabah, must be based on the 40% formula.
Nelson said they also want a declaration that special grants from 1974 should be based on the 40% formula instead of the fixed amount of RM26.7 million which Sabah had been receiving since the 1970s.
In April, Putrajaya announced Sabah's special grant would be increased to RM125.6 million from RM26.7 million beginning this year.
But Nelson said this review was unconstitutional because it was not based on the 40% revenue share formula.
"We want the court to rule that once Article 112D is involved, you have to use the 40% as the basis," he said.
Source: Free Malaysia Today
Please click the following URL to read the full text of the original story:
https://www.freemalaysiatoday.com/category/nation/2022/06/03/sabah-ph-reps-go-to-court-over-40-revenue-share-for-state/
--------
Mideast
Iranian Ambassador at the UNSC: Anti-Iran Sanctions New Method of War against Civilized Nations
2022-June-3
"Iran, for decades, has been the target of economic and financial sanctions by the US," Takht Ravanchi said addressing an open debate at the UNSC on strengthening accountability and justice for serious violations of the international law.
The Iranian ambassador underlined that the US' economic and financial sanctions on Iran directly endangered the lives of its most vulnerable population.
Washington left nuclear deal between Iran and world powers in May 2018, returning the illegal and unilateral sanctions that the accord had lifted.
Later in 2018, Iran took the case of the sanctions to the International Court of Justice, which unanimously issued an order on provisional measures requiring Washington to remove any sanction on the imports of humanitarian goods into the Islamic Republic.
"Unfortunately, the United States has not only failed to comply with the Court's order but also defied it by imposing additional sanctions, particularly during the COVID-19 pandemic," the UN's website cited Takht Ravanchi as saying during the debate.
He pointed out that the sanctions have even caused the deaths of some Iranian patients, including children, as a result of restrictions on medicine and medical supplies.
Takht Ravanchi also said the UNSC had fallen short of performing its duty to properly address some serious violations of the international law, particularly the illegal sanctions on the Islamic Republic.
The Security Council's silence on the ongoing crimes of the "Zionist regime against the Palestinian people is a clear example of the council's irresponsibility and inaction", he added, describing such crimes as war crimes and crimes against humanity.
Under the deal, officially known as the Joint Comprehensive Plan of Action (JCPOA), Iran accepted certain caps on its nuclear program in exchange for the lifting of sanctions.
Source: Fars News Agency
Please click the following URL to read the full text of the original story:
https://www.farsnews.ir/en/news/14010313000654/Envy-Ani-Iran-Sancins-New-Mehd-f-War-agains-Civilized-Nains
--------
Deputy FM: Israeli Regime Can Only Dream of Attacking Iran
2022-June-3
Baqeri Kani, who is on a visit to Norway, made the remarks in an interview with the Norwegian Broadcasting Corporation (NRK) on Friday.
He warned Tel Aviv to stop daydreaming about attacking Iran, and said, "Whenever they dream it, they will never wake up of such a dream!"
Baqeri Kani's remarks came as the Israeli regime has once again been claiming that its armed forces are reportedly practicing conducting attacks on Iranian nuclear facilities while accusing Iran of pursuing a non-peaceful nuclear program.
Source: Fars News Agency
Please click the following URL to read the full text of the original story:
https://www.farsnews.ir/en/news/14010313000588/Depy-FM-Israeli-Regime-Can-Only-Dream-f-Aacking-Iran
--------
Iran, Kenya Vow to Broaden Mutual Cooperation
2022-June-3
During the phone talk on Thursday night, Amir Abdollahian and Omamo explored avenues for bolstering and reinvigorating mutual cooperation in various areas.
During the telephone conversation, Amir Abdollahian assured his Kenyan counterpart that the Islamic Republic is ready to send humanitarian aid, including medical assistance such as vaccines to Kenya and the African Continent.
The Iranian foreign minister pointed to progress in the process of holding the joint commission of Iran and Kenya, and stressed the significance of broadening of relations with Africa, specially Kenya.
Amir Abdollahian also underlined the need for synergy between the Islamic Republic of Iran and Kenya regarding some common threats in the international arena like terrorism and piracy.
The Iranian foreign minister further pointed to the positive trend of containing the COVID-19 disease in Iran, and underlined his country's readiness to send humanitarian aid, including medical assistance such as vaccines to Kenya and the African Continent.
He also invited the top Kenyan diplomat to visit Tehran.
Omamo, for her part, underlined Iran's important place in the world and called for expansion of bilateral ties.
She then pointed to the upcoming sessions of the joint commission of Iran and Kenya and expressed hope that holding the commission will result in further expansion and development of relations between Tehran and Nairobi.
The Kenyan foreign minister reiterated the need to expand cooperation with Iran in regional and international organizations more than ever before.
In relevant remarks last month, Iranian Foreign Minister Hossein Amir Abdollahian underlined his country's serious determination to expand relations with African countries.
Amir Abdollahian made the remarks in a phone conversation with Foreign Minister of Burkina Faso Olivia Rouamba.
Source: Fars News Agency
Please click the following URL to read the full text of the original story:
https://www.farsnews.ir/en/news/14010313000466/Iran-Kenya-Vw-Braden-Mal-Cperain
--------
Iran, Syria Discuss Ways to Fight Sandstorms
2022-June-3
Salajeqeh, who also heads Iran's Department of Environment, held talks with Makhlouf in the Syrian capital.
The two officials explored ways on how to fight sandstorms that have in recent weeks intensified in both countries and left a number of people dead in Syria.
Salajeqeh told reporters that assessment jointly conducted by Tehran and Damascus shows that Deir al-Zur, situated in Eastern Syria, is one of the main centers of sandstorms that have also swept Iran and other regional countries.
He said that the two sides have exchanged views on how to mitigate the impact of this phenomenon and alleviate the suffering of their people.
The Syrian minister, for his part, said that efforts are underway to accelerate measures initiated in 2006 in the environment sector.
Makhlouf said that Syria has already taken significant steps in protecting the environment, including the reviving of meadows.
The Syrian official explained that the war in his country over the past decade also caused harm to the environment, as terrorists have cut trees and burned forests, among other things.
He blamed Turkey's cutting off the flow of the Euphrates too.
Prior to his trip to Syria, the Iranian official also visited Iraq where he met with Prime Minister Mustafa al-Kadhimi for talks on how to tackle sandstorms.
Source: Fars News Agency
Please click the following URL to read the full text of the original story:
https://www.farsnews.ir/en/news/14010313000346/Iran-Syria-Discss-Ways-Figh-Sandsrms
--------
Iran vows 'immediate response' to any Western move against it at IAEA
03 June, 2022
Iran vowed on Friday to show an "immediate response" to any move against it by the United States and European countries at the UN nuclear watchdog IAEA, Iranian state media reported.
"Any political action by the United States and the three European countries in the agency (IAEA) will undoubtedly be met with a proportionate, effective and immediate response from Iran," Iranian Foreign Minister Hossein Amirabdollahian was quoted as saying by state media.
Amirabdollahian also said the IAEA head's visit to Israel, Iran's arch-enemy, was in conflict with the agency's impartiality, the media reported.
Source: Al Arabiya
Please click the following URL to read the full text of the original story:
https://english.alarabiya.net/News/middle-east/2022/06/03/Iran-vows-immediate-response-to-any-Western-move-against-it-at-IAEA
--------
Africa
Libya's Persistent Political Polarization Amid Islamic State's bid to Remain Relevant
By: Dario Cristiani
June 3, 2022
Introduction
Following the October 2020 ceasefire and successful United Nations-brokered Libyan Political Dialogue Forum Process (LPDF), Libya finally saw the formation of a new, unified government, which ended almost six years of division. During those six years, the country had two governments: the internationally recognized Government of the National Accord (GNA) led by Fayez al-Sarraj and the eastern-based government led by Abdullah al-Thani. This eastern-based government was supported by the House of Representatives (the parliament elected in 2014 and led by Aguila Saleh) and was de facto dominated by the Sirte-born warlord Khalifa Haftar, who was leader of the Libyan National Army/Libyan Arab Armed Forces (LNA/LAAF). [1]
However, after Haftar's military failed, in spite of significant external support by several countries (the United Arab Emirates, Russia, Egypt, and France), to conquer Tripoli due to the Turkish military intervention in November 2019, conditions changed (Al-Monitor, June 4, 2020, The Daily Sabah, December 26, 2019, Al-Jazeera, November 13, 2019). Rapidly, the forces fighting alongside Haftar's militia, including sub-Saharan African mercenaries primarily from Sudan and Chad, Russian Wagner Group fighters, and Syrians brought by Russia to Libya, had to retreat. By April 2020, it had become obvious that the offensive failed. In August 2020, Haftar also had to end the oil blockade he launched in January 2020, and in October 2020 the parties agreed to a ceasefire that paved the way for UN-backed political dialogue.
The success of the LPDF brought about the establishment of the Government of National Unity (GNU). Abdel Hamid Dbeibeh, a businessman from Misrata, became the new interim Prime Minister. Mohammad Menfi became the head of the Presidency Council. The primary task of the interim government was to oversee the electoral process that should have brought Libyans to vote for a new president and a new parliament on December 24, 2021.
However, the elections were not held in the end because of mounting disagreements between different Libyan interest groups concerning procedures, timing and outcomes of the process. Moreover, the particularly pro-active and somewhat populist role that interim Prime Minister Dbeibeh played in using public money to strengthen his position, and the fact that he was ready to run for the presidency (even though he agreed not to when taking over his role), triggered adverse reactions from many of his rivals (The Arab Weekly, March 31; Asharq Al-Awsat, February, 19; Majalla, November 21, 2021). This resulted in a new institutional and political stalemate as Dbeibeh's opponents started working together to limit his power while hoping to force a change of government.
The Genesis of the Government of National Stability
This dynamic, as has often happened in Libya's history, pushed former arch-enemies to cooperate against what they perceived as the common enemy, who in this specific case was Dbeibeh. Thus, in response to Dbeibeh's political machinations, in December 2021 Fathi Bashagha and Ahmed Maiteeg, two other key political figures from Misrata and crucial personalities in the GNA as the Minister of the Interior and Deputy Prime Minister respectively, initiated a process of rapprochement with the eastern-based forces represented by Haftar and Saleh (Al-Wasat, December 21). This process culminated in the appointment of Bashagha as the new Prime Minister in February and the launch of the new Government of National Stability (GNS) one month after Bashagha received a vote of confidence from a part of the House of Representatives (The Libya Herald, March 2).
Dbeibeh did not recognize the parliament's vote and reiterated that he would only hand over power to a government elected by the Libyan people. Being also the interim Defense Minister, he then placed the armed forces on alert and closed Libyan airspace, which was reopened only two weeks later to prevent Bashagha's arrival (The Arab Weekly, March 23). A few days after the vote of confidence, Bashagha and the groups supporting him tried entering Tripoli, but were blocked by the militias that remained loyal to the GNU. Bashagha tried to enter Tripoli again in May, but this attempt triggered violent clashes with the city's militias. The violence forced Bashagha to leave with an announcement that the GNS would work form Sirte instead (The Libya Observer, May 17; Asharq Al-Wasat, May 18).
Haftar's Wild Card: The Oil Blockade
The return of political and institutional polarization created incentives for all actors involved to use their territorial control and military capacities to pressure rivals. As the political standoff continued, the Representatives of the Eastern Region in the 5+5 Military Committee, who were linked to Haftar, called for a ban on oil exports, the closure of the coastal road, and stopped their work in the committee (The Libya Herald, April 10). A few days later, oil production stopped, with the National Oil Corporation (NOC) declaring force majeure at Zueitina, El Sharara, and El Feel. The blockade was justified as a response to the grievances of local workers and tribal groups, who launched protests and blocked production (The New Arab, April 27).
The past has shown that there was a direct connection between Haftar's decision and the situation at oil fields and terminals. In 2020, the oil blockade was lifted after Haftar's intervention (Libyan Express, August 19, 2020). As such, since his forces together with Russian Wagner mercenaries have continued to control most of the territory in which Libyan oil resources are located, there is a casual connection between his decisions and the return of the oil blockade. This decision to control the oil fields was even suggested by Wagner Group commanders a few weeks earlier (Al Monitor, June 26, 2020, The Libya Observer, March 12, 2021). The Libyan oil output thus went from one million barrels per day (bpd) to 450,000 bpd in the second half of April 2022. Immediately after the launch of the blockade, Dbeibeh called upon the public prosecutor to launch an investigation into the closure of oil facilities and export terminals (Ain Libya, April 20).
Haftar already tried and failed to use an oil blockade in January 2020 to force the GNA to surrender. The current blockade will prevent Libya from taking advantage of the world's high global hydrocarbon prices while at the same time forcing them to suffer the affects of inflation and food supply shortages due to the war in Ukraine (al-Jazeera, April 26). Moreover, the freezing of oil revenues at the Libyan Foreign Bank, which was announced on May 14 and was a move to undermine the GNU's ability to use oil-related funds, is exacerbating these problems even further.
According to a press-release issued by the House of Representatives, the freezing will last until "the establishment of guarantees and a mechanism for all Libyans to benefit from this income, in a manner that achieves justice and equality for all." (Libyan News Agency, May 14). While the blockade and the freezing inevitably put pressure on the GNU, it also risks backfiring, particularly in the areas in which Haftar and his forces are most present. Something similar happened in 2020 when the oil blockade launched by Haftar undermined power production in eastern Libya, leading to protests and riots. The oil blockade and the freezing of revenues may bring the same problems related to electricity production, but could also exacerbate issues related to food, goods' shortage and mounting inflation.
Is the Islamic State a Real Problem in Southern Libya?
Against the above-mentioned backdrop, Libya is also facing a return of the Islamic State (IS). On April 19, LNA/LAAF sources claimed that a car bomb exploded near a military camp in Umm Al-Aranib in the southwest of the country, blaming IS for the attack (Maghreb Voices, April 19). This violence followed similar operations that occurred in previous months. In January, two IS-claimed attacks targeted LNA/LAAF forces, prompting authorities to launch a security operation which resulted in the killing of several IS fighters (Al Wasat, February 7).
IS had officially returned to operational status in Libya as early as June 2021 after an almost two-year hiatus. The group had become silent after airstrikes allegedly decimated its leadership in September 2019 and put an end to the operational revival that the group experienced in Libya between 2017 and 2019, particularly in the south. IS's landmark attack was on June 6, 2021 when a truck exploded at a Mazig checkpoint north of Sabha, killing at least two people, including a senior police officer, and injuring four more people (Libyan Express, June 8, Al-Monitor, June 7).
Later that same day, IS claimed responsibility for the Mazig checkpoint attack, with the Amaq news agency publishing photos and footage of the car bomb used and the suicide bomber, Mohammed Al-Muhajer (The Libya Observer, June 13, 2021). Haftar's forces used the series of attacks from the Mazig checkpoint onwards as a pretext to launch a renewed military campaign in the south (The Libya Observer, June 19). This push into the south regained momentum shortly after Bashagha's Tripoli fiasco and amid mounting tensions with some local groups, including several Tebu leaders. Haftar's forces were also motivated by the need to fight Islamists and secure the Libyan borders with Chad, where instability is on the rise (Akhbar Libya 24, May 31; Libya Channel, May 31).
It is notable that Haftar did something similar during his military campaign in Western Libya in 2019 when he tried to strengthen his military positions in the south before launching the main operation. However, as noted by the wave of IS attacks that the LNA/LAAF forces suffered over the past few weeks, this attempt to strengthen the LNA/LAAF presence in southern Libya has come with a cost for Haftar. While IS in Libya is far from being the systemic threat it represented from 2014 to 2016 and, to some extent, 2018, the group can still inflict some damage. Haftar's militiamen, who are more exposed than the Sirte-born warlords, will pay the higher price in human and logistic terms.
Conclusion
IS's operational return must be monitored, although it should not be overestimated. According to Ibrahim Bushnaf, the GNU National Security Advisor, IS in Libya does not represent a severe concern at the moment, as the organization is trying to portray itself as more potent than it is in actuality, and its presence is limited to several outposts in the south of the country (Libya Al-Hadath, April 3). In the past, IS exploited domestic fragmentation and political polarization in Libya to make inroads into the country. Two examples from history include their attempts to strengthen their presence in Sirte in 2014 or reorganizing itself in the south after the group was dislodged from Sirte in late 2016.
It is clear that IS these days does not have the same capacity it had in 2014 or 2017-2018. The return of political polarization and institutional duality, with the relative incentives to undermine rivals as shown by the recent oil blockade, will nevertheless favor fragmentation and chaos, sharply increasing the risk of military confrontation between militias and groups supporting the GNU and the GNS, respectively. This bodes well for IS in Libya.
Although the operational capacities of IS in Libya have been so weakened that it does not represent a systemic threat, security fragmentation and political polarization can favor its bid to maintain a presence in Libya in line with its principles to "remain, attack, and expand" (Terrorism Monitor, August 9, 2019).
Source: James Town
Please click the following URL to read the full text of the original story:
https://jamestown.org/program/libyas-persistent-political-polarization-amid-islamic-states-bid-to-remain-relevant/
--------
Kwara Hijab controversy: Islamic group demands justice for student allegedly killed
June 3, 2022
By Don Silas
The Muslim Rights Concern, MURIC, has cried foul over the move to reopen Baptist High School, Oyun, where crisis erupted earlier this year due to the alleged refusal of the school authorities to obey the State government's directive permitting the use of hijab in all schools in the State.
The Kwara State Government (KWSG) had yesterday re-opened Baptist High School.
However, MURIC is demanding justice for the 20-year-old Muslim, Habeeb Idris, allegedly killed during the protest.
In a statement issued on Friday by the group's leader, Professor Ishaq Akintola, MURIC complained that the murder case had been swept under the carpet.
The statement reads part: "The Kwara State Government (KWSG) yesterday reopened Baptist High School, Oyun, where a crisis erupted in February 2022 due to the refusal of the school authorities to obey the state government's directive permitting the use of hijab in all schools in the state.
"While we are not interested in disrupting the educational pursuit of the students, we are perturbed that no arrest has been made for the killing of 20-year old Habeeb Idris who was fatally shot during the demonstration outside the school's gate by fully armed members of the Baptist mission who had assembled inside the school to prevent hijab clad female Muslim students from gaining entrance into the school.
"While we welcome the reopening of the school and fully endorse KWSG position on the government's ownership of all public schools, we frown at the government's silence on the killing of Habeeb Idris.
"Somebody inside the school shot Habeeb. It is premeditated murder. Otherwise what are gunmen doing inside a school? Four other students were macheted and they sustained varied degrees of injuries. Members of the Baptist mission were ready to kill in order to enforce their will not only on innocent Muslim students but also on the state government. They had the noun 'murder', the verb 'to kill' and they actually did. Those blood thirsty zealots should not be allowed to go scot free.
"KWSG in its statement said it opened the school in order to restore normalcy. But there can be no normalcy without peace and justice is the soul of peace. Unless KWSG is seeking peace in the graveyard, it must pursue justice by ensuring that the killers of Habeeb Idris are apprehended. The spirit of young Habeeb is calling for justice.
"We are asking the Nigerian Police to tell us why Muslim life is so cheap that nothing happens when a Muslim is killed but the police will spring into action the moment a Christian is the victim.
Source: Daily Post
Please click the following URL to read the full text of the original story:
https://dailypost.ng/2022/06/03/kwara-hijab-controversy-islamic-group-demands-justice-for-student-allegedly-killed/
--------
Sudan to privatize army firms, says Gulf aid talks ongoing
04 June, 2022
Sudan is pressing ahead with plans to privatize companies owned by the military and is in talks with Middle East nations to help finance its cash-strapped economy, according to Finance Minister Gibril Ibrahim.
The government is still on track to shut many of the country's 650 state-owned companies and privatize others, despite a military coup in October that derailed its democratic transition, he said in an interview.
That would keep to a series of proposed reforms suggested after a popular uprising ousted former Sudanese president Omar al-Bashir in 2019.
"All commercial companies will be put up for public subscription, except for companies that produce weapons, and that will be soon," Ibrahim said on the sidelines of the annual meetings of the Islamic Development Bank in Sharm El-Sheikh, Egypt.
The minister's comments come as the North African nation's military leaders prepare to hold direct talks with civilian politicians and activists next week for the first time since the putsch.
A settlement may prove difficult, though, with protests ongoing, many political prisoners still behind bars and confidence in the military at an all-time low.
The government is seeking funding after decisions by the US, European Union and World Bank to suspend billions of dollars in assistance because of the takeover left its finances bare.
"There are talks with Gulf countries such as Saudi Arabia, the UAE and Qatar," he said. "We hope that these talks yield results. It is difficult to talk about specific amounts."
Source: Al Arabiya
Please click the following URL to read the full text of the original story:
https://english.alarabiya.net/News/middle-east/2022/06/04/Sudan-to-privatize-army-firms-says-Gulf-aid-talks-ongoing
--------
Türkiye, Mali discuss bilateral relations, regional issues
Merve Berker |
04.06.2022
In a Friday call, the Turkish president and Malian head of the transitional period discussed bilateral relations between the two countries, as well as the regional issues, Türkiye's Communications Directorate said.
Recep Tayyip Erdogan exchanged ideas with Assimi Goita on bilateral relations and the regional issues, stated the directorate on Twitter.
Mentioning that Türkiye will keep supporting Mali during its political transition period, President Erdogan stressed that his country will also continue to back up Mali in the combat against terrorism, the statement noted.
Ankara expects the same support from Mali on Türkiye's fight against terrorism, as well, said Erdogan, adding that the activities of the Fetullah Terrorist Organization (FETO) must be blocked in Mali from now on.
Underscoring that Türkiye is greatly pleased to contribute to Mali's development, the Turkish president emphasized that the steps will be taken soon to strengthen the economic and trade-based relations between the two countries.
FETO and its US-based leader Fetullah Gulen orchestrated the defeated coup of July 15, 2016, in Türkiye, in which 251 people were killed and 2,734 injured.
Source: Anadolu Agency
Please click the following URL to read the full text of the original story:
https://www.aa.com.tr/en/africa/turkiye-mali-discuss-bilateral-relations-regional-issues/2605300
--------
UN Security Council extends Libyan arms embargo for 1 more year
Seda Sevencan
04.06.2022
The UN Security Council extended Friday the mandate for an operation to enforce its arms embargo on Libya for one more year.
"The Security Council decided today to renew measures designed to implement the arms embargo against Libya for another year, in particular those authorizing Member States — acting nationally or through regional organizations — to inspect vessels on the high seas off Libya's coast believed to be in violation of the arms embargo imposed on that country," the Council said in a statement.
It added that the resolution was adopted by a 14 - 0 vote, with one abstention being Russia.
The Council requested that the secretary-general report on the implementation of the resolution within six months and 11 months.
The European Union Naval Force Mediterranean Operation (IRINI) was launched in the Mediterranean Sea on March 31, 2020, following the Berlin Conference on Libya to oversee the UN's arms embargo on Libya.
Source: Anadolu Agency
Please click the following URL to read the full text of the original story:
https://www.aa.com.tr/en/middle-east/un-security-council-extends-libyan-arms-embargo-for-1-more-year/2605320
--------
Islamic group, Ansaru dissociates self from Abuja-Kaduna Train Attack
By Saxone Akhaine, Kaduna
04 June 2022
'Our Mission Is To Defend Islam From Nigerian Govt
Dreaded Islamic group, Jama'ar Ansarul Muslimina fi Biladi Sudan, popularly known as, Ansaru has disassociated itself from the recent attack on Abuja-Kaduna train, saying that its mission was to defend Islam from Nigerian government.
The denial by the group was in a statement distributed to the residents and motorists plying the Birnin Gwari Road yesterday, titled, 'Message to the Nigerian Government and the Citizens.'
According to the statement, the essence of the group is to work for Allah by protecting Islam and Muslims, who have been cheated and oppressed in Nigeria, claiming that they don't kill for killing sake or abduct for abduction sake unless they were sure the person is a kafir (infidel) or an oppressor.
They also claimed that Abu Barra, who was said to have been the leader of the group that attacked the train in March, was not their leader, adding that they would disclose the name of their leader at the appropriate.
According to the group, their mission is to defend Islam from the wicked Nigerian government and other black African countries. It would be recalled that in a recent security update, the state Governor, Nasir El-rufai confirmed the presence of the group in two LGAs of the state – Giwa and Birnin-Gwari.
In the same vein, the Chairman of Birnin Gwari Emirate Progressive Union (BEPU), Ishaq Kasai, in an interview on Friday, confirmed the receipt of the statement.
He said, "Our Coordinators from some of the wards intimated us that the Ansaru group came on motorcycles and dropped the pamphlets in their various communities and gave some to motorists. We asked them to bring the pamphlet to us as you can see."
The message reads in part: "In the name of Allah, the Most Beneficent, the Most Merciful. We are Jama'ar Ansarul Muslimina fi Biladi Sudan. We want to inform you that the attack on Kaduna-Abuja train was not by us, though the attackers claimed our group's name. It is not everyone that we attack.
"Our mission is to work for Allah by protecting Islam and Muslims, who are being cheated/oppressed. Our group's aim is to become defenders of Islam and Muslims from the wicked Nigerian government and other black African countries.
Source: Guardian Nigeria
Please click the following URL to read the full text of the original story:
https://guardian.ng/news/islamic-group-ansaru-dissociates-self-from-abuja-kaduna-train-attack/
--------
North America
New York Man, A Uzbekistan Citizen, Sentenced To 15 Years In Prison For Support To Islamic State
By Kanishka Singh
June 4, 2022
June 3 (Reuters) - A Uzbekistan citizen who is a resident of New York City who was convicted of conspiring to and attempting to provide material support to Islamic State was sentenced to 15 years in prison on Friday, the U.S. Justice Department said.
Dilkhayot Kasimov, 34, was convicted of both counts following a trial in 2019. He was charged in 2015.
"Kasimov is an ISIS (Islamic State of Iraq and Syria) supporter who collected and gave money to another individual to fund his travel to join the terrorist group. With this sentence, Kasimov is being held accountable for his crimes," Matthew Olsen, assistant attorney general for national security, said in a statement.
The United States brands Islamic State a "foreign terrorist organization."
"Kasimov was part of a group of individuals who sought to travel to Syria to join ISIS or to fund others who sought to become foreign fighters for ISIS," Olsen said.
A representative of Kasimov could not immediately be reached for comment on Friday.
In 2015, Kasimov's co-conspirators, Abdurasul Juraboev and Akhror Saidakhmetov, planned to travel to Syria to fight on behalf of Islamic State, the Justice Department said, adding that Kasimov provided money to help fund Saidakhmetov's travel and expenses.
Source: Reuters
Please click the following URL to read the full text of the original story:
https://www.reuters.com/world/us/new-york-man-sentenced-15-years-prison-support-islamic-state-2022-06-03/?rpc=401&
--------
Muslim leaders ask FBI to investigate body found in burnt car as hate crime
JUNE 3, 2022
ST. CLOUD — Muslim leaders here Friday asked authorities to investigate a possible hate crime after 33-year-old St. Cloud resident Musa Sabriye was found dead in a charred car Monday in the neighboring city of Waite Park.
"What is critical is for us to know how Musa lost his life — what caused him to lose his life and if somebody was involved in taking his life," said Sabriye's brother Abdullahi Ali, speaking in his native Somali through a translator. "We need steadfastness and quick justice."
Local police and firefighters responded to a car fire just north of Interstate 94 near Hwy. 15 a few minutes before 1 a.m. Monday, according to Waite Park Police Chief David Bentrud.
The vehicle and body were so badly damaged that authorities were unable to immediately identify the victim or the make of the vehicle. After obtaining a DNA sample, officials confirmed the remains as Sabriye and notified the family on Thursday.
Police are working with the Minnesota Bureau of Criminal Apprehension, the State Fire Marshal and the Midwest Medical Examiner's Office on the investigation. Community leaders on Friday asked the FBI be consulted, too, to investigate whether the incident was a hate crime.
"We will continue to keep his family informed as our investigation progresses," Bentrud said Friday. "In keeping with Minnesota law, we will release all public information from our investigation once the investigation is closed."
Friends and family at the Islamic Center on Friday described Sabriye as hardworking and kind. He worked at a distribution facility and was taking classes to obtain his GED, his brother said.
Jama Alimad, a Somali elder, said he feels the community generally has a good relationship with area police but wants to ensure Sabriye's case is treated with as much diligence as other suspicious deaths.
"Musa was a productive community member," Alimad said. "He was [part] of the future of this community. And now he's gone."
Mohamed Ibrahim, deputy director for the Minnesota chapter of the Council on American-Islamic Relations, asked authorities to communicate better with Sabriye's family to keep them apprised of the investigation.
Source: Star Tribune
Please click the following URL to read the full text of the original story:
https://www.startribune.com/muslim-leaders-ask-fbi-to-investigate-body-found-in-burnt-car-as-hate-crime/600179036/
--------
US airstrike kills 5 al-Shabaab terrorists in Somalia
Mohammed Dhaysane
03.06.2022
MOGADISHU, Somalia
The US forces have conducted the first airstrike against the al-Qaeda-affiliated terrorist group al-Shabaab in Somalia since US President Joe Biden reauthorized sending US troops to Somalia, killing five al-Shabaab terrorists on Friday.
A statement by the Somali Information Ministry said the airstrike was conducted in coordination with the federal government of Somalia.
"US forces conducted an airstrike against al-Shabaab terrorists after they attacked partner forces in a remote location near Beer xaani, Somalia" on Friday, the statement said.
"Five al-Shabaab terrorists were killed in action and no civilians were injured or killed, given the remote nature of where the engagement occurred," it added.
The ministry said the government and the US "remain committed to fighting al-Shabaab to prevent the deaths of innocent civilians."
"Violent extremist organizations like al-Shabaab present long-term threats to Somalia."
The airstrike came hours after the Somali military announced that it had killed at least 10 al-Shabaab terrorists in an operation outside the port city of Kismayo, the administrative capital of southern Jubaland state.
Somalia's newly elected President Hassan Sheikh Mohamud last month welcomed the US decision to redeploy troops to the Horn of Africa country.
Former US President Donald Trump pulled around 700 American troops out from the east African country during the final month of his presidency.
On May 16, US President Biden reauthorized the deployment of forces to Somalia.
Source: Anadolu Agency
Please click the following URL to read the full text of the original story:
https://www.aa.com.tr/en/americas/us-airstrike-kills-5-al-shabaab-terrorists-in-somalia/2605213
--------
US Congress members denounce Israeli restrictions on academic freedom in Palestine
June 04, 2022
WASHINGTON: A dozen members of the US Congress have asked the Biden administration to look into recently introduced Israeli rules that limit the numbers of American academics and students who can teach or study at Palestinian universities in the Occupied Territories.
Jamaal Bowman, a representative from New York, sent a letter, co-signed by 11 of his Democratic colleagues, to the secretaries of state, homeland security, and education calling for an inquiry into the restrictive new rules. They were announced by the Israeli Defense Ministry's Coordinator of Government Activities in the Territories, which functions as the de-facto Israeli military government in the Occupied Territories.
The Congress members said in their letter: "According to the recent COGAT announcement, a limit of only 100 foreign academics and 150 foreign students will be allowed to teach or study at Palestinian universities."
They said the new rules will "severely restrict the ability of American academics and students to teach and study at Palestinian universities" in the Occupied Territories, "while no similar restrictions apply to American academics and students seeking to teach and study at Israeli universities, nor to Israeli academics and students seeking to teach and study in the United States."
In addition, they noted that the Israeli government "will only grant visas to professors and students for approved fields of teaching and study and limit the amount of time professors and students can spend at Palestinian universities."
They said: "We find the policies outlined by the COGAT to formalize discriminatory treatment of Palestinian Americans and other citizens."
These new rules are due to take effect in July, the members of congress noted, and they asked Biden administration officials to reveal how many Americans seeking to study or teach at Palestinian universities have been denied entry to Israel and on what basis?
They also asked the State Department to clarify its position on the new procedures, which "would have the effect of limiting academic freedom of American citizens seeking to study and/or teach at Palestinian universities." They set a deadline of June 10 for a response.
The other members of Congress who co-signed the letter include Rep. Betty McCollum and Rep. Ilhan Omar, both from Minnesota, Rep. Marie Newman, a progressive from Illinois who has been a vocal advocate for the rights of Palestinians, and Rep. Rashida Tlaib, a Palestinian American from Michigan.
Chris Habiby, the legislative and policy coordinator for the American-Arab Anti-Discrimination Committee, told the Arab News that the new COGAT rules "simply formalize the practices that Arab Americans, and in particular Palestinian Americans, have been experiencing for decades."
He added: "The ADC appreciates the courage of shown by Congressman Bowman and 11 other House Democrats in calling out Israeli discrimination against Palestinians."
Israel has asked the Department of Homeland Security, which polices entry into the US, to include Israeli citizens visiting America in the US Visa Waiver Program. Objections to this center on allegations of Israeli discrimination against American citizens of Palestinian or Arab descent who are subjected to intrusive searches and often denied entry to the Occupied Palestinian Territories.
The Visa Waiver Program includes statutory requirements that must be met before any country is considered for inclusion. One key requirement is "reciprocity," which means that American citizens visiting a country that is a member of the program must be treated the same way as a citizen of that country who is visiting the US.
The letter from the members of Congress points out that according to the US State Department: "Some US citizens of Arab or Muslim heritage (including Palestinian Americans) have experienced significant difficulties and unequal and occasionally hostile treatment at Israel's borders and checkpoints."
Habiby urged US authorities to put pressure on Israel to prevent the new rules taking effect.
Source: Arab News
Please click the following URL to read the full text of the original story:
https://www.arabnews.com/node/2096256/world
--------
URL: https://newageislam.com/islamic-world-news/extremism-muslim-communities-islamists/d/127173
New Age Islam Islam Online, Islamic Website, African Muslim News, Arab World News, South Asia News, Indian Muslim News, World Muslim News, Women in Islam, Islamic Feminism, Arab Women, Women In Arab, Islamophobia in America, Muslim Women in West, Islam Women and Feminism