New Age Islam News Bureau
18 Sept 2015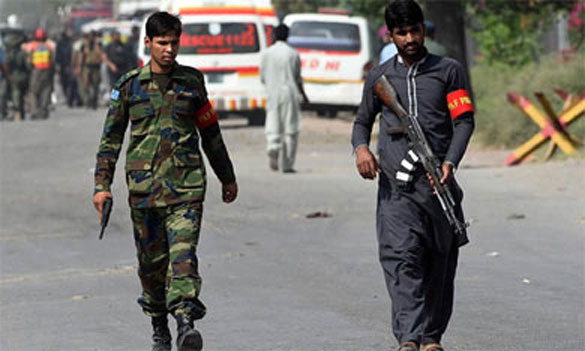 Security Personnel walk with the weapons outside a PAF base after an attack by militants in Peshawar on Sept. 18, 2015--- AFP
---------
Arab World
• Ansarullah Warns to Give Crushing Response to Saudi Arabia's Intensified Attacks
• At Least 37 Terrorists Killed, Injured in Lattakia
• 10 Civilians Killed in Saudi Airstrikes on Hajjah
• Deadly suicide attacks target Iraqi police
• Syrian Forces Inflict Heavy Losses on Militants in Aleppo
• Makkah hotel fire: Saudi Civil Defense evacuates 1,028 Hajj pilgrims
• Saudi Arabia 'ready to thwart' any Hajj attacks
• U.S. open to military talks with Russia on Syria
• Salman seeks 'urgent' U.N. action on Al-Aqsa
------------
North America
UN Rights Chief Calls Hungary Callous, Xenophobic, Anti-Muslim
U.S. starts implementing Iran nuclear deal
Mexico demands Egypt compensate attack victims
More Questions about Islamic Indoctrination in Schools
----
Pakistan
• Army Captain among 20 Killed In TTP-Claimed Attack on PAF Camp in Peshawar
• US Drone Strike Kills Six in South Waziristan Agency
• Seven Terrorists Perish In Karachi Shootouts
• Gen Raheel's statement on Kashmir voice of nation: Siraj
• How Pakistan Protects Itself from Regional Sectarian War
• Draft cybercrime bill bulldozed through NA body
• LoC tension can go out of control, warns Aziz
• Fire evicts 1,000 Asian pilgrims from Makkah hotel
---
India
• BJP MP's Outfit Terms AMU 'Nursery of Terrorism'
• Avoid Cow Slaughter in Larger Interest, Ulema Tells Muslims
• Religious communities embroiled in India meat row
----
South Asia
Drone Strike Kills Seven Insurgents in South Waziristan
• PM's ICT Adviser: Jamaat-e-Islami Is the Primary Perpetrator of Terrorism in Bangladesh
• US Concerned Muslims Being Excluded From Myanmar Vote
• Myanmar leader seeks to capitalize on anti-Muslim sentiment
• With Official Help, Radical Buddhists Target Muslim Businesses
• Police foiled rocket attacks on Kabul city
• Bangladeshi PMWarns: Radical Islam Spreading From West to East, Tells Cameron To Sort It Out
------
Mideast
• Yemen Army Enters Saudi Military Bases in Asir Region
• Iranian FM Rejects Media Reports on Swapping Prisoners with Al-Qaeda
• IRGC Quds Force Commander: US Unable to Remove Hezbollah
• Palestinian envoy raps UN passivity over Israeli violation in Aqsa
• Turkey spent $7.6 bln on 2.2 mln Syrian refugees
• Gaza rebuilding 'visibly accelerated': U.N.
----
Africa
• In Niger, U.S. Soldiers Quietly Help Build Wall against Boko Haram
• Shebab Kill Three Soldiers in Bomb Attack
• Death toll from South Sudan blast rises to 182
• Some 1.4mn children fled Boko Haram militancy: UN
-----
Southeast Asia
• Haram Fatwa Doesn't Apply To Cigarette Quitters, Vapers' Group Says
• Despite Return of Christian Allah CDs, a Second Islamic Council Seeks To Intervene
• Get Annuar Musa for claiming racism OK in Islam, Jakim told
• A Malay Muslim PM must protect Islam, convincingly
• Western media reports on Najib - remember Iraq?
• Mecca hotel fire did not involve Malaysians, says Tabung Haji
• Amid sedition probe, Perlis mufti shares room with IGP in Mecca
-----
Europe
• Central Europe Launches Migrant Appeal
• Germany pushes for tougher asylum laws
Compiled by New Age Islam News Bureau
URL: https://www.newageislam.com/islamic-world-news/new-age-islam-news-bureau/ansarullah-warns-to-give-crushing-response-to-saudi-arabia-s-intensified-attacks/d/104632
-----
Arab World
Ansarullah Warns to Give Crushing Response to Saudi Arabia's Intensified Attacks
Sep 17, 2015
Ansarullah Spokesman Mohammed Abdulsalam said in a statement that if Riyadh increases the volume of its attacks against Yemen, it will face the resistance group's crushing response.
He, meantime, underlined that Ansarullah is ready to find a fair political solution to the crisis in Yemen which doesn't violate the country's sovereignty.
Saudi Arabia has been striking Yemen for 176 days now to restore power to Hadi, a close ally of Riyadh. The Saudi-led aggression has so far killed at least 5,954 Yemenis, including hundreds of women and children.
Hadi stepped down in January and refused to reconsider the decision despite calls by Ansarullah revolutionaries of the Houthi movement.
Despite Riyadh's claims that it is bombing the positions of the Ansarullah fighters, Saudi warplanes are flattening residential areas and civilian infrastructures.
http://english.farsnews.com/newstext.aspx?nn=13940626000656
------------
At Least 37 Terrorists Killed, Injured in Lattakia
Sep 17, 2015
The army targeted terrorists' positions in the vicinity of Bojak Castle and Beit Shrouq village in the Northern countryside of Lattakia, killing 15 terrorists and injuring 22 others. A wireless communication station was also destroyed.
The army, backed by the Syrian air force, also targeted terrorists' hideouts in Birnass village and Salma town, and killed a number of terrorists and destroyed a large number of vehicles, some of them equipped with machineguns.
A large group of Takfiri militants were killed and injured in military operation in Northeast of Jub al-Ahmar village.
Meanwhile, the Syrian forces targeted terrorists' hideouts in Deir Hanna village to the East of Lattakia city, leaving a group of them dead and injured.
http://english.farsnews.com/newstext.aspx?nn=13940626000317
------------
10 Civilians Killed in Saudi Airstrikes on Hajjah
Sep 17, 2015
According to the Arabic-language Al-Alam website, Saudi warplanes bombed a vital bridge near popular market in Sharas district in Hajjah, killing 10 civilians and injuring 13 others.
Saudi Arabia has been striking Yemen for 176 days now to restore power to Hadi, a close ally of Riyadh. The Saudi-led aggression has so far killed at least 5,954 Yemenis, including hundreds of women and children.
Hadi stepped down in January and refused to reconsider the decision despite calls by Ansarullah revolutionaries of the Houthi movement.
Despite Riyadh's claims that it is bombing the positions of the Ansarullah fighters, Saudi warplanes are flattening residential areas and civilian infrastructures.
http://english.farsnews.com/newstext.aspx?nn=13940626000489
------------
Deadly suicide attacks target Iraqi police
17 September 2015
Iraq officials have said that two suicide attacks on Thursday targeting police in commercial areas in Baghdad have killed 14 people.
Police say both attacks on Thursday morning were carried out by bombers on foot, wearing explosives-laden vests.
One bomber struck in Baghdad's Bab al-Sharji area, killing eight civilians and a police officer there. Twenty-one were wounded in that explosion.
The second bomber hit in al-Wathba Square, killing five people, including two policemen, and wounding 12.
Two medical officials confirmed the casualty figures. All officials spoke on condition of anonymity because they are not authorized to talk to reporters.
ISIS claimed responsibility for the attacks hours later. In a statement posted online, the extremist group said two attackers wearing explosive vests had targeted police.
http://english.alarabiya.net/en/News/middle-east/2015/09/17/14-killed-in-two-suicide-attacks-targeting-police-in-Baghdad.html
------------
Syrian Forces Inflict Heavy Losses on Militants in Aleppo
Sep 17, 2015
The army destroyed terrorists' positions in the neighborhoods of al-Ramouseh, al-Sakhour, al-Kallaseh and al-Lairamon.
The troops also attacked ISIL concentration centers near the air force academy, killing scores of terrorists and destroying their machinegun-equipped vehicles.
The army also destroyed terrorists' positions near al-Neirab Airport and in al-Amryeh in the Southern countryside of Aleppo.
A group of terrorists were also killed and injured in military operations in Kafr Na'al village in the Southwestern countryside of Aleppo.
Full report at:
http://english.farsnews.com/newstext.aspx?nn=13940626000544
------------
Makkah hotel fire: Saudi Civil Defense evacuates 1,028 Hajj pilgrims
September 18, 2015
Makkah: Saudi Civil Defense announced on Twitter that 1028 Asian pilgrims were evacuated early in the morning from a hotel in the Saudi city of Makkah. After a fire broke out on the eighth floor of the Makkah hotel, Saudi Civil Defense teams evacuated the pilgrims from the hotel.
Firefighters rescued two pilgrims who were hurt by the fire in the hotel. Media Spokesman for the Civil Defense Forces in Hajj, Col. Abdullah Al Orabi Al Harthy said that Makkah Civil Defense Operations received a report at 12.30 a.m. this morning about the incident and teams were immediately dispatched to the incident site.
Full report at:
http://www.siasat.com/news/makkah-hotel-fire-saudi-civil-defense-evacuates-1028-hajj-pilgrims-838195/
------------
Saudi Arabia 'ready to thwart' any Hajj attacks
18 September 2015
Saudi Arabia's Crown Prince has stressed that the Kingdom is ready to face any action that might cause any harm during Hajj pilgrimage next week and declared that the kingdom is "ready prevent the exploitation of the Hajj season for political or propaganda reasons."
Crown Prince Mohammed bin Nayef, Chairman of the Supreme Hajj Committee, said that the Kingdom of Saudi Arabia under the leadership of King Salman bin Abdulaziz, has made it its top priority to ensure a safe and successful pilgrimage season this year.
As with previous Hajj seasons, Saudi authorities have been seeking to expand and better current facilities and ensuring the provision of all necessary services that help the pilgrims to perform their Hajj duties, one of the pillars of Islam which requires all Muslims to perform at least once during their lifetime.
Authorities also said that the plans are in place to expand the Grand Holy Mosque and increase its capacity to hold three times more pilgrims compared to past years as Saudi Arabia attempts to cope with the ever increasing pressures of global population growth.
"The Kingdom of Saudi Arabia is determined and resolved to avoid terrorist acts over the past years in order to preserve the sanctity of our religion and its holy places and the lives of innocent people. The security services in various sectors are fully ready to face any action that might cause harm to the sites and the pilgrims and that the kingdom is strict in forbidding anyone from exploiting this great season for political or propaganda purposes," Prince Mohammed bin Nayef said on Thursday after attending the annual ceremony to review the Hajj security forces and bodies in charge of protecting the Hajj and pilgrims this year.
Makkah crane collapse
Full report at:
http://english.alarabiya.net/en/News/middle-east/2015/09/18/Saudi-Arabia-We-are-ready-to-thwart-any-Hajj-attacks.html
------------
U.S. open to military talks with Russia on Syria
18 September 2015
The United States opened the door on Thursday to possible tactical discussions with Russia about the war in Syria, as Moscow's deepening military presence raised the prospect of some limited coordination between the former Cold War foes.
The White House said it "remains open to tactical, practical discussions" with Moscow. The Pentagon acknowledged that such talks might be necessary to avoid "miscalculation," although it was unclear when or under what conditions they might take place.
The United States fiercely opposes Russia's support for Syrian President Bashar al-Assad, and the Pentagon last year cut off high-level discussions with Moscow after its annexation of Crimea and intervention in Ukraine.
But Russia's buildup at Syria's Latakia airbase raises the possibility of air combat missions in Syrian airspace. Heavy Russian equipment, including tanks, helicopters and naval infantry forces, have been moved to Latakia, U.S. officials say.
One U.S. official told Reuters on Thursday that the United States believed as many as 500 Russian troops were now at the airfield, an increase from a previous estimate of about 200.
"We want to avoid miscalculation. We want to avoid problems," Pentagon spokesman Peter Cook told a news briefing, noting however that Russia wasn't carrying out such operations now and had not yet explained its intentions.
Full report at:
http://english.alarabiya.net/en/News/middle-east/2015/09/18/U-S-open-to-possible-military-talks-with-Russia-on-Syria.html
------------
Salman seeks 'urgent' U.N. action on Al-Aqsa
17 September 2015
An official source has said on Thursday that Saudi Arabia expressed complete disapproval and denounced Israel for its recent violations against the sanctity of Al-Aqsa Mosque compound, which is considered to be Islam's third holiest site.
The source also added that Saudi Arabia will hold Israeli authorities fully accountable for any consequences resulting from acts of "illegal aggression," stressing that any attacks will lead to serious consequences and fuels extremism and violence.
The Gulf Arab Kingdom also added that acts in recent days are incompatible in accordance to established principles and international laws that have been agreed upon on Al-Aqsa Mosque.
1:46
The official source confirmed the Kingdom of Saudi Arabia's absolute rejection of the policy of the Israeli occupation of the time-based-division of Al-Aqsa Mosque, warning of what will be resulted from these policies of escalation that lead to serious consequences, calling on the international community to move immediately to compel the Israeli authorities to stop the attack on the Islamic holy sanctuaries and respect religions, international laws and legislations and the principles of the peace process.
King Salman had informed Palestinian President Mahmoud Abbas that he had been in contact with world leaders regarding the mosque and that he had asked Saudi Foreign Minister Adel al-Jubeir to take all necessary measures to protect al-Aqsa.
In addition, King Salman, has appealed to UN chief Ban Ki-moon and members of the Security Council for "urgent measures" after clashes at Jerusalem's Al-Aqsa mosque compound, state media reported late Wednesday.
Salman "expressed strong condemnation of the dangerous Israeli escalation" at the holy site where Palestinian protesters clashed with Israeli police for three straight days, the Saudi Press Agency reported.
Full report at:
http://english.alarabiya.net/en/News/middle-east/2015/09/17/Saudi-condemns-Israeli-actions-on-Aqsa.html
------------
North America
UN Rights Chief Calls Hungary Callous, Xenophobic, Anti-Muslim
Sep 18, 2015
Geneva. Hungary's tough treatment of refugees arriving at its border hoping to find asylum in the European Union has been "xenophobic and anti-Muslim" and at times violated international law, the UN human rights commission chief said on Thursday.
His comments followed a rebuke of Hungarian tactics from the EU's migration chief. The asylum seekers, thwarted by a new Hungarian border fence and repelled by riot police, have begun pouring into Croatia instead.
"High Commissioner Zeid [Ra'ad al Hussein] deplored the xenophobic and anti-Muslim views that appear to lie at the heart of current Hungarian government policy," a statement by his Geneva-based agency said.
Images of women and children being assaulted with tear gas and water cannon at Hungary's frontier with Serbia were "truly shocking," Zeid said.
"I am appalled at the callous, and in some cases illegal, actions of the Hungarian authorities in recent days, which include denying entry to, arresting, summarily rejecting and returning refugees, using disproportionate force on migrants and refugees, as well as reportedly assaulting journalists and seizing video documentation."
New rules that Hungary brought in overnight between Monday and Tuesday, criminalizing irregular entry into Hungary, are incompatible with Budapest's human rights commitments, he added.
Full report at:
http://jakartaglobe.beritasatu.com/international/un-rights-chief-calls-hungary-callous-xenophobic-anti-muslim/
------------
U.S. starts implementing Iran nuclear deal
18 September 2015
The Obama administration began carrying out the Iran nuclear deal on Thursday as time expired on Republican efforts to derail it, appointing a senior diplomat to ensure that Tehran moves further away from bomb-making capability and outlining a months-long process before Western nations will start easing economic sanctions.
Senators failed to reach the threshold for a measure to keep all sanctions in place on Iran until it recognizes Israel and releases all imprisoned Americans, and then on a resolution expressing disapproval of the nuclear agreement. Two previous votes in recent days against the Iran deal also failed, and a 60-day window in the Republican-controlled Congress to prevent President Barack Obama from implementing the seven-nation pact was set to close Thursday night.
Shortly after the votes, the State Department named Stephen Mull as "lead coordinator for Iran nuclear implementation." Mull, who has served as ambassador to Poland and in other top diplomatic posts, takes on the "crucial" responsibility of shepherding an agreement "which will make the United States, our friends and allies in the Middle East, and the entire world safer," Secretary of State John Kerry said.
The accord clinched by the U.S., Britain, China, France, Germany, Russia and Iran on July 14 will provide Iran hundreds of billions of dollars in relief from international sanctions in exchange for a decade of constraints on the country's nuclear program. While the Republican-led Congress' objections posed the last serious threat to the package, the sides will need months to put the deal into place.
Washington expects Tehran to begin on Oct. 18 making major changes to its main site for enriching uranium at Nantanz, its underground nuclear facility at Fordo and its heavy water reactor at Arak. Uranium can be enriched as part of fuel production or for nuclear weapons development.
Full report at:
http://english.alarabiya.net/en/News/world/2015/09/18/U-S-starts-implementing-Iran-deal-as-deadline-expires.html
------------
Mexico demands Egypt compensate attack victims
18 September 2015
Mexico's government demanded on Thursday that Egypt compensate tourists mistakenly attacked by Egyptian security forces at the weekend in a deadly incident that outraged the Latin American nation.
The demand was made in a diplomatic note delivered by deputy foreign minister Carlos de Icaza to Egypt's ambassador to Mexico, as survivors and families of victims were flying home with Foreign Minister Claudia Ruiz Massieu.
"The Mexican government demands the necessary guarantees so that the victims of the tragic and regrettable attack perpetrated on September 13, all of them innocent civilians and their families, receive full reparations for the damage, including compensation," the foreign ministry said in a statement, without providing a figure.
Eight Mexican tourists and four Egyptians were killed in Sunday's attack in the Western Desert. Ten people were wounded, including six Mexicans.
Survivors have told Mexican diplomats that they came under fire from a plane and helicopters.
Full report at:
http://english.alarabiya.net/en/News/world/2015/09/18/Mexico-demands-Egypt-compensate-attack-victims.html
------------
More Questions about Islamic Indoctrination in Schools
By CeCe Heil
September 18, 2015
Each and every victory in the fight against Islamic indoctrination in our public schools is significant. As we previously reported, students in Tennessee have been forced to recite the Islamic conversion creed, "There is no God but Allah, and Muhammad is his messenger."
Tenets and fundamental beliefs of the Islamic faith were presented on study guides as facts.
This isn't education – it's indoctrination.
Yesterday, we heard from Tennessee State Board of Education Chairman B. Fielding Rolston on this issue. In an opinion editorial, Chairman Rolston revealed that the Tennessee State Board of Education is reviewing the state social studies standards – the very standards that govern the broad topics that must be taught. This development was first reported by Tennessee Education Commissioner Candice McQueen in a September 8th memo.
Chairman Rolston clarified that the teaching of Islam in schools is a "local decision" and not one regulated by the state.
Local districts determine the curriculum and instruction, adapting what classroom instruction looks like for the students and teachers.
There are no State Board of Education requirements regarding the length of time to be devoted to any topic or guidelines on how that topic is taught in the classroom.
It is always a local decision how long a particular topic is covered in the classroom and the textbooks and curriculum employed.
The fact that curriculum is a local decision means that there is little oversight to what is actually being taught in schools, which in some cases, means that Islam is being taught over three weeks while other world religions are skipped altogether. This has created a lot of concern for parents in Tennessee and other states who have reached out to us at the ACLJ.
The outcry has bolstered the Tennessee State Board of Education's decision to dramatically shorten the timeline for reviewing the social studies standards. Chairman Rolston stated,
According to state policy, standards are reviewed at a minimum of every six years. This allows the board the flexibility it needs to consider a set of standards earlier when the members feel it is appropriate.
The members of the Tennessee State Board of Education will review the social studies standards two years earlier using the new Tennessee standards review process.
This is a significant victory. The blatantly unconstitutional promotion of Islam in schools has garnered substantial national attention forcing the Tennessee State Board of Education to review the standards earlier than planned.
The ACLJ is continuing the fight for all students' religious liberty, locally and nationally. We have been contacted by parents in states across America regarding the promotion of Islam in the curriculum of local schools, and our petition in support of ending this unconstitutional practice has been signed by over 160,000 individuals.
In response to questions and concerns we've received from parents in Tennessee, we have sent over 146 "open records" requests to school superintendents—one request to every school district in Tennessee.
Full report at:
http://aclj.org/religious-liberty/more-questions-about-islamic-indoctrination-in-schools
------------
Pakistan
Army captain among 20 killed in TTP-claimed attack on PAF camp in Peshawar
MATEEN HAIDER | ALI AKBAR
Sep 18, 2015
PESHAWAR: At least 33 people, including 13 terrorists, were killed as the Pakistan Air Force (PAF) camp at Inqalab road in Peshawar's Badaber came under attack by Tehreek-i-Taliban Pakistan (TTP) militants early Friday.
Thirteen terrorists were killed by security forces, Director-General (DG) Inter-Services Public Relations (ISPR) Major-General Asim Bajwa said on Twitter.
Sixteen people offering prayers at a mosque inside the airforce camp were killed by a group of militants, Bajwa said.
Two junior PAF technicians were killed in the attack, a PAF spokesperson said, adding that both airmen were deployed at the guardroom when the attack occurred.
Terrorists entered the camp at two points, splitting into sub-groups, Bajwa claimed. The encounter began immediately due to the quick response from security forces, he said.
The attackers were wearing constabulary uniforms.
Pakistan Army's Captain Asfandyar was killed in the attack.
The DG ISPR said 10 soldiers were injured during an exchange of fire with terrorists — two of whom are officers.
Rescue sources, however, said 22 people have been injured, out of whom 20 have been shifted to CMH Peshawar and two have been taken to Lady Reading Hospital (LRH). An emergency has been declared in both hospitals. Dr Subhani at LRH said one unidentified body had been brought to the hospital.
TTP spokesperson Muhammad Khurasani claimed responsibility for the attack in an e-mail sent to journalists.
A search operation for hidden terrorists is underway, Bajwa said. Corps Commander Lieutenant-General Hidayatur Rehman conducted aerial surveillance of the base from a helicopter.
Full report at:
http://www.dawn.com/news/1207710/army-captain-among-20-killed-in-ttp-claimed-attack-on-paf-camp-in-peshawar
------------
US drone strike kills six in South Waziristan Agency
ALI AKBAR
Sep 18, 2015
ISLAMABAD: At least six suspected terrorists were killed in a United States (US) drone strike in South Waziristan Agency (SWA) on Friday.
Sources said two missiles were fired from the Un-manned Aerial Vehicle (UAV), killing at least six suspected militants and destroying their hideout in the Sarokai tehsil of SWA.
Those killed in the strike are yet to be identified.
Full report at:
http://www.dawn.com/news/1207770/us-drone-strike-kills-six-in-south-waziristan-agency
------------
Seven terrorists perish in Karachi shootouts
September 18, 2015
KARACHI - At least seven terrorists were gunned down in four shootouts with the law-enforcement agencies in different areas here Thursday.
Four terrorists were killed during armed encounters with police personnel in the megacity areas of Mochko and Docks.
Meanwhile about three gangsters hailing from Lyari's Uzair Jan group were killed in an armed encounter in Mochko.
The terrorist who was killed in Docks was involved in sectarian targeted killings in the city, according to police.
According to SP City Fida Hussain, the killed felon used to take money from the outlawed organisations for these killings.
Hand grenades, four 9MM pistols and bullets were recovered from the saboteurs, according to the police official.
Another armed encounter took place in the city area of New Karachi.
According to Rangers spokesman, the terrorists opened fire at the paratroopers as soon as they arrived in the metropolis area of New Karachi overnight for targeted operation.
The spokesman said that two target killers were killed in retaliatory fire by the troopers.
The outlaws were involved in different terrorist activities including targeted killings and sectarian killings.
Meanwhile, Anti-Terrorism Court remanded alleged financer of Safoora bus attack in police custody for 30 days.
The accused was produced in the court where he claimed that he only used to deliver lecture of Quran at his residence, and that he was unaware of whosoever were attending the lectures.
On Wednesday, police claimed to have arrested Shiba Ahmed for funding high-profile terror attacks in Karachi and other parts of the country.
Police said Ahmed lived in Defence Housing Society, claiming that the suspect belonged to Al-Qaeda South Asia.
Anti-terror police chief Naveed Khawja told a press conference that Ahmed had been financing militants "on a large scale".
Ahmed owned chemical businesses in Pakistan and Iran that were the main source of his income and terror financing, according to police.
"The remittances coming from abroad would be used in helping terrorists financially," Khawja said.
The police were tipped off about Ahmed from a key suspect in an attack in the Safoora Goth of Karachi in which 45 Ismaili community members, including women, were killed when gunmen stormed a bus in May.
Full report at:
http://nation.com.pk/national/18-Sep-2015/seven-terrorists-perish-in-karachi-shootouts
------------
Gen Raheel's statement on Kashmir voice of nation: Siraj
Muhammad Anis
September 18, 2015
ISLAMABAD: The Jamaat-e-Islami (JI) ameer Senator Sirajul Haq on Thursday termed a recent statement of Chief of Army Staff (COAS) General Raheel Sharif on Kashmir issue voice of the whole nation.
"The statement of the army chief on Kashmir issue is voice of 180 million people of Pakistan. The political leadership, vital institutions and Kashmiris are on the same page on his vital issue," Sirajul Haq said while addressing a consultative session with the Kashmiri leadership here at a local hotel.
The consultative meeting, which was held to demonstrate unity on Kashmir cause, was attended besides others by AJK Prime Minister Chaudhry Abdul Majeed, ex-AJK prime minister Sardar Attique Ahmad Khan and ex AJK president Ghulam Qadir. Ghulam Muhammad Safi and Muhammad Tahir Masood represented Syed Ali Geelani and Mirwaiz Umar Farooq at the consultative meeting.
The JI top leader said that his party also appreciates stance of the Prime Minister Nawaz Sharif on Kashmir cause but now the time has come that a state policy of the Government of Pakistan on this issue be announced. "This state policy on Kashmir should remain intact regardless of change of the government," he said.
Siraj said it was responsibility of the United Nations and the international community to make serious efforts for resolution of the Kashmir issue to save the humanity and for the sake of peace in the world and in South Asian region in particular.
Full report at:
http://www.thenews.com.pk/Todays-News-13-39724-Gen-Raheels-statement-on-Kashmir-voice-of-nation-Siraj
------------
How Pakistan Protects Itself from Regional Sectarian War
September 18, 2015
As sectarian wars continue to rage across the Middle East, Pakistan has managed to largely insulate itself from this regional plague. After a surge in Sunni-Shia sectarian violence from 2007-13, deaths from sectarian violence plummeted in 2014 by approximately 60 percent, in comparison to the previous year. In 2014, about two hundred Pakistanis died in Sunni-Shia sectarian violence, compared to approximately six hundred in 2013.
While fatalities from Sunni-Shia sectarian violence this year are on pace to exceed those of last year, the uptick is due to two gruesome massacres that make up a slight majority of this year's deaths. The actual number of incidents of Sunni-Shia sectarian violence this year have dropped by about half, compared to last year.
Regional Sectarian Fault Lines Pass Through Pakistan
Pakistan is located outside the Middle East, but given its border with Iran and strong ties to Gulf Arab states, it is susceptible to contagions emerging from that part of the world, especially when its leaders play the role of facilitators.
The first wave of Sunni-Shia violence in Pakistan took place in the 1980s, when Iran sought to export its revolution to Pakistani Shias, and Pakistan's military leader, General Zia-ul-Haq, in concert with Saudi Arabia, aided Sunni extremists who could serve as bulwarks. By the late 1990s, hundreds of Sunnis and Shias had been killed in sectarian violence. Pakistan, a country founded by a Shia Muslim who sought to create a homeland for all of the subcontinent's Muslims, had become replete with Sunni agitators who, through politics and violence, sought to pressure the state to declare Shias as non-Muslims.
But their wish never came true. Despite its sectarian challenges, countervailing forces prevented the consolidation of Sunni majoritarianism in Pakistan.
Among those countervailing forces is the diversity of Pakistan's Sunni majority and the divisions within it. A plurality of Pakistani Sunnis is believed to be from the Barelvi neotraditionalist subsect. Barelvis are generally not hostile toward Shias, and they often congregate at the same Sufi shrines. In contrast, the Deobandis, who form the second largest Sunni subsect, have disproportionately directed their polemics and violence toward the Shias. Most anti-Shia and anti-state jihadist groups in Pakistan emerge from the Deobandi community. Sunni Barelvis and Shias—both targets of Sunni Deobandi violence—have banded together in political alliances in recent years. And so the Sunni-Shia conflict in Pakistan is one that is essentially between Sunni Deobandis and Shias.
Full report at:
http://nationalinterest.org/feature/how-pakistan-protects-itself-regional-sectarian-war-13873
------------
Draft cybercrime bill bulldozed through NA body
JAMAL SHAHID
Sep 18, 2015
ISLAMABAD: The draft cybercrime bill was forcefully cleared by the National Assembly Standing Committee on Information Technology on Thursday and sent to the National Assembly for final approval without showing the members the copy of the bill.
The Prevention of Electronic Crimes Bill 2015 had become controversial as critics believed it curtailed civil liberties. In January 2015, the Ministry of IT submitted the bill to the National Assembly for voting. However, it was referred to the standing committee to address concerns raised by the opposition members and stakeholders from the industry.
Opposition leaders and local NGOs believed the proposed bill was too harsh and curbed human rights besides giving abusive powers to law enforcement agencies. Representatives from the industry argued that the bill would harm their businesses.
According to critics, the proposed bill criminalised minor activities such as sending text messages without the receiver's consent or criticising government actions on the social media punishable with fines and long-term imprisonments.
Latest draft not shared with committee members before final approval
When the committee met on Thursday, a copy of the final draft prepared by a sub-committee was put only before retired Capt Mohammad Safdar, the chairman of the committee.
From the moment the meeting commenced, Mr Safdar pushed the members to vote so that it could be sent to the parliament without a further delay.
However, PPP MNAs Shazia Marri and Nauman Islam Sheikh objected that they could not approve the draft bill until they read the final copy. PML-N MNA Awais Ahmad Khan Leghari also registered a complaint with the chair that like all other members he too did not get a copy of the draft bill to go through it.
To pacify the members, Mr Safdar said he had seen the copy of the draft bill which was sufficient and ready to be sent back to the National Assembly for final approval.
Shazia Marri complained to the chairman that it was wrong for members to clear the bill without seeing the finally drafted copy.
However, Mr Safdar was interested in wrapping up the meeting. "About 70 to 80 per cent recommendations have been accommodated in the bill. Questions can be raised later in the National Assembly. Members can request the speaker to send it back to the committee if they are still not satisfied," he maintained.
Nonetheless, Shazia Marri and Awais Leghari pushed Mr Safdar to at least go through some of the undecided provisions in it to make it complete before sending it to the parliament.
But opposition members lost that fight too when the chairman allowed them one more chance to make amendments because none of their recommendations made during the meeting were accommodated.
Full report at:
http://www.dawn.com/news/1207737/draft-cybercrime-bill-bulldozed-through-na-body
------------
LoC tension can go out of control, warns Aziz
AMIR WASIM
Sep 18, 2015
ISLAMABAD: Blaming "Indian state actors" for interfering in Pakistan, Adviser to PM on National Security and Foreign Affairs Sartaj Aziz warned on Thursday that tension along the Line of Control "can anytime go out of control".
Briefing the Senate on the prime minister's coming visit to the US to attend the United Nations General Assembly session, he said the US had already been informed about possible consequences of continued Indian aggression along the LoC.
Mr Aziz made the statement as military authorities confirmed at least two more deaths of civilians in unprovoked Indian firing in Nakyal sector along the LoC.
Mr Aziz said a dossier on India's involvement in terrorism in Pakistan had been prepared and was being taken to the UN. "It is yet to be decided how we will use it," he added.
He said India alleged that non-state actors from Pakistan were involved in (terrorist) activities in India whereas "we say that their state actors are doing it (in Pakistan)".
Mr Aziz said the recent talks between officials of Pakistan Rangers and Indian Border Security Force had been held in a good environment and both sides had agreed to enhance communication so that the two countries could establish contact in case of any violation of boundaries.
However, he pointed out, the two sides had only discussed the issue of hostilities along the Working Boundary, while violations continued to take place along the LoC.
About suspension of the national security adviser-level talks, he said Indian stance that terrorism would be discussed before any other issue was "unacceptable". He said the talks were initiated by India and it would only be resumed when New Delhi would again take the initiative.
About the setting up of a special cell in Pentagon to boost defence ties with India, Mr Aziz said the prime minister would take up the issue of "imbalance between (US ties with) Pakistan and India" during his visit to the US in October.
The PML-Q's Mushahid Hussain Sayed had drawn the attention of the adviser to reports that the US had set up a first-ever country-specific cell in Pentagon to improve defence ties with India although Pakistan had been a frontline partner of the US in war against terrorism.
He regretted that President Barack Obama in his latest speech had praised the US for "doing an incredible job in Fata" but had not mentioned the role of Pakistan and its armed forces which had launched Operation Zarb-i-Azb there.
Full report at:
http://www.dawn.com/news/1207689/loc-tension-can-go-out-of-control-warns-aziz
------------
Fire evicts 1,000 Asian pilgrims from Makkah hotel
September 18, 2015
MAKKAH - About 1,000 Asian pilgrims were evacuated early Thursday from their hotel in the Saudi city of Makkah, hit by a fire that injured two people, the civil defence agency said.
Firefighters "rescued two pilgrims who were hurt" by the fire in an eighth-floor room of the unnamed hotel, the agency said.
More than one million faithful have already arrived in Makkah for this year's hajj, which begins Tuesday. The agency also did not give the nationality of the pilgrims, nor say what caused the blaze.
Full report at:
http://nation.com.pk/national/18-Sep-2015/fire-evicts-1-000-asian-pilgrims-from-makkah-hotel
------------
India
BJP MP's Outfit Terms AMU 'Nursery of Terrorism'
By Lalmani Verma
Lucknow P
Sep 18, 2015
The Aligarh Muslim University administration Thursday filed a police complaint to lodge an FIR against Hindu Yuva Vahini's (HYV) state president Sunil Singh and other office bearers for allegedly calling the AMU "a nursery of terrorism". Singh, during a press conference on Wednesday, had also accused AMU students of having links with the Islamic State (IS). BJP MP from Gorakhpur, Yogi Adityanath, is the patron of HYV. The complaint has been lodged by AMU spokesperson Dr Rahat Abrar at Civil Lines police station in Aligarh. "The statements of HYV leaders alleging the AMU students to be in close contact with the IS pose a serious threat to the peace and the law and order situation of the city. The allegations, as reported in some Hindi dailies, were made by HYV leaders including Singh, Aligarh division in-charge Mahant Kaushal Nath, Kanpur division in-charge Vijay Narayan Singh and Aligarh-Agra division in-charge Sampurnanand. The complaint has been handed over to the police for lodging a case against them," Abrar said. Abrar said AMU vice-chancellor (V-C) Lt Gen (retd) Zameer Uddin Shah has taken a serious note of the "baseless allegations", which were a "deliberate attempt to tarnish the University's image and defame its students". AMU will also initiate a defamation suit against HYV leaders, he added. In a statement, Shah said that AMU was a secular institution open to all without any distinction of religion, caste, creed, language and region. "The university is a citadel of pluralistic ethos, mutual tolerance and peaceful coexistence. AMU is proud to be enshrined in the letter and spirit of the Constitution of India as an institution of national importance. All students in this university live together and engage in academic activities without any division," the statement reads. Another Muslim organisation, Millat Bedari Muhim Committee ( MBMC ), also gave a complaint to the police to lodge an FIR against HYV leaders. MBMC secretary Jasim Mohammad said that Singh made the "false allegations against AMU under a conspiracy to engineer riots in Aligarh". Civil Lines police station SHO Surya Kant Dwivedi told The Indian Express that he has received the complaint but an FIR would be lodged only after a preliminary inquiry into the allegations. When contacted, Singh said, "I am ready to face any action and for speaking the truth that AMU has become a nursery of terrorism where Muslim students take out march in support of terrorists such as Ajmal Kasab and Yakub Memon and those who raise pro-Pakistan slogans and are involved in cow slaughter". "The loyalty of AMU students remain doubtful and vigilance department should probe those who took out take the out march in support of terrorists. Such students should be sent to Pakistan," he added. He added that HYV will hold a Hindu Mahapanchayat at the entrance of AMU very soon on these issues.
http://indianexpress.com/article/cities/lucknow/adityanaths-outfit-terms-amu-nursery-of-terrorism/
------------
Avoid Cow Slaughter in Larger Interest, Ulema Tells Muslims
18th September 2015
HYDERABAD: With the ban on beef in some states and the upcoming Eid-ul-Azha triggering a fierce debate on cow slaughter across the country, a group of Islamic scholars in southern India has appealed to Muslims to avoid sacrificing cows, bulls and bullocks in the community's larger interest.
The scholars have advised Muslims to show pragmatism in the prevailing situation and instead opt for alternate animals permitted by the Sharia to ensure that peace is maintained and there are no impediments in their larger duty of "Dawat-e-Deen" of distributing food to the poor and the needy.
Backed by all schools of thought, the group has taken up the campaign through social media, meetings, pamphlets and Friday sermons in mosques in different states of southern India.
"Our message is that Muslims should not take law in their hands but desist from sacrificing cow, bulls and bullocks for maintaining peace. This will also help in introducing Islam to others," Syed Hussain Madani, an Islamic scholar heading the campaign, told IANS.
The scholar has suggested that the community should avoid sacrificing cows to protect life and property. People trading in cows, bulls and bullocks have been suffering loss of life and property and sometimes ending up harming others.
Madani quoted 'Hadith', or the sayings of Prophet Muhammad, that "There should be neither harming nor reciprocating harm."
Noting that the Prophet sacrificed two sheep on Eid-ul-Azha, he said: "Since the Prophet Muhammad is the best model for us, we should follow him. Sacrificing cow is allowed but it is not 'afzal' (preferable)," he said.
Every year, hundreds of bulls and bullocks are brought to the city for sacrifice on Eid day. Such animals are in huge demand because seven people can have share in each. At Rs.2,500 to Rs.2,800 each share, this works out more economical than Rs.6,000 to Rs.7,000 for a goat or sheep.
Full report at:
http://www.newindianexpress.com/nation/Avoid-Cow-Slaughter-in-Larger-Interest-Ulema-Tells-Muslims/2015/09/18/article3034577.ece
------------
Religious communities embroiled in India meat row
By Mustafa Pazarlı
Sep 17, 2015
By Shuriah Niazi
NEW DELHI – The Supreme Court of India on Thursday dismissed a plea filed by a Jain community organization against a Mumbai High Court order staying the decision to ban the sale of meat in the city during the religious festival of Paryushan.
A bench for Justices T.S. Thakur and Kurian Joseph said: "These are not issues forced down the throat of anyone. There has to be a spirit of tolerance."
The court added: "These matters must be handled with tolerance and compassion."
Shree Tapagarhiya Atma Kamal Labdhisuriswarji Gyanmandir Trust, a Jain group, had filed a Public Interest Litigation in the Supreme Court challenging the Mumbai High Court's decision to stay the ban on sale of meat in the city.
The Trust said that a ban for few days can only be conceived as compassion for animals and that they have the right to live under the Indian constitution.
On Monday, Mumbai High Court had stayed the ban on sale of meat in Mumbai on Sep. 17.
However, they refused to lift the ban on animal slaughter.
Bombay Mutton Dealers' Association had approached the High Court to oppose the ban imposed on the city due to the Jain community's Paryushan festival.
After the ruling Bharatiya Janata Party (BJP) came to power in the western state of Maharashtra, non-vegetarian food has become a political issue.
In March, beef was banned and now the state government wants restrictions on the eating habits of non-vegetarians.
"I believe these people are less interested in development and more interested in controversies. They want to impose restrictions on our eating habits," said Mujahid Siddiqui, a resident of Mumbai, on the recent controversy over non-vegetarian food.
He told Anadolu Agency: "It is nothing but an effort to divide society. They want that Muslims should oppose the decision and then they will be free to politicize the situation."
Meanwhile, Muslims in Maharashtra are anxious about how they will observe Eid-al-Adha.
Full report at:
http://news.videonews.us/religious-communities-embroiled-in-india-meat-row-1733062.html
------------
South Asia
Drone strike kills seven insurgents in South Waziristan
Sep 18 2015
A drone strike has killed seven suspected insurgents in Ladha subdivision of South Waziristan, Pakistan's Express Tribune news agency reports.
An unnamed official quoted by the news agency says that a militant compound was targeted in Friday morning attack.
"A vehicle close to a militant compound was the target of the strike in the Shonkrai Narai village of South Waziristan,"
According to the news agency, the area where the attack took place has a heavy presence of the Sajna group of Taliban.
This was reportedly second drone strike in Waziristan area in September. The first drone strike was carried out on September 1 that left five militants killed.
Full report at:
http://www.khaama.com/drone-strike-kills-seven-insurgents-in-south-waziristan-3913
------------
PM's ICT Adviser: Jamaat-e-Islami Is the Primary Perpetrator of Terrorism in Bangladesh
September 16, 2015
Sajeeb Wazed joy has said Jamaat-e-Islami is the primary perpetrator of terrorism in Bangladesh adding that targeting peaceful civilians is nothing new for the radical Islamist party.
In his recent opinion piece published in The Washington Times, Joy, Prime Minister Sheikh Hasina's ICT adviser, further stated that Jamaat-e-Islami has frequently and ruthlessly engendered violence against leaders of opposing political parties, Hindu minorities and security forces ever since Bangladesh's War of Independence in 1971.
Take a look: Joy: Situation was too volatile to comment on Avijit murder
"Bangladesh is grappling with a resurgent, radical, terrorist organisation that is masquerading as a legitimate political party," he added.
Recalling the role of senior Jamaat-e-Islami leaders during Bangladesh's War of Independence in 1971, the opinion piece said: "During that bloody conflict, members of Jamaat collaborated with Pakistani soldiers to slaughter an estimated 3 million people, rape 200,000 women and force the exodus of tens of millions.
"In recent years, Jamaat-e-Islami has ramped up its terror activities in response to the ICT's rulings, setting off hundreds of bombs across the country. Children as well as adults have been killed as a result."
Read more: 'Joy's comments a green signal for militants'
The article also mentioned that the four bloggers, who were hacked to death by extremists in Bangladesh this year, had written in favour of capital punishment for Jamaat-e-Islami leaders convicted of war crimes by the International Crimes Tribunal (ICT).
"Jamaat's leadership makes no attempt to mask its organization's aims. It and its partners have enticed young "student" recruits and seek to establish an Islamic theocratic state in Bangladesh.
"Like al Qaeda, with which it continues to collaborate, Jamaat has proven that it will do so by any means available."
Read also: Live discussion with Sajeeb Wazed Joy on ICT
Referring to the serious and growing threat of dreaded Islamic State and other such terrorists organisations pose around the world, the son of Bangladesh prime minister wrote in his opinion piece: "One Muslim nation, Bangladesh, can be relied on to stand tall against homegrown and foreign-produced terrorists.
"As a proud ally of the United States, Bangladesh is widely viewed as a secular, democratic model for all of South Asia and a stalwart in the war against the scourge of terror."
"The United States and other western nations need a stable, terror-free South Asia. Bangladesh stands as a beacon for the region in this regard — peaceful and democratic, governed by secular laws," the article further added.
Full report at:
http://www.dhakatribune.com/bangladesh/2015/sep/16/joy-jamaat-primary-perpetrator-terrorism-bangladesh
------------
US concerned Muslims being excluded from Myanmar vote
September 18, 2015
WASHINGTON: The United States expressed concern Thursday that preparations for Myanmar's landmark elections have been undermined by moves to exclude Muslim minority candidates from the ballot.
Myanmar will vote on November 8 in what many hope will be its most free vote in generations after decades of army rule, with Aung San Suu Kyi's opposition party widely tipped to make huge gains.
But tension is rising in the Buddhist-majority country which in recent years has seen outbursts of deadly unrest against its Muslim minority.
"The United States is concerned about the disqualification of approximately 100 candidates for Burma's upcoming general election," State Department spokesman John Kirby said.
"We are aware of reports that almost all Muslim candidates have been disqualified, including some current members of parliament," he said.
"Yet the relevant authorities have yet to provide the specific reasons for which they did not meet these criteria."
Kirby complained that a quarter of seats have been reserved for supporters of the former military junta and branded the procedure for excluding candidates "an opaque and discriminatory process."
This, he said, "risks undermining the confidence of the Burmese people and the international community in these elections."
"We urge the Burmese authorities to redouble their efforts to address these concerns and ensure that the upcoming elections constitute a step forward for the country," Kirby said.
Religious unrest has overshadowed reform efforts as Myanmar, with strong US encouragement, emerges from military rule under a quasi-civilian transitional government which came into power in 2011.
Full report at:
http://www.freemalaysiatoday.com/category/world/2015/09/18/us-concerned-muslims-being-excluded-from-myanmar-vote/
-----------
Myanmar leader seeks to capitalize on anti-Muslim sentiment
Sep 18, 2015
YANGON, Myanmar (AP) — With an eye on upcoming elections, Myanmar's president has ticked off a list of accomplishments under his administration — noting with apparent pride a number of anti-Muslim policies he hopes will help him win another five-year term.
In a video message posted on Facebook this week, Thein Sein said he repeatedly, and firmly, told the international community there were no Rohingya Muslims in the predominantly Buddhist nation.
He said a string of controversial laws on race and religion were passed under his watch and the Organization of Islamic Cooperation — which represents more than a billion Muslims across the globe — tried unsuccessfully to open an office in western Rakhine state.
The president's comments came as the U.S., Britain and other governments expressed concern about rising religious tensions ahead of the Nov. 8 general election in the country also known as Burma that many hope will be relatively free and fair following decades of military rule.
The countries issued a statement this week saying they were "concerned about the prospect of religion being used as a tool of division and conflict during the campaign season."
In Washington, State Department spokesman John Kirby said the U.S. was aware of reports that almost all Muslim candidates have been disqualified, including some current members of parliament. He said disqualifications through an opaque and discriminatory process, "risks undermining the confidence of the Burmese people and the international community in these elections."
Myanmar has seen a rise in anti-Muslim rhetoric since Thein Sein's nominally civilian government came to power in 2011, including attacks on Rohingya that left up to 280 people dead and sent another quarter million fleeing their homes. Half are now living under apartheid-like conditions in camps, where they have limited access to medical care and education. Others took to the sea, sparking Asia's own migrant boat crisis.
Though many Rohingya arrived in Myanmar generations ago, the government says all 1.3 million are migrants from neighboring Bangladesh.
Adding to their disenfranchisement, the Rohingya for the first time will not be allowed to vote.
Full report at:
http://news.yahoo.com/myanmar-leader-seeks-capitalize-anti-muslim-sentiment-094811480.html
------------
With Official Help, Radical Buddhists Target Muslim Businesses
September 17, 2015
ATHOKE, Irrawaddy Division — Last year a Muslim businessman called Lwin Tun set up a factory in Labutta, a town in Myanmar's Irrawaddy Delta. He spent $330,000 on buildings and cooling systems, but couldn't buy the product his factory was meant to process: meat.
That's because Labutta's seven cattle slaughterhouses, also Muslim-owned, had suddenly gone out of business. In January 2014 they had tried to renew their licenses, but local authorities had already sold them to an association led by members of the radical Buddhist group Ma Ba Tha.
The Muslim slaughterhouses went bust—and so, after just three months, did Lwin Tun's meat-processing factory.
Burma's Muslim minority make up about 5 percent of the country's predominantly Buddhist population and Muslims living in the delta rely heavily on the slaughterhouse business and the beef trade.
Religious tensions simmered in Burma for almost half a century of military rule, boiling over in 2012, just a year after a semi-civilian government took power.
Now Muslim businesses have become the target of anti-Islamic sentiment propagated by radical Buddhists who have found a powerful voice in Burma's more open political landscape.
Since late 2013, a campaign supported by Ma Ba Tha has forced dozens of Muslim-owned slaughterhouses and beef-processing facilities across the Irrawaddy Division to shut down, with thousands of cows seized from their Muslim owners, a Myanmar Now investigation has found.
Other Muslims whose businesses have survived have watched their incomes plummet.
Government documents obtained by Myanmar Now and interviews with officials show that Irrawaddy Division's top officials supported the campaign against Muslim slaughterhouses.
Radical Buddhist activists also received government permission to transport hundreds of seized cows to Arakan State in western Burma, the scene of violence between Arakanese Buddhists and mostly stateless Rohingya Muslims.
There, they donated the animals to Buddhists who have resettled from eastern Bangladesh.
Lwin Tun, 49, also has interests in construction, real estate and hotels in the delta and in the commercial capital Rangoon. But thanks to Ma Ba Tha, he said, his business prospects in Labutta look bleak.
"Campaign activities calling for a boycott of Muslim-owned businesses have been going on in the town," he said. "Pamphlets are being handed out. Police know about it, but they don't take action."
Religious Freedom
The campaign against the slaughterhouses and beef trade threatens both livelihoods and religious freedoms, Muslims told Myanmar Now. The shortage of cattle and tightening of government restrictions prevented Muslim communities in the delta from celebrating last year's Eid al-Adha festival, where cows are slaughtered in accordance with Islamic tradition.
"This activity constitutes a direct violation of our fundamental religious rights," said Al Haji Aye Lwin, chief convener of Rangoon's Islamic Centre. "I estimate (Muslim) businesses in general are losing about 30 percent of their profits."
Kyaw Sein Win, a spokesman for Ma Ba Tha at its Rangoon headquarters, said saving lives was central to Buddhist philosophy.
"We are not deliberately targeting (Muslim) businesses. They would kill animals as they believe this is how they gain merit. That's the main difference between us and them," he told Myanmar Now in a phone interview.
Burma has seen a rise in sectarian tension and anti-Muslim rhetoricled by nationalist Buddhist movements since 2011, when the military handed power to a nominally civilian government made up of former generals. The country's faltering democratic transition will take its next step with elections on Nov. 8, the first in decades to be contested by all main opposition parties.
Full report at:
http://www.irrawaddy.org/burma/with-official-help-radical-buddhists-target-muslimbusinesses.html
------------
Police foiled rocket attacks on Kabul city
Sep 18, 2015
Police foiled rocket attacks on Kabul city on Thursday.
General Abdul Rahman Rahimi, the Kabul Police Chief told reporters that militants had placed four BM1 rockets in a grape garden in Tarakhil area, the center of Deh Sabz District, in order to launch them on Kabul city.
He said upon receiving information, police raided that garden on time and recovered the rockets which were ready to be fired.
General Rahimi praised residents of the area for assisting their security forces. The rockets were later defused by police.
This comes a day after a suicide attack left four people killed and 41 others wounded in Paghman District of Kabul.
Full report at:
http://www.khaama.com/police-foiled-rocket-attacks-on-kabul-3922
------------
Bangladeshi PMWarns: Radical Islam Spreading From West To East, Tells Cameron To Sort It Out
17 Sep 2015
The Prime Minister of Bangladesh has warned David Cameron that he needs to do more to tackle domestic Islamic extremism, as British Bangladeshis are funding and exporting Islamism and terrorism into her nation. She argued that closer cooperation is needed to stop radical Islam spreading from West to East.
Bangladesh – a country with the world's third-largest Muslim population – is currently experiencing a politicised Islamic revival, in line with that seen across much of the Muslim world. The nation is increasingly seen as fertile soil for Islamic State (IS) recruitment.
"The British government should take more steps on the ground," Prime Minister Sheikh Hasina Wazed told The Guardian. "Jamaat [-e-Islami (JEI) Bangladesh's leading Islamist party] has a strong influence in East London. That's true. They are collecting money, they are sending money," she said.
The warning comes exactly a month after a British citizen was arrested in Bangladesh, suspected of being the "main planner" and "financier" behind the gruesome murder of two prominent secular bloggers who dared to criticise Islam online. Several British IS recruits, including the two men killed in a drone strike last week, are of Bangladeshi origin.
Shahriar Kabir, a journalist working in the Bangladeshi capital Dhaka, told The Guardian that JEI was "the godfather of all terrorism" which posed a grave threat to Bangladesh's fragile secular tradition.
"If the BNP [the opposition Bangladesh Nationalist party that is allied to JEI] wins the next election, Bangladesh will become Islamicised," Kabir warned. "ISIS and al-Qaida are targeting Bangladesh. Jihadis are coming here from abroad, some from the UK. And money for the Islamists is coming from Islamic NGOs and individuals in Britain and Saudi Arabia and Pakistan.
"We are fighting to maintain a secular society. But we are losing ground. If we lose we will become a centre of global jihadi terrorism," Kabir said.
Britain's closely knit Bangladeshi population in East London, who recently elected disgraced Mayor of Tower Hamlets Lutfur Rahman, have well established connections to Jamaat-e-Islami. The East London mosque claims it is "not affiliated to or controlled by JEI" on it's website, however, they host JEI speakers such as Delwar Hossain Sayeedi, who was sentenced to death in Pakistan in 2011 for terrorism and war crimes.
Counter extremism group StandForPeace, claim on their website that, "The East London mosque and the Islamic Forum of Europe are both leading Jamaat organisers in Britain. Both institutions heavily promote the writings of Syed Maududi, the founder of Jamaat Islamism, whose book, Let Us Be Muslims, tells followers: 'You must strive to change the wrong basis of government, and seize all powers to rule.'"
Prime Minister Wazed also defended her government's zero-tolerance approach to terrorism, which has provoked the obligatory criticism from 'human rights' groups: "[The extremist groups] are trying, no doubt about it, and there are some people trying to encourage them, but we have controlled the situation," she said
She argued that closer international cooperation was needed to halt the spread of radical Islam from the West to Bangladesh: "Certainly we want cooperation from all other countries so that they should be very careful that no illegal money or arms or terrorists should take any chance to create any problem to any other country."
Also very active in Bangladesh is the Islamist, Muslim supremacist group Hizb ut-Tahrir, who are completely legal and very well finding in the UK. David Cameron, like Tony Blair before him, hinted that he might ban the organisation in June this year, but has remained silent on the topic since.
Full report at:
http://www.breitbart.com/london/2015/09/17/bangladeshi-pm-warns-radical-islam-spreading-from-west-to-east-tells-cameron-to-sort-it-out/
------------
Mideast
Yemen army enters Saudi military bases in Asir region
Sep 18, 2015
The Yemeni army, backed by popular committees, has entered Saudi military bases in the kingdom's southwestern region of Asir.
The video footage released by Yemen's al-Masirah television network on Friday showed Yemeni forces advancing into Saudi military bases in the region, destroying the vehicles and equipment of the Saudi army.
The Saudi soldiers, who could not resist the Yemeni offensive, fled the area, reports added.
The attack was part of Yemen's retaliatory measures against Saudi Arabia over Riyadh's unabated military campaign in the impoverished Arab country.
A boy stands in the rubble of buildings destroyed during Saudi airstrikes in the Yemeni capital city of Sana'a, September 17, 2015. (Photo by AFP)
Earlier in the day, Saudi Arabia's aerial aggression claimed the lives of 18 civilians from two Yemeni families in Sa'ada Province in the northwest of the war-ridden country.
Saudi fighter jets pounded residential areas and a stadium in the Yemeni capital city of Sana'a, killing more than ten people, including several women and children.
The airstrikes also targeted a military base in the east and a broadcaster building in the north of the capital.
Saudi airborne assaults further struck positions in the central Yemeni province of Ibb, killing and injuring several civilians.
The Saudi attacks also left one dead and three others injured in Kamaran island located at the southern end of the Red Sea.
Meanwhile, reports say that the areas surrounding the presidential palace in the southwestern province of Ta'izz are the scene of fierce clashes between the Ansarullah fighters of the Houthi movement and militants loyal to Yemen's fugitive former president Abd Rabbuh Mansur Hadi.
Full report at:
http://www.presstv.ir/Detail/2015/09/18/429692/Yemen-Saudi-Arabia-Asir-Sanaa-Ibb-Saada-Taizz-Mansur-Hadi
------------
Iranian FM Rejects Media Reports on Swapping Prisoners with Al-Qaeda
Sep 17, 2015
An official at the Iranian foreign ministry described the Skynews claims that Tehran and the al-Qaeda have been swapping prisoners as "unfounded and false", and said, "The Islamic Republic of Iran fights against terrorism and seriously opposes the double-standard policies and attitudes towards the inhuman phenomenon of terrorism and believes that the double-standard criteria and instrumental use of terrorism are among the main causes of the continued life and existence of this ominous phenomenon."
Full report at:
http://english.farsnews.com/newstext.aspx?nn=13940626000574
------------
IRGC Quds Force Commander: US Unable to Remove Hezbollah
Sep 17, 2015
The US through an alliance tried to remove Hezbollah in Lebanon but it had neither the power to curb Hezbollah nor formed a successful alliance, General Soleimani said, addressing the IRGC commanders in Tehran on Wednesday.
Hezbollah got stronger to the extent that today, its leadership declares its capability and power openly, he added.
In relevant remarks in July, Seyed Hassan Nasrallah, the secretary general of Hezbollah, said the Lebanese resistance movement was proud of being targeted by the US.
Full report at:
http://english.farsnews.com/newstext.aspx?nn=13940626000405
------------
Palestinian envoy raps UN passivity over Israeli violation in Aqsa
Sep 18, 2015
The Palestinian mission to the United Nations has strongly denounced the Security Council for its inaction over the recent Israeli aggression in the al-Aqsa Mosque compound.
Riyad Mansour, the Palestinian ambassador to the UN, on Thursday lashed out at the 15-member body for its failure to condemn the ongoing Israeli crimes against Muslim worshipers at the al-Aqsa Mosque.
The Palestinian envoy warned that Muslim countries and nations at the UN will not leave Palestinians to defend the holy mosque on their own.
Meanwhile, in a unanimous declaration, the Security Council on Thursday expressed "grave concern" over the provocative actions at the revered Muslim site. The council also appealed for restraint and called for maintaining the rules governing the al-Aqsa compound.
"The members of the Security Council called for the exercise of restraint, refraining from provocative actions and rhetoric, and upholding unchanged the historic status quo" at the compound "in word and in practice," the statement read.
It added that both worshipers and visitors should be without fear of violence while at the compound. It also called for an end to the ongoing clashes.
However, council members fell short of denouncing the incursion into the holy compound by Israeli regime forces.
This came after Israeli settlers and troops attacked worshipers at the site of the holy mosque on Wednesday for the fourth consecutive day. The brutal assault against Palestinians started on Sunday following the deployment of Israeli soldiers to the area for the Jewish Rosh Hashanah New Year holiday.
Israeli forces stand guard inside the al-Aqsa Mosque compound in the al-Quds Old City during clashes between Palestinians and Israeli forces on September 15, 2015. (AFP photo)
Meanwhile, Tel Aviv regime forces have applied sweeping restrictions on entry into the al-Aqsa Mosque compound since August 26.
Israeli forces are seen in this AFP photo during clashes with Palestinian youth near the Ofer military prison, located near the West Bank village of Betunia, on September 17, 2015.
Israeli Prime Minister Benjamin Netanyahu said at an emergency meeting on Wednesday that Israel plans to broaden the mandate of its forces following clashes between them and Palestinian protesters in and around the al-Aqsa Mosque compound in the occupied West Bank.
Israel's latest aggression has drawn widespread international criticism and condemnation.
On Sunday, Palestinian President Mahmoud Abbas condemned the incursions by Israeli forces and settlers into the holy al-Aqsa Mosque complex.
"Muslim and Christian holy places in East Jerusalem are a red line," said Abbas, adding, "We will not stand idly by before these assaults."
Palestinian Prime Minister Rami al-Hamdallah also warned the international community that Israeli escalations in East al-Quds (Jerusalem) threatened to ignite conflict throughout the entire region. "The Israeli government will bear the consequences of its policy of targeting the Al-Aqsa Mosque."
Full report at:
http://www.presstv.ir/Detail/2015/09/18/429676/Palestine-alAqsa-Israel-UN-Riyad-Mansour-
------------
Turkey spent $7.6 bln on 2.2 mln Syrian refugees
18 September 2015
Turkey has so far spent $7.6 billion caring for 2.2 million Syrian refugees, Deputy Prime Minister Numan Kurtulmus said on Friday.
Turkey, which borders Syria, hosts the world's largest refugee population and has vowed to maintain its open border policy. The Turkish Coast Guard has rescued 53,228 people, while 274 people have died in Turkish waters, Kurtulmus also said at news conference.
Full report at:
http://english.alarabiya.net/en/News/middle-east/2015/09/18/Turkey-spent-7-6-bln-hosting-2-2-mln-Syrian-refugees.html
------------
Gaza rebuilding 'visibly accelerated': U.N.
18 September 2015
The United Nations' Mideast envoy has given a rare upbeat assessment in the Gaza Strip, saying that postwar reconstruction is speeding up.
Thousands of homes were destroyed or damaged in the 50 days of fighting between Israel and the Hamas militant group last summer. The reconstruction of hundreds of houses started last month with help from Qatar, which has donated millions of dollars to rebuild 1,000 housing units.
Full report at:
http://english.alarabiya.net/en/News/middle-east/2015/09/17/U-N-envoy-says-Gaza-reconstruction-speeding-up.html
------------
Africa
In Niger, U.S. soldiers quietly help build wall against Boko Haram
DIFFA, NIGER | BY WARREN STROBEL
Sep 18, 2015
Despite years of intimidation by the violent extremist group Boko Haram, the people of southeastern Niger's Diffa region had never held a summit to confront the threat - perhaps with good reason.
"One person could come here and kill us all!" Diffa's prefect, Inoussa Saouna, told 75 village leaders assembled along with politicians and military commanders in the city's pale blue-walled cultural center.
That same early September day, a double suicide bombing that bore Boko Haram's hallmarks killed 19 people in nearby Cameroon.
The group, best known for its kidnapping of more than 200 Nigerian schoolgirls in April 2014, has expanded from its base in northern Nigeria to threaten the region. It has menaced U.S. and European allies in west Africa, and leader Abubakar Shekau in March pledged its loyalty to Islamic State.
The Diffa meeting was a modest success not just for its mutually suspicious tribes but for a small team of fewer than 20 U.S. Special Operations Forces conducting an experiment that is part of President Barack Obama's new counter-terrorism strategy.
The soldiers, who encouraged the meeting and helped provide a ring of security, do not go into combat, or even wear uniforms. They are quietly trying to help Niger build a wall against Boko Haram's incursions and its recruitment of Diffa's youth.
A Reuters reporter was the first to visit the detachment, which is among about 1,000 U.S. Special Operations Forces deployed across Africa.
In Chad, Nigeria, Niger and elsewhere, they are executing Obama's relatively low-risk strategy of countering Islamic extremists by finding local partners willing to fight rather than deploying combat troops by the thousands.
The new approach, which Obama announced in May 2014, is far from being a silver bullet for the United States in its global battle against Islamic militancy. The indirect strategy appears to be faltering in the Middle East, where the United States has found few reliable allies on the battlefield in Syria. In Iraq, U.S.-trained and -equipped forces evaporated last year in the face of Islamic State's offensive.
In Niger, there are signs of success against Boko Haram, although progress will likely be slow in a years-long effort, U.S., European and African officials say.
"For the region, this is going to be a struggle that's going to be with them for a long time, not just in Niger, but elsewhere," said Army Col. Bob Wilson, commander of U.S. Special Operations Forces in north and west Africa.
U.S. officials say they see predominantly Muslim Niger as worth helping. Relatively stable, but facing national and local elections in 2016, it is threatened by Boko Haram in Nigeria to the south, chaos in Libya to the north and an al Qaeda affiliate that operates in neighboring Algeria and Mali.
Full report at:
http://www.reuters.com/article/2015/09/18/us-usa-niger-boko-haram-idUSKCN0RI0C020150918
------------
Shebab kill three soldiers in bomb attack
September 18, 2015
MOGADISHU - Somalia's Shebab insurgents killed three Somali soldiers and wounded at least seven others including civilians in a roadside bomb Thursday in the southern port town of Kismayo, officials and witnesses said. The homemade bomb was reported to have been hidden near a tree close to a military checkpoint. "Three soldiers including a commander were killed, and seven others were wounded in the bomb explosion," said local government security official Abdulahi Ahmed Suldan.–AFP
Full report at:
http://nation.com.pk/international/18-Sep-2015/shebab-kill-three-soldiers-in-bomb-attack
------------
Death toll from South Sudan blast rises to 182
Sep 18, 2015
The death toll from the massive explosion of an oil tanker in South Sudan has increased to 182.
On Friday, a local official announced the latest fatalities figure of the incident, saying authorities are transferring some of the injured to "a safe location."
"The death toll has increased to 182 people. However, we are now on the ground evacuating some serious cases to a safe location for medical attention," said Wilson Thomas Yanga, the commissioner of Maridi county where the blast took place.
Meanwhile, John Sakithat, the local government director of Maridi, stated that many of the injured are currently "in critical condition," thus prompting the speculation that the death toll might go up even further.
A witness also touched upon the gravity of the fatal blast, saying, "Some people are burned all [over their] legs, some the hands, some the whole body, the back … They look like a white person."
The incident happened on Wednesday after an oil tanker veered off the road and exploded in South Sudan's Western Equatoria state. According to reports, people had gathered around the vehicle in an attempt to collect fuel when the tanker went off, thus dramatically increasing the number of casualties.
On Thursday, presidential spokesman Ateny Wek Ateny rejected speculations that the blast might be related to the country's political strife, saying, "This was an accident."
South Sudan plunged into violence in December 2013, when fighting erupted between troops loyal to President Salva Kiir and defectors led by his former deputy Riek Machar around the capital, Juba.
Full report at:
http://www.presstv.ir/Detail/2015/09/18/429703/South-Sudan-Maridi-Western-Equatoria-Salva-Kiir-Riek-Machar-
------------
Some 1.4mn children fled Boko Haram militancy: UN
Sep 18, 2015
The United Nations children's agency (UNICEF) says the militancy waged by the Nigerian terrorist group Boko Haram has forced around 1.4 million children in the Lake Chad region to flee.
The number includes some 500,000 youngsters displaced over the last five months after an upsurge in attacks in Nigeria, Cameroon, Chad and Niger, UNICEF said on Friday.
Children have suffered the brunt of the militancy in Nigeria, where some 1.2 million of the youngsters have been rendered homeless as a result of the Takfiri group's brutality.
Some 265,000 other children have been affected in neighboring Cameroon, Chad, and Niger. The group has started to target the countries more vengefully after they joined Nigeria's military in a regional counter-offensive.
Full report at:
http://www.presstv.ir/Detail/2015/09/18/429683/UNICEF-Nigeria-Boko-Haram-Lake-Chad
------------
Southeast Asia
Haram fatwa doesn't apply to cigarette quitters, vapers' group says
BY ZURAIRI AR
September 18, 2015
KUALA LUMPUR, Sept 18 — An e-cigarette advocacy group claimed today that the "haram" fatwa that makes it forbidden for Muslims to vape does not apply for those who take it up as an alternative to quit smoking.
Responding to the declaration by the National Fatwa Council last month, the Malaysian E-Vaporisers and Tobacco Alternative Association (Mevta) said it however agrees that the fatwa should apply to non-smokers who take up vaping.
"We have to see this from a positive side. It can be considered haram, if vaping uses harmful material," the group's vice-president Rizani Zakaria told reporters.
"It can be considered haram to those who are not already smoking, because it will be a waste of money and harm their health. Two different adverse effects in one. You are purposely trying to seek harm when you have none. It will drive you to an early grave."
Rizani claimed for those who are trying to quit, vaping provides an alternative that will instead reduce the harm of smoking, comparing it to nicotine gum and patches.
Last month, local daily Utusan Malaysia reported National Fatwa Council chairman Professor Emeritus Tan Sri Dr Abd Shukor Husin as saying that Islamic edicts have already been issued against the smoking of cigarettes and shisha, and that electronic cigarettes could be equated with the two.
Full report at:
http://www.themalaymailonline.com/malaysia/article/haram-fatwa-doesnt-apply-to-cigarette-quitters-vapers-group-says
------------
Despite return of Christian Allah CDs, a second Islamic Council seeks to intervene
September 18, 2015
KUALA LUMPUR, Sept 18 — A second Islamic religious council has applied to intervene on a Sarawakian Christian's bid to recognise her constitutional rights to import compact discs bearing the world "Allah", her lawyer said today.
Robin Lim, who represents Jill Ireland Lawrence Bill, said the Selangor Islamic Religious Council (MAIS) sent on September 15 its application to be an intervener in his client's case.
"So now there are two parties seeking to intervene. One is Majlis Agama Islam Wilayah Persekutuan (MAIWP), the other is Majlis Agama Islam Selangor (MAIS)," he told Malay Mail Online after his client's case came up for case management at the Kuala Lumpur High Court this morning.
He confirmed that Jill Ireland will be opposing both intervener applications by MAIS and MAIWP, adding that the next case management will be on November 4.
Last Thursday, the Home Ministry finally returned the eight "Allah" CDs that it had seized from Jill Ireland over seven years ago, in accordance with a directive from the ministry's legal adviser and a Court of Appeal order in the Bumiputera Christian's favour.
Jill Ireland's legal battle, however, is not over as two constitutional issues relating to the 34-year-old's right to religious freedom and equality before the law have been sent back to the Kuala Lumpur High Court for a hearing.
Full report at:
http://www.themalaymailonline.com/malaysia/article/despite-return-of-christian-allah-cds-a-second-islamic-council-seeks-to-int
------------
Get Annuar Musa for claiming racism OK in Islam, Jakim told
BY MAYURI MEI LIN
September 17, 2015
PETALING JAYA, Sept 17 — The Malaysian Islamic Development Department (Jakim) should take action against Umno supreme council member Tan Sri Annuar Musa for depicting Islam as amenable to racism, PKR's Latheefa Koya said today.
Latheefa was referring to Annuar's admission during the #Merah169 rally yesterday that he was "racist", but justified this using a hadith (a saying of the Prophet) on asabiyyah, an Arabic term for tribalism, which he interpreted as allowing racism so long as it did not oppress other groups.
"Let me remind him that asabiyyah is not an Islamic principle, asabiyyah is a pre-Islamic during the dark ages (zaman Jahiliyah), a principle where people are clannish or tribal, they stick together and they work for tribal interests.
Full report at:
http://www.themalaymailonline.com/malaysia/article/get-annuar-musa-for-claiming-racism-ok-in-islam-jakim-told
------------
A Malay Muslim PM must protect Islam, convincingly
Sep 18, 2015
The red shirt breakout in Kuala Lumpur has also spilled all kinds of racism-charged and seemingly 'Islamic' colour to add to the justifications for an Umno-Malay battle with police and citizens, to win back their dignity.
All kinds of outrageous claims were made. From the demand to dismantle native language schools to giving back the famed 'Chinatown' (Petaling Street) business to Malays spiked the rally mood as speakers took to the stage.
What is most damning is when some ventured to hide behind the veil of religion. One speaker is quoted to have said that he is racist and that Islam allowed it.
The board of directors of the Muslim Professionals Forum (MPF) has issued a statement abhorring such sinful claims by the red shirt leaders.
In their press release they have spelled out that "Islam abhors and rejects racism". And to back their stand, MPF articulates various quotations from the Holy Quran and the Hadith in defense of Islam and in providing authoritative references.
Now, the people of Malaysia need to ask their Malay, Muslim prime minister why is he supporting and congratulating the red shirt rally when Islam is being tortured and desecrated by the claims of these red shirt leaders?
Believers of Islam must stand up as humble and watchful servants of Allah and demand that the prime minister condemns any and all desecration of the Almighty's gift and blessing to mankind, Islam.
Let the cabinet members and Umno leaders be told too that even non-Muslims are taking offence at the red shirts for bringing shame to Islam.
By Najib Abdul Razak and his coterie proudly commending the red shirt rally for standing up to defend and regain their seemingly 'lost' dignity of Umno-Malays using race and religion as the goalposts is also most dangerous and certainly seditious by the consecrated laws of this country.
As stated by MPF, the Messenger of Allah (Peace Be Upon Him) said, "He is not one of us who calls for asabiyyah, (tribalism) or who fights for asabiyyah or who dies for asabiyyah" (Abu Dawud), the prime minister of Malaysia and his men have brazenly promoted tribalism through the red shirt rally.
Full report at:
http://www.malaysiakini.com/letters/312771
------------
Western media reports on Najib - remember Iraq?
Sep 18, 2015
Many believed that Iraq was producing weapons of mass destruction because the western media had reported as such, said Multimedia and Communication Minister Salleh Keruak.
In time, he pointed out people began to realise they were duped and the reports were meant to discredit Iraq and rally world support for the US war against that nation.
"In time, too, many are going to find out that not all of what the western media is reporting about (Prime Minister) Najib (Abdul Razak) is true as well.
"But then, just like in the case of Iraq, they will find out too late and only after the damage has been done," he added in a blog posting today.
Salleh said what can be regarded as the Internet war in Malaysia has been given a new twist with the involvement of foreign blogs and media.
"Malaysians have this perception that anything foreign or imported has to be better than local grown. This is not only as far as consumer goods is concerned but for news as well.
"That is why foreign publications such as Sarawak Report and Wall Street Journal are regarded as the bastions of truth.
"Since they are foreign-based and western-run then what they say can only be true. No one doubts the veracity of the reports because they are foreign and western based," he added.
However, Salleh described this as a "very clever strategy" by those who want to discredit Najib to turn to foreign publications to conduct their campaign.
"If the story came from overseas then it must be true because foreigners only dabble in the truth," he added.
Full report at:
http://www.malaysiakini.com/news/312714
------------
Mecca hotel fire did not involve Malaysians, says Tabung Haji
18 September 2015
Tabung Haji (TH) has described a fire yesterday at a hotel in Mecca, as minor and did not involve any Malaysian pilgrim.
TH media operations manager Mohamad Naser Jaffar said the fire occurred in the hotel at the Aziziah district located about 4km from the Haram Mosque in Mecca.
"All Malaysian pilgrims have been placed at six hostels in nine buildings which are between 600m to one kilometre from the Haram Mosque, and this hotel is far from where they are," he said.
A Bernama survey of the Aziziah district found the hotel, Sakab Al-Barakah, operating as usual with pilgrims going about their activities as usual.
An Indonesian pilgrim staying at the hotel, identified only as Mansor, was shocked when shown photos of the so-called 'badly burnt' hotel which went viral on the social media.
"It was only a small fire which occurred early yesterday morning… there was not even smoke during the incident.
Full report at:
http://www.themalaysianinsider.com/malaysia/article/mecca-hotel-fire-did-not-involve-malaysians-says-tabung-haji
------------
Amid sedition probe, Perlis mufti shares room with IGP in Mecca
September 18, 2015
KUALA LUMPUR, Sept 18 ― Perlis mufti Datuk Dr Mohd Asri Zainul Abidin is sharing a room with Inspector-General of Police (IGP) Tan Sri Abdul Khalid Abu Bakar during a pilgrimage to Mecca, even as he is reportedly under a sedition investigation.
In a Facebook update on his official page, Mohd Asri said he is part of a delegation of guests of Saudi Arabia's King Salman Abdulaziz, which is now in their third day in the Muslim holy city.
"My roommate is Khalid Abu Bakar, the Inspector-General of Police. Interesting to have a chat with him and exchanging our experiences," Mohd Asri said.
"He was elected as Malaysia's delegation chief. I am the hajj mufti," he added, referring to the major pilgrimage performed during the month of Dhu al-lhijjah in the Islamic calendar.
The mufti also said that Immigration director-general Datuk Mustafa Ibrahim is part of the delegation.
News portal The Malaysian Insider reported earlier today that Mohd Asri is currently under a sedition investigation for a Facebook update posted prior to the Bersih 4 rally last month.
In a posting dated August 29, the mufti had labelled those who rise up to fight against traitors and cruel leaders as "heroes".
The portal said the police have confirmed that the investigation started earlier this week with the recording of statements from journalists who wrote about the Facebook posting.
Malay Mail Online could not independently verify the report with the police at the time of writing.
Full report at:
http://www.themalaymailonline.com/malaysia/article/amid-sedition-probe-perlis-mufti-shares-room-in-igp-in-mecca
------------
Europe
Central Europe launches migrant appeal
Sep 18, 2015
TOVARNIK, Croatia (AP) - The latest developments as European governments rush to cope with the huge number of people moving across Europe. All times local (CET):
10:50 p.m.
About 100 intellectuals and politicians from Central Europe have launched an impassioned appeal for their countries to show solidarity with refugees.
The appeal, made available to The Associated Press on Thursday, was signed by people from Poland, Czech Republic, Slovakia, Hungary, Bulgaria, the Baltic states and Croatia. Among them are Poland's former presidents, Aleksander Kwasniewski and Bronislaw Komorowski, and former Czech, Lithuanian and Hungarian prime ministers: Petr Pithart, Andrius Kubilus, Gordon Bajnai.
"In the name of our humanity, our principles and values, we call upon the authorities and people of our region to demonstrate practical solidarity towards refugees so that they may find safe haven in our midst and enjoy freedom to choose their own future," it said.
10:25 p.m.
Slovenian police say a group of about 150 refugees who have arrived from Croatia on an international train bound for Zurich will be returned to Croatia.
The refugees arrived at the Dobova train station, which serves as the main rail border crossing between Slovenia and Croatia, Thursday evening. They were transferred to three cars which will take them back to Croatia, according to Slovenia's state news agency.
Meanwhile, Croatia's Interior Minister says his country could close down its borders if faced with thousands more migrants and refugees coming in from Serbia as has been the case in the past two days.
Ranko Ostojic on Thursday urged Serbia's authorities to halt the migrants.
9:45 p.m.
Slovenian authorities say more than 200 migrants have arrived in Slovenia on an international train from Croatia.
The official STA news agency says the refugees have been provisionally accommodated on a train station near the border.
Slovenia's government has been bracing for the influx of refugees after more than 9,000 migrants arrived in neighboring Croatia in the past two days. Police have said they will do their best to direct the migrants toward refugee centers.
Some of the migrants from Croatia also have set out on foot toward Slovenia's border, some 30 kilometers (18 miles) away.
Most migrants want to go further toward Austria and Hungary, but Slovenian officials have said providing transit corridors would be against EU rules
9:30 p.m.
Croatia's prime minister says his country cannot hold down migrants who wish to move on toward Western Europe.
Zoran Milanovic said Thursday that "our resources are limited." He adds that "we will not and cannot keep them in Croatia and no one will make us do that."
Croatian police says 9,200 migrants have entered the country by late Thursday. Already groups of migrants were trying to cross into neighboring Slovenia and Hungary.
Milanovic says authorities will try to register as many as they can in accordance with EU rules but that "if there are more, we will not be able to register them."
8:50 p.m.
Hungary's foreign minister says the "state of crisis" declared earlier in some areas due to the large flow of migrants has been extended to a pair of southern counties as migrants have begun entering from Croatia.
Peter Szijjarto said Thursday that emergency measure giving authorities extra powers like greater leeway in the use of public buildings and the right to block roads would be extended to Baranya and Somogy counties, which border Croatia.
Szijjarto said Croatian officials had "lost control" over the migrant flow there after Hungary's clampdown on its border with Serbia forced migrants to find new routes to Germany and Western Europe.
Szijjarto said it was "unacceptable" that Croatia was pushing migrants toward Hungary and Slovenia instead of registering and looking after them according to European Union rules.
8:40 p.m.
Close to 1,000 migrants arrived on a train in a Croatian town near the border with Hungary and police are encouraging them to spend the night at an abandoned military base.
About 20 police officers met the train in the town of Beli Manastir, only a few kilometers from the Hungarian border, and directed them toward the disused base. The migrants walked toward the former military installation as a police car led the way.
Police weren't forcing the migrants to stay at the base, but many were taking up the offer.
Migrants have been taking a detour, trying to cross into Hungary from Croatia after Hungary built a fence along its border with Serbia.
7 p.m.
Migrants are taking a detour - trying to cross into Hungary from Croatia after Hungary built a fence along its Serbian border and sent thousands of police there.
So far the move has not proved too successful. Hungarian state media said Thursday that police had detained dozens of migrants near the village of Illocska, opposite the Croatian town of Beli Manastir.
Croatian officials say over 8,900 migrants have reached Croatia in the last two days after Hungary shut down its border.
6:30 p.m.
Croatian media say President Kolinda Grabar Kitarevic has asked the country's military to be on higher alert and ready to act if needed to protect the border from illegal migrants.
The official Hina news agency says Grabar Kitarovic has met with the Chief of Staff of the Croatian army, Drago Lovric, and asked that the military monitor the situation.
More than 8,900 asylum seekers have crossed into Croatia in just two days, after Hungary sealed off its territory. Many have entered Croatia through cornfields to avoid having to register with authorities. Some official crossings were overwhelmed and chaotic Thursday.
6:15 p.m.
Swedish officials say the flow of asylum seekers to the country has reached unprecedented levels, with more than 1,000 new arrivals daily.
The Swedish Migration Agency says in the seven days ending Tuesday, 5,214 people applied for asylum, beating a record set in June 1992 during the Balkan wars.
Most are from Syria, but the numbers from Afghanistan and Iraq are also growing. There has also been a surge in unaccompanied minors seeking asylum, with 923 such cases registered in the seven-day period.
Sweden received more than 80,000 asylum seekers last year, the highest per capita in the European Union. The recent surge suggests the numbers could be higher this year.
6:10 p.m.
Former U.N. Secretary-General Kofi Annan says European governments must listen to their people on the migrant crisis, who are "not as hard-hearted and harsh as the governments."
In a prerecorded talk show to be aired Friday by Swedish broadcaster SVT, Annan said "we are going to see more of this: where leaders fail to lead and people will lead and make them follow."
The U.N. chief from 1997 to 2006 told the "Skavlan" talk show that "all of Europe must come together and deal with this crisis."
6 p.m.
Jordan's Queen Rania has called for a decisive response from the global community to the migration crisis, and warned that a failure to act could spur extremism.
Rania, whose country hosts some 1.4 million Syrians, on Thursday praised Germany for helping Syrian refugees.
At a ceremony in Berlin where German Chancellor Angela Merkel presented her with a prize for promoting peace and tolerance, Rania warned that "denying refugees their basic rights risks creating a defeated and disillusioned generation who, at their most desperate, could be susceptible to extremist ideology."
5:50 p.m.
Germany's foreign minister says he will use an upcoming trip to Turkey to press for better cooperation to tackle the migrant crisis and bring an end to the conflict in Syria.
Minister Frank-Walter Steinmeier is traveling to Ankara on Friday for talks with Turkish government officials.
In a statement Thursday, Steinmeier said he will see where Germany can provide Turkey with further assistance, since Turkey is already hosting almost 2 million refugees from Syria.
5:35 p.m.
Serbia's government says that Hungarian Foreign Minister Peter Szijjarto will visit the country on Friday - an apparent bid to ease tensions that erupted after Hungarian police used tear gas, pepper spray and water cannons against migrants seeking entry from Serbia.
Serbia's foreign ministry said Thursday that Szijjarto will meet with Serbian Foreign Minister Ivica Dacic and Interior Minister Nebojsa Stefanovic. The officials will hold a joint news conference.
Hungary has sealed its border with Serbia in a bid to stop the influx of migrants.
5:15 p.m.
Slovenia's Red Cross expects 5,000 refugees to enter the country in the coming days and has appealed for more aid as thousands have been pouring into neighboring Croatia.
More than 7,300 people have entered Croatia in the last two days. Most have sought to move on toward Western Europe, with Slovenia being the next stop on their route.
4:50 p.m.
Czech Prime Minister Bohuslav Sobotka now says his country is willing to accept thousands of refugees.
The Czech Republic is one of several European Union nations that reject mandatory quotas for distributing refugees - but the government says it's ready to help share the burden a voluntary basis.
The country has so far agreed to accept 1,500 people but Sobotka said Thursday "we are ready to help several thousands." His human rights minister has suggested the country could take up to 15,000 refugees.
4:30 p.m.
Croatian police say 7,300 migrants have entered the country in the last two days after Hungary sealed its border.
After thousands waited for hours in the hot sun, dozens were trampled in a scrum to get on some trains and buses Thursday at the Croatian town of Torvarnik. Authorities appeared overwhelmed by the flow, and some guards stood behind trees to avoid the crush.
The migrants are taken to refugee centers where they are registered and can apply for asylum. Most don't want to stay in Croatia but are eager to move on toward Western Europe.
4:20 p.m.
The secretary general of the Organization of Islamic Cooperation, the world's largest body of Muslim countries, "expressed shock and dismay at the harsh and unacceptable treatment by the Hungarian police" in dispersing protesting migrants who sought to enter the country from Serbia.
Iyad Madani, who heads the 57-nation OIC from its headquarters in Jiddah, Saudi Arabia, called on Hungary's government "to respect international humanitarian law and human rights of the refugees."
3:55 p.m.
Hundreds of migrants have pushed through police lines in the eastern Croatian town of Tovarnik, with people trampling and falling on each other amid the chaos.
An Associated Press photographer saw one man collapsing on the ground and dozens injured in the melee.
More than 2,000 men, women and children were stuck at the local train station for hours in blazing heat and sun, waiting to board trains and buses to refugee centers. When buses arrived, groups charged toward them, overwhelming the Croatian police.
After the situation calmed, groups of migrants moved off on foot, with police unable to stop them.
3:50 p.m.
Norway's foreign minister says the country will donate a total of 60 million kroner ($7.3 million) to Serbia and Macedonia to cope with the large influx of people pouring into the region.
Minister Borge Brende says "I commend Serbia for the great efforts and generosity" that the government, organizations and the civil society have shown.
Brende said 30 million kroner will be given to Serbia to upgrade "the reception apparatus" ahead of winter, and 30 million will be used as emergency aid to both Serbia and Macedonia.
3:45 p.m.
The U.N.'s top human rights official says Hungary is violating international law with its response to the migration crisis.
Zeid Raad al-Hussein said that he was appalled by the actions of the Hungarian authorities, saying that "images of women and young children being assaulted with tear gas and water cannons at Hungary's border with Serbia were truly shocking."
Zeid called Hungary's actions "callous, and in some cases illegal," citing the country's denial of entry and return of migrants and refugees.
Full report at:
http://www.njherald.com/story/30051240/the-latest-jordans-queen-helping-migrants-stops-extremism
------------
Germany pushes for tougher asylum laws
Sep 17, 2015
Germany is pushing to toughen asylum laws by reducing the benefits usually given to refugees and by sending them back to the first European Union country they reach.
Germany's Interior Minister Thomas de Maiziere wants the so-called Dublin Regulation, which requires people to make their asylum claims in the first EU country they enter, to be enforced again. Back in August, Berlin had said the regulation would no longer apply to Syrian refugees coming into the country.
The new policy, which is yet to be approved by the council of ministers of the country's cabinet chaired by Chancellor Angela Merkel, was seen by AFP on Thursday.
European Commissioner for Migration, Home Affairs and Citizenship Dimitris Avramopoulos (R) and German Interior Minister Thomas de Maiziere (C) look at papers and passports of asylum seekers as they visit the federal police station in Rosenheim, southern Germany, near the Austrian border, on September 17, 2015. ©AFP
If approved, it could leave tens of thousands of people who have entered Germany in recent weeks out in the cold.
Full report at:
http://www.presstv.ir/Detail/2015/09/17/429642/Germany-Interior-Minister-Thomas-de-Maiziere-refugee-laws
------------
URL: https://www.newageislam.com/islamic-world-news/new-age-islam-news-bureau/ansarullah-warns-to-give-crushing-response-to-saudi-arabia-s-intensified-attacks/d/104632